Cycle on dirt trails, kayak through mangroves and hike to a quarry — here is our ultimate Pulau Ubin guide for a back to nature day trip!
Singapore's second largest island, Pulau Ubin is reminiscent of what Singapore was like in the 1960s — don't expect to find malls or skyscrapers on this side of Singapore!
What was once a place for granite mining and crop cultivation, people visit Pulau Ubin today to enjoy its unspoiled greenery and outdoor activities.
If you have more time in Singapore, here's how to cover it on a day trip.
Read more: 11 Epic Things to do in Singapore for Thrill-Seeking Adrenaline Junkies
Pulau Ubin is located off the northeastern shore of Singapore in the Johor straits, just a 15-minute boat ride away from the mainland.
1) Head To Changi Point Ferry Terminal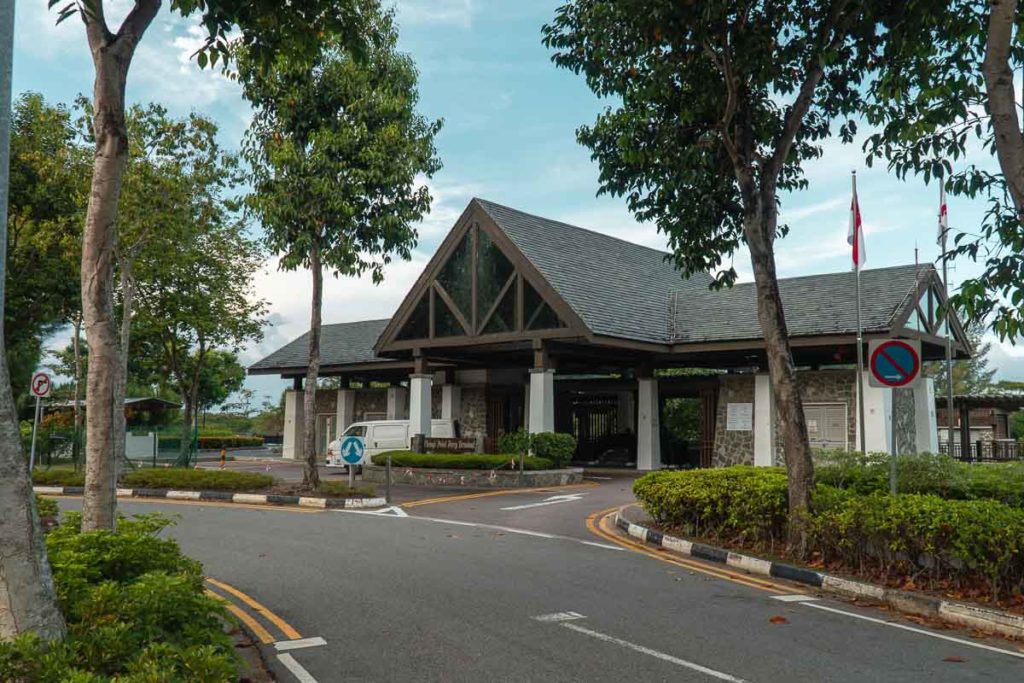 Boats to Pulau Ubin leave from Changi Point Ferry Terminal, located near the popular Changi Village Hawker Centre — the Nasi Lemak here is especially famous 😉
Address: 51 Lorong Bekukong, Singapore 499172
How to get there: From Tampines MRT station (EWL) exit D, take Bus No. 29 from Tampines Bus Interchange to Changi Village Bus Interchange. It should take around 50mins. It's a short walk to the Changi Point Ferry Terminal. More directions here
2) Take a Bumboat to Pulau Ubin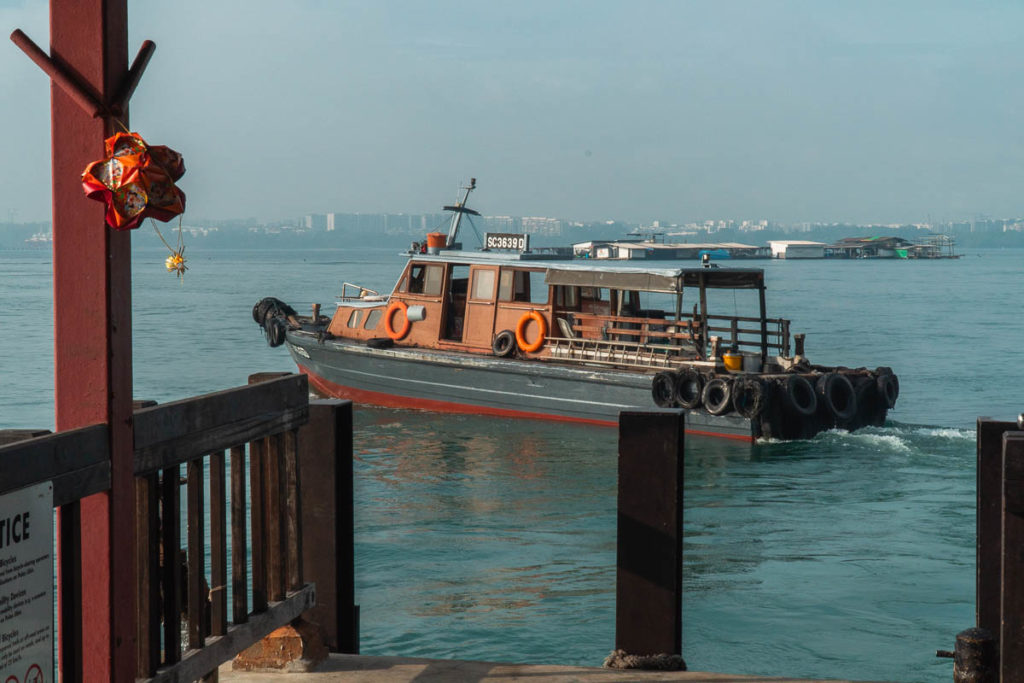 The boats that take you to Pulau Ubin are small and only seat 12 passengers each trip. The ride from Changi Point Ferry Terminal to Pulau Ubin Jetty takes about 15 minutes.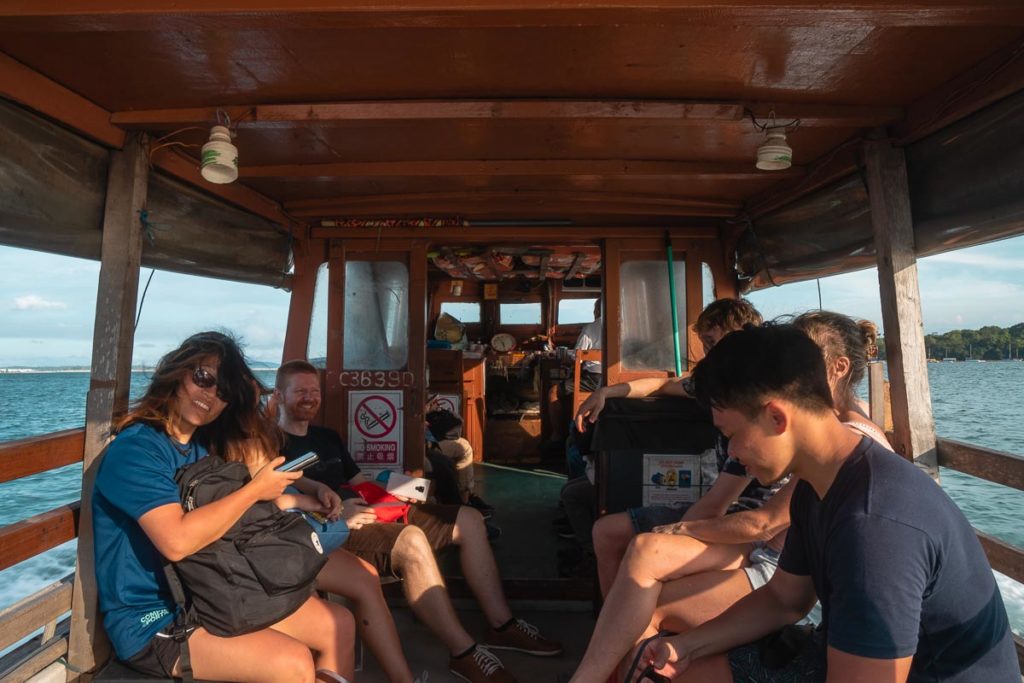 There's no fixed schedule — boats will only leave when they have a full boat of 12 passengers. You may need to wait for a longer time during off-peak periods, or pay more to cover the empty seats if you'd rather not wait. On a Monday morning, we waited about 10 minutes for enough people to show up.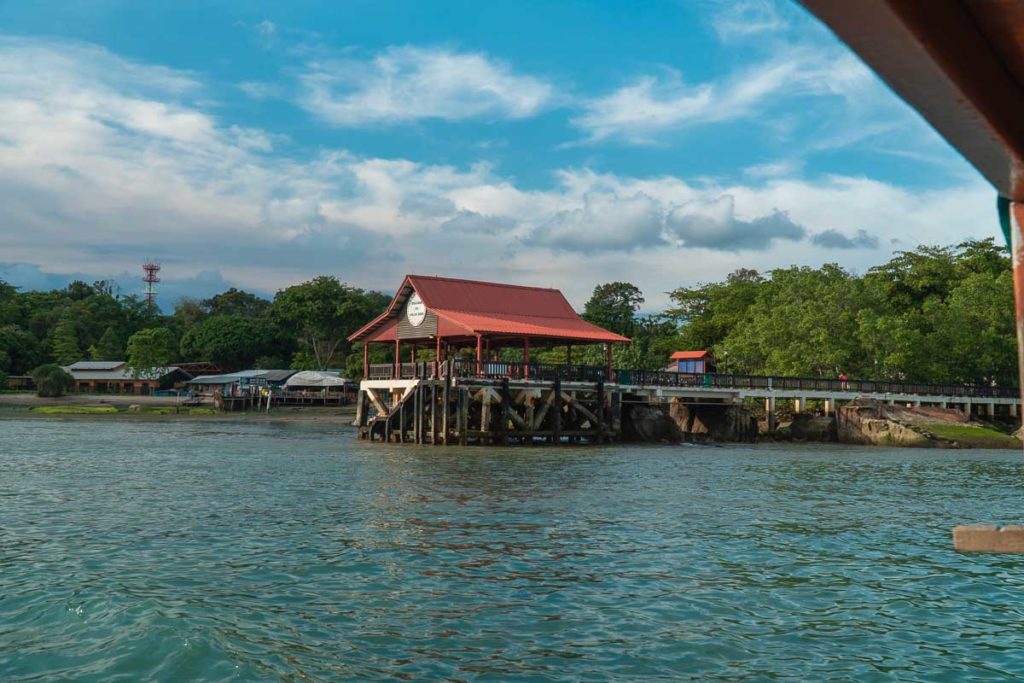 Opening hours: Boats generally run from 7AM – 7PM. You'll need to make special arrangements with the boatmen if you need to travel outside of this period
Cost: S$4/pax, and an additional S$2 if you bring your own bicycle. Payment is in cash only which you pass directly to the boatman when you get on the boat
Getting Around Pulau Ubin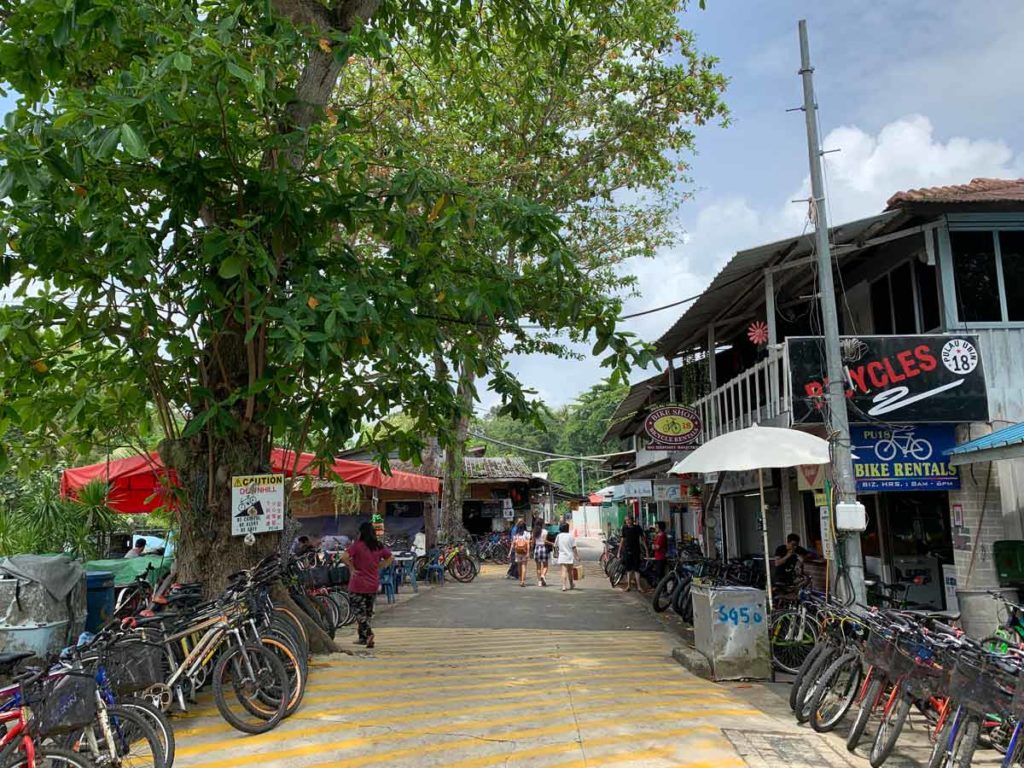 Pulau Ubin is just over 10sq km in size and you have the option of cycling, walking or taking a taxi to get around.
Cycle: If you ask us, cycling is the best way to get around Pulau Ubin (check out our cycling route below). Bike rental shops can be found near the jetty you alight from and the prices range from S$5–20 depending on the bicycle you pick (bikes range from sturdy mountain bikes to tandem and child-sized bicycles.
Alternatively, there are organised biking tours with a tour guide if you want to enjoy cycling and get a more in-depth understanding of Pulau Ubin.
Walk: The relatively small size of Pulau Ubin means you can explore on foot. Although walking takes more time and effort, it's the most idyll way to enjoy the natural surroundings and spot wild animals. These include otters, boars, birds and bats — no link to the coronavirus, we promise.
Taxi: Taxis can typically be found at the Taxi Service stand on the left side of the jetty. Pulau Ubin's taxis are really minivans that seat 10 people. You can book the taxis per trip or per hour — prices are negotiable, but expect to pay S$2–6 for a short trip and up to S$35/hr.
Spots mentioned in this article are marked out in the map below — separated into East (green), Central (orange) and West (purple). You can also download the official Pulau Ubin map before you go.
11 Things To Do in Pulau Ubin
1) Spot Wildlife at Chek Jawa Wetlands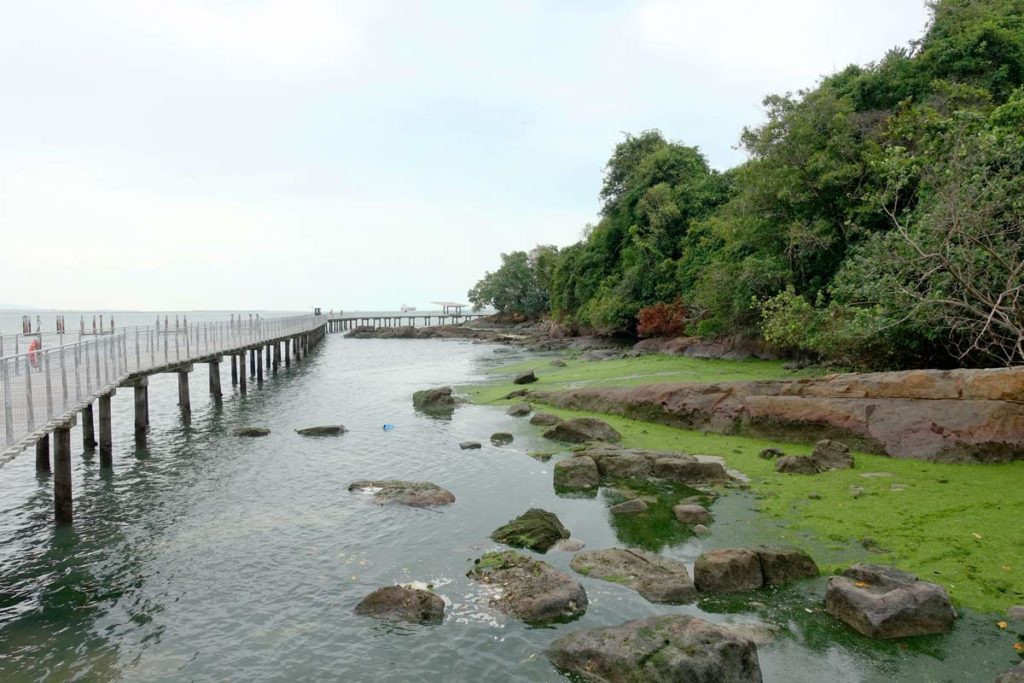 Chek Jawa is one of Singapore's more unique natural wonders. An intertidal zone with rich biodiversity, it comprises six different types of major habitats in one small area.
Explore over 1km of wooden boardwalks that circle the coastline and weave through the mangrove forest, giving you a closer look at the surrounding flora and fauna.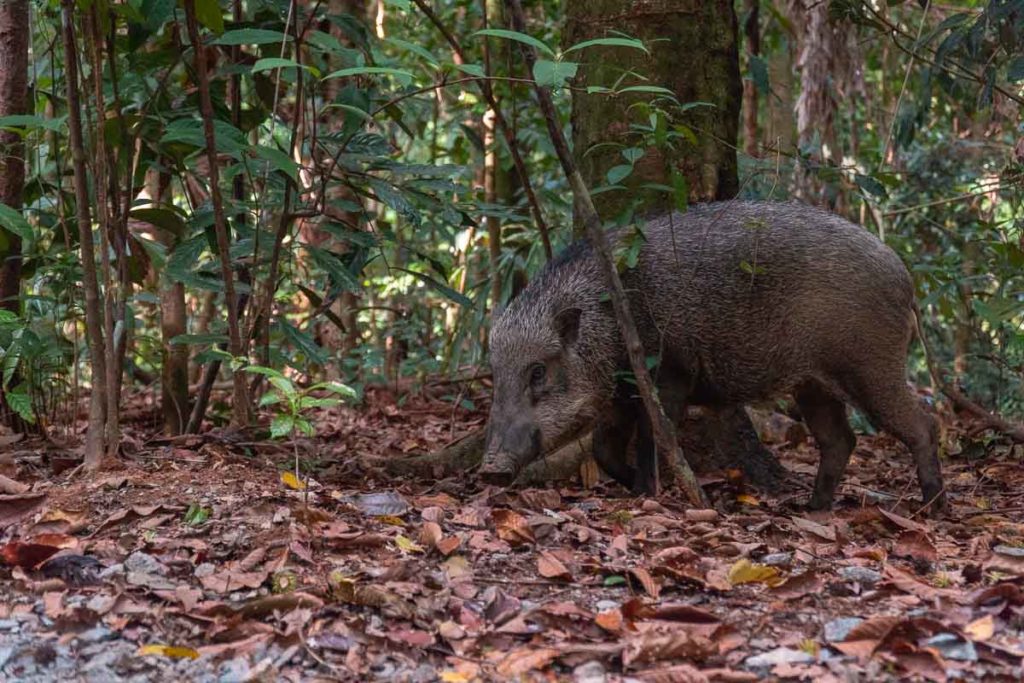 Wild boars are frequently spotted!
Amazing critters are abundant at Chek Jawa. We encountered a family of wild boars passing by the entrance of the park, and saw a large monitor lizard basking on the beach. Walking through the Mangrove Loop, mud crabs are aplenty. Up in the trees, spot various birds from colourful kingfishers to majestic sea eagles.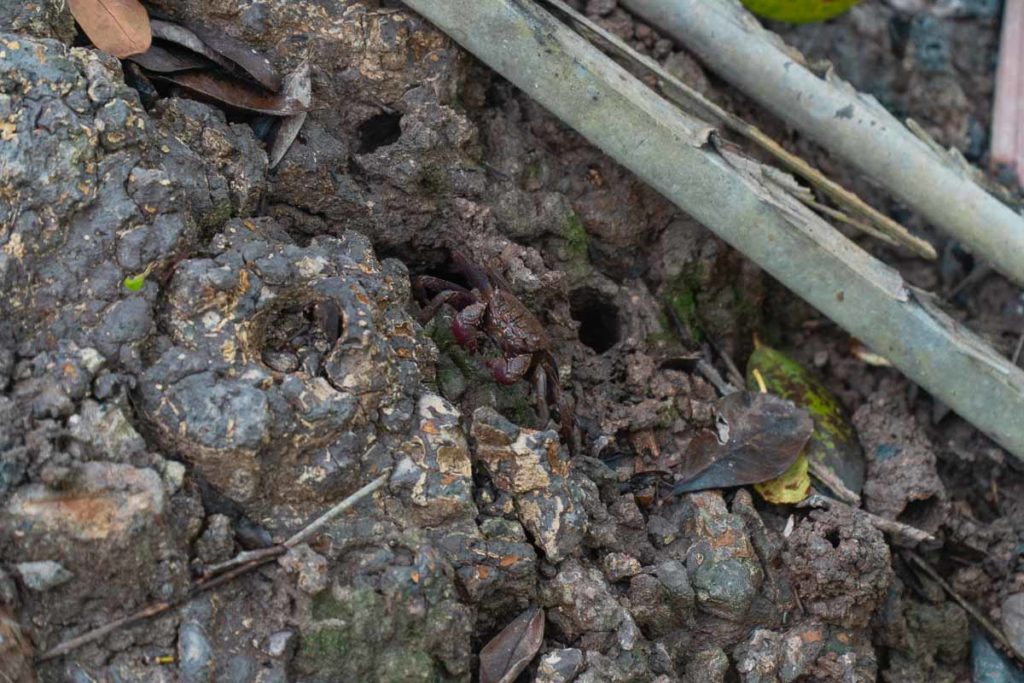 Spot the mud crab above!
Entrance fee: Free. NParks Wetland Tours cost S$60 per group (max of 15 people)
Opening hours: 9AM – 5PM
How to get there: Chek Jawa is located on the eastern coast of Pulau Ubin, about 30mins by bicycle from the main village. No vehicles or bicycles are allowed inside, so park at the entrance and walk about 5mins to the main information counter
*Pro-tip: Low tide is the best time to visit Chek Jawa (check the Tide Table). This is when the mangrove roots and intertidal areas are exposed and you can see flora and fauna normally hidden by the murky waters.
2) Visit the Historic House No. 1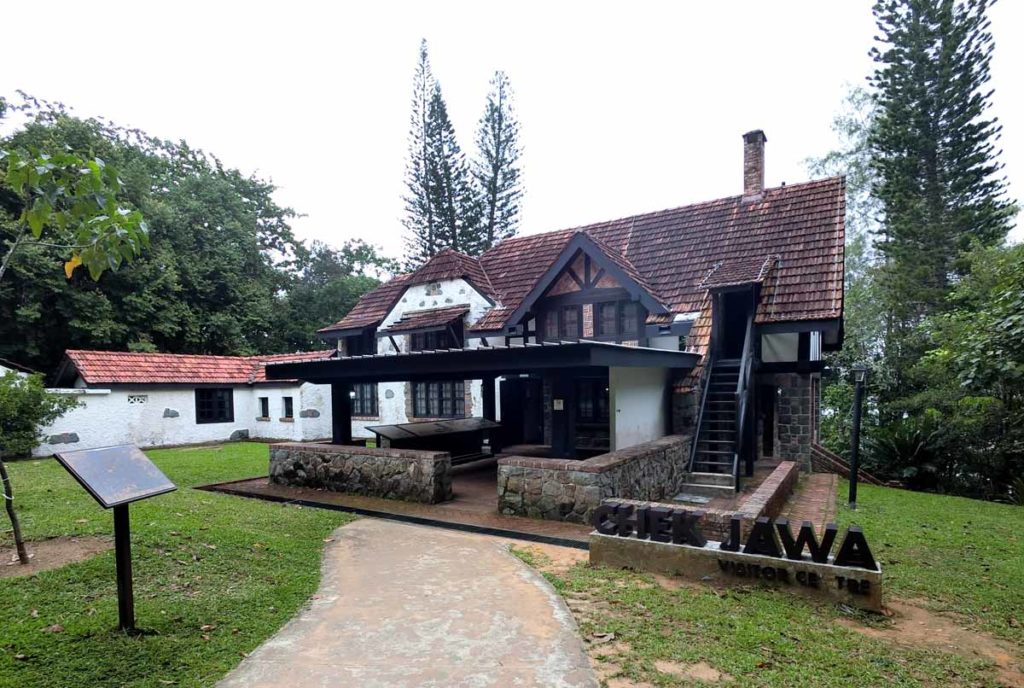 With perhaps the coolest mailing address in Singapore, Pulau Ubin House No. 1 is a heritage Tudor-style house that's been awarded conservation status.
It now serves as the Chek Jawa Visitor Centre with panels explaining the history of the house and biodiversity of Chek Jawa. This is believed to be one of the last houses in Singapore to have an original working fireplace, though that has since been boarded up as a family of bats made it their new home.
The back garden of House No. 1 leads to a viewing jetty that offers a closer view of Pulau Sekudu, a small island with a funny frog-shaped rock linked to a local legend of how Pulau Ubin was formed. The jetty is also a great place for plane spotters to watch planes taking off from nearby Changi Airport.
Entrance fee: Free
Opening hours: 8:30AM – 6PM
How to get there: At the cross junction where the Chek Jawa Information Counter is located, turn right towards House No. 1. There are also toilets here if you need them
3) Climb Jejawi Tower for a bird's-eye view of the surroundings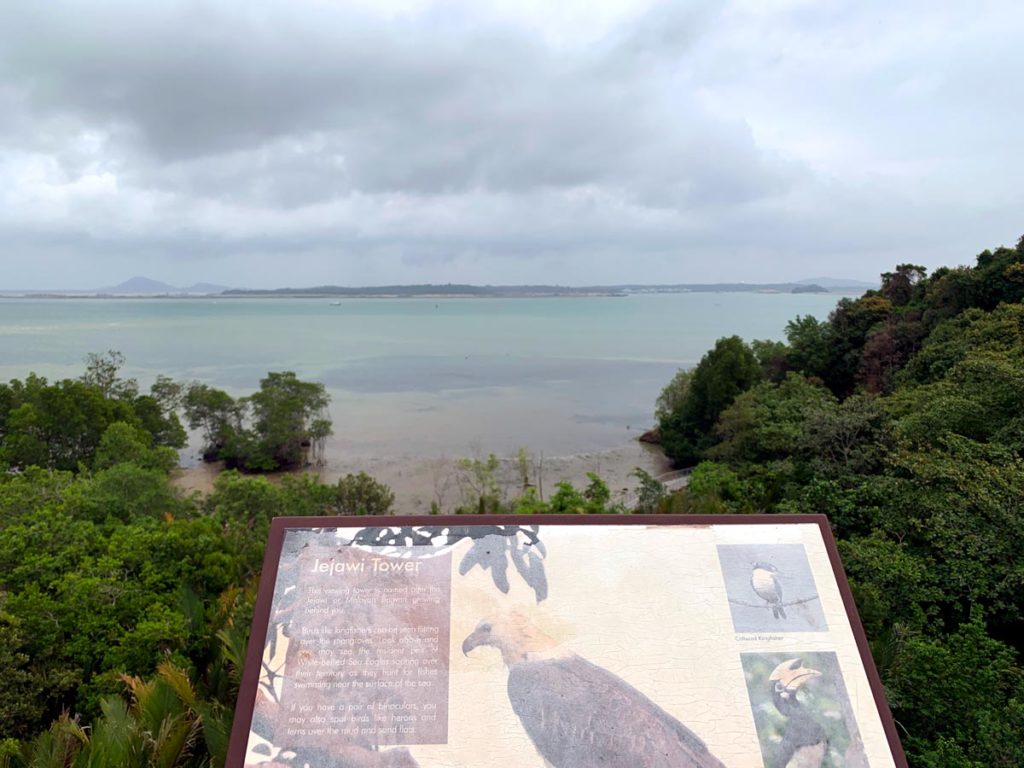 At the start of Chek Jawa's Mangrove Loop is a giant Jejawi tree, which inspired the name of the viewing tower next to it. Jejawi Tower is a seven-storey tower that offers great views of the coastline and forest.
Entrance fee: Free
Opening hours: 8:30AM – 6PM
How to get there: At the cross junction where the Chek Jawa Information Counter is located, turn left towards the Mangrove Loop
4) Kayak through the Mangroves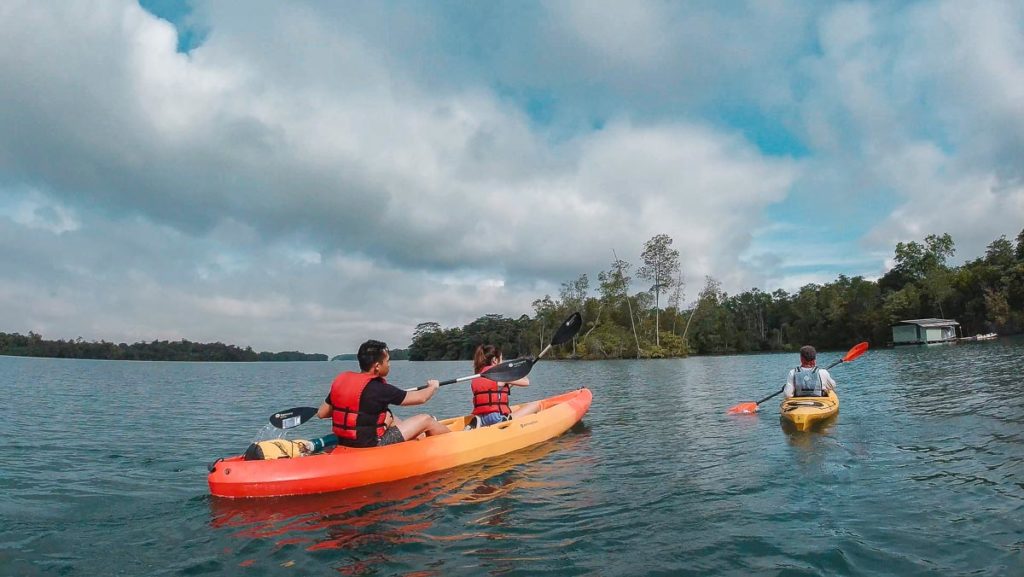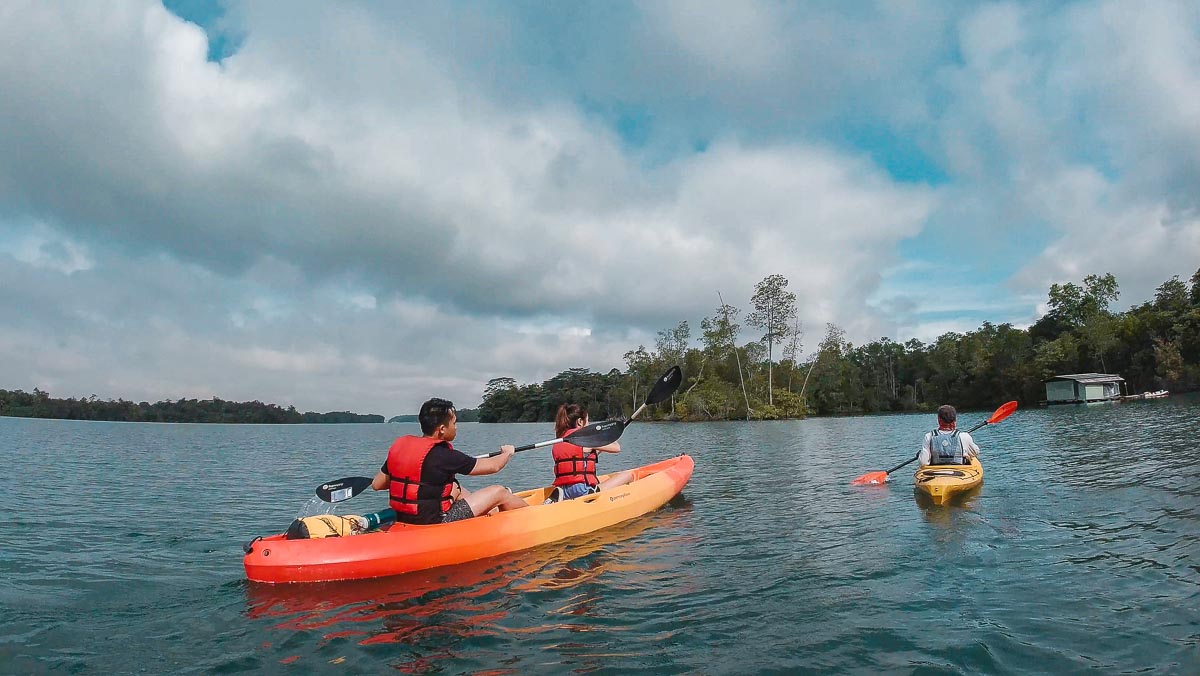 For something a little different, book a mangrove kayaking tour. An experienced guide will lead you through the waterways of Pulau Ubin's mangrove forests and share information about the island's history, nature and residents.
Besides mangrove kayaking, other tour packages include visits to the surrounding fish farm kelongs, traditional houses on stilts that you can spot around the island, as well as bike tours around the island.
Cost: ~S$97 for a 4hr session
Opening hours: Kayaking starts at 9AM or 1:30PM
Meeting point: 34 Pulau Ubin — look for the white house amidst the bicycle rental stalls
5) Experience Old Kampung Life along the Sensory Trail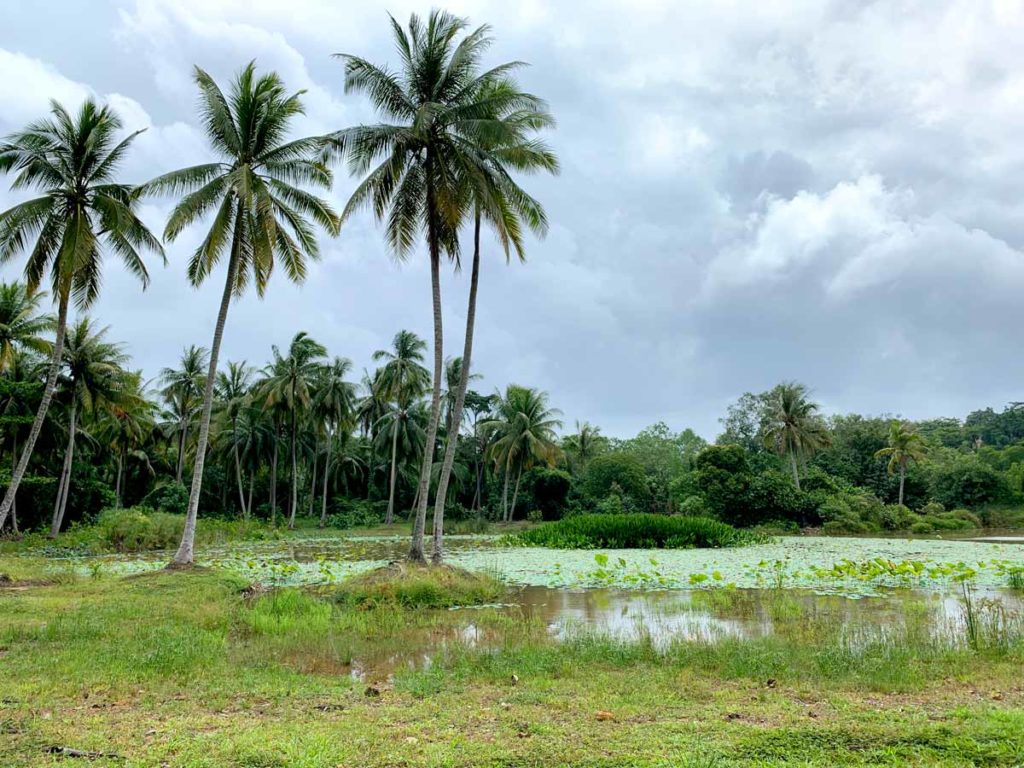 The 1.5km long Sensory Trail connects the Main Village to Teck Seng's House and is a nice option for those who would rather not walk or cycle too far. It showcases Pulau Ubin's cultural heritage with a look at the types of crops villagers used to grow here, both for subsistence and sale. Look out for a particularly picturesque pond covered with lotus flowers and overhanging coconut trees.
*Pro-tip: If you're cycling back from Chek Jawa, turn left off Jalan Ubin and take the scenic route through the Sensory Trail back to the main village.
6) Go offroad biking at Ketam Mountain Bike Park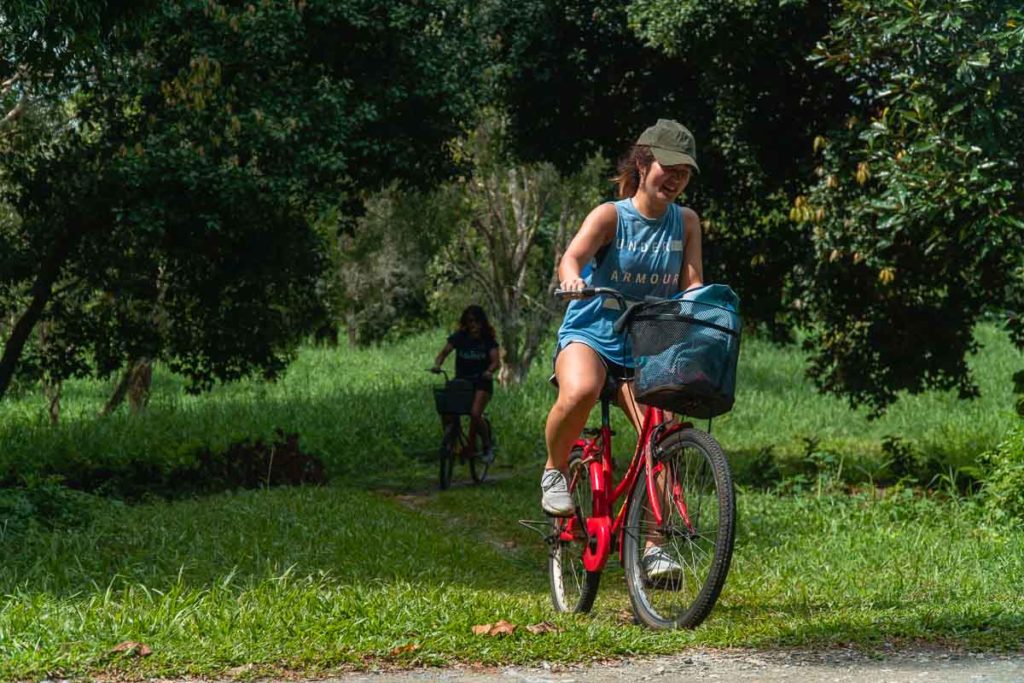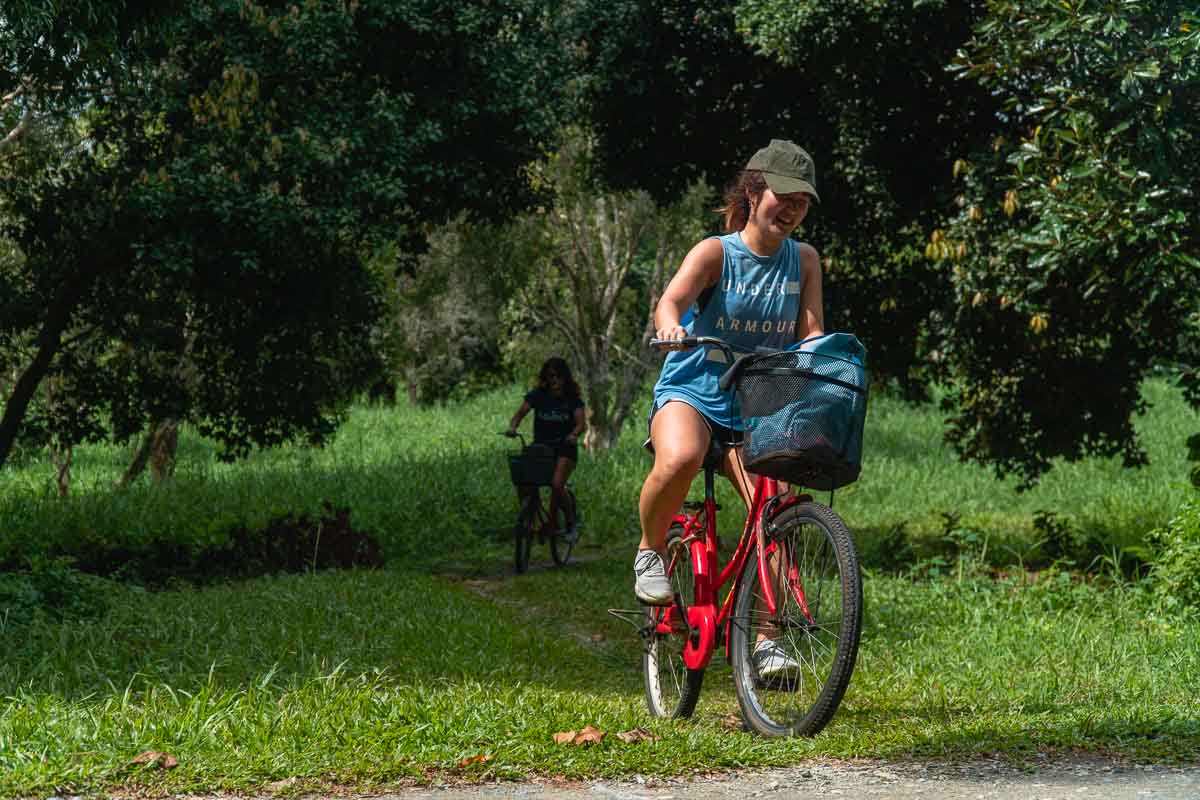 Pulau Ubin is a favourite with cyclists not just for the chance to cycle in nature, but also for its more challenging offroad cycling routes. Ketam Mountain Bike Park has over 10km of international standard trails ranging from the easier Blue Squares to the more challenging Black Diamond and Double Black Diamond.
Note that these bike paths are not for beginners. Make sure you're equipped with a proper mountain bike and protection gear, and try to avoid cycling alone.
Entrance fee: Free
How to get there: Ketam Mountain Bike Park is located in the area surrounding Ketam Quarry. It's about 20min by bicycle from the main village
7) Go Fishing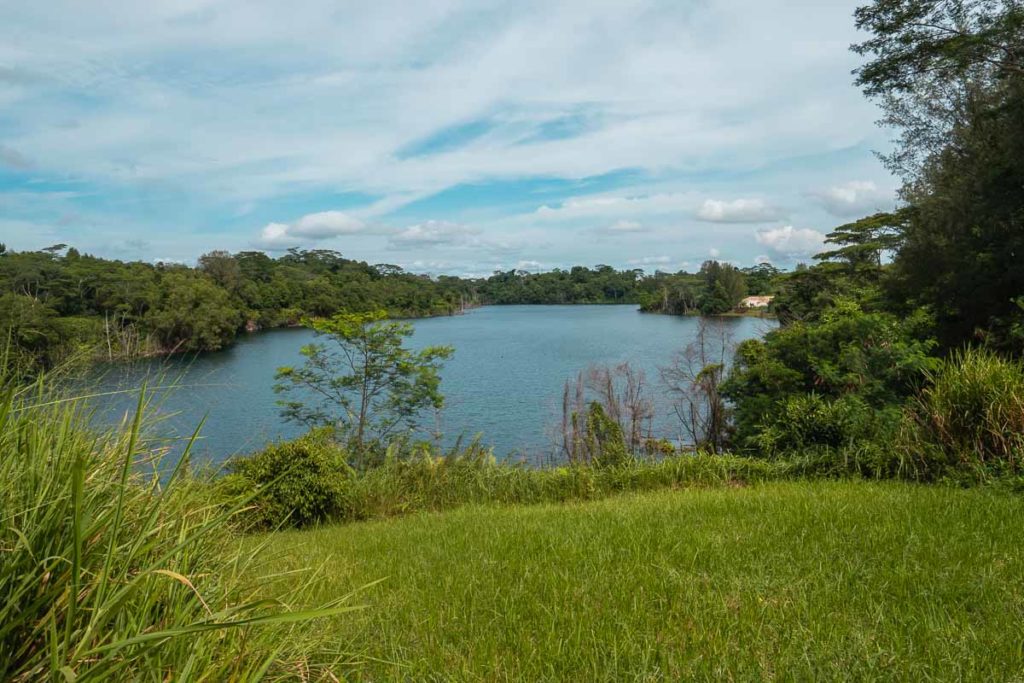 No fishing in the quarry!
Fishing is a popular past time on Pulau Ubin and you'll spot fishermen in various spots all around the island, either on the beaches or jetty fishing off the coast, or near bridges in the mangrove area.
Some of the fish that you can catch here include barramundi, threadfin, mangrove jack, flatheads and archers. Note that while you can fish in most places, you cannot fish in the quarries.
8) Spot 140 Different Types of Butterflies
Butterfly Hill is a man-made knoll in the south of the island near Jelutong Campsite, created out of land reclamation efforts. Special plants and flowers were planted to attract butterflies and create a conservation area that sees over 140 different butterfly species. Look out for the rare Dwarf Crow butterfly that was thought to be extinct in Singapore and rediscovered here in 2002.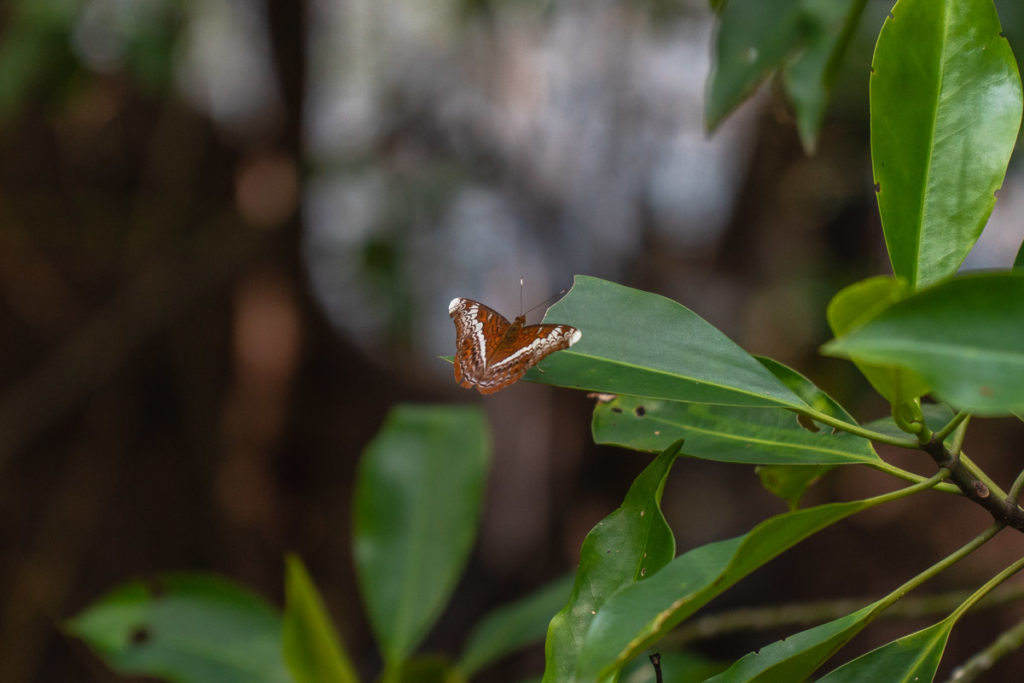 Entrance fee: Free
How to get there: Cycle or walk up the hill from Jalan Jelutong, the road facing the Jelutong Campsite
9) Quench Your Thirst at Ah Ma's Drink Stall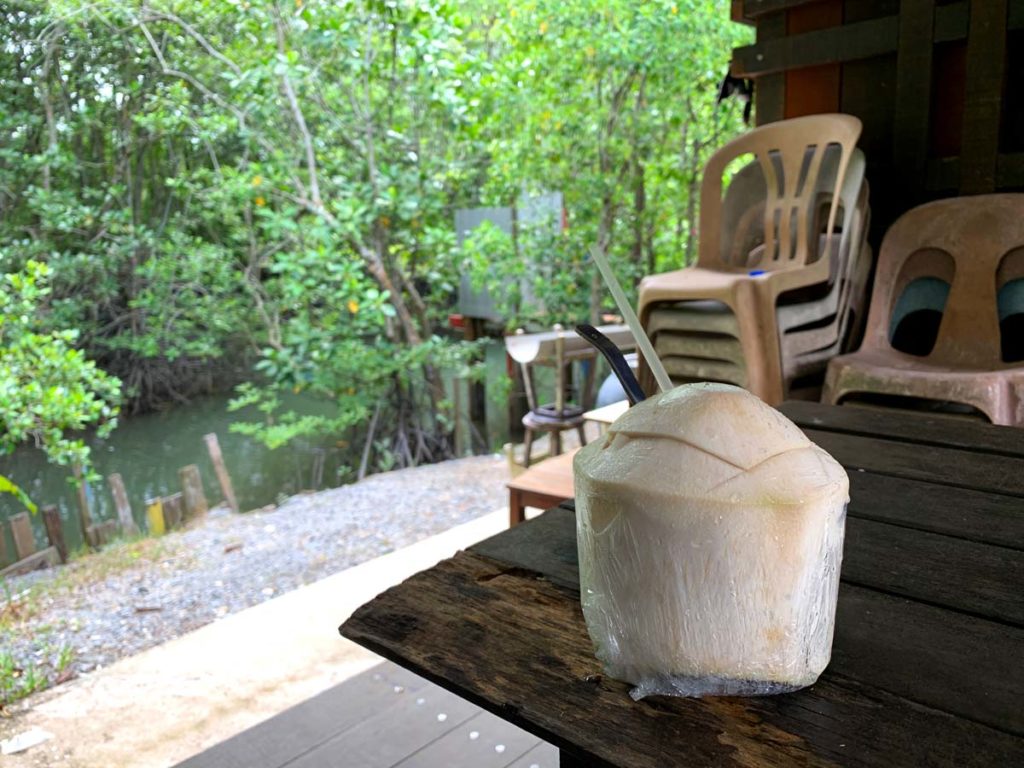 Beat the heat with sweet juice from a fresh young coconut. Ah Ma's Drink Stall is a family-run business that serves cold drinks and water, but we recommend the young coconut. The stall owner will chop a hole in the top so you can stick a straw in and drink its sweet water directly from the fruit. Ask for a spoon to scrape off the jelly-like flesh.
Cost: S$4.50 per coconut, other drinks from S$1.50
How to get there: Ah Ma Drink Stall is located along Jalan Jelutong, right next to Jelutong Bridge en route to Puaka Hill and the western side of the island
10) Climb Puaka Hill for the best quarry view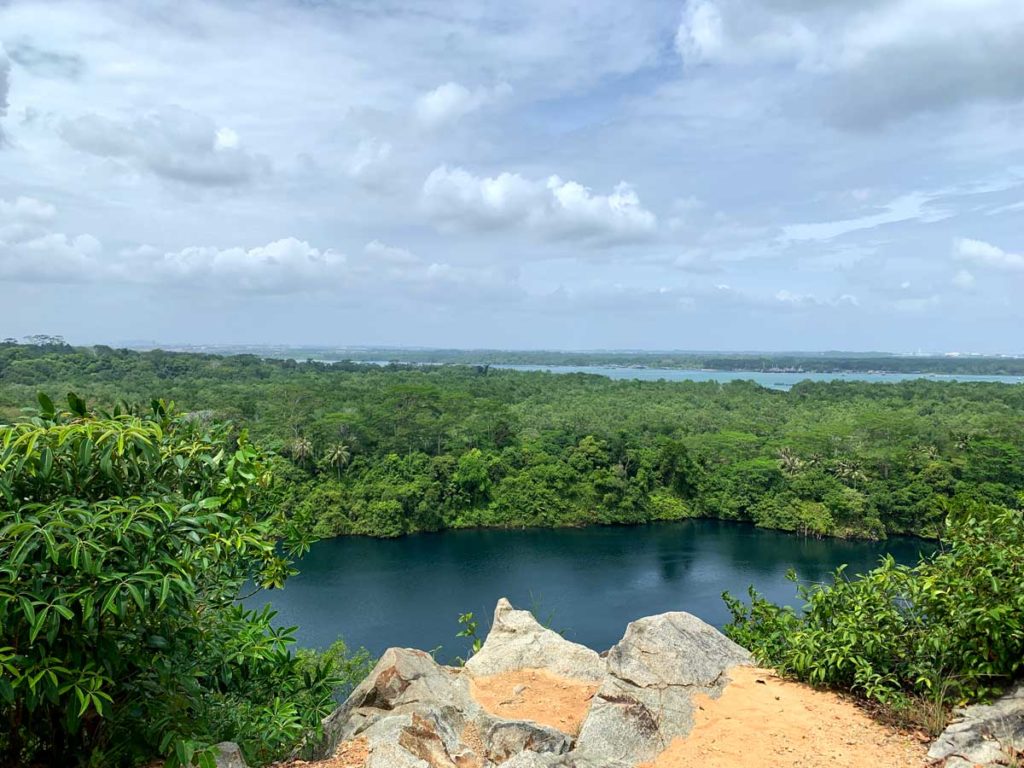 Pulau Ubin translates to granite island and was probably named for the abundant granite rock once found here. The granite was used in the construction of public roads and housing in the 1970s. Today the quarries are no longer in use, but you can still check out the viewpoints of several located around the island.
For the best quarry view on Pulau Ubin, head to Puaka Hill on the west side of the island, overlooking Ubin Quarry. There are two viewpoints here — the lower one is a five minute climb and offers a slightly elevated view of the quarry pool and walls. Carry on up a steeper, rocky pathway for another 10 minutes and you'll reach the highest point of Pulau Ubin, with a more majestic view of the quarry and the surrounding canopy.
Entrance fee: Free
How to get there: The entrance to Puaka Hill is located along Jalan Jelutong, past the Jelutong Bridge — about 15min by bicycle from the main village
11) Visit Shrines and Temples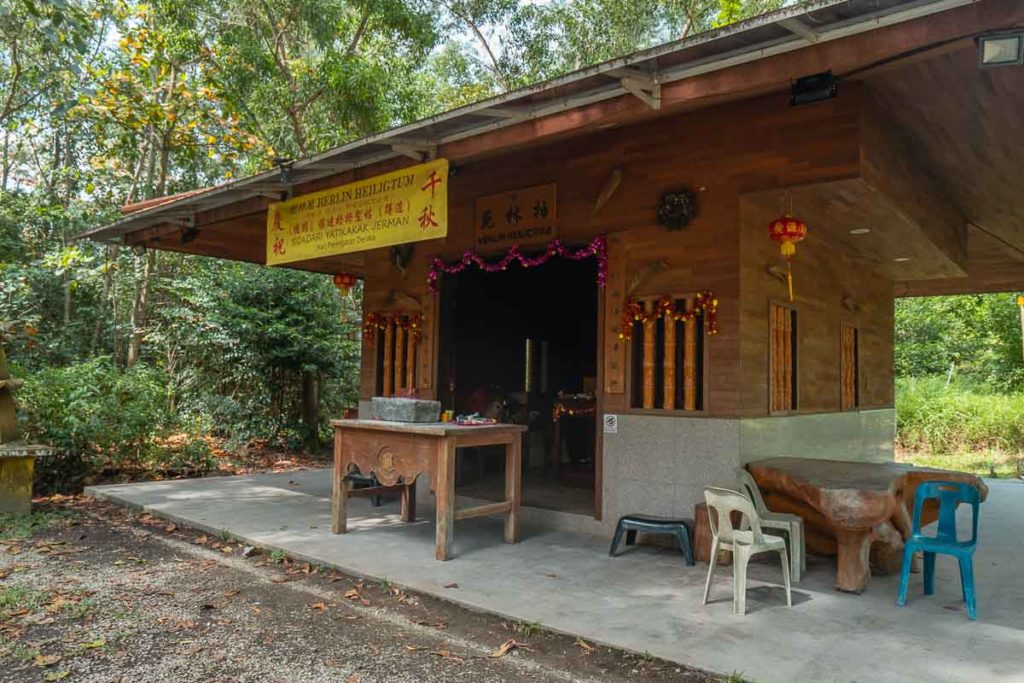 Back in the day, Pulau Ubin was home to both Chinese and Malay communities. You can find signs of their various faiths around the island today, from the Muslim cemetery near Chek Jawa to small shrines and temples found in various spots around the island.
One of the more famous shrines is the German Girl Shrine, built to remember a young girl who fell to her death while fleeing when her family was rounded up by the British army in World War I.
The islands' few remaining residents still adhere to traditions. Visit during the Tua Pek Kong Festival when the main village is decorated and you can watch lavish wayang performances on the traditional opera stage. The festival takes place in May, around the Vesak Day public holiday.
12) Camp Overnight Surrounded by Nature for Free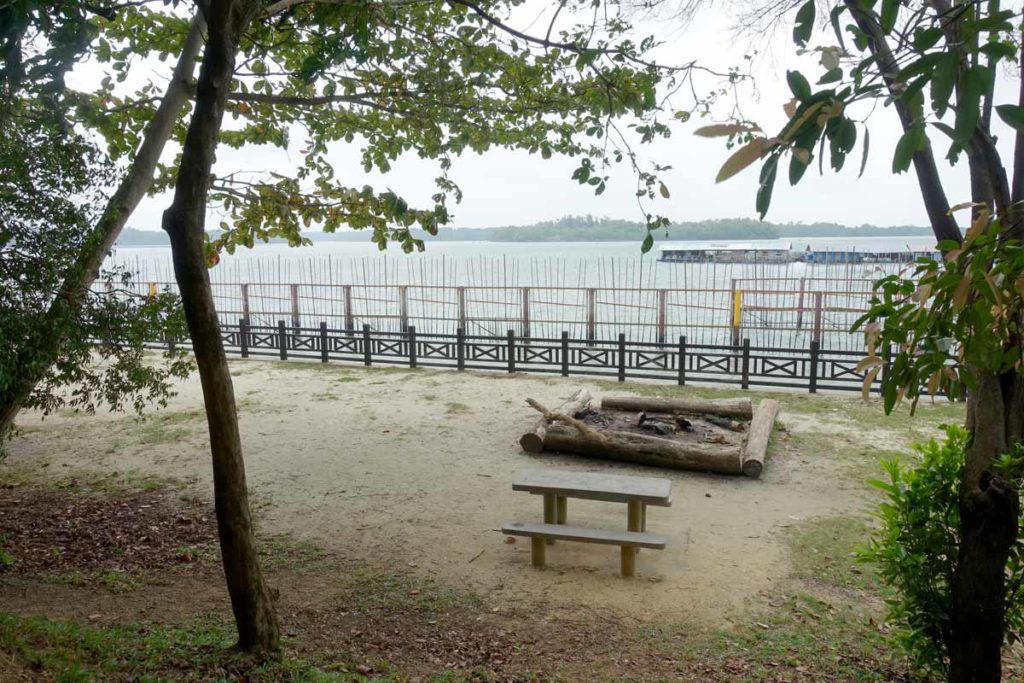 Update: In line with the Ministry of Health's latest advisories, camping at Pulau Ubin is currently not allowed.
There are no hotels or resorts on rustic Pulau Ubin. If you really want to feel like you have the island to yourself, camp overnight at any of the three campsites around the island for free. While there are toilets, there are no showers at the campsites. You'll also need to bring your own water and food which you can cook at the designated fire pits.
Each campsite has its own charm:
– Jelutong Campsite is closest to the main village in the south, located by the coastline facing some kelongs
– Maman Campsite is on the northern shore of the island and is generally more remote and quieter
– Endut Senin Campsite is located inside Ubin Living Lab by a small pond on the western side en route to Ketam Bike Park
Read more: 2D1N Pulau Ubin Camping Guide
Cycling Route Around Pulau Ubin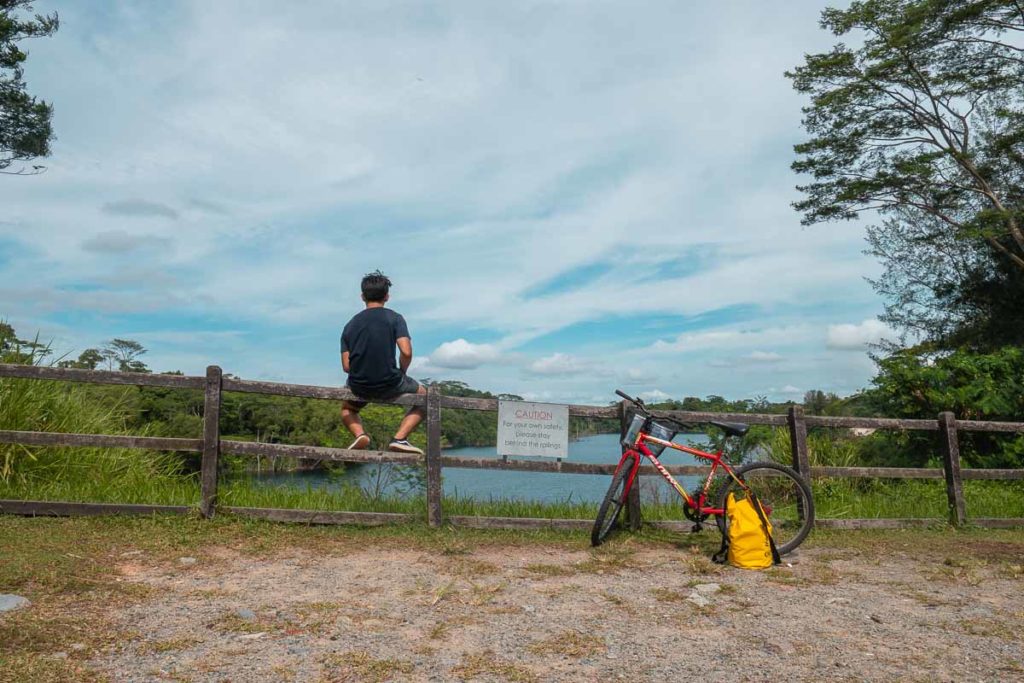 You can easily see most of Pulau Ubin's sights in a day on a bicycle. Arrive in the morning and rent your bike in the main village. Cover the eastern Chek Jawa area first, which consists of House No. 1, Mangrove and Coastal boardwalks and Jejawi Tower. If you want to see the intertidal area, time this according to the low tide.
On the road back from Chek Jawa, pass Petai Quarry viewpoint. Pop into Ubin Orchard where fruit trees are grown, see a local home called Teck Seng's House and take a meandering route back to the main village through the Sensory Trail.
Grab lunch and refuel in the main village. After lunch, head out to see the western attractions. Stop at Butterfly Hill, Pekan Quarry viewpoint and pass by several small shrines on the way to Puaka Hill for a bird's eye view of Ubin Quarry.
If you're up for more adventure, continue westwards past Ubin Living Lab to Ketam Mountain Bike Park. You'll see the German Girl Shrine and the Ketam Quarry viewpoint. Stop at Ah Ma's Drink Stall at Jelutong Bridge for a cold drink or a fresh young coconut before riding back to the main village.
FAQs about Pulau Ubin
1) Do I need a passport to get here from Singapore?
Pulau Ubin is part of Singapore so you don't need your passport to get there. You'll need to scan your bags at Changi Ferry Point Terminal when you return from Pulau Ubin, but there's no need to pass through any sort of immigration.
2) Do people live on Pulau Ubin?
Yes! As you explore the trails, you'll spot private homes and villages along the way. People on Pulau Ubin are generally friendly, but be respectful and don't trespass on private property.
3) Does Pulau Ubin have internet connection?
Yes! If you have a data plan, you can stay connected to the internet, use Google Maps and Whatsapp on Pulau Ubin. However, in more remote locations such as Chek Jawa and Maman campsite, the internet connection may cut out periodically. There's no free WiFi on the island.
4) Are ATMs/cashless payments available?
Cash is king on rustic Pulau Ubin, from the boat fare to food and bicycle rental. It's best to withdraw cash before hopping on the ferry. Several ATMs are available in Changi Village, with the closest one next to Changi Village Hawker Centre.
5) What should I bring on a day trip?
Some essentials to pack for a day trip to Pulau Ubin include:
Drinking water: Fill your water bottles before arriving. Tap water on the island is non-potable. There are some stalls where you can purchase drinks but most are found in the main village area.
Mosquito repellent: Most of Pulau Ubin is forested so expect tropical creepy crawlies. The mosquitoes here are large and vicious, so protect yourself from bites.
Sunblock: It can get hot and there may not be a lot of shelter, even in the forest.
Umbrella/Raincoat: Bring rain gear in case the sunshine turns into a downpour.
What to wear: We suggest light, loose, long-sleeved tops and lightweight pants to protect yourself from the elements and mosquitoes. Wear a comfortable pair of shoes with good grip as you may be walking on gravel roads.
6) Can I stay overnight?
The general public can stay overnight at any of the three campsites around the island. Check out our 2D1N Pulau Ubin Camping Guide for more info!
7) Is there food on Pulau Ubin?
Food is mostly found in the main village area, though opening hours are dependent on the owners' whims.
– Maleh Cafe close to the jetty entrance has Malay food and is the only halal stall on the island
– Cheong Lian Yuen is where you can get seafood and simple stir-fried dishes
– Sin Lam Huat serves kopi and seafood
– Season Live Seafood is usually quite busy and offers fresh seafood with a view of the island's southern coastline
There are provision shops in the main village to pick up snacks, drinks and other essential items.
If Pulau Ubin sounds like your kind of fun, you're going to love Singapore. With beaches, offshore islands and numerous parks to explore, the island is a nature-lover's paradise. Throw in some malls, museums and tasty local food and you've got the recipe for a great vacation!
Read also: Top 11 Outdoor Activities in Singapore — Places to Hike, Picnic and Get Closer to Nature
Know of any cool hidden gems in Singapore? Share with us in the comments!
---
This post was brought to you by Facebook, Infocomm Media Development Authority (IMDA), and Klook.
Like what you see? Follow us on Facebook, Instagram, YouTube, and Telegram for more travel inspiration!