Bask in gorgeous sunsets, swim with the sharks and conquer your fears with canyoneering in this Cebu itinerary.
As a first-time visitor to the Philippines, I wasn't sure what to expect from a week here in Cebu. Located just four hours away from Singapore, I found that Cebu is an adrenaline junkie's haven — cliff jumping, scuba diving, swimming with whale sharks?! No way!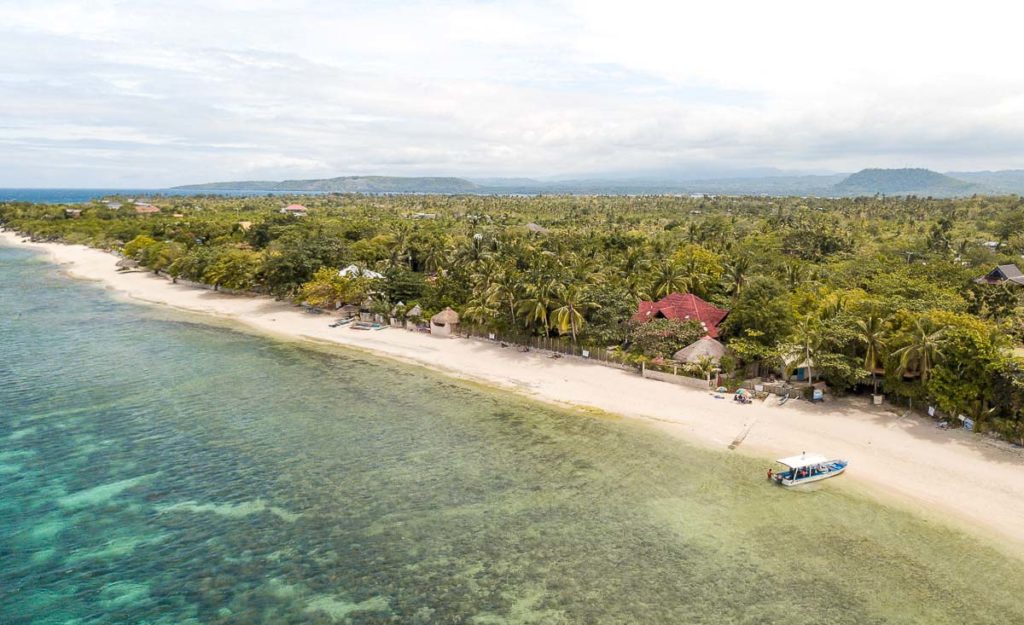 Cebu also has a strong food culture that will overwhelm you with choices. From specialty grilled meats and lechón (roast pig dish) to halo-halo (a yam dessert), you'll surely be in for a treat.
If Cebu wasn't in your to-go list before, it might be after this. Here's our 7-day Cebu itinerary!
Read also: 10 Epic Experiences That Are Surprisingly Affordable in Cebu
Pre-trip Essentials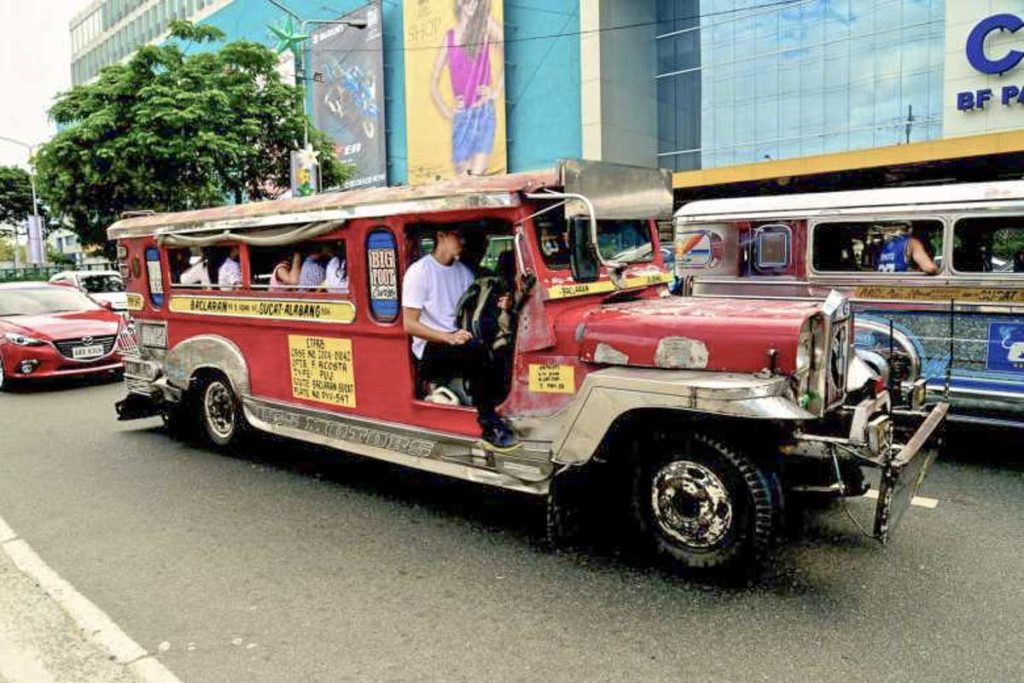 Photo credit: Raul Dancel
Connectivity: Preorder your 4G SIM card and pick it up from Cebu airport. It's 4GB for seven days or 8GB for 14 days, both with unlimited calls and texts.
Getting around Cebu City: The jeepney is the cheapest option at just ₱9 (~S$0.25) on average per ride. Alternatively, ride-hailing apps like Grab and Angkas (for motorbikes) are available. Avoid hailing taxis on the road as they're known to have scams.
Getting around outside Cebu City: Grab is not available outside the city. For day trips out of the city to Moalboal and Bohol, book a private car charter (from S$68 for 8–10hours) or hail a local habal-habal (motorcycle).
Airport Transfer: Pre-book a private airport transfer (from S$16) to travel from Mactan-Cebu International Airport to Cebu City
Day 1: Explore Cebu City
Accommodation in Cebu: Murals Hostel and Café — from S$14/bunk bed (4 nights)
Admire the City Skyline from the Tops Lookout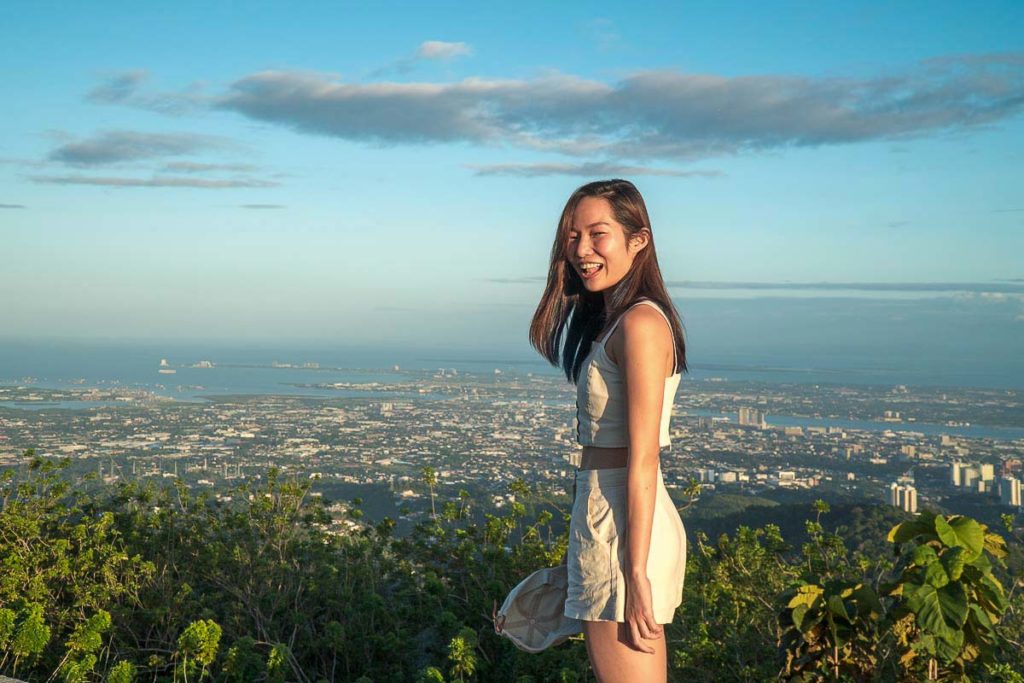 One of my favourite things when overseas is to view the city and spot landmarks from up high! Tops Lookout is an observation deck on Mount Busay, 35 minutes away from Cebu City with vast panoramic views.

The observation deck is perfect for a relaxed evening; you can grab a bite from the food stalls on the observation deck to munch, just as the sun goes down over the mountain.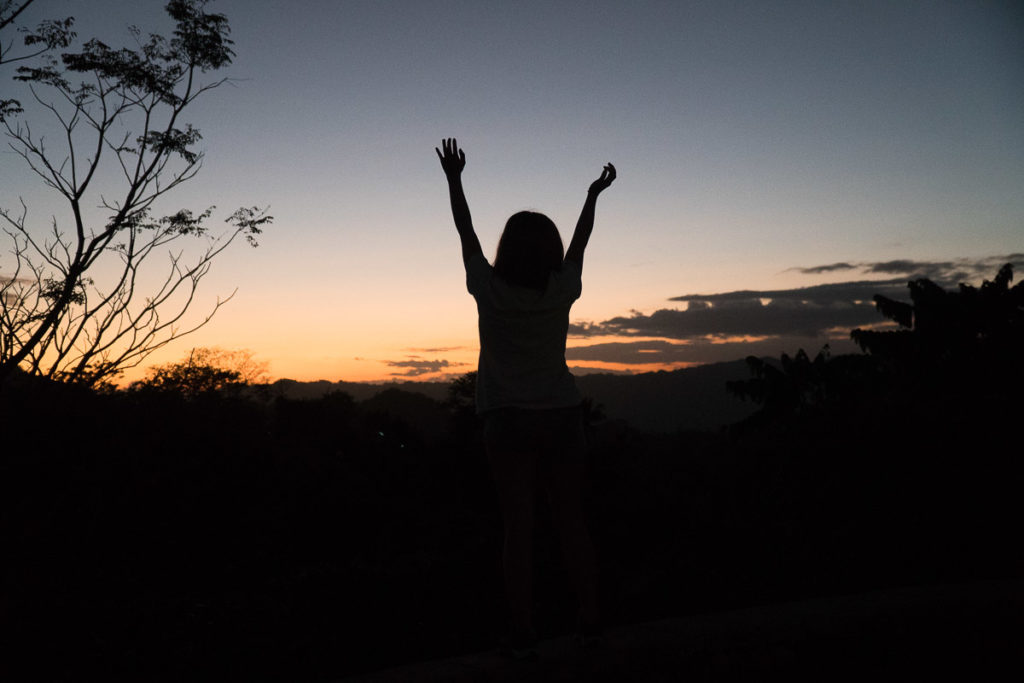 Entrance Fee: ₱100/pax
Opening Hours: 10AM – 2AM
How to get there: As Grab does not cover the mountain region, you have to take either a cab (~₱1,000) or motorcycle (~₱50/pax) from JY Square Mall.
Dine at House of Lechon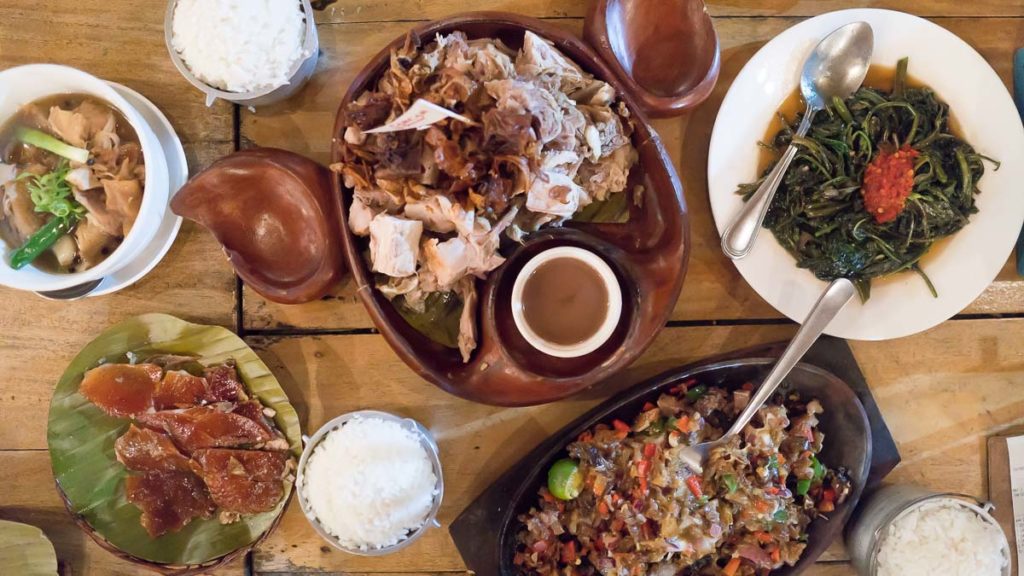 A popular Filipino delicacy, lechón is succulent pork roasted over charcoal. Our local friend recommended House of Lechon, where we tried a variety of pork dishes, including Lechón Sisig (hot plate minced pork, ₱275), Lechón Paksiw (roasted pork stew, ₱275) and not forgetting the Special Carcar Lechón (roasted pork, ₱435/half kg).
I found these dishes to be rather salty, so have a glass of water ready or enjoy this delicacy with white rice!
Cost: From ₱115/dish
Opening Hours: 10AM – 10PM
How to get there: 9 min walk via Archbishop Reyes Ave from Ayala Center Cebu or Grab
Try Balut at Colon Night Market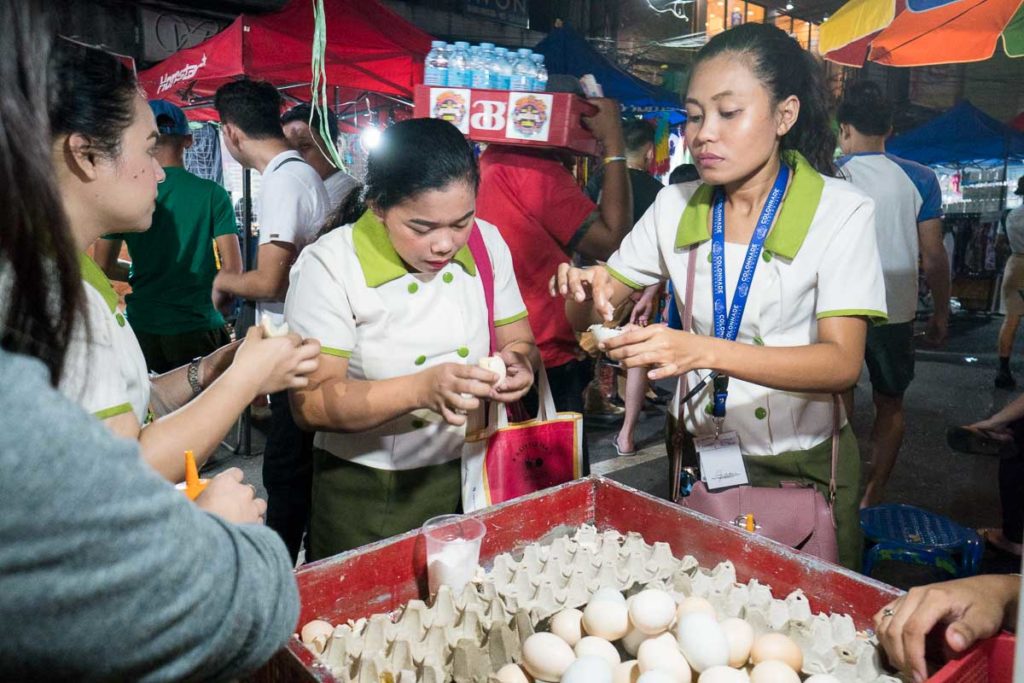 I'm sure you're familiar with this Filipino delicacy — balut. Commonly found at night markets, this is a boiled fertilised egg, eaten directly from the shell. We found this hair-raising delicacy at Colon Night Market, one of the city's oldest markets, at ₱20 each.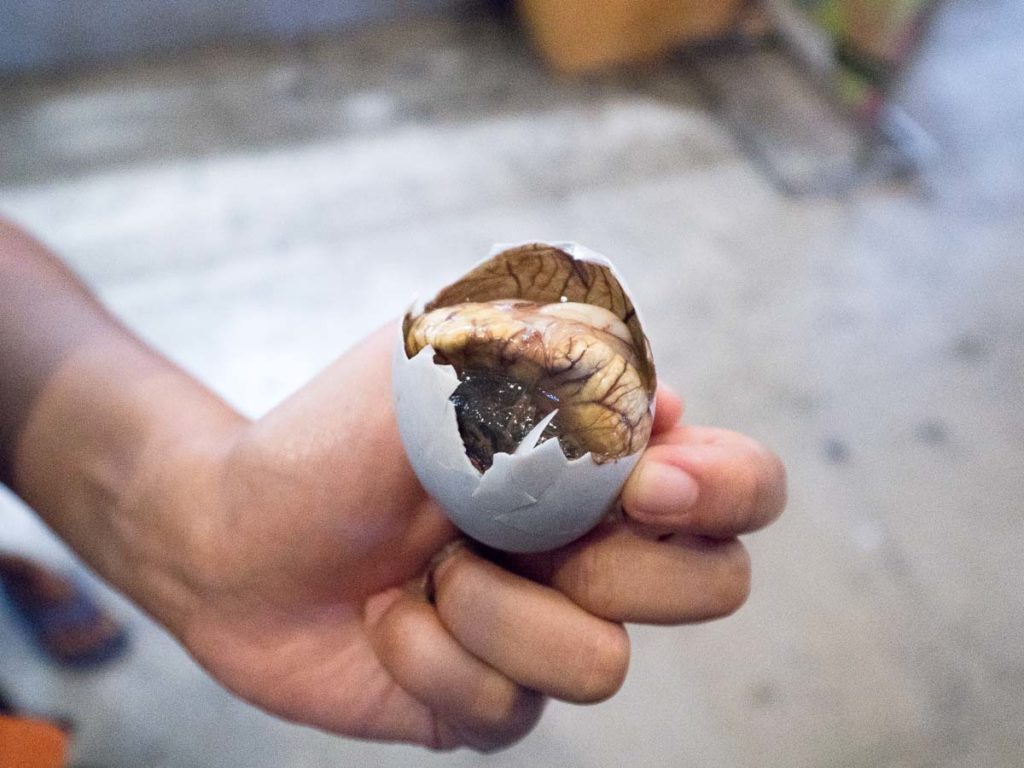 The one we tried was visibly younger and less developed, with a veiny yolk and a harder-to-chew egg white, which is probably easier to swallow as compared to an older, almost-fully formed foetus. It tasted like a chewier version of the hard-boiled egg we're used to.
Opening Hours: 6PM – 12AM (Mon – Sat), opens 12PM on Sun (but closed 5PM – 6PM)
How to get there: 10-min Grab from House of Lechon
Day 2: Mactan Island
Mactan Island is just the start to your adventures with this Cebu itinerary. Exciting water activities and beaches await you!
Beginner's Crash Course to Scuba Diving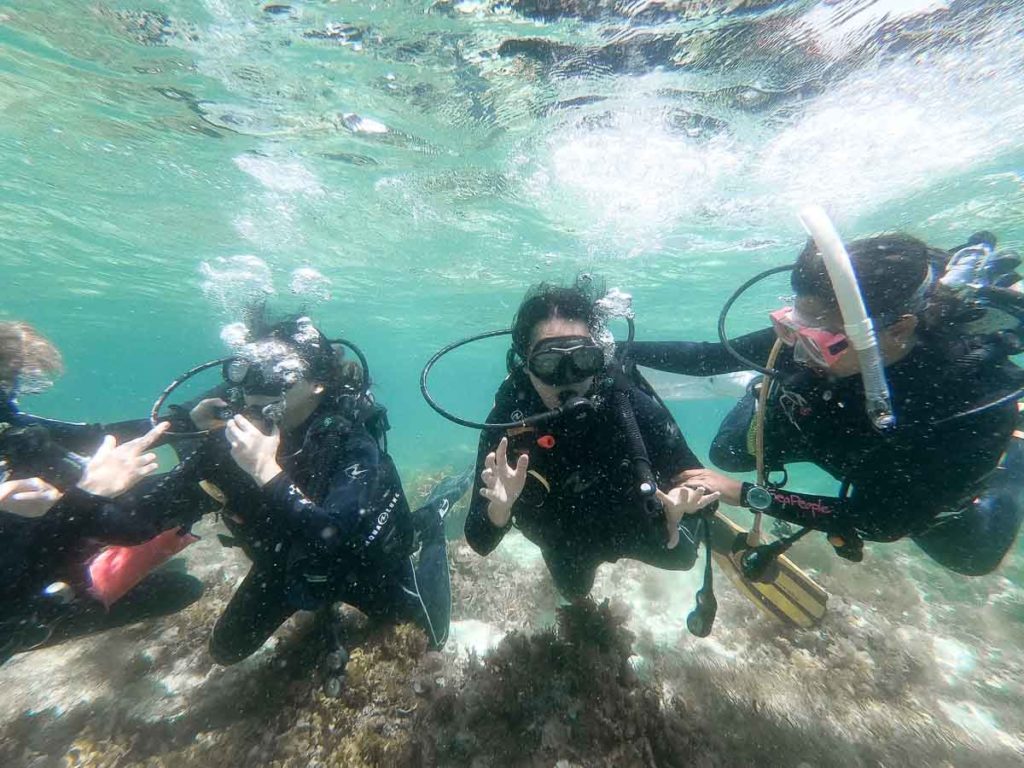 One of the best places to explore in Cebu is about 10m below the surface! Never mind if you don't have a diving certification — this beginner's crash course will teach you the basics in one session.
This won't get you PADI certified but it's good enough to explore the wonderful marine life, coral reefs and fish species you've probably never seen before, like pipefish and the colourful nudibranch.
If it's your first time, the concept of staying underwater for a long time can be terrifying, but rest assured that your diving instructor will brief you adequately and constantly check on you during the dive.
Cost: ~S$91/pax
Tour Timings: 8:45AM – 11:30AM
Meeting Point: Fun & Sun Dive & Travel Office (~₱400 Grab from Cebu City one-way)
Water Sports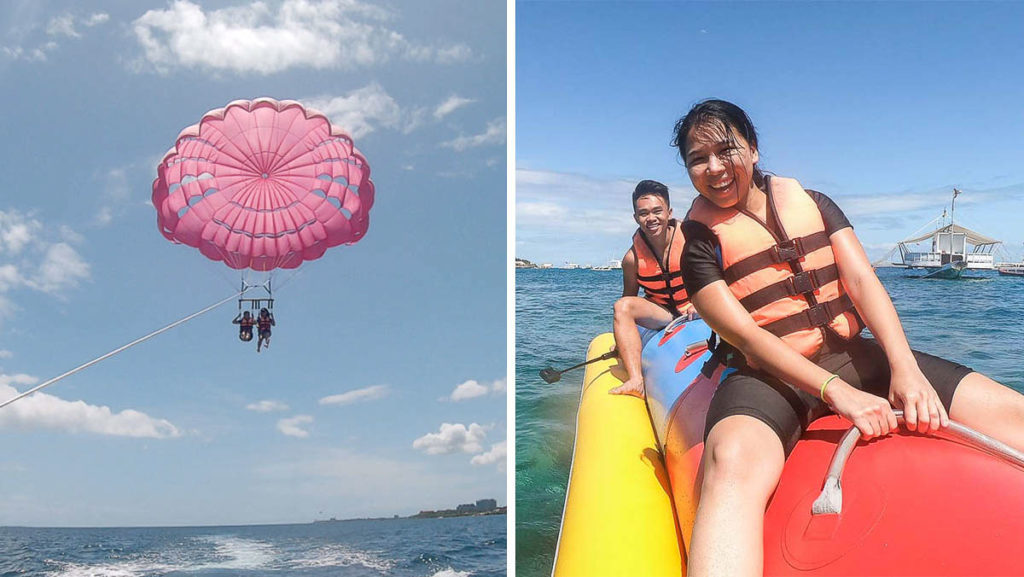 If an hour of scuba diving doesn't satisfy your love for the sea, you can also find on Mactan island a range of exciting water activities, including parasailing, helmet diving, jet-skiing, wakeboarding and banana boat riding.
Cost: From S$52/pax
Activity Timings: Choose a 1.5-hr time slot between 8AM and 5PM
Meeting Point: NTJ Watersports Cebu (30-min Grab from Fun & Sun Dive & Travel, ~₱270 one-way)
*Pro-tip: Get the 3-in-1 package (~S$93/pax) to get the most bang for your buck.
Seafood Dinner at Choobi Choobi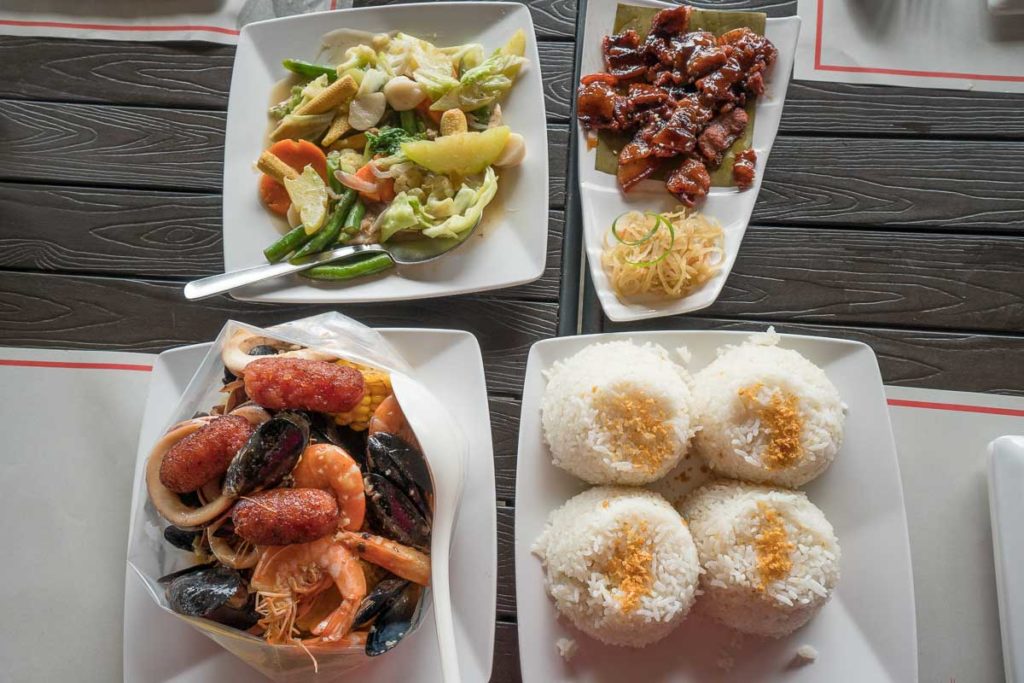 Choobi Choobi is a local seafood chain restaurant serving Filipinos' favourite comfort food. Their specialties include homegrown shrimps, grilled squid and juicy pork belly.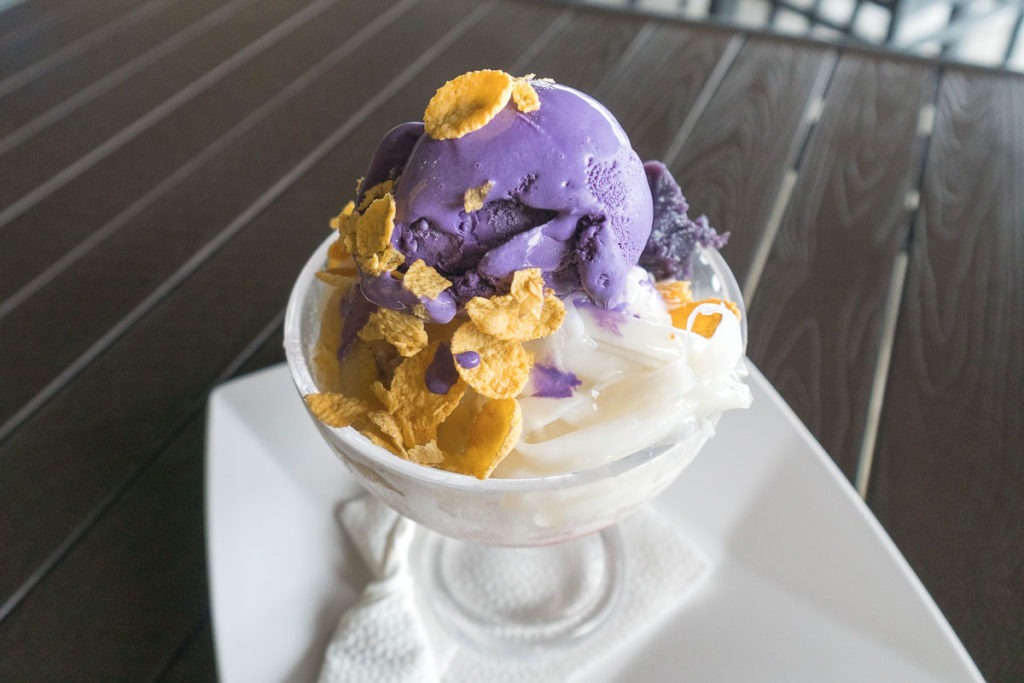 While you're there, try a local Filipino dessert, Halo-Halo — an ube/taro-flavoured ice cream often served with evaporated milk, sweetened beans, coconut shavings and nata de coco.
Cost: From ₱160
Opening Hours: 11AM – 2:30PM, 5:30PM – 10:30PM (Varies for other branches)
Address: F. Cabahug St, Cebu City, 6000 Cebu, Philippines (26 branches in Cebu)
*Pro-tip: If you're a fan of pork belly, order the Belly Dancer for ₱175! Choobi Choobi has some of the juiciest and most flavourful pork belly dishes.
Day 3: Day Trip to Oslob
Swim with Whale Sharks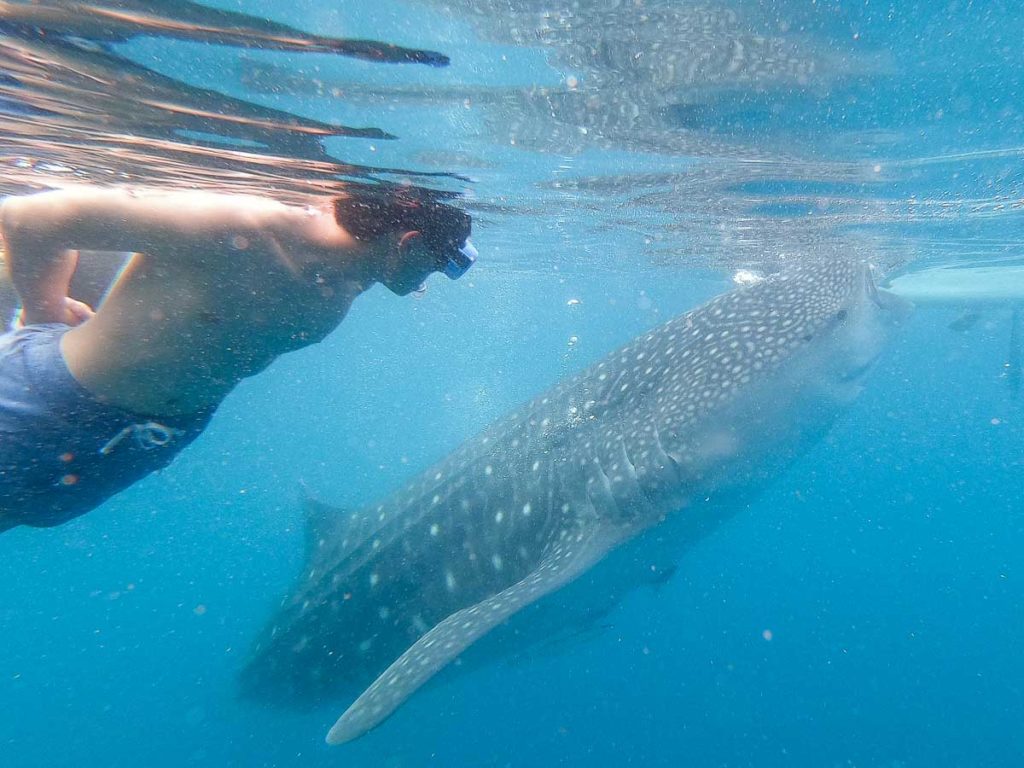 They may look huge, but these whale sharks are actually very tame!
Three hours away from Cebu City is the coastal town of Oslob and the most famous activity here is swimming up close with whale sharks!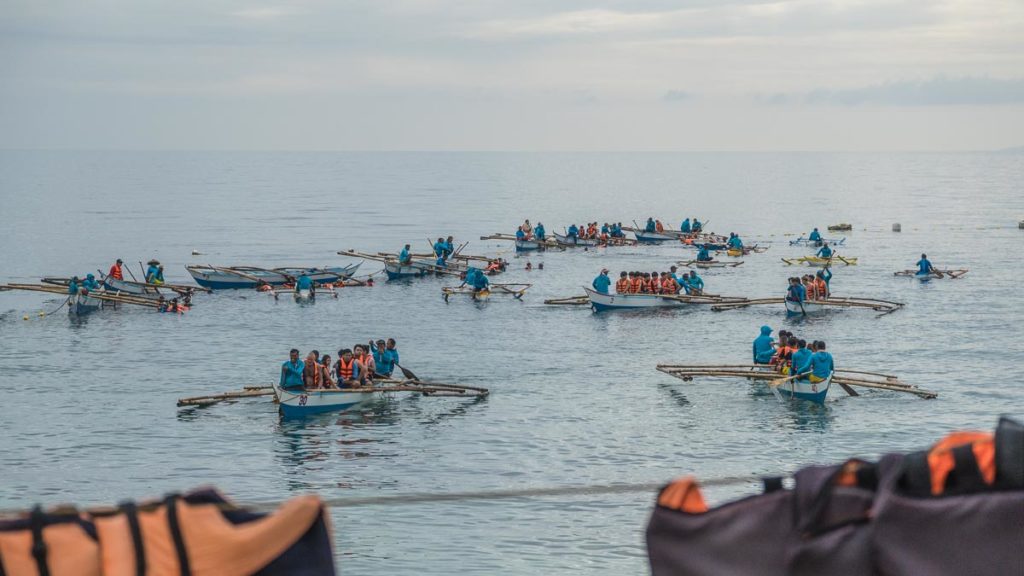 Meeting these majestic whale sharks is a once in a lifetime experience — take a boat out to sea and watch these 10m-long omnivores swim around you while they feed on shrimps from local fishermen.

Although swimming with sharks is one of the highlights in Cebu, it's not without its risks. While most sharks visit Oslob for a short period before moving on, some others may potentially stay all year round, raising alarm that feeding the sharks may cause adverse behavioural effects.
Just listen to the guides, keep a safe distance from the whale sharks and you're golden!
Tour Cost: From S$49/pax for a group of 4
Tour Timing: 5AM – 3PM
How to get there: Free transfers available to and from your accommodation
Read also: 10 Epic Experiences That Are Surprisingly Affordable in Cebu
Unwind in a Local Café Back in Cebu City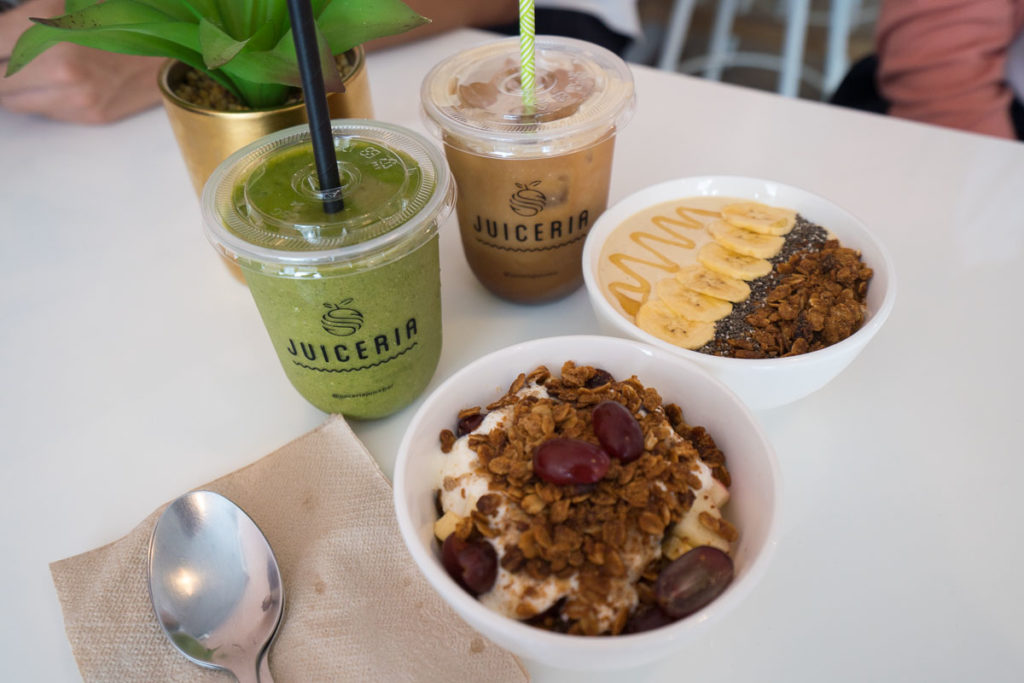 Juiceria is a local café which serves healthy smoothies, toasts and bowls. Just a 10-minute walk from our hostel, this photo-worthy café has a great atmosphere for casual conversations and good food at affordable prices!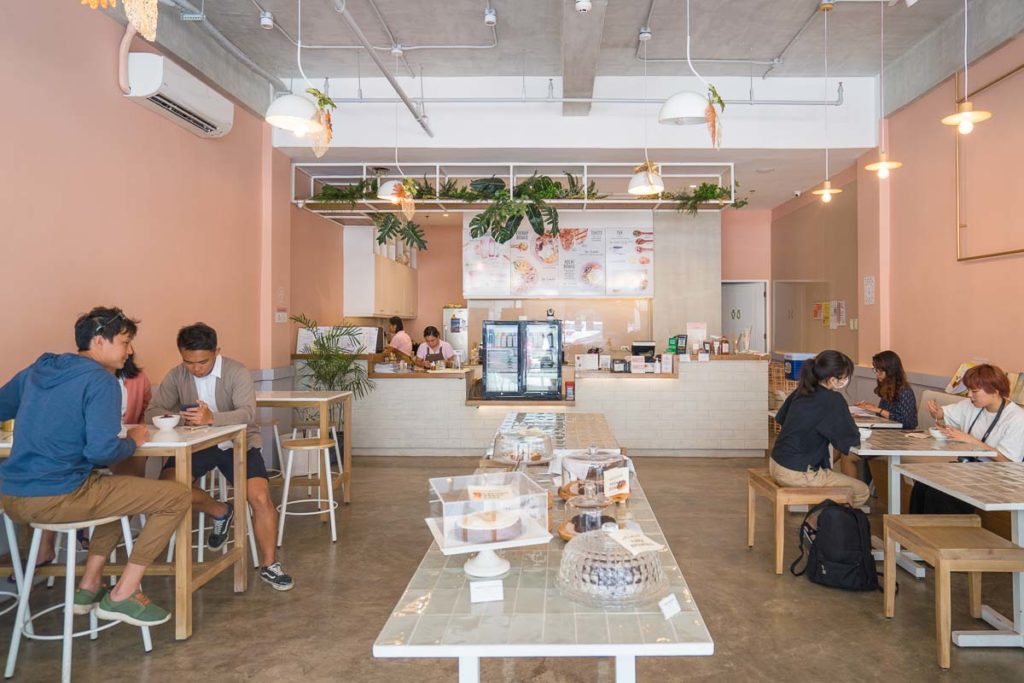 Cost: From ₱170
Opening Hours: 10:30AM – 7:30PM
Address: Bonifacio District, F. Cabahug St, Cebu City, 6000 Cebu, Philippines
Dinner at Sugbo Mercado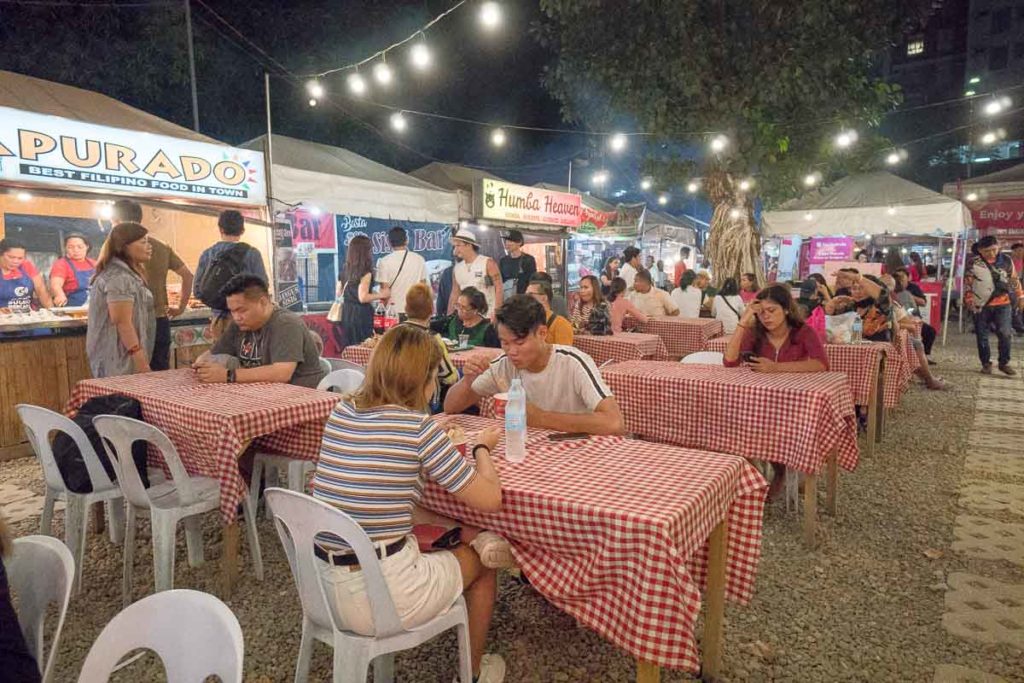 This is where you really get to understand Filipino culture with its food. Sugbo Mercado is one of the top food markets in Cebu, and they take pride in providing local foodpreneurs a platform to showcase their eats to a wider audience.
There's over 65 stalls to try, including the famed lechón, refreshing Ally Mango shakes, cheese scallops and bubble tea ice creams!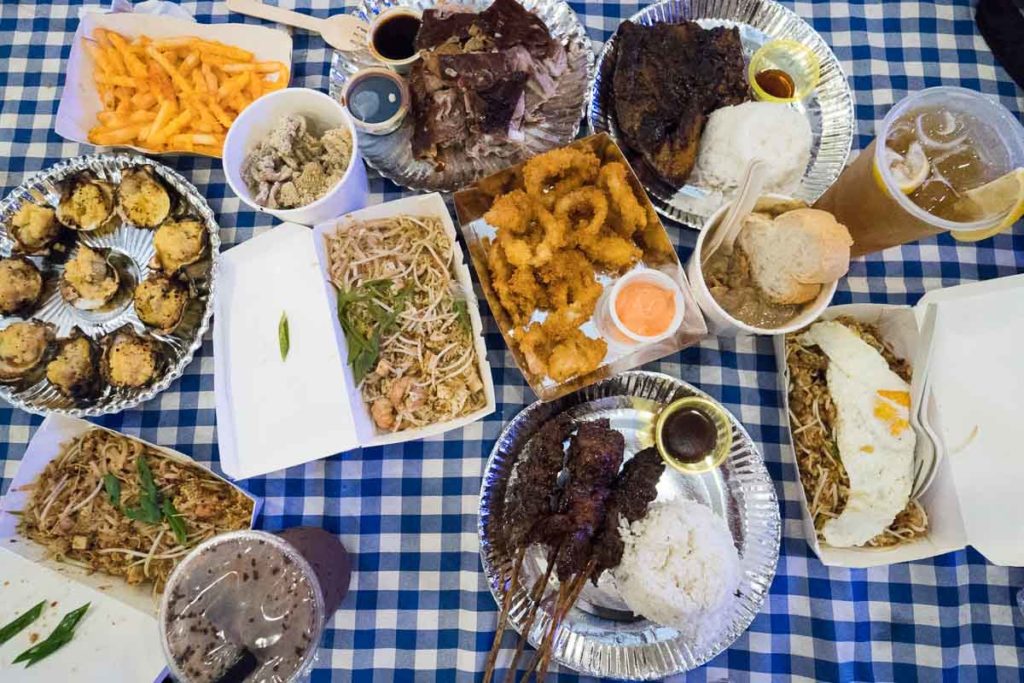 Wide spread of food in Sugbo Mercado, including grilled meats, pad thai and fried mushroom calamari.
Sugbo Mercado also provides a platform for local musicians to perform and gain exposure, so you can enjoy live acoustic performances while having your meal.

While this is the biggest market, there are two others with totally different vibes worth checking out too — Street Food by Sugbo and The Market by Sugbo Mercado.
Cost: From ₱100
Opening Hours: 5PM – 1AM (Thu – Sun only)
Address: Garden Bloc, I. Villa St, Apas, Cebu City, 6000 Cebu, Philippines
Day 4: Day Trip to Bohol
A two-hour ferry from Cebu City will bring you to Bohol Island, famed for its mole-shaped Chocolate hills and as a tropical paradise to many. The ferry runs about once every hour daily from 5:10AM – 6:30PM.

Getting to and around Bohol: Pre-book your ferry to skip the queues at the port. Grab is unavailable in Bohol and taxis are less accessible — you'll have to rent a local driver for the day (~₱2,500 for an 8-person van) or a motorbike that costs ₱550 or higher.
Explore Chocolate Hills on an ATV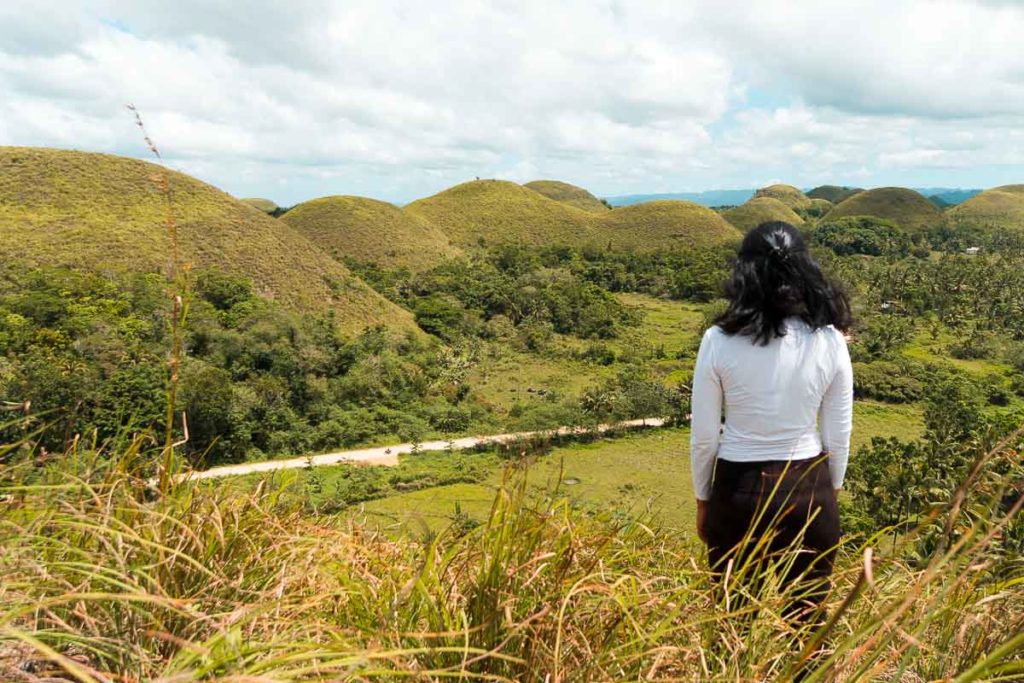 Cue "Top of the World" 🎶
Bohol's Chocolate Hills is a natural geological wonder and is sometimes considered the "Eighth Wonder of The World".

While we visited the viewpoint in Carmen, there's another popular viewpoint for the Chocolate Hills on Sagbayan Peak.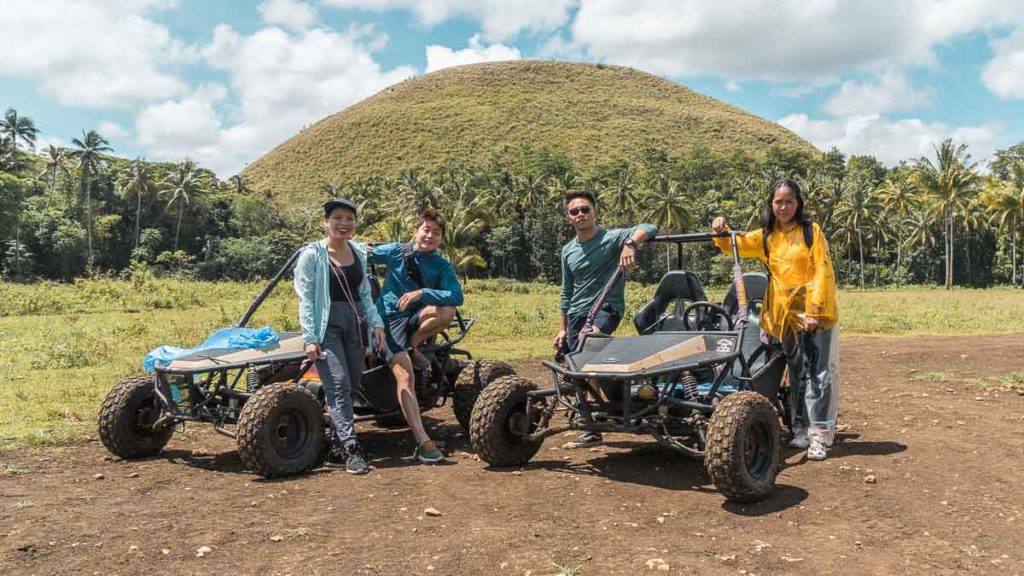 If you've booked private transport, your driver will drop you off right below the Carmen viewpoint. But we also highly recommend exploring more on an ATV!
They are available for rent from various vendors located at the bottom of the complex — choose from single ATVs or two-person buggies available for a minimum rent of ₱1,000/hour and ₱1,800/hour respectively. We recommend that you bargain to find a price that suits your budget.

You may also approach various locals to enquire on a hill suitable for climbing.
Entrance Fee: ₱50
Opening Hours: 8AM – 5PM (for ATV rental, viewpoint closes at 11:30PM)
Address: Chocolate Hills, Carmen, Bohol, Philippines
Meet the Endangered Tarsiers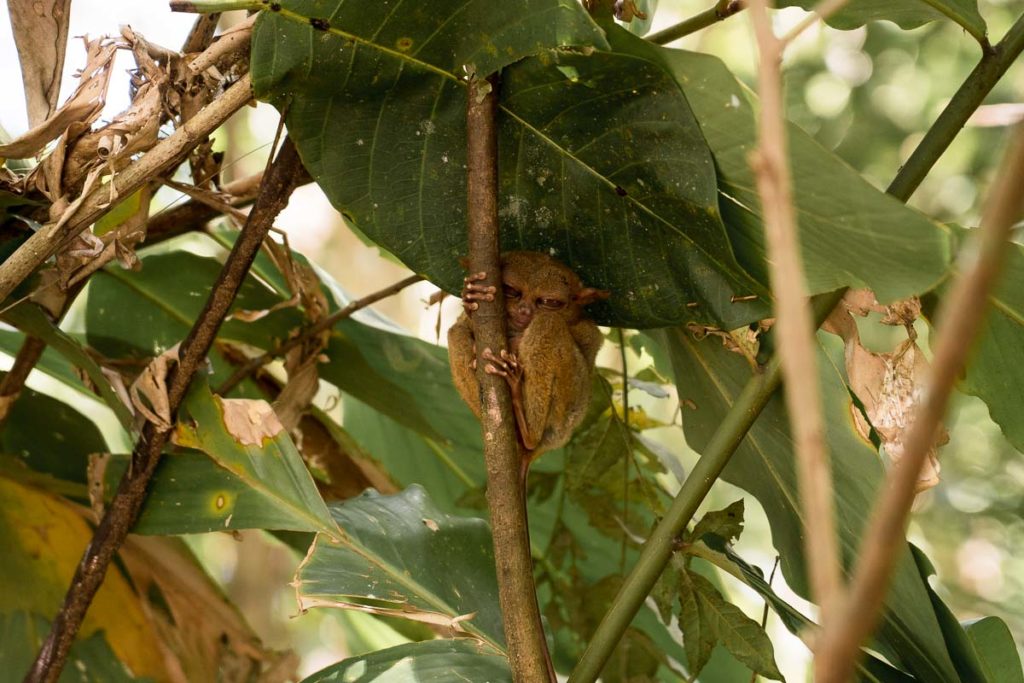 Meet these tiny nocturnal primates, but do remember to remain silent as they're sleeping!
A 30-minute drive from Chocolate Hills is the Tarsiers Conservation Area. Considered one of the smallest primates in the world, tarsiers are currently endangered and this conservation area serves to educate people and breed these tarsiers. This visit takes under 20 minutes, and you walk away knowing more about these primates through conversations with the keepers.
Entrance Fee: ₱100
Opening Hours: 8AM – 5PM
Address: Loay Interior Road, Loboc, Bohol, Philippines
Drive Through the Bilar Man-Made Forest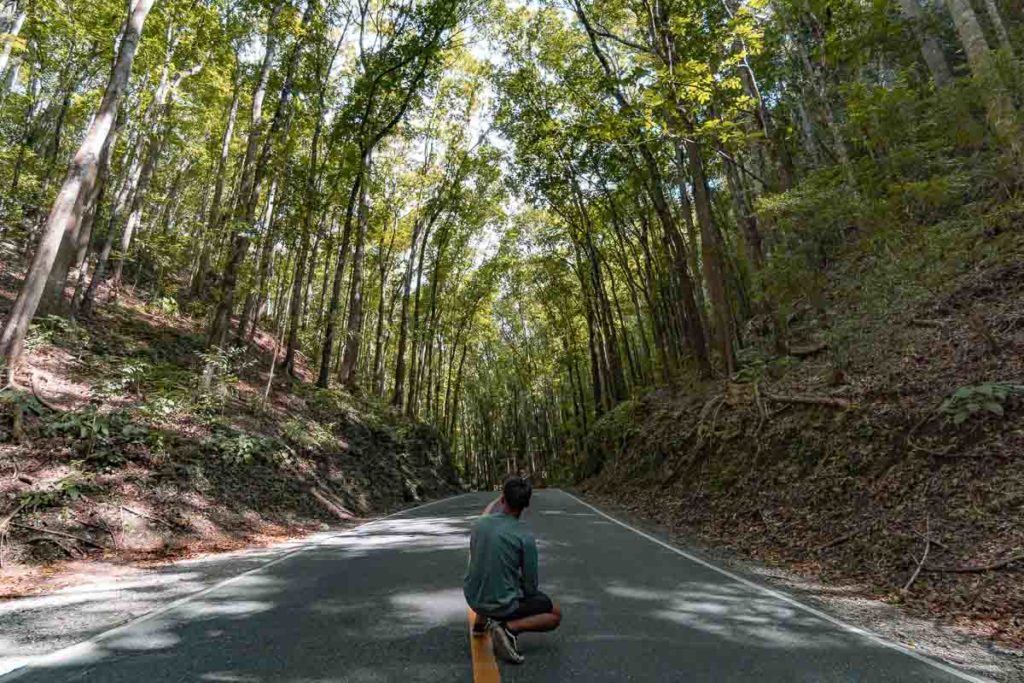 The Bilar Man-Made Forest is on the main road, en-route to the Sipatan Twin Hanging Bridge. Ask your guide to stop at the side of the road for a photo!
Take Photos at the Sipatan Twin Hanging Bridge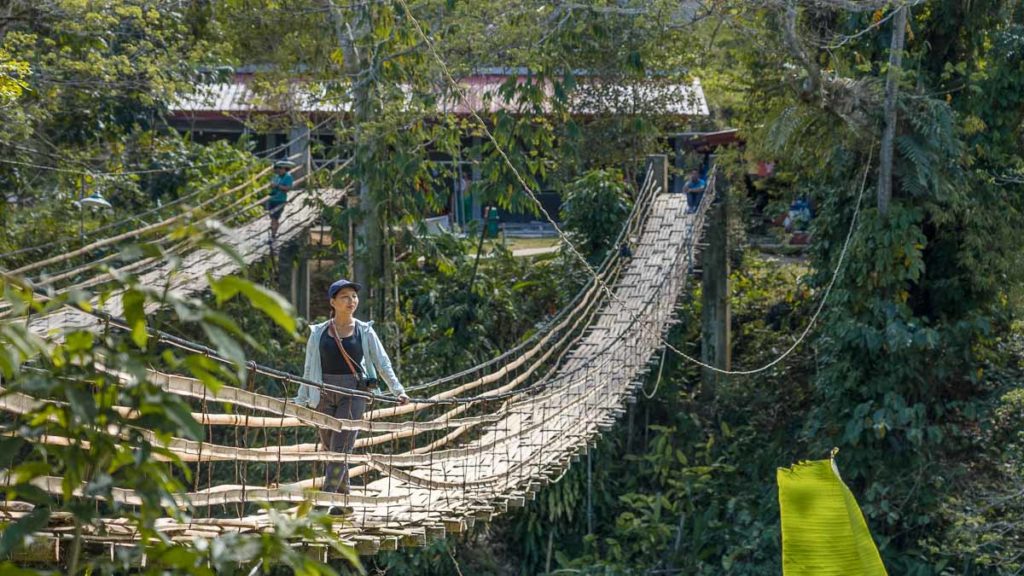 Another 15 minutes away, you can find the Instagram-worthy twin hanging bridge!
Initially made of just bamboo and rope, this was once a functional bridge used to transport goods between villages across the Locboc River. Today it is reinforced with steel wires and has transformed to become a popular photo spot for tourists.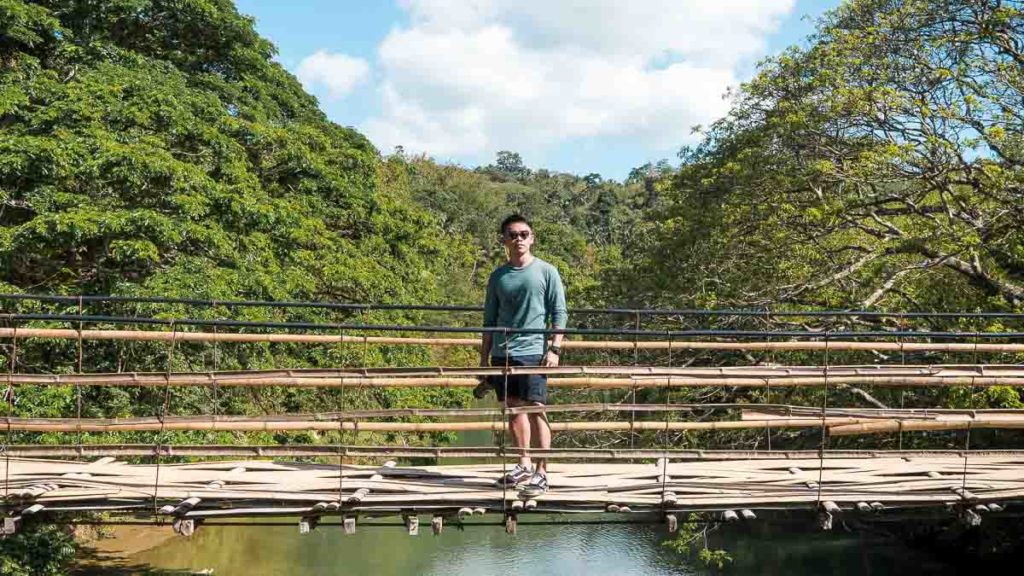 Entrance Fee: ₱35/pax
Address: Loboc, Bohol, Philippines
Cliff Jump at Molave Cove Resort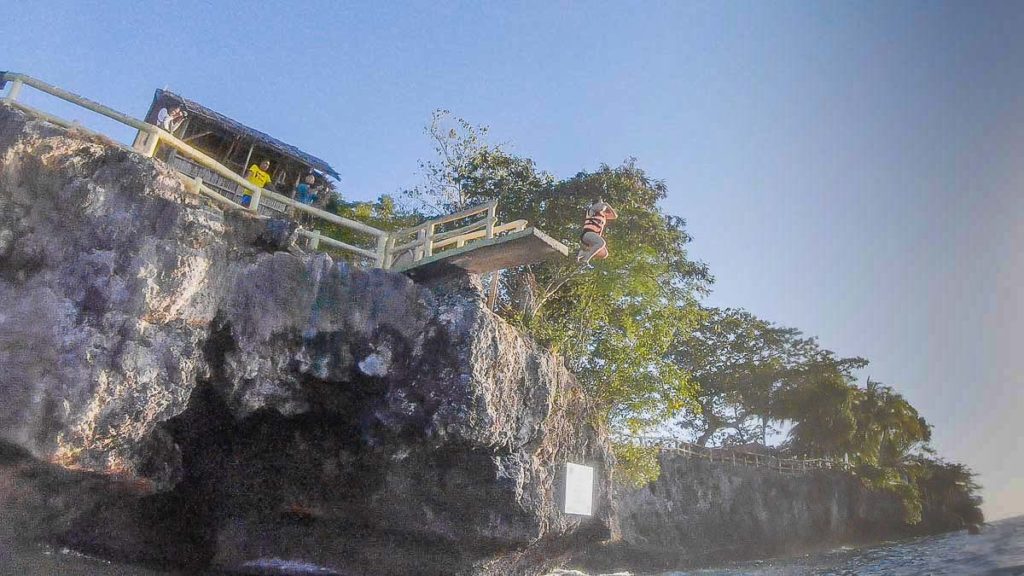 Cliff jumping and cave swimming are a huge part of the Bohol experience. Unwind after a long day at Molave Cove Resort, where you can cliff jump from 5m high, or snorkel along the straits of Cebu.
Don't forget to catch the last ferry at 6:30PM from the Tagbilaran Ferry Terminal!
Entrance Fee: ₱200, optional ₱150 for life vest rental
Opening Hours: 8AM – 6PM
Address: Purok 4, Panglao, Bohol, Philippines
Barbecue Dinner Back in Cebu City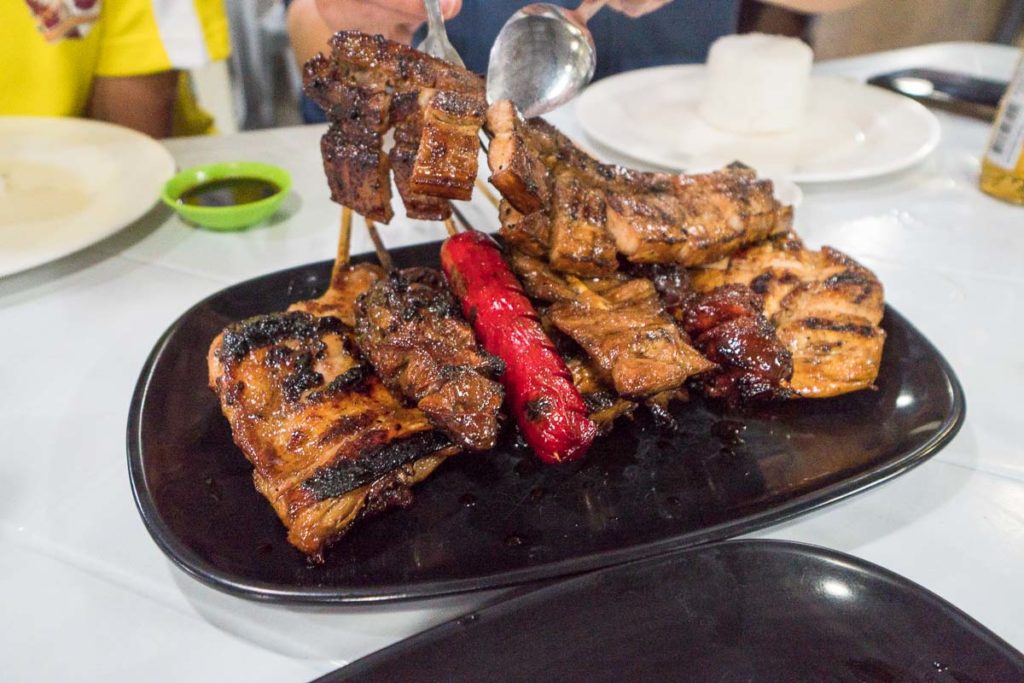 Located just a 15-minute drive away from the port, Yakski Barbecue takes pride in its grilled meats on skewers, serving juicy pork bellies, various chicken parts including the heart and gizzard, and sausages.
After a long day touring Bohol, this meal was the cherry on top. Quench your thirst with some cheap local San Miguel beer (less than ~S$2) to go with your meal.
Cost: From ₱25/stick
Opening Hours: 11:30AM – 2:30PM, 5:30PM – 12AM (Mon – Sat), 5:30PM – 12AM (Sun)
Address: 268 Don Mariano Cui St, Cebu City, 6000 Cebu
Day 5–6: Moalboal
Accommodation in Moalboal: Krismark Diving Lodge — from S$48/room
A three-hour drive from Cebu City brings you to the west coast where Moalboal is. The tours recommended below include private pick-up services from your accommodation in Cebu City (saves you that cab ride from Cebu to Moalboal)!
Option 1: Badian Canyoneering Adventure and Kawasan Waterfalls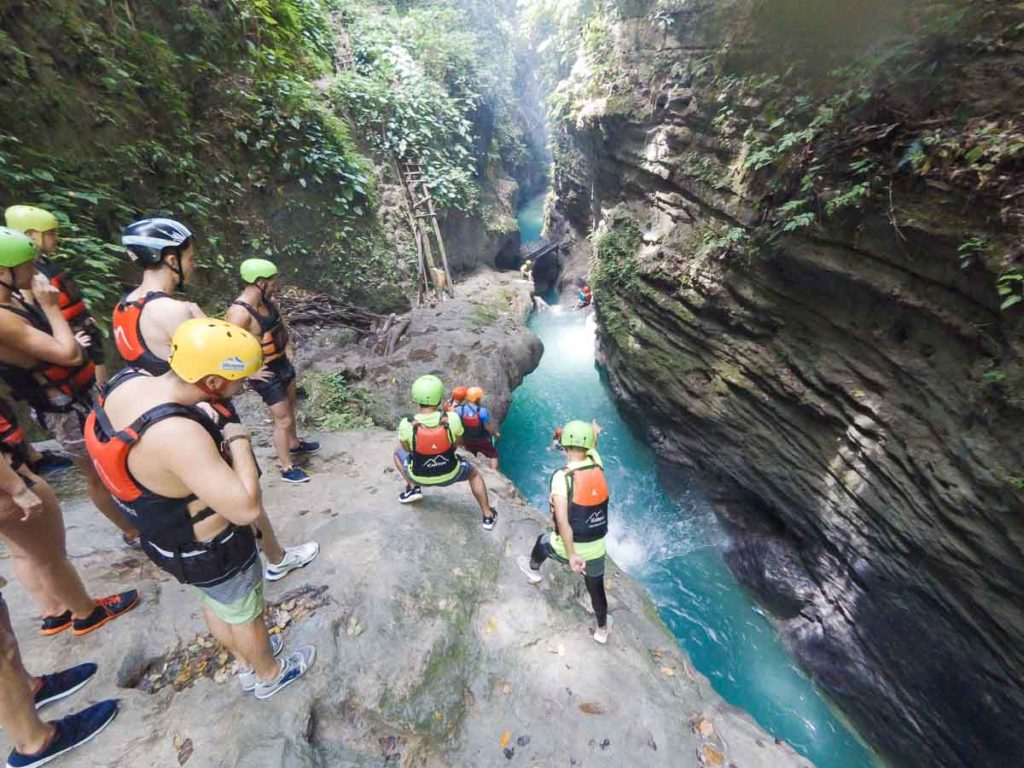 For the thrill seekers, a visit to Moalboal wouldn't be complete without a visit to Badian for canyoneering.
Start with a zip-line (available as an add-on) through Badian's nature landscapes before trekking, jumping and sliding off cliffs before arriving at the famous Kawasan Falls — a 26m-tall waterfall surrounded by naturally blue waters #nofilter.
The highest jump here is a terrifying 15m so you'd definitely need a bit of courage for this one. Of course, the higher jumps are optional but what's the fun in that right? 😉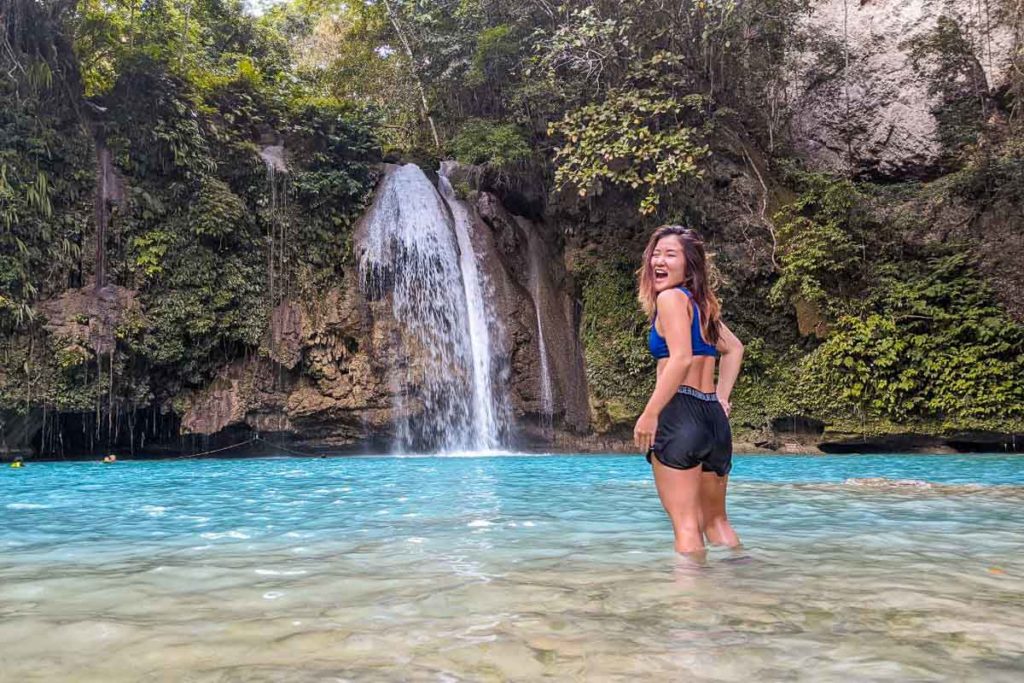 Tour Cost: From S$64/pax
Tour Timing: 5AM – 12:30PM
How to get there: Free transfer from Cebu City
Option 2: Pescador Island Hopping Tour and Sardine Run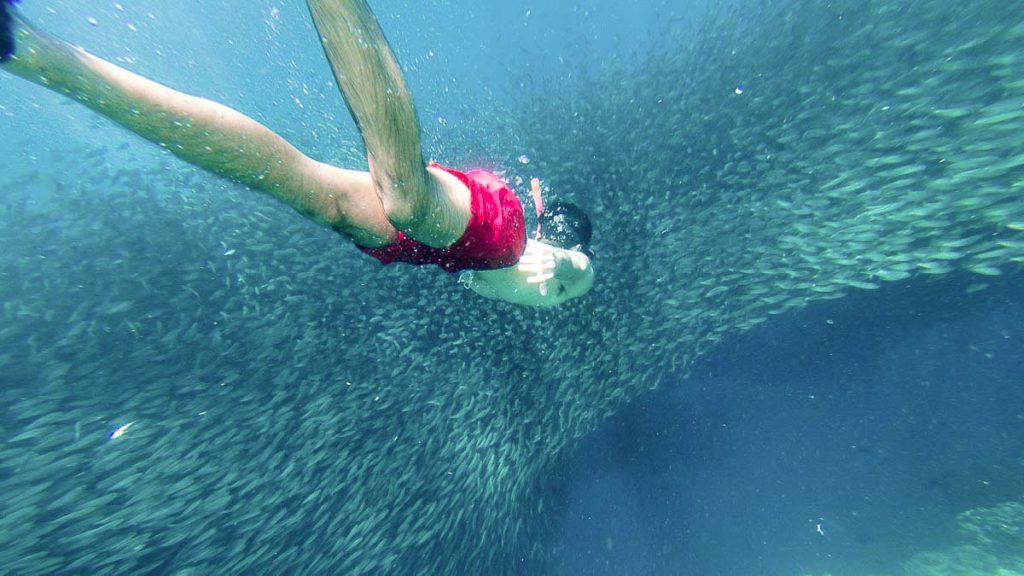 If jumping off 15m cliffs isn't your thing, Moalboal is equally famous for its sardine runs. This Pescador island hopping tour brings you to three different snorkelling points around Pescador Island to spot millions of sardines swimming as a pack.

You might even get a chance to see sea turtles up close on Talisay Point!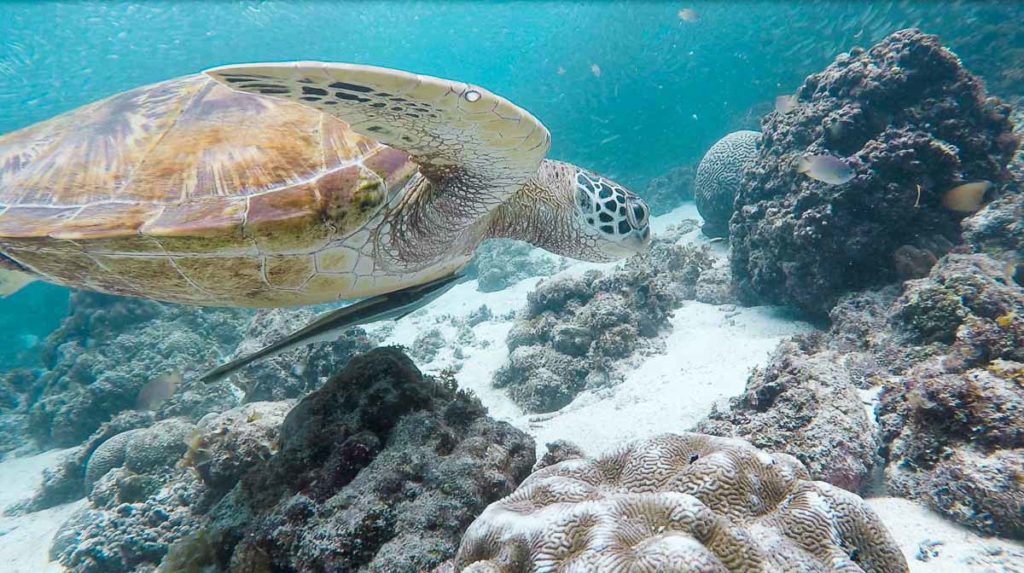 Tour Cost: From S$198/boat of up to 4 pax
Tour Timing: 5AM – 12:30PM
How to get there: Free transfer from Cebu City
*Pro-tip: These tours include transfers back to Cebu City but if one day in Moalboal isn't enough, you can request to be dropped off at your accommodation in Moalboal.
Sunset on Panagsama Beach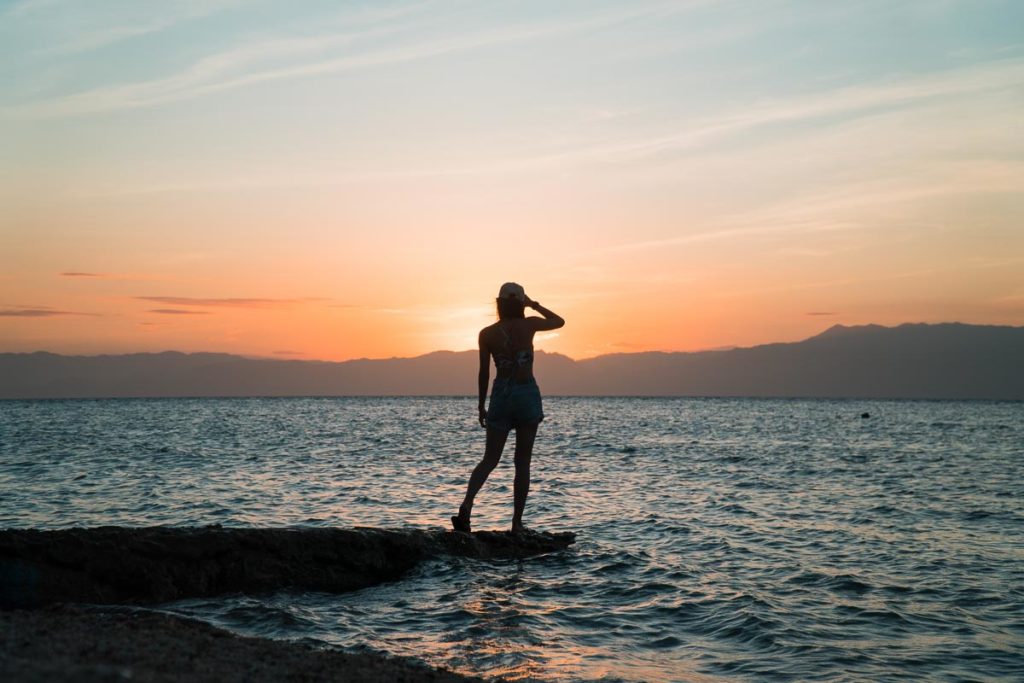 Relax after a long day on a beach close to your accommodation, and you'll find plenty of food vendors and establishments surrounding the area.
Entrance Fee: Free
How to get there: Located 10 mins south from Krismark Diving Lodge
Day 6: Hiking and Kayaking
Breakfast at Shaka for Acai Bowls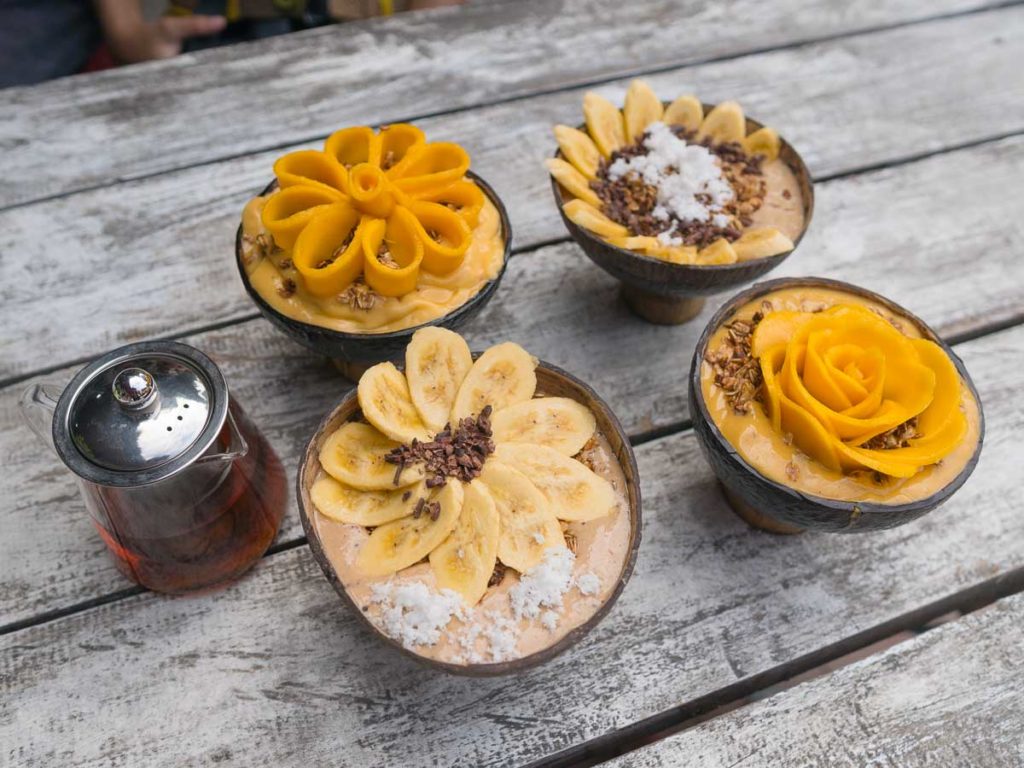 Start your day well with acai bowls by Shaka. They're a local franchise, popularly loved for their healthy and great-tasting acai bowls, smoothies and cold-press juices. We gave the Bom Dia Bowl (₱250) and Cloud 9 Kook bowl (₱250) a try — they were absolutely delicious and came in surprisingly generous servings!
Cost: From ₱200
Opening Hours: 6:30AM – 6:30PM, closed on weekends
How to get there: Located just beside Krismark Diving Lodge, along Panagsama Road
Hike to Casino and Osmeña Peak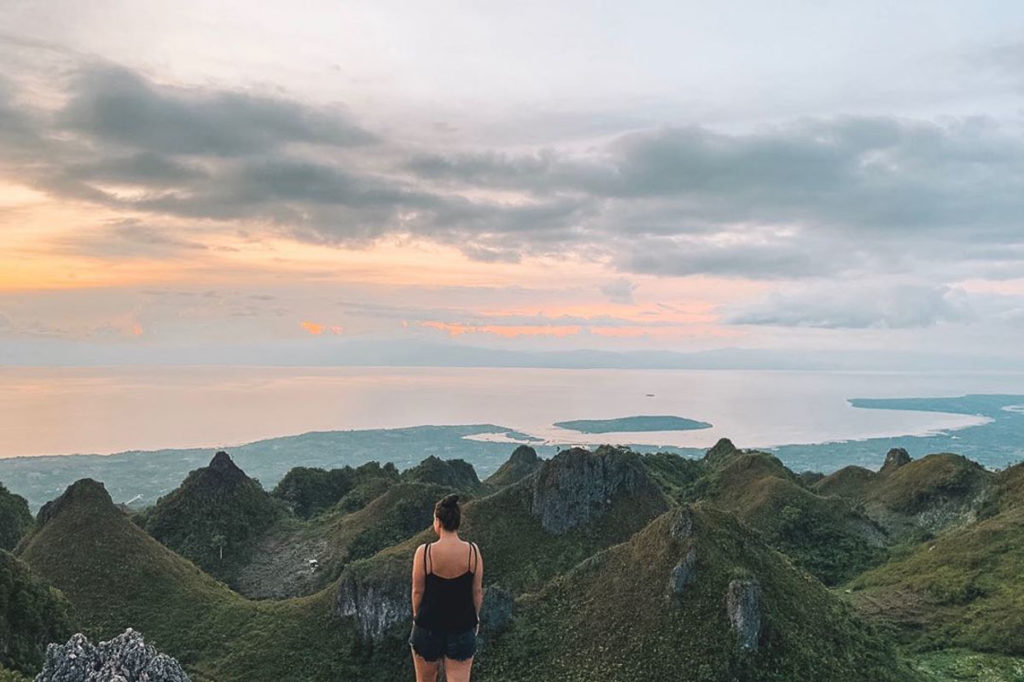 Photo credit: Larissa Nardini
A trip to Moalboal isn't complete without a hike to Casino and Osmeña Peak. Arguably one of the best hikes in Cebu, its views and experience rivals that of the Chocolate Hills.

As Grab is not available in Moalboal, take a motorbike (habal-habal) or hire a local driver from the centre of Pangsama Road. We managed to bargain for a private van charter (fits up to 11) for ₱3,000 (round trip).
From the drop off point, it's only a 15-minute hike to the summit of Casino Peak, and you can take an additional hour-long hike to Osmeña Peak.
Entrance Fee: ₱30
How to get there: 2-hour drive from Moalboal
Kayak along Moalboal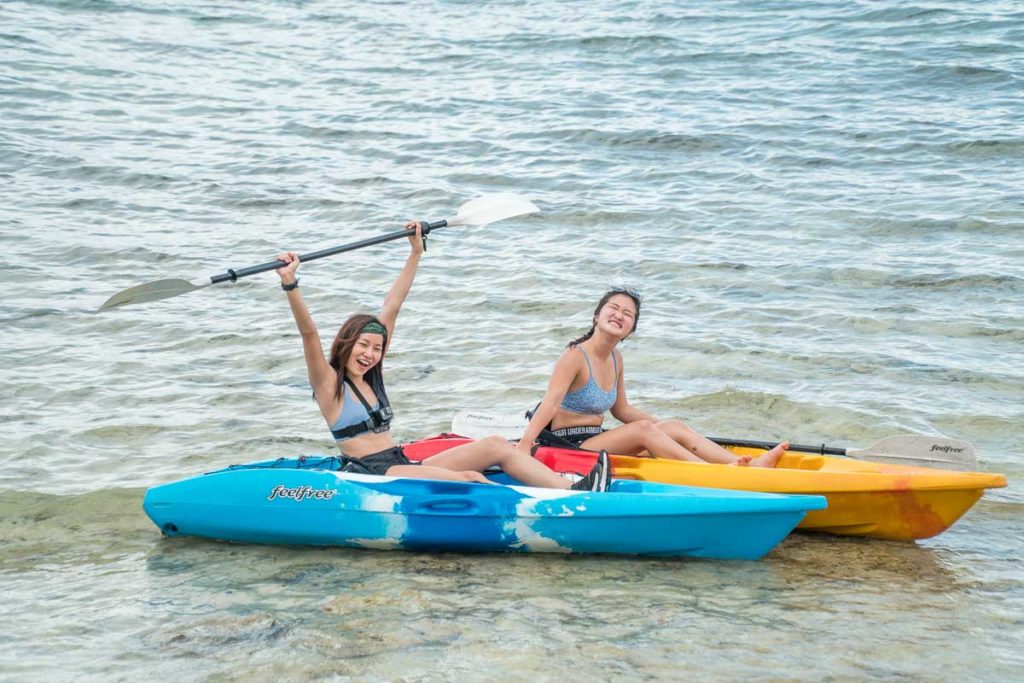 If you have some time to kill before your ride back to Cebu City, stop by Mayim Beach Bar to rent kayaks. Enjoy a relaxing afternoon passing by fishermen and a view of the mountains in the horizon!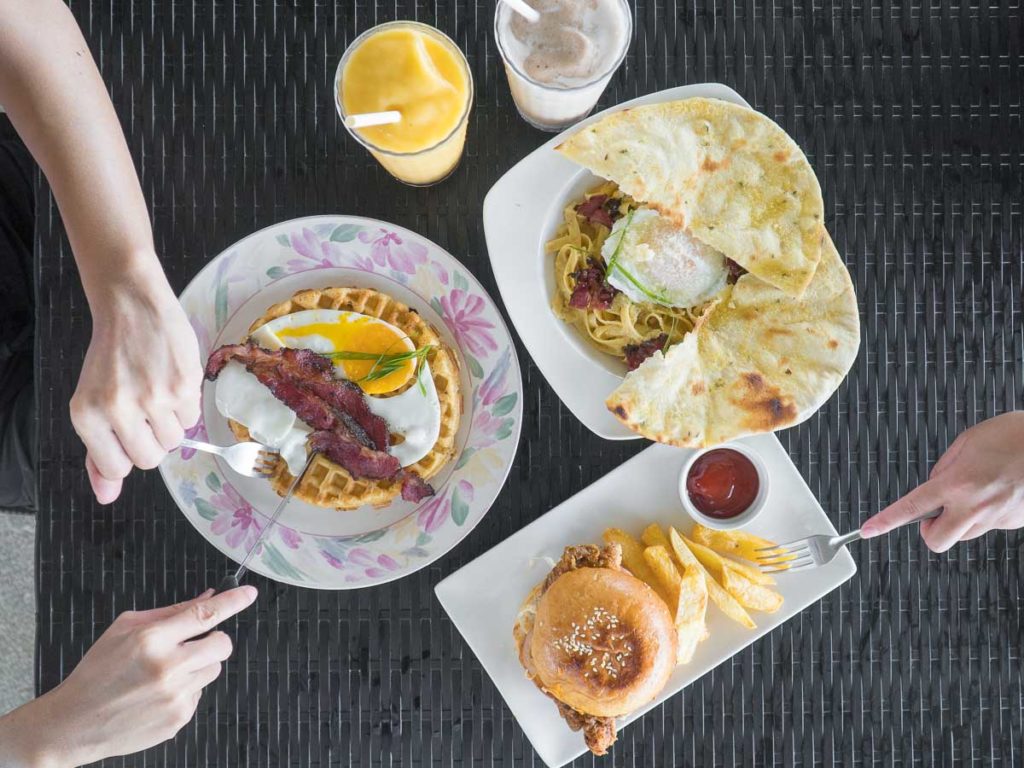 After the brief workout, treat yourself to a sinful spread. We love how this restaurant serves pretty good waffles, burgers and pastas at slightly cheaper prices than surrounding restaurants. It has an amazing seaside view too!

We tried the Mighty Waffles (₱220), Breakfast Pasta (₱200), Spicy Fried Chicken Burger (₱225), Banana Cinnamon Shake (₱85) and Banana and Mango Shake (₱110).
Cost: Food from ₱165, ₱200 for kayak rental
Opening Hours: 8AM – 9PM, closed on Sat
Address: Panagsama Rd, Moalboal, Cebu, Philippines
Day 7: Island Hopping in Cebu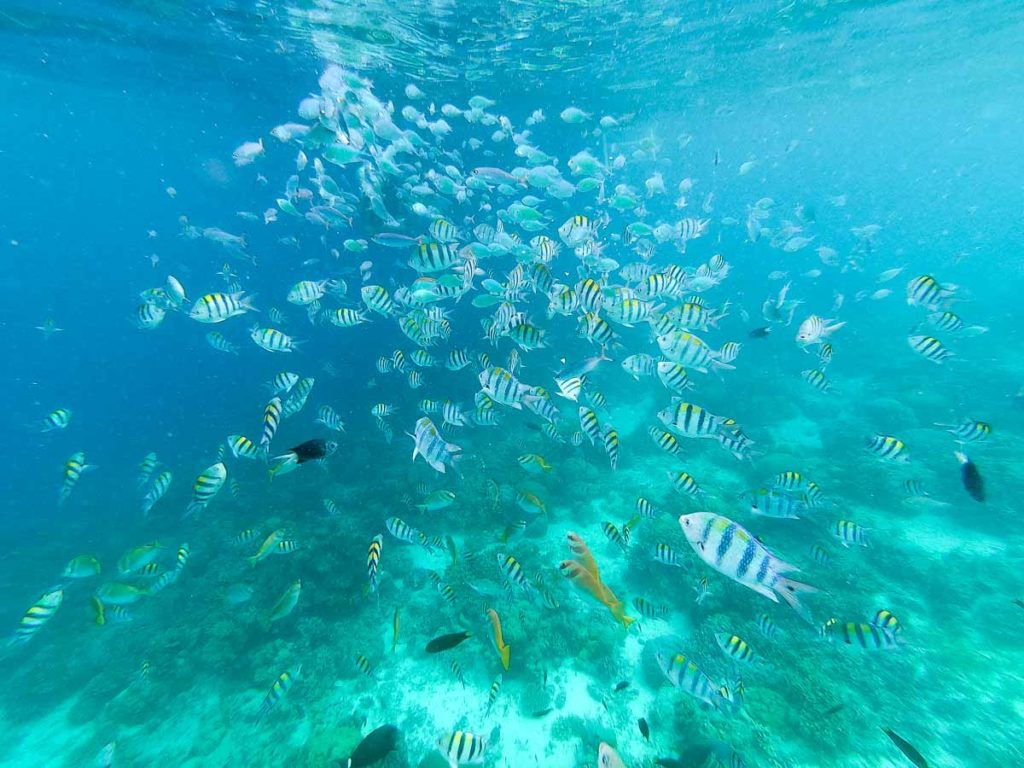 Philippines is known for its many islands, and what better way to spend your last day in Cebu than with island hopping? You can choose to do this as a half-day tour to explore three islands and the amazing sea creatures and beaches they have to offer.
Swim and snorkel with beautiful tropical fish at Hilutungan Marine Sanctuary, before visiting beautiful white beaches on Pandanon Island, where you'll also find locals grilling a variety of meats.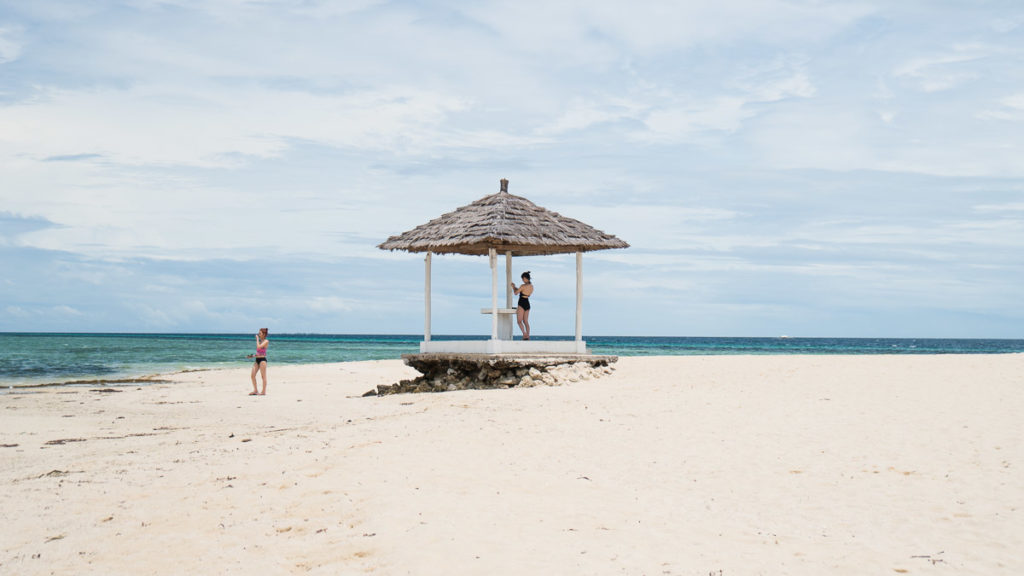 Afterward, make your way back to the boat for a scrumptious barbecued meal cooked by your guides.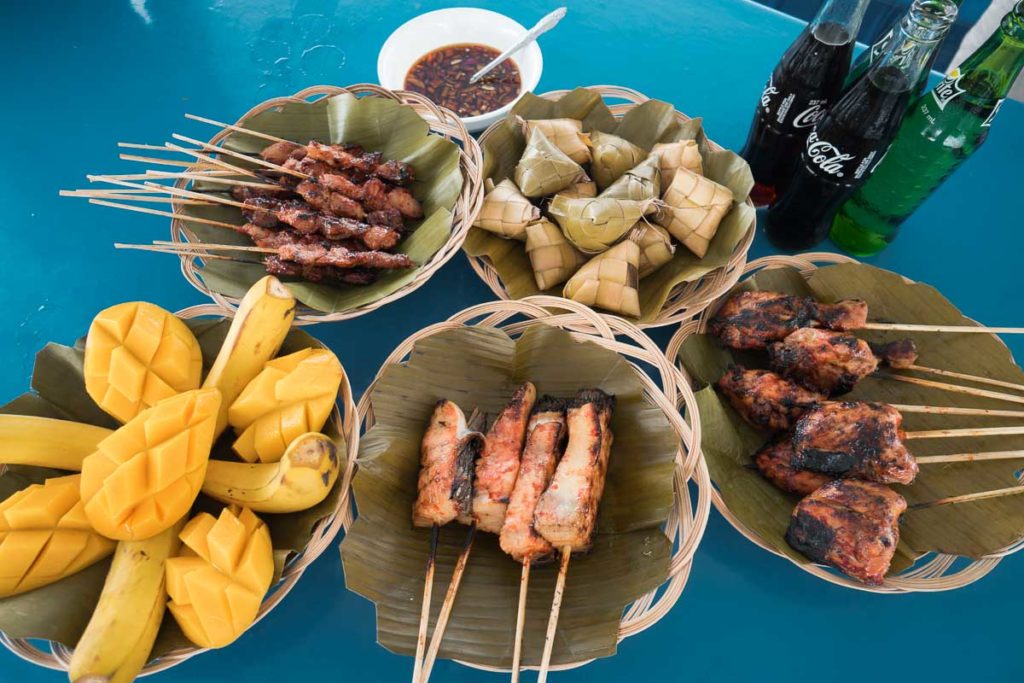 End your tour with another swim near the Nalusuan Marine Reserve. You might be lucky to find a variety of starfish species!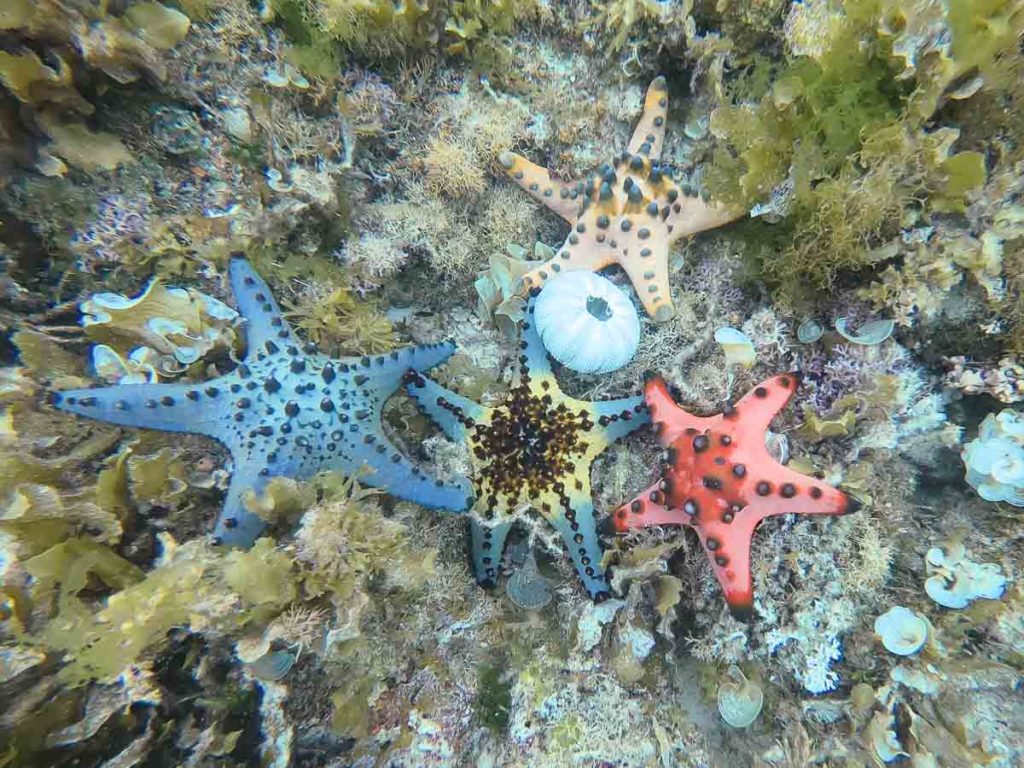 Cost: ~S$58/pax
How to get there: Add-on private charter from your accommodation to the meeting point.
Accommodation in Cebu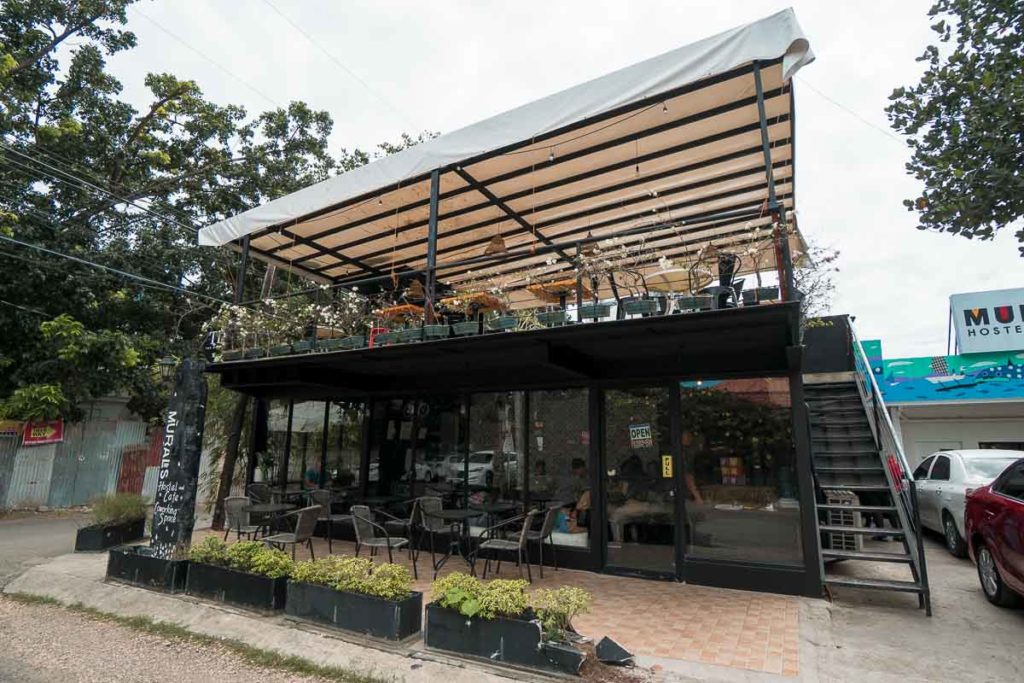 Accommodation in Cebu City: Murals Hostel and Café is a cosy hostel with a large co-working space and café for guests. It's a short seven-minute drive from Ayala Center Cebu and is good as a base for your day trips around the island.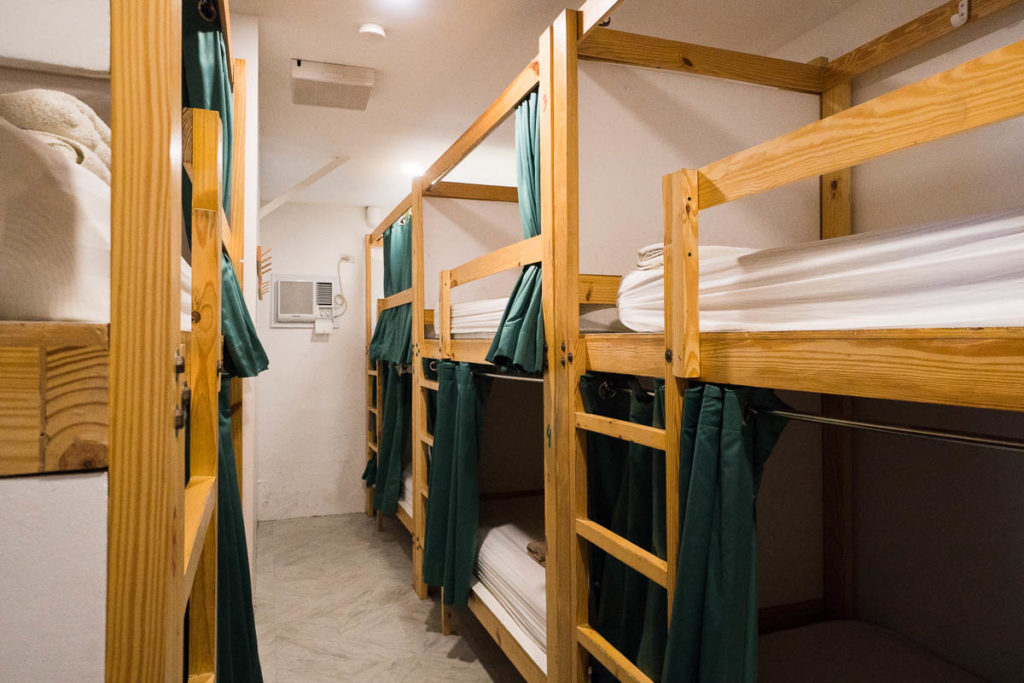 Cost: From S$17/pax (dorm rooms and private rooms available)
Address: Corner President Roxas and President Magsaysay Streets, Kasambagan, 6000 Cebu City, Philippines
Accommodation in Moalboal: Krismark Diving Lodge is located in the heart of all the action in Moalboal.
Cost: From S$44/night
Address: Panagsama Beach, 6032 Moalboal, Philippines
Exploring Cebu for the First Time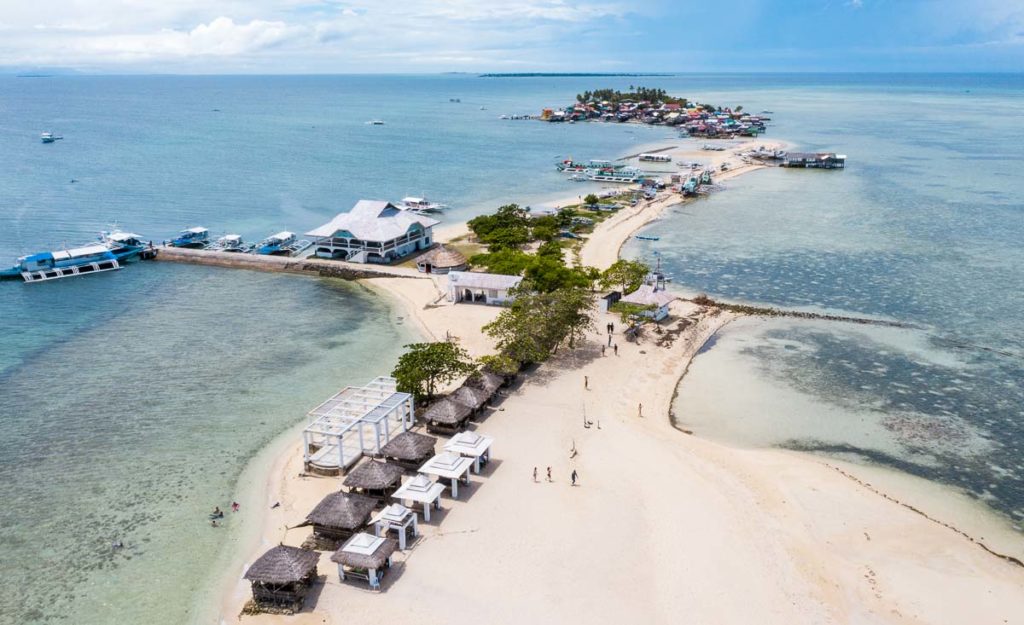 Through the numerous water sports, activities, food and interaction with the locals, I've learnt so much about the Philippines and its culture just from a week here. This first trip to the Philippines will definitely not be my last!
While planning activities and transport between towns may require a lot of coordination, we were able to plan all that we needed seamlessly through the Klook app.
Here's a list of everything we booked in this Cebu itinerary:
1) Cebu Airport Transfer — from S$16/car
2) 4G Sim Card (Collect at Airport) — from S$10/card
3) Introduction to Scuba Diving on Mactan Island — S$91/pax
4) Water Sports on Mactan Island – from S$52.45/pax
5) Oslob Whale Shark Watching Tour — from S$49/pax for a group of 4
6) Cebu-Bohol OceanJet Ferry Ticket — from S$15.79/way
7) Badian Canyoneering and Kawasan Waterfalls Day Tour — from S$64/pax
8) Pescador Island Hopping Private Tour — S$198.85/boat of up to 4 pax
9) Hilutungan, Nalusuan and Pandanon Island Hopping Tour — from S$58.25/pax
Spending more time in the Philippines? Check out our Palawan guide and the exciting activities available at Puerto Princesa!
What's the activity you want to try the most in this Cebu itinerary? Let us know in the comments below!
---
This post was brought to you by Klook.