Remember how playgrounds in Singapore looked like this: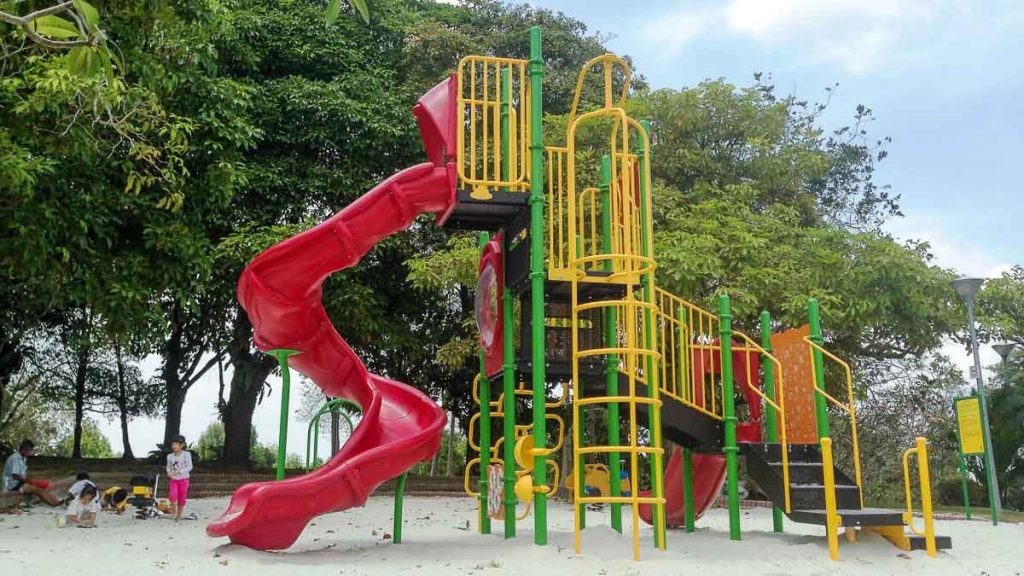 Photo credit: NParks
A simple slide, spring riders, and something to climb — this was the playground I grew up with. And I was so content.
But gone are the days of mismatched brightly coloured metal structures in sandy pits. Playgrounds these days are on a whole other level. From four-storey high play features to a playground with a whopping 26 slides? Just imagine how much joy that brings. If you think you've missed out — the good news is these playgrounds are age-inclusive and open to all. So those who are young at heart can still enjoy.
We went around Singapore looking for some of the cooler ones, so here are seven outdoor playgrounds in Singapore we wish we had as kids!
1) The Wonderland Playground (Queenstown)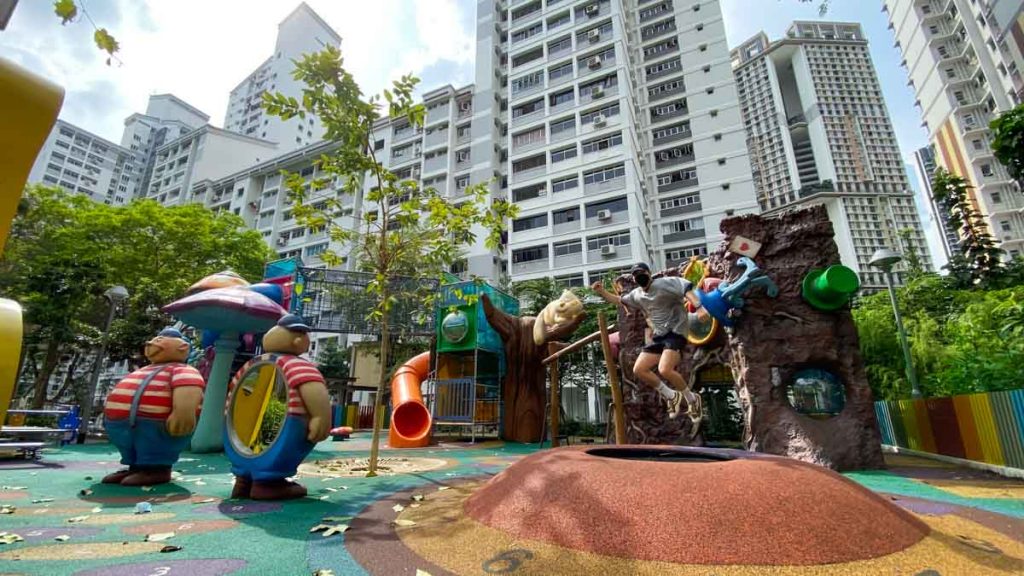 If you loved Alice in Wonderland as a kid, you might catch yourself smiling like a Chesire Cat on this one. The Wonderland Playground can be found in Queenstown and is perfect for adults who wish to travel back in time and relive some childhood memories.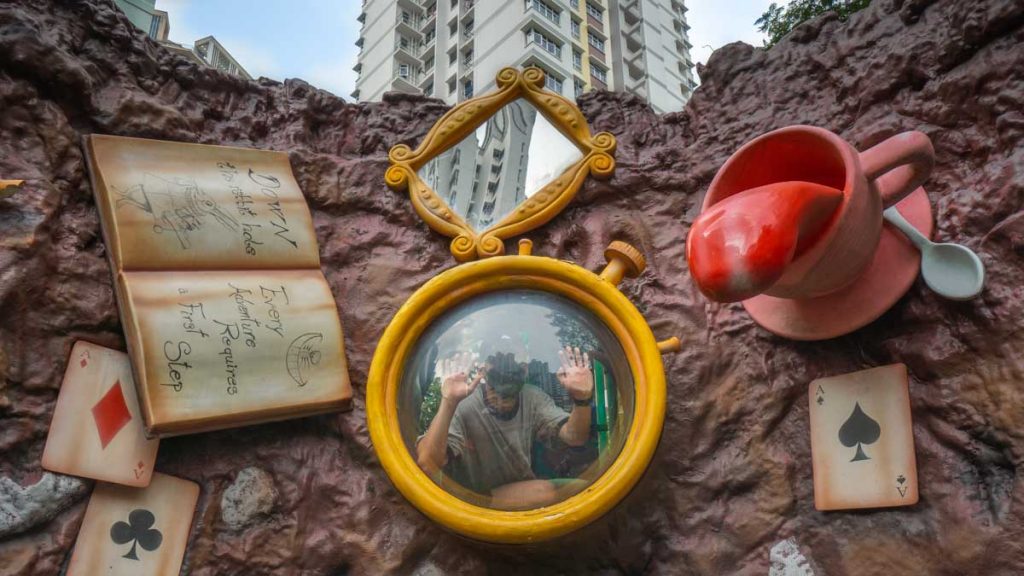 Spot familiar characters like the "Chesire Cat" or "Tweedle Twins" while you immerse in the whimsical features of this outdoor playground. There's even a trampoline — something you don't see in many playgrounds in Singapore.
Opening hours: 24 hours
How to get there: 7min walk from Queenstown MRT
2) Coastal PlayGrove (East Coast Park)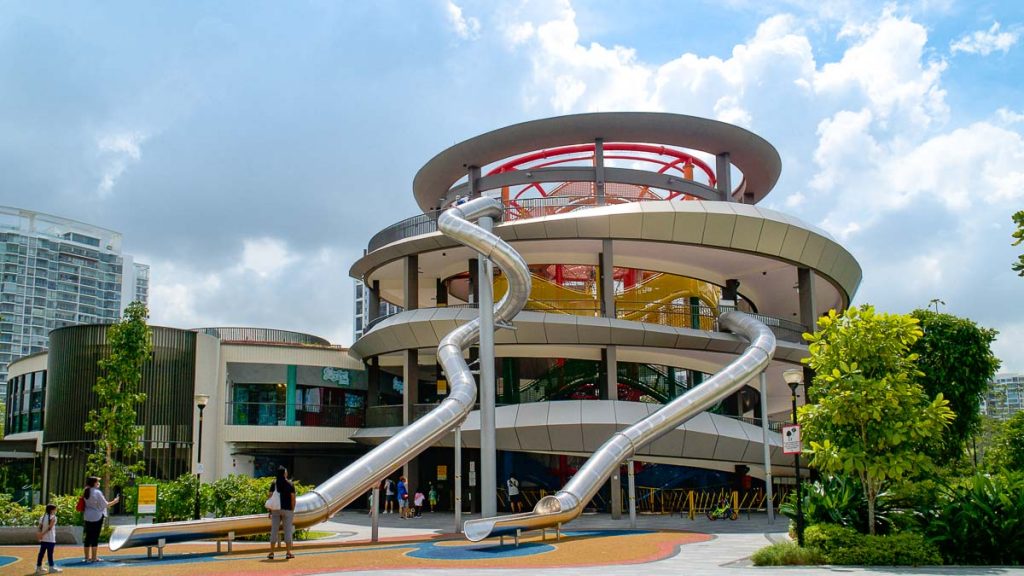 One of the newest addition to the outdoor playgrounds in Singapore is the Coastal PlayGrove. As its name suggests, this four-storey high playground can be found just along the coast near East Coast Park.
The Play Tower comprises a vertical climbing rope and various obstacle elements on each of the four levels.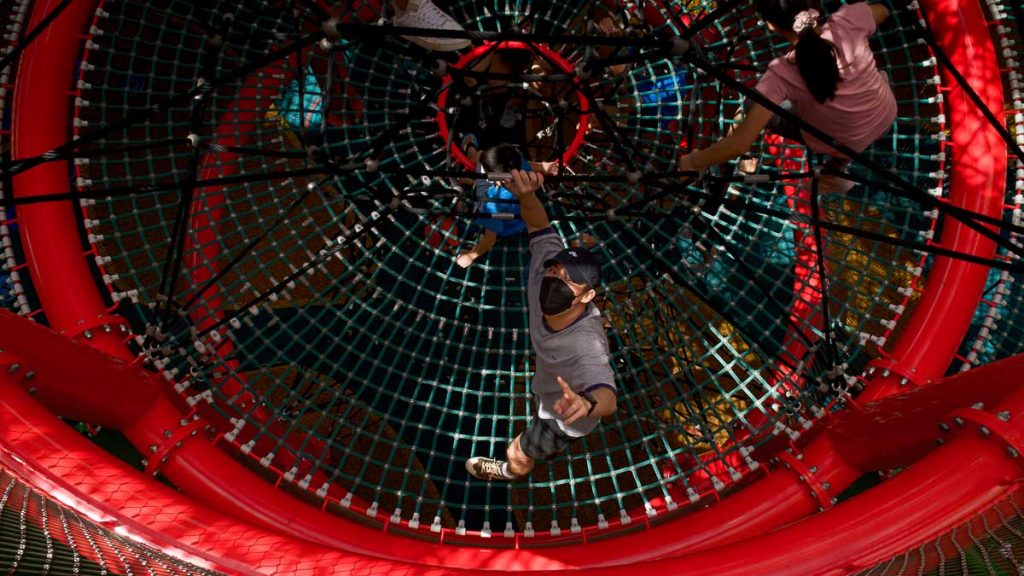 The top of the tower offers a 360-degree view of East Coast Park. Here's a tip — if you don't wish to be entangled between the ropes to get to the top, there's a ramp surrounding the main play area.
Another main feature of the Play Tower is its pair of slides. Make a quick descent by taking the slide down from the third or the fourth level — the latter is currently the tallest outdoor slide in Singapore!
Opening hours: 8AM – 8PM, closed on Mon
How to get there: From Mountbatten Station (Exit B), take bus 401* to Opp P/G @ Big Splash Bus Stop (5 stops) — the Coastal Playgrove is a 1min walk away
*bus 401 only operates on the weekends and PH. On weekdays, you can take bus 43, 134, or 135 from Payar Lebar Stn Exit B Bus Stop to Opp Amber Gdns Bus Stop (6 stops) — Coastal Playgrove is a 1.4km walk away
For drivers, the closest car park is B2 at S$0.60/30mins
3) Forest Ramble (Jurong Lake Gardens)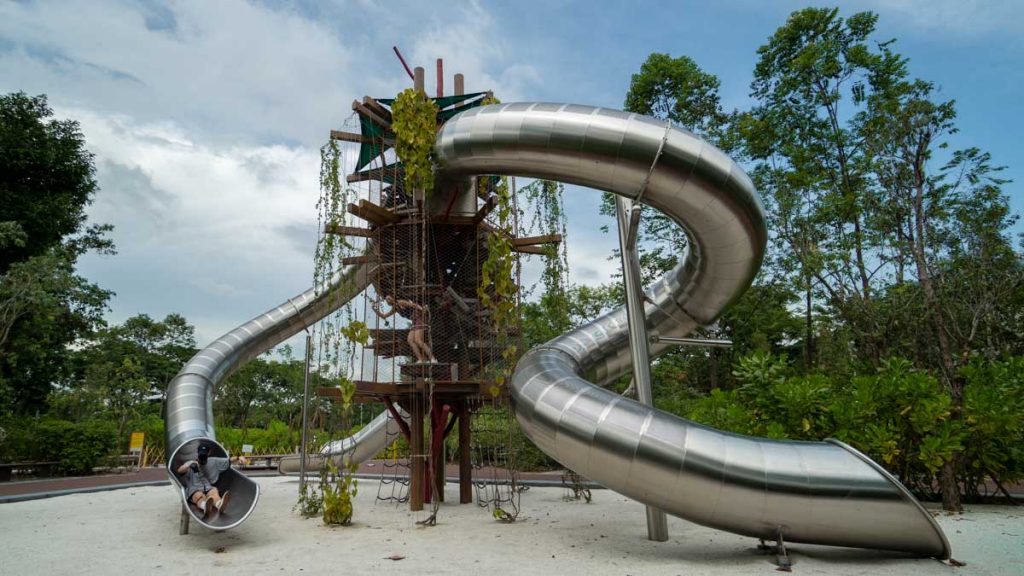 Wooden platforms and metal slides, five-year-old me would've been impressed. This nature-themed playground found in Jurong Lake Gardens is the largest one in Singapore.
There are 13 adventure stations carefully designed to have you mimicking the movements of certain Freshwater Swamp Species.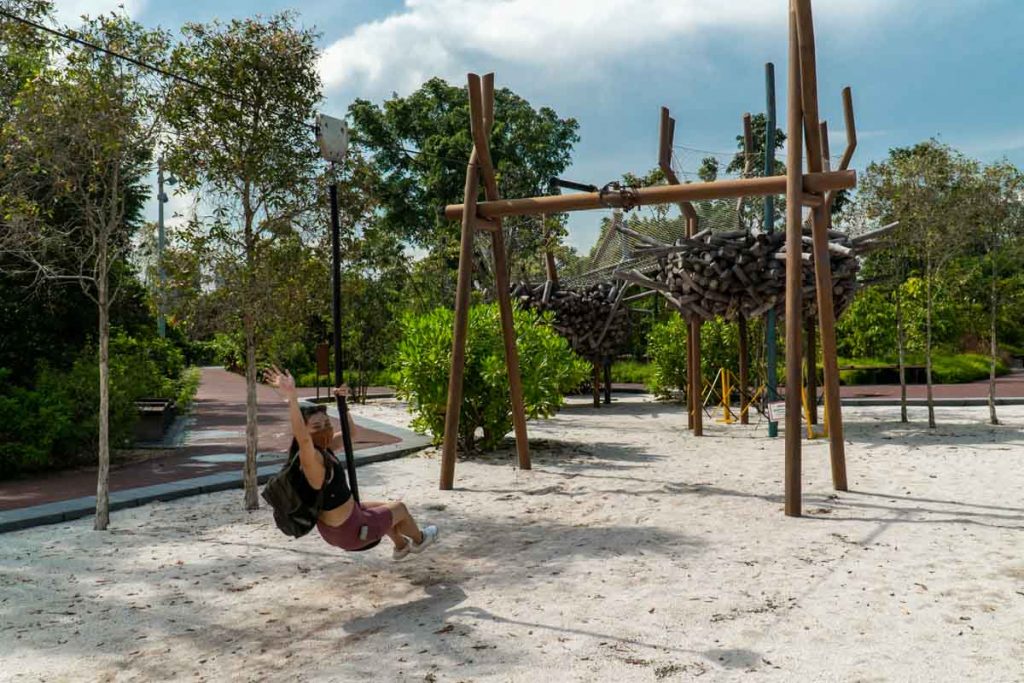 The play area that caught my attention is the "birdwing play". It comes with nine different types of swing from the classic rope swings to unique see-saw swings.
Opening hours: 8AM – 10PM, closed on Mon (except PH)
How to get there: 15min walk from Lakeside MRT
4) Tampines Green Forest Park Playground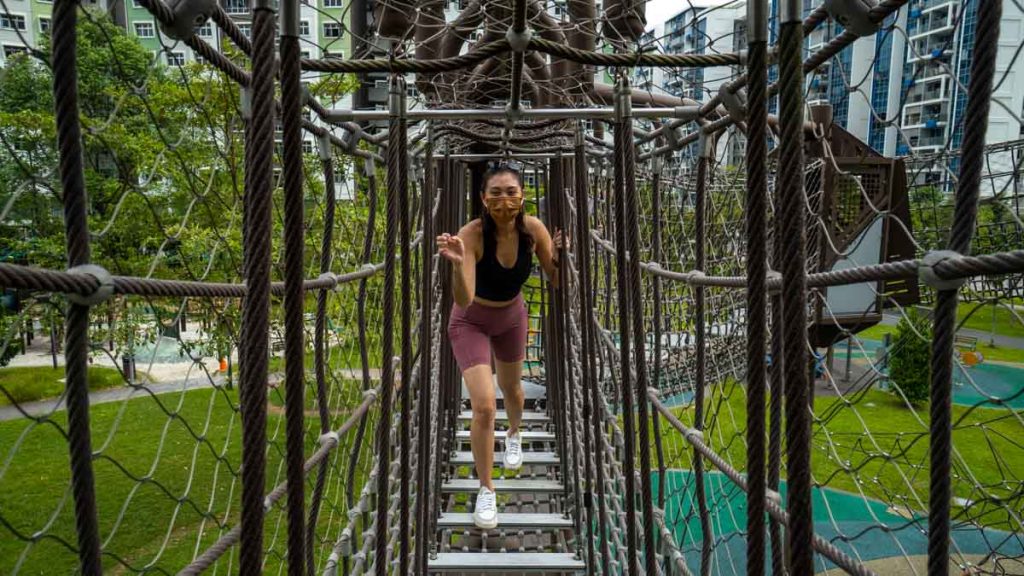 This hidden gem located in the East of Singapore can be easily spotted from afar. Amidst the greenery stands a towering playground, not for the faint-hearted.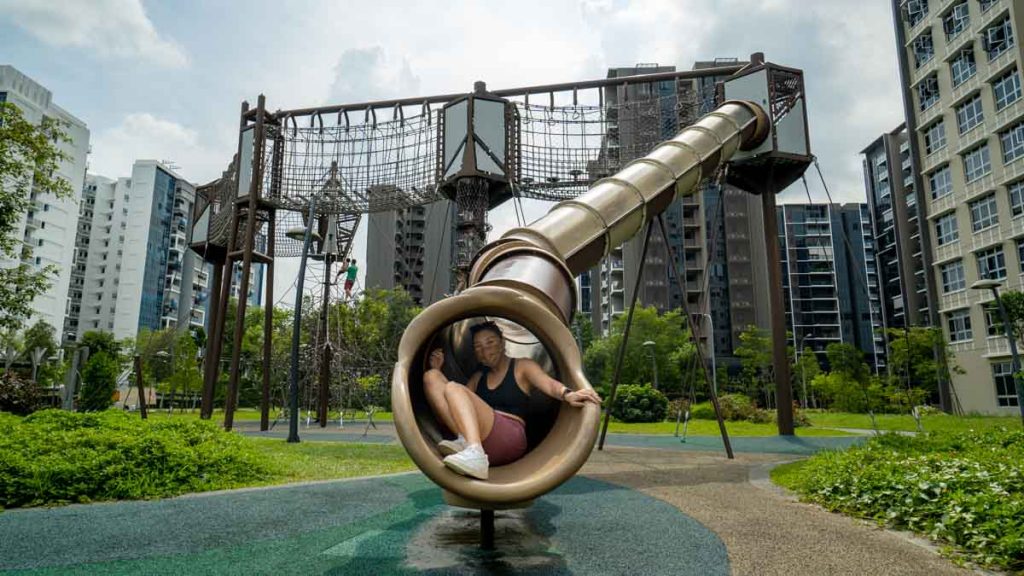 This high-element course consists of a pyramid net structure, some net obstacles before reaching the top of a long slide to get you back on the ground.
Opening hours: 24 hours
How to get there: From Tampines West MRT, take bus 69 or 118 from Temasek Poly East G Bus Stop (4min walk away) to Opp Springfield Sec Sch Bus Stop (3 stops) — the playground is just a minute's walk from the bus stop
5) Admiralty Park Playground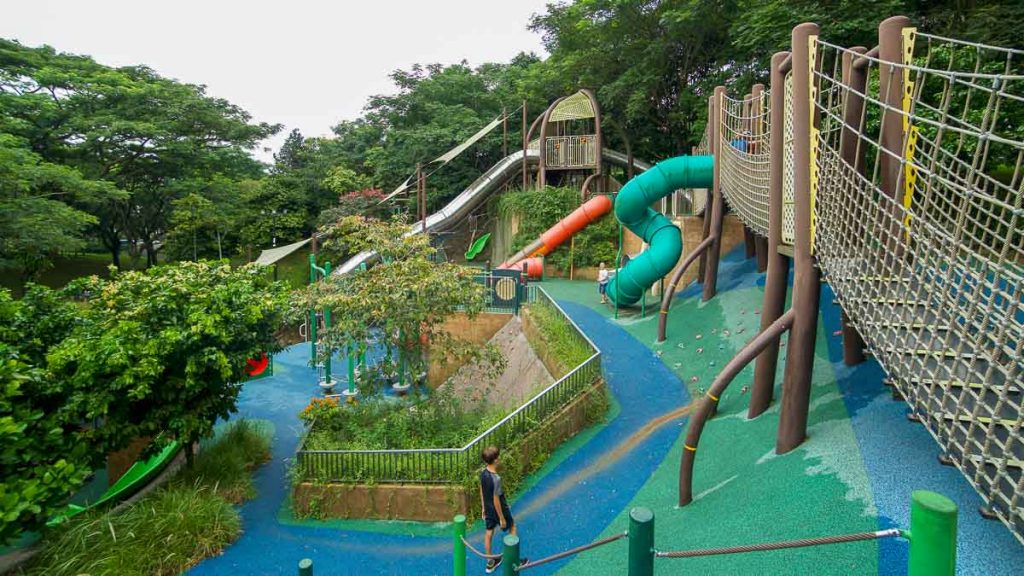 This is for those who love living life in the fast lane.
The largest park in the north, Admiralty Park playground has the most number of slides in Singapore. There are a total of 26 unique slides — tall, short, traditional tube type, and even roller slides!
This outdoor playground was built to capitalise on the hilly terrain of the park, giving rise to three play areas — Junior Play, Adventure Play, and Family Play.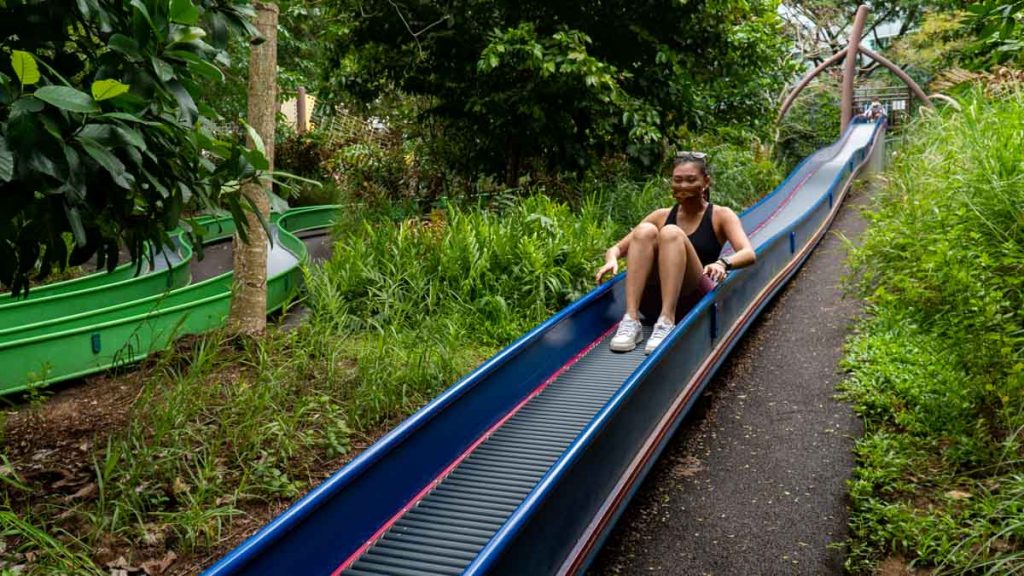 Under an initiative by Nparks in 2015, there were improvements made to the playground, adding it to the list of inclusive playgrounds in Singapore.
*Pro-tip: Squat when going down the roller slide to glide down faster — something the kids at the playground taught us 😝
Opening hours: 24 hours (Lights come on from 7PM – 7AM daily)
How to get there: 15min walk from Woodlands MRT
6) COMO Adventure Grove (Singapore Botanic Gardens)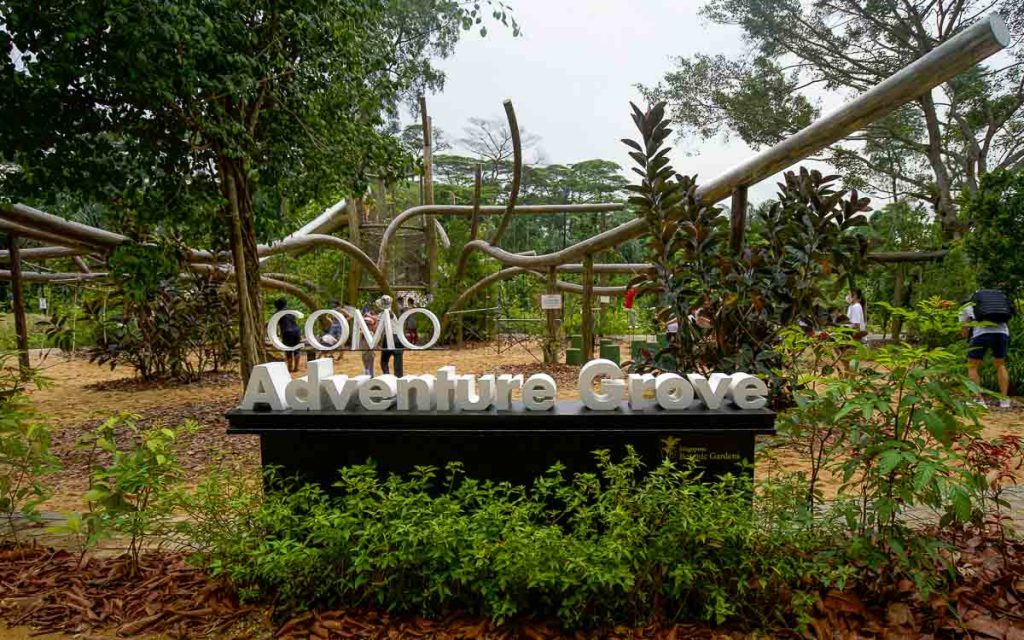 Another recent addition to the outdoor playgrounds in Singapore is the COMO Adventure Grove — strategically located within Singapore Botanic Gardens' new Gallop Extension.
Fun fact: Did you know that the Singapore Botanic Gardens was inscribed as Singapore's first UNESCO World Heritage Site in 2014?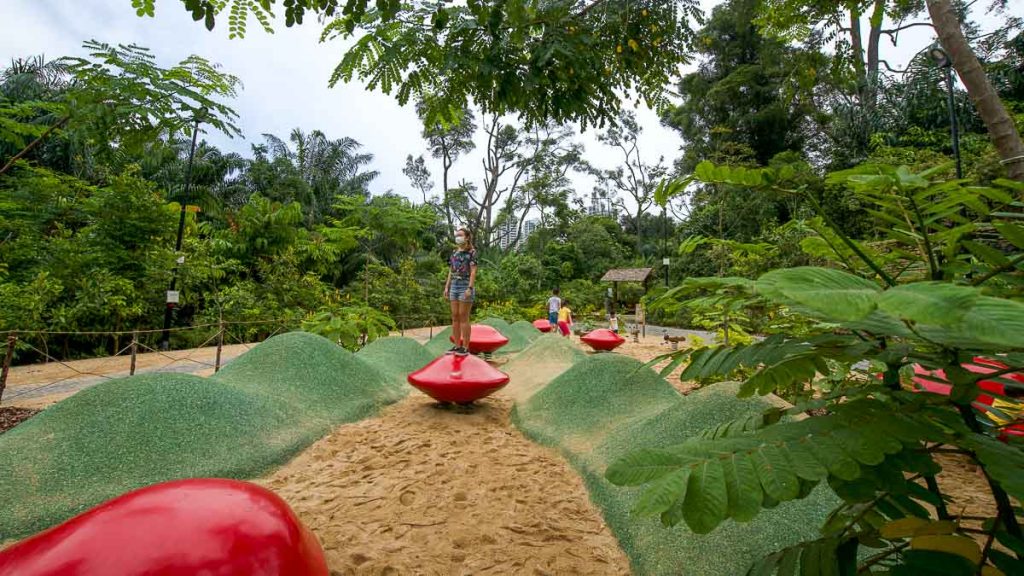 Check out the Gigantic Saga Seeds!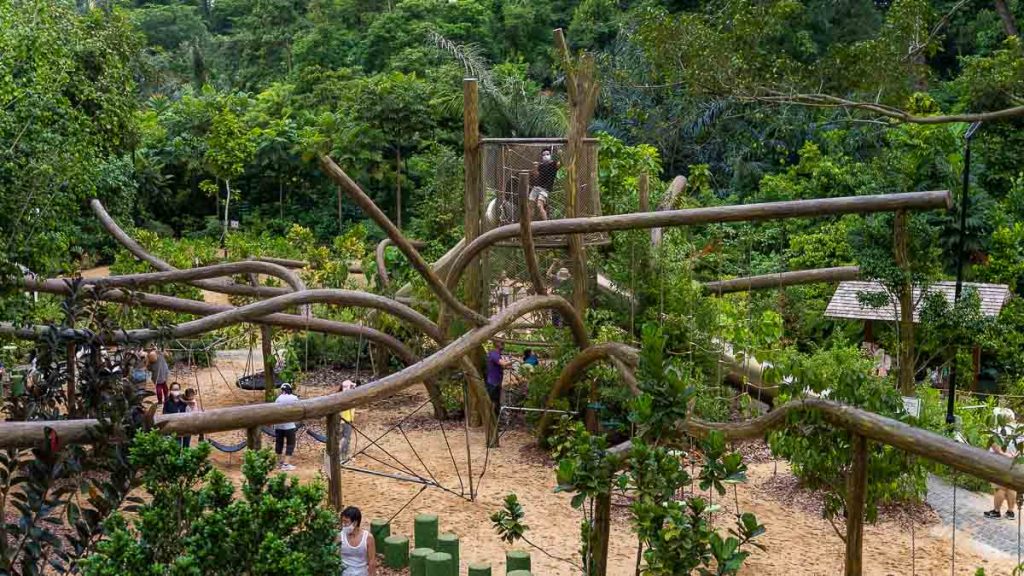 If your childhood didn't consist of playing in trees, here's your chance. Drawing inspiration from the unique parts of trees scattered around the Gardens, this biophilic playground depicts the art of tree climbing.
Opening hours: 7AM – 7PM
How to get there: 25min walk from Botanic Gardens MRT
Read also: Hiking Sungei Buloh Wetland Reserve — Instagrammable Pods, Coastal Boardwalks, and Crocodiles
7) Jubilee Park Playground (Fort Canning)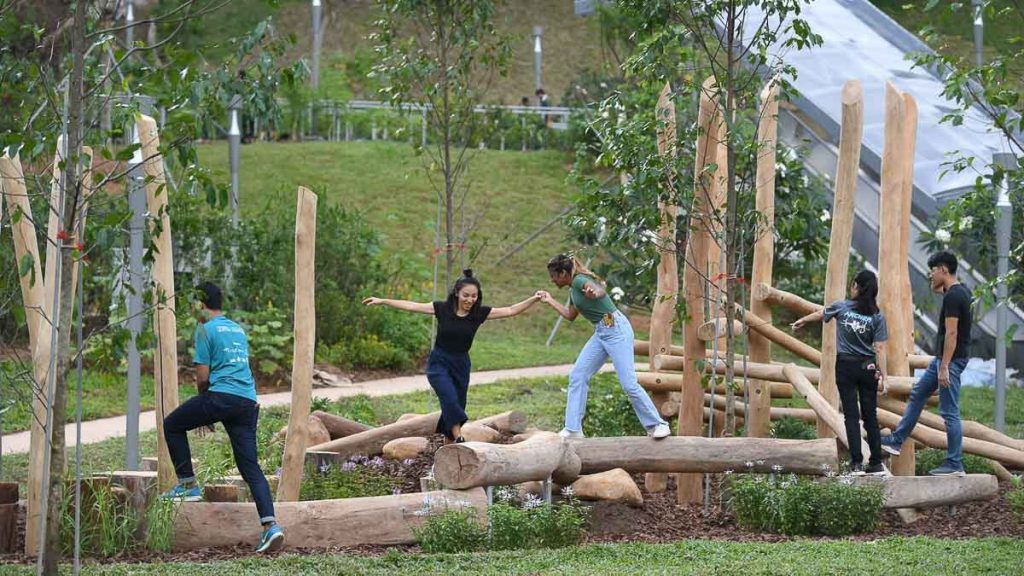 Photo credit: NParks
Located within Fort Canning Park, the Jubilee Park Playground is sometimes referred to as Fort Canning Park Playground. This nature-inspired playground blends nicely into its surroundings as it sits on the Western slope of the park.
Find your balance on the stacked logs or zoom down the slides embedded in the hilly terrain!
Opening hours: 24 hours (Lights come on from 7PM – 7AM daily)
How to get there: 3min walk from Fort Canning MRT (Exit B)
Who said playgrounds in Singapore are only for kids?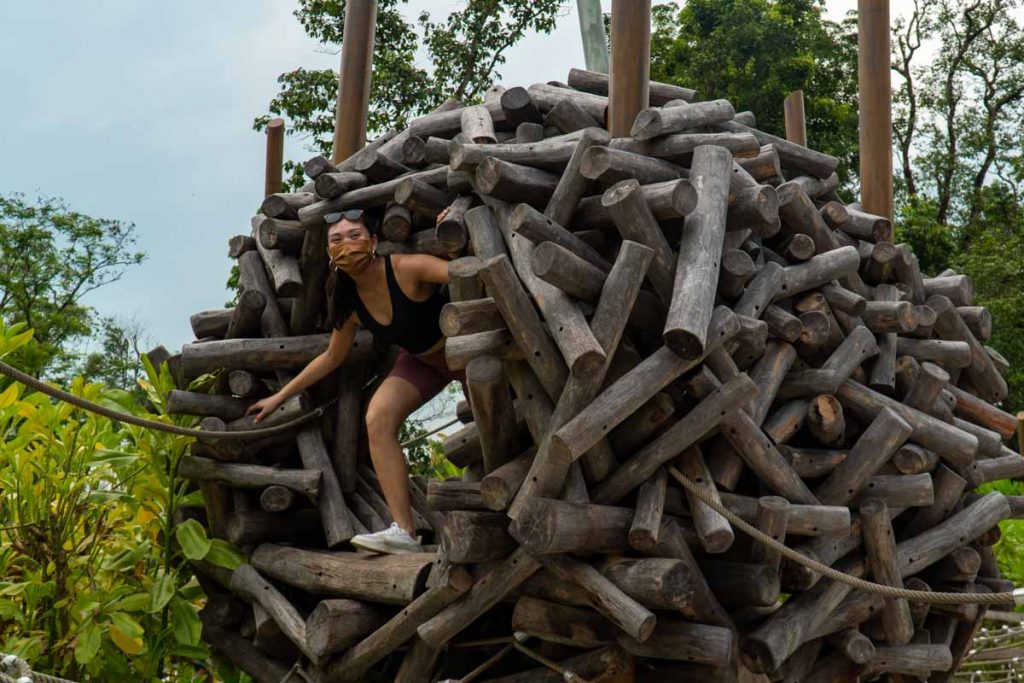 We may have physically outgrown some features at the playground, but that doesn't mean grown-ups shouldn't be having as much fun as kids do. After all, age is just a number.
The "old-school" playgrounds have evolved, yet some things never change. They still bring out radiant smiles and joyful laughter — something I vividly remember from my childhood.
As adults, it's easy to get so caught up in our day-to-day lives that we forget to play. So the next time you're feeling stressed, try zipping down a four-storey slide or bouncing on a trampoline.
What was your favourite playground in Singapore as a kid? Let us know in the comments below.
---
Like what you see? Follow us on Facebook, Instagram, YouTube, and Telegram for more travel inspiration!