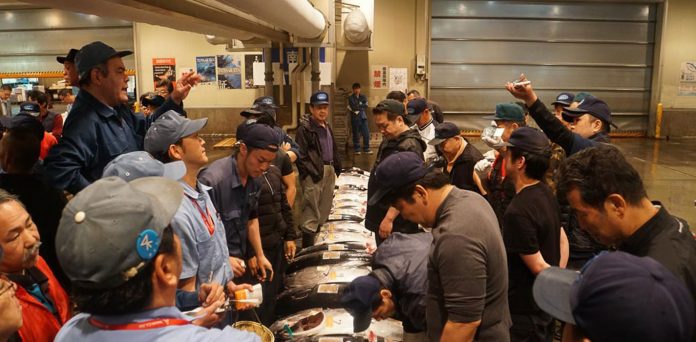 Was it worth waking up early to watch the 415am tuna auction?
After just 3 hours of sleep, we stumbled groggily out of the cab at 4am. No buses or trains were running at that time and light had only just started breaking out from the night sky.
The surroundings seemed unusually quiet as the automatic taxi door flung open to reveal the sea on our left and a carpark filled with trucks on the right.
The cab driver pointed at the general direction behind a bridge indicating that the Osaka Central fish market was somewhere in the area…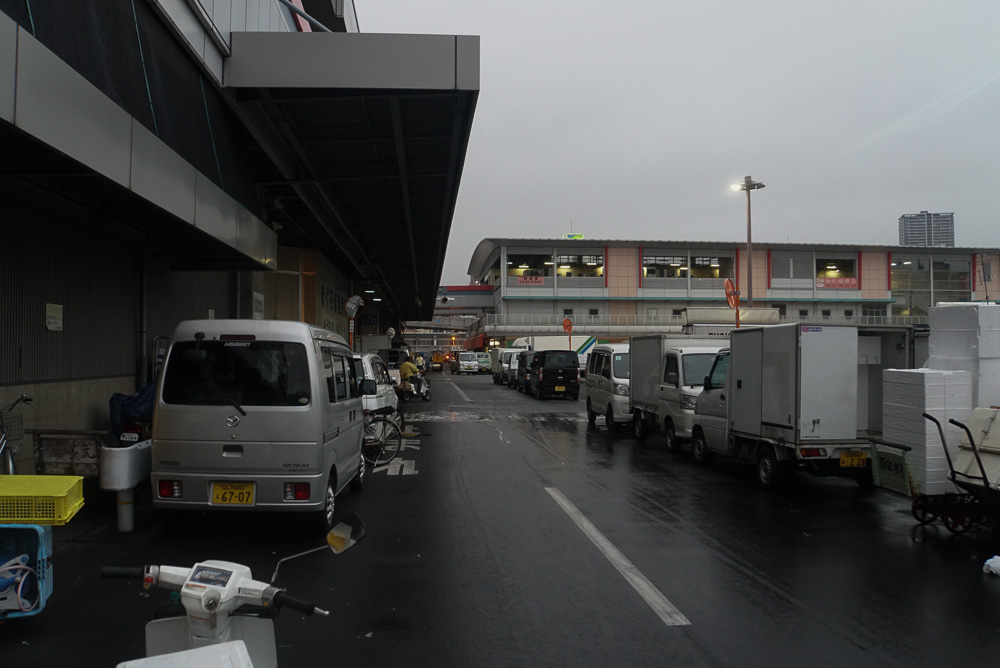 *With news of the famous Tsukiji Fish market moving in November 2016, we were pretty delighted to find something possibly similar in Osaka. There wasn't a lot of information online at the time and we soon found out why.
Without signs we could read around the area, we headed for the nearest chance of life in a big silver building. A couple of seafood stores were just starting to set up their stores, bringing in goods and arranging the displays.
We walked through more rows of unopened shops, keeping a look out for anything that might hint at where the auctioning could be.
After some luck, we ended up in a huge chilled room and on the floor, lined with rows and rows of huge tuna fishes in its entirety.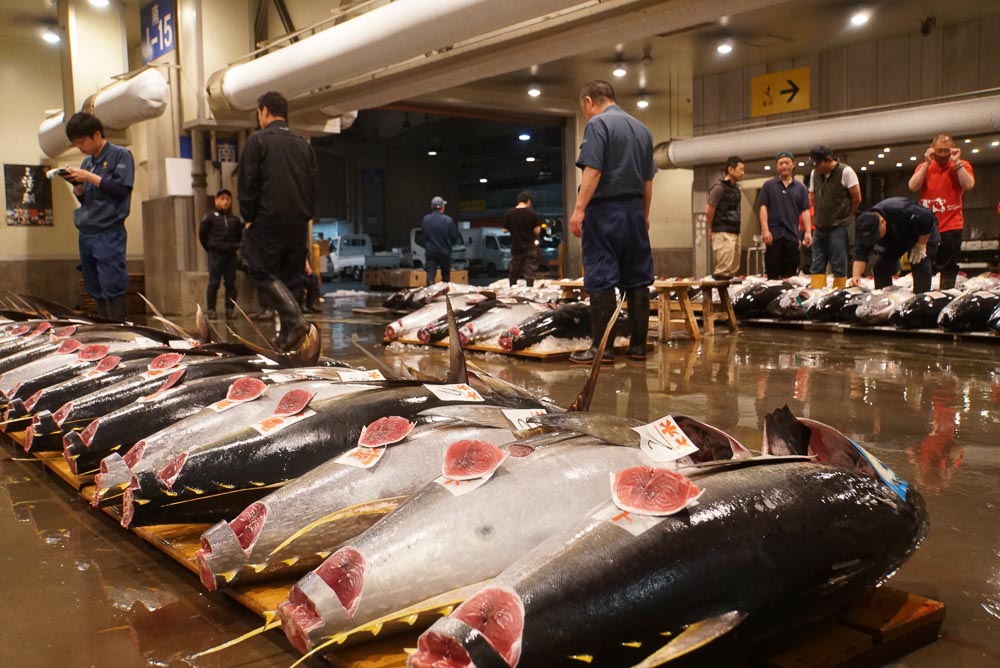 Men, mainly in navy blue overalls walked along the aisles, picking up a neatly cut up tail end portion of the fish, ran their thumbs through to access its texture.
It was pretty obvious we were the only foreigners in that room, full of curiosity but at the same time, trying not to get in the way of the business.
At 4:15am sharp, a bell signalled the start of what sounded like a village procession. At one corner of the room, a guy on a bench stood in front of the fishes, shifting his weight from side to side in rhythm while shouting a continuous string of words we obviously didn't understand.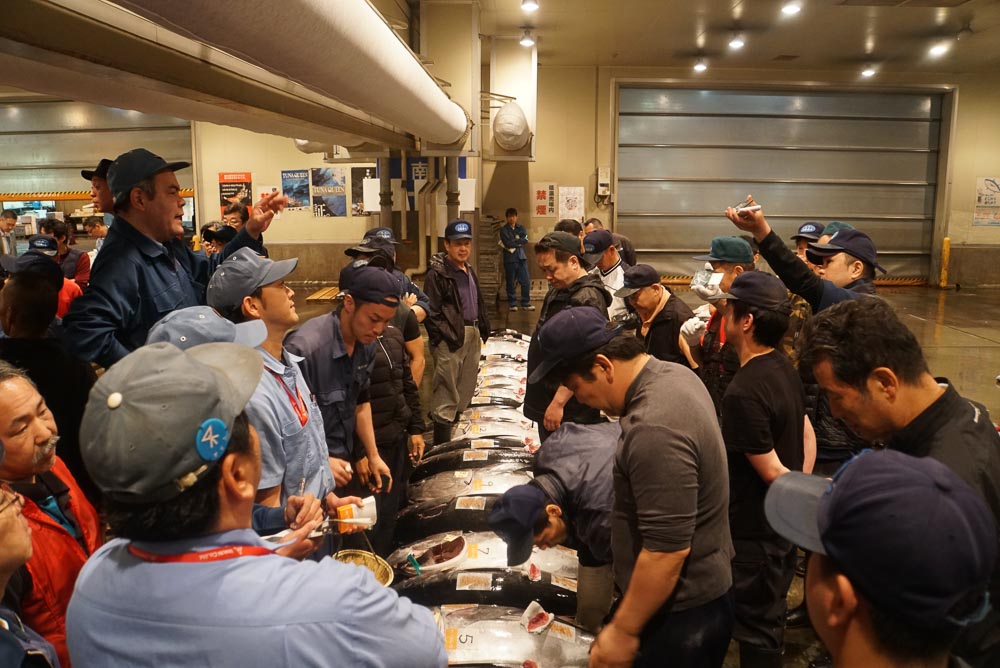 Interested buyers, crowded around him with palm-sized chalkboards, writing characters to flash toward the man on the bench. After only a couple of seconds, he moved on to the next fish, hollering in the same rhythm.
Once in a while, 2-3 men with similar bids would break out into a round of rock-paper-scissors before the hollering continued in full force. In just 10 minutes, they were done with the row. (True display of the Japanese efficiency)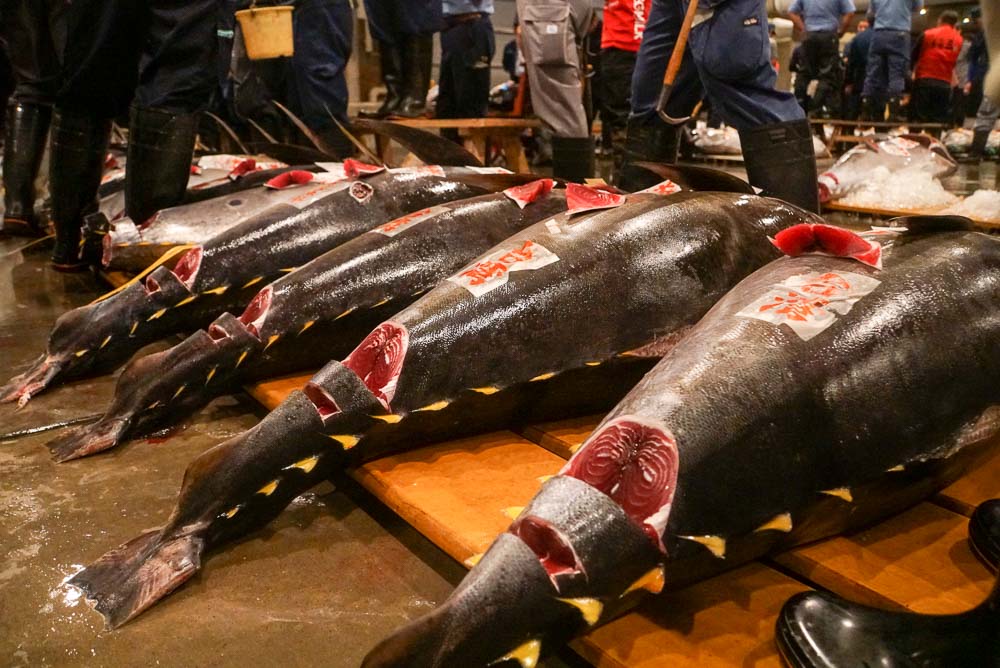 Each fish was labelled by a number on a flimsy wet paper ranging from 200-600 (probably its price? Although I'm sure it's understood to have a couple of zeros behind), ready to be taken to its new owner.
As the man moved on to his next row of fishes, another auctioneer started simultaneously at the other side of the room, hollering with his own tune and a separate group of buyers huddled around. This went on for the remaining rows of tuna and in just 30 minutes, everything stopped as the men started dragging the fishes out in a chaotic yet orderly fashion.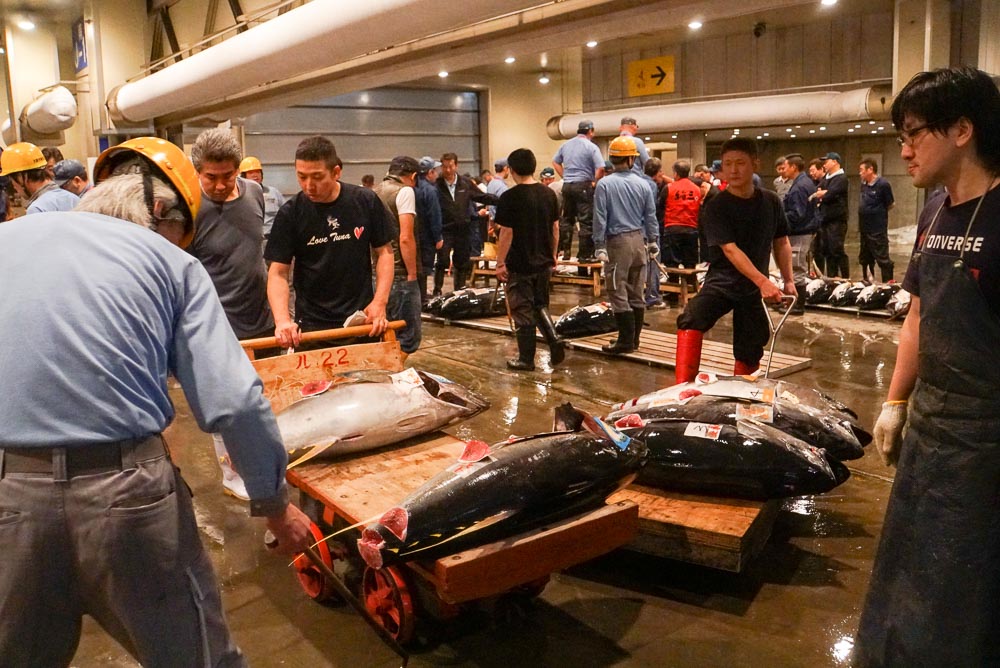 There was so much going on it was equal parts fascinating and overwhelming. Without any morsel of English, we could only make wild guesses about what each process meant.
If you're curious to see them in action, check out this short video we did:
Tokyo Tsukiji Fish Market Moving in November 2016
Being the biggest wholesale fish and seafood market in the world, you might have already heard of the Tsukiji Fish Market in Tokyo. It gets so many foreign visitors a day you have to queue early to get a limited number of free entry tickets. And although tourists are allowed to view the intense auctioning process of the blue-fin tuna, there's a small designated area you'll be restricted to.  (We're glad that wasn't the case at the Osaka Central Fish Market)
However, as it's scheduled to move in November 2016 to make room for the 2020 Olympics, we thought the Osaka Central Market was a true gem to find while in this city – probably our most memorable highlight of the trip. Definitely worth losing some sleep for.
*Update: The Tsukiji Market relocation has been postponed till Oct 2018.
Where to eat around Osaka Central Fish Market
Fret not if you couldn't get up in time to witness the auctioning. Just outside the market, are a couple of restaurants that serve freshly cut fish served on warm sushi rice.

Endo Sushi 

ゑんどう寿司

Address: 1-1-86 Noda Fukushima-Ku, Osaka, Osaka Prefecture
都島区東野田町2-1-38京阪モール 5F (show this to the taxi driver if needed)

The most raved of the lot is Endo Sushi, although there's a mixture of reviews out there ranging from "sushi heaven" to "waste of time for OK sushi". Unfortunately it wasn't open the day we visited but our take is that if it is and there isn't much of a queue, go for it. Otherwise, there's a handful of great sushi places in the city waiting for you to discover.

Also read: Foods you must try in Kyoto and Osaka

I'm sure nothing can really replace the historical Tsukiji Market in Tokyo (even when it moves to its new location at Toyosu in October 2018), but if you're visiting Osaka, why not drop by the Osaka Central Fish Market next time?

Wondering what else there is to do in Osaka? Check out our Osaka Budget Guide: Travel for under $70 a day including accommodation.