Written by: Christopher Lee
Apart from bars and clubs, Phuket's nightlife is full of activities for everyone. Covering everything from the hottest bars to the most well-known performances, this will serve as your go-to guide for an epic night out in Phuket.
They say Phuket's all about that nightlife (aside from those pretty beaches), so you can imagine my excitement when I found out that we were making a trip down to the famed Soi Bangla, which is really the epicentre of night life in Phuket.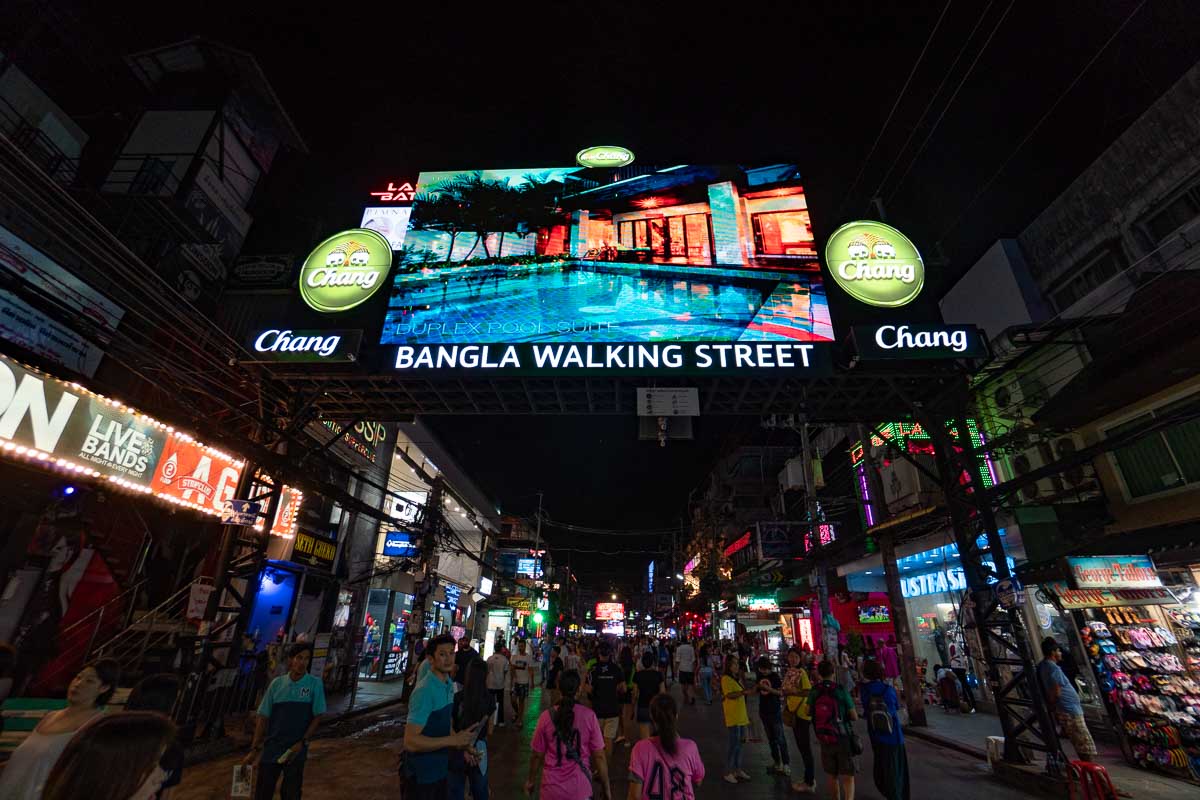 But nothing could prepare me for this whole other world that I was stepping into. I was immediately disoriented by the iridescent neon signs as blaring music rang through my ears. Every five steps or so there would be some random stranger coming up to me, asking, "Ping Pong show?"
And that was just the beginning of my night.
Looking back, the overwhelming of senses is as much a part of Phuket's nightlife as the bars and clubs littering the stretch of Soi Bangla and its many little offshoots.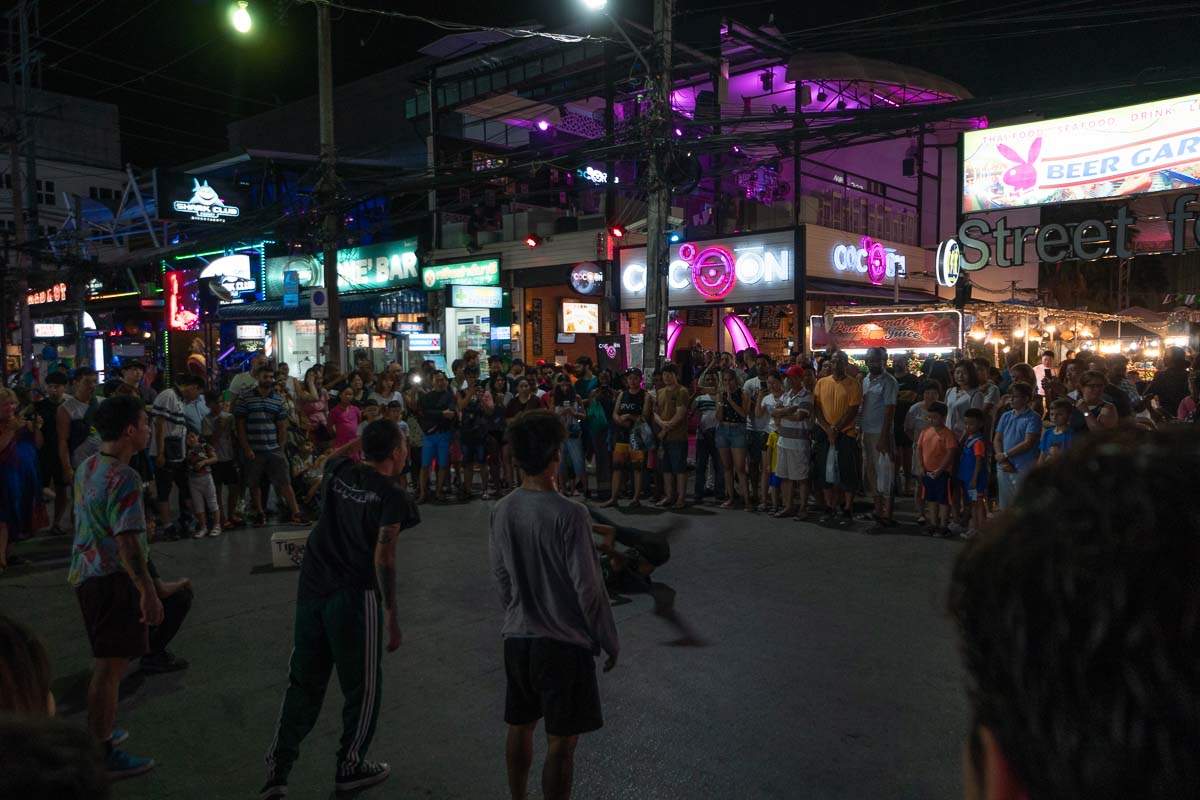 Patong is perhaps the iconic area for the much-talked-about nightlife anyone can (and should) experience in Phuket. As I meandered down Bangla Street, I could see why. I traversed through the most creative-sounding streets ("Seadragon", anyone?), ate the darndest of things, and watched the most incredible shows.
Featuring the hottest bars and clubs, Artbox-esque night markets and shows that will blow you away, this is the go-to Phuket nightlife guide.
Bars and Clubs
A Phuket trip isn't complete till you've had a good look at bikini-clad ladies pole-dancing atop raised platforms (unless you're below 18). That, is the unmistakable sign that you've stepped into an A-Go-Go bar.
These ubiquitous bars line up from the start to the end of the Bangla Walking Street, and the popular ones tend to have a "theme", perhaps to create a more, um, "immersive" experience.
1) Suzy Wong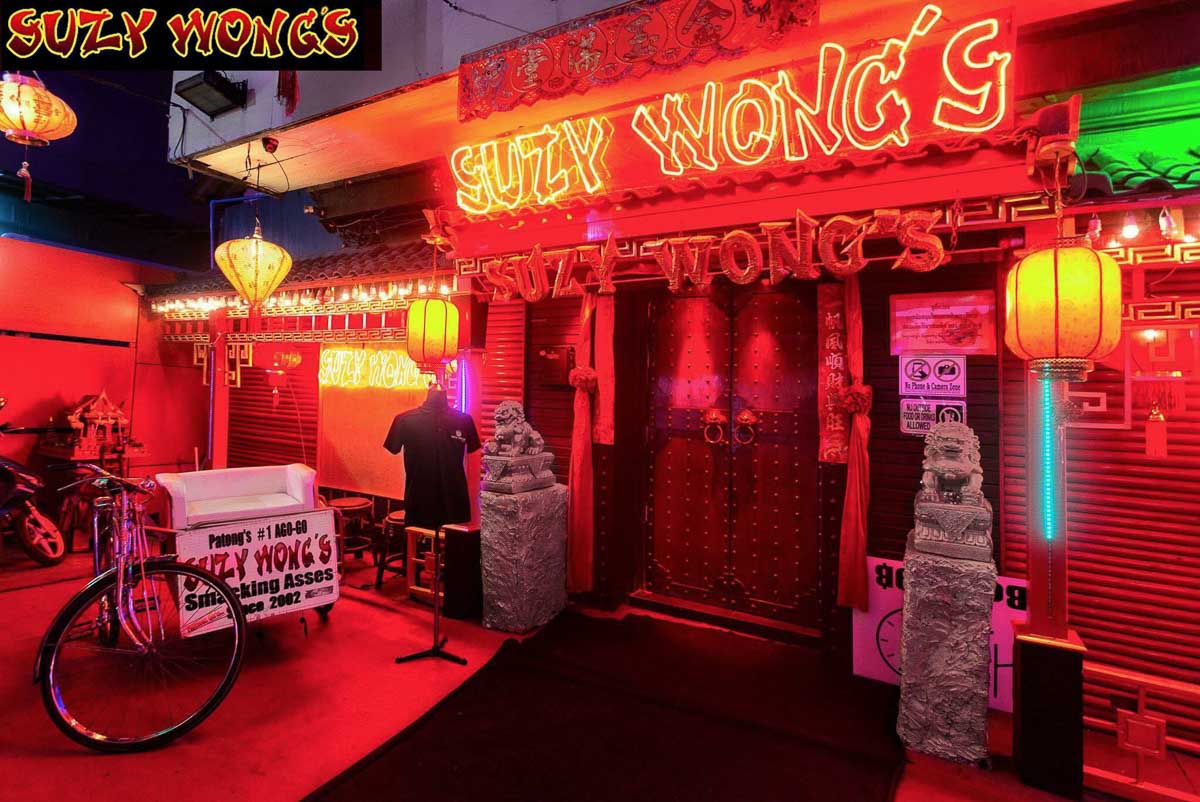 If the garish neonlit sign of Suzy Wong's doesn't let you in on its oriental theme, the gaudy Chinese red lanterns, Story of Yanxi Palace-esque doors and out-of-place rickshaw definitely would.
This A-Go-Go bar calls itself the pioneers of the "Ass Smacking Fun" concept — yes, it's a thing — where girls go around spanking your rear end in the name of good fun. Don't be too daunted about heading in for a look before deciding to stay or not, though. They won't coerce you into anything.
Cost: Drinks from ฿99 – ฿200
Opening Hours: 7:30PM – 3AM
How to get there: Head down Soi Seadragon, one of the many side lanes of Soi Bangla, and head straight to the end. Look out for the bright red decor.
2) Devil's Playground (aka Suzy Wong II)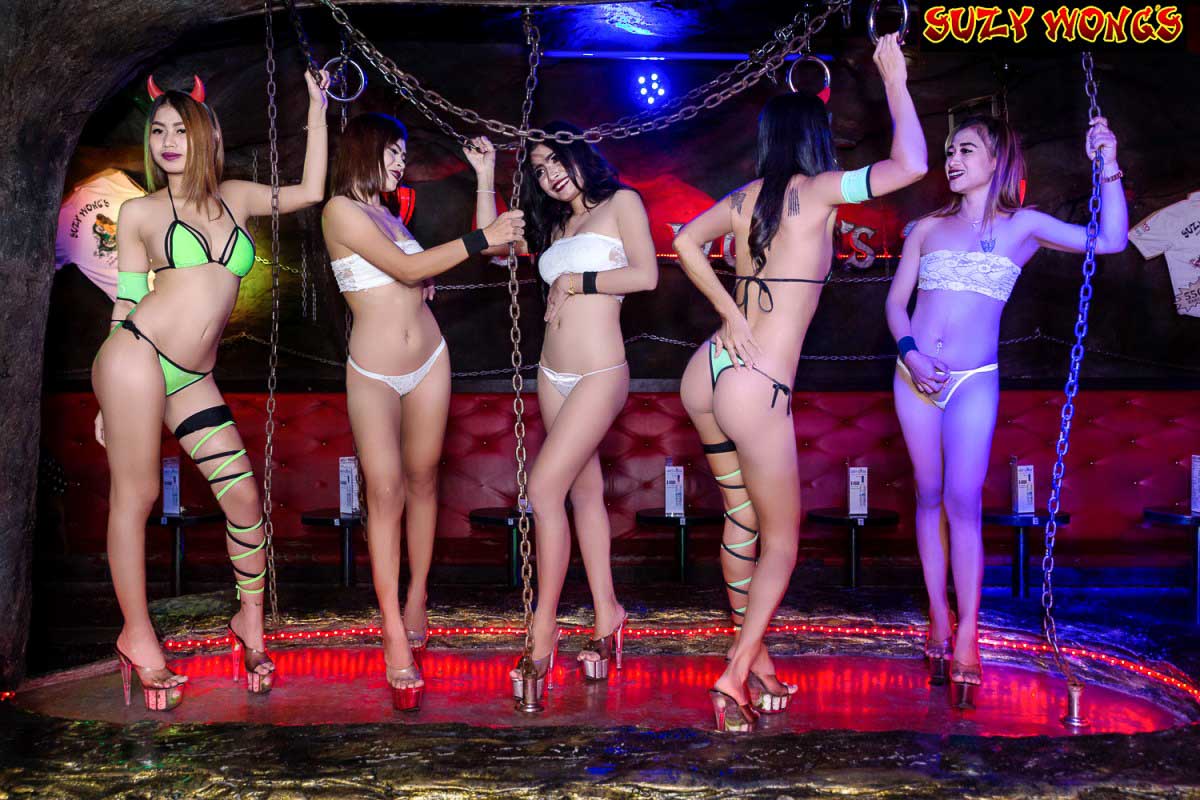 Also by the Suzy Wong Group, Devil's Playground looks to up the A-Go-Go bar game. Bye bye, dim and dark rooms with small tables and stools. Hello, weird gargoyles and statues adorning the cave inside.
Channelling a devil/angel theme, the girls here are either (barely) dressed in tiny red skirts with red horns on their heads, or white tube tops with wings. Talk about a fantasy experience.
Expect to see four to five girls dancing on the raised platforms, who will occasionally bare their boobs — you've been warned!
Cost: Drinks range from ฿99 – ฿200
Opening Hours: 7:30PM – 3:45AM
How to get there: Located along the same side street as Suzy Wong's, you can't miss Devil's Playground's cave-like entrance and massive door.
3) Illuzion
If clubbing is your thing, there's no club better and brighter in Patong than Illuzion, located right at the heart of Soi Bangla. Ranked 48 in the top 100 clubs by DJMAG, Illuzion has been making waves in the clubbing scene here in Phuket since its inception. DJs Steve Aoki and Martin Garrix have even played here before!
Cost: Free entry. Optional "all-you-can-drink" at ฿900 (~S$38)
Opening Hours: 9PM – 4AM
Address: 31 Thanon Bangla, Tambon Patong, Amphoe Kathu, Chang Wat Phuket 83150
4) Chicago Club
Alright, alright, we're getting to the Ping Pong show bit. You'll lose count of the number of times someone comes up to you, offering to bring you to one, such as Chicago Club.
Once in, get ready for a show that defies all logic. They say the performances by the girls here are for the ages, but I call that an understatement. We're talking body tricks that don't even seem humanly possible — shooting out ping pong balls and darts with their, um, down there, you'll be amazed at the might of the human anatomy.
Experience it with an open mind, and know that the performances are more entertaining than erotic.
Cost: Drinks start from ฿900 (~S$38) — no, this is not a typo
Opening Hours: Around 7:30PM – 3AM
How to get there: Walk beside the flight of stairs leading up to Illuzion. The club is located rather discreetly behind.
*Pro-tip: Definitely bargain when you're there — it's easier if you're in a big group. While the official price is ฿900, we managed to bargain down to ฿200 (~S$8.40) for a group of nine. So try your luck, and maybe your charm.
Night Markets
We're accustomed to neighbourhood pasar malams, the annual Geylang Serai Bazaar and even Bangkok's Artbox selling all sorts of street grub in Singapore, but Phuket has its fair share of interesting night markets too! From classic food delicacies like crickets to hipster industrial containers, there is something from the adventurous to the Instagrammer.
The bigger and more popular ones, such as the Naka Market, open only over the weekend. If you want to escape the crowds (which can pile up on the weekend), head for the Chillva Market which opens on Thursday!
5) Bangla Road Street Food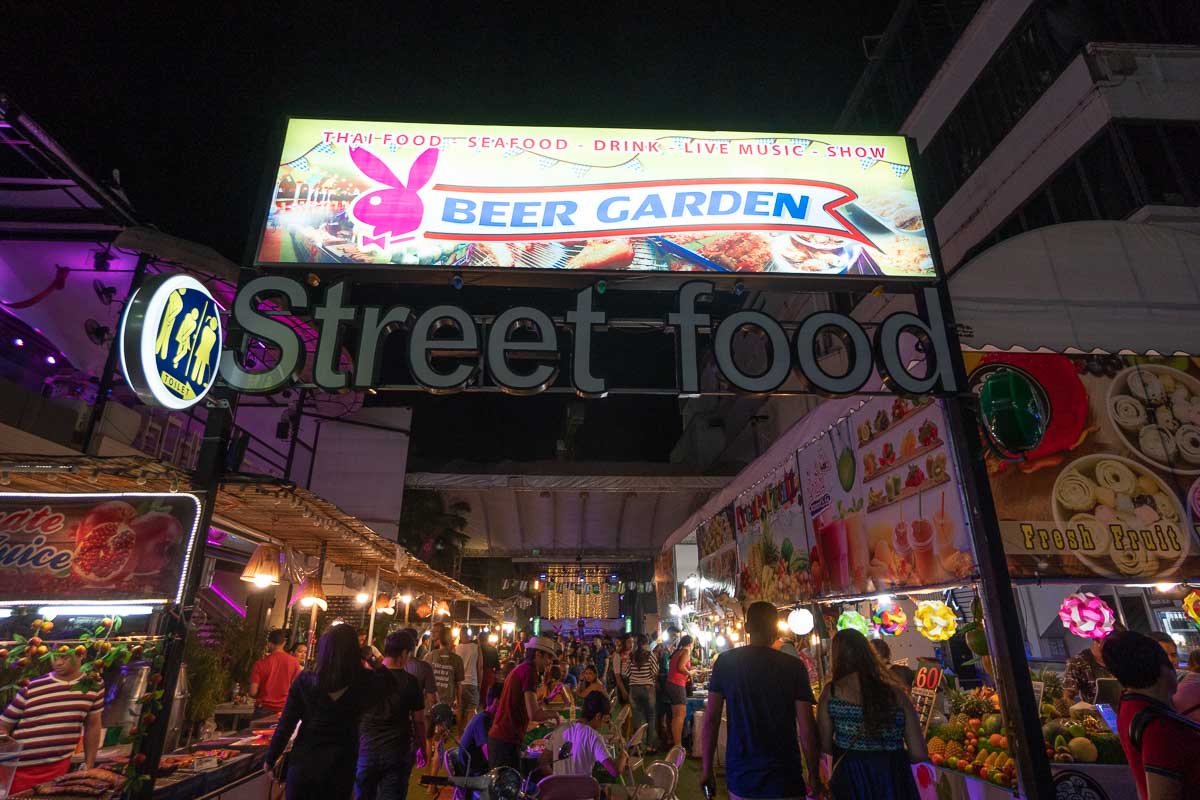 As always with nightlife in Phuket, you gotta start with Soi Bangla, which has its own mini night market.
The night market here is essentially just a food market, but it boasts a wide range of affordable food from ฿150 – ฿200 along with live music performances by local musicians.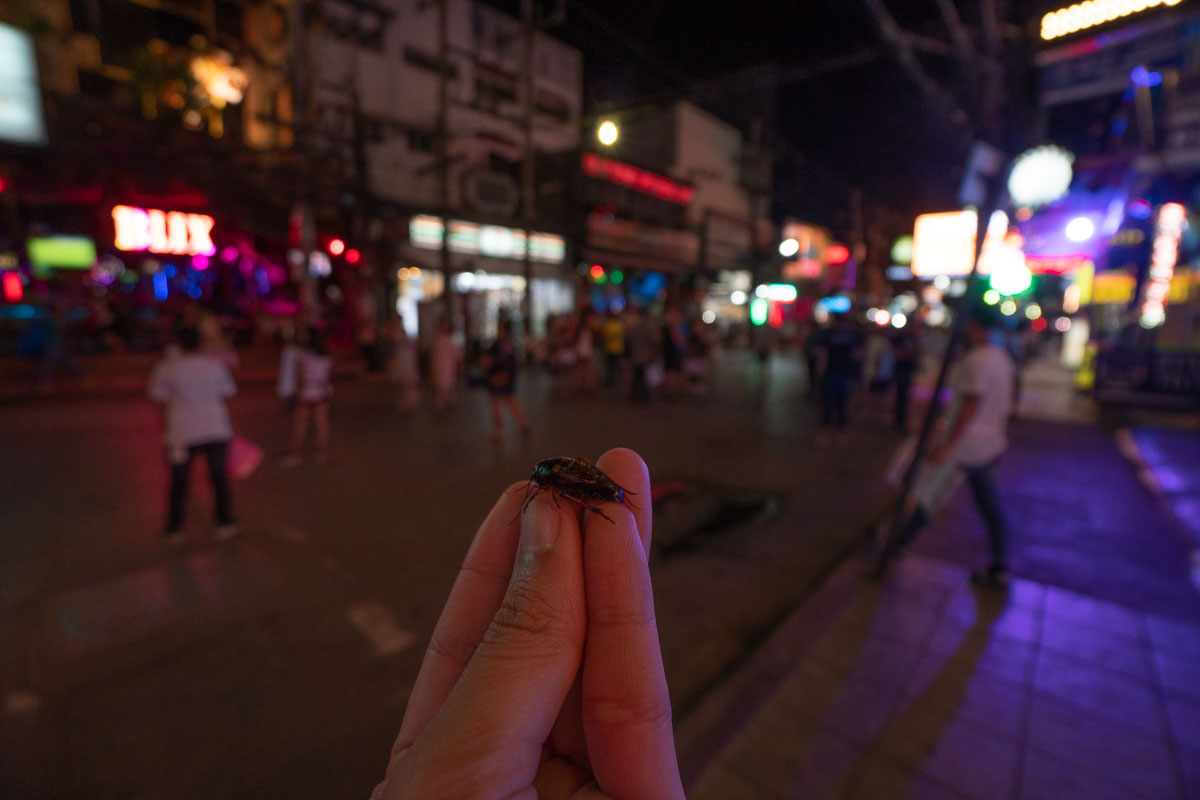 While you're munching away at the night market, get the holistic Phuket experience. Brave it out, and crunch on a cricket delicacy. 😉
Costs: Entrance is free. Food range from ฿150 – ฿250
Opening Hours: 4PM – 2AM (Individual stalls vary)
How to get there: It's right in the middle of Soi Bangla. Look out for the big sign that says "Street Food"!
6) Chillva Market Phuket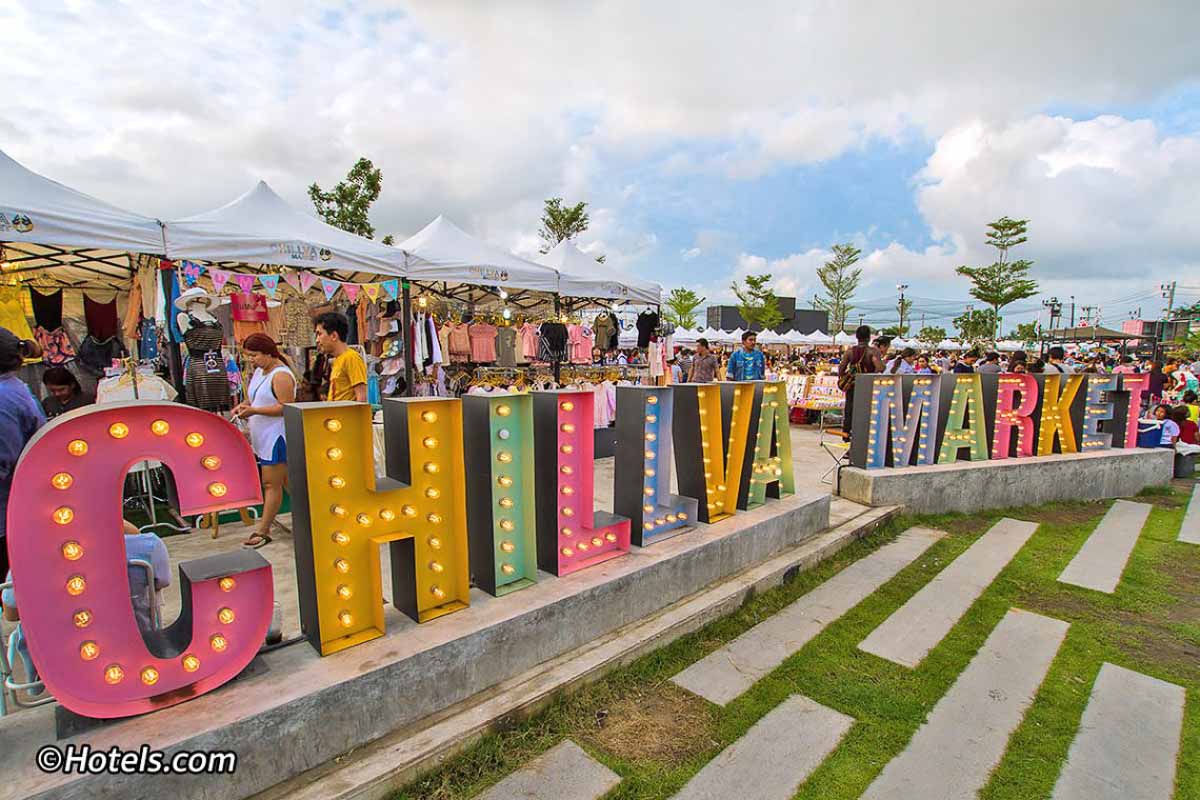 Think bohemian, think Artbox, and you've got Chillva.
Chillva Market Phuket is the latest to hit the night market scene here, selling a wide range of food, fashion and accessories with an overall youthful, chill vibe.
Nothing screams hipster like using industrial containers stacked atop each other as "makeshift" bars or restaurants, so if you're all about that cool and trendy scene, or want that Insta-worthy shot, Chillva's your spot.
Entrance Fee: Free
Opening Hours: 5PM – 11PM. Open Tue, Thu – Sat only.
Address: 141/2 Yaowarat Road, Phuket Town

7) Naka Weekend Market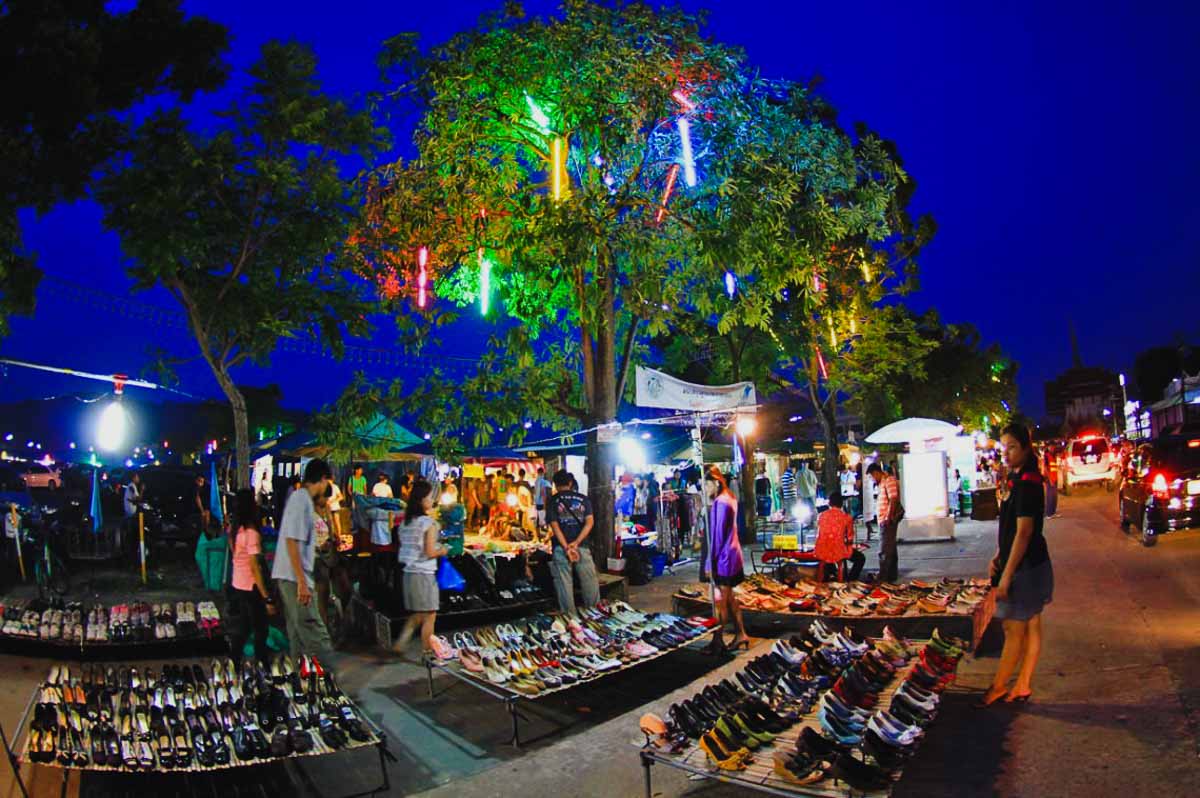 One of the more popular night bazaars in Phuket, the Naka Weekend Market is situated in Phuket Town. It is oftentimes called 'Phuket Chatuchak' by locals, referencing the huge Chatuchak Weekend Market in Bangkok.
The Naka Market has everything you need or want in a bazaar, which is split into two sections — food and shopping. And if you're anything like me, the food section is where you'll be the entire night.
Entrance Fee: Free
Opening Hours: 4PM – 9PM. Weekends only.
Address: Thalang Rd, Tambon Talat Yai, Amphoe Mueang Phuket, Chang Wat Phuket 83000
Read also: The Ultimate Phuket Guide
Night Shows
While Phuket's nightlife probably deserves its infamy with all the bars and Ping Pong shows at Soi Bangla, it's not all naughty.
Surprisingly not known to many, Phuket also offers a couple of amazing, well-produced shows worth every penny. From the famous Simon Cabaret to cultural shows and even live boxing and Muay Thai matches, there are shows for the family and those that prefer a more chill and laid back night. 
8) Simon Cabaret Show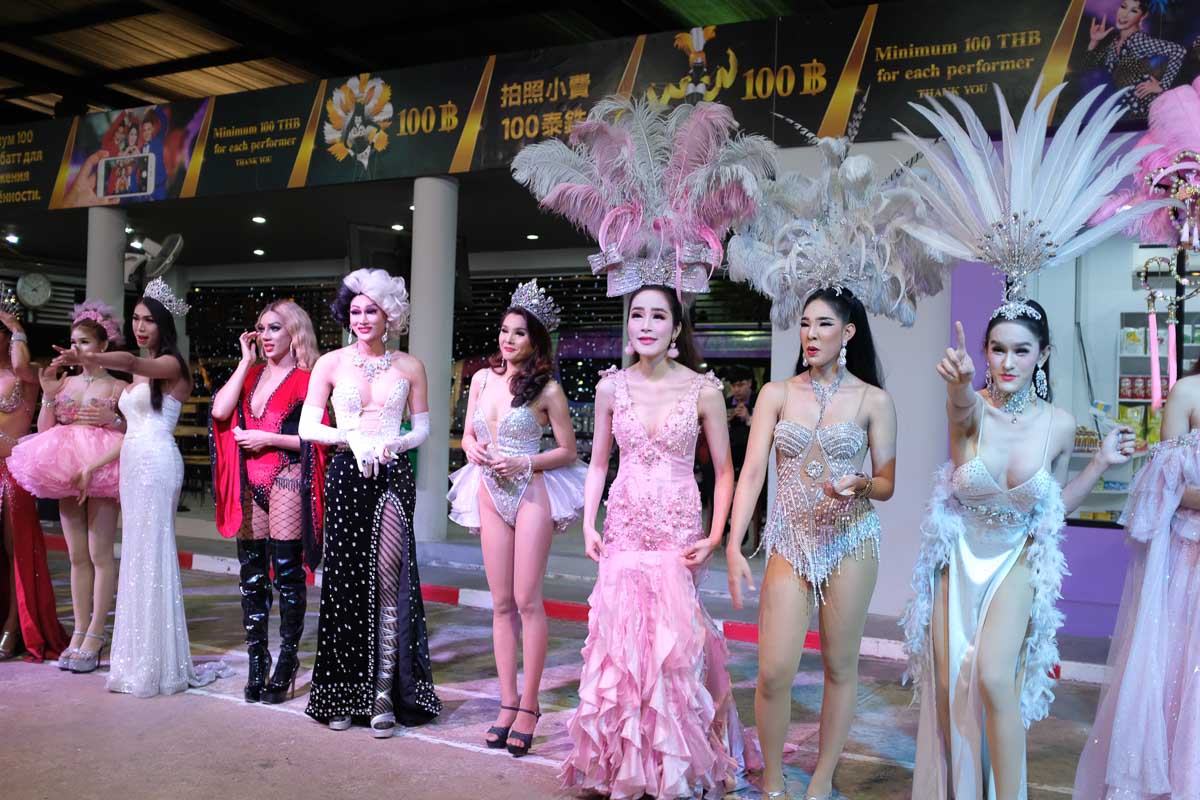 Showcasing the famed "Kathoey" (ladyboy) dancers of Thailand, the Simon Cabaret show has been dazzling people for some 27 years now with flashy costumes and theatrical, over-the-top performances.
Lip-syncing to the biggest hits, the cabaret show provides a glimpse into the glitz and glamour of Phuket's night entertainment industry. These shows are fun for the whole family, showcasing the ladyboy phenomenon that has almost become synonymous with Thailand.
Cost: ~S$21 on Klook, ฿1000 (~S$42) on their website
Showtimes: 6PM, 7:30PM, 9PM
Address: 8 Sirirach Rd., Patong Beach, Phuket 83150 Thailand
*Pro-tip: Klook offers packages with round trip transfers for greater ease of travel to the show with pickups from your accommodation. Tuk-tuks from the Soi Bangla area will cost about ฿200 (motorcycles would be a cheaper alternative at ฿150).
9) Phuket FantaSea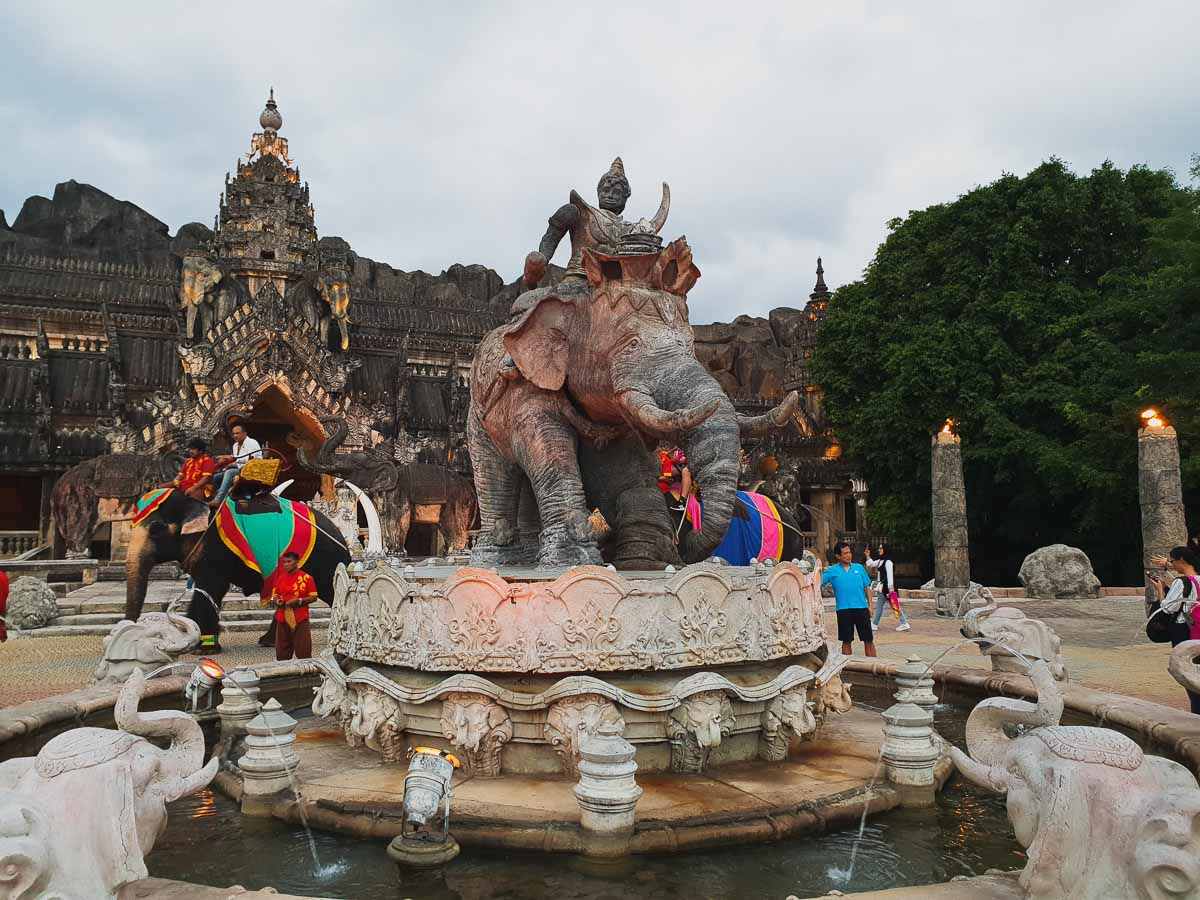 Cultural shows are not normally associated with the nightlife in Phuket, but Phuket FantaSea offers an excellent one, and then some. Most shows have a nice lobby area to mingle and chill before the show, but Phuket FantaSea takes it up several levels.
Sporting a theme park, carnival, and even a shopping avenue, their pre-show area is just like their pre-show buffet (S$8 top-up on Klook) — a smorgasbord of things for you to experience.
Onto the show itself, there is a good mix of choreography, magic, and animals. We were floored by the production quality, though the animal acts unnerved us slightly and we would have preferred if there wasn't that element.
Cost: from ~S$80 (Pick-up and/or buffet options available)
Showtime: 9PM. Pre-show buffet, 5:30PM – 8:20PM
Address: Phuket FantaSea, 99 M3 Kamala Kathu, Phuket 83150
10) Siam Niramit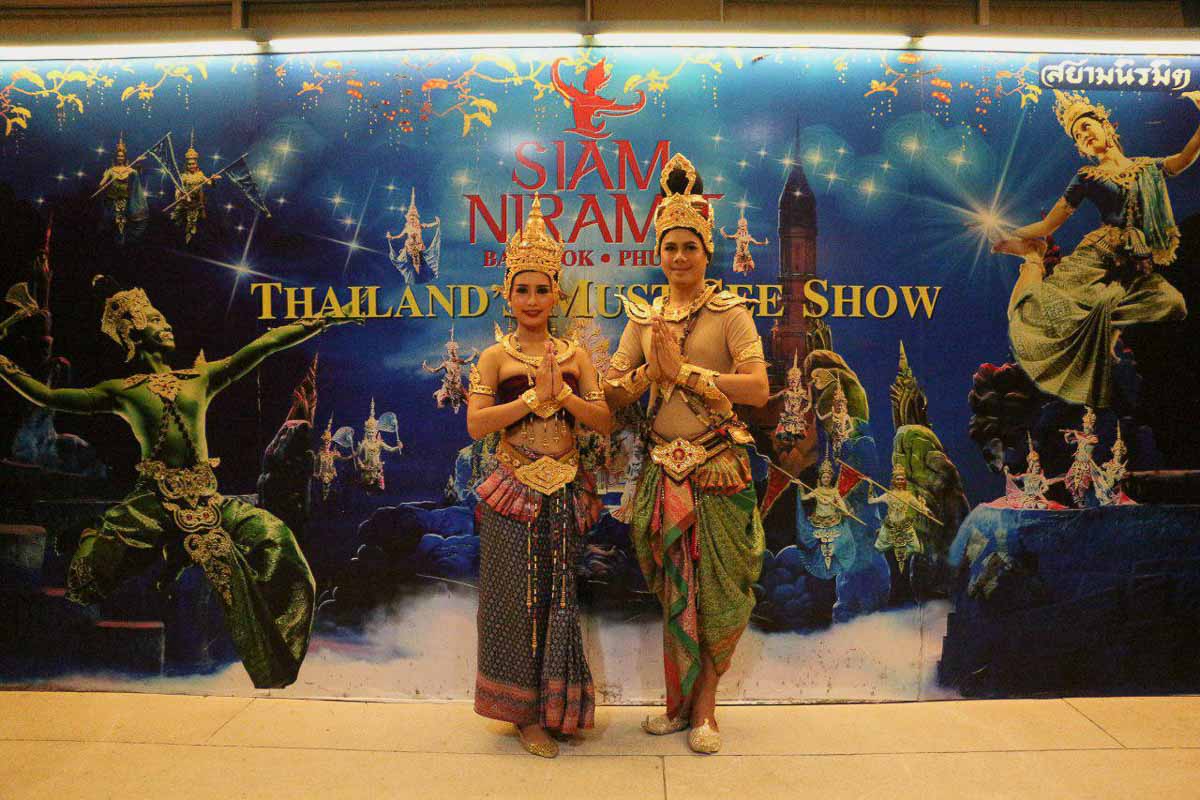 Siam Niramit offers an elaborate stage show to blow you away. The 80-minute performance showcases a series of acts that revolve around the cultural and religious history of Thailand.
Get there early to enjoy the pre-show activities, such as coconut pudding-making booths!
There are different tier seats available (Platinum, Gold, and Silver), all of which are available at discounted prices through Klook, including round transfer options! Get there early to enjoy the pre-show activites to the fullest such as making coconut pudding.
Costs: from ~S$56 (Pick-up and/or dinner options available)
Opening Hours: 5:30PM – 10PM
Address: Ratsada, Mueang Phuket District, Phuket 83000, Thailand
11) Patong Boxing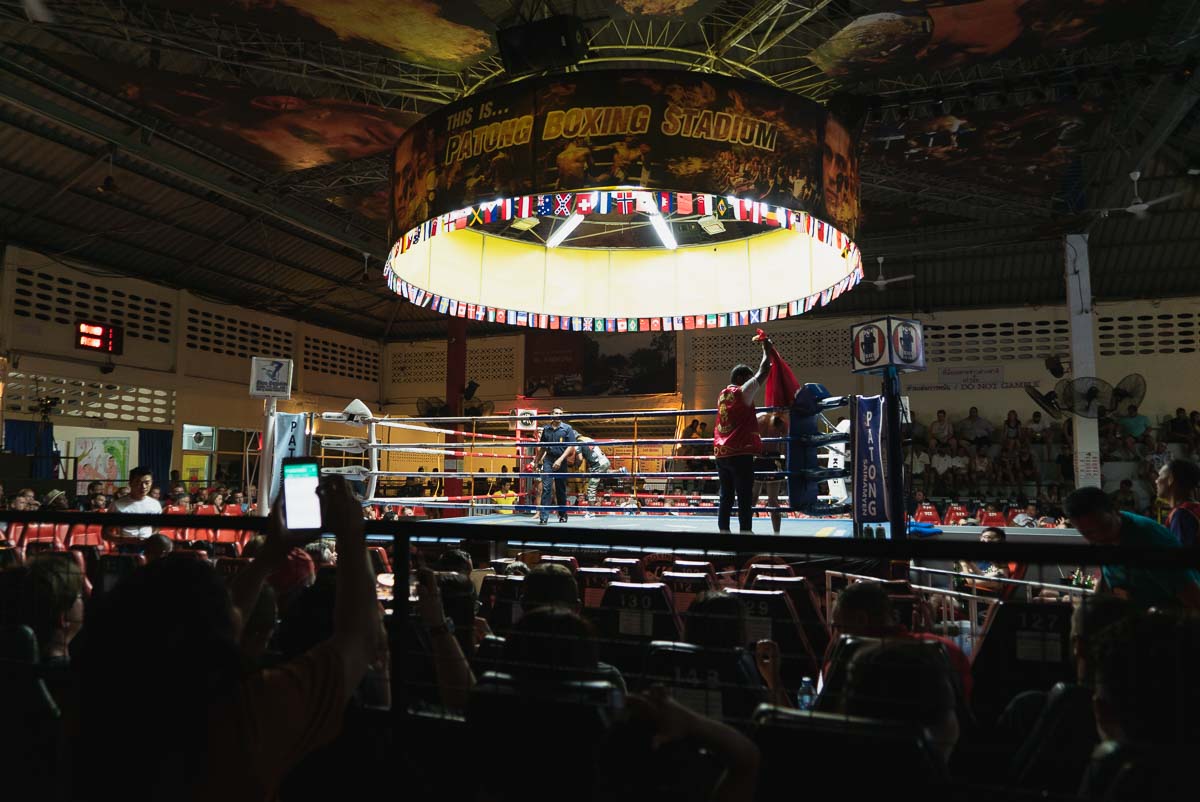 Here's an adrenaline-filled nightlife activity. Known to be the biggest Muay Thai ring in Southern Thailand, the Patong Boxing Stadium brings in droves of crowds at their night matches. The matches that start at 9PM all feature kids; the main and exciting ones (with the more bigger and older veteran boxers) happen at around 10PM, so definitely stick around.
The atmosphere in the stadium is really like no other, with the crowd being glued to every punch and bout. The matches differ every night and there might be female fighters some times as well!
Cost: ~S$47
Showtime: 9PM. Mon, Thu & Sat only.
Address: 2/59 Sainamyen Rd Tambon Patong, Amphoe Kathu, Chang Wat Phuket 83150
Whether your plan is for a dip-your-toes experience or to fully uncover the vast inner workings of Phuket's nightlife, one thing's for certain — a night in Phuket could end up being the most epic night of your life.
How was your Phuket experience? Share with us in the comments!
---
For more travel inspiration, follow us on Facebook, Instagram, and YouTube. 
View this post on Instagram