The ultimate New Zealand bucket list featuring the best of South Island's wildlife, nature and adventure!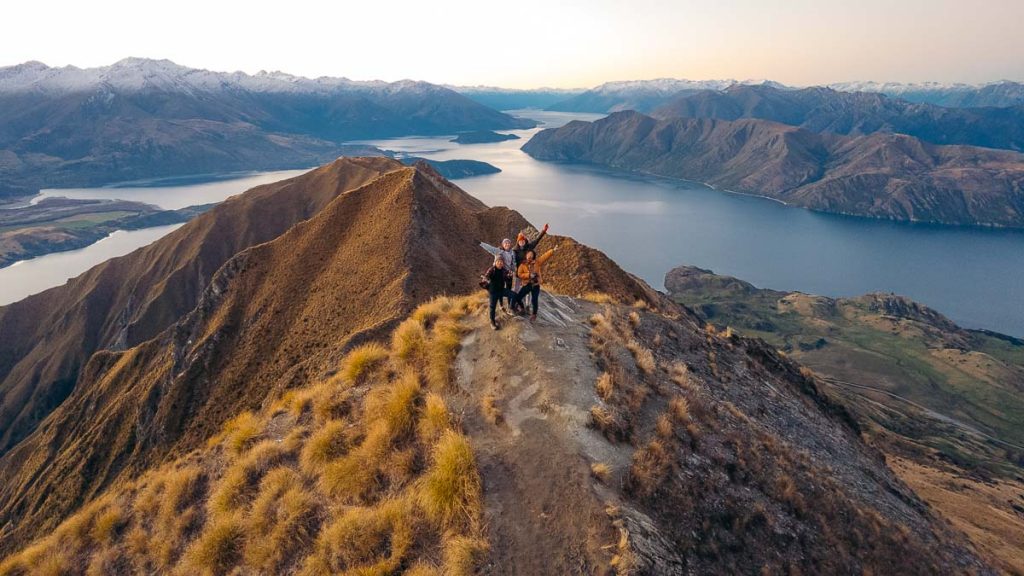 Once you visit New Zealand, you'll never want to leave. During our two-week South Island road trip, we met dozens of people who came to New Zealand for a holiday — but never left.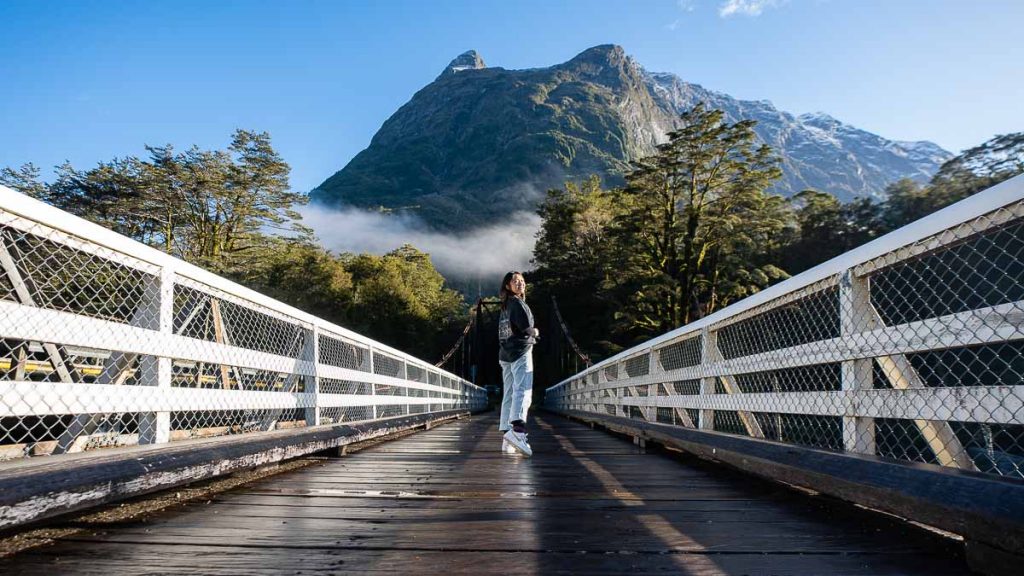 Like our kayaking guide in Kaikoura — he intended to visit for a month and ended up staying six years. I'm not surprised at all.
Home to ridiculously incredible natural landscapes (it's almost unfair) and an endless list of bucket list experiences, New Zealand is somewhere I could easily stay for months.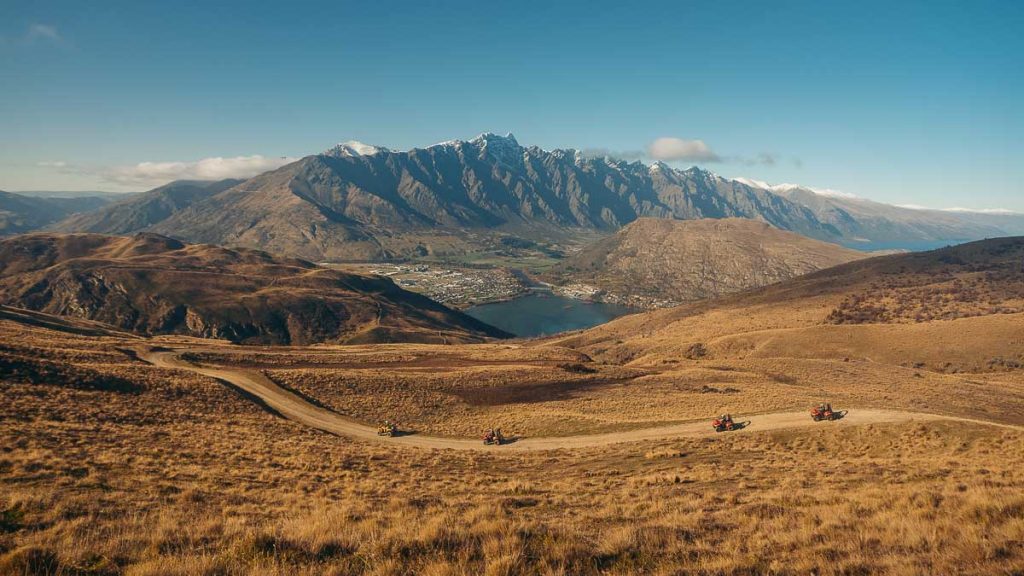 Here are 25 epic things to do in New Zealand's South Island — the best nature, wildlife and adventure experiences!
Click to jump to specific sections: Adventure | Nature | Wildlife | Pre-trip Essentials (incl. Covid-19 requirements)
Best of New Zealand South Island's Adventure
1) Nzone Skydive
📍 Queenstown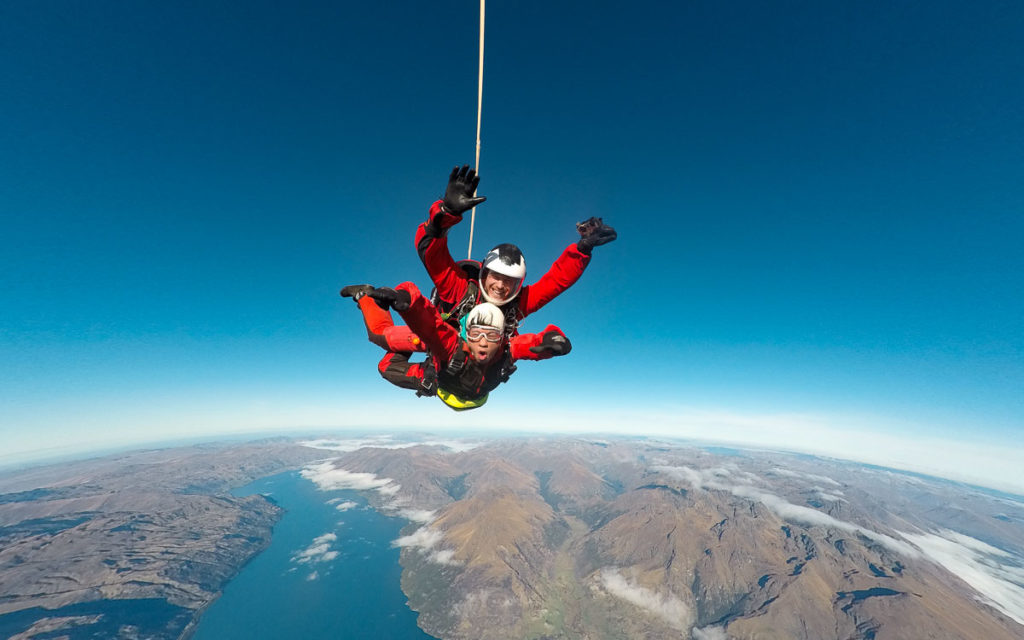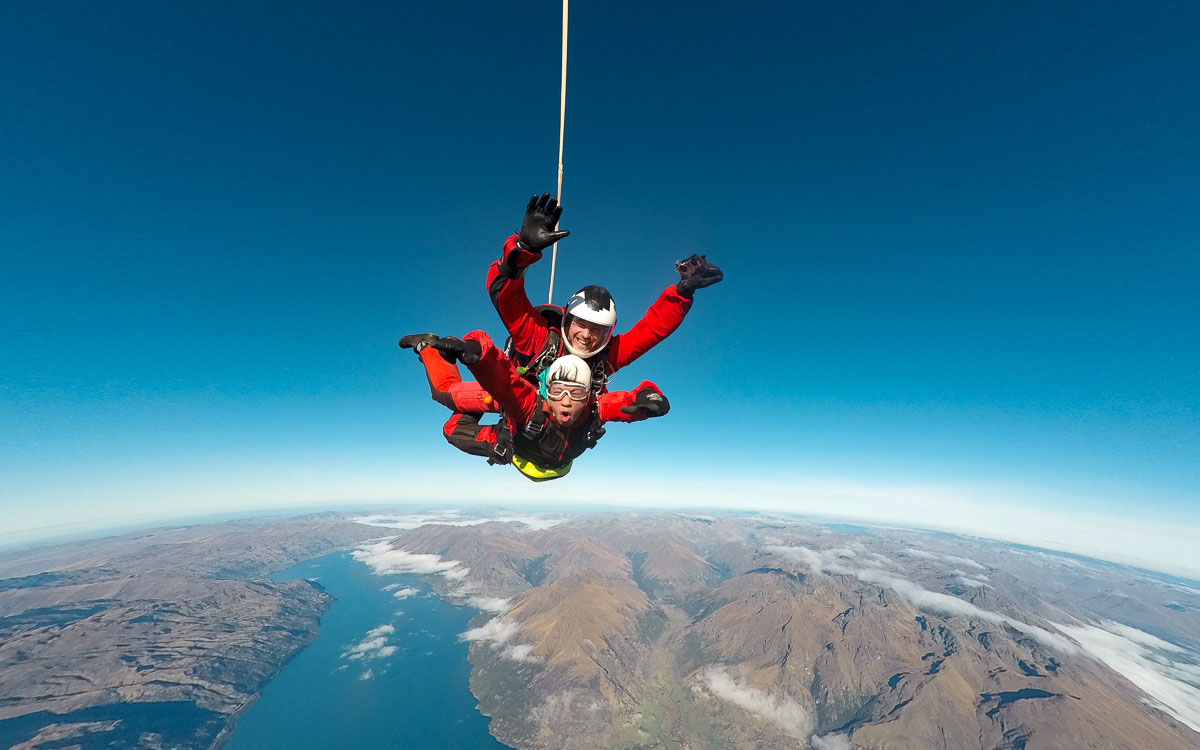 Take the ultimate leap of faith and tick off skydiving in Queenstown, the adventure capital of the world! After a 15-minute flight, you'll step off the plane only to be greeted by mind blowing views of Lake Wakatipu and the Remarkables mountain range.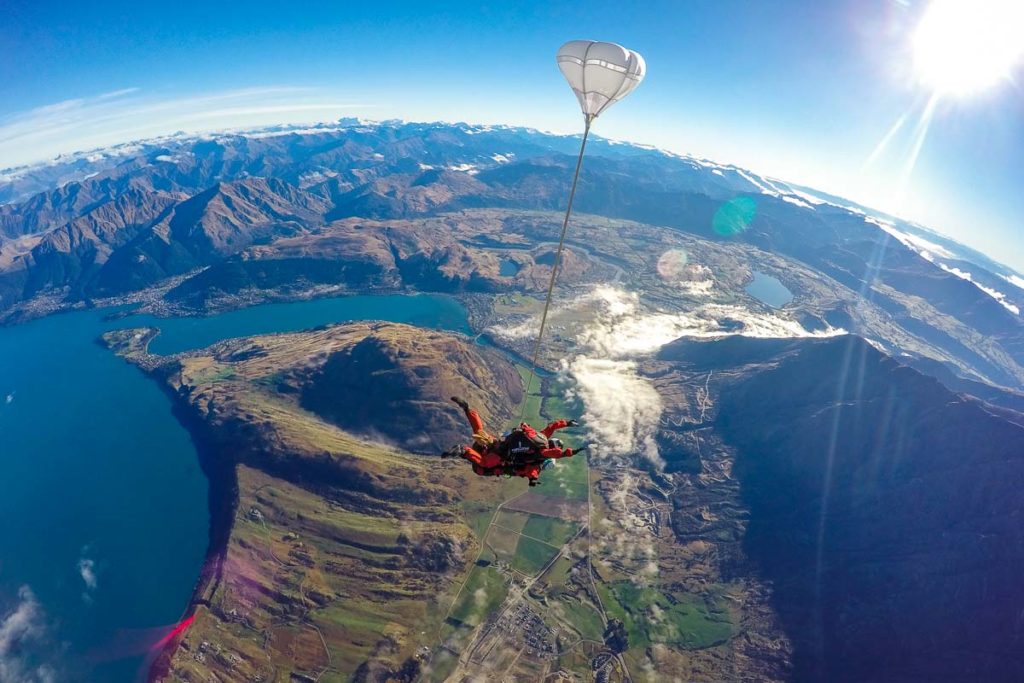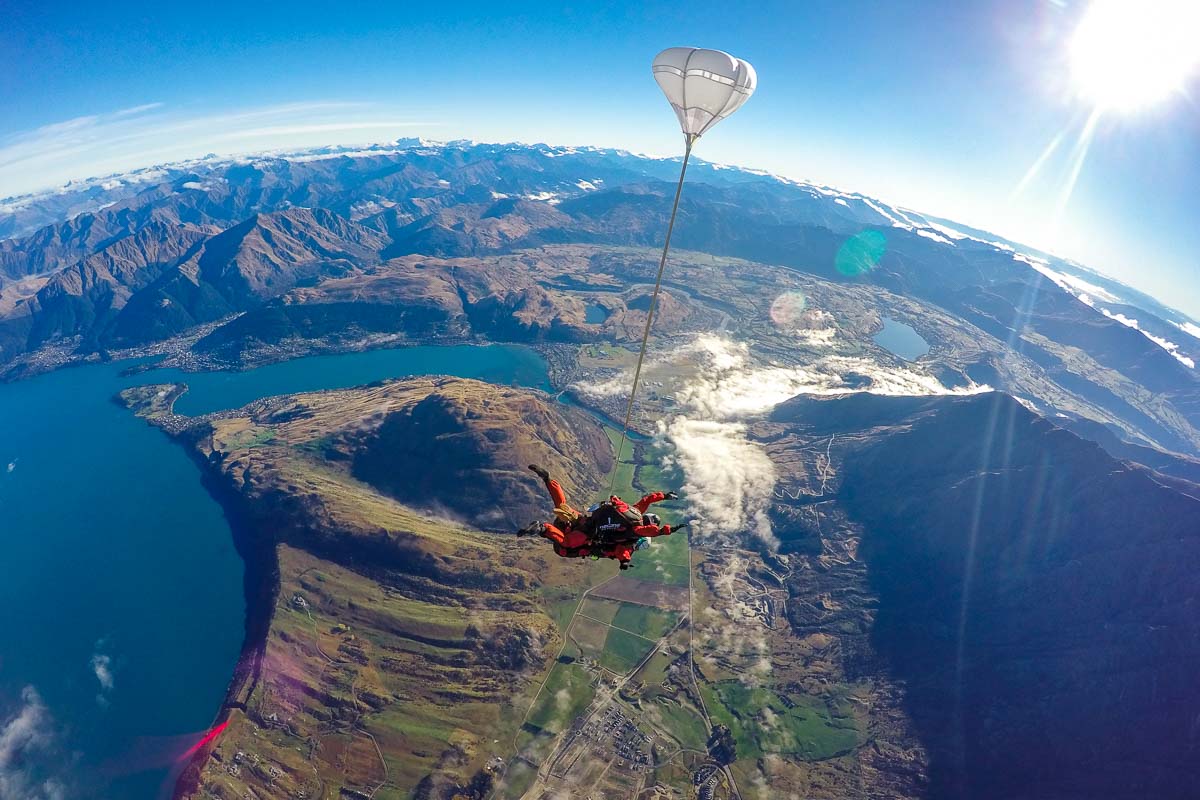 For more free fall time, opt for the 12,000ft or 15,000ft skydives!
Cost: ~S$260 for a 9,000ft skydive (not incl. of photos or videos, which can be added on the spot)
Opening hours: 9AM – 5PM
Address: 335 Shotover Street, Queenstown 9300, New Zealand
2) Shotover Canyon Swing
📍 Queenstown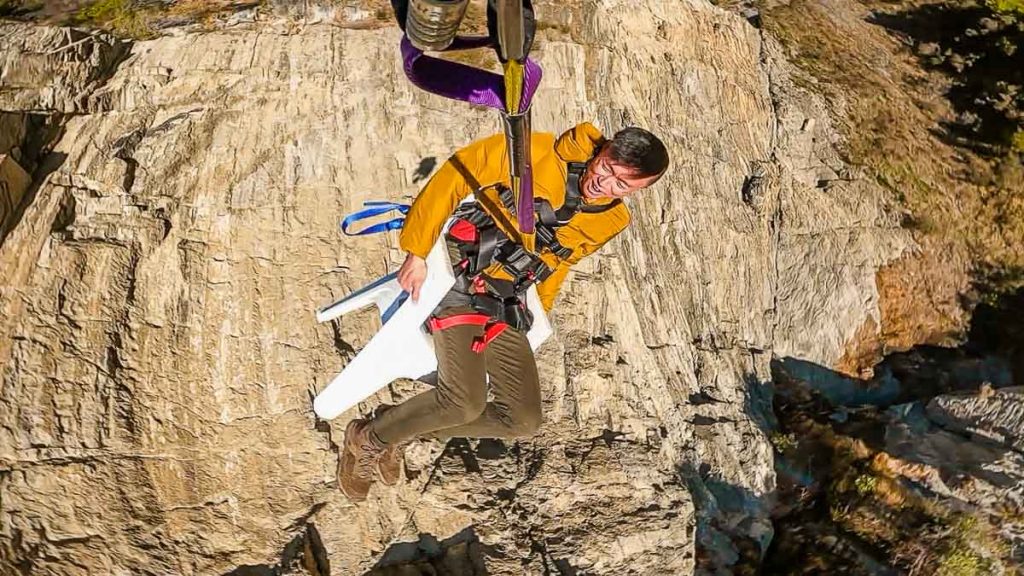 Shotover Canyon is the world's tallest cliff jump at a ball-shrinking 109m high. You'll experience 60m of free fall before swinging across Shotover River.
There are dozens of insane jump styles to choose from, like "The Chair", "Sparta" and "The Trike". Our favourite is the "Sparta" where you recite the famous line from 300 — and then get kicked off the platform.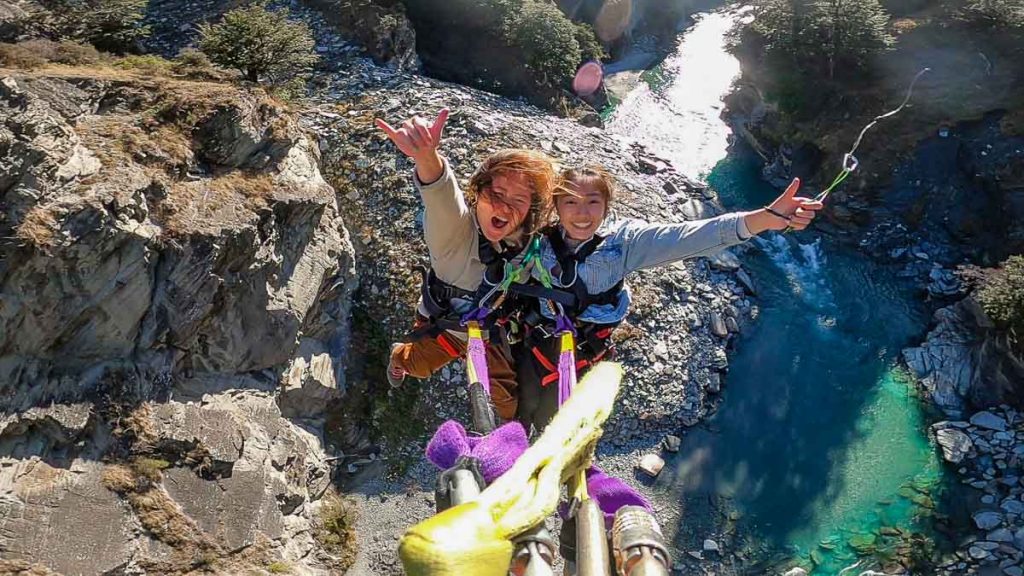 If you need a confidence boost, opt for a tandem jump with a friend! There are five jump styles available; we went for the "Cutaway" — where you're hanging off the edge and the rope gets cut.
*Pro-tip: A second jump costs just NZ$30 (~S$26.29)! If there's time leftover, you can just inform the staff on the spot that you'd like to go again.
Cost: ~S$176 via Klook for a solo jump, ~S$316 via Klook for a tandem jump (~S$44 for photos and videos)
Opening hours: 8:30AM – 3:30PM
Meeting point: Shotover Canyon Swing & Canyon Fox, 34 Shotover Street, Queenstown
Have more time to spare? Shotover also offers exhilarating Jet Boat Rides (~S$120.25/pax) — speed across shallow waters and experience 360 turns!
3) Fiordland Jet Boat
📍 Te Anau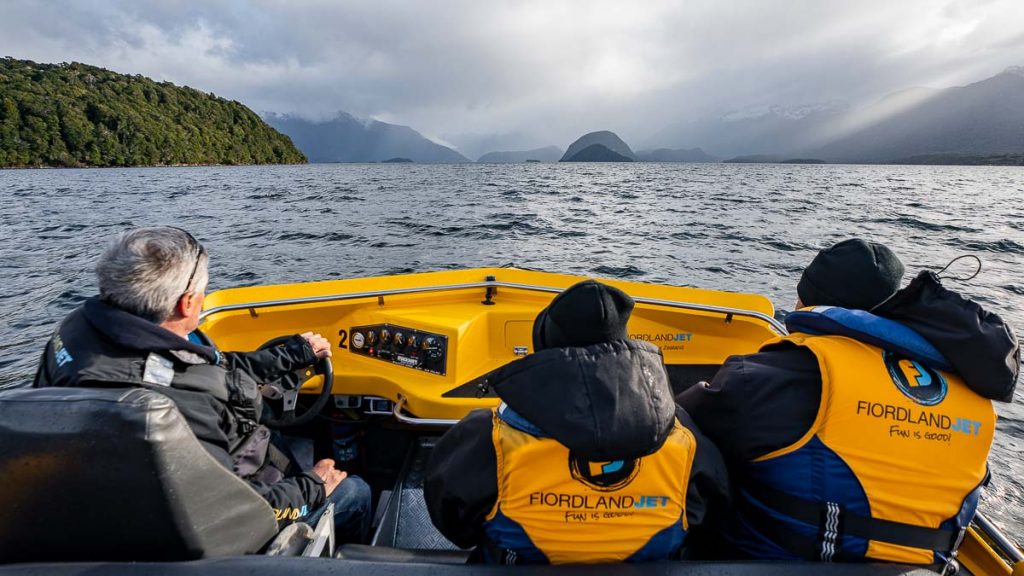 A tour with Fiordland Jet has a little bit of everything — nature, history, movie trivia, and thrill. The two-hour experience took us down Waiau River (Anduin River in the Lord of the Rings trilogy!) as well as the serene Lake Manapouri.
To keep things exciting, our guide Jon threw in a couple of fast turns and spins throughout the journey! It's kinda like getting a geography lesson on a rollercoaster.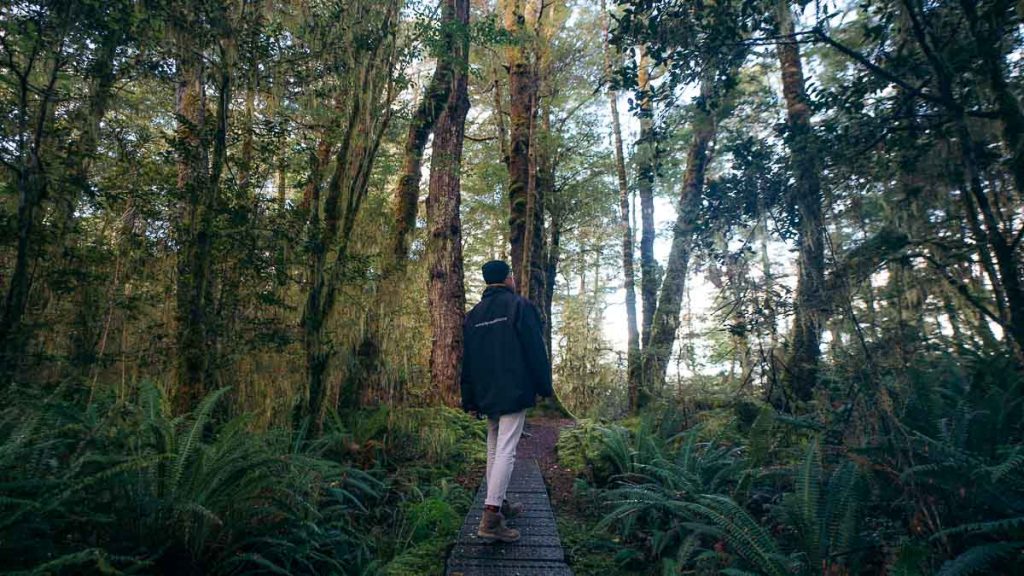 We even got to stop by the shore and walk along a small section of the famous 60km-long Kepler Track, where our guide shared about conservation efforts and pointed out different tree species.
During the winter months, clothes like windbreakers, buffs, and beanies are provided so you don't have to worry about attire.
Cost: ~S$151.65 for a 2hr tour
Tour timings: 10AM, 2PM, 4PM, 5PM, 6PM
Meeting point: 84 Lakefront Drive, Lakefront, Te Anau 9600
4) Quad Biking
📍 Queenstown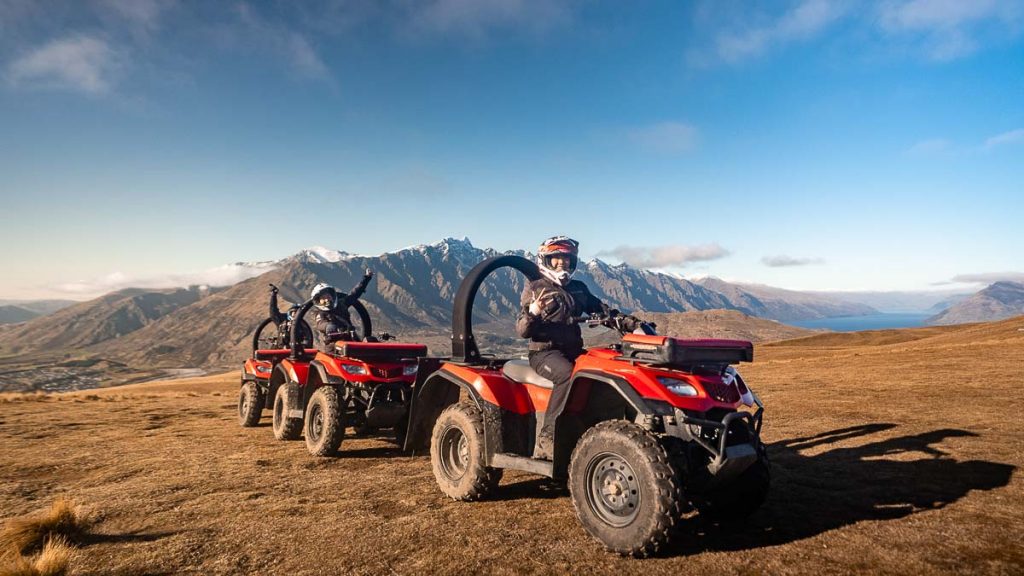 We've been on many ATV tours in different countries, but this quad bike tour with Nomad Safaris tops the list. This off-road track goes through private farmland on Queenstown Hill, so we didn't see another soul during the entire route — apart from several sheep.
The session began with practice rounds to get us comfortable with steering the bikes, before we headed up the hill.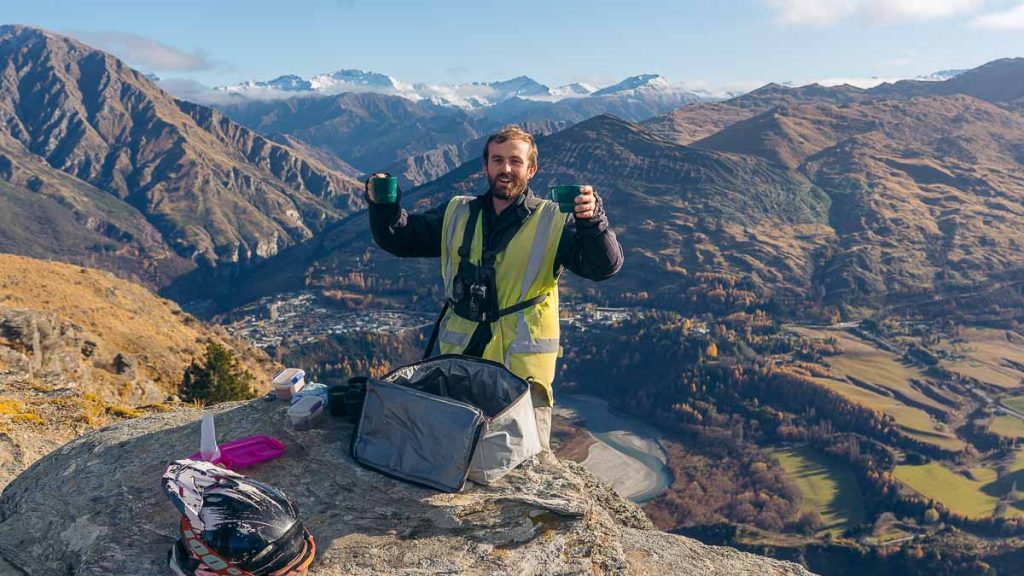 The views throughout the tour were unreal — I felt like I was on the set of an action film, riding my noble steed (read: quad bike) across majestic mountains. We stopped at a really nice viewpoint at the top of the hill, where our friendly guide distributed drinks and snacks.
Cost: ~S$264.70 for a 3.5hr tour (Note: Riders must be age 16 and above. Driving licence is not required)
Tour timings: 8:30AM, 1:30PM
Meeting point: Pick up from hotel
5) AJ Hackett Nevis Thrillogy
📍 Queenstown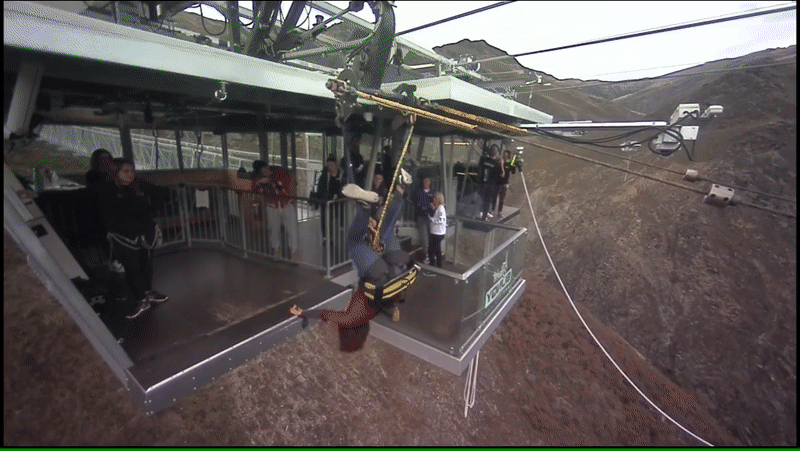 AJ Hackett was founded in Queenstown over 30 years ago — where the world's first-ever commercial bungy opened in 1988! Today, the company has expanded its repertoire of borderline-insane adrenaline activities to include the Nevis Thrillogy.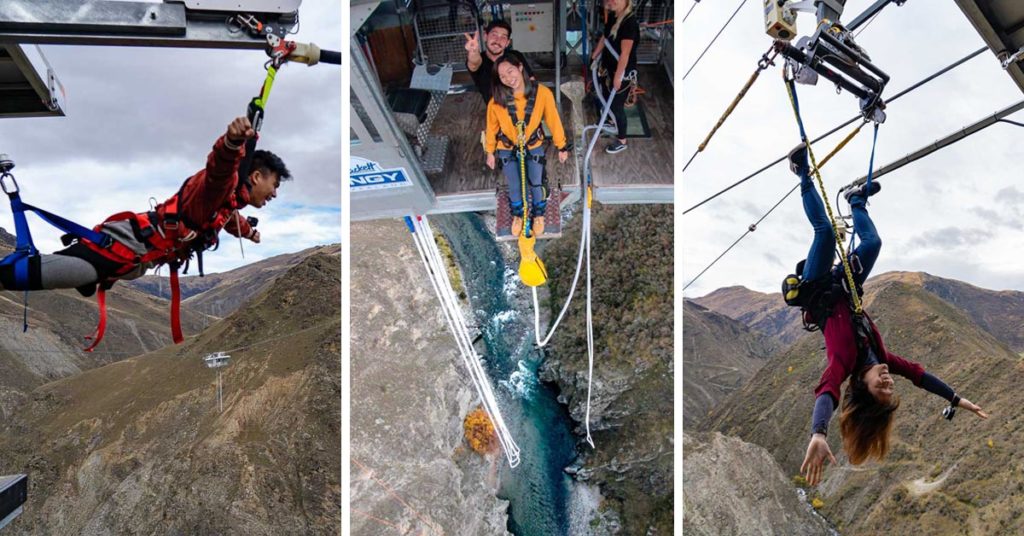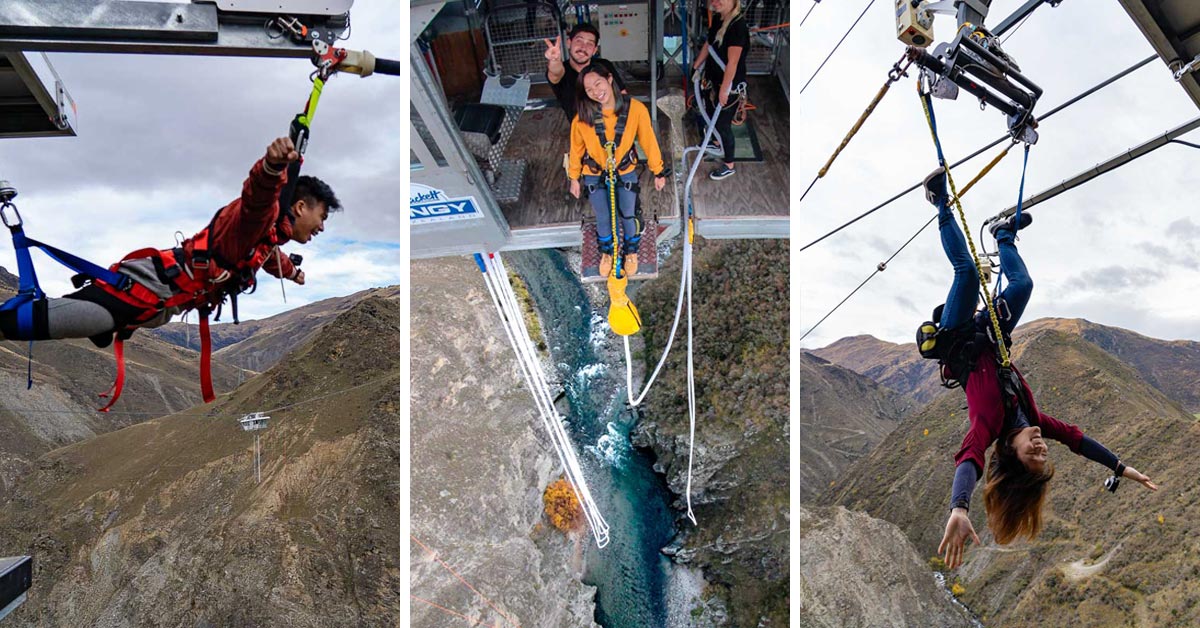 Choose to propel 150m at 100km/hr (Nevis Catapult), jump off New Zealand's highest bungy at 134m (Nevis Bungy), or swing over a 300m arc (Nevis Swing). Whichever you choose, it'll definitely be an experience you'll never forget!
Cost: From ~NZ$202.50 (S$176.87)
Opening hours: 8:30AM – 3PM (Closed Tue – Wed)
Meeting point: Queenstown Bungy Centre (Shotover &, Camp Street, Queenstown 9300, New Zealand)
6) Zipline
📍 Queenstown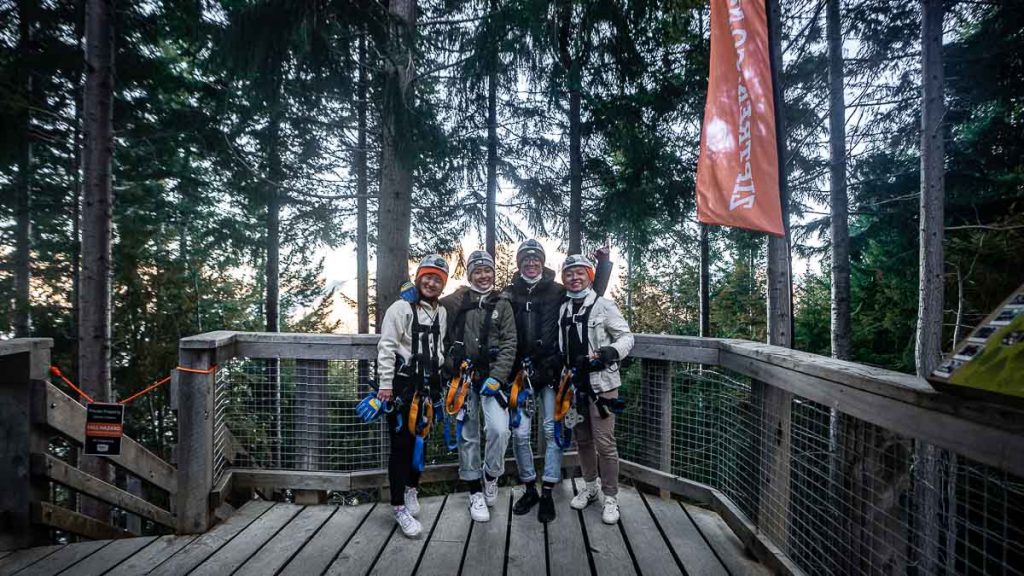 Zip through the forests of Bob's Peak on an epic zipline tour with Ziptrek Ecotours! We went for the Moa 4-Zipline tour, where the ziplines get increasingly longer and faster— with the fourth one stretching for 240m.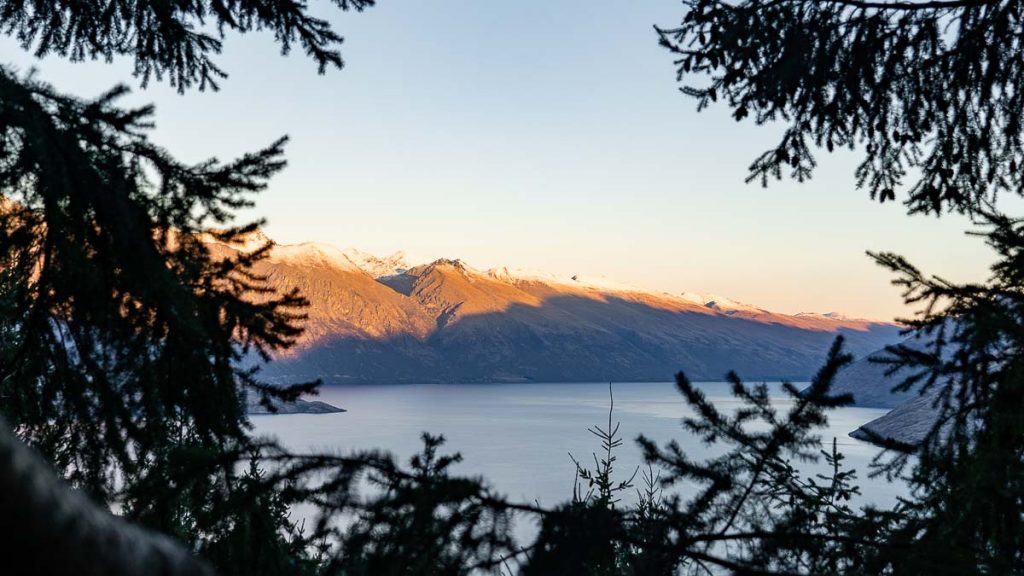 The treehouses and ziplines offer great views of Lake Wakatipu and the Remarkables mountain range. Each tour has two guides, who share about local conservation efforts.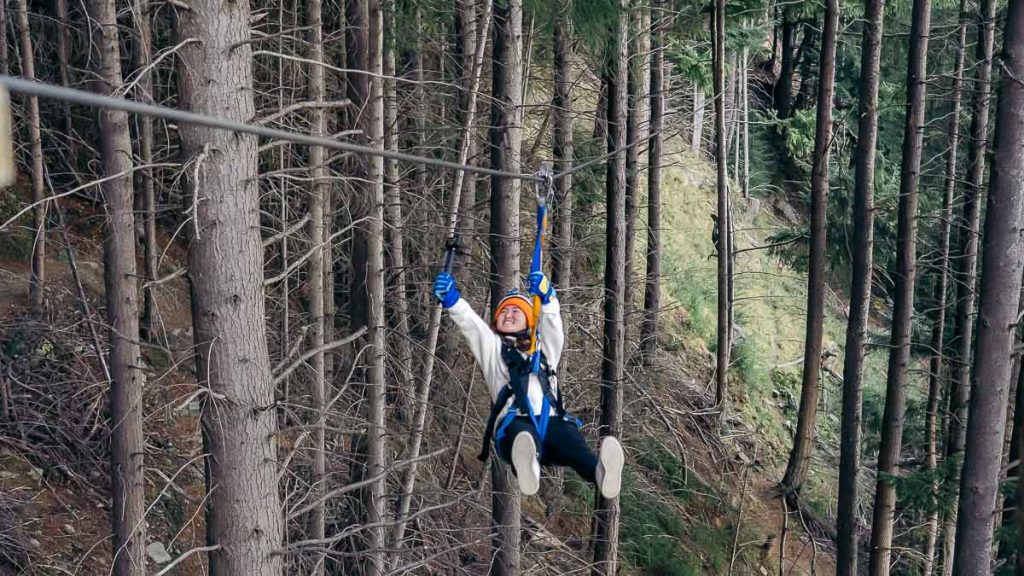 Want a longer experience? Opt for the Kea 6-Zipline tour which features the world's steepest tree-to-tree zipline, where guests will descend 30 stories in just 10 seconds.
Cost: ~S$129 for the Moa 4-Zipline tour, ~S$173 for the Kea 6-Zipline tour (Note: Package does not include gondola ticket)
Tour timing: 4PM
Meeting point: Top of Gondola, Queenstown 9300, New Zealand (There are signs at the top directing visitors to the Ziptrek Treehouse)
Psst. If you'd like to take the luge down from the Ziptrek Treehouse, opt for the Queenstown Skyline Gondola Package (~S$62). It includes a round-trip gondola ride and five luge rides!
7) Paragliding
📍 Queenstown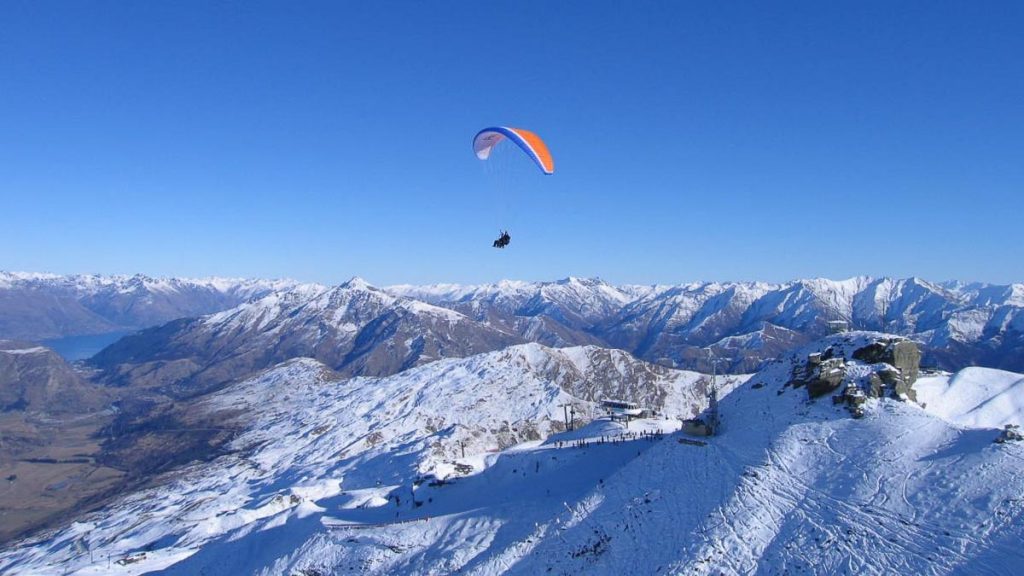 Photo credit: Coronet Peak Paragliding
During the winter months (June to September), visitors can take the chairlift up to Coronet Peak ski field and take off from there. It's the highest takeoff point in Queenstown!
Flight times average between 15 and 20 minutes, so you'll have plenty of time to soak in the views. For the thrill-seekers, ask your instructor to throw in a few spins and turns!
Cost: From ~S$206.65 — NZ$60 (~S$52.51) for photos and videos
Tour timings: 8:45AM, 11AM, 1PM, 2:45PM (Jun – Sep)
Meeting point: 39 Camp Street, Queenstown 9300, New Zealand
If you'd like to try skiing or snowboarding, there are Beginner Ski Packages (from S$202.39/day) at The Remarkables ski resort!
Best of New Zealand South Island's Outdoor Landscapes
8) Roy's Peak
📍 Wanaka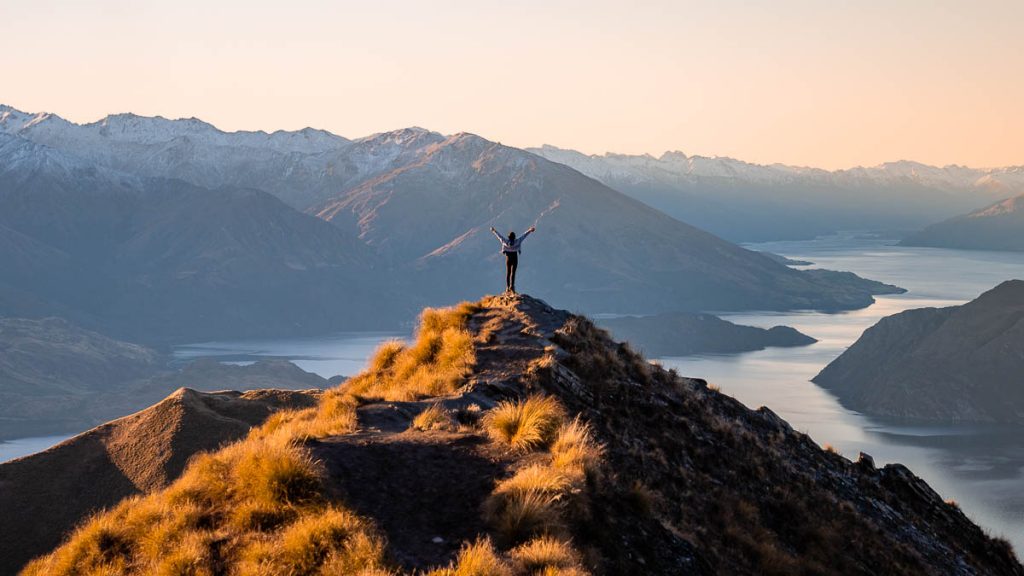 Roy's Peak might just be New Zealand's most famous postcard view and it definitely lives up to its hype. The Roy's Peak Track is a 16km round trip hike and takes a total of five to six hours.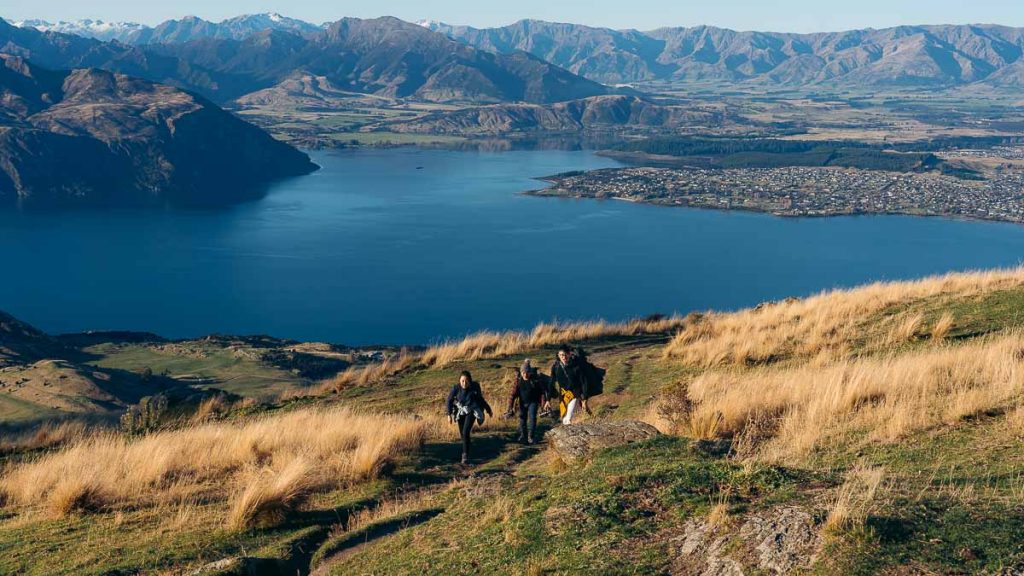 It's rated as an easy hike, but we beg to differ — there's nothing easy about a continuous uphill climb at a 30-45 degree incline.
The climb is seriously worth it though, with incredible views of Lake Wanaka throughout the trek.
Do note that there are only two toilets here (one 200m from the carpark and one near the top, at the 6.4km mark).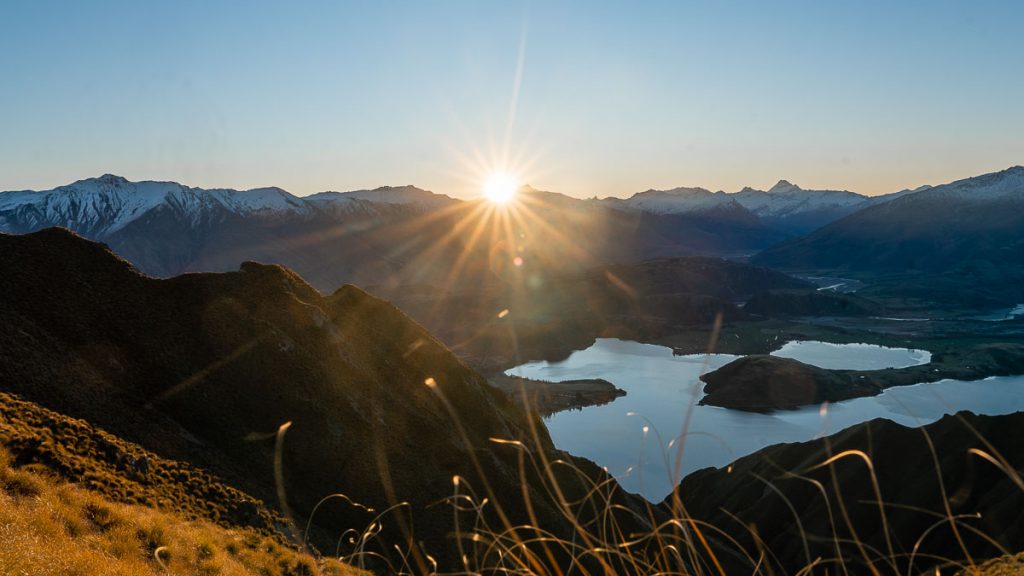 Bring a headlamp if you're planning to hike after sunset. There are zero lights along the route and several cows that might get in your way!
*Pro-tip: The famous Instagram spot of Roy's Peak (seen above) is not actually at the peak! It's the Roy's Peak Lookout, about 1.8km from the top. The view here is better, so if you want to save time, we'd recommend just ending at the lookout point.
Entrance fee: NZ$2
Opening hours: 24 hours (Closed for lambing 1 Oct – 10 Nov each year)
Address: Glendhu Bay 9382, New Zealand
9) Wanaka Tree
📍 Wanaka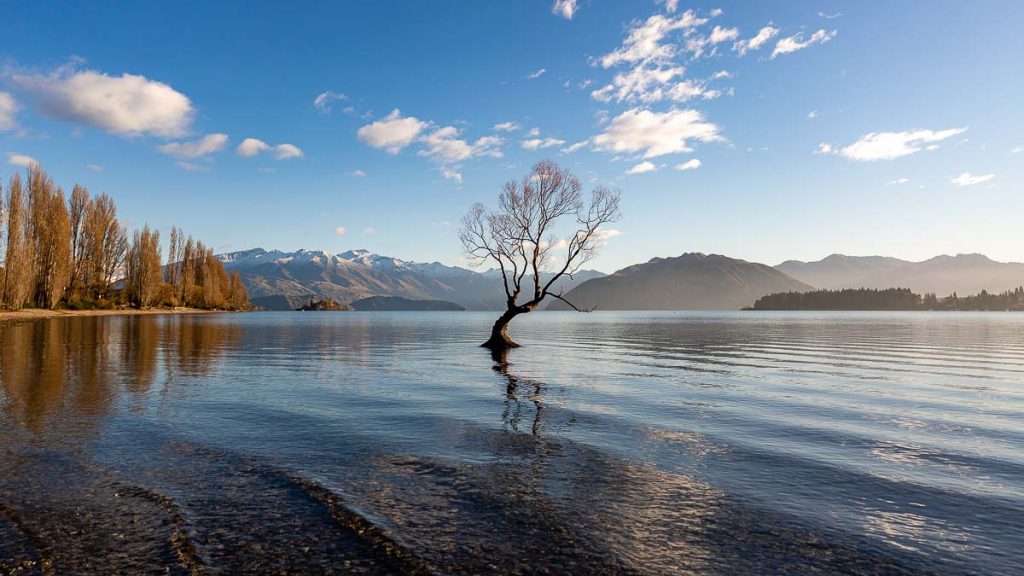 Rooted in the clear alpine waters of Lake Wanaka is perhaps New Zealand's most famous flora, the Wanaka Tree. It sits proudly against the backdrop of the Southern Alps — the perfect subject for photographers.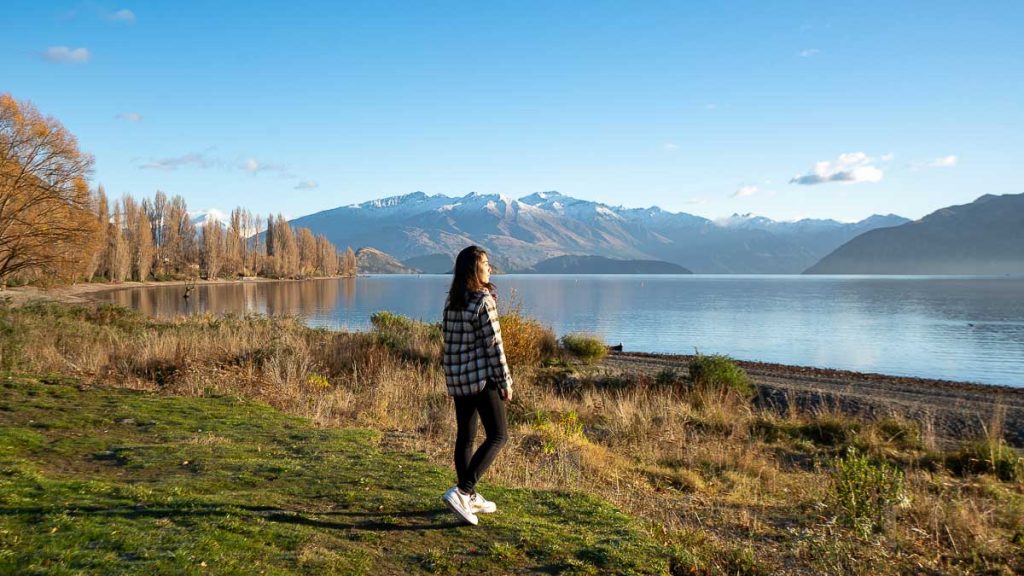 *Pro-tip: Lake Wanaka is a great place to catch the sunrise. Come early to walk along the lake and avoid the crowds!
Entrance fee: Free
Opening hours: 24 hours
Address: Roys Bay, 59 Wanaka Mount Aspiring Road, Wanaka 9305, New Zealand (Park at Lake Wanaka Hike/Bike Track 59 Wanaka Mount Aspiring Road, Wanaka 9305, New Zealand)
10) Lake Tekapo
📍 Tekapo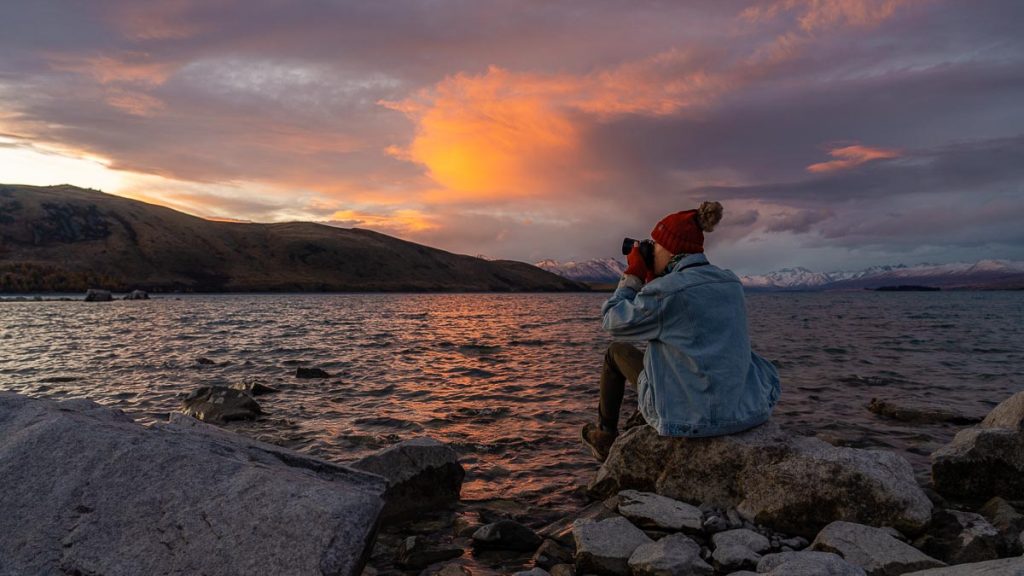 Lake Tekapo is a beautiful alpine lake surrounded by the Southern Alps. It gets its milky-turquoise shade from the fine rock sediments suspended in the water! The town's most well-known landmark is the Church of the Good Shepherd which sits near the edge of the lake.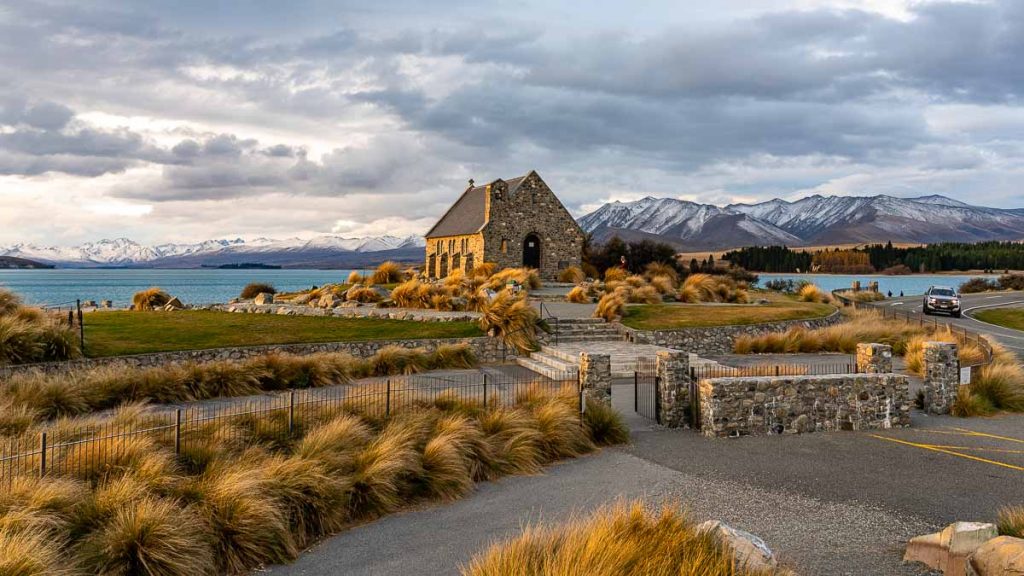 What makes Lake Tekapo really unique is its location in the heart of the Aoraki Mackenzie International Dark Sky Reserve. This means that there's very little light pollution here, making it one of the best places in the world for stargazing (and the occasional Southern Lights!).
Entrance fee: Free
Opening hours: 24 hours (Church opens 8AM – 8PM during summer, 9AM – 5PM during winter)
Address: Pioneer Drive, Lake Tekapo 7999, New Zealand
11) Milford Sound
📍 Milford Sound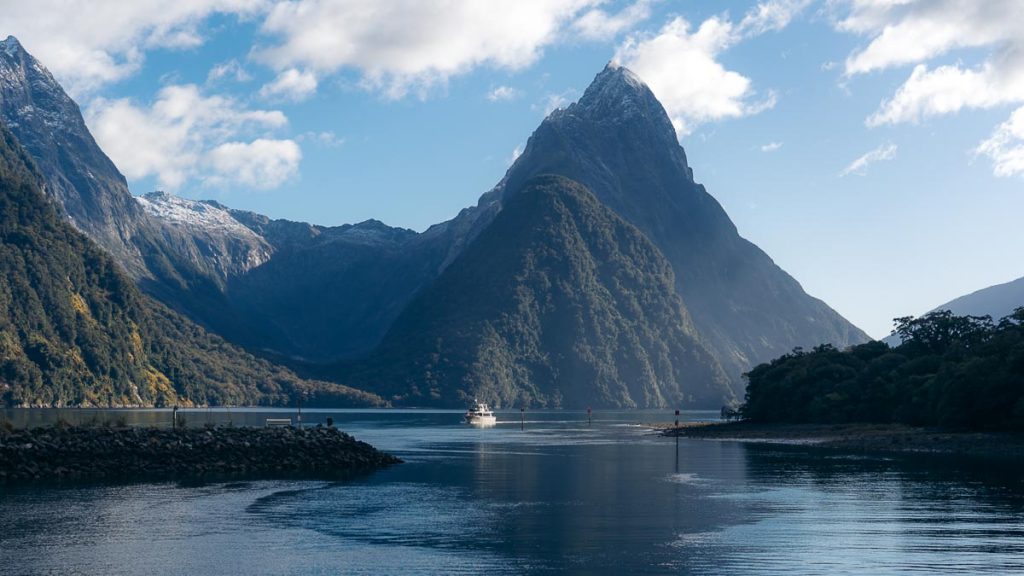 Milford Sound is a majestic fiord (a deep body of water nestled between high cliffs) — and every inch of the landscape here could easily be a desktop wallpaper.
There are so many sights here to take in, from the 1,683-metre tall Mitre Peak to thundering waterfalls. And the best way to see them all is by boat!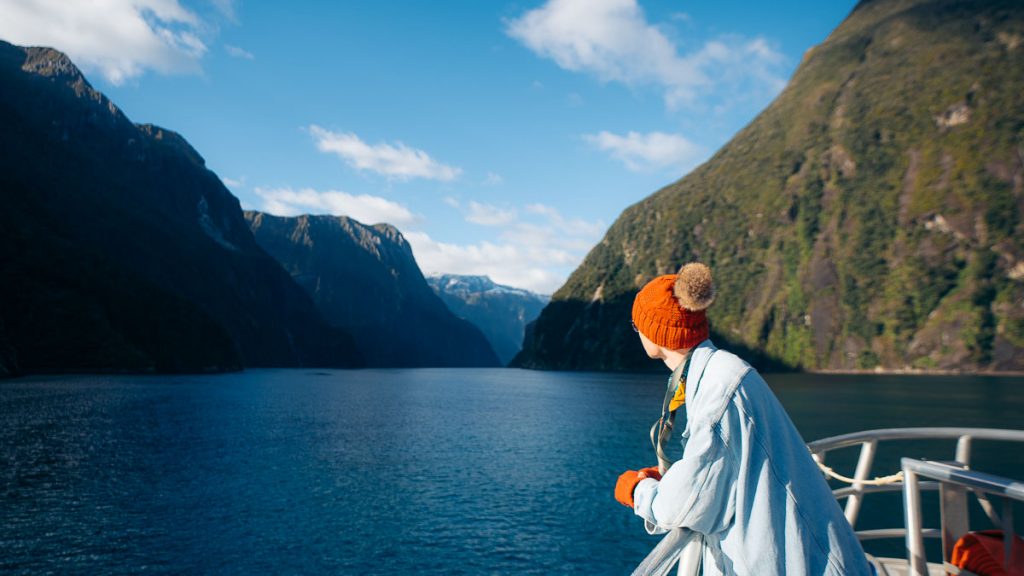 We booked a two-hour cruise that goes out to the Tasman Sea, and includes a guide pointing out different landmarks along the way. There's both indoor and outdoor seating and guests are free to roam about the boat!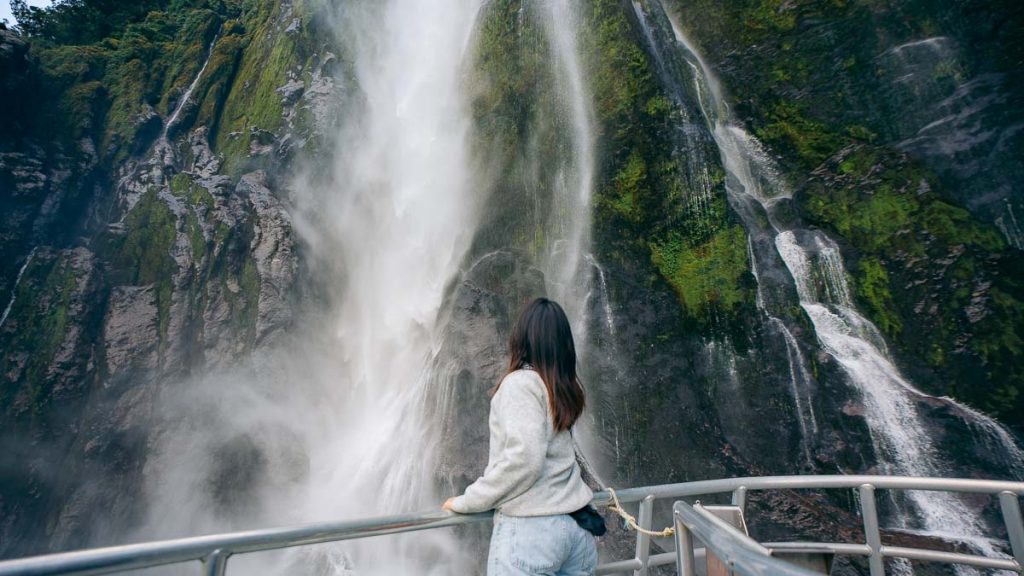 We even got to sail up close to several waterfalls; like the Stirling Falls — three times the height of Niagara Falls!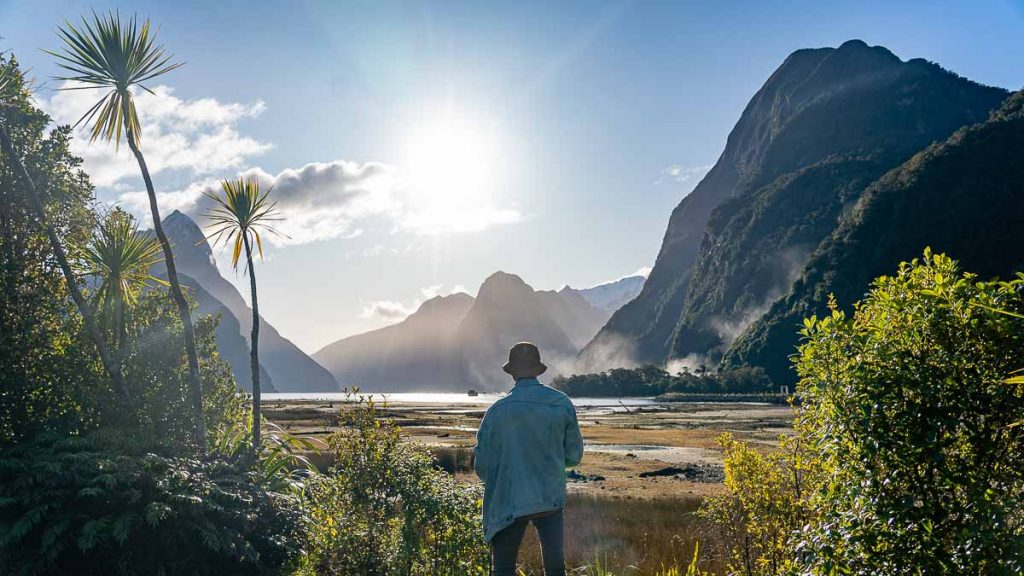 After the cruise, take your time to explore the rest of Milford Sound! There are several beautiful photo spots scattered around the area, so we recommend coming early for the cruise then you'll have the rest of the afternoon to walk around.
Milford Sound Scenic Cruise
Cost: ~S$79.45 for a 2hr cruise (Note: Drinks and snacks are sold on board but payment is via cash only)
Tour timings: 11AM, 1:15PM
Address: Milford Sound Visitor Terminal, Milford 9679, New Zealand (Park at the Milford Sound car park and walk 10min)
12) Lake Marian
📍 Fiordland National Park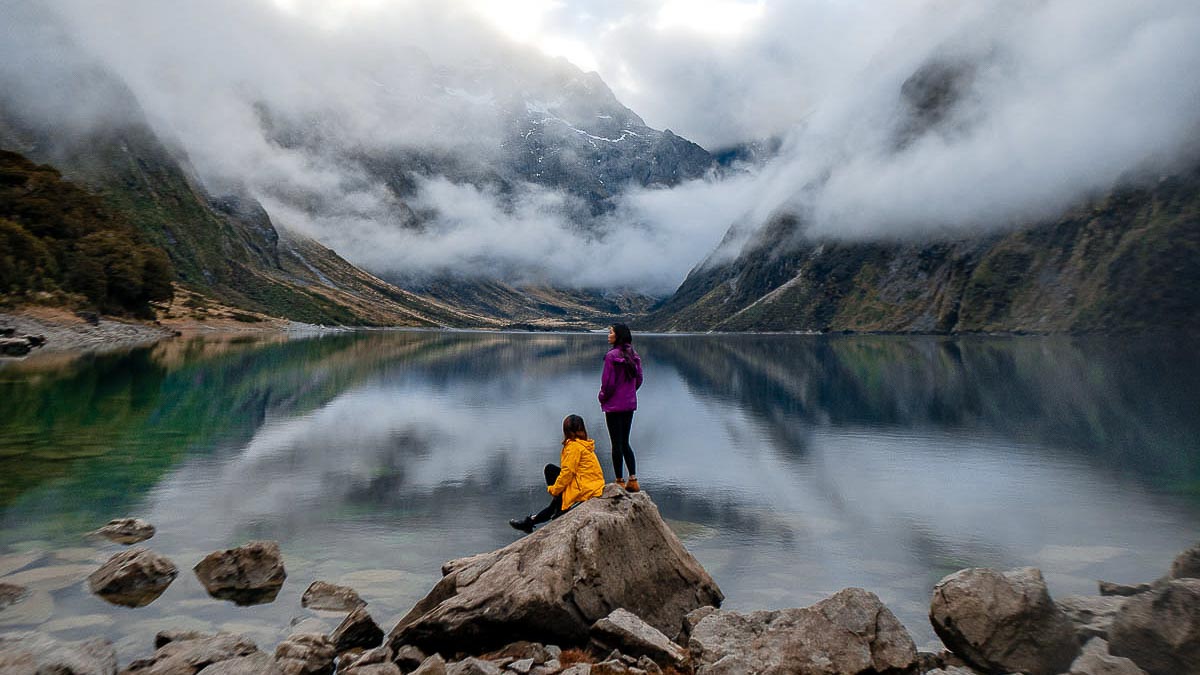 Lake Marian is an alpine lake nestled in a dreamy hanging valley on New Zealand's South Island. The first 10 minutes of the hike is easy and especially scenic, with a suspension bridge showcasing views of Marian Falls.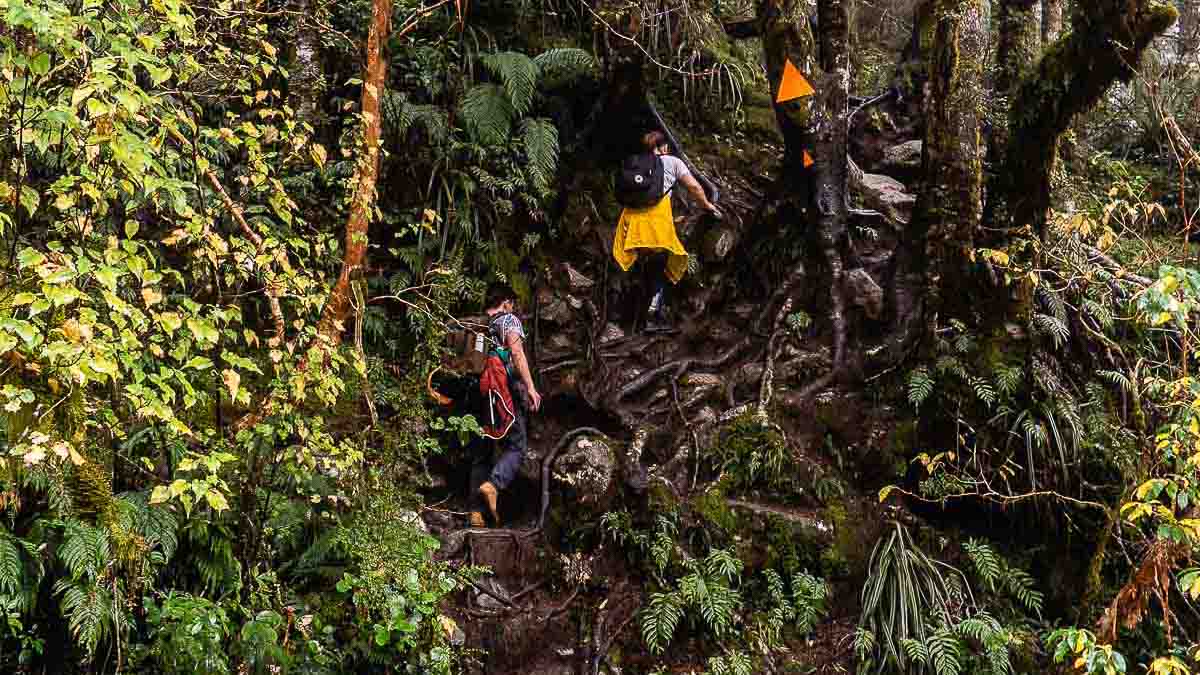 After that, it's a mostly uphill climb on uneven terrain. For a short three-hour round-trip hike, this trail has a high ROI — low effort, huge reward!
Entrance fee: Free
Opening hours: 24 hours
Address: Hollyford River-Whakatipu Ka Tuka, New Zealand
13) Castle Hill
📍 Arthur's Pass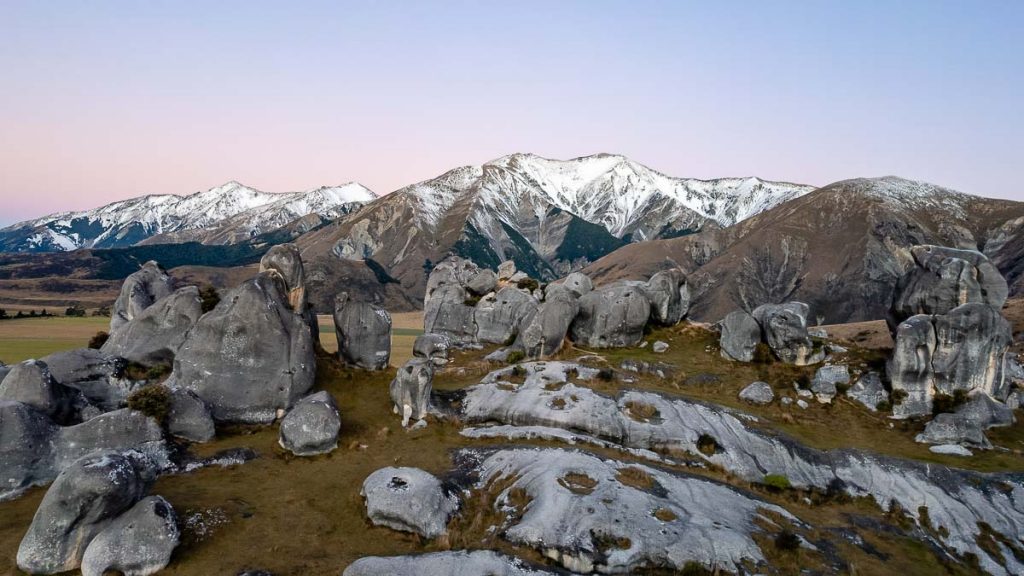 Castle Hill (or Kura Tāwhiti in Maori) is basically a large, natural playground filled with massive limestone boulders. This entire area used to be underwater 30 to 40 million years ago — but slowly emerged above ground through years of tectonic movement.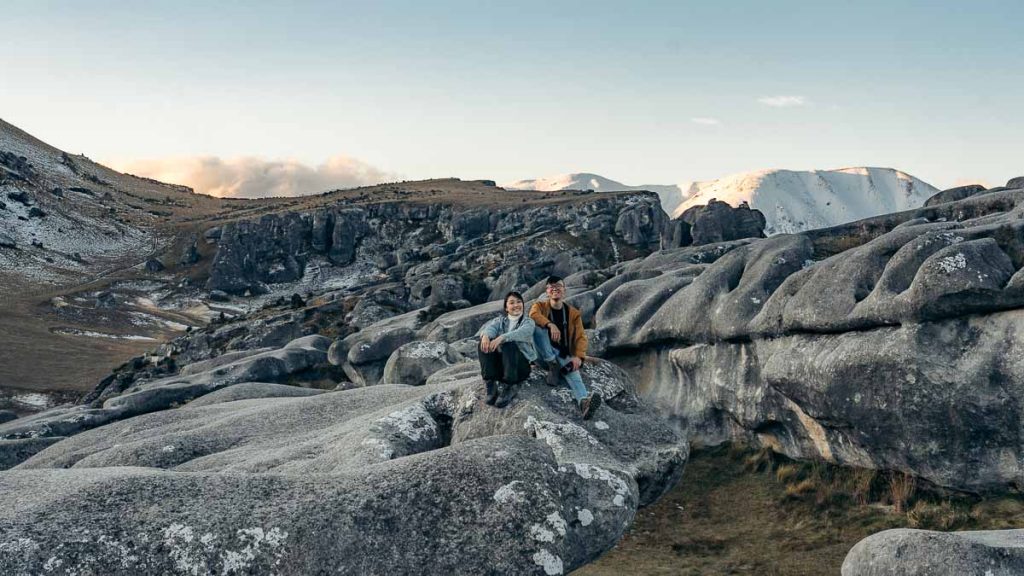 The entire area is pretty much free-for-all (no boulders are off-limits!) so it's really popular among climbers. We enjoyed scrambling up different boulders and stayed all the way till sunset.
Entrance fee: Free
Opening hours: 24 hours
Address: West Coast Road, Castle Hill 7580, New Zealand
14) Devil's Punchbowl
📍 Arthur's Pass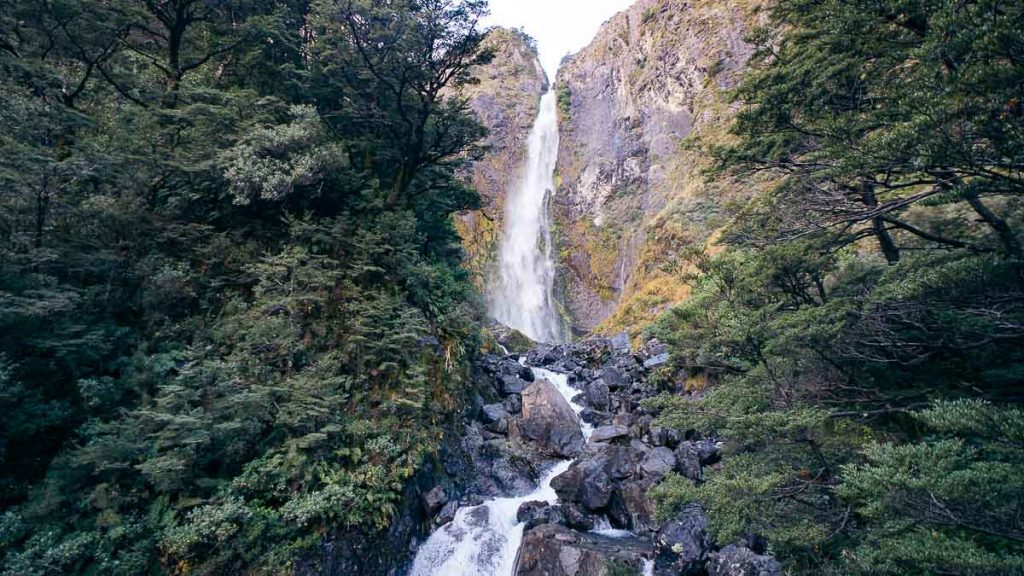 The Devil's Punchbowl Walking Track is a short hour-long return hike in Arthur's Pass, with a 131-metre waterfall at the end as a reward.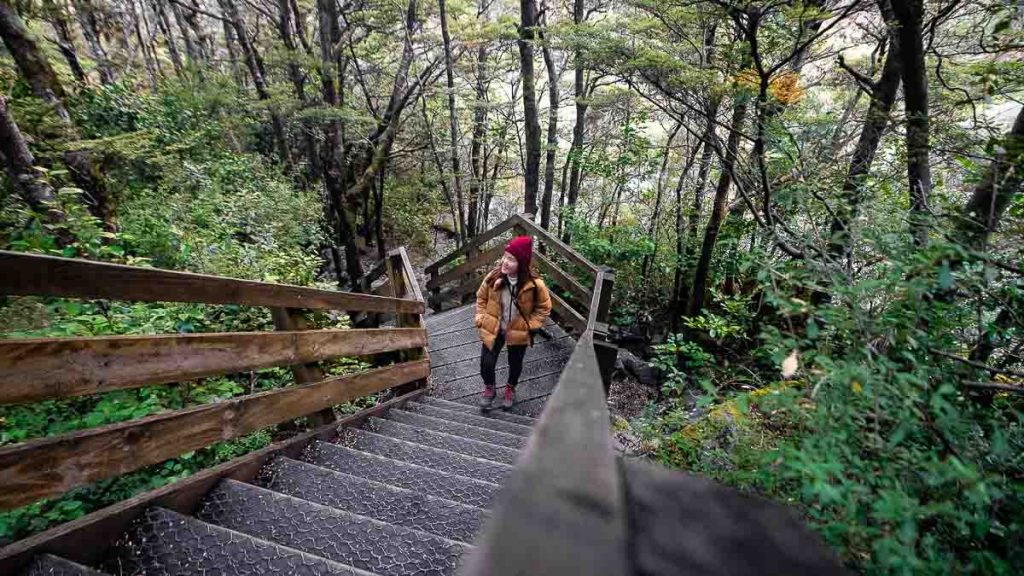 The entire route is really scenic, starting with a flat walk across a bridge followed by a series of stairs.
Entrance fee: Free
Opening hours: 24 hours
Address: Canterbury 7875, New Zealand
15) Mount John Summit
📍 Tekapo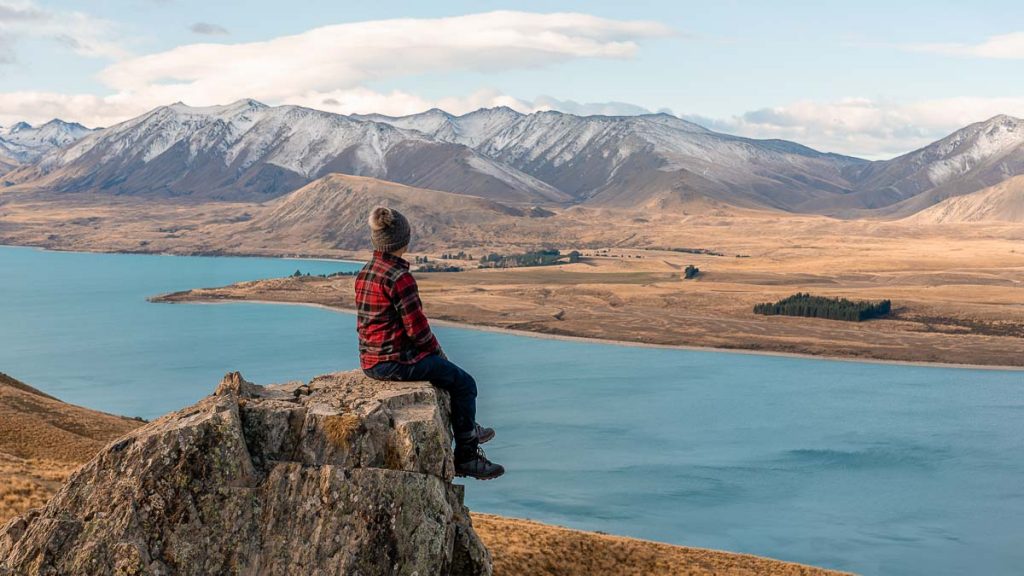 For the best view of Lake Tekapo and the surrounding landscapes, hike up Mount John (1,031m). It's an 8.9km round trip hike from the town of Tekapo and takes roughly three hours total.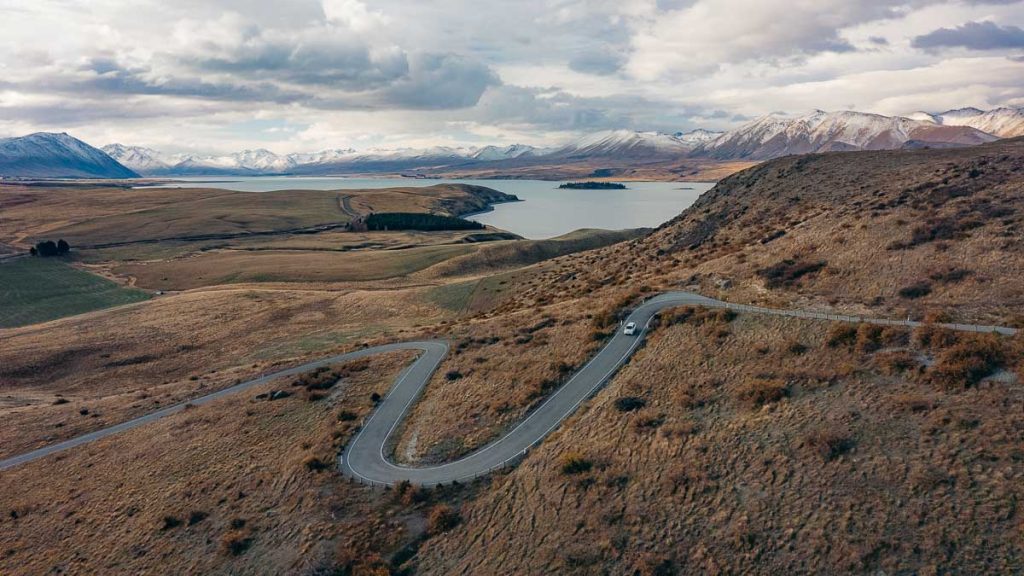 The summit is also home to the Mount John University Observatory, New Zealand's leading astronomical research observatory.
*Pro-tip: If you're short of time, skip the hike and pay an NZ$8 road toll (per car) to drive up to the summit of Mount John!
Entrance fee: Free
Opening hours: 24 hours
Address: Tekapo 7999, New Zealand
16) Lake Wakatipu
📍 Queenstown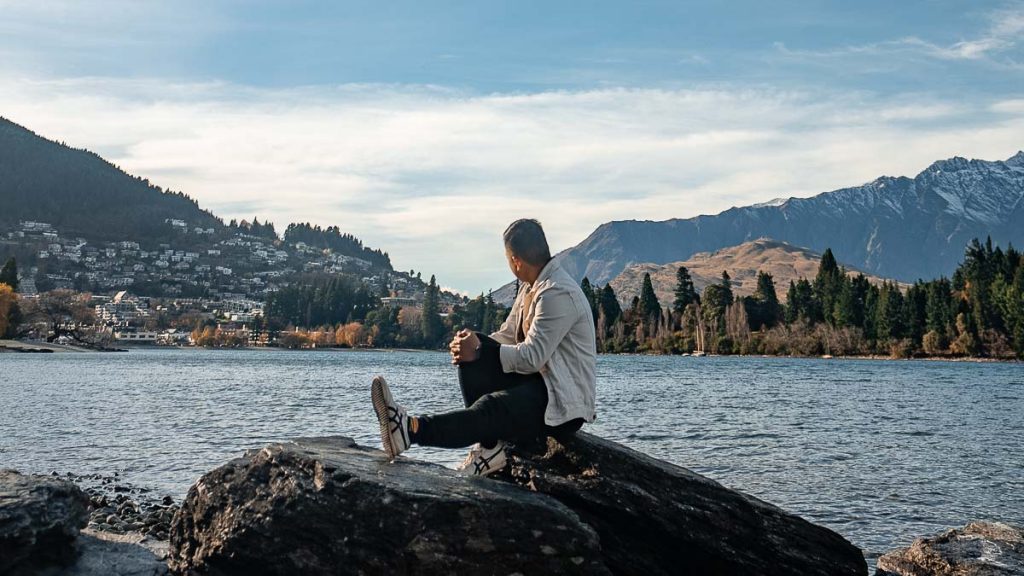 According to legend, Lake Wakatipu is the resting place of the giant Matau — hence the S-shape of the lake! It's said that the rising and falling of the lake is due to the heartbeat of the giant.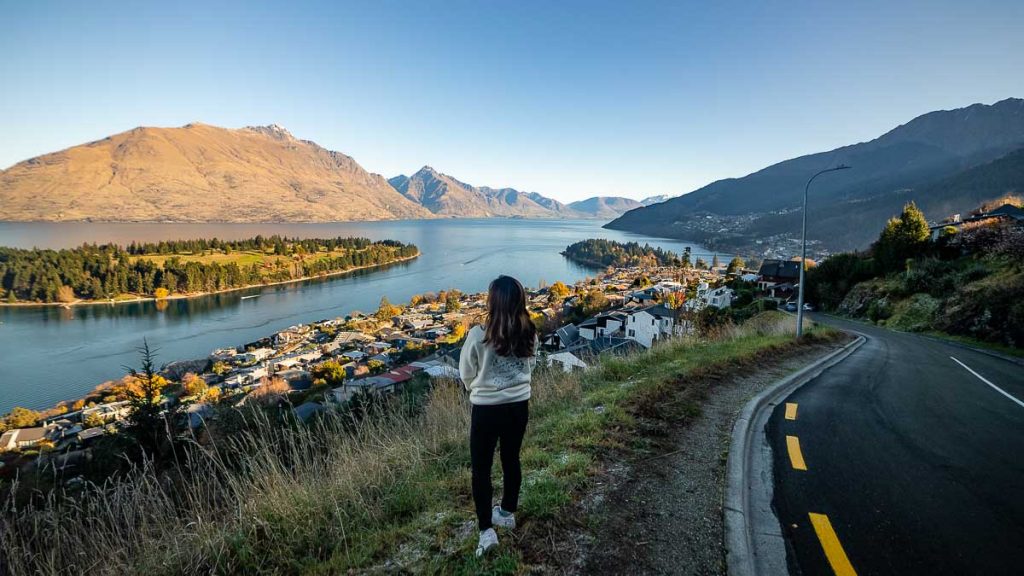 Walking along the lakefront is a must in Queenstown, but we recommend also viewing the lake from a higher vantage point! A local guide told us about the Lake Wakatipu Viewpoint (76/92 Hensman Road) which offers panoramic views of the lake.
Entrance fee: Free
Opening hours: 24 hours
Address: Level 1 Steamer Wharf, 88 Beach Street, Queenstown 9300, New Zealand
17) Cave Stream Scenic Reserve
📍 Castle Hill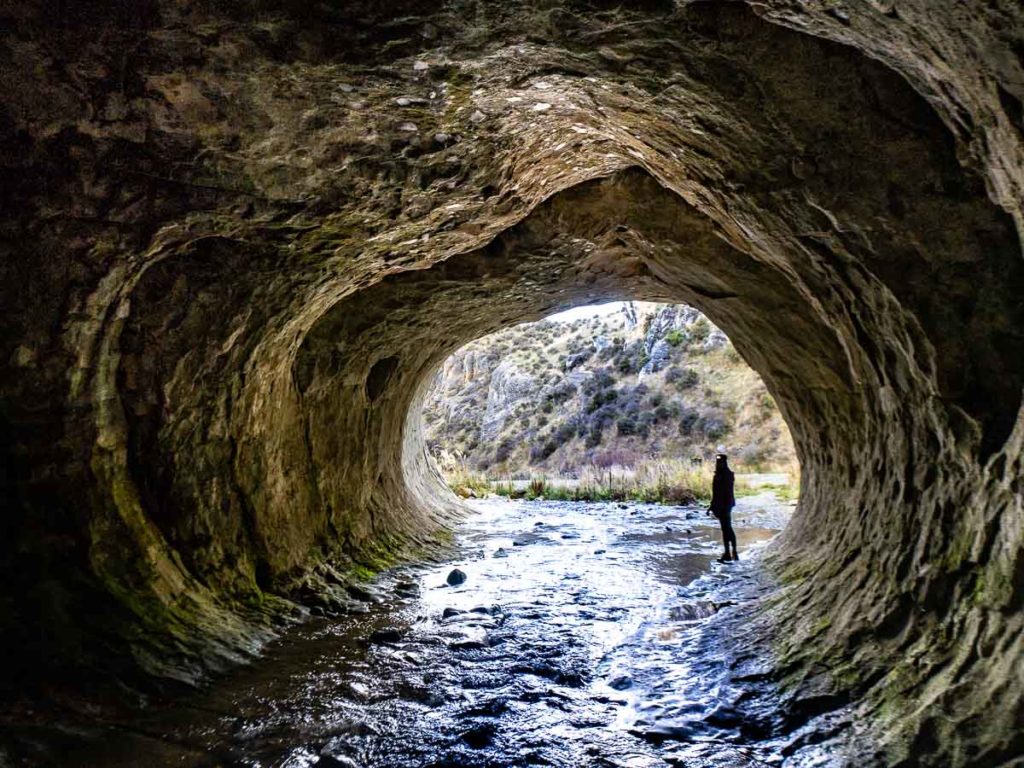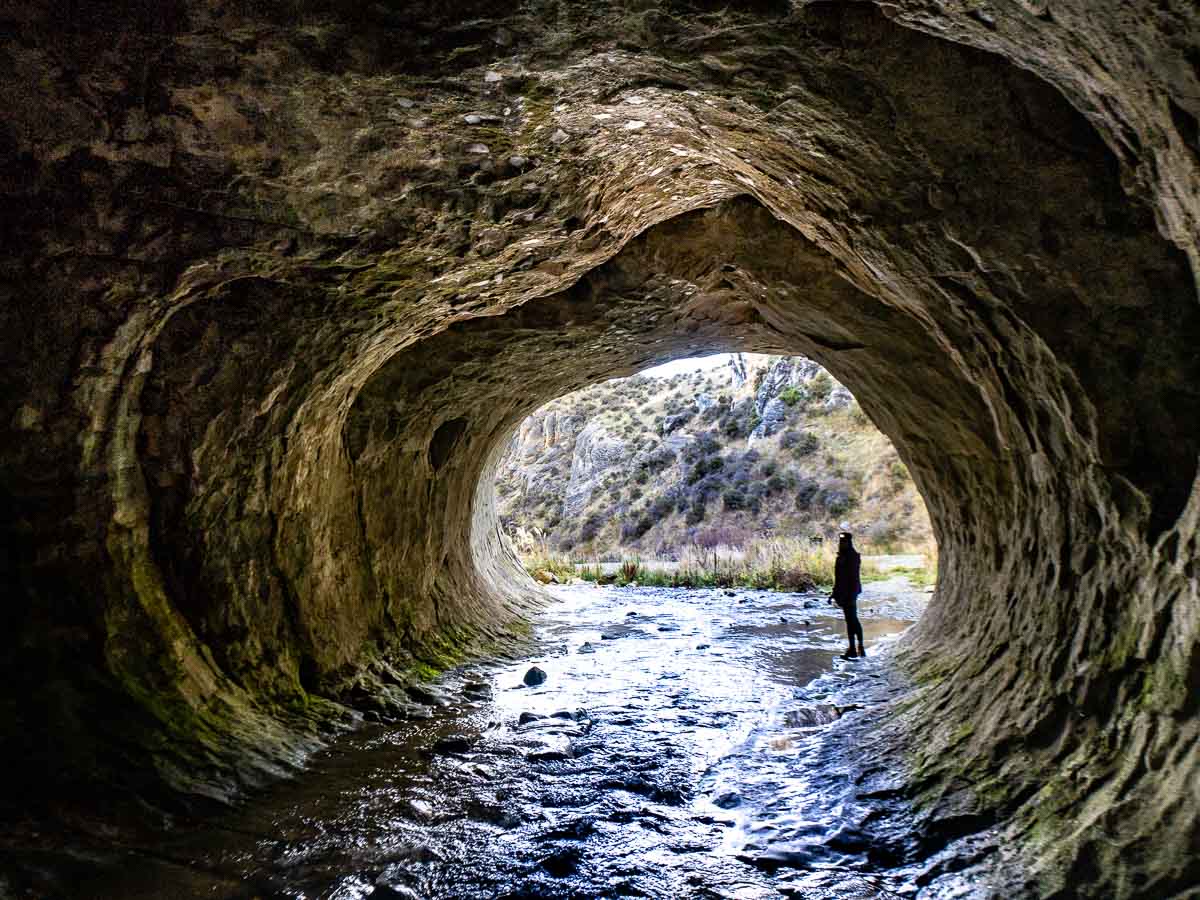 The Cave Stream Scenic Reserve is a 594m-long cave that takes roughly an hour to walk all the way through (and exit from the other end). Enter from the downstream entrance and walk against the flow of the river!
The deepest section of the cave is just above waist-level for an adult, so you're bound to get wet.
*Pro-tip: Bring a headlamp and wear proper shoes if you intend to walk through the cave! Do not enter if it's raining as the caves may flood.
Entrance fee: Free
Opening hours: 24 hours
Address: Castle Hill 7580, New Zealand
18) Fox Glacier
📍 Fox Glacier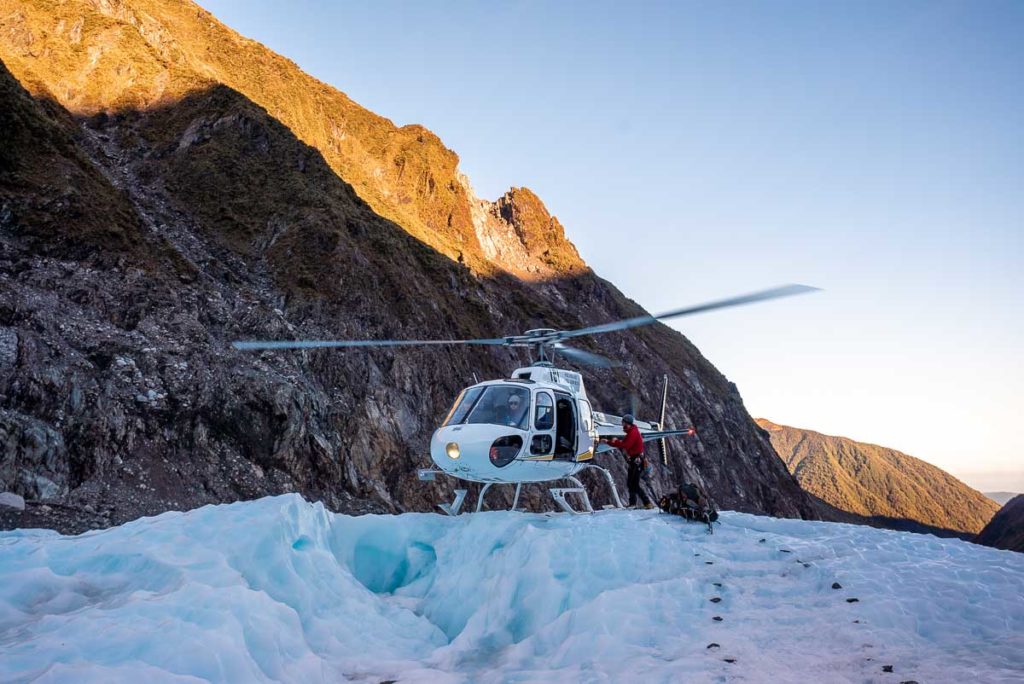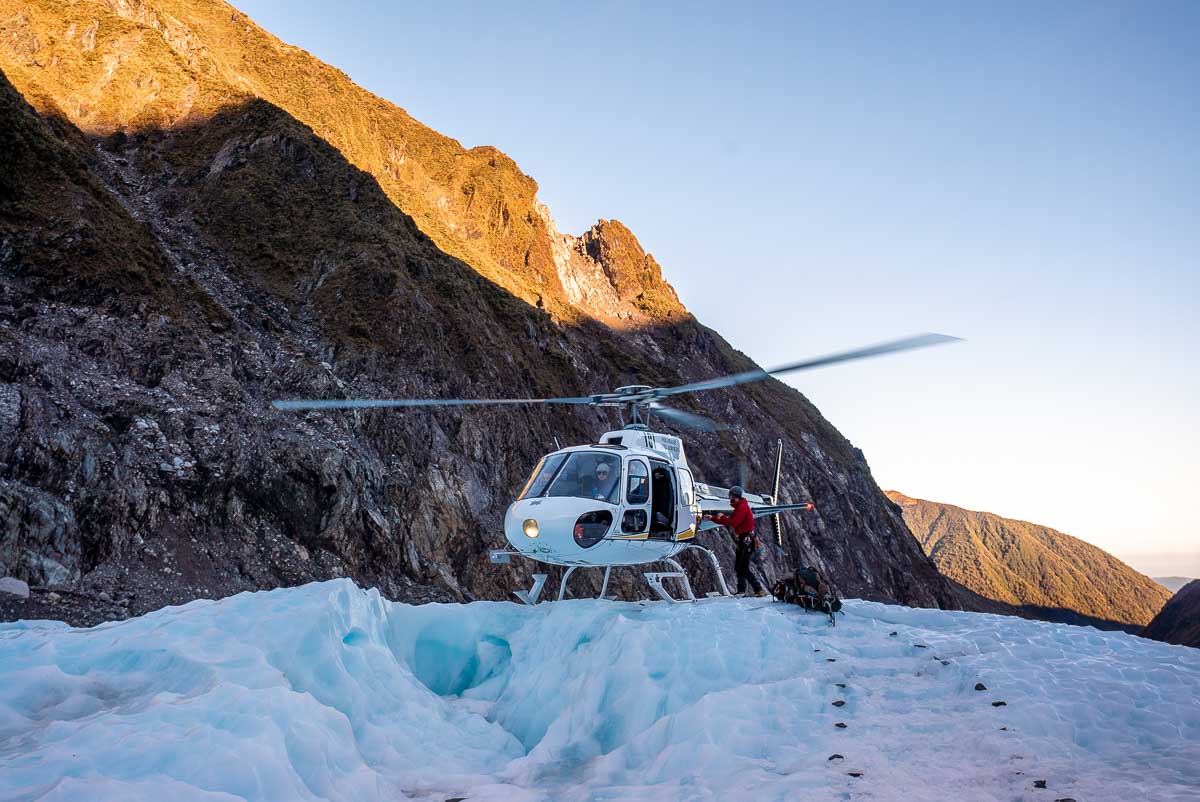 This Fox Glacier Heli Hike ticks off two epic bucket list experiences in a single tour of one of the world's most accessible glaciers. Take in the landscapes from the sky, before descending and exploring the glaciers up close.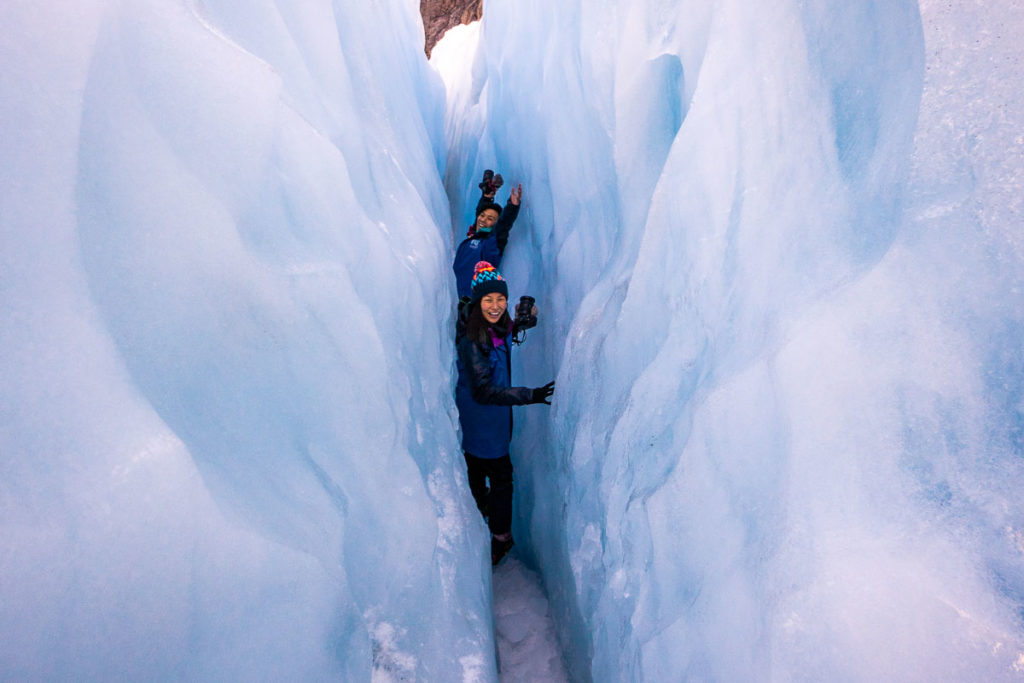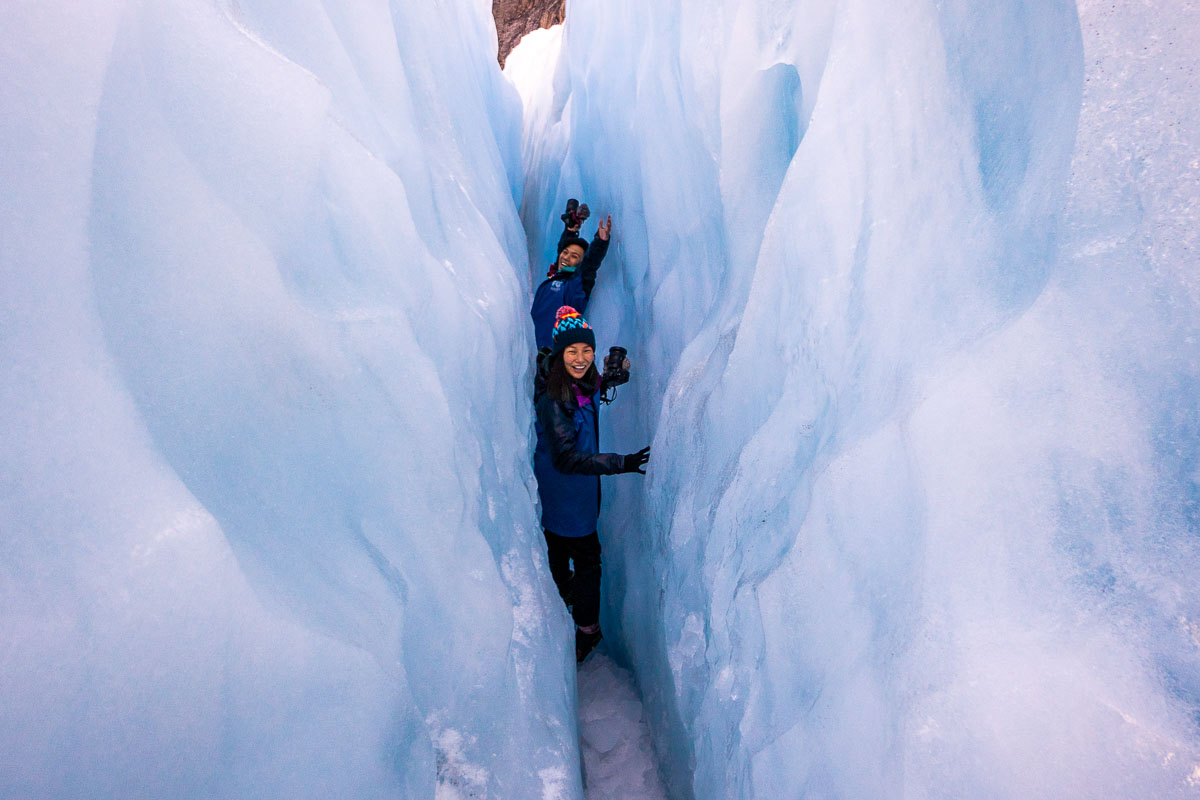 Equipment like leather boots, crampons, walking poles, waterproof jackets, and over-trousers are provided.
Cost: ~S$435.05 for a Heli Hike
Tour timings: 8:50AM, 11:50AM
Meeting point: 44 Main Road, State Highway 6, Fox Glacier 7951, New Zealand
19) Hooker Valley Track
📍 Mount Cook National Park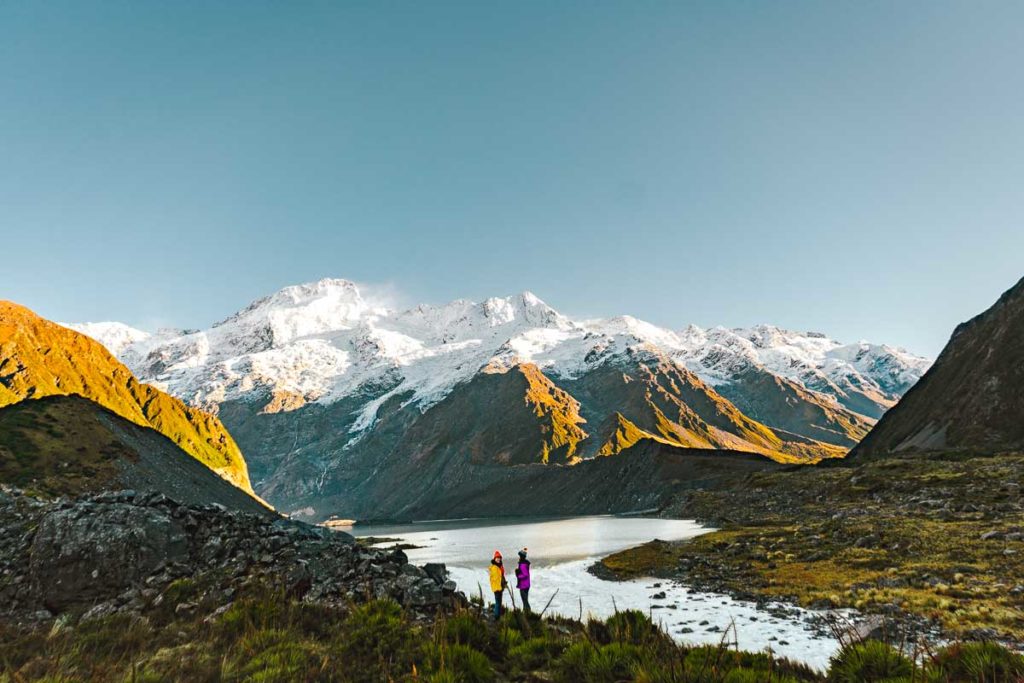 The Hooker Valley Track is arguably the most popular hike in Mount Cook National Park. Firstly, because it's relatively short and easy — a three-hour return trip (10km total) on mostly flat paths. Second, there are incredible views throughout the journey.
The trail takes you through Hooker Valley and Hooker River, before ending at glacier lake where there's an awesome vantage point of Mount Cook.
Entrance fee: Free
Opening hours: 24 hours
Address: Hooker Valley Track, Mt Cook National Park 7999, New Zealand
20) Lake Pukaki
📍 Mackenzie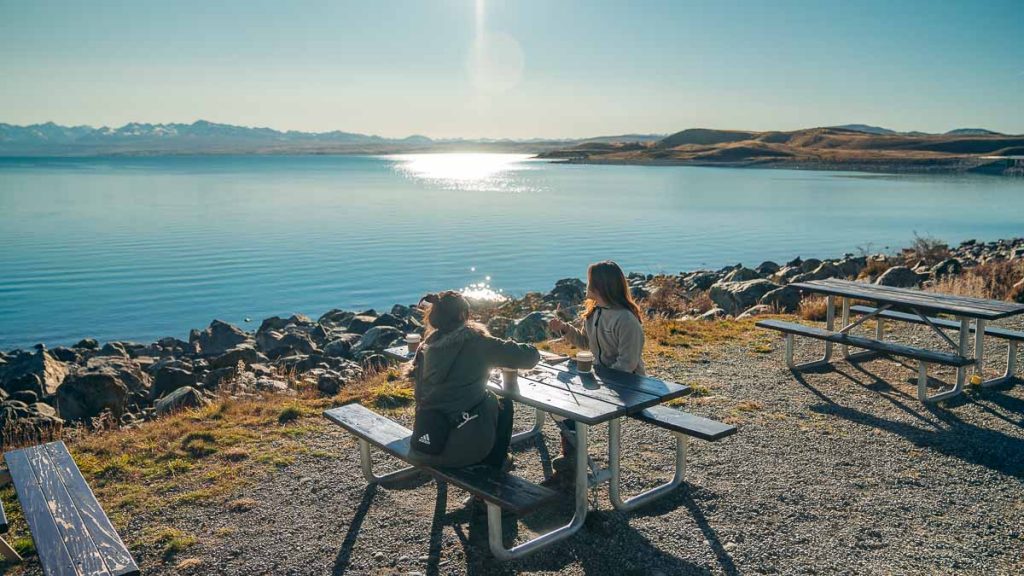 Lake Pukaki has some of the best views of Mount Cook (New Zealand's tallest mountain!). The water is bright turquoise, owing to glacier flour made from fine rock particles from surrounding glaciers.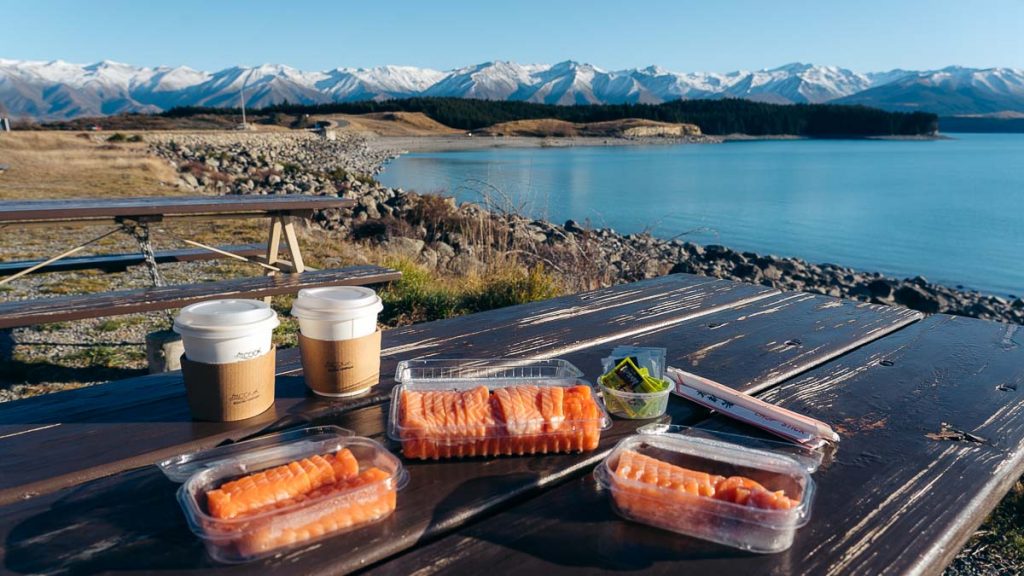 The real reason we came though, is for the glorious Mount Cook Alpine Salmon. 🤤 Farmed in the icy waters of the Southern Alps, the king salmon here is free of pesticides and unbelievably thick and fresh.
There's plenty of outdoor seating at the Lake Pukaki Store so it's a great place for a snack break with a view!
Lake Pukaki Salmon Store
Cost: NZ$12 (~S$10.49) for 100g, NZ$40 (~S$35) for 500g
Opening hours: 9AM – 5PM
Address: Lake Pukaki Information Centre, Pukaki 7999
21) Tasman Glacier Hike
📍 Mount Cook National Park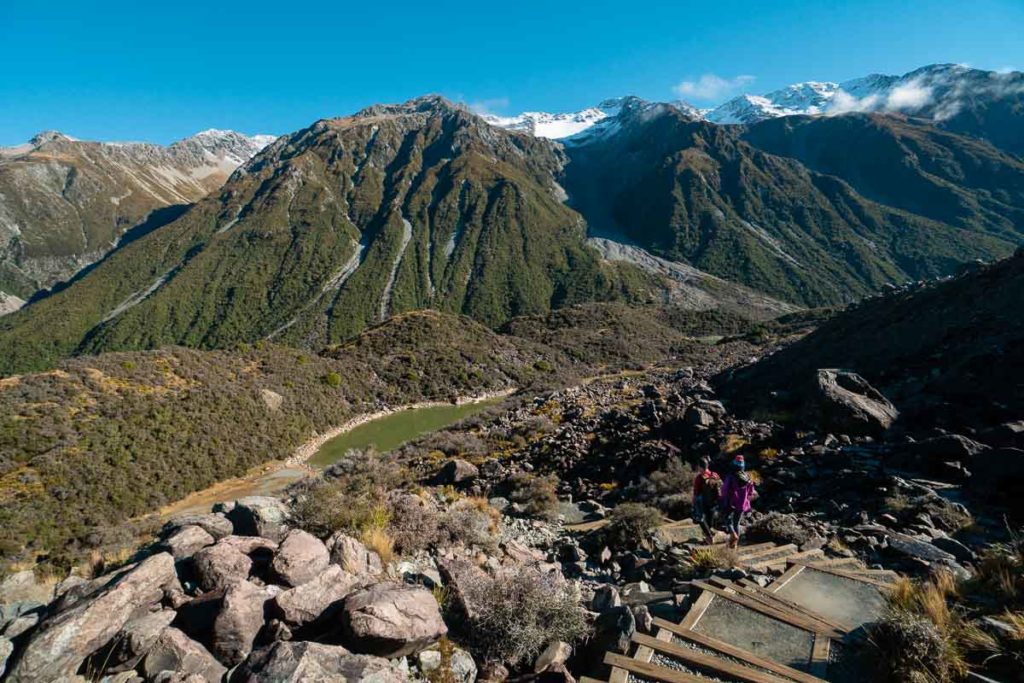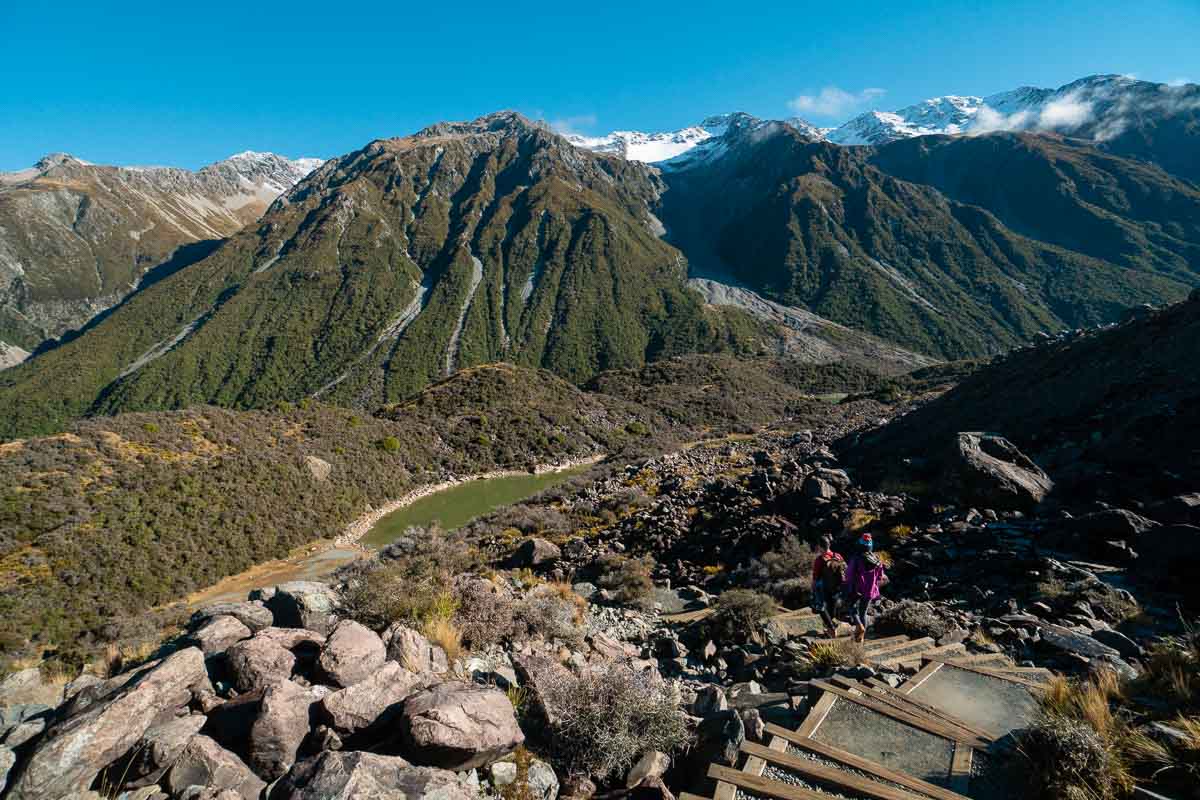 The 27km-long Tasman Glacier is New Zealand's longest glacier. Don't worry though, you only need to hike a small section of it to enjoy stunning views. The Tasman Glacier Hike is a short 2.6km round trip hike which includes highlights like the Blue Lakes and the surrounding mountains!
Entrance fee: Free
Opening hours: 24 hours
Address: Tasman Valley Road, Mount Cook National Park 7999, New Zealand
Best of New Zealand South Island's Wildlife
22) Swim with Dolphins
📍 Kaikoura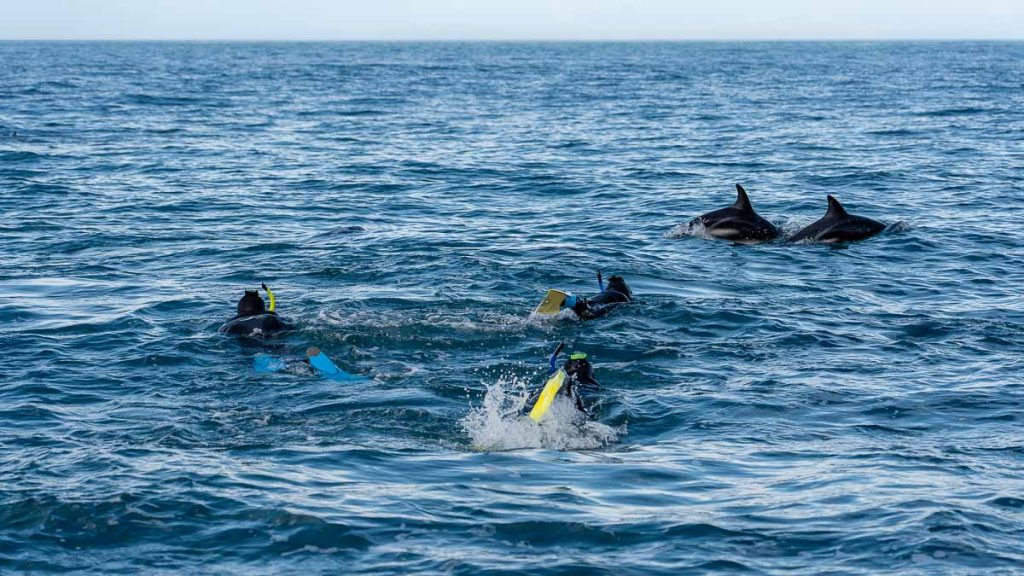 Kaikoura is home to 2,000 Dusky dolphins, with other species like the Hector's dolphins and Common dolphins sometimes spotted! During our 3.5hr dolphin tour, we had a total of three stops for snorkelling and saw hundreds of dolphins.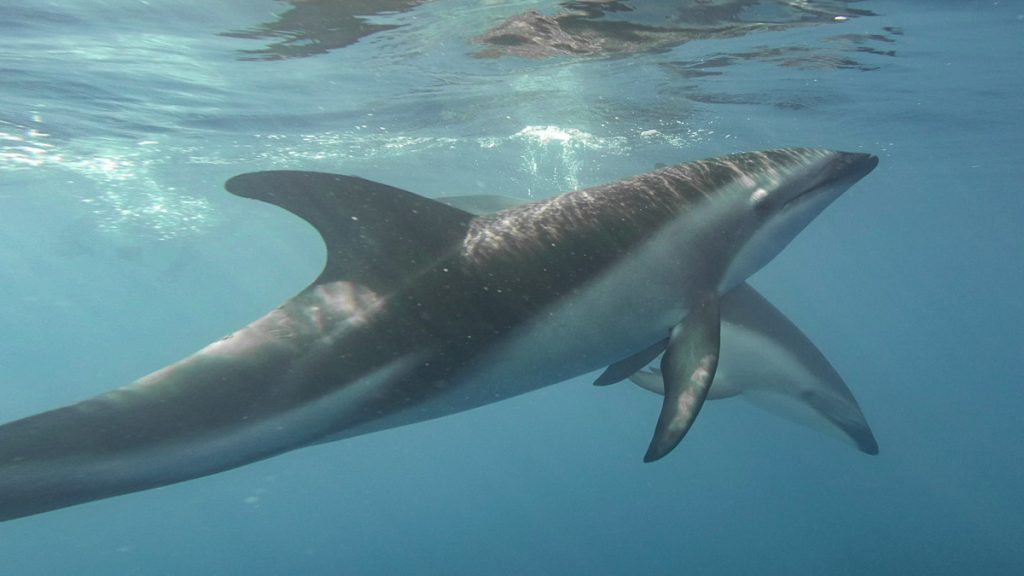 What's great about this tour is that it's not overly intrusive. No bait is used to attract the dolphins, and group sizes are limited. The experience is completely up to the dolphins, though our guides shared tips on how to attract their attention — like making loud noises and diving downwards.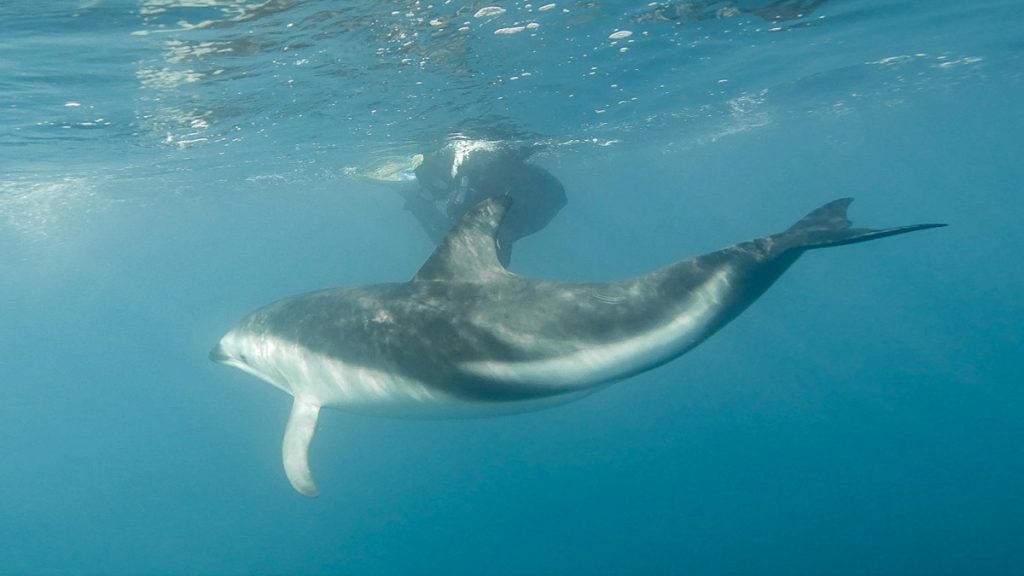 Guests can also opt to just watch the dolphins from the boat, but we highly recommend getting up close with these intelligent creatures in the water. It's truly one of the most humbling, exhilarating experiences we've ever had!
*Pro-tip: Book a morning tour — the seas are the calmest and dolphins tend to be more playful in the earlier hours of the day.
Cost: ~S$94.25 for watching, ~S$188.45 for swimming
Tour timings: 10AM (May – Sep), 8:30AM and 12:30PM (Oct – Apr)
Meeting point: 96 Esplanade, Kaikōura 7300, New Zealand
23) Kayak with Seals
📍 Kaikoura
Kaikoura has a sizeable fur seal population and the best way to see them is through a wildlife kayaking tour. Seal sightings are 100% guaranteed during this tour, with possible sightings of other marine creatures like dolphins and penguins.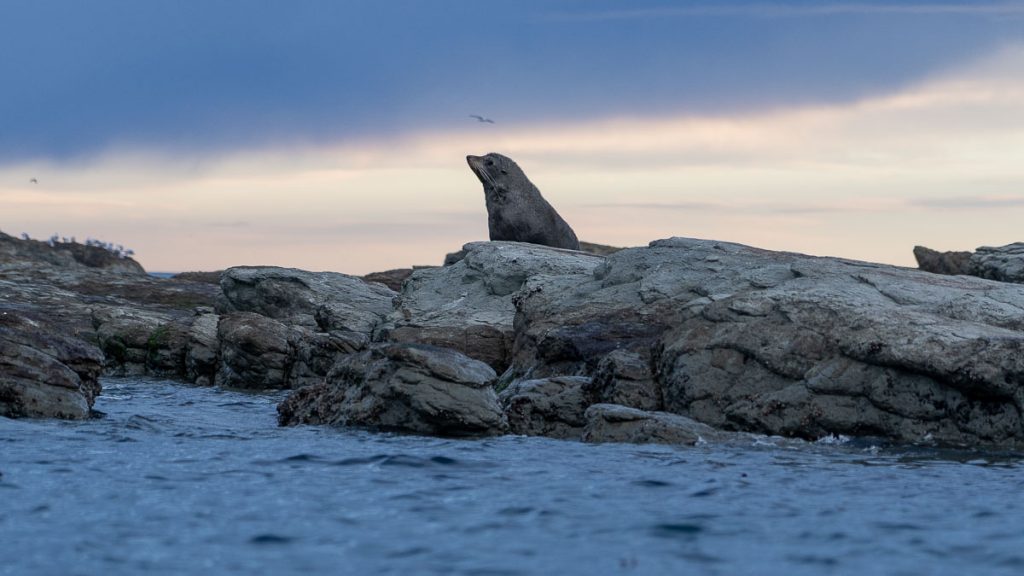 We got to kayak up close to the rocks where a colony of seals were basking. A few of them even swam near us! Because we went for the 3:30PM tour in May, we also got to enjoy a gorgeous sunset on the way back.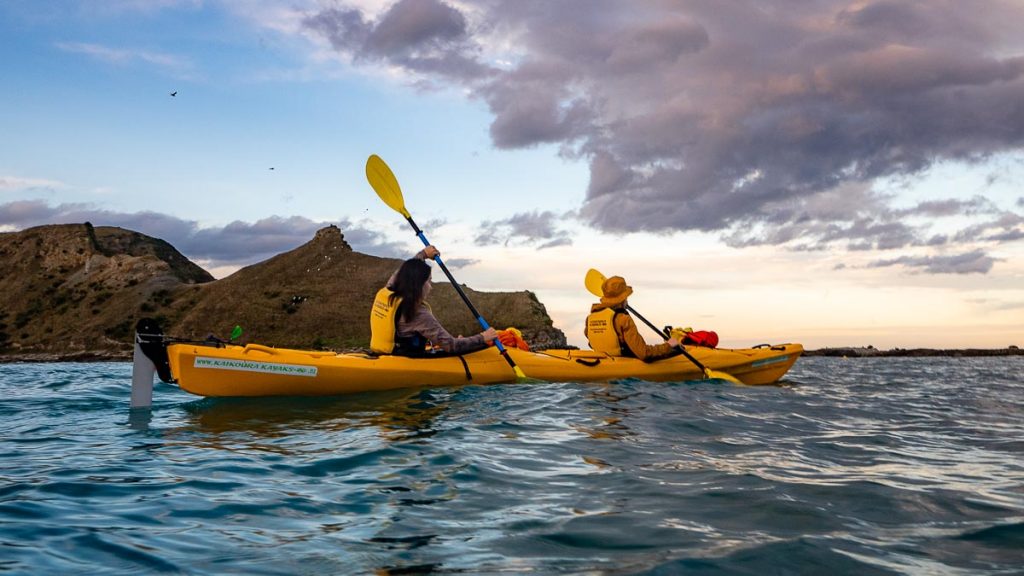 No prior kayaking experience is required, as each tour includes a thorough demonstration and practice session. Jackets, wetsuit booties and dry bags are provided during winter.
Cost: ~S$107 for a 2.5hr tour
Tour timings: 8:30AM, 12:30PM, 3:30PM (Early Apr – Late Sep), 8:30AM, 12:30PM and 4:30PM (Late Sep – Early Apr). Check the schedule for exact dates!
Meeting point: 19 Killarney Street, Kaikoura 7300, New Zealand
24) Glowworm Cave Tour
📍 Te Anau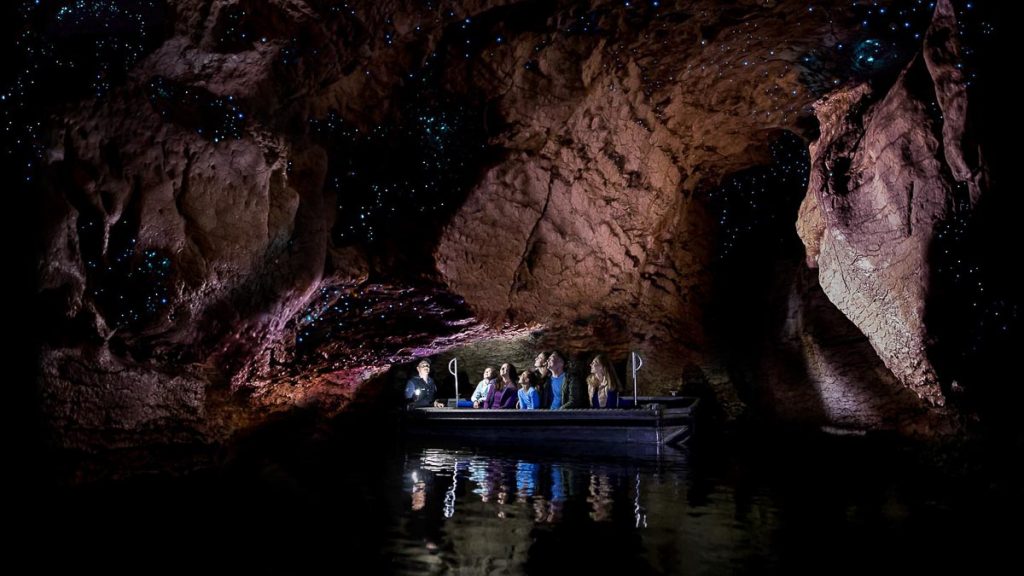 Photo credit: RealNZ
New Zealand is known for captivating glowworms, most commonly found in damp areas like caves and forests. Our last trip covered the glowworms at Waitomo Caves in North Island, but the best place in the South Island to see them is Te Anau!
A glowworm tour starts with a cruise across Lake Te Anau to the glowworm caves, where you'll board a smaller boat to explore the grotto. Glowworms are fascinating creatures — they only live for a few days upon reaching adulthood — and this tour will allow you to see them in a new light (light, geddit).
Cost: ~S$86 for a 2hr 15min tour
Tour timings: 10:15AM, 2PM
Meeting point: 85 Lakefront Drive, Te Anau 9640, New Zealand
Read also: New Zealand Itinerary Part 2 — 5-Day North Island Road Trip in a Campervan Under S$600
25) Penguin Watching
📍 Akaroa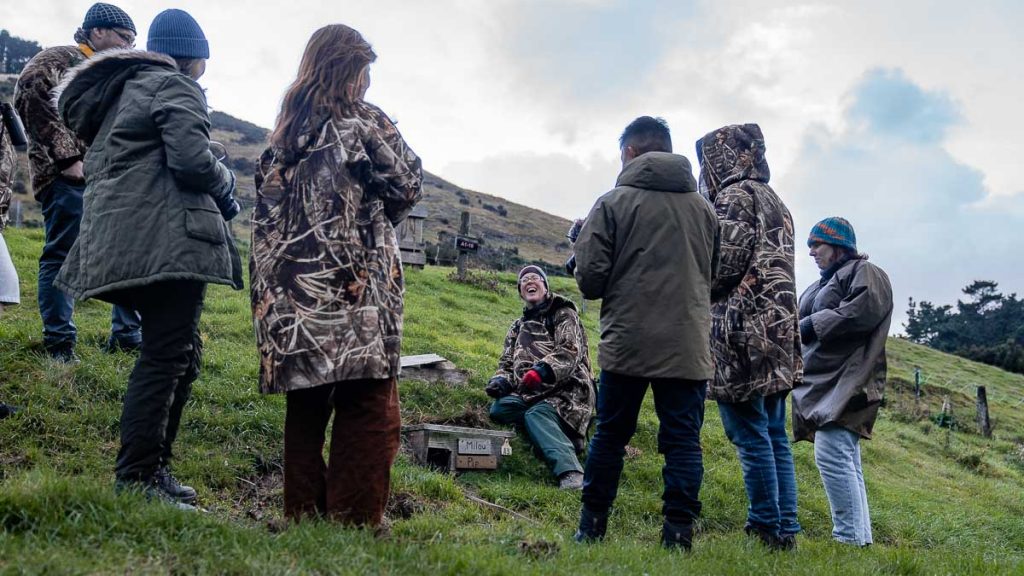 A 1.5hr drive from Christchurch lies Akaroa, New Zealand's only French settlement. This charming town is located in the heart of an extinct volcano and is home to the largest Australasian little penguin colony on mainland New Zealand!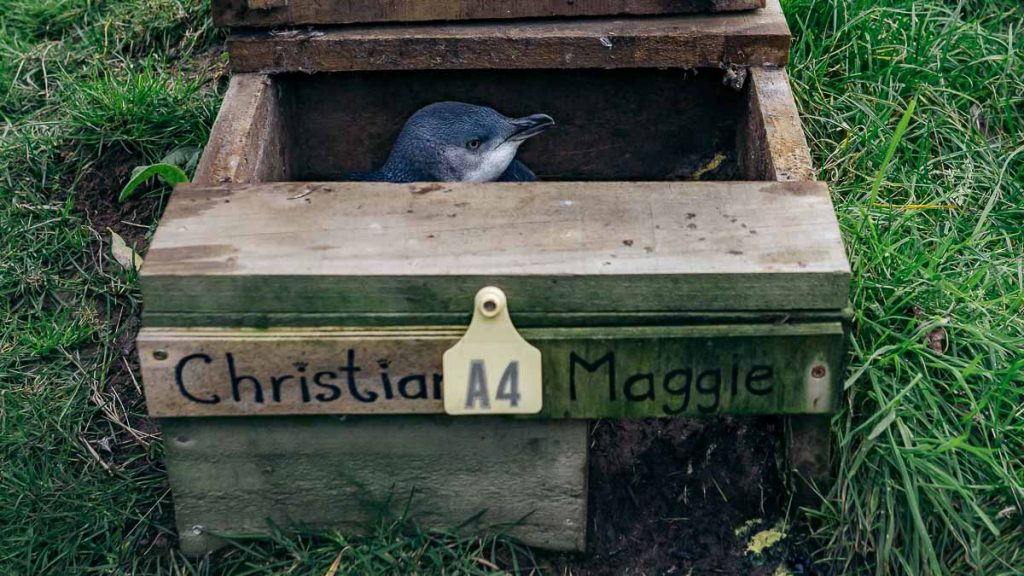 We went on a penguin watching tour with Pohatu Penguins, a family-run business with a focus on conservation. The team protects the penguin colony through monitoring, predator control and rehabilitation of injured birds — and profits from tours goes back into penguin conservation!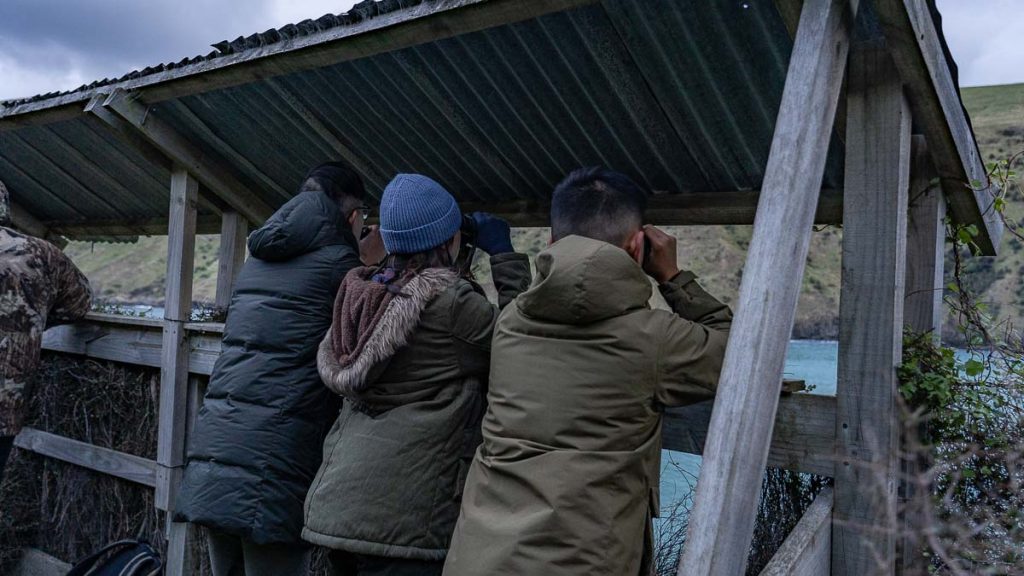 Our guide Joey is the daughter of the couple that started Pohatu Penguins, and shared a lot about Akaroa and the penguin species that live here. It was my first time seeing little penguins and it was really nice to hear from such a passionate guide!
Cost: ~S$154 for a 2.5hr tour
Tour timings: Varies with season, operator will reconfirm timing in advance but tours tend to start in the evening
Address: 2 Rue Balguerie, Akaroa 7520, New Zealand
New Zealand's South Island — The Perfect Place to Tick off Everything on Your Bucket List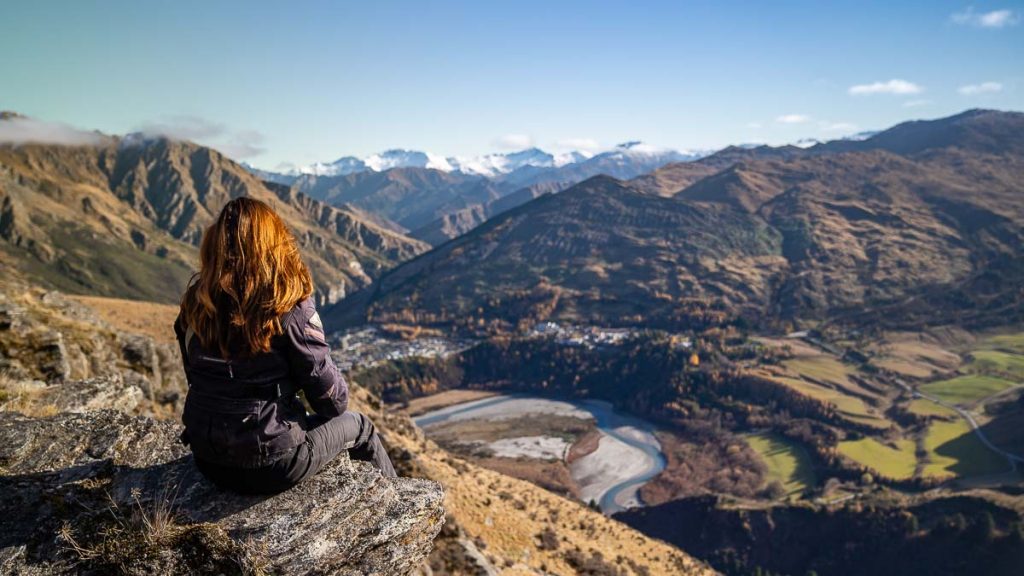 I loved New Zealand. Each day I experienced something that made me think "wow, it can't get better than this", and the next day it always topped the last.
For animal lovers, hiking enthusiasts and adrenaline junkies, New Zealand is the ultimate bucket list destination — filled with incredible experiences that'll leave you wanting more.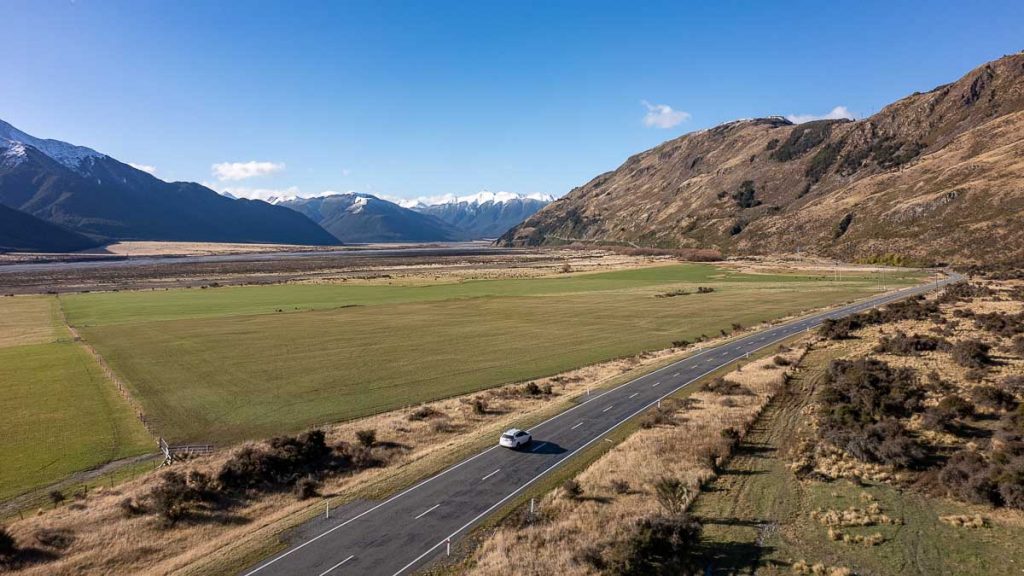 New Zealand's South Island is massive (it's 206 times the size of Singapore), and the best way to get around is by renting a car for a road trip!
We rented a five-seater Nissan X-trail (from ~S$65.56/day) via Klook. It was the perfect size for our group of four, with the boot large enough for four mid-size suitcases.
Read also: New Zealand South Island Itinerary — 11-Day Trip Under S$2.8k for Wildlife and Nature Lovers
Google maps here.
Pre-trip Essentials
Covid-related: A pre-departure test is no longer required starting from 21 June 2022. Visitors must take two ARTs after arrival (on Day 0/1 and Day 5/6) — test kits are provided for free at the airport, with instructions on where to submit results.
Travel documents: 1) Apply for a NZeTA before arriving in New Zealand. It costs costs NZ$17 (~S$13.70) on the app, or NZ$23 (~S$18.50) online. You'll also need to pay an International Visitor Conversation and Tourism Levy (IVL) at the same time, which costs NZ$35. 2) Visitors must also submit a travel declaration before boarding their flight to New Zealand.
Travel insurance: Chubb's travel insurance starts from ~S$6.30 per day
Connectivity: 60-day 10GB Vodafone SIM Card (~S$41.15)
Been to New Zealand's South Island? Share your favourite experience or any tips you might have in the comments below!
---
This post was brought to you by Klook.
Like what you see? Follow us on Facebook, Instagram, and YouTube for more travel updates!