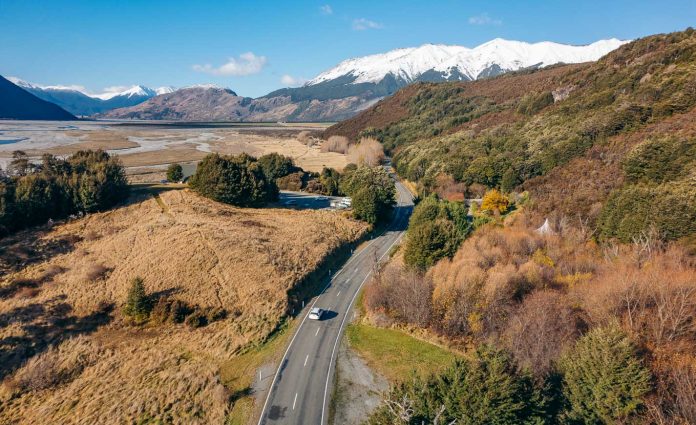 North or South Island? Car or Campervan? Which city should I fly into? — This guide answers all your burning questions about planning your first New Zealand road trip!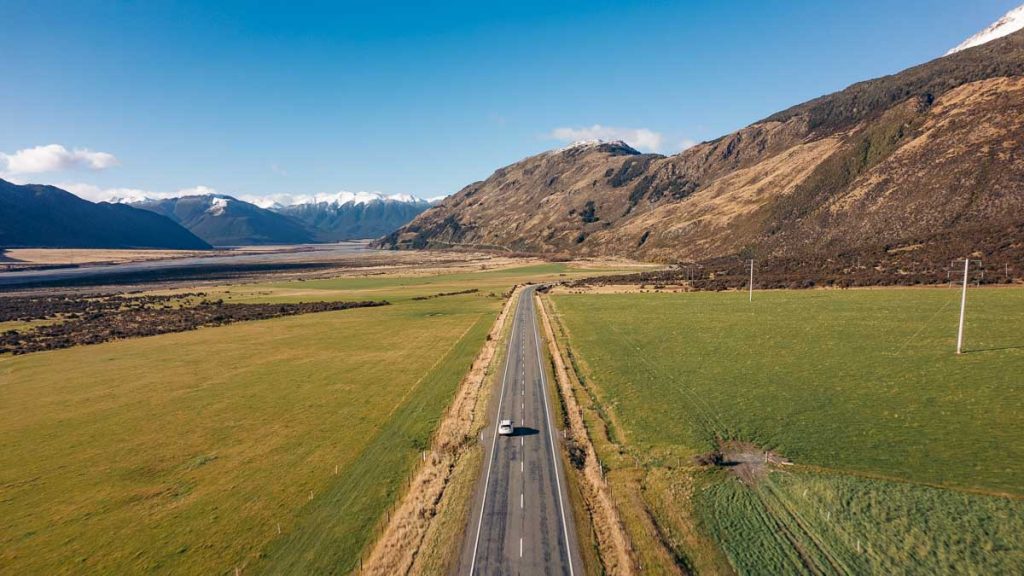 When New Zealand opened its borders back in May, we were one of the first few to book our flights.
Our 12-day South Island road trip was an absolute dream — we met the friendliest locals, drove through incredible landscapes and ticked off bucket list experiences like hiking Roys Peak in Wanaka.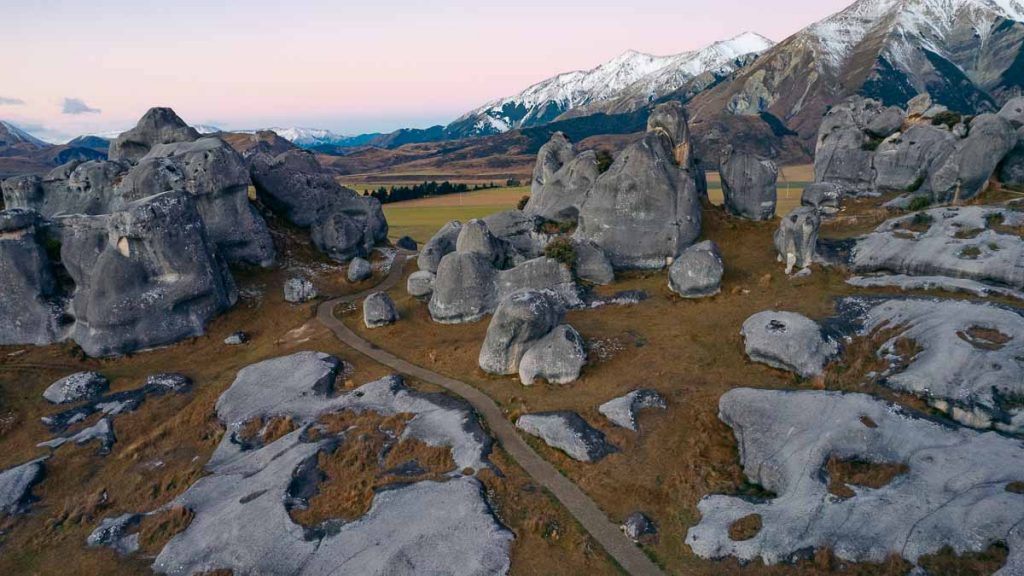 During our trip (and after), we received many questions on Instagram about planning a New Zealand road trip. As a resource, we decided to compile the most frequently asked questions to help you plan your own post-Covid trip to New Zealand!
*Bookmark this page as we'll be updating the article as regulations switch up!
Click to jump to relevant sections:
Entry Requirements and Rules | North or South Island | Planning Your New Zealand Itinerary | Budget | Renting a Car or Campervan | Driving, Petrol and Parking | Accommodation | Miscellaneous | Travelling Without a Car
Covid Stuff — New Zealand's entry requirements and rules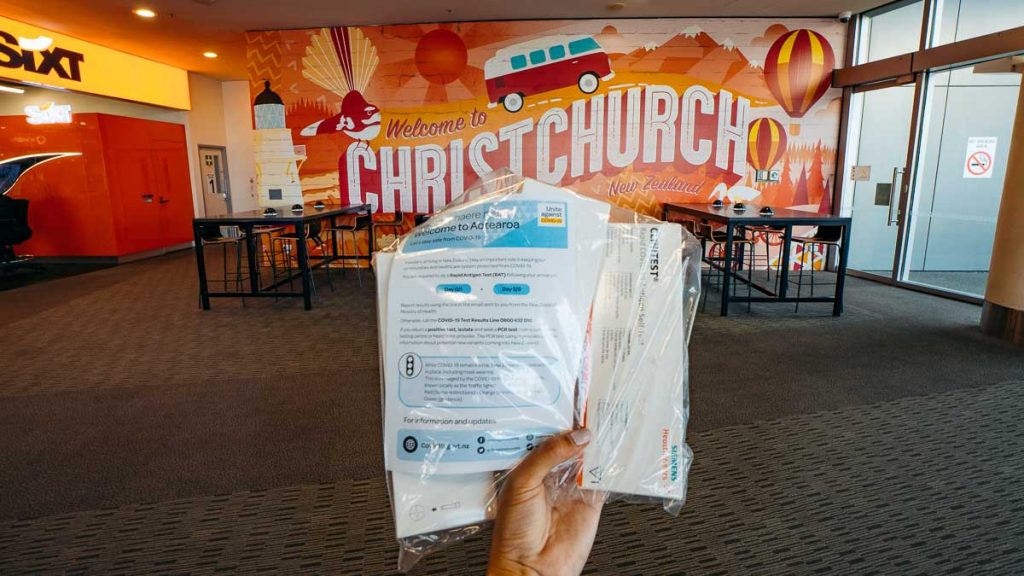 1) Covid-19 tests?
Pre-departure tests are no longer required starting from 21 June 2022 — yay.
However, visitors are still required to take two ARTs after arrival (on Day 0/1 and Day 5/6) — test kits are provided for free at the airport, with instructions to submitting the results online.
2) Pre-departure documents?
Only two! A New Zealand Electronic Travel Authority (NZeTA) and a travel declaration.
Both must be prepared before arriving in New Zealand. The NZeTA costs NZ$17 (~S$13.70) on the app, or NZ$23 (~S$18.50) online. You'll also be prompted to pay an International Visitor Conservation and Tourism Levy (NZ$35, ~S$30.12).
3) Masks?
Masks are not compulsory outdoors, but generally encouraged indoors.
North or South Island?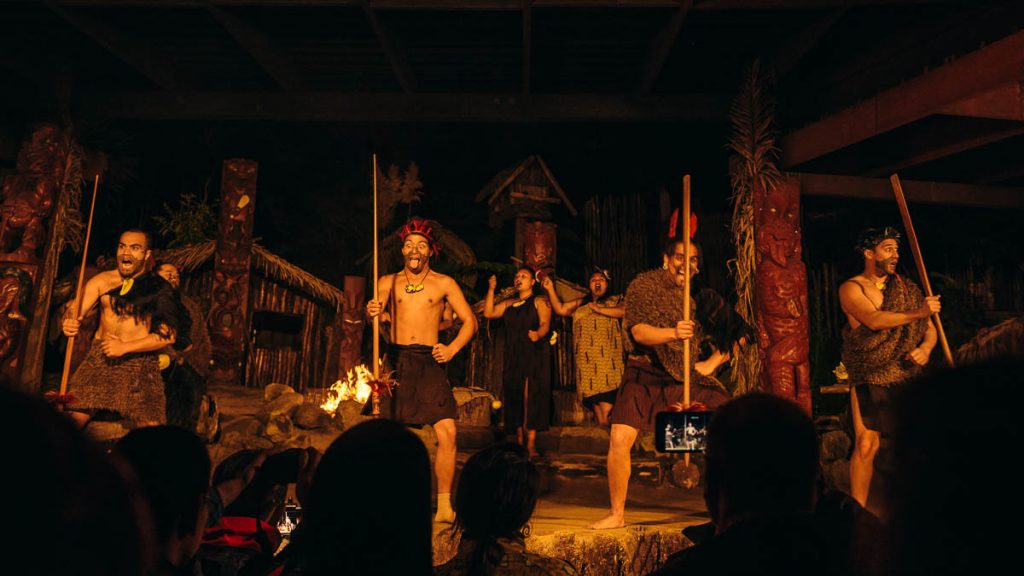 4) It's my first trip to New Zealand. Should I visit the North or South Island?
Both islands have a lot to offer and are worth visiting. They can also be covered on a single trip!
The North Island is known for a stronger Maori presence and fascinating geothermal activity. It's also where you'll find Hobbiton from the Lord of the Rings trilogy!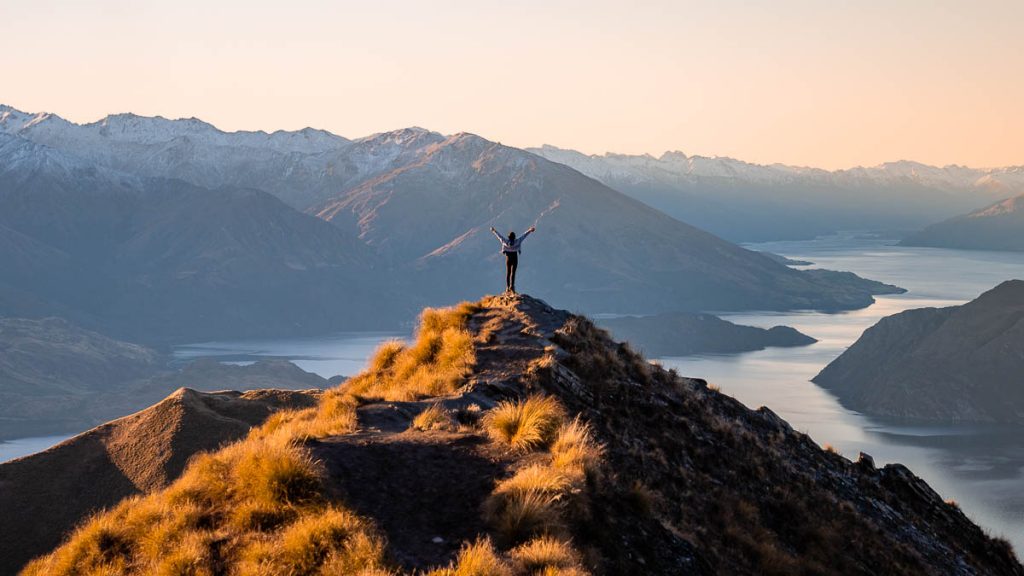 The South Island is larger than the North, with just a third of its population. Known for dramatic landscapes and adventure, South Island draws thrill-seekers from all over.
But if we had to pick, South Island definitely stole our hearts.
Read also: Ultimate New Zealand Bucket List — 26 Best Things to Do in NZ's North and South Islands
Planning Your New Zealand Itinerary
5) Which city should I fly into from Singapore?
North Island: Auckland (direct via Singapore Airlines and Air New Zealand)
South Island: Christchurch (direct via Singapore Airlines and Air New Zealand) or Queenstown (stopover in Melbourne or Sydney)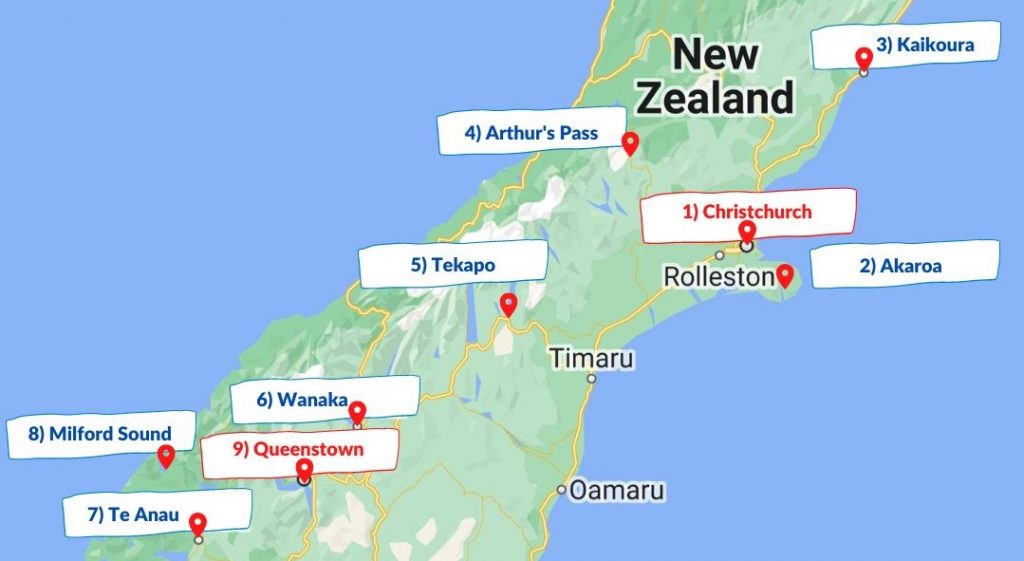 6) Open-jaw or roundtrip flights?
Open-jaw flights refer to when you're flying in and out of different destinations.
We've visited the South Island twice. The first was a round trip route flying into Queenstown while the second was open-jaw — flying into Christchurch and flying out via Queenstown.
It boils down to the experiences you're after so have a look at both itineraries to decide:
– Open jaw New Zealand itinerary from Christchurch to Queenstown
– Roundtrip South Island New Zealand itinerary with Queenstown as a base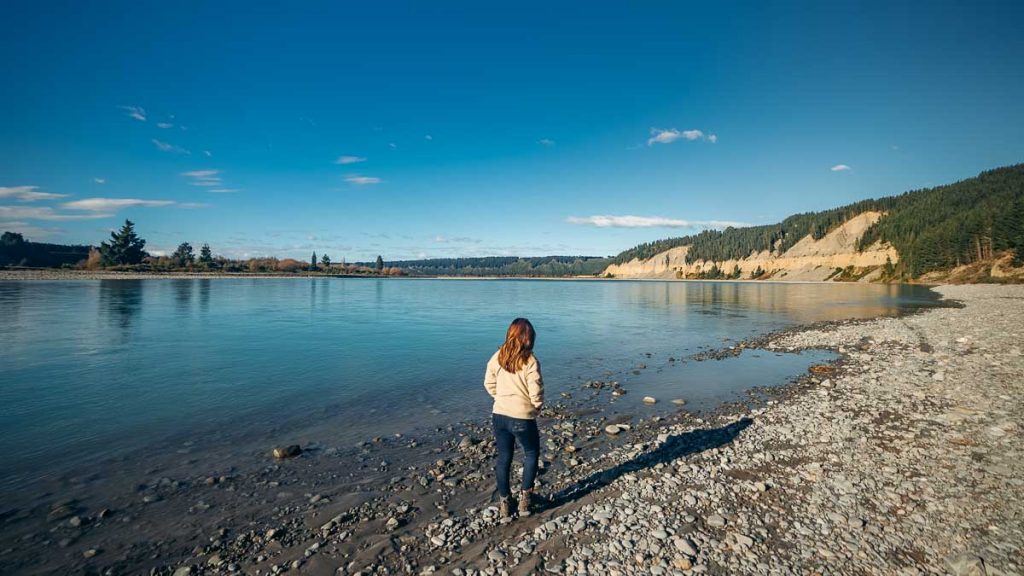 7) How many days do I need for a New Zealand road trip?
New Zealand is a big country (roughly 368 times the size of Singapore), with loads to do. Around two weeks is a good length — though we could easily spend a month there!
8) Any must-visits?
We loved every town we visited. But if it's your first time in New Zealand, here are some places you shouldn't miss:
North Island: Rotorua, Hobbiton, and Waitomo
South Island: Queenstown, Arthur's Pass, and Milford Sound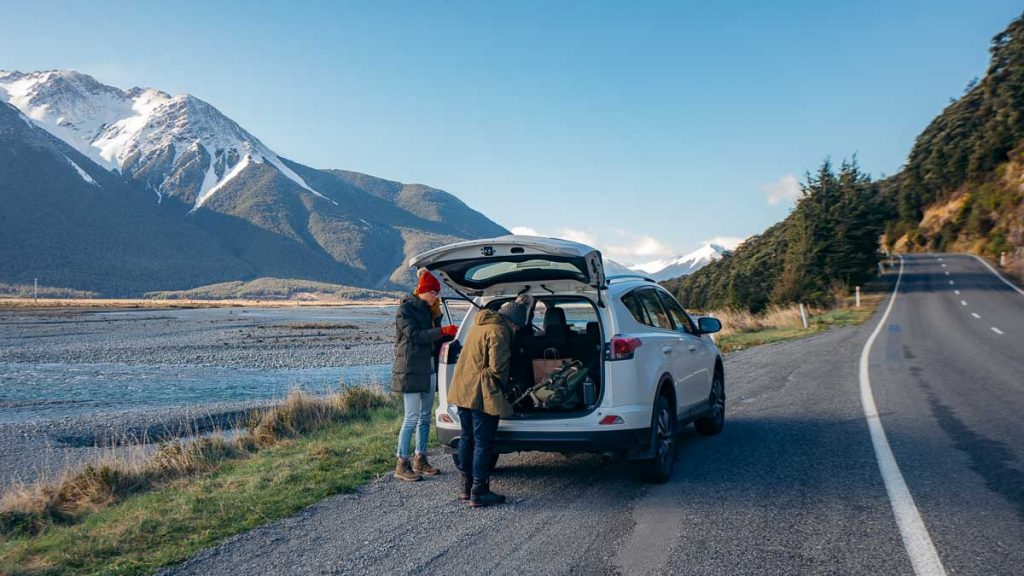 9) When is the best time to visit New Zealand? Does the weather vary between North and South Island?
There isn't a "bad" time to visit New Zealand. But the weather can be erratic, as there's no rainy season.
Summer months (Dec – Feb) are busier, with warmer weather of around 20 – 25˚C and longer daylight hours. Winter months (Jun – Aug) have average temperatures of 7 – 12°C and shorter daylight hours, but offer winter sports like snowboarding.
Average temperatures decrease as you travel south, meaning the South Island is colder. Inland alpine areas tend to be colder as well! In May, we experienced 0˚C at Arthur's Pass (wasn't even the official winter season yet) and had to bust out our warmest gear.
Budget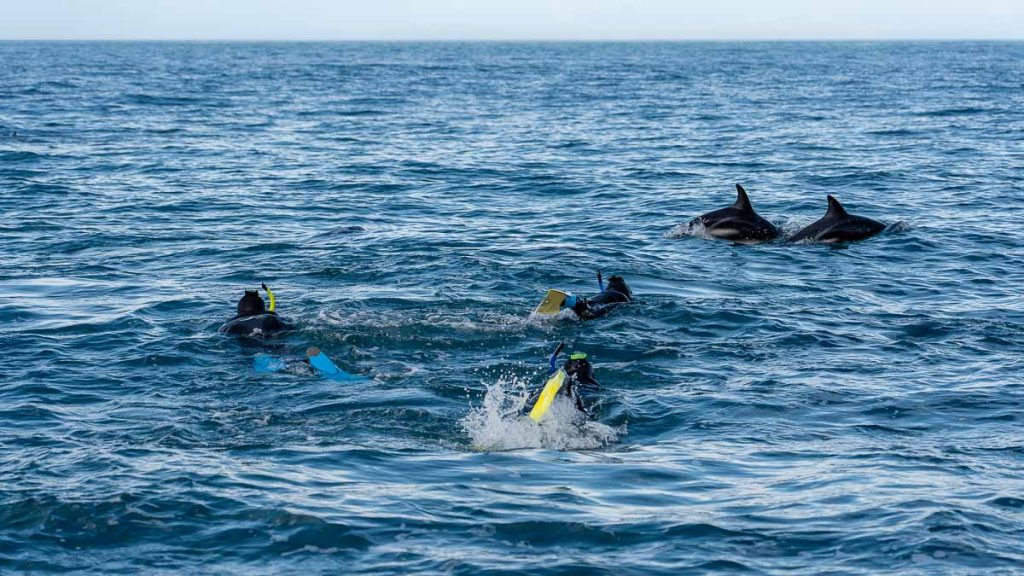 10) How much does a New Zealand road trip cost?
Our 12-day South Island road trip cost S$2.8k per pax, excluding flights. This includes everything from car rental, petrol, accommodation, activities, insurance, and food!
It's value-for-money — considering we had some pretty epic experiences, like swimming with wild dolphins and taking on the world's tallest cliff jump. Check out our itinerary for the full cost breakdown.
11) How's the food? Is it expensive?
There's not a lot of traditional food, apart from the Maori's hāngī. You'll find mostly cafe or restaurant food where mains cost around NZ$20 (~S$17.22).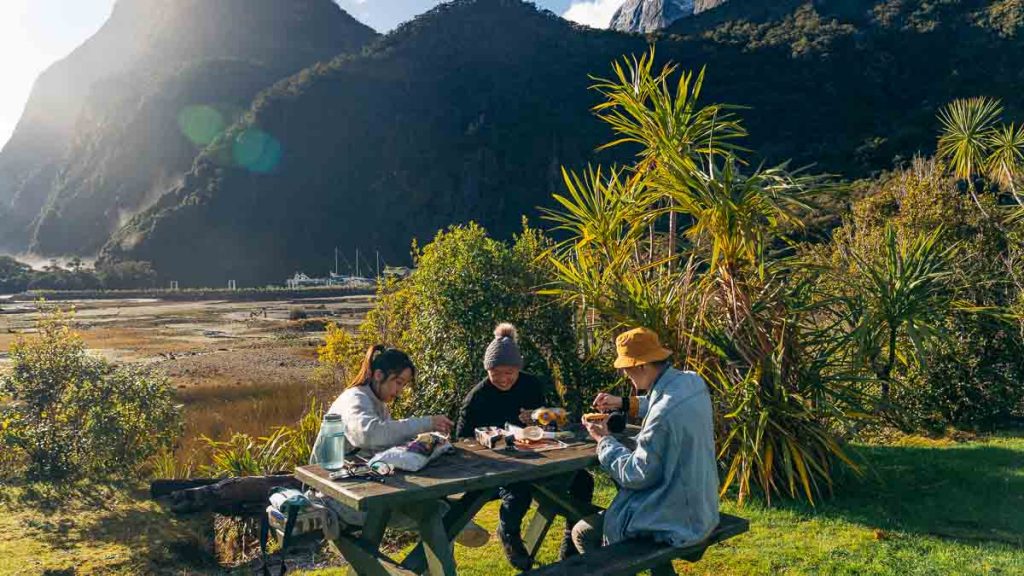 12) Budget tips?
Food is an area you can really save on. Instead of dining out all the time, buy ready-made meals or prepare your own food! Supermarket chains like Four Square and New World became our best friends on our New Zealand road trip.
All of our accommodation (apart from Wanaka) had a basic kitchen — meaning we could cook!
Read on for tips to save on petrol.
Renting a Car or Campervan in New Zealand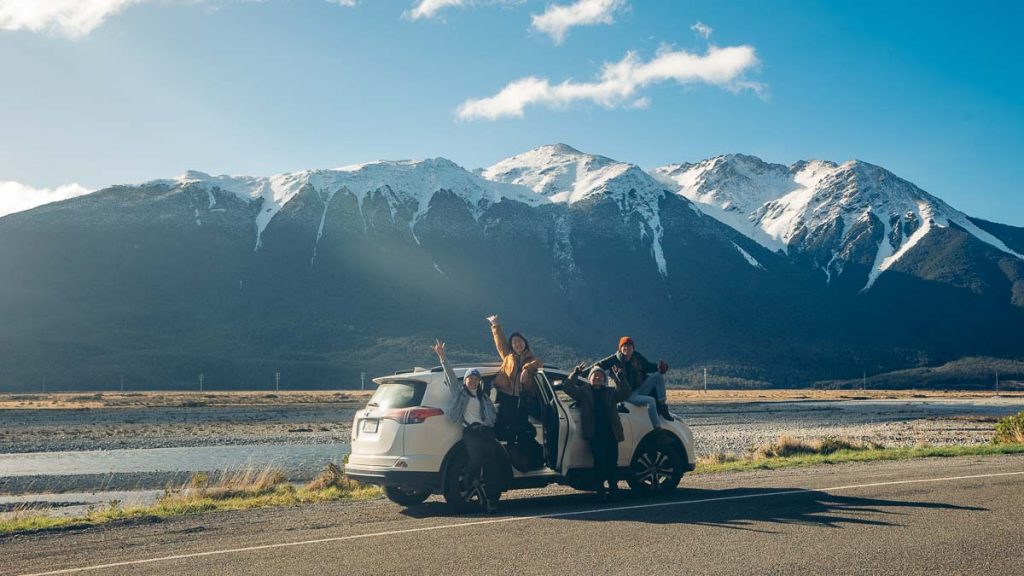 13) Do I need an International Driving Permit to rent a car?
According to New Zealand's tourism website, you don't need an International Driving Permit if your driver's licence is in English.
14) Where to rent a car? Recommended car model?
Via Klook! There are several car rental companies on the platform and you can filter by car type and pick up location.
We got a five-seater Nissan X-trail (from ~S$65.56/day). It was the perfect size for our group of four, with the boot large enough for four mid-size suitcases (around 68cm x 51cm x 30cm each).
15) Are there different types of campervans?
Yes! Two types — self-contained and non-self-contained. 
Self-contained campervans have a portable toilet on board. The kind where you have to deposit your waste at dump stations.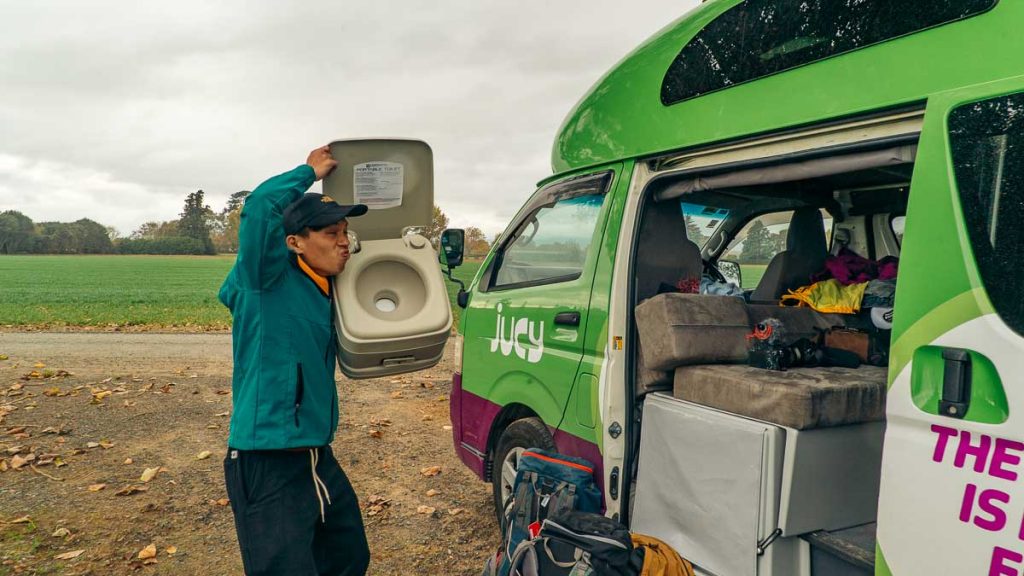 The best thing about a self-contained campervan is that it gives you the licence to freedom camp — meaning you get to park overnight for free. If you're concerned about cleaning the toilet, public toilets are common in New Zealand (all of which are pretty clean) so you don't actually have to use it much.
Some affordable campervan companies to consider are Happy Campers (from NZ$42/day) and Jucy Rentals (from NZ$44/day).
16) Where can I park my campervan?
There are three main types of campsites in New Zealand — Freedom camping sites, Department of Conservation (DOC) campsites, and Holiday Parks.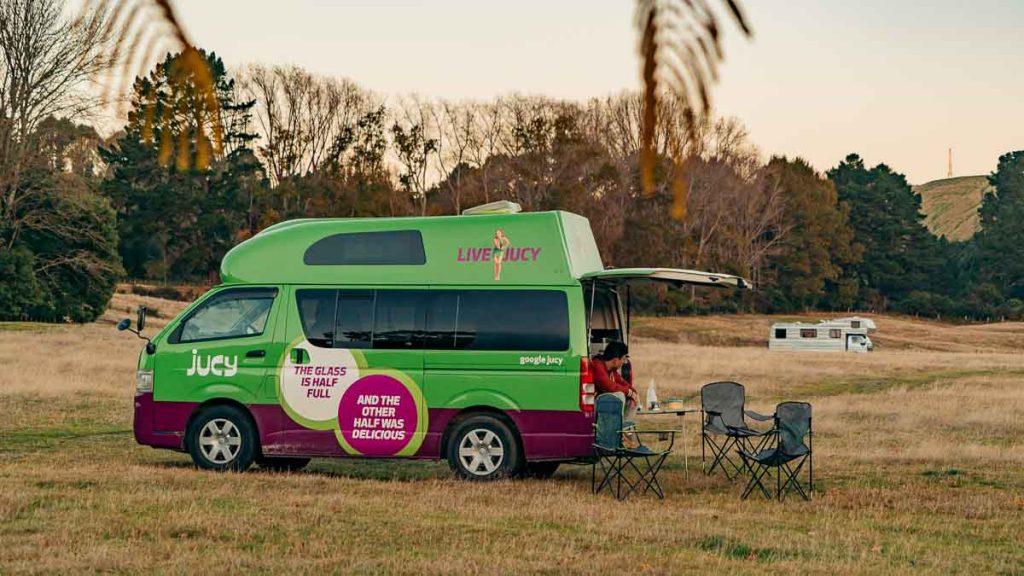 Freedom camping sites have minimal or no facilities, hence the need for a self-contained vehicle to park here. The draw of freedom camping sites is that visitors can park for free in beautiful locations — and there are over 500 freedom camping locations in New Zealand! 
DoC campsites are typically in national parks. They have basic toilet facilities and charge a small fee for parking.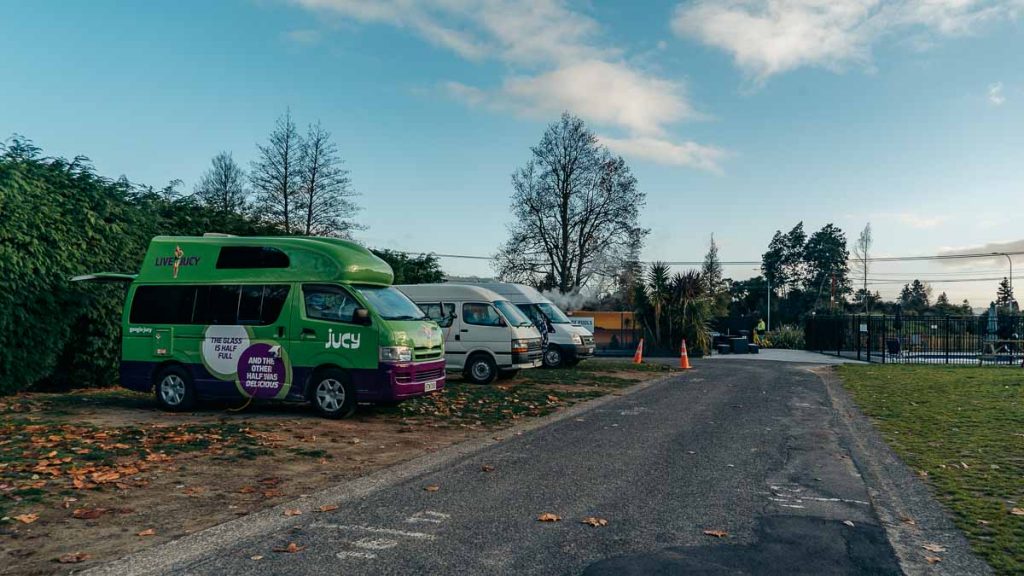 Holiday parks also charge for parking and are pricier than DoC campsites, but offer amenities like power stations for charging plus shared facilities like kitchens, bathrooms and laundry machines. 
Freedom camping can be fun, but we'd recommend booking a holiday park every few days to charge your gear and use the facilities. Holiday parks do get booked out quickly so have them reserved in advance!
Campermate and Rankers Camping NZ are useful apps for checking the locations and prices of campsites in New Zealand.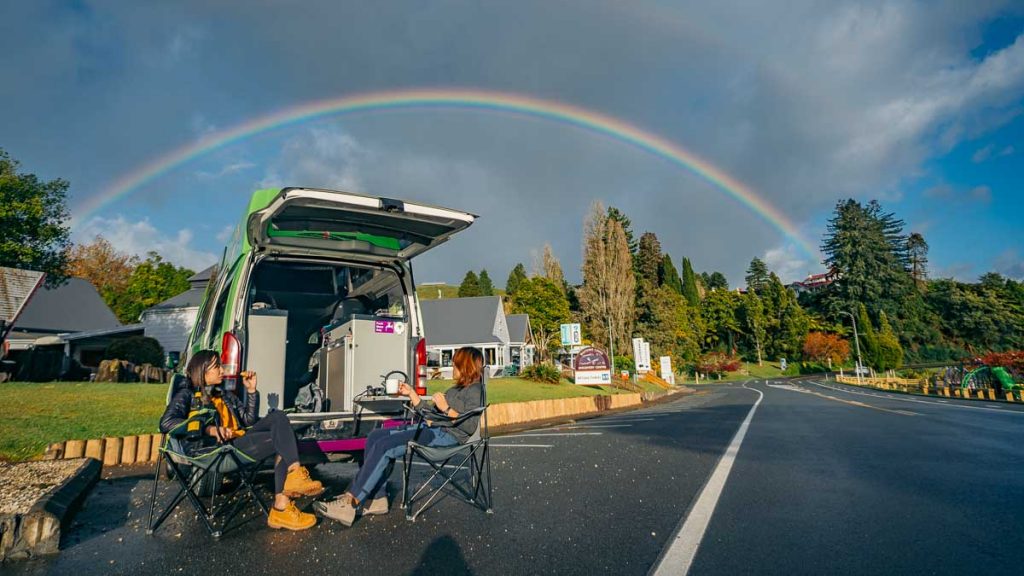 17) Car or campervan?
Pros of renting a campervan? It can be cheaper and your itinerary is a lot more flexible! Your home is literally travelling with you, so if you'd like to spend an extra day somewhere (or change your plans completely), it's easy to do so.
A campervan road trip is also a unique experience — plenty of stories to tell the grandkids.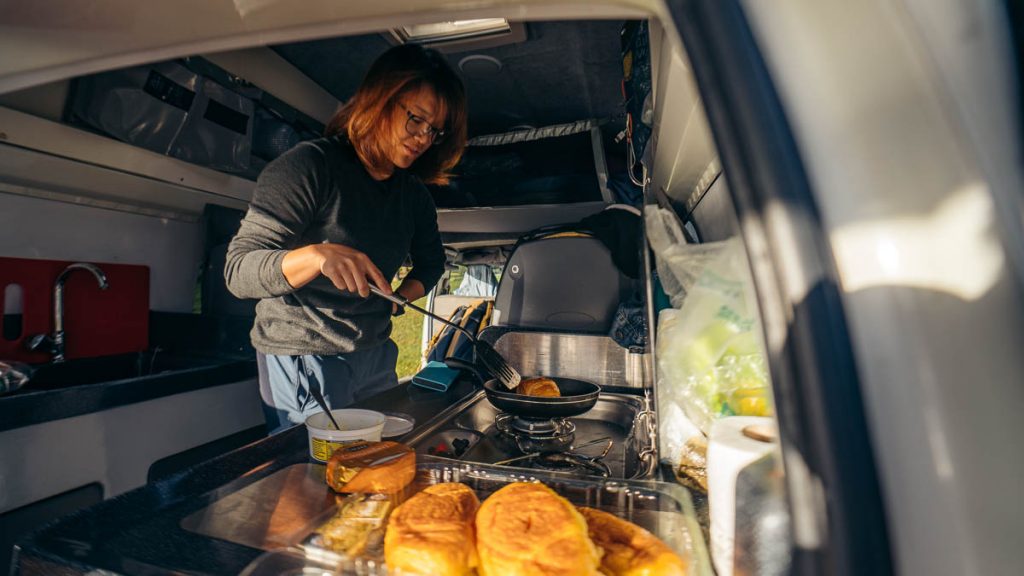 Despite Instagram promoting the glamorous side of #vanlife, there are a couple of downsides. The obvious one — it's small. We'd only recommend it if you're in a group of two or three, or it'll be really cramped.
Second, campervans have an average speed of 70km/hr, meaning longer drives! Campervans are also not ideal for winter as they don't have the best insulation.
Ultimately, it's really up to you to decide what kind of road trip you want 😊
Driving, Petrol, and Parking in New Zealand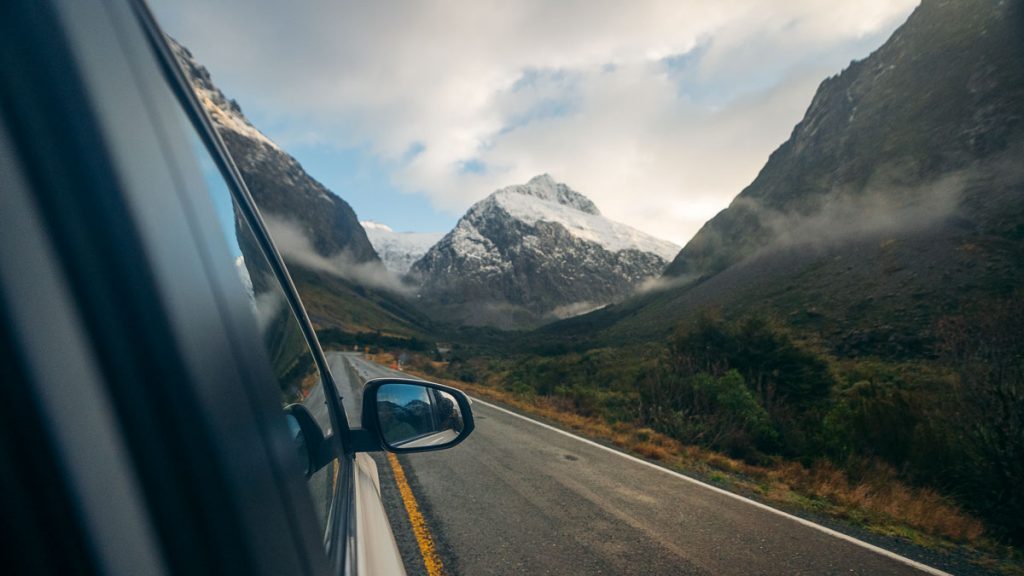 18) Is it difficult to drive and navigate? What about during winter?
Generally, nope! Google Maps is accurate and the roads aren't particularly windy or steep.
Also take note during winter, the roads can get icy in colder areas like Milford Sound. We didn't need snow chains while we were there in May — just slow down if you come across frost warnings.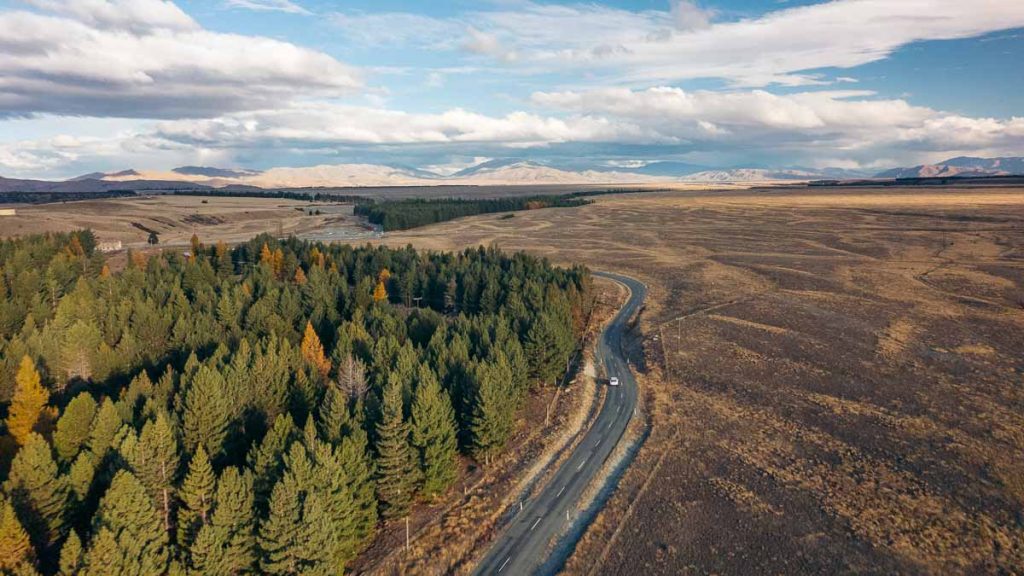 19) What is the average speed limit?
30 to 60km/hr for towns and accident-prone areas, usually 100km/hr for open roads. There's a hefty NZ$400 fine if you're caught speeding!
20) Is the mobile signal reliable on the road?
Milford Sound was the only place we didn't get a signal. To be safe, download your route from Google Maps so you can navigate offline!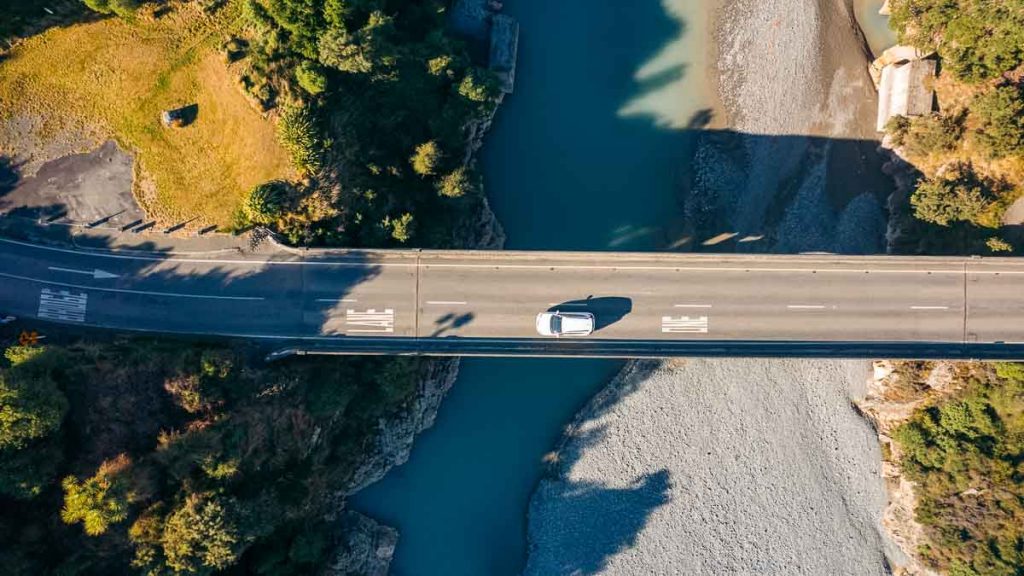 21) Was it tough to find petrol stations?
Petrol stations can be found in all major cities and towns! However, there were some remote areas on our route that had fewer (or no) options.
For example, the closest petrol station to Milford Sound is in the nearby town of Te Anau. Then there's Arthur's Pass which only has one petrol station — and it closes at 5PM. So be sure to fuel up before long drives!
22) How much did you spend on petrol?
We spent ~S$506 (S$126.58/pax) on fuel for our 12-day South Island road trip — though we didn't go out of our way to find the cheapest fuel options. I used the Roadtrip app to calculate the cost of fuel prior to the trip, and it was quite accurate!
*Pro-tip: Download Gaspy, a fuel-sharing app that allows you to find the cheapest fuel prices around!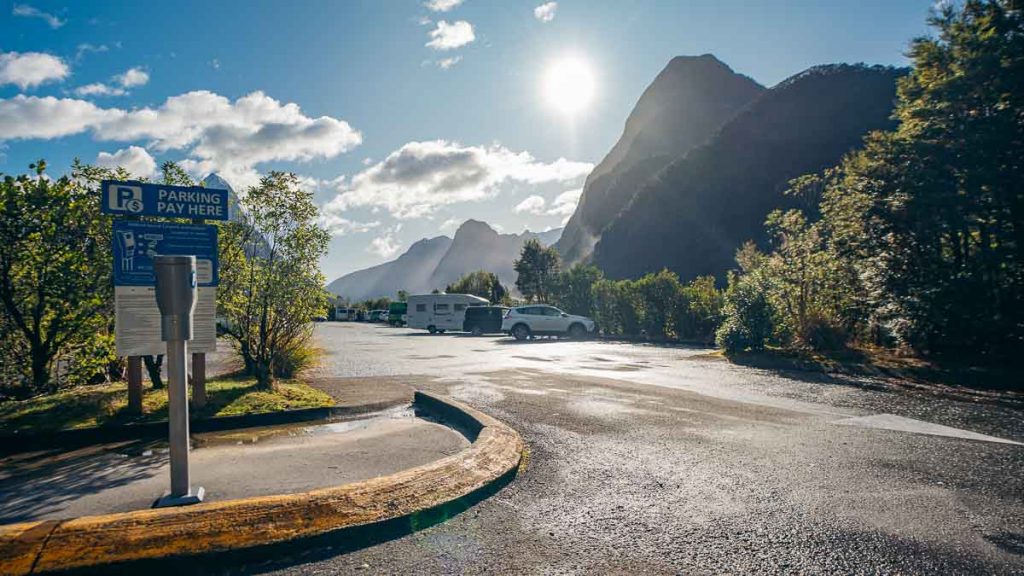 23) How do you pay for parking?
All the carparks have kiosks where you pay once you park! Enter your car plate number and intended parking duration and then pay by card.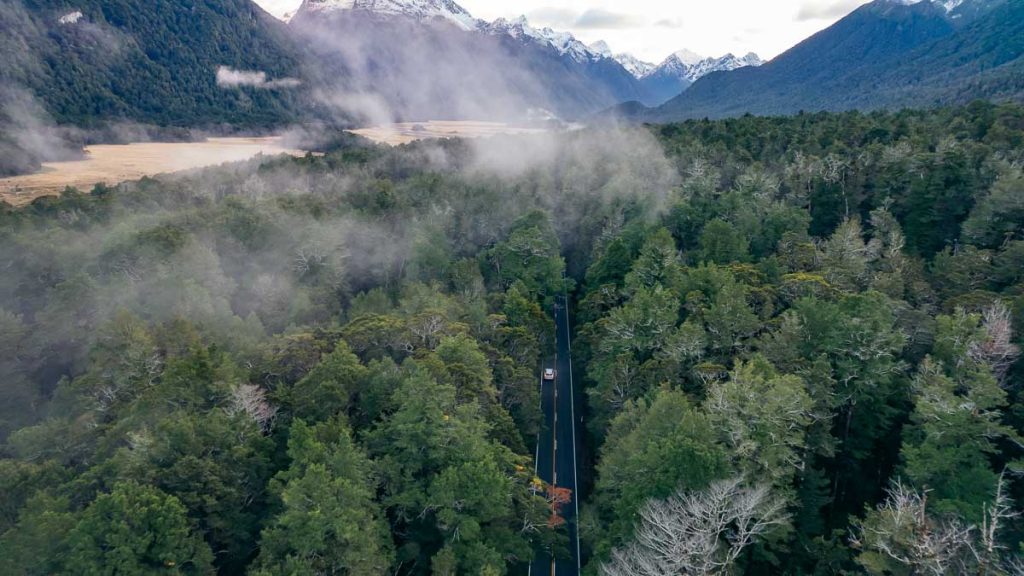 24) Any tips for driving?
Firstly, add an hour to your driving time! This gives you the flexibility to stop at random viewpoints along the way (trust us, you'll want to!) and factors in toilet breaks and petrol stops.
Second, New Zealand's roads are not lit at all — especially when you're outside the cities. Take caution when driving at night and remember basic road courtesy, like turning off the high beam when there are cars approaching.
Thirdly, download your maps at the start of the day as the connection can be poor (or non-existent) in more remote areas like Milford Sound.
Accommodation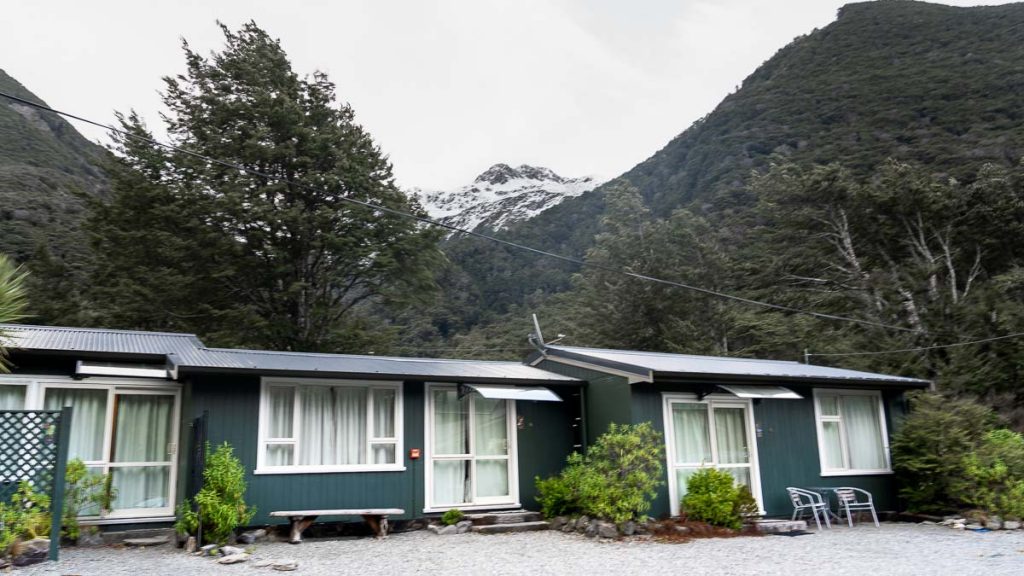 25) How did you pick accommodation? Did you stay in multiple hotels?
Since we didn't rent a campervan on our 12-day South Island Road Trip, we swapped accommodations every few days. Some things we looked out for were
a) proximity to main attractions, and
b) whether there's a kitchen
Here's where we stayed during our South Island road trip:
– Christchurch: Aotea Motel (Christchurch)
– Kaikoura: Kaikoura Waterfront Apartments
– Arthur's Pass: Arthur's Pass Alpine Motel 
– Tekapo: Lake Tekapo Cottages 
– Wanaka: Edgewater Hotel 
– Te Anau: Lakefront Lodge 
– Queenstown: Heartland Hotel Queenstown 
All of these had kitchens and were either close to our last location of the day or closer to our next location for the next day.
Miscellaneous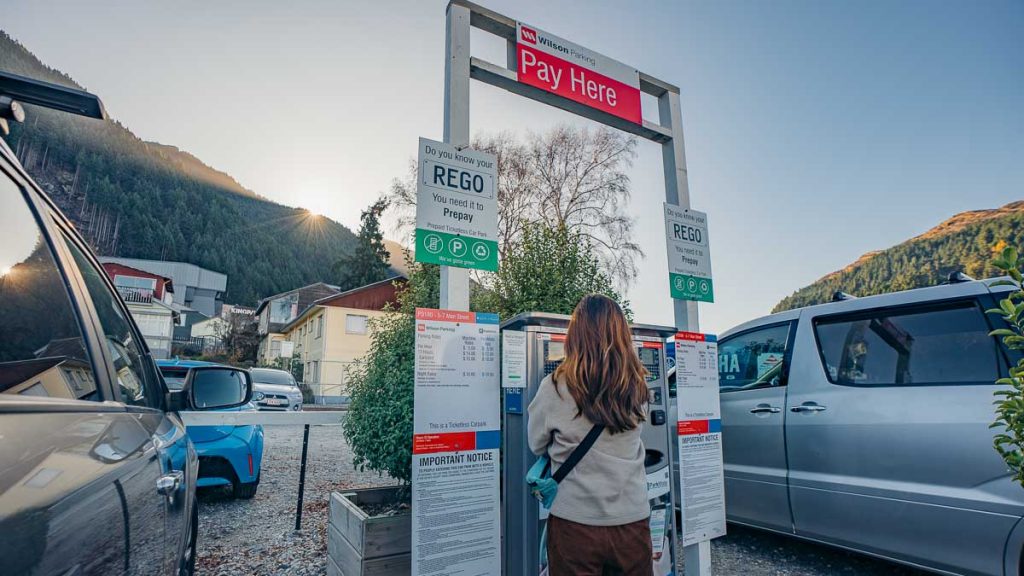 26) Cash or cashless?
Cards are preferred to cash in New Zealand! Even the Queenstown arts market accepted card payments. In fact, some petrol kiosks only accept cards.
We use multi-currency cards like Revolut which doesn't charge transaction fees and even matches Google's exchange rate so we didn't have to change money before the trip.
27) What SIM card should I get?
We pre-booked a 10GB Vodafone SIM Card (~S$41.15) via Klook which we picked up at Christchurch Airport.
28) Is tap water safe to drink?
Yes!
29) What should I pack for winter?
Do not underestimate New Zealand's winters. It gets chilly in the alpine regions, especially when there's wind.
Some basic winter essentials include a thick jacket, thermals/Uniqlo's Heattech, gloves, a beanie, and proper hiking boots. Heat packs are a nice to have too if you get cold easily!
Travelling Without a Car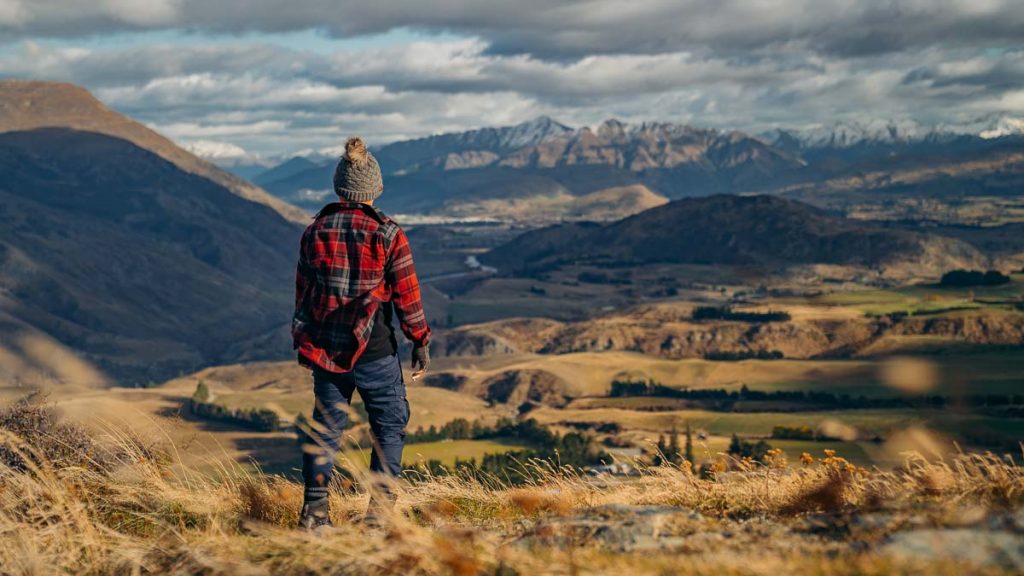 30) Can I get around without a car?
There are bus services available both in the North and South Island, perfect for solo travellers who don't want to rent a car! Here are some options:
1) Hop-on-hop-off bus service (from NZ$699 for 11 days)
2) InterCity FlexiPass (from NZ$139 for 10hrs)
Tips for Planning Your First New Zealand Road Trip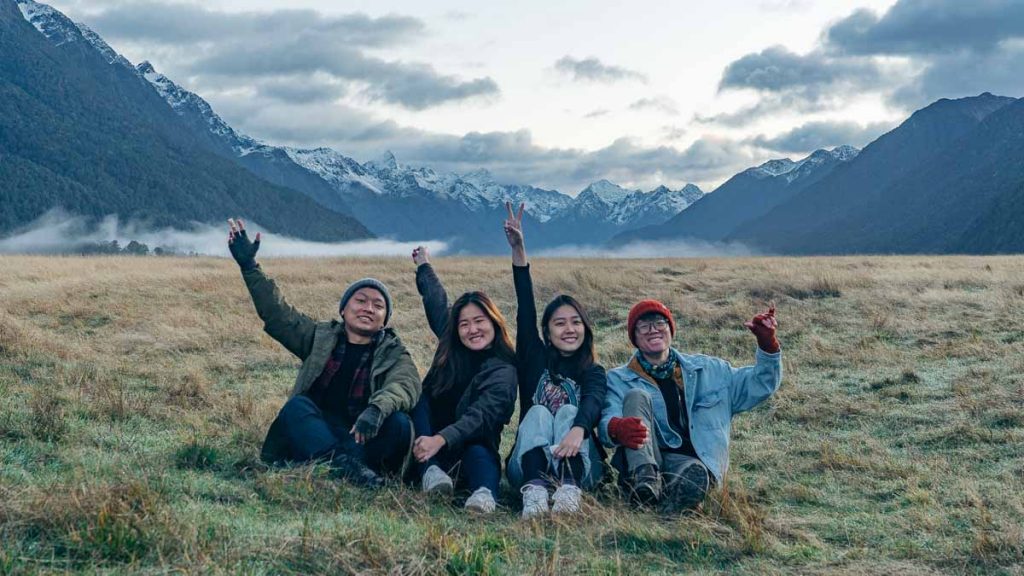 New Zealand is one my favourite countries I've ever visited and I hope this list of FAQs is useful in your planning process!
A few parting tips before you go forth and plan your own epic New Zealand road trip:
1) Check out our New Zealand content! They're pretty good if I do say so myself 🤪
– 12D New Zealand South Island Itinerary Under S$2.8k
– New Zealand South Island Guide — 25 Best Things to Do in Queenstown, Kaikoura, Milford Sound and More
– Part 1 — 10-Day South Island Road Trip Under S$2.2k
– Part 2 — 5-Day North Island Road Trip in a Campervan Under S$600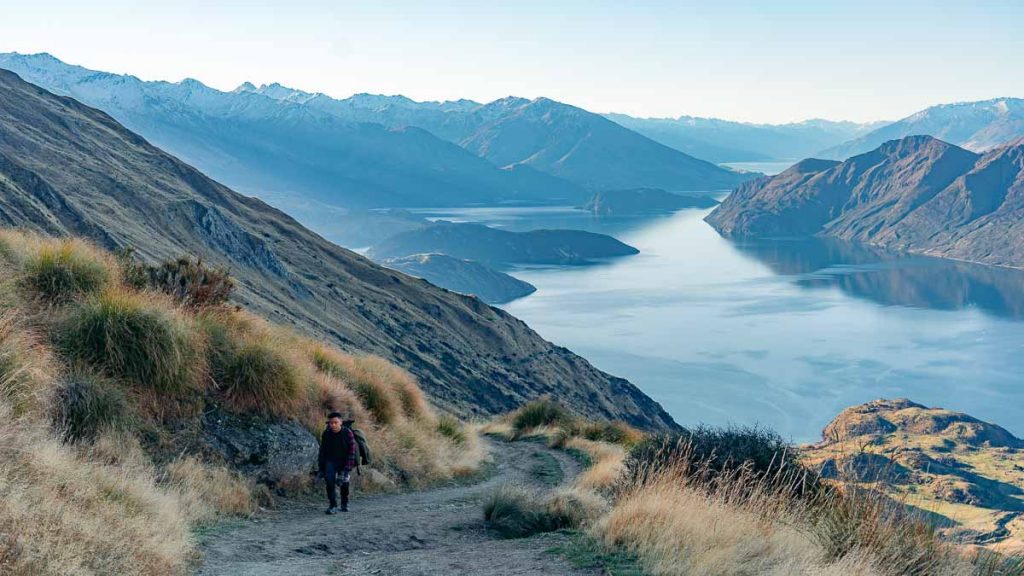 2) Some useful items to pack:
– Headlamp (for hiking)
– Reusable bags (plastic bags aren't provided in supermarkets!)
– Reusable cutlery (for eating outdoors)
– Proper hiking shoes (Decathlon and IMM have affordable options)
3) Apps to download:
– Gaspy (for fuel prices)
– Campermate / Rankers Camping NZ (for campsite locations and prices)
– Google Maps
Are there any questions we missed out on in our New Zealand road trip FAQ guide? Let us know in the comments!
---
Like what you see? Follow us on Facebook, Instagram, and YouTube for more travel updates!