This is part two of a two-part itinerary covering both the north and south islands of New Zealand. Read part one: 10 days in NZ's South Island for under S$2.2k.
For the outdoor lover, New Zealand is truly the motherlode. Just the mere mention of its name brings to mind amazingly diverse landscapes, scenic hikes and drives, and heart-racing activities that'll make you feel so alive.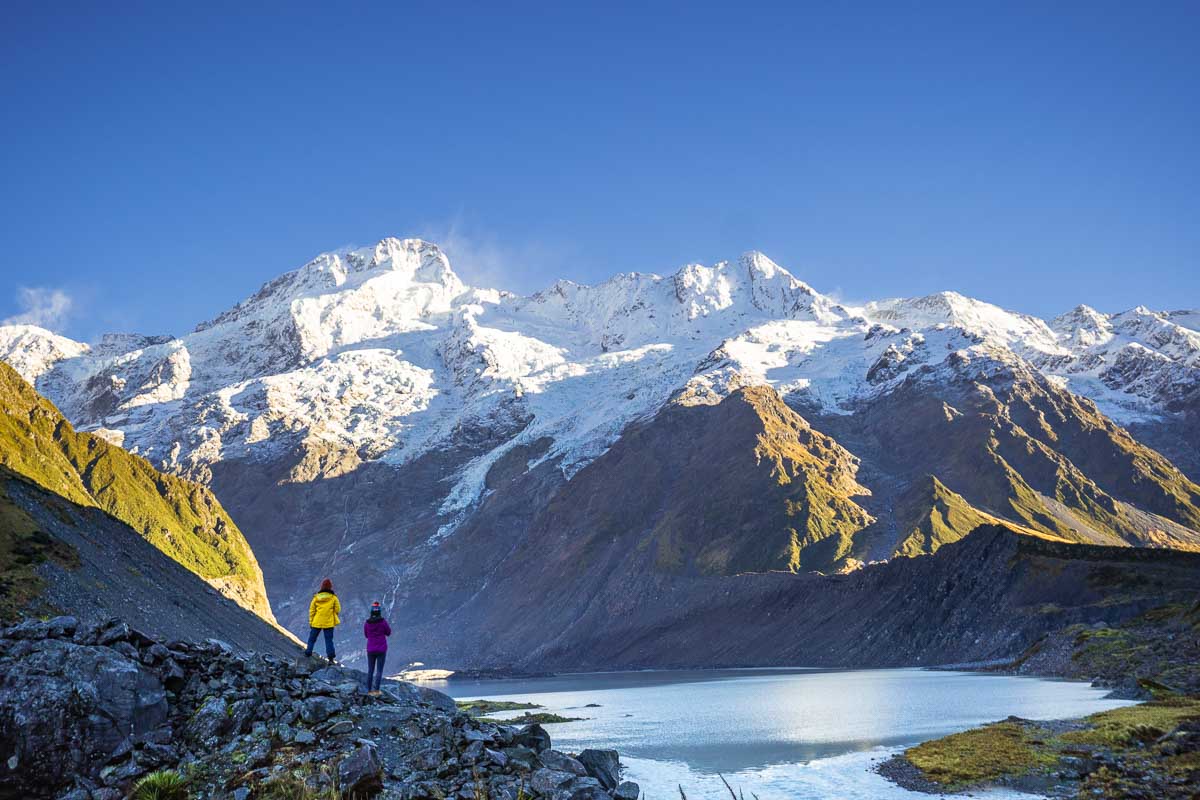 We set out to cover New Zealand's two islands in two weeks, all under a total budget of S$2,500. We first explored the mesmerising 10-day South Island road trip for S$1,900 — highlights include breathtaking attractions like Mount Cook, Fox Glacier, as well as (literal!) hair-raising adventures like skydiving.
Read also: 2 Weeks in New Zealand Under S$2,500 — North & South Island Trip Planning Guide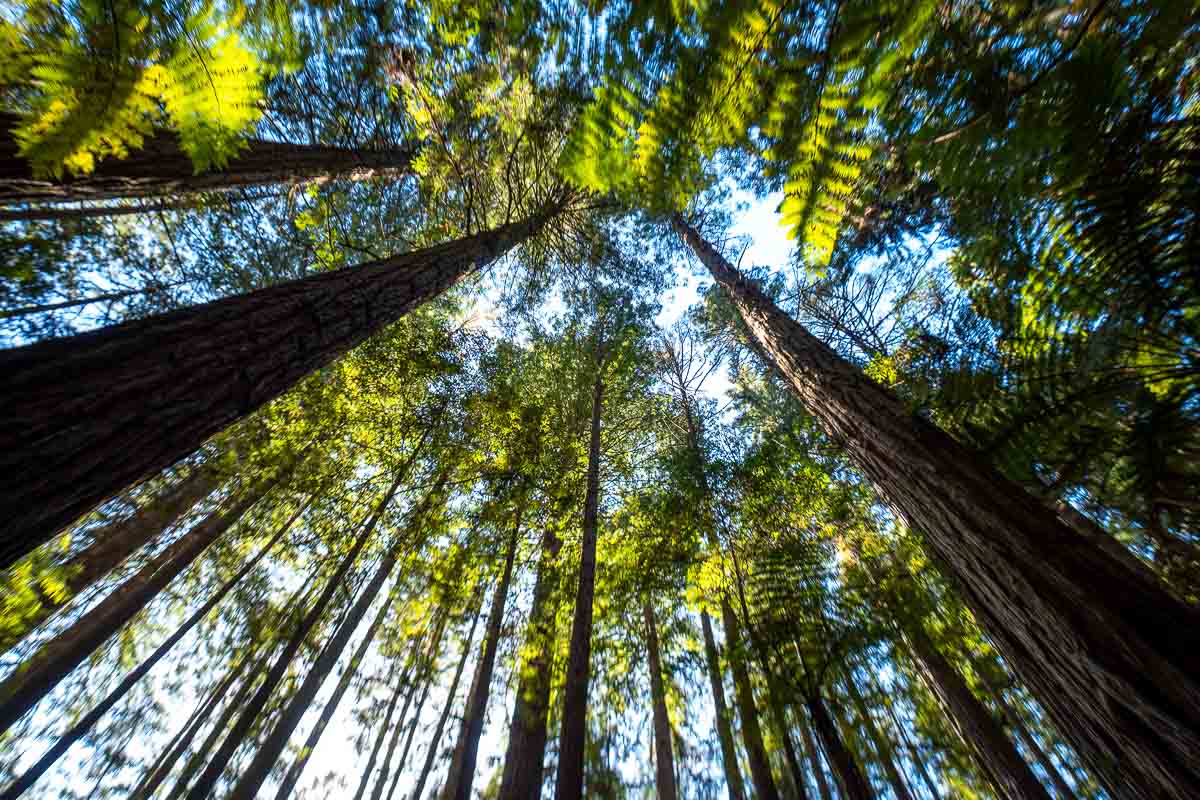 In this New Zealand itinerary, we spent five days touring the North Island's icons. While there may not be as many mountain ranges or fjords as the South, the North's beauty and culture are worth visiting. After all, it's distinctly known for geothermal activity, intriguing Maori culture, and lush rolling hills that resemble middle-earth.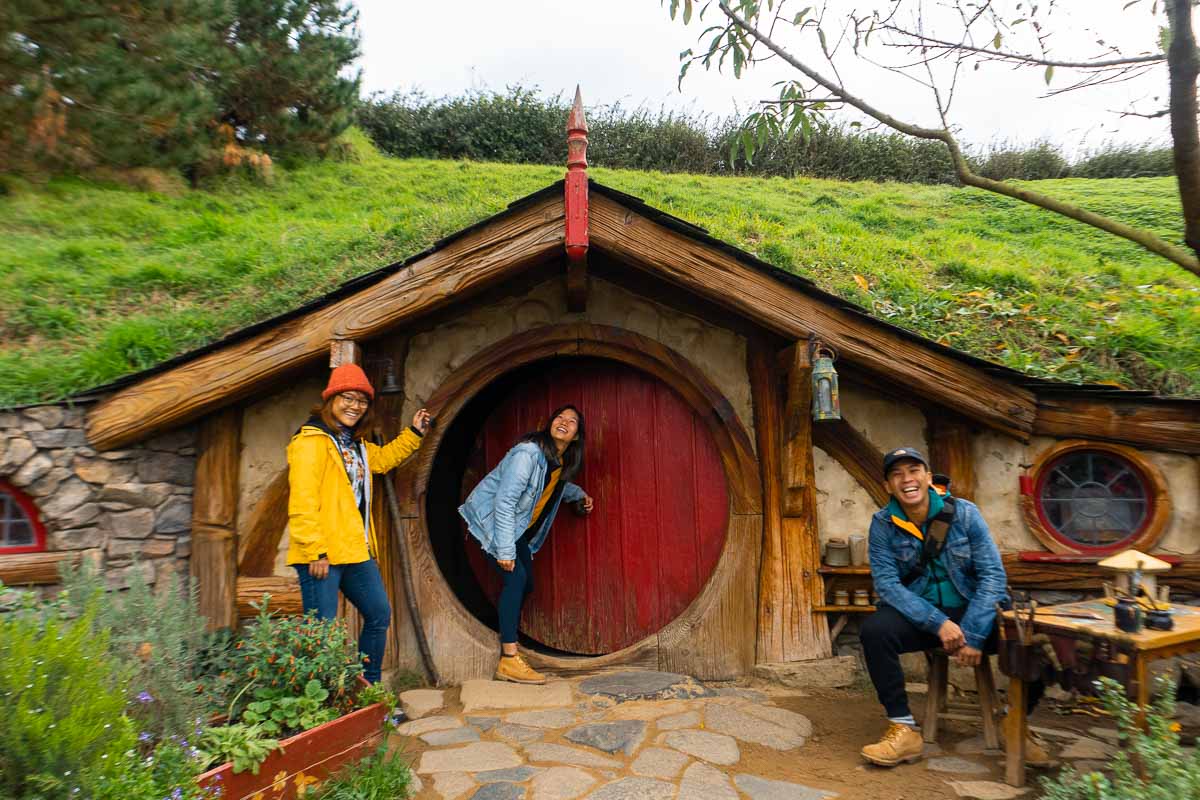 But, plot twist! Instead of replicating our South Island road trip (by car), we took a leap and rented a campervan for our North Island leg. Being a #vanlife virgin, let me just say touring around in a campervan provided one helluva different experience! I'd say this was probably my best budget, bucket-list activity yet.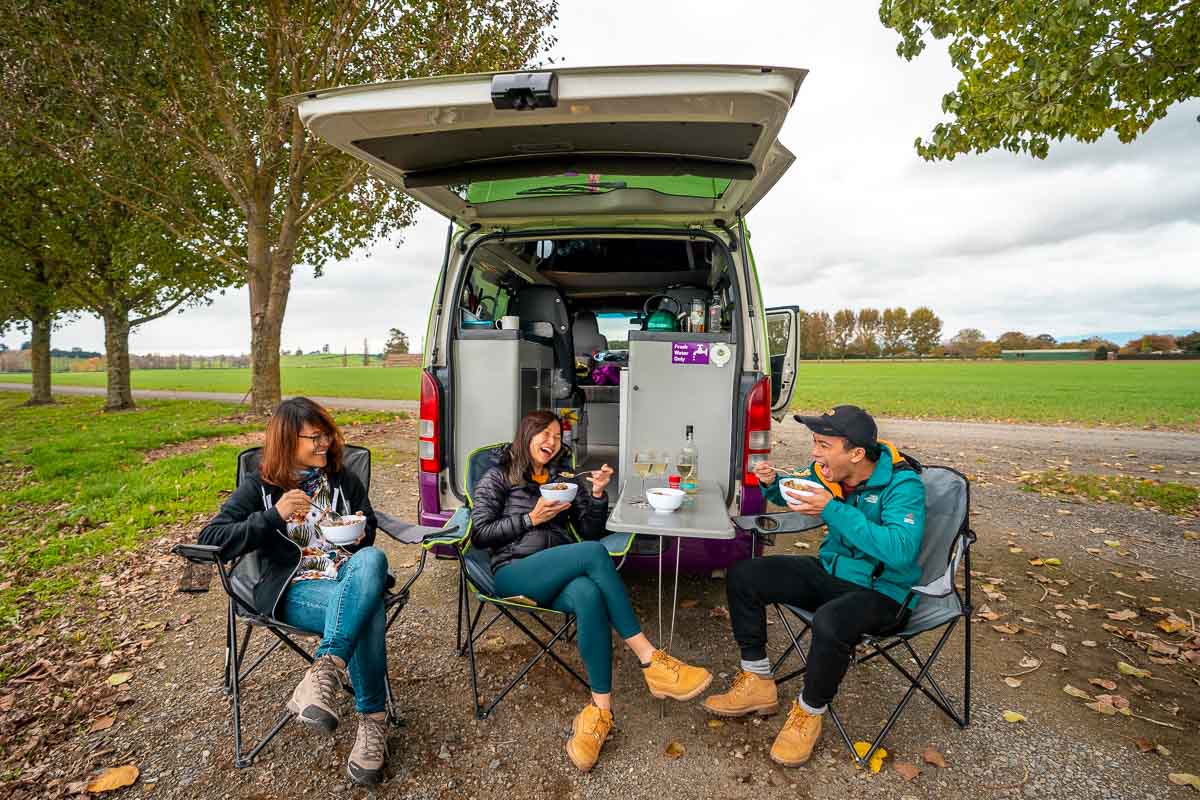 Here's how we explored the North Island's best sights, and experienced living on the road — all for S$600.
Budget Breakdown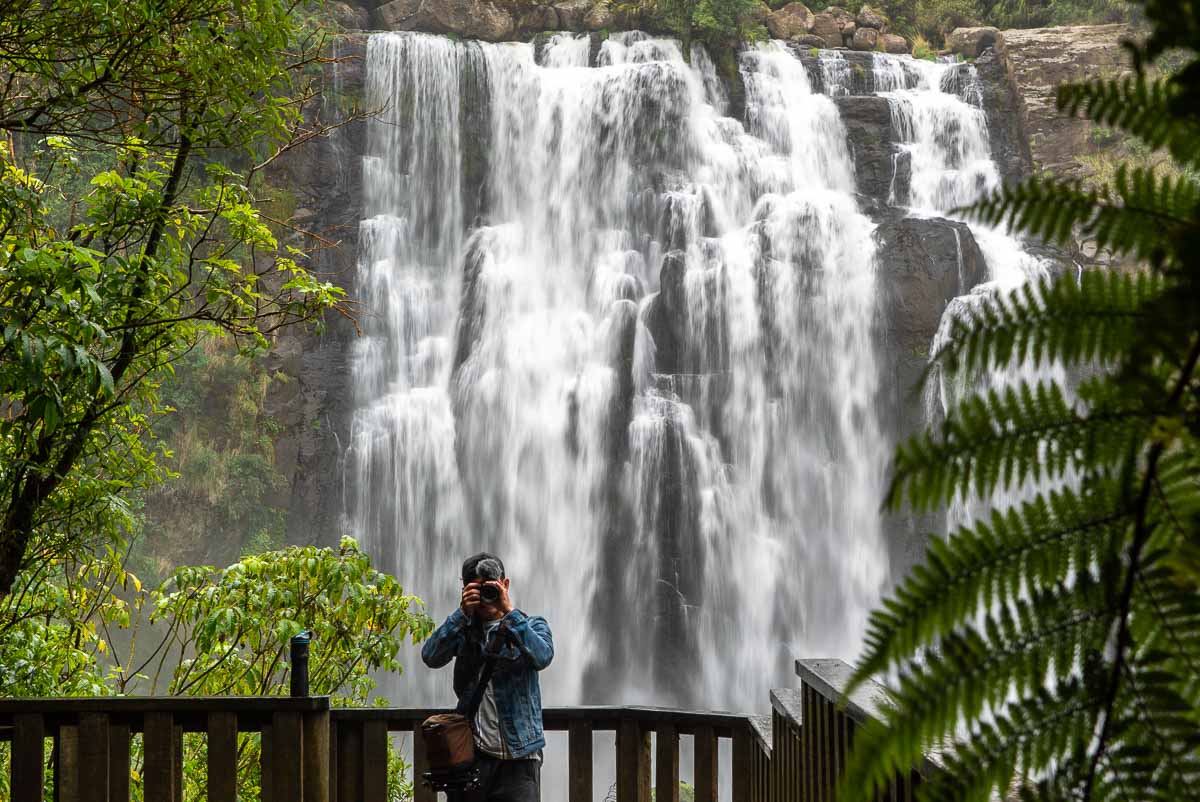 Transport: S$133.75
Accommodation: S$37.16 (this can be completely free if you freedom camp all the way!)
Activities: S$328.02
Food & Miscellaneous: S$101.34
Total: S$600.28/pax
Click here for a detailed breakdown
North Island Route
With only five days to spare, we concentrated on exploring the heart of NZ's North Island. Namely: Waitomo, Taupo, Rotorua, and Matamata. Each location has a specialty of its own, which shouldn't be missed especially for a first-timer!
If you have more days, you can head further North and visit the breathtaking Bay of Islands. Or, the hardcore hikers can go South to complete the much revered Tongariro Alpine Crossing (if the weather permits!).
Day 1: Auckland — Waitomo
Pick Up Your Campervan
Once you've touched down, head to your selected campervan rental office and pick up your home on wheels!
Make sure to get a quick rundown of the campervan — how to set up the bed, where the LPG gas cylinder is located, refilling fresh water and emptying the greywater tank. In case yours has a porta potty, here's how to use it!
Once you're ready, get on the road and begin your #vanlife adventure!
Freedom Camp in Waitomo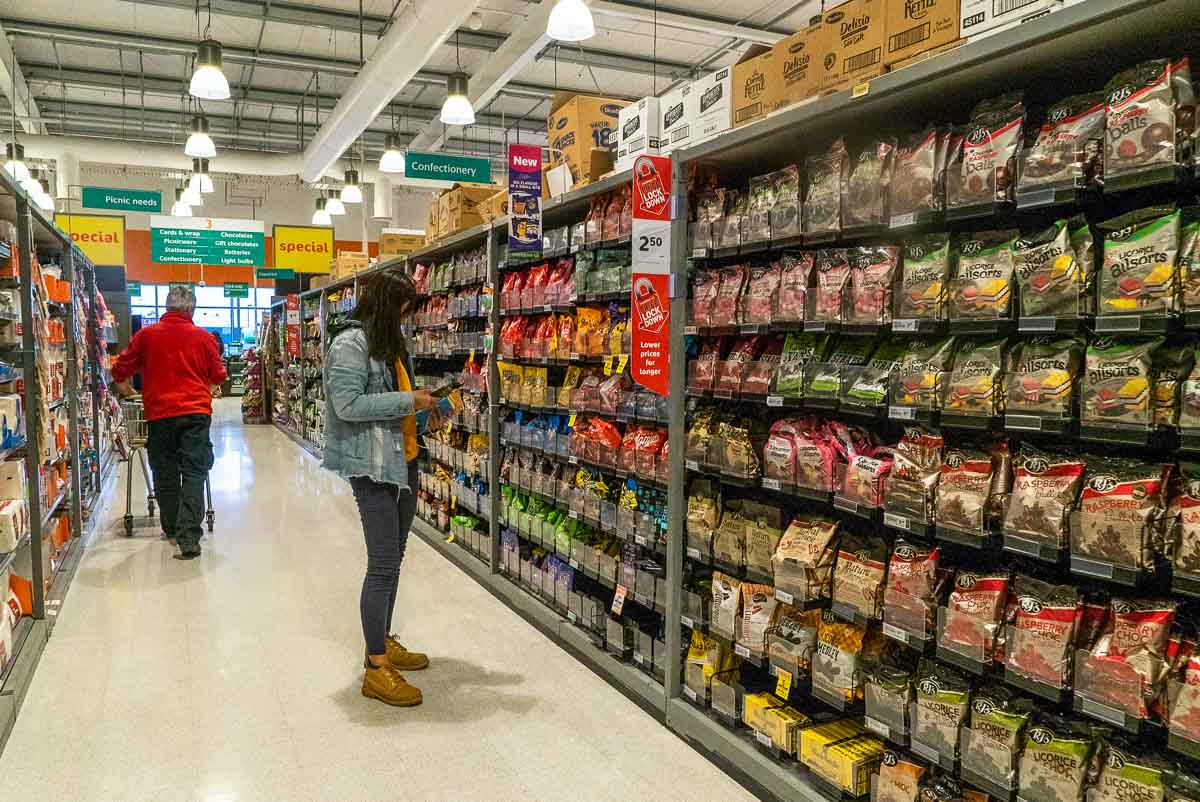 We made a pitstop at Countdown near Auckland Airport, and stocked up on groceries before driving towards Waitomo. The journey takes about two and a half hours according to Google Maps, but considering a campervan travels slower than a car, realistically it takes about 30 minutes longer.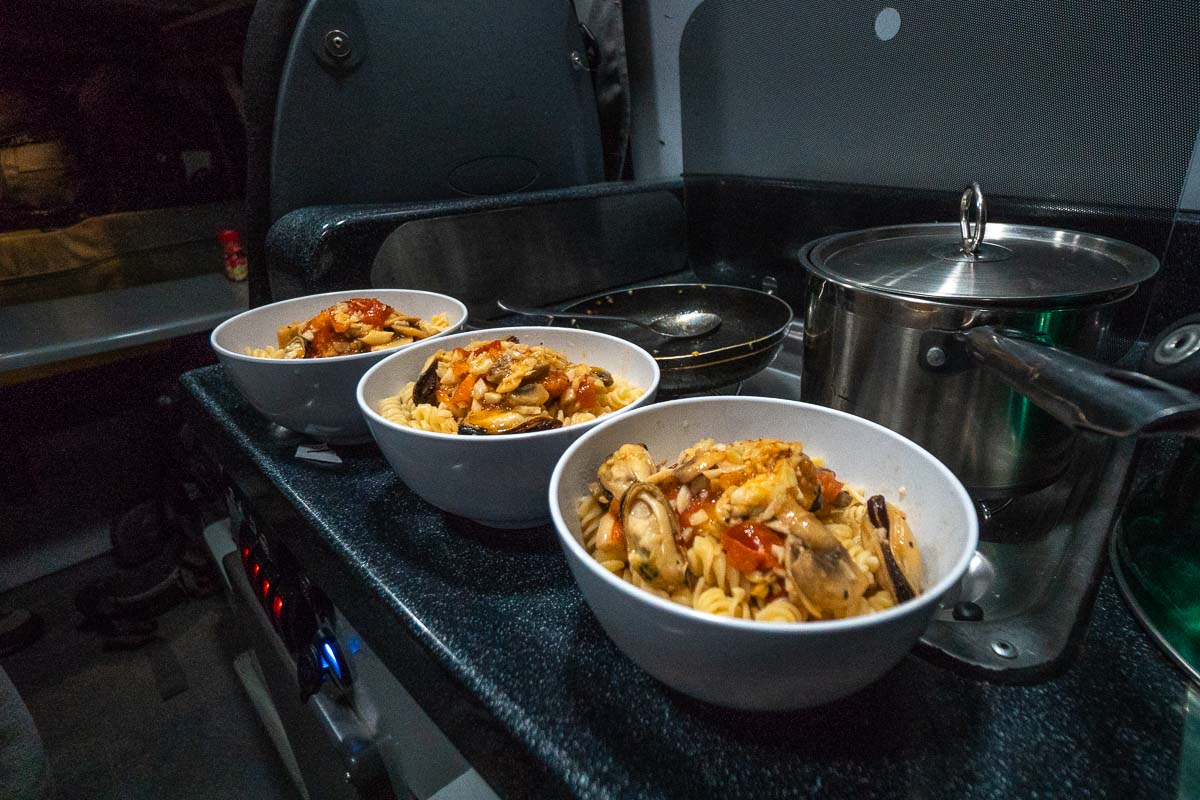 For our first night, we freedom camped at a campground next to Roselands Restaurant. The tap water in the campervan's not potable, so we used the free-to-use tap outside the restaurant to fill up our bottles and kettles. We then got cosy inside our home on wheels, made dinner for the night, and chilled out with some cheap wine.
*Pro-tip: The campground has no toilets, so use public restroom at the Waitomo i-Site Visitor Centre before proceeding to the campground if you'd like to settle your No. 2 business in comfort.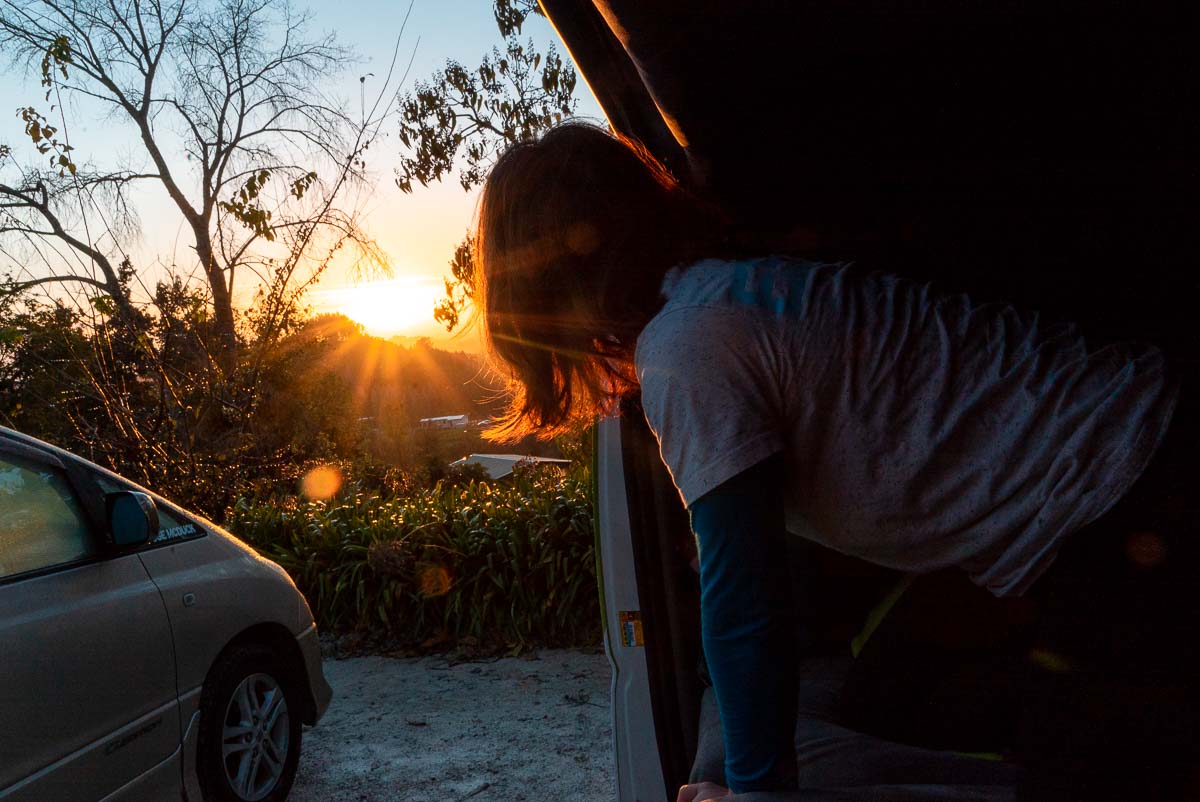 If you're lucky, you might be able to nab a space that overlooks the valley. It's the perfect spot for a magnificent sunrise.
Day 2: Waitomo — Taupo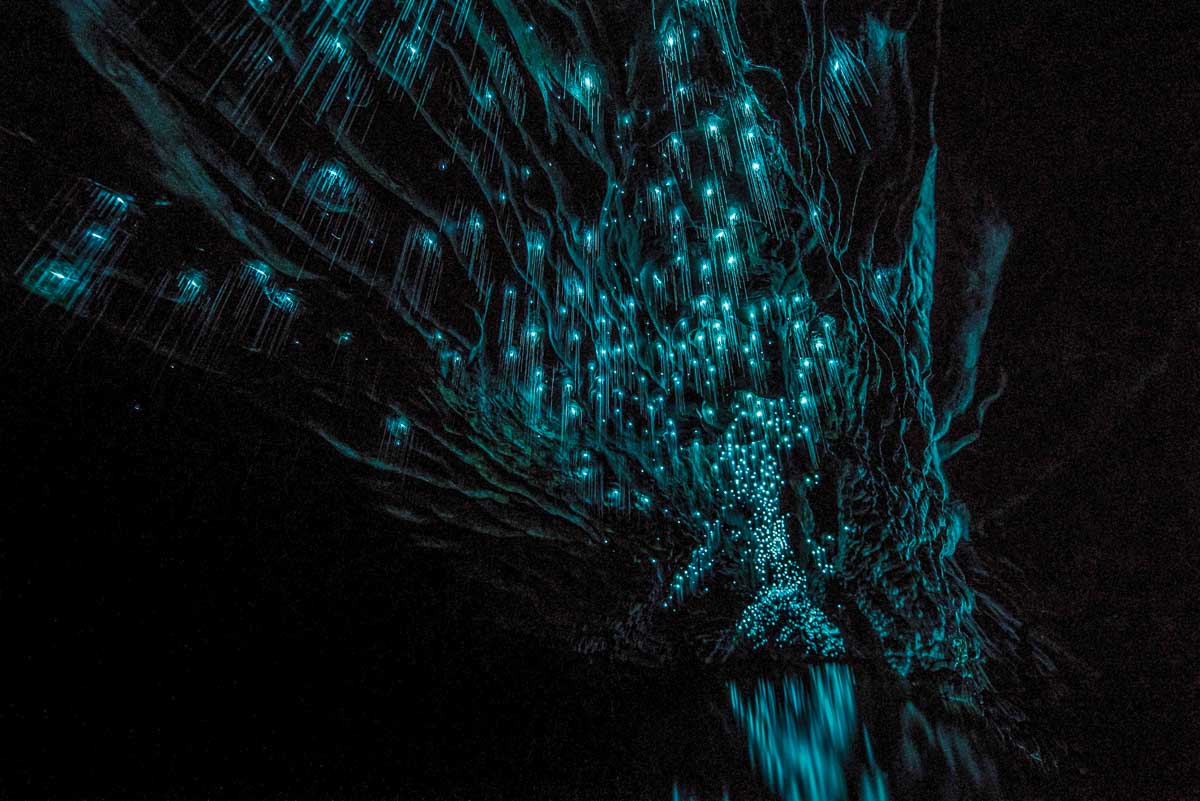 Waitomo is particularly famous for glowworms that are exclusive to New Zealand. Mystical appearances aside, it's interesting to note that glowworms' luminescence is actually their excretion used to attract prey! Still, it's a spectacular sight best seen with your own eyes.
Embark on a Glowworm Caving Adventure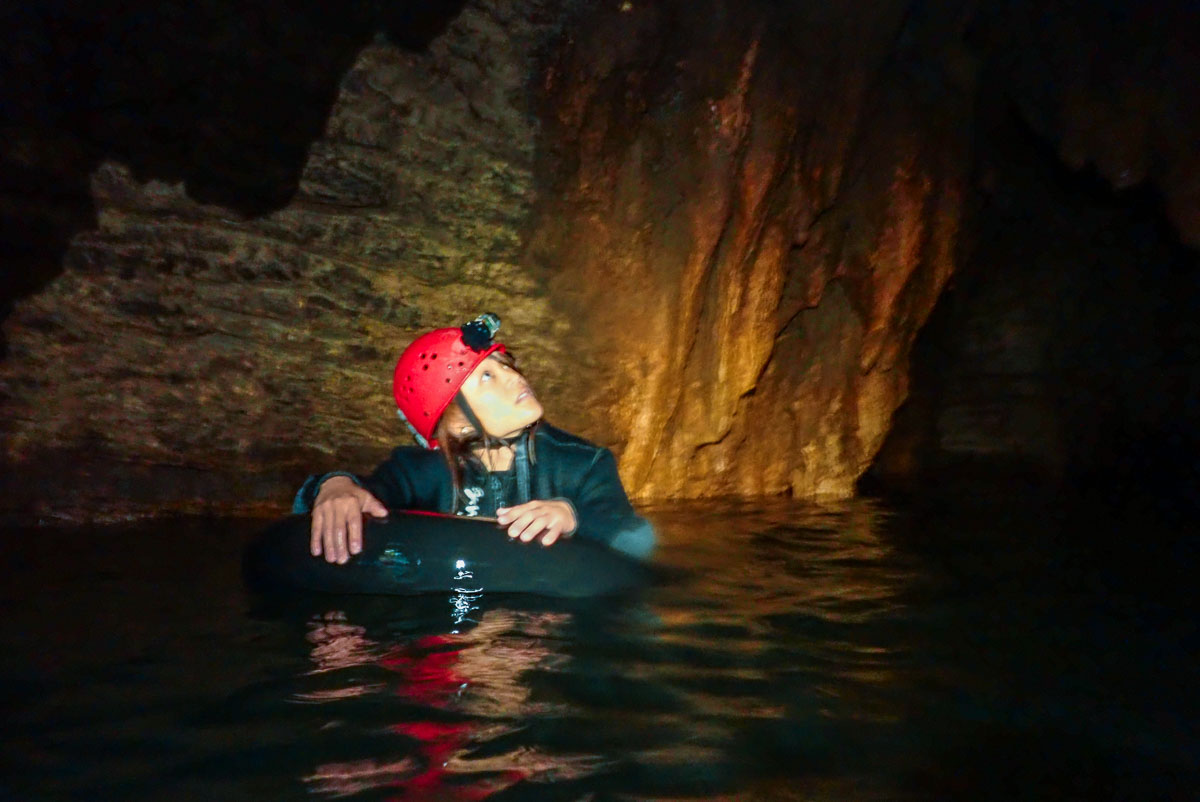 Sometimes, you need to get down and dirty to glow up. That's what you can expect with a Black Water Rafting adventure inside the Ruakuri Cave.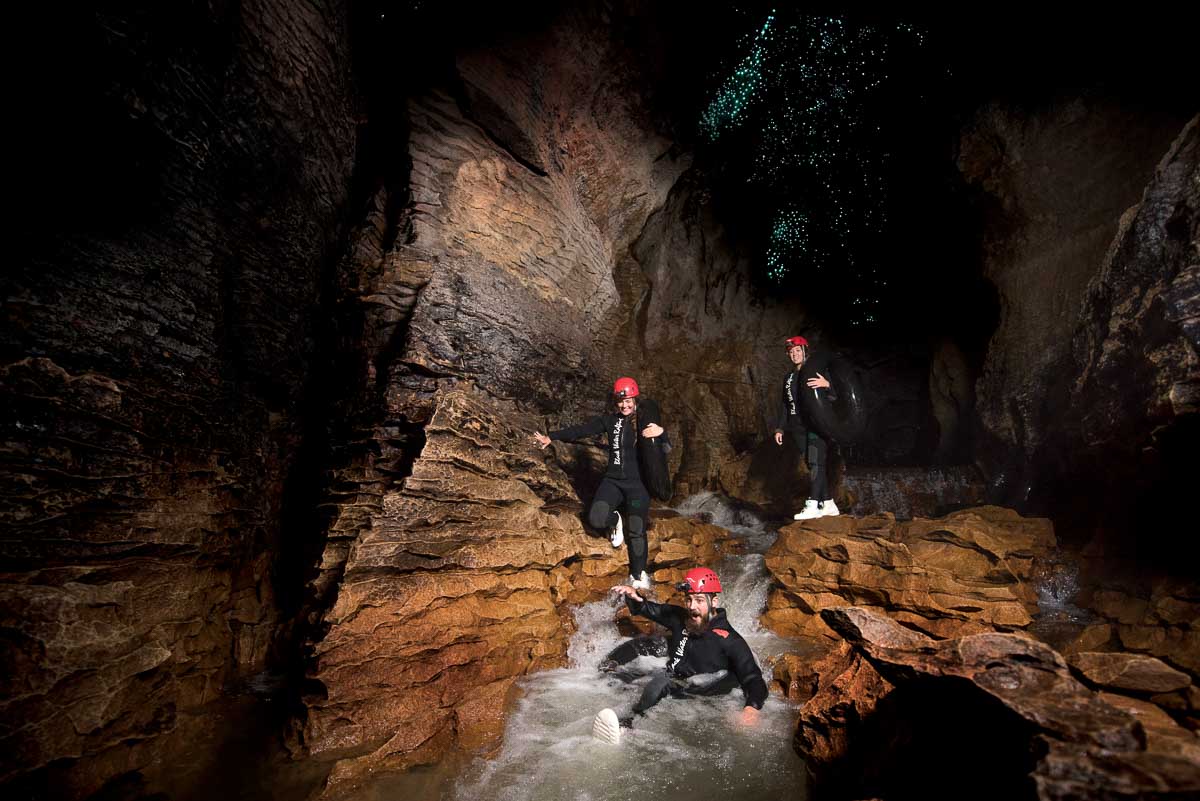 The Black Labyrinth tour isn't your average caving tour. Guided by a high-spirited instructor, this underground experience will have you navigating tight, rocky spaces, and jumping off two small waterfalls into 10°C waters. The best hangover cure after all that wine!
The exhilarating work pays off though — eventually, you'll be tubing through a glowworm-studded canal. With all lights turned off, it's akin to floating in space. At the end of the tour, you can warm up with a hot shower and complimentary meal.

Cost: ~S$125.65
Tour Timings: Every 90 mins from 9AM – 3PM (varies by season)
Meeting Point: The Long Black Cafe
How to get there: From the campground, drive for ~10 mins via Fullerton Road and State Highway 37 to the cafe.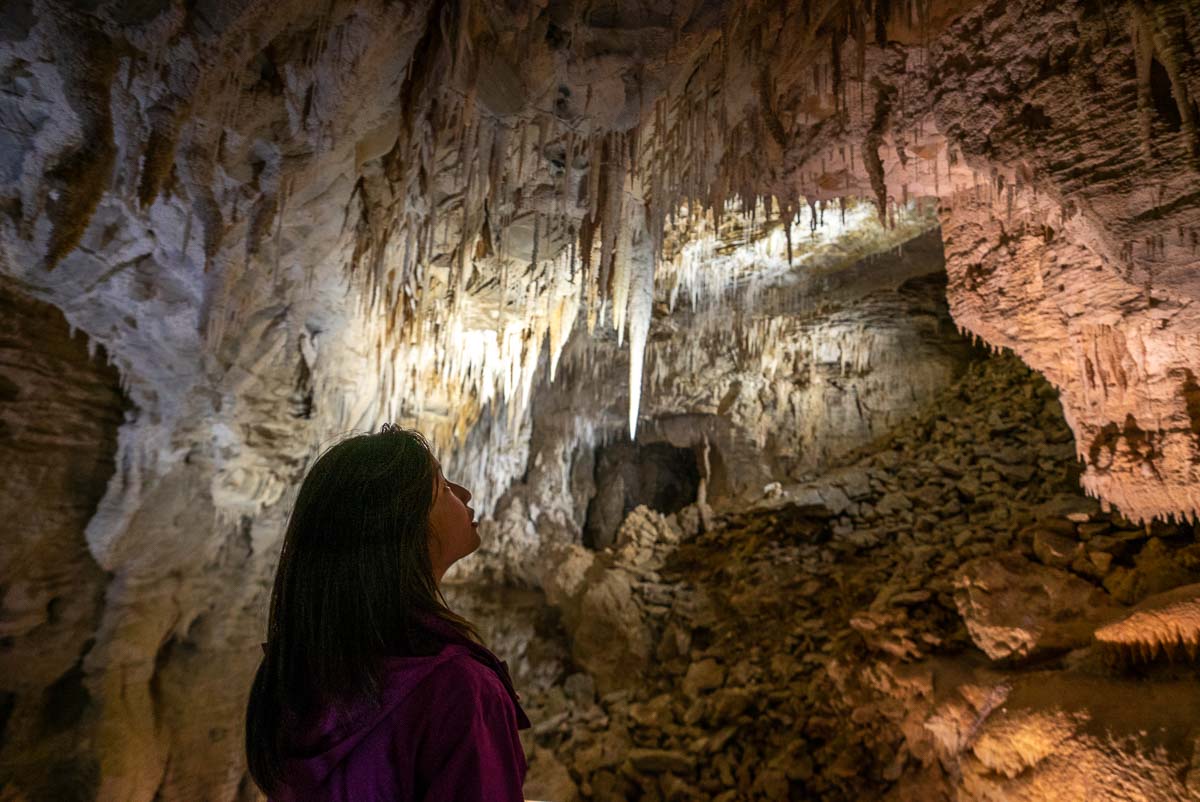 Those averse to getting wet can opt for a guided Ruakuri Cave tour (~S$68.59). This tour walks you through the cave's unique formations, with an entertaining guide offering more insight (sometimes shocking) to the glowworms.
Make a Detour to Waitomo's Other Natural Beauties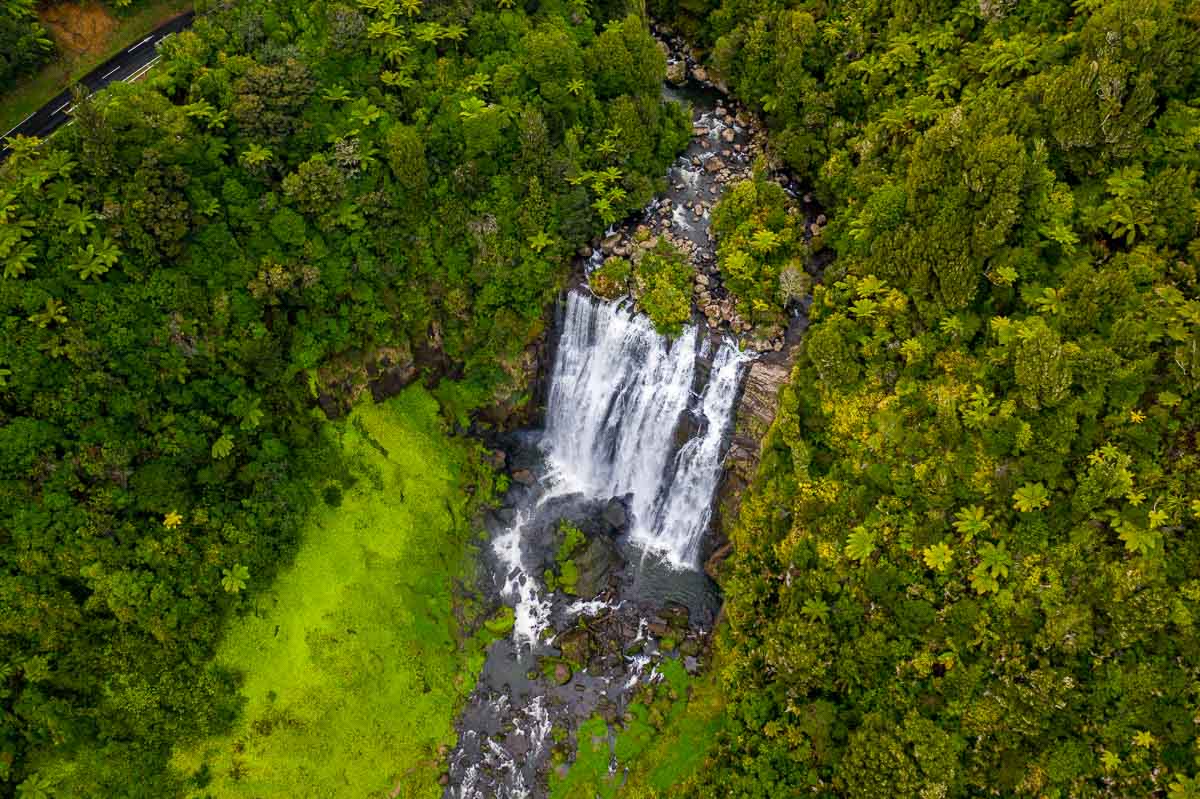 Listed as one of New Zealand's most beautiful waterfalls, the 35m Marokopa Falls is a stunning attraction to relax by. From Waitomo's town centre, it's a scenic ~40-minute drive and an easy trek through the forest down to the viewing platform.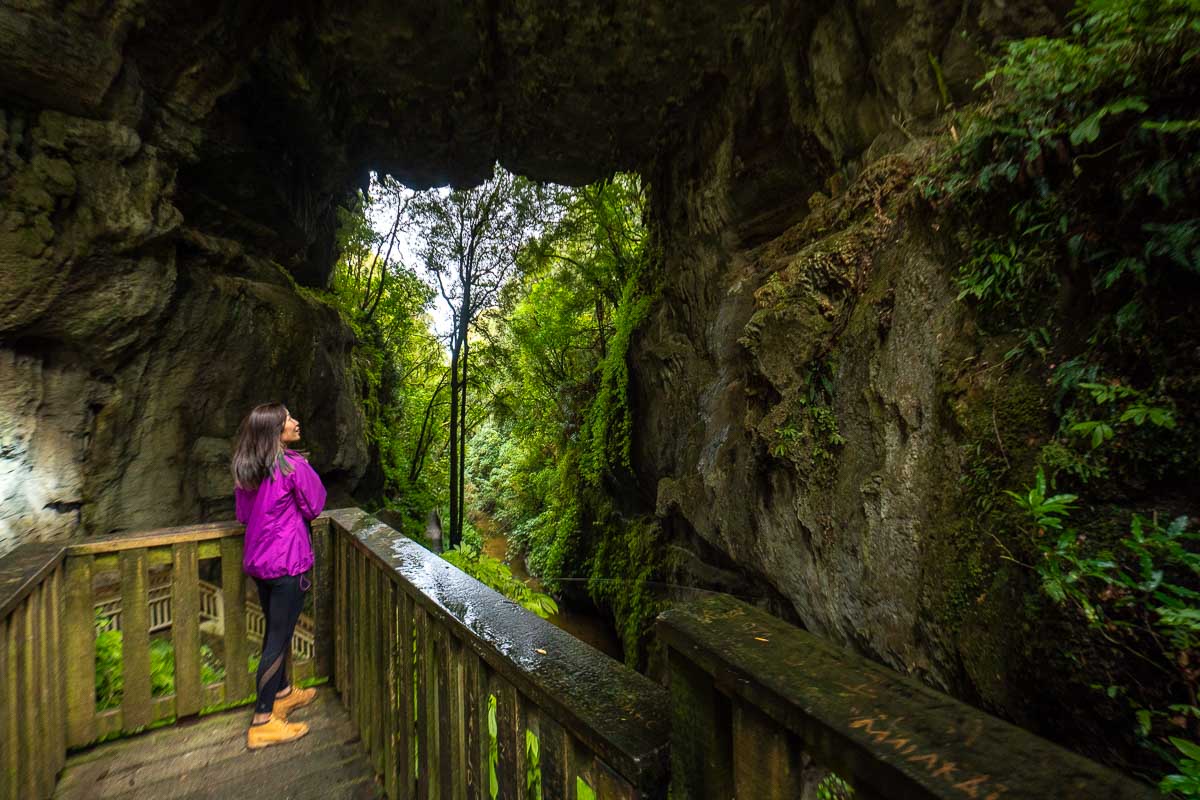 On your way out from Marokopa Falls, make a quick stop at the Mangapohue Natural Bridge, a 10-minute drive away. The boardwalk passes through lush forestry and a limestone gorge that leads you underneath a huge arch — the survivor of a cave collapse. If you're visiting at night, you can see plenty of glowworms around too.
Freedom Camp in Taupo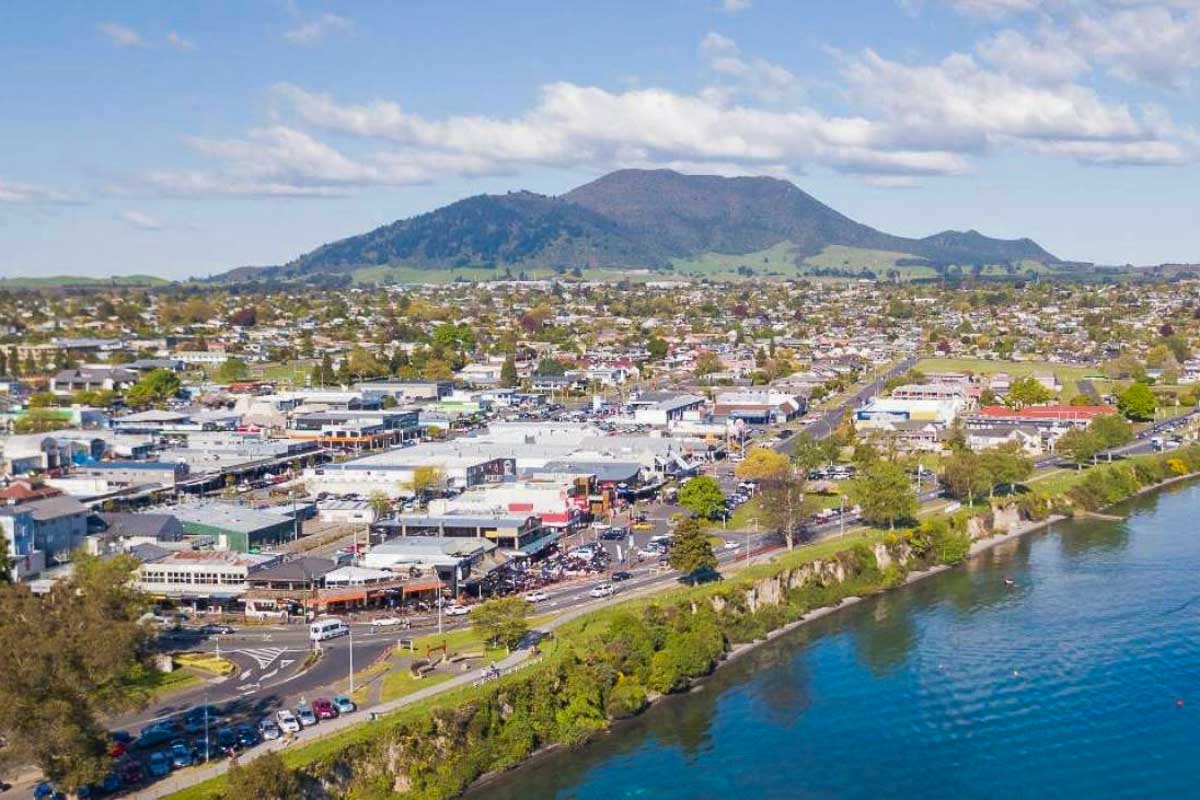 When you've had your fill of Waitomo, drive for two and a half hours to Taupo. At the town centre, you can refuel your gas tank and food stash at the many petrol kiosks and supermarkets. There's also a free drinking water point at the Superloo opposite the Taupo i-Site Visitor Centre.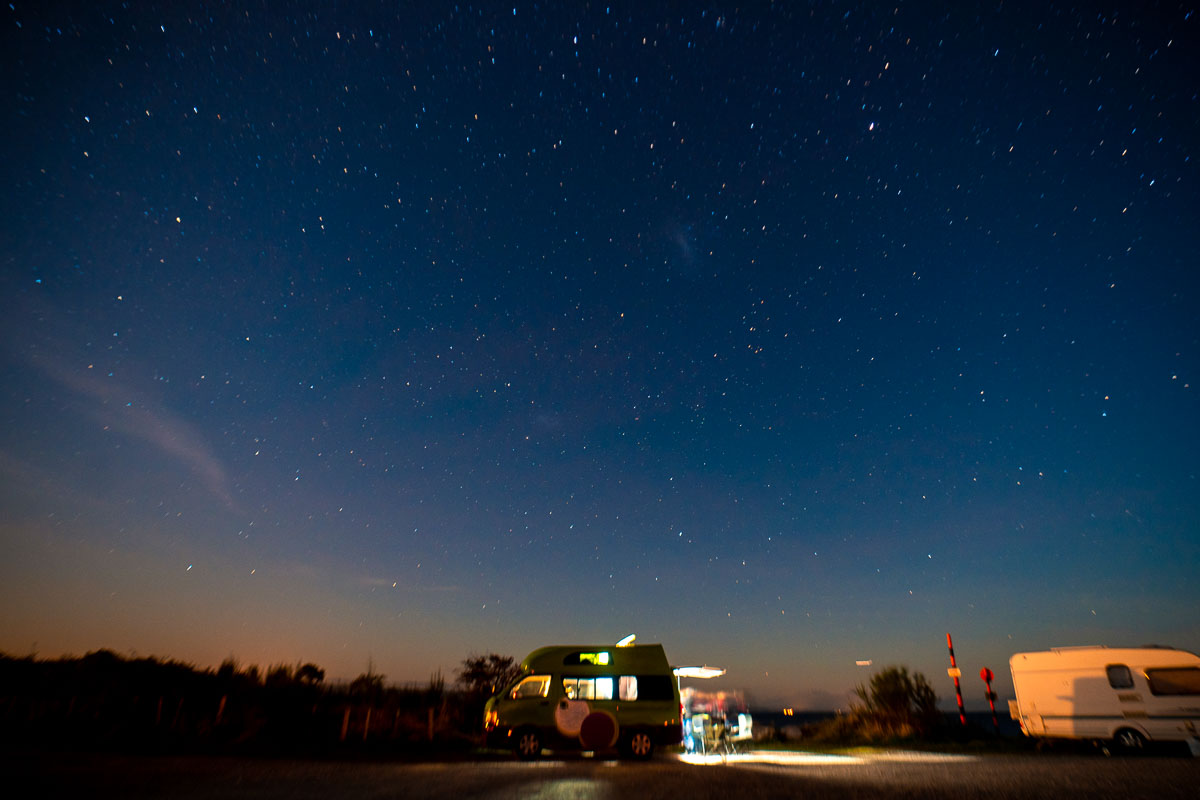 Then, you can either freedom camp at Whakaipo Bay Recreational Reserve or Five Mile Bay Recreation Reserve. Both are about a 20-minute drive from Taupo town. The former is a huge, secluded lot without any facilities, while the latter has one drop toilet, and can be quite crowded during peak periods.
We freedom camped at Five Mile and managed to snag a spot by the waters when we arrived. It felt as though we were camping right beside the beach!
Day 3: Taupo — Rotorua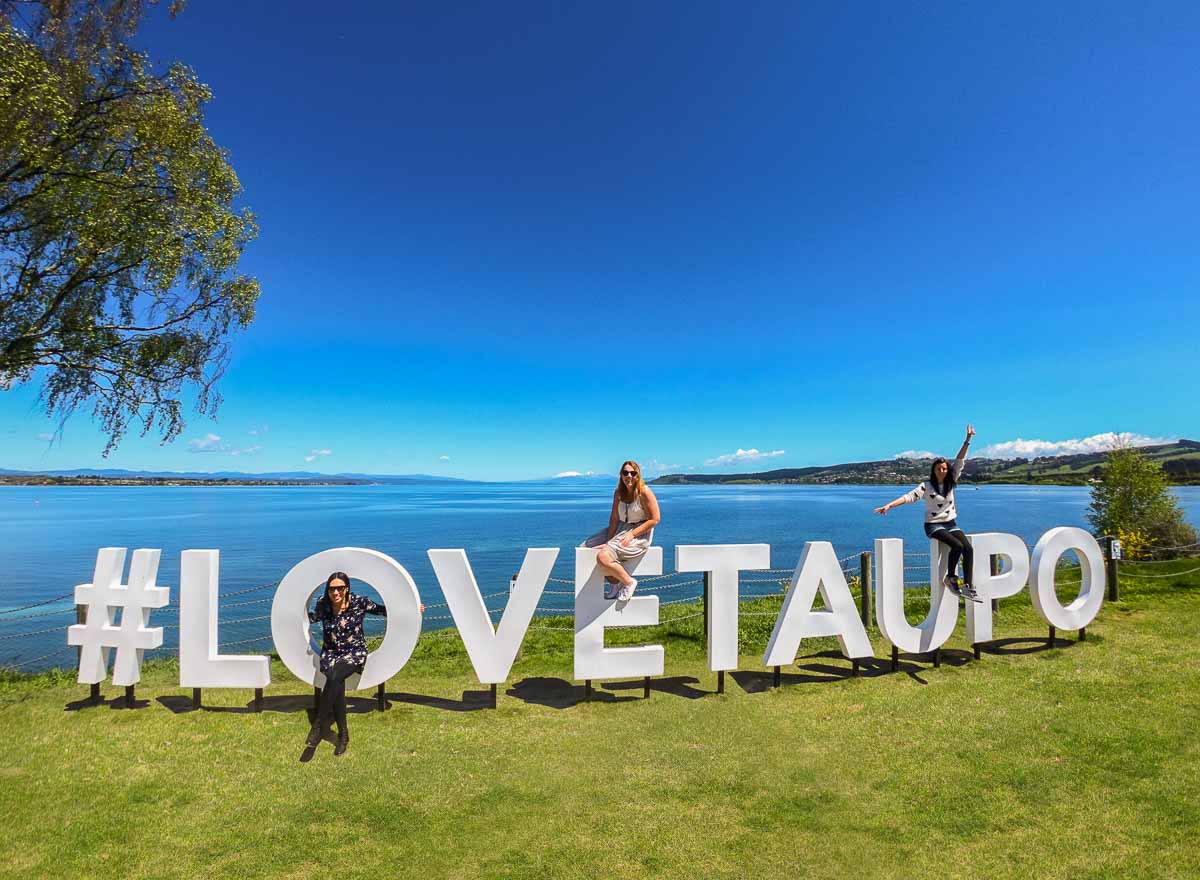 Taupo is New Zealand's largest town in the Lake Taupo district, a bustling area for both locals and travellers who enjoy adventurous activities like boating, bungy jumping, and fishing.
Fun fact: Lake Taupo (NZ's largest freshwater lake) is said to be the size of Singapore. In true Singaporean fashion, we skeptically asked: Really? Well, Lake Taupo is roughly 616 square kilometres, and that's how big we were over 40 years ago!
Dip in a Free Hot Spring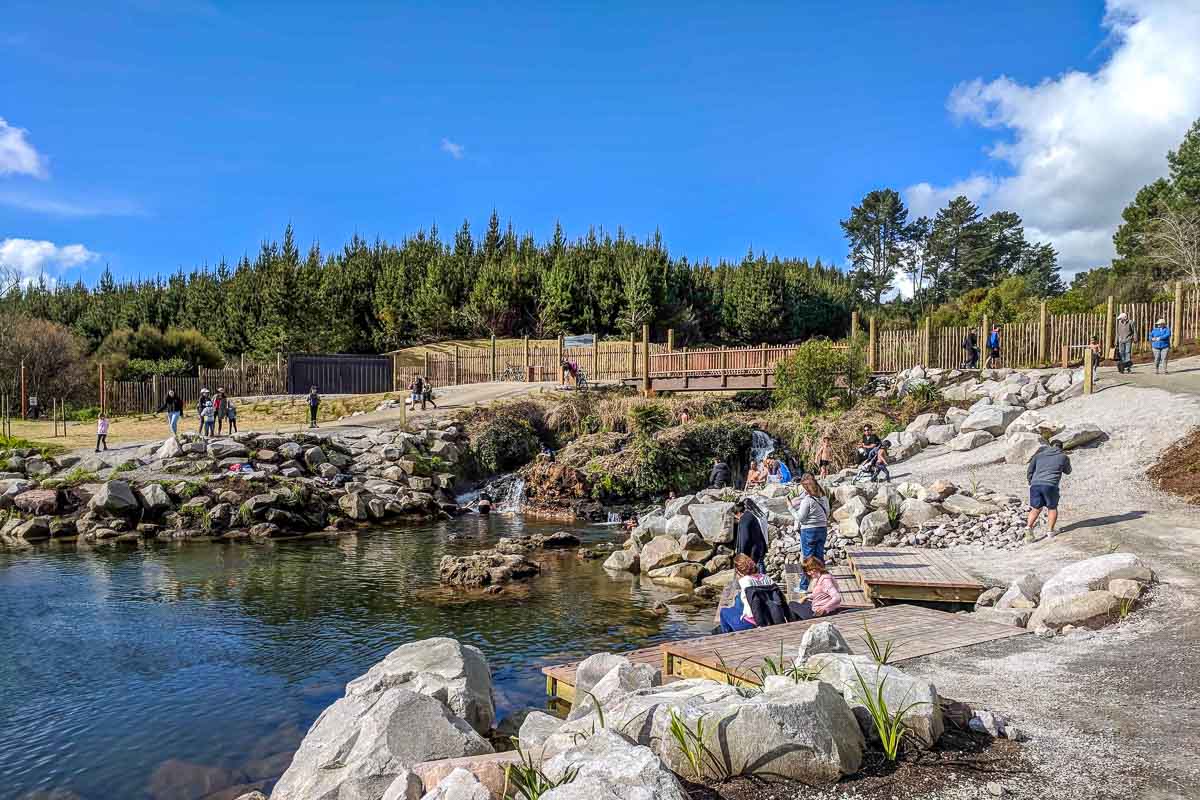 Taupo has numerous natural hot springs (thanks to its location in the Taupo volcanic zone). While most charge a fee, the hot springs at the Spa Thermal Park are entirely free! The water can be extremely hot, so test the waters before hopping in.
There are facilities such as toilets, changing rooms, and a cafe near the park. However, keep your personal belongings close and lock your vehicle as there have been many theft reports in the area.
How to get there: From Taupo town, drive for five minutes via Spa Road. Turn left after the Taupo Bungy Centre onto County Ave, and keep driving until you reach the carpark. Follow the path to the river, where the hot springs are under the bridge.
Visit Huka Falls, the "Great Body of Spray"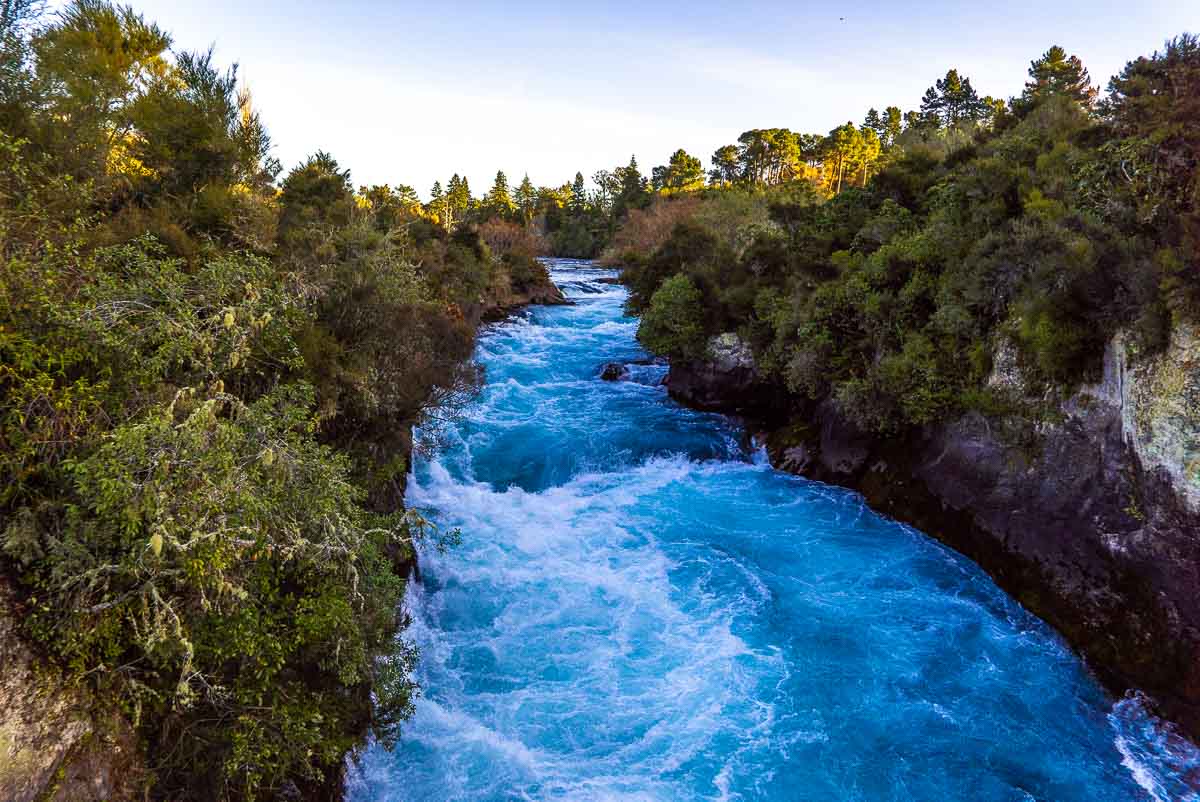 One of the most visited attractions in New Zealand, Huka Falls is quite a force to be reckoned with. You'd hear it before seeing it — over 200,000 litres of water per second gushes through the gorge. That's enough to fill an Olympic swimming pool in just 12 seconds.
From the viewing point, Huka Falls is oddly therapeutic to watch. The impressive flow rate creates multiple shades of striking blue from the start to the end of the river.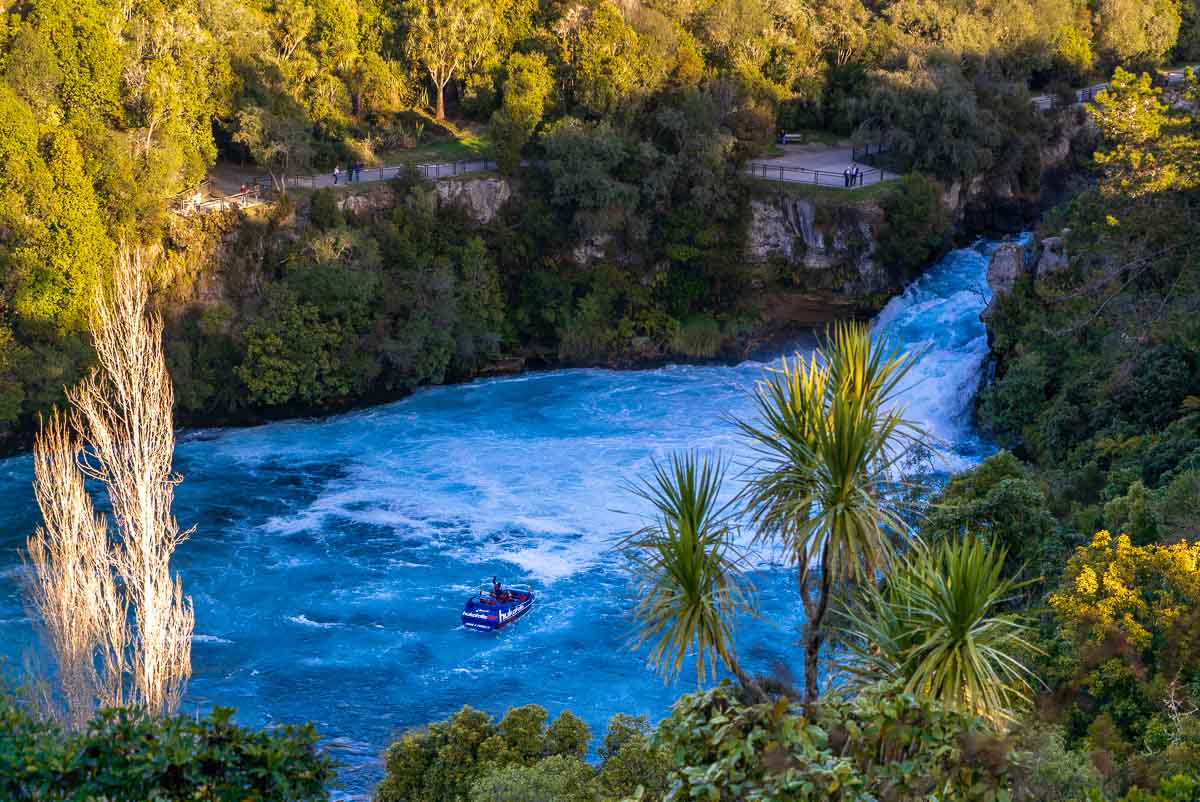 For those who want to get up close to the action, jump on a Huka Falls Jet Ride (~S$115.75)! The jetboat speeds you right up to the falls, with a whirlwind of exhilarating twists and 360° turns along the way.
Opening Hours: Carpark is locked from 6:30PM – 8AM in summer and from 5:30PM – 8AM in winter
How to get there: From Spa Thermal Lake, drive back to Taupo, then up towards Huka Falls Road. The drive takes 10 minutes. Once you reach Huka Falls, you can either turn to a higher viewing point, or continue downhill to the main viewing platform.
Immerse Yourself in the Wai-O-Tapu Thermal Wonderland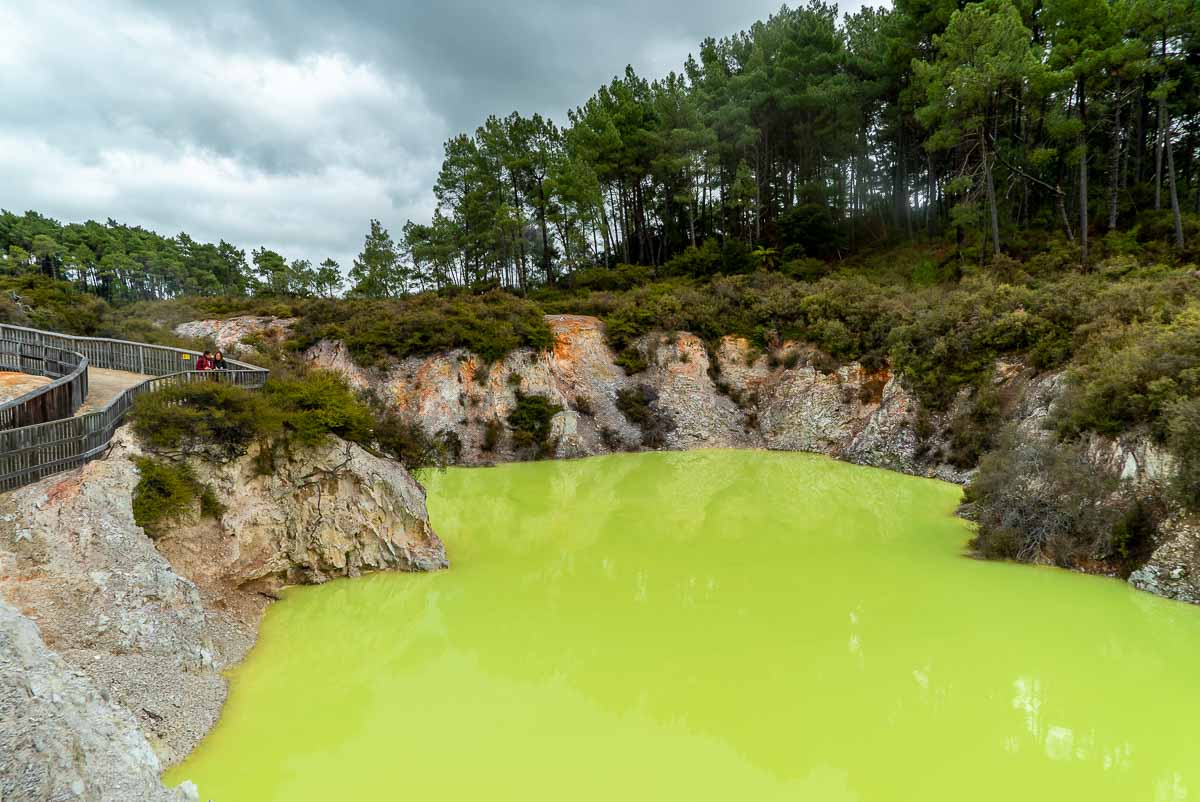 On the way to Rotorua, make a stop at the must-visit Wai-O-Tapu Thermal Wonderland. It's considered NZ's most colourful and diverse geothermal attraction — collapsed craters, steaming fumaroles, boiling pools of mud, and bright-coloured pools.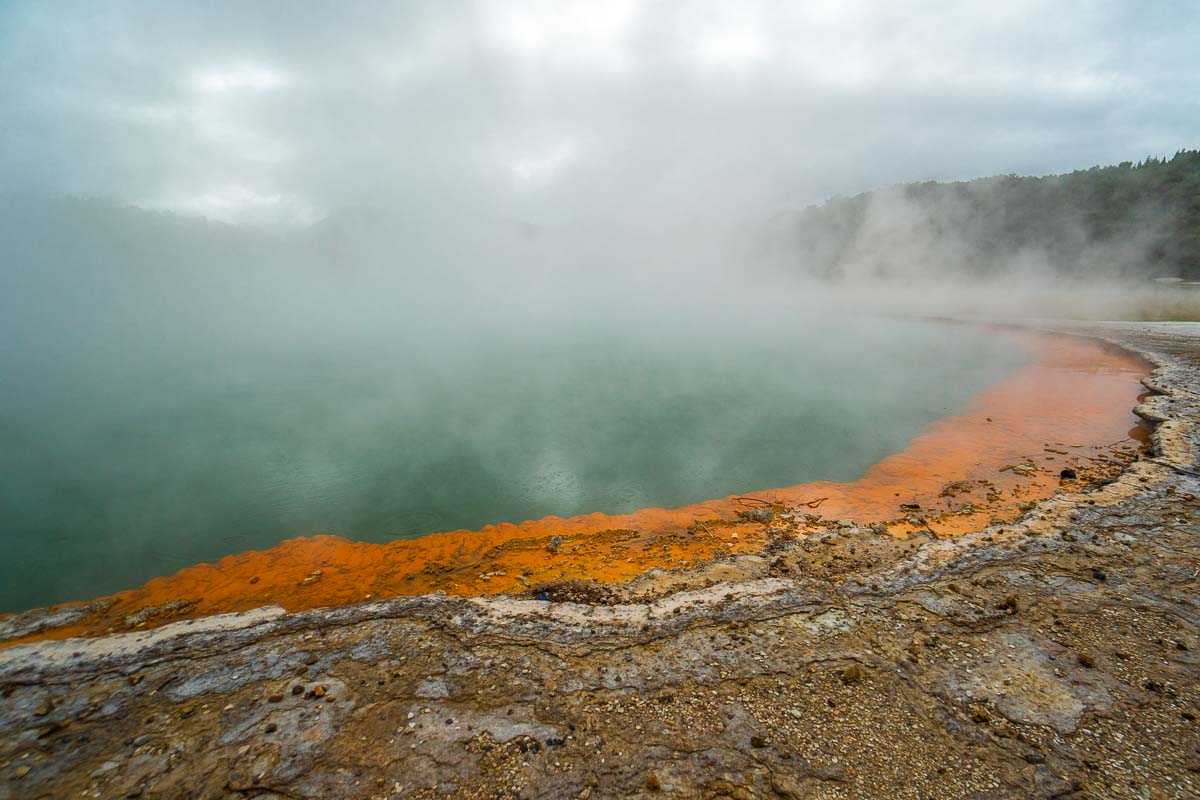 One of the park's biggest attractions is the Champagne Pool. This hot springs' name derives from the bubbling activity happening within the water, like a glass of champagne (except, y'know, it's insanely hotter).
Around the Champagne Pool is the Artist's Palette. The area is covered with vibrant colours, or rather evaporated minerals originating from the pool's mineral-laden water. What's interesting is that the Palette never looks the same two days in a row. Factors like wind direction can easily change the layout, so every day is a different masterpiece!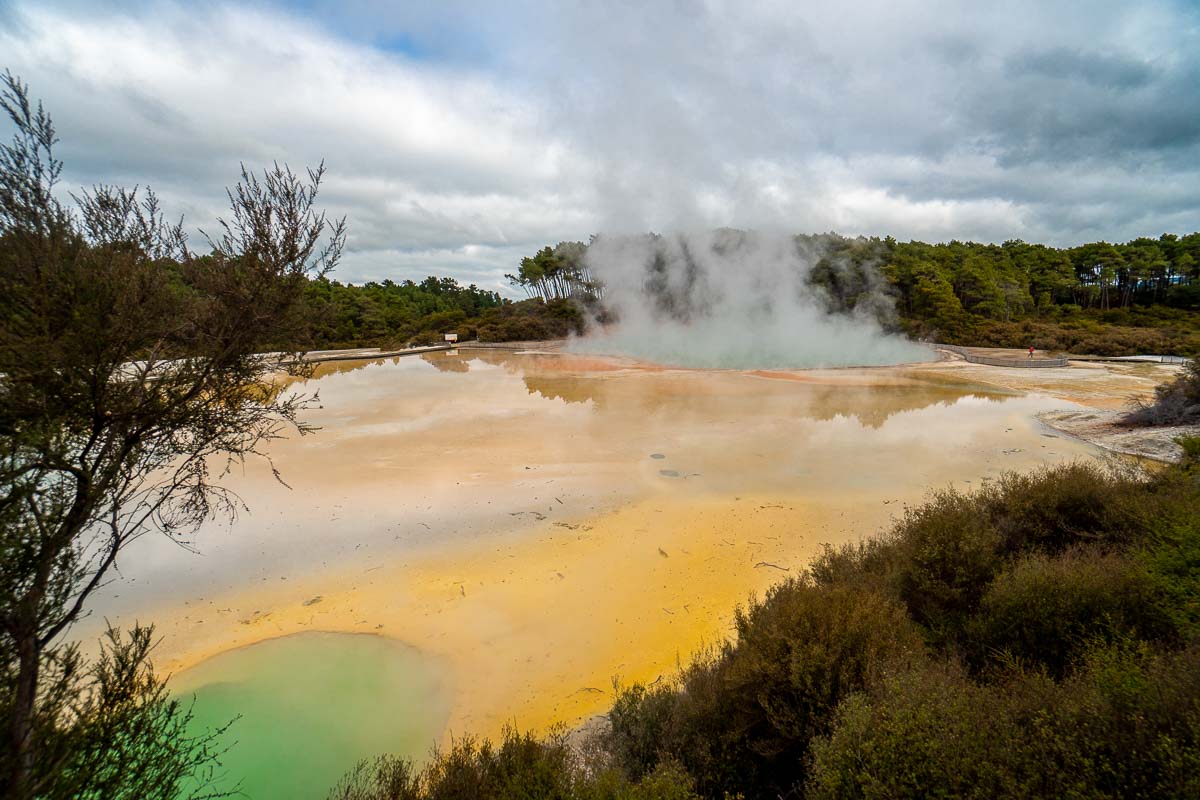 Cost: ~S$26.35
Opening Hours: Varies by season. Closed on Wed and Thu
How to get there: From Huka Falls, drive for 45 minutes to Wai-O-Tapu via the Thermal Explorer Highway.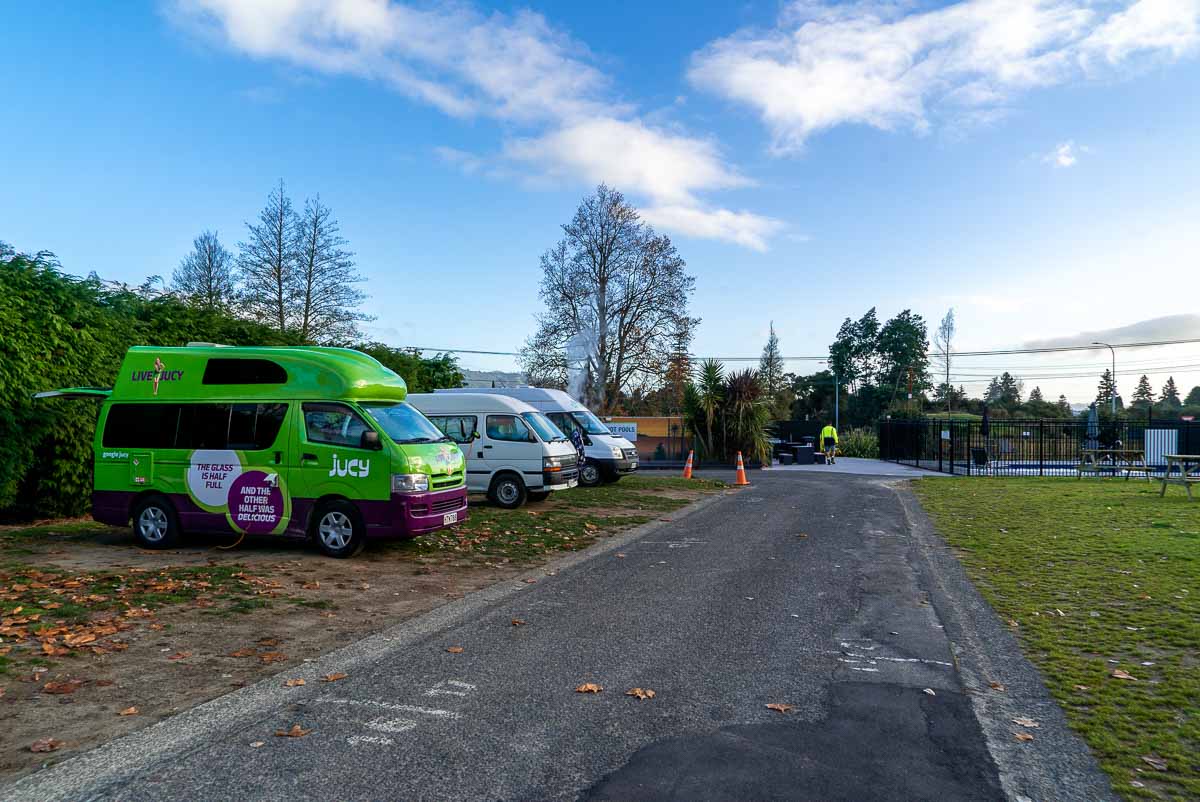 Accommodation: Rotorua Thermal Holiday Park (NZ$25, NZ$20/additional pax in a powered campsite). Includes free mineral pools, hot showers, toilets, a grey water dump station, and a communal kitchen (bring your own cooking equipment and utensils).
Note: There are very few freedom camping spots in Rotorua, and they tend to fill up quickly. Camping illegally can incur an NZ$200 fine. You can try your luck, but this was our alternative accommodation.
Day 4: Rotorua — Matamata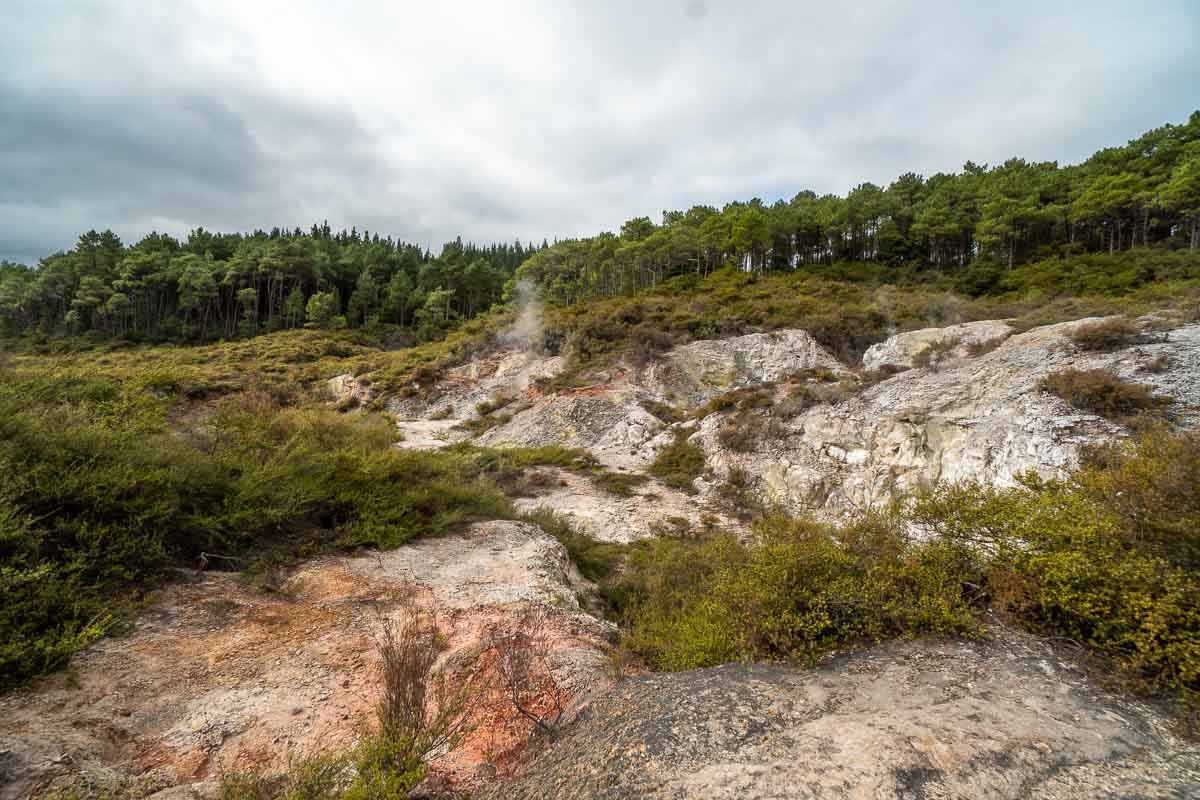 Renowned for geothermal activity and Maori culture, Rotorua is easily one of the North Island's must-visit towns. There's plenty of things to do and explore, so much so you might forget the pervasive smell of rotten eggs (sulphur) that wafts through the air!
Hike the Pohaturoa Track at Rotorua Redwoods Forest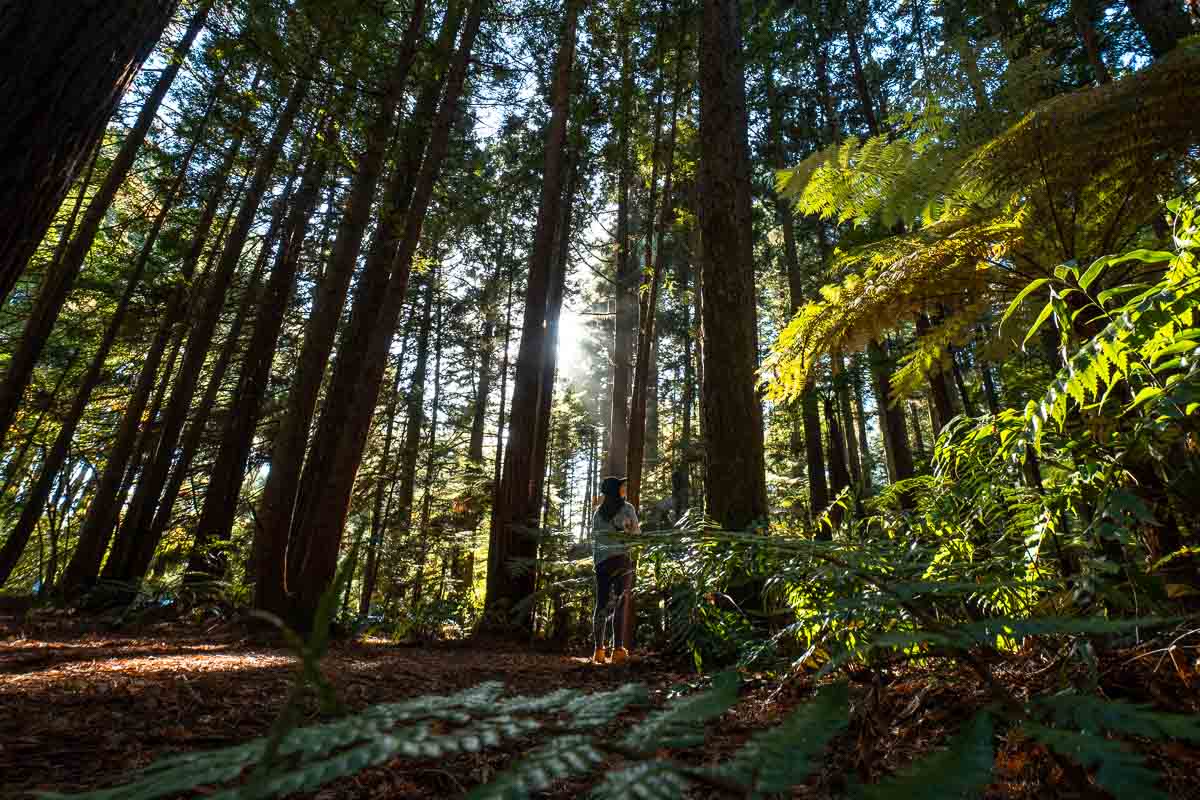 Feeling small isn't always a bad thing, especially when you're wandering around groves of giant Californian Redwood trees. The Whakarewarewa Forest is a hugely popular attraction in Rotorua, and rightfully so. The forest offers multiple walking tracks, mountain biking trails, and even an award-winning treewalk.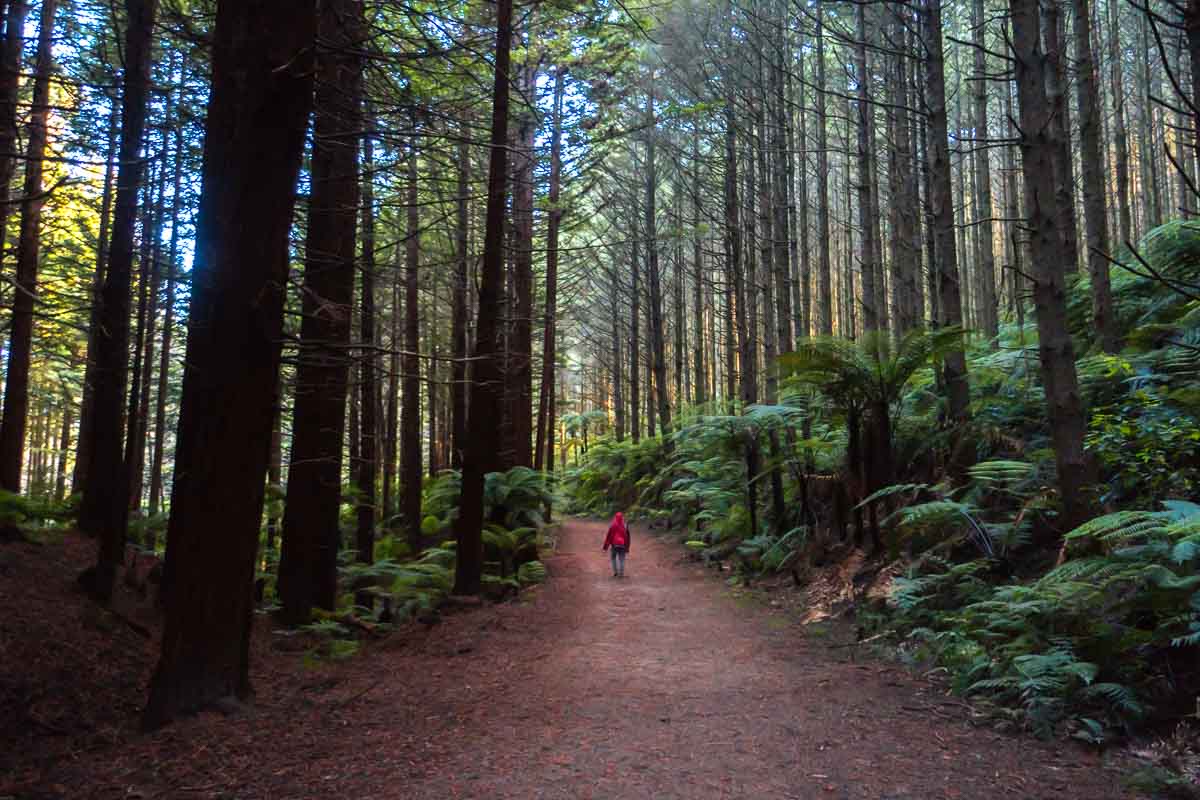 For a good workout coupled with better views, spend the morning hiking the Pohaturoa track. Starting from the Redwood i-Site visitor centre, the 7.5km track (marked in yellow at the website) loops through the Redwoods Forest and other varied terrains. The highlight of this route is that you can climb up to the Whaka lower lookout point and get panoramic views of Rotorua town, lake, and thermal parks.
The entire journey takes two hours.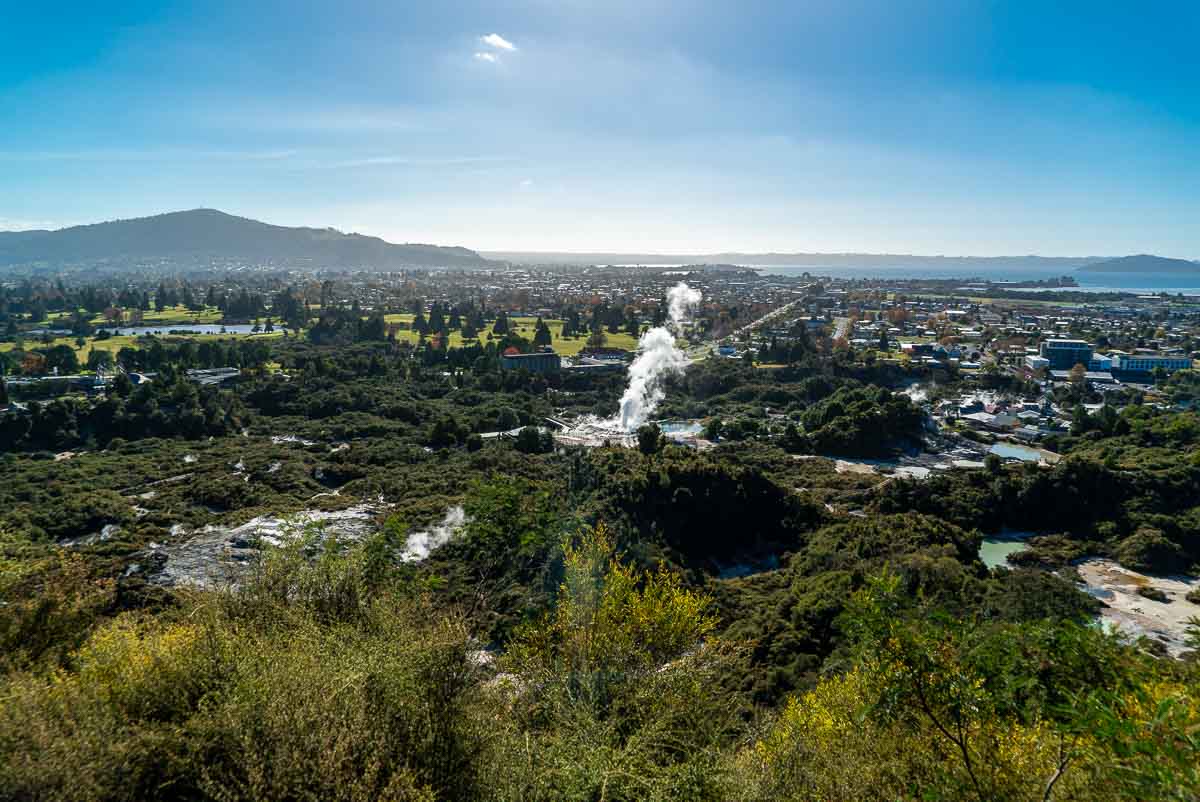 If you only want to visit the lookout point, drive to the Mountain Biking start point and hike from there. Just past the toilets, you'll come to a fork in the road. Ignore the Pohaturoa Track signs telling you to go right. Instead, turn left and trek uphill for ~20 mins.
Opening Hours: 8.30AM – 6PM in summer; 8.30AM – 5PM in winter
*Pro-tip: Spend a little longer at the lookout point if you're not in a hurry. With enough patience and luck, you might catch the Pohutu Geyser erupting up to 30m in the air! It's a secret, free way to see this attraction. 😉
Enjoy a Taste of Rotorua's Iconic Ice Cream Parlour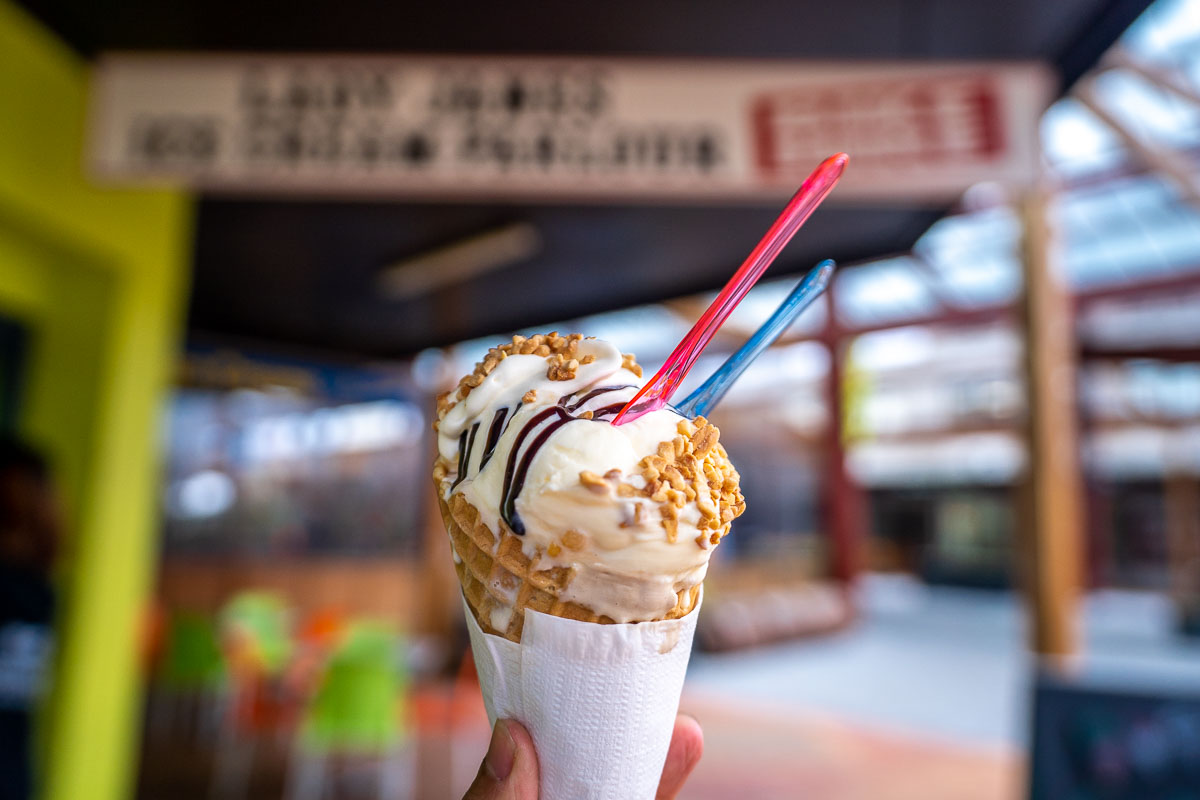 Hiking is hard work, so treat yourself to sweet, sweet victory! Lady Jane's is well known as "Rotorua's ice cream parlour". This long-running shop sells a wide selection of flavours, ranging from regular classics like salted caramel to premium flavours like kiwi pavlova.
We got two scoops of regular ice cream in a waffle cone (NZ$5.90). This was accompanied by a generous heap of free toppings like chocolate syrup and peanuts. It's great value-for-money, and perfect for sharing!
Cost: ~NZ$5.90
Opening Hours: 10AM – 6PM (Sun – Wed); 10AM – 9PM (Thu – Sat)
Learn the Ways of the Maori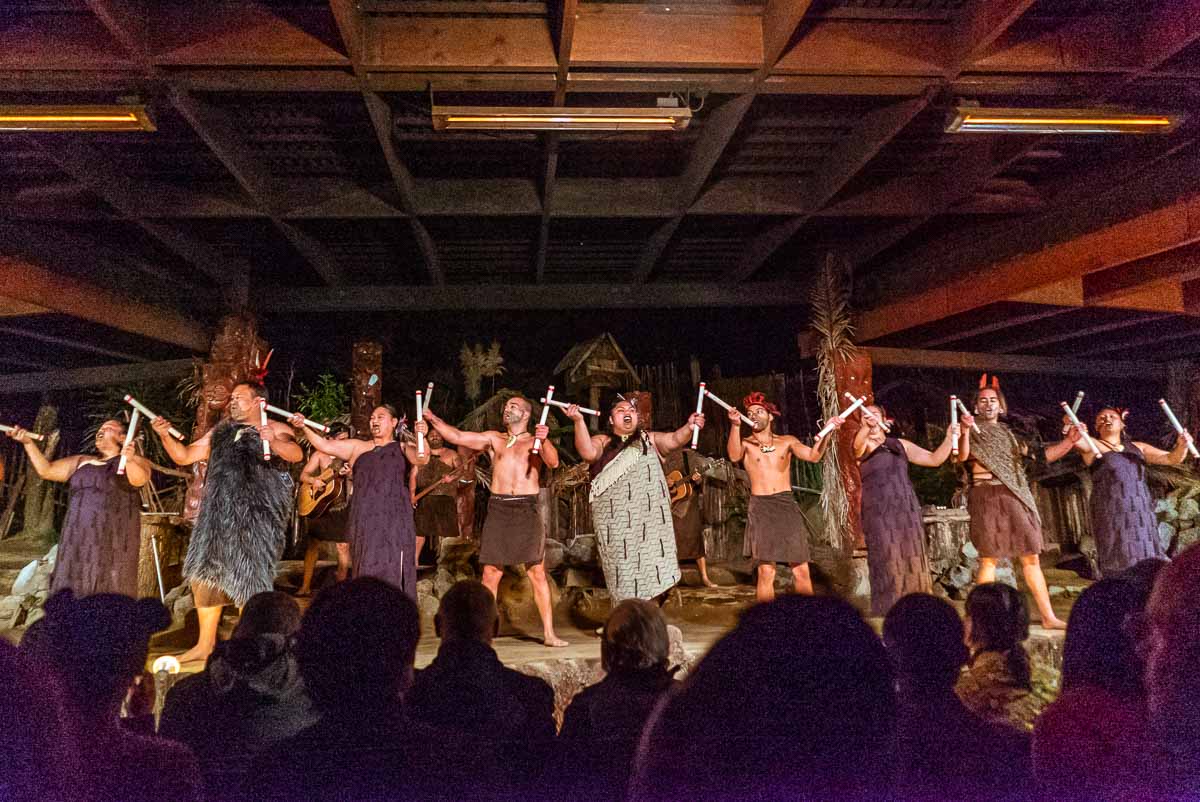 Of all the activities in New Zealand, this was my #1 favourite! At the Mitai Maori Village, the Mitai tribe will teach you a great deal about Maori culture (one of the youngest in the world).
On top of enriching stories about their customs and traditions, the Mitai Maori Village experience also includes a slew of wonderful cultural performances and demonstrations. These include warriors paddling in a waka (ancient war canoe) down a river, to showcasing weapons, poi dances, and games that children play.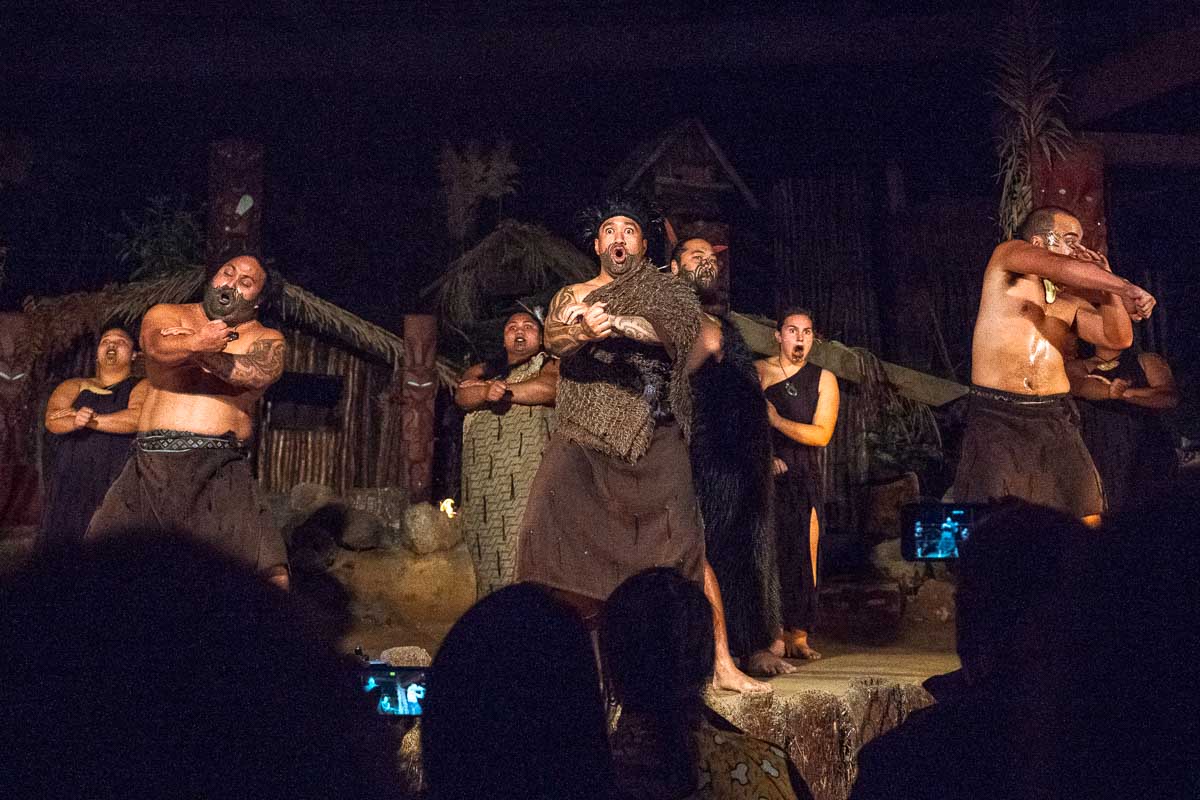 For me, the most memorable performance (by far) was the haka. The iconic war dance is used to prepare warriors for battle both mentally and spiritually, but it's also performed when two tribes come together in peace. But, watching the Mitai tribe perform it live with intense passion left me awed.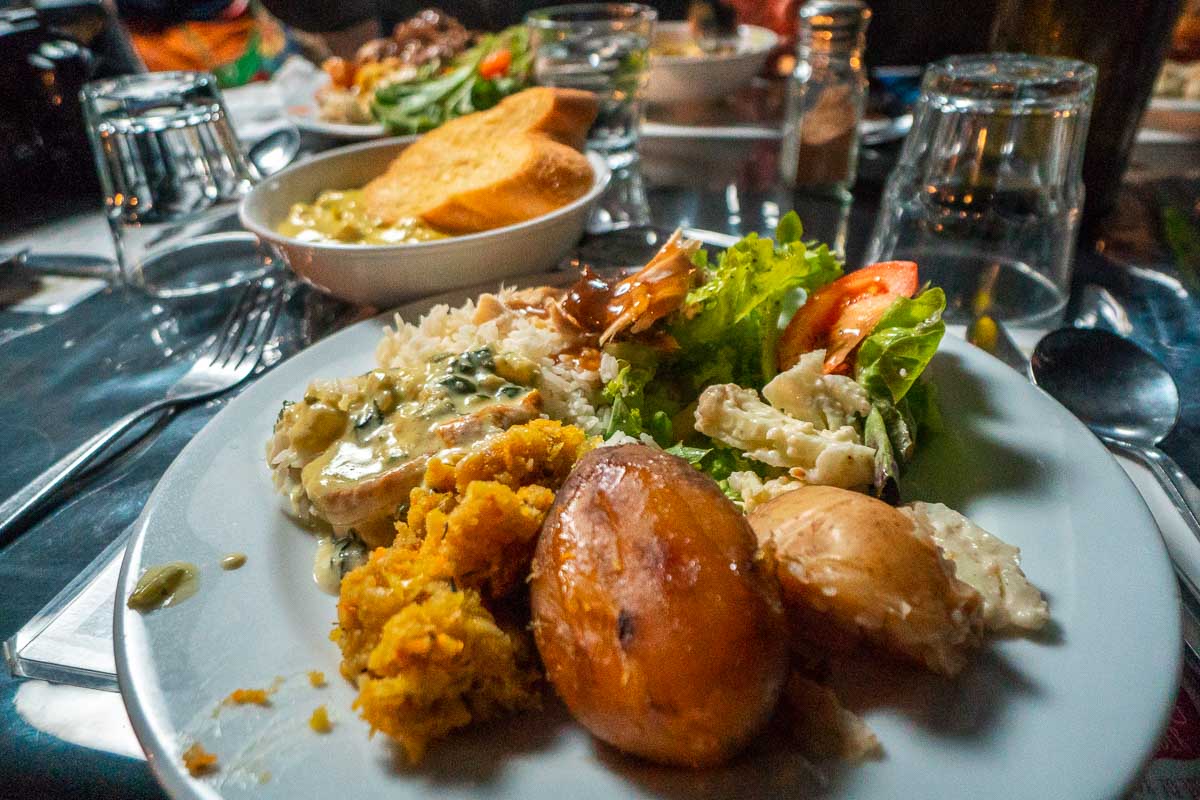 As a "visiting tribe" in their home, expect to be well fed. Come really hungry as you'll be having a traditional hangi meal for dinner! The food is cooked underground (an "earth oven") using river rock, so you'd be savouring some really succulent and tender eats like kumara (NZ sweet potatoes), lamb, and hei hei (Maori for chicken).
Save some stomach space 'cos there's dessert too!
Cost: ~S$106.35
Showtimes: 5:30PM (Apr–Sep); 6:30PM (Oct–Mar)
How to get there: You can opt for a complimentary shuttle bus that will pick you up at a Rotorua accommodation. Alternatively, self-drive to the village (arrive 20 mins before the show begins). From Lady Jane's, drive for ~10 mins via Lake Road then SH 5.
Stay at Matamata
After the activity ends, drive for an hour to stay in Matamata — the home of the Shire. There are a few freedom camping sites in the area, but they may be too far away or crowded.
Accommodation: Opal Hot Springs and Holiday Park (NZ$20/pax for a powered campervan site). Facilities include hot showers, toilet facilities, and a communal kitchen (bring your own cooking equipment and utensils).
Day 5: Matamata — Auckland
Step into Middle-earth and Explore the Shire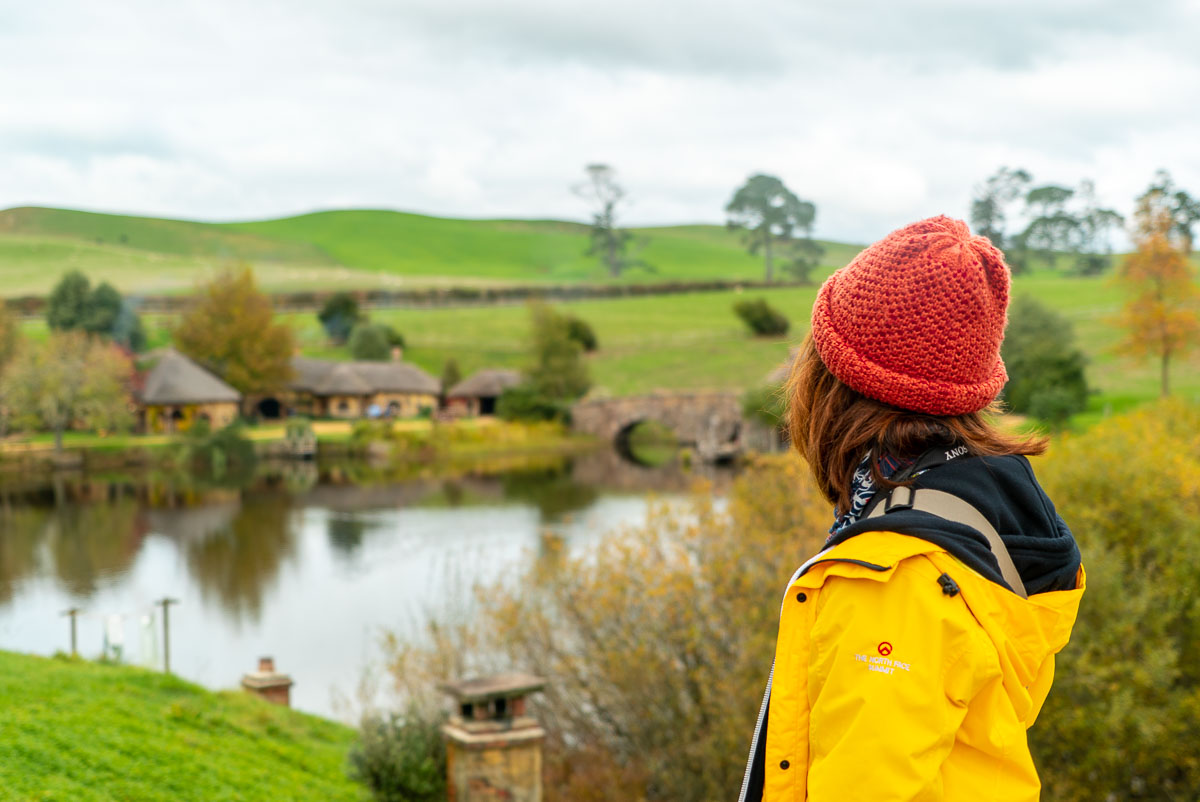 All around New Zealand, you'd find various places that have woven their ways into the fantastical Lord of the Rings and Hobbiton trilogies. But the one location that rules them all (heh!) is the Shire.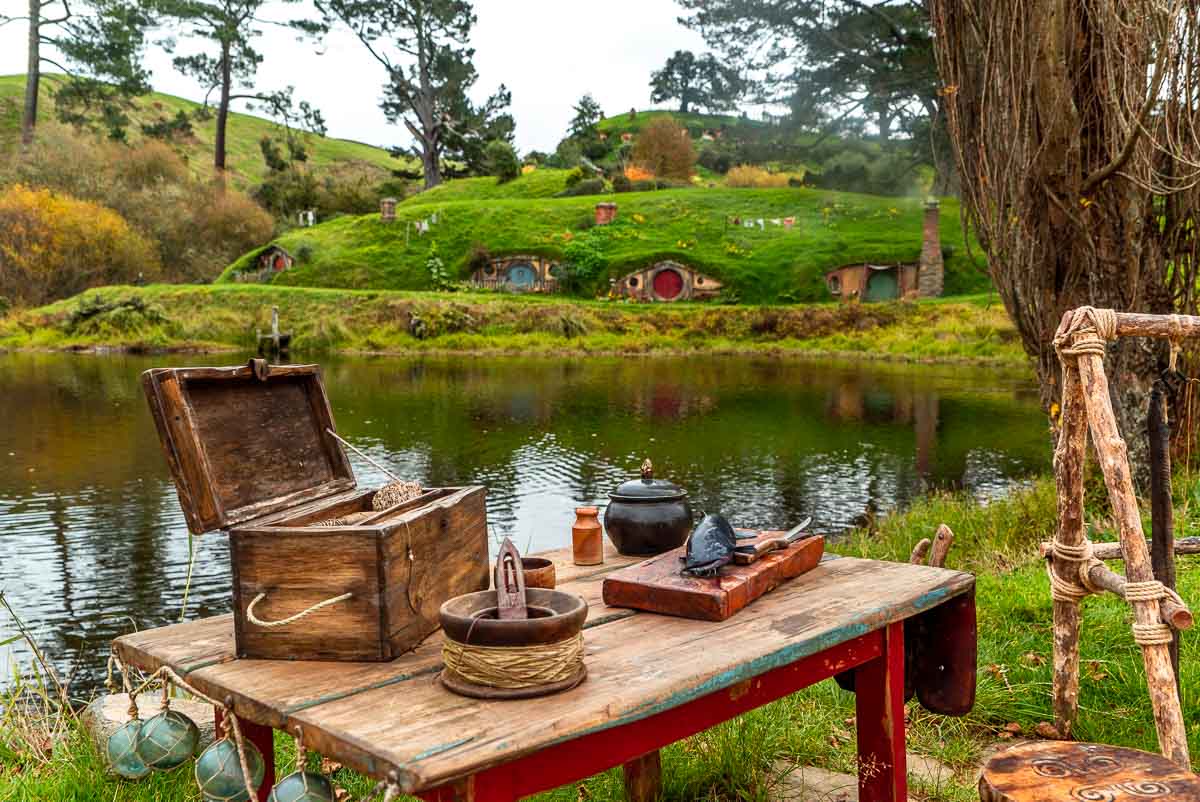 Once a humble family farm, the green pastures were transformed into the iconic Shire that Tolkien had envisioned. Today, Hobbiton movie set tours (~S$69.39) transport mortals to the fantasy world of Middle-earth. Good news: you don't need to study the books or films to experience the magic!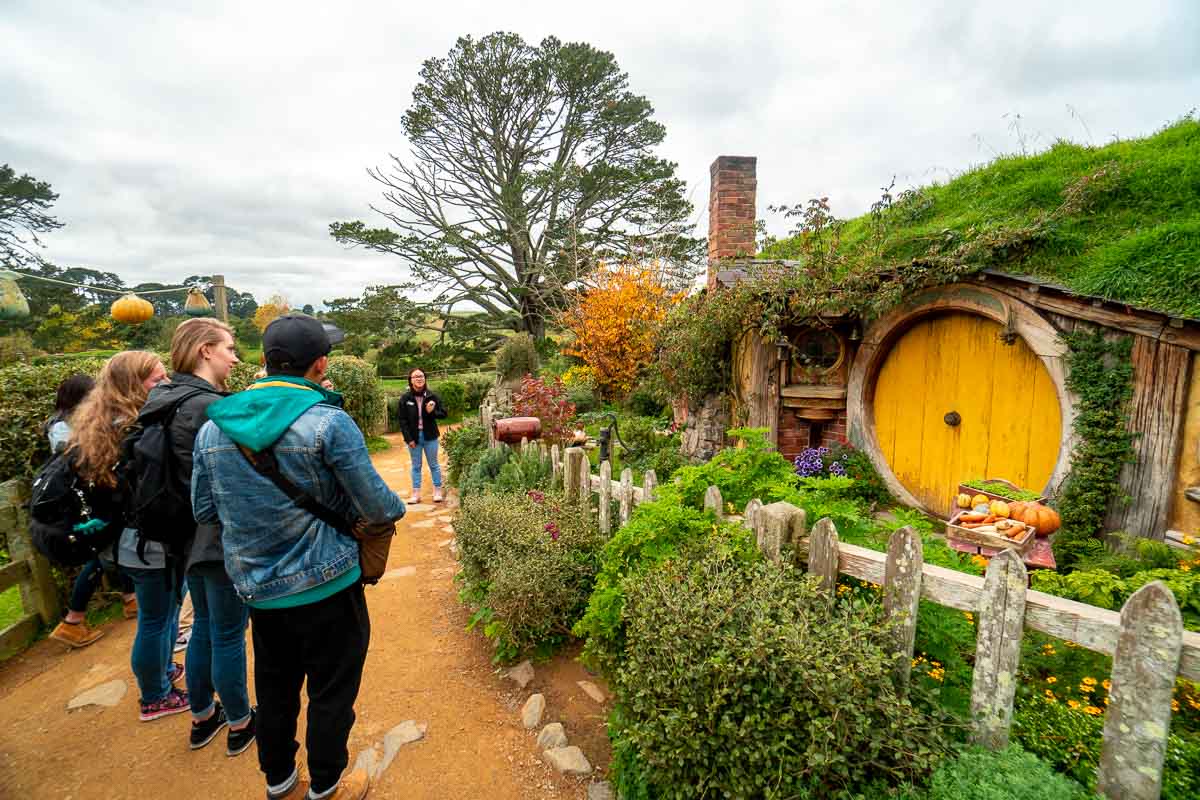 Our tour was peppered with entertaining fun facts about the films' cinematic techniques, and the set. For example, the exteriors of all 44 Hobbit Holes are incredibly detailed. Each home has a distinct character, like the local artist, cheesemaker, and even town drunk!
With so much effort put into the set, it's surprising that the Shire only had a total screentime of 12 minutes in each trilogy. That said, we left the tour with a greater appreciation for the LOTR/Hobbiton films. The tour also included a complimentary beverage from the cosy Green Dragon Inn (which probably played a part too). 🍻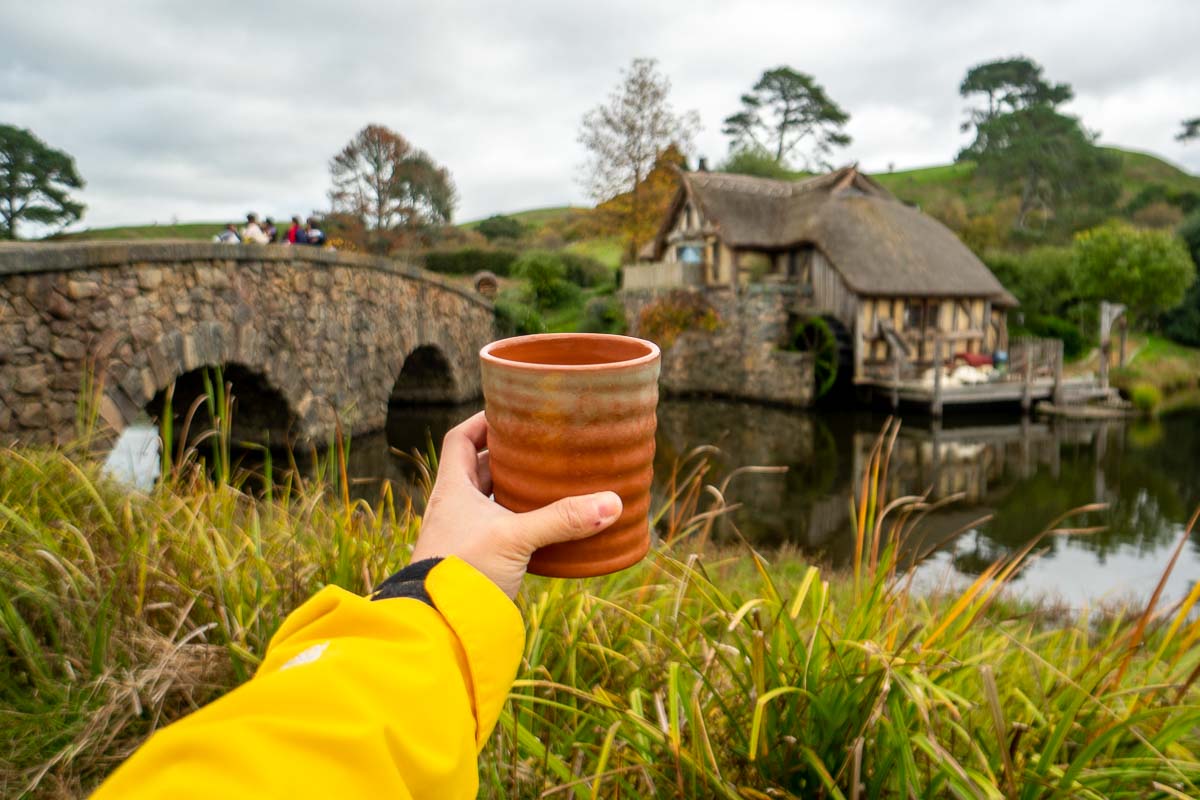 Cost: NZ$84 (~S$75.57, ~S$69.39 online)
Tour Timings: 9:30AM, 10:45AM, 12PM, 1:15PM, and 2:30PM from the Shire's Rest (additional tours depend on the season)
How to get there: From Opal Hot Springs, drive for 25 mins via State Highway 27 to the Shire's Rest. Check-in at the ticketing counter about 15–20 mins before your scheduled tour.
Drive Back to Auckland Airport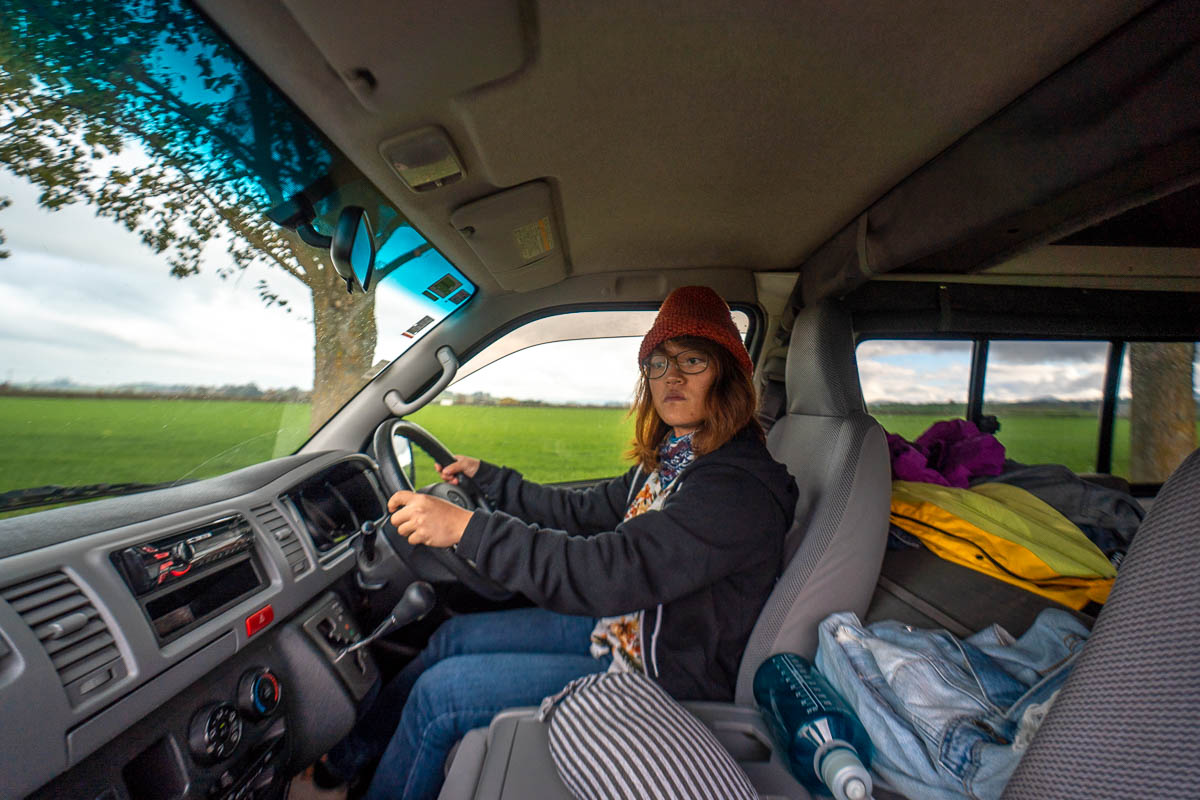 From the Shire's Rest, it's about a two-hour drive back to Auckland Airport. However, we recommend allocating an extra hour (or more!) to settle the nitty-gritty like refuelling petrol and the LPG gas bottle before returning your vehicle. It's worthwhile to note that traffic is also heavy on the way to the city.
Pre-trip Essentials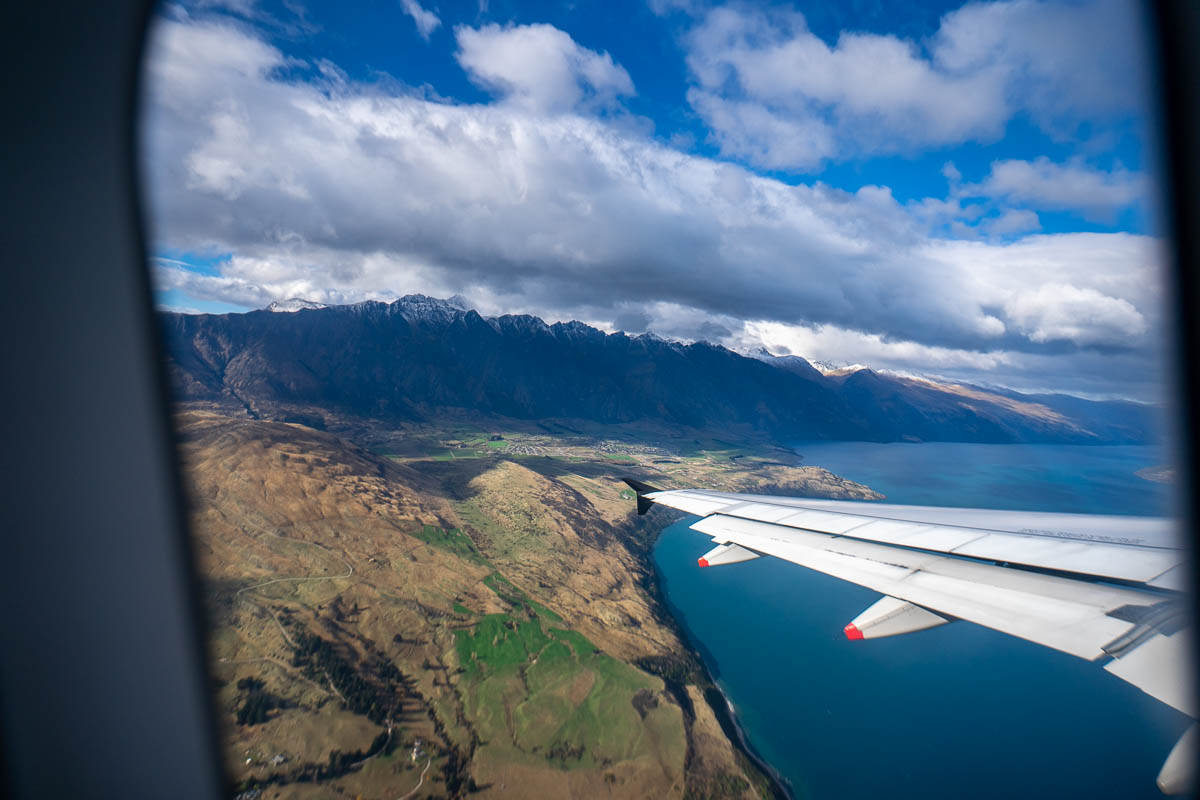 Getting to NZ North Island: There are two ways to get here. (1) If you're coming from the South Island, take a domestic flight by Jetstar or Air New Zealand to Auckland (from ~S$55). (2) From Singapore, either fly directly to Auckland, or transit in Australia. Flights can start from as low as ~S$570. Do give yourself sufficient time to rest before embarking on your campervan road trip.
Connectivity: We shared a 4G pocket WiFi device for our trip. This nifty device can connect up to five devices, and provided good coverage in most town areas. However, there may not be any reception at all when on the road and in mountainous regions — so download offline Google Maps well in advance!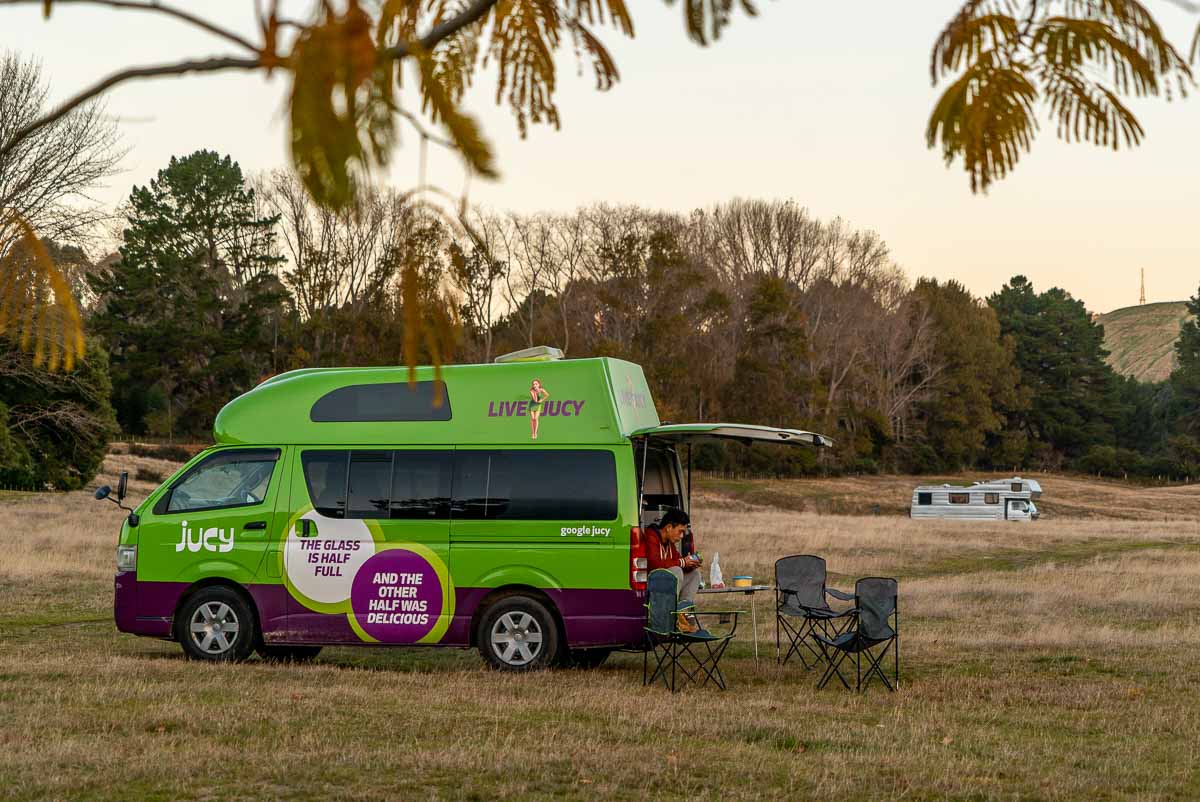 Campervan rental: We got a JUCY Condo for NZ$45/day. The self-contained vehicle can comfortably sleep four to five people, and includes essentials like pillows, duvets, cooking equipment, and a fridge. We also got stress free excess reduction coverage for NZ$30/day.
Do note that campervan prices across all rental companies tend to fluctuate during peak seasons, so book early!
Experience NZ North Island's Best Adventures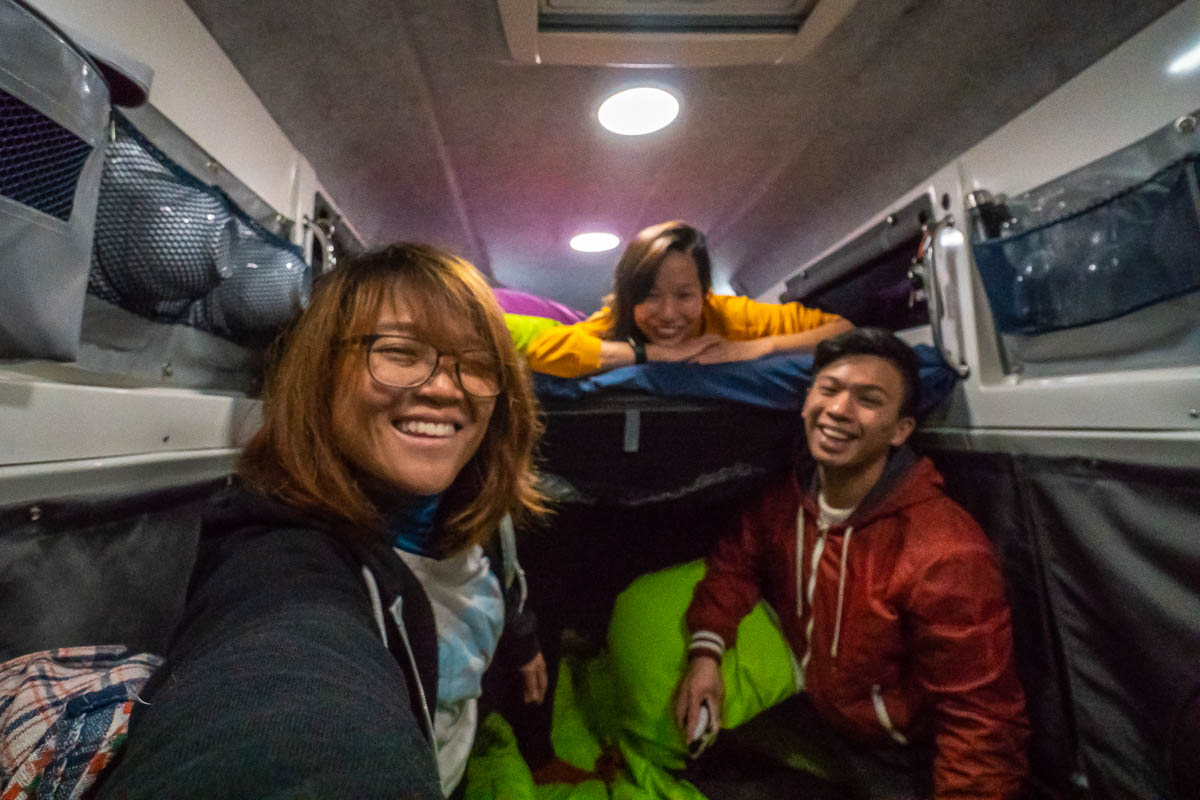 Cliched as it may sound, travelling in a campervan opened a whole new world of experiences. Compared to road tripping in a car, the campervan allows you to save money by camping under the stars, and cooking your own meals on the go.
Campervan aside, our time in New Zealand's North Island was equally unforgettable. While most people tend to only visit the South Island, the North is also packed full of its own unique activities that can rival its popular counterpart.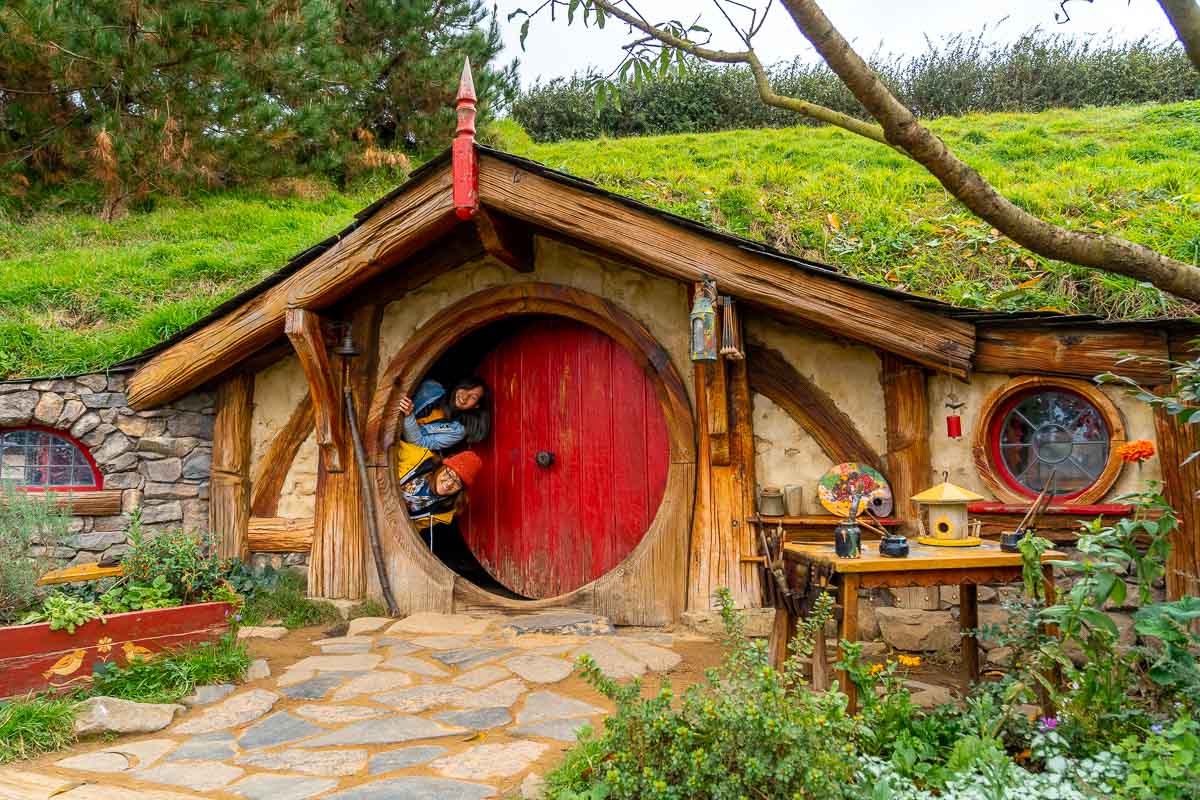 For one, we thoroughly enjoyed activities like the Hobbiton movie set tour and the Mitai Maori Village experience. Our guides were both so warm and humourous, and immersed us in the magical worlds of Middle-earth and Maori culture. We booked our experiences through Klook, which helped us save both time and money. All we had to do was show up, scan our vouchers, and be shown to our seats.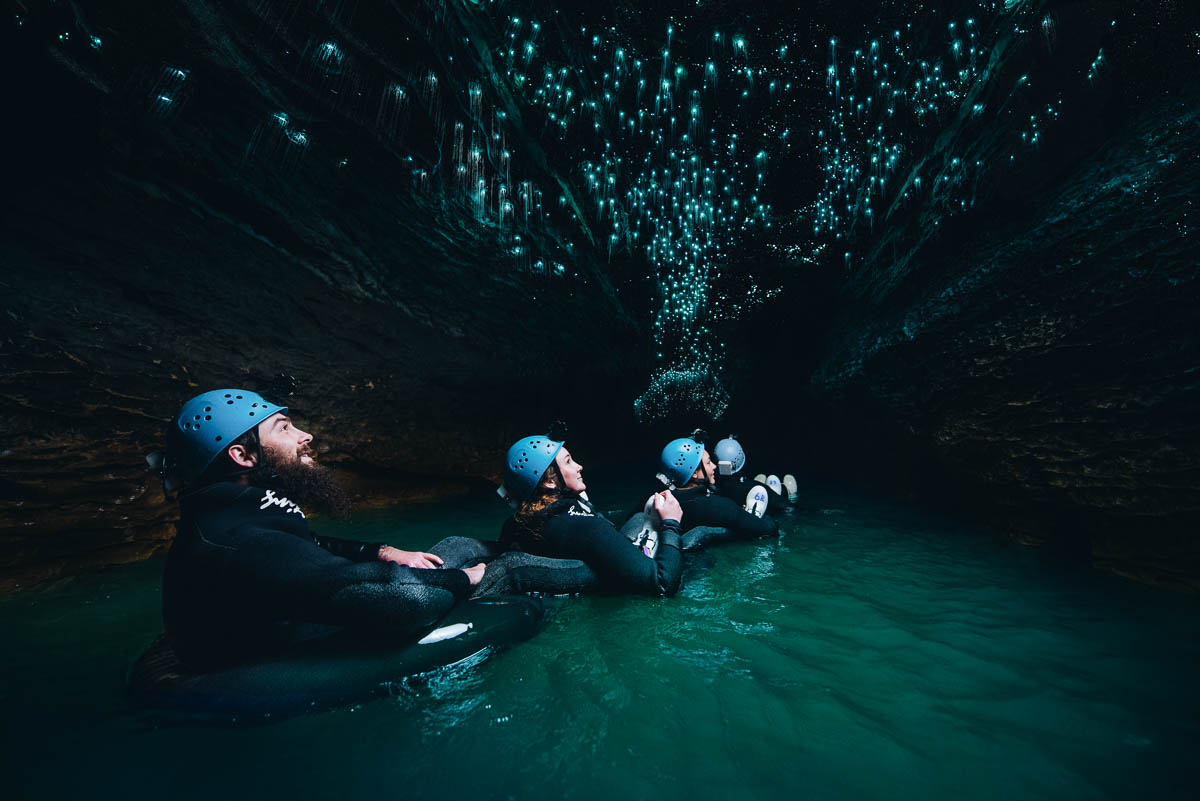 We also delved into Waitomo's glowworm caves on a black water rafting adventure, and learnt the gory details of how glowworms kill their prey in their web. Let's just say glowworms look a lot better in the dark.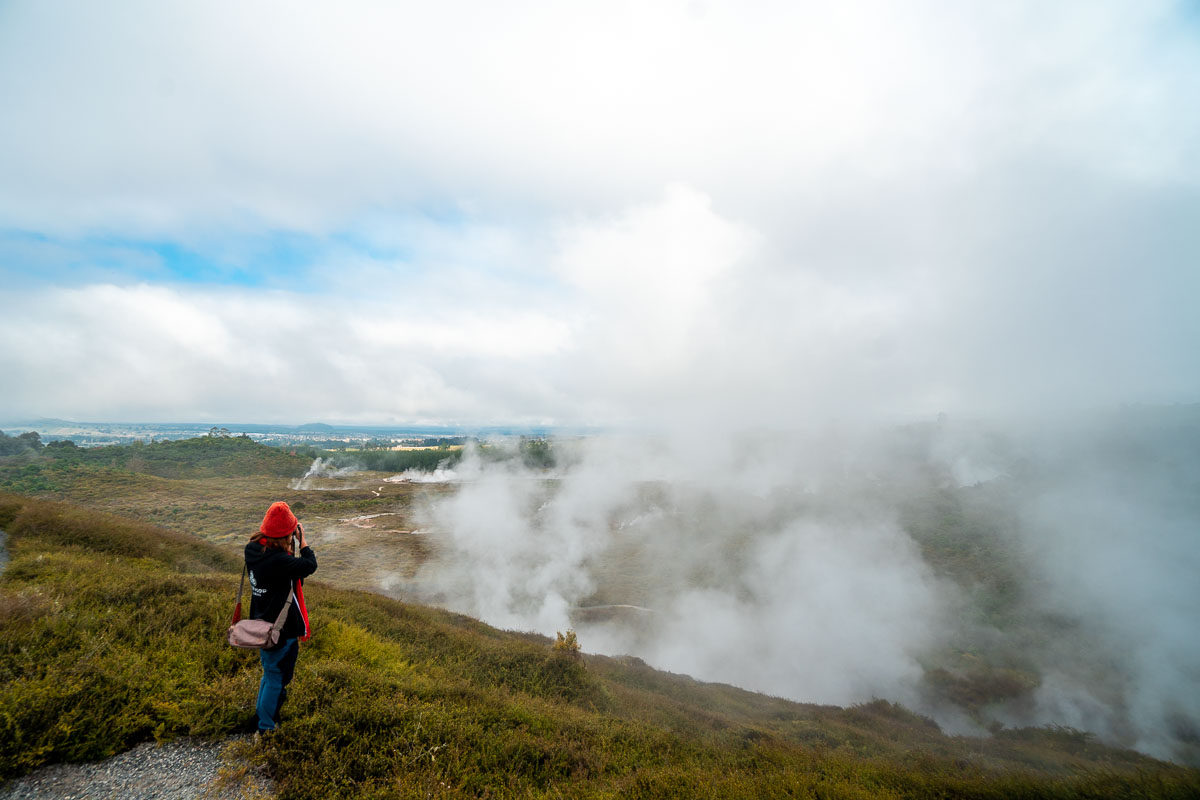 Here's a list of activities we enjoyed in NZ's North Island:
– Wai-O-Tapu Thermal Wonderland 1-day ticket (~S$26.39)
– Hobbiton Movie Set Tour (~S$69.39)
– Mitai Maori Village Evening Tour (~S$106.35)
– Ruakuri Black Water Rafting — Black Labyrinth (~S$125.89)
Read also: 2 Weeks in New Zealand Under S$2,500 — North & South Island Trip Planning Guide
So pack your weapons bags and gather the fellowship!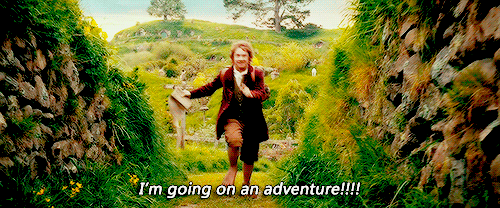 Ever been in a campervan? Or visited NZ's North Island? What do you enjoy about them? Tell us in the comments!
---
This post was brought to you by Klook.
Like what you see? Follow us on Facebook, Instagram, and YouTube for more travel updates!