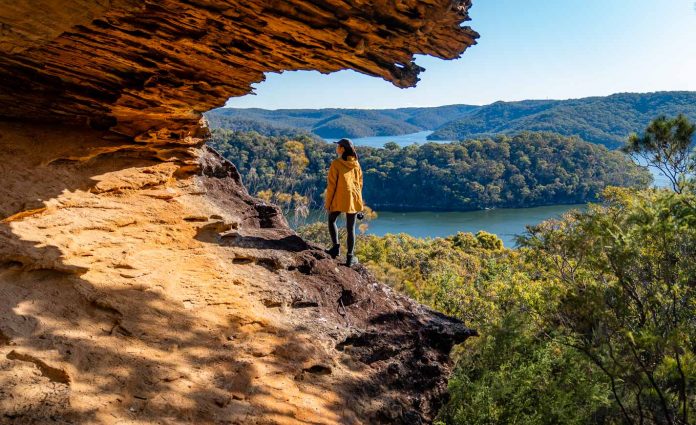 Stunning beaches, incredible national parks and wildlife, a colourful culinary scene — New South Wales has it all.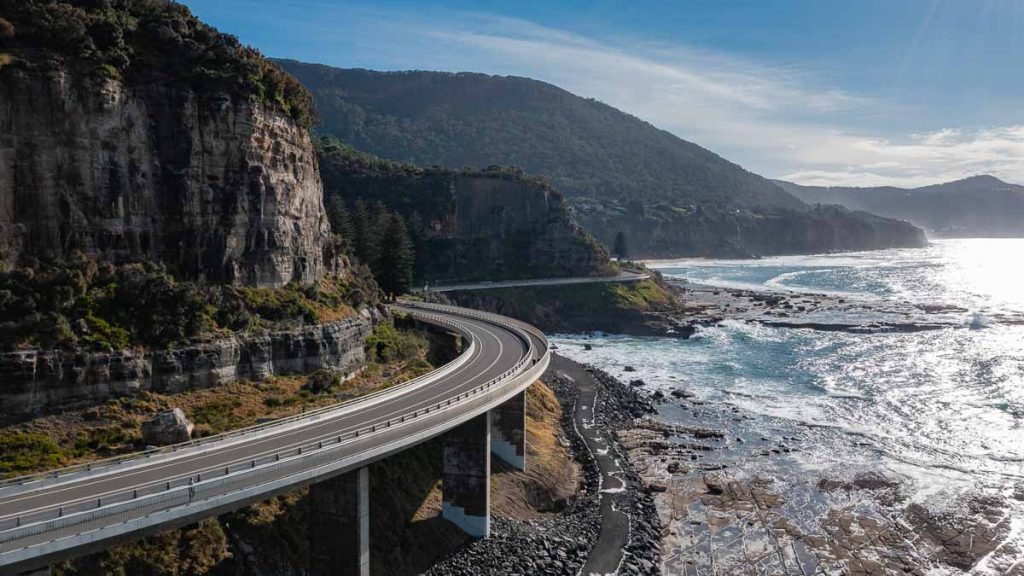 When I think of Australia, my mind drifts to family vacations as a kid. It's the same for a lot of my friends, which created this impression that Australia was a destination for family holidays.
Over a decade later, I got the chance to revisit the land down under as an adult — staying in Sydney for a month as part of Airbnb's Live Anywhere programme and it's nothing like I expected.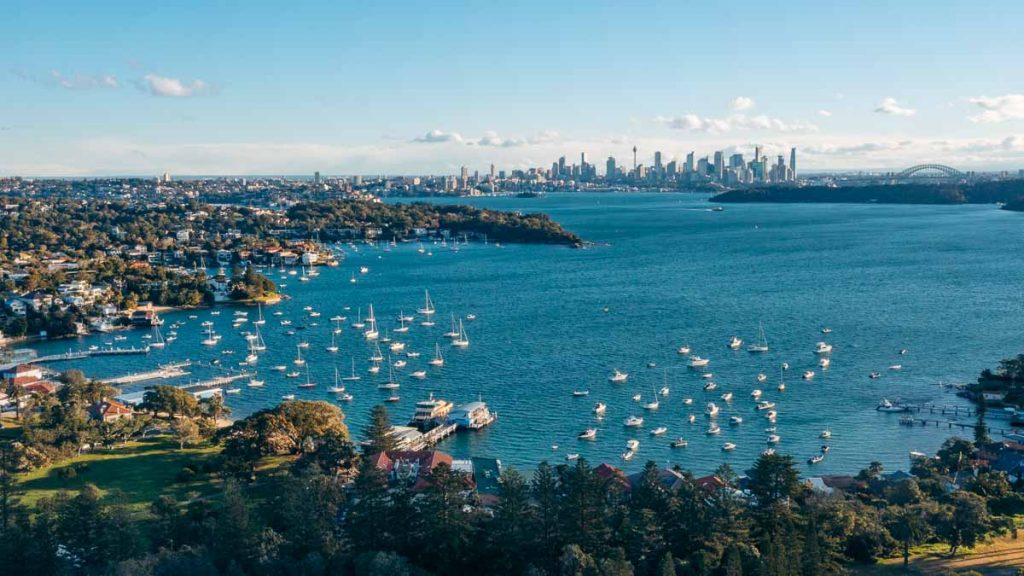 For one, Sydney is bustling and vibrant — packed with world-famous beaches, lively neighbourhoods, and a great food scene.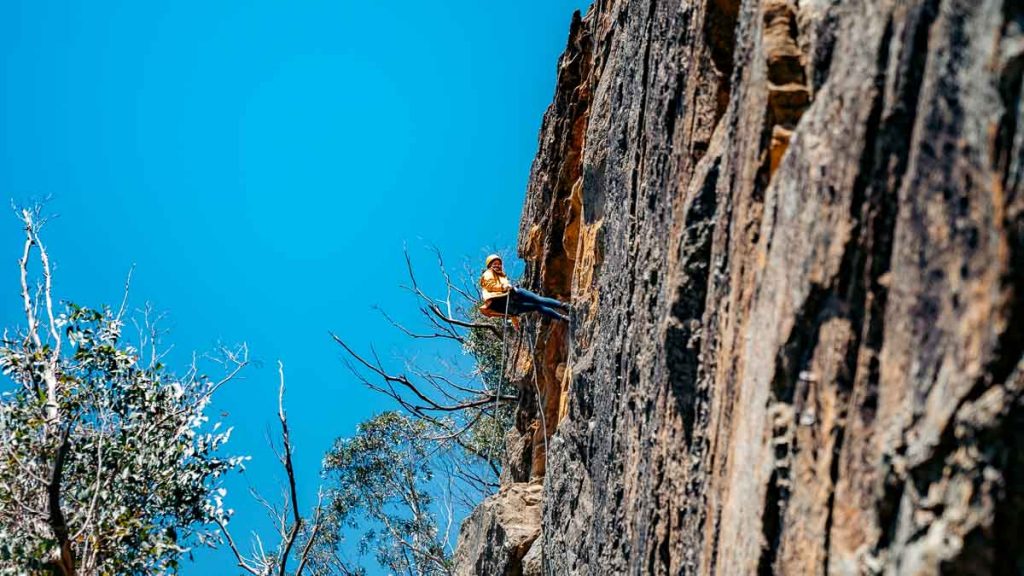 And just a short drive from the city are many incredible experiences — like hanging out with adorable alpacas in the Central Coast and driving along the Grand Pacific Drive in the South Coast. Living here for a month allowed us to explore the must-visits but also the local neighbourhoods and hidden gems New South Wales had to offer.
So if you need help planning your first trip (or new ideas on where to go), we've put together our ultimate 13-day New South Wales itinerary with Sydney as a base.
Pre-trip Essentials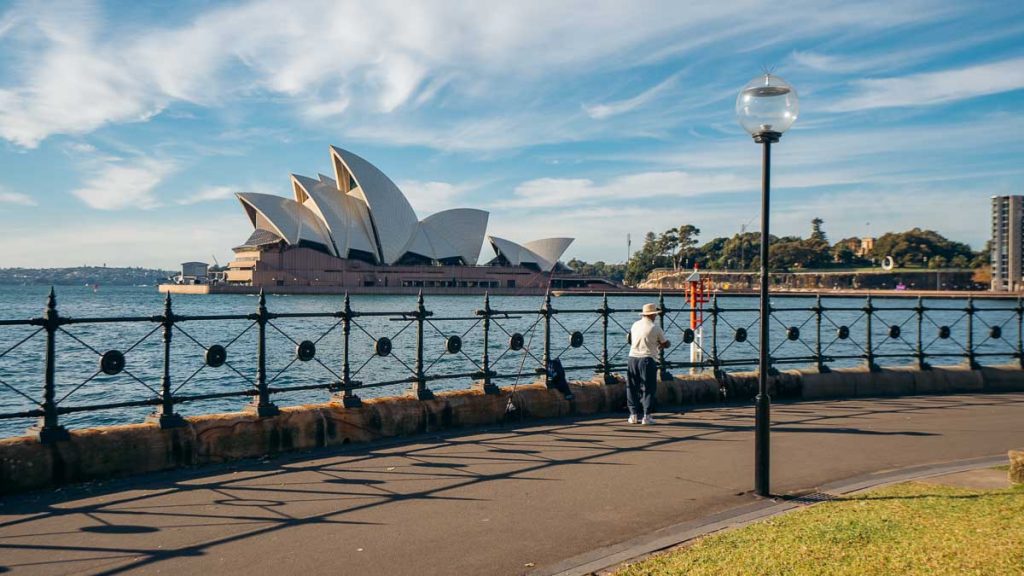 Travel documents: Update as of 6 July 2022 — Visitors to Australia no longer need to complete a Digital Passenger Declaration (DPD).
Connectivity: We got the Optus Flex 4G Traveller Plan at the Sydney Airport. A 30-day, 60GB SIM card costs AU$30 (~S$28.85)
Getting around: When in the city, public transport works best. No travel cards needed as you can tap your existing credit cards. When travelling out of the city, we rented a five-seater SUV from No Birds Rental for AU$49/day (~S$47)
Flight information and full budget breakdown at the end.
New South Wales Itinerary Overview
Google Maps here. Click to jump to each section.
Day 1: Sydney's Iconic Attractions
Day 2: Sydney's Charming Neighbourhoods
Day 3-4: Bondi and Watsons Bay
Day 5: Cockatoo Island
Day 6: Ku-Ring-Gai Chase National Park
Day 7: Central Coast
Day 8: Port Stephens
Day 9-10: Blue Mountains
Day 11-12: South Coast and Southern Highlands
Day 13: Sydney and Flight Home
Day 1: Sydney's Iconic Attractions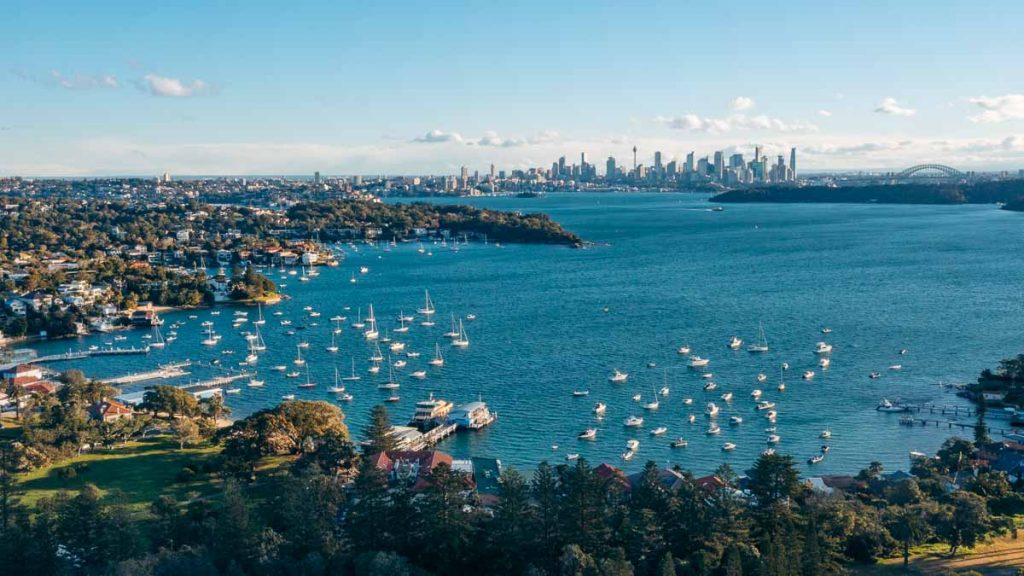 This itinerary starts off in New South Wales' vibrant capital, Sydney! Known for its gorgeous harbour, the iconic Sydney Opera House, and mild weather (no harsh winters here), this city is worth setting a few days aside for.
If it's your first time here, these are some attractions you won't want to miss:
Sydney Opera House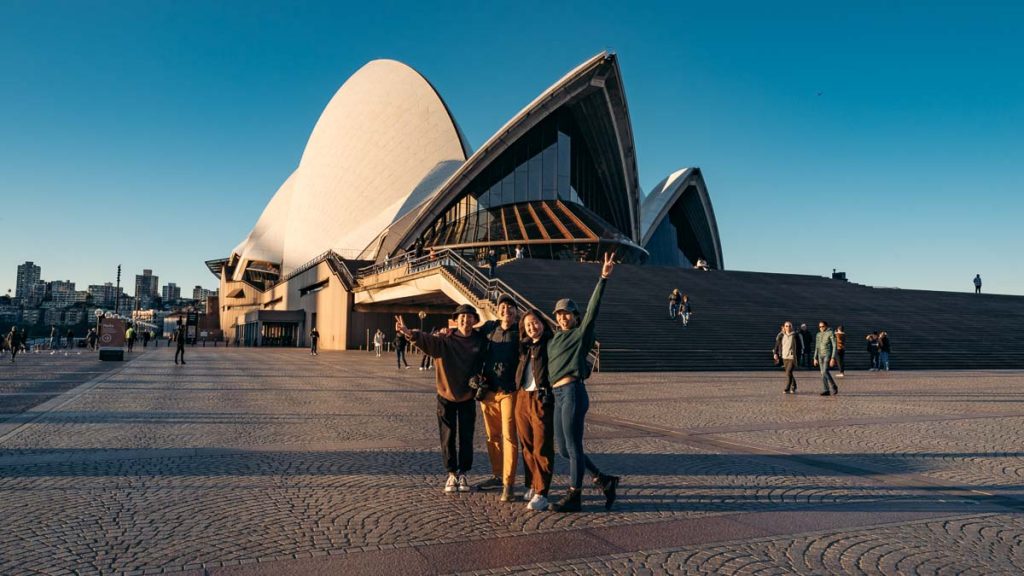 You can't visit Sydney and not see the Sydney Opera House. This building is arguably Australia's most recognised landmark, and is one of the world's busiest performing arts centres.
Beyond being an architectural marvel, the Opera House hosts shows ranging from opera to ballet, comedy and rock — and festivals including Vivid Sydney!
*Pro-tip: Parking at the Sydney Opera House carpark is expensive (from AU$19 for the first hour). We'd recommend taking public transport!
Entrance fee: Free — Check out the current shows and tours which have separate tickets
Opening hours: 9AM – 11PM (Sun – Thu), 9AM – 12:30AM (Fri – Sat)
Address: Bennelong Point, Sydney NSW 2000, Australia
Circular Quay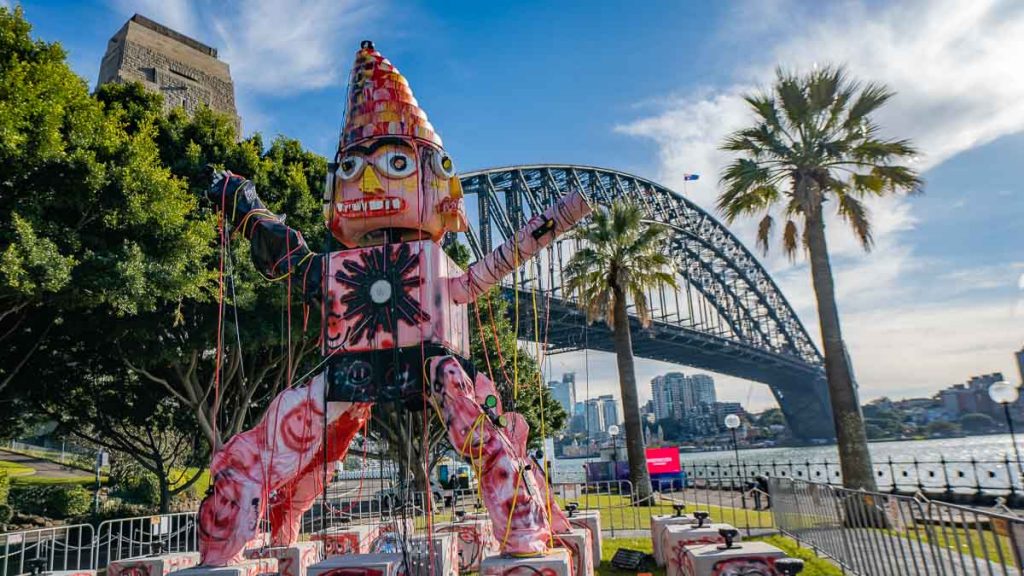 Circular Quay is the heart of Sydney. It's here you'll get the best views of the city's famous landmarks — the Sydney Opera House, Sydney Harbour Bridge, and more!
It's also Sydney's main ferry terminal, connecting the city centre to harbourside stops like Watsons Bay, Manly and Taronga Zoo.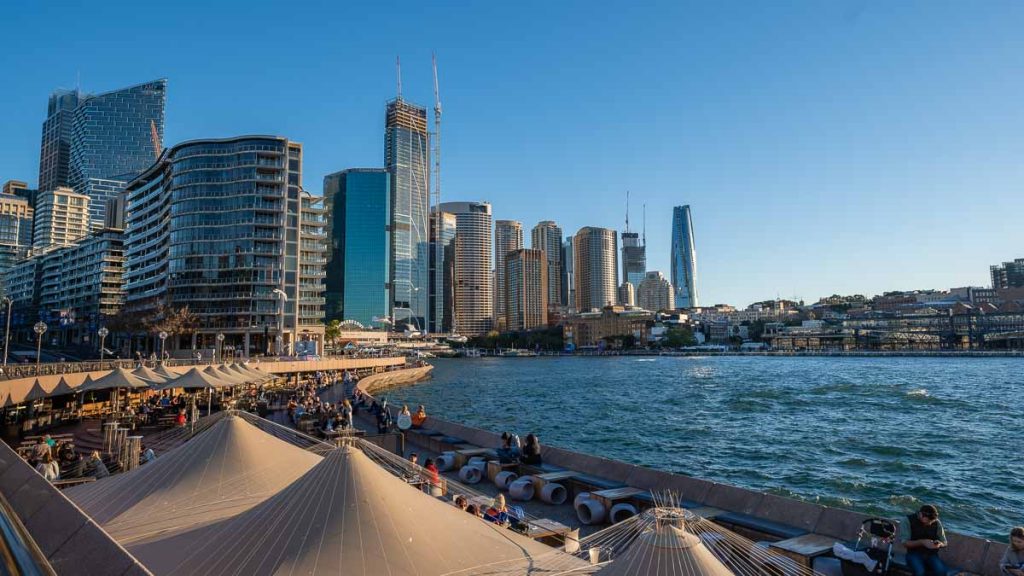 Be sure to check out Gateway Sydney — a dining precinct with tons of international options, like Chat Thai, Four Frogs Creperie and Betty's Burgers.
On the weekends, there's The Rocks market which has everything from free yoga sessions to live music and local artists selling handcrafted goods!
Entrance fee: Free
Opening hours: 24 hours
Address: 130 Argyle St, The Rocks NSW 2000, Australia
Sydney Fish Market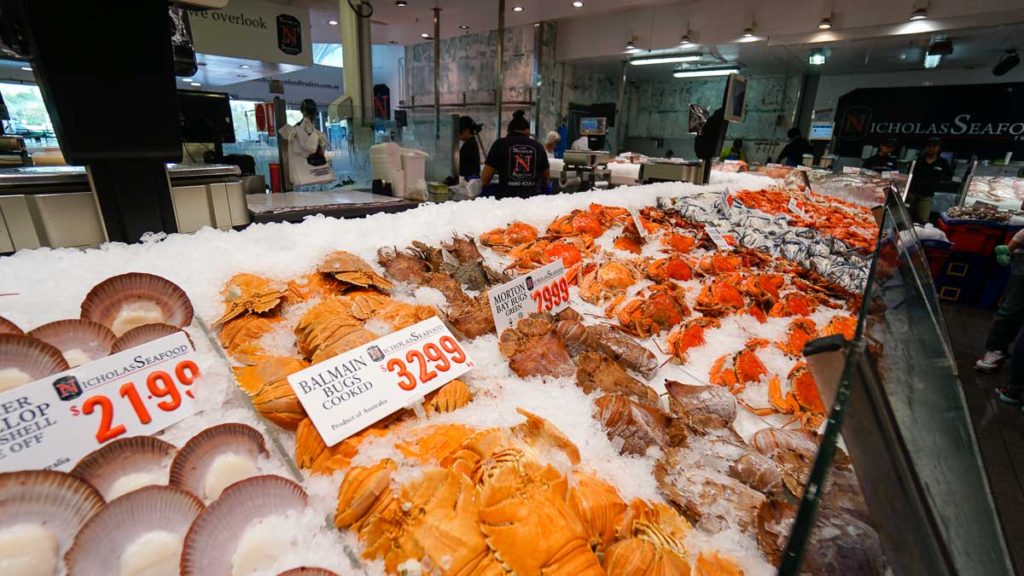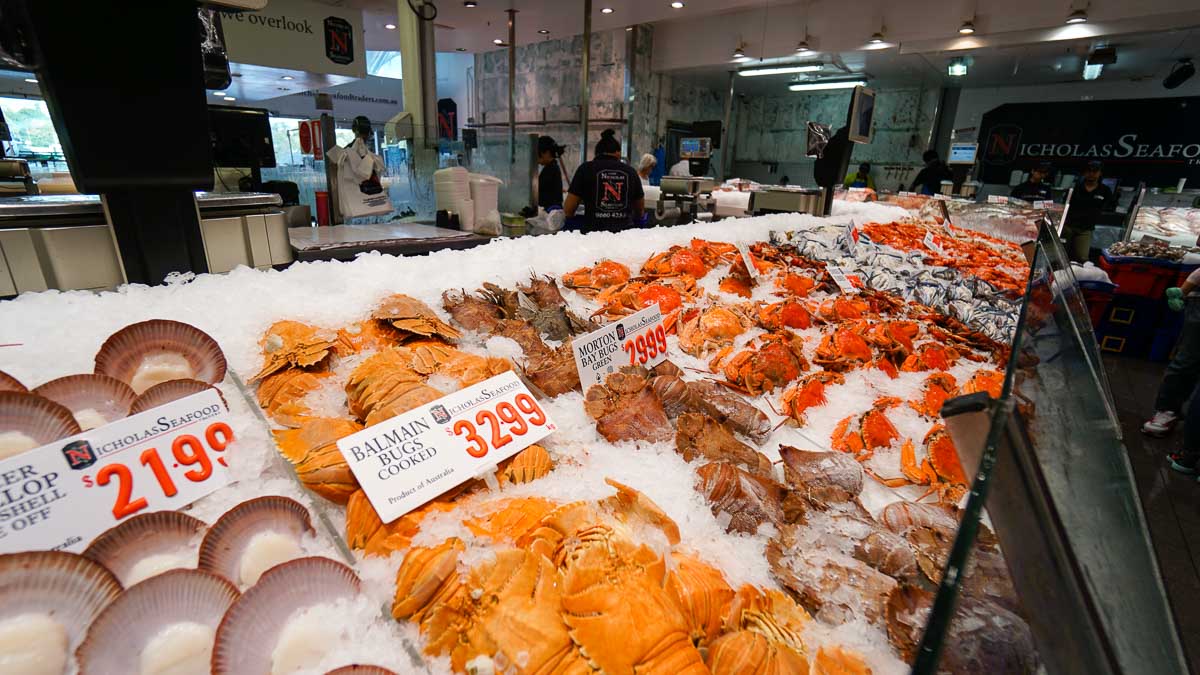 Seafood lovers have to make a stop at Sydney Fish Market. They've packed a lot into a small space — cafes, restaurants, wholesale retailers and even a cooking school.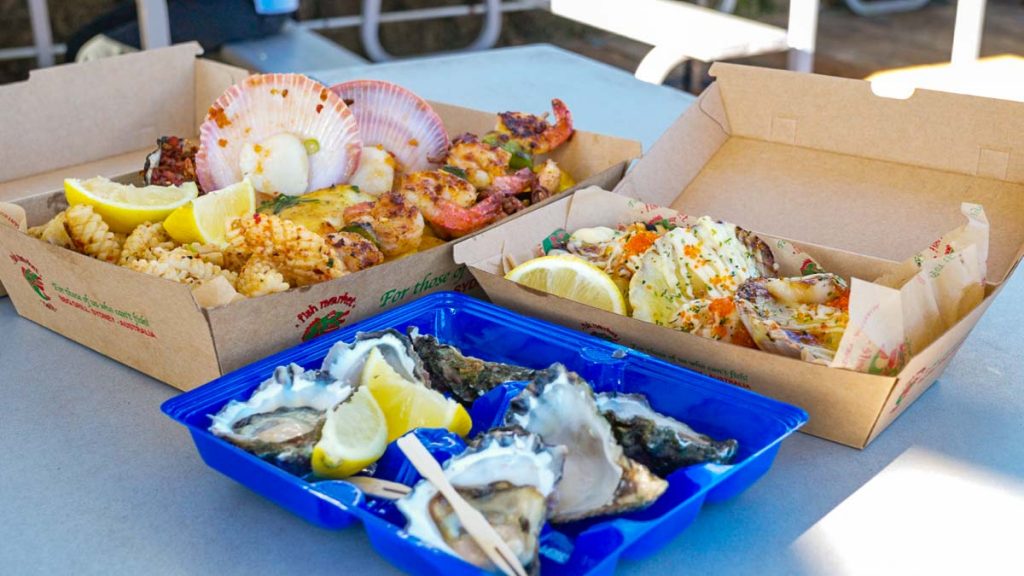 We're huge seafood fans, so we ordered a bit of everything — a grilled platter (~S$54.50), Sydney rock oysters (~S$12.92/six), and grilled cheese scallops (~S$11.48/three).
We bought a variety of seafood and enjoyed it outdoors on the harbourside boardwalk. Just beware of seagulls — they might want a bite of your seafood too!
Entrance fee: Free
Opening hours: 7AM – 4PM (Best to come early as food starts to sell out around 2PM)
Address: Corner Pyrmont Bridge Rd &, Bank St, Pyrmont NSW 2009, Australia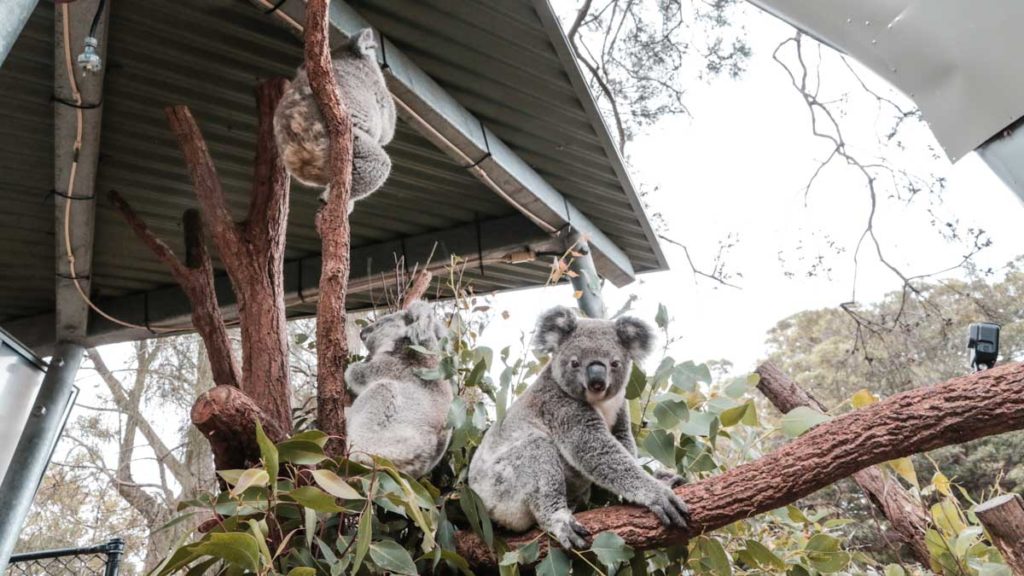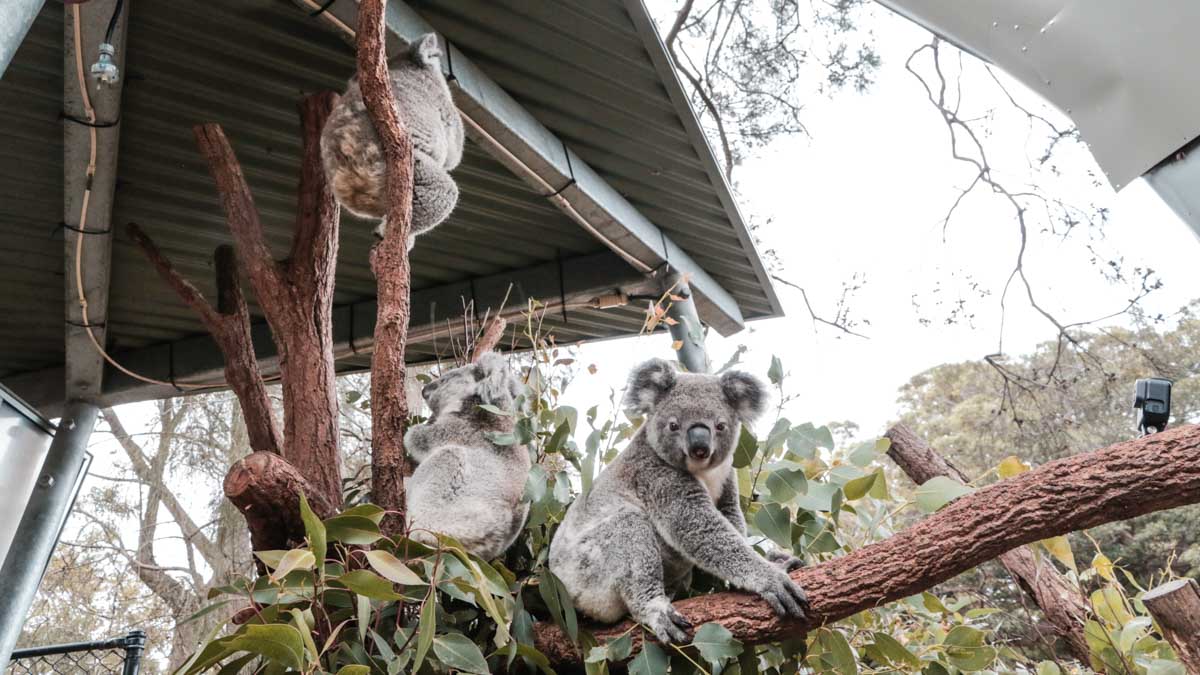 If you've got more days to spare, consider visiting Sydney's Taronga Zoo — home to over 5,000 animals including Aussie natives like koalas and red kangaroos.
Feeling nostalgic? Head to the iconic harbourside Luna Park! This amusement park has free entry, though you can buy tickets to enjoy the thrilling rides there.
Day 2: Sydney's Charming Neighbourhoods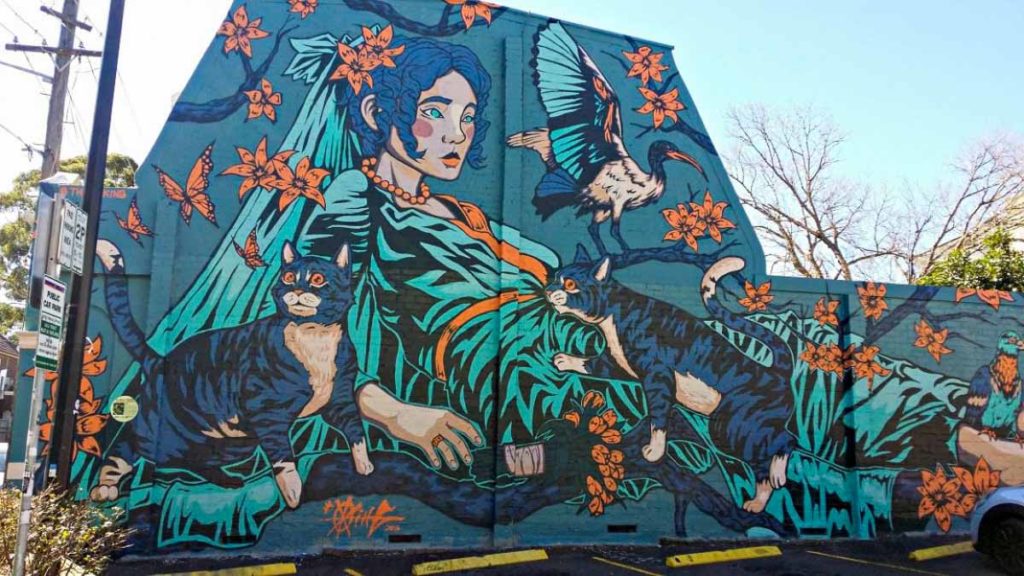 Sydney has many quirky neighbourhoods worth checking out — with plenty of cafe hopping, thrift shopping, and sightseeing to do! But if we had to narrow it down to two, our picks are Surry Hills and Newtown.
Surry Hills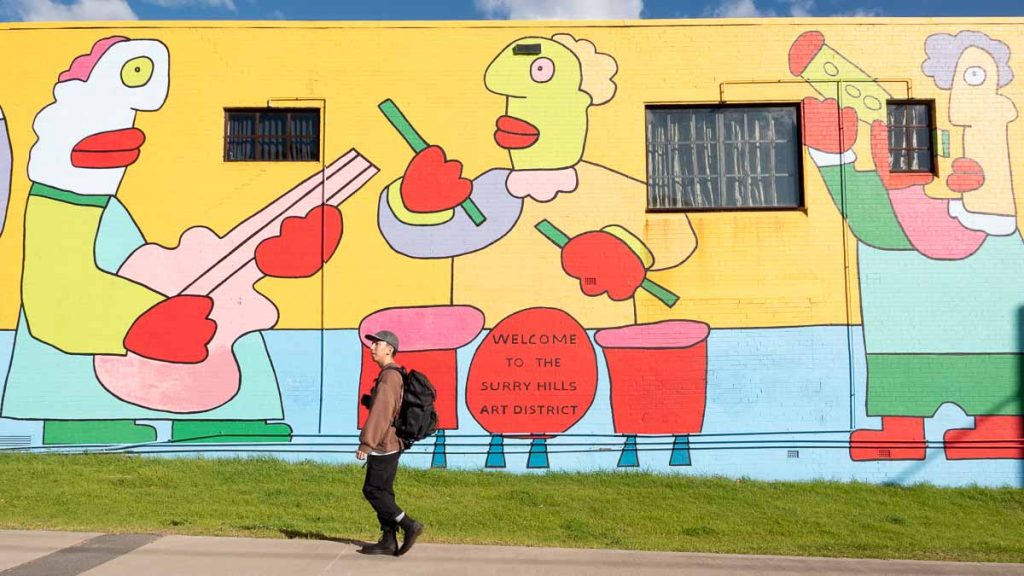 First up, Surry Hills. This trendy district is a foodie haven — I'd liken it to Tiong Bahru in Singapore — only better. Besides cafes, Surry Hills has a retro cinema (with a rooftop cafe and bakery!), art galleries, and many thrift shops.
Four Ate Five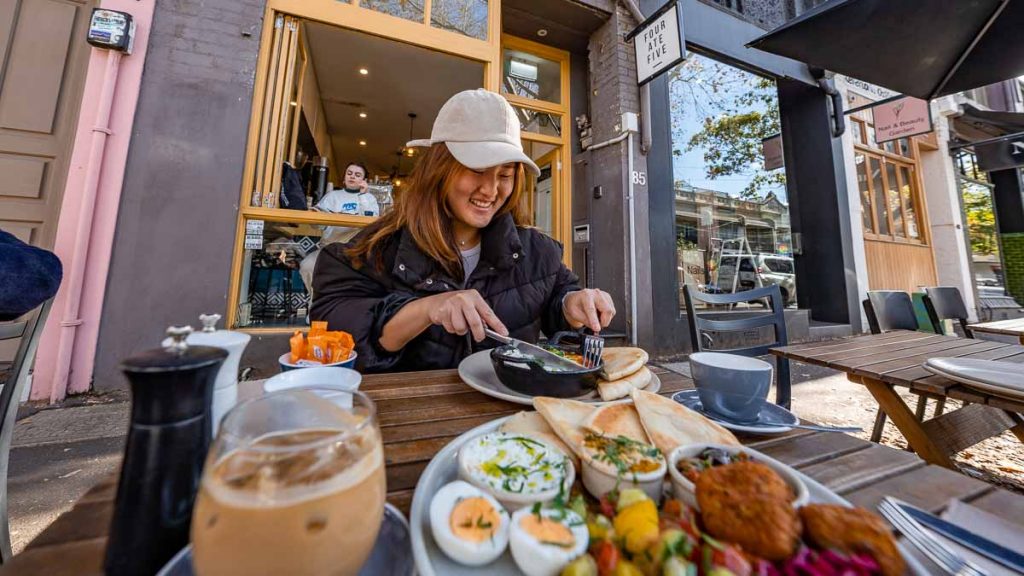 There are dozens of fantastic cafe options, and after much deliberation, we settled on Four Ate Five. They serve Middle-Eastern-inspired food and we had the shakshuka (AU$19.50) and 485 breakfast plate (AU$23).
The latter was an explosion of flavours with pickled veggies, falafels, pita bread — a fun take on your usual brunch dishes!
Cost: ~AU$18/main (~S$17/34)
Opening hours: 7AM – 2:30PM (Mon – Fri), 7:30AM – 2:30PM (Sat), 8AM – 2:30PM (Sun)
Address: 485 Crown Street, Surry Hills, NSW, 2010, Australia
Bourke Street Bakery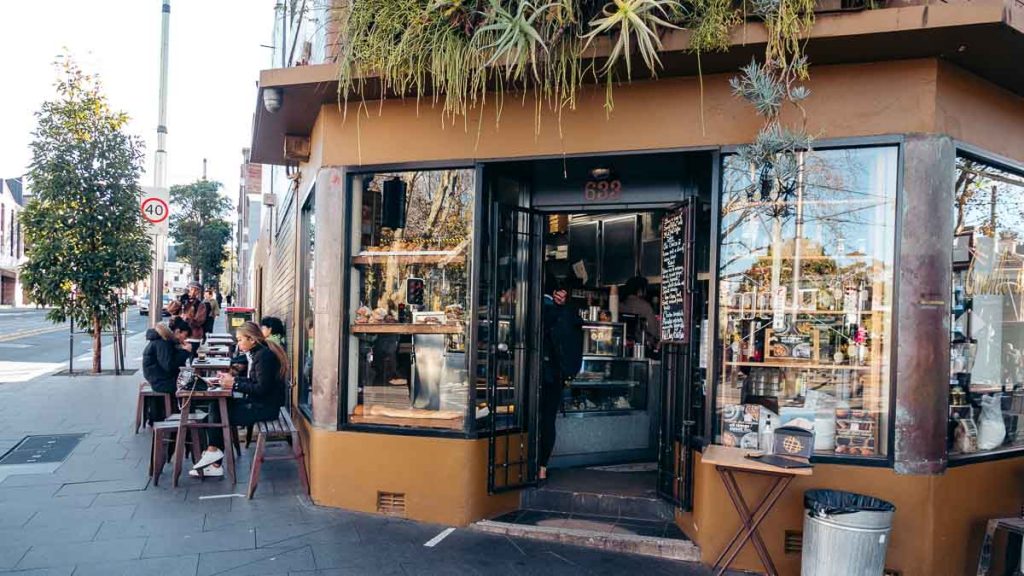 Stop by the original Bourke Street Bakery — people have been queuing up for baked goods here since 2004. They're especially known for their ginger brûlée tarts and pork and fennel sausage rolls!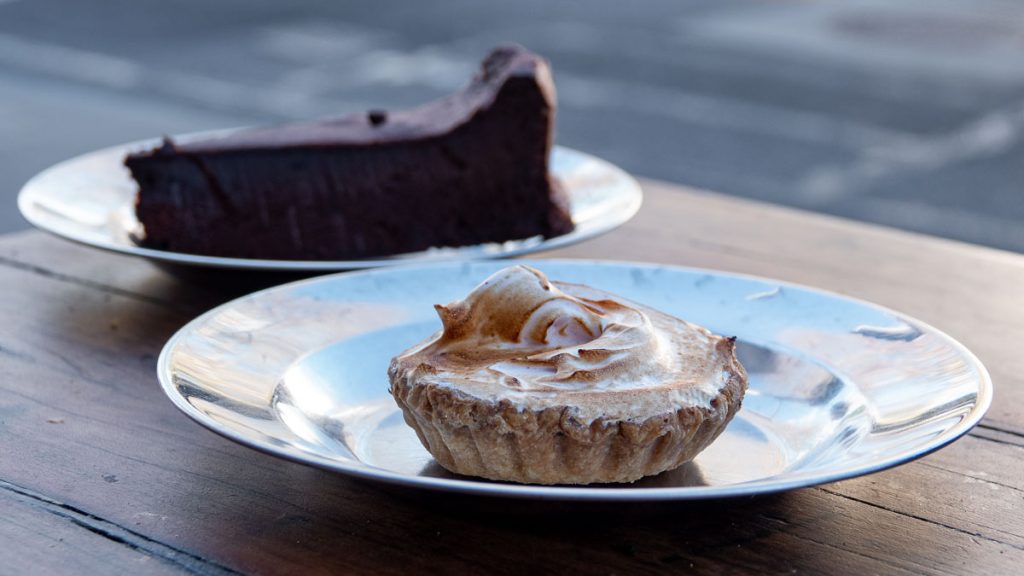 We ordered a chocolate cake and lemon meringue tart — both were very rich and not overly sweet!
Cost: AU$6 (~S$5.74) for a cake
Opening hours: 7AM – 6PM (Mon – Fri), 7AM – 5PM (Sat – Sun)
Address: 633 Bourke St, Surry Hills NSW 2010, Australia
Cuckoo Callay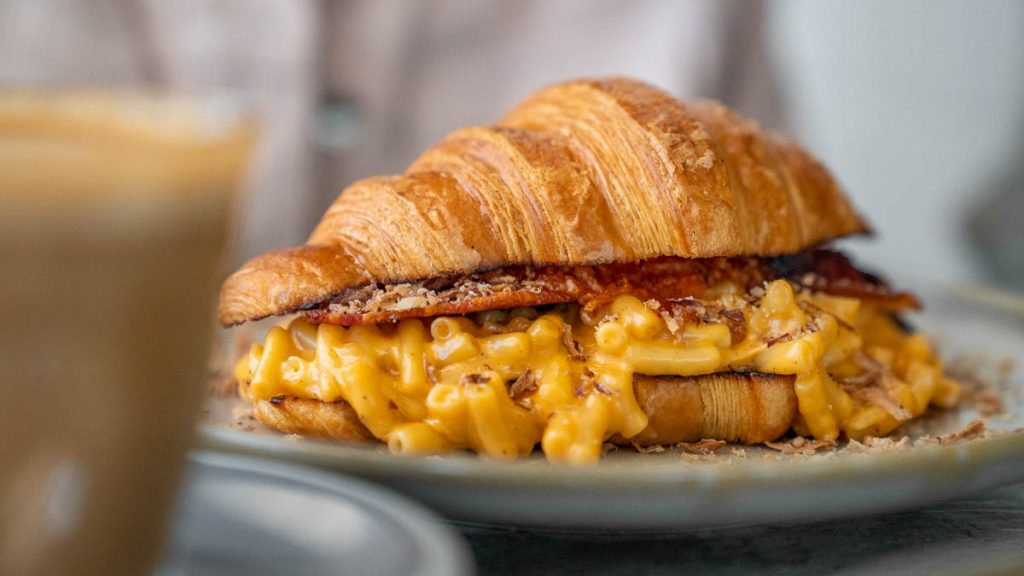 Cuckoo Callay puts a unique twist on popular brunch food, by mixing in Korean and Southeast Asian flavours.
We had the "Return of the MacDaddy" which is essentially three brunch dishes in one — triple smoked bacon, mac and cheese, and poached eggs stuffed in a croissant.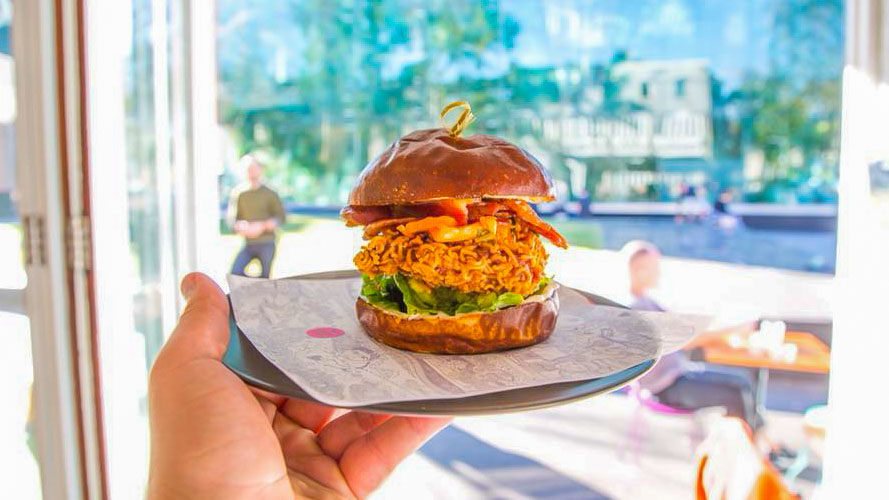 Photo credit: Cuckoo Callay
We also tried the "Pimp Mi Goreng". The burger patty is a chicken thigh wrapped in mi goreng and maple bacon, with kimchi. This combination shouldn't work, but it does. 😋
Cost: ~AU$20/main
Opening hours: 7:30AM – 3PM (Mon – Fri), 8AM – 3PM (Sat – Sun)
Address: 413 Crown Street, Surry Hills, Sydney, NSW 2010
Other recommended eateries include Paramount Coffee Project, Sample Coffee, Single O, NOMAD, Suzie Q Records and Reuben Hills.
Thrift Shopping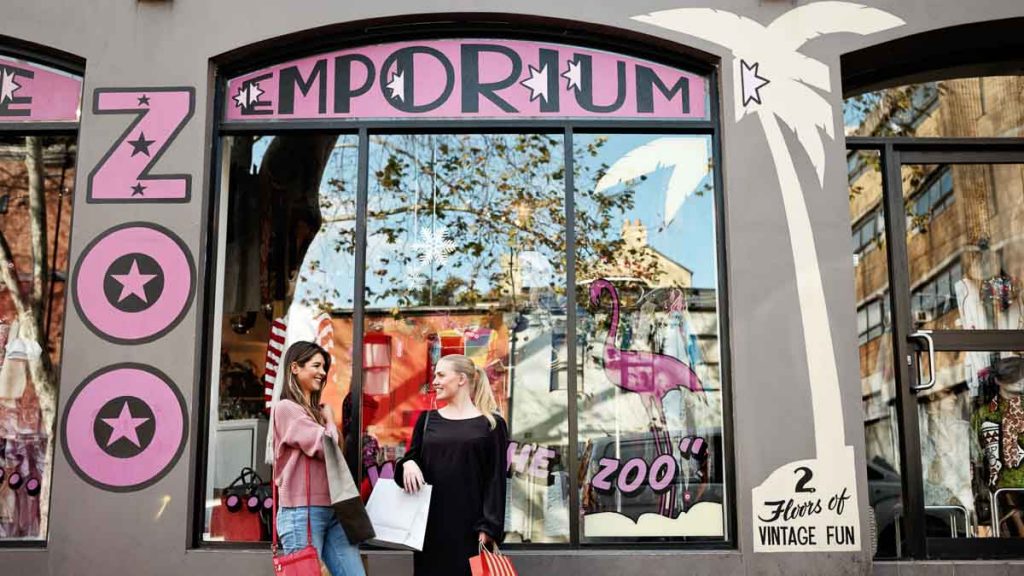 Photo credit: Destination NSW
Some thrift shops to check out are Uturn Recycled Fashion, Vinnies, Noffs Op Shop, and Zoo Emporium. The first three have outlets all over the city (including Newtown), but each store offers a different selection of secondhand clothing and accessories.
Newtown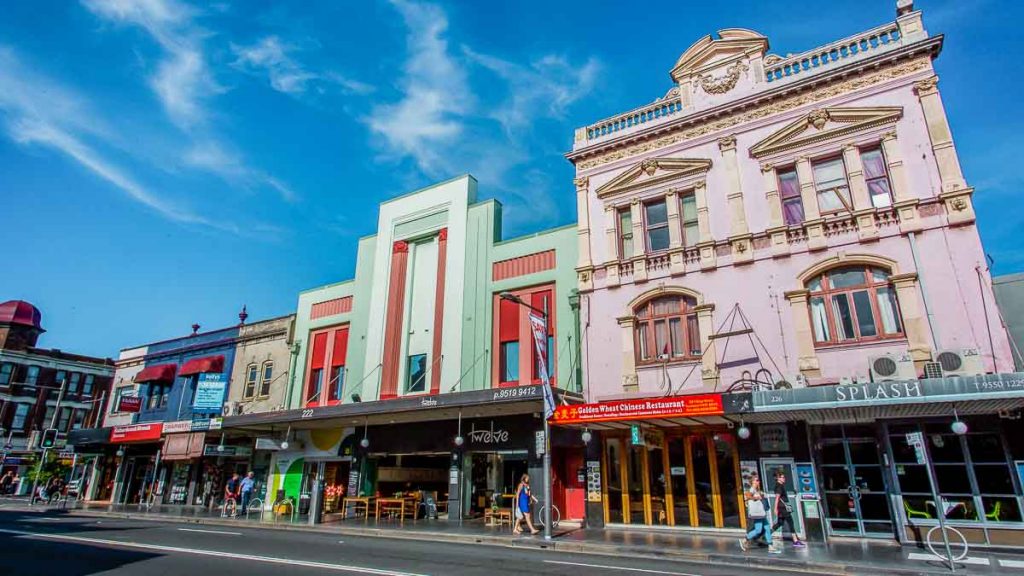 Photo credit: Destination NSW
If Surry Hills was the posh, artsy older sibling, Newtown is the edgy middle child. This youthful neighbourhood is one of my favourite places in Sydney!
Just step out of Newtown train station and you're right on the main street — a long row of cafes, murals, bookstores, and vintage shops.
Black Star Pastry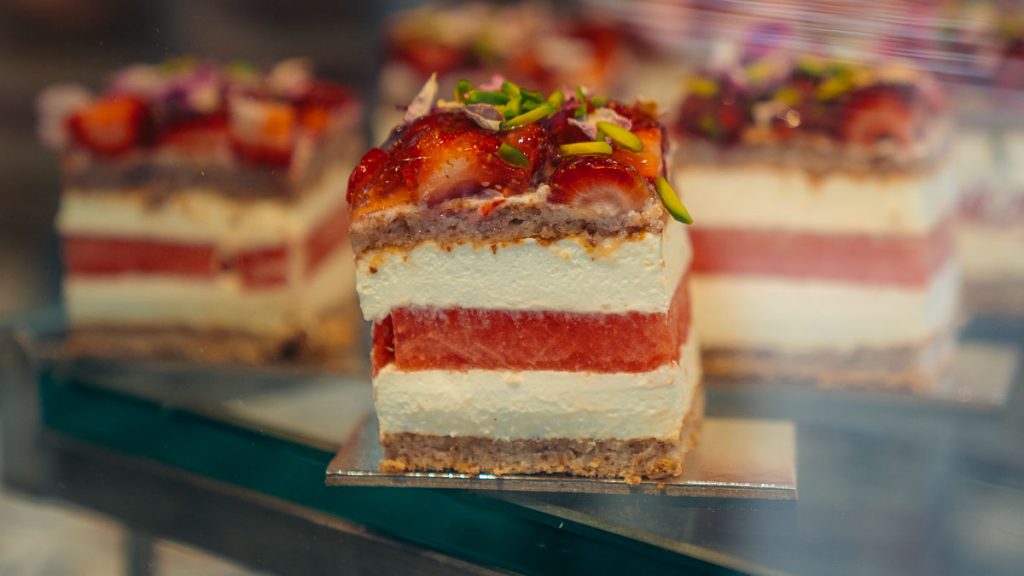 Ask any local for food recommendations and Black Star Pastry's strawberry watermelon cake is likely to be on the list. This Instagram-famous cake has layers of almond dacquoise, cream and fresh watermelon and strawberries.
After hearing so much hype, I'm glad to report it tastes as good as it looks.
Cost: AU$11 per slice
Opening hours: Varies depending on outlet
Address: Multiple outlets incl. Newtown, Surry Hills and Sydney CBD
Elizabeth's Bookshop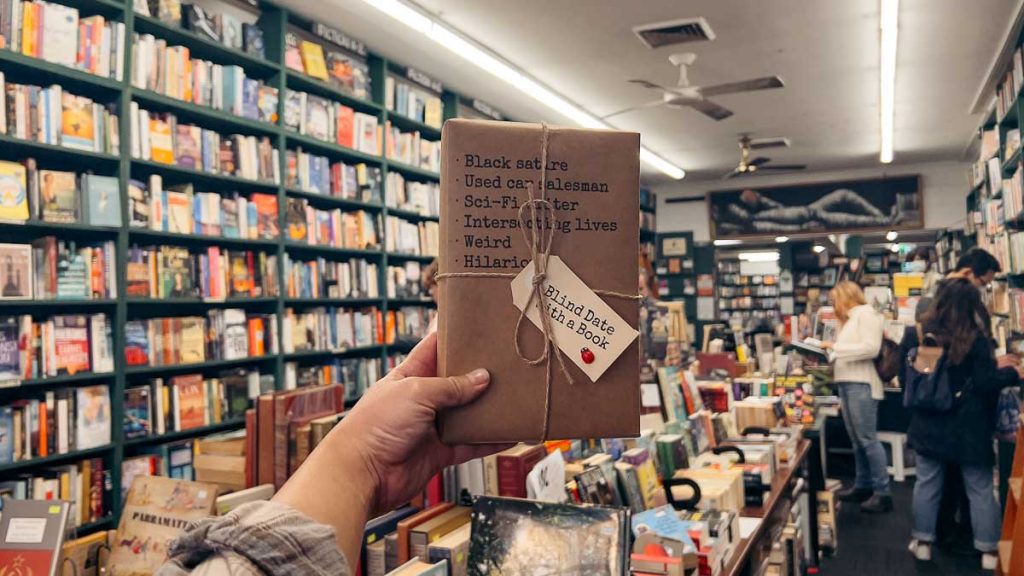 Despite owning a Kindle, I still love visiting bookshops — there's just something comforting about flipping through pages of a book. Newtown's Elizabeth's Bookshop is a charming secondhand bookstore that's been around since 1973!
There's all sorts of books available but if you can't decide on one (like me), they sell mystery books which also make for nice gifts.
Opening hours: 10AM – 10:30PM (Mon – Fri), 9:30AM – 10:30PM (Sat – Sun)
Address: 257 King Street Newtown NSW 2042, Australia
Messina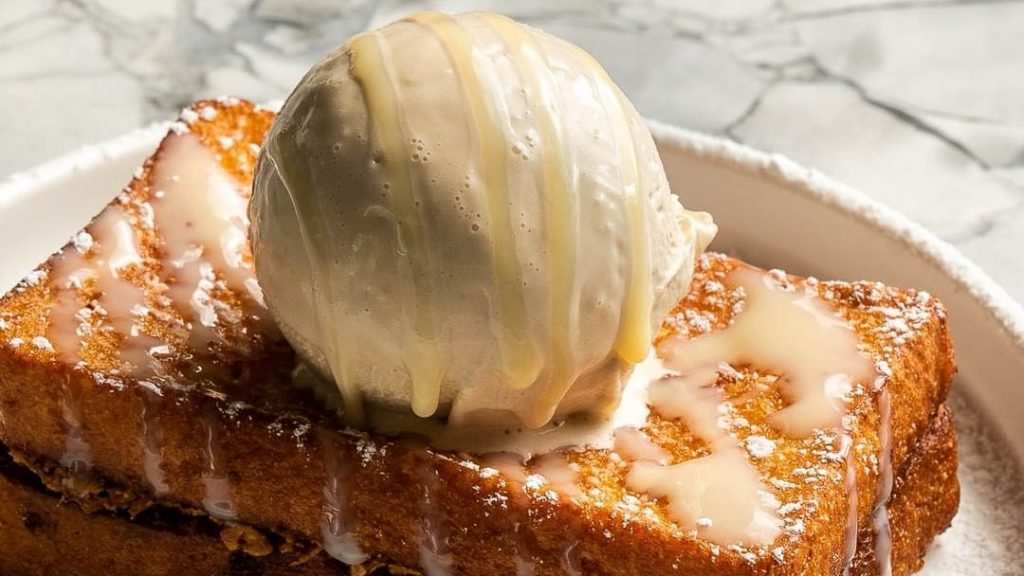 Photo credit: @gelatomessina via Instagram
Many of my friends raved about Gelato Messina, claiming "it's the best ice cream in Sydney".
A bold statement, but justified. Messina offers 40 ice cream flavours — 35 permanent classics and five unique specials each week. The ice cream here is freshly churned in-store daily! I had the aperol sorbet special and Nicky glasses (coffee and salted caramel) and both were delicious.
Cost: AU$5.60 (~S$5.36) for a single scoop, AU$7.40 (~S$7.08) for double scoop
Opening hours: 12PM – 10PM (Sun – Thu), 12PM – 10:30PM (Fri – Sat)
Address: 262 King Street, Newtown 2042 (Note: There are 15 outlets in New South Wales)
Day 3-4: Bondi and Watsons Bay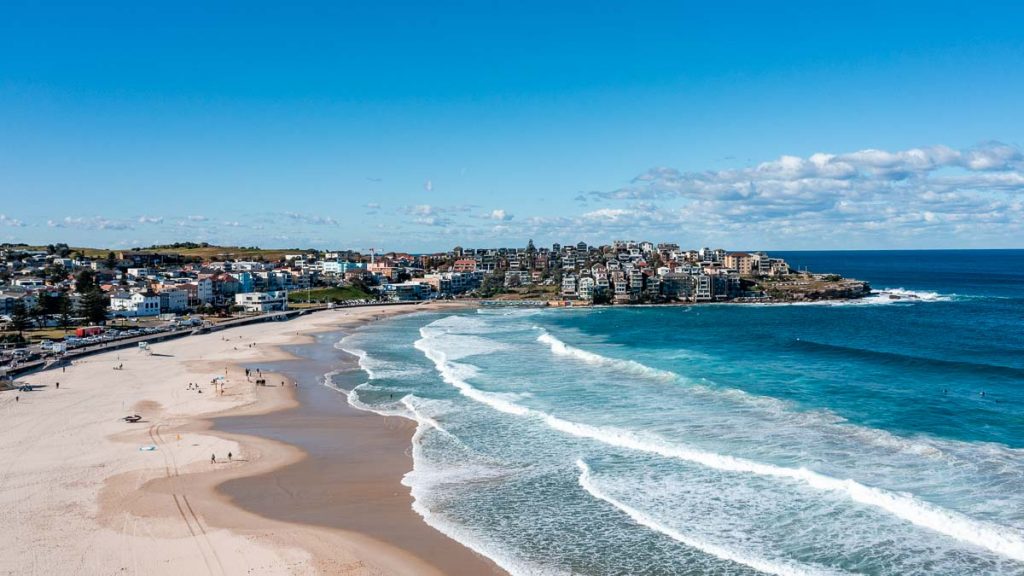 Bondi is everything I imagine the Aussie beach life to be. Surfers bobbing on boards, waiting to catch their next wave, skateboarders cruising along the boardwalk, and locals in workout gear, takeaway coffee in hand.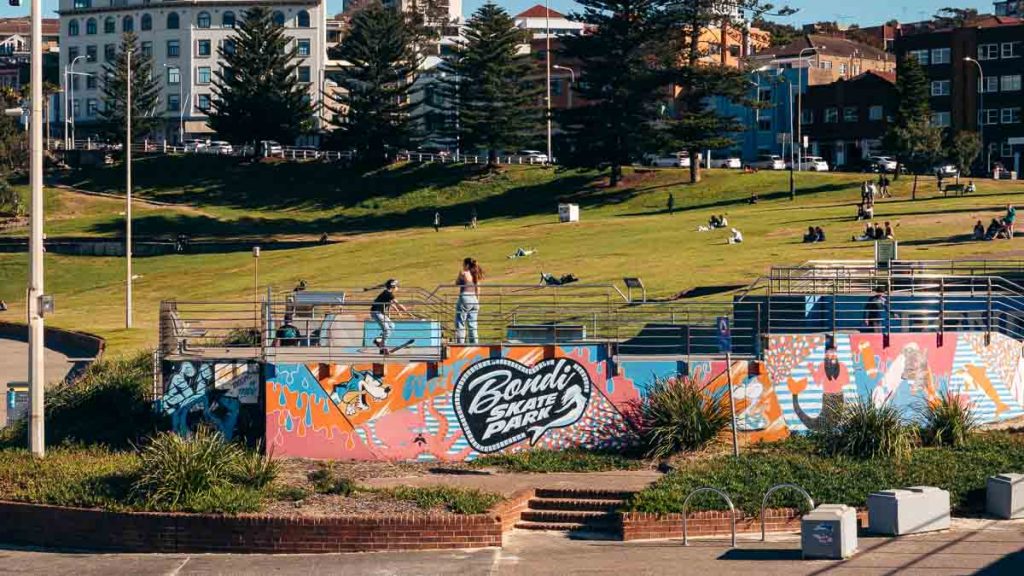 We stayed in the Bondi area for a month during the Airbnb Live Anywhere programme and could not get enough of this bustling neighbourhood! Here are some of our favourite things to do in Bondi:
Surfing Lesson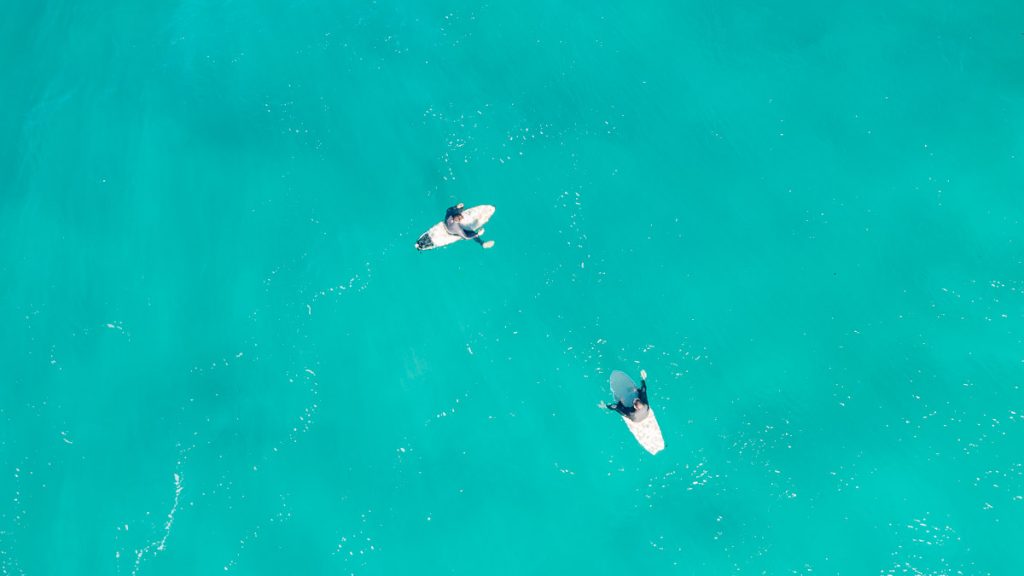 We couldn't visit Bondi Beach and not attempt to pick up surfing. Let's Go Surfing is Bondi's only official surf school and offers two-hour lessons for beginners!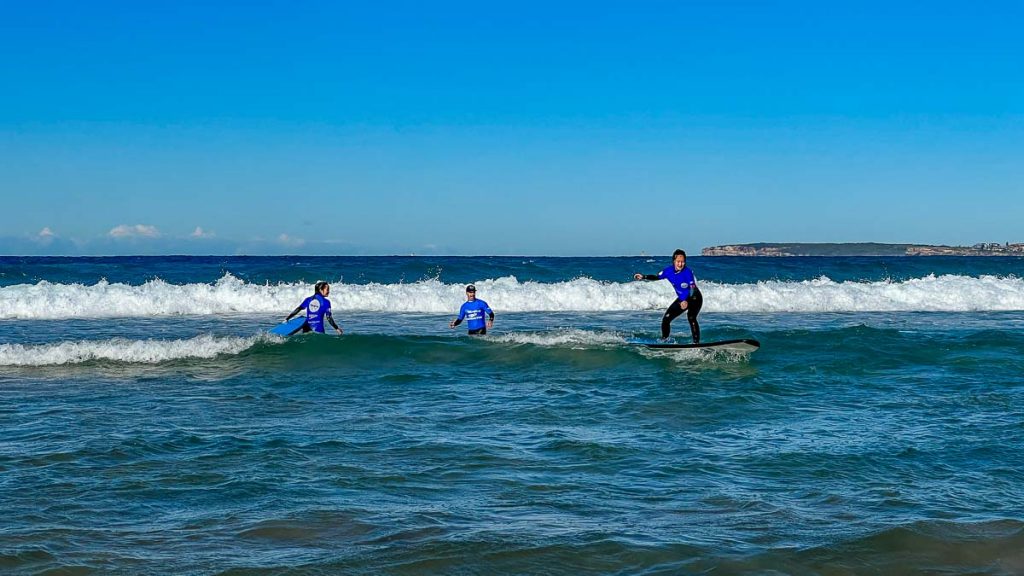 The instructors here are seasoned surfers, and taught us useful skills such as how to read the waves and where the safe zones were. We also got to practise how to stand up on the board on the beach before heading out to the water.
Overall thoughts? I see why the locals love this sport so much — I felt pretty badass when I managed to catch a few waves.
Cost: AU$99 (~S$94.85) for a 2hr lesson — incl. rental of surfboard, wet suit, and sunscreen
Opening hours: Check the website for exact timings as it varies
Address: 128 Ramsgate Ave, North Bondi NSW 2026
Speedos Cafe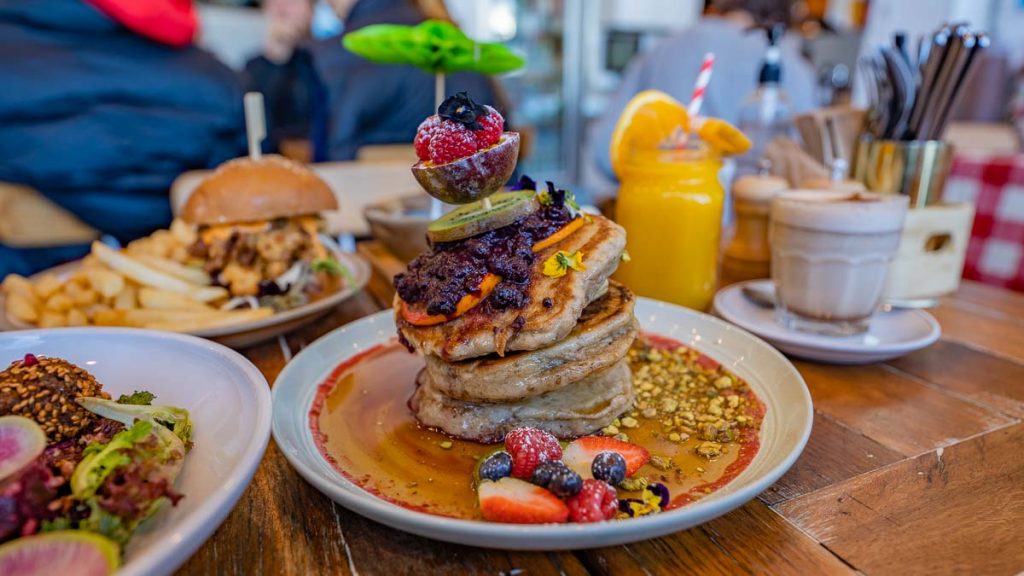 Speedos Cafe was named the world's most Instagrammable cafe in 2020. It's located right beside Let's Go Surfing, making it a convenient post-surf brunch spot.
Beyond the food looking extremely pretty, we appreciate the large portions and fresh ingredients used — the perfect fuel after a morning of surfing. We ordered the banana and chia pancakes (~S$23.70), soft shell crab burger (~S$23.70), grassy knoll bowl (~S$21.80), and acai bowl (~S$19). Everything tasted really good.
Cost: AU$22 (~S$21.08) for a main
Opening hours: 6AM – 3:30PM
Address: 126 Ramsgate Ave, North Bondi NSW 2026
Bondi Icebergs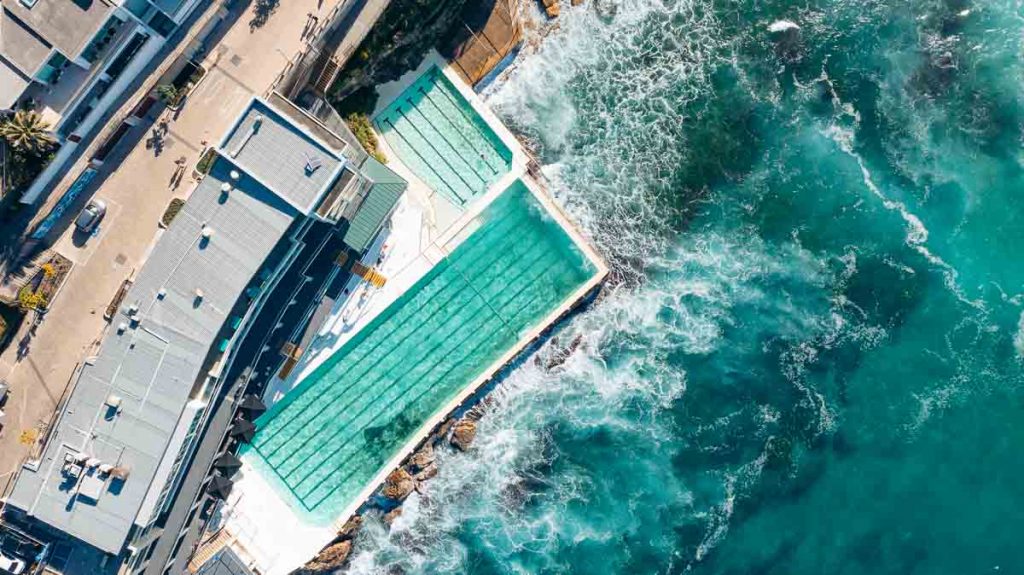 Bondi Icebergs is hands down the coolest swimming pool I've ever seen. It's home to the Bondi Icebergs Club (a winter swimming club dating back to 1929!) and overlooks Bondi Beach.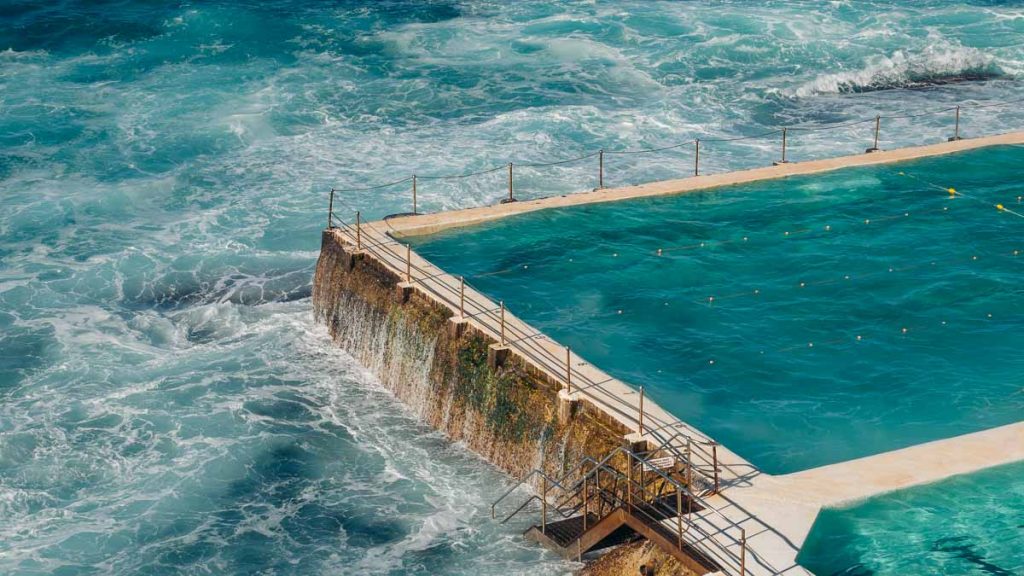 You don't have to be a member to enjoy the facilities here! Swim laps, or take it easy and soak in the views from the smaller pool or sauna.
There's also a couple of dining options — like the Icebergs Club Bistro (casual dining) and Icebergs Dining Room (upscale Italian cuisine).
Entrance fee: AU$9 (~S$8.62) for pool admission
Opening hours: 6AM – 6:30PM (Mon – Wed, Fri), 6:30AM – 6:30PM (Sat – Sun), Closed on Thu
Address: 1 Notts Avenue Bondi Beach NSW 2026
Watsons Bay
Watsons Bay is located at the top of South Head peninsula, just a 12-minute drive (or 6km coastal walk if you have the time!) from Bondi Beach. From here you've got spectacular views of the city skyline and the Pacific Ocean.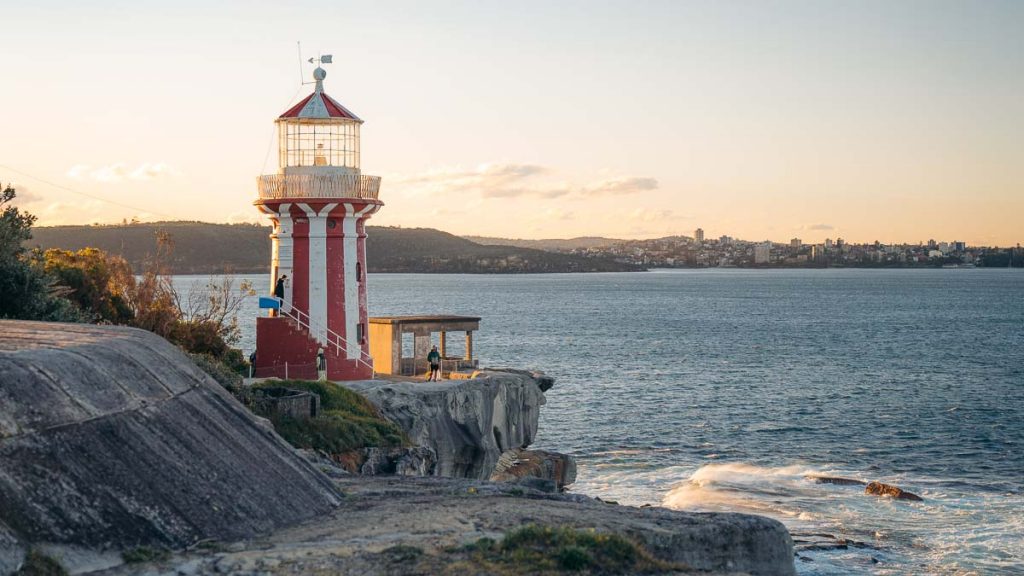 A highlight is the iconic Hornby Lighthouse, right at the tip of Watsons Bay. During the winter months of May to November, you might spot migrating whales!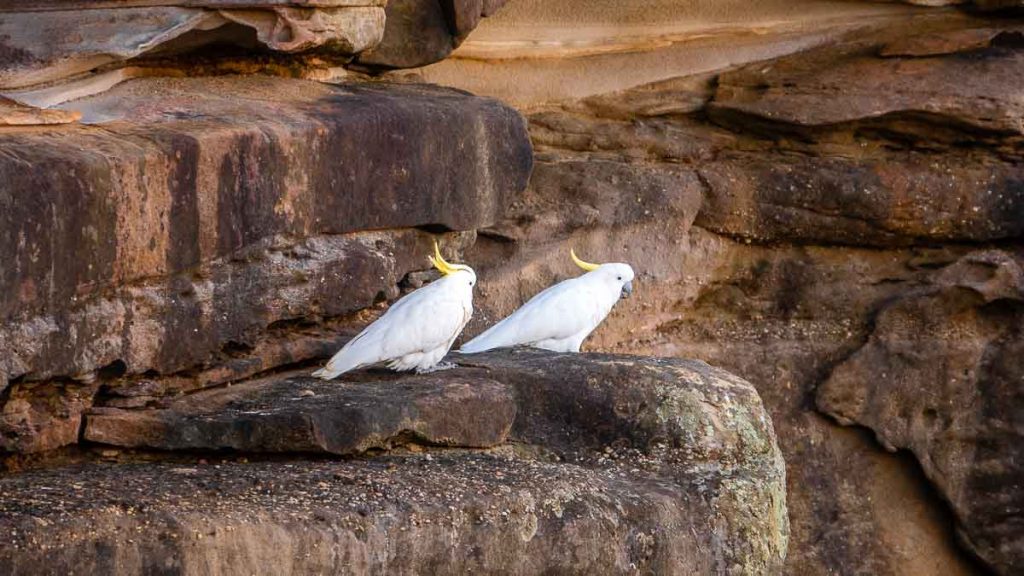 Cockatoos are also really common here.
Entrance fee: Free
Opening hours: 24 hours
Address: 27 Military Rd, Watsons Bay NSW 2030
Where to stay in Sydney (4 nights)
Hotel: Hotel Bondi (from ~S$140/night) is within walking distance from Bondi Beach. Hostel: Wake Up! Sydney Central (from ~S$38/night) is centrally located and a 6min drive from Surry Hills.
Airbnb: Bondi Studio for 2pax (from ~S$122/night) is near Bondi Beach.
Day 5: Cockatoo Island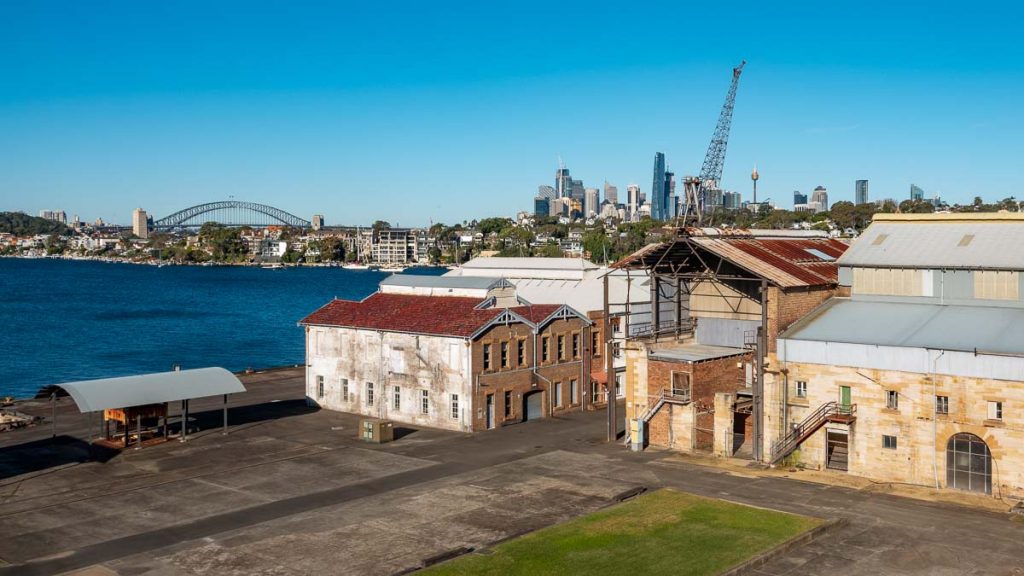 Switch up your New South Wales itinerary by going glamping at Cockatoo Island — located right in Sydney Harbour!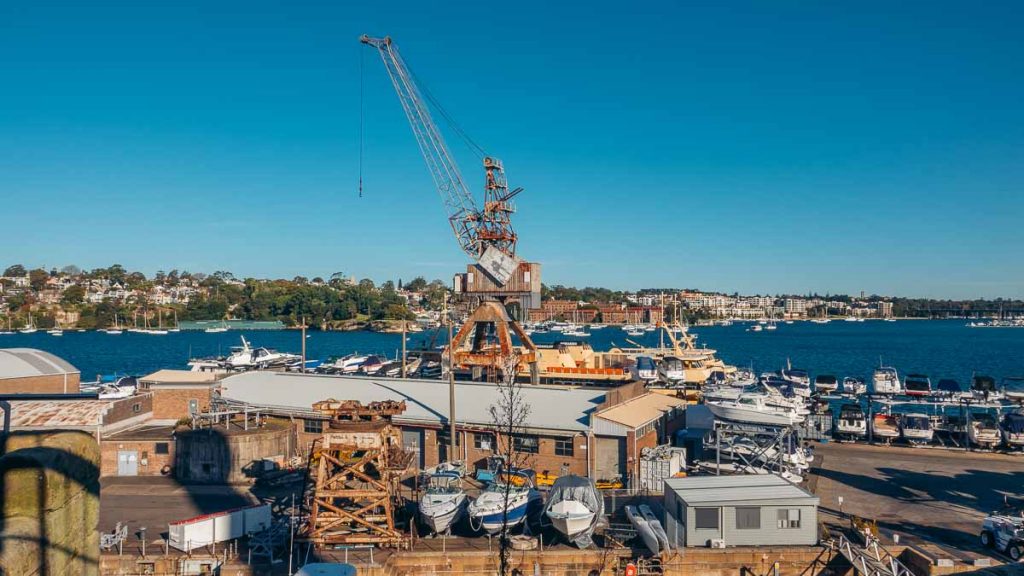 This UNESCO World Heritage island was first established as a prison in 1839, where convicts were put to work, toiling away at ambitious building projects. Today, the island is an arts and cultural centre — the opera Carmen will be held there this year!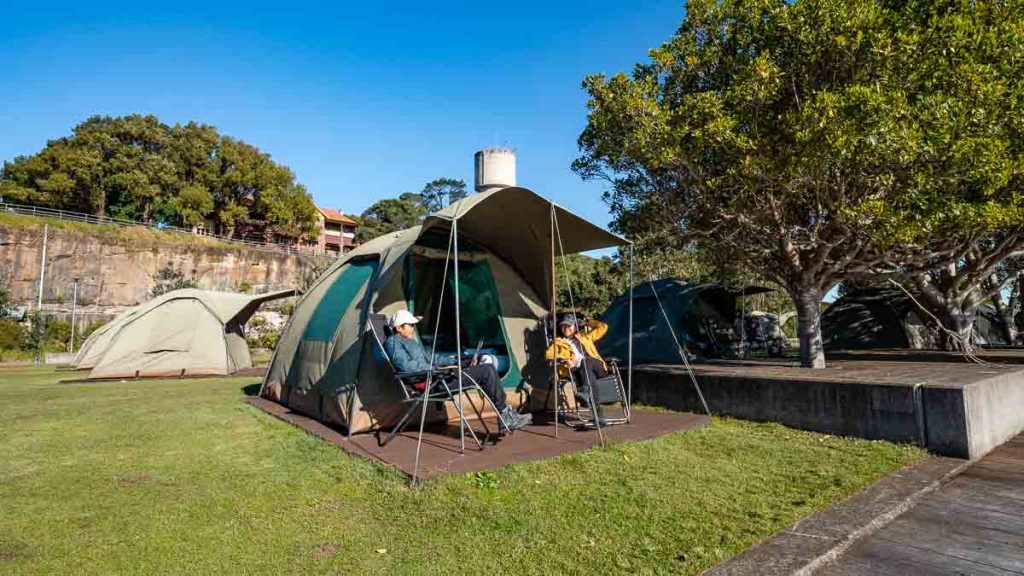 Cockatoo Island can be covered as a day trip, but we opted to stay overnight at the Waterfront Campground for a more unique experience.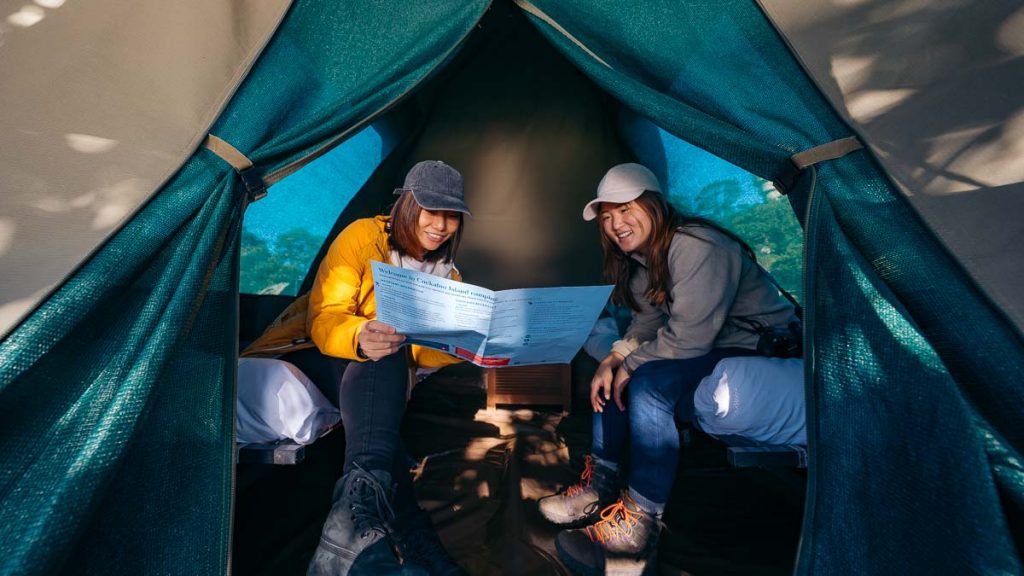 Our Deluxe Waterfront Package (AU$155/night) tent included two single beds, sun lounges, towels, and basic toiletries. There are common toilet facilities onsite, with large and clean shower cubicles that come with hot water — always a luxury when you're camping!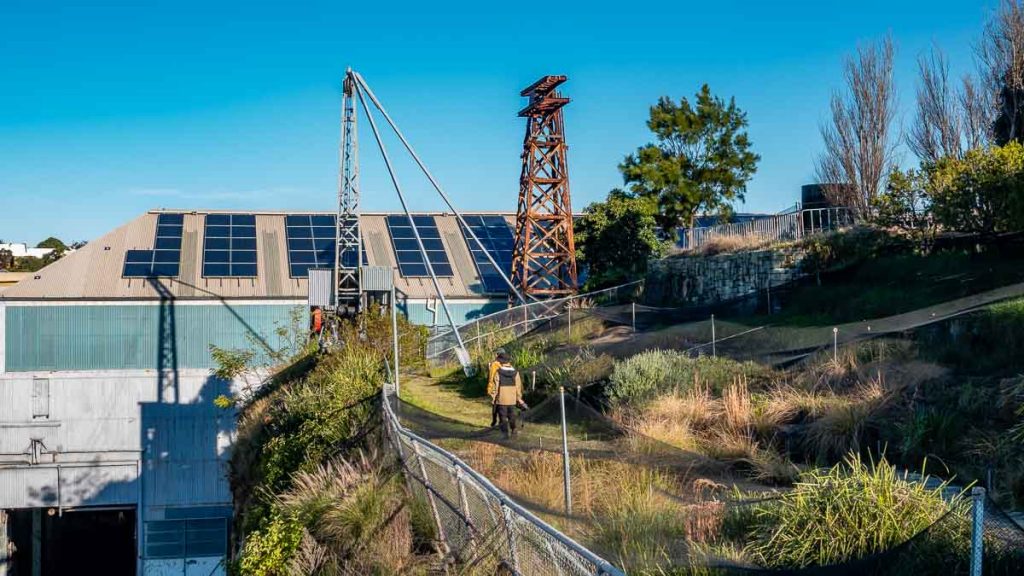 After checking in, we explored the island via a self-guided audio tour (AU$6, S$5.74) to learn more about its history. Guided tours are also available.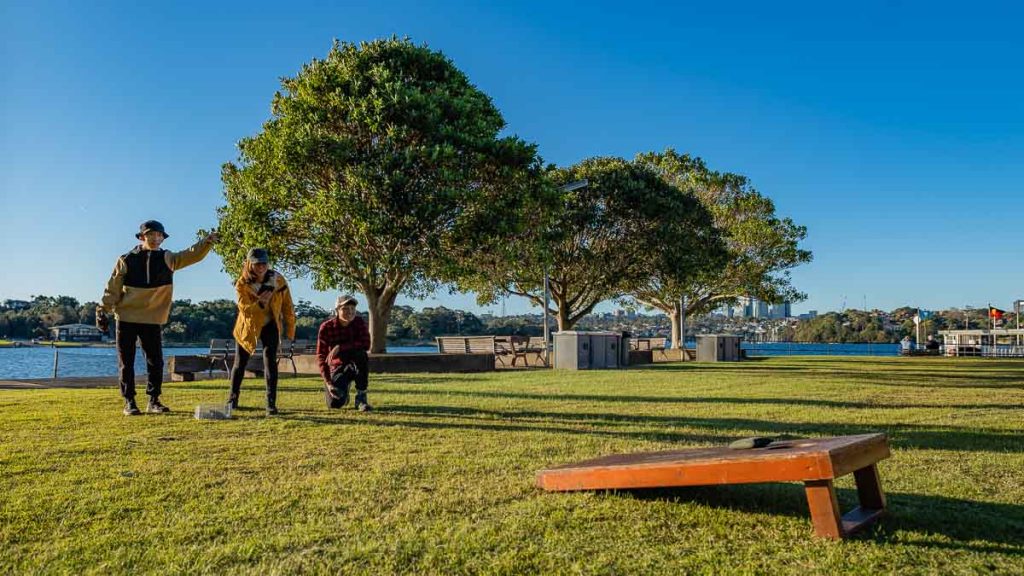 We played old-school lawn games like Corn Hole or Ring Toss on the camping grounds. Guests can also play basketball (ball rental at AU$5, ~S$4.78) or head to Campground Cinema in the Convict Precinct for daily movie screenings!
Note: There are only two eateries on Cockatoo Island — Marina Cafe & Bar and Societé Overboard. Both close early, so we'd suggest packing food for an overnight stay. There's a shared kitchen with a fridge and barbecue facilities.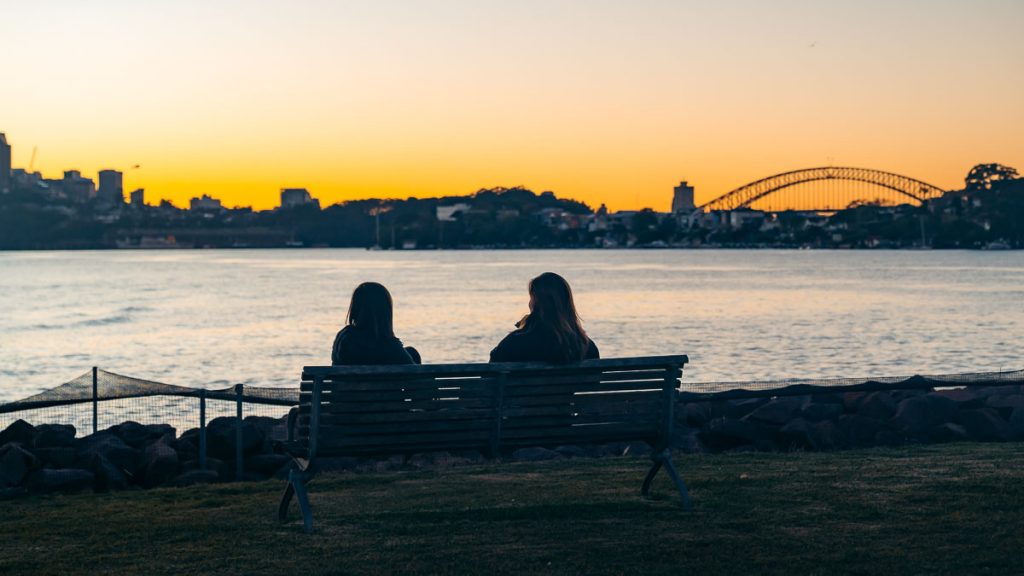 We caught a stunning sunset and sunrise during our getaway at Cockatoo Island. It felt like we had exclusive, front row seats to the Sydney skyline — watching the city go to sleep at night and come alive in the day was a definite highlight!
Cost: From AU$99/night (~S$95.40)
Opening hours: The Visitor Centre opens from 10AM – 3PM
How to get there: Take the public ferry (F3 or F8) from Circular Quay, Darling Harbour or Barangaroo. It's AU$6.21 (~S$5.93 one-way) — see ferry timings here
Day 6: Ku-ring-gai Chase National Park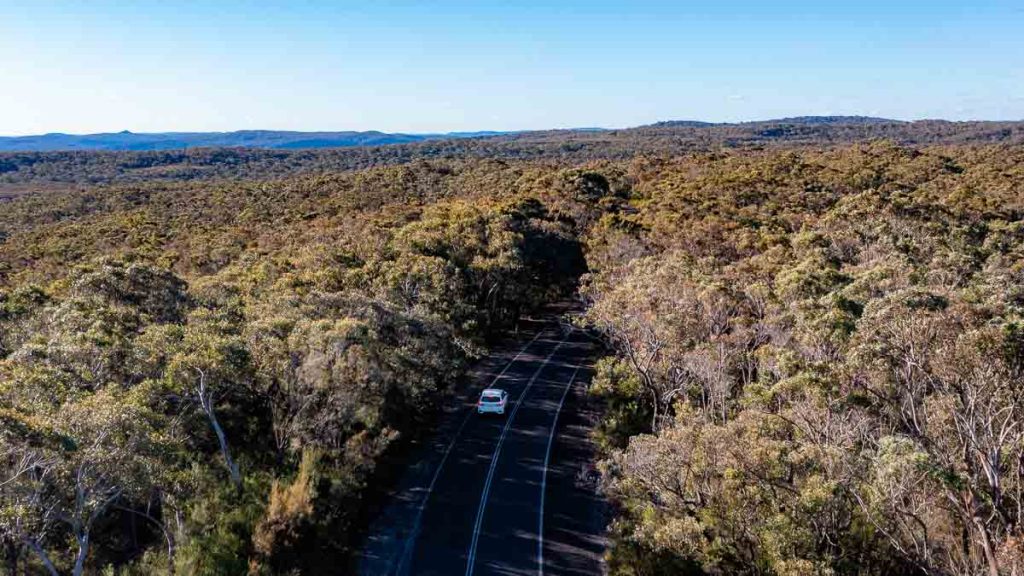 Drive to Ku-ring-gai Chase National Park: 45min
Ku-ring-gai Chase National Park is Australia's second oldest national park. There are numerous walking tracks here, and these are the two we experienced:
Topham Walking Track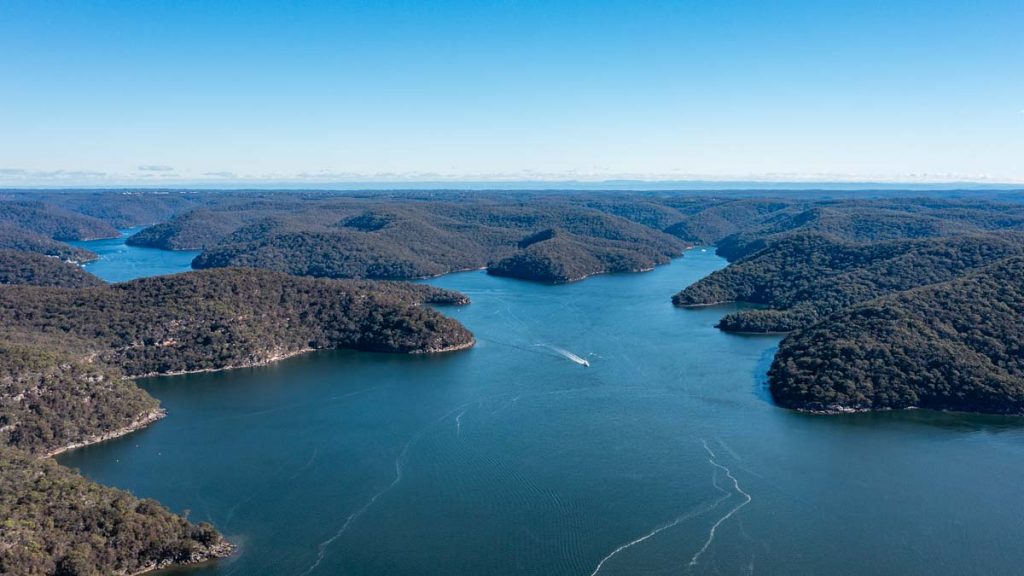 The Topham Track is a short 3.7km return hike (2hrs) that traverses open woodlands. The trail is mostly flat and unassuming, but there's a nice reward waiting at the end — stunning views of Refuge Bay.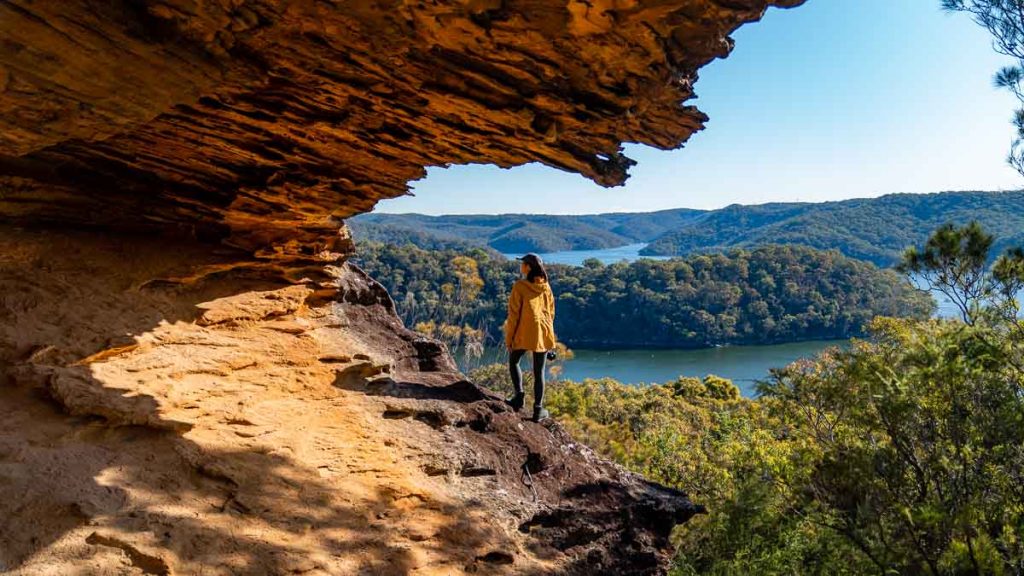 There's a secret sandstone cave at the end — it's unmarked, but not far from the main path. Let us know in the comments if you manage to find it as well!
America Bay Walking Track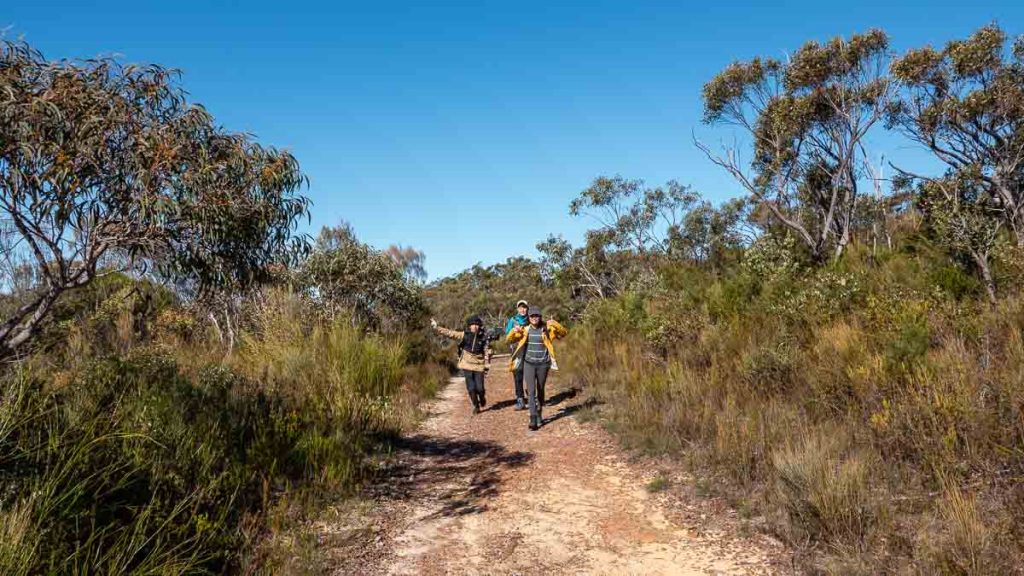 America Bay Walking Track is even shorter (1.8km return hike, 1hr), but we preferred this trail to the Topham Track. It starts off pretty flat, along a narrow path through bushland, before getting a bit more rugged.
But traversing across large rocks and unpaved trails are our favourite kind of hikes!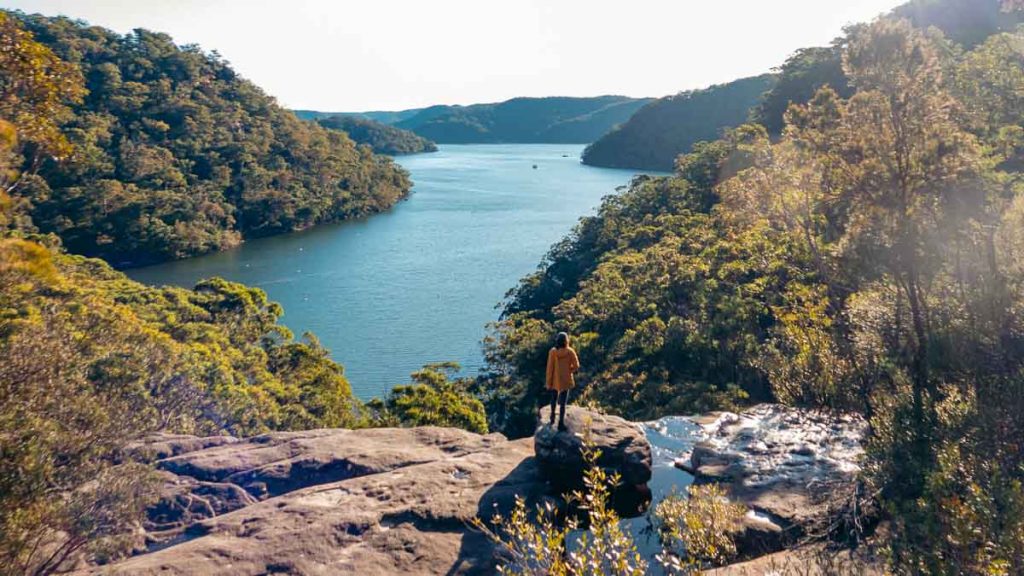 The view at the end didn't disappoint either — a large rock platform and waterfall looking out to America Bay.
Ku-ring-gai Chase National Park
Entrance fee: AU$12/car (~S$11.48)
Opening hours: 24 hours
Address: 97R9+6H, Ku-ring-gai Chase NSW 2084, Australia
Drive to Central Coast: 1hr 10min
Where to stay in the Central Coast (1 night)
Hotel: Chittaway Motel (from ~S$157.90/night) is a 17min drive from Long Jetty
Hostel: The Entrance Backpackers (from ~S$34/night) is a 3min from Long Jetty
Airbnb: Blue Bay Beach apartment for 2pax (from ~S$117/night)
Day 7: Central Coast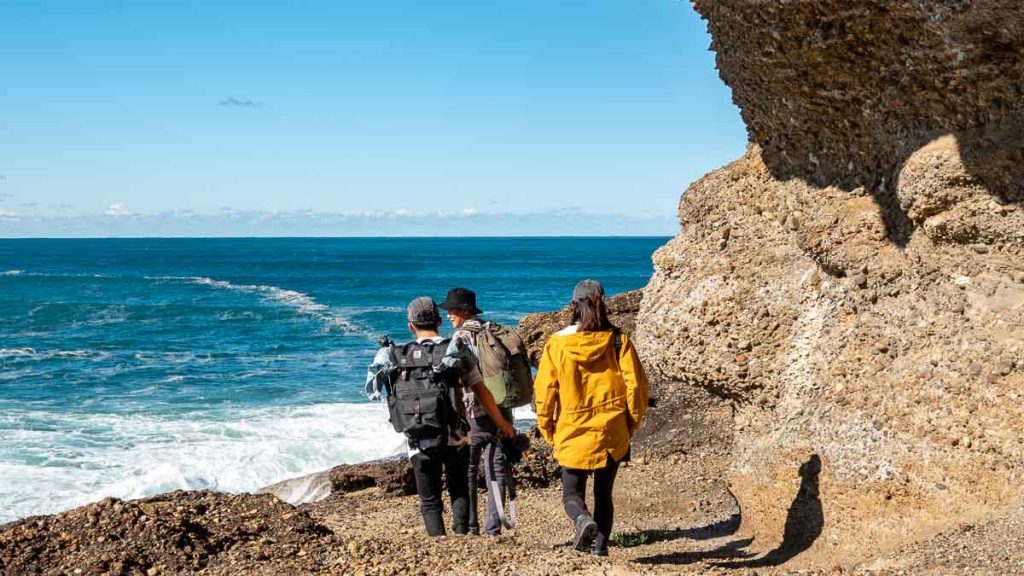 The Central Coast offers a myriad of activities — coastal hikes, breakfast with alpacas, and even a wine tour!
Iris Lodge Alpacas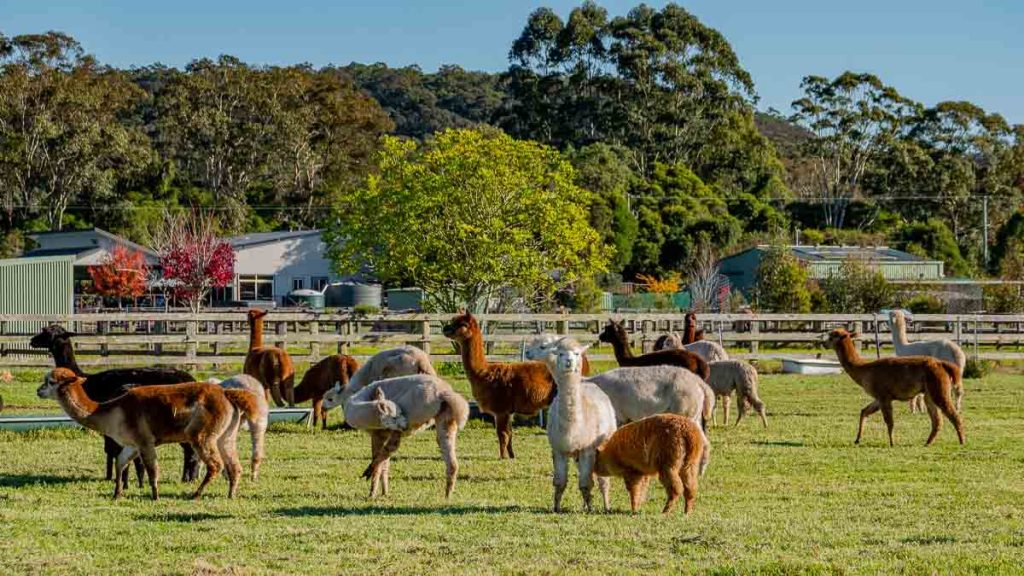 Breakfast with friendly alpacas? I honestly can't think of many better ways to start the day. Iris Lodge Alpacas is home to around 70 alpacas, plus llamas, sheep, horses, and cows!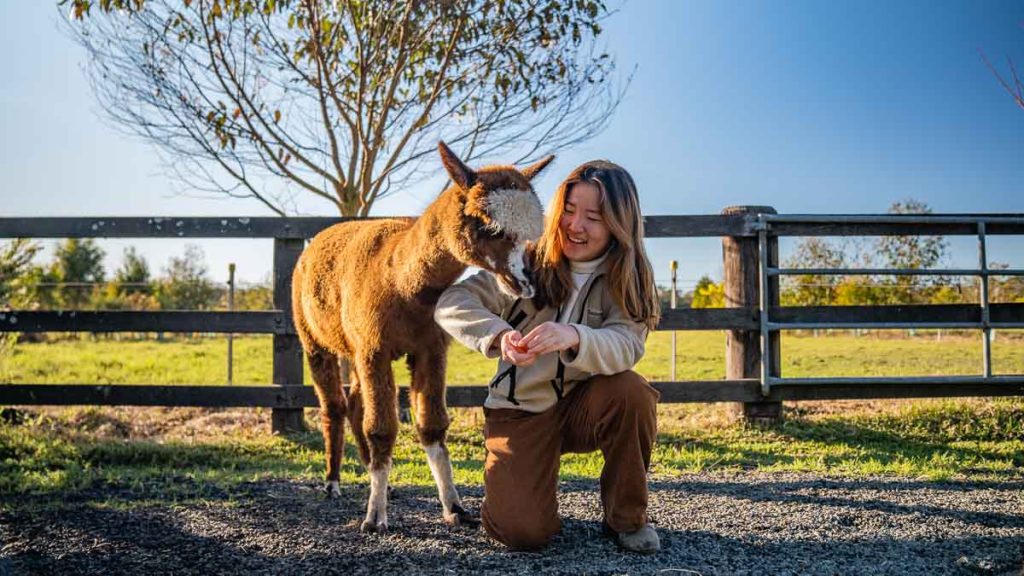 We got to hang out with the alpacas and feed them carrots, bananas, and hay. They're exactly like what I imagined — soft and fluffy, and what happiness would look like if it took a physical form.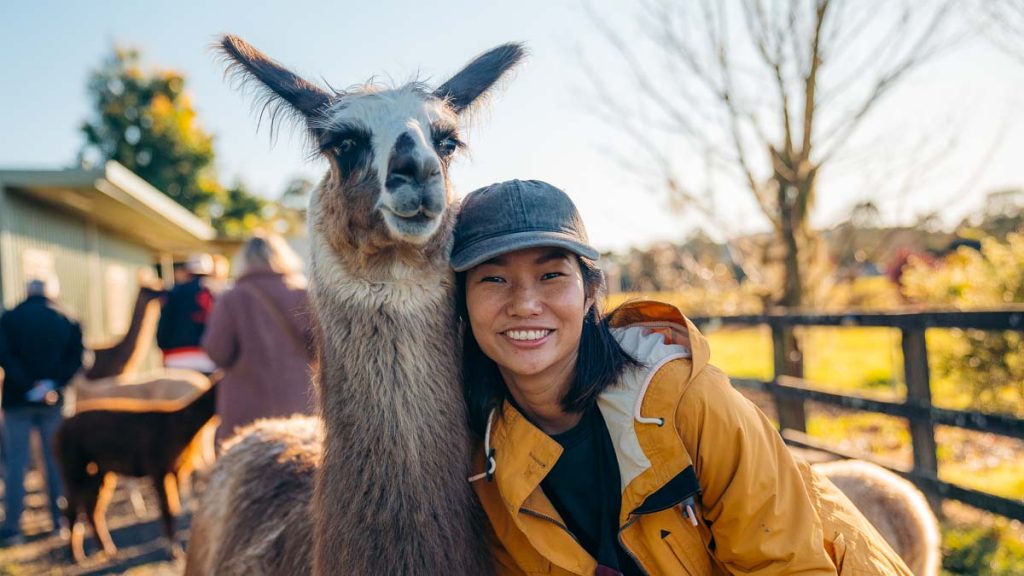 After touring the farm and feeding the animals, we enjoyed breakfast cooked by our hosts. It's a simple meal of cereals, fruits, muffins, and sandwiches — but a hearty one.
Cost: AU$55 (~S$52.24) for 2.5hrs — Alpaca meet and greet sessions without breakfast are available too!
Tour timings: 8:30AM (Sat – Sun, PH), open everyday during New South Wales school holidays
Address: 33 Dunks Ln, Jilliby NSW 2259, Australia
Firescreek Botanical Winery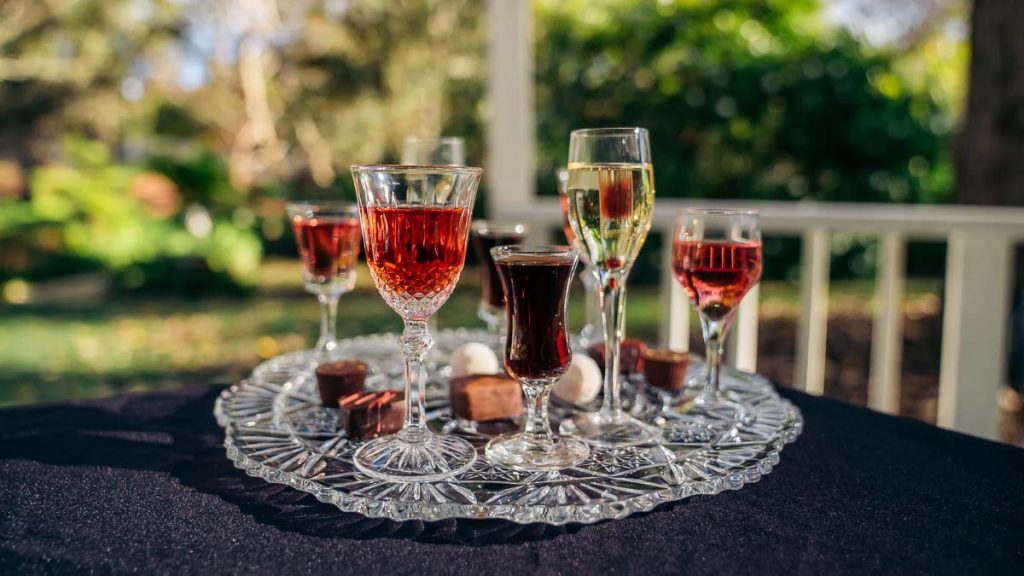 Australia is known for world-class wines, so it'll be a crime to leave without some wine appreciation.
Firescreek Botanical Winery offers wine experiences, like Chocolate and Wine Pairing! Guests are served four house brand botanical wines paired with handmade chocolates. Our favourite was the nectarine and elderflower wine — we ended up buying a bottle each (~S$27.50) to bring home.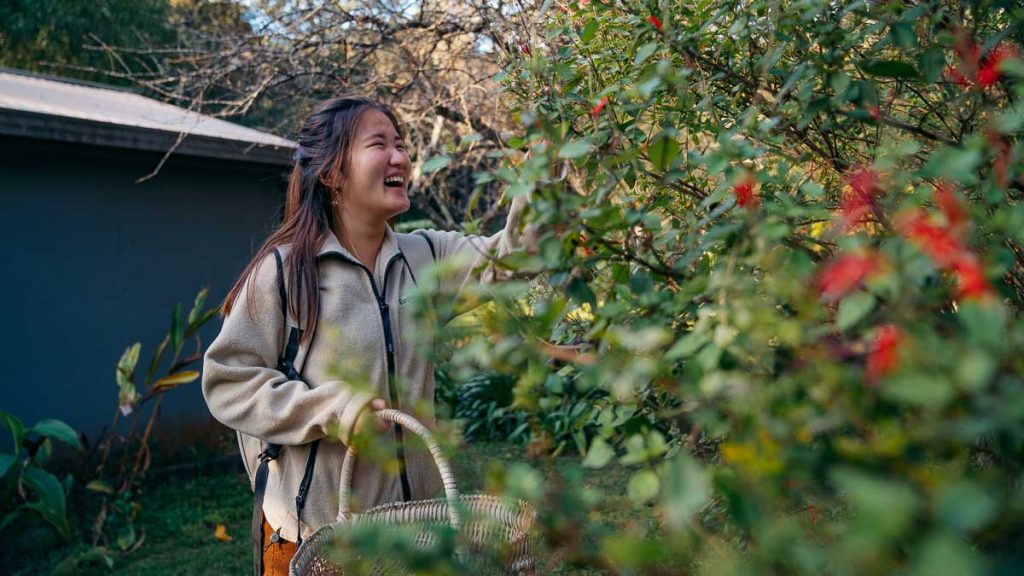 We also went to a Foraging and Mixology Workshop where we learnt how to forage for garnishes and create our own cocktails. Pouring the ingredients so that the liquids don't mix is actually harder than it looks, and takes a certain precision.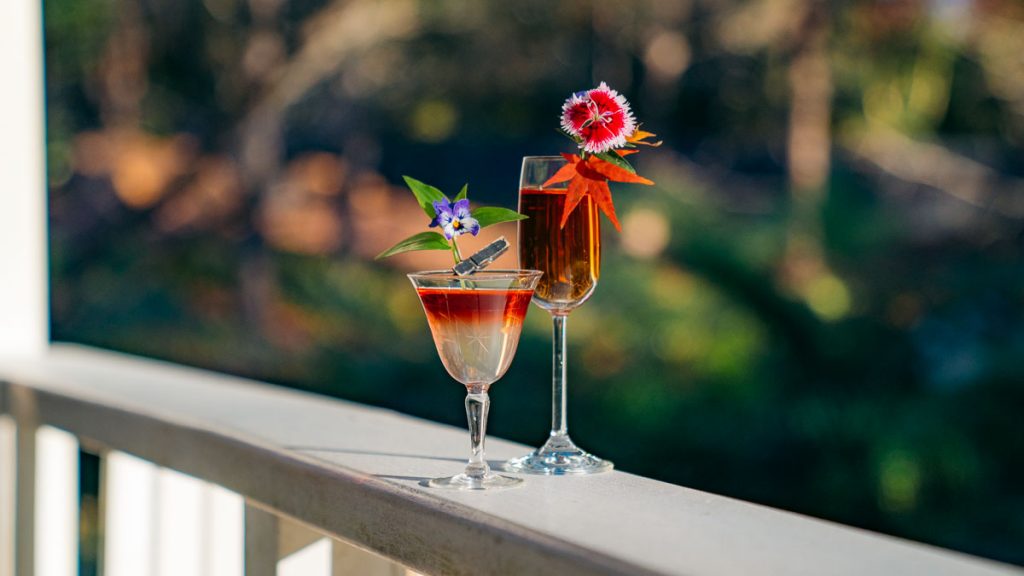 Still, I'd say we did alright for our first time!
Cost: AU$25 (~S$23.75) for the Chocolate and Wine Pairing, AU$45 (~S$42.75) for the Foraging and Mixology Workshop
Opening hours: 10:30AM – 4:30PM (Wed – Sun), Closed Mon – Tue
Address: 192 Wattle Tree Rd, Holgate NSW 2250, Australia
Long Jetty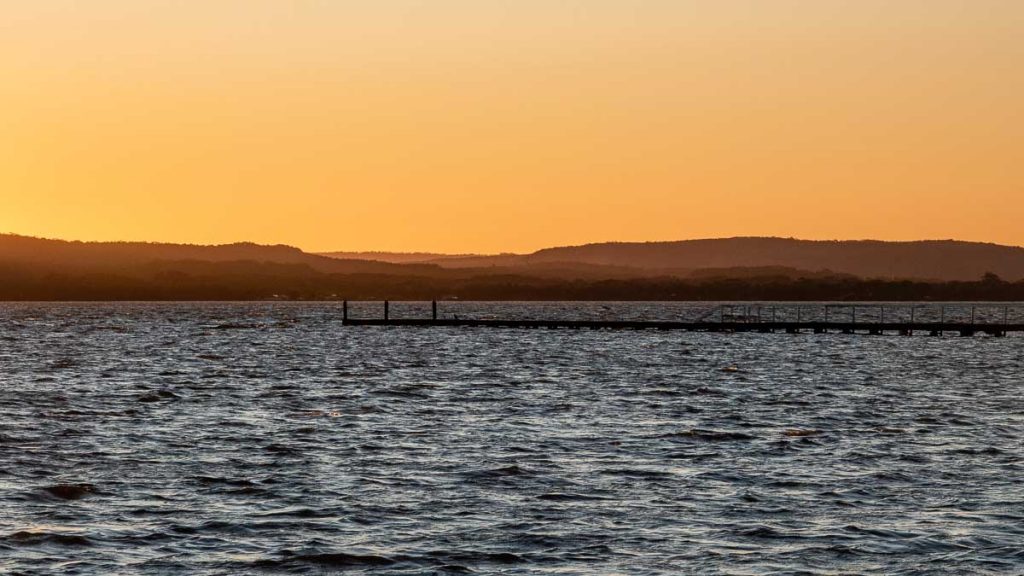 Long Jetty is a small town in Central Coast, and is aptly named because there are three jetties found here. The longest one is a 351-metre jetty named, err, Long Jetty and it's a great spot to catch the sunset over Tuggerah Lake.
Entrance fee: Free
Opening hours: 24 hours
Address: 103A Tuggerah Parade, Long Jetty NSW 2261, Australia
Spending more time in the Central Coast? Check out other activities like horse riding in Glenworth Valley, hiking in Wyrrabalong National Park or a hot air balloon ride in the Hunter Valley!
Drive to Port Stephens: ~1hr 40min
Day 8: Port Stephens
Tomaree Head Hike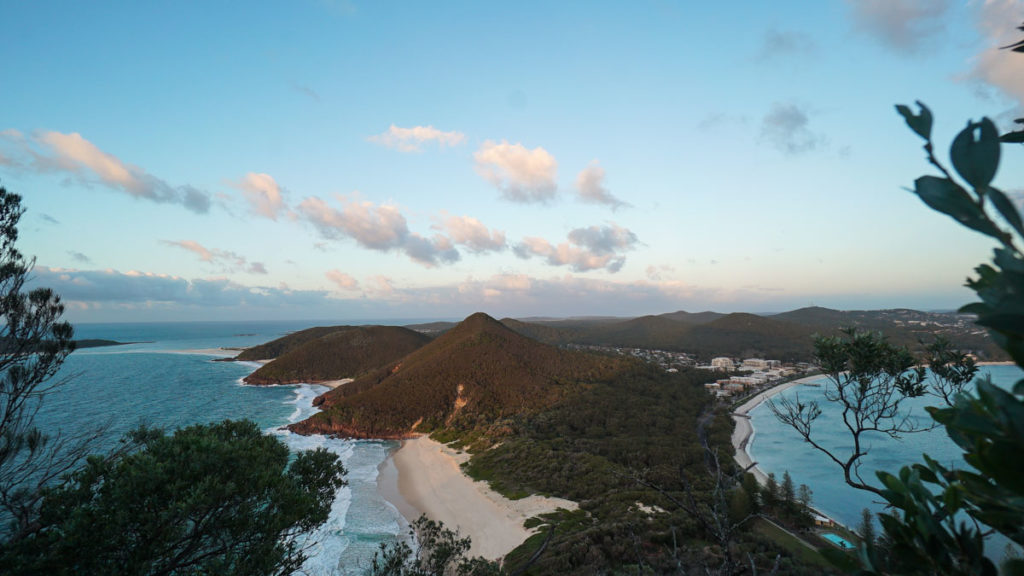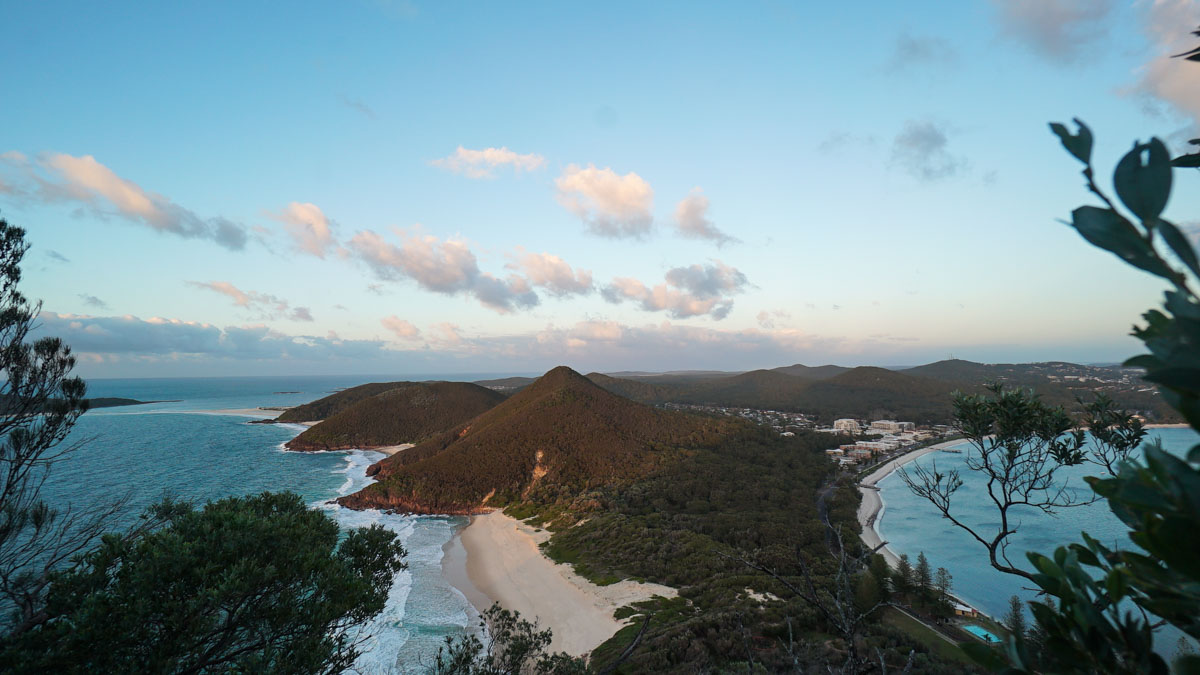 The Tomaree Head Summit Walk offers one of the best views of Port Stephens! It's a short hike (2.2km return, 1.5hrs) up to the 161-metre high summit — the perfect vantage point for whale spotting from late-May to mid-Nov.
*Pro-tip: Boat Harbour is another area in Port Stephens where you'll get many sightings of Humpback and Southern Right Whales during migration season!
Opening hours: 24 hours
Address: Shoal Bay Rd, Shoal Bay NSW 2315, Australia
Stockton Sand Dunes Quad Biking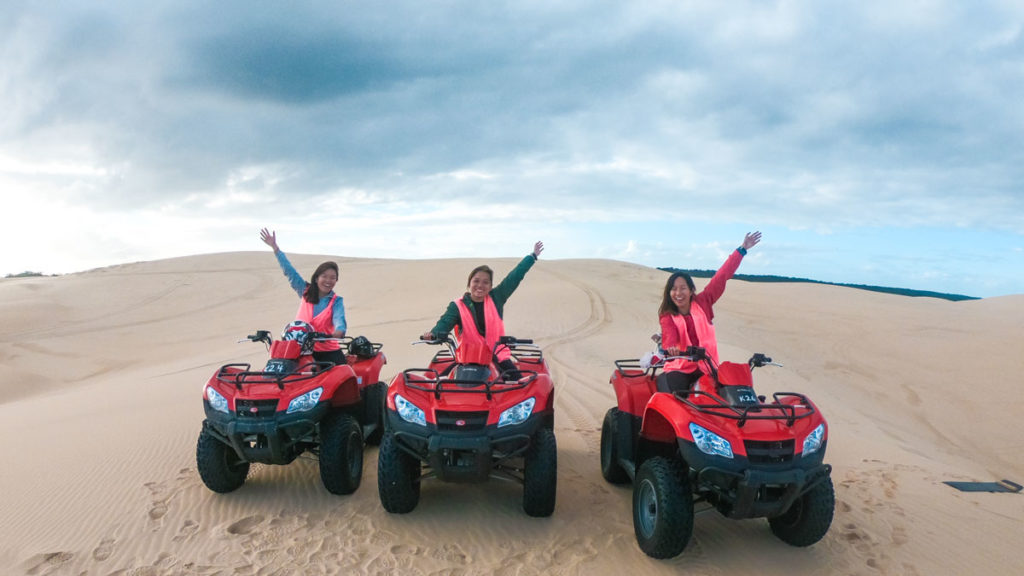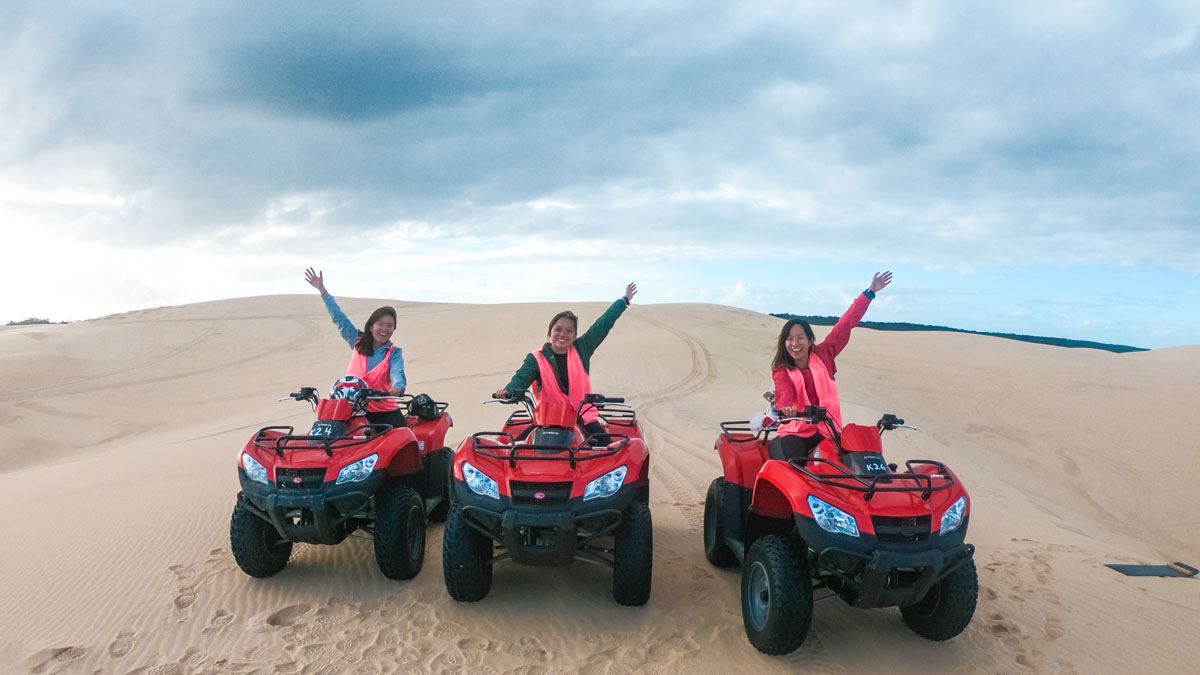 The Stockton Bight Sand Dunes are one the main reasons why people flock to Port Stephens. At 32km long, they're the longest moving sand dunes in the southern hemisphere!
The best way to explore the sand dunes is via a quad bike tour. Sand Dune Adventures takes guests through the epic sand dunes, with views of the coastline.
Cost: AU$110 (~S$105.13) for a 1hr tour — Guests have to be at least 16 years old to ride a quad bike on their own, those under 16 can ride pillion. No driving licence is required.
Tour timings: 9:30AM, 11AM, 1PM and 2:30PM
Address: 2163 Nelson Bay Rd, Williamtown NSW 2318, Australia
Dolphin and Whale Watching Tour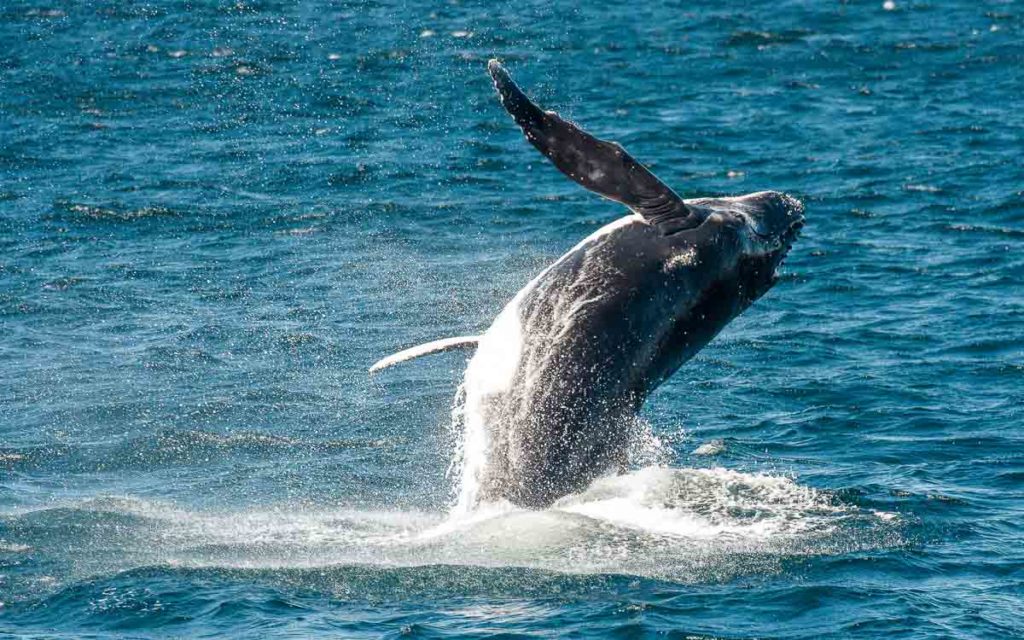 Photo credit: Destination NSW
Port Stephens is a great place to spot dolphins and whales! The area is home to around 100 bottlenose dolphins — meaning you can spot these playful creatures year-round.
Cost: AU$38 (~S$36.32) for a 1.5hr dolphin watching tour, AU$75 (~S$71.68) for a 1.5hr whale watching tour
Tour timings: Varies
Address: Shop 7 The Cascade Walk 6 Stockton Street Nelson Bay 2315
Some excellent dining options in Port Stephens include Murray's Brewery and Cookabarra.
If you're looking to extend your New South Wales itinerary, consider venturing further north to Hunter Valley — a fantastic wine region!
Where to stay in Port Stephens (2 nights)
Hotel: Port Stephens Motel (from ~S$132/night) — it'll be a 4hr drive to the Blue Mountains the next morning. Alternatively, stay in Glenworth Valley Outdoor Adventures (from ~S$245/night) on the second night to break up the drive (2hrs in the evening, 2hrs in the morning).
Airbnb: Nelson Bay terrace apartment for 2pax (~S$184/night)
Day 9-10: Blue Mountains
The Blue Mountains is a World Heritage-listed national park about 1.5hrs from Sydney. Its most iconic landmark is the Three Sisters — named after an aboriginal legend of three sisters who were turned to stone by a witchdoctor.
It's a must-do on any New South Wales itinerary and often done as a day trip, but you can see a lot more if you stay a night here!
Blue Mountains Hiking Trails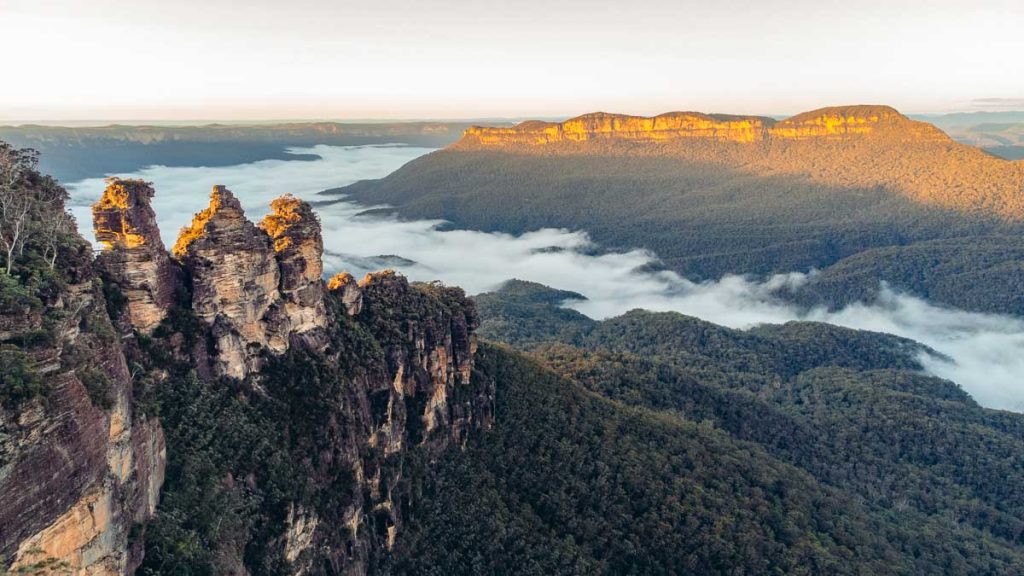 The Blue Mountains comprises six areas (including Katoomba and Blackheath) and there are dozens of bushwalking trails to choose from.
We hiked the Prince Henry Cliff Walk (7km one-way, 3.5hrs) which starts at Scenic World and ends at the Gordon Falls Lookout. This hike features several viewpoints — like Echo Point (the main lookout point for the Three Sisters), Leura Falls and Elysian Rock Lookout (above).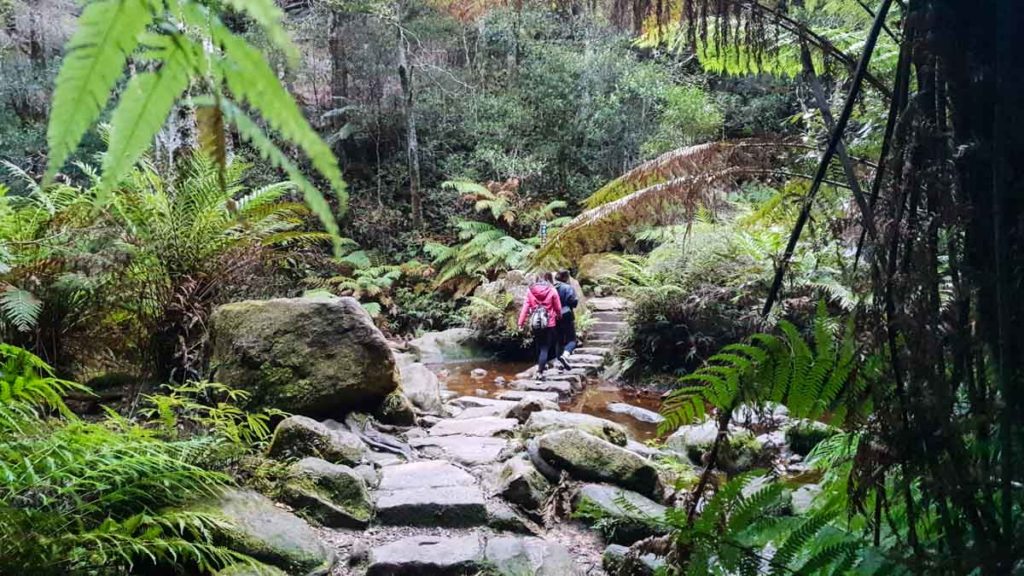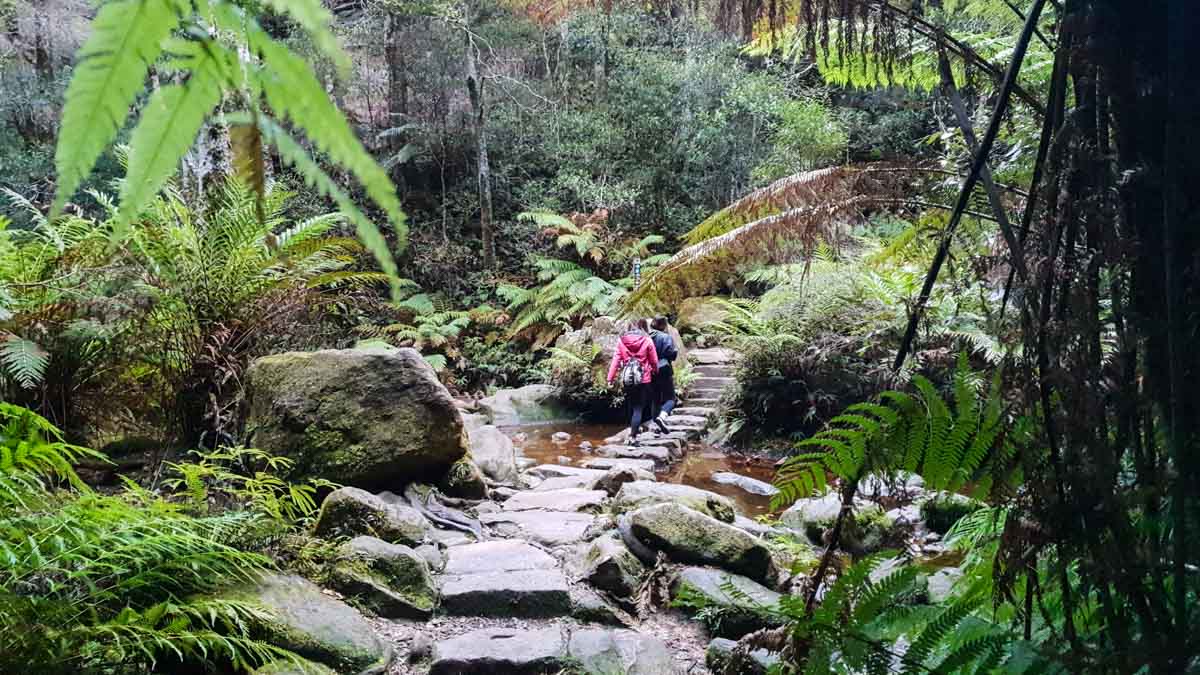 A lot of the hiking trails overlap, so you can easily shorten or extend your hike! Other trails worth checking out are the Grand Canyon Walk (6.3km loop, 3.5hrs) and the more challenging Wentworth Pass Loop Walking Track (5km, 3.5hrs).
Read also: 3D2N Blue Mountains Itinerary: The Perfect Getaway Just 90-Minutes From Sydney
Abseiling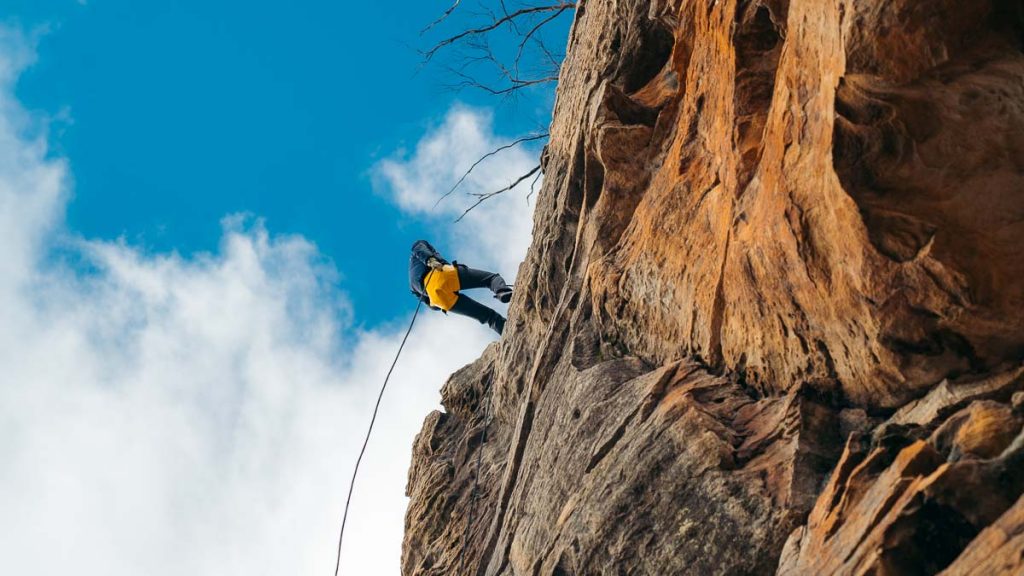 Besides hiking, the Blue Mountains is a haven for outdoor sports like canyoneering, rock climbing and abseiling! We went on a half-day abseiling tour with High and Wild Adventures which starts with a five-metre abseil as practice.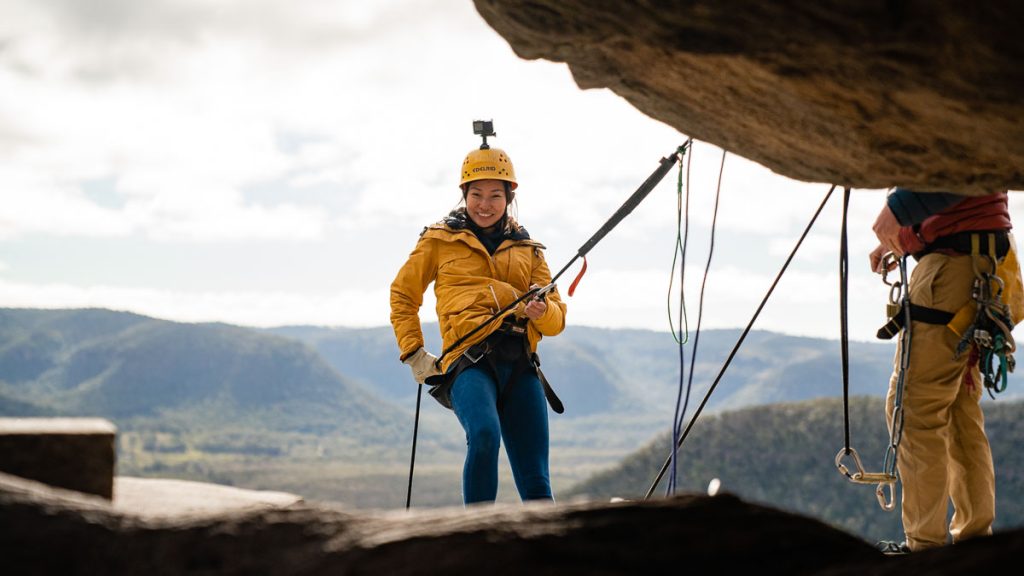 After gaining some confidence, we then progressed to 15m and 30m abseiling routes. While you're hanging on the edge of the wall, take a peek behind you for grand views of the valley.
Cost: AU$90 (~S$85.49) for a 3.5hr tour
Tour timings: 8:30AM/8:45AM — Check the date for exact timings
Address: 207 Katoomba St (Inside the YHA) Katoomba, NSW 2780
Stargazing Tour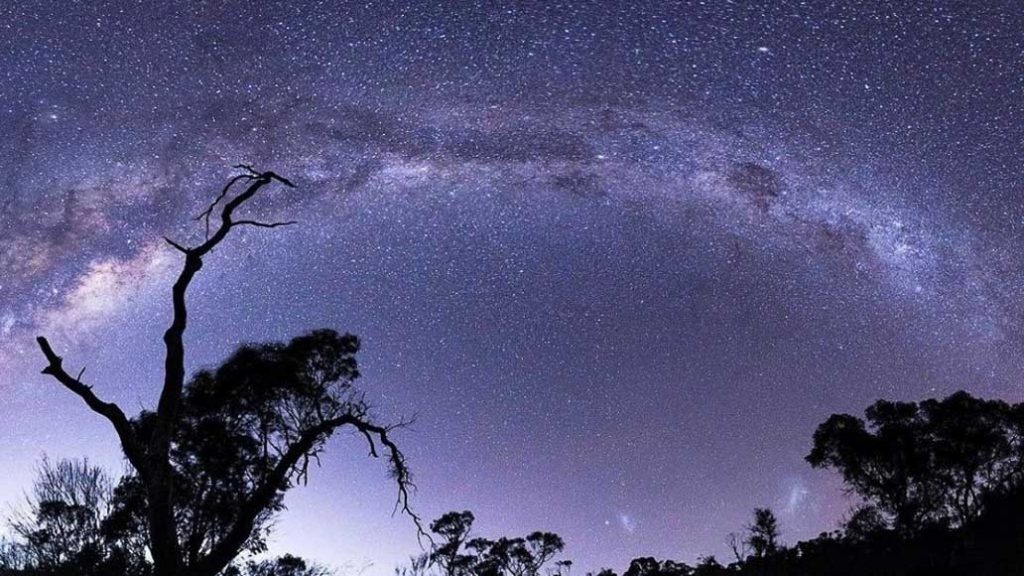 Photo credit: @pierreshootsphotos via Instagram
Experience the Blue Mountains in a new light (or total darkness) by going on a stargazing tour! This tour is led by an astrophysicist, who'll share how to identify constellations like Orion's Belt.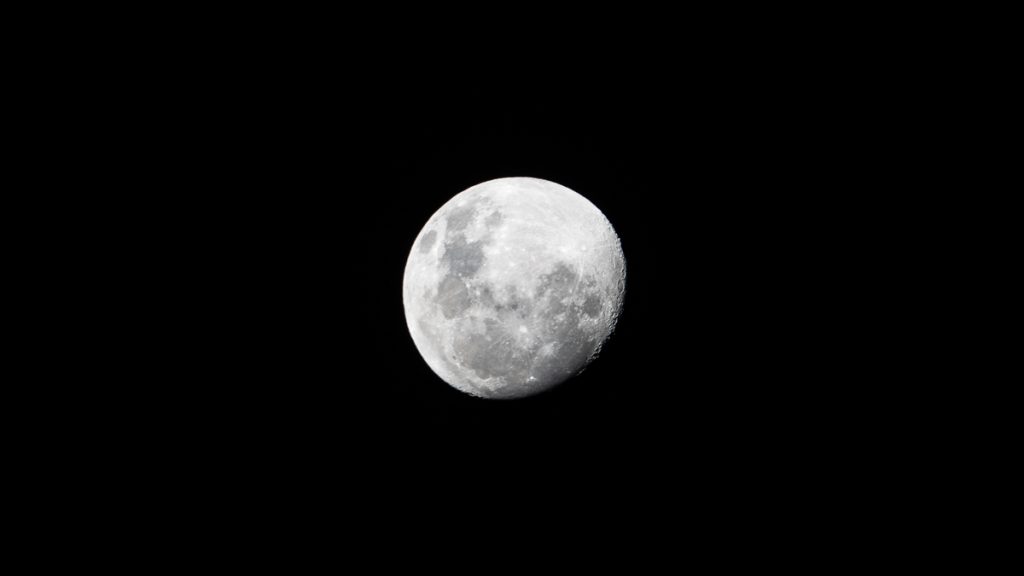 They even bring along a professional-grade telescope — I could see the crevices of the moon clearly. During colder winter months, hot chocolate and warm blankets are provided.
Cost: AU$85/adult (~S$80.74), AU$55/child (~S$52.24, aged 4 – 15)
Tour timings: After sunset — Check the schedule for exact timings
Address: Wentworth Falls Picnic Area, Wentworth Falls Lookout, Sir H Burrell Drive
Where to stay in the Blue Mountains (1 night)
Hotel: Blue Mountains Heritage Motel (from ~S$110/night) is a 1min walk to the meeting point for abseiling. Alternatively, the Fairmont Resort (from ~S$305/night) is walking distance from the hiking trails.
Hostel: Blue Mountains YHA (from ~S$23/night) is beside the abseiling office.
Airbnb: Leura cottage for 3pax (from ~S$136/night)
Drive to South Coast: ~2hr
Day 11-12: South Coast and Southern Highlands
The last stop on our New South Wales itinerary is the stunning South Coast and Southern Highlands — home to the Sea Cliff Bridge, Jervis Bay and more!
Grand Pacific Drive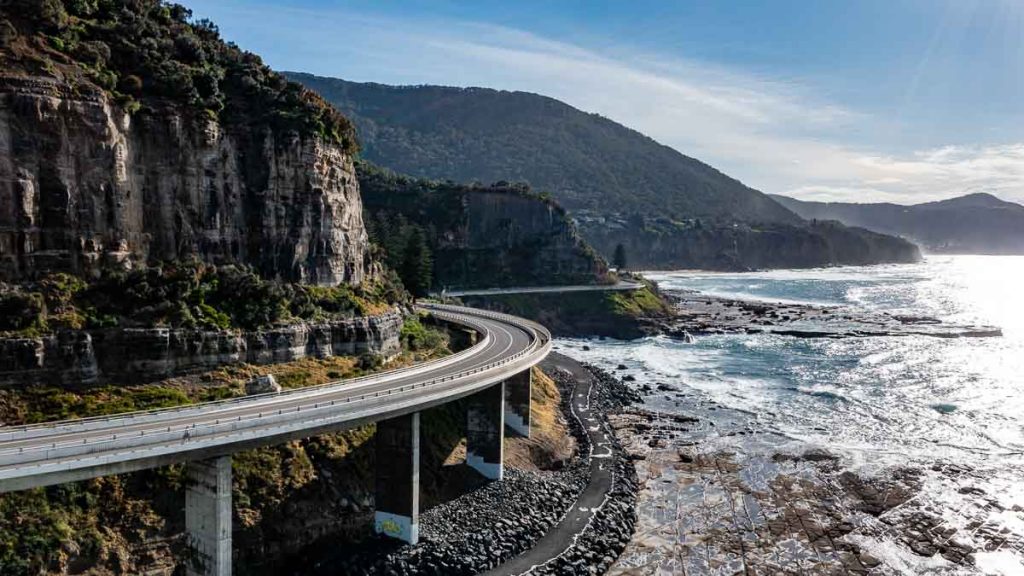 We've driven along the Grand Pacific Drive during our last trip to New South Wales so this time we wanted a more unique experience — by going on a motorcycle tour with Just Cruisin.
The hour-long ride goes through the Royal National Park, Sublime Point, Bulli Pass, Stanwell Park, and the famous Sea Cliff Bridge. We sat on a rare BOOM trike; there are only 200 of these bikes in Australia!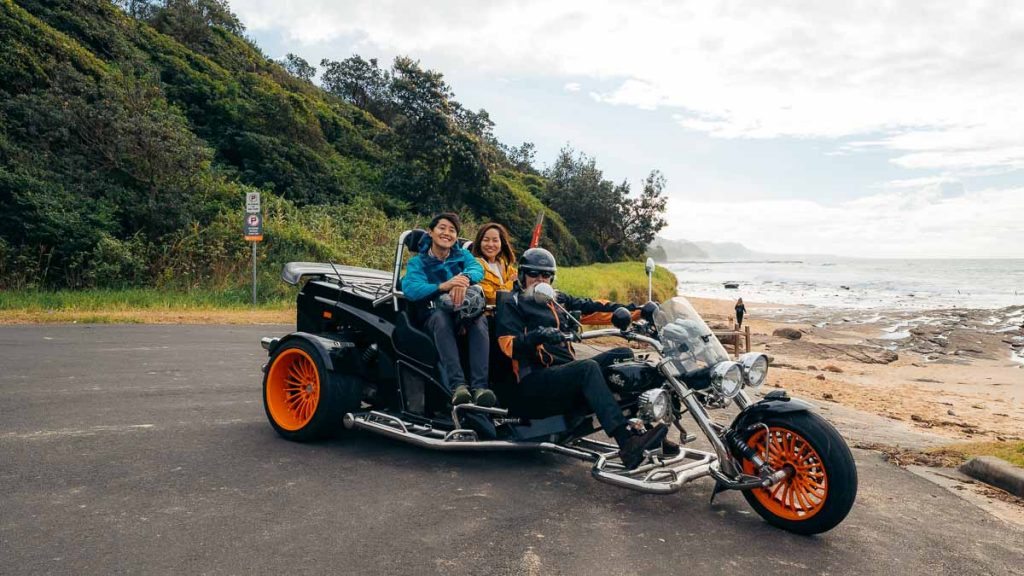 Our guide Steve is a total badass. He has an impressive collection of motorbikes and has over 50 years of riding experience. Unrelated but he's also done over 700 skydives — which only solidifies his badass status.
Cost: AU$110/pax (~S$105) for a 1hr tour
Tour timings: 8AM – 4PM (Hourly slots)
Meeting point: Bald Hill (Stanwell Tops NSW 2508, Australia)
Symbio Wildlife Park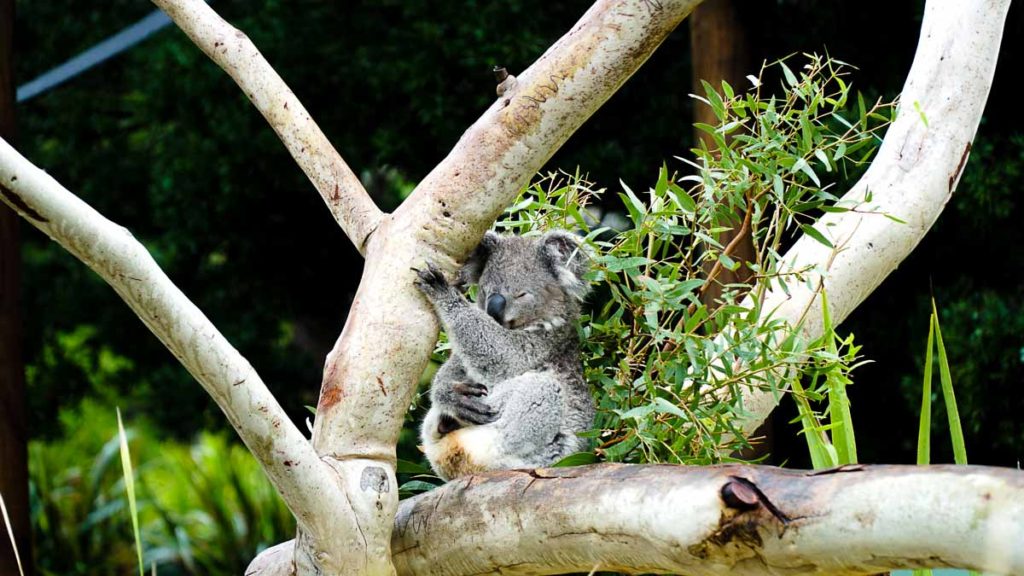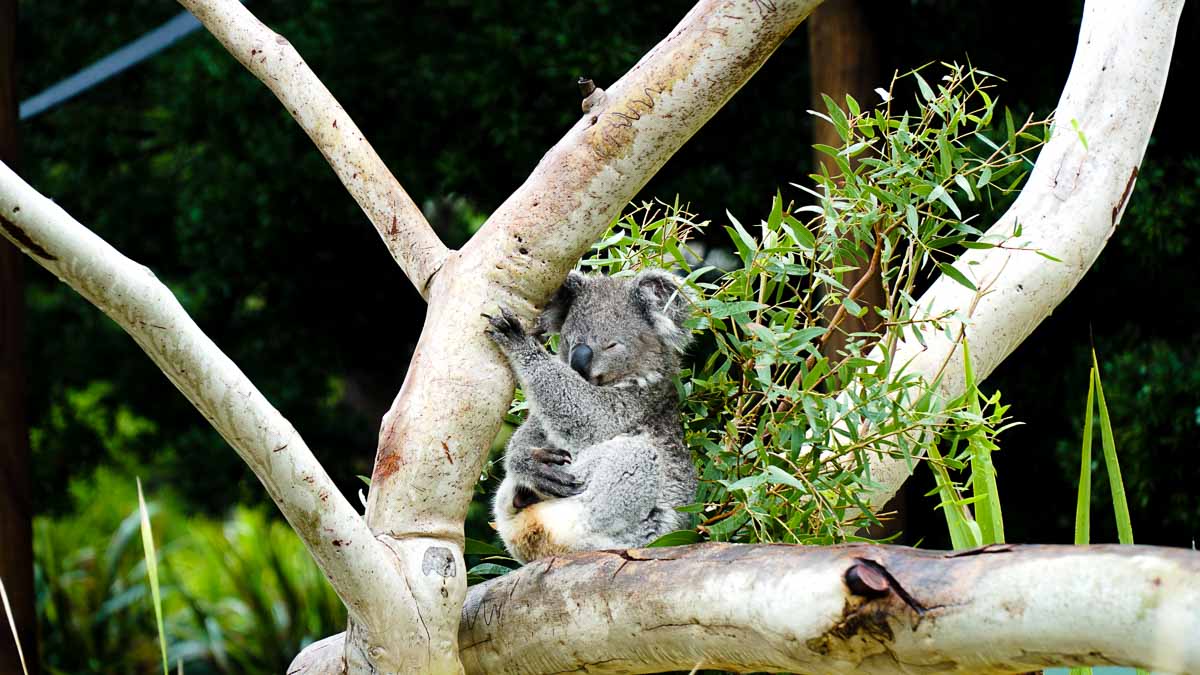 Australia is known for unique wildlife, so we squeezed in a trip to Symbio Wildlife Park! This zoo is family owned and operated — home to Aussie natives like koalas, kangaroos plus other animals like cheetahs and red pandas.
It's here you can get up close and personal with the animals, with experiences like kangaroo feeding and selfies with koalas.
Entrance fee: AU$39 (~S$37.32)
Opening hours: 9:30AM – 5PM
Address: 7-11 Lawrence Hargrave Dr, Helensburgh NSW 2508, Australia
Bonus: Skydive at Wollongong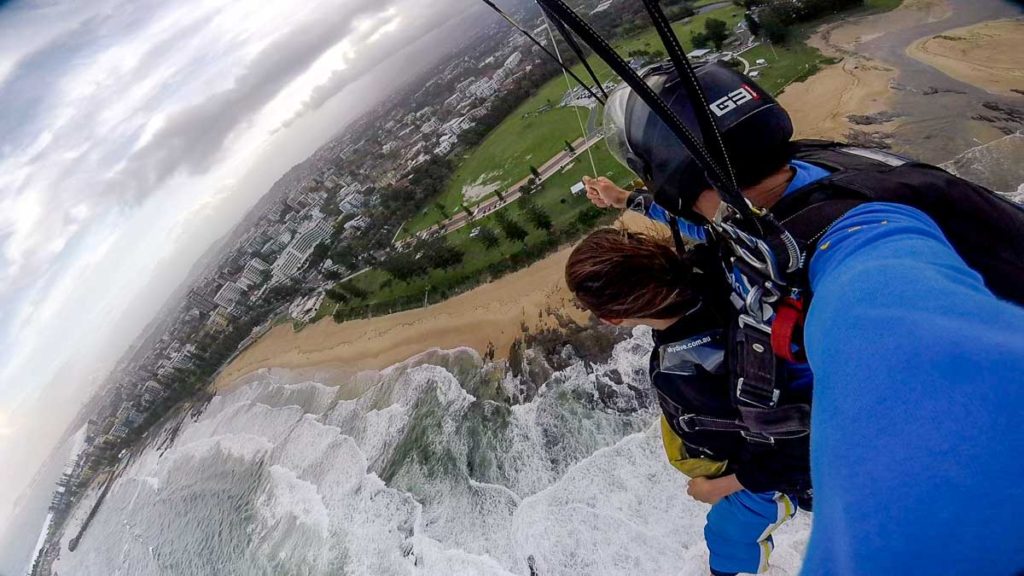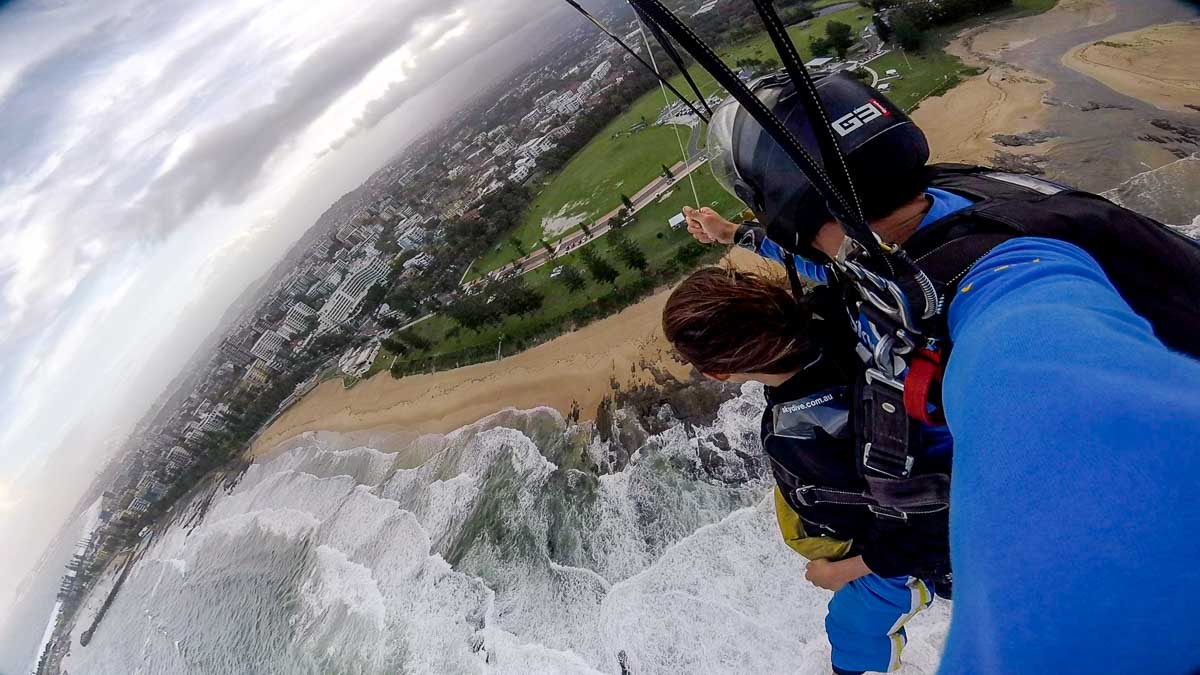 Hoping to tick skydiving off your bucket list? Wollongong has a drop site with views of Sydney's stunning south coast.
Take a scenic plane ride up to 15,000ft before taking a leap of faith (with your tandem instructor) — you'll free fall for around 60 seconds before the parachute gets deployed. Then it's up to seven minutes of insane views.
Cost: AU$389 (~S$379) for a tandem skydive, minimum age 16 years old
Timings: Hourly slots from 7AM – 12PM
Address: Skydive Sydney-Wollongong, Stuart Park, George Hanley Dr, Wollongong,
NSW 2500
Illawarra Fly Treetop Adventure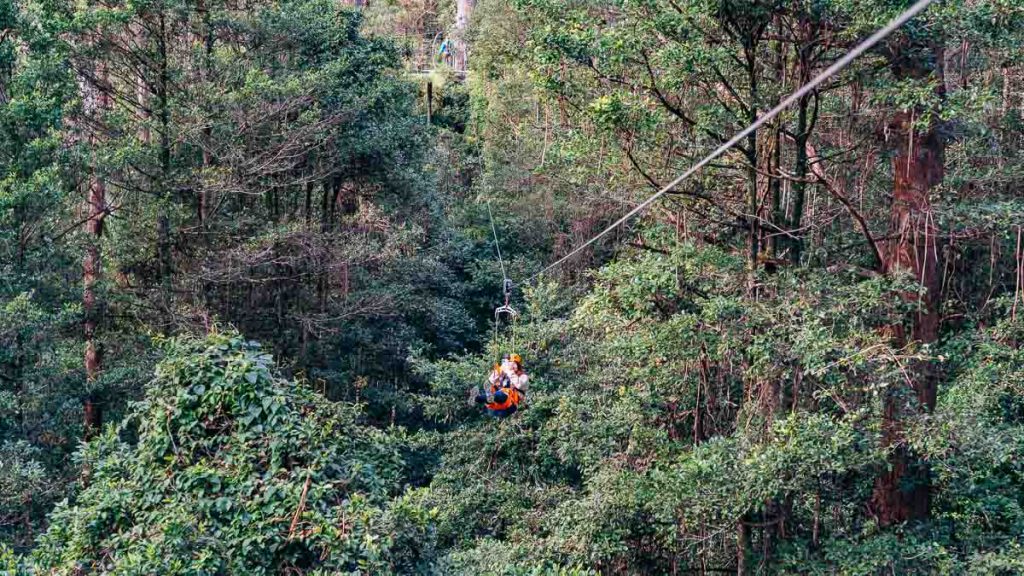 Illawarra Fly Adventure Treetop is Australia's highest zipline. The Zipline Tour is inspired by the movement of a sugar glider (a gliding possum) and includes three ziplines — with the longest one reaching 106m!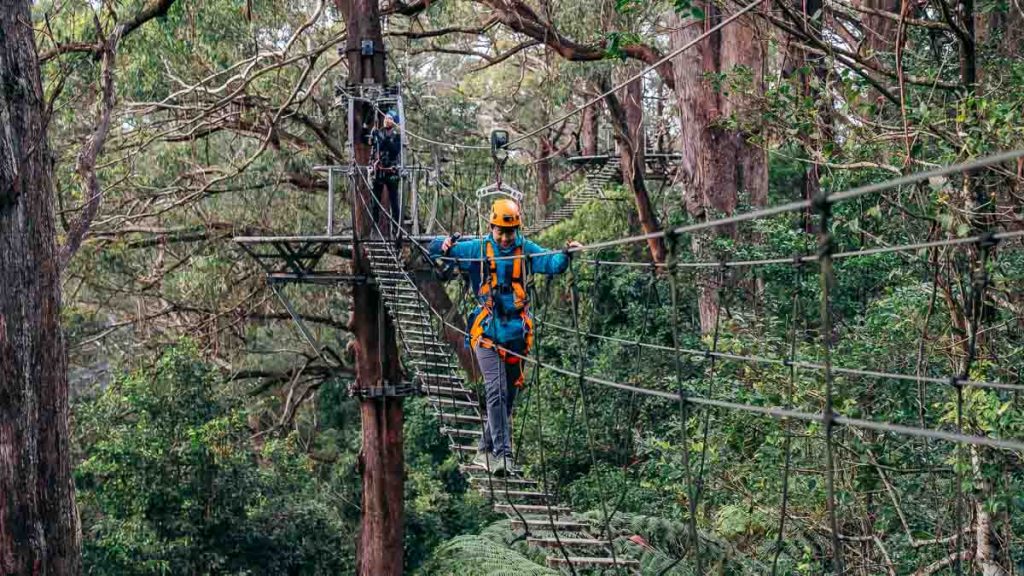 The entire course is actually quite beautiful, blending in with the forest seamlessly. I love how the Cloud Stations are very minimalistic and don't look out of place.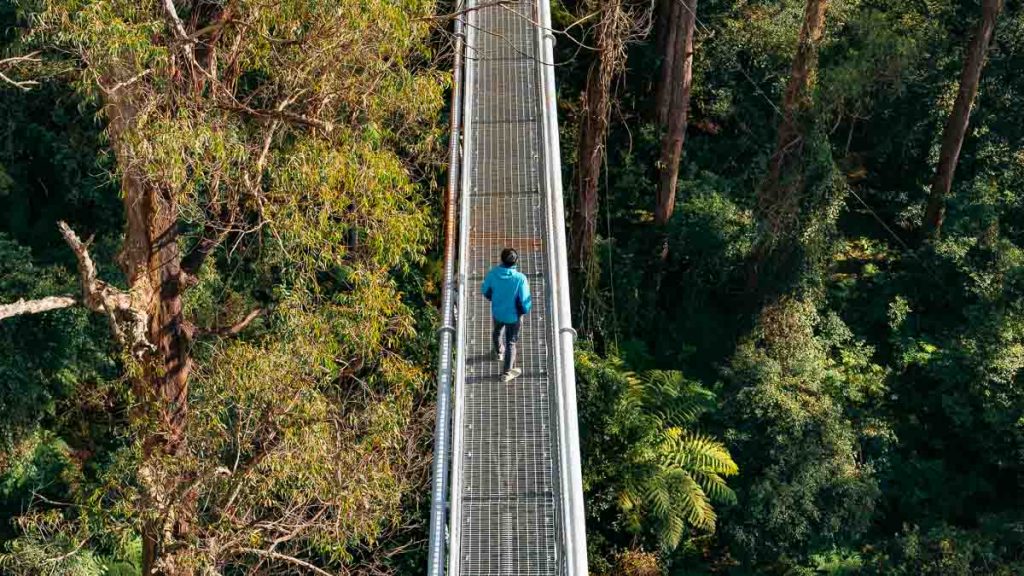 The zipline tour includes entry to the Treetop Walk, a 1.5km walkway 20 to 30 metres above ground. The highlight of the walk is the Knights Tower, a 45-metre high viewing platform that overlooks the surrounding forest. Free audio tours are available at the visitor centre.
Cost: AU$67.50 (~S$64.82) for a 1.5hr tour (incl. entry to Treetop Walk)
Opening hours: 10AM – 5PM
Address: 182 Knights Hill Rd, Knights Hill NSW 2577, Australia
Fitzroy Falls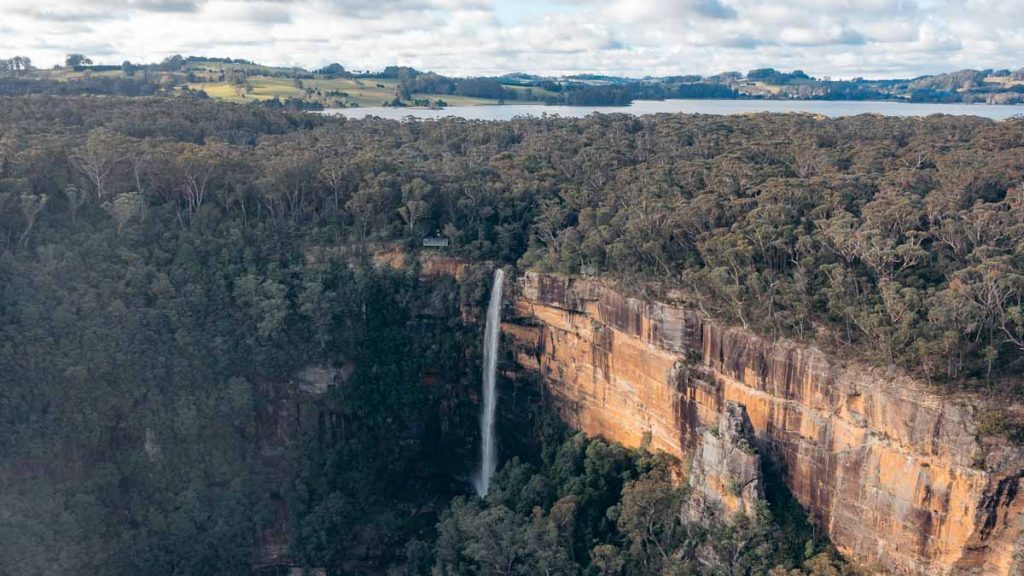 Fitzroy Falls is an 81-metre waterfall — the highlight of Morton National Park. The Fitzroy Falls lookout is a short 150m walk from the carpark and is located at the top of the falls, giving panoramic views of the national park.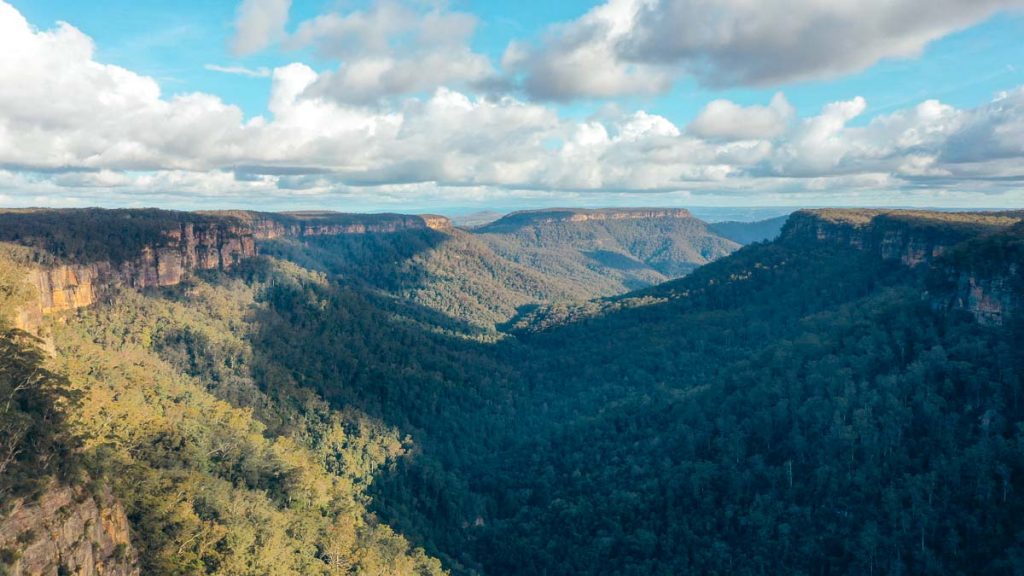 There are two hikes around Fitzroy Falls — the West Rim Track (3.6km, 1.5hrs total) and the East Rim Track (6.7km, 2.5hrs total). The former is the more scenic of the two, though it was closed while we were there.
Entrance fee: Free
Opening hours: 24 hours
Address: 1301 Nowra Road, Fitzroy Falls, NSW, 2577
The Hungry Monkey Berry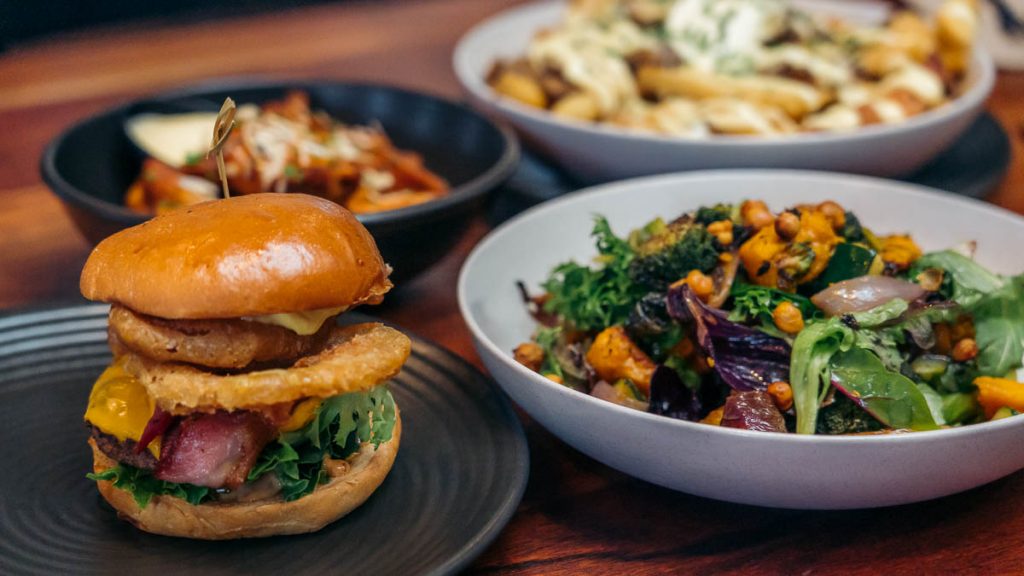 The Hungry Monkey Berry is a nice cafe with an open, minimalistic interior. The food here is hearty and generously portioned — we ordered the bad boy burger (~S$16.26), buffalo wings (~S$13.39), roast vegetable salad (~S$19.14) and the OG loaded fries (~S$15.31).
Cost: ~S$18 for a main
Opening hours: 6:30AM – 8PM (Wed – Sat), 6:30AM – 3PM (Mon – Tue)
Address: 23 Prince Alfred St, Berry NSW 2535, Australia
If you've got more time to spare, drive further south to Jervis Bay. It's a popular spot for dolphin and whale watching, as well as activities like snorkelling!
After heading south, head back north towards Sydney — there's plenty more exciting experiences along the way:
Jim Wild's Oysters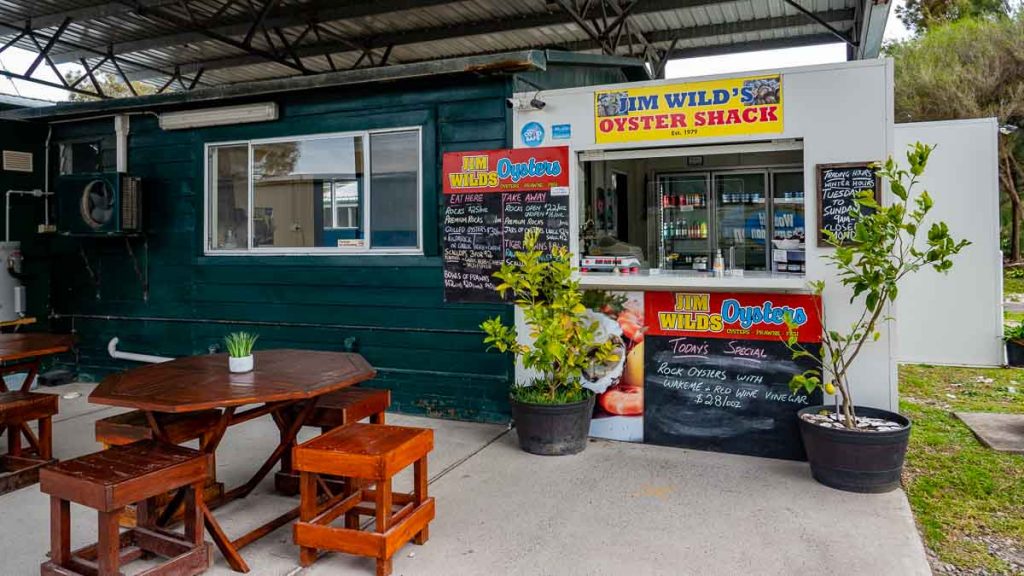 Jim Wild's Oysters is a rustic family-run oyster farm, established in 1979. They sell two types of oysters: Pacific oysters and Sydney rock oysters. The owner's daughter, Sally (Australia's Oyster Shucking Champion in 2022!) taught us how to open fresh oysters.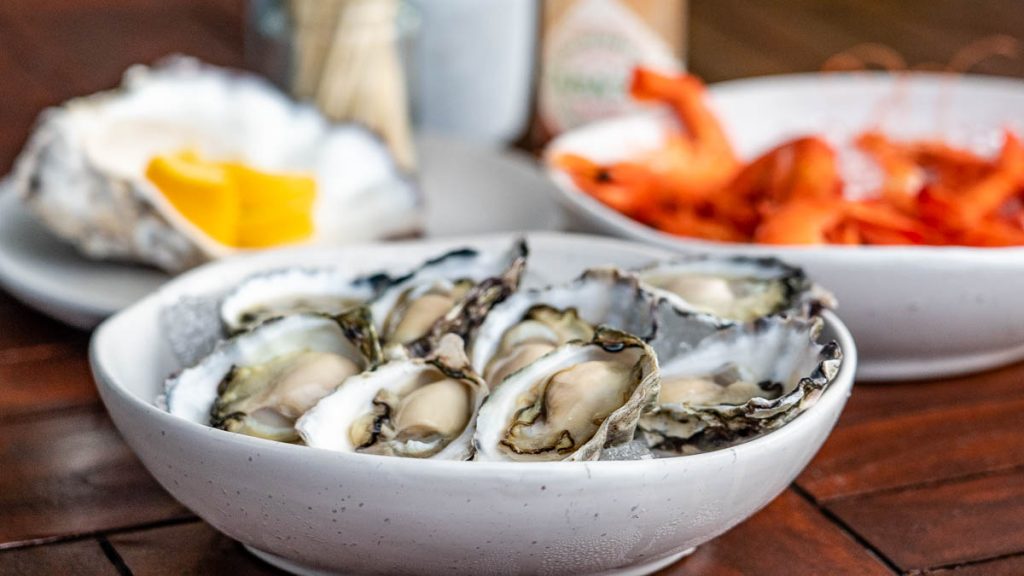 Visitors can order takeaway, or dine in at the oyster shack. We had Sydney rock oysters (AU$25/dozen), grilled oysters (AU$30/dozen), garlic and cheese scallops (AU$12 for three) and prawns (AU$12/250g).
Everything was incredibly fresh and we kept ordering more — I might have overdosed on oysters but hey, I'd do it again.
Cost: AU$25/dozen (~S$24)
Opening hours: 9AM – 3PM (Tue – Sun), Closed on Mon
Address: Lot 2/170 Greens Rd, Greenwell Point NSW 2540, Australia
Berry Donut Van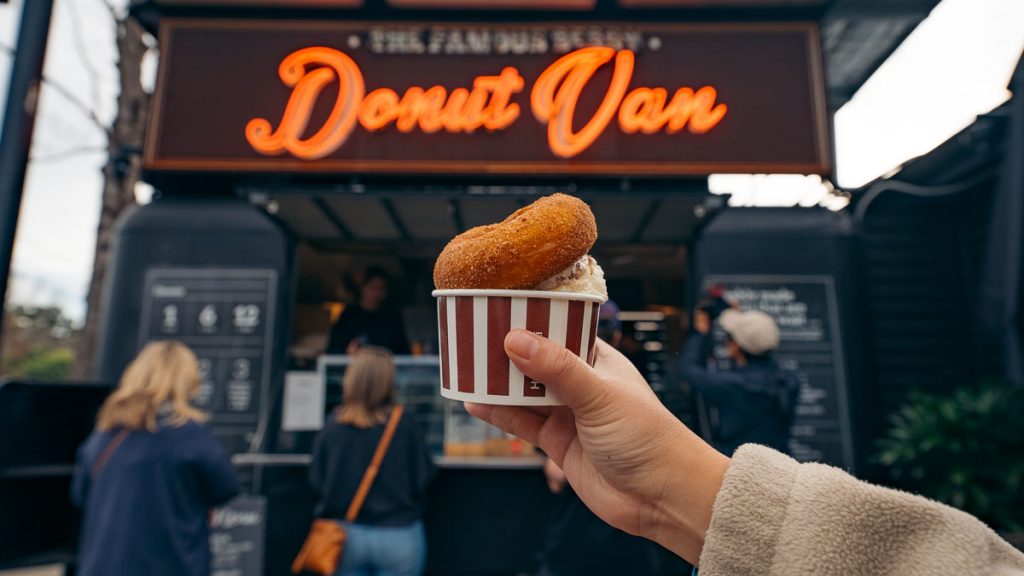 The Berry Donut Van is the perfect road trip snack break. You can get one of their freshly made cinnamon donuts (~S$2.10), but we went straight for the Donut and Cream special — a fluffy donut on top of a mountain of rich vanilla ice cream. 🤤
Cost: AU$7 (~S$6.70) for the Donut and Cream combo
Opening hours: 8:30AM– 4:45PM
Address: Lot 2/170 Greens Rd, Greenwell Point NSW 2540, Australia
Lunch at General Store Berrima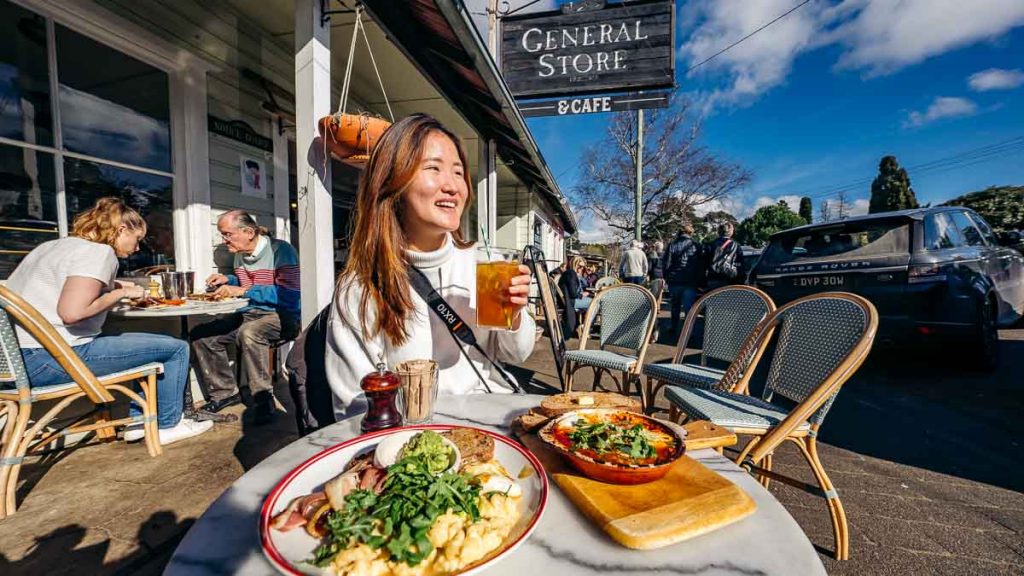 We had lunch at General Store Cafe in a small town called Berrima in order to break up our long drive. They sell excellent brunch — like shakshouka baked eggs (~S$21.05), chilli scramble eggs (~S$22), and assorted cakes and pastries!
Cost: ~S$21 for a main
Opening hours: 7:30AM – 4PM
Address: 1/13 Old Hume Hwy, Berrima NSW 2577, Australia
Lolly Swagman in Berrima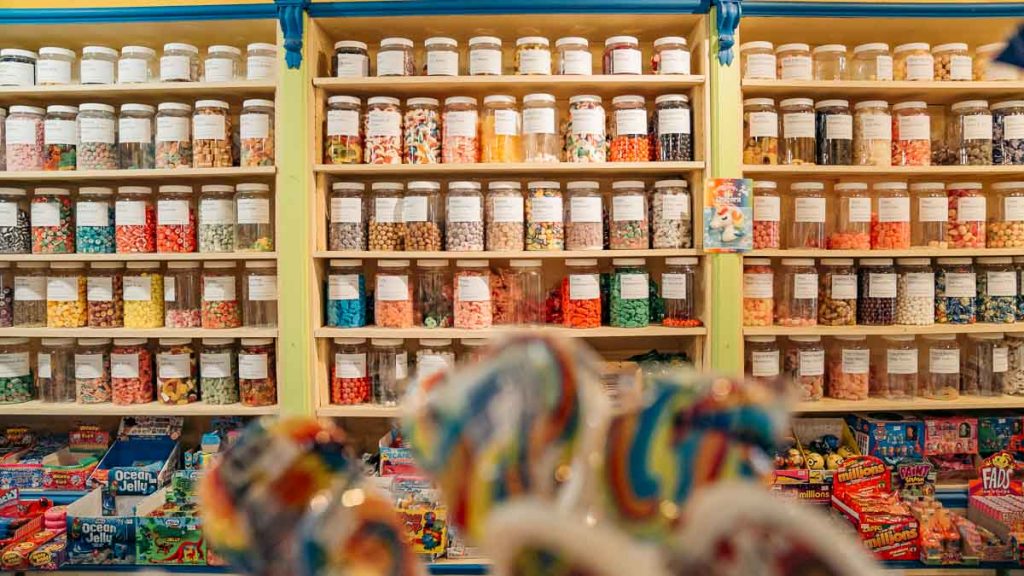 Walking into Lolly Swagman felt like I was stepping into a candy store trapped in time. This store has every candy you can imagine from all over the world — Swedish Fish, Wonka Bars, Stroopwaffles, the works.
We were also pleasantly surprised to learn that one of the owners is Singaporean!
Opening hours: 9:30AM – 4PM (Mon – Fri), 9:30AM – 5PM (Sat – Sun)
Address: 116 Old Hume Highway Berrima, NSW 257
Planning to stay overnight in Berrima? Check out the accommodation at Bendooley Estate for a rustic countryside getaway! There's also a gorgeous Book Barn, wine cellar and restaurant on the grounds.
Where to stay in the South Coast (2 nights)
Hotel: Sage Hotel Wollongong (from ~S$198/night) or Boat Harbour Motel (from ~S$149/night)
Airbnb: Wollongong apartment (from ~S$139/night)
Drive to Sydney: ~1hr 10min
Day 13: Sydney and Flight Home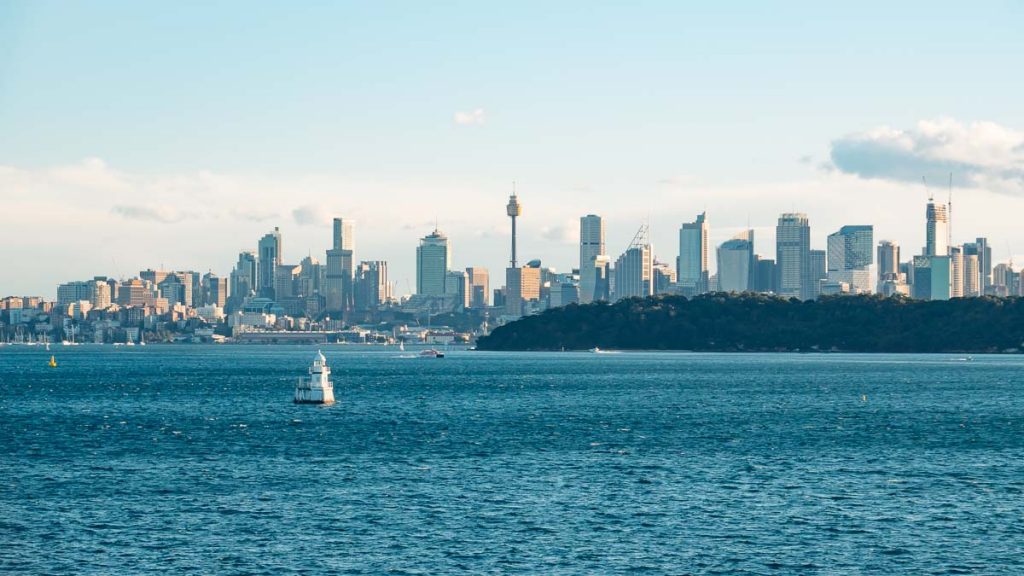 Spend your last day exploring parts of Sydney you didn't get to cover, before heading to Sydney Airport for the flight home.
An Epic New South Wales Vacation, Just 8 Hours Away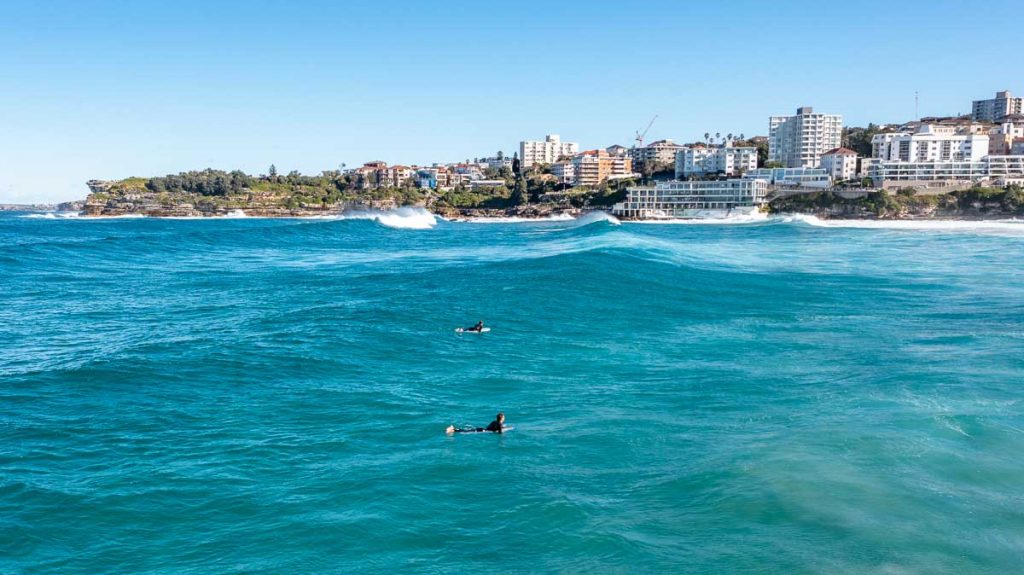 After a month exploring Sydney and the rest of New South Wales, I'm glad to say that it now holds many fond, vivid memories. Here's what we spent during our 13-day road trip!
Budget Breakdown
Accommodation: S$762.29
Transport: S$177.11 (does not incl. flights)
Activities: S$750.07 (does not incl. skydiving)
Food & Misc: S$547.08
Total: S$2,236.56
Detailed breakdown for one pax here (prices are current at the time of writing). Flights aren't included as prices fluctuate.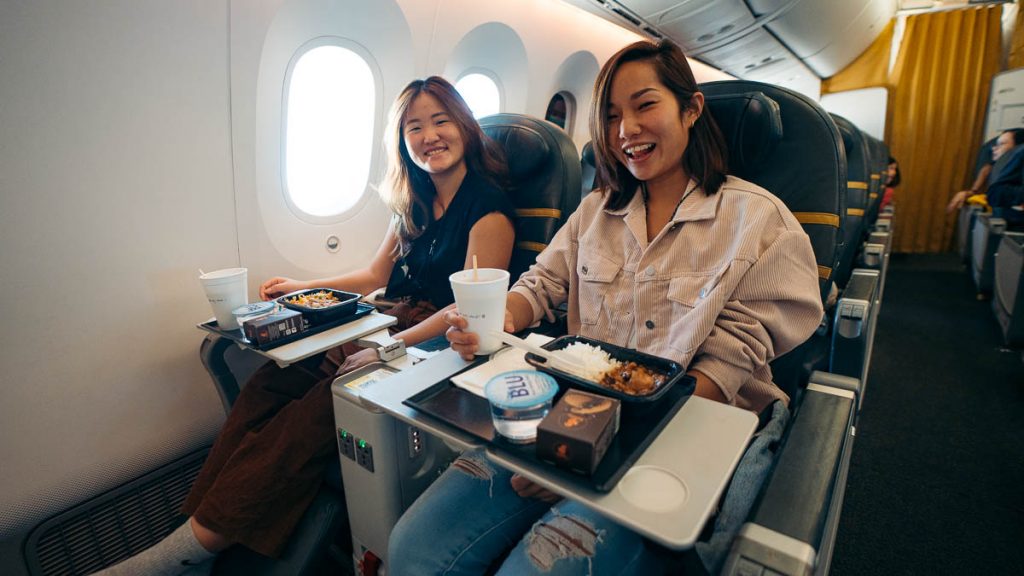 We got to fly Scoot Plus which includes larger seats with double legroom, two pieces of cabin baggage, up to 30kg of check-in, priority check-in and a wider selection of meals and drinks.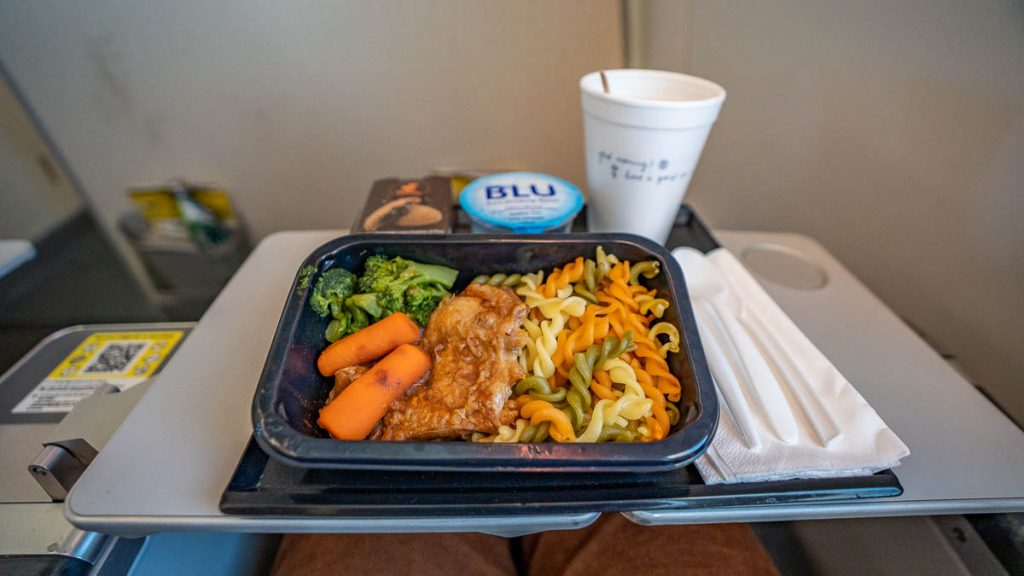 Fun fact: Scoot's very first flight 10 years ago was to Sydney International Airport.
Scoot was named the World's Best Long Haul Low-Cost Airline last year at the Skytrax World Airline Awards 2021!
They also pride themselves on having a youthful, friendly crew. Our coffee cups had adorable handwritten messages on them — a first for me on a flight, and definitely put a smile on my face.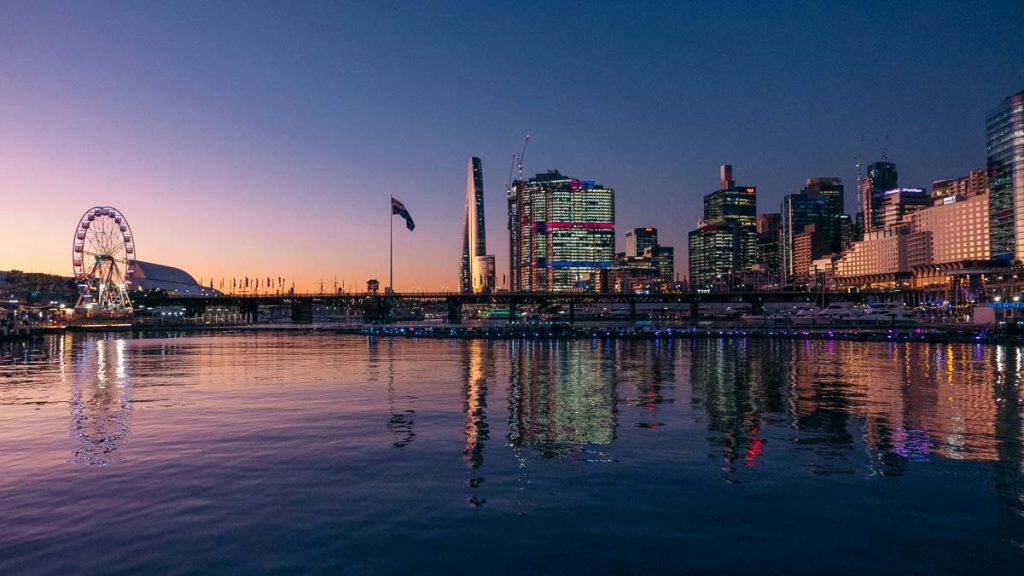 A two-week trip exploring Sydney and New South Wales is actually quite good value for money. Flights aren't crazy expensive, and activities are pretty affordable.
I've only just left, but I'm already eagerly looking forward to the next time I return.
Is there anything you'd add to this New South Wales itinerary? Share with us in the comments!
---
This post was brought to you by Destination New South Wales and Scoot.