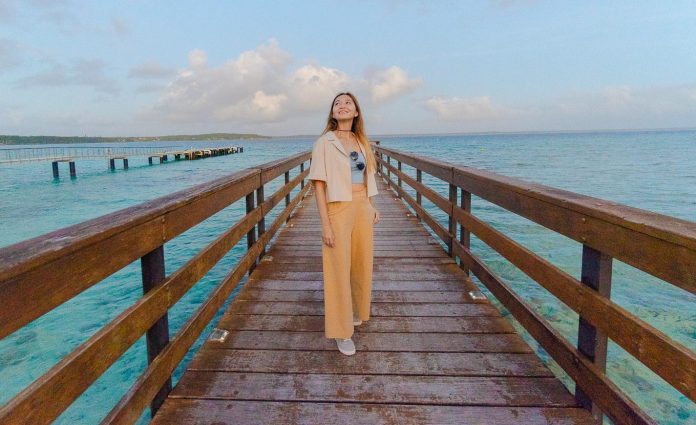 Our bucket list just got longer.
Starting from 1 July 2022, Aircalin will be flying direct between New Caledonia's Noumea and Singapore twice a week (every Friday and Sunday), and takes about eight and a half hours.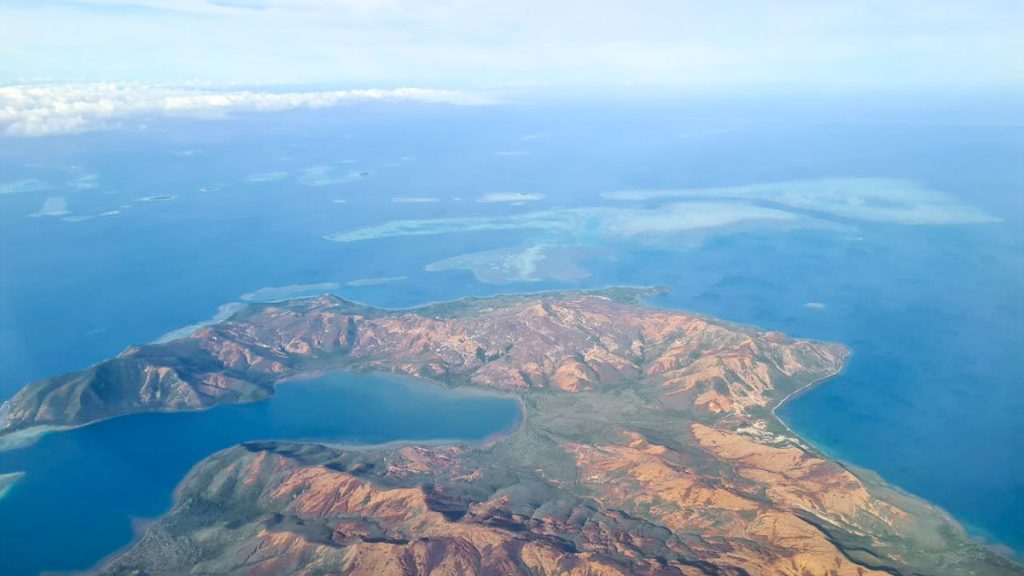 Fun fact: The aircraft is the first Airbus A330neo to be used in Southeast Asia for non-stop flights!
But, where is New Caledonia?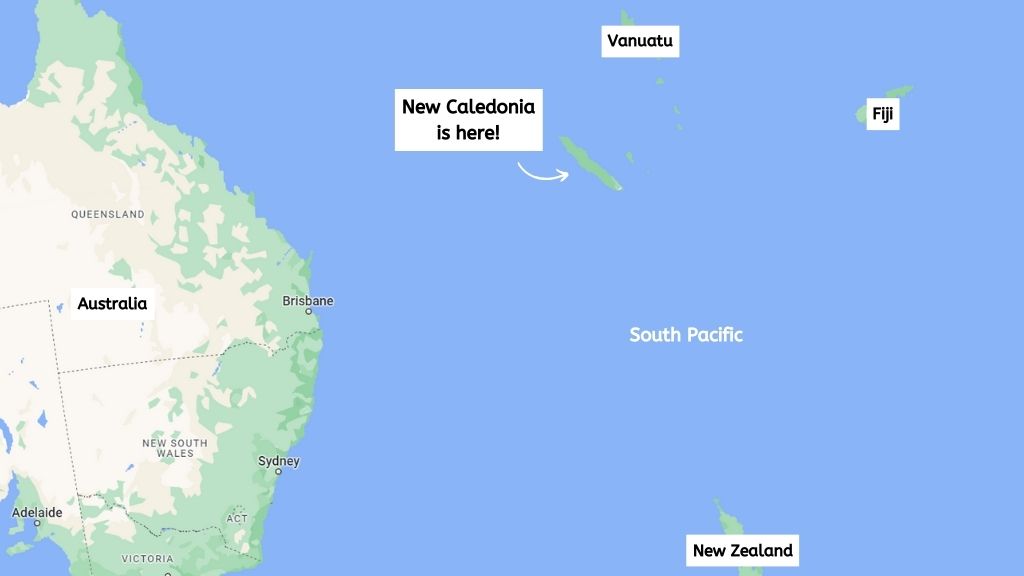 New Caledonia is a French territory made up of several islands in the South Pacific. It is in close proximity to countries such as Australia, New Zealand, Fiji, and Vanuatu.
The main island, known as Grand Terre, is divided into four regions:
– Noumea (the capital)
– the West Coast (vast spaces for cattle farming)
– the East Coast (plenty of flora and fauna)
– Great South (cultural and heritage sites)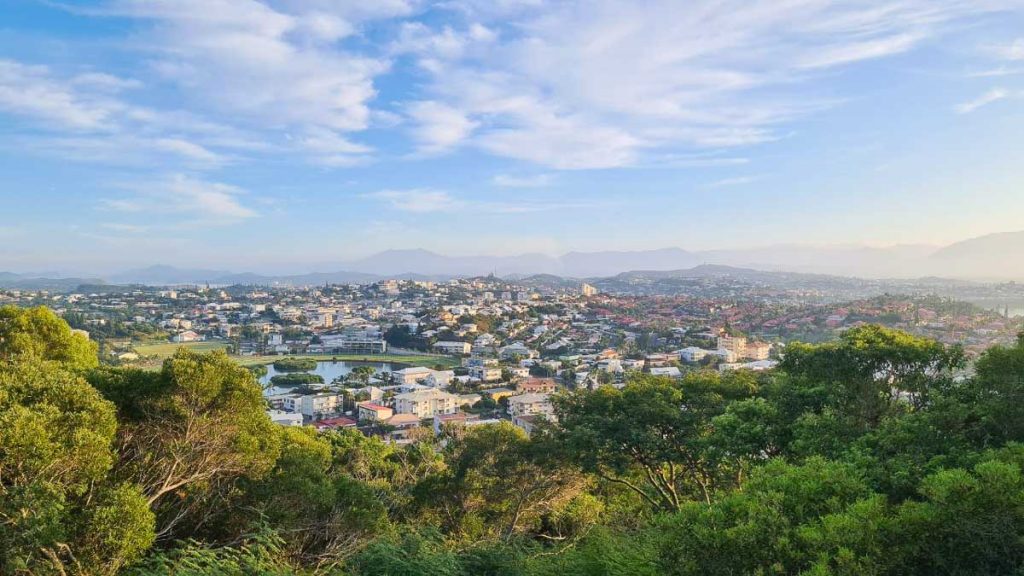 With a population of about 270,000 inhabitants, New Caledonia is made up of various ethnic groups such as the Kanak, French, Javanese, Japanese, and Vietnamese. While most people here speak French, they speak English too!
Never heard of New Caledonia? Me too 🙈
But thanks to work perks, I've been lucky to be on the first few flights there.
Flights aren't the cheapest but after having been there, I can tell you, it's worth every penny 😉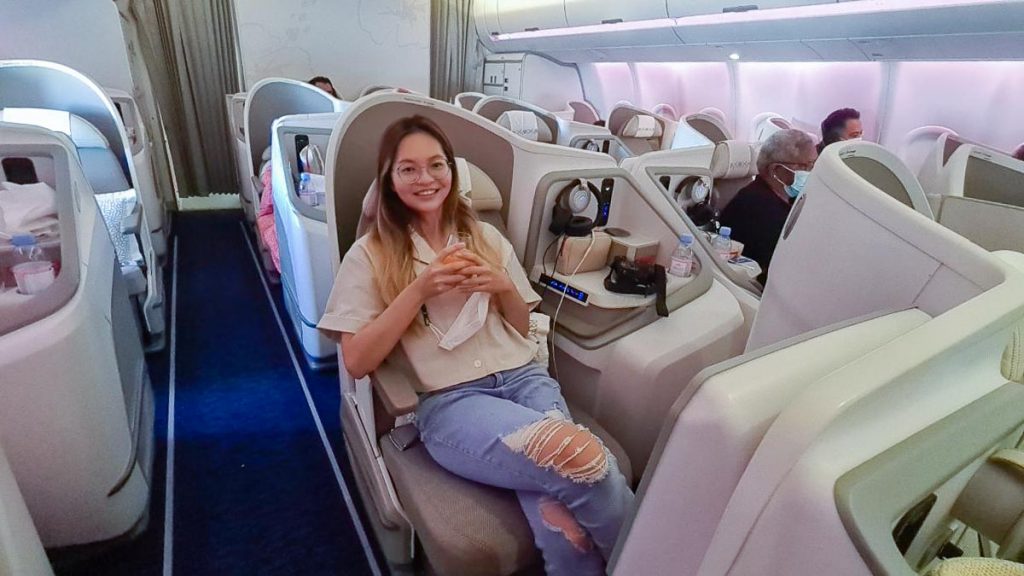 Business class on Aircalin 😎
Not convinced? Here's a glimpse of what you can experience in New Caledonia!
1) Island-hop over to 5 Different Islands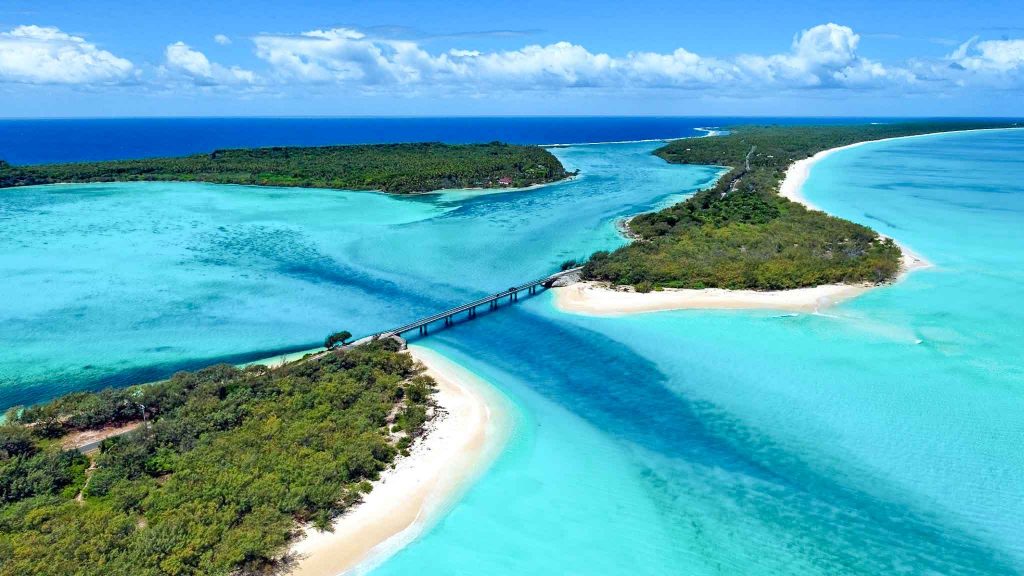 Photo credit: New Caledonia via Facebook
The main island is surrounded by five smaller islands: the Isle of Pines and the Loyalty Islands — which are Lifou, Ouvea, Tiga, and Mare. All less than an hour's flight from Noumea.
Lifou is the largest of the islands with beautiful beaches such as Tamanou beach and Luengoni beach.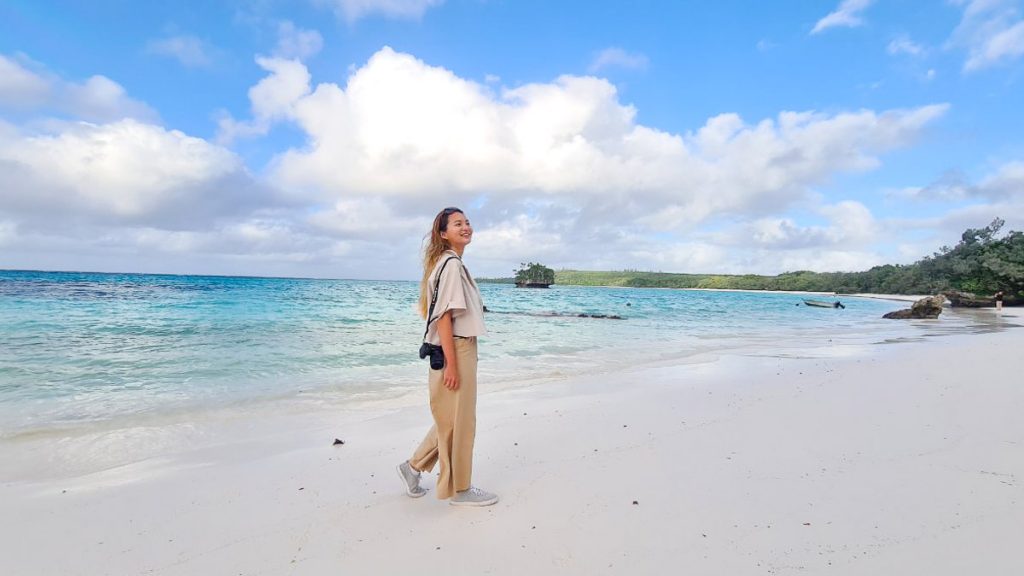 The Isle of Pines had pine trees lined up along the road and many scenic bays by the coast which was a real treat, so if you only have time for one island, I'd highly recommend this!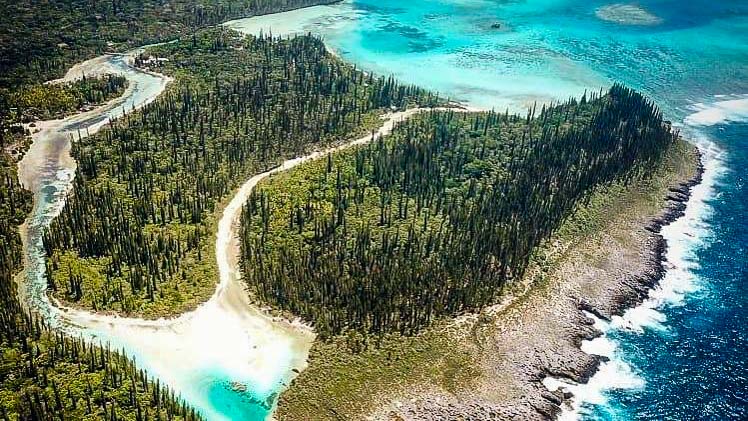 Photo credit: New Caledonia via Facebook
We even took a 1.5-hour outrigger boat tour along Upi Bay, and while I wasn't lucky enough to spot turtles, the waters were stunning!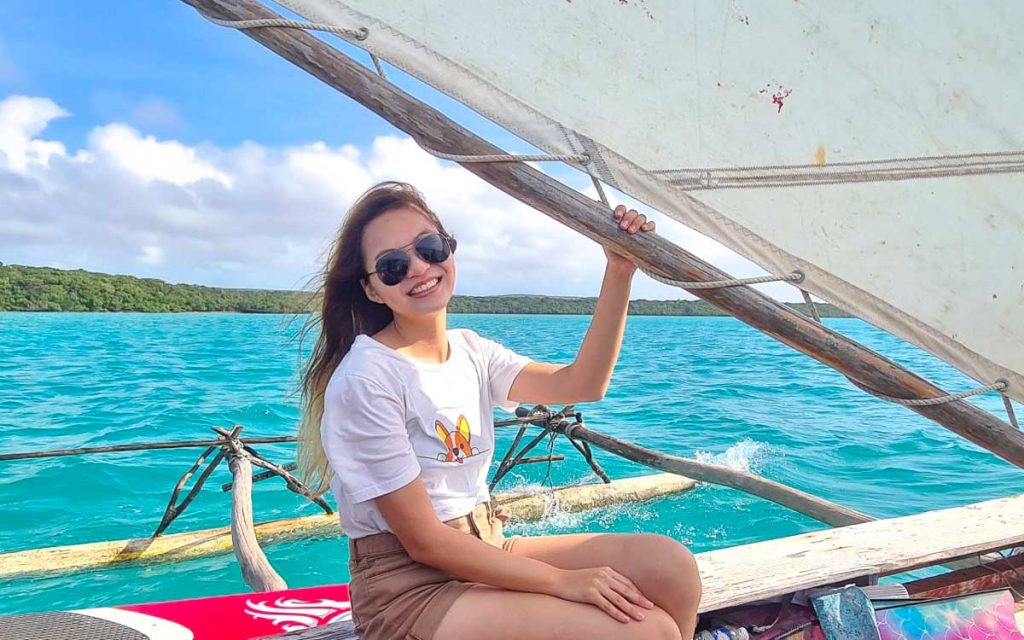 Each island has its own unique feature — from the Blue Hole of Hanawa on Ouvea to Warrior's Leap on Mare.
2) The World's Largest Lagoon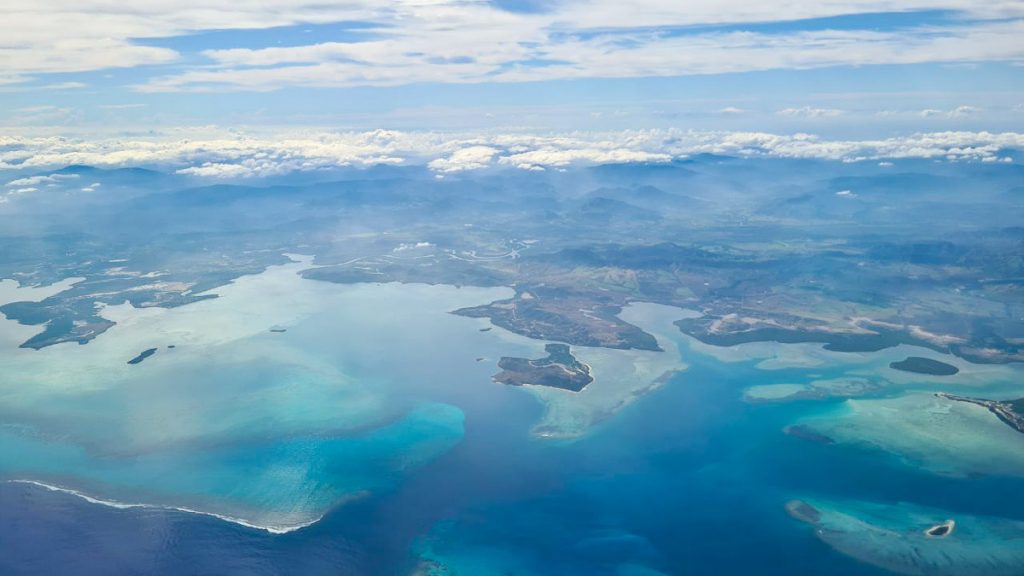 Yep, New Caledonia is home to the world's largest lagoon — 24,000km2 to be exact.
There are plenty of snorkelling spots around the country, one being Oro Bay's Natural Swimming Pool on the Isle of Pines.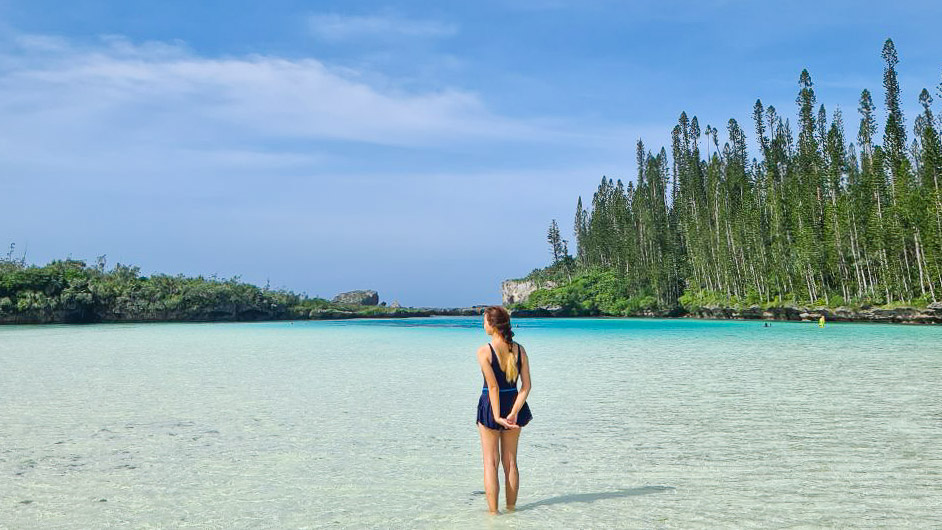 It's a 15-minute walk from Le Meridien Ile des Pins hotel and even though I'm not a great swimmer, I could still see multi-coloured fishes from near the sand bed 🐠.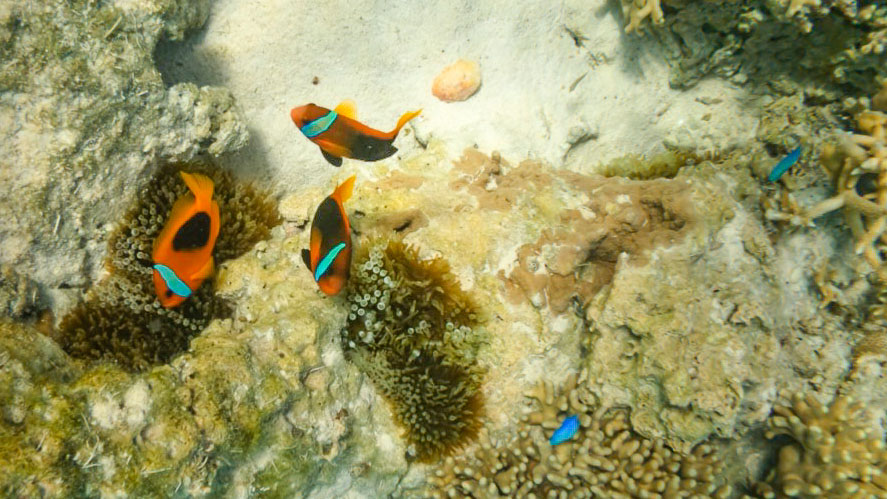 Photo credit: @amebeverly
While you're exploring the beautiful marine life, be careful not to step on the corals or disrupt the animals. We should still do our best to protect the ecosystem of this natural aquarium after all.
*Pro-tip: For warmer waters, snorkel between October to April.
Le Meridien Ile des Pins
Address: Baie D'Oro Bp 175 Ile Des Pins, 98832, New Caledonia
3) Explore a Huge Natural "Playground"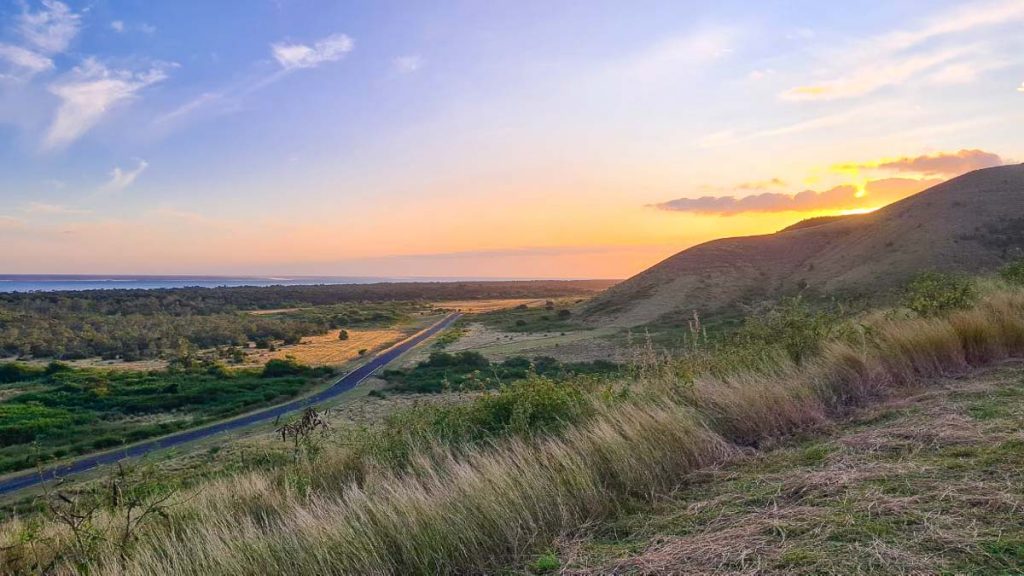 Domaine de Deva is a private estate consisting of a large protected natural area in the South Province.
With 18,500 acres of land, it encompasses the largest dry forest in the province — home to various fauna and flora species that thrive in a dry climate.
Not to mention, the estate also includes the seagrass beds along Poe beach and part of the West Coastal Area such as the reefs of Gouaro-Deva.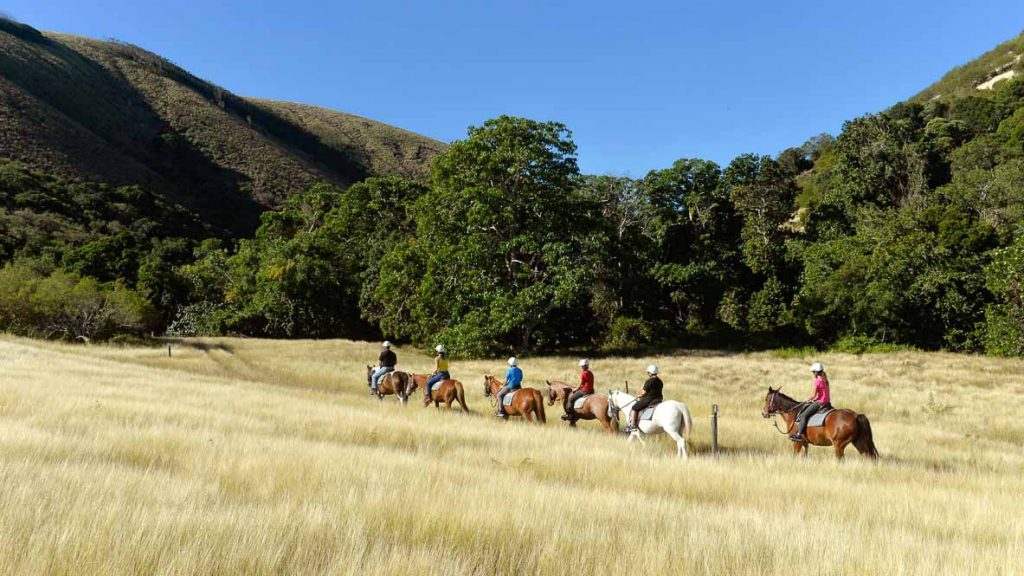 Photo credit: Domaine de Deva
Explore the area on a horseback ride, a bike or just hike and take in the panorama views of the lagoon and rocky hills. Drop by the ornithological observatory for birdwatching too!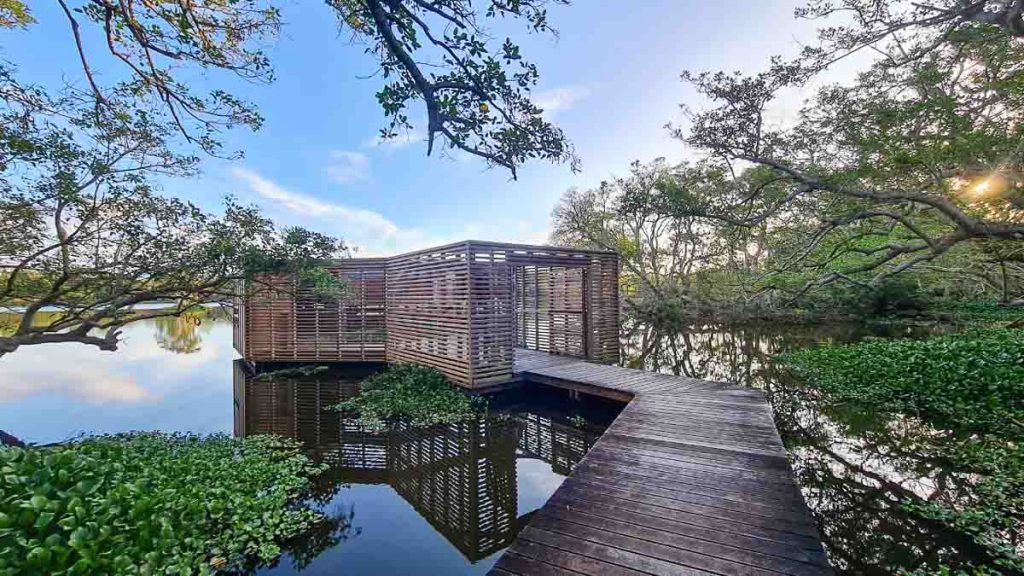 Fun fact: There are more than 38 bird species found here like cormorants and egrets!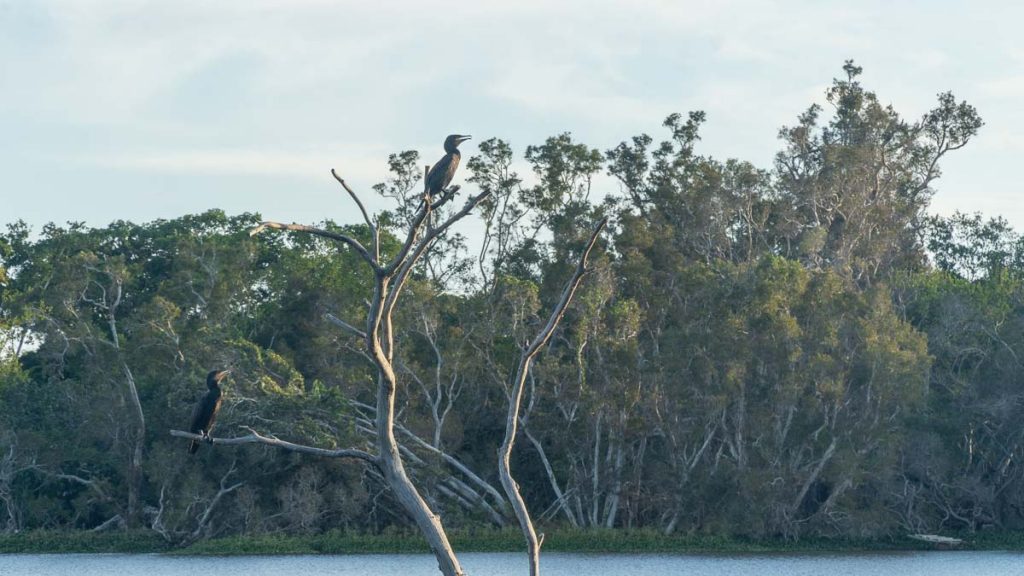 Other than that, tackle an 18-hole golf course at Exclusive Golf Deva or stay at a comfy private bungalow at the five-star Sheraton Golf and Spa Resort!
Address: 1 lot Gouara Déva, Route de Poé, 98870 Bourail, New Caledonia
4) The Great Barrier Reef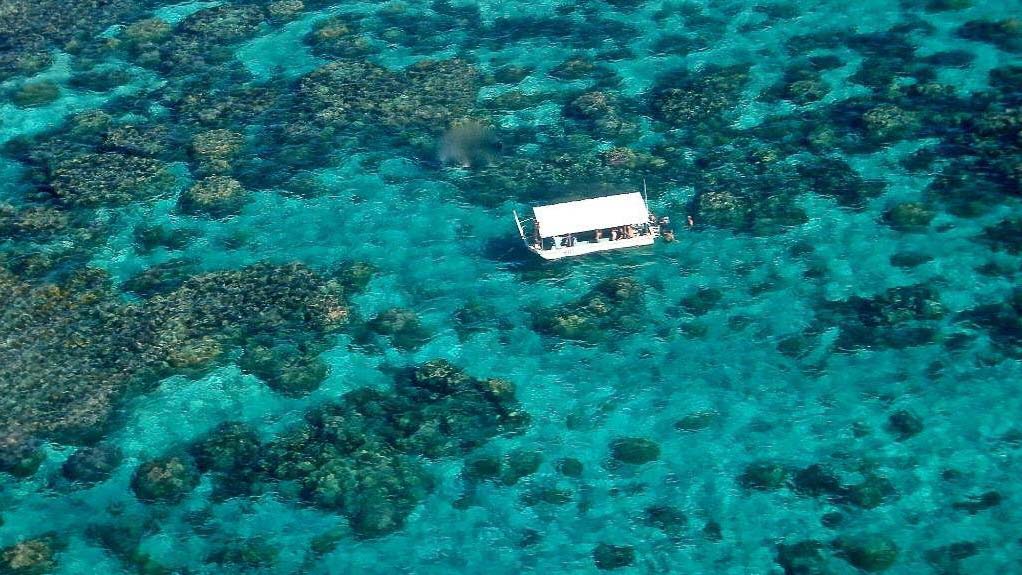 Photo credit: Ouest Corail
New Caledonia has the second longest barrier reef in the world — only next to Australia's Great Barrier Reef!
Spanning 1,600km, there are 350 species of coral and 1,600 species of fishes found in these waters.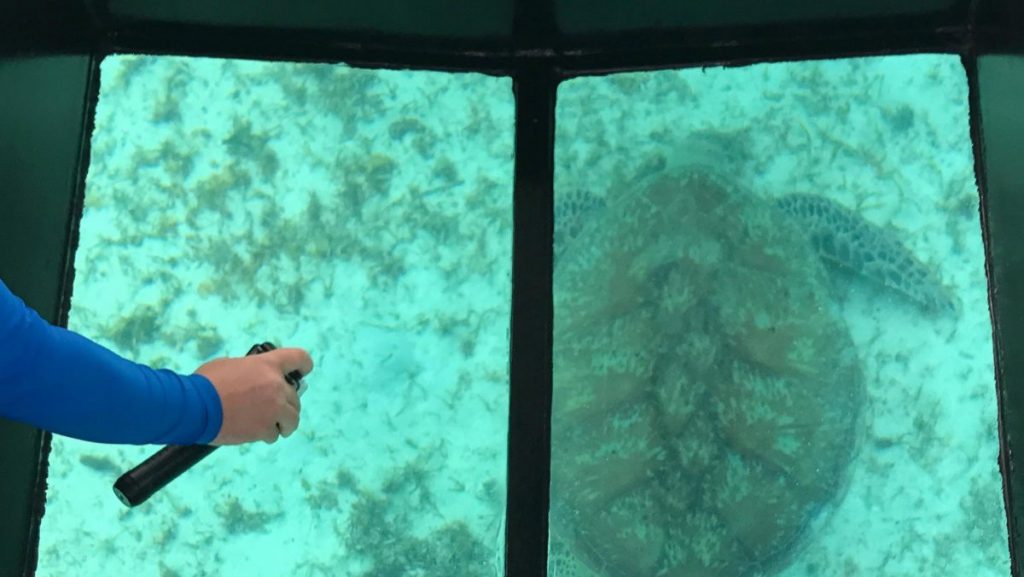 Photo credit: Ouest Corail
Aside from snorkelling, you can also experience this on a 1.5-hour glass bottom boat tour.
The tour sets off from Poe beach and at the 1km mark, there's a turtle feeding area to meet the reef's locals and take some memorable pictures 🐢
Cost: 3,400XPF/adult (~S$419)
Tour timing: Varies
Meeting point:  99QQ+JCW, Poe Beach, New Caledonia
5) Heli Ride Over a Natural Heart-shaped Landmark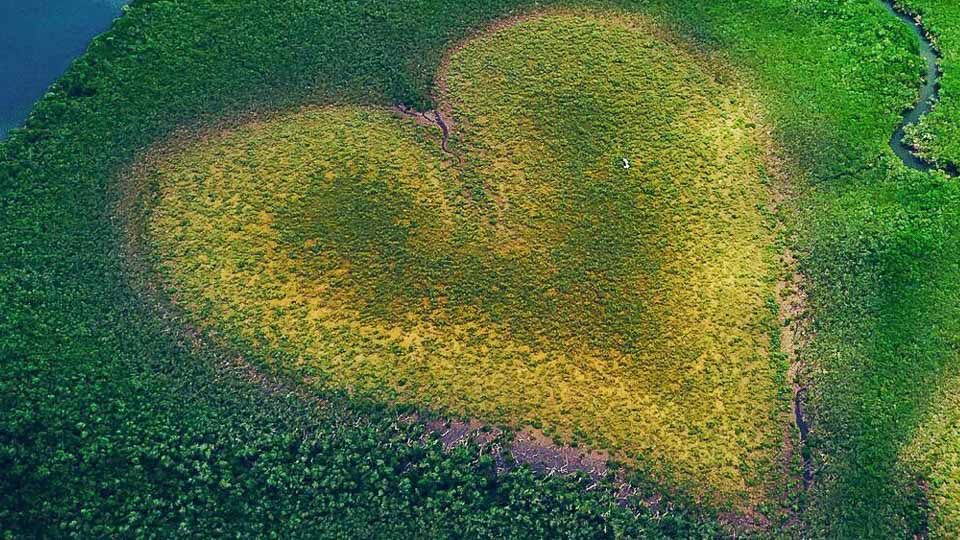 Photo credit: New Caledonia Tourism
"Can you see my heart?" 💖
If you watched the 2009 K-drama Boys Over Flowers, you might remember this cheesy but iconic line from Gu Jun-pyo (Lee Min-ho) to Geum Jan-di (Ku Hye-sun) while flying over a heart-shaped landmark on a helicopter.
That shot was taken in New Caledonia and is a natural formation called the Heart of Voh. The four-hectare clearing is surrounded by mangroves and is situated close to Voh village in the North-west of New Caledonia.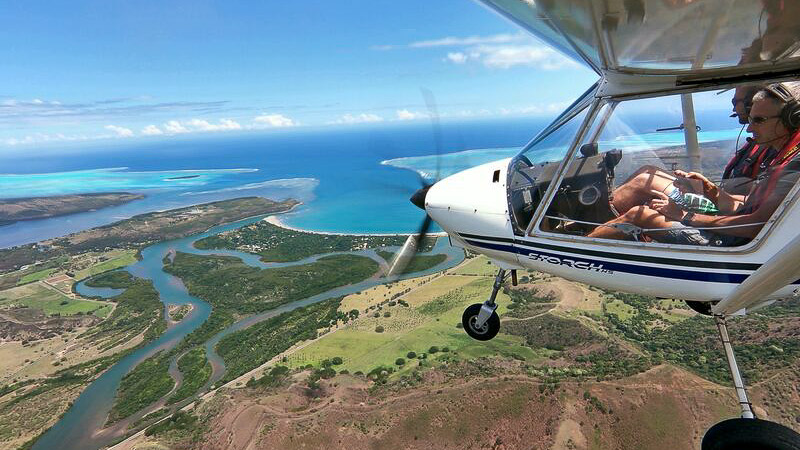 Photo credit: Cap Ulm Poe Kone
Take in a 360° panoramic view via a scenic flight, where you'll also pass by mountain ranges, beaches, and of course the blue lagoon!
*Note: Make reservations at least 48 hours in advance.
Cost: From 13,000XFP/adult (~S$161) for a 30-min flight
Meeting point: Varies
6) Get to Know the Locals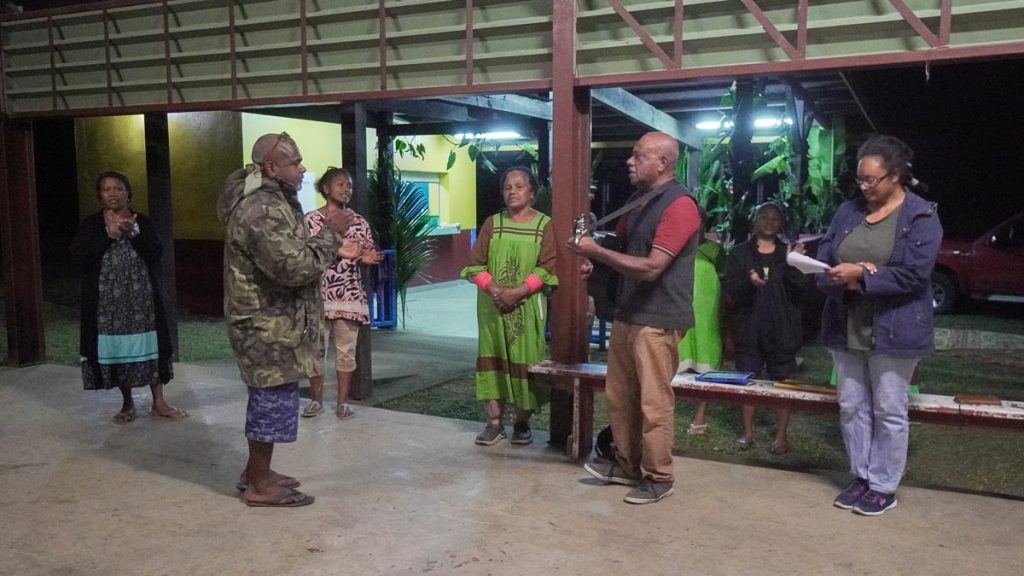 While in the country, also spend some time getting to know the locals and their culture.
On a visit to the local tribe of Pothe — a local Kanak tribe in the central mountain chain of Bourail — we were warmly greeted with songs and a traditional dinner.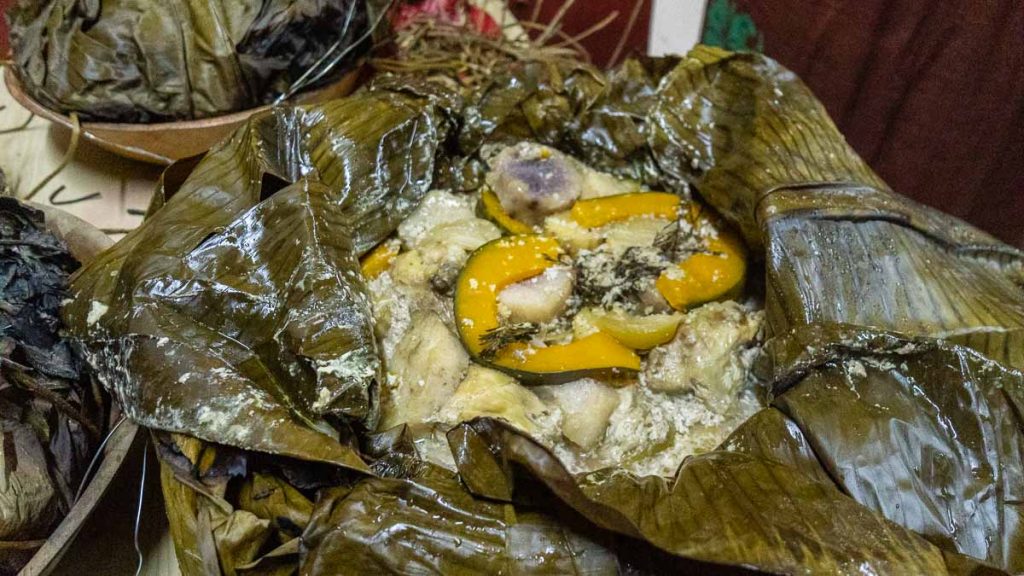 It was my first time trying a bougna, a local dish usually wrapped in banana leaves and cooked underground for two hours. The ingredients were a mix of yam, taro, sweet potato, banana, and chicken. I know, banana and chicken sounds like an odd combination but it tasted delicious, just like a warm chicken stew 😋.
*Note: You'll need a guide to visit local tribes so do contact the Bourail Tourism office before going.
7) The Only Aquarium in the Country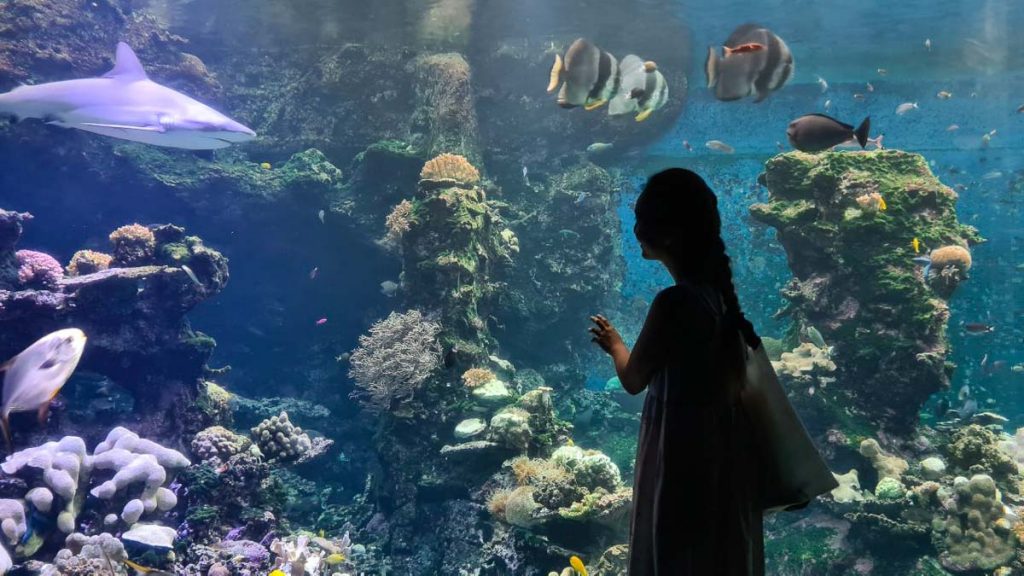 What's special about New Caledonia's aquarium is that it only houses marine animals native to the country, so nothing is imported!
Located at Anse Vata bay in Nouméa, the Lagoons Aquarium is home to various corals, fishes, crustaceans, and marine mammals.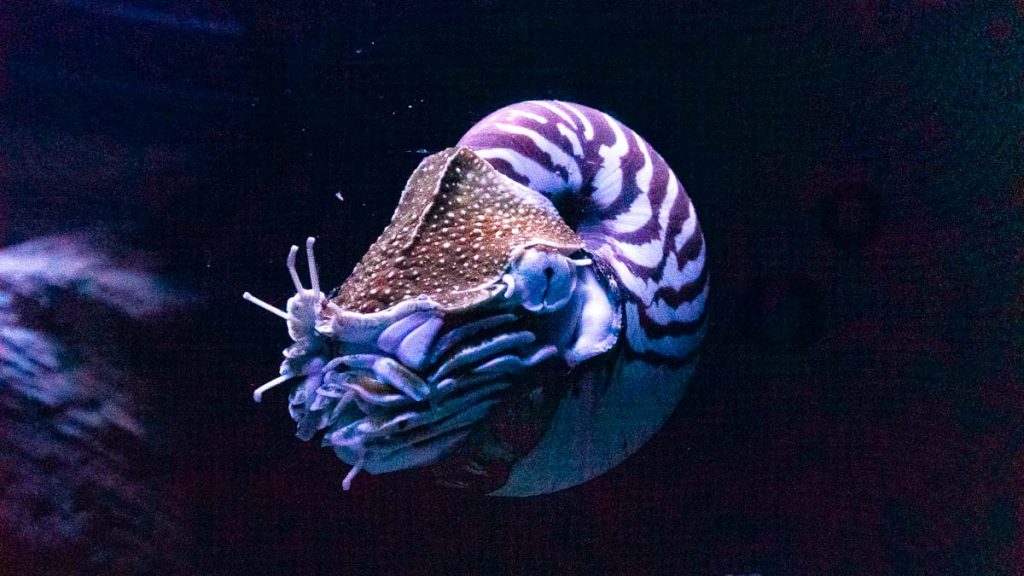 A nautilus just chilling.
There are 43 exhibits in total, including a fluorescent tank with "glowing" corals, and the nautilus — a type of mollusk only found in deep ocean reefs.
Fun fact: New Caledonia is the first aquarium in the world to display a living nautilus.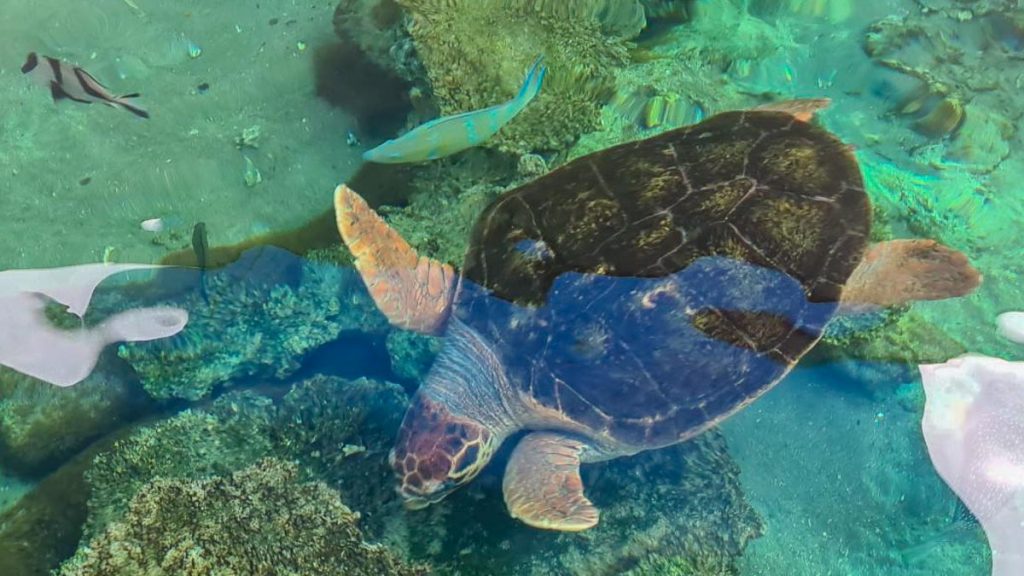 The aquarium also includes a health care centre and aims to preserve the marine environment and rich ecosystem of New Caledonia.
I visited a turtle pool and was lucky enough to witness the first swim of a recently rescued Hawksbill turtle — which will be released once it has recovered.
Entrance fee: 1,600XPF/adult (~S$20)
Opening hours: 10AM – 5PM, closed on Mon
Address: 61, BP 8185 Promenade Roger Laroque, Nouméa 98807, New Caledonia
8) Humpback Whales From Antarctica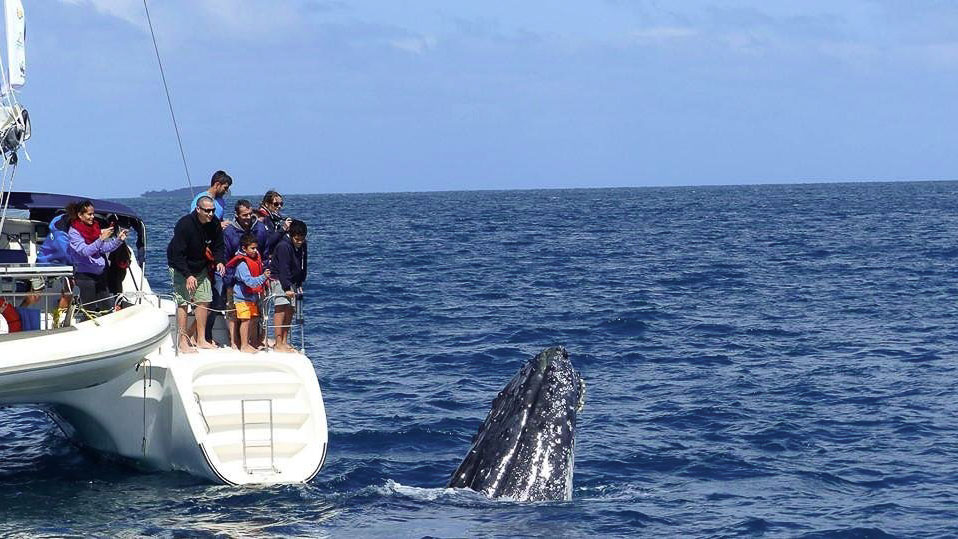 Photo credit: Seaside Marine Services
If you're travelling to New Caledonia between mid-July to mid-September, be sure to pay a visit to its whales!
This is the period when humpback whales travel from Antarctica to escape the cold waters and find a safe place to rest and give birth.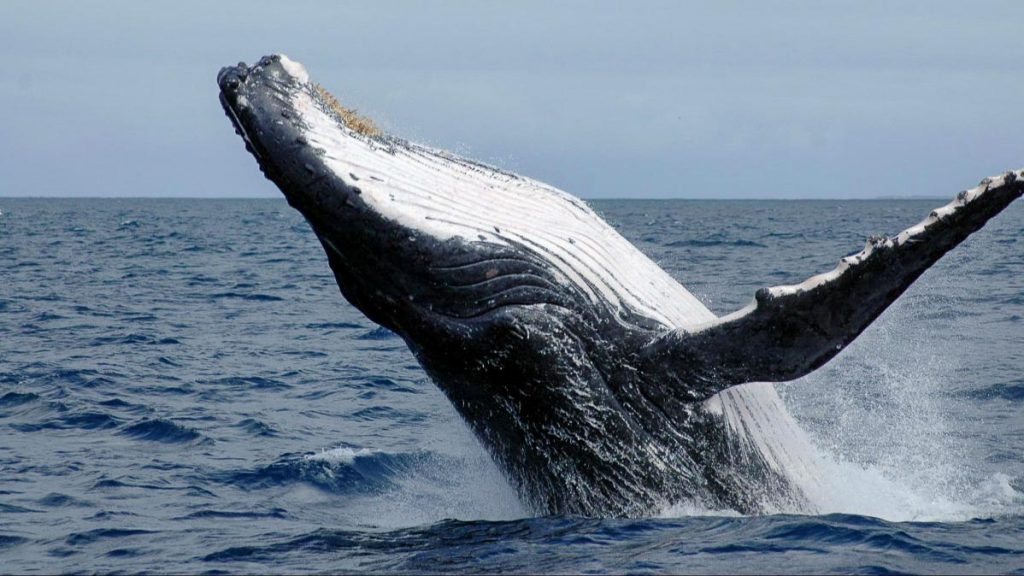 Photo credit: Seaside Marine Services
Board a sailing catamaran from Noumea or Prony Bay and keep your eyes peeled for these gentle giants which might jump out with warning — mere metres away from the boat 🐳.
Cost: From AU$160/adult (~S$153)
Tour timing: Varies
Meeting point: Varies
9) Local Themed Markets
In the heart of Noumea lies Place des Cocotiers or Coconut Tree Square. It's famous for holding festivities all year long, including concerts and traditional markets held every two months.
These markets are usually of different themes and are only there for a day — check the schedule on the tourism website.
When I visited, the theme was Jeudi du Centre Ville whereby indigenous people living in the North of New Caledonia came down to the capital city to display their traditional clothing and local produce.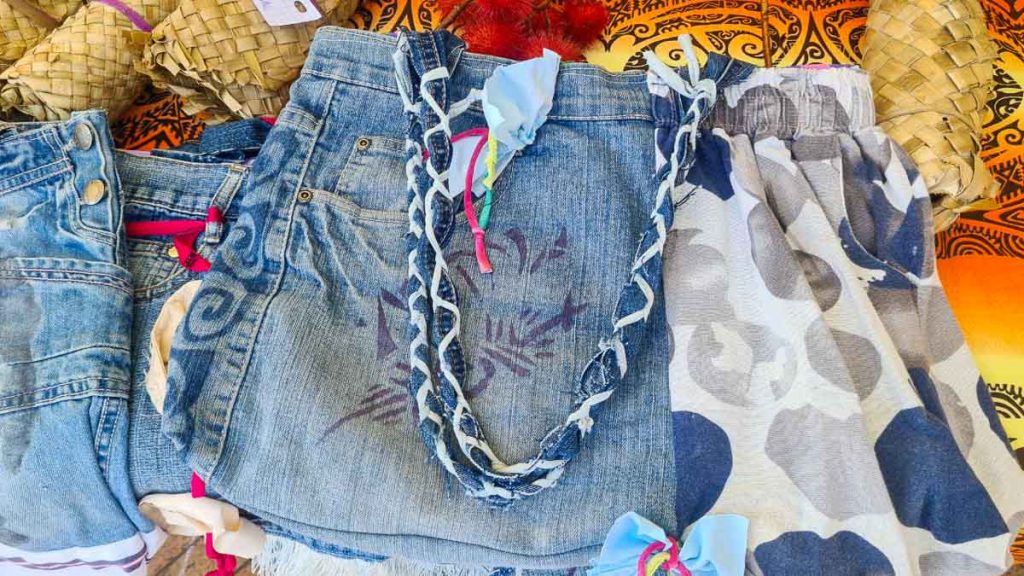 My greatest buy was this 1,000XPF (~S$12) bag sewn by combining two pairs of shorts 😍!
*Pro-tip: Bring cash as some booths do not accept cards.
Opening hours: Varies
Address: PCHR+JM7, Nouméa Nouvelle-Calédonieme. P Être, Nouméa, New Caledonia
Pre-trip Essentials for Travelling to New Caledonia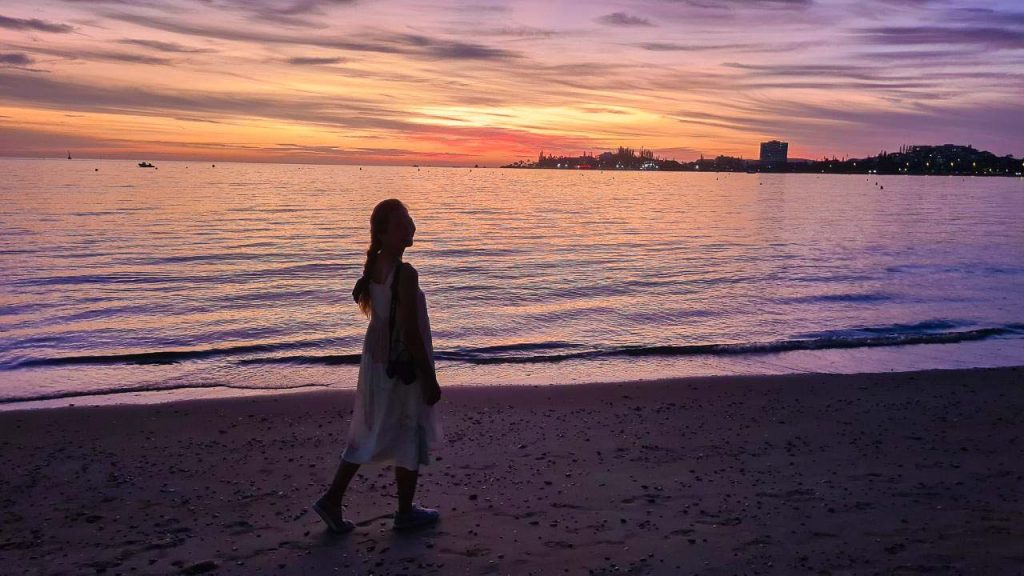 I didn't know what to expect when I travelled to New Caledonia. But after meeting the friendly locals and soaking in the gorgeous views, I can say that it's probably one of my favourite destinations!
If you're planning to experience New Caledonia for yourself, here's what you'll need before departure/upon arrival:
– Complete a sworn statement
– Download your digital vaccination certificate
– Purchase travel insurance with Covid Coverage (not mandatory but recommended)
– Take a self-swab or supervised ART test two days after arrival (supervised tests can be taken in local pharmacies for free)
For more information, do check out the official New Caledonia Tourism website.
Any other questions about travelling to New Caledonia? Ask us in the comments below!
---