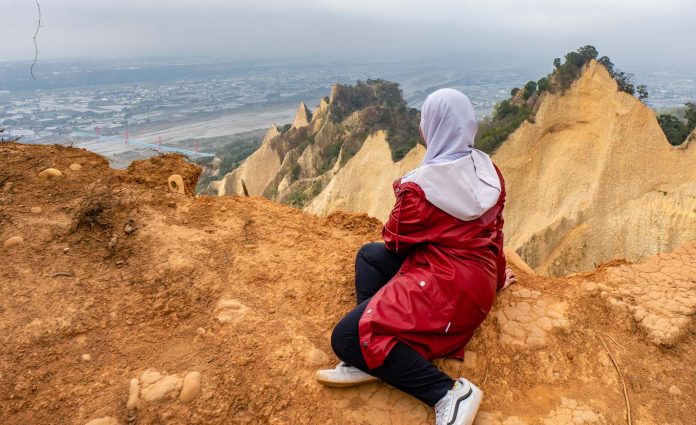 Quintessential things to do in Taiwan including hidden adventures and Muslim-friendly food in Taichung, Nantou, Tai'an, Chiayi, Tainan and Kaohsiung!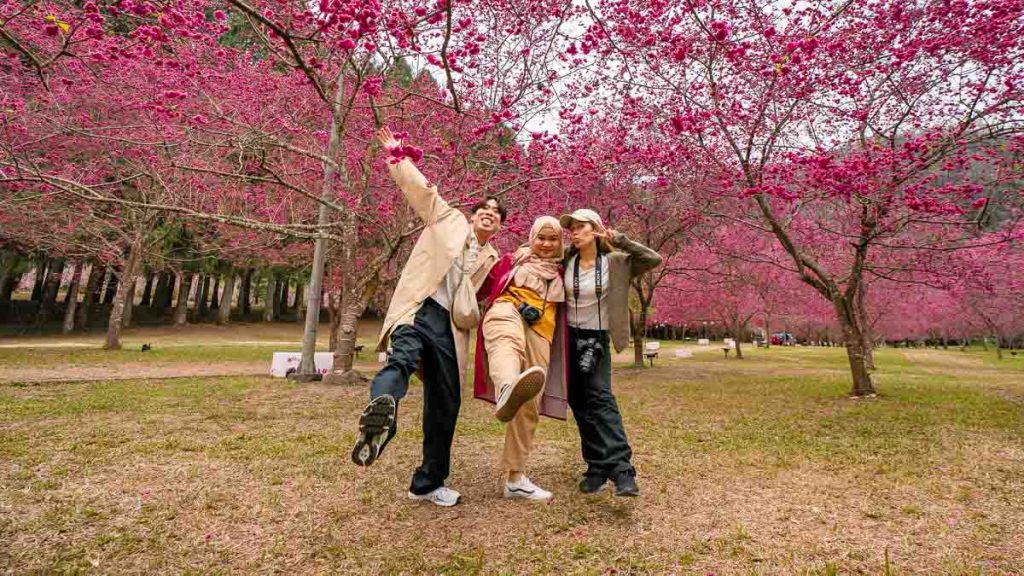 On my last solo trip to Taiwan, I only had the chance to explore Taipei. Although it was just the city, I loved their friendliness, arts and culture. I was also impressed by their Muslim-friendly environment and was ready to discover more. 
This called for an adventure with friends!
To switch things up, we explored the west coast from Taipei to Kaohsiung — visiting rugged forests, the underrated outskirts, and chasing the sun(cake). We also uncovered Muslim-friendly treats along the way. If these sound like the type of adventures you're looking to fill your own Taiwan itinerary with, here are 19 ideas along Taiwan's west coast.
Tai'an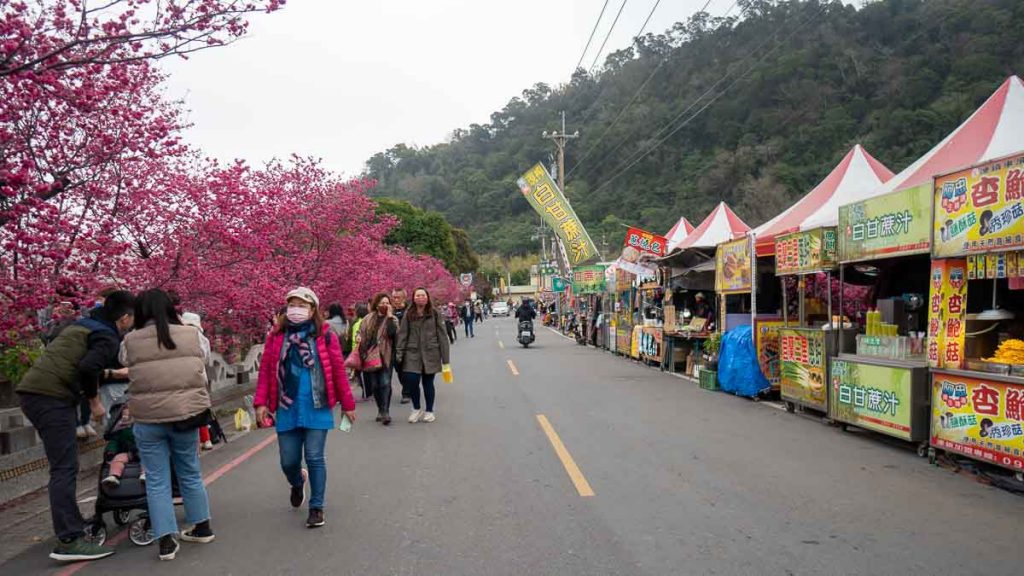 A mountain indigenous township, Tai'an is a quiet escape with epic hikes and countryside vibes just 40 minutes from Taichung by train.
1)  Hike Huoyan Shan (Flame Mountain)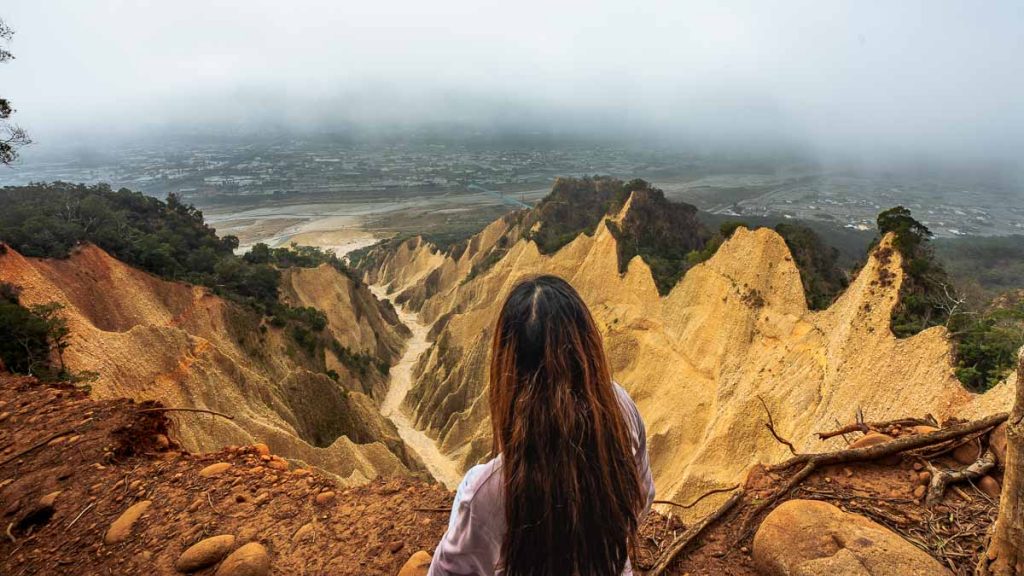 When scouring through TikTok for hikes near Taichung, we came across Huoyan Shan, Taiwan's "Grand Canyon" with its unique flame-like geology. Despite being just an hour away from Taichung Station by public transport, this hidden gem remains relatively unknown to tourists.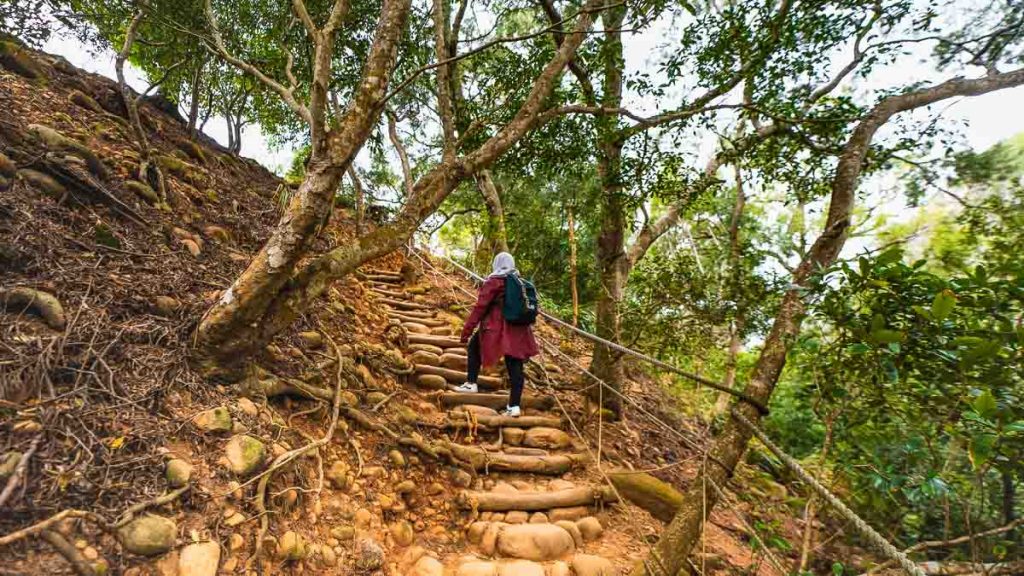 The hike took us 3.5 hours with short breaks. Make sure to go all the way up to the 3.5km mark for the best view! We took the same route down but you may continue on to complete the full circuit.
According to Taiwan hiking guides, the trail is rated 5/10 in difficulty for non-Taiwan hikers — I was huffing and puffing.
The trudging is worth the fire view but be prepared for steep inclines and sandy stone steps — we slipped a few times due to poor footwear 😅.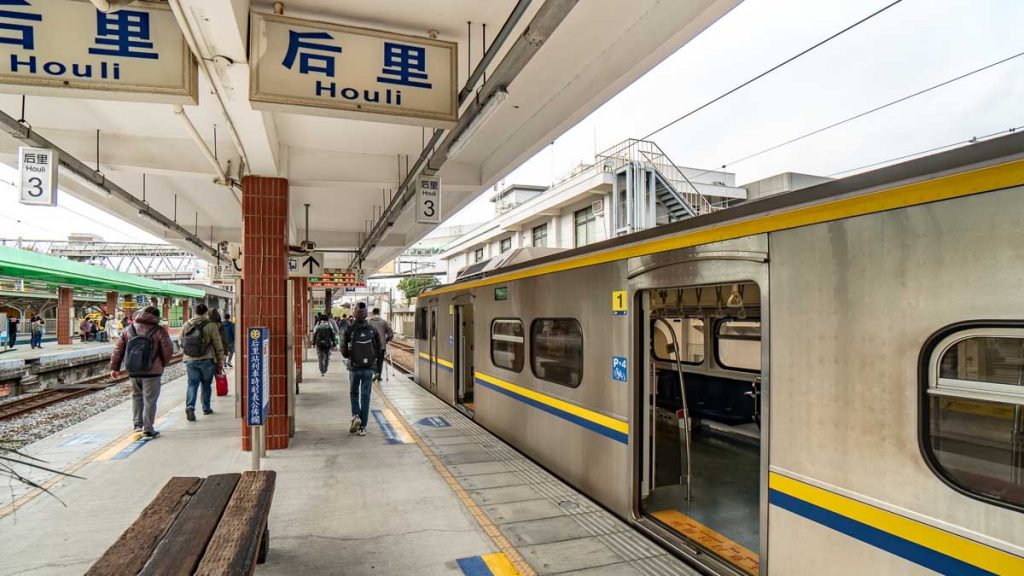 Things to note before conquering this hike:
– Bring snacks as there are no convenience stores nearby (one of the lovely aunties gave us some tofu snacks)
– It's best to drive to the trailhead but public transport is available — We took the train to Houli Station and booked an Uber to the trailhead. When heading back, we took bus 839 from Bogongkeng to Tai'an Station as Uber isn't available in Miaoli county.
– Use Google Maps to plan your route — schedules shown are pretty accurate.
*Pro-tip: Stay updated on bus times with Google Maps as our bus came much earlier than expected.
Address: Jianfeng Rd, Sanyi Township, Miaoli County, Taiwan 367
How to get there: From Taian Station, take bus 839 to Bogongkeng and walk 10 mins or drive 15 mins to the trailhead.
2) Chase Cherry Blossoms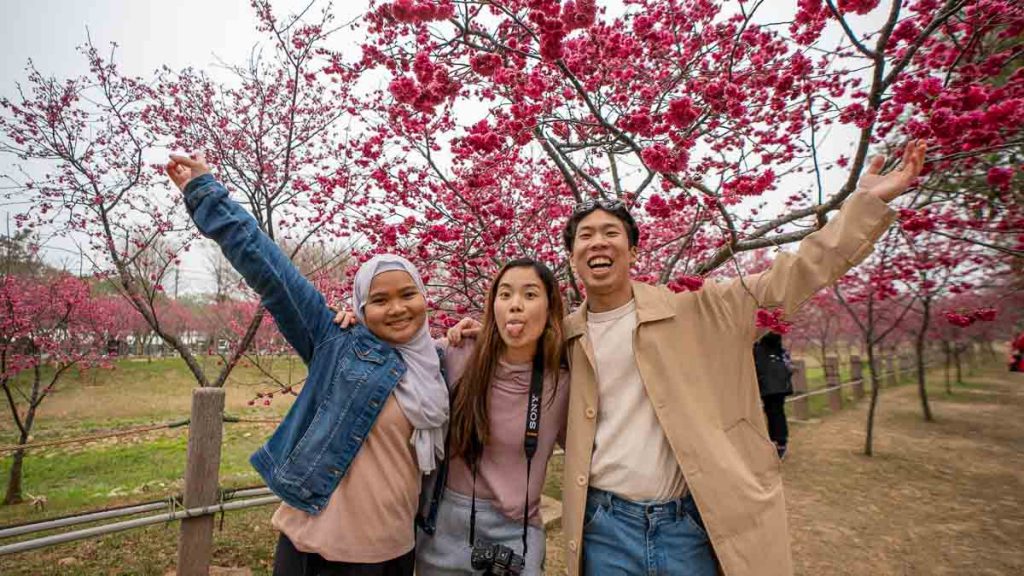 Japan comes to mind at the mention of cherry blossoms — but Taiwan's an underrated destination to see them! Cherry blossom season is from January to April and full blooms vary in each region.
Read also: Ultimate Taiwan Spring Guide 2023 — Best Places to See Cherry Blossoms in Taiwan
Taian Police Station was my favourite spot to view the cherry blossoms. Flowers were vibrant and the ambience was quaint and lively.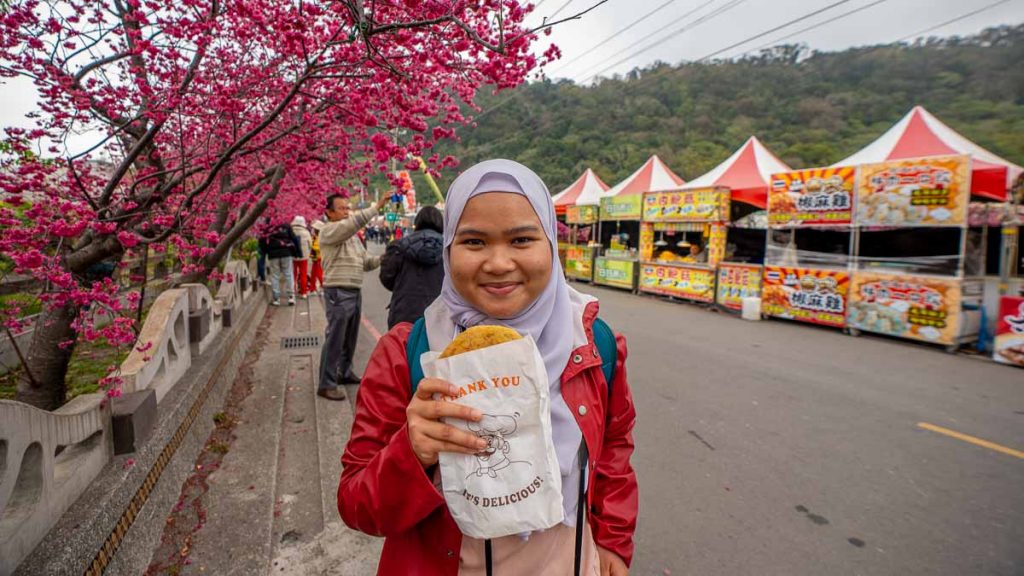 Enjoying a scallion shao bing!
During cherry blossom season, street vendors line a side of the road selling local Taiwanese snacks. I even managed to find a few stalls selling vegetarian-friendly food!
*Muslim-friendly pro-tip: To reduce doubt, purchase from stalls selling singular items. There were plenty to choose from at this market.
We came here after hiking Huoyan Shan and it really hit the spot 🤌
Cherry Blossoms at Taian Police Station
Opening hours: 24hrs (vendors are open from 10AM – 6PM)
Address: No. 27, Anmei Rd, Houli District, Taichung City, Taiwan 421
How to get there: 20 min walk or 5 min car ride from Tai'an Station
Best time to visit: Jan – Mar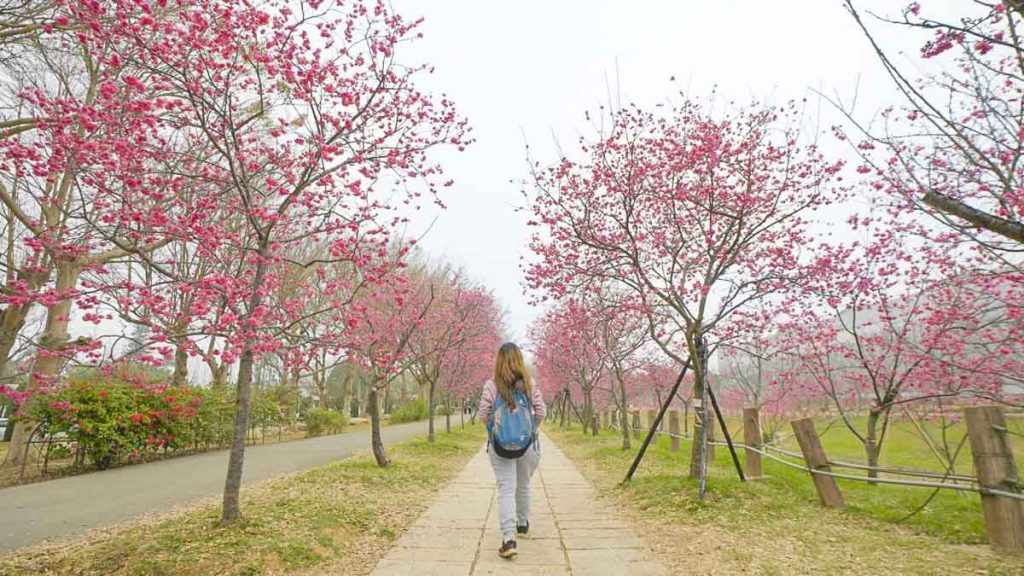 WELE Cherry Blossom Park is lined with various deep fuschia and baby pink cherry blossom trees, as well as plum blossom trees!
Our visit on a weekday evening was bustling with locals — there were even some buskers performing. We recommend heading there early to avoid crowds.
WELE Cherry Blossom Park
Opening hours: 24hrs
Address: No. 16, Jiujia Rd, Houli District, Taichung City, Taiwan 421
How to get there: 10 min car ride from Tai'an Station or take a bus from Fengyuan
Best time to visit: End Jan – mid-March
3) Visit the abandoned Tai'an Railway Cultural Park
Photo credit: @taichungtravels via Instagram
The old Tai'an Station dates back all the way to 1910. It was a Japanese-style building originally constructed entirely out of wood!
After being converted into the Tai'an Railway Cultural Park, the station has not only served as a time capsule of Taiwan's railways but has also turned into an IG photo spot!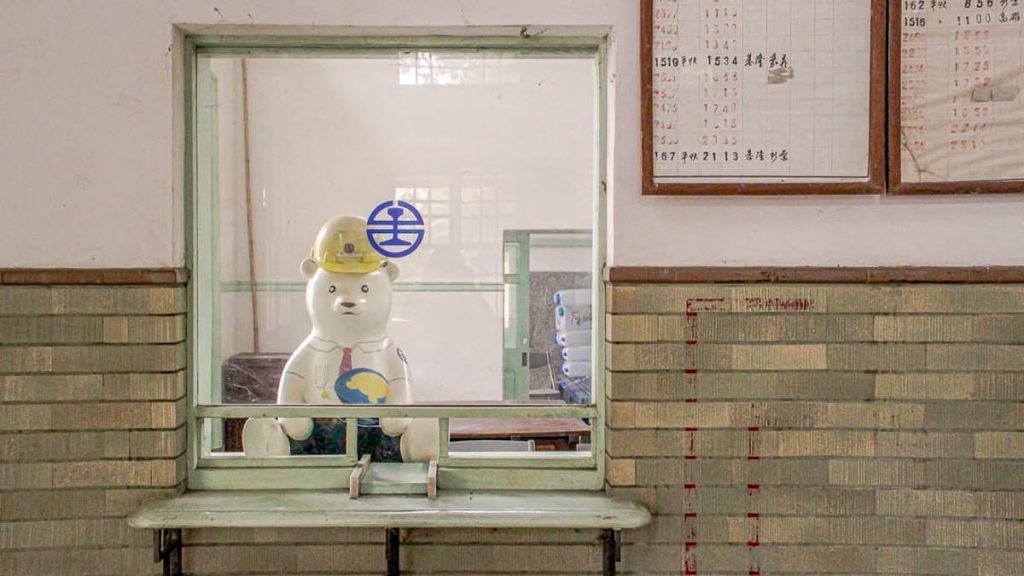 Photo credit: @taichungtravels via Instagram
*Pro-tip: The best photo spots are at Da'an River Iron Bridge and Number 8 Railway Tunnel!
Opening hours: 9AM – 5PM
Address: No. 52號, Fuxing Rd, Houli District, Taichung City, Taiwan 421
How to get there: 20 min walk or 5 min car ride from Tai'an Station
Nantou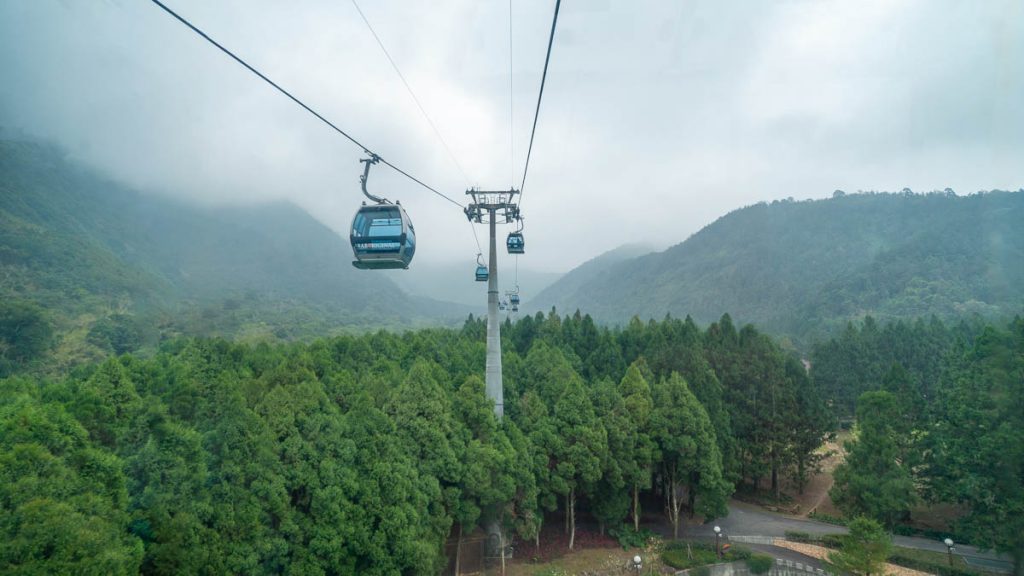 A popular day trip spot for its mountainous landscapes frequented by both tourists and locals, Nantou is the second largest county in Taiwan!
4) Play and learn at Formosan Aboriginal Cultural Village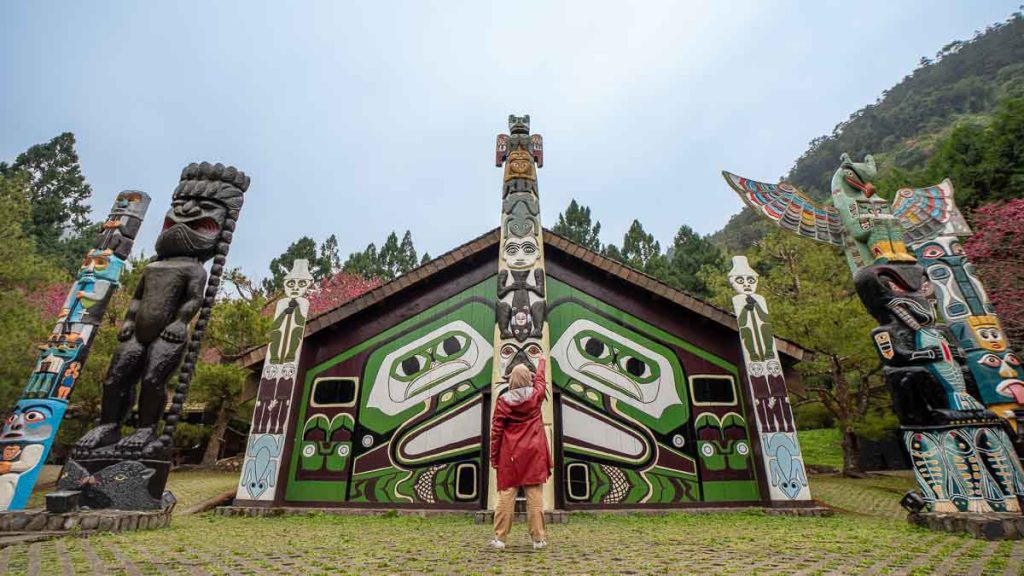 Who doesn't love a good theme park?
Formosan Aboriginal Culture Village is a theme park centred around nine indigenous groups in Taiwan. Other than rides, visit Aboriginal Villages to learn about tribes like the Atayal and Paiwan, and watch cultural performances.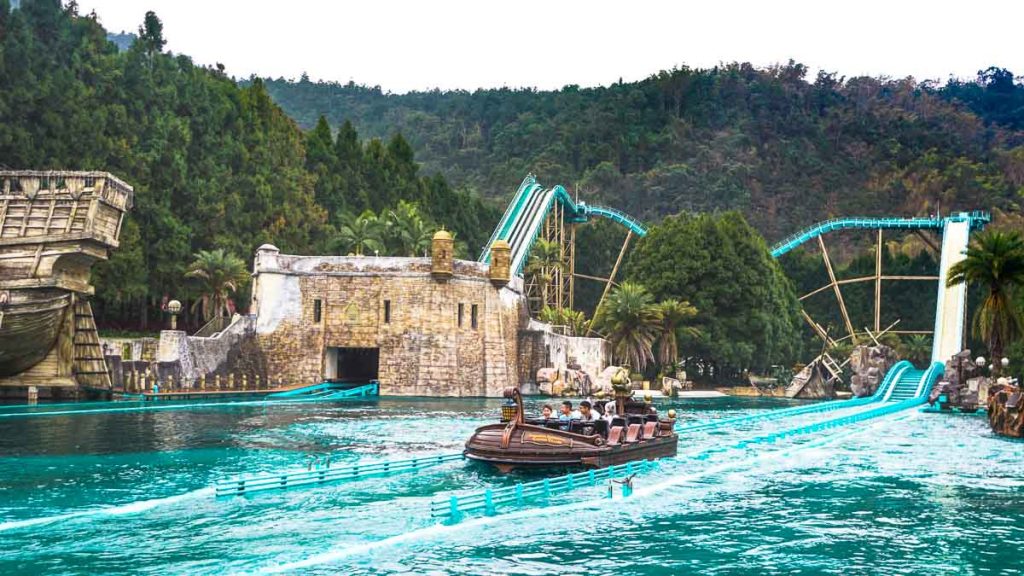 We came in with no expectations — and it ended up being one of our favourite amusement park experiences. Rides were exhilarating, well-designed, and overall, the definition of cheap thrills. The Maya Adventure and Gold Mine Adventure ride really got our adrenaline pumping, and our visit on a weekday had short waiting times!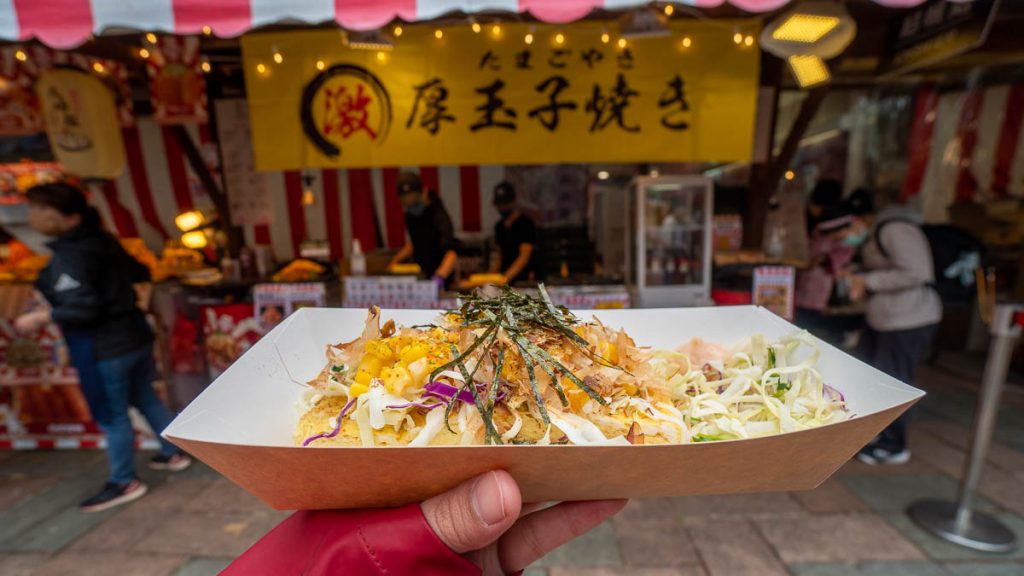 Head to Maya Restaurant for certified Muslim-friendly rice dishes, a prayer room, and Muslim-friendly toilets! Stalls outside the restaurant had some vegetarian options — so I opted for this Okonomiyaki omelette.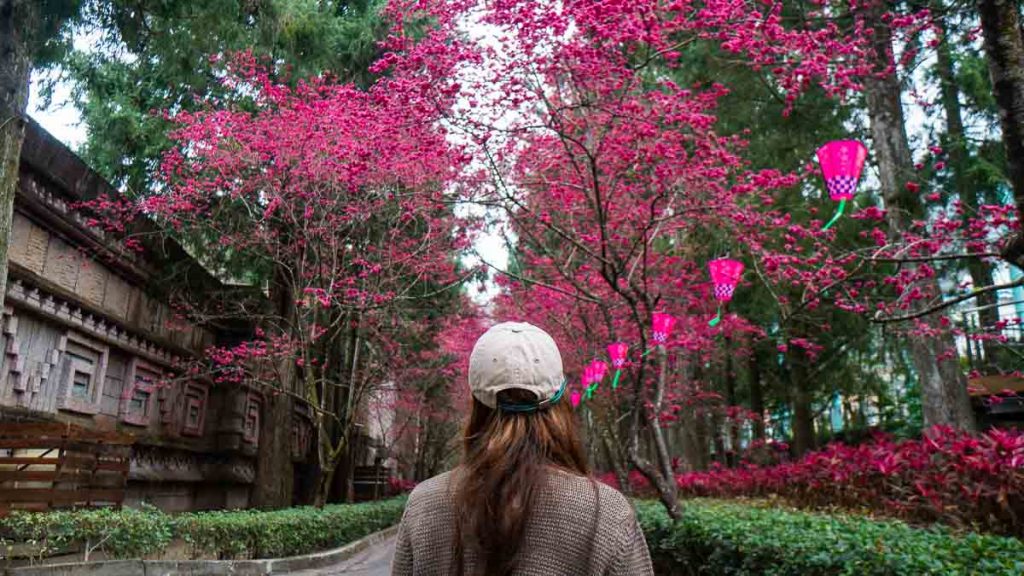 Expect to see pink if you're visiting during cherry blossom season as the park is lined with several varieties!
Entrance fee: ~S$39.70/pax via Klook
Opening hours: 9:30AM – 7PM
Address: 555, Taiwan, Nantou County, Yuchi Township, 金天巷45號
How to get there: Take bus 6670A Taiwan Tourist Shuttle Sun Moon Lake Route from Gancheng Station. Purchase round trip tickets (NT$360, ~S$15.85) at Nantou Bus Gancheng Station or tap in using the EasyCard (NT$193, ~S$8.50 one-way).
5) Paraglide over lush mountain ranges in Puli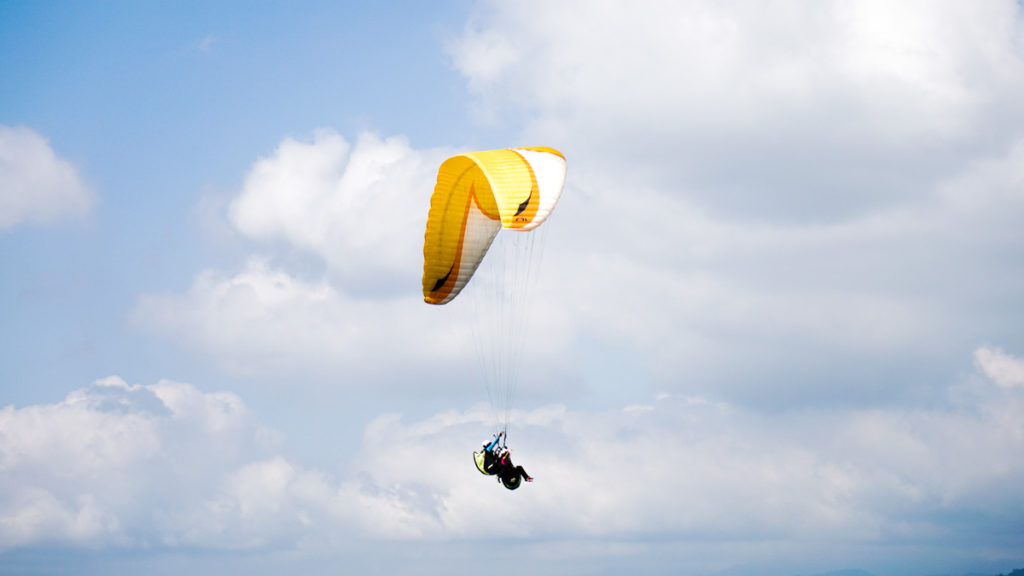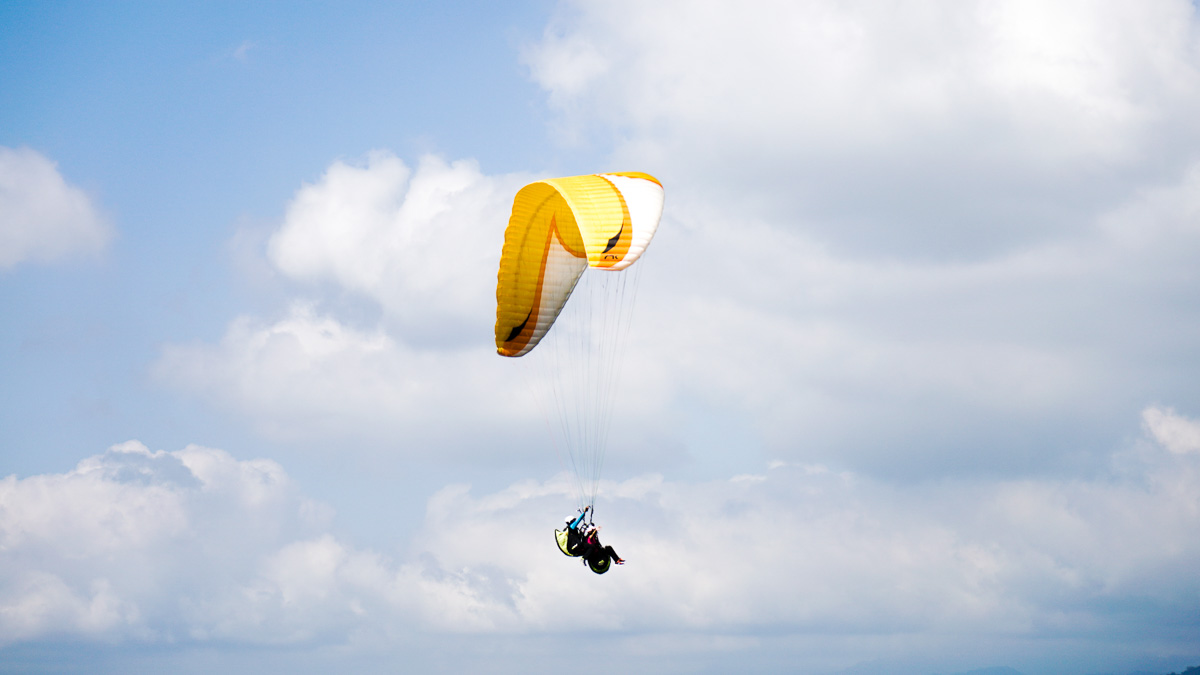 There are three spots for paragliding in Taiwan — but paragliding in Puli takes the cake for the best view.
The small town is surrounded by untouched mountains, picturesque landscapes and generally has calm weather — perfect for paragliding.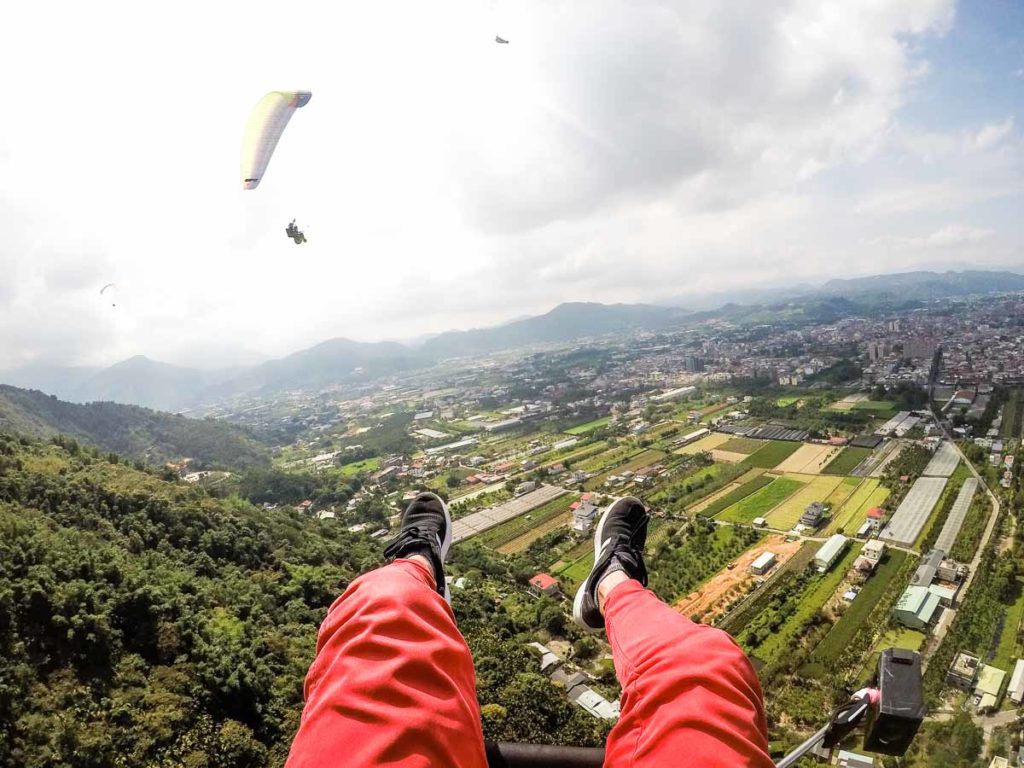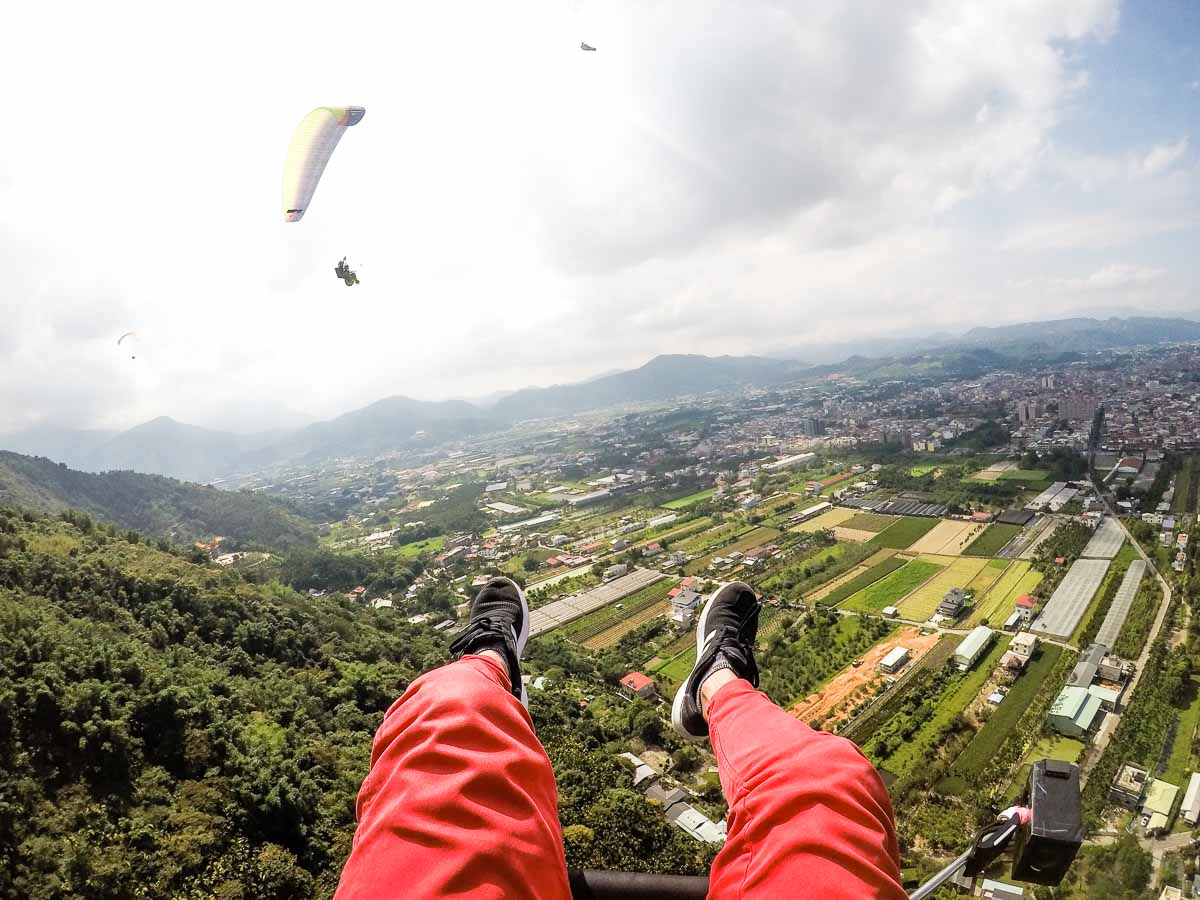 As Gabriella Montez and Troy Bolton once said, "We're soarin', flyin".
Cost: ~$127.70/pax via Klook
Activity timing: 10AM – 11AM
Meeting point: Pick-up from accommodation in Puli area, Puli Bus Terminal or Puli Paraglider Experience Center
6) Stand Up Paddle Board in Sun Moon Lake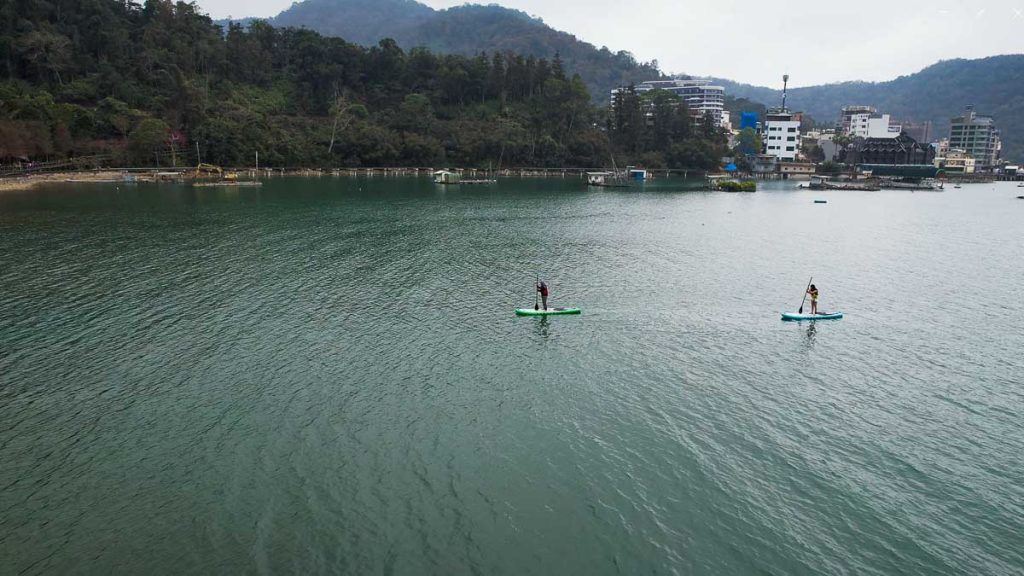 Appreciate Sun Moon Lake in a unique way through stand-up paddleboarding (SUP)!
The alpine lake got its name from its curvy silhouette that's partly shaped like a crescent moon and a round sun. It's also home to the Thao and Bunun indigenous tribes!
We decided to YOLO the experience by booking a 1-hour experience without an instructor — we were all beginners.
Don't worry though, the instructor will still give a short briefing (in Mandarin 😅) at the beginning of the session.
I'm happy to report that none of us fell into the lake! It didn't take too long to get the hang of things in the tranquil waters. Standing up took some time to master so we spent most of the time seated.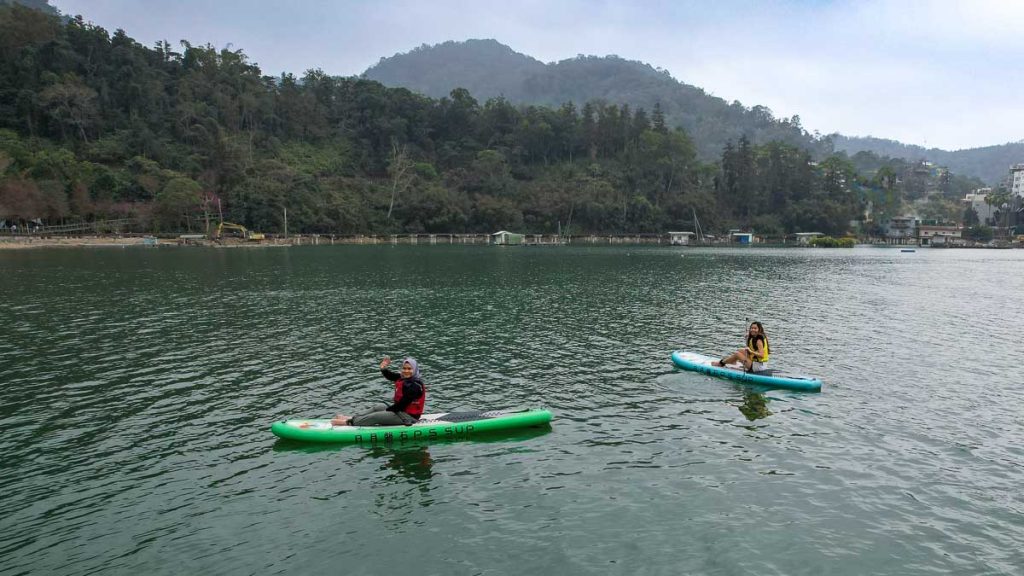 *Pro-tip: It's easier to stand up when you're in motion!
*Note: Portable-style individual showers with mirrors are available at the pier but there's no private powder area.
Surrounding Sun Moon Lake are mountains, streams, and forest trees. If you have more time, locals recommend checking out Yidashao Lakeside Trail, Wenwu Temple, Riyuetanlan Station and Ci'en Pagoda!
Cost: ~$30.40/pax (1 hour session)
Activity timings: Hourly from 9AM – 4PM
Meeting point: Crescent Bay, near Shuishe Pier or near Sun Moon Lake Ropeway
Chiayi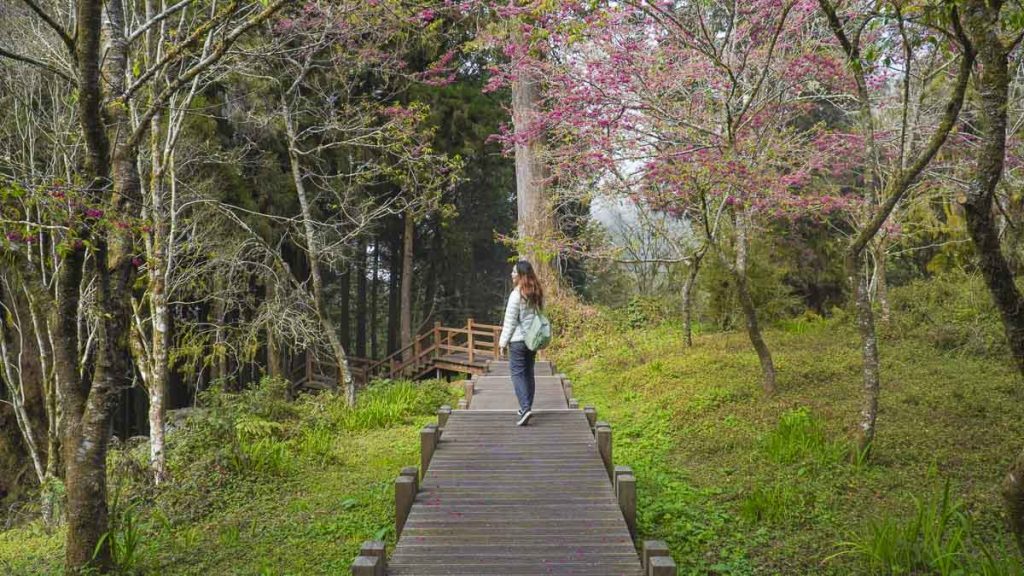 The charming southwestern city of Chiayi is often missed but is best known for its culture and stunning nature.
7) Explore natural wonders in Alishan National Forest Recreation Area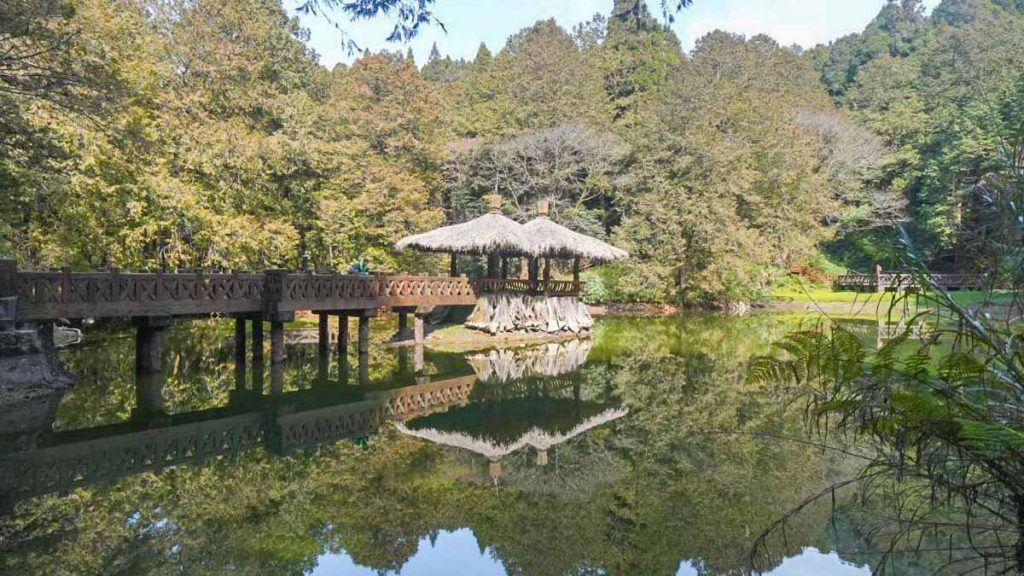 The mountainous Alishan National Forest Recreation Area is 1,400 hectares of peaks, misty forests, and lakes.
A hiking tour around iconic spots could take up to 4 hours.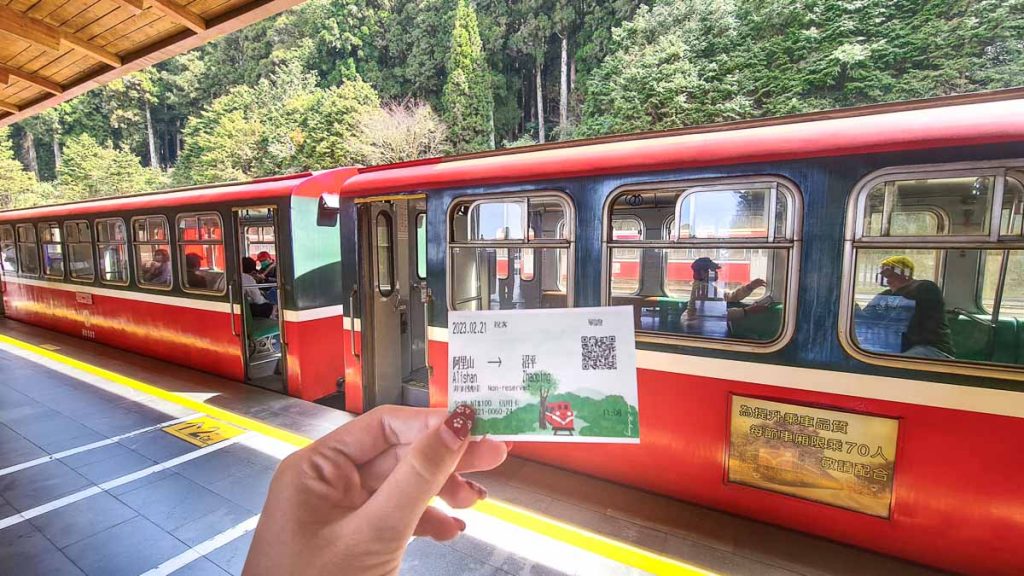 Save time and take the Alishan Forest Railway to Zhaoping Station as a starting point for a 2-hour leisurely stroll visiting Sisters Pond, Magnolia Garden, and Shouzhen Temple (currently under renovation) towards Shenmu Station.
You'll get to see some cherry blossoms along the way too if it's in season!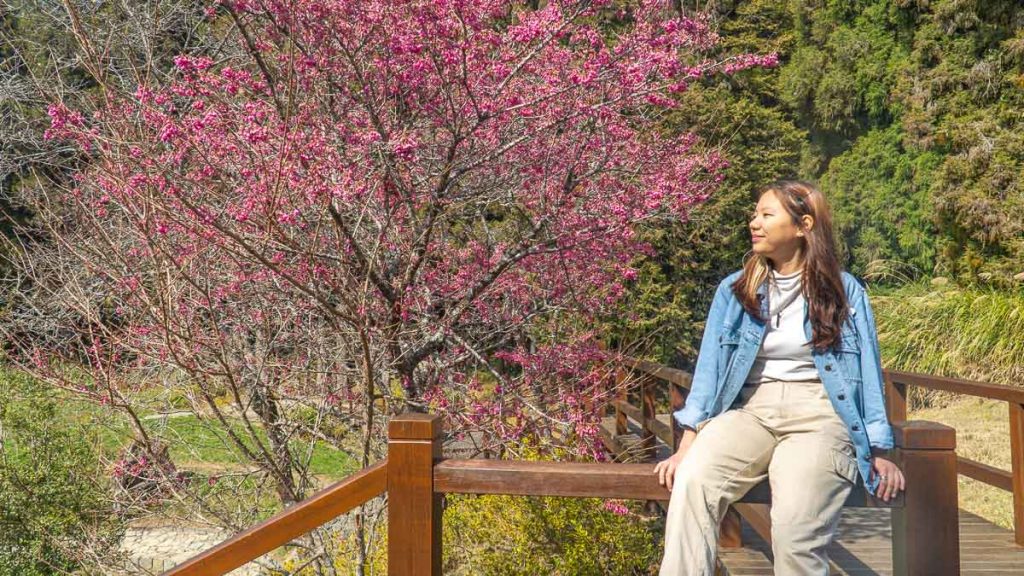 Getting to Alishan via public transport is possible but finicky. It's best to drive or join a day tour.
*Note: Vegetarian option is available for lunch provided during the tour but it's from a non-Halal restaurant serving pork.
Cost: ~S$88.20/pax (1-day tour)
Tour timing: 8:15AM – 6:30PM
Meeting point: THSR Chiayi Station
8) Stroll in a Yukata in Hinoki Village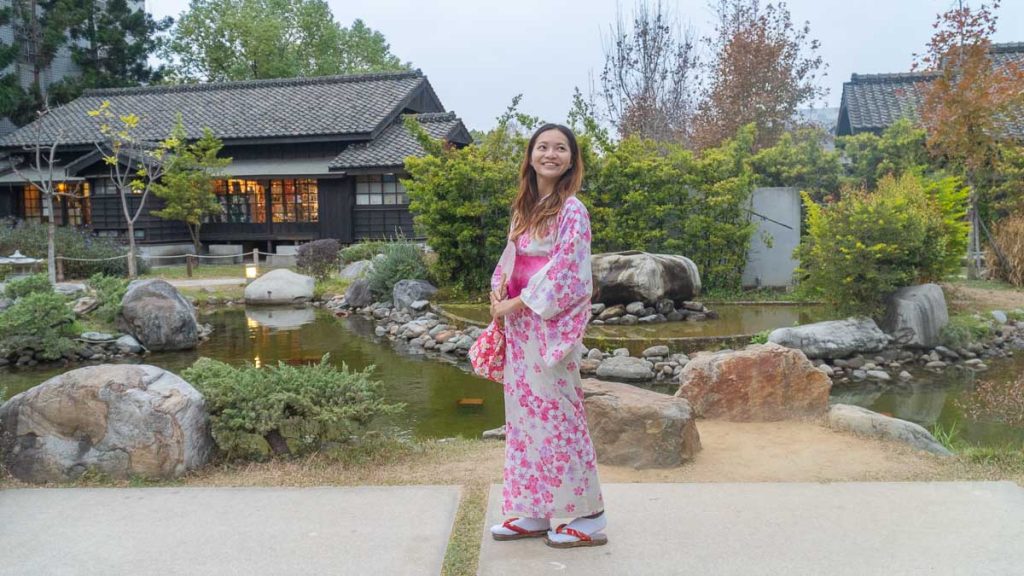 Hinoki Village is an echo of Japan's rule over Taiwan.
Spanning two plots of land, the village has zen gardens and wooden Japanese houses which were originally the dormitories of the Chiayi Forest division of Forestry Bureau of the Taiwan Governor-General Offices.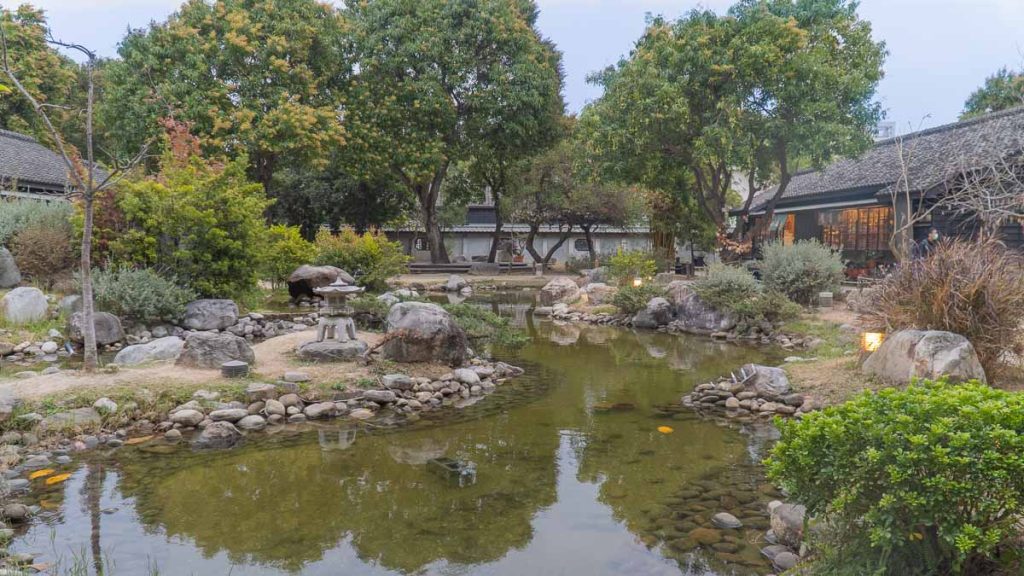 Spend your time exploring the village in a Yukata (NT$550, ~S$25 for 2 hours) — a more casual version of a Kimono.
If you're feeling peckish, head to Morikoohii 森 咖啡 for coffee and waffles! Pork or alcohol isn't served but dine at your own discretion.
Opening hours: 10AM – 6PM
Address: No. 1, Linsen E. Rd., East Dist., Chiayi City
How to get there: 20 min walk from Chiayi Train Station
Kaohsiung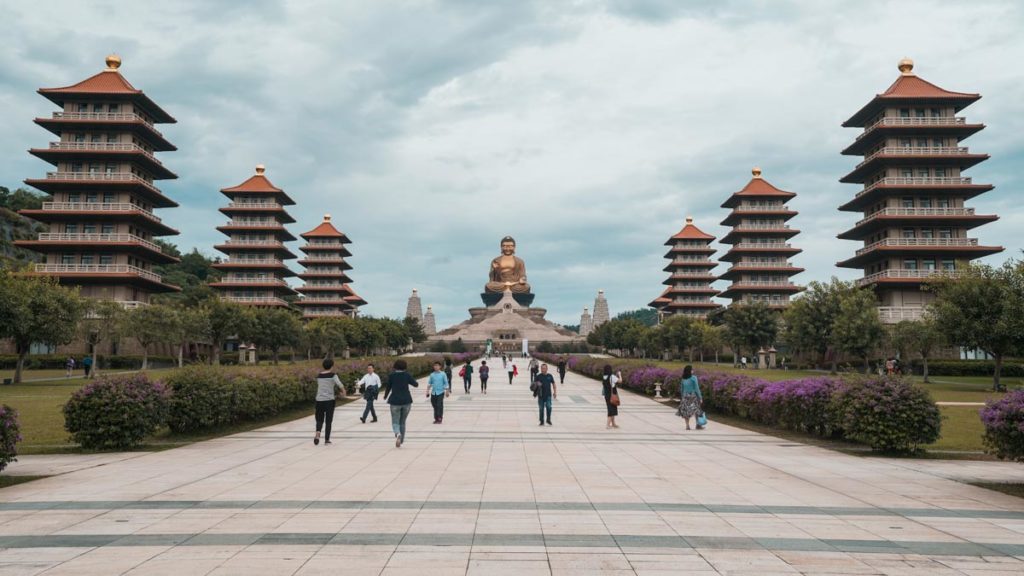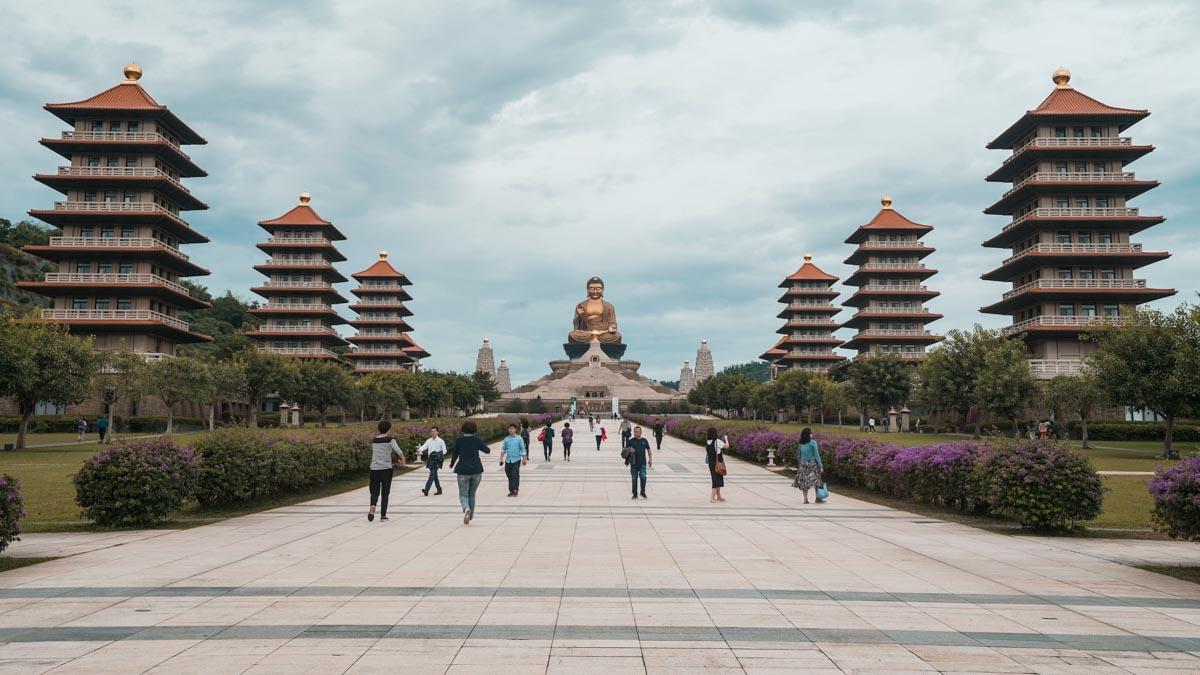 Journey to the southernmost tip of Taiwan for coastal sights and sunny weather.
A port of cultural and historical attractions, Kaohsiung is an ethnic melting pot of Hokkien and Hakka communities, as well as indigenous tribes like the Pingpu and Rukai.
9) Immerse yourself in i-Ride's 5D Visual Flying Theater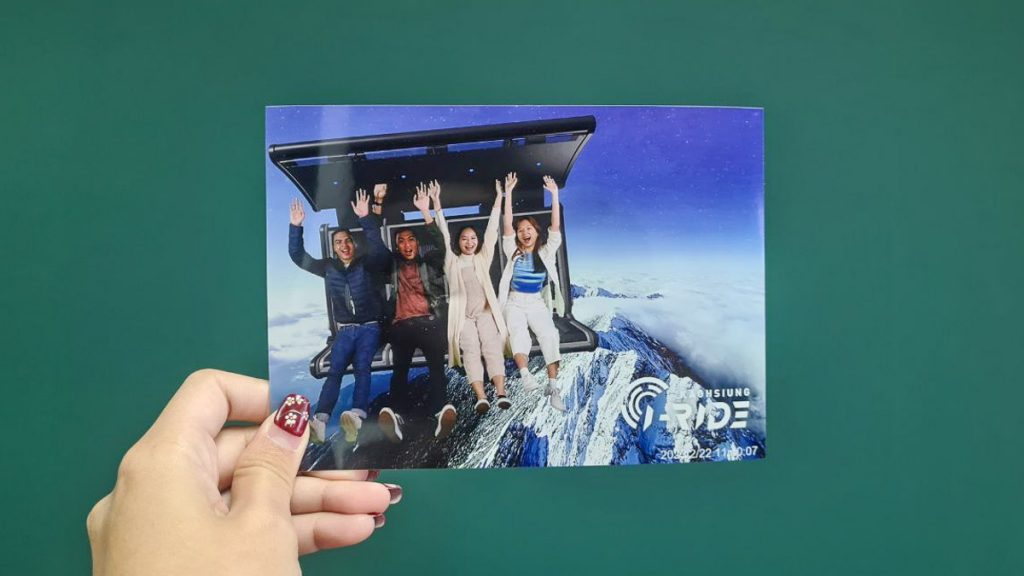 Not enough time to explore the whole of Taiwan? Head to i-Ride Kaohsiung to soar through iconic and quintessential spots around Taiwan in just 5 minutes!
Just be ready for an immersive ride — the 360° visual flying theatre doesn't hold back on 5D elements like wind and water.
Cost: ~S$17/pax
Show times: 9:30AM – 5PM (Wed – Sun), closed on Mon and Tue
Address: No. 9, Fuxing 4th Rd, Qianzhen District, Kaohsiung City, Taiwan 806
How to get there: Take the Kaohsiung Light Rail to Software Technology Park Station and walk 5 mins
10) Watch the city light up at Glory Pier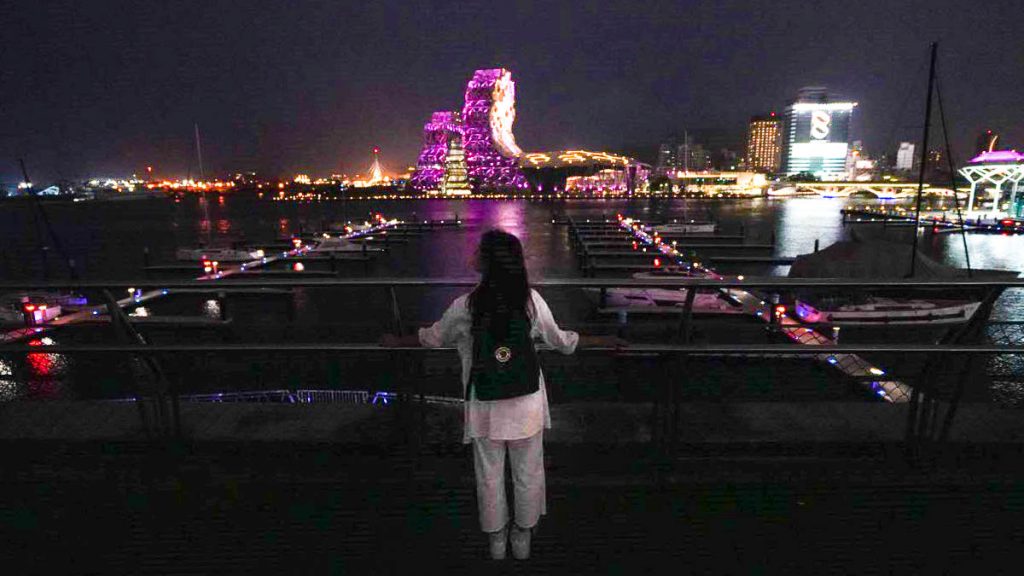 End your day at Glory Pier and watch the city go from day to night.
Once known as Pier 13 — an important transport hub to the island areas of Kinmen and Matsu — Glory Pier is an arts and culture node with three concert halls, an art gallery and a library!
If the skies are clear, catch the sunset on the roof of a surrounding building (it's a secret spot)!
Address: No. 31, Haibian Rd, Lingya District, Kaohsiung City, Taiwan 802
How to get there: Take the Kaohsiung Light Rail to Glory Pier Station and walk 3 mins
11) Grab a snack from 清真眷村食堂 (Halal Military Village Canteen)
While walking around Kaohsiung, we stumbled upon 清真眷村食堂 (Halal Military Village Canteen).
This takeaway's main specialty is jiucai hezi — savoury pies packed with fragrant leek — but other items like spiced smoked fish, roast chicken, and beef dumplings are also sold.
It's one of the few Halal places in the area so do grab a bite here when exploring the city!
Cost: From NT$100
Opening hours: 10AM – 6PM (closed on Fri)
Address: No. 1387, Zhonghua 5th Rd, Qianzhen District, Kaohsiung City, Taiwan 806
Tainan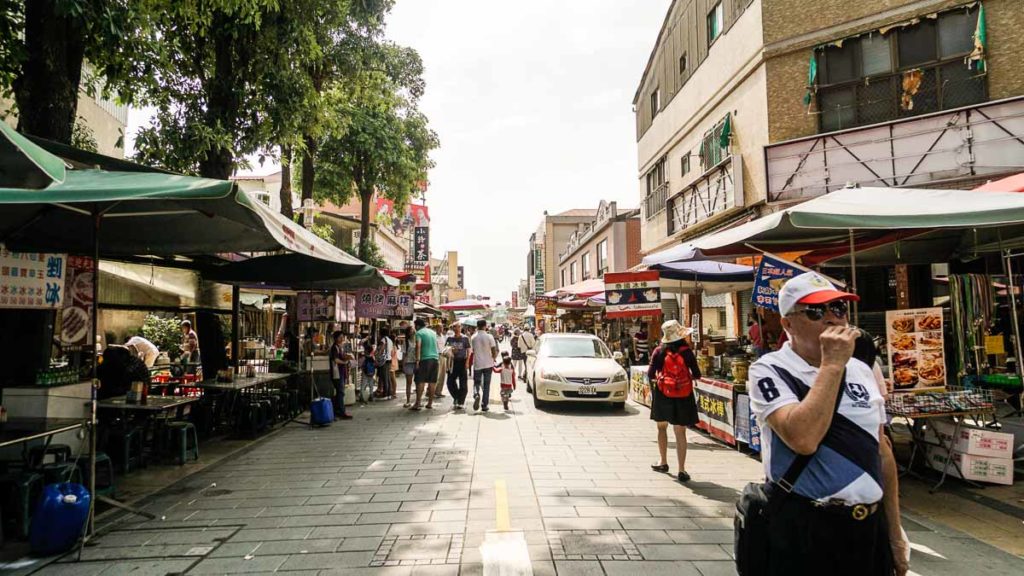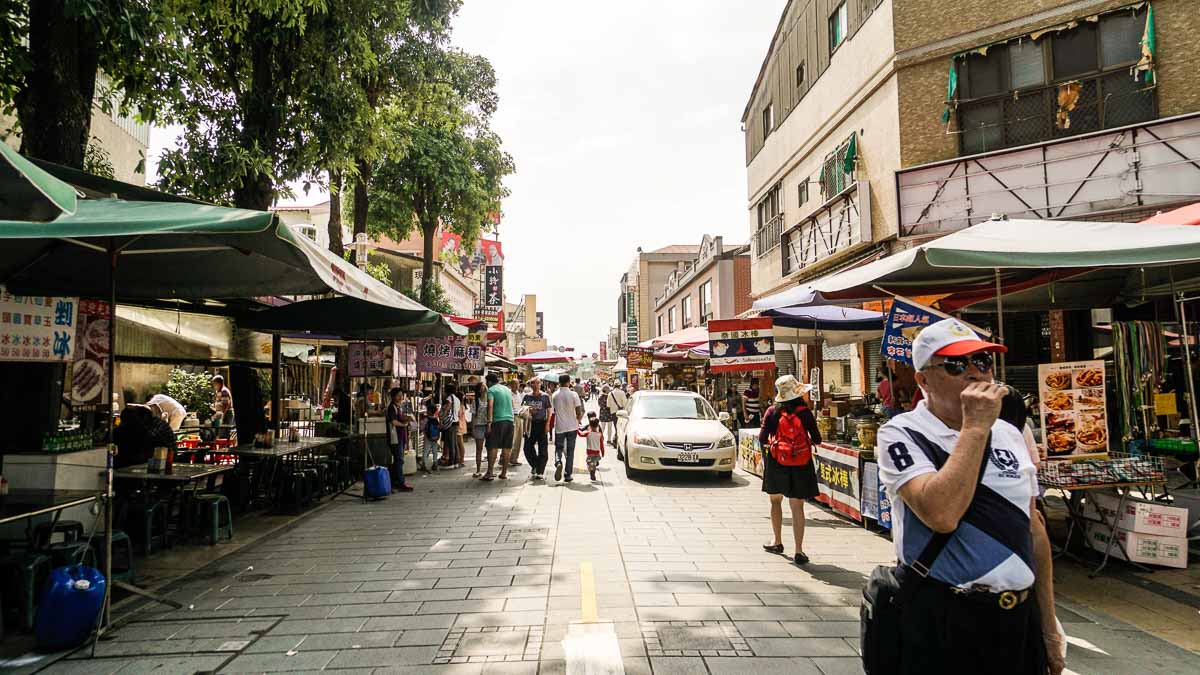 Tainan's where you'll find the earliest cultural roots in Taiwan
In 1661, Cheng Cheng-kung drove the Dutch away and thus Taiwan was born. So iconic. He established Tainan as the political, economic, and cultural centre of Taiwan up to the late nineteenth century.
12) Tour the Ten Drum Cultural Village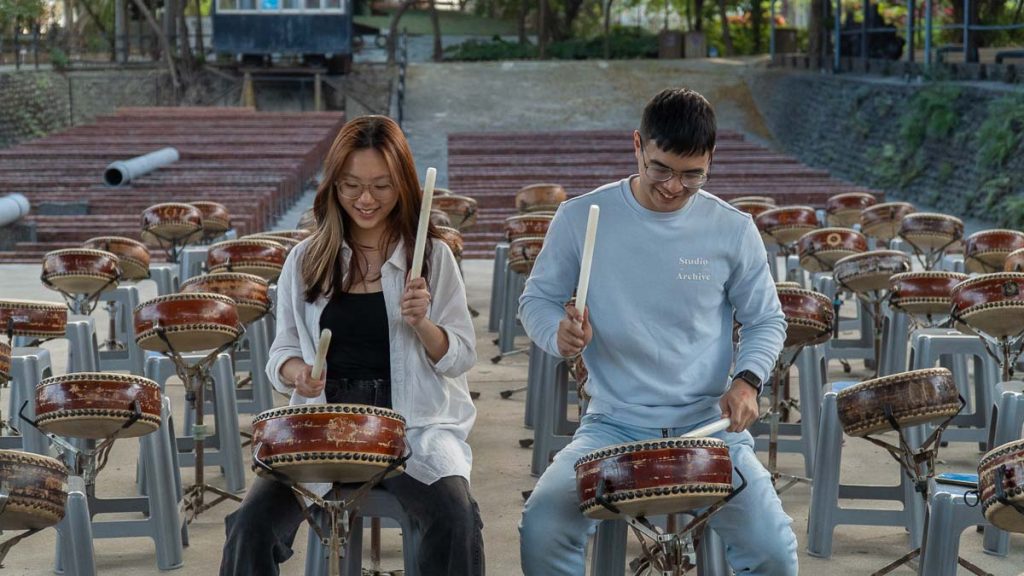 Ten Drum Cultural Village was born from the desire to preserve the art of Taiwanese drumming. During our free outdoor drum class, we tried our hand at beating the drums and learnt different drumming patterns.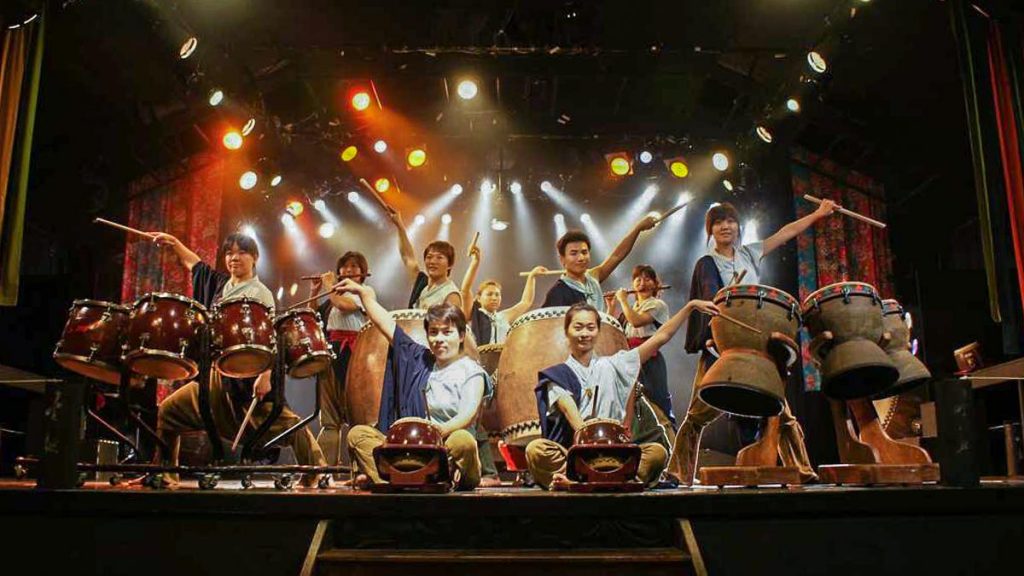 Photo credit: Tourism Bureau of Tainan City Government
We also watched a performance by Ten Drum Art Percussion Group — a Grammy-nominated Taiwanese percussion group!
*Note: There are only two musical performances per day at 11AM and 3PM.
To our surprise, the village also has thrilling activities like the sky swing, unique cafes like Magical Space Cafe, and fun attractions.
Entrance fee: S$19/pax
Opening hours: 10AM – 8:20PM (Weekdays), 9:30AM – 8:20PM (Weekends)
Address: No. 326, Section 2, Wenhua Rd, Rende District, Tainan City, Taiwan 71755
How to get there: Take train to Bao'an Station and walk 15mins
13) Indulge in local bean curd desserts at Xiu'an Douhua (修安扁擔豆花)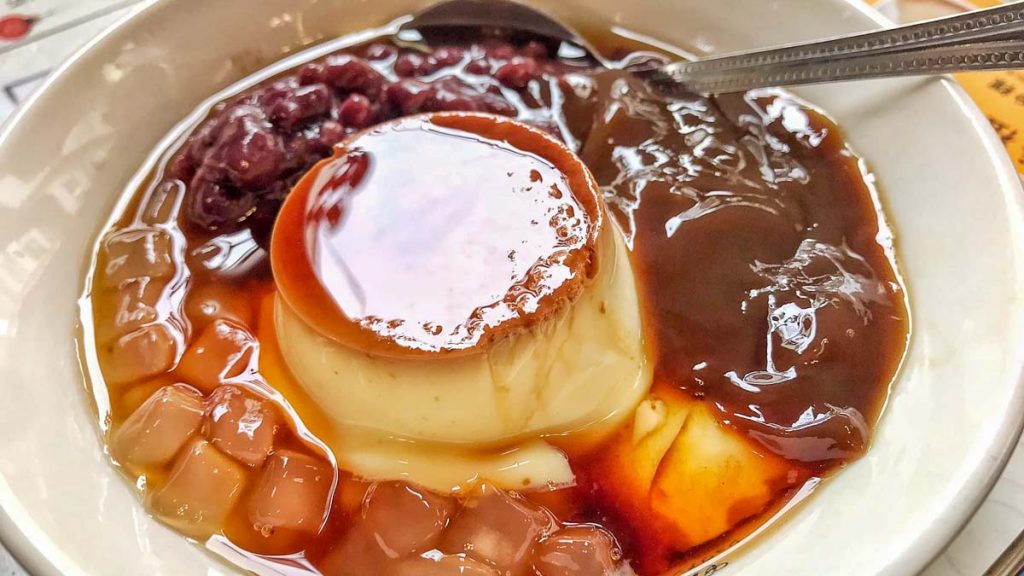 Photo credit: Li Jiafeng via Facebook
A certified Muslim-friendly gem in Yongle Market, Xiu'an Douhua serves douhua (bean curd) both hot and cold.
The douhua here is the perfect balance of tender and silky. Pair your bean curd with traditional toppings like fragrant taro paste and red bean or be adventurous with shaved ice and creme caramel! For an extra rich and creamy experience, try it with milk.
Cost: From NT$40 (~S$1.80)
Opening hours: 8AM – 9:30PM
Address: Yongle Market, No. 157, Section 3, Guohua St, West Central District, Tainan City, Taiwan 700
14) Admire history in Chihkan Tower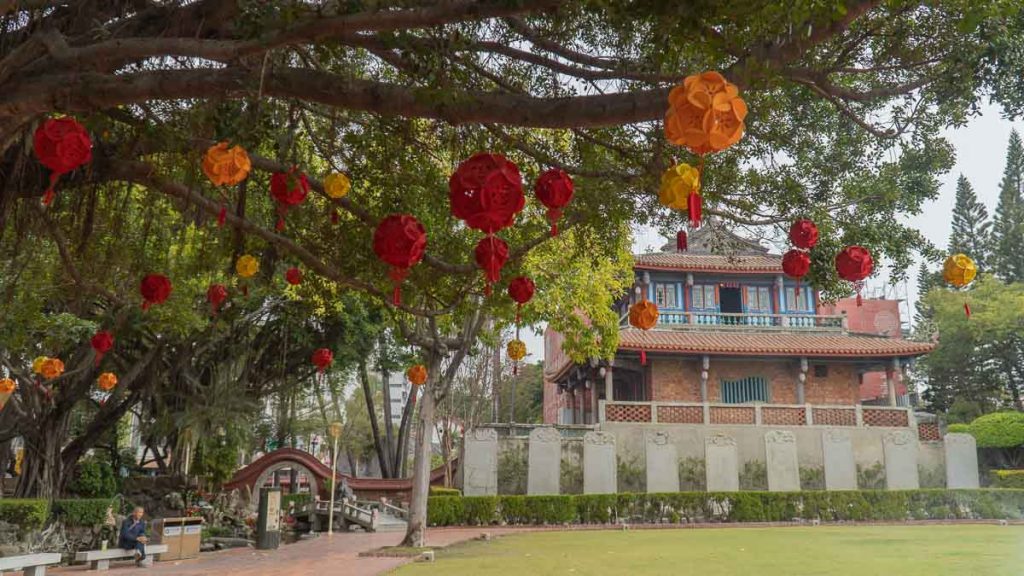 With more than 300 years of history, Chihkan Tower is the oldest building in Tainan's West Central District.
Built by the Dutch, it served as an administrative centre of Tainan. The architecture's a blend of Chinese, Dutch, and Japanese influences due to the many renovations throughout colonisation.
Explore historic sites like the Haisheng Temple (海神廟), Wengchang Pavilion (文昌閣) and Penghu College (蓬壺書院). At the south gate, look out for the turtle-shaped stone Bixi — one of the nine sons of the Dragon King — carrying nine imperial plinths.
Cost: ~S$2/pax
Opening hours: 8:30AM – 9:30PM
Address: No. 212, Section 2, Minzu Rd, West Central District, Tainan City, Taiwan 700
How to get there: 10 mins walk from Tainan Station
15) Take a trip to Cijin Island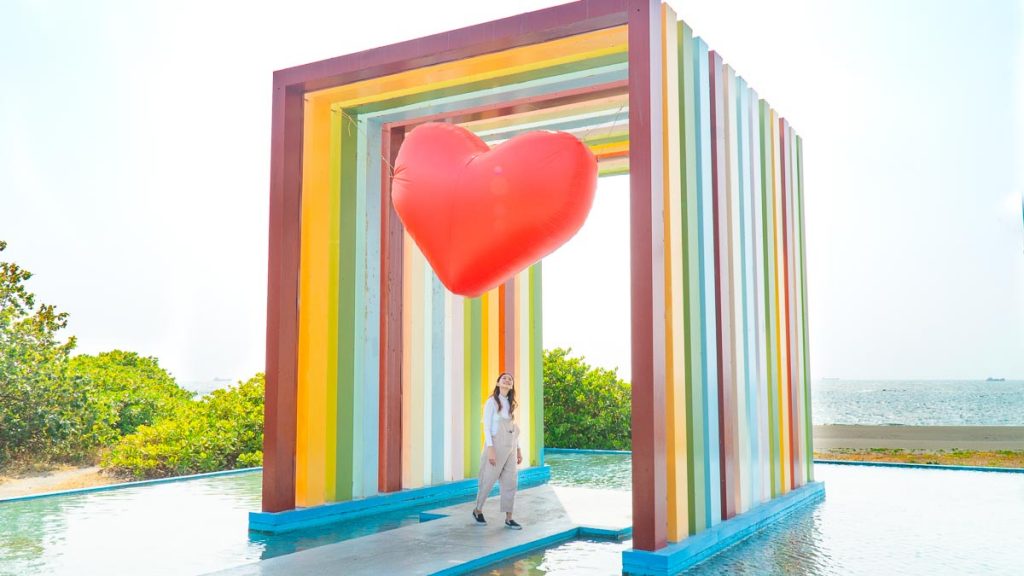 Away from the city lies Cijin Island — a haven of IG spots. This day trip destination is for anyone looking for ✨laidback vacation vibes✨.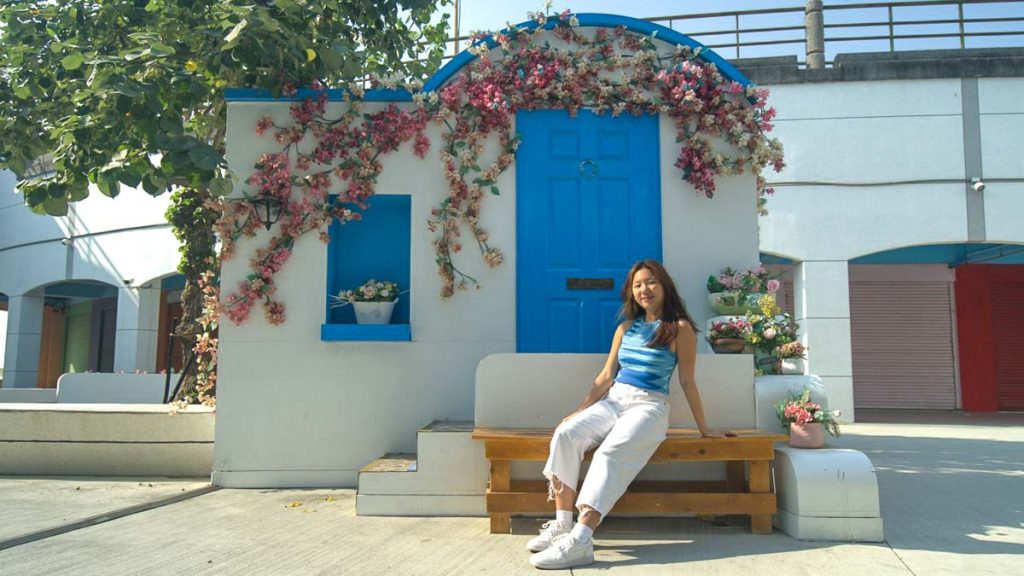 There's even a mini-Santorini along the beach between Rainbow Church and Cijin Shell Museum!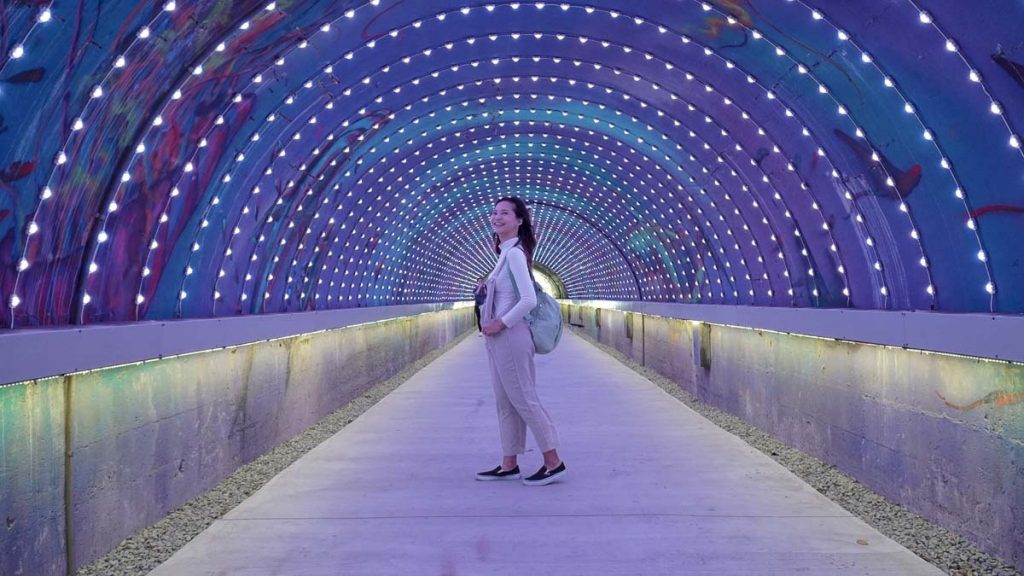 *Pro-tip: Save time hitting up photo spots around the island on a four-seater electric bike (NT$600/hour)!
There were plenty of seafood options and cafes selling coffee and desserts, but dine at your own discretion as none are Halal-certified.
How to get there: 5min ferry ride to Cijin Island from Gushan Ferry Pier
Taichung
Home to the creator of Bubble Tea and the origins of sun cake, Taichung has a sweet tooth. Eat your way through Taiwan's second-largest city with Taichung's Halal and Muslim-friendly treats!
16) Make a pilgrimage to the birthplace of Bubble Tea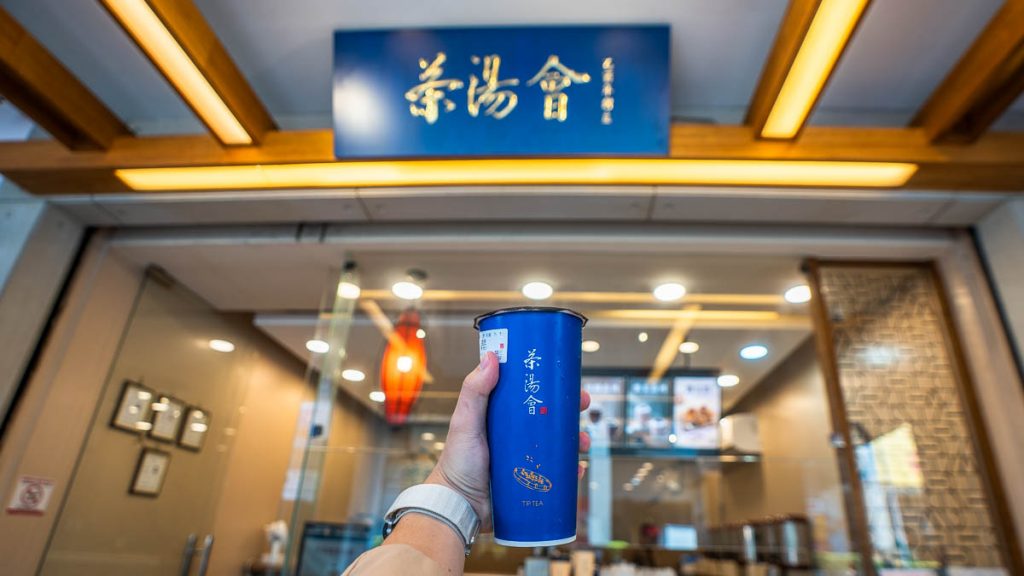 What's a trip to Taiwan without having at least three cups of bubble tea?
Right here in Taichung lies (many outlets of) Chun Shui Tang, the tea house claiming to have invented bubble tea. Their very petite cup of Pearl Milk Tea costs NT$90. Yikes.
The eatery sells pork but prepares drinks in a separate section of the kitchen. If you're doubtful, a Muslim-friendly option is TP Tea — a bubble tea chain owned by Chun Shui Tang! Their large (standard) cup of Pearl Milk Tea costs NT$50.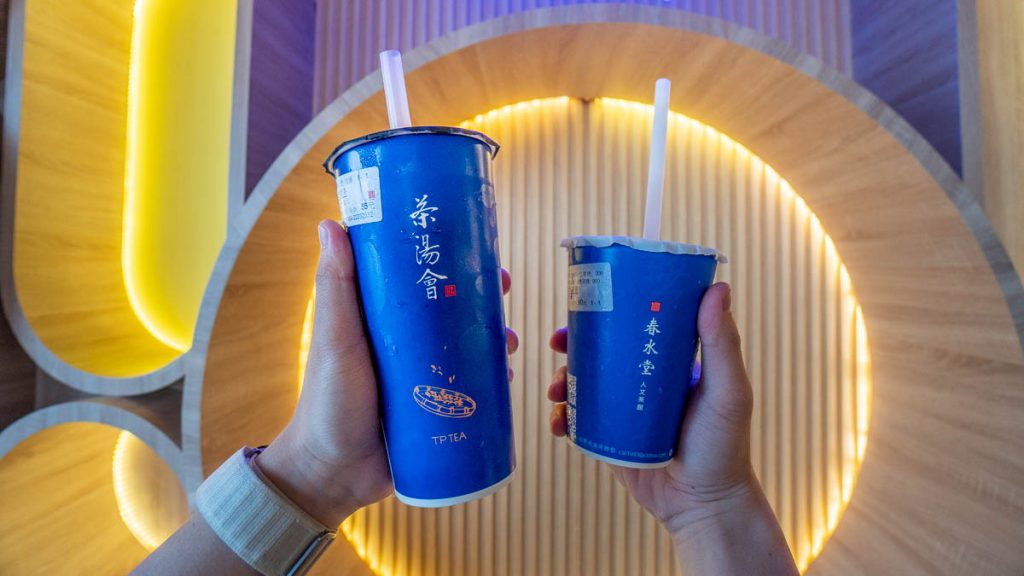 We tried them both and we preferred TP Tea for its fragrance and value for money.
TP Tea
Cost: From NT$50 (~S$2.20)
Opening hours: 10AM – 10PM
Address: No. 5, Dazhi Rd, East District, Taichung City, Taiwan 401
Many bubble tea brands like WooTEA and 50嵐 大智店 (the original KOI Thé) are lined along TP Tea's Dazhi Road outlet — so you literally can go on a bubble tea pilgrimage 😂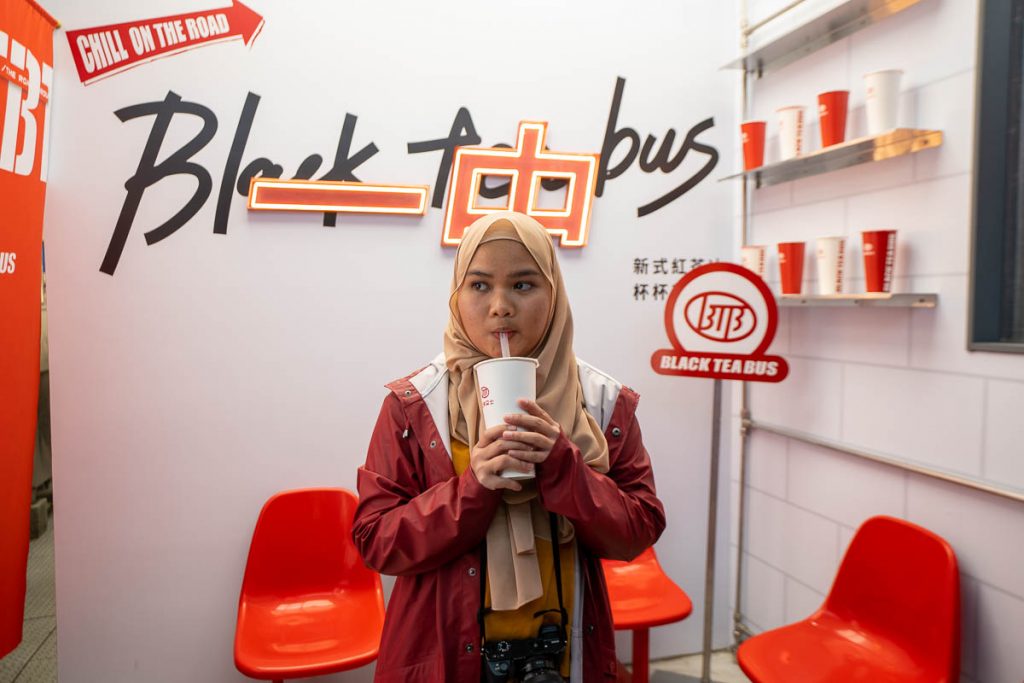 Unique to Taichung is 紅茶巴士Black Tea Bus which specialises in fresh, fragrant, and high-quality local tea. It was the tastiest bubble tea we tried on this trip and we even spotted one of our Uber drivers with it!
紅茶巴士Black Tea Bus
Cost: From NT$50 (~S$2.20)
Opening hours: 10AM – 10PM
Address: No. 18號, Alley 5, Lane 19, Taiping Rd, North District, Taichung City, Taiwan 404
17) Discover Muslim-friendly food in night markets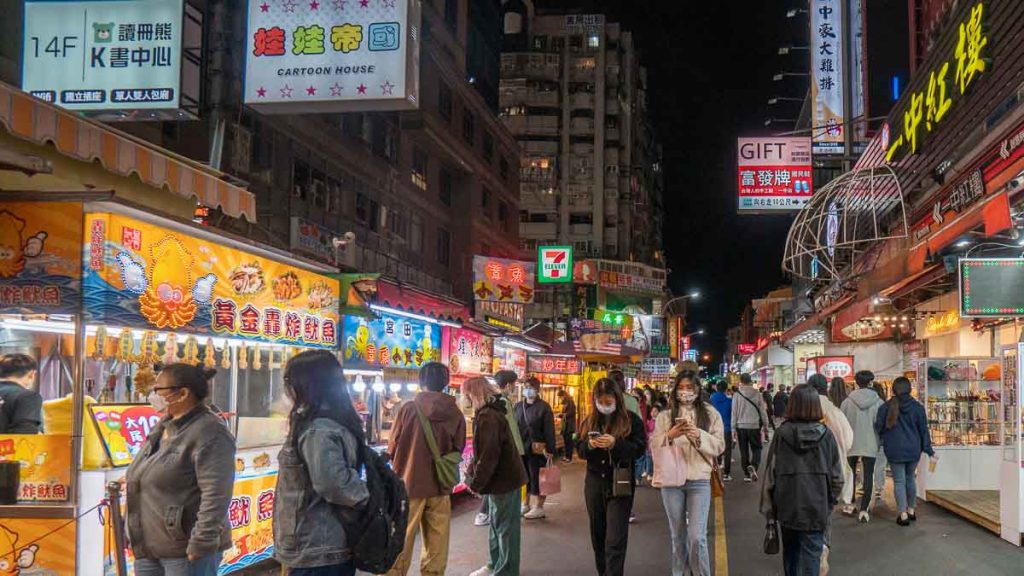 Ask anyone for a list of things to do in Taiwan and visiting night markets is probably on it.
I typically skip night markets as Halal options are little to none. Since I was with friends this time, I came with an open mind.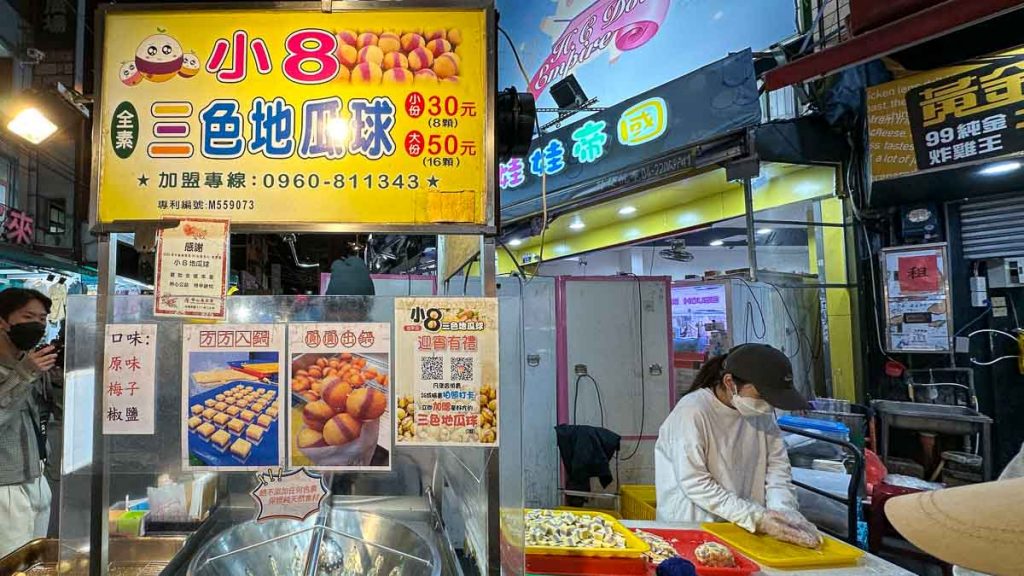 Feng Chia Night Market surprised me with these sweet potato balls. They're available at any market in Taiwan but this stall at the entrance used Halal-certified oil!
Claiming to be the largest night market in Taiwan, the lively Feng Chia Night Market is roughly a kilometre long with over 1,000 stalls.
Feng Chia Night Market
Opening hours: 4PM – 2AM
Address: Wenhua Rd, Xitun District, Taichung City, Taiwan 407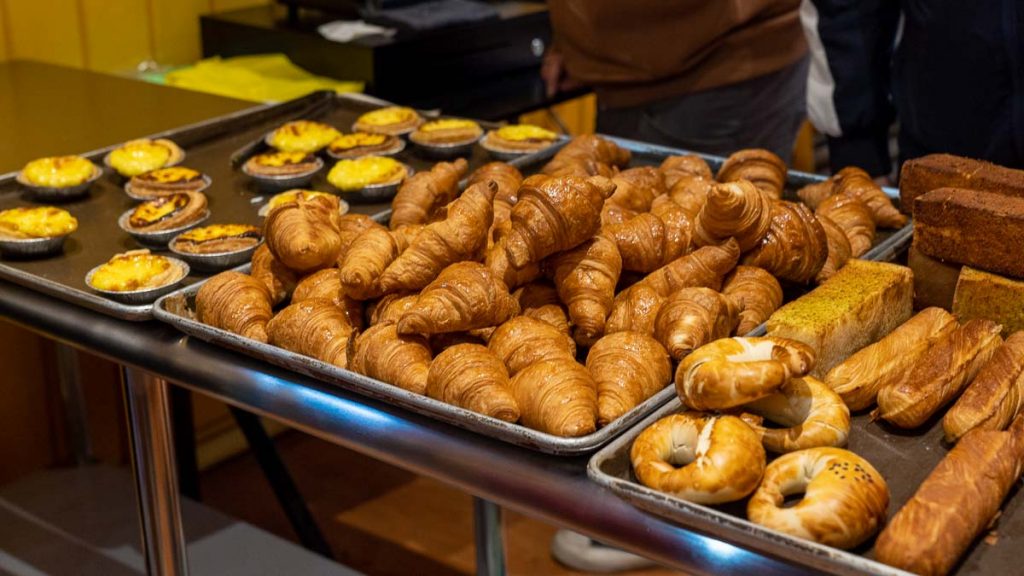 While walking towards Yizhong Night Market from 紅茶巴士Black Tea Bus, we stumbled upon the newly opened Yuechu Bakery which was vegetarian-friendly. The Milk Stick (NT$35) — a laminated milk bread — was pretty tasty!
Yizhong Street Night Market is calm and youthful with plenty of boutiques, photobooths and widely spaced-out stalls — giving me peace of mind as it reduces the risk of cross-contamination.
Yizhong Street Night Market
Opening hours: 11AM – 10PM (closes 11PM on weekends)
Address: Wenhua Rd, Xitun District, Taichung City, Taiwan 407
A single lane next to a temple is where you'll find Fengyuan Miaodong Night Market. Though packed with locals, the ambience was composed.
This market is one of the few places selling Water Chestnut Cake (NT$50 for 11 pieces) in Taiwan. It's essentially water chestnut pieces fried in batter and lucky for us, it's vegetarian-friendly! Two stalls were selling it — so I went for the one with the longest queue.
*Pro-tip: Take a queue number for the Water Chestnut Cake right upon entering Fengyuan Night Market. Wait times are long so survey the rest of the market while waiting for your number to be called (in Mandarin).
The first bite was underwhelming but I started to enjoy the subtle sweetness, crunchy exterior, and semi-soft interior of the water chestnut cake as it cooled down. Pearl and I couldn't stop eating it 🤭
Fengyuan Miaodong Night Market
Opening hours: 10AM – 11PM
Address: Lane 167, Zhongzheng Rd, Fengyuan District, Taichung City, Taiwan 420
18) Make your own Sun Cake (太陽餅)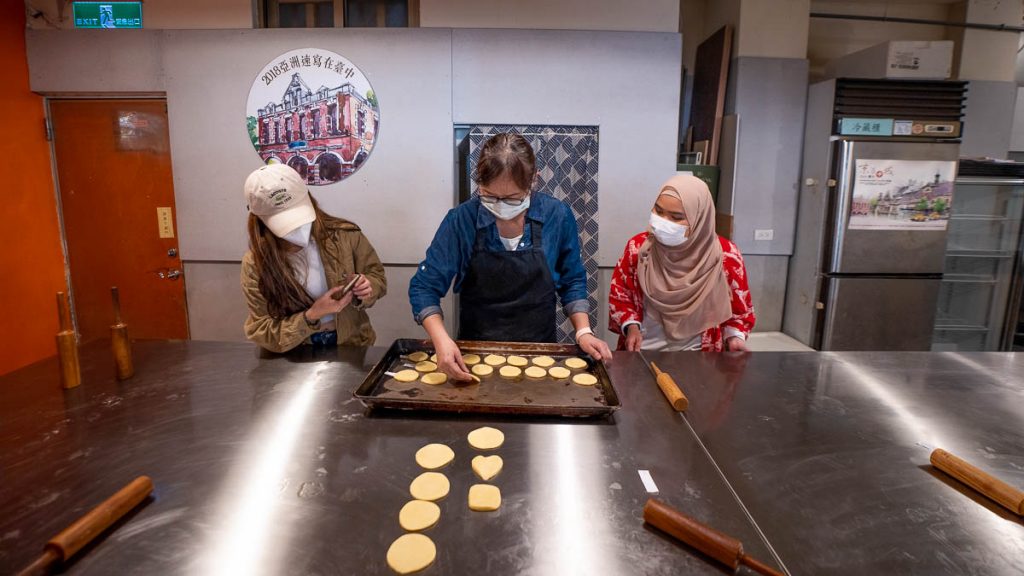 Fresh and crisp, my mind was blown when I first bit into a freshly baked sun cake.
Taiyang Bing or sun cake is a lard-based flaky pastry with a sweet maltose filling. When I found out that Taiwan Sun Cake Museum sold vegetarian-friendly sun cakes, I knew we had to attend their sun-cake-making workshop.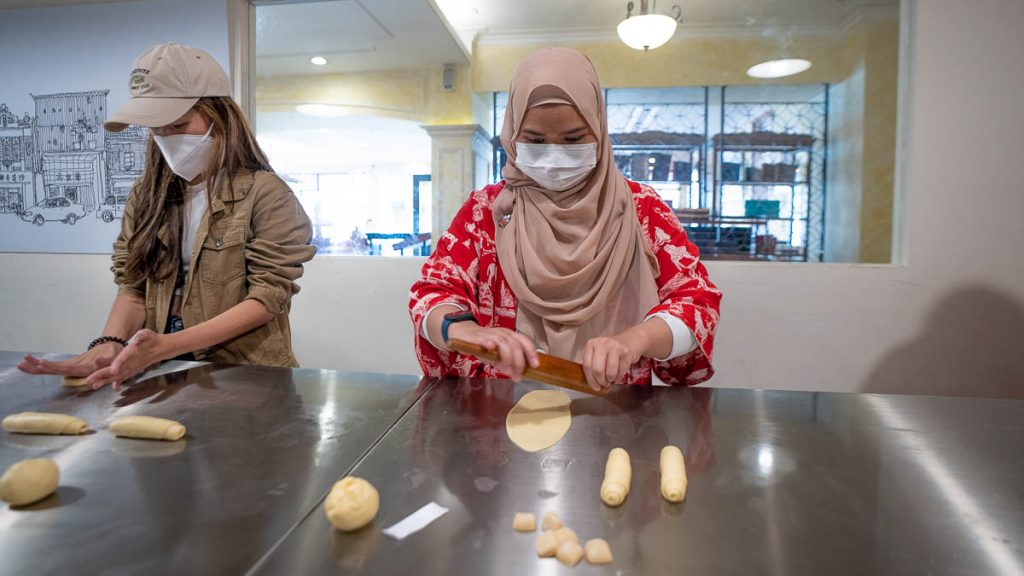 The workshop was conducted in Mandarin but the hands-on learning experience transcended the language barrier. No recipe was given 😔 but we had a chance at laminating the oil and water dough to create distinct flaky layers!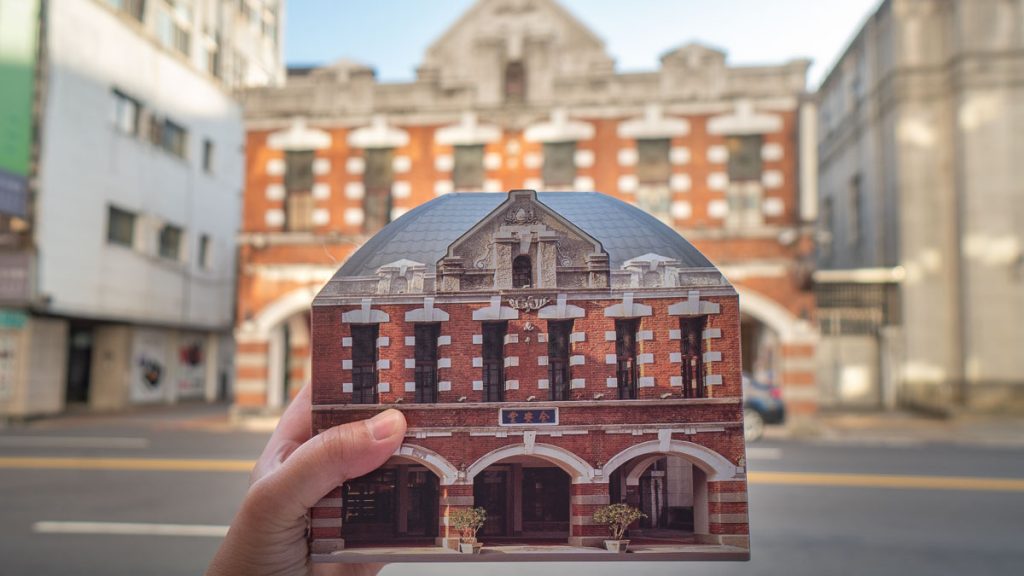 Sun cakes are culturally significant in Taiwan — they're even sold as souvenirs! Add this sun-cake-making workshop to your list of things to do in Taichung for an authentic and Muslim-friendly experience.
Cost: NT$250/pax (~S$11) or ~S$26.50/pax with a Historic Downtown Taichung Tour
Timings: Hourly from 10AM – 3PM, or 2PM – 5PM as part of the tour
Address: Taiwan Sun Cake Museum, no. 145, Section 1, Taiwan Blvd, Central District, Taichung City, Taiwan 400
19) Dig into local Halal food at 清真館 (Halal Hall)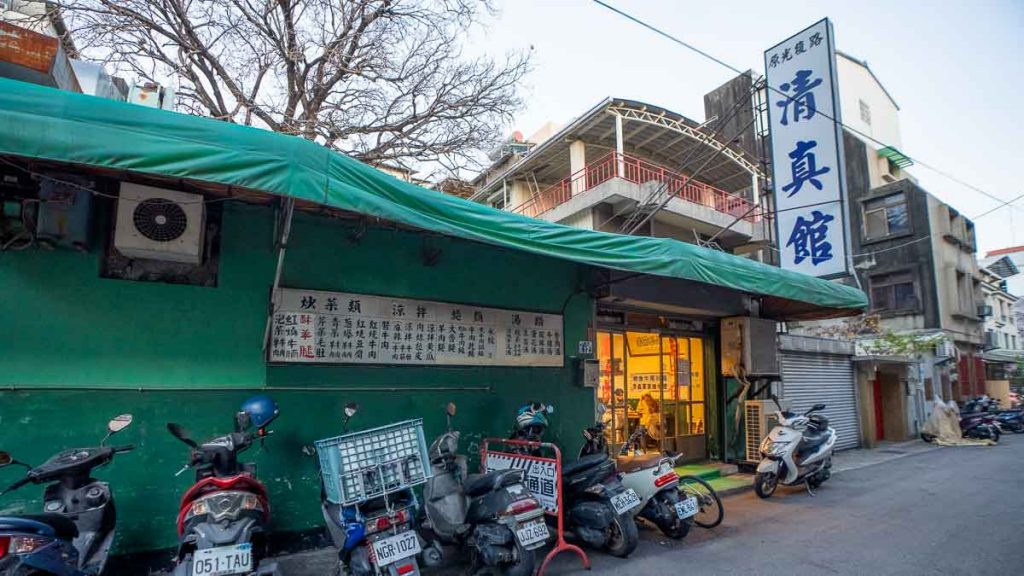 Out of sight in an alley, you'll find a big sign reading 清真館 (Halal Hall).
No one spoke English and the entire menu was in Mandarin — I was in for a local experience.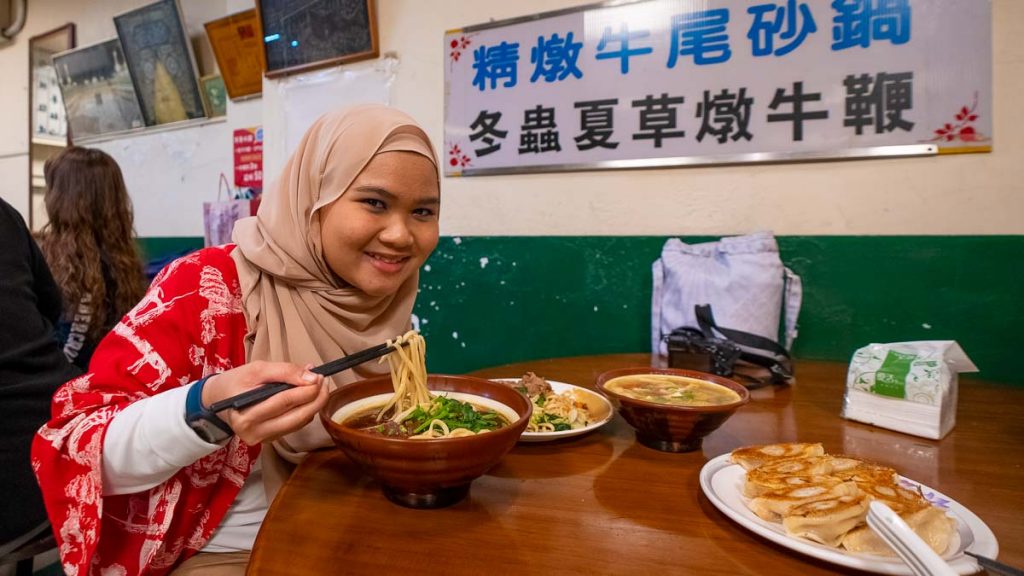 Try the Fried Beef Noodles (NT$100) to switch up from the usual beef noodle soup. It's tossed in an ever-so-slightly sweet sauce with tender beef slices. We also had pickled vegetable soup with lamb (NT$60). It was something new for me and I loved its heartiness and tanginess.
Our favourite was the Beef Pot Stickers (NT$100 for 10pc). It was Brendan's first time having halal dumplings and he was impressed by its juicy ginger flavour!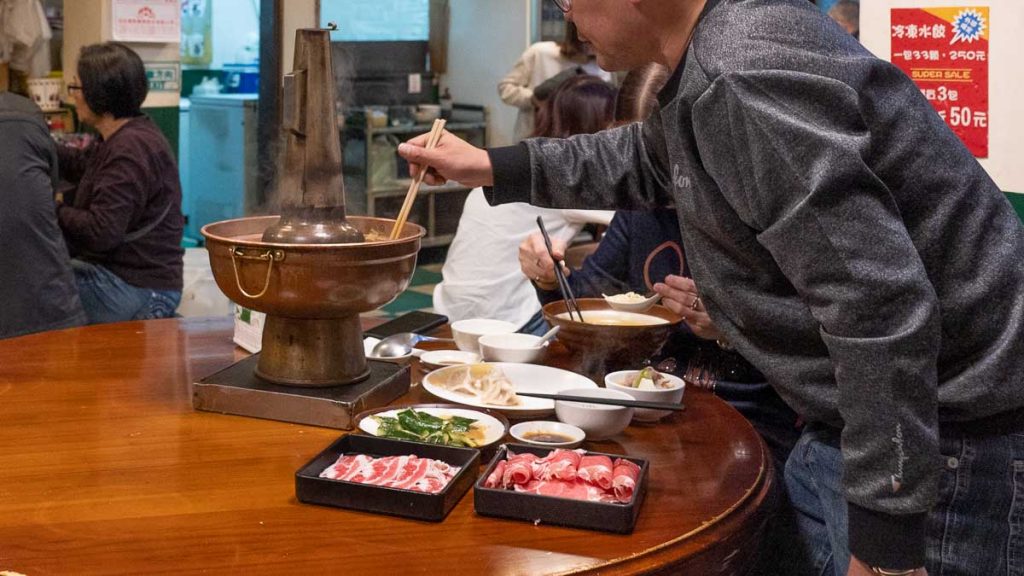 We saw many locals having Hotpot too!
Cost: From NT$2.20
Opening hours: 5PM – 8:30PM (also opens 11AM – 2PM on weekends)
Address: No. 12號, Lane 165, Zhongxiao Rd, South District, Taichung City, Taiwan 402
Discover things to do on Taiwan's West Coast with ease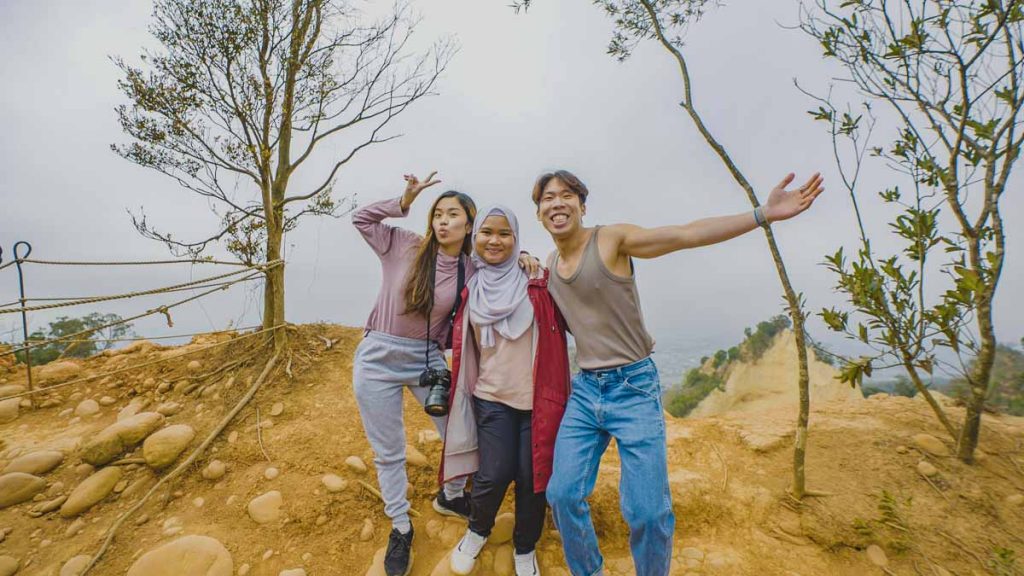 Planning your route early is essential, especially if you're travelling via public transport on Taiwan's West Coast. Although trains and bus schedules are not frequent, schedules are fixed and Google Maps is accurate.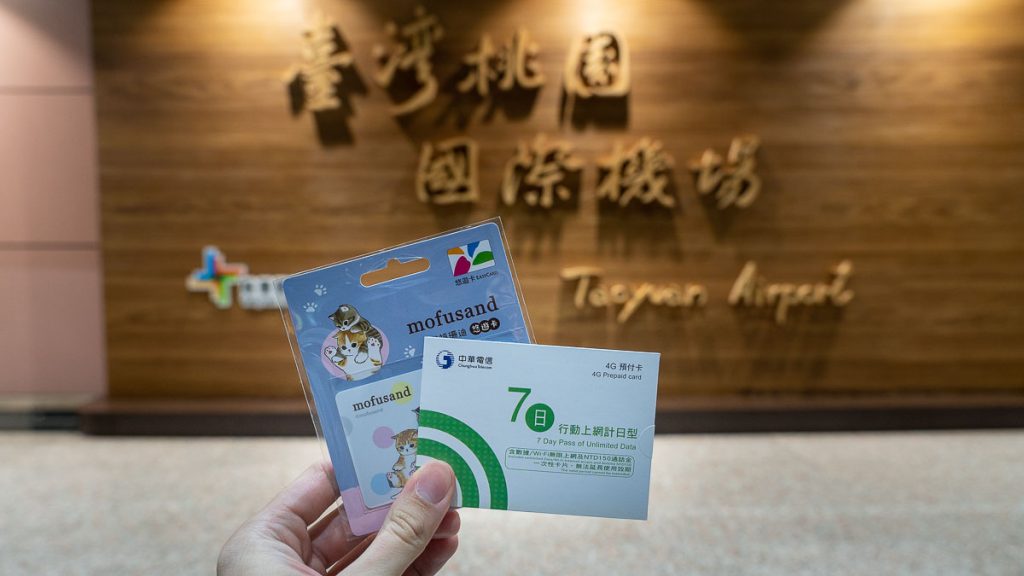 Public transport: We purchased an EasyCard which was helpful especially for short bus rides around the city. Most short bus trips were free with the EasyCard!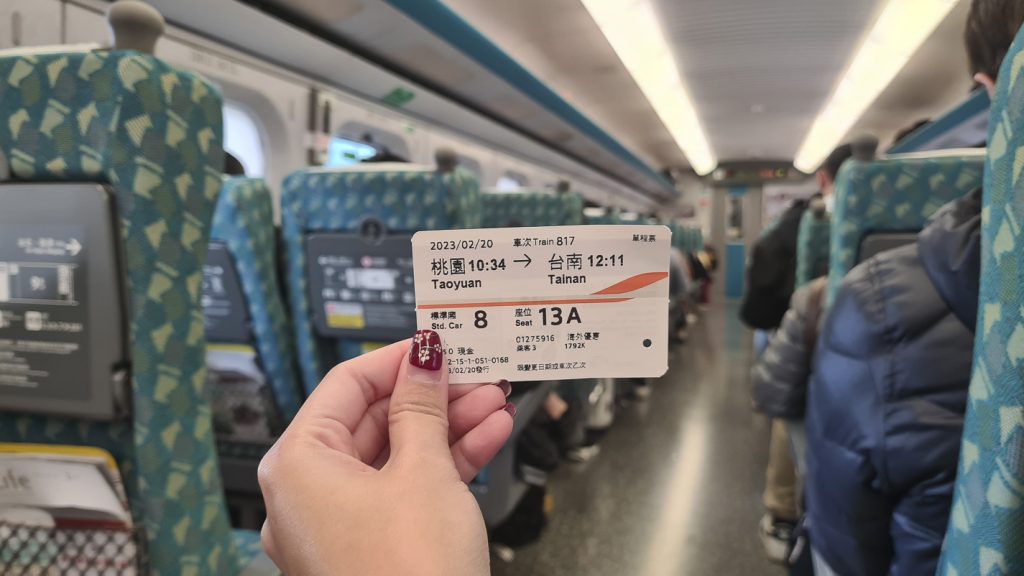 Taiwan High Speed Rail (HSR): It's possible to travel between cities using the Taiwan Railways (TRA) but for a slightly higher price, it was much faster travelling via Taiwan High Speed Rail. You can purchase single-journey tickets or multi-day passes.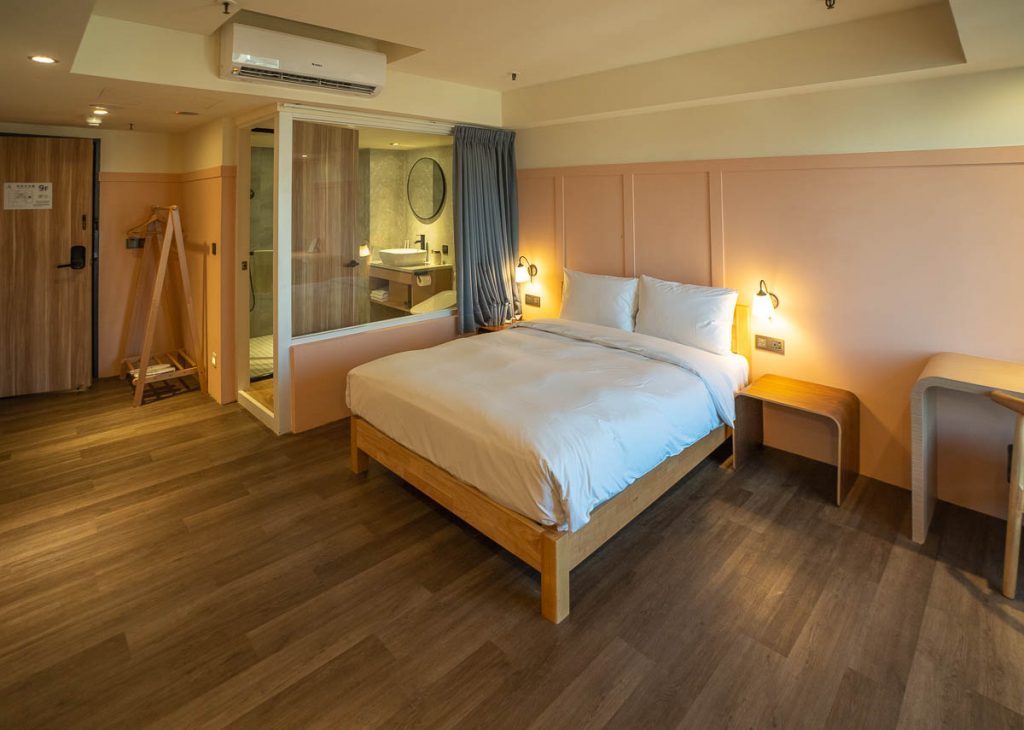 Accommodation: We booked Green Hotel – Midori and House Inn House via Klook as we based ourselves in Taichung and Tainan for this trip. Green Hotel – Midori is spacious, clean, and even has a bidet!
Uber: Ubers are available in major cities but are not in smaller areas like Miaoli County.
Check out our other Muslim-friendly guides:
– Muslim-friendly 4D3N Taipei Itinerary — A Solo Traveller's First Time in Taiwan
– 7 Pro-Tips to Finding Halal Food Easily in Non-Muslim Countries
– Taipei Muslim-Friendly Food Guide — 13 Tried and Tested Halal Certified Places
Know of any other hidden gems on Taiwan's West Coast? Let us know in the comments below!
---