From zip-lining across waterfalls to jet-skiing around 99 islands, there are more exciting things to do in Langkawi than you might think!
Beach getaways are aplenty in Southeast Asia, where us city dwellers get to bask under the comforts of the tropical sun and swim in shimmering seawaters. Likewise, when I think of Langkawi, I think of the sand, the sea and the sun.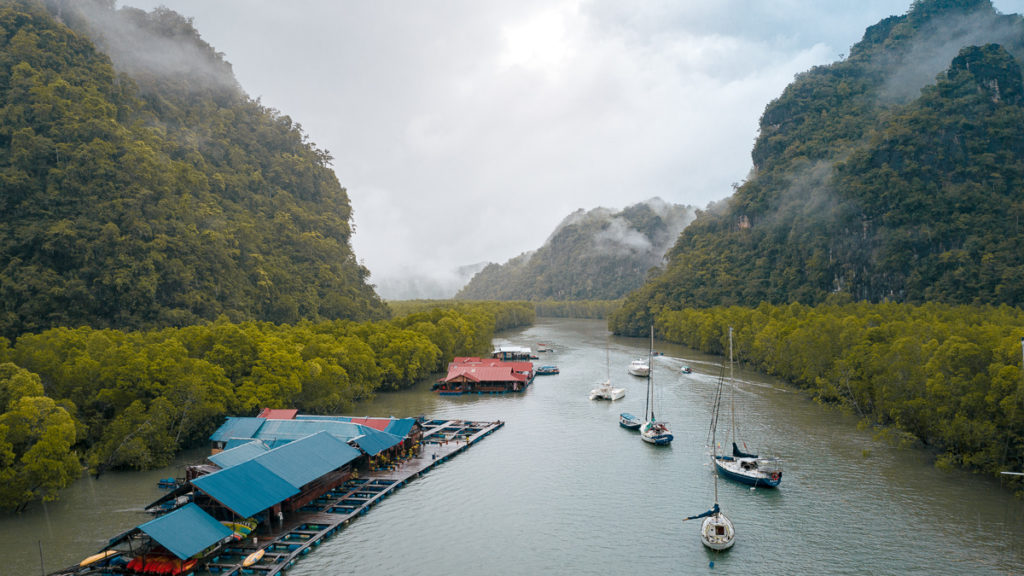 But if being a beach bum partaking in "mundane" activities is not what you're only in for, you'll be glad to know Langkawi packs an unexpected punch — we zip-lined across a waterfall, jet-skiied around 99 of Langkawi's surrounding islands, and cruised through mangroves! Turns out, there are a ton of exciting things to do in Langkawi beyond just relaxing on the beach.
The best part for me was that not everyone was in on this little secret, so we always had the place to ourselves. We never had to wait for a seat in a restaurant or share the beach with other noisy tourists! Langkawi's nearer (and cheaper) than Bali, and just as exciting.
So if you're craving for your next island getaway, here's our guide to 13 exciting things to do in Langkawi!
Start planning your Langkawi Getaway from only S$63!
Unique Things to Do in Langkawi
1) Umgawa Zip Lining Adventure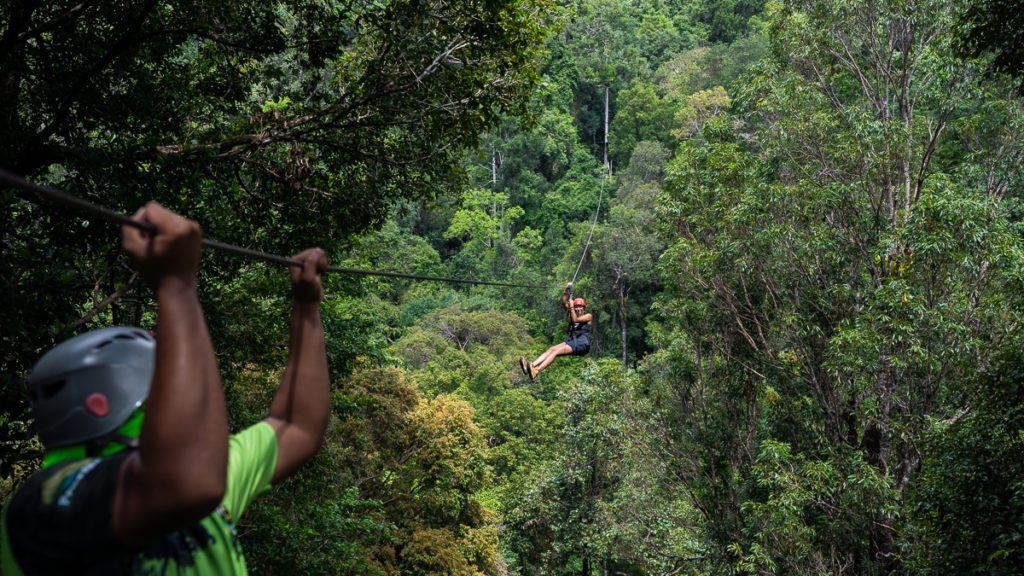 I'm not gonna lie, I'm not the bravest of souls when it comes to heights. But I sure as heck wouldn't give up the chance to zip-line over the magnificent Seven Wells Waterfall, arguably Langkawi's most beautiful!
We highly recommend doing the full package — The Big Waterfall Adventure — that takes you on a wild two-hour adventure through 12 zip-lines (yes, 12!), three sky bridges among the treetops, and one double zip-line for the couples.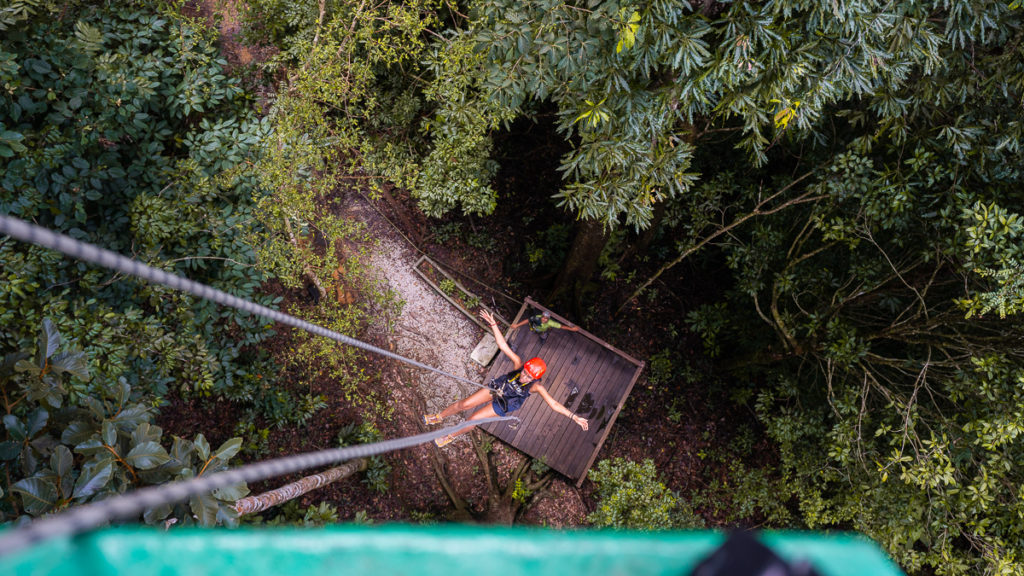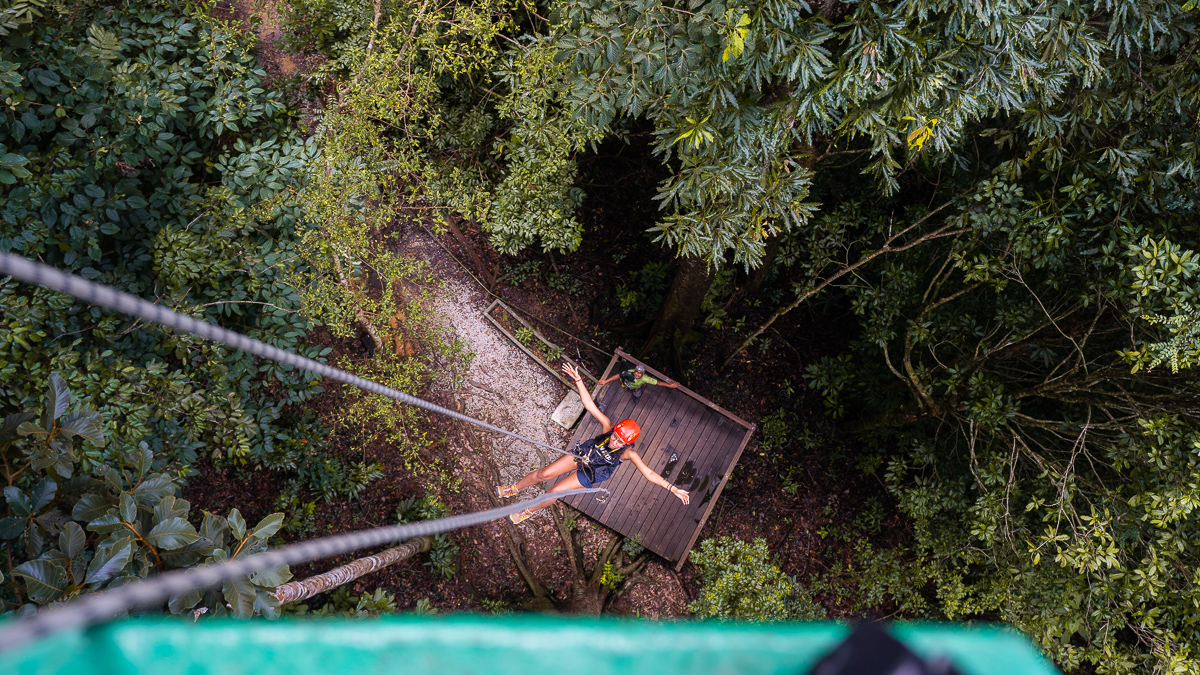 Looking down 300m to my imminent death, the only thing that kept me calm were the highly skilled guides that practiced phenomenal levels of safety. The guides were not only there to soothe my anxiety but also to help us spot animals! We were very lucky to spot several Hornbill birds (there are also flying lemurs and silver-leafed monkeys!).
I know it's a cliché but despite being deathly afraid of heights, the experience was so amazing that I would go back for seconds!
Cost: RM499 (~S$164), ~S$147 online
Opening Hours: 8:30AM – 4:30PM
Address: Umgawa Legendary Adventures, 7 Wells Waterfall – Jalan Telaga Tujuh, 07100 Langkawi, Malaysia
2) Island Hop on a Jet-ski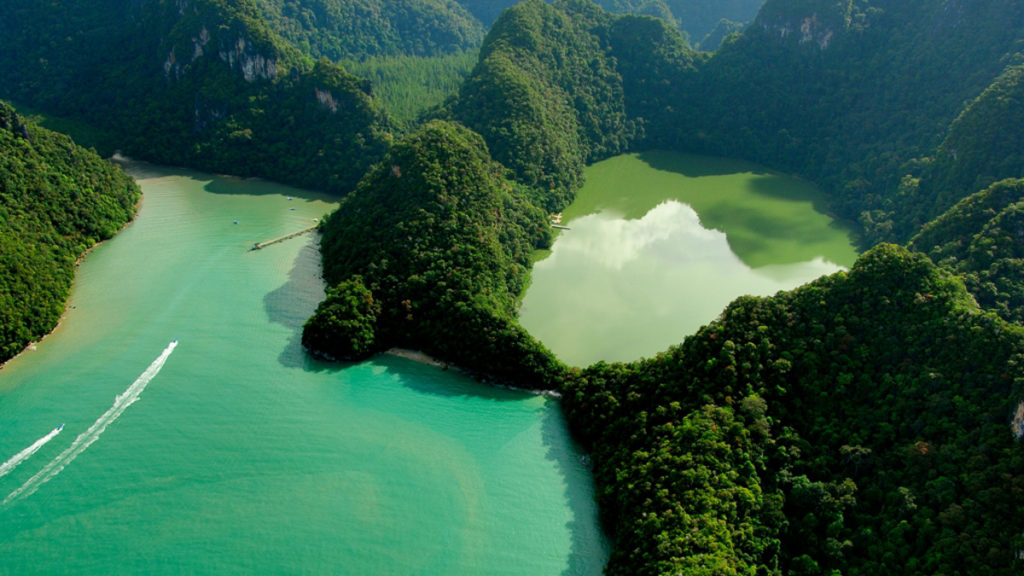 Photo credit: Malaysia Truly Asia
Did you know that Langkawi is an archipelago made up of 99 islands?! Only five of them are inhabited by people, and the rest are all actual deserted islands where people go to enjoy the soft sand and clear blue waters.
One of the must-visit islands is the Pulau Dayang Bunting, also known as the Lake Of The Pregnant Maiden. Legend has it that if a barren lady swims in this lake, she'll be able to conceive. So maybe this myth isn't for everyone, but it definitely makes for a very scenic visit.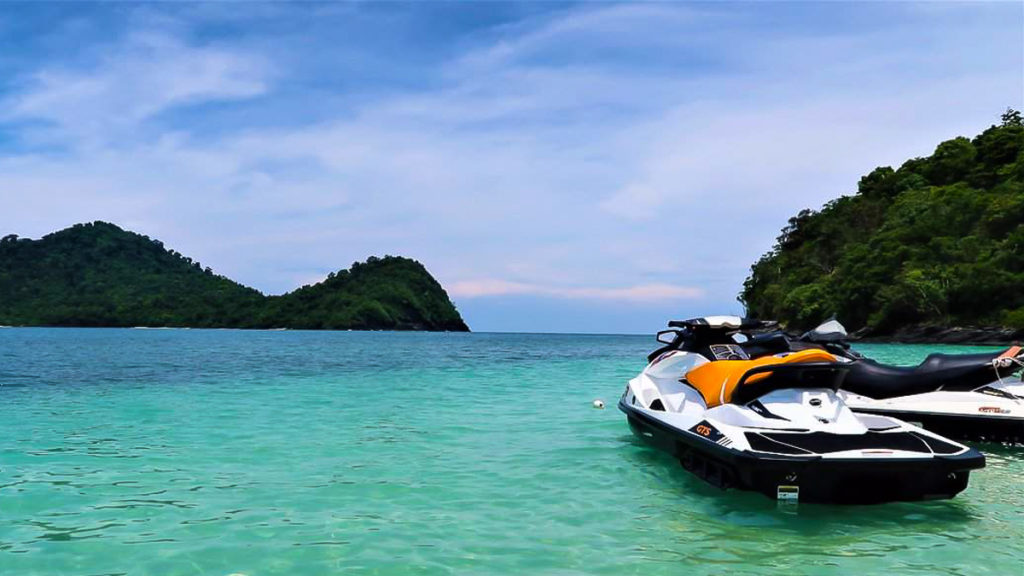 Photo credit: Klook
So how do you get there? There are actually three ways. The first way is to book an island hopping tour (~S$20) which will take you on a boat to explore a few of the islands. The second option is to book a full-on jetski tour (~S$235) where you can jetski to as many islands as you can!
The last and most economical option is to head down to the Pekan Rabu Jeti and buy a ticket for RM6 which will take you to Pulau Tuba. Then, you can rent a motorbike (RM30) and ride it around the island and across to Pulau Dayang Bunting.

Opening Hours: 9AM – 3PM
Address: Pekan Rabu Jeti, Taman Legenda, 07000 Langkawi, Kedah, Malaysia.
3) Mangrove Tour Across the Kilim Geopark Forest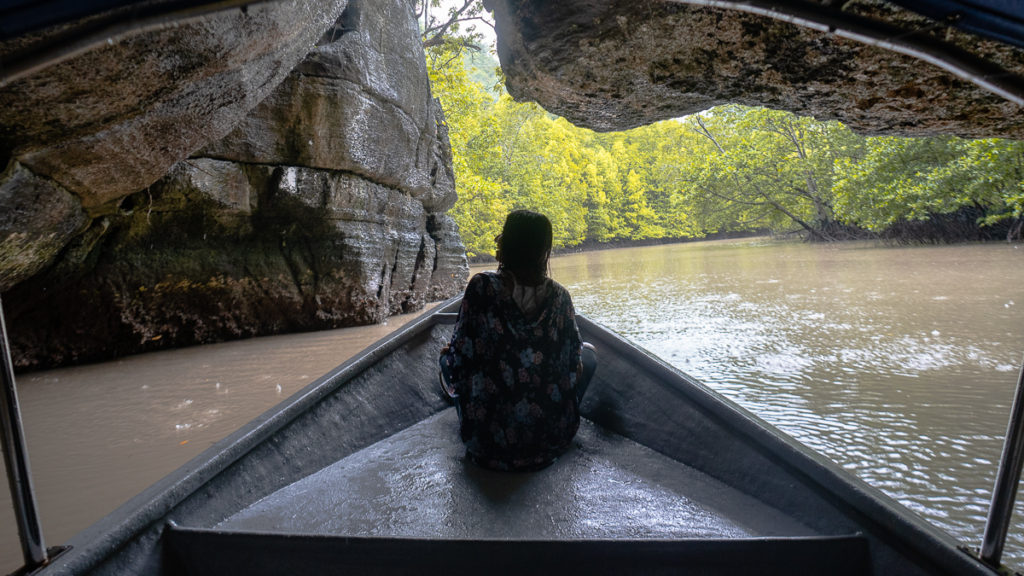 Being a nature lover myself, I'm ashamed of not knowing about this beauty so near Singapore prior to this trip. Langkawi was, in fact, the first Southeast Asian country to be awarded UNESCO Global Geopark status in 2007. And it doesn't only have one Geopark but THREE! The Kilim Geopark Forest is the largest of them.
There are several packages that you can book through Faizal Klim Mangrove Tour depending on how long you'd like your cruise to be — we took the two-hour sharing package option!
Tour Timings: 2PM – 4PM
Address: Kampung Kilim, Jalan Ayer Hangat 07000 Langkawi, Kedah Darul Aman, Malaysia
4) Catch the Sunset On a Cruise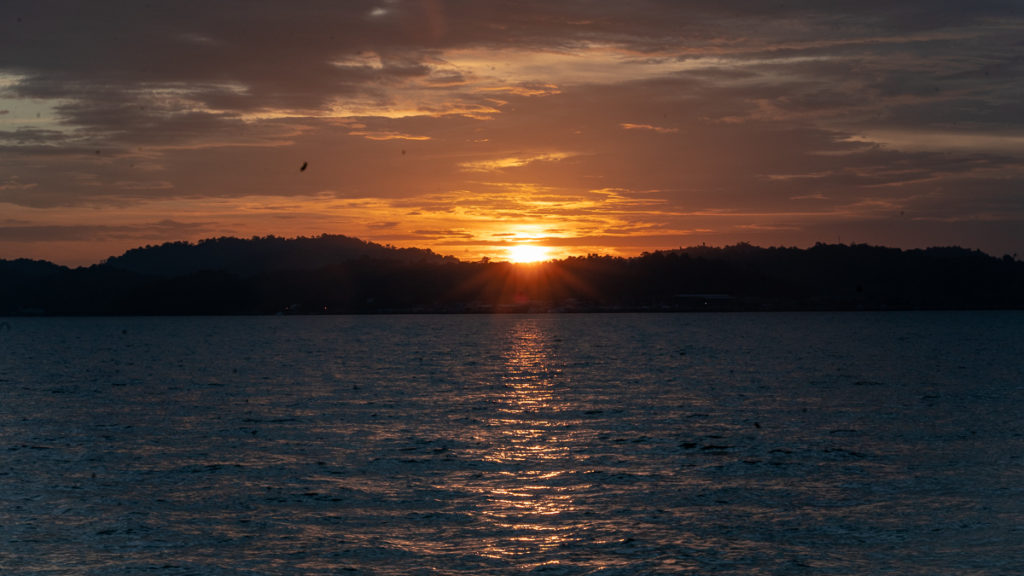 Appreciating the sunset in Langkawi is a must-do. But instead of doing it by the beach like a plebian, why not hop on a cruise? The cruise will sail out to the middle of the Andaman Sea where you'll get an unobstructed view of the beautiful sun setting. The perfect conclusion to the perfect day.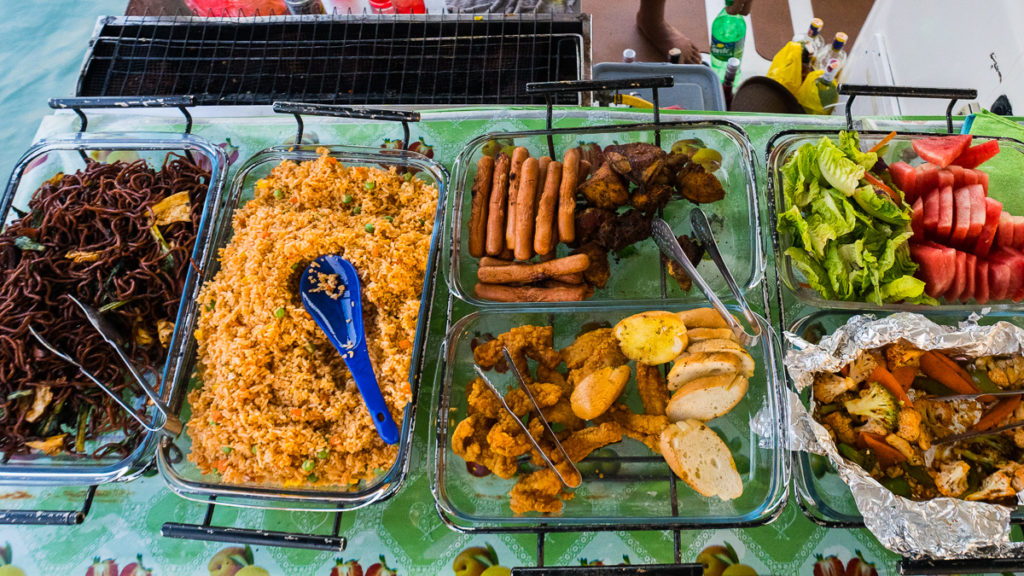 The fun doesn't even end there. A full buffet dinner spread is also included in the package, with an open bar that was enough to convince me that this was where I belonged.
If you're not drinking like a raging alcoholic, you can take a dip in the salt water jacuzzi instead. Or do both anyway — a net will be cast from the back of the boat where you can chill with a beer in hand as the boat sails!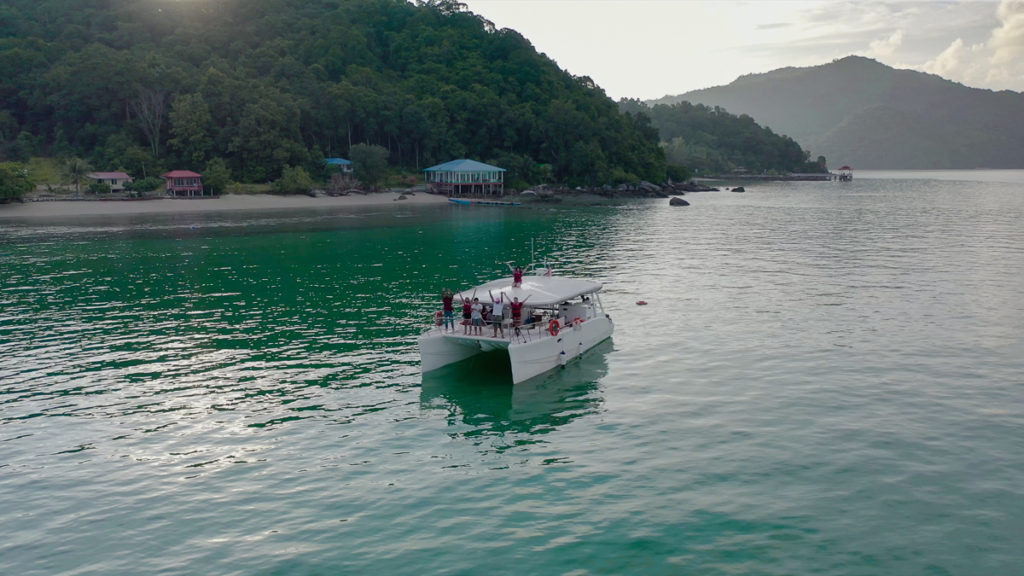 If you've ever aspired to be on one of those private yacht parties, the captain even plays some sick beats later into the night where you can groove the night away in the middle of the sea!
Cost: ~S$81
Tour Timing: 4:45PM – 8:00PM
Address: Pekan Rabu Jeti, Taman Legenda, 07000 Langkawi, Kedah, Malaysia.
Breathtaking Things to See in Langkawi
5) View of Langkawi from the Sky Bridge
Singapore got cable car also lor? Go Langkawi for what! Excellent point! But does Singapore have views like this? Plus, Langkawi's cable cars are the steepest in the world. Again, with my fear of heights, I wasn't doing too good. But the view definitely made it worth it.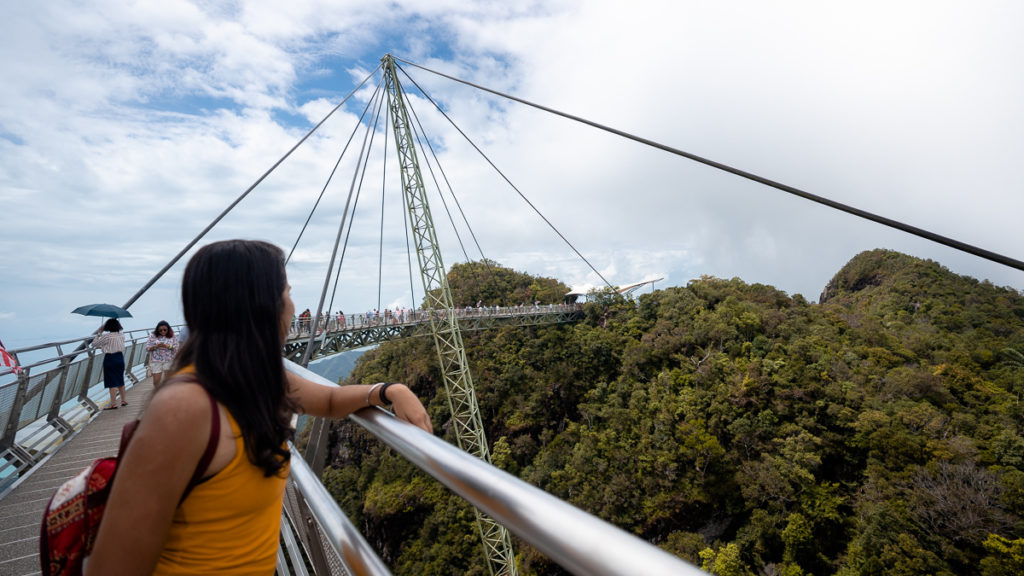 The cable car ride leads up to this sky bridge which provides you with a breathtaking, soul-stealing view of Langkawi.
*Pro-tip: The cable car stops midway up where you can leave to collect photos (if you took any professional ones at the base) — don't leave or risk queuing for another hour again to reach the top!
Cost: RM85 for cable car, RM5 for Sky Bridge
Opening Hours: 9:30AM – 7PM
Address: Panorama Langkawi Sdn Bhd Cable Car Station, Oriental Village, Burau Bay, 07000 Langkawi, Kedah, Malaysia
6) Al Hana Mosque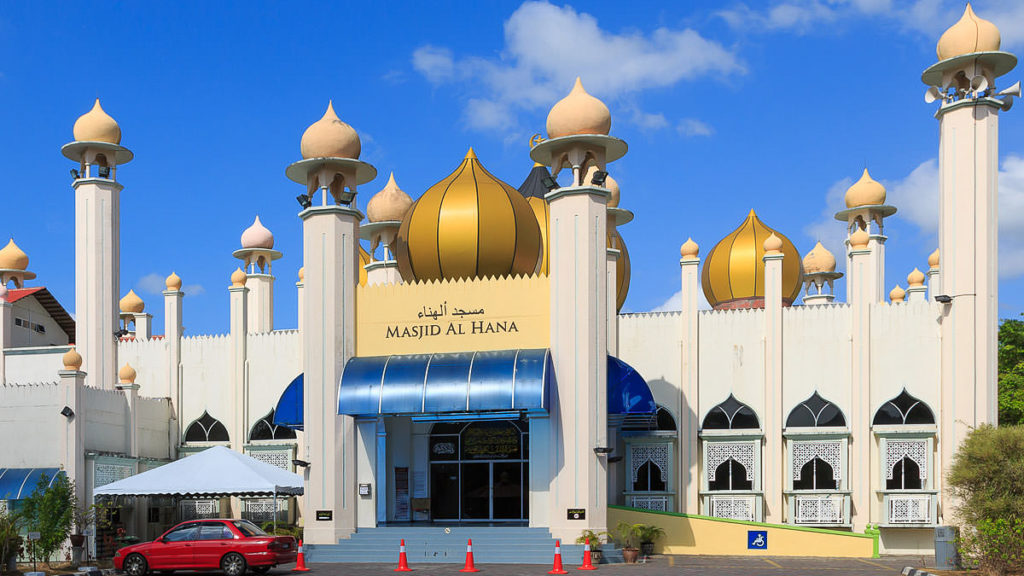 Photo credit: Langkawi Info
Al Hana Mosque is the largest and most popular mosque in Langkawi, and you can clearly see why — its exquisite design alone is worth more than a moment. The golden domes perched atop the whitewashed structure really emphasises the elegance of the place.
*Pro-tip: As a place of worship, ensure you're covered from shoulders to ankles (females have to cover up till the wrists) before entering.
Entrance Fee: Free
Opening Hours: 24 hours
Address: Kuah, 07000 Langkawi, Kedah, Malaysia
7) Eagle Square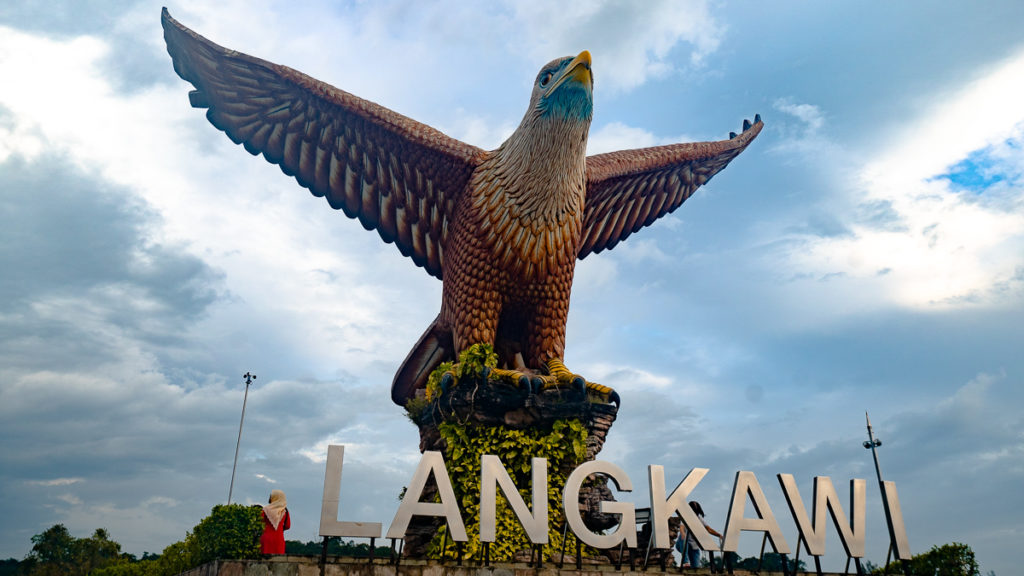 The Eagle Square was built as an emblem of Langkawi, and the archipelago got its name from the eagle itself! This 12m-tall statue erected near the jetty offers a scenic view of the Kuah Bay, and you should visit it in the evening or early in the morning to get a picture perfect moment with the sunrise/sunset.
Opening Hours: 24 hours
Address: Persiaran Putera Kuah, 07000 Langkawi, Kedah, Malaysia
Things you Must Eat in Langkawi
8) Roti Canai Black Pepper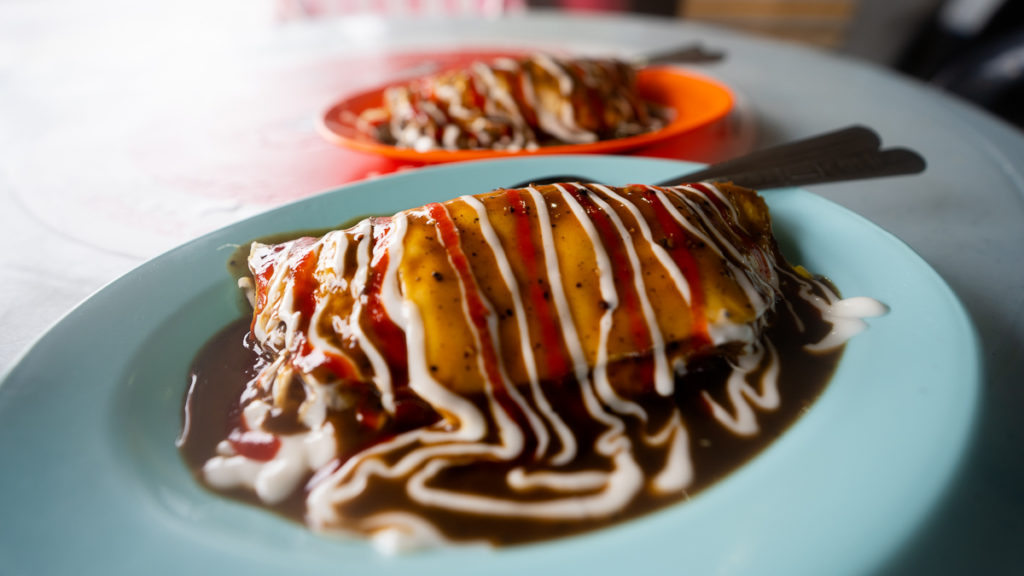 This hidden gem was introduced to us by our local Grab driver, and is ranked as one of his top favourites! This roti canai is doused in a thick spicy black pepper sauce, stuffed with your choice of chicken or beef. Sedap!
Cost: RM6
Opening Hours: 7AM – 3PM
Address: Jalan Kedawang, Kampung Lubok Buaya, 07000 Langkawi, Kedah, Malaysia
9) Street Food in Night Markets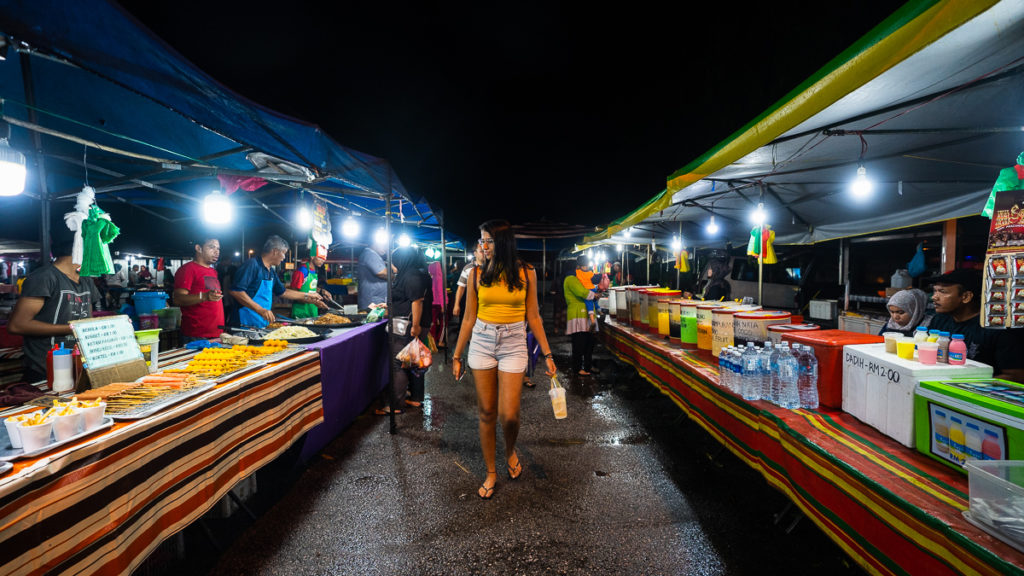 Street food is the best food. And in Langkawi, there's an abundance of it. This night market is a little tricky to get to, because they change locations every day of the week:

Monday: 2, Taman Wawasan Indah, Kampung Padang Gaong, 07000 Langkawi
Tuesday: Kampung Chenek Kura, 07000 Langkawi
Wednesday: Lencongan Putra 3 Kuah, 07000 Langkawi
Thursday: Kampung Lubok Buaya, 07000 Langkawi
Friday: Jalan Padang Gaong, 07000 Langkawi
Saturday: Lencongan Putra 3 Kuah, 07000
Sunday: Padang Matsirat, 07100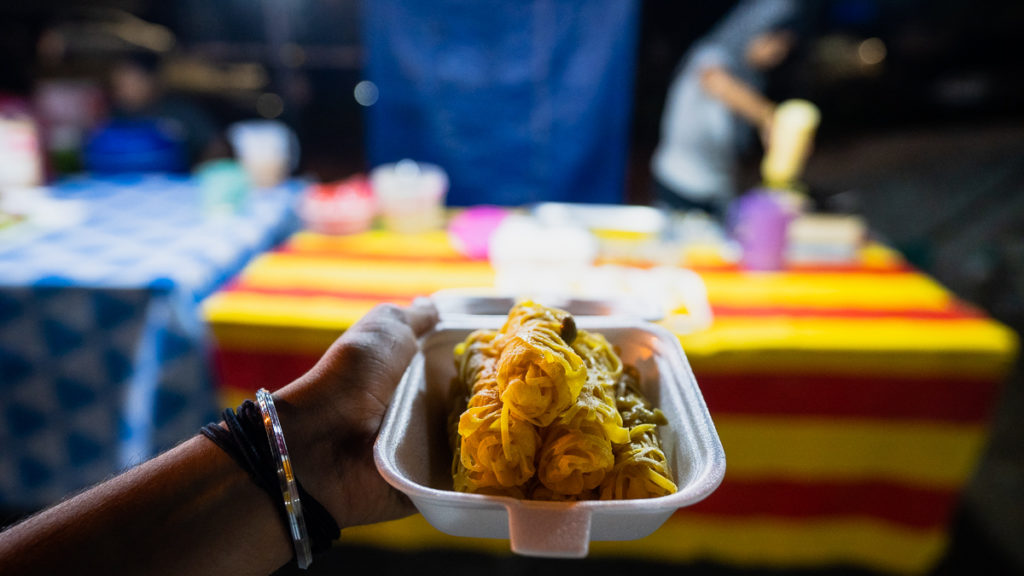 Everything in the night market was great but my legs went particularly weak eating this roti jala (RM2). With five sizeable pieces of the lace pancake drenched in gravy, this alone is good enough for dinner. Thankfully, I had friends to help me out so I could diversify my energies.

Opening Hours: 5PM – 9PM
10) Nasi Kandar Tomato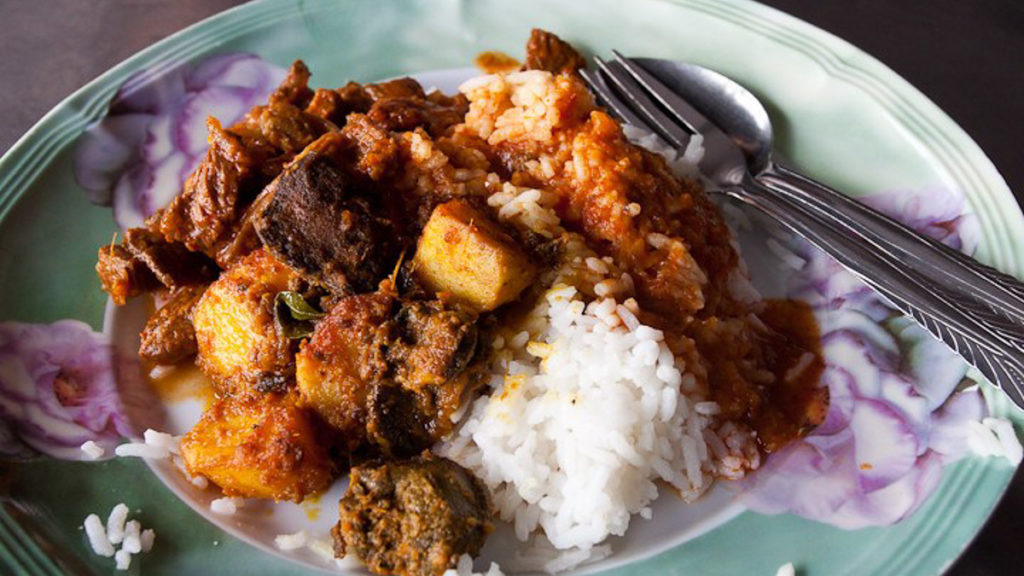 Photo credit: Seek4trip
Nasi kandar might come from Penang, but Nasi Kandar Tomato in Langkawi sure puts up a good fight! A must-try here as the name suggest is the tomato rice. Beware: all the dishes are relatively spicy so if you can't read the Malay menu, ask for help.

Also, it's conveniently located in the party district of Langkawi, and being open 24/7, it's the perfect supper spot.
Cost: RM10 – RM15
Opening Hours: Only closed Friday 1:15PM – 2:30PM
Address: Jalan Pantai Chenang, Pantai Cenang, 07000 Langkawi, Kedah, Malaysia
Best Places for Nightlife in Langkawi
11) Yellow Cafe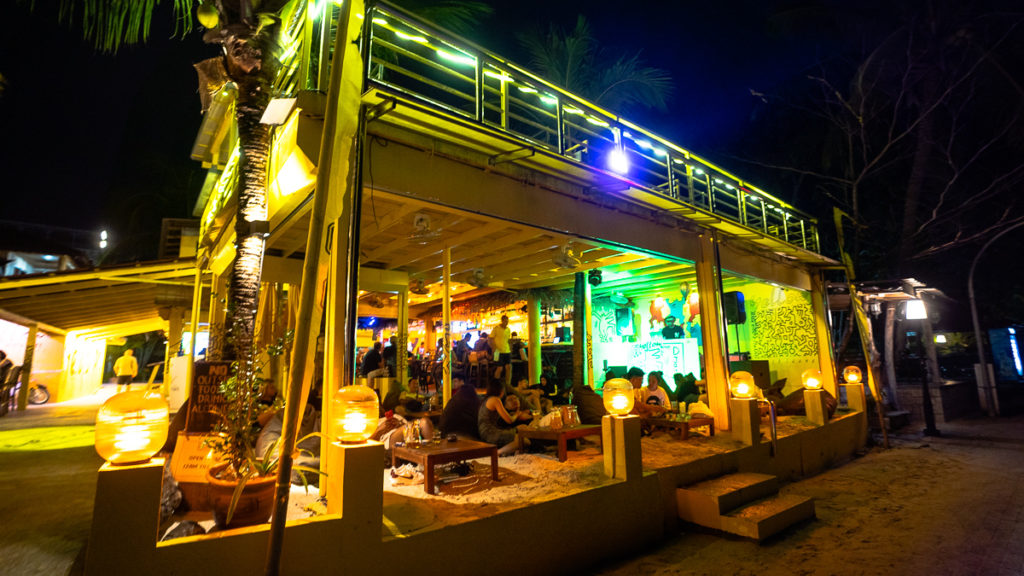 Time to get lit! Langkawi has a super vibrant nightlife filled with bars and clubs that'll ensure you don't end the night standing (all jokes aside, please be safe kids!).
Yellow Cafe is the perfect cozy bar for you to drink (RM24 per cocktail) and dip your feet in the sand all at the same time. Equipped with beanbags and hammocks after sunset, it's the best place to chill at night. They also serve shisha for RM75, which is always a bonus.
Opening Hours: 11AM – 1PM, closed on Mondays
Address: Jalan Pantai Tengah, Jalan Pantai Chenang, 07000 Langkawi, Kedah, Malaysia
12) Thirstday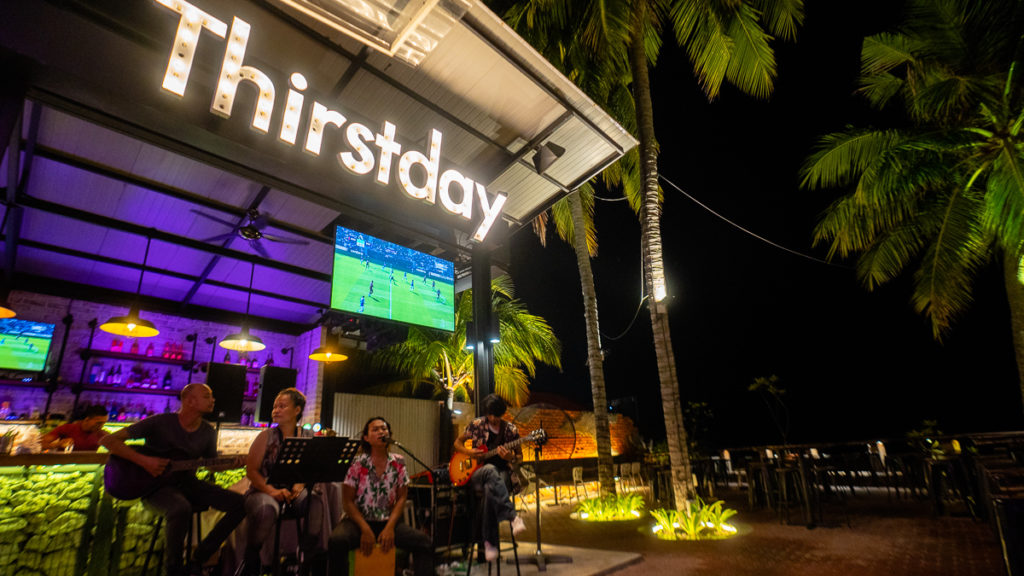 Thirsting for live music? Walk down the street from Yellow Cafe and stop when you hear amazing vocals and good music. If you're a football fan, Thirstday screens matches too — win-win!

We ordered a Heineken (RM13, ~S$5) and a White Russian cocktail (RM22, ~S$8) — reasonably priced!
Opening Hours: 3PM – 1AM
13) Kalut Bar Fire Show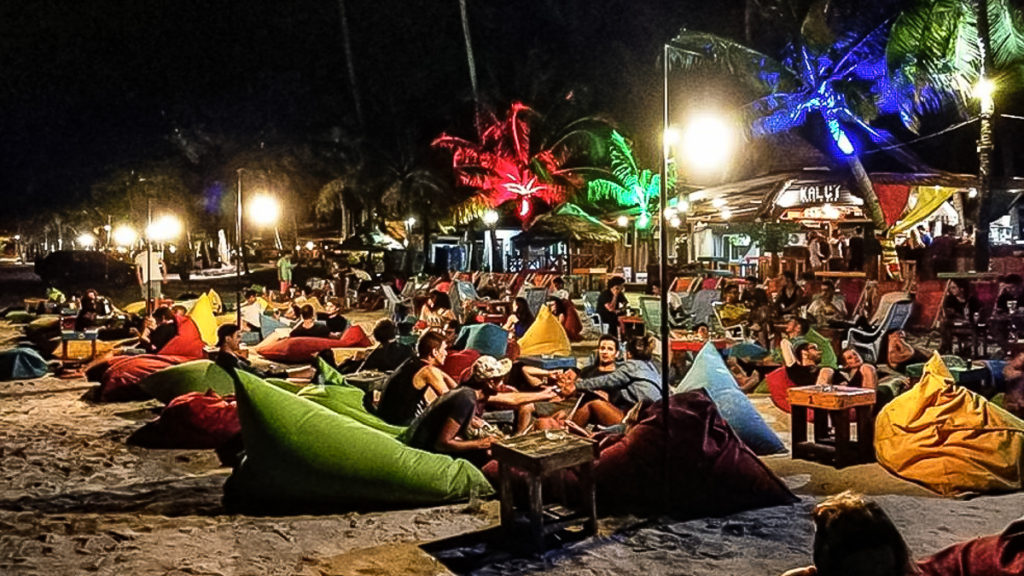 Photo credit: Kalut Bar
Here's a spot to literally get lit — with a fire show at Kalut Bar.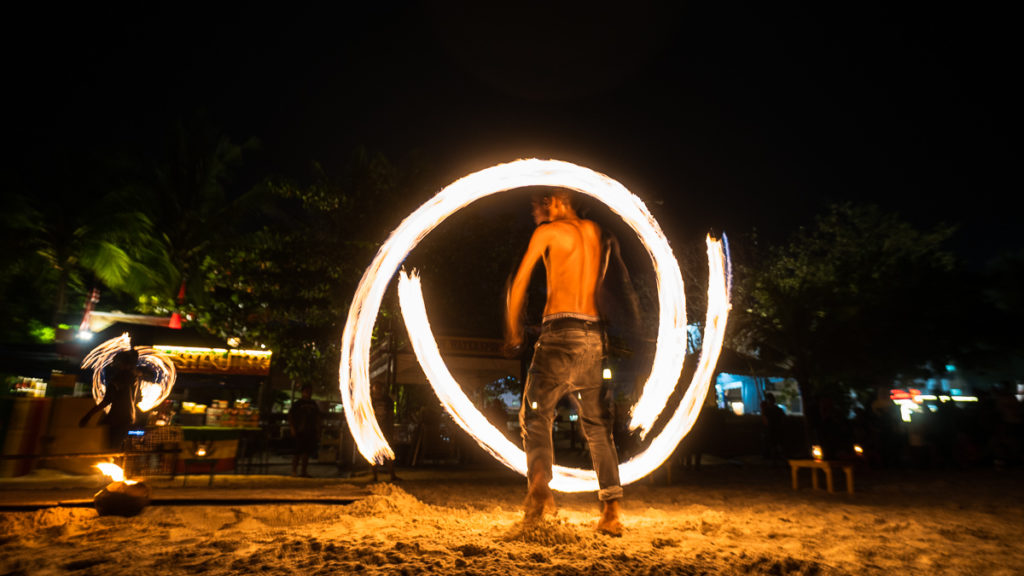 The performers were very talented and cheeky, though I found myself inching away from the stage several times in fear of getting burned by them — I could smell the kerosene!
But of course, it was all part of the performance. You don't have to pay anything to watch the show but it's recommended to buy a drink (about RM7) to book a spot.
Opening Hours: 11AM – 1AM (Fire show at 10PM except Thursdays)
Address: 2, Jalan Pantai Chenang, 07000 Langkawi, Kedah, Malaysia
Where to Stay in Langkawi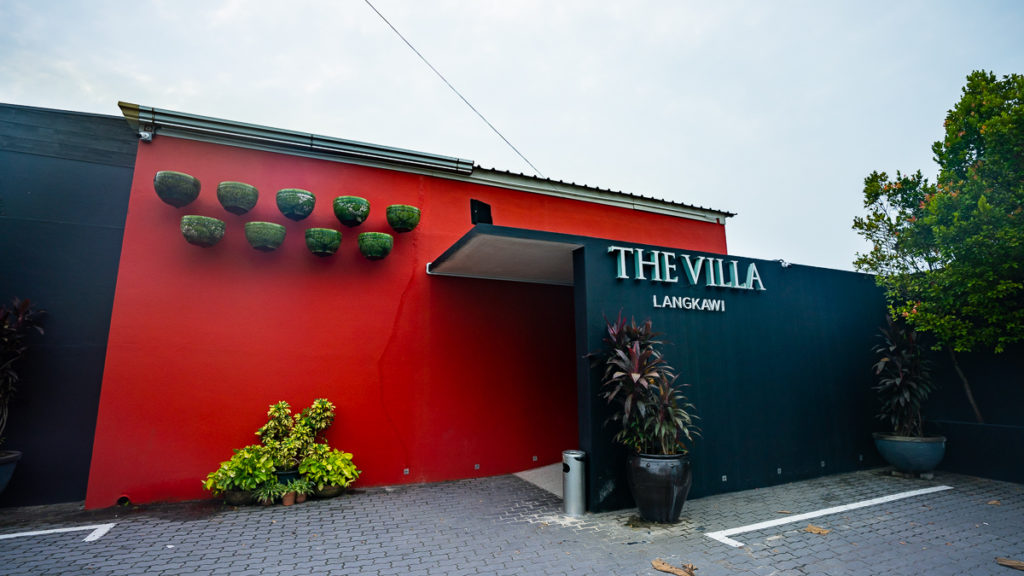 We chose to stay at The Villa Langkawi during our trip — it's reasonably priced (we paid ~S$52 a night for the superior room), spacious, and well-equipped with an outdoor pool and several lounging areas! It was also in a prime location between the airport and Pantai Cenang, and just 15 minutes away from the famous Roti Canai Black Pepper stall.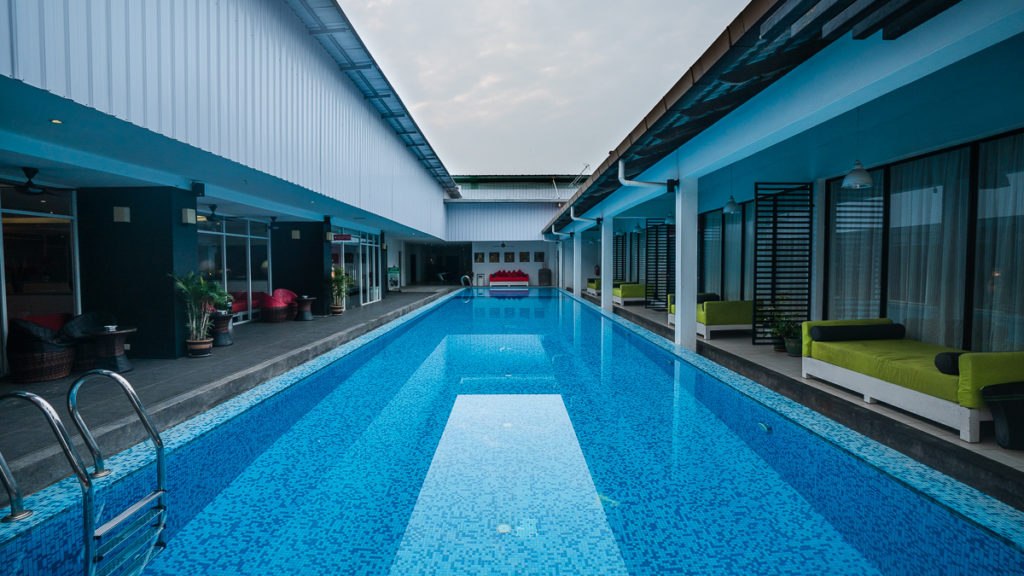 Address: Lot 993, Jalan Pantai Tengah, Mukim Kedawang, 07000 Langkawi, Kedah, Malaysia
Fly to Langkawi from S$63!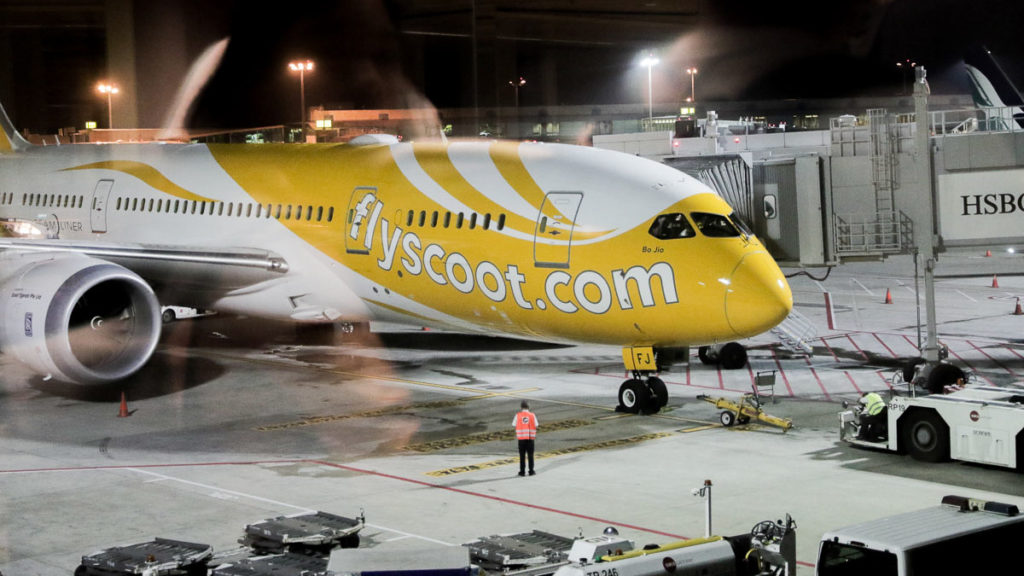 Just 1hr 25 minutes away, Scoot flies directly to Langkawi from just ~S$63. Since flights to Langkawi run five to six times a week, your next short getaway can happen quite literally the next day from now.
With the flexibility of customising your flight experience and paying only for what you want, you don't have to worry about paying for unnecessary add-ons. With more leg room than most other low-cost carriers, your hour-long flight will be in absolute comfort — it even just won the award for best low-cost carrier in Asia Pacific!

To keep flights affordable, payment processing fees have also been removed from direct bookings.
Start planning your Langkawi Getaway from only S$63!
Ready For an Extraordinary Beach Holiday?
Langkawi managed to surprise me with all the cool things it had in store for us. It has been at least a week since I zip-lined over the waterfall, but the sheer beauty of it is still ingrained vividly in my brain. With non-stop activities round the clock, we actually barely had time to lounge on the beach. 😂 Now, when's the next long weekend?
Looking for other hidden gems in Malaysia?
Check out:
– Insider's Kuantan Guide: An Adventure-filled Getaway Under One Hour from Singapore
– Kota Bharu Guide: Gateway to the Beautiful Perhentian Islands and a Lesser-known Malaysia
Know of other awesome things to do in Langkawi? Let us know in the comments!
---
This post was brought to you by Scoot and Malaysia Tourism Promotion Board.
For more travel inspiration, follow us on Facebook, Instagram, and YouTube.