Macau Guide for the uninitiated
When we first decided to visit Macau, we all had doubts on whether there was anything to do other than casino hopping. Known as the "Vegas of the East", Macau has been attracting fortune-seekers since the opening of their first casino.
But beyond the glitz and glamour, Macau has an incredibly rich history. It's a treasure trove of culture, adventures, and good food with influences from both the Portuguese and Chinese.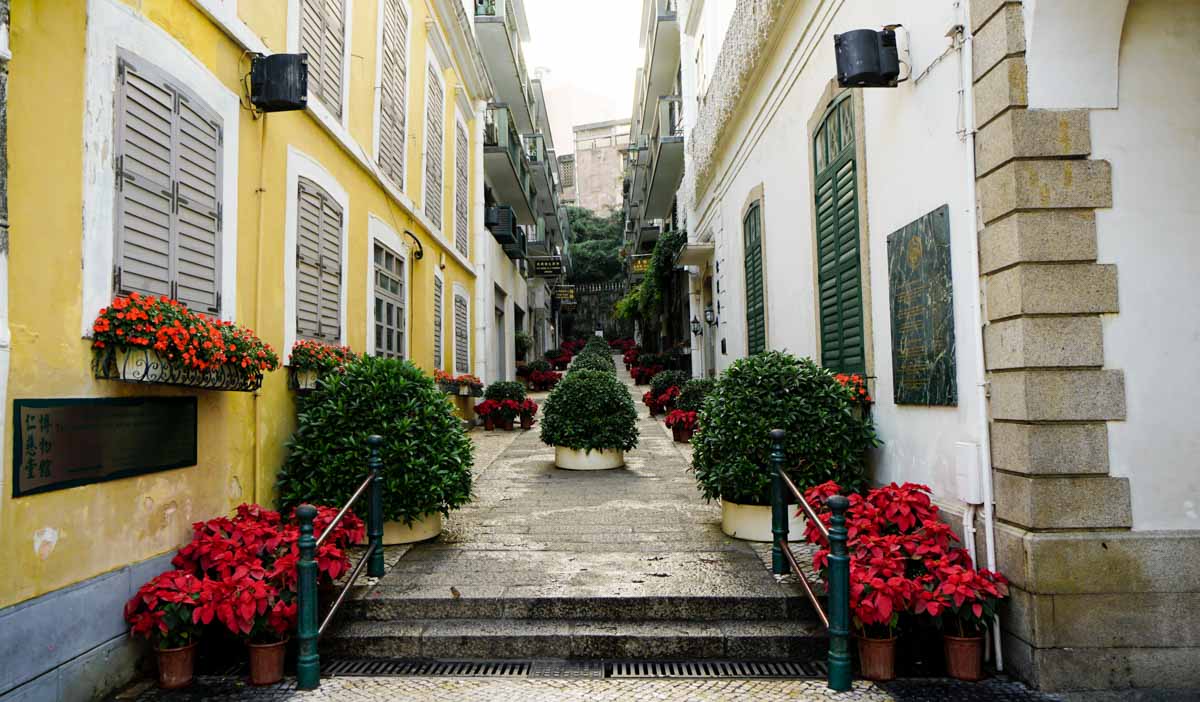 Fun-fact: Macau was literally a treasure trove as the pirates used her as a base in the region.
While I'd visited Macau's casinos before and had a little luck back then, this time I was hoping to discover a "windfall" of hidden gems in the form of things to do and foods to eat instead.
After 2 days of exploration, here's our Macau Guide to the must dos and eats for a short getaway.
Things to do in Macau
1) Take a leap of faith at the world's highest commercial bungy – Macau Tower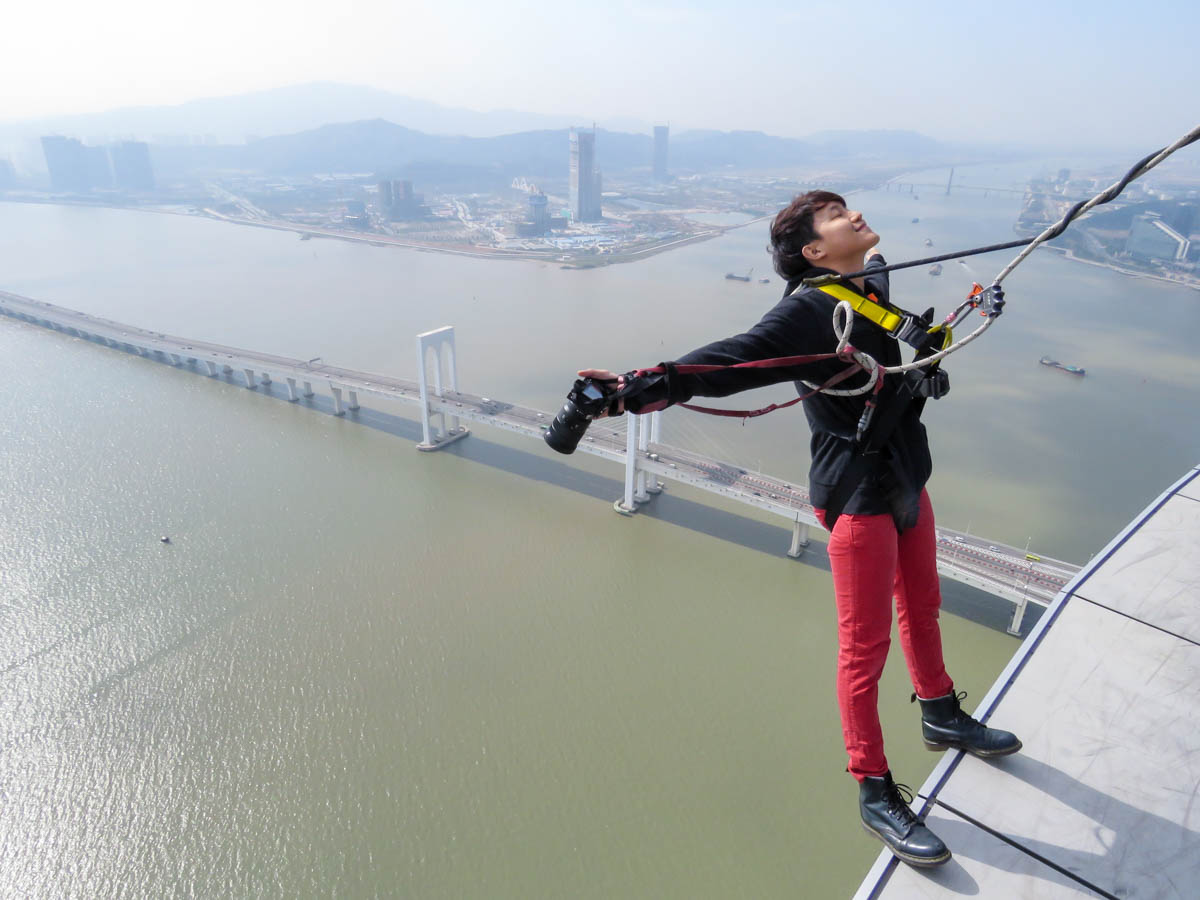 Macau may have many churches, but we're talking about a different kind of faith here. While most don't consider Macau as a thrill seekers paradise, it has one of the most EPIC adrenaline activity in the world. The AJ Hackett Macau Tower holds the Guinness Book of Record for the highest commercial bungy in the world at 233m high. That's like almost 70 stories high!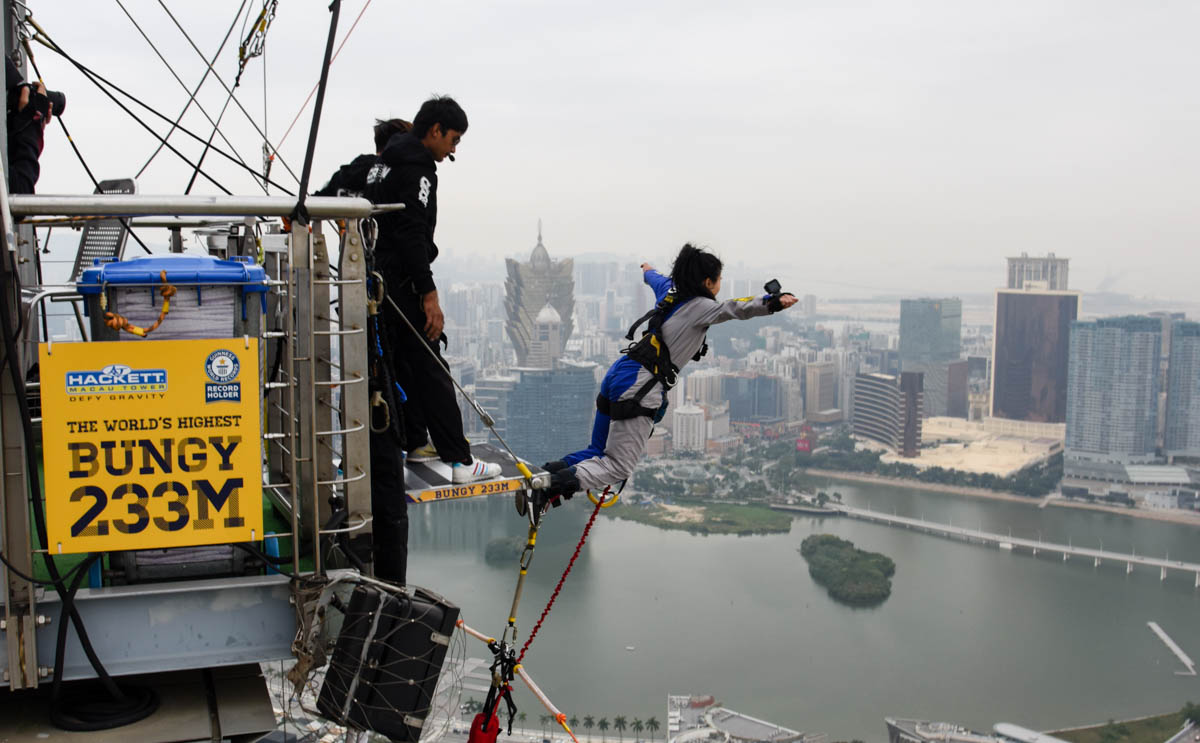 I've bungeed in New Zealand, Ecuador, and (even) India before, but nothing prepared me for the view at the top. While I didn't get to jump this time cause I was filming, a couple of us did and it was EPIC. Just fast forward to the video at 5:25.
We also did the AJ Hackett Skywalk, which was like a "stroll" in the park, except it was 233m above the ground. I loved it and had so much fun taking on the mini challenges along the way. Our guide Phillip was a pro at taking photos for us. He knew when to push us our of our comfort zones, and when to be assuring.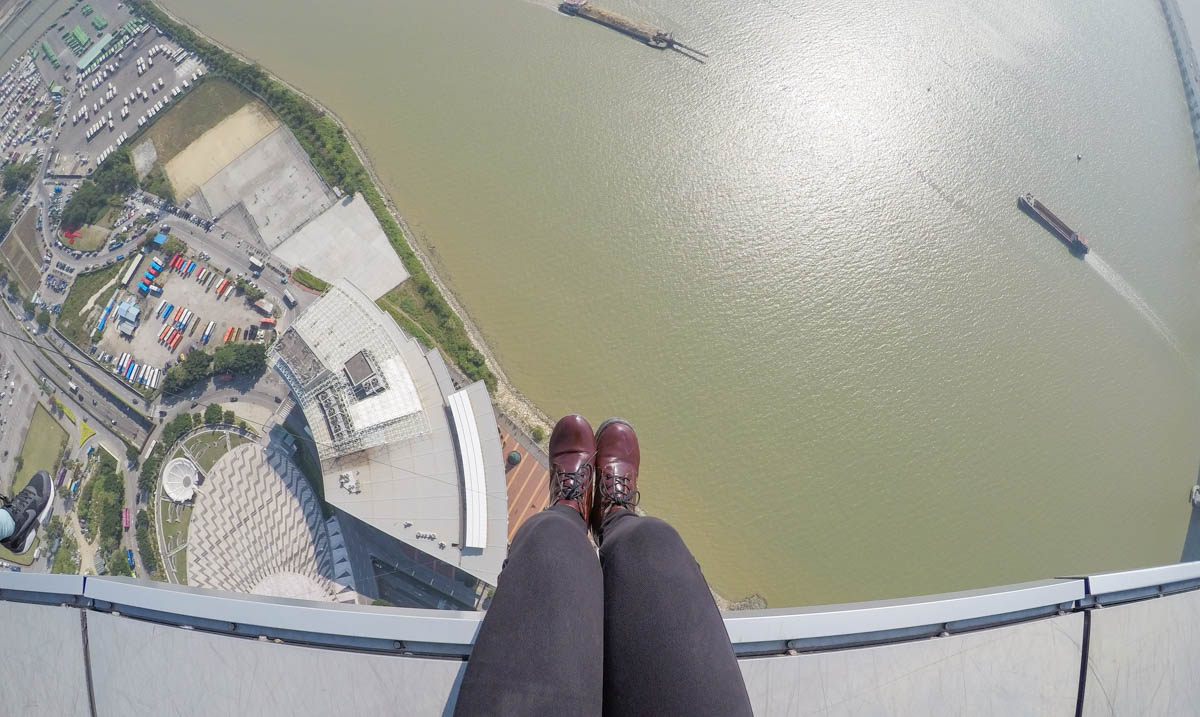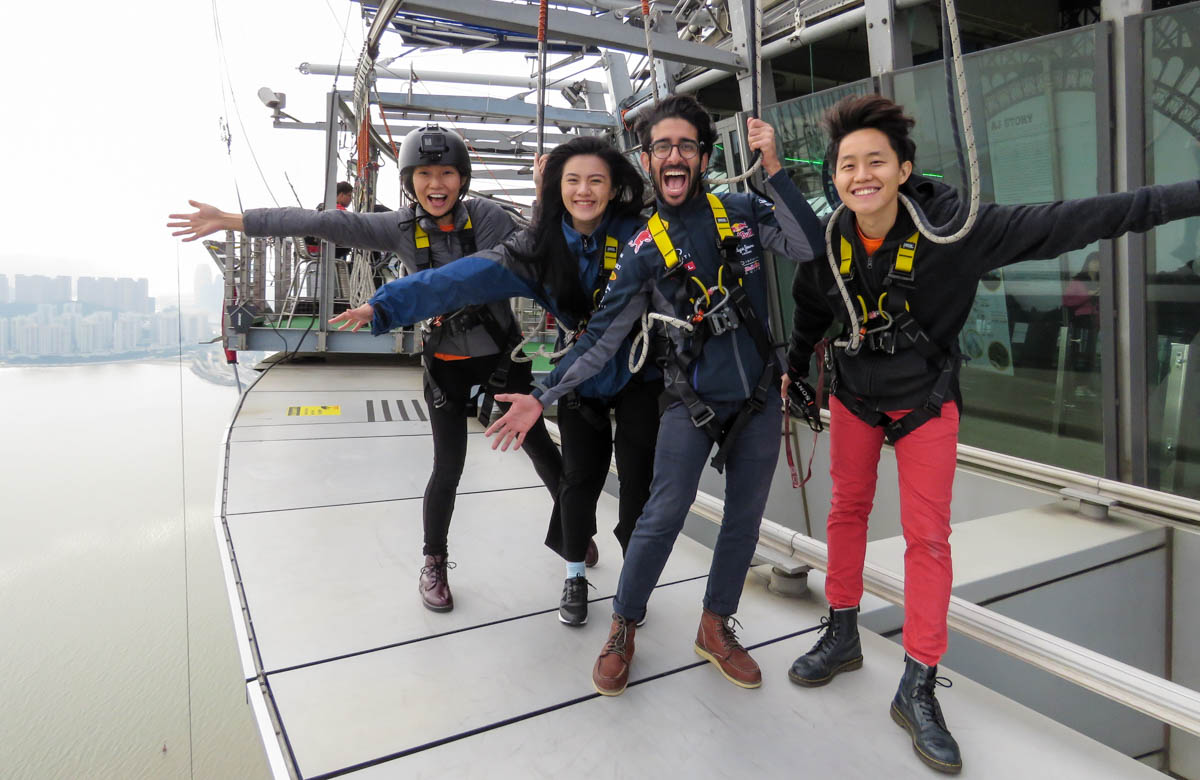 More information on the Bungy and Skywalk here.
2. Marvel at the Ruins of St. Paul's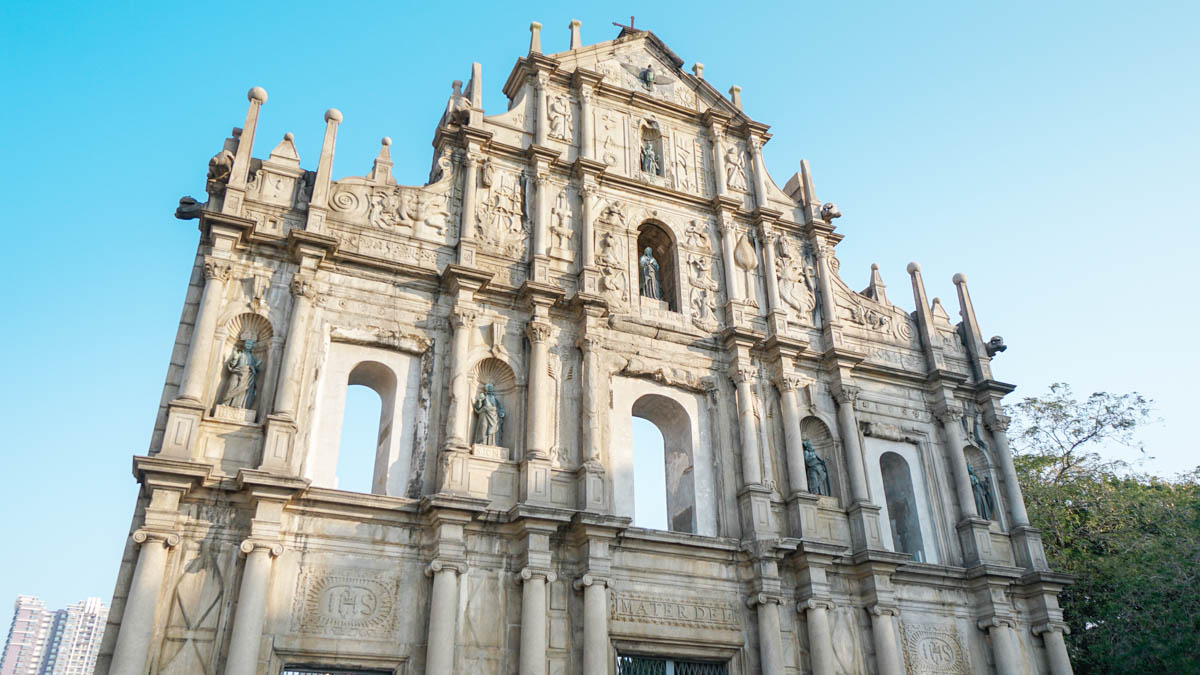 If there's only one picture you need to take of Macau, this place is it. The iconic Ruins of St. Paul's is a must visit for any trip to Macau. Destroyed by a fire in 1835, this is what remains of what was back then one of the largest Catholic churches in Asia. Check out the details on the restored façade for a peak into the art and culture back in the 1800s.
Other than marvel at the Ruins of St. Paul's, you can also marvel at tourists if you arrive too late.
Pro-tip: Come super early as the tour groups start streaming in from as early as 730a.m. But seriously, come early and start the day right.
3. Discover Hidden Gems around the Heritage Centre of Macau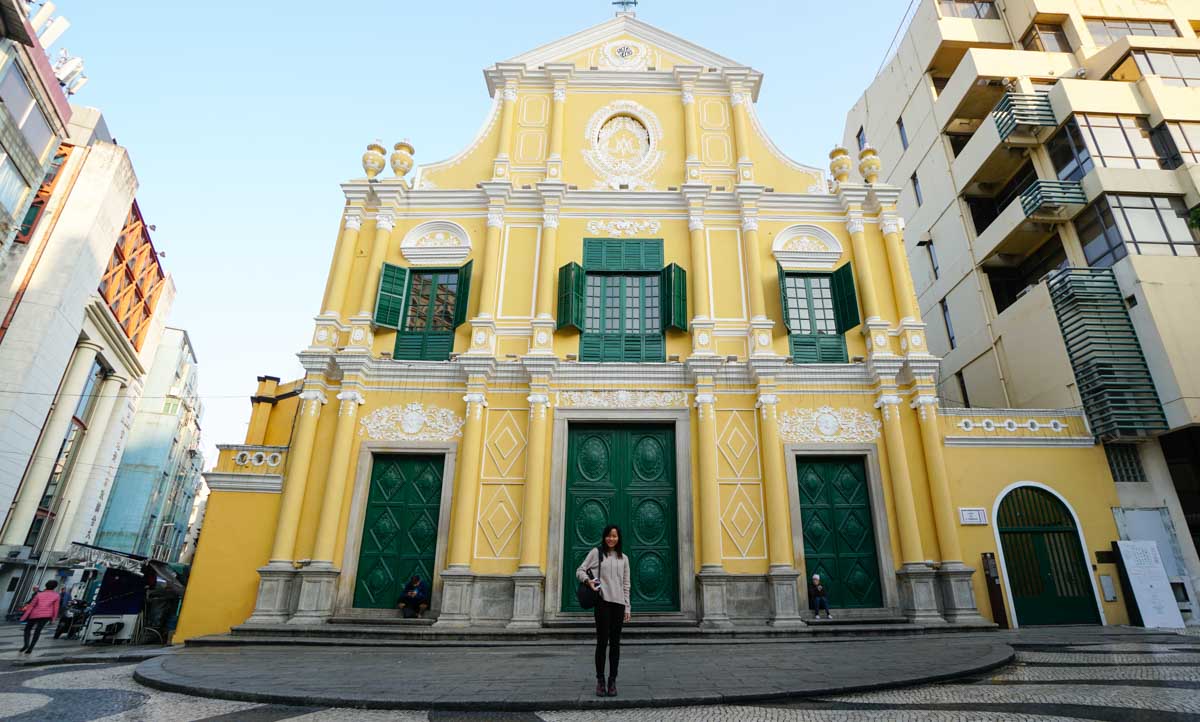 The Historic Centre of Macau, is actually a UNESCO World Heritage site consisting of 30 locations and buildings on the Macau Peninsular. While it's impossible to visit all of them on top of other highlights in 2 days, I'll suggest picking a couple of your favourites from this list of the Heritage Centre of Macau sites.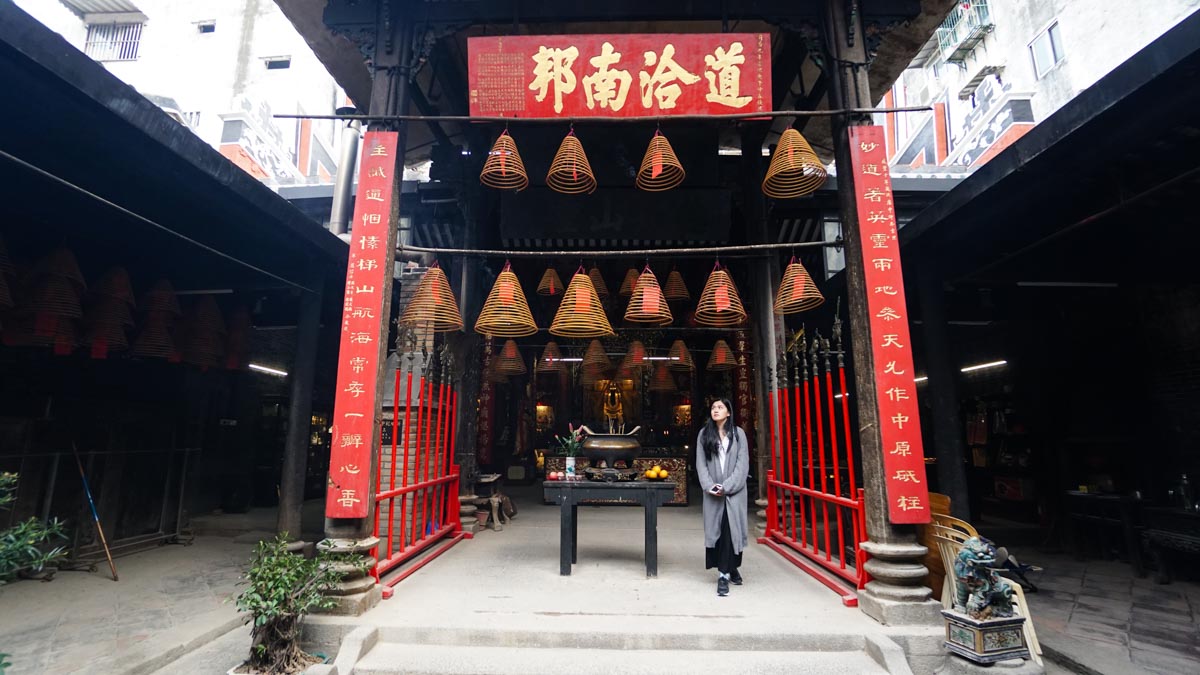 Take a walk back in time and appreciate the blend of Eastern and Western culture in harmony. It's really quite interesting how you can find some Chinese influence in Portuguese architecture, and Portuguese influence in the Guangdong buildings. Many of the sites like Mandarin's House, A-Ma Temple, Moorish Barracks, and Guia Fortress are very photogenic as well!

If you're uncertain, plan a route around San Ma Lo Road, Senado Square, Monte Fort and the remains of St. Paul's Cathedral. This would take approximately 2-4 hours. If possible, set aside more time to explore the narrow streets. You never know what hidden gems you might find!
4. Explore the Streets of Happiness at Rua da Felicidade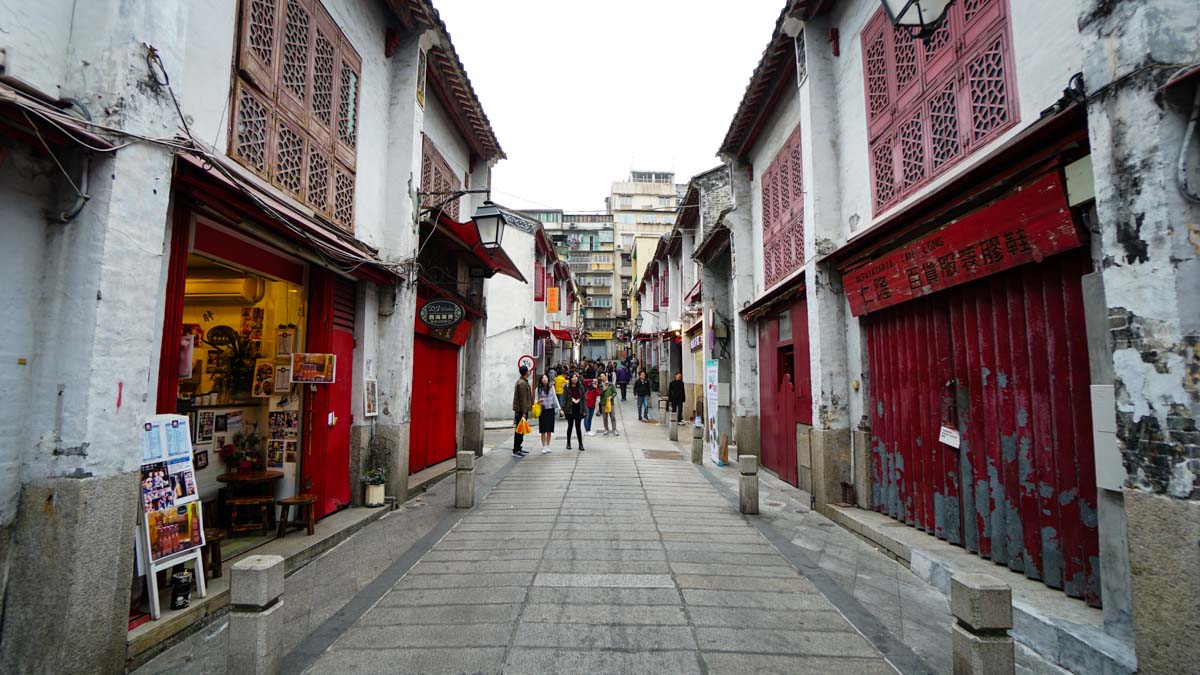 Back in the start of the 20th century, these streets were actually gambling dens, opium joints, and brothels. What once used to be a "street of happiness" for the men is now a "street of happiness" for our bellies. There are tons of restaurants here, and you can easily see queues snaking out of the tiny eateries onto the street.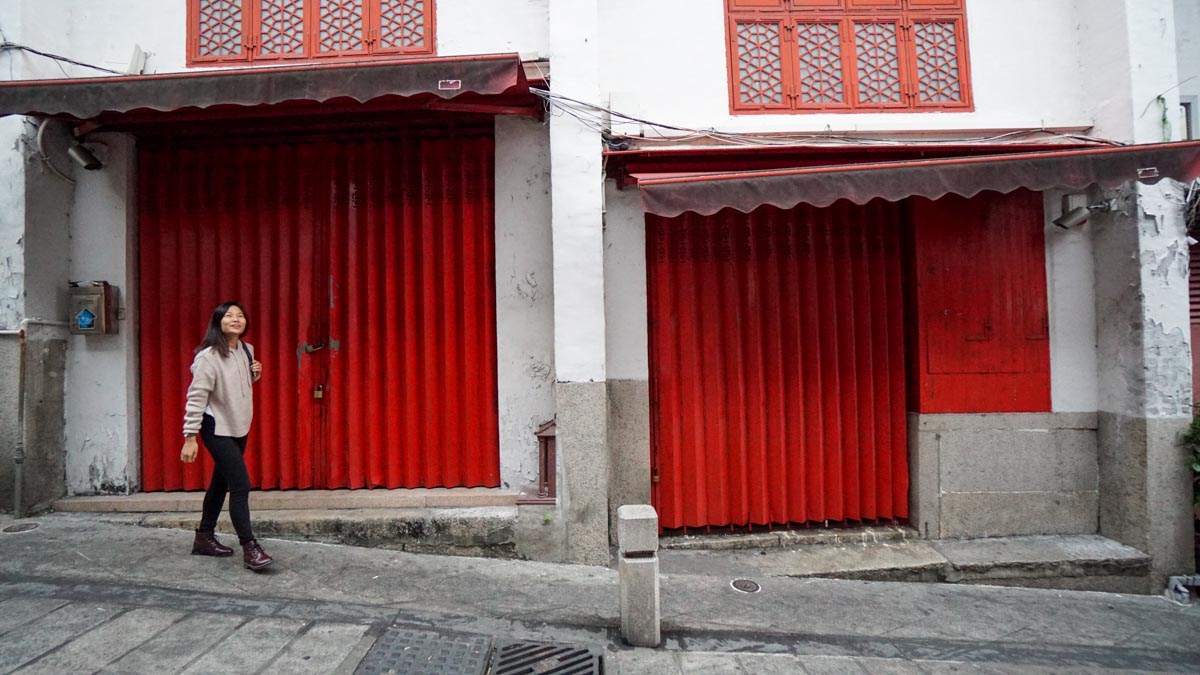 For photographers, the beautiful red painted traditional Chinese houses is a perfect backdrop for Instagram.
5. Slow down at Coloane Village
If walking around the Macau Peninsular is too busy for your tired soul, Coloane Village on the southern end of Macau may be perfect. You'll get a glimpse into the heritage of Macau, away from the main tourist crowd. Visit the temples and churches, walk along the coast, and examine the pastel coloured Portuguese styled houses in this quaint village. There are a couple of famous cafes and restaurants here too but we didn't get a chance to check them out.
6. Eat till you drop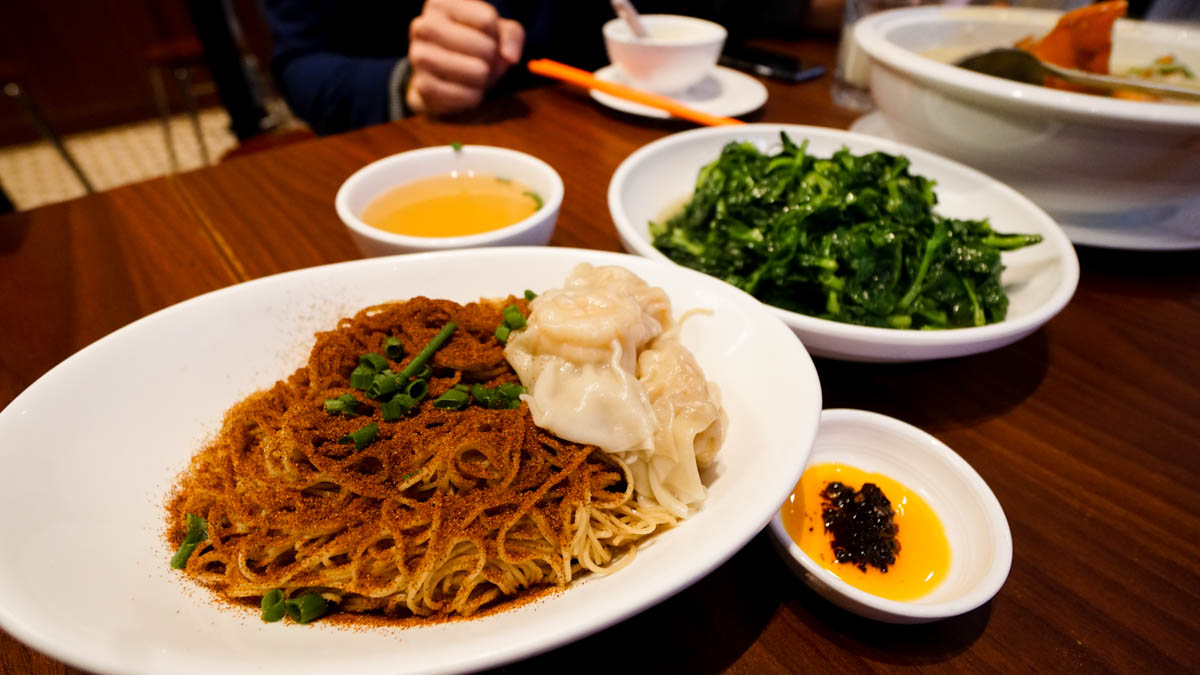 With 7 Michelin Star Restaurants and dozens of recommended places in the Michelin Guide this year, it's little surprise that Macau is known as a food paradise. What I loved though, are the little hole-in-the-wall eateries and local delights that may or may not have made it into the guide. The fusion of Chinese and Portuguese cuisines have somehow created a culture where innovation and good food thrive.
Read on for some of our best food finds in Macau.
Pro-tip: Pace yourself. There is really too much to eat in 48 hours. (Also if you have recommendations, please let us know in the comments section. There's only so much our bellies could handle!)
Things to Eat in Macau
1. Street food between Senado Square and Ruins of St Paul's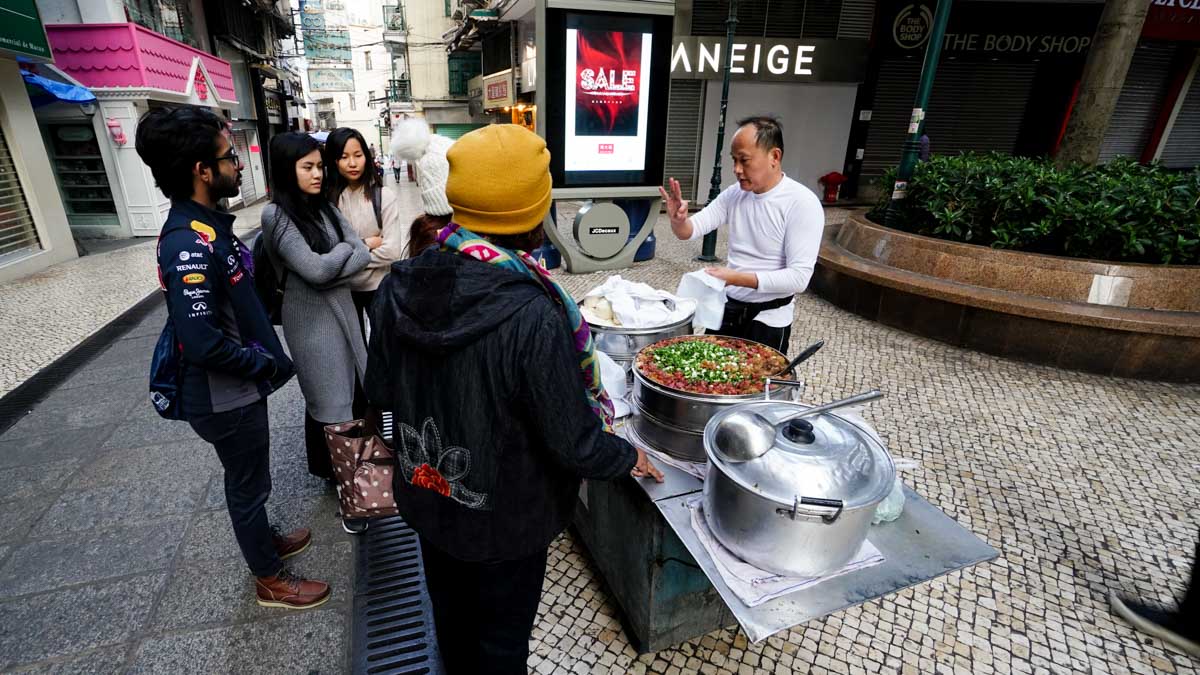 If you plan to visit the iconic Ruins of St. Paul's early in the morning (which we highly suggest you do to avoid the crowd), you will easily find food carts selling breakfast to locals heading for work.
We chanced across one on the cobbled streets just outside Senado Square, and were treated to a hearty serving of homely food. The glutinous rice at 16MOP$ was good and super value for money, with enough for two to share. We also loved the Peanut Porridge, which kept us warm in the chilly weather.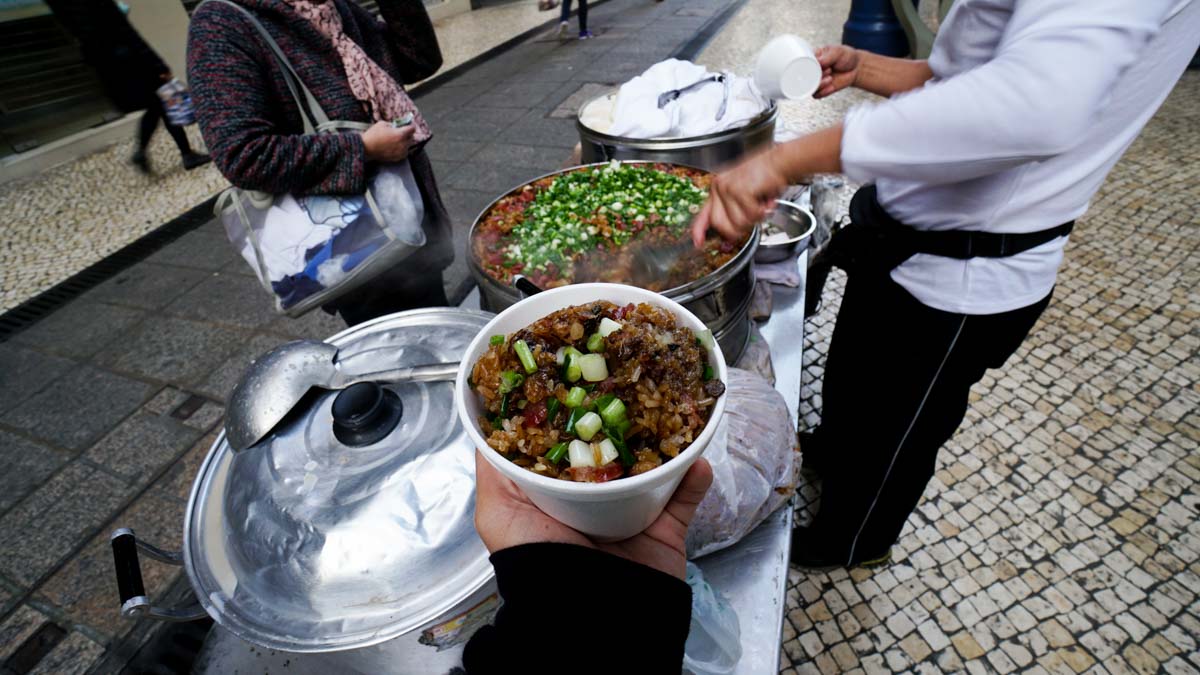 This is as local as it gets!
Cost: MOP$10-20
Opening Hours: Mornings
Address: Streets between Senado Square and Ruins of St. Paul's
2. Ngao Kei Ka Lei Chon (
牛记咖喱美食)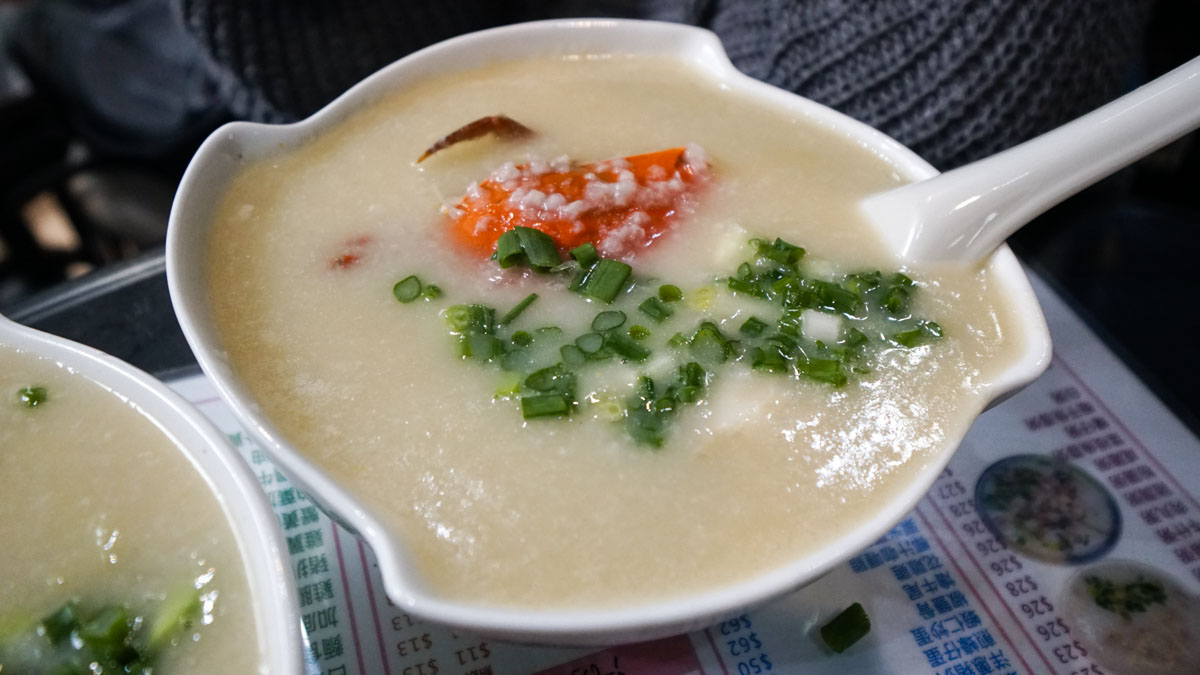 This little Michelin Guide recommended restaurant on the Macau Peninsular is pretty popular with both the Macanese and food tourists.
They are known for their curry crab roe noodles, but unfortunately it was sold out by the time we arrived. We did however try the flavourful Crab Congee, which includes a small crab with every serving. I loved the curry noodles too. Both the beef and chicken curry noodles were very tasty. Meat was tender, and noodles were of the perfect texture!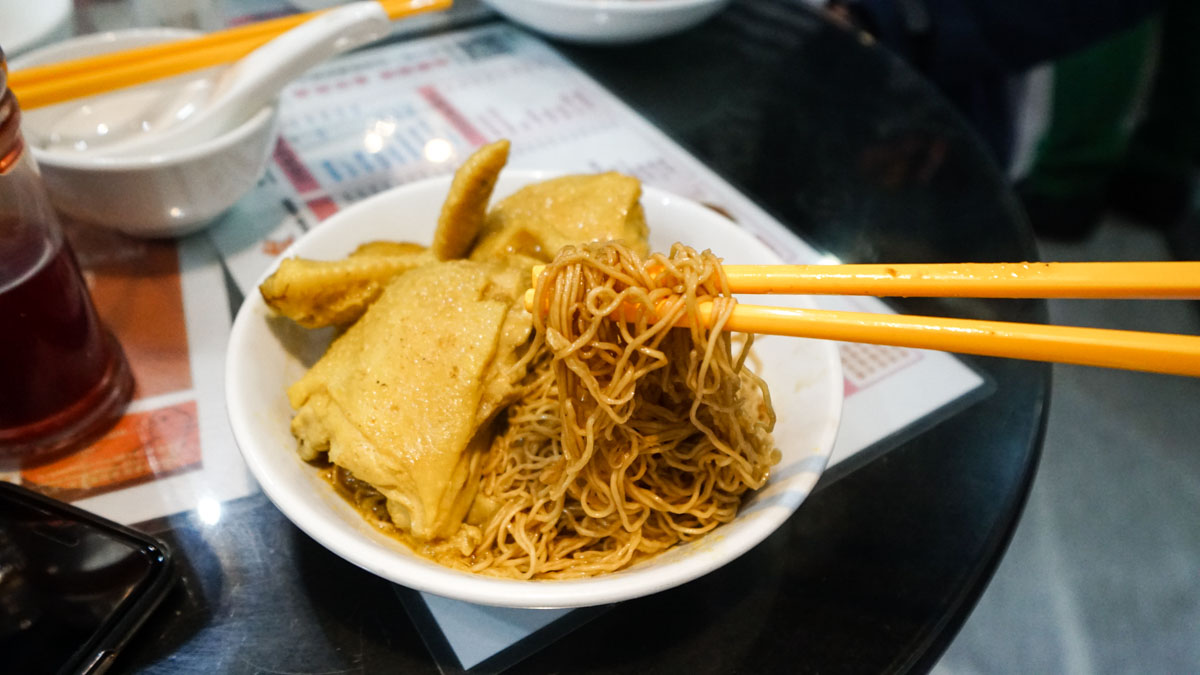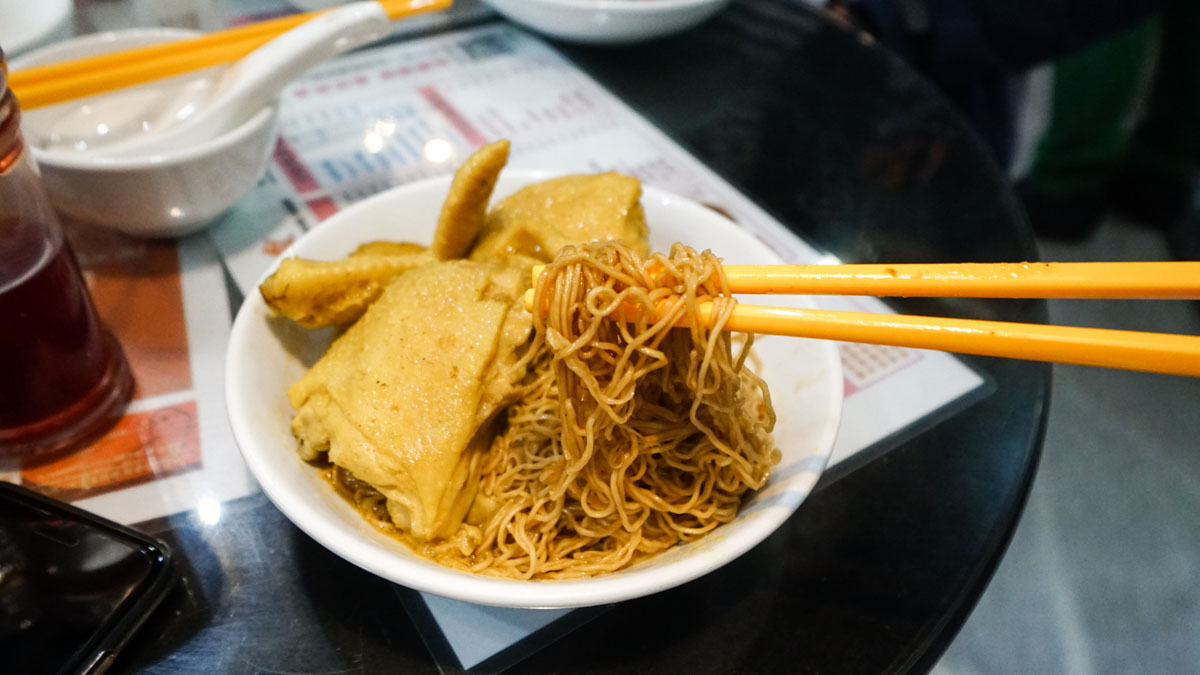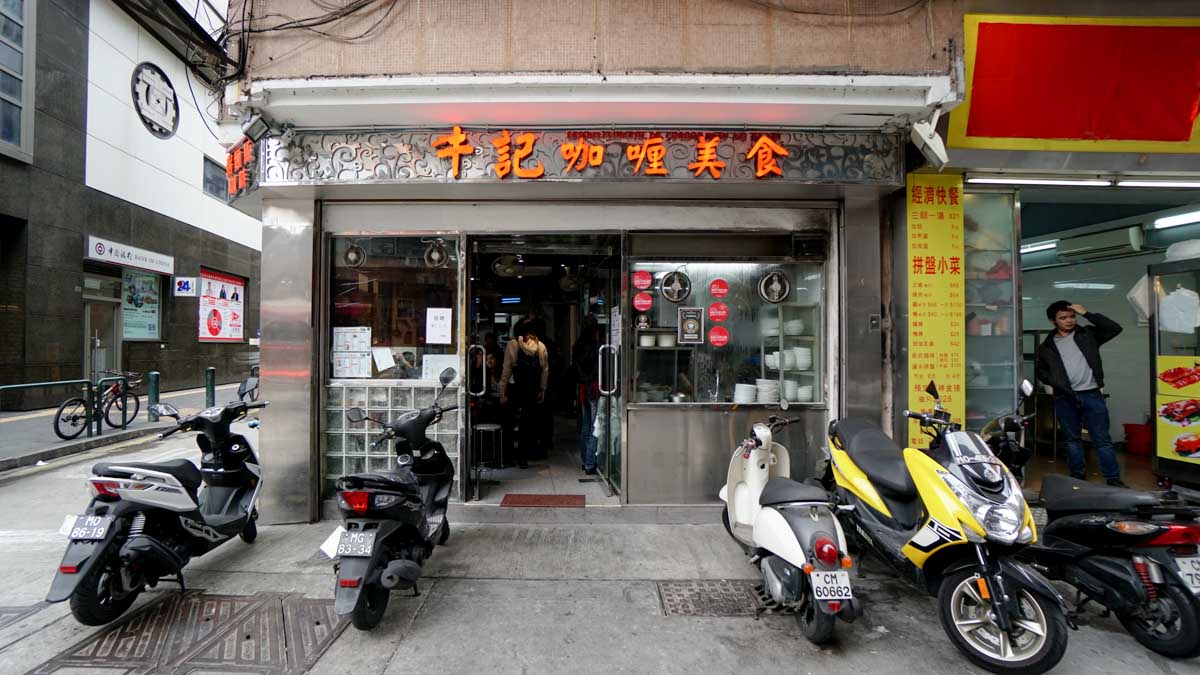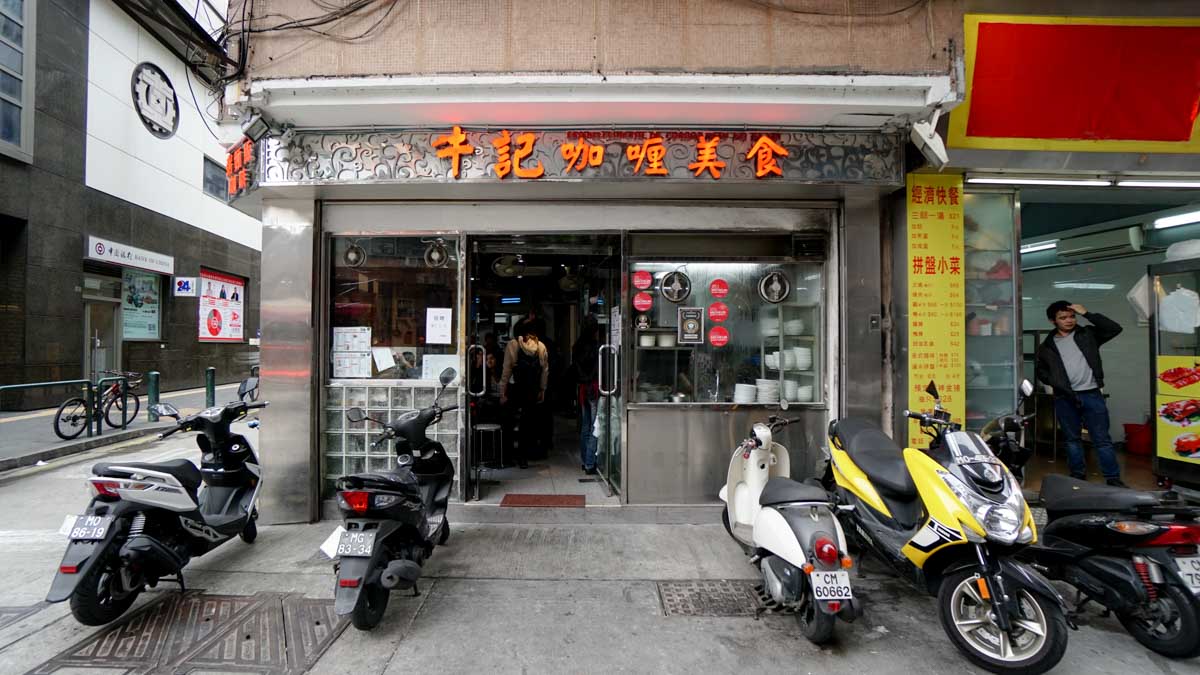 Cost: MOP$37-90
Opening Hours: 6.00a.m. – 11.00p.m.
Address: Edificio Iat Fat, R. de Cinco de Outubro, Macau or 新馬路十月初五街1號地舖
3. Holy Cheese (芝士工坊)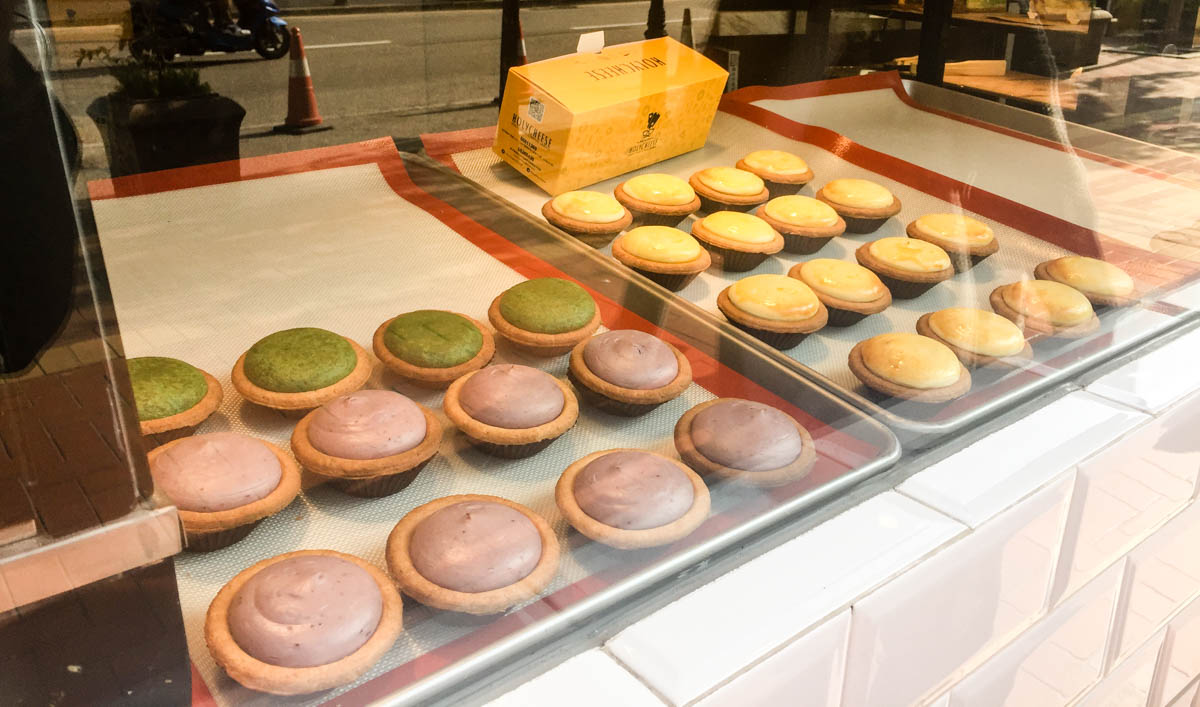 If you love cheese tarts, you will literally say "Holy Cheese" after trying one of these. The rest swore that these were the best cheese tarts they've ever eaten in their lives. There are flavours like matcha, yam, and chocolate, but the best is still the classic cheese.
Don't worry about not finding the place, you'll smell the cheese tarts once you're on the correct street.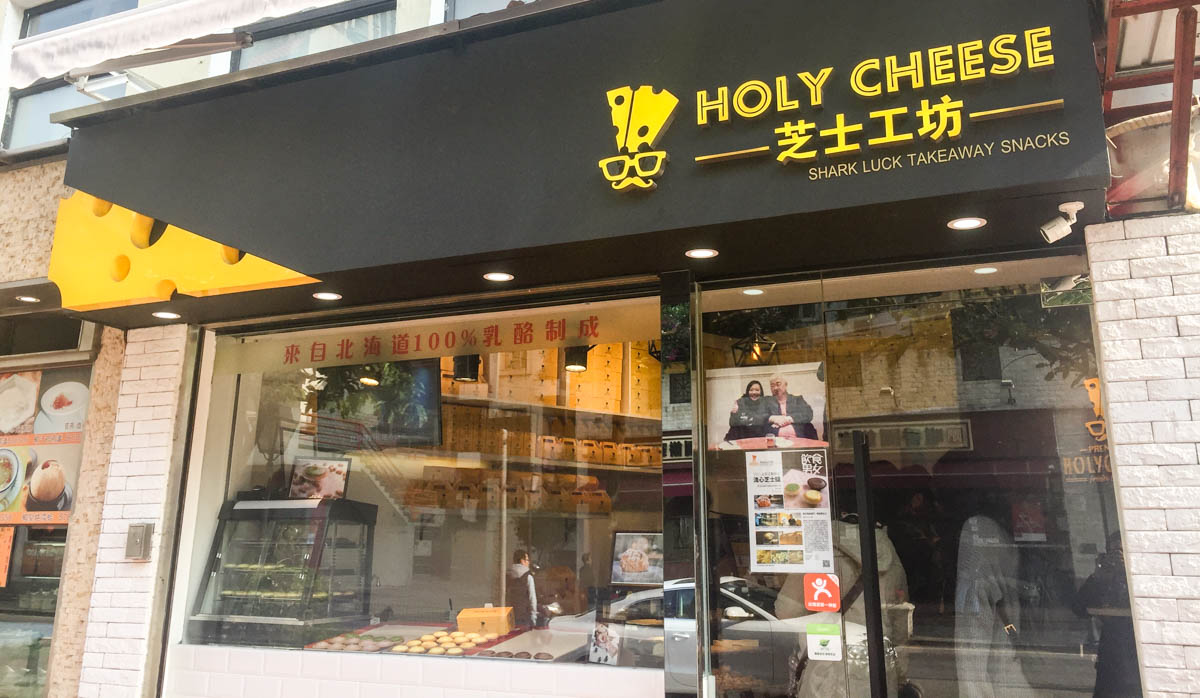 Cost: from MOP$20
Opening Hours: 12.00p.m. – 8.00p.m.
Address: Holy Cheese Shop G, G/F, Block 6, Nam Sun Garden Building, 116A-142F Av. de Kwong Tung, Flores or 花城區廣東大馬路116A-142F號南新花園第六座地下G號舖
4. San Hou Lei (新好利美食餅店)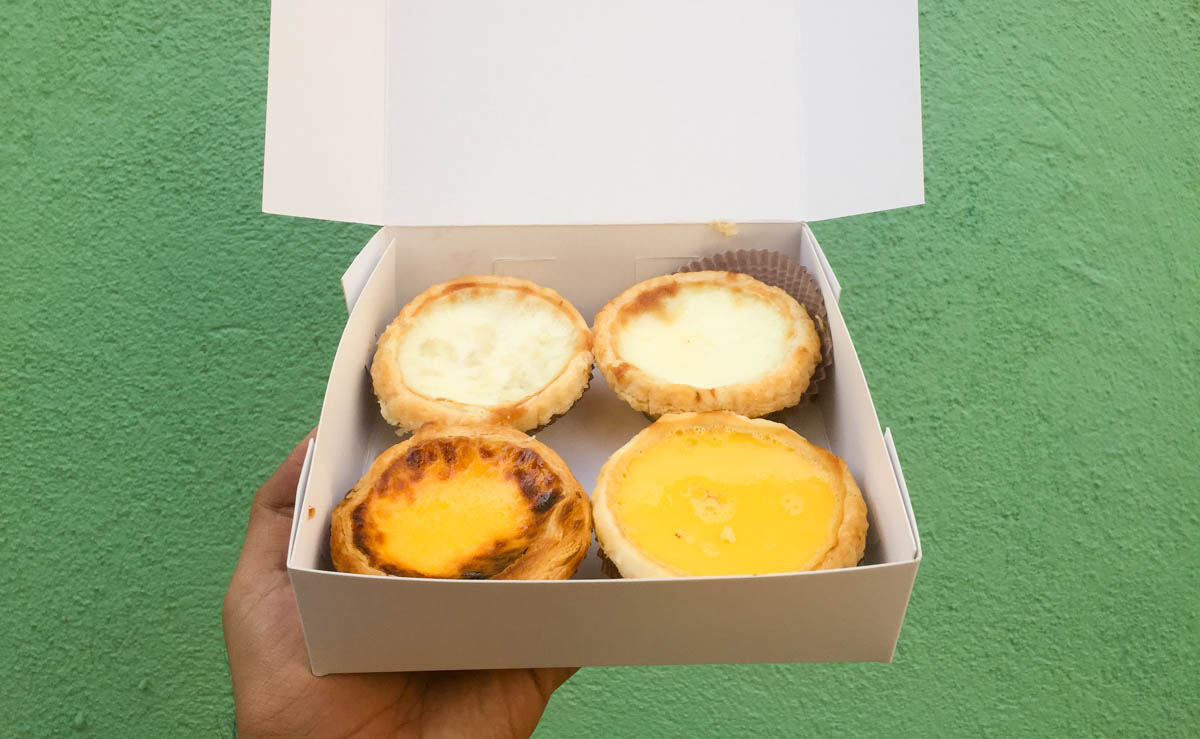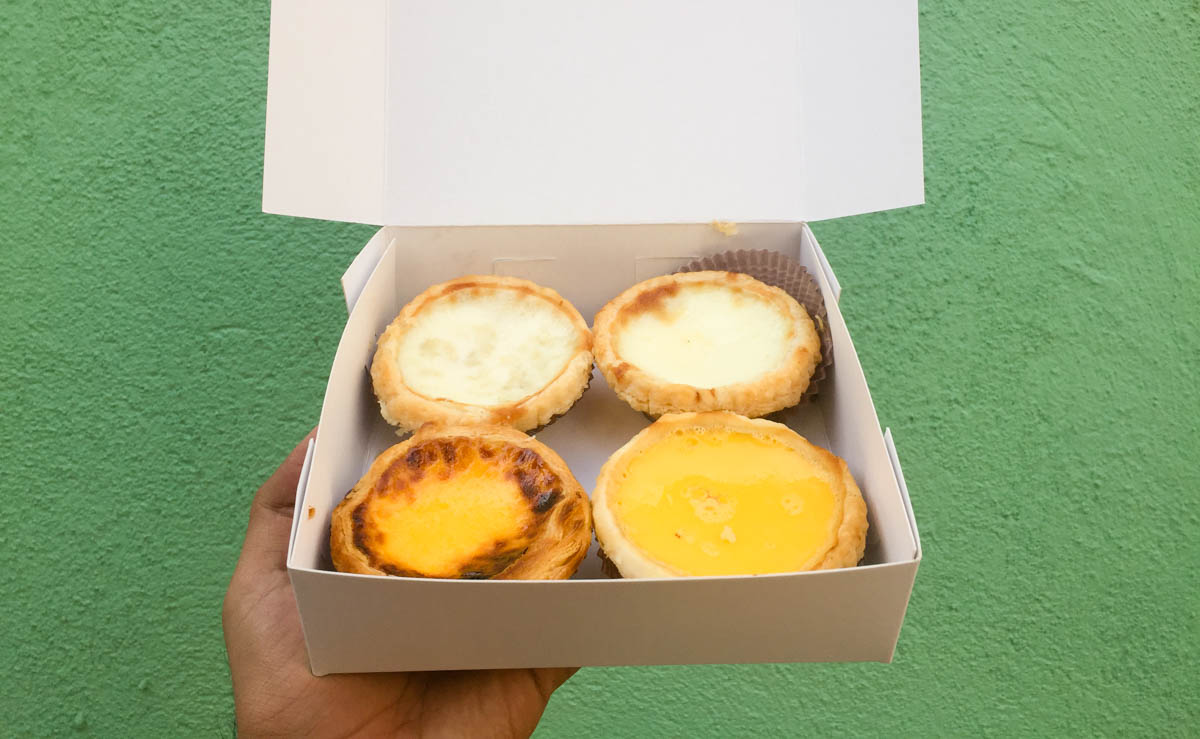 A visit to Macau wouldn't be complete without hunting for egg tarts and San Hou Lei didn't disappoint. The Portuguese egg tart was perfectly baked, and we loved the original and fresh milk egg tart as well. They are also supposedly famous for their bird's nest egg tart, but we found it a little odd for our liking.
San Hou Lei is situated at Taipa Village, which makes for a good snack stop before or after some exploring.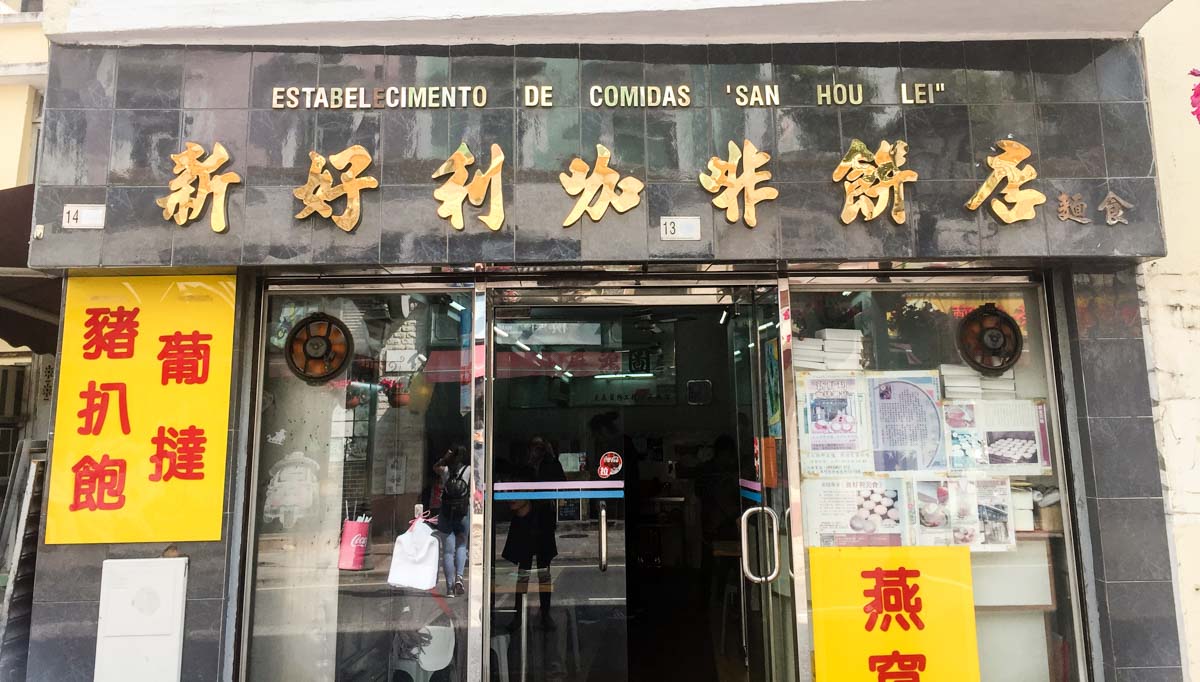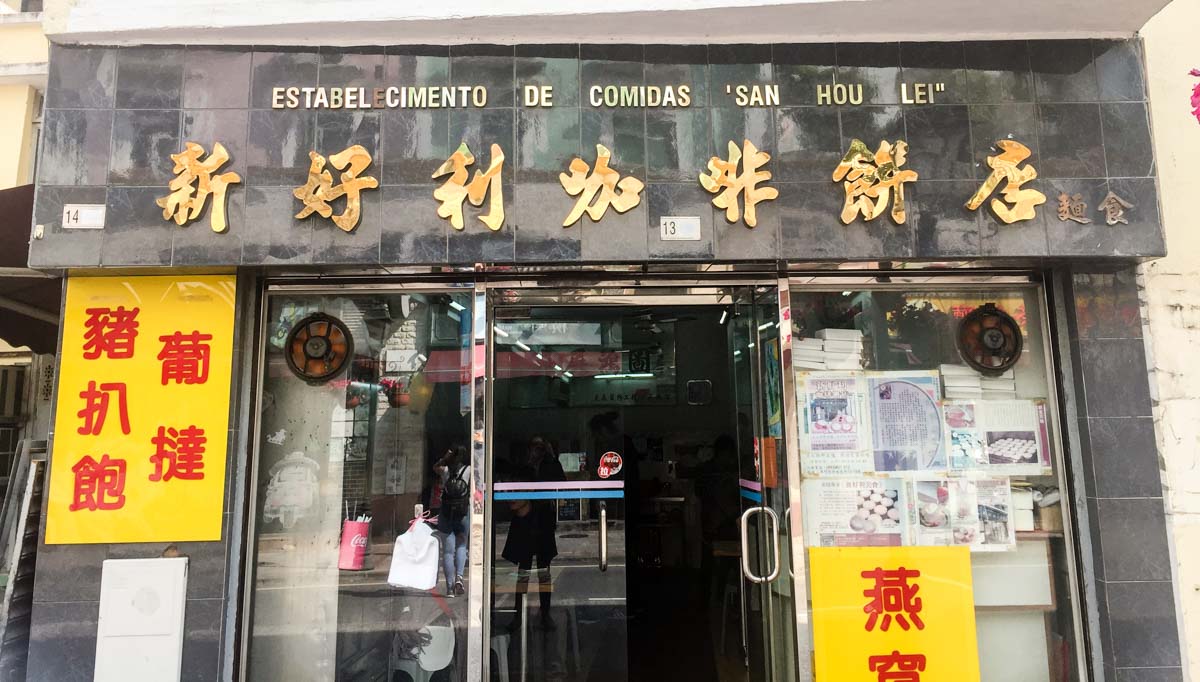 Cost: MOP$10-20
Opening Hours: 7.00a.m. – 6.00p.m.
Address: 13-14 R. do Regedor, Vila de Taipa or 氹仔舊城區地堡街13-14號
5. Broadway Food Street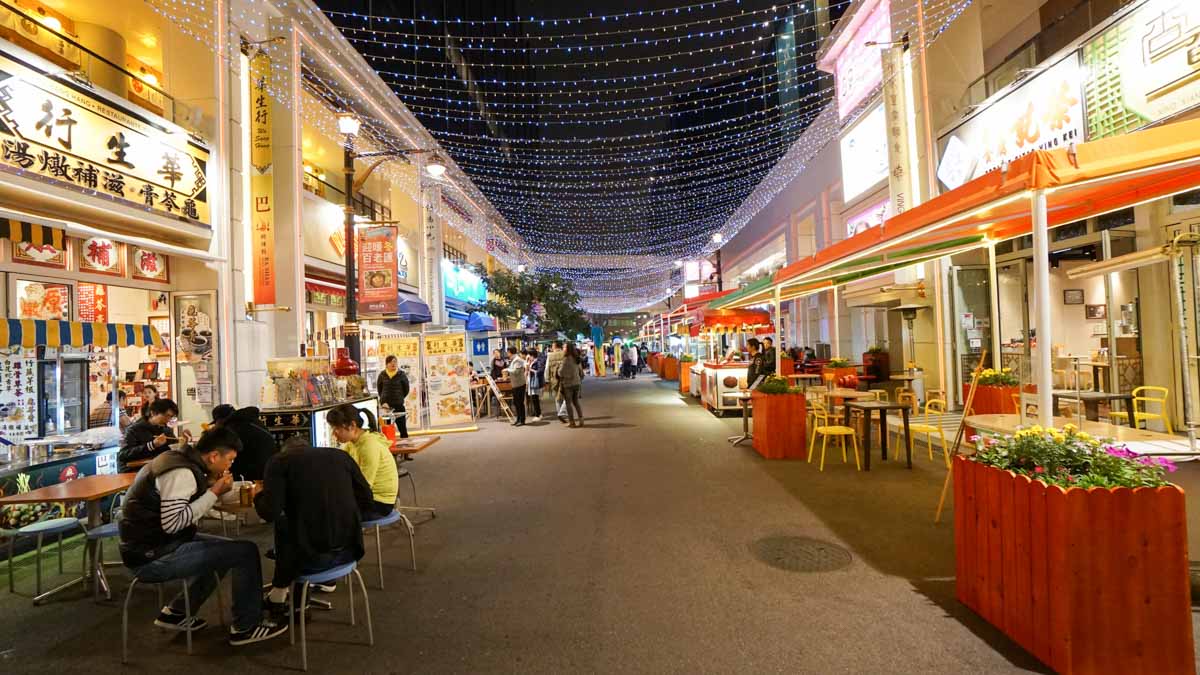 Macau's first "hawker style food street" offers a little more than the usual Macanese fare. Galaxy Macau basically brought together popular restaurants from all over Macau and Asia to a street food themed area. What makes it special is that there's a bit of a party atmosphere with street performers and a live band every night!
Quite a refreshing change when you're looking for something more chilled out.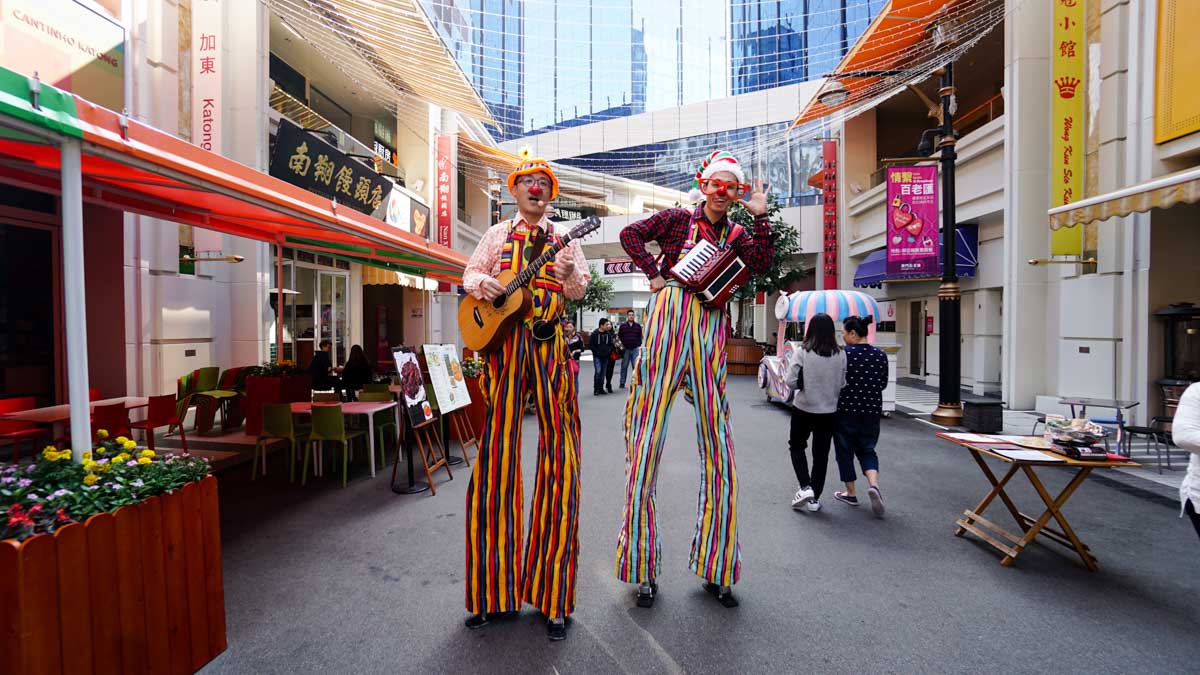 Here's the full directory of restaurants on Broadway Food Street.
Address: beside Broadway Hotel
6. Rethink Coffee Roasters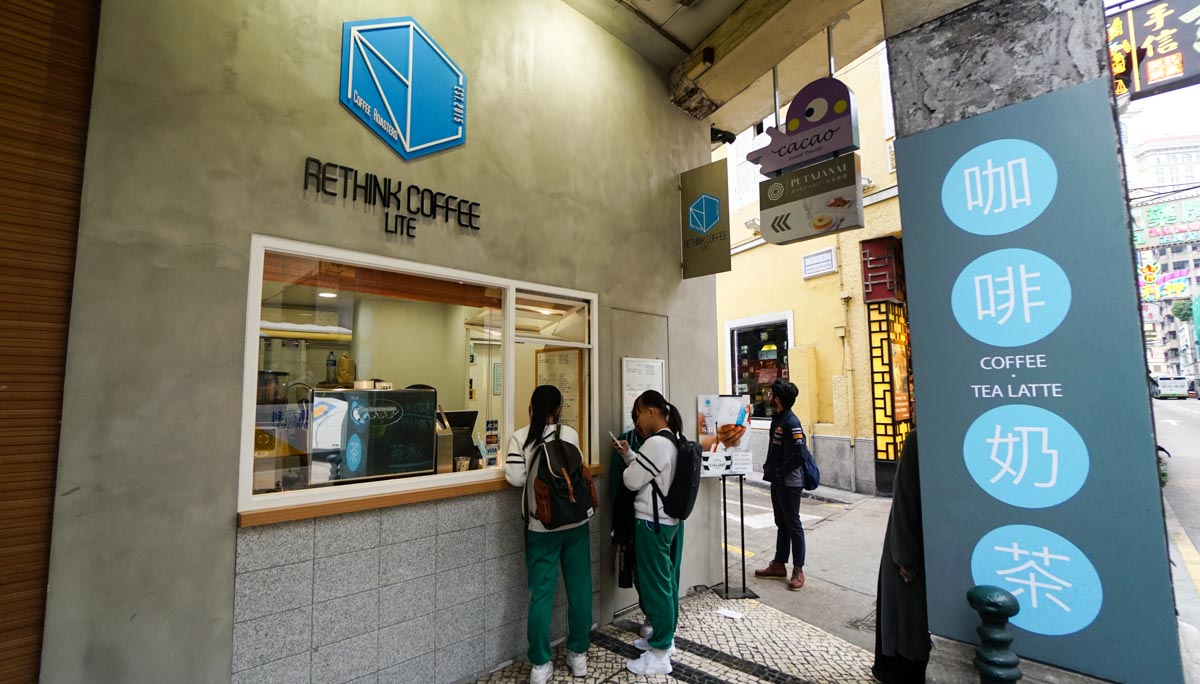 Coffee lovers can rejoice at this craft coffee joint where they roast their own coffee beans and create unique blends. The coffee was the best we had in Macau. Enough said.
Cost: from MOP$35
Opening Hours: 8.00a.m. – 7.00p.m.
Address: 澳門栢林街76號大豐廣場第二座地下H座, Macao, China
7. Pastelaria Koi Kei (鉅記手信)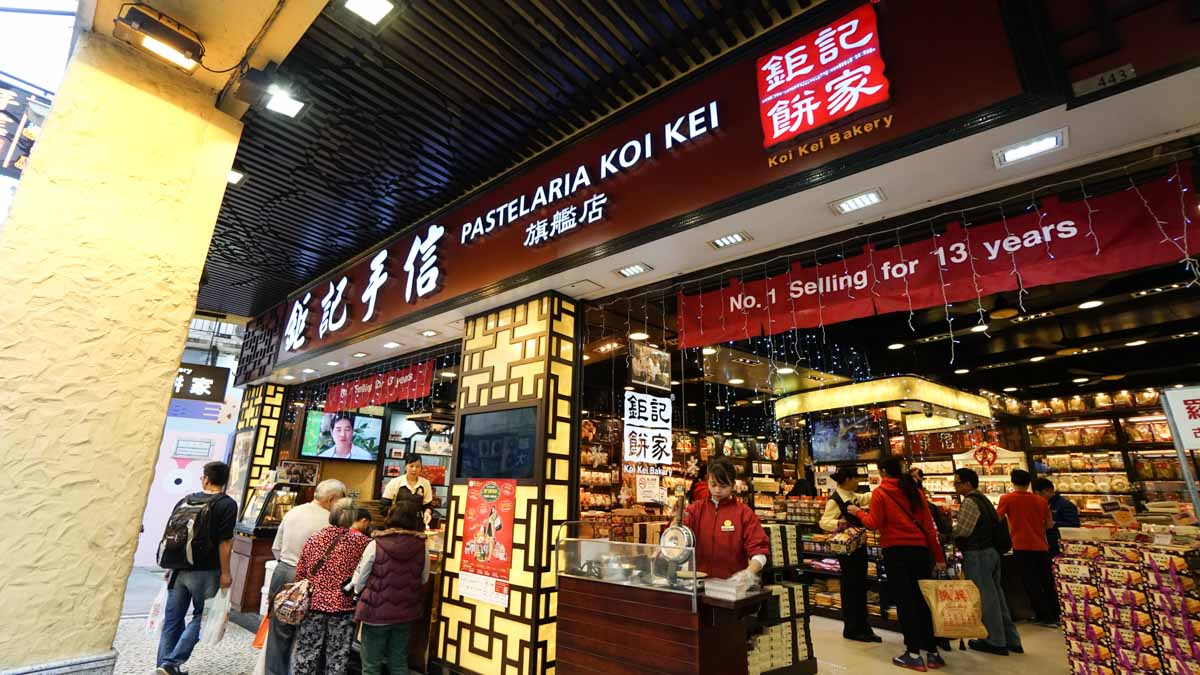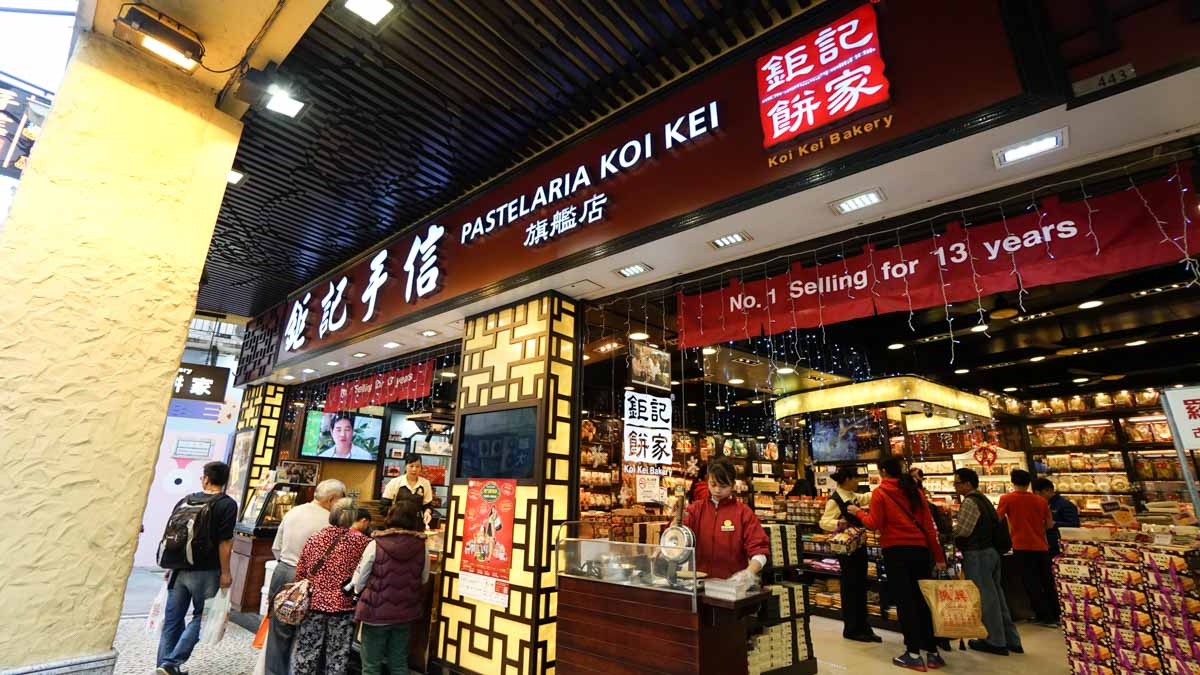 For those looking for snacks or food souvenirs to bring home, Pastelaria Koi Kei is probably your best bet. With over 21 stores in Macau alone, it's super convenient to find an outlet wherever you are.
As we were still travelling for a week after Macau, we couldn't buy any back. But we sampled a couple of snacks and loved the almond cookies, egg rolls, and crunchy peanut candy. never say no to FREE SAMPLES! 😛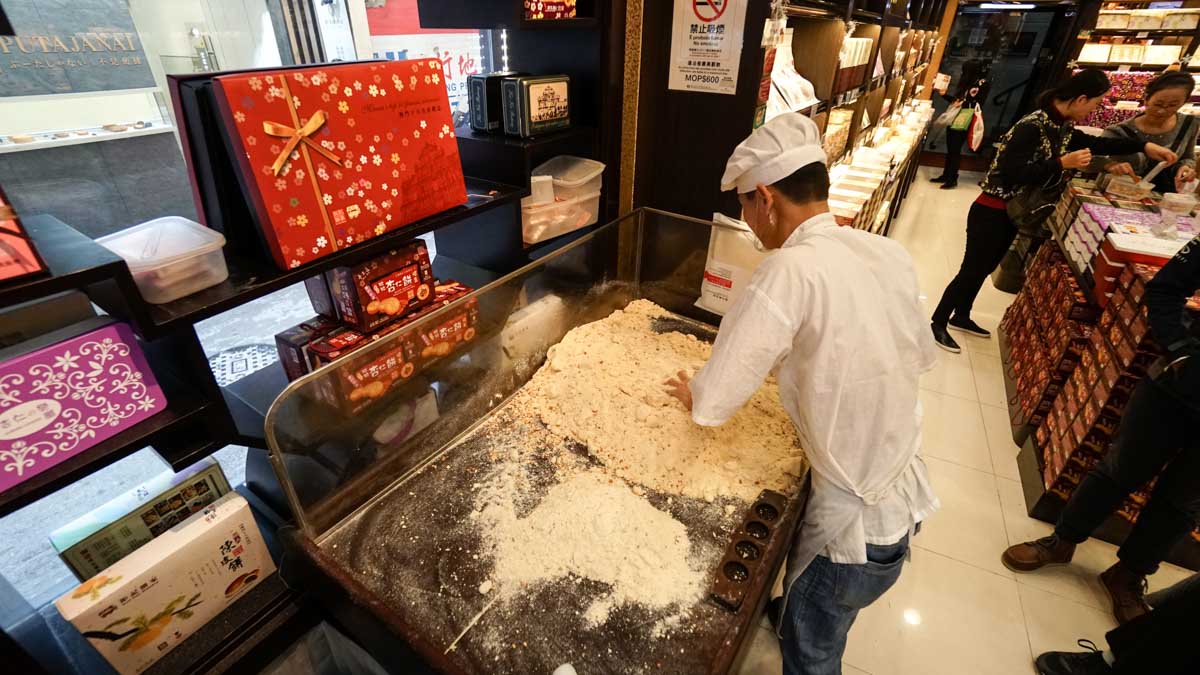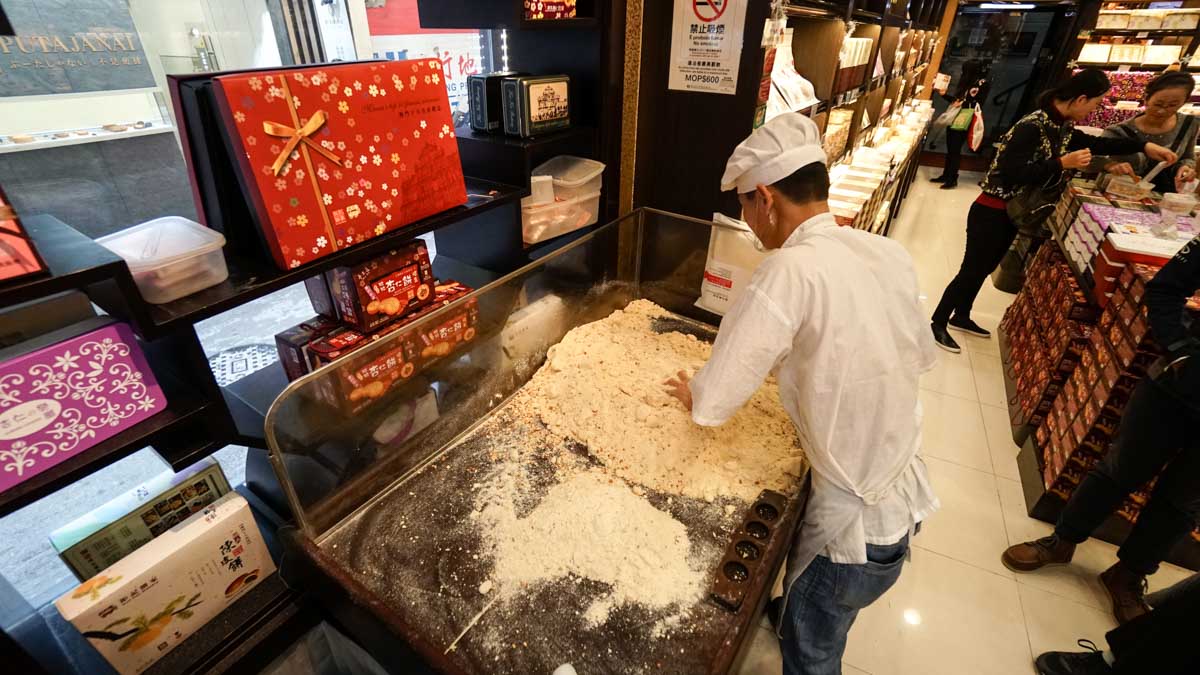 Here's a list of all the Pastelaria Koi Kei outlets in Macau.
Pro-tip: The outlets situated outside The Venetian are slightly cheaper.
8.Yi Yan Tang Tian Pin (壹燕糖甜品)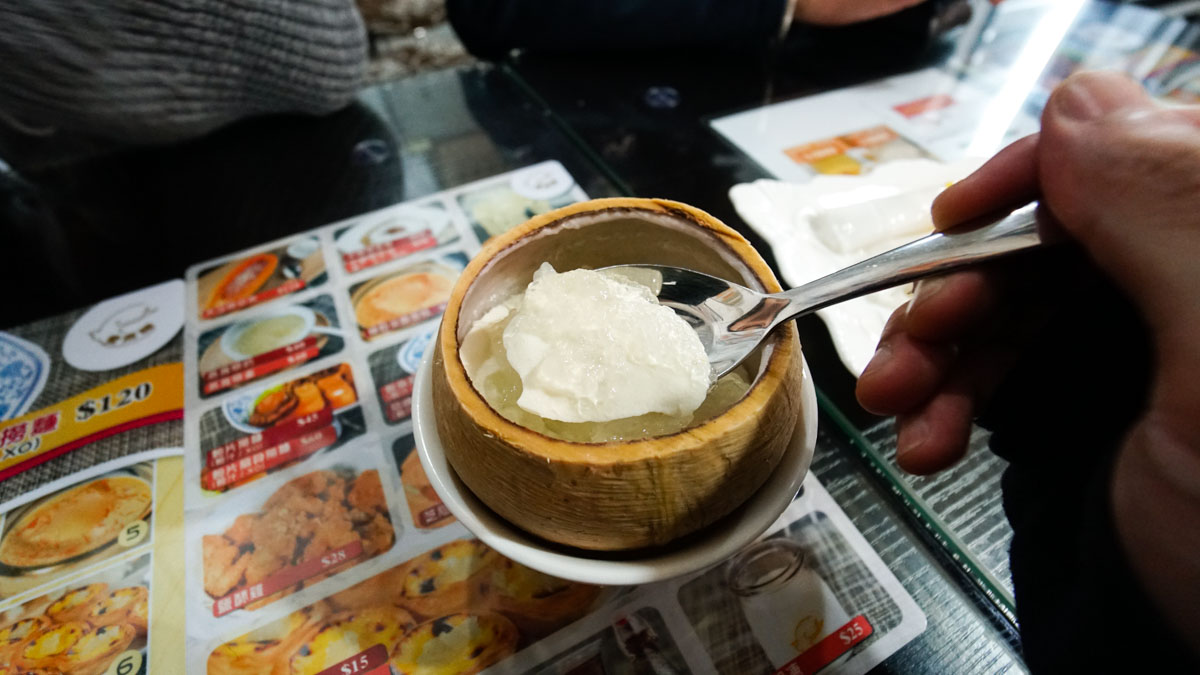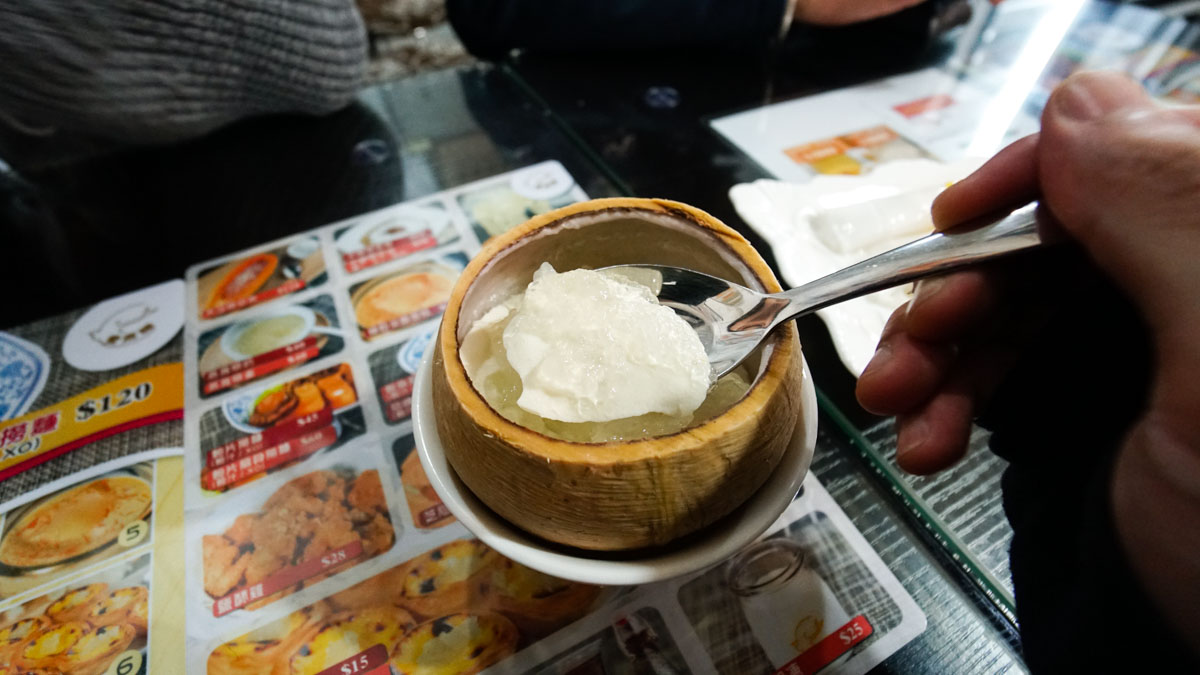 Discovered this little dessert place as we were walking along the red houses of Rua de Felicidade.
We tried the cold Coconut Bird's Nest Pudding, which was very refreshing and creamy. They serve it in an entire coconut instead of a bowl so extra points for that! Next up was the very unique but surprisingly good Mango Chang Feng. Never knew that Chang Feng can also become a dessert like that!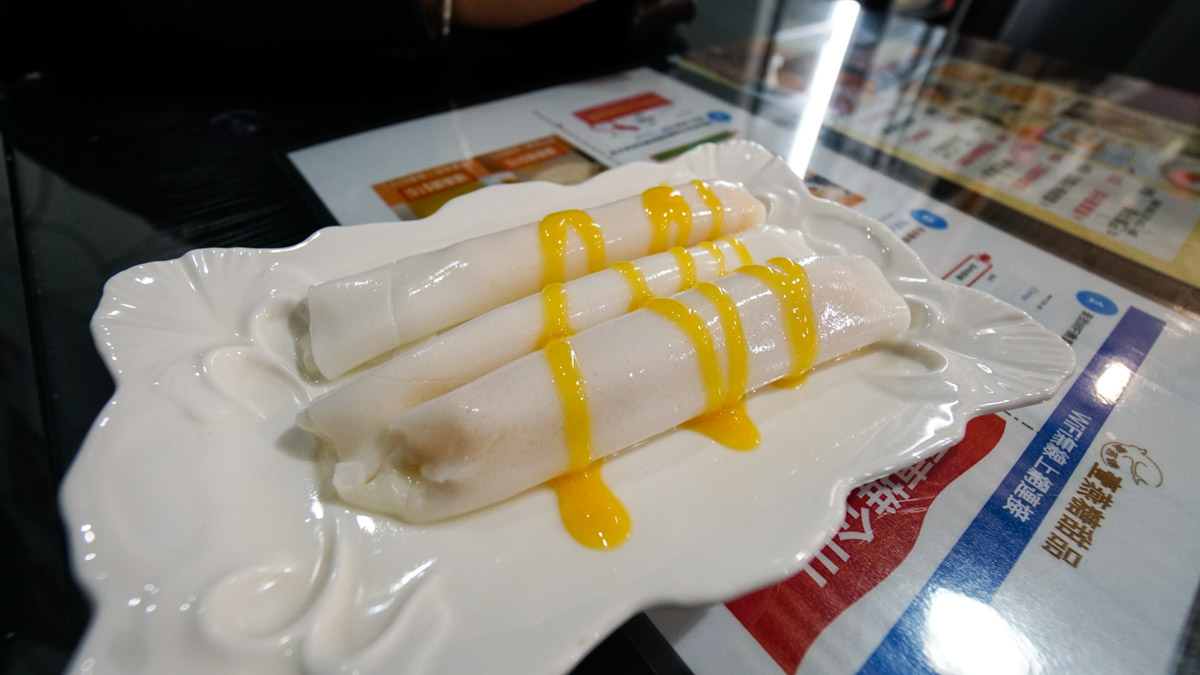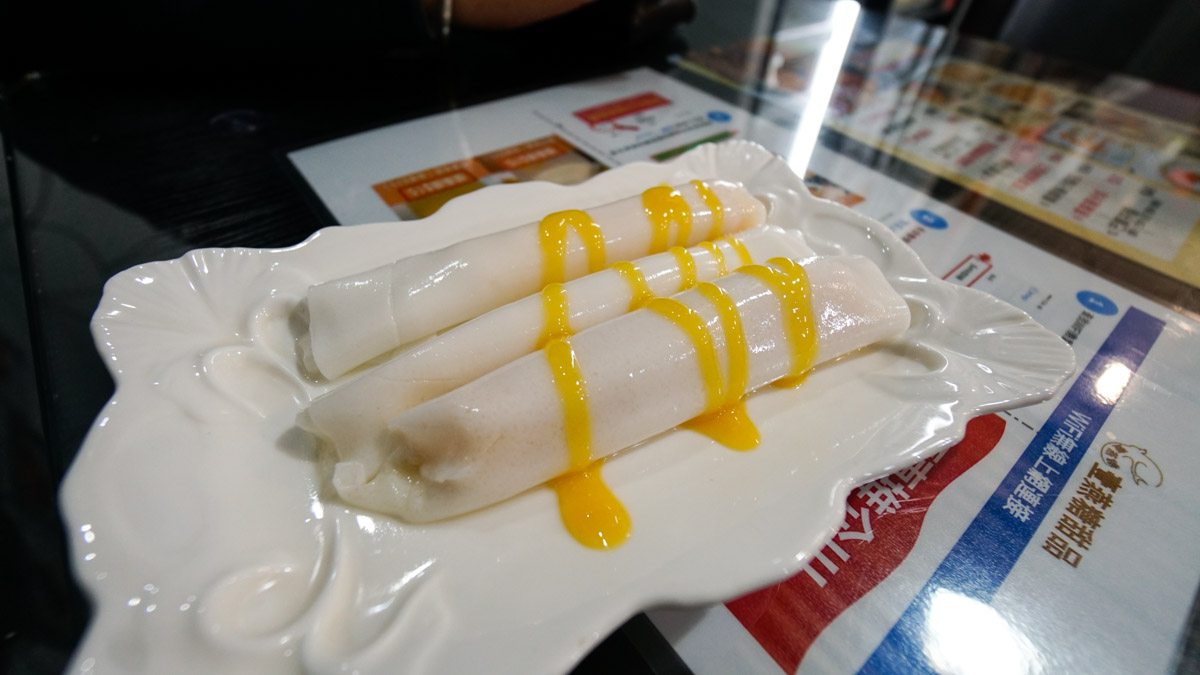 They also sold abalone noodles, which looked amazing. Too bad our bellies didn't have enough space after eating the entire day.
Cost: MOP$20-120
Opening Hours: 12.30p.m. – 23.30p.m.
Address: G/F, 1 R. da Felicidade, Avenida de Almeida Ribeiro or 新馬路福隆新街1號地舖
Where we stayed in Macau
Galaxy Macau Hotel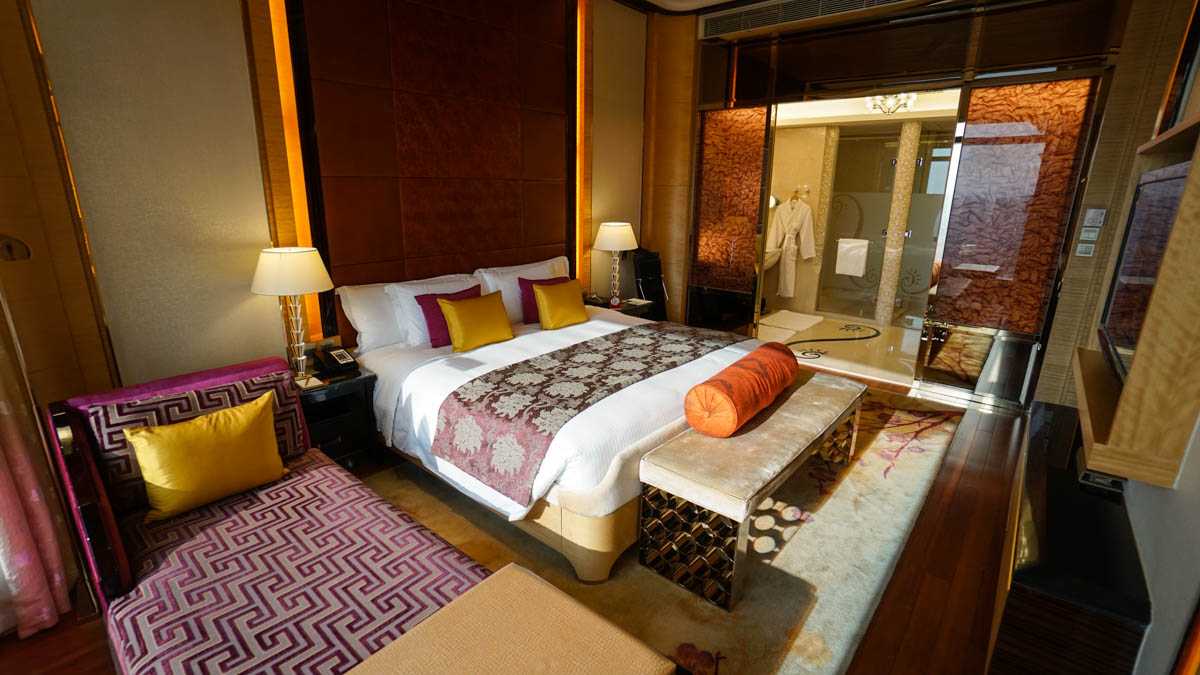 If you have some extra cash to splurge, the Royal Suite at Galaxy Macau Hotel is as good as things go. In fact we were so blown away that we decided to change our plans for an afternoon to enjoy our suite.
I won't say too much here, but you can read about our epic experience of the Galaxy Macau here.
Getting around in Macau
Taxi –
Getting a cab around is probably the best way to get around if you travelling with a group of friends. They yellow and white taxis are inexpensive, and can be found almost anywhere. Do look out for peak hour traffic where it may be hard to hail a cab!
Public Bus –
If you're on a budget, the public busses cover almost every attraction and scenic spot in Macau. Bus rides within the Peninsular (Macau City) are about MOP$2.5, while, busses that go further can charge up to 6MOP$. It gets pretty crazy during peak hour as well, so I'll suggest that you avoid the morning and evening traffic if you do not want to squeeze with the locals. We found google maps to be extremely helpful in directing us to the right bus lines.
Pro-tip: Save some coins for your bus fares as you'll have to pay exact or forfeit your change.
Shuttle Bus –
If you plan your route well, you can travel around Macau using only the casino shuttle busses. All the major casinos provide free shuttle bus service to major transit points and attractions in Macau. Technically they are provided for their guests, but no one ever questions. You just need to figure out which hotel is the closest to where you want to go. Simply board and alight at will.
This guide to shuttle buses in Macau is a good place to start your research.
Walking –
Macau is really small, so you can easily explore on foot. Plan to visit attractions around the same area and walk to your hearts content. You never know what you might find!
Getting to Macau
Hong Kong to Macau Ferry
If you're like us and decide to visit Macau after exploring the sights and sounds of Hong Kong, chances are you'll be taking the 60min ferry from Hong Kong to Macau. There are mainly 2 companies that operate the ferries.
CotaiJet –
Route: Hong Kong Macau Ferry Terminal to Taipa Ferry Terminal
Price: Hong Kong Macau roundtrip tickets from S$57
Operating Hours: 0700hrs to 0300hrs (reduced service at night); Ferry Schedule
If you're heading to the Cotai Strip where all the new casinos and hotels like Galaxy Macau are at, this is the ferry service to take.
Macau TurboJet –
Route: Hong Kong Macau Ferry Terminal to outer Harbour Ferry Terminal
Price: Hong Kong Macau roundtrip tickets from S$57
Operating Hours: 24hrs a day (reduced service at night) ; Ferry Schedule
For those wanting to go straight to the more local Macau city, this route would be best.
Flights to Macau
All public flights are from Macau International Airport, which only has one terminal so it's very straight forward. It's conveniently located on the eastern end of Taipa, and there are plenty of free shuttle busses from the hotels along the Cotai Strip.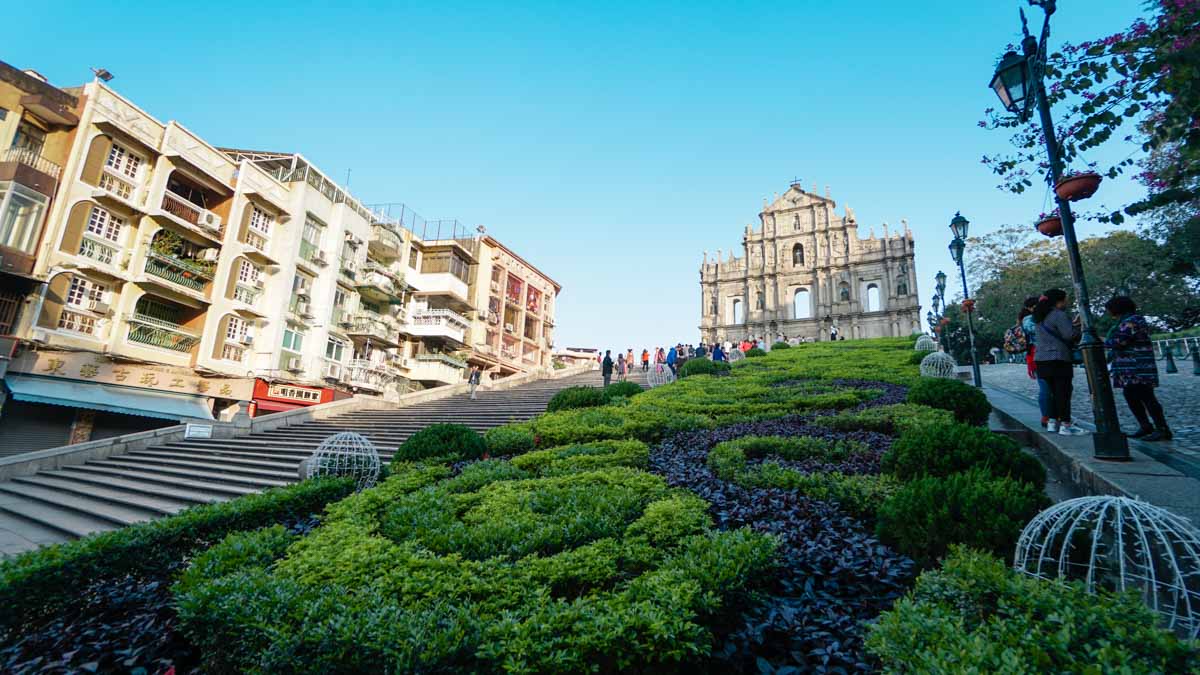 See also: Introvert's Guide to Hong Kong
Hope you enjoyed our 48hrs in Macau Guide. If you have other suggestions on things to do or foods to eat in Macau, do share in the comments below.
This post was brought to you by Klook.