What's a road trip without some horses, submarines, and jaw-dropping sunrise hikes? This Jeju itinerary covers the island's best.
Ah, South Korea: Undeniably many Singaporeans' favourite holiday destination — and for damn good reason! There're limitless Korean BBQ and kimchi to devour, K-pop and dramas to invest your soul in, and mountains of cheap cosmetics to shop for. Just these are enough to make anyone fly to Seoul or Busan.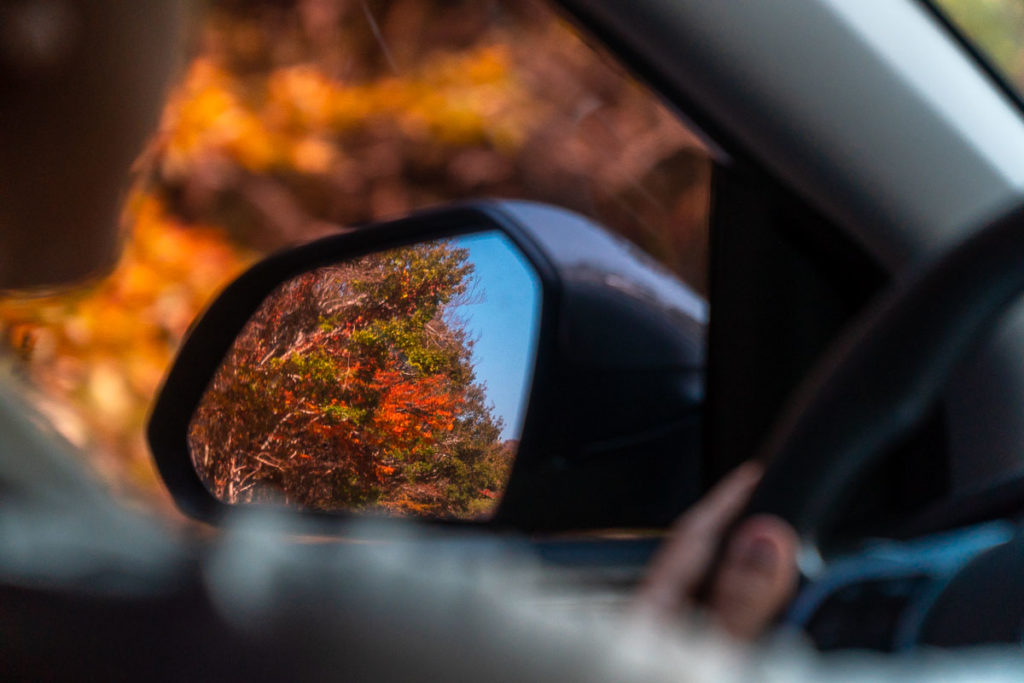 Most travellers make a beeline for the cities. However, South Korea's breathtaking islands shouldn't be overlooked! Besides the dreamy Nami Island, we also recommend heading to the country's biggest: Jeju Island.
Just an hour's flight from Seoul or Busan, the volcanic island is filled with many wonderful beaches to relax at, challenging mountains to climb, and fun attractions to visit. With so many things to do, it's little wonder why Jeju is a perfect spot for anyone who wants a relaxing weekend getaway. It's also little wonder why Jeju is South Korea's honeymoon island — well, unofficial. But who's keeping tabs? 😛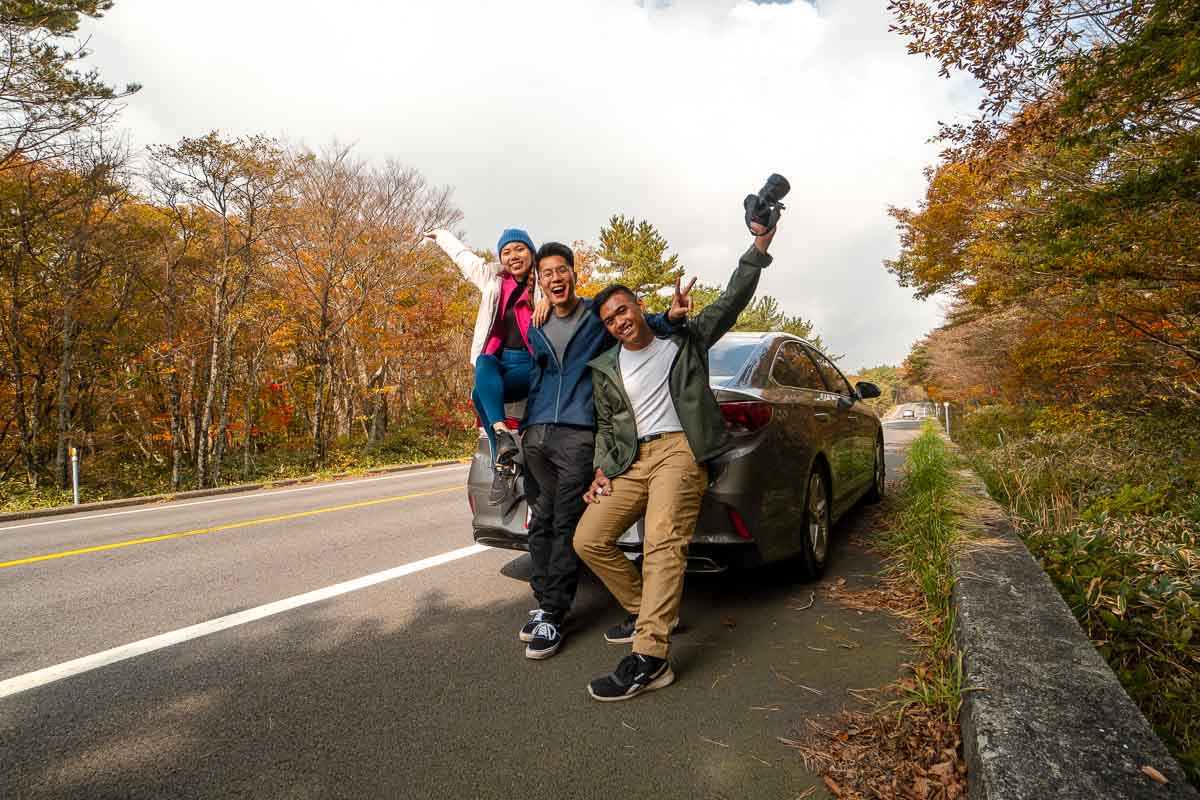 Before you dive right in, you should know that Jeju Island is twice the size of Singapore. The easiest way to get around is to rent a car, but we've included some alternatives below if you don't want to get behind the wheel.
Budget Breakdown for 4-Day Jeju Itinerary
Accommodation: S$87.42
Transport: S$63.23 (incl. 4-day car rental)
Activities: S$163.45
Food & Miscellaneous: S$184.90
Total: S$499/pax (cost was split amongst 4 pax)
(Click here for detailed breakdown)
Check Flights to Jeju
Flights aren't included in this Jeju itinerary as prices vary depending on the season. That said, plenty of flights depart for Jeju daily from Seoul and Busan. Prices can even start from as low as S$23! Check current flight prices to Jeju here.
Jeju Itinerary Road Trip Route
Our Jeju itinerary mainly explores Jeju city, as well as the Eastern and Southern parts of the island. Highlights include hiking Seongsan Ilchulbong Peak at sunrise, going on an underwater submarine adventure, and exploring Jeju's natural wonders. It's rather busy, but better an action-packed road trip than a boring one!
Day 1: Jeju City — Eastern Jeju 
Indulge at the Famous Black Pork (Heuk-Dwaeji 흑돼지) Street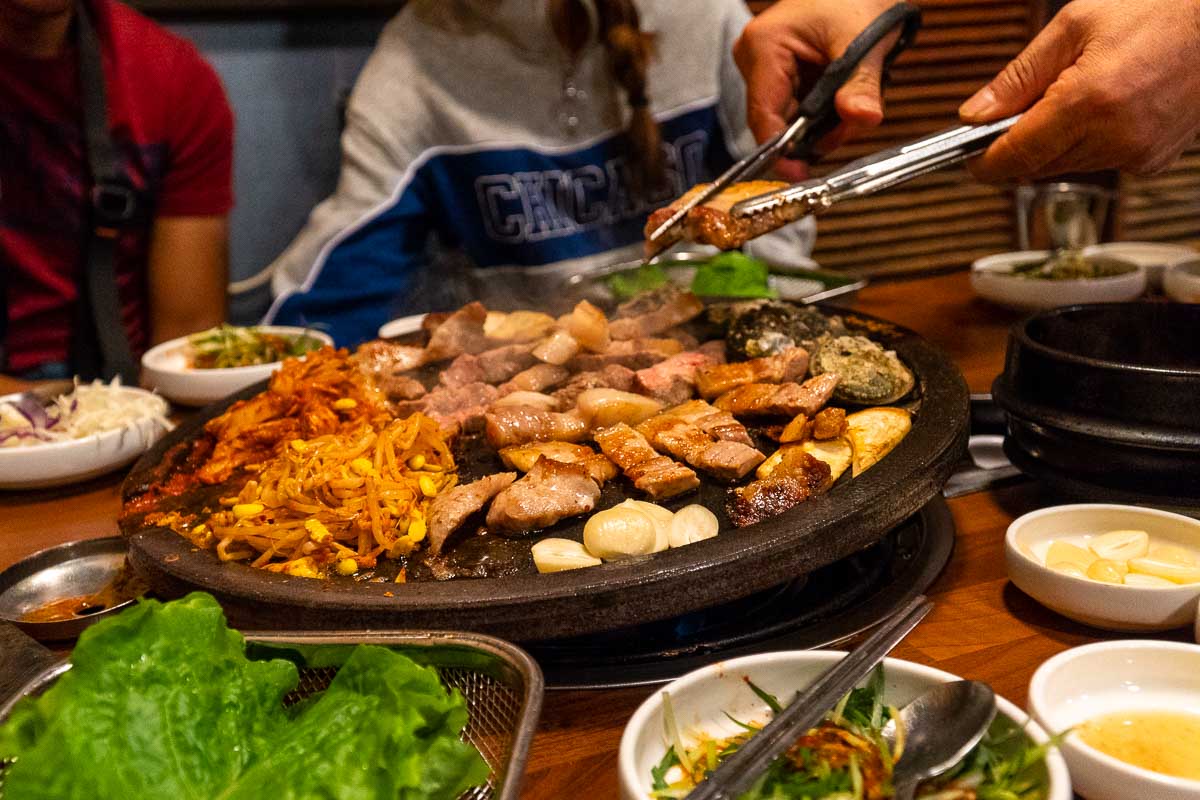 You may have had KBBQ, but have you had KBBQ with Jeju's black pork? At the Black Pork Street, rows of restaurants serve the delectable delicacy. Cooked over charcoal, the fine black pork is grilled with garlic to tender perfection. To eat, just wrap the meat in a perilla leaf with kimchi and beansprouts, then shovel it all in your mouth!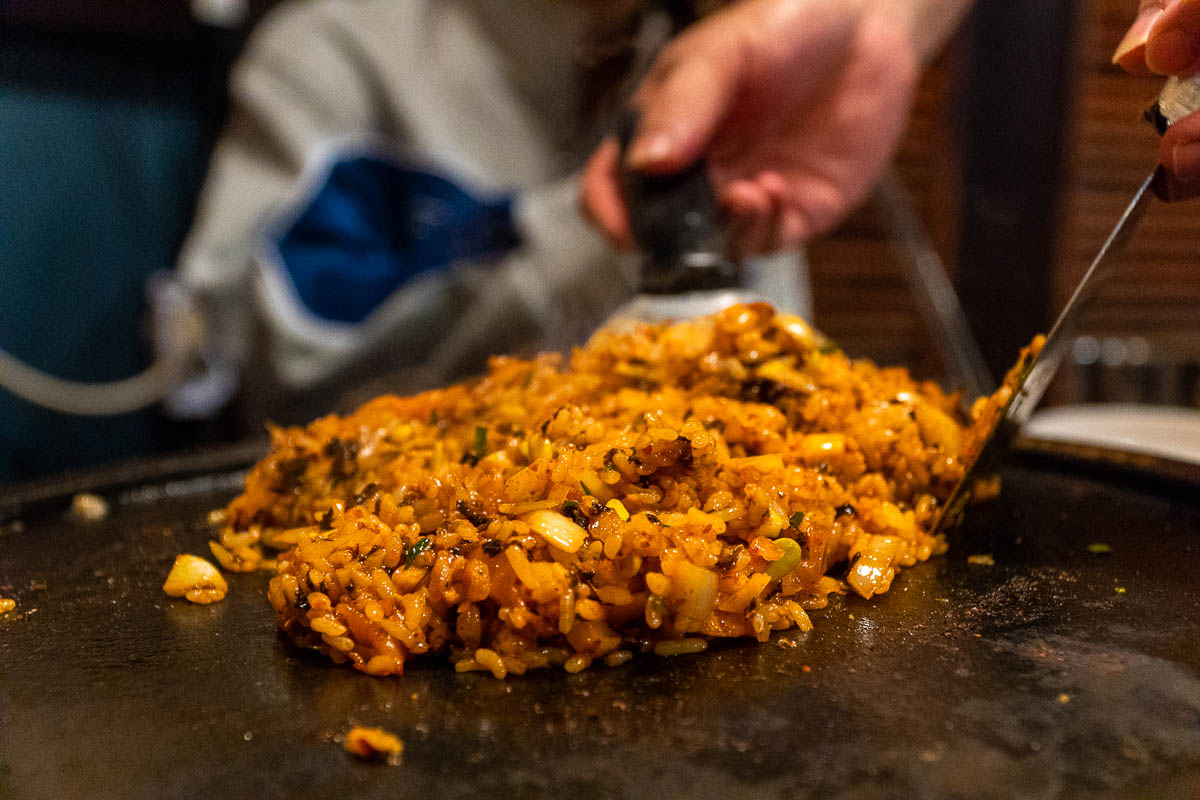 If you've still got stomach space at the end of the meal, order some rice to mix with the leftover veggies and meat on the grill. Now, you have your very own bokkeumbap (kimchi fried rice).
Cost: ₩24,000/pax (~S$28.10)
Opening hours: Varies; most restaurants open from 11AM – 12AM
Address: Gwandeong-ro 15(sibo)-gil, Jeju-si, Jeju-do
Cross the Yongyeon Suspension Bridge (용연계곡)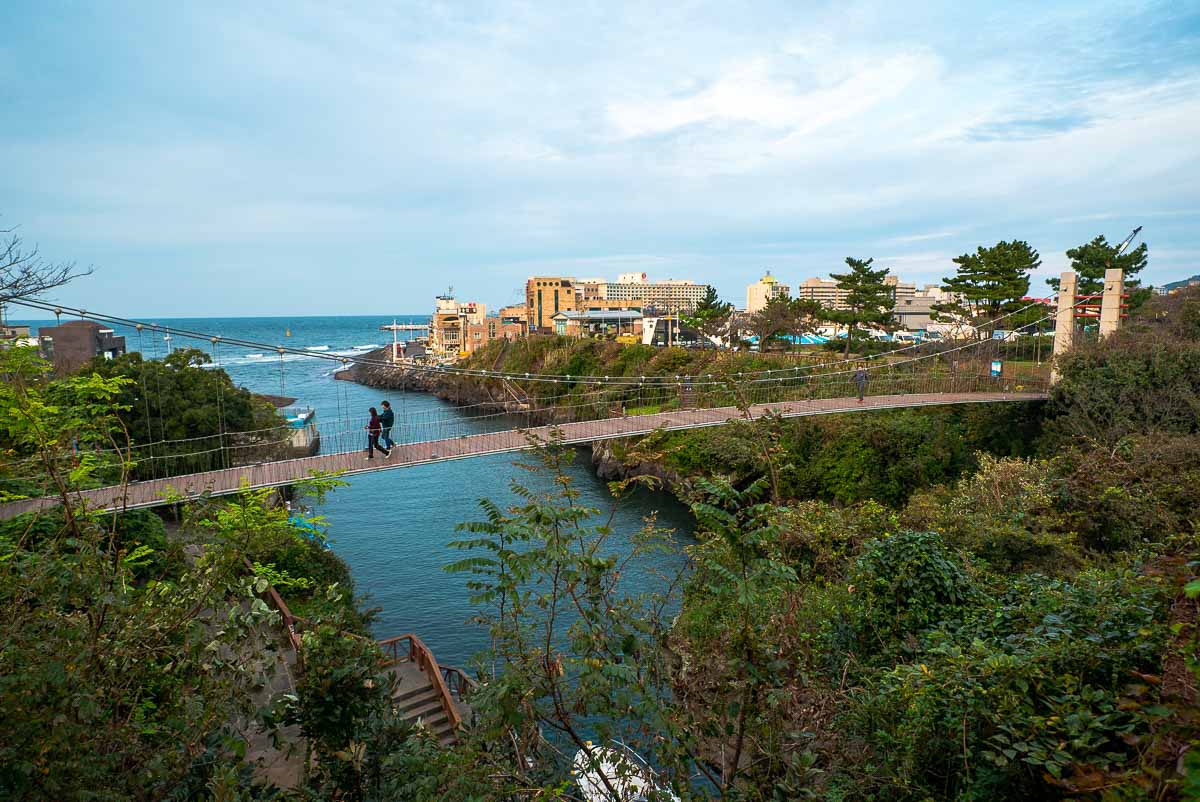 Located near the airport, the Yongyeon Suspension Bridge is a very scenic area. On one side, there's a picturesque gorge with lush greenery and deep blue waters. On the other, you get clear views of the ocean and planes landing in the distance. The bridge lights up at night, so you'd still get excellent scenery at any time of the day.
Address: 2581-4, Yongdam 1-dong, Jeju-si, Jeju
Tel: 728-2755
Parking: Paid parking lot nearby for ₩2,000 (~S$2.30)
*Photo Pro-tip: Walk up the short hill by the side of the entrance to get wider photos of the suspension bridge.
Explore Manjanggul Cave (만장굴)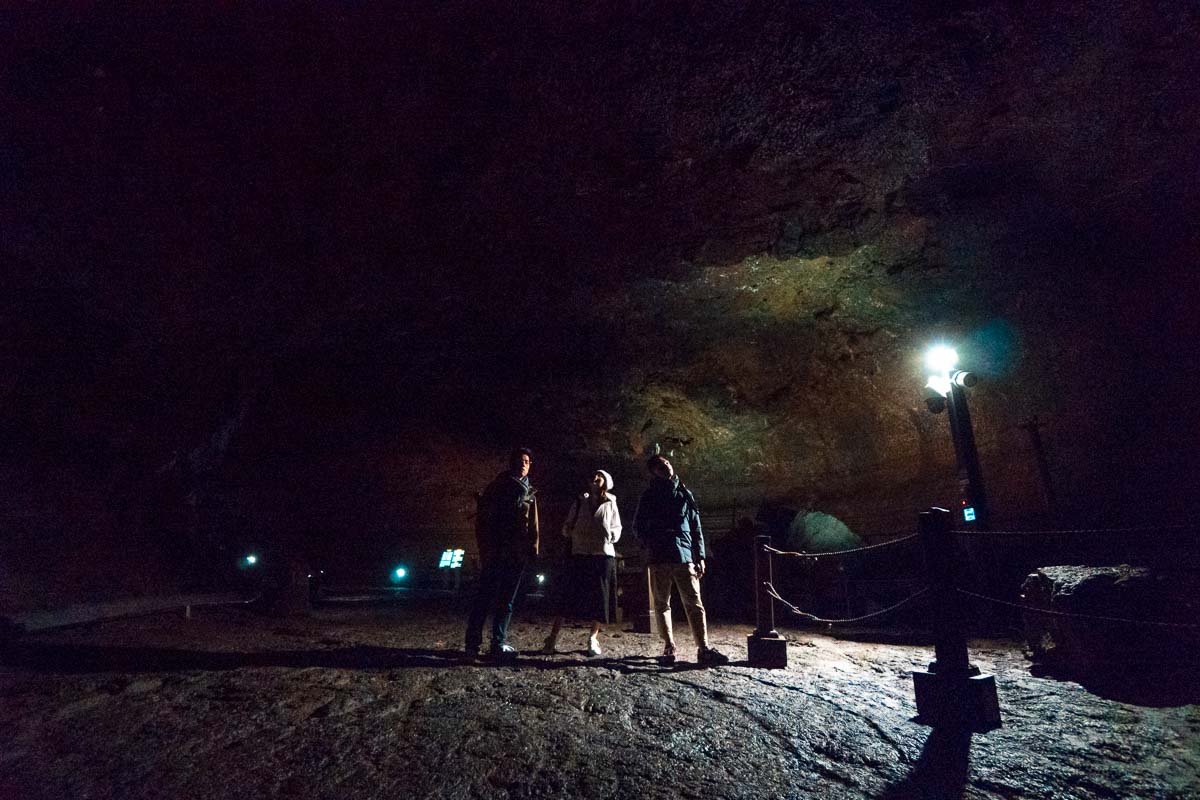 Massive enough to fit entire streetlamps inside, the Manjanggul Cave is one of the largest lava tubes in the world. Within the cave, you'll come across well-preserved lava formations like stalactites, flowlines, and benches. There's also the world's largest lava column, standing at 7.6m.
As the cave is wet and has uneven surfaces, it's advisable to wear a jacket and proper footwear.
Entrance Fee: ₩4,000 (~S$4.70)
Opening Hours: 9AM – 6PM (last entry at 5:10PM), closed on first Wednesday of the month
Tel: 783-4818
Parking: Free on premises
Dine on Succulent Abalone at Myeongjin Jeonbok (명진전복)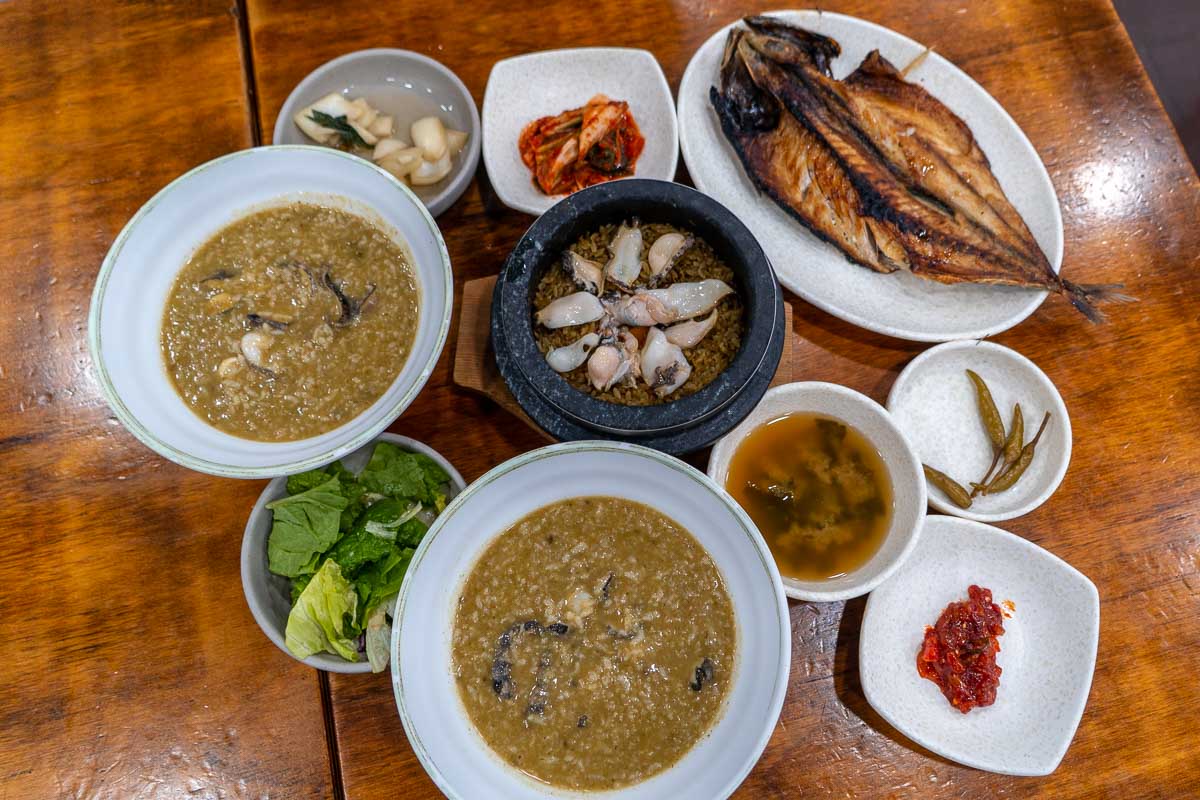 Popular with locals and foreigners alike, Myeongjin Jeonbok Abalone Restaurant sells fresh, highly sought-after abalone. There're only four items on their menu: Abalone porridge, abalone sizzling stone rice, grilled and sliced raw abalones. TL;DR: They're all good.
Although the porridge was the apparent "must-try", we preferred the charred flavours of the fragrant abalone stone rice. Served in a large pot, it's big enough to share. The meal also comes with an appetising fried mackerel, completely free of charge!
Cost: ₩12,000 – ₩30,000 (~S$14 – ~S$35.10)
Opening Hours: 9:30AM – 9:30PM, closed on Tuesdays
Tel: 782-9944
Parking: Free on premises
Accommodation: Klook — we stayed in a hotel near Seongsan Ilchulbong for ~S$53.30/night for a standard twin room. The best part? It's a walking distance to Sunrise Peak!
Day 2: Eastern Jeju — Southern Jeju (Seogwipo) 
Climb up Seongsan Ilchulbong (성산일출봉)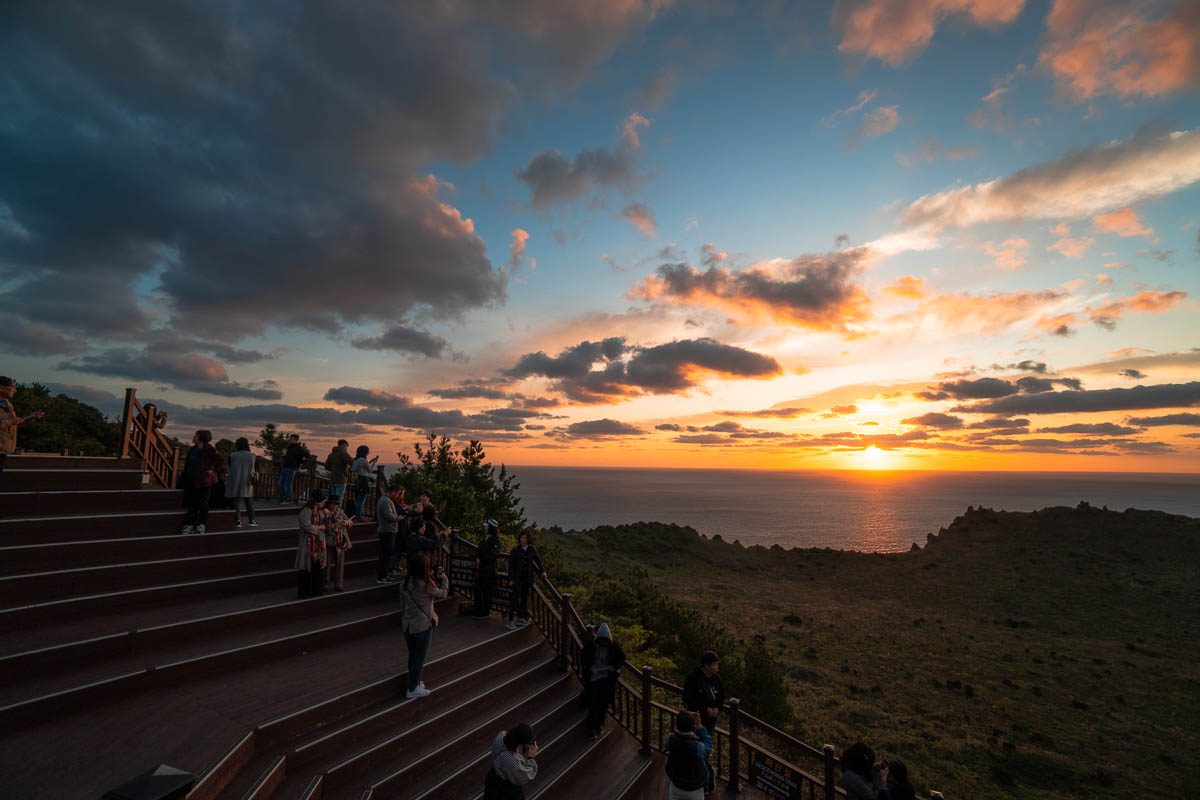 Seongsan Ilchulbong is an enormous tuff cone crater that doubles as a UNESCO World Heritage site and one of Jeju's most well-known attractions.
It's also called "sunrise peak", and sees dozens of early-morning hikers racing up a stairway to catch daybreak. This Jeju itinerary joins in on the action and was rewarded with a magnificent view of the sunrise. So magnificent that (no kidding) people started clapping when the sun rose. Yay, sun!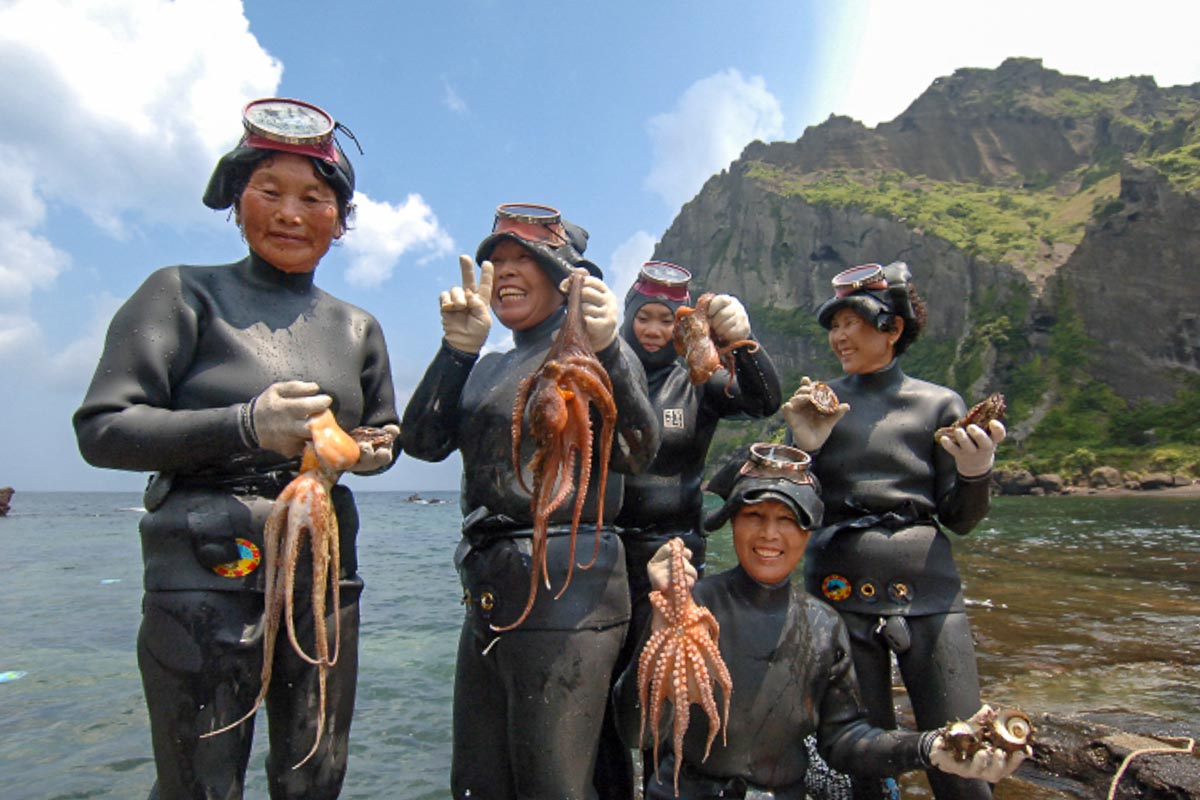 Photo credit: Thisiskoreatours.com
No worries if you're not an early riser. At other times of the day, you can still head up the peak to enjoy a spectacular vantage view. Catch the Jeju haenyeo (women divers) perform at 1:30PM and 3:30PM at the bottom of the crater. These tough, elderly ladies will free-dive for fresh shellfish in blistering cold waters — pretty sick considering they're old enough to be your grandma!
Entrance Fee: ₩5,000 (~S$2.30)
Trail Closing Times: Every first Monday of the month
Tel: 783-0959
Parking: Free on premises
Savour Fresh Seafood at the Baekgi Haenyeo House (백기해녀의 집)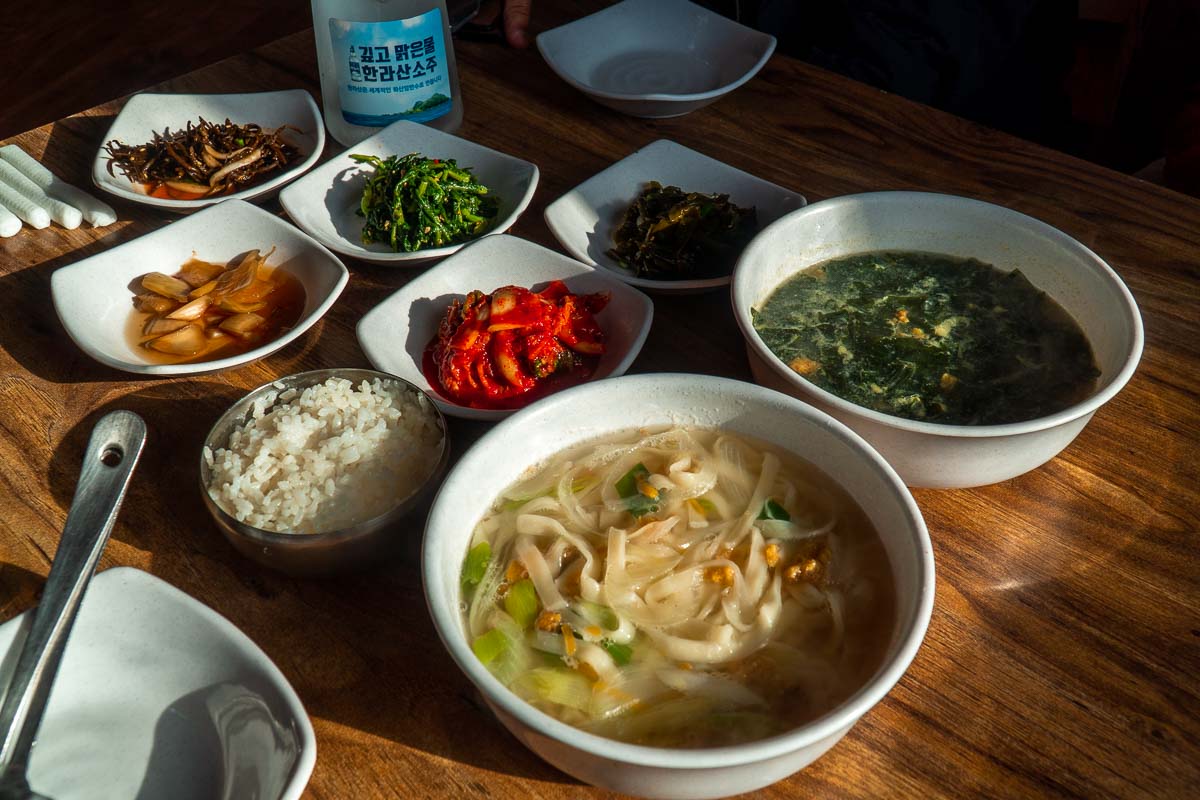 Besides watching the haenyeo dive for shellfish, why not taste the fruits (or seafood) of their labour too? Like the ama of Japan, the Baekgi Haenyeo House is a haenyeo hut-cum-eatery that dishes out seafood harvested and cooked by the female divers.
We ordered the chopped noodles with sea urchin (₩10,000, ~S$11.70) and sea urchin seaweed soup (₩12,000, ~S$14). Served piping hot, we liked how springy the handmade noodles were. The generous amount of sea urchins in the light broth was also delicious and nourishing.
Unfortunately, the divers knew limited English so we couldn't ask them about their diving stories. However, it's something you can do if you're travelling with a translator or someone who's proficient in Korean. It'll make the authentic dining experience more fascinating.
Cost: ₩10,000 – ₩40,000 (~S$11.70 – ~S$46.60)
Opening Hours: 8AM – 6PM
Tel: 782-0673
Parking: Free on premises
Roam around Aqua Planet Jeju (한화아쿠아플라넷 제주)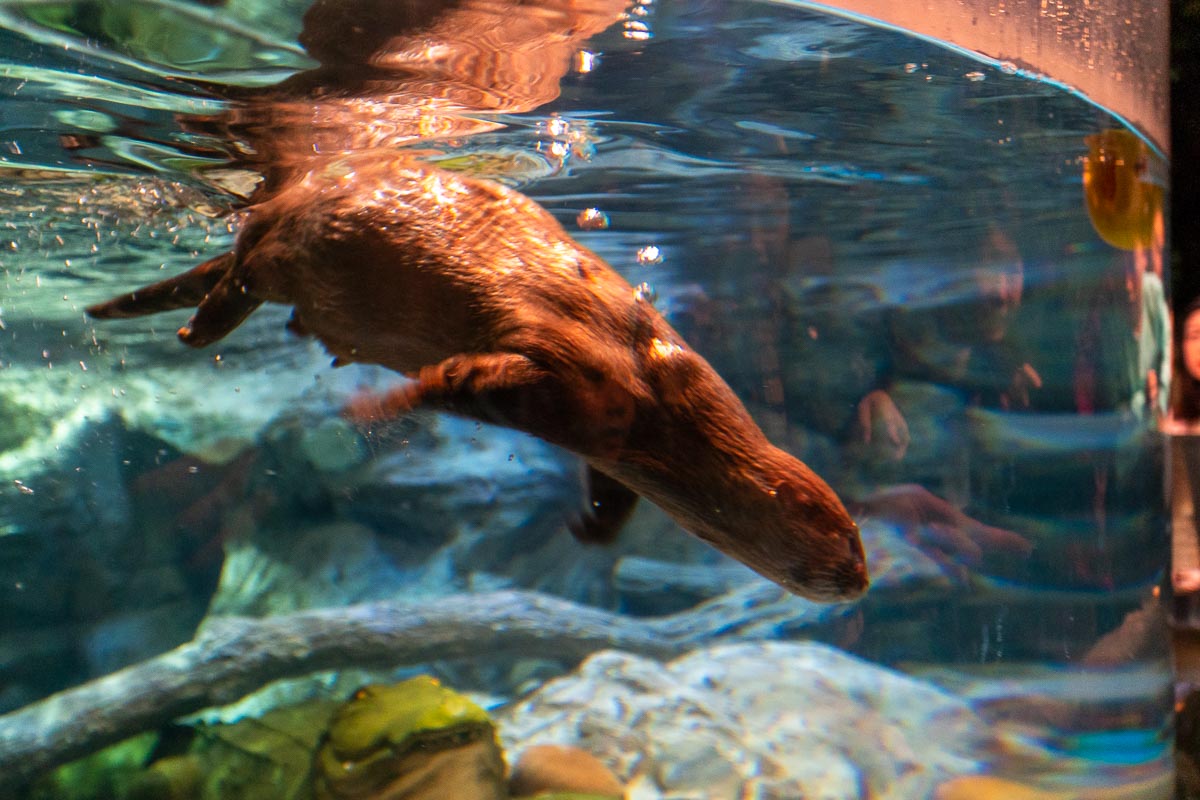 Otterly adorable!
There's a whimsical beauty about aquariums that can make anyone go "oooh" or "aaahhh". Aqua Planet Jeju is no different. The sizeable aquarium is home to a variety of animals like otters, rays, seals, walruses, bottlenose dolphins, and sharks.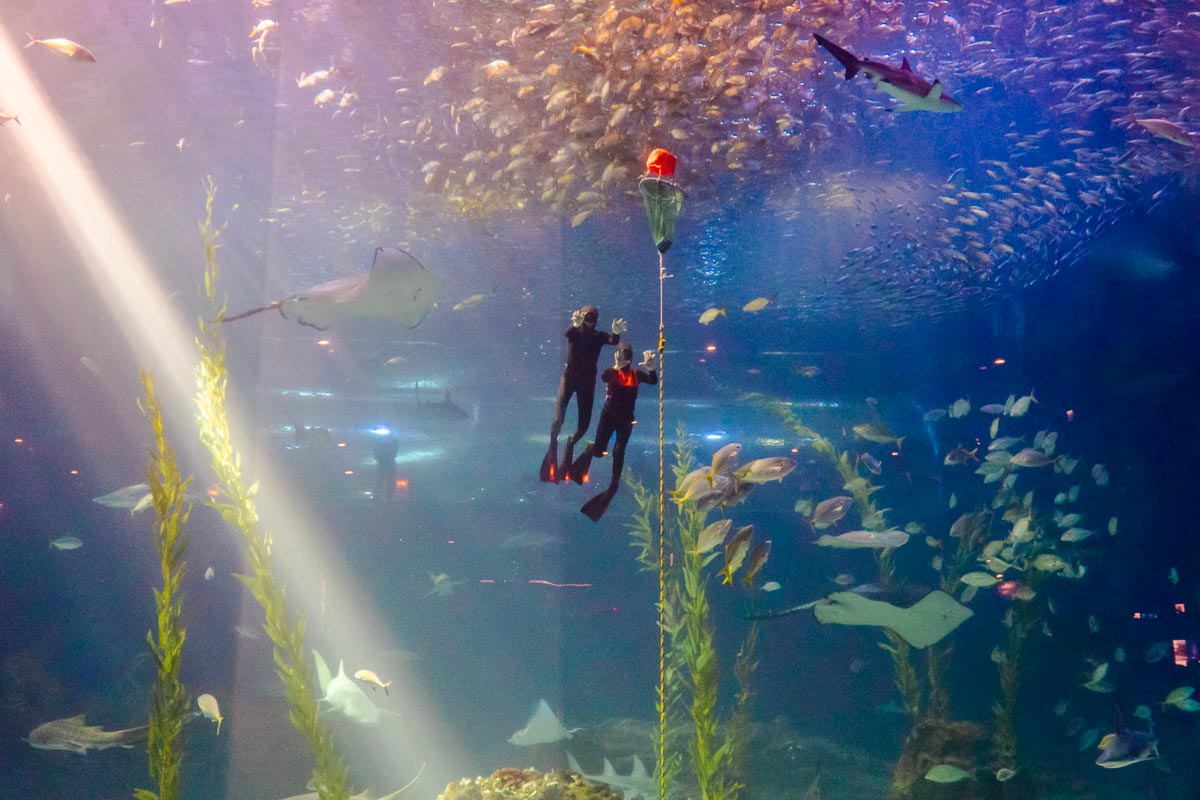 Aqua Planet also has numerous programmes throughout the day. A drawback is that they're only in Korean, but are still interesting to watch. We highly recommend catching the haenyeo diving demonstration at the main tank. Before your very eyes, two women dive deep to 8m to harvest shellfish — all while holding their breaths for a minute!
Cost: From ~S$29
Opening Hours: 10AM – 6PM (last entry at 5PM)
Tel: 780-0900
Parking: Free on premises
Ride like the Wind at Jeju Seri World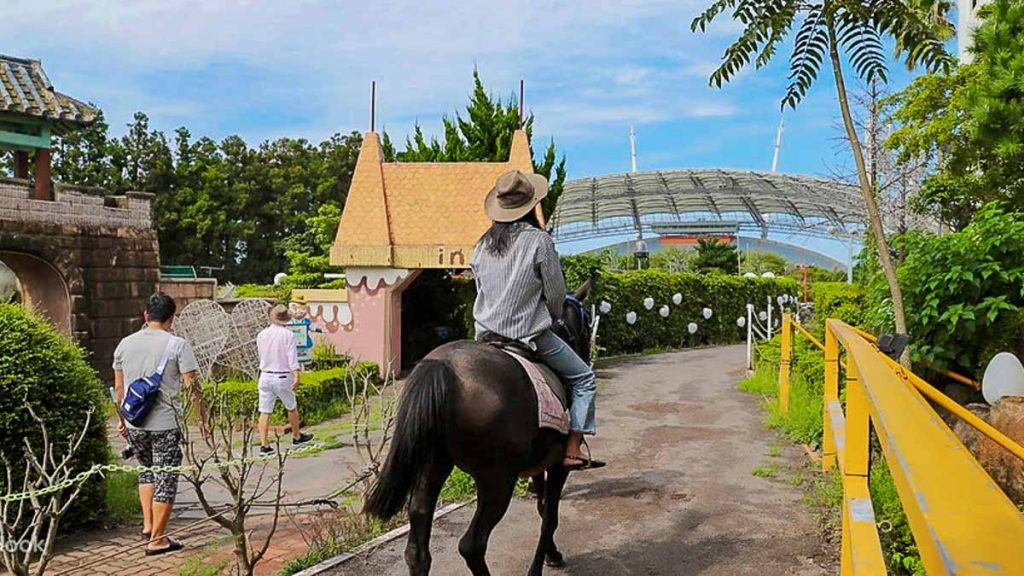 Photo credit: Klook
After an hour's drive towards the South of Jeju, take a break to experience actual horsepower instead! At Jeju Seri World, you get to ride adorably furry horses through the lush landscape of the place.
While you're on the horse, be sure to look out for the Seogwipo World Cup Stadium which served as one of the playing venues for the 2002 World Cup. There's a lot of bouncing involved, so hang on tight!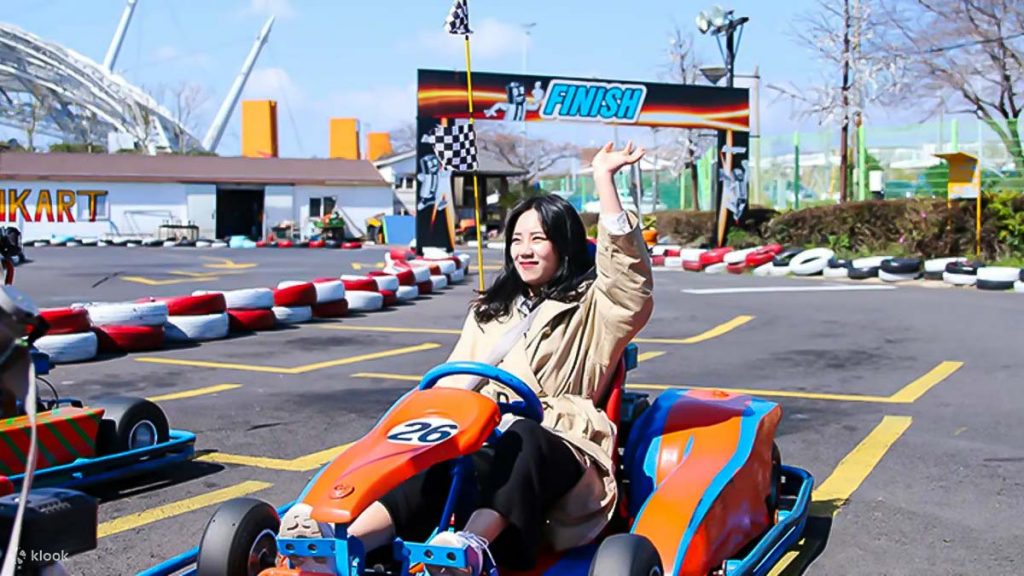 Photo credit: Klook
Jeju Seri World is also home to a cart riding experience that allows you to drive down a thrilling race track — perfect for adrenaline junkies. You can also make your way through the scenic camellia and cedar trees of the maze park while you're there!
Cost: ~S$6.60 (Short Course Horse Riding), ~S$13.40 (Cart Riding Experience), ~S$4.40 (Maze Park Experience)
Opening Hours: 9AM – 7PM
Tel: +82 64-739-8254
Accommodation: Klook — we stayed in a hotel in Seogwipo for ~S$60.77/night for a deluxe double room.
Day 3: Southern Jeju 
Feast on local Korean eats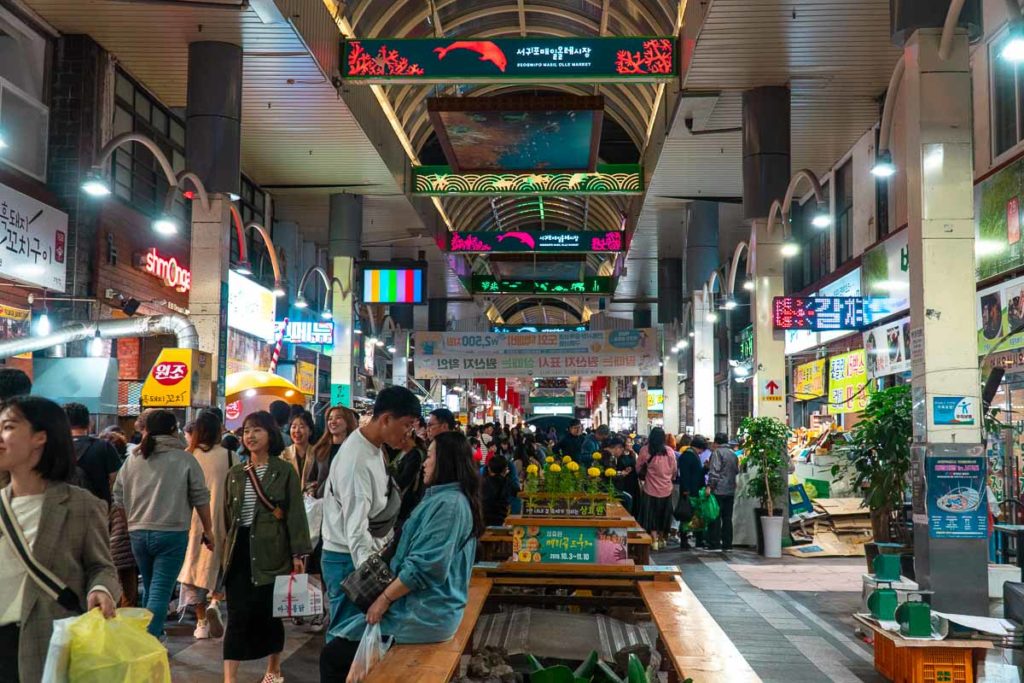 What's a Jeju itinerary without some good grub? In Seogwipo, you can get an extensive variety of local foods at the Seogwipo Maeil Olle Market (서귀포 매일올레시장). These include snacks like spicy tteokbokki (rice cakes) and cheesy squid pancakes. For more lavish meals, head to the restaurants on Arang Joeul Food Street.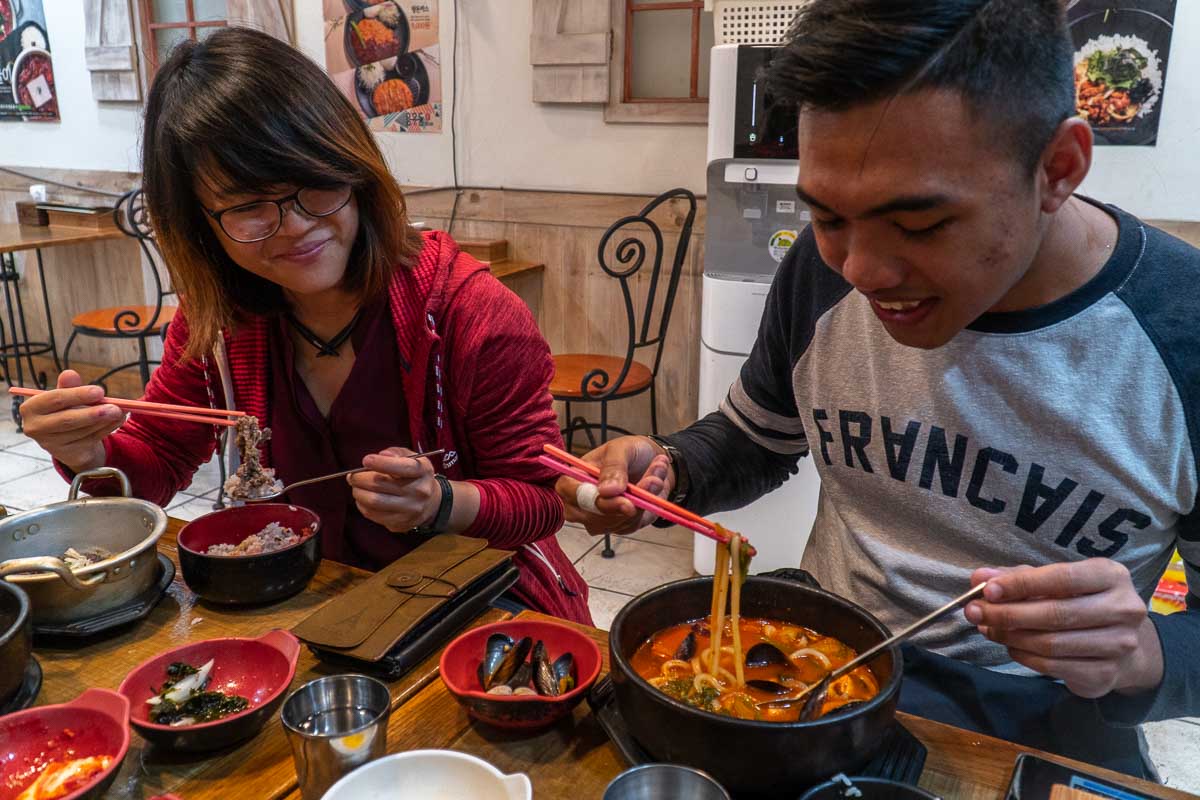 Warning: Korean food is much spicier in Korea!
We had our Korean chicken cravings satisfied at Don Chicken (돈치킨). The eatery serves absurdly juicy grilled chicken, instead of typical fried ones. We also ate at Yongwoo-dong (용우동), a simple diner that serves comforting Korean dishes under ₩10,000 (~S$11.70).
Go on an Underwater Submarine Adventure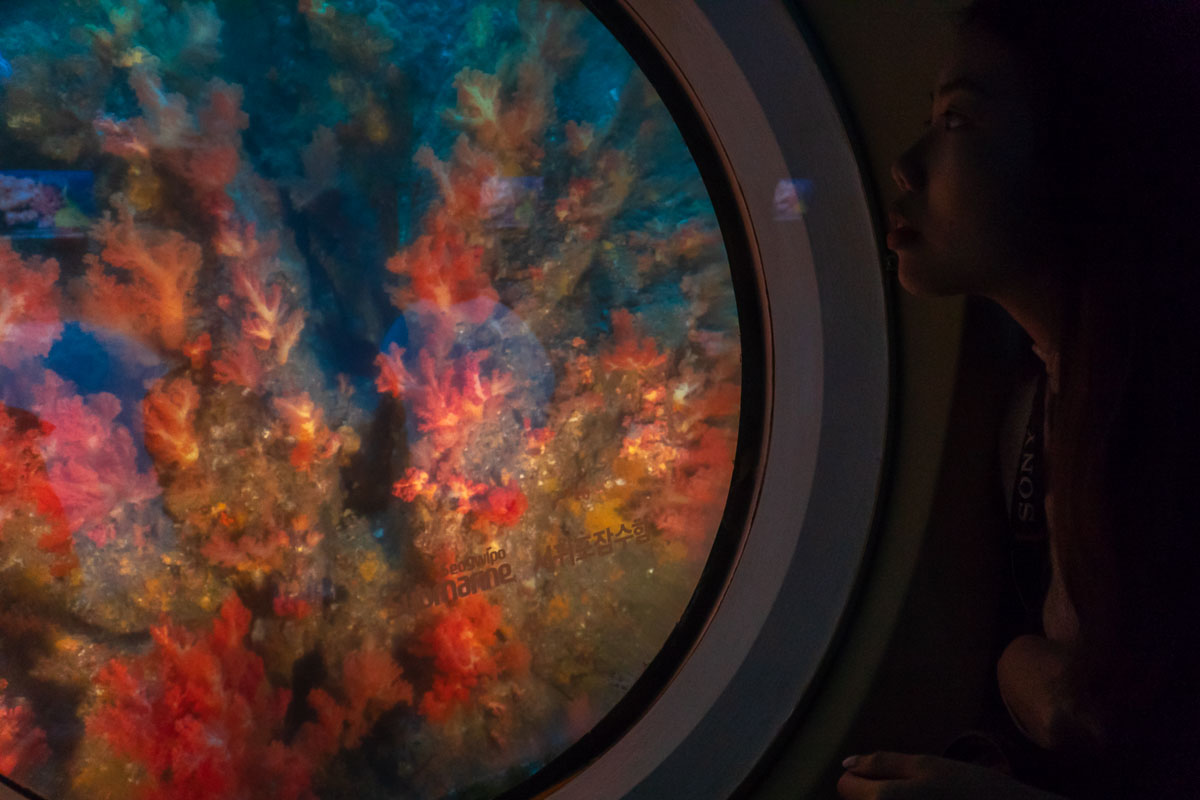 Like on land, did you know the ocean undergoes changing seasons as well? On a Seogwipo Submarine Adventure, you'll learn intriguing facts about underwater life in a commercial submarine. The Seogwipo submarine will also dive to depths of up to 40–45m. There, you get to view colourful fishes, soft corals, and even an old shipwreck up-close.
Cost: ₩65,000 (~S$78)
Tour Timings: Every 40 minutes from 10AM – 3:20PM
Tel: 732-6060
Parking: ₩1,000 per adult (aged 25 and above)
Visit Jeju's Natural Wonders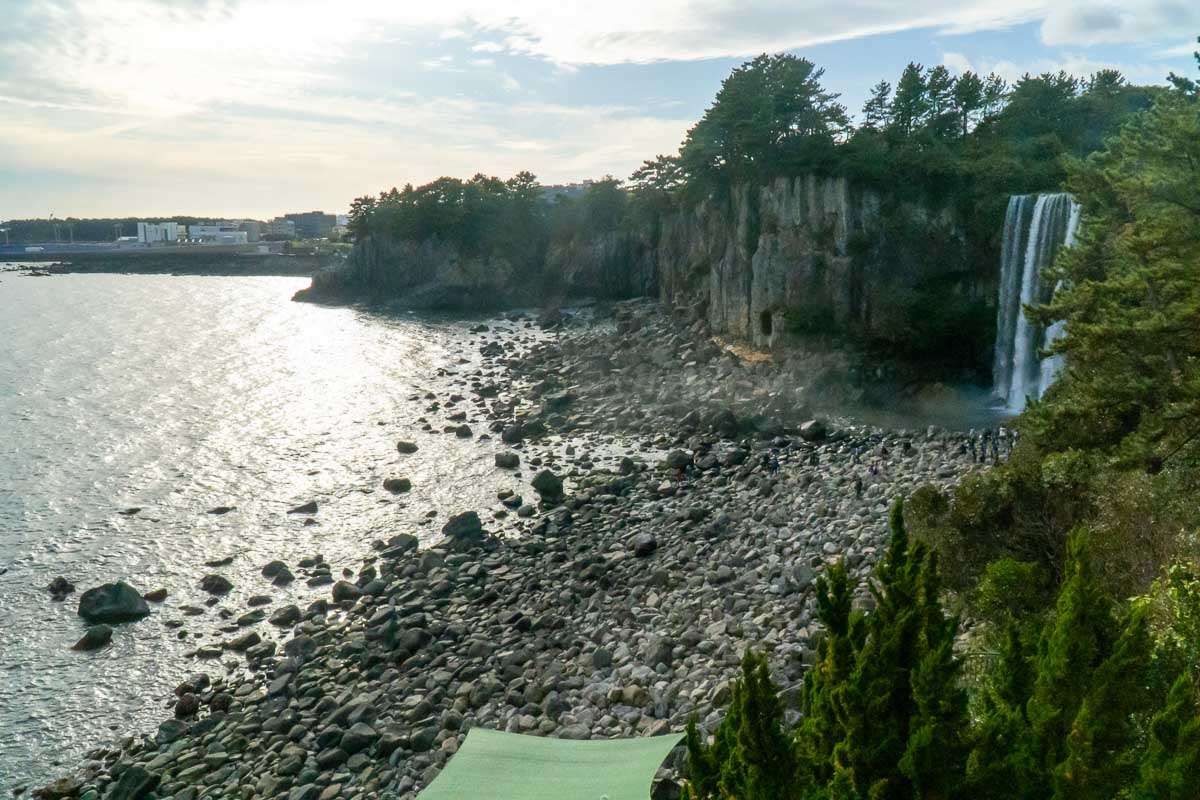 Jeju Island holds many natural gems ranging from waterfalls to rock formations. Our Jeju itinerary mainly explores the ones within Seogwipo city, which are close by each other.
One of the most popular icons is Jeongbang Falls (정방폭포). The 23m waterfall is the only one that falls directly into the ocean and is a pretty place to take photos. Nearby, there's also a makeshift tent where you can purchase fresh shellfish harvested and prepared by the haenyeo. Entry to the waterfall costs ₩2,000 (~S$2.30).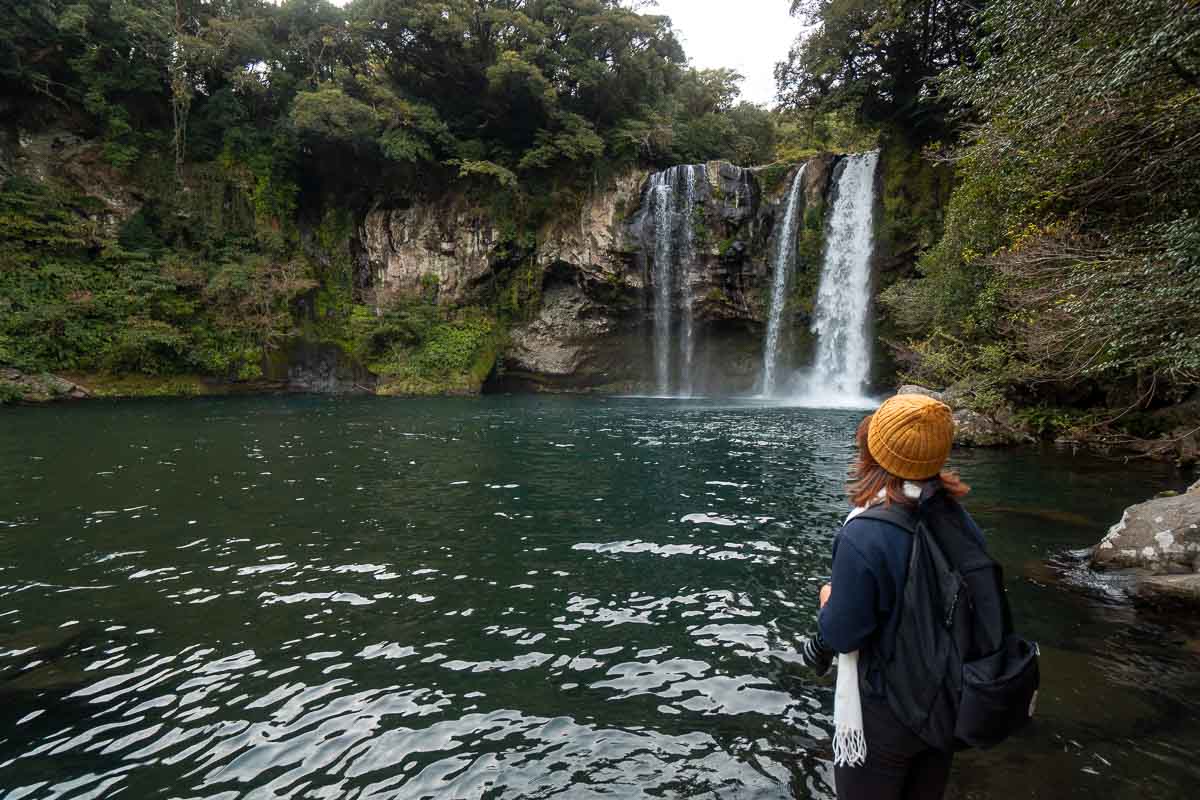 Cheonjiyeon Waterfall (천지연폭포) is easily one of the most beautiful places on Jeju Island. The falls are surrounded by a well-kept park, perfect for a leisurely stroll even at night. Entry to the waterfall similarly costs ₩2,000 (~S$2.30).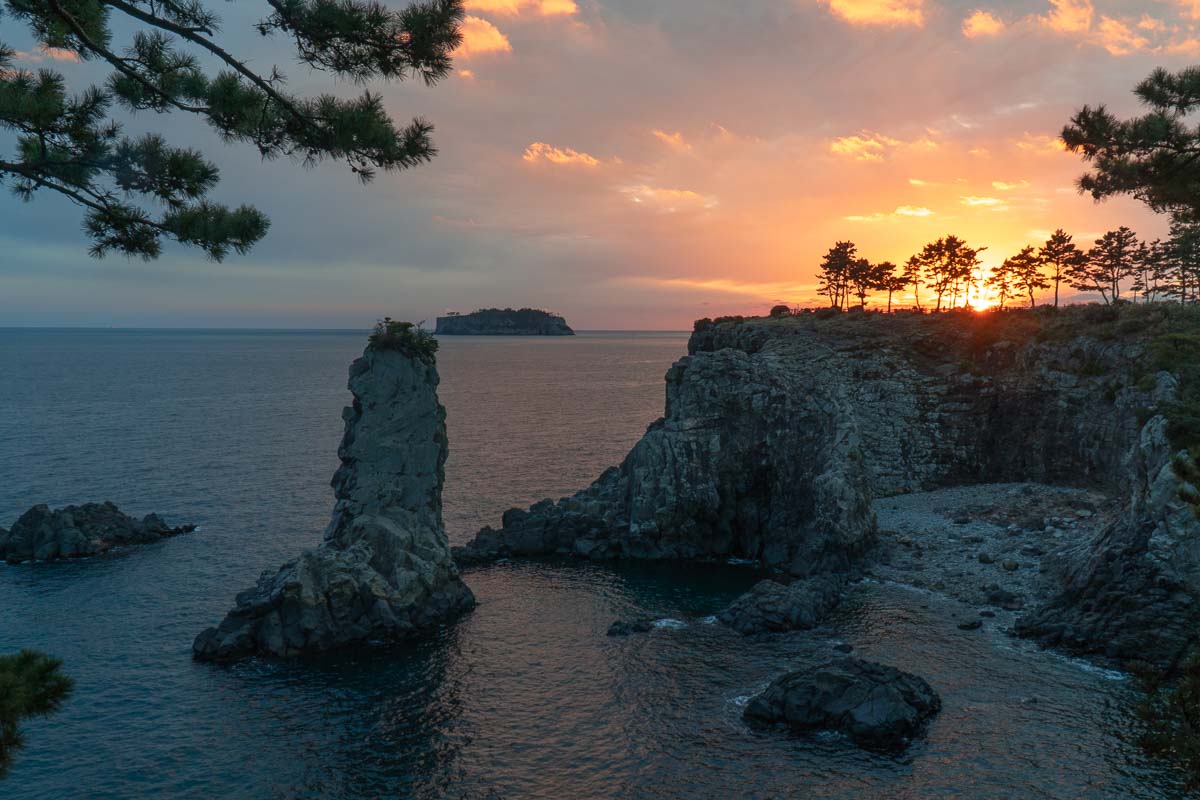 Oedolgae Rock (외돌개) is another famous attraction. Legend has it that the solitary rock came to be after a grandmother waited a long time for her husband to return from fishing, that she turned into rock. Besides viewing the rock, you can also wander around the forested area and catch the sunset. Parking costs ₩2,000 (~S$2.30).
Day 4: Southern Jeju — Jeju City
Marvel at Jusangjeollidae Cliffs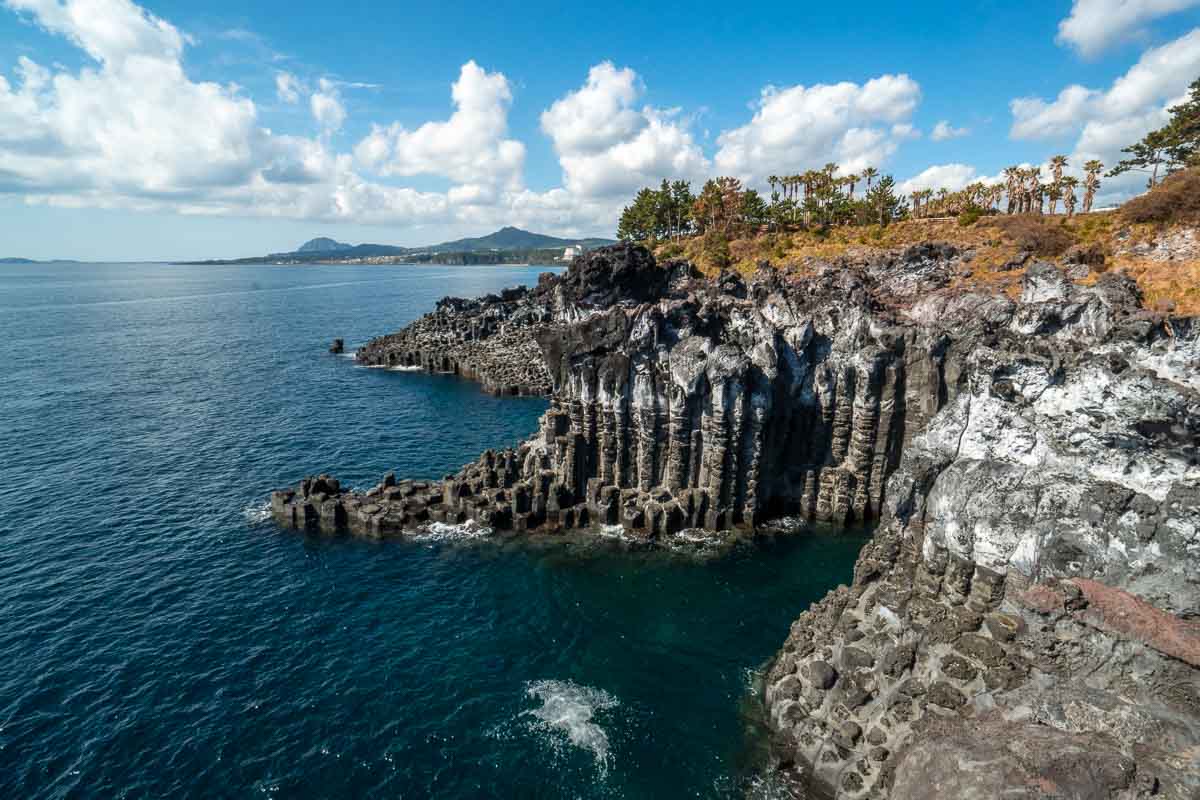 A geologic wonder, the Jusangjeollidae Cliffs (주상절리대) were born from molten lava cooling down to form intricate hexagonal rock columns. One of Jeju's national icons, the cliff face makes a great photo-taking stop.
Entrance Fee: ₩2,000 (~S$2.30)
Opening Hours: 9AM – 6PM
Tel: 738-1521
Parking: Paid parking for ₩1,000 – ₩3,000
*Pro-tip: To avoid the crowds on the viewing platform, follow the signs to the Promenade instead. The open-spaced park is far less busy and offers equally clear views of the cliffs.
Meet Fuzzy Friends at the Teddy Bear Museum (테디베어박물관)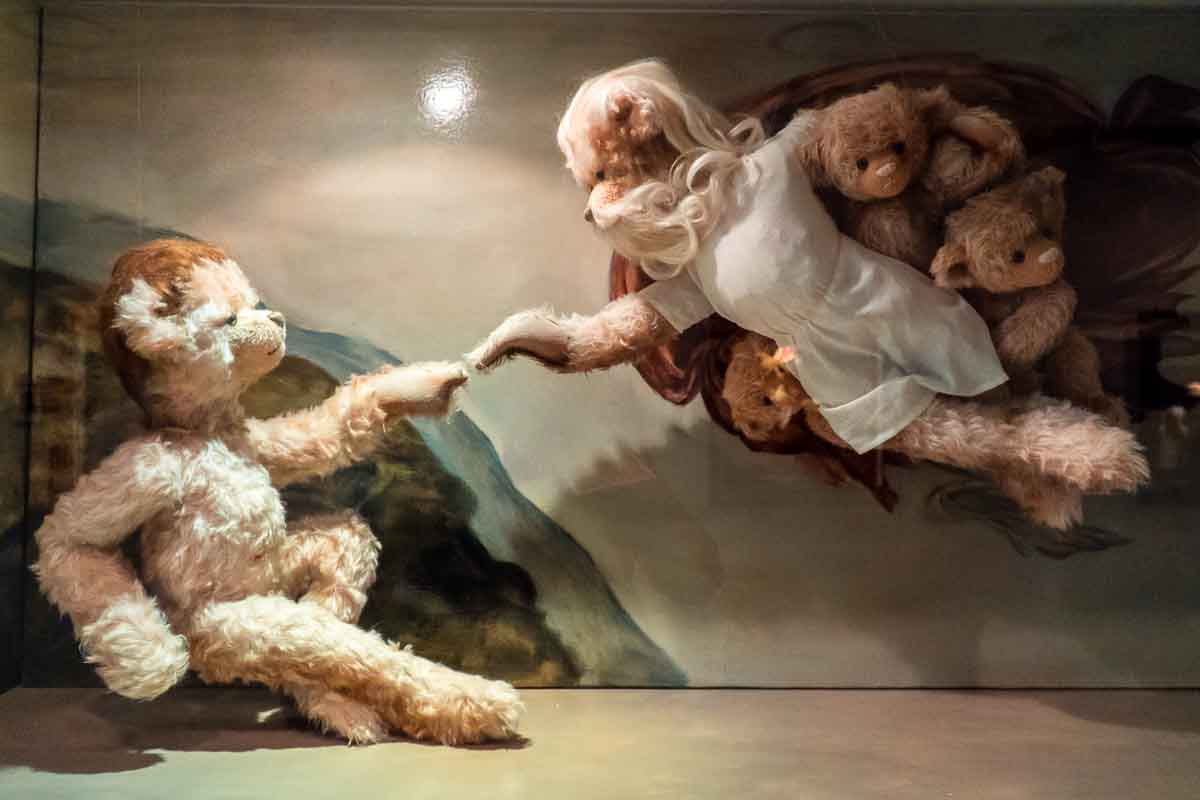 For the young and young at heart, the Jeju Teddy Bear Museum displays a diverse collection of the beloved cuddly toy. From a towering 9m-tall teddy bear, to bear renditions of masterpieces like the Creation of Adam, the cutesy museum has plenty of things to see.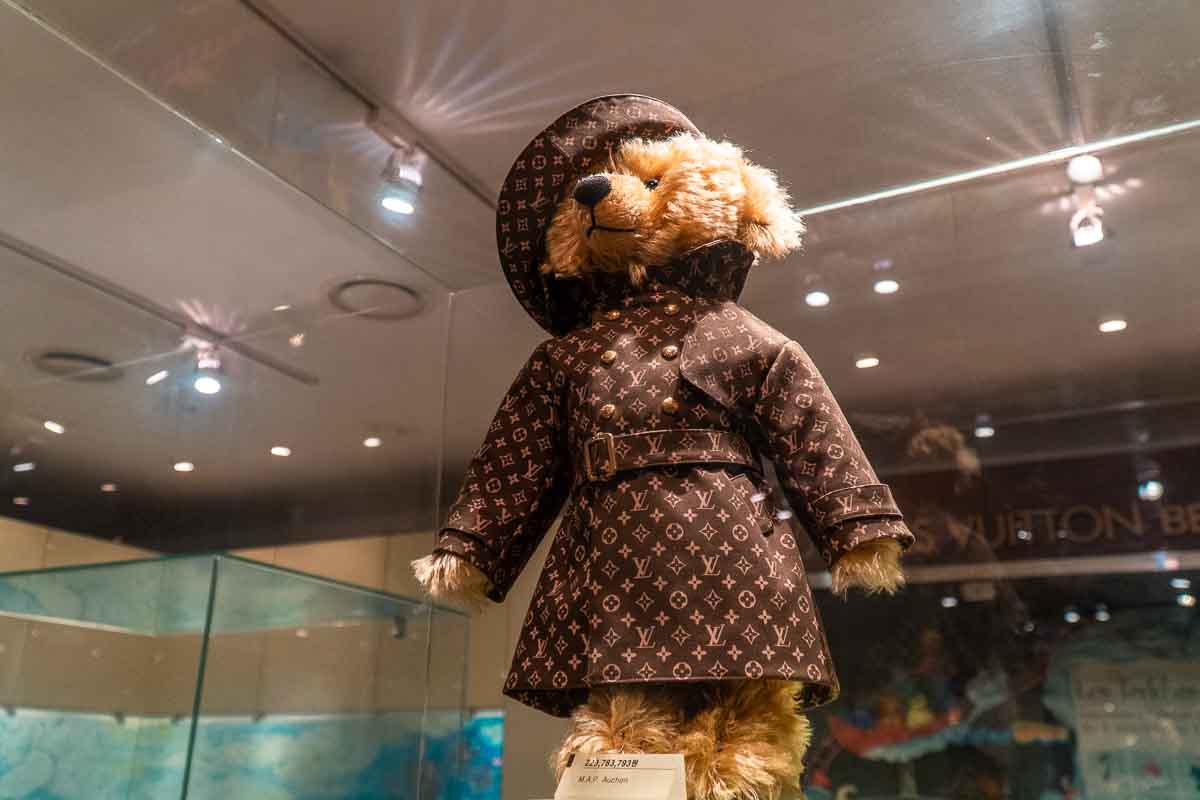 The museum also houses the world's most expensive bear: A luxurious Louis Vuitton teddy bear (with matching luggage). In 2000, the bear fetched a mindblowing price of nearly €2 million in a charity auction. Beary luxurious indeed!
Entrance Fee: ₩10,000 (~S$12)
Opening Hours: 9AM – 7PM (last entry at 6PM)
Tel: 738-7600
Parking: Free on premises
Taste Tea and More at Osulloc Tea Museum (오설록 티하우스)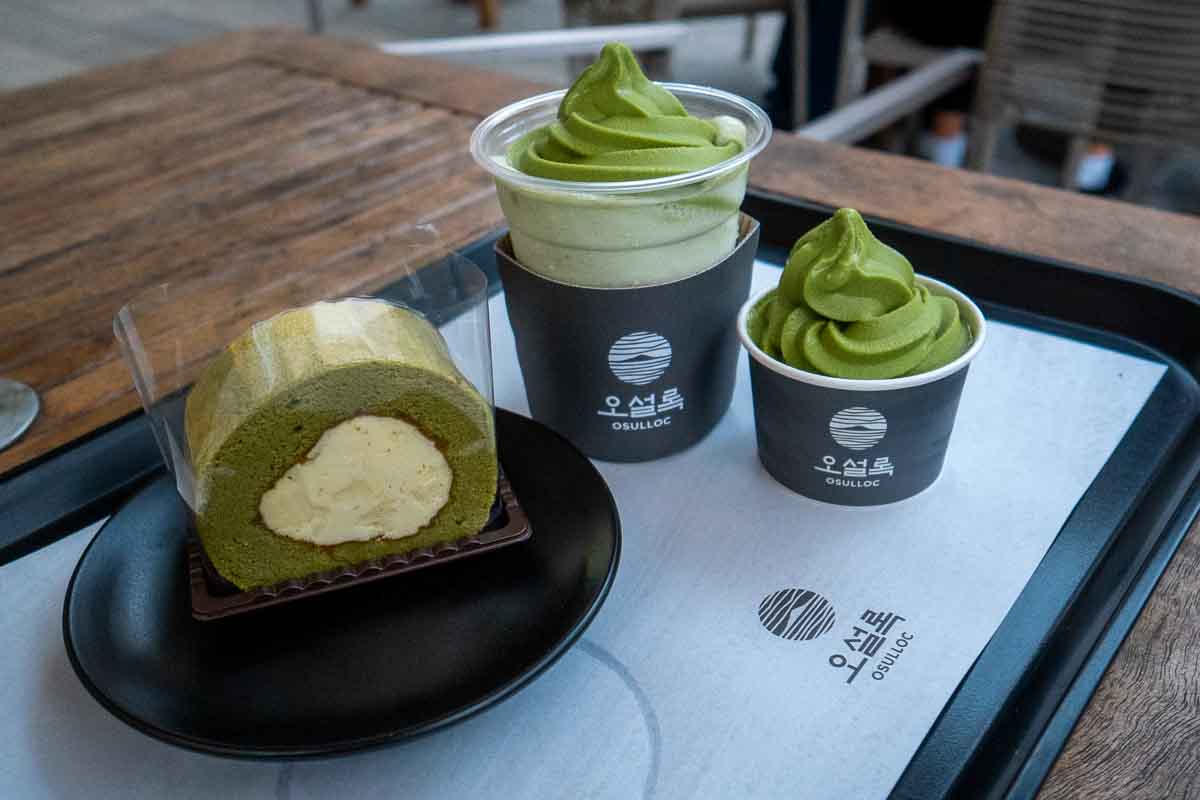 A popular tourist destination, the Osulloc Tea Museum is admittedly more of a tea house than a museum. There's a small exhibit describing the history of Jeju's tea plantations, but the main highlight is the cafe that sells desserts and a wide selection of green tea and special blends.
We ordered a set consisting of Green Tea O Fredo, a slice of Green Tea Swiss Roll Cake and Green Tea Ice Cream (₩17,300, ~S$20.15). Though pricey, we liked how the desserts had a rich green tea flavour, and were not too bitter or overbearingly sweet.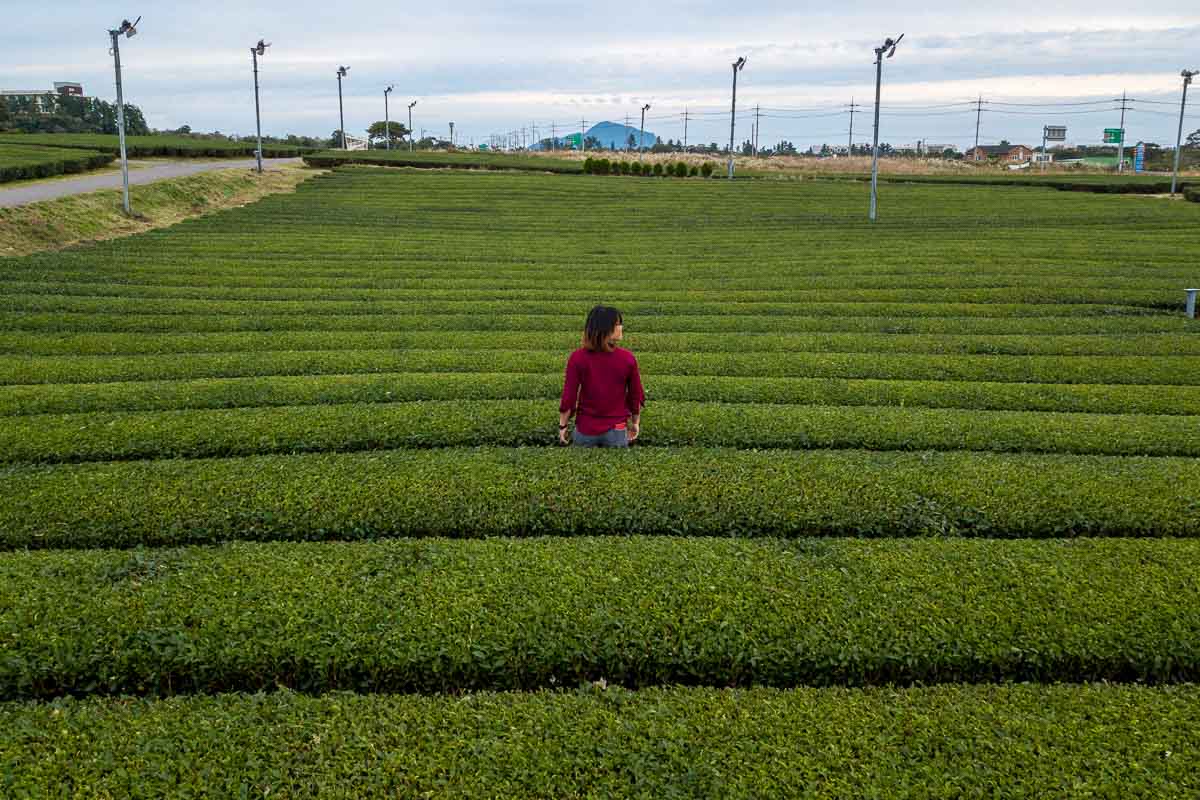 Before the food coma sets in, head outside to wander around the surrounding green tea fields. Reminiscent of Cameron Highlands, the fields are a lovely place to chill out, breathe in the crisp cool air, and snap loads of photos.
Entrance Fee: Free
Opening Hours: 9AM – 6PM
Tel: 794-5312
Parking: Free on premises
Be Amazed by the Floral Paradise at Camellia Hill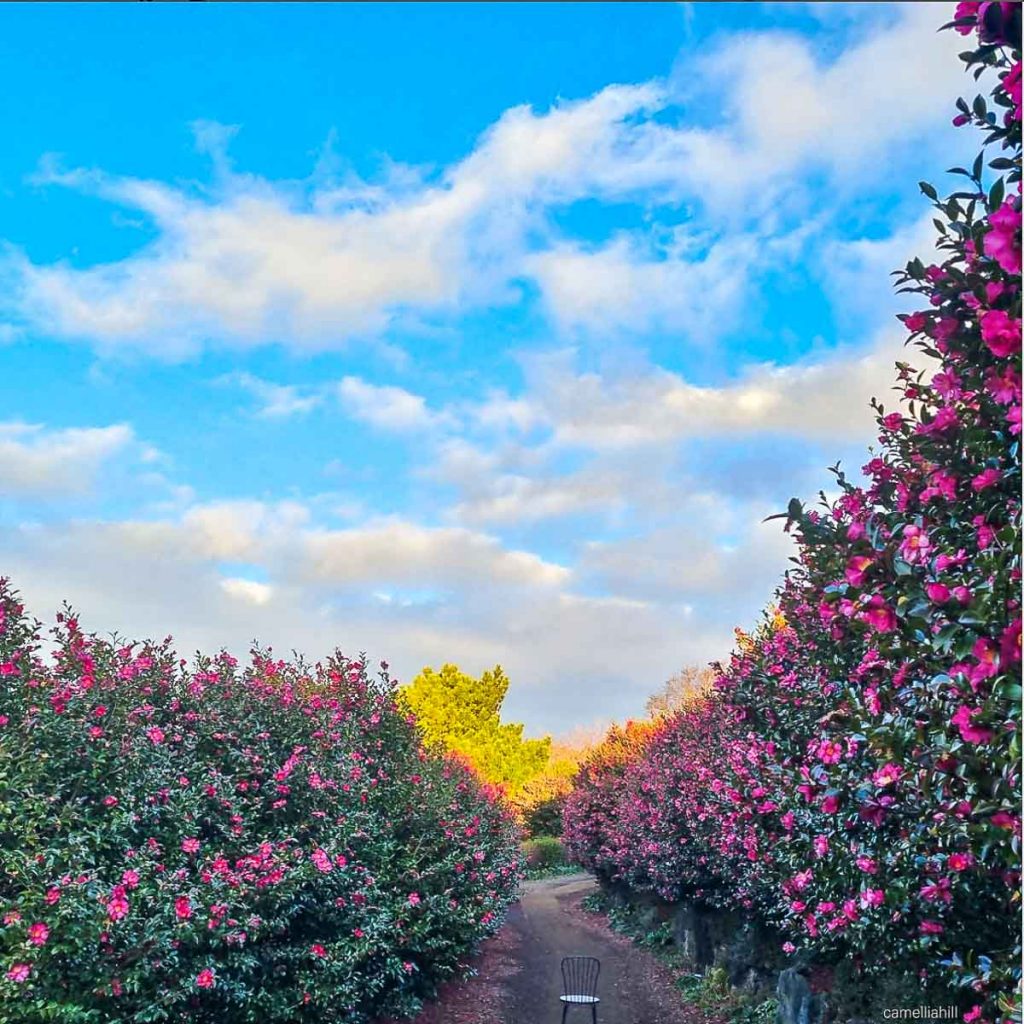 Photo credit: @camelliahilljeju via Instagram
Just a 15 min drive away from the museum lies Camellia Hill, the biggest Camellia arboretum in East Asia. Located in Sanchang Village, the 20-hectare park is a floral oasis and is home to 6,000 camellia trees and over 500 different types of flowers and plants.
Once you've snapped those insta-worthy pics with the epic floral backdrop, you can also check out the gallery exhibiting camellia-themed crafts.
Entrance Fee: ~S$5.65
Opening Hours: 8:30AM – 6PM
Tel: +82 64-792-0088
Address: 166 Byeongang-ro, Andeok-myeon, Seogwipo-si, Jeju-do, South Korea
If You Have More Days
Read More
Hike Mt Halla (한라산)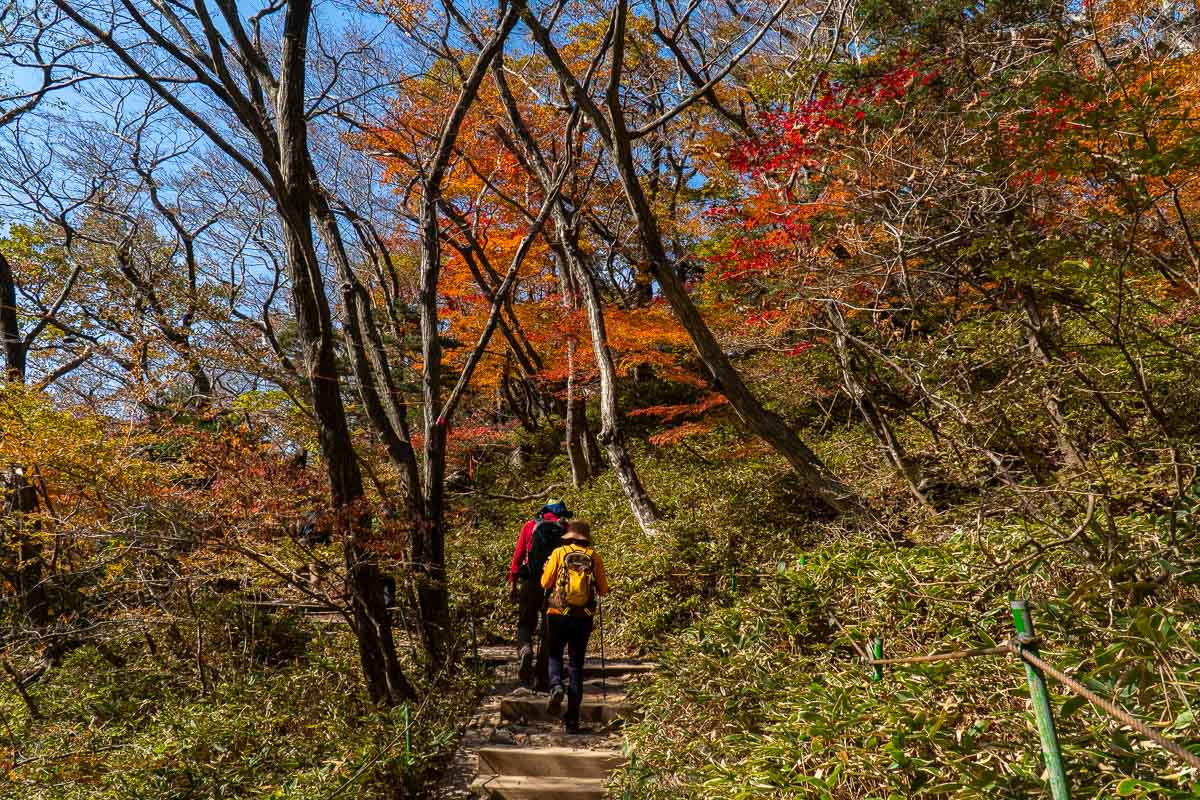 Standing at an impressive 1,950m, Mt Halla is South Korea's largest mountain. It's an immensely beautiful place that deserves to be on every Jeju itinerary if you have more time. There're several trails around the mountain, but only two lead to the summit. If you plan on ascending, start early as there's a cut-off time to ensure hikers have enough daylight to trek down.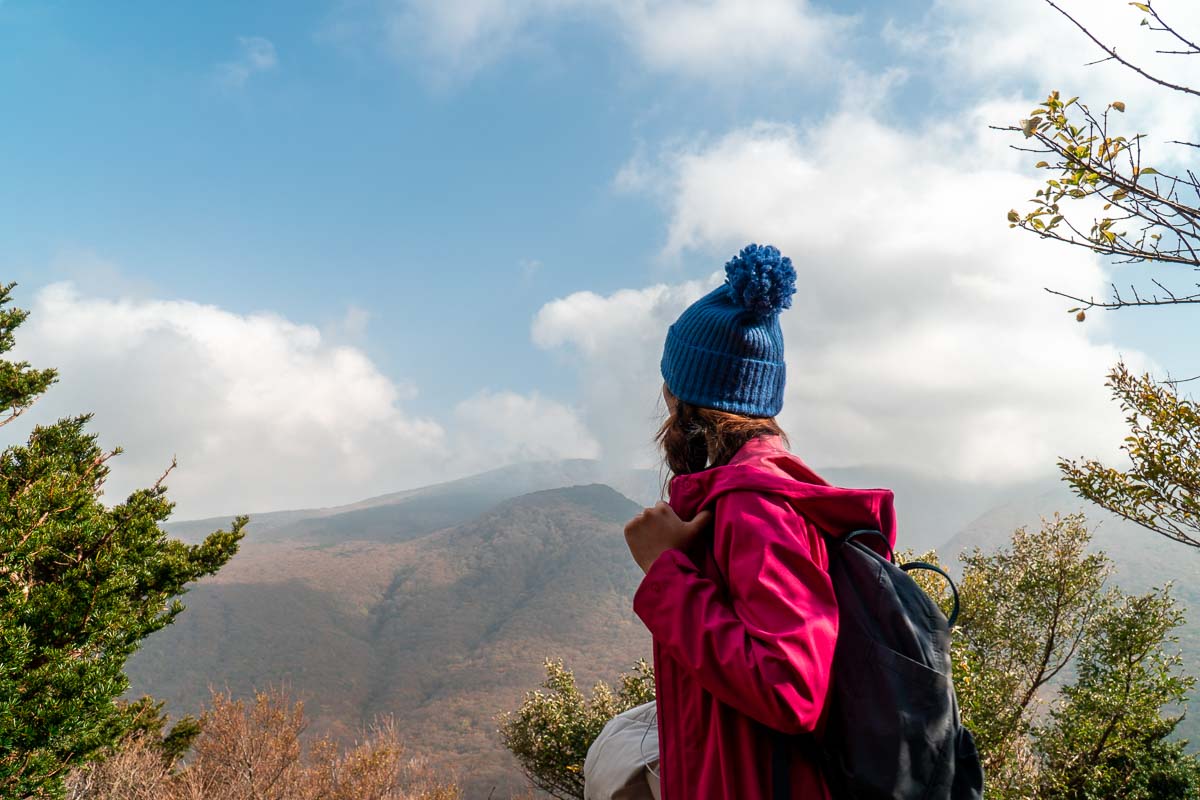 For shorter walks, we recommend the Yeongsil Trail which is the best for viewing autumn foliage. The Eoseungsaengak Trail also has a high pay-off. After a 30-minute hike up, you get panoramic views of Mt Halla and its surrounding peaks.
Explore Jeju City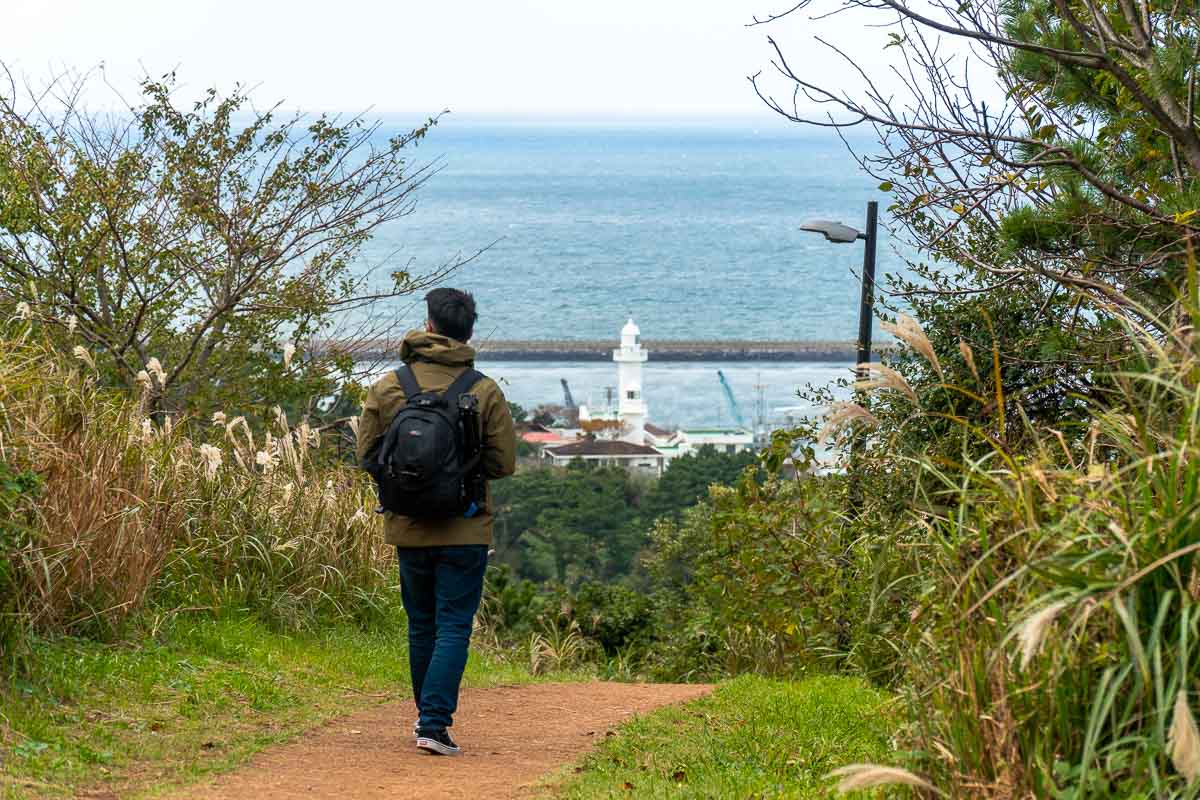 Jeju city itself has loads to keep you entertained! Besides driving, one of the more convenient ways to get around is the Jeju City Bus. The hop-on-hop-off bus tours the city in a scenic two-hour drive, stopping at attractions like Dongmun Traditional Market (동문재래시장) and Sanjideungdae Lighthouse (산지등대). We recommend getting the one-day pass (₩12,000) to maximise your journey.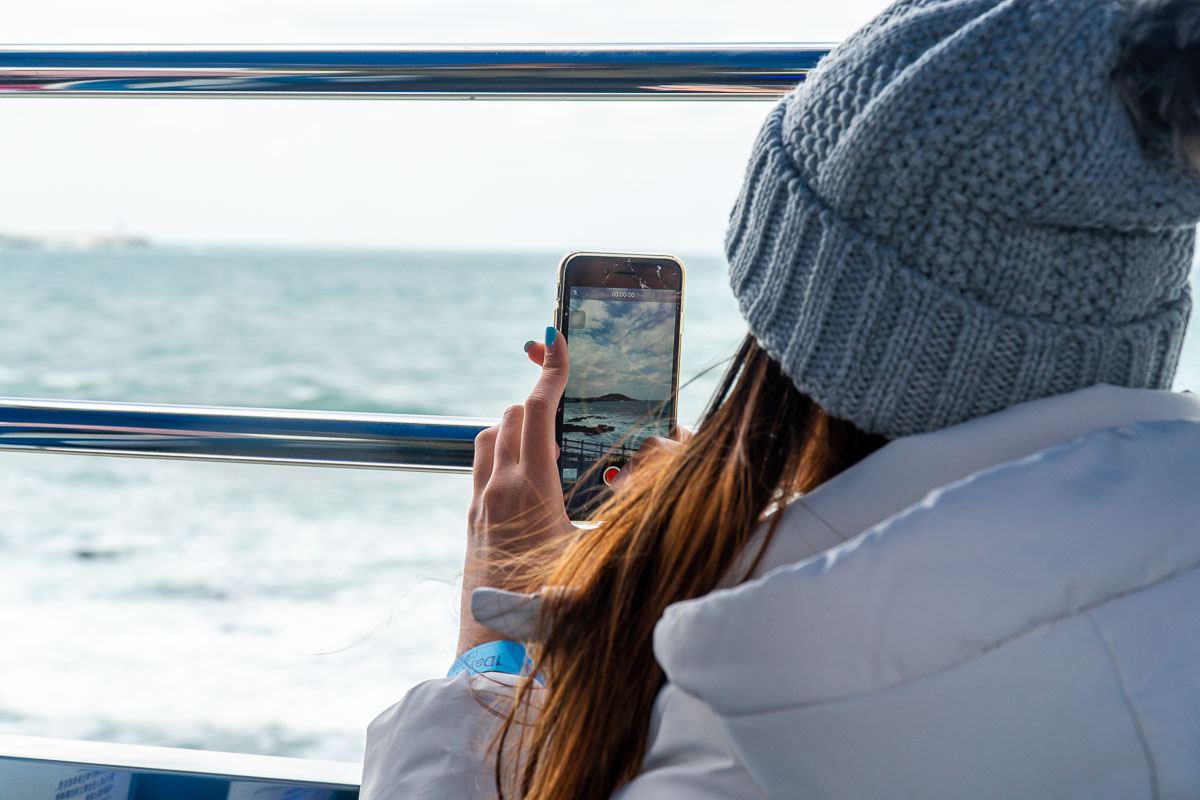 Be warned: It can get super chilly at the top, especially in autumn and winter, so bundle up to stay warm!
Visit Jeju's Unique Museums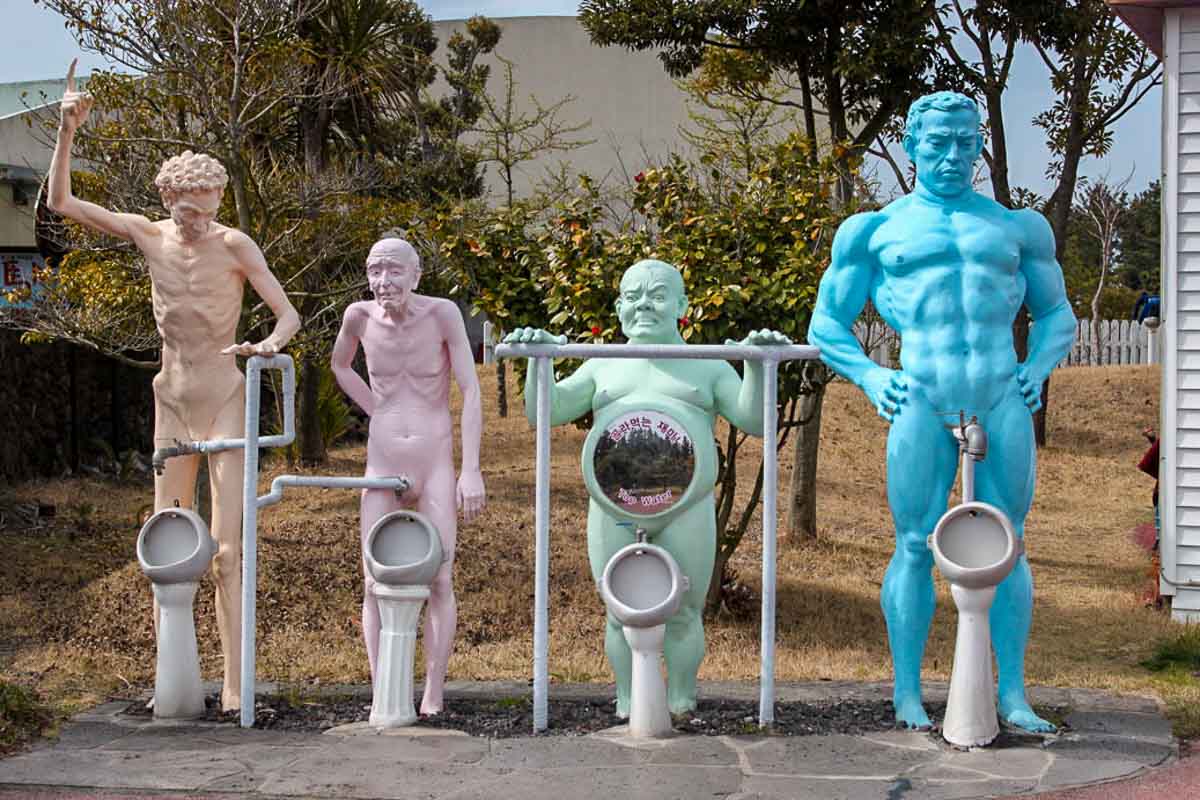 Photo credit: Digitiser2000.com
Jeju Island is as peculiar as it is beautiful, and this manifests in quirky museums scattered around the island. The most sexciting one is Jeju Loveland (제주러브랜드), a NSFW museum dedicated to sensuality and eroticism. Age isn't just a number, though — you need to be aged 20 and above to enter.
Not all museums in Jeju are this embarrassing, fortunately. The more family-friendly ones include Hello Kitty Island (헬로키티아일랜드) and the World Automobile Museum (세계자동차제주박물관). There's also a Glass Castle (제주 유리의성) where you can run through an all-glass labyrinth. Just be careful not to break anything.
Shop around Jeju's Five-Day Market (제주시민속오일장)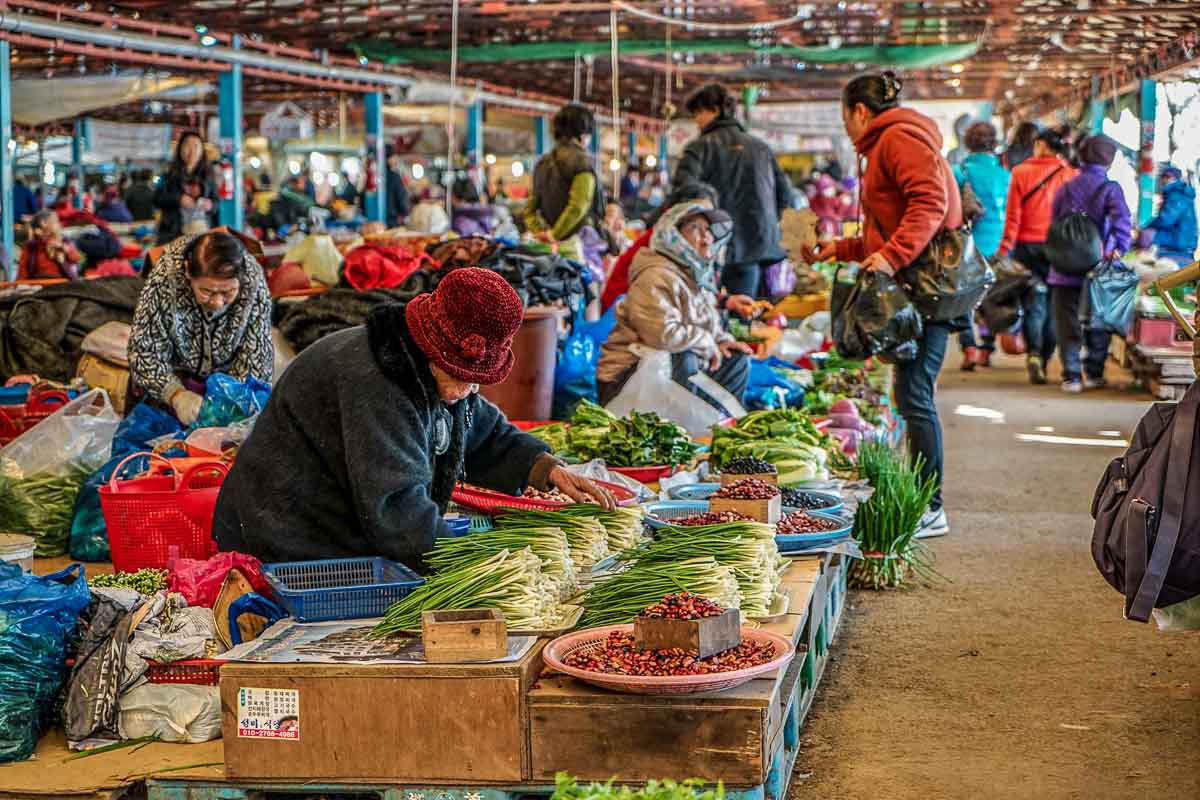 Photo credit: Visitjeju.net
2, 7, 12, 17, 22, 27 — if you happen to be in Jeju during these dates, add the Jeju Five-Day Market to your Jeju itinerary! It's one of the oldest traditional markets in South Korea, selling a wide array of fresh produce, clothing, and street food.
Other regions in Jeju Island also have their own five-day traditional markets. Check the list of dates and locations here.
Bum around Jeju's Beaches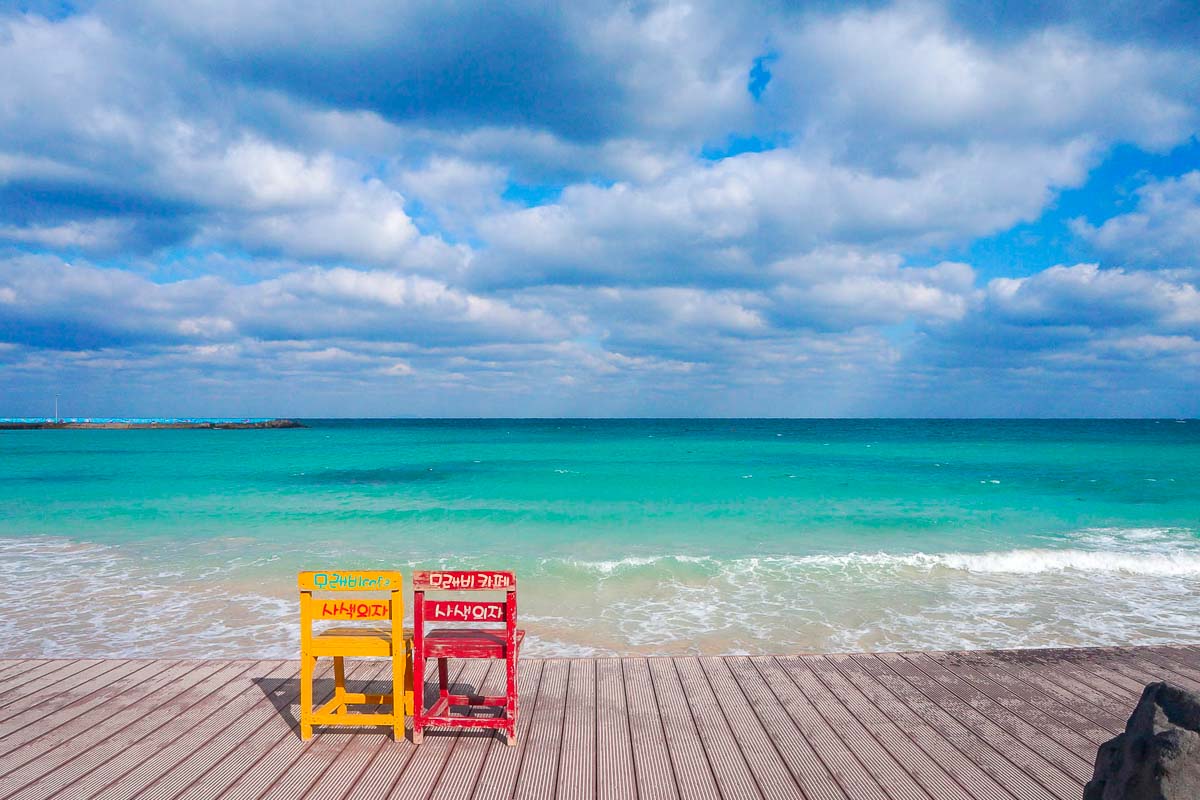 Woljeongri Beach. Photo credit: Visitjeju.net
As a volcanic island, you can expect Jeju's beaches to be some of the very best! Located at all corners of the island, they're perfect for watersports, picnics, or some good ol' chilling out. The most notable ones include Woljeongri Beach (월정리 해수욕장), Hyeopjae Beach (협재해수욕장), and Yongmeori Beach (용머리해안).
Getting around Jeju Island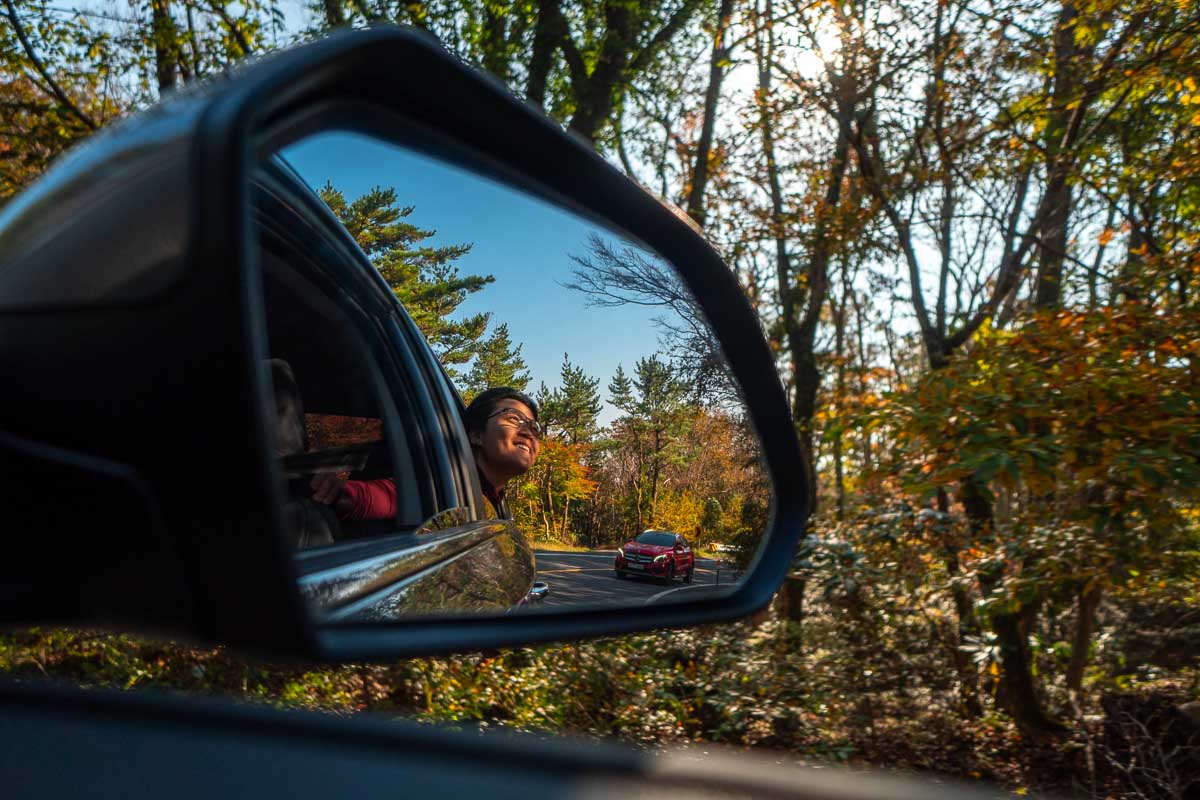 Car Rental: We rented ours from Klook. A standard sedan car costs ~S$198 for four days but when you share it with three other friends, it comes down to only ~S$49.50/pax! Driving tips in Jeju below!
For non-drivers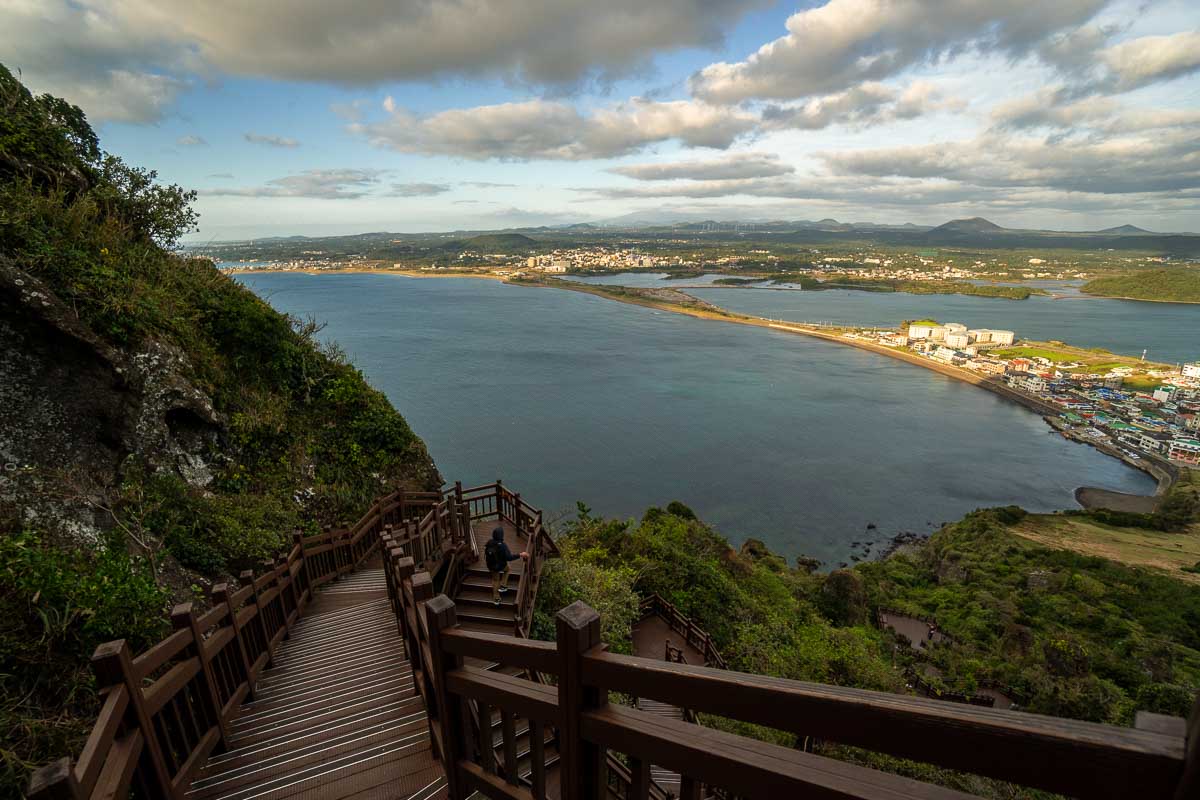 (1) Jeju Island day tours: If you only have a short amount of time, hopping on a Jeju Island UNESCO Day Tour is a great way to cover some of Jeju's best attractions.
Selecting the Jeju East Route Day Tour (Tue, Thu, Sat) will lead you to Jeju's natural wonders like Manjanggul Cave and Seongsan Ilchulbong Peak. You also get to explore Woljengri Beach, one of Jeju's most stunning beaches with its emerald waters and relaxing atmosphere.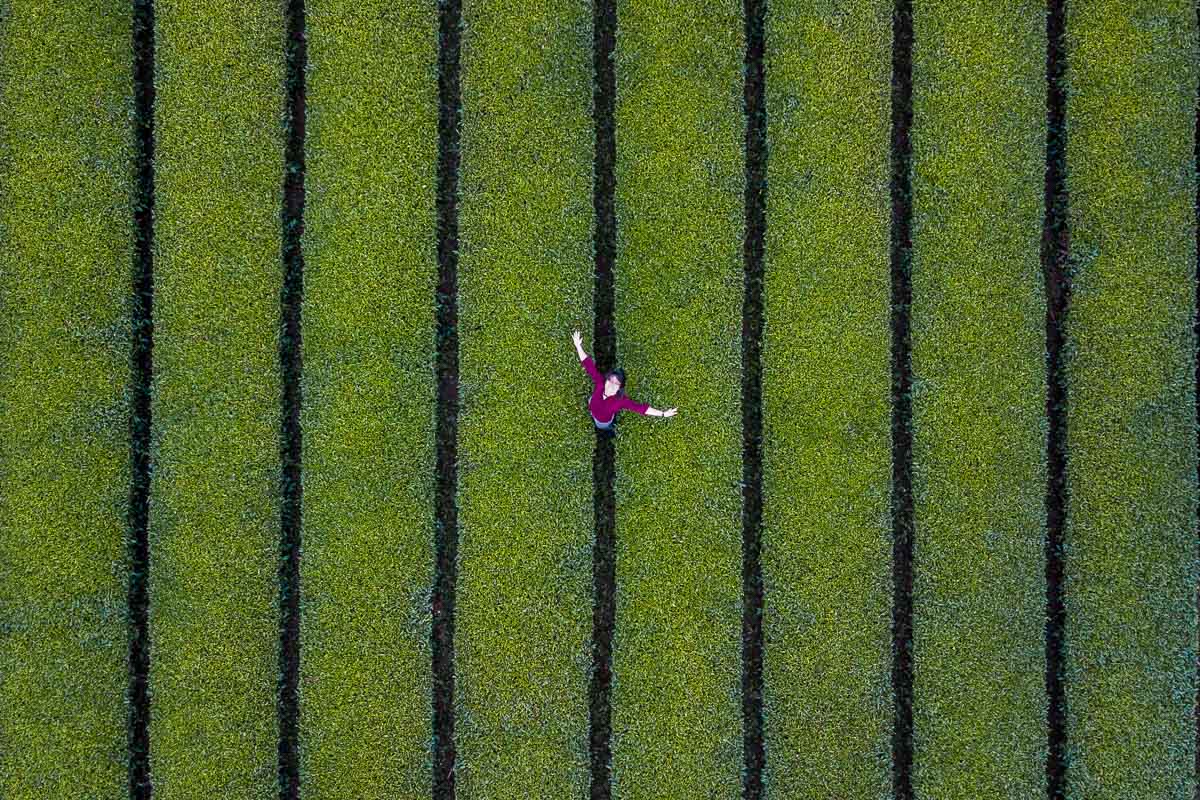 The South Route Day Tour (Mon, Wed, Fri) provides a delightful mix of Jeju's nature and cultural side. Participants can explore the famous Yakcheonsa Temple, marvel at the interesting Jusangjeolli Cliffs, and even hike the Eoseungsaengak Trail at Mt Halla!
(2) Private car charter: Hiring a Jeju private car charter is ideal for those who don't like to be bogged down by the strict schedule that comes with day tours. You can also enjoy greater freedom and flexibility in your itinerary. The car charter can be booked for a total duration of 8 hours, between 8AM and 10PM — enough to visit four or five attractions.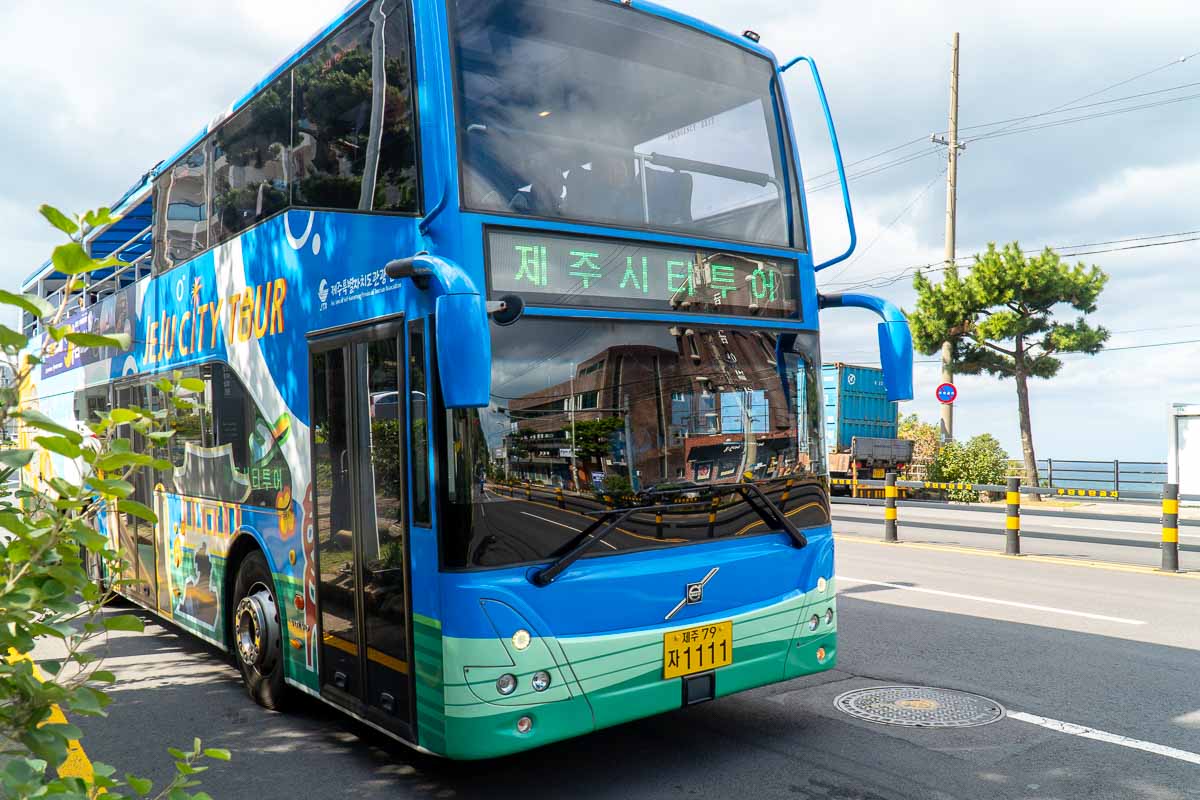 (3) Jeju City Bus: To explore Jeju, the Jeju City Bus provides a hassle-free way of sightseeing. A one-day pass allows you to hop-on-hop-off whenever and wherever you like. It's a pretty efficient way of touring the city — you just need to plan which attractions you'd like to see!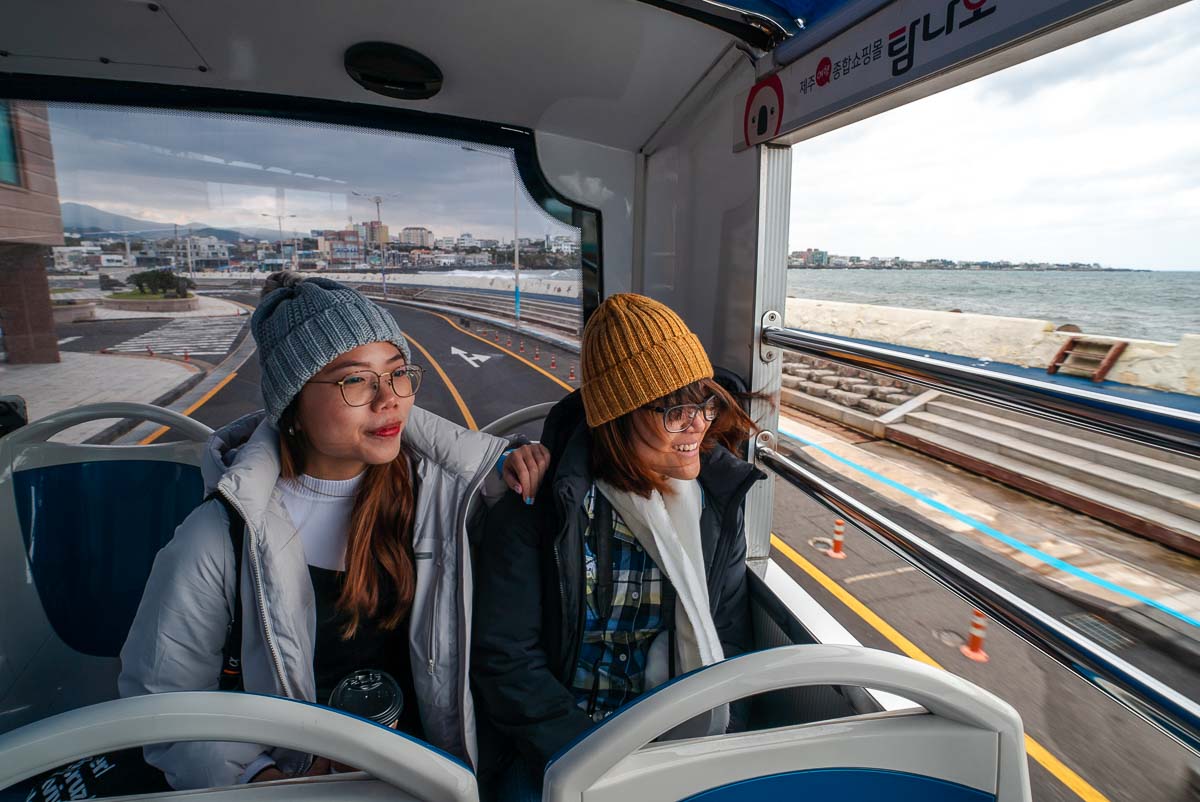 (4) Public transport: Jeju has an islandwide public bus service. These include intercity buses, airport shuttles, and tourist shuttle buses. A one-way fare typically costs ₩1,200. While cheap, the downsides are that the journeys and intervals are long.
Alternatively, you can hire a taxi to reach your destination faster. The basic fare starts from ₩2,200 – ₩3,800 (~S$2.60 – ~S$4.50).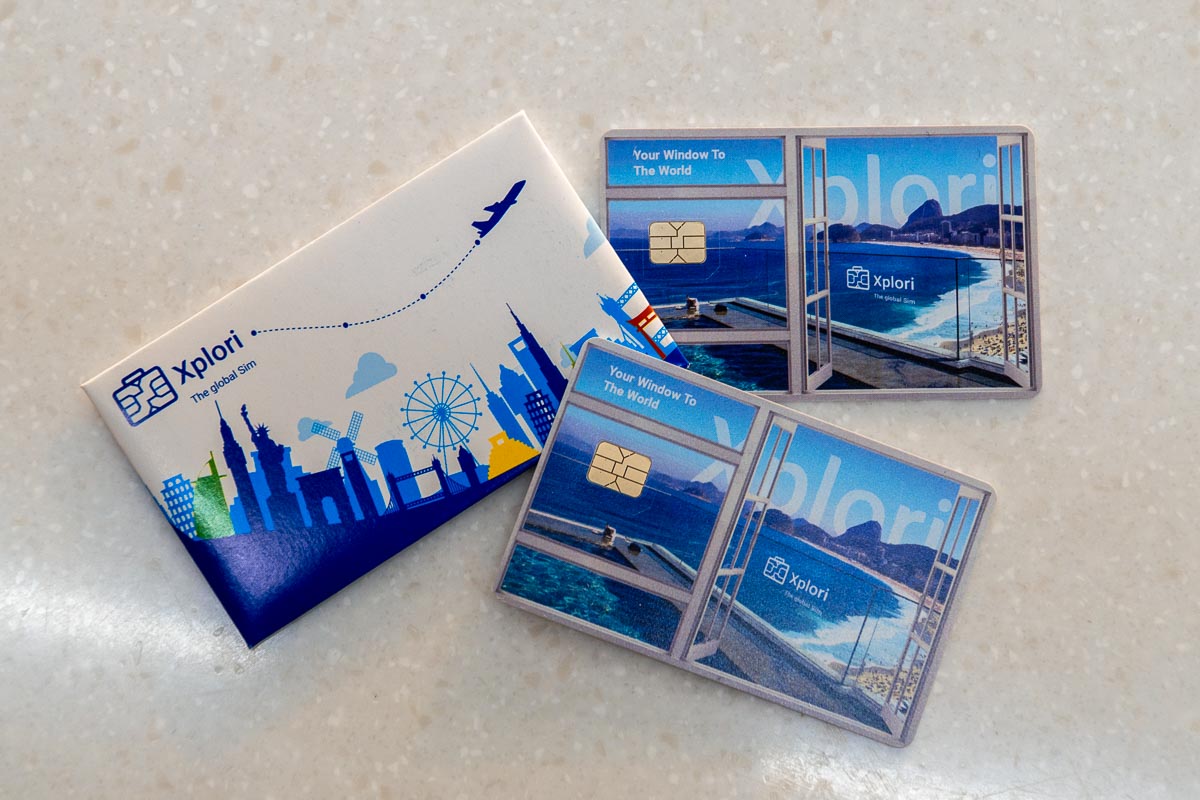 4G SIM Card: Whether you're a driver or not, it's important to stay connected with trustable connection. We ordered this SIM card at ~S$24.90, and it was delivered to our office in Singapore before we left for South Korea. The card comes with 5GB of data (for 20 days), and provided good coverage throughout our road trip.
Activities in Jeju Island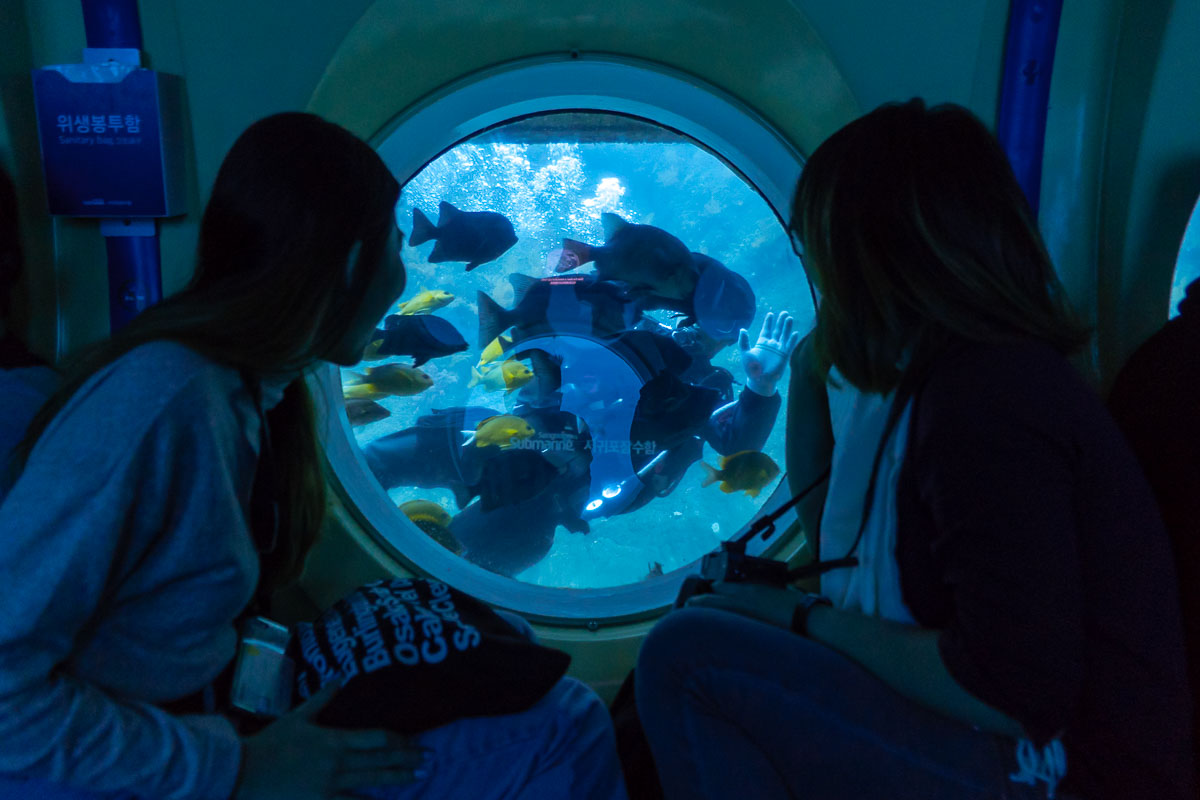 We booked our activities via Klook and got to enjoy savings as compared to purchasing on the spot. Booking with Klook was also a smooth, fuss-free process without any language barriers. This minimised any chances of miscommunication with the vendors, so we could fully enjoy ourselves on our island adventure!
To help ease your Jeju itinerary planning, here's a summary of what we booked:
– 4G SIM Card (SG Delivery) for South Korea (~S$26.50)
– Jeju Seri World: Short Course Horse Riding (~S$6.60), Cart Riding Experience (~S$13.40), Mazepark Experience (~S$4.40)
– Aqua Planet Jeju Admission Ticket (~S$29)
– Camellia Hill Entrance Ticket (~S$5.65)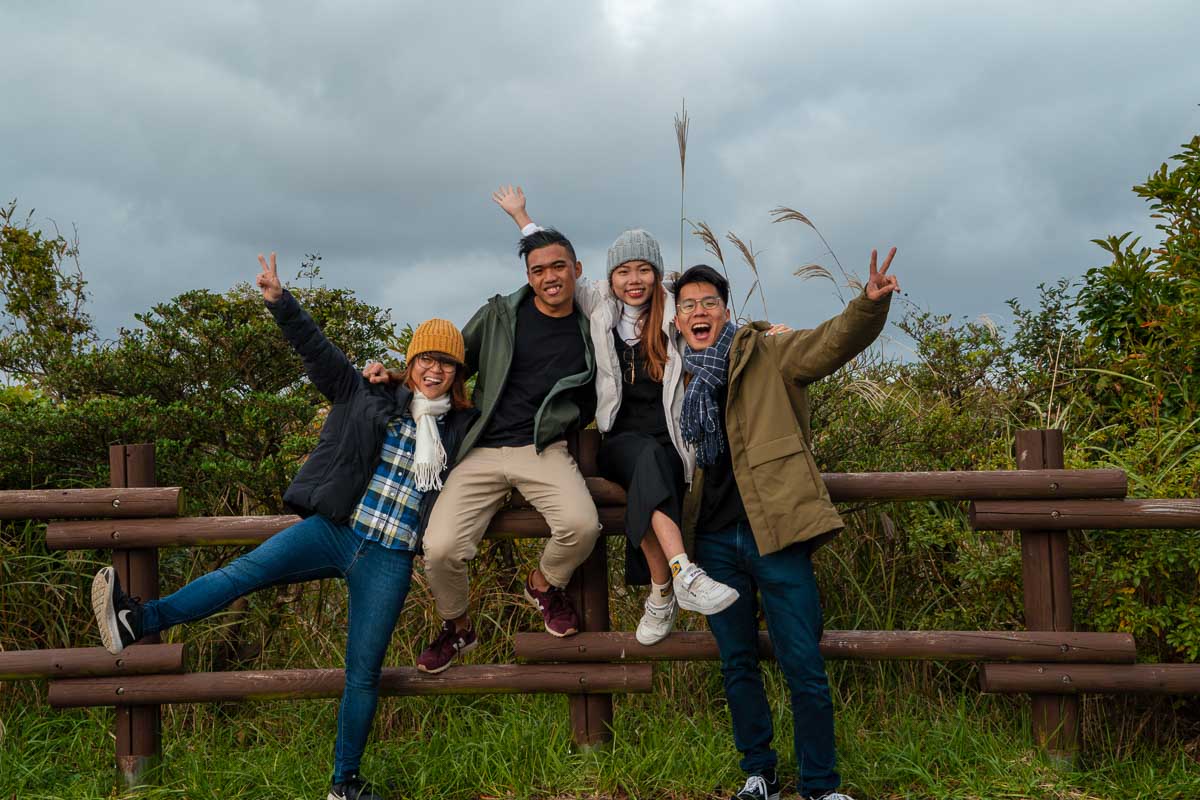 Jeju combines the best of South Korea's goodies (e.g. KBBQ, shopping) with the amazing experiences you'd get from an island vacation. 👙🌴 Whether you're driving or not, Jeju will definitely spoil you with its incredible nature spots and ultra-relaxed vibes. So what are you waiting for? Grab this Jeju itinerary and go!
Read also: 4D3N Busan Itinerary — Why You Need To Spend More Than A Day Trip In Korea's Charming Coastal City
Driving Tips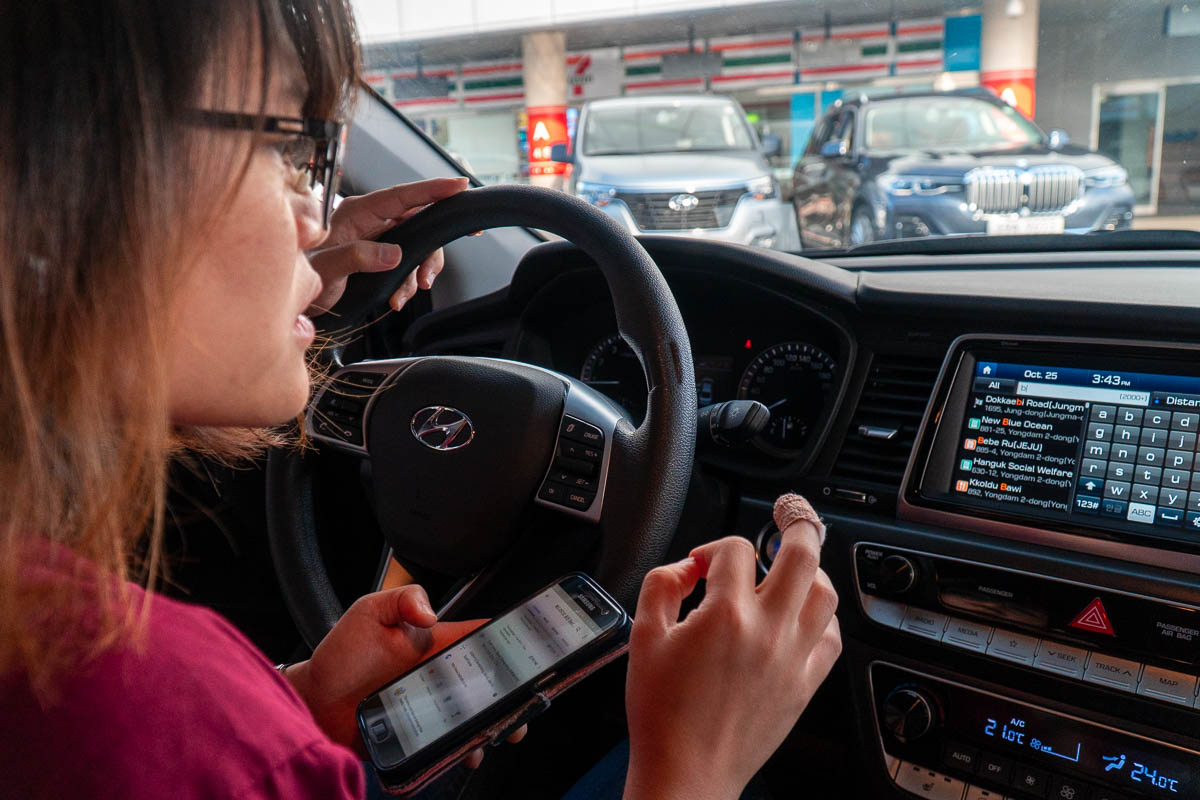 0) Avoid driving with a finger injury.
1) Get an International Driving Permit. You'll need to provide this document and your passport for verification when collecting your rental car.
2) Read up on traffic rules. Koreans drive on the right, which means you can turn right even on a red light. Do keep a lookout for pedestrians if you're doing so. Speed cameras are also all over Jeju, so lay off the accelerator pedal.
3) Take extra care when driving at night. There're no streetlights along the way. Additionally, the warm and humid environment of Jeju may produce heavy fog at night.
4) Prepare the telephone numbers of your destinations. Enter them into the car's GPS for quick and easy navigation. Use this website to find telephone numbers of places not listed in this itinerary.
5) Download navigation apps like Kakao or Naver Maps. Google Maps doesn't work in South Korea — the most it does is only for public transportation. We used Naver Maps to plan our itinerary and search for amenities like petrol stations. Alternatively, you can also use Kakao Maps.
Check Flights to Jeju
Ready for your Jeju adventure? Check flight prices now with this nifty widget:
If you can't see the widget above, click here instead to check flights from South Korea to Jeju!
What did you think of this Jeju itinerary? Share with us in the comments below!
---
This post was brought to you by Klook.