Key highlights include winter must-sees like Zao Fox Village, Jigokudani Snow Monkey Park and the charming snow piled Gassho-styled roofs in Shirakawa-go. Find out how to maximise your JR Pass on a trip to Japan in winter!
Japan is one of those places that's ideal to visit regardless of the season but after over four trips to Japan, winter is perhaps our favourite — visiting onsens with Snow Monkeys bathing in them, a village where foxes tumble in snow or curl up for an afternoon nap and experiencing the warm hospitality in a traditional gassho house.
Planning to experience winter in Japan? Here's how to make the most of Japan during winter with the 7-day JR Pass!
Travelling on a budget with the 7D Whole Japan JR Pass
Update on December 2023: Prices have increased for the JR Pass since October 2023. Find out more in our JR Pass guide.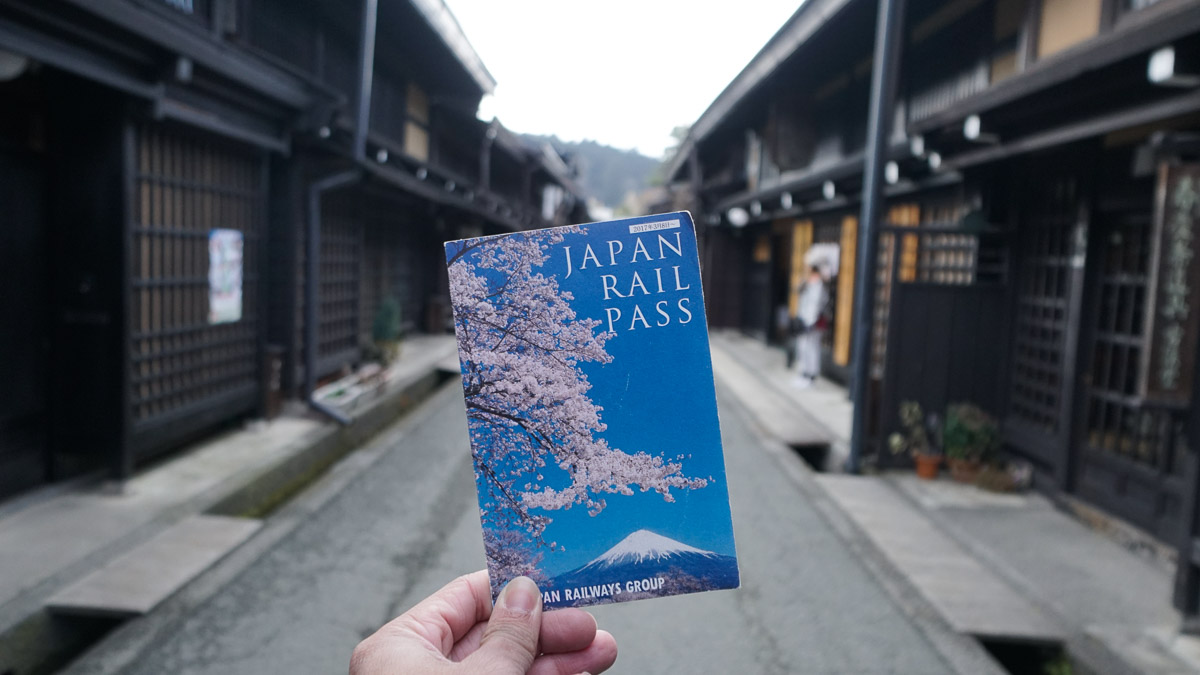 Travelling with the JR Pass is one of our favourite ways of travelling in Japan. While a round trip from Tokyo to Osaka already exceeds the value of one, we've taken the challenge upon ourselves to stretch the value of the JR pass and use it to help us discover beyond Tokyo and Osaka; and all without stretching the budget too much 😛
JR Passes can cost a lot but for the sights we wanted to cover, the Whole Japan JR pass saved us a total of S$330 (Click here for the breakdown)!
Starting from Tokyo, we did day trips to the Zao fox village, attempted to catch sight of Mount Fuji at Kawaguchigo, chilled out with the snow monkeys in Nagano and even stayed a night in the traditional Gassho houses of Shirakawa-go before heading to Kansai where we took our flight out for under S$1.2k! (Incld. accommodation, exclud. flights)
This may not be the cheapest way to spending 8 days in Japan but for the experiences we wanted to leave with, I think we worked out a pretty fair budget. Hope you find our Japan winter itinerary useful!
Budget Breakdown:
Accommodation: ¥23,100
Transport: ¥49,580 (Incld. 7D Whole Japan JR Pass)
Activities: ¥11,50
Food: ¥15,500
Misc: ¥3000 (For SIM Card and Lockers)
TOTAL FOR 7D: ¥102,730 ($1231.77)
Check Flights to Tokyo
We didn't include flight prices in the budget because they vary depending on your date of travel. To get a better estimate of your total budget, check flights here first:
Check flight prices from Singapore to Tokyo here if you can't see the widget above.
First Time to Tokyo?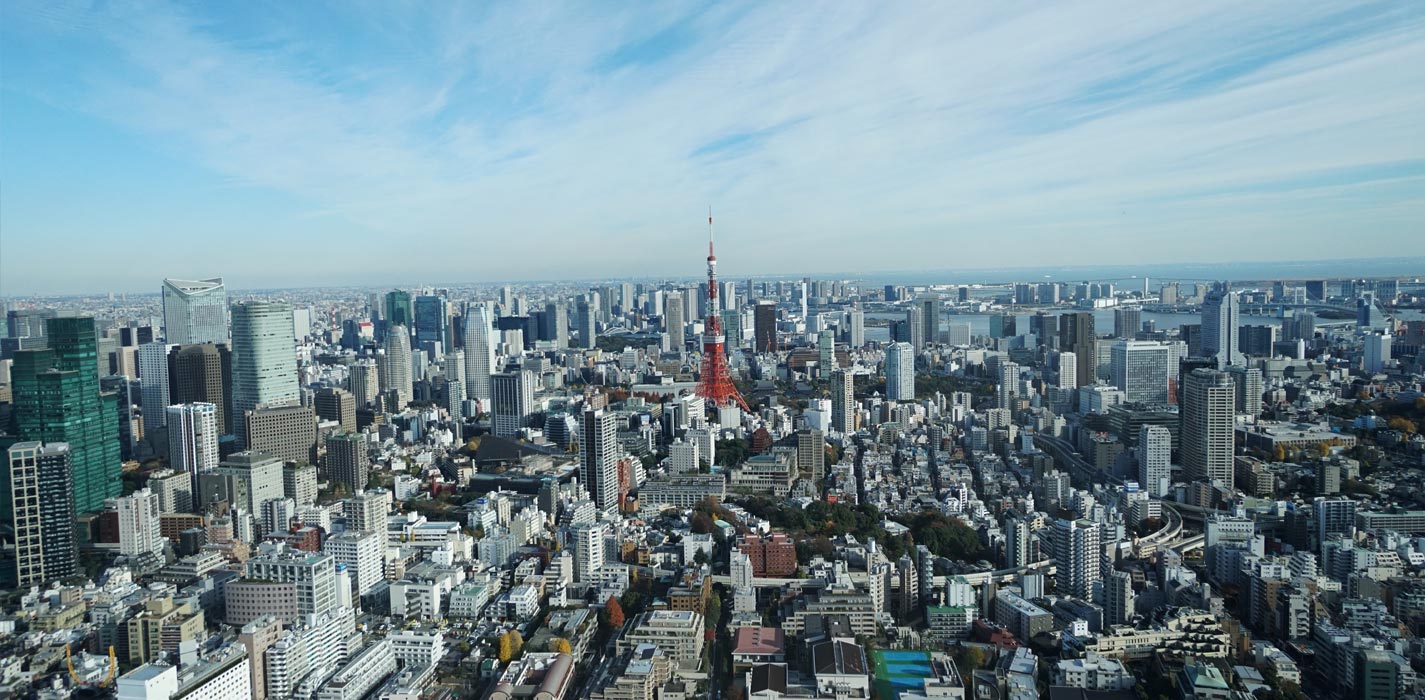 Tokyo has a plethora of activities ranging from quirky to hipster. If you're planning to spend a couple of days in Tokyo, ask to activate your JR Pass on a later date when collecting your JR Pass at the JR East office in Narita. Ideally, you should begin when you're ready to take the pass on consecutive day trips out from Tokyo. To get from Narita Airport to Central Tokyo, purchase the Keisei Airport Skyliner as it's cheaper than the Narita Express (N'EX).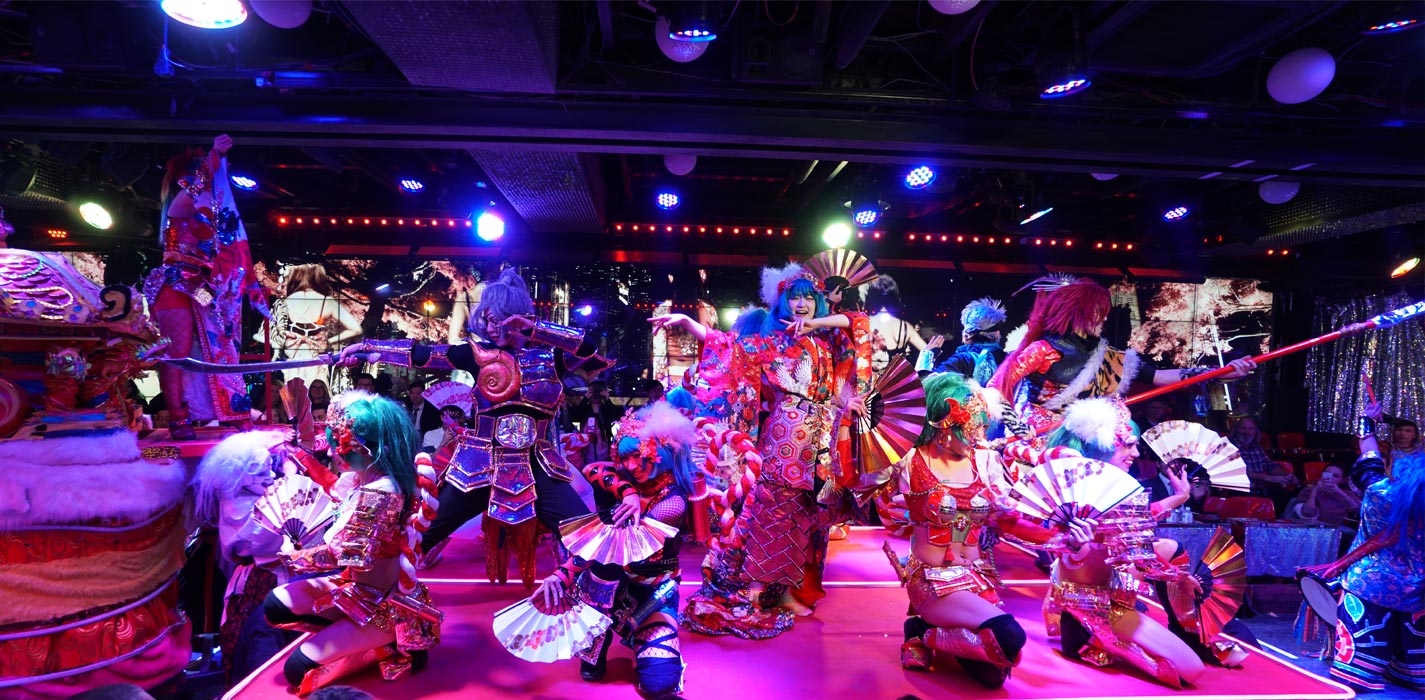 Check out 24 hours in Tokyo for the quintessential Tokyo experience or our Quirky Tokyo Guide for the fun and bizarre stuff!
If you're activating your JR pass on your first day like us, make seat reservations for the next N'EX to get to Tokyo station. This train is covered by the JR Pass.
Staying connected: Don't forget to prebook your 4G SIM Card. Comes in 1GB (for 6 days), 3GB and unlimited (both for 8 days). If you're staying longer than 8 days, perhaps a portable WiFi might be more convenient.
Day 1: Tokyo Day Trip to Zao Fox Village
Accommodation in Tokyo: Wise Owl Hostel Tokyo (only 1 station away from Tokyo Main station which is perfect for making day trips out of Tokyo) — ¥2,300 for a dorm bed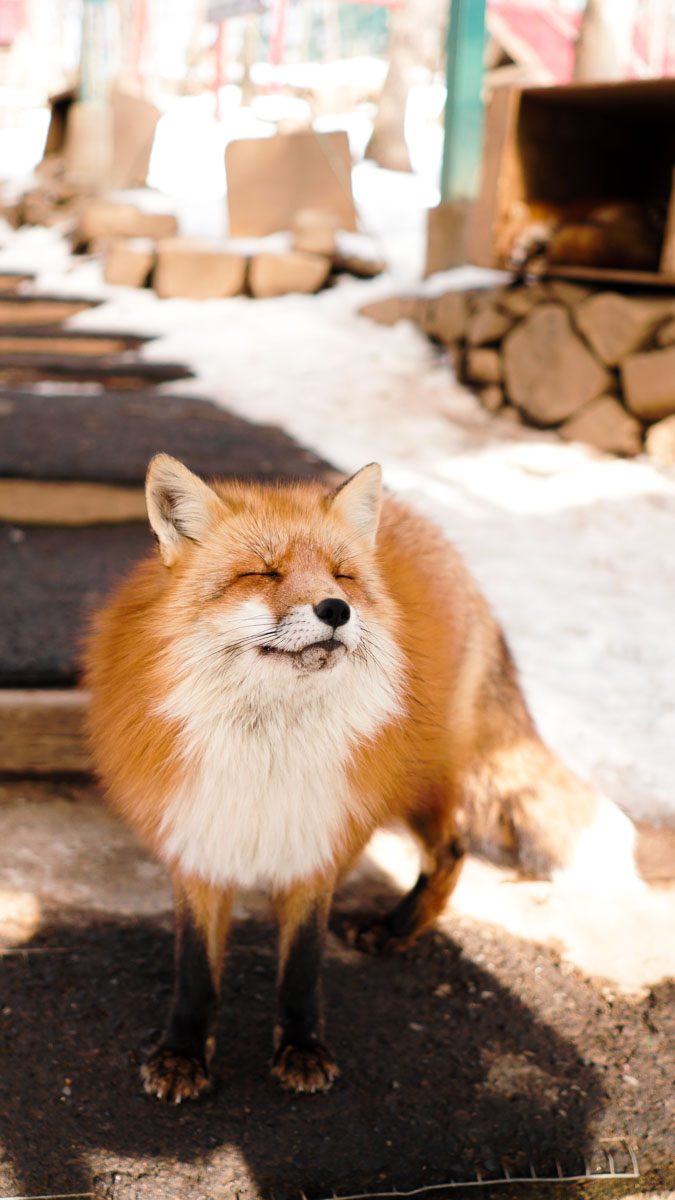 2 hours north-east of Tokyo in the Miyagi prefecture is a village where foxes roam. I know that sounds quite dreamy but after visiting for ourselves, I have mixed feelings about the place.
There are 2 parts to the "village". Right after you purchase your entrance ticket (¥1000), the first thing you see is foxes either tied on a leash or kept in cages of various sizes. Some are kept in because they're sick but one section of foxes are kept as designated huggers. For ¥400, you can hug, pet and carry one of these foxes; which I personally found quite sad because most of the time they would be tied up or kept in a tiny confined space.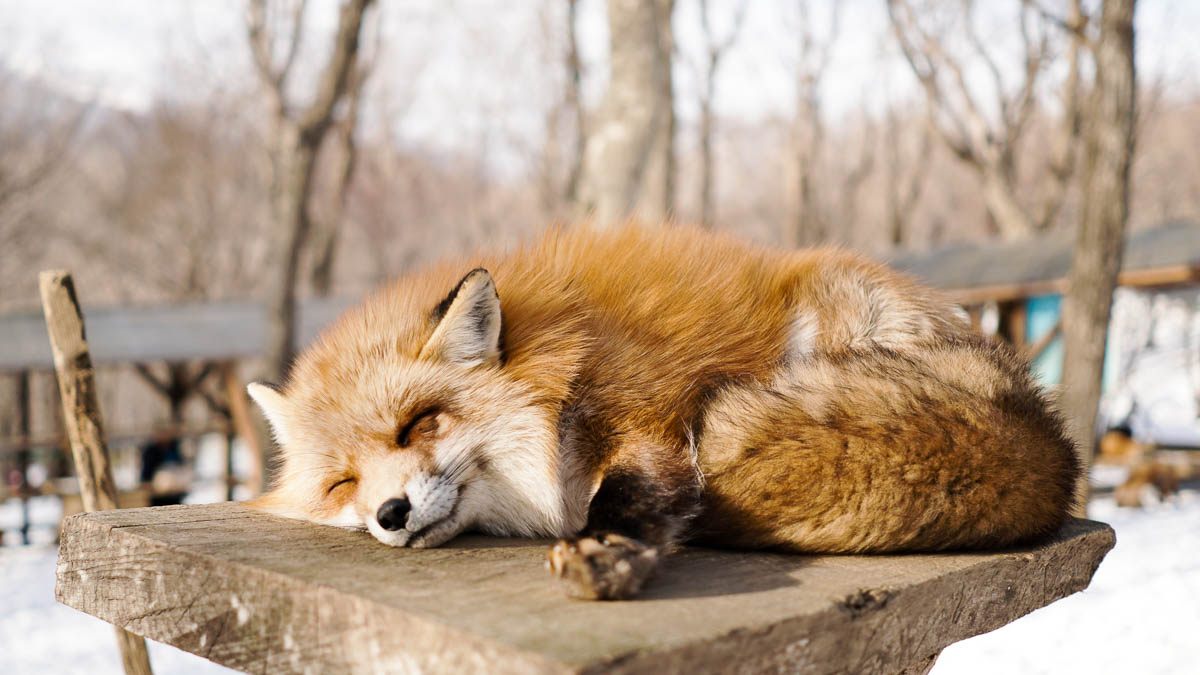 The other part is a lot better although it's still a fenced up area. Foxes here have more space to roam and you'll see most of the foxes rolled up into balls of fluff, taking a nap in the wooden crates by the staircase. There's a lot of space here but foxes aren't meant to live together by nature so you'll see a lot of them with injuries on their head or tail from fights.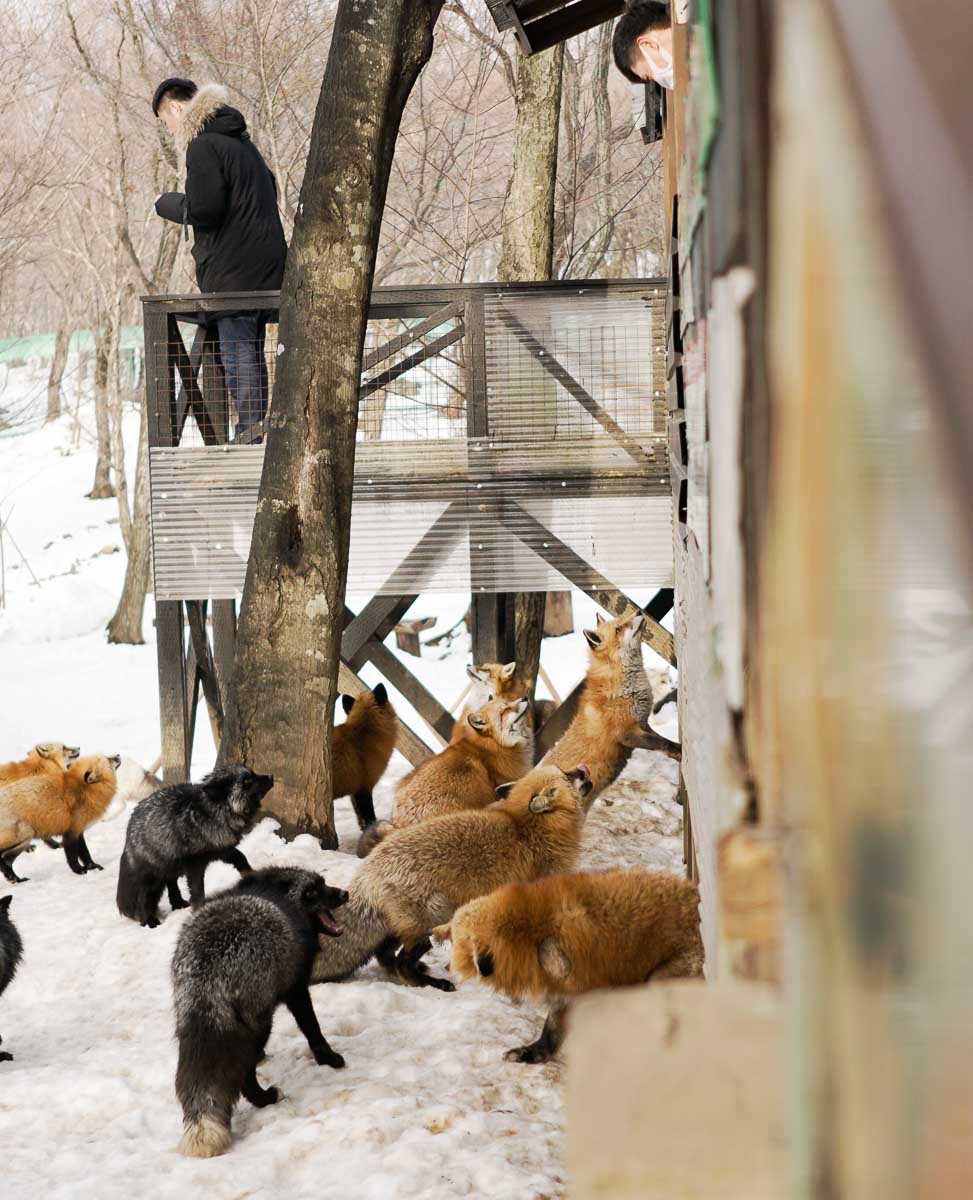 There's a feeding platform where you can bring your ¥100 pack of feed (from the entrance) and you'll see hoards of foxes crowding below looking up eagerly. It's an adorable sight, until you throw the food over the ledge and watch the foxes growl and wrestle aggressively over the few morsels you've just released.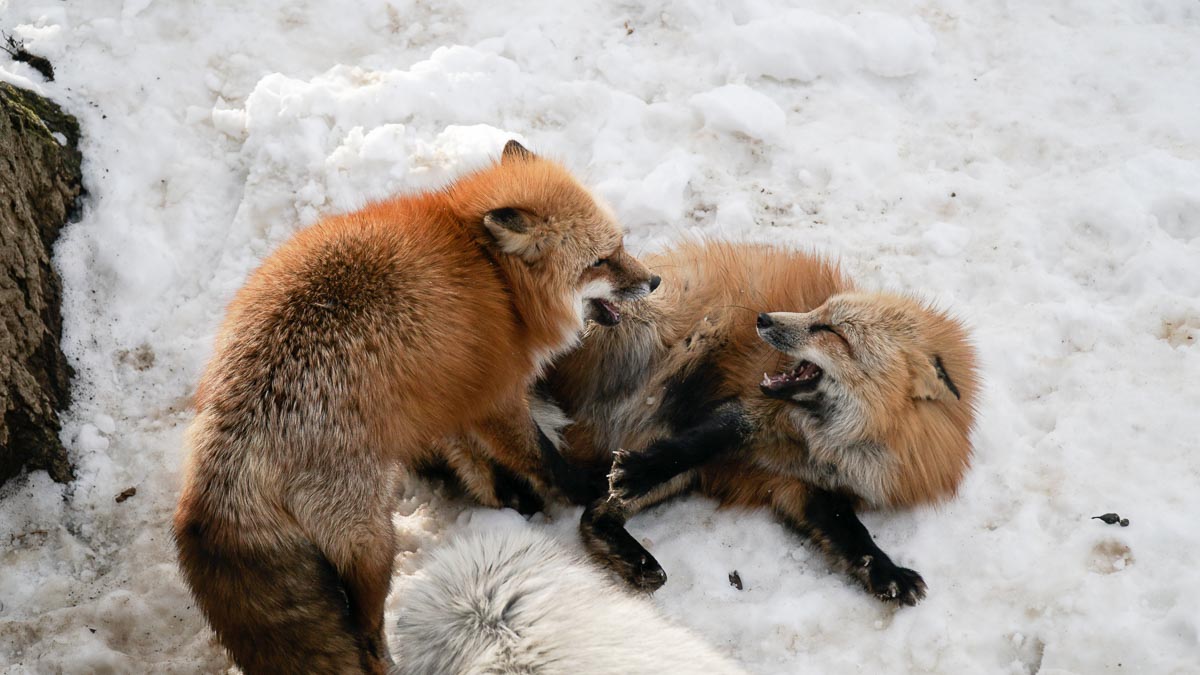 It makes you wonder if their injuries are a result of such proximity or if they would be the same in nature. We did enjoy walking through the areas far from the feeding platform where foxes would playfully take a jab at each other or approach you to chew on your shoe lace (don't let them! Unless you're alright walking away with half your shoe lace gnawed off).
Entrance fee: ¥1000
How to get there: From Tokyo station, take the Yamabiko Shinkansen to Shiroishizao station and take a 20min taxi to the fox village (¥4200).
Opening hours: 9AM – 5PM (last entry at 4:30PM)
*Pro-tip: On the way back, ask the other guests if they would like to share a cab back to Shiroishi-zao station to split the cab fare.
DAY 2: Tokyo Day Trip to Kawaguchi
Accommodation in Tokyo: Wise Owl Hostel Tokyo
Another key winter experience is catching sight of Mount Fuji from one of 5 Fuji Lakes. We picked Kawaguchi, a quiet town 2 hours from Tokyo. You can use your JR Pass to get to Otsuki station before transferring to the Fujikyu line to get to Kawaguchi-ko station.
Before you arrive at Kawaguchi-ko station, you might want to make a stop at Shimoyoshida. From the station, there's a popular lookout point of mount Fuji from the back of Chureito Pagoda which takes 397 steps to get to.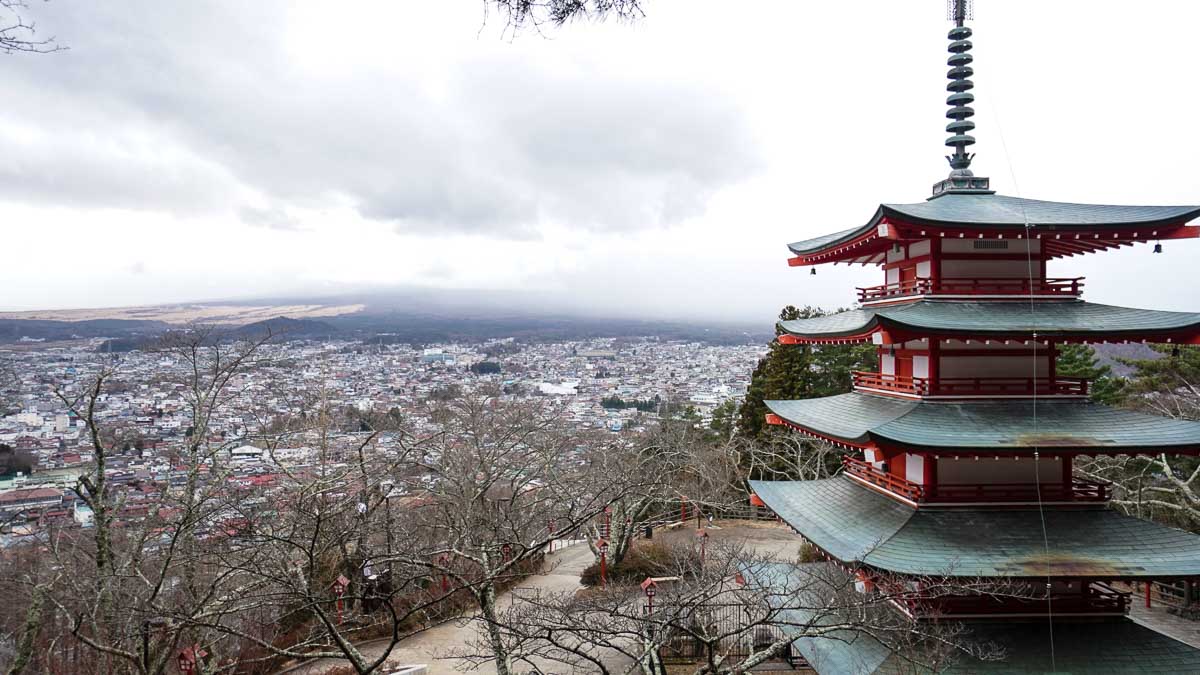 Unfortunately our luck with the weather was pretty bad on the trip and the elusive Mount Fuji was no where to be seen. Do a quick check on the weather before deciding on this day trip or else a trip here is pretty sad if the weather is bad.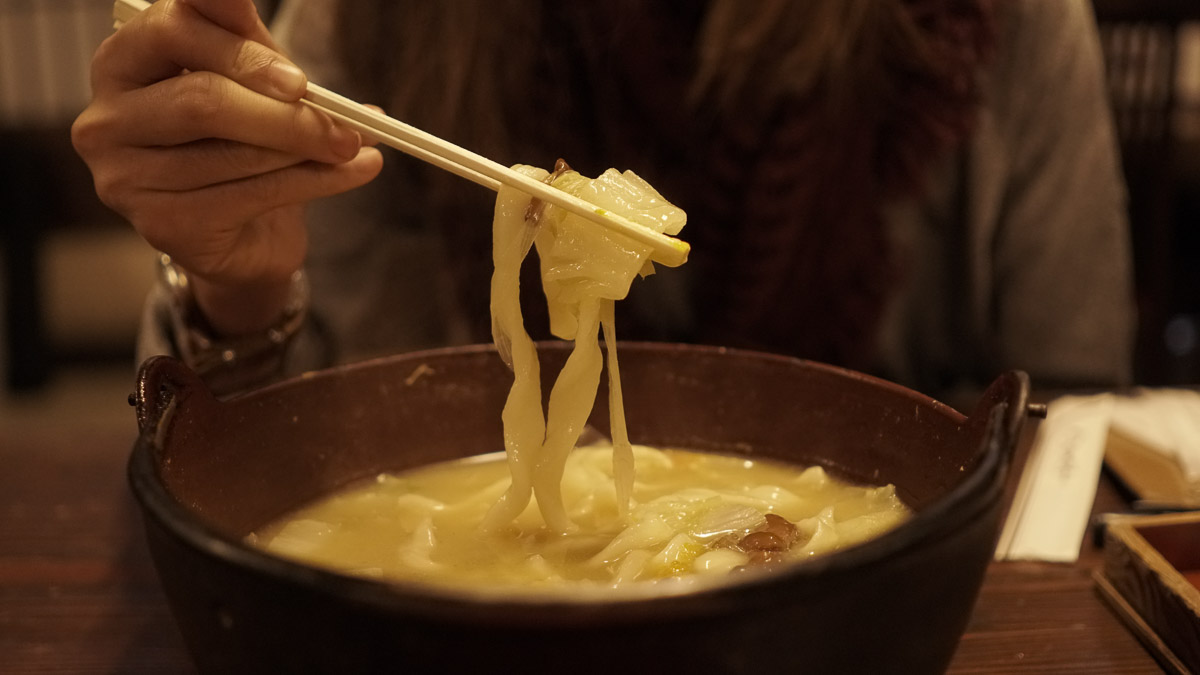 Our only saving grace was probably this hearty bowl of Hoto noodles — a Kawaguchi specialty of springy handmade noodles and probably one of the best dishes to have in winter. The most famous shop is Hoto Fodo located just across the road from Kawaguchiko station.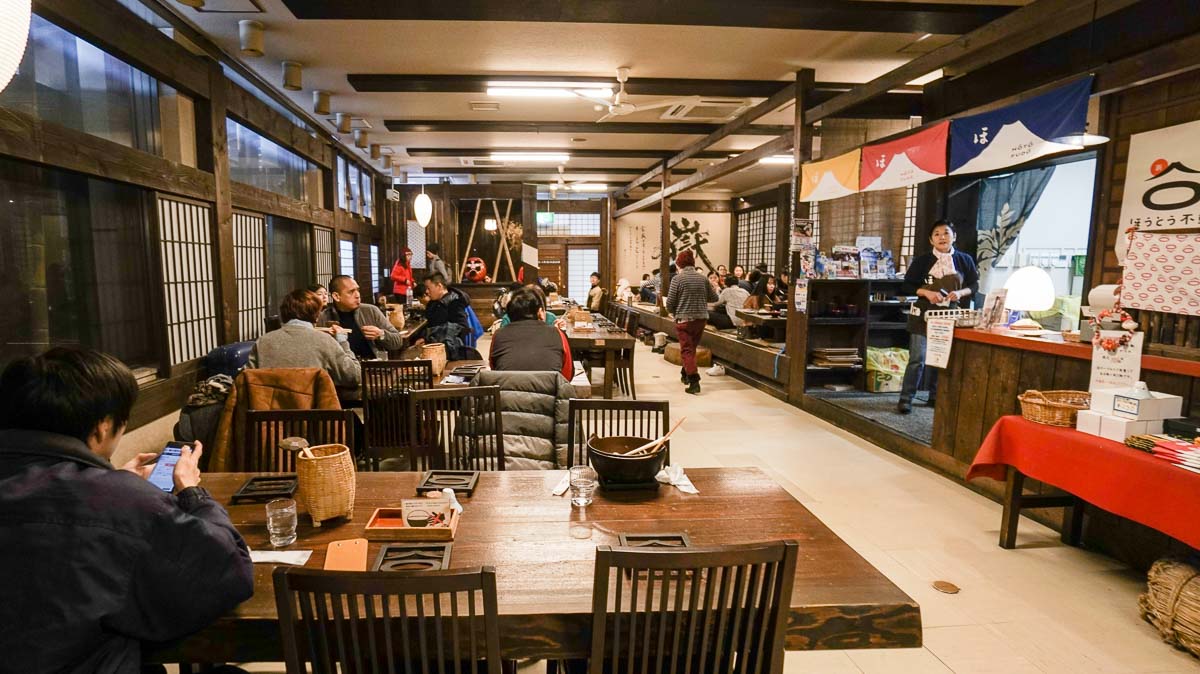 Set in a cosy restaurant, the noodles here are said to be the most traditional version of all and only served in one variation; a miso vegetable soup (¥1080). A common ingredient in all Hoto noodles is a slice of pumpkin which doesn't stand out a lot but adds a nice touch to the whole dish.
If you like more variety, there's another restaurant: Hōtō kenkyūjo (ほうとう研究所) located near the Kawaguchi Music forest which has Hoto with a generous serving of seafood including crab and lobster legs (¥1380 – 1980).
How to get there: Take the shinkansen to Otsuki, from Otsuki, switch to the Fujikyu line and get off at Shimoyoshida, then Kawaguchiko station. The JR Pass covers the ride from Tokyo to Otsuki station.
DAY 3: Nagano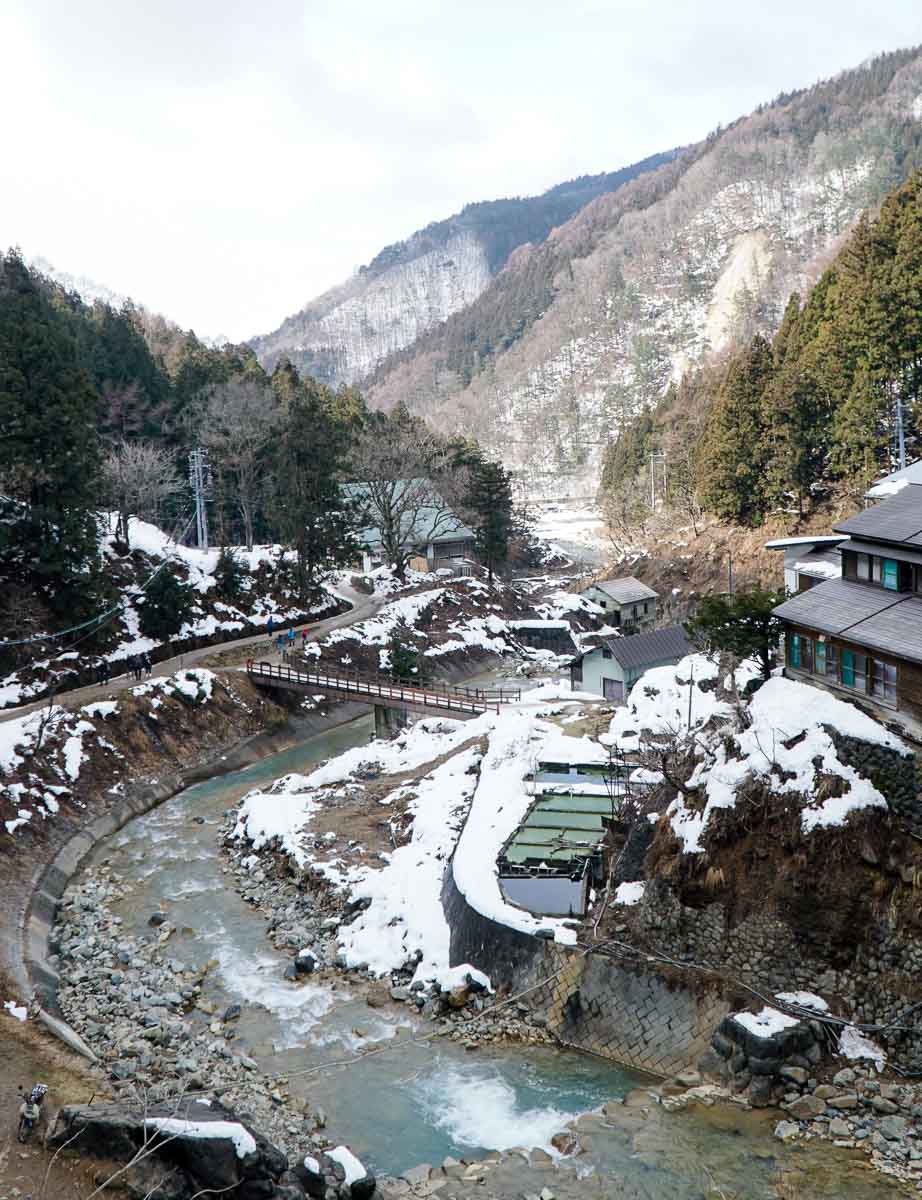 Host of the 1988 Winter Olympic Games, Nagano is a mountainous region most famous for the snow monkeys who definitely know how to enjoy life. It might be hard to believe at first but the onsen pools here are in fact reserved for the monkeys only.
Jigokudani Snow Monkey Park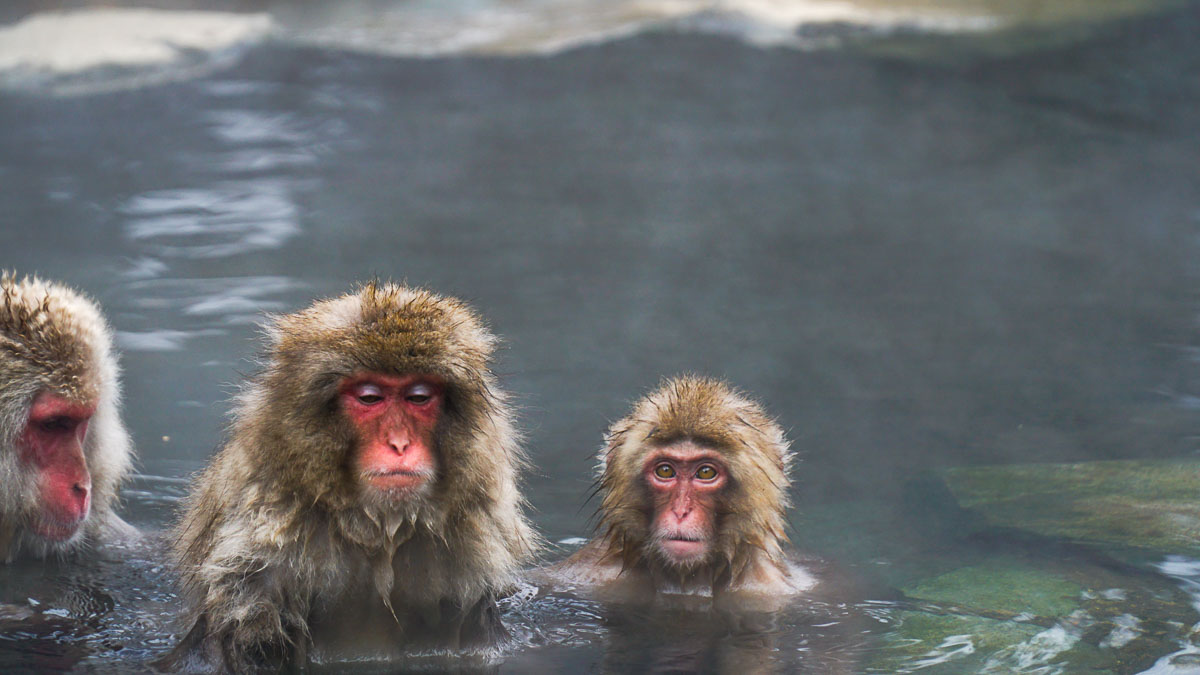 From Tokyo, pack your bags and set out early for Nagano. You can leave your luggage in the many lockers available at the train station. The JR pass covers your ride from Tokyo to Nagano station via the Hokuriki shinkansen (90 minutes). Then hop over to the Nagano Dentsu station where you can purchase the 1 day Snow Monkey Pass (¥3,200).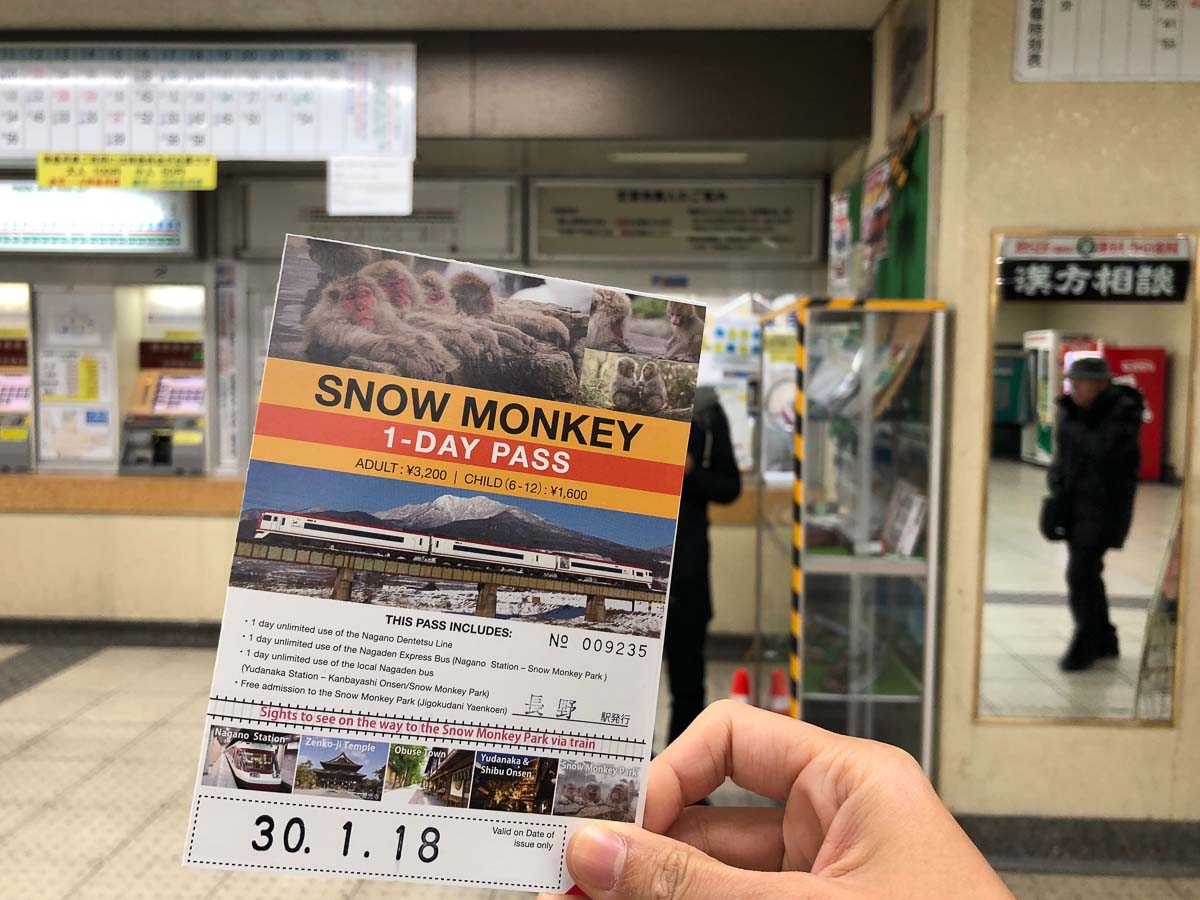 This covers the express bus that will transport you both ways between Nagano station and the Snow Monkey Park in 45 minutes. The pass also includes the entrance fee (¥1000) to the Snow Monkey Park.
From the drop off point, there's a 20-minute walk to the entrance of the park.
There's only one main onsen pool and you'll see lots of monkeys as well as people crowded around.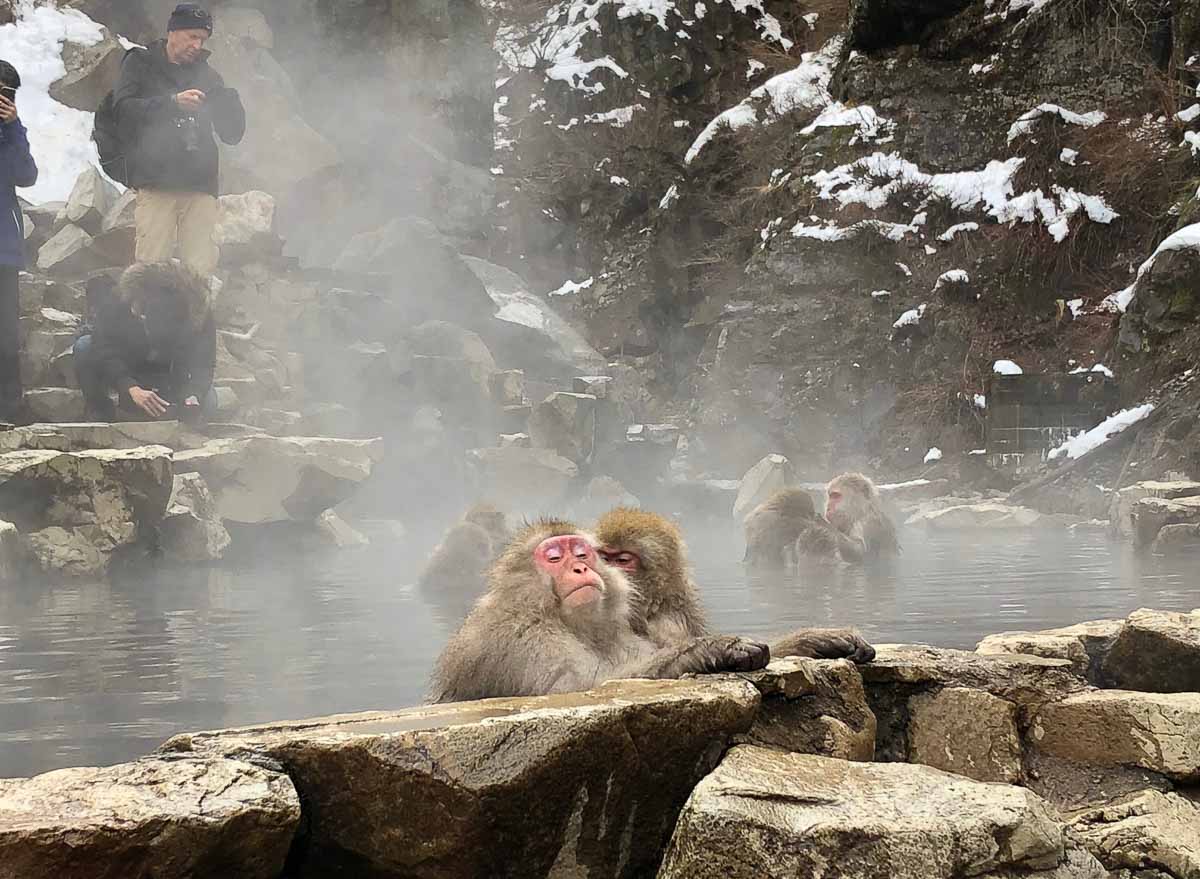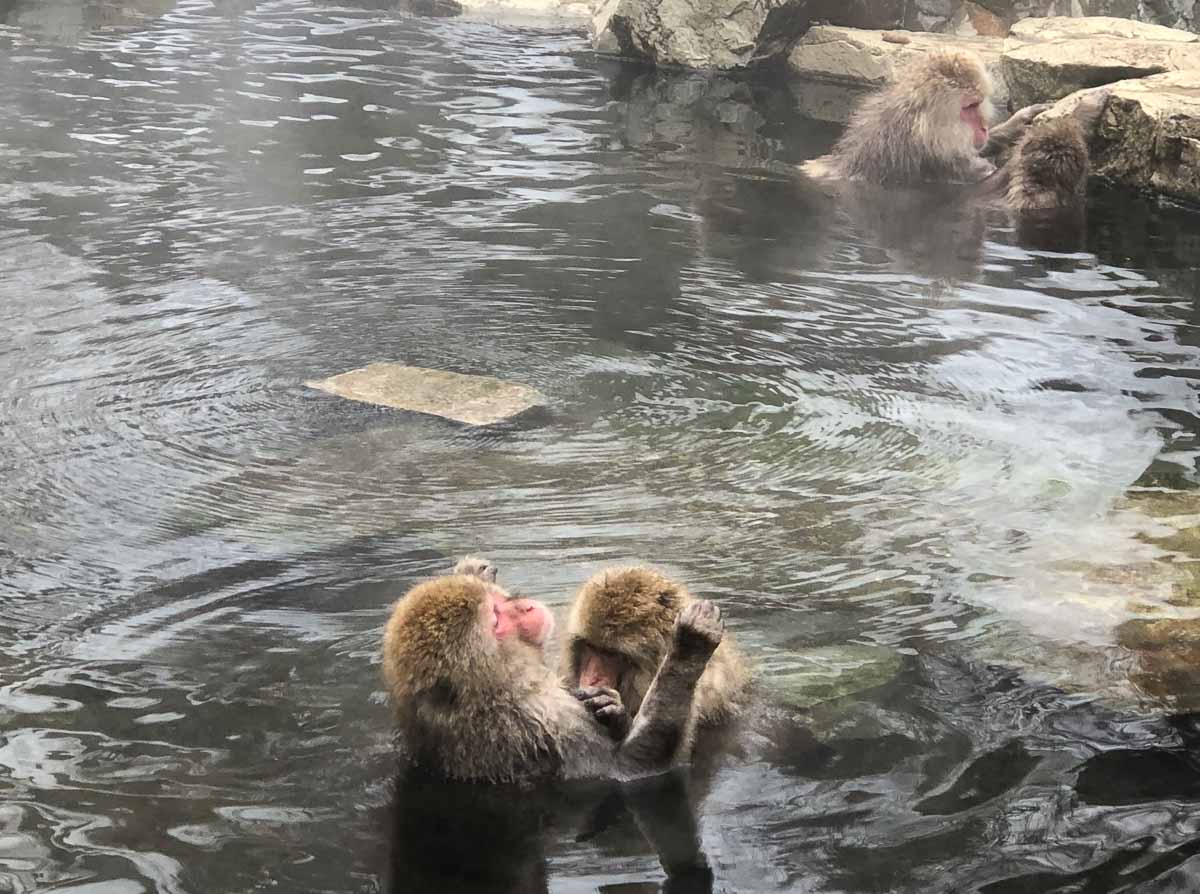 The Monkeys here are wild but are totally chilled and don't really mind if you're taking photos of them. However, do be a bit more weary of those with babies hanging on them as they tend to be a bit more paranoid and protective of their little one.
Do note that this is only for the monkeys!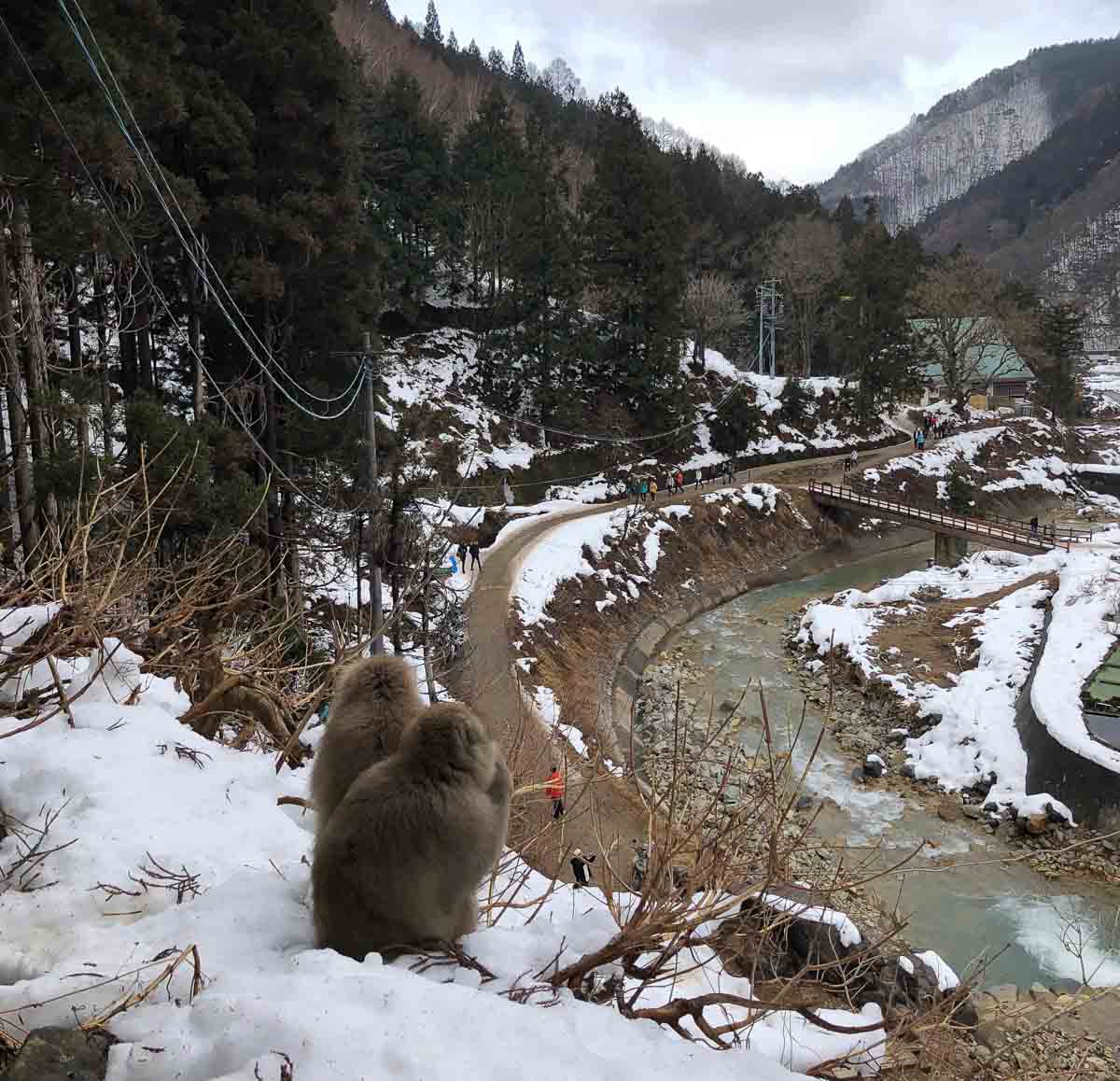 For the humans, you can take a dip in nearby Kaede no Yu, Shibu Oyu, or Wakuwaku no Yu onsens for ¥300 – 500.
How to get there: Take Shinkansen from Tokyo to Nagano (90mins). Purchase a 1 day snow monkey pass for ¥3200 from the Nagano Dentsu station and hop on the Express bus that goes direct to the Snow Monkey Park (45 minutes).
You can stay a night in Nagano at the many onsen resorts but we took our bags from the lockers and continued on to Takayama (2.5 hour train ride).
*Alternative Route to from Nagano: Take Shinkansen to Kanazawa (60mins), spend the night and take a 1.5hour bus to Shirakawago the next morning. From Shirakawago, it's a 50 minute bus ride to Takayama. If you're taking this route, you can swap Day 4 for Day 5.
DAY 4: Takayama
Accommodation in Takayama: J-Hoppers Hida Takayama — ¥2,700 for a spacious dorm bed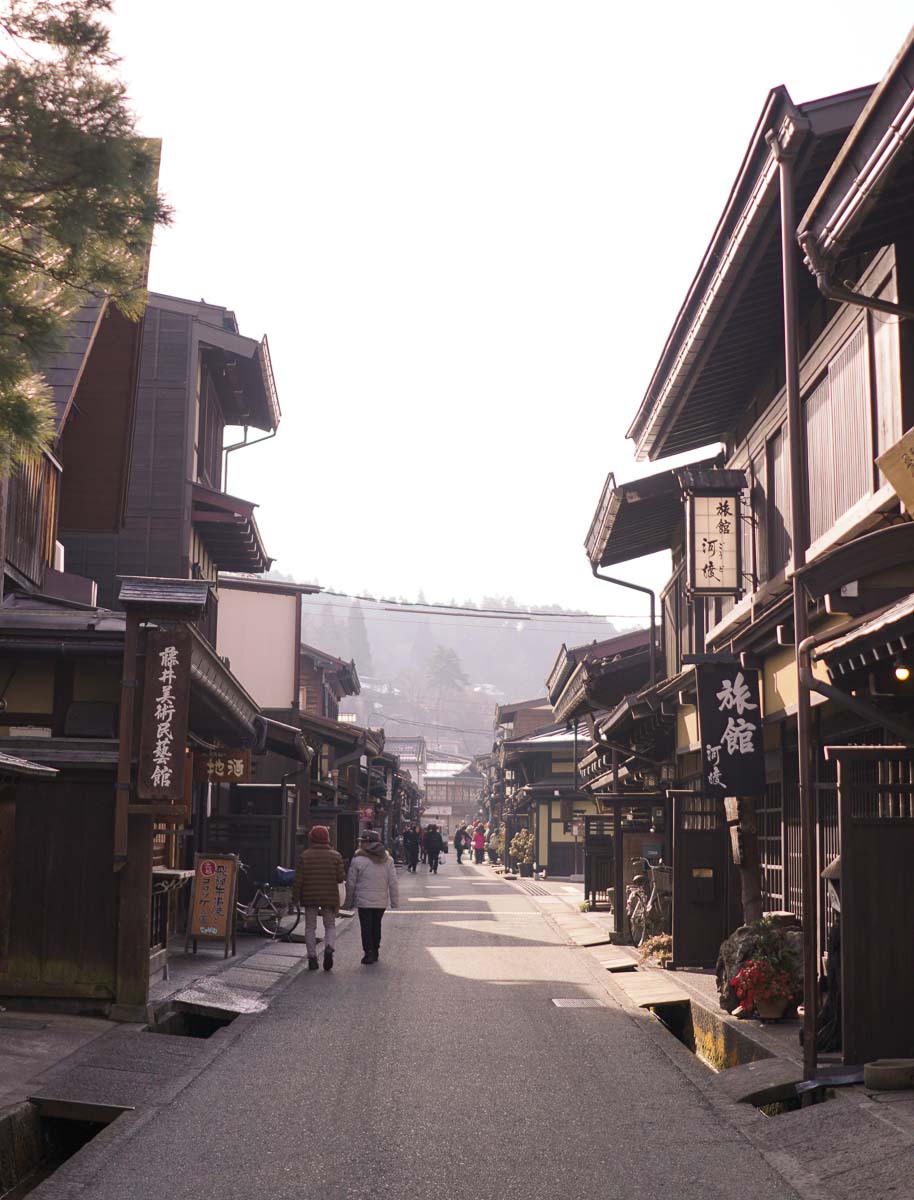 One of Japan's best preserved towns, Takayama is a popular winter destination for it's charming Edo-style neighbourhood that's even more charming when covered in snow.
But as our cursed luck with the weather continues, the snow had just melted off about 2-3 days before we arrived. Despite having almost no snow in sight, I still found the place rather enchanting and the perfect stopover before we visited the ultimate winter wonderland — Shirakawa-go.
Morning Markets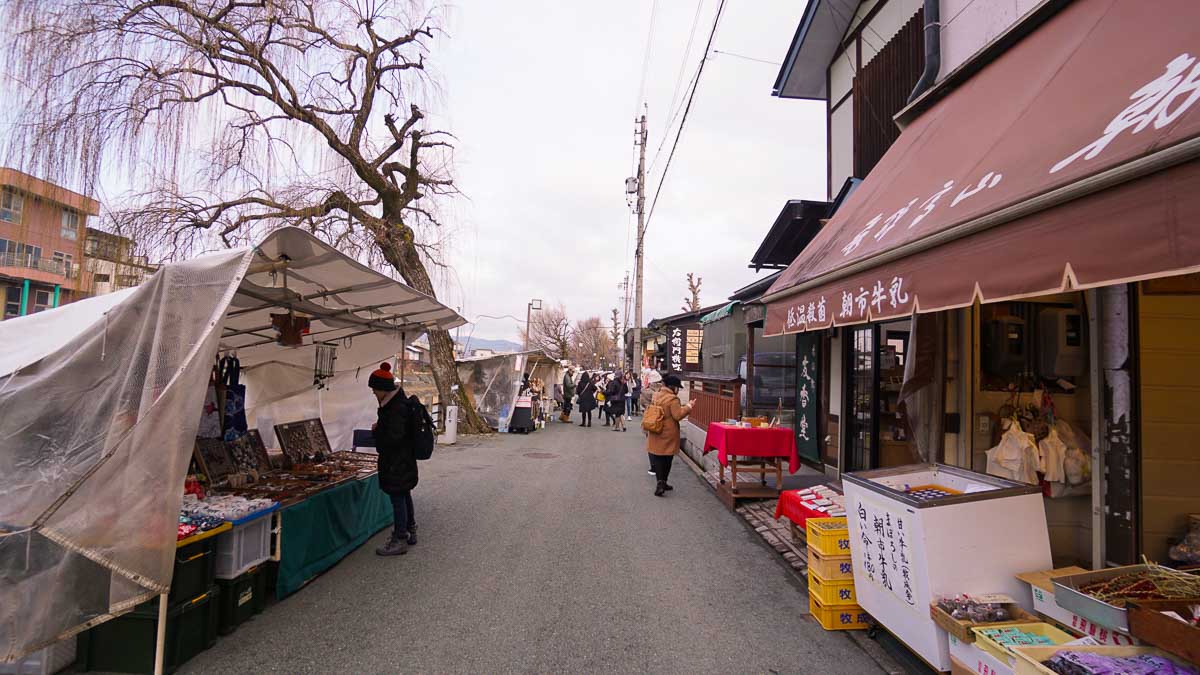 Starting from 8AM, head to either the Miyagawa or Jinya Mae morning market and you'll see locals setting up stalls by the Miyagawa river.
From traditional snacks like rice crackers to quirkier finds like wasabi chocolate and coffee in a cookie cup, here's a good place to pick up a gift or two. There's also seasonal vegetables, wooden crafts and a woman folding really complex origami.
Opening Hours: 8AM – 11AM
Hida Kotte Aburi Sushi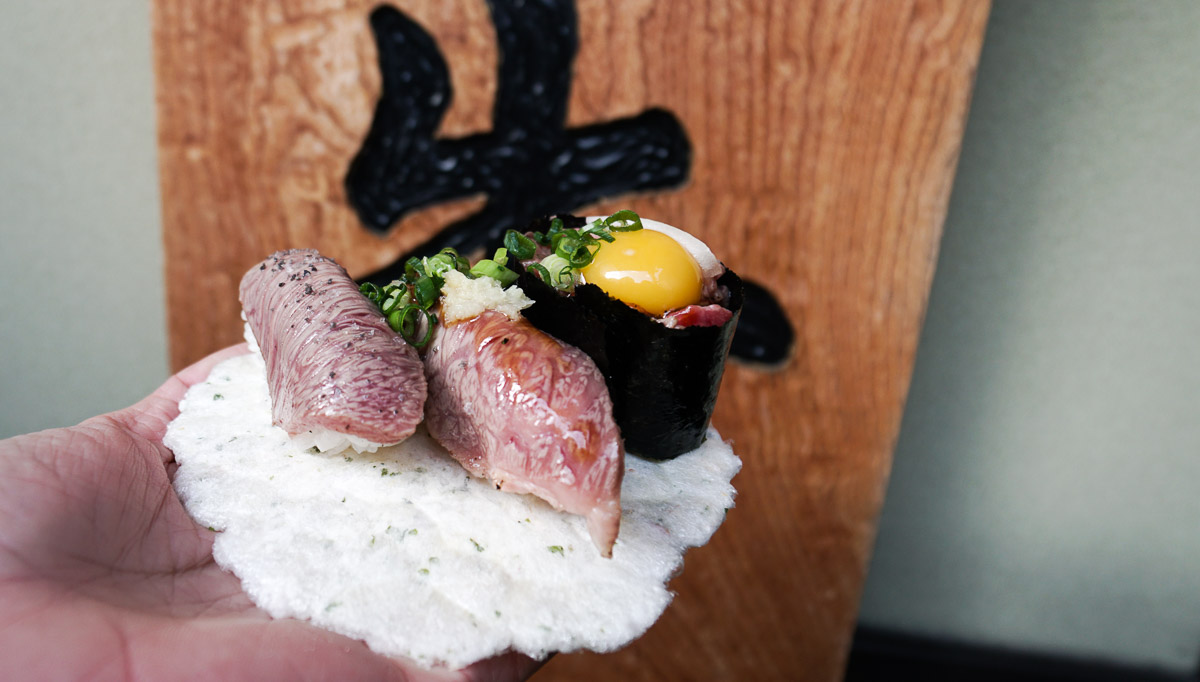 One of the most famous delicacies in Takayama is Hida beef and you can find various beef eateries around the town. But an interesting one is the Hida Kotte snack bar. Beef is partially cooked with a blow torch and served sushi style on a piece of crispy rice cracker. Pick from 3 options: ginger soy sauce, salt or gunkan (warship) style with a raw egg on top. A set of all 3 costs ¥900 but trust me, it's worth it!
Other recommended beef places to check out: Manpukutei ($), Suzuya ($$) and Ajikura ($$$).
Cost: ¥600 – 900
Opening Hours: 10AM – 5PM
Address: Kamiyano Town Takayama City Gifu Prefecture 34
Free Sake Brewery Tours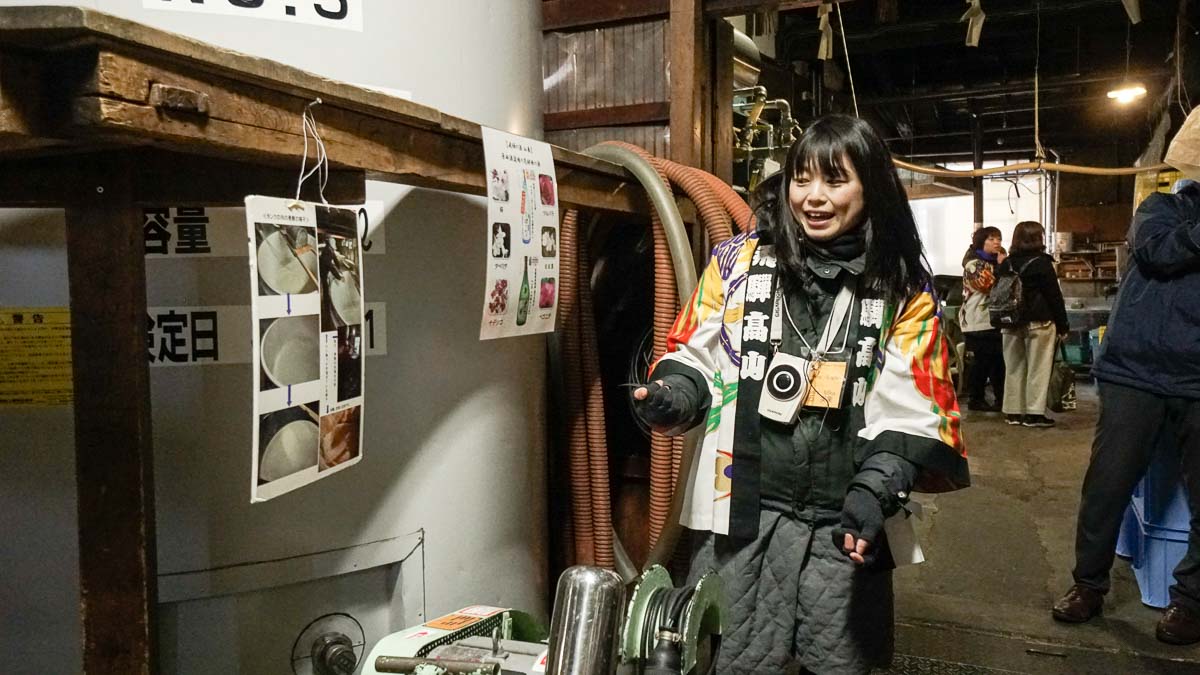 At 3000m above sea level, Takayama's perpetual cold climate makes it perfect for brewing sake. There are various local breweries around the old city and from 19th Jan – 3rd March, they're taking turns to run free tours of their sake making facility.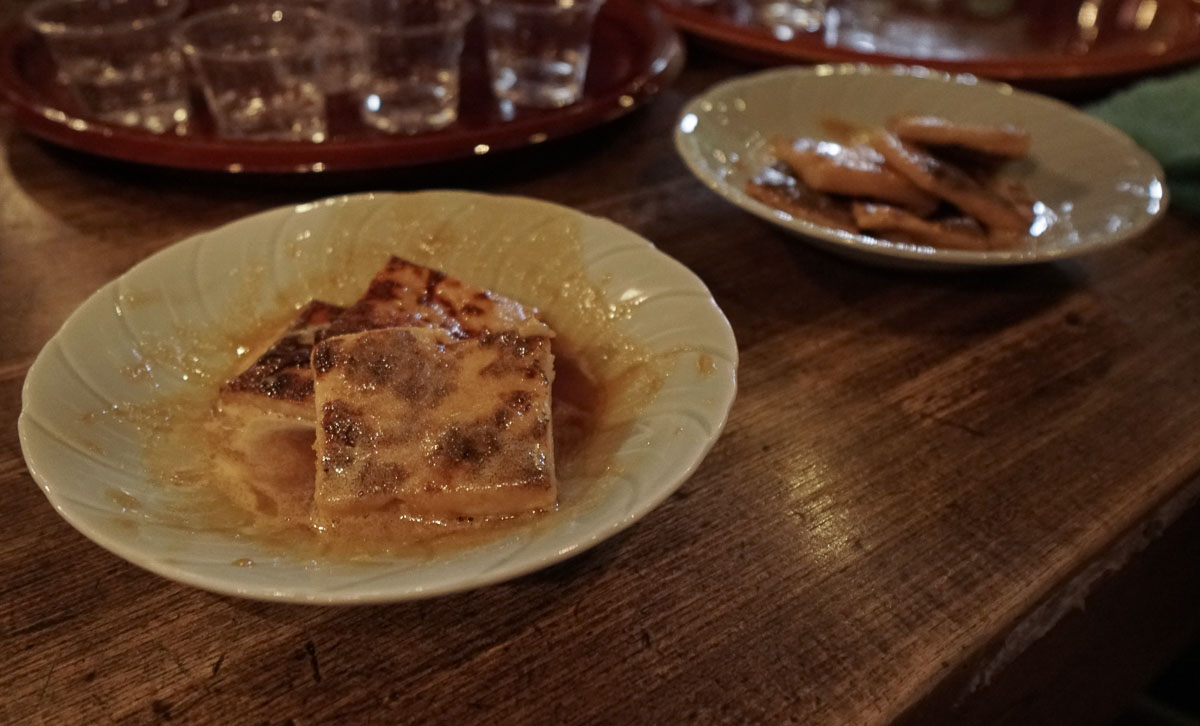 We were there in the first week and did our tour at Harada Sake Brewery. The tour honestly isn't much but it was quite cool to find out what they did with the left over fermented sake (Sake Lees).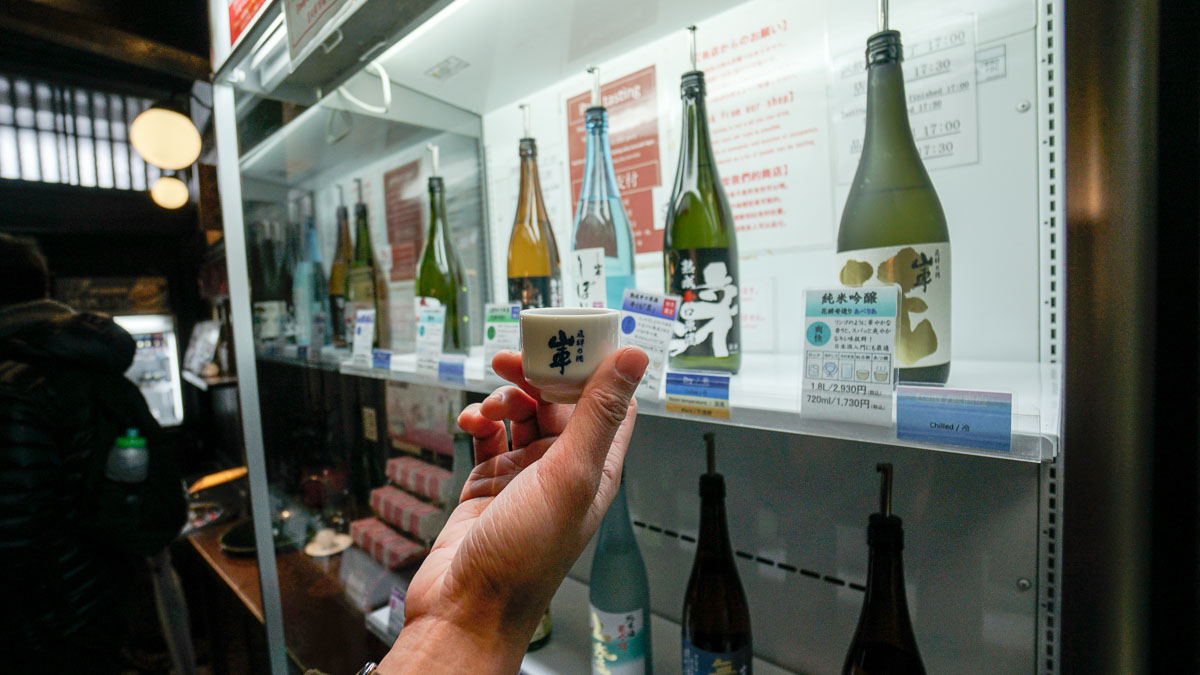 But perhaps our favourite part of all was the sake tasting 😛
There's a tasting fridge with around 15 different sakes and you can try them all just by purchase a sake cup for ¥200 (yes you get to bring this home). We loved it so much we ended up buying a bottle home too.
Tour timings: 10AM – 12PM, 1PM – 4PM
Address: Various breweries around the old city
Visit Shirakawa-go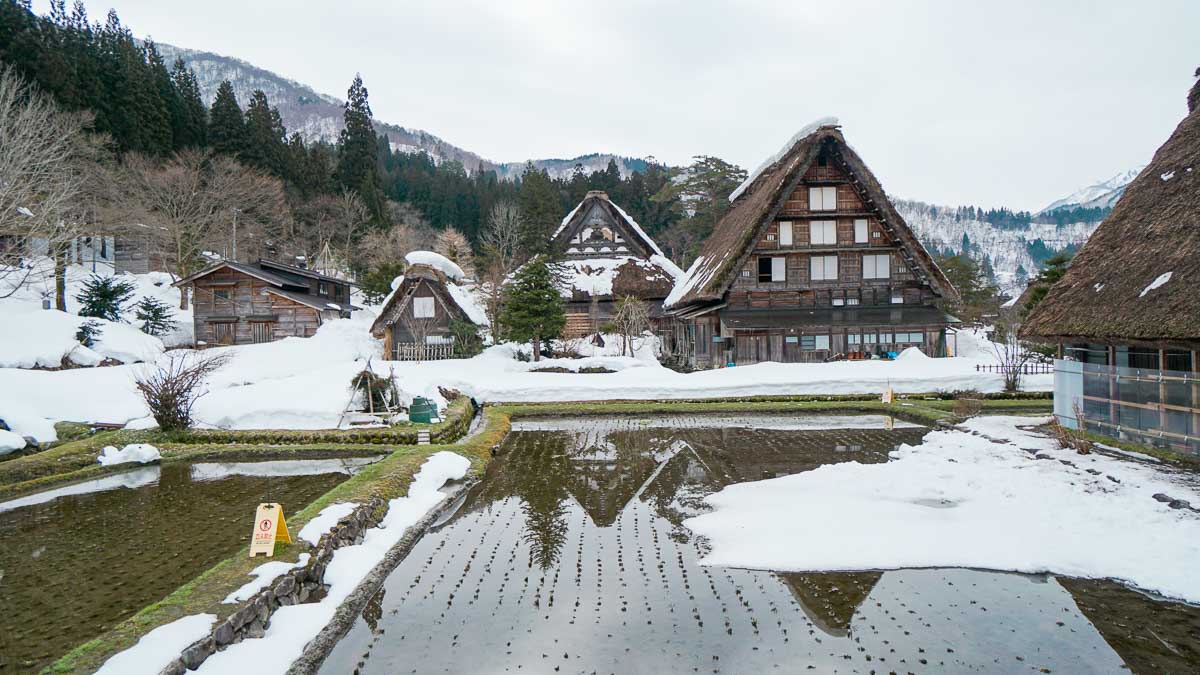 If you aren't planning to stay the night in Shirakawa-go, J-Hoppers Hostel (where we stayed) offers half day bus tours there for ¥3900. It leaves once in the morning and another in the afternoon. For us, we decided to spend a night in Shirakawago. You can take the highway bus from the Nohi bus terminal right next to Takayama station (¥4420 round trip). Check the timings for the Nohi Highway bus here.
DAY 5: Shirakawa-go
Accommodation in Shirakawa-go: Shimizu Inn — ¥9,500 – ¥13,000/pax includes dinner and breakfast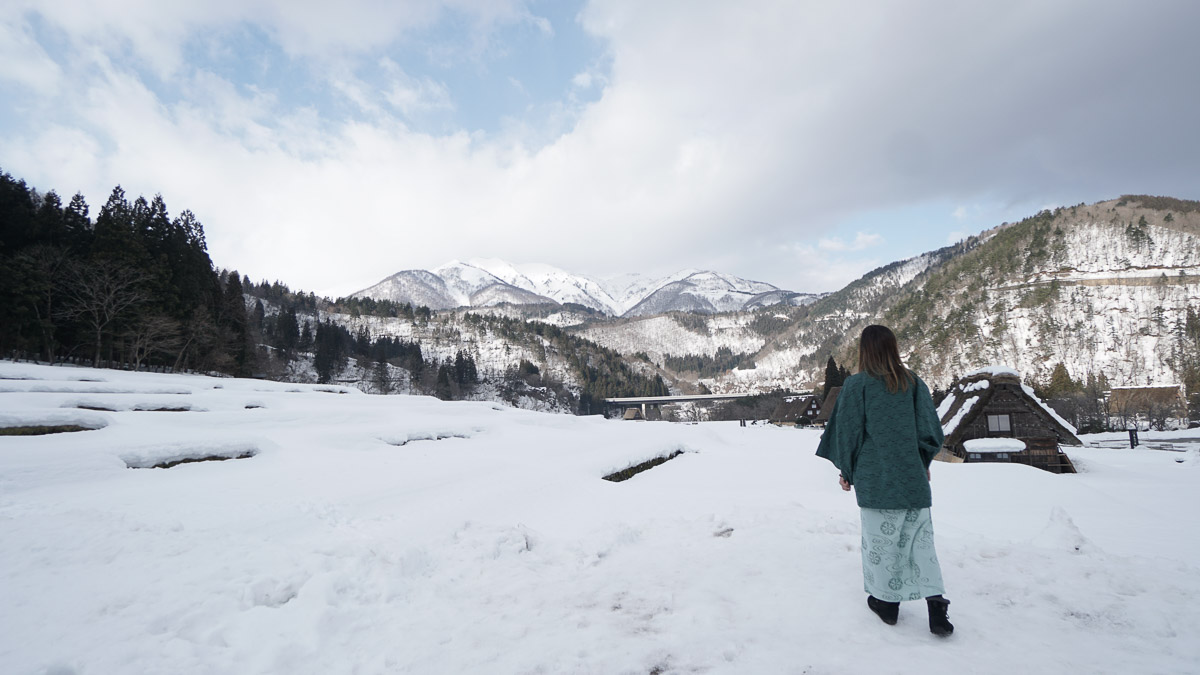 A UNESCO World Heritage Site, Shirakawago (白川郷) receives quite a bit of snowfall every winter. In order to avoid snow buildup on the roofs, the gasshō-zukuri style homes you find here can be spotted with high straw roofs with steep slopes on each side giving the entire town a dreamy winter wonderland look.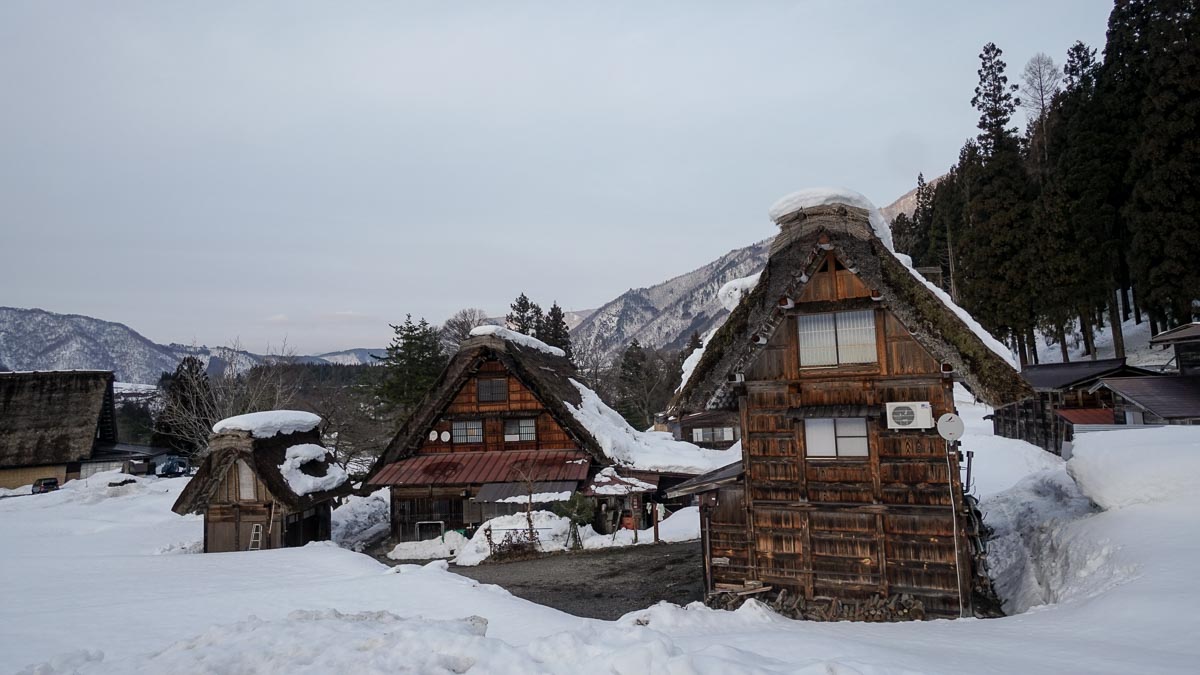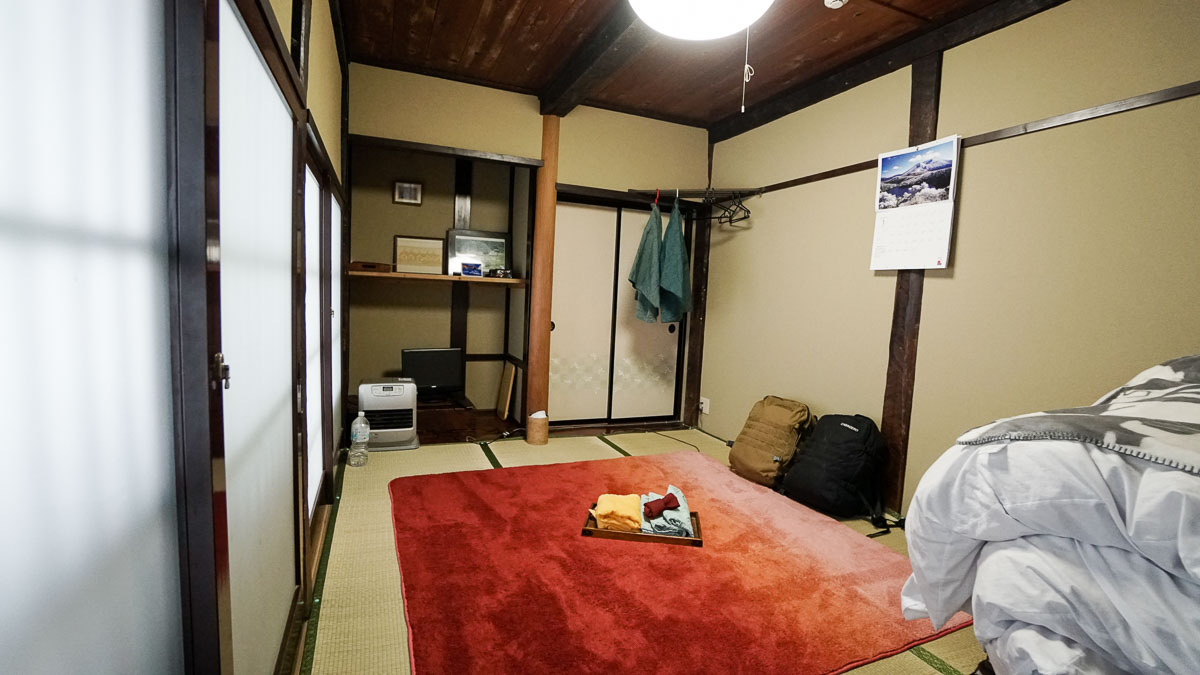 There really isn't much to do in the town but a key experience is staying in one of these traditional gasshō-zukuri guesthouses. They're super popular during the Dec – Feb period so book early if you're planning to stay.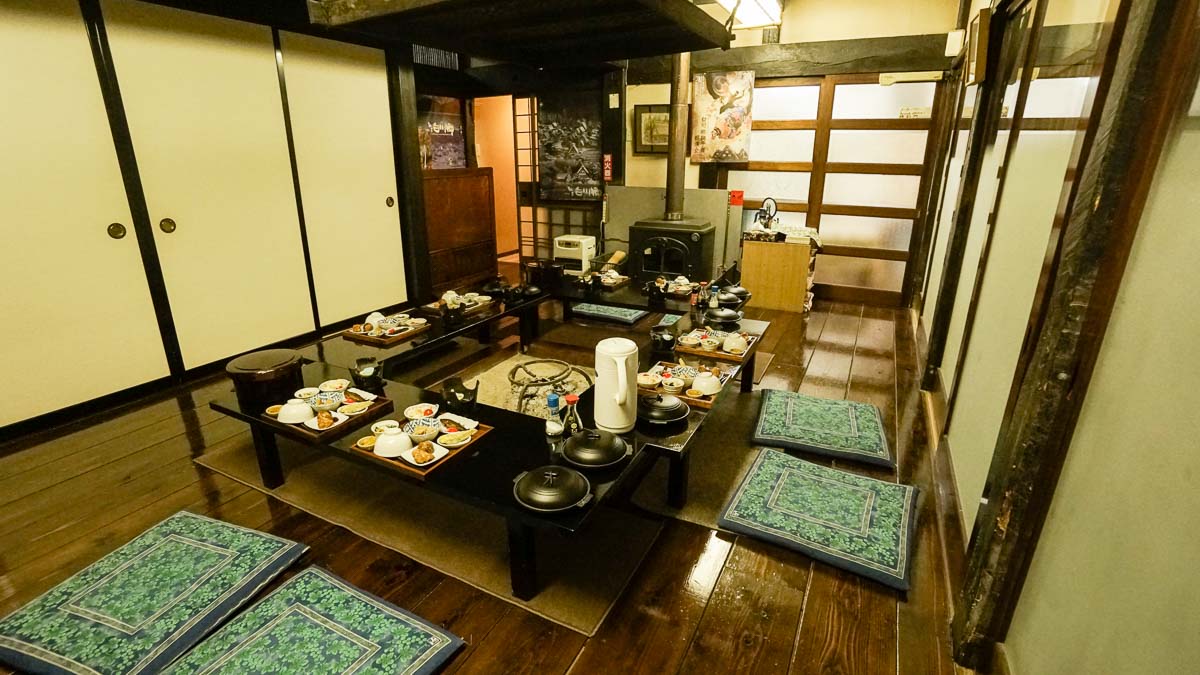 There are no restaurants in the area so your accommodation will usually include 2 meals for each night you're staying (dinner and breakfast).
I loved how homely the meals were with little servings of many varieties. Be careful though, the servings may look small but it adds up and you'd be stuffed before you know it.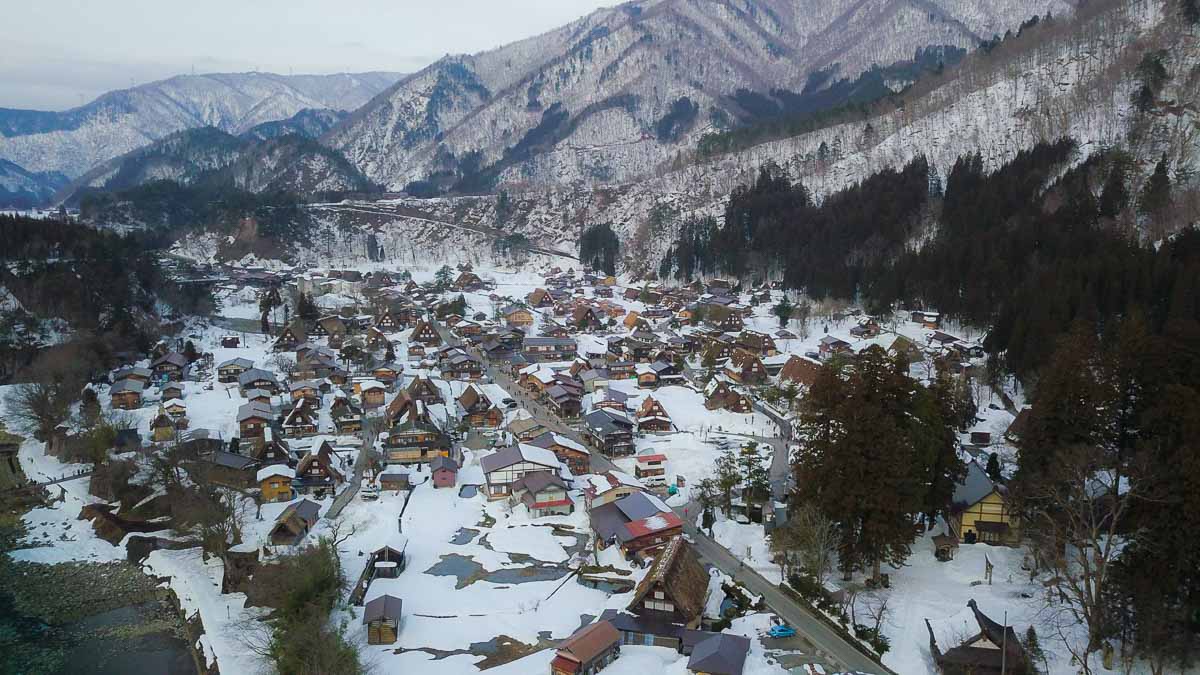 In the day, you can take a shuttle bus (¥200) to the observatory for a unobstructed view of the village.
Leaving Shirakawago: From the bus terminal you can take the bus to 3 nearby cities: Takayama (50 minutes), Kanazawa (75 minutes) or Toyama (80 minutes).
The train ride to Kyoto is 135 minutes from Kanazawa, 163 minutes from Toyama and 182 minutes from Takayama.
DAY 6: Kyoto
Accommodation in Kyoto: Wasabi Kyoto Soba Hostel — ¥1,700 for a dorm bed (located 15 minutes from Kinkakuji temple)
Kyoto rarely snows, but it did this year (2018 Jan)! And of course, our poor luck continued and it only snowed when we left.
If it's your first time in Kyoto, you really should spend at least 2 nights here. Check out our Kyoto budget guide for all the quintessential Kyoto experiences. Below are our all-time top 5:
1) Arashiyama Bamboo Forest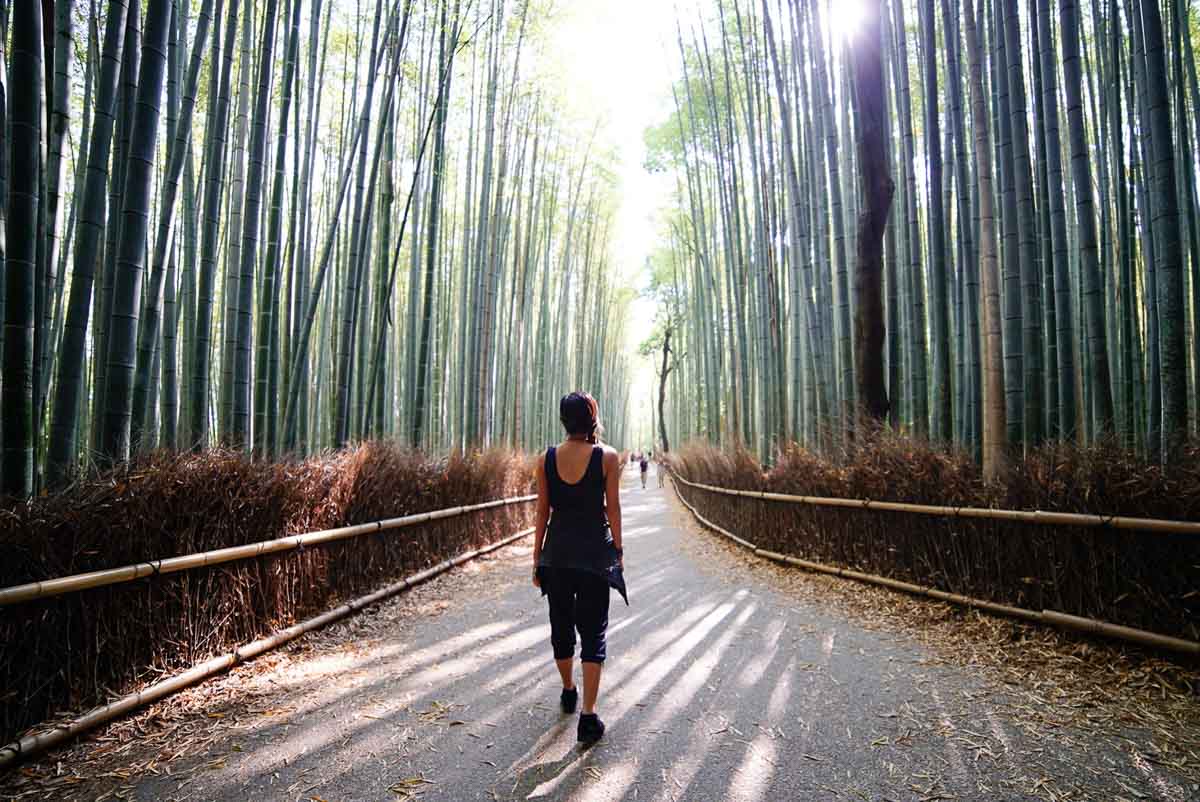 Entrance Fee: None
Opening hours: 24 hours
Nearest Station: Saga Arashiyama Station, JR Sagano line
2) Fushimi Inari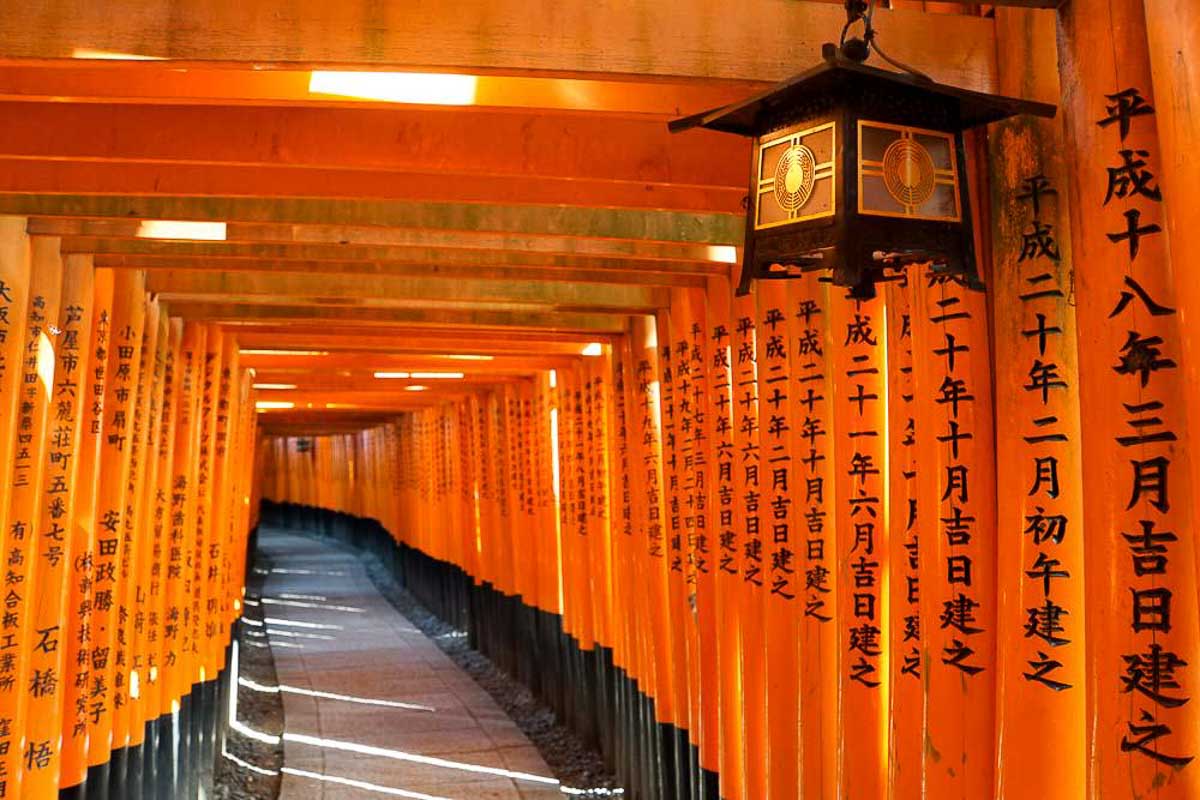 Entrance Fee: None
Opening Hours: Dawn to dusk
Nearest Station: 5min walk from Inari Station (JR Nara line) OR 10min walk from Fushimi Inari Station (Keihan line)
3) Kinkakuji Temple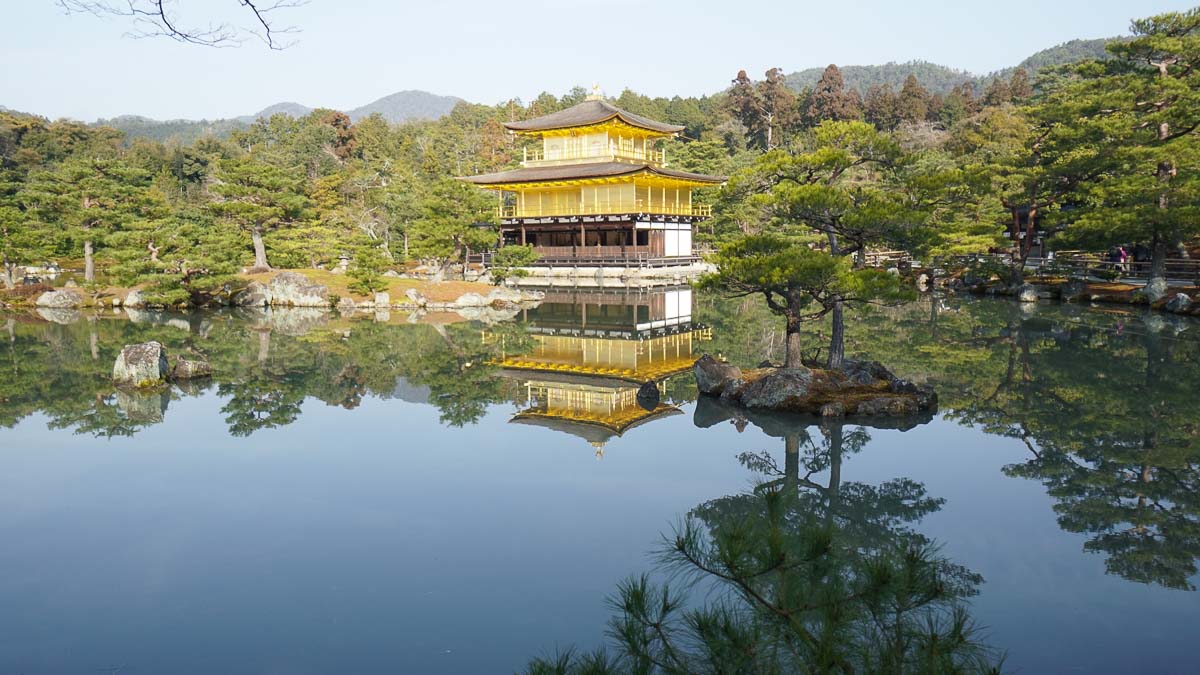 Entrance Fee: ¥400
Opening Hours: 9AM – 5PM
Nearest Station: From Kitaoji Station (Karasuma Line), take bus 204 or 205 to Kinkakujimichi bus stop and walk 400m to Kinkakuji
4) Nishiki Market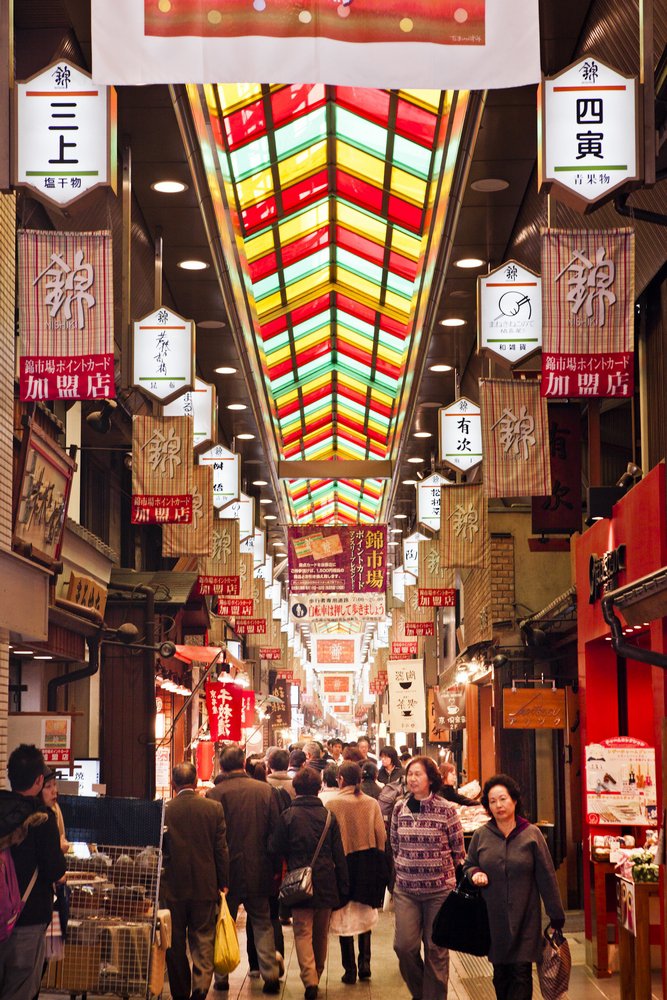 Opening Hours: 9AM – 5PM
Nearest Station: Shijo Station (Karasuma line)
5) Kiyomizudera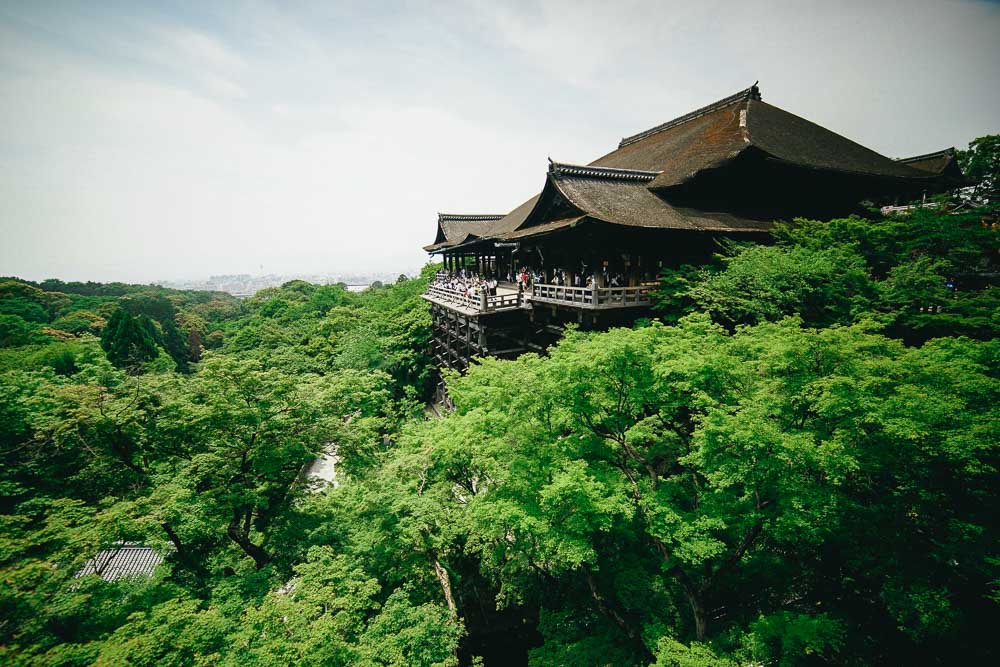 Cost: ¥400
Opening Hours: 6AM – 6PM (may vary slightly depending on season)
Nearest Station: Most accessible by bus or by cycling. For bus, take bus 206 from Kyoto Station to Kiyomizu-michi and walk for 10 minutes.
Read more about these in our Kyoto Budget Guide.
DAY 7-8: Osaka
Accommodation: J-Hoppers Universal Osaka — ¥2,300 (15 minutes from USJ)
Osaka Namba Hostel Miyabi — ¥2,300 (Near Namba Station)
Osaka is best known for 2 things, Universal Studios Japan and FOOD. And that's exactly what were in Osaka for this trip.
Don't get me wrong, Osaka too, has many gorgeous monuments and interesting activities. If it's your first time to Osaka, check out our very first Osaka Budget Guide for all the best things to do, see and eat for under S$70/day including accommodation!
Universal Studios Japan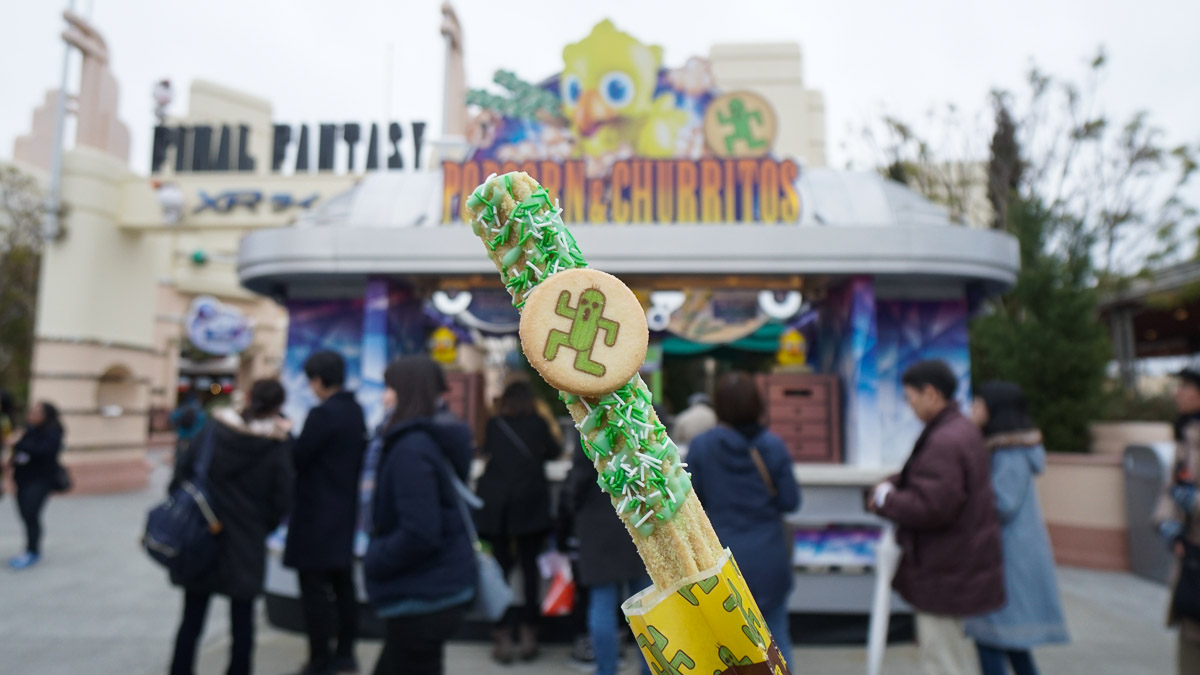 If you're visiting from 19th Jan – June 24th 2018, definitely check out the newly refreshed Universal Cool Japan section in USJ.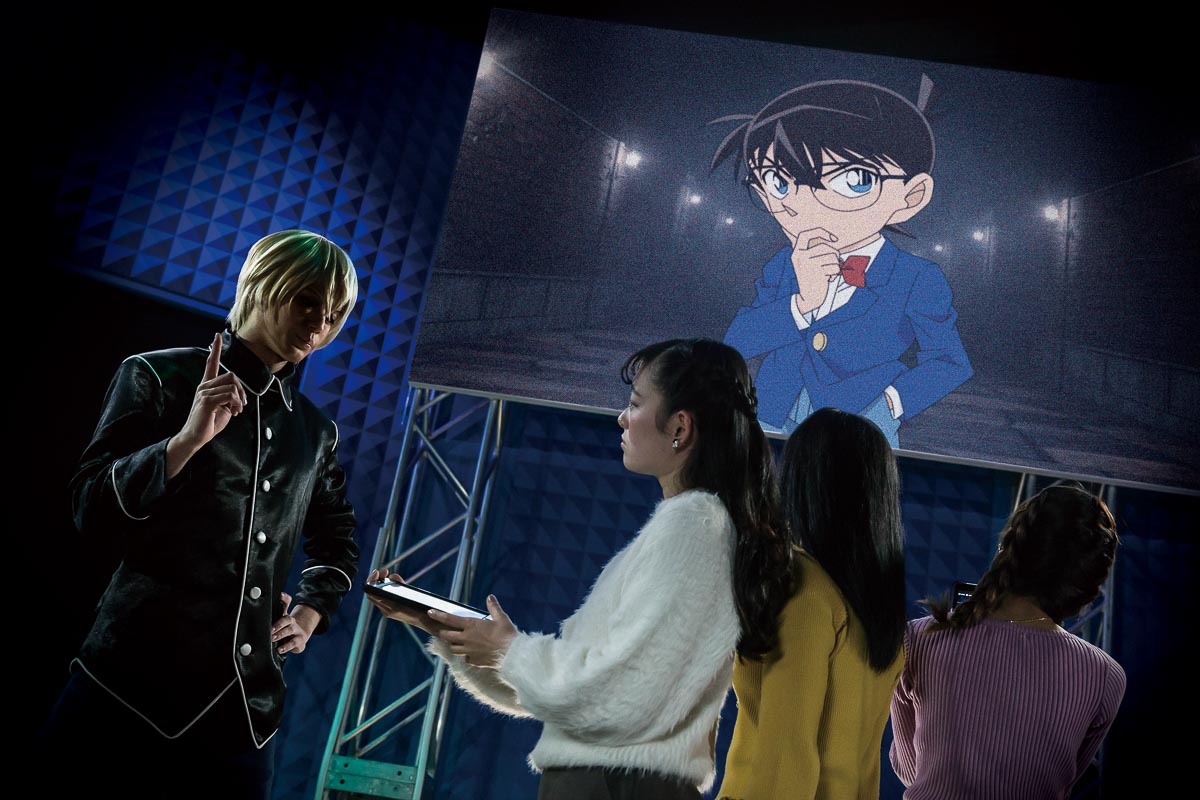 Find yourself in an exciting Final Fantasy themed VR roller coaster or stretch your brain at the 4 storey Detective Conan Real Escape Room. These 2 were my favourite experiences at USJ this round.
Read also: Universal Cool Japan 2018 for what to expect in this new section, or our Ultimate USJ guide for tips and tricks to beating the crowds and maximising your time in the park.
Useful USJ Passes to get:
Universal Studios Japan 1.5 day pass — Enter the park after 3pm on the first day and have the whole of day 2.
Universal Cool Japan 3 Express Pass — Express access to 3 popular attraction in the Universal Cool Japan section. You'll need this to enter the Detective Conan Real Escape Room game.
Namba Food Hunt
Known as THE entertainment and shopping district, Namba is perhaps the most exciting area in Osaka. Here are just some of our favourite food finds in the area; all under ¥1000!
1) Beef Cutlet Takeru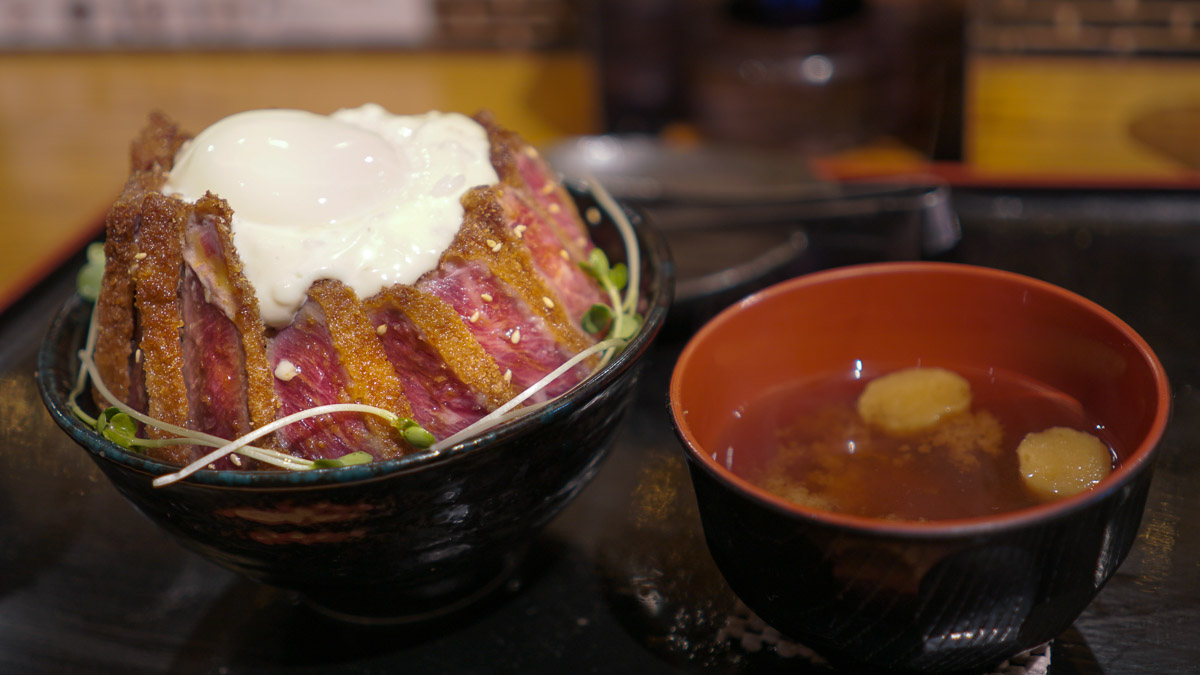 The most famous menu item at Beef Cutlet Takeru is this 1kg super large size beef cutlet rice bowl. For just ¥940, it comes with a miso soup and topped with a perfectly poached egg.
Each cutlet is lightly breaded on the edges and almost completely raw in the middle. In front of you in a mini grill where you can cook each individual piece to your liking.
While this set doesn't serve 1kg of beef, the serving is pretty generous but basically comes with a mountain load of rice. If you're not a "rice bucket" kind of person and don't want to waste food, you can request for less rice (although the price will stay the same).
The catch is, each outlet only serves 5 of these bowls a day — which means you need to queue around 30 minutes before the shop opens to get your hands on one of these.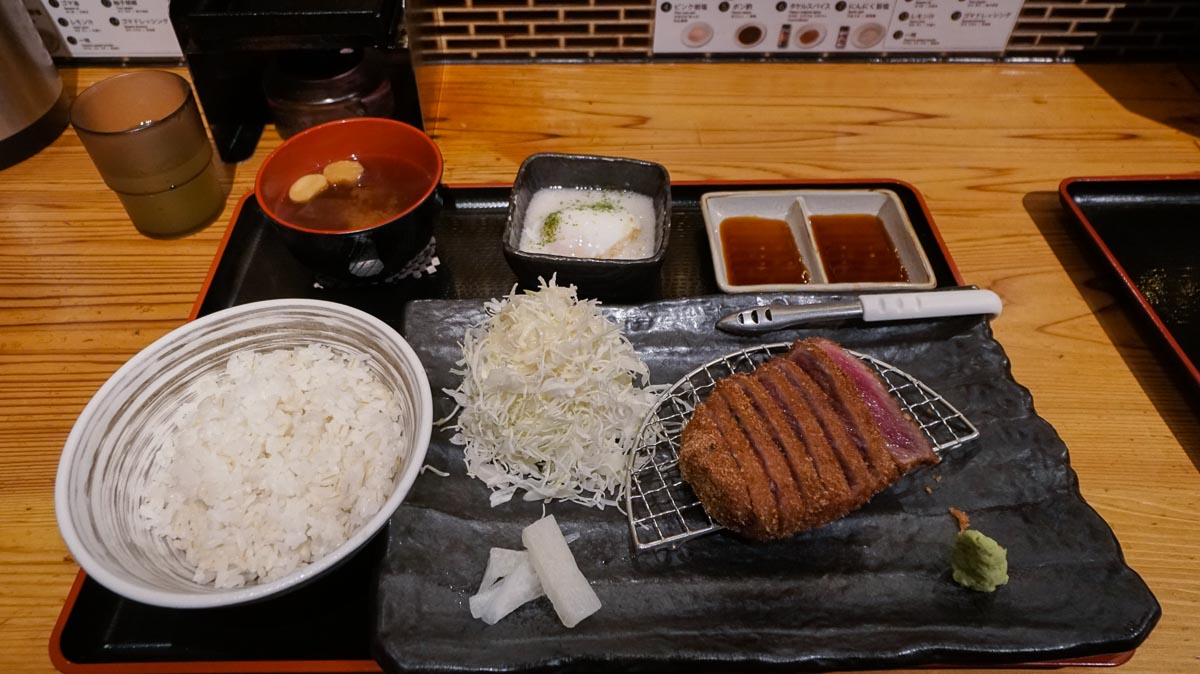 If you happen to miss out, the ¥1,200 set is equally worth it and comes with a free flow bowl of cabbage salad.
Don't forget to ask for sauces! There are up to 15 different types of dips and sauces to go with the cutlet including Garlic Soy Sauce, Mustard, Ponzu Sauce, Garlic Salt and our favourite of all — freshly grated garlic!
Address: 2 Chome-4-4 Nanbanaka, Naniwa-ku, Ōsaka-shi, Ōsaka-fu 556-0011, Japan (Namba Outlet)
Opening Hours: 11AM – 11PM (Everyday)
*Pro-tip: There are 2 outlet in Namba alone so if the queue looks long on one, try the other just 1 street away!
2) Niku Geikijou
A relatively new brand in the "fast food" rice bowl world (along with Yoshinoya, Matsuya and Sukiya), Niku Geikijou may very well be a new favourite.
It's a little pricier than the rest (ranging from ¥690 – ¥790) but serves a very generous portion of meat and you can choose from 12 different sauces to have the rice drenched in.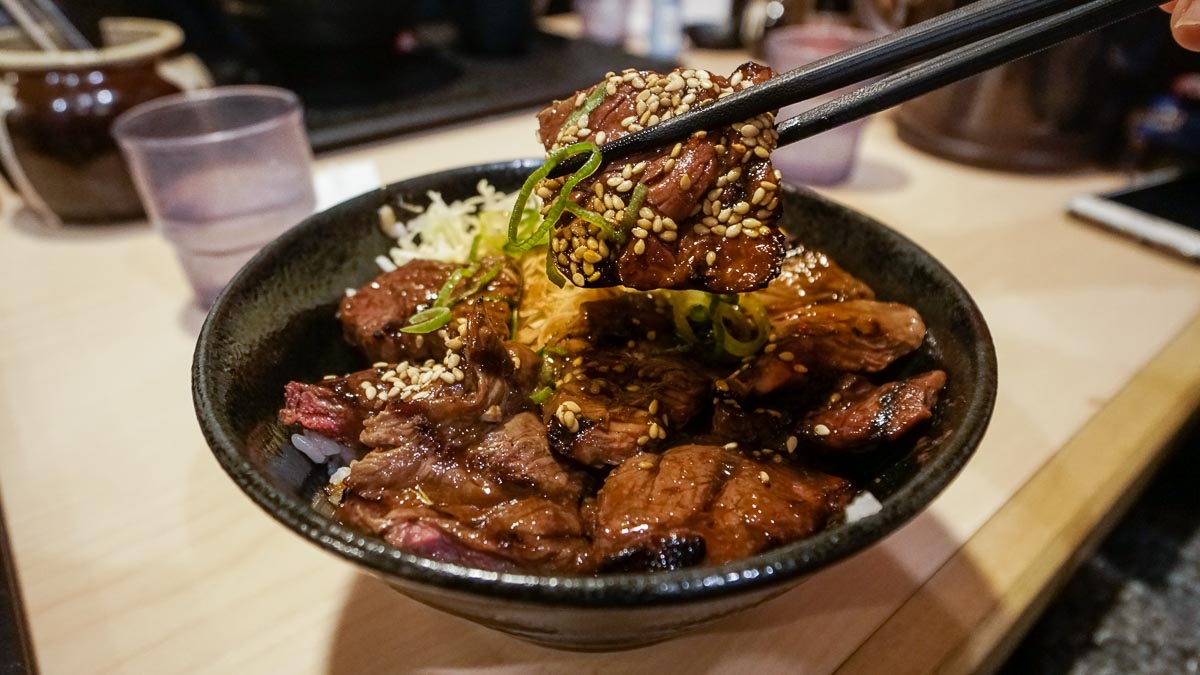 Sauces range from sweet to extra spicy, with garlic, with ginger or with miso. We ordered the skirt steak bowl and asked for the garlic miso sauce which turned out super addictive! Oiishi indeed!
Address: 2 Chome-4-4 Nanbanaka, Naniwa-ku, Ōsaka-shi, Ōsaka-fu 556-0011, Japan
Opening Hours: 11AM – 11PM (Everyday)
3) Imai Honten Udon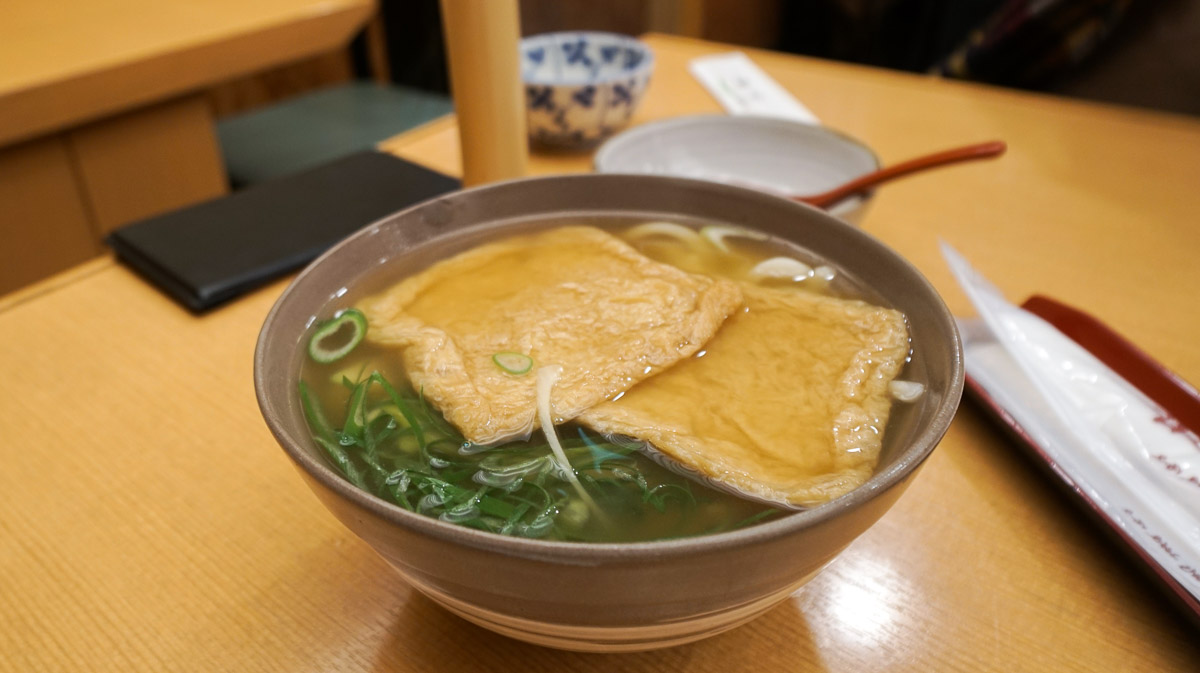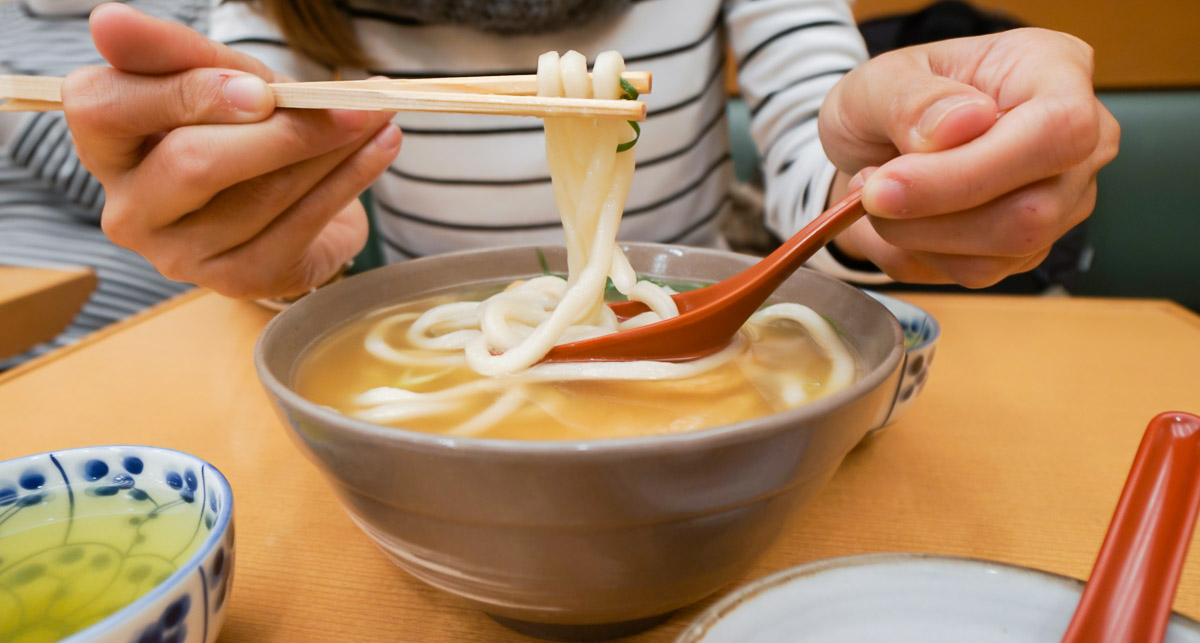 The specialty at Imai Honten is their Kitsune Udon which is fried bean curd cooked in a sweet soup broth for hours until it absorbs all the goodness. It might seem like a plain dish but light and light broth somehow manages to be just tasteful enough for you keep wanted another spoon of it.
Address: Osaka-shi Chuo-ku Dotonbori 1 – chome 7 No. 22
Opening Hours: 11AM – 10PM
One-stop place to book all your travel essentials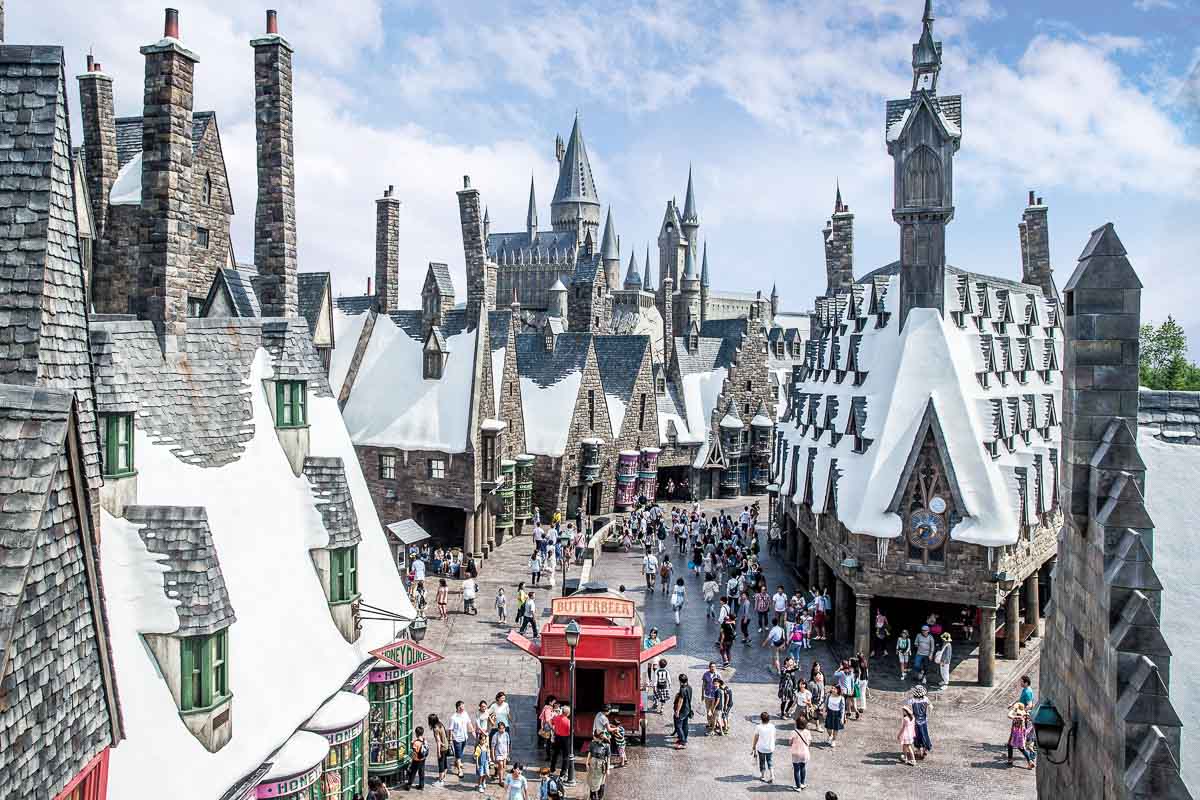 Klook has become one of the first sites we turn to when it comes to trip planning. From WiFi, to transport, to experiences, they have almost everything we need and at very competitive prices. Here's what we booked from Klook for this trip:
1) 7 Day Whole Japan JR Pass — Saved us $300+ in value. Click here for JR Pass breakdown
2) 8D 4G SIM Card — Fuss free pick up from Tokyo Airport (Comes in 3GB and Unlimited)
3) ICOCA IC Card — Comes preloaded with ¥1,500 credits and can be used on all transports in the Kansai region including Osaka, Kyoto, Nara and Kobe
4) Universal Studio Ticket — Available in 1, 1.5 and 2 day passes. No printout needed. You can get access just by scanning the QR code on your phone.
5) Nankai Airport Express — Since we returned on day 8, we could no longer use our JR pass to get to Kansai Airport so this was our next best option! The limited express trains will get you to the airport under 45 minutes but leaves only 2 times every hour so be sure to check the timetable from Kansai airport and to Kansai airport.
Check Flights to Tokyo
All set for your winter adventure? Start securing your flights now:
Can't see the widget above? Check flight prices from Singapore to Tokyo here instead!
---
This post was brought to you by Klook.