We found new hidden gems in Japan thanks to Anime!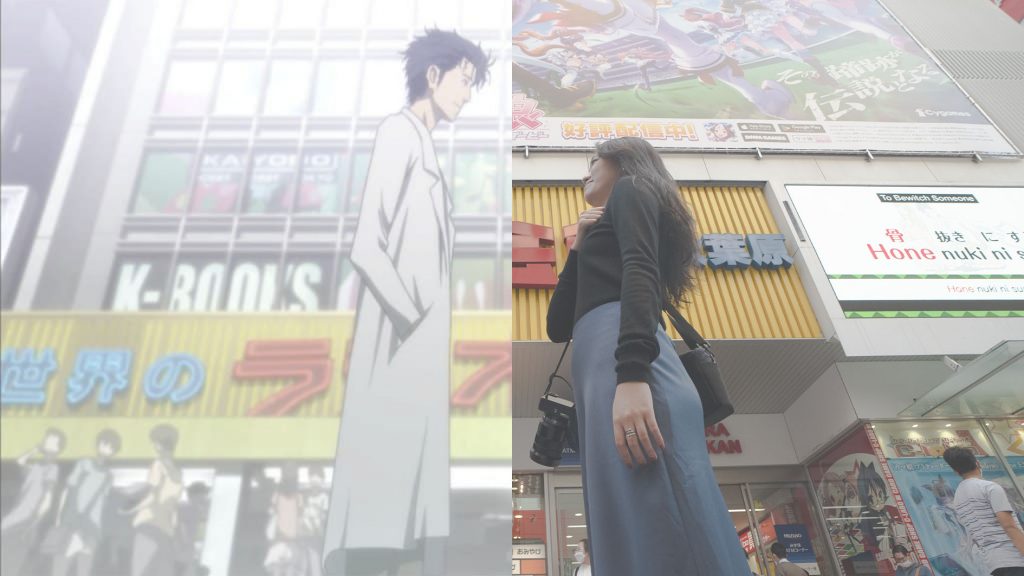 For all the weebs and otakus out there, I gotchu! As an avid anime lover, Japan is always my go-to when I have the chance to travel. Other than buying merch or taking part in anime events, you can actually visit real-life locations that were used as settings for anime works. While there is an abundance of them, this guide covers some of my favourites!
If you love Japan, you might find some hidden gems, and if you love anime as well, this is a sign to embark on an anime pilgrimage!
Pre-trip Checklist Entering Japan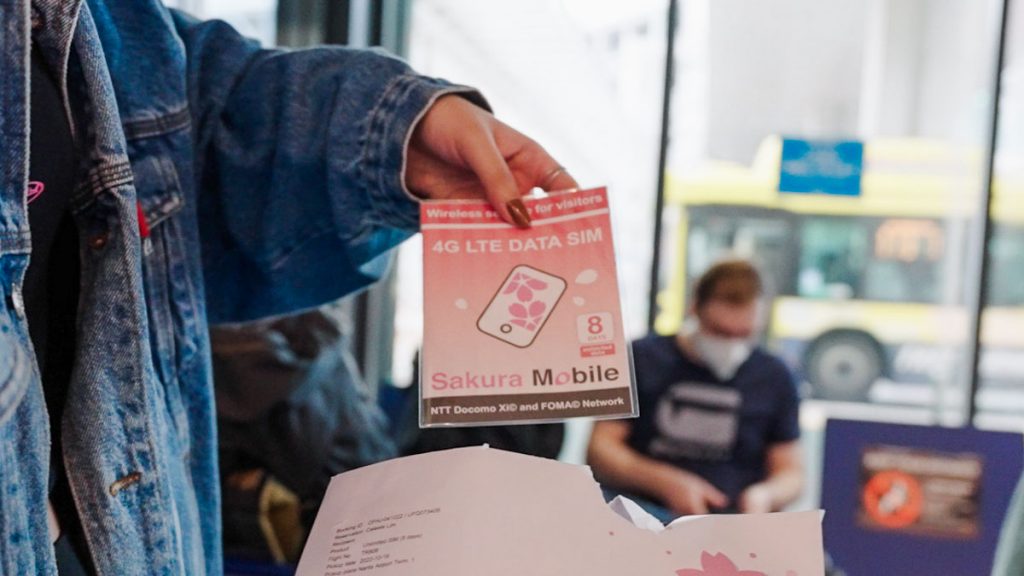 With Japan's borders recently opened to Singaporean travellers, here are some quick tips to make your life easier ✈️:
1) Register on Japan Web in advance to skip the long airport queue like skipping anime openings.
2) Digital Vaccination Certificate via Notarise — minimum of 3 vaccination doses to skip PCR test
3) Bring sufficient masks — most attractions and buildings require you to wear one
4) Get Travel Insurance with Covid-19 coverage — optional but recommended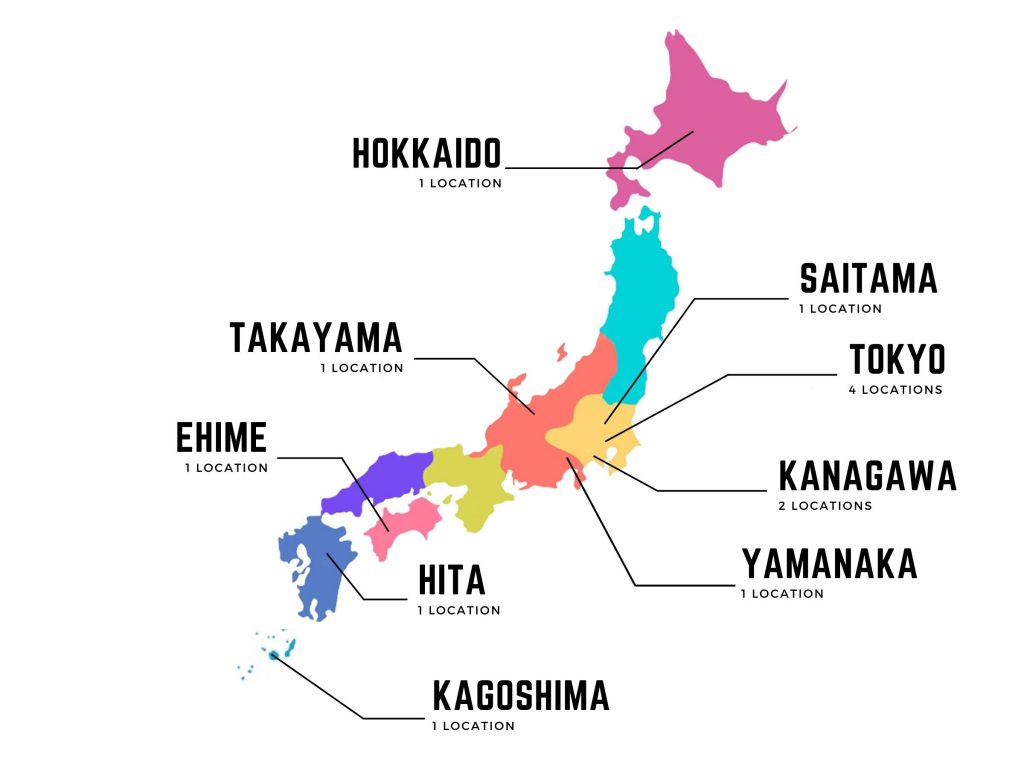 1) Suga Shrine Staircase (Tokyo) — Your Name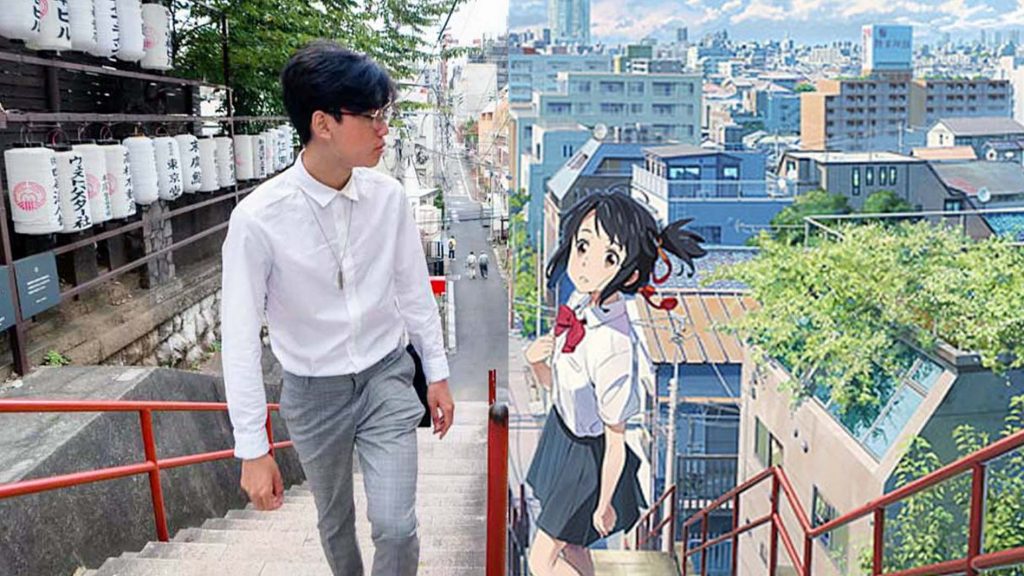 "Haven't we… Have I met you somewhere before?" — Nope, I exist in the real world unlike you.
The famous blockbuster movie, Your Name, by Makoto Shinkai, ends with an emotional and touching ending scene where the main characters Taki and Mitsuha meet after the meteor incident on this legendary staircase leading to Suga Shrine in Yotsuya.
Alight at Yotsuya Station, make your way through the serene neighbourhood and you will be greeted with this nostalgic sight. While no Taki/ Mitsuhas were found 😔, it's common to find visitors taking photos at this iconic spot to recreate the very scene.
How to get there: Alight at Yotsuya Sanchome station
Address: Japan, 160-0018 Tokyo, Shinjuku City, Sugacho, 5
2) Lake Motosu (Yamanaka) — Yuru Camp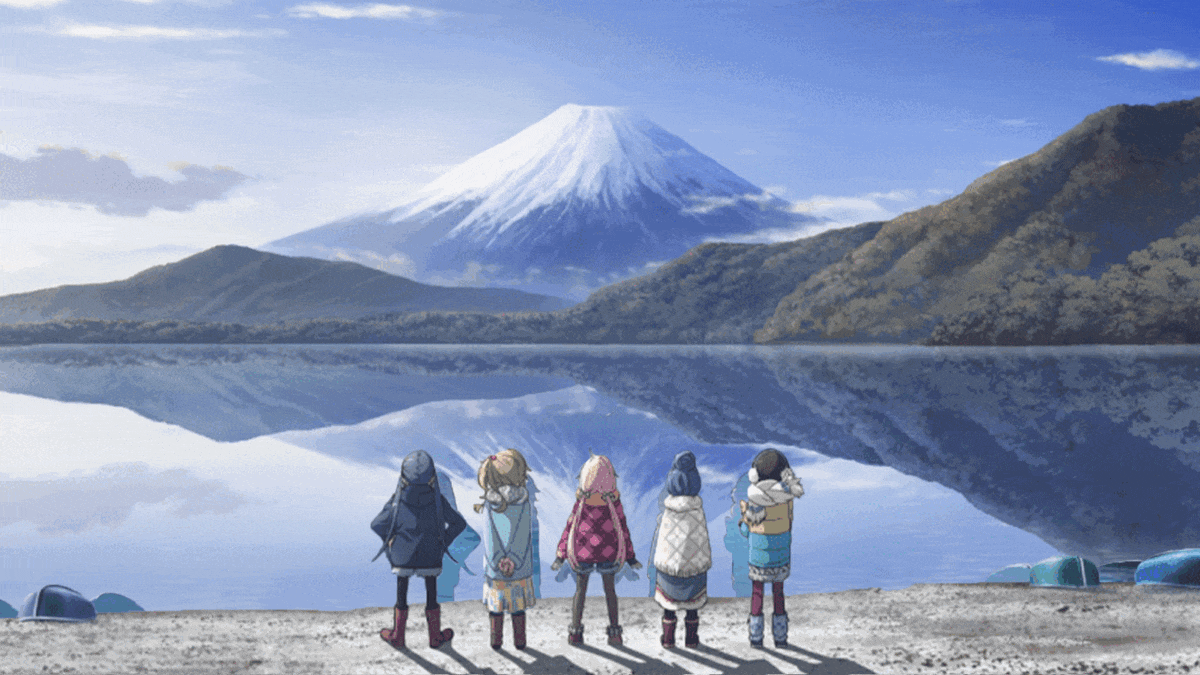 Photo credits (real-life image): animetourism88.com
If there is one image that symbolises the heartwarming anime Yuru Camp, it is this very picture of Lake Motosu! To summarise, Yuru Camp is about the protagonist, Rin, and her friends travelling across various campsites in Japan.
When visiting Mt Fuji, it is paramount to visit the Five Fuji Lakes as they offer some of the best views and picture spots for Mt Fuji. Did you know that Lake Motosu is on the back of the ¥1,000 note 🗻?

*Pro tip: Check the 24-hour live streams of Mt Fuji to see if it's worth the trip as it's often hiding behind clouds!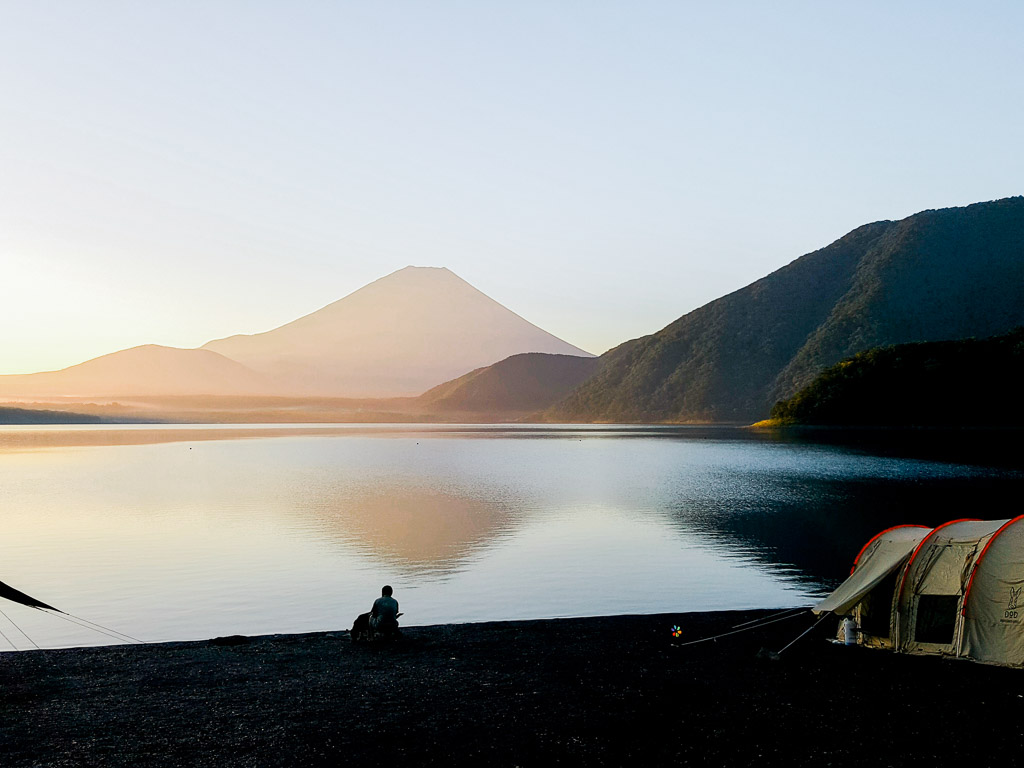 Photo credits: sightseeandsushi.com
If you'd like to camp here like Rin and her pals, you could head to Koan Camping Ground to spend a night there and enjoy the serene and peaceful atmosphere while gazing at the stars amidst a ¥1,000 view.
Address: 2926 Nakanokura, Minobu, Minamikoma District, Yamanashi 409-3104, Japan
*Pro-tip: The Mt Fuji region isn't the most accessible by public transport, so rent a car from Tokyo to get around easily!
3) Shirakawago (Takayama) — Higurashi When They Cry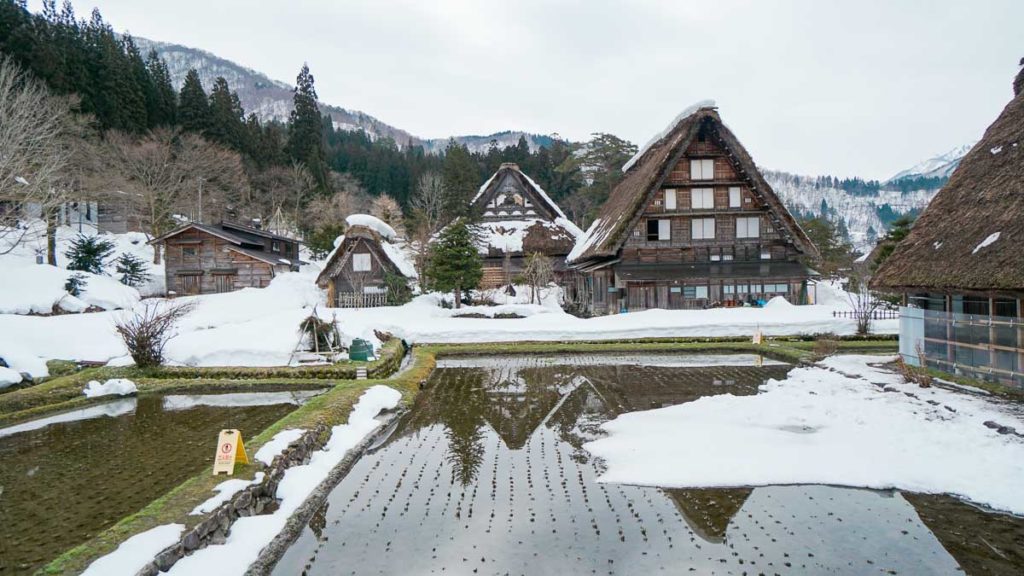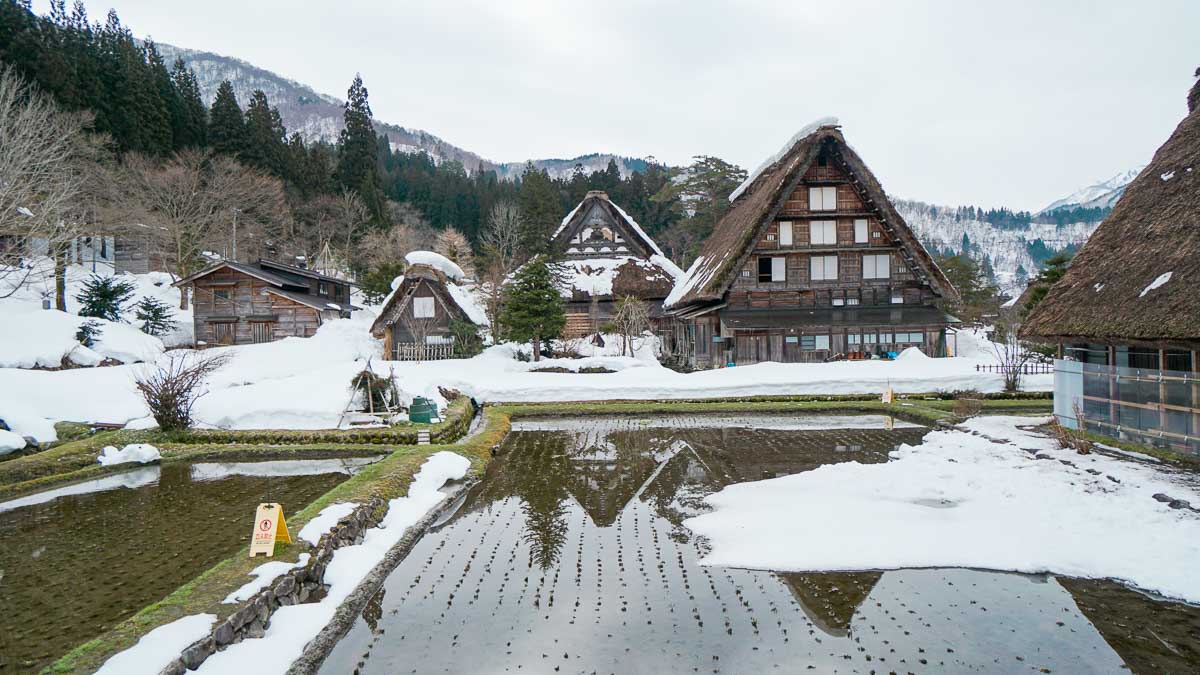 This UNESCO World Heritage Site is actually the inspiration for Hinamizawa, the village where the horror/murder mystery franchise, Higurashi When They Cry, is set. Far from being cursed (hopefully), this beautiful village features locations such as the Hachiman Shrine and Wada House.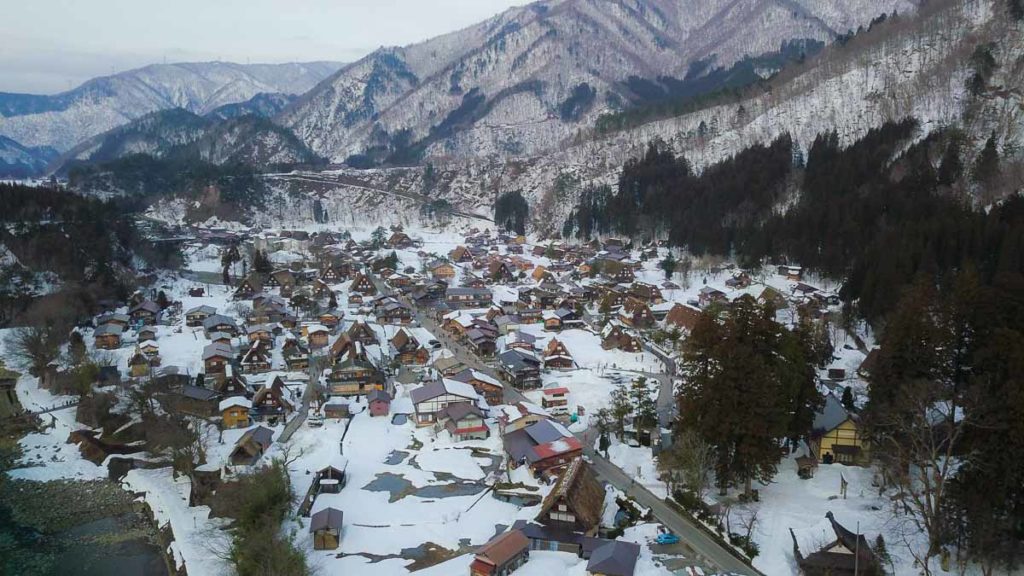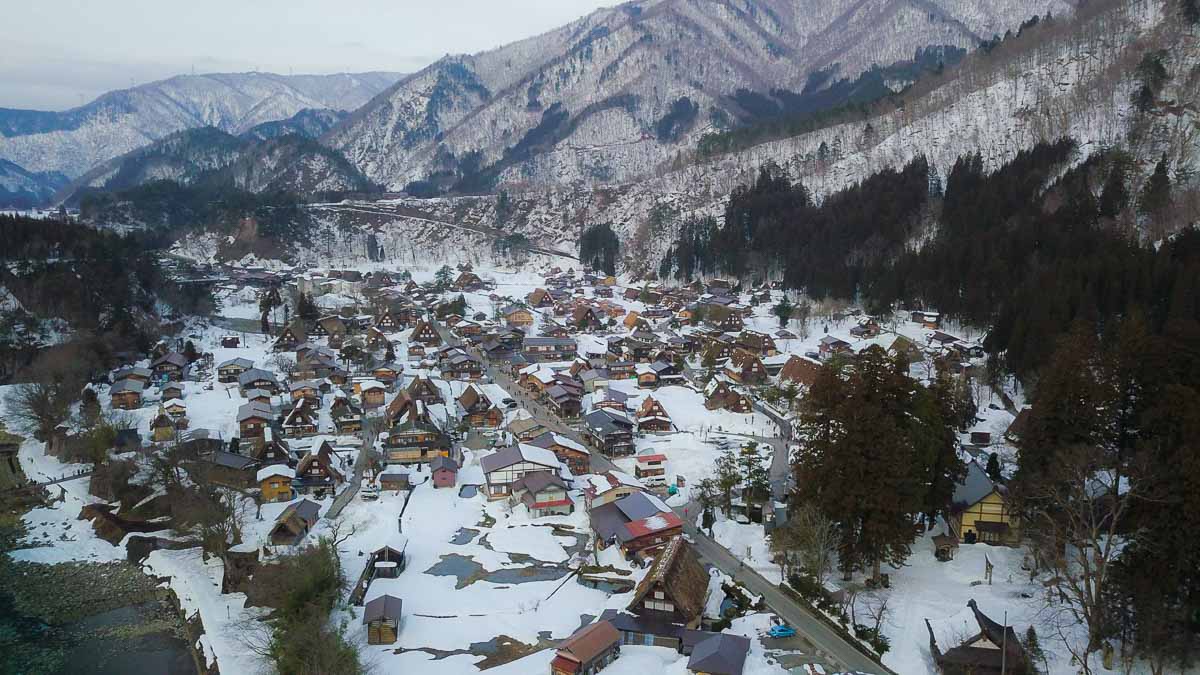 The idyllic traditional village is beautiful across all seasons with its unique building style known as gasshō-zukuri against the backdrop of mountains and foliage. Personally, I like the snowy white backdrop most so I will definitely be visiting again in winter ☃️!
How to get there: From Takayama Station, take the Nohi express bus and alight at Shirakawa-go Bus Terminal
Address: Ogimachi, Shirakawa, Ono District, Gifu 501-5627, Japan
*Pro-tip: The 3 or 5-Day Shoryudo Highway Bus Pass gives you unlimited rides on highway buses between Takayama and Shirakawa-go, as well as other areas like Matsumoto, Nagoya, Kanazawa, and more.
4) Dogo Onsen (Ehime) — Spirited Away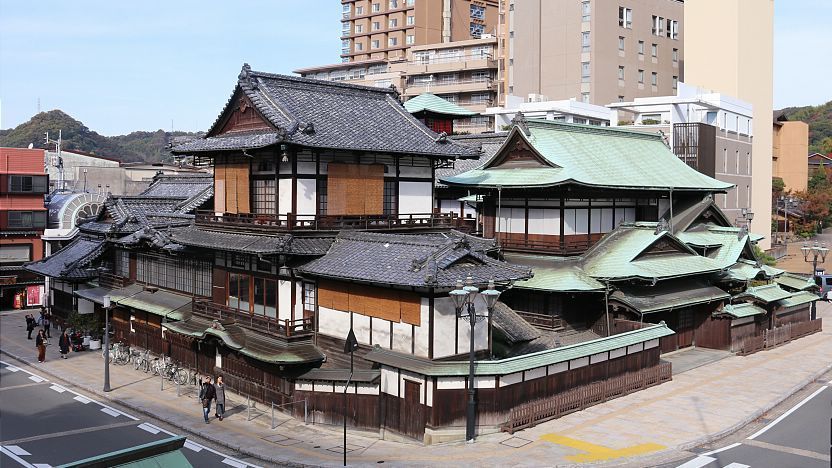 Photo credits: japan-guide.com
Tucked in Ehime Prefecture, Dogo Onsen Honkan is one of the must-visit anime locations in northwest Shikoku. It's the inspiration for Aburaya, the bathhouse owned by Yubaba, the witch in Spirited Away. Aside from its popularity because of the film, it's also hailed as the oldest hot spring in Japan ♨️.
Photo credits: thejapantimes
Wash all your fatigue away as you marvel at the traditional yet aesthetic interior of this bath house. The best part is that it's super affordable at ~$6 for a bath!
Entrance fee: From ~S$6/pax
Opening hours: 6AM – 11PM
How to get there: Alight at Dogo Onsen Station
Address: 5-6 Dogoyunomachi, Matsuyama, Ehime 790-0842, Japan
5) Lake Shikaribetsu (Hokkaido) — Spirited Away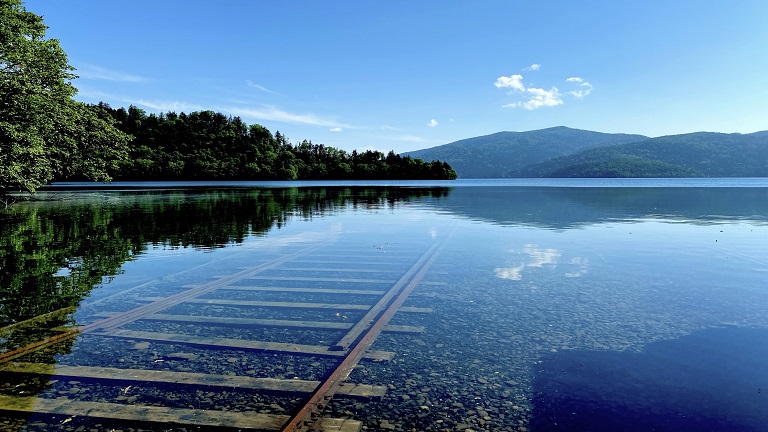 Photo credits: kawatabi-hokkaido.com
I'm sure every Spirited Away fan would remember the mysterious train station situated in the middle of a lake that extends across the horizon. Lake Shikaribetsu is famous for its train tracks spanning into the crystal-clear lake, looking as if it is straight out of a fairytale.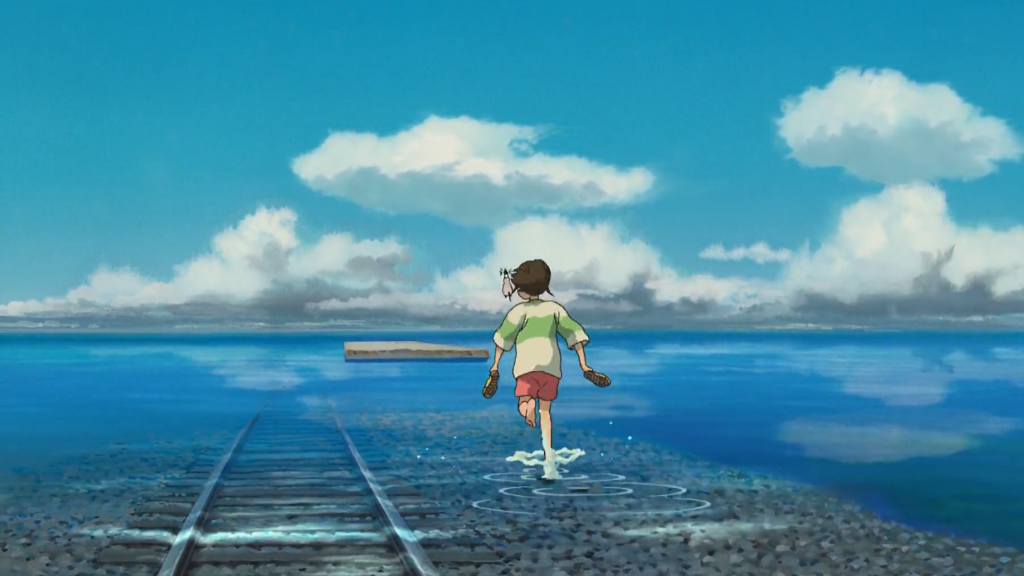 However, I don't think I would be running in the icy cold Hokkaido waters barefooted just to be Chihiro 🥶.
How to get there: Rent a car from Chitose Airport as it is not very accessible by public transport
Address: Kitaurimaku, Shikaoi, Kato District, Hokkaido 081-0344, Japan
Read also: 8-Day Hokkaido itinerary covering Lake Shikaribetsu
6) Yakushima (Kagoshima) — Princess Mononoke
Photo credits: thejapantimes
The island of Yakushima is home to a fairy-tale forest so magical that it inspired Hayao Miyazaki, the genius behind Studio Ghibli, to include it in his animated masterpiece, Princess Mononoke. It is famously known for yaku sugi – some of the most ancient living trees on the planet.
The island also has an indigenous sub-species of deer called yakushika which is no wonder why the forest spirit in Princess Mononoke, also known as shishigami (deer god) or night-walker, is modelled after it 🦌!
How to get there: Take a 2-hour ferry ride from Kagoshima
Address: Yakushima, Kumage District, Kagoshima, Japan
7) Kamakurakoko-Mae Station (Kanagawa)— Slam Dunk
Photo credits: zekkeijapan.com
How I wish my trip to work could have a view like this 😌. This railway crossing at Kamakurakokomae Station with its vast ocean views and clear blue skies was used as the model for a scene in the upbeat opening theme for Slam Dunk, a classic sports anime that needs little introduction.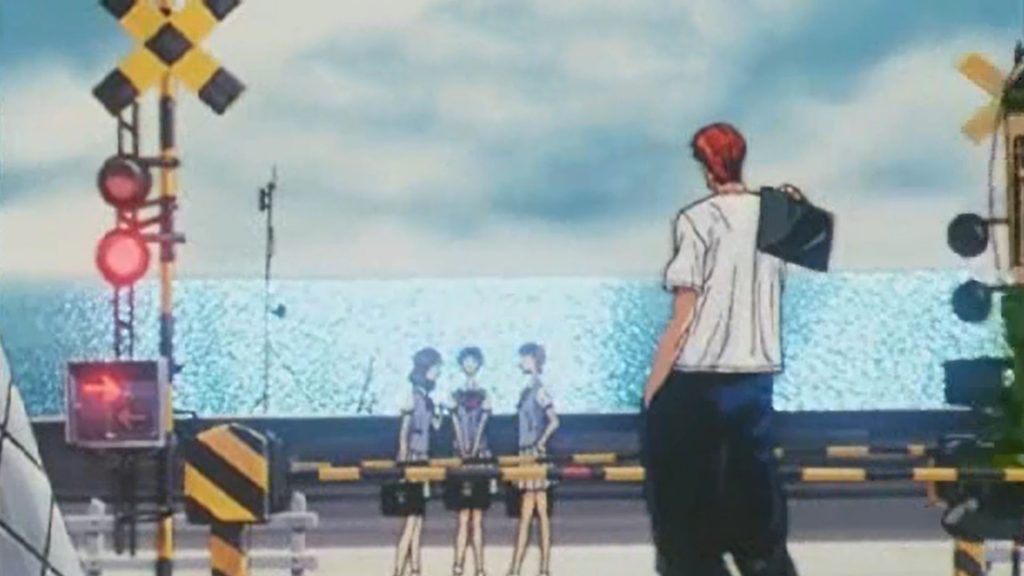 Being one of the first animes I watched with my family, it is one of the most nostalgic scenes for me!
How to get there: Alight at Kamakurakoko-Mae Station in Kanagawa
Address: 1-chōme-1 Koshigoe, Kamakura, Kanagawa 248-0033, Japan
8) Oyama Dam (Hita City) — Attack on Titan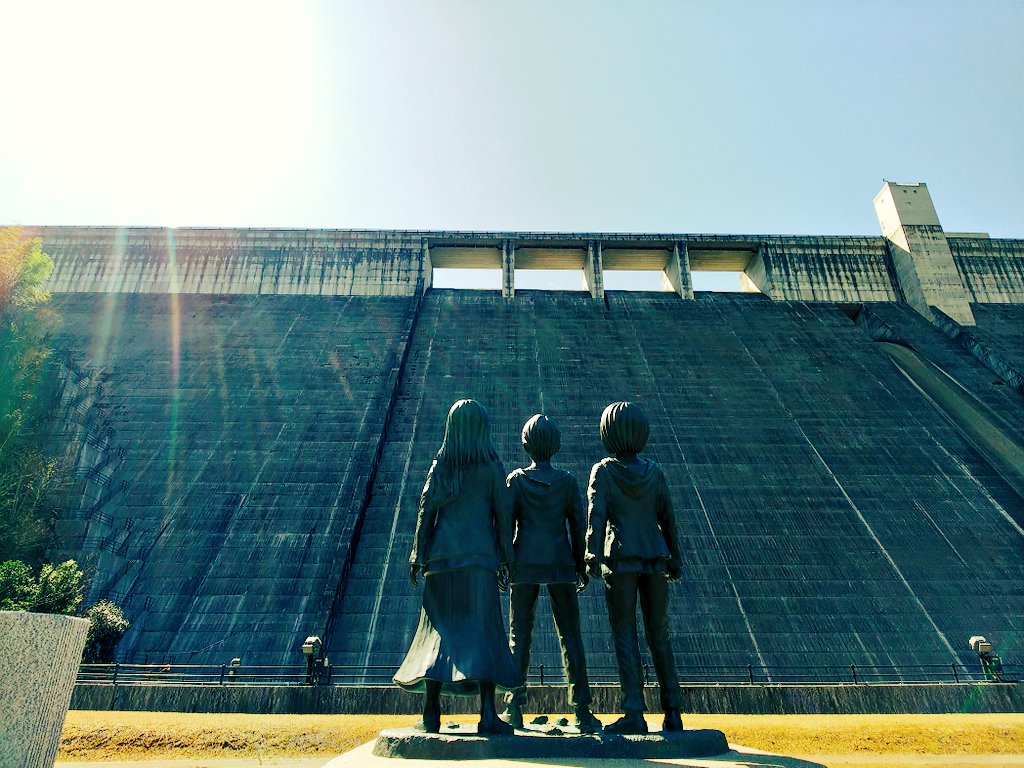 Photo credits: tabimaniajapan.com
The first installation of the project "Attack on Titan in HITA" was constructing life-sized statues of the main characters Eren, Mikasa, and Armin in front of the 93-metres-tall Oyama Dam which served as the inspiration for Wall Maria. With the surrounding view cut off by this massive structure, it makes you feel like a little bird in a cage — maybe that's what made Eren obsessed with the idea of freedom🦅.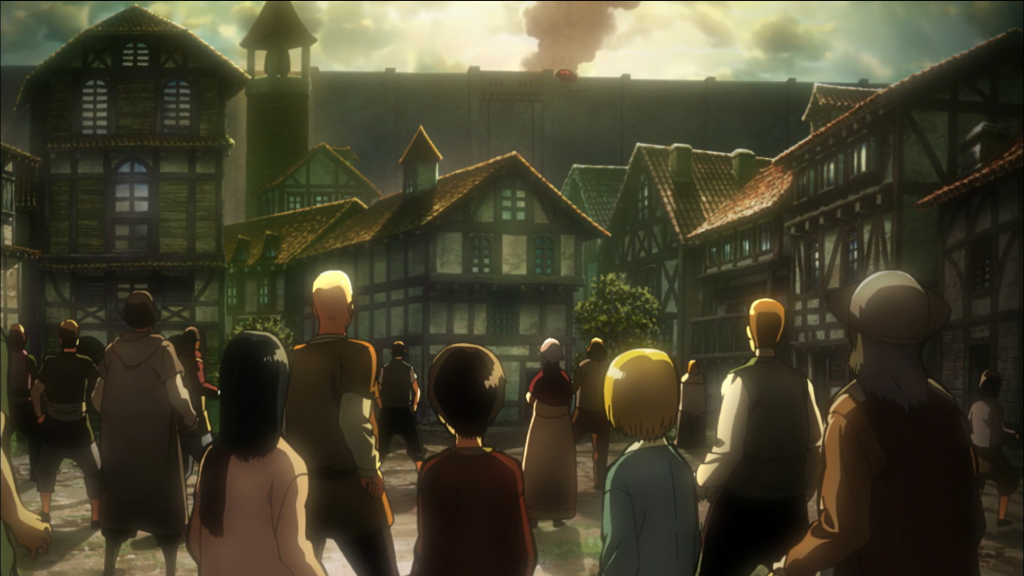 This was also the famous scene of despair, where the Colossal Titan made its sudden appearance before breaking a hole in Wall Maria.
How to get there: Rent a car from Fukuoka Airport (from ~S$75/day)
Address: Oyamamachi Nishioyama, Hita, Oita 877-0201, Japan
9) Akihabara (Tokyo) — Steins;Gate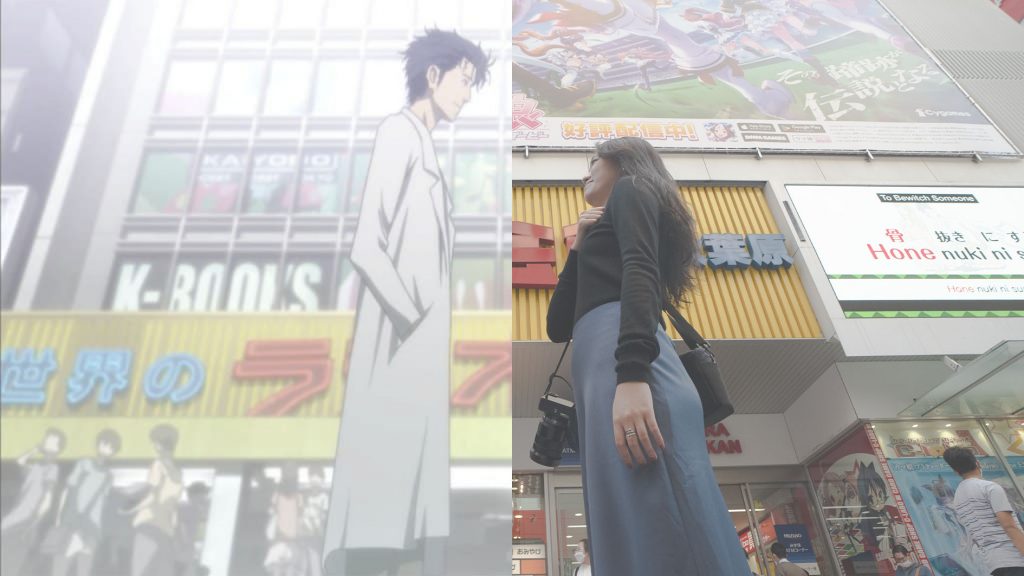 Akihabara is a must-visit for any Japanese pop-culture fan simply because of the sheer number of anime and manga shops. Bonus points if you are a Steins;Gate fan, as Akihabara is also the premise of this highly-rated series.
Akihabara Radio Kaikan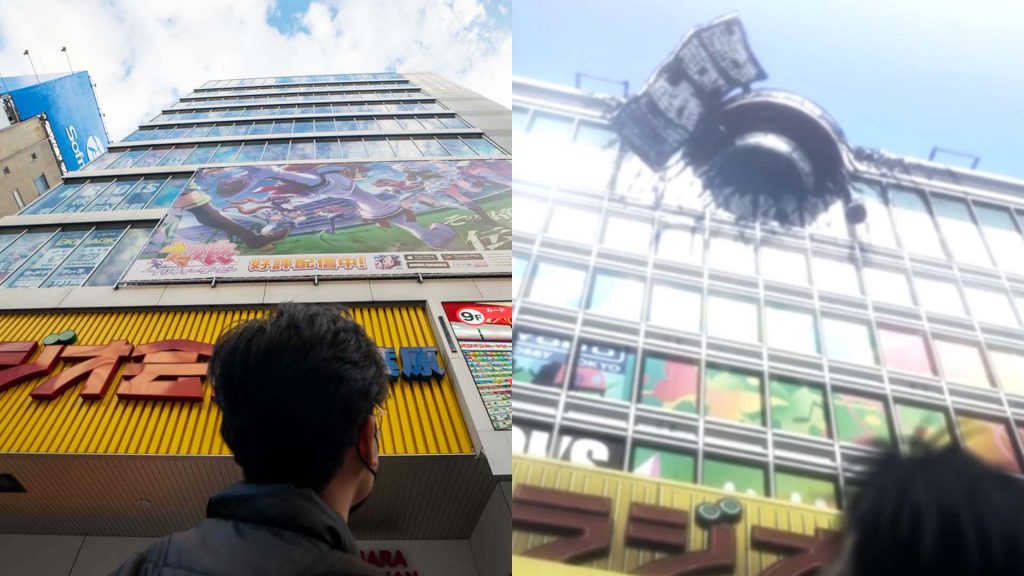 Akihabara Radio Kaikan is easily the most recognisable landmark in all the Steins;Gate. Both the beginning and end of the franchise happen in this very building, with key events such as the "murder" of Kurisu and the time machine crashing into the building.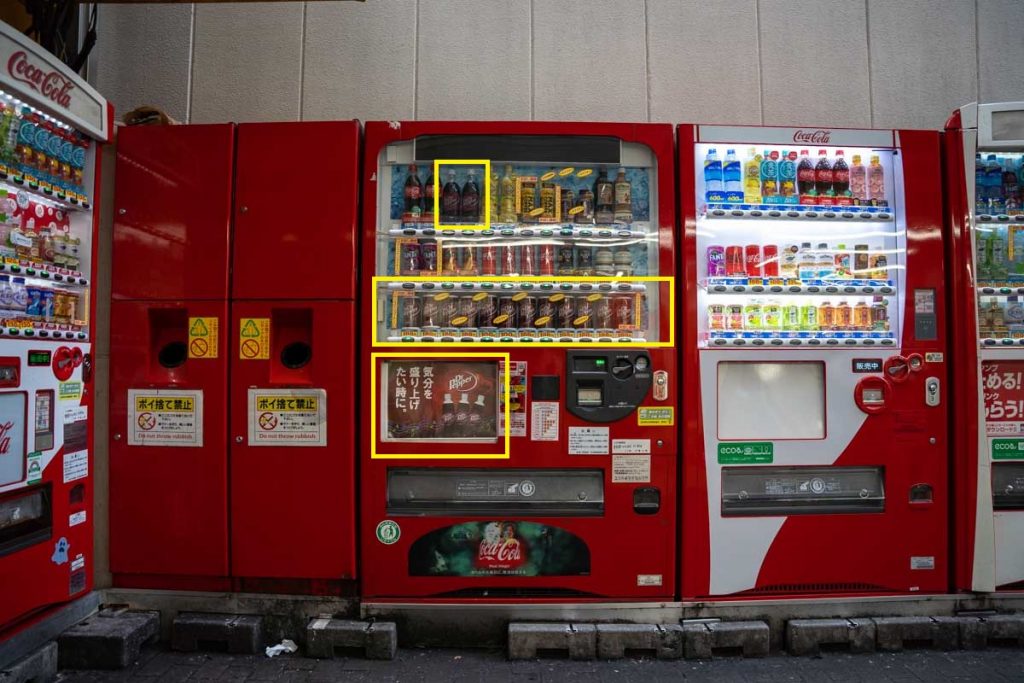 You could also try the "intellectual's drink" Dr Pepper, from one of the vending machines outside. Honestly, it just tastes like Coke to me 😅.
Opening hours: 10AM – 8PM
Address: 1 Chome−15−16, Sotokanda, Chiyoda-ku, Tokyo 101-0021
Akihabara Station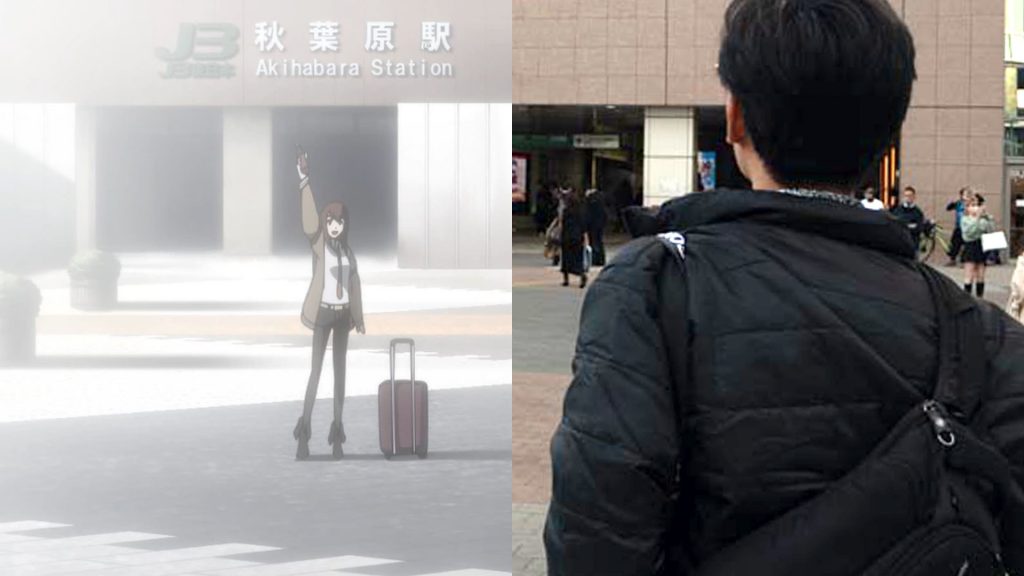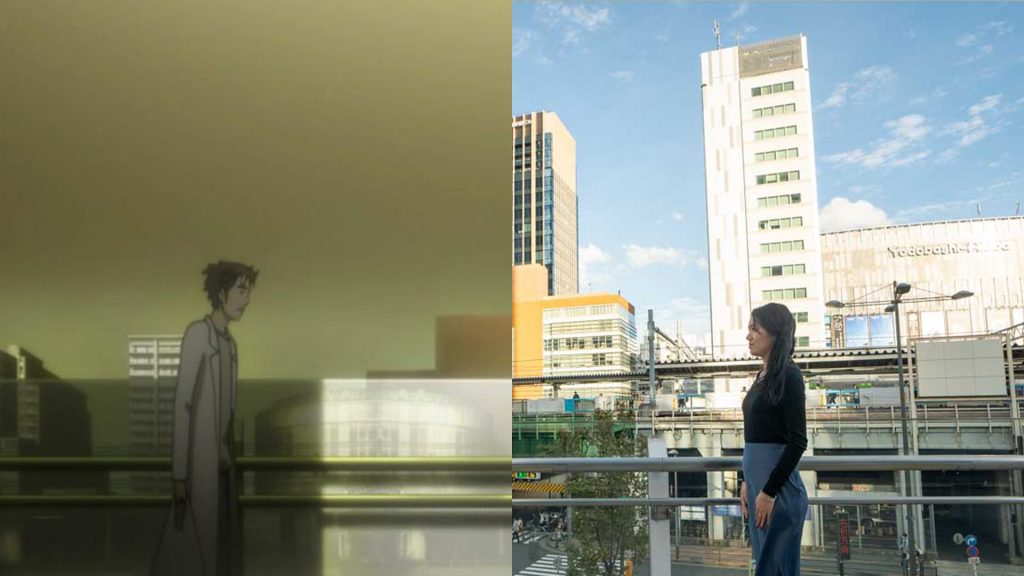 There were many notable interactions and heart-wrenching scenes between main characters Okabe and Kurisu (Christina) in this area − her throwing a bottle of Dr Pepper before disappearing from view, and the both of them standing face to face.
Address: 1 Chome Sotokanda, Chiyoda City, Tokyo, Japan
10) Asakusa (Tokyo) — Demon Slayer
The premise of the 2018 hit, Demon Slayer, begins in the mountains of Taisho-era Japan. Still, we are soon transported to Tokyo's Asakusa district where Tanjiro was sent on a mission to verify the rumours of a demon lurking around. After briefly sitting down for a bowl of udon, he caught a whiff of a strong demonic scent which led him to meet Muzan (insert Michael Jackson's "heehee"), the main antagonist of the series in this crowded and lively street.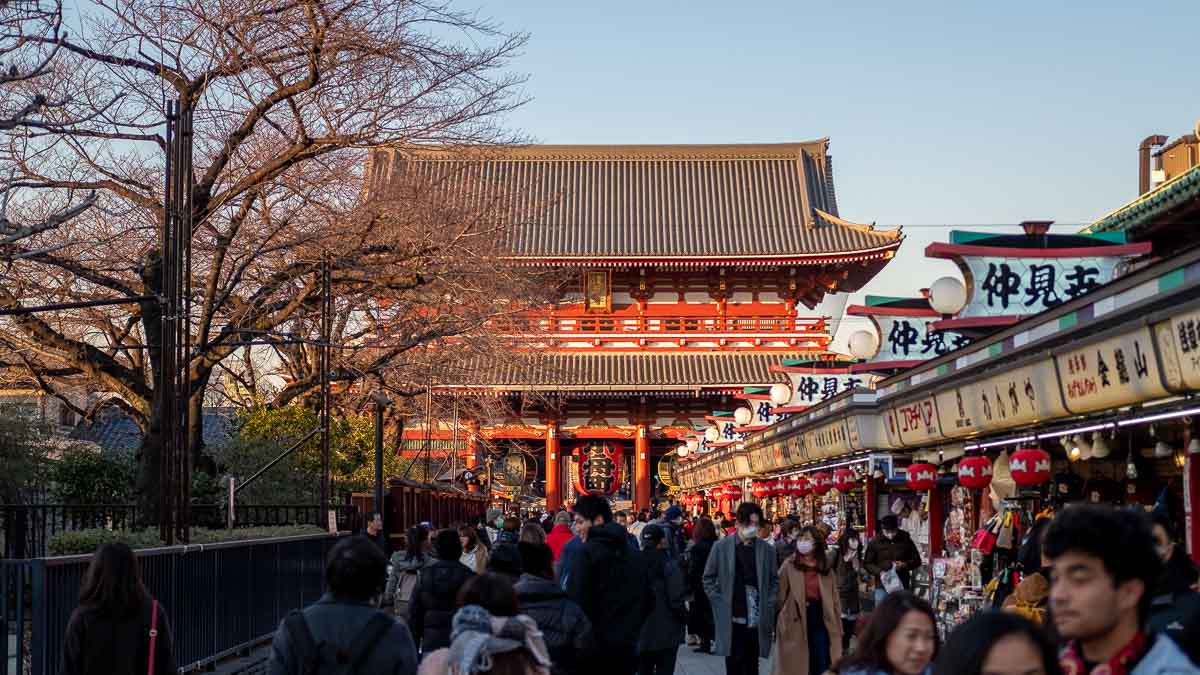 Although the town looks quite different compared to the past, tourists and locals donning their kimonos definitely add to the Taisho-era vibe amidst the ever-lively Nakamise Street and Sensoji Temple.
How to get there: Alight at Asakusa Station
Address: 2 Chome-3-1 Asakusa, Taito City, Tokyo 111-0032, Japan
11) Chichibu Bridge (Saitama) — Anohana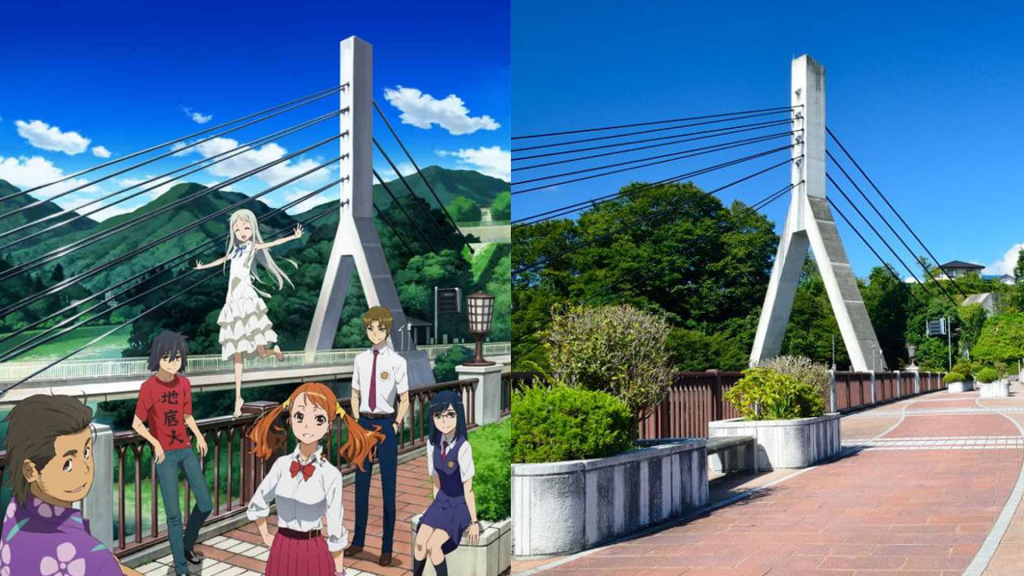 Photo credits (right): locobee.com
The beloved cult favourite anime Anohana: The Flower We Saw That Day is set in Chichibu City, Saitama, a quiet area on the northwestern edge of Tokyo. Across 11 episodes, we become intimately familiar with the city, its landmarks and its characters 😢.
The most prominent of these landmarks is the Old Chichibu Bridge, a pedestrian bridge crossing the Arakawa River that appears in posters, trailers, and the anime's opening credits.
How to get there: Alight at Onohara Station
Address: 8-15 Kumaki, Chichibu, Saitama 368-8686
12) Yokohama (Kanagawa) — Bungo Stray Dogs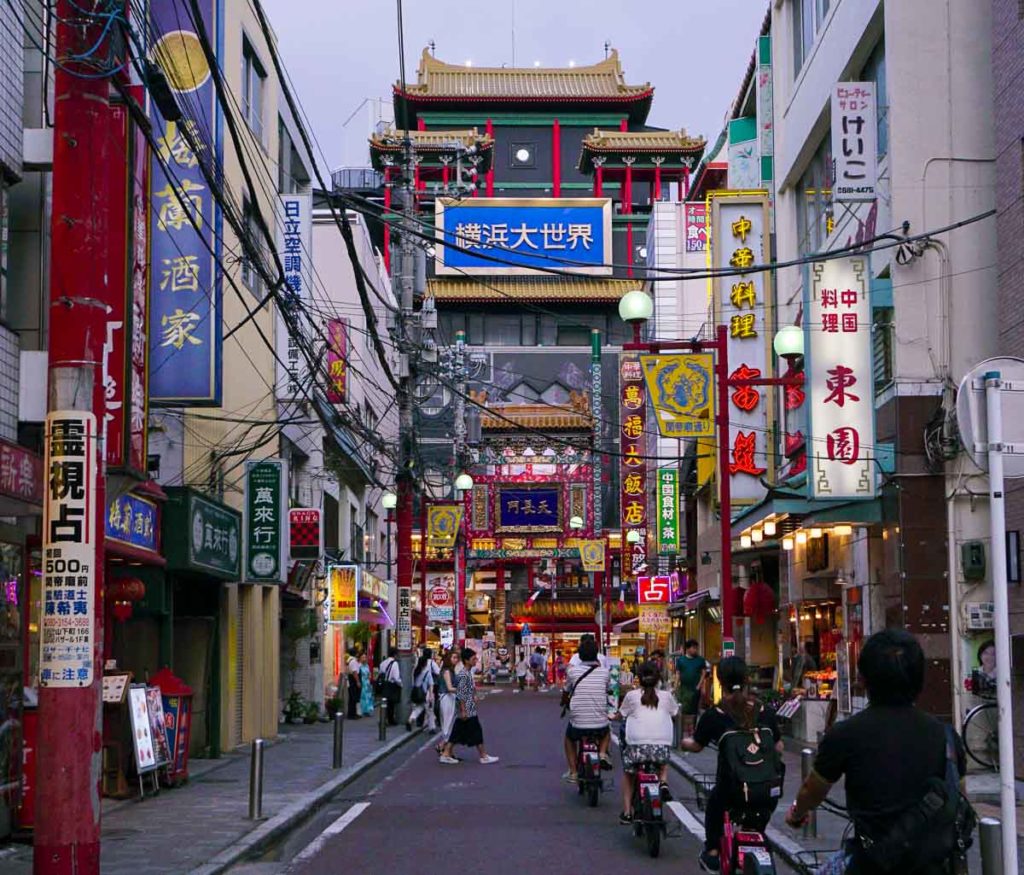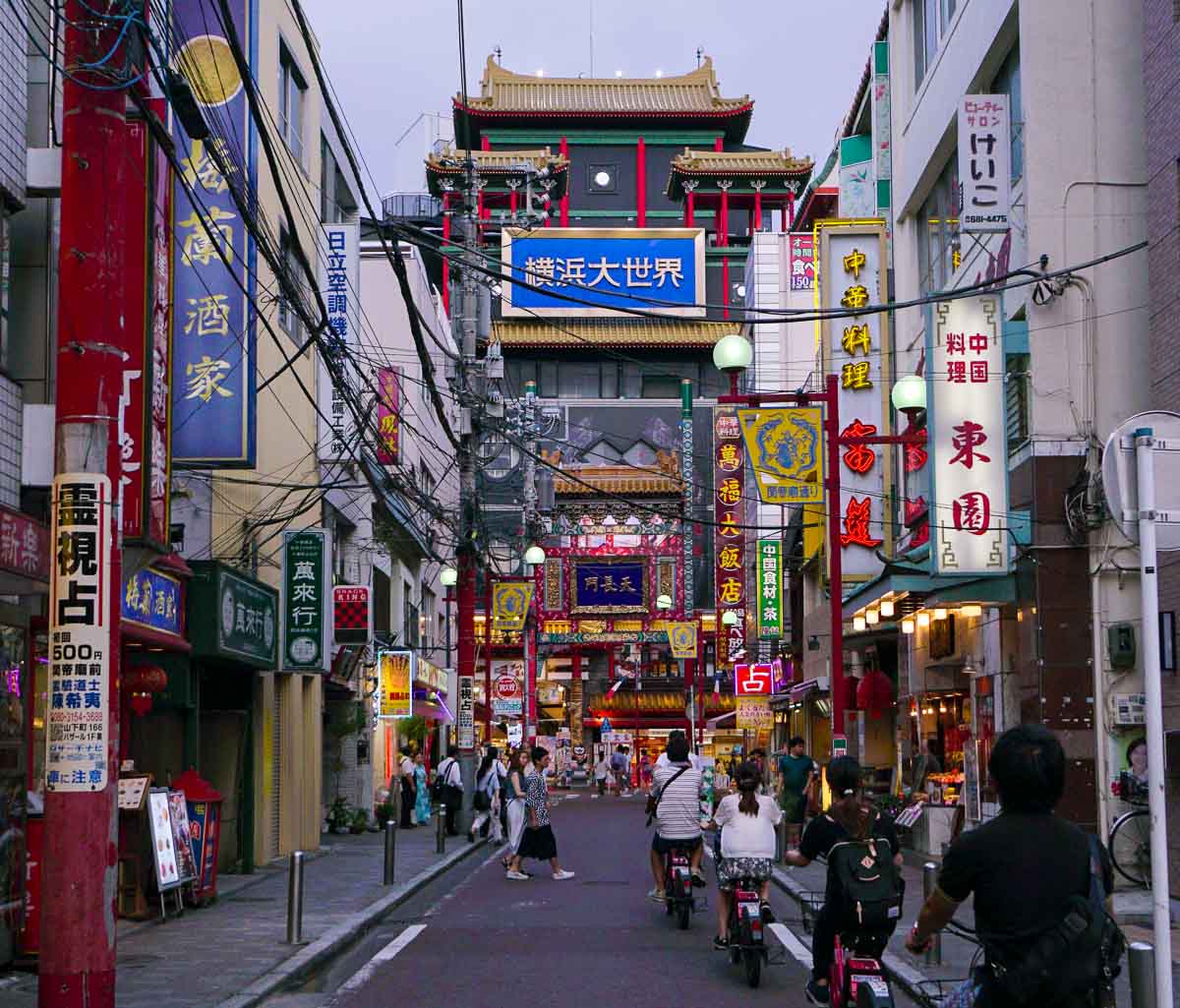 Almost the entirety of Bungo Stray Dogs is set in Yokohama, a port city with a mixture of modern and historic buildings.
Yokohama Chinatown
Featured in episode nine is Yokohama's Chinatown, where Atsushi takes Kyouka out on a date! It's also the largest Chinatown in Asia with over 200 Chinese-themed restaurants and shops selling delicious snacks and meals! 🤤
How to get there: Alight at Motomachi-Chukagai Station
Address: Yamashitacho, Naka Ward, Yokohama, Kanagawa 231-0023
Yokohama Red Brick Warehouse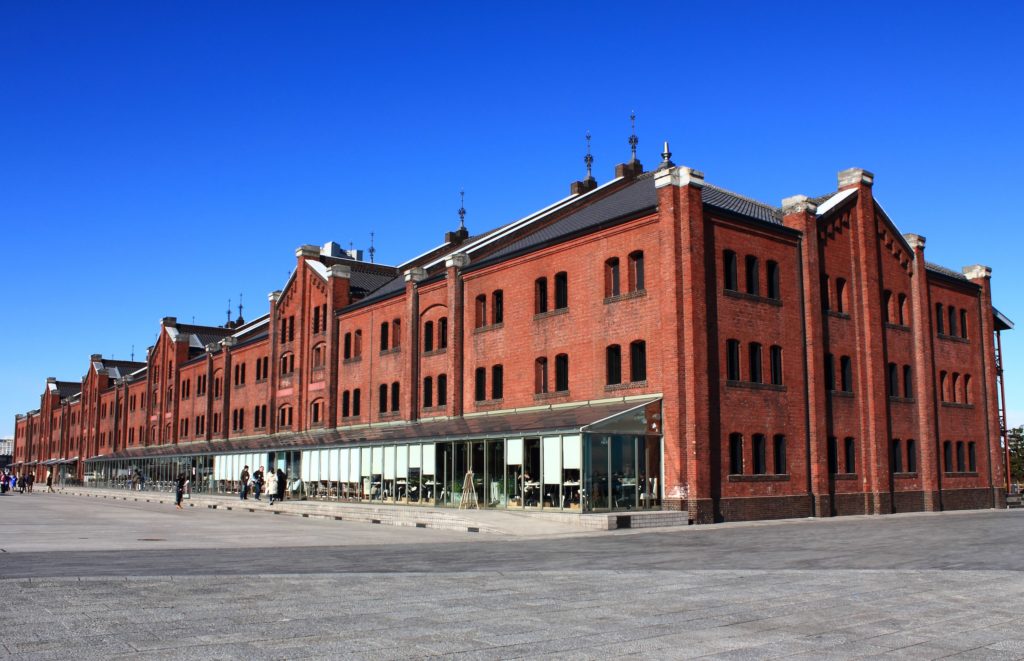 Photo credits: japantravel.com
Another location featured in Atsushi and Kyoukai's date is the Yokohama Red Brick Warehouse. This shopping centre is famous for its brick construction, small independent shops, and cafes which are great for taking a breather!
The warehouse is constantly hosting events across the seasons, such as a Christmas market in winter and a beach event in summer. Check out their website for the event schedule before heading there!
*Note: It is temporarily closed for renovation till Dec 2022
Address: 1 Chome-1 Shinko, Naka Ward, Yokohama, Kanagawa 231-0001
13) Fuji Q Highland (Yamanaka) — Naruto/Boruto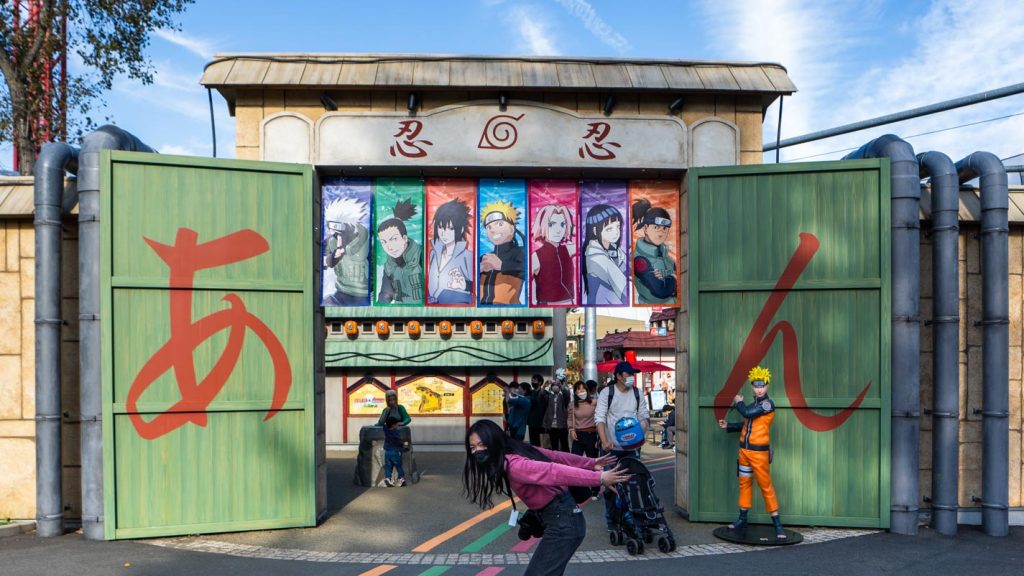 I was today-years-old when I realised Fuji Q Highland hosts a Naruto-themed theme park 🎢! Designed as a miniature replica of Konoha Village, you could pose with life-sized figurines of your favourite Naruto characters like playing chess with Shikamaru, and visit the Ichiraku Ramen shop for a bowl of Naruto's iconic favourite ramen.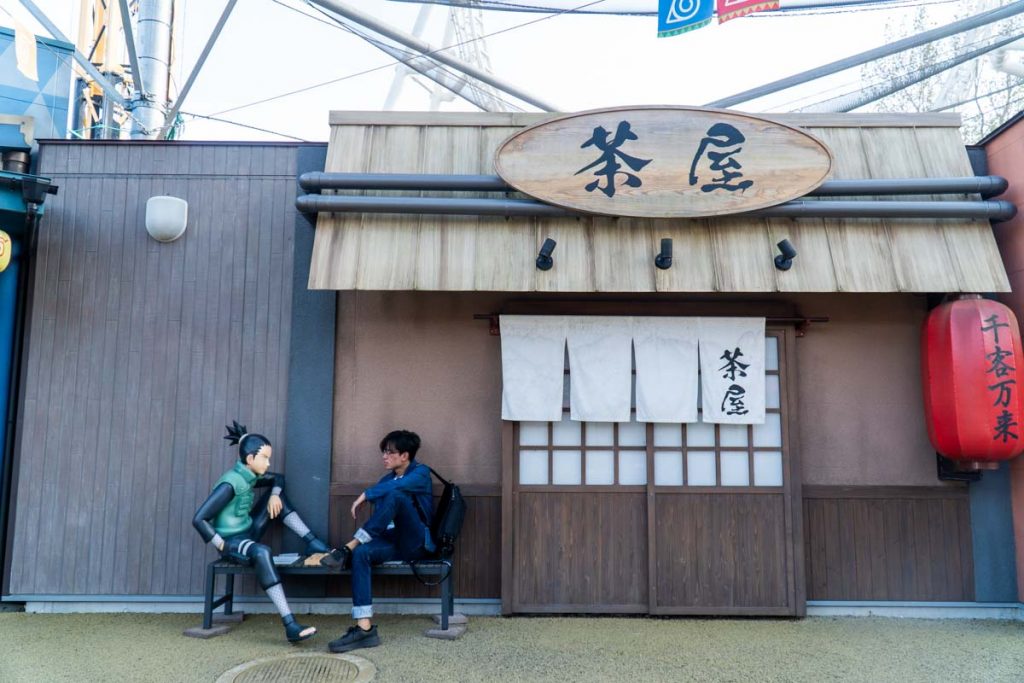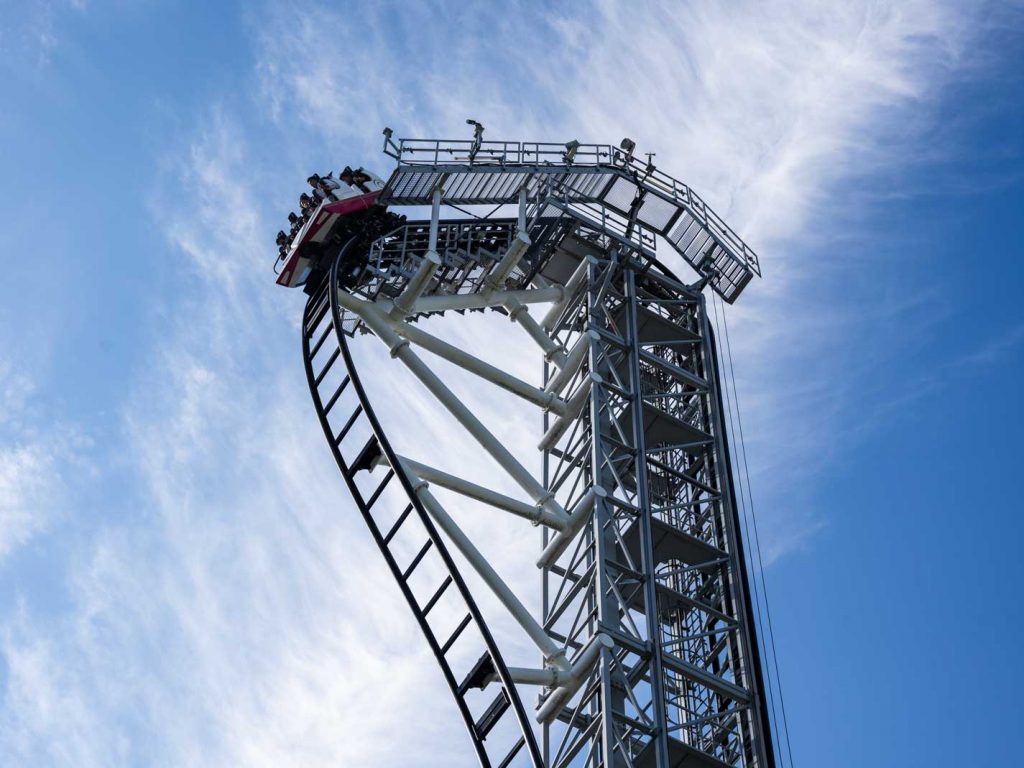 After exploring Naruto's crib, check out the world-record-holding coasters nearby too 😱.
Entrance fee: ~S$43/pax or ~S$79 incl. 2-way transfer from Tokyo
Opening hours: 9AM – 6PM
Address: 5 Chome-6-1 Shinnishihara, Fujiyoshida, Yamanashi 403-0017, Japan
Read also: Fuji Q Highland Guide — The Best Roller Coasters Most Tourists Miss in Japan
Other anime spots worth checking out
Photo credits: tokyotokyo.jp
Here is a "Taisho Era Secret" if you've read until here! The Anime Tourism Association pushes out yearly 88-spots that include real-life anime locations, museums and even cosplay summits! Some of these locations have memorial stamps too which you could keep as a souvenir.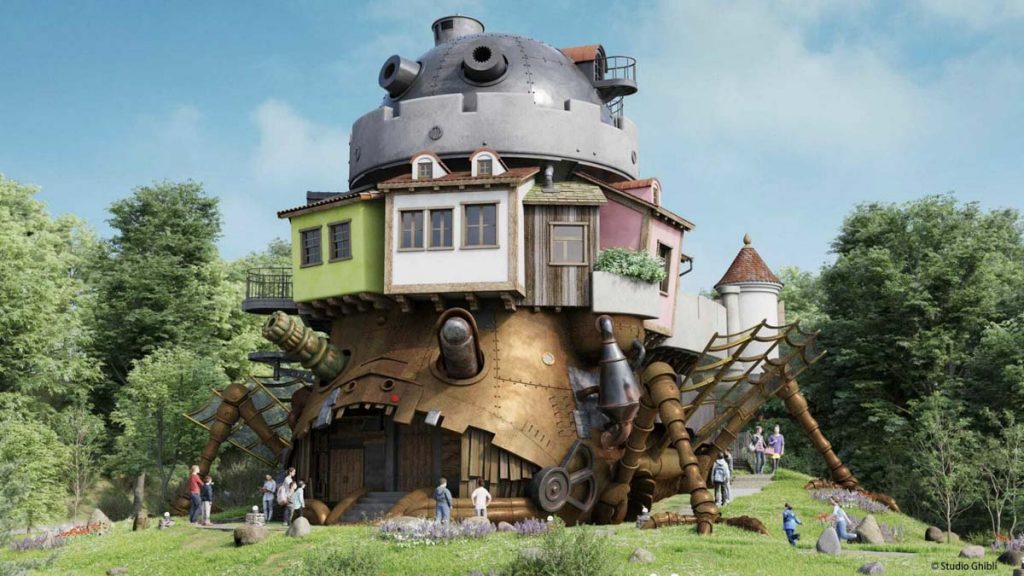 Photo credit: Studio Ghibli
For hardcore Studio Ghibli fans, you can also visit the world's first Studio Ghibli Theme Park — featuring attractions based on popular films such as a 16m-tall, life-sized version of Howl's Moving Castle 😍. Recently opened on 1 Nov 2022, Ghibli Park is located within the Expo 2005 Aichi Commemorative Park in Nagakute city near Nagoya.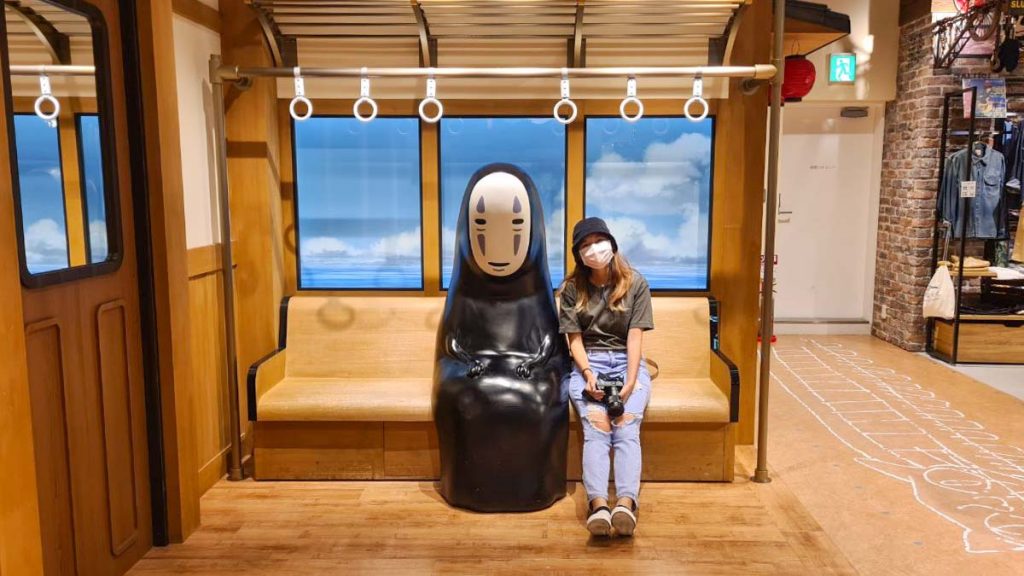 If you're travelling around Osaka, check out Donguri Kyowakoku store on the sixth floor of Shinsaibashi PARCO shopping mall (near Dotonbori!) and take pictures with Totoro or No-Face for free!
Getting around Japan
Travelling to these places hit close to my heart as they inspired some of my favourite animes and rekindled some of my childhood memories.
Even if you do not have a Toyota Trueno or swagger like Takumi, public transport gets you to most places within the city. But if you are exploring the rural or mountainous areas like Mt Fuji, renting a car gives you more access around the area.
Travelling by train across Japan can be quite the experience too with the JR Pass. Check out our JR Pass guide for tips on navigating and maximising it.
Looking for specific itineraries for any of these cities in Japan? Here are some that you might find useful:
Tokyo/ Mt Fuji: 7D6N Japan Itinerary Under S$1.5k — Road Trip from Tokyo to Mt. Fuji and Beyond
Kansai region (Osaka, Kyoto): 7D Japan Itinerary Under S$1.3k — Osaka and Other Epic Cities in the Kansai Region
Hokkaido: 8-Day Hokkaido Itinerary — Spring Road Trip Under S$1k
Share with us which of these anime locations you'd like to visit most in the comments below!
---
This post was brought to you by Klook.