After dark adventures in Singapore with an iPhone and a friend willing to pose for your shot
I'm no professional photographer but since Singapore was crowned the most instagrammable place in the world in 2022, I didn't think it'd be hard to capture them. In fact, we took on two extra challenges: we'd try to capture Singapore at night, and only on my trusty 11 Pro Max #ShotOniPhone 😎
Click any of the links below to jump straight in.
1) Capitol Theatre
2) Tian Hock Keng Temple
3) Henderson Waves
4) Razer SEA HQ
5) Fountain of Wealth
6) Haji Lane
7) Potato Head Singapore
8) Buddha Tooth Relic Temple
9) People's Park Complex: Carpark Roof
10) Dragon Mural at Amoy Alley
11) Bridges at Clarke Quay
1) Capitol Theatre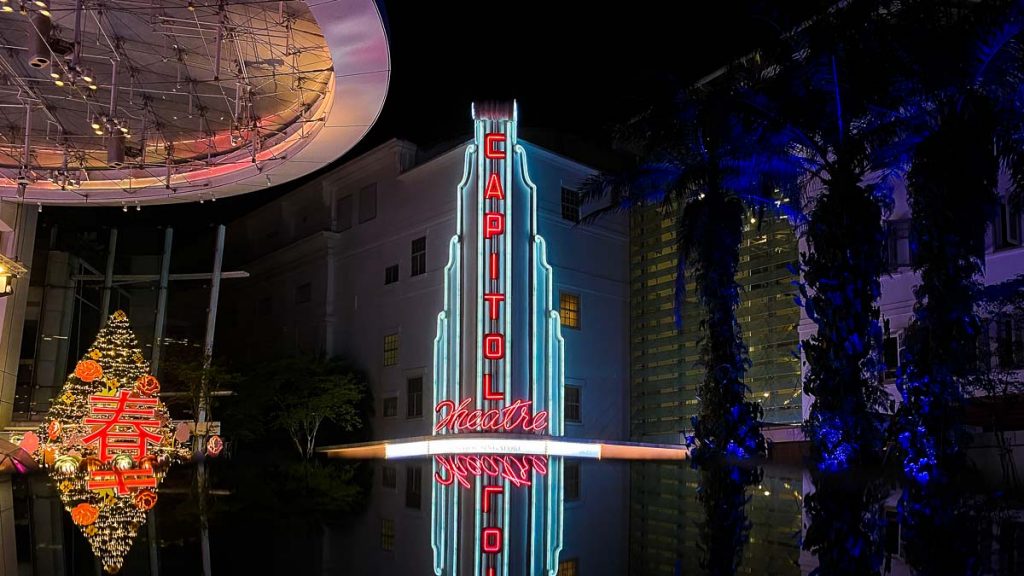 Singapore has no shortage of futuristic buildings, but for something retro, the Capitol Theatre from the 1930s was a good place to start. On its opening night, the theatre was recognised as the most modern auditorium in the region.
The theatre was the go-to date spot back in the day, screening English and Asian blockbusters. Its neoclassical architecture has since remained an iconic landmark.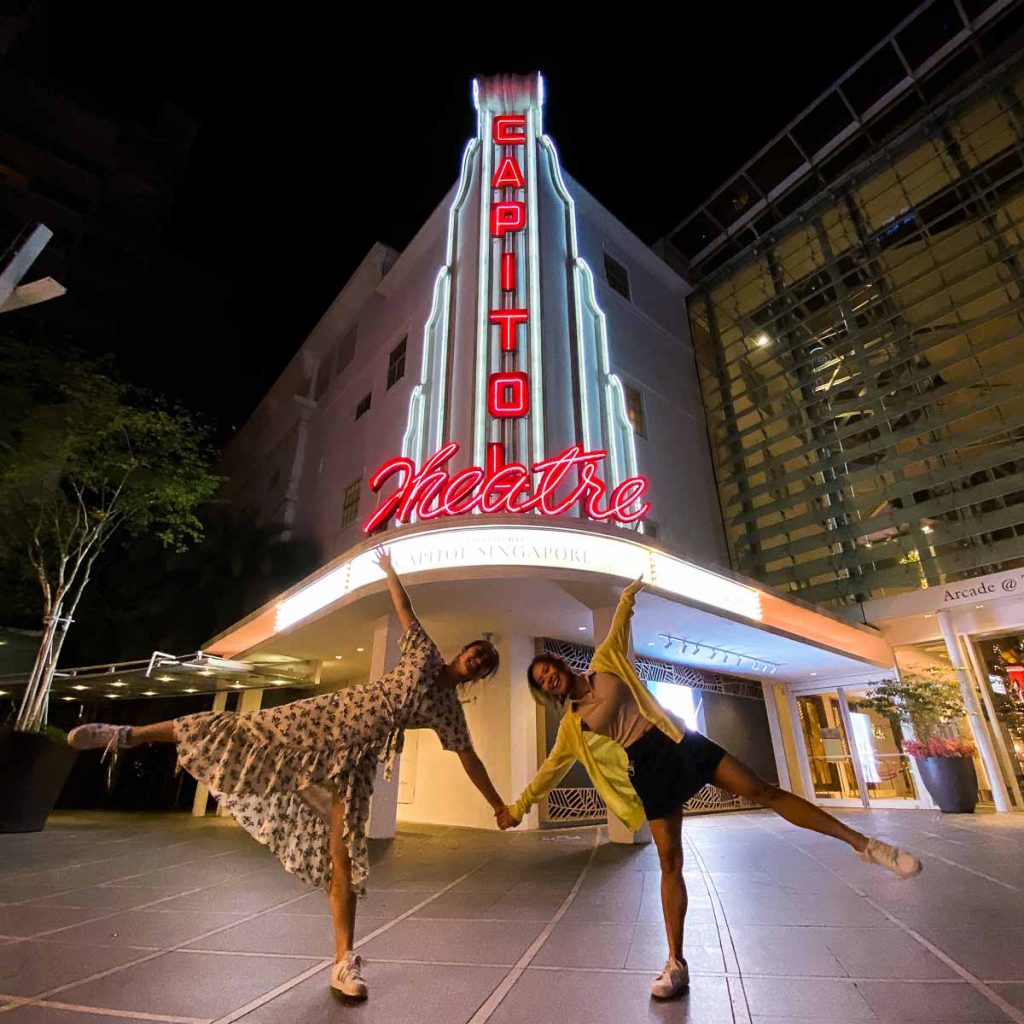 Not sure if you could tell but we tried to match our clothes to the building 💃
Nearest MRT Station: City Hall MRT (North-South/East-West Line) — 2min walk from Exit B
Photo tip: Consider shooting in iPhone night mode. Lock your focus on the building, and have someone run across to create the long exposure effect

2) Thian Hock Keng Temple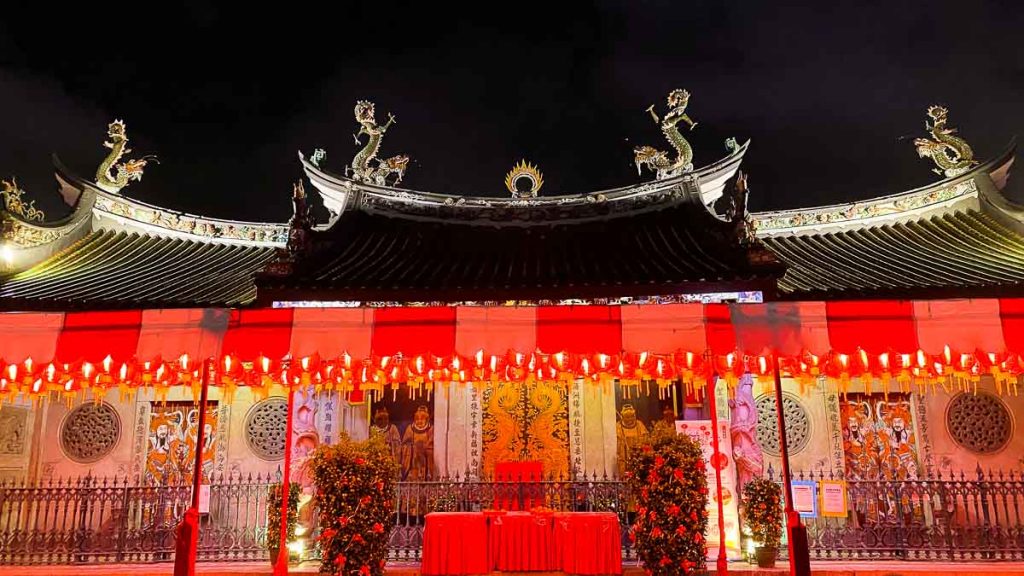 Despite being Singapore's oldest Chinese temple, it stands out amidst lively bars and cafes in the area. Built for the worship of Mazu, a Chinese sea goddess, the temple is significant to the Hokkien people in the country.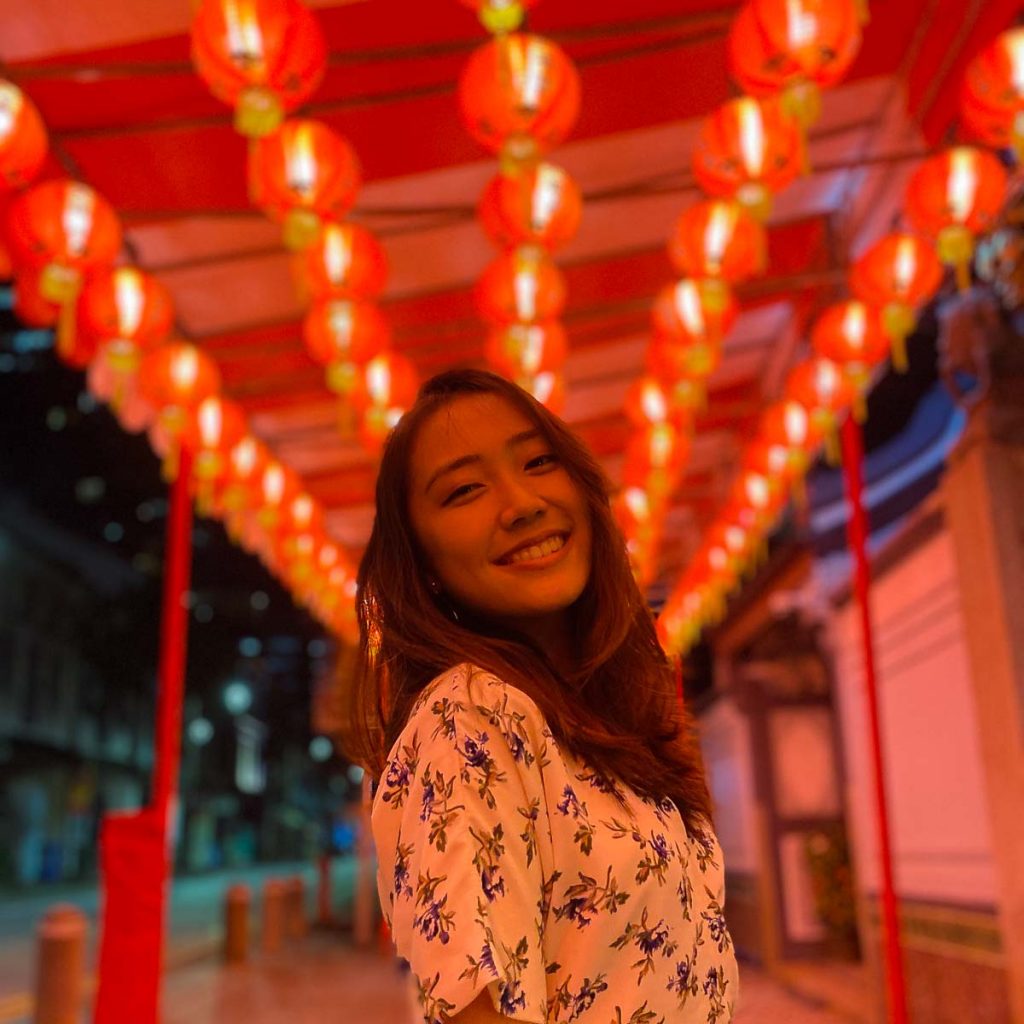 Not only is this place rich in culture, but it looks aesthetic in photos. The exterior of the temple features rows of hanging red lanterns. Snap a shot along the corridor and light up your IG feed with dazzling red hues.
Nearest MRT Station: Telok Ayer MRT (Downtown Line) — 2min walk from Exit A
3) Henderson Waves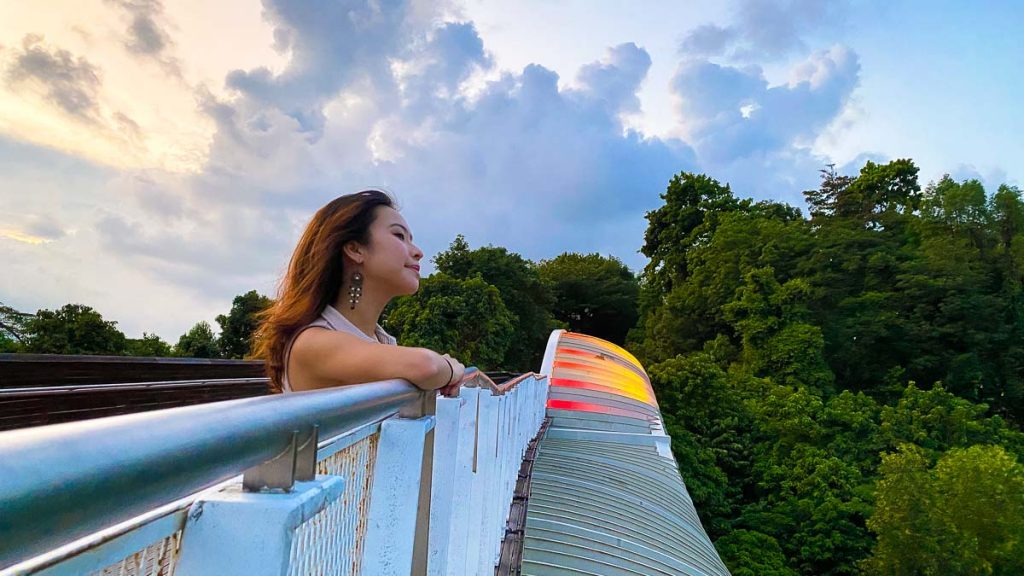 Did you know? Henderson Waves is the highest pedestrian bridge in Singapore! At 36m above ground level, it's the perfect spot to catch the sunset — and snap plenty of banger shots.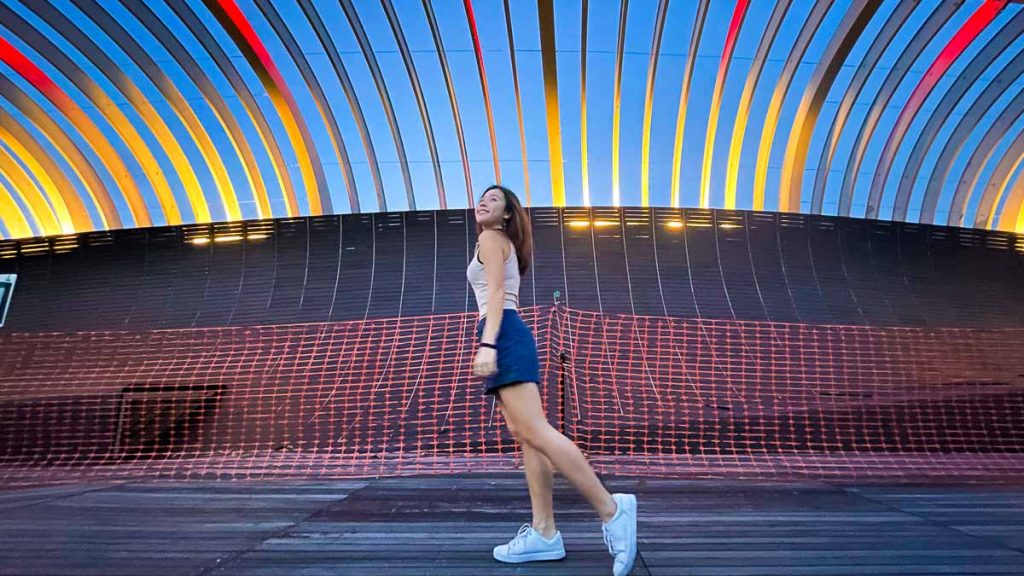 As dusk falls, the bridge comes alive and is illuminated with warm lighting. Known for its wave-like structure, this spot is great for experimenting with different types of shots! For example, using the curved lines at the back to help frame your subject in a wide shot.
*Pro-tip: Blue hour lasts 20 minutes after sunset where the light is soft but not too dark before night hits.
How to get there: From Harbourfront MRT Exit E, take bus 145 and alight at Opp Blk 1 (6 stops) — 9min to Henderson Waves
Photo tip: Turn your phone upside down so the lines from the railings are closer to the lens and gives it a different perspective
Read also: Singapore's Rail Corridor — Lesser Known Instagrammable Photo Spots to Look Out For
4) Razer SEA HQ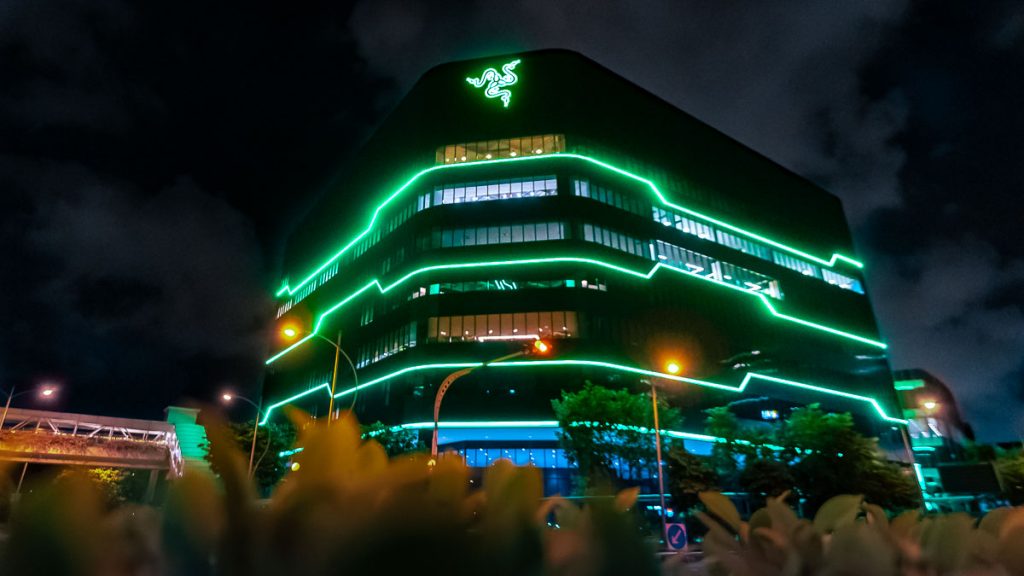 One of my favourite instagrammable spots in Singapore at night is at One North, where you can find this sleek Razer building that looks like it's right out of the movie TRON.
The neon green lines create a dystopian photo backdrop. Once it's past peak hour (6PM – 7PM), the place is quiet and empty, which helps when you're trying to get the best angles!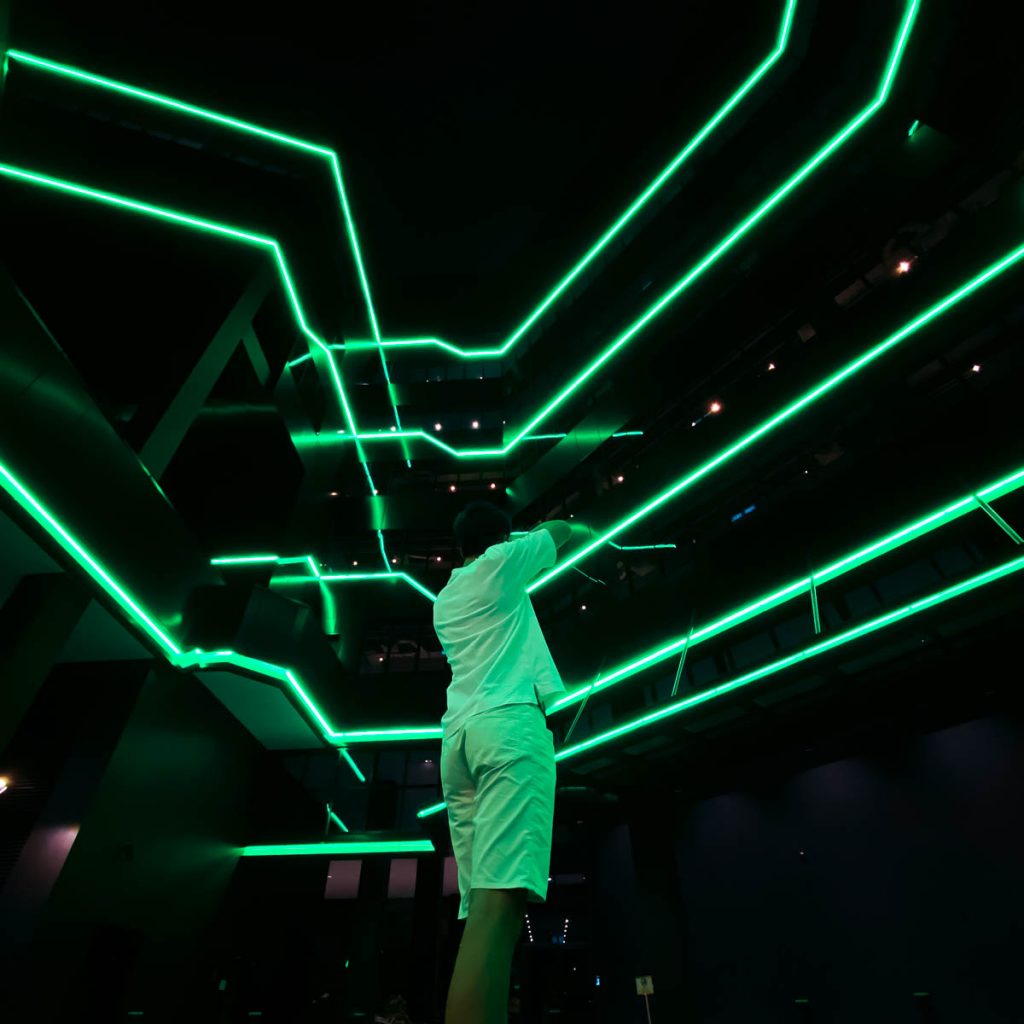 When you're there, check out the RazerCafe. The cafe features a robotic barista arm that brews coffee and perfects latte art.
Nearest MRT Station: One-North MRT (Circle Line) — 8min walk from Exit C
iPhone Photo tip: Decrease the exposure by tapping on a point in the screen, holding until a vertical slider appears and adjusting it down so the lights show up better
5) Fountain of Wealth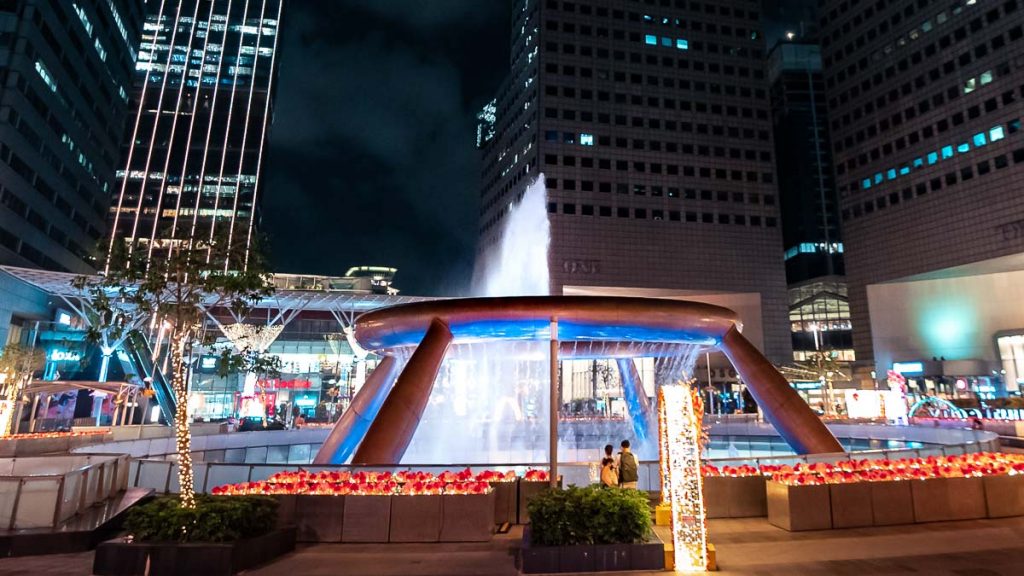 At 13.8m tall, it was listed by the Guinness Book of Records in 1998 as the world's largest fountain. Of course it's since lost its title to the Rain Vortex at Jewel Changi Airport.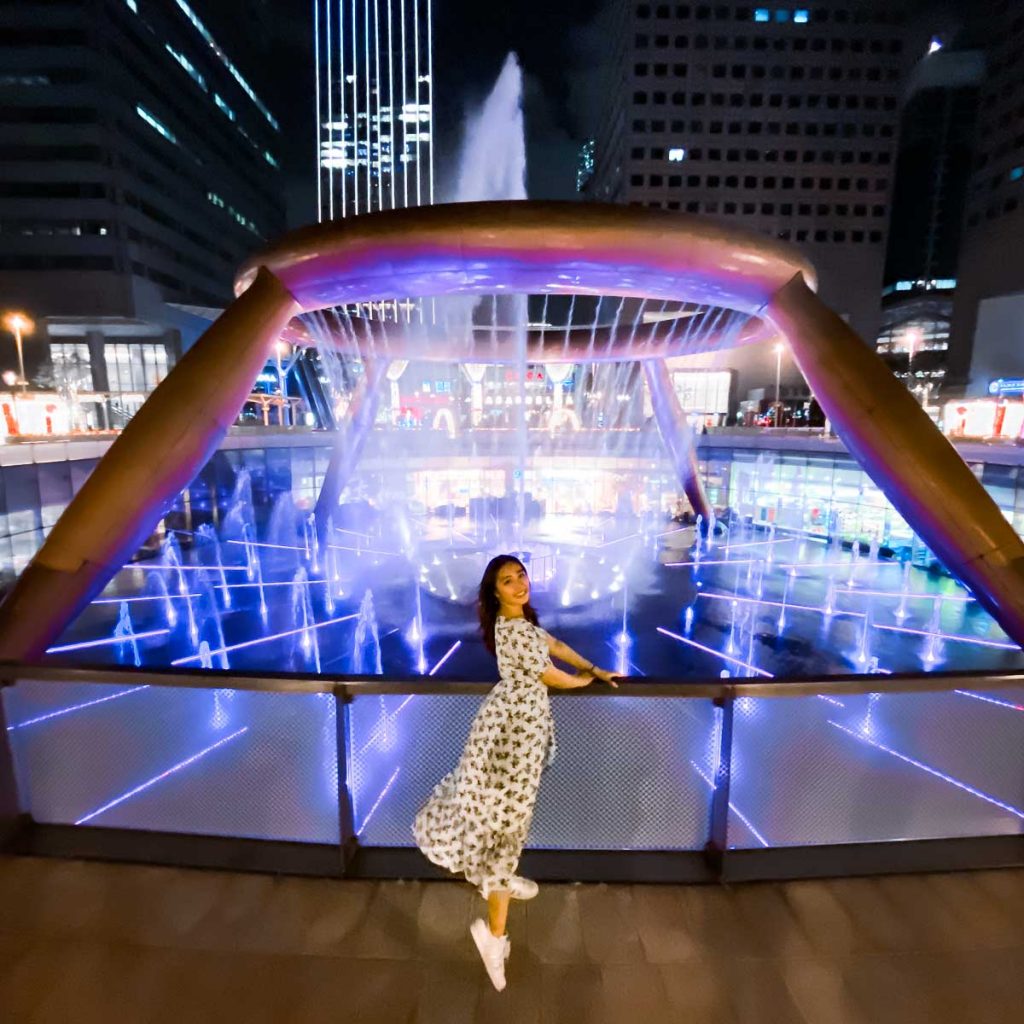 Here's a fun fact — you can encircle the inner fountain three times and make a wish! If you're looking for a grand photo backdrop, this is it.
The circular ring structure is made of silicon bronze and the water flowing inwards symbolises riches flowing in.
Nearest MRT Station: Promenade MRT (Circle or Downtown line) — 4min walk from Exit B
Photo tip: Use 'wide-angle' to capture the shot
6) Haji Lane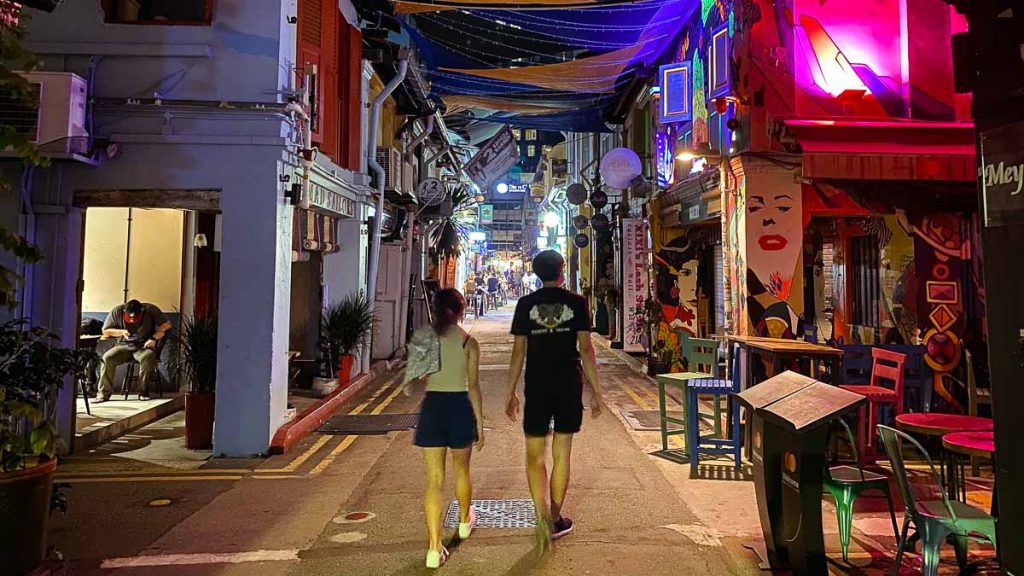 You can fight me on this, but Haji Lane was Singapore's OG indie neighbourhood. In the day, it's home to stunning street art and vintage knick-knacks. By night, the place comes to life with glowing neon lights.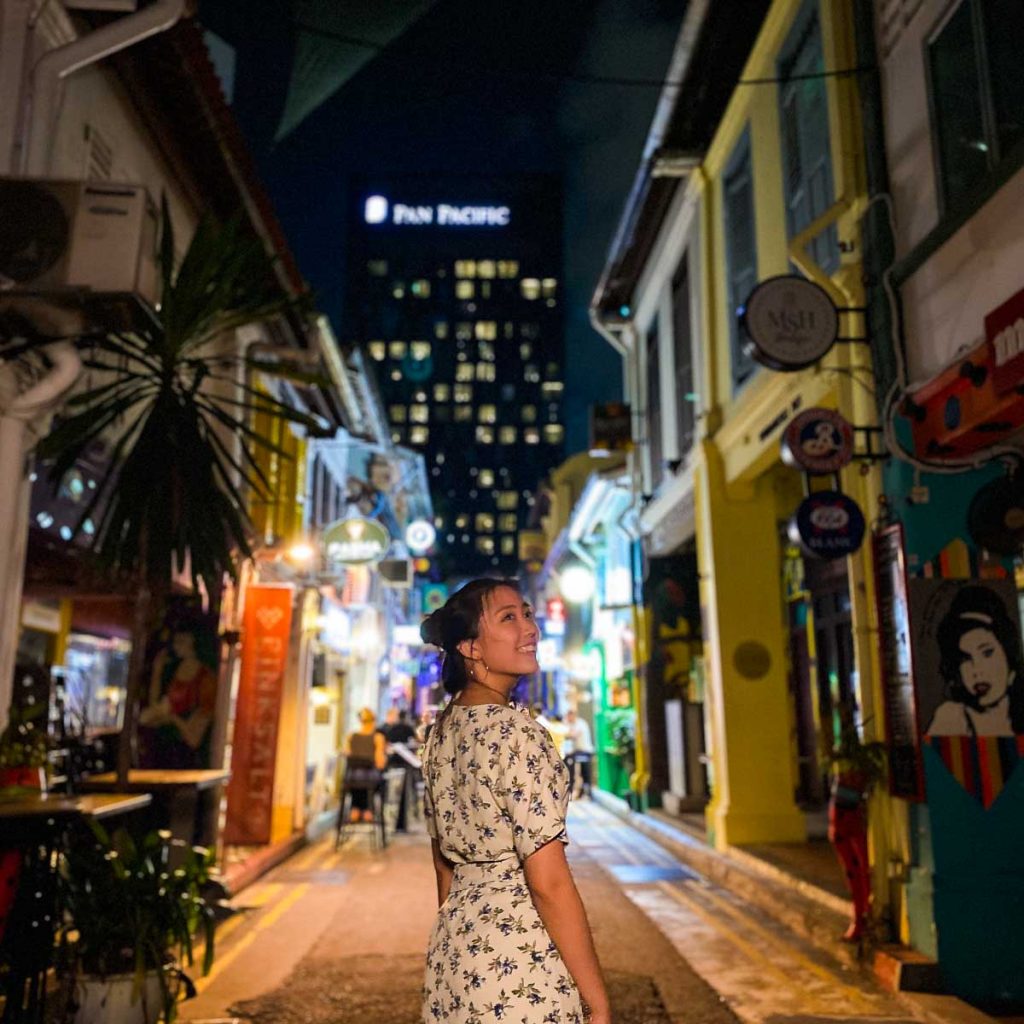 Snap a picture along the street of funky bars and chill alfresco dining! And while you're in the area, might as well treat yourself to a good meal 😉
Nearest MRT Station: Nicoll Highway MRT (Circle Line) — 12min walk from Exit A
Photo tip: Use iPhone's portrait mode to get a bokeh effect of the background
7) Potato Head Singapore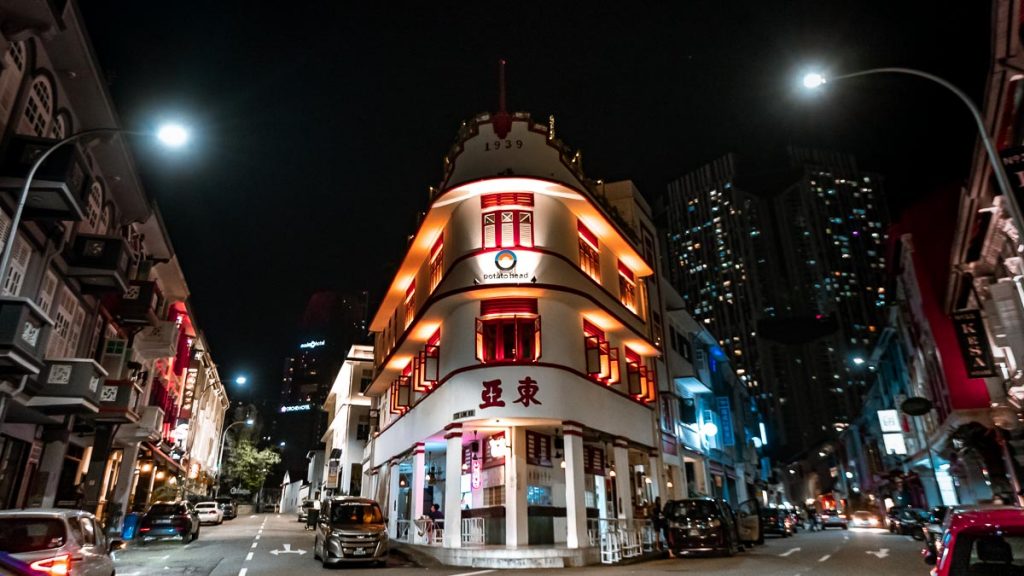 You won't have any trouble spotting this iconic building along Keong Saik Road. Potato Head Singapore is a multi-storey bar and restaurant housed in a pre-war shophouse.
If you thought it looks good in the day, the building looks even better in photos at night! Its warm lighting by the window helps to add a soft glow to pictures.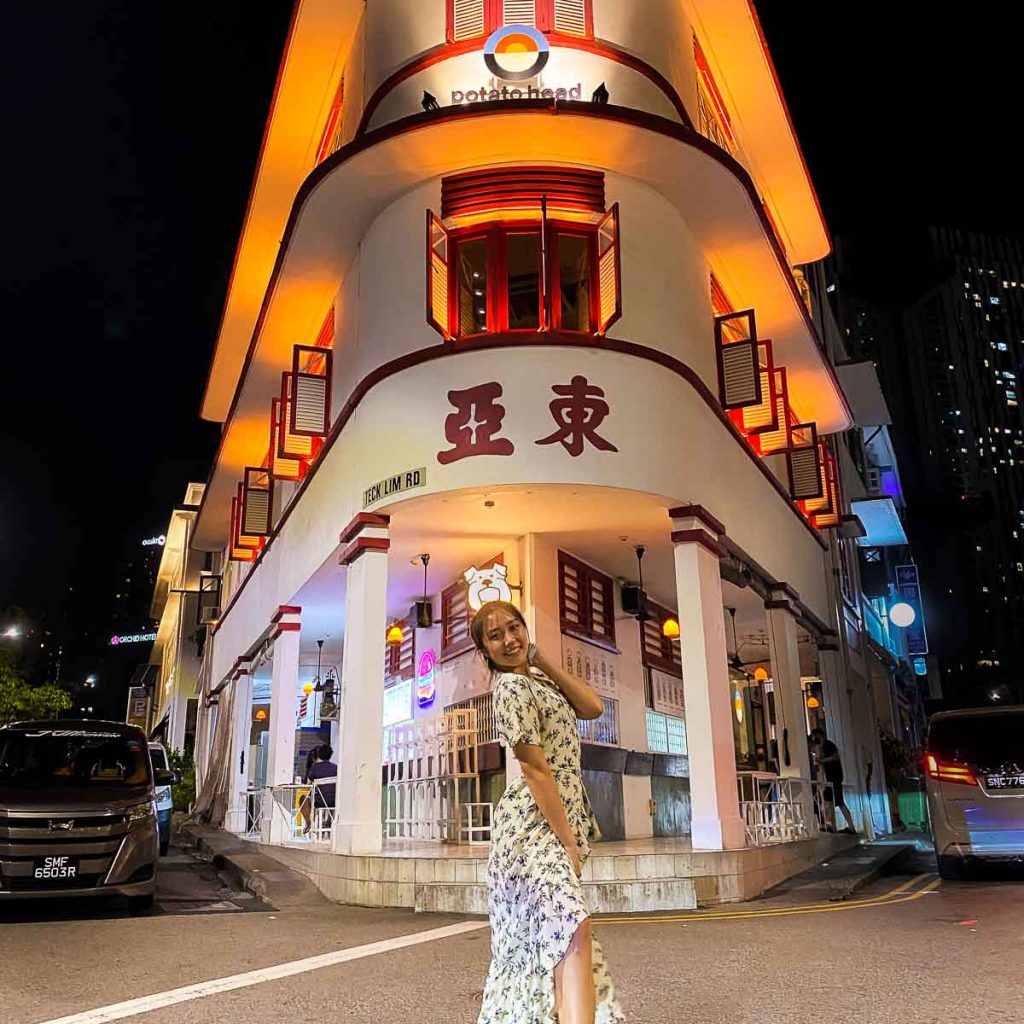 While you're striking your best pose, do watch out for oncoming traffic. We love a good Instagram shot, but it's not worth getting run over for!
*Pro-tip: Head down after peak hours (past 10:30PM) when there is less traffic
Nearest MRT Station: Outram Park MRT (East-West/North-East Line) — 6min walk from Exit H
8) Buddha Tooth Relic Temple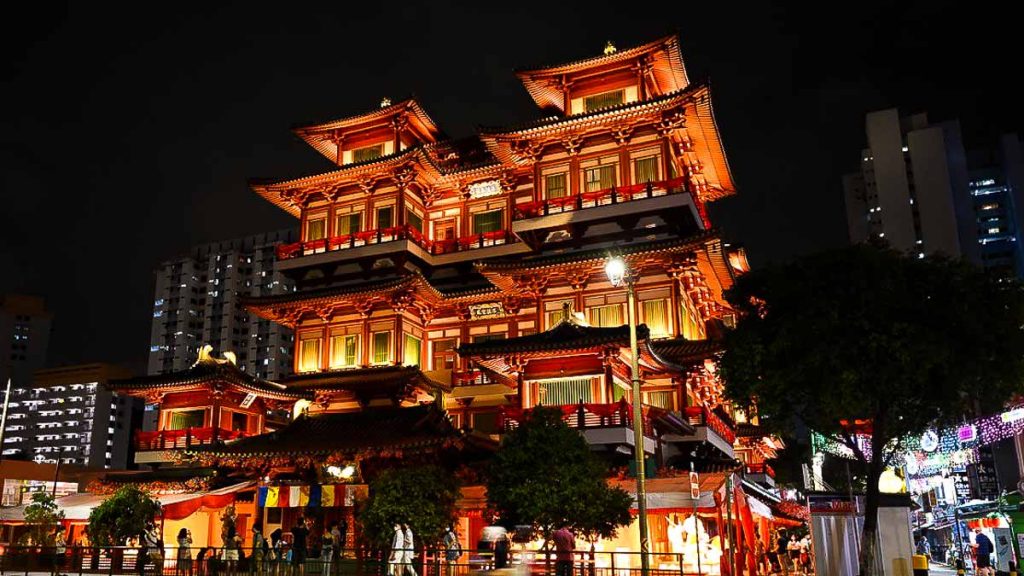 This monumental temple isn't just a place of worship, but a repository of Buddhist artefacts and relics. It's also one of the classic instagrammable spots for photographers in Singapore!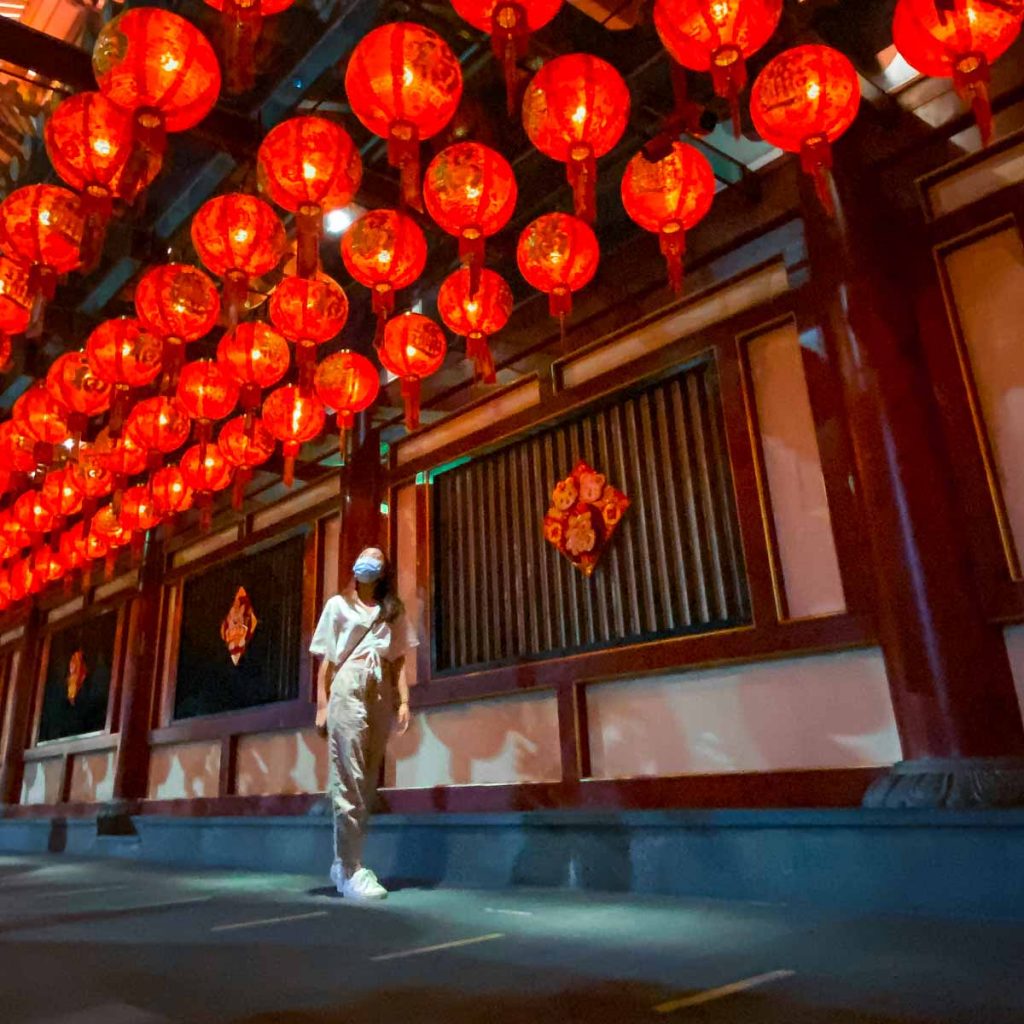 Made out of 320g of gold, the structure features elements of the Tang Dynasty architecture. The lights of the temple help draw attention to its intricate design, and illuminates the sky after dark.
Take a photo under the row of red lanterns or experiment with wide-angle shots to capture the beauty of the temple.
Nearest MRT Station: Chinatown MRT (North-East/Downtown Line) — 5min walk from Exit A
Photo tip: Stand under one of the white lights and capture the shot from an upward angle
9) People's Park Complex: Carpark Roof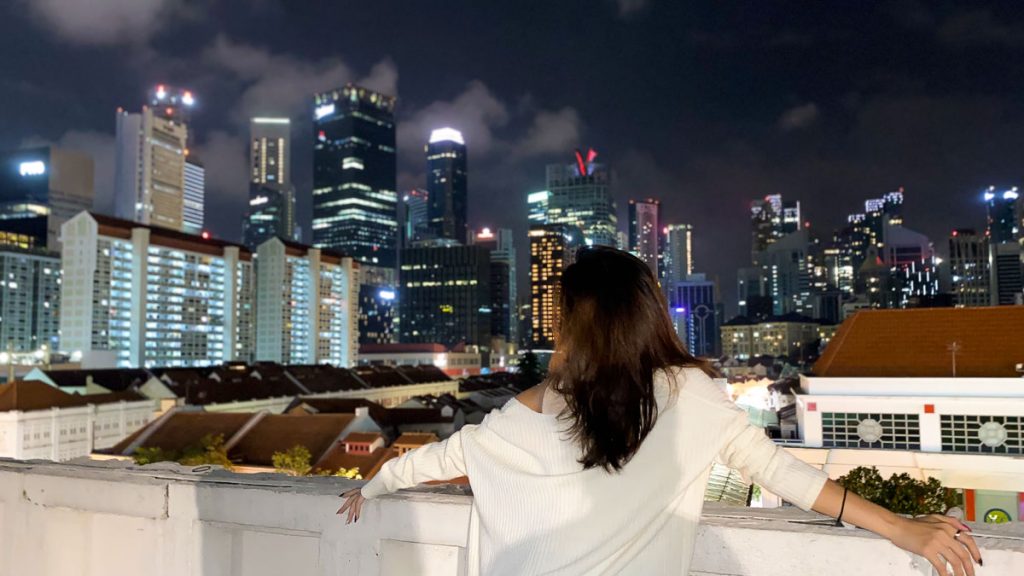 Built in the 70s, the 31-storey residential and commercial building makes the ideal backdrop for a grunge-themed photoshoot. Its rustic facade looks like it comes straight out of a Hong Kong movie, a contrast to the city lights nearby.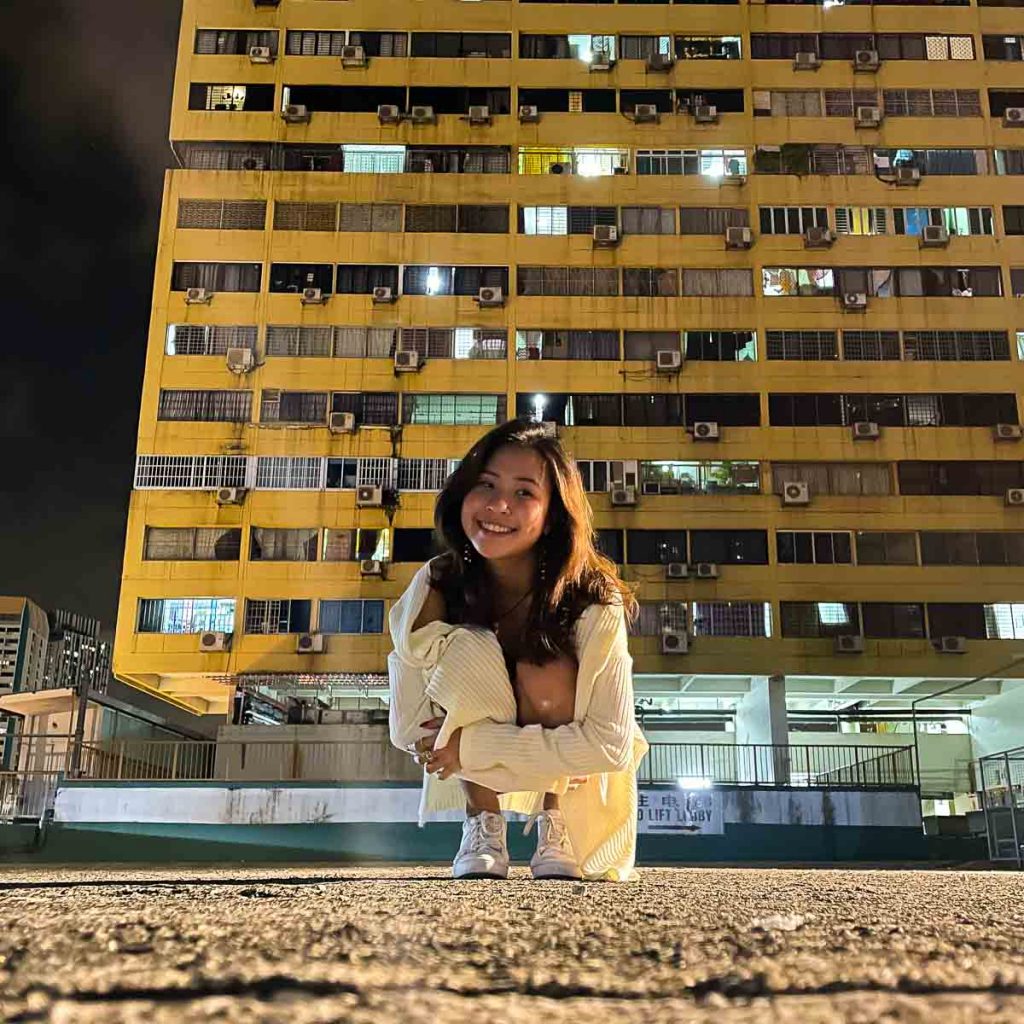 Nearest MRT Station: Chinatown MRT (East-West/Downtown Line) — 5min walk from Exit C. You can access the roof either by driving up the carpark or walking up via the mall's entrance
Photo tip: Turn your phone upside down, tilt your camera upwards and capture from a low angle
10) Dragon Mural at Amoy Alley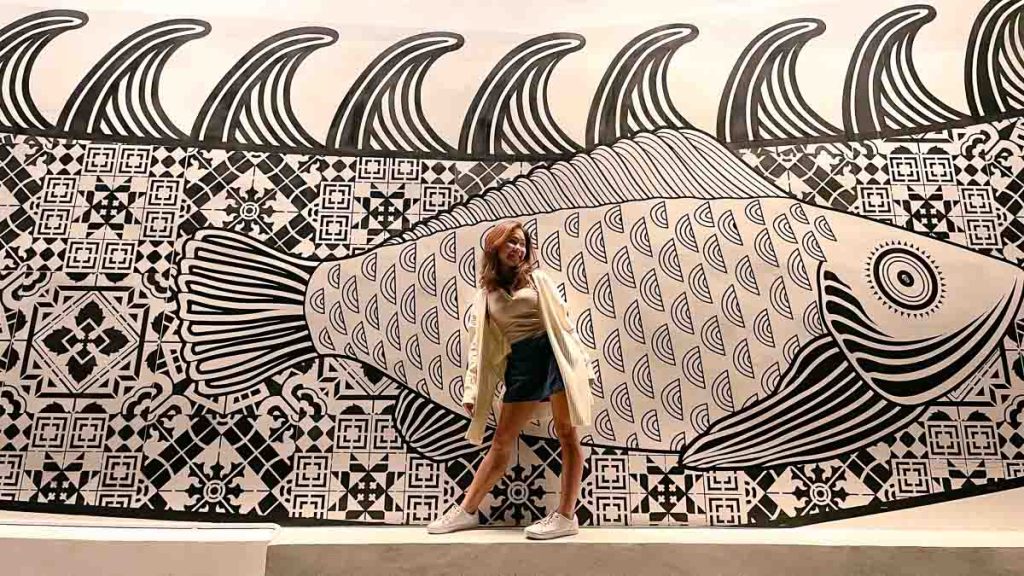 Colourful street art is common around Singapore. At night, most aren't clearly visible as they're not in well-lit areas. However, this dragon mural at Amoy Alley is a glowing work of art, even after dark.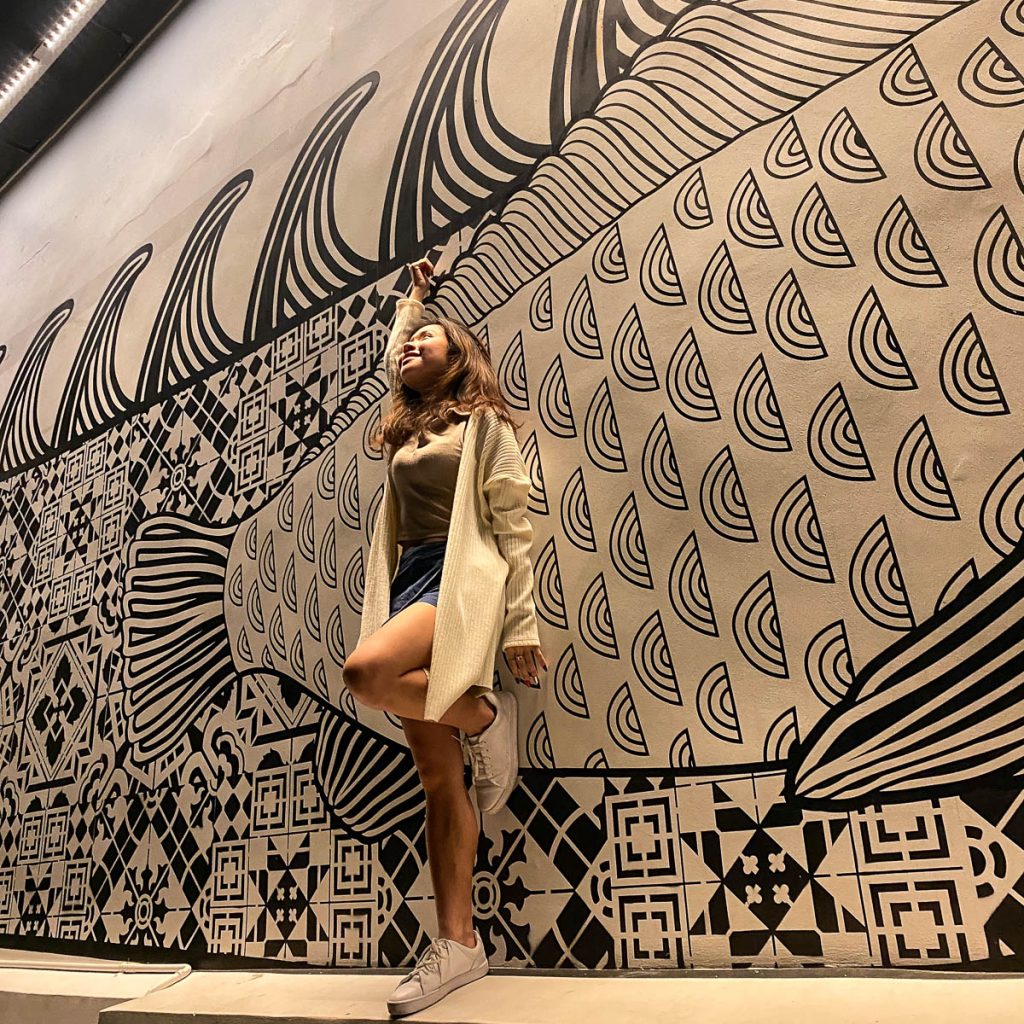 The mural symbolises the heritage of the Telok Ayer neighbourhood, featuring Peranakan mosaic tiles from the area.
Nearest MRT Station: Chinatown MRT (North-East/Downtown Line — 8min walk from Exit A
11) Bridges at Clarke Quay
Cavenagh Bridge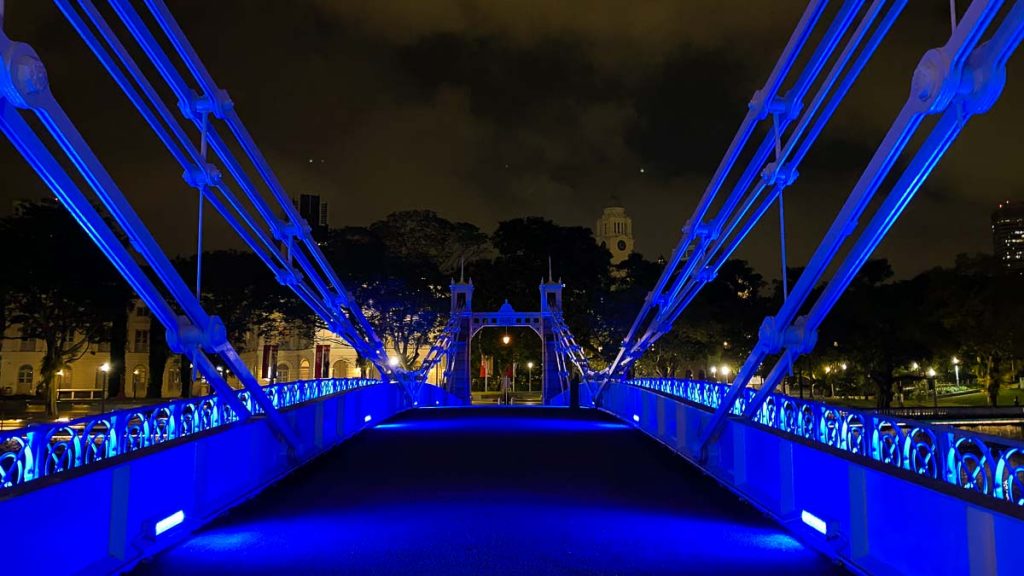 Formally opened in 1869, it's the oldest surviving suspension bridge in Singapore. Named after Sir William O. Cavenagh, the last governor of the Straits Settlement (1859 – 1867), the historic bridge connects the Downtown Core of the Singapore River.
When night falls, the colourful lighting along the bridge helps to accentuate its architectural features. It also adds a magical touch, creating a fairytale ambience in every photo.
Nearest MRT Station: Raffles Place MRT (North-South Line) — 3min walk from Exit B
Elgin Bridge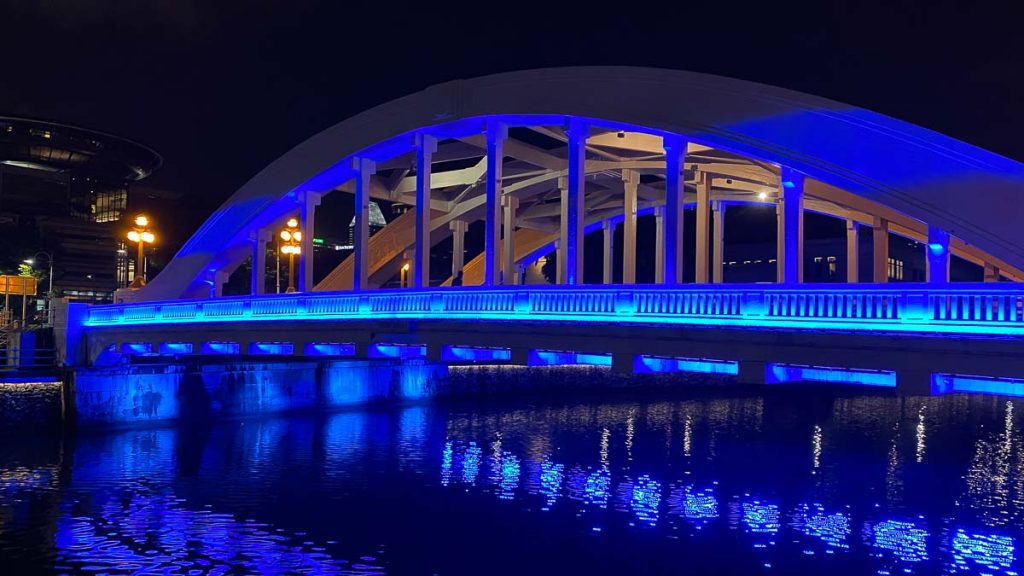 Located just a stone's throw away from Cavenagh Bridge is another instagrammable spot, the bowstring-arch Elgin Bridge, overlooking the Singapore River.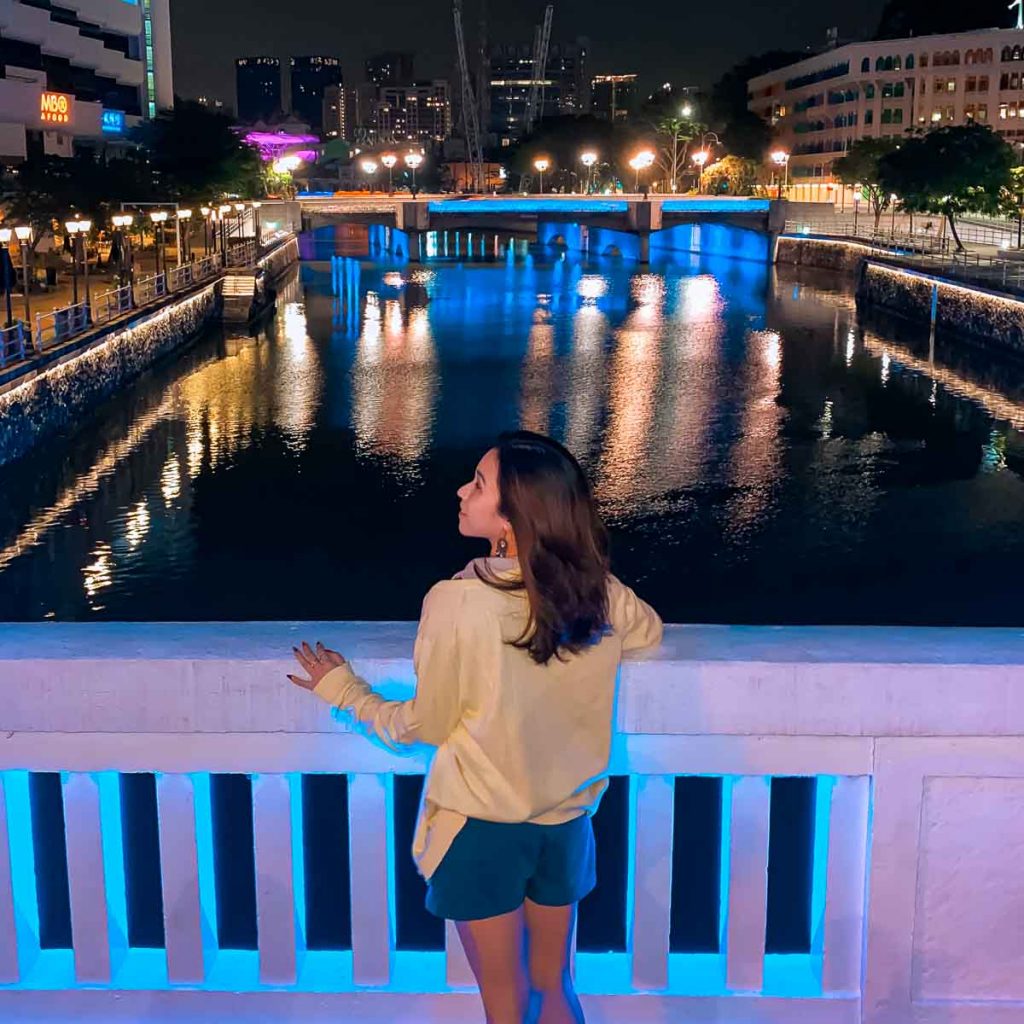 At night, the bridge is illuminated with coloured lights that changes every night.
Nearest MRT Station: Clarke Quay MRT (North-East Line) — 5min walk from Exit E
Tips for a night photoshoot in Singapore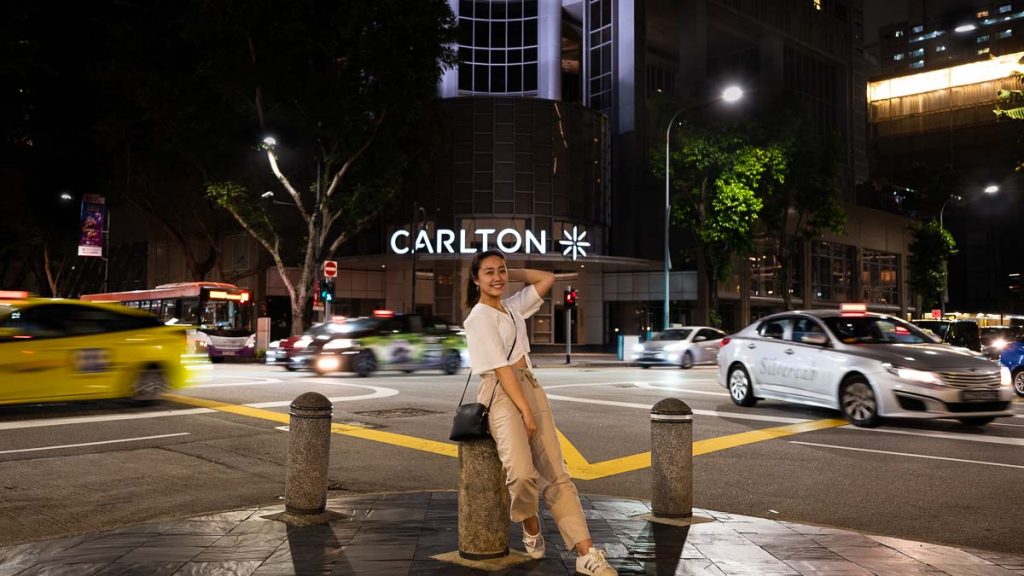 1) Have your subject dressed in light colours
Have your subject wear light colours to stand out as they help to reflect more light. This is to avoid camouflaging into the dark background. Change up your surgical mask for a cuter one!
2) Bring an additional light source
Additional light sources such as fairy lights and light wands can help light the subject in the dark. It can also work both as a foreground and background prop to create more depth.
*Pro-tip: You can get battery operated fairy lights from IKEA
3) Start your shoot during blue hour
Blue hour arrives shortly after sunset. Take advantage of the soft ambient light during this time to capture cooler tones.
The iPhone night photography challenge was not an easy feat but I think I did decently for an amateur. Exploring the sights of Singapore after dark, I was enamoured by the life and vibrancy of the city. It's not hard to see why Singapore got her title as the most Instagrammable place in the world, I'd say, even at night.
Read also: Singapore's Most Instagrammable MRT Stations — 9 Lesser-Known Stations Worth Travelling to
Know of other Instagrammable spots in Singapore that look good at night? Share with us in the comments!
---