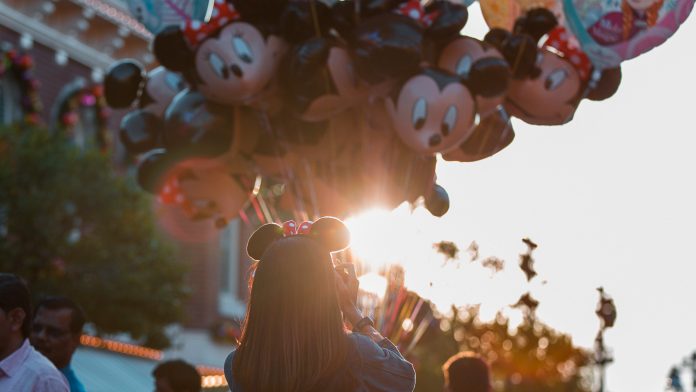 The hoi-sumest place on earth!
When I first visited Hong Kong Disneyland a decade ago, I was underwhelmed. It was a small theme park, and seemed like a watered-down, almost pirated version of Disney magic. So when the park became part of our 7D Hong Kong trip, my reaction was a solid "meh".
But this story has a happy ending — cheesy, but that's what this park has done to me — and I didn't want to leave. The new-and-improved attractions are nothing short of world-class, and you can't help feeling that sense of wonder. I say this as a full-grown adult, so you know it must be true!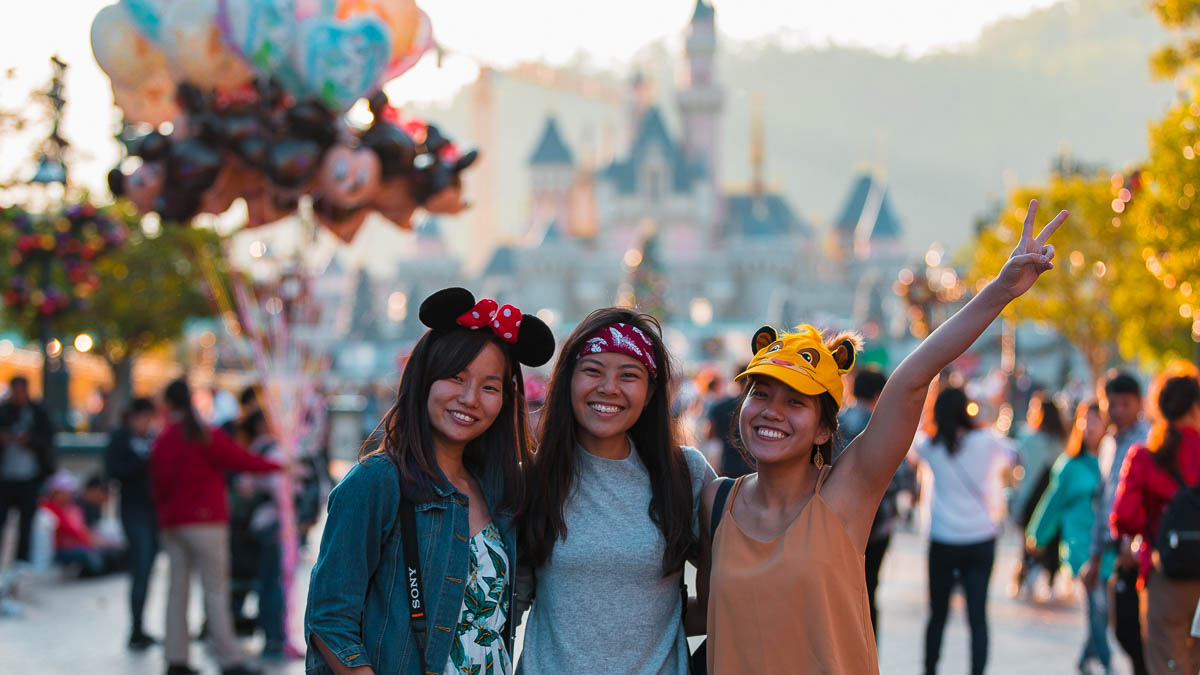 There are now seven different lands to explore, and two more Frozen and Marvel-inspired lands in the works. Plus, a redesigned Sleeping Beauty Castle that's both modern and iconic. Looks like Hong Kong Disneyland's wow factor will just keep going up from here.
Far from diluting the magic, the East-West fusion makes Hong Kong Disneyland extra special. Fun fact: The sudden sharp bend at the entrance is a fengshui feature, to stop fortune leaking into the South China Sea! 
You'll also find attractions not found in any other Disneyland, like the first-ever Marvel ride and a unique spin on the Haunted Mansion.
So read on for pre-visit tips, must-do attractions, exclusive secrets, suggested routes, must-eats, FAQs, and updates on new expansions —  everything to make Hong Kong Disneyland a real walk in the park!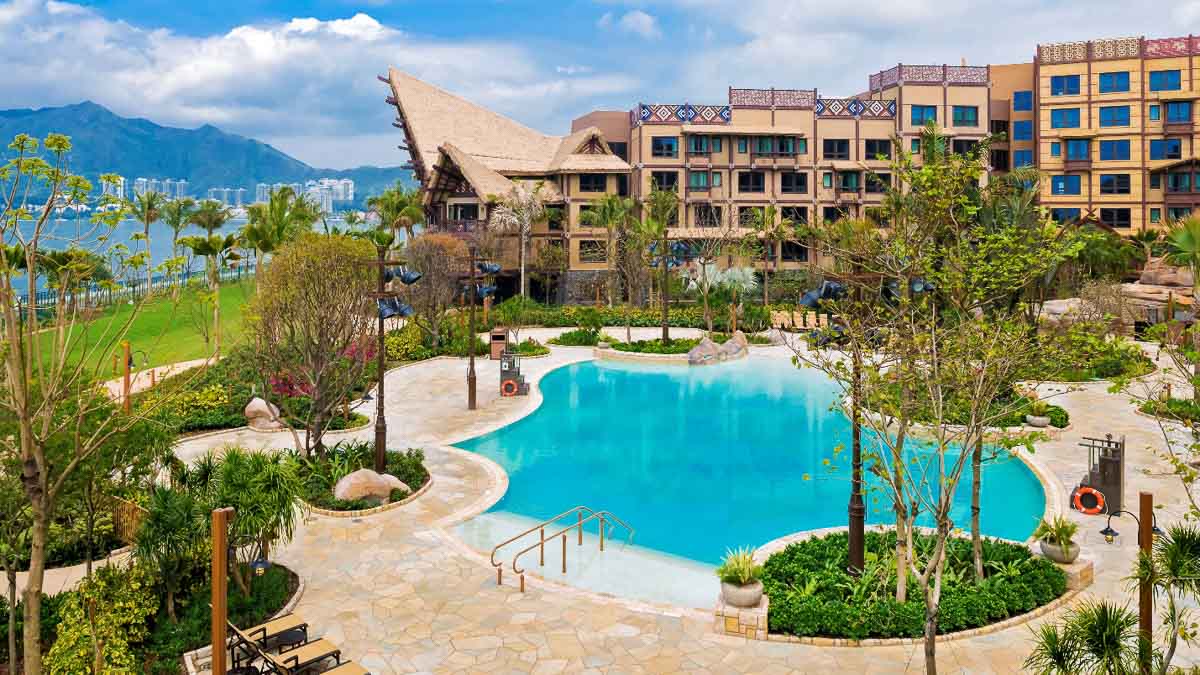 Disney Explorers Lodge. Photo credit: Hong Kong Disneyland
P.S. From 19 Nov to 4 Dec 2020, get 45% off Hong Kong Disneyland hotels! Bookings are valid for check-ins between 3 Jan to 29 Sep 2021.
Read also: Ultimate Hong Kong Guide — 29 Must-Sees, Hidden Gems, And Everything In Between
New Safety Measures at Hong Kong Disneyland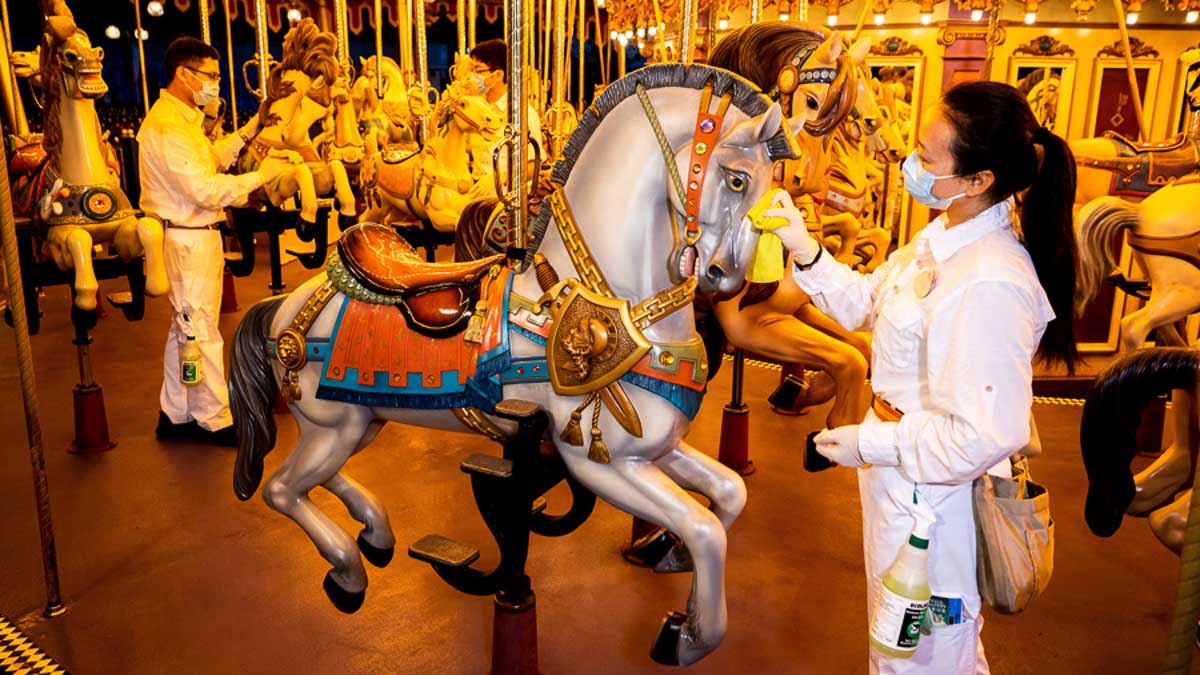 Photo credit: Disney Parks Blog
Due to the COVID-19 pandemic, Hong Kong Disneyland is operating at reduced capacity, with frequent cleanings and enhanced safety measures.
Opening hours: The park now closes on Tuesdays and Thursdays (except PHs and designated days). Check here for the latest opening hours.
Before visiting:
– You must reserve your visit prior to arrival.
– Check here for the updated list of attractions and shows for each day.
– Download the Hong Kong Disneyland mobile app to check attraction wait times.
At the park:
– Temperature checks will be conducted at the gate.
– All guests must wear face masks at all times except when dining.
– Social distancing is implemented throughout the park.
Click here for the full list of safety measures at Hong Kong Disneyland.
Read more: Everything You Need to Know About the Singapore–Hong Kong Air Travel Bubble
Tips To Note Before Visiting
1) Avoid visiting during peak periods: 
To avoid crowds, steer clear of weekends, school holidays and China's Golden Week holidays. It's also best to visit during the cooler months of October to April (bonus: this period includes Halloween and Christmas decor and festivities).
2) Pre-book tickets to save money and skip the queue: 
Save up to 10% by booking through Klook. Our one-day pass cost ~S$94, compared to the HK$619 (~S$108.61) price tag on the official site. We also skipped the long lines at the entrance, and simply flashed our in-app voucher to go in!
3) Download the Hong Kong Disneyland app: 
It may be a small park, but these legs were made for riding coasters, not walking aimlessly! With the free Hong Kong Disneyland mobile app, we checked attraction wait-times, showtime schedules, and got there fast with the GPS-enabled park map.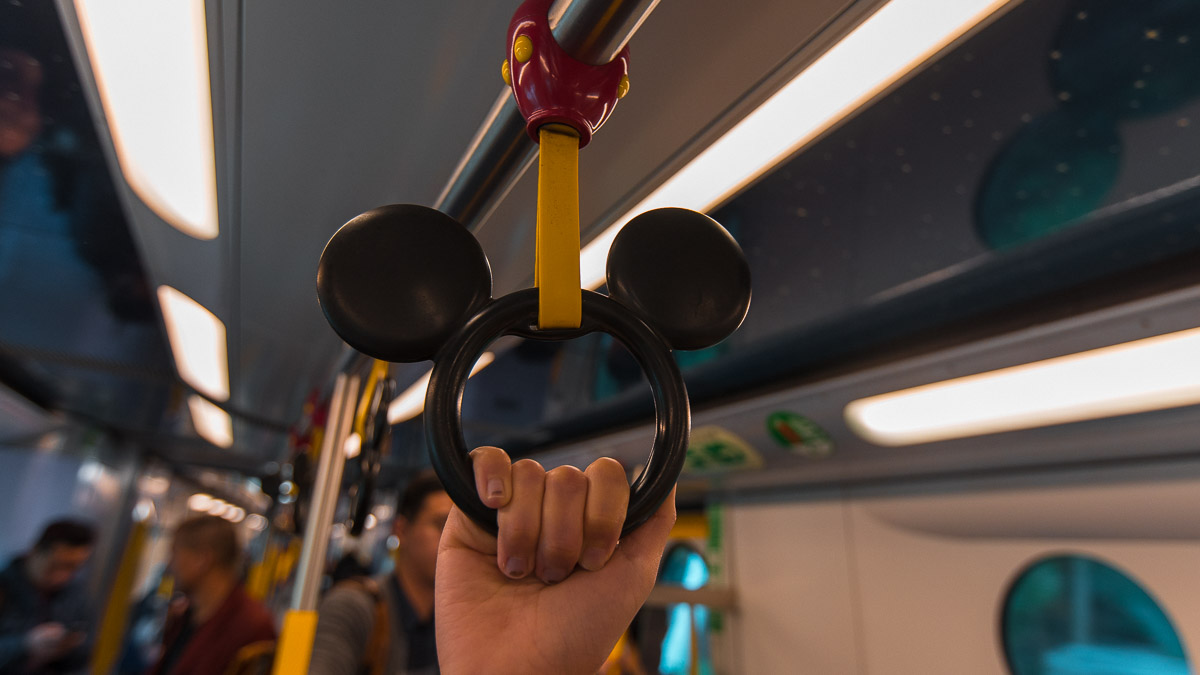 The super-cute Disney Express train
Getting to Hong Kong Disneyland: The cheapest (and most scenic) transport option is the MTR. Take the Tung Chung Line to Sunny Bay Station, transfer to the Disneyland Resort Line and onto the Disney train. It's hard to miss, with adorable Disney-themed handles and memorabilia!
If you're coming from the airport, it's a 20-minute taxi ride which costs ~HK$180 (~S$31.58).
Opening hours at Hong Kong Disneyland: Generally 10AM – 9PM, but check online for updated hours. Arrive by opening time, as crowds usually build up later in the day.
Do note that the park now closes on Tuesdays and Thursdays, until further notice.

Must-Do Rides and Shows at Hong Kong Disneyland
Here's what you can't miss in each of the seven themed lands.
Attractions and Must-Dos on Main Street, USA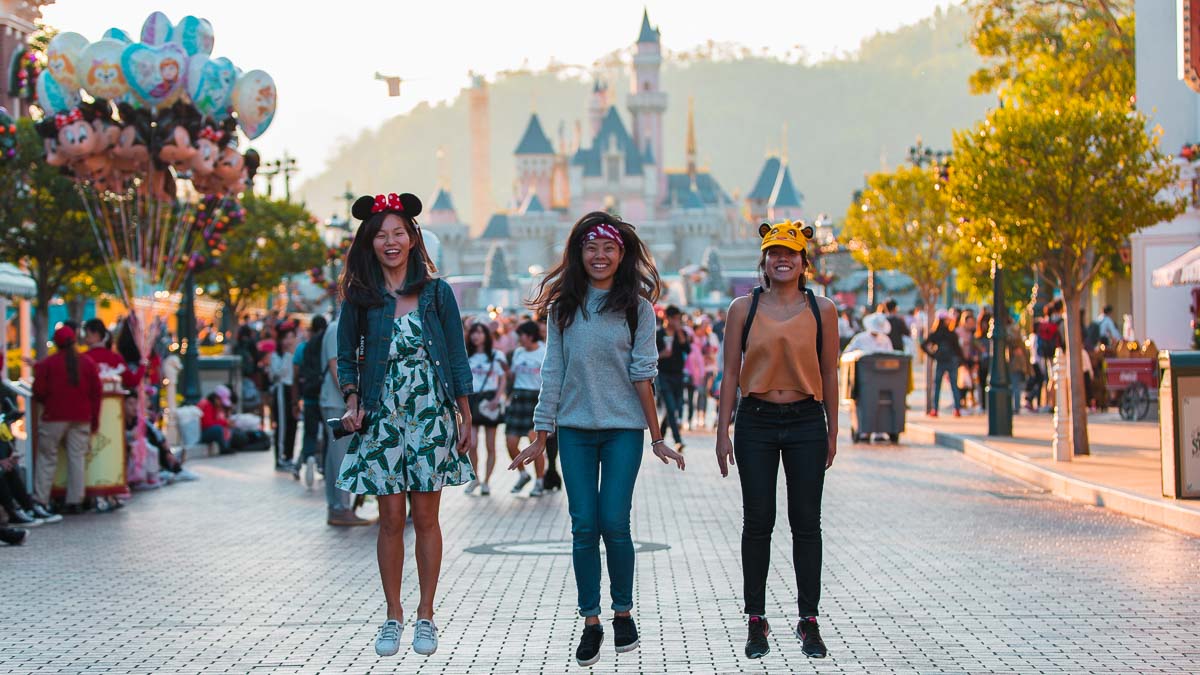 Designed like a 20th-century American town, Main Street, USA is where the, well, main action happens, with key parades and guest utilities. Walking through this area is like entering the Lady and the Tramp's idyllic scenes, a throwback to simpler days gone by.
Must-Dos
1) Hong Kong Disneyland Railroad: A scenic train ride with a last stop at Fantasyland, the furthest end of the park.
2) Disney Paint The Night Parade: A larger-than-life pageant with Disney characters on floating LED stages, shimmying to iconic showtunes. This half-hour show is the last attraction after all the other rides have closed, and gets crowded quick. Secure good viewing spots at least 30 minutes before showtime.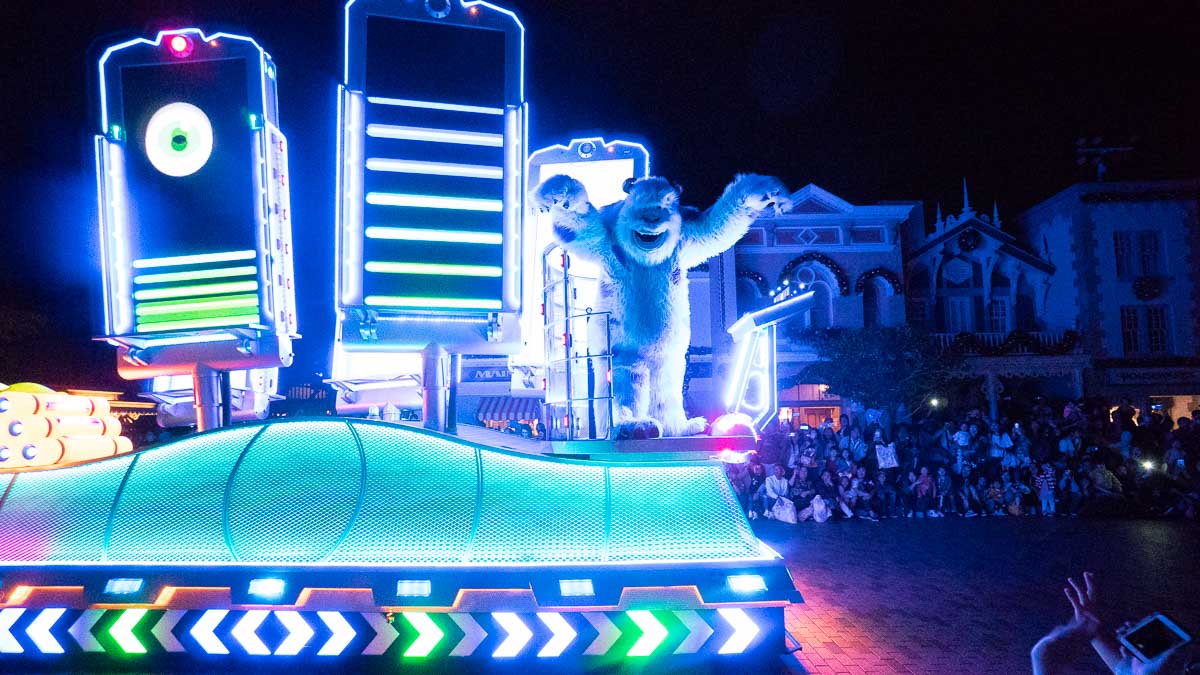 Disney Paint The Night Parade
*Pro-tip: We recommend the corner near the gantry, which also lets you quickly exit the park!
Other Attractions
3) Animation Academy: A 20-minute class on drawing your favourite Disney characters. While instructions are in Cantonese, the steps are easy enough to follow. You can even take your masterpiece home!
4) Art of Animation: An exhibit with storyboards, paintings, and a cool Zoetrope machine for a behind-the-scenes look at Disney animation.
5) Flights of Fantasy Parade: A 35-minute daytime parade with huge floats and Disney characters. If you've only got time for one pageant, prioritise the more visually-stunning Disney Paint The Night Parade.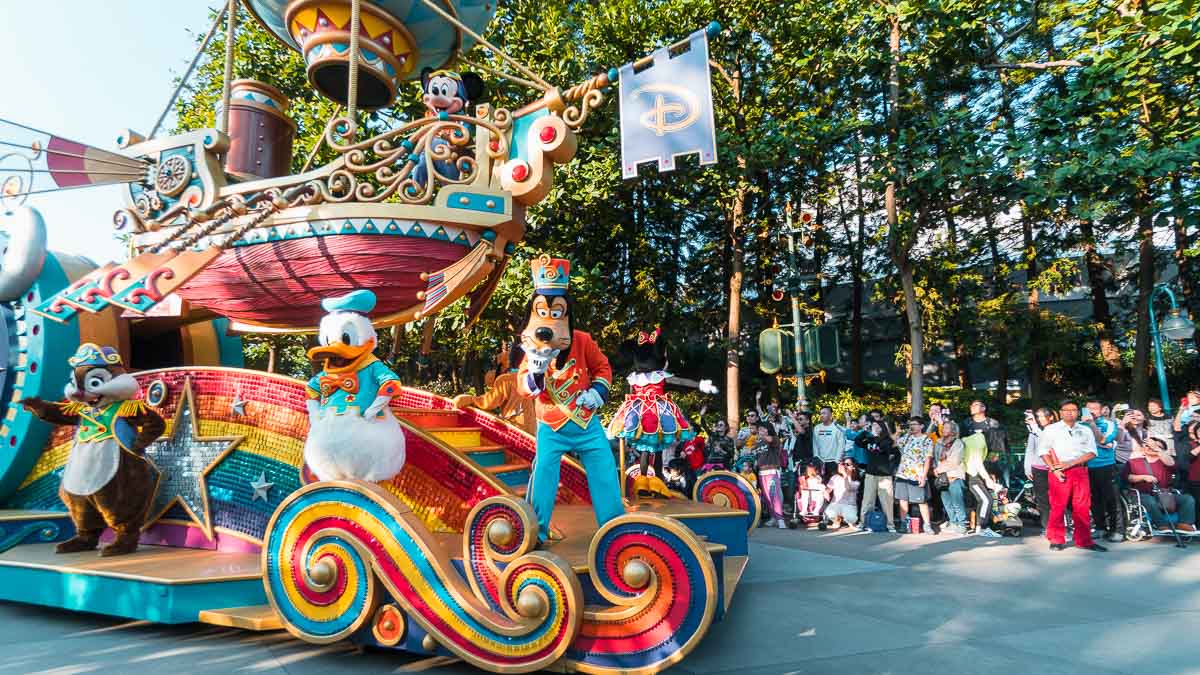 Flights of Fantasy Parade
6) Main Street Vehicles: A one-way drive down Main Street in a charming vintage automobile.
7) Royal Princess Garden: A photo-taking spot where you can meet Disney princesses!
Attractions and Must-Dos in Adventureland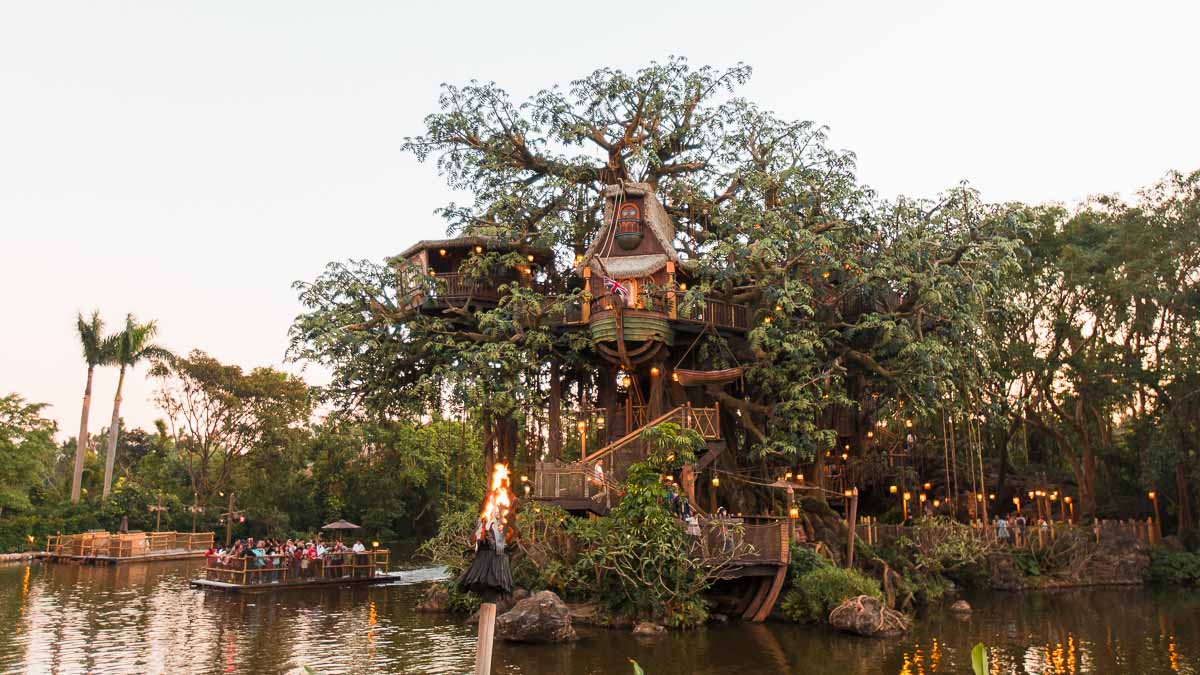 With lush foliage, wooden huts, and lots of tiki, Adventureland is where you'll find jungle cuties like Tarzan and Mowgli.
Must-Dos
Festival of The Lion King: A live-action musical based on The Lion King. The singing, stunts, and animatronics were impressive, and there were a couple of times I forgot this wasn't Broadway!
*Pro-tip: Best seats are at the back, on the side furthest from the entrance.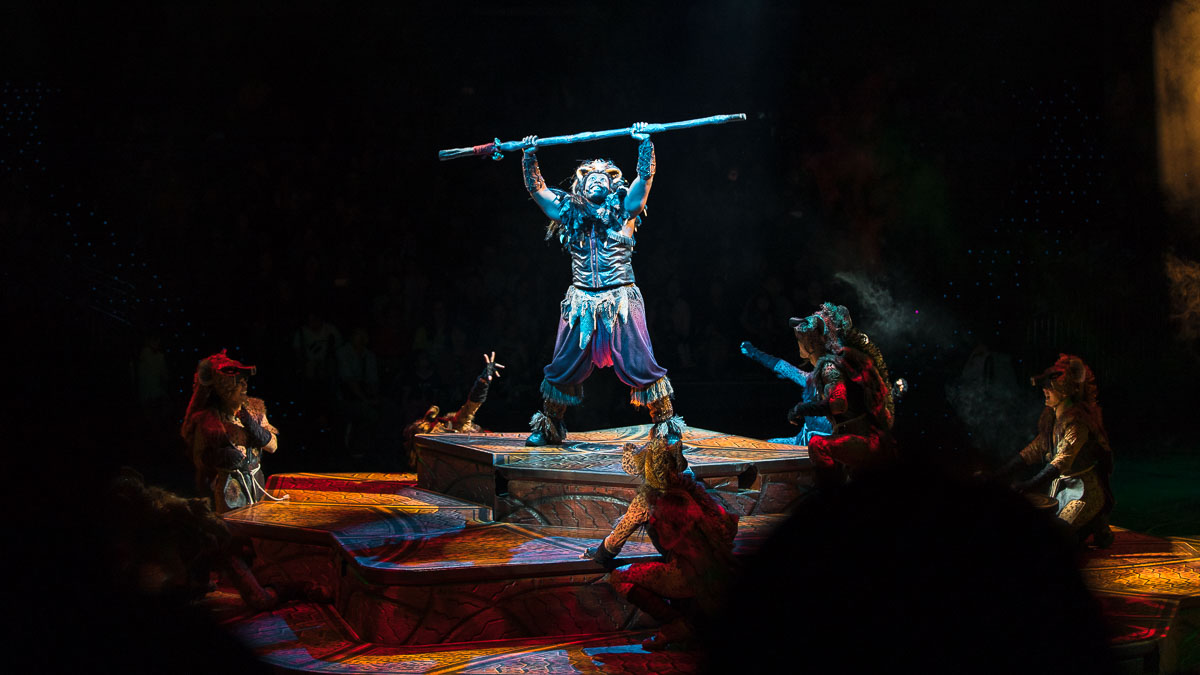 Festival of the Lion King
1) Jungle River Cruise: An exciting, family-friendly river ride where you'll see (animatronic) animals, and some not-so-friendly natives.
Other Attractions
2) Tarzan's Treehouse: A raft ride across the river, where you can explore the iconic treehouse. There are limited rafts, so don't bother if the queue is too long.
3) Moana: A Homecoming Celebration: This 20-minute show is more suited for kids, with true-to-character acting and singing.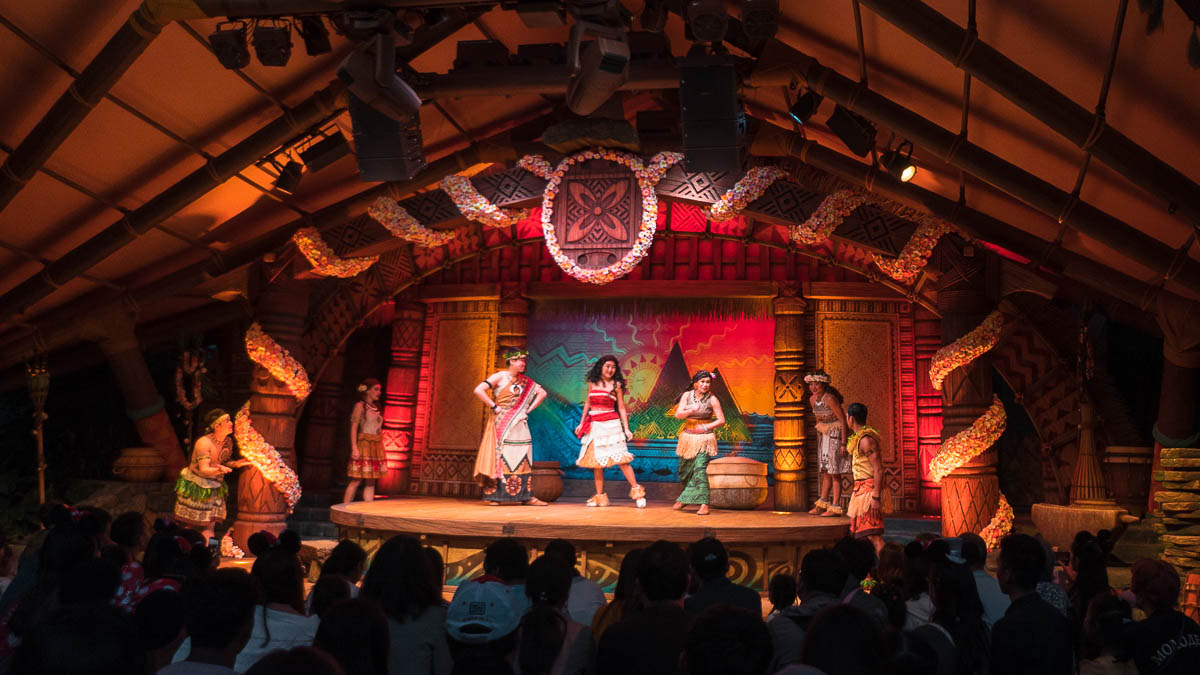 Moana: A Homecoming Celebration
4) Liki Tikis: A water fountain area with large tikis you can make music with.
5) Karibuni Marketplace: Enjoy carnival games and photo opportunities with characters from Up, The Lion King, and The Jungle Book.
Attractions and Must-Dos in Grizzly Gulch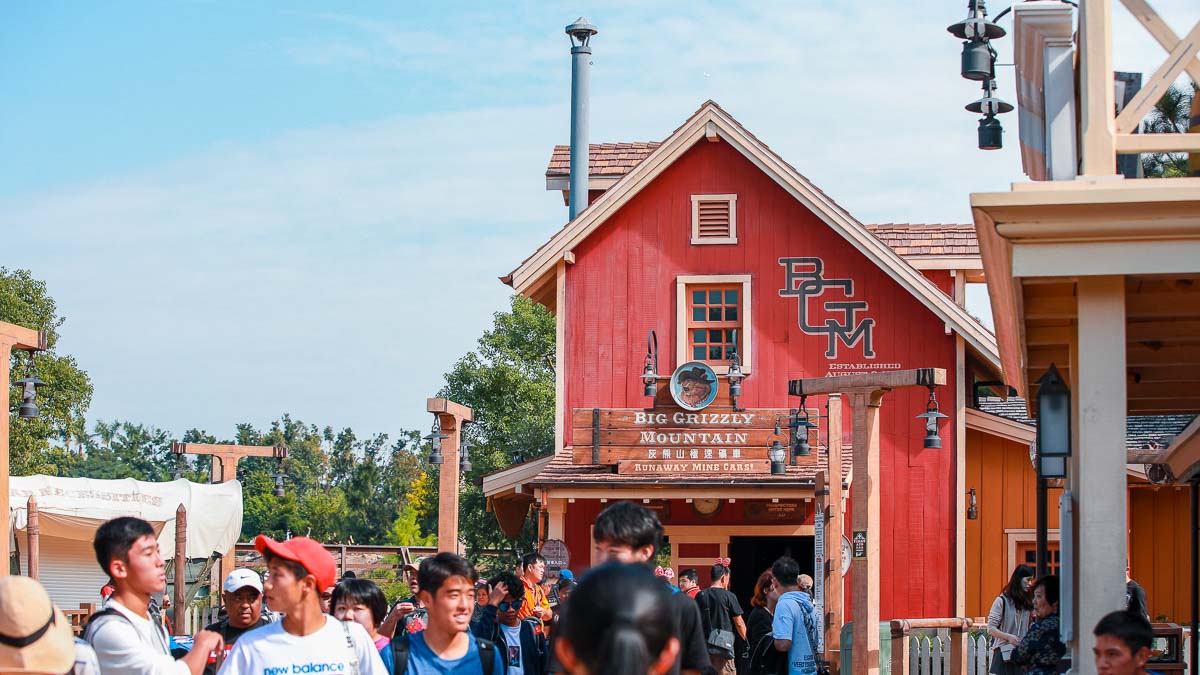 The Wild Wild West in the heart of the East! It's always a Gold Rush at the Grizzly Gulch, with geysers, chuckwagons, and sleepy cowboy tunes.
Must-Dos
1) Big Grizzly Mountain Runaway Mine Cars: A thrilling old-school rollercoaster that'll have you going backwards in time, amongst other surprises.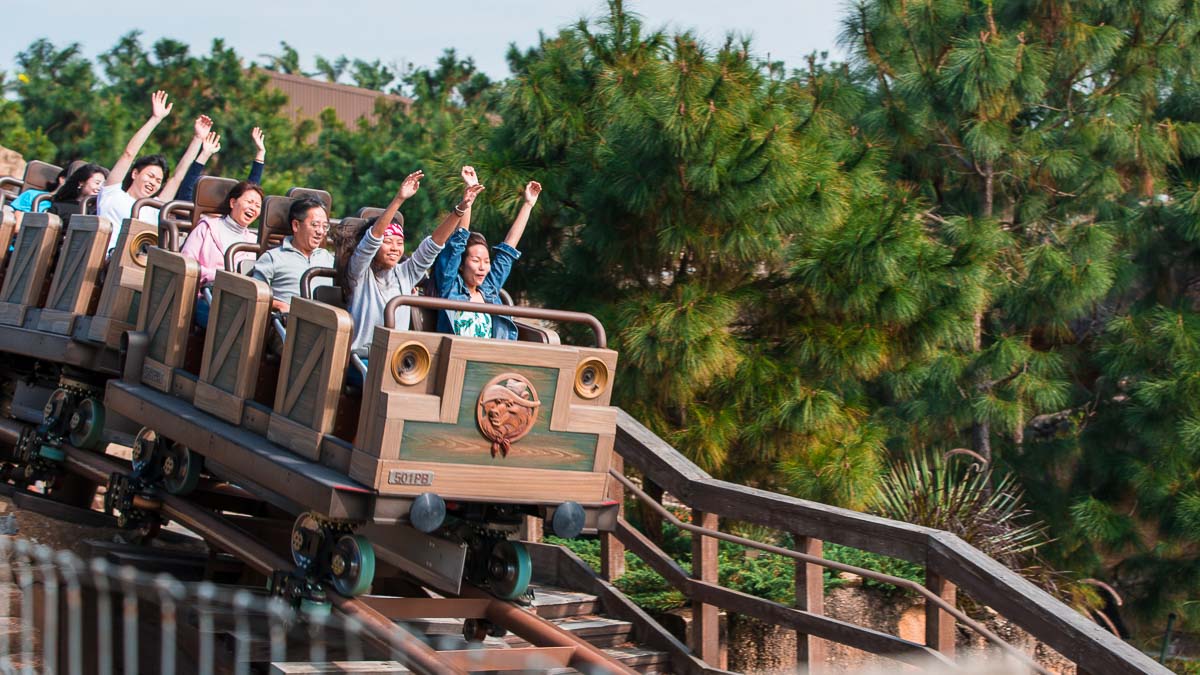 Big Grizzly Mountain Runaway Mine Cars
Other Attractions
2) Geyser Gulch: A water-play area designed like natural geyser pools.
3) Grizzly Gulch Welcome Wagon Show: An interactive musical that explains the town's history.
4) Wild West Photo Fun: Quirky photo spots including a Wanted poster, jail cell, and a huge golden nugget!
Attractions and Must-Dos in Mystic Point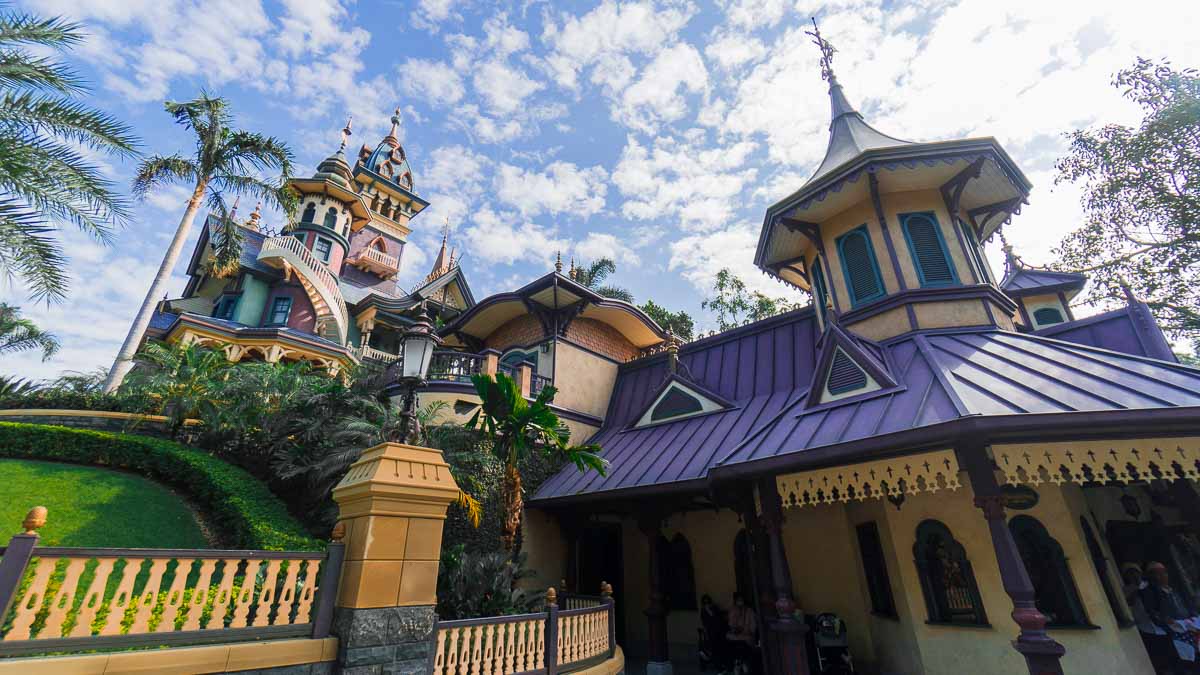 Mystic Point takes you to the tropical wilderness of Papua New Guinea, where supernatural forces come to play. Its highlight: An intimidating Victorian manor, home of eccentric Lord Henry Mystic and his cheeky monkey, Albert.
Must-Dos
1) Mystic Manor: Without a doubt, the best ride in the entire park! If you've only got time for one thing in Hong Kong Disneyland, this is it.
Mystic Manor's ride design is built like Disney's Haunted Mansion, but the similarities end there. This Hong Kong Disneyland-exclusive comes with a unique story, adorable characters, and an immersive experience that's full of surprises.
This family-friendly ride doesn't have many thrills, but more than makes up for it with special effects and storytelling. Even adults will want seconds on this one!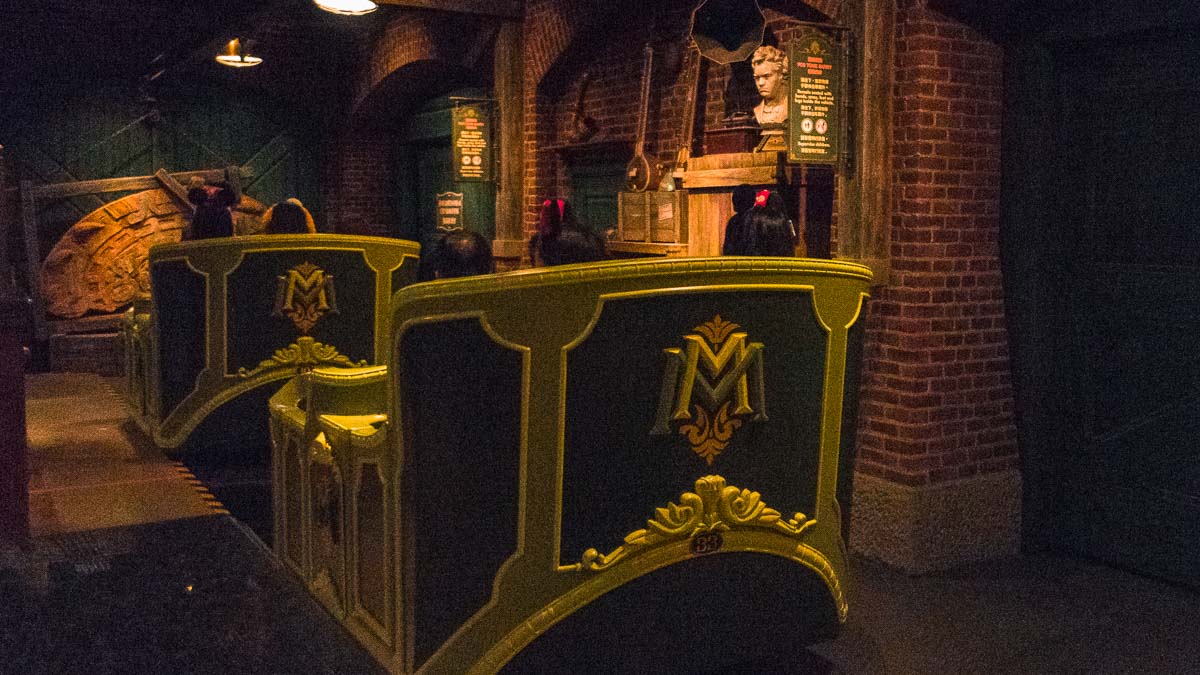 Mystic Manor
Other Attractions
2) Garden of Wonders: A garden photo spot filled with 3D illusions.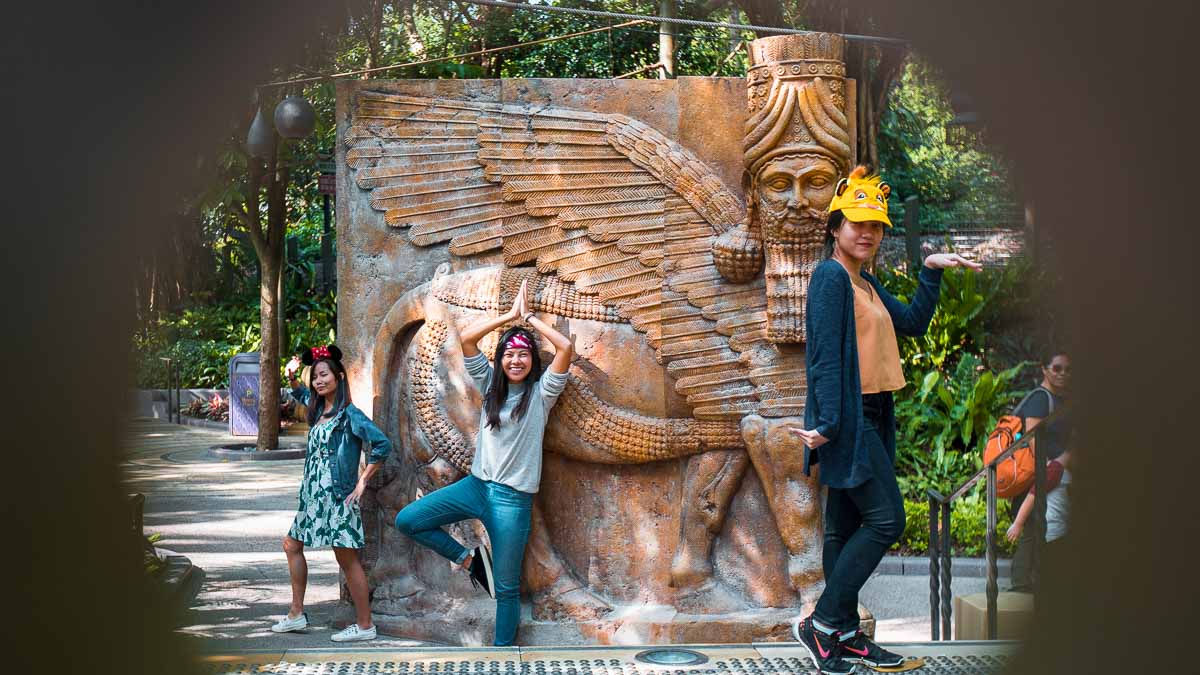 Garden of Wonders
3) Mystic Point Freight Depot: Another photo spot with discoveries including a Mayan carving, and an enormous stone head from Ancient Rome.
Attractions and Must-Dos in Toy Story Land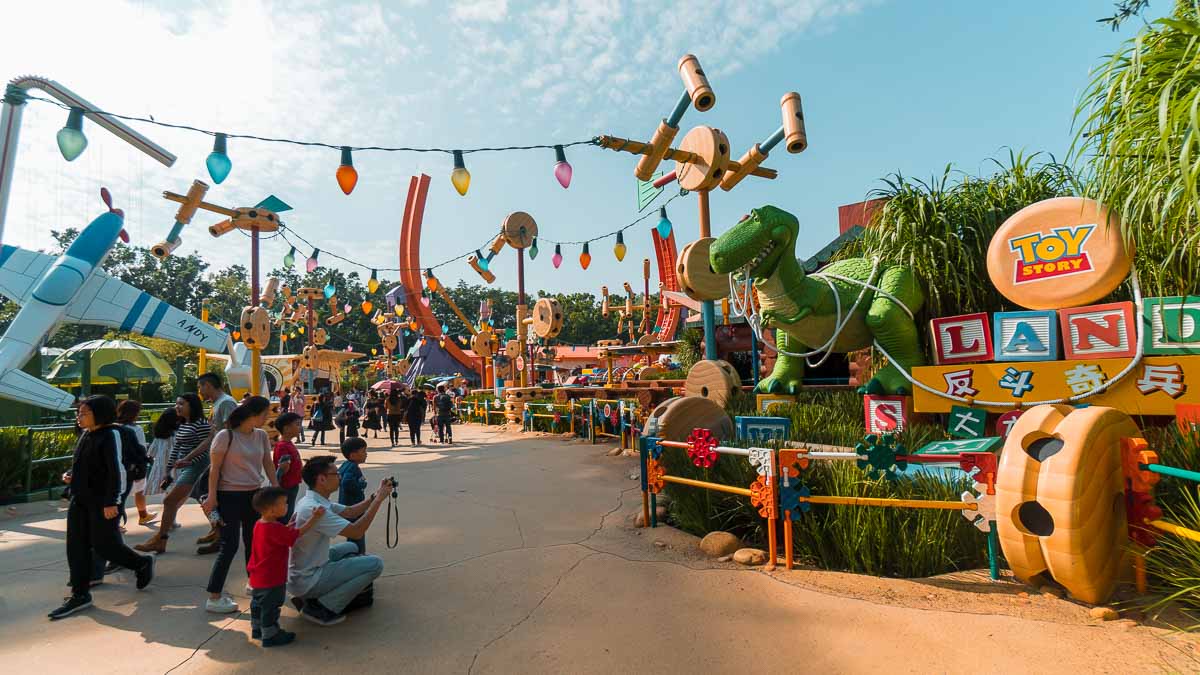 Tall grass and oversized playthings make you feel part of Andy's toy box at Toy Story Land.
Must-Dos
1) RC Racer: An intense half-pipe ride up and down a towering 27-metre racetrack. Don't be fooled by the cute car and kiddie exterior — this one's truly a thrill ride.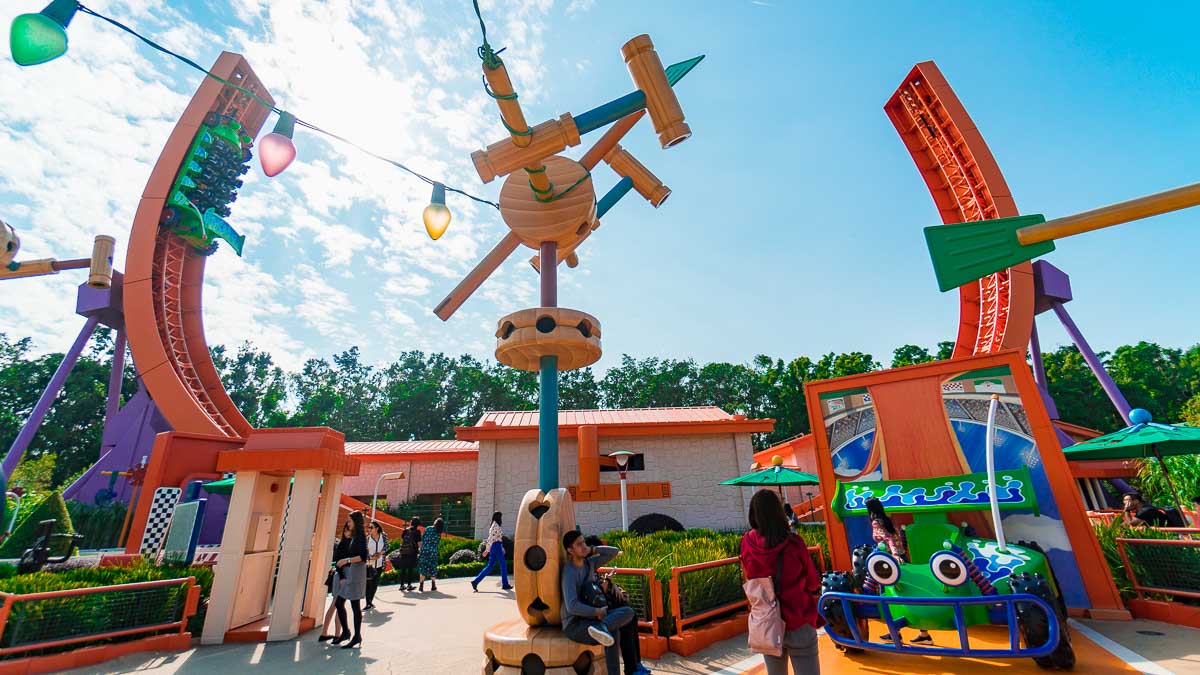 RC Racer
Other Attractions
2) Toy Soldier Parachute Drop: Ascend a tall tower before plunging down like a skydiving soldier. For a tower ride, the drops are easy on the stomach, so just enjoy the view!
3) Slinky Dog Spin: A tame but fun Caterpillar-style ride on the adorable Slinky Dog.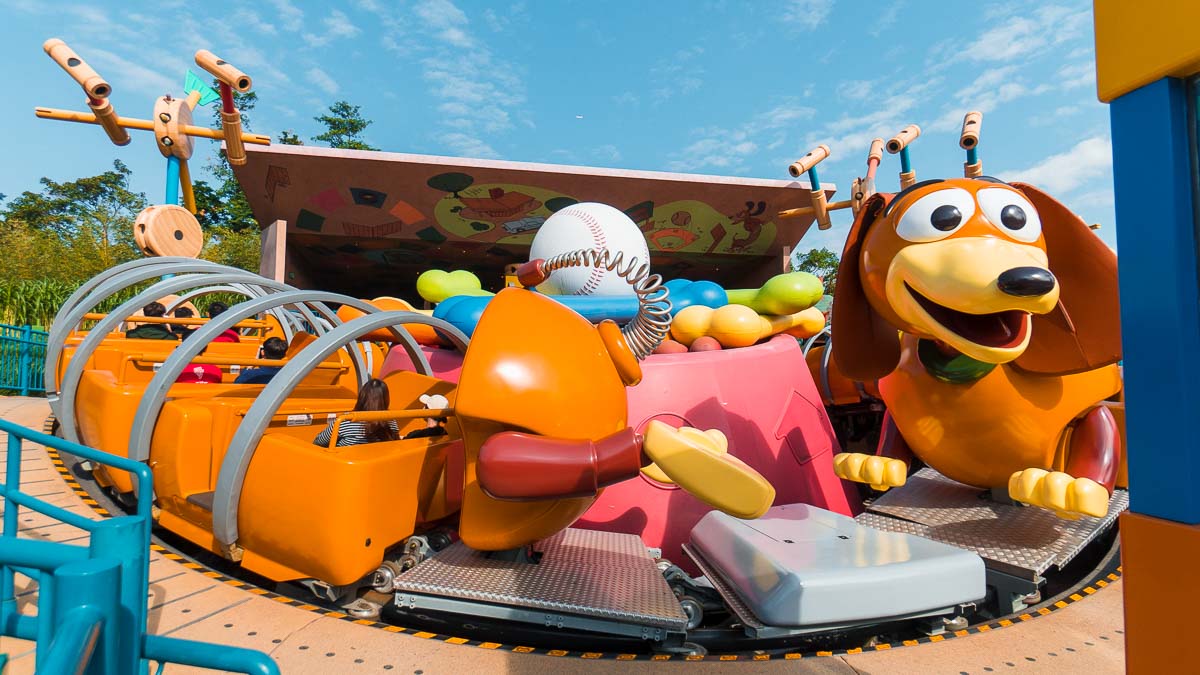 Slinky Dog Spin
4) Barrel of Fun: Photo opportunities with Woody, Jessie, and Buzz Lightyear.
5) Toy Soldier Boot Camp: An interactive show where toy soldiers train young volunteers for battle. You'll find them at the entrance of Toy Story Land, next to the statue of Woody — check with cast members for exact timings.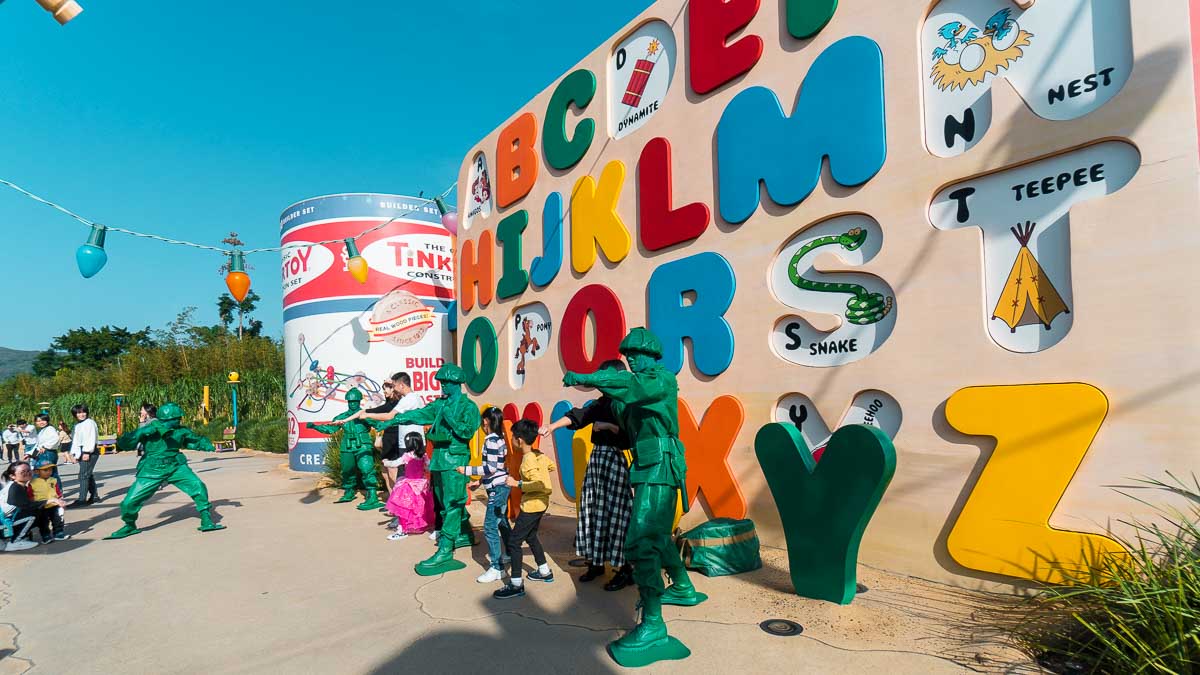 Toy Soldier Boot Camp
6) Cubot: An interactive, life-sized toy. Rearrange its blocks to watch its voice and personality change!
Attractions and Must-Dos in Fantasyland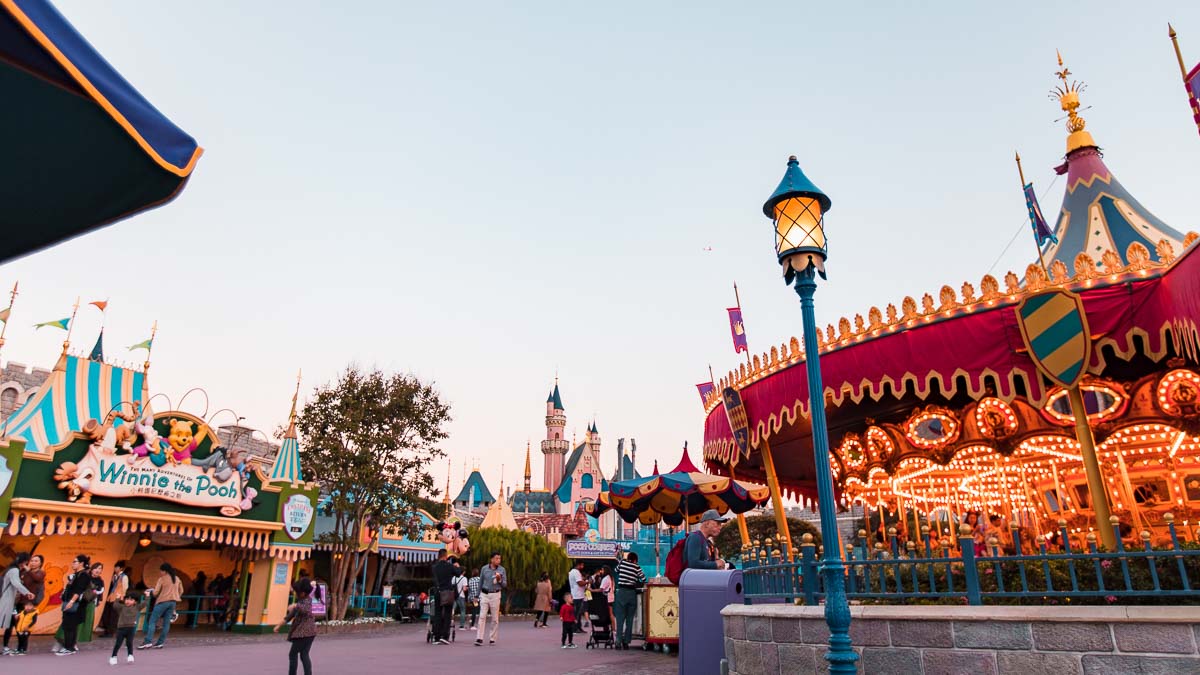 Fantasyland brings classic fairytales to life, with dreamy decor and classic carnival rides.
Must-Dos
1) Mickey and the Wondrous Book: The best show in Hong Kong Disneyland. The 30-minute spectacle brings Disney stories to life with innovative musical mashups.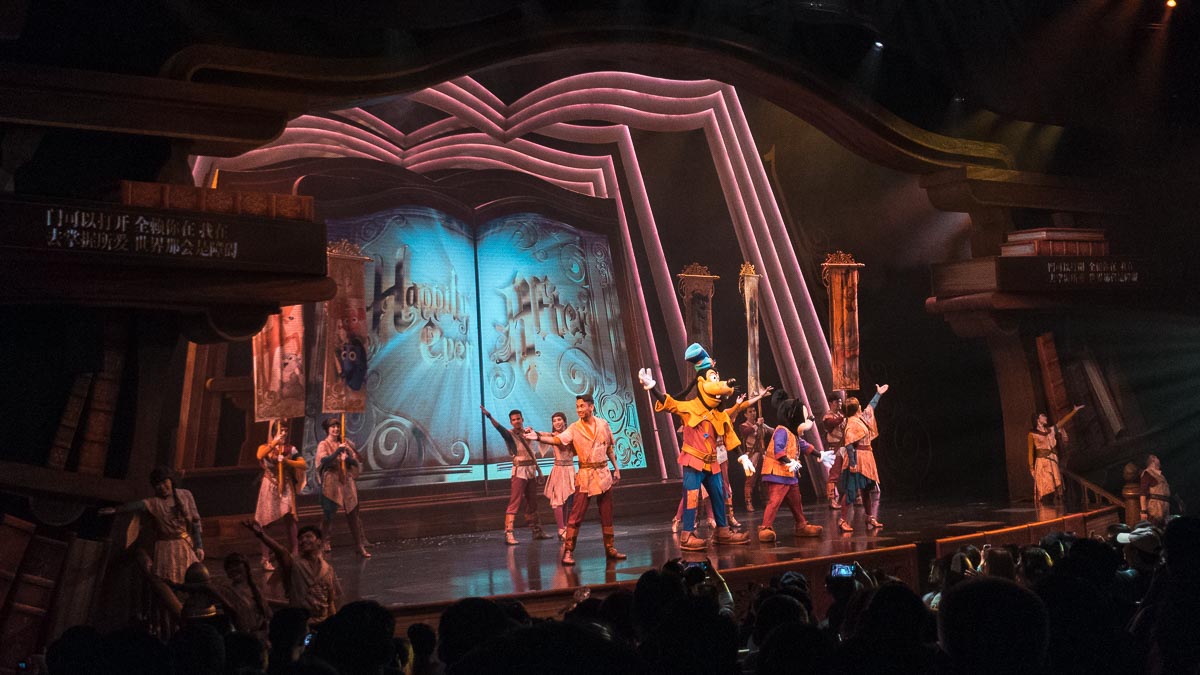 Mickey and the Wondrous Book
*Pro-tip: Arrive at least 15 minutes early to secure the best seats — at the centre and near the back, where you can see all the action and read the English subtitles easily.
2) The Many Adventures of Winnie the Pooh: A whimsical spin ride based on A.A. Milne's beloved stories.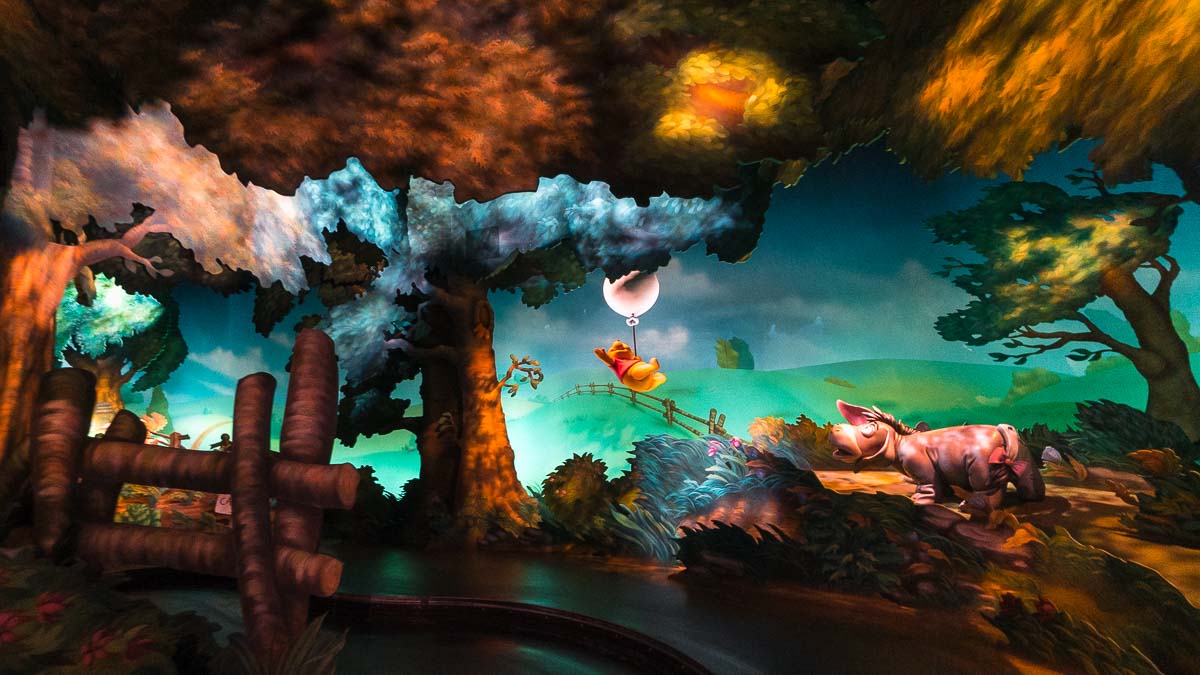 The Many Adventures of Winnie the Pooh
3) "It's a small world": The iconic indoor boat ride!
Other Attractions
1) Mickey's PhilharMagic: A classic Disneyland 3D show, with singalong songs, beloved characters, and humorous storytelling.
2) Fairy Tale Forest: Charming small-scale recreations of classic fairytales.
3) Sword in the Stone: A show where guests are invited to test their worthiness by retrieving the legendary Excalibur from a large stone. If you succeed, you'll become the rightful heir of England (in medieval times only, sorry).
4) Cinderella Carousel: A gorgeous merry-go-round with royal steeds and exuberant music.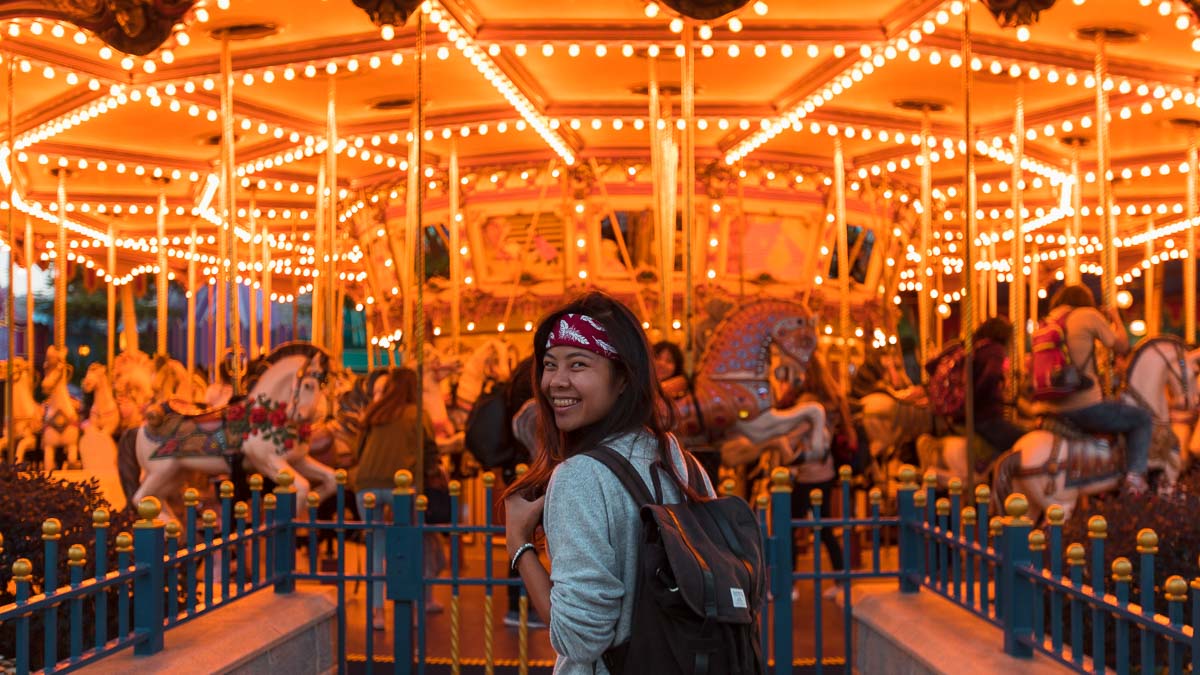 Cinderella Carousel
5) Dumbo the Flying Elephant: Soar on Dumbo's back to a symphony of circus music.
6) Mad Hatter Tea Cups: A dizzying spin aboard a giant teacup in a blitz of colour and sound. You're able to control the speed and direction of your teacup, so make your experience kid-friendly or all-out crazy.
Attractions and Must-Dos in Tomorrowland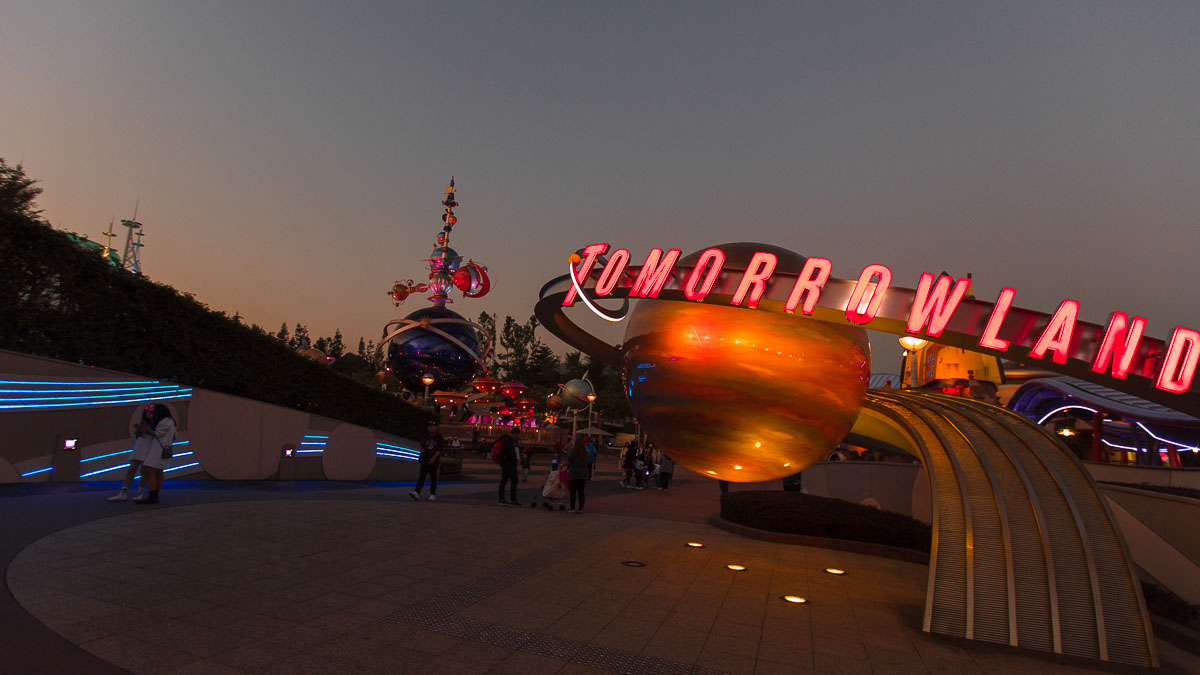 Tomorrowland is a dazzling zone that imagines futuristic technology and exciting space travel.
Must-Dos
1) Iron Man Experience: The first-ever Marvel ride not found in any other Disneyland! In this immersive 3D ride, you'll whizz over the Hong Kong skyline with Iron Man. It's a super fun adventure that'll have you shouting and cheering throughout!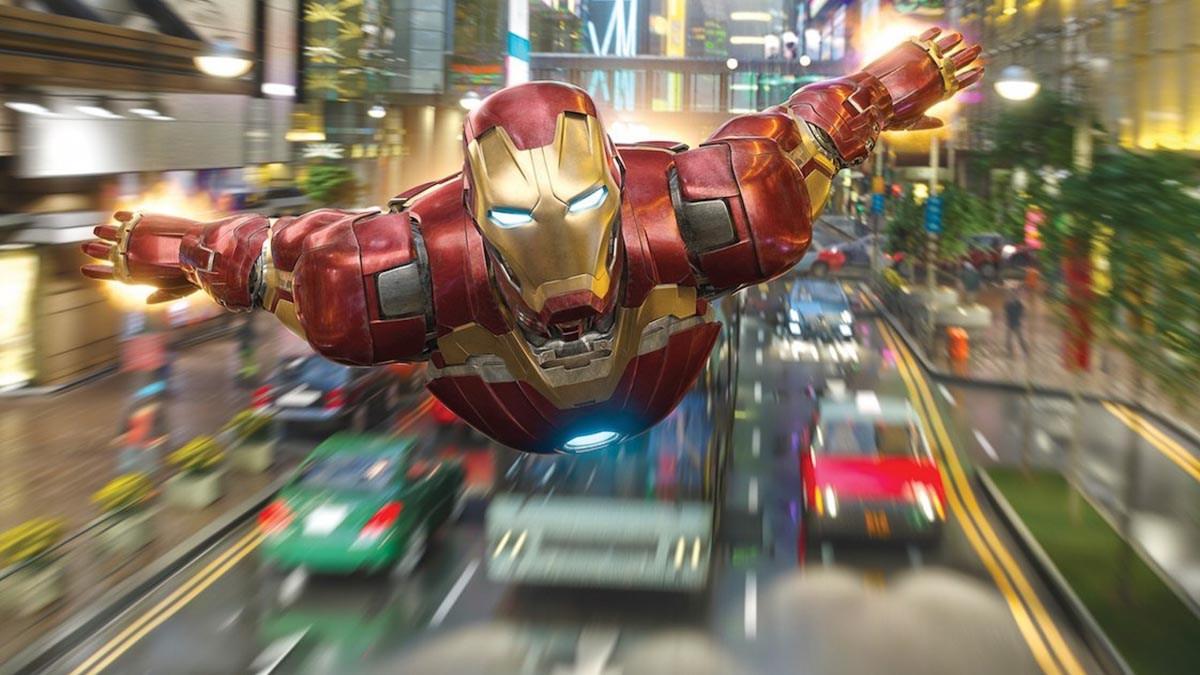 Iron Man Experience. Photo credit: Geek Tyrant
2) Hyperspace Mountain: An exhilarating high-speed battle in outer space. This rollercoaster ride was non-stop excitement, from Admiral Ackbar's countdown, to the rapid twists and turns as you dodge blaster fire, timed perfectly to the Star Wars soundtrack. A welcome change from its previous iteration, Space Mountain!
Other Attractions
3) Orbitron: Pilot your own spaceship through a galaxy of planets. This ride's best taken at night, when the planets light up in a neon blaze.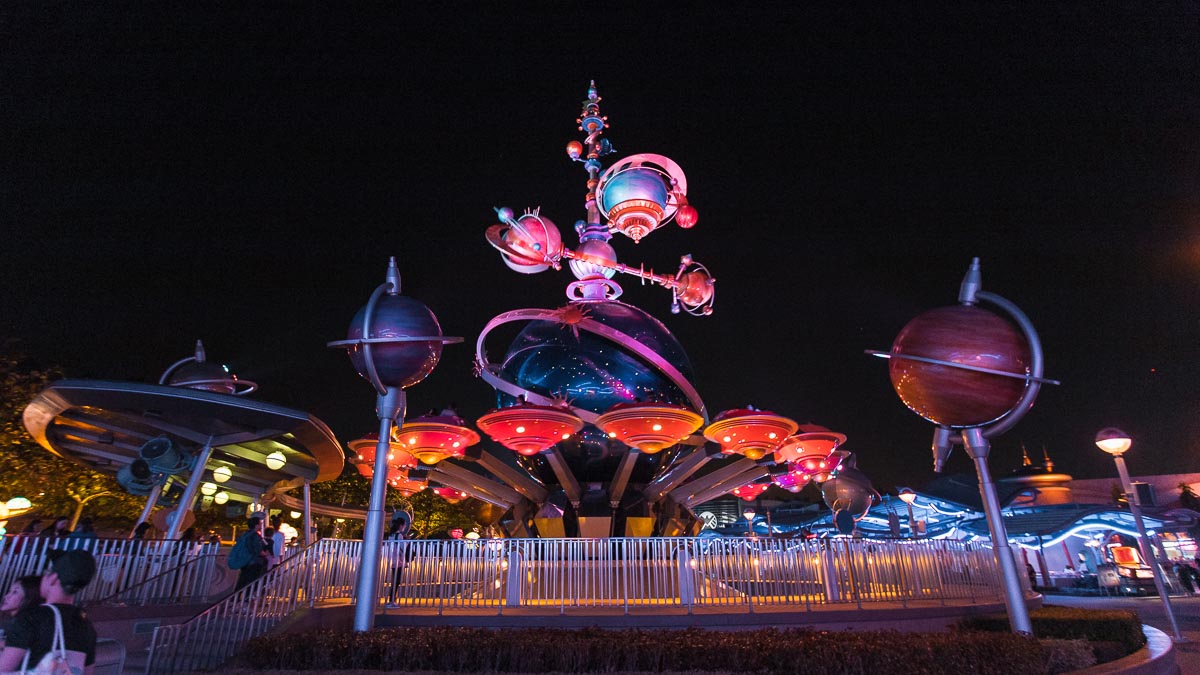 Orbitron
4) Star Wars: Command Post: Meet BB-8, R2-D2, and Chewie in a hidden Resistance base.
5) Jedi Training: Trials of the Temple: Watch young Jedis get schooled in the Force. Cuteness overload!
6) Iron Man Tech Showcase: For a photo with the charismatic superhero himself.

Secrets & Tips 
1) Use FASTPASS for the Popular Attractions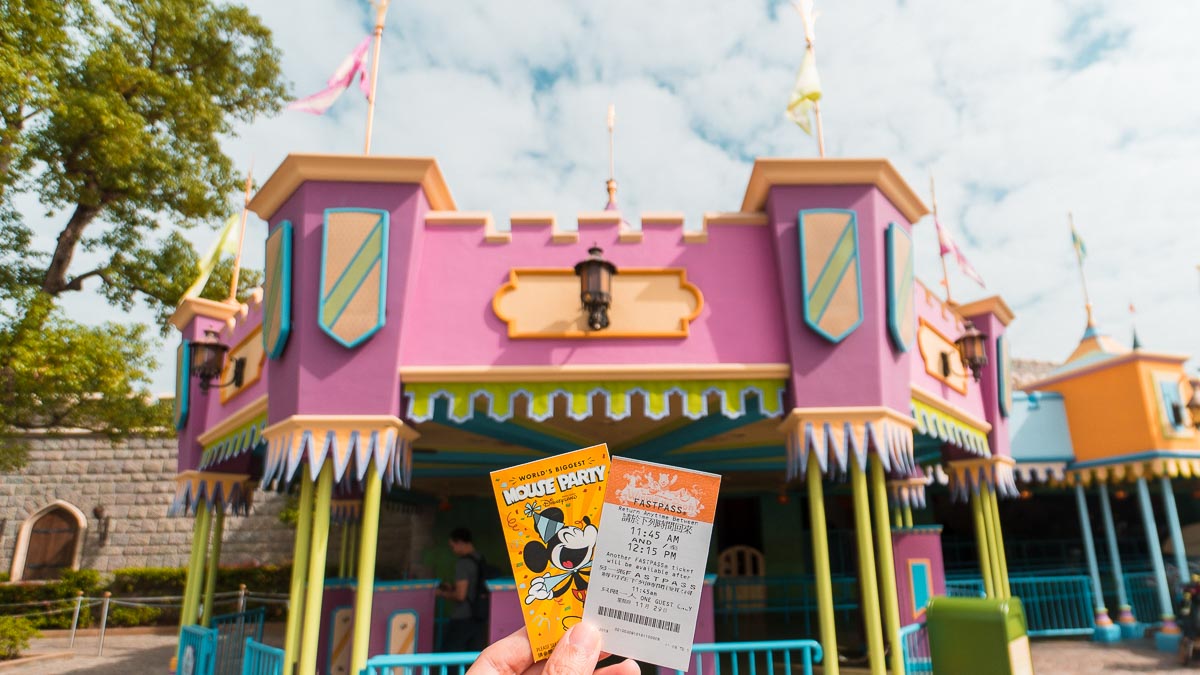 Hong Kong Disneyland's FASTPASS lets you skip the main queue for popular attractions — and it's completely free!
FASTPASS is available for crowd favourites The Many Adventures of Winnie the Pooh and Hyperspace Mountain. Just scan your park ticket and collect your timing ticket at the booths outside each attraction.
2) Collect Lots of Stickers!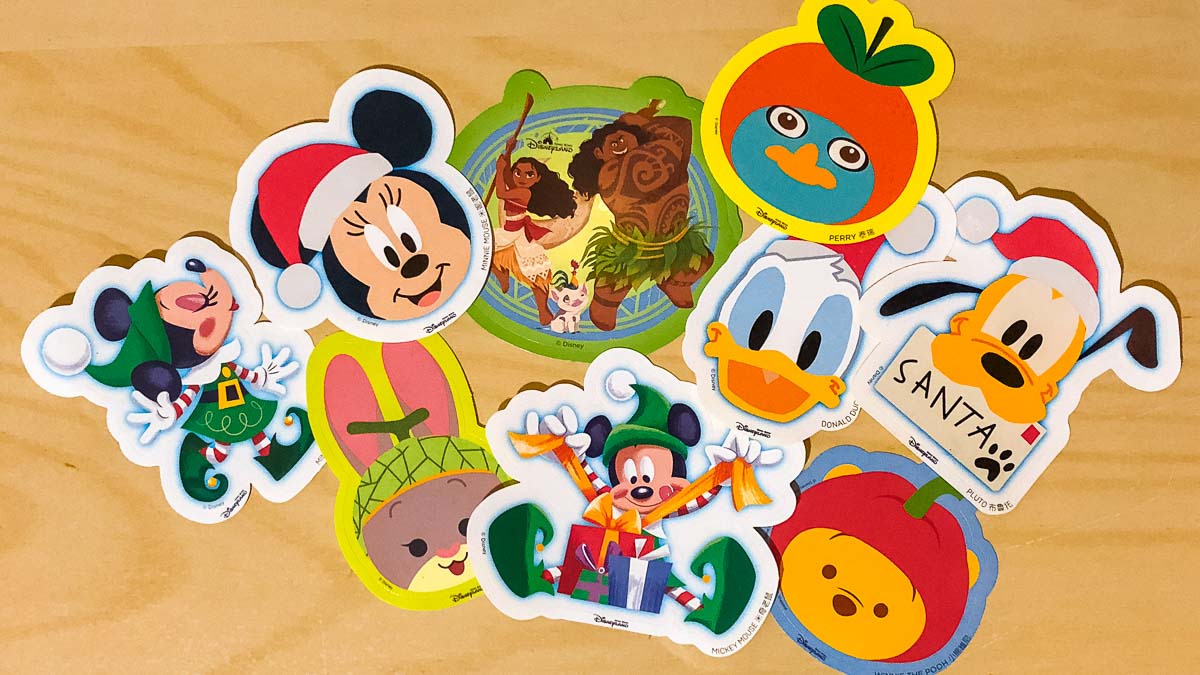 Our haul — let us know if you got any others!
Cast members are equipped with unique Disney stickers, so don't be shy to approach them and ask. There are even limited edition seasonal stickers at certain times of the year!
3) If Queues Are Long, Pick Single Rider Options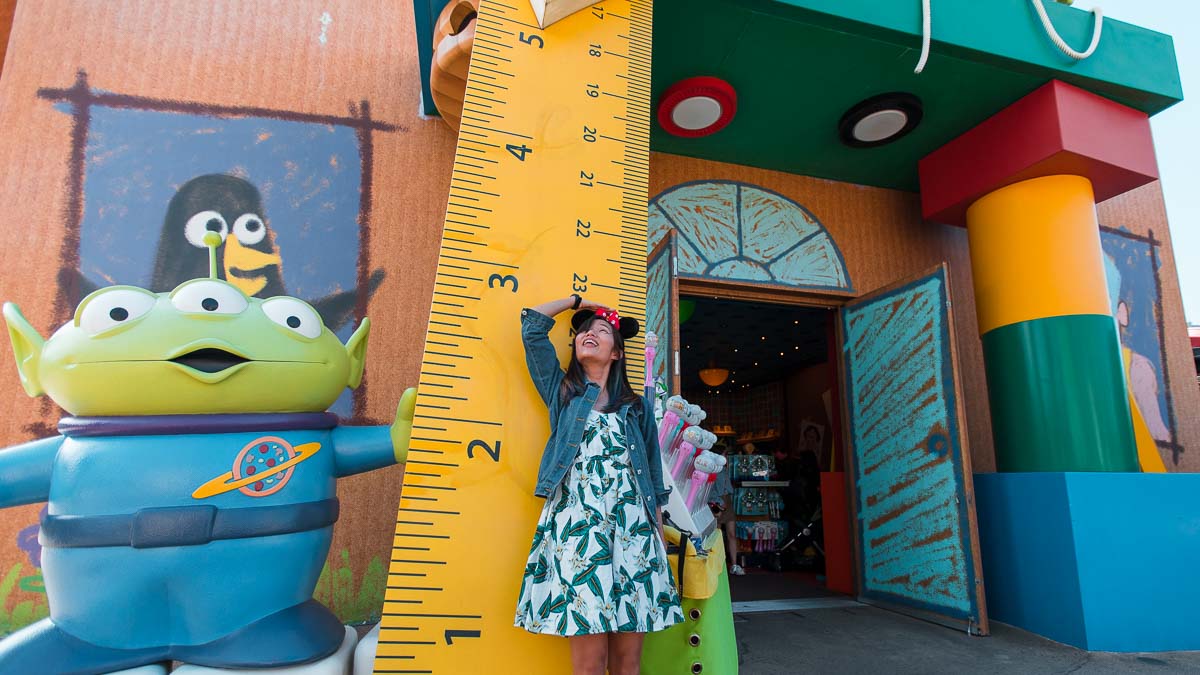 Opt for the Single Rider option where available — this cut our waiting time for Toy Soldier Parachute Drop from 40 minutes to just five!
4) Trade Pins with Cast Members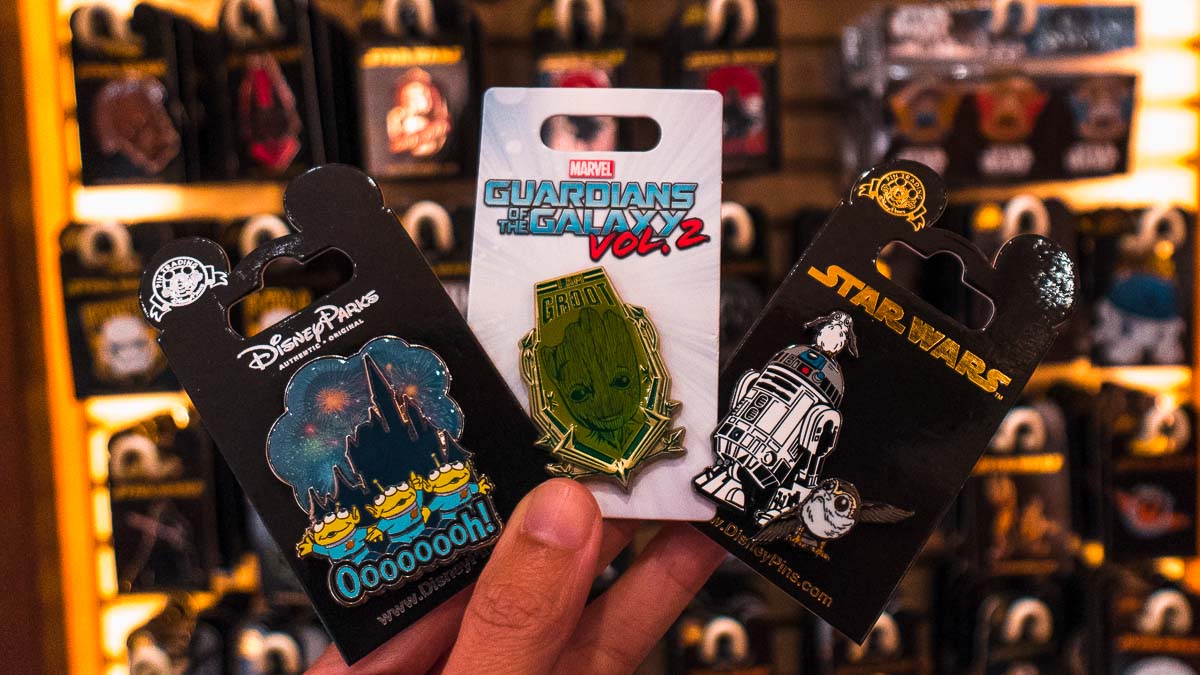 Pin trading is a huge (albeit relatively unknown) tradition at Disneyland, and Hong Kong is no exception. Choose a pin from the shop (from HK$75 – HK$105, ~S$13.10 – ~S$18.34), and trade with cast members around the park.
5) Collect Badges for Special Occasions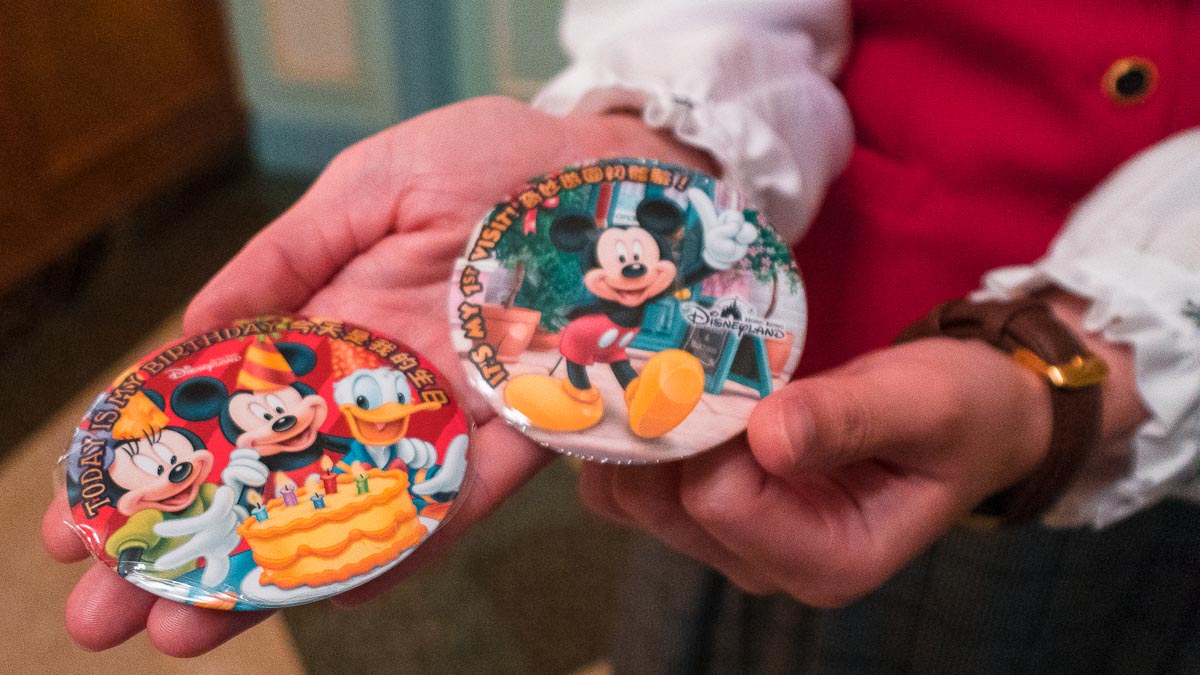 If it's your birthday or first time at Disney, head to Guest Relations (located within City Hall on Main Street) and collect a celebratory badge. You never know what surprises await when you put it on!
6) Watch out for Picture Spots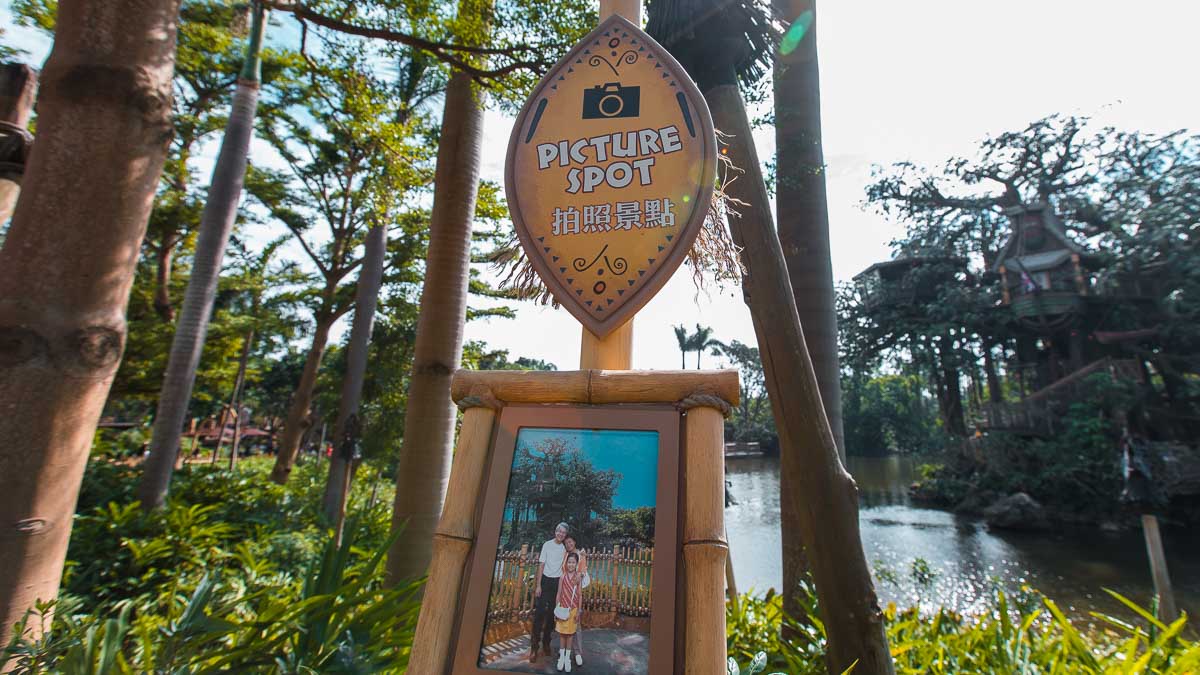 These often-missed signposts show you how to position yourself for the best photos!

Suggested Routes

Both of these itineraries include must-dos, but the Magic Route prioritises shows and scenic attractions while the Mayhem Route suits thrill-seekers.
Do note that Main Street opens at official opening time, while other lands and attractions open 30 minutes later.
Also, an hour before park closing, attractions in all lands except Fantasyland and Tomorrowland close. We recommend spending 30 minutes walking through the park to see the lights, then camping out at Main Street for the night parade.
Magic Route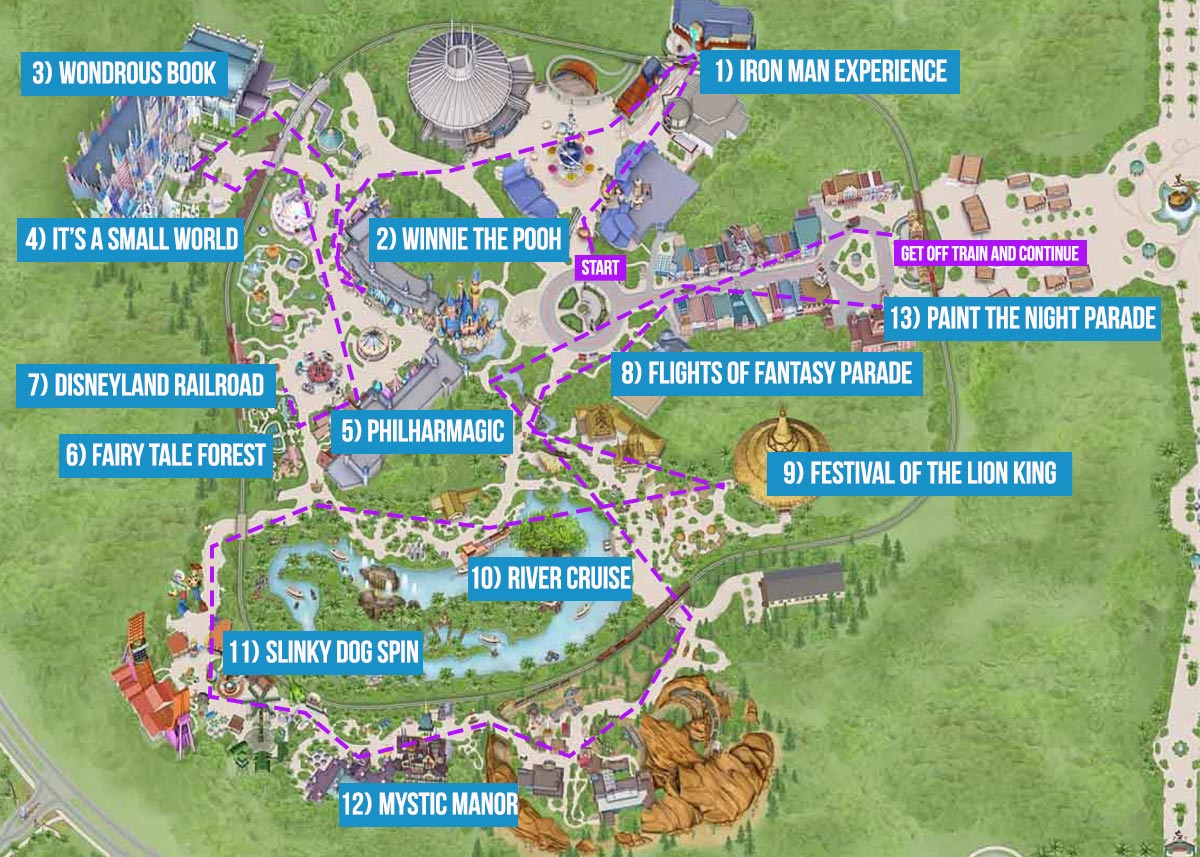 Magic Route
1) Iron Man Experience
2) The Many Adventures of Winnie the Pooh (FASTPASS available)
3) Mickey and the Wondrous Book
4) "it's a small world"
5) Mickey's PhilharMagic
6) Fairy Tale Forest
7) Hong Kong Disneyland Railroad, from Fantasyland to Main Street
8) Flights of Fantasy Parade
9) Festival of the Lion King
10) Jungle River Cruise
11) Slinky Dog Spin
12) Mystic Manor
13) Disney Paint The Night Parade
Mayhem Route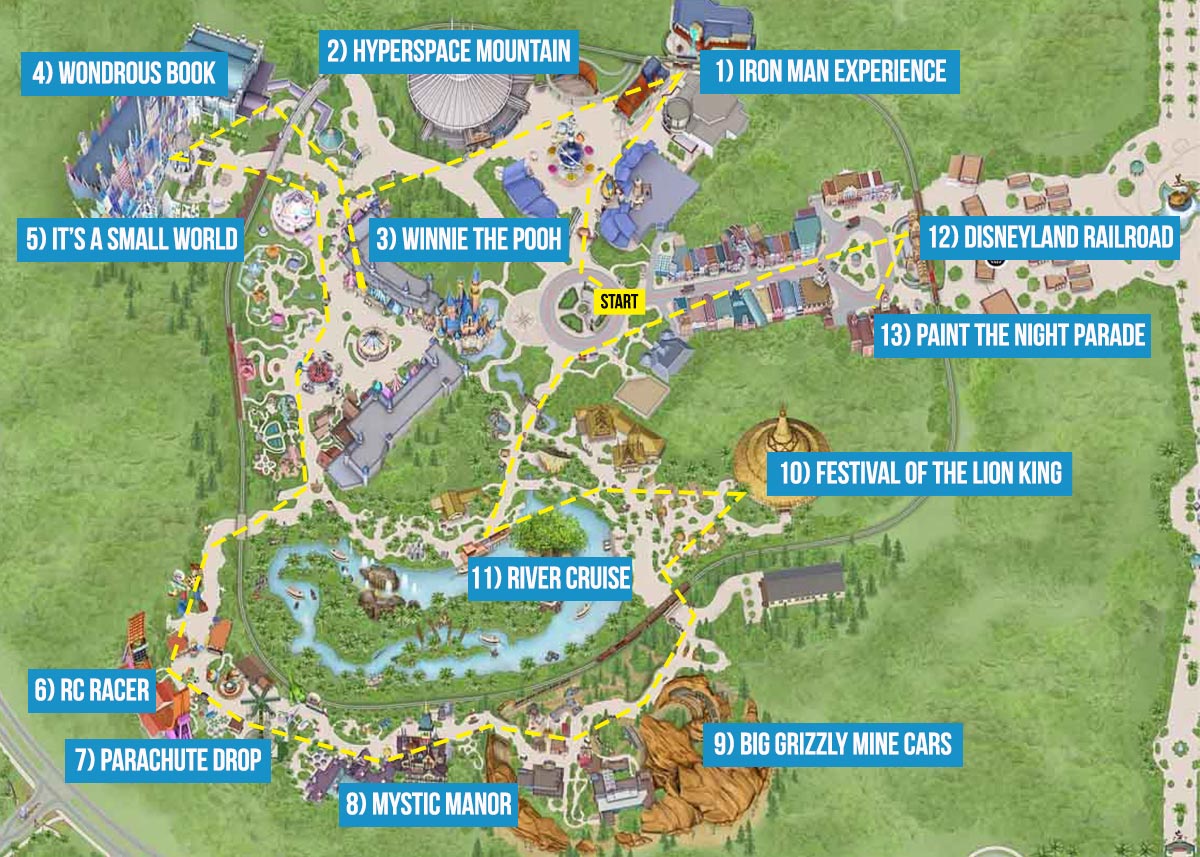 Mayhem Route
1) Iron Man Experience
2) Hyperspace Mountain (FASTPASS available)
3) The Many Adventures of Winnie the Pooh (FASTPASS available)
4) Mickey and the Wondrous Book
5) "it's a small world"
6) RC Racer
7) Toy Soldier Parachute Drop
8) Mystic Manor
9) Big Grizzly Mountain Runaway Mine Cars
10) Festival of the Lion King
11) Jungle River Cruise
12) Hong Kong Disneyland Railroad
13) Disney Paint The Night Parade

Must-Eats at Hong Kong Disneyland
Theme park food doesn't come cheap, so spend only on the cutest things!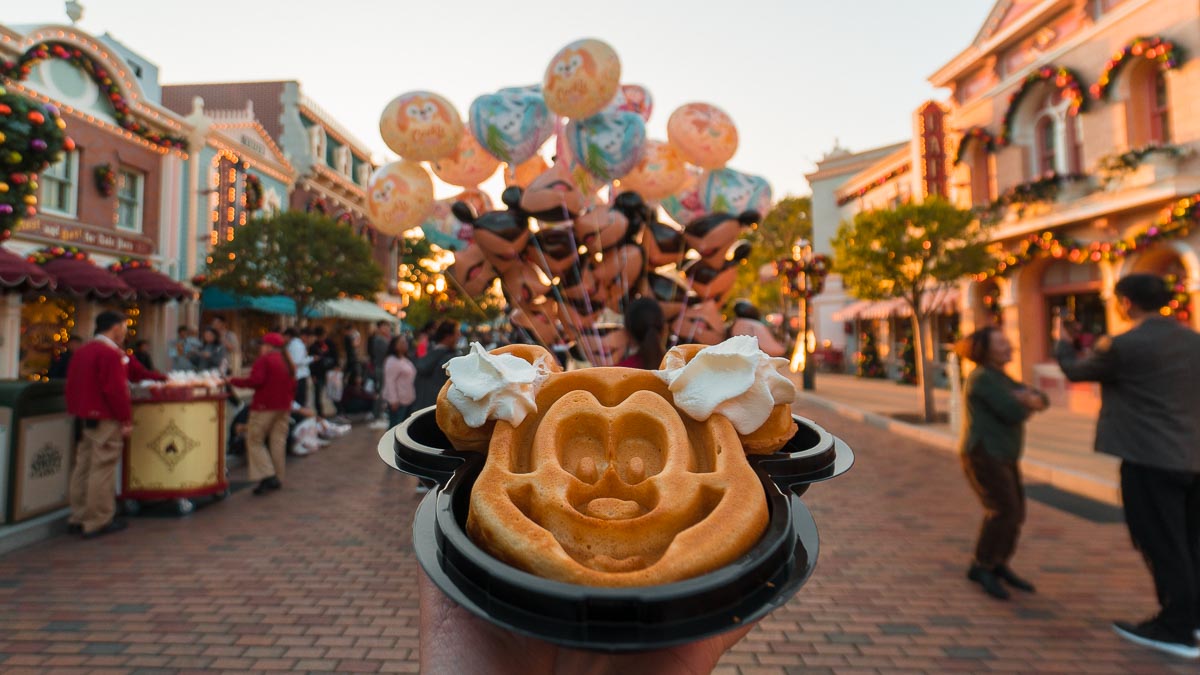 Exhibit A: Mickey Waffle with chocolate sauce and maple syrup, for HK$55 (~S$9.62)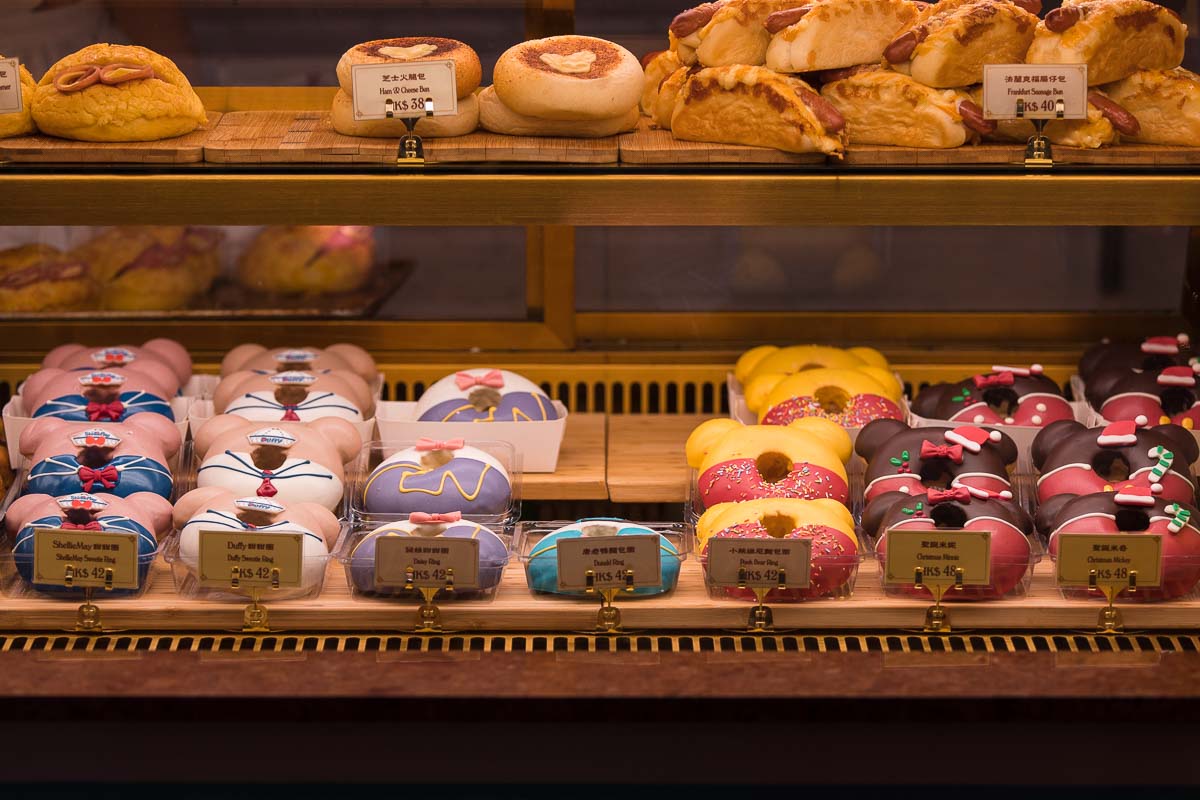 Exhibit B: These adorable donuts for HK$42 (~S$7.34)
For main meals, you'll find at least one themed food hall in each land, with prices averaging HK$100 (~S$17.46). Halal and vegetarian options are available too.
If you're on a tight budget, we recommend a light meal of fish and chips or chicken nuggets at Grizzly Gulch's Lucky Nugget Saloon (HK$50, ~S$8.73). For a heartier meal, Starliner Diner serves affordable American fast-food from HK$99 (~S$17.29).
We opted for the diverse spread at Fantasyland's Royal Banquet Hall, serving a mix of international food (~HK$129, ~S$22.56 per meal).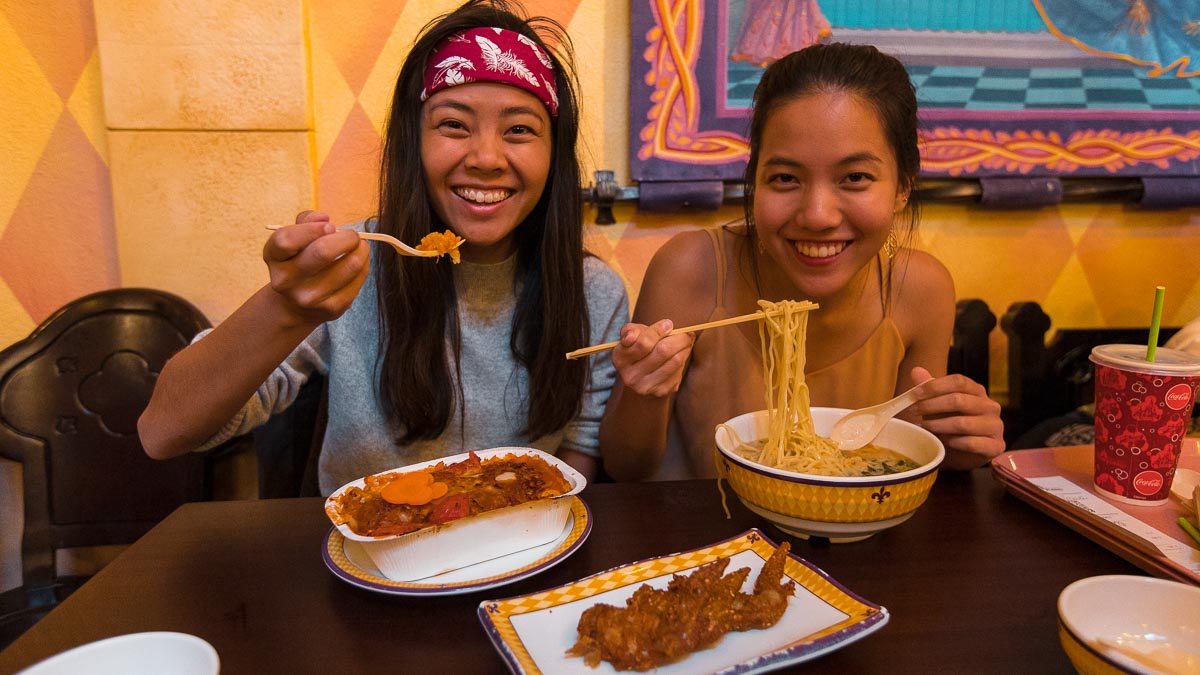 Meal at the Royal Banquet Hall
Bring your own water bottle, which you can refill at water fountains, usually found outside the toilets.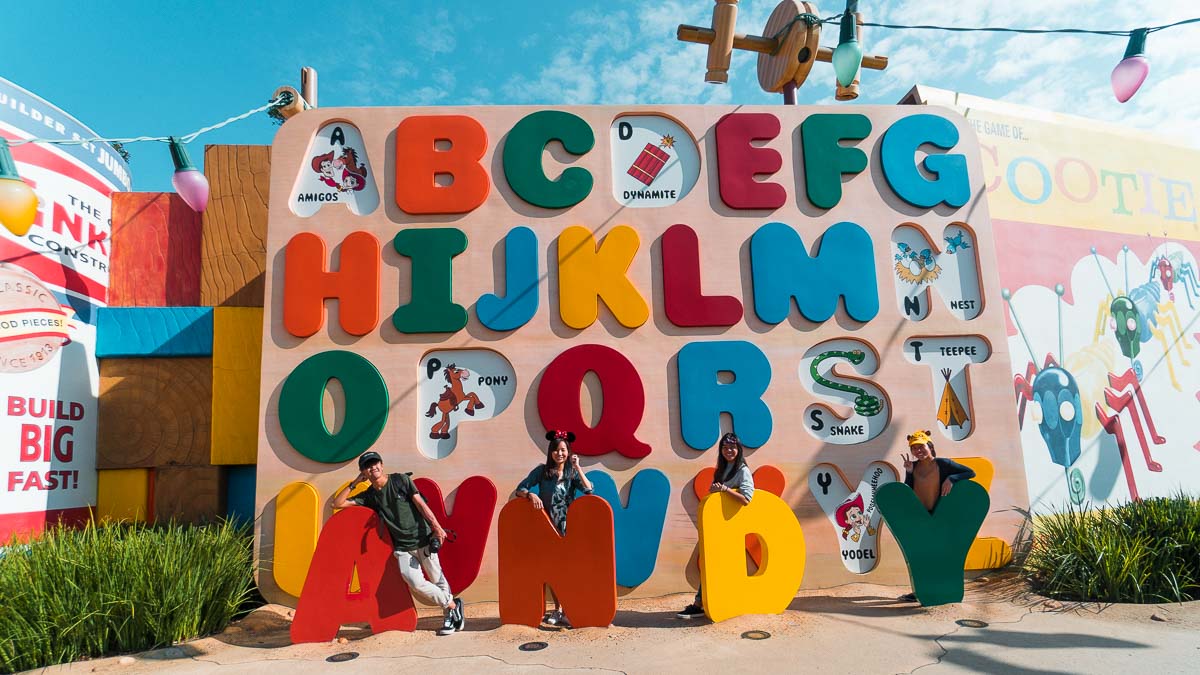 Hong Kong Disneyland FAQs
1) Is there a language barrier at Hong Kong Disneyland? Nope! The staff at Hong Kong Disneyland speak a mixture of Cantonese, English and Mandarin. Shows always include English translations, and there's never a point where I didn't understand what was going on.
2) Should I stay at a hotel near Hong Kong Disneyland? Since the park is so accessible by public transport, it's not crucial to stay onsite. However, there are some cool benefits, like the walking-distance proximity to Disneyland, and special character dining opportunities. Level up your magical experience at one of the three hotels: the grand Hong Kong Disneyland Hotel, Art Deco-inspired Disney's Hollywood Hotel, and jungle-themed Disney Explorers Lodge.
3) Is WiFi available? WiFi is available through most of the park, and is generally reliable.
4) How long should I spend at Hong Kong Disneyland? One day is enough to cover Hong Kong Disneyland, though you'll need to prioritise the highlights. Opt for two days if you want to take your time and enjoy every single attraction.
Save Over 10% Off Hong Kong Disneyland Tickets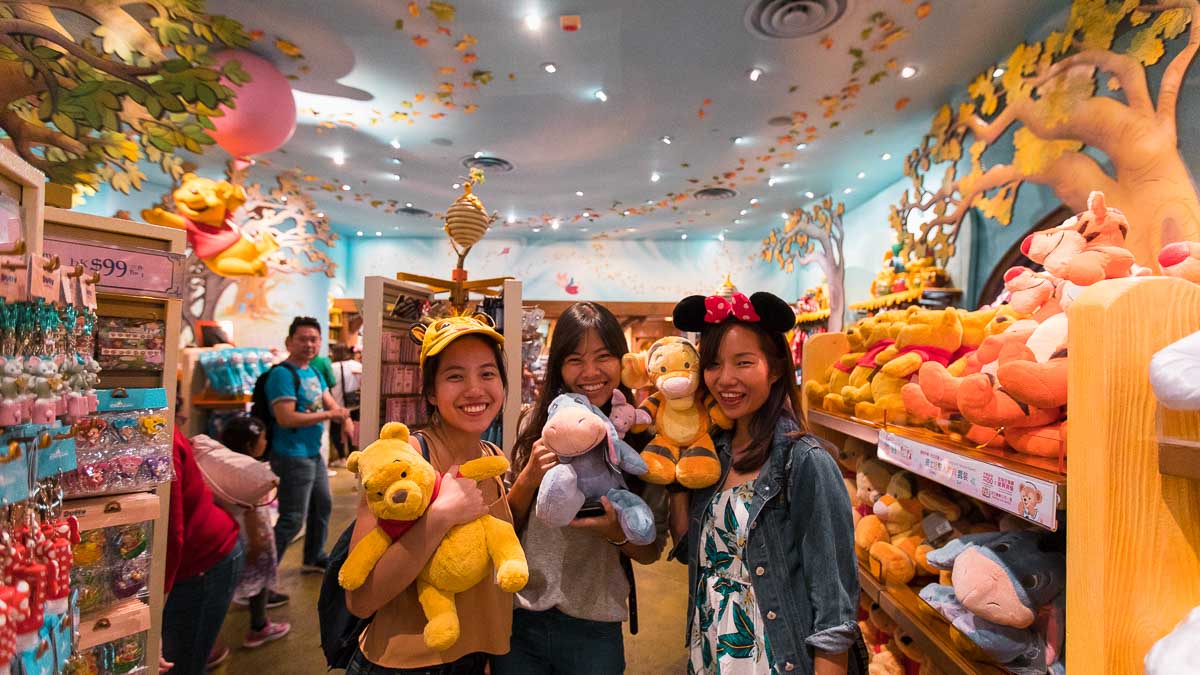 Being avid theme park-goers, we know better than to buy tickets at the counter. Counter tickets at Hong Kong Disneyland will set you back HK$619 (~S$108.61). Instead, pre-book your e-tickets via Klook, and get them at ~S$94! The tickets are open-dated and no physical ticket is required — just scan the app's QR code and you're good to go.
Note that if you purchase a two-day pass, your first visit must be on or before the expiry date, while the second visit must be within the next seven days.

Updates to Hong Kong Disneyland Castle And New Lands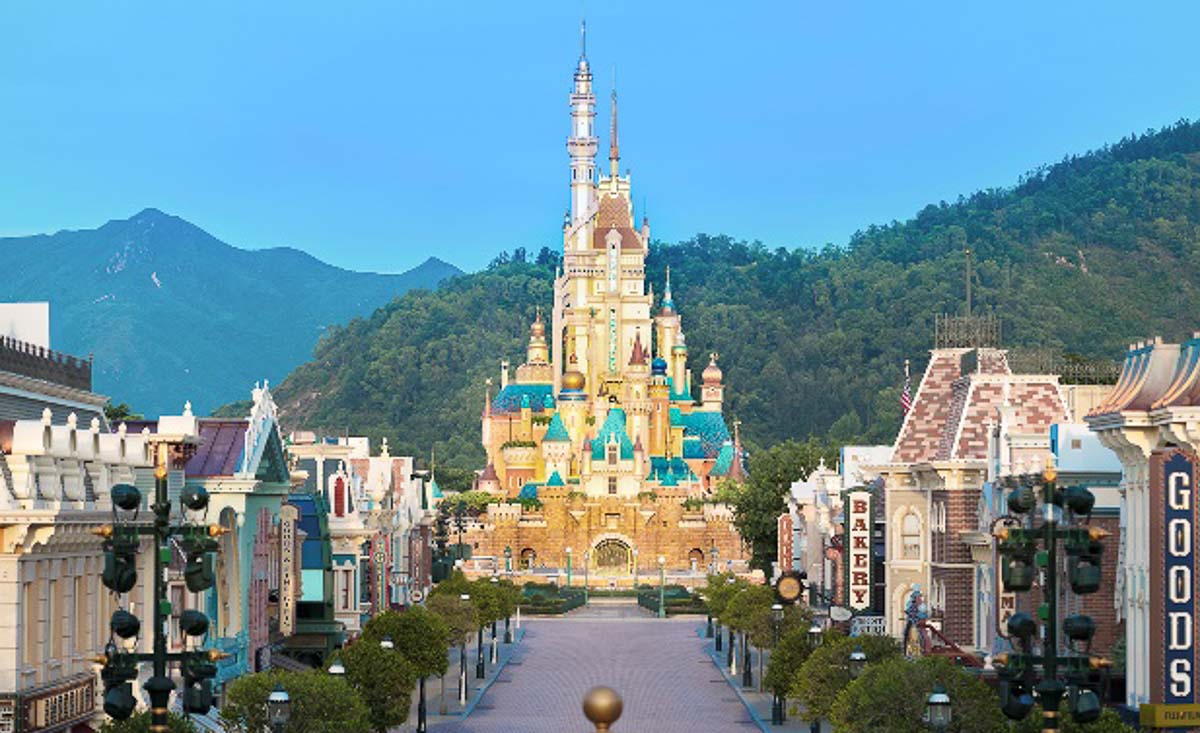 Photo credit: Hong Kong Disneyland
But wait, there's more!
On 21st November 2020, Hong Kong Disneyland will unveil its new Castle of Magical Dreams (previously the Sleeping Beauty Castle). This never-before-seen design features 13 Disney heroines, including Mulan, Moana, and Elsa.
Also, stay tuned for Frozen's Arendelle Kingdom and Marvel Land, to be unveiled in 2021 and 2023 respectively.
Know other tips to include in this Hong Kong Disneyland guide? Share them with us in the comments below!
---
This post was brought to you by Klook.
Like what you see? Follow us on Facebook, Instagram, and YouTube for more travel updates!