Everything you need to explore Labrador Nature Reserve in half a day or less.
Many of the cool nature parks and reserves in Singapore we hear of these days seem to be in far-flung places like Sungei Buloh Nature Reserve (in Kranji) or require some advanced navigation like at Clementi Forest.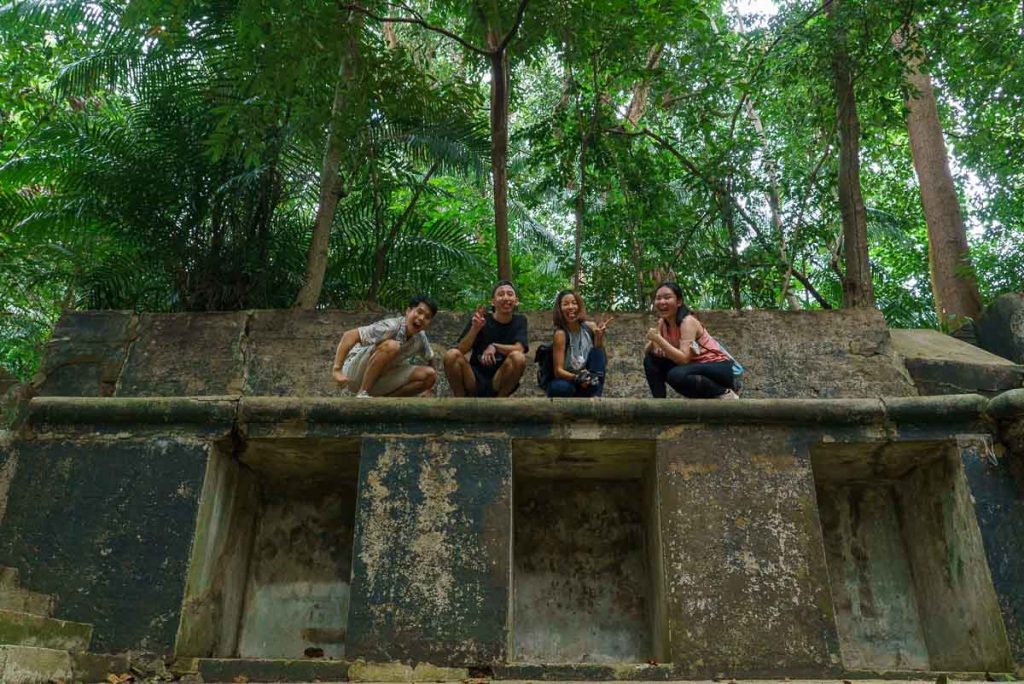 But there's an often-overlooked hiking spot located within close proximity to urban developments — it's none other than Labrador Nature Reserve!
This park has four scenic boardwalks along the coast, is teeming with wildlife, and has nuggets of relics left from WWII.
If you're looking for a beginner-friendly introduction to trekking the nature parks in Singapore, Labrador Nature Reserve is a good start.
How to get to Labrador Nature Reserve
Drivers: There are four car parks at Labrador Nature Reserve — Car Park A is on Labrador Villa Road while Car Parks 1, 2, and B are accessible via Port Road. Car Parks 1, 2, and B have free parking. Car Park A's rate is $0.60/30mins.
Public transport: Labrador Park (Circle Line) MRT station, Exit A.
Labrador Nature Reserve is open daily from 7AM to 7PM.
Starting Point: Berlayer Creek Boardwalk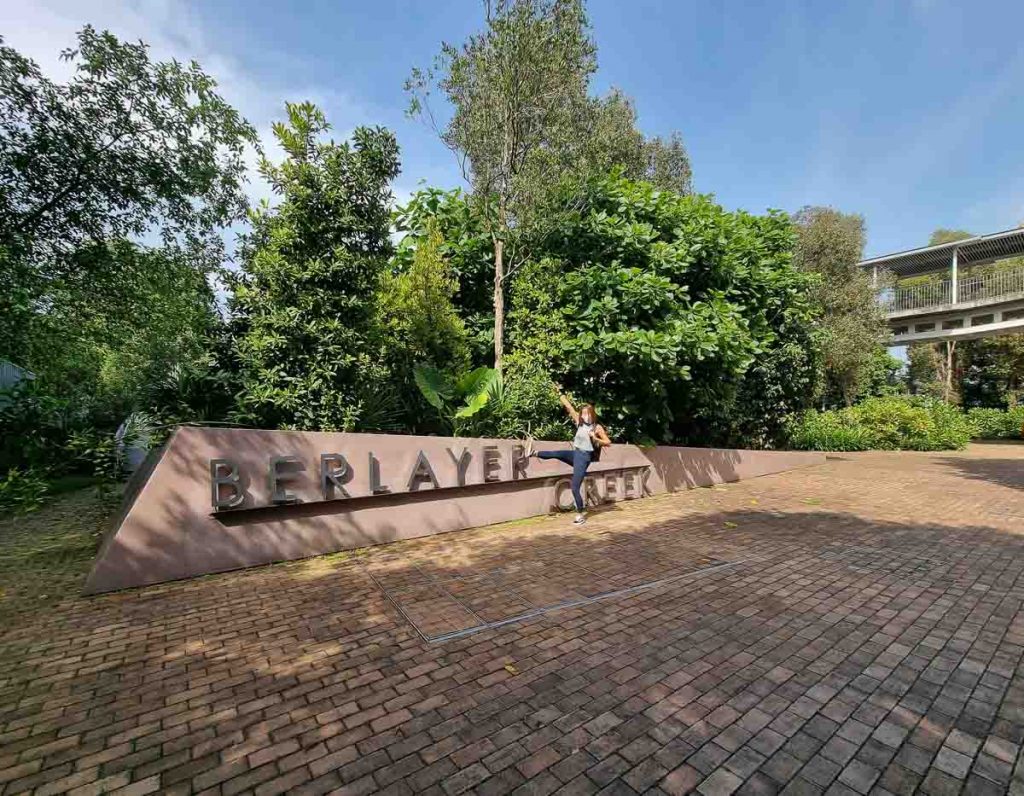 The starting point of Berlayer Creek boardwalk is just a few metres from Labrador Park MRT station. Turn right when facing the main road at Labrador Park MRT station, exit A.
Note: There are signs at the MRT station pointing towards "Labrador Nature Reserve", but due to ongoing roadworks, it's a lot easier (and nearer) to enter Labrador Nature Reserve via Berlayer Creek.
Recommended Route at Labrador Nature Reserve
Labrador Nature Reserve has several walking trails — the Berlayer Creek Mangrove Trail, Bukit Chermin Boardwalk, the Coastal Trail, and the Heritage Trail. There are multiple starting points for all four routes, but they are connected and can be trekked altogether in under three hours.
Here's our recommended route to see the best of Labrador Nature Reserve in under half a day.
Distance: 2.1km
Difficulty level: Easy
1) Start with Berlayer Creek Mangrove Trail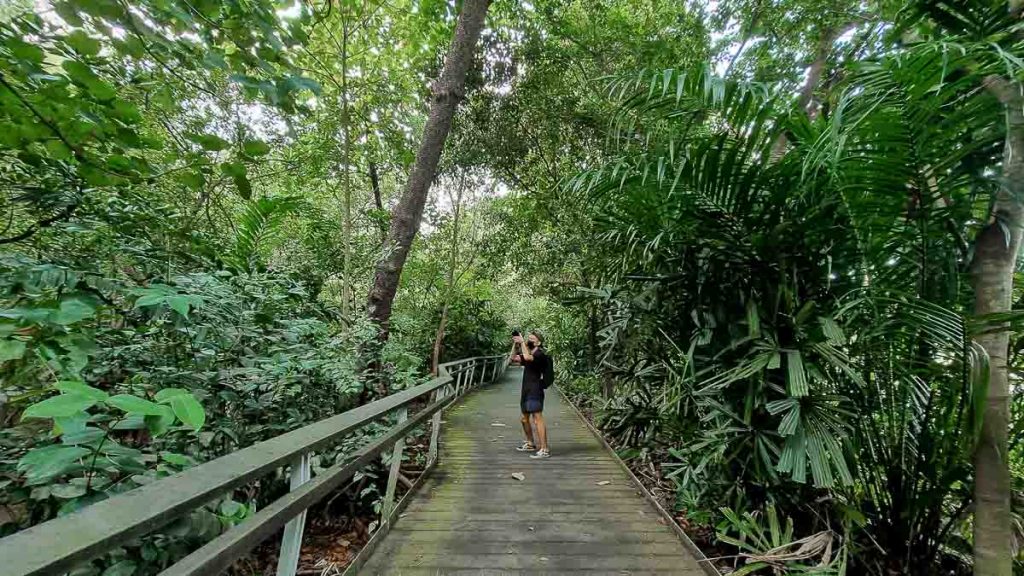 Most people think of Pulau Ubin, Pasir Ris, and Sungei Buloh as the only mangroves in Singapore, but there's also Berlayer Creek, one of two remaining mangroves in the southern part of Singapore.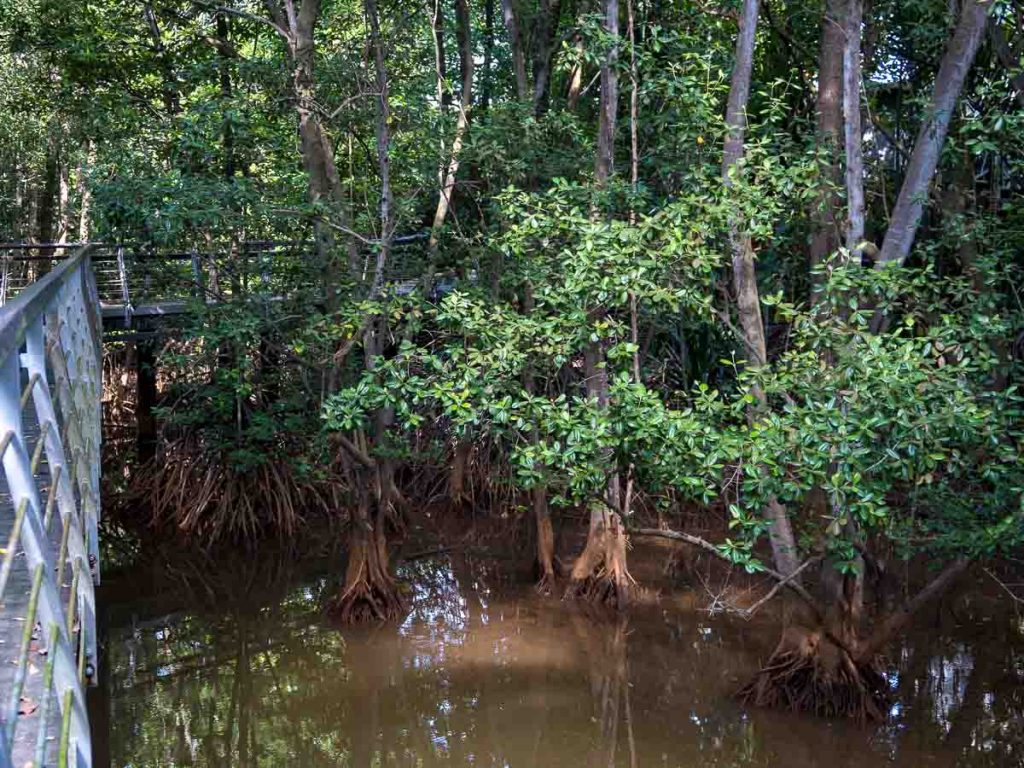 Sounds of crickets and cicadas also fill the air at Berlayer Creek Mangrove Trail. It's easy to forget that you're actually just a few kilometres away from civilisation.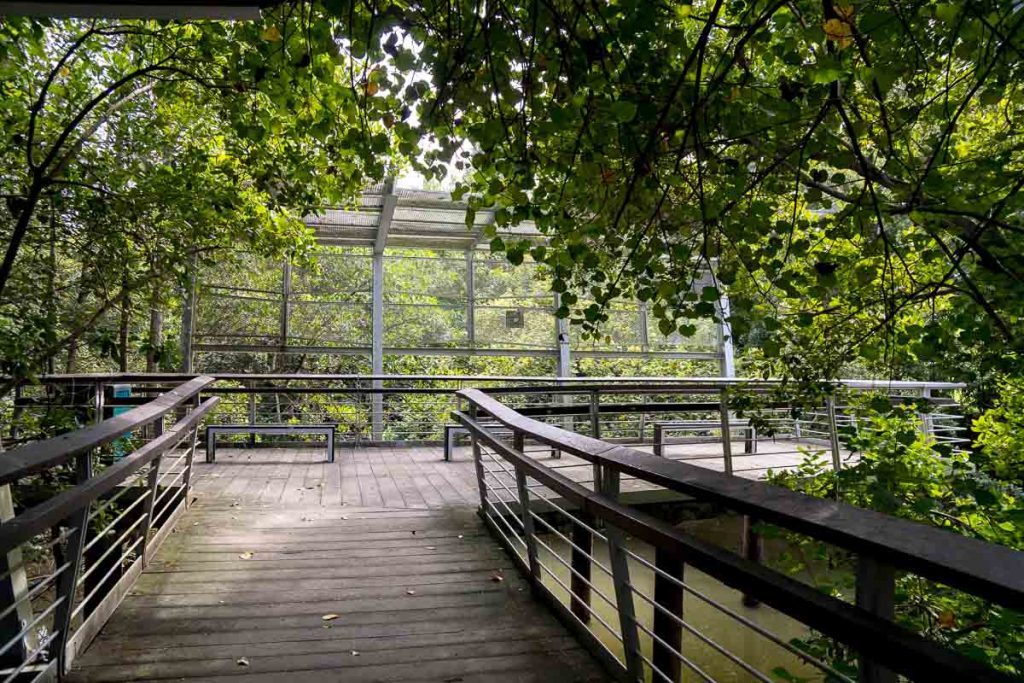 Berlayer Creek is home to a large variety of fauna and flora. During our visit, we saw kingfishers, black-naped orioles, kites (the bird, not the stringed-air craft), a yellow-crested cockatoo, squirrels aplenty, and monitor lizards.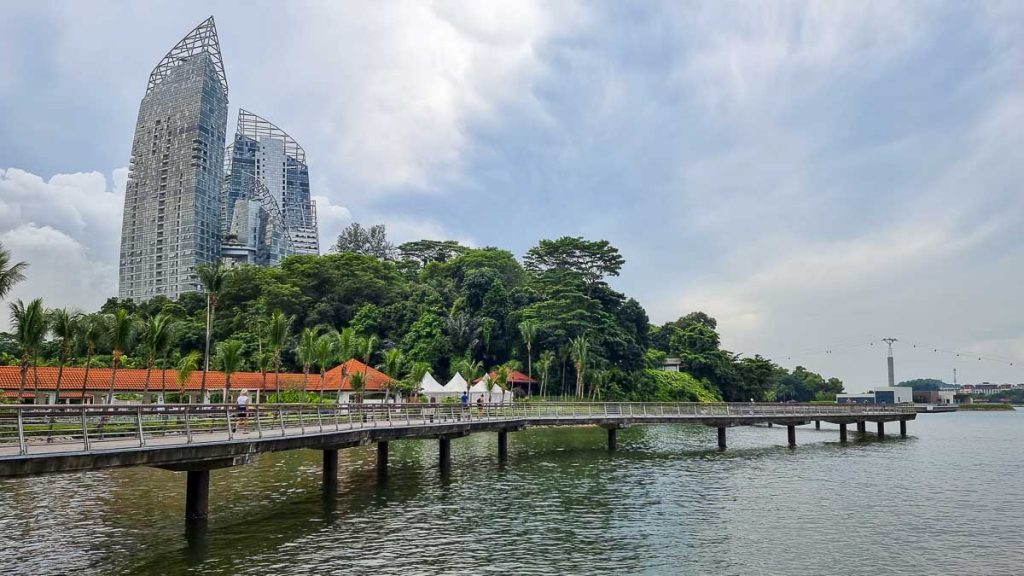 Bukit Chermin boardwalk leading to Reflections at Keppel Bay.
At the end of the 900m boardwalk, you can either continue leftwards onto the Bukit Chermin boardwalk (330m), which leads to Reflections at Keppel, or make a right turn and continue with the coastal walk. We did the latter route for this guide.
2) Coastal Walk with iconic landmarks of Singapore's past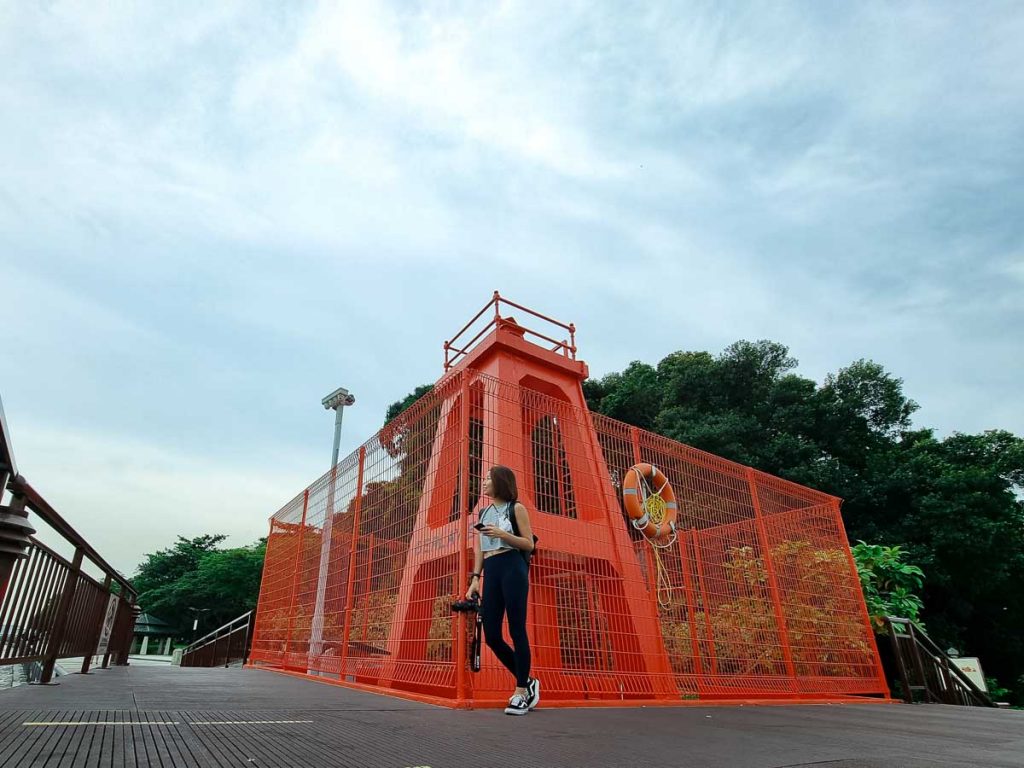 The coastal walk is also termed the "Maritime History Trail" as there are two prominent structures that shed light on Singapore's rich maritime history.
The more eye-catching red structure is the Red Beacon (a.k.a the Berlayer Point Lighthouse), a 7m tall structure that serves as a navigational beacon for boats and ships at Keppel Harbour. It was said to be built in the 1930s, and also marks the shortest distance between mainland Singapore and Sentosa at about 240m.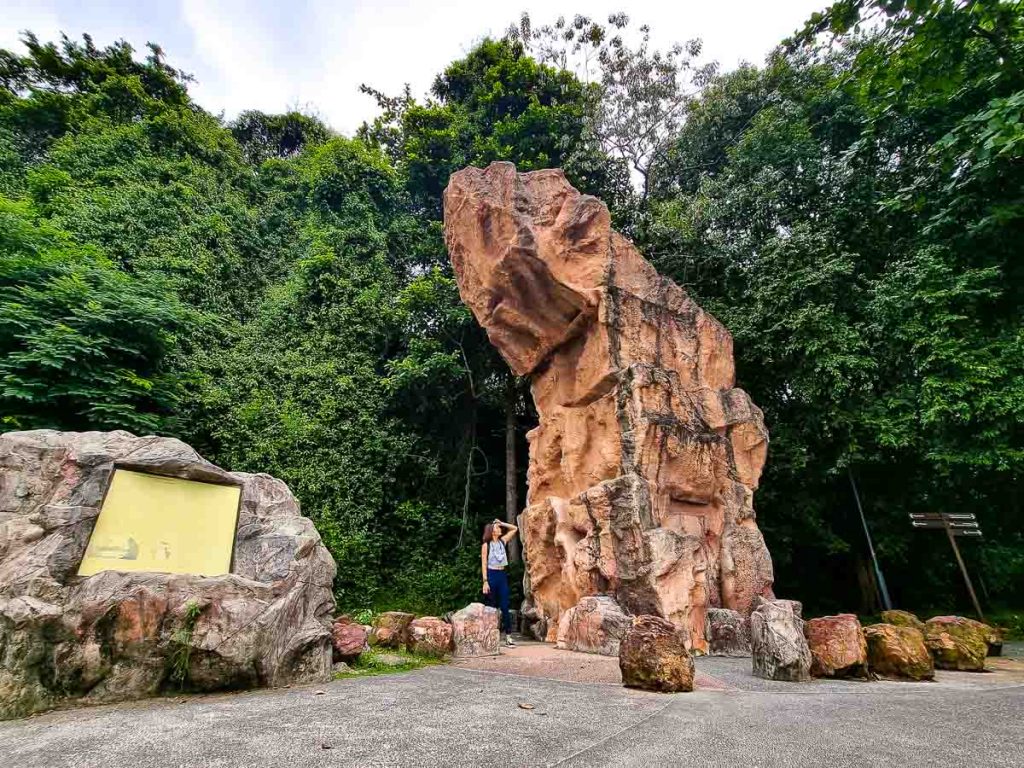 The other iconic structure is the Dragon's Teeth Gate (龙牙门 Long Ya Men in Chinese), a replica of a granite rock that served as a navigational marker for sailors. The actual rock was blasted in 1848 to make way for larger vessels to sail through.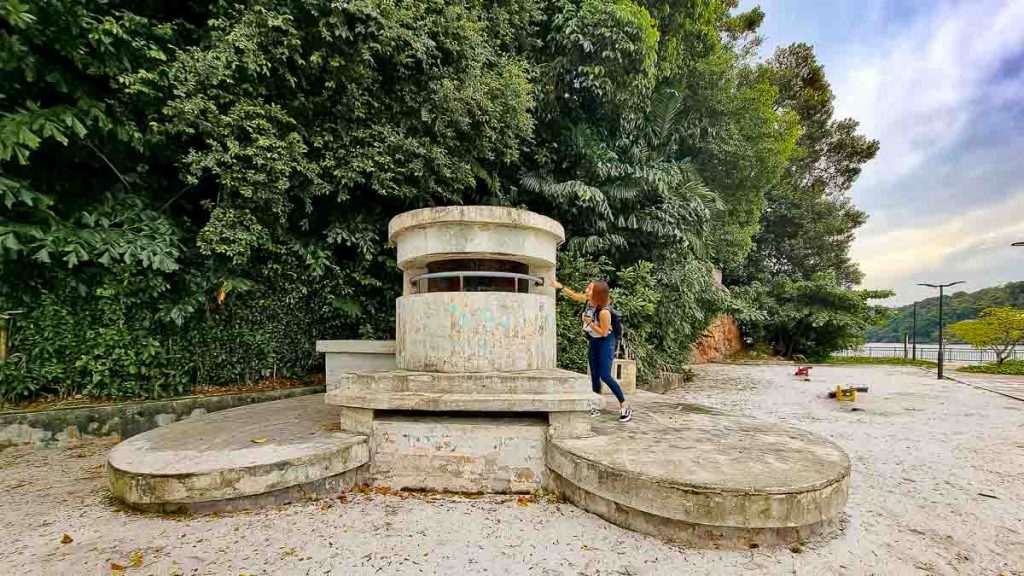 Continue along the coastal walk and you'll reach a playground with nothing more than a spinner, a swing, and two see-saws. But on closer look, just behind the swing is a machine-gun pillbox.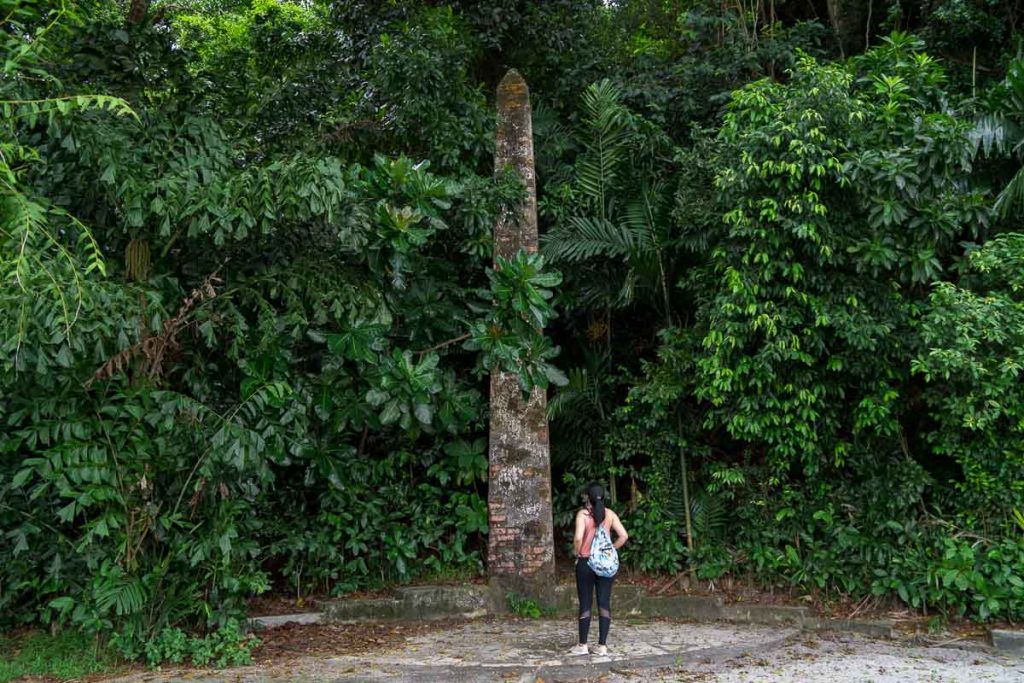 Another artifact from the past is an obelisk said to be erected by the British to mark the southernmost tip of the Asian continent.
Continue on the path until you reach Car Park B — here's where the heritage trail starts on the left.
3) The Wall of the Brick Cutting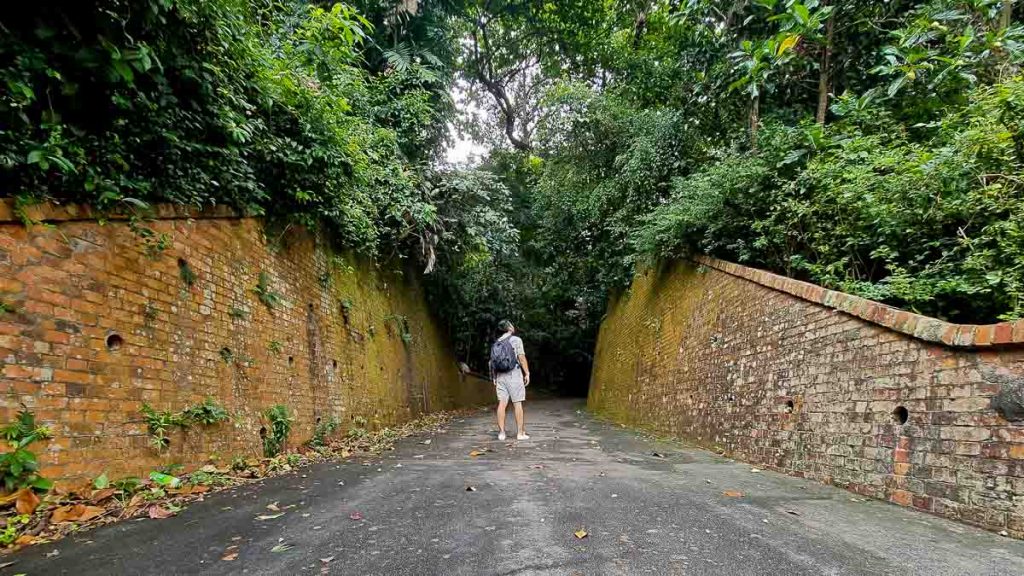 These brick walls mark the entrance to the heritage trail. They're the remnants of an old fort build in the 19th century. Unlike the mangrove boardwalk or coastal trail, the heritage trail is within a denser forest and is more humid within. You may also want to apply insect repellent before entering this trail!
Read also: 7 Abandoned Places in Singapore — Underground Bunkers, Deserted Mansions and Hidden Railway Tracks
4) Gun Emplacements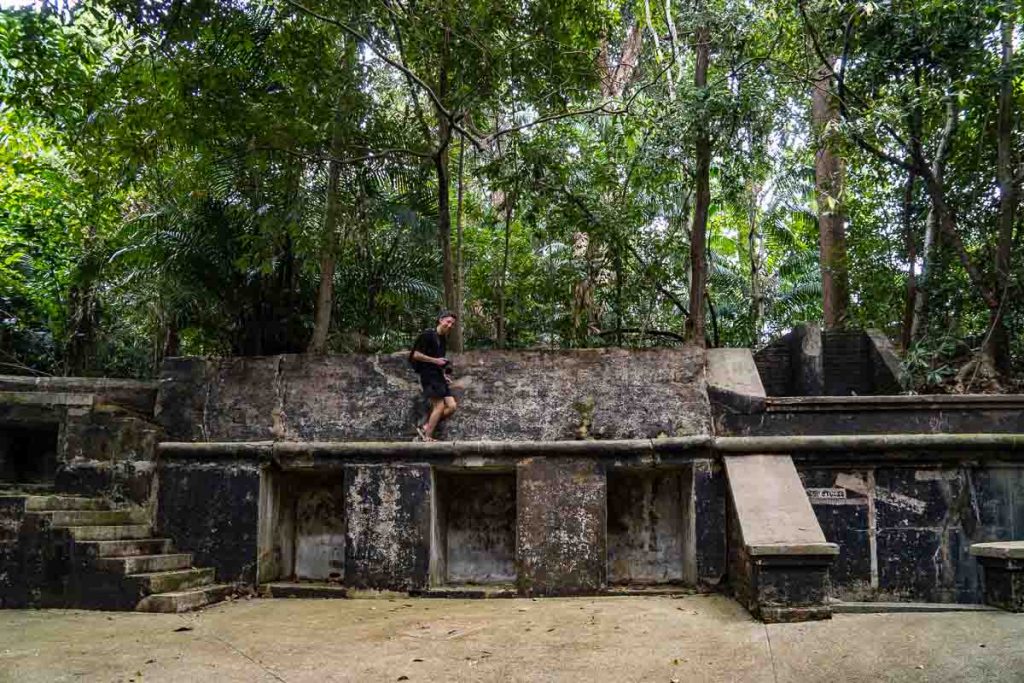 This emplacement was constructed in 1886 for a 7-inch rifled muzzle-loading gun. Although there are no guns on the site now, one can imagine just how it looked in the 19th century as the old Fort Pasir Panjang. From this site, look out for a secondary path on the right.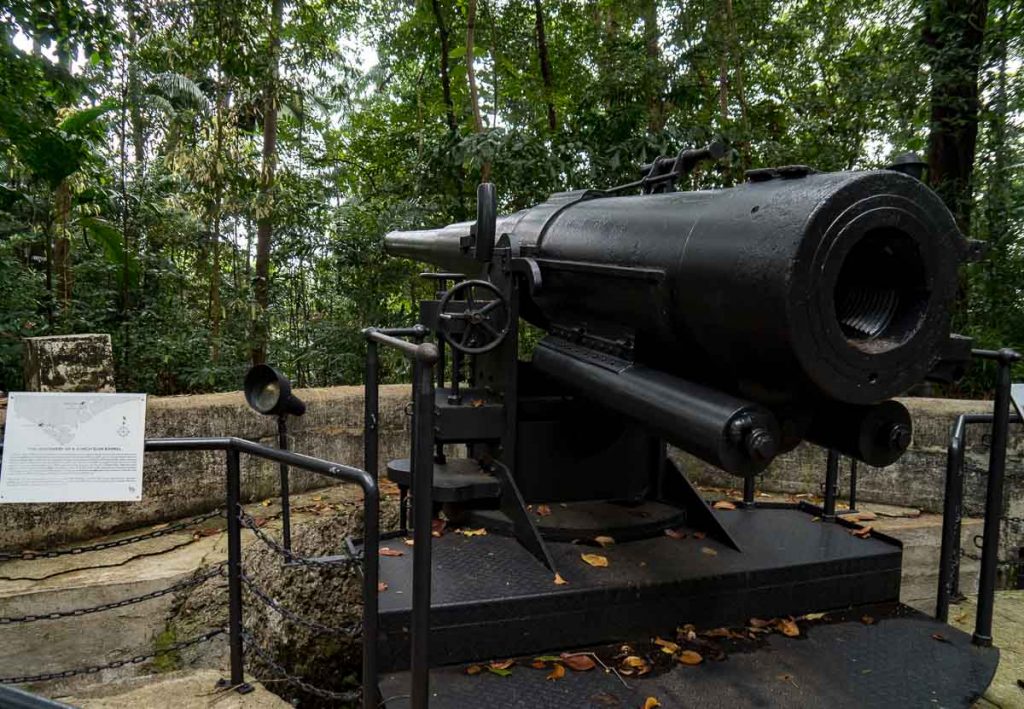 As you walk deeper in, you'll see another war relic — a 6-inch Quick Firing cannon. This barrel is an actual relic that was discovered in 2001 at the former Beach Road Camp.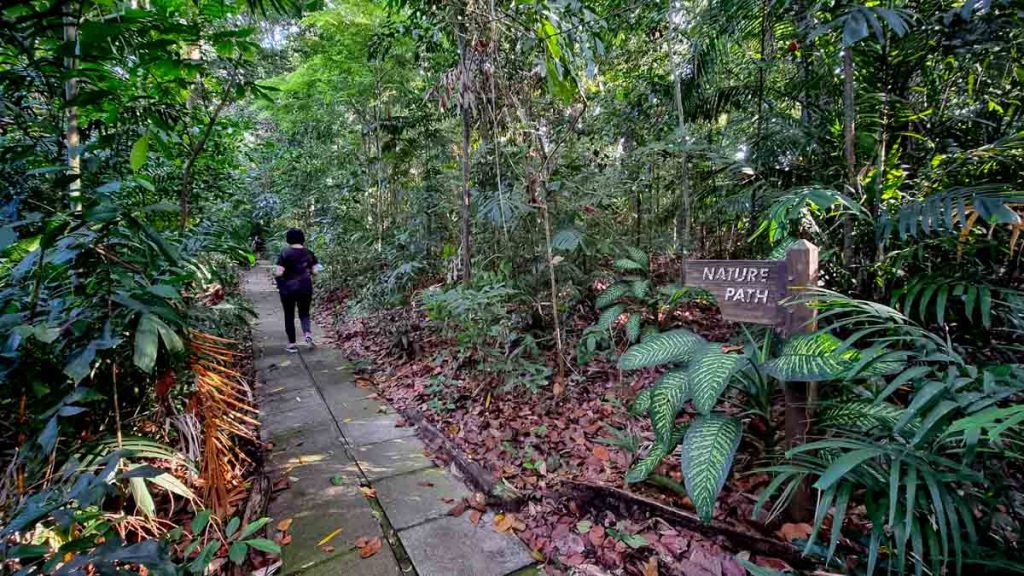 Around the gun emplacements, there's also an easy-walking nature path into the more forested area. Do pay attention to where you're stepping though, as some of the concrete slabs have shifted due to root growth.
5) The Tunnel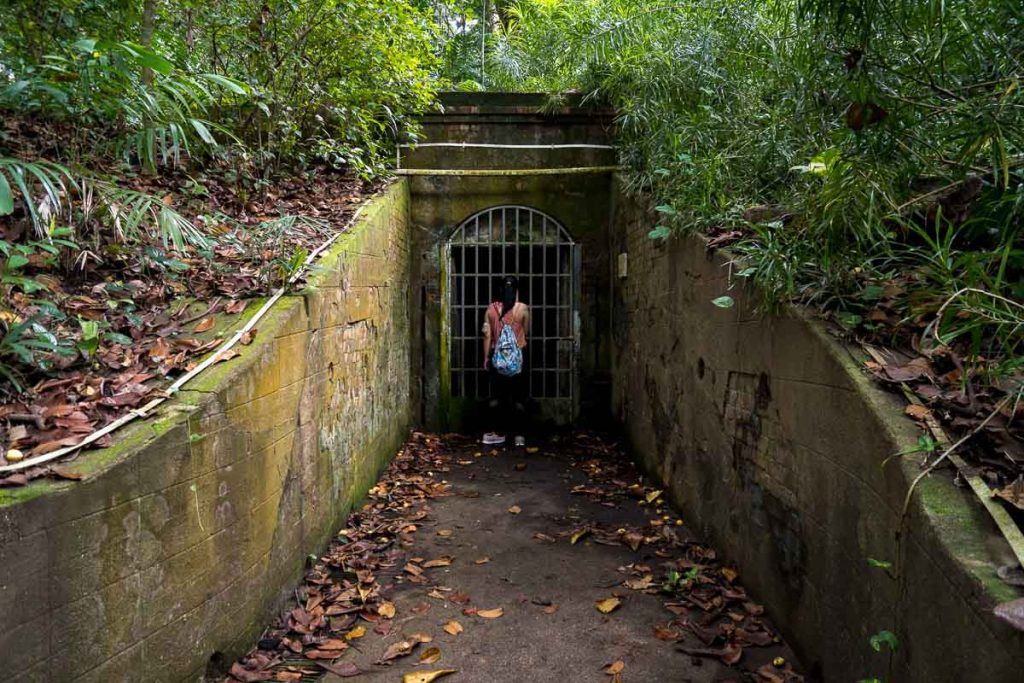 Aside from guns and old fort walls, tunnels were also part of the extensive defense system that the British had constructed here in 1886. The tunnels mostly served as underground storerooms for ammunition but it's been rumoured that one particular tunnel is an underwater link to a fort at Sentosa.
The tunnels were then forgotten after WWII, only to be found again by park officials in 2001. The gates to the tunnels are locked and not open to the public.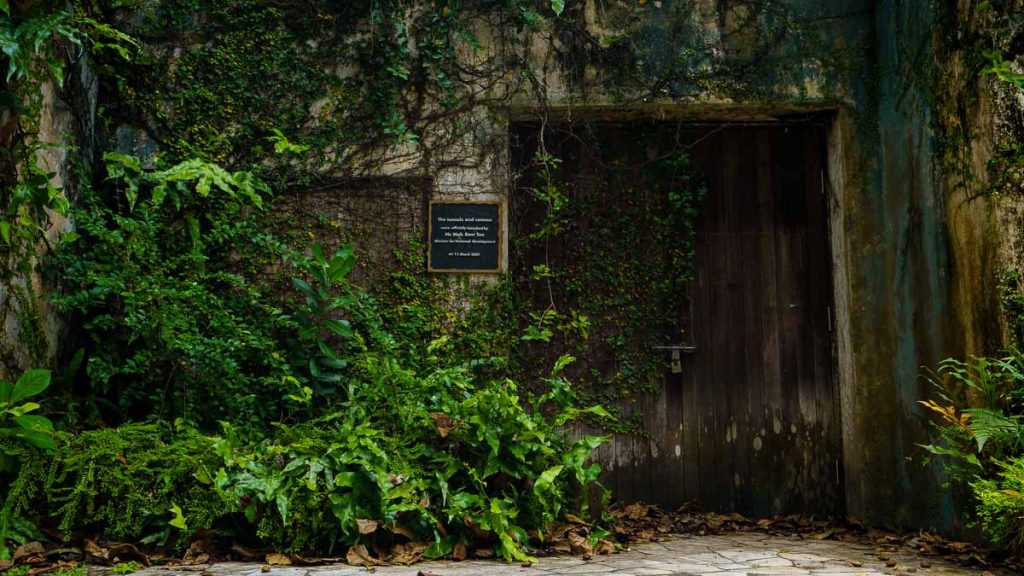 6) Tamarind Hill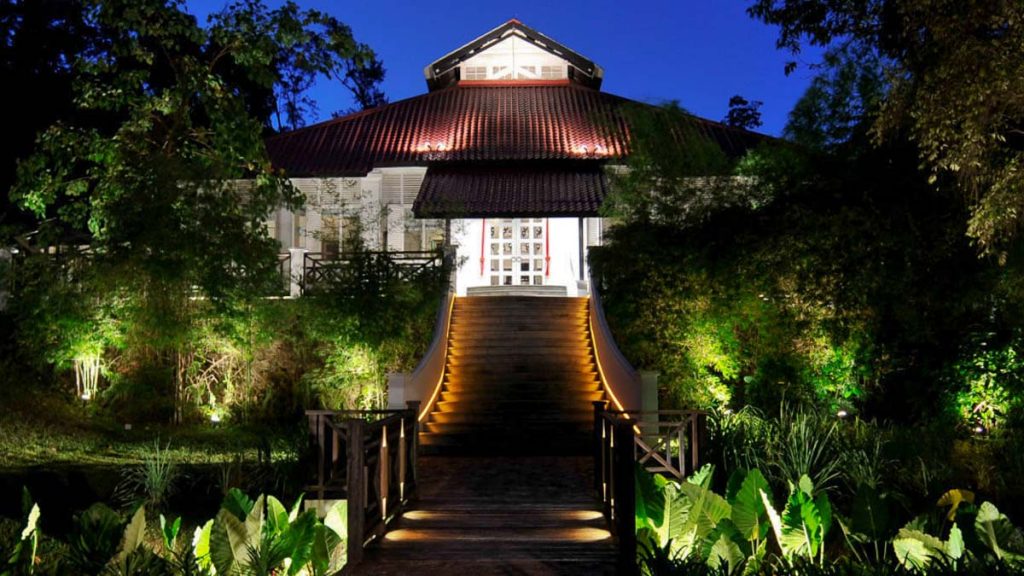 Photo credit: Tamarind Restaurants
At the end of the trail, you'll see a majestic-looking colonial bungalow. This historic colonial bungalow is now where the Tamarind Hill restaurant sits.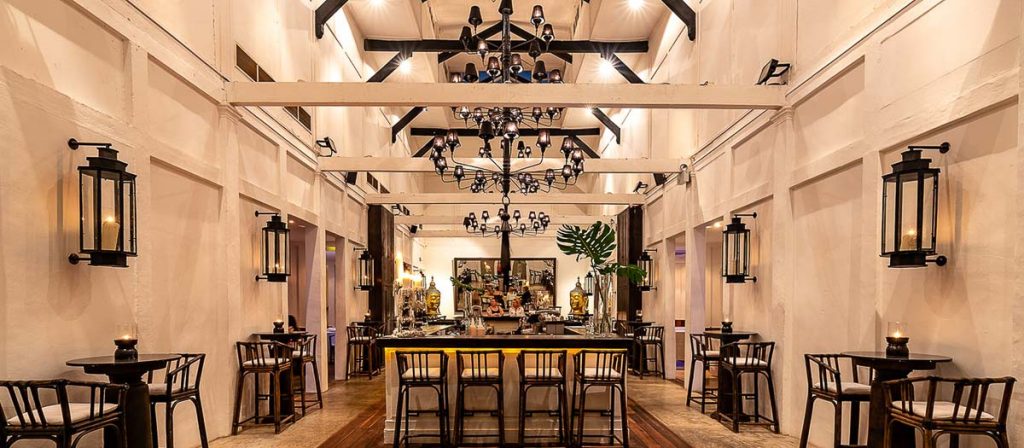 Photo credit: Samadhi Retreats
The menu is on the pricier side but the award-winning restaurant is known to serve exquisite Thai and Burmese dishes prepared by a team of Thai chefs.
7) Exit via Port Road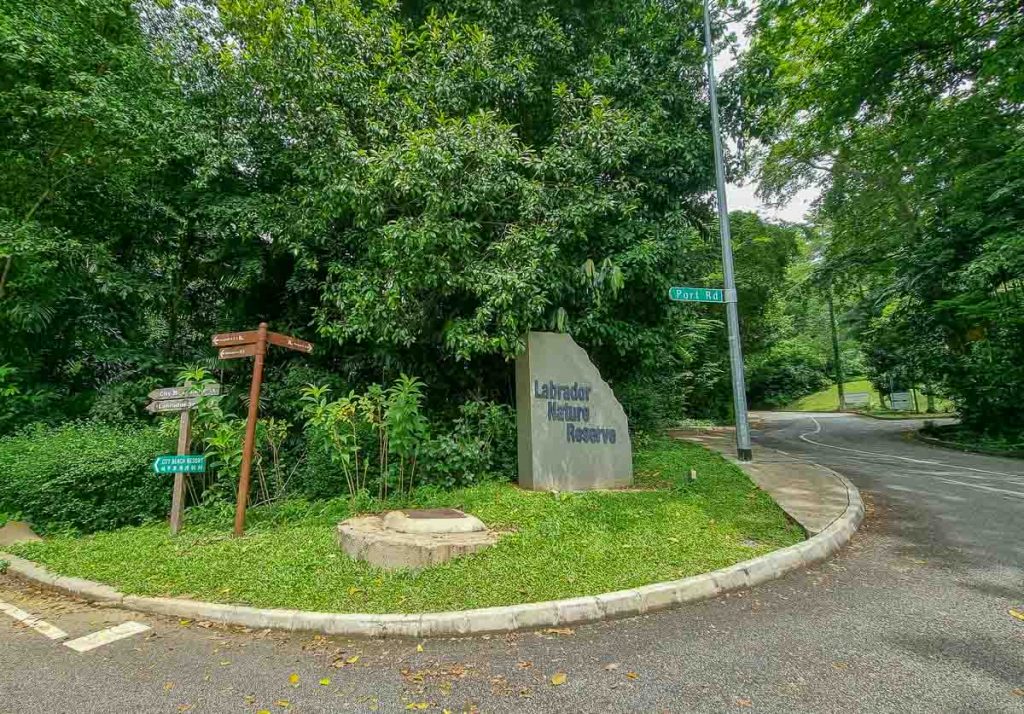 To exit the trail, descend the hill along Labrador Villa Road till it merges with Port Road. Stay on Labrador Villa Road and Labrador MRT station would be just another 5mins' walk away.
If you're driving, the intersection between Labrador Villa Road and Port Road would be the entrance to Labrador Park. Take Port Road to get to Car Parks B and C (free parking).
Things to note when exploring around Labrador Nature Reserve
Restrooms
There are three restrooms around Labrador Nature Reserve, not counting the one within Labrador MRT Station. One's located near Car Park C, another along the War Memorial Plaque Trail, and one more around the Pill Box Plaza.
Wildlife at Labrador Nature Reserve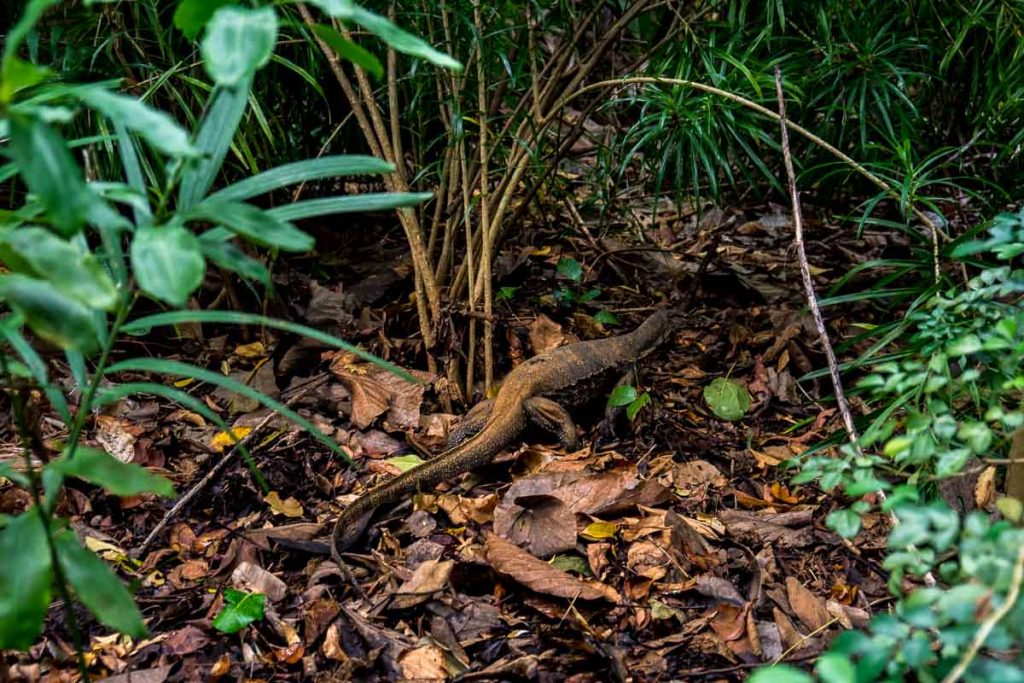 When visiting Labrador Nature Reserve, be mindful that you're within the habitat of the many mammals, birds, reptiles, and insects. Do not attempt to touch or feed them if you spot any.
Exploring the Uncharted at Labrador Nature Reserve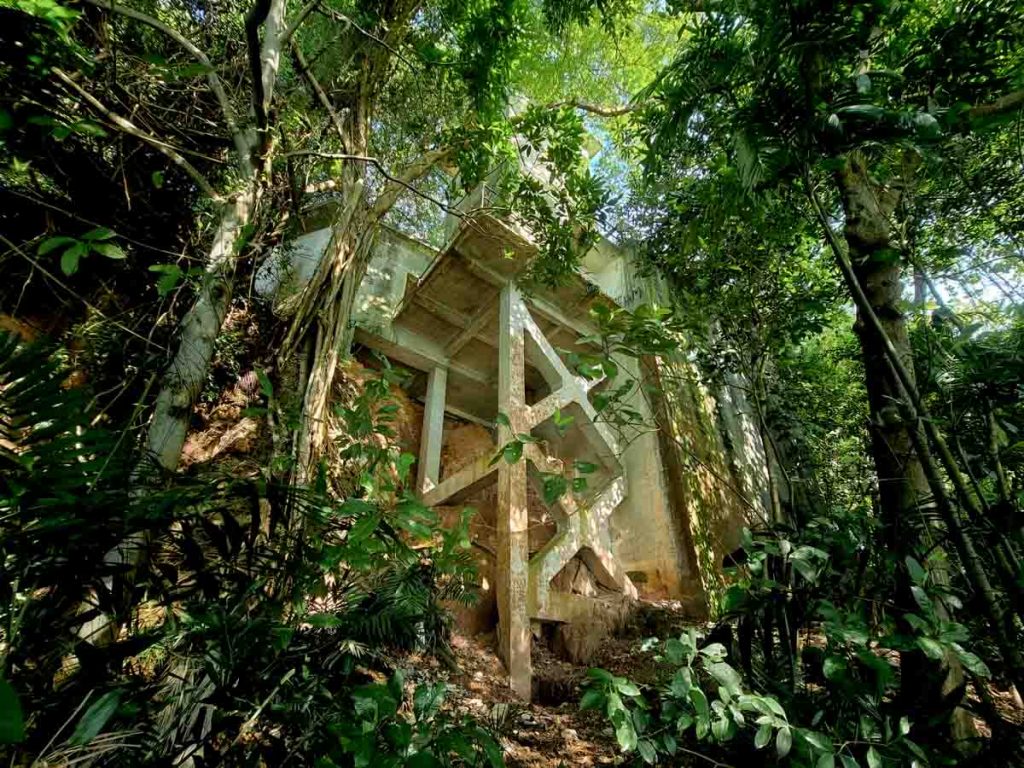 Many of us have been exploring the outdoors a lot more than pre-covid, and many of the uncharted has been rediscovered again. One such place is the watchtower of Fort Pasir Panjang, which is visible from the coastal walk. There have been instances of explorers attempting to enter the derelict watchtower. Do practise caution and safety if you're planning to explore the abandoned structure as it's off the usual paths and isn't maintained.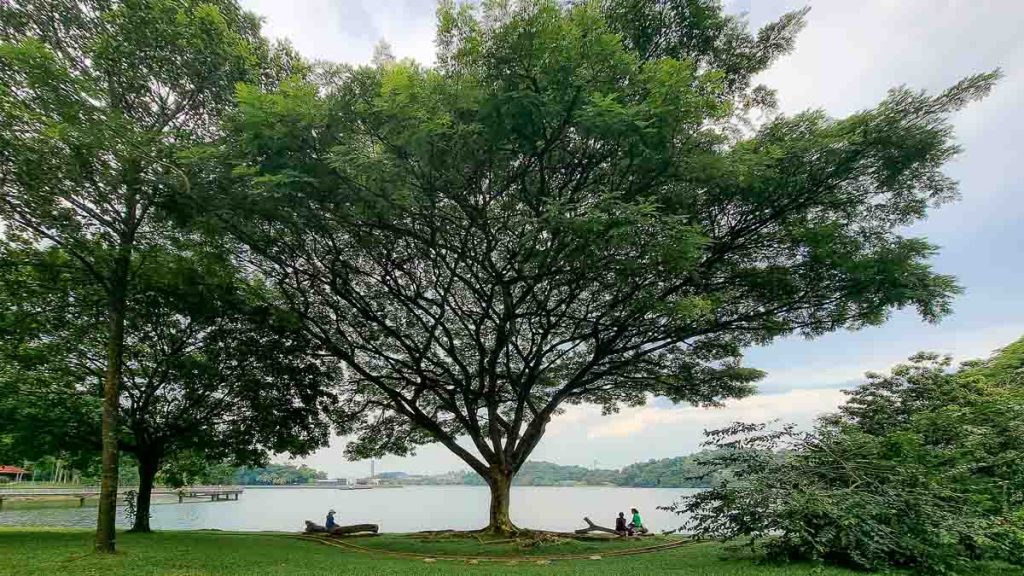 With our international borders closed till further notice, there are more reasons (and time) to explore the natural spaces we have in Singapore! And being located within close proximity to an MRT station, Labrador Nature Reserve is definitely a great place to start exploring the outdoors and history of Singapore!
The next time you need a dose of the outdoors but don't want to head out too far, have a go at Labrador Nature Reserve — and perhaps let us know in the comments below what you thought of the experience! 😉
---