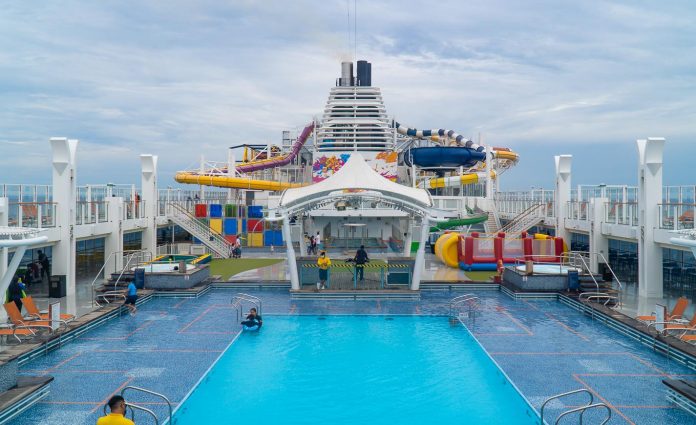 Find out what's new and what's back on board the new Resorts World Cruises' Genting Dream!
After having a whale of a time on Dream Cruises' cruise to nowhere, we were pretty bummed when it ceased operations in March 2022. Thankfully, it has returned under a new name — Resorts World Cruises!
To find out what's new and what's back, we hopped on its inaugural cruise on 15 June 2022. So here's a preview of what to expect on Genting Dream 🚢.
Click any of the links below to jump straight in.
What's New | On-board Activities | Entertainment | Dining Experiences | Accommodation
Read also: What to Expect on a Cruise to Nowhere — Dream Cruises' World Dream Review
Pre-boarding Essentials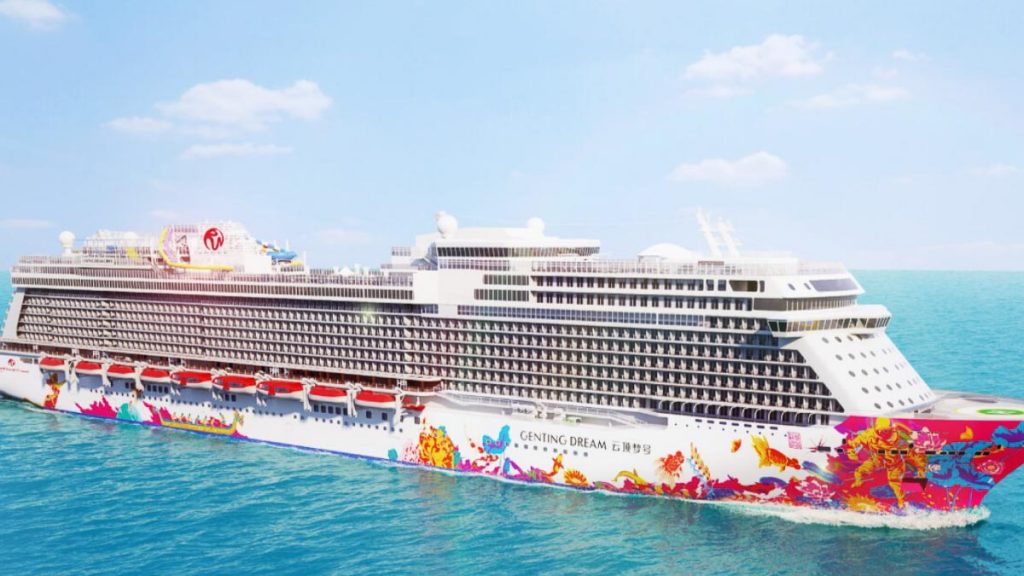 Photo credit: Resorts World Cruise
Before you set sail, here are some pre-boarding essentials to take note of:
1) Mandatory online check-in — closes 24 hours before sailing
2) Take a supervised or tele-supervised ART test and present a negative result — earliest one day prior to sailing
3) Fill up a pre-boarding health questionnaire — on the day of sailing
4) Collect your cruise key card — on the day of sailing
5) Check-in via SafeEntry on the TraceTogether app or token — before boarding the ship
What's New on Genting Dream
This may be the same ship under Dream Cruises but we've sussed out the new stuff.
1) Immersive Activities with Performers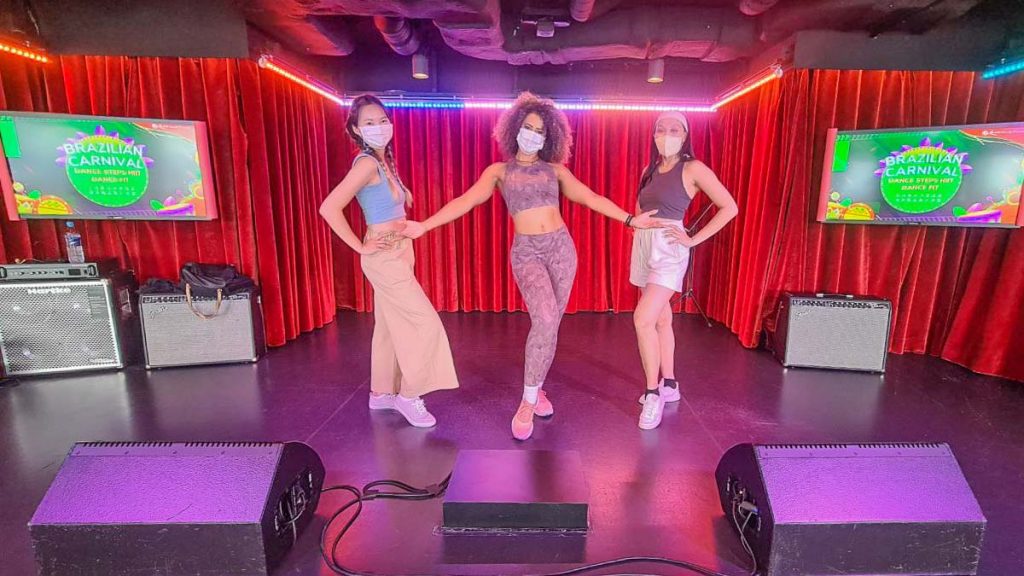 This was one thing I really loved about the cruise. Especially when I spotted my on-board dance instructor on the big stage performance just a couple of hours later!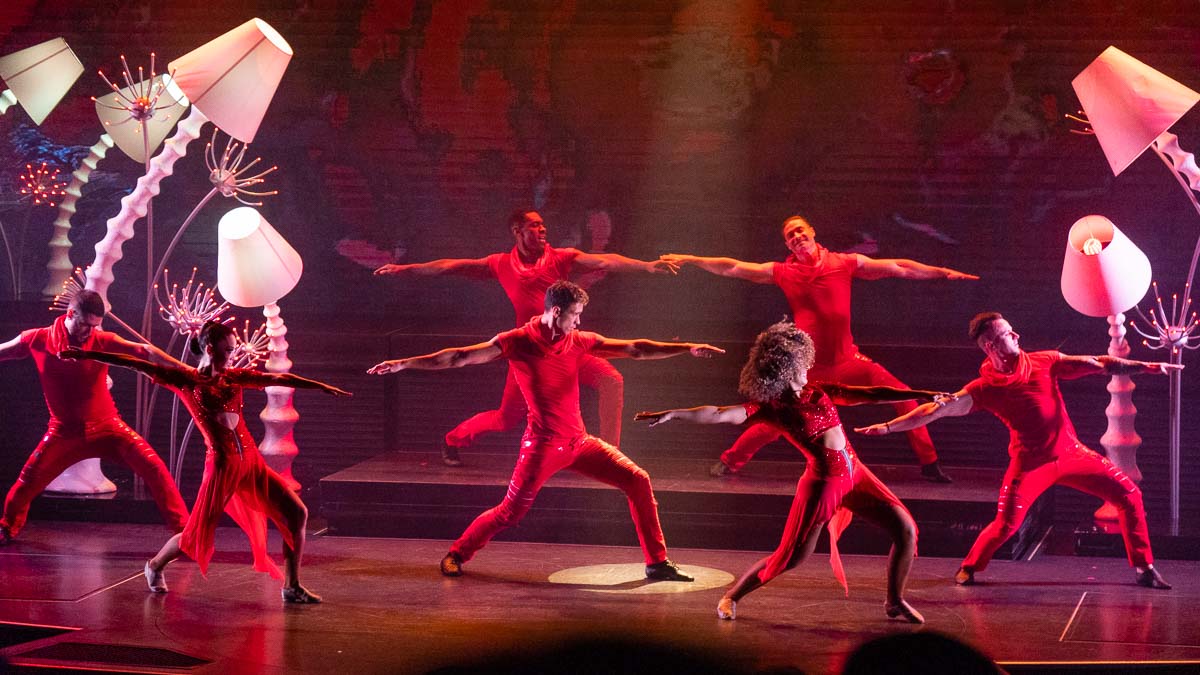 The entertainment organisers wanted to create an immersive experience for guests to "dive" into, so guests could interact with the performers even when they were off stage.
An afterparty was held at the dance floor of Zouk Beach Club so the fun doesn't end when the performance does.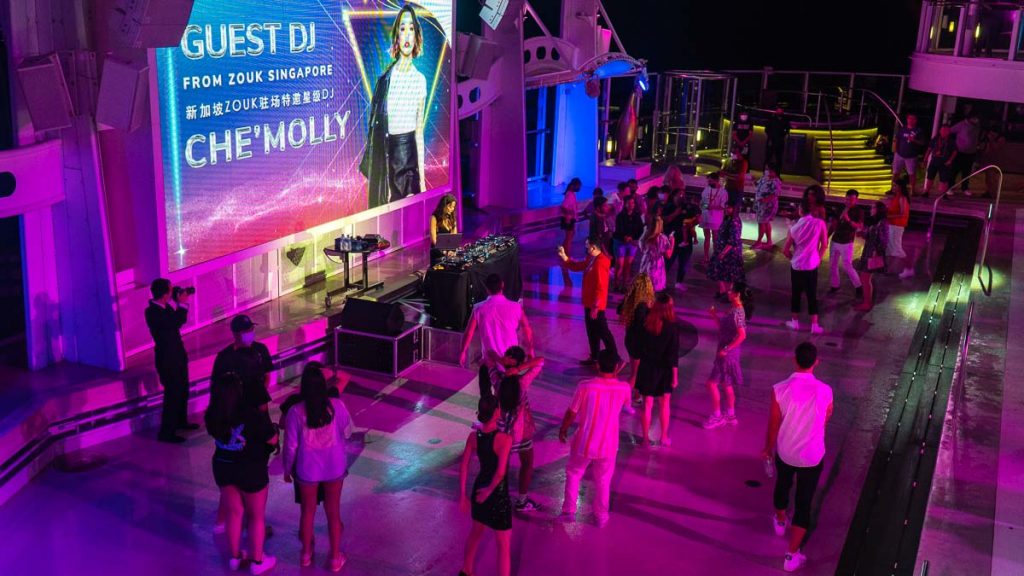 Unfortunately, my dance instructor recognised us so we couldn't escape the awkward dancing 😅 but at least we still had a great time!
2) Foam Party at Sea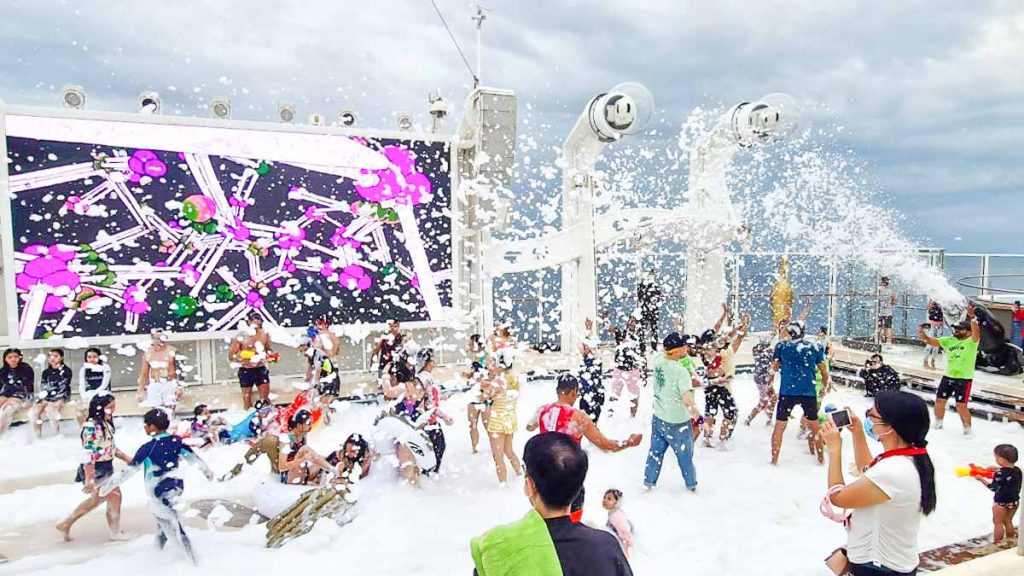 For those who just want to party (but with an extra kick), here's a brand new activity: foam party at sea!
Equipped with a giant foam spraying machine, gigantic floats, and water guns, we had a blast blowing foam at each other for two hours and imagining it was snow in hot, humid Singapore.
Don't worry about the aftermath too. There will be towels provided to help you dry off before you head on to your next activity.
3) World's First Internationally Halal-certified Kitchen on a Cruise
Genting Dream is not the first cruise ship to serve halal food, but it's the first with an internationally halal-certified kitchen.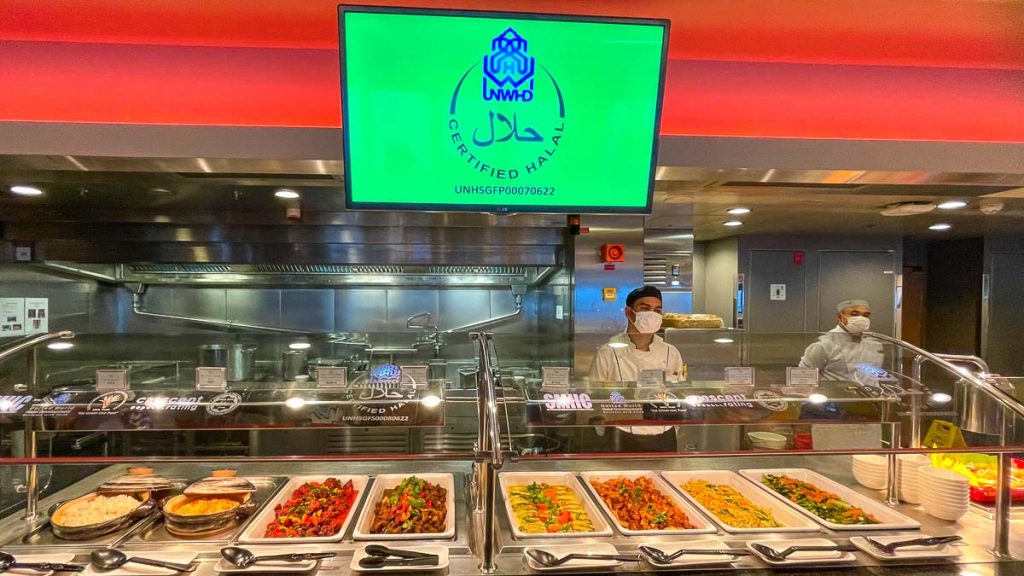 This is based on OIC (Organisation of Islamic Cooperation) and SMIIC (The Standards and Metrology Institute for Islamic Countries) standards. The cruise also holds a vegetarian certification by Global Vegetarian Certification Services.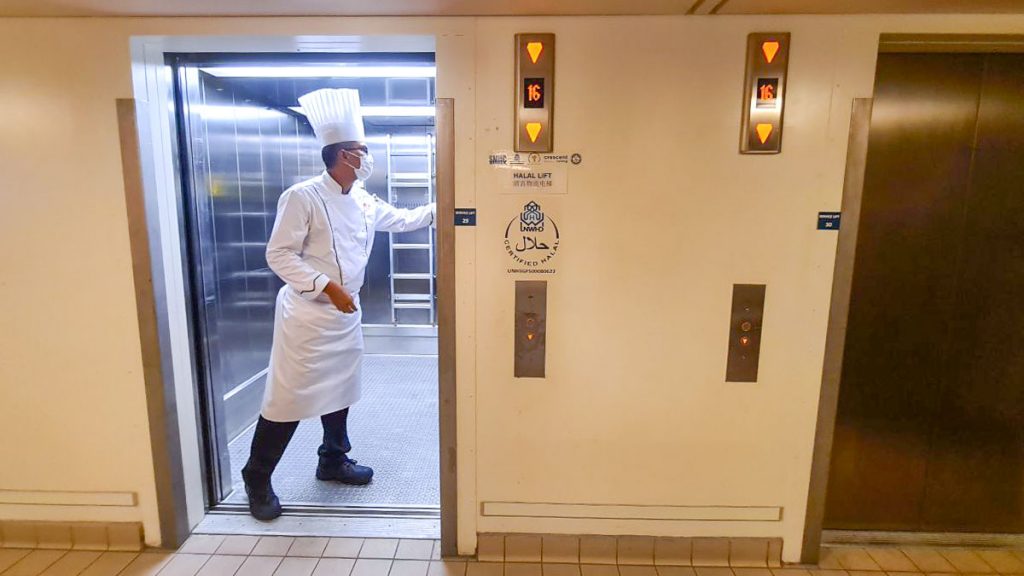 We even went behind the scenes and discovered that there are dedicated timings and lifts to deliver the food.
From the way the food is prepared and delivered, to the way utensils are washed after — everything is segregated so there is no chance of cross-contamination at all!
While this doesn't really affect me personally, it helps give my Muslim friends peace of mind when dining on a cruise 🙂.
On-board Activities
Most of the facilities and activities are similar to the previous Dream Cruises, so here's a recap of what you can expect on this one.
Indoors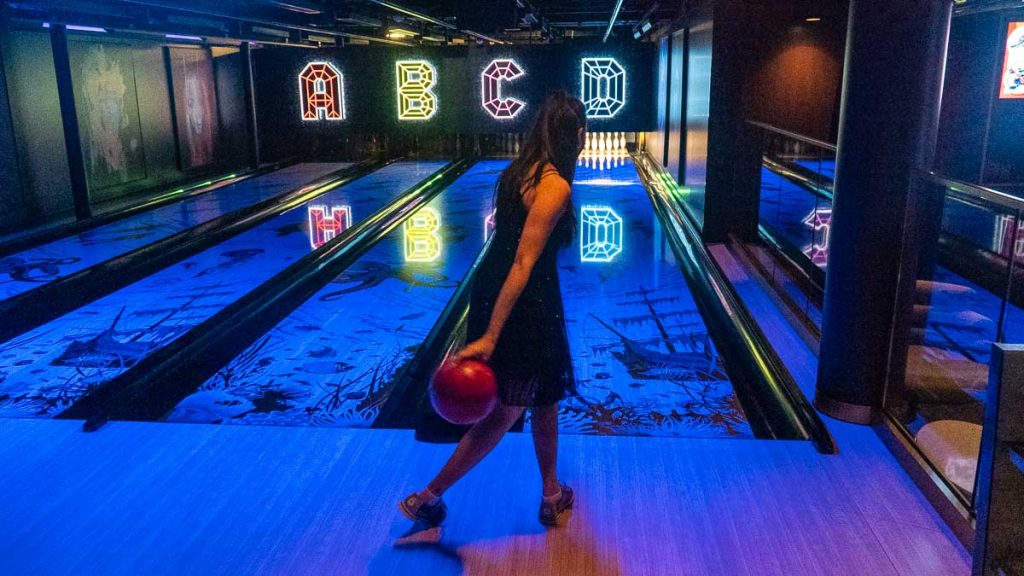 Rain or shine, these are some activities that you can do: arcade, bowling, karaoke, t-shirt or tote bag painting workshops, and workout classes. But prepare to fork out some cash for certain activities.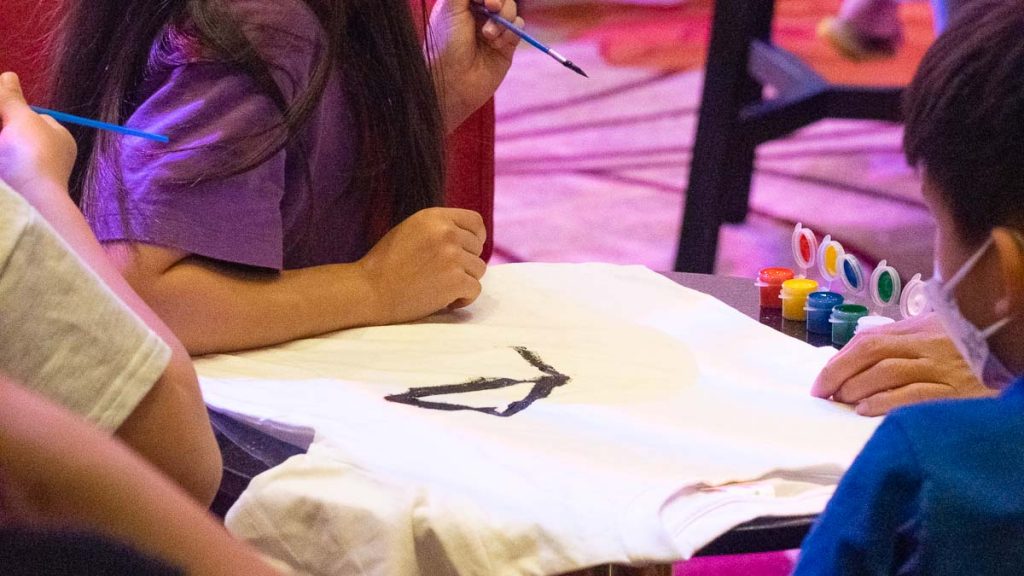 For example, bowling costs S$10 per game and it's S$22 to buy a t-shirt to paint on — but at least you'll get to keep it! We also recommend booking slots for the karaoke room early in advance because demand is really high.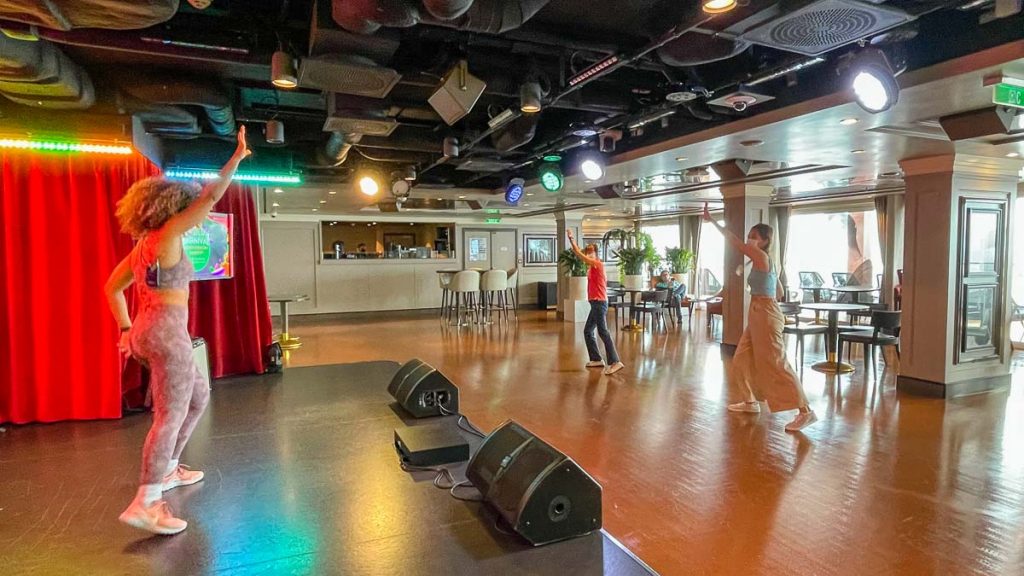 If you're looking to save a few bucks, try the free workout classes instead! Choose from yoga to a couple of dance classes like funk line dancing, hip hop dance, Brazilian carnival dance, and traditional flamenco dance.
We didn't have time to try them all so we went for the Brazilian carnival dance where we learned different types of dances like the salsa and samba. It's a one-hour class so expect a lot of hip-shaking, spinning, and sweating. Remember to bring a water bottle to stay hydrated!
Outdoors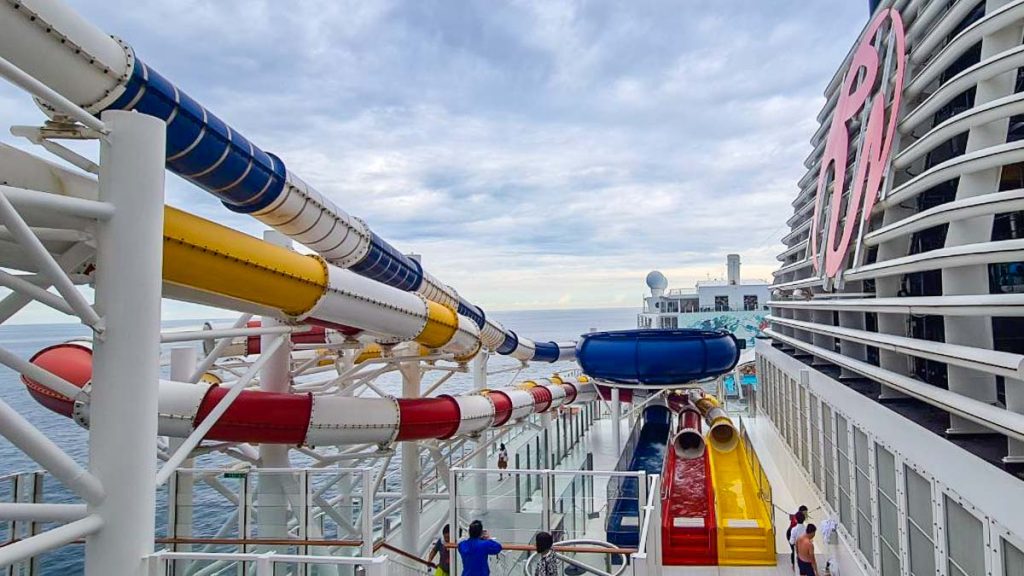 While we can't splash around in the sea, we can definitely do so at the on-board waterslide park. There are six different slides to choose from — my personal favourite being the donut-shaped slide which opens up mid-way, allowing you a glimpse of the blue sky before diving back to darkness and into the water.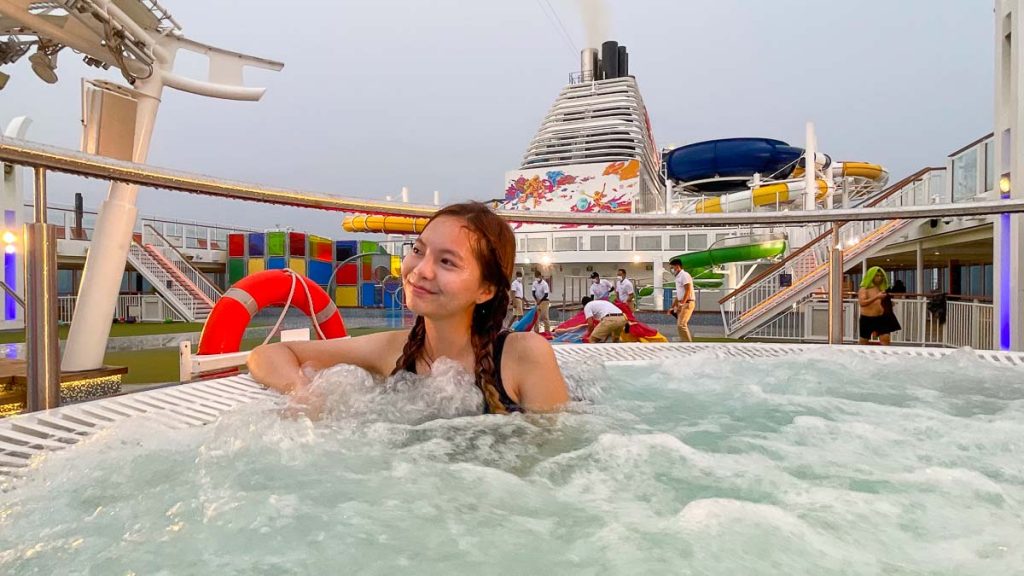 Besides the water slides, there are also pools and hot tubs for you to swim and "chill" in leisurely.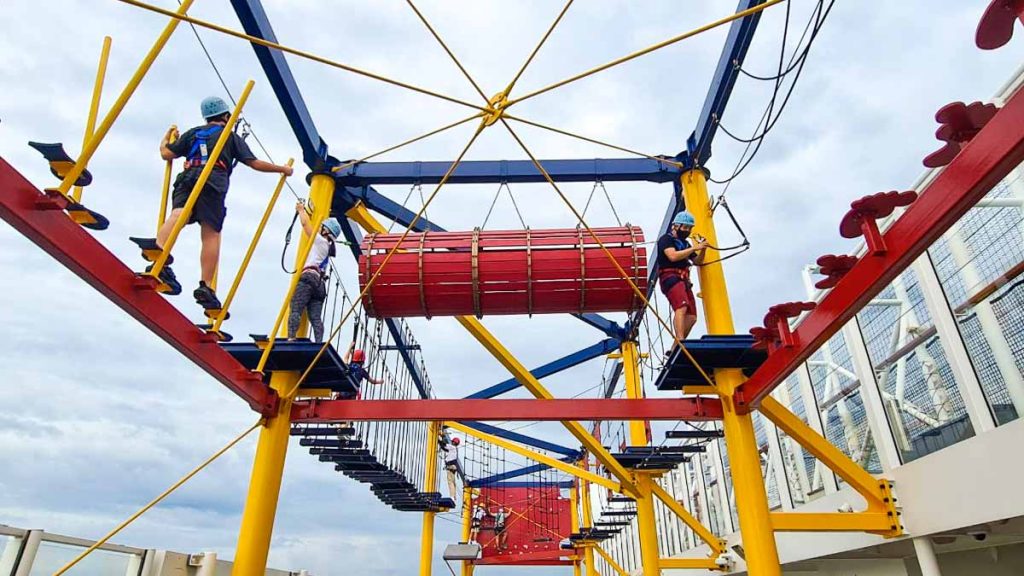 But if you don't want to get wet, try the ziplines, rock climbing wall, high obstacle course, mini-golf, ping pong, or even giant chess.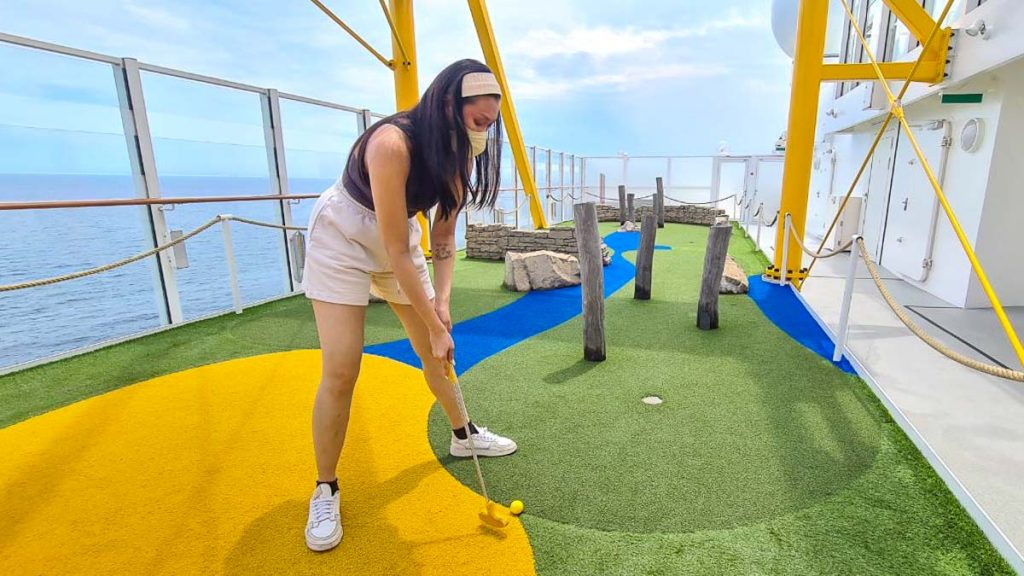 You could even set up a friendly basketball match in the SportsPlex too.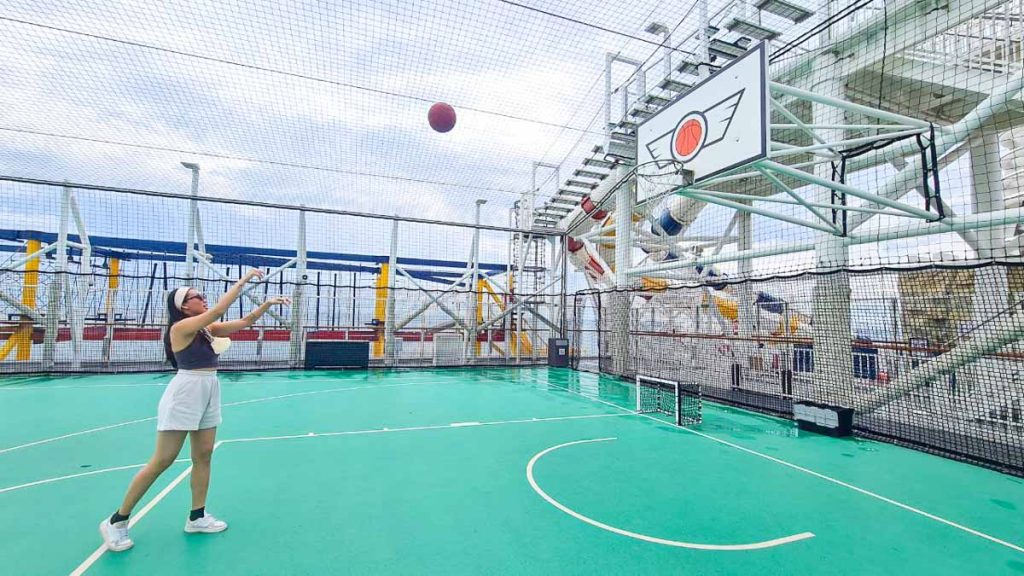 Or dance and party your hearts out to popular hits played by DJs all through the night at Zouk Beach Club.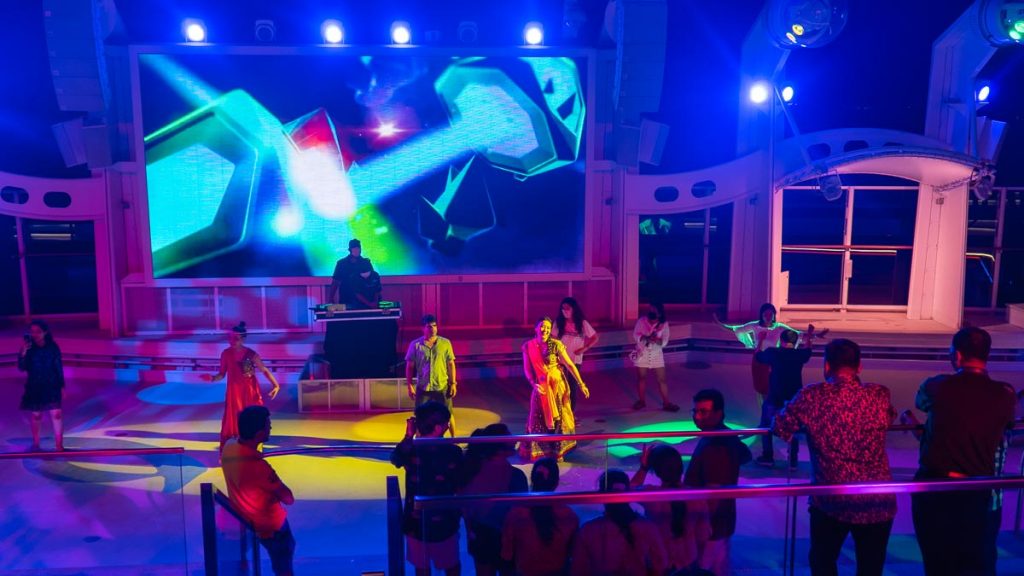 Bonus — Visit the Captain's Bridge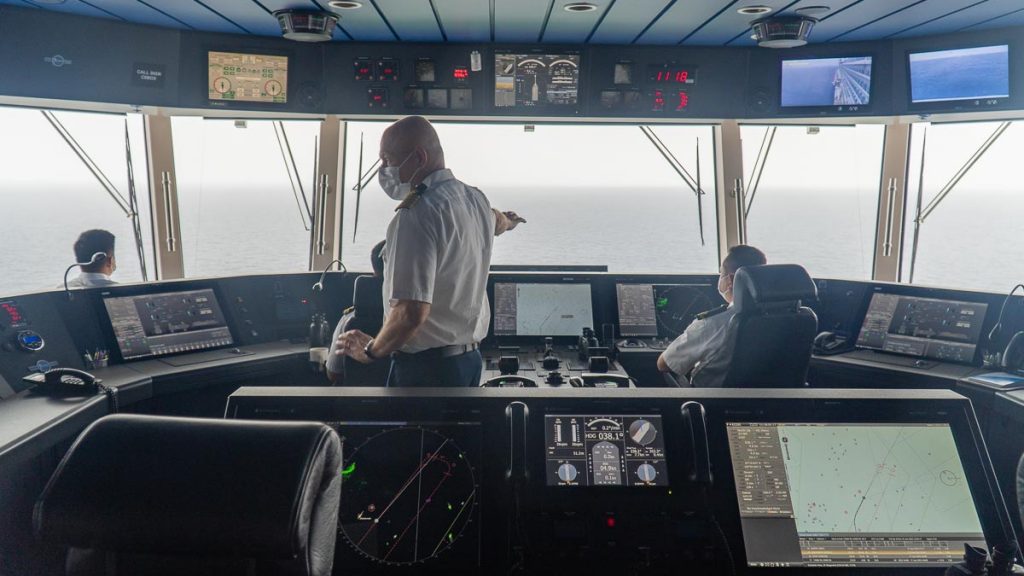 Before covid hit, there were organised tours to the captain's bridge — a control room where the captain and his crew navigate the ship.
But due to social distancing restrictions, the tours stopped and we don't have that luxury anymore. So we were actually glad to discover this hidden gem on board to find out what it's like!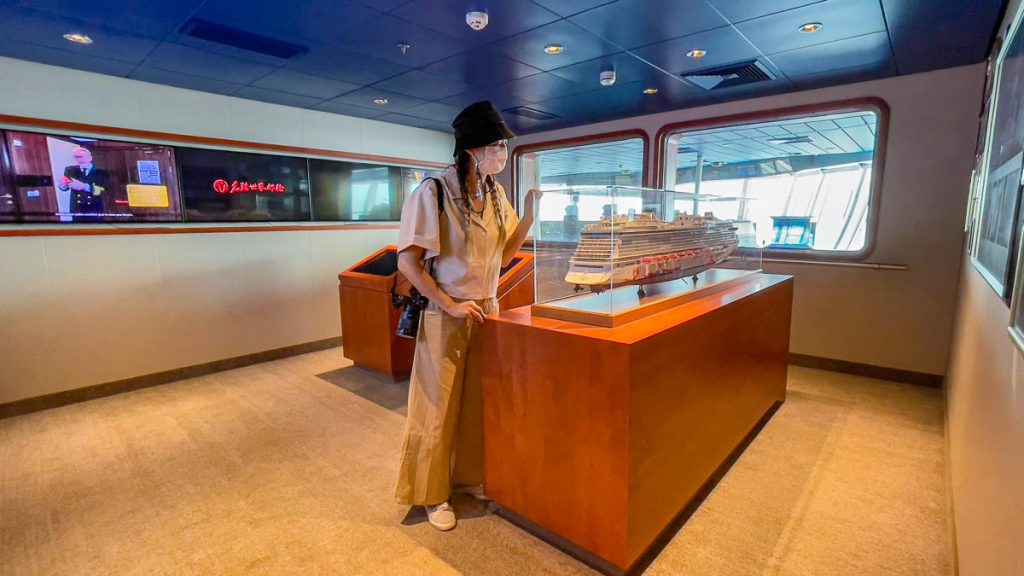 Head up to deck 15 via the lift (forward lobby) and walk past Crystal Life fitness. Turn left and walk all the way to the end. You'll find a small, hidden room with a clear view of the captain's bridge, plus a really cool mini replica of the ship to admire!
Entertainment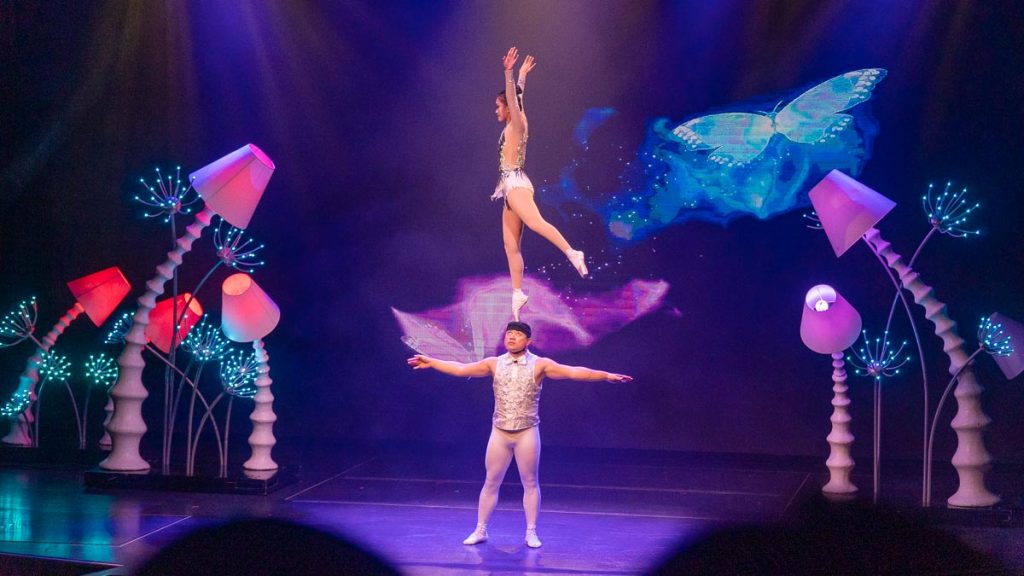 Every day, a newsletter would be delivered to your cabin — with various show and programme schedules so you can plan your day to catch them all!
*Note: The timings are in local (SG) time.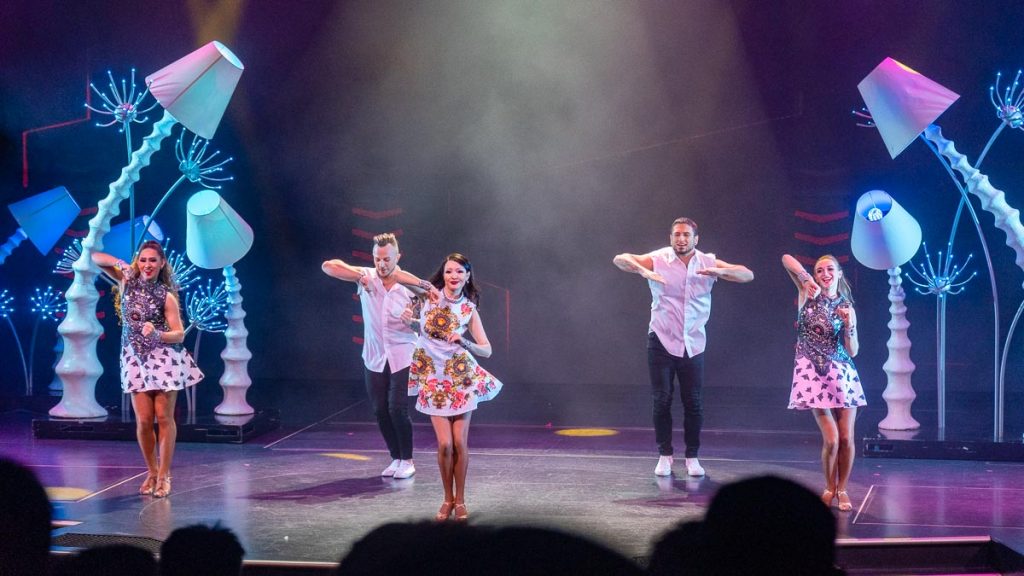 One highlight not to be missed is definitely the Yin.Yang performance at the Zodiac Theatre. It blends eastern and western entertainment, featuring a world-class array of performances from balancing acts to contemporary dances.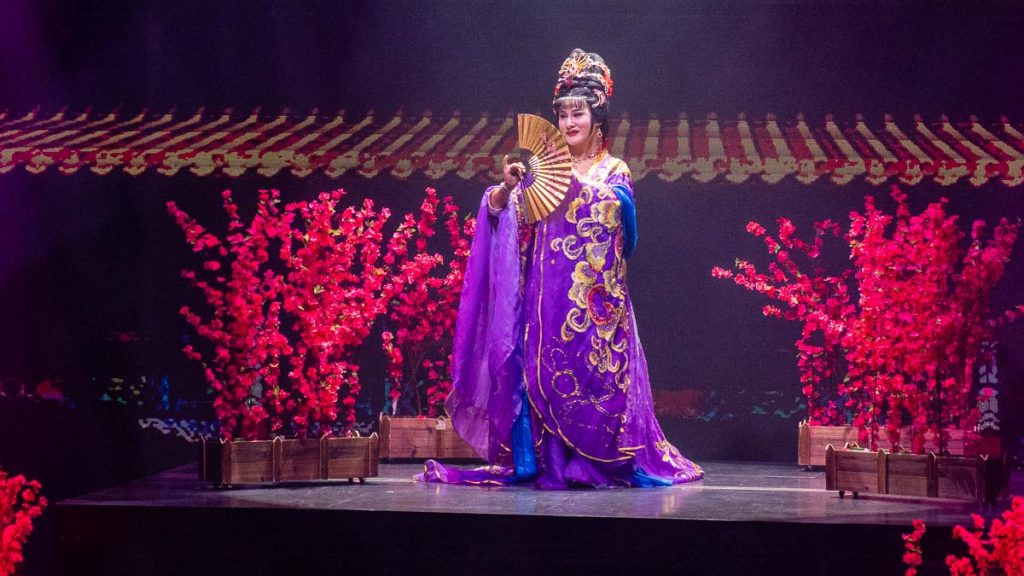 I was deeply impressed by one performer in particular, Tong Shaohan, who wowed us with his unique double vocals — singing both female and male parts in a duet.
We were truly shocked, yet in awe when we found out this beautifully dressed lady who sang in a high-pitched voice turned out to be an extremely talented man.
*Pro-tip: Arrive earlier as doors close 10 minutes before showtime and seats are on a first-come, first-served basis.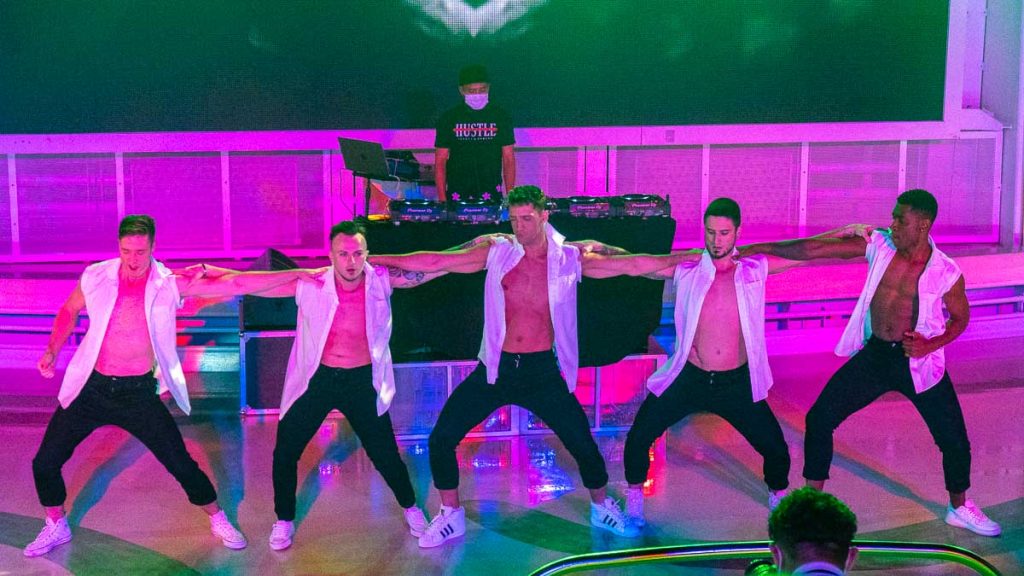 Apart from the Yin.Yang show, we also had a sneak peek of Dream Boys (which isn't new), but is set to make a comeback sometime in July.
Dining Experiences
On the Genting Dream, there are more than 20 dining options including restaurants, cafes and bars — not all are free though, so take note!
Inclusive Restaurants — Complimentary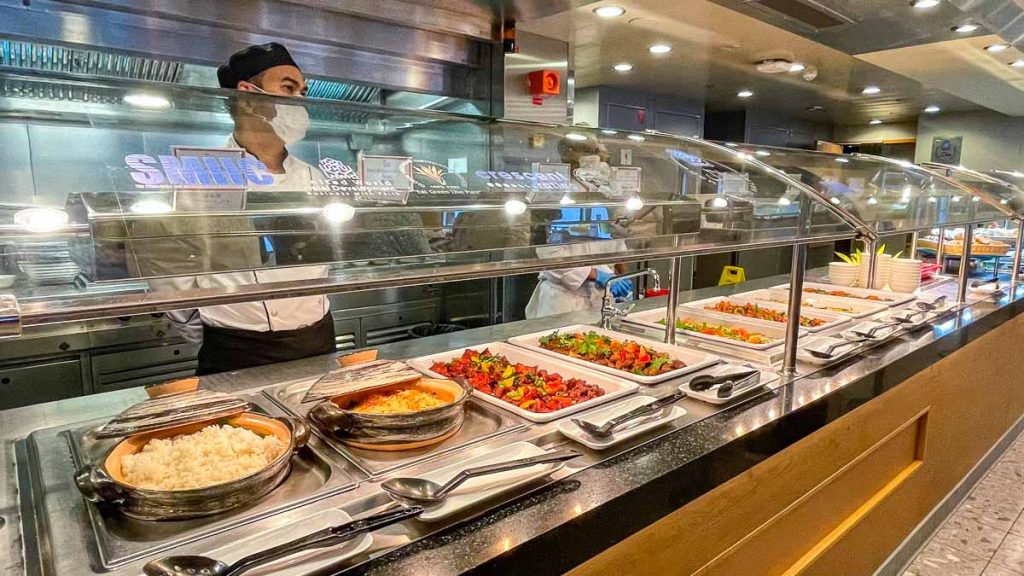 These are the places where you can eat your fill without any charges. 
As mentioned above, Genting Dream has an internationally halal-certified kitchen. However, it's only limited to food items in The Lido restaurant.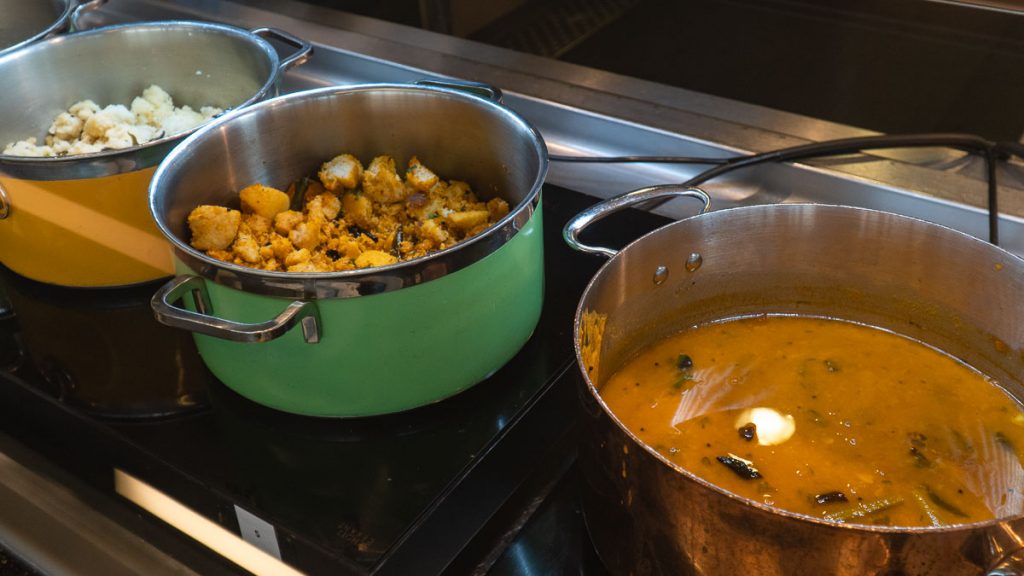 But don't fret because there are still plenty of cuisines to choose from, such as Western, Chinese, and even Jain — for vegetarians with a strict diet of not consuming any food produced underground (including potatoes and carrots).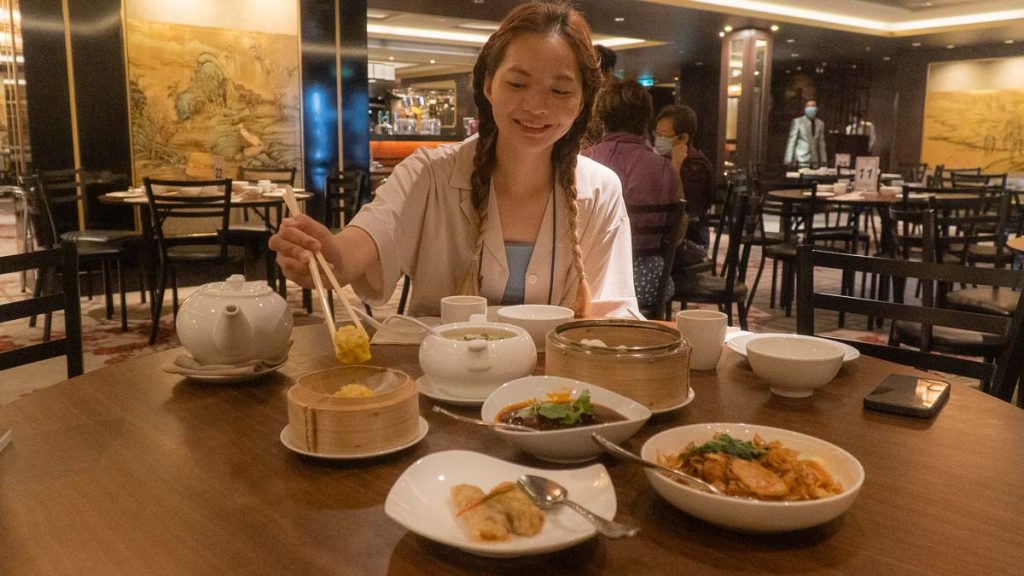 For other non-halal options, there's also the Dream Dining Room Lower and Upper which serve Western and Chinese menus respectively.
*Note: Check the daily newsletter for restaurant breakfast, lunch, and dinner timings. You'll also be charged an extra S$15 for a second meal during the same meal period.
Specialty Restaurants — Charges Apply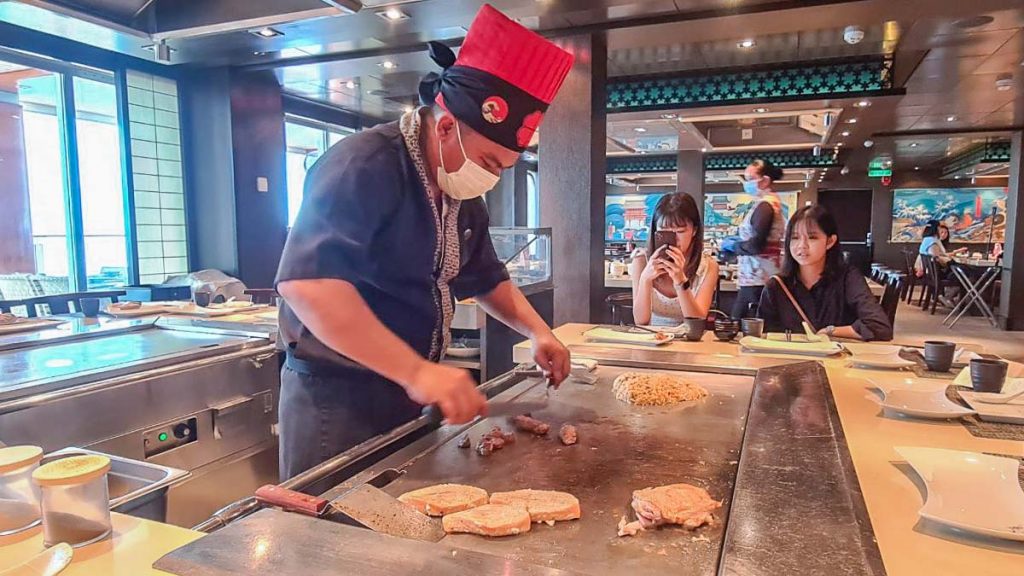 The food might be more pricey (from S$60), but speaking from experience, it's really worth it! During our time on the cruise, we tried two specialty restaurants: Umi Uma (Japanese teppanyaki) and Bistro (Western).
We ordered the Emperor (steak and seafood) and Samurai (chicken and salmon) set from Umi Uma where the chef cooked our dishes before us. The meat was cooked perfectly and not chewy at all! The salmon also had a flavourful, buttery taste 😋.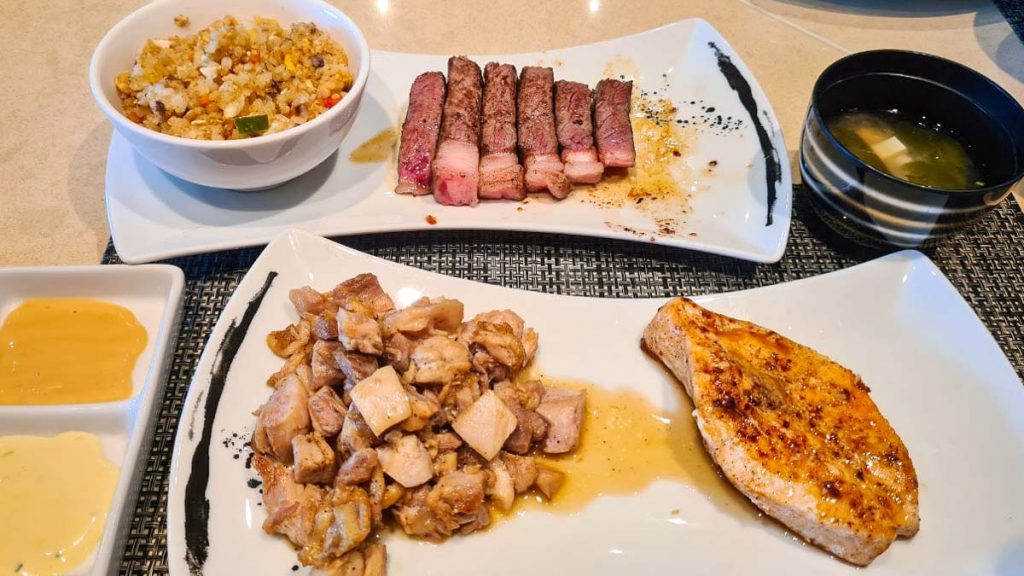 At Bistro, we had a full four-course meal with a seafood salad appetiser, pumpkin soup, and a choice of seafood tower or braised beef cheeks, before ending it off with some sweet panna cotta!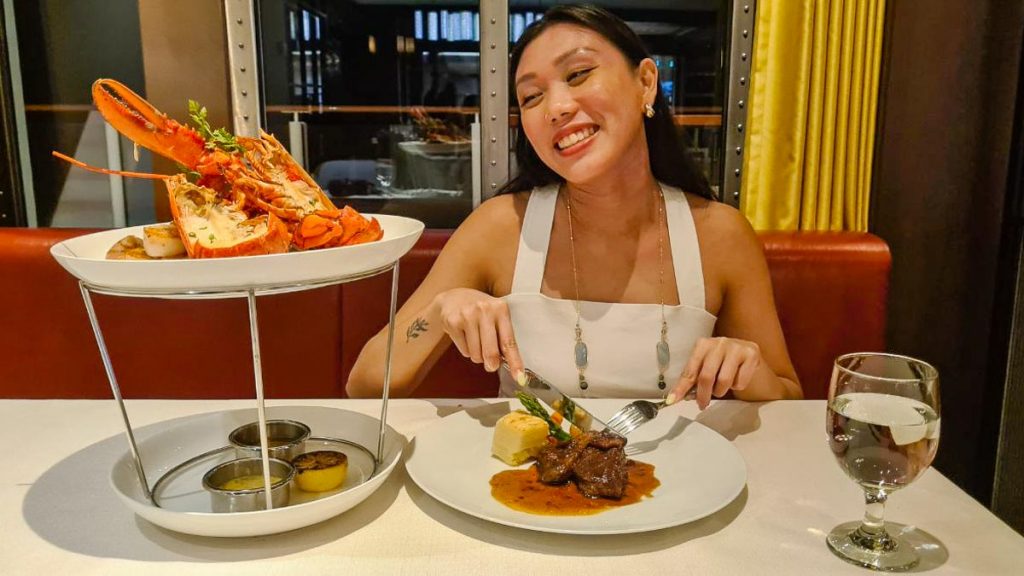 Other dining places include Silk Road Chinese Restaurant, Hot Pot, Lido Outdoor Hotpot and Grill, and Crystal Life Cuisine.
*Pro-tip: Reserve in advance as restaurants can be fully booked during peak hours.
Cafes and Bars — Charges Apply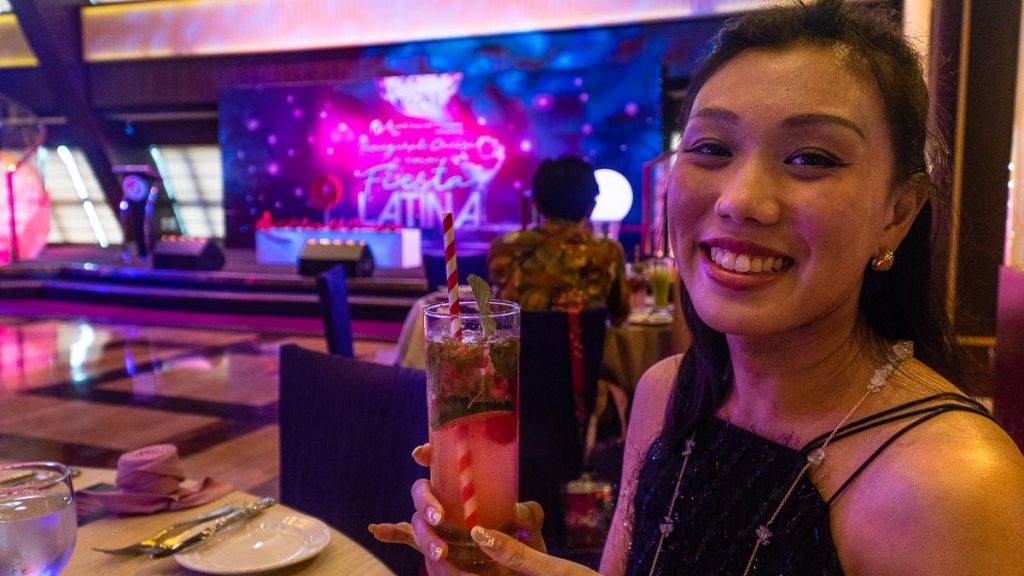 Besides restaurants, you can grab some light meals at cafes like Lobby Cafe and Blue Lagoon, or even cool down at Gelateria with some homemade gelato.
There are also various bars all around the cruise for alcohol-lovers — open all day till late. Check out Bar 360 for drinks and live music, Mixt for its innovative cocktails, or Tributes which has indoor and outdoor seating coupled with entertaining performances.
Accommodation
Genting Dream offers various room options, from balcony to oceanview staterooms and even palace suites.
Balcony Deluxe Stateroom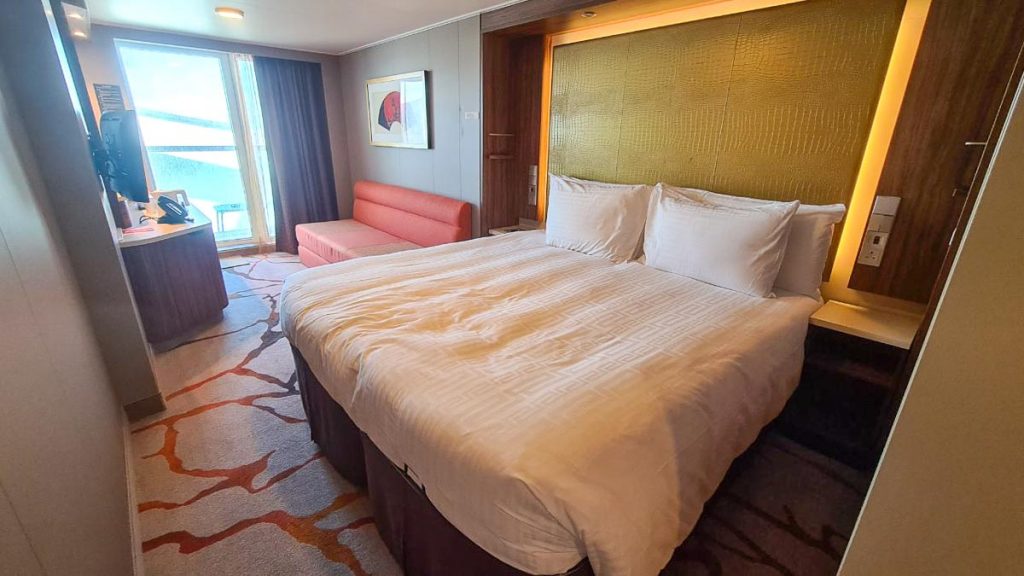 We stayed in a Balcony Deluxe Stateroom which consisted of a queen-sized bed, a large sofa, a bathroom, and of course, a balcony overlooking the sea. To be honest, I was really surprised by how spacious the room is.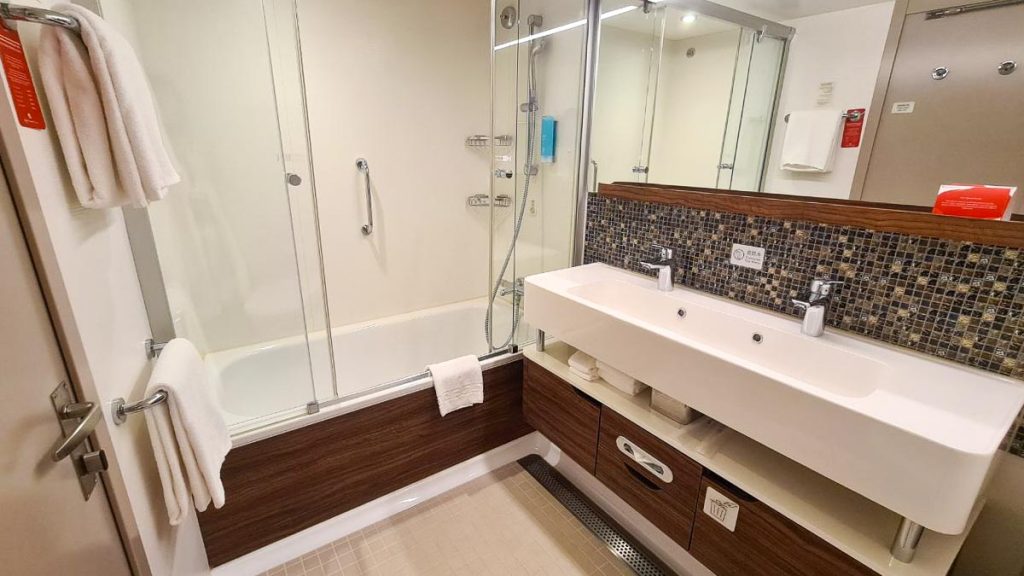 We were also lucky to find a bathtub in our bathroom (apparently, not every room has it) and the dual-tap sink was way bigger than the one in my home.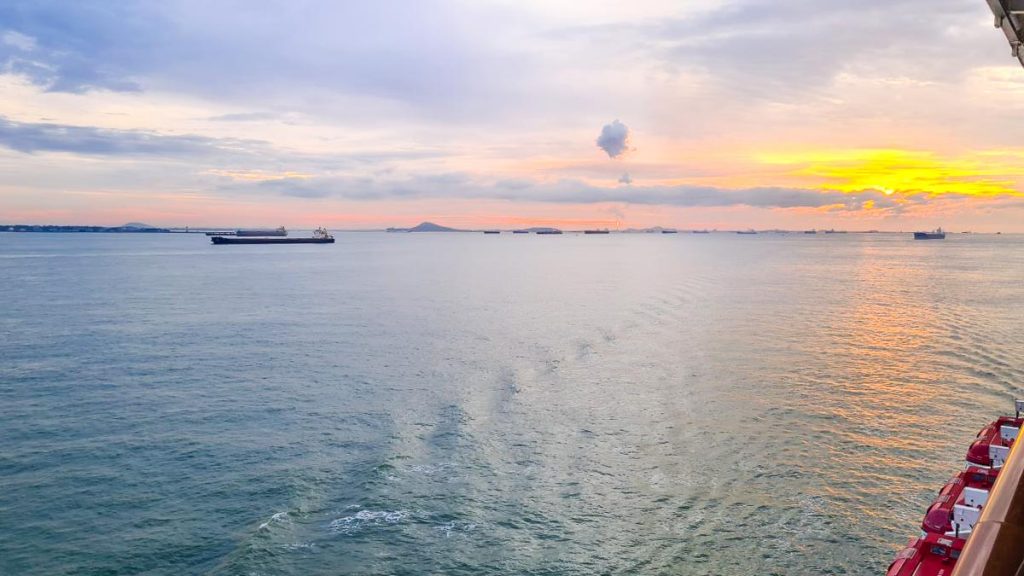 But the best part of the room would have to be the balcony — where we got a gorgeous view of the sunrise.
Cost: From ~S$550/pax for three nights
Palace Suite
We didn't have time to tour the Palace Suite but this is what it'll look like: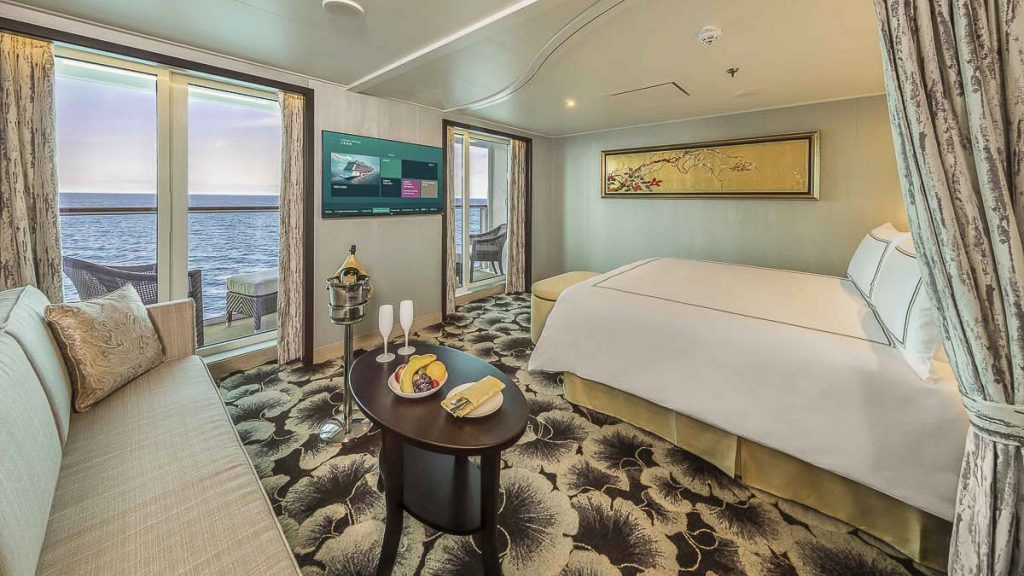 It looks pretty similar to the Balcony Deluxe Stateroom, but the private balcony is twice as big! Staying in a palace suite also gives guests certain perks like access to exclusive restaurants and programmes, as well as a 24-hour butler service 😏.
Cost: From ~S$1,100/pax for three nights
Is Resorts World Cruises' Genting Dream Worth Checking Out?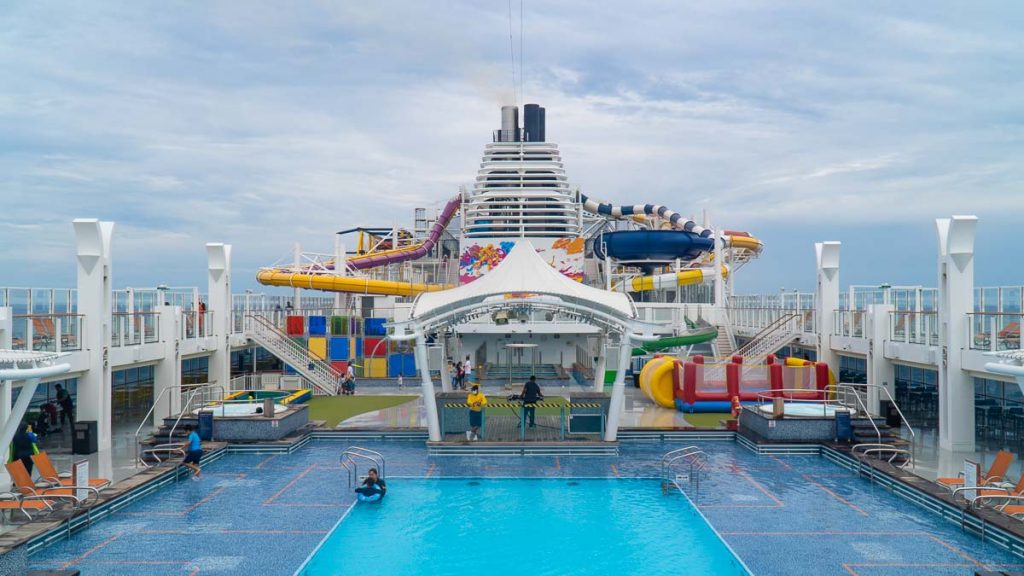 It's been a very long time since I've been on a cruise (I'm talking about 10 years ago-long), so I was really excited to just hop onto a ship once again!
I was glad that the water slides still remained and I could have fun like a kid again without any reserve. Being older now, I could also appreciate the fine dining experience of a full-course meal and of course, drinking alcohol 🍷.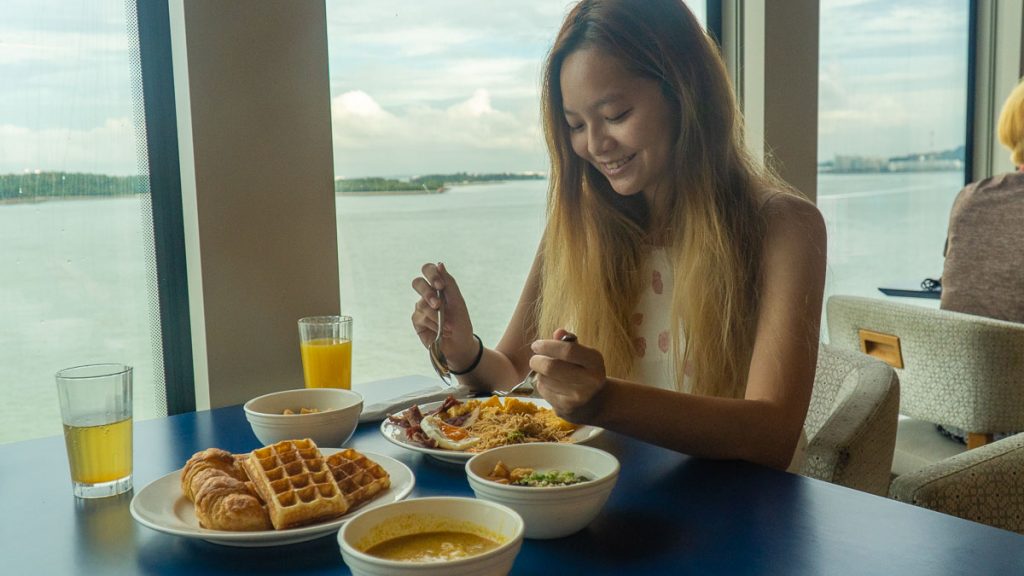 The halal-certified food also didn't taste any different from usual and I stuffed myself with plenty of different options. The highlight of my cruise though was interacting with the performers when they weren't on stage and discovering more about their culture.
Fun fact: Do you know why Brazilians dance so well? According to my Brazilian dance instructor, Gabrielle, most kids there start learning from 10 years old!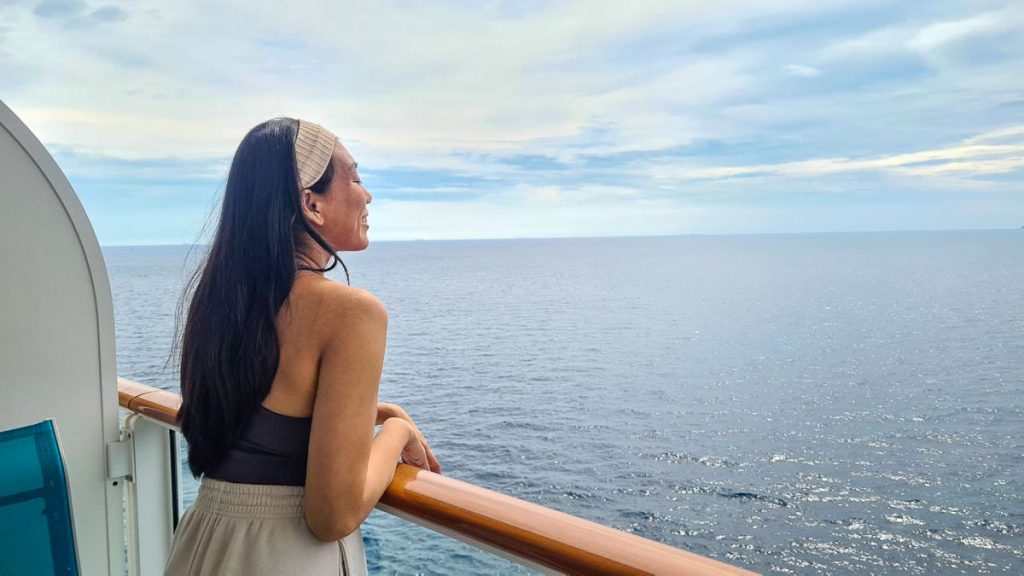 With Resorts World Cruises as a new cruise line, we now have more options to set sail from Singapore's ports. Although we didn't dock anywhere this time, the automatic time change when we were near Indonesia made us feel like we were overseas.
Starting 1 July, the cruise will also sail internationally to Indonesia, Malaysia, and Thailand! You can make your reservations online with prices starting from ~S$149 per person (book by 3 July 2022) 🤩.
Read also: Resorts World Cruises' Genting Dream — Sailing Internationally From 1 July 2022
What are you most looking forward to on the new Resorts World Cruises' Genting Dream? Share with us your thoughts in the comments!
---