Address: Estrada da Baia de Nossa, Senhora da Esperença, COTAI, Macau, China
Tel: +853 2888 0888
Check in/Check out: 3pm/11pm
Website: Galaxy Macau
TL;DR: Royalty treatment, great for families or small groups of friends. For those with a smaller budget but want to be close to the casinos and food street (lots of great food stalls!), the Broadway Hotel is a good alternative!
Click to jump to relevant section:
Facilities offered
Directions
What to find around
Broadway Hotel
Over the course of our 3-week trip, we were quite lucky to stay in some pretty nice accommodations: a service apartment in Yoyogi, a luxurious hostel in downtown Tokyo and a really swanky service apartment in SoHo, Hong Kong. But the highlight of our accommodation experience had to be our stay at the Royal Suite in Galaxy Macau.
Read also: 48 hour Macau Guide
Galaxy Macau
Stepping into the lobby at the Galaxy Macau, we couldn't help but feel a little awed at the grandness of everything. High ceilings, marbled floors and a massive fountain piece that connects to a lengthy chandelier.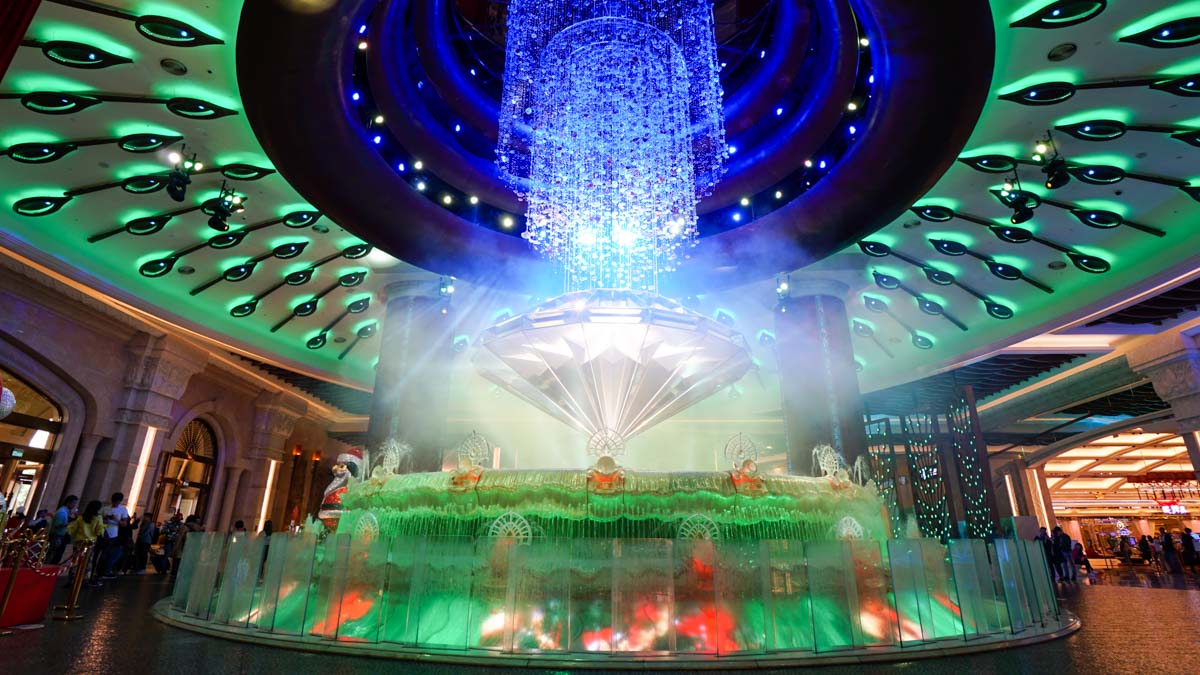 *Pro-tip: Stay for the 5 minute Diamond show at the fountain. Starts every 20-30 minutes. Actually turns out looking really spectacular!
The Casino sits right behind the fountain and extends to a massive shopping mall housing just about every luxury brand you can think of.
We were quickly brought to one of the service counters on a raised platform, which we only find out much later, was for VIP check-ins only. No wonder they had plush sofas all around, hardly any customers and 3 staffs to serve. Thanks to Hotels.com, we scored a night at the Royal Suite — a grand one bedroom suite that comes with a living area, one bathroom, 2 toilets, a walk-in wardrobe and… A BUTLER.
Our room at the Royal Suite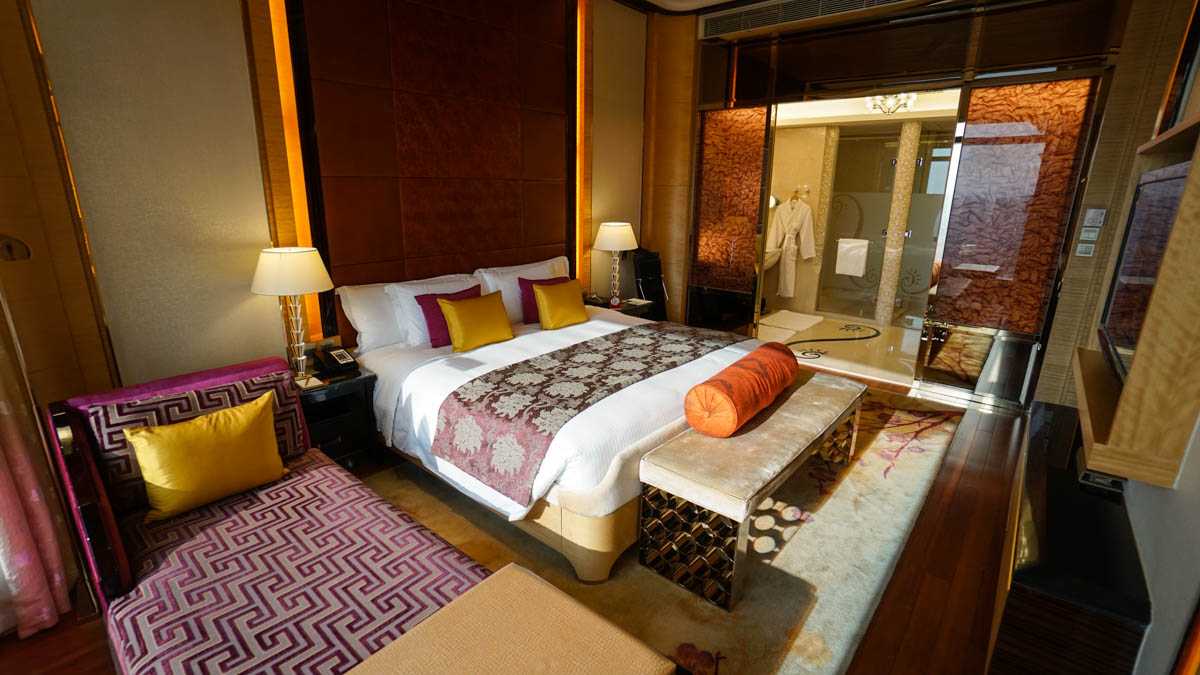 Our room was MASSIVE. And this was only half of it.
Up on the second highest floor, our butler greets as the lift door opens and leads us to our rooms. He begins introducing with great detail all the different components of the room.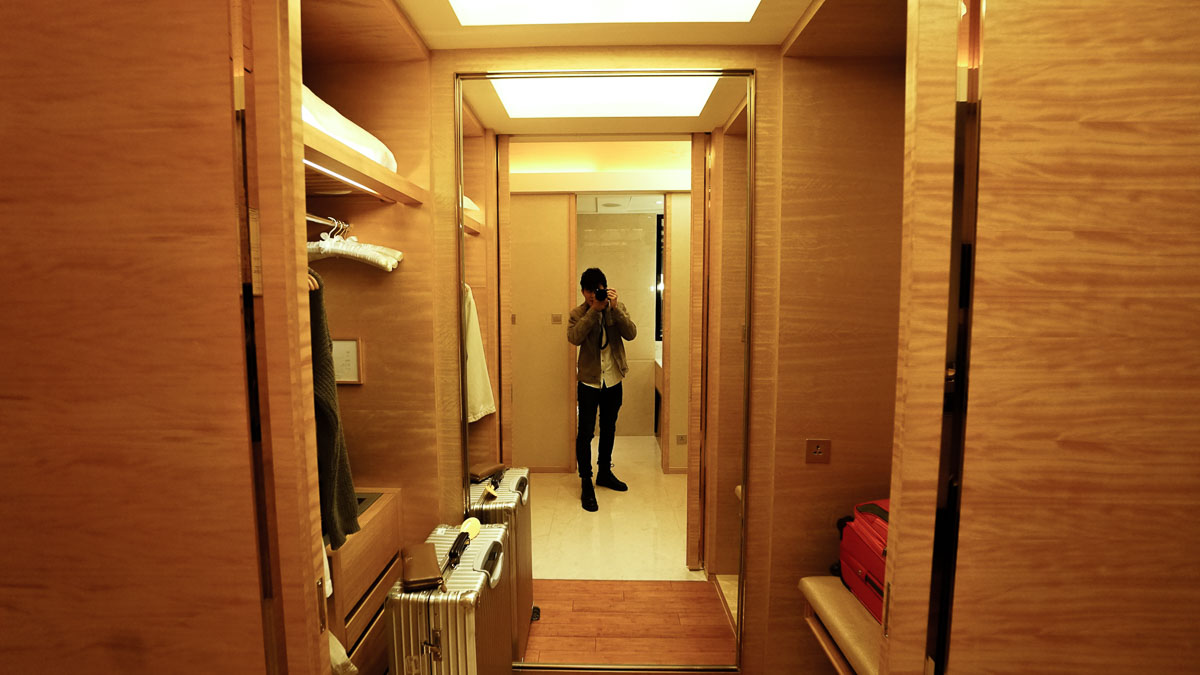 The walk-in wardrobe: Every girl's dream essential. It didn't take long for the girls to get changed into these luxurious bath robes while the guys were busy chilling outside.
The Mini-bar: It's a little understated to call this a mini bar. Stocked with about SEVEN different kinds of liquor (whiskey, vodka, gin, wine.. etc.), full-sized snacks as well as a Nespresso machine — all complimentary! Unfortunately, we had an early morning, some work to get done and barely enjoyed the former 🙁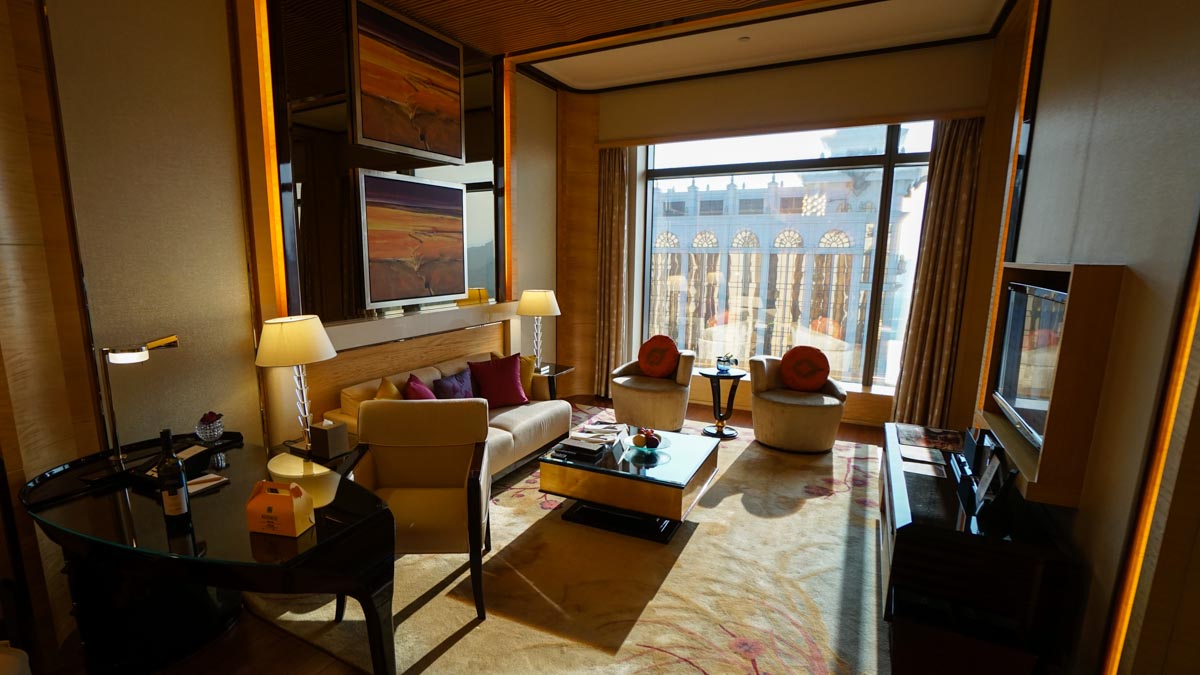 The living area: The work desk was equipped with USB ports (always appreciated), there was a bluetooth speaker with amazing bass and more than enough room to host a party.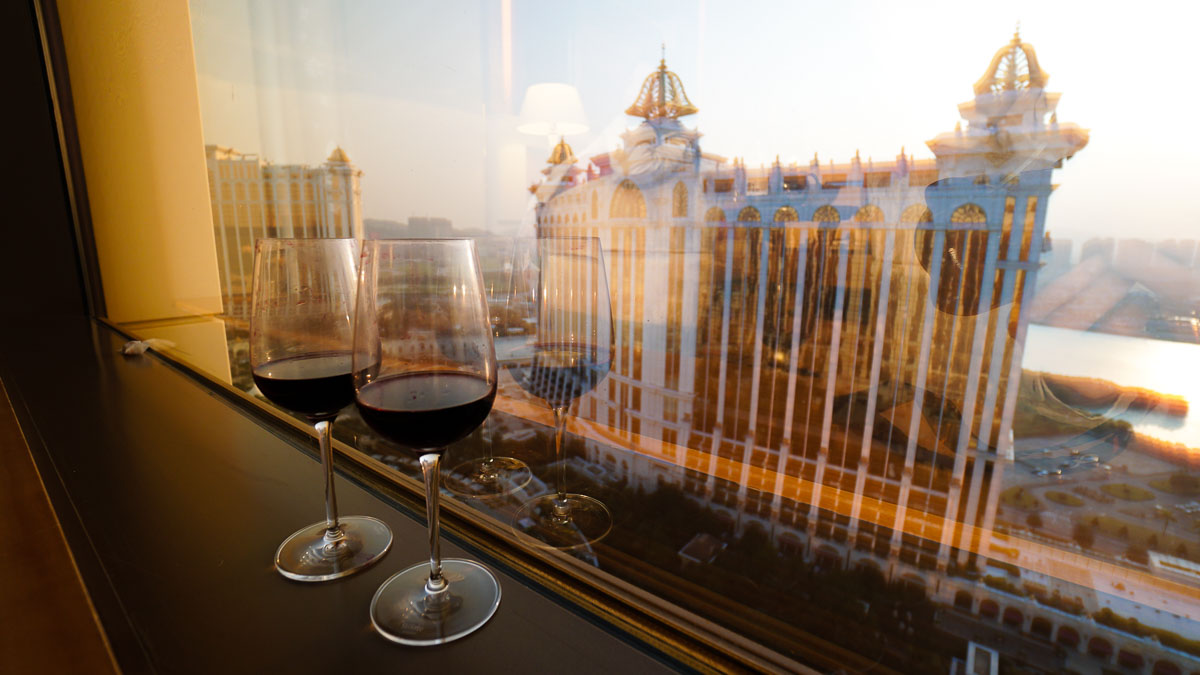 I especially loved how the sun filtered through the full-length windows, beyond it a gorgeous view of the wave pool below and a mirror image of the palace-like building (also owned by Galaxy Macau, housing JW Marriott and The Ritz Carlton).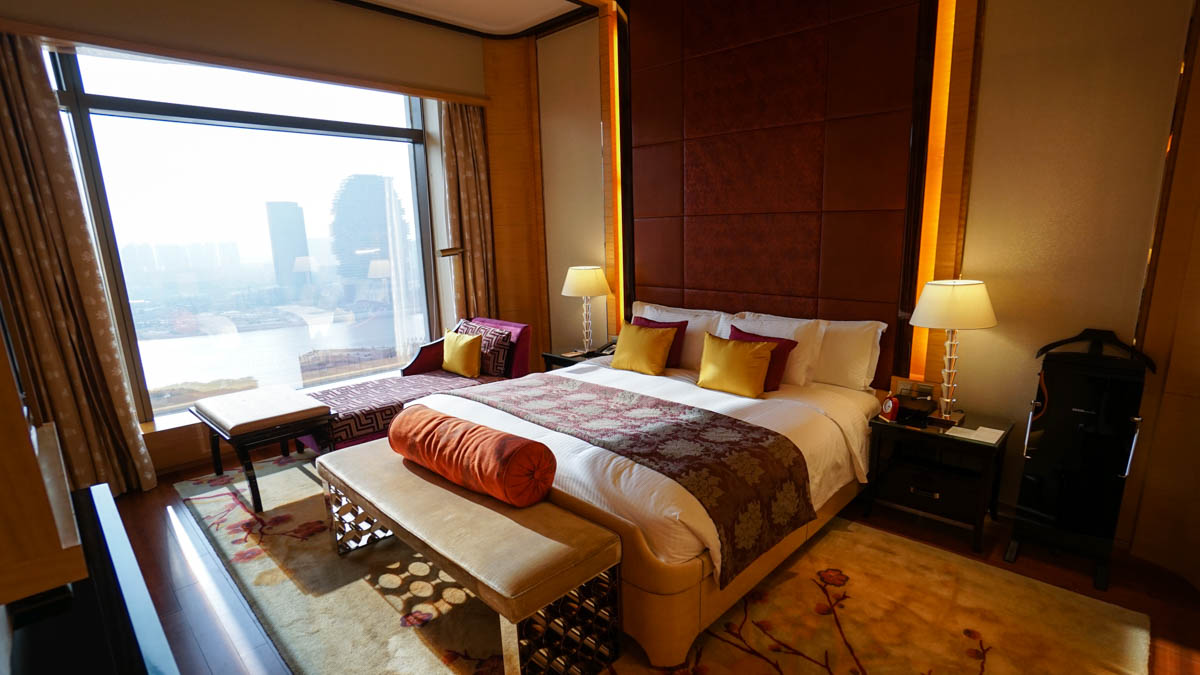 Bedroom: Finally getting to the bedroom — a large and inviting king-sized Simmons bed, sheets with thread counts so high it would not save your life if you ever found yourself at the edge. Yes, it took some effort not to dive straight in before taking photos.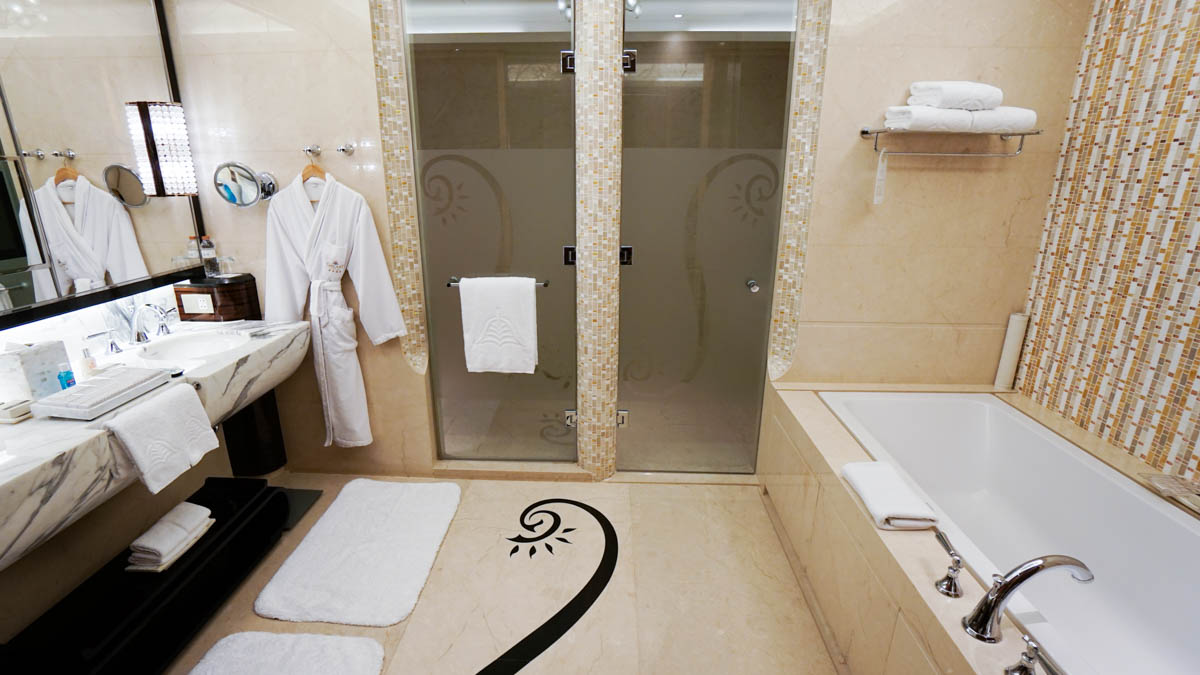 The main Bathroom: Double sinks, separate stalls for the shower and toilet, and a super spacious bathtub! There's even an additional guest toilet outside the room.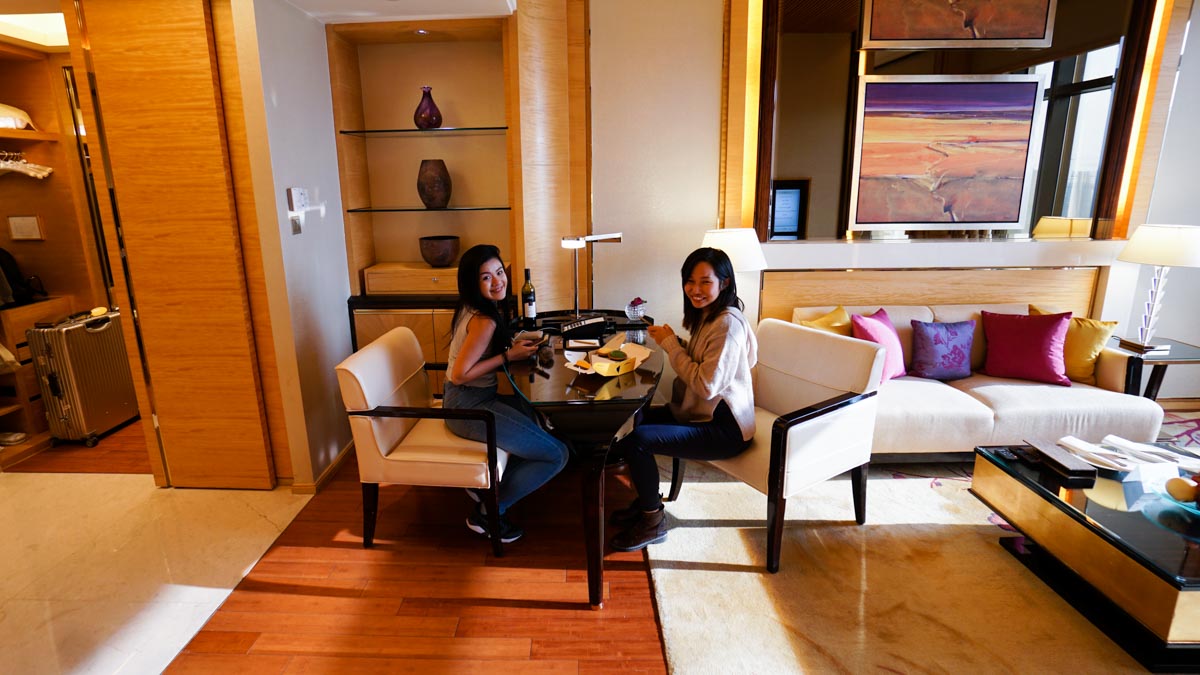 After an extensive introduction to the room, the Butler exited the room and we made ourselves feel at home right away.
In fact, after a bit of deliberation, we ended up cancelling our plans to explore the city and instead got down to exploring every cosy corner the room had to offer.
Everything in the room was so thoughtfully included it felt like we'd never have to leave the room or ask for anything.
At some point, we ended up calling the reception because we wouldn't figure out their high-tech ironing board. But instead of instructions, we were sent (in their terms) an "iron boy" aka the Butler to help us with the chore.
Have you experienced having a butler? What else can you ask from a butler? Let us know down in the comments section!
---
Facilities
Around the premise: Skytop water adventure park, outdoor heated pool, jacuzzi, gym
Wave pool

WHAT KIND OF HOTEL HAS A WAVE POOL?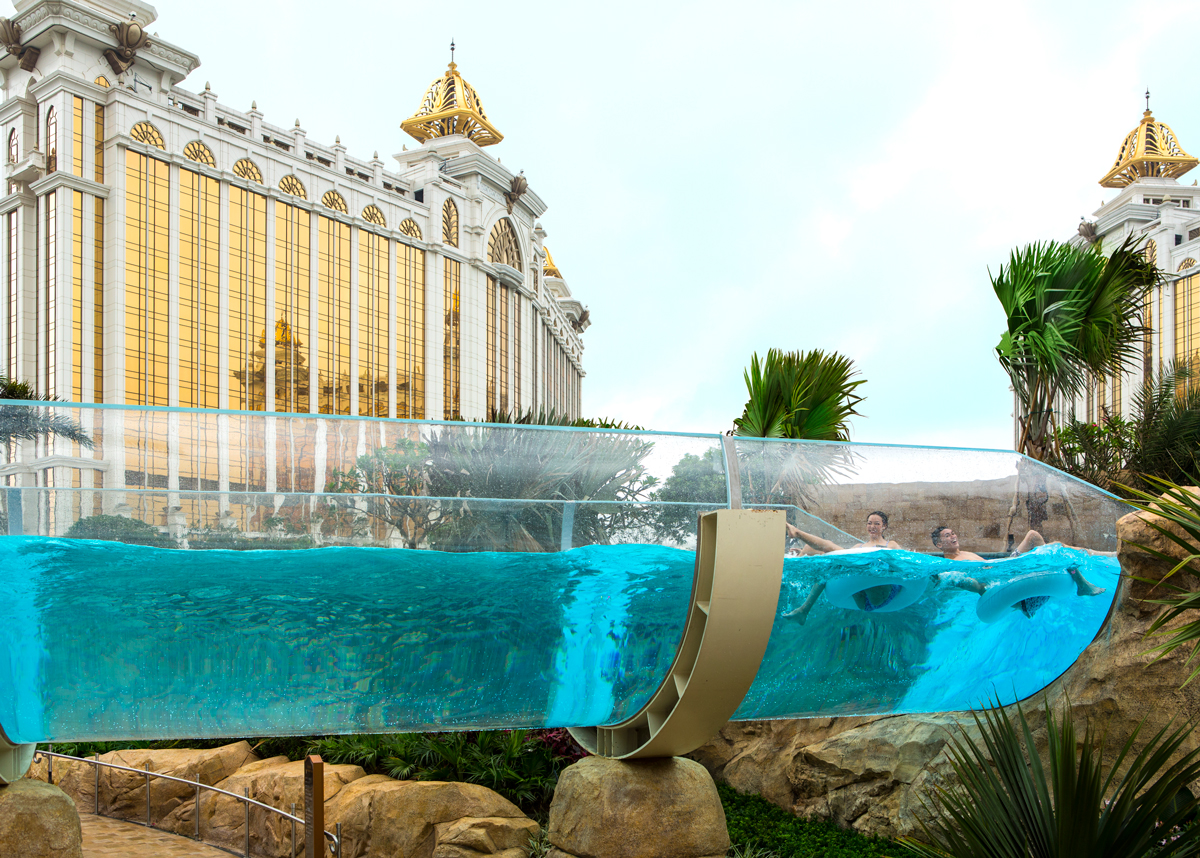 This also happens to be the world's longest Skytop Aquatic Adventure River Ride (aka Lazy river) at 575 meters!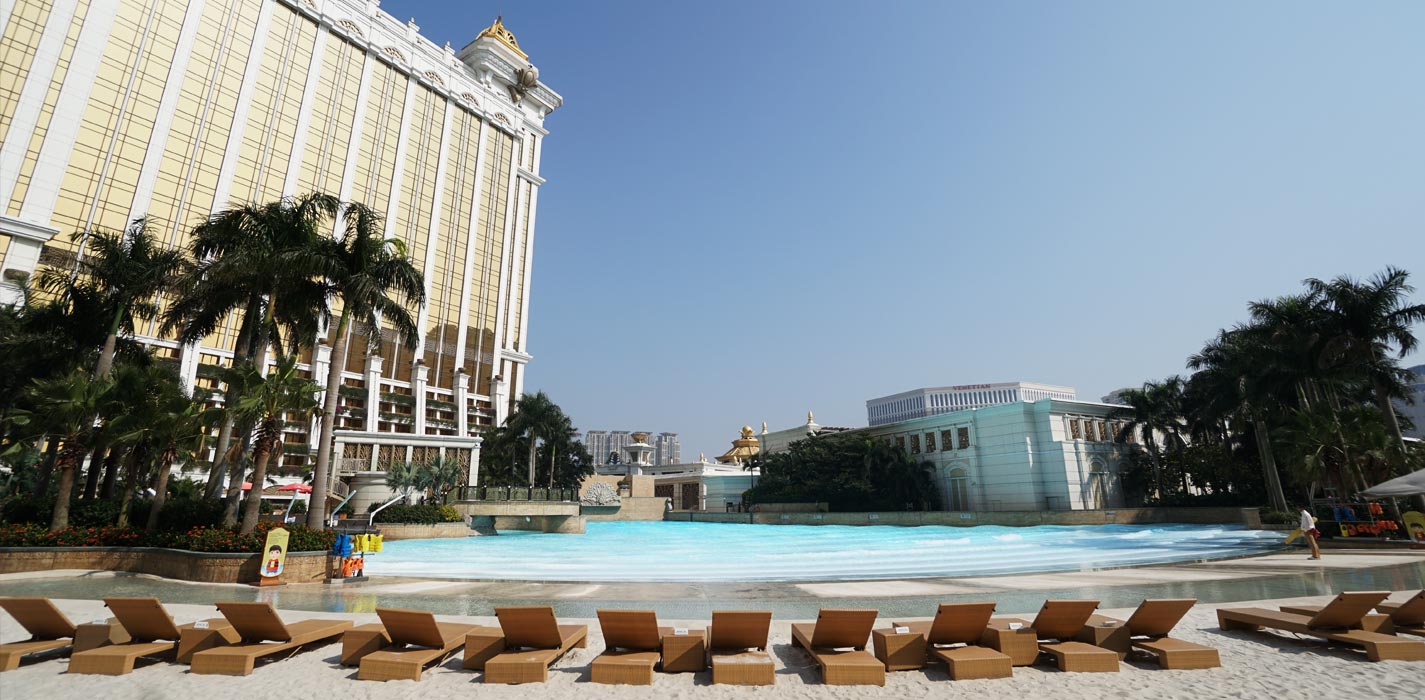 We were pretty bummed this was closed for maintenance until the warmer seasons because this mini adventure water park — stocked with water slides, waterfalls and kid zones — is only open for the guests at one of the Galaxy hotels.
In room: Free WiFi, personalised 24 hour butler service, bluetooth speaker, two USB charging ports on the work desk, complimentary mini bar (lots of alcohol included), Nespresso coffee machine
In toilet: Molten Brown range of toiletries, 2000w hairdryer, loofa, bath salts (upon request), toothbrush, Colgate mouthwash, shaving kit, comb, luxury quality bath robes.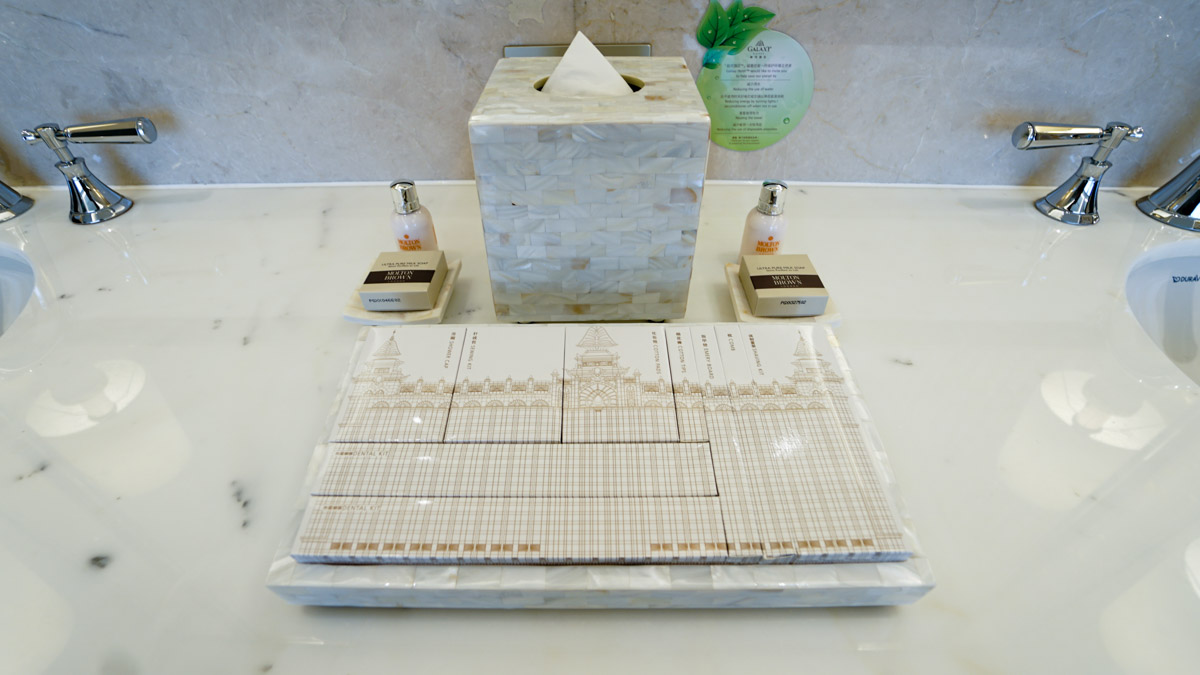 Directions to Galaxy Macau
From the Macau/Taipa ferry terminal: If you are arriving between 9am–11pm, there are complimentary shuttle buses that leave every 5–10mins. Free WiFi (no password required) can be enjoyed on the bus ride!
From the Macau international airport: The complimentary shuttle buses leave every 20–30mins between 10am–11pm.
---
Around Galaxy Macau
Broadway food street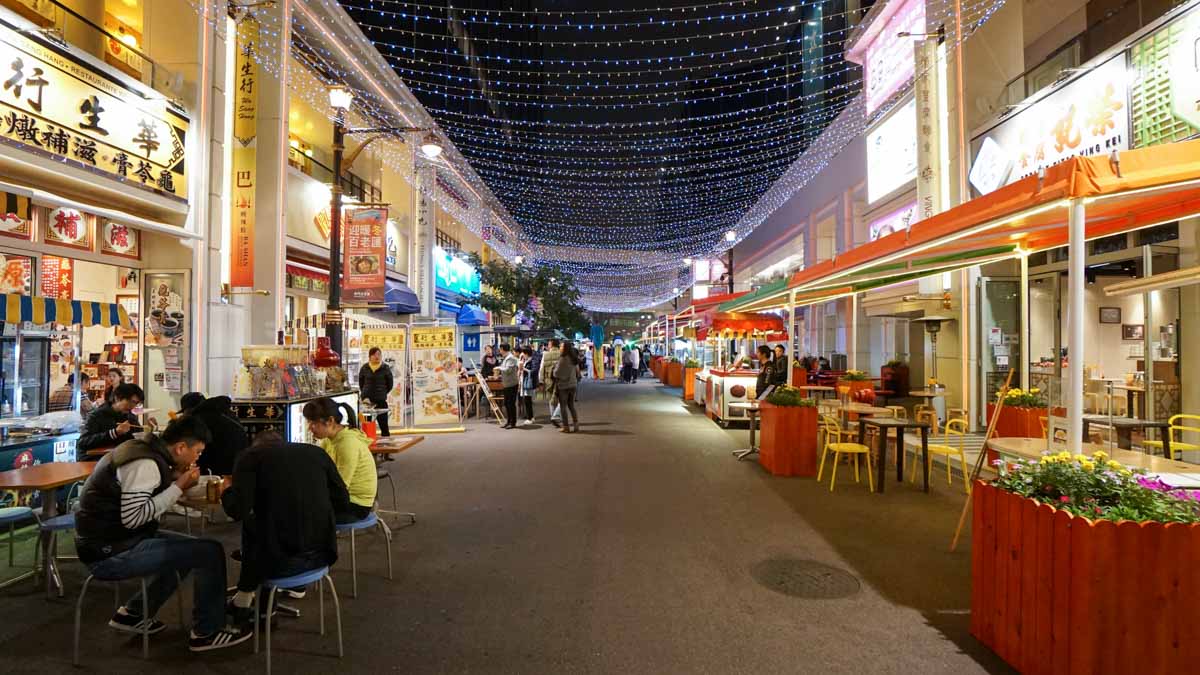 Galaxy Macau basically makes it redundant to step out of its premise. If you're looking for the best food stalls in Macau, take no longer than a 10-minute walk through the mall of Galaxy Macau on to the Broadway food street.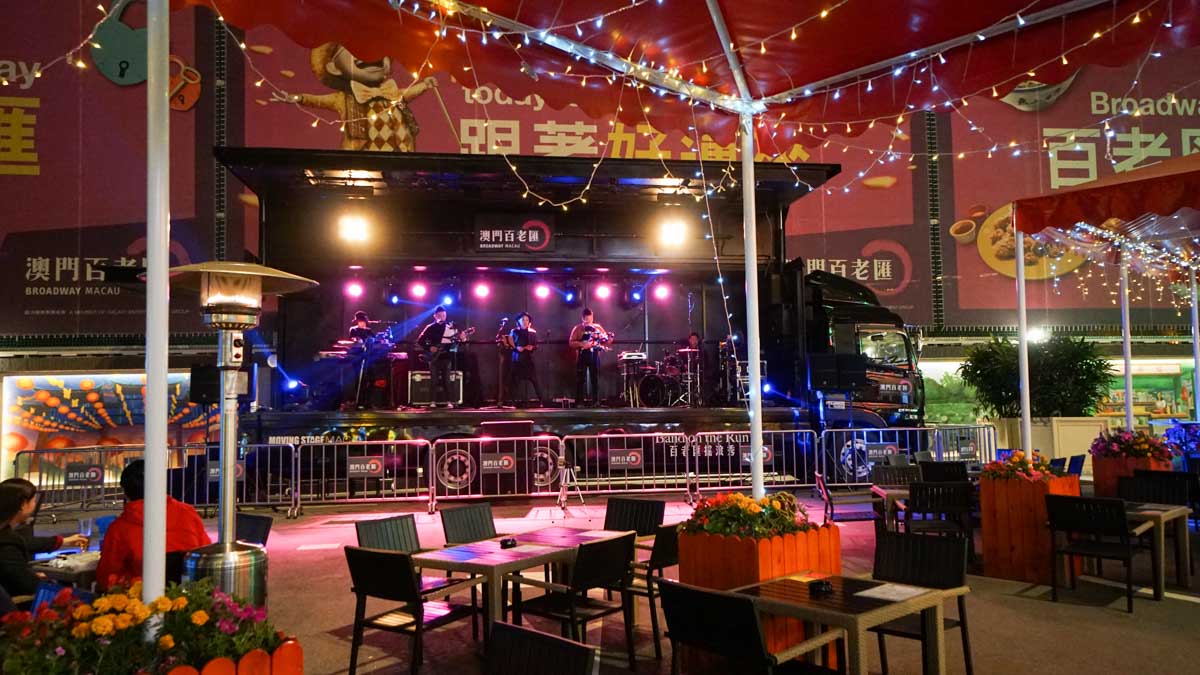 Here, you'll find a hawker style street with 40 over popular restaurants and cafes — ranging from authentic hawker fare to Michelin star awarded restaurants all in one street. There are also live bands and the occasional street performer creating a mixed vibe of modern 70s, something you probably won't find anywhere else in Macau.
Here are some of our favourite picks:
Rethink Coffee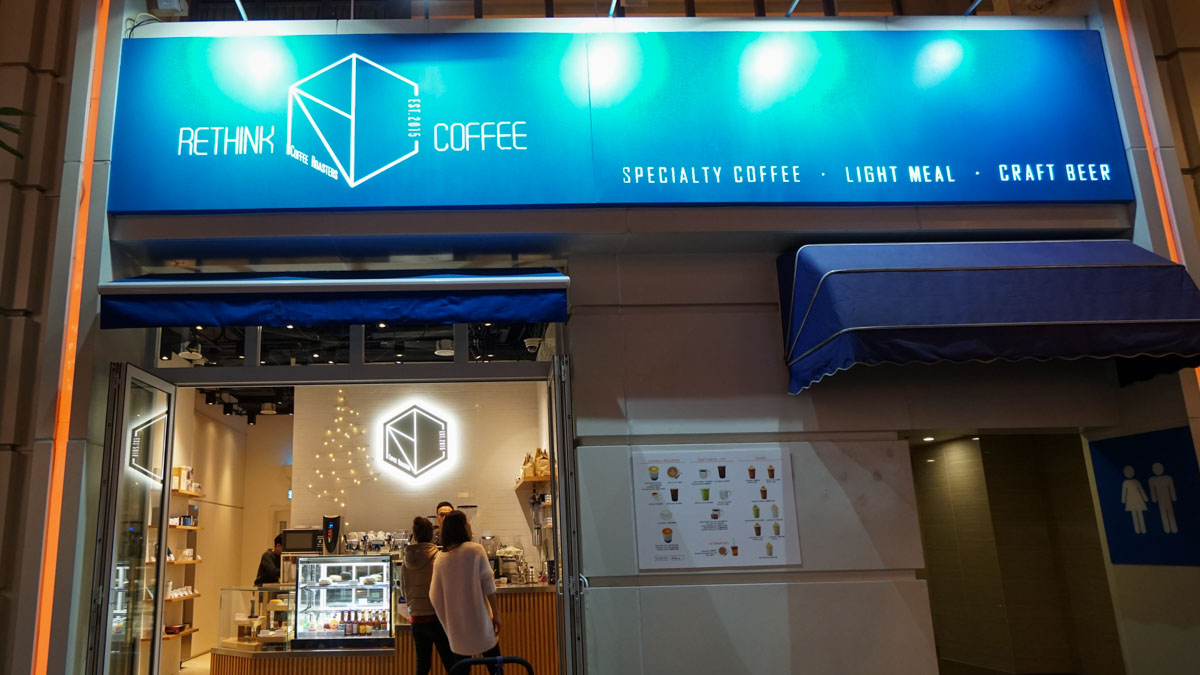 This cafe was highly raved by one of the staff at Galaxy Macau. We didn't get to try for ourselves until we chanced upon an outlet while exploring Taipa. The outlet in Taipa was a small hole in the wall store and had many customers waiting for their orders so we thought we had to give it a try. True to the recommendation, we ordered the Macanese Latte and it was one of the best cups of coffee we had on the trip!
Wong Kun Sio Kung 皇冠小馆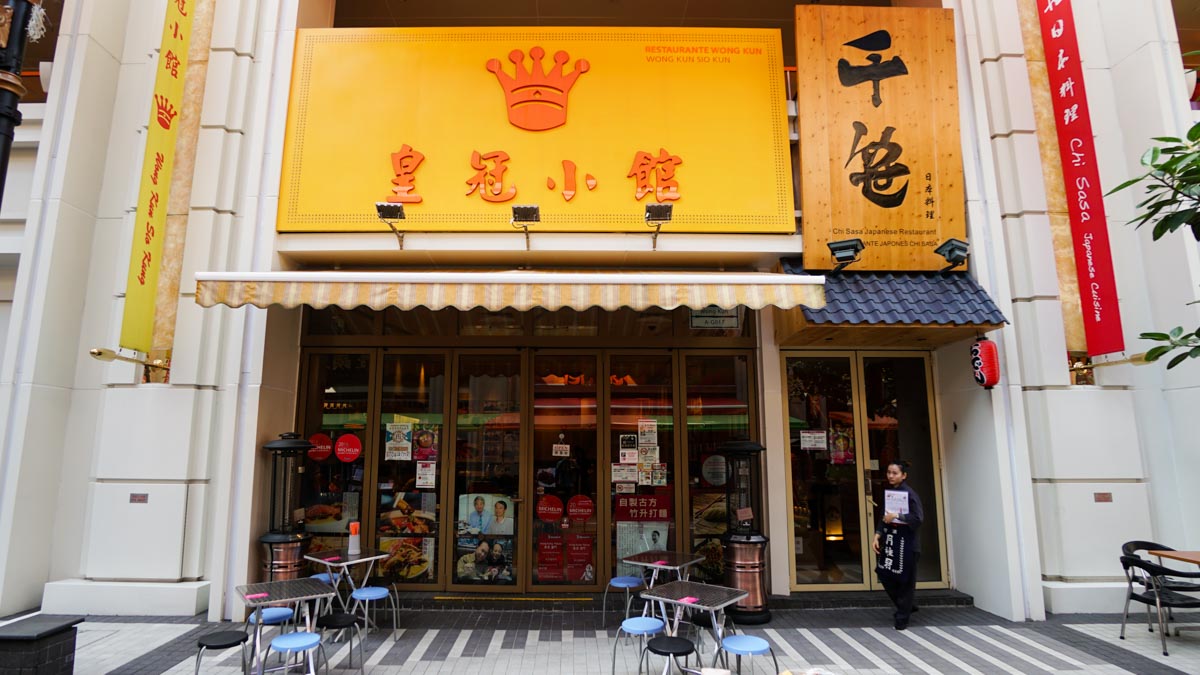 One of our first meals in Macau was at this Michelin recommended restaurant. Resembling a cleaned up version of Hong Kong's cha chan teng, you could smell the aroma of its famous crab dishes the moment you step into the swing doors.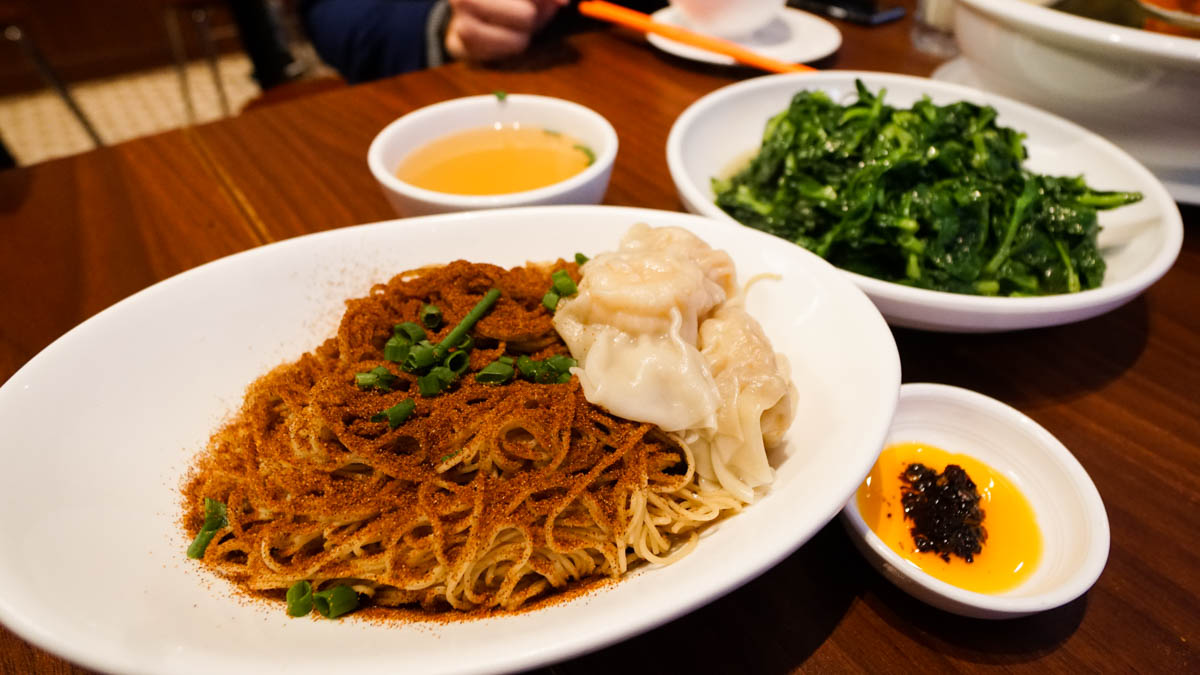 We ordered a serving of the highly recommended shrimp roe stir noodles which are made by a special bamboo technique giving the noodles its unique texture.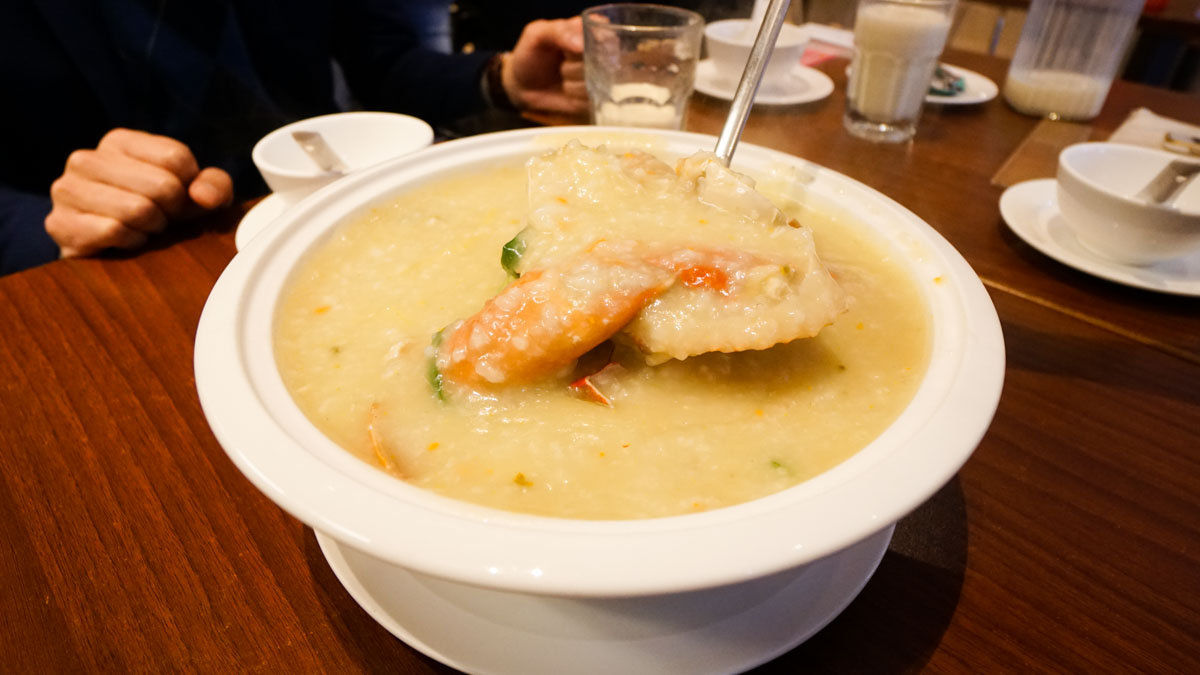 But this had to be a table's favourite — the Sea Crab Congee. The congee was so thoroughly boiled with the crab that you could very vividly taste the crab in just a spoonful of congee. Absolutely delicious!!
See also: Full list of restaurants at Broadway Food Street
Broadway Hotel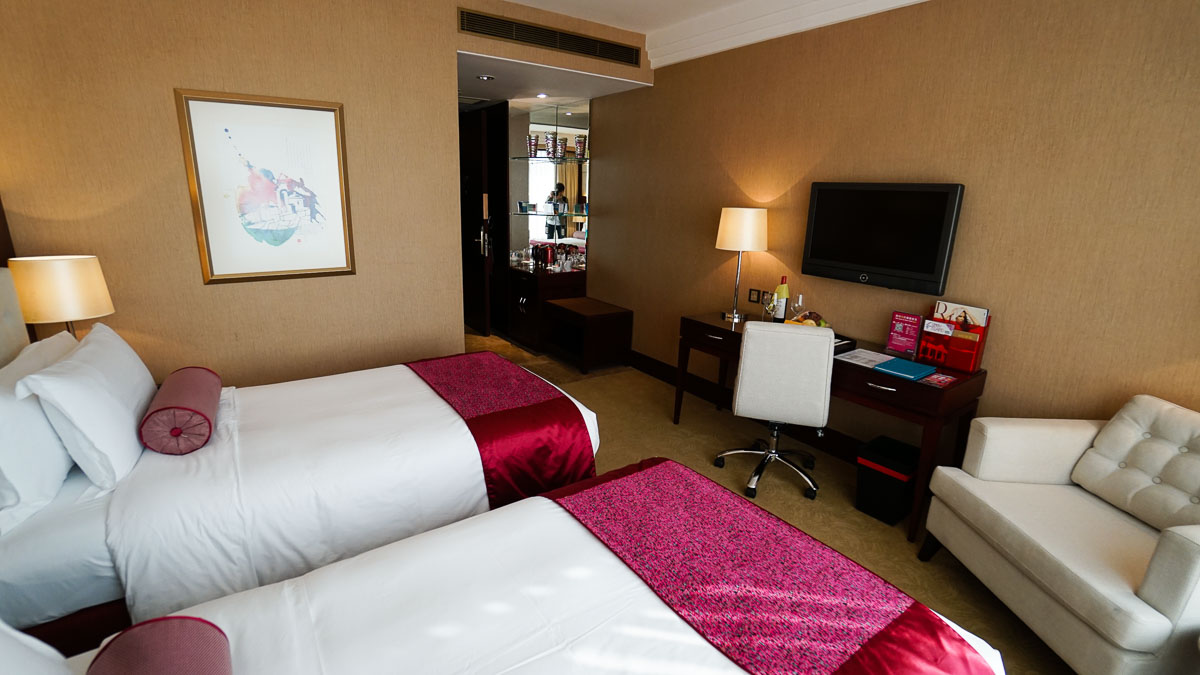 The Broadway area has it's own hotel too. Located right at the foot of the food street perfect for those who don't want to splurge too much on accommodation while still soaking in the Macau sights and sounds.
BOOK A NIGHT AT THE BROADWAY HOTEL
Conclusion
One of the most exclusive experiences we've had, the Galaxy Macau is like this all-encompassing resort where you literally don't have to leave its boundaries to experience the luxuries of Macau — from the most popular restaurants, to the water park, casinos and shopping malls, all within a stone's throw. Perfect for that special staycation or the getaway with the family.
BOOK A NIGHT AT THE GALAXY MACAU
For other things to see, eat and do in Macau, check out the 48 hours in Macau guide!
This post was brought to you by Hotels.com