Everything you need to know about finding Halal food and sustaining yourself in non-Muslim countries!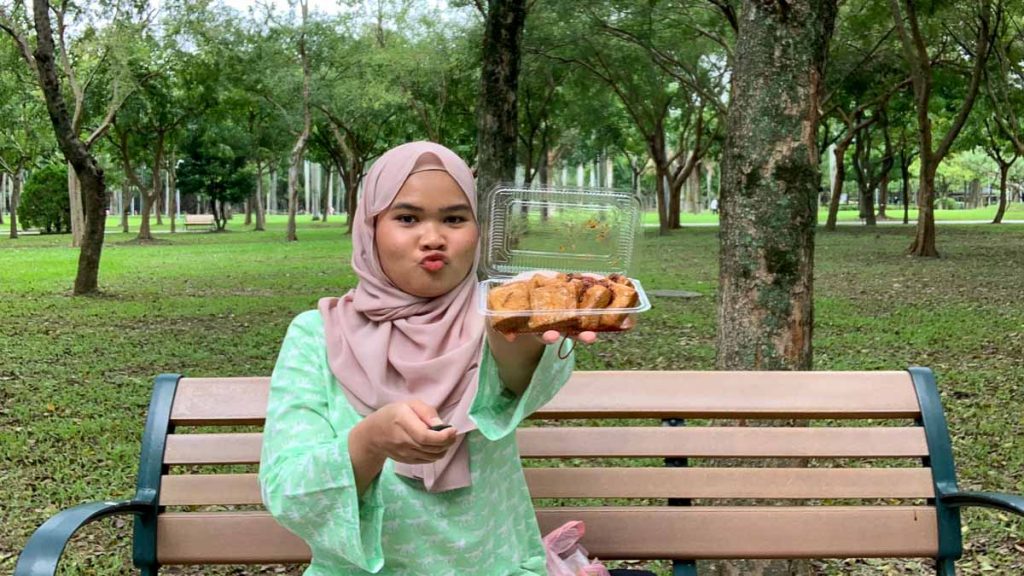 The joy of travelling is discovering gastronomic gems — but when you have dietary restrictions, you have to get a little creative.
Someone once shared how they walked for hours to find Halal food in Taiwan. When they finally found an Indian Restaurant, a paper sign on the storefront said 'NOT HALAL'. If he did his research, he would've known that Taiwan is Muslim-friendly with plenty of Halal options ¯\_(ツ)_/¯.
Preparing yourself beforehand takes out the guesswork when looking for Halal food overseas. I had a process for finding Halal food while I was in Taiwan — so here are seven tips I found useful when looking for halal food wherever you are in the world.
1) Talk to locals even before the trip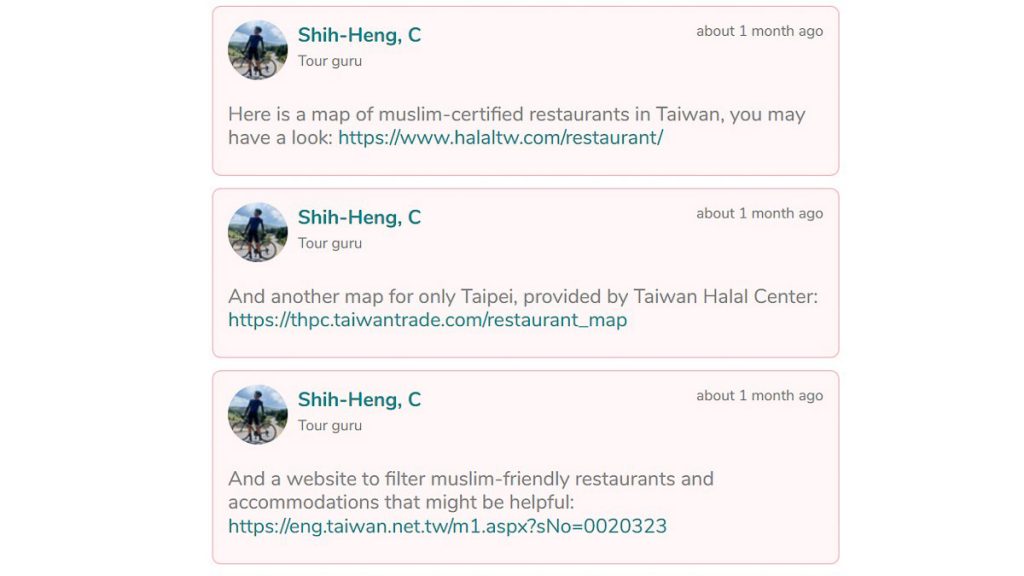 Prior to my solo trip to Taipei, I reached out to my walking tour guide to see if he knew of any Halal spots. He equipped me with really helpful links like the Muslim Food Map by Taiwan Halal Centre, which was a good aid to see the density of Halal and Muslim-friendly food in the different areas of Taipei.
Facebook groups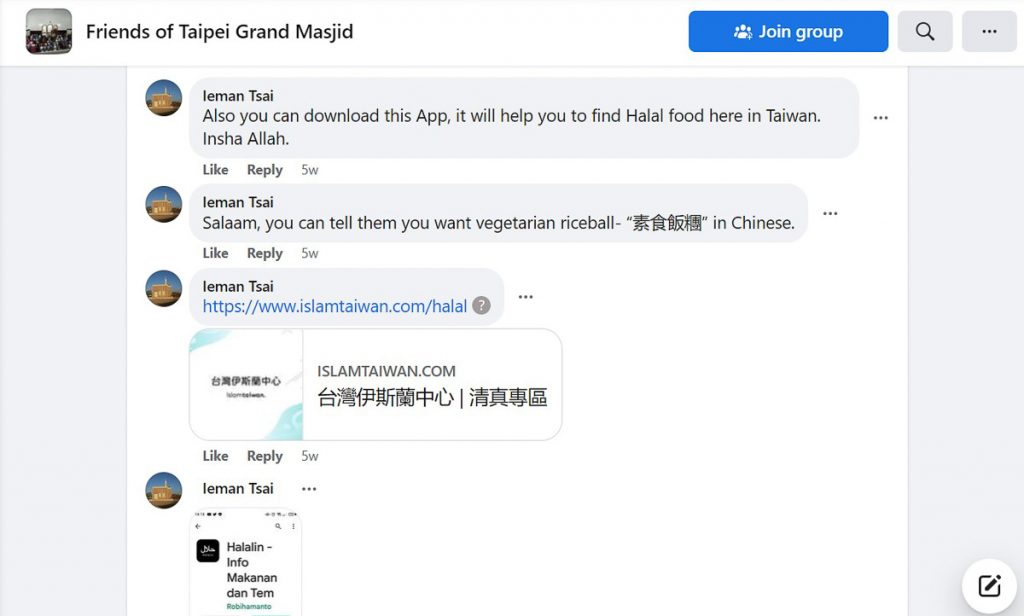 If you don't have a walking tour guide, try reaching out through local Facebook groups!
I was looking for Halal Traditional Taiwanese Breakfast options and reached out to the Friends of Taipei Grand Masjid Facebook page for suggestions. Though none were suggested, they equipped me with Chinese phrases to ask for a vegetarian version just in case I wanted to dine in at those places.
The Islam Taiwan website they shared allowed me to find Uncle Ma's! Islam Taiwan has even started a Discord Channel!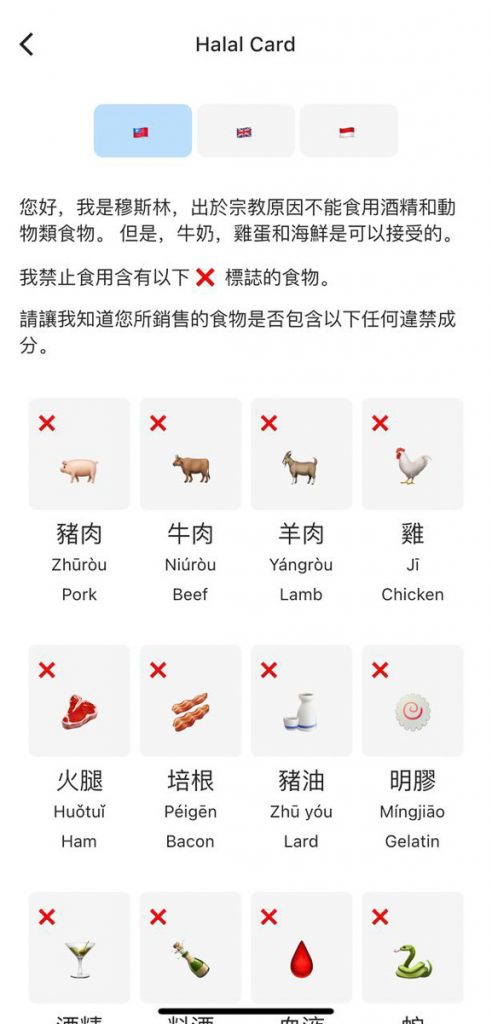 They also shared apps like Taiwan Halal: Tour, Restaurant (Android only) and Halalin — which lists Halal snacks and groceries in each convenience store and has a 'Halal Card' listing items Muslims can and cannot consume in English, Bahasa Indonesia, and Chinese.
2) Scour Through TikTok and Instagram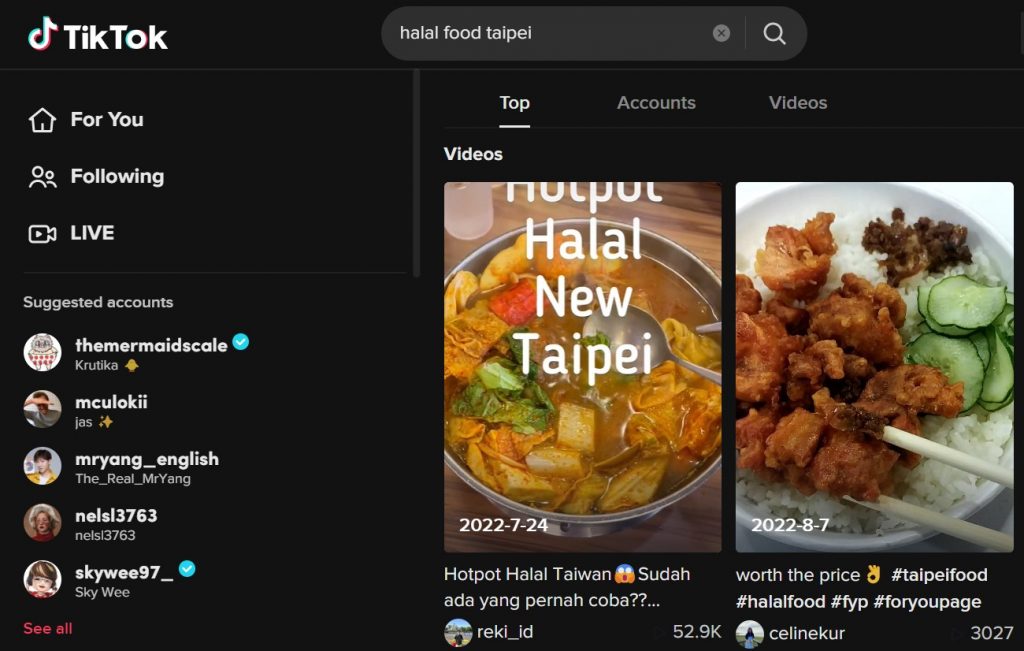 Tiktok too has plenty of creators posting their Halal discoveries in Taipei.
While planning for a trip to Taipei, I came across Kuliner Halal Taiwan on TikTok — a database of Halal food in Taiwan from restaurants to groceries. I could quickly scan through their account for restaurants available and plan the trip around it.
reki_id was another local creator where I discovered KUO ZANG mini Hot Pot — a lesser known Halal spot that's not listed in Taiwan's tourism website!
Most of these TikToks, however, are in Malay or Bahasa Indonesia — so keep a lookout on our TikTok page as we'll be coming up with more Halal food content 👀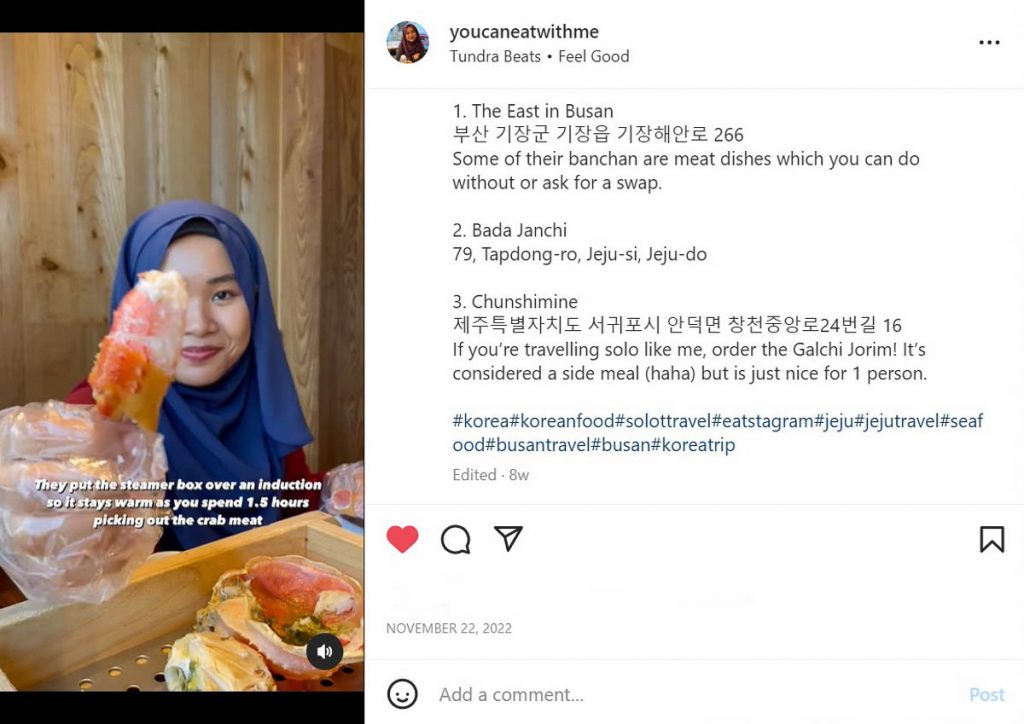 Instagram's a treasure-trove of Halal travel content too!
youcaneatwithme's Instagram reels lists Halal, Muslim-friendly, Pescatarian-friendly and vegan places in Korea serving authentic food. Plus, she gives tips on how to adapt the meals served to your dietary restrictions.
*Pro-tip: Save time and use the algorithm to your favour by liking and saving Halal overseas content. It'll flood your feed with Halal and Muslim-friendly places overseas — taking the effort out of looking for these places.
3) Visit the local Mosque or Islamic Centre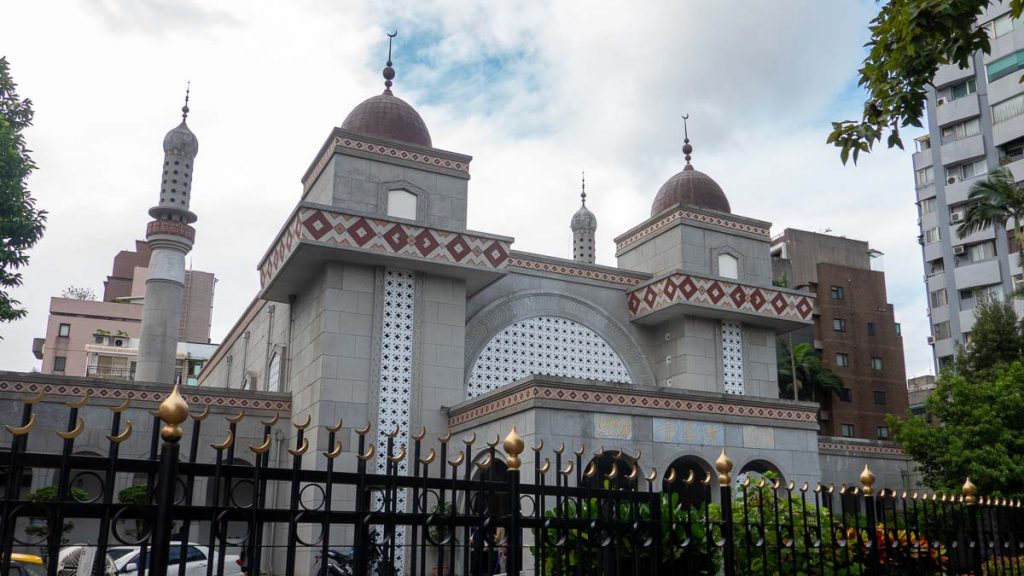 Other than a place of worship, Mosques are a good point of contact for all things halal and a chance to connect with the local Muslims for Halal hidden gems!
Most Mosques around the world like Taipei Grand Mosque and Kowloon Mosque And Islamic Centre sell food on Fridays — so you can get a Halal version of the local cuisine with zero doubts!
Mosques are sometimes located in Muslim-populated communities/neighbourhoods so you're likely to be close to Halal butchers and restaurants too.
4) Explore Convenience Stores and Supermarkets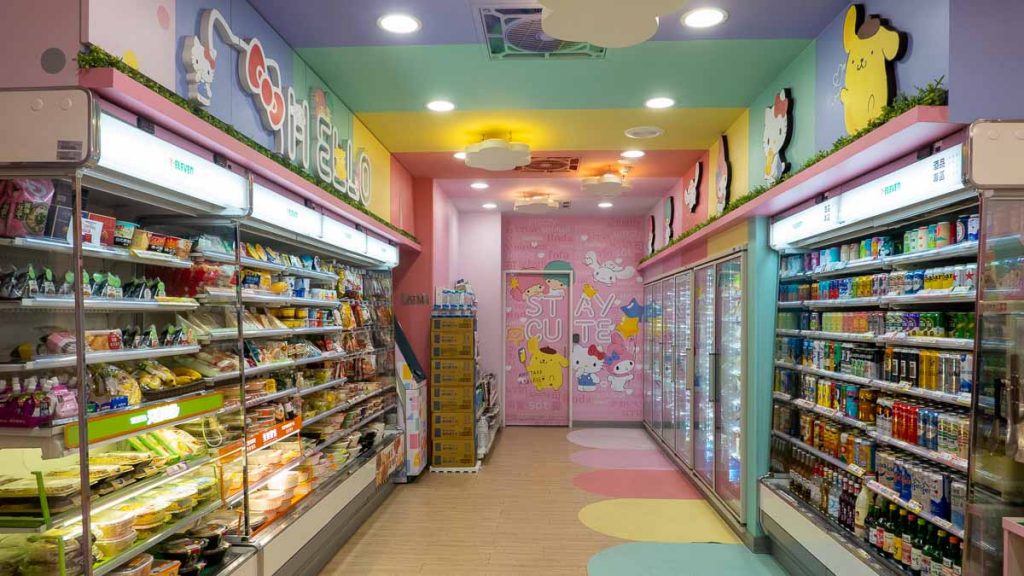 Don't skip convenience stores or supermarkets in any country you're in as there are usually some Halal-certified and vegetarian-friendly snacks and drinks. The selection's usually a mix of local and imported snacks and drink.
I managed to find some Halal Goat Cheese in a convenience store while in Ho Chi Minh, Vietnam!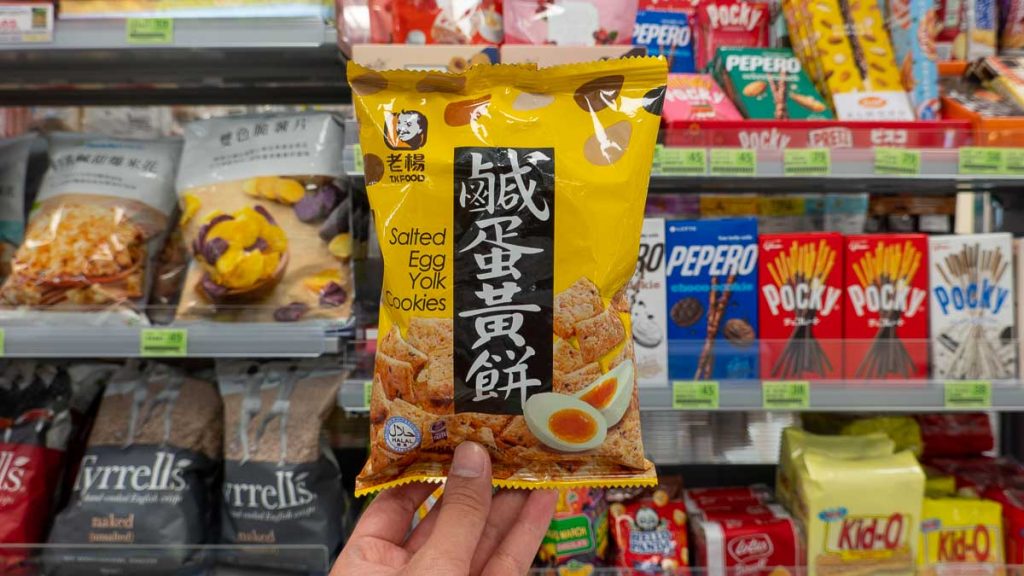 Found these 'Made-in-Taiwan' local Salted Egg Yolk Cookies by T.K. Food (NT$38, ~S$1.70) in Family Mart in Taipei, Taiwan!
It's a sweet biscuit with some savoury notes scattered in each bite. It's definitely an acquired taste but I really enjoyed its duality.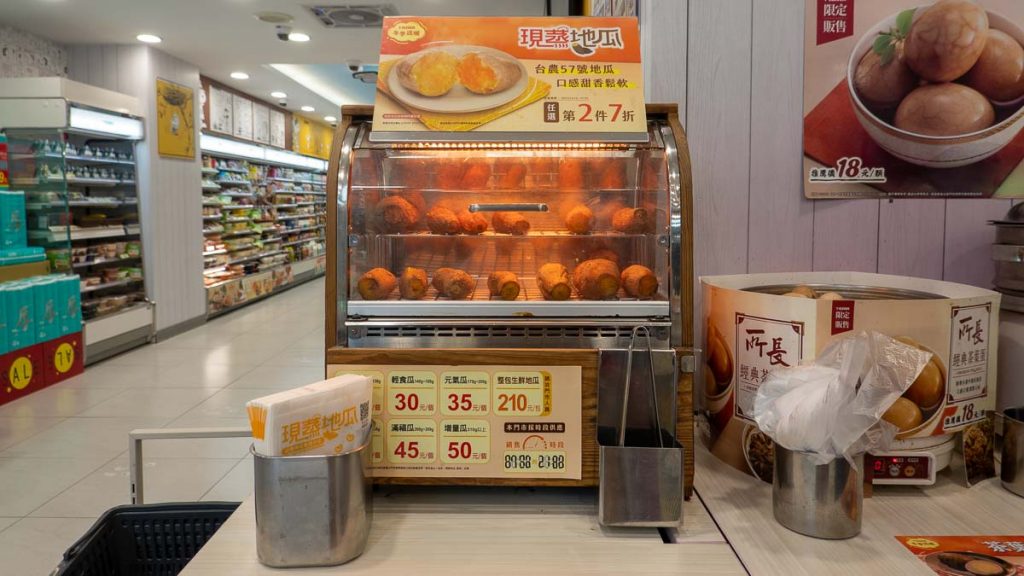 Roasted sweet potatoes are a vegetarian-friendly hot-food item sold in most Taiwanese convenience stores if you're ever craving a hot snack.
Convenience stores and supermarkets can be an option to tide you over if you're abroad and in a pinch for Halal food. Take your time to explore them because you never know what random Halal gems you might find!
5) Look Through Tourism Websites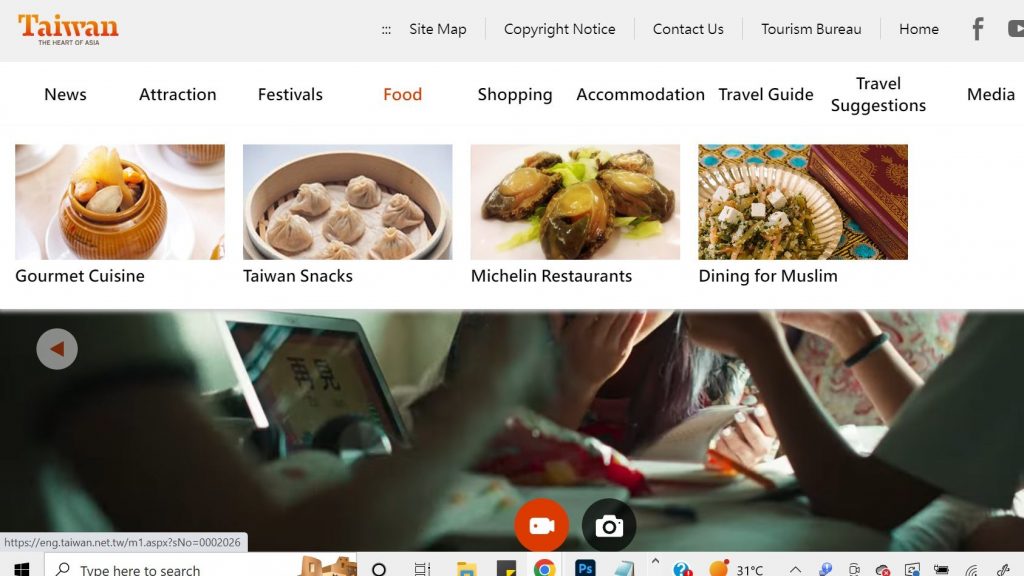 Other than doing a quick Google search for 'Halal food in (name of country)' prior to visiting any country, I'll head to their tourism website too.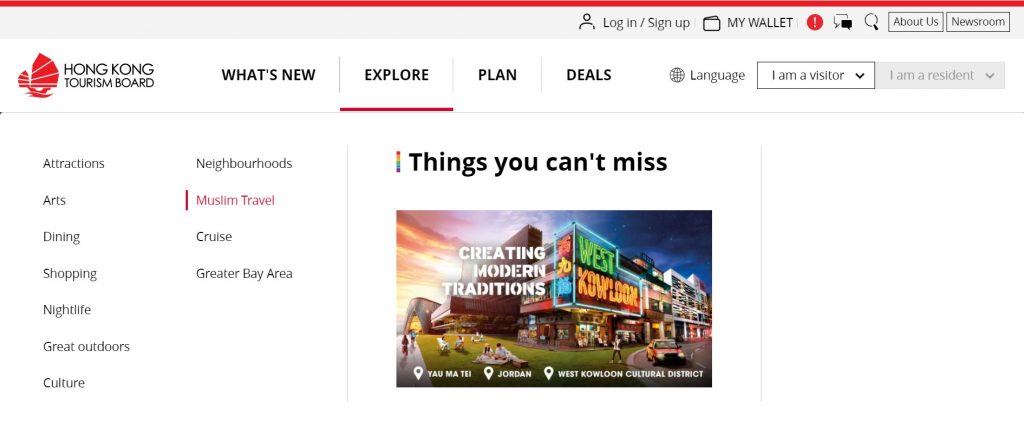 Tourism boards of various countries — like Taiwan, Hong Kong and Korea — are starting to accommodate Muslim-friendly travel by providing guides on where to find Halal food or where to pray!
6) Know Local Phrases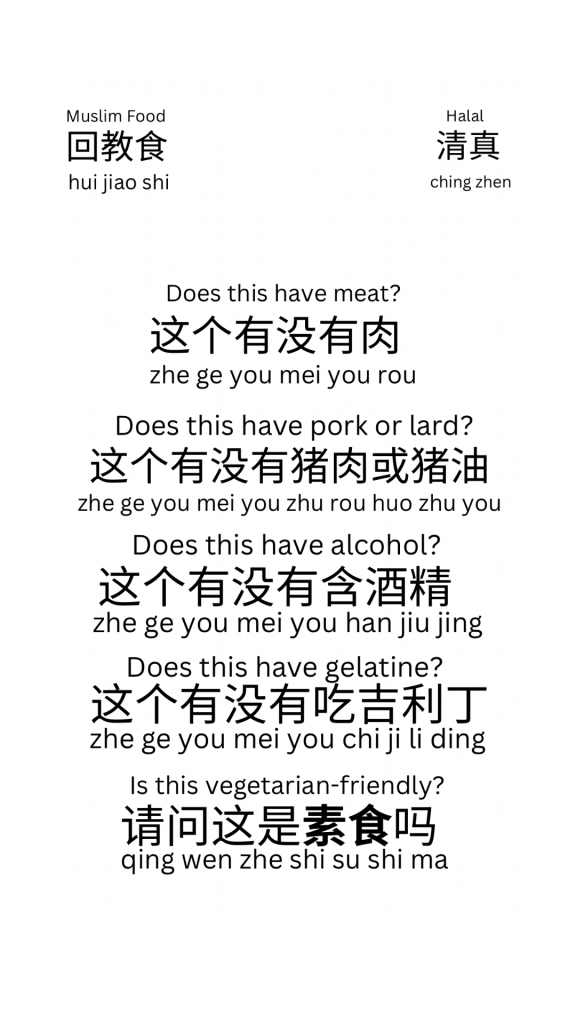 It's good to familiarise yourself with phrases in the local language to ask if something is Halal or not.
While in Taipei, I kept these common phrases as my lock screen so I simply whipped out my phone to ask if things were vegetarian or halal. I would try to pronounce the phrases or simply show the screen to the vendors to avoid miscommunication.
The most important phrase I found when looking for Muslim-friendly food in Taipei is:
这个有没有猪油 (Zhè ge you méi you zhū yóu)
Does this have lard?
I almost purchased pastries from a store which uses lard. The shop didn't sell any meat — only sweet pastries and scallion bread. When I asked "这个有没有猪油 (Zhè ge you méi you zhū yóu)", the seller informed me that the sweet pastries contained lard.
Honest mistakes like this happen — but we can always equip ourselves to avoid ending up in these situations by knowing what to ask.
7) Browse Through Airports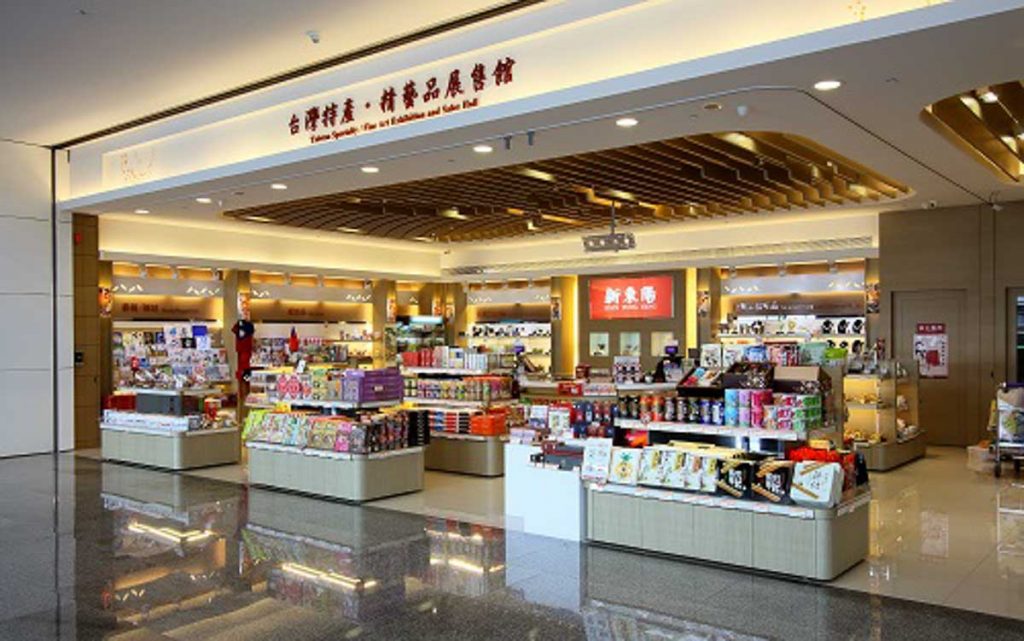 Photo credit: Hsin Tung Yang
Airports are the last stretch of any trip — but it's also an opportunity to discover more Halal food places or souvenirs.
Pita Pit in Auckland Airport offers Halal chicken options prepared separately from their other menu items while Taiwan's Taoyuan International Airport has several souvenir snack shops in Terminal 1's Departure Hall selling plenty of Made-in-Taiwan Halal-certified snacks.
*Pro-tip: The largest selection in Taoyuan International Airport Terminal 1 Departure Hall is at Level 3, right before the entrance to immigration.
Do your due diligence to find Halal or Muslim-Friendly Food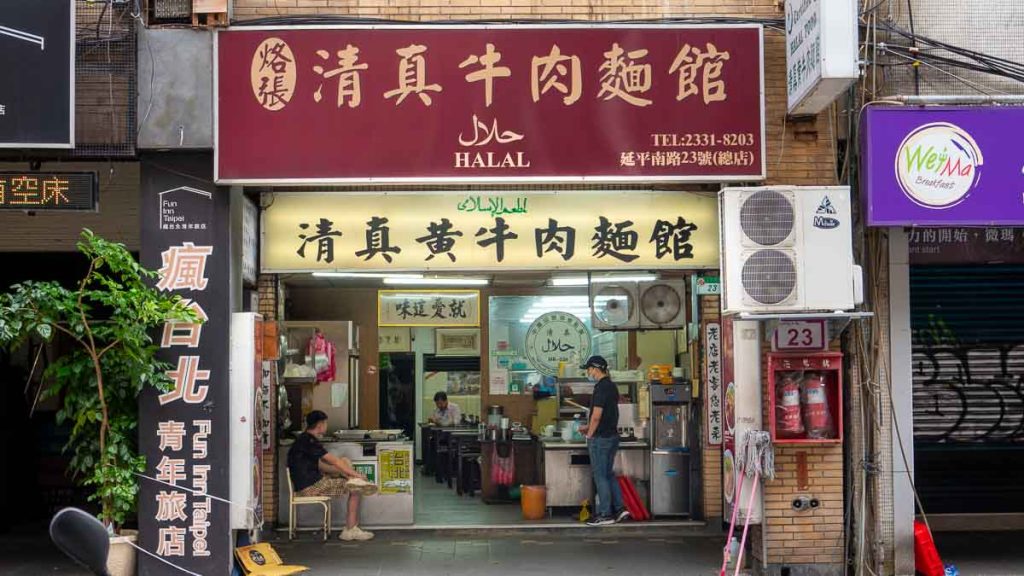 The first mistake we tend to make is to assume that it's hard to find Halal or Muslim-friendly food in non-Muslim countries. My philosophy is that halal food is always available — you just gotta do your research.
My Halal food situation on my solo trip to Taipei was easy breezy because I had done the legwork beforehand and planned my itinerary around the Halal spots.
Check out our other Halal guides for planning a trip to non-Muslim countries:
– Muslim-friendly 4D3N Taipei Itinerary — A Solo Traveller's First Time in Taiwan
– Taipei Muslim-Friendly Food Guide — 13 Tried and Tested Halal Certified Places
– Planning Your Vietnam Itinerary — Your Most Frequently Asked Questions
Got any other tips on finding Halal food in non-Muslim countries? Share with us in the comments below!
---
For more travel inspiration, follow us on Facebook, Instagram, Tiktok and YouTube for more travel updates!