See what lies beyond the Bay Area with these fun trips out of San Francisco!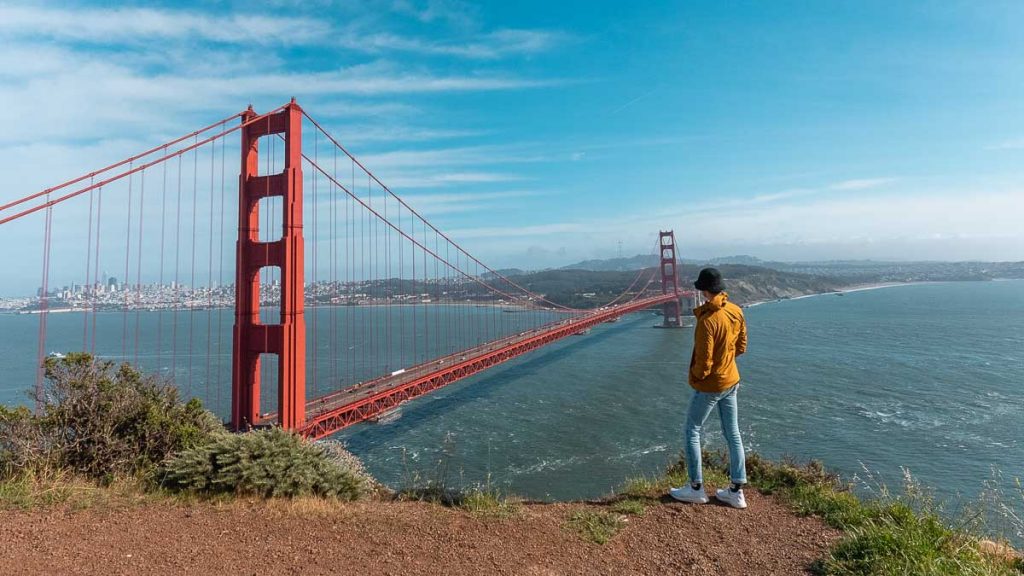 Battery Spencer.
San Francisco is California's small but vibrant coastal city. Filled with charm, it's known for its steep roads and iconic landmarks like the Golden Gate Bridge and Lombard Street.
But beyond the hustle and bustle, people love the Bay Area for its proximity to many hiking trails, exhilarating activities and laid-back beaches. With some just 20 minutes away!
Read more: USA Road Trip: 11-Day San Francisco to Los Angeles Itinerary Under S$1.8k
1) Golden Gate National Recreation Area
Travel time from San Francisco: 35min by car
Muir Woods National Monument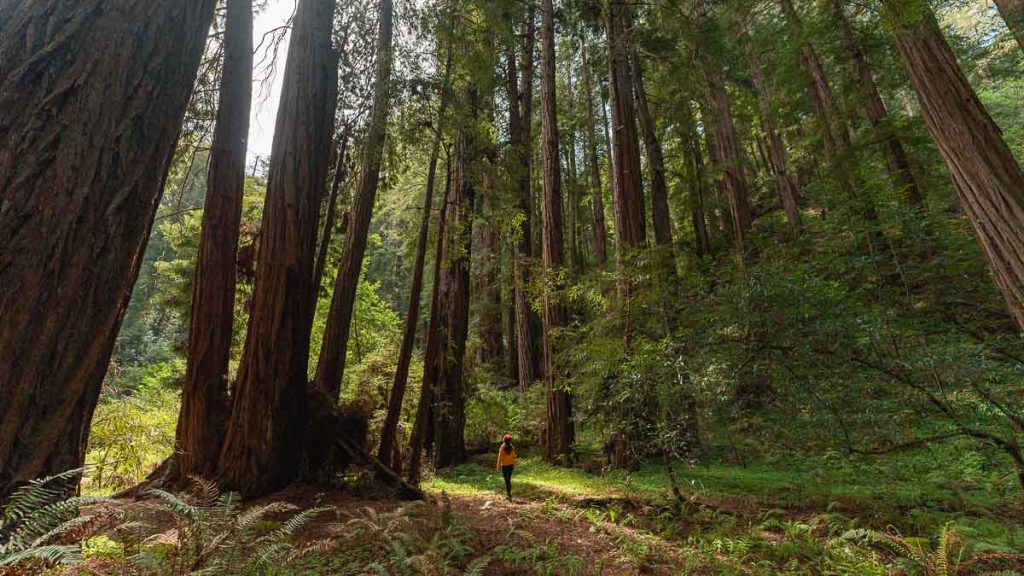 Muir Woods is home to some of the tallest trees on earth. With mature redwoods as old as 1,000 years old, don't be surprised to find trees that rise to the height of a 23-storey building!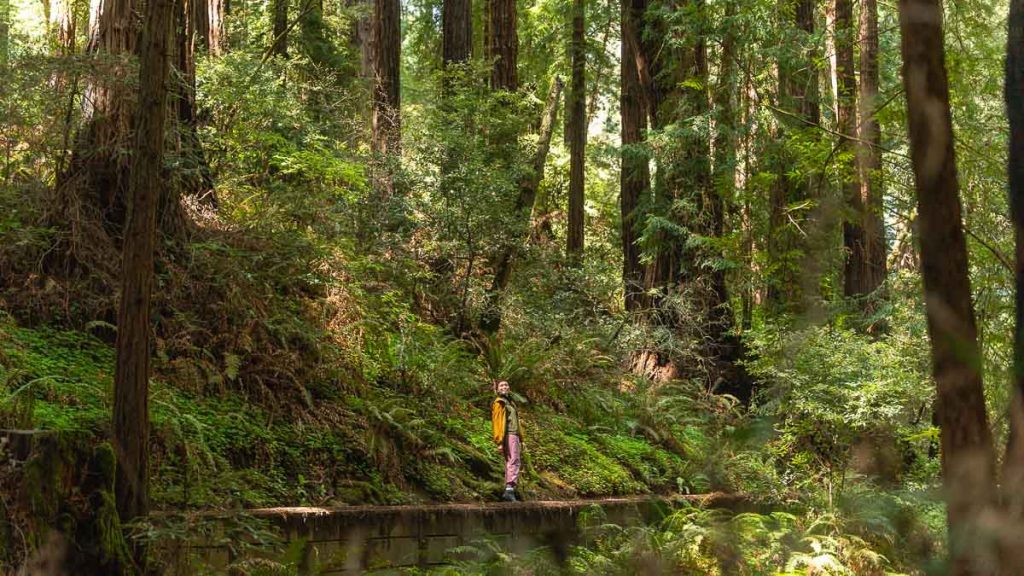 This national park has multiple trails to immerse in its beauty. Whether you're staying on the paved main trail or hiking through the dense forest, you're greeted with photo opportunities wherever you turn.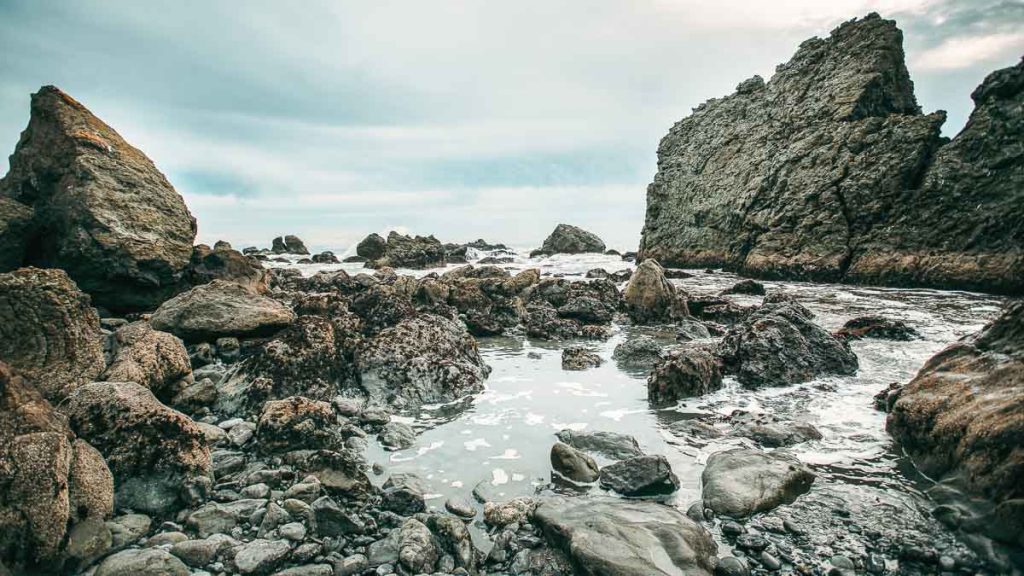 Photo credit: Jeffrey Stene via Unsplash
While you're there, don't forget to pop by Muir Beach. Explore its tide pools and get up close with marine life like anemones, hermit crabs, starfish, sea urchins and more!
Entrance fee: US$15 (~S$20.47)
Opening hours: 8AM to 6PM
Whale spotting at Muir Beach (December-February)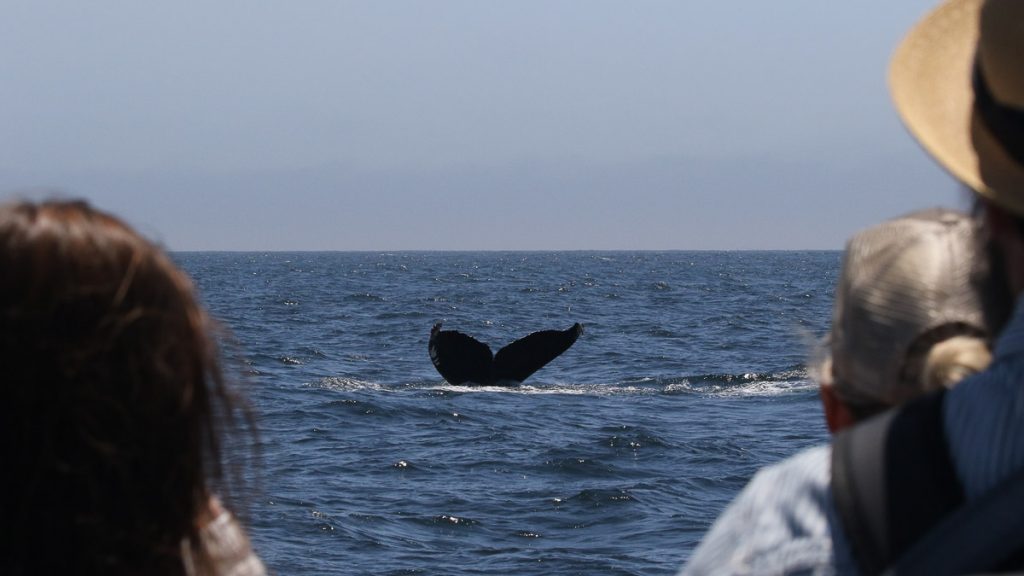 Photo credit: @sfwhaletours via Instagram
If you're visiting during winter, be sure to meet up with other tourists. In this case, a family of grey whales migrating from Alaska to Mexico 🐋
Muir Beach Overlook is one of the most accessible lookout points to catch these graceful giants. You get a top-down view of the entire coastline so you won't miss a thing!
Just remember to dress warmly as the winds get pretty chilly during this season 🥶
Entrance fee: Free
Viewing hours: 12PM – 5:30PM
Cycle to the best vantage point of the Golden Gate Bridge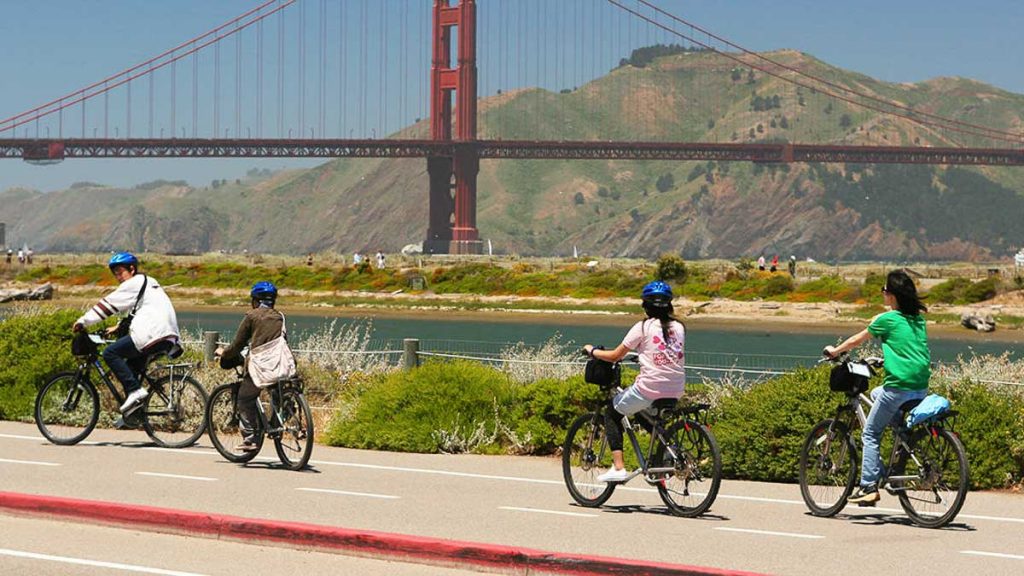 Photo credit: National Park Service
The views of San Francisco city are stunning, and one of the most rewarding ways to experience this is by cycling across the Golden Gate Bridge to Battery Spencer, one of the best vantage points of the Golden Gate Bridge.
Pick up your bike from Fisherman's Wharf, and make your way down to Fort Point National Historic Site, a popular place to appreciate the Golden Gate Bridge. On the way, you'll pass by attractions like San Francisco Maritime National Historical Park, the Palace of Fine Arts and Crissy Fields.
Make a U-turn after Fort Point National Historic Site, then take the right lane up Long Avenue and take a right down Presidio Promenade until you get to the Golden Gate Bridge Entrance.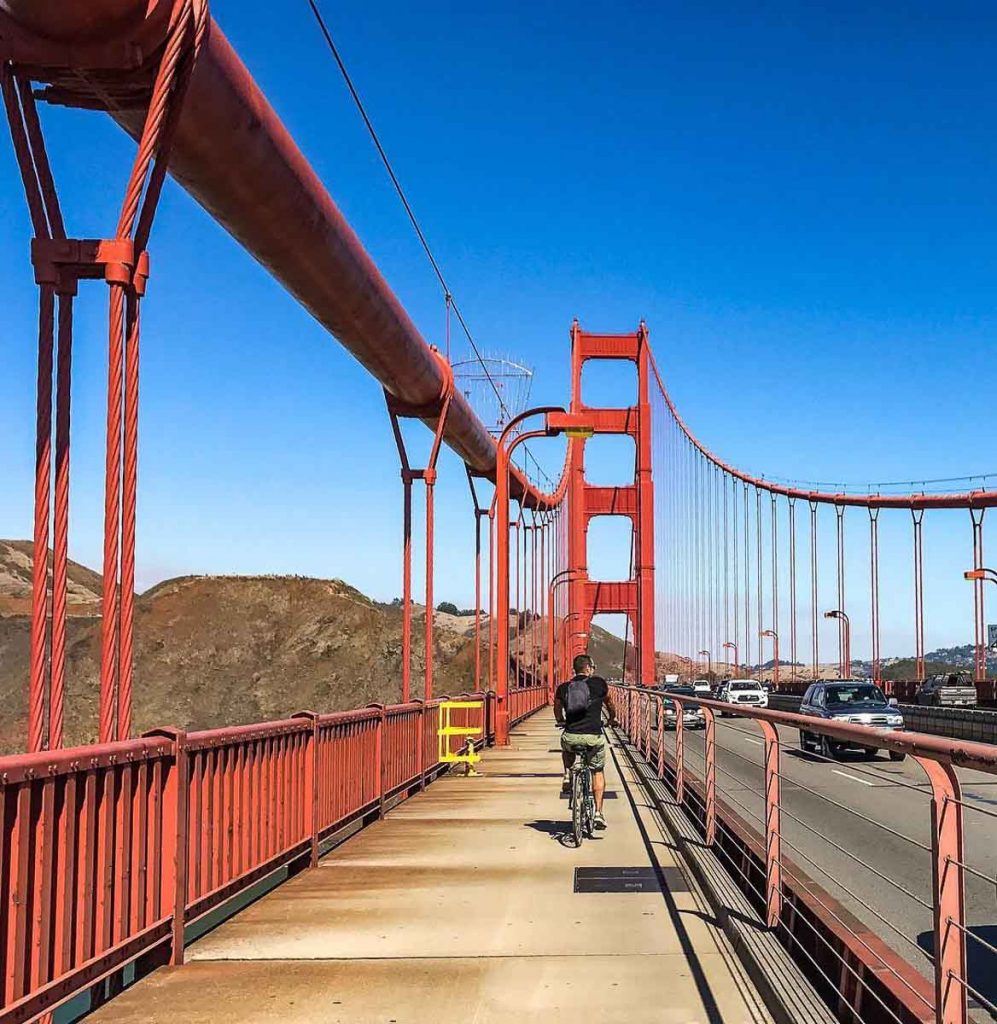 Photo credit: @come.vive.viaja via Instagram
There are two bike tracks on the bridge — pick the East Sidewalk for views of the Bay Area, or West Sidewalk for unobstructed views of the ocean!
Cost: From US$32/day (~S$43.67)
Opening hours: 24 hours
2) Camping at Yosemite National Park
Travel time from San Francisco: 3 hours by car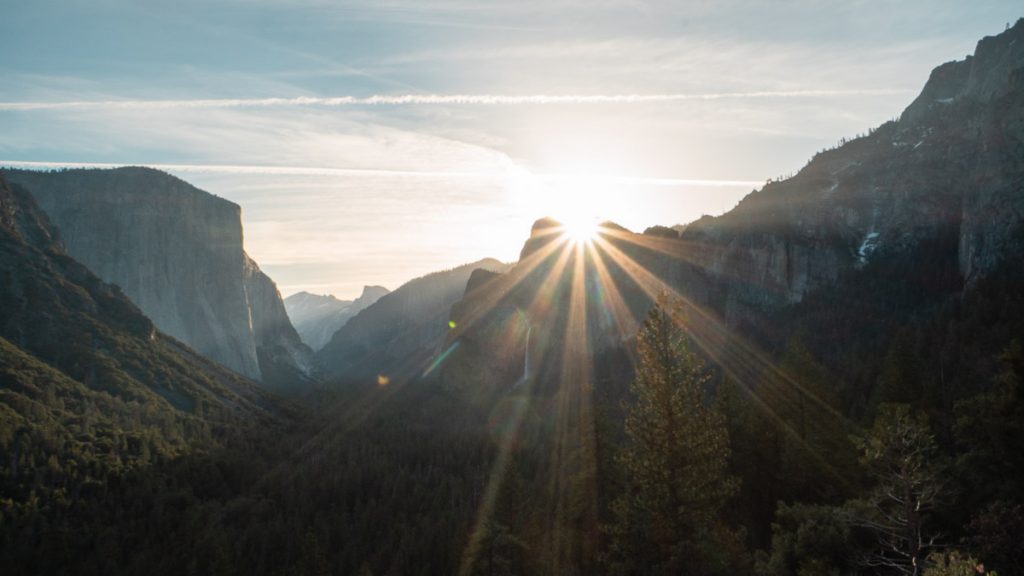 Take this chance to check Yosemite National Park off your travel bucket list ✔️
This icon is a beauty no matter the season — a snow blanket in Winter, majestic waterfalls in Spring, red and gold in Autumn, and lots of wildlife in Summer 🐻
While you could visit Yosemite on a day trip, you'll have a much more memorable time with a 2D1N campervan experience!
That said, our personal favourite season is the waterfall season between May and June. The mornings are cold but as soon as the sun comes up, it's just the right temperature for hiking.
Hiking in Yosemite National Park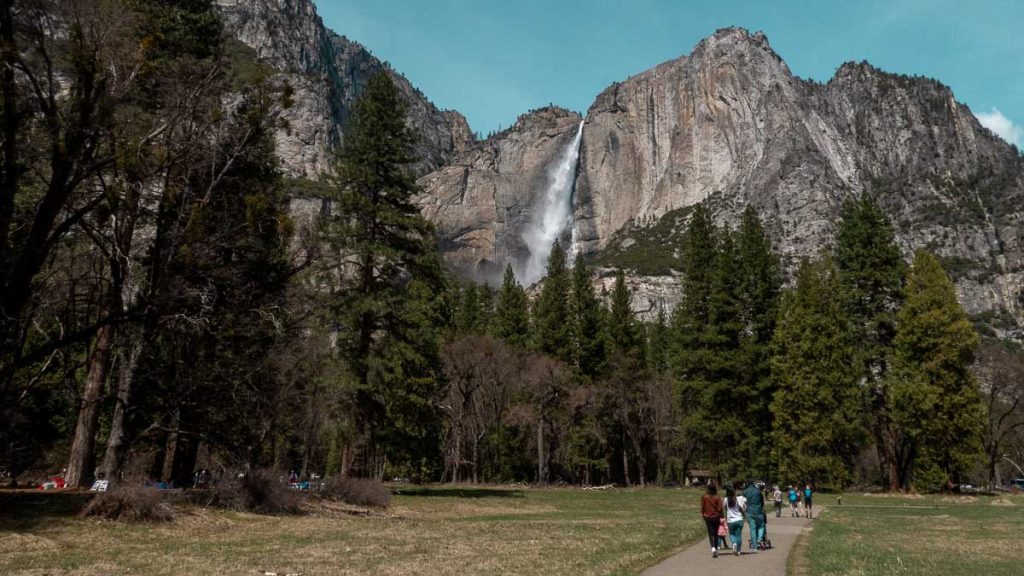 Spend your first day here chasing waterfalls. The recommended ones are Vernal Fall, Bridalveil Fall and Lower Yosemite Falls as the trek is short and extremely rewarding.
Dedicate the second day to tackling little hikes like Mirror Lake Trail (~1.9km), May Lake Trail (2km) and Sentinel Dome Trail (~3.2km).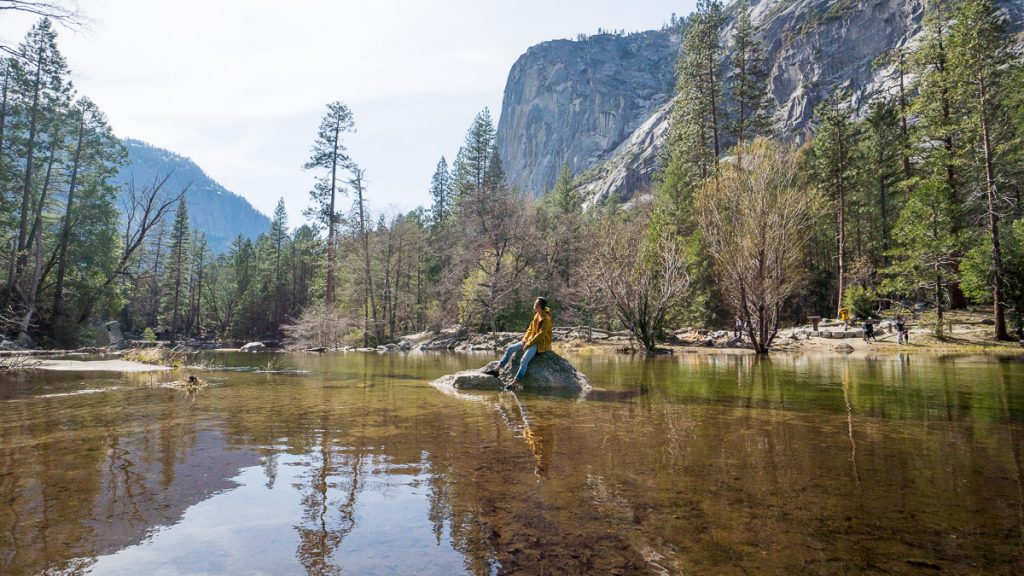 Mirror Lake.
Alternatively, take on the Yosemite Falls Trail, a ~12km round-trip to the top of North America's highest waterfall. This hike is rewarding even before you hit the top with unprecedented views of Yosemite Valley.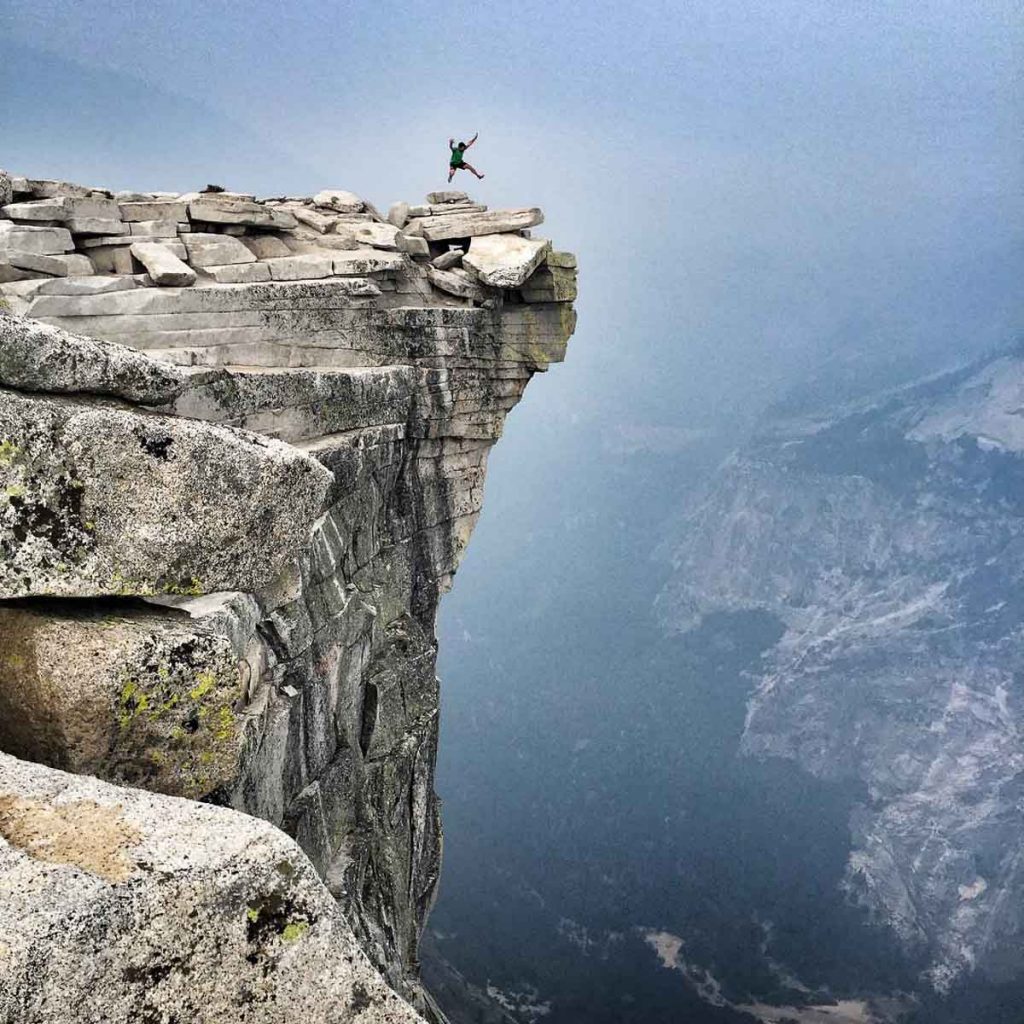 Top of Half Dome. Photo credit: @aaronatb via Instagram
For the more adventurous seasoned hiker, take on the popular Half Dome Hike, a whopping 22km (round-trip), 12-hour feat not for the faint-hearted.
This challenging hike takes you from Mist Trail, up to Vernal Fall, and then to Nevada Fall and beyond. Ascending is going to take serious work, with cables installed along the way to aid hikers in the steep climbs.
To ensure the utmost safety, these cables are only available from May to October to deter hikers during winter. On top of that permits are required to hike past Sub Dome (the halfway mark), with a cap of 300 hikers each day.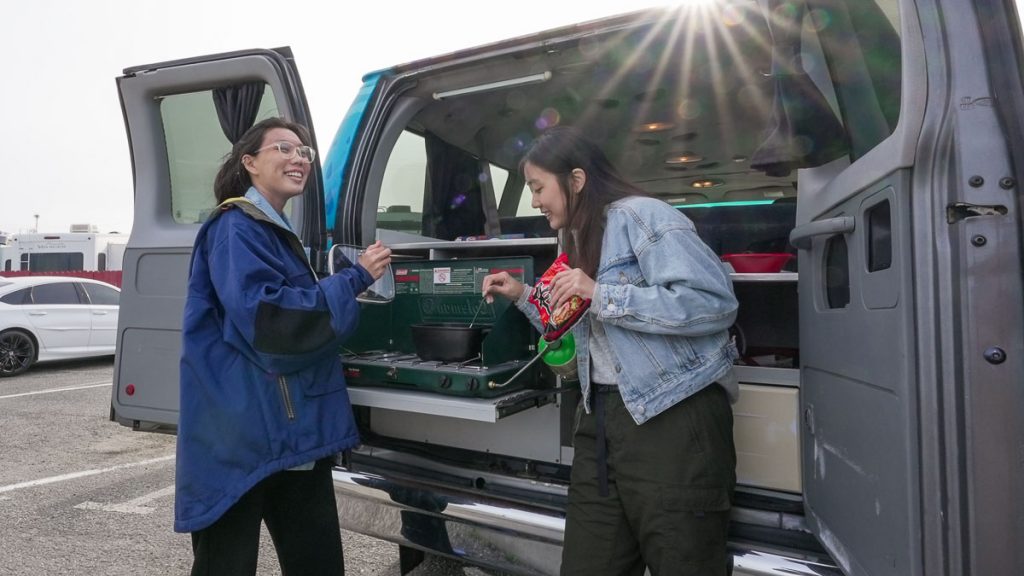 Parking Your Campervan at Yosemite National Park
Parking at Yosemite is limited so be sure to reserve your campsite early. Bookings open on the 15th of every month at 7AM Pacific Time (10PM SG time).
In case you miss the booking window, there are other RV parks and inns close by like the Indian Flat Campground (from US$42/night), which is only a 12-minute drive away. The campground includes hot showers, clean toilets and a charging point.
*Note: Campervan rental companies might charge for mileage (~S$0.41/mile) so factor in an extra ~S$250 for your two-day rental.
Entrance fee: US$35 (~S$47.76)
Opening hours: 24 hours
3) Taste Napa and Sonoma Valley's Fine Wine
Travel time from San Francisco: 1hr 15min by car
B.R. Cohn Winery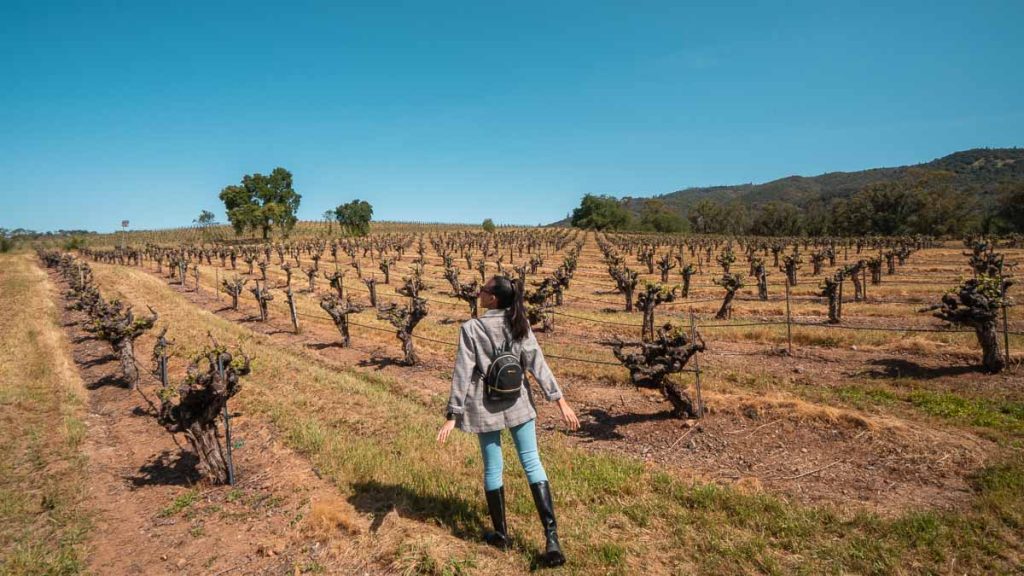 Taste the array of artisanal B.R. Cohn wines while learning about the winery's unique history through a guided tasting. On top of delicious wines, they also grow olive trees, and are California's first olive oil estate!
So be sure to grab a bottle of olive oil along with their one-of-a-kind Pinot Noir ✨
Cost: US$25/pax (~S$34.12) (Bookings required)
Opening hours: 10AM – 5PM
Address: 15000 Sonoma Hwy, Glen Ellen, CA 95442
Roche Winery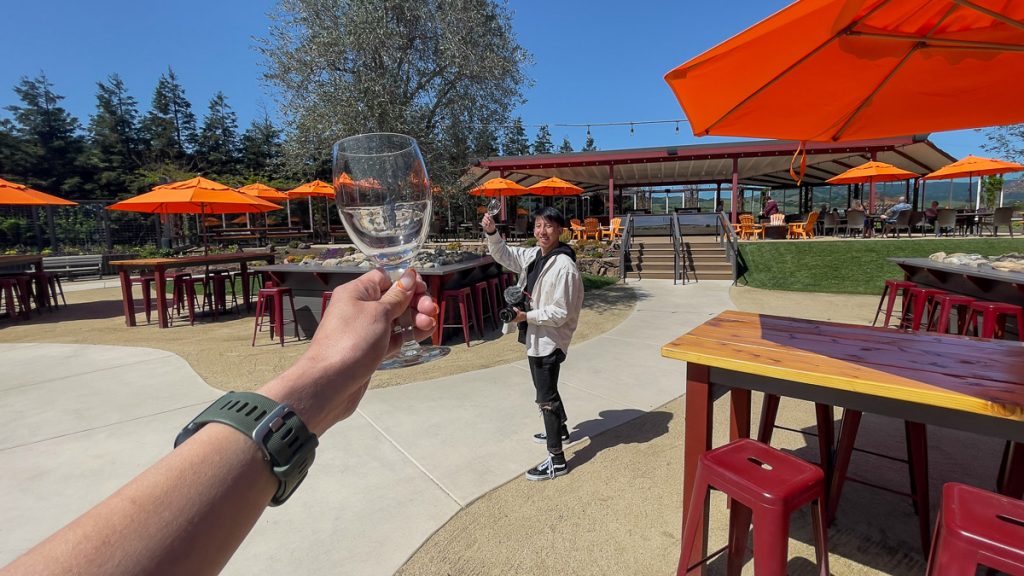 For those who love a good rosé, check out Roche Winery. Their award-winning sparkling wine is everything we love — light, refreshing, and fruity.
The guides are fun and engaging, and its brightly-coloured outdoor lounge area suits both young and veteran oenophiles.
Cost: US$30/pax (~S$40.94)
Opening hours: 10:30AM – 5PM
Address: 22097A Bonness Road, Sonoma, CA 95476
Madonna Estate Winery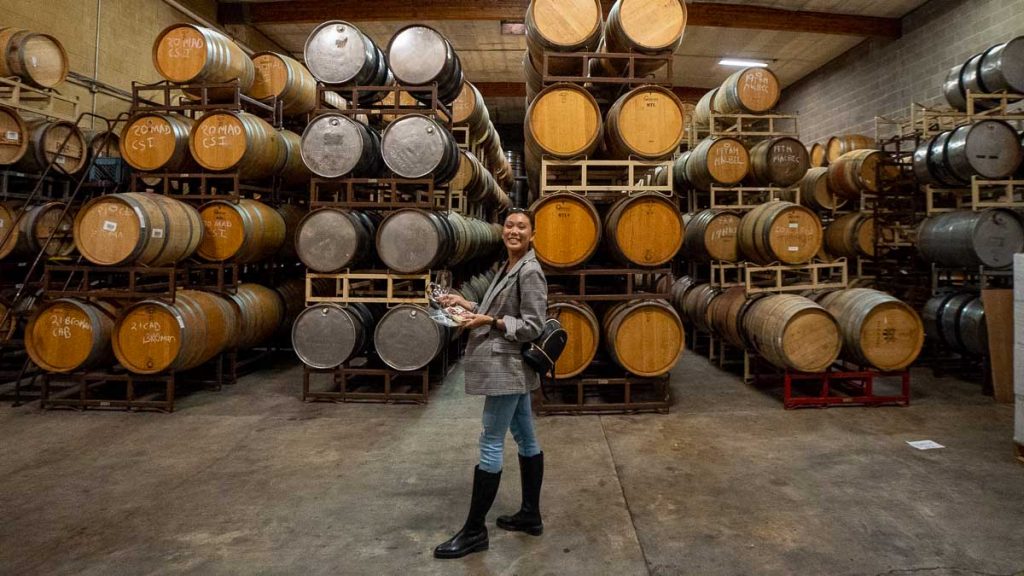 The wines here hit different as Madonna Estate prides itself in 100% organic farming since 1922. Their dry farming method causes their grapes to grow smaller, but you're promised deeper flavours that red wine lovers will truly appreciate.
Cost: US$30/pax (~S$40.94)
Opening hours: 10AM – 5PM
Address: 5400 Old Sonoma Rd, Napa, CA 94559
*Pro-tip: Book an all-inclusive tour which visits all these wineries and includes transport to and from the city so you don't have to worry about driving back tipsy.
4) Get your heart racing at Santa Cruz Beach Boardwalk
Travel time from San Francisco: 1hr 30mins by car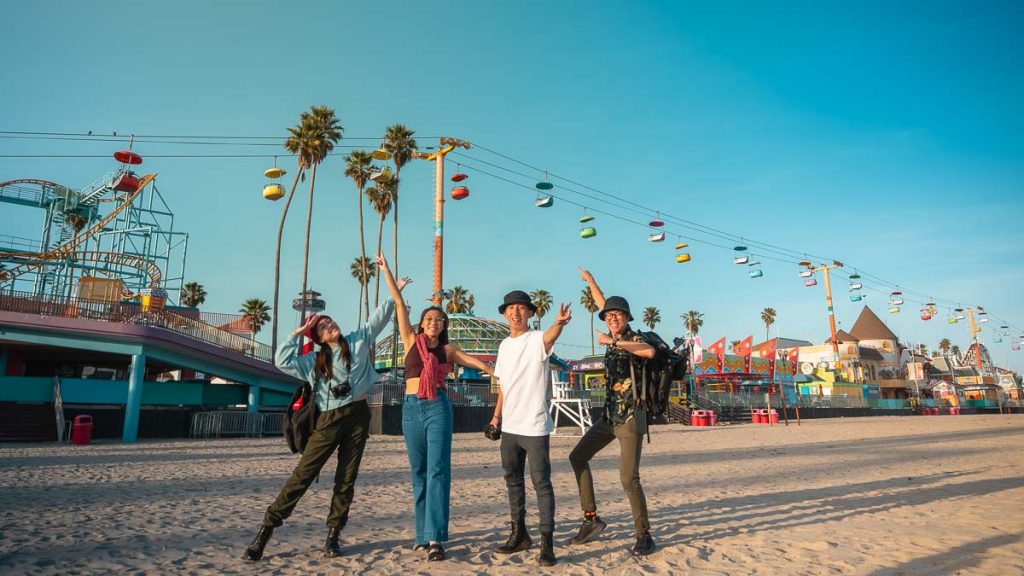 Best visited over Spring and Summer, Santa Cruz's rainbow boardwalk will make you feel like a kid again — thrilling amusement rides, exciting arcade games and yummy carnival snacks, all while overlooking the beach 🌊
Adrenaline junkies will love the Giant Dipper, a 98-year-old wooden coaster that still brings on the screams today! And not forgetting the 38-metre Double Shot tower for a good 'ol heart-in-throat experience 😂
Entrance fee: From US$29.95 (~S$40.87), purchase online and get US$10 off
Opening hours: 12PM – 7PM
Address: 721 Neeson Rd Suite 1, Marina, CA 93933
5) Unwind at the stunning Half Moon Bay
Travel time from San Francisco: 50min by car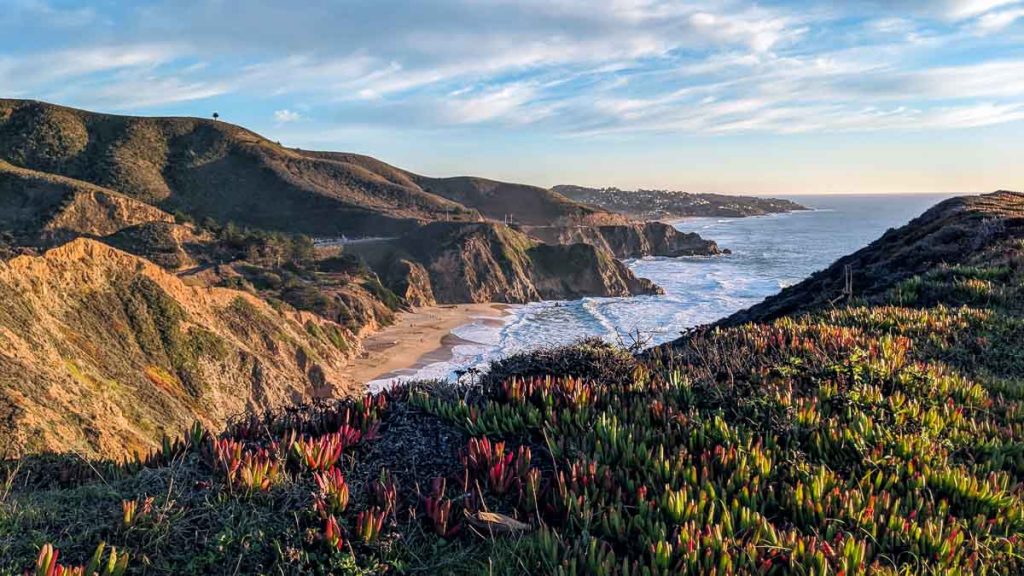 Photo credit: Tareq Ismael via Stashaway
Unlike San Francisco, a trip to Half Moon Bay will have you living at a slower pace. Take it easy and hit up the many beautiful beaches, coastal villages, and historical landmarks here.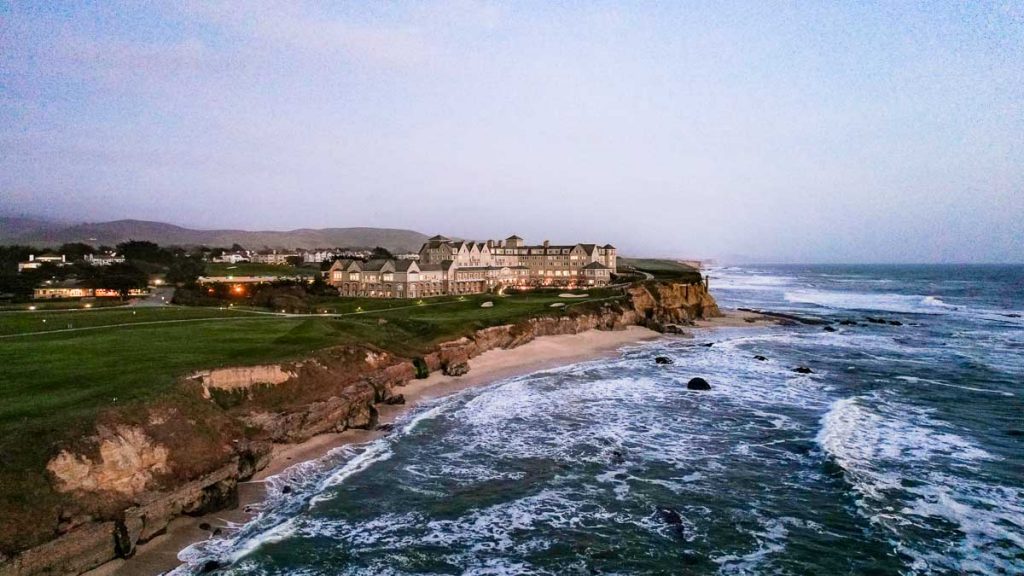 Drone shot of Ritz Carlton Hotel!
A great photo spot is right by Half Moon Bay Tennis Academy. At the end of the road, there's a clearing right before the cliff where you can take your drone for a spin.
Entrance fee: Free
Opening hours: 24 hours
6) Hit up Monterey Bay's unique attractions
Travel time from San Francisco: 2 hours by car
Monterey Bay Skydiving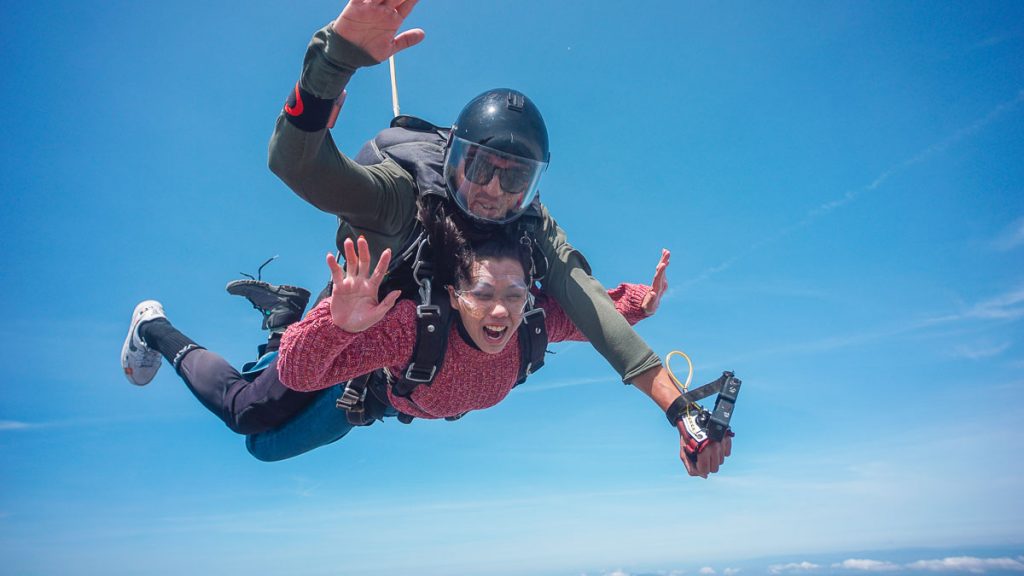 Skydive Monterey Bay offers the world's highest tandem skydive at 18,000 feet!
If you've never experienced this, Monterey Bay is a great place to start. The guys at Skydive Monterey Bay were highly experienced and made us feel like we were in good hands — my tandem instructor clocked more than 9,000 jumps before me 🙌🏼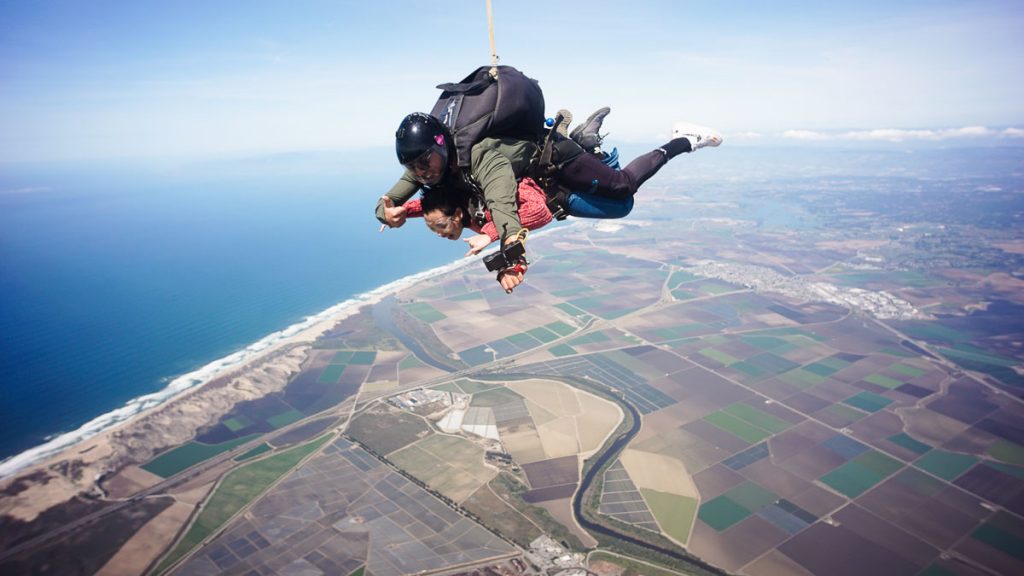 From the sky, we got to see unbelievable views of San Francisco, Santa Cruz, and the never-ending sea.
Cost: From US$219 (~S$298.87)
Opening hours: 8AM – 8PM
Address: 721 Neeson Rd Suite 1, Marina, CA 93933
Dive into Monterey's seaweed forest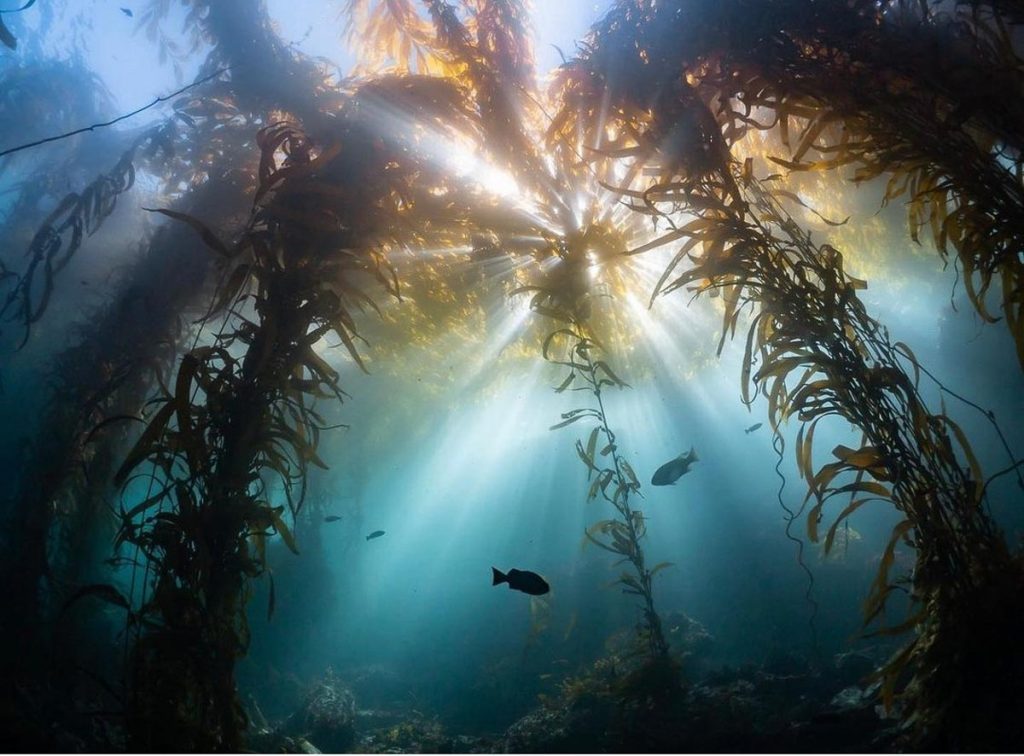 Photo credit: @bambooreef via Instagram
You've taken to the skies, now it's time to explore Monterey's waters. A good place to start is off the shores of San Carlos Beach — Monterey's most popular dive site.
Photo credit: @bambooreef via Instagram
On top of the whimsical kelp forest, spot octopuses, colourful anemones, and even friendly sea lions along the way!
New to diving? Sign up for dive classes which include scuba gear, and an experienced guide.
*Pro-tip: Head there on a weekday to avoid the weekend crowd.
Cost: From US$325 (~S$443.51)
Meeting point: San Carlos Beach
Monterey Bay Aquarium
If you didn't know yet, Finding Dory took place at none other than Monterey Bay Aquarium! Well, heavily inspired, that is.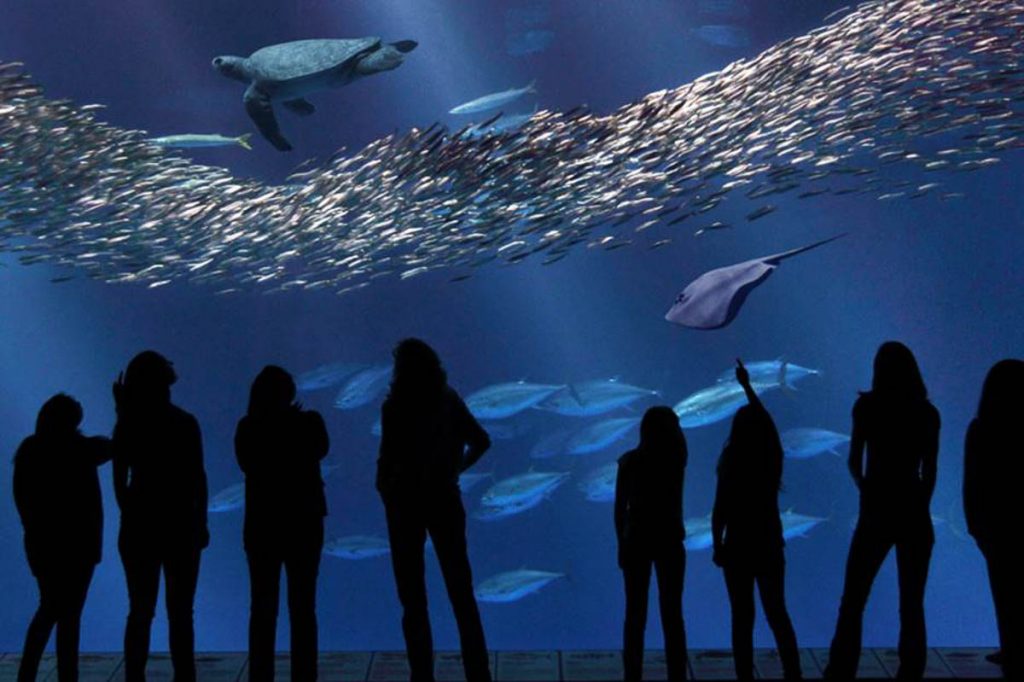 Photo credit: Monterey Bay Aquarium
This impressive aquarium is one of the world's largest aquariums, teeming with aquatic life from sea turtles to hammerhead sharks. There's even a two-storey sea otter habitat and an adorable penguin exhibit! And if you loved Hank the octopus, pay him a visit at the Giant Pacific Octopus tank 🐙
Entrance fee: US$49.95
Opening hours: 10AM – 5PM
7) Slow down at Sausalito
Travel time from San Francisco: 30min by car
Photo credit: Shuttershock
Recommended by a few Uber drivers, Sausalito is a laid-back coastal town just 30 minutes from the city.
At first glance, this seaside town looks a lot like Santorini with its Mediterranean vibes. But venture deeper and you'll find an array of art galleries and boutiques, along with lovely waterfront cafes and restaurants.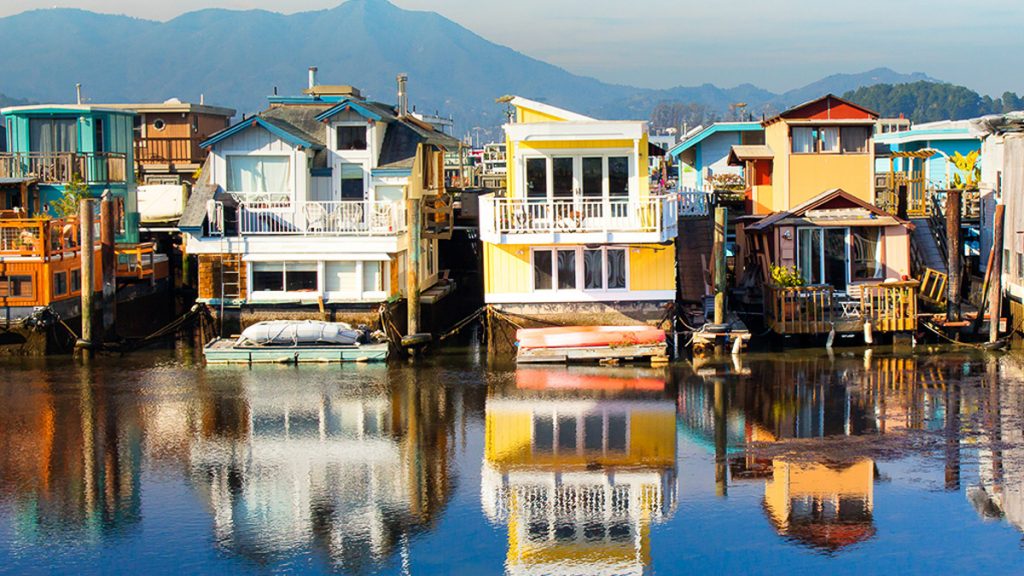 Photo credit: Visit California
What's really unique though, is its houseboats. There are 500 in the area, each with its own quirky design and character.
Make your trip extra special with a Seaplane ride. Take off from Sausalito and get a bird's eye experience of the Golden Gate National Recreation Area, Baker Beach and even the island prison Alcatraz!
Entrance fee: Free
Opening hours: 24 hours
8) Cross over to Oakland
Travel time from San Francisco: 20min by car
Factor in trips east of San Francisco — the Bay Area's sister-city Oakland. She's just as worth getting to know!
Eat Your Heart Out at Swan's Market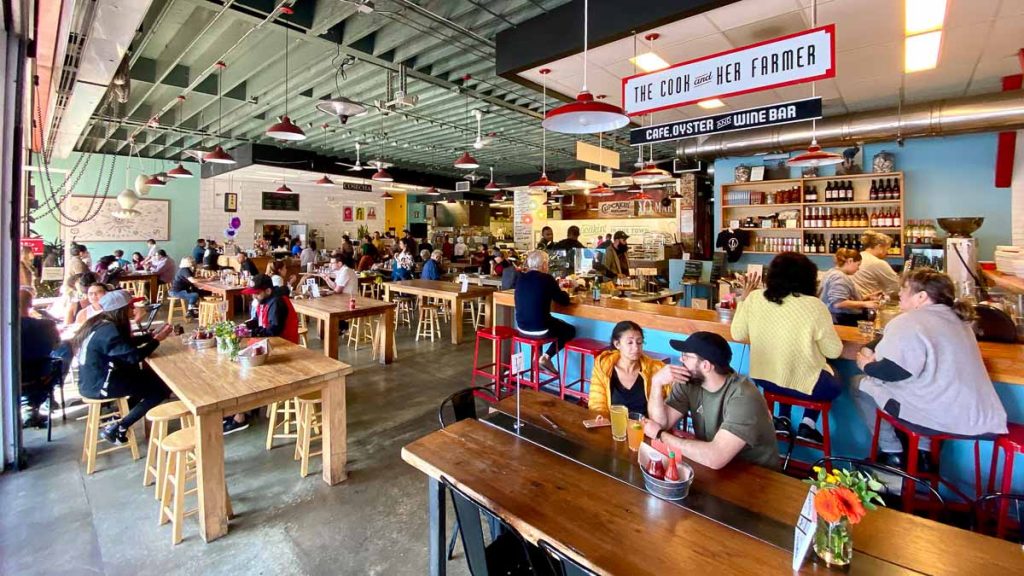 Photo credit: DoorDash
Oakland's food scene is a far cry from boring. Representing its history, you'll find Korean, Mexican and even African restaurants everywhere.
A great place to taste it all in one spot is Swan's Market. Go ham with their generous selection of fresh seafood, amazing Mexican food, and Authentic Nepalese mains, along with Japanese beers on tap!
Opening hours: 9AM – 10PM, closed on Sun
Address: 538 Ninth St, Oakland, CA 94607
Lake Merritt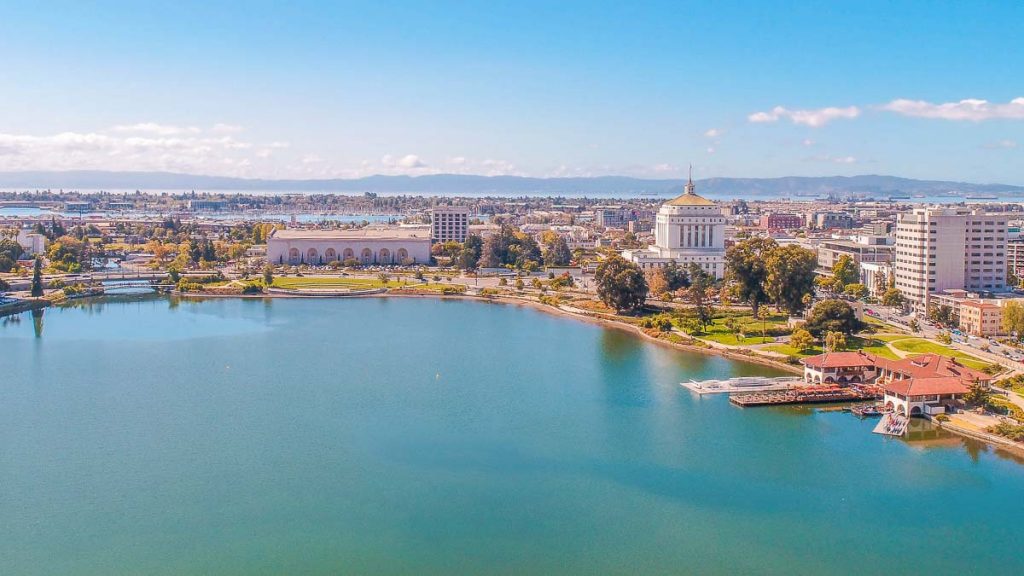 Photo credit: Visit Oakland
After a long hearty meal, you'll probably want to do something more laid back. Luckily, Oakland has a great spot for doing just that.
Lake Meritt may be a giant lake in the middle of downtown, but it's an easy escape from the busy city. The best way to appreciate its wonder is to spend your time on the water.
There are various boats you can rent from Lake Merritt Boating Center. Choose a rowboat, kayak, canoe, sailboat, or even a Gondola!
Opening hours: 24 hours
9) Appreciate Walnut Creek's incredible flora
Travel time from San Francisco: 25min by car
The Gardens at Heather Farm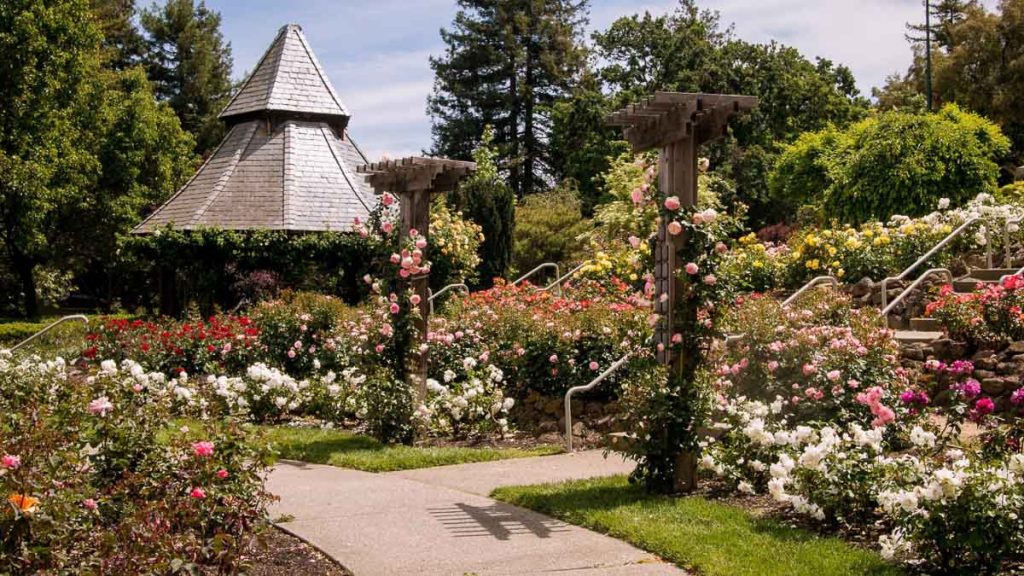 Photo credit: Gardens at Heather Farm
When in Walnut Creek, be sure to stop and smell the roses — over 1,000 rose bushes to be precise. Heather Farm's whimsical rose garden spans six acres with sweeping views of Mount Diablo.
Stroll through the gardens and learn about the different flora with a free self-guided tour!
Entrance fee: Free
Opening hours: 9AM – 4PM
Address: 1540 Marchbanks Dr, Walnut Creek, CA 94598
Ruth Bancroft Garden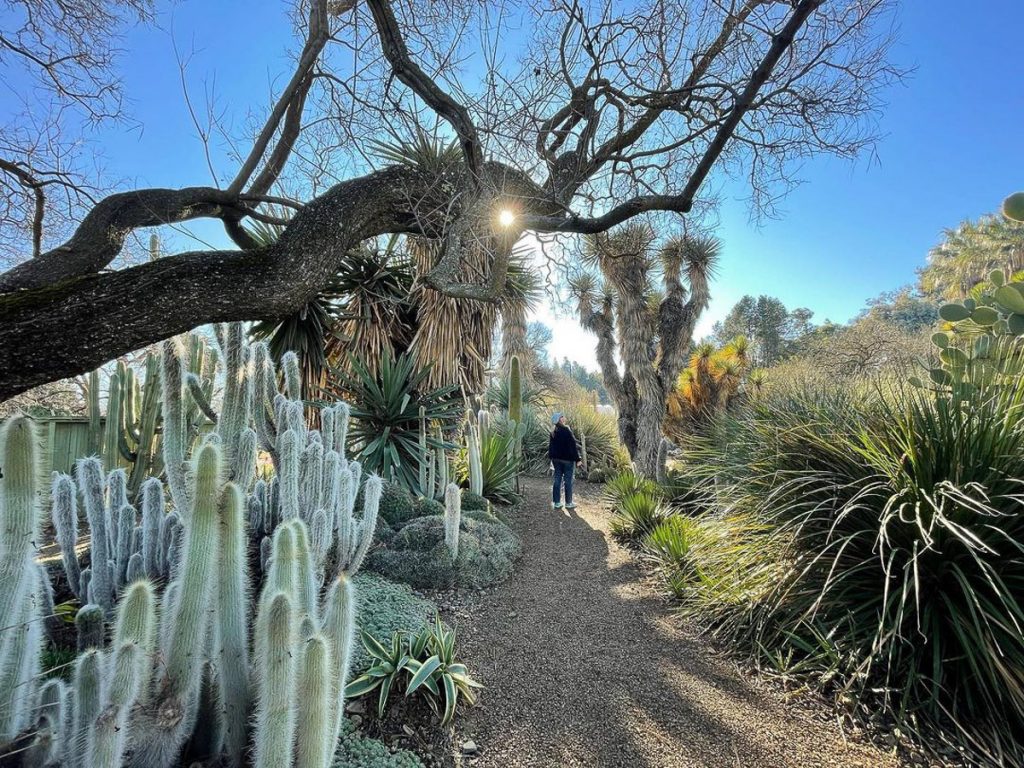 Photo credit: @lionhouse_design via Instagram
Ruth Bancroft Garden isn't your typical garden — they have an extensive collection of succulents, cacti, and other drought-tolerant flora!
This 2.5-acre IG-worthy public dry garden contains more than 2,000 cacti, succulents, trees, and shrubs native to California, Mexico, Chile, South Africa, and even Australia.
Entrance fee: Free
Opening hours: 9AM – 4PM
Address: 1552 Bancroft Rd, Walnut Creek, CA 94598
Exploring Beyond San Francisco
Rent a Car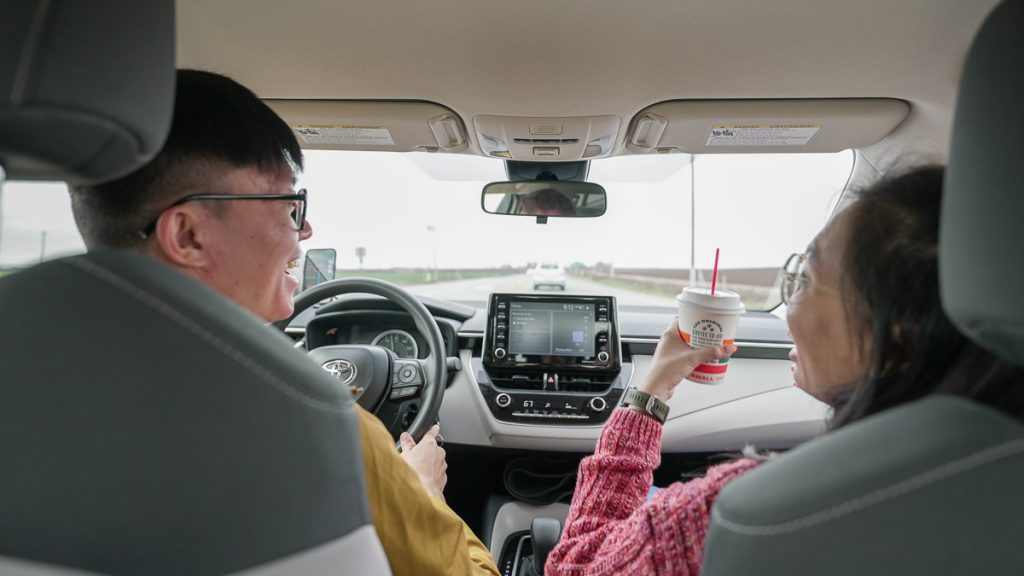 The most convenient way to get around is by car.
For areas within the Bay Area, public transport is still possible. However, if you're hitting multiple spots within a day, having your own car gives you more time to enjoy each area!
We rented our car from Kyte for US$85/day (~S$115.93). It was super convenient too as they dropped off and picked up the car at our preferred location 🙌🏼
Stay on the road with a campervan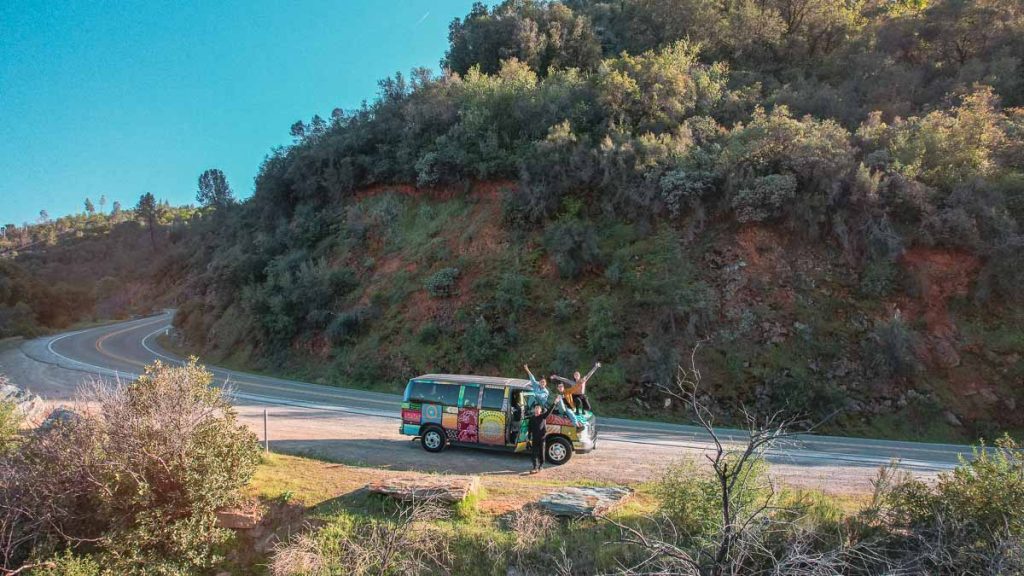 Stay out of the city longer and experience living on the go in a campervan!
We got our trusty van from Escape Campervans. Their vans come in bright designs and are equipped with everything you need — a queen size bed, fridge, stove and even a sink.
The campervan doesn't come with any cutlery or crockery, so do bring your own! Alternatively, top-up US$40 for a full set of tableware and kitchenware.
Something you should definitely top-up for is their electric kit (US$20), which comes with a campground power adapter, 110V power cord, multi-plug surge protector and an electric heater!
Cost: From US$939.99 for min. 3 nights (~S$1282.85)
Pick up point: 22990 Clawiter Rd, Hayward, CA 94545
Non-stop direct flights to San Francisco from Singapore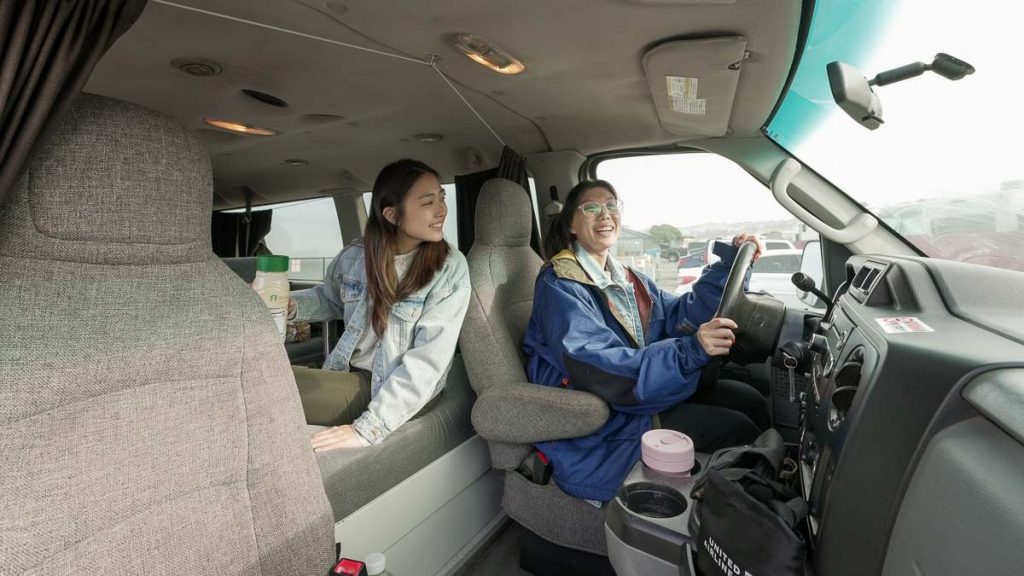 It's no surprise that long-haul trips to San Francisco from Singapore can be really tiring. That's why it's important to plan your flight arrival carefully.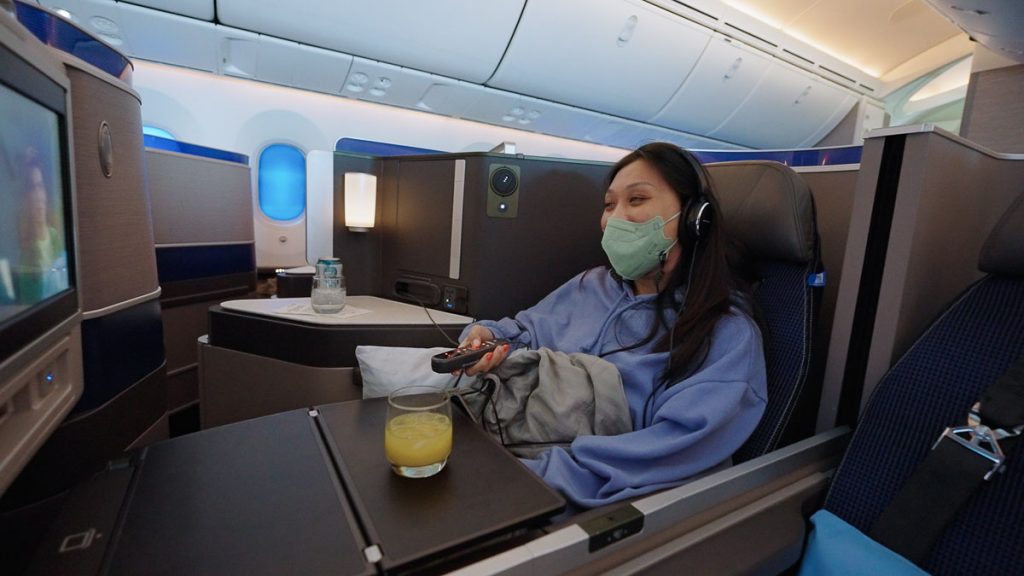 Our flight with United Airlines landed in SFO in the morning so we planned to sleep during the last eight hours of the flight. Luckily with the Polaris business class experience with United Airlines, we got to do just that and more.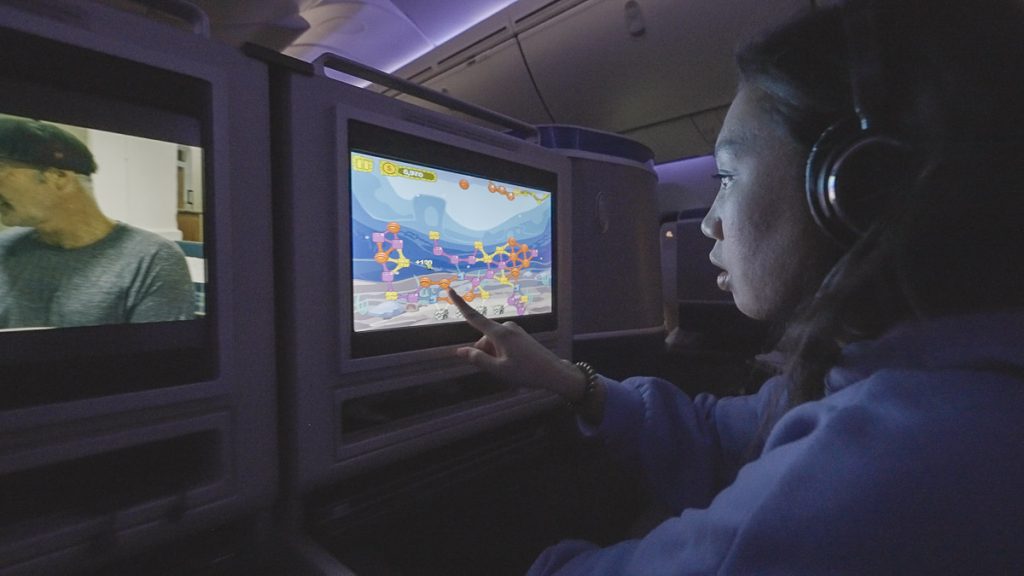 The in-flight entertainment had an extensive range of movies and games to keep us awake during the first leg of the flight. And having a full-flat seat really gave us the rest we needed when it was finally time to sleep.
Whether you're on road trips or exploring the city, a good flight helps you kickstart your San Francisco adventure right away 🚗
What day trips from San Francisco did we miss out on? Share with us in the comments!
---
This article was brought to you by Changi Airport Group and United Airlines.