Fun day trips for travellers who want to get out of Seoul city!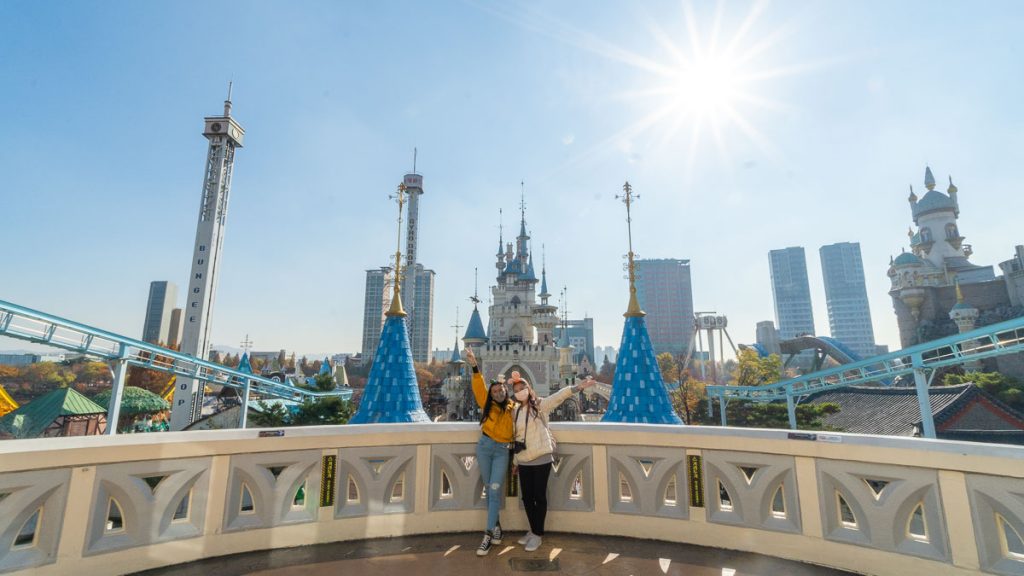 From a fairytale village to paragliding over mountains, here are 12 day trips out of Seoul to spruce up your next Korea itinerary ✨
Getting Around South Korea
Korail
Korail is one of Korea's fastest and most convenient modes of travel, especially to areas outside of Seoul. The Korea Rail Pass (KR Pass) grants you unlimited trips within a stipulated timeframe of your choice.
Choose from a three or five-day consecutive pass, or the flexible pass to travel for two or four days within a 10 day period.
Book your passes online and pick them up at any metro station!
*Pro-tip: If you're travelling in groups of two to five, get the group pass and save more.
Cost: From ~S$127.79
Rent a car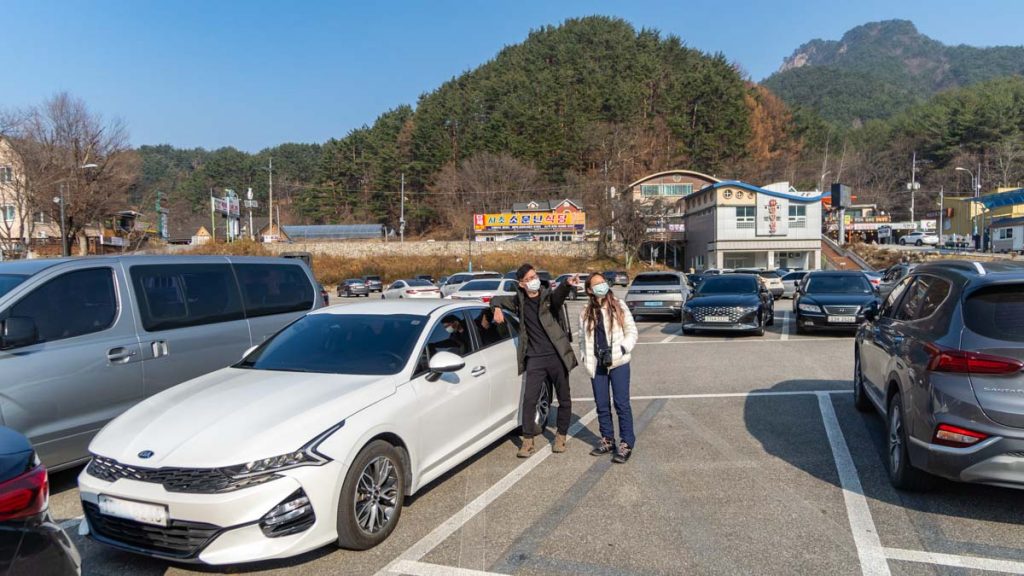 Go at your own pace and rent a car. We booked our comfy four-wheeler via Klook and the entire process was so fuss-free. Even when we reshuffled our plans last minute, cancellation and rebooking were so simple — we were able to book a rental one day before ☺️
Be sure to download Naver Maps to navigate as Google Maps doesn't work in Korea!
Note: iOS users need a registered Naver account to access driving routes.
Alternatively, go on day tours and have everything sorted — including two-way transportation and even meals sometimes!
1) Seoraksan Mountain (설악산)
Travel time from Seoul: ~3hr drive or a 3hr bus ride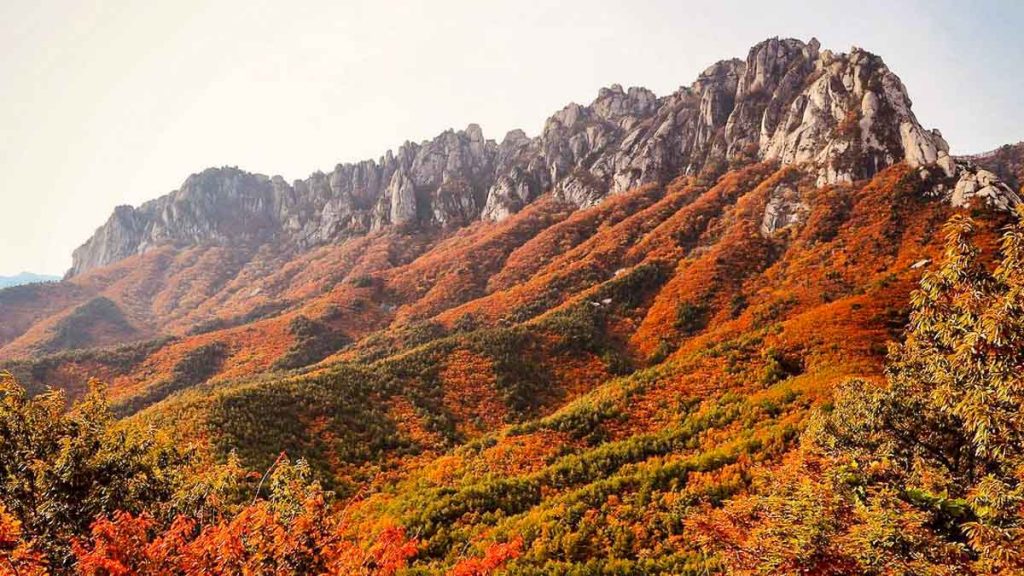 Photo credit: @mt.hyunbk via Instagram
If there's any hike worth travelling out of the city for, it's Seoraksan National Park, South Korea's first and most iconic national park.
We rented a car for our trip here to explore areas around Seoraksan as well — more on that later!
With multiple hiking trails, 30 peaks, and countless sights along the way, Seoraksan National Park is a full-day affair.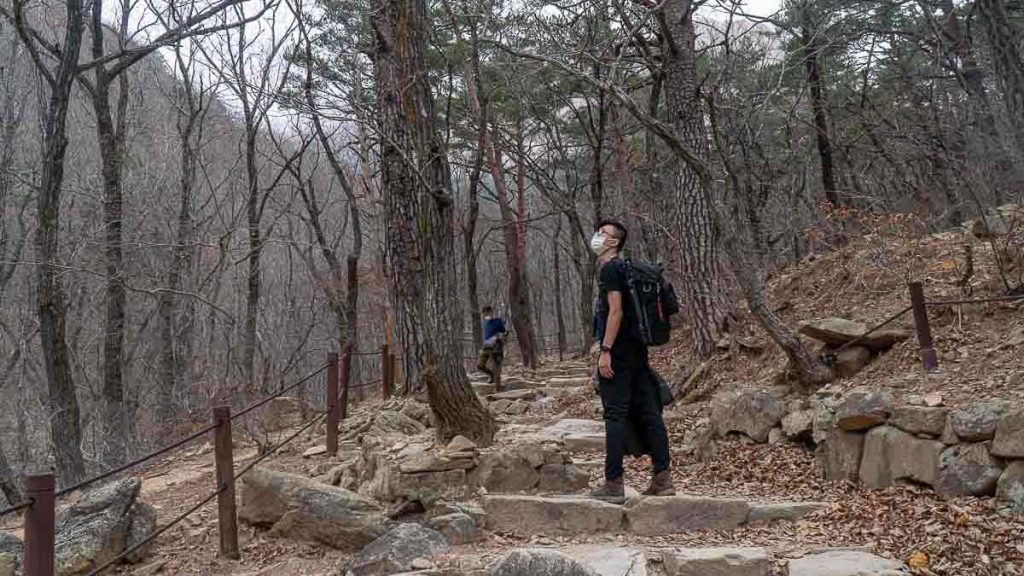 We hiked up to Ulsanbawi Rock, Seoraksan's most famous hike known for its rocky peak and panoramic views. The hike usually takes two hours, but we took almost three — and we were rushing for sunset (there was no sunset, only mist 😭).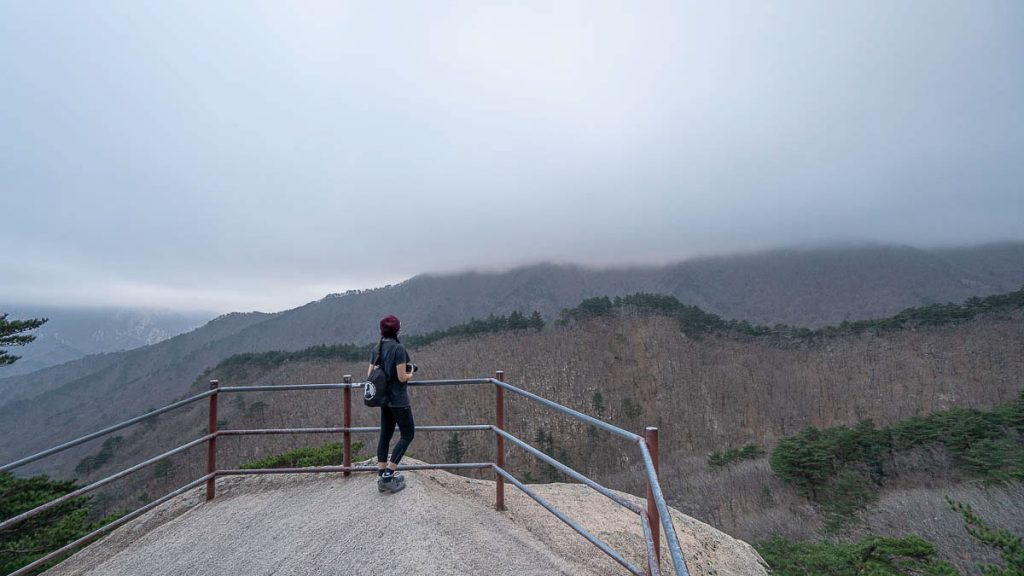 The many steep flights of stairs really slow you down. Thankfully, there are plenty of resting spots and vantage points to take a break!
Squeeze in another peak, Gwongeumseong Fortress. It only takes 15 minutes to ascend — including a five-minute cable car ride (~S$13)!
Although Seoraksan can be cleared in a day, skip the night drive back to Seoul and stay nearby in Sokcho.
Entrance fee: ₩3,500 (~S$4)
Opening hours: 24 hours
How to get there: Take a bus from Dong-Seoul Bus terminal to Sokcho Intercity Bus Terminal, then bus 7/7-1 to Seoraksan National Park
Other things to see in the area
Explore Sokcho the next day! This little sea town has lots to offer and is also a popular drama filming site.
Naksansa Temple (낙산사)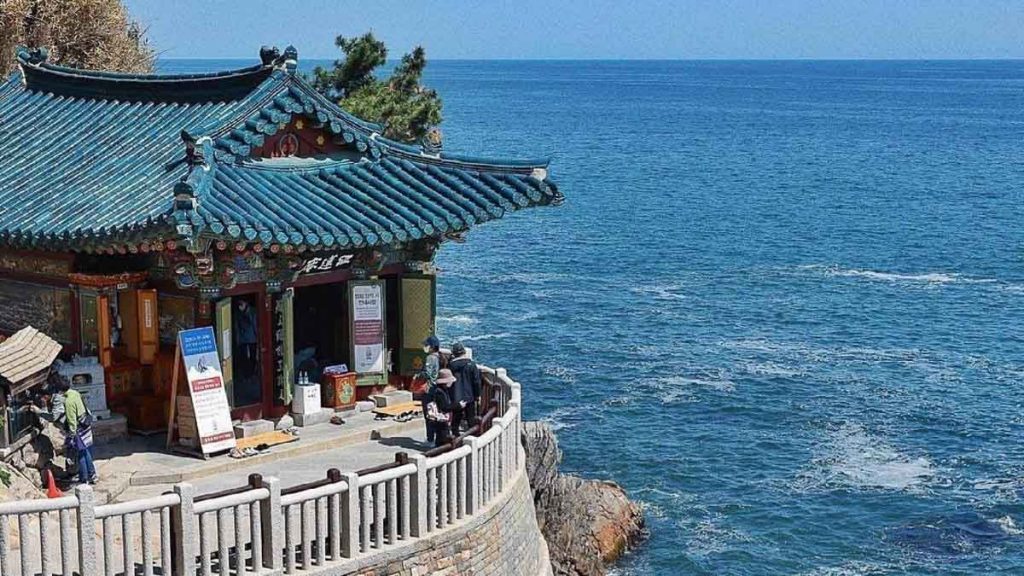 Photo credit: @trazy_korea via Instagram
Korea is big on preserving its temples. And while most of us think they look alike, Naksansa Temple offers a different experience.
Located right on a cliff overlooking the sea, it's worth heading there early to catch the sunrise (especially between the Spring and Autumn months) — otherwise, it's usually foggy.
Entrance fee: ₩4,000 (~S$4.64)
Opening hours: 6AM – 7:30PM
Address: 100, Naksansa-ro, Yangyang-gun, Gangwon-do
Daepohang Port LightHouse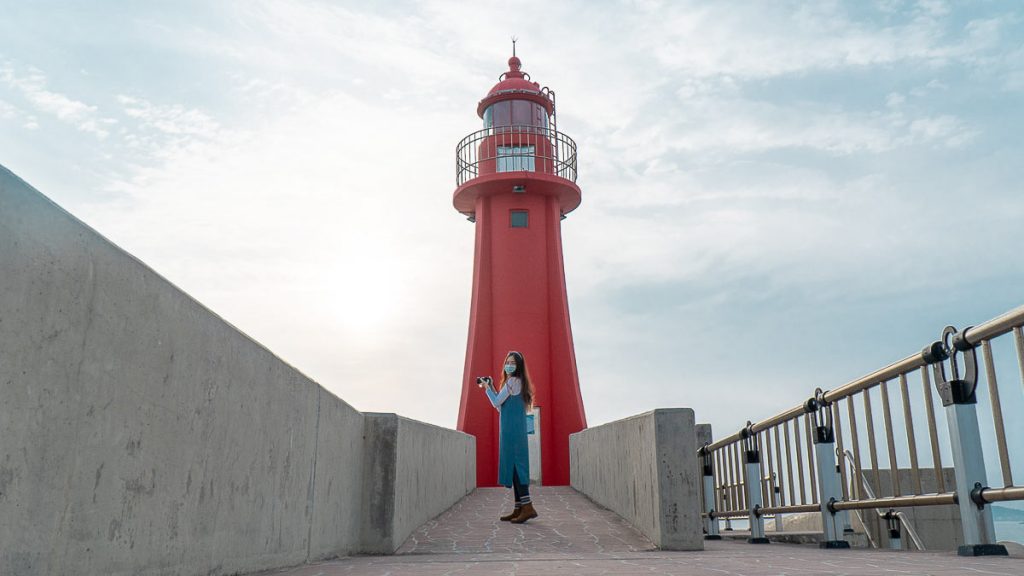 Located at Daepohang Port, this lighthouse was seen in episode 12 of Strong Woman Do Bong Soon! It also gives Hometown Cha Cha Cha feels as it looks similar to the one in the show.
Entrance fee: Free
Opening hours: 24 hours
Address: 64, Daepohang-gil, Sokcho-si, Gangwon-do
2) Incheon (인천)
Travel time from Seoul: ~1hr by train
Incheon isn't just where the airport is. This west coast region has a couple of interesting attractions worth the day trip out of Seoul!
Wolmi Theme Park & My Land (월미테마파크)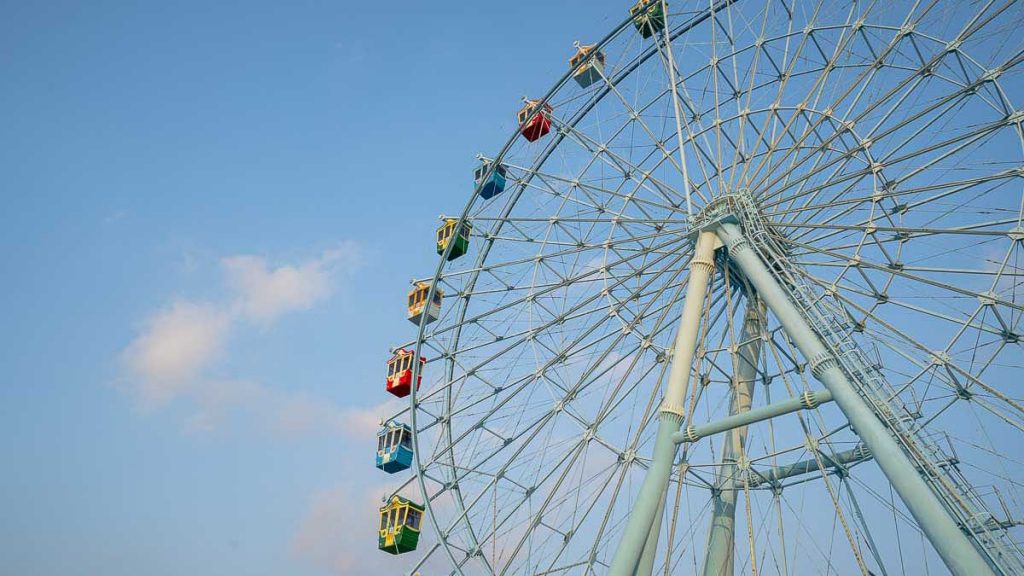 Wolmi Theme Park is an old-school amusement park by the seaside. It's a lot smaller than Lotte World or Everland, but they have iconic rides like a Viking ship and a 115m Ferris Wheel with unobstructed views of the sea.
Many have mistaken this as the location in Squid Game where Deok Su meets his gang in episode two. However, the actual filming location is called My Land, just 15 minutes further down.
Although these two theme parks are separate, Wolmi Theme Park is just an extension of My Land.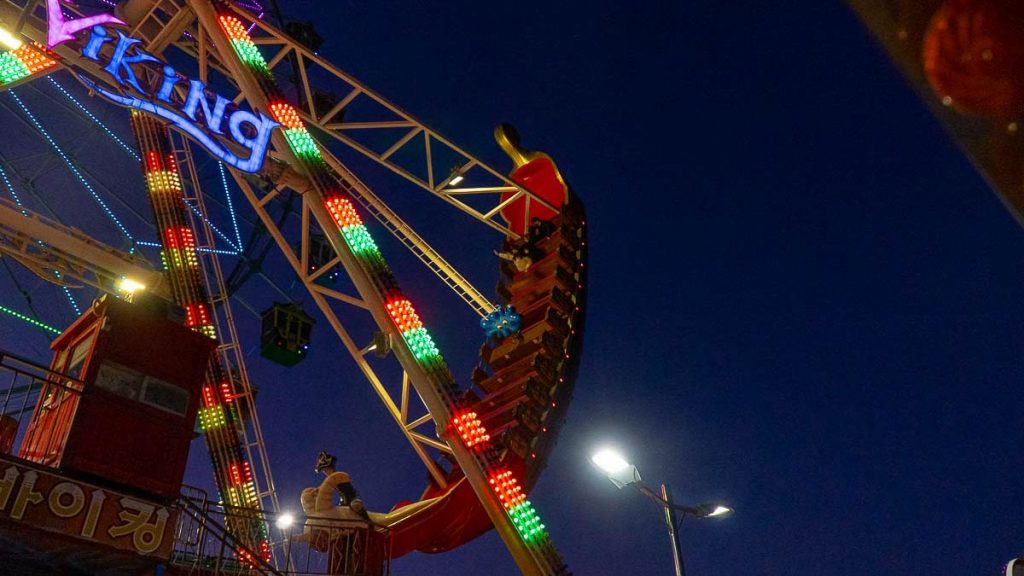 For more thrilling rides, My Land has Korea's highest Viking ride, swinging as high as two storeys! The infamous Tagada Disco ride is also here, and you might recognise it from Korean variety shows like We Got Married and Running Man.
Entrance fee: ₩5,000 per ride (~S$5.80)
Opening hours: 10AM – 10PM, opens till midnight on weekends and PH
Address: 81, Wolmimunhwa-ro, Jung-gu, Incheon
Songwol-dong Fairytale Village (송월동 동화마을)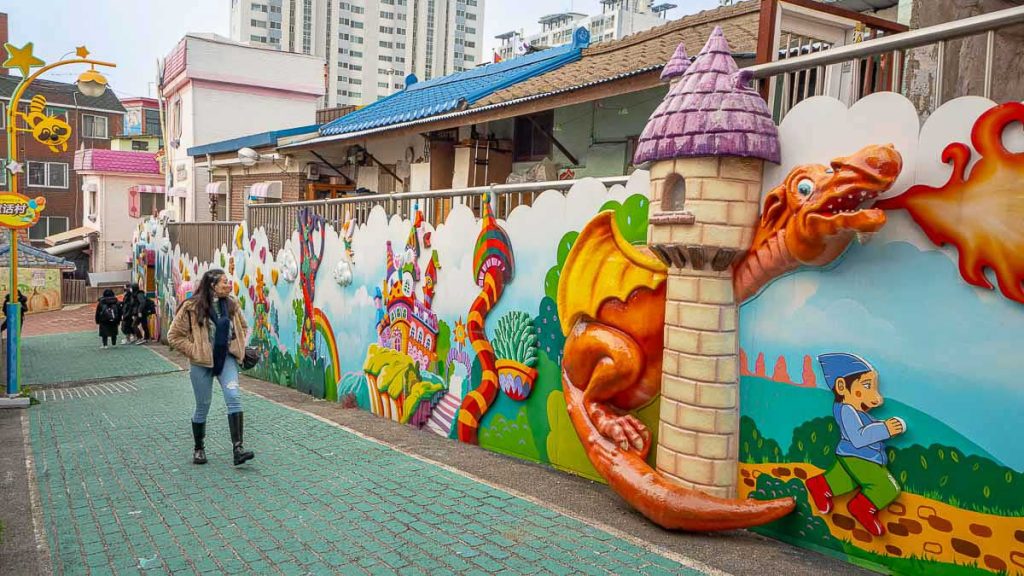 Songwol-dong Fairytale Village is Incheon's most creative neighbourhood! Uncover all the fairytales featured here from Beauty and the Beast to Peter Pan — walking through it feels like a never-ending storybook.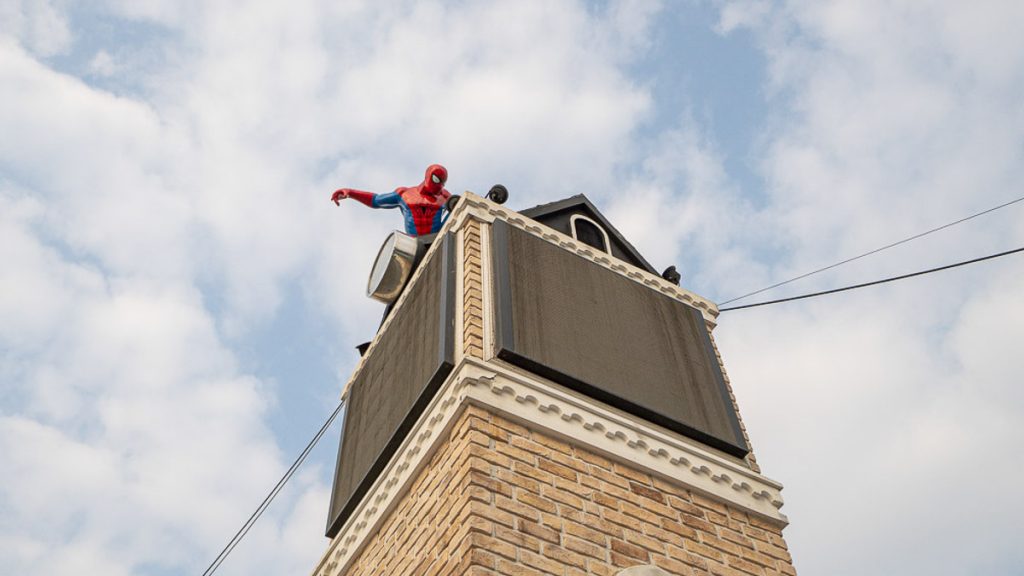 Apart from Disney favourites, spot other familiar classics like Wizard of Oz, Pinocchio and even Spiderman!
Entrance fee: Free
Opening hours: 24 hours
Address: 38, Donghwamaeul-gil, Jung-gu, Incheon
3) Ski slopes
Travelling during winter and itching to pick up skiing? Korea's actually got a number of slopes that's a must-visit during the winter season!
Welli Hilli Park (웰리힐리파크)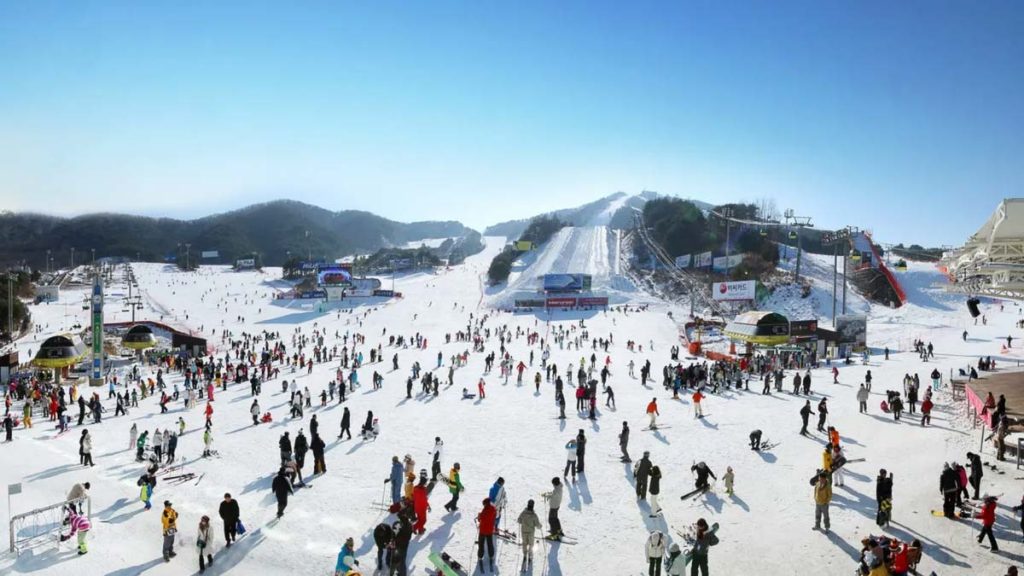 Photo credit: Klook
One of Korea's bigger ski resorts is Welli Hilli Park just 90 minutes away from Seoul ⛷
There are 20 different slopes and sledding fields catering to all skill levels. And you can cover them all in a day without booking into the resort!
Ski attire and equipment are available for rent 🥽
Cost: From ~S$103.29
Tour timings: 7AM – 6PM
Meeting points: Hongik University Station (Exit 8), Myeongdong Station (Exit 2)
Jisan Forest Resort (지산 리조트)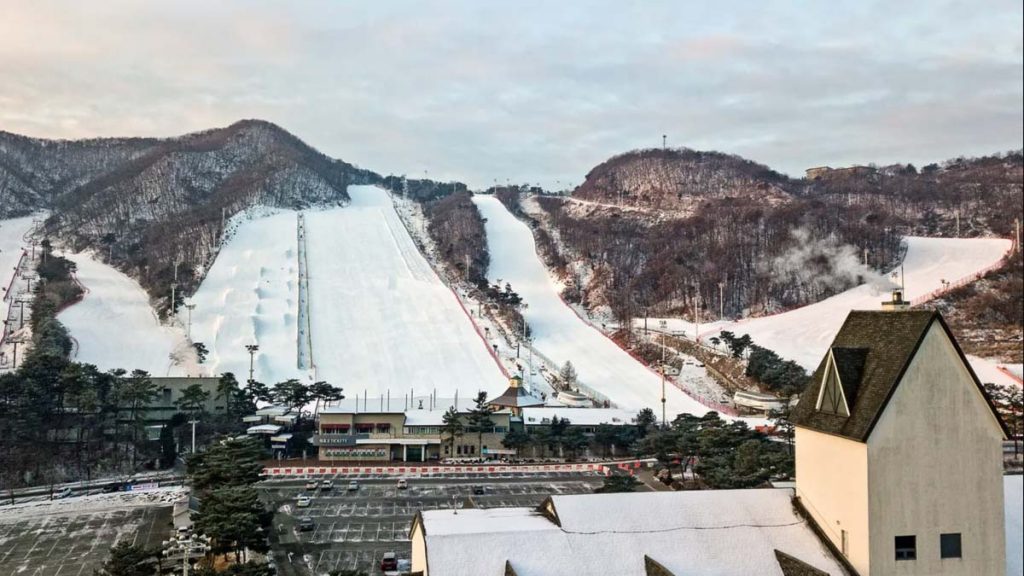 Photo credit: Klook
Just 40 minutes away is another resort – Jisan Forest Resort.
Although it's smaller, you'll have just as good a time on their seven main ski trails. With their high-speed chair lifts, you can be sure to clock in many rounds within the day.
Ski attire and equipment are available for rent too 👌🏼
Cost: From ~S$92.85
Tour timings: 7:30AM – 6PM
Meeting points: Hongik University Station (Exit 8), Myeongdong Station (Exit 2)
Yong Pyong Resort (용평리조트)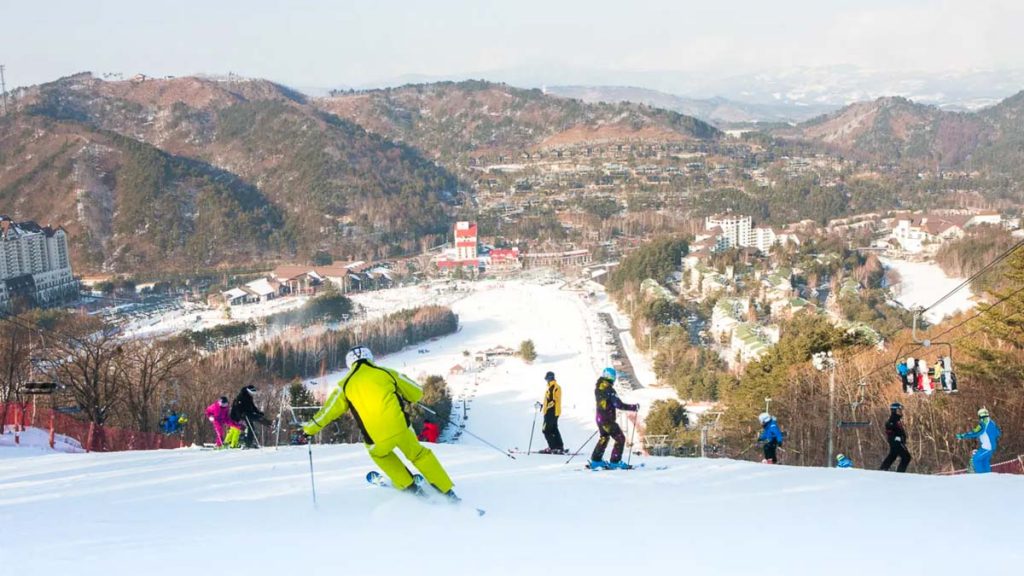 Photo credit: Klook
Up your skiing game and head to Yong Pyong Ski Resort — their challenging slopes were used in the 2018 Winter Olympics!
Sick slopes aside, this picturesque resort was also featured in famous K-dramas like Goblin and Winter Sonata.
Ski attire and equipment are also available for rent.
Cost: From ₩58,000
How to get there: Take an Express Bus from Seoul Nambu Terminal to Hoenggye Village, then take a 10min local bus ride to Yong Pyong Resort
4) Muuido Island (무의도)
Travel time from Seoul: ~1hr 45mins by train then bus
Hanagae beach (하나개해수욕장)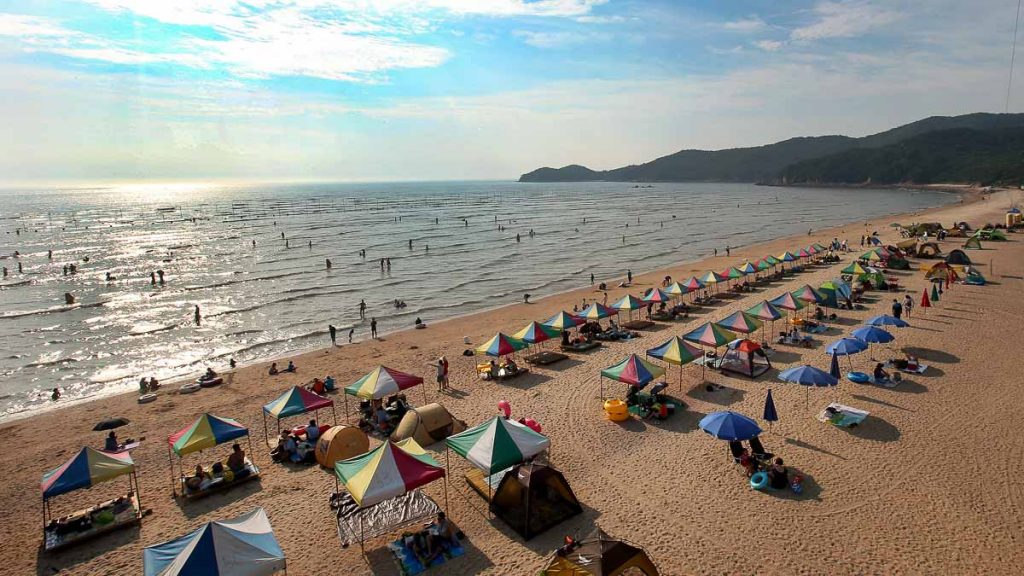 Photo credit: Junggu Incheon Culture & Tourism
Hanagae Beach is the biggest tideland on Muuido Island. At low tide, this 1km beach expands further into the horizon, revealing clams, sea snails, and crabs you can dig by hand!
This beach became popular in 2003 as the filming location for the drama Stairway to Heaven.
For the adventurous, rent an ATV and drive through the sand, or zipline across for a bird's eye view of the glistening waters!
Marine Tourism Trail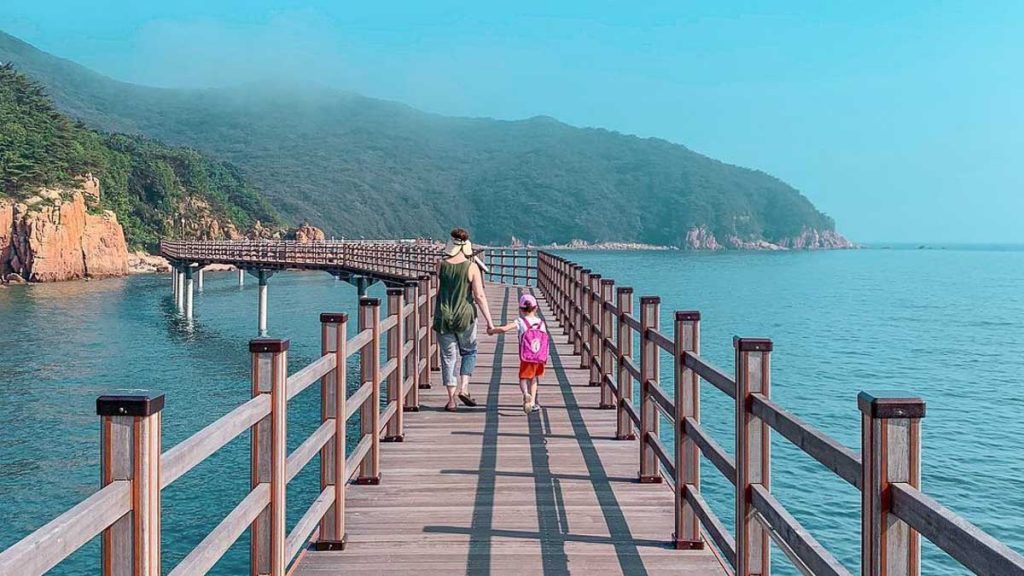 Photo credit: @thesoulofseoulblog via Instagram
Escape the beach crowd and head to the southern end of Hanagae Beach for a relaxing stroll on the Marine Tourism Trail. The 852-metre boardwalk stands above the waters, taking you around the unique formations of Horyonggok Mountain.
For a view of Incheon's other islands, take an easy hike to the top of Horyonggok Mountain.
Entrance fee: Free
Opening hours: 24 hours
How to get there: From Incheon Airport, catch bus 222 or 111 to Yeongjongdo, then take shuttle bus 6-1
5) Yangpyeong (양평군)
Travel time from Seoul: About an hour by Korail
Paraglide over mountains and valleys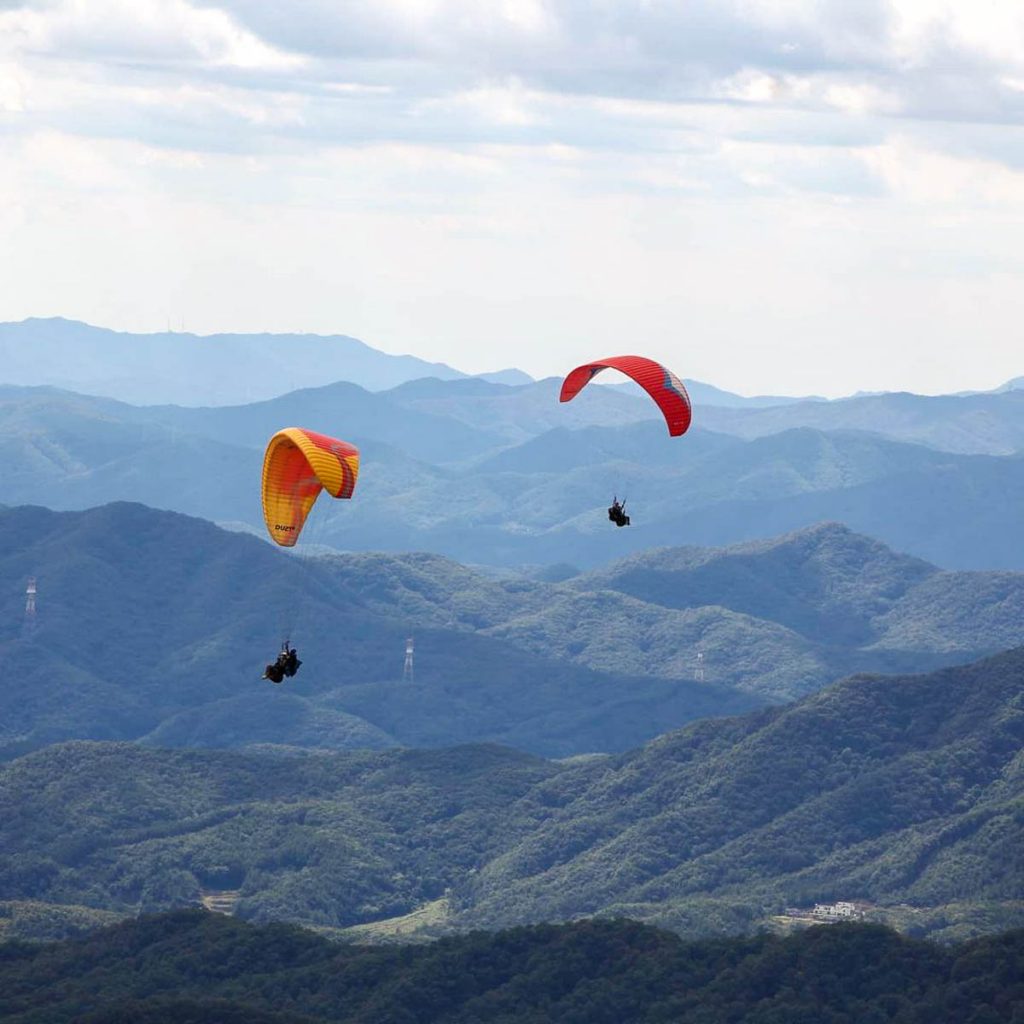 Photo credit: @maplehouse20 via Instagram
Crash Landing On You fans will be thrilled to know you can paraglide near Seoul!
Just an hour away in Yangpyeong is one of Korea's more popular paragliding sites. The area's stunning untouched natural landscapes make it the perfect flying ground.
Take off with an experienced instructor and soar over stunning mountains, valleys and fields for up to 25 minutes.
Cost: From ₩115,000 (~S$133.49)
Pick up point: Asin Station
Yangpyeong Dumulmeori Park (양평 두물머리)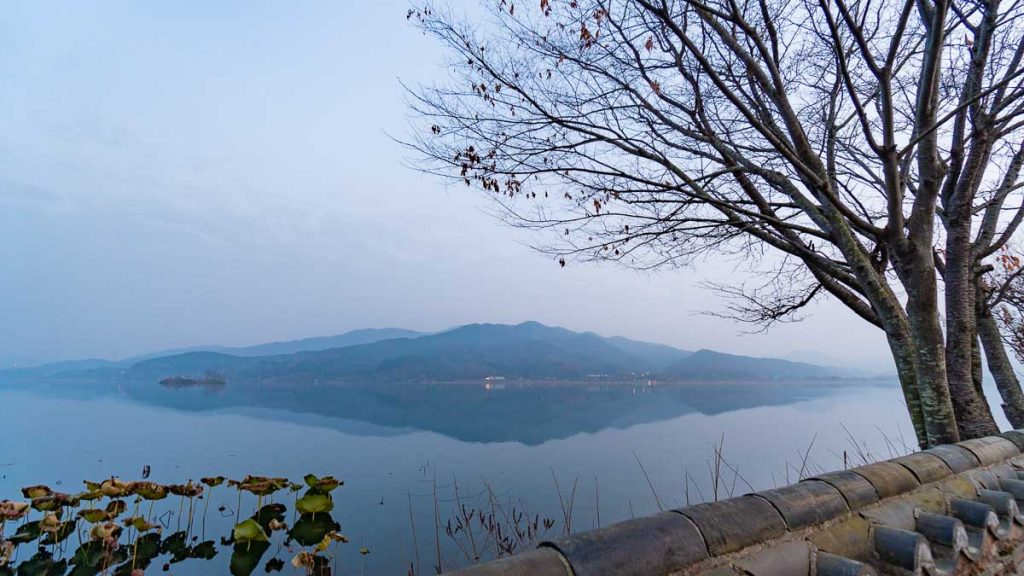 Dumulmeori Park is a popular K-drama location you can't miss. This romantic spot has been featured in 17 different K-dramas including She Was Pretty, The Beauty Inside, and the recent crime drama Undercover.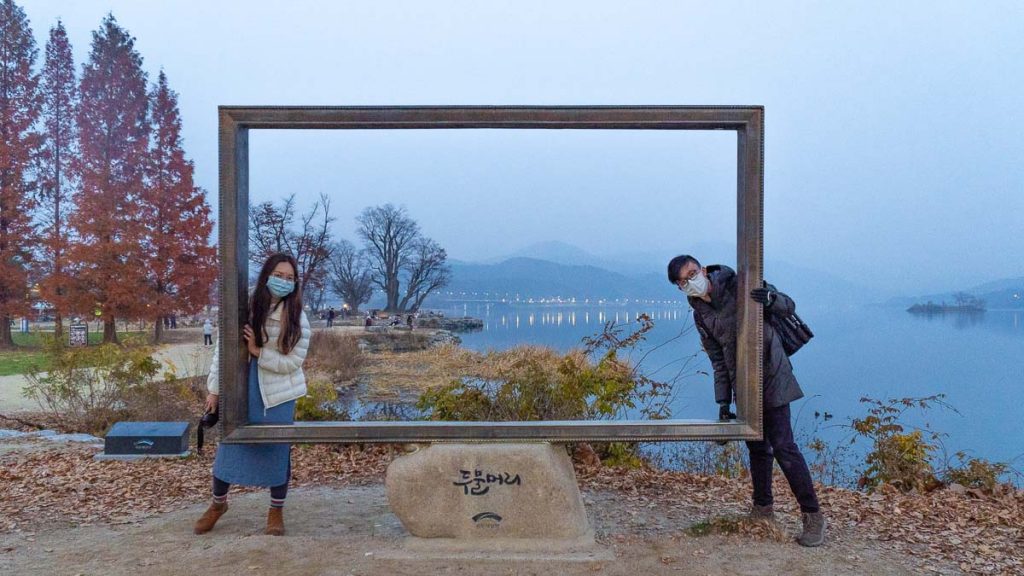 The park is located between the North and South Han River, with mountains right across the water. Be sure to snag a quick pic at the picture frame to have everything in shot!
Once you're done at Dumulmeori, cross the bridge to visit Semiwon Garden. It's another beautiful park known for its lotus flowers. The best time to visit is from Spring to Summer (mid-March to August) when huge lilies and lily pads fill up the ponds!
Dumulmeori Park
Entrance fee: Free
Opening hours: 24 hours
Address: 850-2 Yangsu-ri, Yangseo-myeon, Yangpyeong, Gyeonggi-do
Semiwon Garden
Entrance Fee: ₩5,000 (~S$5.80)
Opening hours: 9AM – 8PM (Jun to Aug), 9AM – 6PM (Sep to May)
Address: 93, Yangsu-ro, Yangseo-myeon, Yangpyeong-gun, Gyeonggi-do
Sip coffee by the Han River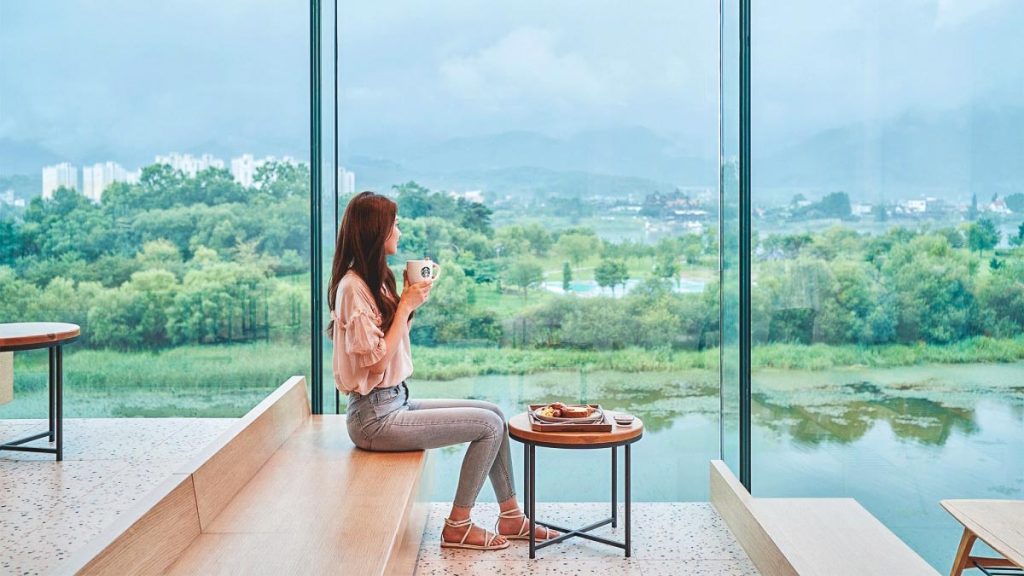 Photo credit: @starbuckskorea via Facebook
Bring your coffee experience to a whole new level and soak in panoramic views of Namhan River at Yangpyeong's Starbucks (스타벅스 경기양평점).
Head to the outdoor deck on the third floor for the best view ✨
Opening hours: 9AM – 8PM (Weekdays), 8:30AM – 8PM (Weekdays)
Address: 76 Yanggeun-ro, Yangpyeong-eub, Yangpyeong, Gyeonggi-do
6) Chuncheon (춘천)
Travel time from Seoul: About an hour by Korail
Chuncheon is the capital city of Gangwon province. It's a lakeside city surrounded by mountains and lakes. Here are some unique ways to explore this scenic city!
Canoe at Chuncheon Mulle-gil (춘천 물레길)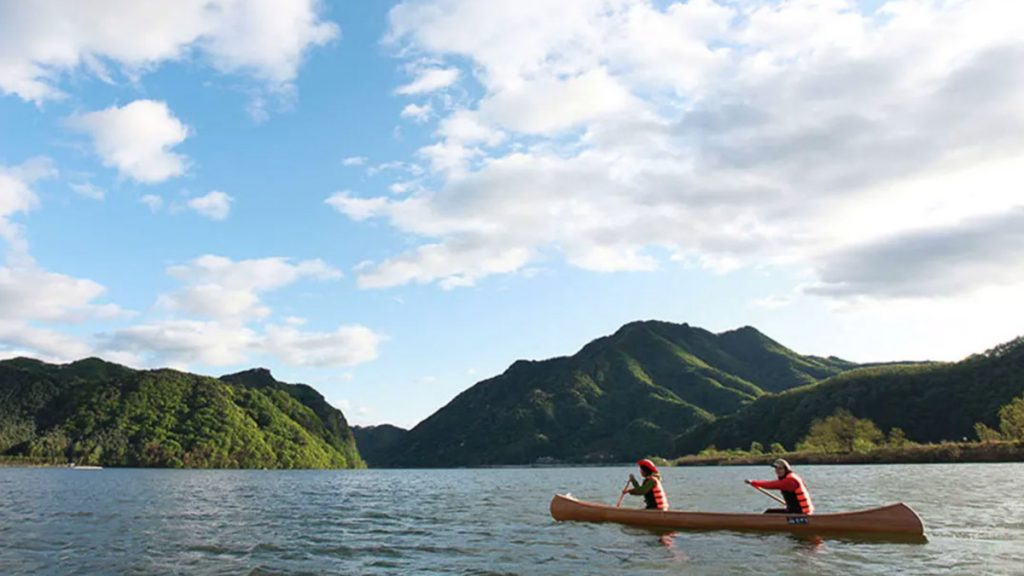 Photo credit: Klook
A day trip from Seoul to a lakeside city calls for some time on the waters 🌊
Soak in breathtaking natural landscapes with a canoe ride across Chuncheon's lakes. What's interesting about this experience is that you'll be paddling in a traditional wooden canoe!
*Pro-tip: Opt for the sunset tour and watch the mountains glow ✨ (not available in the winter)
Cost: ~S$20.50
Tour timings: 9AM – 5PM hourly, weekends only from Mar to Dec
Meeting point: Chuncheon Station (Exit 1)
Gangchon Rail Park (강촌레일파크)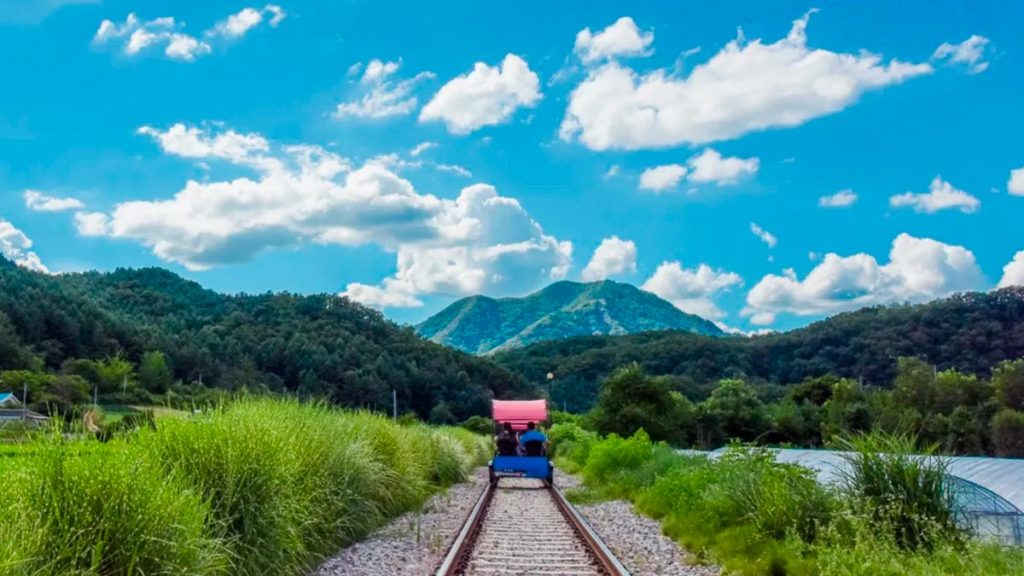 Photo credit: Klook
Built on a discontinued train line, Gangchon Rail Park is Korea's largest rail bike course 🚂
Apart from the mountains, you'll enjoy overlooking the pristine Bukhan River, which flows through both North and South Korea.
Best of all, it looks beautiful in every season!
Entrance Fee: From ₩30,000 (~S$34.82)
How to get there: Take a train to Gimyujeong Station (Gyeongchun Line), Exit 1
Soyanggang Skywalk (소양강 스카이워크)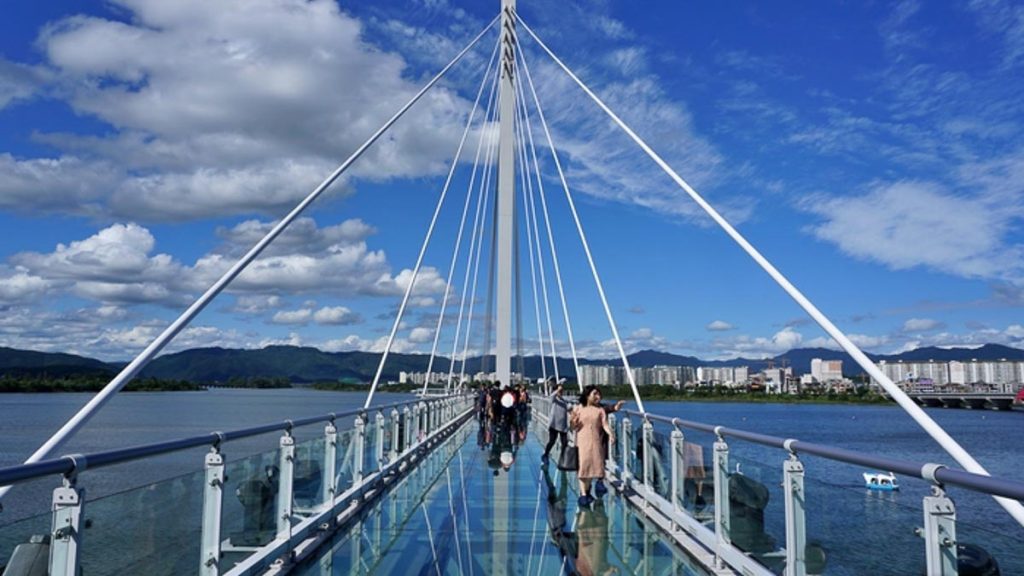 Photo credit: Korea Tourism Organization
Soyanggang Skywalk is one of Korea's longest skywalks stretching 174 metres over Uiamho Lake. And 156 metres of it is made up of clear glass — truly a 360-degree view!
Psst… This was a filming location for the K-drama Switch!
Entrance fee: ₩2,000 (~S$2.32)
Opening hours: 10AM – 6PM
How to get there: Take a train to Chuncheon Station (Gyeongchun Line), Exit 1.
Cross the street and board Bus 11. Alight at Statue of Soyanggang Maid Bus Stop,
walk 2mins.
7) Busan (부산)
Travel time from Seoul: Under 3hrs by Korail.
Gamcheon Culture Village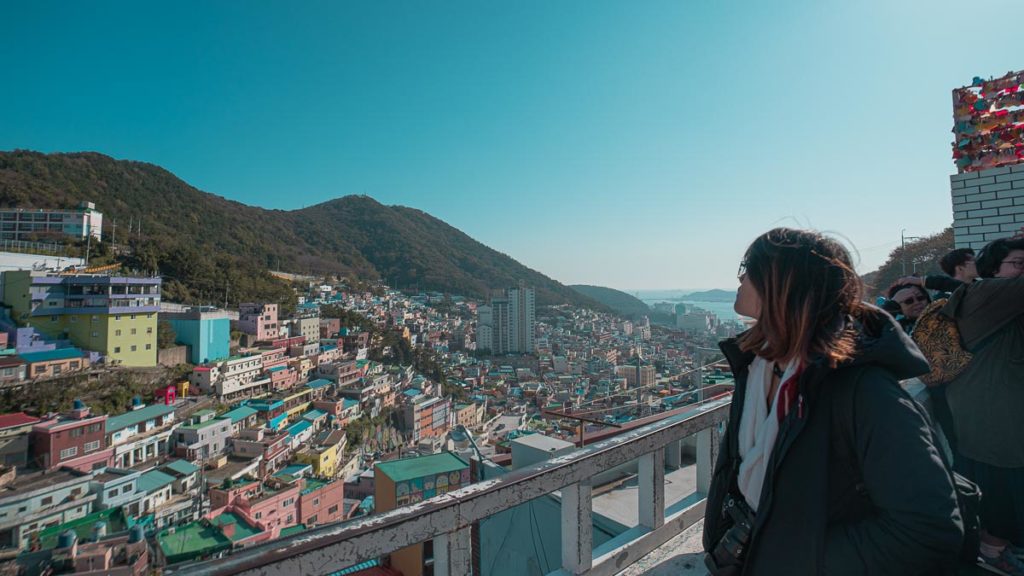 Nicknamed the Santorini of the East, you can't visit Busan without visiting the colourful homes of Gamcheon Culture Village.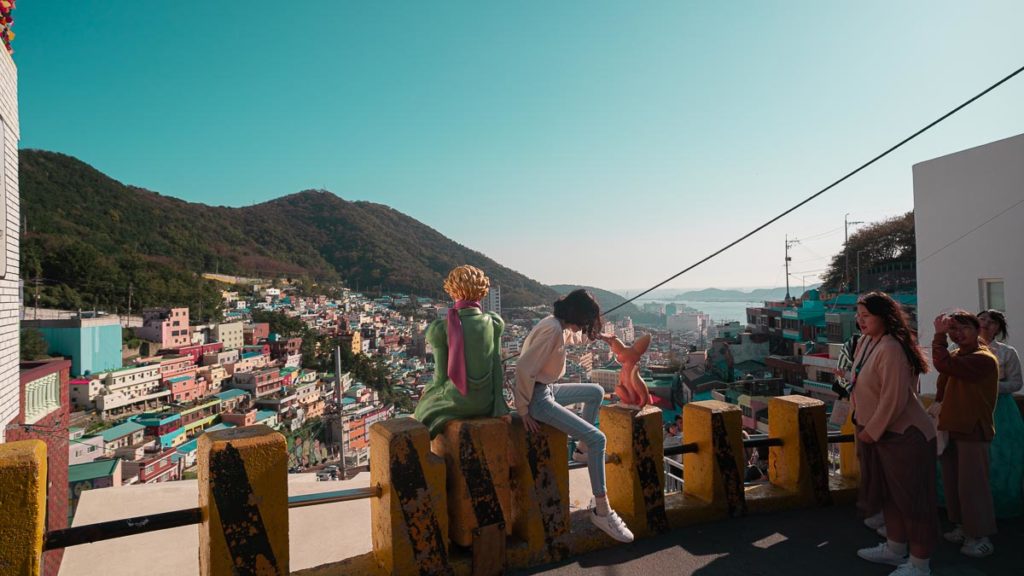 Venture through the alleys to find different photo locations. Don't miss the Little Prince lookout or the topmost viewing deck for a panoramic view of the colourful homes, the surrounding mountains and the sea ✨
Jagalchi Market (부산 자갈치시장)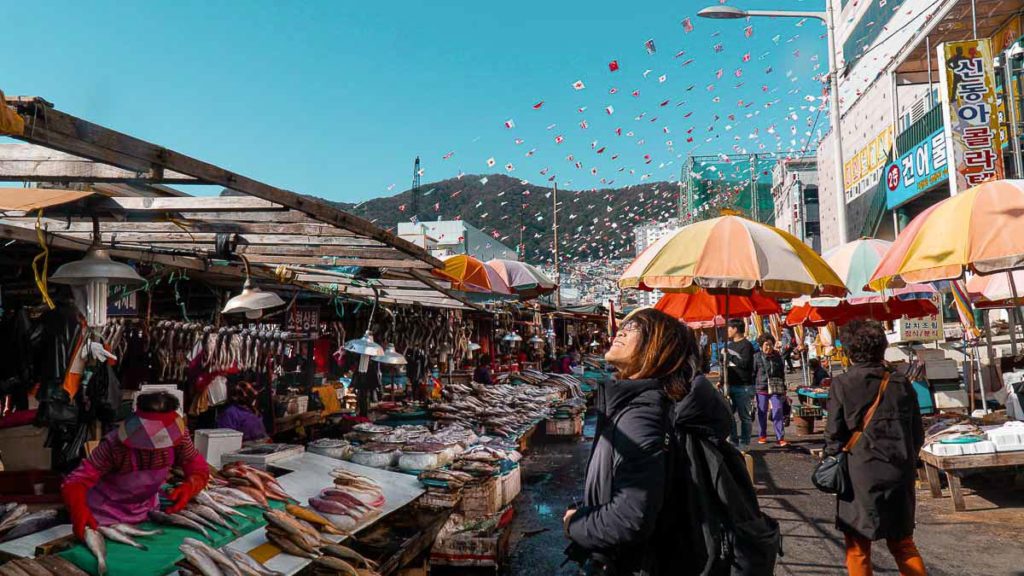 Jagalchi Market is a must-visit in Busan for seafood lovers. Soak in the charm of this vibrant market as you pick the freshest seafood, then immediately enjoy it at nearby restaurants.
Oryukdo Skywalk (오륙도 스카이워크)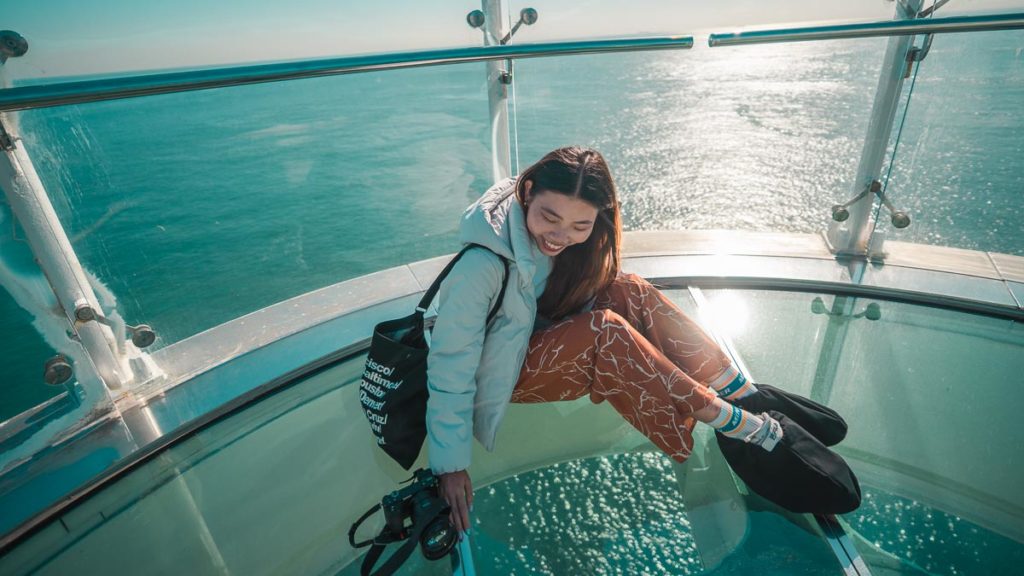 One of the best ways to take in Busan's gorgeous oceans is via the glass Oryukdo Skywalk. Watch the waves crash against the rocks below.
Yongdusan Park (용두산공원)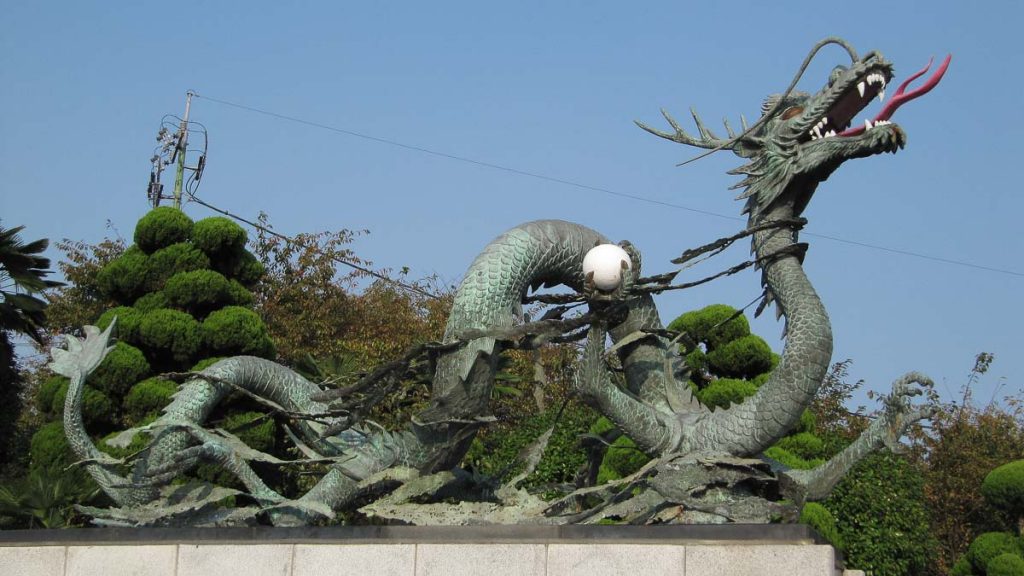 Photo credit: Wikimedia Commons
Yongdusan Park is famed for sitting on a mountain shaped like the head of a dragon. However, Yongdu Mountain is no simple rock formation as locals believe it protects Busan from foreign sea invaders.
Other historical monuments to check out are the Statue of the Great Admiral Yi Sun-sin, Dragon Sculpture, Bell of the Citizens and Flower Clock.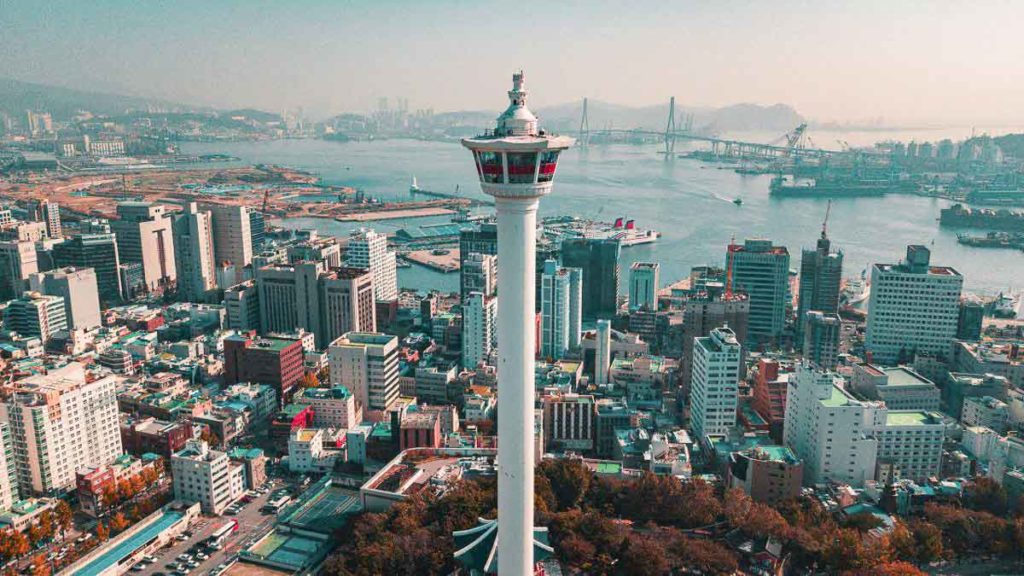 Another scenic vantage point in this area is the Busan Tower — it looks twice as stunning after dark!
*Pro-tip: Visit all four locations hassle-free with a local tour. It comes with a local guide, transport and lunch. All you have to do is show up and enjoy 🙌🏼
Exploring Busan Full Day Tour
Cost: ~S$110.15
Tour duration: 8AM – 7PM, except on weekends
Meeting point: Seomyeon Station Exit 12 (Busan)
Read also: 4D3N Busan Itinerary — Why You Need To Spend More Than A Day Trip In Korea's Charming Coastal City
Other things to see in the area
Although Busan is easy to get to, there's so much to explore here and deserves a longer stay. Here are more places worth checking out!
Explore East Busan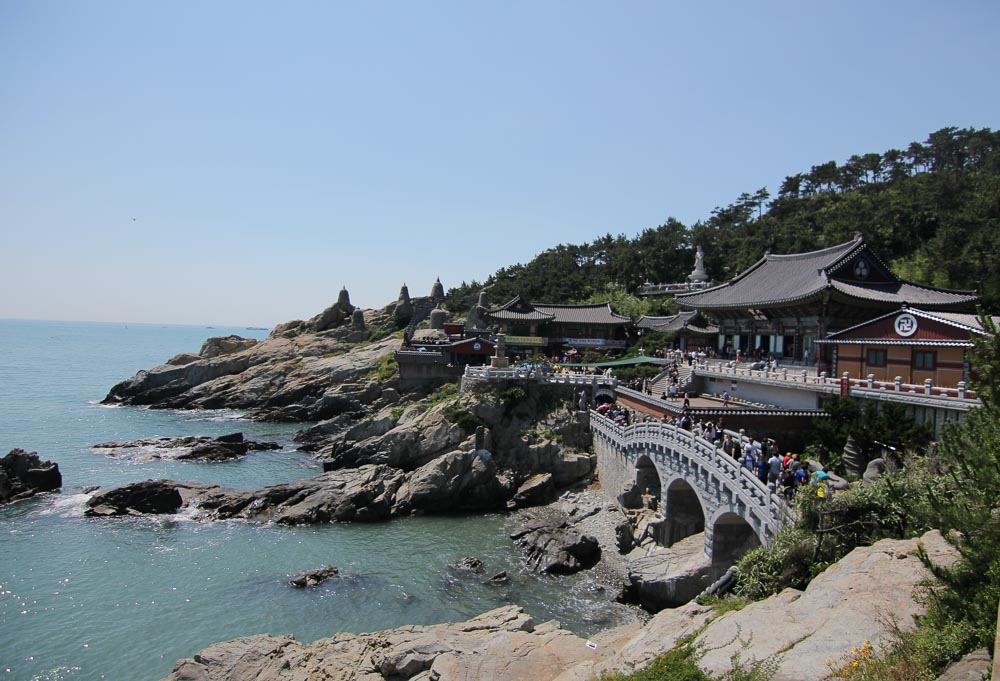 Visit East Busan's iconic landmarks like Haedong Yonggungsa Temple which has been standing since 1376. Overlooking the vast blue ocean, it's no wonder it's Korea's most beautiful temple! Pop in to pray for blessings, or visit the Jijang Bosal (The Bodhisattva of the Afterlife) statue at the sunrise platform.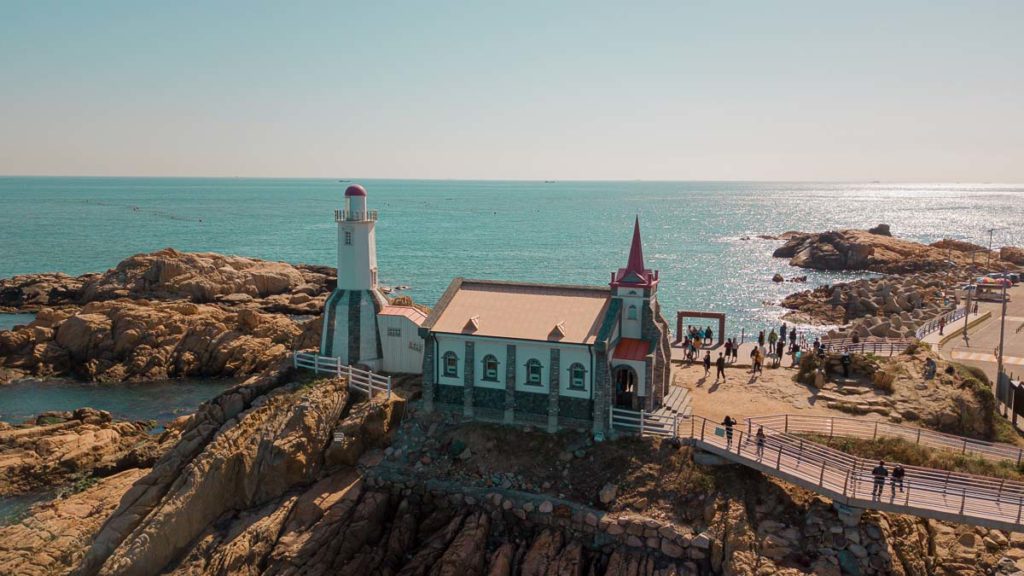 Another unique building is the Jukseong Dream Church. This picturesque church is actually a set built just for the K-drama 'Dream' that was never taken down. Although you can't enter the building, it's still a sight to behold as it sits atop a cliff. It's a popular photo spot among tourists and locals, especially newlyweds!
Learn more about these stunning locations on a half or full-day tour with an experienced guide. The half-day tour offers three drop-off points where you can continue the rest of your day — Gijang Traditional Market, Lotte Premium Outlet or Haeundae Beach.
East Busan Exploration
Cost: From ~S$31.29
Tour timings: 8:30AM – 1PM (half-day), 8:30PM – 5:50PM (full-day), except Tue and Thu
Meeting points: Seomyeon Station (Line 1/2, Exit 3), Busan Station (Line 1, Exit 3) or Nampo Station (Line 1, Exit 3)
Visit a Poop Museum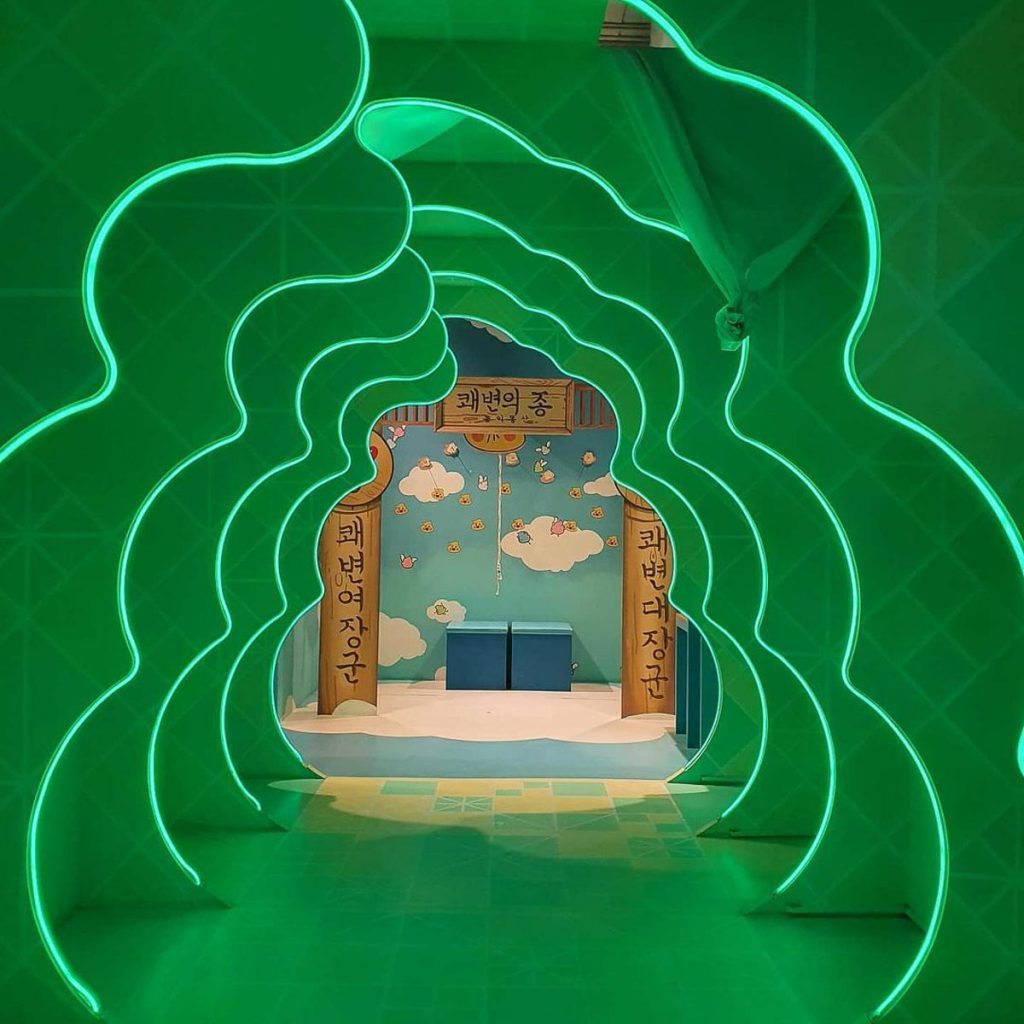 Photo credit: @by.all.in via Instagram
Here's something a little different — a museum full of sh*t. PooPoo Land is an adorable museum featuring quirky poop-related interactive exhibits starting from the stomach, then through the intestines. And contrary to its sh*tty theme, the entire museum is pretty colourful and overall just stinkin' cute 💩
The space isn't just fun for photos and play. You'll learn about your digestive tract too!
*Pro-tip: Have cash on hand to rent lockers for your belongings.
Cost: ~S$9.29
Opening hours: 11AM – 8PM, last admission at 7PM
8) The Demilitarised Zone (한반도 비무장 지대)
Travel time from Seoul: ~2hr by Korail (DMZ Peace Train)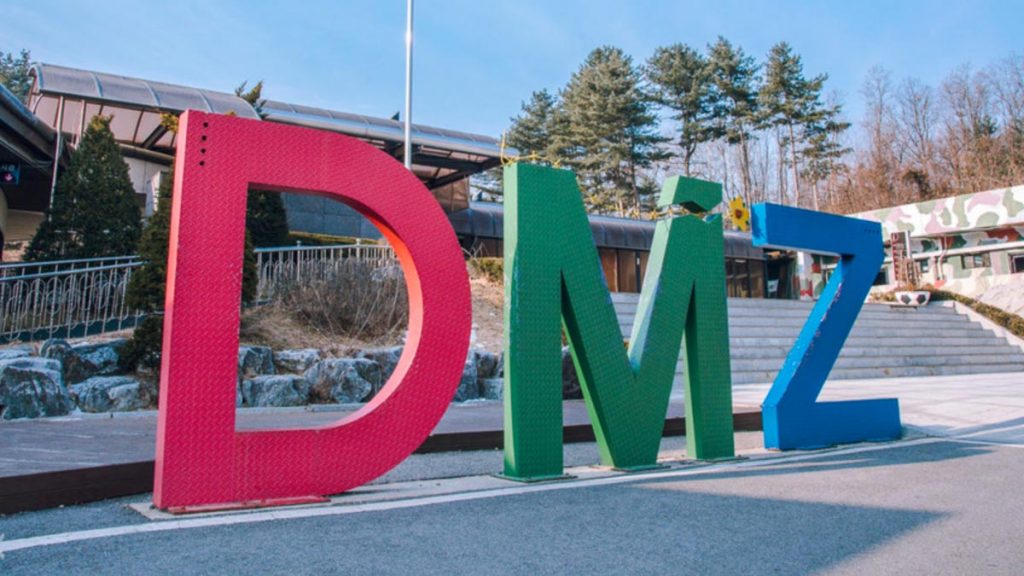 Photo credit: Klook
History buffs (or Crash Landing On You fans) should visit Korea's Demilitarized Zone (DMZ) at least once in their lives.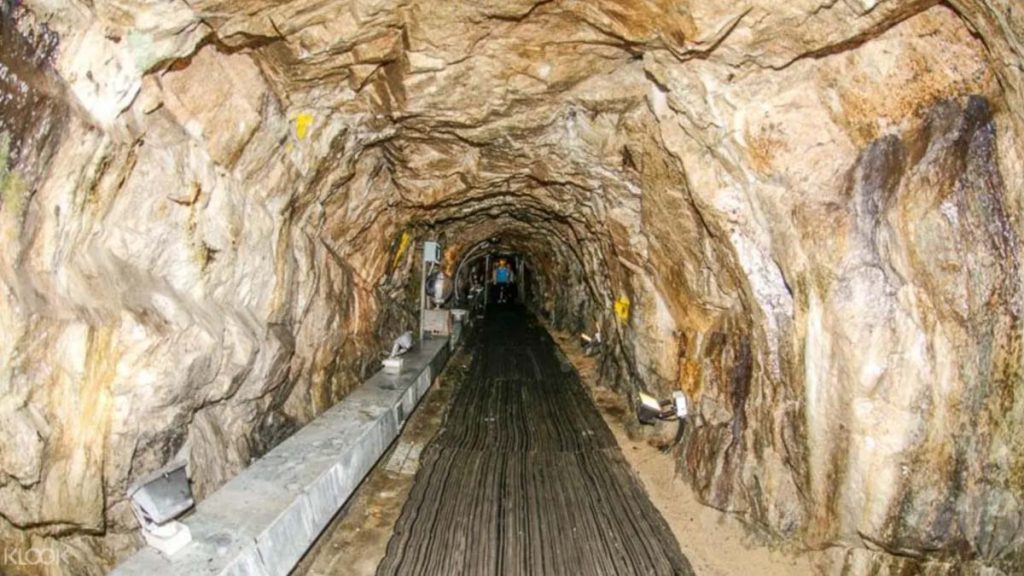 Photo credit: Klook
This day trip from Seoul dives deep into Korea's war history — best experienced with an educational guided DMZ tour. Visit relics of the past like the Freedom Bridge and the 3rd Infiltration Tunnel (an underground invasion route), and their significance to Korea.
Head to the Odusan Unification Observatory and take a peek into North Korea via the binoculars!
Cost: ~S$92.85
Tour timings: 8AM – 2:30PM
Meeting points: Dongdaemun History and Cultural Park Station (Exit 8), Gangnam Station (Exit 12a), Myeongdong Station (Exit 9), Hongdae Station (Exit 3)
Other things to see in the area
Paju Book City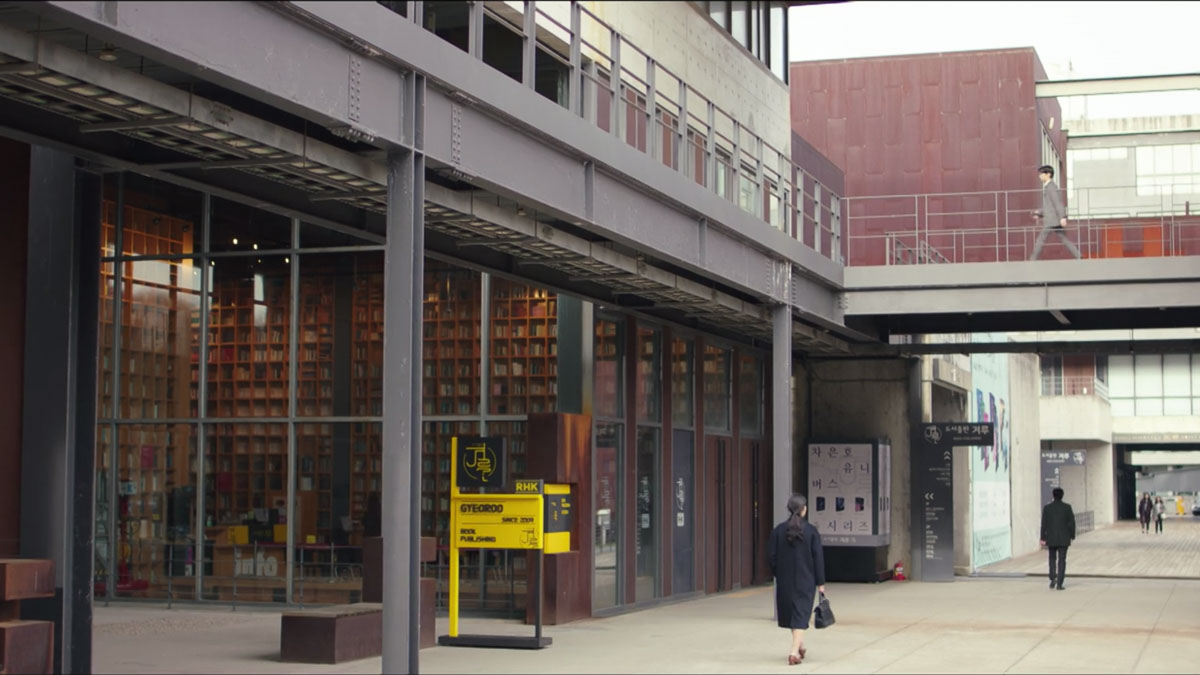 Photo credit: Romance Is a Bonus Book via Netflix
As the name suggests, Paju Book City is all about books. It's the publishing hub of Korea where books are conceptualised, sold and even shredded.
Here, there are about 200 publishing companies seated atop art galleries, bookstores, cafes and even a hotel.
Many might recognise this location from Romance Is a Bonus Book. Gyeoroo Publishing's main entrance is actually the exterior for Forest of Wisdom, an aesthetic library featuring floor-to-ceiling bookshelves!
Entrance Fee: Free
Opening hours: 9AM – 6PM
How to get there: Take subway Line 2 or 6 to Hapjeong Station, use exit 1 and take bus 2200 to Eunseokgyo Intersection Bus Stop, walk 5mins
9) Nami Island (남이섬)
Travel time from Seoul: About an hour by Korail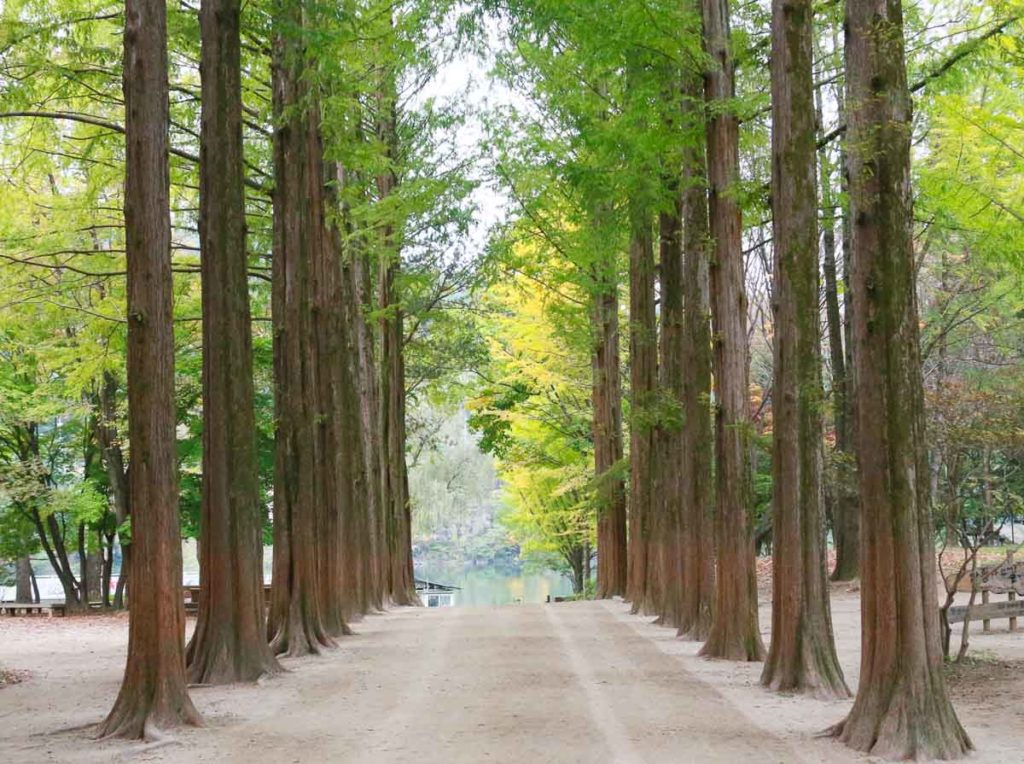 Most of us might know Nami Island from the famed Winter Sonata back in 2002. However, more recent K-dramas were also shot here, like Hi, Bye Mama and When My Love Blooms ❤️
K-dramas aside, this gorgeous park is the perfect quick escape from the city. You'll be charmed by its foliage and scenery — infinite rows of metasequoia trees and Korean Pine trees bring you into another world.
Visit in early November and be treated to gorgeous hues of Autumn red!
There are only two ways to get to Nami Island — by ferry or one-way zipline from Gapyeong Wharf.
Read also: Nami Island Day Trip from Seoul: How to cover the best of Gapyeong
Other things to see in the area
Garden of Morning Calm (아침고요수목원)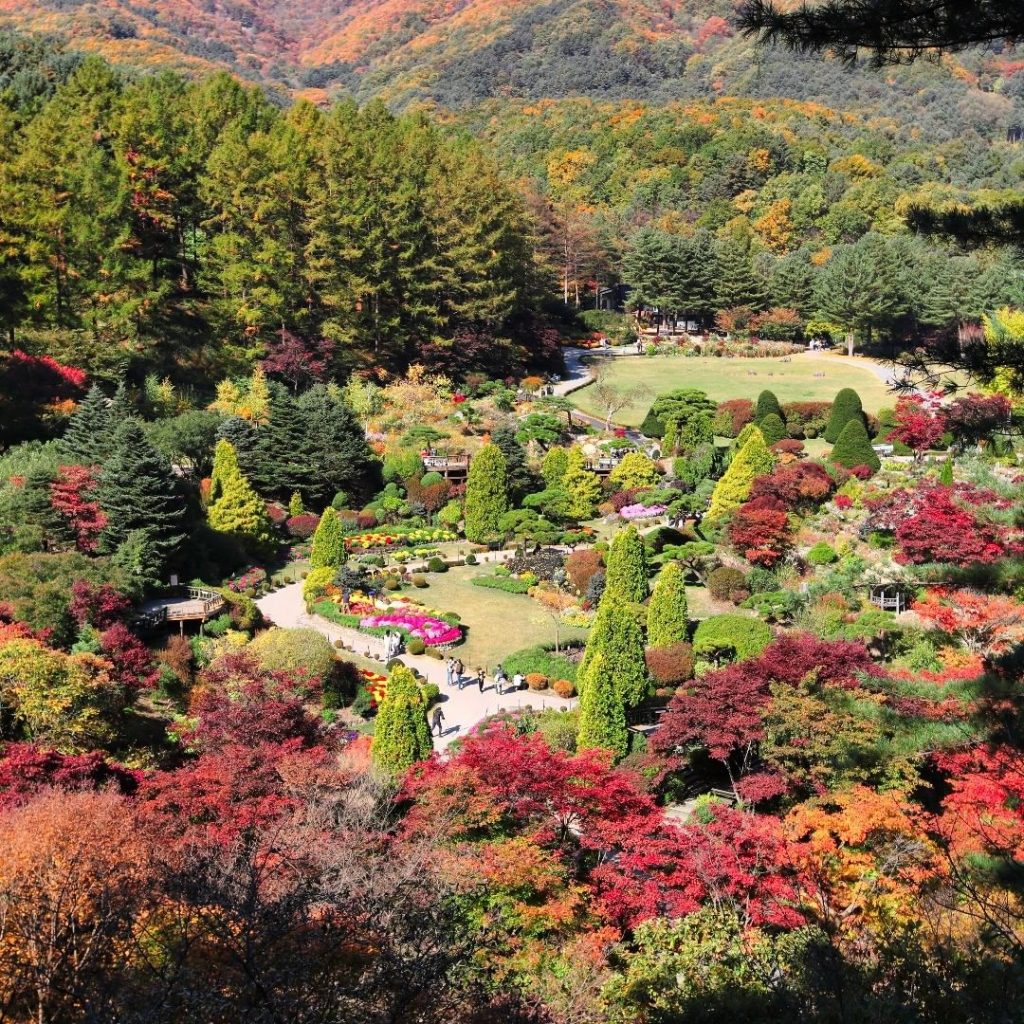 Photo credit: @morningcalm_garden via Instagram
Garden of Morning Calm is just as serene as its name suggests. Walk through the 26 themed gardens and the beautiful range of blooms each brings, no matter the season 💐
In Spring, the gardens are painted pink with Magnolia, Azalea, and Cherry Blossoms. Meanwhile, Summer is a multi-coloured affair when Roses, Iris, and Blue Hydrangea bloom. Autumn welcomes some warmer tones with Chrysanthemums in full bloom and maple leaves turning red.
Petit France (쁘띠프랑스)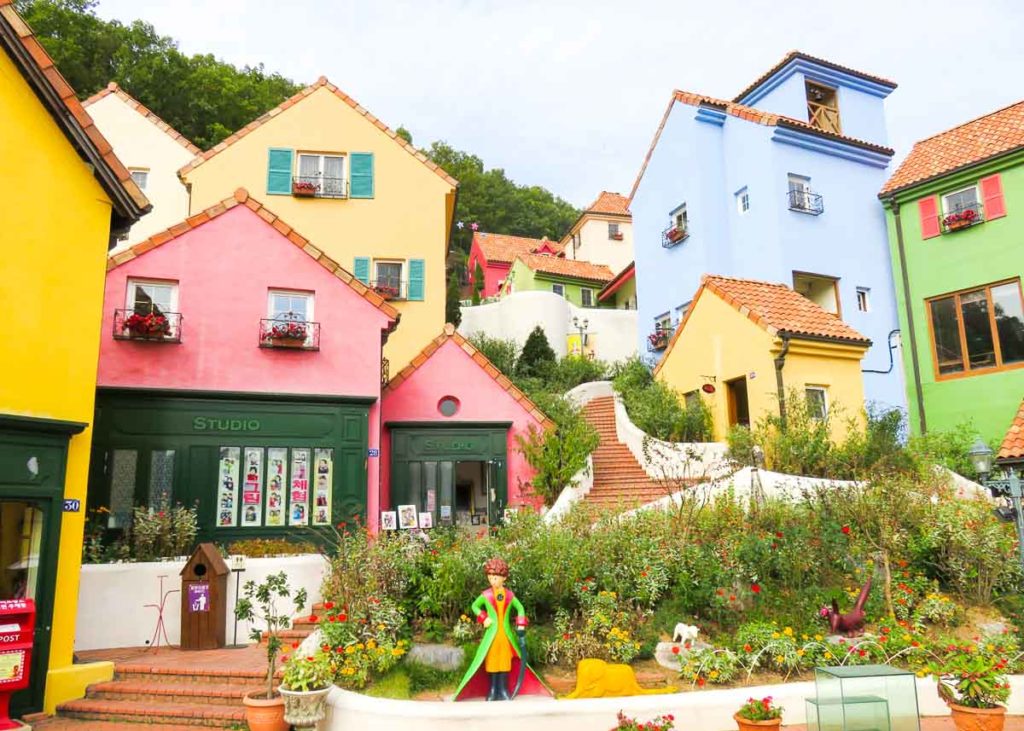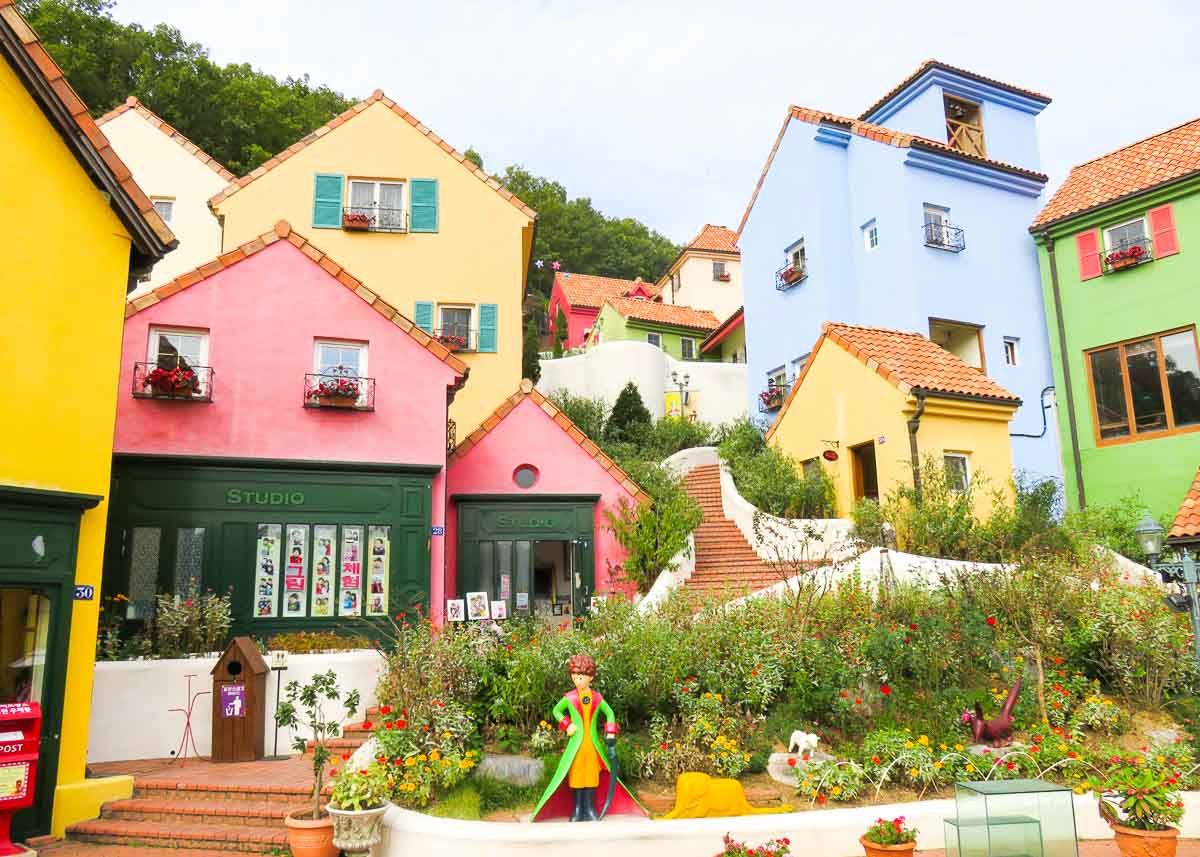 You probably wouldn't expect to see a colourful European town in the middle of Korea.
This whimsical town is actually a French cultural village in Gapyeong that's open to the public.
It's no surprise this spot has been featured on popular K-dramas like My Love From The Star and Secret Garden!
You can cover this popular day trip on your own with some careful planning. But to save yourself the hassle, there are all-inclusive tours covering transport from Seoul, as well as attractions and entrance tickets. You can also add other attractions like Gangchon Rail Park.
Nami Island, Petite France, Garden of Morning Calm, and Gangchon Rail Bike Day Tour from Seoul
Cost: From ~S$52.95
Tour timings: Varies
Meeting points: Hongik Univ. Station (Exit 4), Myeongdong Station (Exit 3), Dongdaemun History and Culture Park Station (Exit 10)
10) Alpaca World (알파카월드)
Travel time from Seoul: ~2hr drive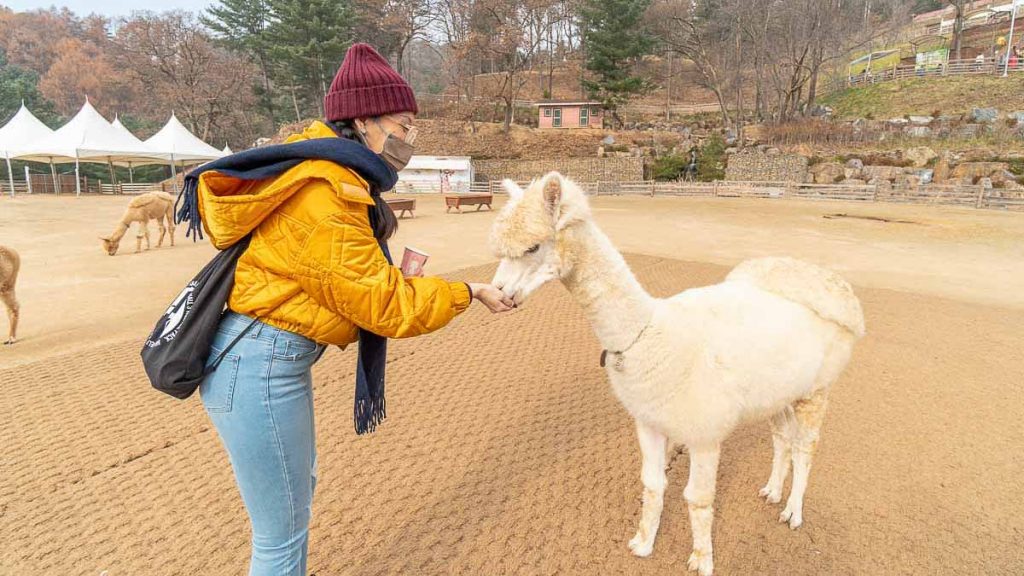 Alpaca World is one of the best day trips out of Seoul for animal lovers — it's Korea's largest forest experience farm 🦙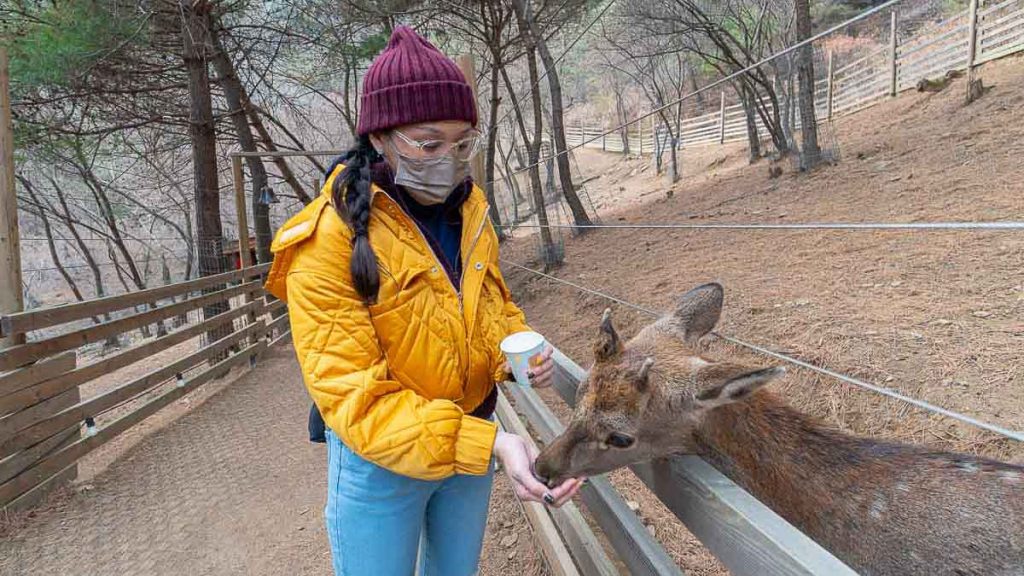 Apart from the fluffy alpacas, we saw other animals like bunnies, deer, and even a camel 😂 It's amazing how close you can get to the animals here. And although most enclosures aren't manned, the animals are pretty well-behaved — just be gentle and don't provoke them.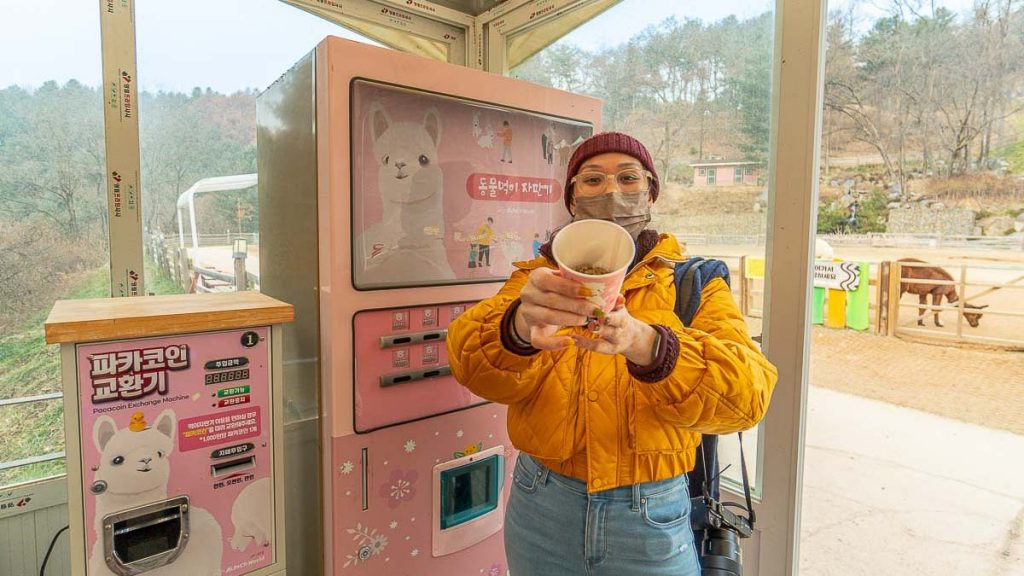 We purchased some Paca Coins (₩5,000 for 5) to use at the feed dispensing machines. These machines are at almost every enclosure so you don't have to worry if you run out.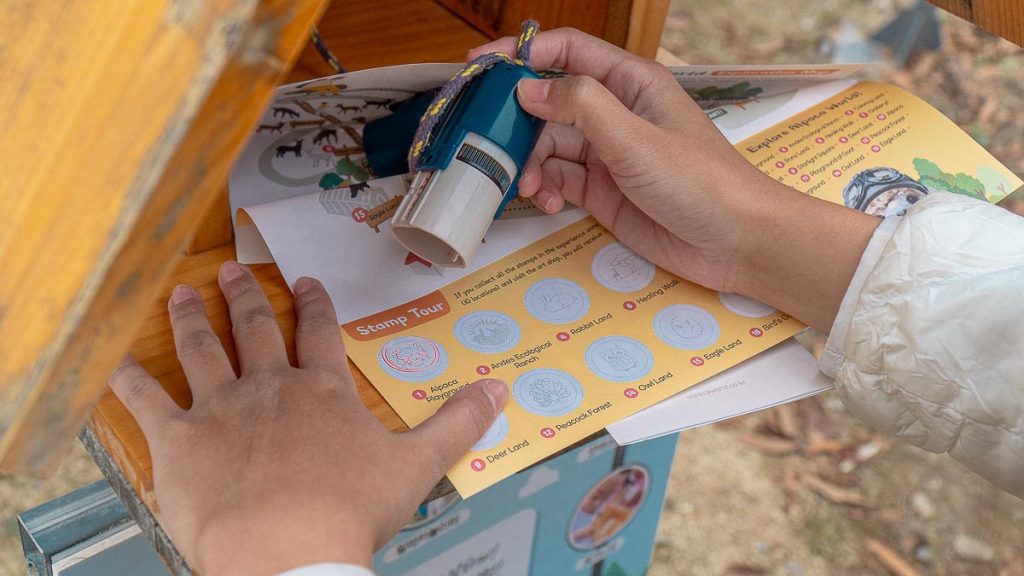 There are also little huts at each enclosure entrance with stamps for your map. And if you collect them all you get a pack of adorable Alpaca-themed stickers!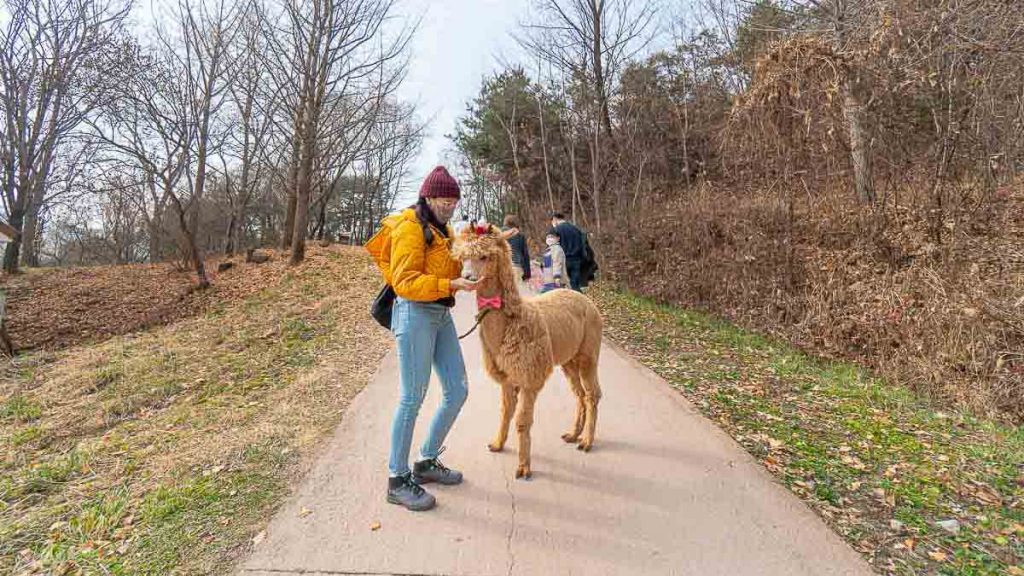 Our favourite experience was definitely walking our very own Alpaca (~S$11.61). They're very food motivated and may get a little aggressive, so it's best that the walker doesn't hold the cup of food!
*Pro-tip: Head there in the morning as the Alpacas get lethargic by afternoon and aren't as interactive.
Cost: ₩15,000 (~S$17.41)
Opening hours: 10AM – 6PM, last admission 5PM
How to get there: Take a train to Namchuncheon Station (Exit 1). Board Bus 3 to Alpaca World.
Bus schedule: From Namchuncheon Station – 8:50AM, 12:20PM, 4:10PM.
From Alpaca World – 9:55AM, 2:05PM, 5:20PM
Or, kill two birds with one stone and check out Nami Island and Alpaca World together on a full day tour (~S$112.85)! 🙌🏼
11) Korean Folk Village (한국민속촌)
Travel time from Seoul: About an hour and a half by train then bus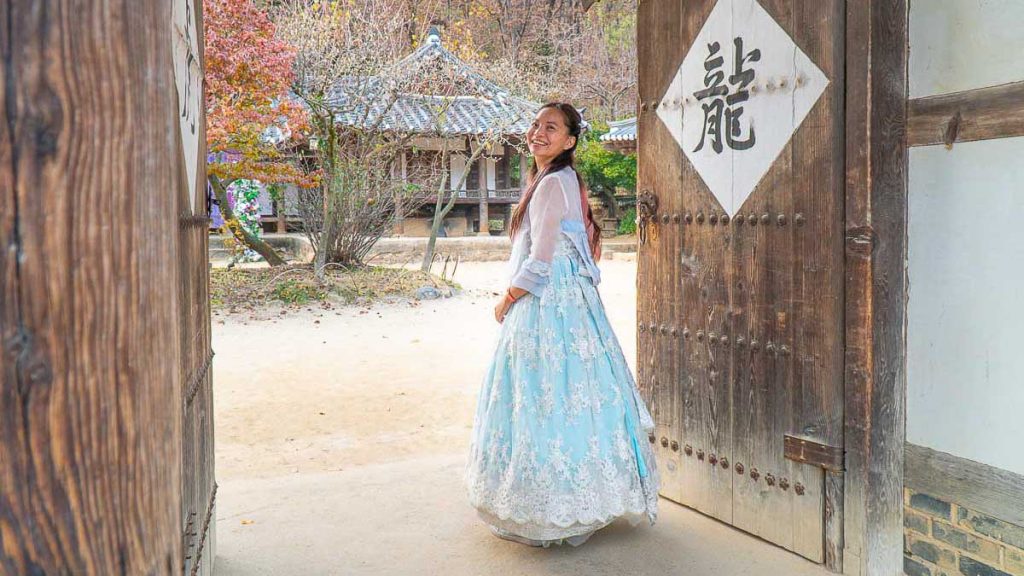 The Korean Folk Village is a replica village from the Joseon Dynasty. This cultural site features historic establishments like herbal medicine farms, a government office and even a Buddhist temple.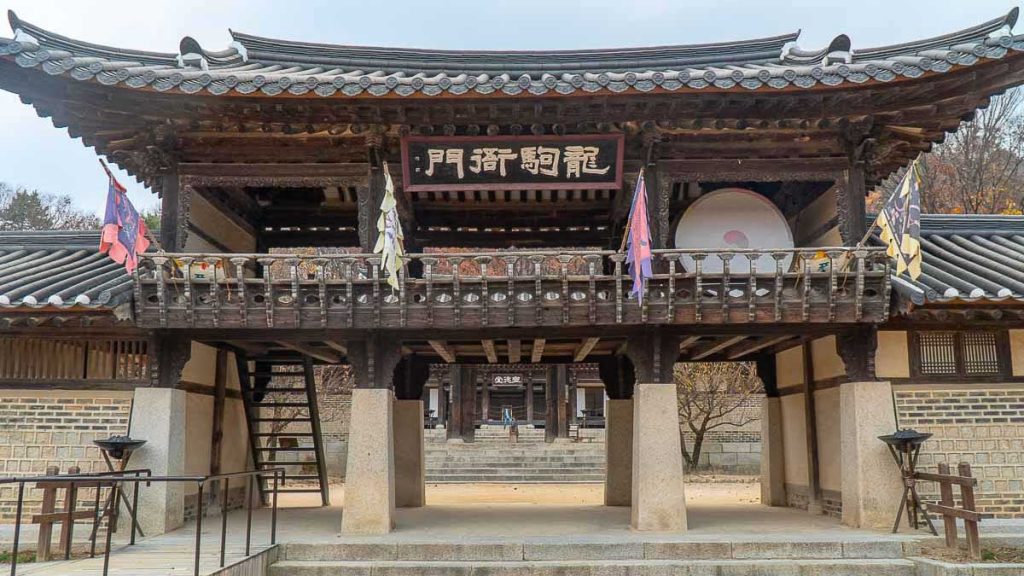 If the government office looks familiar, you probably saw it in the period thriller series Kingdom. It's where the corpses rose to life and terrorised the Dongnae villagers in season 1 episode 3!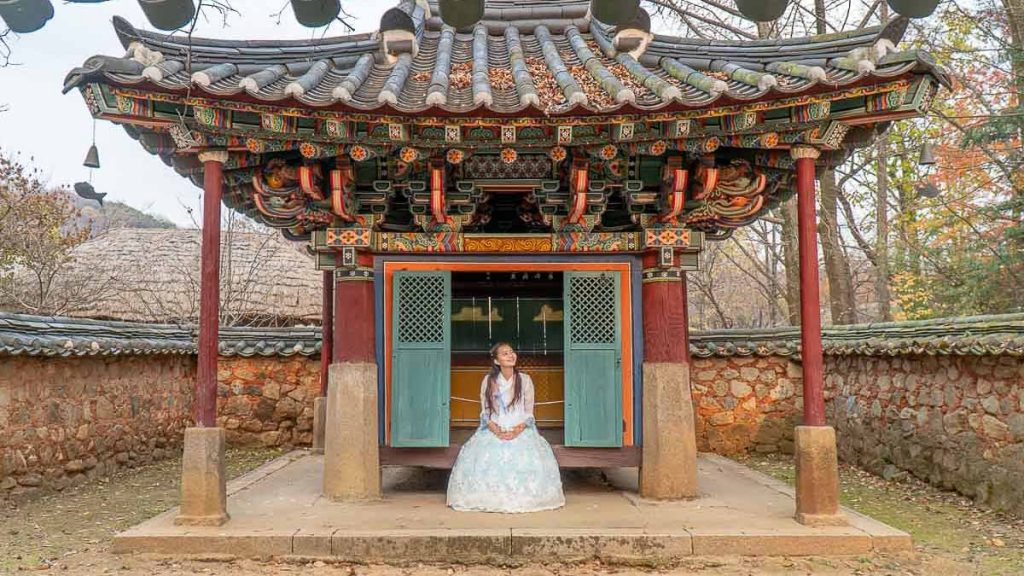 Wearing Hanboks during our visit here really took us back to 1300s Korea.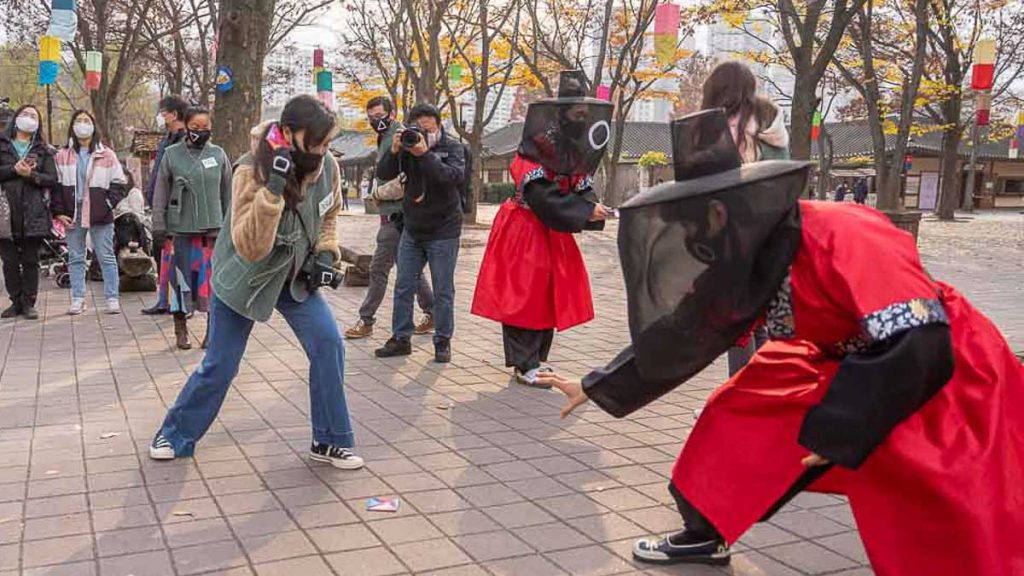 Apart from the village's exhibitions and traditional art performances, they also host themed events. The day we visited, we were invited to join a historical Squid Game event and played games from the show like Ddakji, Red Light Green Light and Tug-o-war!
Entrance Fee: ₩25,000 (~S$29.02)
Opening hours: Varies
How to get there: Take a shuttle bus from Suwon Station (exit 4). Operates every 2hrs (10:30AM – 2:30PM)
12) Spa day at Icheon Termeden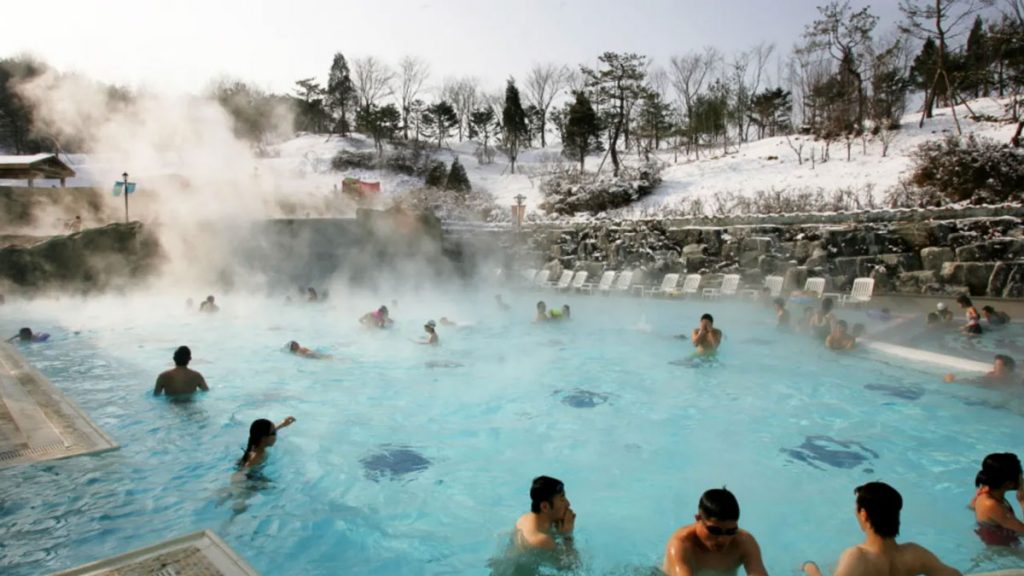 Photo credit: Klook
Every holiday deserves a dedicated spa day, and there's no better way to unwind than at a thermal spa!
Icheon Termeden is a German-style spa resort south of Seoul. Featuring indoor and outdoor pools surrounded by forest, it's a great place to escape from the city — especially in the colder seasons 🧖🏼‍♀️
Other things to see in the area
Shop at Yeoju Premium Outlet
Photo credit: Klook
A relaxing day at the spa always entails some retail therapy 🤪
Yeoju Premium Outlets is Korea's first and only authentic premium outlet mall. You'll find over 140 designer brands like Coach and Burberry, with prices slashed up to 65%!
There are lots of beauty brands here too — MAC, Clinique, Estee Lauder, you name it. And all their prices are lower than duty-free 🤩
Hit both locations easily with a tour. Your day of pampering will be complete with a round-trip shuttle so transport is settled for the day.
Cost: From ~S$113.75
Tour timings: 8AM – 7PM
Meeting points: Hongik University Station (Exit 3), Myeongdong Station (Exit 3)
Pre-essentials for Your Trip to South Korea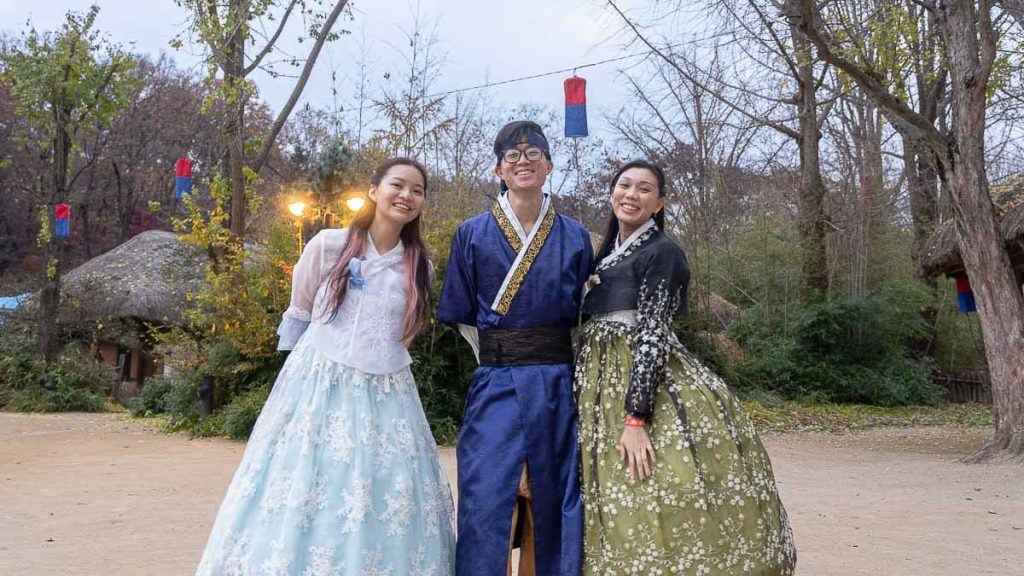 When planning your trip to Korea, it's always good to be prepared so do keep these things in mind.
– Korea Electronic Travel Authorisation (via K-ETA) — applied at least 24 hours before departure
– Register for Q-Code — for fast-track through immigration, applied within 3 days before arrival
– Travel Insurance — optional but recommended
*Note: The Korea Government has announced a temporary K-ETA exemption for 22 countries/regions from 1 April 2023 to 31 Dec 2024 (incl. Singapore). Check the official website for updates.
Once that's settled, let's figure out what to do in Korea! Check out our seven-day Korea itinerary for inspiration, or start by hunting down your favourite K-drama locations 😂
What other day trips out of Seoul did we miss out on? Share with us below!
---
This article was brought to you by Klook.