Explore this European-esque city tucked between the central highlands of Southern Vietnam — with aircon weather to boot!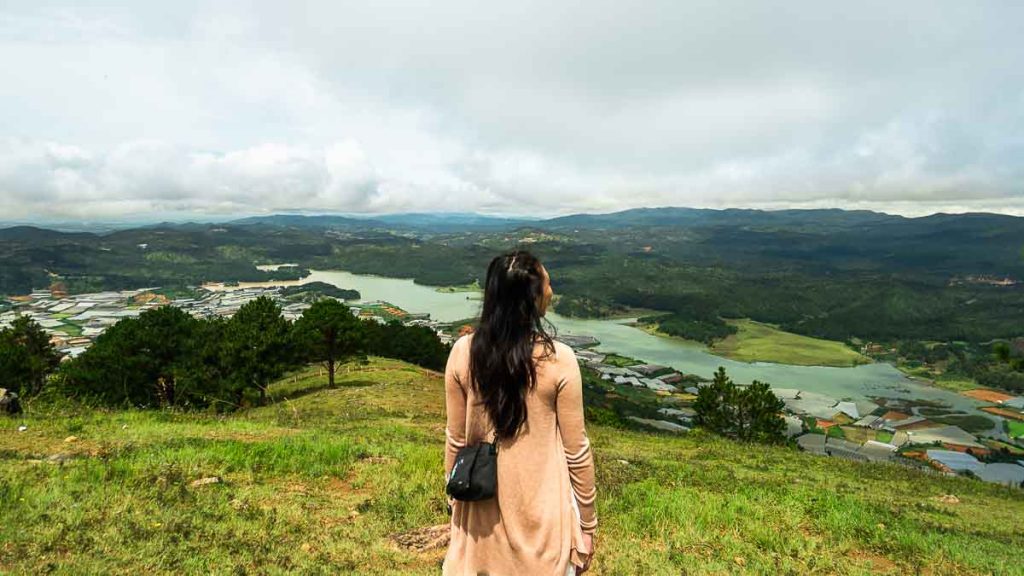 Da Lat is known for being many things — the City of Love, of Eternal Spring, of Flowers, of Pine Trees, of Poetry… not the credentials typically associated with Southeast Asian destinations. Fascinated, we set off to explore with high expectations and an open mind.
Having only been to Ho Chi Minh City and Ben Tre, I've always considered Southern Vietnam to be a land of vast tropical jungles, motorcycle-lined streets, and the infamous sweltering humidity.
I couldn't be more wrong.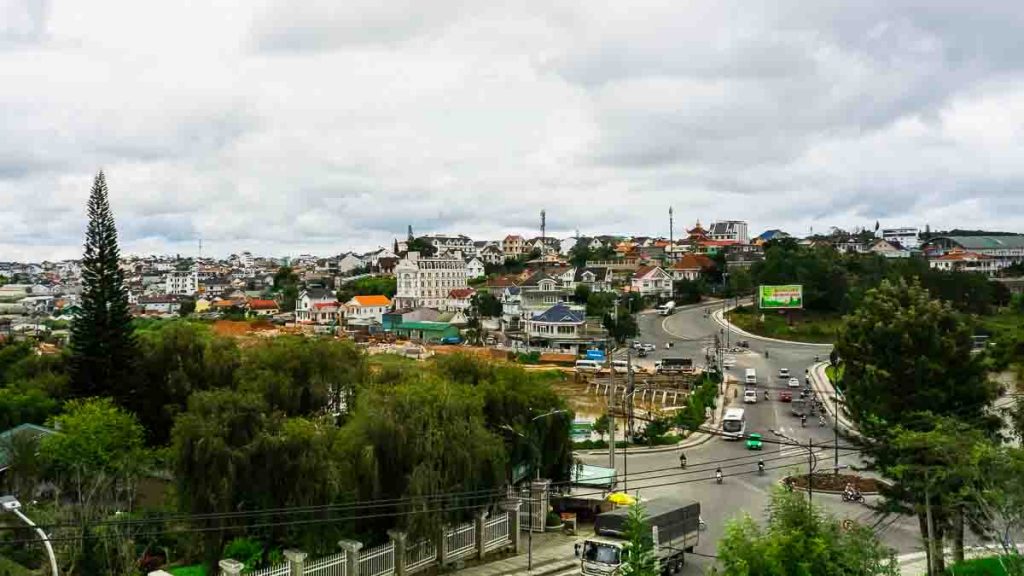 So if you're looking for a short weekend getaway filled with stunning views and eclectic art, here's a three-day Da Lat itinerary, where you'll explore one of the dreamiest Southern Vietnam towns.
Read also: 15 Pho-nomenal Experiences You Must Add to Your Northern Vietnam Itinerary — Halong Bay, Hanoi and Sapa
Pre-trip Essentials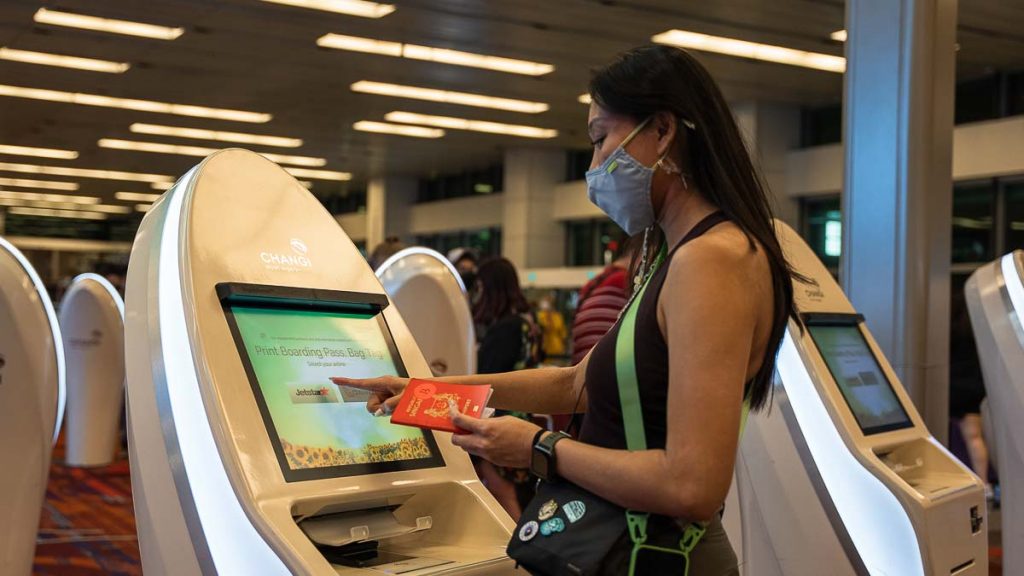 – Digital Vaccination Certificate — download via Notarise
– Travel insurance — min. coverage of US$10,000 (~S$14,000) for Covid-19-related medical treatment
– 4G SIM Card with unlimited data — pre-book and collect at Ho Chi Minh's Tan Son Nhat International Airport
– Airport transfer — pick up from Da Lat's Lien Khuong Airport to your accommodation
How to Get to Da Lat?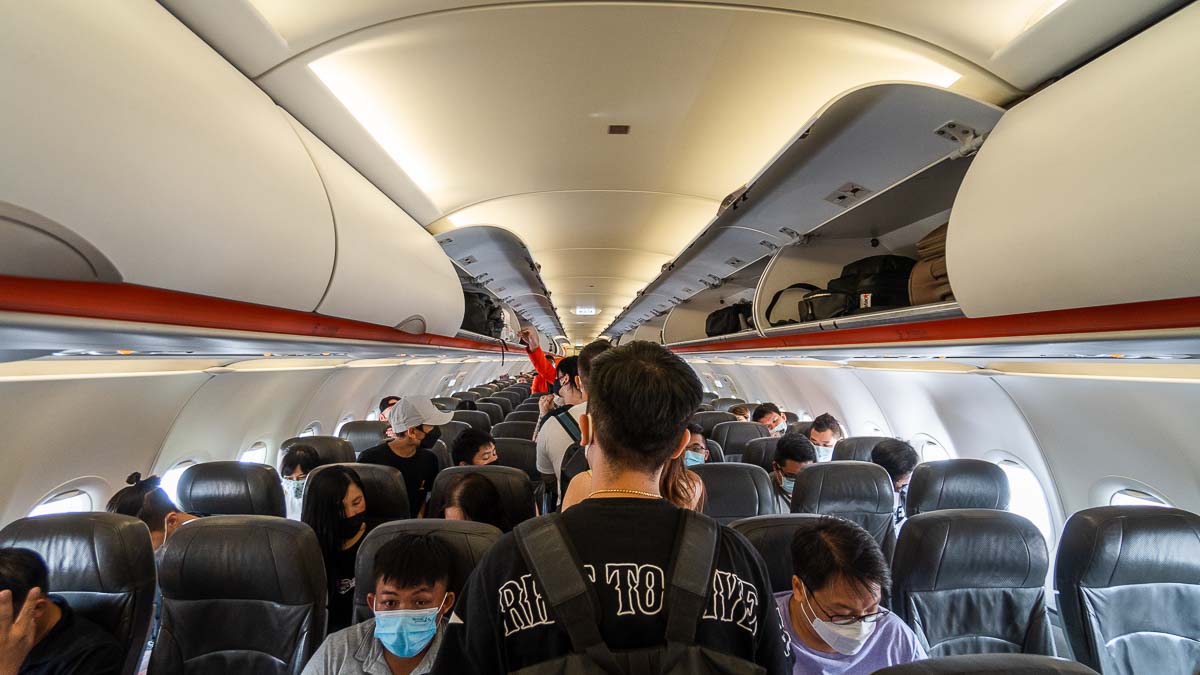 Da Lat is pretty accessible from several cities in Southern Vietnam, with private charters and buses being popular options. But from Singapore, the most straightforward route would be to take one of the following options from Ho Chih Minh city:
Flight: one-hour flight from Ho Chi Minh City to Lien Khuong Airport, return tickets from ~S$67
Bus: 6–8 hour sleeper buses depart for Da Lat daily from ~S$16. To maximise time, take an overnight bus so you have a full day upon arrival!
Private charter: For more flexibility in pick-up time and location, book a private charter from ~S$210 one-way
*Pro-tip: The best time to visit Da Lat is between December to March when the average rainfall is at its lowest.
Day 1: Arrival and Adventure in Da Lat
Check in to your Da Lat Accommodation — Crazy House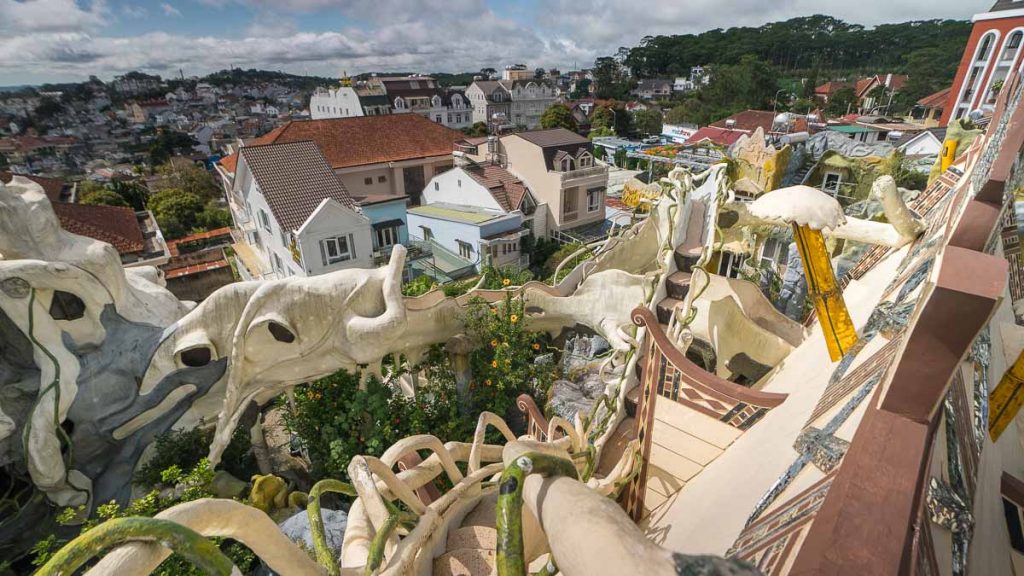 One of the most unique attractions to visit in Da Lat is Crazy House, which is also a guesthouse. Intrigued by the outrageous concept, we decided that the best way to kick-start the trip was to spend the night here!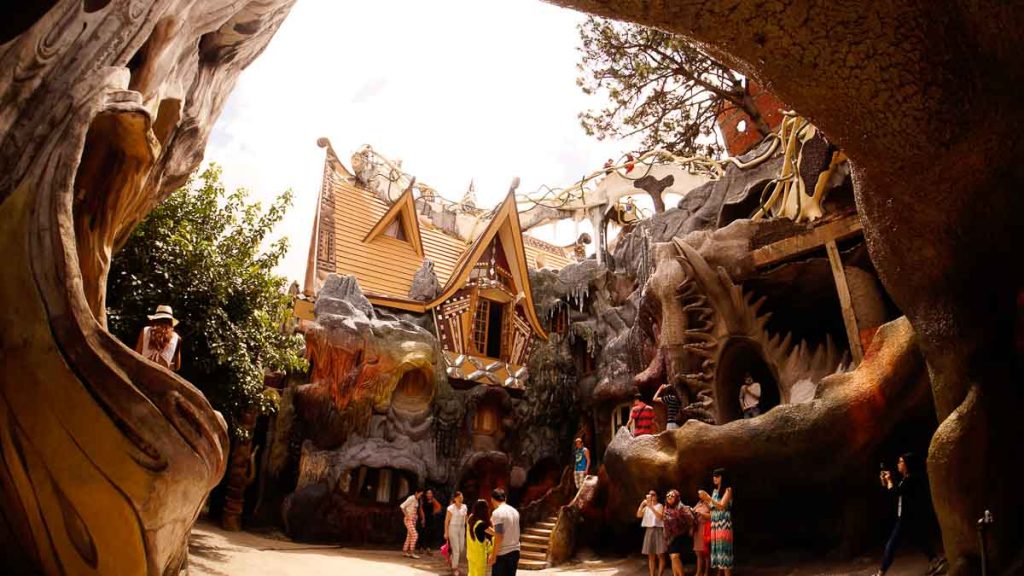 Photo credit: Crazy House
The building looks right out of Hansel and Gretel, with winding staircases leading to secret alcoves and the roof. Its eccentric architecture is the brainchild of Vietnamese artist Dang Viet Nga, who felt so inspired after visiting Da Lat that she created this fantastical guesthouse. Her design process and sketches can be found on display upon entering the compound.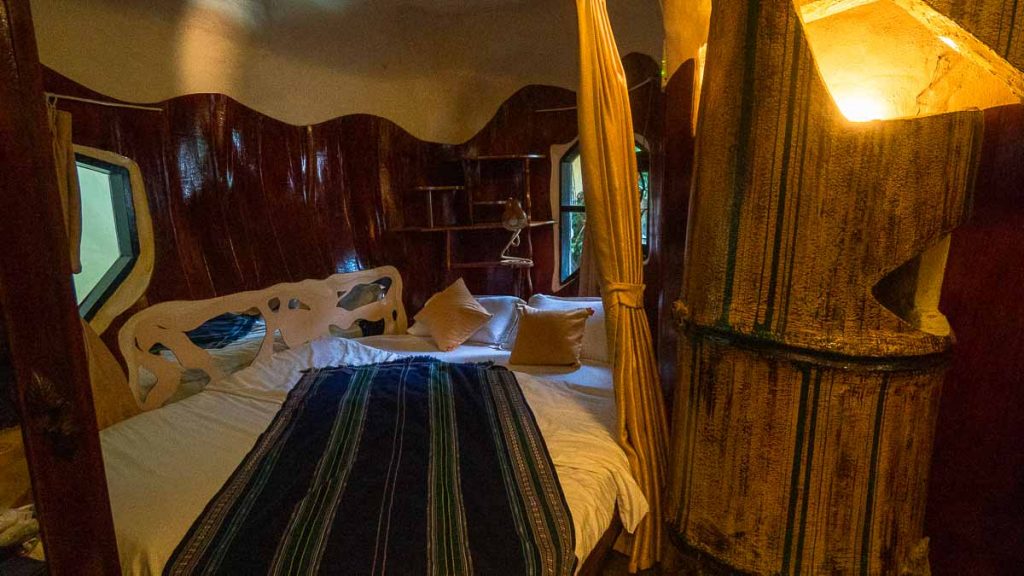 We opted for the cosy Bamboo Room as it was the tamest out of all the options but even that felt creepy at night — yes, we're scaredy cats. For the braver souls, the animal-themed guestrooms are what Crazy House is known for. No two rooms are alike and the central animal statues are a cross between adorable and terrifying.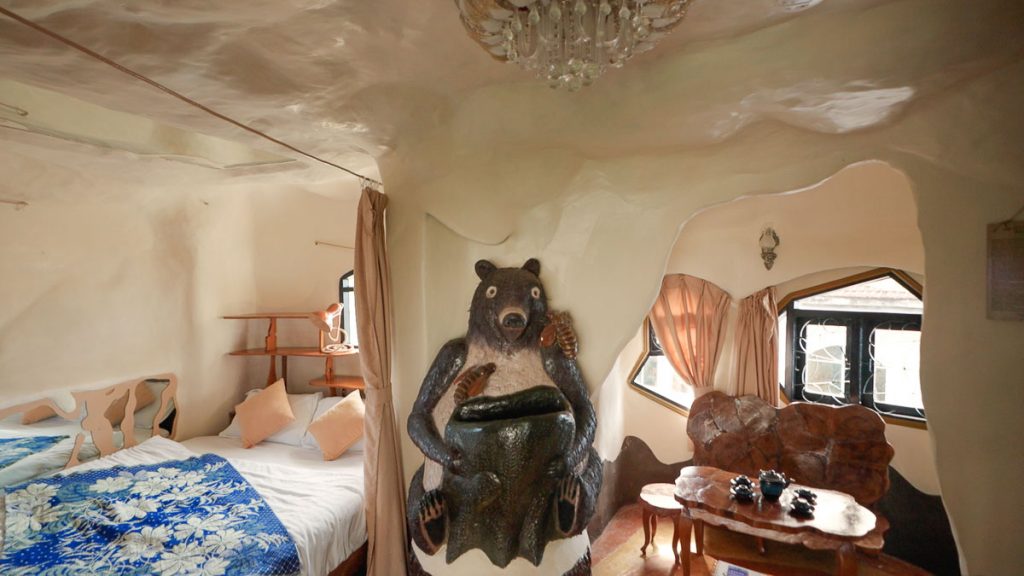 The house is also open to the public and unoccupied rooms are open to peer into. The house has several themed common areas such as an aquatic room and visitors are encouraged to roam around twisting stairs. So even if you don't stay there, you can still drop by to check it out!
Entrance fee: from 20,000₫ (~S$1.20/pax), price varies on your height
Cost of stay: From ~S$42/night
Opening hours: 8:30AM – 7PM
Address: 03 Đ. Huỳnh Thúc Kháng, Phường 4, Thành phố Đà Lạt, Lâm Đồng 66115, Vietnam
Datanla High Rope Course and New Alpine Coaster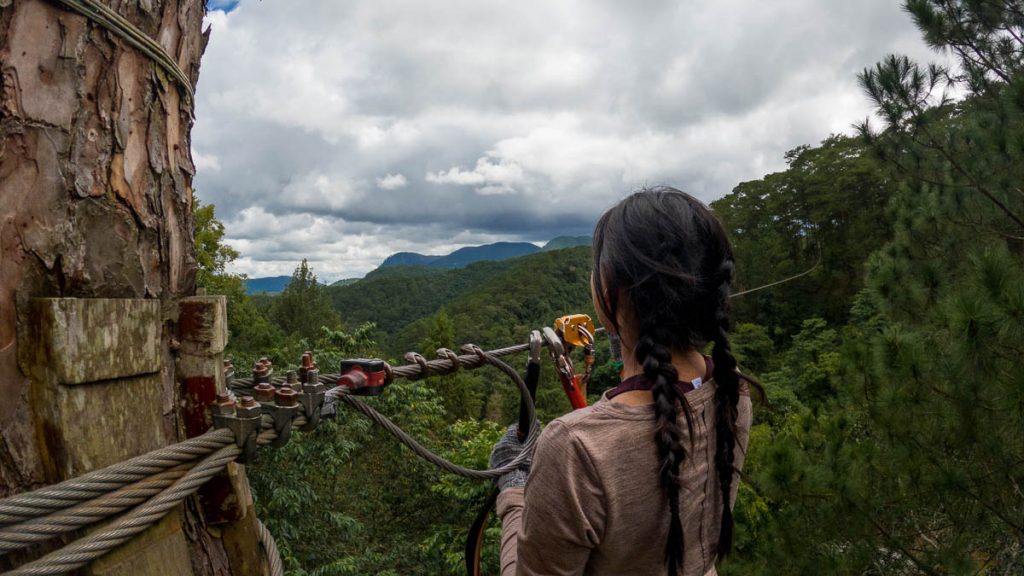 If you think alpine forest adventures can only be found in Switzerland, think again.
Da Lat is surrounded by lush pine forests — making it nature's playground. Unleash your inner child with the Datanla High Rope Course, a high elements obstacle course that's built into the forest.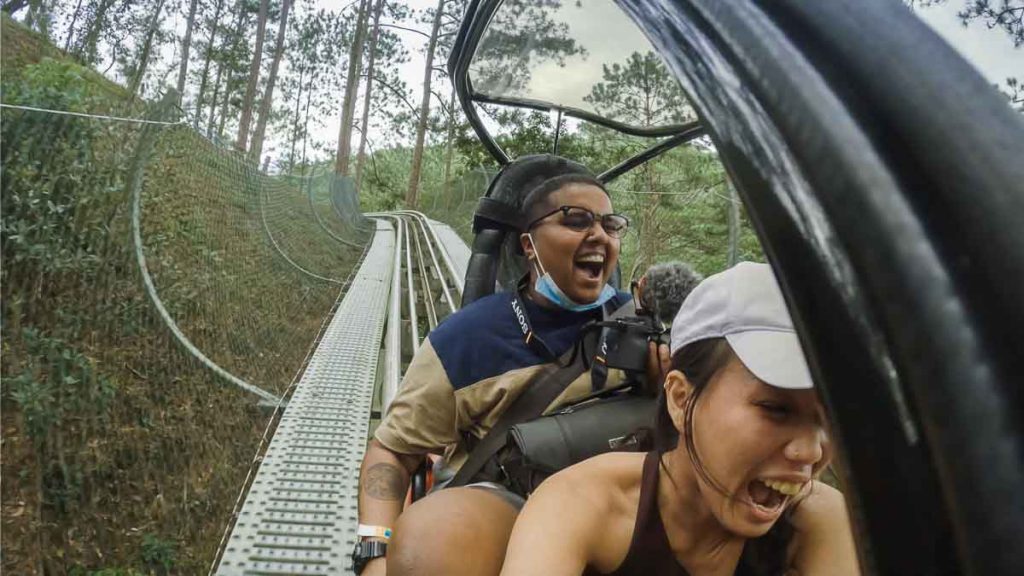 There are seven levels of difficulty to choose from so it depends on your appetite for adventure.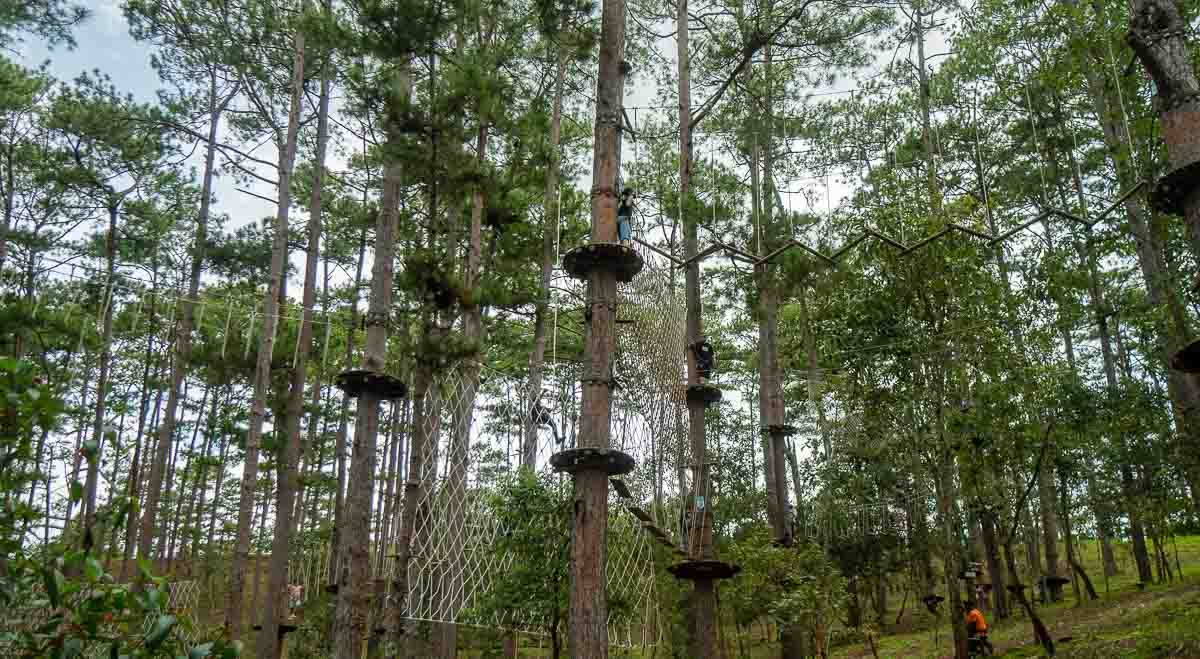 As someone who is okay with heights, I was surprised to find out that we have to complete it by ourselves — including clipping the hooks onto the line!
I triple-checked the safety out of paranoia before every zipline and had a case of jelly legs. Looking back, the satisfaction of completing the course and flying through the air is unparalleled.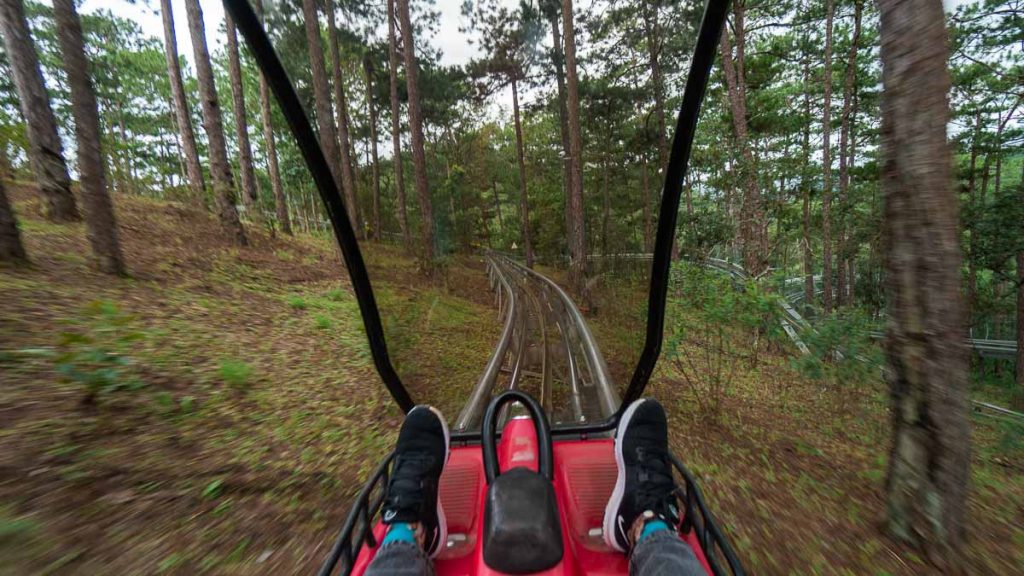 Walk up the main road and you'll find the entrance to the Datanla New Alpine Coaster on the left. It's the longest roller coaster trail in Asia, spanning 2.4km, and takes about 4 mins to complete at full speed! The speed can be controlled by the rider in the back seat so you can decide how much of a daredevil you want to be.
As a self-proclaimed adrenaline junkie, rocketing down at wind speed really had my heart racing in the best way! I was gripping the brakes at every sharp turn but thankfully, I managed to refrain from pulling it. 😬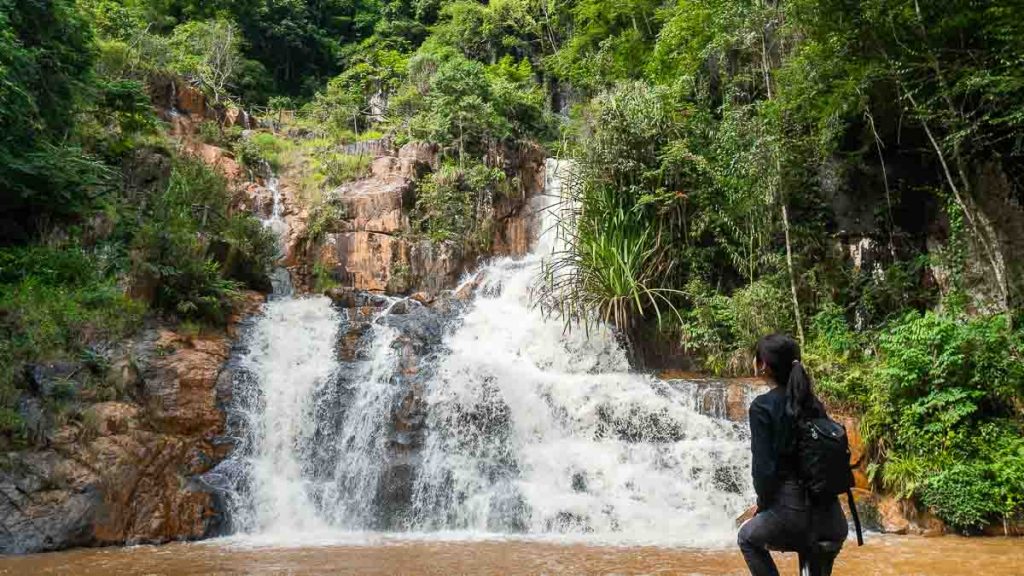 After screaming your lungs out, there will be a mid-point stop where you have to get off the coaster tracks and switch carts. Here, you can choose to spend some time admiring the gorgeous Datanla Waterfall. With multiple legends and lore surrounding the falls, it has become known by locals as the 'Meeting Place of Lovers'.
While zero lovers were found 😔, it's a lovely photo stop to snap pictures before you complete the rest of the coaster trail!
Cost: ~S$27.10/pax for both attractions
Opening hours: 8AM – 4PM, last entry at 1:45PM (High Rope Course); 7AM – 5PM, last entry at 4:30PM (Datanla New Alpine)
Address: 01 Lê Đại Hành, Phường 1, Thành phố Đà Lạt, Lâm Đồng, Vietnam
Dinner at Da Lat Night Market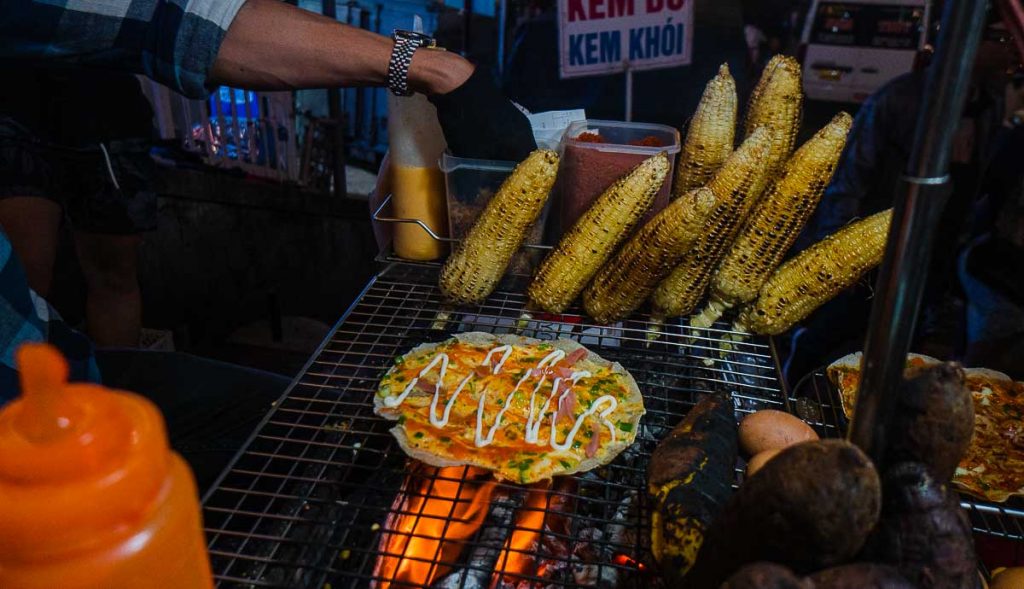 Exploring night markets are a must-do in Vietnam and the Da Lat Night Market is the best place for shopping and grabbing a bite. Put your bargaining skills to the test on the retail side of the market, where outerwear and knitwear are sold. My favourite purchase is a hand-knitted chicken beanie I copped for 100,000₫ (~S$6)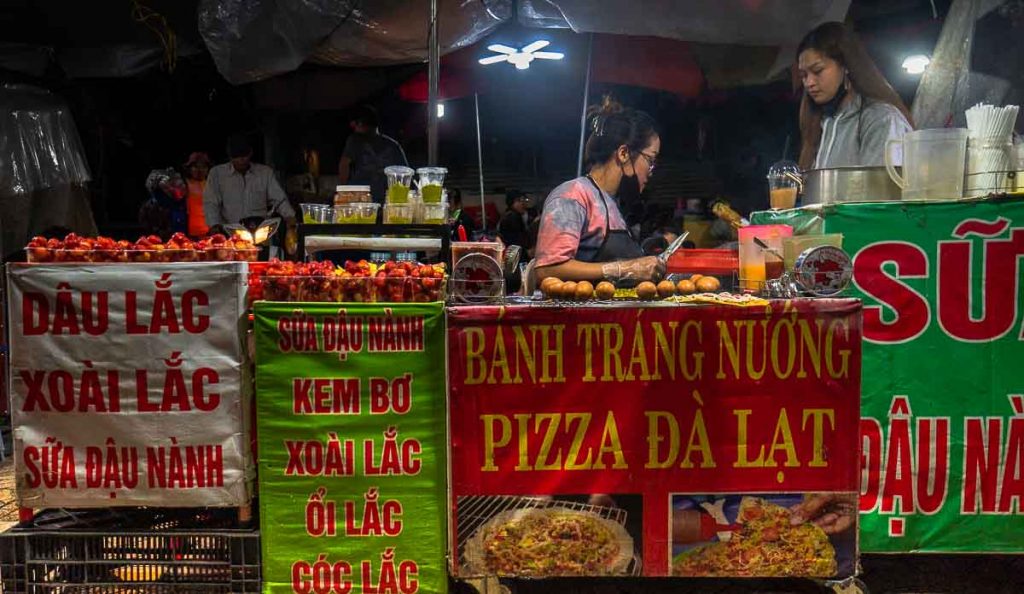 As for food, one of Da Lat's most popular dishes is the Vietnamese Pizza. Grilled on the spot over a fire, it consists of rice paper, eggs, ham, dried shrimp, sweet chilli, and mayo — all for 25,000₫/piece!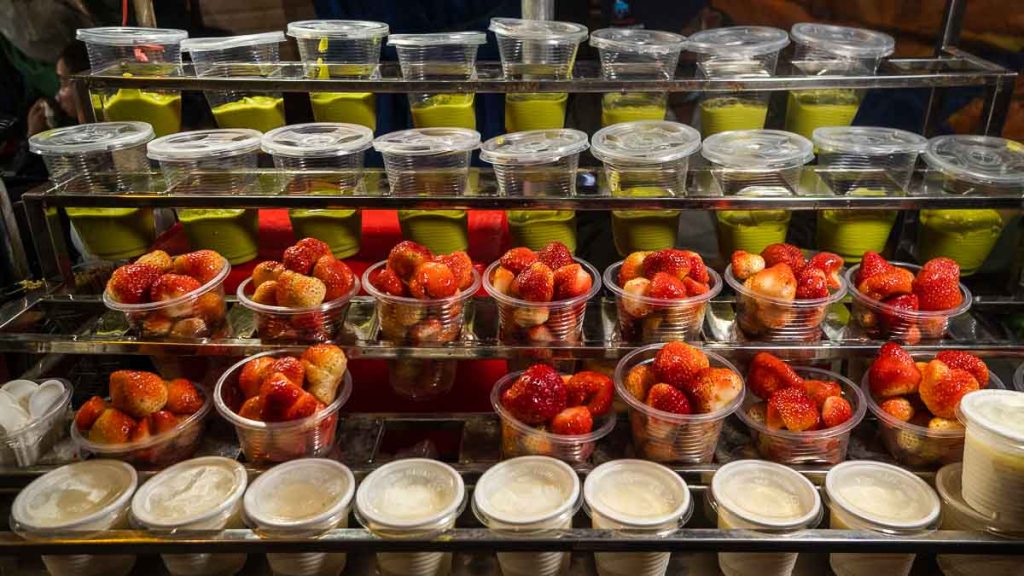 Da Lat is also known for its many strawberry farms so you will find affordable fresh strawberries sold everywhere in the market. There are also stalls selling boxed strawberries you can take home as souvenirs.
Opening hours: 6PM – 7AM
Address: 6b Nguyễn Thị Minh Khai, Phường 1, Thành phố Đà Lạt, Lâm Đồng 690000, Vietnam
*Pro-tip: Eat strawberries the local way with a combination of fish sauce and shrimp powder!
Maze Bar
Imagine a haunted-house-slash-escape room where every corner is carved and painted in a bizarre and unique style. Also known as the 100 Roof Cafe, this unsuspecting bar is actually home to a huge labyrinth of themed floors and quirky decor — reminiscent of the Crazy House.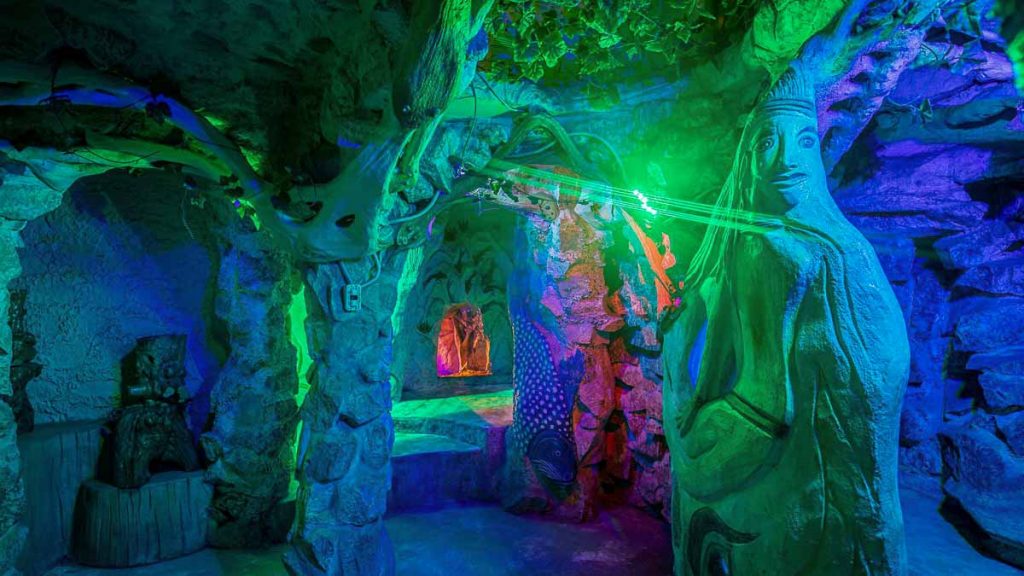 Photo credits: Maze Bar
The objective is to explore the different rooms and find your way to the secret garden on the roof. There are some areas that might require you to crouch down and enter, so if you're vertically blessed remember to watch your head!
*Note: There won't be any staff stationed within the maze so you have to find the way out!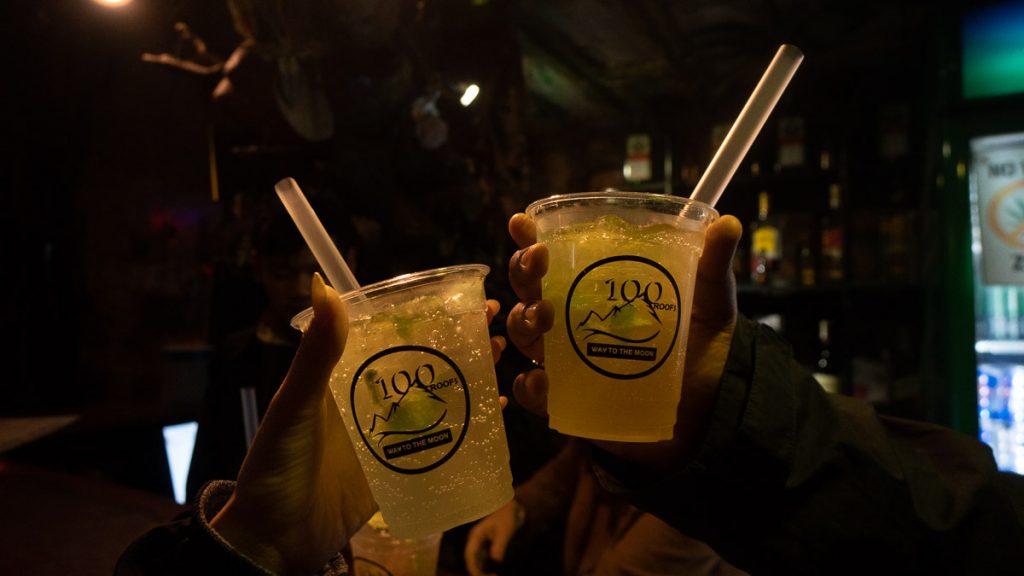 There is no entry charge but you'll need to order a drink before you enter. We ordered the Mojito (60,000₫) and the Whiskey Coke (70,000₫) before descending into the basement to start.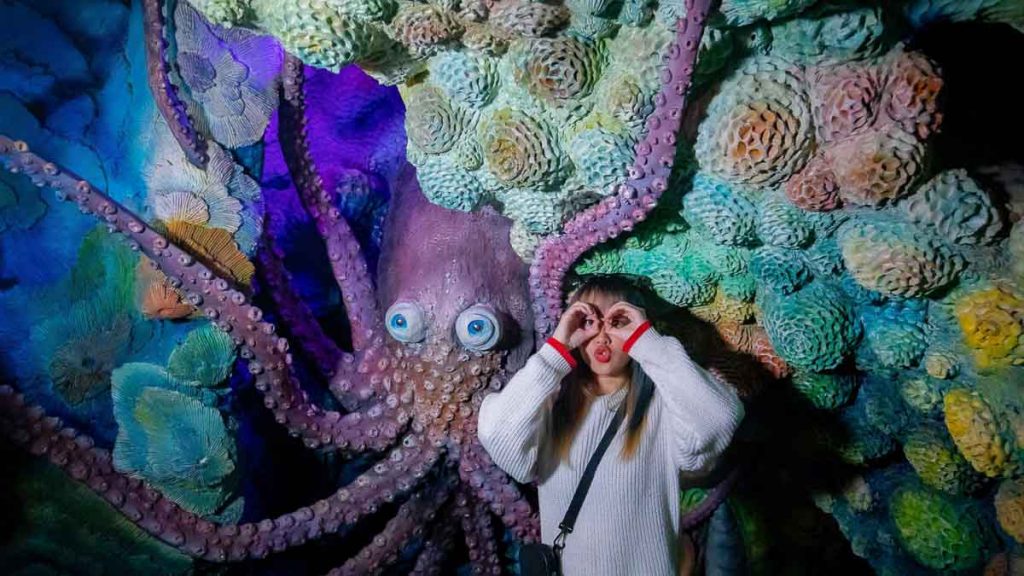 Photo credits: Maze Bar
Wandering around the caverns transports you into an alternate universe. There are also plenty of seats on each floor to lounge and take breaks. We spent a good 30 mins finding our way through the different floors before relishing our success on the roof.
Opening hours: 2:30PM – 11PM
Address: 57 Phan Bội Châu, Phường 1, Thành phố Đà Lạt, Lâm Đồng, Vietnam
Day 2: Exploring Central Da Lat
Lang Biang Mountain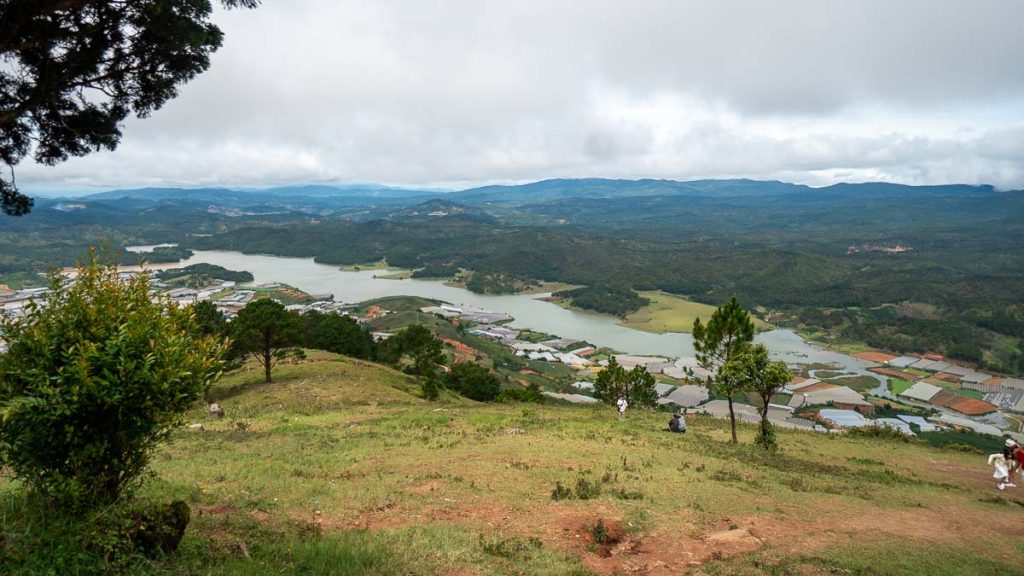 A great hiking spot here is Lang Biang Mountain, also known as the 'Roof of Da Lat' as it's the tallest mountain in the area. The trail leading to the peak begins right before the entrance gate. Take a right and you'll find a dirt path leading into the forest. The 4.5 km trek takes under two hours to complete and entry costs ~20,000₫/pax.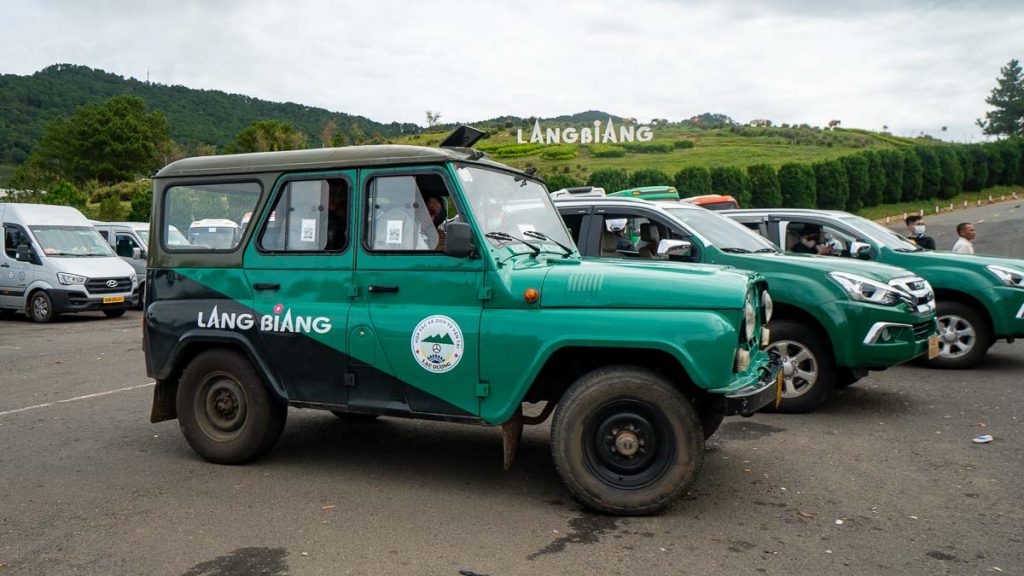 Alternatively, you can reach the peak within 15 minutes from the entrance by taking a two-way jeep shuttle (100,000₫/pax). Shuttles typically wait till passengers fill the six seats before making an ascent.
*Pro-tip: If you're in a rush and there are less than 6pax, you can opt to pay the extra difference for a shorter shuttle waiting time.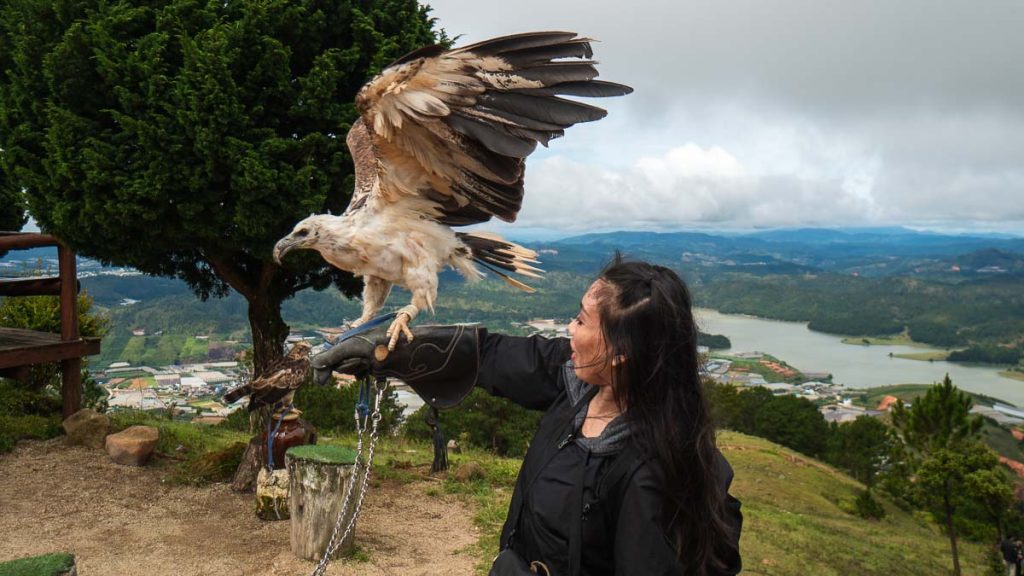 Once at the peak, you'll be greeted with panoramic views of Da Lat's valley and its surrounding highlands. Photo-ops with live falcons, horses, and viewing points are widely available at an extra cost.
There are also souvenir shops and cafes located there for some shopping or snacks before heading down.
Entrance fee: 50,000₫ (~S$3/pax)
Opening hours: 7AM – 5PM
Address: 2CWR+M3W, Thị trấn Lạc Dương, Lạc Dương, Lâm Đồng, Vietnam
*Pro-tip: Arrive before 9AM to beat the tour bus crowds!
Da Lat Flower Park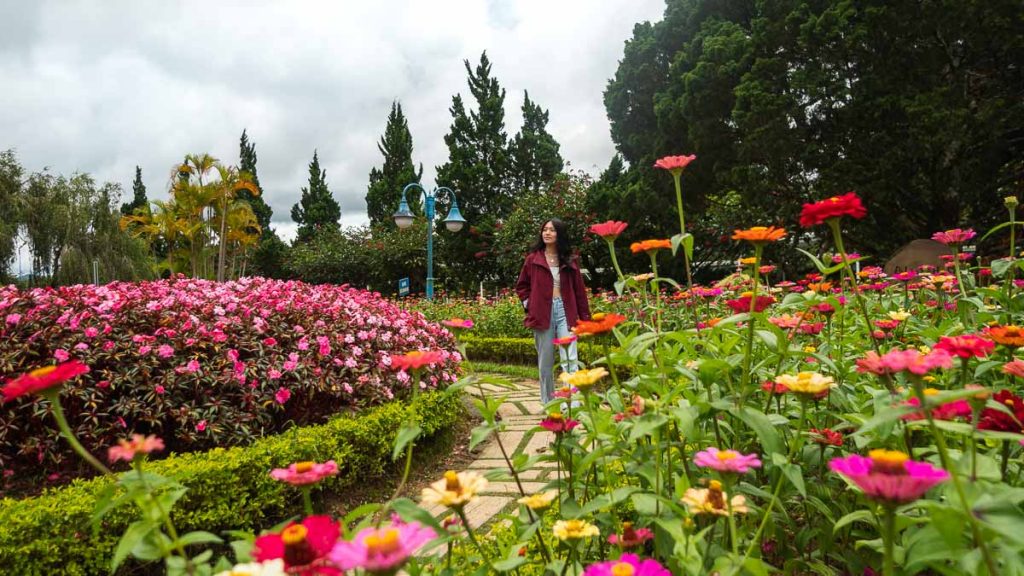 Da Lat is also known as the City of Eternal Spring — probably because it's home to 300 different flower species! Carve out some time in your Da Lat itinerary to drop by and admire the beautiful blooms.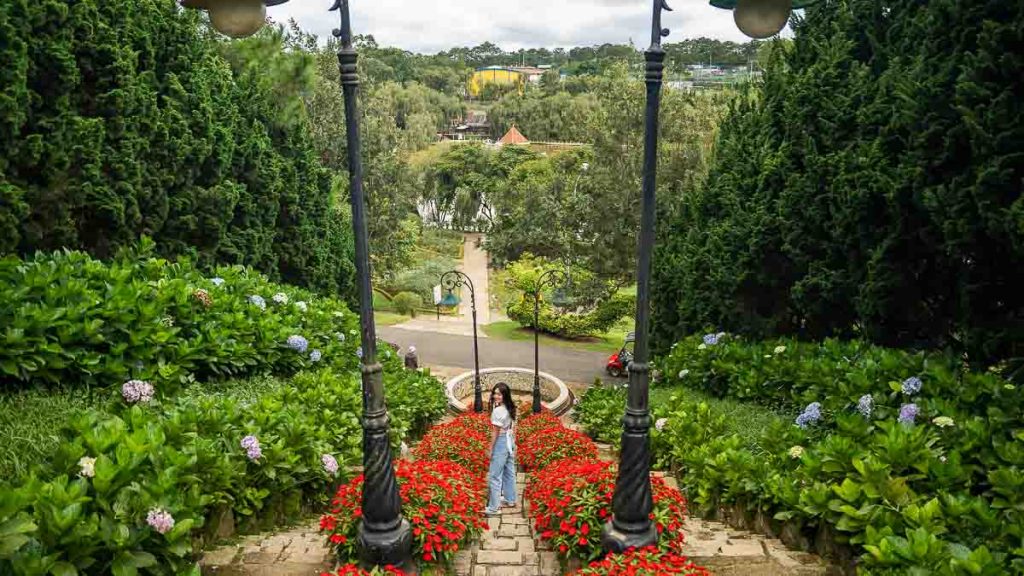 Da Lat Flower Park is also home to multiple greenhouses, a bonsai garden, and a large lake, it's easy to get lost among the sprawling 7,000m² grounds!
The park also has many romantic photo spots adding to Da Lat's dreamy charm.
Entrance fee: 70,000₫ (~S$4.15/pax)
Opening hours: 7AM – 6PM
Address: 02 Đ. Trần Nhân Tông, Phường 8, Thành phố Đà Lạt, Lâm Đồng, Vietnam
Read also: Ultimate Southern Vietnam Guide — 13 Best Things to do in Ho Chi Minh, Da Lat, Phu Quoc, and Mui Ne
Coffee Break at Cabin in the Woods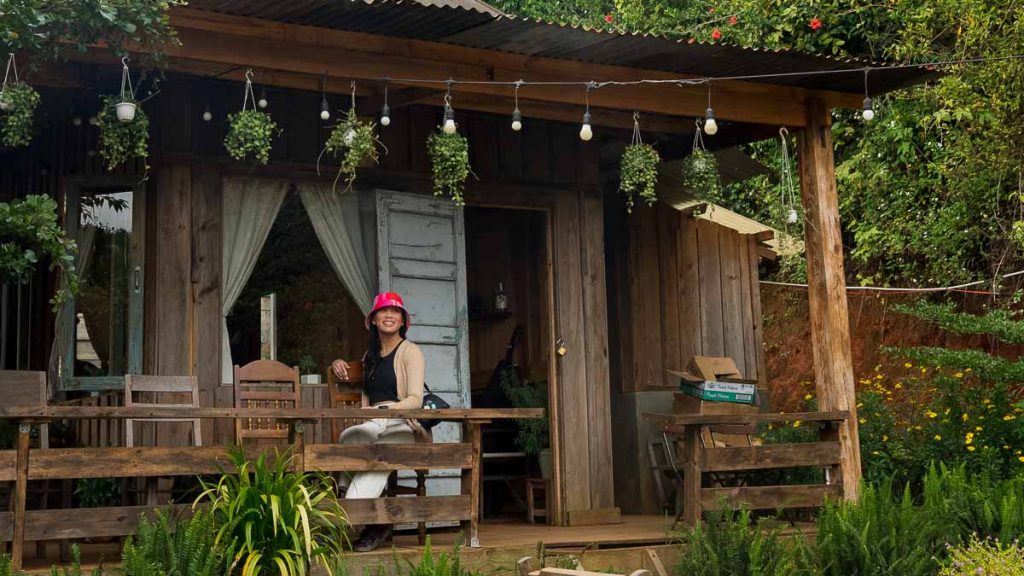 A Da Lat local recommended this hidden gem, so we had to drop in for a caffeine fix.
Located down a narrow dirt road, we were surprised to find a charming cafe tucked behind a corner. We recommend sitting on the deck at Cabin in the Woods as the view is absolutely gorgeous, really taking 'al-fresco' dining to the next level.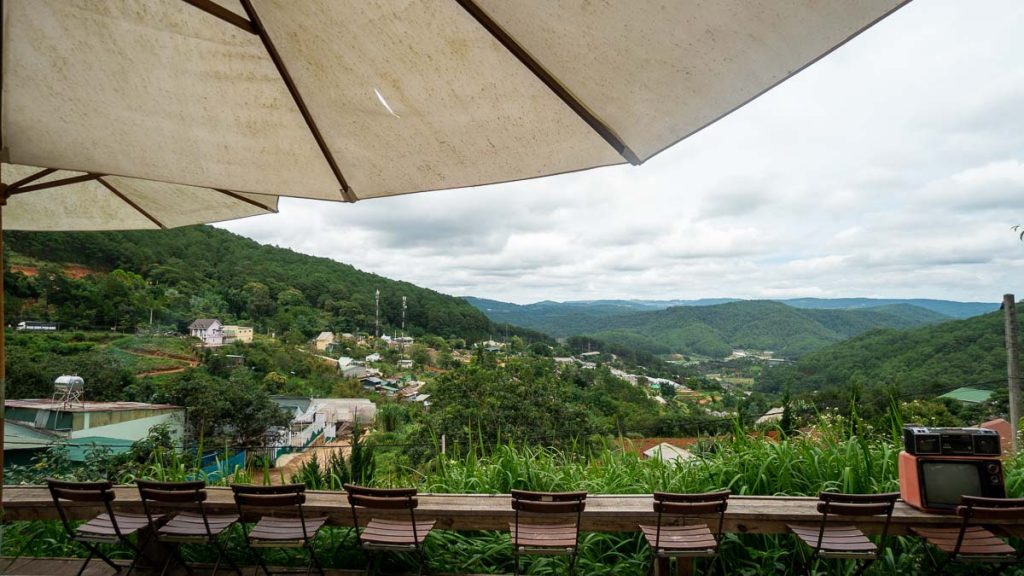 We tried The Cabin Coffee (65,000₫) and Tra Vai Hoa Nhai (60,000₫) which is an Iced Lychee Tea, recharging us after a long day of sightseeing.
While admiring the view, we were joined by a few furry friends 🐕 — who gave us puppy-dog eyes while eyeing our food. Hearts were weakened and a few pieces of hot dogs were gladly sacrificed.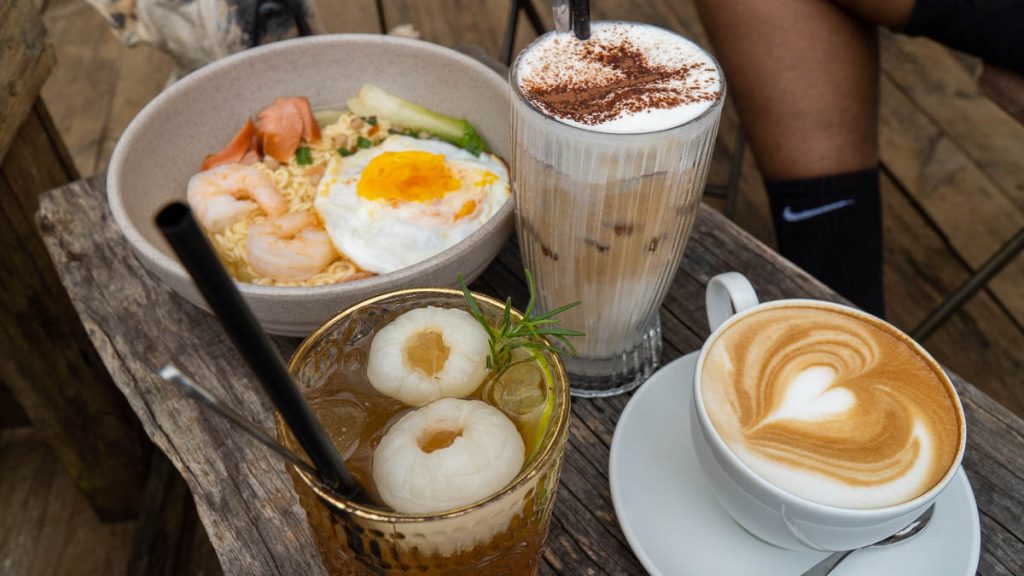 As the food menu is limited, this cafe would better suit those looking for a light bite before heading off to their next location. Nonetheless, it's still a great place for a mid-day caffeine refuel!
Cost: From 50,000₫ (~S$2.95)
Opening hours: 7AM – 8PM
Address: 2 Đường Phù Đổng Thiên Vương, Phường 8, Thành phố Đà Lạt, Lâm Đồng, Vietnam
*Pro-tip: Renting a scooter or taking a Grab bike will make it more convenient to reach the cafe as the road is extremely narrow.
Linh Phuoc Pagoda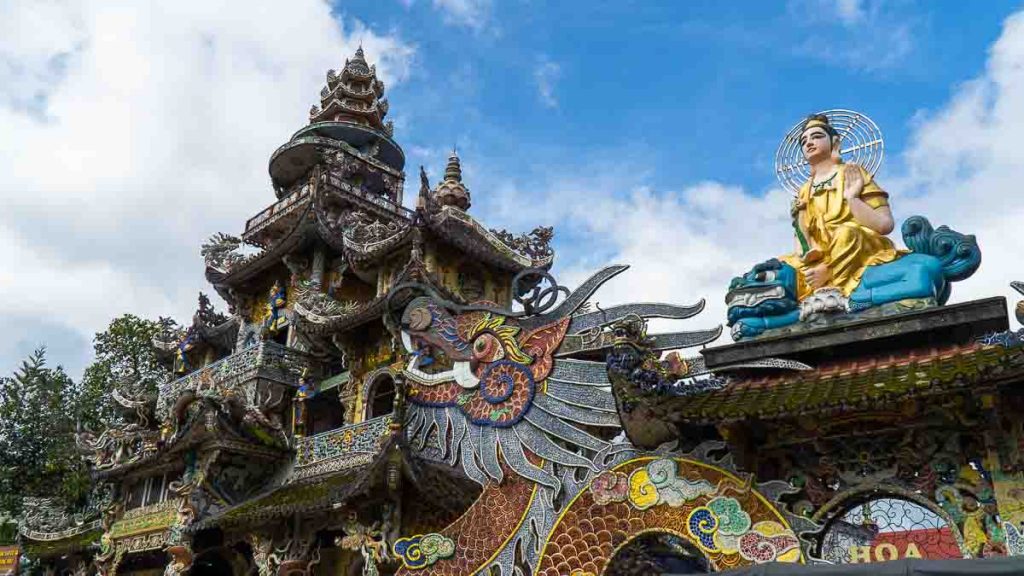 One of the most beautiful and artistically crafted temples we encountered in Da Lat is the Linh Phuoc Pagoda. The grounds are split into different sections, dedicated to the Buddha and the Goddess of Mercy.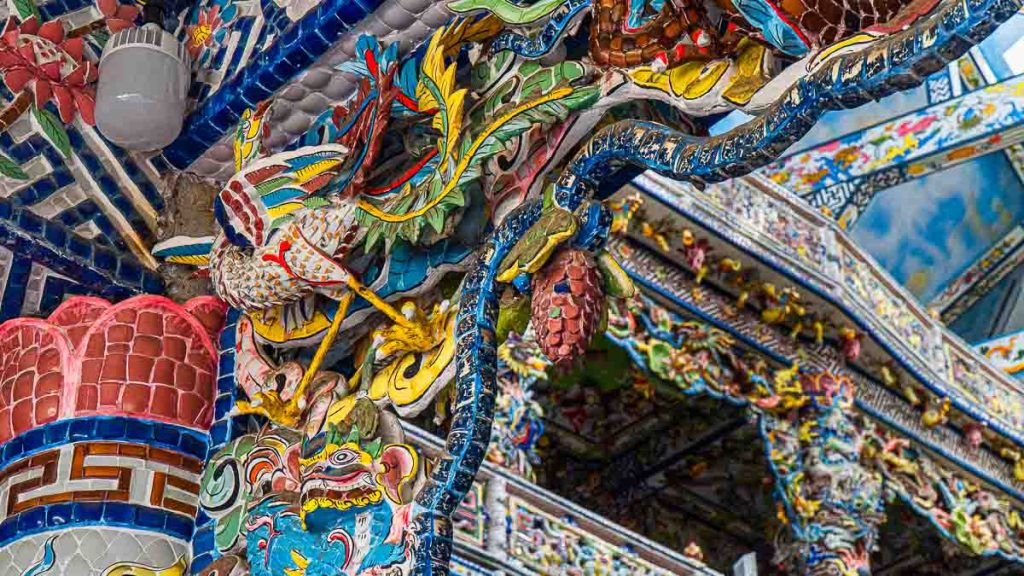 Completely covered in glass, ceramic, and porcelain pieces, this Buddhist temple's colourful style might also remind you of Gaudi's mosaics in Barcelona.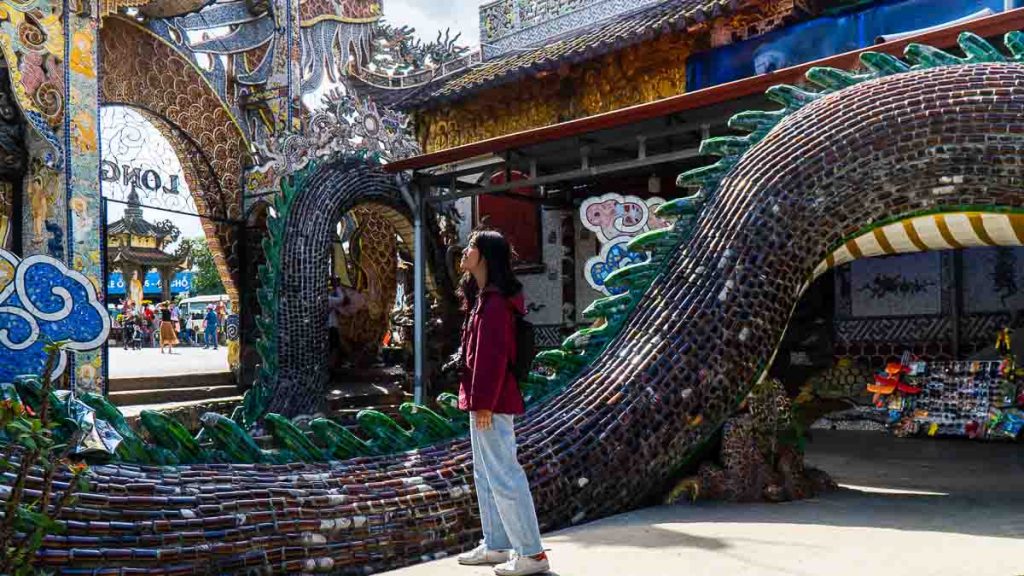 Also known as the Dragon Pagoda, the grounds is home to a 49m-long dragon sculpture that is covered in recycled beer bottles from Hoi An!
There's also an entire basement dedicated to the 18 Levels of Hell, similar to Singapore's Haw Par Villa, but an underground version without the Tiger Balm branding 🤪
Entrance fee: Free
Opening hours: 7AM – 5PM
Address: Trai Mat, Thành phố Đà Lạt, Lam Dong, Vietnam
Sunset at Cafe Túi Mơ To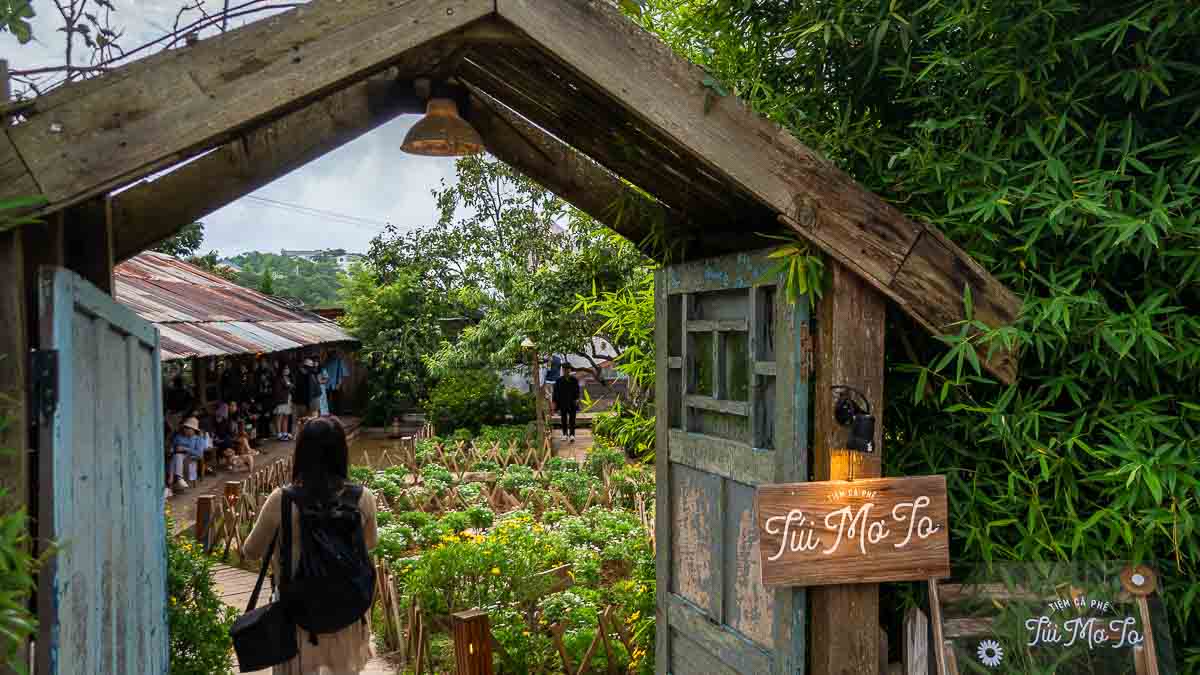 Cafe Tui Mo To is a crowd's favourite and overlooks Da Lat city. Only a 10-minute drive away from Linh Phuoc Pagoda, the compound is adorned with fairy lights and daisy bushes. The laid-back atmosphere of the cafe made it a relaxing way to end a long day of sightseeing.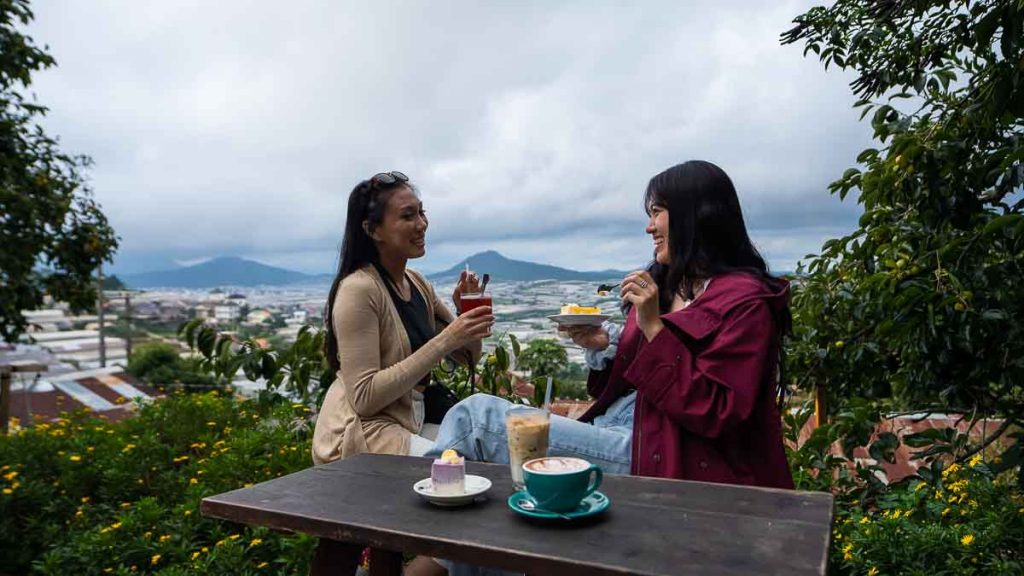 The cafe has a variety of artisanal drinks and desserts to choose from 45,000₫. We tried the hot cacao (60,000₫) and the iced tra vai cam dau, a sweet lychee tea (65,000₫), which was refreshing after a long day exploring Da Lat.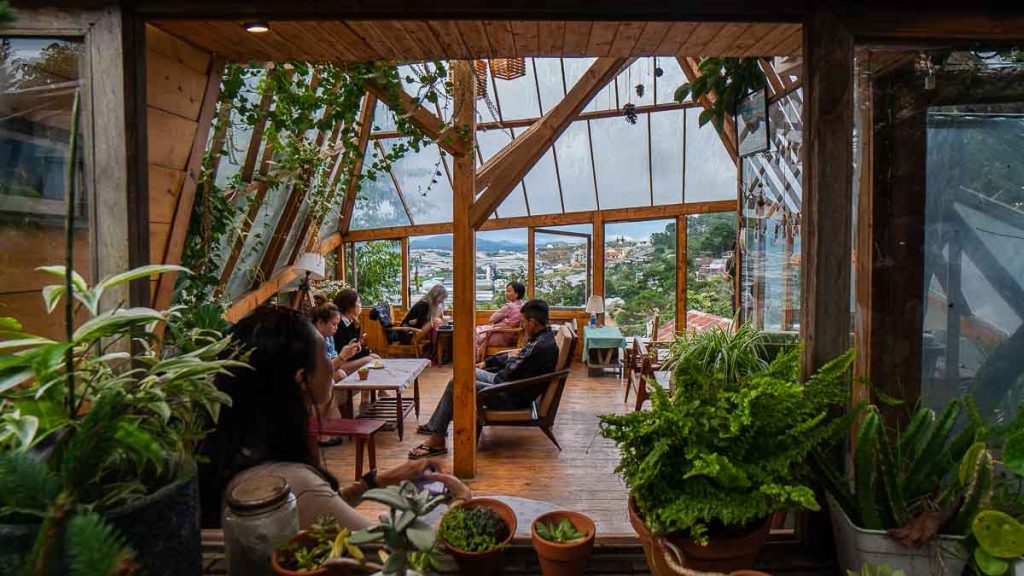 There are multiple seating options, with each room having a different vibe. The indoor greenhouse room holds a certain tranquillity, so much so that we spotted a sleeping customer!
Cost: From 45,000₫ (~S$2.65)
Opening hours: 7:45AM – 9:45PM (Mon – Sat), 7:45AM – 10PM (Sun)
Address: hẻm 31 Sào Nam, Phường 11, Thành phố Đà Lạt, Lâm Đồng 66118, Vietnam
*Pro-tip: Arrive before 4:30PM to snag the better seats as it gets crowded during sunset.
Day 3: Da Lat's Tranquil Nature
Kayaking Tour at Tuyền Lâm Lake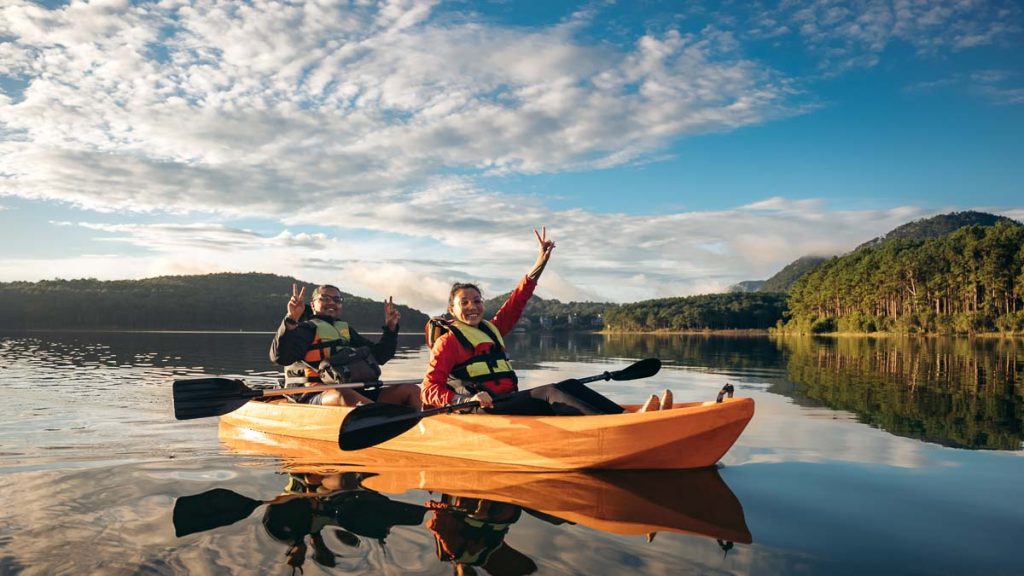 This day begins at 5AM because we'll be catching the sunrise at Tuyền Lâm Lake on a kayak! We decided to go for the earliest slot, which made us the first ones on the lake — even before the fishing boats!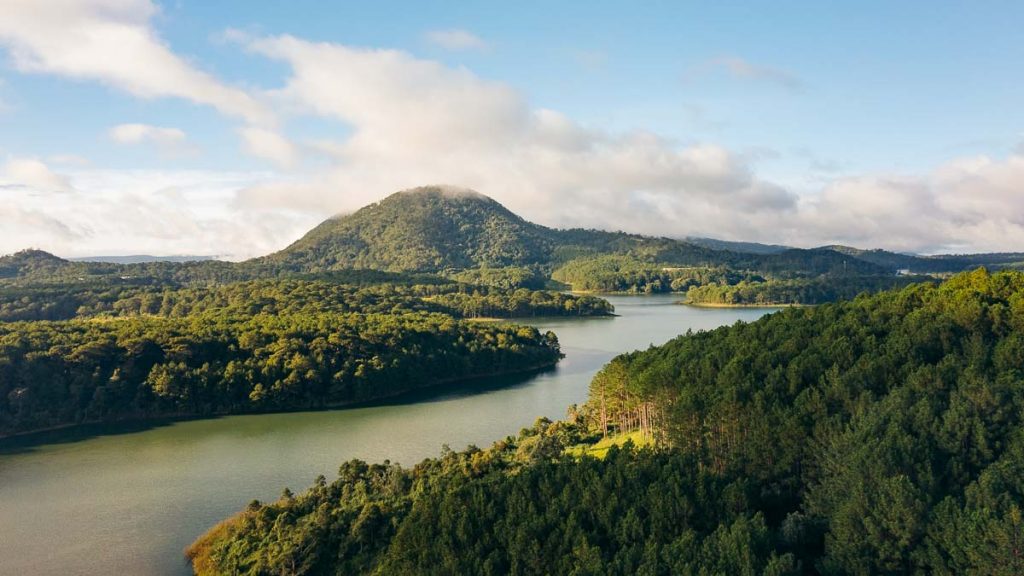 The early morning surprised us with still waters that reflected the entire sky and we barely broke a sweat while paddling the boat. Our eyes were blessed with misty mountains and we were dazzled by how quiet and peaceful the lake was. We spent an hour exploring the lake on our own before our guide led us to the next stop.
*Pro-tip: Pack a waterproof windbreaker to stay warm throughout the tour as it gets quite chilly in the morning.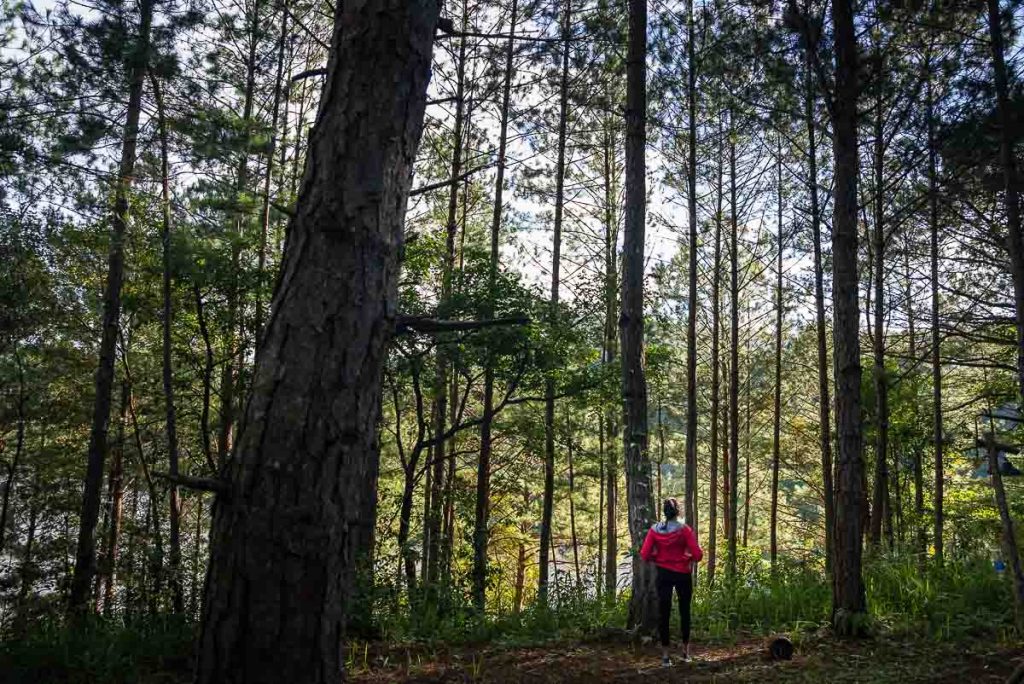 We took a mid-way pit stop at Lux Camp Da Lat, where we enjoyed instant noodles and a steaming cup of traditional Vietnamese coffee. Despite feeling freezing cold in the forest (my bottoms were soaked), it felt like we were the only people to exist in this corner of the universe — a core memory for sure!
Cost: ~S$22.50/pax for 3hr Kayak Tour
Tour timings: 5AM, 8AM, 2:30PM
Meeting point: Hoa Cam Tu Cau, Ward 3, Da Lat, Vietnam
*Note: A round-trip transfer can be arranged with directly the operator for S$50.
Pongour Waterfall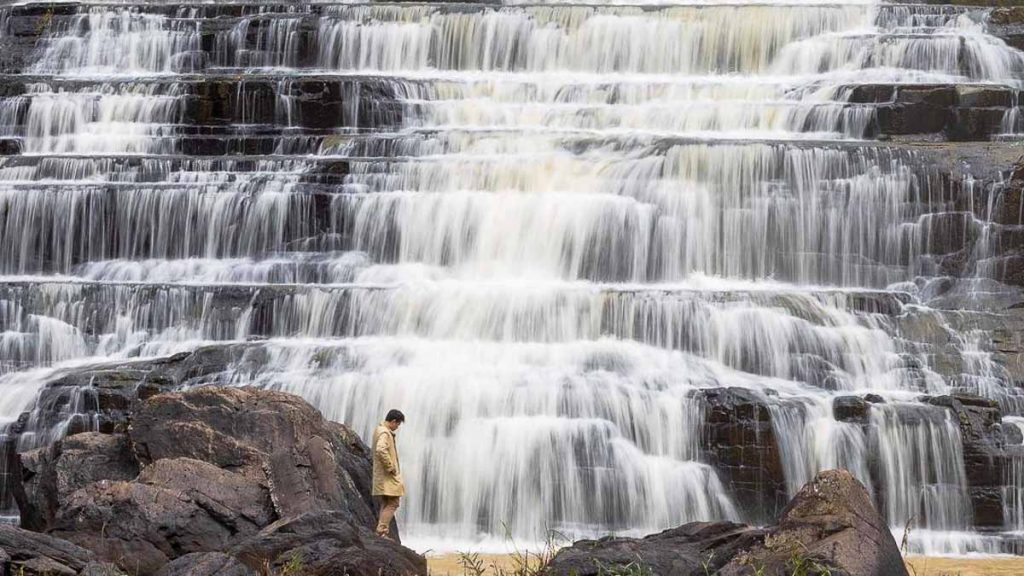 Photo credit: @indrawuphoto via Instagram
Pongour Waterfalls has earned the title of being one of the most beautiful attractions in Southern Vietnam and it's not hard to see why.
Known as the Seven Cascading Waterfalls, Pongour is made of seven-tiered rock terraces that cause the flowing water to have a silky-like illusion. Located 1.5 hours outside Da Lat city centre, we suggest hiring a private charter or renting a scooter to chase these magnificent waterfalls.
Entrance fee: 20,000₫ (~S$1.15/pax)
Opening hours: 8AM – 6PM
Address: Đức Trọng District, Lam Dong, Vietnam
*Pro-tip: The weather can get quite warm in the afternoon so take a dip and swim under one of the smaller falls!
Coffee at CỘI kissa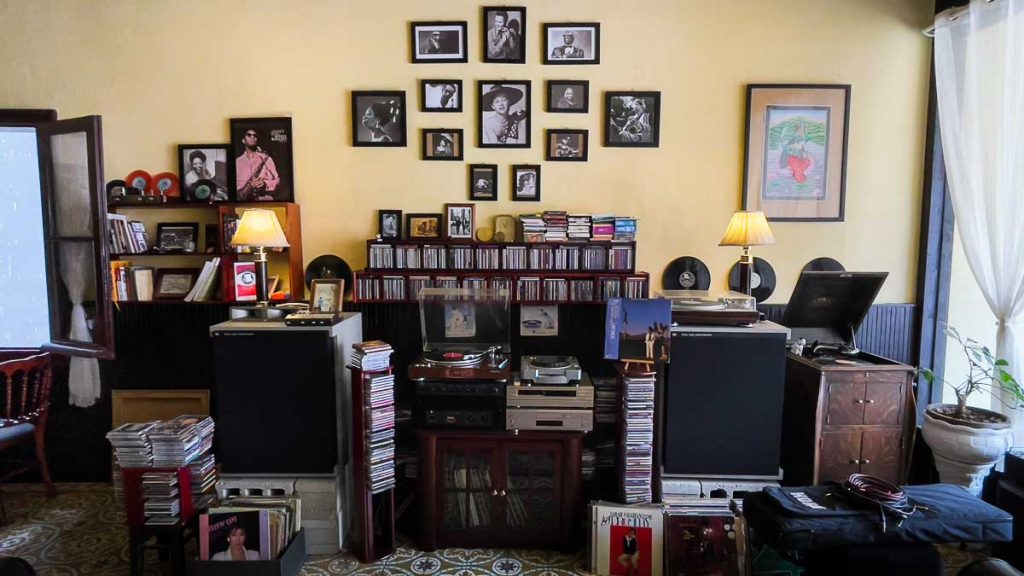 Stepping foot into CỘI kissa, we were instantly transported into the roaring twenties. The jazz-themed cafe has vintage furniture and a turntable playing music in the corner, creating a cosy yet nostalgic atmosphere.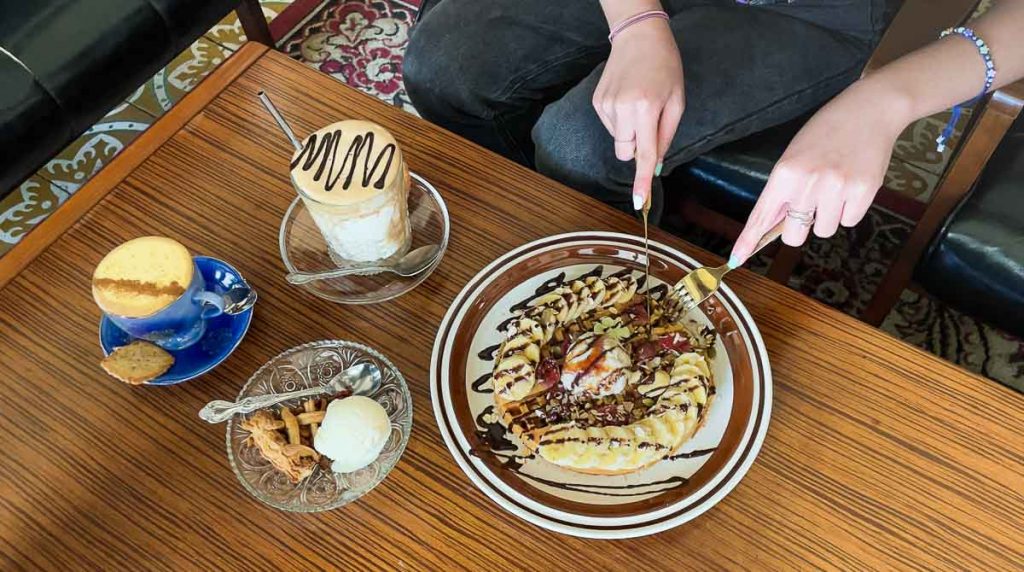 And of course, we couldn't leave Da Lat without trying Vietnamese egg coffee (65,000₫). While originally a Northern Vietnam delicacy, it's also popular among locals in the South for its smooth and creamy texture.
The cafe also serves fusion dishes like tomyum pasta (190,000₫) and mini beef tacos (240,000₫), making it a trendy lunch spot in town.
Bonus: CỘI kissa also shares the building with a speakeasy, a barber shop, and a tattoo parlour so if you're looking for a haircut or to get a tattoo, this is the place to go.
Cost: From 40,000₫ (~S$2.36)
Opening hours: 8AM – 10:30PM
Address: 69 Đường Trương Công Định, Phường 1, Thành phố Đà Lạt, Lâm Đồng 670000, Vietnam
Getting around Da Lat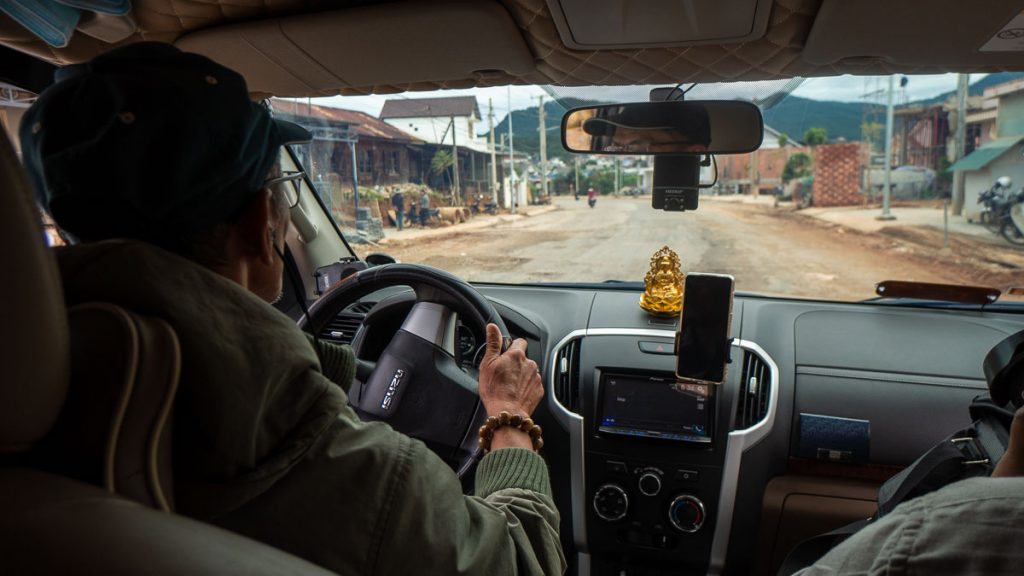 Public transport isn't very accessible in Da Lat so here are some alternatives to ensure your itinerary runs smoothly.
Grab: This option is the most convenient and affordable option. An average trip of 10 mins costs around 25,000₫ (~S$1.50)
Car charter: Grab isn't as readily available outside the city centre. Thus, we hired a private car for the day to take us to areas out of the city. We opted for the 8-hour service but an additional surcharge is available for 100,000₫/hour.
Scooter rentals: available at ~S$7/day and is useful for weaving through the narrow alleys.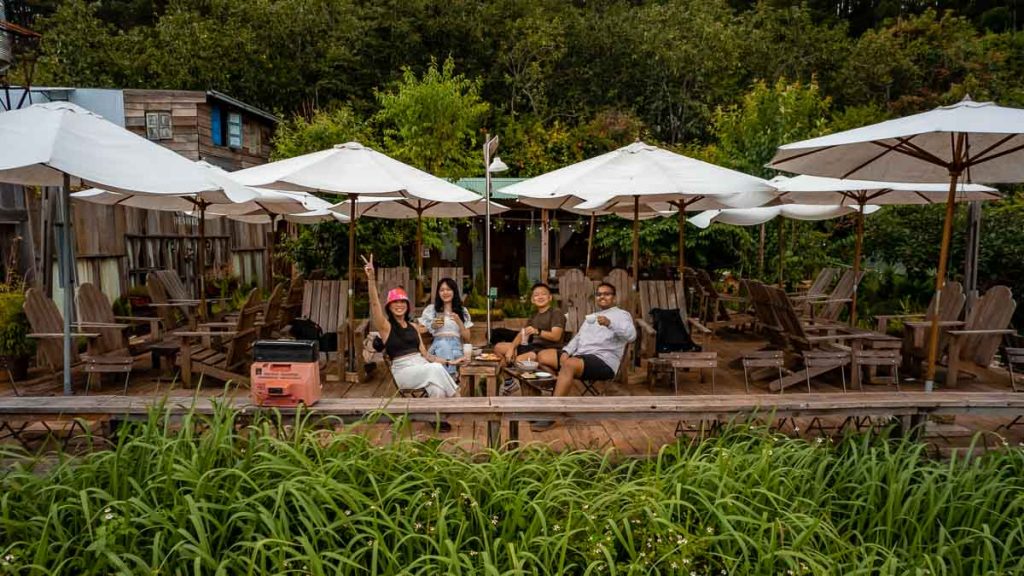 The three days spent exploring Da Lat felt nothing short of a fairytale adventure and we've barely scratched the surface. Da Lat really is an underrated city with hidden gems waiting to be unearthed.
A personal favourite was the sunrise kayak at Lake Tuyen Lam. As someone who only wakes up after the sun is high up in the sky, I didn't expect to feel so recharged by the breathtaking view.🤩 Da Lat also unearthed my love of quirky things. From chicken hats to fishes with glowing red eyes, I fully embraced Da Lat for all its eccentricity.
After all, it's part of its charm, isn't it?
Planning your Vietnam itinerary? Check out these guides and itineraries from other parts of Vietnam:
– 7-Day Southern Vietnam Itinerary Under S$900 — Best Things to Do in Phu Quoc, Ho Chi Minh, Mui Ne, and Da Lat
– 9 Best Things to do in Ho Chi Minh City — A Less Touristy HCM Guide
– 7-Day Southern Vietnam Itinerary Under S$900 — Best Things to Do in Phu Quoc, Ho Chi Minh, Mui Ne, and Da Lat
– Southern Vietnam Food Guide — 17 Best Places to Eat at Ho Chi Minh, Da Lat, Mui Ne, and Phu Quoc
Are there any other places you'd add to this Da Lat itinerary? Let us know in the comments!
---
Like what you see? Follow us on Facebook, Instagram, YouTube, and Telegram for more travel inspiration!