While we're stuck on the cruise, here's an hour by hour update of what's being going on.
What was supposed to be a 4D3N getaway on Royal Carribean's second cruise to nowhere had to be cut abruptly when a suspected case of COVID-19 was announced on board at 2:45AM on 9 December 2020.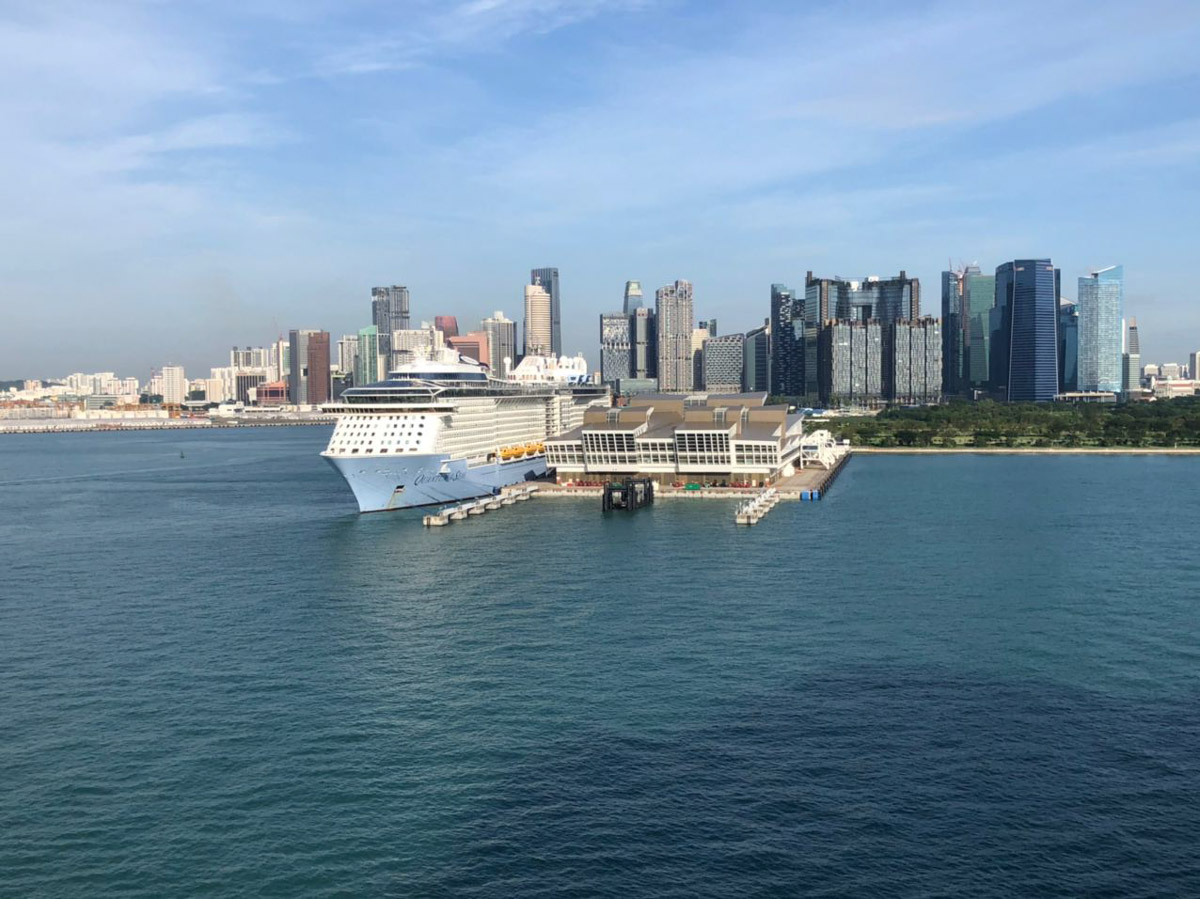 Docked early one day ahead of schedule
7AM
We were back in Singapore. The 2nd announcement confirmed that one passenger tested positive for COVID after feeling unwell. The captain ensured that everyone in contact was isolated and under observation, and that we'll hear instructions again at 11AM. We spent the next hour updating families and friends.
8AM
Breakfast, along with two official documents were sent to our rooms. One was from Royal Caribbean telling us to hold steady for updates and that we would be compensated for the missed day. The other was from the Ministry of Health stating that those not in contact with the COVID-19 case are allowed to leave the ship — phew!
However, guests have to self-monitor for the next 14 days. And on top of our disembarking swab test, we'll have to take another test at the end of the monitoring period.
Despite all the drama in the last five hours, we knew we would be okay as long as we stayed in our rooms and remained calm. So we enjoyed our breakfast, stepped out onto our balcony for fresh air and waited. Thankful for a balcony!
To minimise contact, all meals were placed outside our rooms for us to pick up.
11AM
The third announcement was that we couldn't leave yet — they were still communicating with Singapore Tourism Board and Ministry of Health. But on the bright side, lunch was on its way! If there's any consolation, we're still being fed super well and it's just a lazy day in with room service 💁🏻‍♀️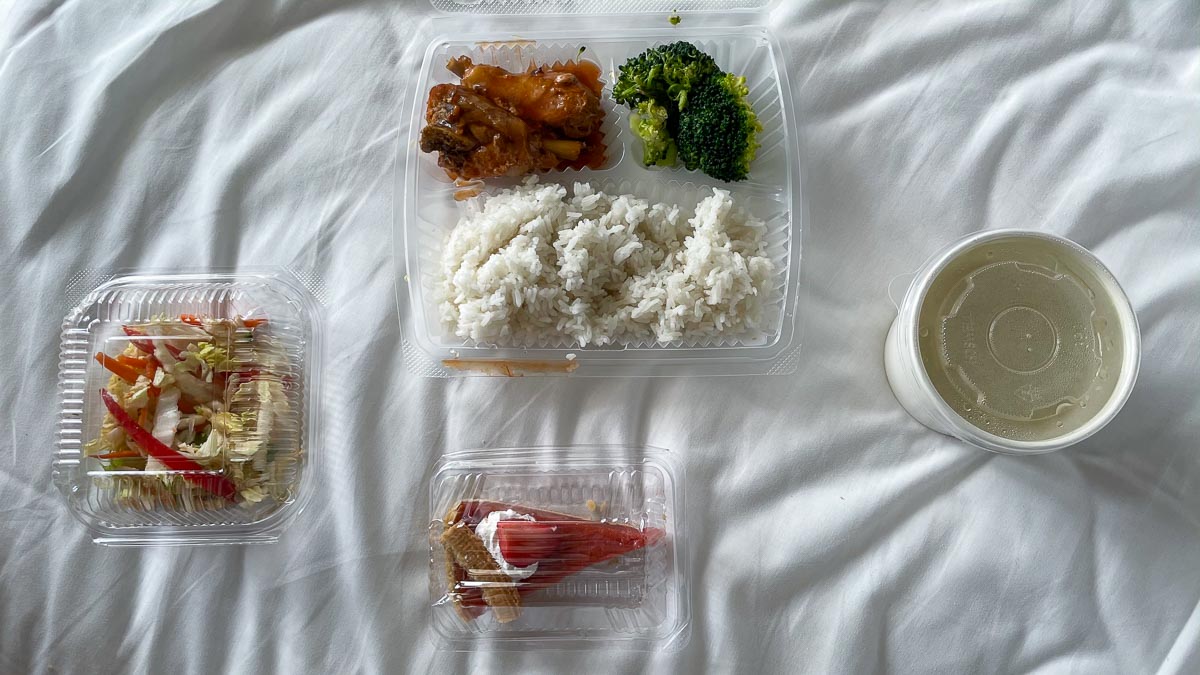 Three-course lunch, along with salad and dessert!
On that note, I want to thank their entire staff for being so on the ball. We were so impressed at how fast they cooked and packed the food for the 1,680 guests onboard. Every time I peek out during meal times, I see the staff hustling through the corridors placing neatly packed food and 1.5L water bottles outside each room. Royal Caribbean clearly prepared for this possible outcome and made it a top priority to keep passengers comfortable and safe.
The waiting game resumes as we hold out for the next announcement at 3PM.
3PM
From now, we'll be hearing from the captain every four hours, which is comforting to know. At the moment, we're waiting for the Genting World Dream Cruise to fully disembark before we do. We'll be served dinner between 5:30PM to 6:30PM. Update on the COVID-19 victim: He's an 83-year old and has been safely moved to a hospital.
Latest update:
6:40PM
The captain has just announced that disembarkation will begin at 7:30PM. Port authorities have given the clearance. Guests will have their temperature taken before disembarking and undergo a swab test after crossing immigration.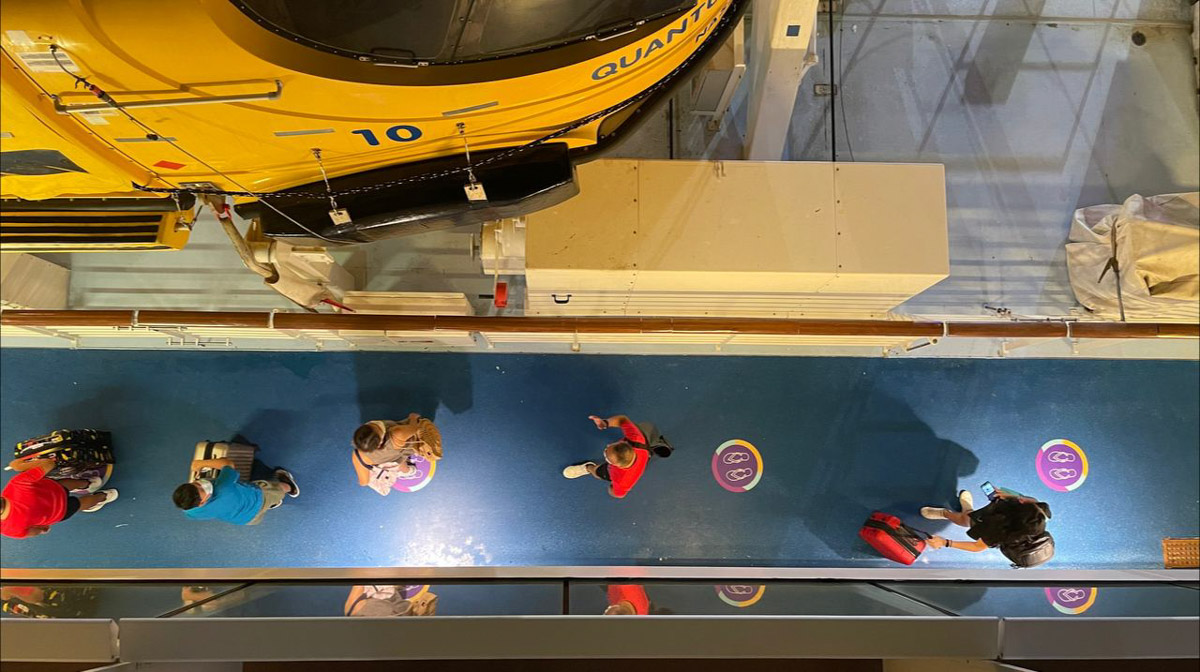 Disembarking the cruise finally — with safety distancing measures no less!
12MN
The 83-year-old man who earlier tested positive for Covid-19 has been tested negative. on board Royal Caribbean's Quantum of the Seas cruise ship has tested negative for Covid-19. His original sample was retested at the National Public Health Laboratory, and came back negative. Subsequently, a second fresh sample tested at the laboratory also returned negative.
While false alarms can be annoying, a negative result for Covid-19 is always good news (especially for the elderly)! We've taken our swabs upon disembarkation and are back home safely!
Royal Caribbean's Safety Measures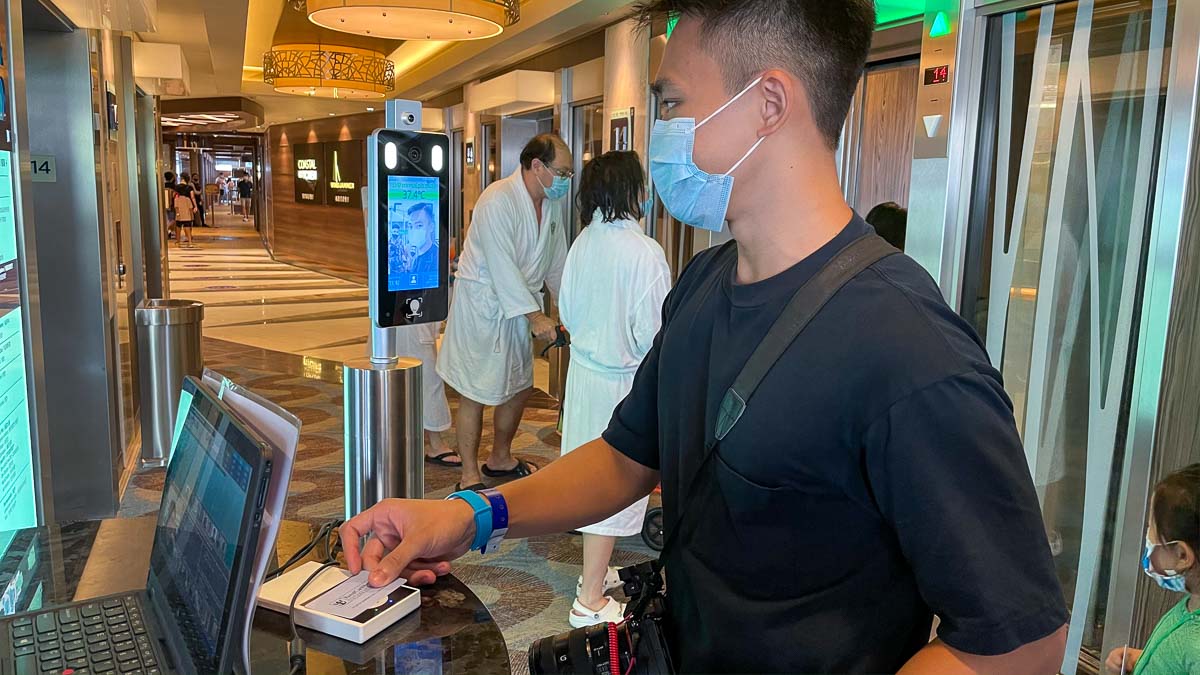 If you've booked or were planning to book a Cruise to nowhere, here's what to expect aboard the Quantum of the Seas:
– A PCR test will be taken up to 72 hours before embarkation (this is included in the cost of your sail package)
– Check-in will be staggered with allocated times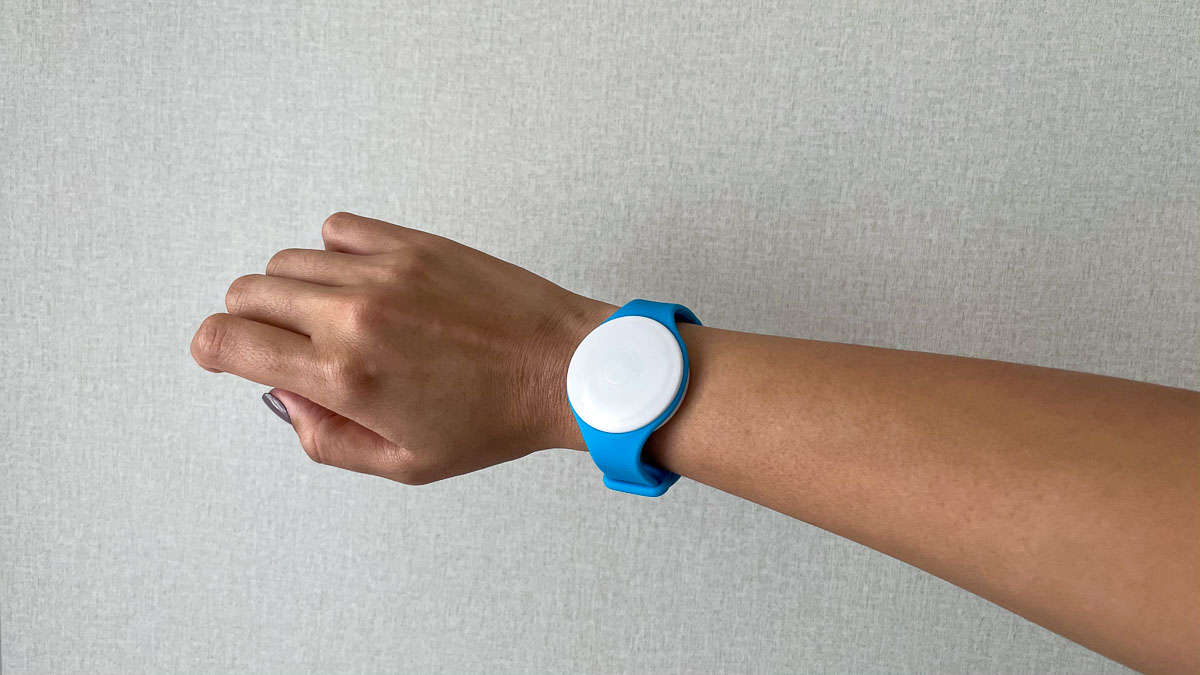 – You will be given a tracelet — this has to be worn at all times, along with your mask
– At each entry point, you will have to scan your temperate and tap your SeaPass to help with contact tracing if required
– The staff will be very strict with social distancing, whether it's lining up at the buffet, watching a show or spectating at the casino.
– Upon disembarkation, after immigration, you will have to take an Antigen test — the swab doesn't go as deep as your first test and you will be contacted within one hour if you're tested positive. No quarantine will be required.
Is a cruise to nowhere worth it?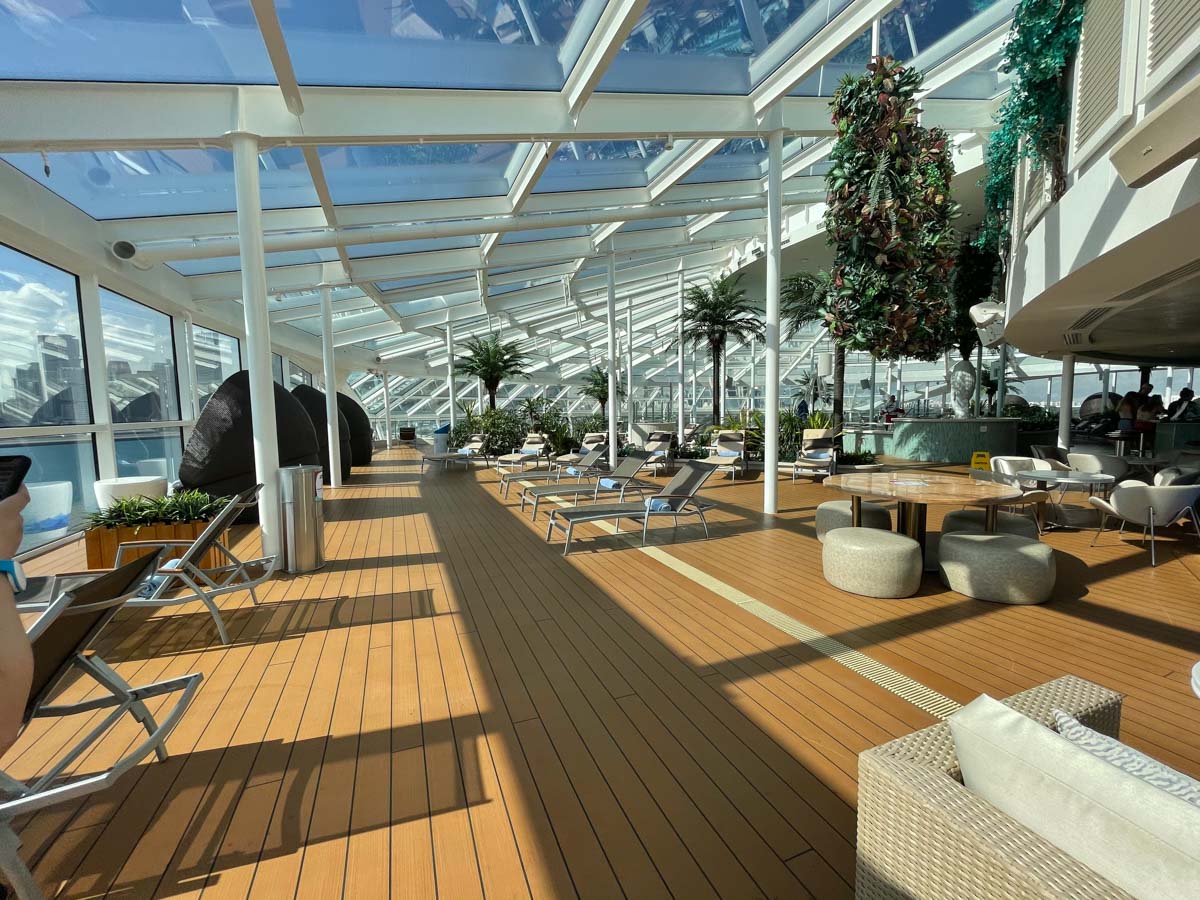 Now the question that's looming over everyone's minds, is it still worth it?
Personally, I say yes. But only if:
1) you really want a break away from the city, and
2) you're prepared to take some risks
The reality is, anywhere we go during a pandemic carries the risk of getting infected — whether it's a day in a mall or a quick trip to the supermarket. But instead of staying home until the cases are a clear zero, we have temperature scans and contact tracing systems in place to detect cases as soon as possible.
It was evident that Royal Caribbean didn't relax on these measures too. This proved effective as they managed to trace and contain those in close contact with the patient as soon as they found out.
At the end of the day, we're privileged to have low numbers. And we don't want to take that for granted.
---