Few people realise how gorgeous this region of China is. Here's our 12-day Yunnan itinerary with scenic views comparable to Switzerland!
First published on: 6 Dec 2019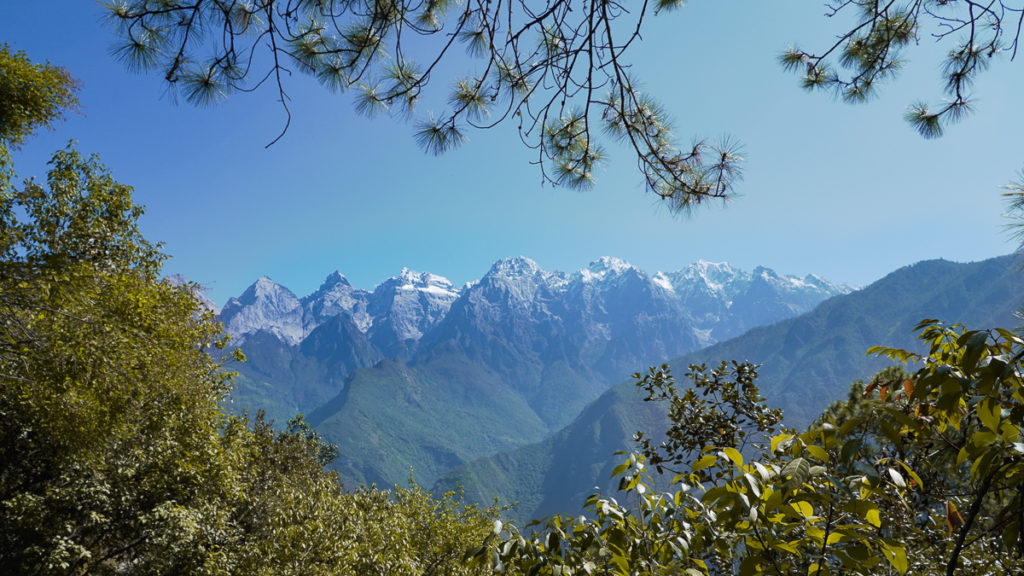 When I think of China, I think of Beijing, Shanghai, and maybe even Guangzhou. Yunnan was not even in my subconscious, let alone on my list of must-travels. But after an exhilarating 12 days around the province, I fell in love with every single city we hit.
I fell in love with the people of Kunming, the nightlife of Dali and the antiquated mystique of Shangri-la. Lijiang even took it to the next level with its iconic snow-capped wonder, the Jade Dragon Snow Mountain, and (in)famous 28-bend hike of the Tiger Leaping Gorge.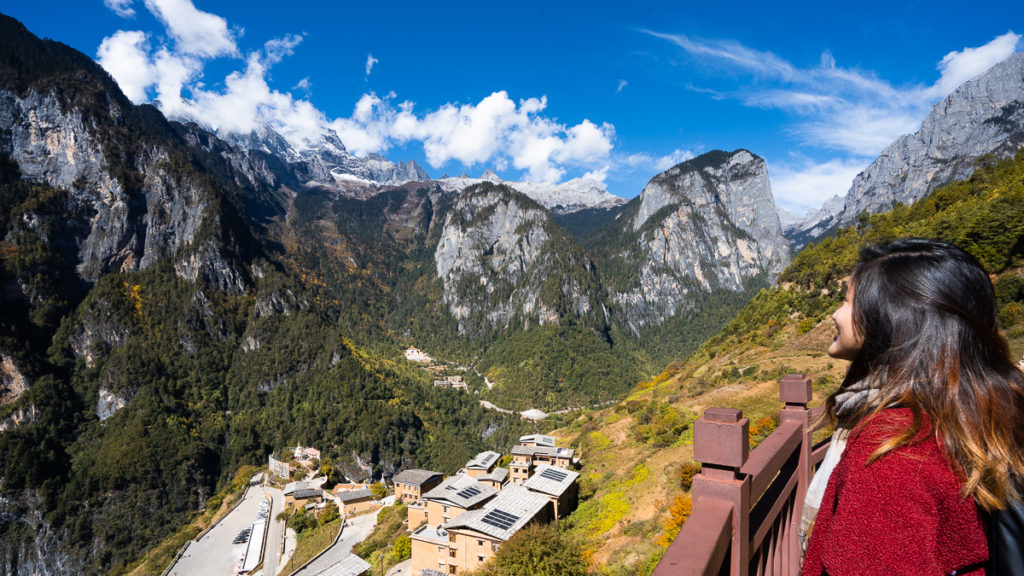 Yet, we found that not many people from all over the world flock to this region. Even though that is a plus point to many, we believe it would be such a shame if we didn't share this not-so-little secret with the rest of the world!
So before this itinerary hits the houses of many, we recommend that you start planning your Yunnan adventure to see some of the most beautiful sights in the world. Here's our 12-day Yunnan itinerary for China's best secrets.
Pre-trip Essentials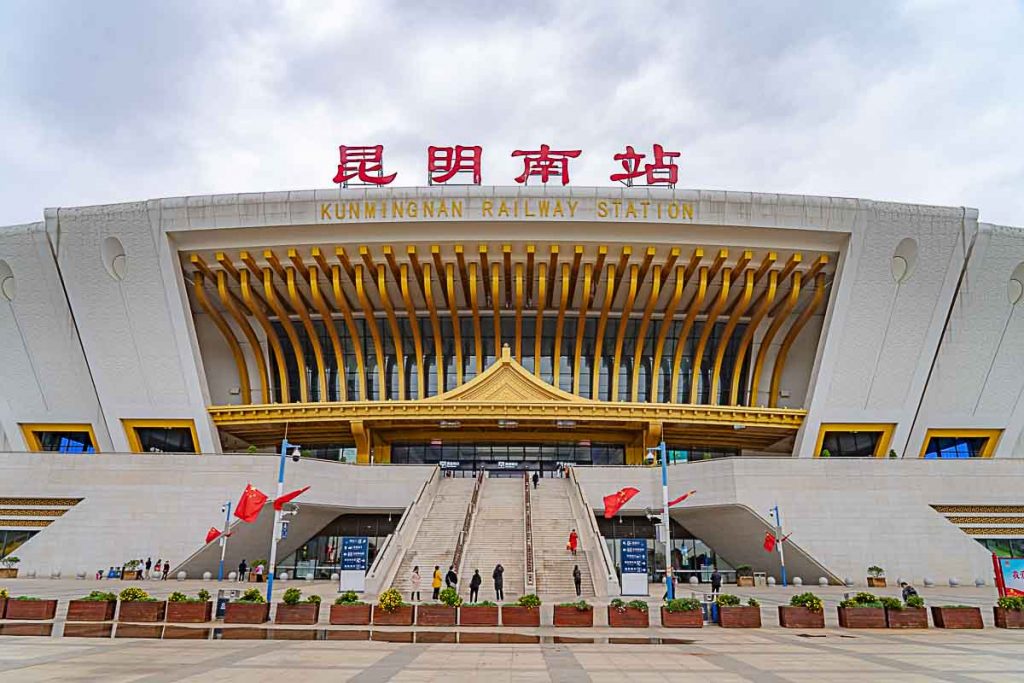 Getting Around: The best way to get around is with the apps Didi and Baidu, their local Uber/Grab, and navigation map respectively.
Connectivity: Stay connected with an eSIM. Make sure to download VPN apps before leaving Singapore to access Facebook, Whatsapp, Telegram, Instagram, etc.
Transport: Book your high-speed rail between Kunming to Dali and Lijiang to Kunming early as these run out fast. In Yunnan, bus tickets can only be bought from the bus station the bus leaves from and you can look at the bus timing schedule here to plan your itinerary for the day.
Day 1 – 2: Kunming (昆明)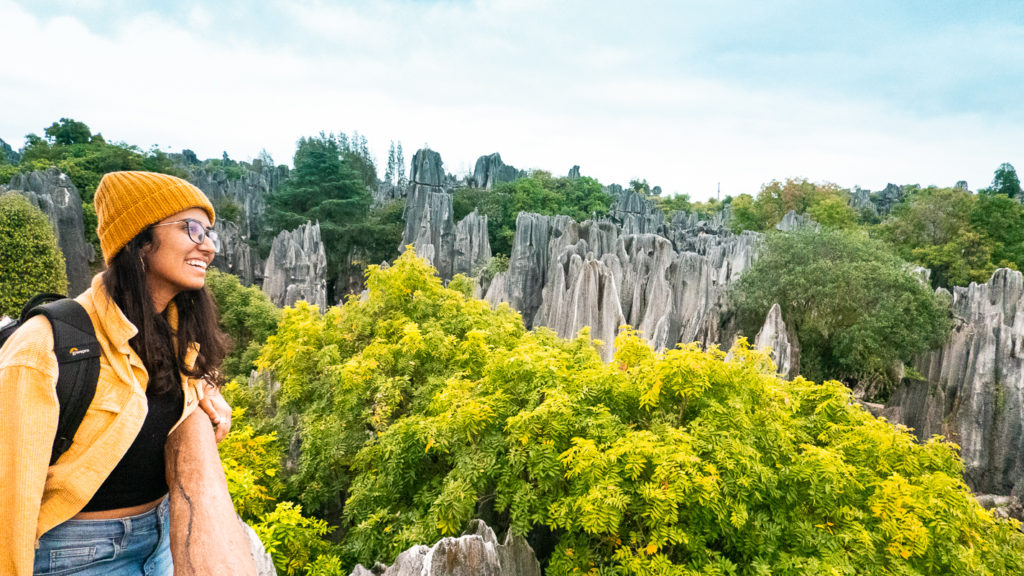 Our first stop in this Yunnan itinerary is Kunming, Yunnan's capital — known for its pleasant weather and blooming flowers all year round. Kunming was actually the gateway to the famous Silk Road and is still considered today as China's transportation hub connecting Dali, Lijiang and Shangri-la.
Weather in Kunming: Temperatures average 15°C all year round. January is the coldest at 8°C and July's the hottest at 25°C.
Accommodation in Kunming: There are several comfortable yet affordable stays within the city of Kunming.
Green Lake Park (翠湖公园)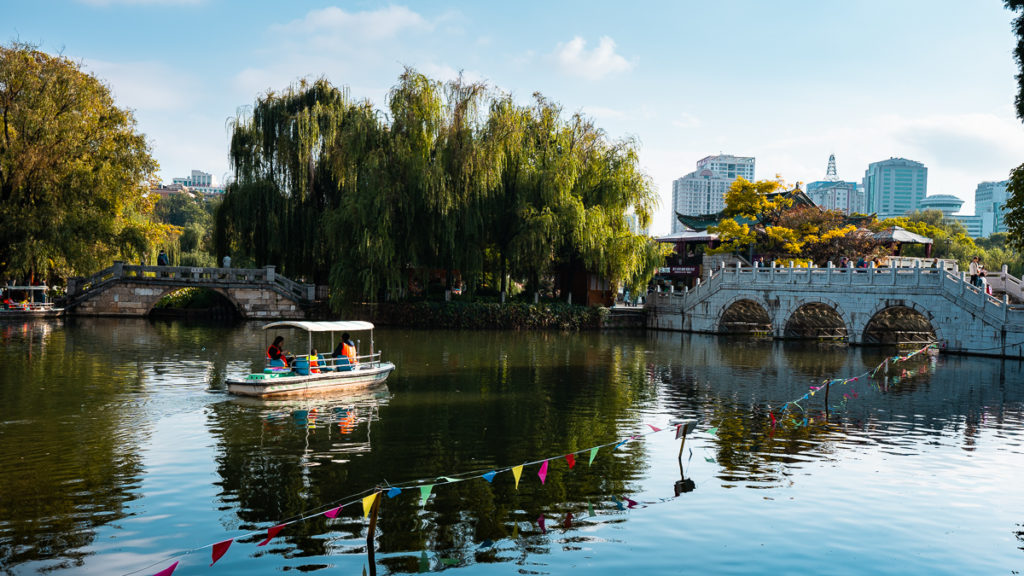 This park is absolutely gorgeous, with always-blooming flowers and clear waters reflecting the magnificent bridges. It's also the perfect place to absorb the Kunming culture! Every Sunday, locals from all walks of life adorn traditional costumes and gather at the park to dance, sing and have fun.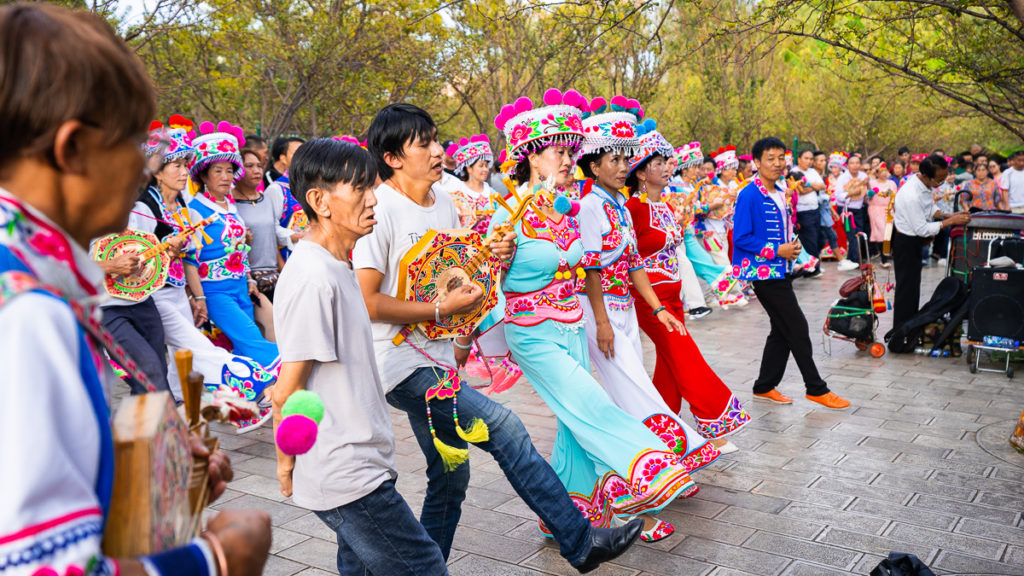 They even welcome foreigners. But beware, the dance steps are not easy at all (It's like an eastern hoedown where everyone knows the steps and you are like what is going on).
Opening hours: 7AM – 11PM
How to get there: 8min walk from Huashan West Rd stn on Line 5 of Kunming Metro (Baidu Map)
Yunnan Nationalities Village (云南民族村)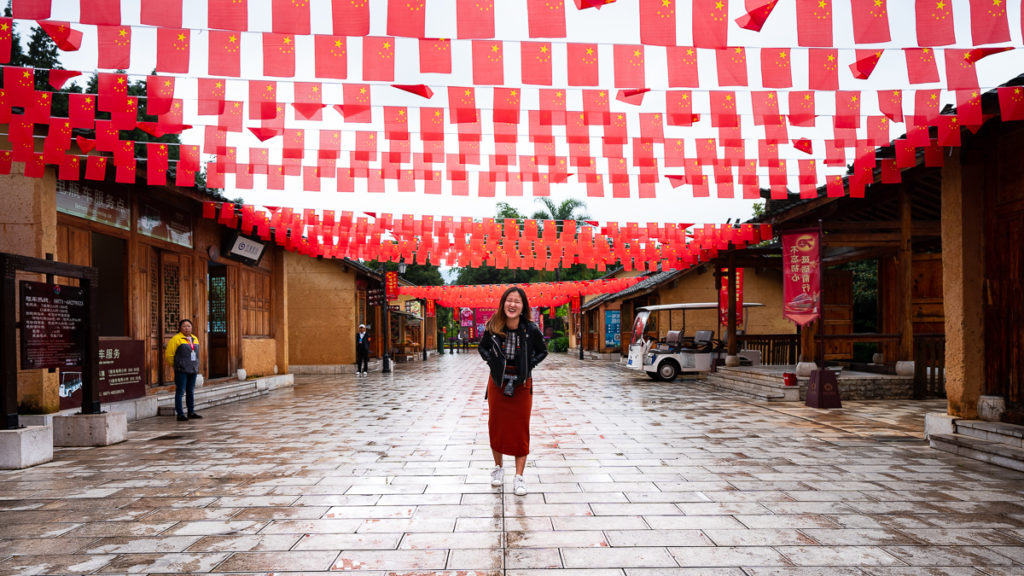 Yunnan is home to 26 different ethnic minorities scattered all around the province, and obviously, the best way to understand a place is to understand its people. It's almost impossible to visit every single tribe around Yunnan at once unless you're at the Yunnan Nationalities Village.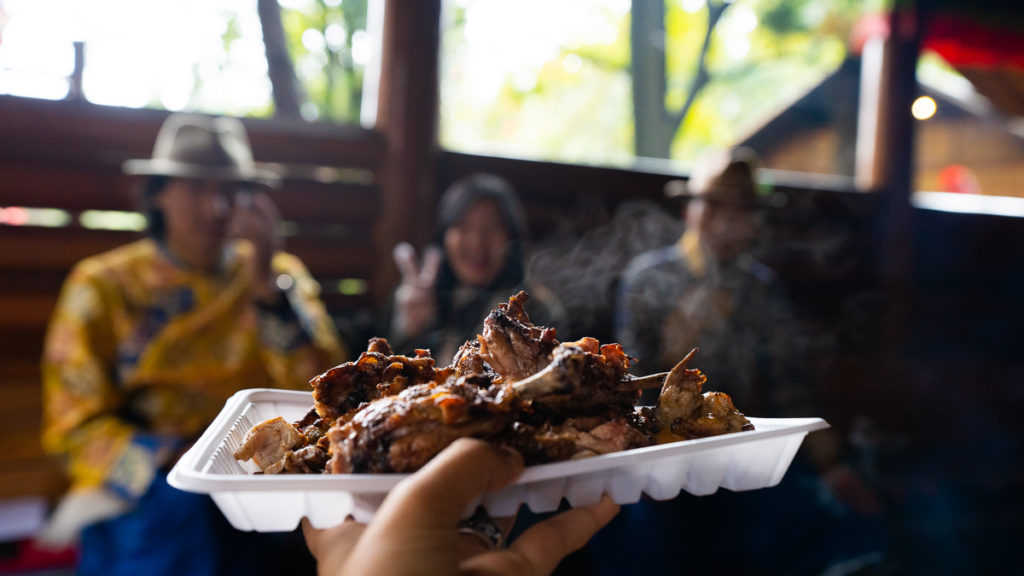 Each tribe in this park offered us an insight into their life back in their hometowns — adorned in their traditional garment, performing tunes of their tribe and taking us around the rebuilt replicas of their homes. We were even lucky enough to get invited to have a meal with the people of the Pumi tribe.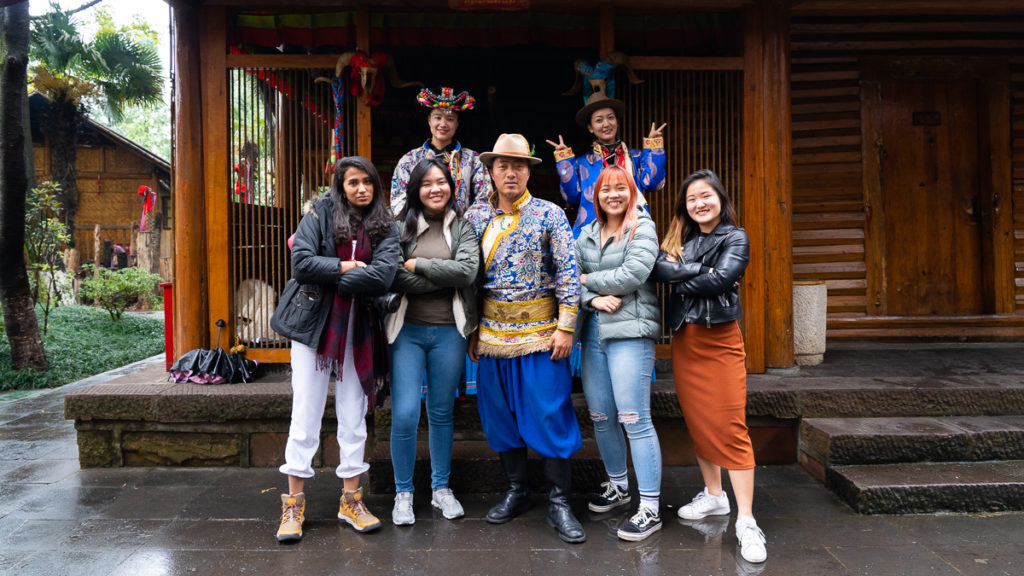 The park is huge, so make sure you allocate enough time to see as many tribes as you want (around an hour per tribe). A faster way to get around is by renting a four-wheel bike (100RMB).
*Pro-tip: Check the timetable at the entrance of the Yunnan Village for the performance timings around the compound and alter your itinerary accordingly.
Entrance fee: 90RMB (45RMB for students)
Opening hours: 9AM – 6PM
How to get there: Take bus line No. 44, 73 or A1 to Yunnan Nationalities Village Station (Baidu Map)
Stone Forest & Jiuxiang Scenic Region Day Trip (石林)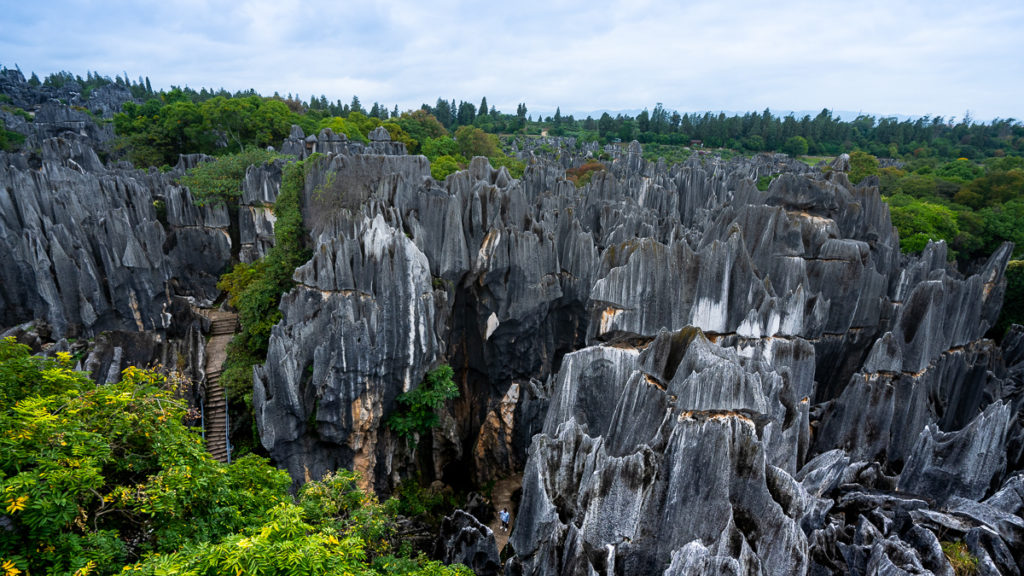 Epic or what? This 400sq km-wide area of towering limestones (all natural!) was considered the "First Wonder of the World" to the Chinese. I mean, can we question that?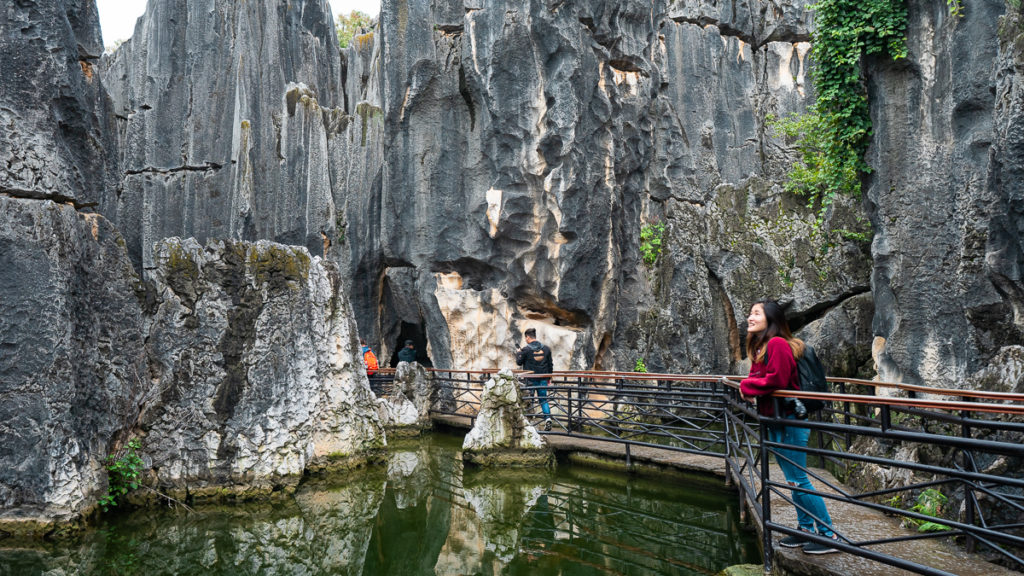 Exploring the Stone Forest itself is like experiencing a giant storybook too. For example, there's an "Ashima rock" that tells the tale of a beautiful girl who was kidnapped and forced to marry an evil man. Thankfully, her lover saves her, but she eventually gets washed away by a flood and turned into a rock.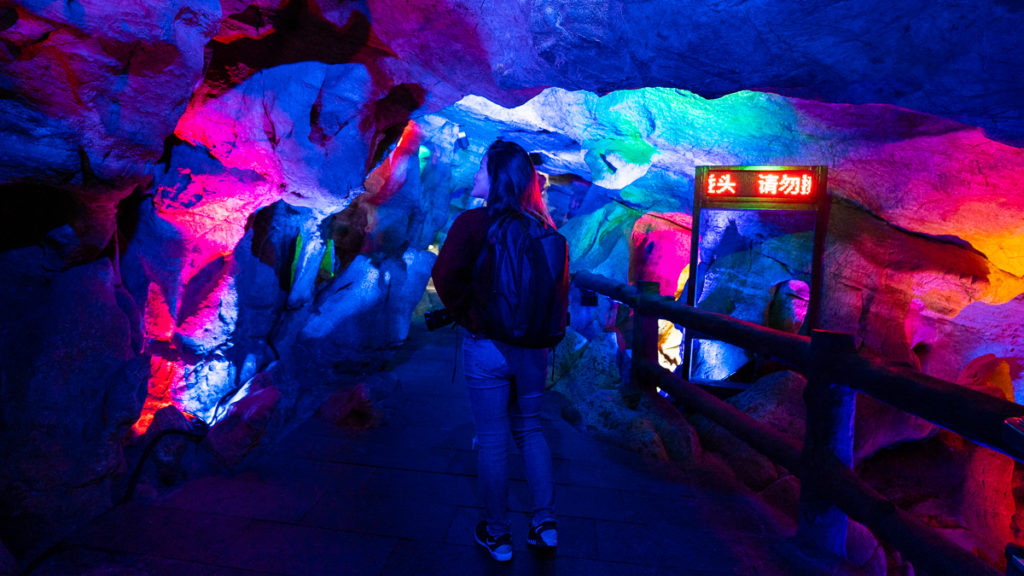 40 minutes by bus from the Stone Forest lies the Jiuxiang Caves, the largest cave group system in China with over 100 karst caves. Here you'll get to explore a bat cave, a lying dragon cave, a grand lion hall and a fairy field, among others.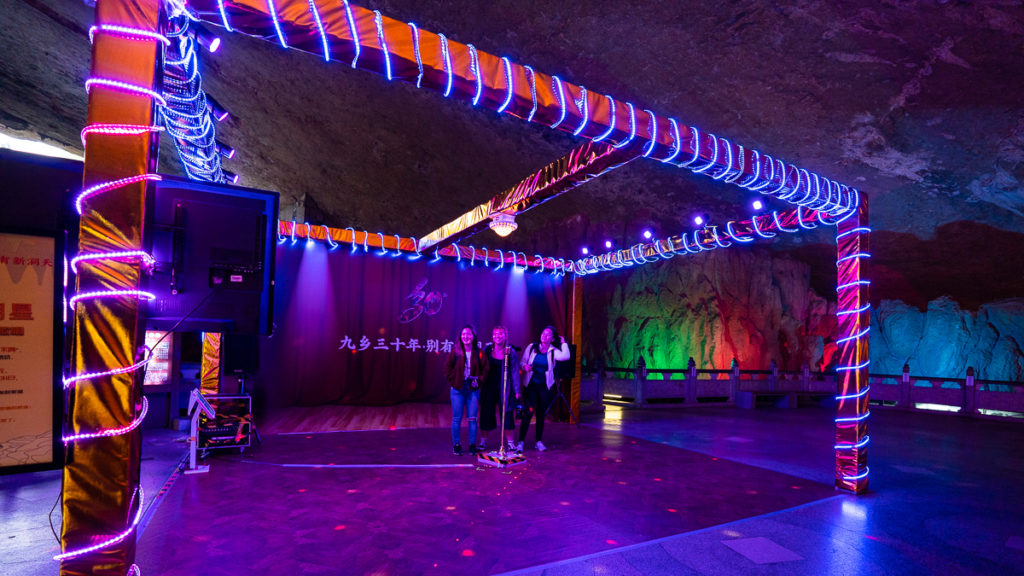 And of course, my personal favourite — a karaoke system in the middle of the entire trail playing classic 90s English songs and Chinese hits. Why is there a karaoke system in the middle of an ancient cave? I can only say China never ceases to surprise us.
Stone Forest
Entrance fee: 130RMB per pax
Cost of bus ride: 34RMB (1.5hrs)
Opening hours: 7AM – 7PM
How to get there: Take Line 3 of the metro to East Coach Station. Then, take a bus to Stone Forest (Baidu Map).
Jiuxiang Cave
Cost: 90RMB + 30RMB (chairlift). The chairlift is optional but we do recommend it because it saves a lot of time. It transported us to the starting point within 10 minutes instead of having to walk back through the trail which would take an hour.
Opening hours: 8AM – 6PM
How to get there: Ask the locals to direct you to the right bus (Baidu Map)
Cross Bridge Rice Noodles at Jianxinyuan (建新园)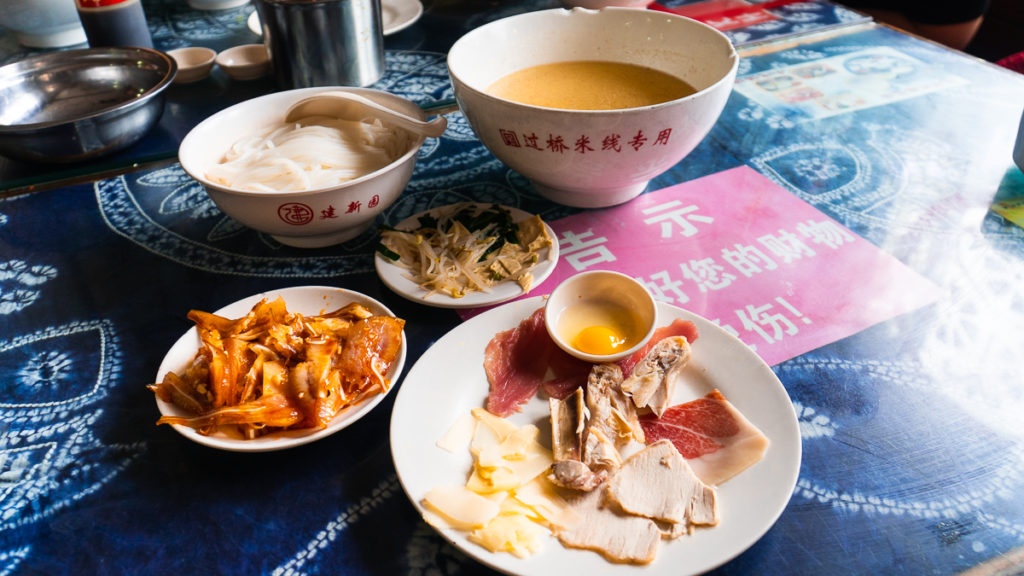 This Yunnan delicacy can be found all over Kunming, with Jianxinyuan being the most famous chain. The noodles are served separately from the soup so they don't turn soggy, and the boiling-hot broth has a layer of oil to retain the heat. The ingredients are then mixed on the spot upon serving, allowing everything to cook in the broth.
Cost: ~20RMB
Opening hours: 8AM – 10PM
Address: No.195 Baoshan Street, Wuhua District, Kunming 650021, China (Baidu Map)
Read also: 16 Things to Do in Kunming — The Unexplored Gem in China
Day 3 – 4: Dali (大理市)
Getting from Kunming to Dali: Take a high-speed rail from Kunming Railway Station To Dali Station (2.5hrs)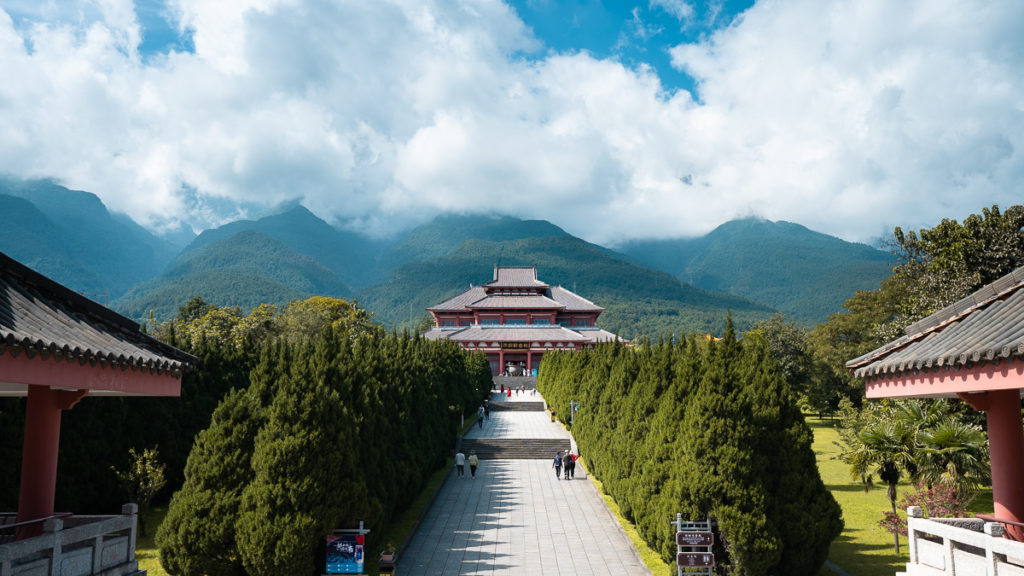 Next in this Yunnan itinerary — Dali! Just 2.5 hours away by train from Kunming, Dali is sandwiched between Erhai Lake and the mountains which means you'll be greeted with stunning panoramic views everywhere you turn.
Weather in Dali: Temperatures range from 18 – 25°C in (June) and from 4 – 17°C in winter (January).
Accommodation in Dali: We stayed at The Lily Pad Inn which was only a 15-minute walk from Dali Ancient City.
Dali Ancient City (大理古城)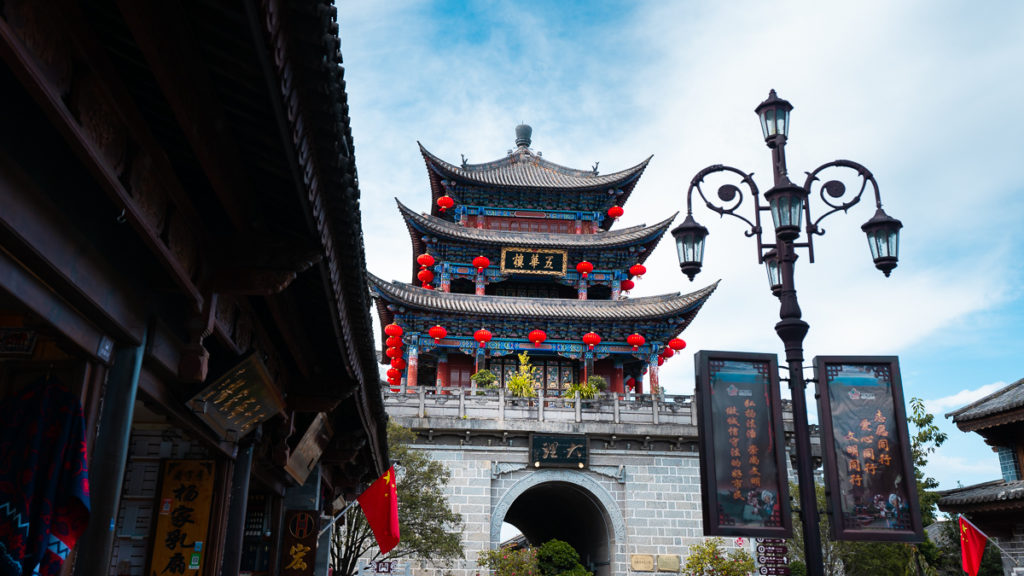 Roaming the streets of Dali Ancient City gave me the perfect snapshot of Dali, from the beautifully decorated streets to its delicious food.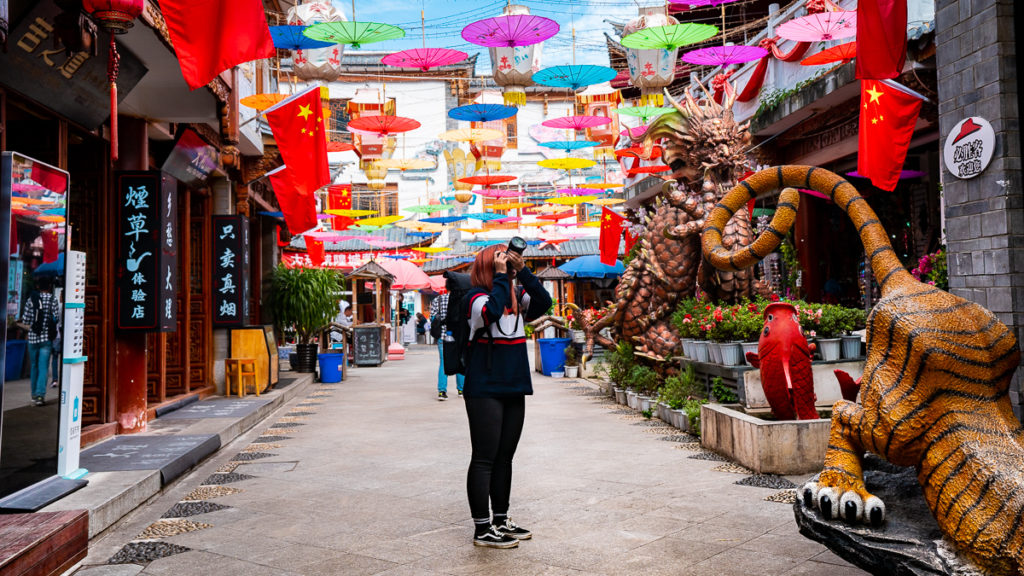 Don't miss this street with beautifully decorated umbrellas for that Insta-worthy photo!
How to get there: Take bus 3 from Dali Railway Station to Dali Ancient Town, journey is about 1hr (Baidu Map)
Bad Monkey Bar (坏猴子酒吧)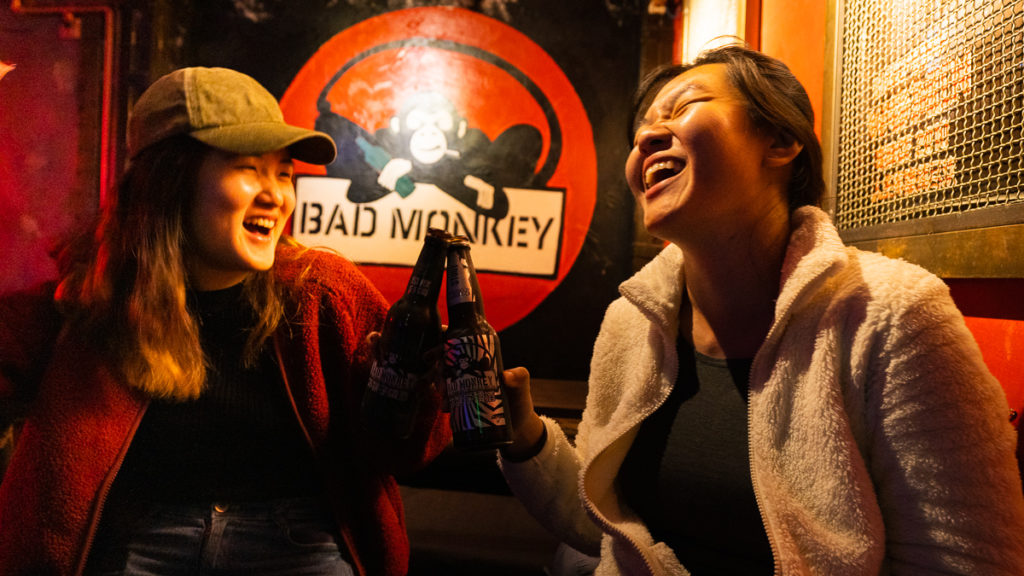 Dali Ancient City is the only ancient city in this Yunnan itinerary with a lively nightlife. So if you plan on partying it up, this is your stop! When you're done exploring, chug some local craft beer at Bad Monkey Bar. There's India pale ale, stout, wheat and amber ale to choose from 40RMB each.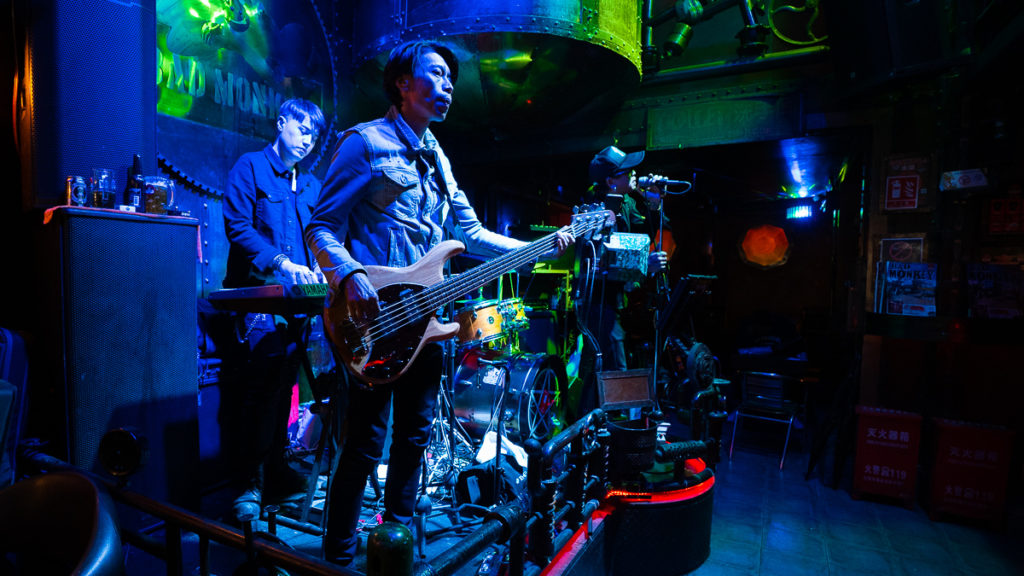 We have to give a special mention to the live music because it really added to the ambience — and the band was singing English songs too.
Opening hours: 9AM – 3AM
Address: 73-75 Renmin Road, Dali Old Town, Dali, Yunnan 671003 (Baidu Map)
Three Pagodas (崇圣寺三塔)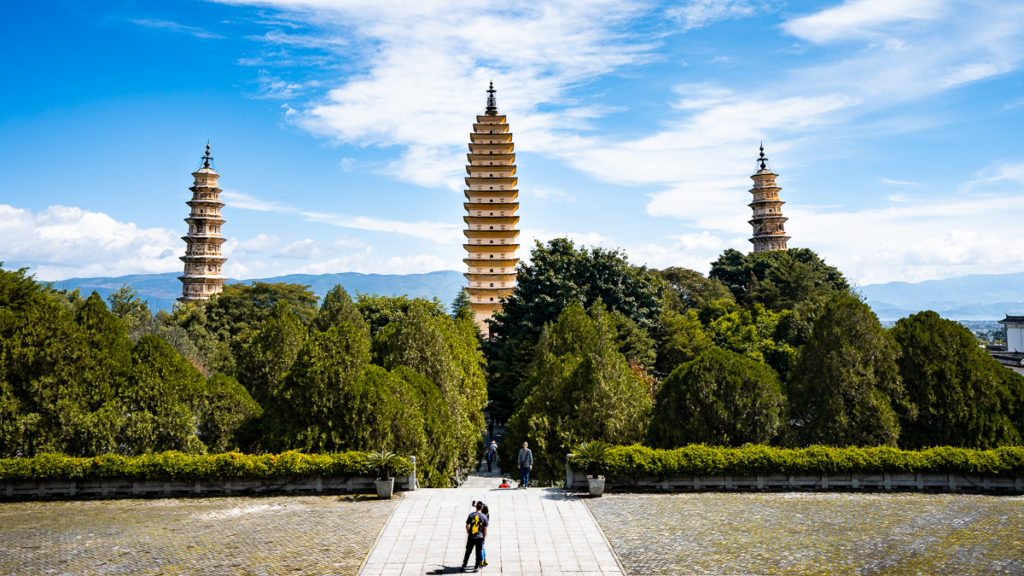 Built 1,800 years ago, the majestic Three Pagodas play an important role in China's history as it's a symbol of the development of Buddhism in China. But wait, there's more!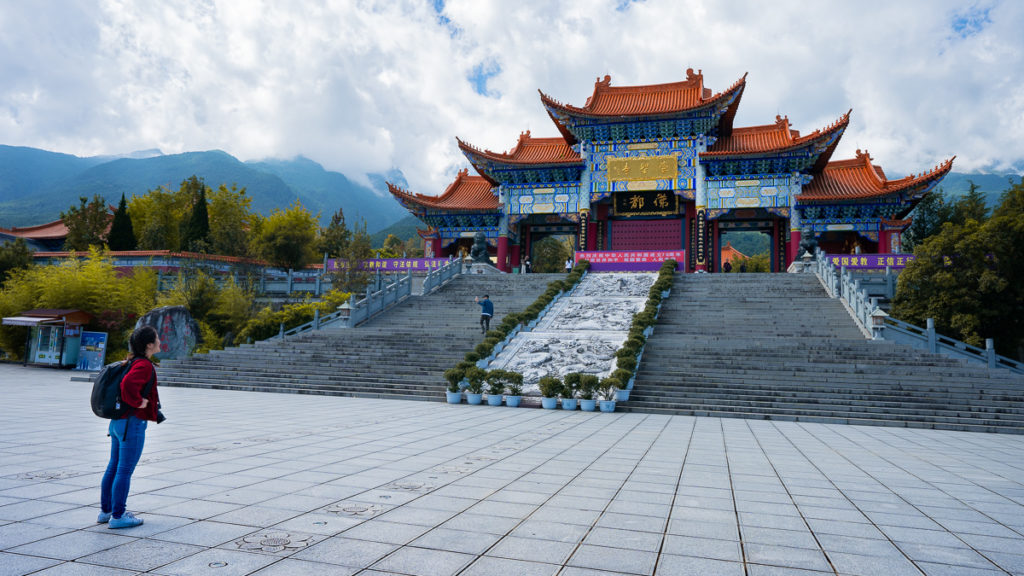 Behind the Three Pagodas is the Chongsheng Temple that was built in the 10th Century, and is one of the largest Buddhist centres in China. It comprises eight terraces, nine sections and 11 levels across 4km leading to the Cangshan Mountain.
Entrance fee: 75RMB (37RMB for students)
Opening hours: 7AM – 6:30PM
How to get there: Take the Three Pagodas Line in downtown Dali from Dali Railway Station or Xiaguan to the Three Pagodas Scenic Area in Chongsheng (Baidu Map)
Erhai Lake (洱海)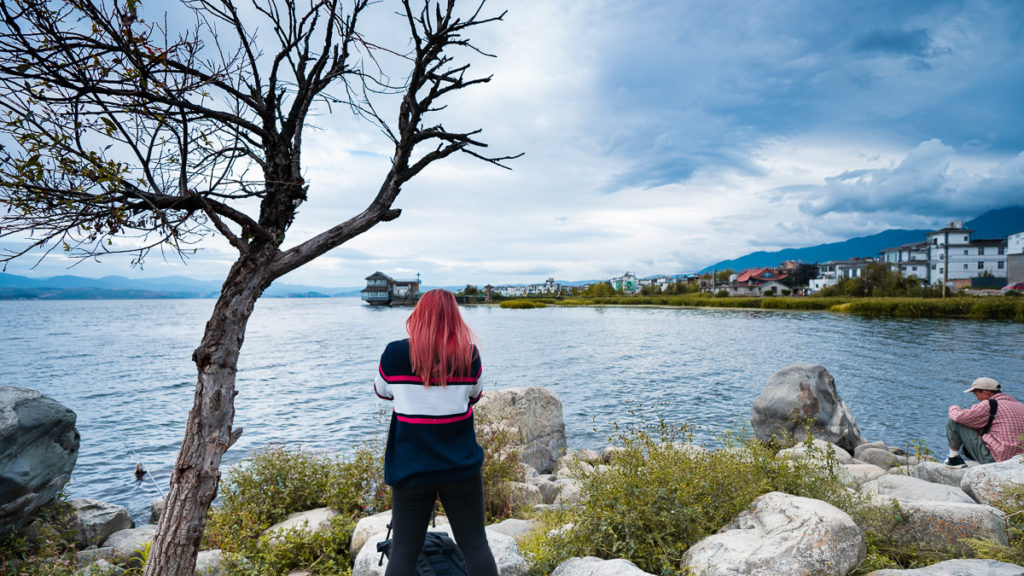 Erhai is one of the seven biggest freshwater lakes in China. The 'Er' actually means 'ear' which is also the shape of the sea! It is essential to the daily life of the locals because it is an ideal spot for them to fish. With the backdrop of the vast scenic lake and the opportunity to learn about the life of a local, this serves as the best place to have a relaxing afternoon picnic.
How to get there: From the South Gate of the Ancient Town, take bus C2 and alight at Caicun Dock. Then, walk for 10 minutes to the lake. (Baidu Map)
Yunnan Wild Mushroom Rice Noodles (云南野生菌米线)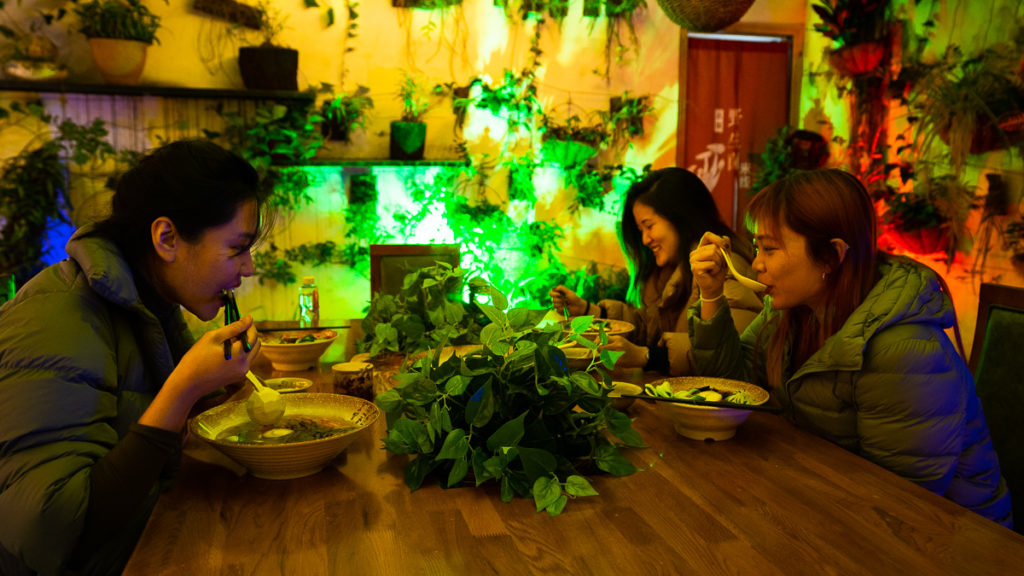 Yunnan is home to hundreds of different edible mushrooms so eating here is a quintessential Yunnan experience. I really recommend you make time in your itinerary to hit this spot as it was the best meal I had in Yunnan!
The rice noodles came with supremely delicious and fresh mushrooms (morels, porcini, matsutake). We left the restaurant caressing our happy stomachs, satisfied with the recommendation from our hostel host.
Cost: 32RMB per bowl
Opening hours: 11AM – 10.30PM
How to get there: The restaurant is in Dali Ancient Town. Facing Bad Monkey Bar, turn left. The restaurant is about 10 minutes away down the same street on the left, beside a bubble tea store.
Day 5 – 9: Lijiang (丽江)
Getting from Dali to Lijiang: Take the 2.5hrs high-speed rail from Dali Station To Lijiang Station.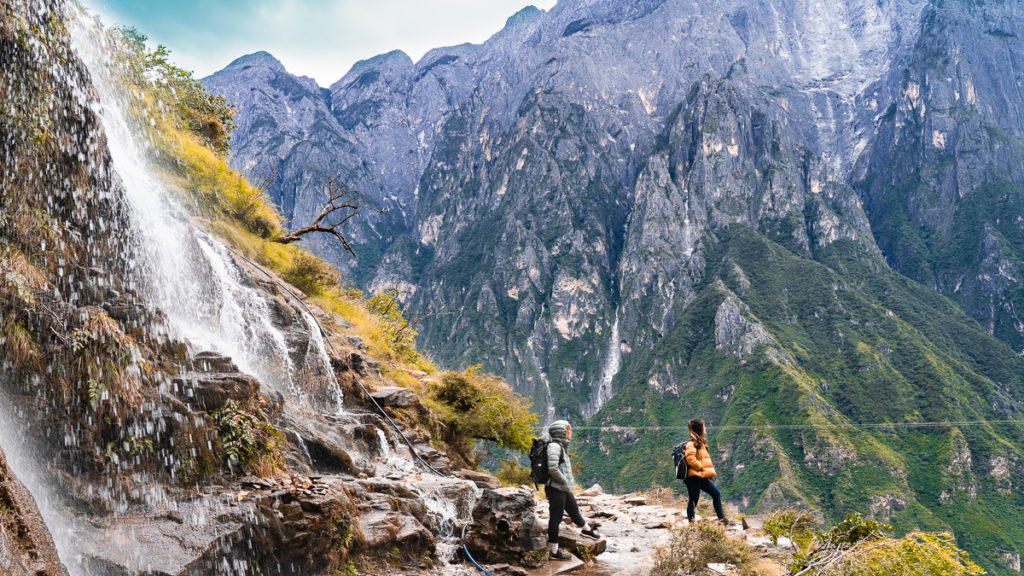 You don't need to travel to Europe to get sights like these. Arguably the main highlight in Yunnan, Lijiang is a must-have in your itinerary if you're looking for amazing nature views and hikes, from gorges to snow mountains!
Weather in Lijiang: Wear layered clothing as the temperature throughout the day fluctuates drastically. Temperatures peak at 20°C from June to September, down to 0°C in from December to February.
Accommodation in Lijiang: October Inn Hostel was located 10 minutes away from Lijiang Ancient City.
Jade Dragon Snow Mountain (玉龙雪山)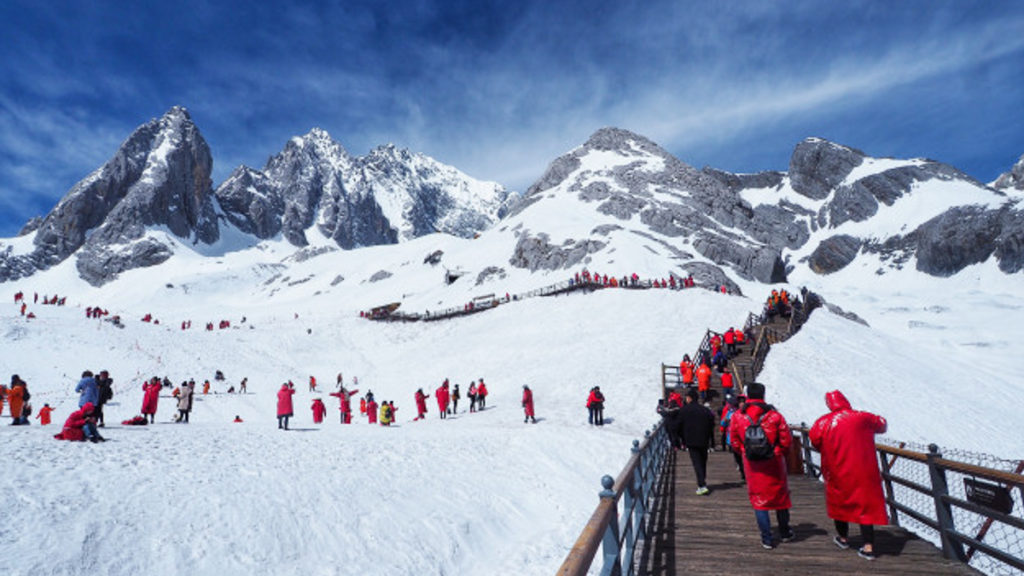 Photo credit: Freepik
Jade Dragon Snow Mountain consists of 13 snow-capped peaks and several glaciers, and till date, no one has reached the summit! Anyone who tried either died or was forced to give up. But don't worry, the boardwalk goes to a height of 4,680m and is very safe.
But before that, to fully enjoy the Jade Dragon Snow Mountain and its surrounding attractions, we recommend getting the package ticket that also includes entrance to the Blue Moon Valley and Impression Lijiang Show (directed by Zhang Yimou!).
There are several layers to this experience:
(1) Explore the Surroundings: Head over to the Blue Moon Valley first, which is an enormous lake at the foot of the mountain. Stroll along the lake for views of waterfalls and wild yaks.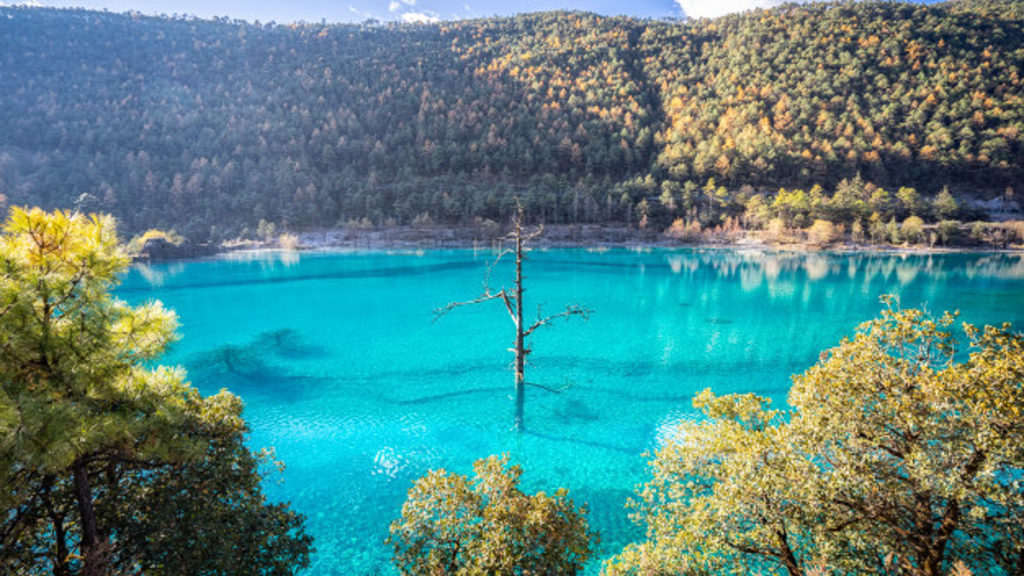 Photo credit: Freepik
(2) Take the cable car up the mountain: There are three different cable cars that go up to various heights. The highest one goes to the Glacier Park at 4,506m high. From the station, there's a 100m boardwalk, which is the highest a tourist can go! We recommend booking the 11AM cable car for the best views (the morning fog clears up then).
You'll want to get your tickets early. Either book through a tour or get a local (like hostel staff) to book for you via WeChat or AliPay. Only 10,000 tickets are released daily at 7AM and they're snagged fast (This only applies to the Big Cable Car).
If you happen to miss the tickets for Big Cable Car, you can still admire the Jade Dragon Snow Mountain at the foot or mid-levels. You just have to purchase entrance tickets (100RMB) and tickets for the smaller chairlifts (60RMB to the Yak Meadow, 55RMB to the Spruce Meadow) separately on the day of your visit itself.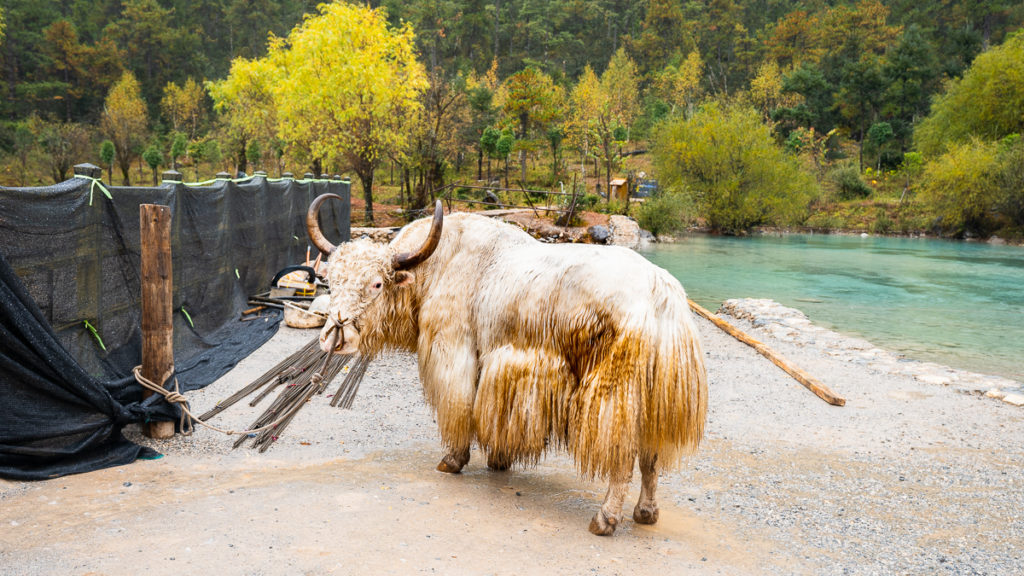 *Pro-tip: Don't forget to layer up. If you didn't bring enough clothes, you can rent a jacket from the base for 50RMB. Also, get your oxygen cans from Lijiang City as it's much cheaper than on the snow mountain. It's easy to get altitude sickness here, so walk slowly, and carry an oxygen can for good measure — one tank to two people should suffice.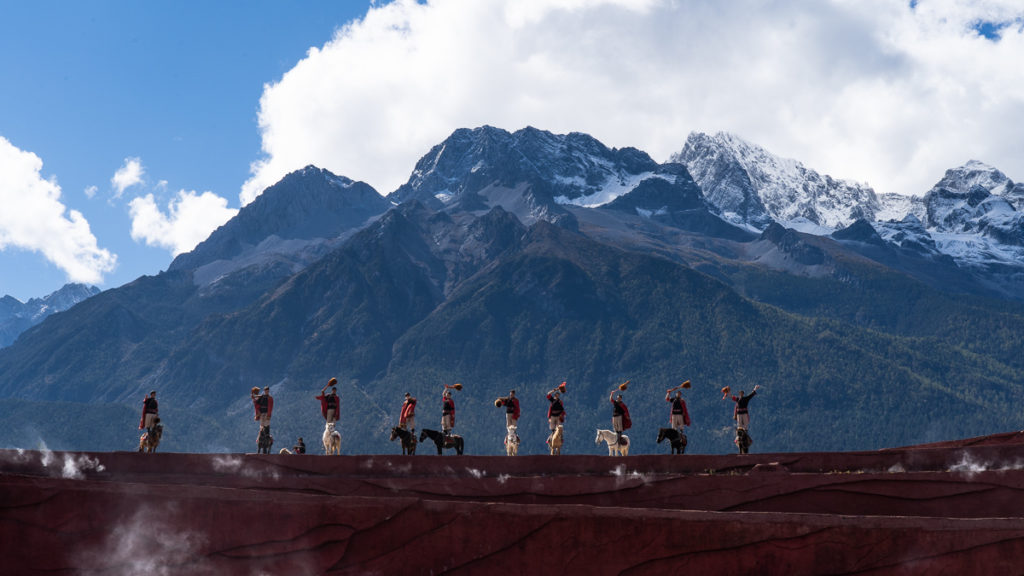 (3) Catch the Impression Lijiang Show: Located at the base of the attraction, the Impression Lijiang Show is an outdoor singing and dancing performance demonstrating the tradition and lifestyle of the local ethnic people. With 500 people in the cast and the spectacular Jade Snow Mountain as the backdrop, this performance truly encapsulated the beauty of Yunnan!
Showtimes: 12:40PM, 2:50PM
Cost: 420RMB (incl. chairlift, Blue Moon Valley and Impression Lijiang show)
Opening hours: 7AM – 6PM
How to get there: Hail a private car along the Mao Ze Dong Hong Tai Yang Square (红太阳广场) that takes you directly there (400RMB). Alternatively, take the no. 7 minivan leaving from the Red Sun Square, right opposite the statue of Mao Zedong (30RMB).
Old Town of Lijiang (丽江古城)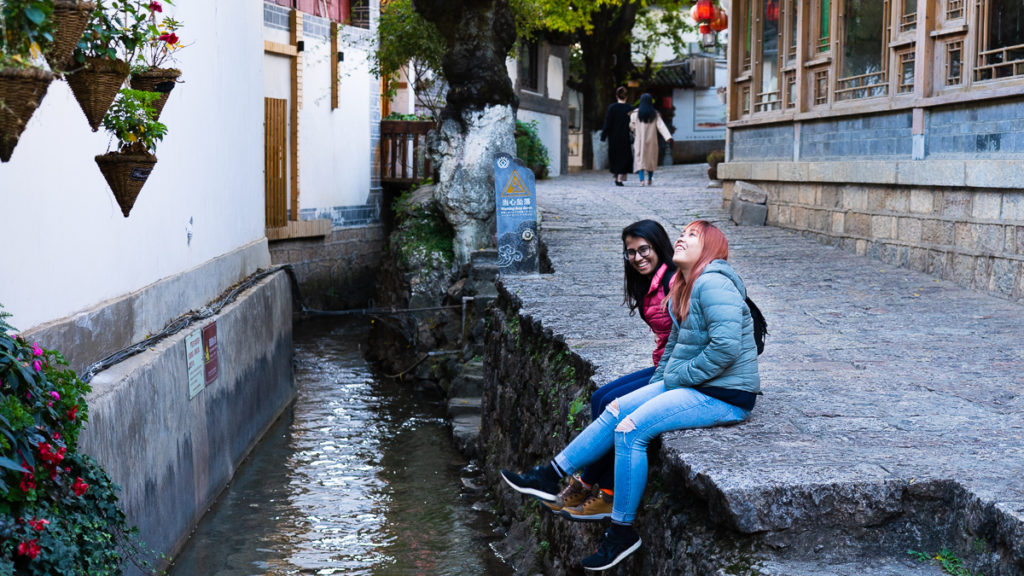 The Old Town of Lijiang is known for its organised bridges and orderly system of waterways throughout the town. This design was actually due to the fact that this town was once a confluence for trade along The Tea Horse Caravan Trail.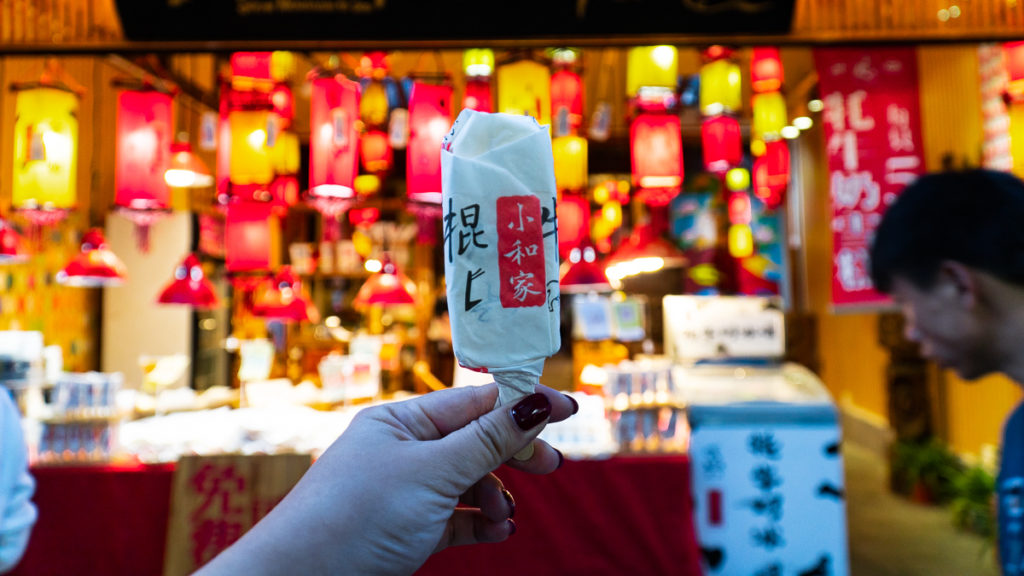 Yak butter milk ice cream is a must-try when in Yunnan.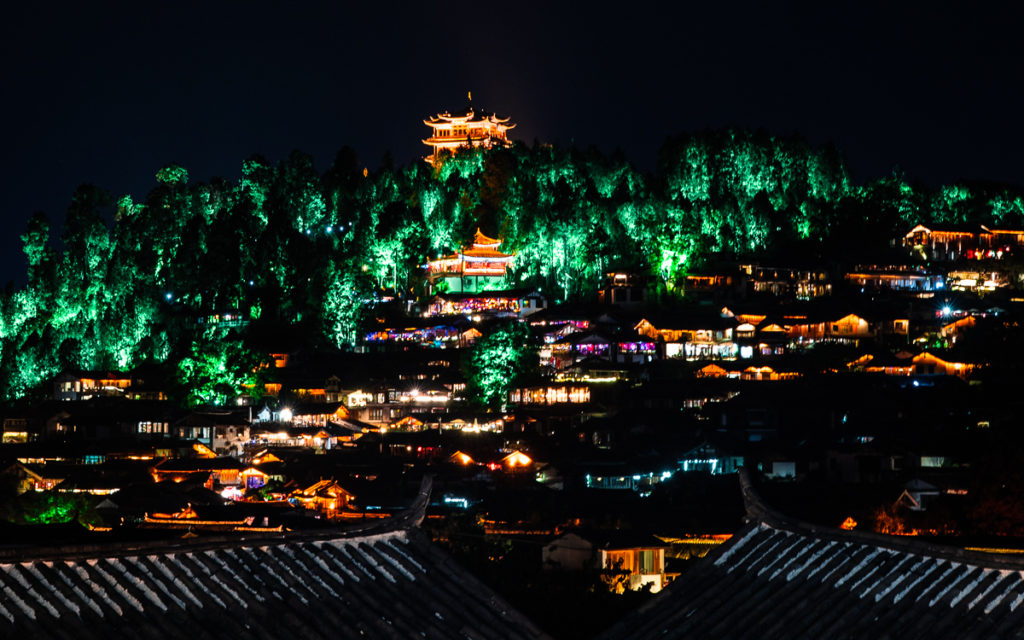 We had spent many nights in Lijiang, so we became rather familiar with the streets. We even stumbled upon this lookout point that eventually became our hangout spot to watch the sunset. At the foot of Da Yan Hua Lane (大研花巷), there are stairs that will lead up to this lookout point. Ask the locals for help locating this lane!
Opening hours: Most shops close by 10PM
How to get there: The Old Town of Lijiang is serviced by several public buses in Lijiang, but we took Didi as it's cheaper and more efficient. (Baidu Map)
Black Dragon Pool (黑龙潭)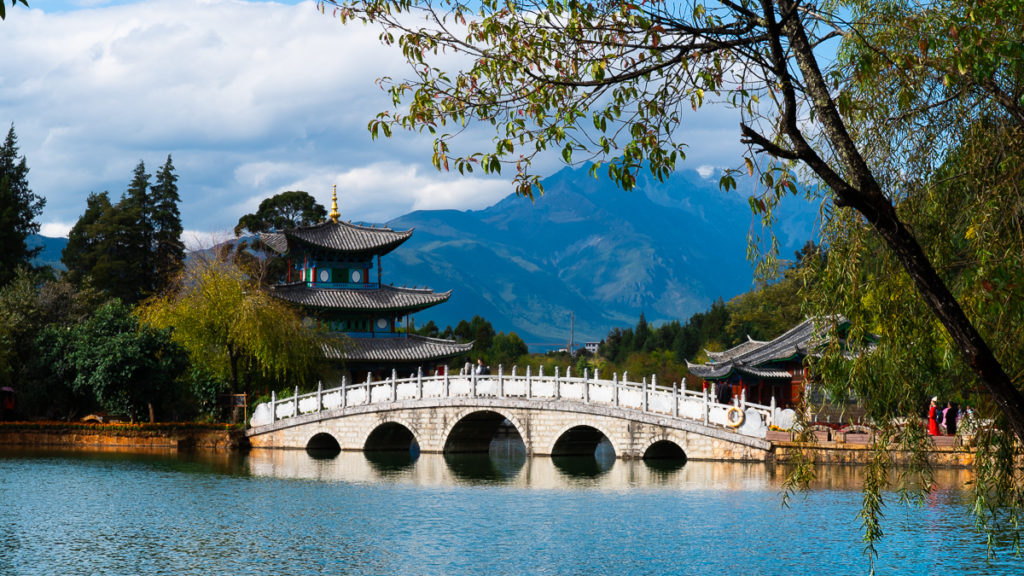 The Black Dragon Pool is a refreshing change of pace from the city. Stroll around the compound with a view of the Jade Dragon Snow Mountain at the back, and explore the Buddhist temple on site.
Entrance Fee: 50RMB
Opening Hours: 7AM – 9:30PM
How to get there: Take bus 3, 4, 6, 8, 9, 13, 20, or 28 to Heilongtan (Jade Spring Park), or walk 15mins from Old Town of Lijiang (Baidu Map)
2D1N Tiger Leaping Gorge Hike (虎跳峡)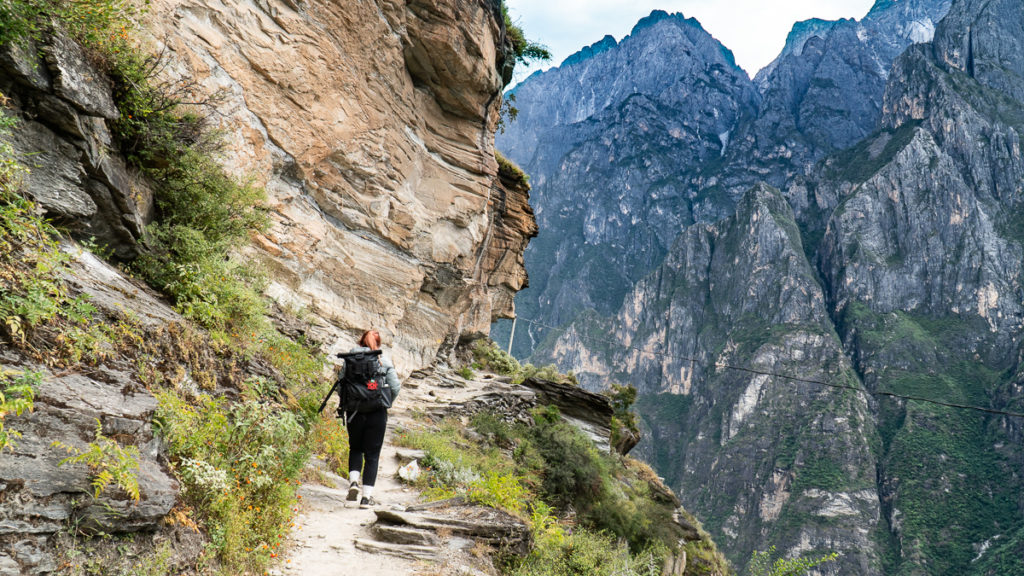 I had always fantasised about the Swiss Alps, but its lesser-known sibling hides in the depths of Yunnan. Tiger Leaping Gorge is one of the deepest gorges in the world, it measures 16km long and is 3900m deep from the Jinsha River to the Haba Mountain.
Conquering the infamous 28 bends over its hiking path is no easy task, but is definitely very doable. For someone who is of average fitness, this would serve as a medium-intensity hike. No pain no gain, and the views of the beautiful Jade Dragon Snow Mountain and Haba Snow Mountain were definitely a very worthy gain! But do make sure to prep sufficiently for the hike, with snacks and loads of water.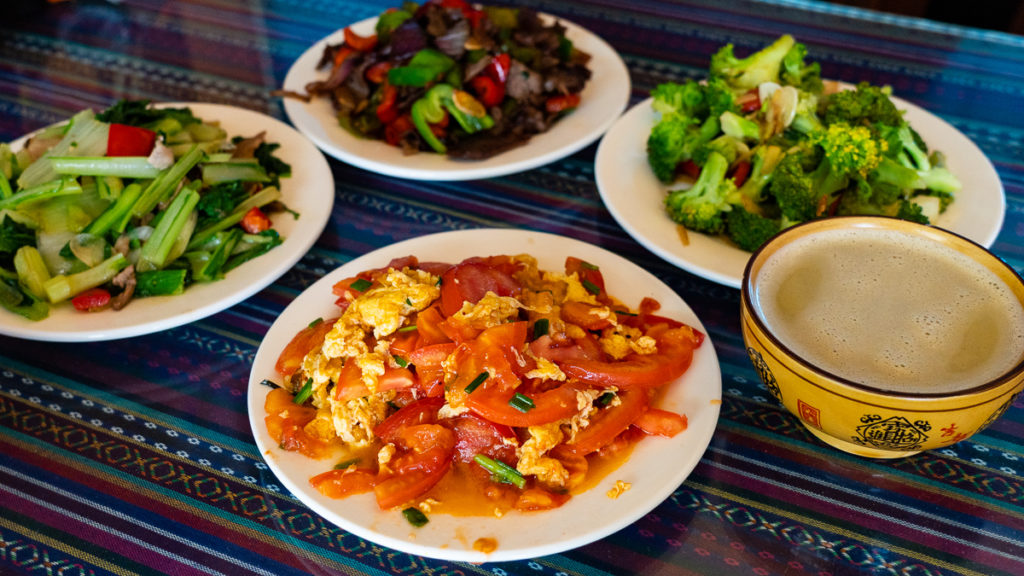 We started our hike a little ahead of Qiaotou. 3 hours in, we stopped for lunch at Mama Naxi Guesthouse (~25RMB/pax), a common stop for Tiger Leaping Gorge hikers serving simple home-cooked Chinese food like eggs and tomatoes, and even butter milk tea using yak milk.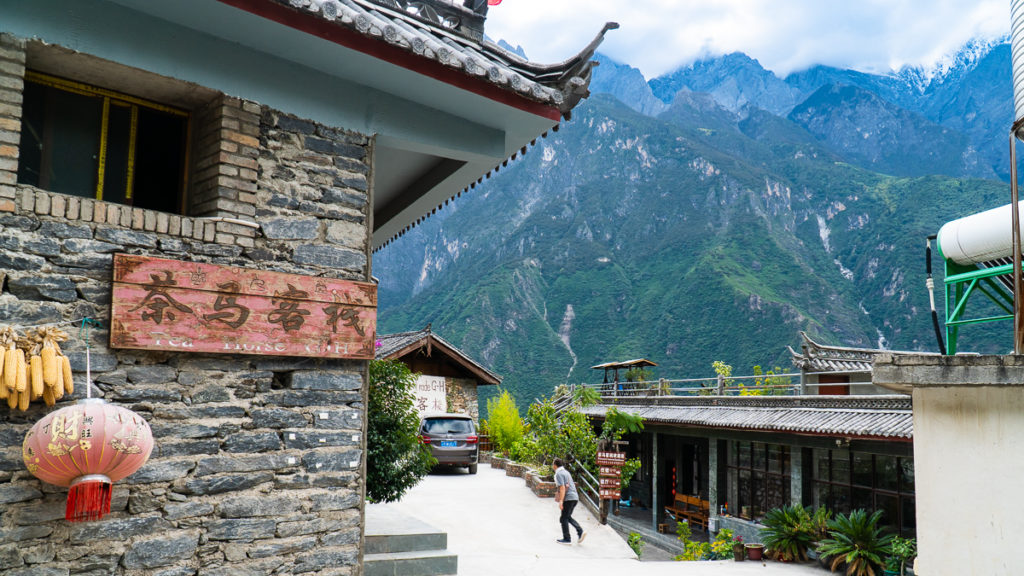 We took another four hours after lunch to complete the 28 bends and the rest of the hike before we reached our accommodation for the night at Tea Horse Guest House. Sleep early because you'll want to catch the sunrise at 6AM (otherwise, sleeping in till 9AM is fine too)!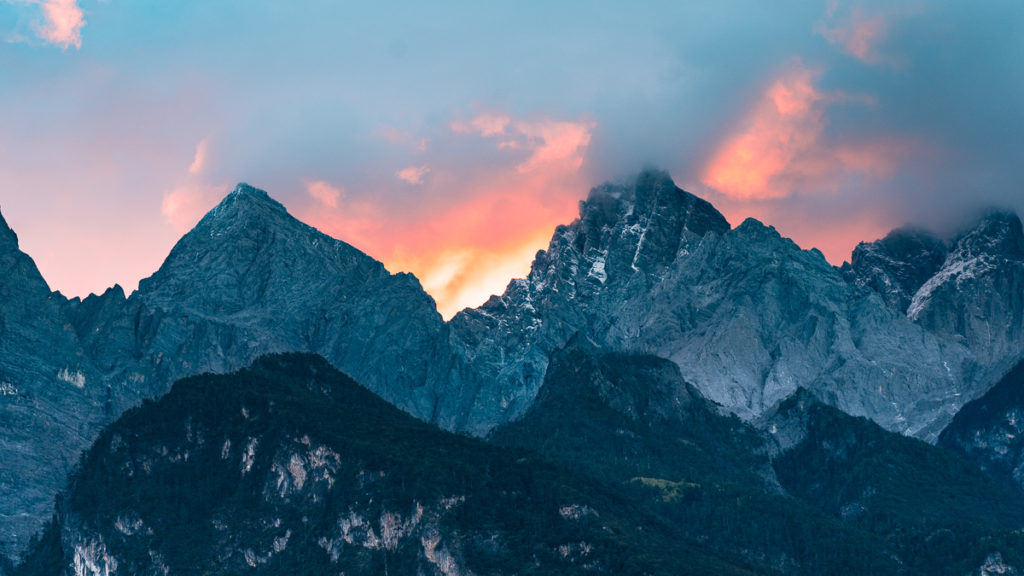 The second-day hike was way easier because it was not crowded, and we spent the entire time hiking at the cliff's edge. We finished the hike in 5 to 6 hours and stopped by Tina's Guest House for food along the way down. From here, the only bus back to Lijiang departs at 3:30PM daily so don't miss it. Depending on your Yunnan itinerary, there's also a bus towards Shangri-la that departs from Tina's Guest House at 3:30PM.
Entrance fee: 45RMB (22.5RMB for students under 24)
Opening hours: 24hrs
How to get there: We got our host at October Inn Hostel to arrange a bus to pick us up at 7AM and drop us at Qiaotou Bridge, which took 1.5hrs. Your trail will start slightly beyond that point (ask the locals for directions).
Naxi Snacks Store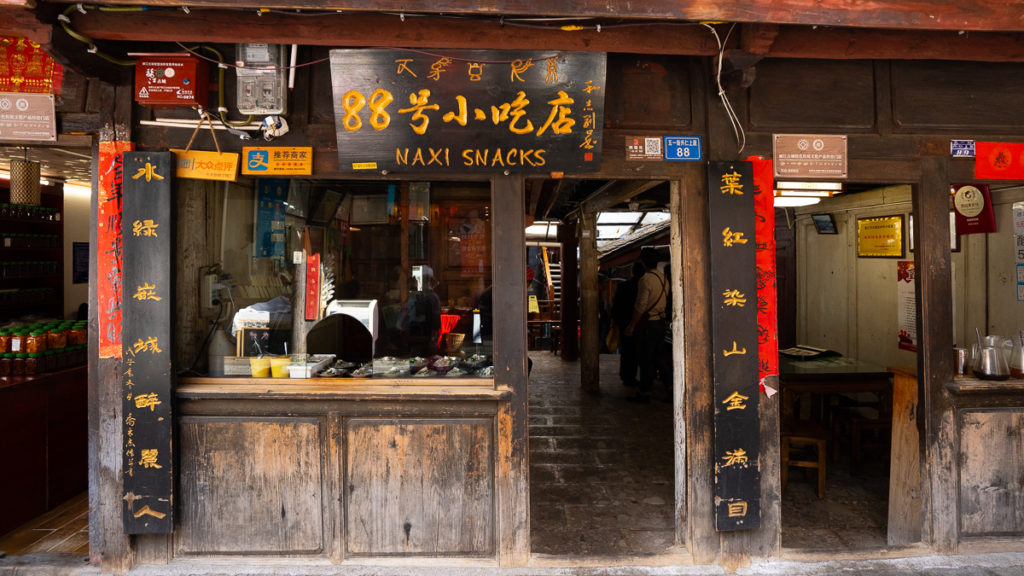 This unassuming store in Lijiang Old Town can be easily missed if you're not discerning, but it serves up really good food like blood sausage (22RMB) and chickpea noodles (6RMB).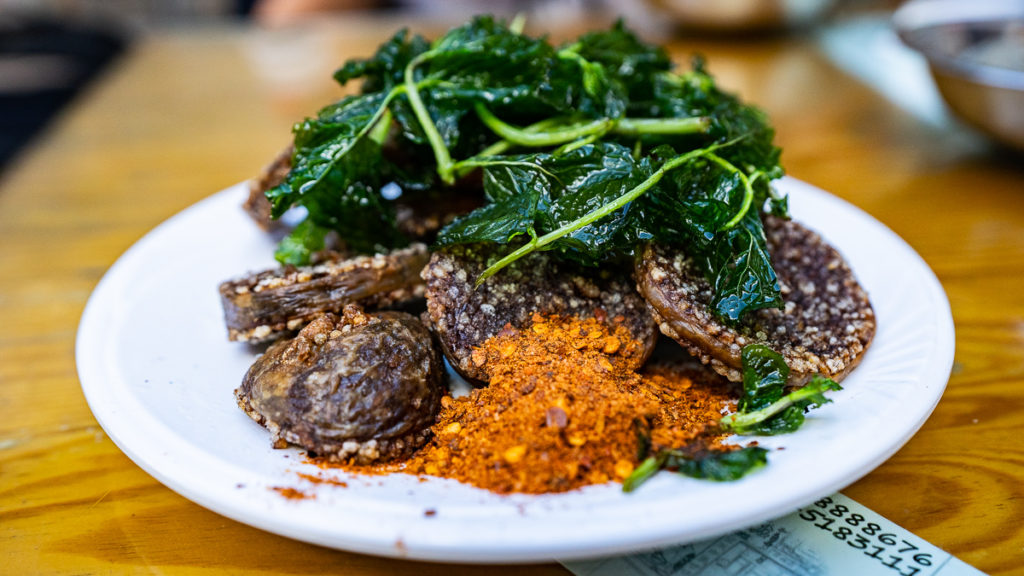 Blood sausage served with fried vegetables drizzled with homemade chili powder.
The main ingredient in blood sausage is pig's blood which made me a little squeamish. But it was actually very crispy and tasty. It tastes more like a stuffed potato chip. The chickpea noodles are served cold with chili oil, parsley, peanuts, and beansprout in the bowl which all mix together perfectly.
Opening hours: 8AM – 9PM
Address: 88 Wuyi Street, Gucheng District, Lijiang City, Yunnan Province, China, 674100 (Baidu Map)
Day 10 – 12: Shangri-la (香格里拉)
Getting from Lijiang to Shangri-la: Take a 3.5-hour bus from Lijiang Bus Station (62RMB).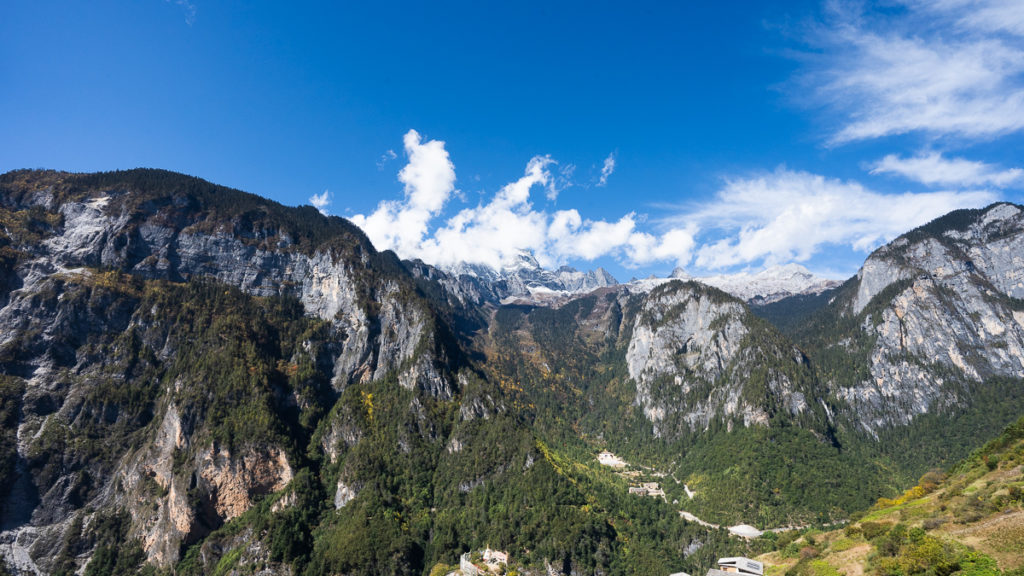 The streets of Shangri-la enchanted us with an antiquated mystique, from unique Tibetan-styled streets to grand monasteries.
Weather in Shangri-la: It's the coldest place in this Yunnan itinerary. Temperatures average 19°C from June to August, and -2°C from December to February.
Accommodation in Shangri-la: Shangajoy Seasons Inn is located a walking distance away from the Dukezong. They had helpful staff that booked us tours and showed us around!
Balagezong Scenic Area (巴拉格宗风景区)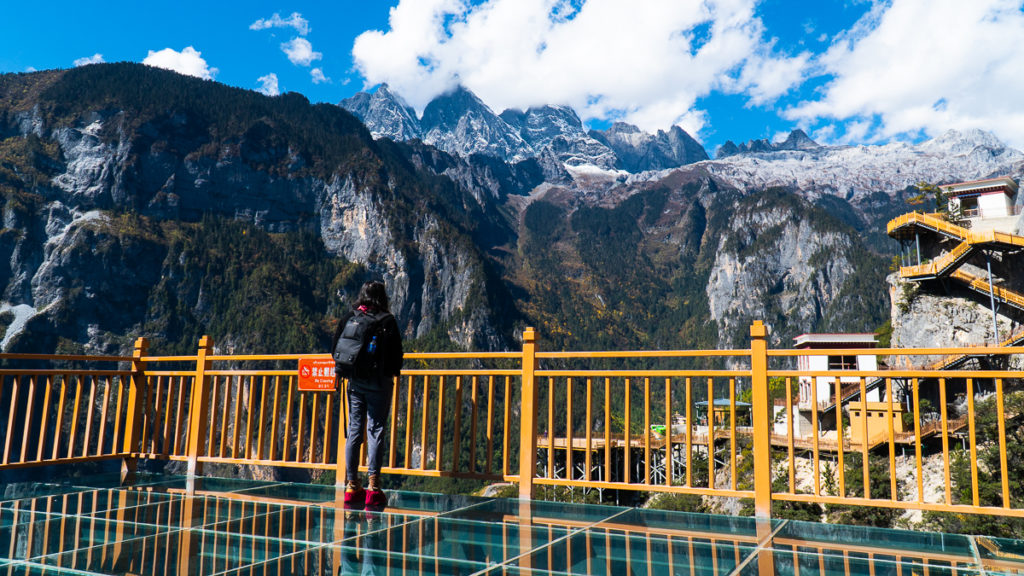 Balagezong was truly breathtaking with its towering mountains, unimaginably fresh air and waters so blue I was sure the saturation was tampered with (it's not, lah). We explored a magnificent Buddhist temple, a glass walkway perched on the mountains, had a delicious Tibetan lunch and a scenic 2.5km walk through the Balagezong Grand Canyon.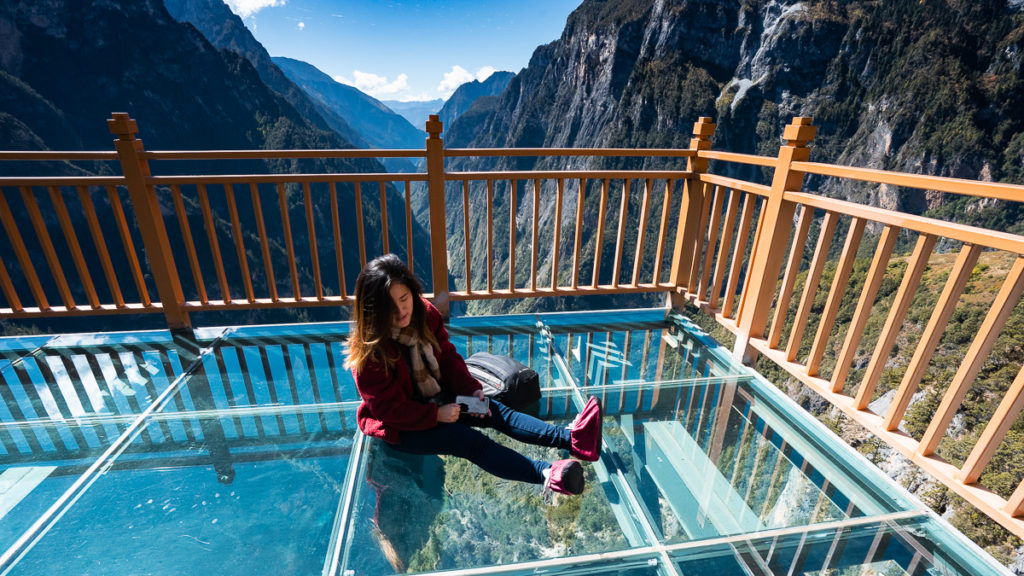 The glass walkway stop was my favourite part of the day trip! Not being the best with heights, having to walk a pathway that allowed me to see 3,000m down to my death was not very comforting. But the views down were so stunning that a little heart palpitation was a worthy cost to bear.
If you're feeling a little adventurous, this stop also offers a zip-lining activity through the canyon (120RMB).
Cost: 290RMB for tour incl. round trip transport, transport within the scenic area and entrance fees (ask hostel staff to help book a tour).
Opening hours: 8AM – 5PM
How to get there: Shuttle buses depart daily around 9AM from Shangri-La's Dukezong Ancient Town, and leave Balagezong from 4PM – 5PM. (Baidu Map)
Songzanlin Lamasery (松赞林寺)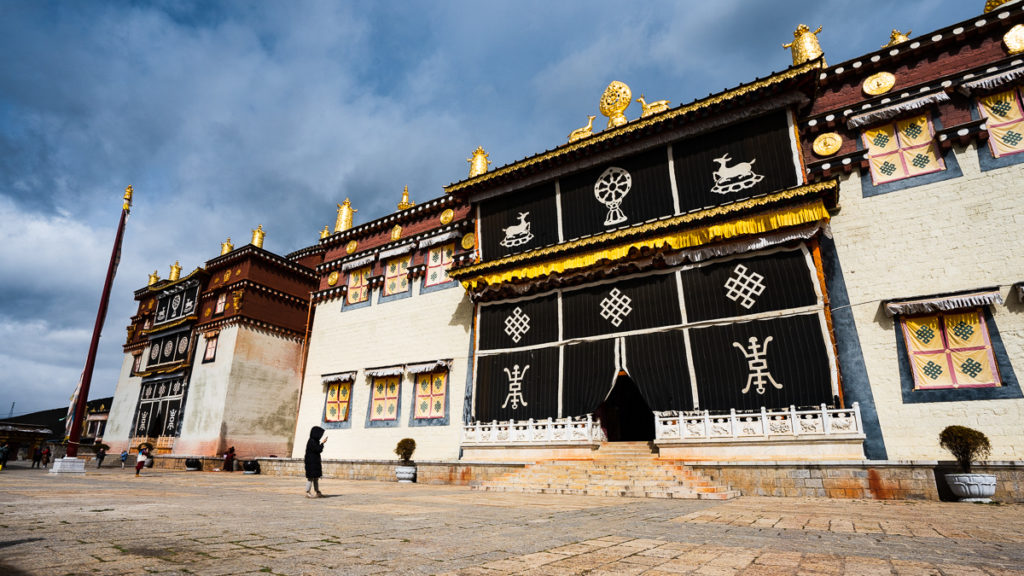 Songzanlin is the largest Tibetan Buddhist monastery in Yunnan, covering 30 hectares. The 5th Dalai Lama chose this site in 1679, and it has since grown into the most important monastery in the community of Yunnan.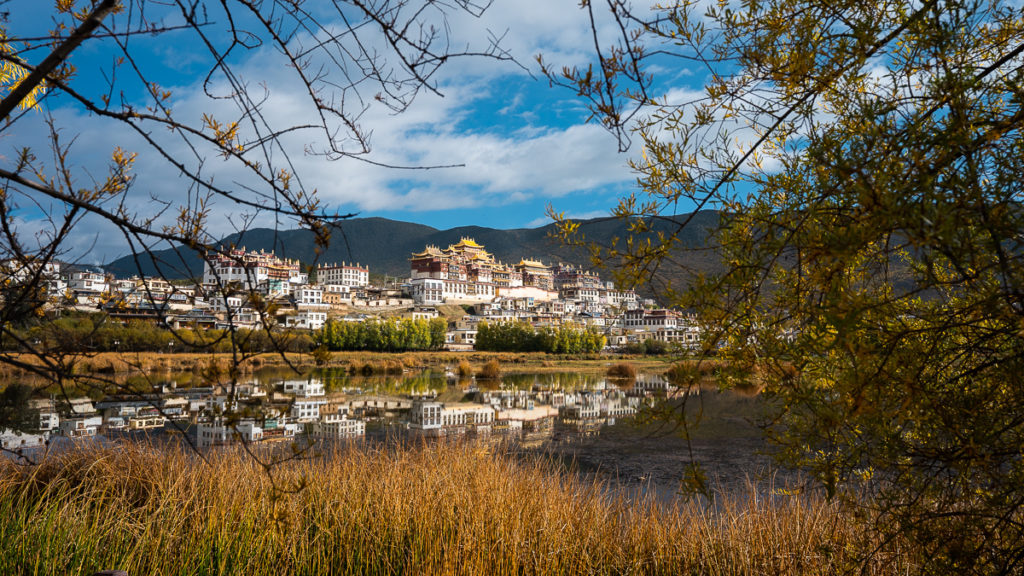 At the entrance, you can board a bus that takes you directly to the monastery, or you can alternatively walk 30 minutes to the monastery around the lake. We recommend walking if you can because the serene stroll through the park allows immaculate views of the Lamasery.
Entrance fee: 115RMB (62RMB for students under 24)
Opening hours: 6AM – 6PM
Address: Niwang Rd, Shangri-La, Deqen, Yunnan, China (Baidu Map)
Napahai Lake (纳帕海)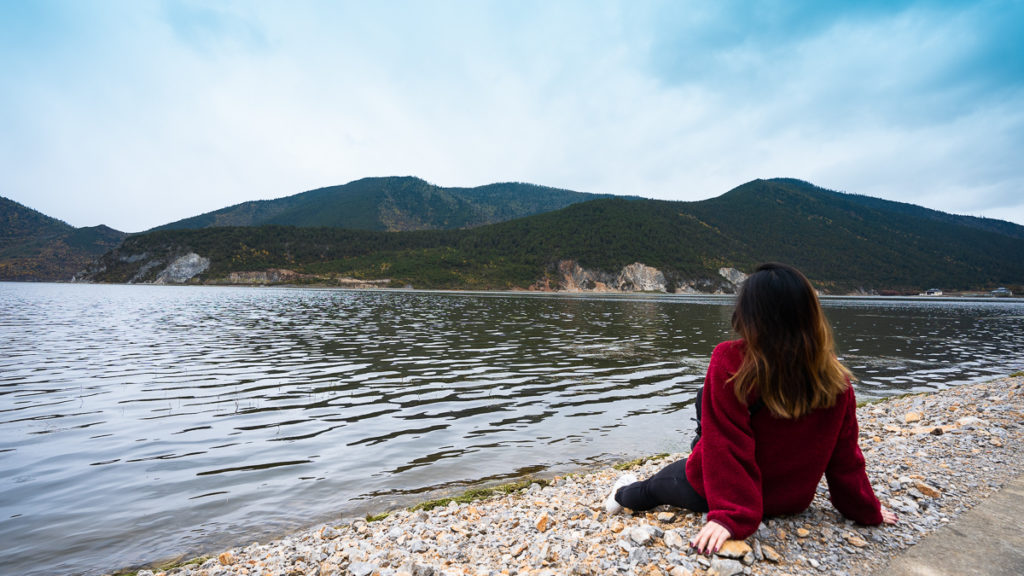 The Napahai Natural Lake Reserve alone is 90% of Singapore's size at 660km sq wide. The best way to explore the entire lake is to rent a car and drive along the entire coastline. Trust me, the views are worth it!
*Pro-tip: Napahai Lake and Songzalin Lamasery are nearby so we recommend hiring a private car and visiting both in one day.
How to get there: 214 West Side of West Inner Ring Road, Shangri-La, China (Baidu Map)
Dukezong (獨克宗)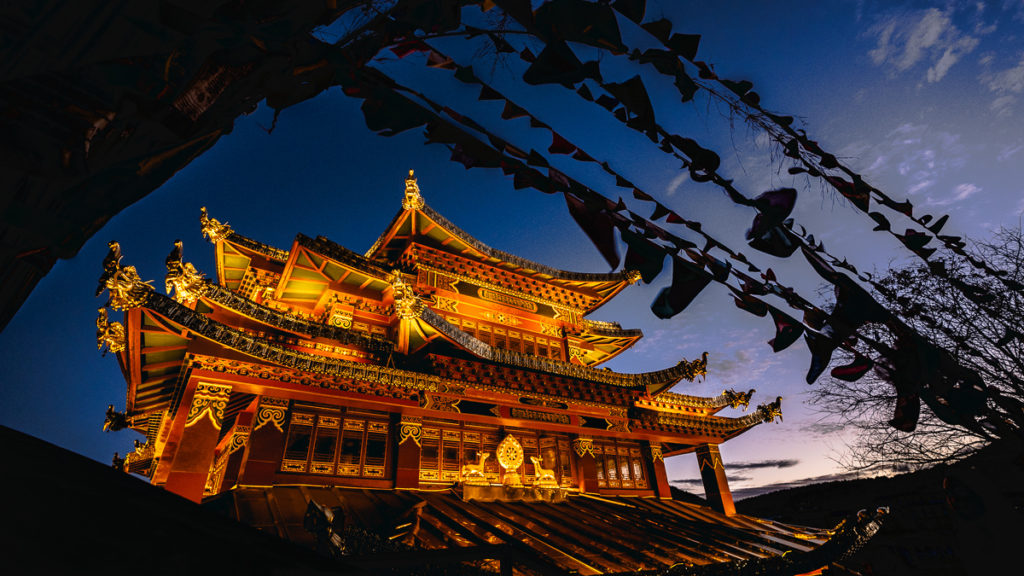 Dukezong is a Tibetan town located in the heart of Shangri-la. Unlike the other ancient towns, the Tibetan culture colours each narrow street with gilded prayer halls, pagodas and Tibetan Buddhist prayer flags.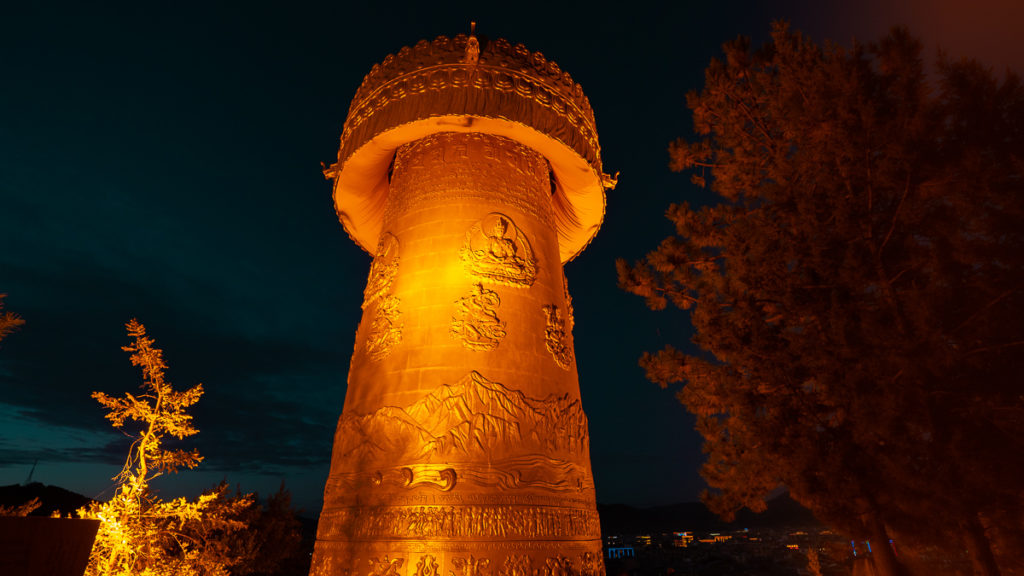 The Prayer Wheel is one of the main attractions of the Ancient Town. Spin the prayer wheel three times and good luck and fortune will fall upon you. It's the tallest of its kind in the world at 21m high, making it virtually impossible for one person to spin it alone. Rally up your pals to spin it together!
Opening Hours: Most shops close by 10:30PM
How to get there: Dukezong is within walking distance from Shangri-La Town (Baidu Map)
Tibetan Hotpot (藏式火锅)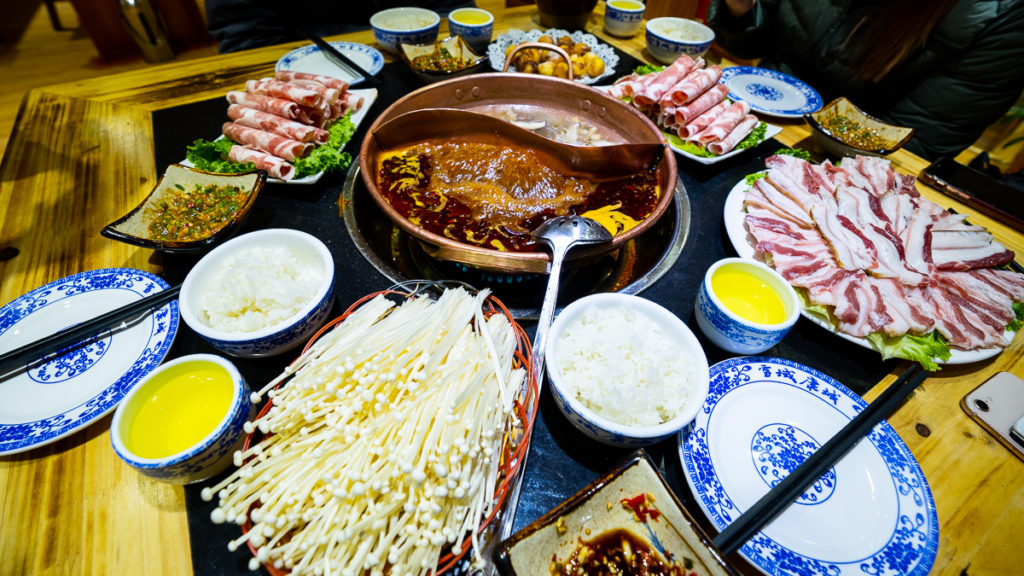 After a whole day of exploring around Shangri-La, we treated ourselves to a hearty Tibetan hotpot at a restaurant in Dukezong Ancient Town.
The hot pot was really shiok especially in the cold Shangri-la weather. There was an array of fresh vegetables and meat to choose from — from bean sprouts to Chinese kale, and black goat meat to yak beef balls, we were really spoilt for choice.
Eventually, we settled on the black goat meat since it's the local Shangri-la delicacy. And boy oh boy, was it a good choice! The meat cooked really quickly and it just melted in our mouths. We ordered the spicy miso and mushroom soup which complimented all the ingredients really well.
Heading back to Kunming
Since our return flight back to Singapore was from Kunming, we took a 13-hour sleeper bus (223RMB) from Shangri-la back to Kunming. Bus tickets can only be purchased at the ticketing counter of the bus station.
Alternatively, you can take the bus to Lijiang (62RMB), then take the high-speed rail (~S$42) from Lijiang to Kunming in under 6.5 hours.
China's Best-Kept Secret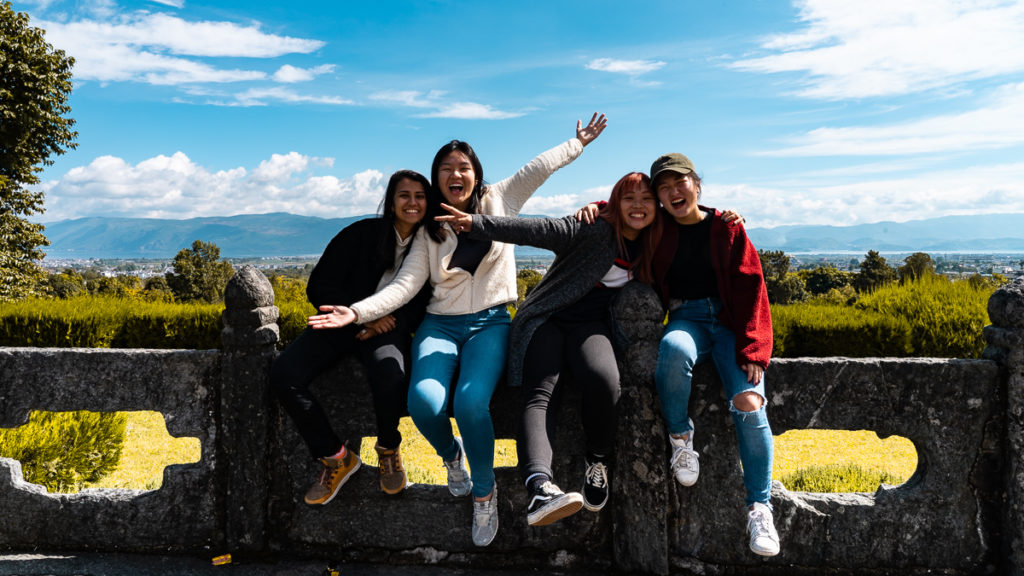 Before coming on this trip, I knew next to nothing about Yunnan, let alone that it is home to so many beautiful attractions and scenic landscapes!
But after 12 days of hiking magnificent gorges, scaling snow-capped mountains and exploring ancient towns, Yunnan definitely made my list of the top three countries I have travelled to, with Slovenia and Spain sharing the title.
It now feels like I am in on this not-so-little secret that the entire of Yunnan was hiding away from the rest of the world. You can thank us later for this Yunnan itinerary. But for now, get ready for your next adventure!
Read also: 9 Reasons Why Yunnan Should Be On Your Travel Bucket List
Checking out other parts of China? Here are some more ideas:
– 2-Week China Itinerary — Rail Adventure Across Beijing, Shanghai, Hangzhou and Suzhou
– 12D Central China Itinerary to Ancient Gems & Undiscovered Sights — Things to do in Wuhan, Changsha & Zhangjiajie
– Ultimate First-Timer's Guide to China: 14 Exciting Things To Do In Beijing
– 25 Exciting Things to Do in Shanghai — First Timer's Guide From Must-Dos to Hidden Gems
– 5D4N Suzhou and Hangzhou Itinerary — Beauty of Tiger Hill, West Lake and More
– 19 Reasons to Visit China's Most Underrated Cities — Wuhan, Changsha & Zhangjiajie
– 11 Reasons Why You Should Visit Hainan Island For Your Next Resort Holiday
We hope this Yunnan itinerary was useful in planning your next adventure. If we missed out anything in our Yunnan itinerary, do let us know in the comments.
---
Like what you see? Follow us on Facebook, Instagram, Telegram, and YouTube for more travel updates!