Updated 16 Mar 2023: We've got new flowering dates from Japan Meteorological Corporation, and a fresh list of handpicked day tours that can enhance your hanami experience!
For those planning to catch the sakura during the annual Hanami festivals (花見, "flower viewing") this coming spring, it's not too late to arm yourself with the only Cherry Blossom Japan Guide you will EVER need.
From insider tips on maximising your chances of sakura-spotting to guided tours to the best viewing spots, here are some hacks to getting the most out of your 2023 cherry blossom experience.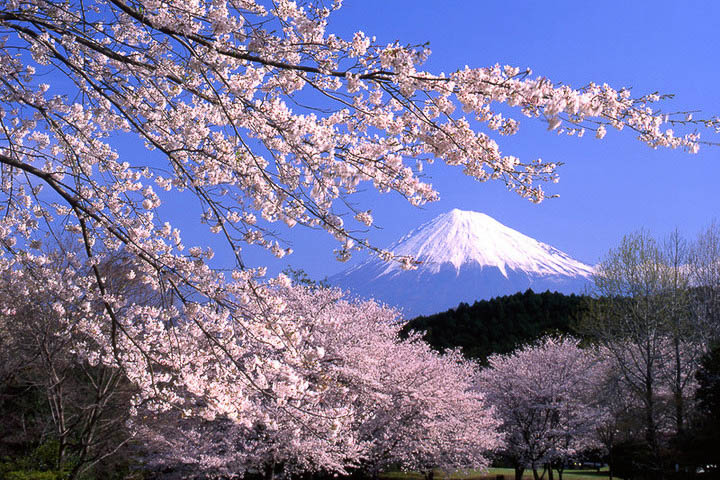 Cherry Blossoms in bloom against Mt. Fuji. Photo credit: Insider Journeys
Catching the Cherry Blossoms in Japan is hard. With an average flowering to end-of-bloom period of up to 14 days, you'd have to plan your trip really well. Even if your travel period coincides with the blooming period, there are still tons of things to consider. Not to mention jostling with locals and tourists for the best views.
Thankfully with a lot of good planning, it's still possible to catch this once-a-year affair. After all, you can't say you've truly experienced Japan until you've seen the cherry blossoms in full bloom.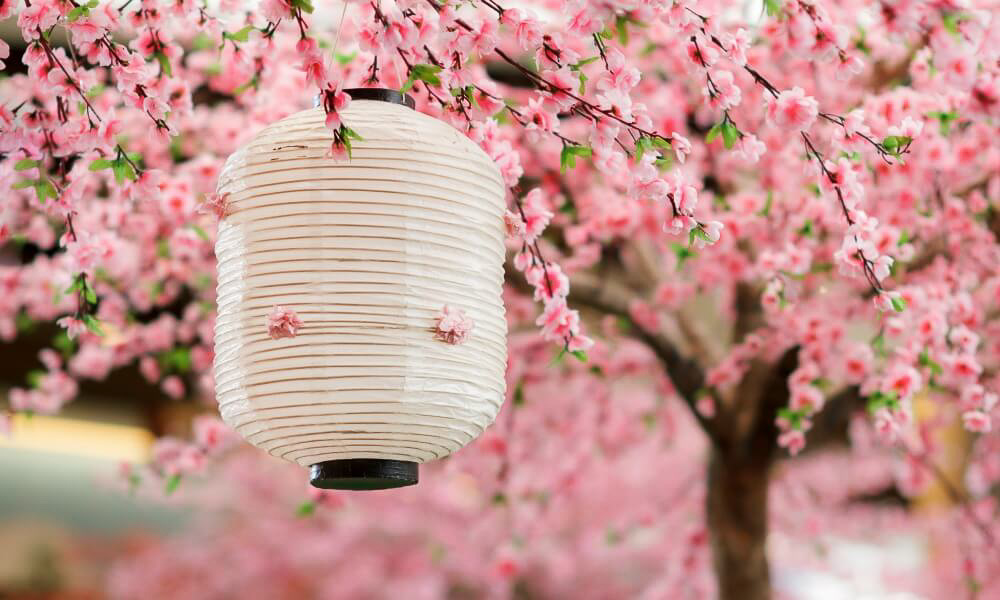 Photo credit: Backyard Travel
To help you out, I've split this Ultimate 2023 Cherry Blossom Japan Guide into three main sections: Pre-trip Planning, Cherry Blossom Viewing Day Guide, and Frequently Asked Questions (FAQ). Pay special attention to the 2023 cherry blossom blooming dates!
Note: Will try updating this frequently so this should stay relevant!
Pre-Trip Cherry Blossom Season Planning
Step 1: Know Japan's Cherry Blossom Forecast
While the blooming season usually starts on mainland Japan from March to April, accurate forecasts are typically only released in February. If you're planning ahead, it's important to use the cherry blossom blooming patterns of previous years as a guide. Regardless, here is the most updated forecast for 2023.
Latest Cherry Blossom Forecast — Updated 16 Mar 2023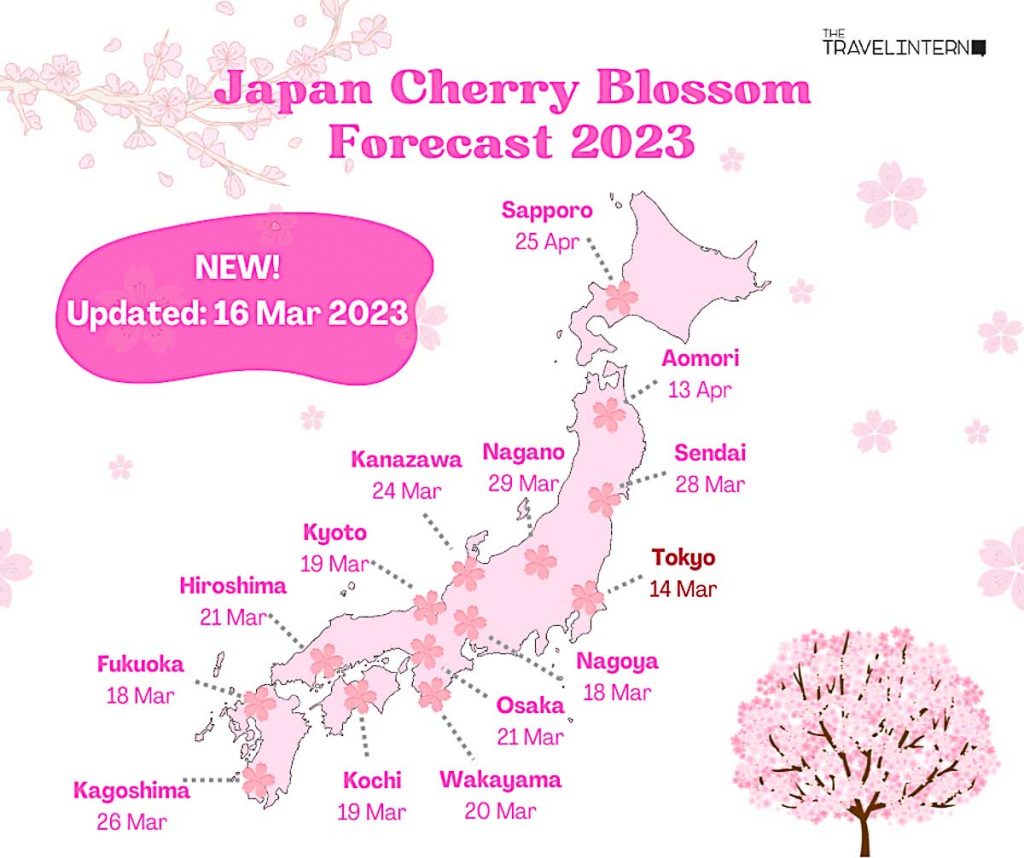 Note: Dates shown on the map are flowering dates, not full bloom dates
Tokyo: Flowering date March 14, Full Bloom date March 21
Osaka: Flowering date March 21, Full Bloom date March 28
Kyoto: Flowering date March 19, Full Bloom date March 27
Nara: Flowering date March 20, Full Bloom date March 27
Wakayama: Flowering date March 20, Full Bloom date March 28
Nagoya: Flowering date March 18, Full Bloom date March 27
Hiroshima: Flowering date March 21, Full Bloom date March 30
Nagano: Flowering date March 29, Full Bloom date April 4
Niigata: Flowering date March 30, Full Bloom date April 4
Yamagata: Flowering date April 4, Full Bloom date April 8
Fukuoka: Flowering date March 18, Full Bloom date March 26
Hakodate – Hokkaido: Flowering date April 21, Full Bloom date April 25
Sapporo – Hokkaido: Flowering date April 25, Full Bloom date April 28
Weather changes can easily affect the blooming period, so despite following the general forecast, it's important to stay updated with the latest forecast as your trip approaches. Here's a handy cherry blossom blooming meter in Japan for monitoring.
Step 2: Decide on travel dates and locations to visit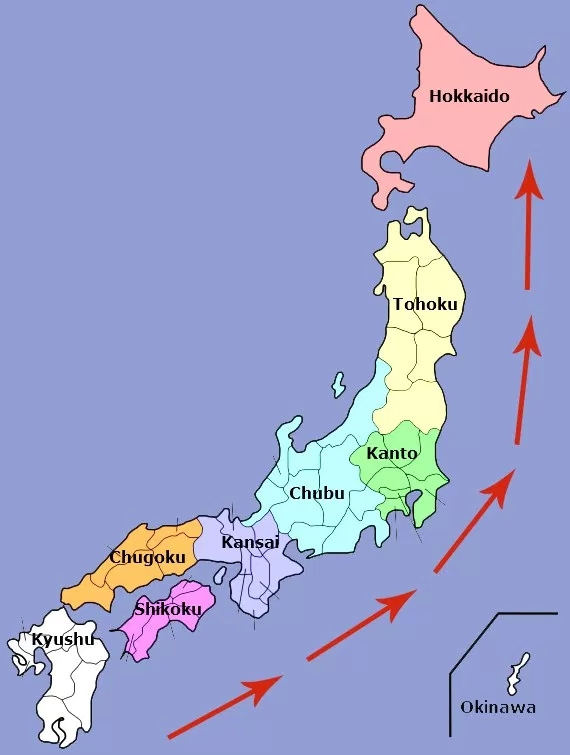 Photo credit: Kishou
It may seem obvious, but making a decision is really a lot harder. As you can tell from the forecast, the blooming generally follows a pattern from the south to the north, which means there are plenty of dates and options for Japanese cities you can visit. Here are a couple of tips.
Pro-tip 1: Skip Okinawa
Being so far south, Okinawa is the earliest Japanese region where Cherry Blossoms bloom. Often, it's also used as an indicator for the forecasts on mainland Japan. If you really want to maximise your chances, you'd want to be in an area where you can easily move around. Flying to Okinawa means you're stuck there for your entire vacation, as it doesn't make sense to take another flight elsewhere to catch the sakura.
Pro-tip 2: Pick regions during the main cherry blossom season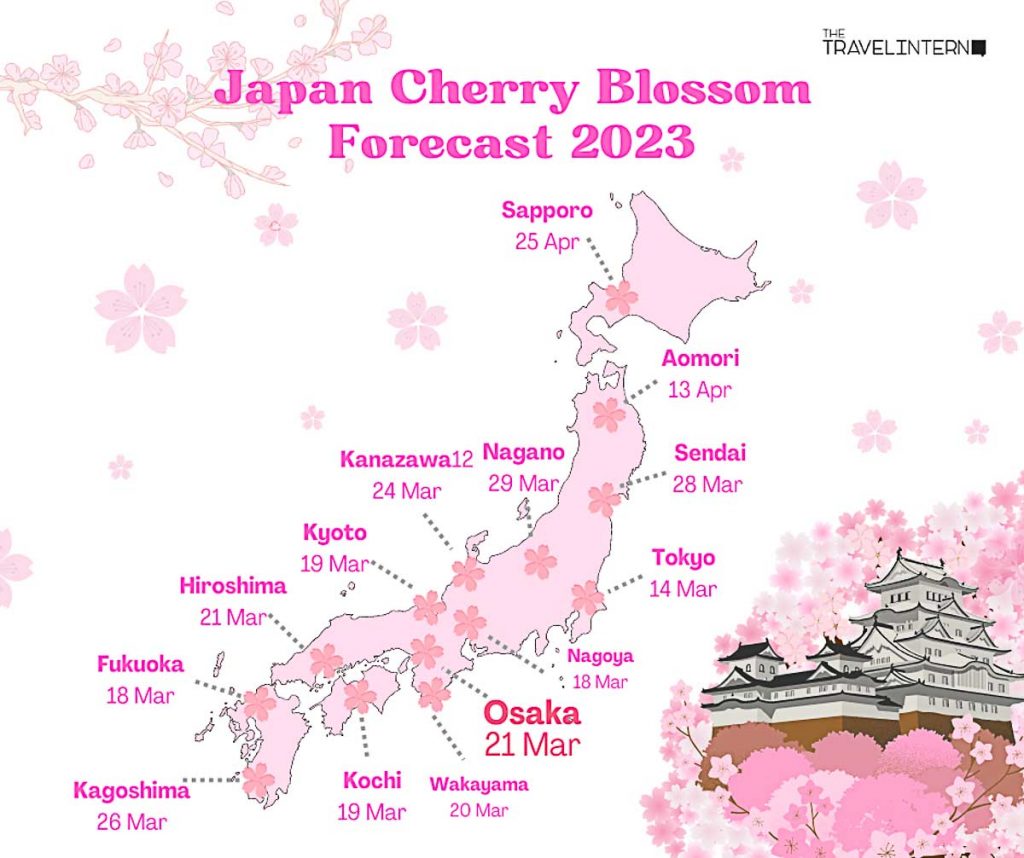 Therefore the most flexible plan is to decide on a date and location just before the middle of the season. Based on the 2023 Japan Cherry Blossom Forecast, Osaka is a pretty good entry point as the flowering is slated to start around 21 March and full bloom on 28 March.
Other than being a good hub for international flights, Osaka is very well-connected to other Japanese cities by rail. This means you can easily go cherry blossom hunting in different cities even if you miss the actual blooming period in Osaka. Sakura aside, Osaka is a pretty awesome city to explore! Check out the new Super Nintendo World at Universal Studios Japan or the new Instagram-worthy spot, teamLab Botanical Garden Osaka.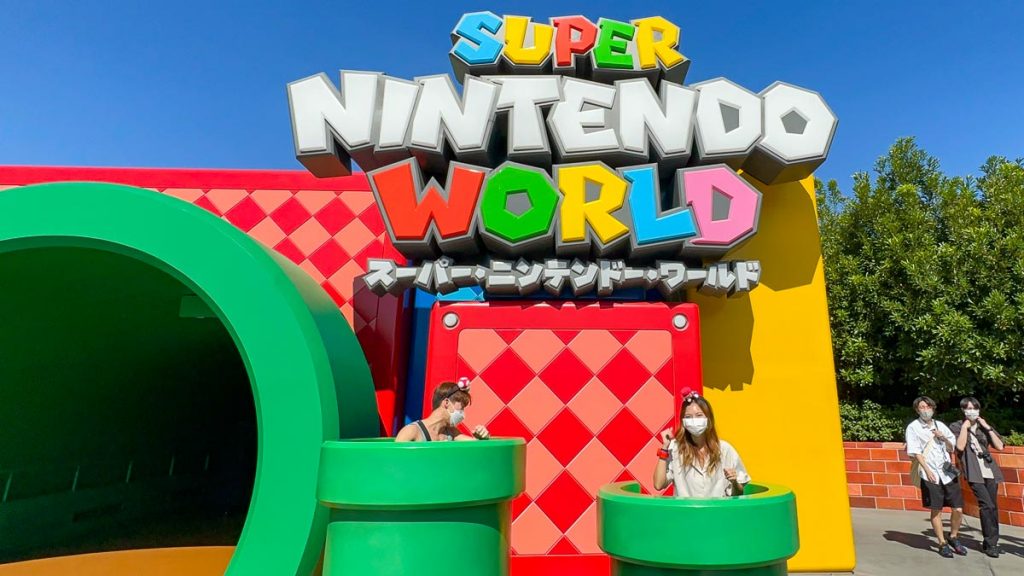 Check out our 7-Day Kansai itinerary under S$1.3k for fun things to do in and around Osaka!
Best Japanese cities and prefectures to catch the cherry blossoms
If you still can't make up your mind, here are a couple of Japanese cities to help you out.
Tokyo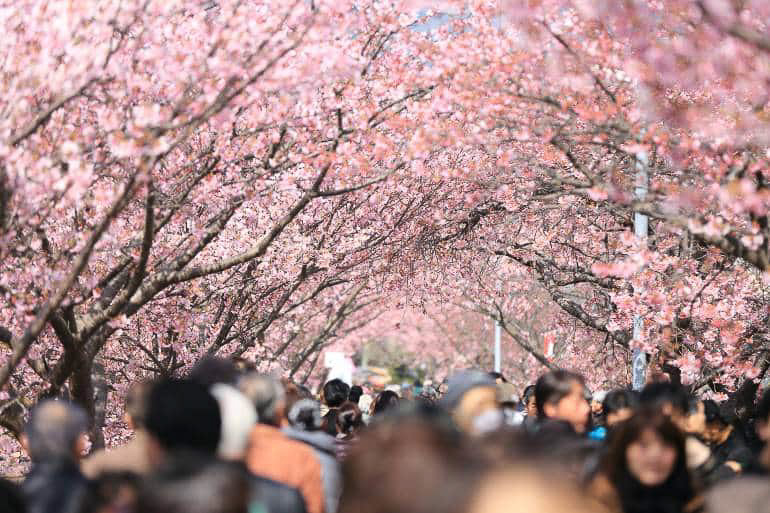 Photo credit: kazuend via Unsplash
Tokyo Tower during springtime. Photo credit: Harold Wainwright via Unsplash
Best cherry blossom viewing spots: Shinjuku Gyoen National Garden, Ueno Park, Chidorigafuchi, Sumida Park in Taito-ku, Inokashira Park, Megurogawa, Yoyogi Park, Koishikawa Korakuen Gardens, Iwamotoyama Park
If you're heading to Tokyo for this year's hanami, don't miss the Ueno Cherry Blossom Festival, one of the largest-scale sakura festivals in all of Japan.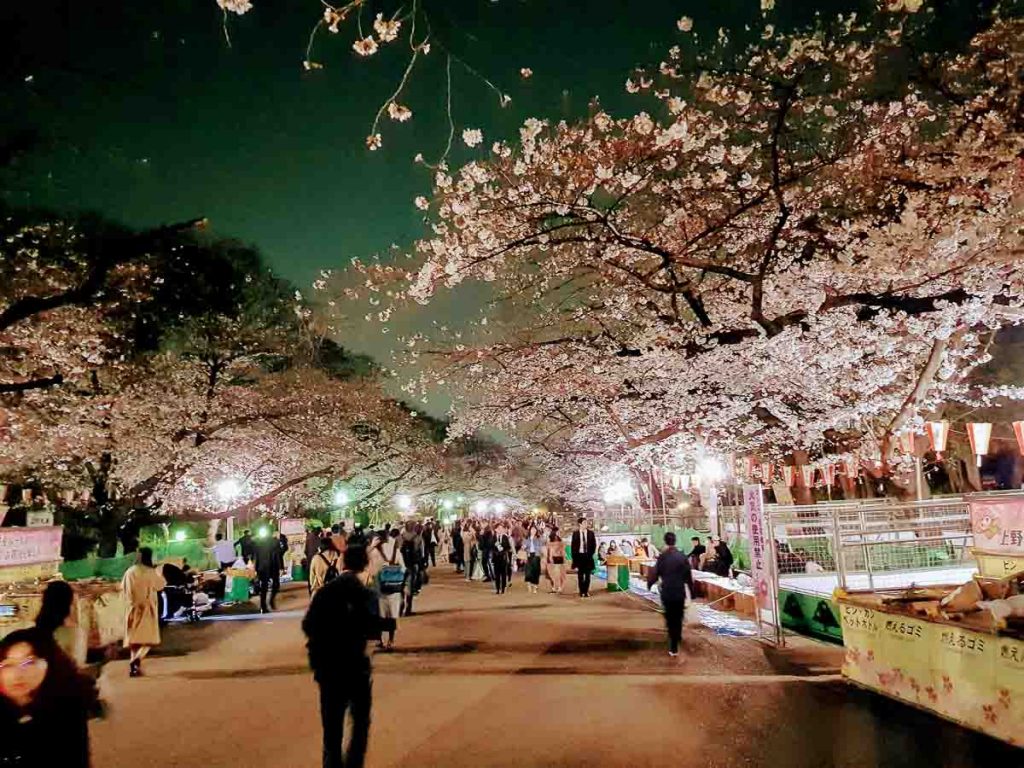 Ueno Park at night serves completely different vibes. Photo credit: Tokyo Cheapo
With over a thousand cherry trees planted along Main Street that runs for 500 metres, Ueno Park sees about a million visitors during cherry blossom season. Stay on through the night for even lantern illuminations along the street for an even more magical sakura experience at Ueno Park.
Our favourite capital city is also the most interesting with a myriad of subcultures. If you're after a mix of the traditional and new, Tokyo's the place to be. Check out our latest 7D6N Tokyo road trip itinerary to find some of our favourite things to do, see and eat in and around Tokyo!
Mount Fuji (Fuji Five Lakes Region)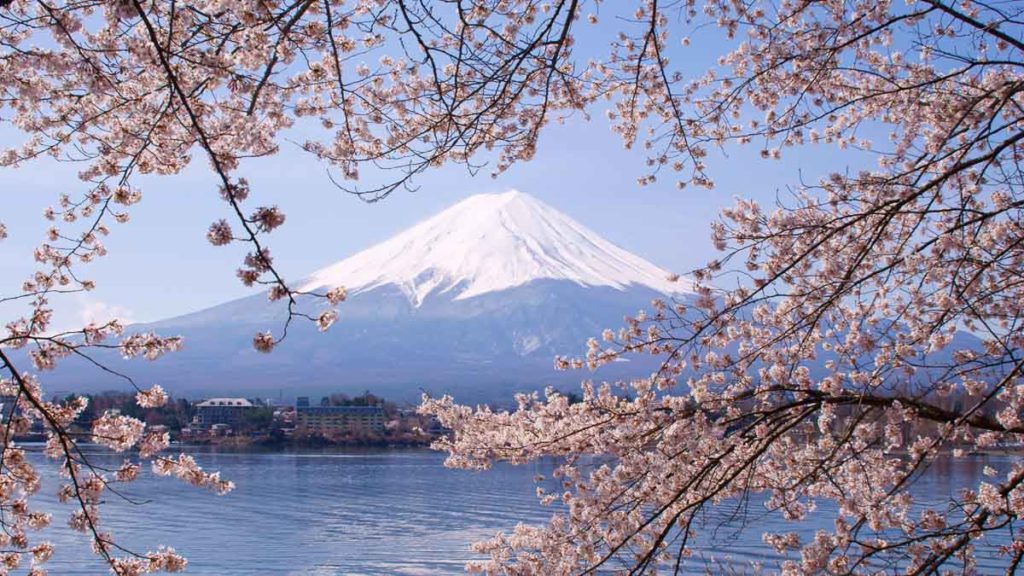 Mt. Fuji and the Fuji Five Lakes (Fujigoko) region are gaining traction as cherry blossom viewing spots. Photo credit: Midori on Wikimedia Commons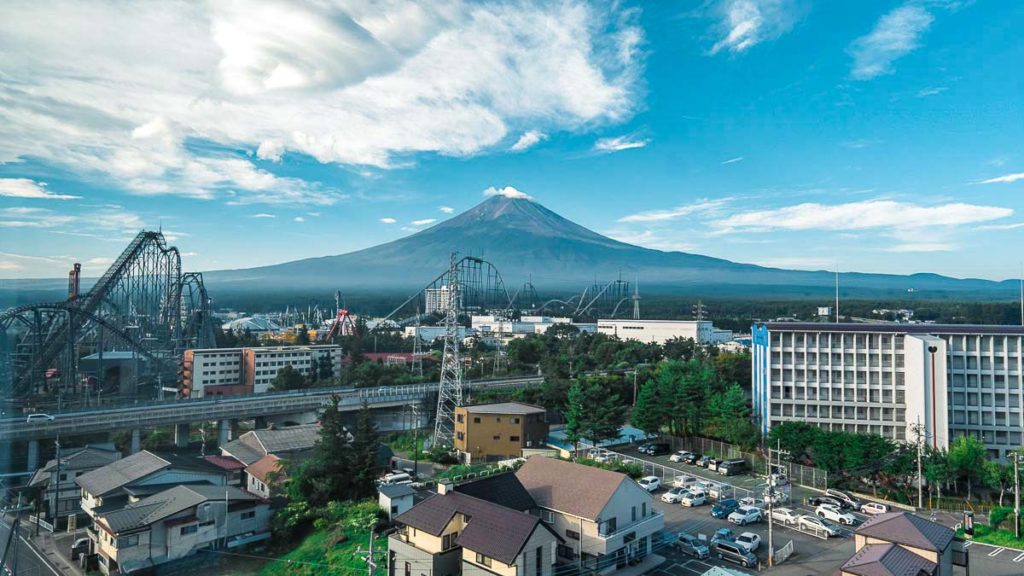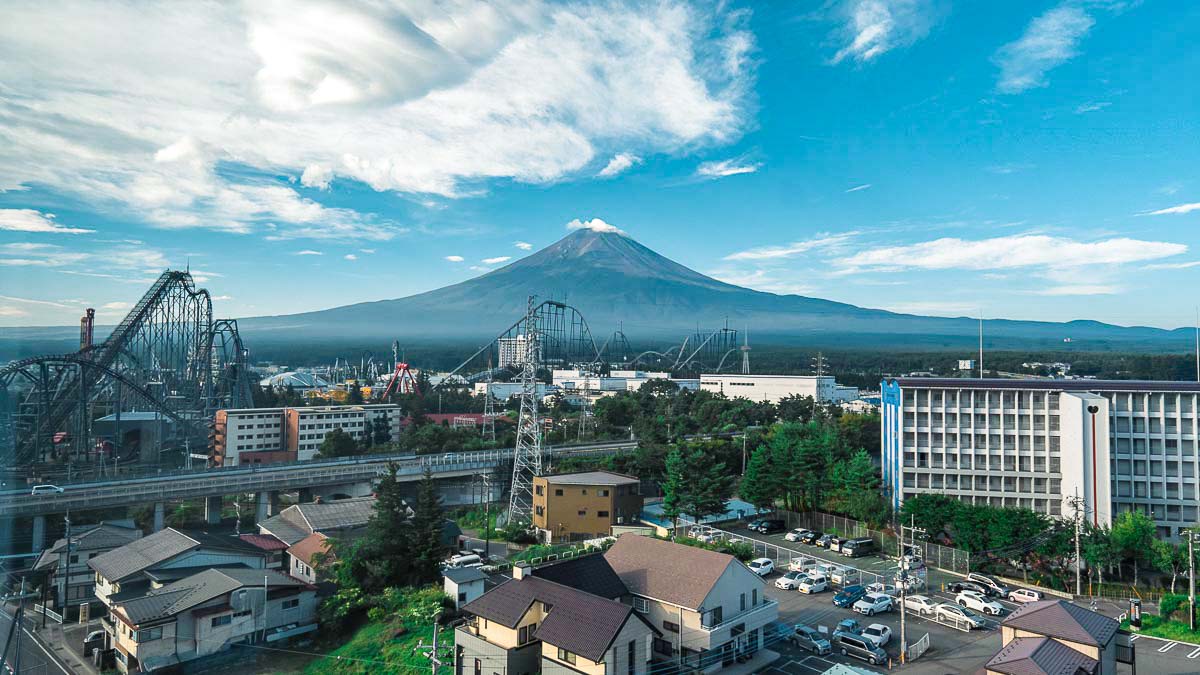 Best cherry blossom viewing spots: Chureito Pagoda, Eastern and Northern Shores of Kawaguchiko, Ubuyagasaki Peninsula, Iyashi no Sato, Oshino Hakkai
The most iconic mountain in Japan becomes even more picturesque during spring when nearby cherry trees bloom. Mount Fuji and the Fuji Five Lakes region are just under two hours away from Tokyo via direct train, making it a perfect day-trip location for travellers based in Tokyo.
Another popular cherry blossom festival in the Tokyo-Fujiyoshida area is the Fuji Kawaguchiko Cherry Blossom Festival. During the blooming season, locals welcome the crowd with food, drinks and craft stalls set up. Visitors can also expect night illumination that happens after sunset till 9PM.
Read also: 3D2N Road Trip Itinerary from Tokyo to Mount Fuji Itinerary Under S$570
Nagoya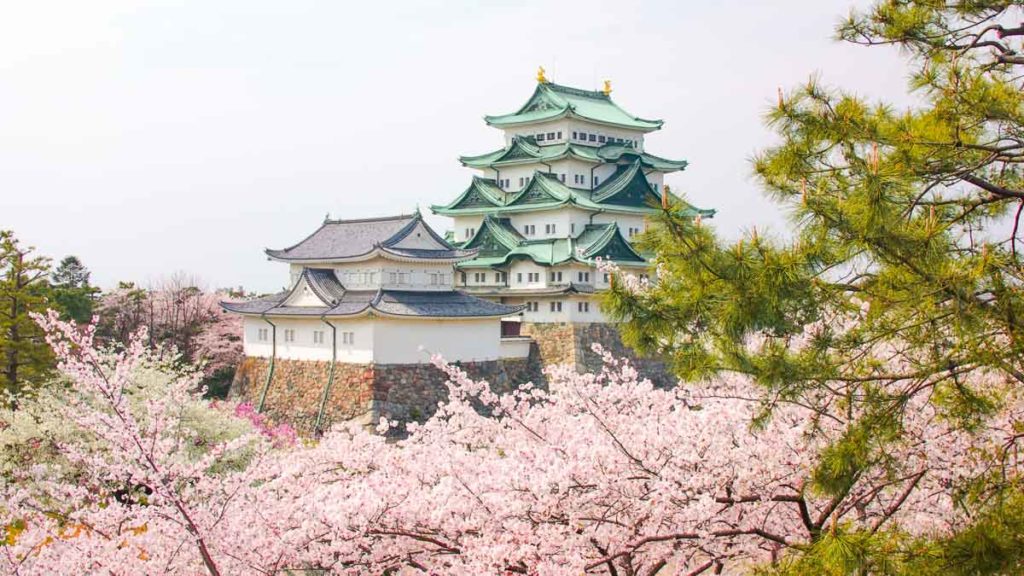 Nagoya Castle during springtime. Photo credit: 名古屋太郎 on Wikimedia Commons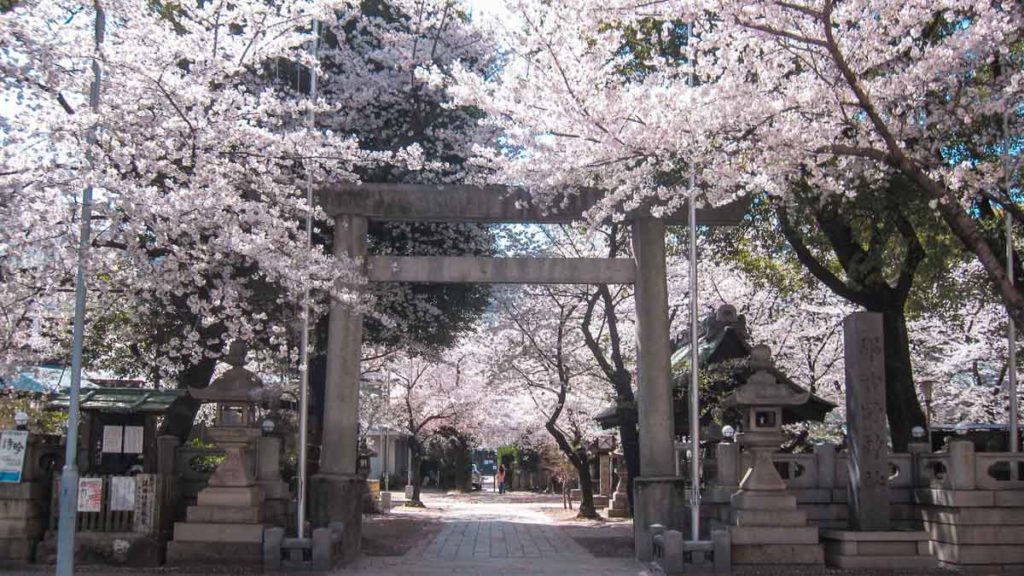 Cherry trees in full bloom at Nagoya Shrine. Photo credit: Gryffindor on Wikimedia Commons
Best cherry blossom viewing spots: Kanazawa Castle, Yamazaki Riverside, Inuyama Castle, Tsuruma Park, Nagoya Peace Park, Nabana no Sato Botanical Garden
Located between Tokyo and Osaka, Nagoya is one of Japan's prominent castle towns. Today, it is also home to automaking giants such as Toyota, Honda, and Mitsubishi Motors. Other than the industrial products it is known for, Nagoya's restored castle, ancient shrine and parks are also beautiful scenic spots for beautiful cherry blossom viewing.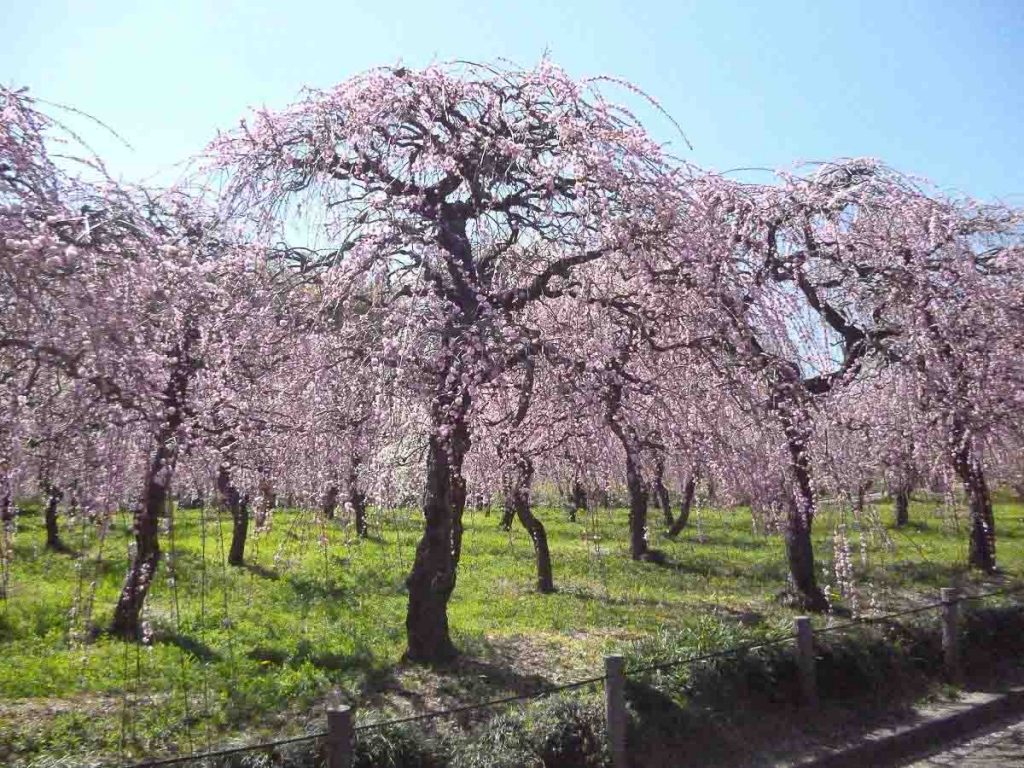 Photo credit: Nagoya Convention & Visitors Bureau
If you're in Nagoya during the springtime, do catch the Weeping Plum Tree Festival happening between 23 February to 21 March 2023. Although they're not cherry trees, there are 12 kinds of plum trees in bloom at the Nagoya City Agricultural Center dela Farm. The festival will see a morning market and an outdoor market around the area.
Read also: Day trips from Nagoya: Gateway to the Hidden Gems of Mie and Gifu Prefectures
Osaka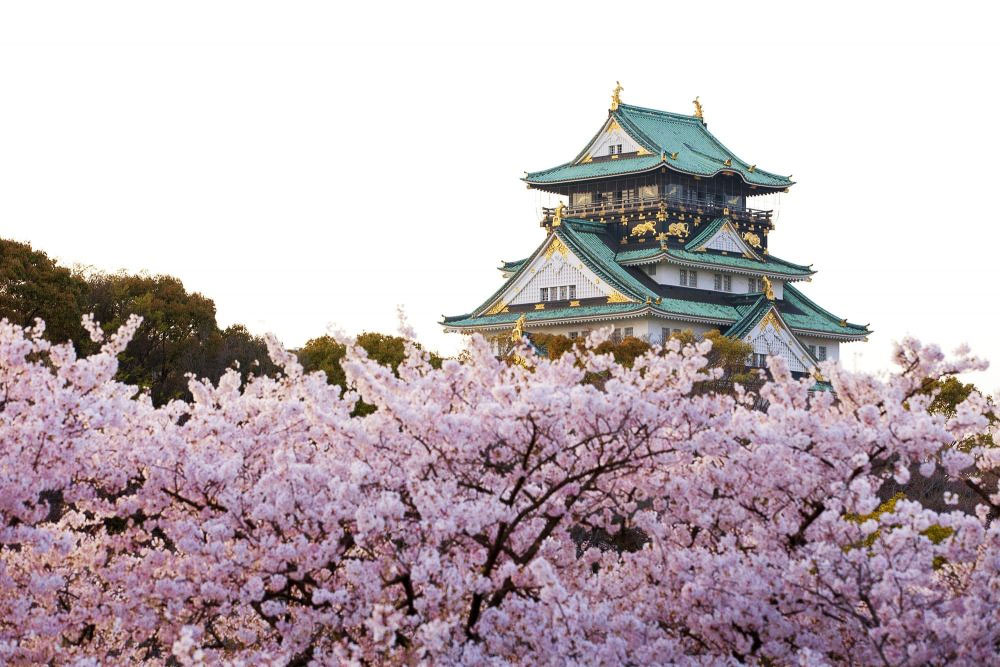 Osaka Castle Park. Photo credit: FastJapan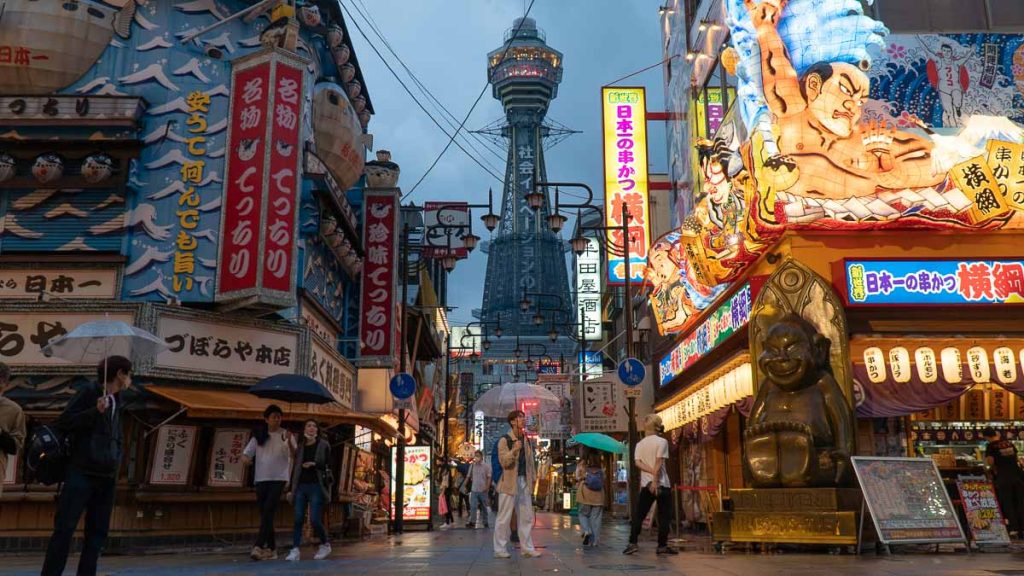 Shinsekai, Osaka.
Best cherry blossom viewing spots: Kema Sakuranomiya Park, Osaka Castle Park, Expo 70 Commemorative Park, Osaka Mint, Tsurumi Ryokuchi Park, Nagai Park, Shirokita Park, Osaka Gokoku Shrine, Settsukyo Gorge
The unofficial food capital of Japan and home to the magnificent Universal Studios Japan and Osaka Castle, Osaka is another great place to catch the cherry blossoms due to its numerous connections to all parts of Japan.
And in Osaka itself, sakura festivals will be held in multiple locations, including the Osaka Castle Park, Expo 70 Commemorative Park and Settsukyo Gorge. There'll be performances, local food and drinks stalls set up, as well as nightly illuminations.
Read also: Osaka Transport Guide — Maximising Your Transport Passes for Travelling In And Around Osaka
Kyoto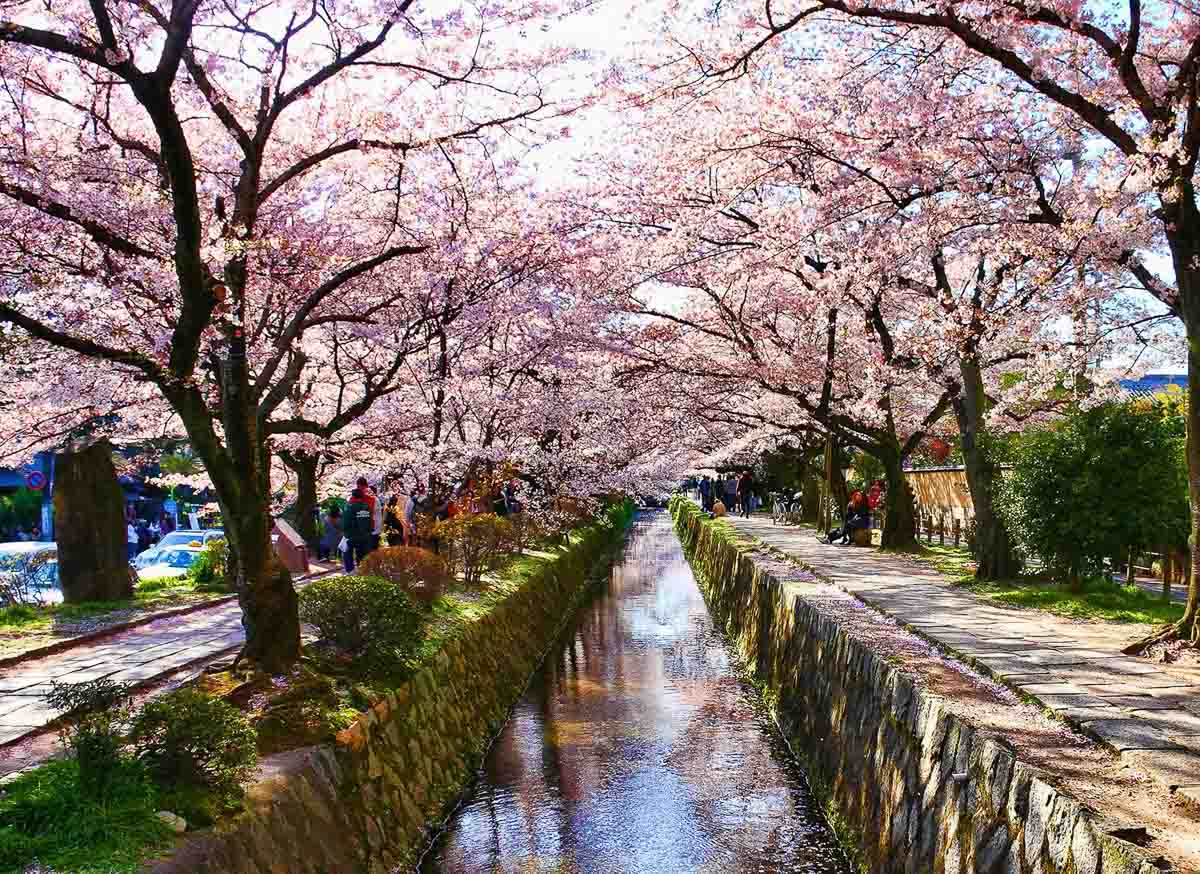 Philosopher's Path. Photo credit: Wicked Tourism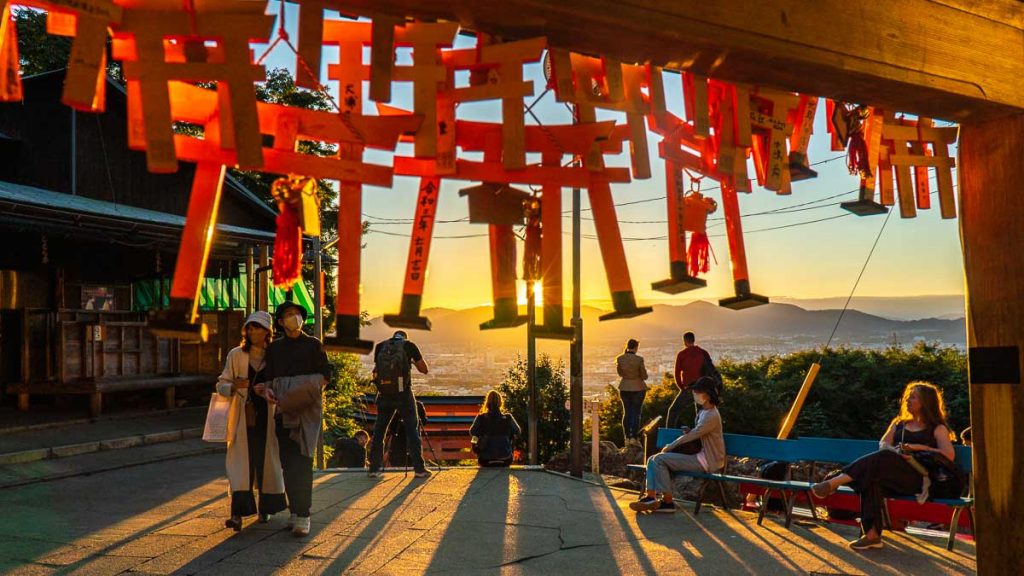 Fushimi Inari.
Best cherry blossom viewing spots: Philosopher's Path, Maruyama Park, Heian Jingu Shrine, Arashiyama area, Toji Temple, Kiyomizudera Temple, Kamo Shrine, Hirano Shrine, Nijo Castle
From the red torii gates of Fushimi Inari Shrine to towering bamboo at Arashiyama Bamboo Grove, Kyoto is not shy of photogenic and culturally rich spots. It's close to Osaka and it'll be great to cover both destinations together.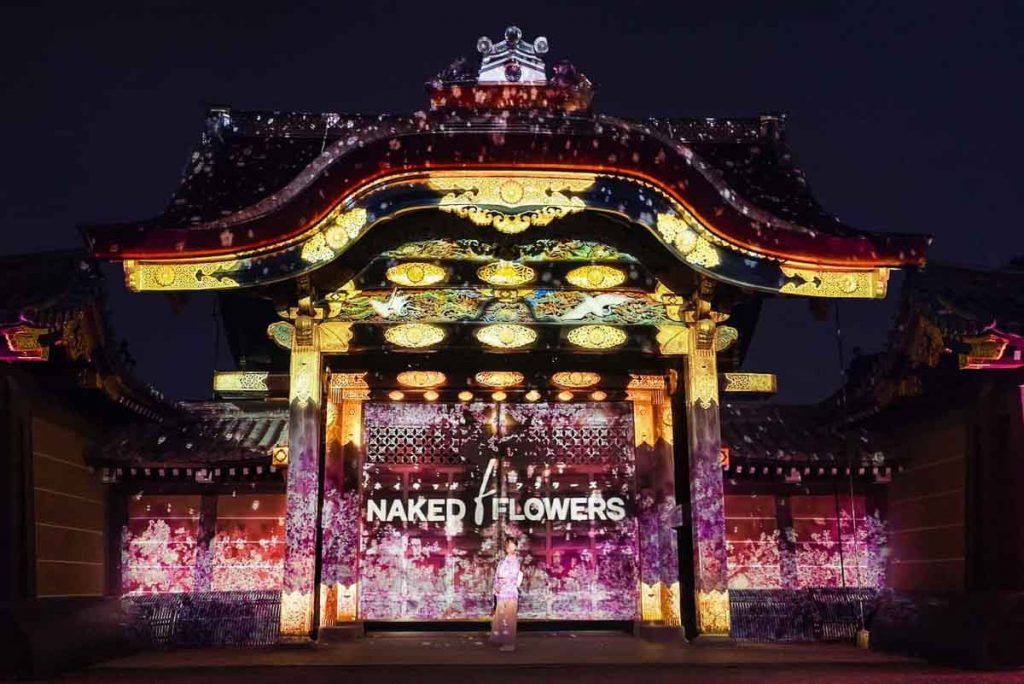 Night flower experience art exhibition "NAKED FLOWERS 2023 Sakura World Heritage Nijo-jo Castle" at Nijo Castle. Photo credit: NAKED, INC
Located at the heart of Kyoto, Nijo Castle hosts various festivals throughout the year. And during the sakura season, the castle will have nighttime admission for the NAKED FLOWERS 2023 Sakura World Heritage Nijo-jo Castle which sees about 300 cherry trees illuminated against the Kara-mon Gate and other historic buildings.
Read also: Kyoto Budget Guide
Hiroshima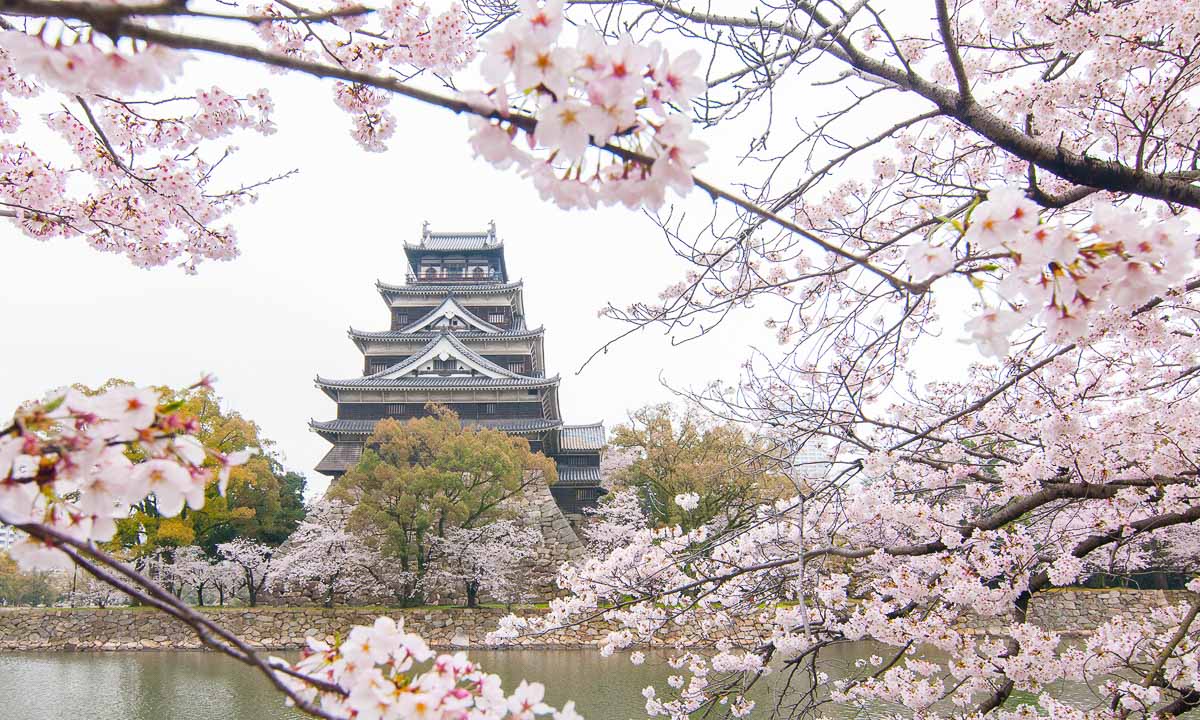 Hiroshima Castle. Photo credit: imgur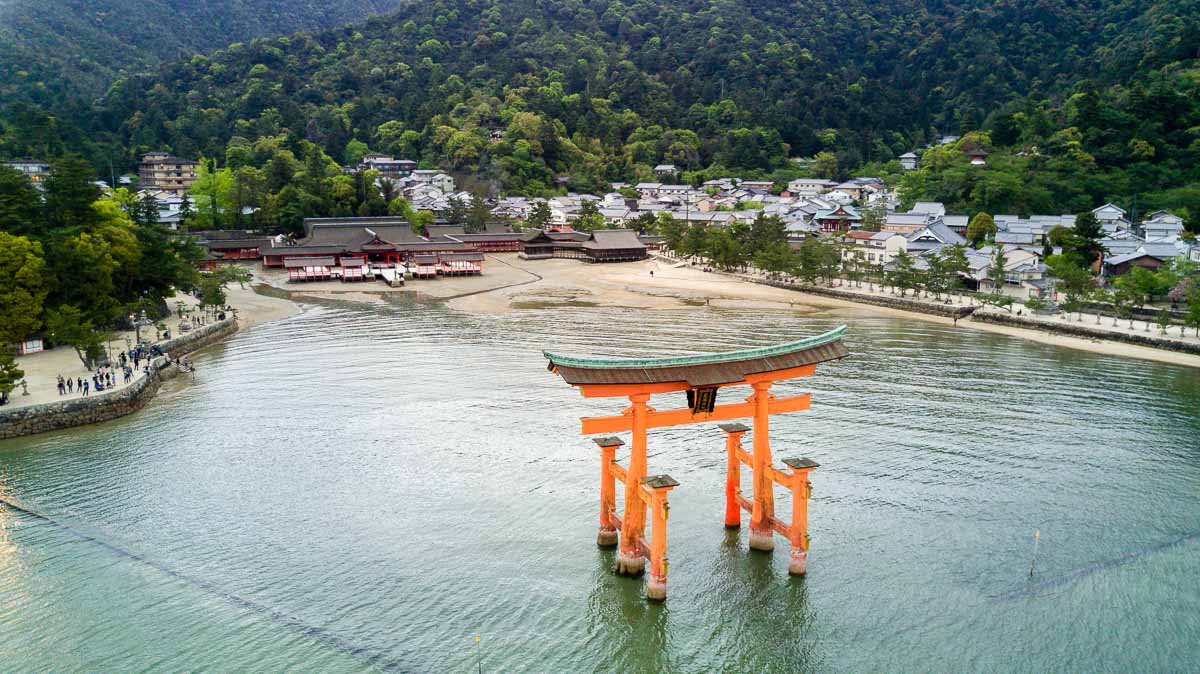 Itsukushima Jinja, city of Hatsukaichi in Hiroshima.
Best cherry blossom viewing spots: Hiroshima Peace Park, Hiroshima Castle, Shukkeien Garden, Hijiyama, Miyajima, Senkoji Park, Kintaikyo Bridge Iwakuni, Chuo Beach
Hiroshima has come a long way since the dropping of the atomic bomb during WWII. Other than serving as a reminder to humanity, there are plenty of parks and memorials where you can enjoy the beauty and serenity of the cherry blossoms.
Hatsukaichi city will see its biggest sakura festival held in April. There'll be food stalls and a centre stage set up where visitors can enjoy performances while admiring the sakura blooms.
Read also: Japan Budget Itinerary: 8 Days, 9 Cities, Hiroshima to Osaka for under $1.1k including flights and accommodation
Niigata/Nagano Prefecture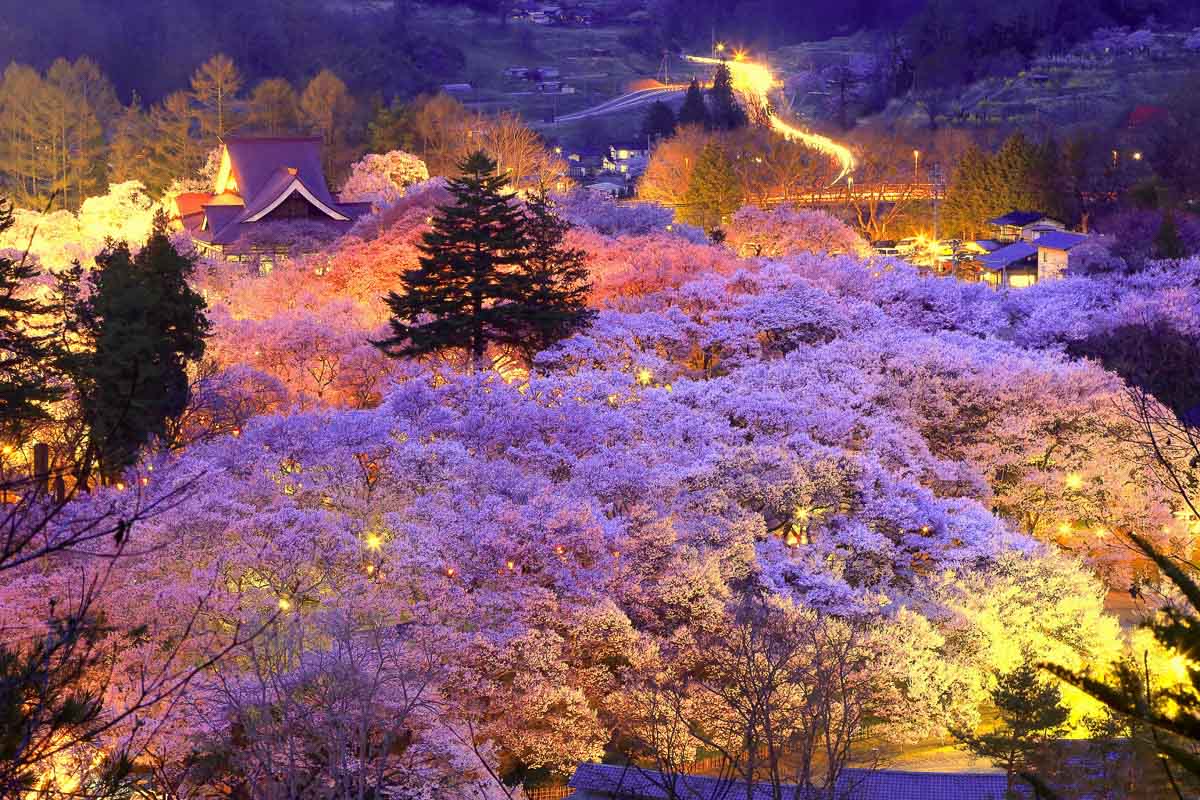 Takato Joshi Park, Nagano. Photo credit: GoNagao.net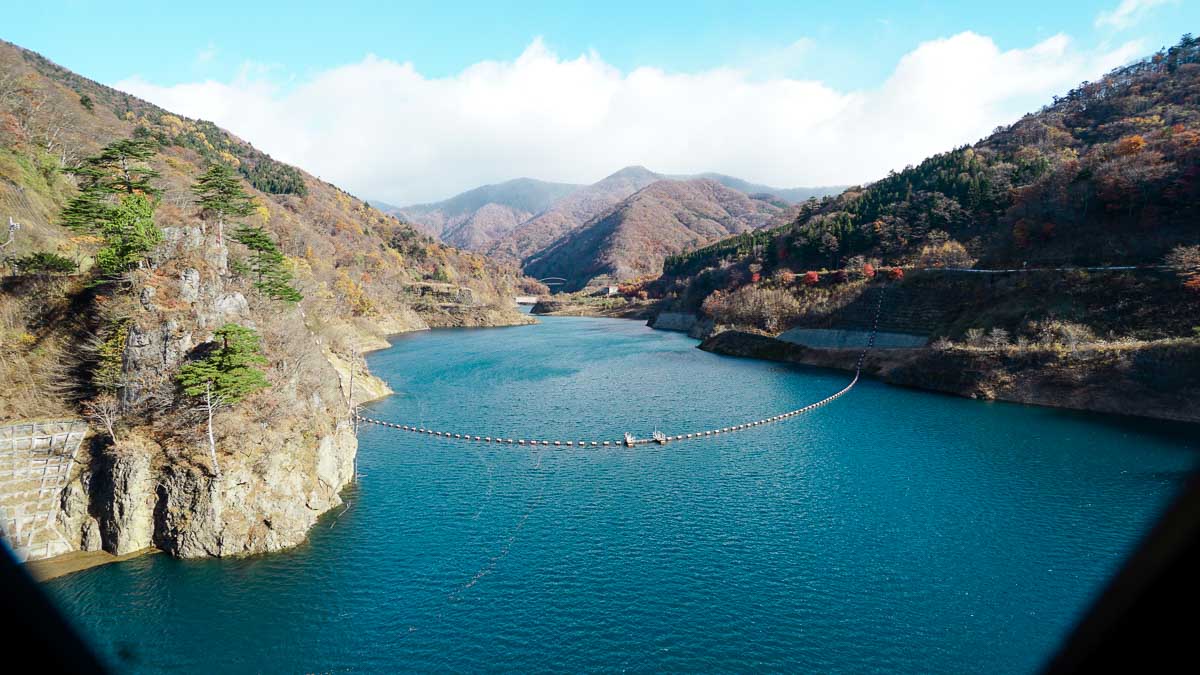 Lake Okushima, Nakanojo.
Best cherry blossom viewing spots: Takato Castle Ruins, Takada Park, Koboyama Koen, Komoro Kaikoen, Hakusan Park, Shinanogawa Yasuragitei Ryokuchi Park, Former Niigata Customs House, Shinano River Water Shuttle
Often left out of many itineraries, the regions of Niigata and Nagano will charm anyone willing to step out of the main cities. Home to the most famous Zenkoji Temple for pilgrims, there are many hidden gems waiting to be explored. Not to forget the onsen-soaking snow monkeys!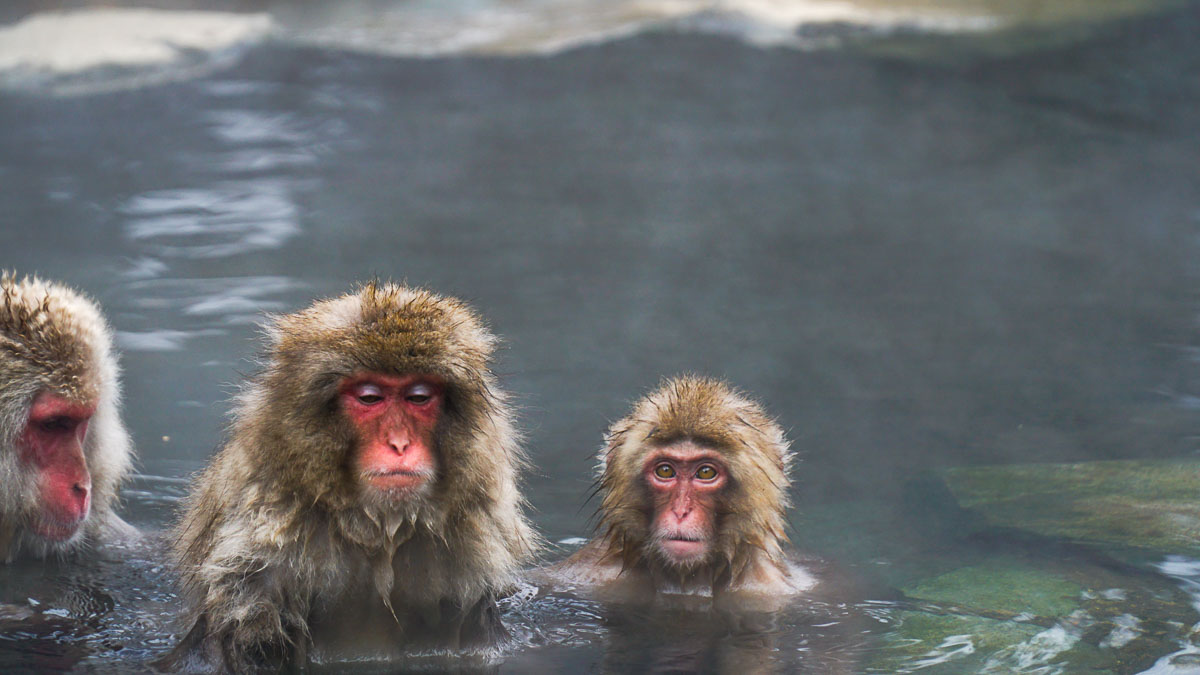 Jigokudani Snow Monkey Park, Nagano.
With over 1,500 cherry trees in bloom, the annual Takato Cherry Blossom Festival is one of Japan's most popular hanami spots. If you're in Nagano during the season, this is an event not to be missed. Stay on for the light-up that happens after sunset too!
Read also: Niigata Nagano Travel Guide via the JR Pass
Tohoku/Yamagata Prefecture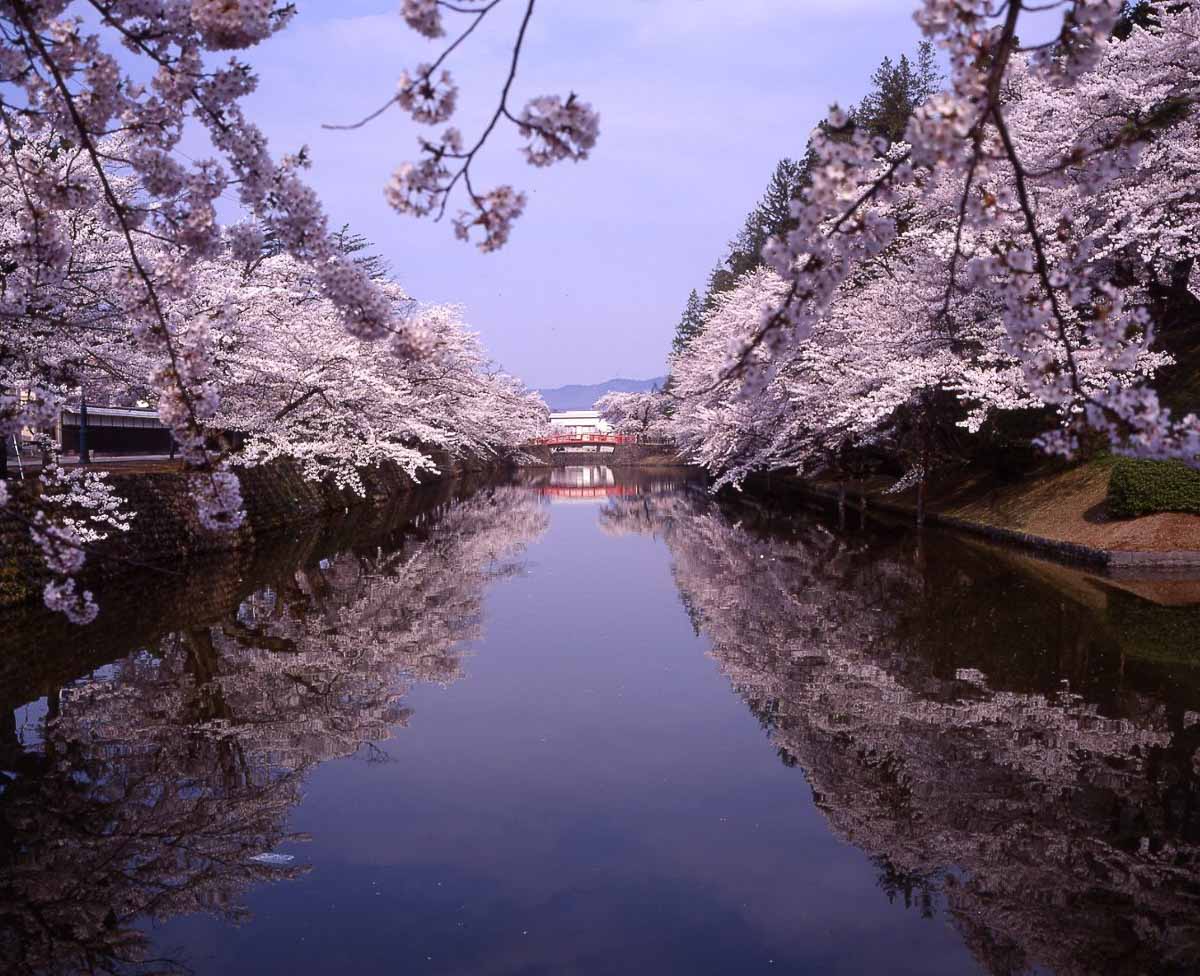 Uesugi Shrine, Yamagata. Photo credit: Yamagatakanko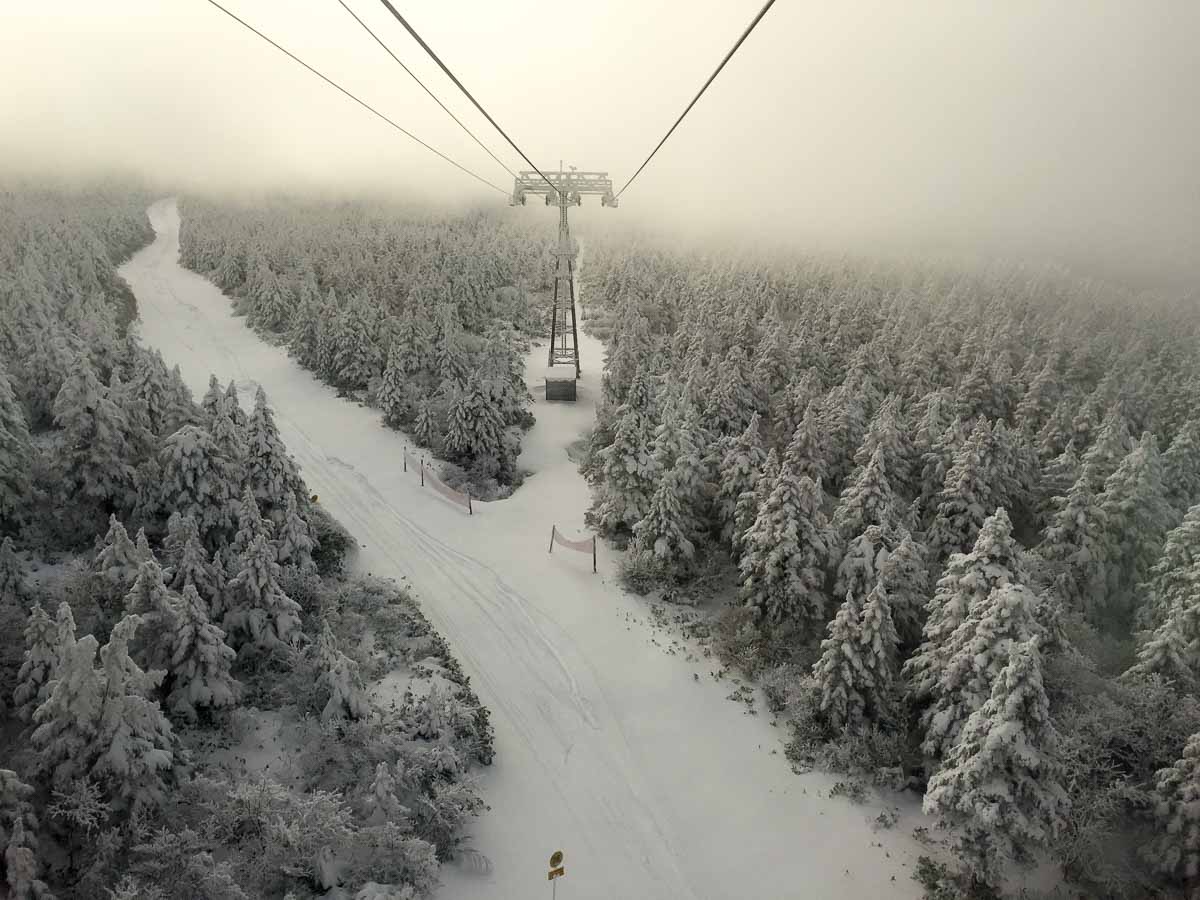 Mount Zao, Yamagata.
Best cherry blossom viewing spots: Miharu Takizakura, Kajo Castle, Hirosaki Park, Kitakami Tenshochi Park, Okitama Sakura Corridor
Japan's best-kept secret. Blessed with surreal scenery, good food, and a chilled-out vibe, Tohoku and Yamagata are underrated regions perfect for those wanting to escape city life.
At Yamagata, hanami is celebrated at the Yamagata Cherry Festival, where there is local food, entertainment, and even fireworks displays. Visitors can also purchase cherry products such as cherry-infused alcohol or ice-creams at the festival.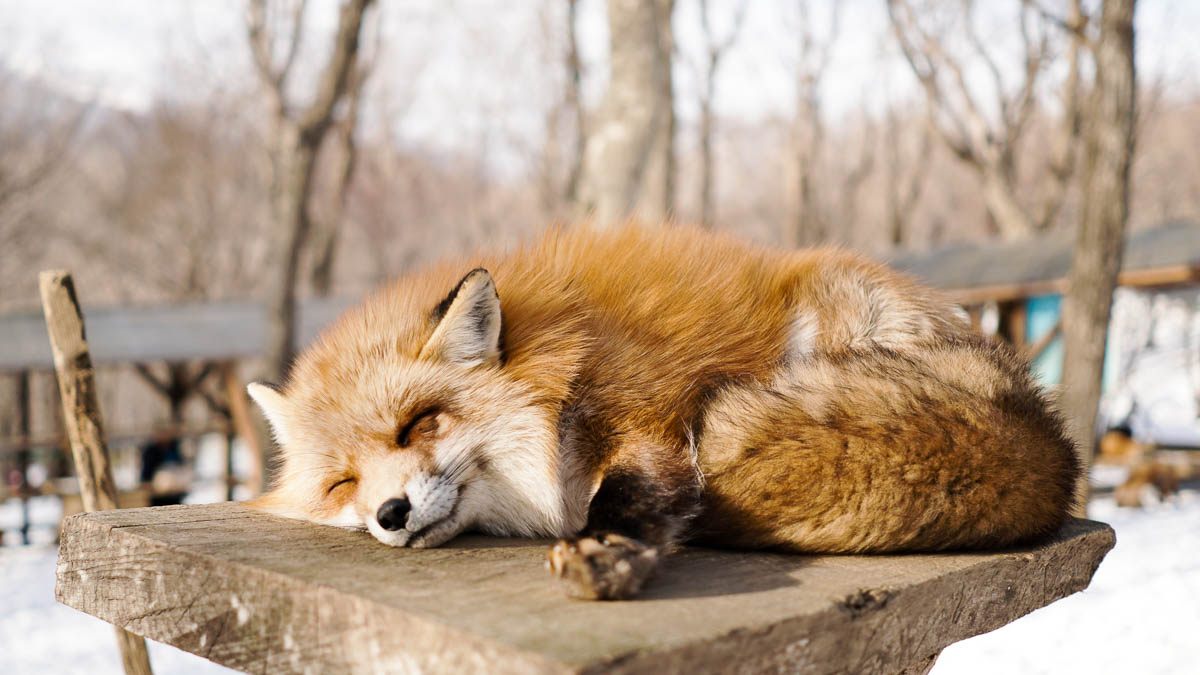 Zao Fox Village, Miyagi.
Read also: Yamagata Guide: Japan's secret winter wonderland
Hokkaido Prefecture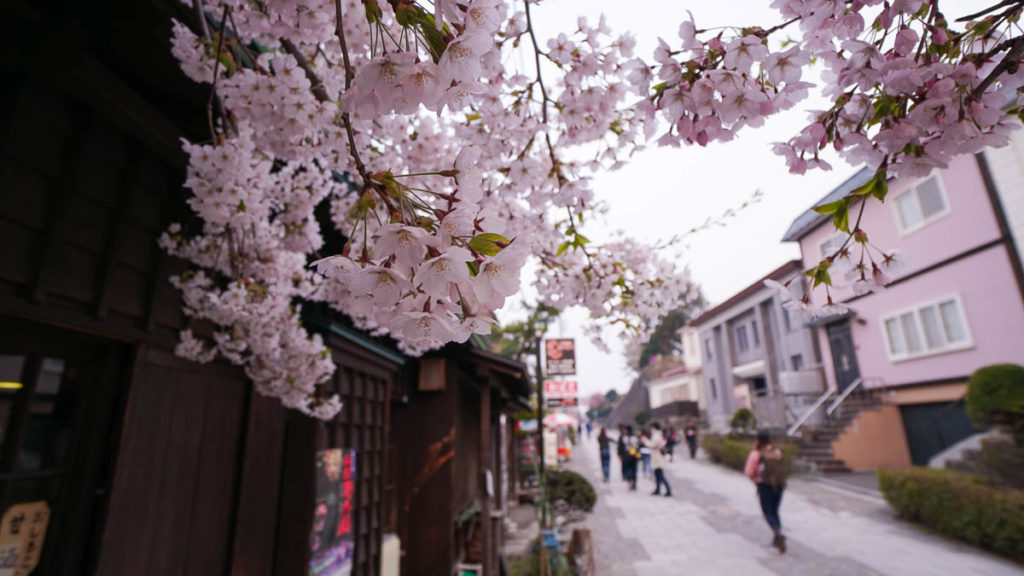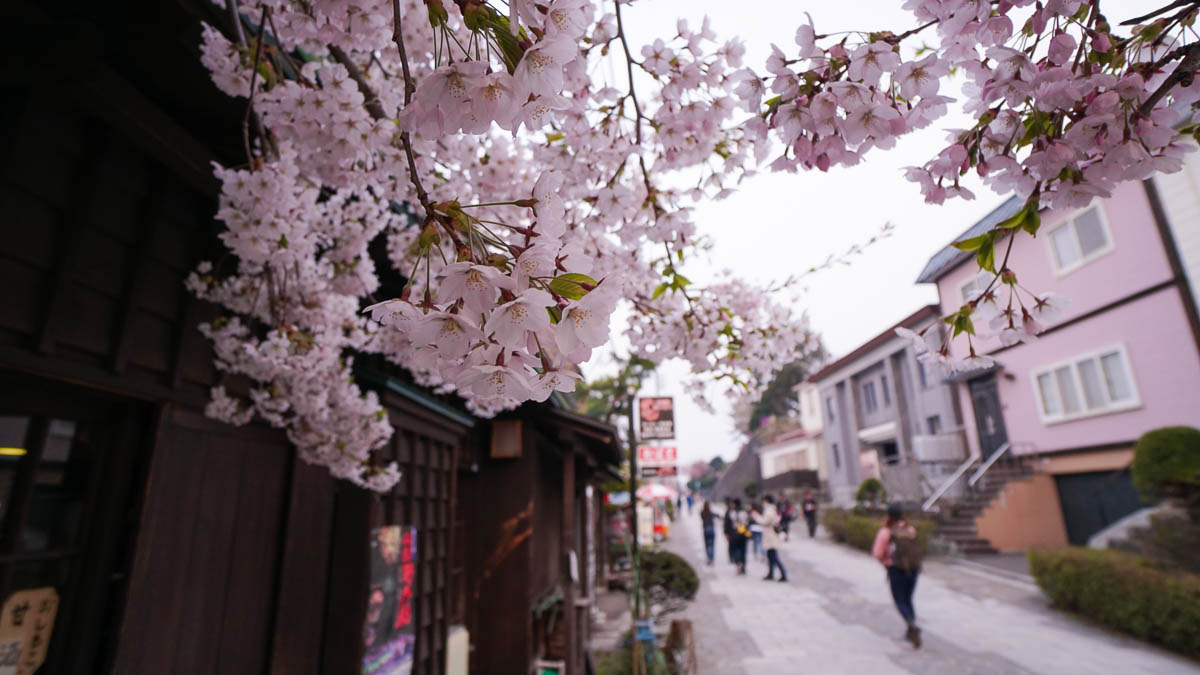 Hakodate.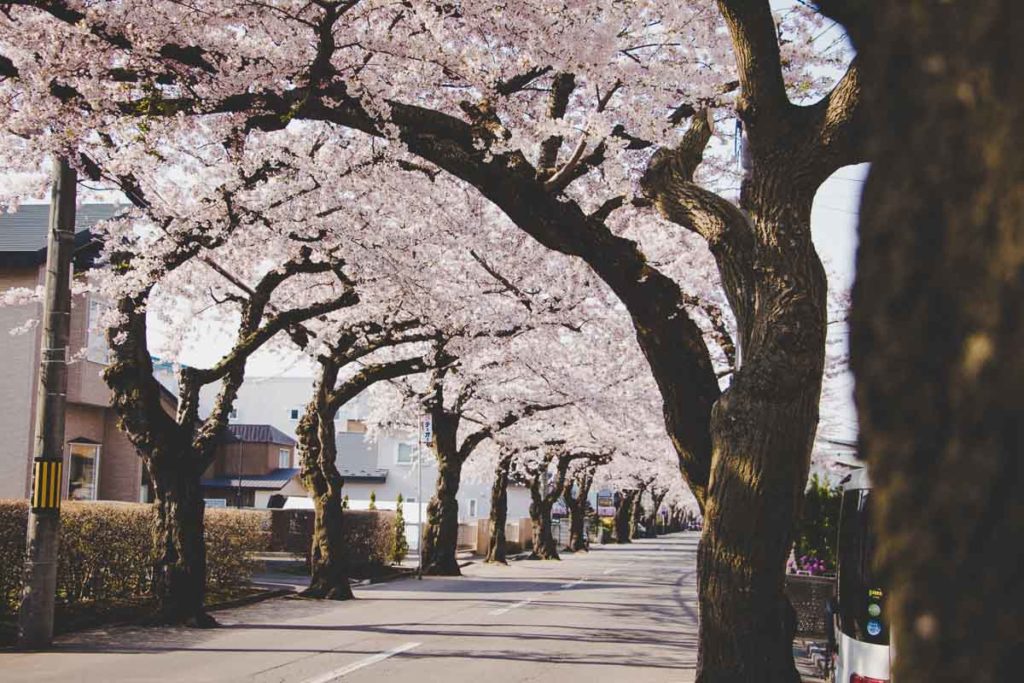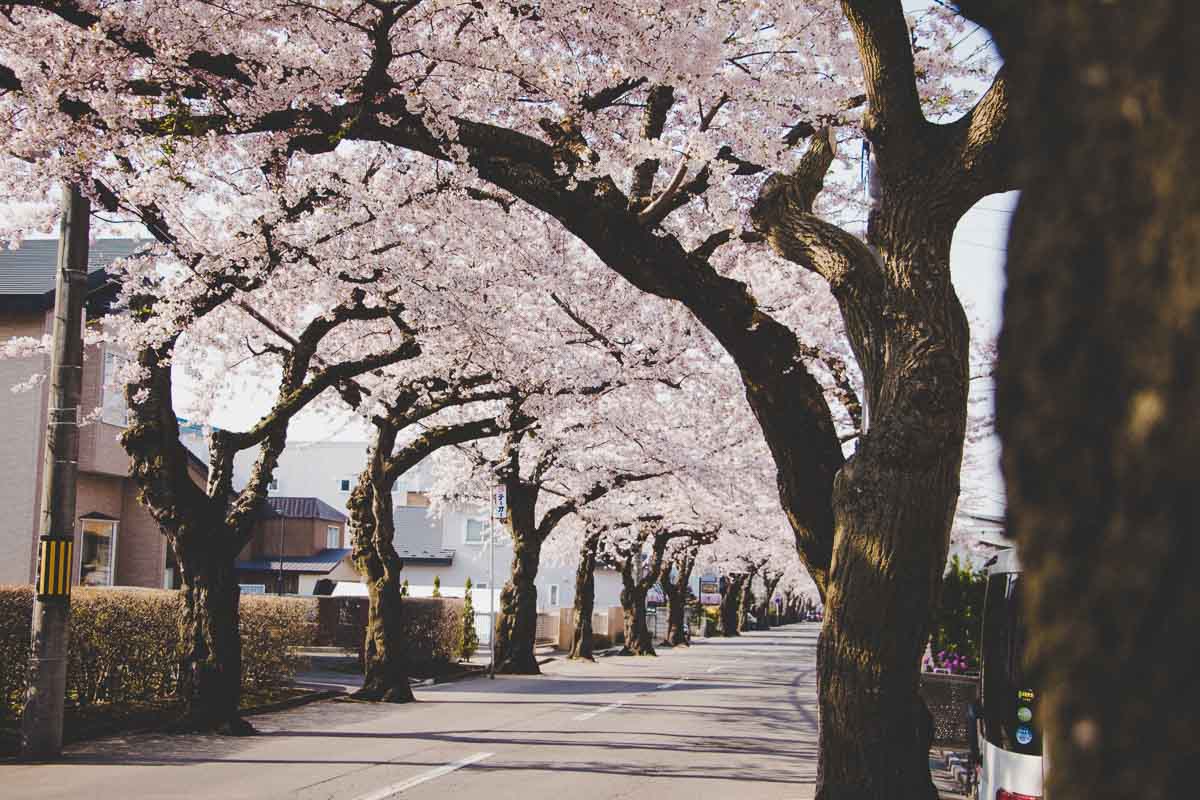 Sakuragaoka Street.
Best cherry blossom viewing spots: Matsumae Park, Goryokaku Park in Hakodate, Noboribetsu Onsen Flower Tunnel, Maruyama Park, Nakajima Park, Asahiyama Park, Seiryuji Temple, Sakuragaoka Street
Goryokaku Park is one of Hokkaido's top cherry blossom viewing spots — not only does the park look beautiful in pink during the daytime, but it's also mesmerising when lit up with illuminations at night.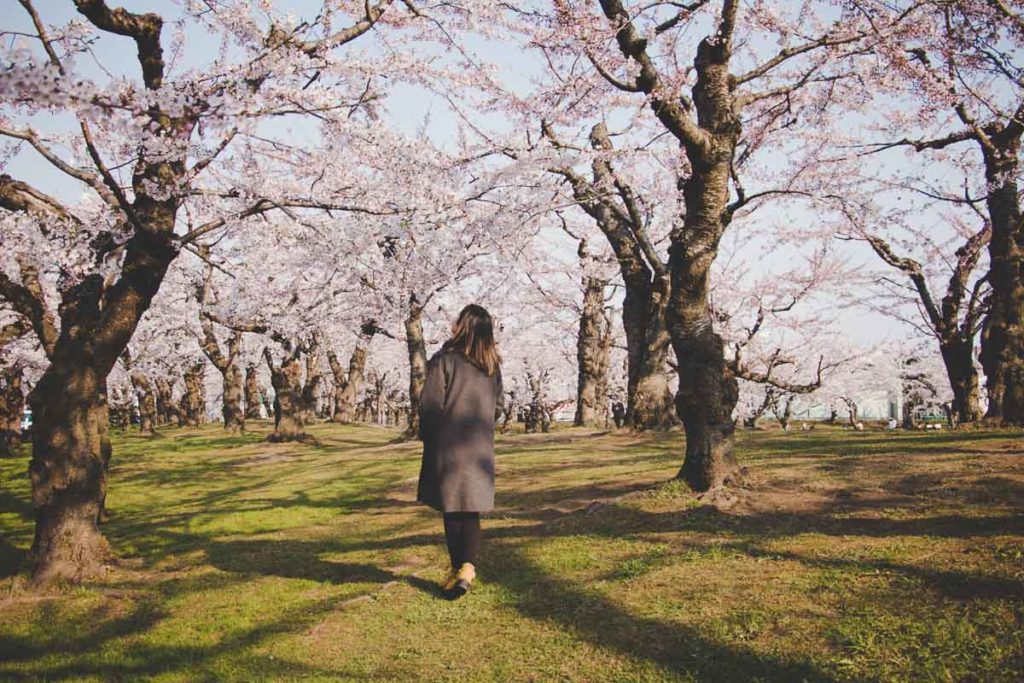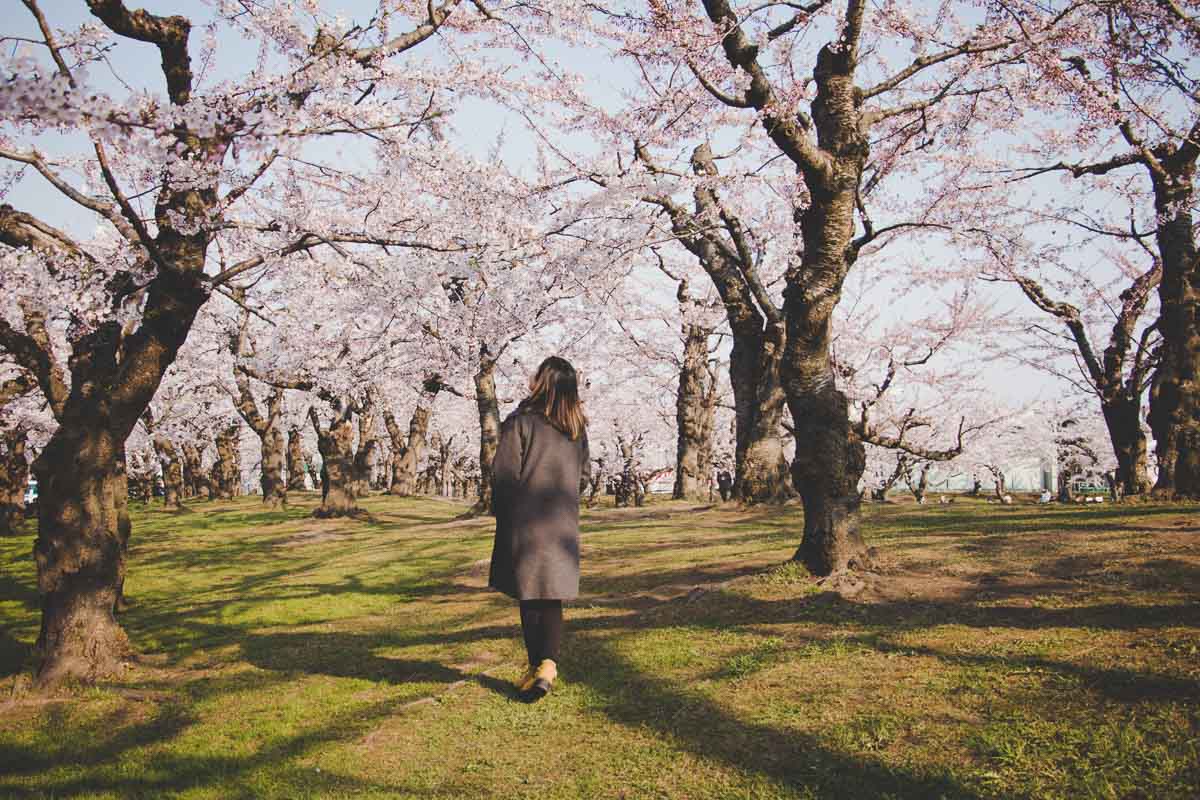 Goryokaku Park in Hakodate.
Hokkaido is a stunner during the autumn months too.
Much more than a winter destination, the northernmost region of Japan is also known for its volcanos and hot springs. Hokkaido is also one of the best places in Japan to go on a road trip between Spring and Autumn.
Read also: 6D Hokkaido Under S$1k — Must-Eat, See and Dos in Sapporo, Otaru, Asahikawa and Biei
Still not sure where to go? Check out our full list of Japan guides for inspiration!
Step 3: Book your flights & accommodations early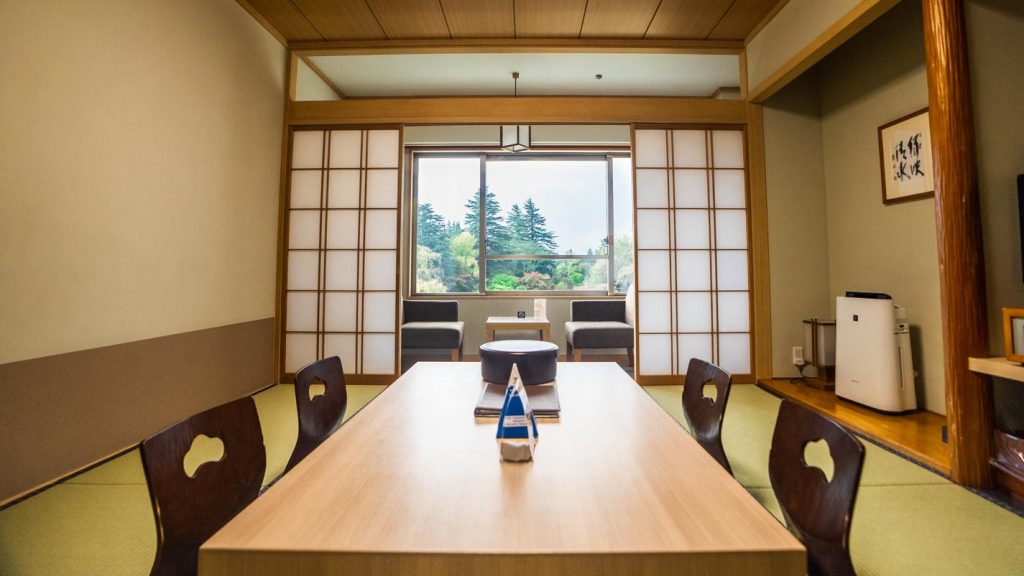 It's the peak season, so try and settle those big-ticket items like flights and accommodation early to keep costs low. If you want more flexibility, many airlines also allow you to change your travel dates for a small fee. Of course, the earlier you decide the better, as the dates you might want to change to could be full or have a surcharge!
For accommodation, book early to secure your space but look for places with a 14 to 30-day cancellation policy in case you need to change your travel dates.
Step 4: Figure out where the special festivals & events are, and either
Avoid them at all costs
If jostling with people for space isn't your thing, look for alternative viewing spots in the city you're visiting. I know friends who prefer having their own space to take photos and enjoy the scenery. Simply google "[city you are visiting] cherry blossom festival", and you can easily get the information you need.
Or go on a pre-booked tour
For those who want to visit popular spots without the fuss, consider going on a pre-booked cherry blossom viewing tour to guarantee the best experience. Book a day trip from Tokyo to Lake Kawaguchi beside Mount Fuji for the most iconic views of the country.
Other cherry blossom viewing day tours you might find useful or complementary to your trip:
Tokyo
1) Hitachi National Seaside Park and Ashikaga Flower Park/Mito Kairakuen Park Trip: ~S$121
2) Miura & Yokohama One Day Tour from Tokyo: ~S$81
Mt. Fuji (from Tokyo)
1) Mt. Fuji Flower Festival Tour with Mt. Kachi Kachi Ropeway Experience from Tokyo: ~S$116
2) Mt. Fuji and Lake Kawaguchi Scenic Spots Day Tour from Tokyo: ~S$83
3) Mt. Fuji, Panoramic Ropeway & Seasonal Fruits Picking Day Tour from Tokyo: ~S$111
Tohoku
1) Zao's Snow Wall, Kokeshi Museum, Hitome Senbonzakura Tour from Sendai: ~S$145
Nagoya
1) Nagoya Castle & Shirotori Park with Beautiful SAKURA Views: ~S$101
Osaka & Kyoto
1) Miyama Thatched Village, Ine Bay & Amanohashidate Tour from Osaka: ~S$130
2) Three Sakura Viewing Spots in Kyoto One Day Tour from Osaka: ~S$88
3) Kyoto Sagano Romantic Train, Arashiyama, Kiyomizudera & Fushimi Inari-taisha Day Tour: ~S$71
*MOST IMPORTANT*


Step 5: Get an internal transport pass (JR Pass) and be flexible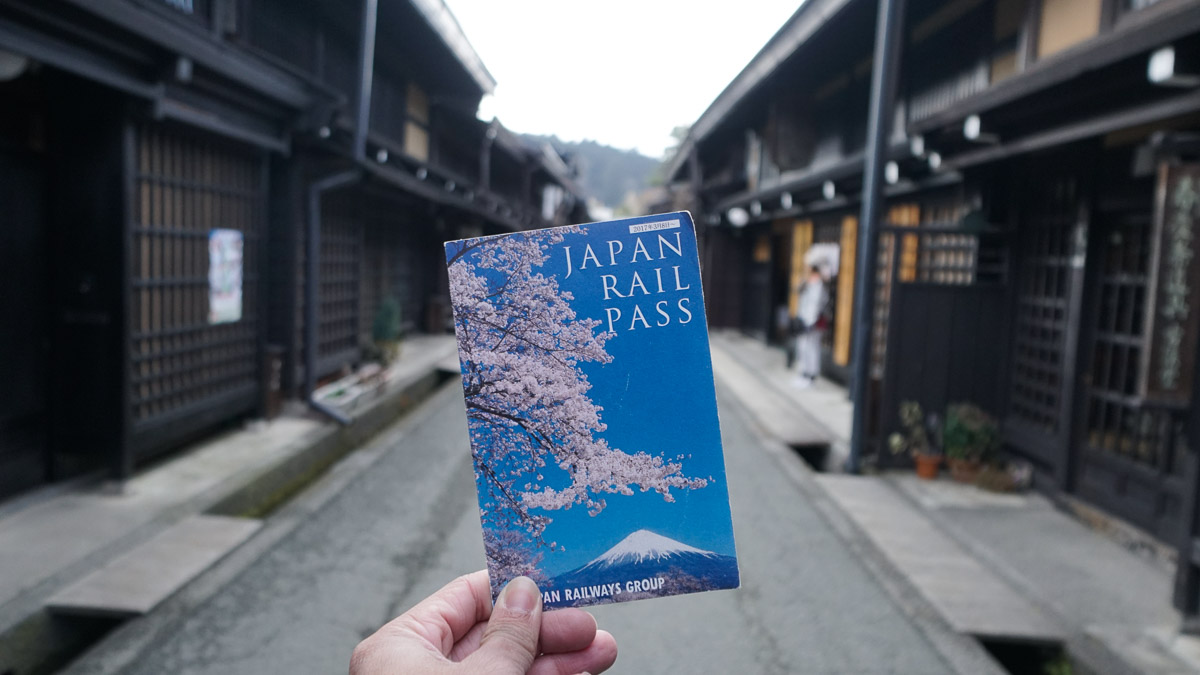 For the ultimate flexibility to increase your chances of a cherry blossom viewing experience, consider getting a JR Pass. The JR Pass allows you unlimited travel along all JR lines — the main intercity transport throughout Japan for a fixed price.
Getting the 7D Whole Japan JR Pass will give you the flexibility to travel to almost anywhere in Japan with a JR line, while the 5D Kansai Hiroshima Area Pass will allow you to travel between Hiroshima and Kansai regions easily.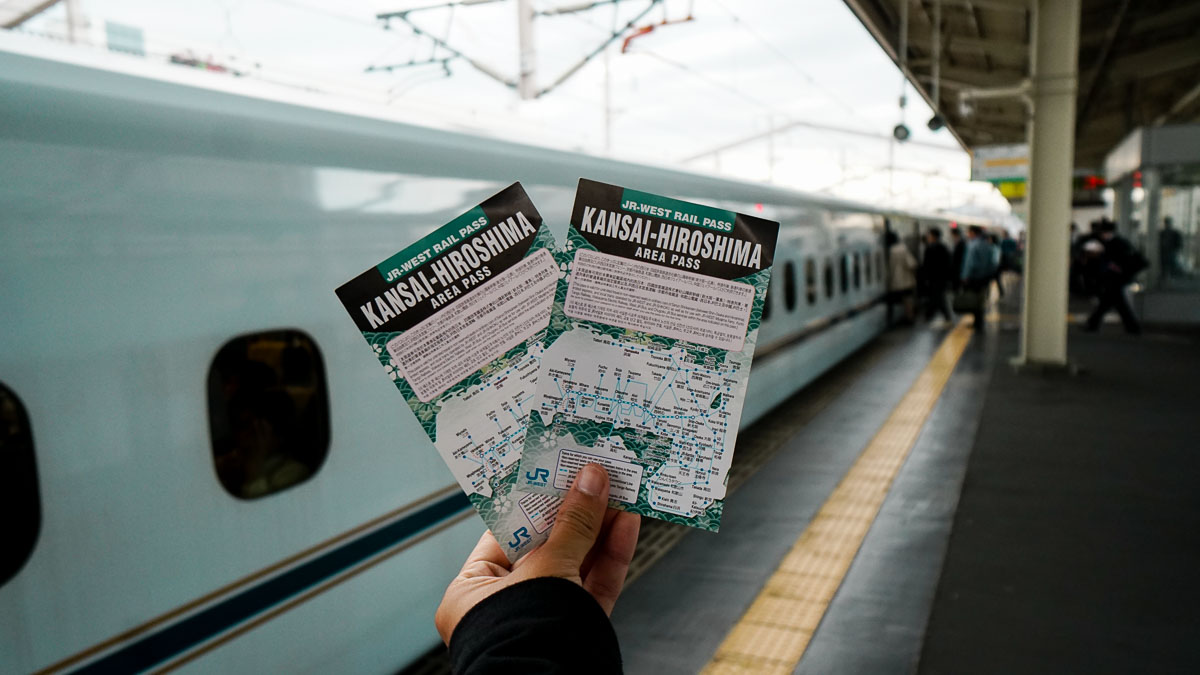 Based on the area selected in Step 2, pick a suitable JR Pass and plan your itinerary around the region. Do be flexible once the detailed forecast is out.
Check out our Ultimate JR Pass Guide to find out more about the different passes and the best ways to use them.
JR Passes offer good value, and we found ourselves saving about S$72 each during our latest trip around Osaka and the region. Sure adds up to a lot if you're travelling in a group!
Step 6: Fit in other highlights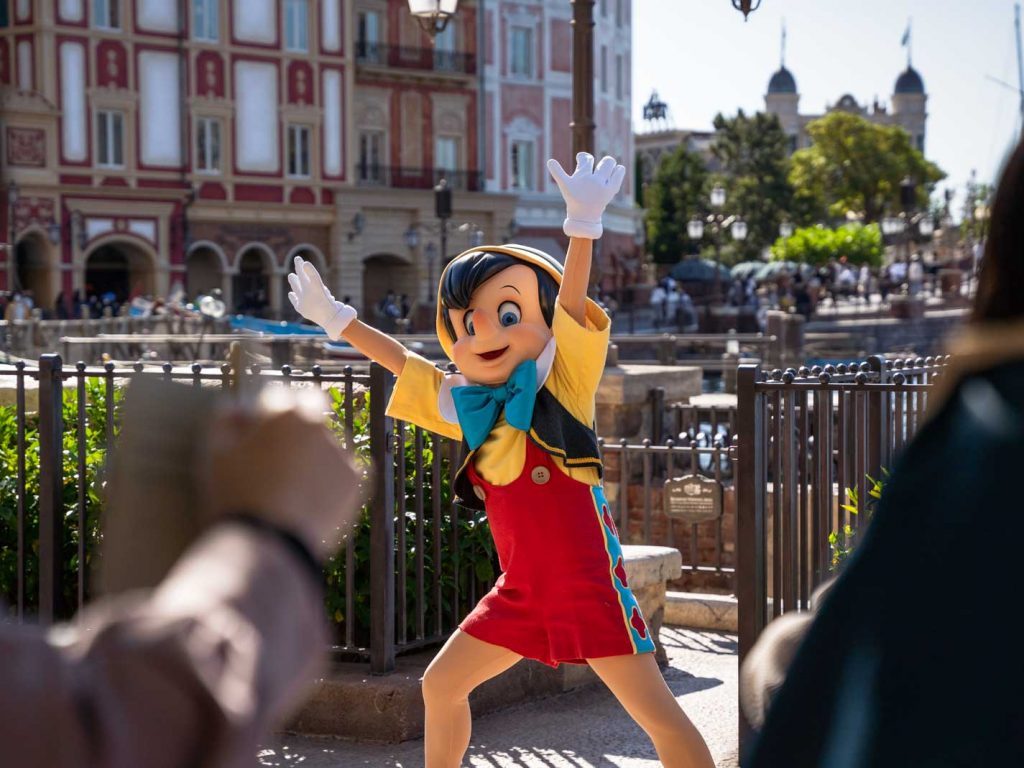 Snap pics of your favourite Disney characters at Tokyo DisneySea.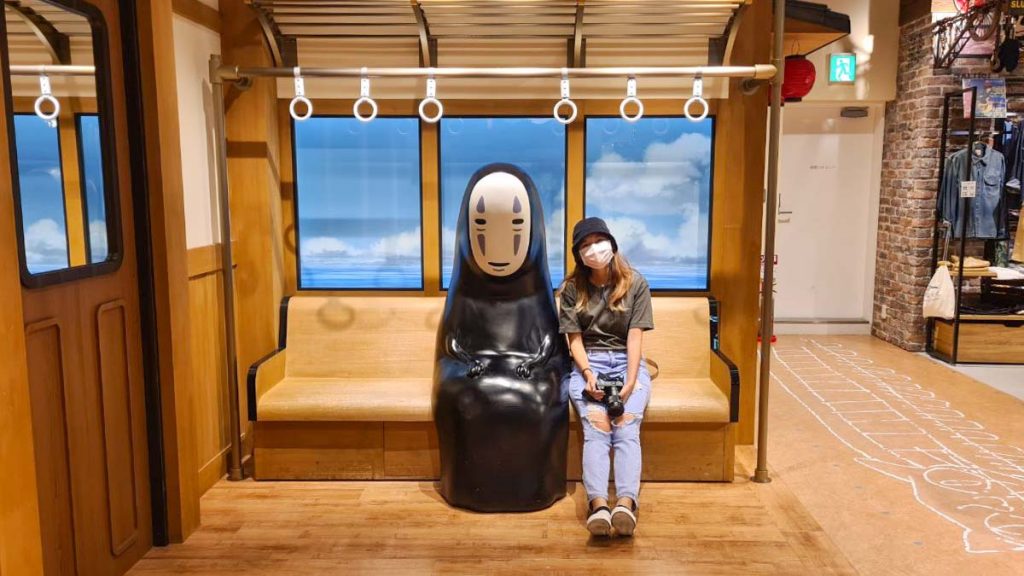 Go on an anime location hunt around Japan!
While Cherry Blossoms are the main attraction, they're only one of the many things Japan has to offer. From a fun-filled day out at Tokyo Disneyland or DisneySea to spotting iconic anime locations, there are tons of things to explore.
Here's a list of handy Japanese itineraries and guides that can help.
And don't miss out on exclusive deals for Japan travel essentials, cherry blossom tours and other must-do activities! Check out Klook's curated list of deals and experiences to save ahead of your trip.
Cherry Blossom Viewing Day Guide
Step 7: Start the day early
And I do mean early. Not only do you avoid the main tourist crowds (the tour buses), you get to reserve a prime viewing spot for the next few hours. Natural light for photography is also the best during the golden hour just after sunrise. Light is gentler and you get that extra softness to your photos.
Starting the day early also means you have more time to explore before nightfall!
Step 8: Pack some food for a picnic
For locals, one of their favourite cherry blossom activities is to enjoy a picnic with friends. Blend in and pack a mat with some food for your own picnic. Do check if eating is allowed in the place you are visiting though. Some parks have a strict 'no food and drink' policy.
Step 9: Dress Up in a Kimono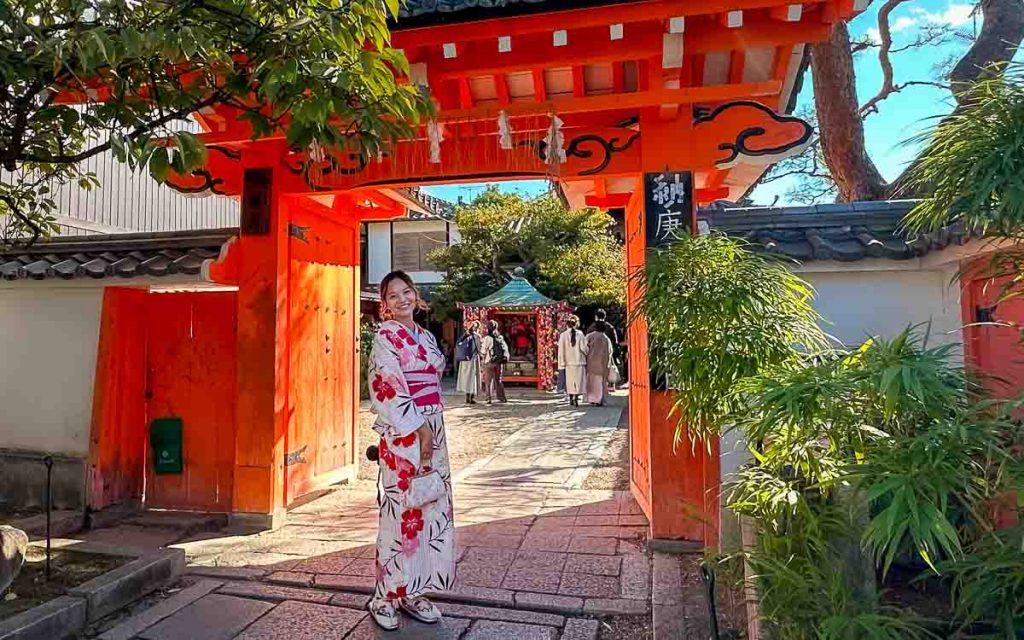 If you really want to get into the festive mood, try renting a Kimono or Yukata in cities like Tokyo, Kyoto, and Fukuoka! It's loads of fun and you'll get to up your Instagram photography game.
Many of them even offer hair-styling services for those going for the perfect look.
Transport, WiFi, Activities!
Before you leave for Japan, make sure to secure your travel essentials!
1) Tokyo Subway Ticket (72 hours): ~S$15
2) Osaka Amazing Pass: From ~S$28
3) Airport Skyliner, one-way: ~S$24
4) Unlimited 4G Data SIM Card (8 Days): ~S$40
5) Hakone Free Pass (2-Day Pass): ~S$62
If you're in a group or with kids? Book a private car charter to save the hassle:
1) Tokyo Private Car Charter: From ~S$526 per car
2) Mt. Fuji and Surrounding Private Car Charter: From ~S$624 per car
Frequently Asked Questions about Cherry Blossoms in Japan
Why are the cherry blossoms in Japan so popular?
More than just pretty flowers, cherry blossoms symbolise many of Japan's deep-rooted cultural beliefs. The short flowering period reflects the fleeting nature of life, as embodied by many other zen traditions such as tea ceremonies. This is why even the Japanese in big cities slow down a little to join the sakura hanami. While many things in Japan attract either tourists or locals, cherry blossom viewing attracts everyone!
Cherry Blossom, Sakura or Hanami?
Often used to describe the same thing, Hanami actually means 'flower viewing', while cherry blossoms (English) and sakura (Japanese) describe the flower. Cherry Blossoms are flowers from any tree of the genus Prunus, but the most common one in Japan is the Japanese Cherry.
What's a Hanami festival like?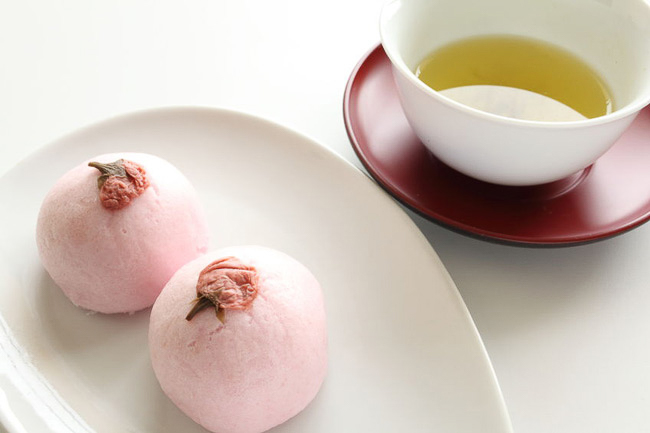 Photo credit: Gurunavi
While they vary, expect lots of music, sakura-themed food (read: PINK), sake, and good vibes. There'll be more people around the parks, and loads of merchants tapping on this yearly affair. As if they aren't friendly enough, locals appear to be even friendlier during this period!
Hope you found our Ultimate Cherry Blossom Japan Guide useful. Do check back as we will continually update this page every year!
Got a tip we missed out on? Let us know in the comments below. 🙂
---
This post was brought to you by Klook.