Planning your Vietnam itinerary? Find out how you can score 1-for-1 deals and up to 50% off transport, activities, and other travel essentials from now till 14 Oct 2022 — more at the end!

Having already been to Hanoi and Ho Chi Minh, I thought I'd already tried all the straw hats and egg coffees on offer. Little did I know of Central Vietnam's extraordinary attractions — a bizarre bridge that shoots actual fire, a three-storey arcade hidden in a cave, and a lantern festival on the river straight out of a Disney flick!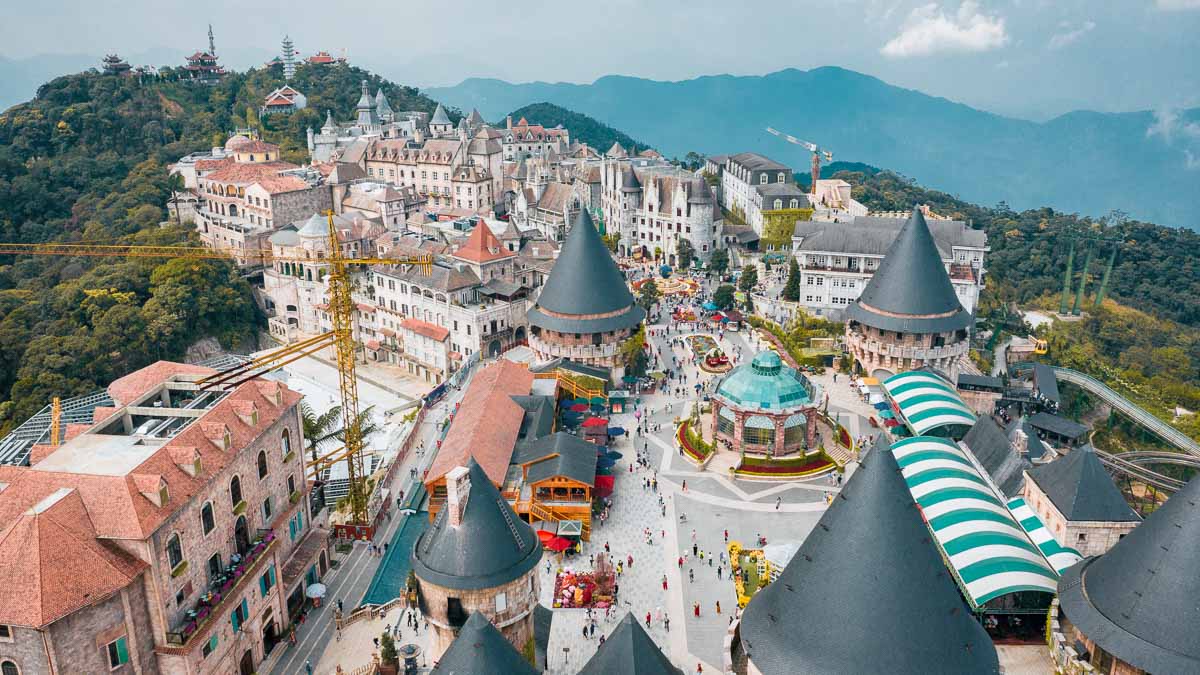 By stepping away from the mainstream, you'll learn some new things — how buffalo hair feels like, how prone to motion sickness you really are, and what duck foetus feathers taste like (spoiler: crunchy).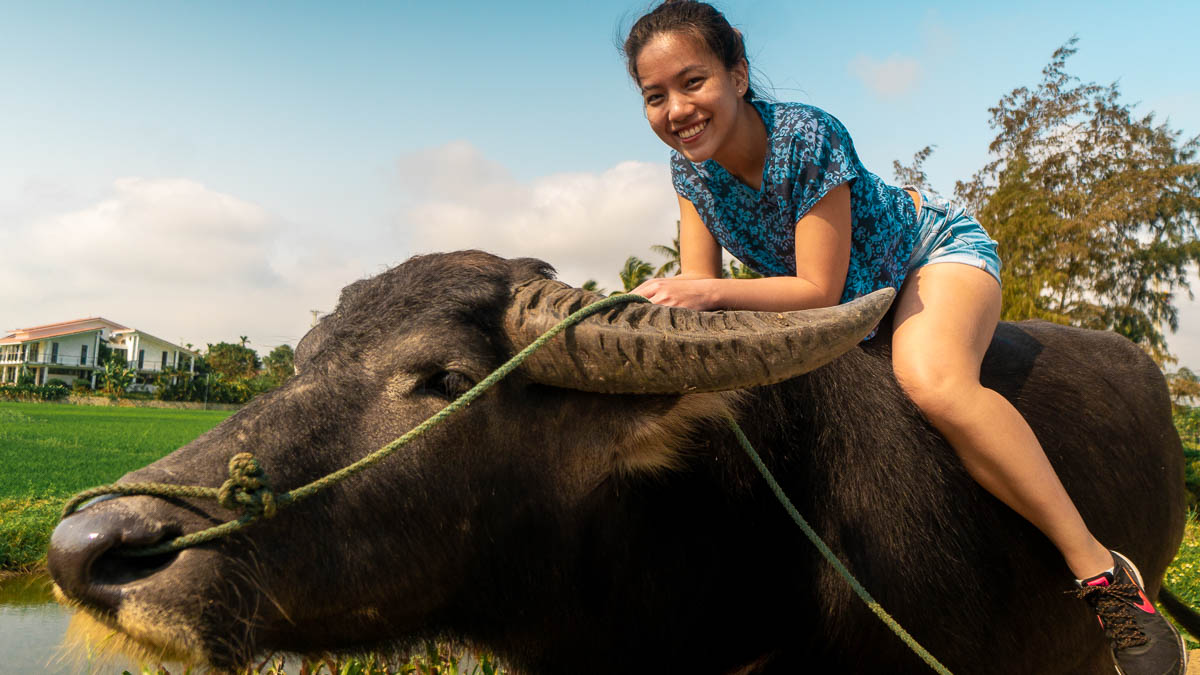 Get crazy on this 5-day Central Vietnam itinerary where you'll explore off-beat Da Nang, historical Hue, and colourful Hoi An, for the quirkiest, coolest Vietnam trip ever!
Psst* Klook is celebrating its 8th birthday with deals for a different destination each day from 30 September to 14 October — Vietnam is on day 7 (6 Oct)! Expect 1-for-1s and up to 50% off deals — more about this later!
Pre-trip Essentials
Getting around in Vietnam: We got an airport pickup (~S$11.65 for three pax) which brought us to our accommodation in Da Nang. On days two and three (Da Nang and Hue), we recommend a 12-hour private charter (~S$112.50) to cover the city's many attractions. For everything else, the Grab app (Southeast Asia's Uber) comes super handy.
Staying connected: We collected our pre-booked 6GB 5G SIM Card (30 days) (~S$10.45) directly upon arrival at Da Nang International Airport.
Flights to Central Vietnam: It's easiest to fly in and out of Da Nang International Airport, with direct flights from Singapore from just ~S$72.
Check Flights to Da Nang
Check flights from Singapore to Da Nang here.
Central Vietnam Itinerary Route
We enjoyed two days in Da Nang before travelling north to spend two days in Hue. We then travelled down to Hoi An for one day. From Hoi An, it's a 45-minute drive back to Da Nang International Airport.
Day 1: Lose Yourself in Ba Na Hills, Da Nang's Odd Utopia
Start your trip at Da Nang, a laid-back coastal city known for its strong food scene, backpacker culture, and one of Asia's best beaches. New attractions like Ba Na Hills tips Da Nang as the next big holiday destination, so better visit before the crowds do!
Have a Blast at Ba Na Hills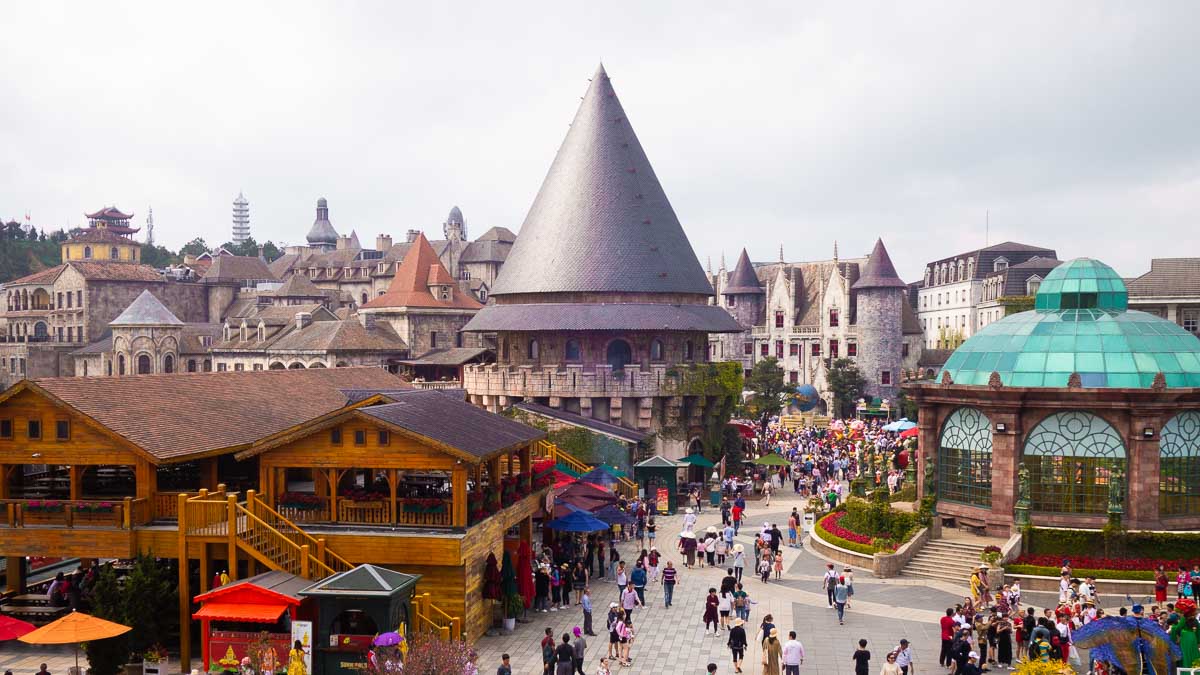 If "extra" is your middle name, you'll love Ba Na Hills, undoubtedly Da Nang's craziest attraction. Sitting atop the Truong Son Mountains, this humongous theme park is full of surreal surprises that'll keep you entertained all day.
Take Ba Na Hills' record-breaking cablecars over waterfalls and lush forest. You'll soon arrive at the Golden Bridge, modelled like two giant hands holding a delicate golden thread. With rolling clouds in the background, it's definitely among the most awesome sights I've ever seen.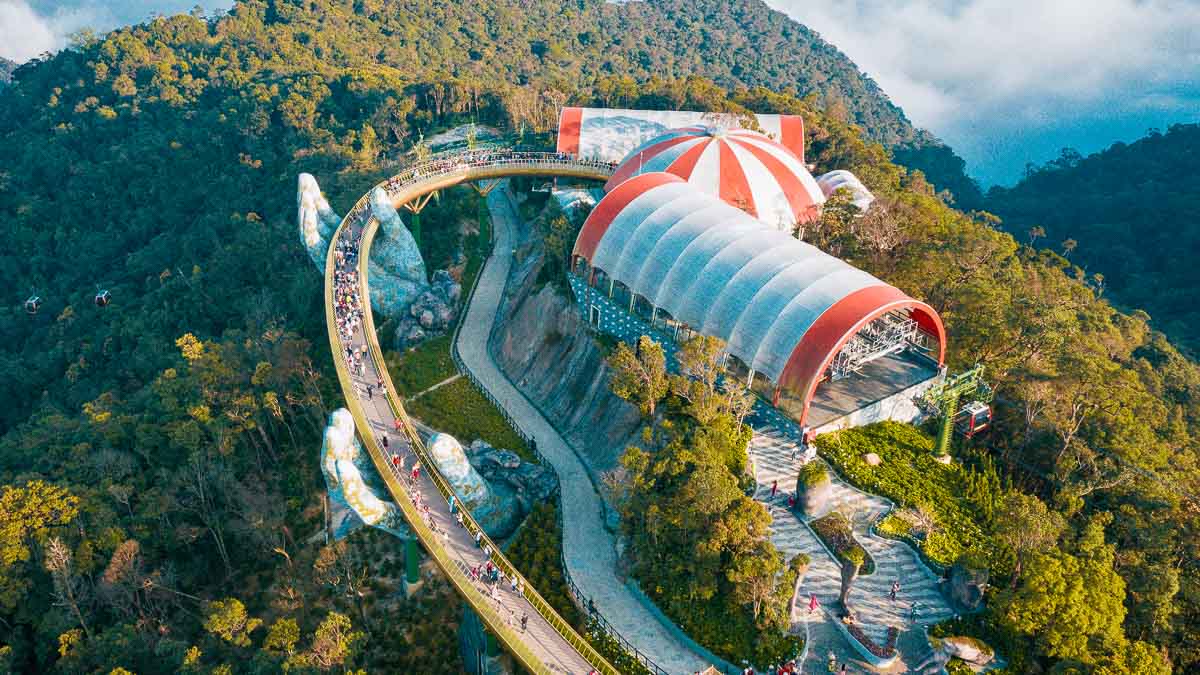 Take another cablecar to Ba Na Hills' French Village, complete with its own cathedral, village square, and quaint cafes — very romantic!
Grab lunch at Arapang Hall, for a huge international buffet spread (225,000₫) that left us spoilt for choice.
*Pro-tip: Come before 12PM to avoid the tour groups and get first dibs on food!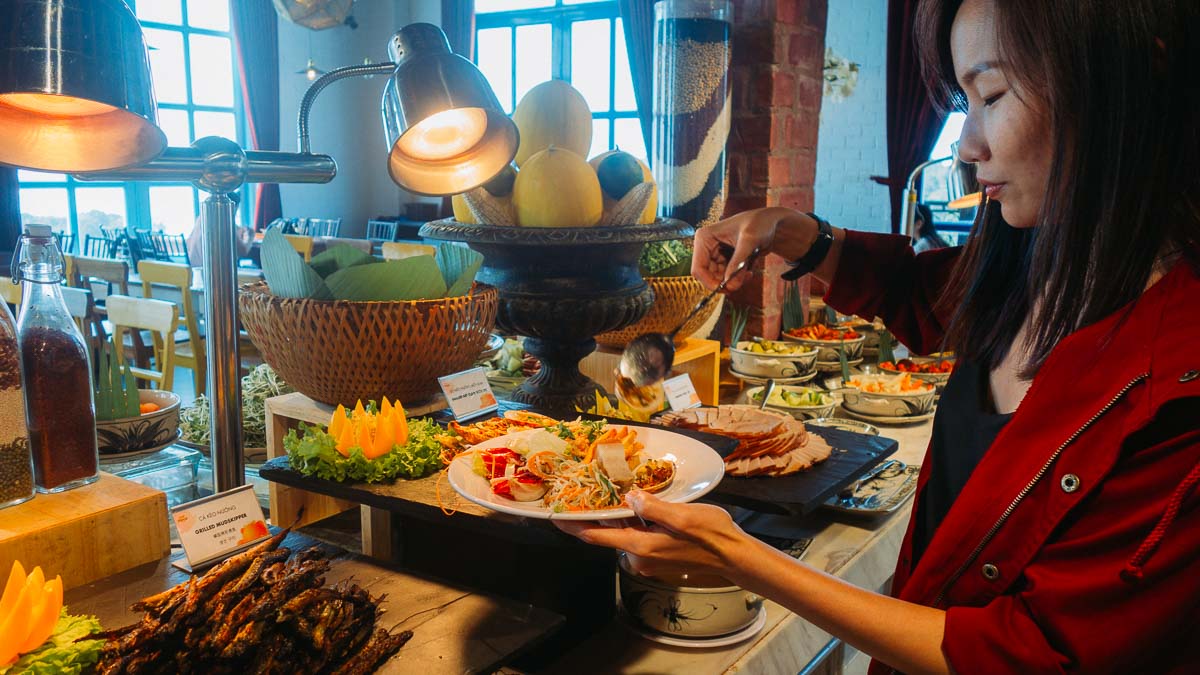 Let your lunch settle before taking a ride on the Alpine Coaster, a luge ride that gives you complete control over the brakes and speed! If you intend to zoom down at the top speed of 40km/hr, let the ride attendant know and he'll be sure to clear enough distance between you and the previous rider.
Next to the Alpine Coaster is another unusual sight — a three-storey arcade tucked inside a cave! The largest indoor arcade in Vietnam, Fantasy Park boasts free VR rides, a free drop-tower, free rock-climbing, free bumper cars, free arcade games… okay, basically it's all free!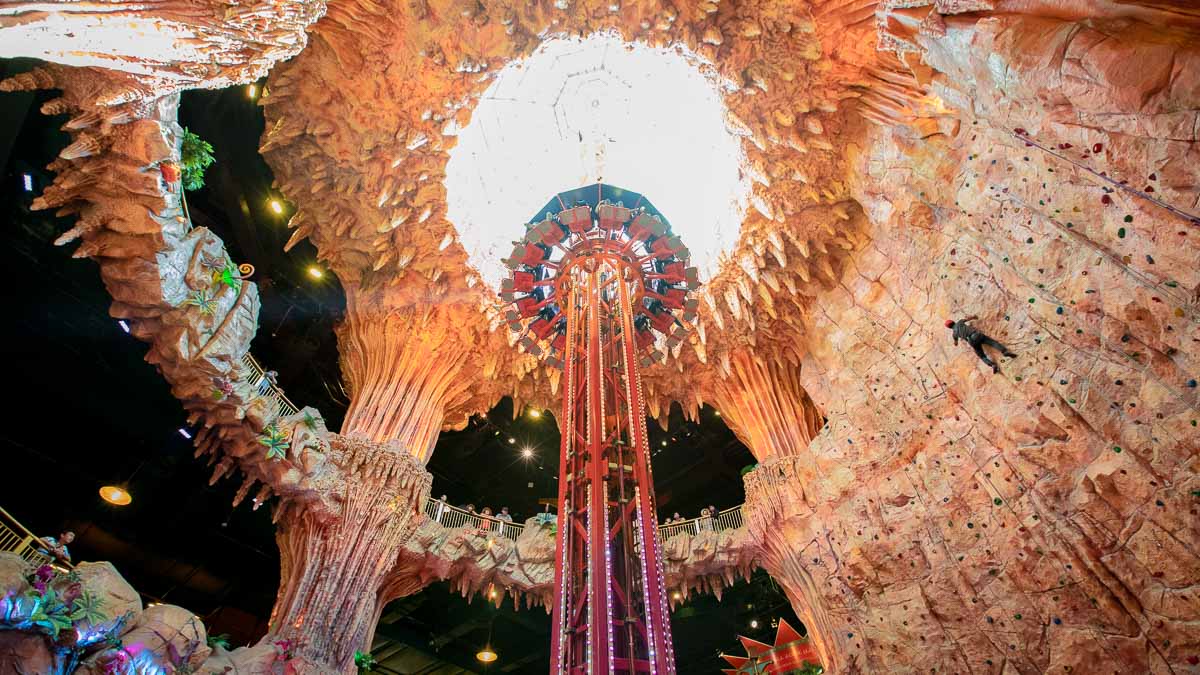 Our favourites were the classic SEGA racing machines, and the genuinely scary 360° cinema horror show Fear Train (be warned: jump-scares aplenty!). For the old-school romantics, there are also traditional carnival games like ring toss and beanbag throws, at (100,000₫) for three tries.
Entrance fee: ~S$49.80 (incl. round trip cablecar)
Opening hours: 8AM – 5:30PM, closes 7:30PM on Sat
How to get there: From Sun World Ba Na Hills Gateway, take the Toc Tien–L'Indochine cablecar line, which brings you to the Golden Bridge. Alternatively, a Ba Na Hills package tour covers everything from transport and admission to the buffet lunch.
Read also: Ba Na Hills Guide — Vietnam's Breathtaking Hidden Playground
Dinner at Quan Pho Hong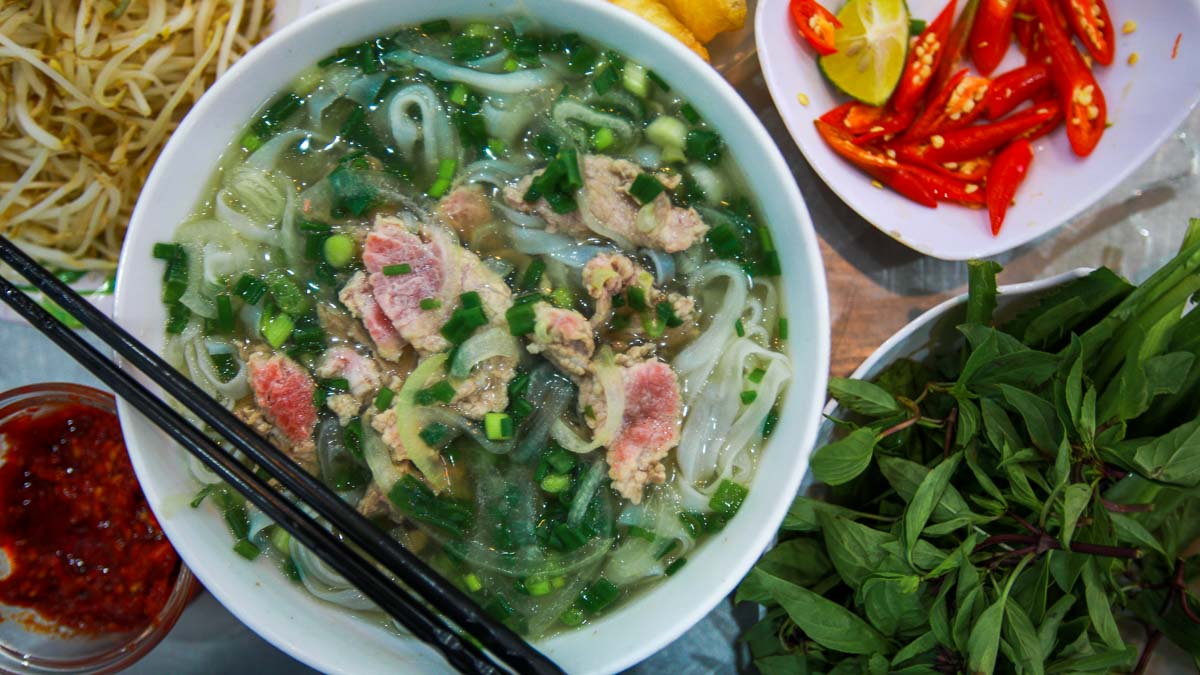 End the day with affordable and authentic pho at Quan Pho Hong. We recommend the classic beef pho (55,000₫) and tasty fried prawn and meat spring rolls (160,000₫ for 10 rolls).
Cost: From 55,000₫ (~S$3.30) a bowl
Opening hours: 7AM – 9PM
Address: 10 Ly Tu Trong, Thach Thang, Hai Chau, Da Nang 550000
Day 2: Experience Water and Fire in Da Nang
Eat Like A Local At Cồn Market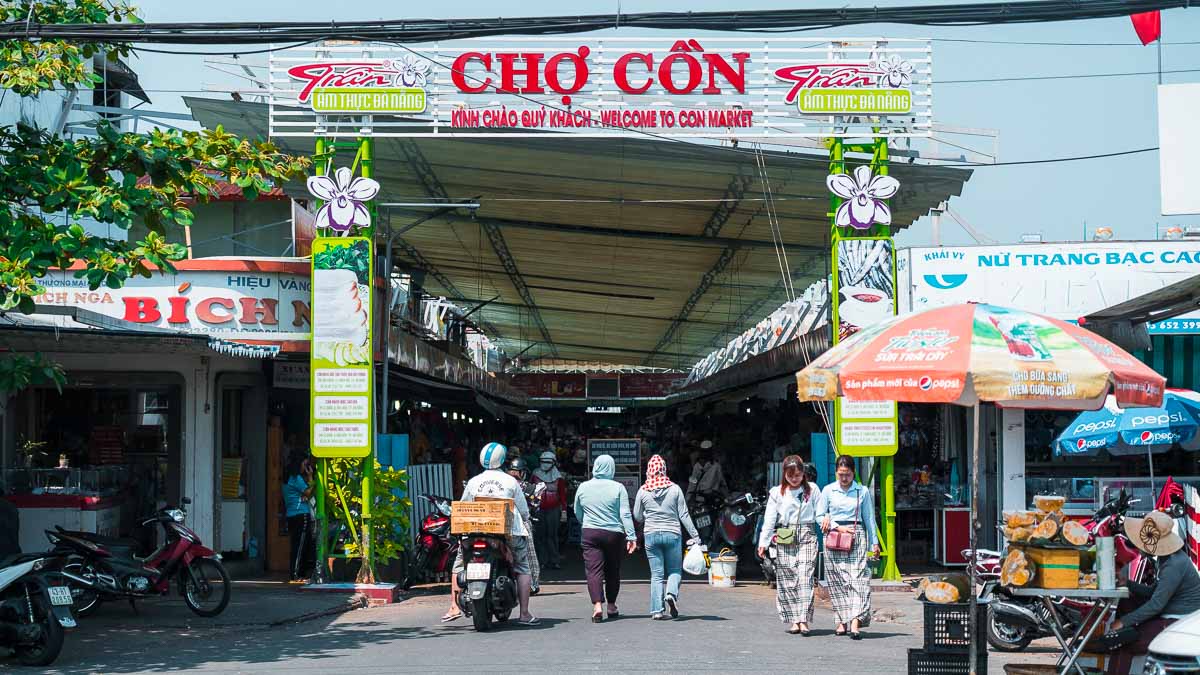 Despite what its name suggests, you're not gonna get conned at Cồn Market. It's the perfect place to start your day like a local, and soak in authentic Vietnam vibes!
Cồn Market's food street hosts tiny stalls selling unidentifiable meats — no thanks to the lack of translated signs — a sight that'll make you feel nothing like a regular tourist. We managed to snag grilled pork and veggies in paper-thin rice rolls topped with a dollop of peanut dipping sauce for 100,000₫ — completing our local lunch!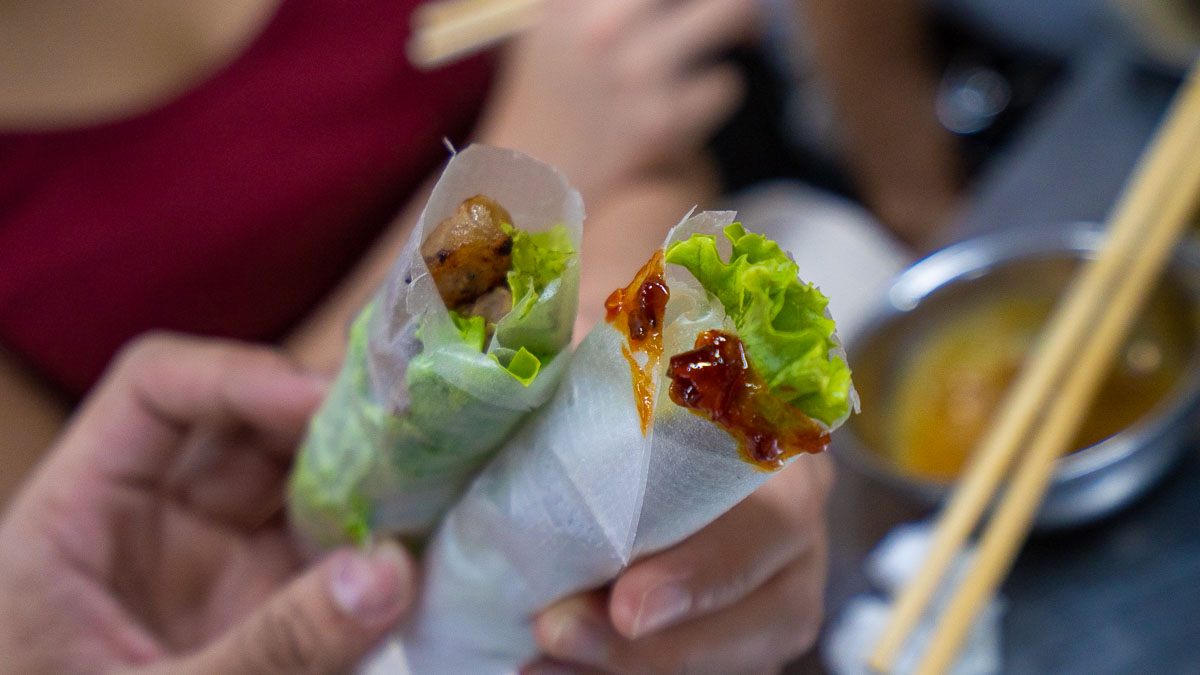 Wander down the neighbouring lanes and spot interesting sights like garlic cloves decorated to look like Christmas trees, bare-bones manicure stations and trendy banana-print tees that go for ~100,000₫ each.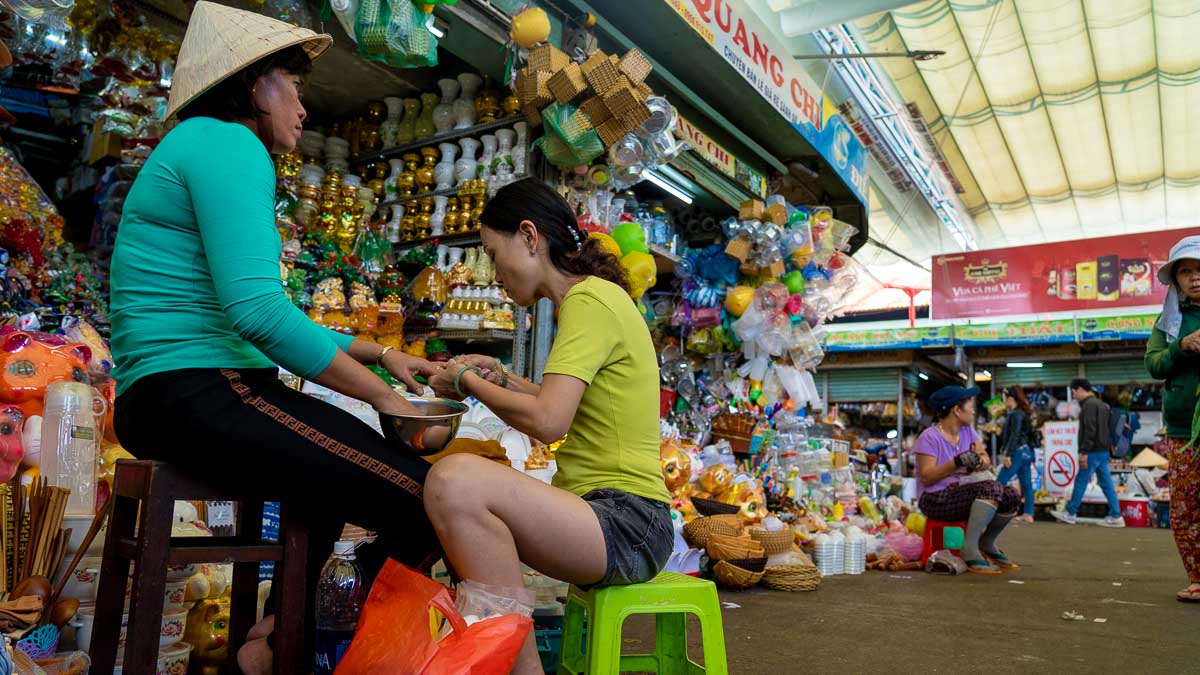 Cost: ~100,000₫ (~S$5.90) for a meal for two pax
Opening hours: 7AM – 7PM
Address: 290 Hung Vuong, Vinh Trung, Hai Chau, Da Nang 550000
Catch Waves at My Khe Beach — the US Marine's Favourite Surf Spot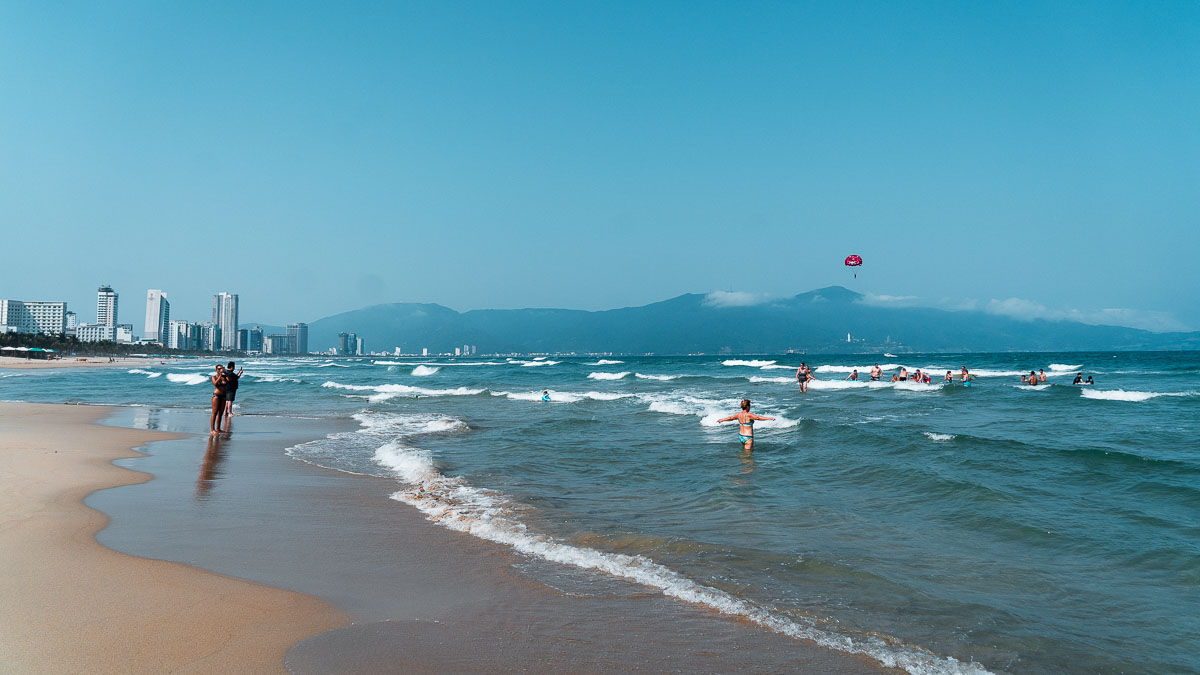 Spend the afternoon at My Khe Beach, one of the most beautiful and historically significant beaches in Vietnam. During the Vietnam War, this charming paradise was a beloved recreation spot for the US Marines — and it's easy to see why.
My Khe Beach is a lovely stretch of white sand with sparkling turquoise waves perfect for casual surfers (surfboard rentals at 100,000₫/hour). With a backdrop of misty mountains, beach bars, cheap parasailing (500,000₫), and very few tourists, My Khe Beach has it all.

Entrance fee: Free
Opening hours: 7AM – 9PM, 5AM – 6:30PM in Winter (Nov – Apr)
How to get there: Take an 11-min Grab ride/taxi from Cồn Market (public transport will be too complicated for non-Vietnamese speakers)
Dinner at Burger Bros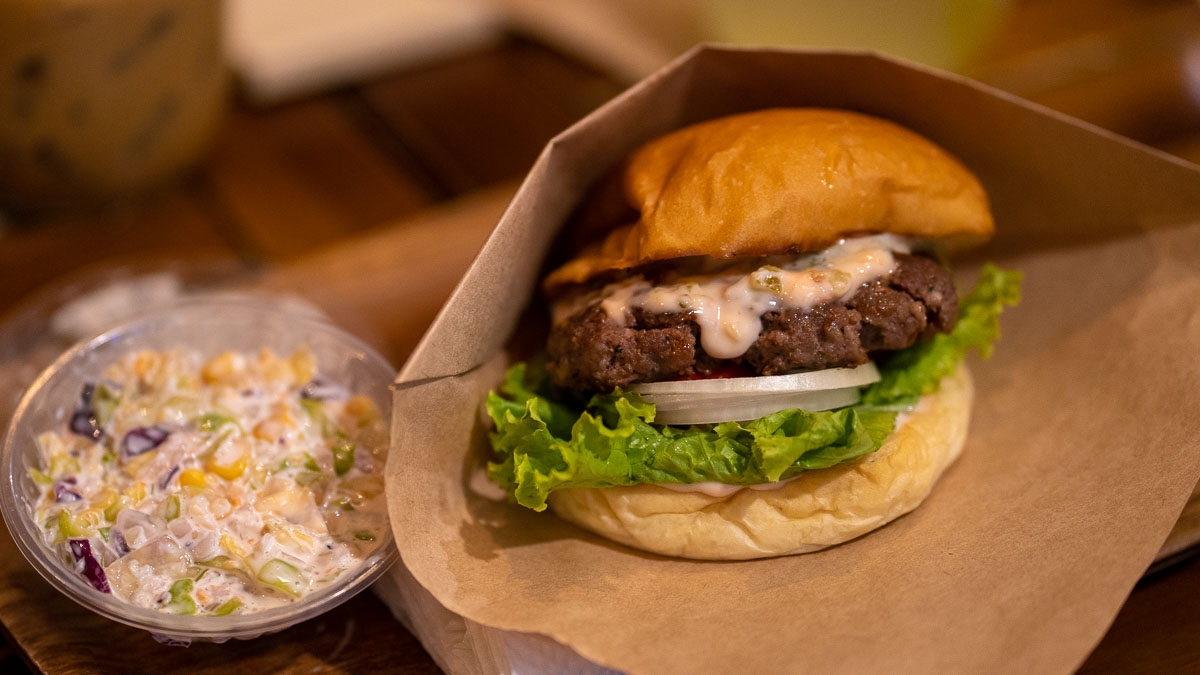 Da Nang's history as a base for US Marines resulted in some of Vietnam's yummiest Western food. We don't normally recommend non-local food, but for the buttery, juicy goodness at Burger Bros, we'll make an exception.
We ravaged the NN Burger (110,000₫), which came stuffed with bacon and avocado, and the double-pattied Mykhe Burger (140,000₫). Judging by the hundreds of rave reviews online, the other options are excellent too.
Make your meal extra satisfying by adding fries/coleslaw and a drink (we loved the homemade lemonade) ranging from 30,000₫ to 50,000₫, based on your drink of choice.
Cost: From 70,000₫ (~S$4.20) per burger
Opening hours: 11AM – 2PM, 5PM – 9PM (or until sold out)
Address: 30 An Thuong 4, Bac My An, Ngu Hanh Son, Da Nang 550000
*Pro-tip: Visit at least an hour before closing time, as they sell out pretty fast!
See a Fire-Breathing Dragon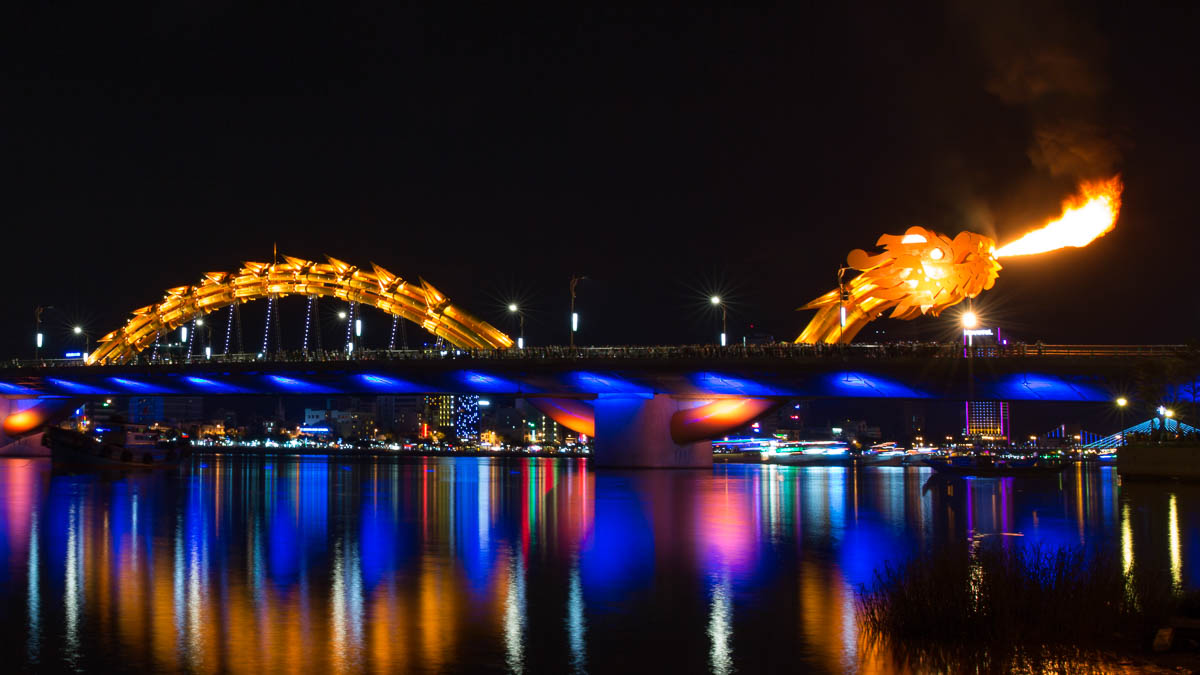 Photo credit: CNN
The longest bridge in Vietnam is also its most badass: A 666m-long golden dragon!
Opened in 2013 for the 38th anniversary of Da Nang's liberation from the war, the bridge is a symbol of prosperity and power. Visit after sunset to see the bridge light up in a dazzling display of changing colours. On weekends, the dragon even spits actual fire!
Cost: Free
Show times: 9PM on weekends
How to get there: Head to the waterfront along the Han River, where you'll find eateries offering great views of the Dragon Bridge
Day 3: Immerse Yourself in Hue's Historical Landmarks
Getting From Da Nang to Hue: We took a 12-hour private charter for the ~2-hour drive from Da Nang to Hue, followed by a day of sightseeing.
Hue is filled with royal monuments and gorgeous architecture from its history as Vietnam's former capital from the 17th to the 19th century, during the Nguyen Dynasty. This grand city is also your gateway to the marvellous caves at Phong Nha-Kẻ Bàng National Park, a UNESCO World Heritage Site.
Admire the Royal Tomb of Khai Dinh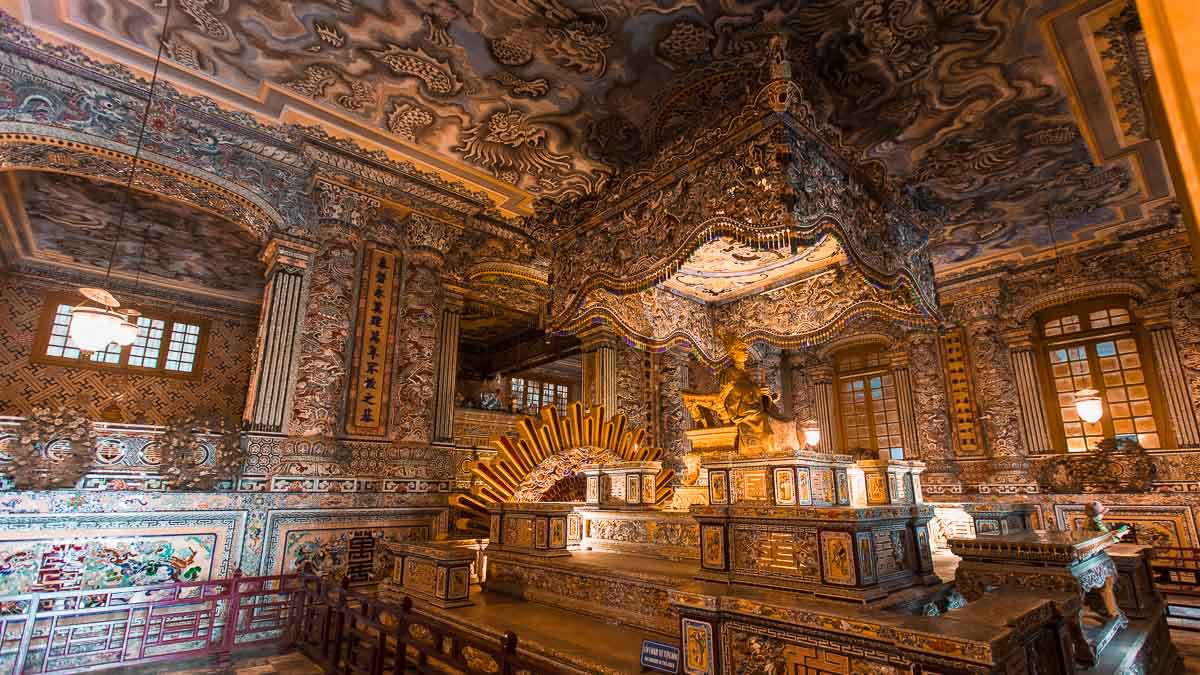 Of the six royal tombs around Hue, King Khai Dinh's is the most impressive. A real testament to the controversial Nguyễn Dynasty emperor, this majestic mausoleum took 11 years to build with three gorgeous levels to explore.
Entrance fee: 150,000₫ (~S$8.90)
Opening hours: 7.30AM – 5PM
How to get there: A 30-minute drive (Grab/cab) from Hue. Do note that if you're not on private transfer/motorbike, you'll need to ask your cab to wait for you as cabs aren't readily available from the tomb.
Feast on Hue Specialties at Quán Cơm Hến 03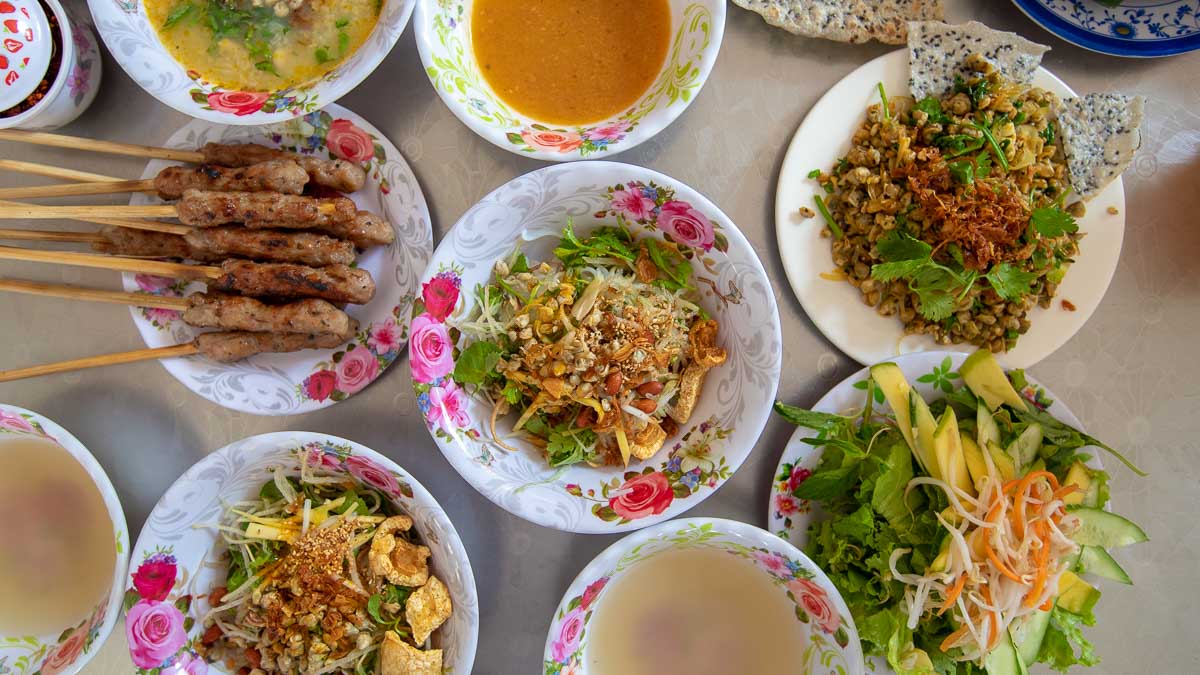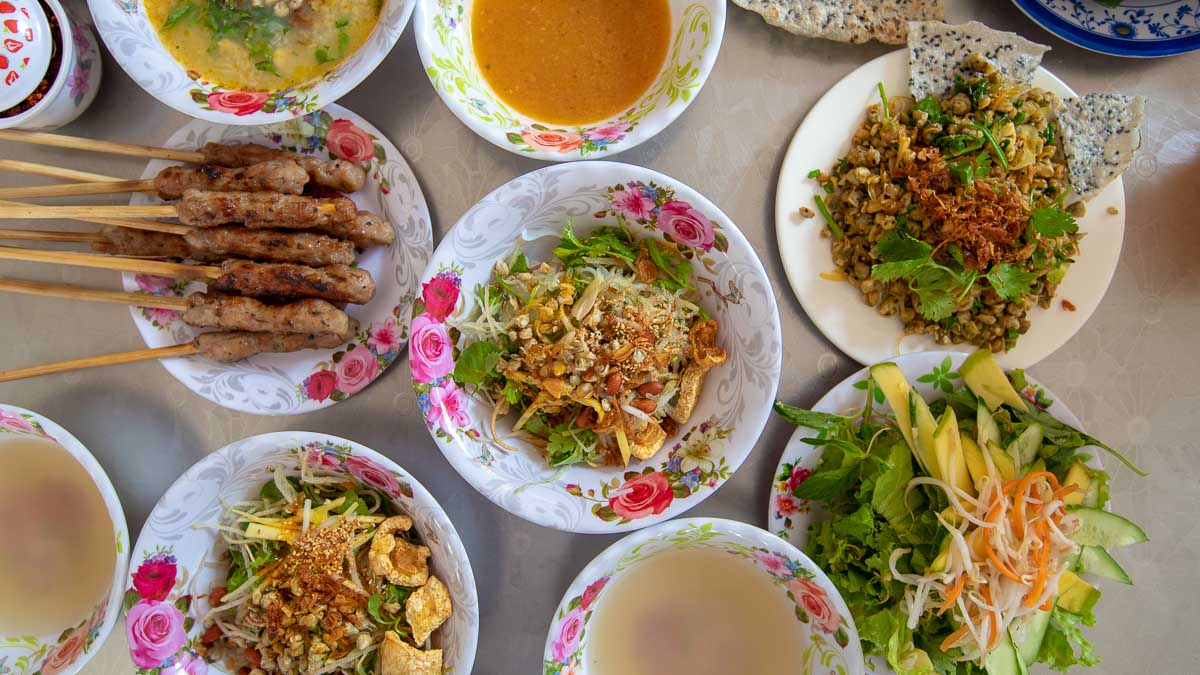 At the cosy Quán Cơm Hến 03, try Hue's specialty, com hen (clam rice), which tastes satisfyingly buttery, salty, and spicy all at once. Pair the iconic dish with another Hue fave, nem lui — grilled skewers of finely-ground beef and pork, wound around stalks of lemongrass. The friendly owner will even teach you how to eat nem lui like a local!
Cost: ~185,000₫ (~S$10.90) for 3pax
Opening hours: 7AM – 10PM
Address: 3 Han Mac Tu, Vy Da, Thanh pho Hue, Thua Thien Hue
Wander around Hue's Imperial City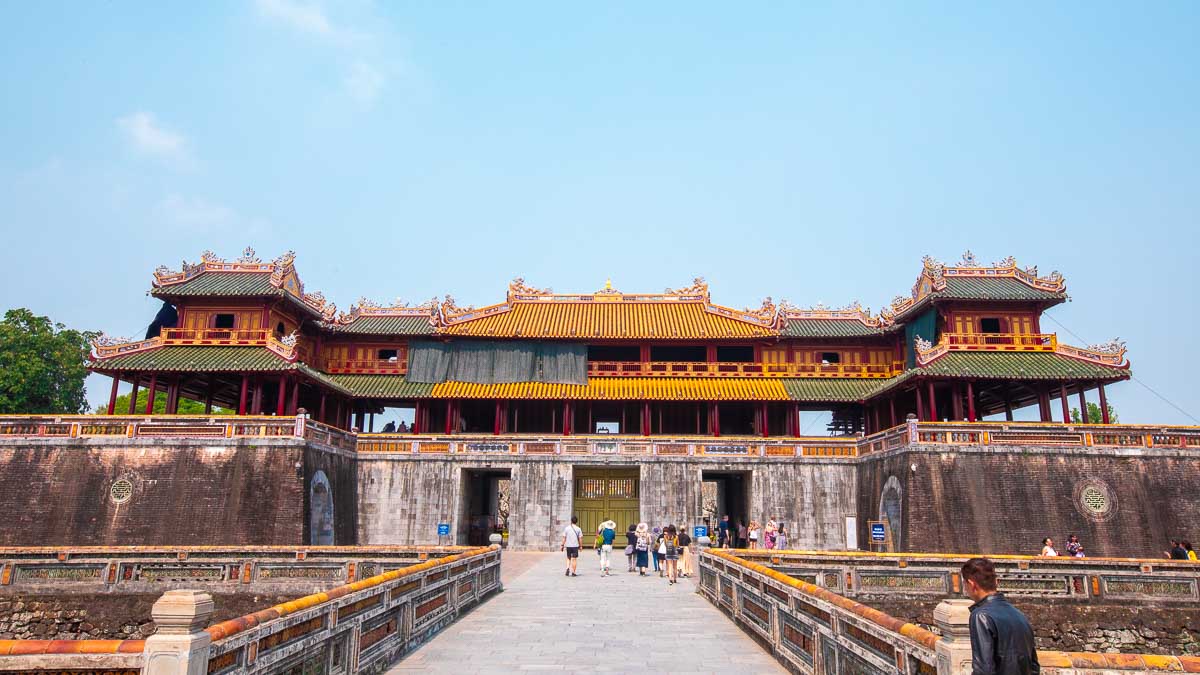 Dive into ancient history at Hue's Imperial City, the site of Vietnam's former capital. There's an actual moat, and ten grand gates guarding the lavish remains of a palace, tombs, and gardens. Walking through the royal ruins, it's easy to imagine the grandeur and glory back in the days of ancient Vietnam's Nguyễn Dynasty.
Entrance fee: ~200,000₫ (~S$11.90)
Opening hours: 6:30AM – 5:30PM in summer, 7AM – 5PM in winter
How to get there: Take private charter or bike (parking at the east exit costs 25,000₫, ~S$1.50) to this central location within Hue.
Catch the Sunset at Thien Mu Pagoda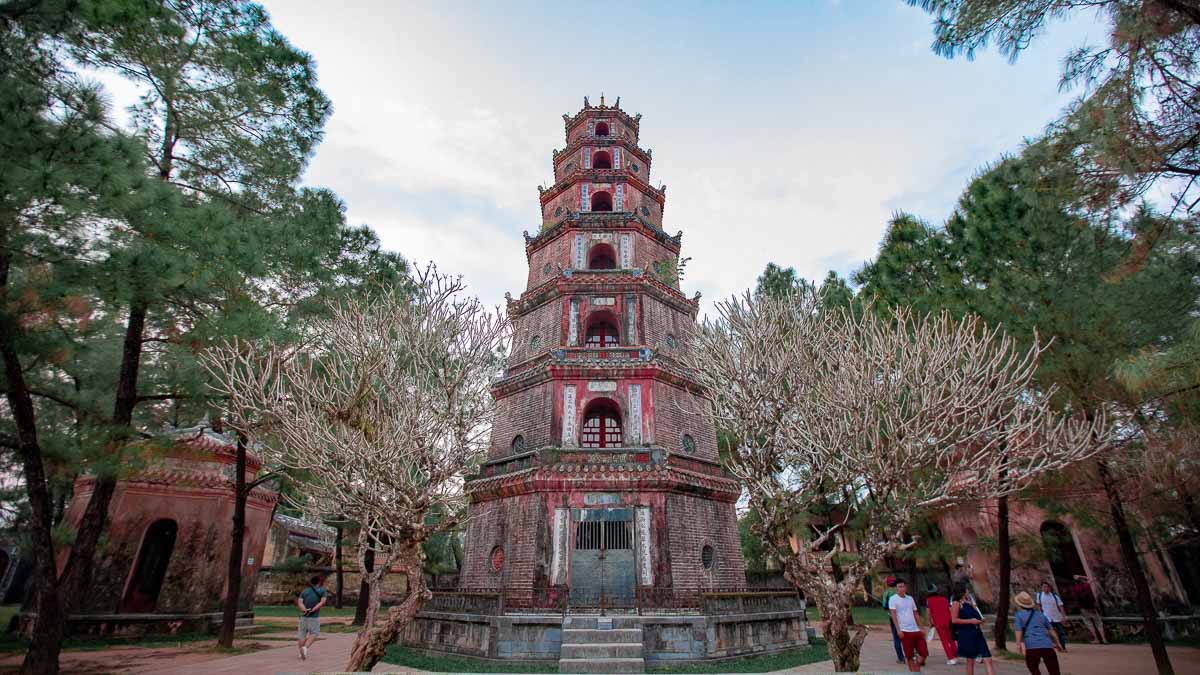 The seven-storied Thien Mu Pagoda (The Pagoda of the Celestial Lady) is the unofficial symbol of Hue city. Sitting just outside the city centre, the pagoda is in a perfect position overlooking the Perfume River.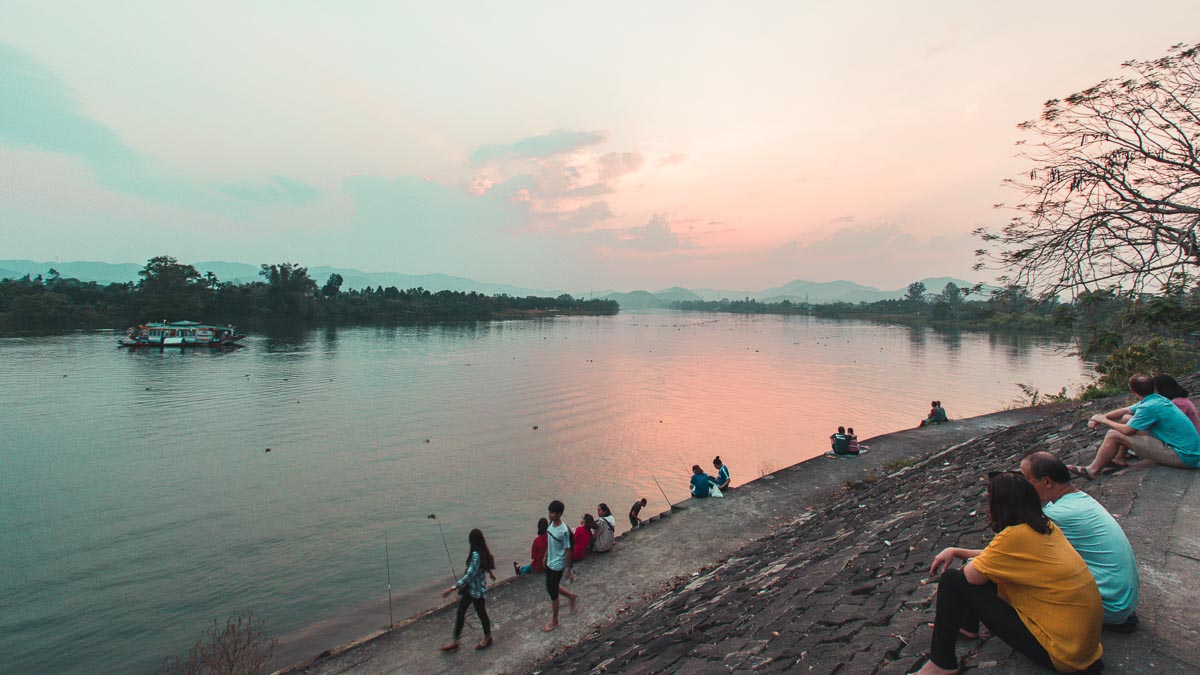 In the vicinity, you'll also spot the car that once belonged to Thich Quang Duc, the Buddhist monk who set himself on fire in protest against President Diem's discriminatory policies.
Entrance fee: Free
Opening hours: 8AM – 6PM
Address: Huong Hoa, Thanh pho Hue, Huong Hoa Thanh pho Hue Thua Thien Hue 532761
Beef Noodles at Bun Bo Hue My Tam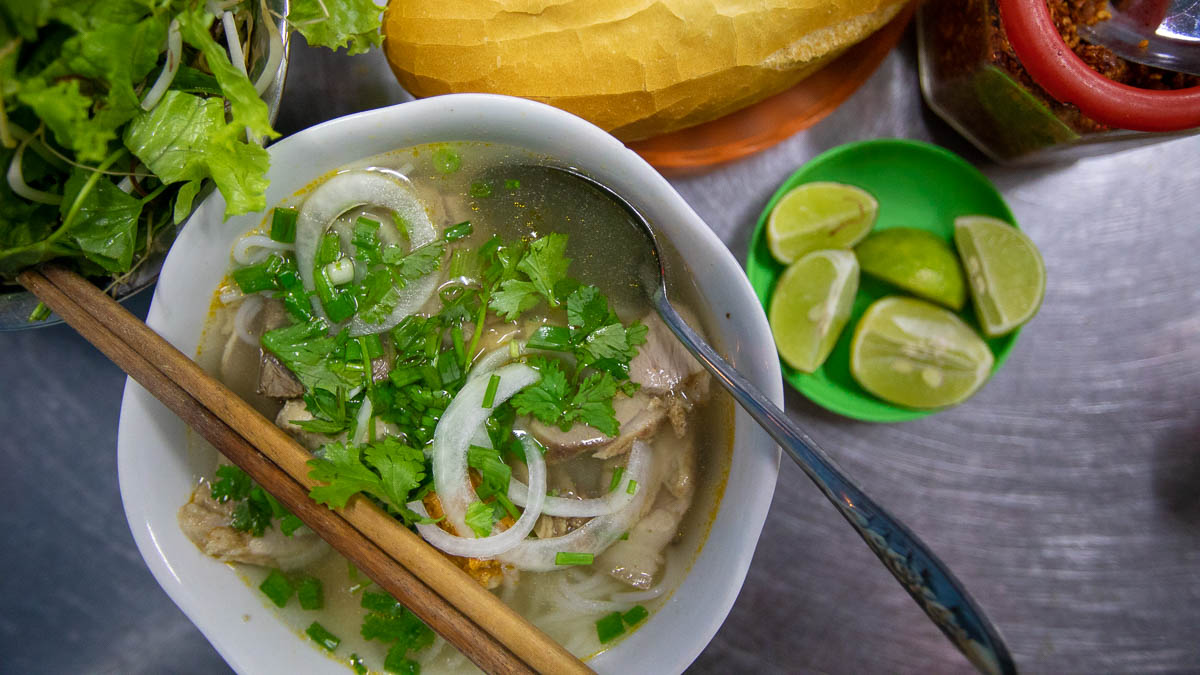 Enjoy some bun bo (Vietnamese rice noodle dish with sliced beef or pork knuckles) for dinner in the city where it originated! Like a punchier-tasting version of the classic pho, Bun Bo Hue My Tam generously heaps beef tendon, pork ribs and juicy pork balls on top of soft vermicelli. Hot tip to eat like the locals do: dip the free baguette slices into the yummy soup!
Cost: 40,000₫ (~S$2.40)
Opening hours: 3:15PM – 2AM
Address: 3 Tran Cao Van, Vinh Ninh, Thanh pho Hue, Thua Thien Hue
Day 4: Day Trip to Phong Nha's Crazy Caves
Spot Magical Creatures among Phong Nha's Magnificent Formations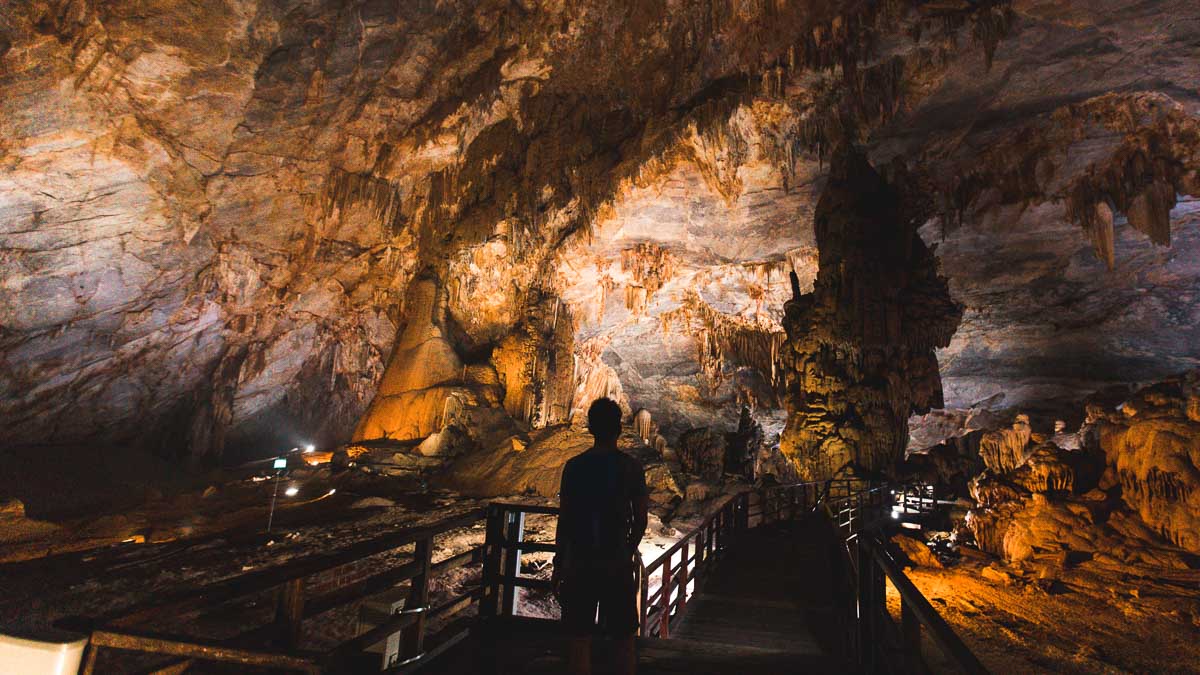 Spend the day adventuring at Phong Nha-Kẻ Bàng National Park, a UNESCO World Heritage Site.
The caves can be quite a pain to get to, as they're a 4-hour drive each way from Hue. It's well worth it though — there's something surreal about standing amongst caves that are over 400 million years old.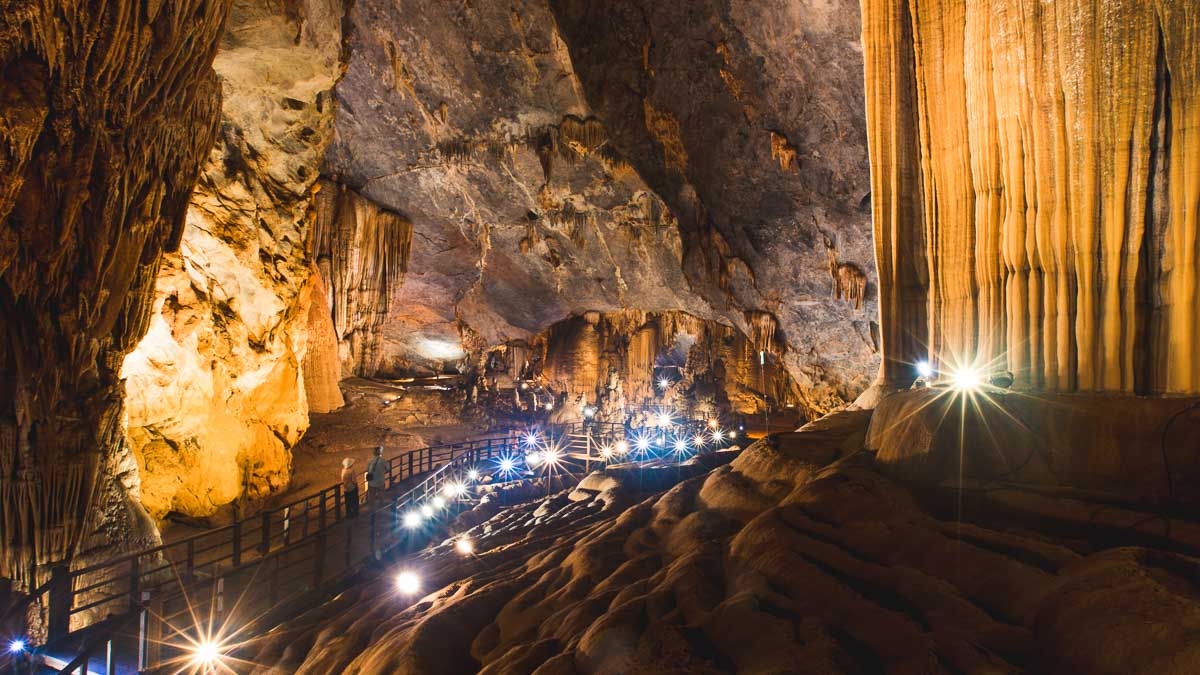 To make the journey a little easier, book an all-inclusive Phong Nha Cave tour (~S$57 per pax), which comes with roundtrip transfer, entrance fees, and lunch along the way.
There are different caves to explore in the area, including the adventure-filled Tra Ang Cave and tragic 8 Ladies Cave. We loved the Paradise Cave — aptly named for its breathtaking stalagmites and magically cool temperature of 17° – 19°, no matter the season!
Don't forget to put your imagination to the test by spotting outlines of gnomes and other fantastic creatures amongst the karst limestone formations.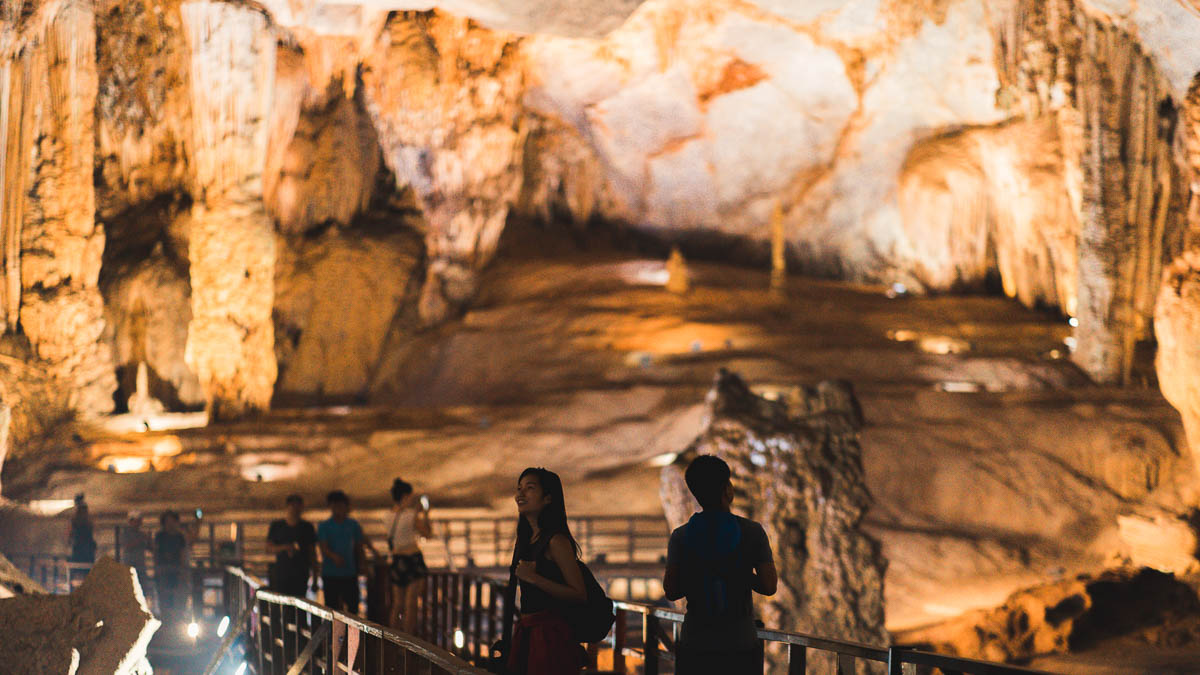 Entrance fee: 250,000₫ (~S$14.90)
Opening hours: 7AM – 4PM
How to get there: A 4-hour drive each way, it's easiest and most cost-efficient to get to Phong Nha-Ke Bàng National Park via private charter.
*Pro-tip: Wear comfortable walking shoes as the hike up to the cave entrance gets pretty strenuous.
Read also: 2-Week Vietnam Itinerary — Heart-Pumping Experiences through Northern and Central Vietnam from Hanoi to Da Nang
Dinner at Nina's Cafe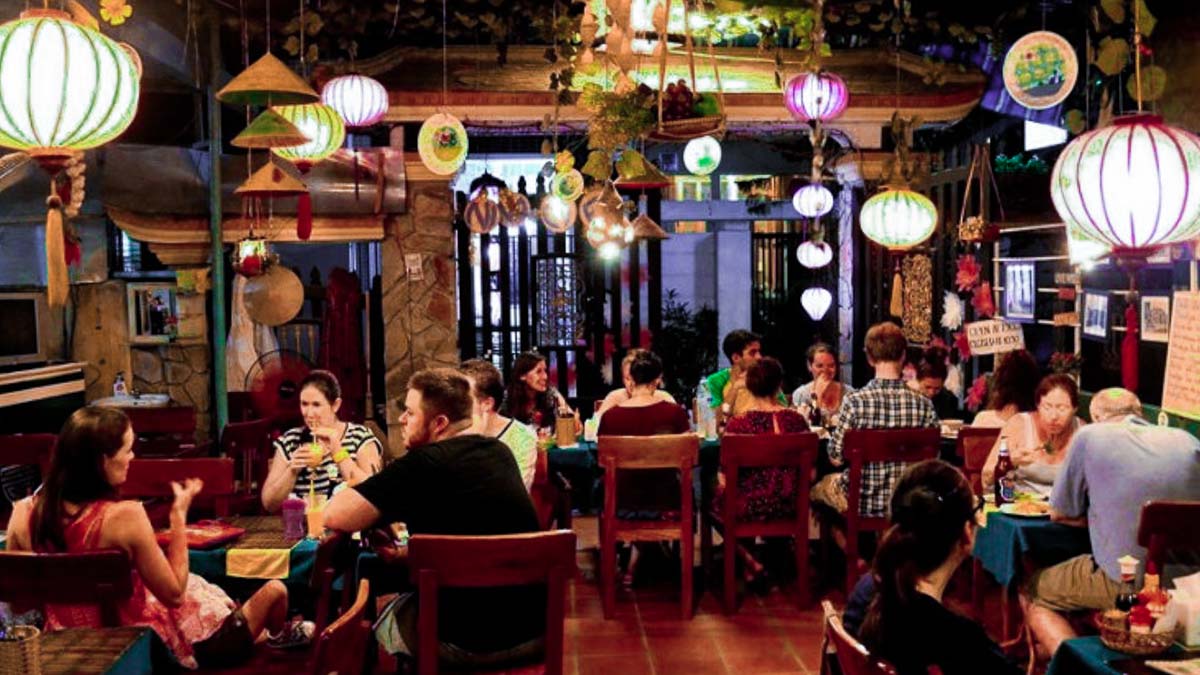 Photo credit: Buffalo Trip
Enjoy authentic local dishes at this popular family-run restaurant. Have a spread of Nina Cafe's signature items, including squid with lemongrass and chili (85,000₫), steamed rice cakes (40,000₫), and banana flower salad (70,000₫).
Cost: From 40,000₫ (~S$2.40)
Opening hours: 10AM – 9:30PM
Address: 34 Nguyen Tri Phuong, Phú Hoi, Thành pho Hue, Thua Thien Hue 530000
Day 5: Spin Through Hoi An's Coconut Forest
Round off the trip with some colour and culture at Hoi An, a former trading port that blends together architecture styles from the Chinese, French, Japanese, and Vietnamese. This lovely town features quaint cafes, lantern-lit streets, and a gorgeous river that comes alive at night.
Go on a Family-run Coconut Tour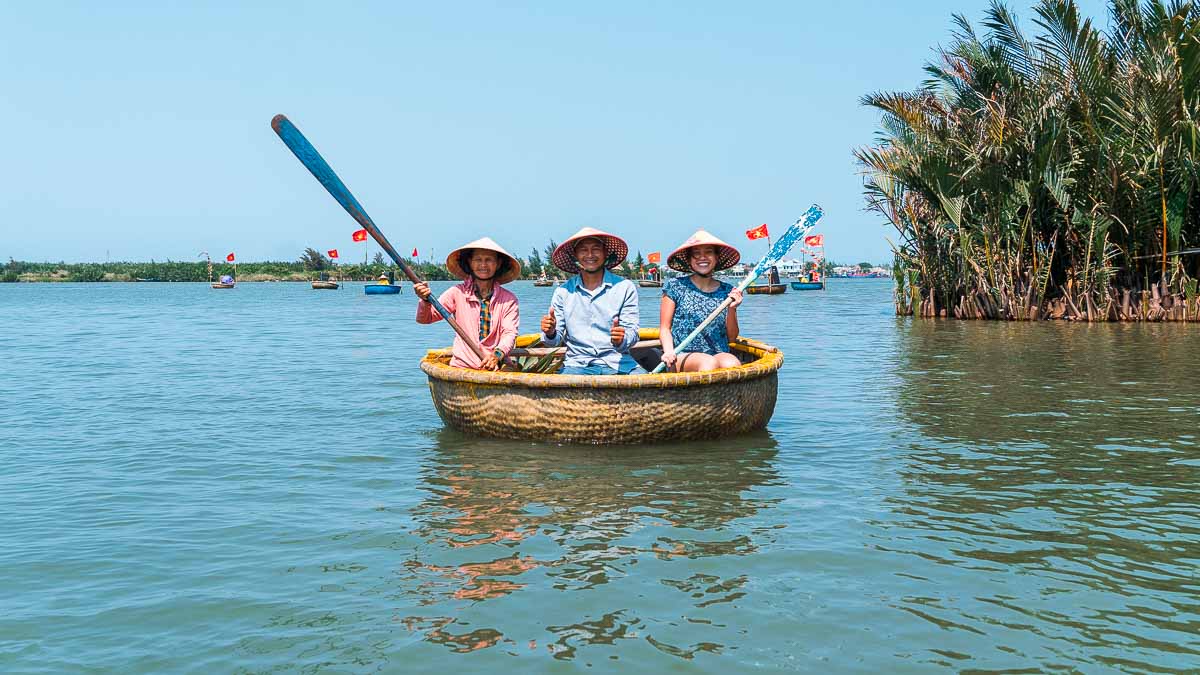 This super-cute tour through the Coconut Forest is non-stop excitement, beginning with an actual buffalo ride in the countryside!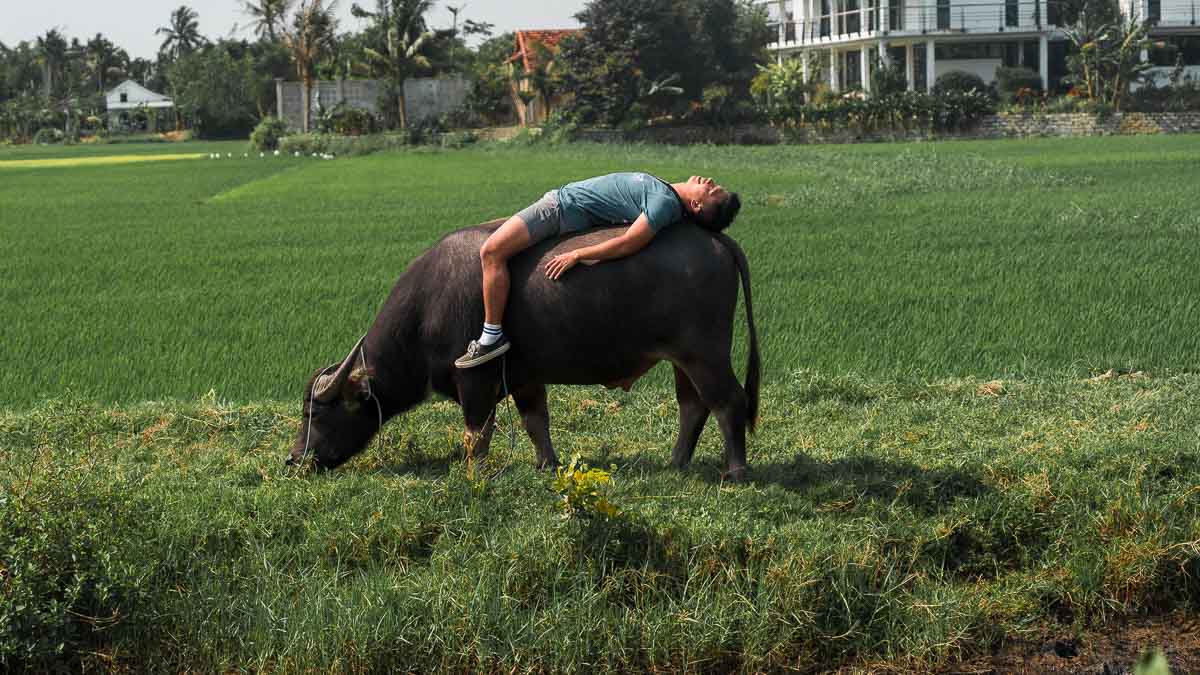 We then cycled through scenic paddy fields, lush vegetation, and beside shimmering streams. Along the way, our guide pointed out interesting sights and even crafted us our very own grass hats and accessories!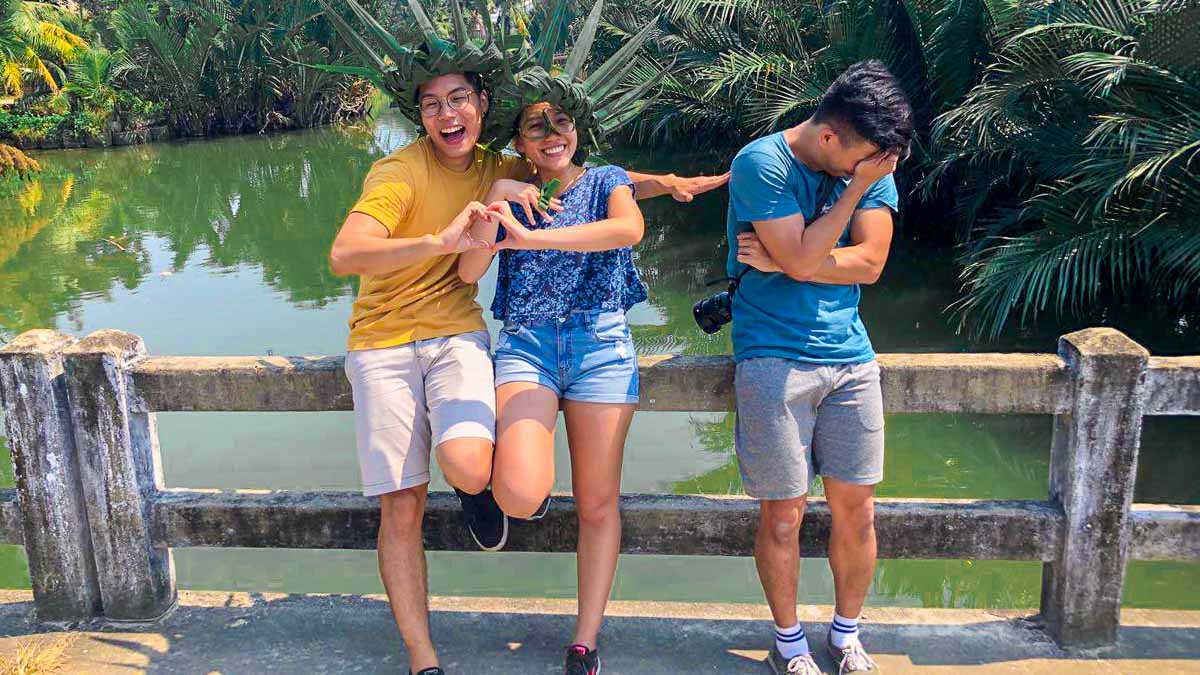 Once we reached the coconut forest, the real highlight of the tour began. Hopping onto a round basket boat — a creative concoction of oil and bamboo — we paddled out on the river and right into the middle of a party.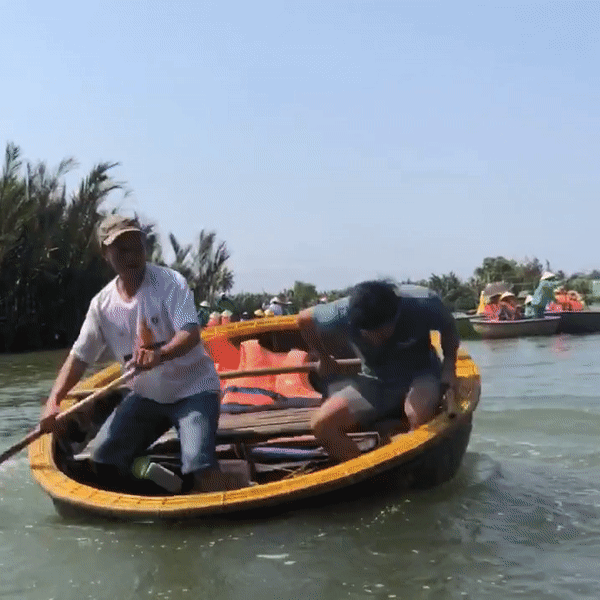 You'll be brought to the river's designated party spot with boomboxes blasting energetic music, while a friendly paddler spins the boat round and round and round. One of us actually puked — just like a Friday night at Zouk!
On a serious note, you might want to skip this if you have bad motion sickness (or prep some pills beforehand).
Other highlights include a chance to try net fishing, and learn more about this interesting aspect of local life. For example, the coconut forest used to be an area of frequent bombing during the Vietnam War. Our guide's father — our basket boat paddler — even fought in the war, and showed us pictures to prove it.
After all that spinning and adventure, we enjoyed a local spread of fried spring rolls, banh xeo (Vietnamese egg pancakes), and of course, fresh coconut!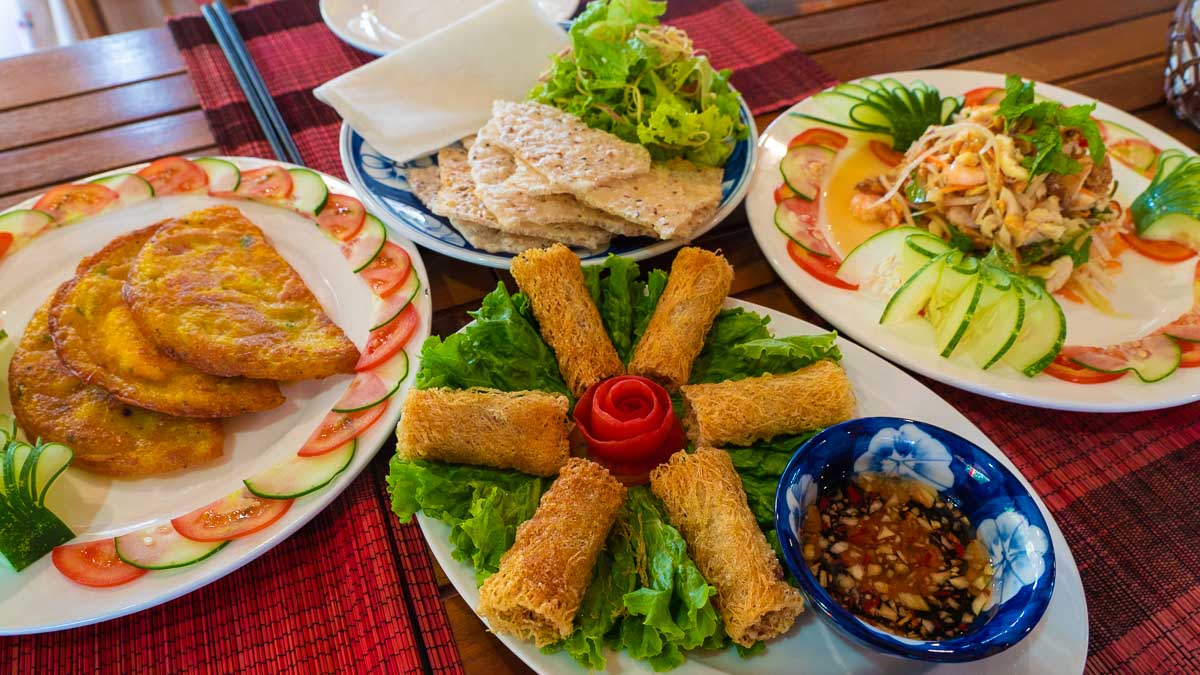 I can't recommend this tour enough — the English-speaking husband-and-wife team were amazing guides who went above and beyond to give us a fun time and even helped us take great photos.
Cost: ~S$34/pax for a 3hr tour
Tour timings: 9AM, 2PM
Meeting point: Hotel pick up within central Hoi An available
Explore Hoi An's Colourful Streets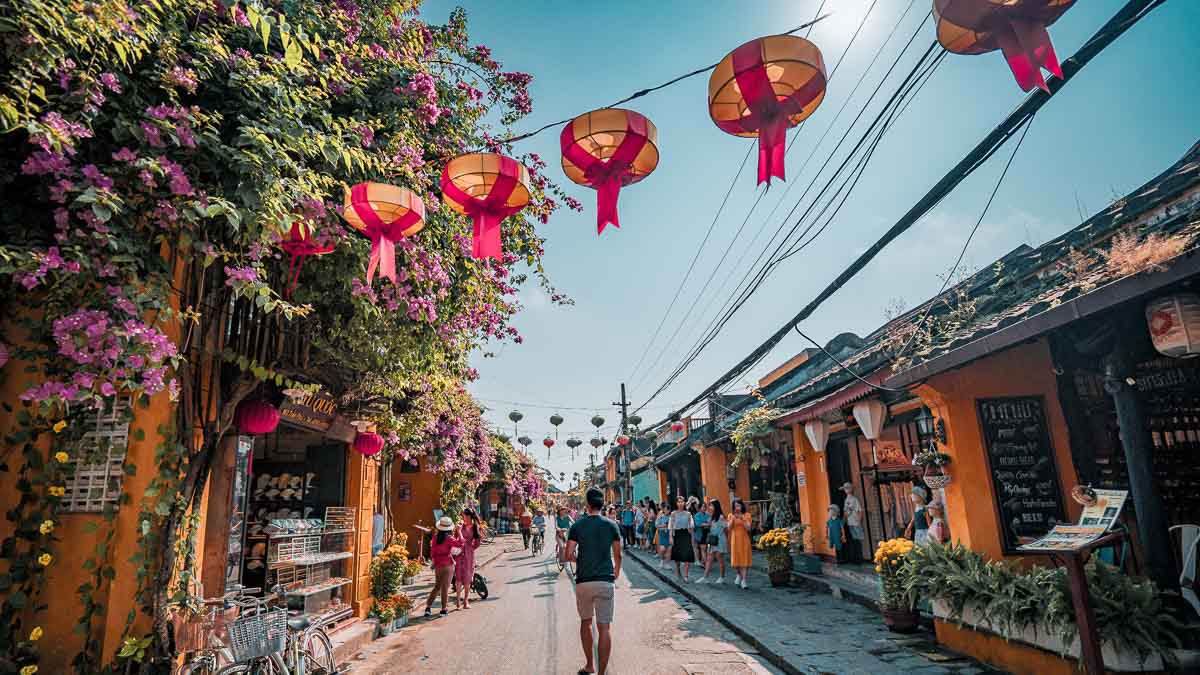 Whether on foot or by bike, spend an afternoon exploring Hoi An's quaint streets and cosy eateries.
We visited the White Rose Restaurant, founded by a Fujian-Vietnamese couple and named after their iconic white rose dumplings, with a secret recipe they fiercely guard. What's not-so-secret though is getting to see ladies skilfully filling and shaping the dumplings into flowers. It's also no coincidence that all the staff look alike — only family members are allowed to make the food!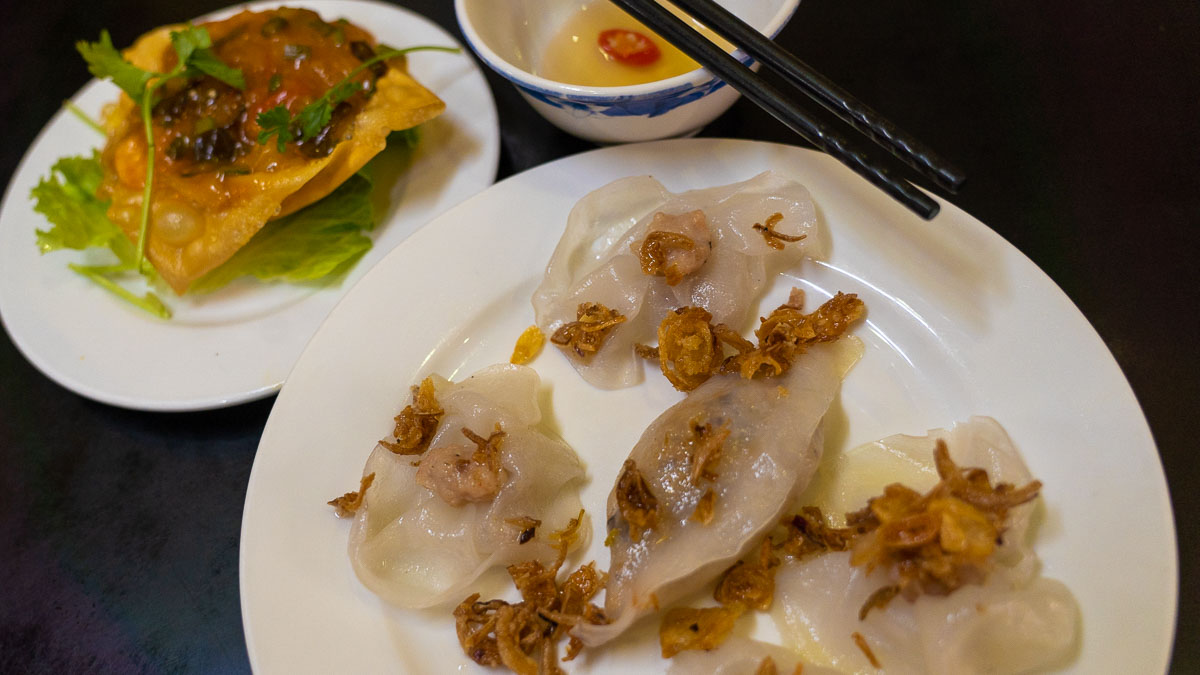 Apart from the white rose dumplings (70,000₫ for ~10 pieces), try the one other menu offering, fried wanton (100,000₫ for ~7 pieces), which are topped with tomato roulade, shrimp, black mushroom, and other veggies. Resembling a tortilla, the soft and crunchy snack is also known as "Hoi An Pizza".
White Rose Restaurant
Cost: From 70,000₫ (~S$4.20)
Opening hours: 7:30AM – 8:30PM
Address: 533 D. Hai Bà Trung, Phuong Cam Pho, Hoi An, Quang Nam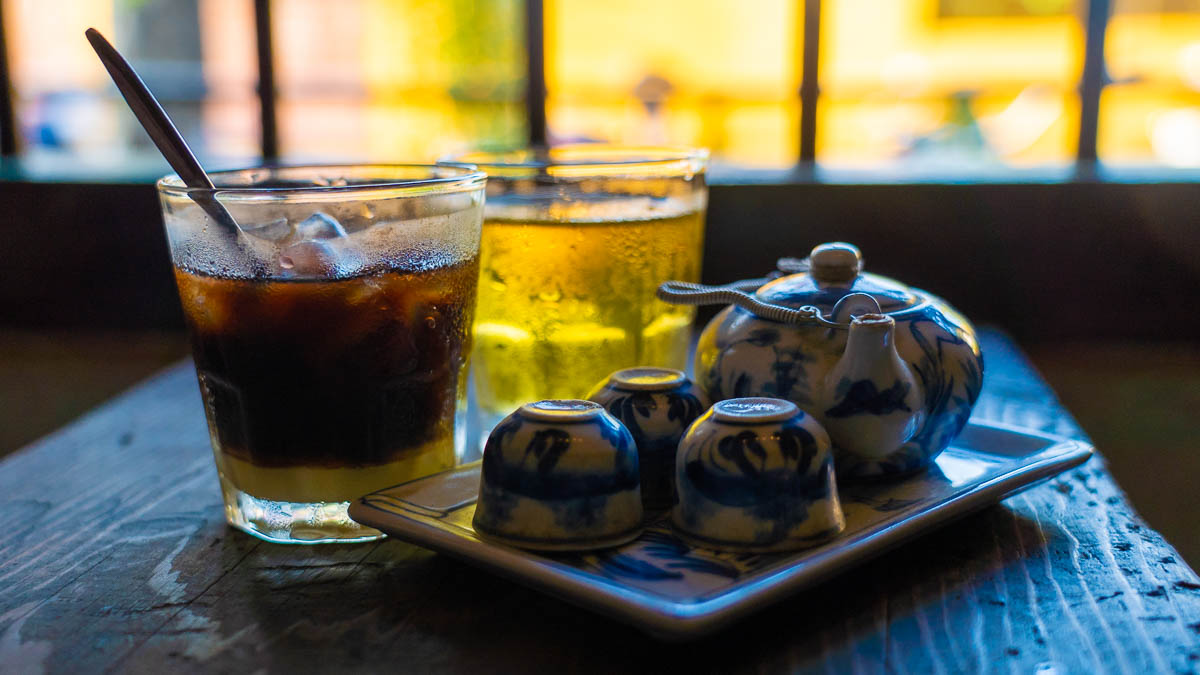 Another cool spot is Phai Pho Cafe (meaning "Faded City"), a vintage-looking cafe in Old Town. Get a cup of their strong, sweetened coffee (15,000₫) and drink it the Vietnamese way — one sip of coffee followed by one sip of their complimentary tea, and repeat. The delicious beans from Da Lat give the coffee a distinct, chocolatey taste.

Phai Pho Cafe
Cost: 15,000₫ (~S$0.90)
Opening hours: 7AM – 10PM
Address: 59 Phan Chu Trinh, Phuong Minh An, Hoi An, Quang Nam
*Pro-tip: You're allowed to bring in your own food to enjoy with the coffee.
If you're feeling more adventurous, go on a guided bike tour, where you'll brave busy streets to sample Hoi An's best-kept culinary secrets. We went through narrow alleyways and even found ourselves on a tranquil farm and in locals' homes for home-cooked Vietnamese food.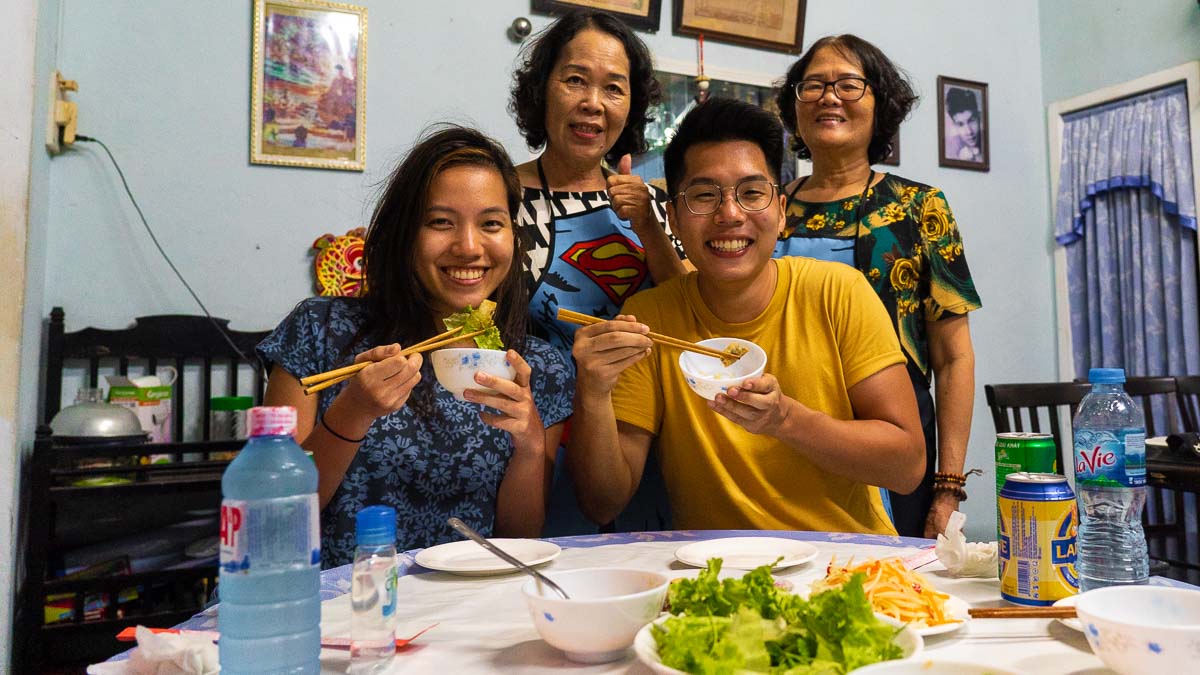 The entire way, our knowledgeable guide told us everything we needed to know about the food, and even accompanied us to try street-side balut (fertilised duck egg)!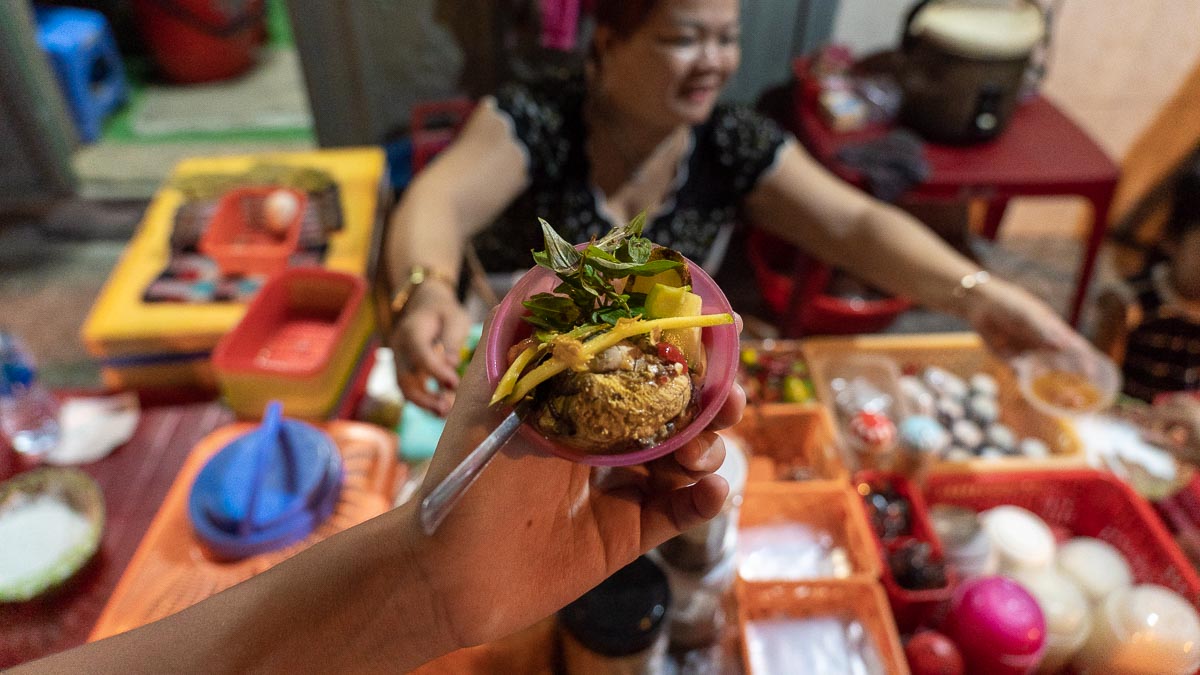 Bike and Bite Tour
Cost: ~S$55/pax for a 5hr tour
Tour timings: 3:30PM
Meeting point: 567 Hai Ba Trung St, Son Phong, Hoian, Quang Nam
Light Up the River at Hoi An's Lantern Festival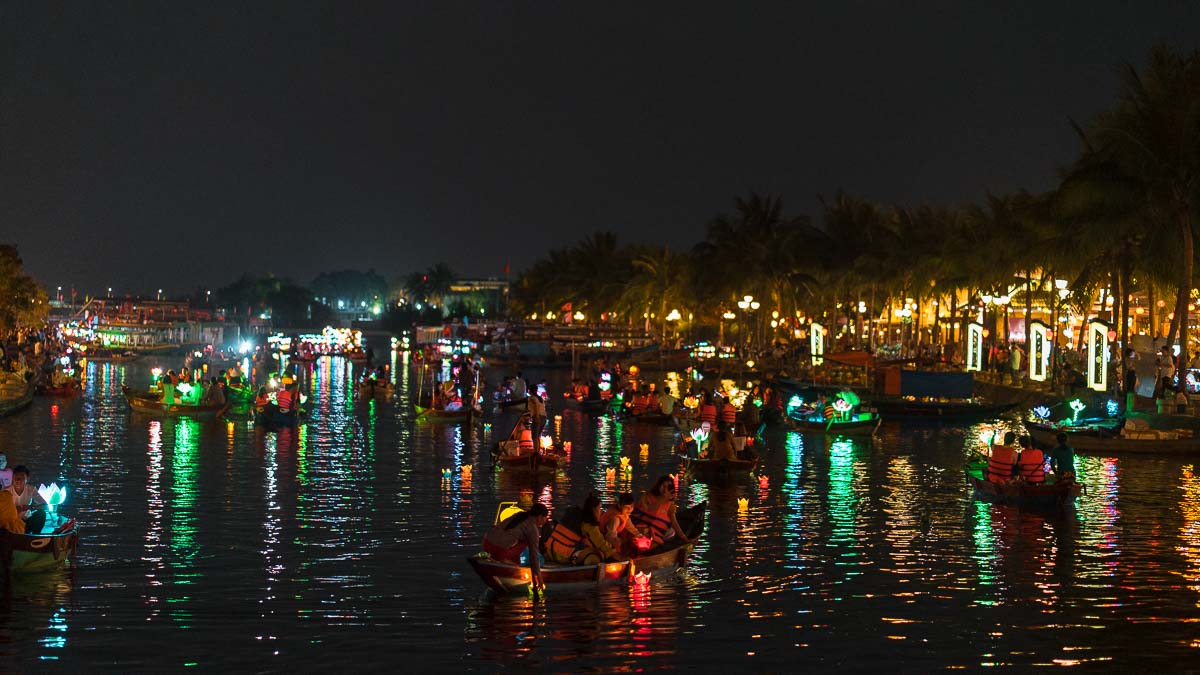 Hoi An's romantic streets become even lovelier at night, as the riverside lights up with the rainbow glow of paper lanterns and decorated boats.
You can even make a wish on your own little lantern, and set it afloat along the river (20,000₫ each)!
While the tradition has become so popular that it now happens every night, it's still most beautiful on the eve of the full moon each month, when the lights of the town are shut off at 8PM to create a truly magical scene.
Activity timing: From sunset to around 9PM
How to get there: Walk to the riverside in the centre of Hoi An's Old Town
*Pro-tip: Arrive just before sunset (around 6PM) to catch the gorgeous pink sky and watch the river slowly light up.
Dinner at Madam Khanh the Bahn Mi Queen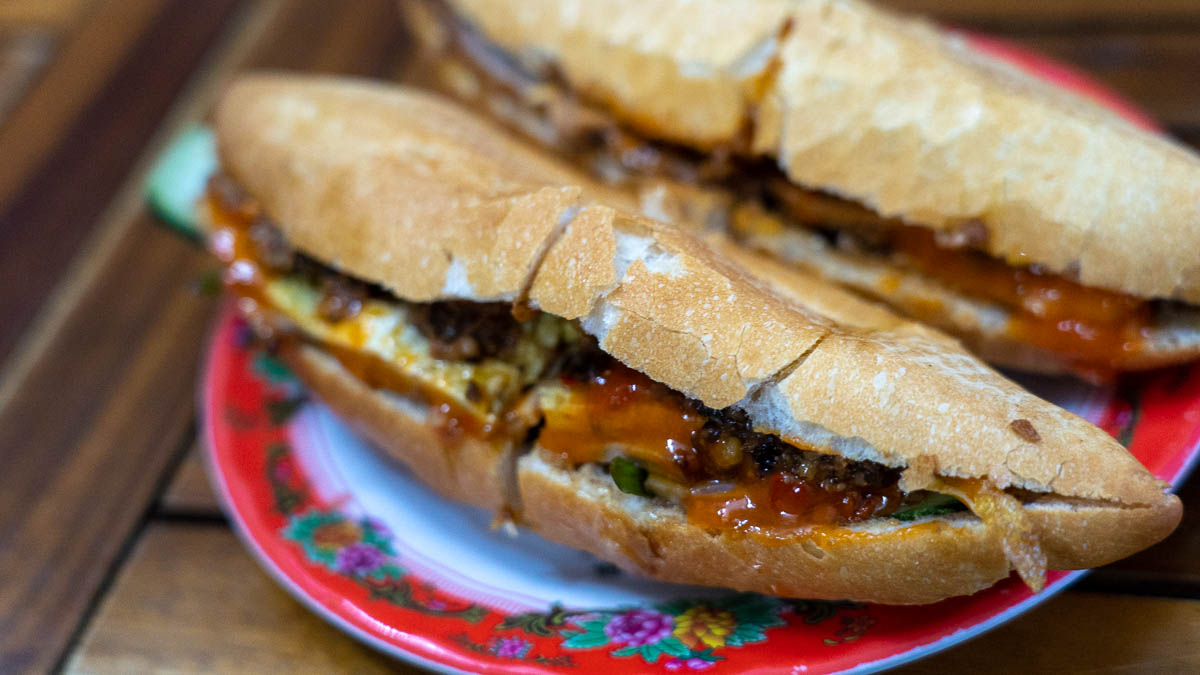 Without a doubt, the owner Madam Khanh deserves her title as the Bahn Mi Queen. These bahn mi (short baguette with savoury ingredients) from Madam Khanh the Bahn Mi Queen were the best Vietnamese sandwiches I've ever had.
My favourite was the Mixed Bahn Mi (20,000₫), which came stuffed with vegetables, pork, ham, eggs, pate, and egg sauce on a crisp yet chewy baguette.
Cost: From 20,000₫ (~S$1.20)
Opening hours: 6AM – 7PM, opens 12PM on Tue
Address: 115 Tran Cao Van, Phuong Minh An, tp. Hoi An, Quang Nam
Getting from Hue to Hoi An: It's a 2hr 40min drive to Hoi An. As Hoi An is best explored on foot or via unique local tours, we took an inter-city transfer (~S$72.59 for three pax). Leave Hue by 6AM if you intend to take the Coconut Forest Tour (9AM – 12PM) and the Bike and Bite Tour (3:30PM – 8PM) on the same day. Otherwise, leave by 2PM to catch the afternoon Coconut Forest Tour (2PM – 5PM).
Getting from Hoi An to Da Nang (Airport): Take a 45-min airport transfer (~S$15.69 for three pax) to Da Nang International Airport.
Getting Around Central Vietnam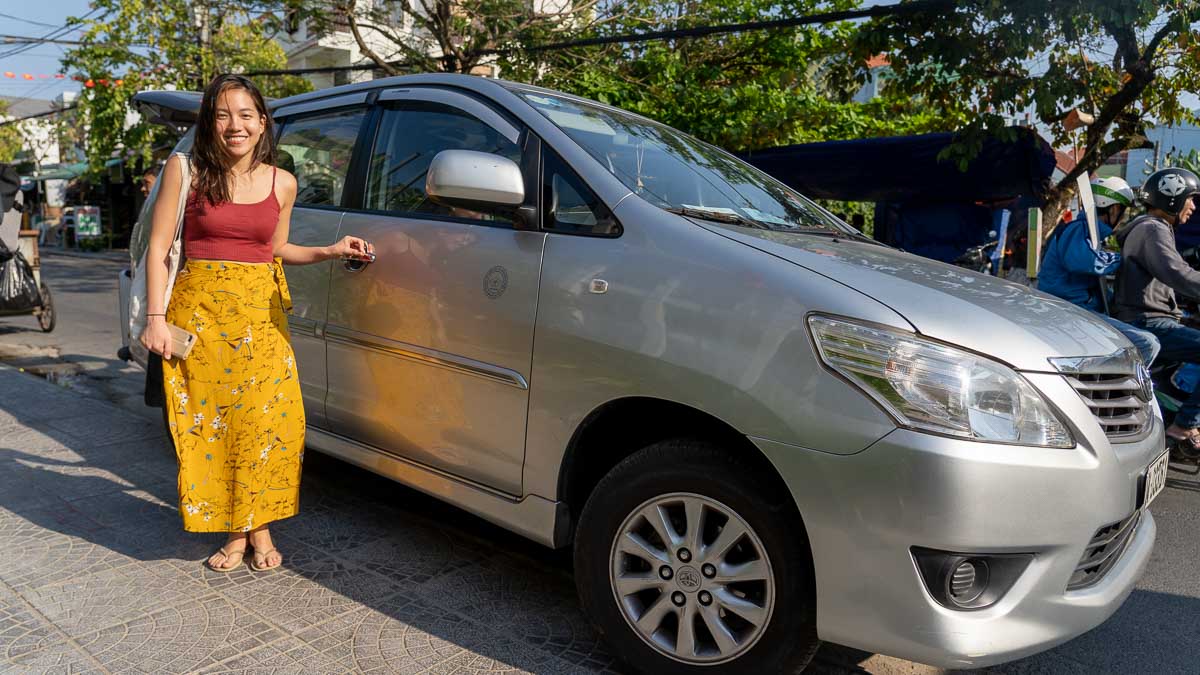 We loved the flexibility of customising our day and itinerary, free to continue exploring or move on from each attraction throughout Central Vietnam as we pleased.
Our 12-hour private charter (~S$112.50) made this possible directly from touchdown. Having our own car was a godsend especially when exploring quirkier attractions like the local market and Khai Dinh's tomb, which aren't central areas frequented by most tourists (and harder to get to via public transport!).
That said, we also opted for the following full-length tours as they included great add-ons like lunch or admission fees, with knowledgeable guides who gave us insight on Vietnamese history and hidden gems:
– Ba Na Hills and Golden Bridge Custom Day Tour incl. Buffet Lunch (~S$65)
– Phong Nha Cave Exploration Tour (~S$57)
– Hoi An Coconut Forest Tour (~S$34)
– Hoi An Bite and Bite Tour (~S$55)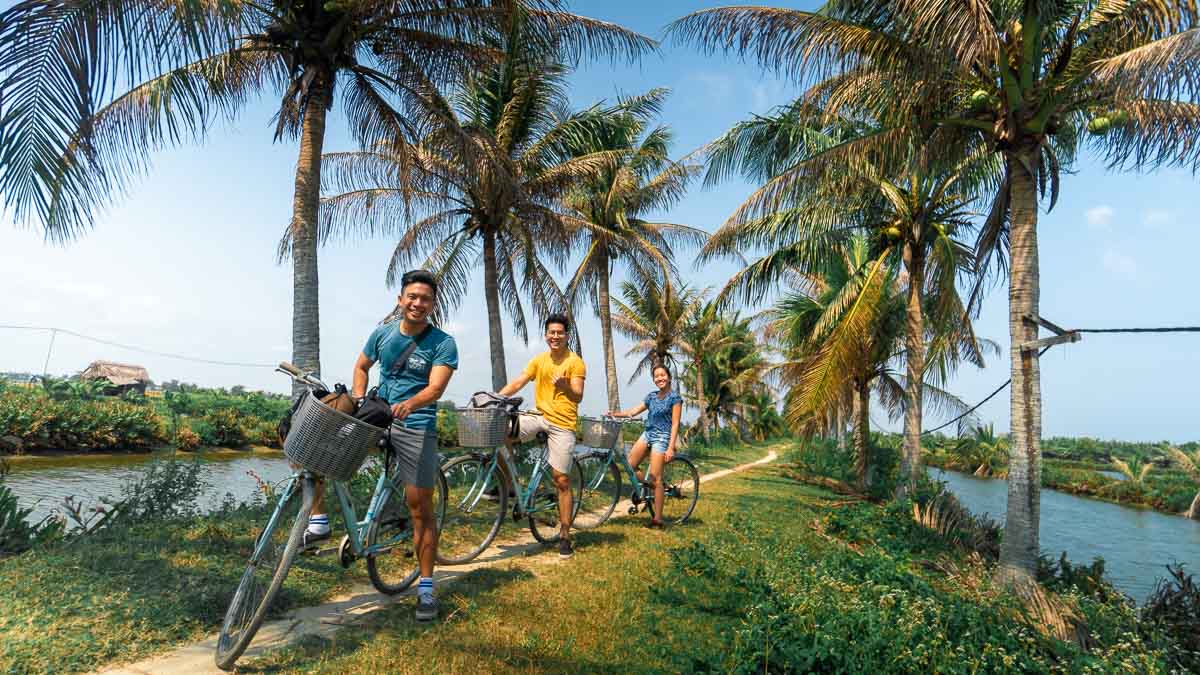 Personally, I'm already itching to return to these underrated cities, especially Da Nang's My Khe Beach. So try something new with our itinerary and head to Central Vietnam for a colourful getaway like no other!
Read also: 7 Adventurous Day Trips from Hanoi – Halong Bay, Sapa, Ninh Binh, Trang Vu and more
Enough to inspire you for your next trip? Check flight prices from Singapore to Da Nang here!
1-For-1 Deals and Up to 50% off Vietnam Travel Essentials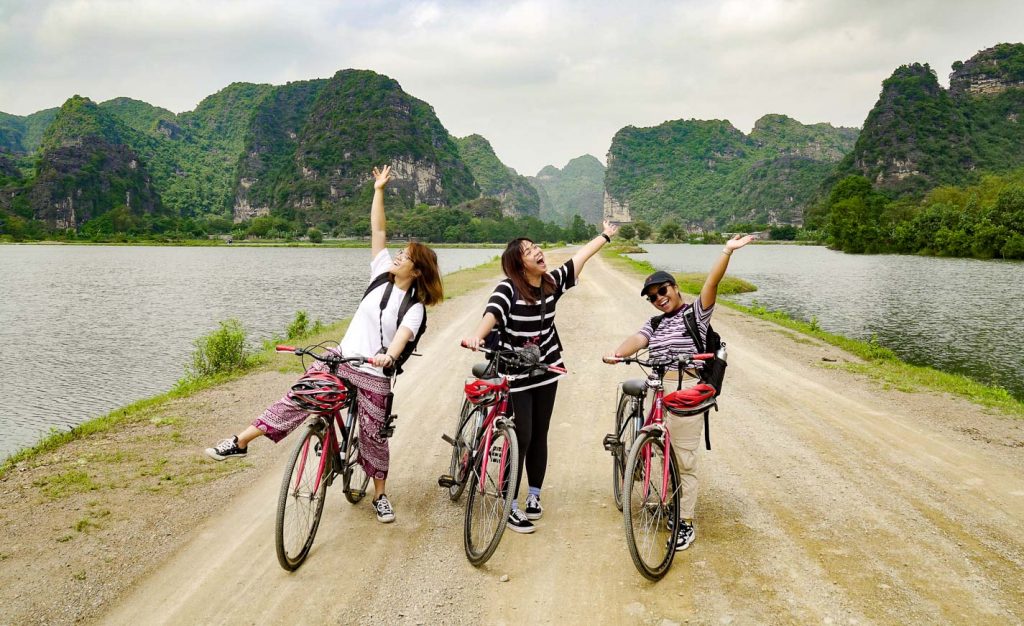 Celebrating their 8th birthday, from 30 September – 7 October 2022, Klook will be releasing daily deals for a different destination each day. If you're planning your Vietnam itinerary, set an alarm for 6 Oct!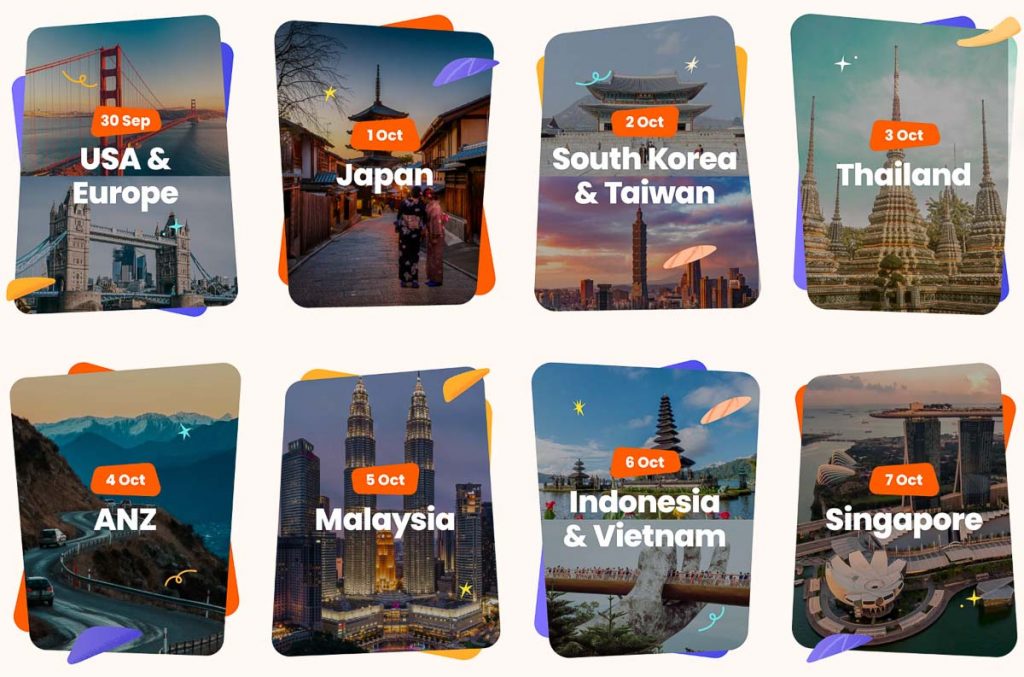 How this works: at 8PM each day, there will be a code released for 18% off for that featured destination — that means 18% off your train passes, activities, accommodations, and other travel essentials!
And if you're planning to add Sun World Asia Park (Da Nang) to your Central Vietnam Itinerary, enjoy an extra 100,000₫ voucher as part of the 8PM flash deal for Vietnam!
More savings for your Central Vietnam itinerary
On top of daily destination-specific deals, log into the app daily between 30 Sep – 14 Oct to spin the Joy Roulette.
Collect the three coins to spell J-O-Y and you'll stand a chance to win one of 88 attractive prizes! Prizes include a Resorts World Cruises 5-Night Sail Package, Royal Albatross Tickets, and Klook e-Gift Cards to book any experience you've been dying to try.
*Pro-tip: Existing DBS/POSB Cardmembers can score an $80 off sitewide code so look out for that when you're checking out!
Know any other quirky activities in Vietnam that we should include? Let us know in the comments!
---
This post was brought to you by Klook.
Like what you see? Follow us on Facebook, Instagram, and YouTube for more travel updates!