From delicious street eats to jaw-dropping views of the Avatar mountains, get ready for an unrivalled China experience in Wuhan, Changsha and Zhangjiajie with this itinerary!
First published: 21 Jun 2019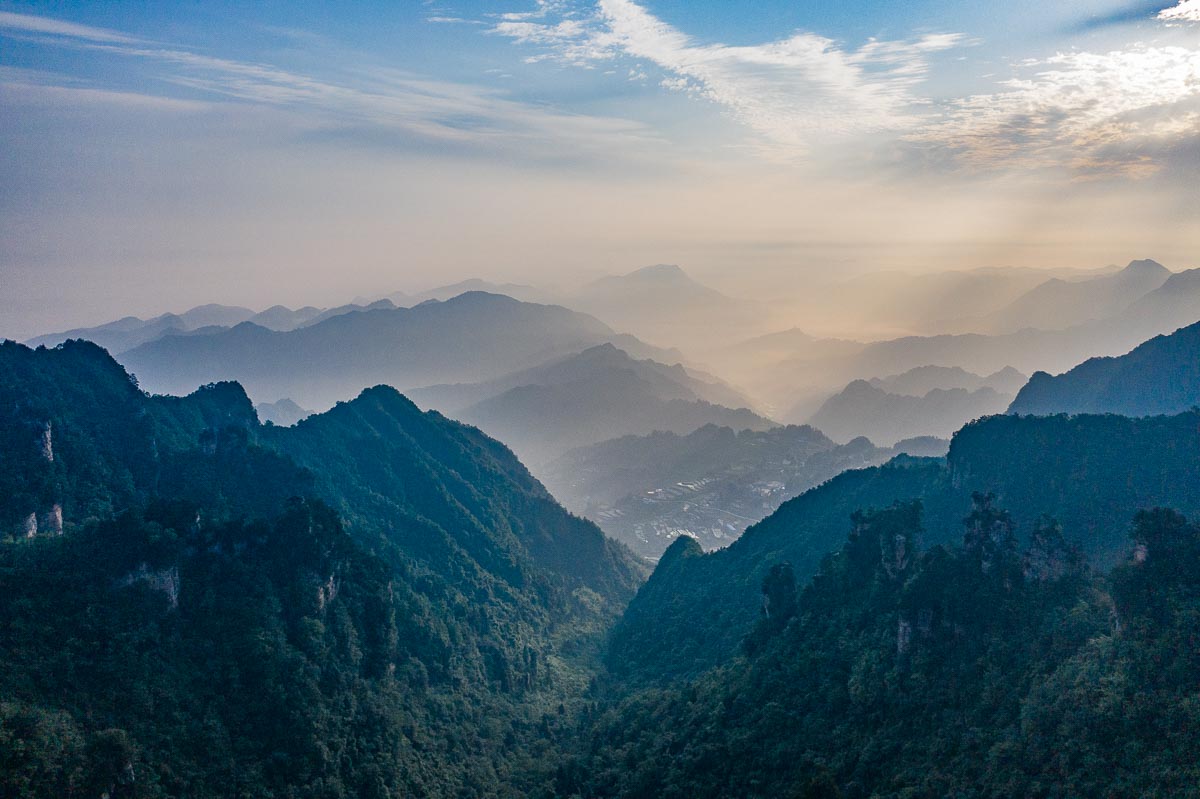 To be honest, China didn't rank high on my bucket list of places to visit. Perhaps to me, the most populous country in the world screams CROWDED cities, CONGESTED roads and LONG QUEUES at tourist attractions.
But despite all that, I was still excited at the thought of my virgin China trip, thanks to the high expectations of the gorgeous Zhangjiajie views the internet had set us up for. Not to mention, getting to taste the fiery and authentic Chinese cuisine I grew up loving.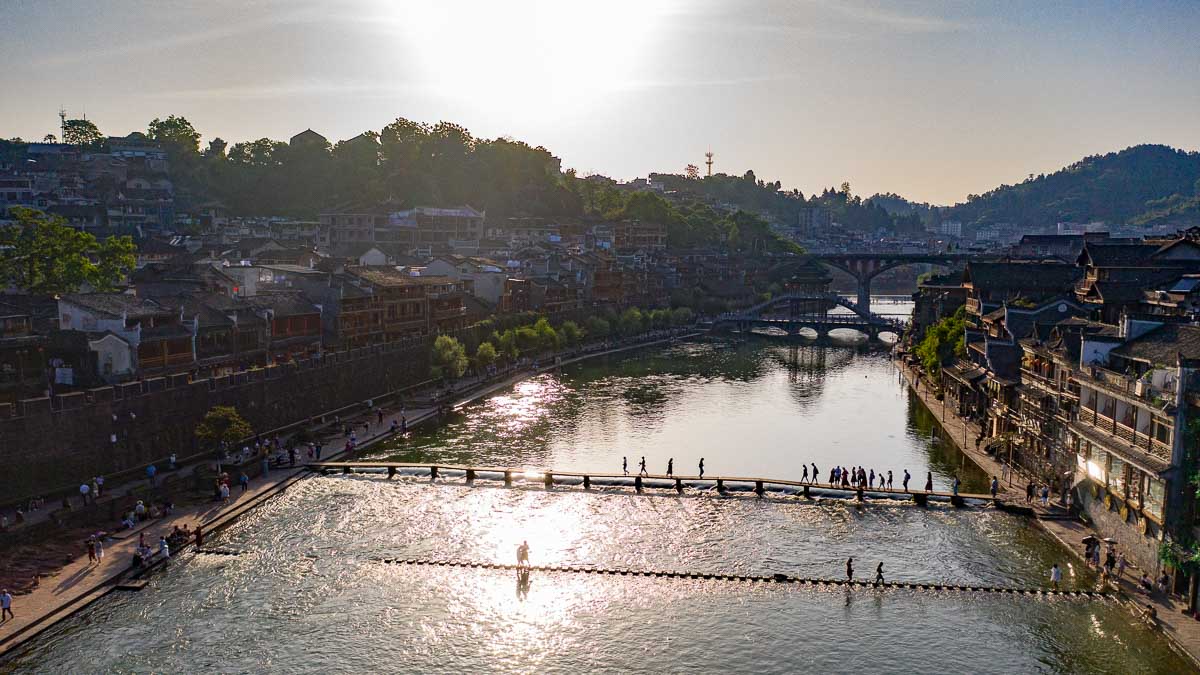 The Ancient Town of Fenghuang.
Everything turned out to be a pleasant surprise. Despite the crowds, people remained friendly and considerate to us. Despite the congestion, time barely passed as we were busied with the mind-blowing sights around us. And despite waiting in lines, we knew there'd always be a marvel for us to behold at the end. If not, there wouldn't be a queue, right?
Open-Jaw Route Through Wuhan, Zhangjiajie and Changsha
We wanted our itinerary for the Central China route to cover as many places as possible in 12 days. And thanks to Scoot's extensive coverage (it's the largest foreign low-cost carrier in China!) we were able to fly into Wuhan, and fly home from Changsha ✈️
Pre-trip Essentials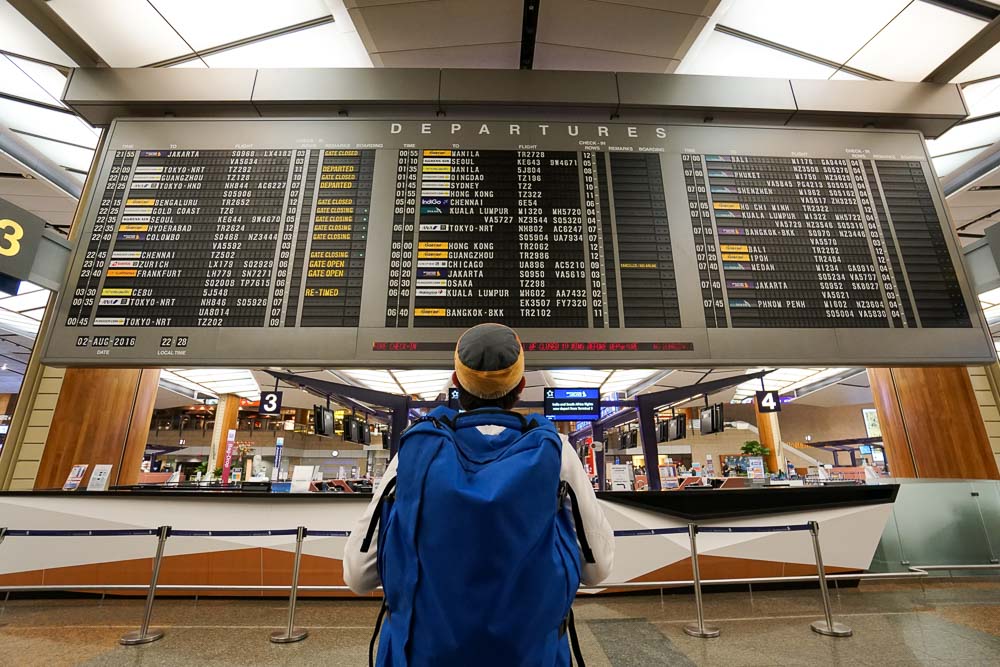 Connectivity: Stay connected with Unlimited 4G Wifi for S$4.90/day or an Unlimited 4G e-SIM Card (from S$8.80).
Student IDs (if applicable): School-issued Ez-link and matriculation cards from Singapore are eligible for discounts!
Essential apps: There's no WhatsApp or Facebook in China, so download essential apps like WeChat, Pleco, MetroMan and Didi before leaving the country for a smooth visit. On the other hand, if you're using a WiFi device with VPN or downloading a VPN app, you can continue to use WhatsApp, Facebook and other previously blocked sites.
Day 1 – 3: Wuhan (武汉)
Hubu Alley (
户部巷)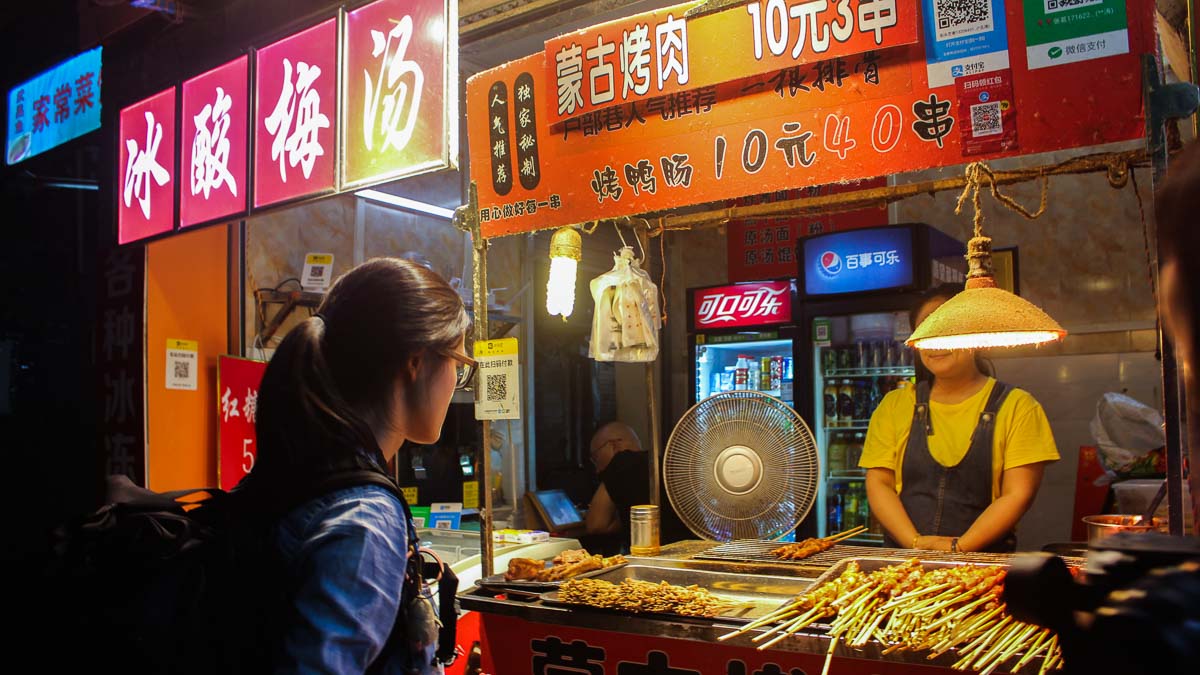 Hubu Alley is most famous for having over 100 food stands lining both sides of this century-old alley.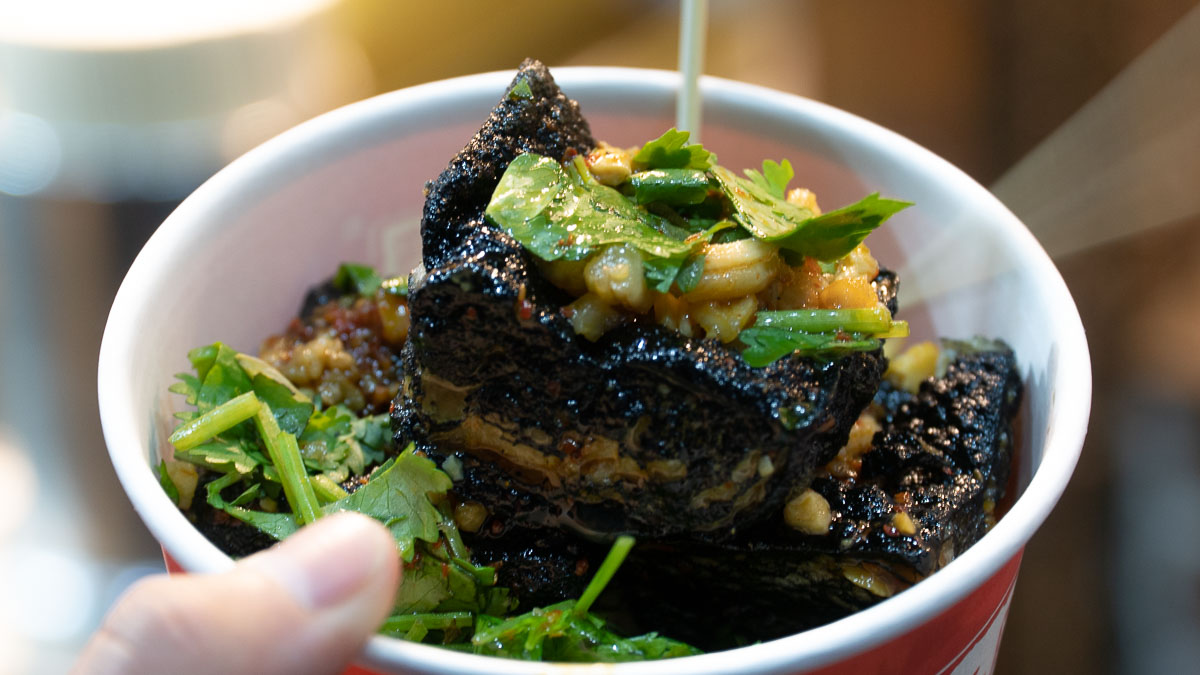 Smelly Tofu (臭豆腐) — ¥10 for five pieces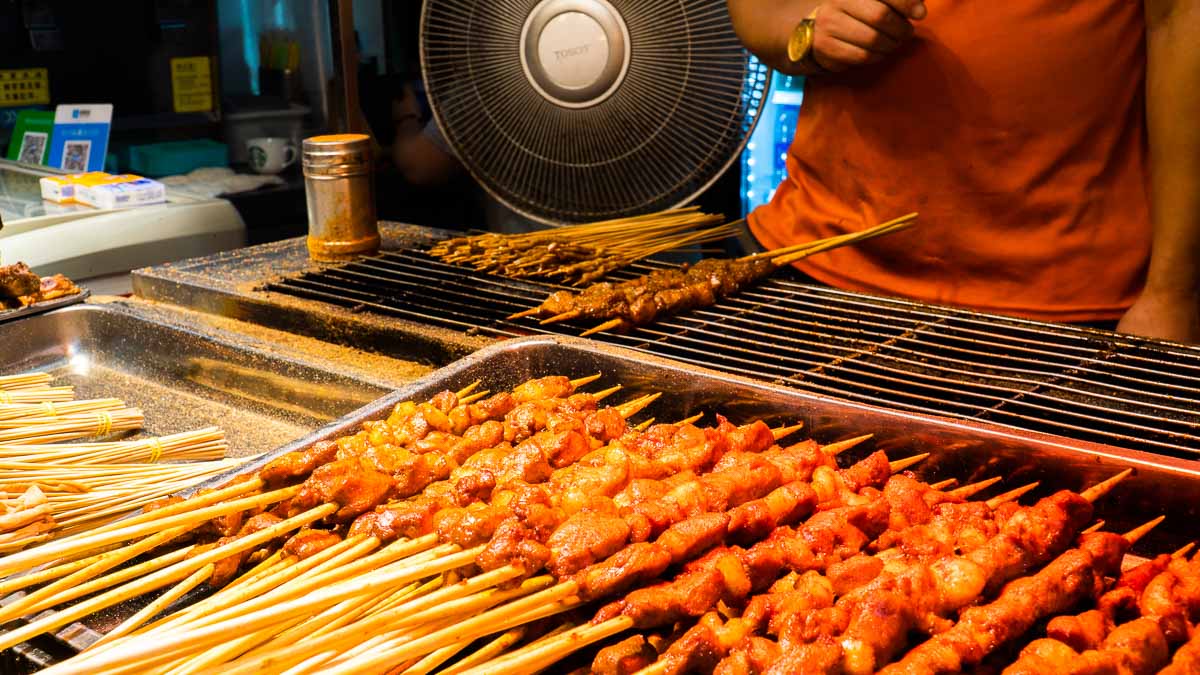 Grilled Mongolian Meat Skewers (蒙古烤肉) — 10¥ for three sticks and Roasted Duck Intestine (烤鸭肠) — ¥10 for 40 sticks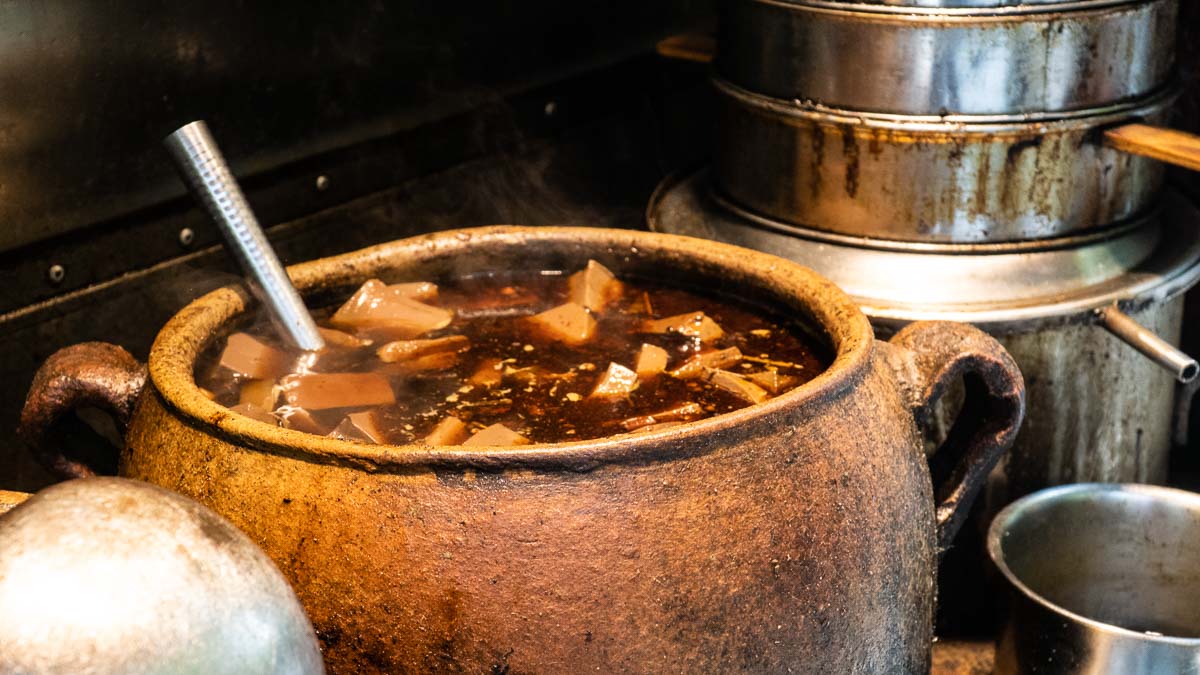 Duck Blood Curd (鸭血粉) — ¥10
Don't worry if don't manage to try everything in one visit — there are stalls open all day long.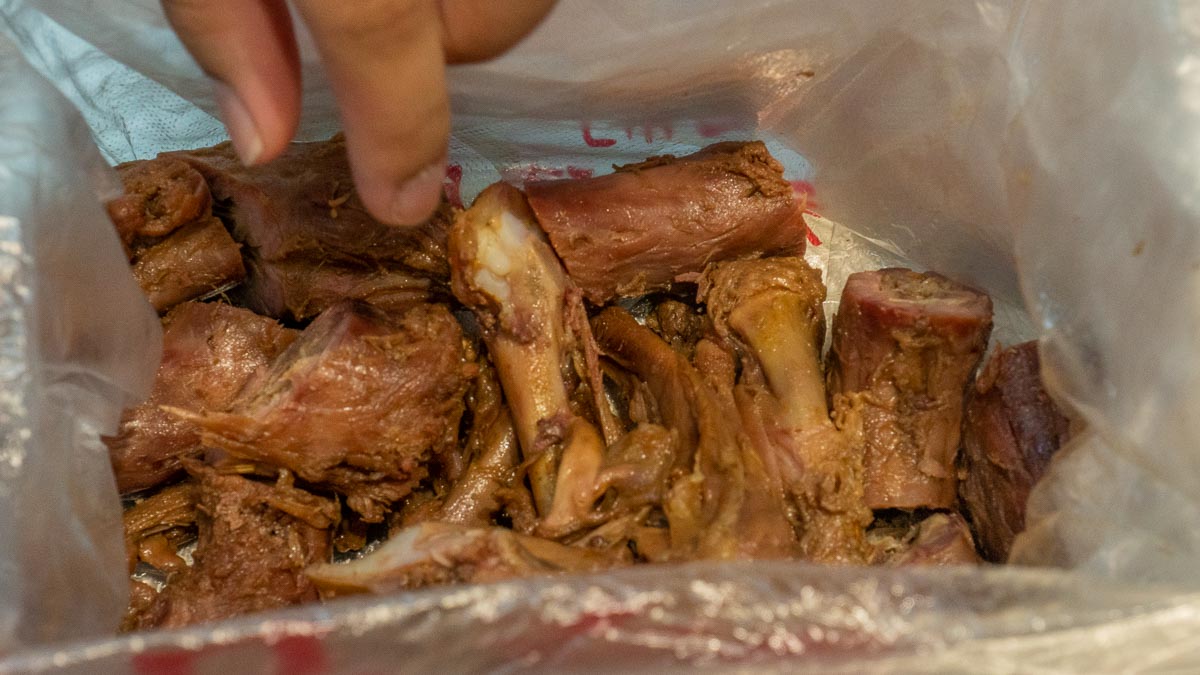 Two duck necks chopped into bite-sized portions. Tender, but numbingly spicy!
Opening Hours: 24 hours
Address: Ziyou Road, Wuhan 430060, Hubei Province, China.
Yellow Crane Tower (黄鹤楼)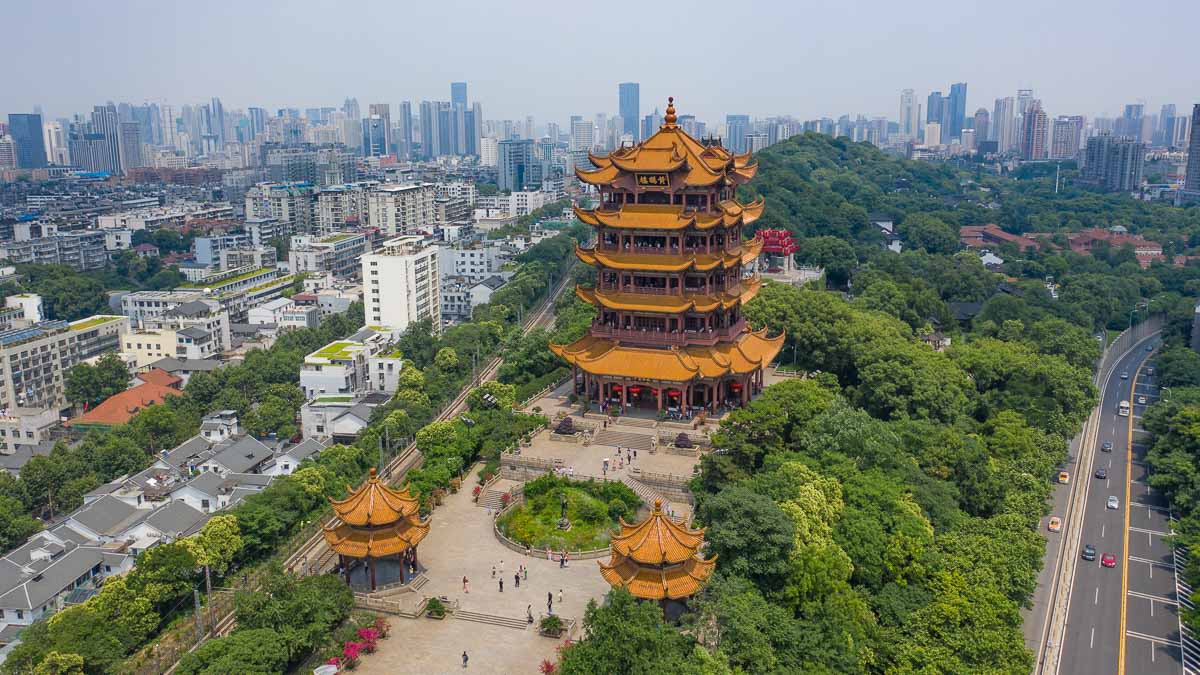 The Yellow Crane Tower is one of four historically renowned towers in China, commonly referred to as the Four Great Towers. The majestic structure lies on the Yangtze River, on top of Snake Hill, allowing visitors an unobstructed view of the city from the top.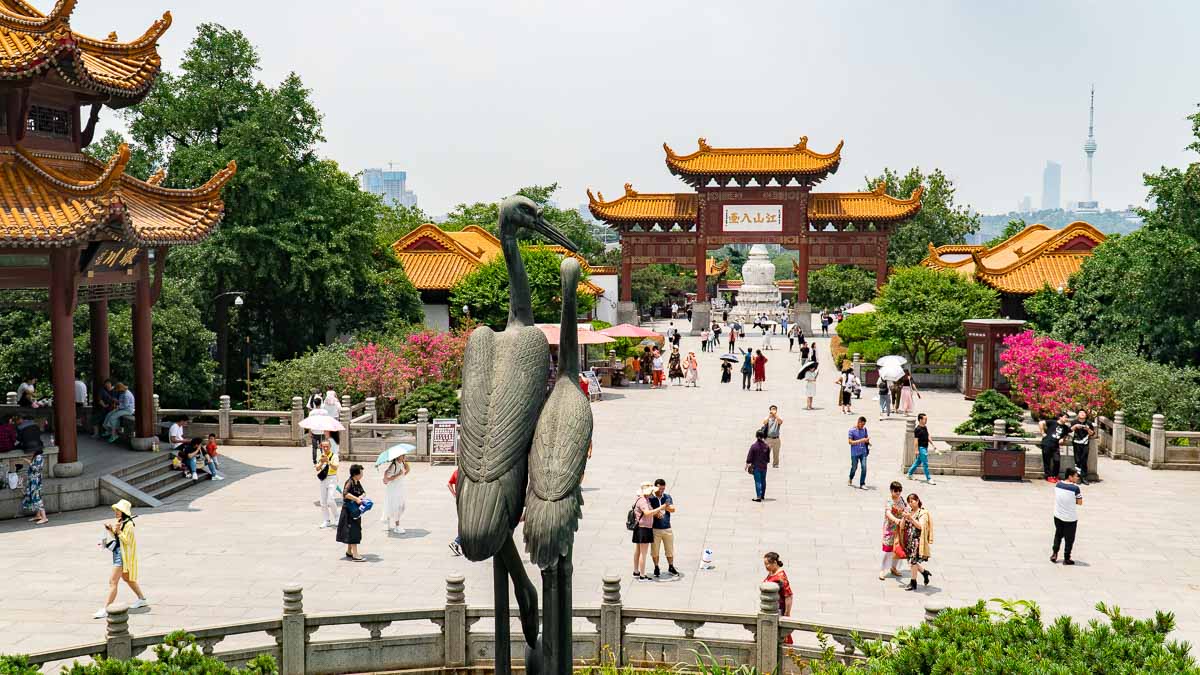 Entrance Fee: ~S$13
Opening Hours: 8AM – 6PM (Apr – Oct), 8AM – 5PM (Nov – Mar)
How to get there: Take bus 10, 61, 401, 402, or Trolleybus 1, 4, 7 to Huanghelou (Yellow Crane Tower)
Guiyuan Temple (归元寺)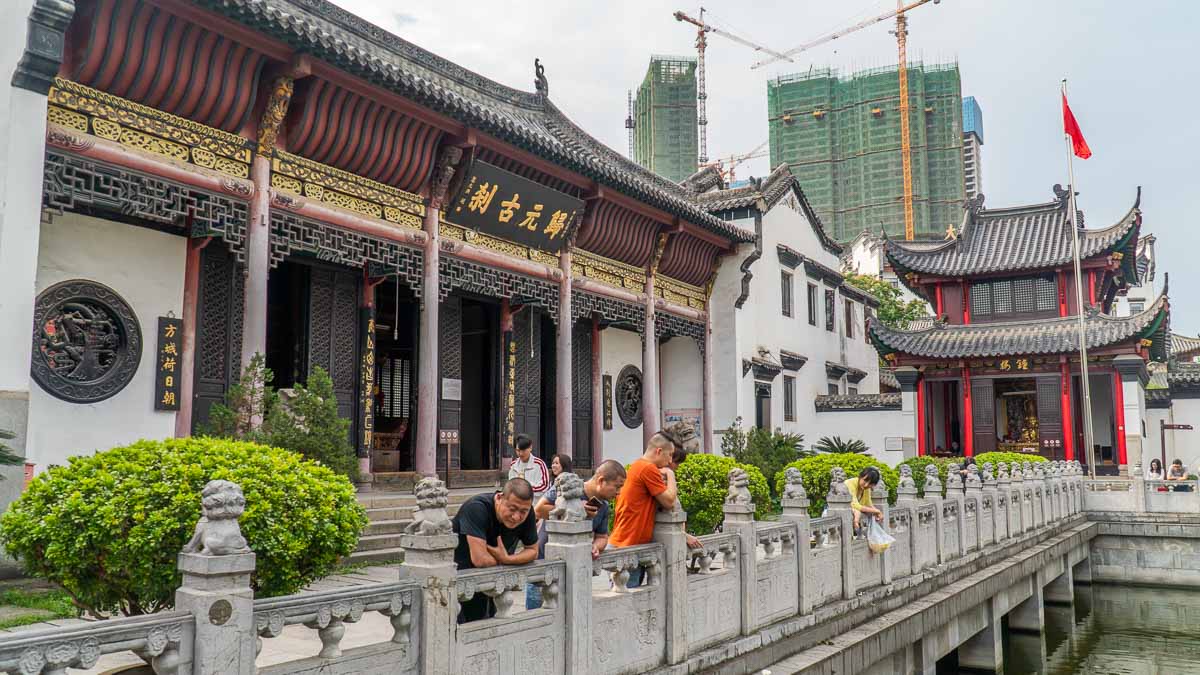 The first of four Buddhist Monasteries in Wuhan, Guiyuan Buddhist Temple is known for its statuesque architecture and holds great significance to the locals. It's where people go to burn the first bunch of incense for the coming year, and also to pray for auspiciousness and safety.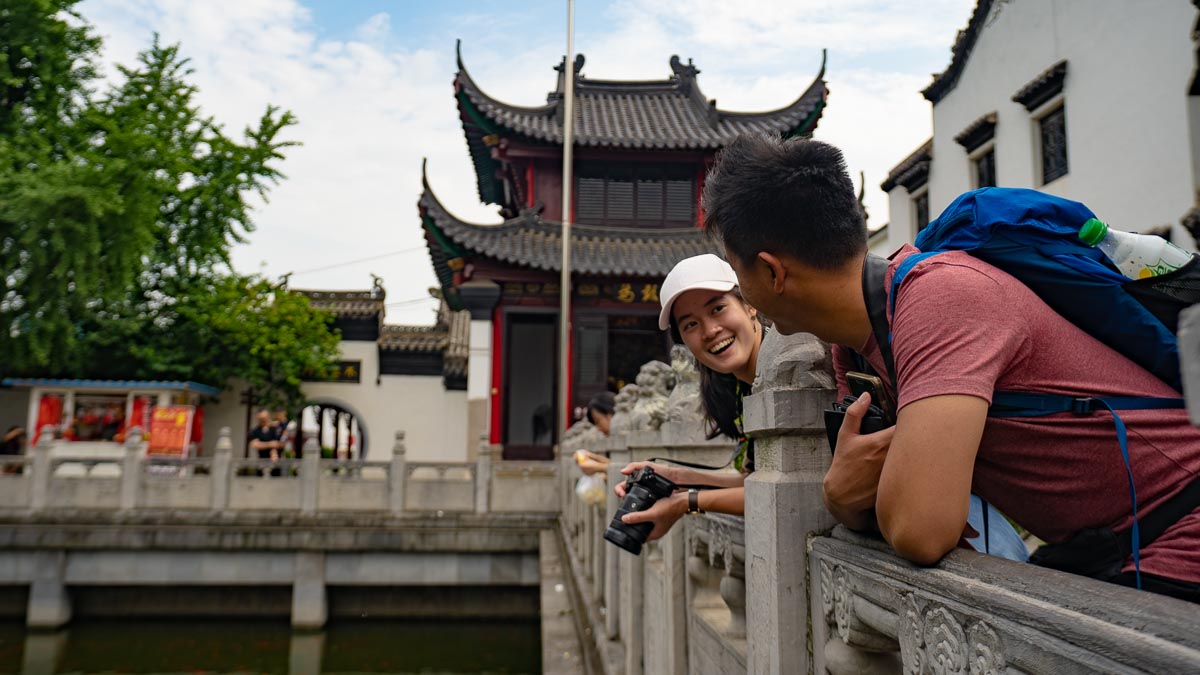 Entrance Fee: ¥10 (~S$2)
Opening Hours: 8:30AM – 5PM, extended hours during Chinese New Year
How to get there: Take Metro Line 4 or 6 to Zhongjiacun Station, then walk 10 minutes to the temple.
Tan Hua Lin (昙华林)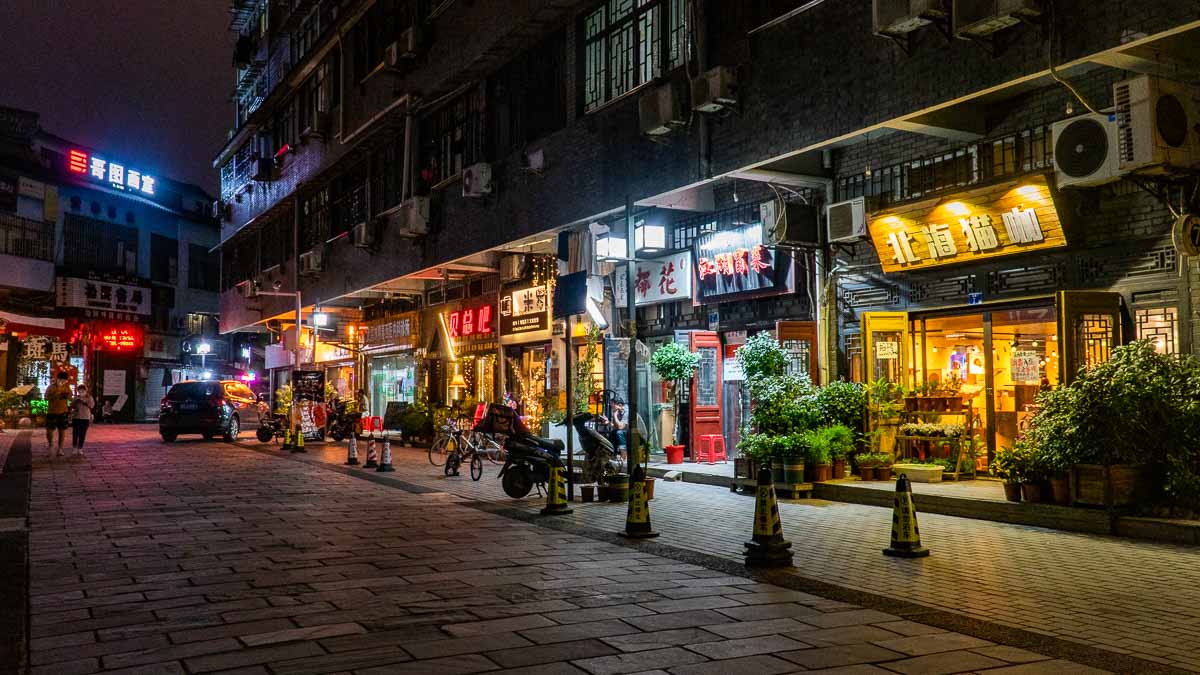 A quaint little street away from the hustle and bustle, Tan Hua Lin is the perfect place to visit after a heavy meal. Stroll along this charming street where you'll find cute souvenirs and jewellery. The street is much livelier in the day and it's also when you can capture the architecture in its best light.
How to get there: Take Metro Line 2 or 7 to Pangxiejia, walk 15 mins.
Haidilao (海底捞)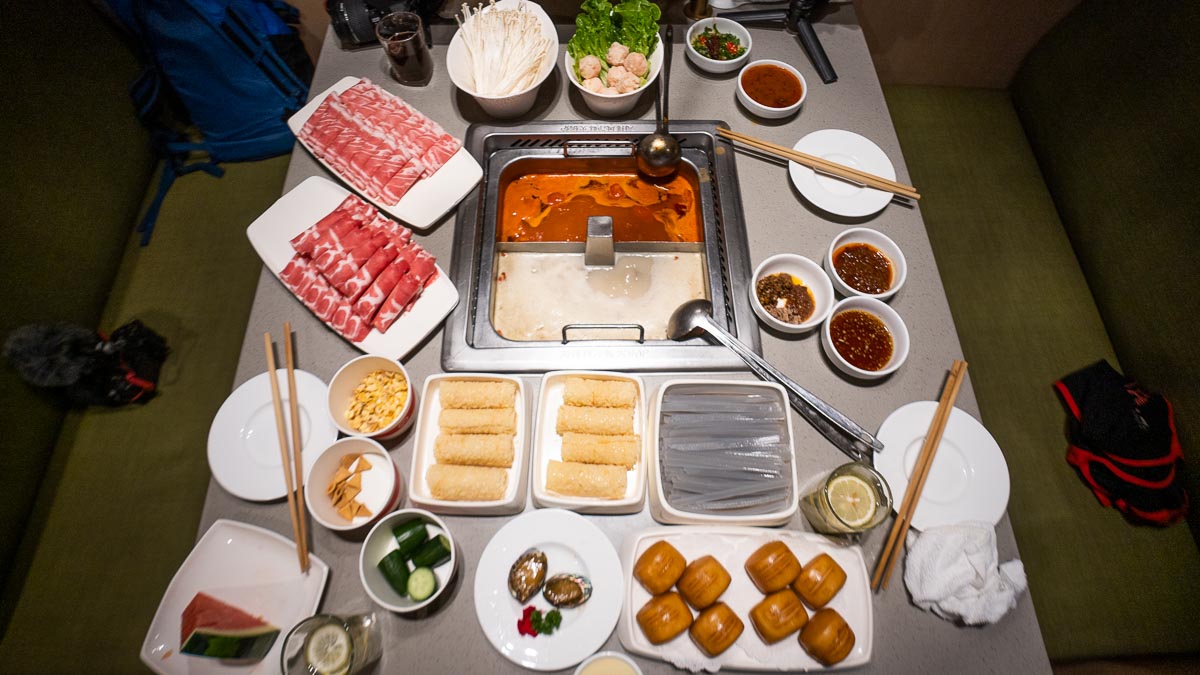 Yes, it's that Chinese hotpot restaurant, world-famous for its top-notch service. But in their motherland, our meal only cost us ~S$18 per pax when it would've easily cost us S$40 – S$50 in Singapore! Who could resist?
How to get there: There are several outlets located all over Wuhan and you'll easily find one in any major shopping district.
Jianghan Road Walking Street (江汉路)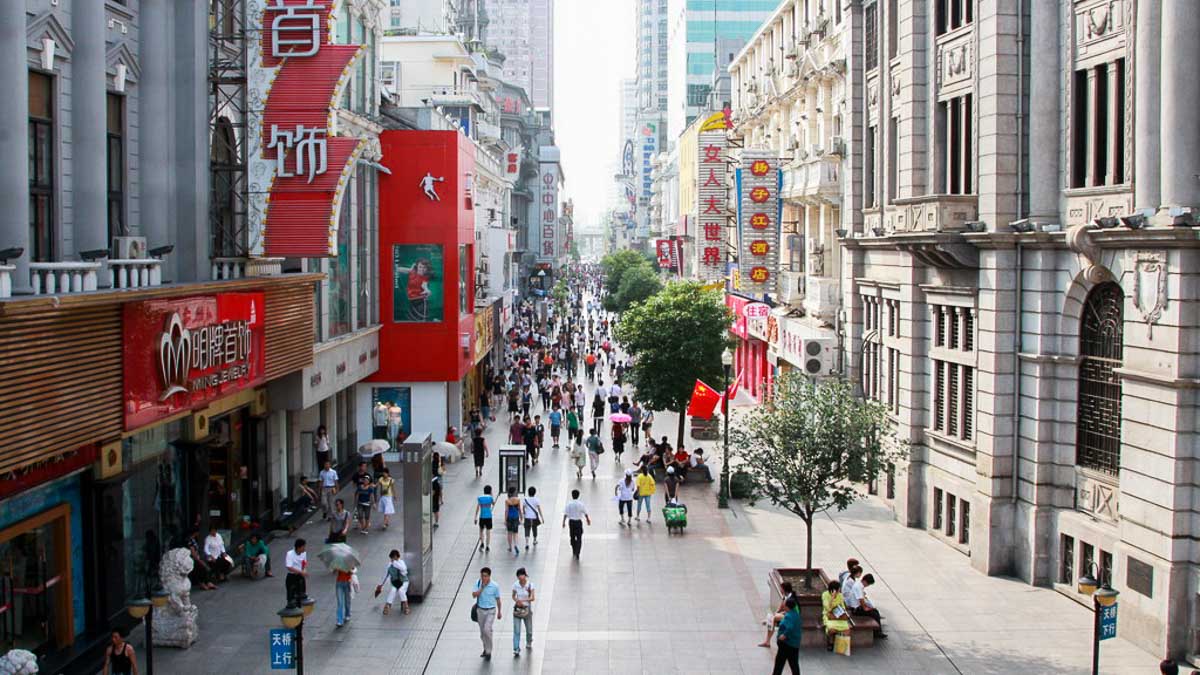 Photo credit: China Tour Advisors
Jianghan Road is a famous century-old commercial shopping district that's often compared to the likes of Beijing's Wangfujing Street and Shanghai's Nanjing Road. With its European-styled architecture and surrounding megamalls, Jianghan Road has become a symbol of Wuhan's commercial and modern status.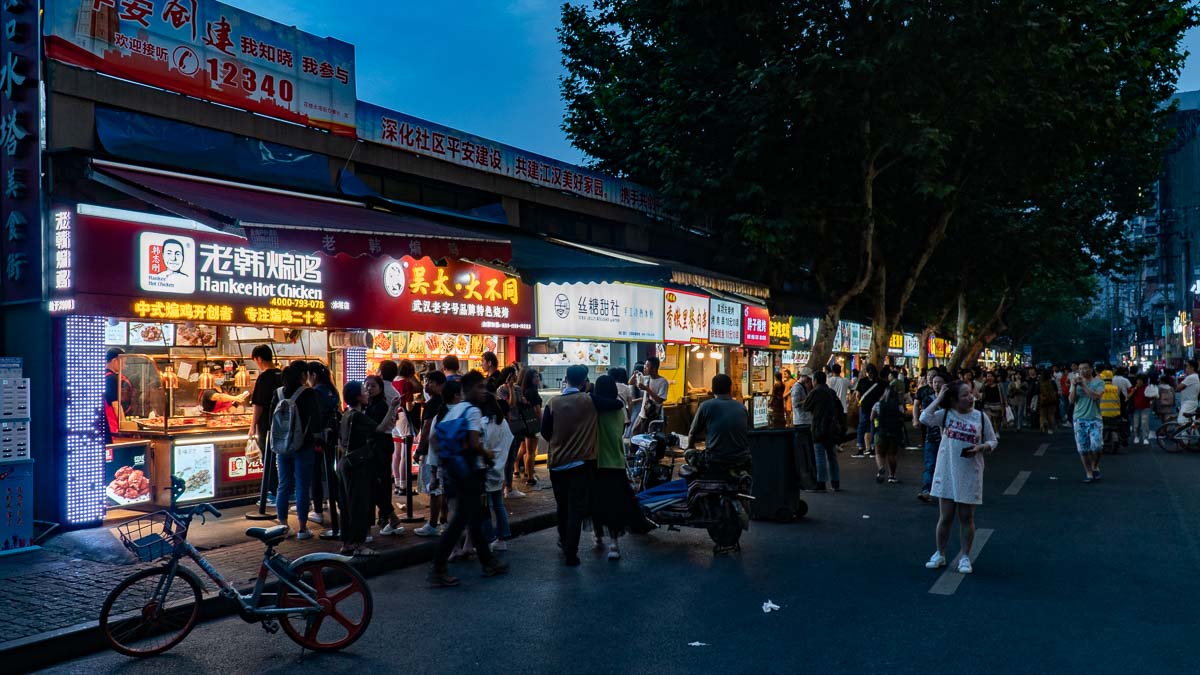 Walk along Jianghan Road and you'll come to Jiaotong Road, where a long stretch of food stands awaits for hungry folks! Apart from the usual spread we found at Hubu Alley, there were some other mouth-watering options too.
From pig trotters…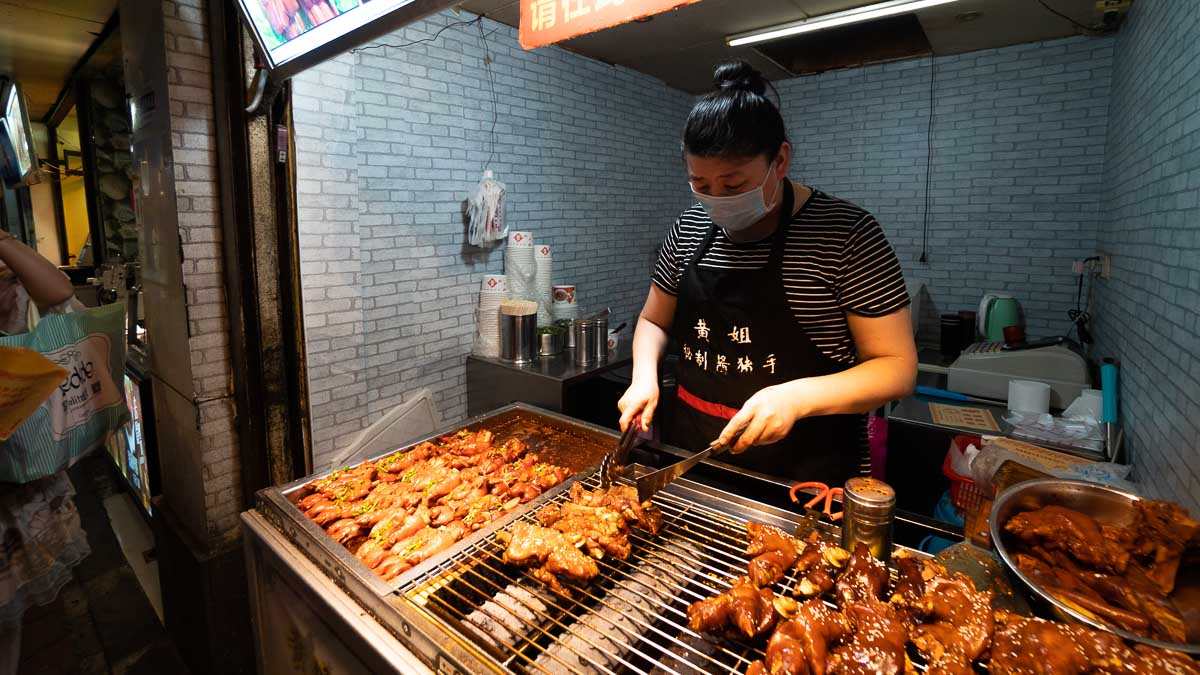 …to an assortment of dim sum…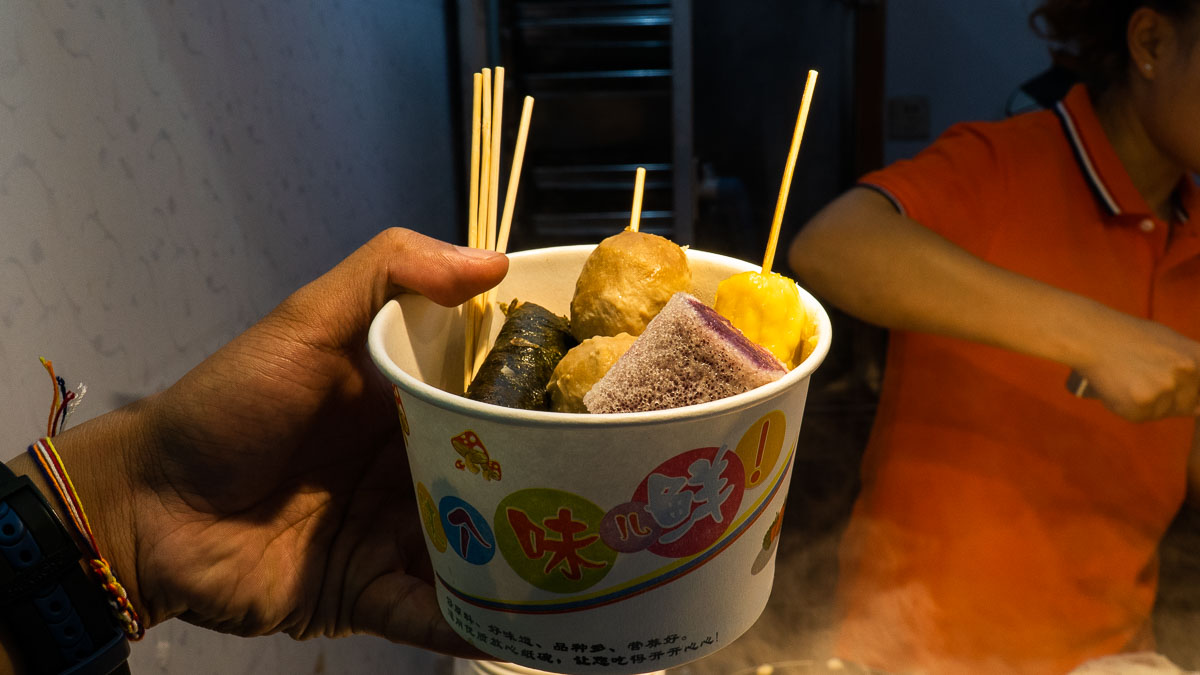 …to deliciously seasoned deep-fried potato balls…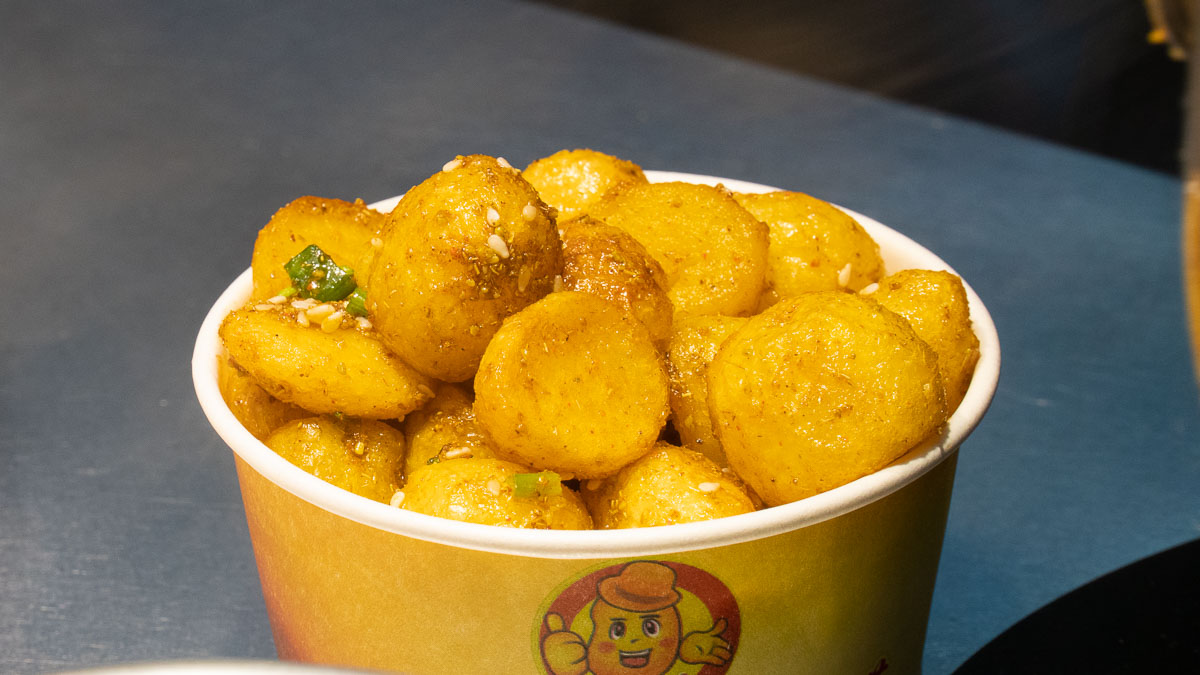 …there is simply too much to resist!
Opening Hours: 24 hours
How to get there: Take Metro Line 2 to Jianghan Road Station.
East Lake (东湖)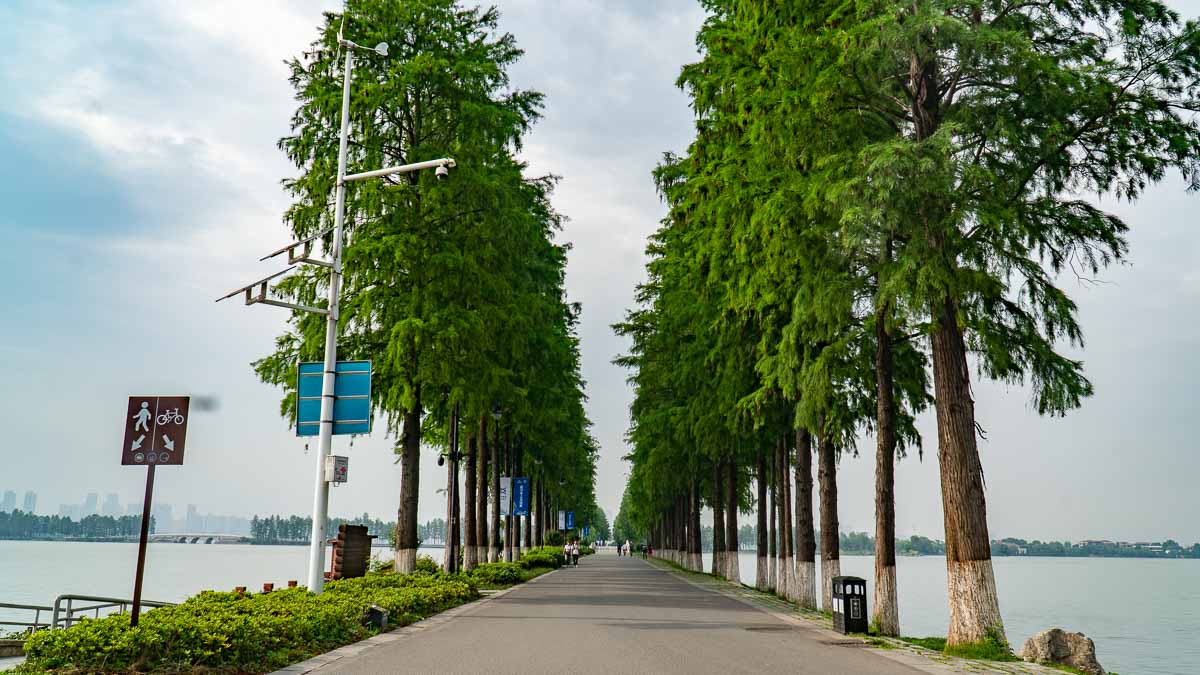 The East Lake is the largest lake within a city in China — dedicate some time in your itinerary for a relaxing afternoon here! There are many ways to explore this freshwater gem — on foot, by bike, or by boat.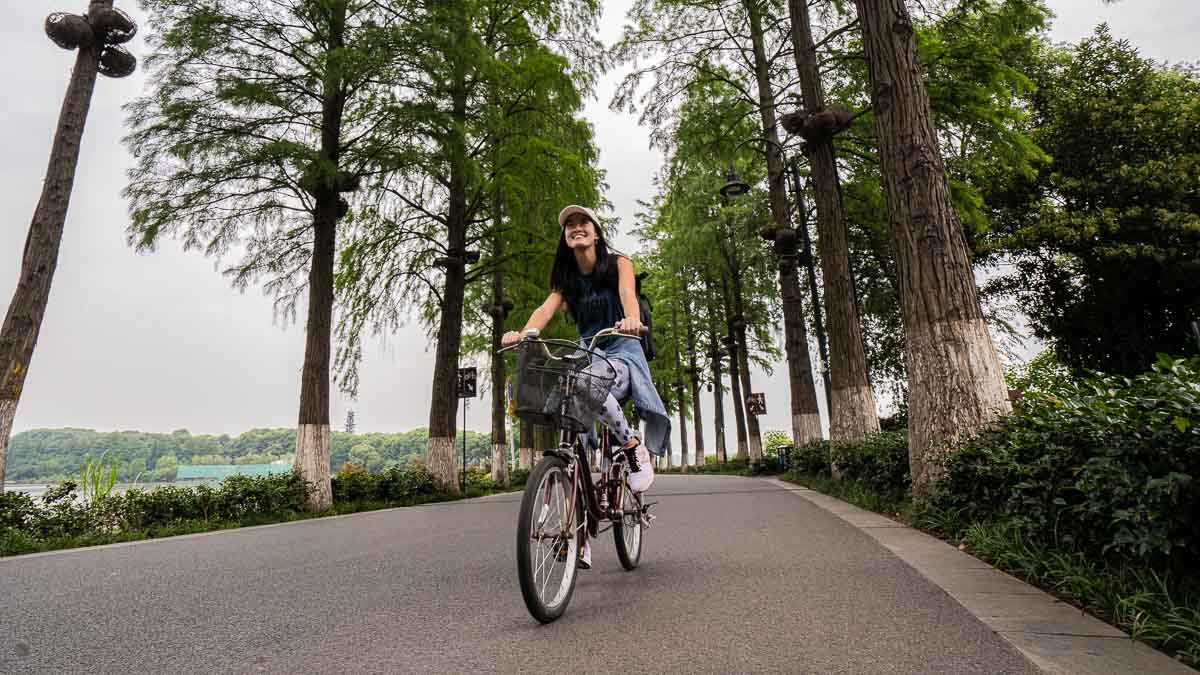 If cycling isn't for you, enjoy a leisurely stroll and don't forget to stop to admire the seemingly endless lake.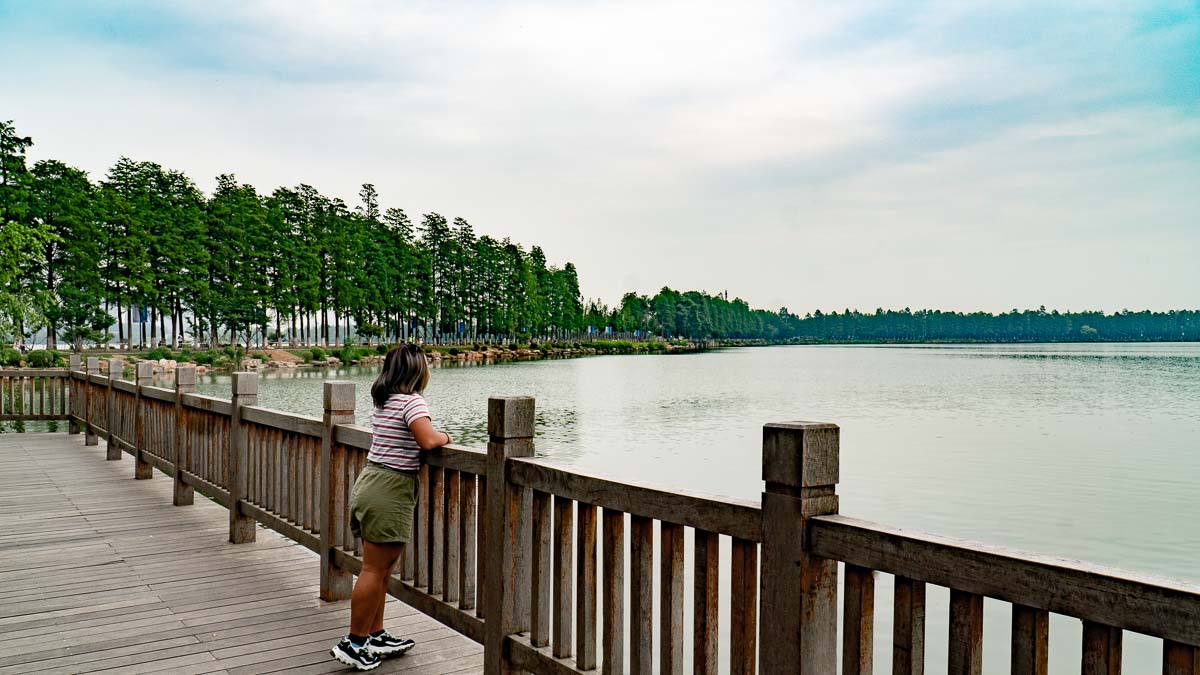 Entrance Fees: Free (Tingtao Scenic Area), ¥60/~S$11 (Mo Hill), ¥10/~S$2 (Luoyan Scenic Area), ¥10/~S$2 (Manshan Hill in Chuidi Scenic Area)
Opening Hours: 7:30AM – 5PM
How to get there: Take bus 401, 402, 413, or 625 to Wuhan Zhiwuyuan or bus 14, 411, 552, 578, 701, 709 or 810 to Donghulu Sheng Bowuguan.
Lao Tong Cheng Doupi (Jiqing Street) (老通城豆皮)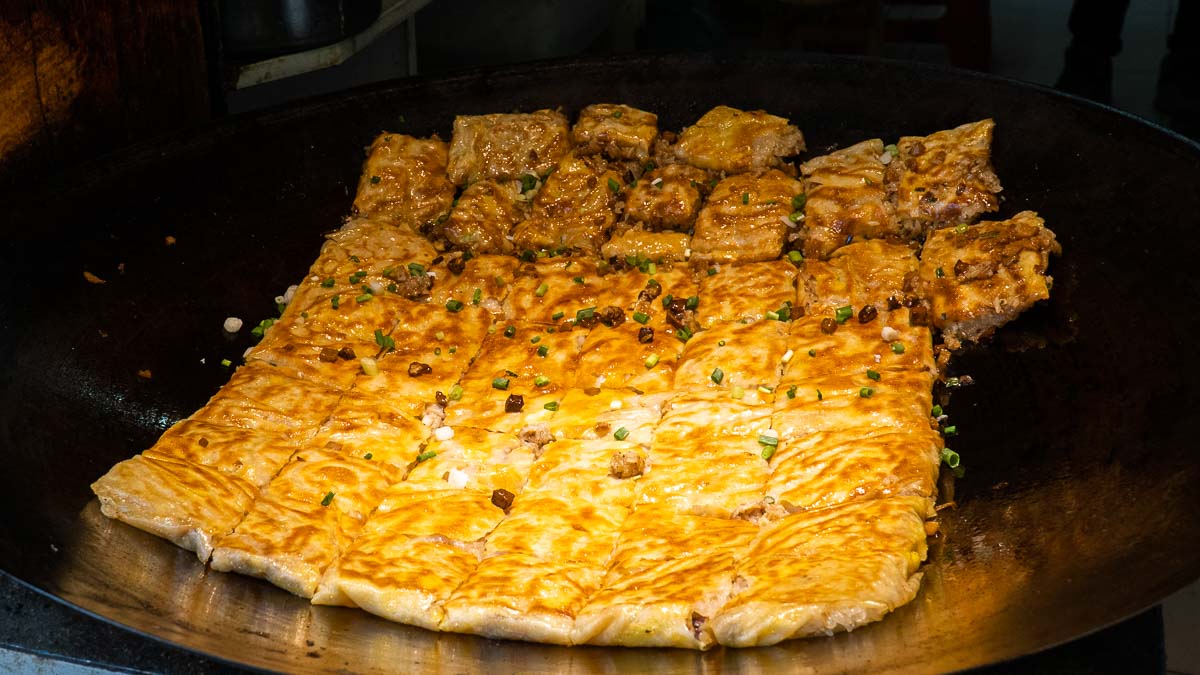 A popular Wuhan breakfast dish is doupi. It's a combination of sticky rice, meat, mushrooms and bamboo shoots, wrapped in beancurd skin and fried in a large wok. And the best place to get an authentic taste of this street snack is at Lao Tong Cheng.
We didn't manage to try it, so do let us know if you do! It was recommended to us by several locals so it's got to be good!
Cost: ¥7 (~S$1)
Opening Hours: 8AM – 8PM
How to get there: Take Metro Line 1 or 2 to Xunlimen Station, then take Exit H and walk for 780m.
Chu River Han Street (楚河汉街)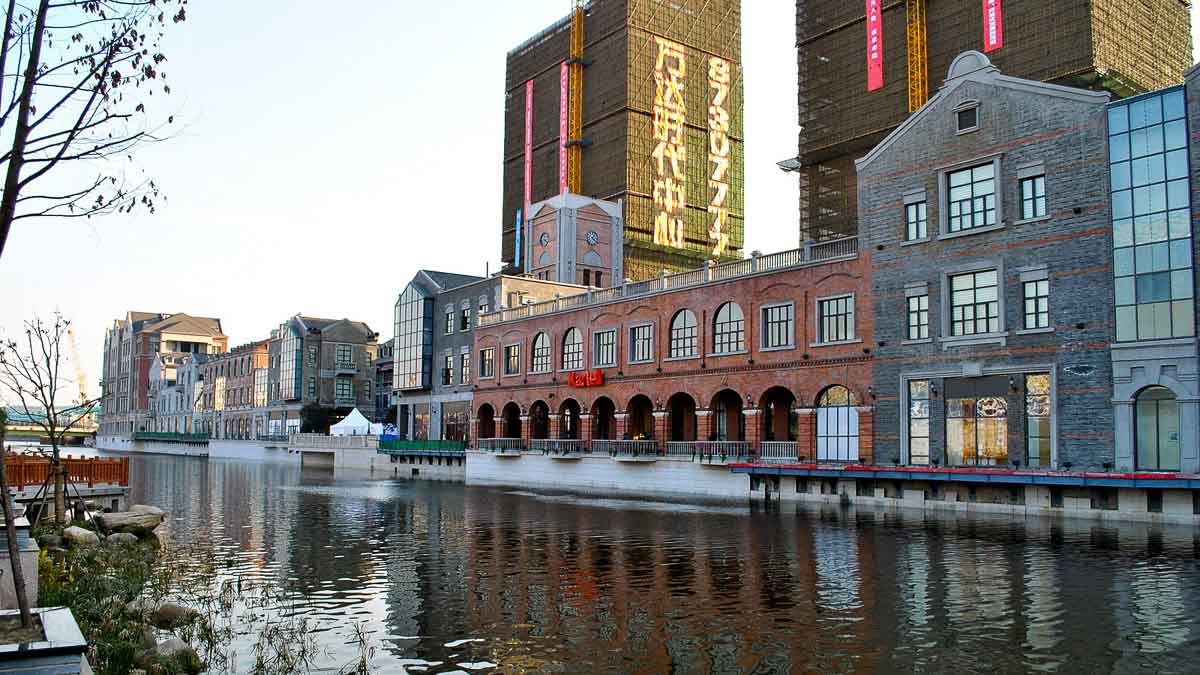 Photo credit: Wikimedia Commons
One of the most popular commercial streets in China, it almost feels like a combination of Orchard Road and Clarke Quay when you're walking along Chu River Han Street. Flanked by ancient European-styled architecture, you'll find an array of Wuhan street snacks, as well as a variety of well-known fashion brands along the 1.2km stretch.
Opening Hours: 10AM – 10PM
How to get there: Take Metro Line 4 to Chuhe Hanjie Station and take Exit B.
Accommodation: Holiday Inn Wuhan Riverside — from S$73/night for Standard Room (two pax).
Day 4 – 7: Zhangjiajie (张家界)
Getting from Wuhan to Zhangjiajie: Take a seven-hour bus ride from ¥180
Zhangjiajie Grand Canyon and Glass Bridge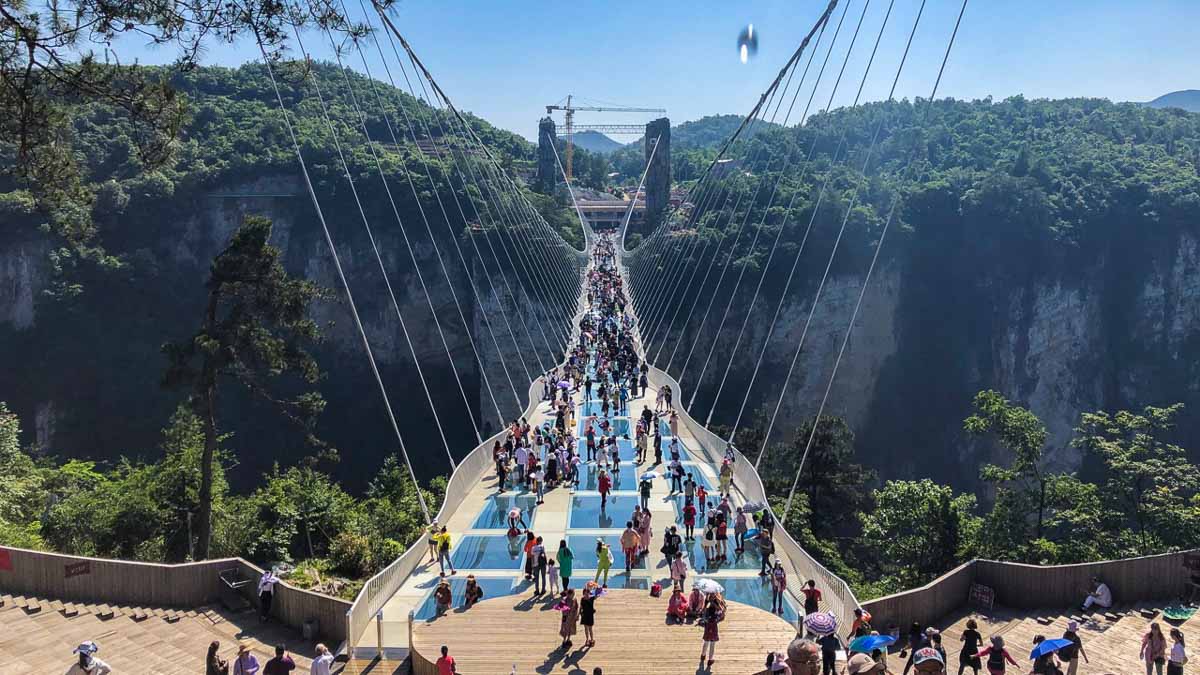 Before you visit one of the tallest (360m) and longest (430m) glass-bottomed bridges in the world, there're two things you should know:
(1) Cameras (phones are alright), iPads, drones and hard water bottles are not allowed on the bridge.
(2) Expect lots of walking after visiting the glass bridge (it's essentially a one-way hike with the glass bridge as the starting point). Two hours' worth, to be precise.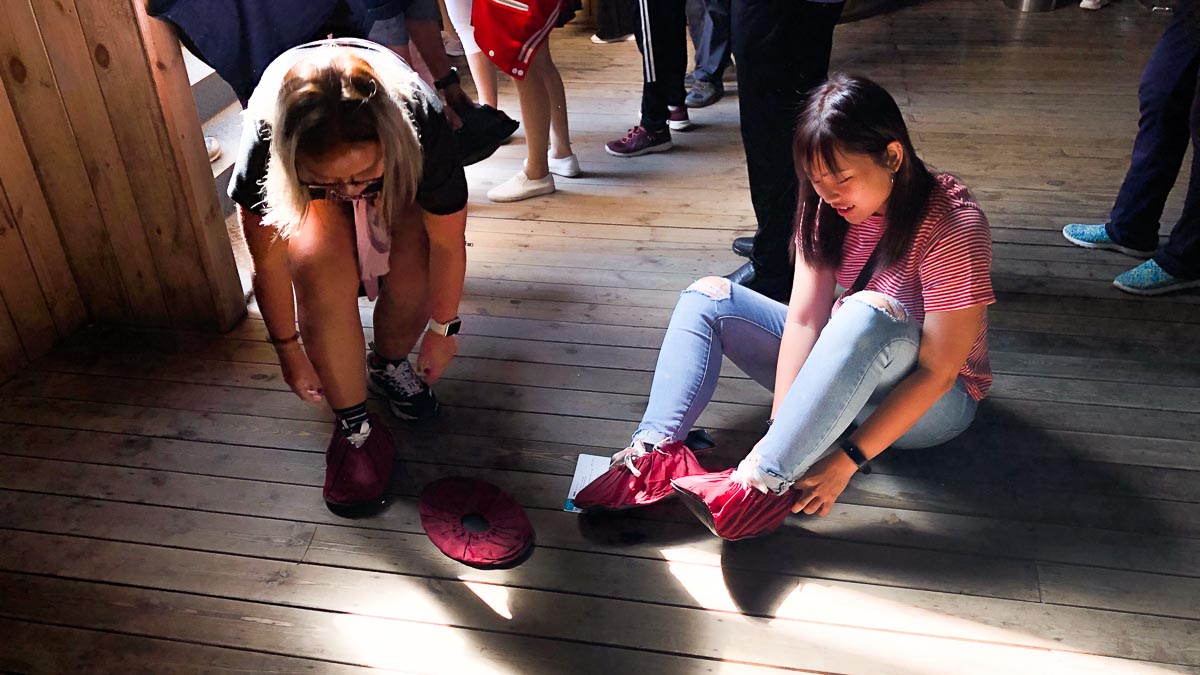 (3) Gear up in your provided shoe covers and off you go!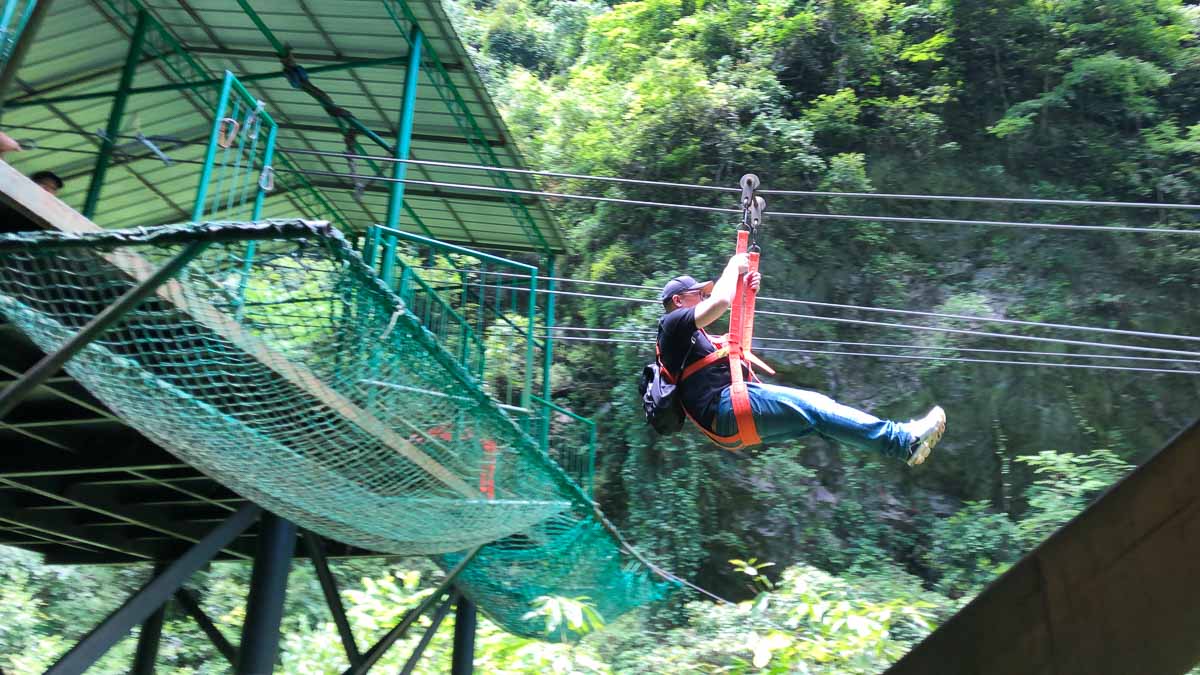 For an added thrill, zip down the 200m-long flying fox for ¥30.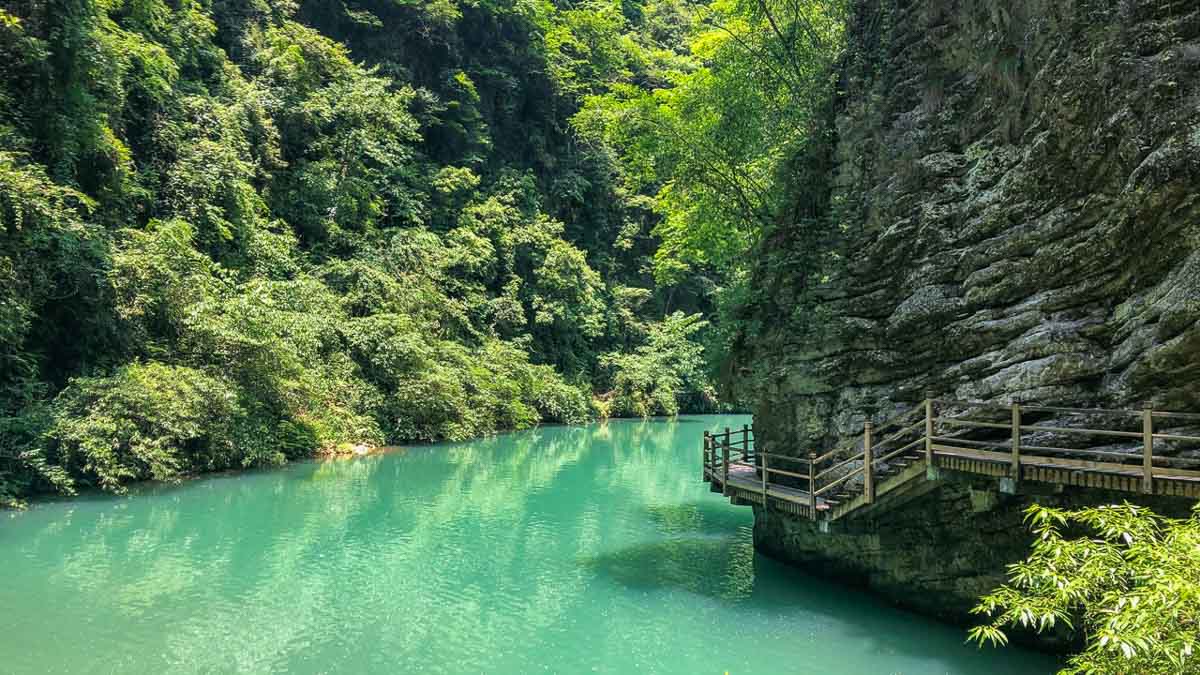 Enjoy a breezy walk through the pristine nature park of Zhangjiajie and marvel at the sight of these emerald waters. It was quite an unexpected distance to cover, but the charming landscape around us turned out to be the best company.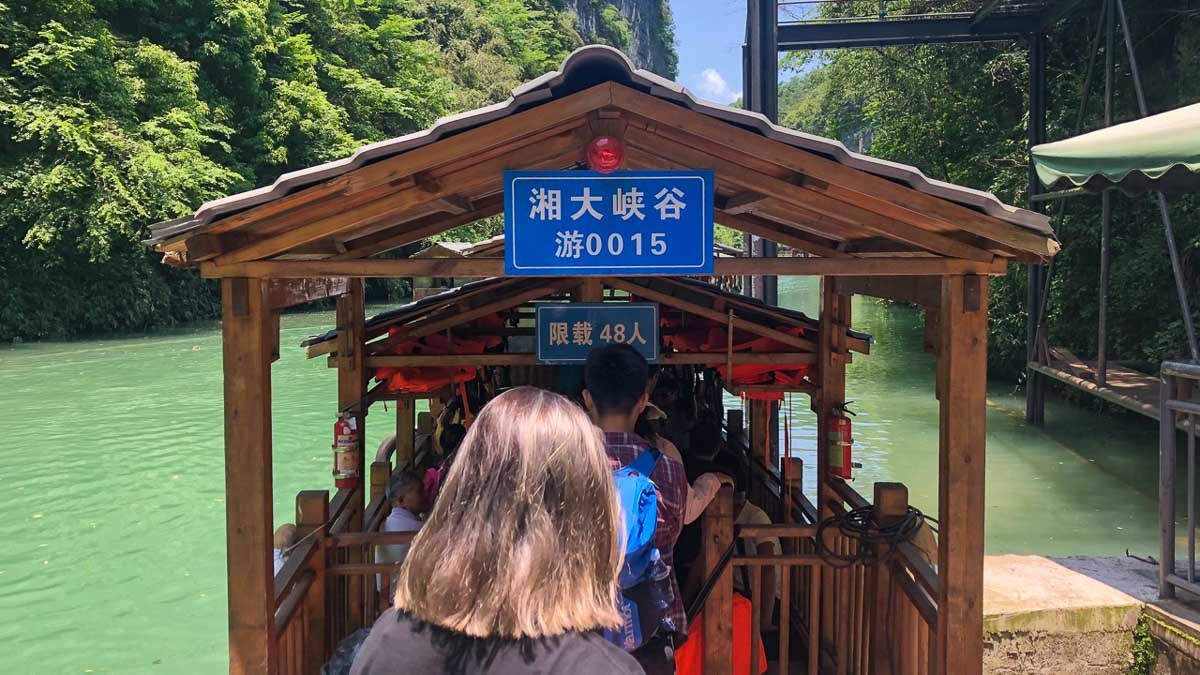 Boat ride inclusive in your entrance ticket!
There are lots of food vendors awaiting your arrival at the exit, but prices aren't cheap — a cup of lemon tea costs ~S$3.
Entrance Fee: From ¥180 (S$34)
Opening Hours: 7:30AM – 5:30PM
Address: China, Hunan Sheng, Zhangjiajie Shi, Cili Xian, 306省道 邮政编码: 427223
Lunch at Tiandu Hotel (天渡酒店)
Visitors usually get to the glass bridge by private vehicle, and food options are few and far between when you leave the area.
The most convenient place to refuel is at this restaurant in Tiandu Hotel, serving an extensive zichar menu at affordable prices! It's right at the carpark entrance where you board the shuttle bus to the ticketing office.
Cost: ¥28.50/pax (~S$5)
Address: China, Zhangjiajie, 慈利县306省道大峡谷双坪柴火饭庄栋南侧 邮政编码: 427000
Baofeng Lake (宝峰湖)
From animal-looking rock formations to the enchanting vocals of locals singing folk songs, the boat ride along Baofeng Lake is a great way to chill out after a long day of walking around the Grand Canyon.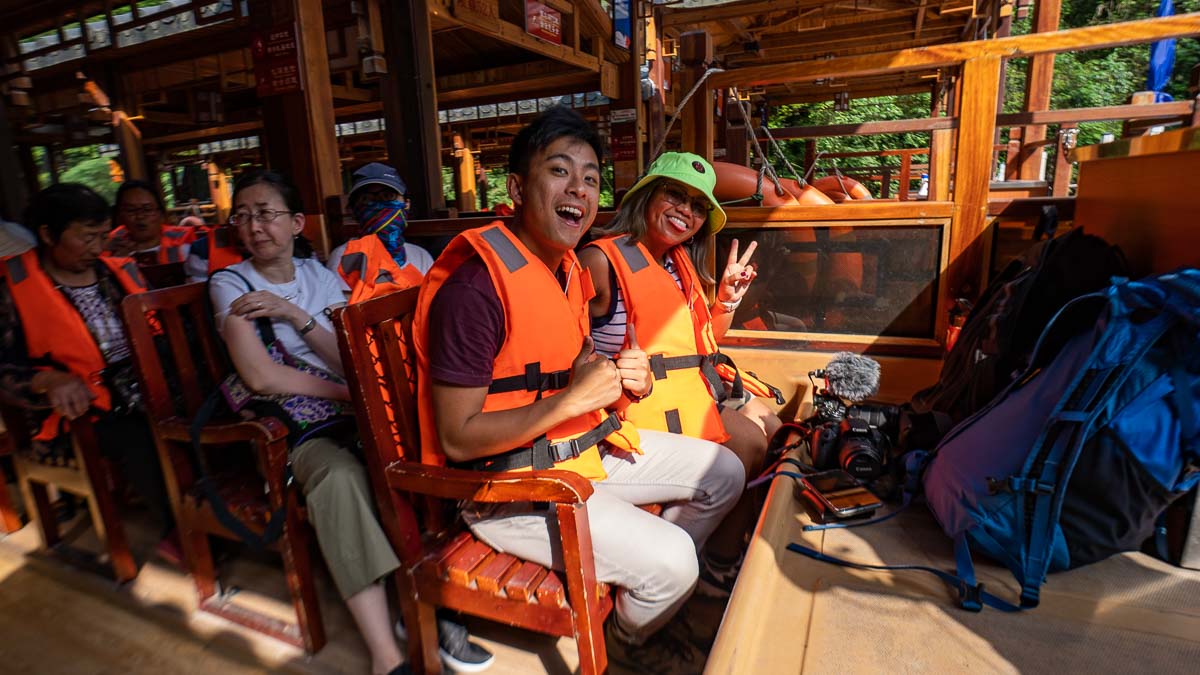 Cost: S$20
Opening Hours: 6:30AM – 6PM
How to get there: Take the Grand Canyon – Wulingyuan (大峡谷–武陵源) bus at the gate (40 minutes). From Wulingyuan, take public bus 2 to Baofeng Lake (10 minutes).
Duration: 2 hours
Sunrise at Laowuchang (老屋场)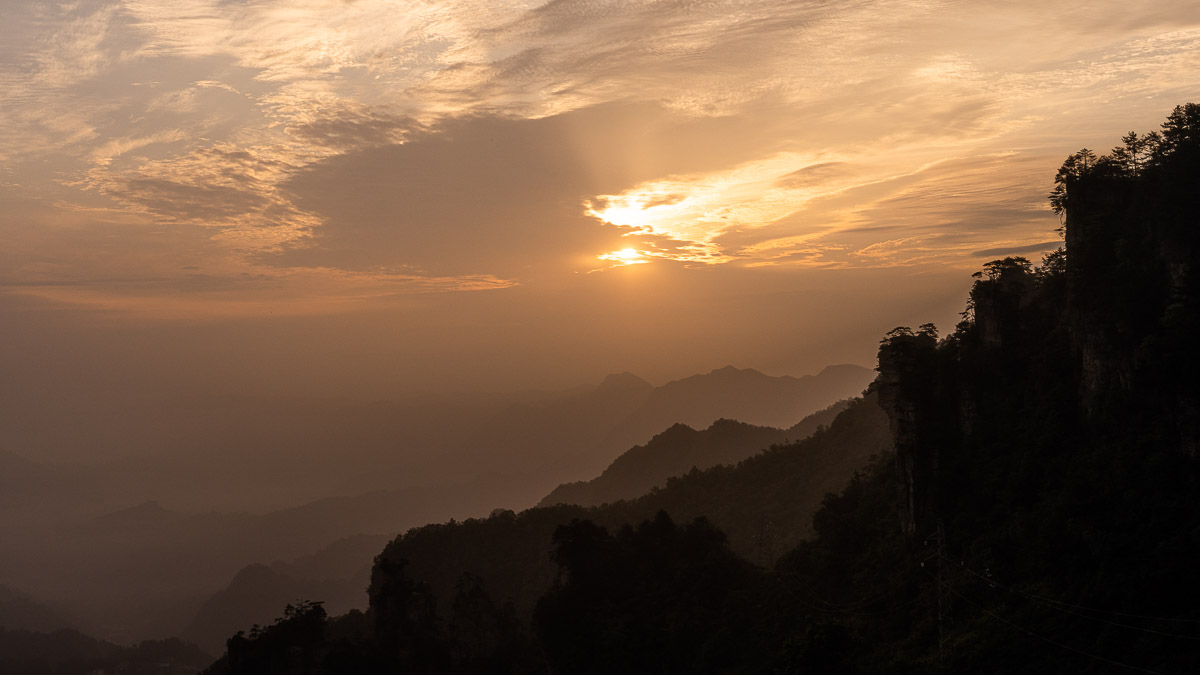 Get up early and head out to Laowuchang, a popular sunrise spot among both locals and tourists.
While the park is still empty and peaceful after sunrise (about 5:30AM), arrange for your driver to drop you off at Tianzishan bus station where you can hop on the shuttle bus to explore the other areas of the Zhangjiajie National Park. It's about a 40-minute bus ride from Tianzishan to Yuanjiajie (Avatar Mountain).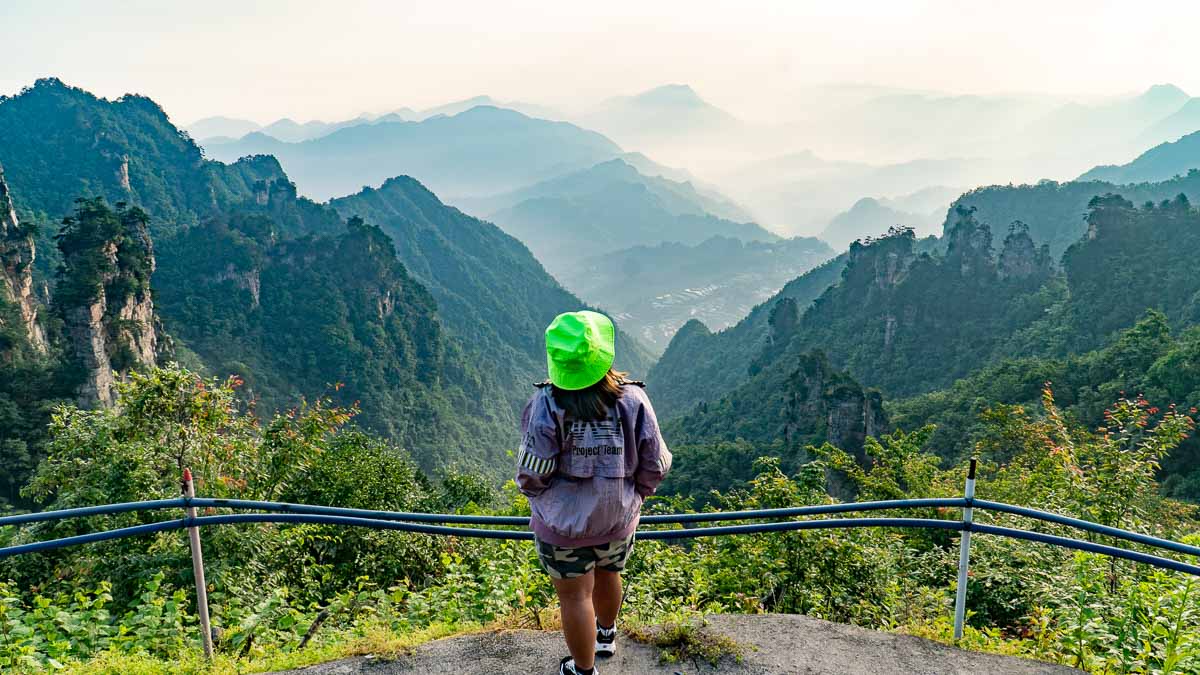 Food stands throughout the park also open very early, so you could easily have brunch there before heading to your next stop too.
How to get there: By private transport like taxi. Our hostel arranged for us a private driver, and for ¥250 (~S$47) picked us at 3AM and dropped us off at one of the shuttle bus stops after sunrise.
Avatar Hallelujah Mountain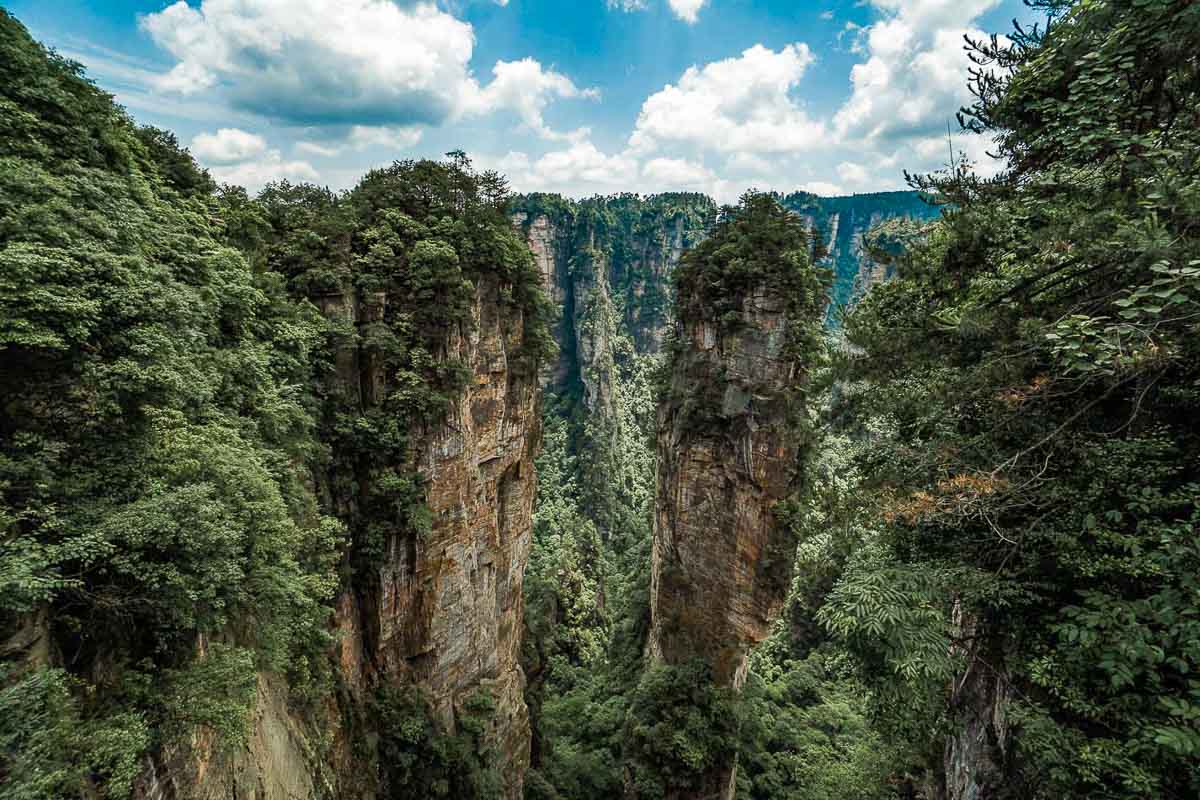 What's a Wuhan itinerary without visiting the famous filming location in China here — THE Hallelujah Mountains from the Avatar movie! One of the many features of this mountainous area is The First Natural Bridge, which is a rock bridge formed between two mountain peaks by the wearing of the elements over time.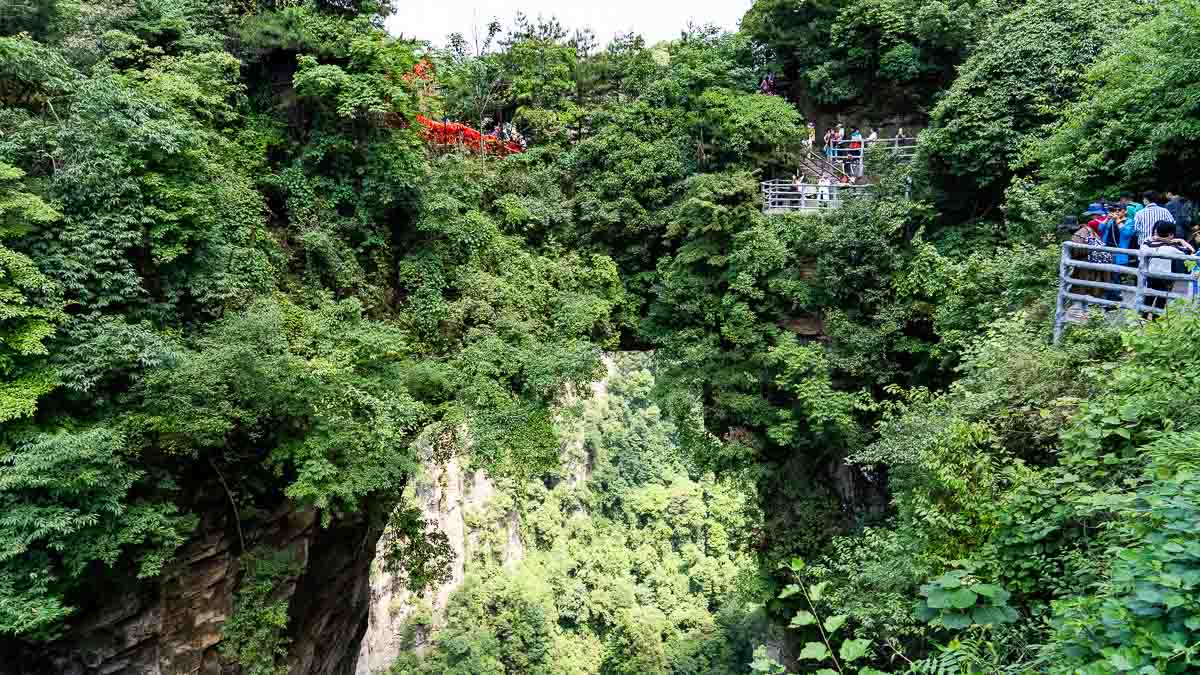 How to get there: Take the shuttle bus from Tianzishan to Yuanjiajie (Avatar Mountain).
Bailong Elevator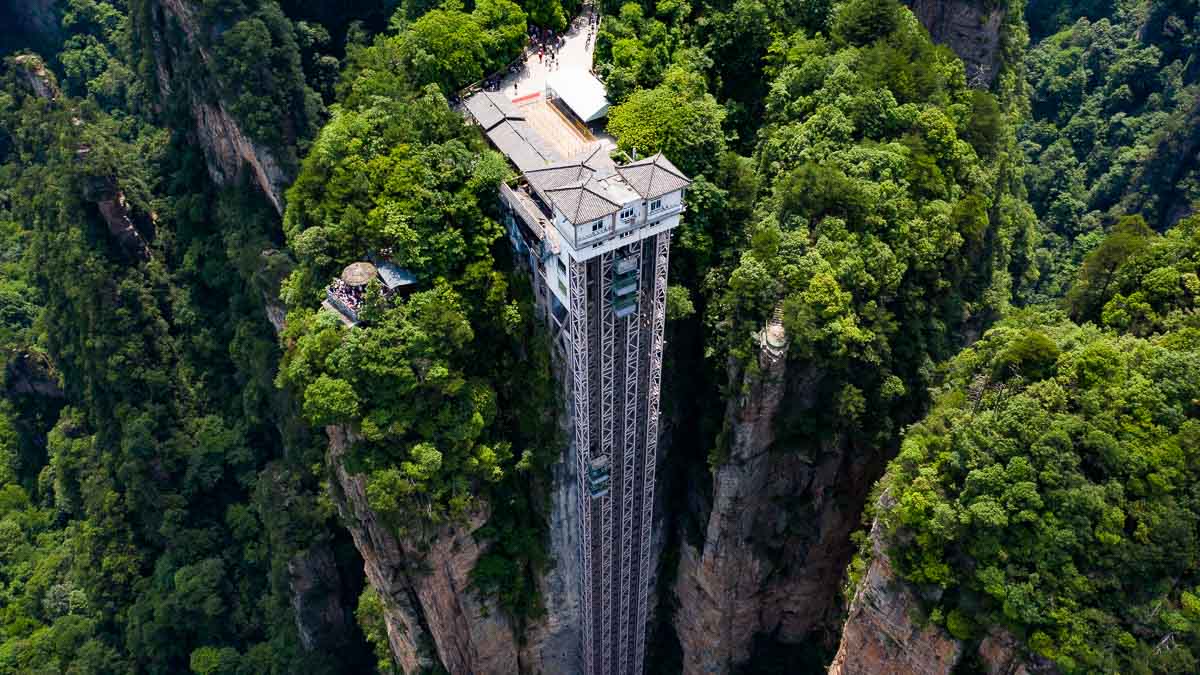 This doesn't just impress as the world's largest outdoor elevator — it's also made out of glass, and built on the side of a cliff. Did we also mention it's a whopping 326m high? 😱
Cost: ¥65/way (~S$12)
Opening hours: 7AM – 6PM
How to get there: Take the park shuttle bus to Bailong Elevator Upper Station.

Tianmenshan (天门山)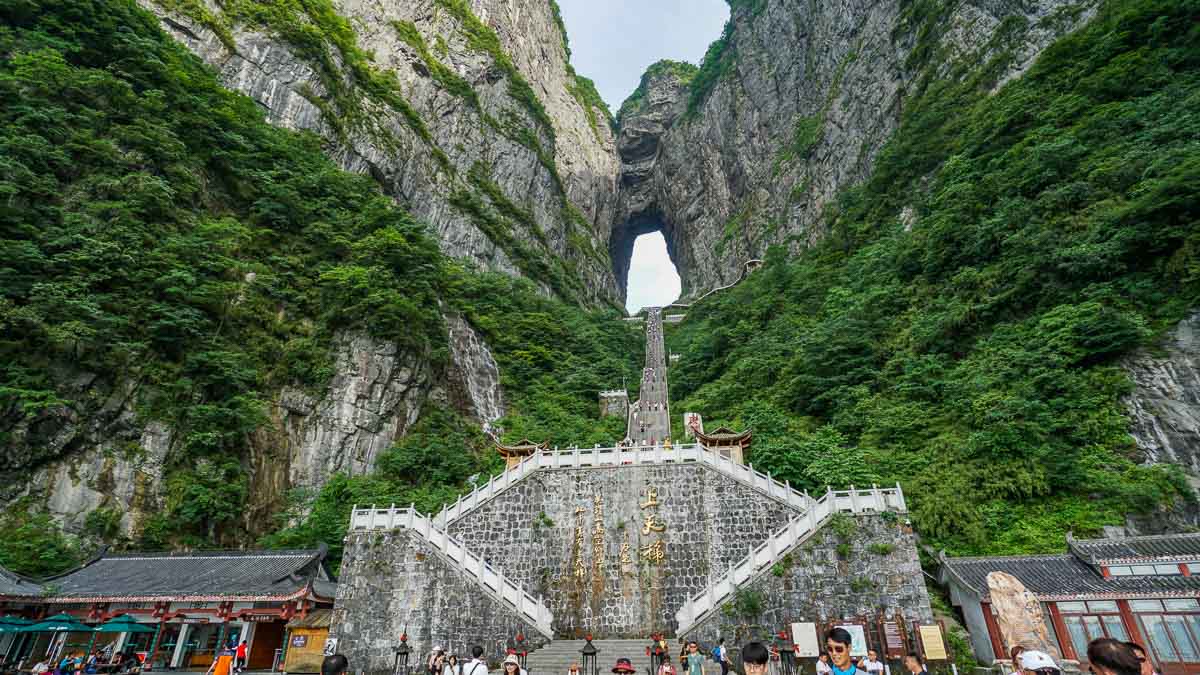 Visit Tianmenshan, the highest mountain in Zhangjiajie, and enjoy a panoramic view of the city and the mountain's winding roads from the cable car.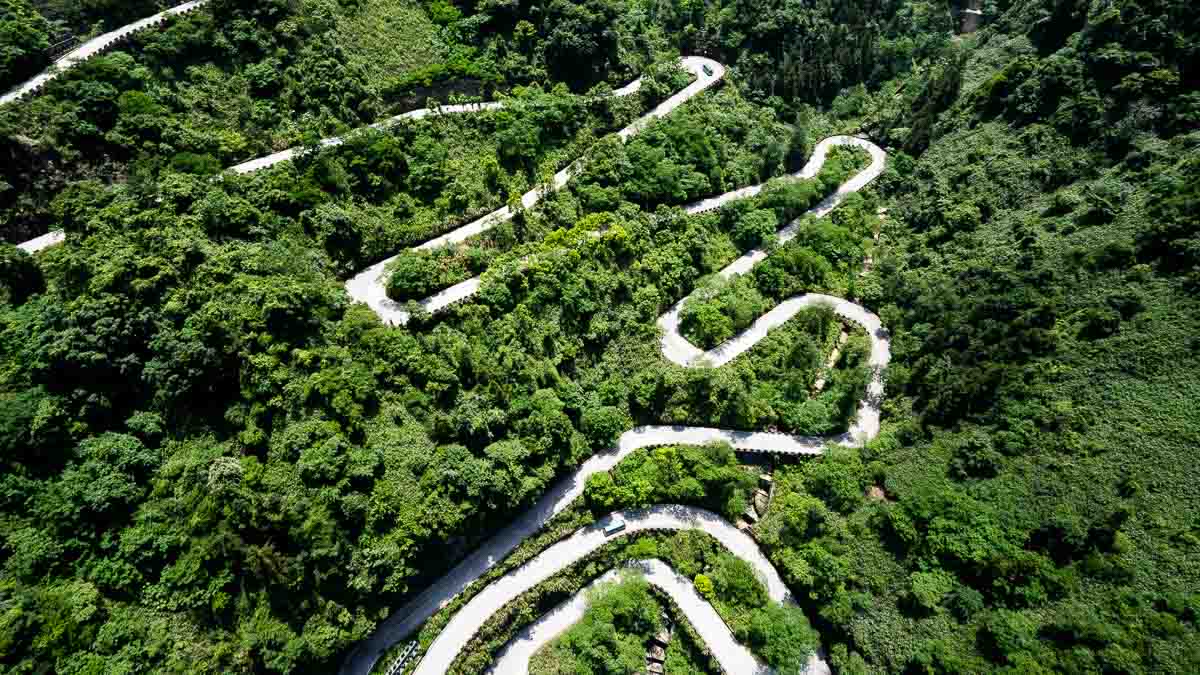 I hope you like the thrill of heights. There are segments of the trail where you can experience the exhilarating thrill of walking on "thin ice"…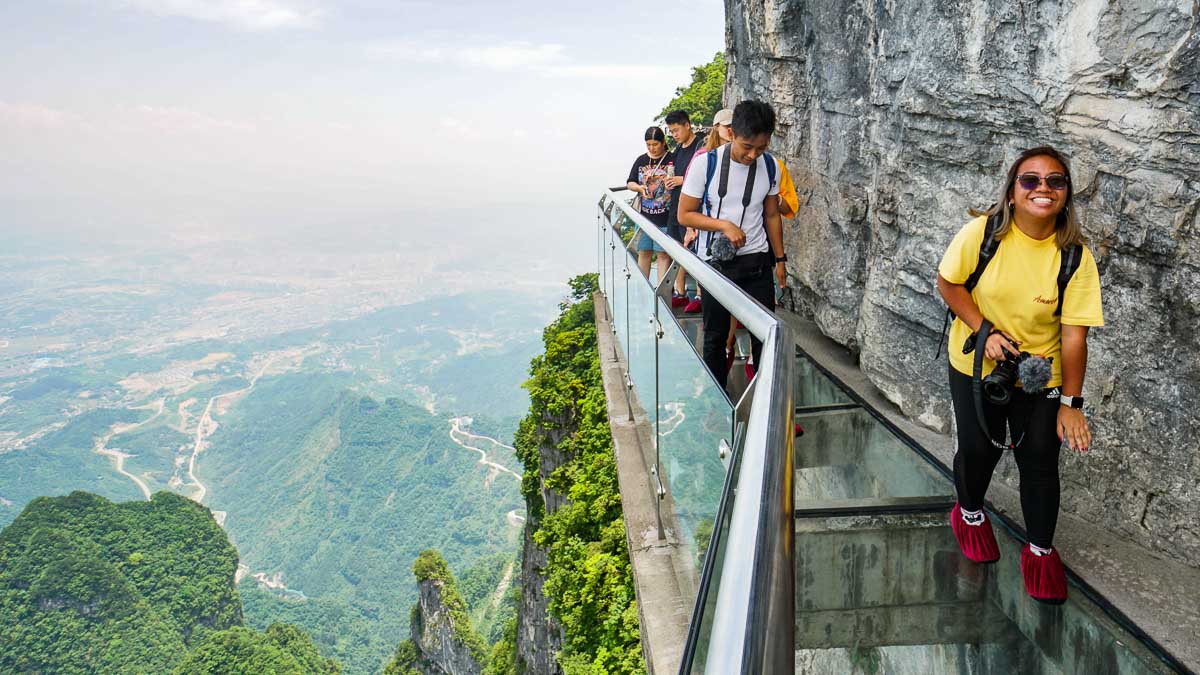 For just ¥5, you can pen down your wishes on one of these red ribbons in the Forest of Wishes.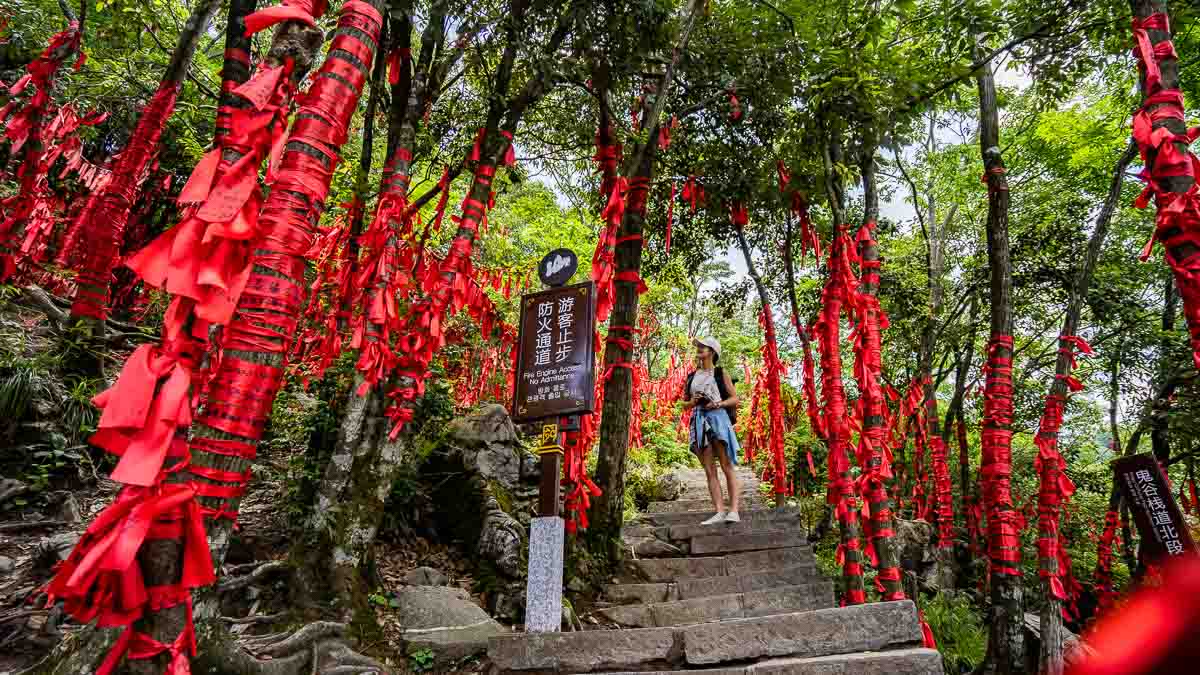 There are two ways to do this mountain:
– A line: Take the cable car up and ride the bus down
– B line: Take the bus up and ride the cable car down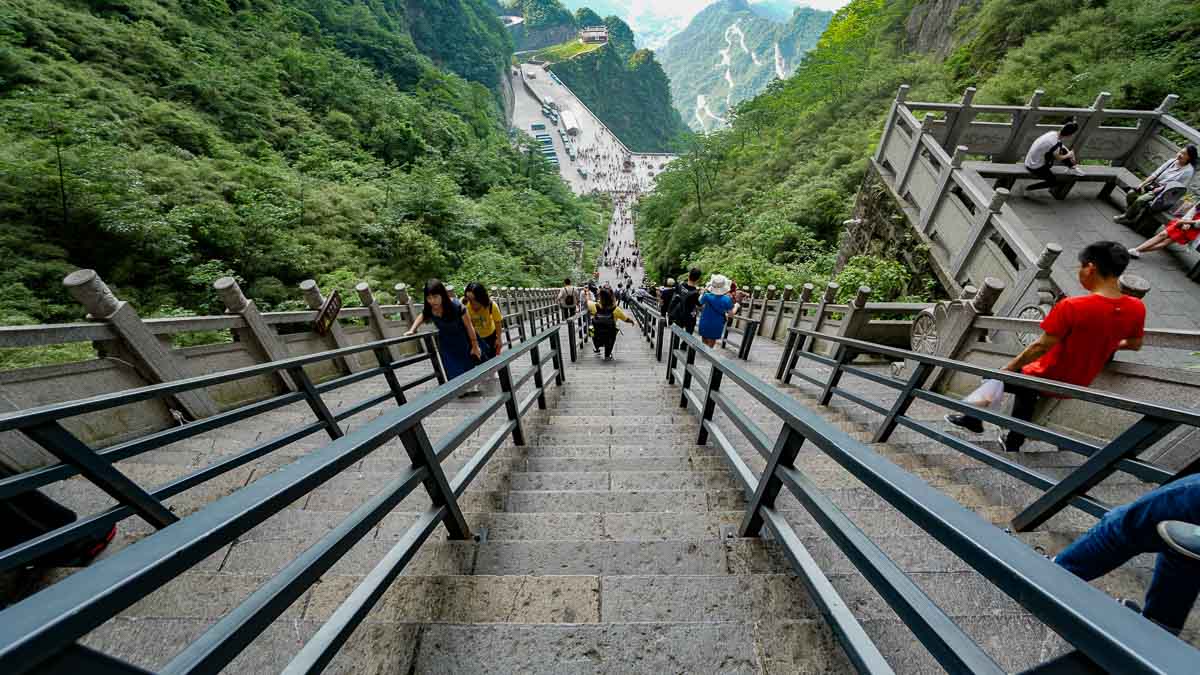 The A line is the more popular option and you might consider taking the B line just to avoid long queues at the cable car station. But note that taking B line means you'd have to walk up 999 steps to Heaven's Gate (while A line requires walking down instead).
Cost: ¥258 (~S$48)
Opening Hours: 7:30AM – 6PM, ticket office closes at 4PM
How to get there: Take bus 4 and get off at Tianmen Mountain Cable Car Station. Then take the cable car or shuttle bus to the scenic area.
Duration: 4 – 6 hours
Sanxiaguo (三下锅)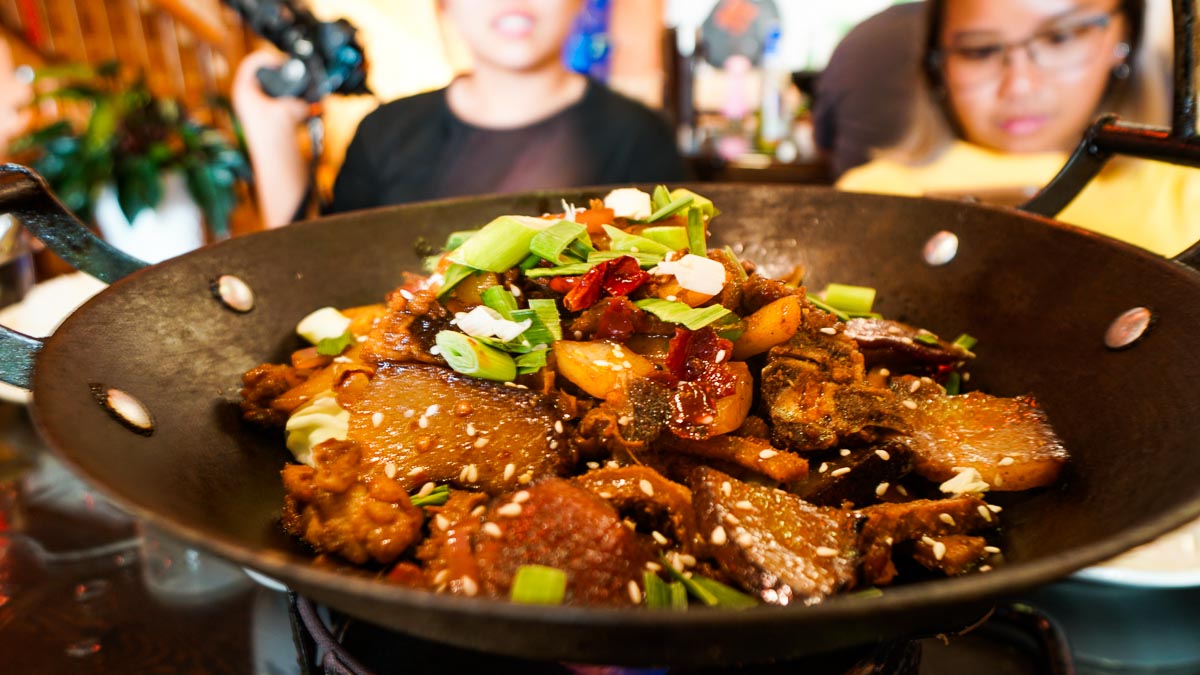 Treat yourself to a Hunan speciality of sanxiaguo (三下锅). Formerly prepared using just three ingredients — bacon, tofu and radish — it's how the dish earned its name. Today, it has evolved to include parts of animal intestines, tripe of pork, ox and sheep and other ingredients. If you're a Mala fan, you'll love this.
Accommodation in Zhangjiajie National Park: Whispering Mountains Boutique Hotel — S$84/night for a Double Room with Balcony (two pax)
Accommodation in Zhangjiajie City: Chong Chong Guesthouse — S$38/night for a Standard Twin room (two pax)
Day 8: Fenghuang (凤凰)
Getting from Zhangjiajie to Fenghuang: Take a four-hour bus for ¥80
Fenghuang Ancient Town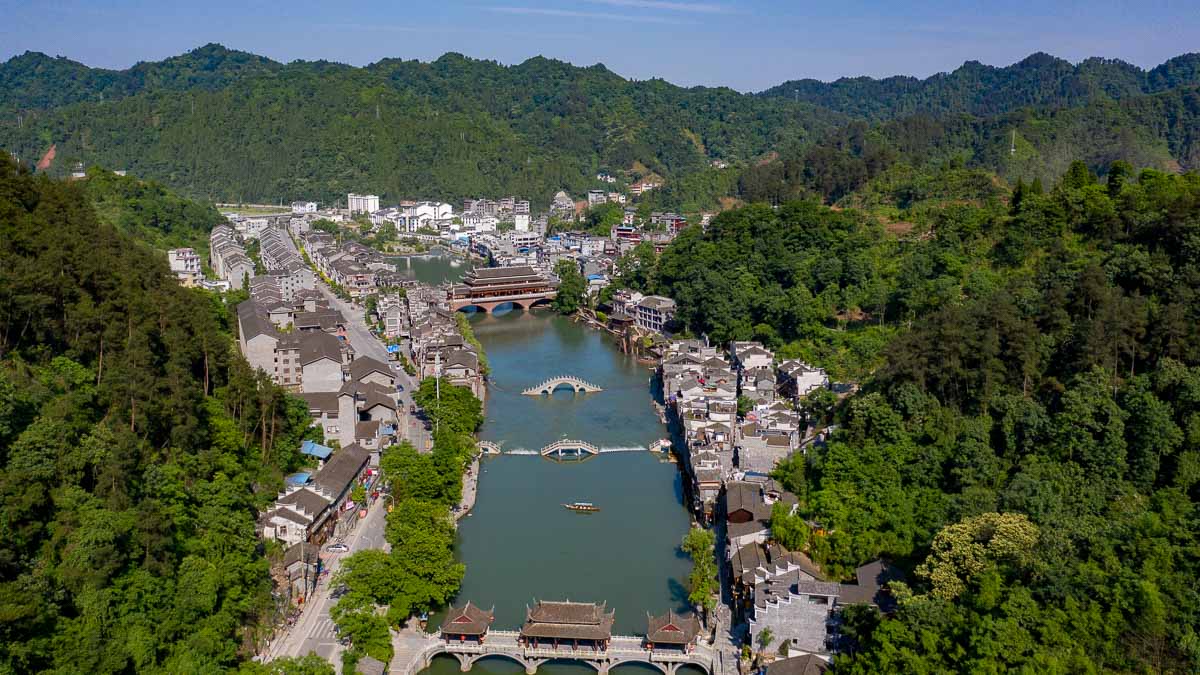 Known for its ancient architecture and vibrant nightlife, Fenghuang ("Phoenix") Ancient Town is a sight to behold no matter the time of day. In fact, it's widely regarded as the "Most Beautiful Town of China"!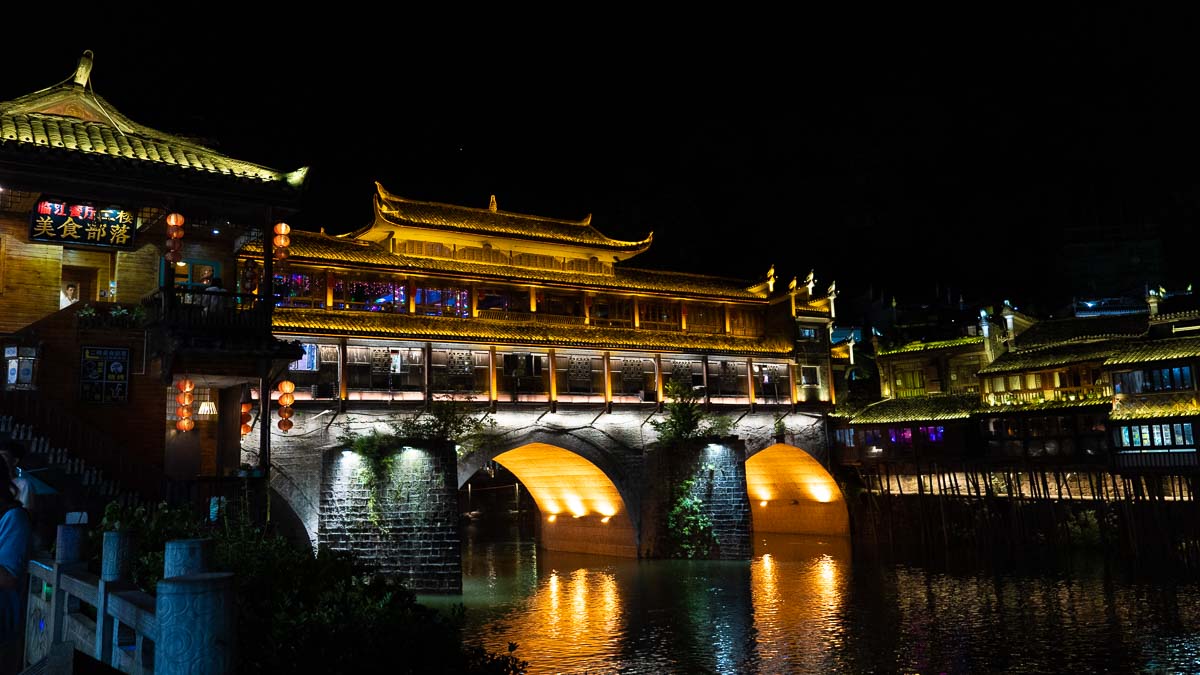 Spend a day exploring the town and you might find some souvenirs to take home with you.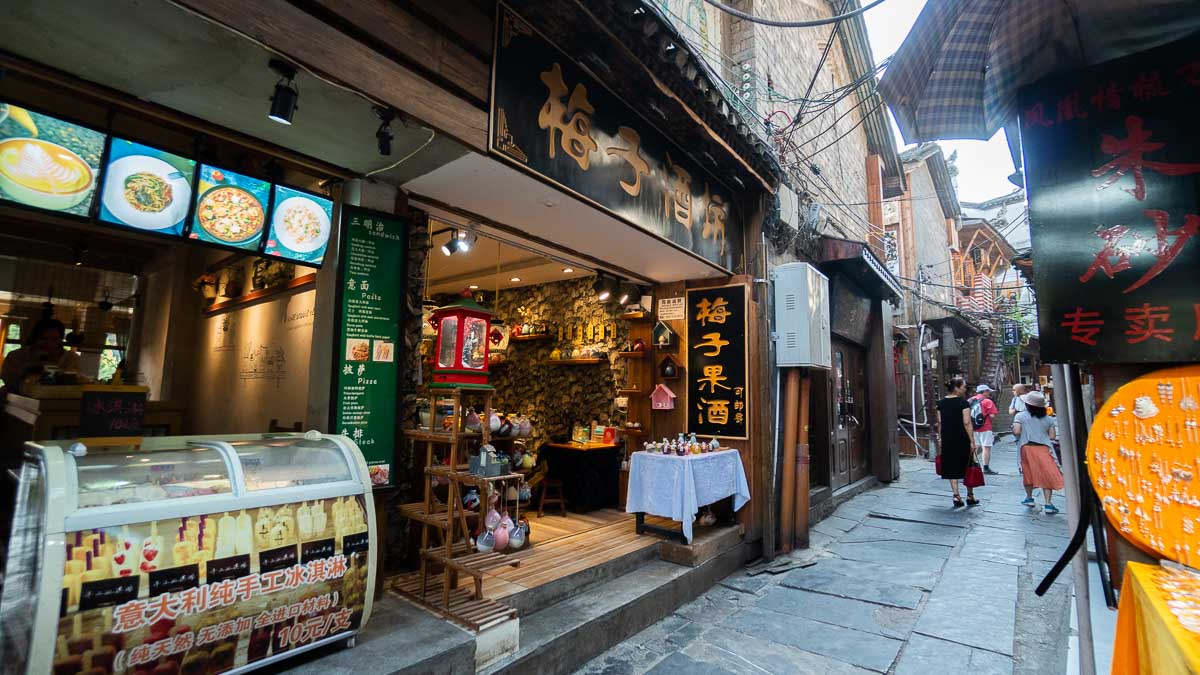 Get (semi) wet as you walk along these stepping stones near the Snow Bridge. It's also the best spot to catch the sunset!
*Pro-tip: Only get the ¥248 tourist pass (available at any of Fenghuang's attractions) if you have an excellent grasp of the Chinese language — we found it difficult to understand most of the museum exhibits (even though we are conversationally proficient). Also, start the day early as the attractions close by 5PM. The pass includes a day boat ride along the Tuojiang River (before 6PM).
Accommodation in Fenghuang: Hemu House (Hostel) — S$23/night for a private room (two pax)
Day 9 – 12: Changsha (长沙)
Getting from Fenghuang to Changsha: The fastest route is via bus (¥40) from Fenghuang to Huaihua South, followed by the High Speed Rail (¥152.5) to Changsha South (three hours total). Alternatively, a six-hour bus goes directly from Fenghuang to Changsha for ¥140.
Huangxing Plaza (黄兴广场)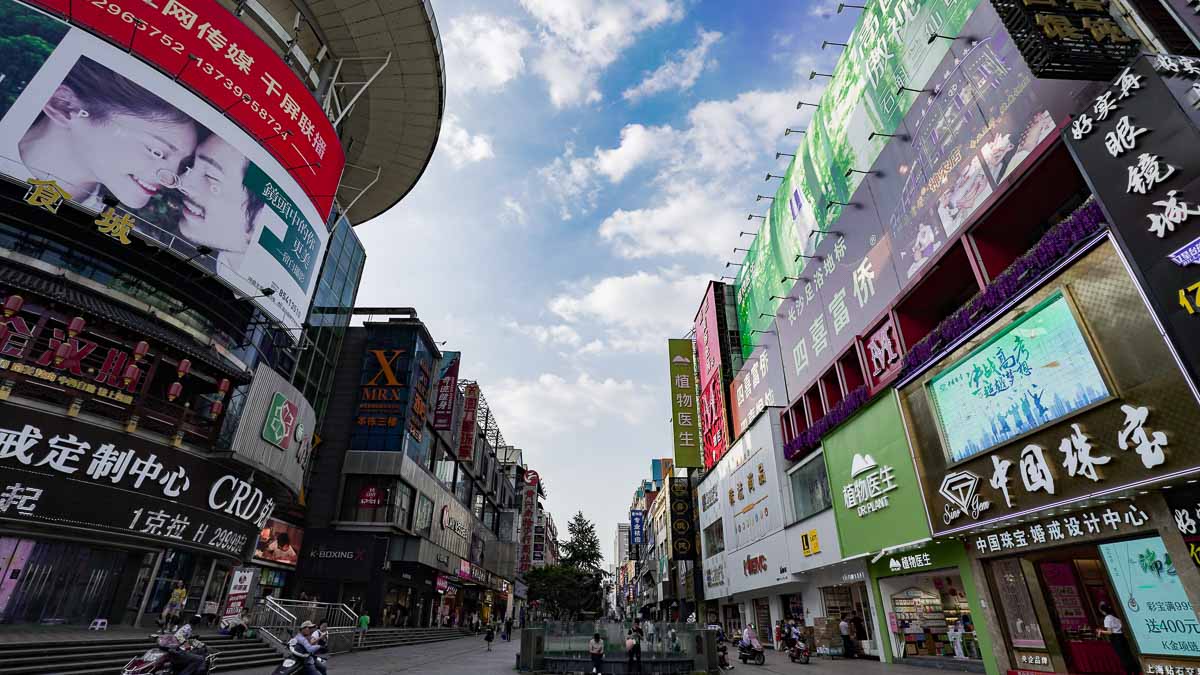 Squeezing in some shopping time in our China itinerary, we visited possibly the most hyped shopping district in Changsha — Huangxing Plaza. Stretching across three metro stations, shop at the likes of Champion, Adidas, Nike, Anta Sports and a variety of local brands.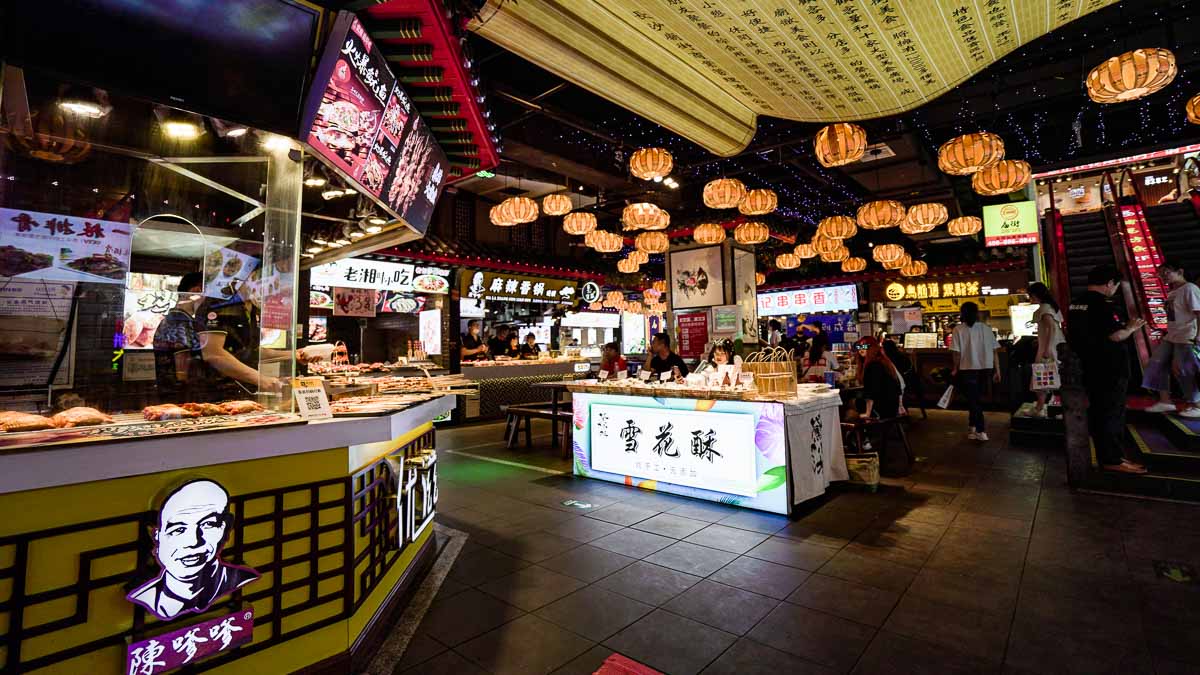 Find several food halls serving an array of food items from xiaolongxia (baby lobsters, a local specialty), to Blackball-like dessert bowls, to salted egg yolk pastries from BaoshiFu!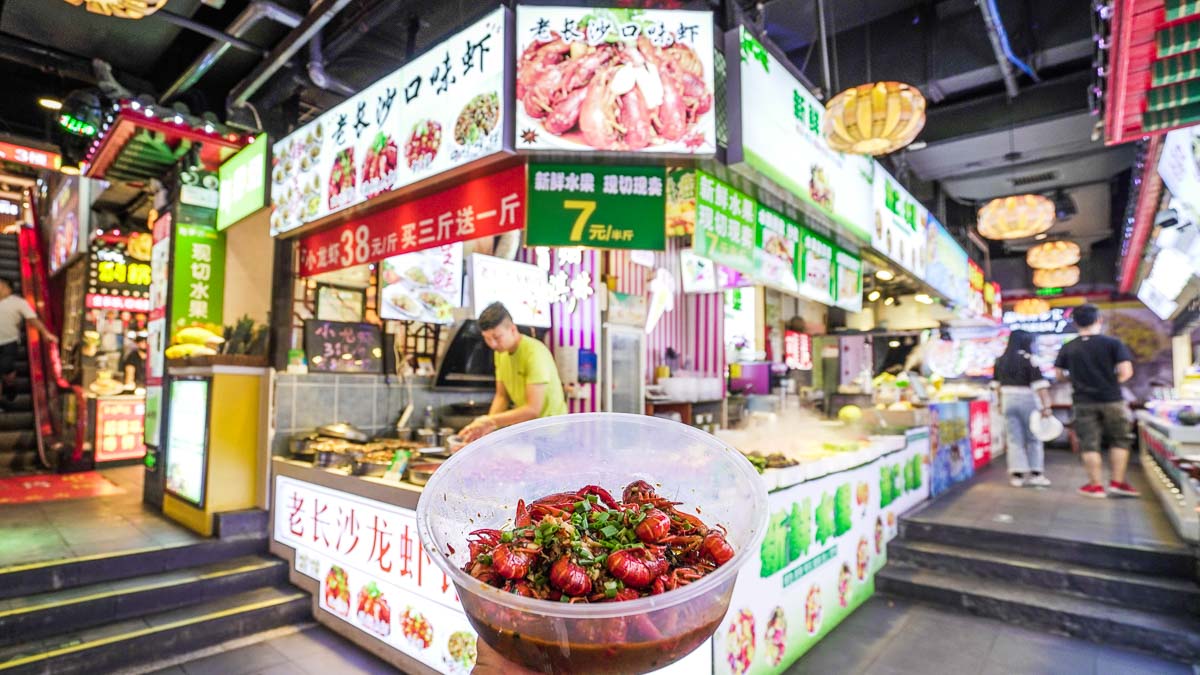 How to get there: Take the metro to Nanmenkou (Line 1), Huangxing Square (Line 1) or Wuyi Square (Line 1 or 2).
Old Changsha Noodles (老长沙米粉)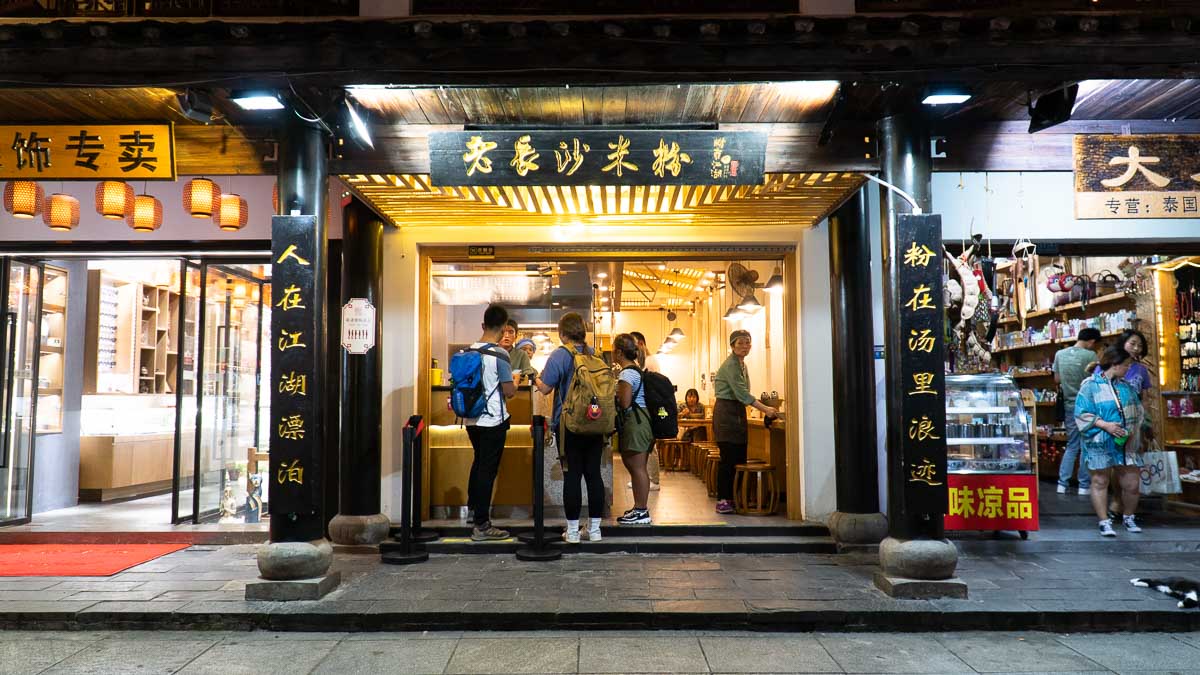 Nestled along the quieter end of Taiping Street (太平街) away from the hustle and bustle of the young crowd is the Old Changsha Noodle shop. The counter staff are so friendly, we got carried away in conversation until our bellies started growling (LOL).
Their signature Pork Rib Noodles (排骨粉, ¥20) are absolutely delish! Make your bowl extra special by adding heaps of garlic and garnish at the condiments section.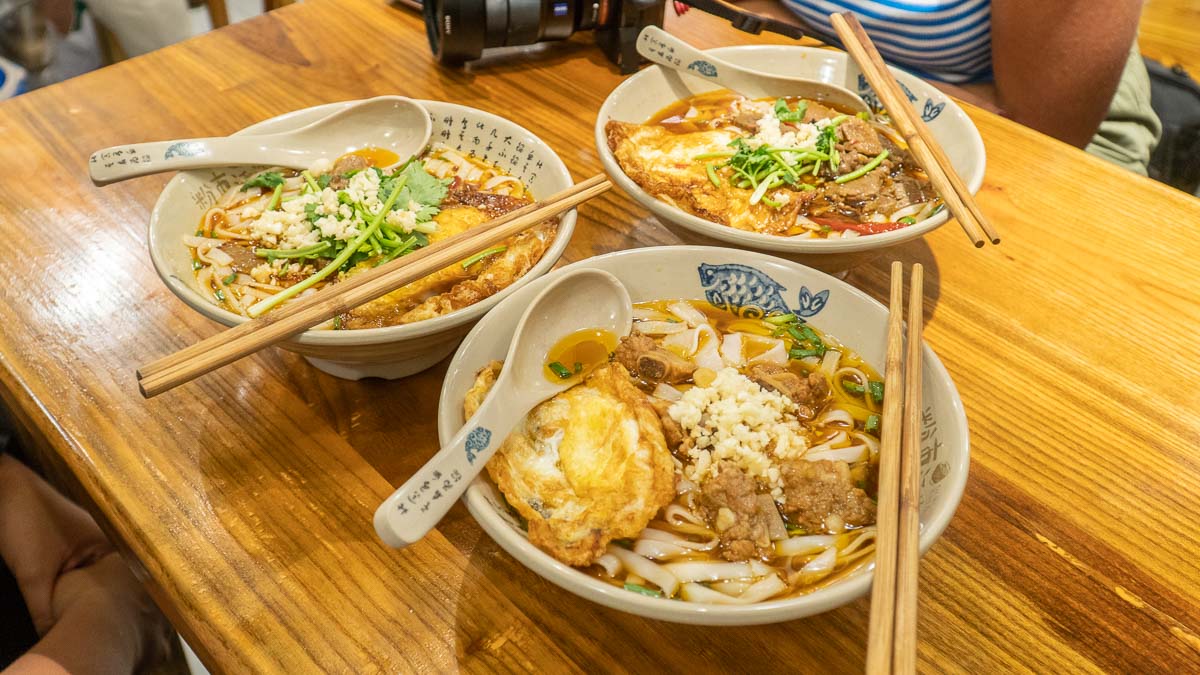 Opening Hours: 9AM – 9PM
Address: No. 124 Taiping Street, Tianxin District, Changsha 410005, China
Hunan Provincial Museum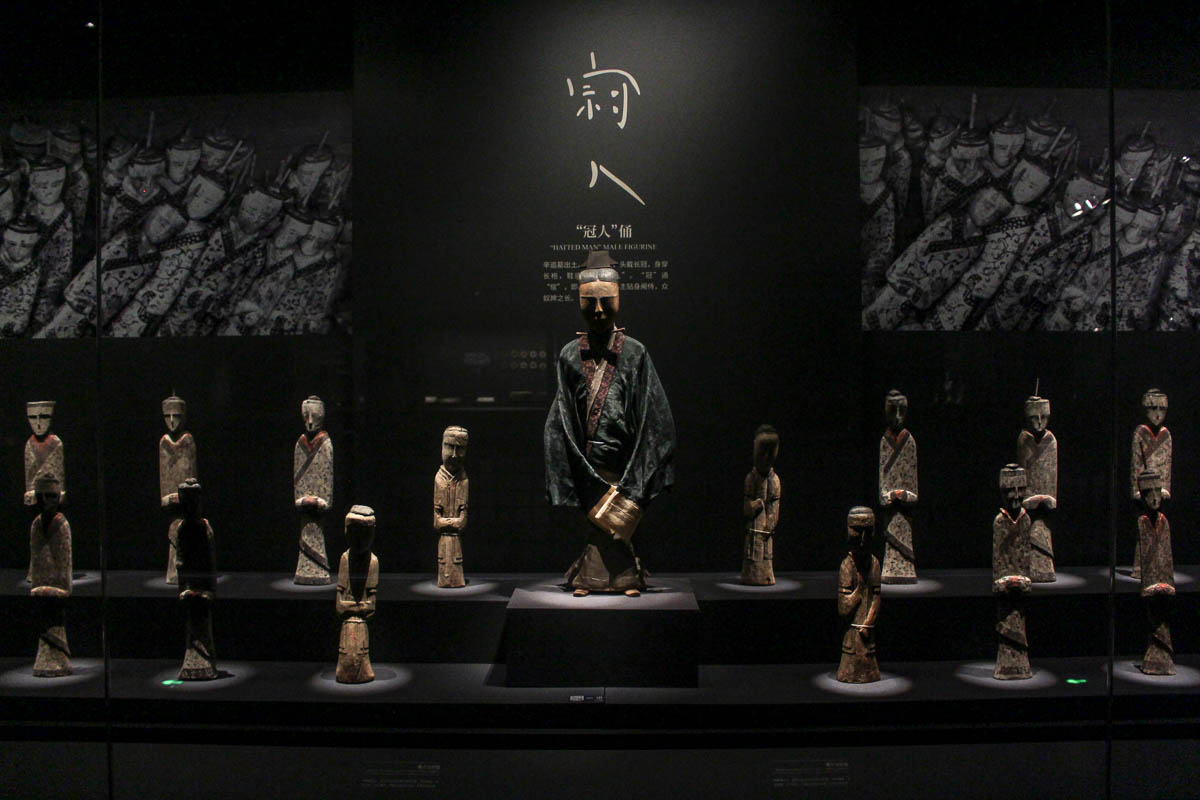 If there's one museum you have to visit on this trip, it's this one. Located right beside the largest park in Changsha, Hunan Martyr's Park, the Hunan Provincial Museum is not only free for all to visit, it also has a comprehensive English guidebook for all non-Chinese speaking tourists. Hoorah!
The most captivating exhibition in the entire museum has got to be the mummified remains of Lady Xinzhui from the Western Han dynasty in ancient China. Following her death in 163BC, Lady Xinzhui's remains were preserved and only discovered 2,000 years later.
Entrance Fee: Free (passport required)
Opening Hours: 9AM – 5PM, closed on Mondays (last entry at 4PM)
How to get there: Take bus 3, 112, 113, 131, 136, 146, 150, 203, 358, or 901 to Shen Bowuguan (Hunan Provincial Museum).

Yuelu Mountain (岳麓山)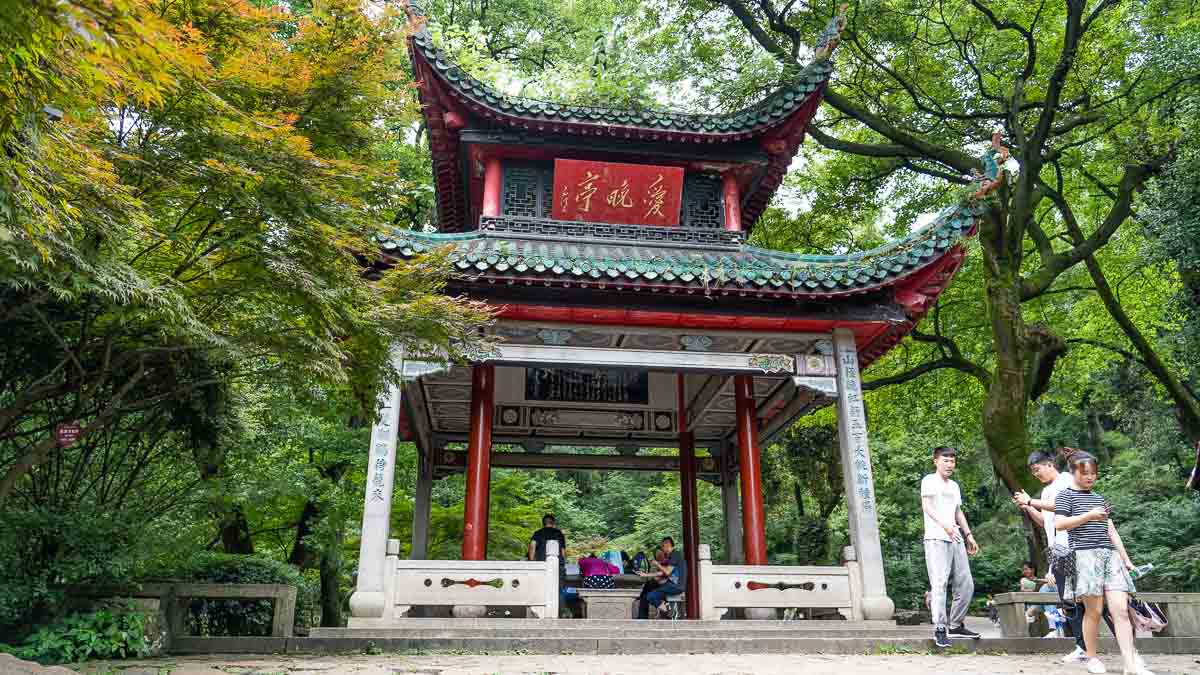 Love Dusk Pavilion.
A tranquil day awaits as you wander along the windy mountain path. Entrance is free, but most people opt to take the ropeway (¥30) or bus (¥20) up and walk down the mountain to explore the various landmarks along the way. If you choose to walk to the peak, it'll take about an hour.
Opening Hours: 7:30AM – 6PM (May – Oct), 8AM – 5:30PM (Nov – Apr)
How to get there: Take Metro Line 2 to Yingwanzhen Station, then walk for 400m.
Duration: 3 hours
Feidachu (费大厨)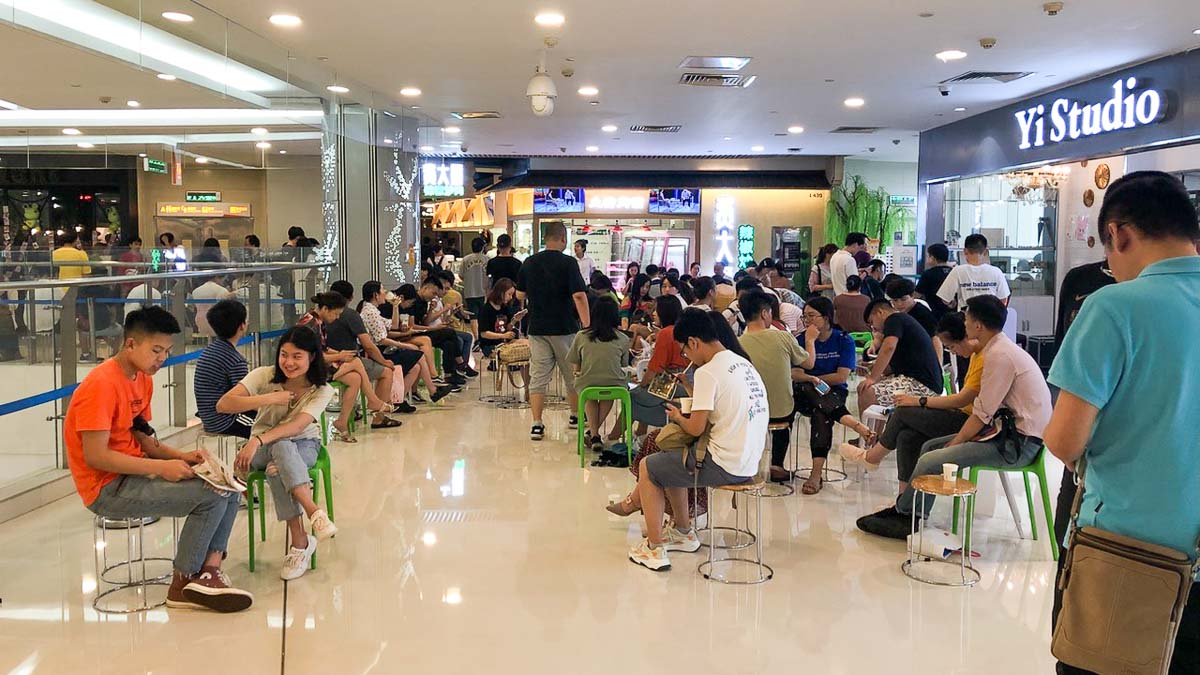 If you ever see a restaurant queue as long as Haidilao's, you know you have to try it.
Feidachu serves an amazing bowl of stir-fried beef (费大厨辣椒烤肉, ¥49) and cauliflower (大碗花菜, ¥25). We loved it so much, we just had to go back a second time!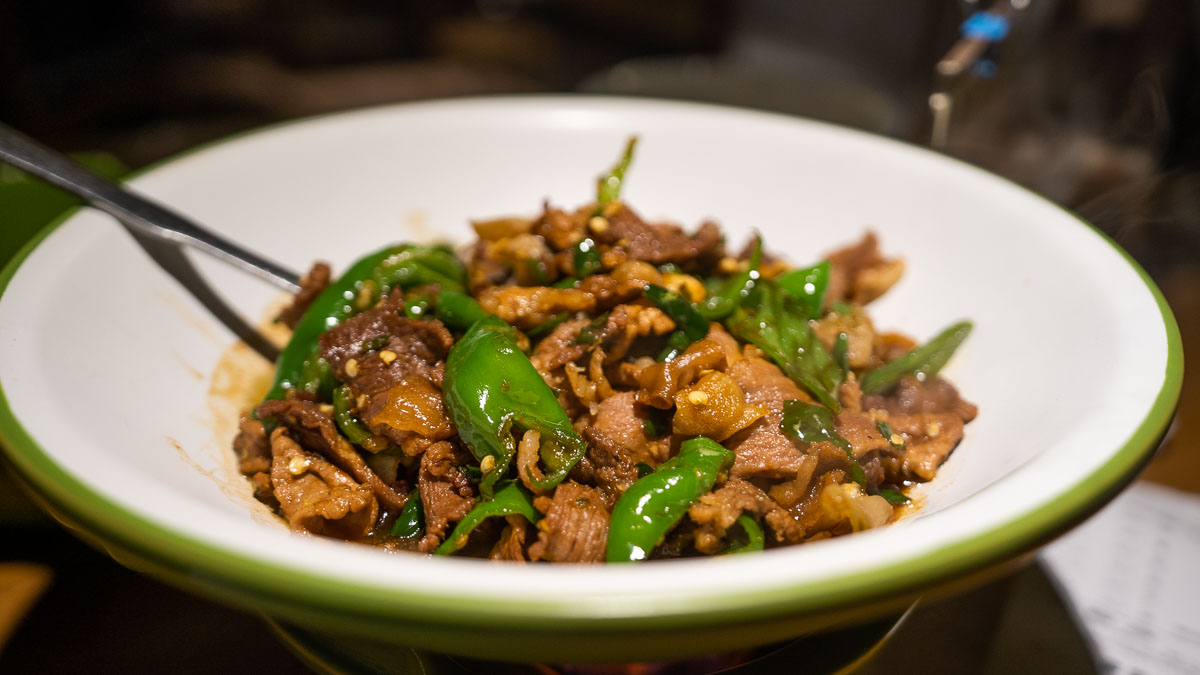 Opening Hours: 10AM – 10PM
Address: ID Mall, China, Changsha Shi, Tianxin Qu, Wu Yi Shang Quan, 410008 (Connected to Huangxing Plaza)
Tangyoubaba (糖油粑粑)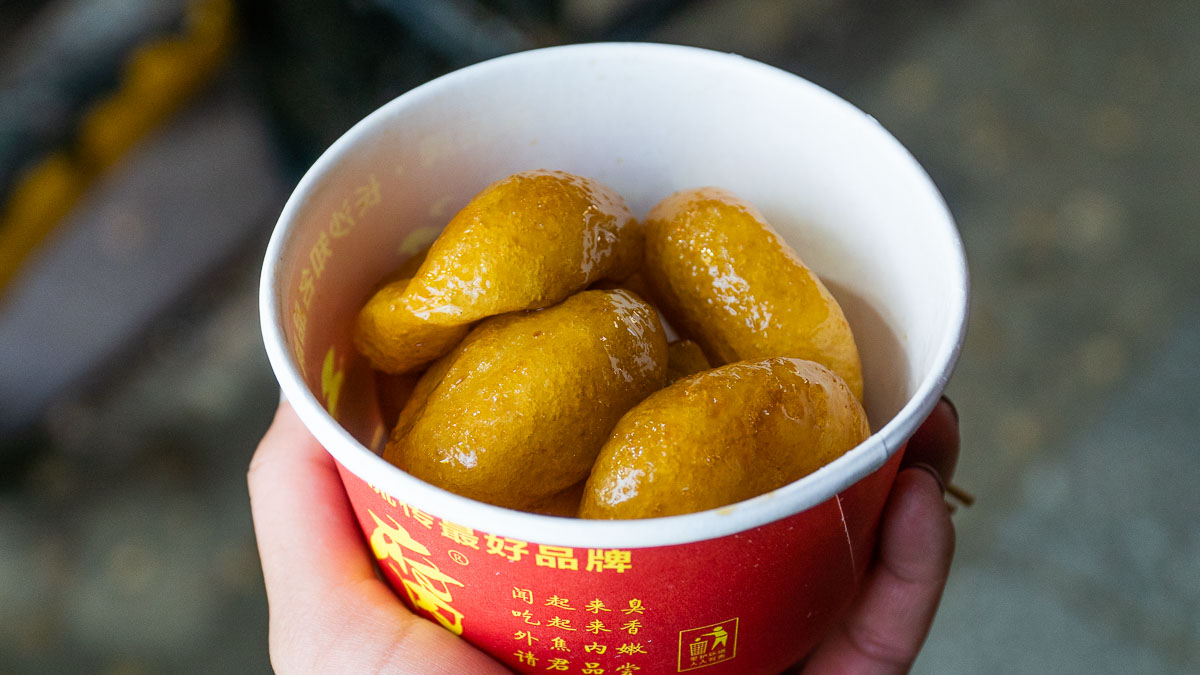 Hands down our favourite Chinese street snack — deep-fried lumps of dough fried in a wok of brown sugar. And the best place to get your hands on these bad boys is from Jinji Tangyoutuotuo (金记糖油坨坨) — they're gooier like malt candy compared to other stalls that are greasier.
Cost: ¥10 (~S$2)
Opening Hours: 11AM – 11PM
Address: 55 Xueyuan St, Wu Yi Shang Quan, Tianxin Qu, Changsha Shi, Hunan Sheng, China, 410008
Juzizhou (Orange Isle) (桔子洲)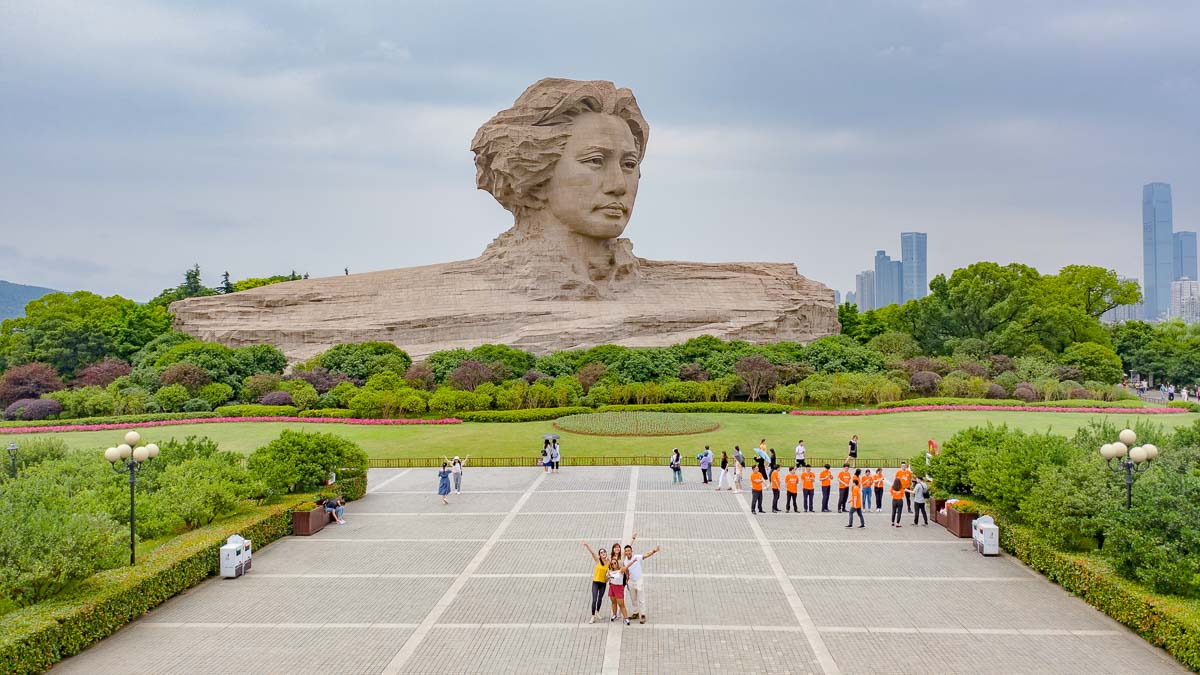 Located in the centre of the Xiangjiang River in Changsha, the main attraction of Orange Isle is the 32m-tall statue of a 32-year-old Mao Zedong in 1925. The statue is meant to encourage younger generations by displaying a positive image of Chairman Mao.
Don't forget to visit the free air-conditioned museum of all things Mao within the statue. It's a good respite from the blazing heat, especially if you're visiting during summer!
Entrance Fee: Free, sightseeing bus — ¥20 (~S$3), ¥10 (~S$2) for students
Opening Hours: 24 hours
How to get there: Take Metro Line 2 to Juzizhou Station.
Changsha Meixihu International Culture and Art Centre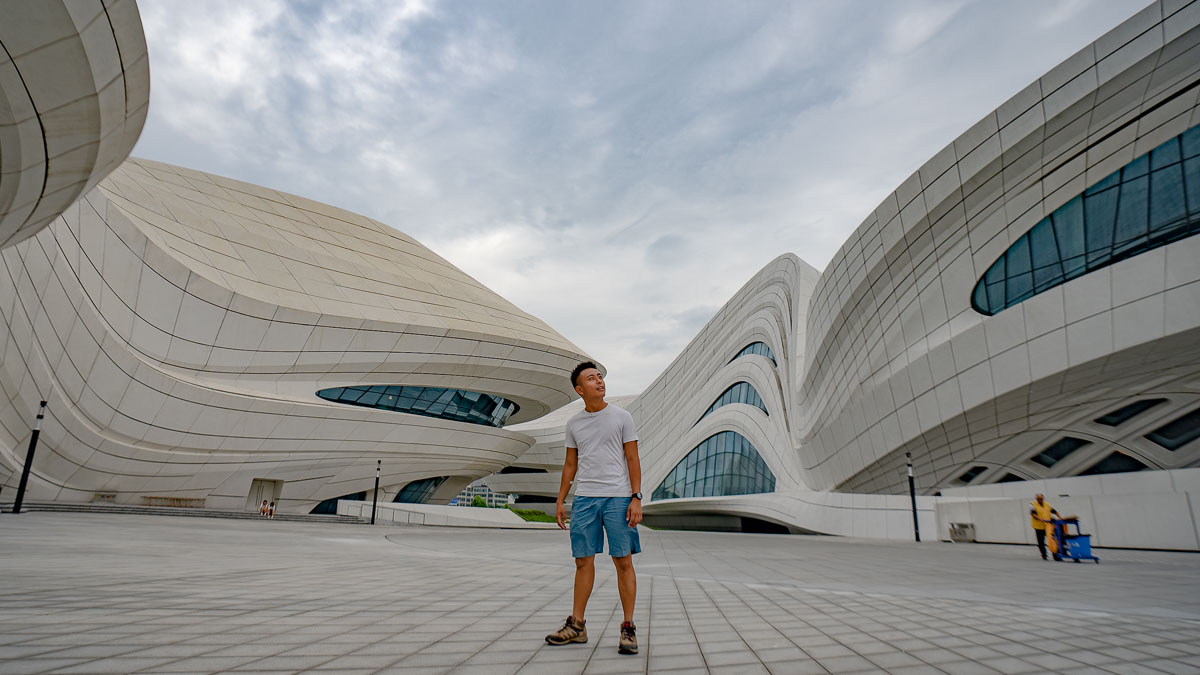 This Cultural and Art centre's petal-shaped buildings inject a positive tone of elegance and innovation into the city. Positioned as a global cultural destination, it comprises the largest performance theatre in Changsha, and accommodates various shops and restaurants in the courtyard.
How to get there: Take Metro Line 2 to Culture and Arts Centre
The Biggest Chinese Restaurant in the World, West Lake Restaurant (西湖楼)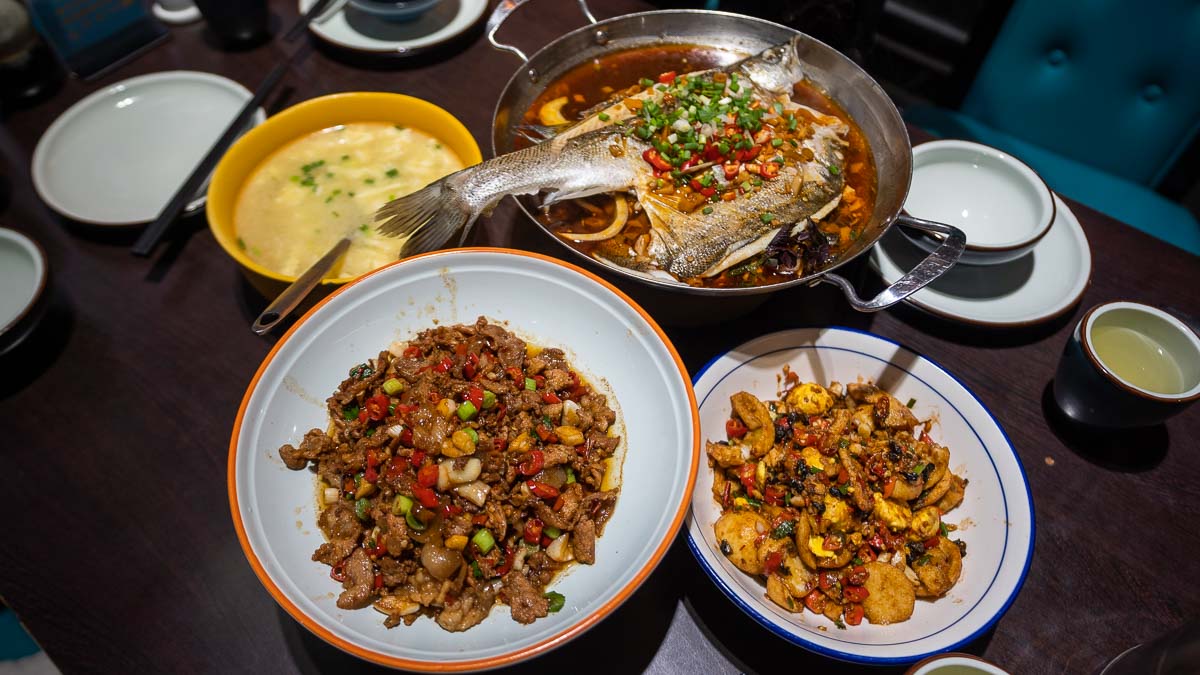 (Clockwise from top right) 平锅海鲈鱼 Ping Guo Hai Lu Yu (¥49), 财火土鸡蛋 Cai Huo Tu Ji Dan (¥28), 小炒石门香猪 Xiao Kao Shi Men Xiang Zhu (¥58), 外婆家的冷水蛋 Wai Po Jia De Leng Shui Dan (¥20)
As if China hasn't chalked up enough "largest" accolades, this restaurant is big enough to seat 5,000 guests! But don't worry if you think food standards will dip as a result — everything we had here was still delicious.
Cost: ~¥40/pax (~S$6)
Opening Hours: 11AM – 2PM, 5PM – 8:30PM, closed Fri – Sun
Address: Xihulou (Jinma Road), Kaifu Qu, Changsha Shi, Hunan Sheng, China, 410151
Other Tips for Travelling in China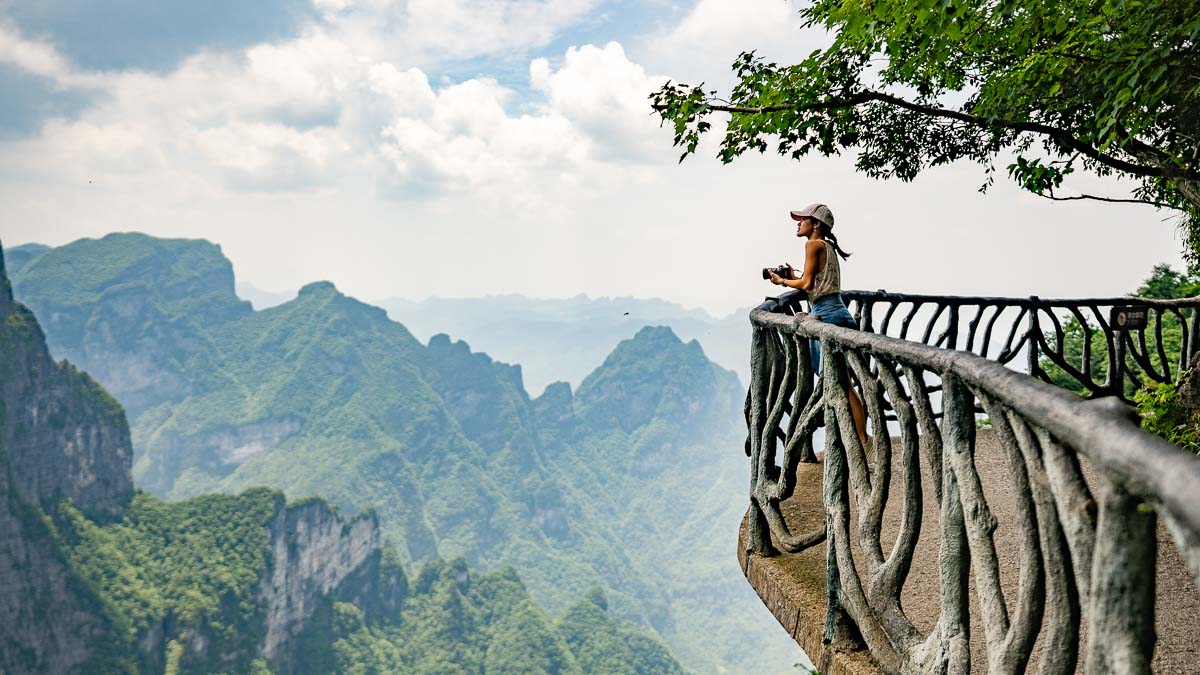 Transportation Tips
(1) When booking a Didi (cab), enter your destination in simplified Chinese characters. It's easier for locals to recognise, and thus increases your chances of getting a ride.
(2) Public transport in Wuhan and Changsha is efficient, easy to use and fares are relatively cheap — the most we paid was ¥7/pax for the train ride from the airport to Jianghan Road Station in Wuhan. In Changsha, every ride cost us ¥2/pax.
Money Matters
(3) Get a bank card that supports Union Pay. Almost all ATMs in Central China accept Union Pay.
(4) For ease of cashless payments (particularly for frequent visitors), consider opening a Chinese bank account (for WeChat set-up).
Other Tips
(5) Flash your student card at attractions for discounts (post-grad students not eligible).
(6) In a country as populous as China, there's never enough toilet paper. Always bring a pack of tissue with you.
(7) Hand sanitiser is important! Most of the time, soap dispensers in washrooms turn up empty. And when you really need to disinfect…
Direct Flights to Wuhan or Changsha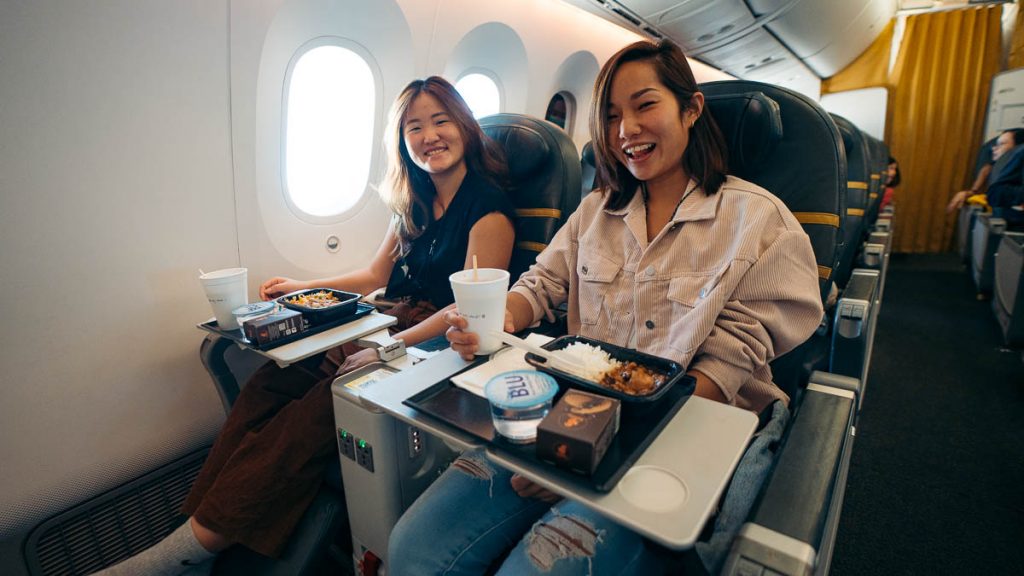 Scoot has opened flights from Singapore to Changsha and Wuhan! It's only five hours from Singapore to Wuhan, and on top of the comfy seats, we were also able to enjoy tasty onboard meals during our flight — the chicken tikka was a hit for all of us.
There are flights to Wuhan and Changsha every week, with one-way tickets that go as low as S$189. Coupled with the ability to plan open jaw flights, you get to save time and costs by flying into Wuhan and flying home from Changsha for S$336.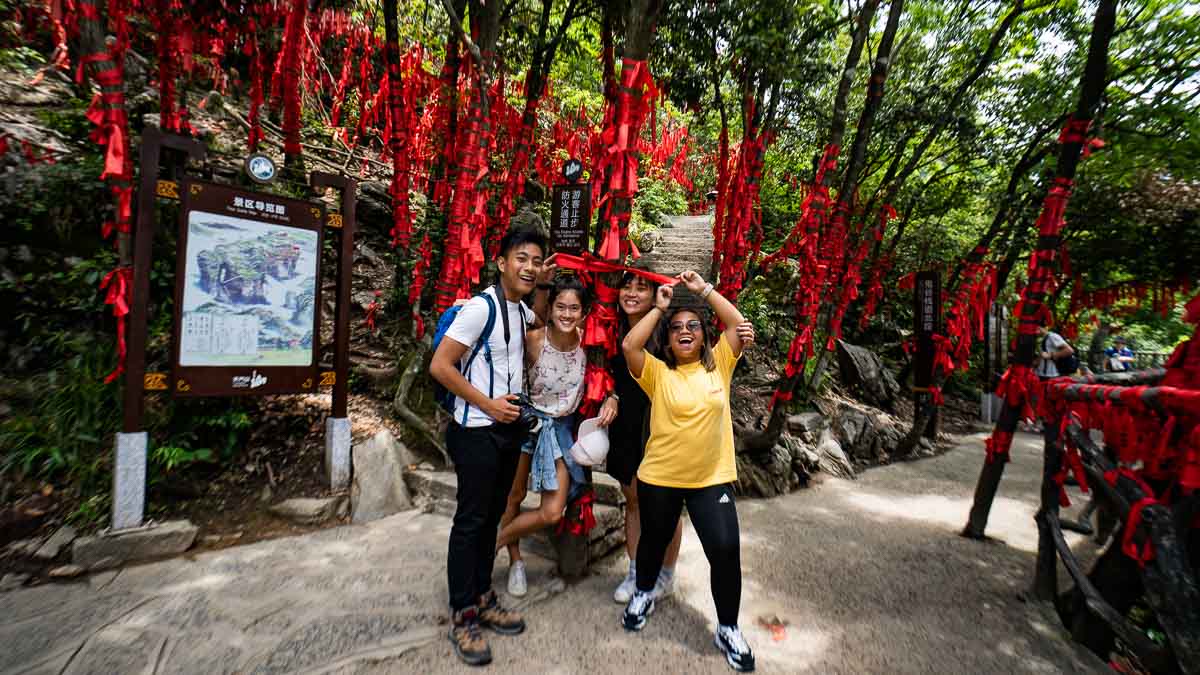 After spending 12 days in China, I have a new-found appreciation for this country. Look past the crowdedness, congestion and exceptionally long queues at attractions, and we hope you'll see a new beauty in China with this itinerary.
On top of the surprisingly appetising array of street eats and abundance of natural landscapes, we're also glad we can now communicate in Mandarin with fewer hems and haws! 😂
Still need some convincing? Here are 19 Reasons to Visit China's Most Underrated Cities to inspire your itinerary!
Which is your favourite activity in this China itinerary? Let us know in the comments!
---
This post was brought to you by Scoot.
Like what you see? Follow us on Facebook, Instagram, and YouTube for more travel updates!