Roast marshmallows by the fire, sleep in a tent and wake up to the sunrise at Pulau Ubin!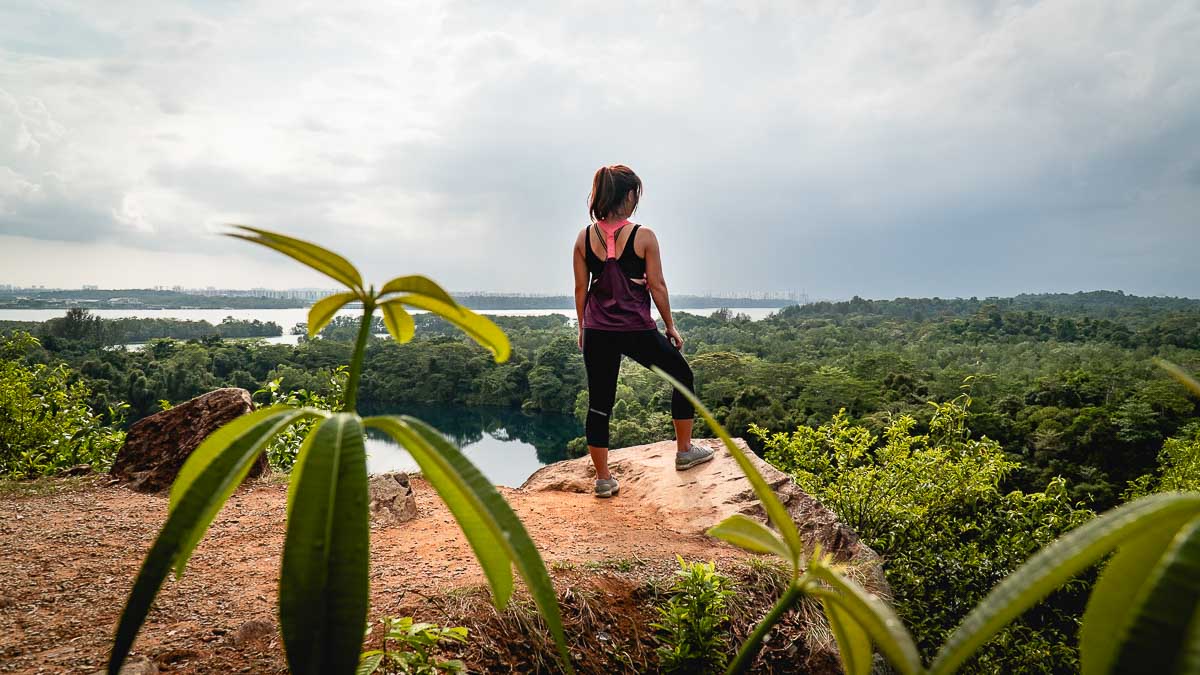 Being outdoors takes you back to the basics. No television, loud bustling streets or other distractions. Just you, your friends and good ol' mother nature — and it's no secret, we kinda miss that, a lot.
Since Singapore is all we've got to explore for now, we're gonna try our best to recreate that experience:
It wasn't meant to replace camping in Norway or hiking in Indonesia, but spending a night under the stars with only the bare necessities was a nice switch from what we get from bustling city life. So whether it's your first time camping or if you want to recreate your last camping experience, here's our guide to camping in Pulau Ubin.
*Permit application is closed during P2HA — bookmark this for when camping is allowed again!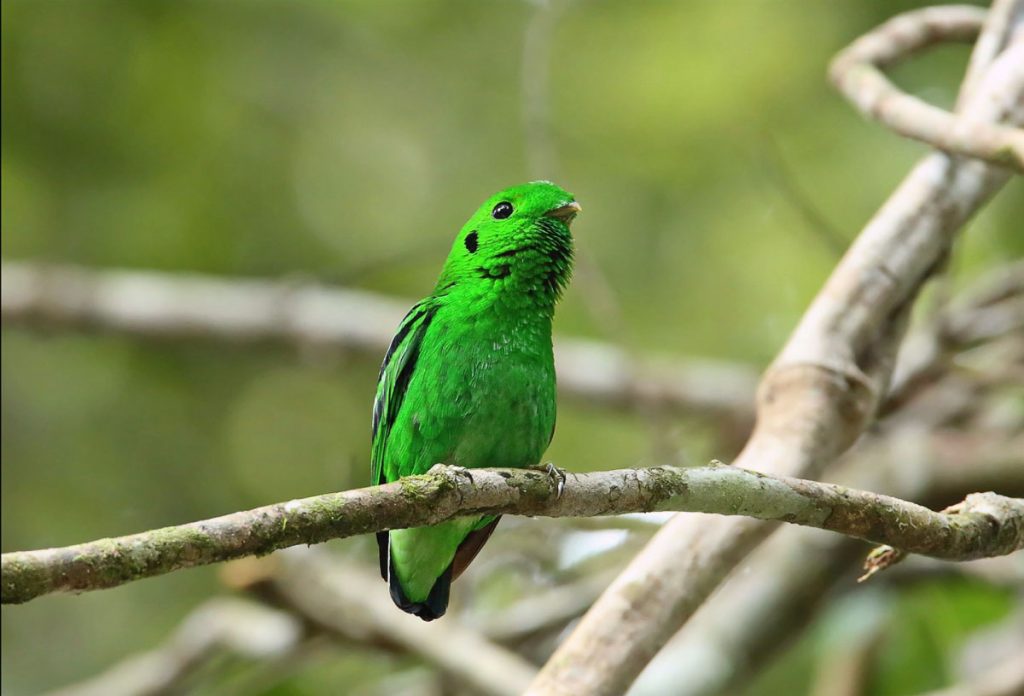 Photo credit: Daniel Koh
A little bird told us a once extinct (since 1941) Green Broadbill was recently sighted at Pulau Ubin — keeping our fingers crossed we'll get to camp here soon again!
Pre-trip Essentials
Camp permit: NParks officers will occasionally patrol the campsites to check on permits and enforce social distancing so do apply online at least two weeks in advance. One permit is required for each tent, with a maximum of six campers per tent.
Things to bring: Tent, sleeping bag, an extra set of clothes, torchlight(s), four litres of drinking water, portable charger, insect repellent, sunscreen, cash, utensils and cooking items.
More details in the FAQ section below!
Day 1: Getting to Pulau Ubin
8AM: Bumboat to Pulau Ubin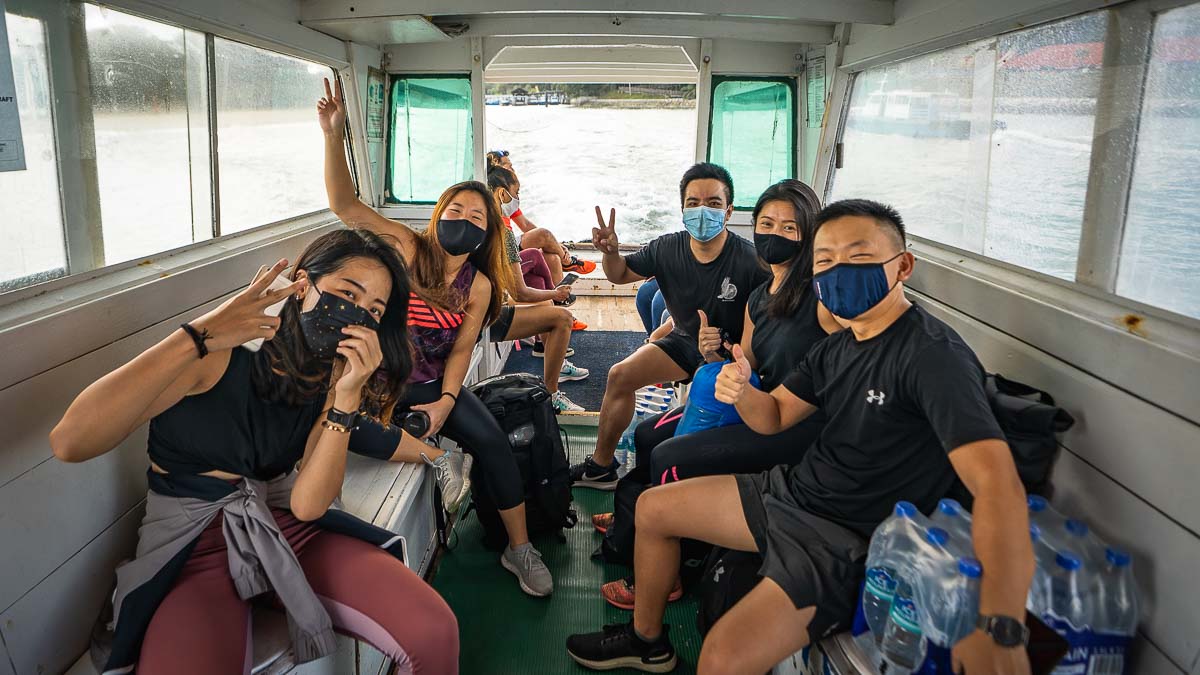 Pulau Ubin is a 15-minute boat ride (S$4/pax) from Changi Point Ferry Terminal. Bumboats operate from 6AM – 7PM. However, they don't leave at fixed intervals and instead only do so when there are 12 people in line.
*Pro-tip: Have breakfast first at Changi Village Hawker Centre before heading to Changi Point Ferry Terminal. Also stock up on snacks and water at the mama shops near the hawker centre.
9AM: Mangrove Kayaking Tour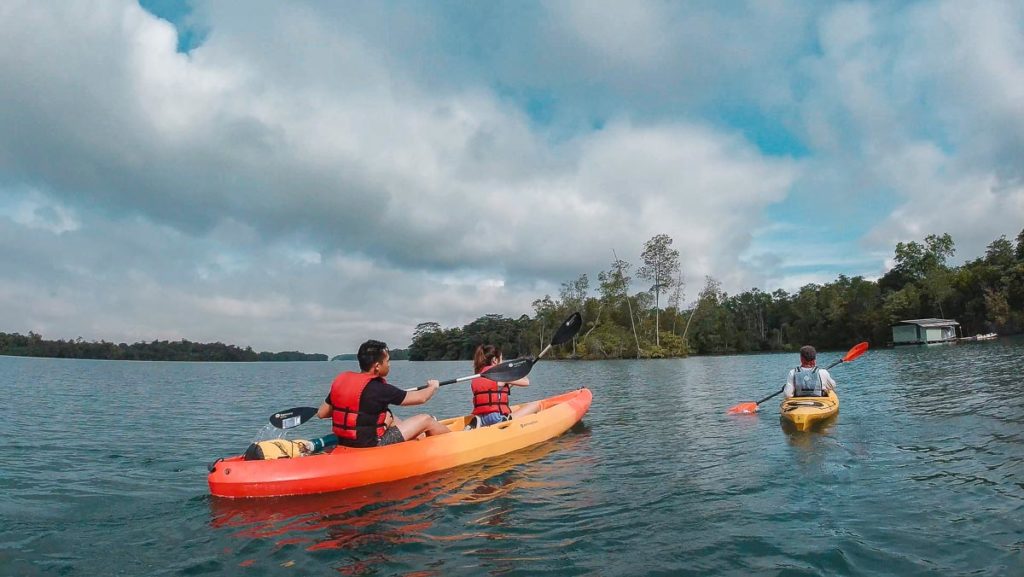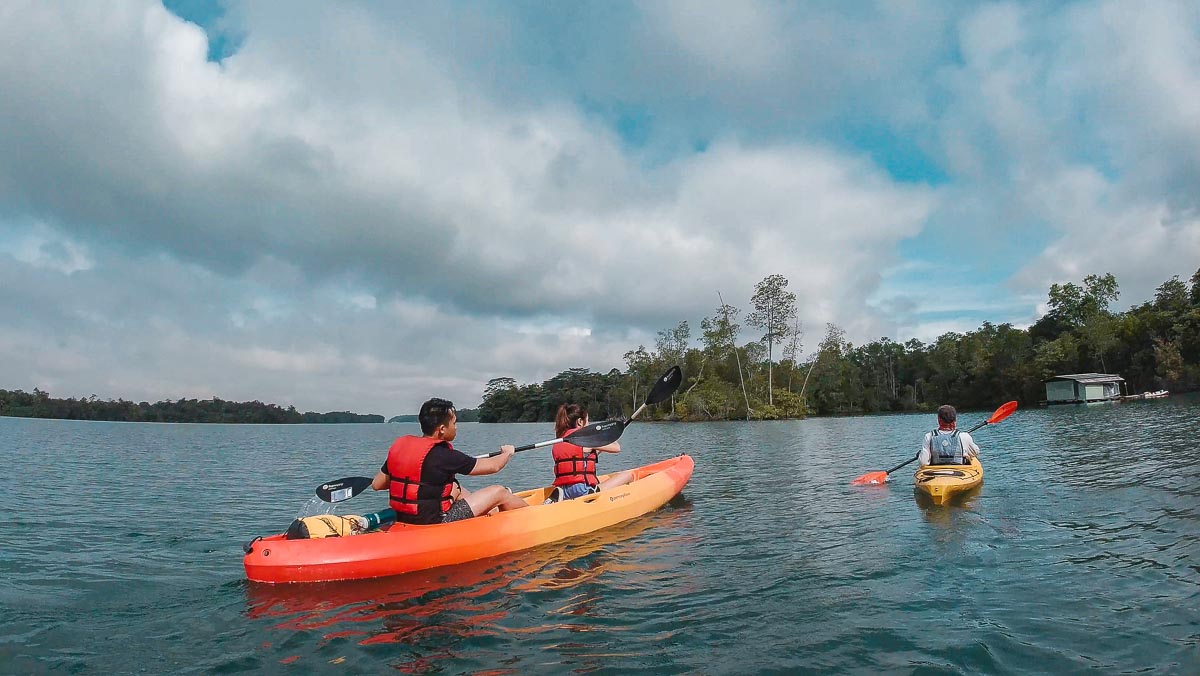 Explore a different side of Ubin by going on a mangrove kayaking tour. Kayaking at Ubin feels a lot more adventurous than kayaking at the mainland — no buildings in sight!
An experienced guide will take you through the mangroves, and share fun facts about Ubin's history and wildlife. You can't rent a kayak without a guide here, so this is the only way to explore the island's mangroves.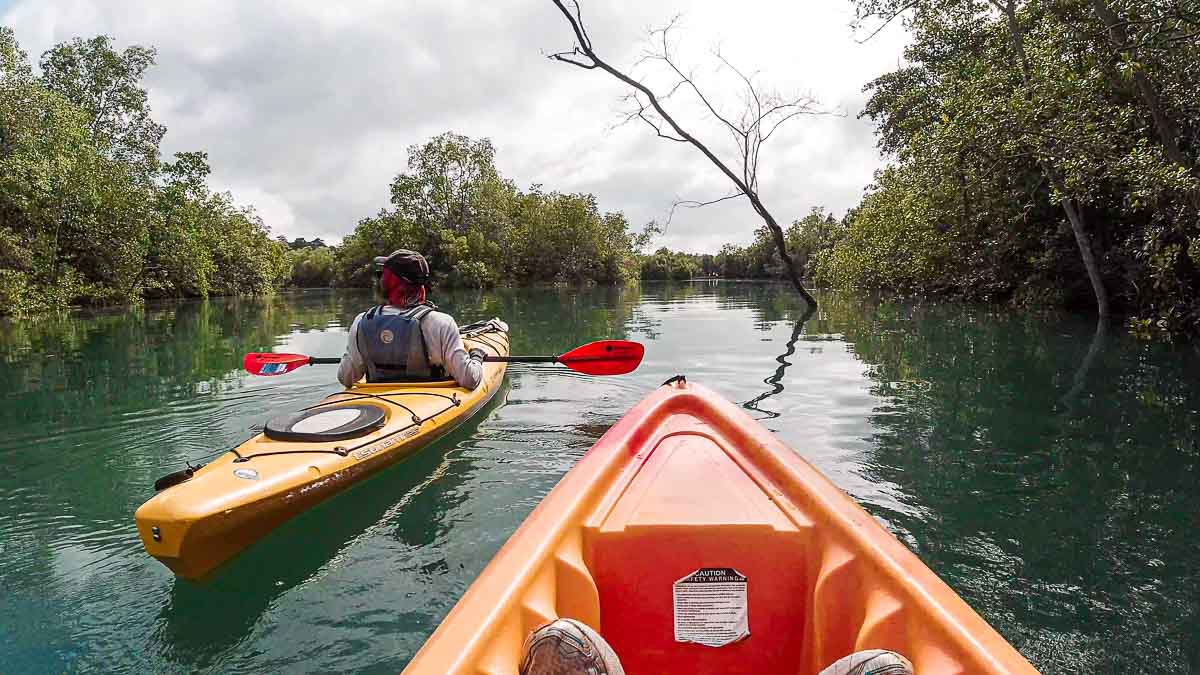 The tour company has a storage room available for you to leave your camping gear and belongings while you kayak.
Cost: ~S$101.75 for a 4hr session
Opening hours: Kayaking starts at 9AM or 1:30PM
Meeting point: 34 Pulau Ubin — look for the white house amidst the bicycle rental stalls
1PM: Cook Lunch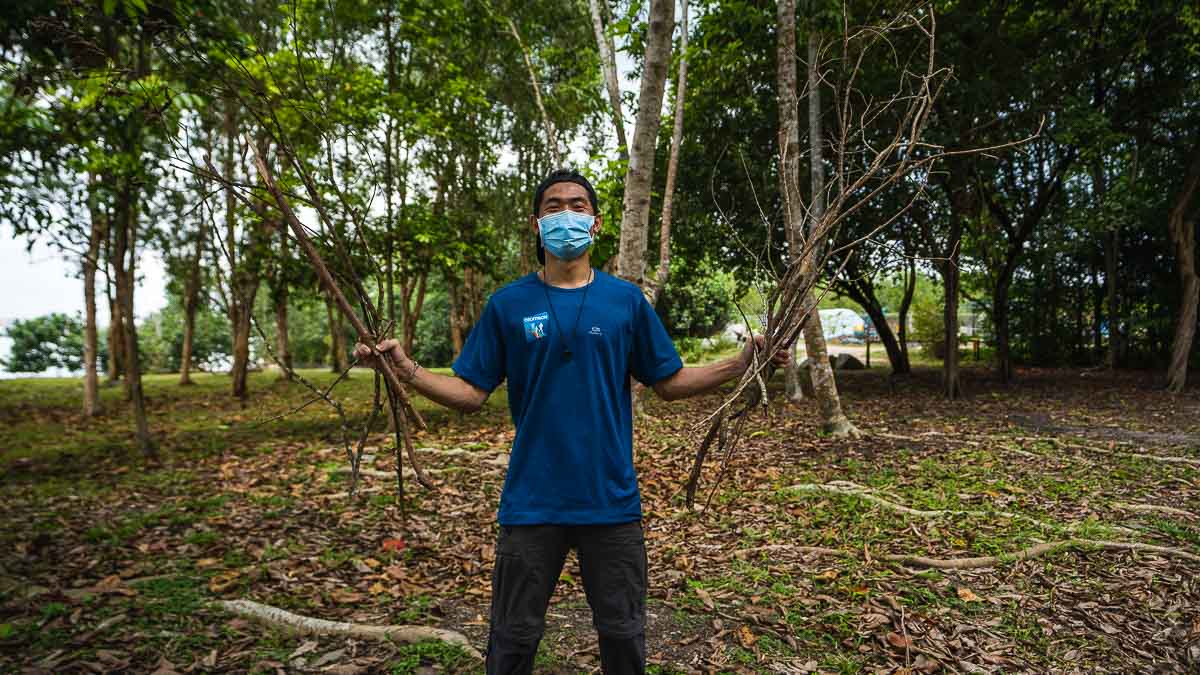 Our friend Scott from Beyond Expeditions taught us the basics of outdoor cooking. First, we had to gather plenty of dry twigs as fuel for the fire. Avoid damp wood, or you'll never get a fire started.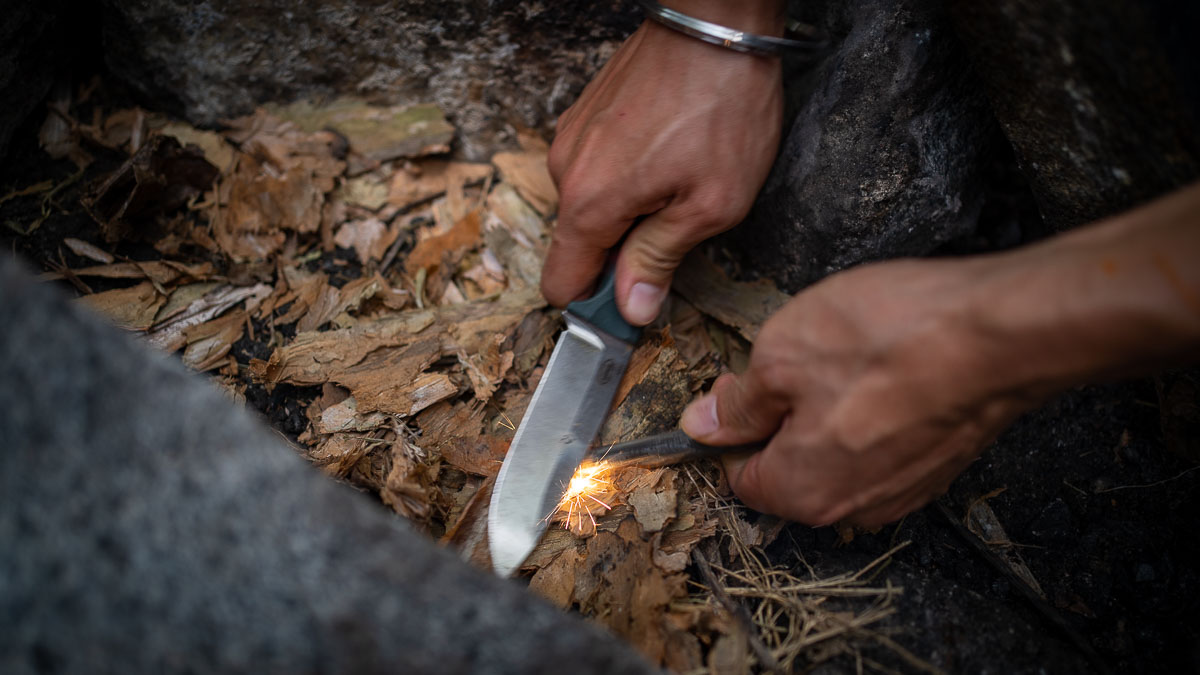 A couple of us were tasked to chop vegetables and wash the rice. After setting up a makeshift fire pit, Scott used a Ferro rod fire starter to ignite a flame.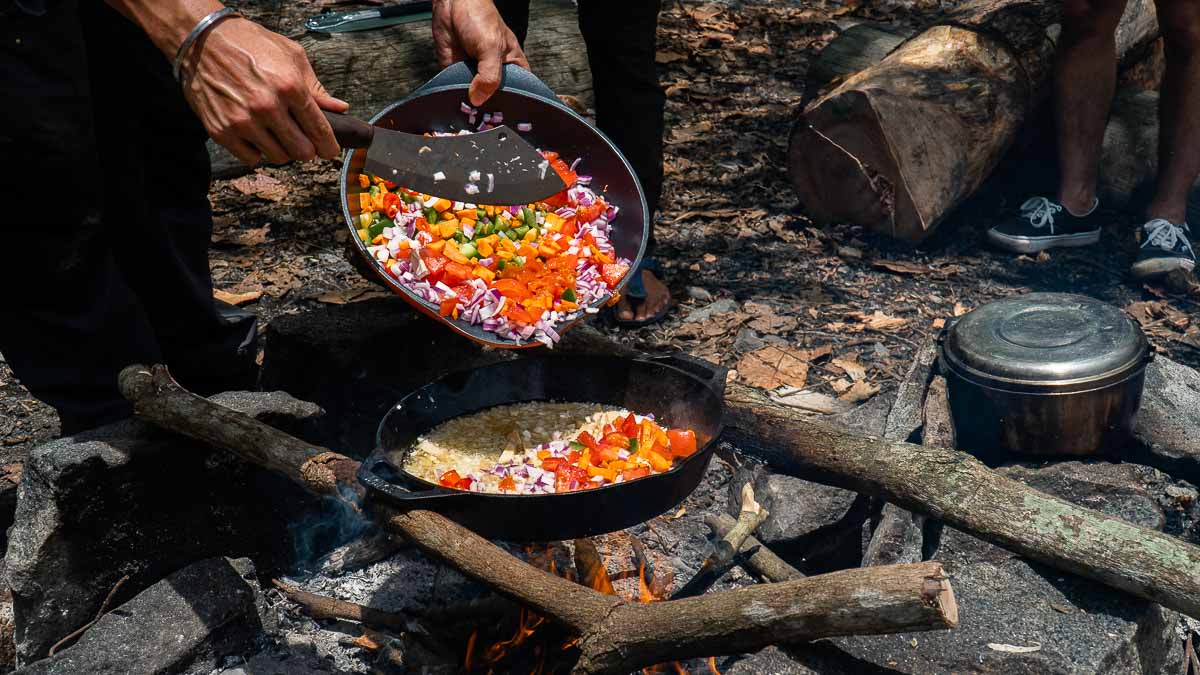 The menu for the day: vegetarian green curry.
Outdoor cooking isn't something we do everyday, so it was definitely a highlight of our camping experience. If you're too beat from kayaking to cook, you can opt for one of the local restaurants in the main village.
*Pro-tip: Do your meal prep (like chopping veggies) at home to save time! Also, use air-tight containers for food to avoid attracting animals.
2:45PM: Set up Camp at Jelutong Campsite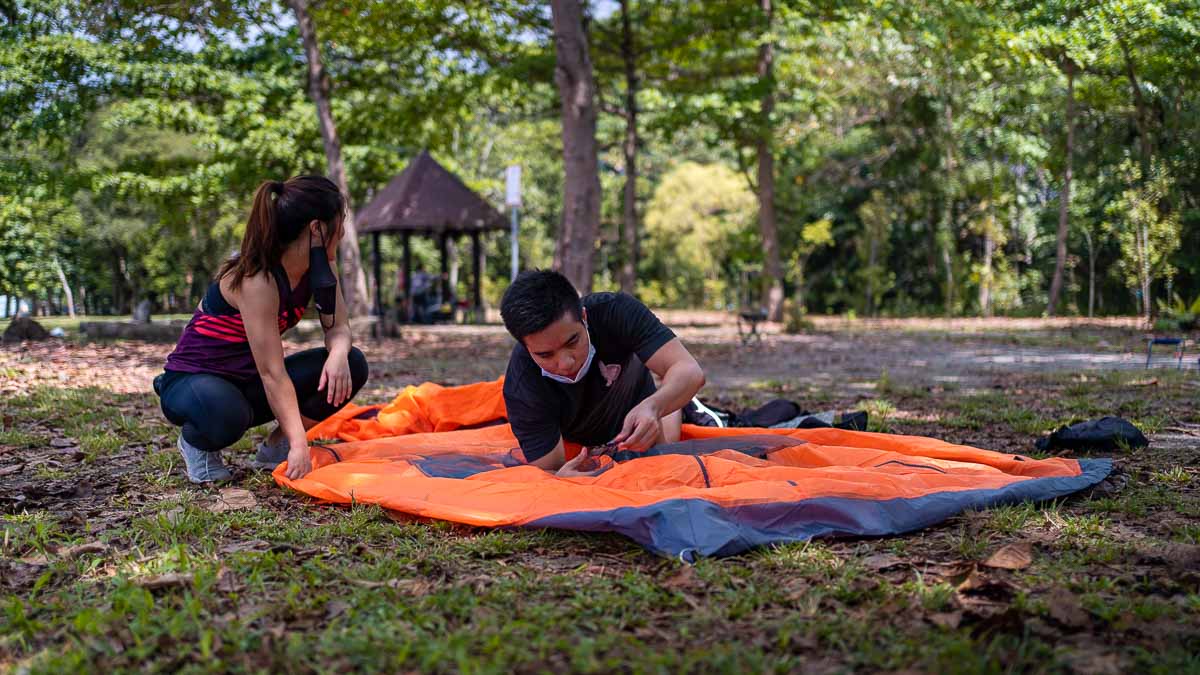 There are three designated campsites in Pulau Ubin — Jelutong, Mamam and Endut Senin. We ended up with Jelutong campsite as it's the most accessible and just a short 10-minute walk from the main village.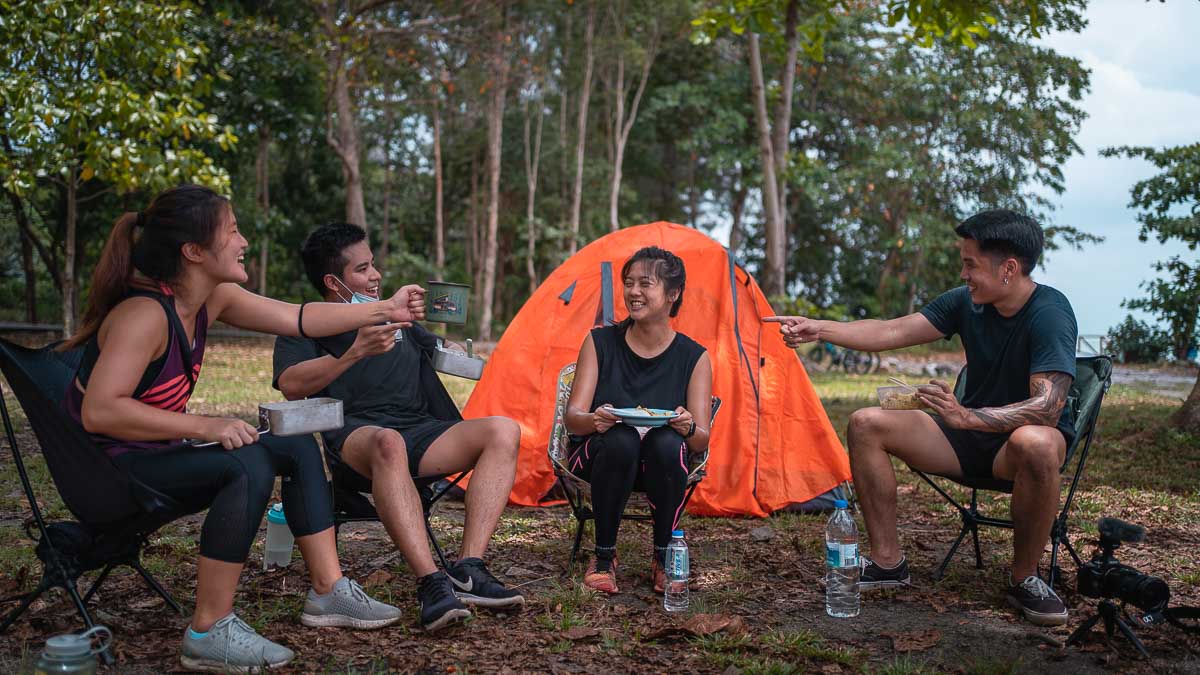 You can get a foldable tent at Decathlon (from S$40) which is pretty easy to set up. We pitched ours by the seaside, facing the mainland.
Look for a flat spot that isn't under a tree — unless you want a back massage courtesy of bumpy rocks or enjoy being woken up by falling branches. Do also watch out for ant hills! Those are some Ubin locals you're better off not getting to know.
*Pro-tip: Bring camping chairs! They're really comfy plus provide refuge from ants.
We packed light and brought our valuables with us wherever we went, leaving our other belongings in our tents. There weren't many people passing by our campsite besides a few other campers and occasional cyclists, so it's relatively safe.
3PM: Rent a Bike and Explore the Island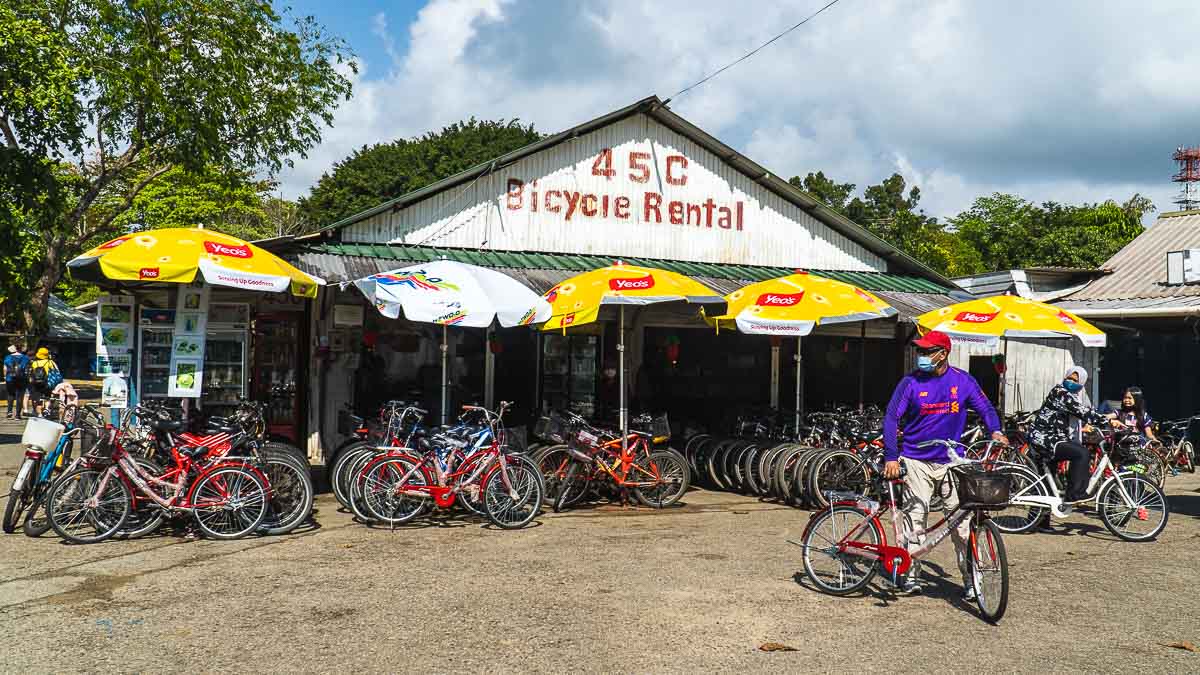 Shop 45C, the largest bike rental store on Ubin!
The best way to explore Pulau Ubin is by bike. Bicycle rental at shop 45C starts from S$6 for the entire day — just be sure to return them by 7PM.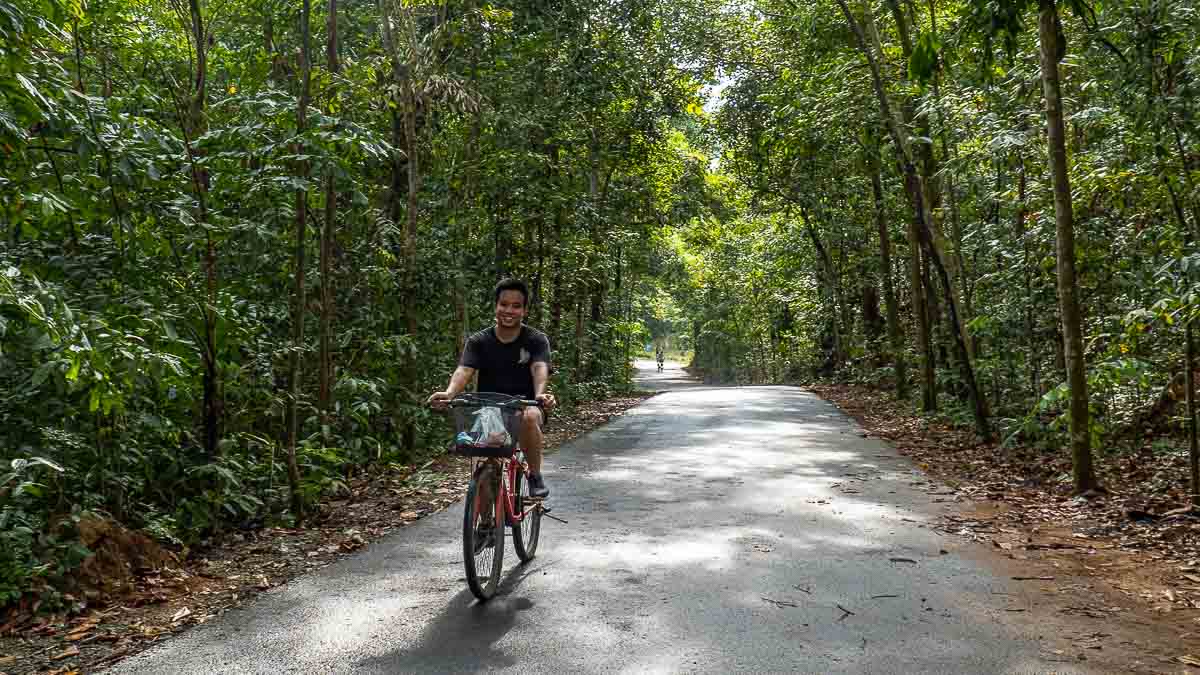 There are a few main attractions on Ubin — Puaka Hill and Ketam Mountain Bike Park on the west side, and Chek Jawa Wetlands on the east. Decide which ones you want to cover and allocate sufficient time to get there. You'll probably need to start cycling earlier if you want to visit all of them.
Ah Ma Drink Stall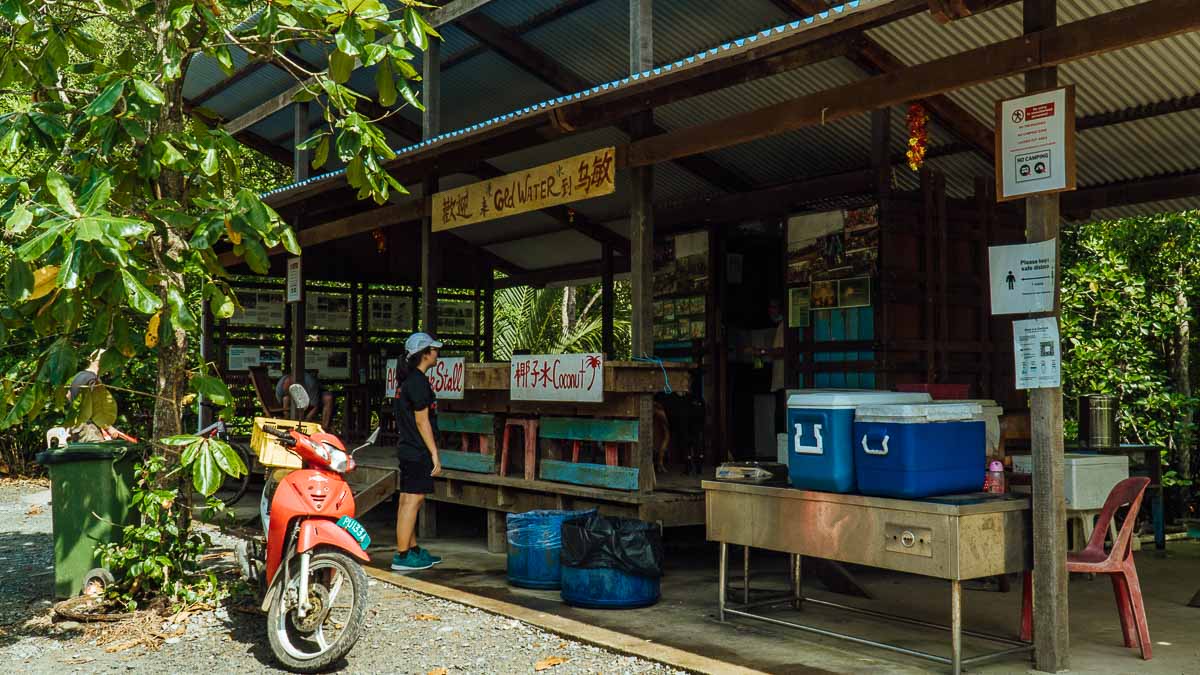 Ah Ma Drink Stall is an Ubin icon that you'll pass on the way to Puaka Hill. This rustic store is believed to be the first kampung structure to be built on Pulau Ubin in 20 years. It's run by a mother-daughter duo who live on the island.
Puaka Hill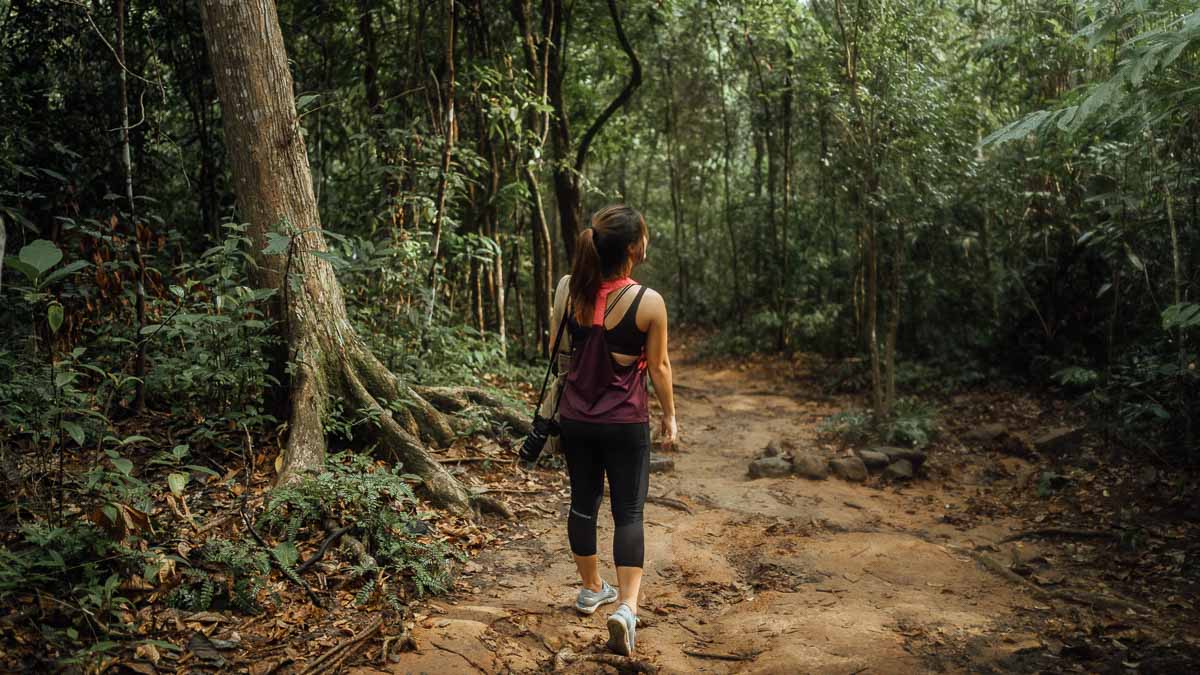 1.9km away from the main village lies Puaka Hill. At 74m, it's the highest point on Ubin, making it a popular photo spot. After a short 20-minute hike to the top, you'll be rewarded with stunning views of Ubin Quarry.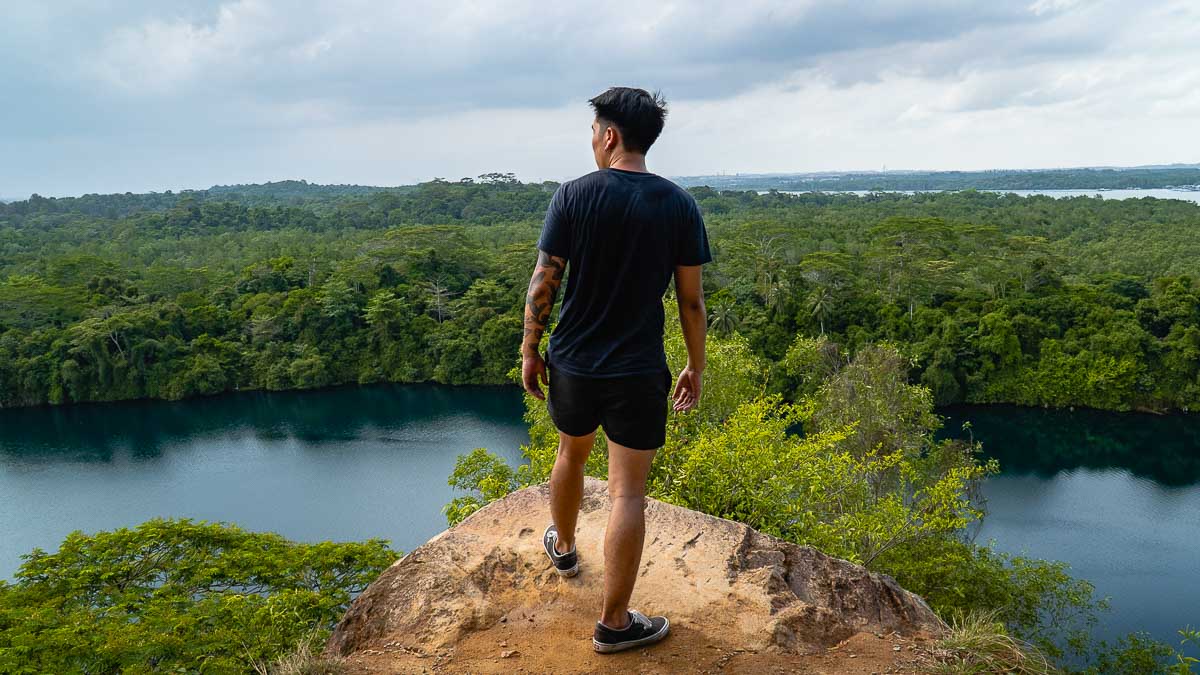 The view from the top of Puaka Hill!
Ketam Mountain Bike Park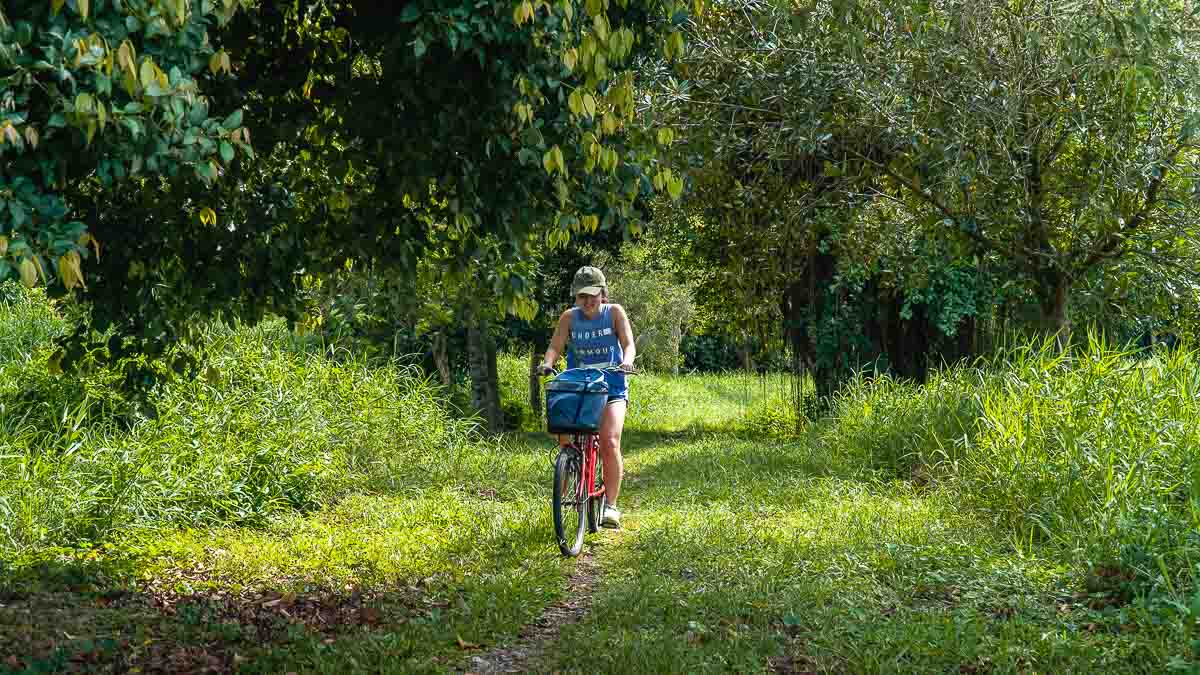 Ketam Mountain Bike Park features a 10km-long offroad trail. It's Singapore's first bike park built to International Mountain Bicycling Association (IMBA) standard, which means it can be used for official mountain biking competitions!
Try the beginner-friendly Blue Squares trail or the tougher Black Diamond route. We attempted the former with our S$6 bikes and needless to say, we struggled to peddle through the uneven grass.
There's also the Double Black Diamond trail, but with steep drop-off and sharp corners, we'd leave that to the pros. Bring along a proper mountain bike if you own one — it costs just S$2 extra to bring it on the bumboat.
Chek Jawa Wetlands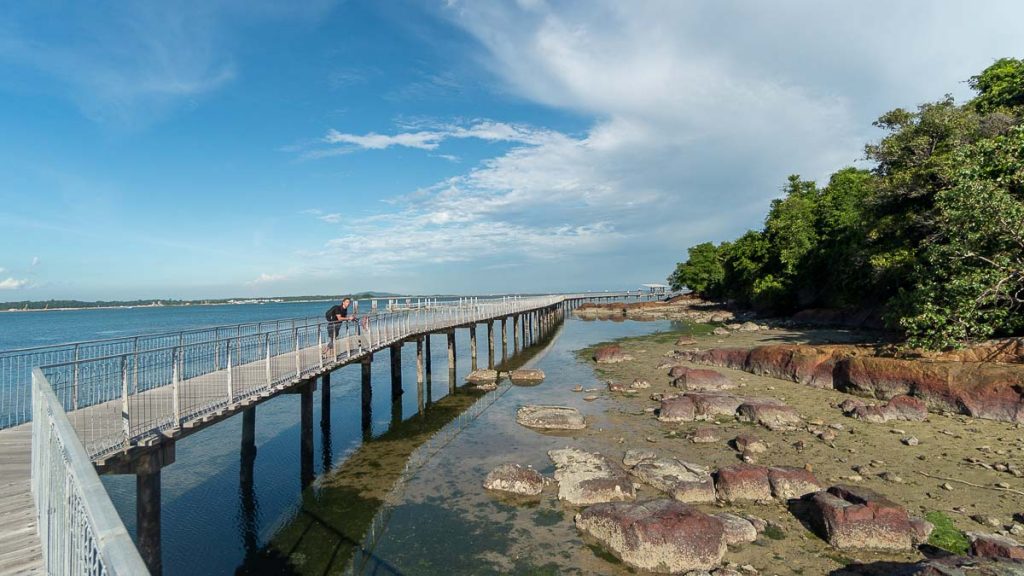 Chek Jawa is 3km from the main village.
Over at Chek Jawa Wetlands, there's a 100-hectare area made of six different ecosystems. Stroll along the 1km boardwalk, climb the 20-metre tall Jejawi Tower and discover the mangrove's abundant wildlife.
Besides mud crabs and various birds, wild boars are also aplenty.
*Pro-tip: The best time to visit Chek Jawa is during low tide (check the Tide Table), when the mangrove roots are exposed. That's when you'll be able to spot more wildlife!
Entrance fee: Free
Opening hours: 9AM – 5PM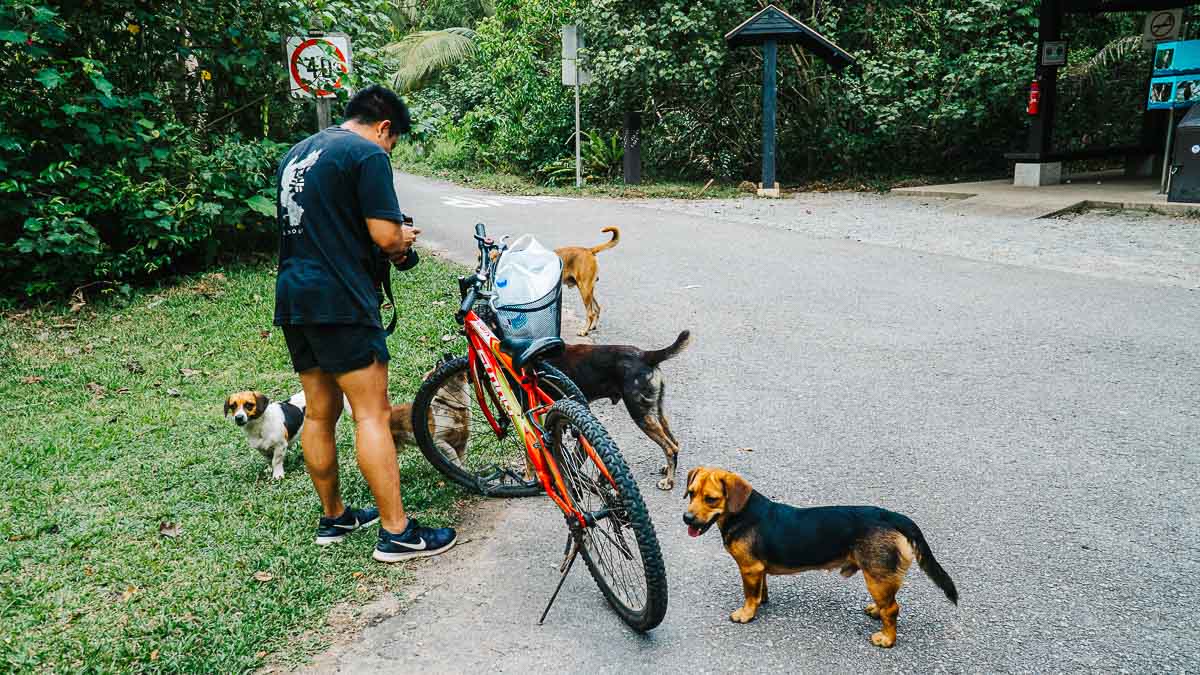 We spotted several cute doggos on the way to Chek Jawa!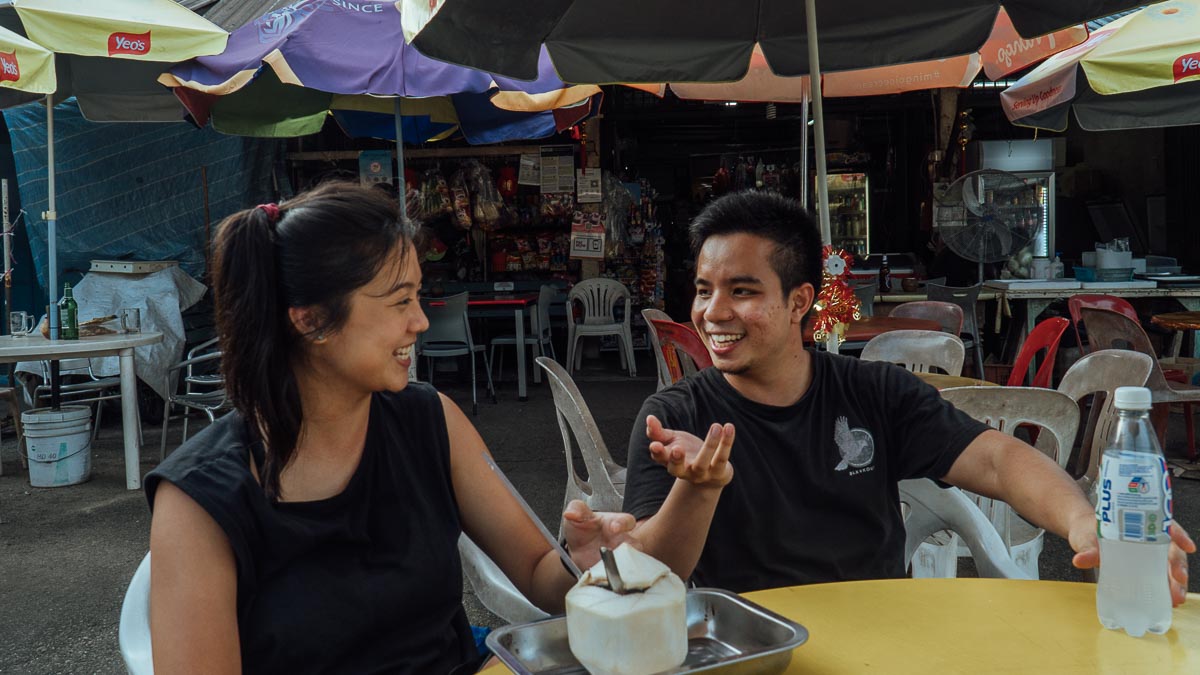 After returning your bikes, grab a cold drink at the convenience store right beside it. It's here you can stock up on water (or beer) and snacks in case you didn't bring enough! This store closes around 7PM.
5:30PM: Dinner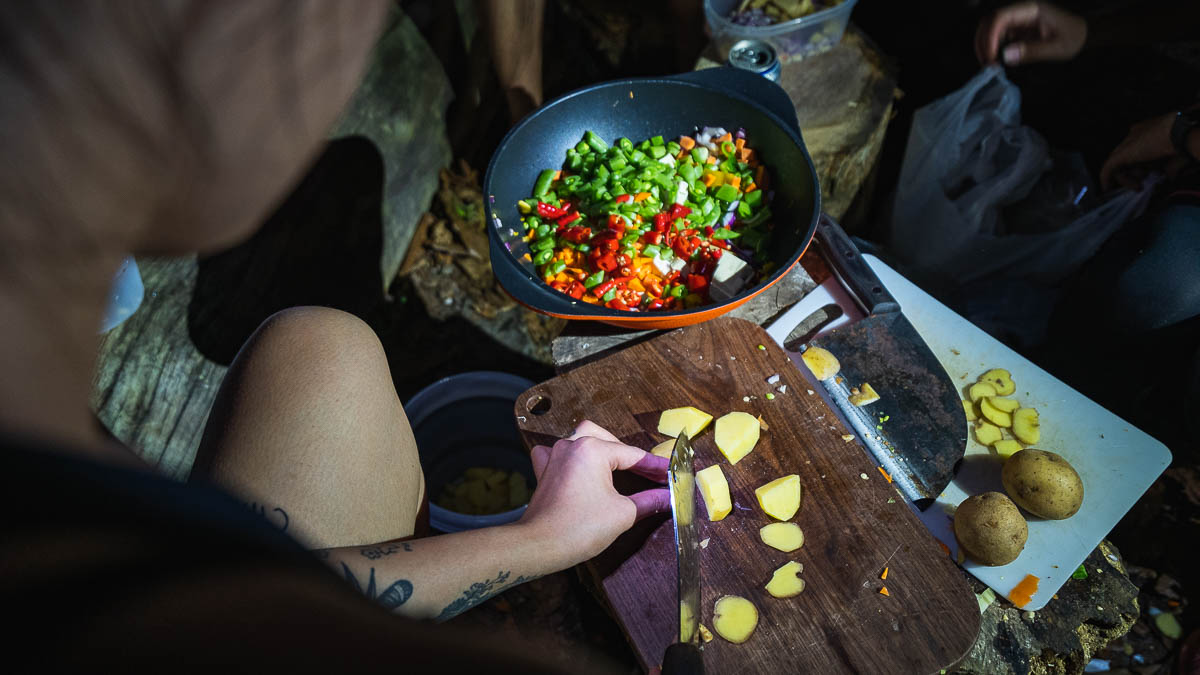 For dinner, we had tom yum stew with rice. We made the mistake of starting late, so we had to cook in the dark with the aid of headlamps. My advice, start earlier or cook a simple meal of instant noodles and luncheon meat!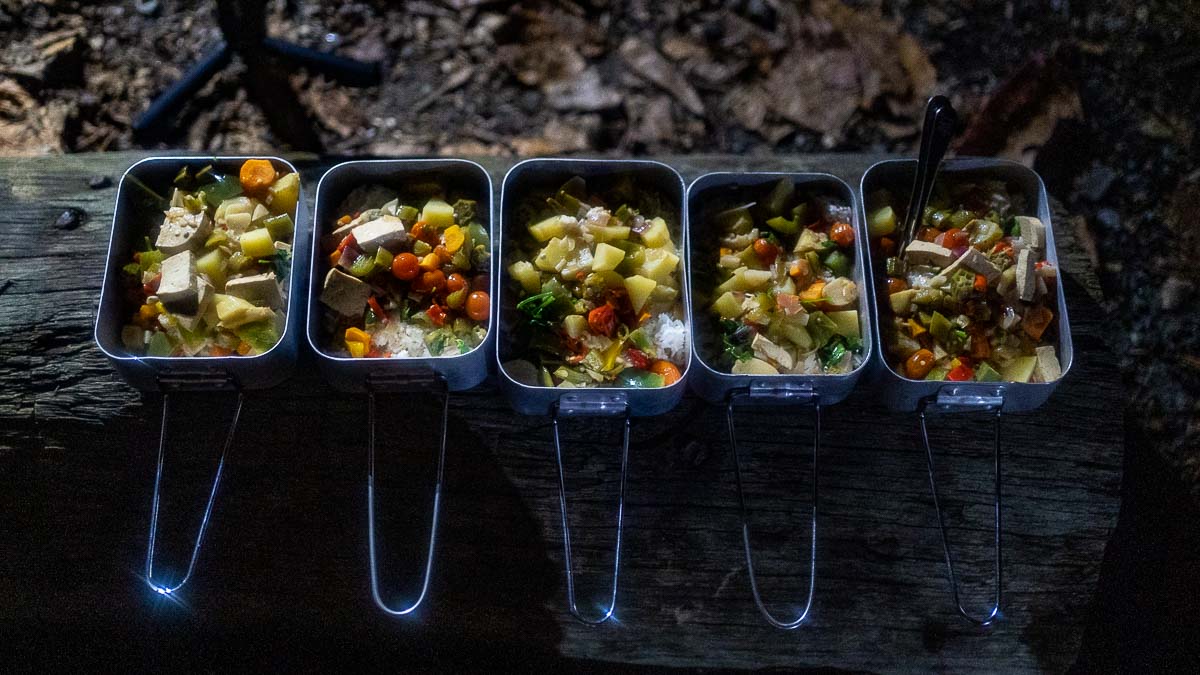 Not too shabby for an outdoor meal eh?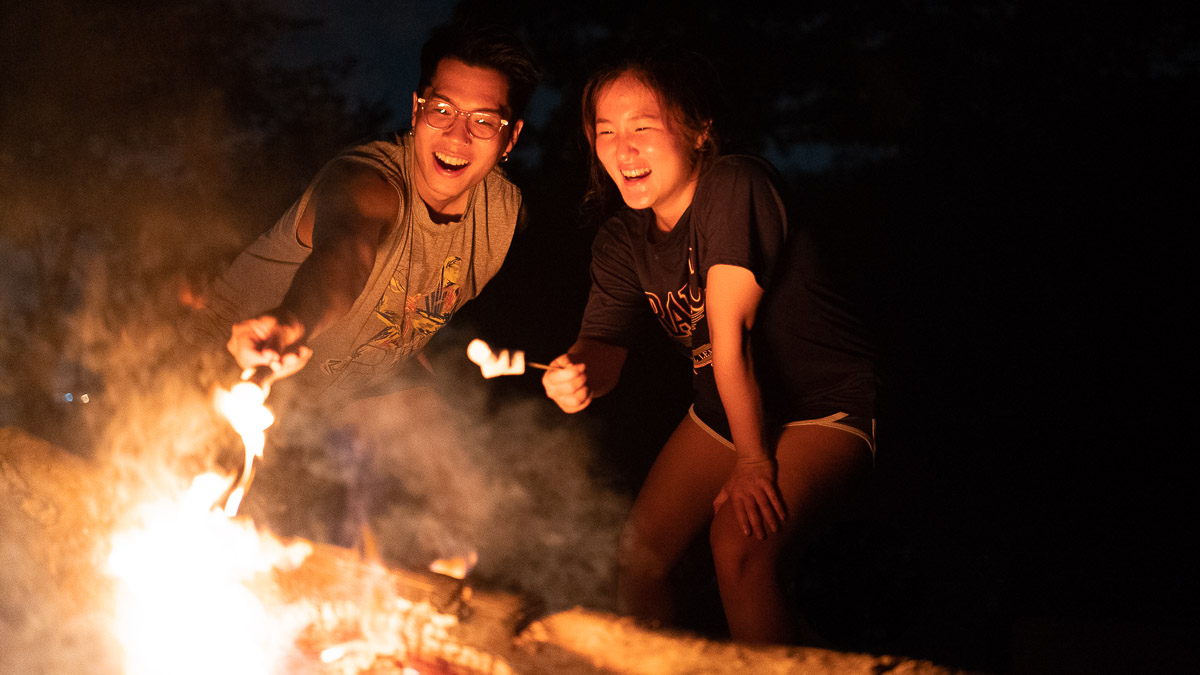 What's a Pulau Ubin camping experience without roasting marshmallows and heart-to-heart talks by the fire? Not only did our campfire provide a cosy ambience, it was also a major source of light.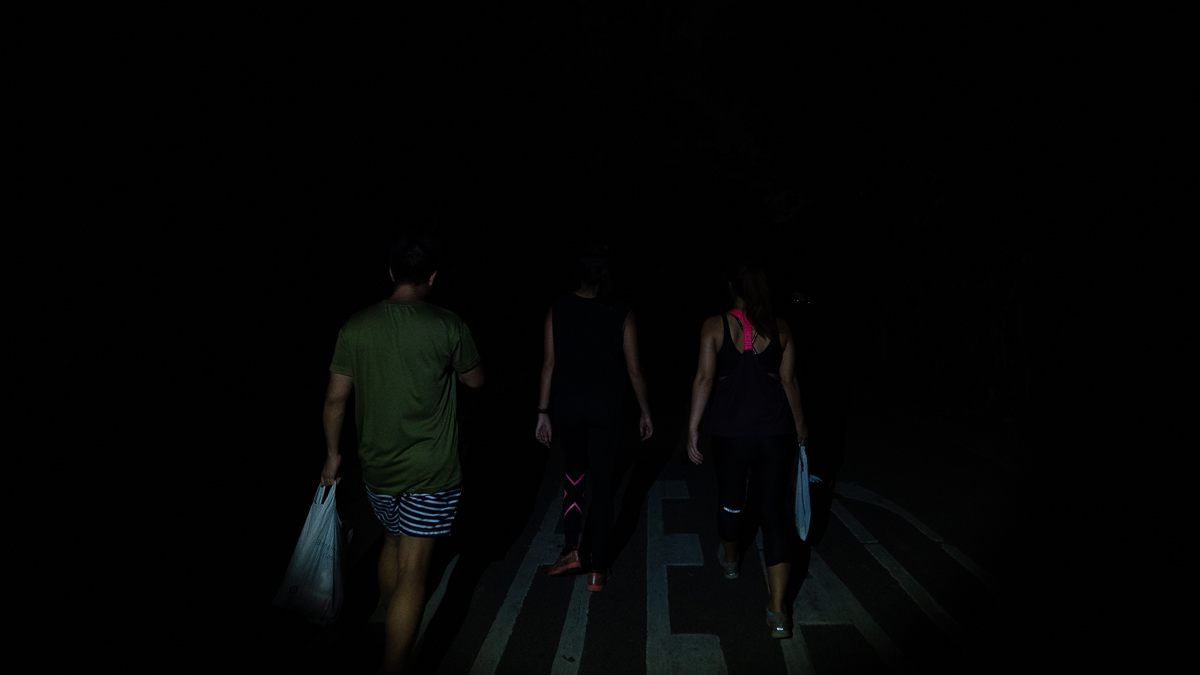 Here's us walking to the bathroom with just one torchlight.
Once the sun went down, it was completely dark — and I mean completely. There aren't any street lamps on Ubin, so we could barely see beyond five meters. Occasionally we'd shine our lights around and find a wild boar close to our campsite. Don't worry though, they'd run off after we made noise.
*Pro-tip: Bring a few headlamps or torchlights in case one runs out of power!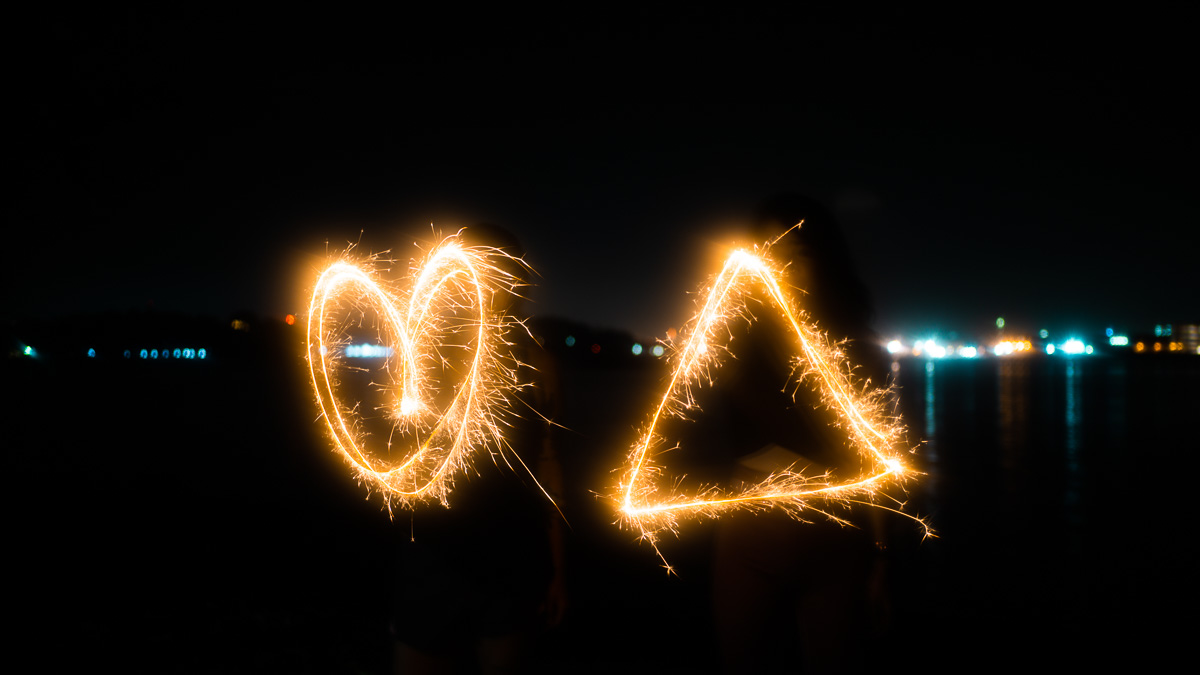 As most people leave before the sun sets, it gets pretty quiet at night on Pulau Ubin. There weren't any other campers in our area so it was like we had the island to ourselves.
Day 2: Bumboat back to mainland Singapore
6:30AM: Catch the Sunrise
Wouldn't be a Travel Intern experience if we didn't catch the sunrise.
Even if you aren't a morning person, it's worth getting up at dawn to catch the sun rising on the horizon. If you set up your tent facing east, it'd be right outside your tent when you wake up 🙂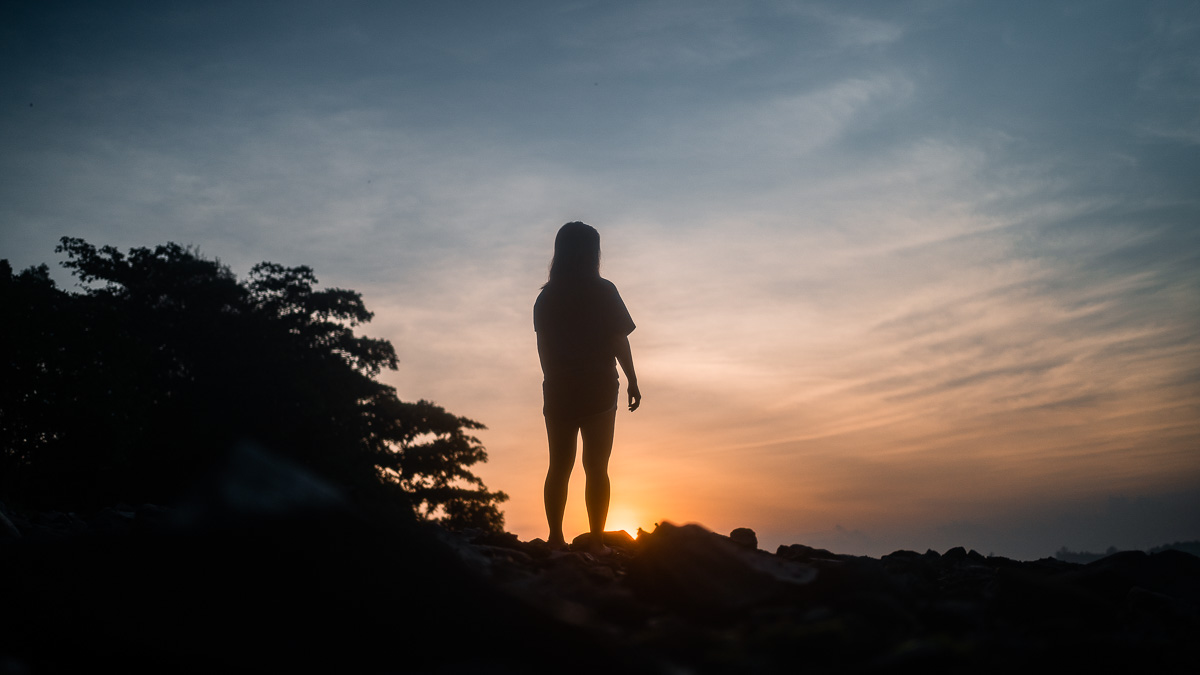 It was low tide, so we could walk down to the beach to snap some pictures!
8AM: Breakfast by the Sea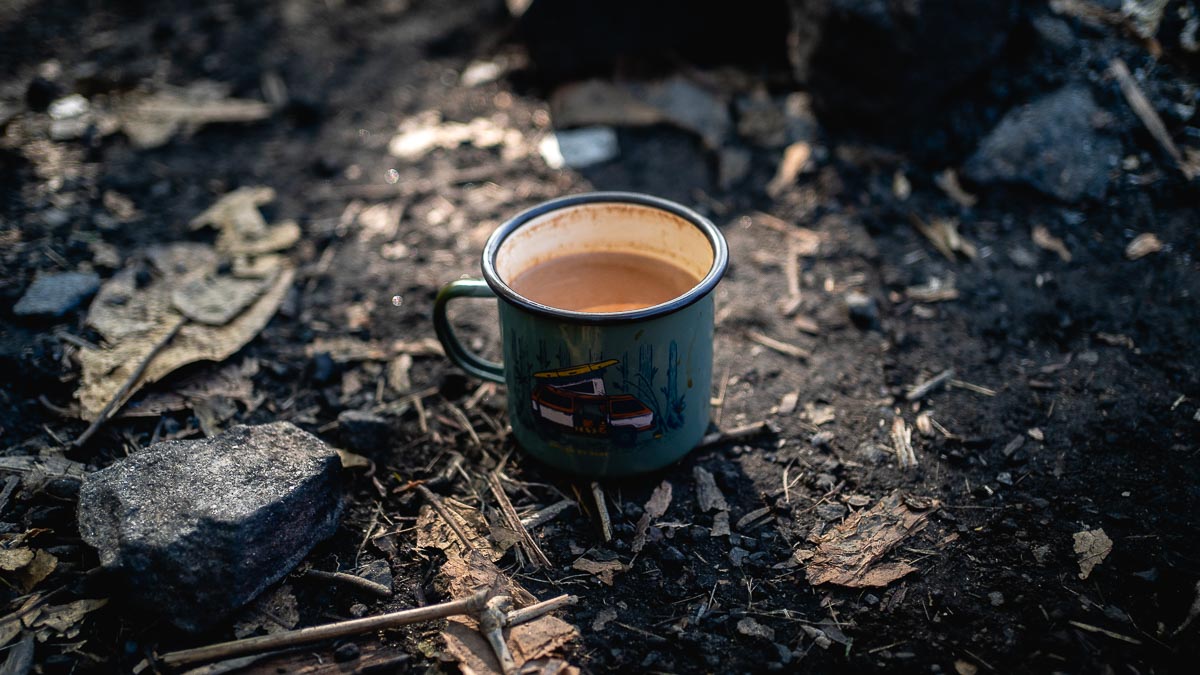 For breakfast, we feasted on a spread of bread, peanut butter, ham and bananas while sipping on warm masala chai and coffee 😋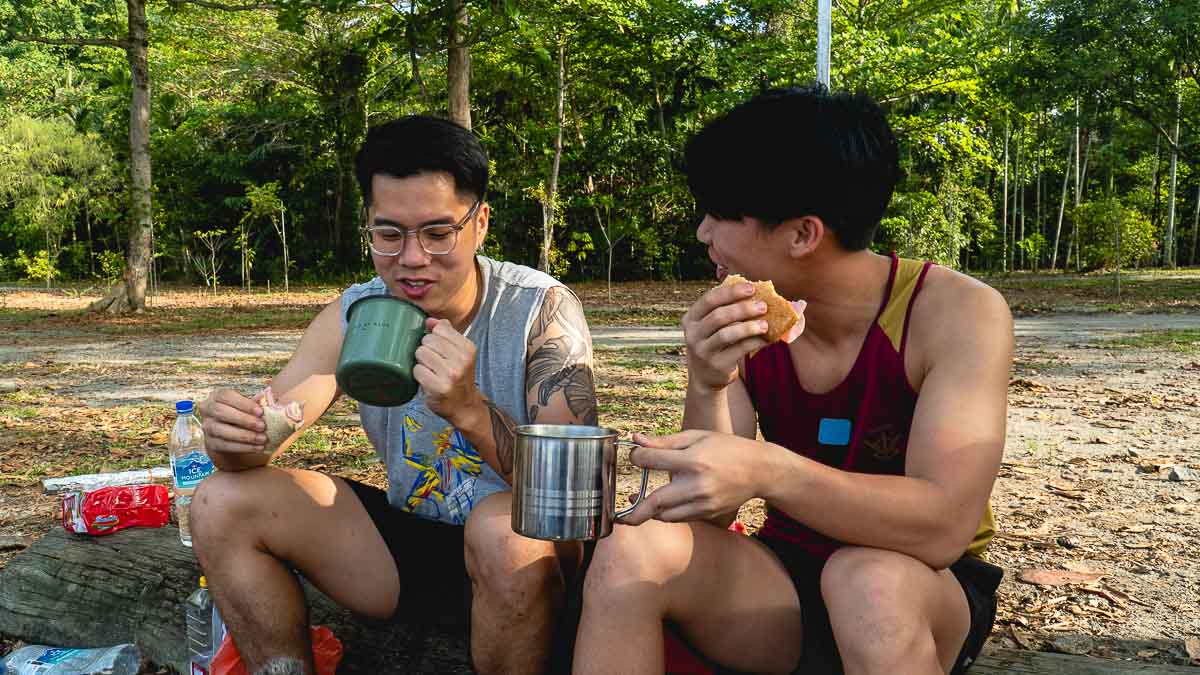 9AM: Photograph Wildlife at Butterfly Hill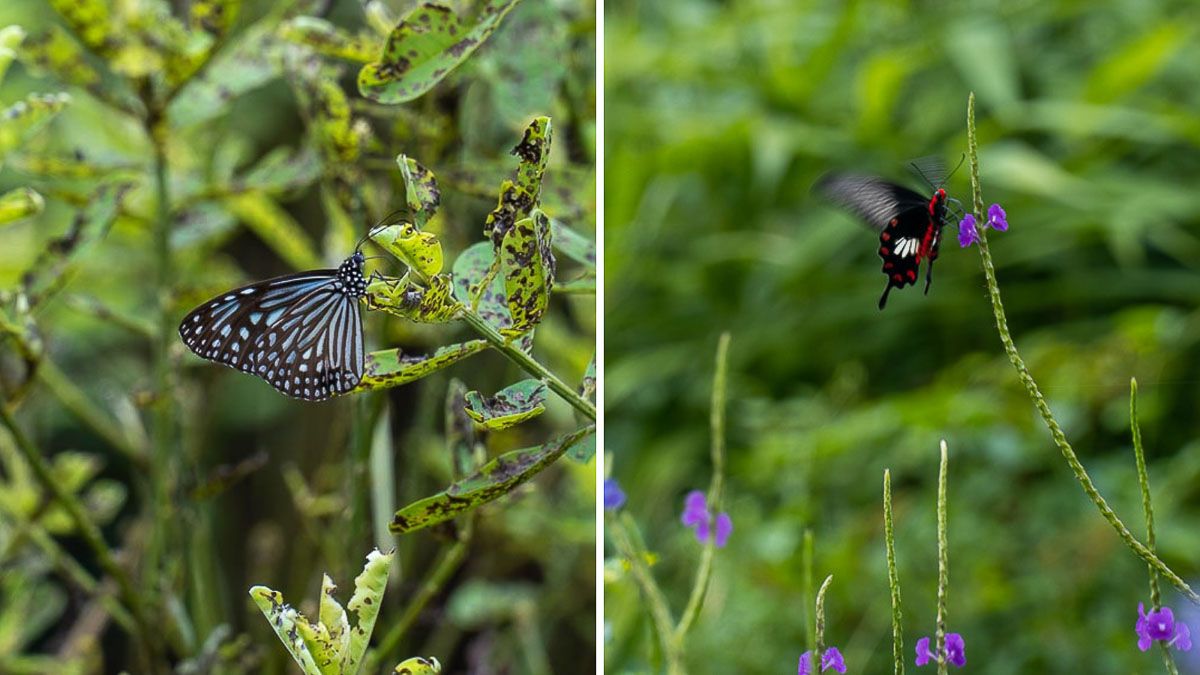 Fun fact: More than 50 butterfly-attracting plant species were planted at Butterfly Hill!
After breakfast, a few of us went for a walk at Butterfly Hill right beside Jelutong campsite. Contrary to its name, butterflies aren't the only thing you can find here.
NParks estimates that the island has over 242 birds, 201 butterflies and 89 mammals, reptiles and amphibian species. Some of which can't be found on the mainland!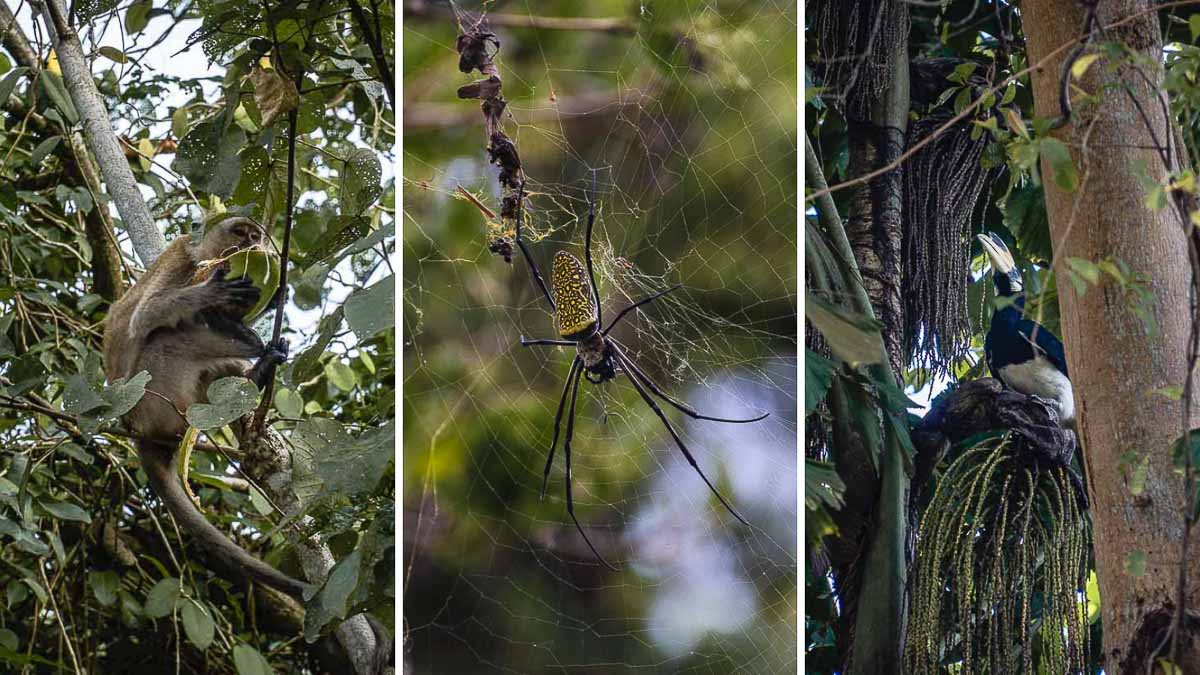 Pay attention to the trees and you'll be able to spot several Ubin locals, like the Long-Tailed Macaque and Oriental Pied-Hornbill.
Right next to Butterfly Hill lies Pekan Quarry — one of Ubin's six quarries. This place is great for spotting herons (a type of bird) roaming about the wetlands.
After that, head back to Jelutong campsite to pack up. A couple of us didn't go to Butterfly Hill and instead chose to hang around the campsite, so we left our belongings behind during our walk. It should be safe enough to leave your items unattended in your tent — just remember to take your valuables.
Ensure you don't leave any trash behind so the next group of campers can have a pleasant experience as well.
11:45AM: Catch the bumboat back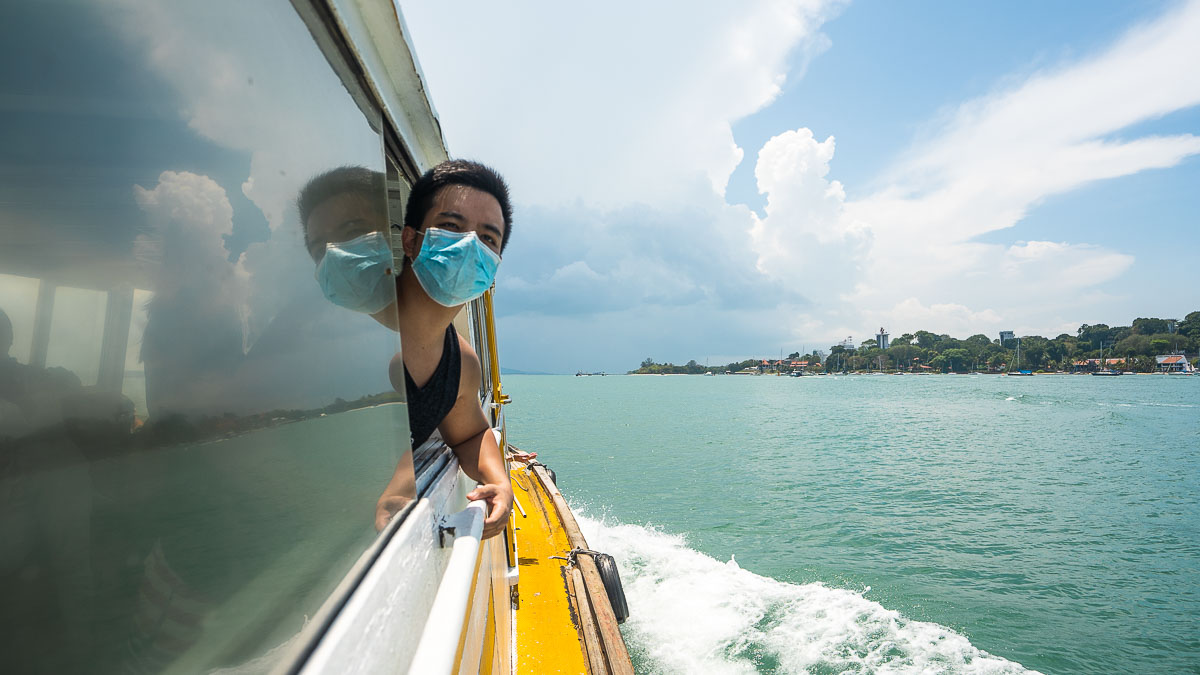 Just over 24 hours later, our Pulau Ubin camping adventure was over. We didn't have to wait long for the bumboat, as other campers were also headed home.
If you'd like more time to explore the island by bike, skip the kayaking tour or shift it to the next morning.
Pulau Ubin Frequently Asked Questions (FAQs)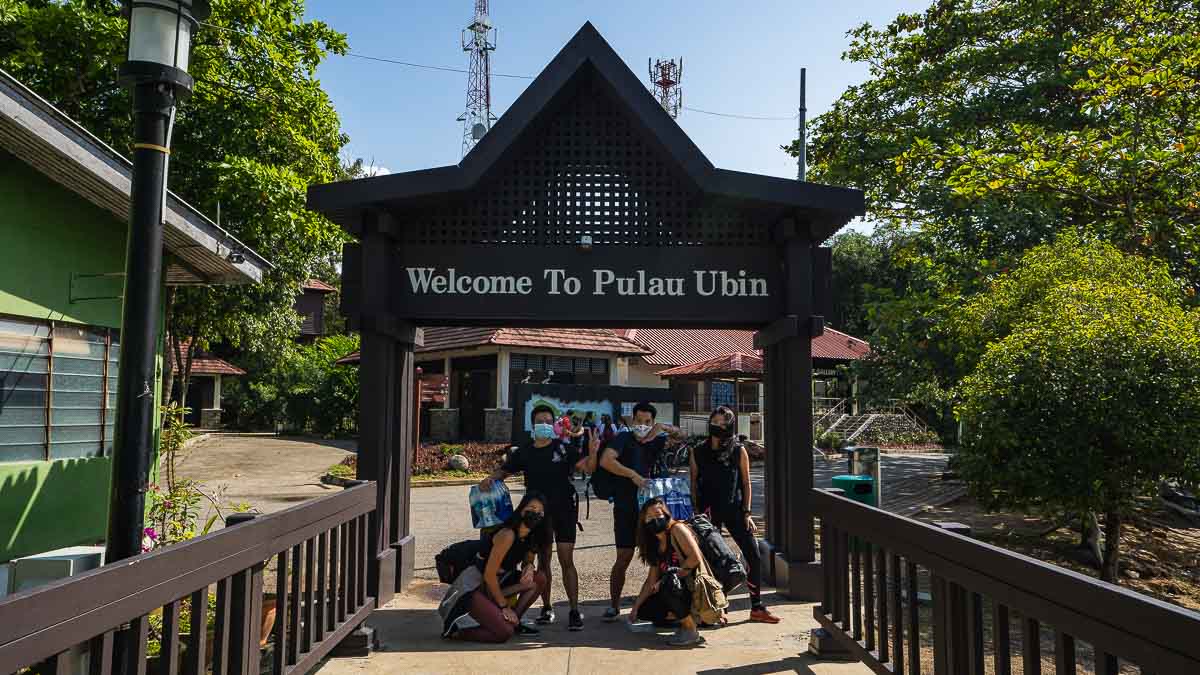 How to get to Changi Point Ferry Terminal via Public Transport?
To get to the ferry terminal, take bus 29 from Tampines Bus Interchange to Changi Village Bus Interchange (50mins).
What's the best place to park?
There's a small open-air car park right beside Changi Point Ferry Terminal.
Do I need a passport to get to Ubin?
Nope! Pulau Ubin is part of Singapore, so you don't need your passport to get there.
How many campsites are there on Pulau Ubin?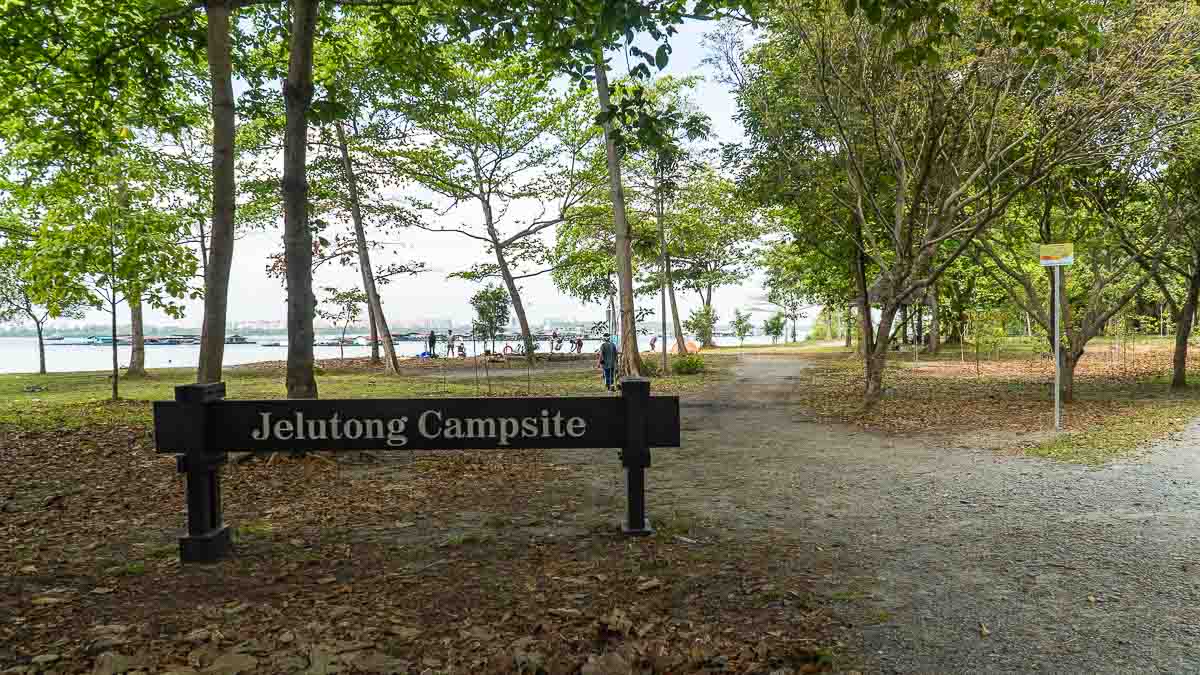 There are three campsites on Pulau Ubin — Jelutong, Mamam and Endut Senin. Pick your preferred campsite while filling in your application. Jelutong is the closest to the main village, while Mamam is known for great sunset views. Noordin is on the northern end, about 2.6km away from the main village.
Are there shower facilities on Pulau Ubin?
From Jelutong Campsite, the nearest toilet is a 10-minute walk away. However, there aren't any showers and the tap water is not drinkable. We didn't shower (yes, gross) and instead washed up using wet wipes and bottled water.
Are there sandflies?
Yes! While we didn't see any, we left Pulau Ubin with several itchy bites. We'd recommend applying insect repellent throughout the day and wearing long pants to sleep.
Is there internet connection on Pulau Ubin?
Yes — though we'll recommend spending some time off your phone.
What should I pack for a one-night stay at Pulau Ubin?
– Cash for the bumboat and restaurants (There's no Paylah/Google Pay on the island)
– Insect repellent
– Water (At least four litres/pax)
– Sunscreen
– Towel (to wipe your sweat)
– Toiletries
– Torchlight(s)
– Tissues/wet wipes
– Clothes (1-2 sets)
– Slippers
– Portable charger
– Tent and sleeping bag
Bring a waterproof bag, or pack your items in ziplock bags in case it rains.
If you're planning to cook, pack these items as well:
– Plate and cutlery
– Ingredients (in airtight containers to avoid attracting animals)
– Cooking oil
– Pan/mess tin
– Firestarter
– Extra bottled water to wash your plates
– Thick gloves (to handle the hot pan)
Was camping at Pulau Ubin worth it?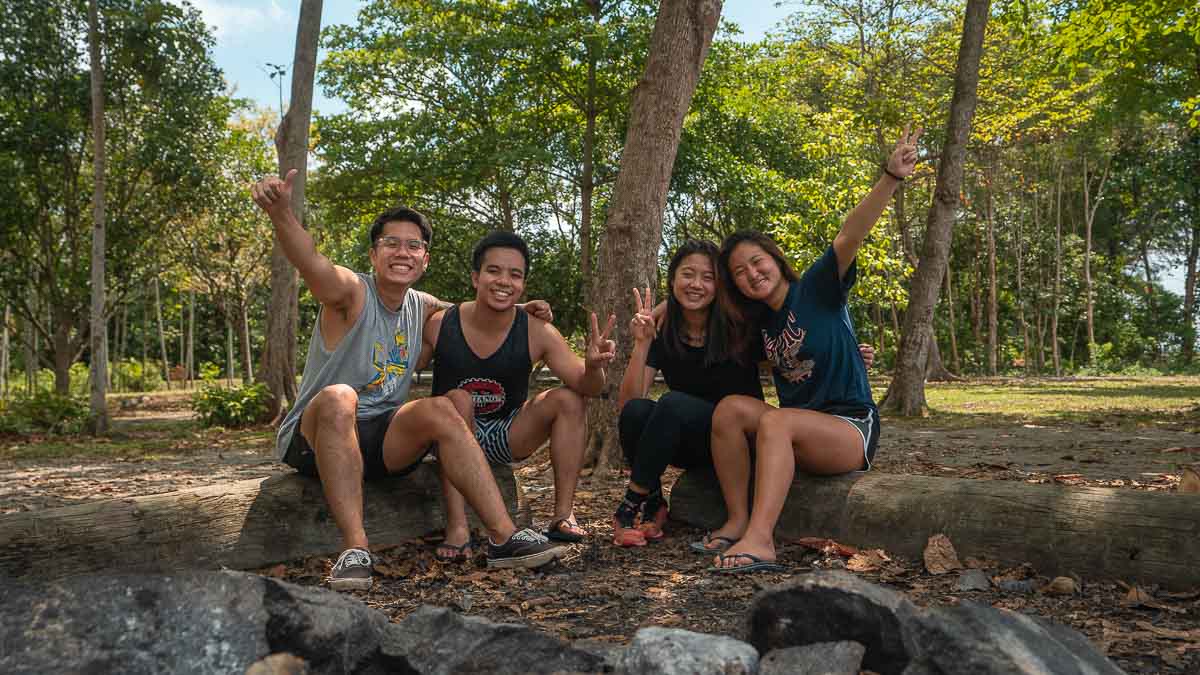 My last camping experience was back in 2017 when I climbed Mount Rinjani. I spent three nights in a tent, without access to toilets, WiFi or electricity. Despite the lack of showers or internet access, I loved the entire experience. It's pretty refreshing to be disconnected once in a while!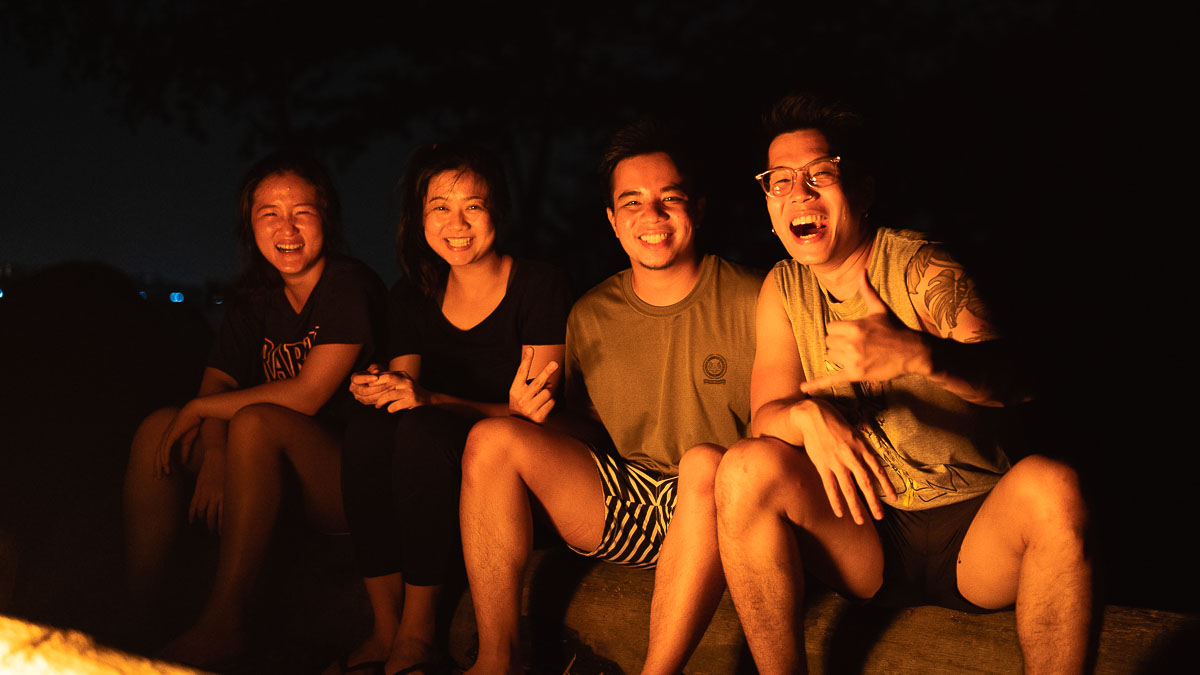 Camping in Singapore wasn't something that came to mind initially, but my overnight stay at Pulau Ubin turned out to be a very memorable experience. Especially with a fun group of friends!
If you're looking for unique outdoor experiences beyond just day hikes, we'd recommend you try camping in Pulau Ubin at least once! If you'd like to learn bushcraft survival skills, sign up for the Back-to-Basics experience with Beyond Expeditions.
Need some ideas to fill your weekends? Here's some inspiration:
– The Singapore Theme Park Guide — 4 Routes for Fun Things to Do in Singapore
– 15 Things to Do in Singapore for Outdoor-Loving Singaporeans
– Ultimate Guide to Exploring The WWII Marsiling Tunnel — Singapore Abandoned Places
Have you been camping in Singapore? Share your experience with us in the comments!
---
Like what you see? Follow us on Facebook, Instagram, YouTube, and Telegram for more travel inspiration!