The ultimate list of California road trips that'll take you from Los Angeles to San Francisco and everywhere in between!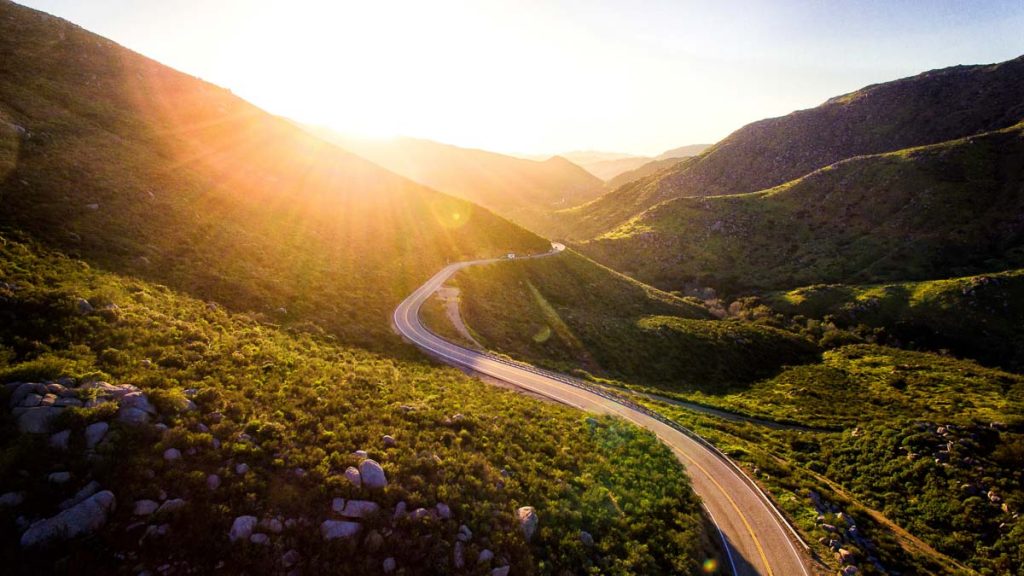 Photo credit: Matt Howard via Unsplash
After exploring some epic day trips from San Francisco, it got us craving for more of California.
With famous scenic drives like Big Sur to music festivals in the desert, California is arguably one of the best places in the world for road trips.
Whether you're looking for inspiration or just a short escape from reality, here are five road trips that'll bring you from Southern California to lesser-known spots up north!
1) 4D3N Los Angeles to San Francisco
Distance: 615km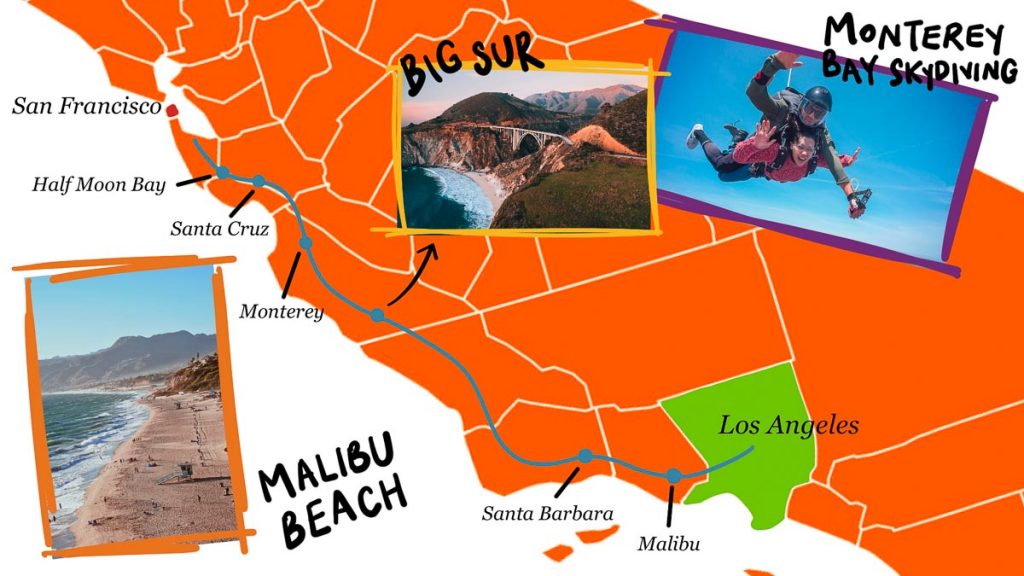 (Click on the image above to access a pinned Google map of the route)
There's a good reason why the road trip route from Los Angeles to San Francisco is a popular one.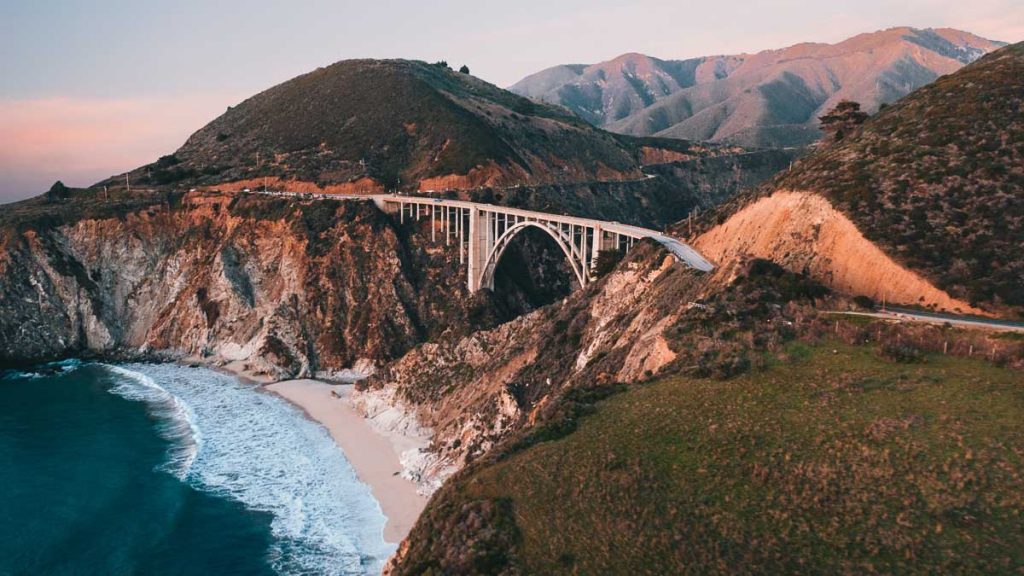 Big Sur. Photo credit: Spencer Davis via Unsplash
The drive brings you from Malibu's stunning beaches to the Mediterranean-style coastal city of Santa Barbara on your first day. The following day, take on the iconic Big Sur, known for its epic mountain roads overlooking the Pacific Ocean.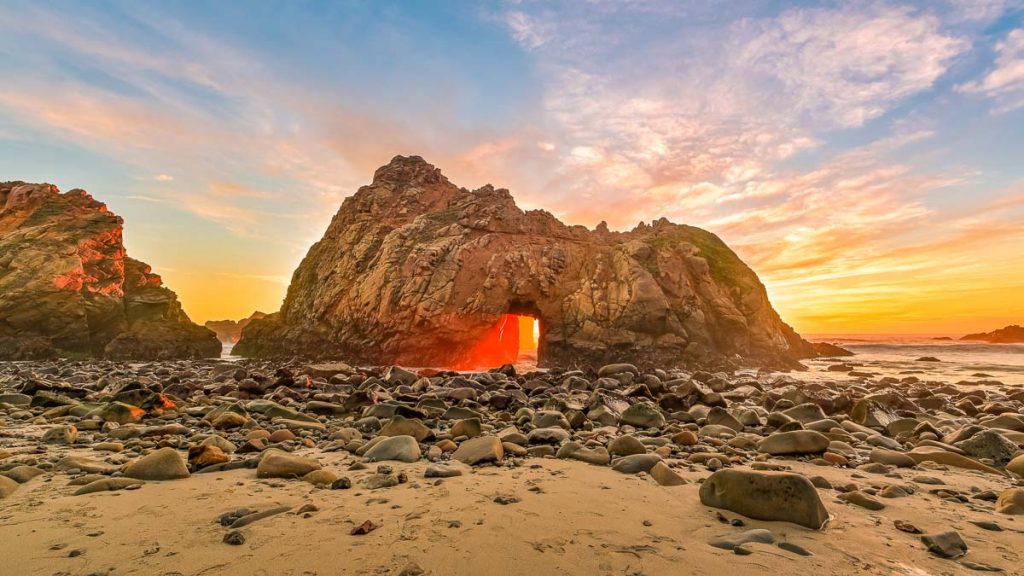 Keyhole Arch at Pfeiffer Beach. Photo credit: Zetong Li via Unsplash
Along the way, stretch your legs and stop by some famous attractions!
At Pfeiffer Beach, you're treated to amazing finds on both ends. Go north for purple sand and tidepools. Alternatively, head south for the Keyhole Arch — this natural rock arch glows during golden hour as it lines up with the sunset.
Make some time for Pfeiffer Big Sur State Park too! Known as a mini Yosemite, you'll have a great time venturing through its redwoods, walking along the Big Sur Riverbank and visiting Pfeiffer Falls.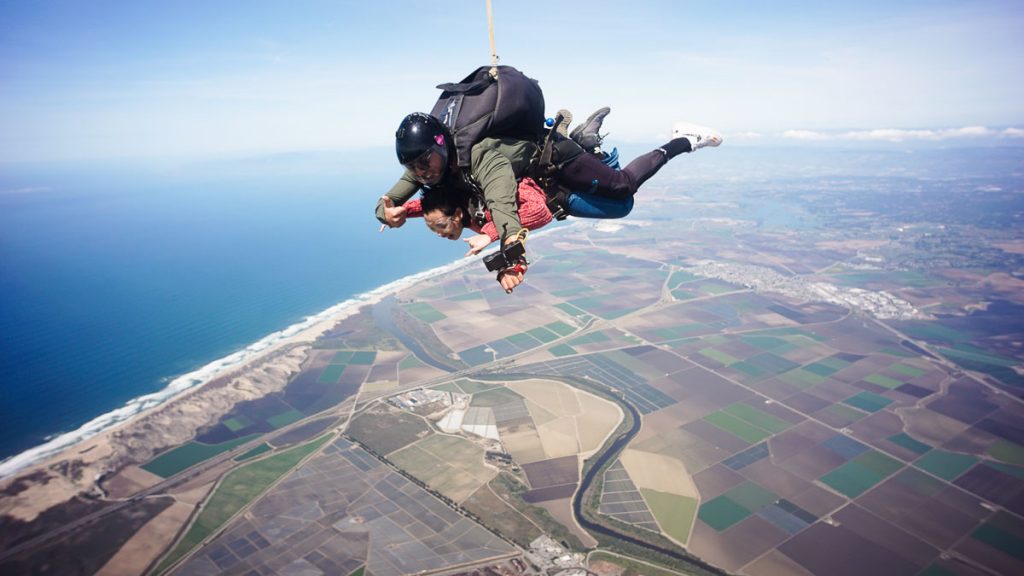 Cruise down further and check out Monterey Bay — where you'll find the famous Monterey Bay Aquarium, or perhaps try a tandem skydive over the Pacific Ocean.
After Monterey Bay, drive 50 minutes to Santa Cruz for the night and get your heart racing at Santa Cruz Boardwalk the next day. This beachside amusement park has been bringing lots of joy to visitors for over 100 years 🙌🏼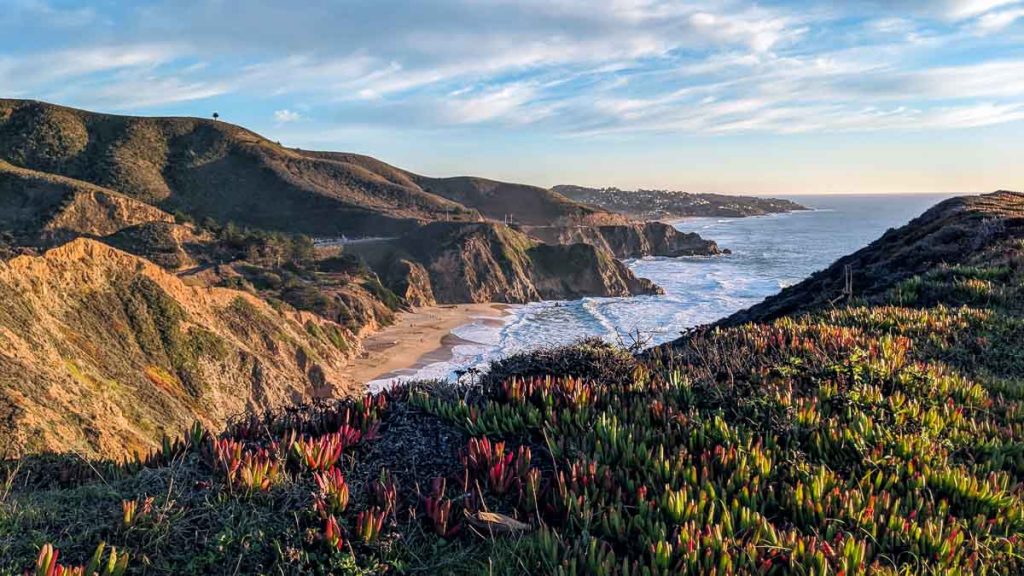 Half Moon Bay. Photo credit: Tareq Ismael via Stashaway
Switch up the pace as you arrive at Half Moon Bay. Hit up the many beautiful beaches, coastal villages, and historical landmarks here. For the best vantage point, head to Half Moon Bay Tennis Academy for an unobstructed view of the horizon.
From Half Moon Bay, it's only a 35-minute drive to San Francisco.
Where to stay
Night 1: Santa Barbara – Hotel Milo
Night 2: Santa Cruz Boardwalk – Comfort Inn
Night 3: San Francisco – Axiom Hotel
Read more: 11-Day San Francisco Itinerary Under $2.8k — Explore the Best of SF from City Sights to Epic Road Trips
2) 2D1N Wine Hopping in Napa and Sonoma Valley
Distance: 259km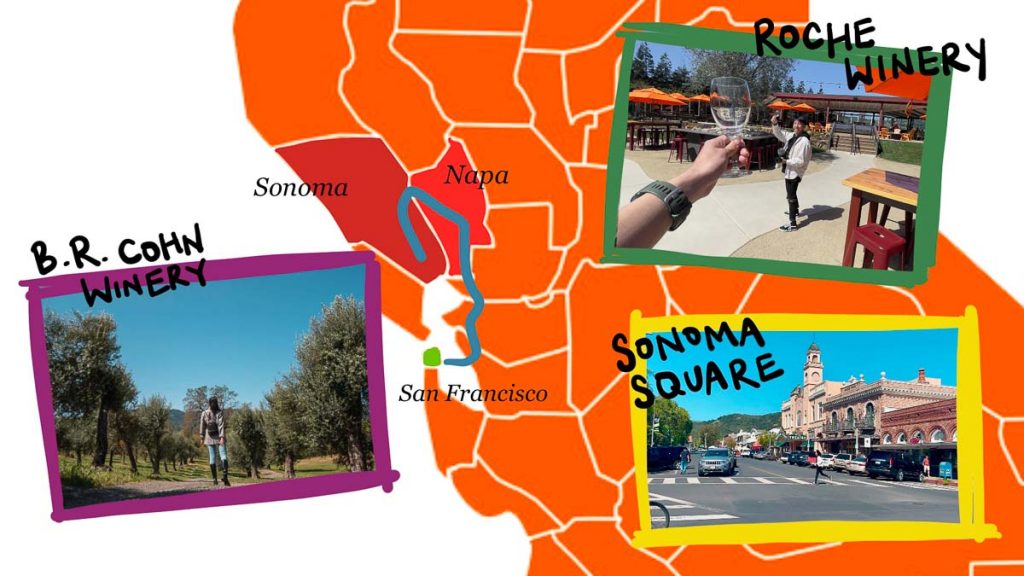 (Click on the image above to access the Google map)
With plenty of wineries and state parks within Napa and Sonoma Valley, you'll need more than a day to cover the best of them.
Starting at the town of Napa, head down Napa Valley's Silverado Trail. This trail links the towns of Napa and Calistoga, with easy access to wineries such as Reynolds Family Winery, Clos du Val, and the bubbly-rich Mumm Napa.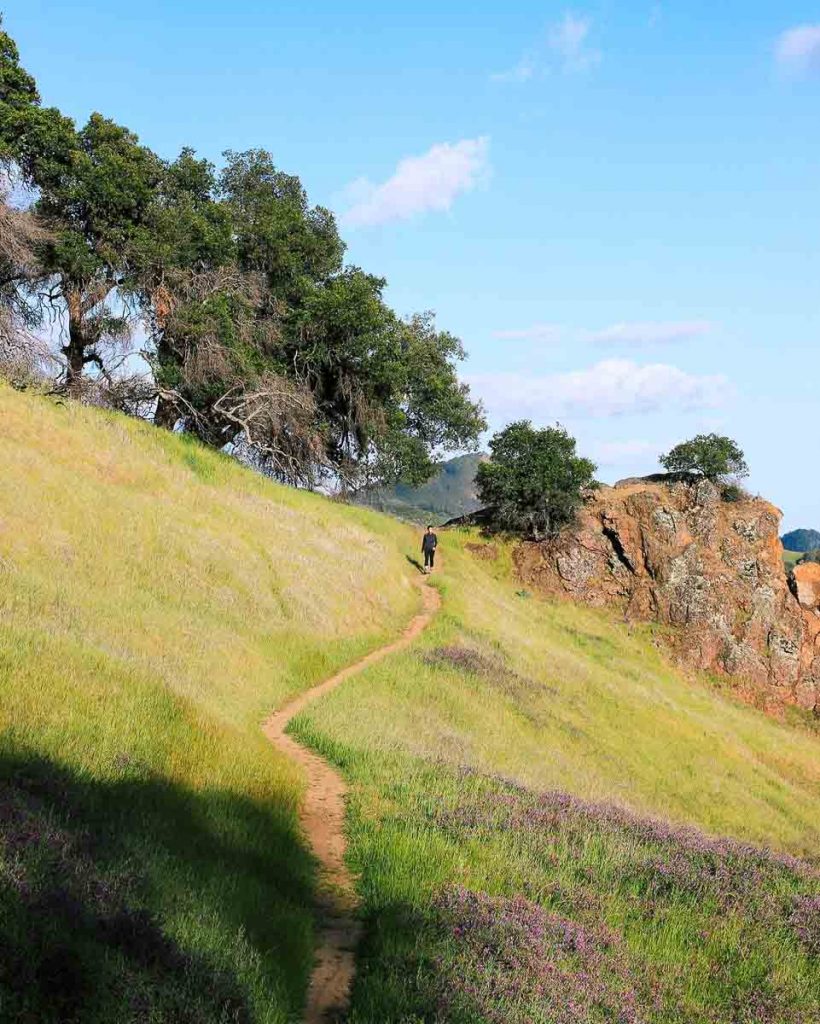 Vista Trail at Sugarloaf Ridge State Park. Photo credit: @biggayadvanture via Instagram
At the end of the trail, walk off the wine and explore any of the state parks between Napa and Sonoma. One being Sugarloaf Ridge State Park, where you can take the Vista Trail to traverse the mountainside.
Or, go slow and stroll along Sonoma Creek. Stay close to your route and gallivant through Jack London State Historic Park's grassy meadows to enjoy colourful blooms in Spring!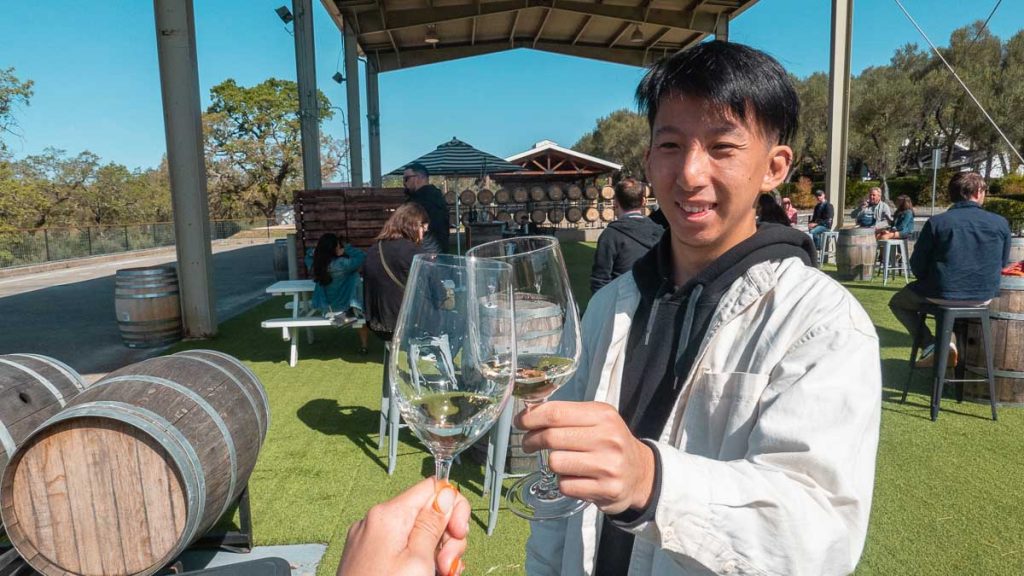 As you enter Sonoma Valley the next day, don't miss out on Sonoma Square. This historic town has lots of lovely cafes and restaurants — a must-try is the seasonal tacos at El Molino Central! Indulge in more wine at any of the small wineries in this area like Roche Winery and B.R. Cohn Winery.
If you'd like a taste of SF's wine culture without the extended trip, engage in a one-day wine tour. You get the best of Napa and Sonoma's wineries with two-way transport so you don't have to drive back tipsy 🥂
Where to stay
Sonoma Valley – Inn at Sonoma, Sonoma Mission Inn & Spa
Napa Valley – Napa Winery Inn, Andaz Napa
3) 3D2N desert drive from San Diego to Joshua Tree National Park
Distance: 810km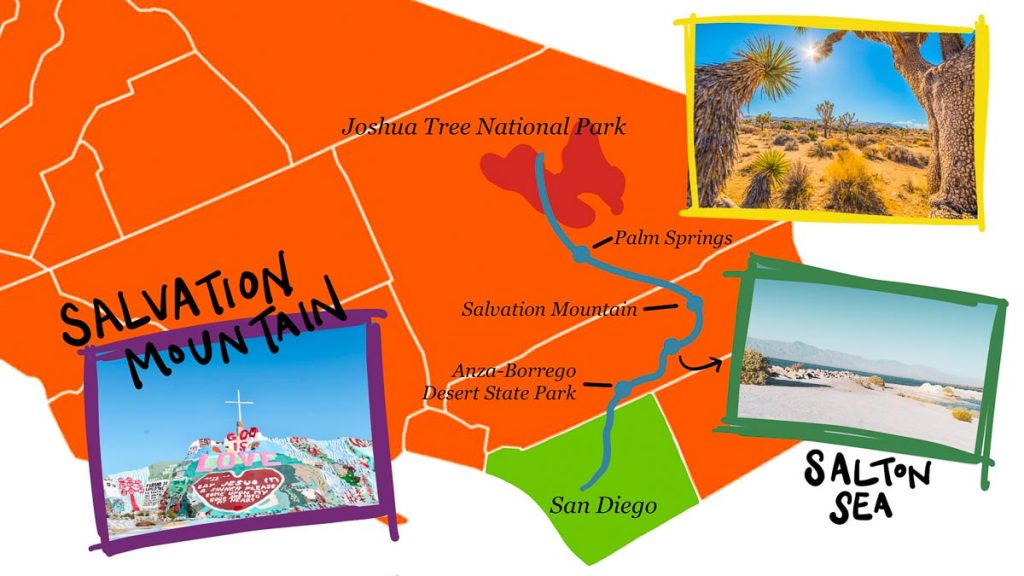 (Click on the image above to access the Google map)
Start your epic California desert drive from San Diego, heading towards Anza-Borrego Desert State Park. The landscape is stunning with badlands, slot canyons, cactus forests and unique 39-metre-tall prehistoric animal sculptures to explore.
Watch the park come alive even more in Spring with its famous wildflower super blooms!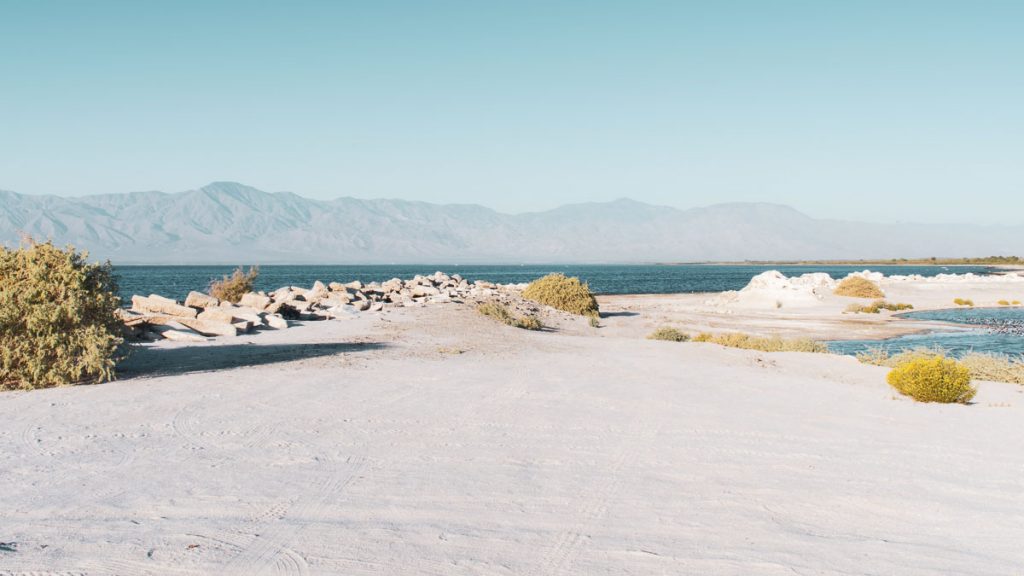 Salton Sea. Photo credit: DesignClass via Unsplash
Next, drive towards the Salton Sea and visit one of the world's largest inland seas that's rapidly drying up.
This "beach" is unlike any other. The shoreline is filled with dried up fish bones and the water is toxically salty — just like its name. Still, it's a unique phenomenon to witness before it officially dries up!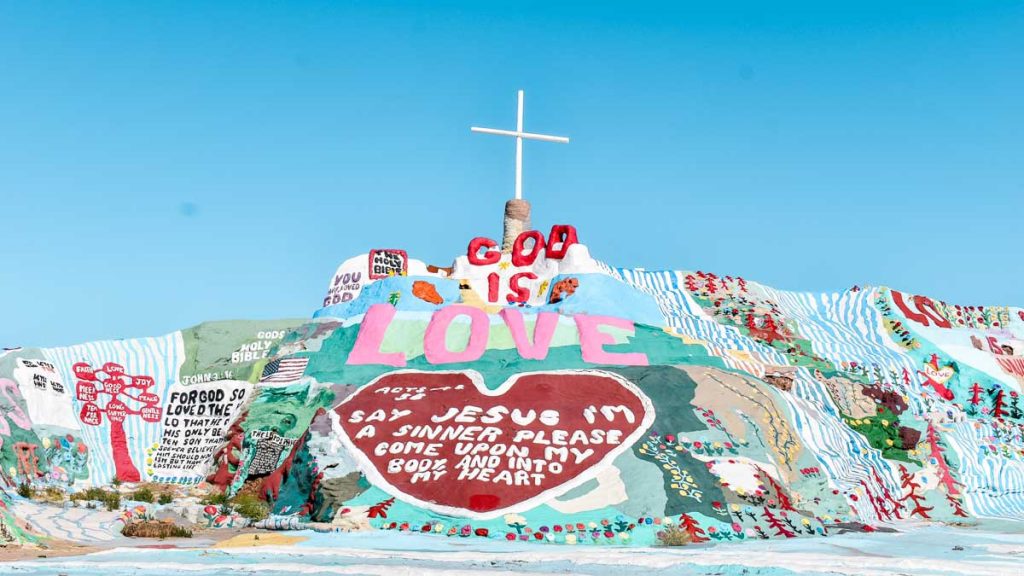 Salvation Mountain. Photo credit: Megan Ellis via Unsplash
Skirt south around the waters and visit the colourful man-made Salvation Mountain. This one-man project by Leonard Clark Knight is truly a sight to behold — a passion project that took 28 years and over 370,000 litres of paint to complete.
More than just an art installation, it's his physical expression of devotion and love to God. Although it's a public space and a great photo spot, it should be appreciated and respected like you would with any other place of worship.
As you head toward Palm Springs for your accommodation, don't miss out on Coachella, the coveted music festival that takes place in Empire Polo Club every year.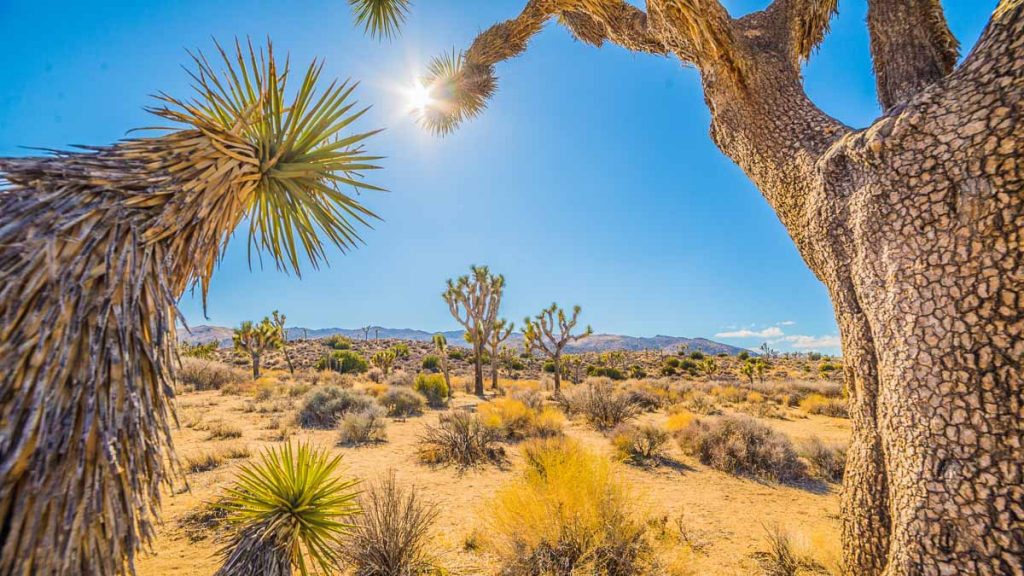 Joshua Tree National Park. Photo credit: Chris Ried via Unsplash
Finally, spend the next two days of your road trip exploring the beautiful Joshua Tree National Park. The best way to appreciate this iconic land is to conquer desert hikes during the day, and stay overnight to camp under the stars!
Where to stay
Palm Desert – Embassy Suites by Hilton
4) 2D1N from Los Angeles to Big Bear
Distance: 188km
(Click on the image above to access the Google map)
Road trips exploring the glorious mountain ranges in California are a must.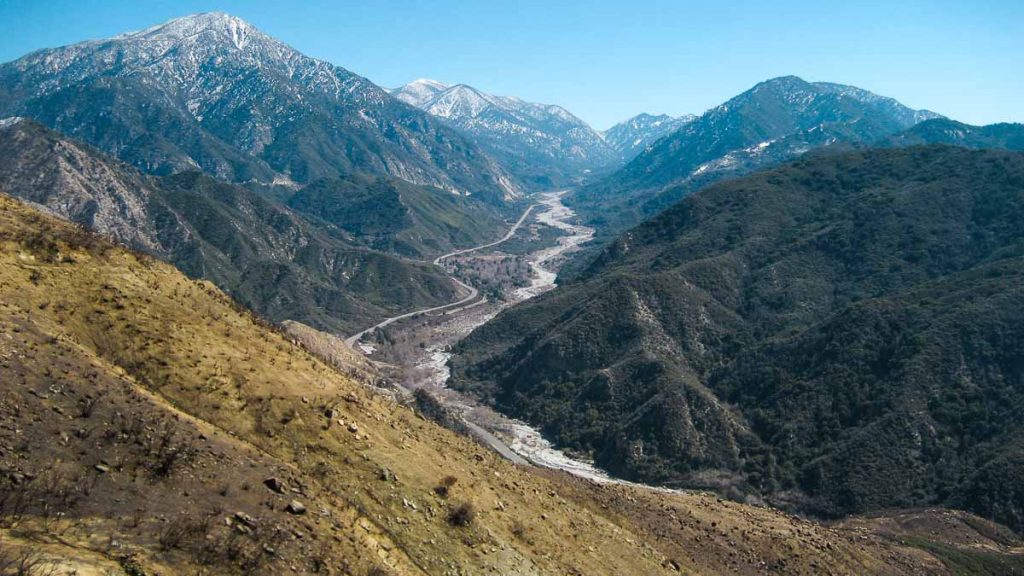 Rim of the World. Photo credit: Wikimedia Commons
From Los Angeles, head onto State Highway 18 (Cajon Pass) towards Big Bear Lake. Winding around the cliffs of San Bernardino's Mountains, with panoramic views of the valley below, it's no wonder it's been dubbed The Rim of the World.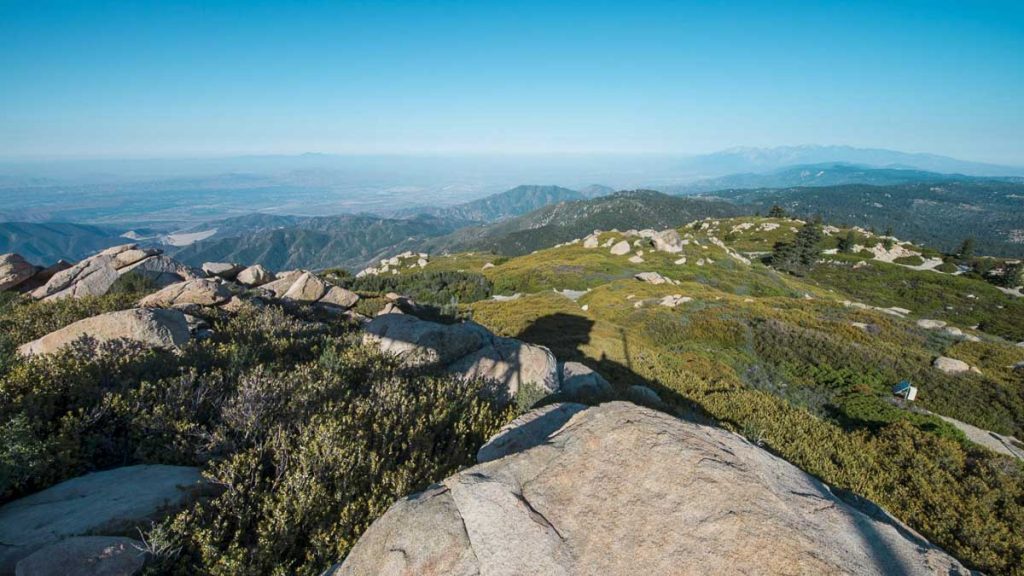 Keller Peak Fire Lookout. Photo credit: Fire Lookout Association
Pass through small villages on the way to Big Bear Lake and step out for a quick breather. One of which is the town of Running Springs.
Here, drive up to Keller Peak Fire Lookout and take a break while enjoying expansive views of mountains, lakes and the Pacific Ocean.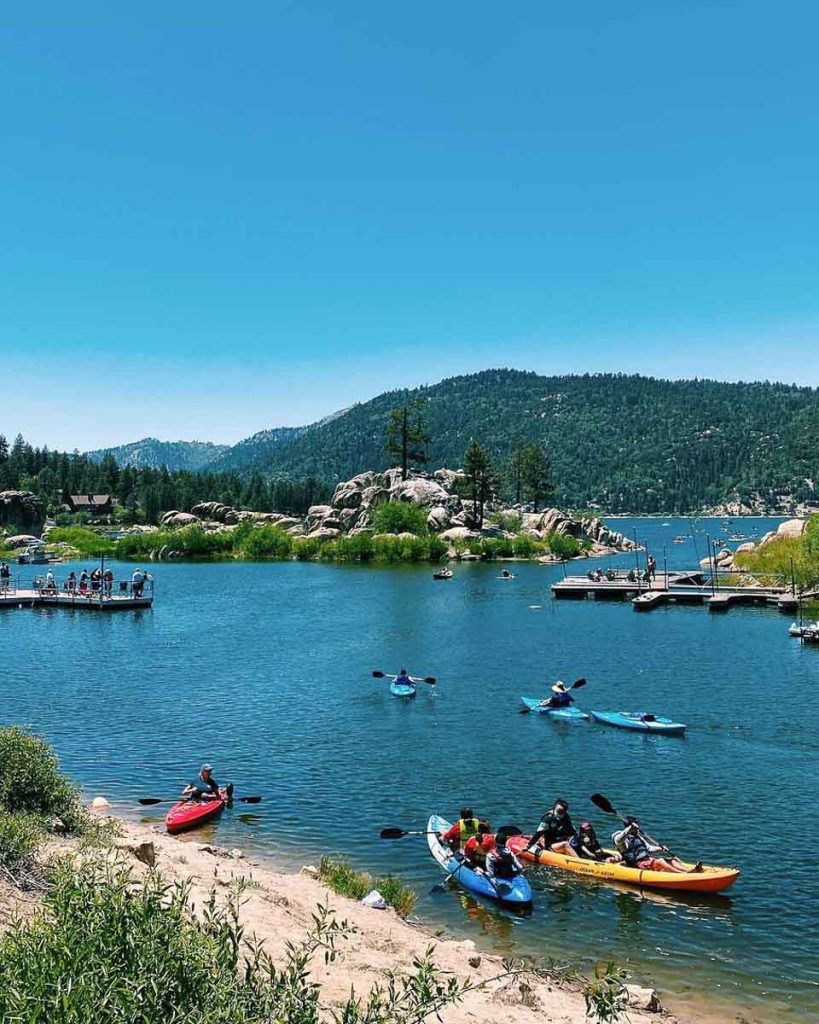 Photo credit: @abigbearweekend via Instagram
End off with an exciting time of fun activities at Big Bear and stay by the lake 🐻 Enjoy the summer hiking through the woodlands, or rent a kayak and spend your day exploring the gorgeous lake. And if you're travelling during winter, you'll love tackling Big Bear Mountain Resort's slopes!
Where to stay
Big Bear Lake – Best Western Big Bear Chateau
5) 2D1N from San Francisco to Lassen Volcanic National Park
Distance: 380km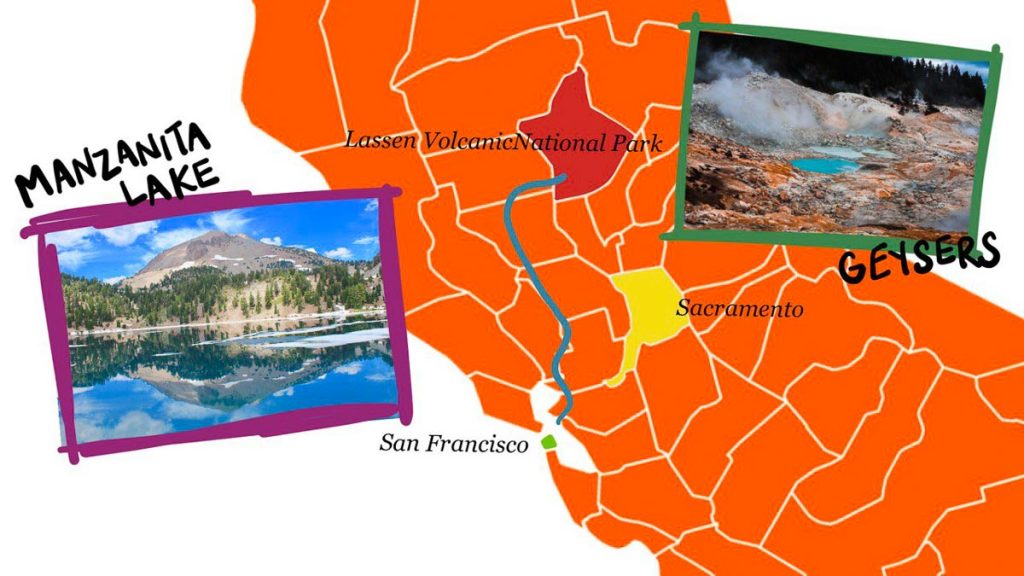 (Click on the image above to access the Google map)
Just north of San Francisco is Lassen Volcanic National Park, one of the more beautiful parts of California that even locals tend to miss.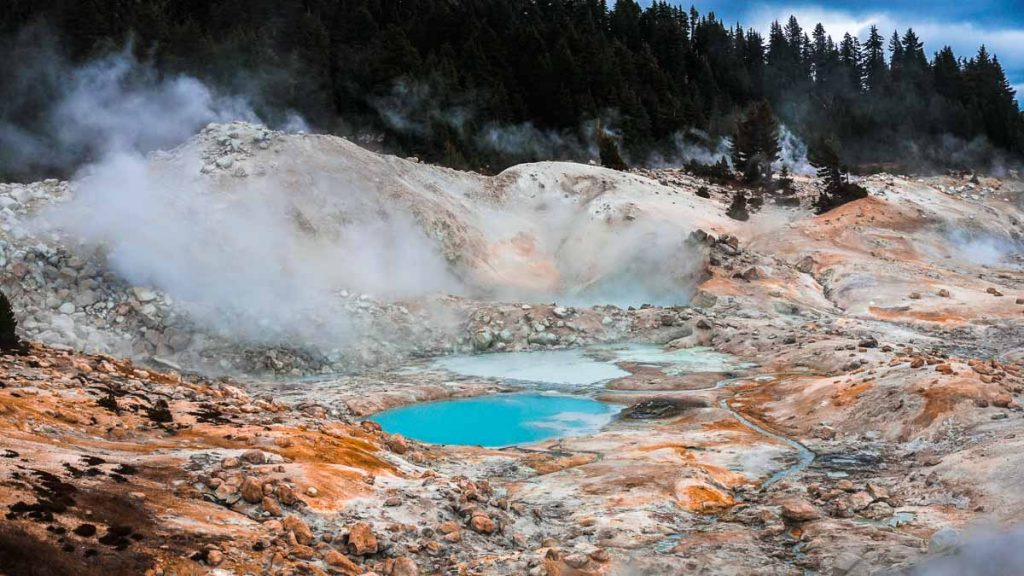 Photo credit: Quentin Burgess via Unsplash
There's much to see from geysers, lava fields, and numerous volcanoes, to the surrounding wildflower meadows and clear mountain lakes. After a full day of exploring, head over to Mill Creek (15min drive) for a good night's rest.
To make the most of your long trip, take a detour and explore Sacramento on the way back. It's known for its farm-to-fork food scene and amazing local craft beers. Stop by any of their restaurants for a delicious homegrown meal and a refreshing pint!
Where to stay
Mill Creek – Highlands Ranch Resort
Road-tripping Tips to Getting Around California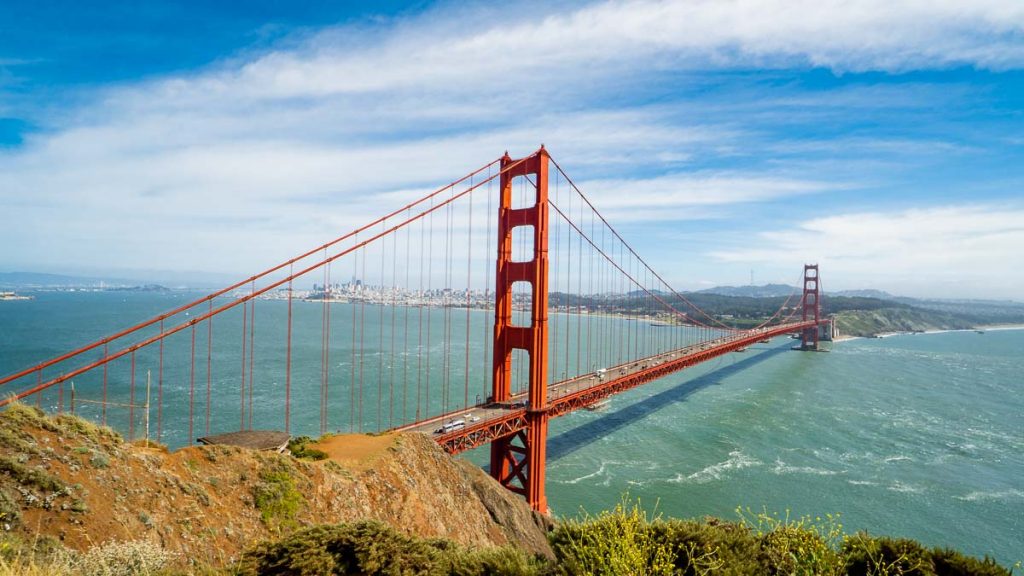 1) Get an International Driving Permit. You'll need this, along with your passport and local driving licence, for verification when collecting your car.
2) Bring a credit card. Not all rental companies accept debit cards for the refundable deposit, so you'll need to produce a credit card to successfully rent the car.
3) Pre-book your ride. A trusty ride can really make or break your road trip experience. To ensure you get the car you want, pre-book with Klook so you can be sure to have everything settled before you arrive.
4) Choose a convenient pick-up and drop-off location. To minimise detours, Klook offers multiple pick-up and drop-off locations all over California, so you can find one that suits your route.
5) Save on your car rental costs with promo codes. Use promo code <VTLRENTCARGRAB> to enjoy 20% off when you book your car on Klook using GrabPay.
*Pro-tip: When planning for your trip, get up to 20% off hotels, transport and sim cards from Klook's Virtual Travel Fair happening till 30 June 2022 🤩
What other road trips in California should we cover? Let us know in the comments below!
---
This post was brought to you by Klook.
Like what you see? Follow us on Facebook, Instagram, YouTube and Telegram for more travel updates!