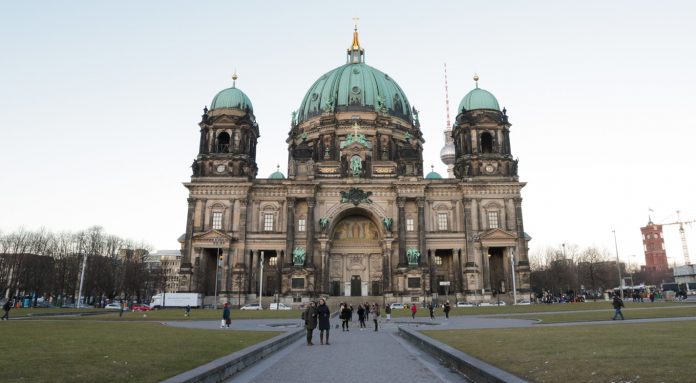 Fly non-stop to Berlin from Singapore via Scoot!
Gateway to Europe: Get acquainted with this youthful city's hip and happening scene that's rich in history, culture and beer with this 5-day Berlin budget guide; all under S$1.5k, including round trip flights, accommodation and even 2 day trips!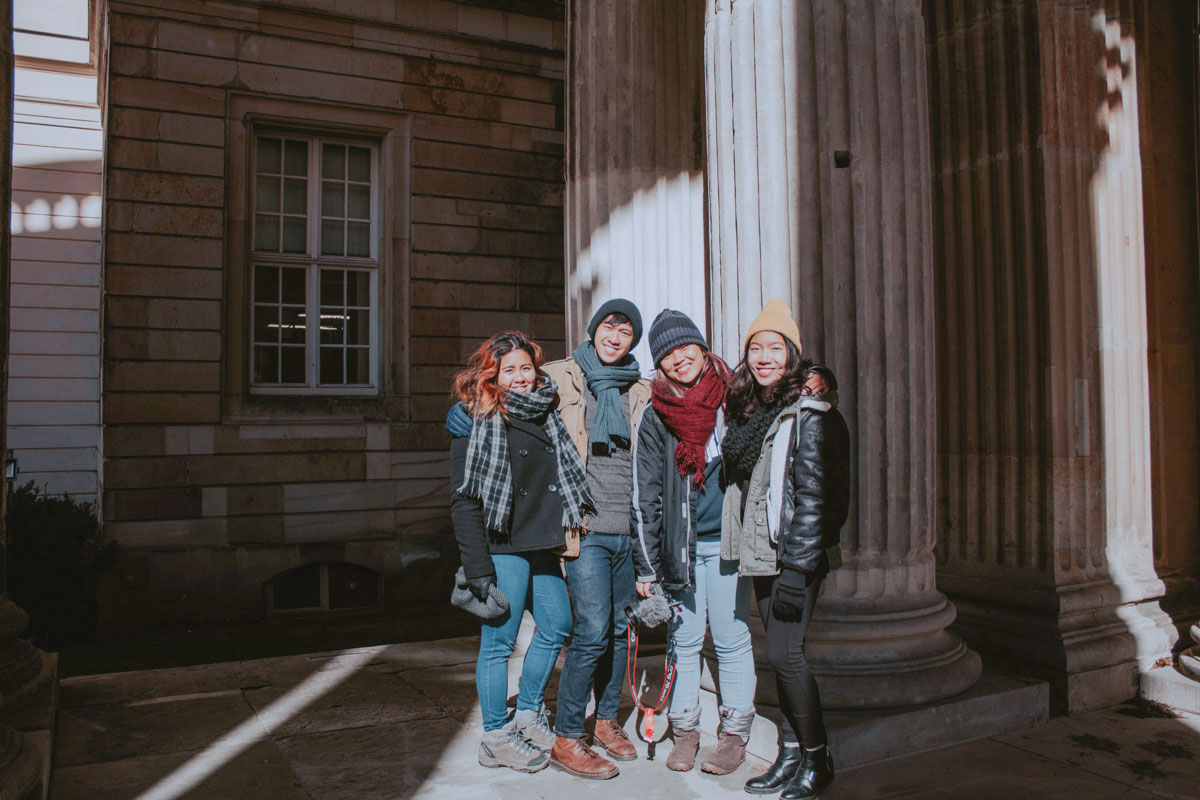 Drink, drunk, but no drama. For such a vibrant city, it's hard to believe the kind of history the capital of Germany has. Berlin is that hippie, young-at-heart cousin who embraces her dark past, but continues living in a multicoloured splendour that stands out alongside her hotshot siblings Munich and Hamburg.
As someone with yellow fever, I've never seriously considered visiting Europe because I always thought it would cost me my left kidney. But consider this my Asian dissuasion.  S$1.5k might seem exorbitant at first glance, but it's definitely way more affordable than what I had perceived Europe to be.
Budget Breakdown For 5 Days in Berlin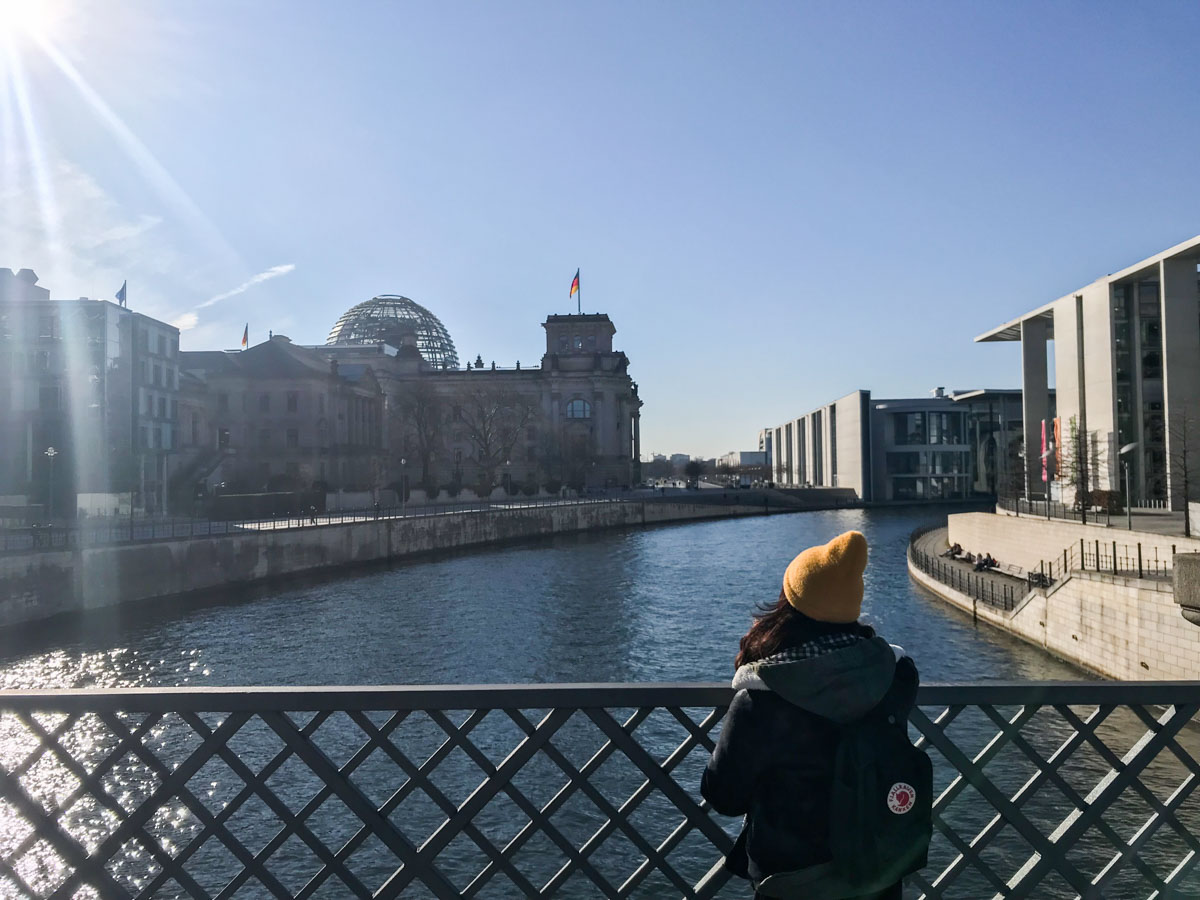 Accommodation: S$251.25
Food: S$139.10
Transport: S$959.26 (Incl. round trip flight from Singapore)
Activities: S$87.10 (Excl. activities covered by Berlin WelcomeCard)
2GB Data SIM Card: S$18.90
Total: S$1,455.61/pax
Click here for full breakdown
Pre-trip Essentials
Flight: The 13-hour flight via Scoot reaches Berlin at 7:20AM, which meant starting the day right away without wasting time. Berlin is 7 hours ahead of Singapore, but because Scoot's flight leaves Singapore just after 12AM, we could sleep on the plane and arrive without feeling jet-lagged.
Fly non-stop to Berlin from Singapore via Scoot from S$239 — sale from the 24th of May to 3rd of June!
Transport & Activities: The Berlin WelcomeCard gives you access to all public transport as well as discounts on selected tours and museum. Ranging from 2 – 6 days, these will definitely come in handy when exploring Berlin.
Contrary to popular belief about Europe, most of our activities were free! The only activities we paid for were the Museum Island Pass and two walking tours.
Data SIM Card: We purchased our SIM Cards from ICC — International Card Centre using Qoo10 in Singapore, which were cheaper than buying in Europe. Plans range from 1 – 6GB and start from S$14.90.
Must-see historical sites in Berlin
While most people come to Berlin for its party scene, it's a city rich in history too. By visiting these historical sites, you'll get to understand Berlin's tumultuous past that has influenced the world in one way or another.
1) Reichstag Building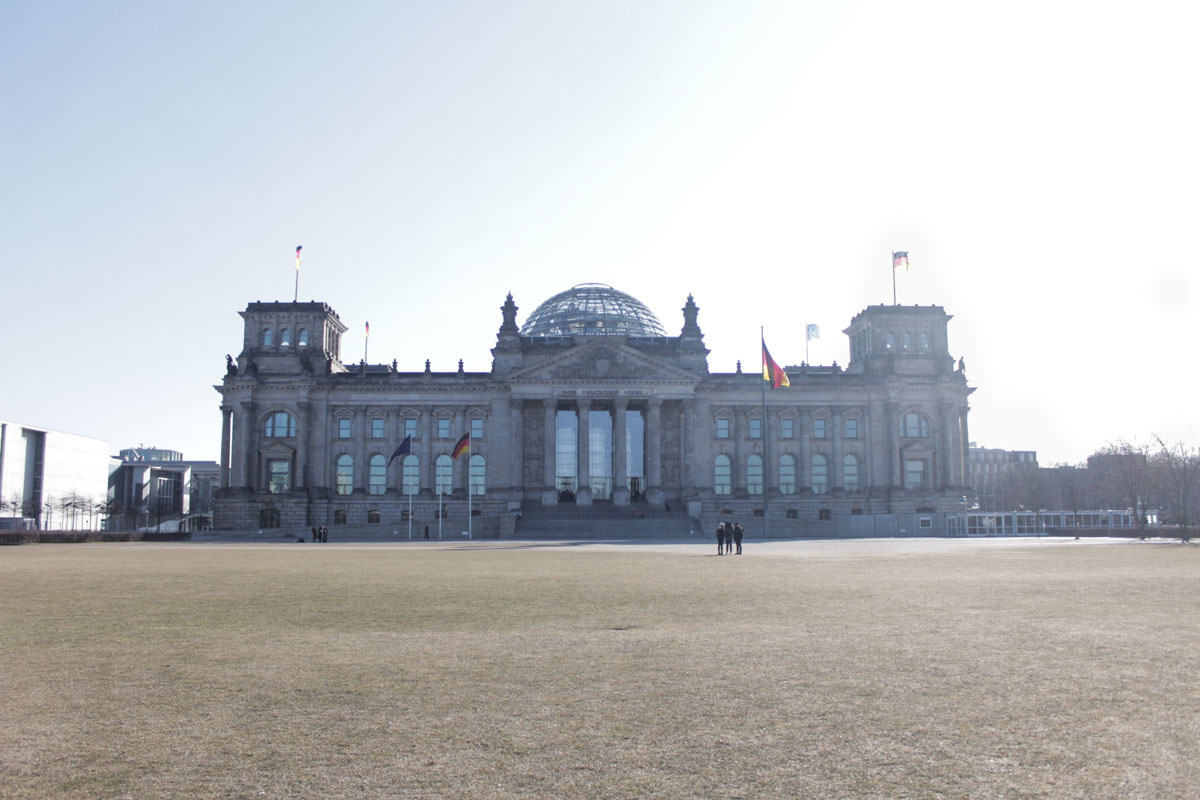 Get a panoramic view of Berlin's city centre and learn about the historical significance of the Reichstag Building — the 1933 Reichstag fire played an instrumental role in helping Hitler's Nazi Party gain power. There is also a ramp circling the dome that takes you to the top.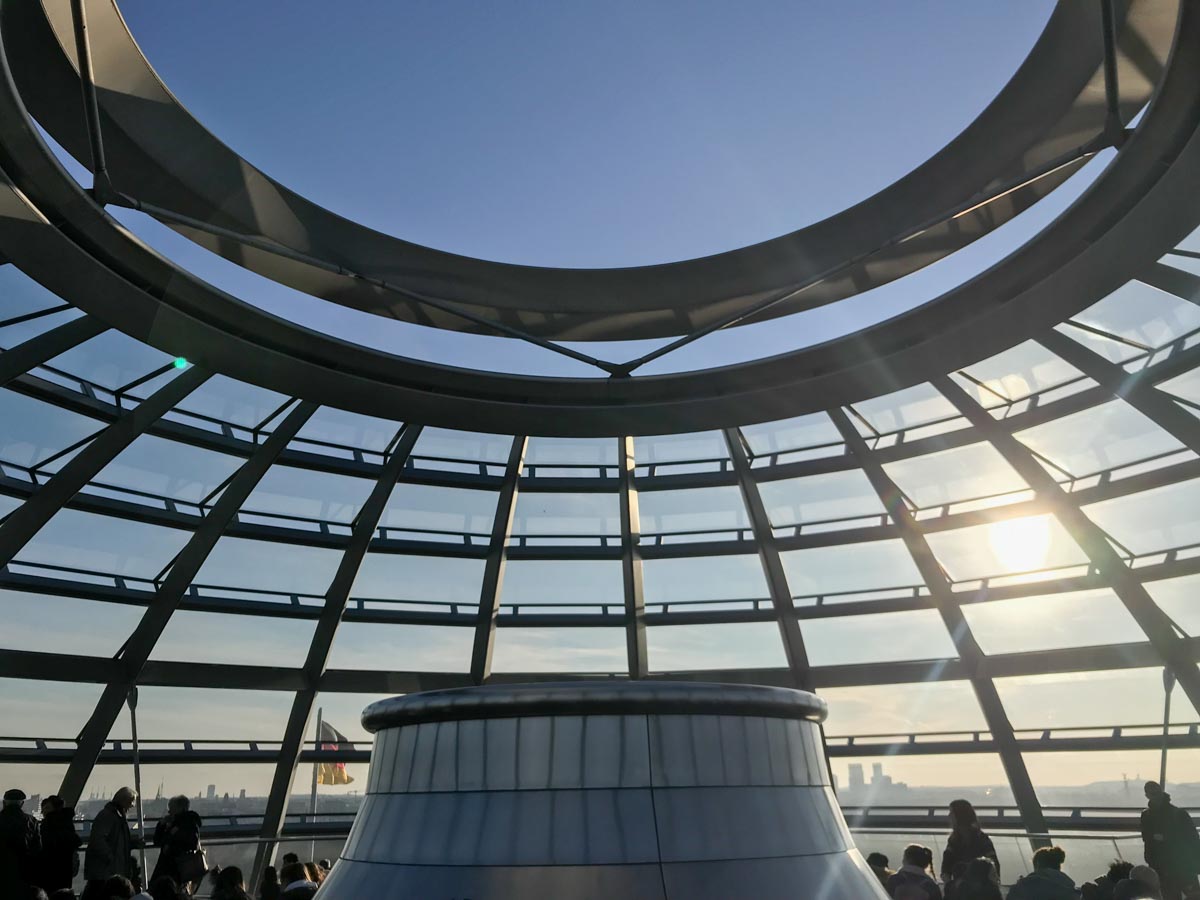 It's compulsory to book your visit; make sure to book at least 2 weeks in advance online to secure the slot you want.
If you miss the window, you can still try your luck in person — get to the service centre across the street from the entrance, and present your passport. Your booking has to be at least 2 hours before the visit. Head down when they open at 8AM to reserve the best slots and/or beat the queue.
Cost: Free (Advanced reservation required)
Opening Hours: 8AM – 12AM (Last entry: 10PM). Closed on selected days.
Address: Platz der Republik 1 | Tiergarten, 10557 Berlin, Germany
How to get there: Take the subway to U Bundestag and walk 230m
*Pro-Tip: In your itinerary, group this attraction with the Brandenburg Gate as they're of walking distance from one another.
2) Brandenburg Gate (Brandenburger Tor)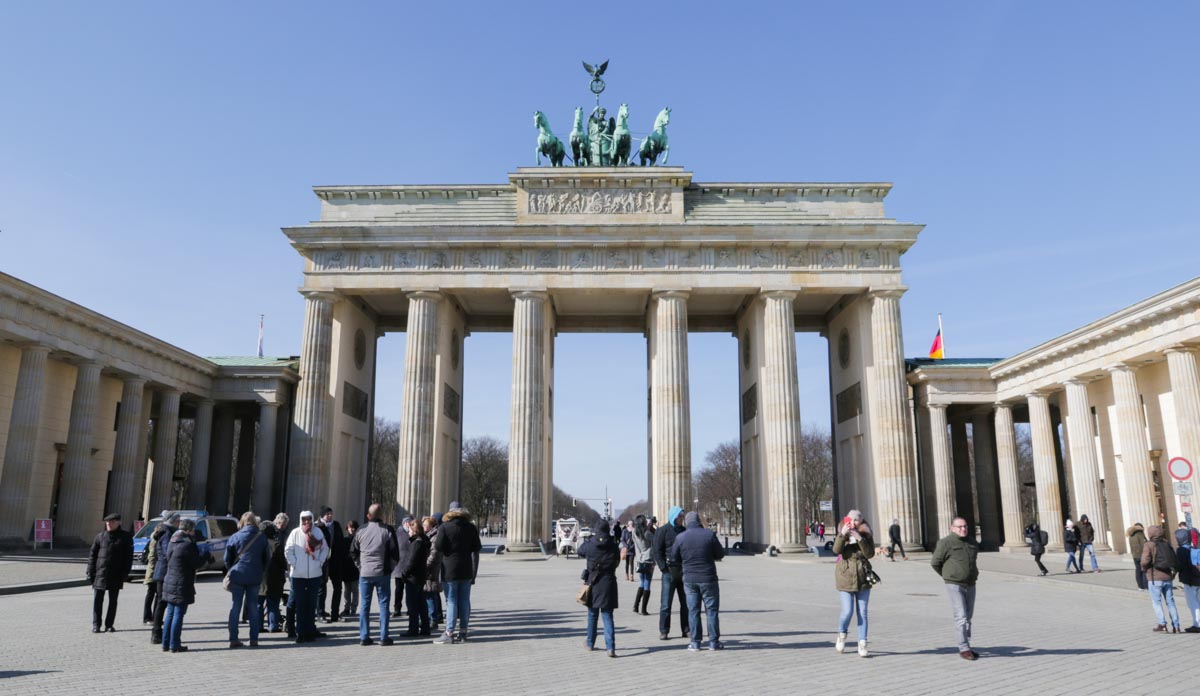 Erected in 1791, the Brandenburg Gate was inspired by the Acropolis' propylaea in Athens, and was also where former U.S. President Ronald Reagan famously said his "Tear down this wall!" speech.
Check it out at night and watch it glow against the dark sky!
Keep a lookout for gypsies in the area asking for donations. We've heard stories of them pickpocketing there as well, so be careful with your valuables.
Cost: Free
Address: Pariser Platz, 10117 Berlin, Germany
How to get there: Take the subway to U Brandenburger Tor, or walk 500m from Reichstag Building
Also read: Guide to Berlin's Iconic Street Art
3) Topography of Terror (Topographie des Terrors)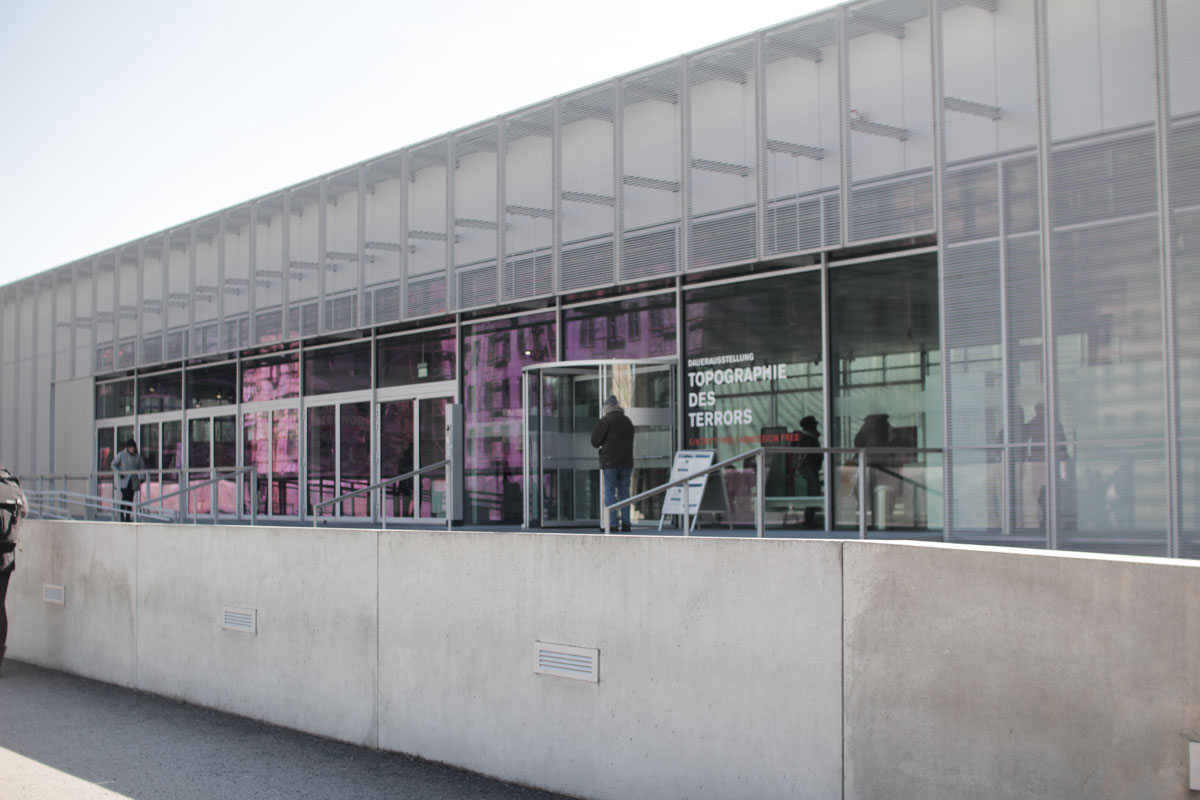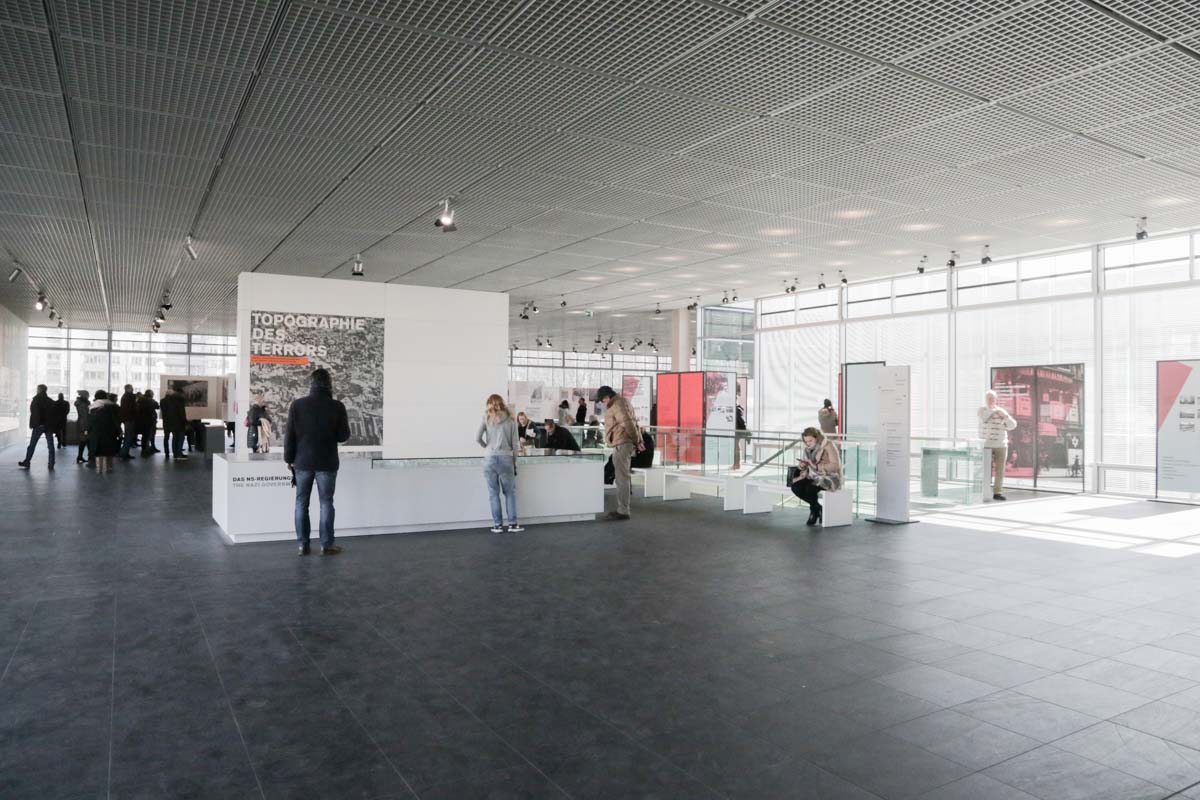 A place that once housed the "brains" of the Nazi regime, read about the operations of these institutions and the crimes they committed throughout Europe at the Topography of Terror. Its outdoor museum only opens from spring to autumn.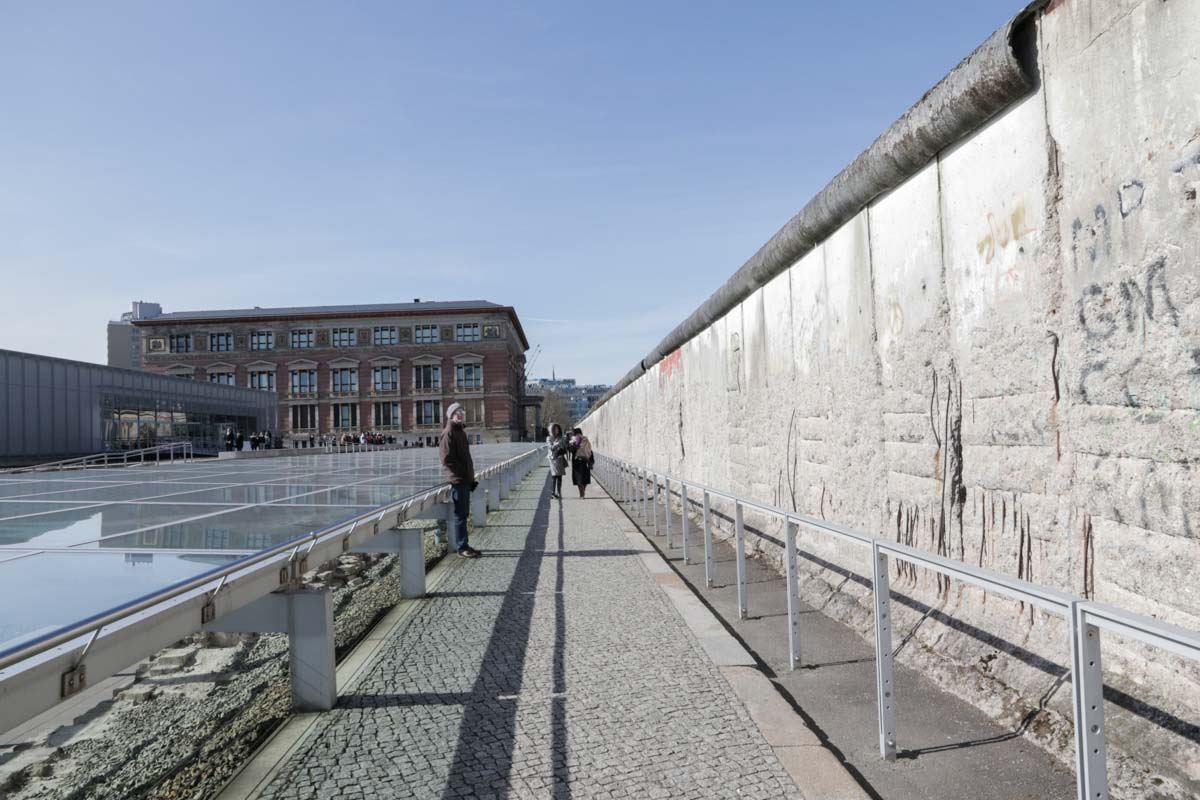 Before reaching the entrance to the indoor museum, you can also walk along a surviving section of the Berlin Wall.
Cost: Free
Opening Hours: 10AM – 8PM
Address: Niederkirchnerstrasse 8, 10963 Berlin, Germany
Nearest Stations: U Potsdamer Platz, U Kochstrasse, S Anhalter Bahnhof
4) Checkpoint Charlie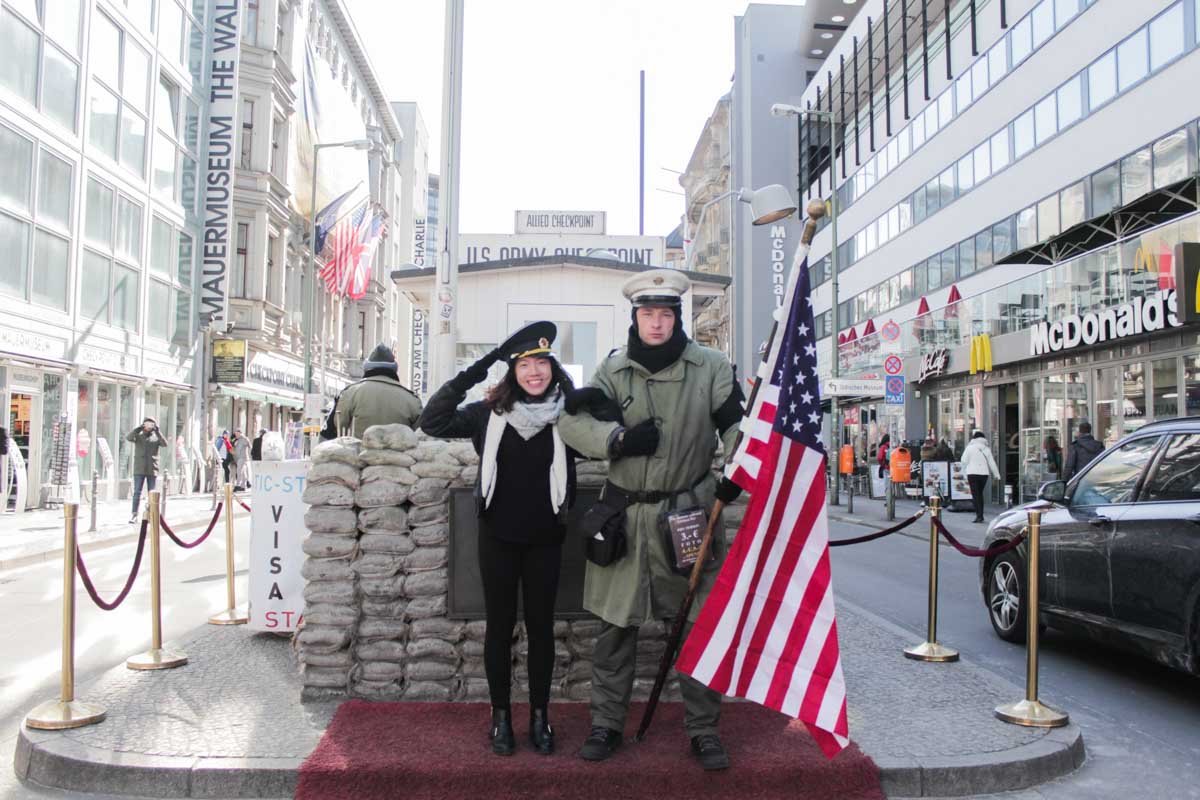 When the Berlin Wall was still standing, Checkpoint Charlie served as the only point from which foreigners could enter East Berlin from the West.
A popular tourist spot today, you can pay €3 to any of the actors dressed up as American soldiers for a photo op.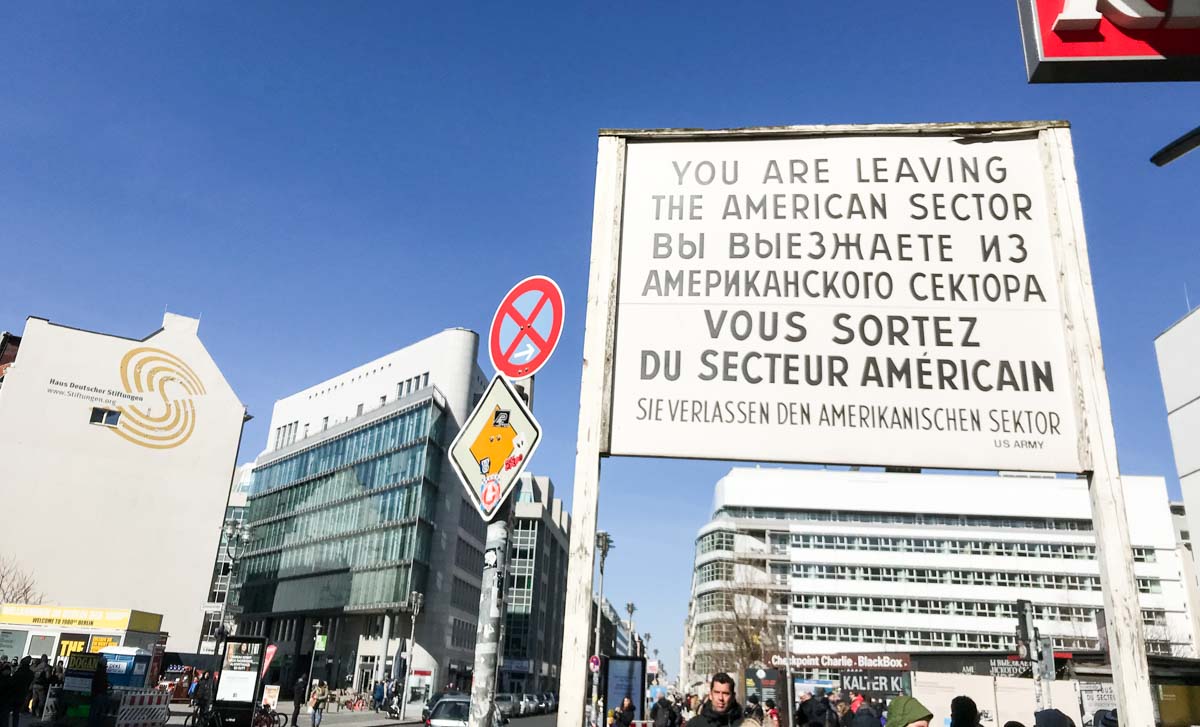 Cost: Free (€3 for a photo with the actors)
Address: Friedrichstrasse 43-45, 10117 Berlin, Germany
Nearest Station: U Kochstrasse
5) East Side Gallery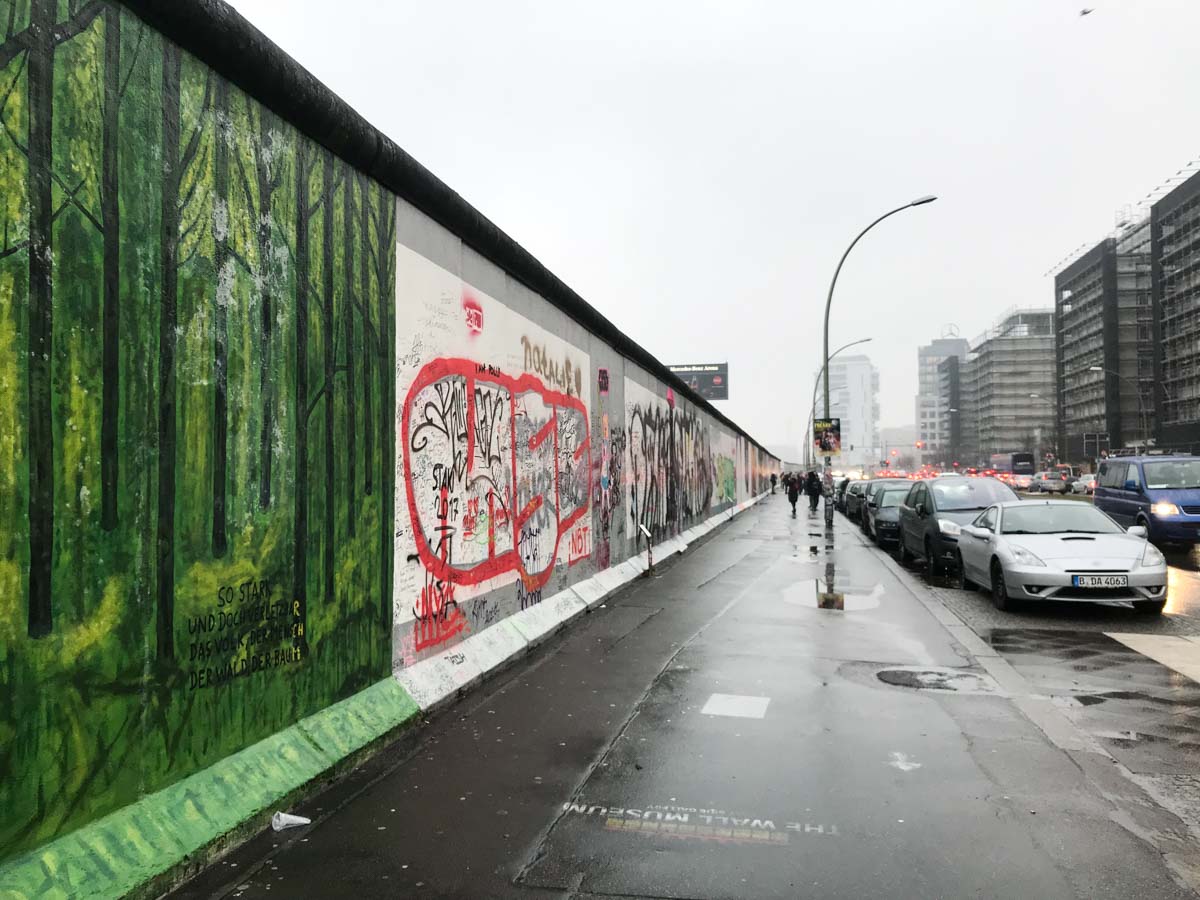 Sporting 101 murals by 118 artists worldwide, this 1.3km-long stretch of the original Berlin Wall is also the longest open-air gallery worldwide. Perhaps the most famous mural is the one of two politicians locked in the socialist fraternal kiss.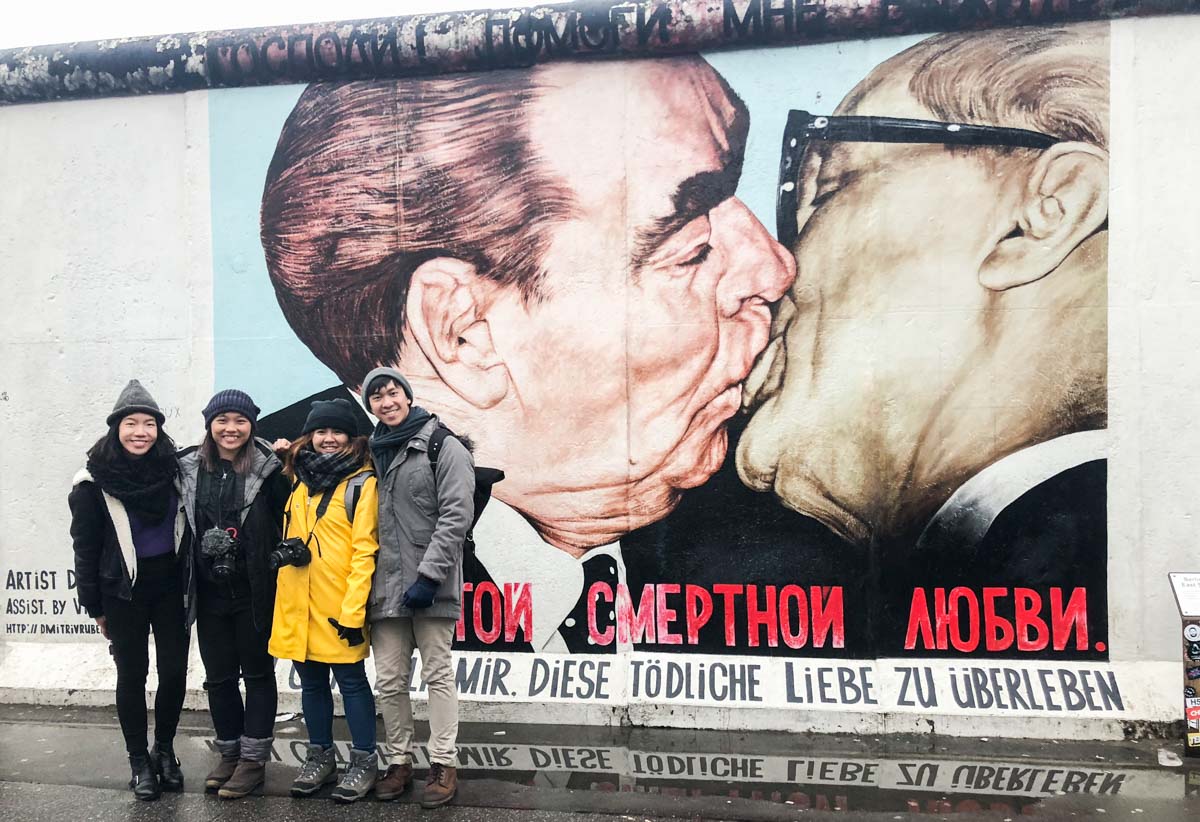 Cost: Free
Address: Mühlenstrasse 3-100, 10243 Berlin, Germany
How to get there: Take the subway / train to S+U Warschauer Strasse, then walk 1.1km
For more street murals, check out our Guide to Berlin's Iconic Street Art.
6) Memorial to the Murdered Jews of Europe
Also known as the Holocaust Memorial, it's home to 2,711 concrete slabs designed by American architect Peter Eisenman. Its symbolism is open to interpretation, with the most common being that of a graveyard. You can also visit the information centre and exhibition located underground.
As this is a memorial site, do remain respectful and refrain from running around or climbing atop the concrete slabs.
Cost: Free
Opening Hours: 24 hours (except for Information Centre and Exhibition)
Address: Cora-Berliner-Strasse 1, 10117 Berlin, Germany
How to get there: Walk 500m from the Brandenburg Gate
7) Berlin Wall Memorial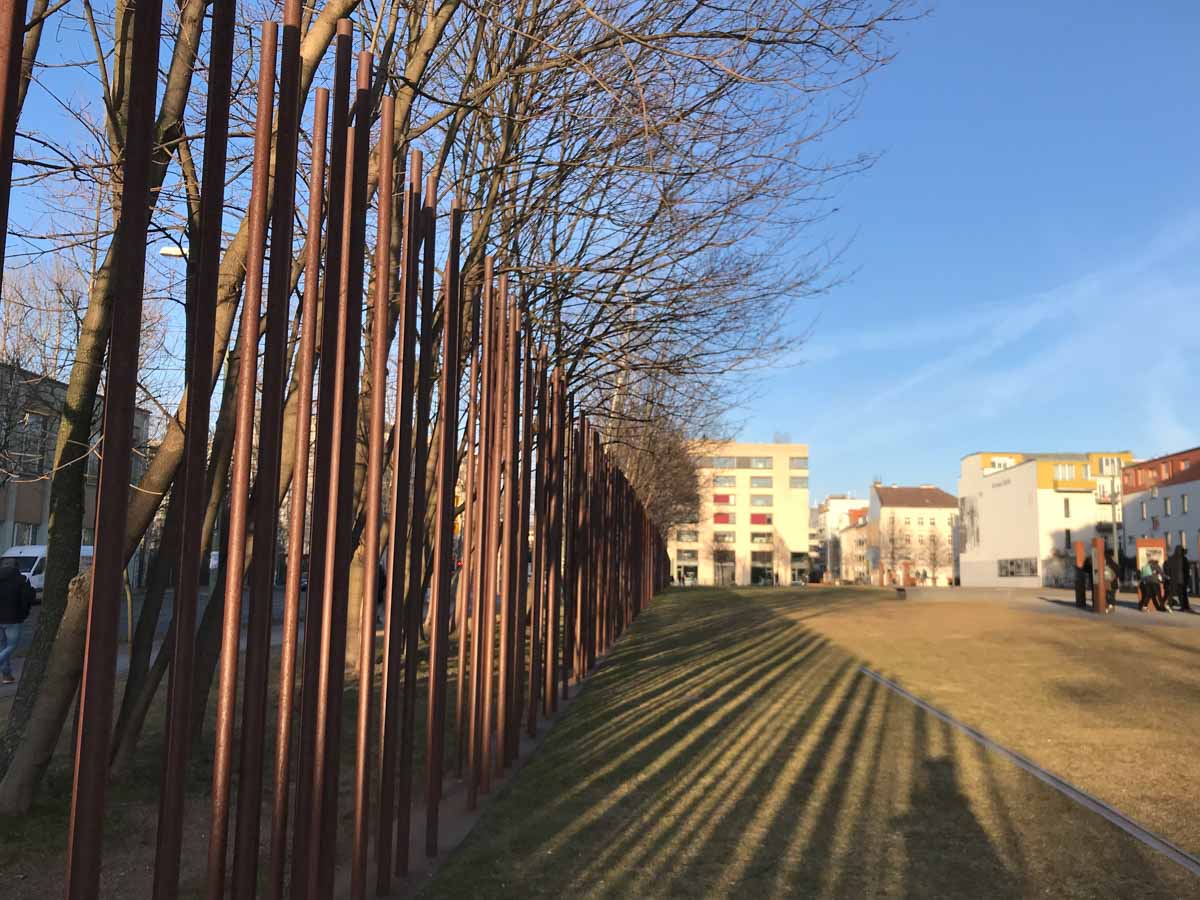 Walk along Bernauer Strasse where the Berlin Wall once stood, famously known for its border houses from which many residents have attempted to escape.
The entire memorial spans 1.4km along the former border strip. At the open air exhibition, you can read stories of the people who once lived along Bernauer Strasse, complete with pictures and audio.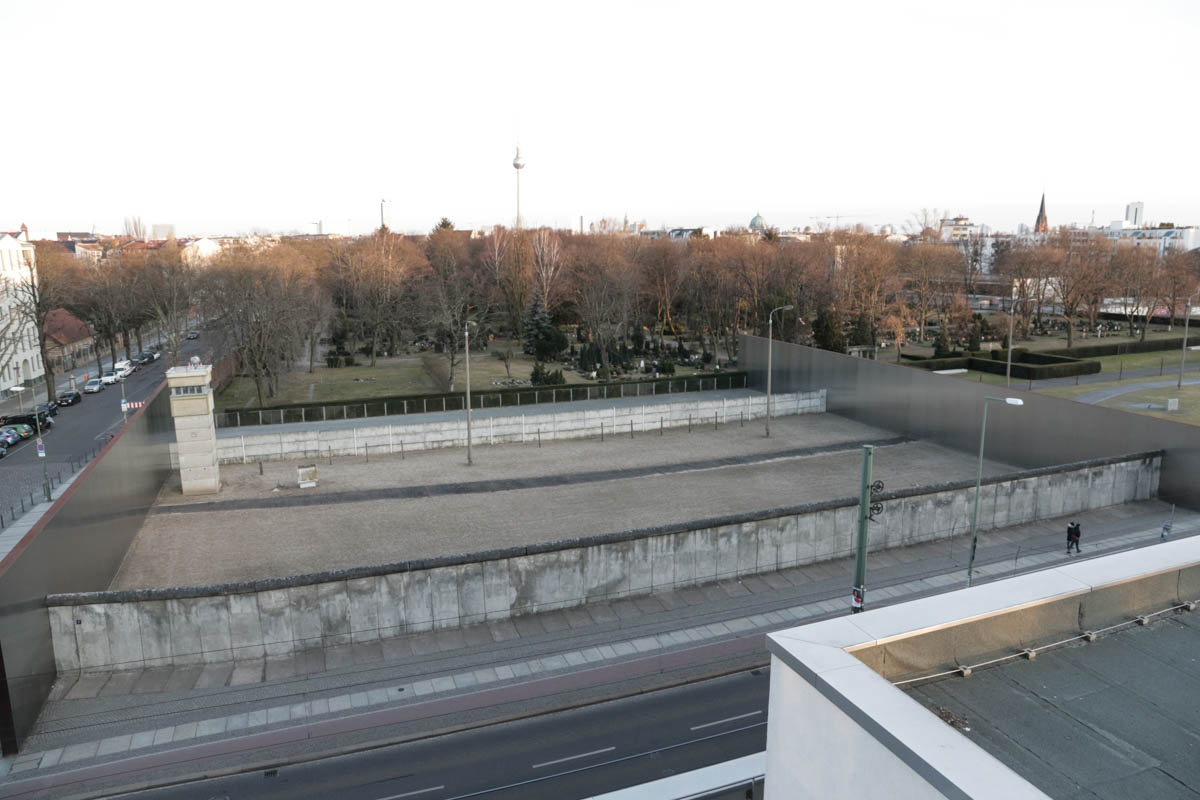 At the indoor documentation centre, climb up the observation tower to have a look at how the border strip looked like from above.
Cost: Free
Opening Hours: 8AM – 10PM (10AM – 6PM for Documentation Centre, closed on Mondays)
Address: Bernauer Strasse 111, 13355 Berlin, Germany
How to get there: Take the tram to M10 Berlin, Gedenkstätte Berliner Mauer
Things to do in Berlin
1) Go on a Tour to Sachsenhausen Concentration Camp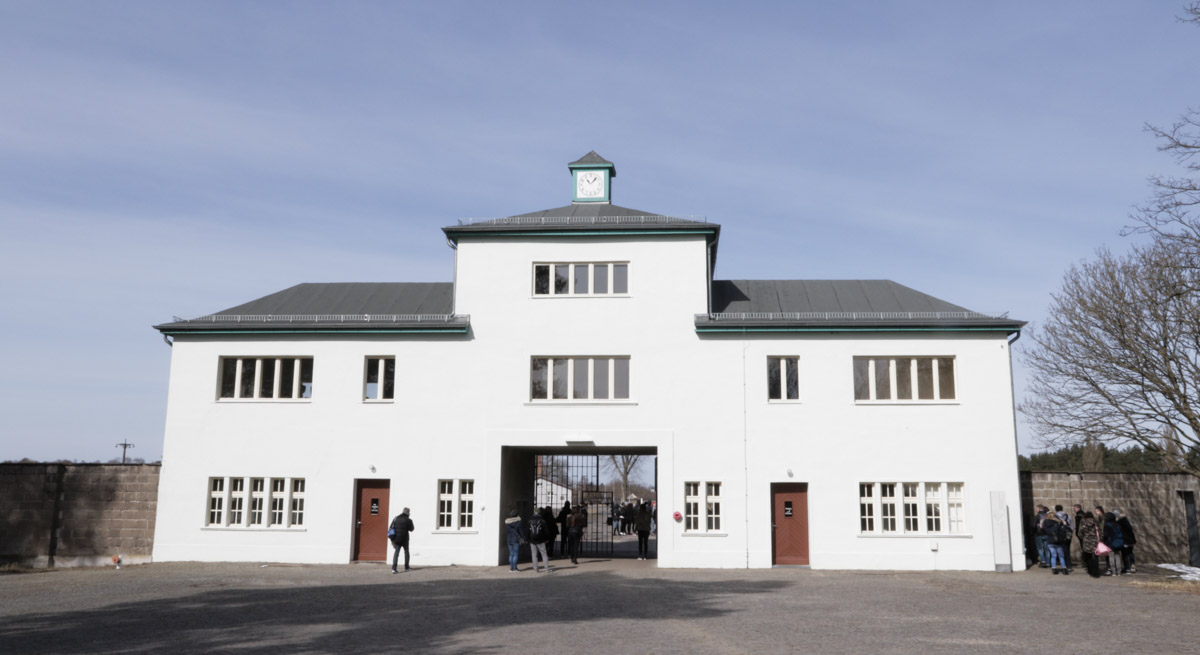 One of the most prolific Nazi concentration camps located in Oranienburg, the tour takes you through Watch-tower A to 'Station Z' (where the killings took place). Through the exhibits in between you can see how the barracks looked like, and learn about the everyday lives of the prisoners (and their punishments).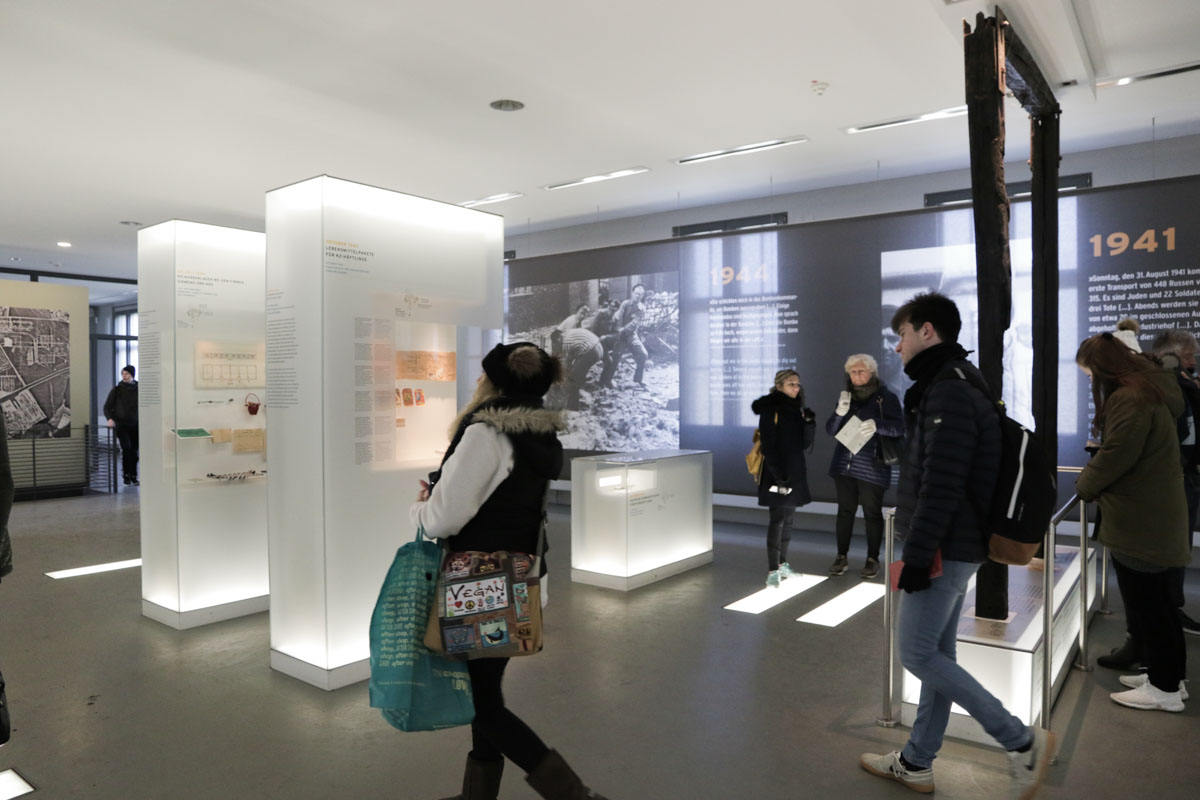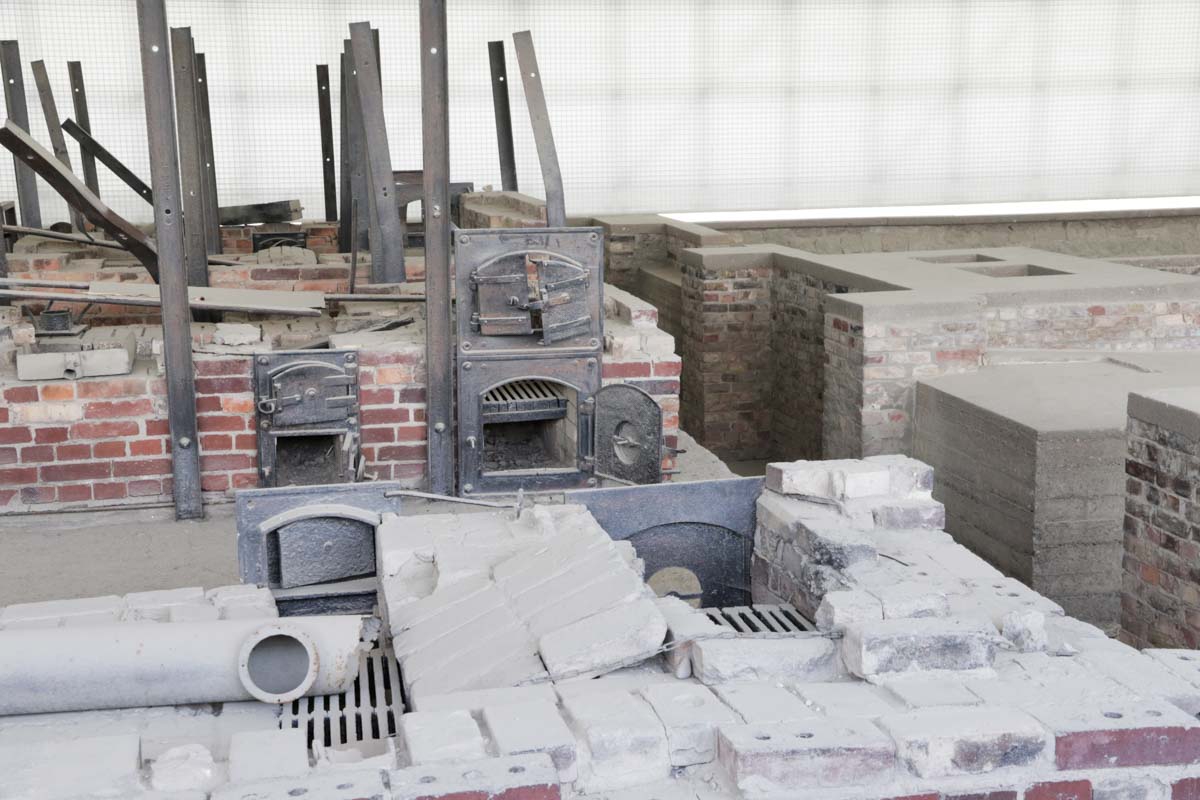 The tour can be booked online. The meeting point is right outside Starbucks near the Brandenburg Gate, where guides will hold up a red SANDEMANs umbrella.
They entertain walk-ins too if you didn't book online. However, each tour group is limited to 30 pax with priority given to bookings, so you may not be allowed on the tour if you go on a packed day.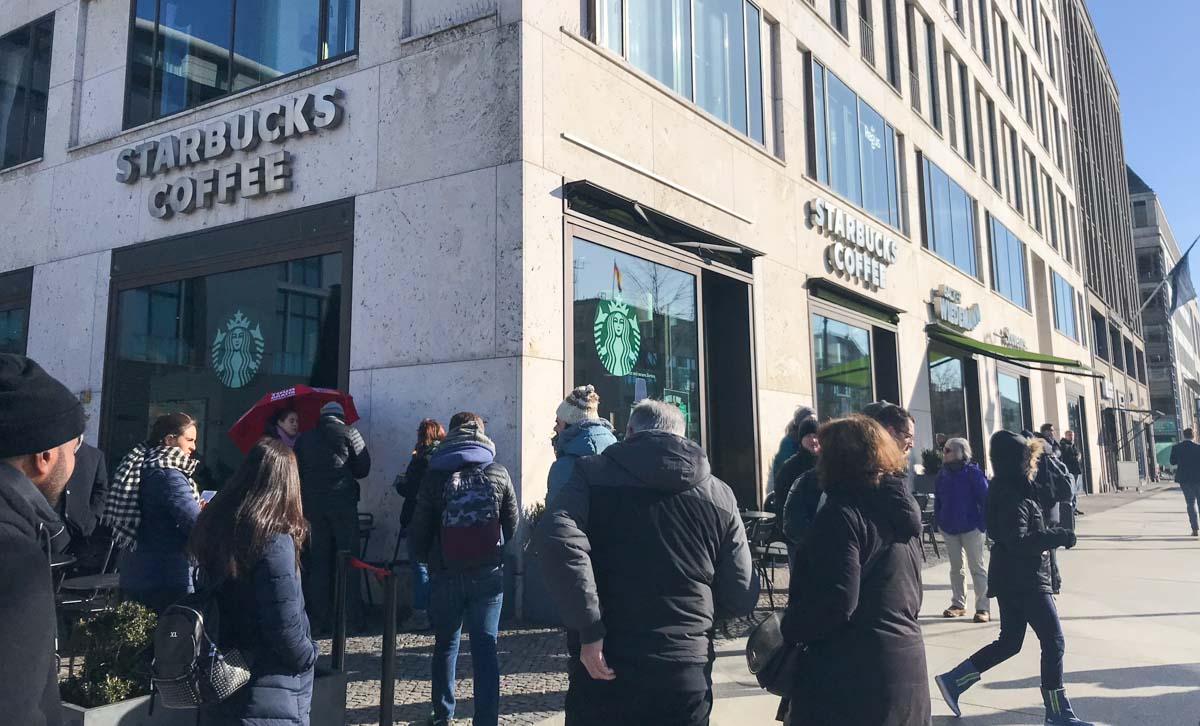 Pack some food and drink before the tour as it lasts about 5.5 hours including travelling time.

Cost: €11.20 with Berlin WelcomeCard (Zones ABC) (~S$18), €16 without (~S$26)
Tour Start Times: 9AM, 11AM
Address: Pariser Platz 4A, 10117 Berlin, Germany (Meeting point at Starbucks)
Nearest Station: U Brandenburger Tor
2) Shop at Flea Markets on Mauerpark Sundays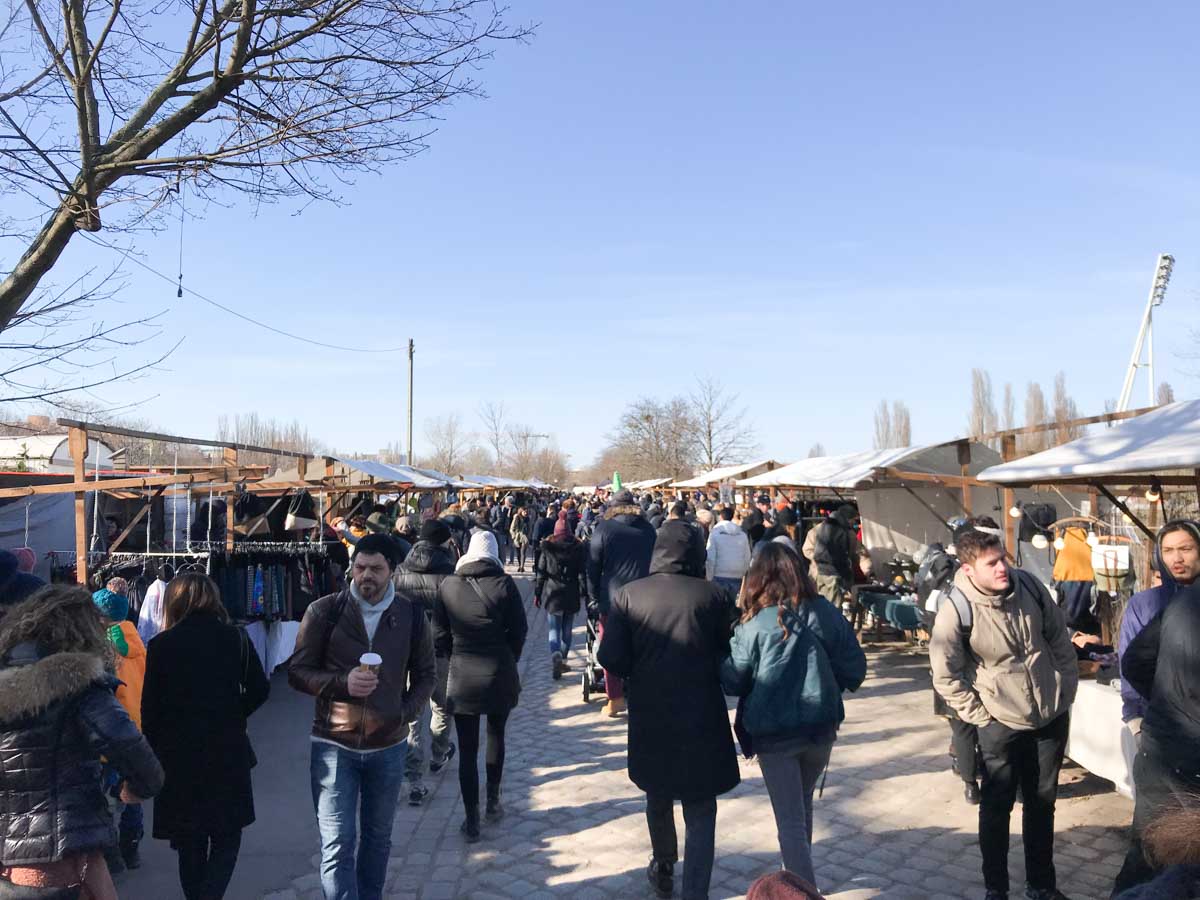 The flea market sells vintage unorthodox souvenirs — from old vinyl records and secondhand clothes to even furniture!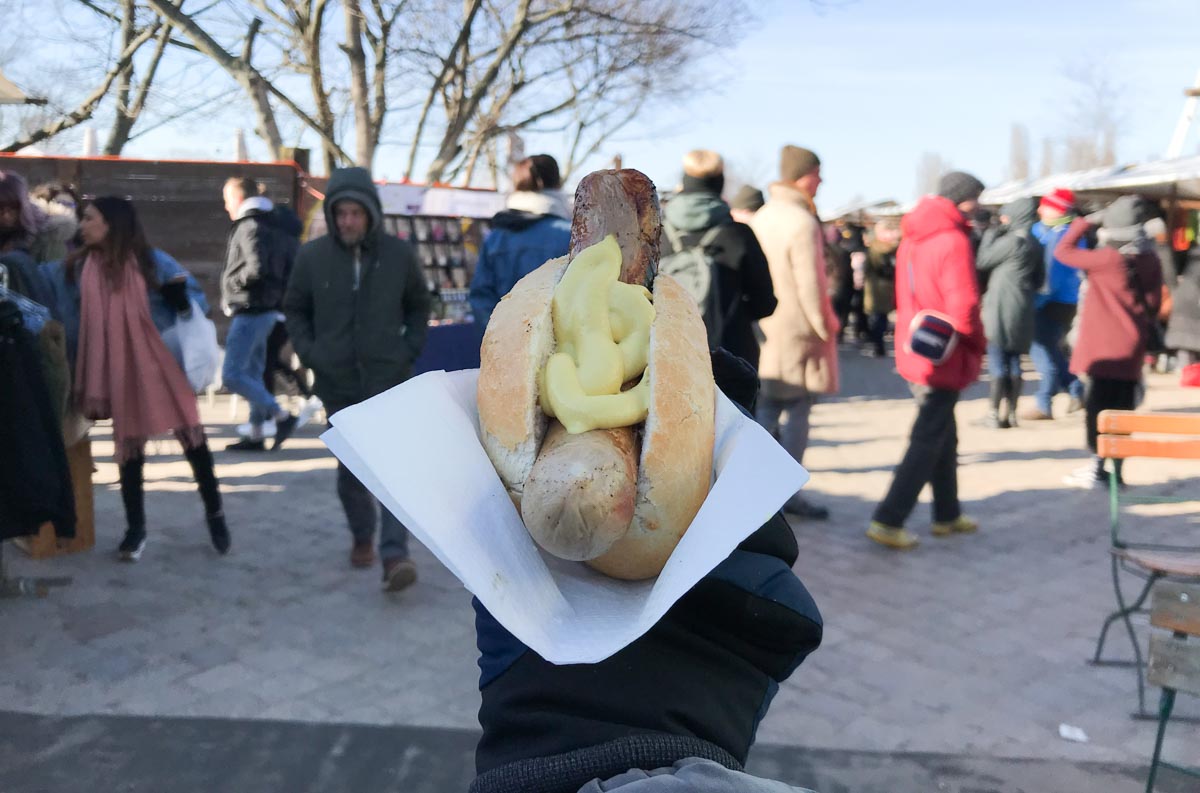 There's also a food area that sells street meat like currywurst and bratwurst. In the winter season, get a cup of glühwein (mulled wine) — a deliciously sweet concoction of red wine boiled with spices.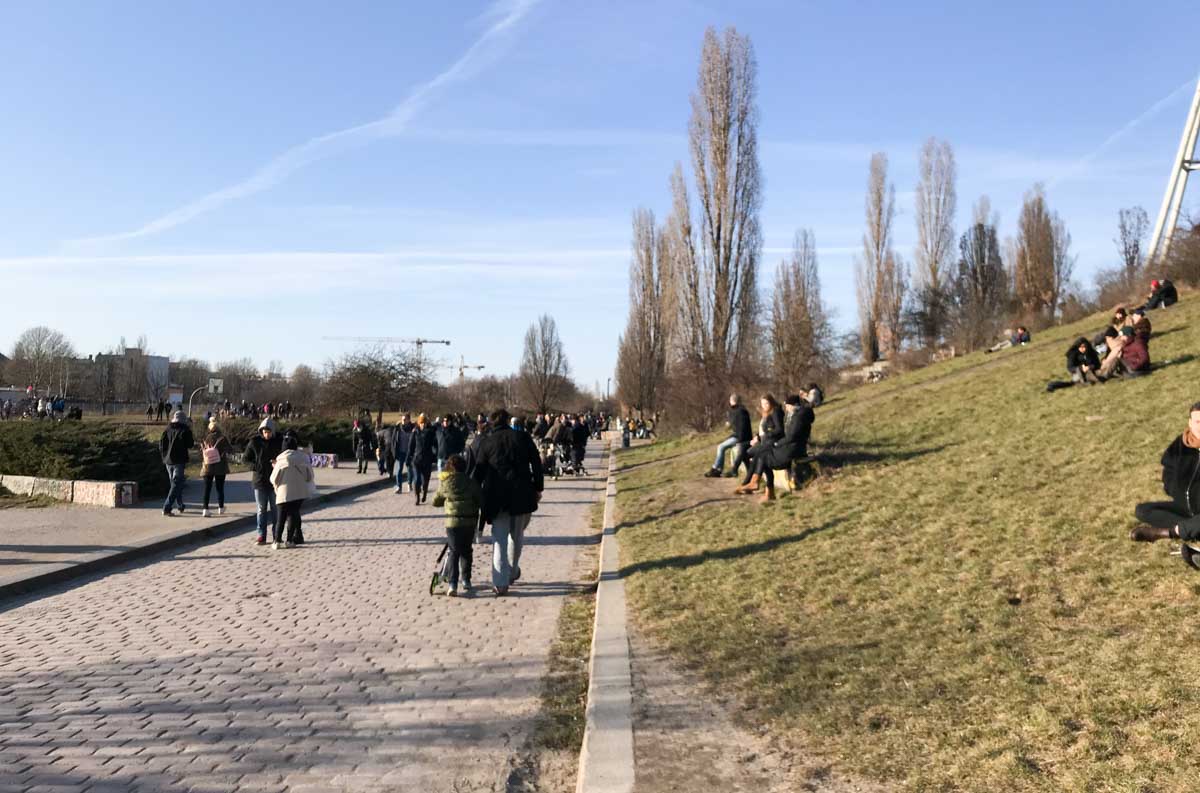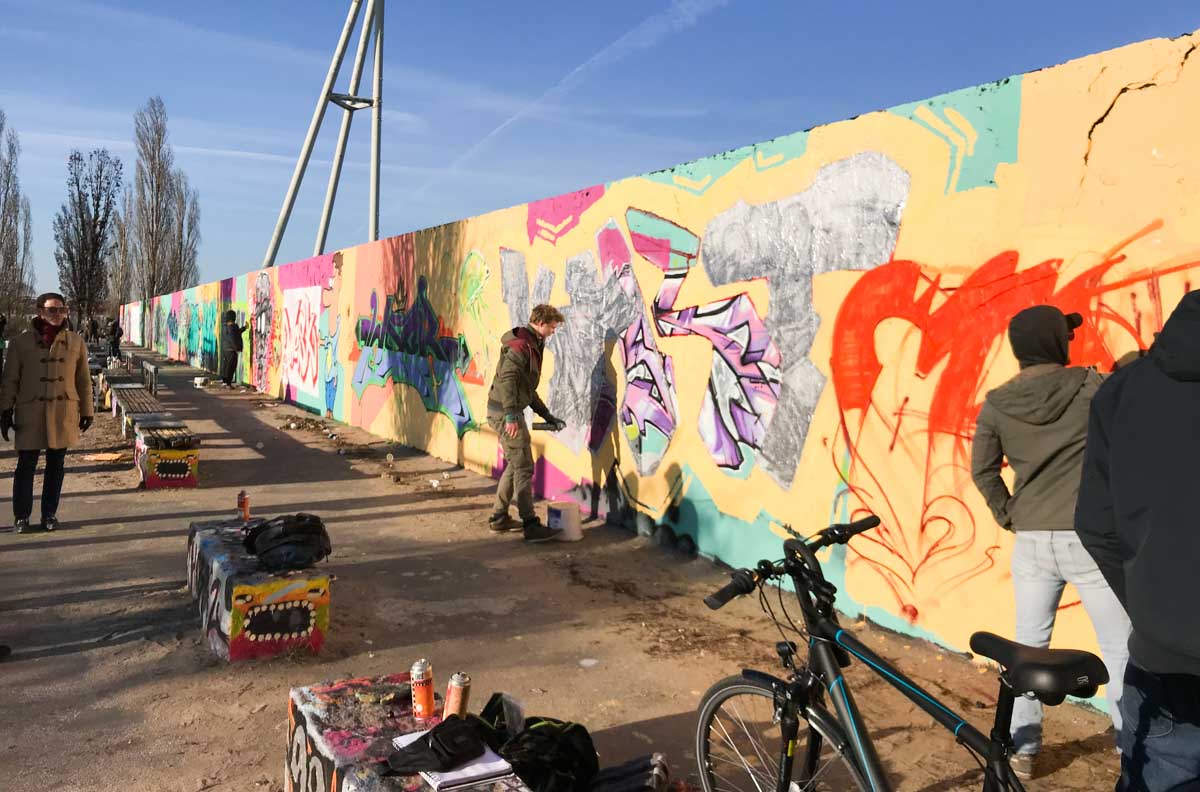 In the park area, you can chill around, have a picnic, stroll along a graffitied wall atop the hill and sit on a swing! At 3PM, there's also a Bearpit Karaoke where crowds gather in a circle for a public karaoke session, where you can showcase your vocal chops.
Cost: Free
Address: Mauerpark, Bernauer Strasse/Eberswalder Strasse, 10437 Berlin, Germany
How to get there: Take the subway to U Eberswalder Strasse and walk 850m
3) Stroll Inside Tiergarten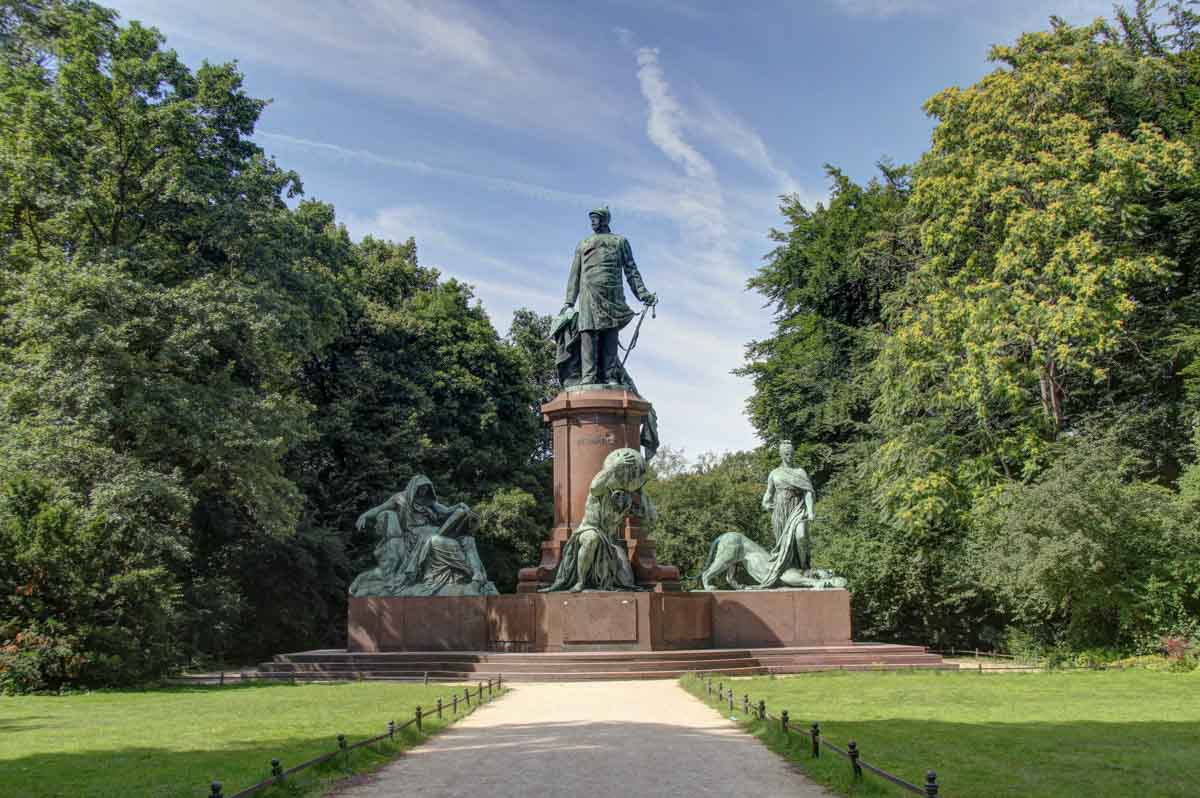 The Berlin equivalent of New York's Central Park, Tiergarten makes for a great day to relax away from the city with greenery.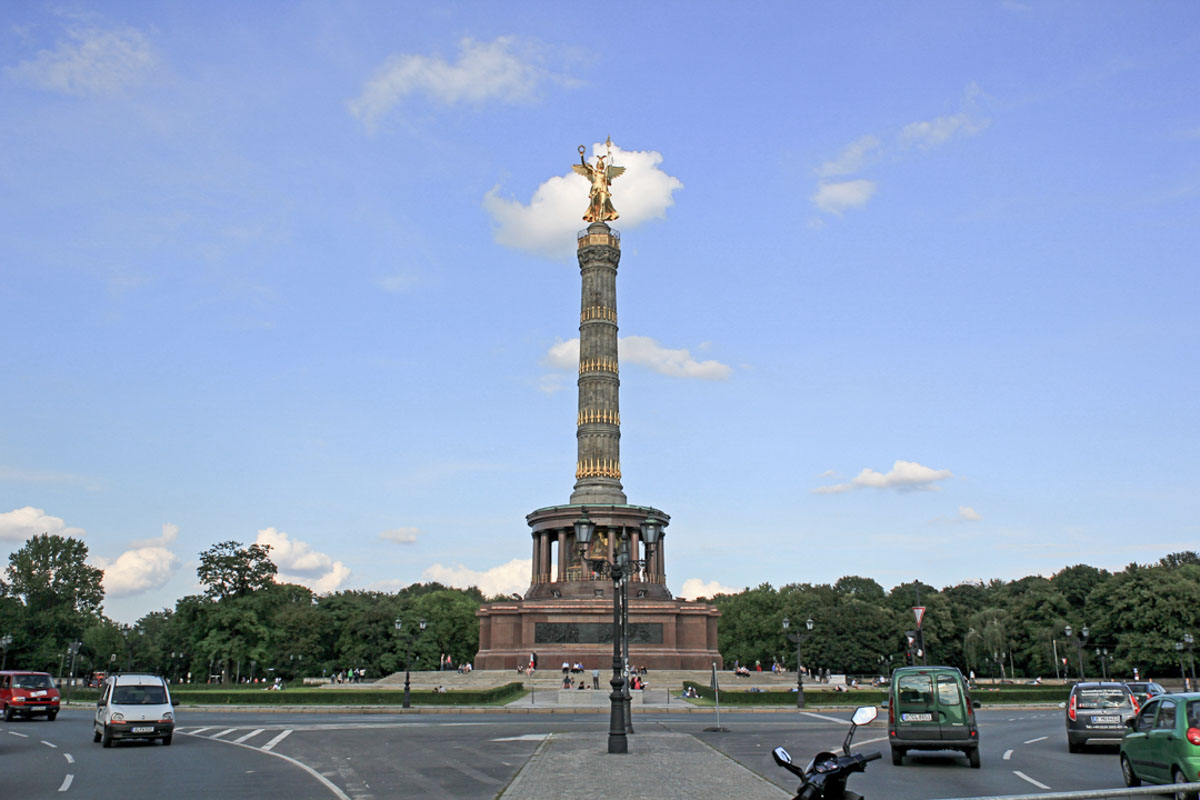 Rent a bicycle to cycle around, or for a physical challenge, climb the Victory Column (Siegessäule) right in the middle of Tiergarten, with a sweeping view of the city on top!
Cost: Free
Address: Tiergarten Strasse des 17. Juni, 10785 Berlin, Germany
How to get there: It is right beside the Brandenburg Gate and Holocaust Memorial. You can also take the S train to Tiergarten station.

5) Have a Picnic on the Runway Park of Tempelhof Airport (Tempelhofer Feld)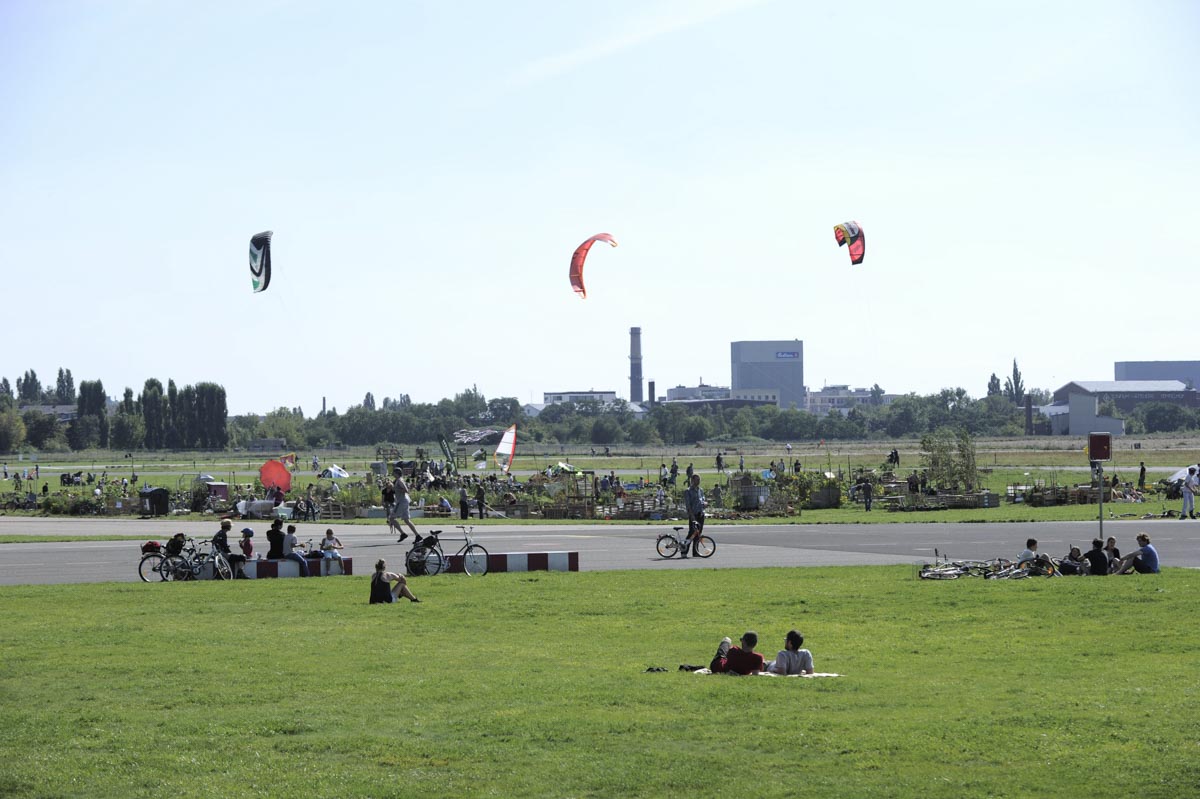 Spanning almost 400 hectares, this abandoned airport has an open space great for flying kites, jogging, cycling, and having picnics with a 2.5-hectare BBQ area.
Locating the entrance can be tricky — it would seem logical to enter the runway park through the entrance towards the buildings, but don't! The buildings are locked as it's been converted into a business park with security facilities. Walk further down the street and you'll reach another entrance that directly links to the runway.
Cost: Free
Address: Tempelhofer Feld, Tempelhofer Damm, 12101 Berlin, Germany
Nearest Station: Take the subway / train to S+U Bahnhof Tempelhof and walk about 1km
6) Learn about Street Art on an Alternative City Walking Tour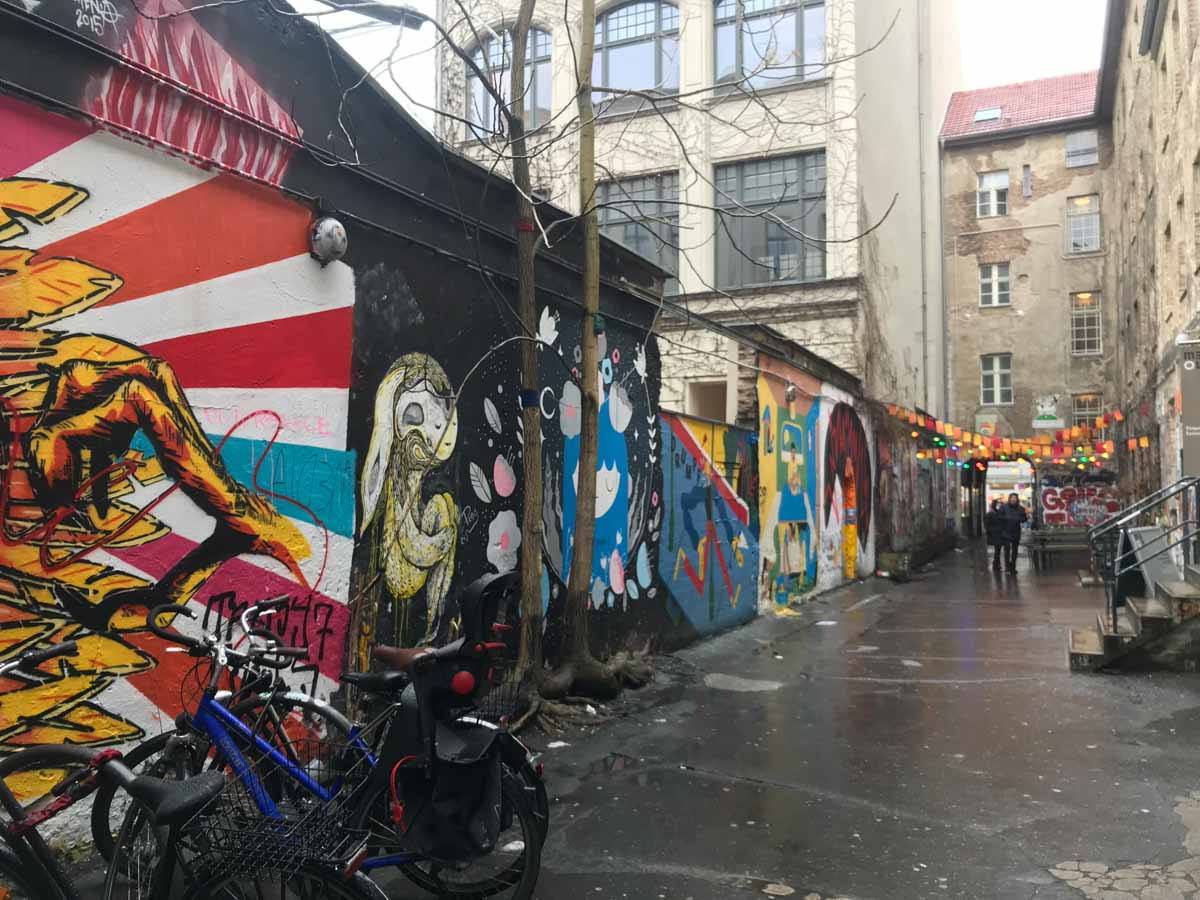 With Berlin undergoing gentrification, many subcultures have sprung up as a result. Check out alternative lifestyles and art around underground districts, that are now part of Berlin's  identity.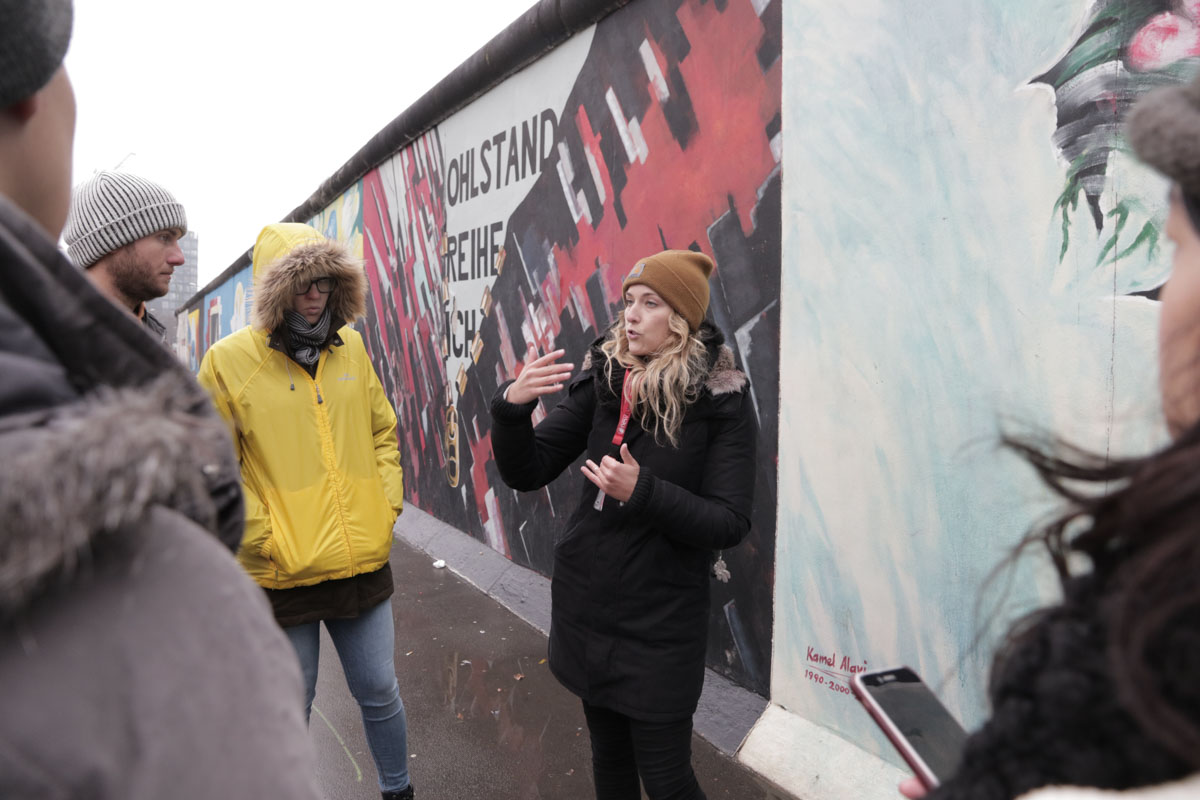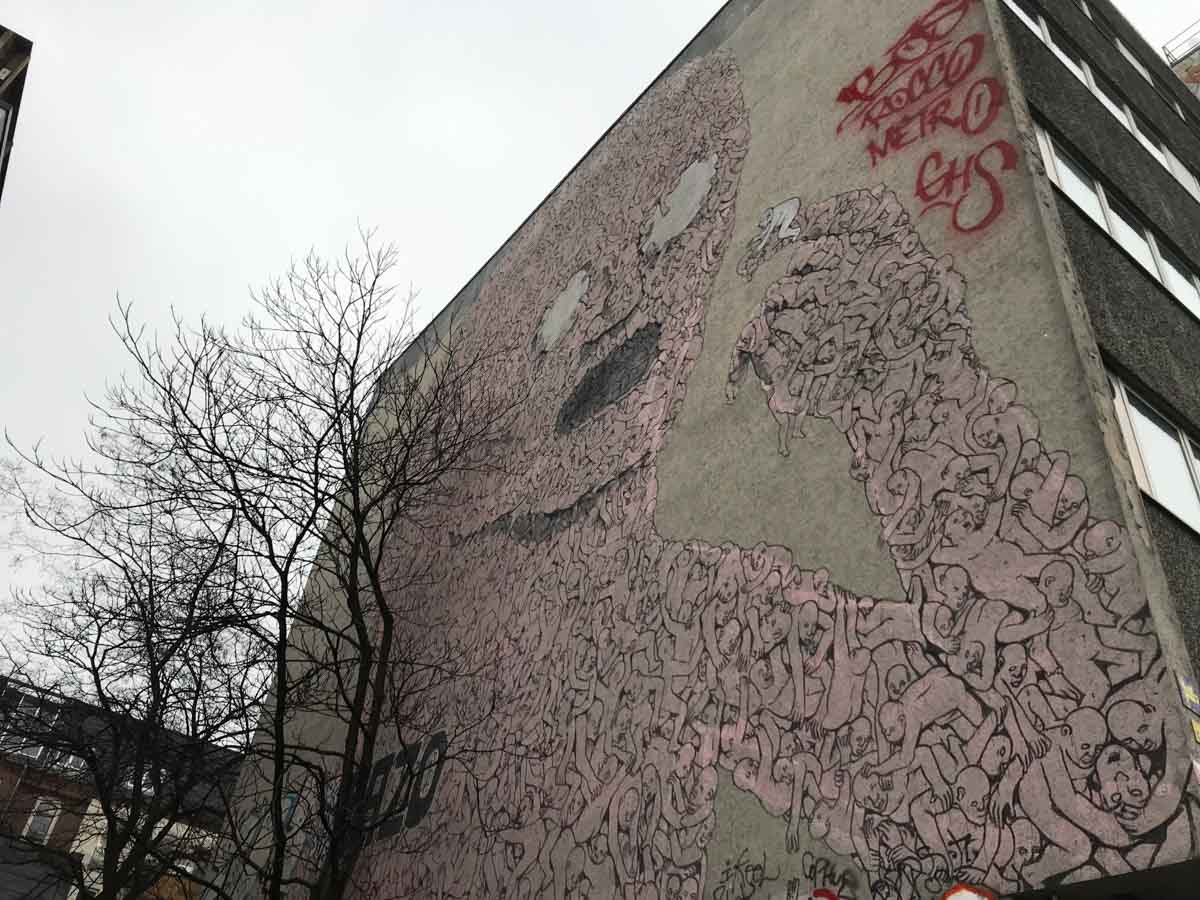 Just like the concentration camp tour above, you can book online with the same meeting point outside Starbucks at the Brandenburg Gate.
Cost: €9.80 with Berlin WelcomeCard (~S$16), €14 without (~S$22.70)
Tour Start Time: 2:30PM, none on Sundays and Wednesdays
Address: Pariser Platz 4A, 10117 Berlin, Germany (Meeting Point at Starbucks)
Nearest Station: U Brandenburger Tor
*Pro-Tip: This tour has a stop at the East Side Gallery and ends near it, so don't add a visit to the gallery on another day in your itinerary if you're going for this tour.
7) Make Your Own Chocolate Bar at Ritter Sport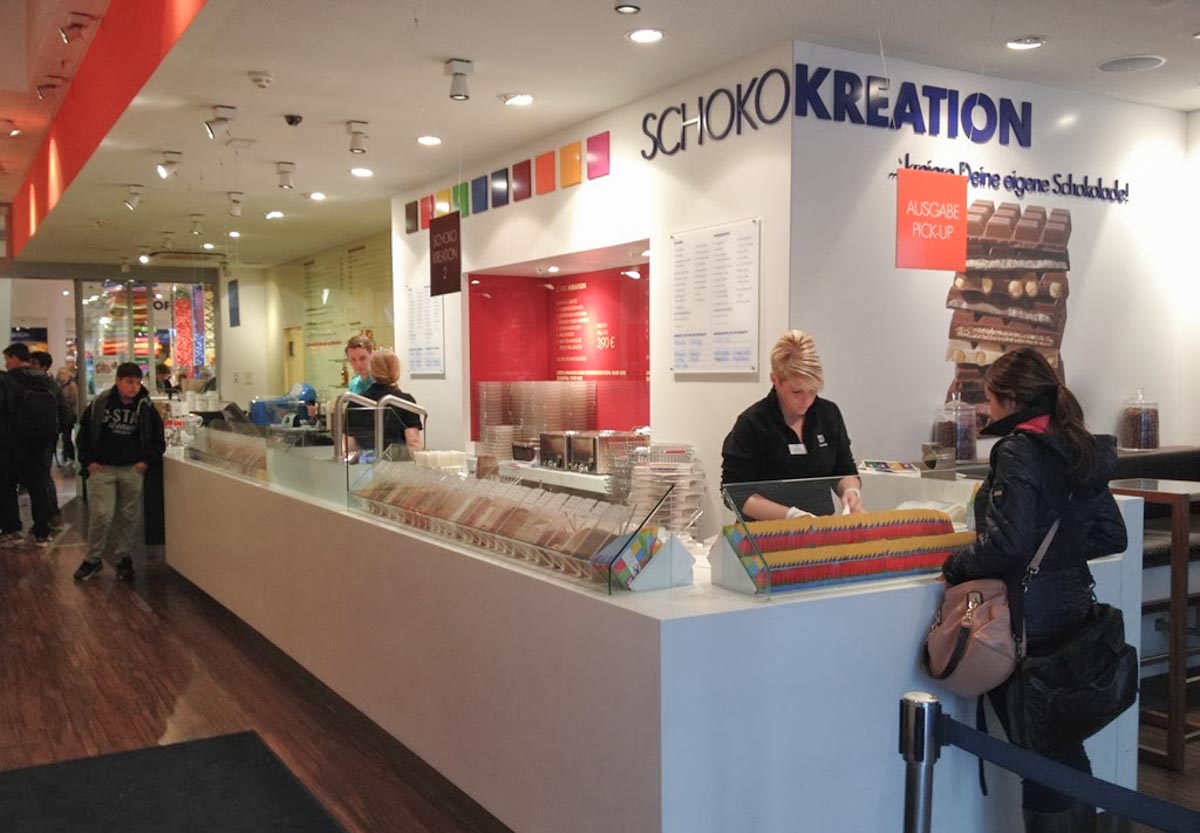 At the first flagship Ritter Sport store, Colorful ChocoWorld Berlin, create customised chocolate bars, or purchase your favourite flavours at the store as souvenirs (definitely cheaper than back home in Singapore)!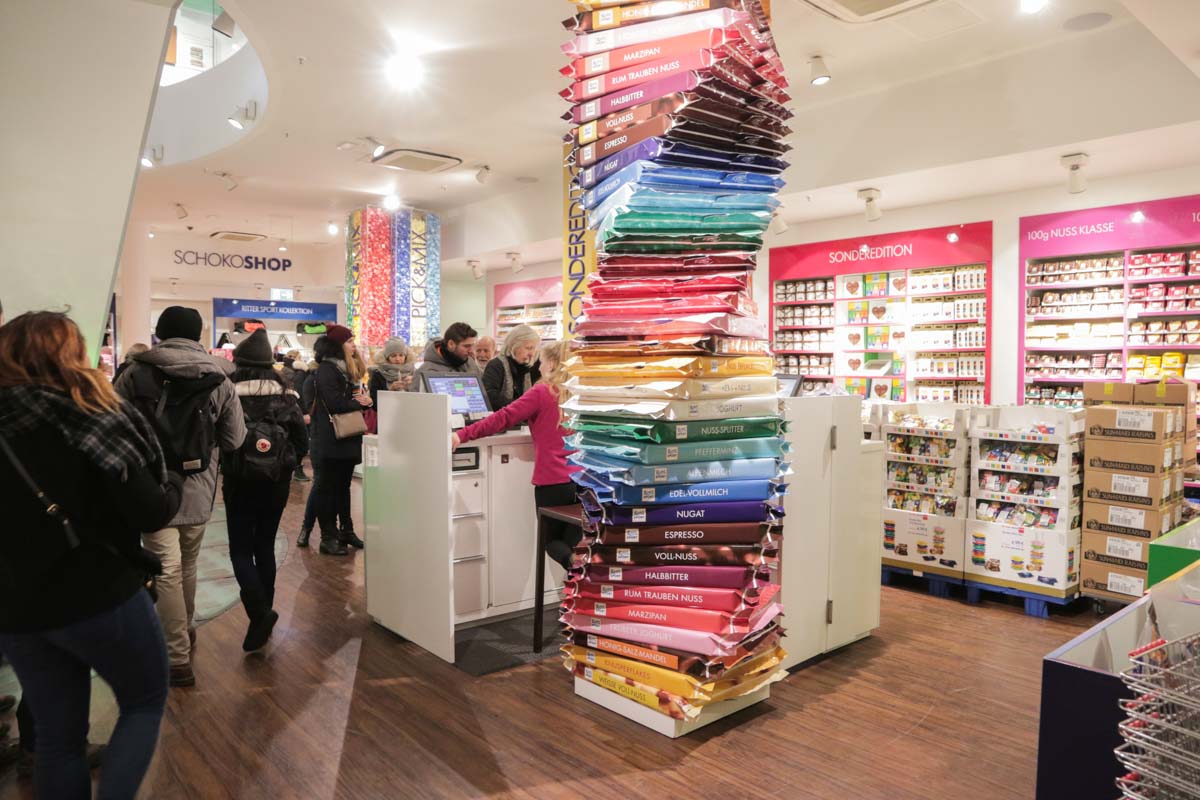 Note that the station to make your own choco bar shuts 1 hour before closing time.
Cost: €3.90 (~S$6.30)
Opening Hours: 10AM – 8PM (7PM from Mon – Wed, 6PM on Sun)
Address: Französische Strasse 24, 10117 Berlin, Germany
Nearest Station: U Französische Strasse
8) Museum-Hop at Museum Island (Museuminsel)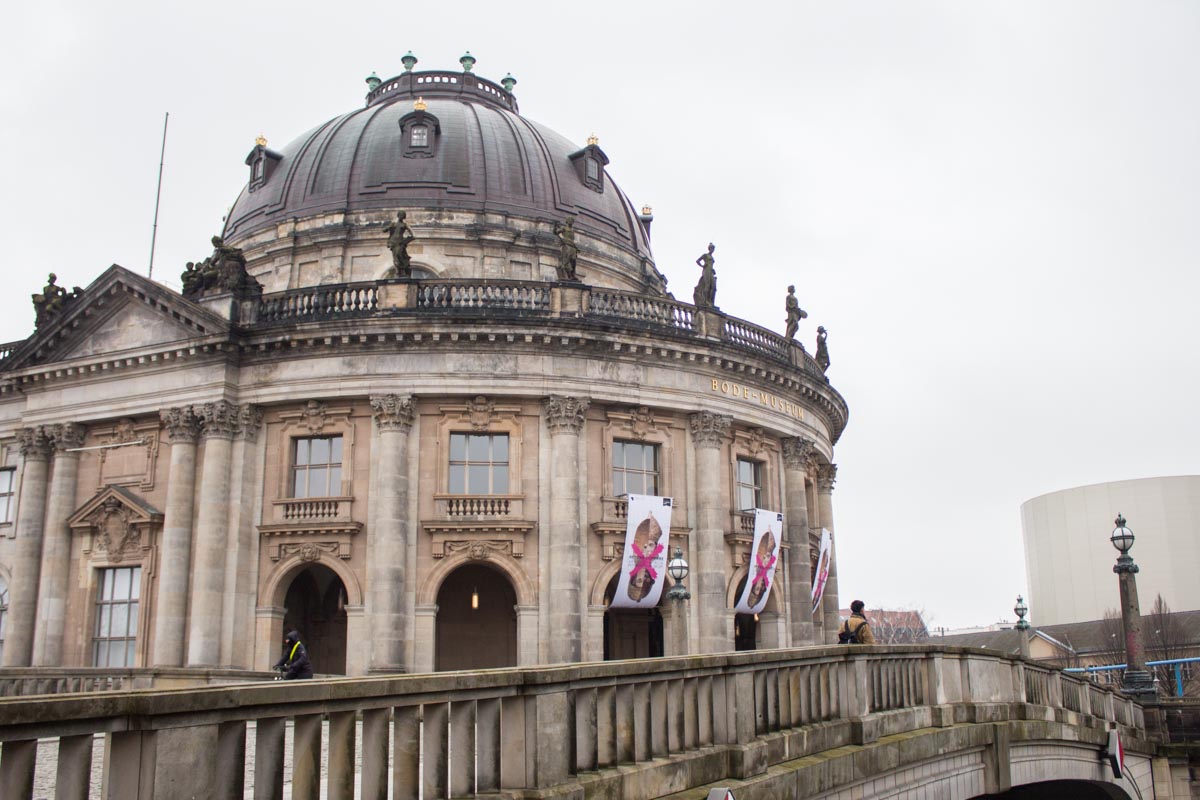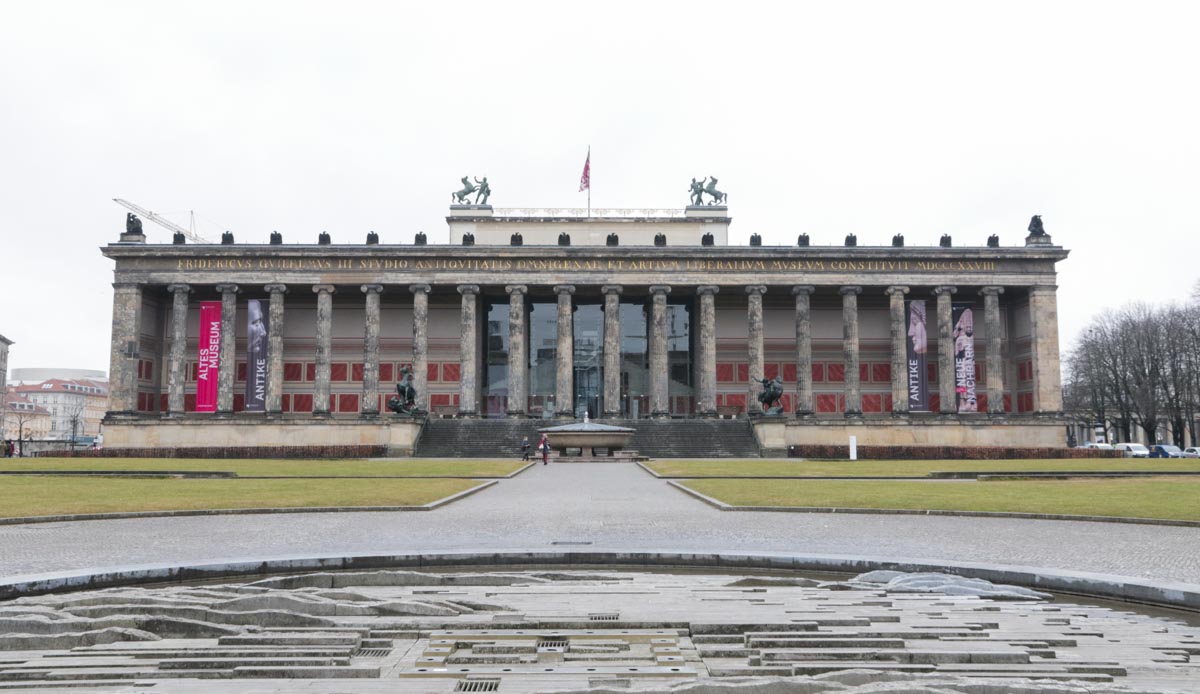 Museum Island is technically on an island, but it feels more like a museum park.
History buffs can easily spend an afternoon hopping museum to museum, from the bust of Egyptian queen Nefertiti at the Neues Museum to artefacts from the Roman Empire at the Altes Museum.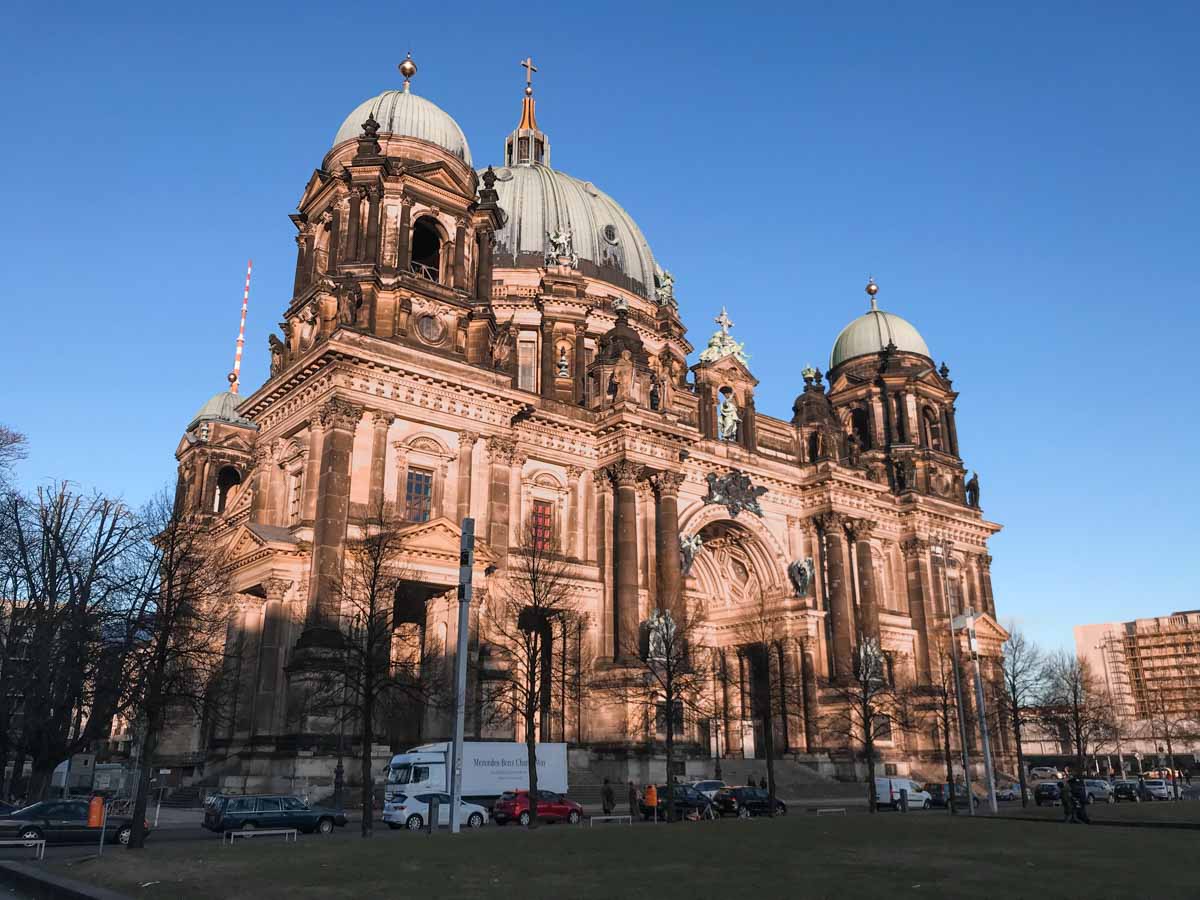 A good starting point would be the Berlin Cathedral (pictured above, stated in the address below), a great photo op that's near almost all 5 museums — Pergamon, Bode, Neues, Alte Nationalgalerie and Altes.
Note that simply searching "Museum Island" on Google Maps will bring you someplace entirely off! #truestory
Cost: €18 (~S$29) online
Opening Hours: 10AM – 6PM (8PM on Thursdays, closed Mondays)
Address: Am Lustgarten, 10178 Berlin, Germany (Berlin Cathedral)
Day Trips Out of Berlin
1) Potsdam (40 minutes from Central Berlin)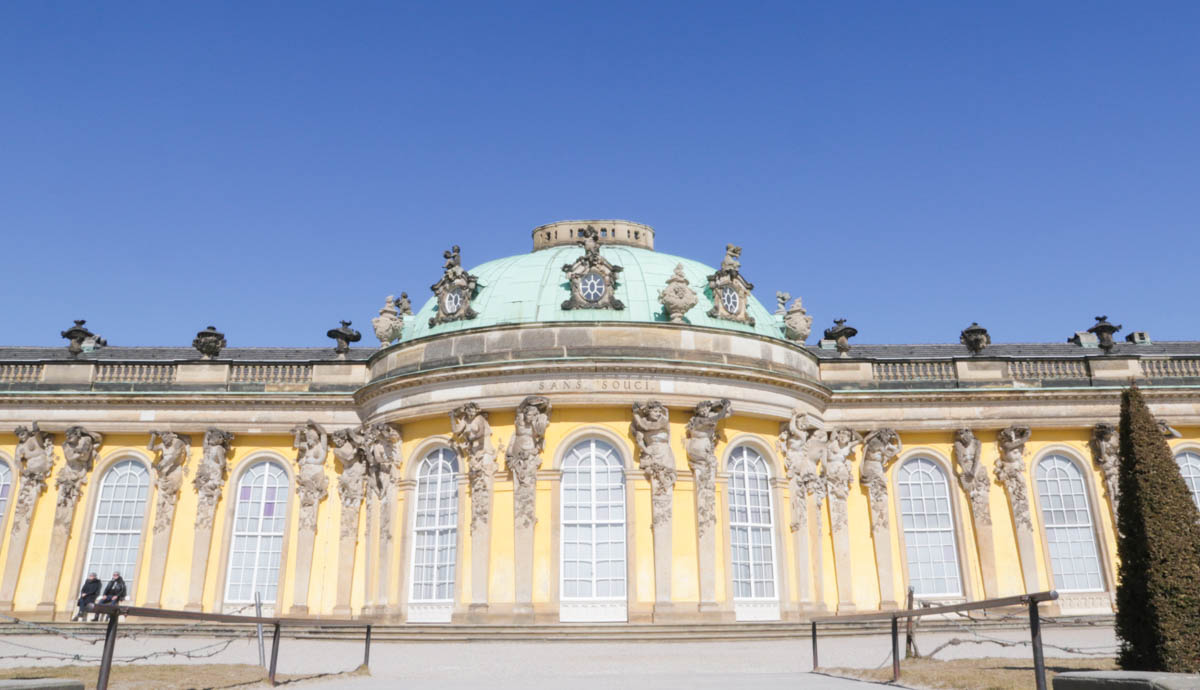 If Berlin is "poor and sexy", then Potsdam should be described as "rich and beautiful". You can easily spend a day in this quiet retreat just as the royal Prussian kings have in the past.
In the city centre, you will find pastel-coloured architecture and red Dutch-style houses with plenty of boutique stores and cafes to chill at. In the summer, you can also cycle and have picnics around the many gardens and lakes.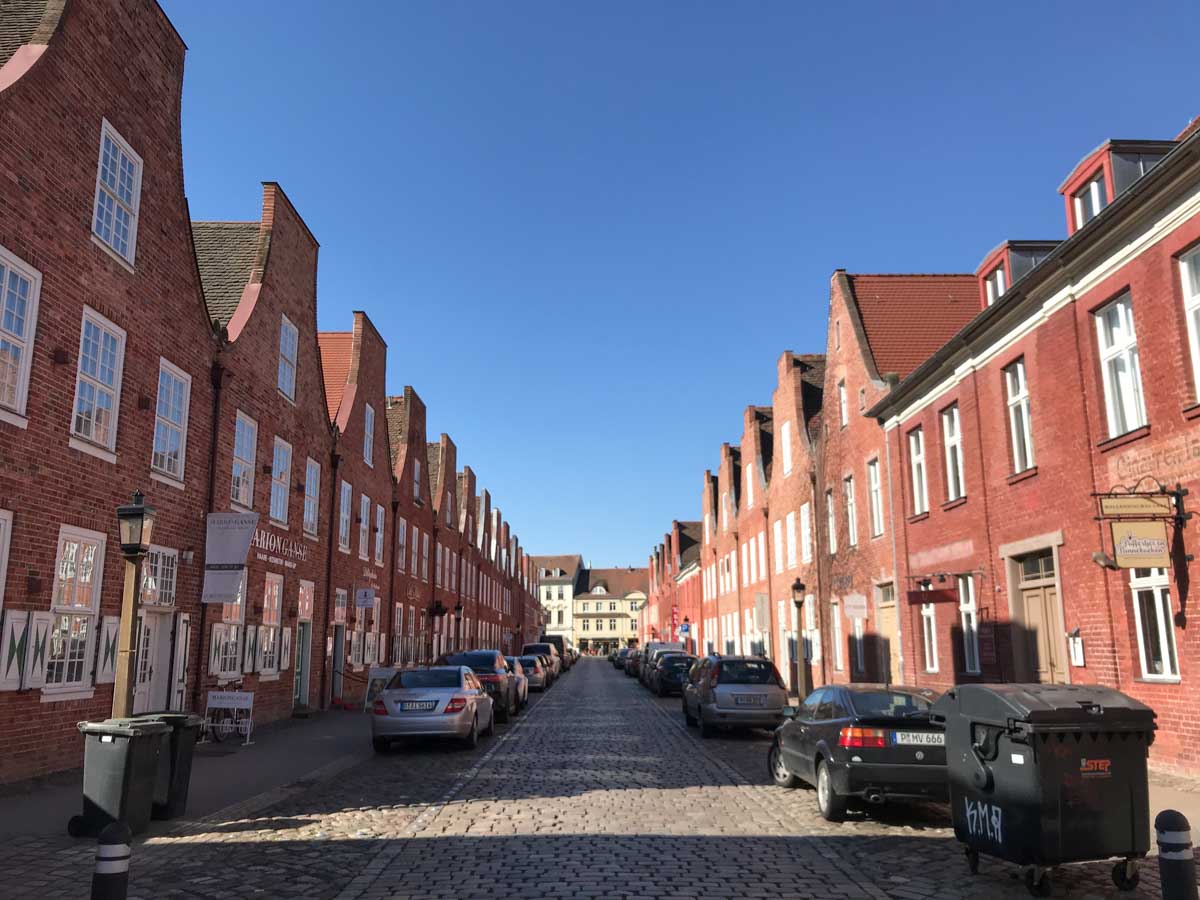 Make your way across the picturesque Sancoussi Park spanning almost 300 hectares that also houses Sancoussi Palace and Charlottenhof Palace, among others. You can also opt to tour inside these palaces by purchasing a single ticket online.
How to get there: Take the train from Berlin Central Station to S Potsdam Hauptbahnhof
Also read: Day Trip Guide to Potsdam from Berlin
2) Spreewald, Lübbenau (Biosphärenreservat Spreewald) (1 hour from Central Berlin)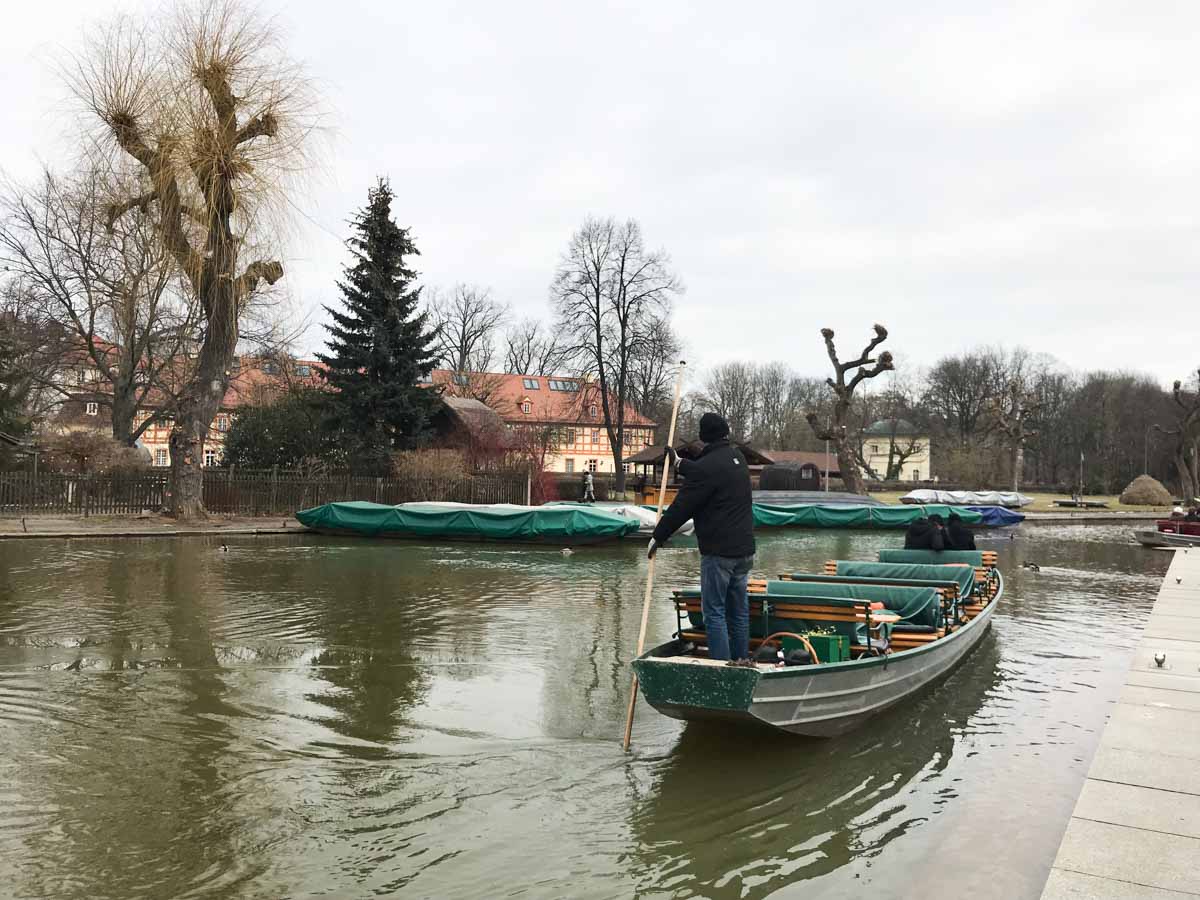 Known as the city of punts (a flat-bottomed boat) and gherkins (pickles), the Spreewald Biosphere Reserve is located in the district of Brandenburg filled with tranquil lakes and hiking trails.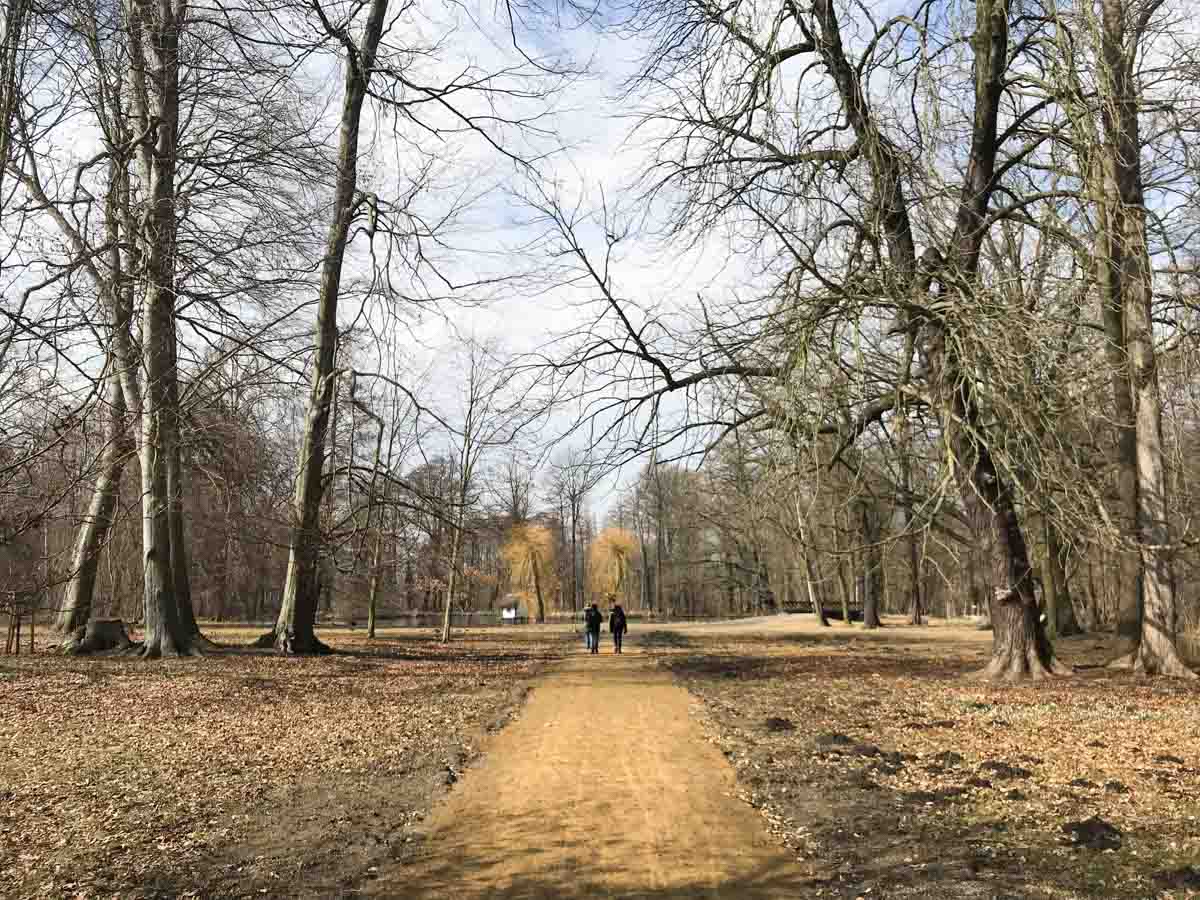 For €11 you can get on a 2-hour punt tour with an English-speaking guide, or opt for longer tours that go up to 9 hours long (with stops).
The punt tours are extremely popular in the summer (around June to July), but it's much more quiet in the Winter — and you get to snuggle up with comfy blankets while sipping on hot glühwein (mulled wine)!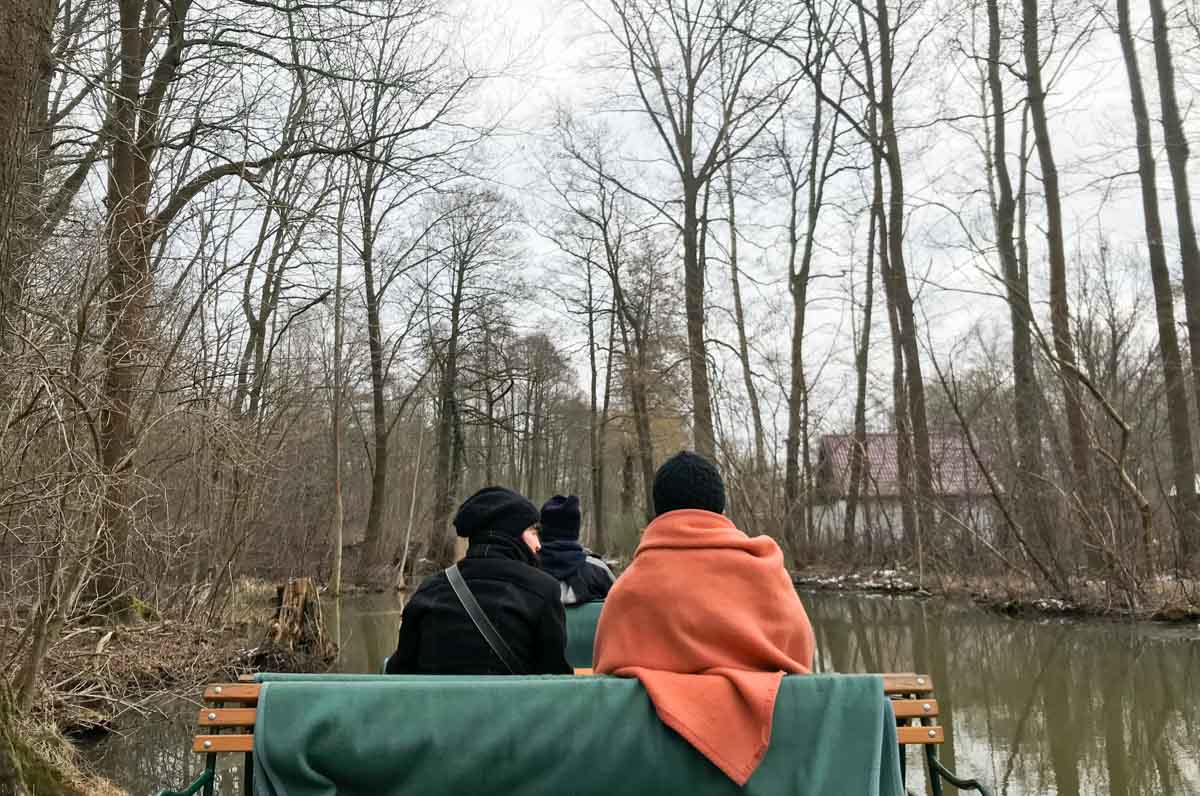 As this area is not within Berlin, you're required to purchase an additional train ticket — the Brandenburg-Berlin Ticket — that costs €29 (~$47) for up to 5 travellers. We recommend purchasing it online, as the ticketing machines can be confusing. You could pre-purchase it online or ask a young local for help (the elderly may not be proficient in English).
How to get there: Take the train from Berlin Central Station to RE2 Lübbenau (Spreewald)
Also read: Day Trip Guide to Spreewald from Berlin
Depending on your length of stay and budget, Dresden, Leipzig and Warsaw are great areas to explore on a day trip too!
What to eat in Berlin
1) Currywurst
A German classic from Berlin, the city has currywurst stalls everywhere, with the most famous being Curry 36.
Price Range: €1.60 and above (~S$2.60) — cost without fries
2) Burgermeister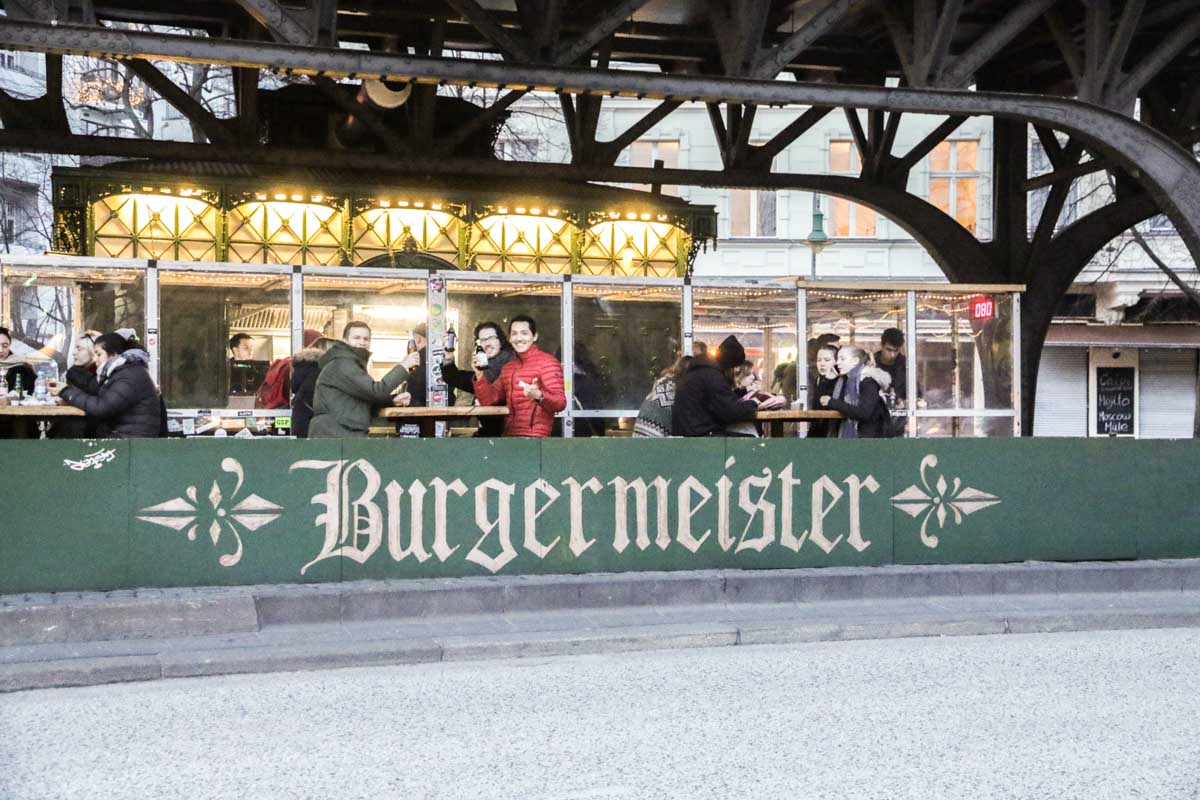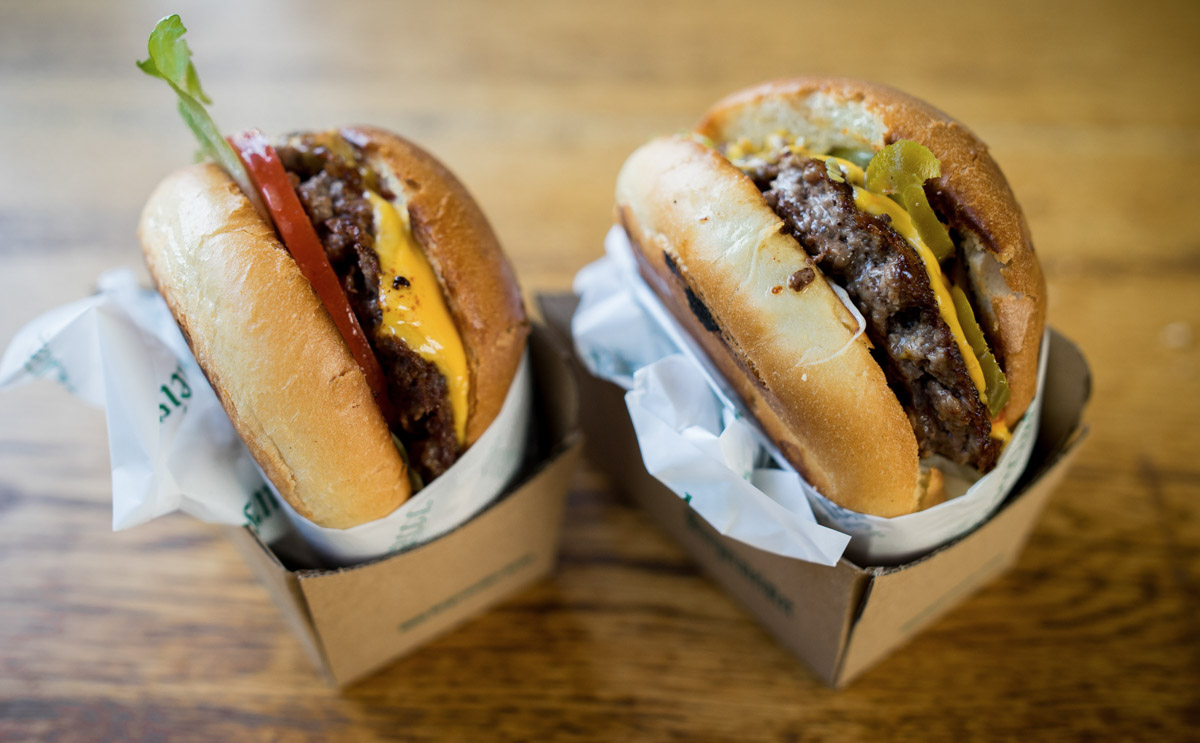 Tucked under U-Bahn train tracks, We love the Meisterburger at Burgermeister comprising a juicy beef patty with fried onions, mustard, crispy bacon and BBQ sauce. You can also pair it with cheese fries, or cold beer sold there.
Price Range: €4.90 and above (~S$8) for a burger
Opening Hours: 11AM – 3AM (Closes 4AM on Fri–Sat, opens 12PM on Sat–Sun)
Address: Oberbaumstrasse 8, 10997 Berlin, Germany
Nearest Station: U Schlesisches Tor
3) Mustafa's Gemüse-Kebab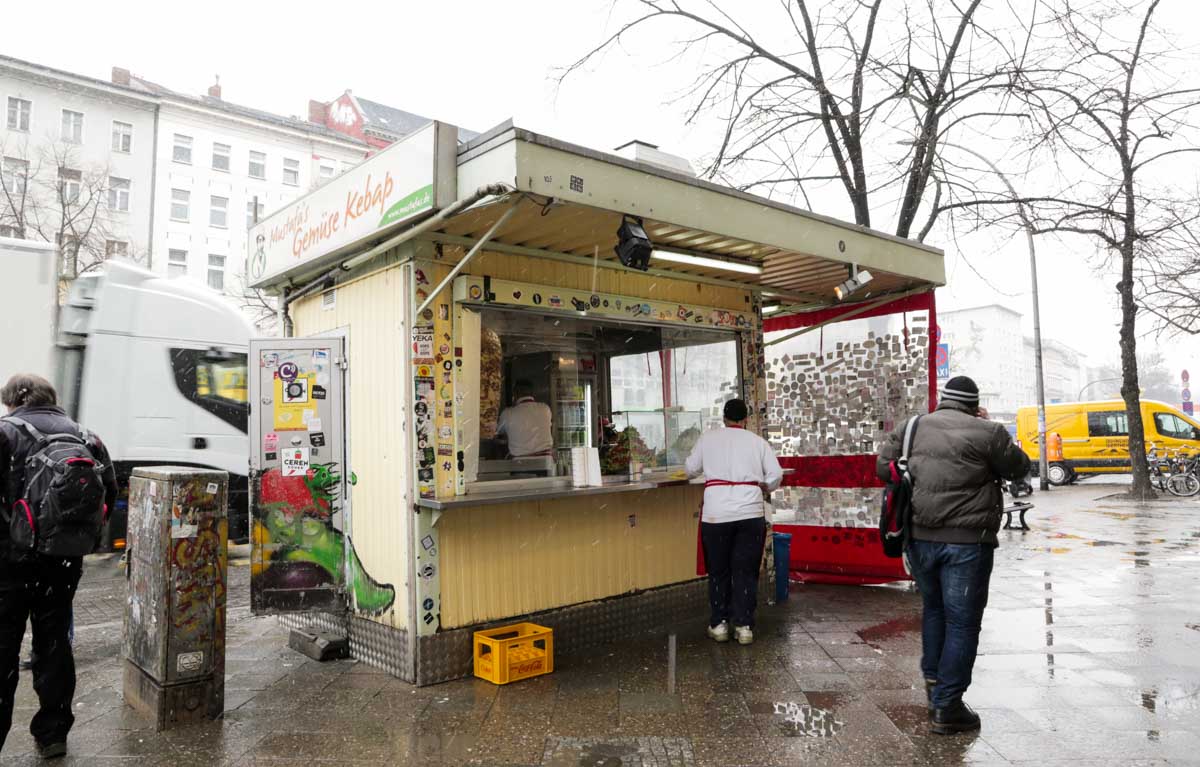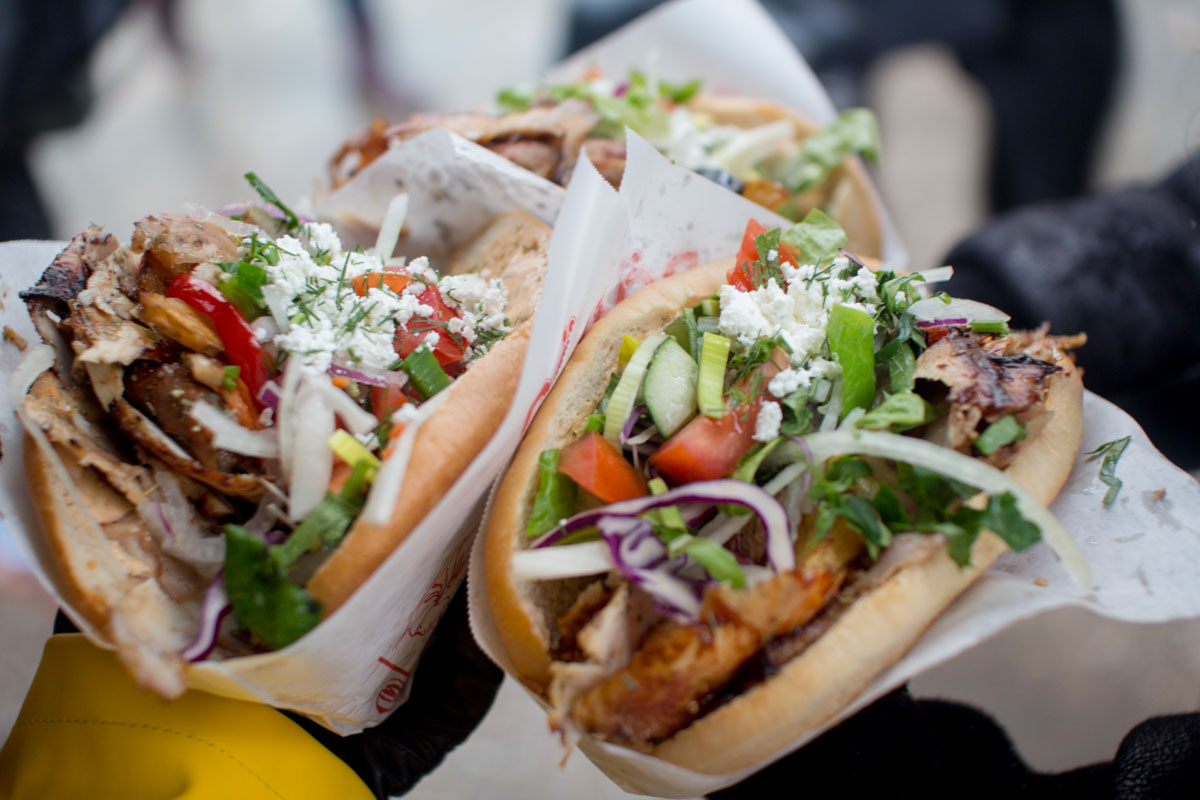 Döner kebabs like Mustafa's Gemüse-Kebab were introduced by Turkish immigrants in Berlin, and are different from kebabs in Singapore. These are stuffed liberally with savoury chicken and tasty vegetables topped with feta cheese, fresh lemon juice and an array of sauces.
Most times, you'll have to wait in line between 15 minutes to 1 hour, seriously. So be prepared!
Price Range: €3.50 and above (~S$5.70) – cost of 1 döner kebab
Opening Hours: 10AM – 2AM (Closes 5AM on Fri–Sat)
Address: Mehringdamm 32, 10961 Berlin, Germany
Nearest Station: U Mehringdamm
4) Kneipe Klo Toilet Bar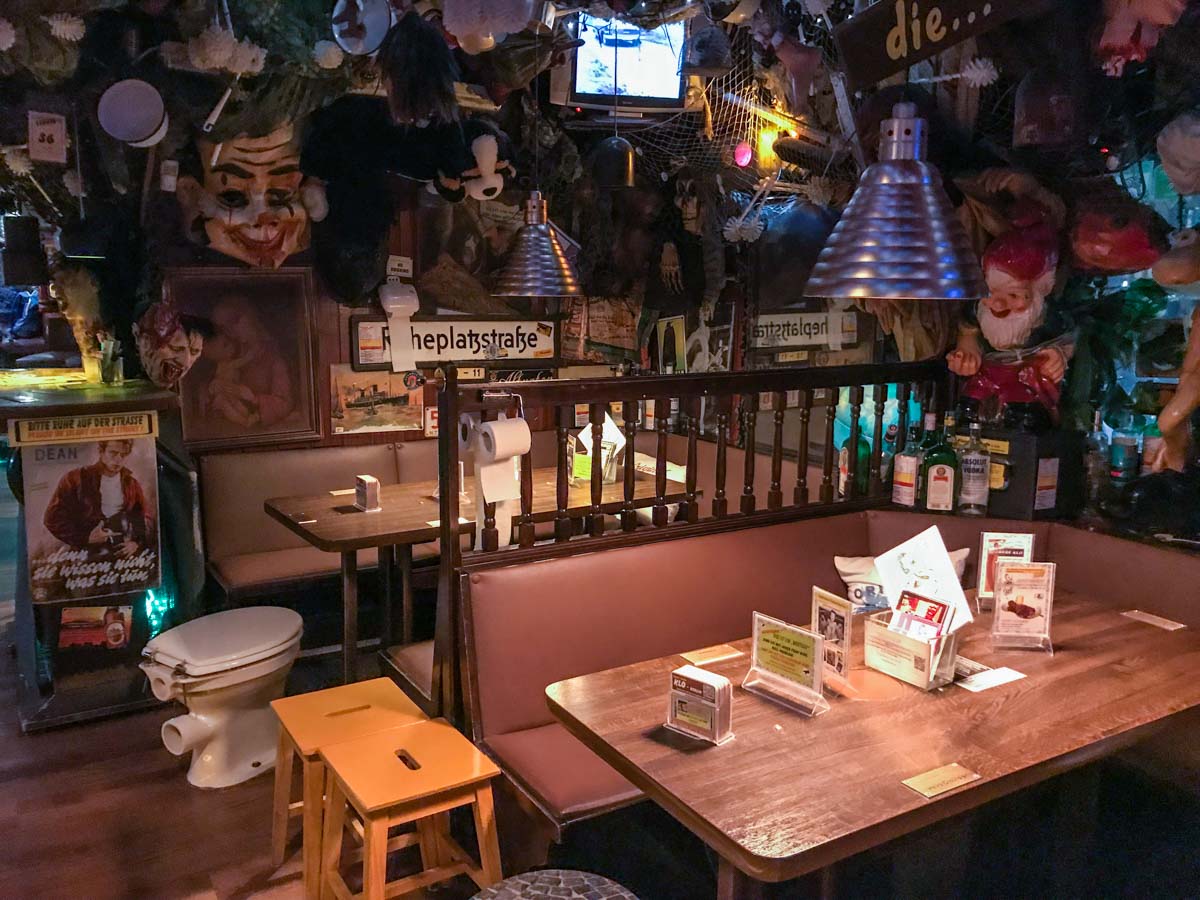 Open the door to this toilet-themed bar, Kneipe Klo, and the first thing that greets you is a spray of water (simulating pee) from a discreet hole beside an inner door.
If that isn't enough, there are moving chairs (controlled by the cheeky staff), hidden water sprays and furry, larger-than-life spiders falling from the ceiling onto unsuspecting customers!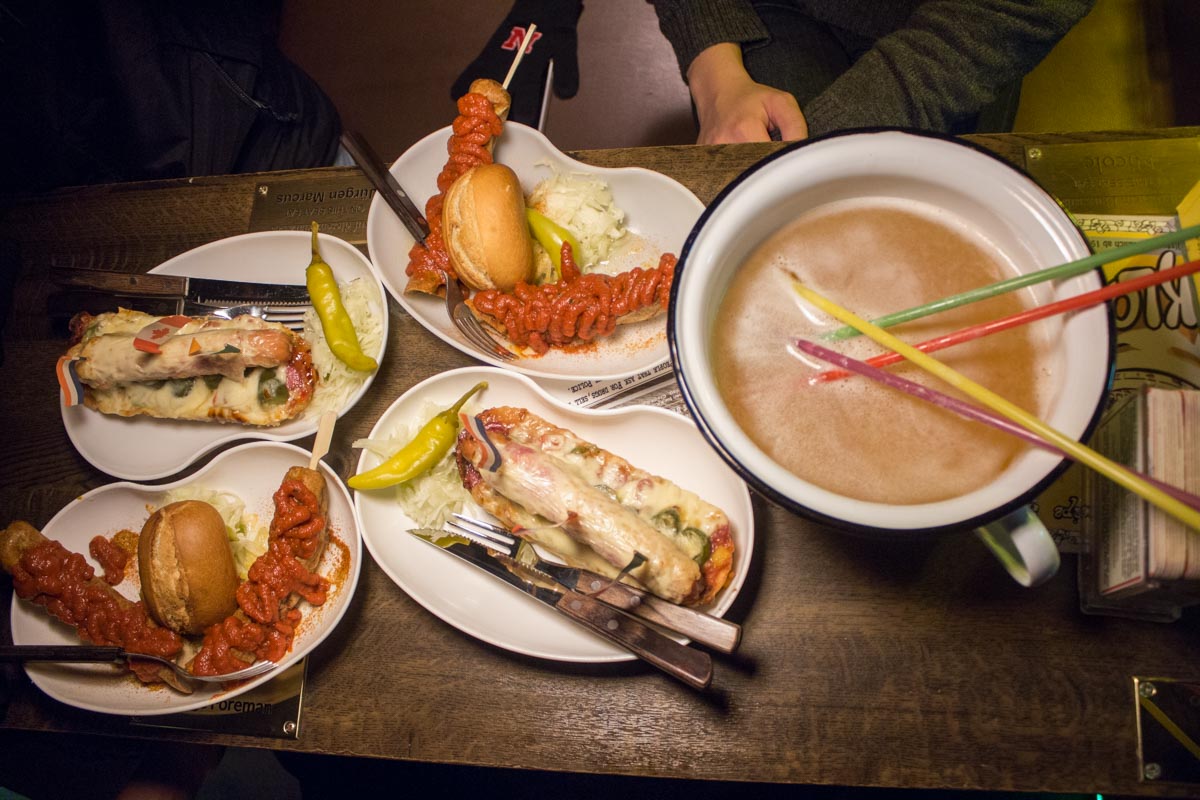 Food and drink-wise, they serve currywurst and other grub along with beers on tap, served in either a pee bottle or chamber pot (for groups).
Price Range: €3.90 and above (~S$6.30) — cost of 1 draft beer 
Opening Hours: 7PM – 2AM (Closes 4AM on Fri–Sat, 1:30AM on Sun)
Address: Leibnizstrasse 57, 10629 Berlin, Germany
How to get there: Take the train to subway to U Adenauerplatz (Berlin) and walk 600m
5) Beer Gardens (Biergärten)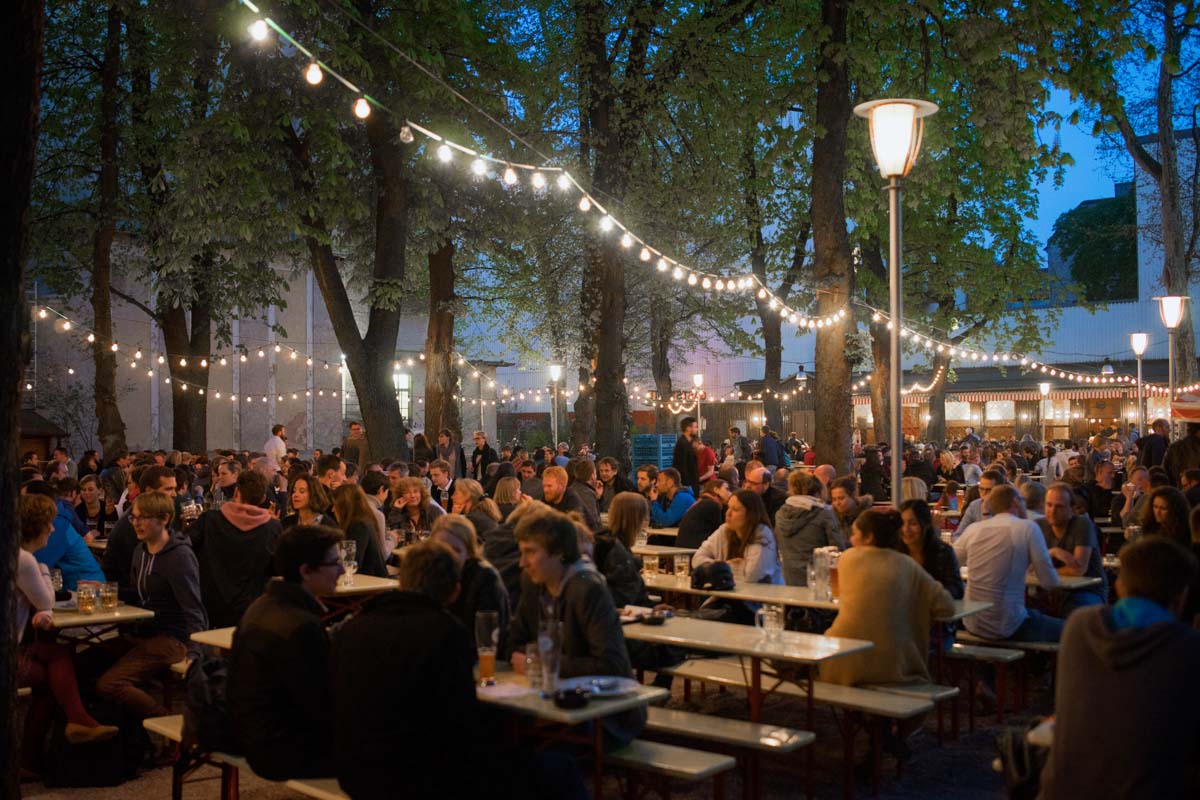 Experience summer like a Berliner at beer gardens that are as famous as their drinking habits. Usually open from April to September, chill out over a cold one and make merry around nature.
There are many beer gardens around, with the touristy ones being Café am Neuen See and Schleusenkrug in Tiergarten, but you can also check out Prater (pictured) that's off the beaten path, and is also the oldest beer garden in Berlin.
6) Markthalle Neun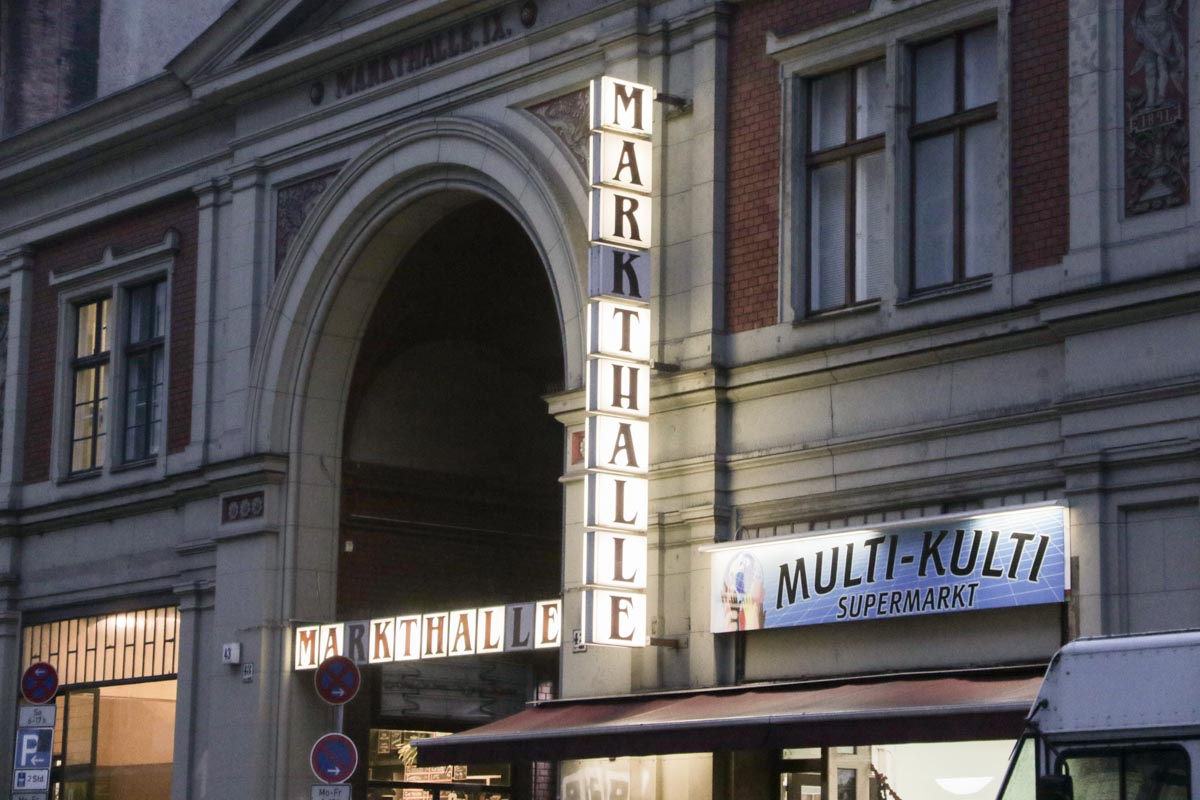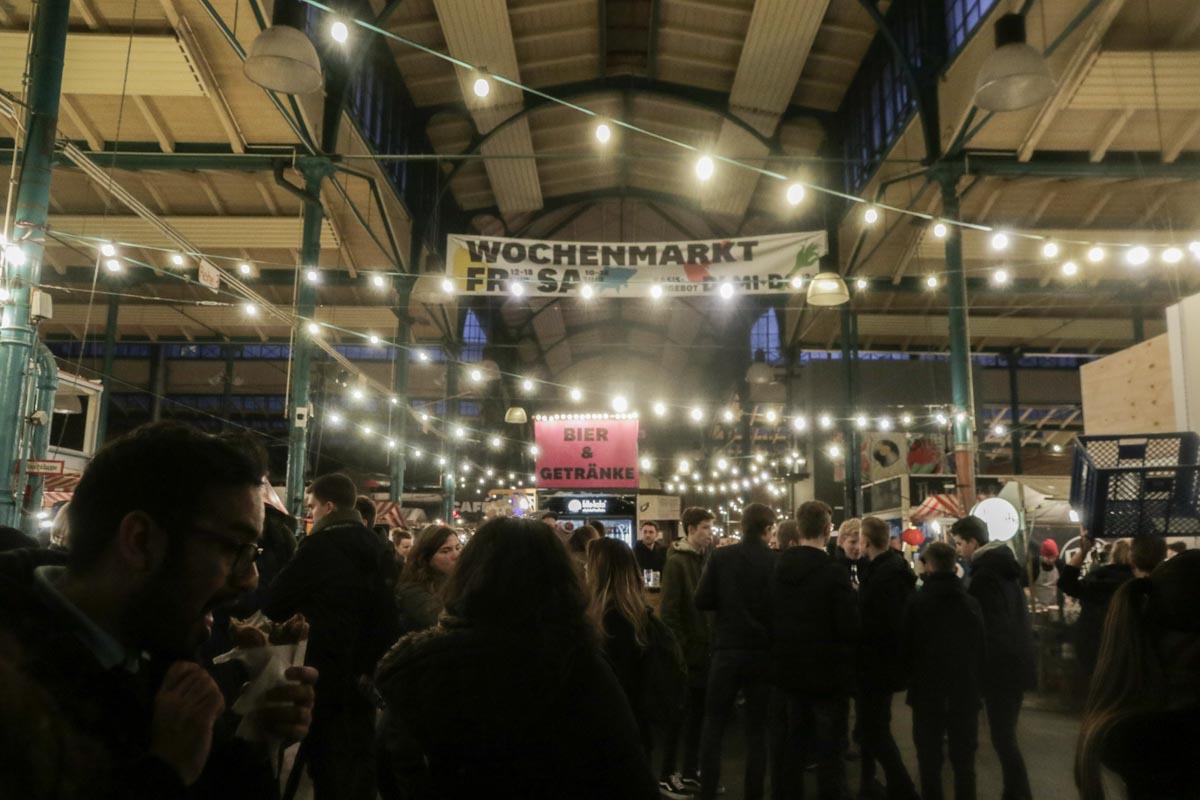 Covered market halls are a street food haven in Germany. On Street Food Thursdays at Markthalle Neun, you can sample food like mac and cheese, slow-cooked boar, cheese platters and wines. They can be slightly pricey, but with a group of friends, you can pool money and get a taste of everything.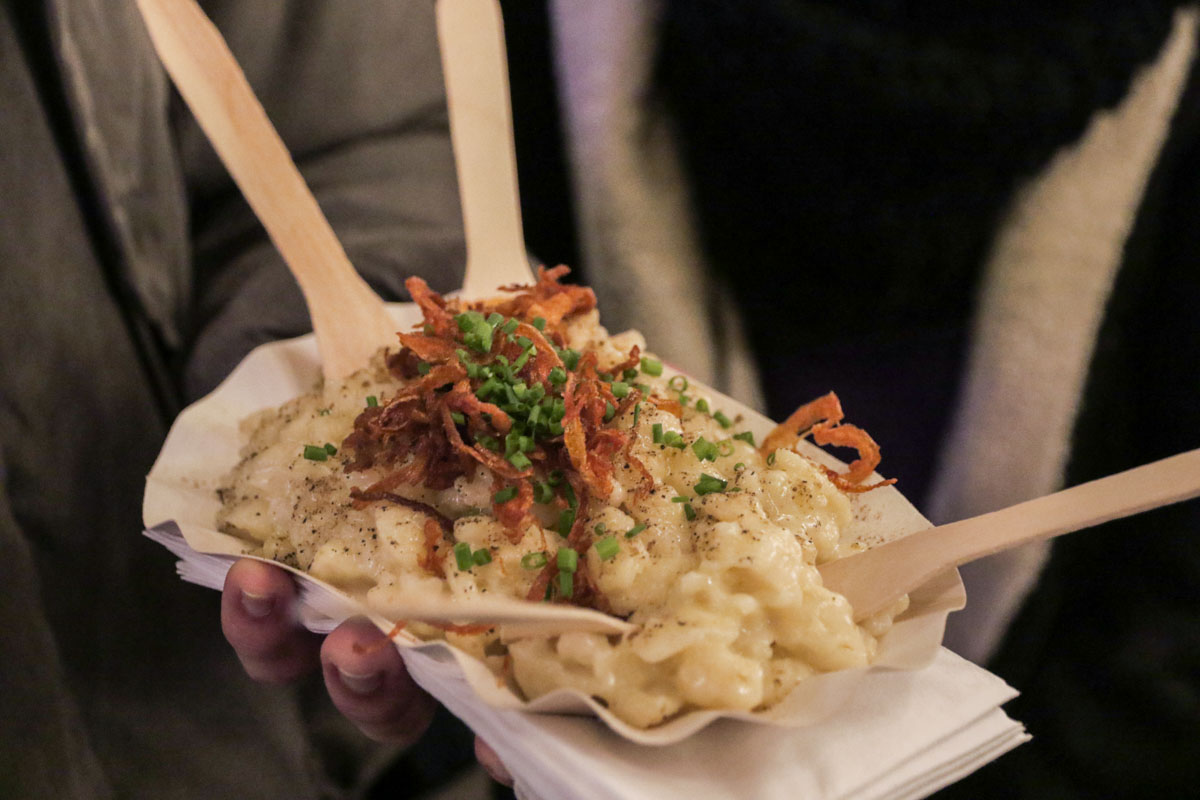 Price Range: €5 and above — estimated cost of 1 dish
Opening Hours: 12PM – 6PM for traditional market on Fri–Sat, 5PM – 10PM for Street Food Thursday
Address: Eisenbahnstrasse 42/42, 10997 Berlin-Kreuzberg
How to get there: Take the subway to U Görlitzer Bahnhof and walk 600m
Where to stay in Berlin
St Christopher Inn's Berlin Mitte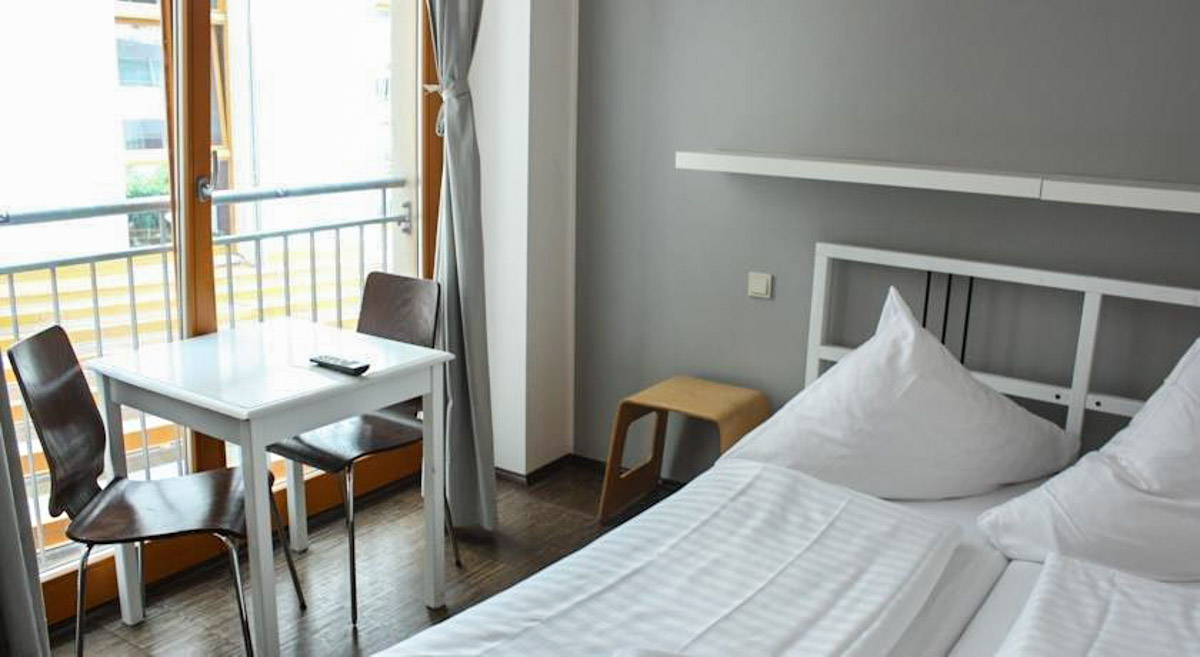 St Christopher's Inn Berlin Mitte, formerly called Baxpax Downtown, is a hostel with private and shared rooms ranging from 4 to 24-bed. Our private, 4-room apartment (~S$210/night) had Wi-Fi, laundry services, kitchen facilities (including a dishwasher!) and an en-suite bathroom, but what we didn't expect was that the room was also cleaned and tidied every day. There's also a cafe selling food and drinks.
There are 3 other branches around Berlin, but we felt this was accessible to most attractions.
Getting around in Berlin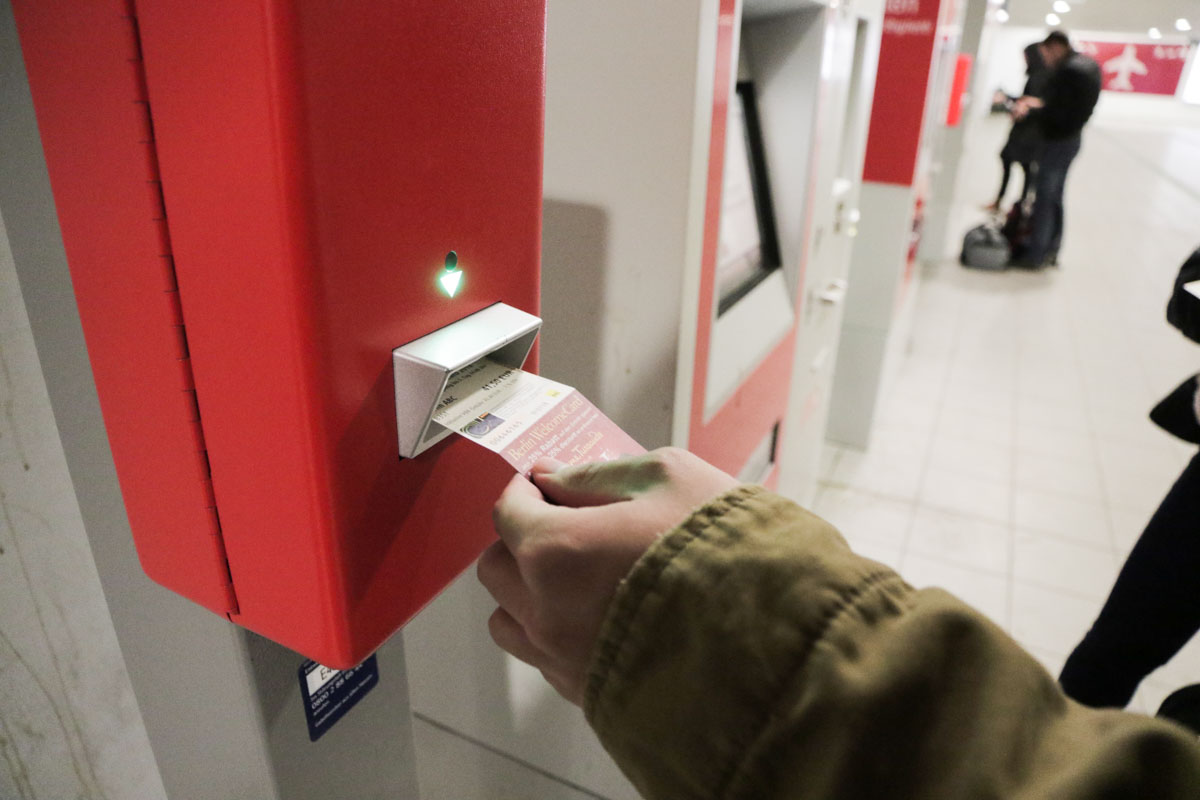 Every transport ticket you purchase in Berlin (including the Berlin WelcomeCard) needs to be validated with a timestamp machine at every station.
You can ride on any train, tram or bus without displaying your ticket unless requested, but if caught with an invalid ticket by roving inspectors in the cabins, you will incur harsh fines of up to €60 (~S$97).
There are 4 main types of transport around Berlin — the S-Bahn (elevated trains), U-Bahn (subway tube), buses and trams (usually numbered with an M prefix). Station names are usually prefixed with either S or U to distinguish between the trains.
Google Maps is widely used here and are accurate down to the specific train timings.
*Pro-Tip: When reading addresses, you will encounter the "ß" symbol a lot. You can spell them as "ss" and Google Maps will read them just fine. So if you want to find your way to Bernauer Straße (pronounced strah-zer), you can type it as Bernauer Strasse.
Nightlife in Berlin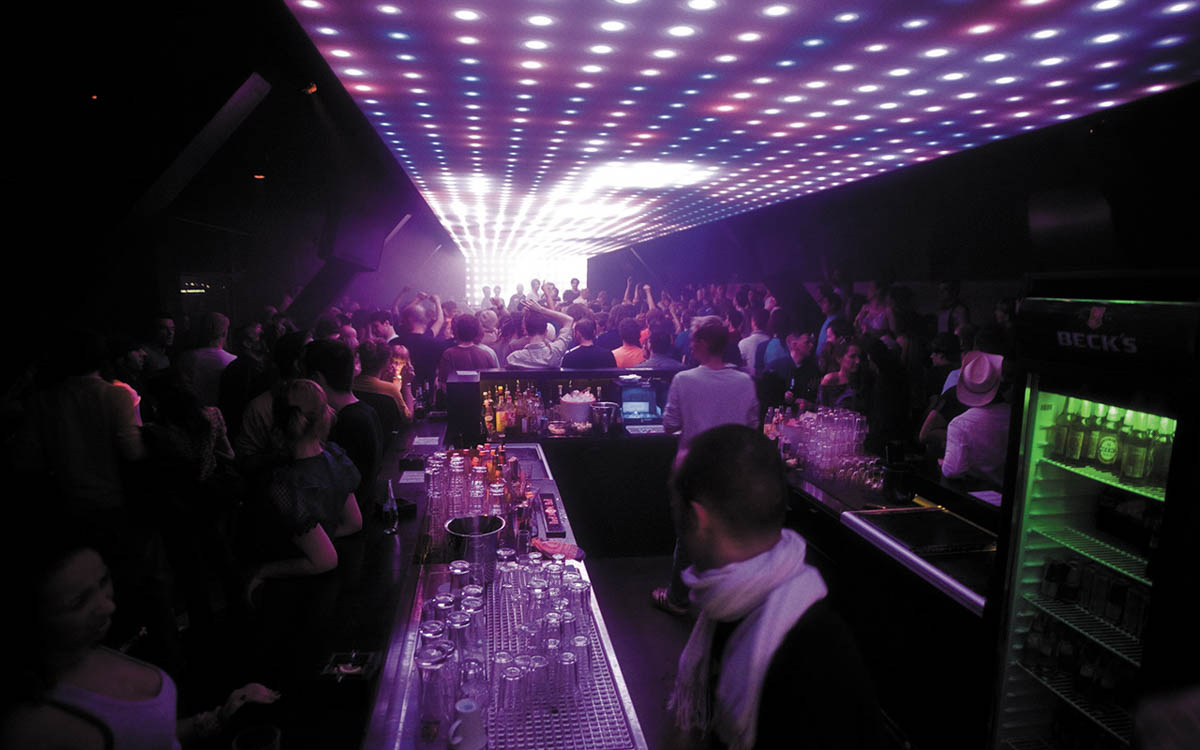 It's not a stereotype. Many people flock to Berlin just to party all night — literally. Most clubs don't have official closing times!
There are countless partying spots throughout Berlin, so search up which are the ones that suit your tastes best, or simply wander the streets and see what you stumble upon.
Perhaps the most (in)famous club is Berghain, where nobody knows the entry criteria, and you could be turned away even after queuing for hours.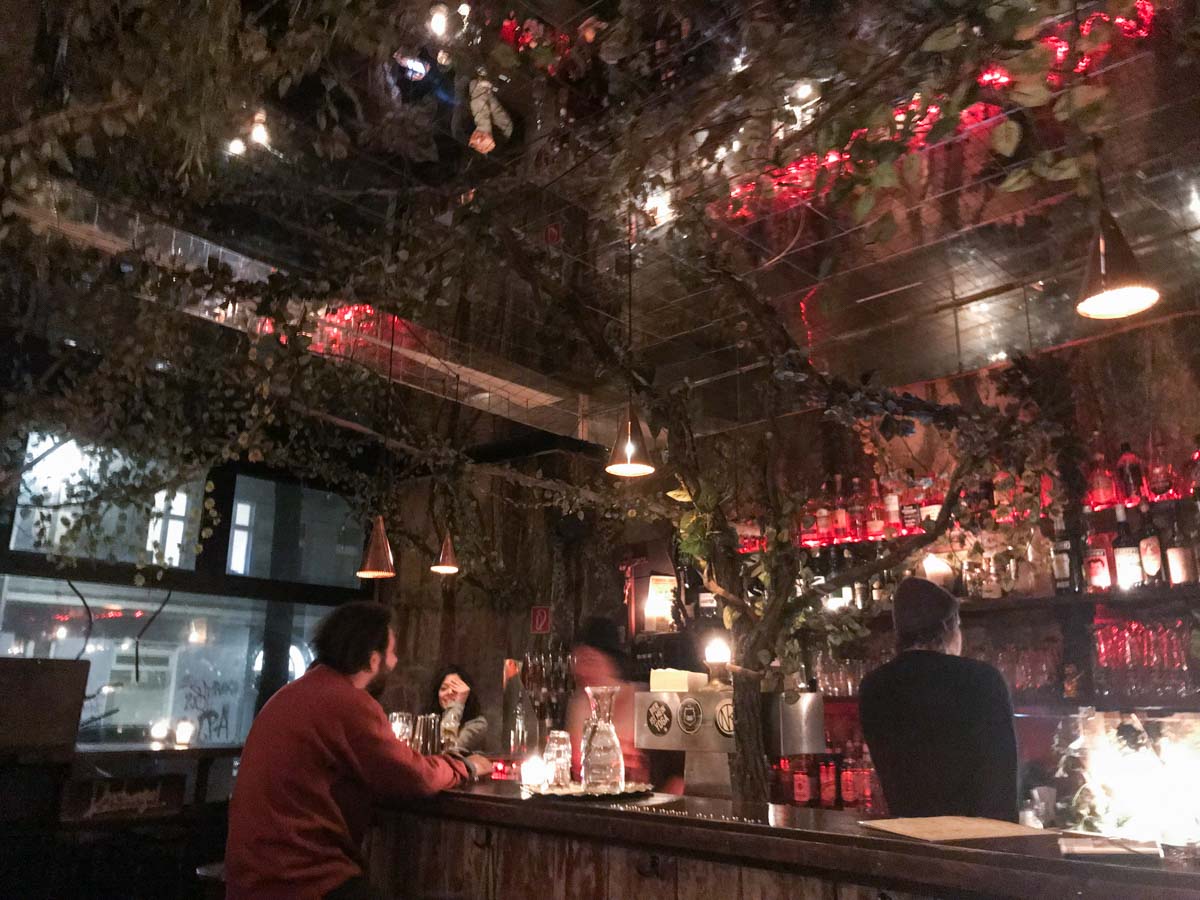 For chiller options, you can also look out for pubs with unique settings like Dschungel Bar (a jungle-themed bar, pictured above) and Madame Claude Bar, where all the furniture is upside down (even on the ceilings).
Direct Non-stop Flights from Singapore to Berlin
Fly non-stop to Berlin from Singapore via Scoot!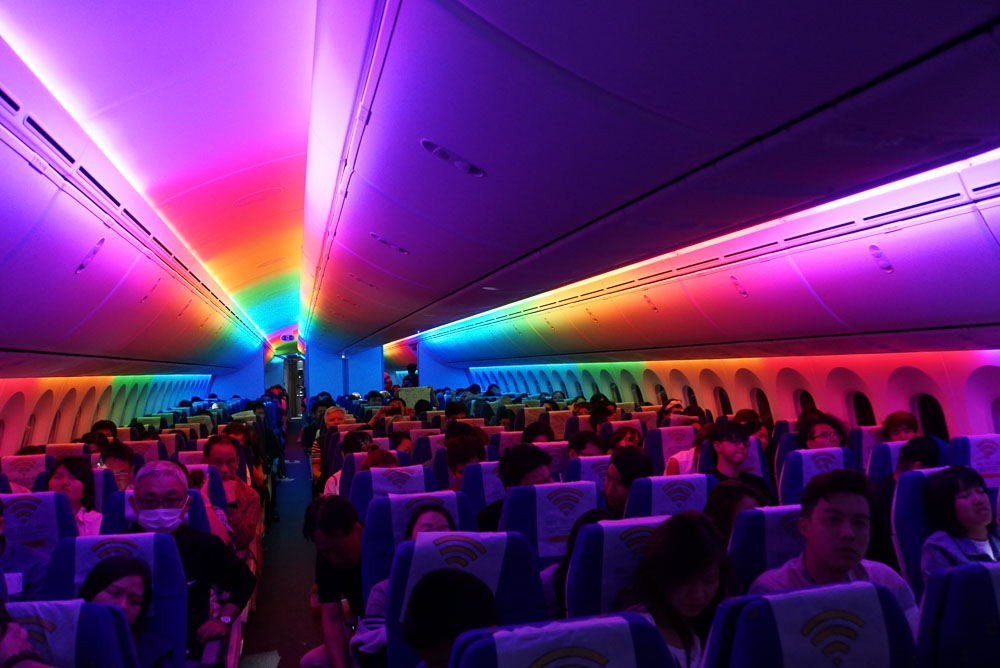 Scoot has launched direct, non-stop flights to Berlin starting from 20th June 2018, and is the only low cost carrier to do so! 
The flight departs Singapore at 12:25AM in the morning and arrives in Berlin the same morning at 7:20AM. Talk about a restful 13-hour sleep on the spacious 787 Dreamliner for only 7 — not #fakenews! Despite the time difference, we could barely feel any jetlag.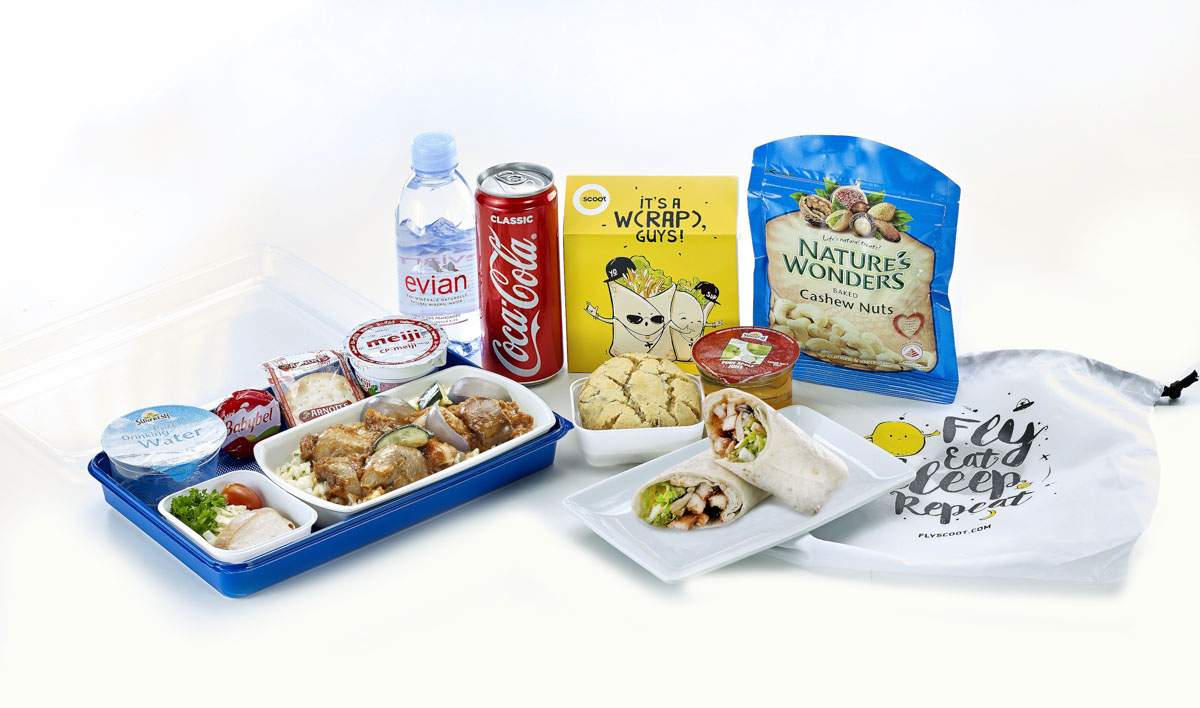 For long haul flights like this, you can get Long Haul Meal Bundles (pre-order only) that come with a Premium Meal Combo and Light Meal Combo throughout your flight. We definitely recommend pre-ordering this bundle as they're not only yummy, but essential if you don't want to suffer from mid-flight hunger pangs!
Do you have other budget recommendations for travellers in Berlin? Let us know in the comments below!
---
This post was brought to you by Scoot.
For more travel inspiration, follow us on Facebook, Instagram, and YouTube.