Speed, coverage, value — here's the eSIM/SIM we'd recommend to friends visiting Singapore.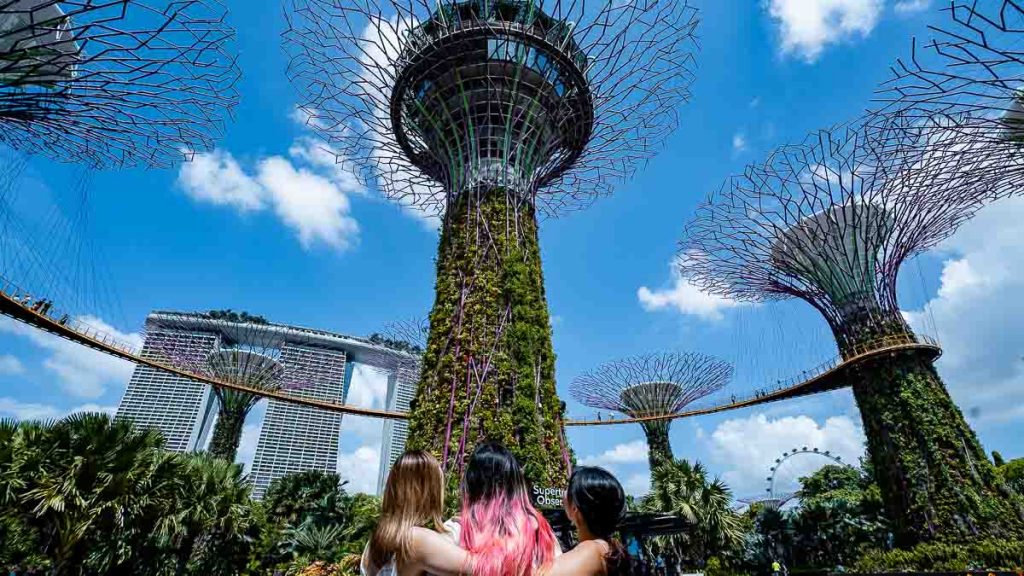 Singapore might be small, but I've to say we've got a lot to offer for our (comparatively) small square footage.
I mean, aside from futuristic landmarks like Marina Bay Sands and Gardens by the Bay, cultural spots like Chinatown, and a pretty competitive and vibrant food scene, there's always an exciting event coming up.
Visiting for the Formula 1 Grand Prix (held 15 Sep – 17 Sep this year), or one of the six-show Taylor Swift and Coldplay concerts happening in 2024? 🥳
Then first things first, let us show you how to best stay connected in Singapore with Singtel's new 5G Tourist eSIMs.
eSIMs?
I don't know about you but if eSIM is an option, it'd be my go-to choice for travelling. For those who are unfamiliar with eSIMs, it's basically a digital version of a SIM card.
The first time I used an eSIM was on a trip to Japan. I had it activated at home before the flight, and I had access to data right upon landing in Sapporo.
Gone are the days of looking for SIM card shops, or fumbling with the swapping of your physical SIM card. Not to mention sometimes losing your original SIM card and having to replace it after returning home.
In case your mobile phone isn't compatible with eSIMs, here's a carrier that provides physical SIM cards too 🙂
Data Plans
Singtel's tourist SIM/eSIM plans start from 100GB! Yes, you won't even have to ask for WiFi passwords while you're in Singapore.
Singtel 5G's connectivity
Planning to take public transport in Singapore? Chances are, you'll be taking the underground MRT. And while many networks tend to lose connectivity on the trains, Singtel 5G is the first in the world to achieve nationwide coverage. This means you'll stay connected even underground.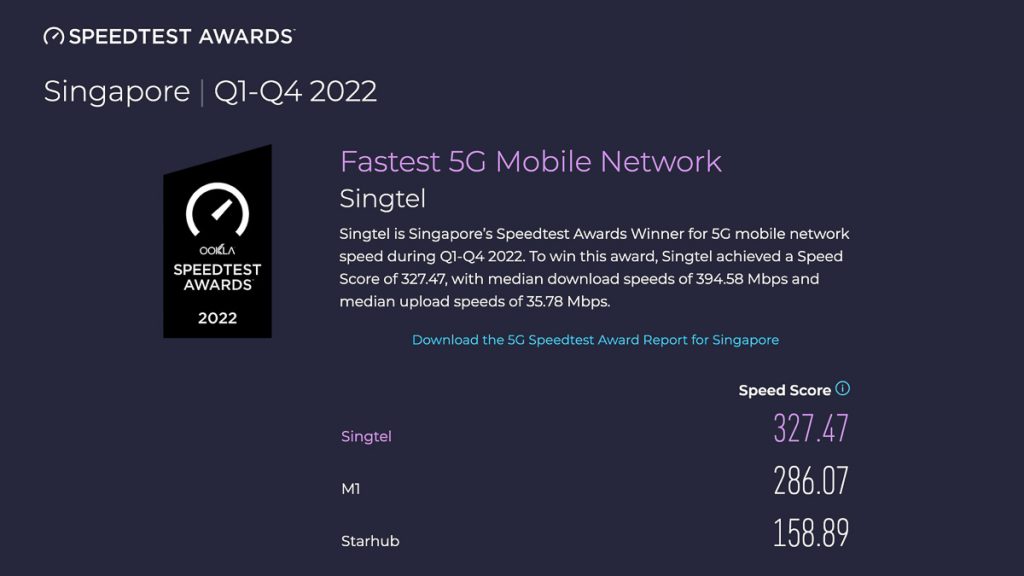 Photo credit: Speedtest
Fun fact: You can download 4K movies in less than 2 minutes as Singtel's 5G network has 10x faster speeds than 4G. It was also named 2022's fastest 5G network in South-East Asia and Oceania by Open Signal (the global standard for 5G network benchmarks).
Singtel 5G also has two times lower latency, which means faster response times with less loading and waiting. You'll also enjoy better bandwidth — video calls, movie and music streaming at top quality 🥳
And lastly, Singtel 5G offers better security protection — meaning it blocks cyber threats at the network level.
Data Roaming
The Singtel 5G tourist eSIM/SIM cards also cover roaming in Australia, Indonesia, Malaysia, and Thailand! That means you won't have to buy another SIM card if you're headed to these destinations.
P.S. Check out our guides and itineraries if you're heading to these destinations!
Where to purchase the eSIM/SIM?
5G Tourist eSIM
Pre-order directly on Singtel:
1) Check that your phone is eSIM compatible!
2) Get your eSIM order confirmation and setup instructions via email
3) Add eSIM on mobile data settings on your mobile phone
*Pro-tip: Planning to stick around Singapore longer? Download and register on the hi!App in Singapore to extend your SIM card validity!
5G Tourist SIM
Purchase at any of the following:
PHYSICAL
– UOB Money Changing Counters at Changi Airport
– Travelex Foreign Exchange Counters at Changi Airport
– Changi Recommends Counters at Changi Airport
– 7-Eleven stores
– Cheers stores
– Singtel stores
ONLINE
– KKday
– Trip.com
– Traveloka
Singtel's Limited-time Deal (September 2023)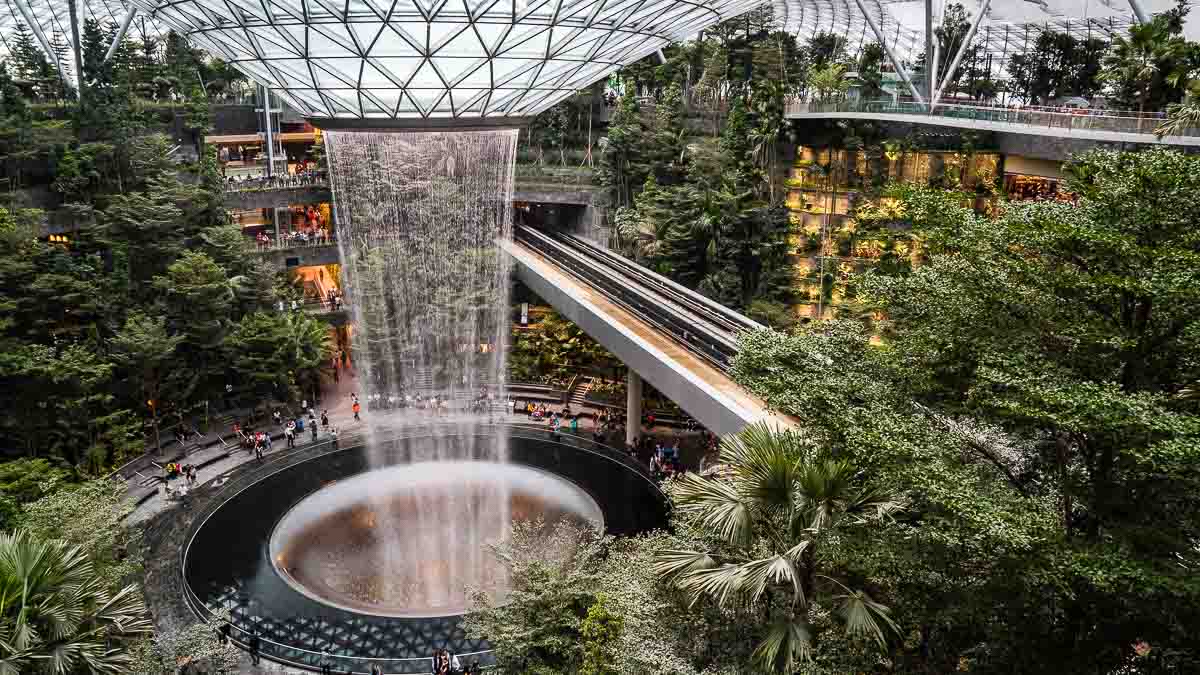 For the month of September,
1) Get a free S$5 KKday voucher with every 5G Tourist eSIM purchased
2) Receive a free USB C card storage and holder* with every 5G Tourist SIM purchased at Changi Airport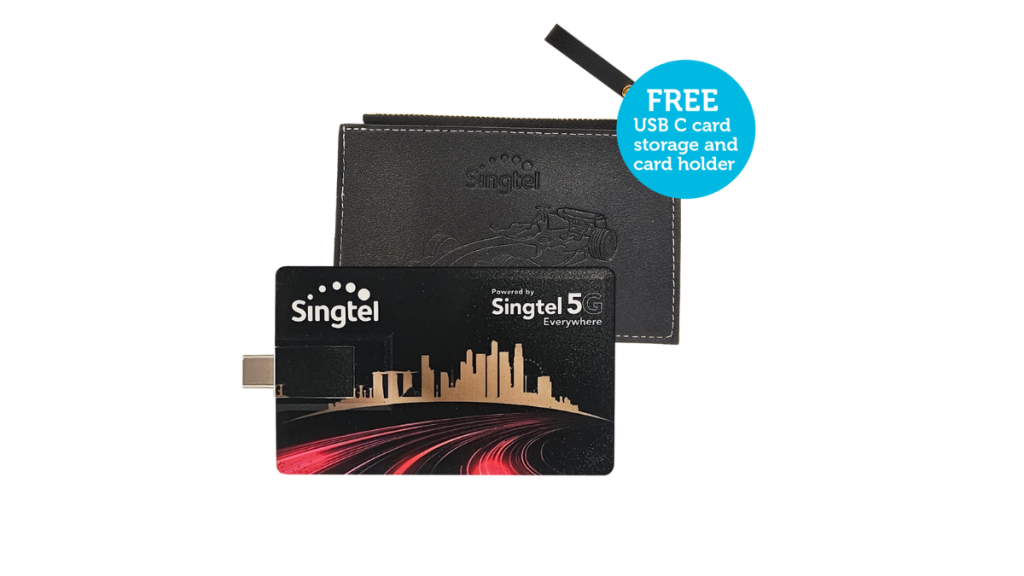 Photo credit: Singtel
*Valid for SIM card collection in Travelex Foreign Exchange Counters, UOB Money Changing Counters at Changi Airport only. While stocks last.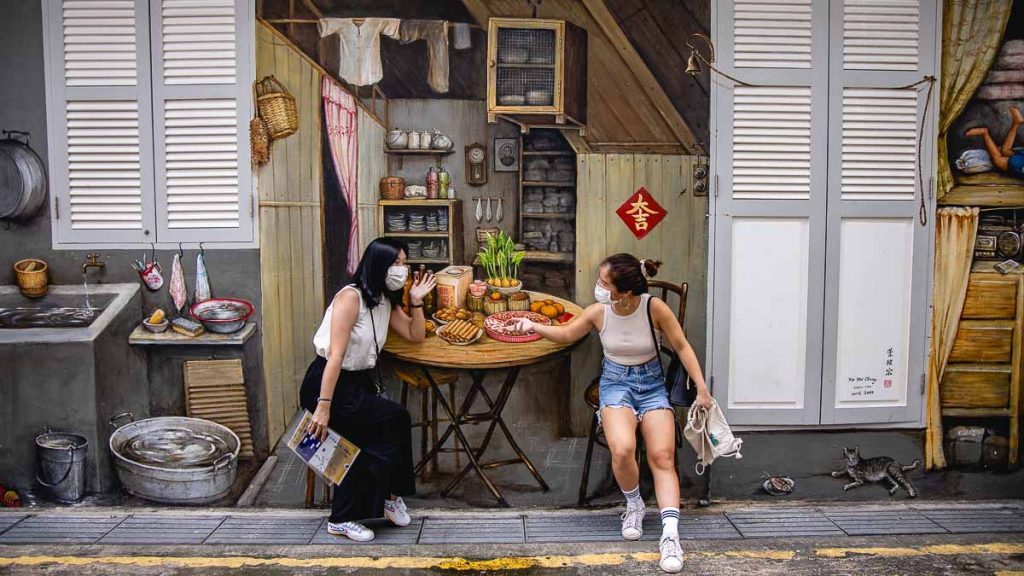 Planning a trip to Singapore? Check out our Singapore itineraries and guides:
– The Ultimate 5-Day Singapore Itinerary Curated by Locals — from Iconic Attractions to Hidden Gems
– 15 Things to Do in Singapore for Outdoor-Loving Singaporeans
Or if you're looking for accommodation in Singapore, here are some ideas:
– Singapore Staycation Ideas — 13 Hotels Under S$99/Pax That Are Trendy Yet Affordable
– 10 Cheap and Affordable Hostels in Singapore Under S$30
What's something you can't wait to experience in Singapore? Share with us in the comments!
---
This post was brought to you by Singtel.