This epic Barcelona itinerary goes beyond the city. Go skydiving in Girona, hiking in Montserrat, and see first-century Roman ruins in Tarragona!
Updated on 16 Feb 2022.
Like most first-timers to Spain, my knowledge of Catalonia was limited to its capital — Barcelona. I looked forward to seeing Gaudi's works and eating lots of tapas.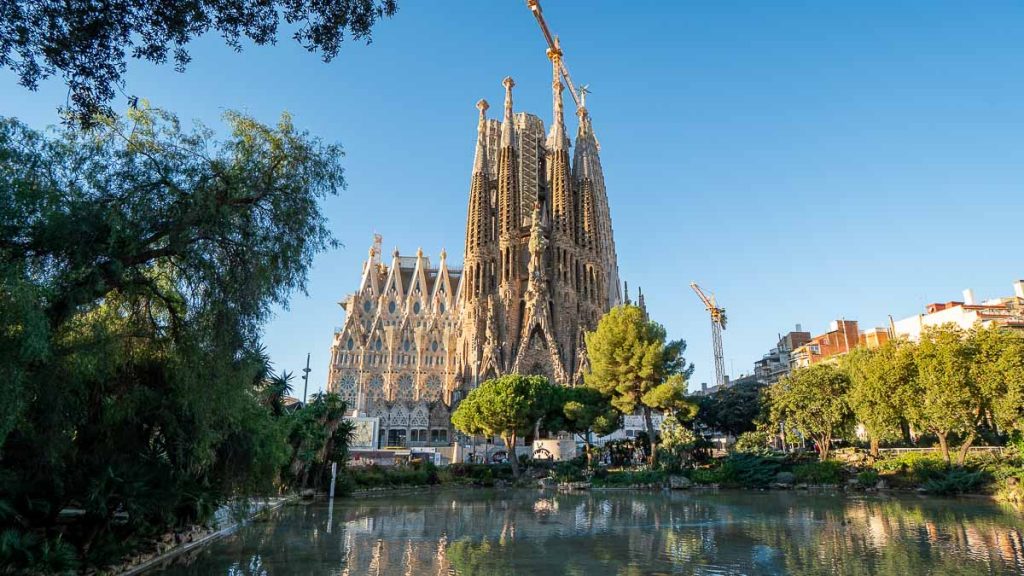 But this trip proved there's so much more to the region surrounding Barcelona. There are dormant volcanoes to hike into, quirky museums (from some of the most brilliant artists in the world) and even Game of Thrones filming locations!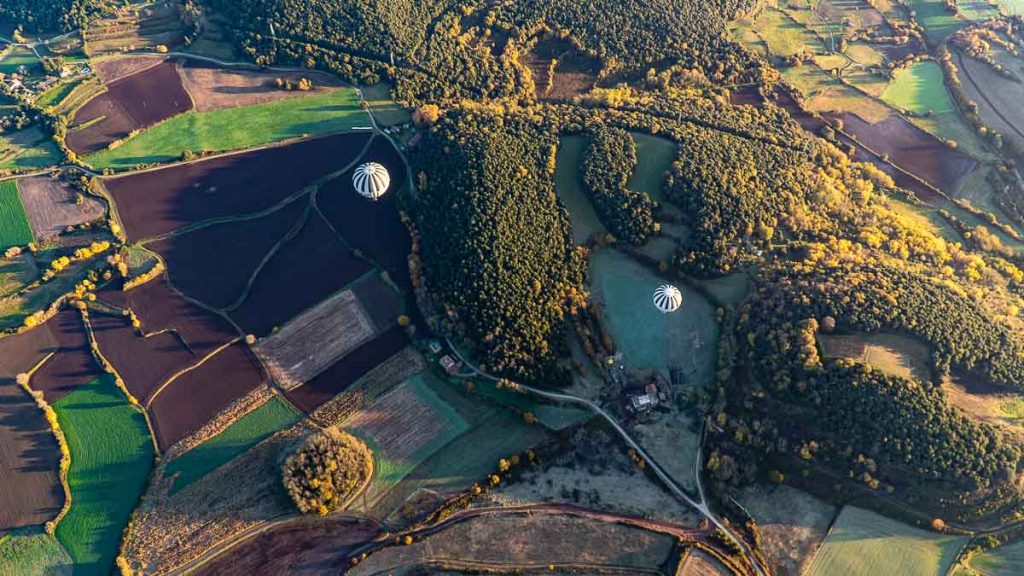 For those unfamiliar with Catalonia, here's a short introduction: Catalonia is made up of four regions — Barcelona , Girona, Tarragona, and Lleida.
Despite being part of Spain, Catalonia has its own flag, language, and traditions not found anywhere else in the country. Like the sport of building human towers (below), Castells!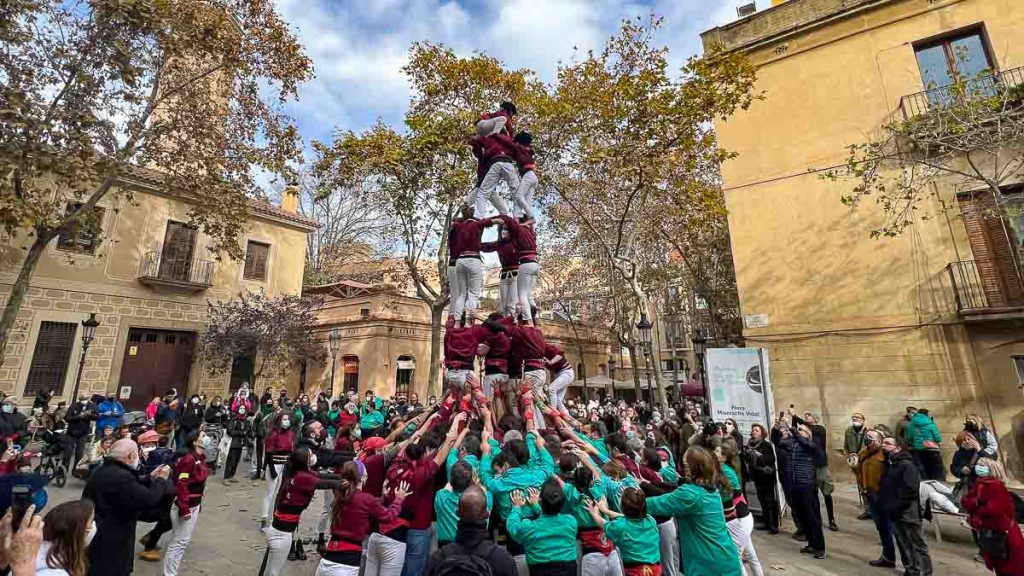 Castells are under the UNESCO World Intangible Cultural Heritage list!
Good news for those hoping to visit as well; Singapore announced a Vaccinated Travel Lane (VTL) with Spain! Read on for our 10-day itinerary exploring Barcelona and surrounds.
Pre-trip Essentials
Photo credit: @angelacompagnone via Unsplash
COVID-19 related:
Entering Spain — You'll need the following documents:
1) 48 hours pre-departure: Complete the Spain Travel Health Form to receive a QR code. You'll need to present this upon arrival in Spain.
2) Before check-in: Download your Digital Vaccination Certificate via Notarise.
Catalonia's COVID-19 page here.
Returning to Singapore (Update as of 22 Feb 2022) — Travellers entering Singapore (citizens included) via the VTL are required to take a supervised ART within 24 hours of arrival.
Do check the latest VTL requirements when planning your trip.
Social distancing restrictions: Most facilities and events are back at 100% capacity. Face masks must be worn indoors and some outdoor locations such as amusement parks.
More pre-trip essentials below such as where to get data and a Google maps with all the locations pinned!
Barcelona and Surrounds Itinerary Overview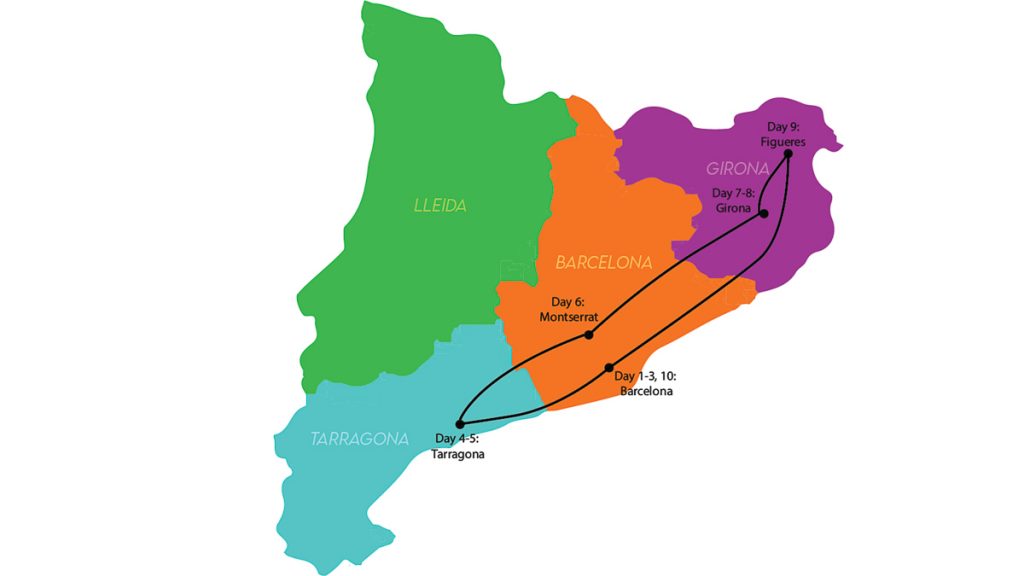 This 10-day Catalonia road trip itinerary covers highlights in the Barcelona, Tarragona, and Girona regions in a clockwise direction.
Day 1-3: Barcelona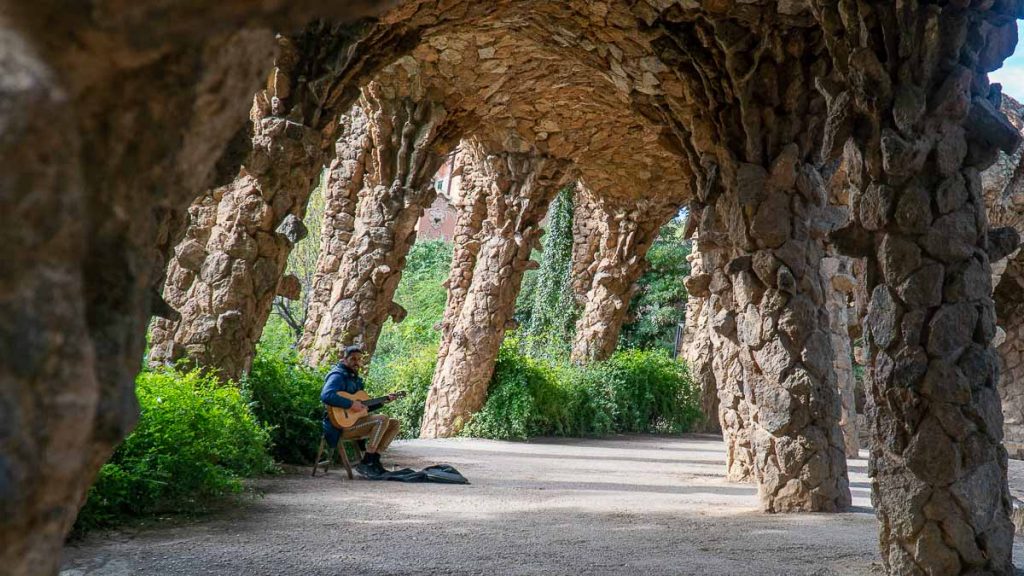 We spent six weeks based in Barcelona as part of Airbnb's Live Anywhere Program and still left feeling like there's so much more left to see!
If you're only in Barcelona for a few days, here's what you shouldn't miss:
La Sagrada Familia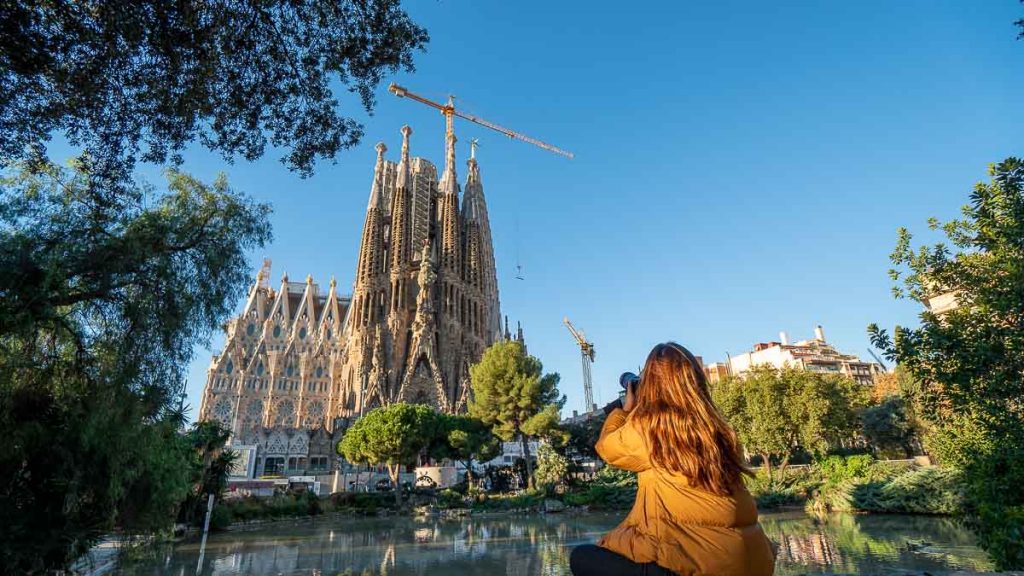 No Barcelona itinerary would be complete without seeing the Sagrada Familia — Gaudí's last and arguably greatest work. 40 years of his life was dedicated to building the Sagrada Familia, and his last 12 years were spent working solely on it up till his death in 1926.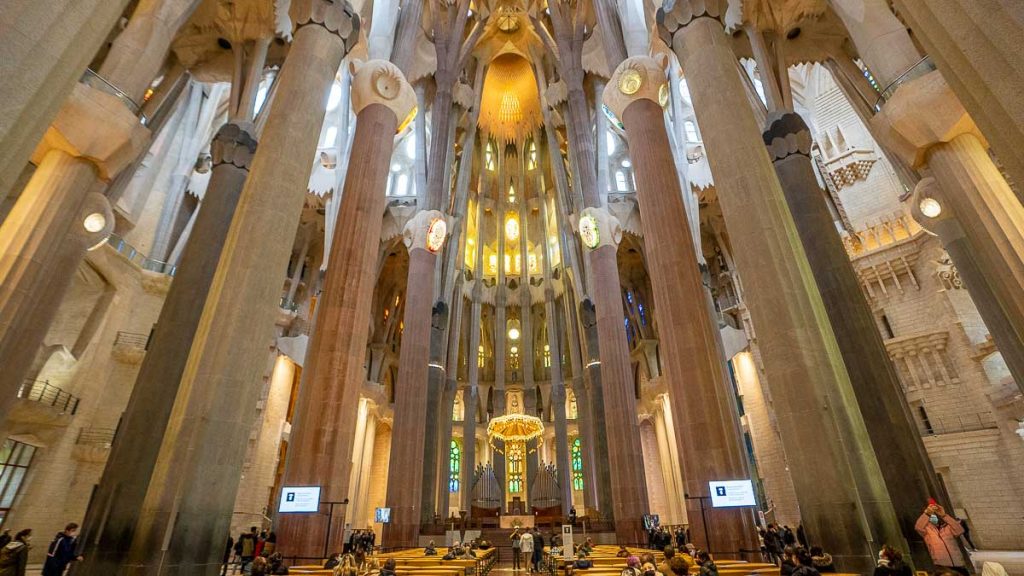 The interior is unlike any other church. Our eyes were immediately drawn to the ceiling — massive granite columns branching up to the sky. Gaudí's main inspirations were nature and light and every detail in the church reflected that!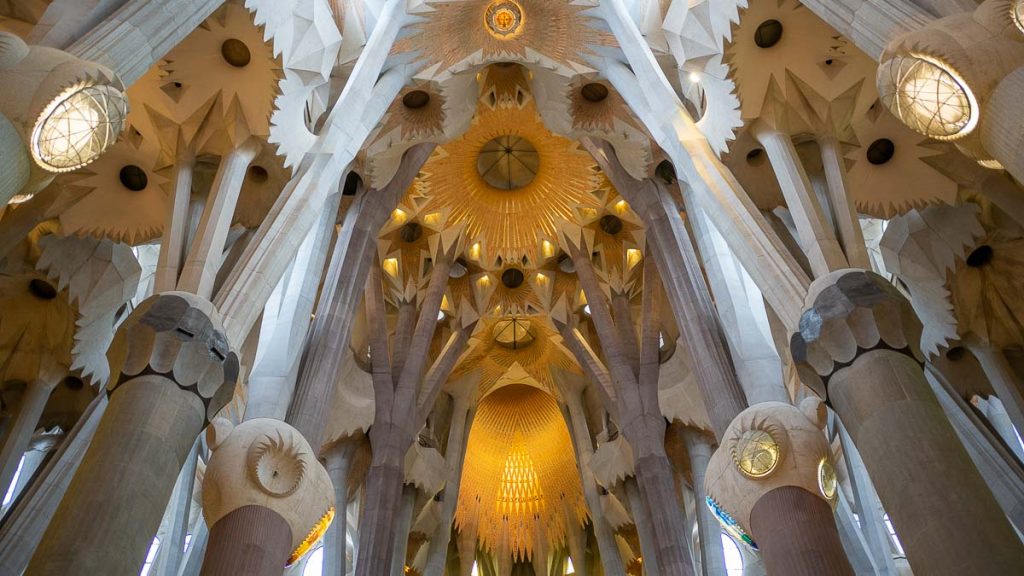 The church is still undergoing construction and was slated to be completed by 2026, but will most likely be delayed due to the pandemic. Entrance includes a detailed audio tour, but you can book guided tours (€49) as well.
Entrance fee: €26, €24 for those under 30 years old — tickets can only be purchased online)
Opening hours: 9AM – 6PM
How to get there: Take the L2 or L5 metro line to Sagrada Familia station. Alternatively, take bus 19, 33, 34, 43, 44, 50, 51, B20 or B24 and get off at the Sagrada Familia stop
Park Güell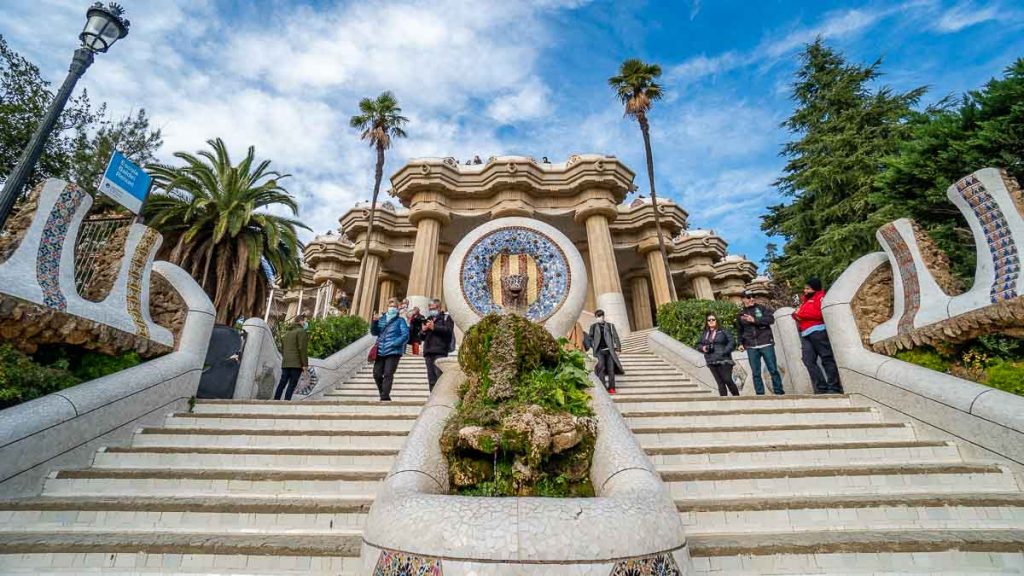 Park Güell is another Gaudí must-see in Barcelona. The most iconic part of the park is the Terrace, an excellent vantage point overlooking the city decorated with vibrant mosaic tiles!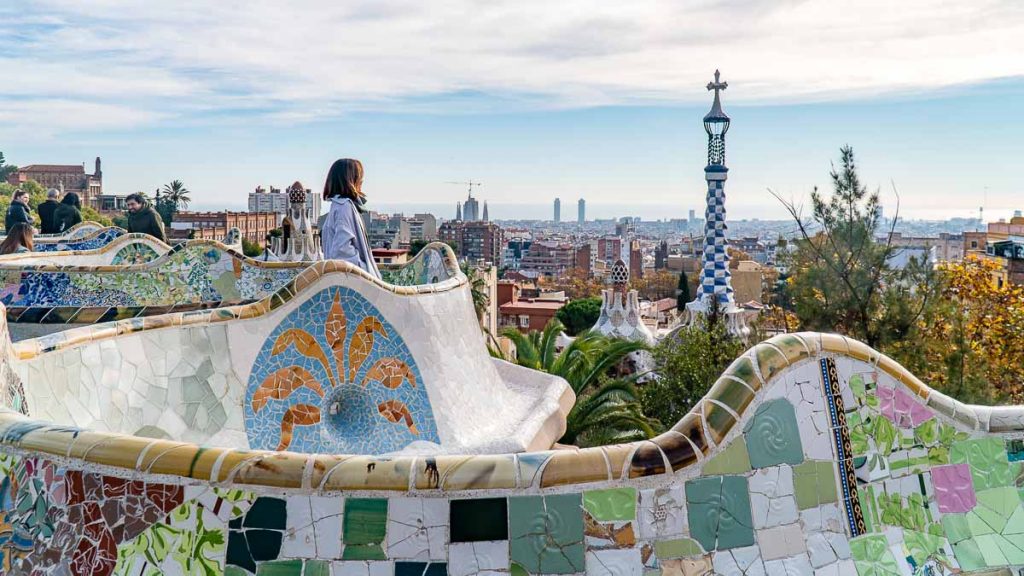 The project was intended as a private estate for upper-class families in 1900, but was bought over by the City Council in 1922 due to the lack of interested buyers. No complaints there because Park Güell can now be enjoyed by everyone!
Other notable photo spots here include the Greek Theatre, Dragon Stairway, and Hypostyle Room.
Entrance fee: €10 (~S$15.43) — purchase online beforehand as there are time slots for entry
Opening hours: 9:30AM – 5:30PM
How to get there: Take the L3 metro line to Lesseps or Vallcarca stations and walk 20min from either station. Or, take bus H6 or D40 and walk 10 min.
Casa Batlló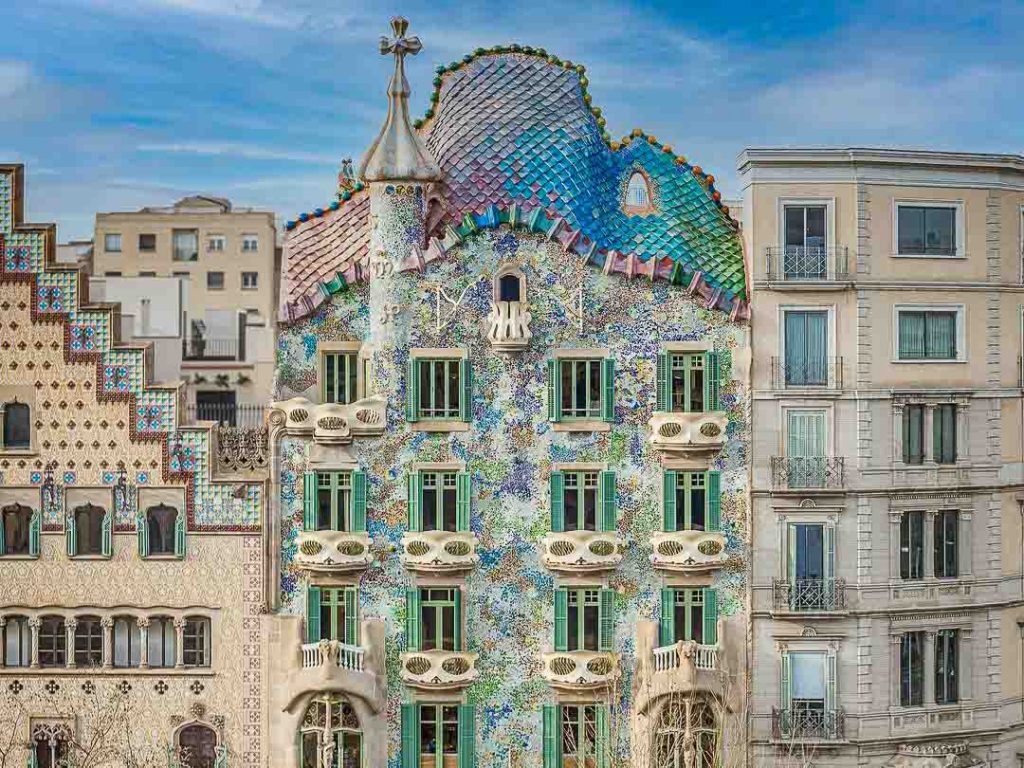 Photo credit: @casabatllo via Instagram
Glimmering scaled-roofs and mask-shaped balconies; the exterior of Casa Batlló stands out like a sore thumb — in the best possible way. The interior is no less fascinating. For one, you'll find no straight lines! Every door, window, and tile exudes character, creating Casa Batlló's lively personality.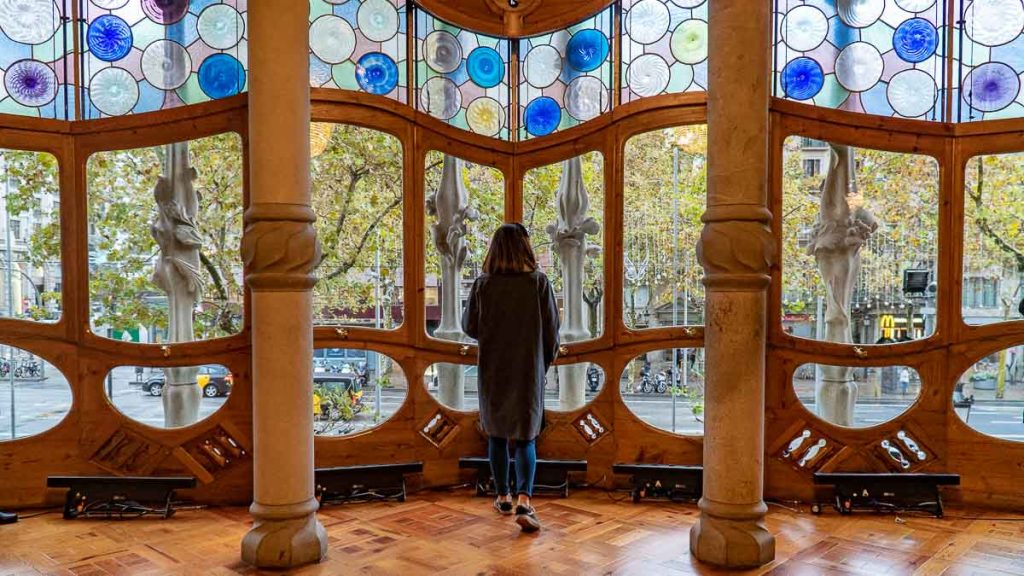 Entrance includes a free audio tour sharing the history of Casa Batlló and Gaudí's inspirations while designing it.
Entrance fee: €35 (~S$54), free for children under 12 — tickets can be purchased online or in-person
Opening hours: 9AM – 6:30PM (Tue – Thu), 9AM – 8PM (Fri – Mon)
How to get there: Take the L2, L3 or L4 metro line to Passeig de Gràcia station or bus H10, V15, 7, 22 or 24 and walk 3min
La Rambla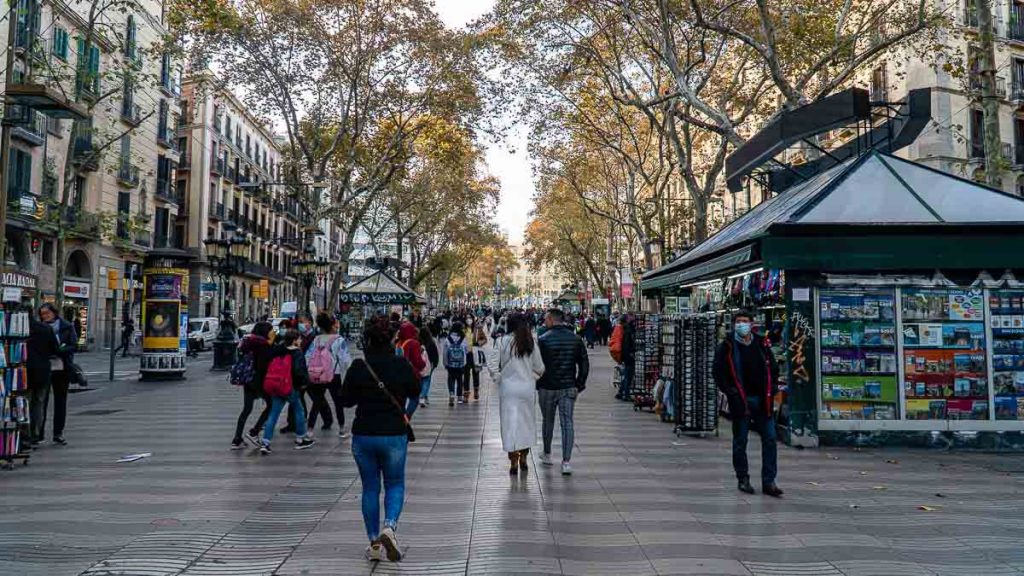 Singapore has Orchard Road, Barcelona has La Rambla. This 1.2km-long street stretches from Plaça de Catalunya to Port Vell at the coast. Beyond big brands like Primark and Zara, there's also street artists and performers here!
*Pro-tip: Take your time to explore the side streets. There are loads of charming bakeries and vintage shops (See Carrer de Tallers street) in the area.
Opening hours: Most shops close by 9PM, but restaurants open till much later
How to get there: Take L1 metro line to Catalunya (exit at the beginning of La Rambla at Plaza Catalunya) or L3 metro line to Liceu (exit in the middle of La Rambla)
La Boqueria Market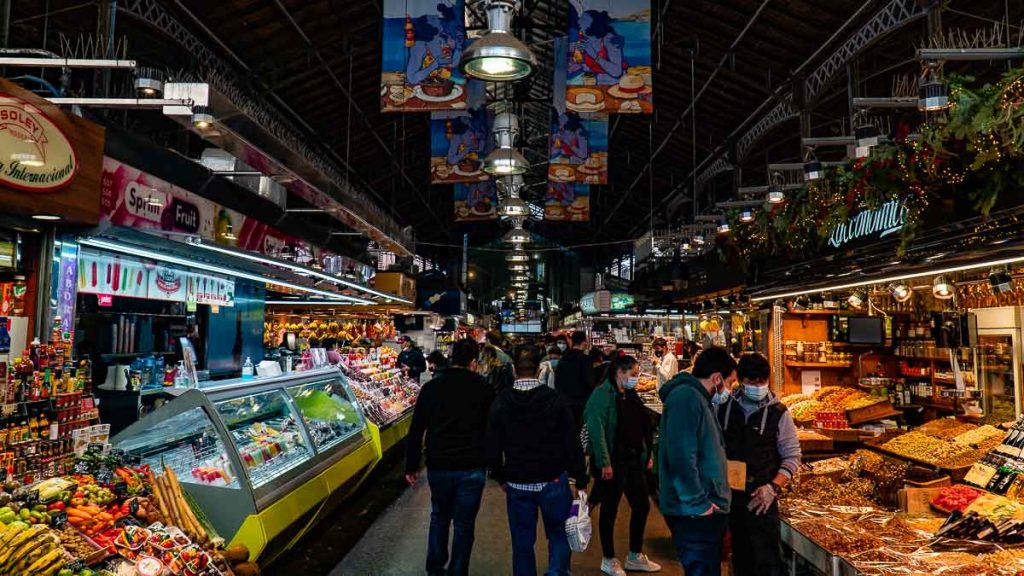 Boqueria Market isn't just a colourful feast for the eyes. Salami and cheese bouquets, fresh fruits, and local pastries are some gems you'll find! We enjoyed snacking on street food, but a highlight was stopping at one of the seafood bars for tapas.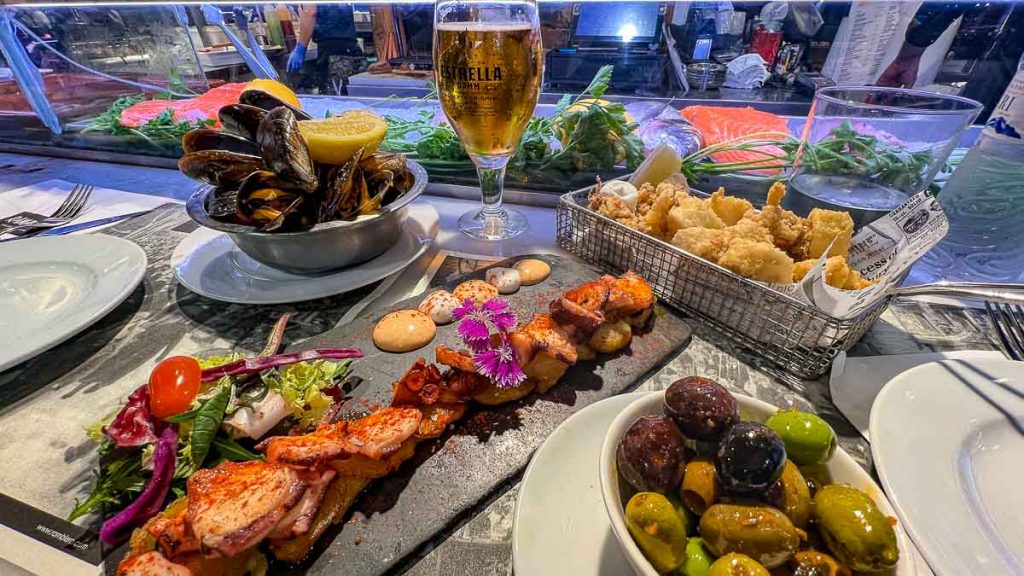 We settled at Ramblero for some calamari, mussels, and grilled octopus. The bill came to €38 (~S$58), but verdict — we'd gladly return for more.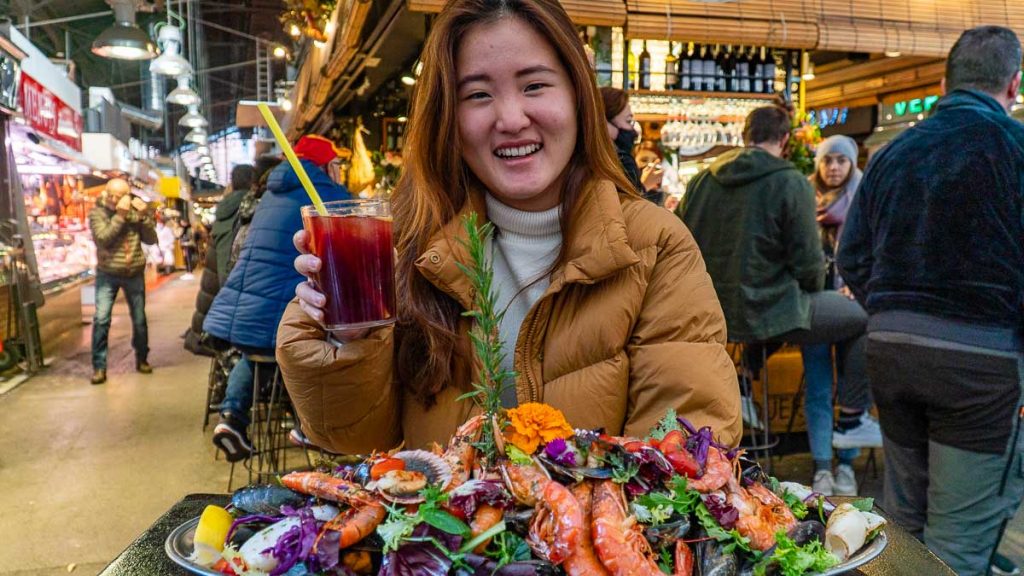 Spoiler — we actually did return. Couldn't leave without trying their seafood platter (€60) 😂
*Pro-tip: Some stalls start closing around 4PM so it's good to go earlier!
Entrance fee: Free
Opening hours: 8AM – 8:30PM (Mon – Sat, Closed on Sun)
How to get there: Take the L3 metro line to Liceu station. The entrance of La Boqueria is located on La Rambla
If you'd like to explore markets the locals frequent, Barcelona has 38 other food markets scattered all over the city! Just the Eixample district alone has a few — like Ninot Market, and Sant Antoni Market.
Gothic Quarter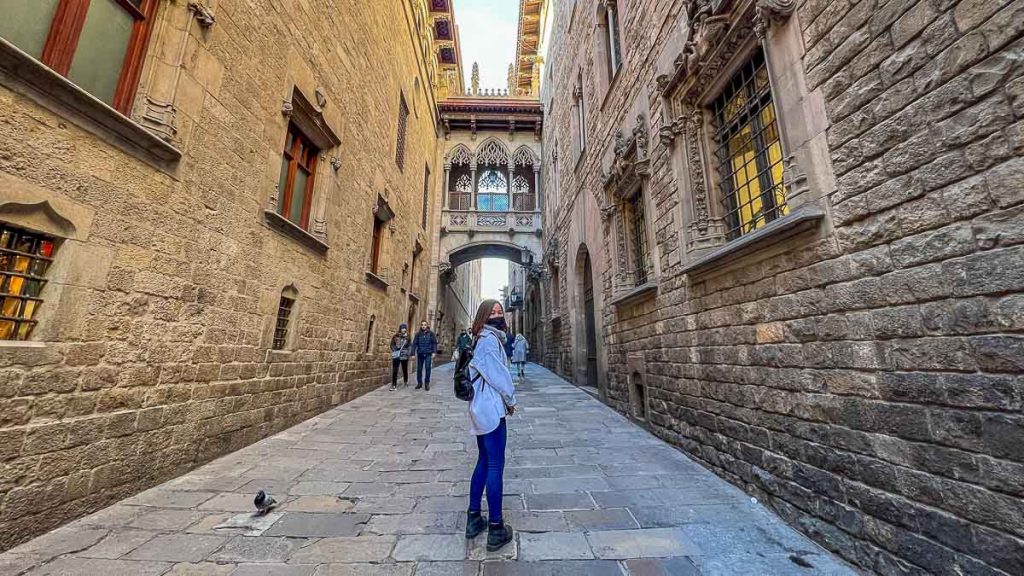 The Gothic Quarter, or Barrio Gothic, is one of the best places to visit in Barcelona. It's one of the oldest neighbourhoods in the city — a labyrinth of bars, shops, and timeless architecture.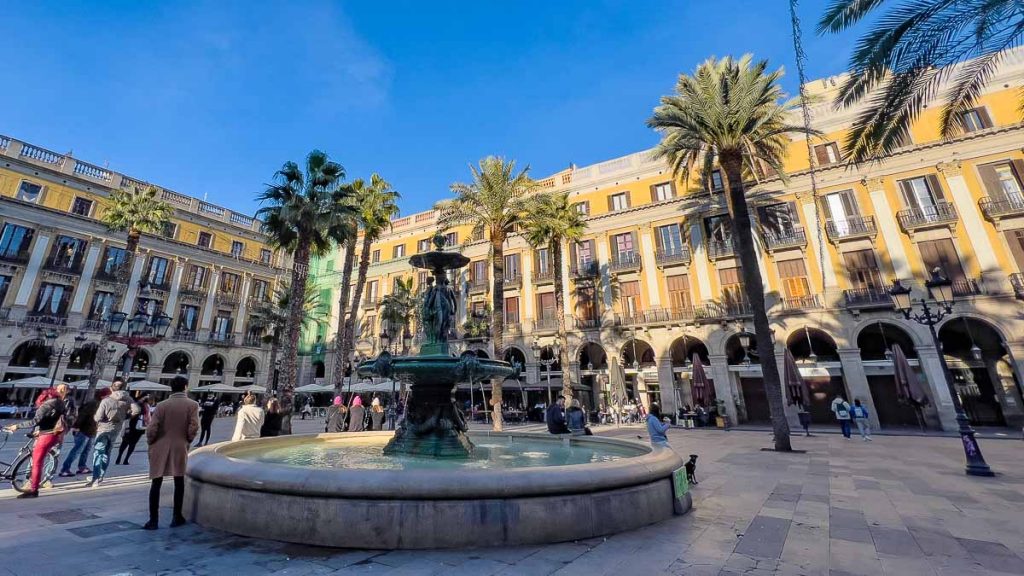 Walk the same streets as Picasso, who frequented the restaurant Els Quatre Gats as a young artist in the 1900s. It was here he held one of his first exhibitions! The Gothic Quarter is also home to Barcelona's oldest restaurant, Can Culleretes — a family-run eatery since 1786.
In the area, be sure to visit the Cathedral of Barcelona, the Bishop's Bridge (first photo) and Plaça Reial (second photo).
Entrance fee: Free
Opening hours: 24 hours
How to get there: Take the L3 metro line to Liceu station. The Gothic Quarter is located opposite La Boqueria.
Hot Chocolate and Churros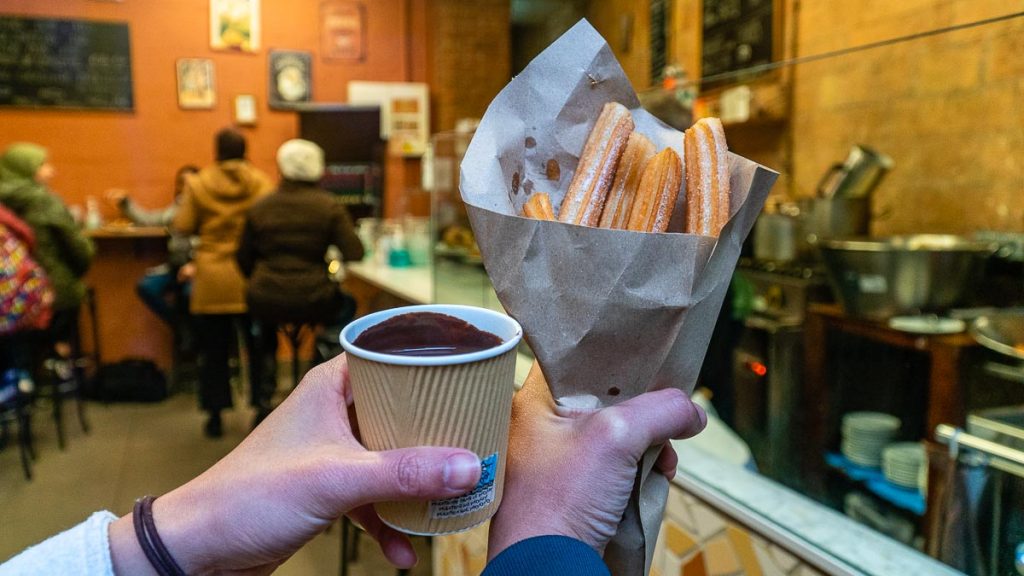 Churros con chocolate (Churros with chocolate) is a must-try in Barcelona. And no, it's not quite the hot chocolate you're used to — more like pure, sinful melted chocolate to dip the churros in. There are many places selling this snack but one of our favourites was Churrería Laietana!
Cost: €1.70/serving (+ €2 for a cup of melted chocolate)
Opening hours: 7AM – 1PM, 4:30PM – 8:30PM (Mon – Fri), 8AM – 1:30PM (Sun), Closed on Sat
Address: Via Laietana, 46, 08003 Barcelona
Accommodation in Barcelona (3 Nights): Stay in the Exiample or Gothic Quarter area for easy access to the main attractions. Our Airbnb was located in Exiample and had several dining options nearby.
Read also: 16 Best Things to do in Barcelona Besides the La Sagrada Familia
Day 4: Tarragona
Rent a Car in Barcelona and Drive to Tarragona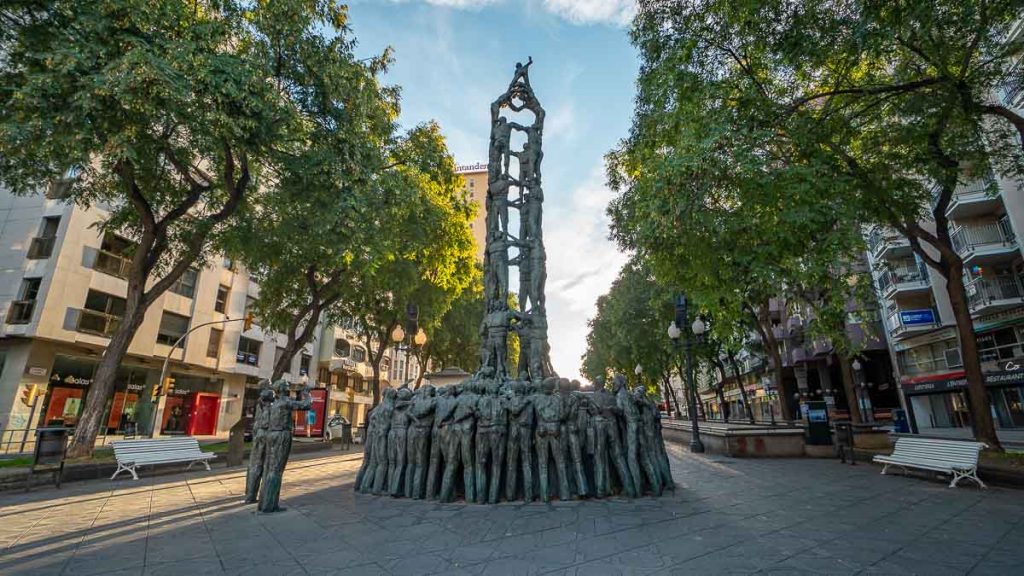 Distance: 97.6km
Drive time: 1h 13min
The first stop on this Catalonia road trip is Tarragona, a coastal city famous for well-preserved ancient Roman ruins. It was the first Roman stronghold in Spain, dating back to 218 BC.
Look up car rentals via doyouspain.com and opt to pick it up from Barcelona Sants (train station). We got a five-seater SUV with automatic transmission from OK Rent A Car at €153 (~S$236) for six days (excl. zero excess for insurance).
PortAventura World
PortAventura Park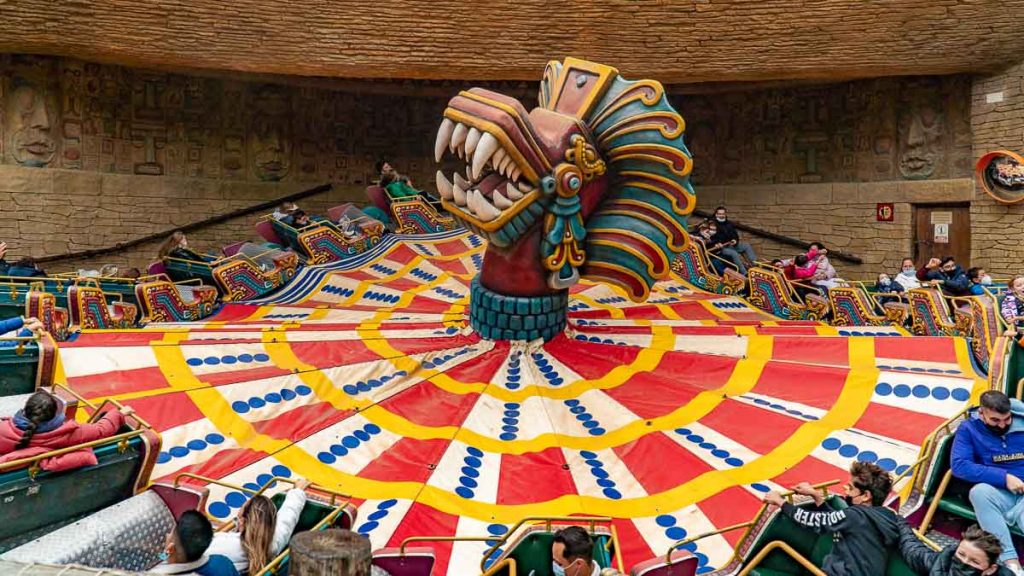 Start the road trip on a high with a visit to PortAventura Park. This thrill-seeker's paradise has 43 rides across six themed worlds so you won't be able to cover them all in a day.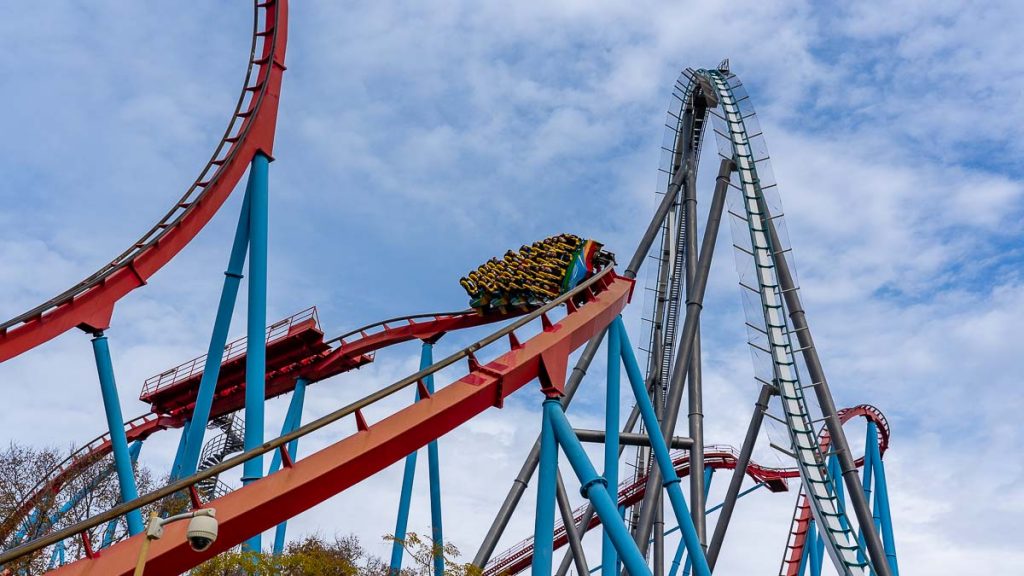 Our favourites were the big coasters like Furius Baco, Shambhala, Dragon Khan, and El Diablo. Despite the long estimated waiting times for the rides, we waited no more than 15 minutes for most of them.
Ferrari Land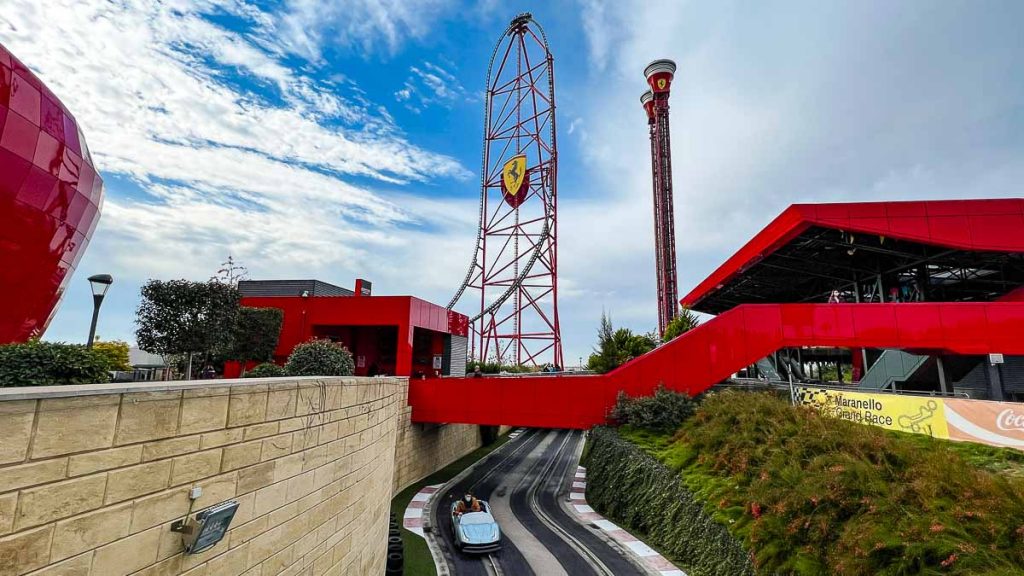 Right next to PortAventura Park is another theme park — Ferrari Land, whose main attraction can be spotted from afar. The ride Red Force stands at an intimidating 112m and goes from 0 – 180km/hr in just five seconds. Ferrari Land is much smaller and can be covered in just half a day.
If we had to pick just one park, it'll be PortAventura Park. It's almost three times bigger, with a lot more rides.
Entrance fee: From €48 (PortAventura Park), from €20 Ferrari Land). Alternatively, pay €58 for both parks
Opening hours: Varies
Address: Av. Pere Molas, Km 2, 43840, Tarragona
Accommodation in Tarragona (1 Night): Our Airbnb was located right in front of Mercat De Tarragona (Tarragona's Central Market) and just a 15-minute drive from the theme parks. Pick an Airbnb or hostel in the same area for easy access to the main landmarks.
Day 5: Tarragona to Montserrat
Spend the first half of the day exploring Tarragona before driving up to Montserrat. The main attractions are all located within walking distance of one another.
Tarragona Market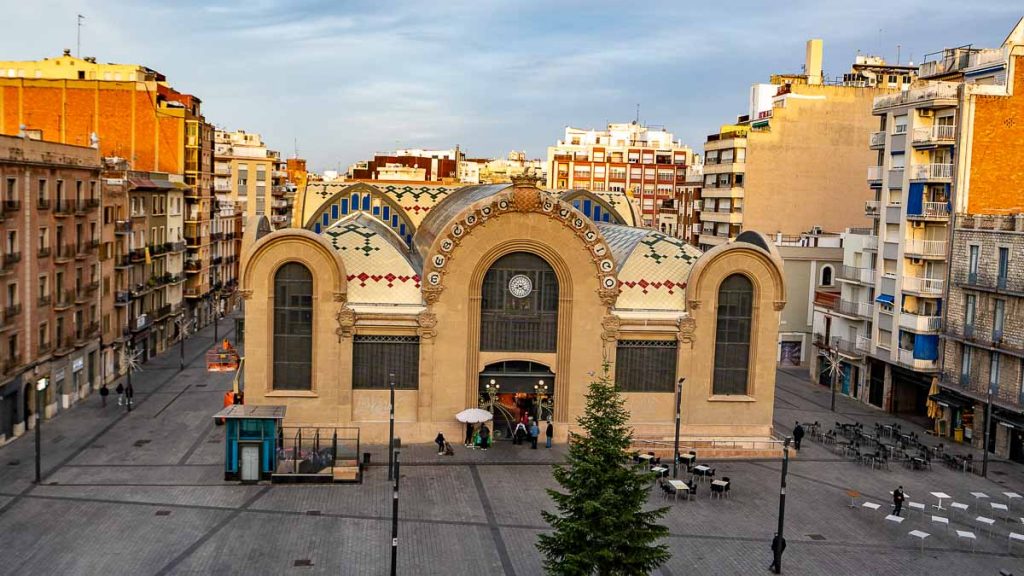 The Tarragona Market is the heart of the city. Despite being around since 1915, the inside is modern with minimalistic cast-iron columns. Fresh meat, veggies and cooked food are sold on the main floor, while the basement houses a large supermarket.
Entrance fee: Free
Opening hours: 8:30AM – 9PM (Mon – Sat, Closed on Sun)
Address: Plaça de Corsini, 43001 Tarragona
Tarragona Amphitheatre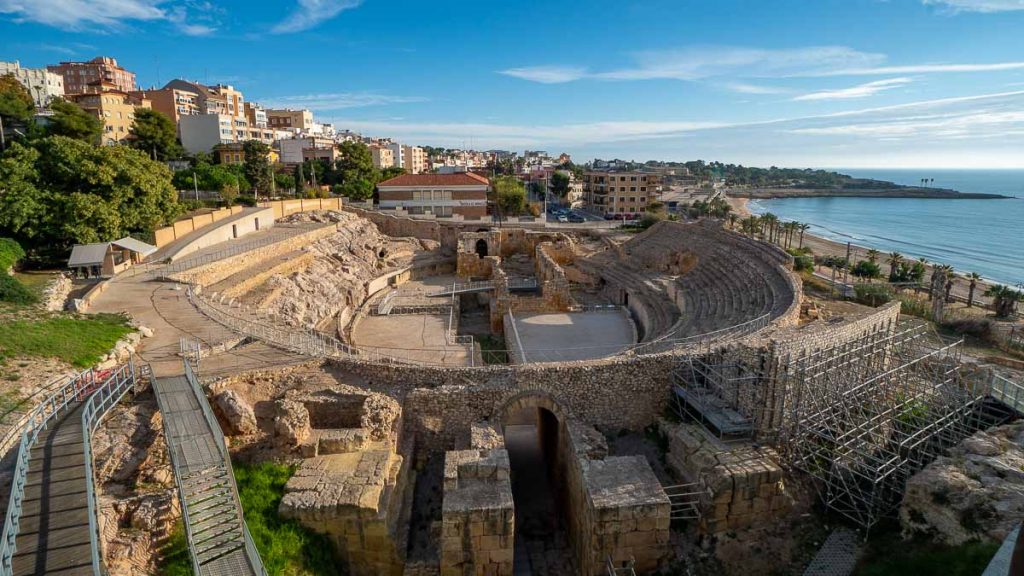 Along the coast lies Tarragona Amphitheatre, which has been around since the second century. This was the backdrop of bloody gladiator fights and public executions, witnessed by up to 14,000 spectators.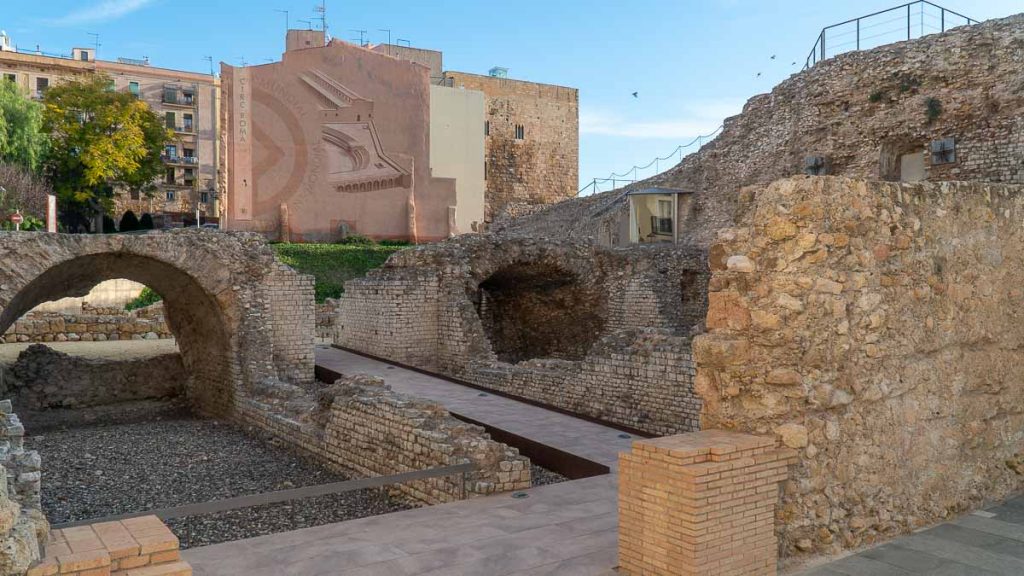 Besides the amphitheater, there are several Roman landmarks around Tarragona. Like the Roman Circus (above), which used to hold chariot races! A single attraction ticket costs €3.30. Alternatively, get bulk tickets to four Roman monuments and two noble houses for €11.05.
Entrance fee: From €3.30
Opening hours: Varies depending on the season
Address: Parc de l'amfiteatre, s/n, 43003 Tarragona (Roman Amphitheatre)
Mediterranean Balcony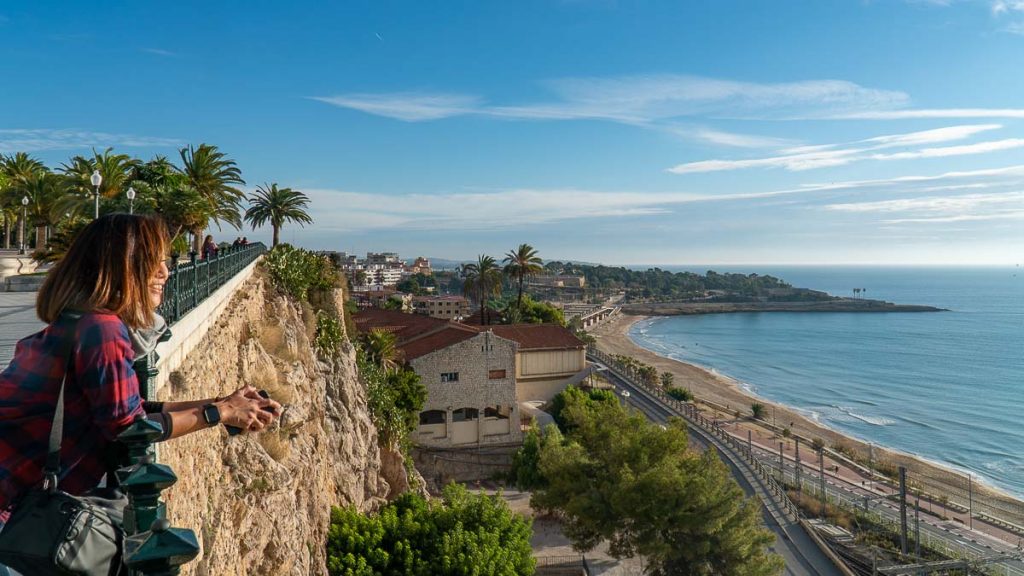 Just a two-minute walk from Tarragona Amphitheatre is the Mediterranean Balcony. Here you'll get the best views of the Mediterranean ocean from Tarragona. According to legend, touching the railing brings good luck!
Entrance fee: Free
Opening hours: 24 hours
Address: Passeig de les Palmeres, s/n, 43004 Tarragona
Other landmarks in Tarragona include the Monument als Castellers sculpture and Plaça del Sadassos.
Las Ferreres Aqueduct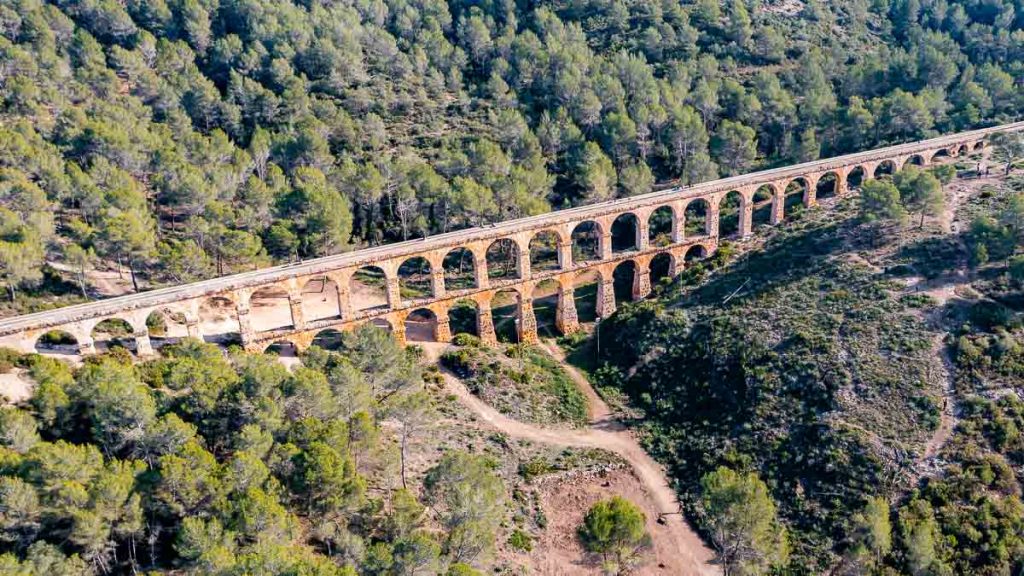 A 16-minute drive from the main city will take you to Les Ferreres Aqueduct, also known as Devil's Bridge. This structure has been around since the first century A.D. and used to supply the city with water. These days, visitors can enjoy a scenic walk across the remaining 217-metre long stretch.
Entrance fee: Free
Opening hours: 24 hours
Address: 43007 Tarragona
Lunch at El Celleret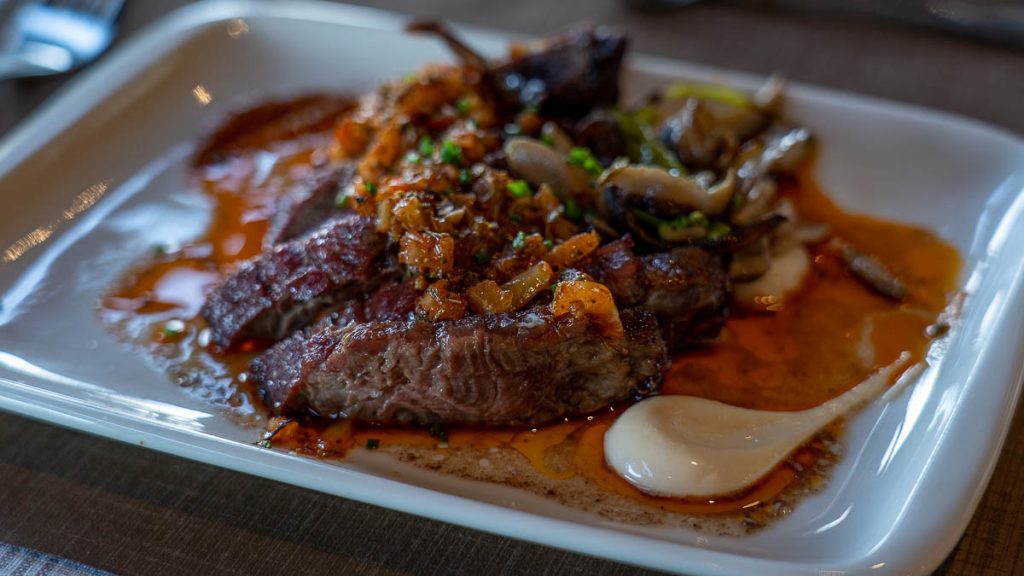 For lunch, we recommend stopping by El Celleret — a highly-rated local restaurant surrounded by vineyards. It's roughly a 40-minute drive from Les Ferreres Aqueduct. This establishment is run by the Torres family, a five-generation wine empire since 1870.
They have an a la carte menu, but we settled on the set lunch (€38/pax) which included five starters and two bottles of wine to share, plus a main and dessert each. Dishes feature commonly used ingredients from the area, like wild mushrooms, potatoes and grilled Iberian pork. 😋
El Celleret gets pretty packed, so call ahead to book a table.
Cost: From €15 for a main
Opening hours: 1PM – 4PM (Wed – Mon), Closed on Tue
Address: Finca el Maset, s/n, 08796 Pacs del Penedès, Barcelona
Drive to Montserrat from El Celleret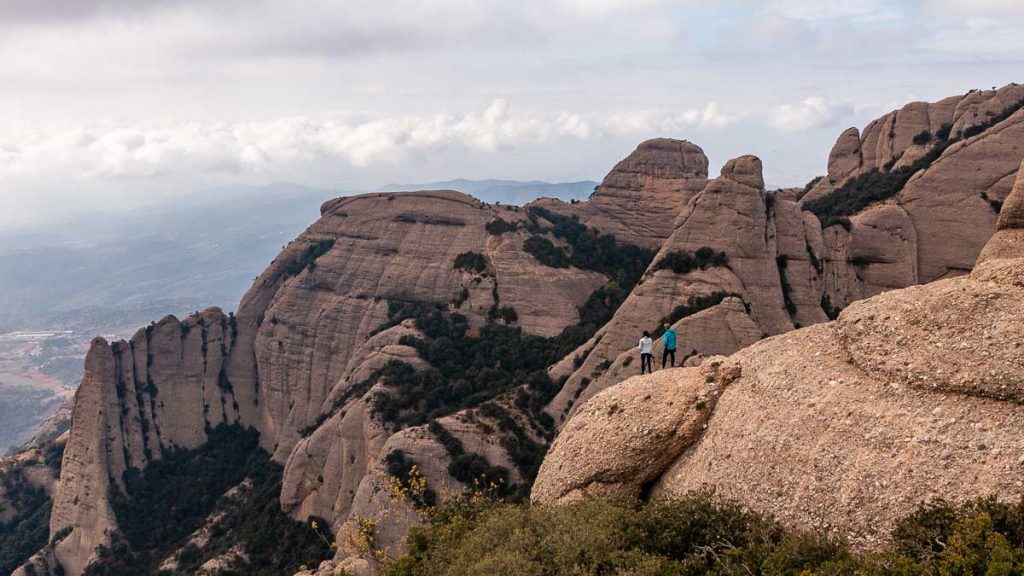 Distance: 54km
Drive time: 52min
Escape the city and head to the jagged peaks of Montserrat! Montserrat, or "serrated mountain" in Catalan, is one of Catalonia's most famous landscapes. This can also be done as a day trip from Barcelona via train, so feel free to reshuffle the itinerary.
Montserrat Monastery and Escolonia Boy's Choir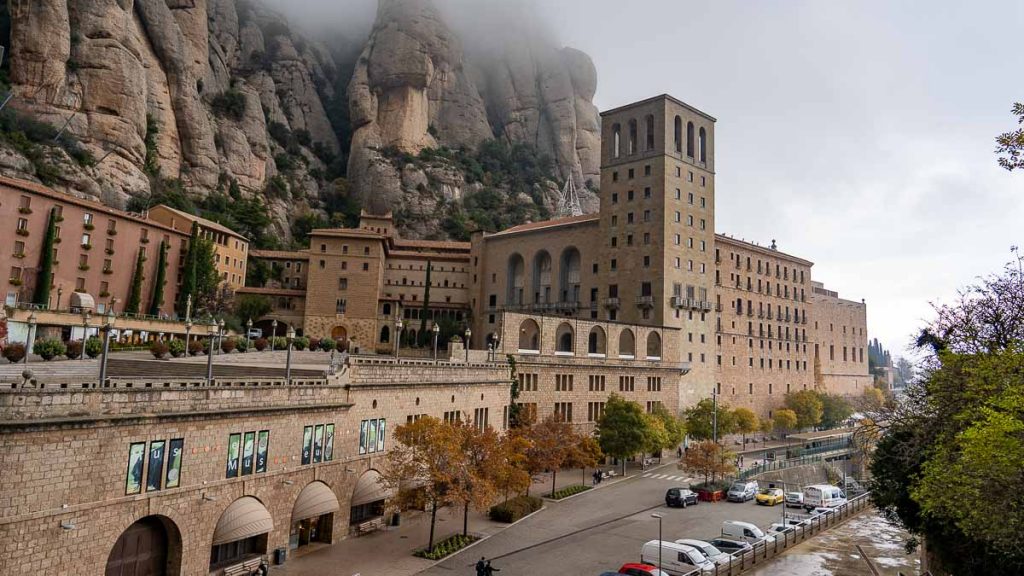 Founded over a thousand years ago, Montserrat Monastery is one of Catalonia's most recognised landmarks.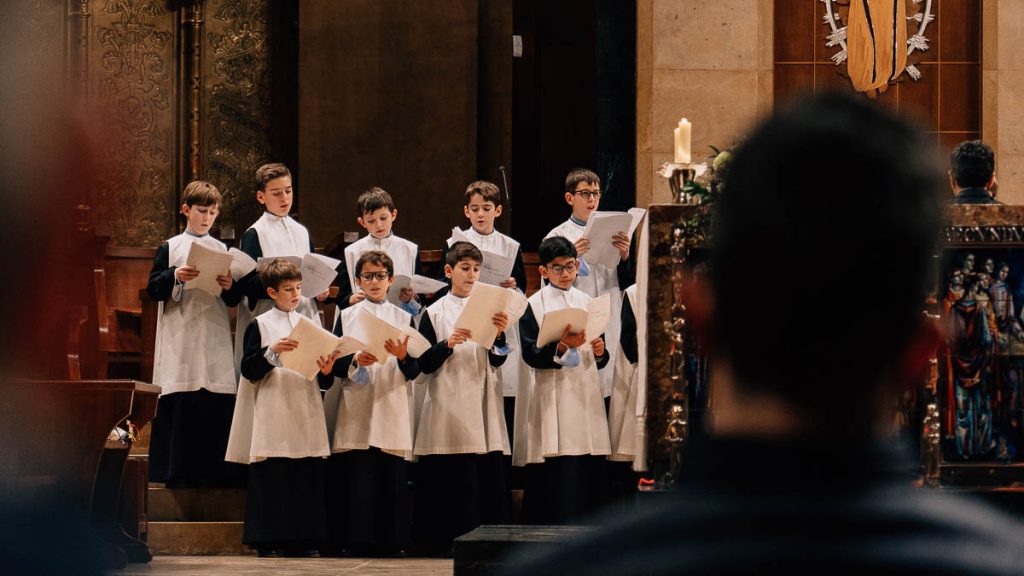 End the night with a performance by Escolanía de Montserrat in the Montserrat Basilica. This prestigious all-boys choir is one of Europe's oldest singing groups, with a history of over 700 years!
Entrance fee: Free
Performance timings: Escolanía de Montserrat typically performs twice daily, in the afternoon and at night [schedule]
Address: 08199 Montserrat, Barcelona
Accommodation at Montserrat (1 Night): Abat Oliba Hostel is conveniently located just beside the Abbey of Montserrat and offers both dorm beds and family rooms.
*Pro-tip: There are limited dining options at Montserrat. La Cafeteria is the most budget option but it closes early (4:30PM on weekdays, 6:30PM on weekends). Pack some food and snacks before driving up.
Day 6: Montserrat to Girona
A popular hike here is to the peak of Sant Jeroni and there are two ways up. You could start from the base which will take around six hours roundtrip. If you're pressed for time, you can cut that journey in half by taking the Sant Joan Funicular up and hike the rest of the way.
Sant Joan Furnicular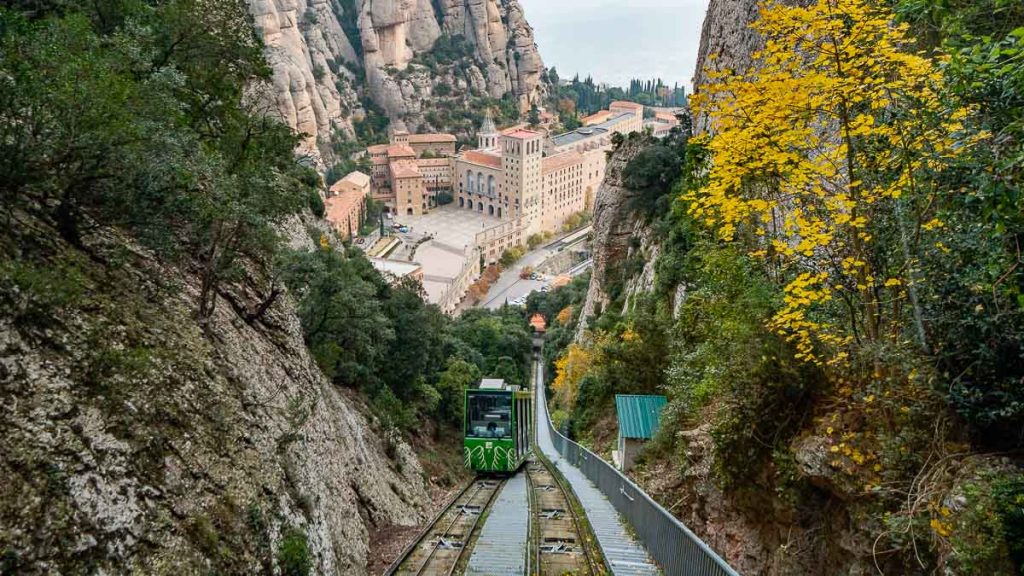 Sant Joan Furnicular takes you from the lower station near the Abbey of Montserrat up to 1,000m above sea level.
If you're hiking up, there's a clearly marked path on the right side of Upper Sant Joan Station leading to the summit, Sant Jeroni.
Cost: €9.10 for a single journey, €14 for return
Opening hours: Varies
Address: 08293 Monestir de Montserrat, Barcelona
Hike up Montserrat's Peak, Sant Jeroni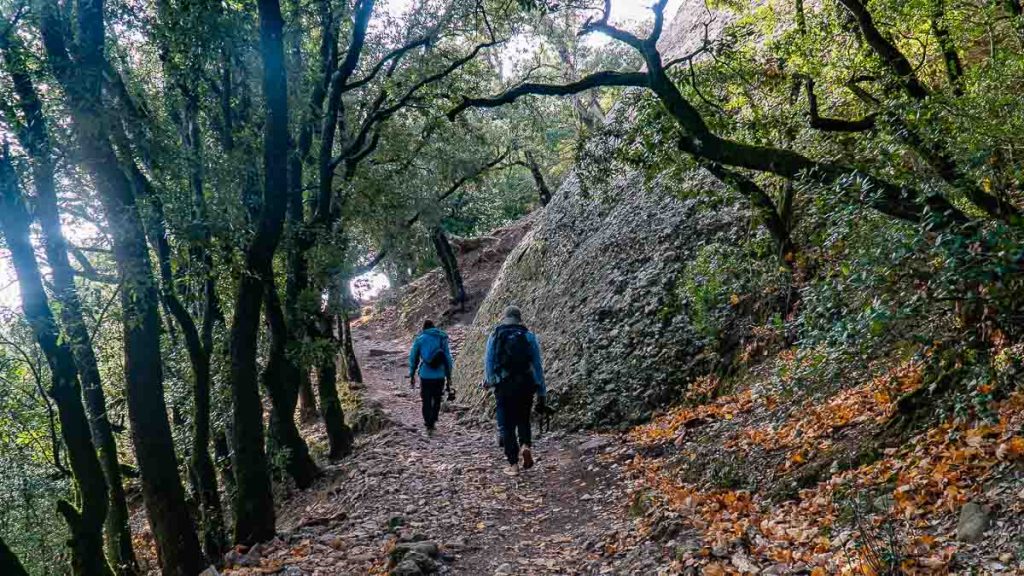 The path is well-marked and not too steep, so kids can take on this hike too. We even spotted mountain goats along the way!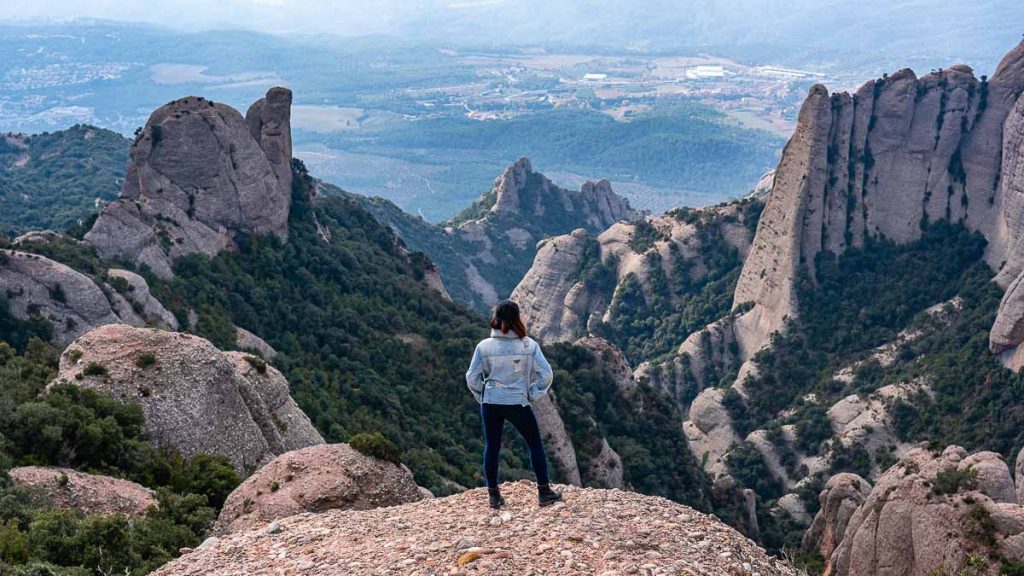 It'll take around 2.5hrs to get to Sant Jeroni (1,236m), but there are many viewpoints along the way so look out for those as well.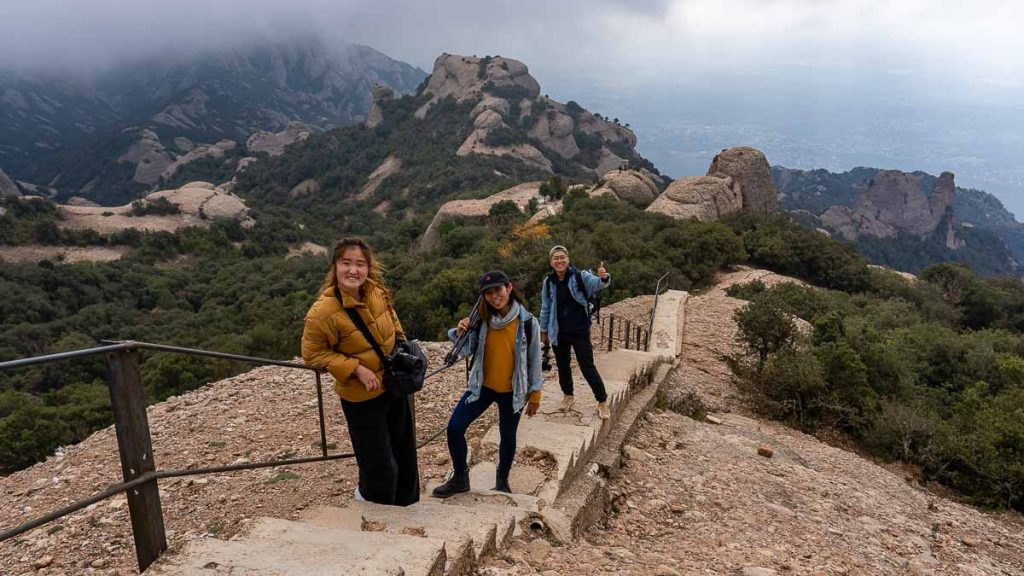 The last stretch includes a long flight of steps but trust us, the view at the top is worth it.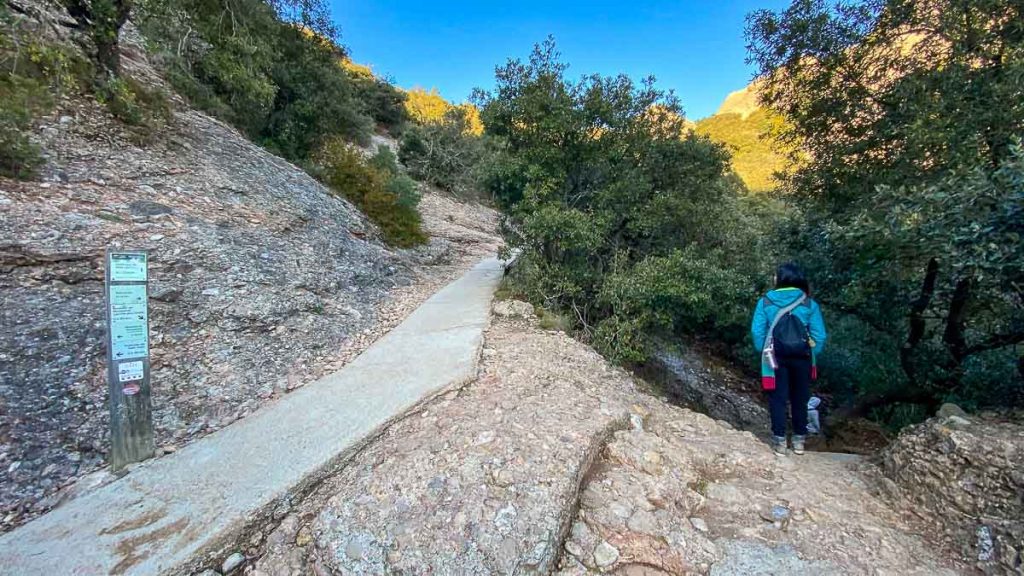 After that, either return to Sant Joan upper station and take the furnicular down or take an alternate hiking route to Montserrat Monastery.
If you're opting for the latter, look out for a Y-junction on the way down from the peak. Take the path labelled "Pla dels Ocells" (where the hiker is standing). It'll take roughly an hour from here to return to the Monastery.
Drive to Girona from Montserrat
Distance: 131km
Drive time: 1h 38min
A 1.5-hour drive from Barcelona, most visitors just experience Girona Old Town as a day trip. But we suggest staying overnight to experience more of what Girona province has to offer!
Accommodation at Girona (3 Nights): Pick a hostel or Airbnb within Girona Old Town.
Day 7: Girona
Girona Old Town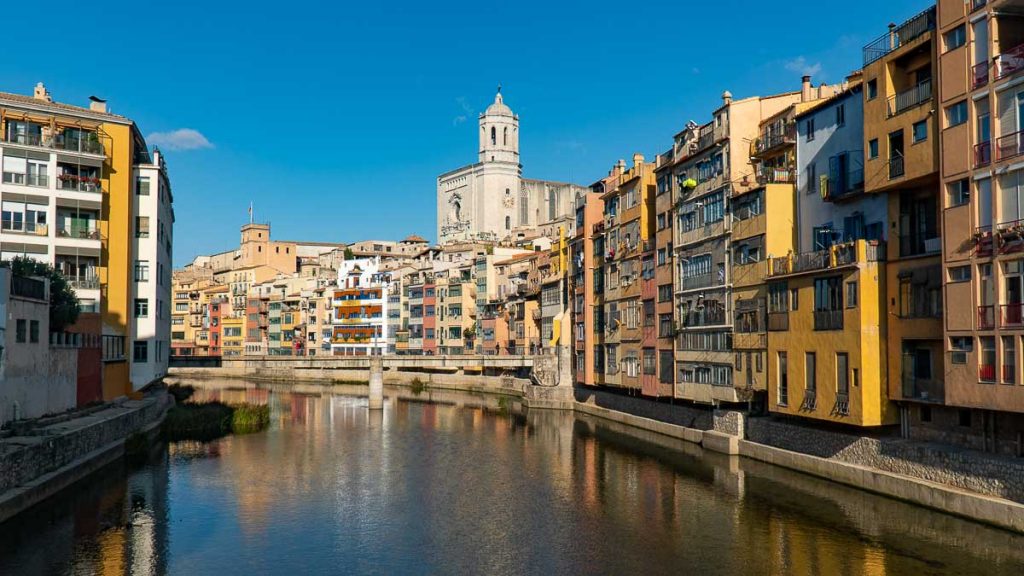 Start the day visiting the iconic colourful houses along the River Onyar — best viewed from Pont de Ferro, a bright red iron bridge built by Gustave Eiffel. The name should ring a bell; he's the same architect who built the Eiffel Tower in Paris!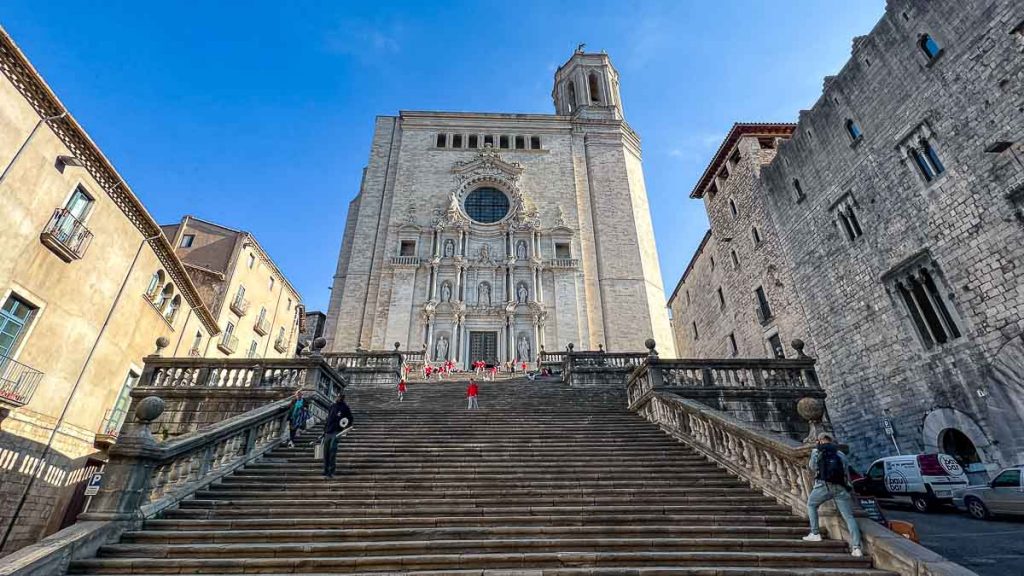 The Girona Cathedral is the city's crown jewel. It was built between the 11th and 18th centuries and houses one of the world's widest Gothic naves.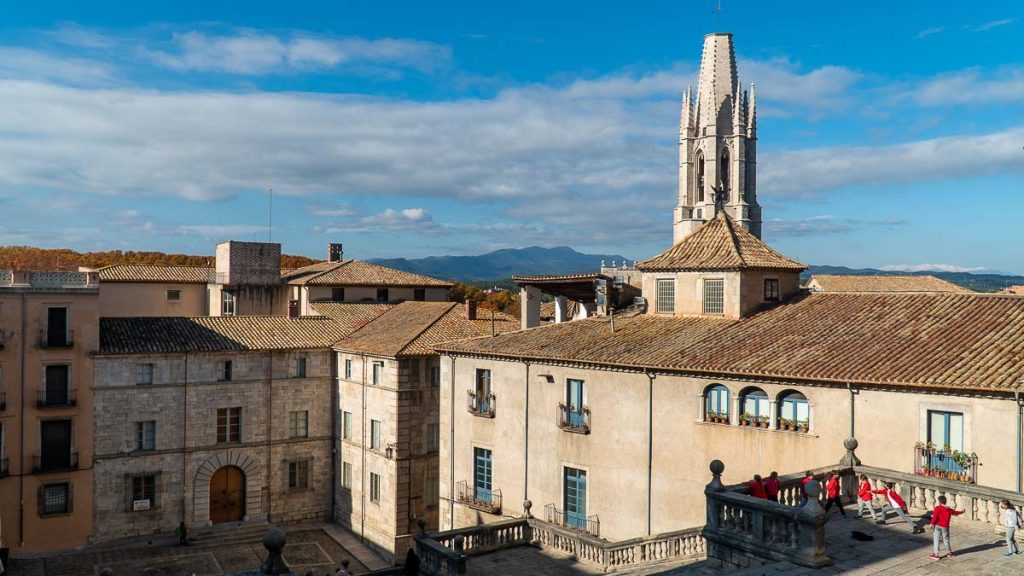 Fun fact: From the sixth season of Game of Thrones onwards, the crew stopped filming in Dubrovnik and used this church instead as the Great Sept of Baelor.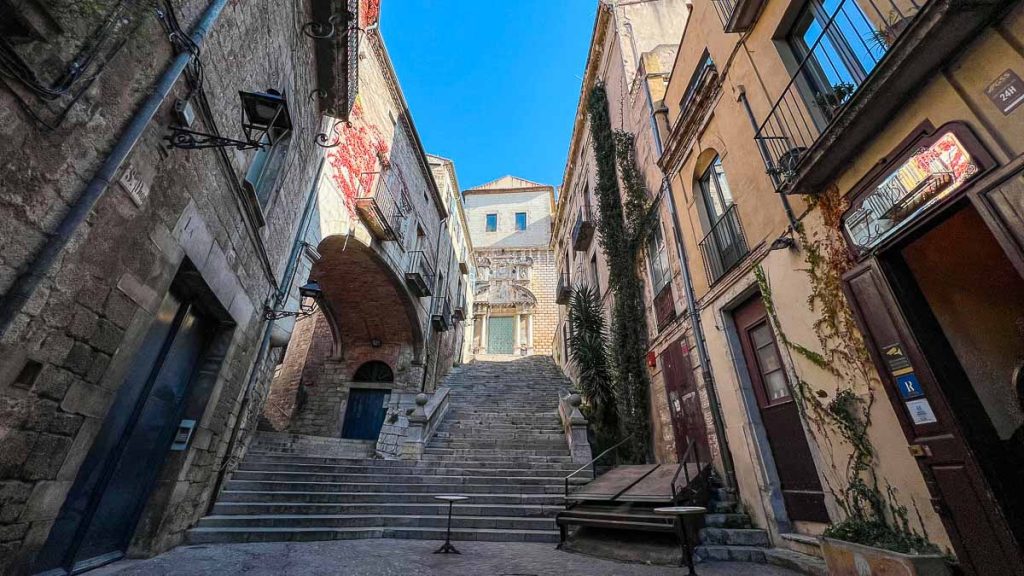 The Sant Marti Sacosta church is another GOT spot that shouldn't be missed. The steps to the entrance are the same ones Arya Stark took when she was running from the Waif in Braavos!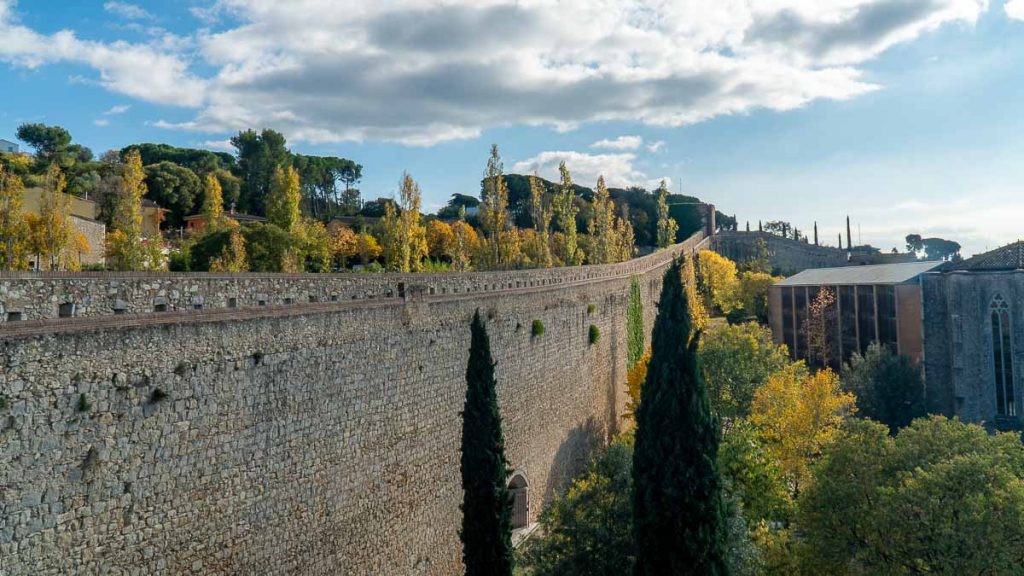 Another great thing to do in Girona is walking along the 1.6km-long City Walls — no entrance fee! 🥳
If you're a Game of Thrones fan, opt for a GOT tour. The tour comes with an experienced guide who will introduce the prominent filming locations as well as the interesting history of Girona.
Girona Game of Thrones Walking Tour
Cost: €30/pax
Tour timings: 10:30AM and 3PM
Meeting point: Plaça Sant Feliu, 08028 Barcelona
Local Cuisine in Girona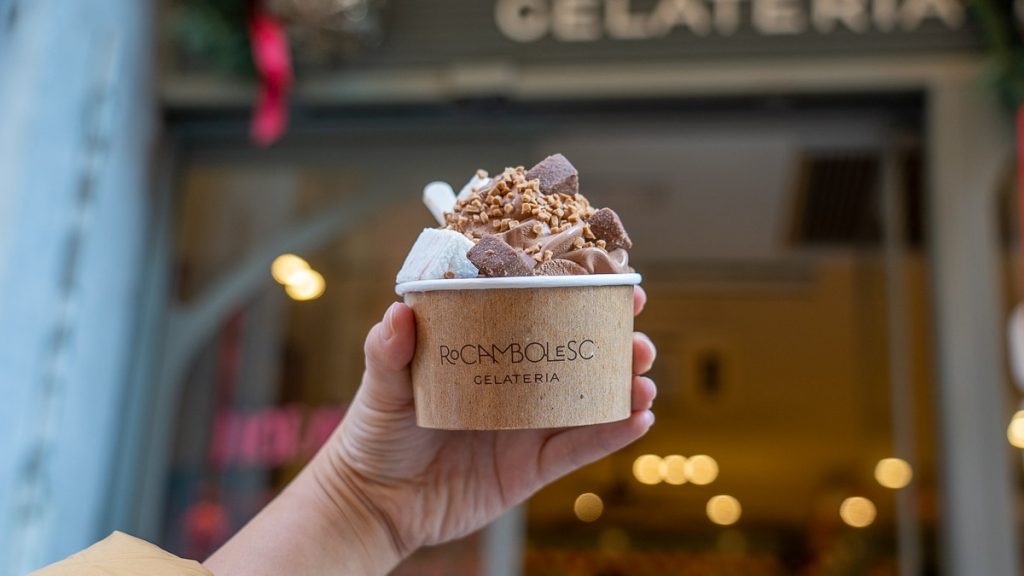 Rocambolesc Gelateria was set up by Girona local Jordi Roca, who was crowned "World's Best Pastry Chef" in 2014!
Many dishes in Girona feature locally produced ingredients like mushrooms, meats, and wines — and the people here are really proud of their food scene.
Recommended eateries include Rocambolesc Gelateria (gourmet ice cream), Normal (traditional Catalan cuisine), Bubbles Gastrobar & Restaurant (signature tapas).
Day 8: Girona
Option 1: Hot Air Balloon over La Garrotxa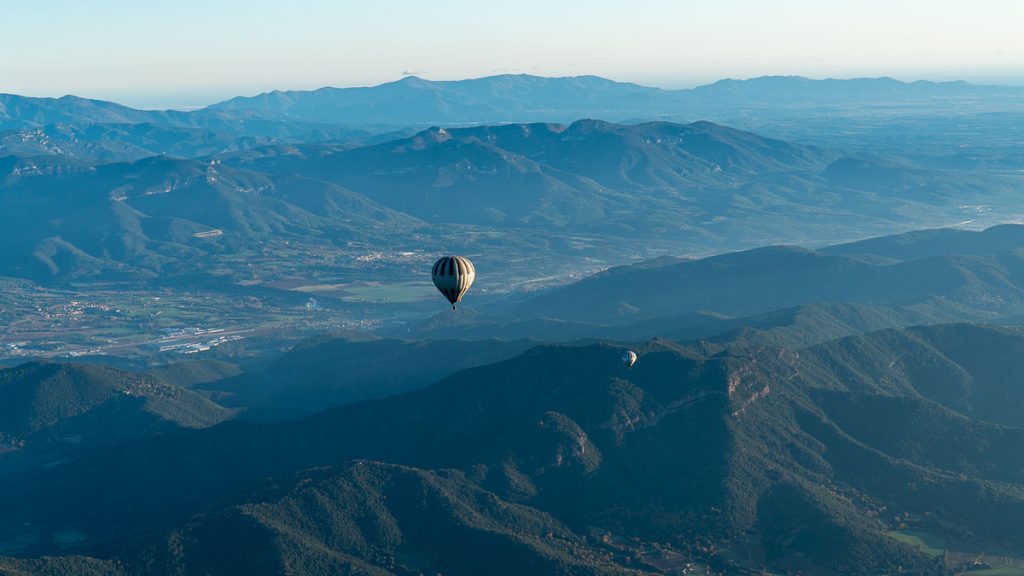 An hour's drive from Girona Old Town is the stunning volcanic region of Garrotxa. The area is known for medieval villages and a range of dormant volcanoes. We opted to start our morning on a high with the best view of La Garrotxa — from a hot air balloon!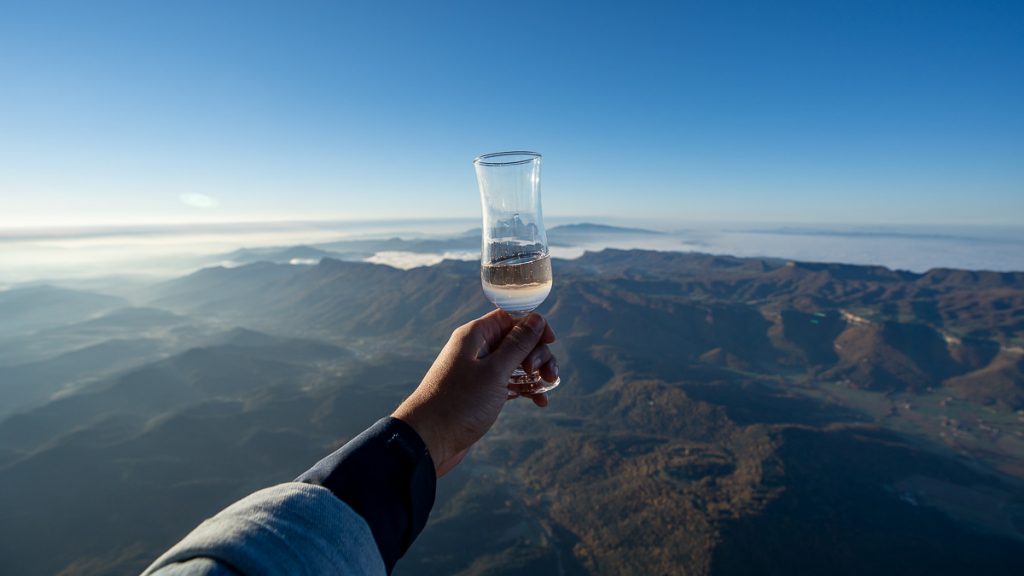 Pink cava (sparkling wine) and local cake is served onboard!
The balloon ascends two meters per second, up to heights of 2,100m. But don't worry, you'll hardly notice as you'll be completely transfixed with the view — there's the Pyrenees and Montserrat on the horizon, and the Santa Margarida volcanic crater right at your feet.
Rides last between an hour to an hour and a half depending on wind conditions.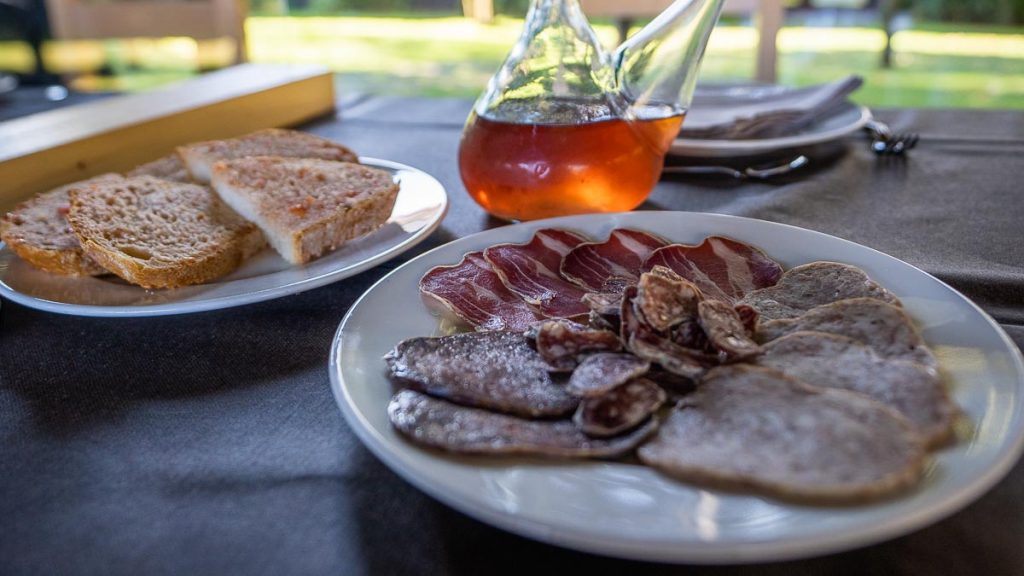 Celebrate another item ticked off the bucket list with a Catalan brunch — botifarra (a type of sausage), haricot beans, bread with tomato, and a salami platter. For drinks, there's wine, coffee, tea, and a shot of ratafia (a local liquor, a really potent one).
Cost: €170 (Weekdays), €185 (Weekends and PH)
Meet up time: 7:30AM
Address: Afores, s/n, 17811 Santa Pau, Girona
Explore Surrounding Old Towns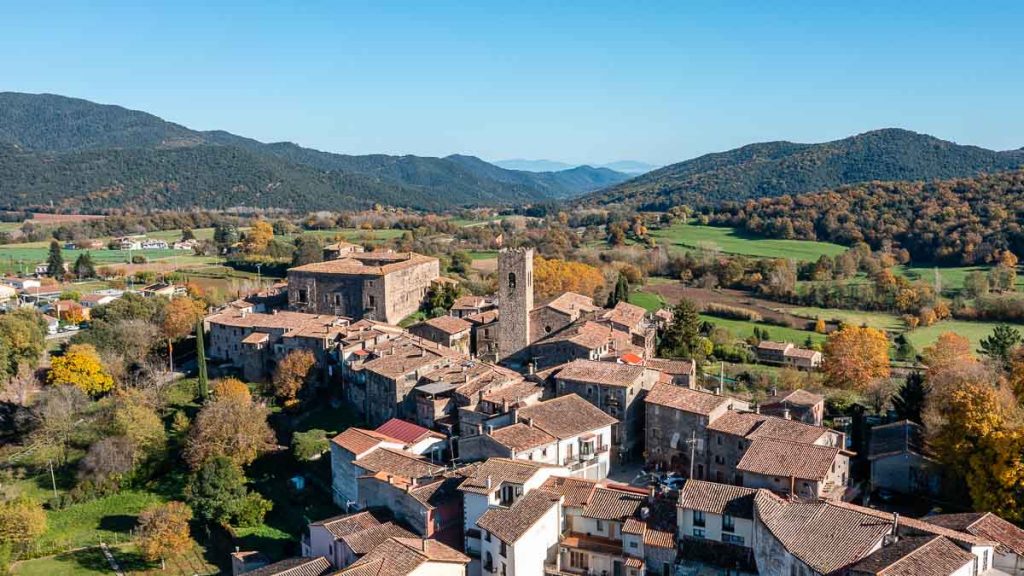 Visit surrounding medieval villages like Santa Pau if you've got time to spare. It's a good base to go on hikes around the area!
Option 2: Hike up at Santa Margarida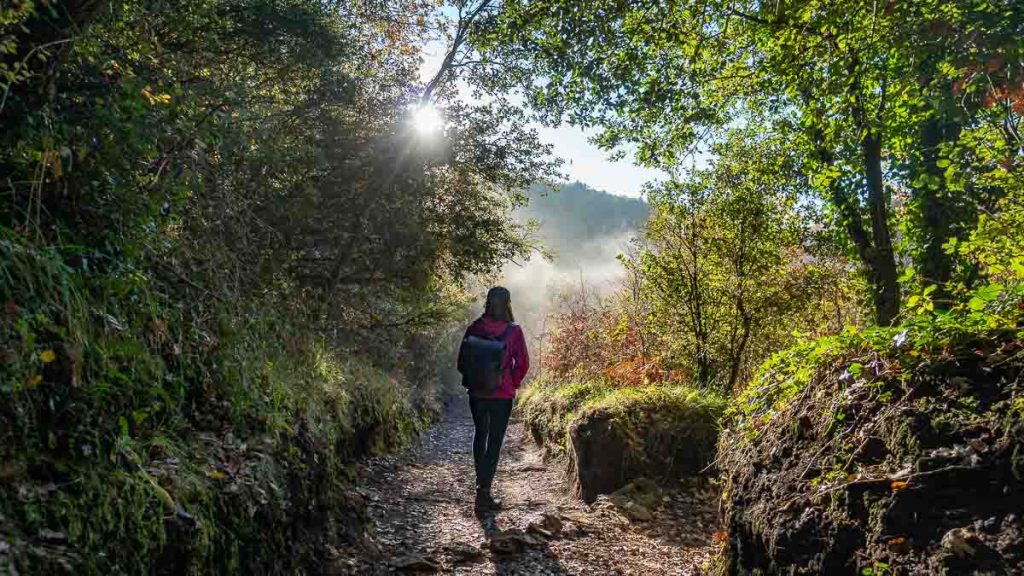 There's also several hiking routes in the area for those who'd prefer to explore La Garrotxa on foot.
One of those we explored was the dormant Santa Margarida Volcano, famous for a lone hermitage built in the centre of the crater. Not much is known about the abandoned shack, other than it has a Roman origin.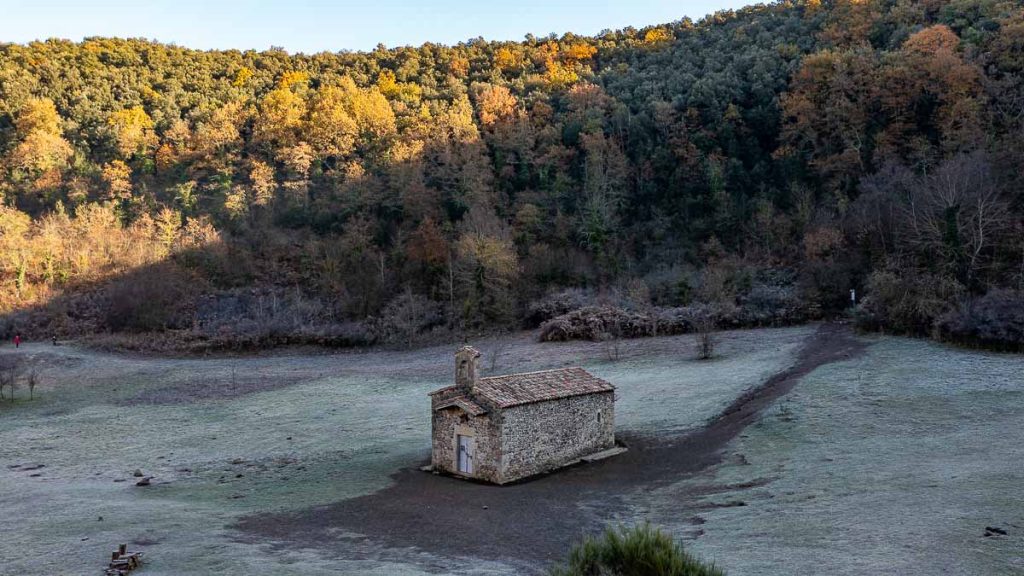 There are various routes around here but the fastest would be to park at Santa Margarida Car Park. Parking is free and the entrance is clearly marked.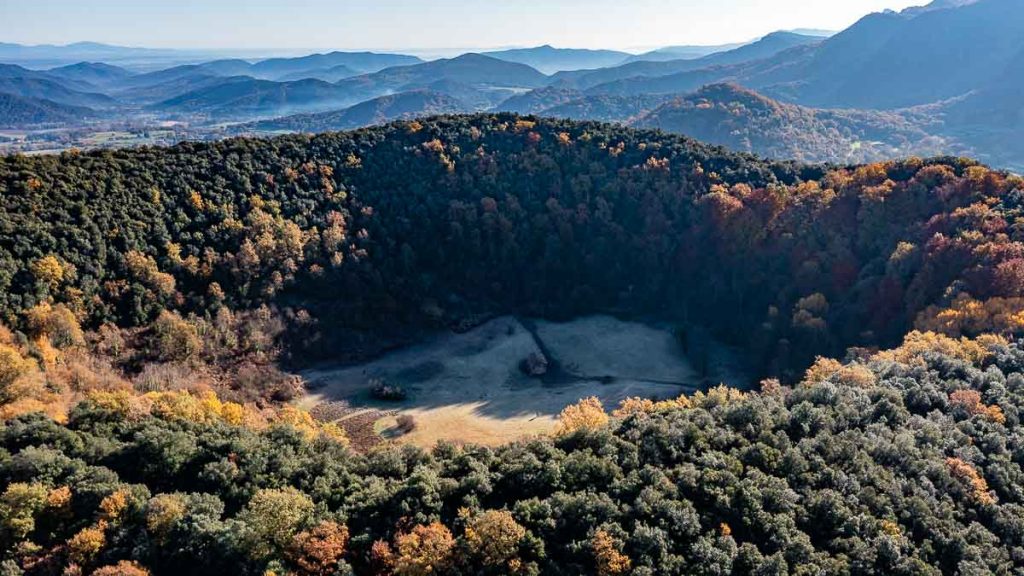 If you're up for the challenge, there's a 11km route (~4.5hrs) which also covers Croscat Volcano and Faeda d'en Jordà Forest.
Lunch at La Deu in Olot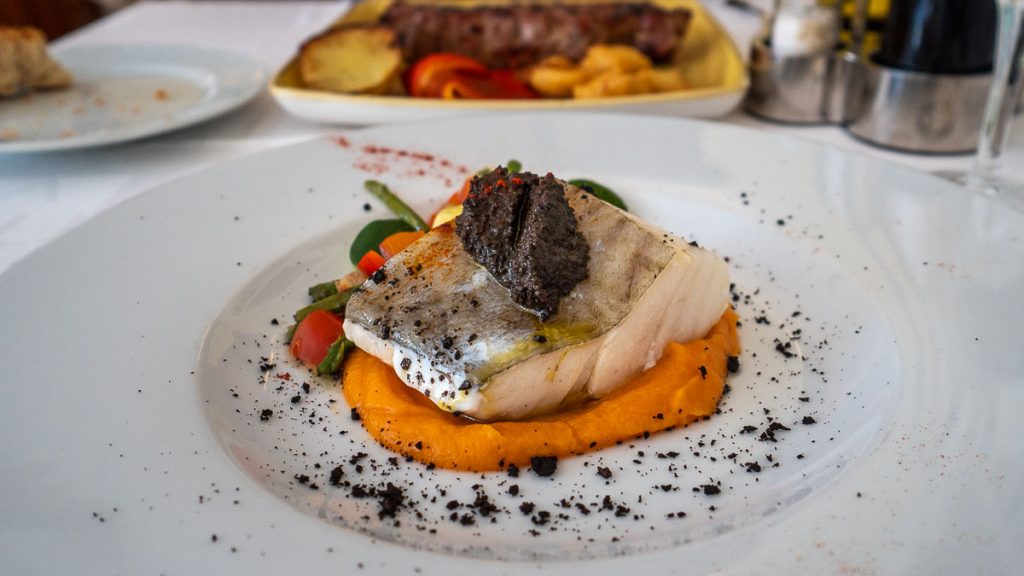 Candied cod loin with sweet potato puree. Yum.
La Garrotxa's rich fertile soil produces high-quality crops, and it'd be a sin to leave without trying some volcanic cuisine. We checked out Restaurant La Deu for lunch (a ~10min drive from Santa Margarida). It's one of La Garrotxa's oldest eateries, around since 1885!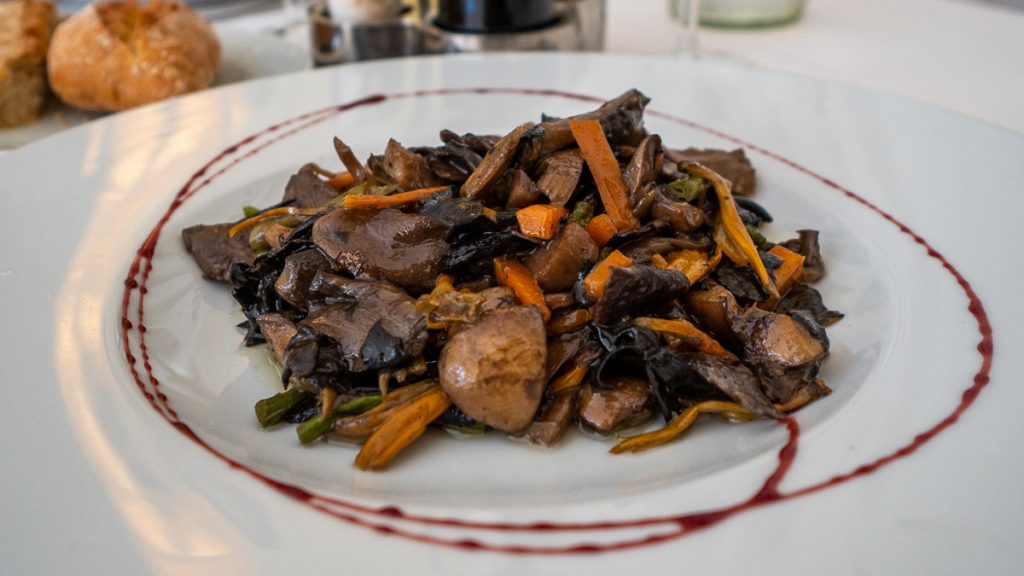 The mains and desserts were yummy, but we were completely sold on the starters — mixed mushrooms and a creamy pumpkin soup with Garrotxa cheese.
Cost: From €23.95 for a set meal incl. a starter, main and dessert
Opening hours: 10AM – 10:30PM (Mon – Sat), 10AM – 7PM (Sun)
Address: Carretera de la Deu, s/n, 17800 Olot, Girona
Day 9: Figueres to Barcelona
Skydive Empuriabrava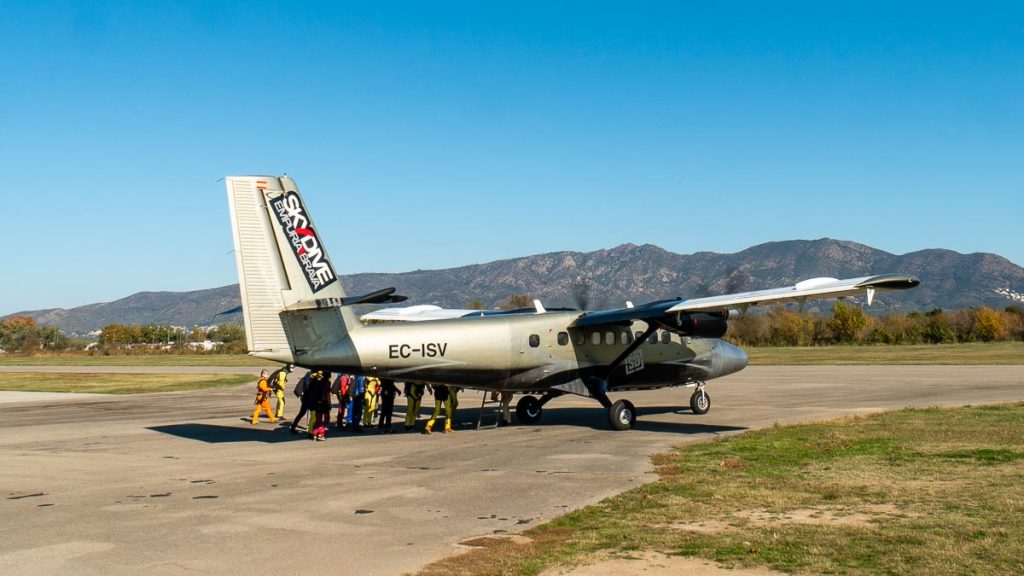 Another way to take in the view from the top is at Skydive Empuriabrava! Empuriabrava's mix of ocean and mountain views make it a rewarding place to try skydiving — especially if it's your first time, as it was for me.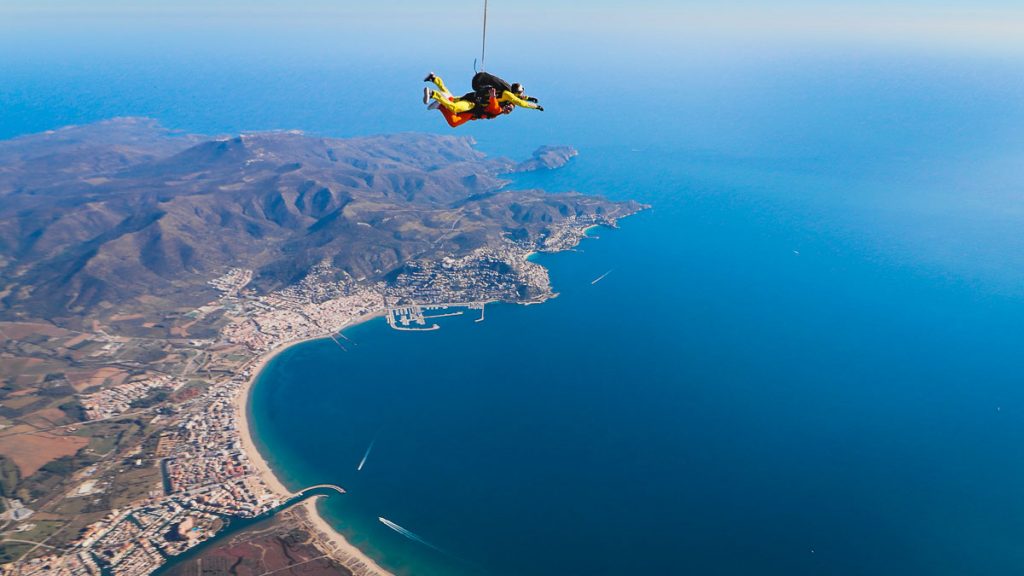 After a safety briefing by experienced instructors, we were ushered onto a small aircraft. I'll admit I was slightly (read: extremely) nervous during the ascent to 4000m.
But once the light turned red and we exited the plane, I felt my fear leave as well. After a 30-second free fall to 1,500m, your shoot is deployed. Our instructors even let us try navigating the parachute! The whole experience was liberating — truly the best way to take in the views.
Cost: From €280 (top up required for photos and videos)
Opening hours: 9AM – 5PM
Address: Sector Aeroclub, s/n, 17487 Empuriabrava, Girona
Drive to Figueres from Skydive Empuriabrava
Distance: 15.3km
Drive time: 21min
Lunch at Txot's Sidreria in Figueres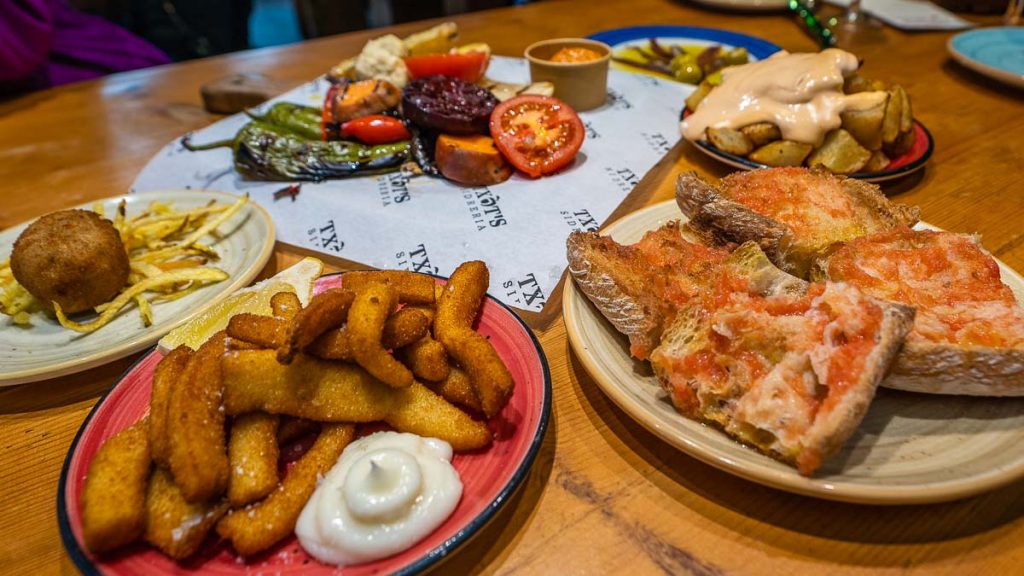 Txot's Sideria is great for tapas — there's over 100 items listed on the menu. Order a couple to share!
Cost: ~€12/pax
Opening hours: 12PM – 12:30AM
Address: Avinguda de Salvador Dalí i Domènech, 114, 17600 Figueres, Girona
Dali Theatre-Museum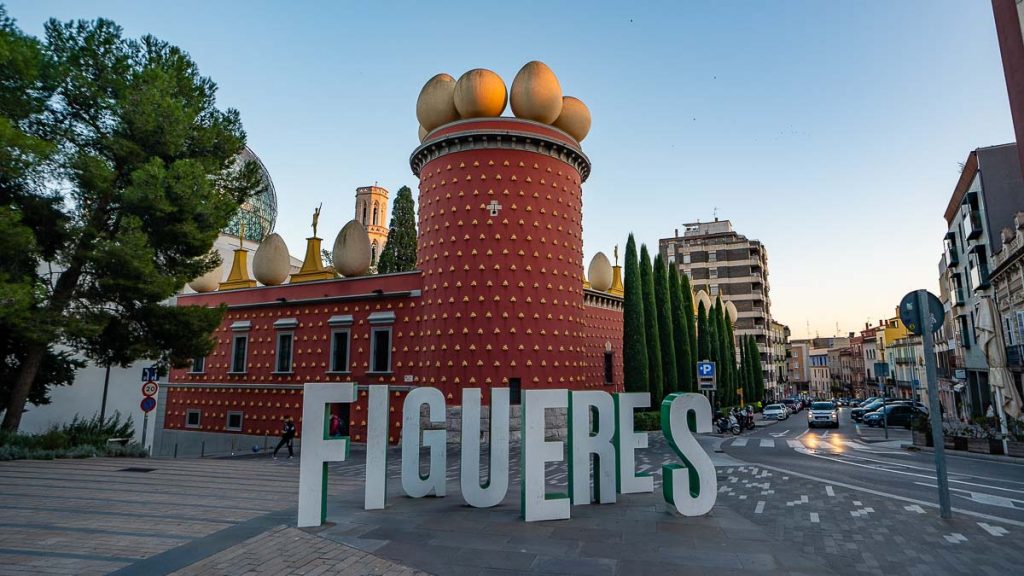 The Dali Theatre-Museum is the main reason why people visit Figueres. But even if you've got no clue who Dali is, this museum is worth a visit! Dali was an eccentric artist and his work is equally eccentric. For starters, the exterior is covered with eggs.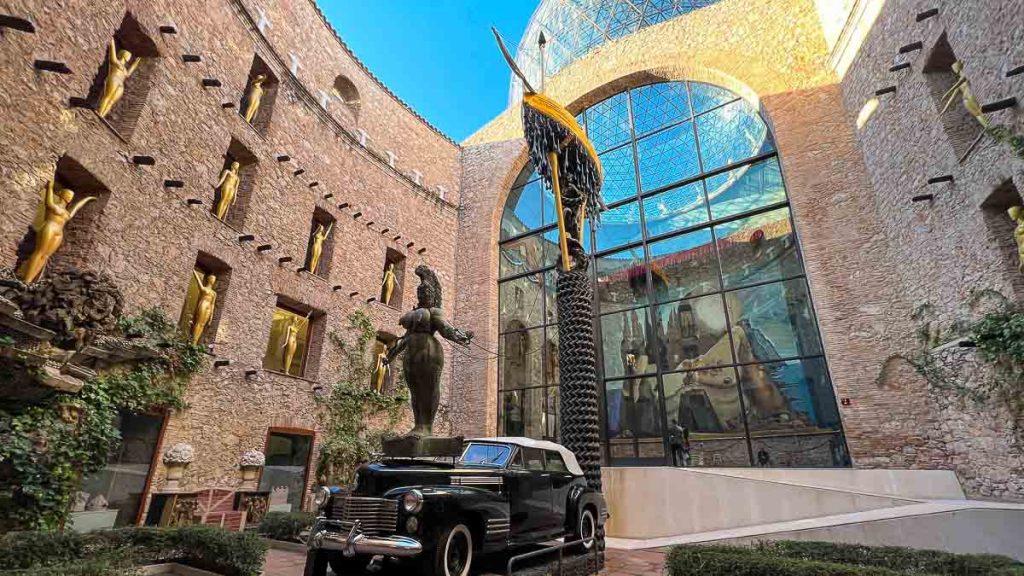 The inside is just as fascinating. Most art museums have a minimalistic layout with just one or two paintings per wall. Not the Dali Theatre-Museum — there's art everywhere you look (ceilings included!).
Entrance fee: €14 (~S$21.62)
Opening hours: 10:30AM – 6PM (Check the museum calendar before visiting as they close on certain dates)
Address: Plaça Gala i Salvador Dalí, 5, 17600 Figueres, Girona
Drive to Barcelona from Figueres
Distance: 145.5km
Drive time: 1hr 32min
After the Dali Theatre-Museum, drive back to Barcelona and return the car.
Accommodation in Barcelona (1 Night): Same as the first three nights.
Day 10: Barcelona and Flight Home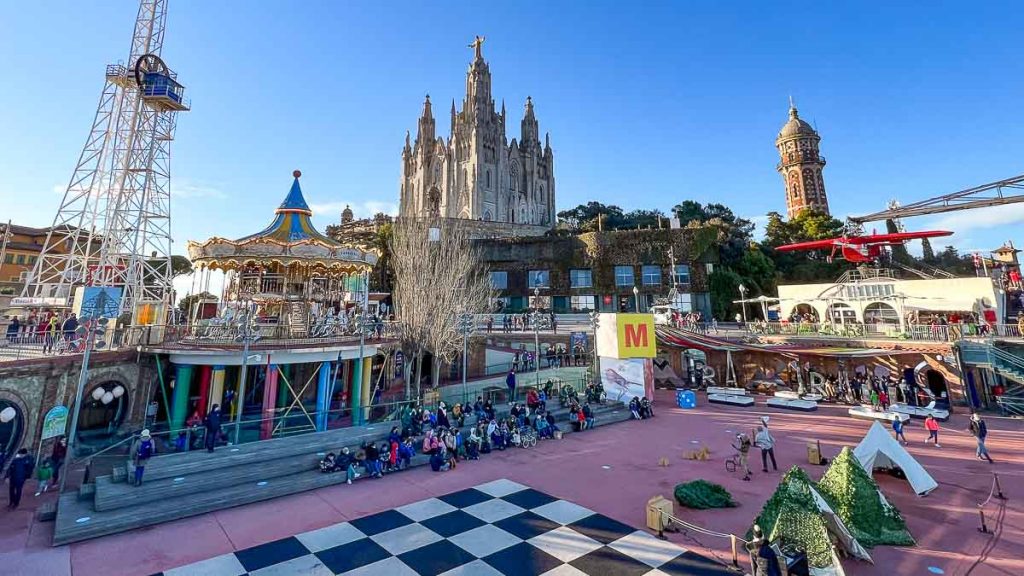 Visit other attractions like the Tibidabo Amusement Park, Mercat dels Encants (secondhand market) or Casa Mila before heading to Barcelona Airport.
There's a shuttle bus service (€5.90 one way) to the airport from Placa Catalunya and Placa Espanya which departs every six minutes.
Bonus: Stay in a 13th-century Farmhouse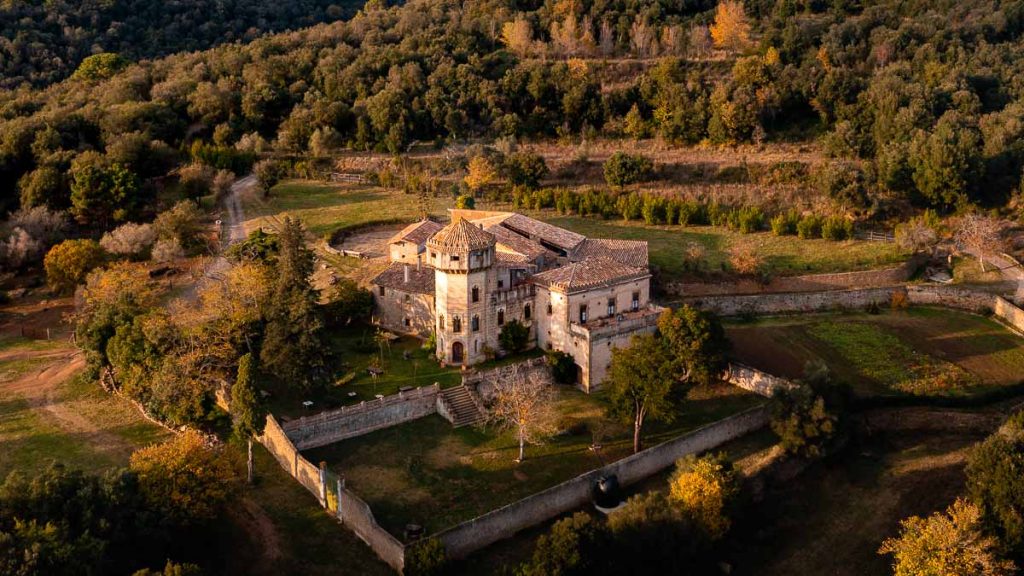 This 13th-century farmhouse on Airbnb was a little out of the way (1.5hr drive from Barcelona or 30min drive from Girona), but we loved it so much I just had to mention it.
Warm hospitality, beautifully decorated rooms, and adorable donkeys outside — this was a stay we won't soon forget. If you can afford to extend your trip by one or two days, this is an experience worth including!
Tips for Planning Your Next Trip to Spain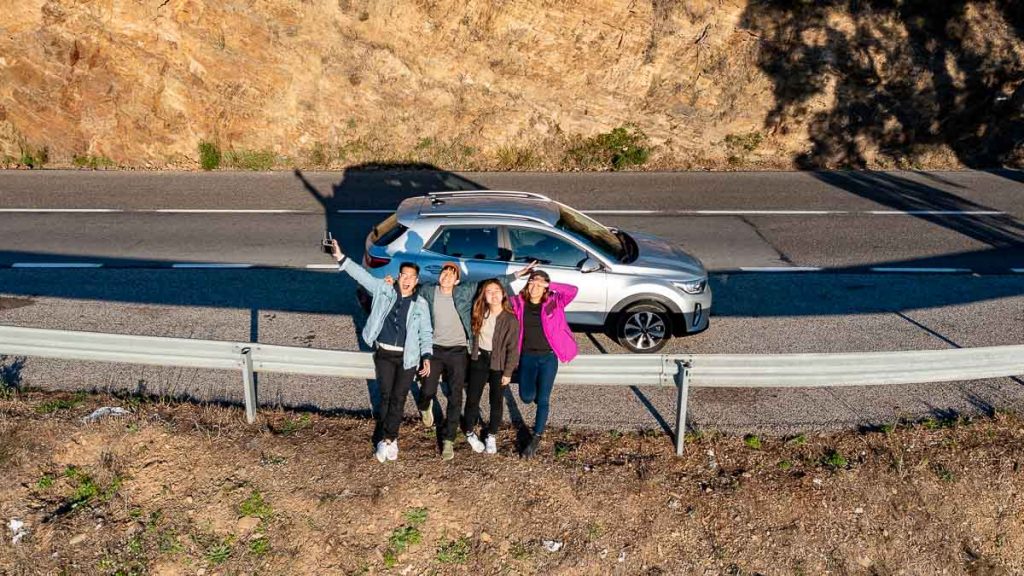 Youthful, sexy, full of life and culture — that was my impression of Spain. After spending some time here, it's still true.
Our 10-day road trip around Catalonia packed enough adventure to make up for the lack of travel for the past two years.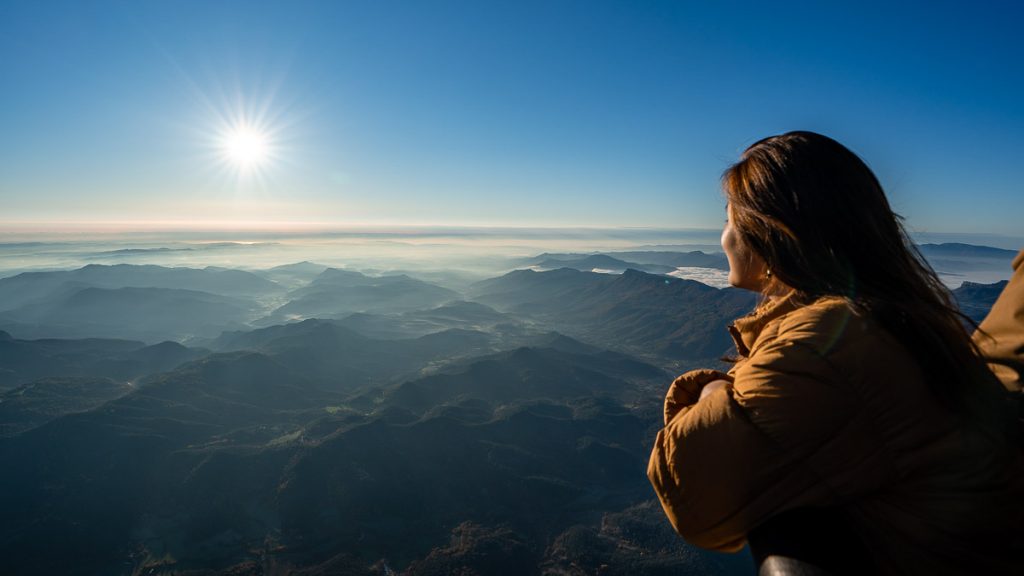 We got to tick off bucket list experiences like skydiving and taking a hot air balloon ride, visiting several UNESCO World Heritage Sites, and eating loads of good food!
We knew we would love Spain before arriving but now it's official — Spain is up there on our list of favourite destinations. Hoping to visit? Here are some pre-trip essentials:
Connectivity: A 12GB SIM card plan from Vodafone costs €10 (~S$15.45) and is valid for 30 days
Transport within Barcelona: The Hola Barcelona Travel Card includes unlimited rides on trams, buses and metros. Choose from 48, 72, 96 or 120 hour cards from €16 (~S$24.72). Alternatively, purchase pre-paid rides from the machines at metro stations. A single ride within zone 1 costs €2.40 but 10 rides cost €11.35 — useful if you're planning to walk most of the time.
Language: Most locals can speak English, but prefer to speak Spanish or Catalan. It'll be useful to learn basic Spanish before visiting. These few phrases should help you get by:
| | | |
| --- | --- | --- |
| English | Spanish | Catalan |
| Hello | Hola | Bon dia |
| Thank you | Gracias | Merci |
| Sorry | Lo siento | Ho sento |
| How much does it cost? | Cuanto cuesta? | Quant costa això? |
| Check, please! | La cuenta, por favor! | El comte, si us plau! |
| Do you speak English? | Habla Inglés? | Parla anglès? |
Google Map with pinned locations:
What are you looking forward to most on this Barcelona itinerary? Share with us in the comments!
---
Like what you see? Follow us on Facebook, Instagram, YouTube, and Telegram for more travel inspiration!