I have a love-hate relationship with Bangkok. Love it, cause it's a short flight away, is relatively cheap, and makes a refreshing short escape from everyday life. Hate it, cause many people seem to have that same idea too. In the end, all my Bangkok holidays become a routine of eating and shopping in crowded cafes and malls one day, and eating and shopping again the next (except this time I'm getting bigger-sized clothes).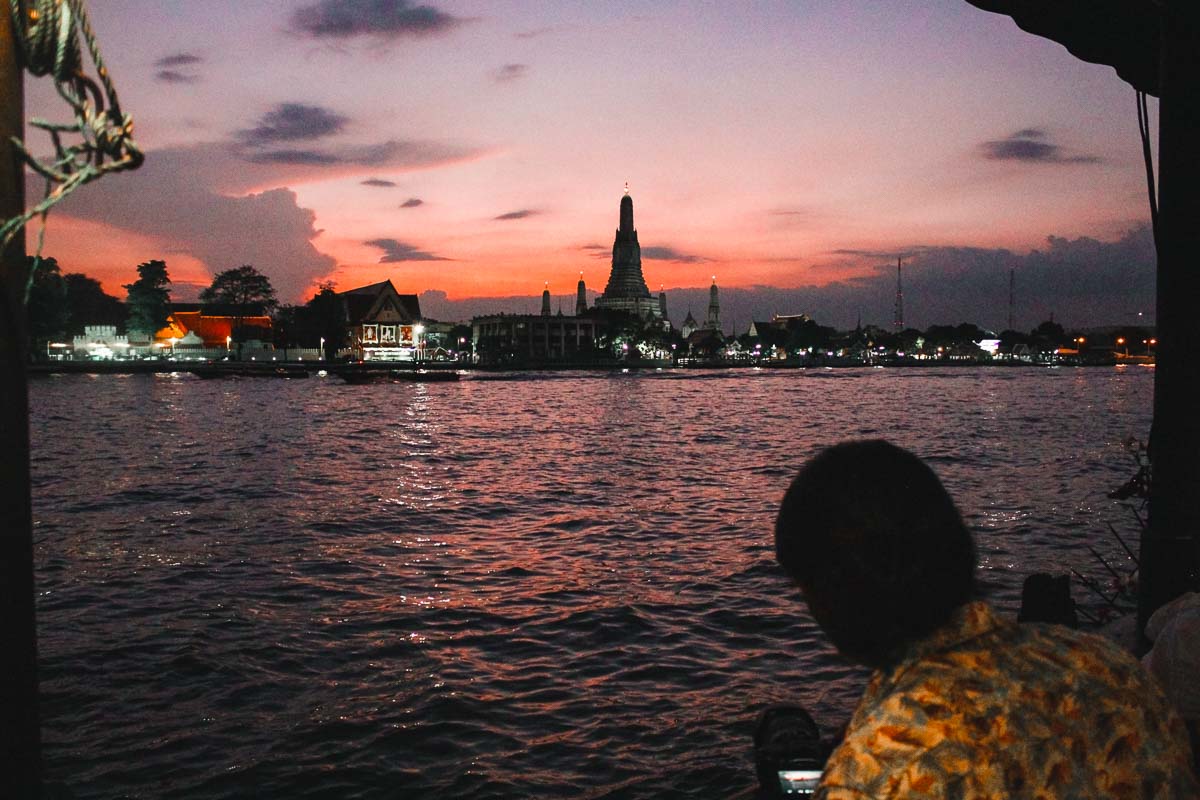 If you're looking to shake up your Bangkok getaway, here are some fun and interesting activities to try instead! From finding secret bars to learning the art of eight limbs, this 4D3N itinerary skips the usual tourist haunts and explores the lesser known in Bangkok.
Pre-trip Essentials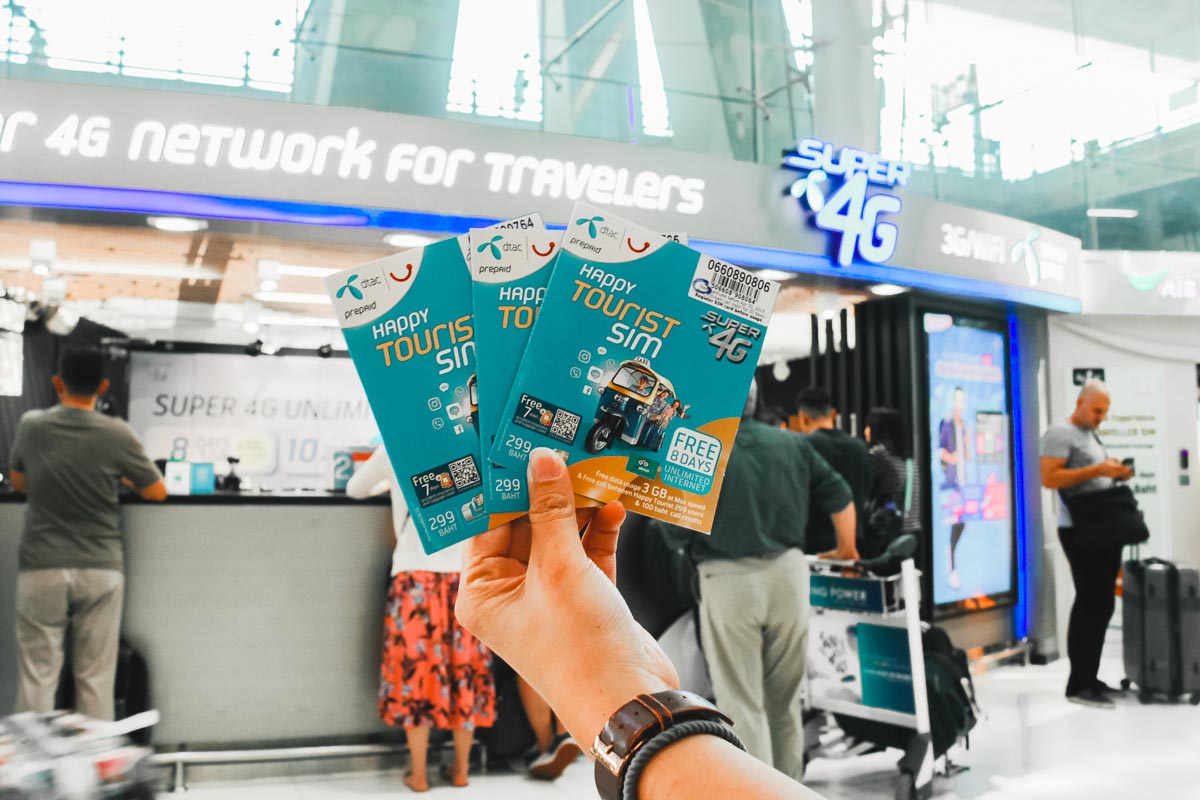 Connectivity: This SIM card we got came with unlimited data for 8 days (~S$10). Pre-book your SIM card before the trip and collect it at the Airport's arrival hall.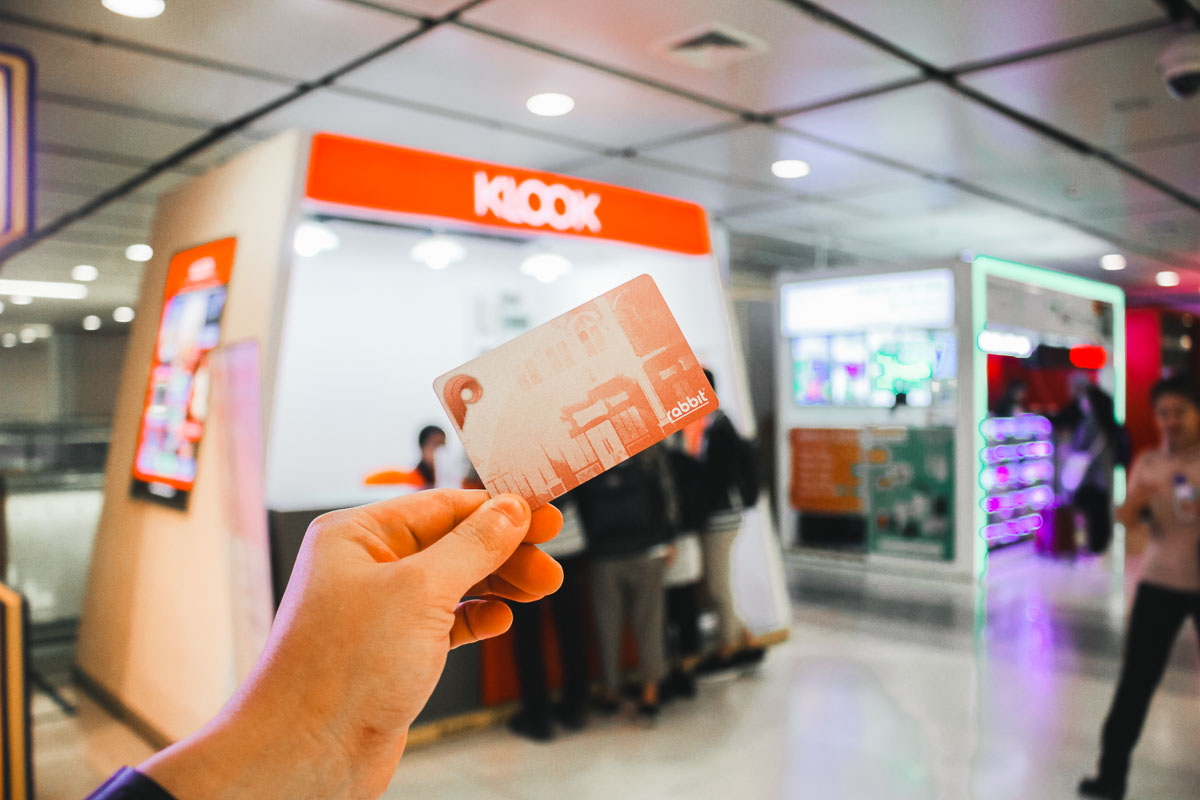 Transport Essentials: Local trains cover most attractions. Pre-book a BTS Skytrain Rabbit card so you can skip the ticket queues and instantly hop on the trains. Each card comes preloaded with ฿200, and even offers discounts to participating retail shops.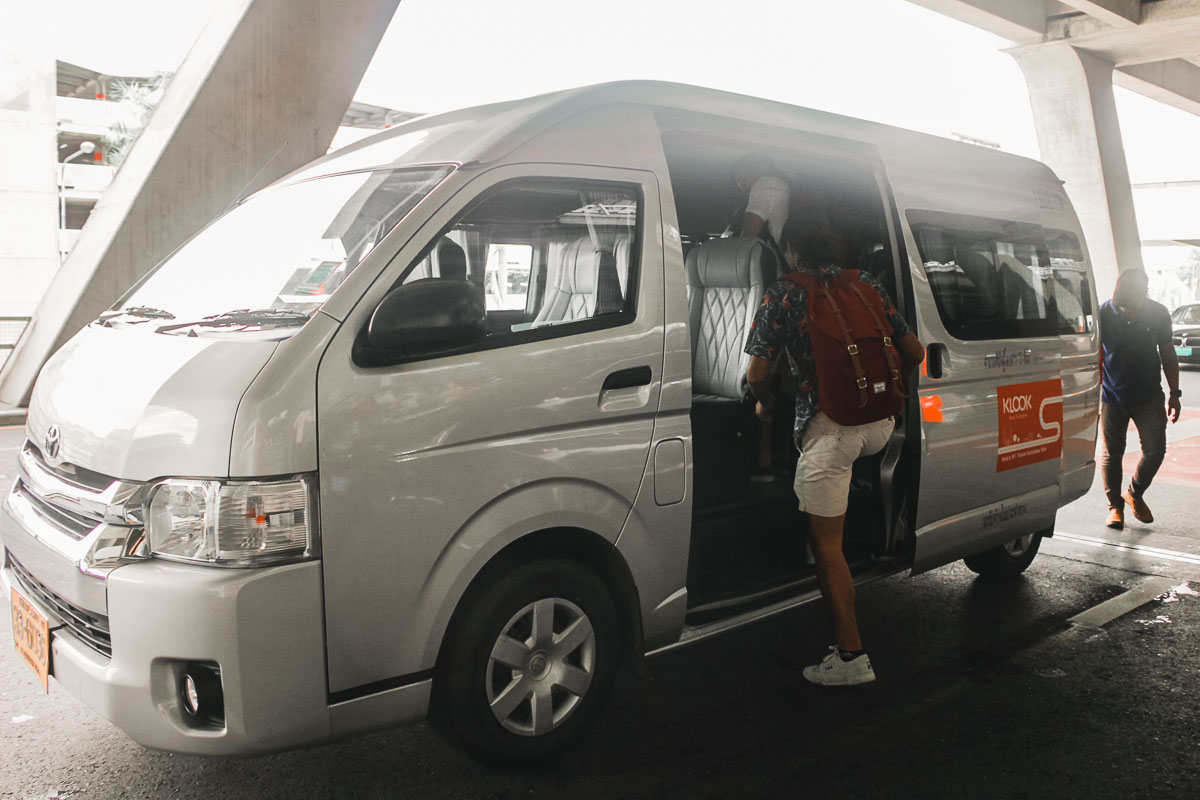 If you're coming in a big group or have tons of baggage with you, opt for a convenient private airport transfer to Bangkok (or elsewhere like Pattaya). Your driver will pick you up at the arrival gate, and you can sit back and relax as you're sent directly to your accommodation.
Accommodation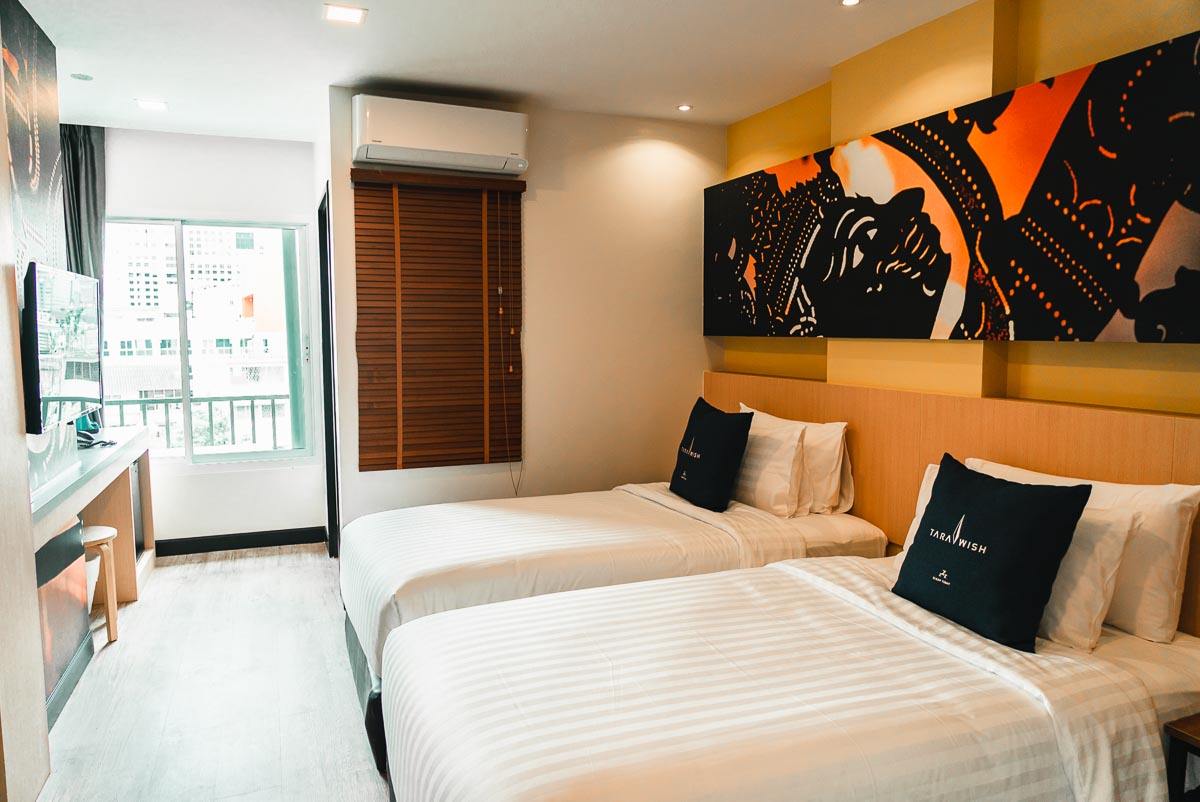 Pick an accommodation near BTS stations in the heart of Bangkok. Our accommodation for the trip, Tarawish Hotel (from ฿1,900/room), was a cosy boutique hotel conveniently located behind Phaya Thai BTS station. Not only were the rooms clean and quiet, it was also nearby many late-night eateries and a 24-hour convenience store. No reason not to satisfy our supper cravings!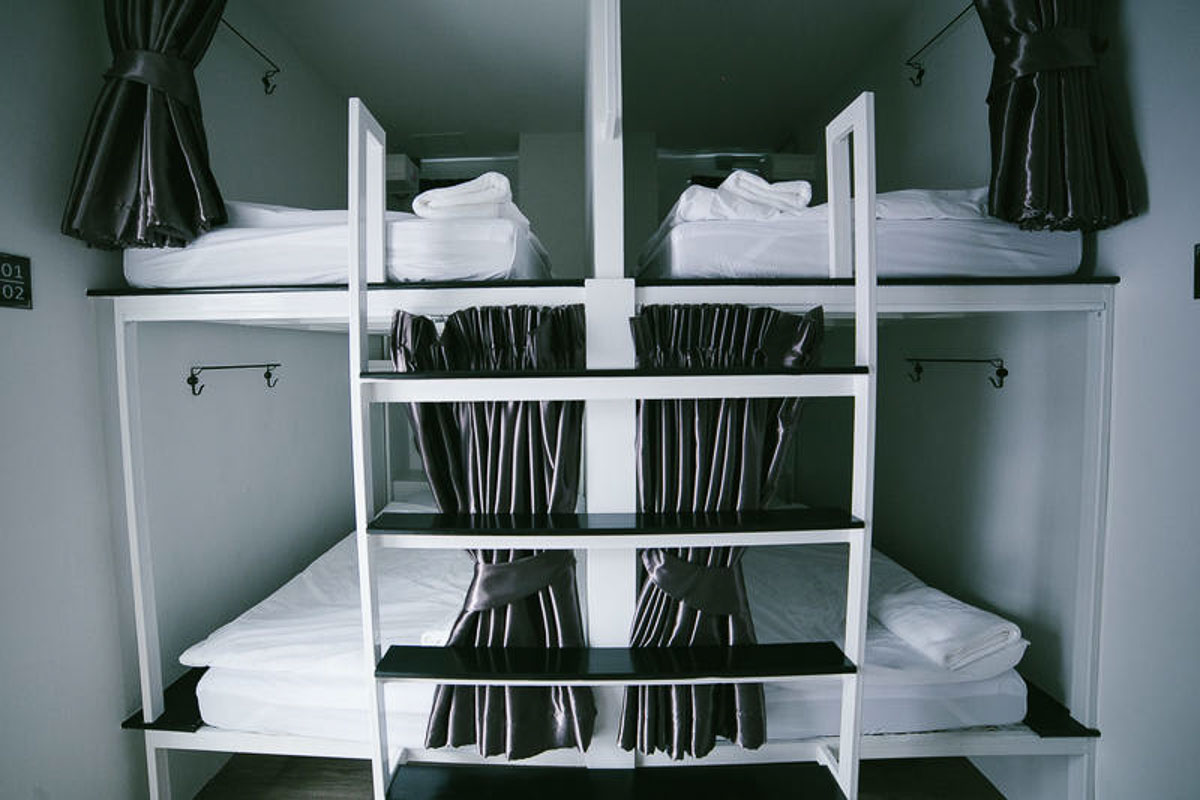 A more budget (from ฿439/bed) but comfortable and conveniently located accommodation option is Diff Hostel, just 350m from Ratchathewi BTS station.
Day 1: Enjoy Local Thai Culture
Cook Up a Thai Feast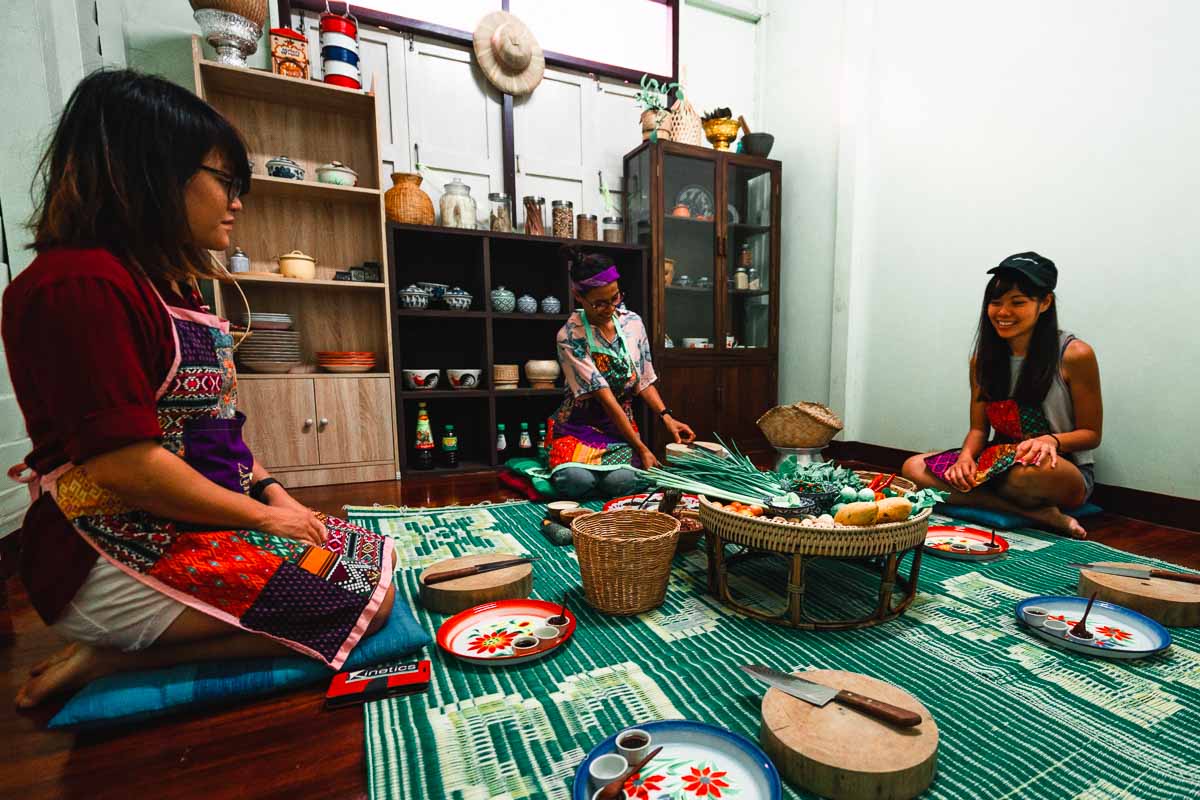 First stop, enjoy a four-course meal at Siamese Cookery House. Instead of visiting a restaurant, this is where you can learn to make your own! An expert cooking instructor will guide you through the cooking process to create classic Thai dishes like green curry, pad thai and mango sticky rice.
Besides the homely and easy-going atmosphere, we loved how our instructor got us into friendly competition mode to see who could plate their dishes best.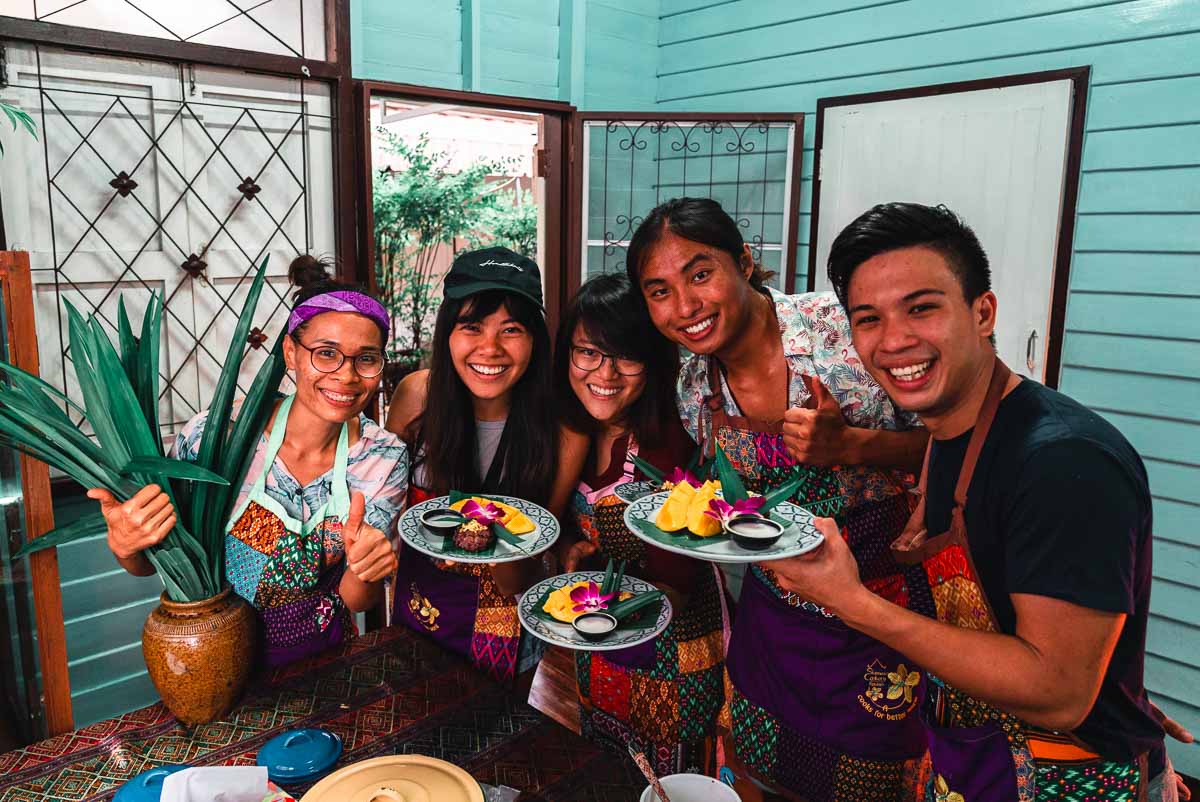 Cost: ~S$35.50 (join-in class)
Class Timings: 9AM, 1:30PM, and 6PM
Meet-up Point: Huai Khwang BTS Station Exit 1
*Pro-tip: Wear mosquito repellent as the most of the cooking will be done outdoors.
Play Ruff at Big Dog Cafe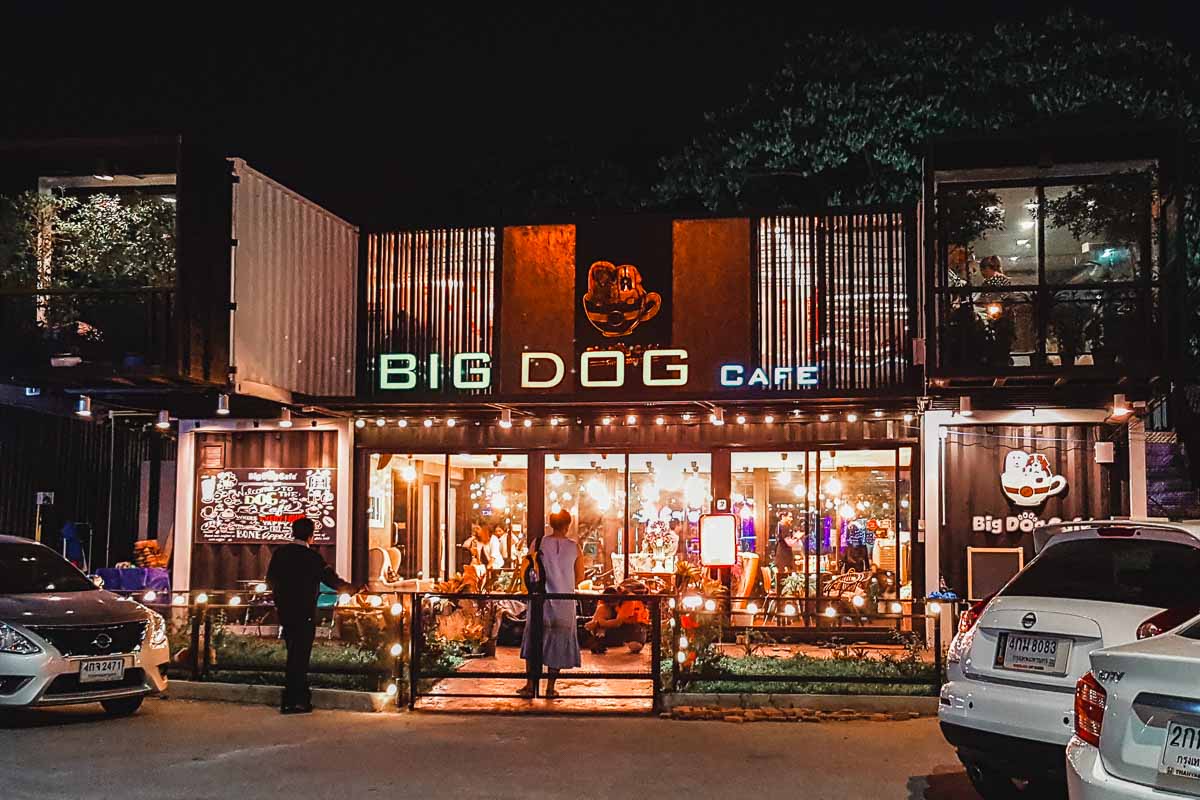 When it comes to animal cafes in Bangkok, the one that typically comes to most travellers' minds is the True Love Husky Cafe. Don't get me wrong, I love huskies — but why play with a single breed when you can play with a lot more? Like, 20 dog breeds more.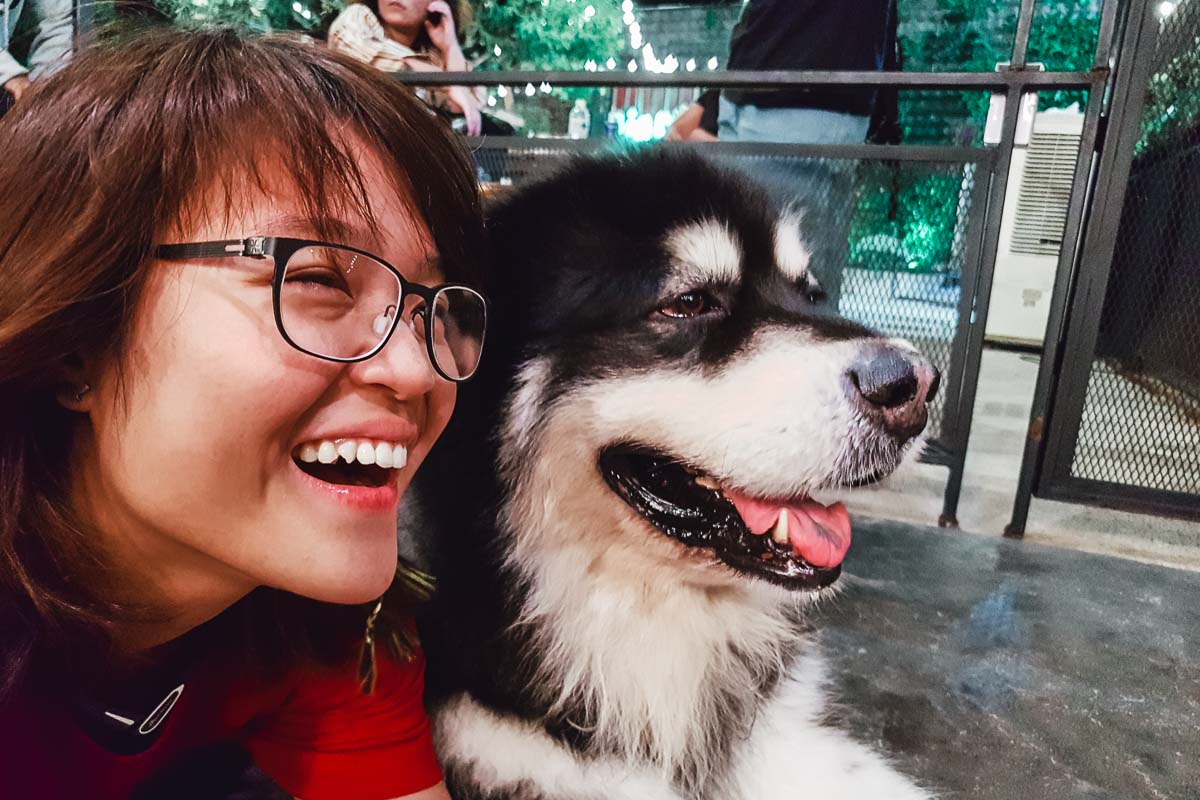 Big Dog Cafe is home to over 24 dogs with varying sizes — from huge Alaskan Malamutes, to little Pomeranians. Different batches of dogs are let out (geddit?) every 20 minutes into a small area to play with guests. The dogs are very friendly and tame, and staff members are around to help you snap photos.
It's not mandatory to purchase any food or drinks but you'll need to pay a ฿199 (~S$8.30) entrance fee which comes with a complimentary drink. The cafe can be very crowded on weekends, so it's advisable to make a reservation in advance via their Facebook page.
Cost: Mains from ฿125 – ฿220 (~S$5.20 – ~S$9.20)
Opening hours: 9AM – 10PM
How to get there: From Thailand Cultural Centre MRT station, turn right at Exit 1 and walk 70m.
Explore Ratchada Rot Fai Night Market (ตลาดนัดรถไฟรัชดา)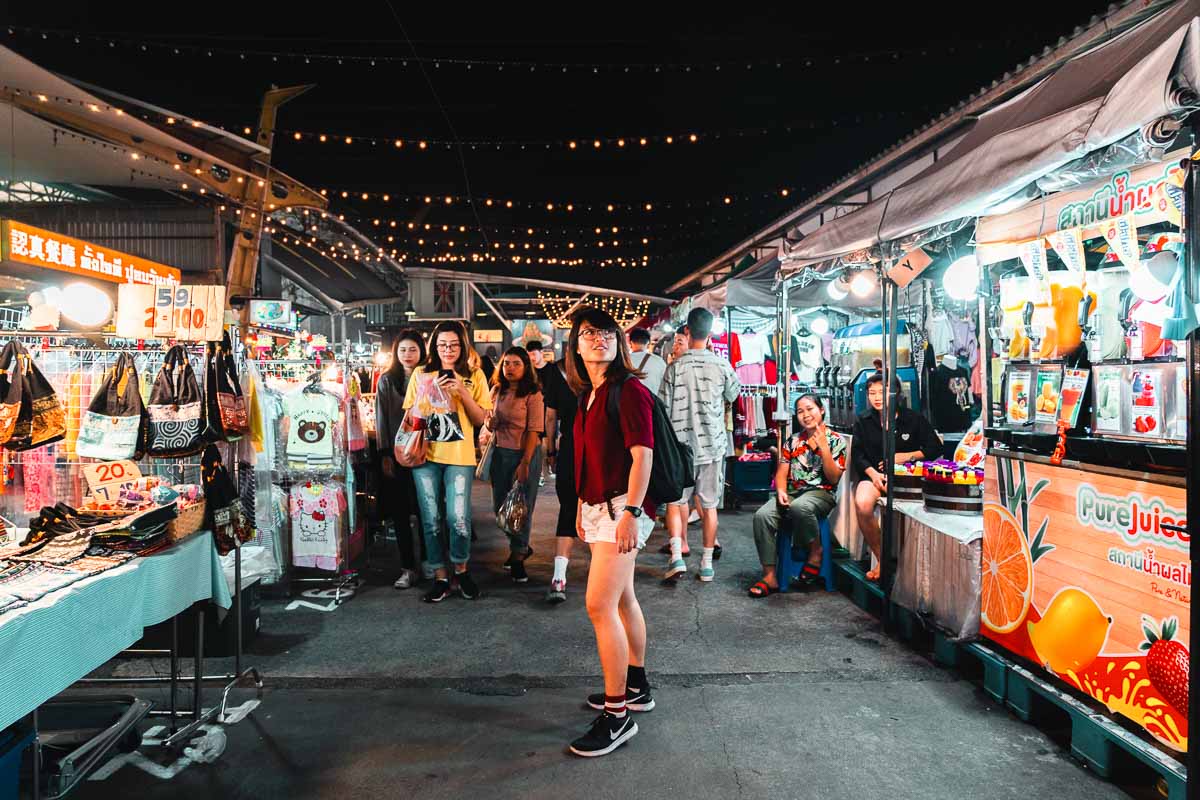 Popular with locals and hidden behind a huge shopping mall is the Ratchada Rot Fai Night Market. Inside, vendors sell the usual items like elephant pants, handcrafted leather products, and funky sunglasses. But towards the back, there are many rows of lively bars and hairdressing parlours.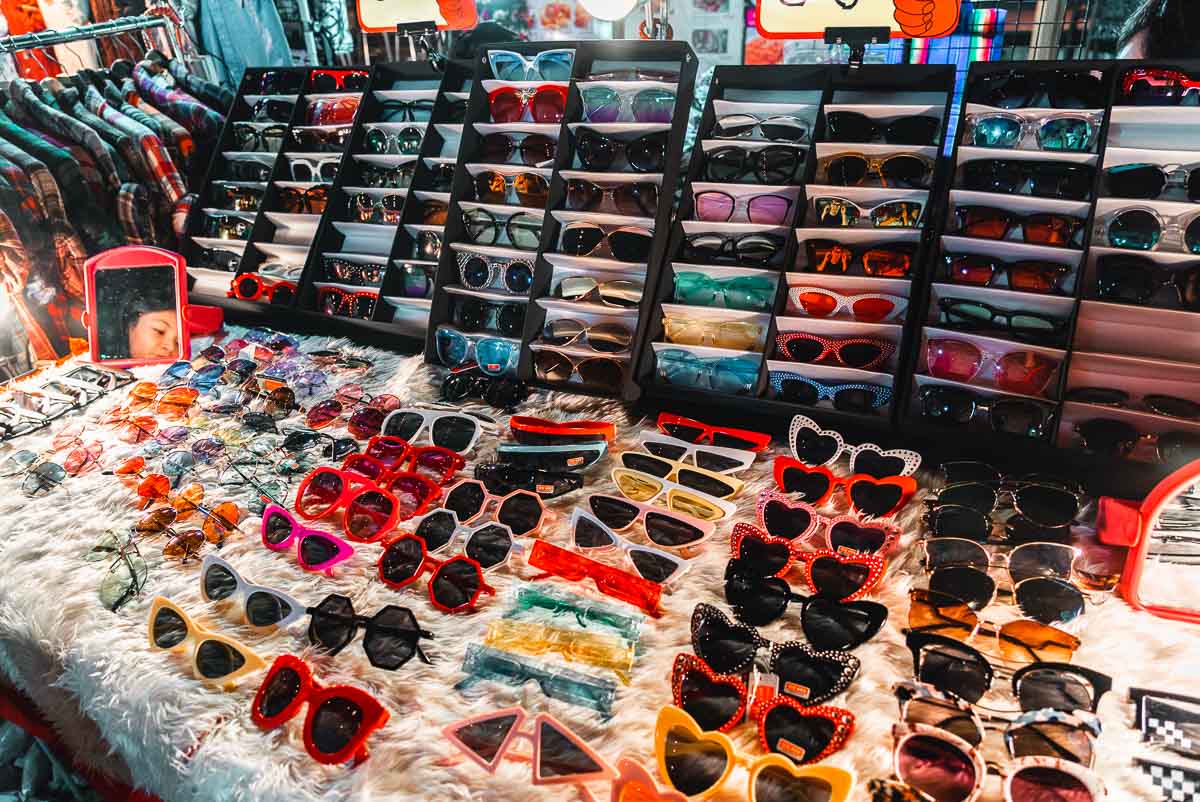 Food-wise, there's a good variety of cheap eats here. If you've got a big appetite, one of our guides recommended Koong Tung, or seafood spread on a table, for ฿500 (~S$21). Other small bites include Thai roti, pandan pancakes, grilled meats on skewers, and insects. Prices range from ฿10 – ฿100 (~S$0.40 – ~S$4.20).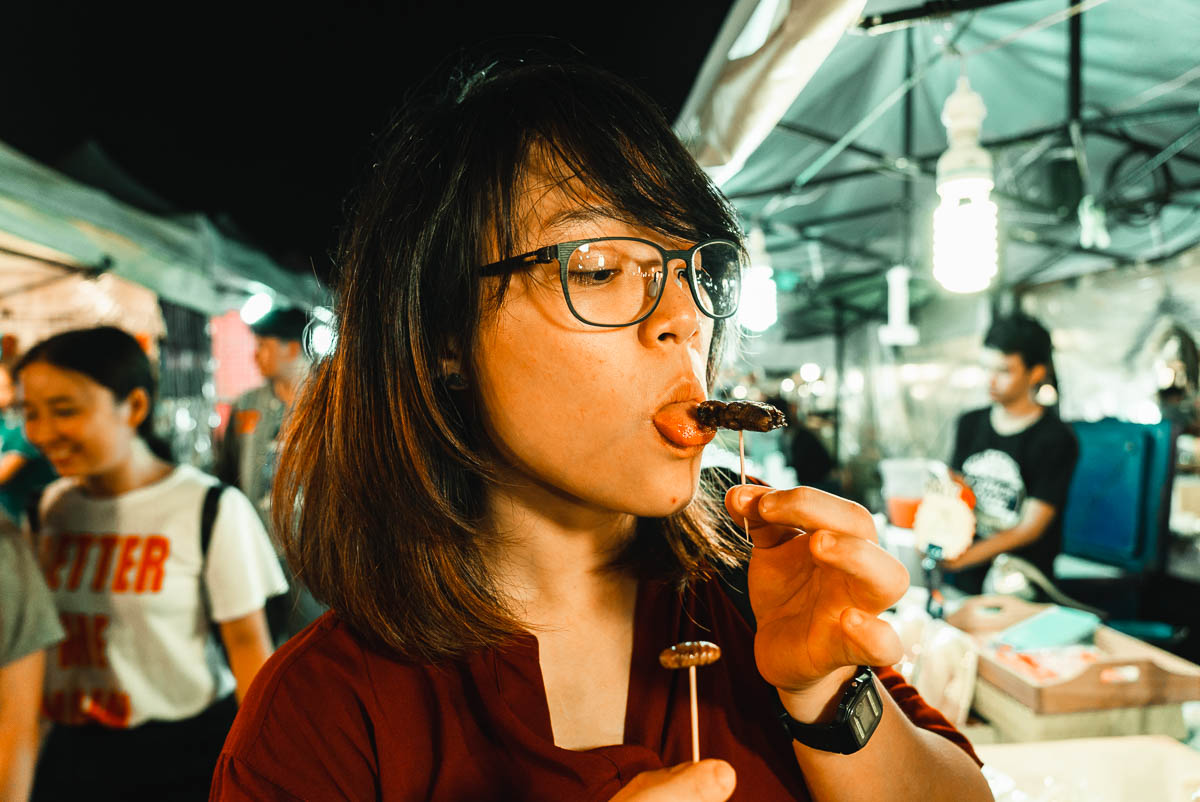 Opening Hours: 5PM – 12AM
How to get there: From Thailand Cultural Centre MRT station, walk 150m around Esplanade Shopping Mall.
Day 2: Explore a Different Side of Bangkok
Tour Chinatown on a Bicycle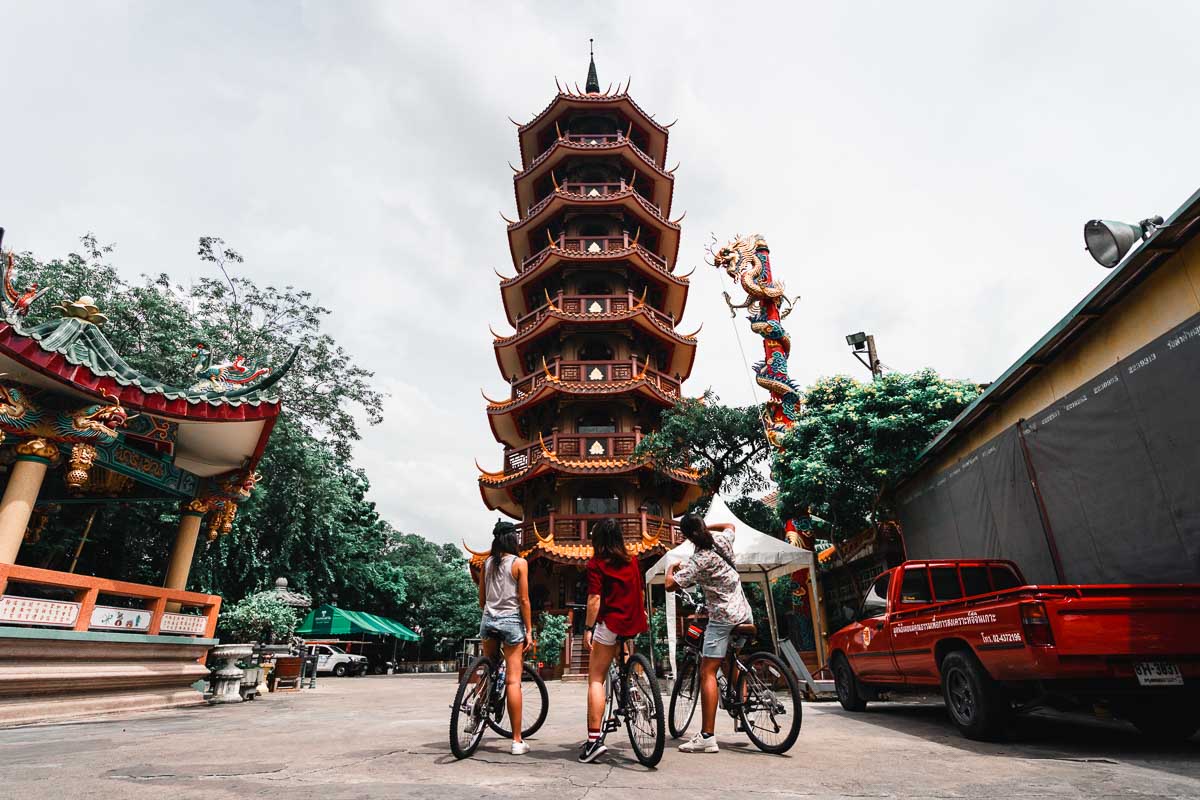 It's easy to see Bangkok via car or on foot. But if you really want an adrenaline-pumping adventure, go on a bicycle tour through the streets of the city! We went on the Go Pink Chinatown Tour, a two-hour ride which led us on a fun and at-times exhilarating ride through the narrow back-alleys and busy roads of Chinatown.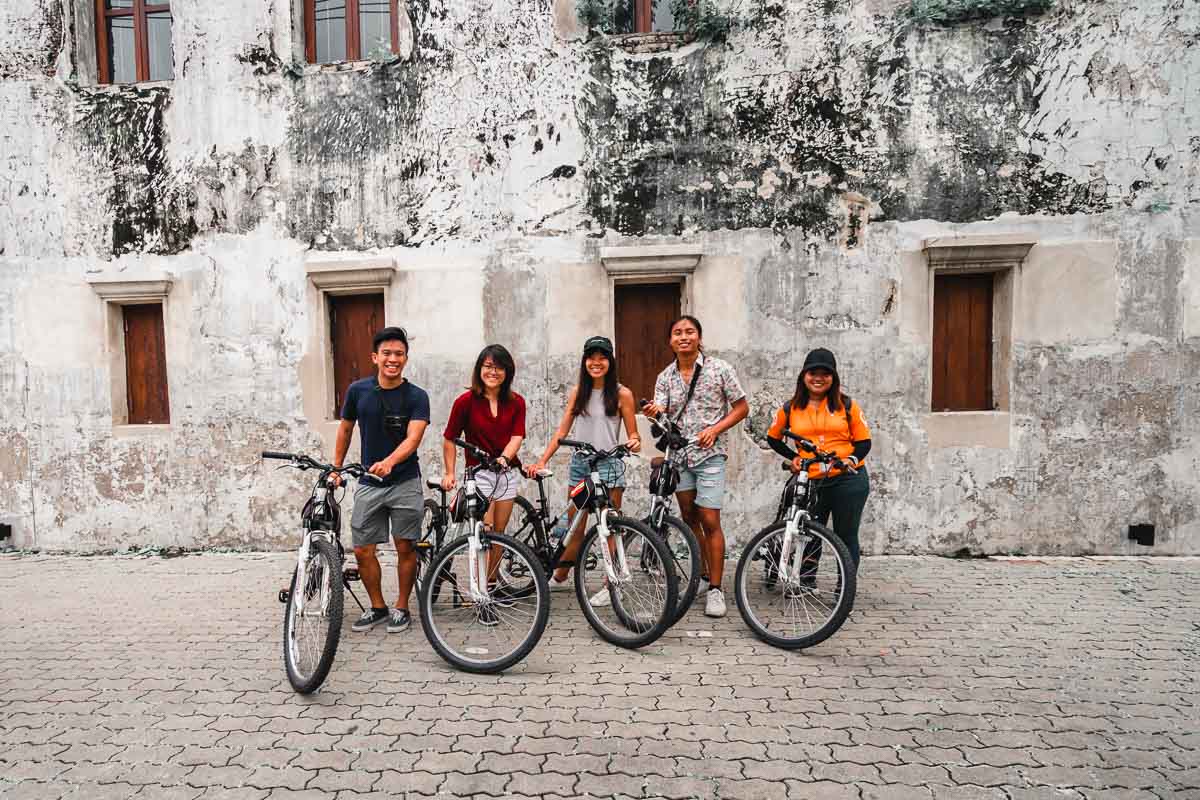 Through the tour, we got to see how the locals lived, as well as their houses. Our friendly and caring guide also gave us some facts about Thai culture and traditions at each pit-stop, making our tour an informative and entertaining one. She also constantly watched out for our safety and ensured we had water at all times (even buying some for us when we ran out).
It's highly recommended to have some cycling experience before embarking on the tour as some of the roads are very narrow and hard to navigate.
Go Pink — Bangkok Chinatown Tour
Cost: ~S$21.29
Tour Timings: 9AM, 12PM, and 3PM
Lunch at Prachak Roasted Duck (ร้านประจักษ์)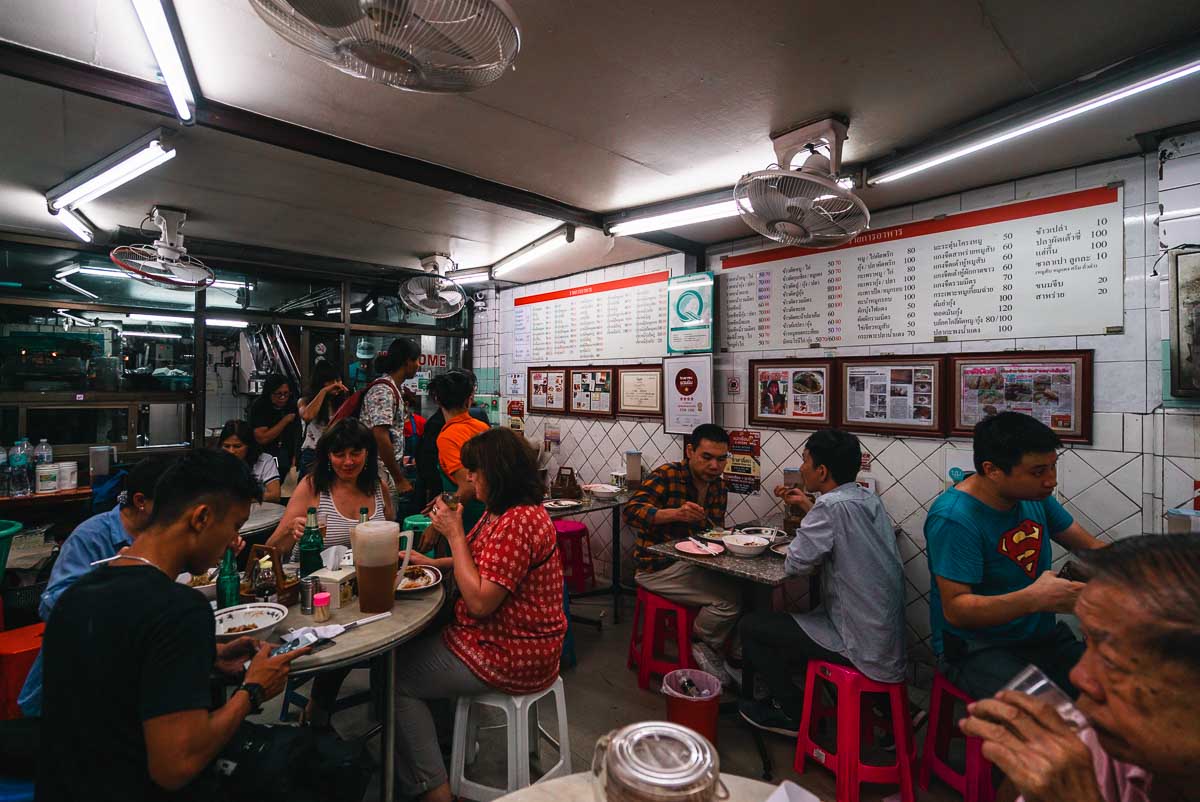 Raved by many as "the best" in Bangkok, Prachak Roasted Duck is a local eatery that will make you go quackers for its food. The shop has been established since 1909, so you can imagine the time they've gone through to perfect their succulent roast duck.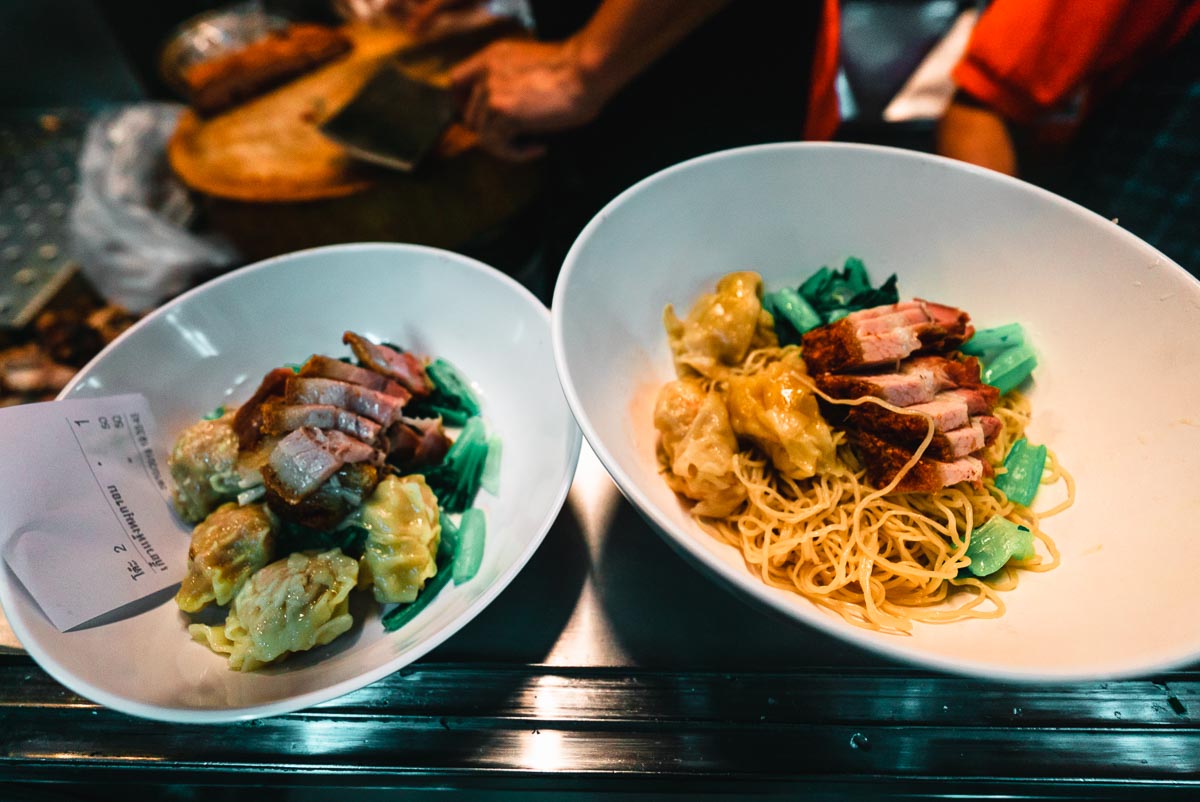 Unfortunately, the roasted duck was sold out when we arrived in the evening. While it was a bummer, it goes to show how good the roasted duck is that coming early is essential (hence lunch!). But all was not lost — we had other popular dishes such as crispy pork wanton mee (฿45, ~S$1.90) and crispy pork rice (฿40, ~S$1.70). The pork was tender and juicy, with a pleasantly sweet herbal aftertaste.
Cost: Mains from ฿40 – ฿500 (~S$1.70 – ~S$21)
Opening hours: 8:30AM – 8:30PM
How to get there: From Saphan Taksin BTS station, take Exit 3 and walk 260m.
Get Spooked at Bangkok Ghost Tower (สาธร ยูนีค ทาวเวอร์)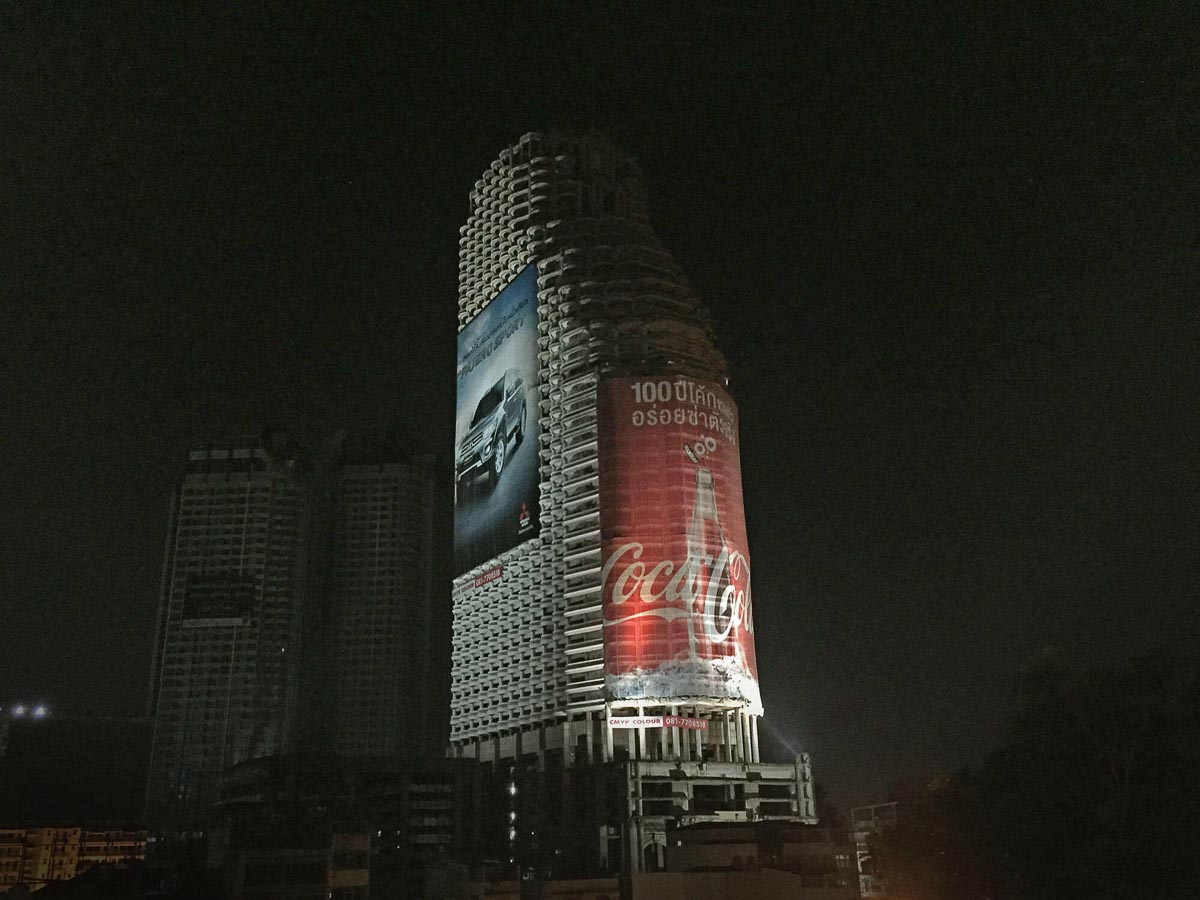 When the Asian Financial Crisis hit Bangkok hard in 1997, one of its prominent victims was the Sathorn Unique Tower. Initially planned to be a luxurious condominium, the concrete skyscraper looms over the city unfinished to this very day. Unsurprisingly, its derelict state made it a renowned destination for urban explorers, photographers, and curious minds itching to get inside.
The tower earned its grisly "ghost" status in 2014, when a photographer found a backpacker who committed suicide on the 43rd floor. This caused authorities to lock down the tower to prevent more people from getting in, but it hasn't stopped the fiercely determined with spare change. If you're lucky, a guard might let you in to explore the first and second floor of the building. Still, even from the outside, it's an impressive site to marvel at.
How to get there: From Saphan Taksin BTS station, take Exit 3 and walk 300m.
Dinner at Joke Prince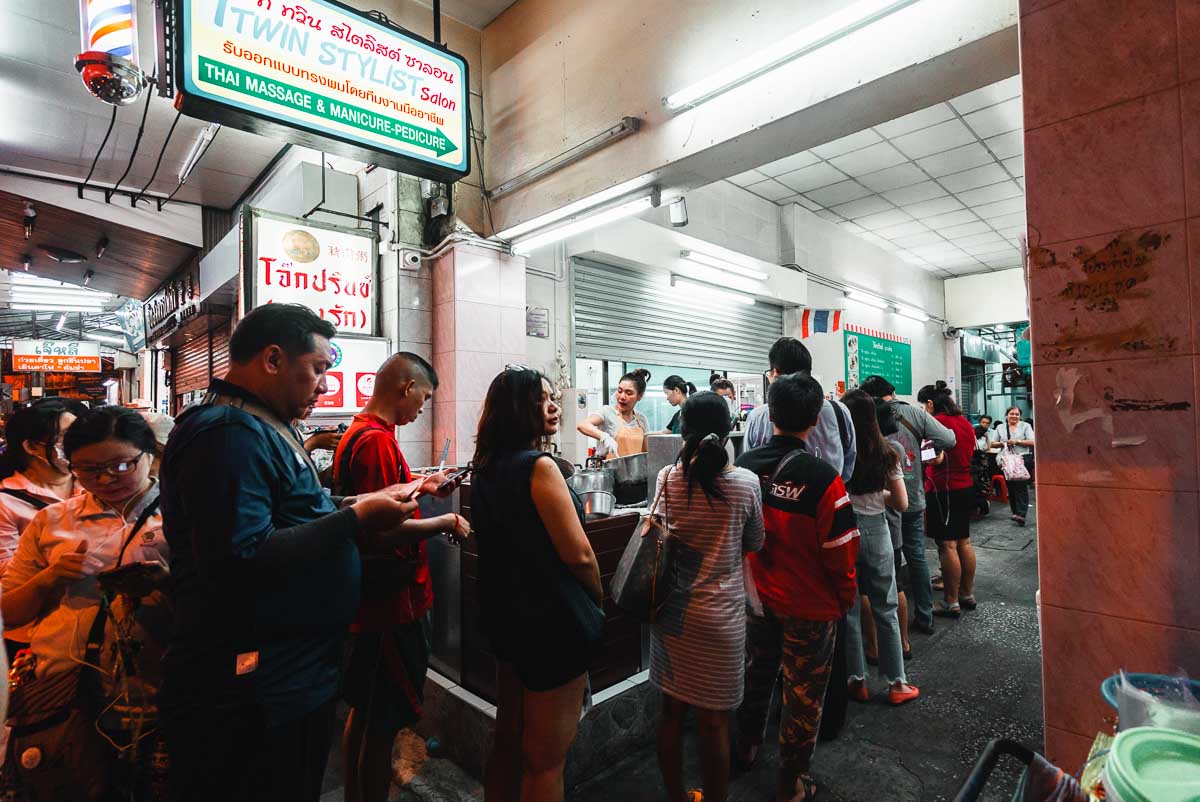 A few stalls down from Prachak Roasted Duck is a real hidden gem you'd easily pass by if you weren't paying attention. Don't judge a book by its cover here — the Joke Prince is a Michelin Bib Gourmand eatery, known for its cheap and delicious porridge!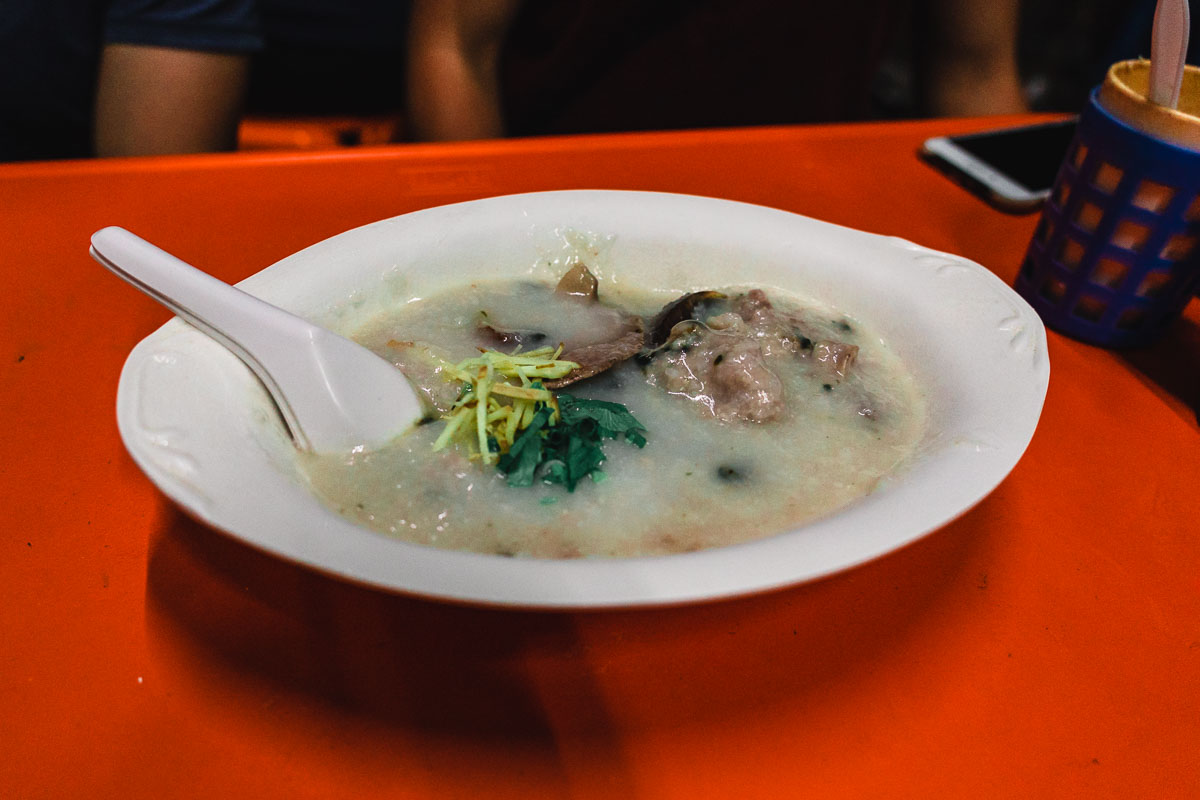 They only serve pork porridge here — a simple but extremely flavourful fare. We shared a bowl of pork porridge with pig organs (฿60, ~S$2.50). The portion was big, the meat was tasty and plentiful, and there was a slightly charred taste that made the porridge more savoury. Just the comfort food we needed.
Cost: Mains from ฿45 – ฿60 (~S$1.90 – ~S$2.50)
Opening hours: 6AM – 1PM, 4PM – 10PM
How to get there: From Saphan Taksin BTS station, take Exit 3 and walk 300m.
Who is Maggie Choo?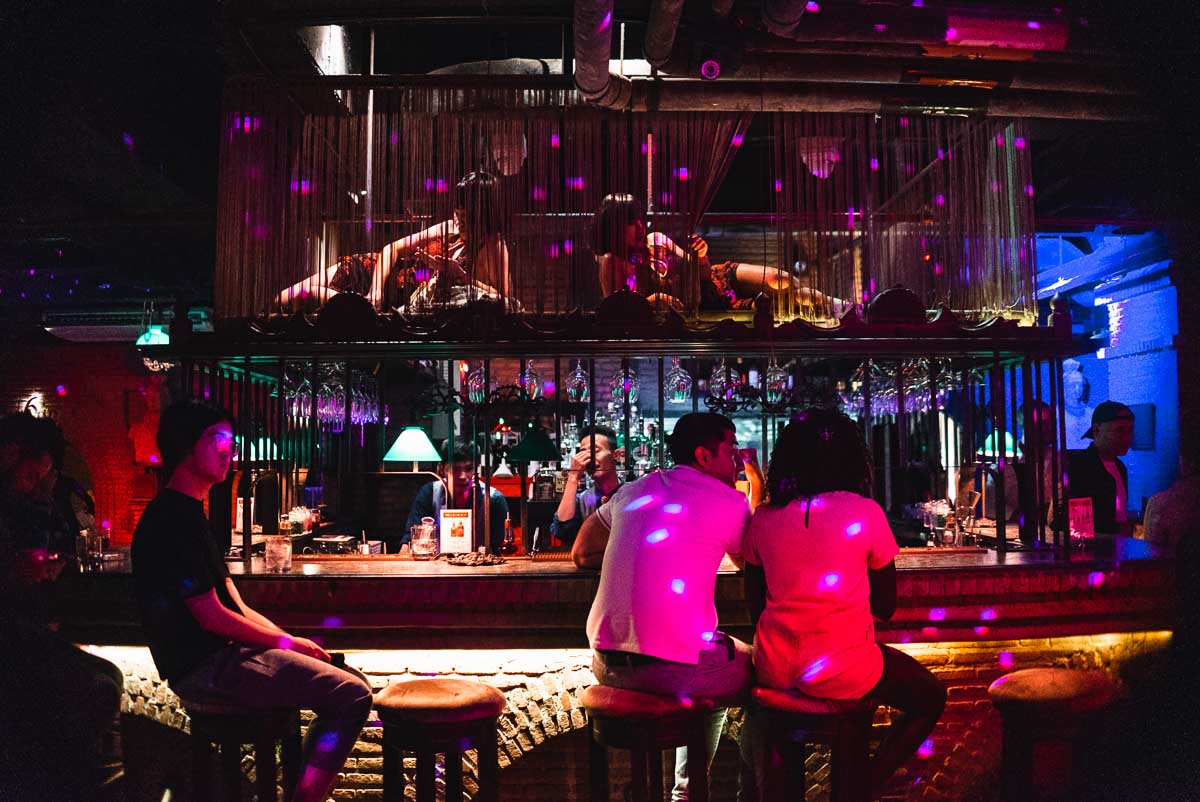 If you ever wanted to time travel back to the roaring 1930's in Shanghai, look no further than Maggie Choo's… That is, if you can even find it (or her) at all.
Entering this underground bar is like being whisked on an enthralling adventure. You'll enter a dark and glamorous cabaret, filled with plush velvet couches and black-robed staff. But what will immediately catch your eye are the mysterious girls in cheongsams who hang around the bar — are they Maggie Choo? No one really knows, but it adds to the mysterious yet playful ambience.
Besides a speakeasy, Maggie Choo's is also popular for its many events. From Singer Songwriter Nights to Sunday Gay Nights (wild!), there's no end to the entertainment in this bar.
Do note there's a strict dress code to enter Maggie Choo's. Smart casual would do nicely, but don't be afraid to glam it up!
Cost: Drinks from ฿180 – ฿390 (~S$7.50 – ~S$16.30)
Opening hours: 7:30PM – 2AM
How to get there: From Saphan Taksin BTS station, take Exit 3 and walk 700m. The entrance is located next to Novotel Bangkok Fenix Silom.
Day 3: Day Trip to Thailand's Floating Markets
If you're tired of waking up to another day of skyscrapers and traffic jams in Bangkok, opt for a new experience and take a day trip out of Bangkok. We signed up for a Thailand Floating Markets Day Tour, and a packed day visiting three unique markets.
Damnoen Saduak Floating Market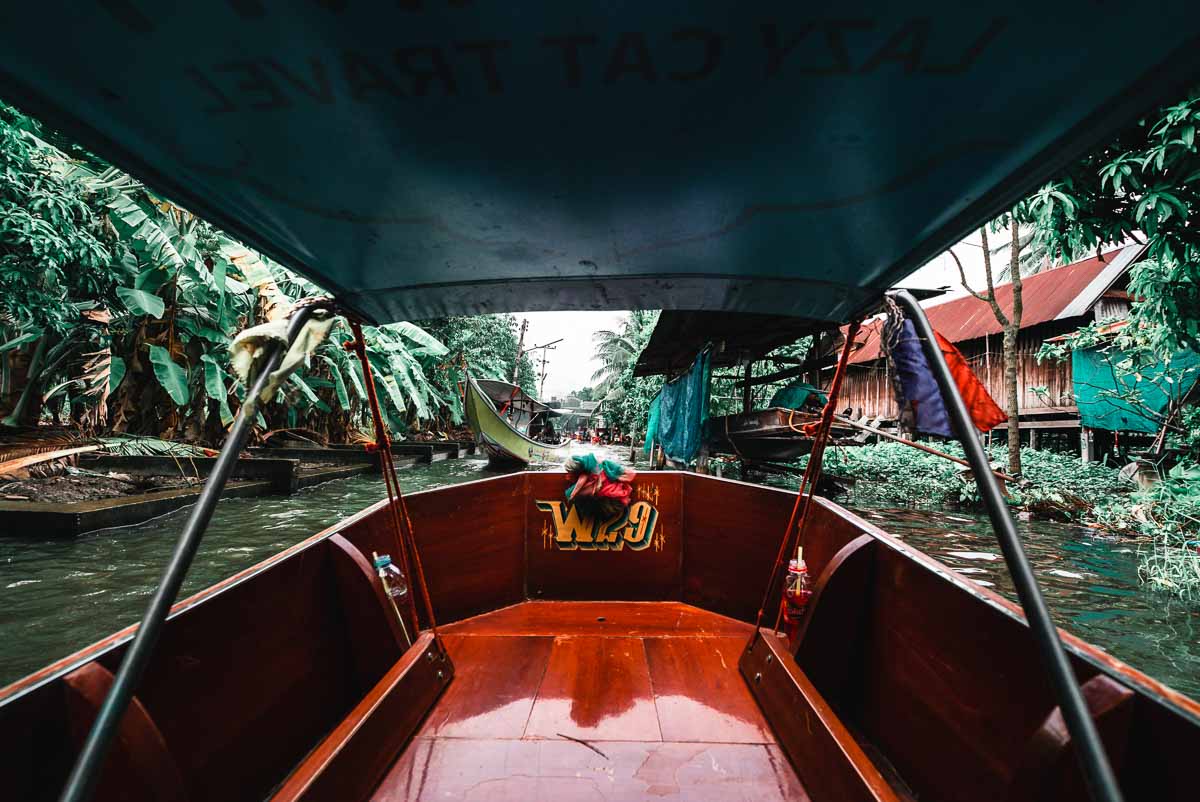 Dubbed as the "original floating market", Damnoen Saduak Floating Market is located on the longest canal in Thailand. You'll first ride through the canal on an electric long tail boat, then later explore the market to see how locals go about their daily lives selling souvenirs, clothes and food to travellers by the waterside.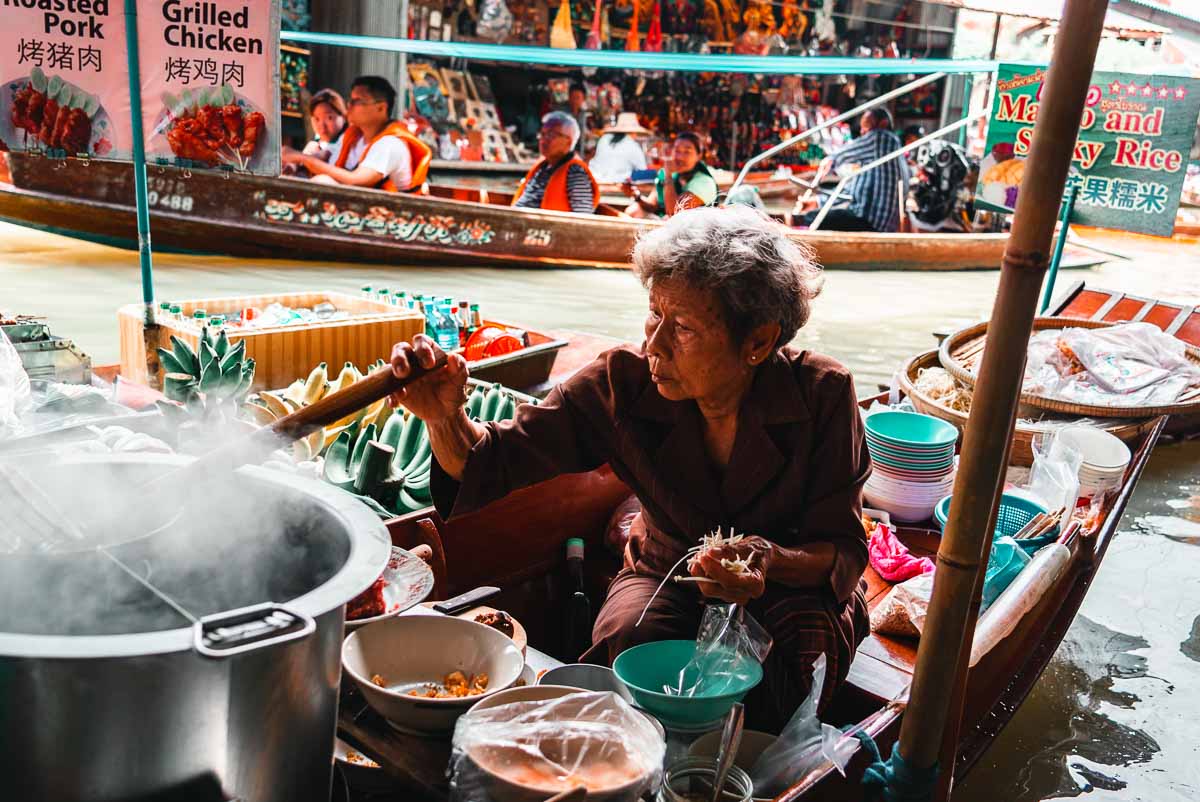 If you're feeling adventurous, grab a bowl of boat noodles (฿50, ~S$2.10) from an OG floating boat!
Maeklong Railway Market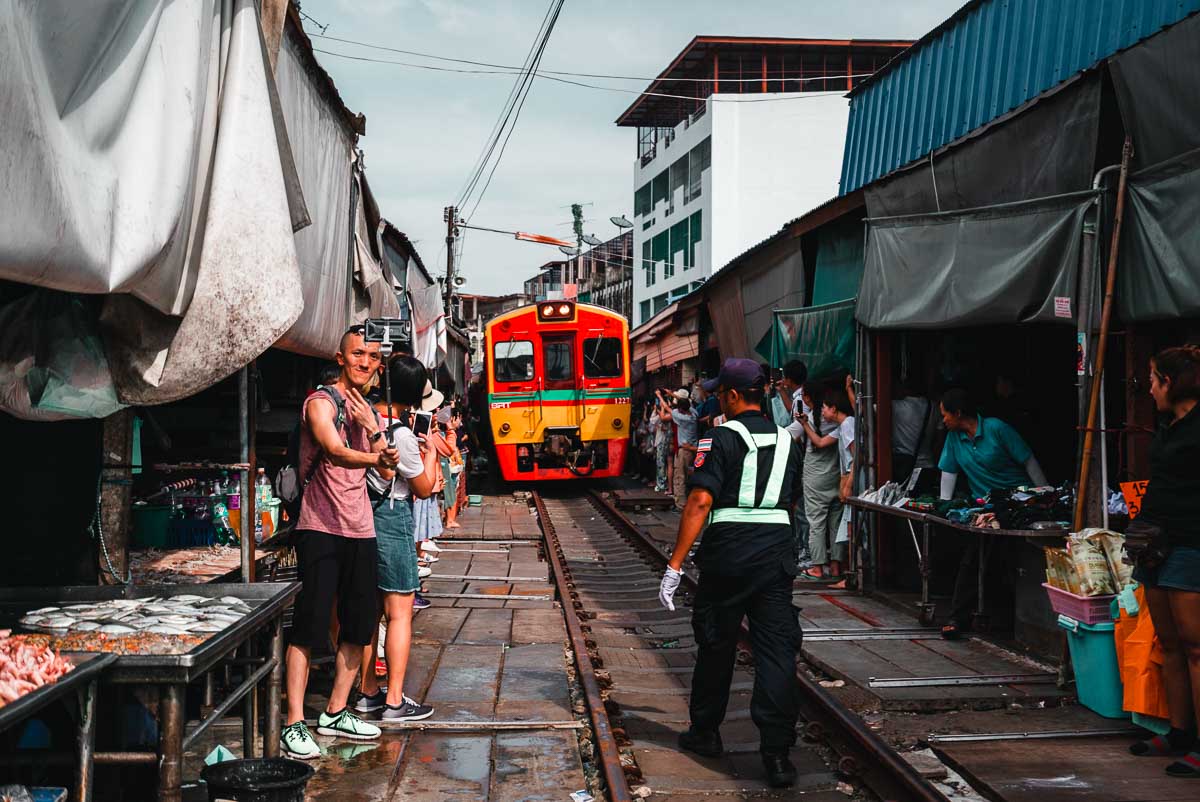 Next is the famous Maeklong Railway market. Known as the market set up along a train track, it's quite a visual treat being caught in the action when a train does come. About 10 minutes before the train is scheduled to drive through, vendors would fold their umbrellas and pull back their wares to clear the path. Once the train passes, they would quickly set up shop again and the bustle continues. The tour also includes a train ride through the market!
*Pro-tip: Stay in the middle part of the market when the train is coming. There will be lesser people, and you can see how vendors keep their goods and roll them back out afterwards.
Amphawa Floating Market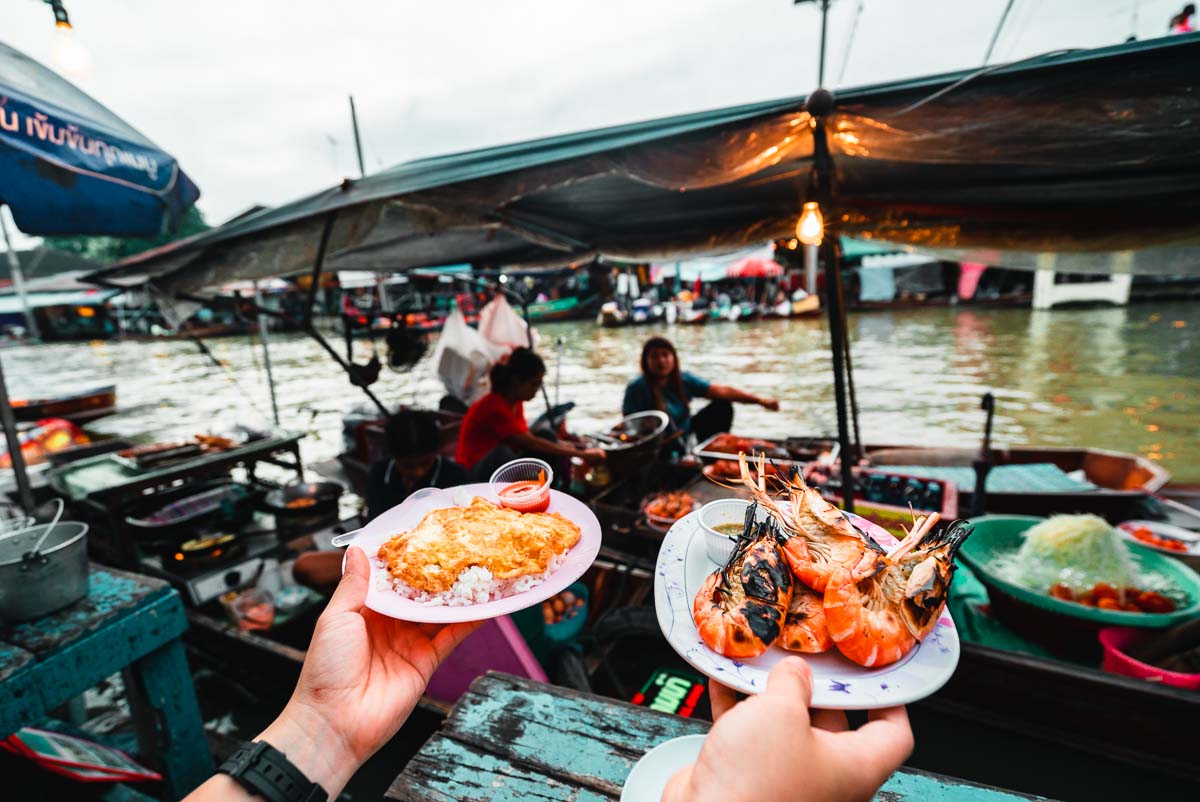 The last stop is Amphawa Floating Market, a riverside market that became so popular stalls started spilling onto the streets. The market is known for its fresh seafood, so trying it is a must-do. For an authentic experience, dine by the waterside (literally) and have your freshly cooked seafood delivered to you from the long tail boats. The cost of seafood dishes range from ฿200 – ฿500 (~S$8.40 – ~S$21).
Overall, the day tour was long but fruitful. Besides stops at floating markets, we also got to visit an old temple hidden in roots of a Banyan tree, and go on a firefly cruise.
Thailand Floating Markets Day Tour
Cost: ~S$41.79 via Klook (save up to $30!)
Operation Dates: Fridays, Saturdays and Sundays
Meet-up Point: Century Mall (next to Victory Monument BTS station)
For other interesting day trips and places to explore, check out our guide to Bangkok's Hidden Gems!
Day 4: Experience Authentic Thai Culture
Get Kickin' at Watchara Muay Thai Gym (วัชรามวยไทยยิม)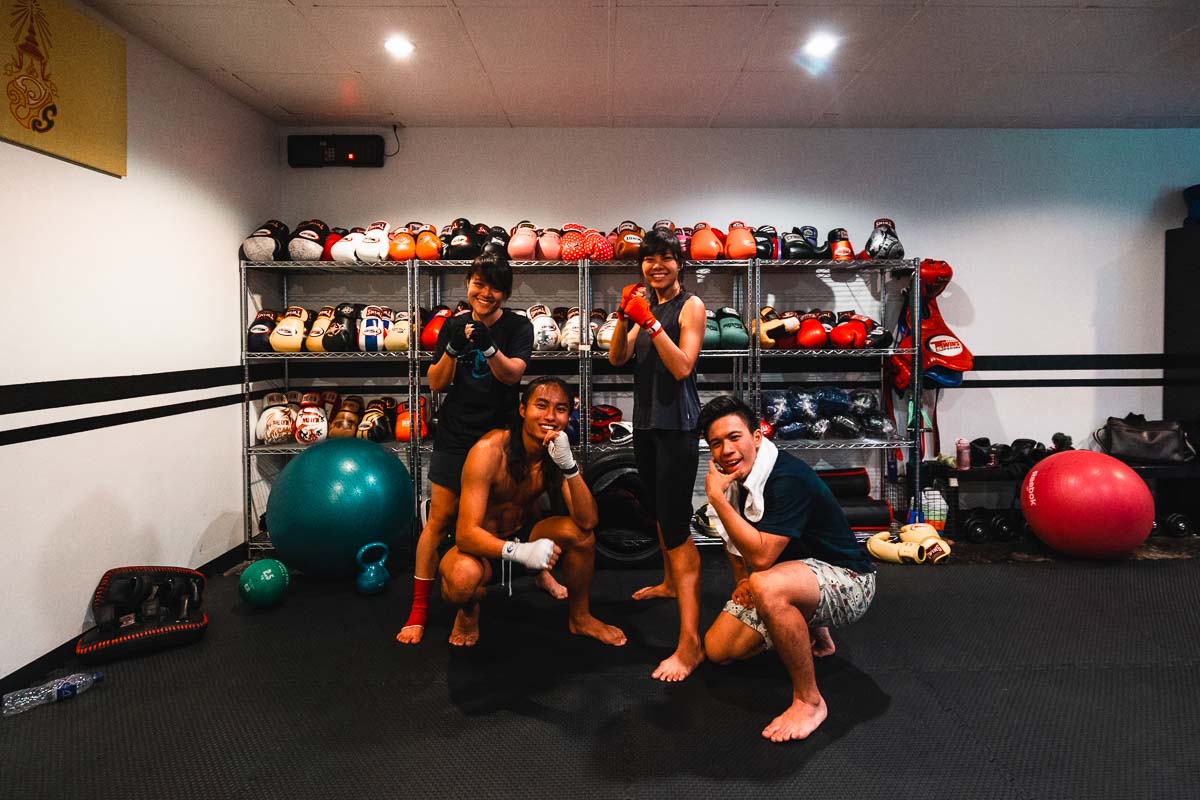 Feeling sinful from indulging on Thai food? Get active and work off those guilty feelings (no, not by eating more) by going for a two-hour Muay Thai class! Learn the traditional Art of Eight Limbs under a practised trainer in Watchara Gym, a fully-equipped Muay Thai gym really hidden away in the second floor of a small building.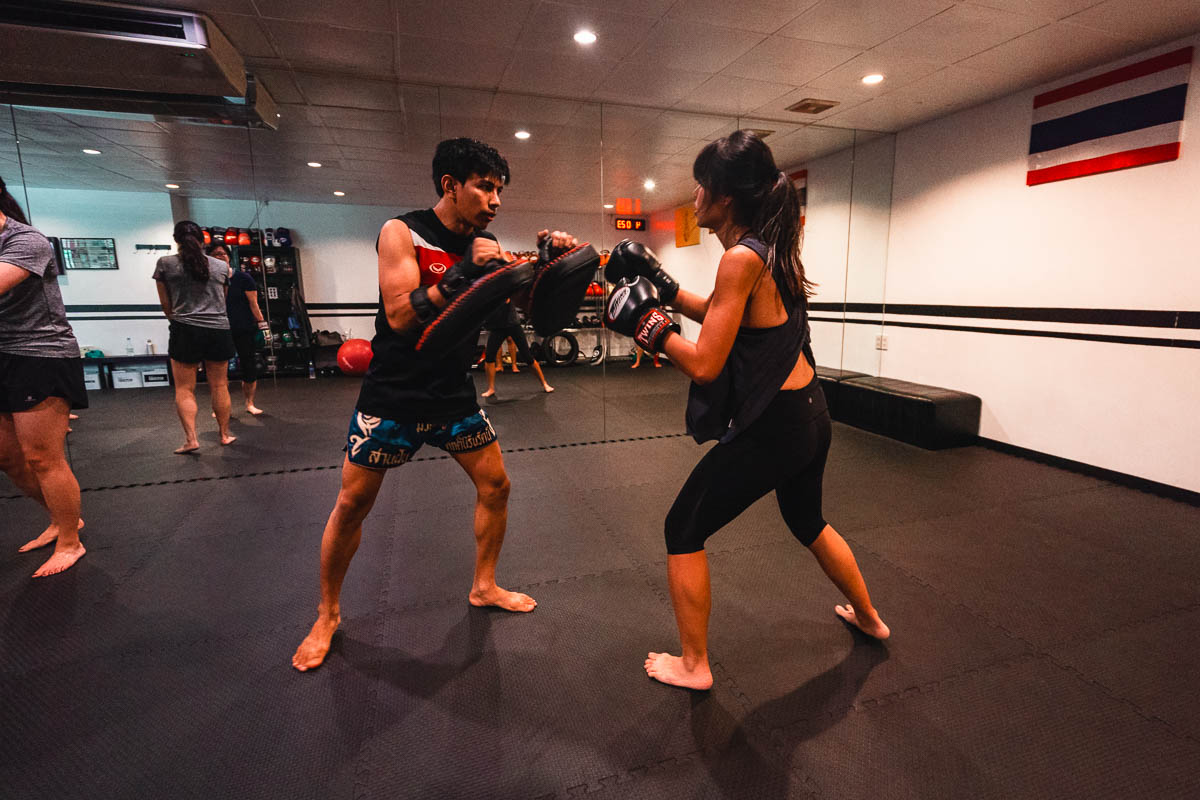 Whether you're a budding beginner or an advanced pro, the trainer will guide you through the moves and/or correct your form. Expect a full-body workout with knees, elbows, punches and kicks flying everywhere. In all, it's a fun and invigorating way to burn off those calories and keep fit.
Workout too easy? Sign up for private solo or group classes so you can have more one-on-one time with the trainer.
Cost: ~S$17.55 (join-in class)
Class Timings: 10AM, 1:30PM
How to get there: From Phloen Chit BTS station, take Exit 3 and walk straight. Turn left onto Sukhumvit Soi 1 and walk for 50m until you see a orange-roofed eatery on your left. The gym is located on the second floor.
… Then Get Eatin' Afterwards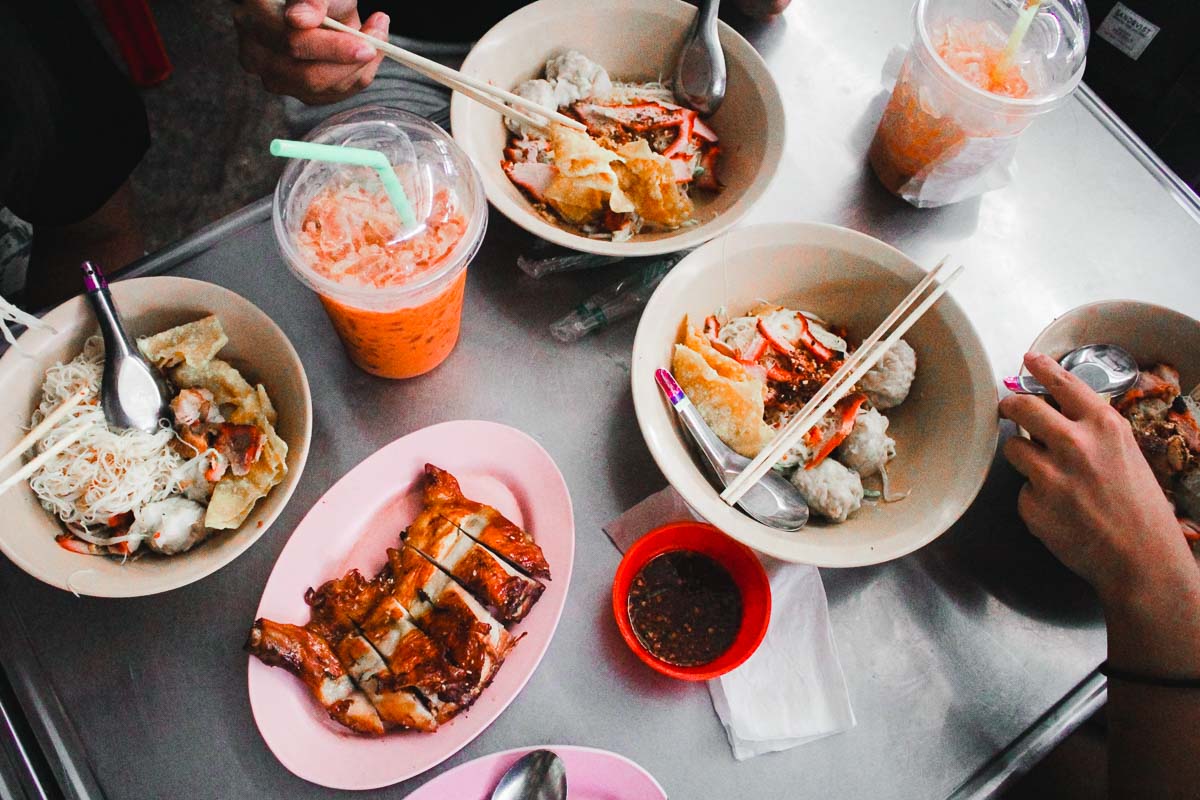 After all that punching and kicking, you've probably worked up a good appetite. Refuel yourself with some cheap Thai food at the eatery located under Watchara Muay Thai Gym. We settled for tasty wanton mee (฿50, ~S$2.10) with a generous portion of grilled chicken (฿60, ~S$2.50). Huge pints of Thai Iced Milk Tea (฿30, ~S$1.25) are also served here — cause they're obviously the best reward for a workout done well. ✌
Cost: Mains from ฿40 – ฿100 (~S$1.70 – ~S$4.20)
Revitalise Yourself at Let's Relax Spa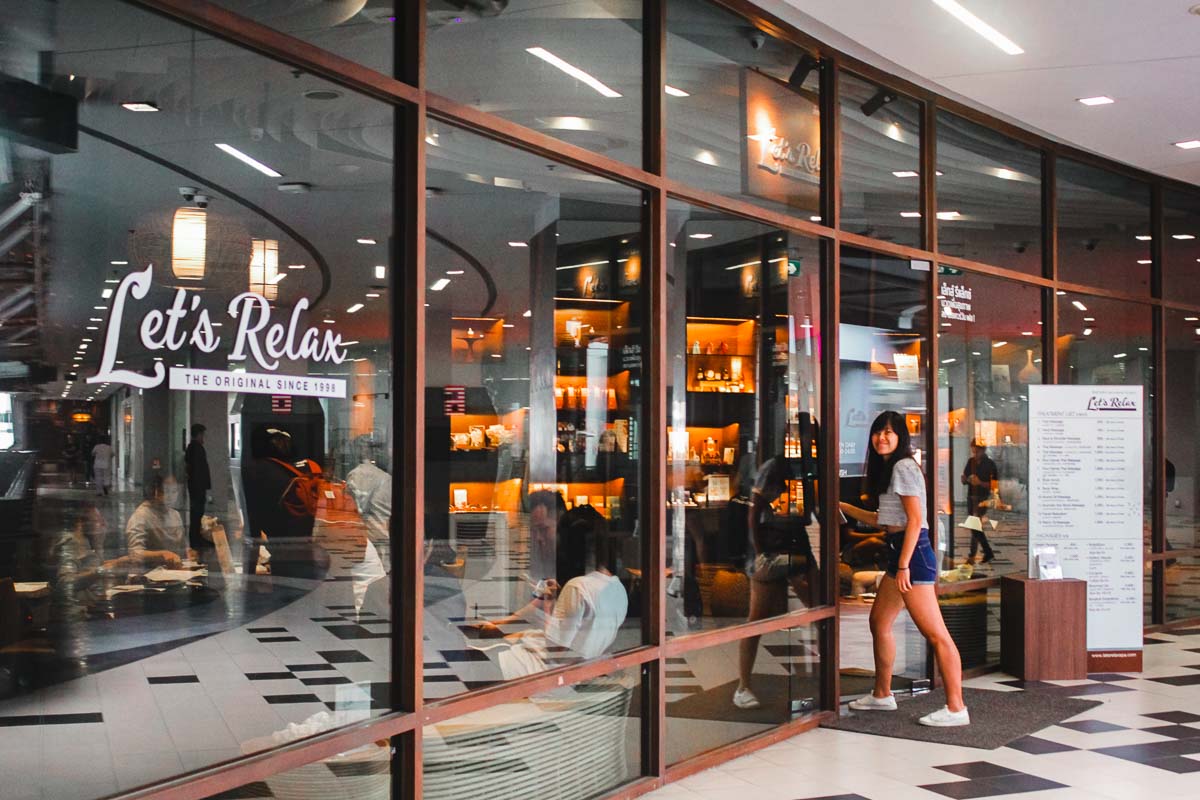 A trip to Thailand is never really complete without a Thai massage, but why stop there? Treat yourself to a rejuvenating spa package at Let's Relax Spa, a popular boutique spa. We signed up for the affordable Dream Package (~S$33 for 1.5 hours), which consisted of a back and shoulder massage, as well as hand and foot reflexology.
What was amazing about our package was that we were able to select up to four areas for our therapist to focus on or avoid (e.g. left/right shoulder, upper/lower back). This customisation works great for people who want to get rid of stubborn knots, or have injuries they don't want the therapist to touch. Once chosen, just close your eyes and let your therapist handle the rest.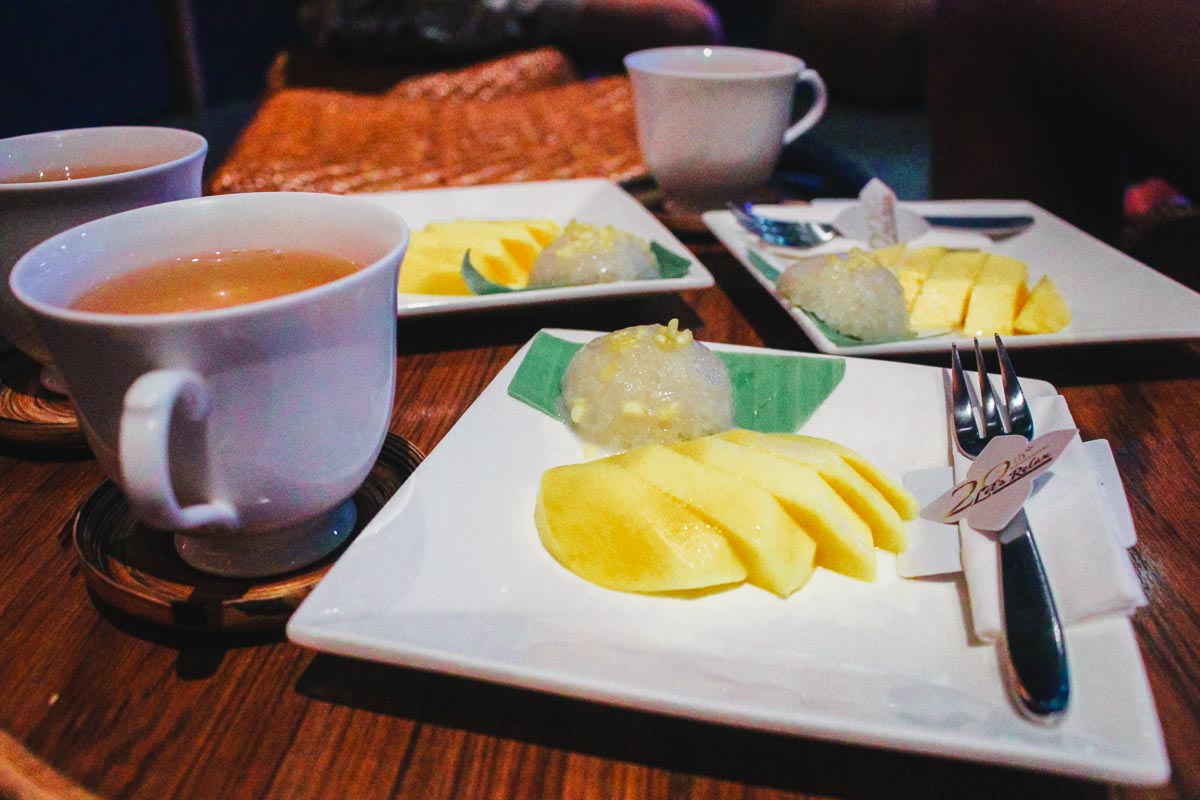 The package also comes with a complimentary plate of mango sticky rice — a sweet end to an even sweeter experience.
Let's Relax Spa Dream Package
Cost: ~S$33.45
Opening Hours: 10AM – 12AM
Address: 6th Floor, 388 Siam Square 1 Bld., Phraram 1 Rd., Pathumwan, Bangkok 10330 (and 12 Bangkok branches)
How to get there: From Siam BTS station, take the connecting bridge to Siam Square 1. Then, take a lift to Level 6.
Catch the Sunset at VIVI The Coffee Place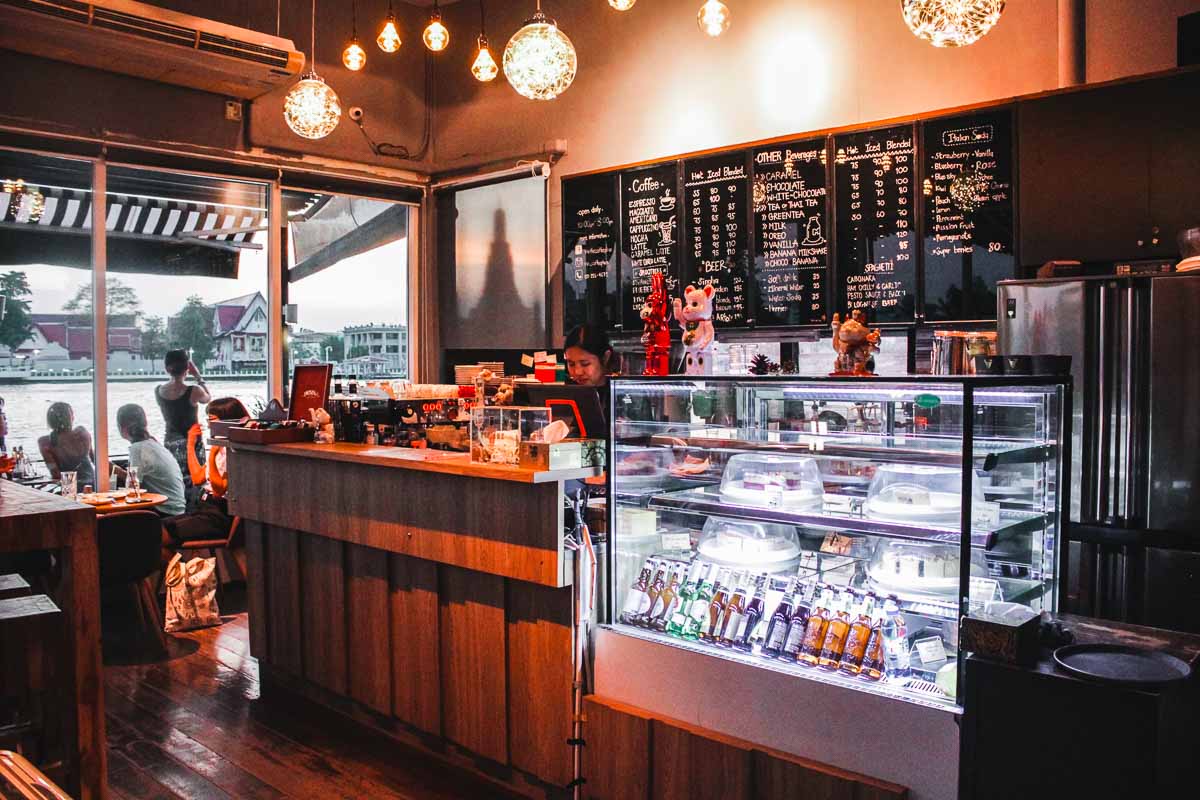 One of the best places to catch the Bangkok sunset is right opposite the Wat Arun temple, on the banks of the Chao Phraya River. But we're not talking about expensive bars and restaurants. We went to VIVI The Coffee Place, a true hidden gem located further down the bank that offers unobstructed views of the sunset.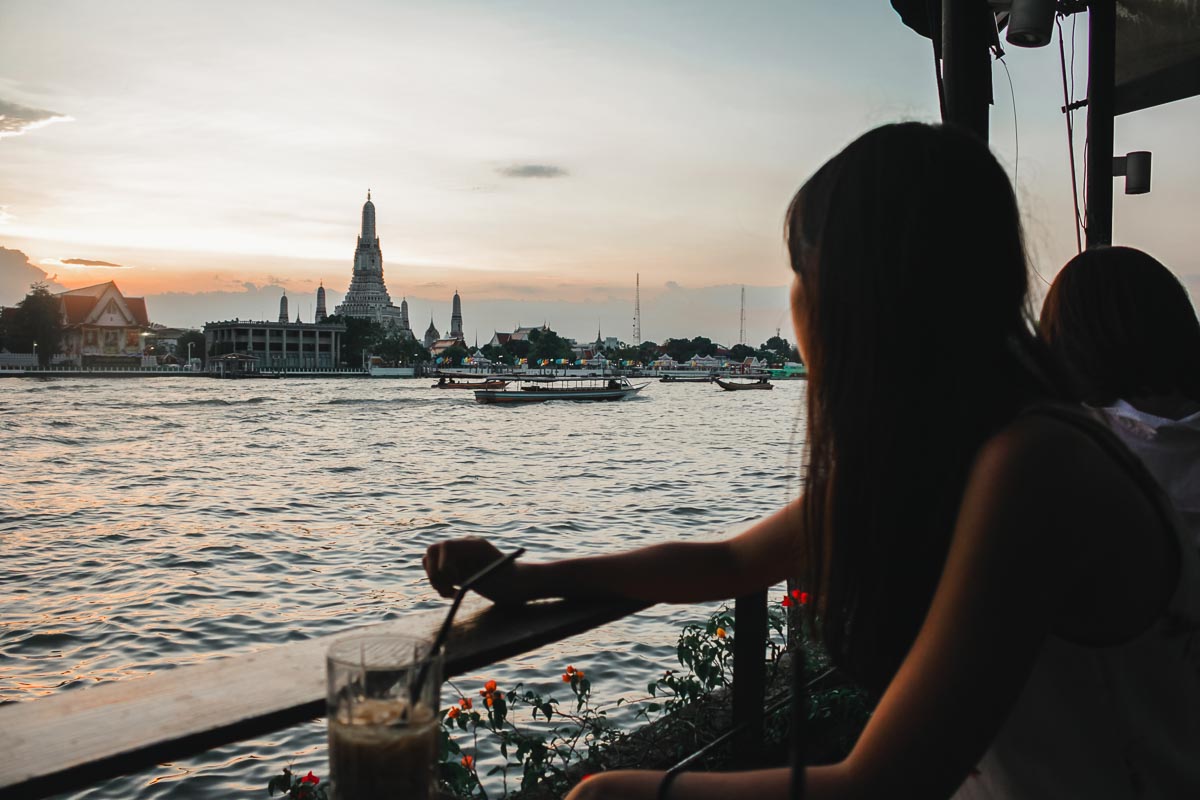 Do arrive about an hour earlier so you can grab seats on the patio for the best views. It's mandatory for everyone to order something, but the good news is that drinks are affordable. We enjoyed the cafe's bestsellers: Iced Cappuccino (฿85, ~S$3.55) and Thai Iced Milk Tea (฿70, ~S$2.90). For the sweet-toothed, VIVI also serves desserts like apple crumble pie and Thai Tea crepe cake for ฿100 (~S$4.20) a slice.
Cost: Drinks from ฿35 – ฿195 (~S$1.50 – ~S$8.10)
Opening Hours: 10AM – 8PM
How to get there: From Hua Lamphong MRT station, take bus 25 for 14 stops. Then, walk 550m to the cafe. Alternatively, take a Grab for ~฿120 (~S$5).
Dinner at Baan ThaTien Cafe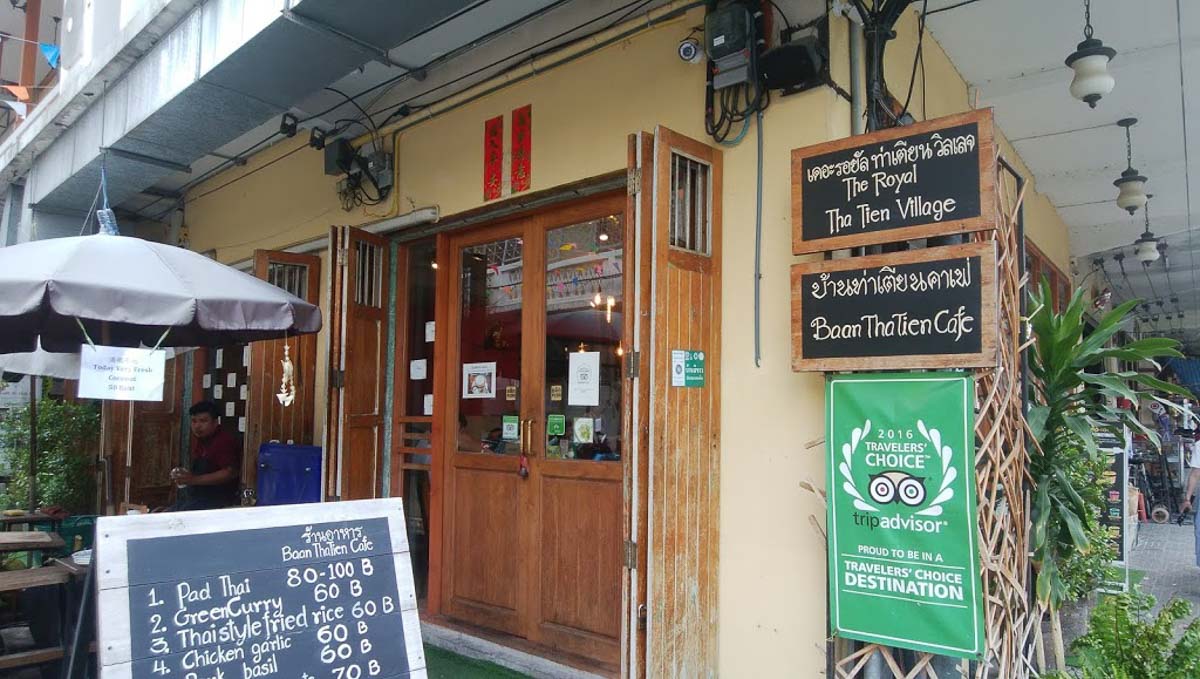 Tucked away in the corner of Maha Rat Road is Baan ThaTien Cafe, a homely restaurant that serves affordable and tasty Thai fare. Baan translates to "Home", so you can imagine the food you'd get is made with care and love. The lady boss was kind enough to let us (and other travellers) in after closing hours, and did not rush us as we savoured our meal.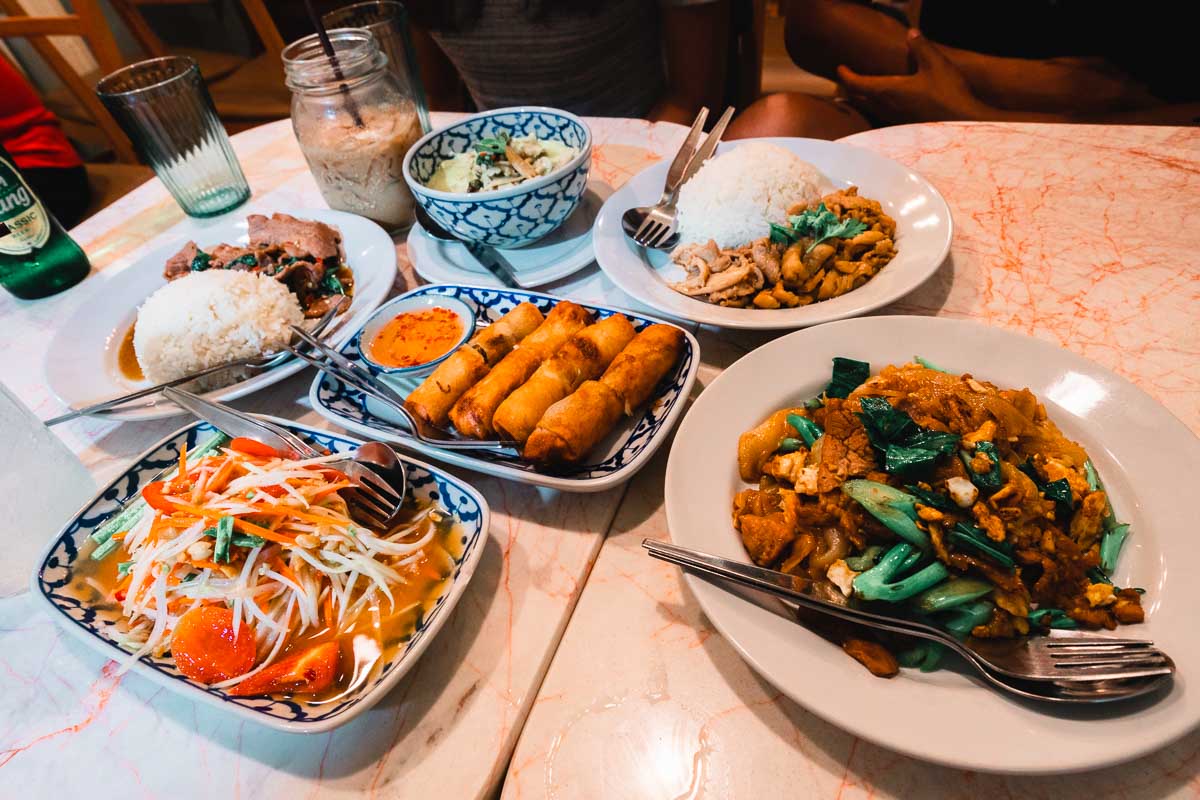 We highly recommend getting the spring rolls (฿60, ~S$2.50) — freshly made with crab meat and vegetables, each bite had a satisfying crunch. Other dishes include the green curry with chicken (฿80, ~S$3.40) and rice with fried basil pork (฿70, ~S$2.90).
Cost: Mains from ฿60 – ฿100 (~S$2.50 – ~S$4.20)
Opening Hours: 7AM – 6PM, closes 5PM on Saturdays and Sundays
How to get there: From Hua Lamphong MRT station, take bus 25 for 14 stops. Then, walk 350m to the cafe. Alternatively, take a Grab for ~฿120 (~S$5).
Drink Up at Backstage Bar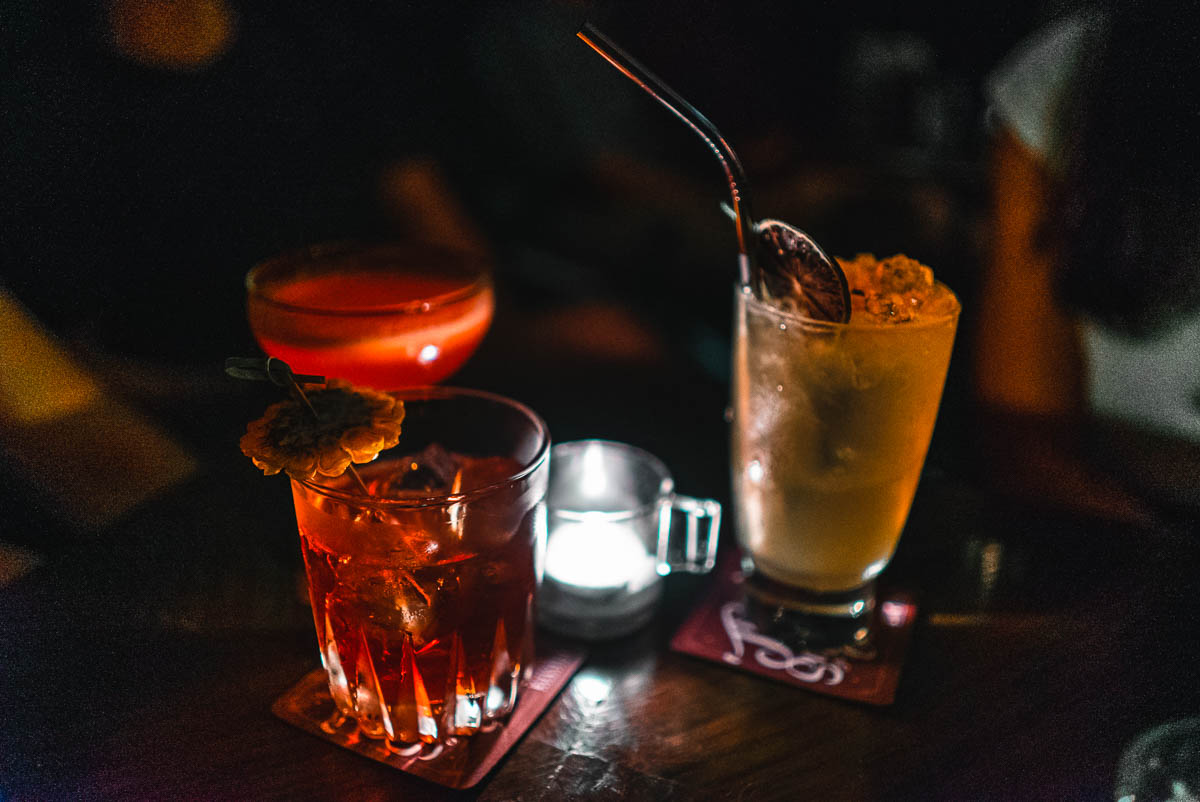 Don't end off your Bangkok adventure by going quietly into the night. Instead, pull back the curtains to discover another speakeasy.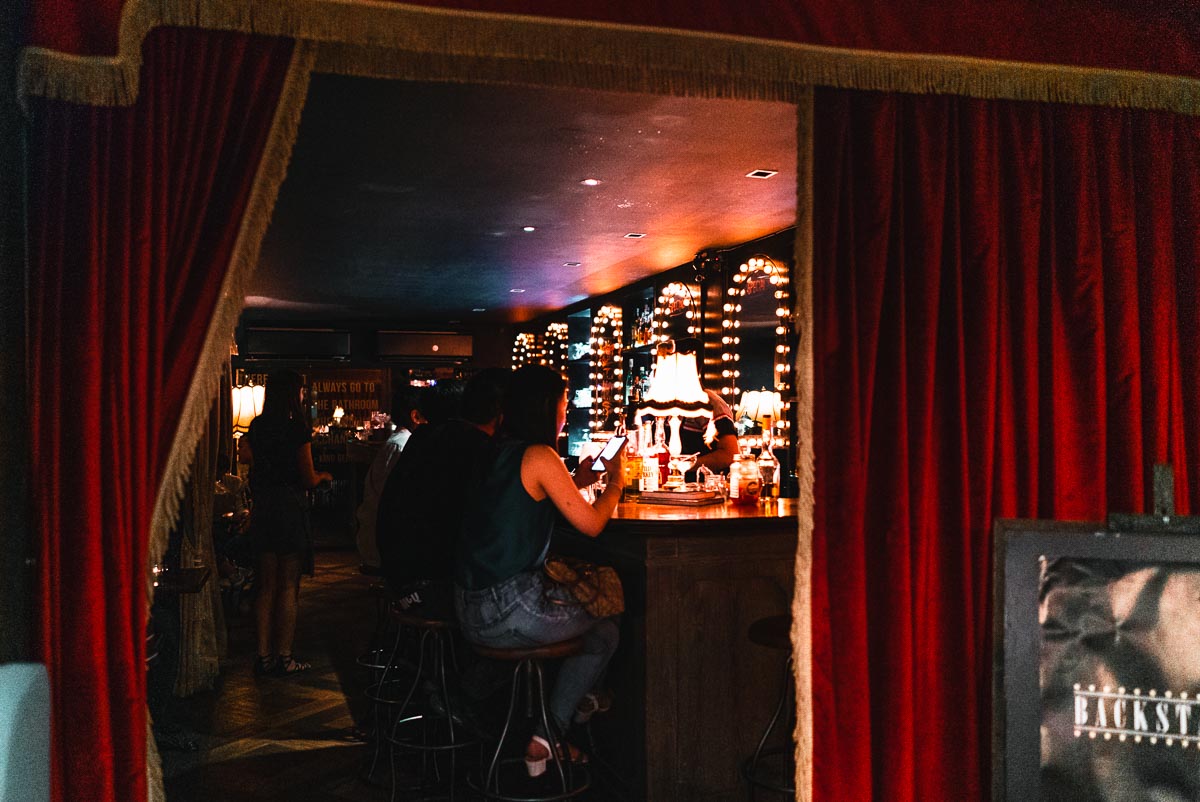 We're not kidding. The Backstage Cocktail Bar is an actual speakeasy hidden behind a thick, velvet curtain. It's located inside PlayHaus Thonglor, an upscale, Hollywood-themed hotel. The drinks here are pricey, but sensational — you can order their signature cocktails (฿360, ~S$15) or let the bartender surprise you. Either way, it's a superb place to wind down and sip the night away.
Cost: Drinks from ฿180 – ฿440 (~S$7.50 – ~S$18.35)
Opening Hours: 7PM – 2AM
How to get there: From Thong Lo BTS station, walk down Soi Sukhumvit 55 for 1.1km.
Extra: Beyond Bangkok
If you have more days to spare, why not escape the familiar city of Bangkok?
Read More
Experience an Alternative Side of Bangkok
While most Singaporean travellers view Bangkok as a eating and shopping paradise (and it is!), that's not all there is to this city. Looking past the huge shopping malls and hipster cafes, you'll find that Bangkok has many interesting activities that will help you see the city in a brand new light.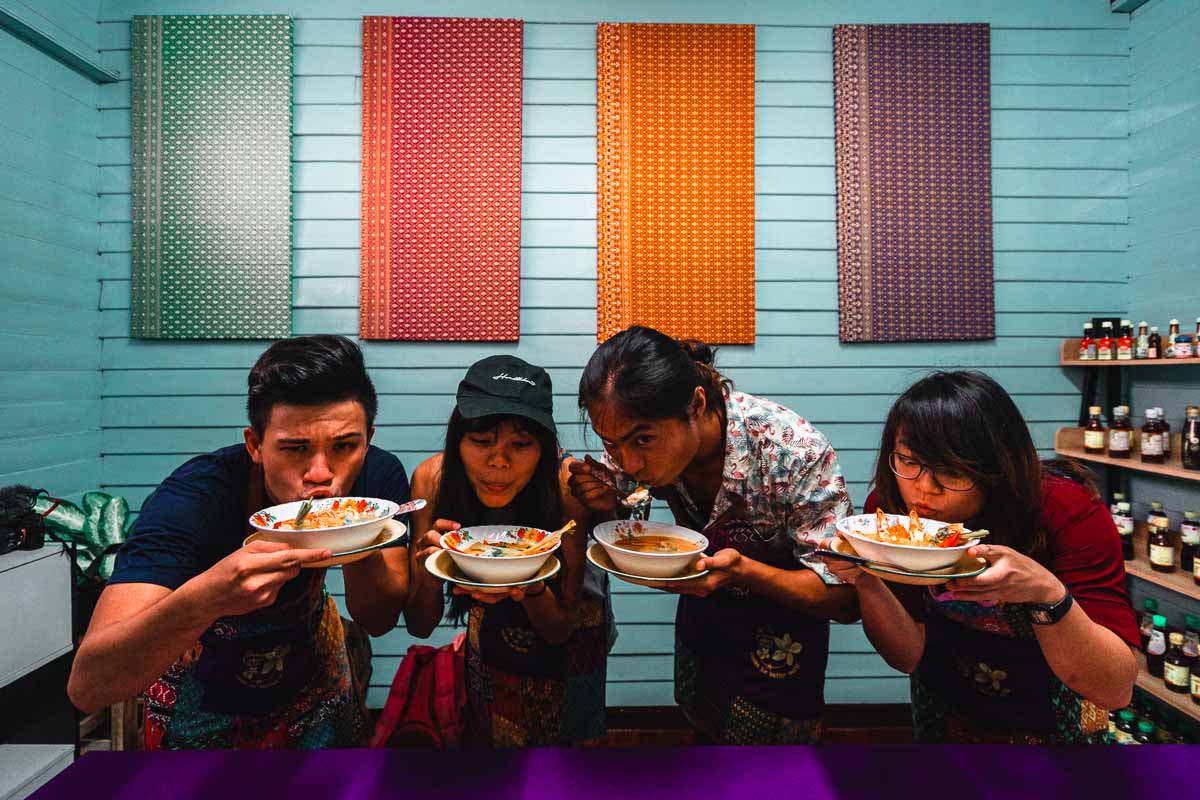 We went from cycling through Chinatown's streets, to exploring Thailand's Floating Markets, to getting fat cooking Thai food, then getting fit in a Muay Thai class. These activities allowed us to interact with locals who gave us more insight into Thailand's culture and history, making our trip enlightening and worthwhile. But interesting experiences aside, we still enjoyed our usual activities. After all, what's a trip to Thailand without a classic spa massage?
Best part? Booking these activities online via Klook had discounts so we were able to save money. We didn't need to book these activities so early in advance either. Some activities gave us instant confirmation once we booked, so all we needed to do was show up — one of the most convenient and hassle-free ways to exploring an alternative side of Bangkok.
To save on time, we pre-booked our travel essentials before flying! We picked up our local SIM cards and BTS cards from the airport once we arrived, and had a private car send us straight to our accommodation afterwards. Essentially it's less time queuing, more time experiencing!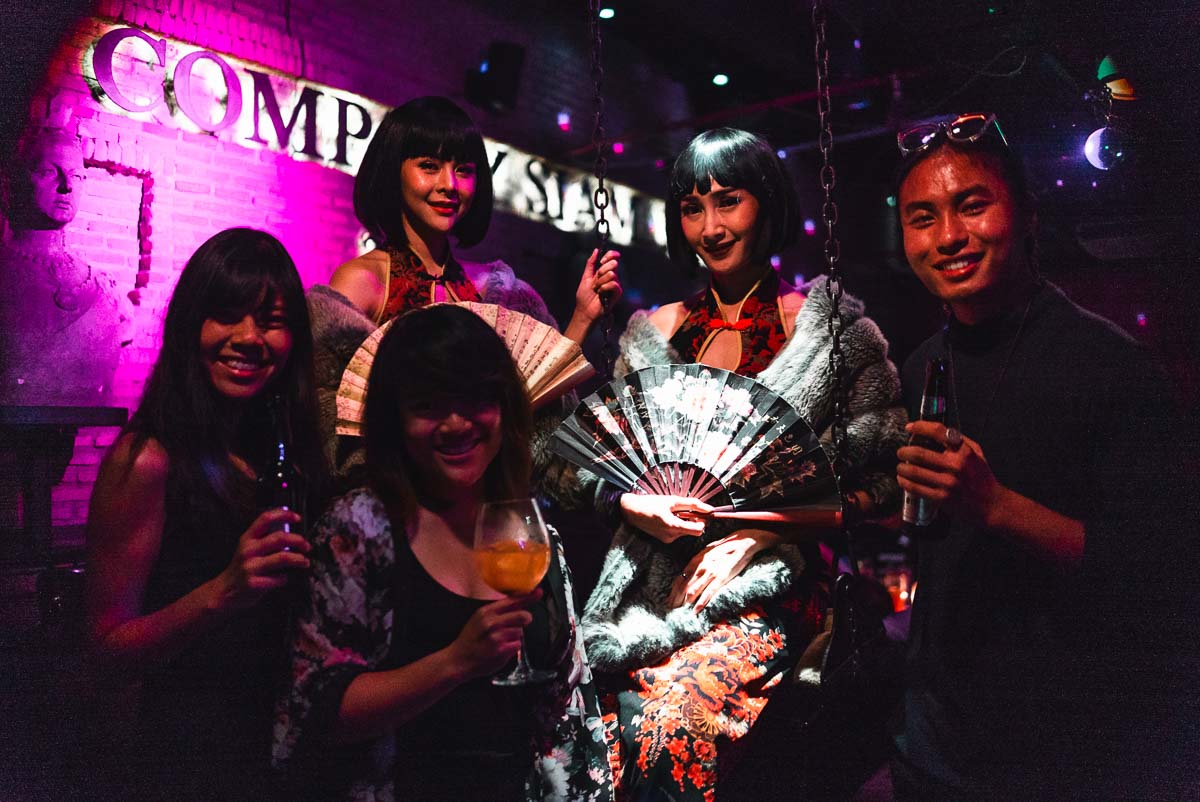 We hope our itinerary has inspired you to break the shopping-eating cycle, and explore the hidden gems Bangkok has in store. For all those who say they've seen it all in Bangkok, we wonder: have they, really?
Found a hidden gem in Bangkok no one else knows about? Let us know in the comments below!
---
This post was brought to you by Klook.
For more travel inspiration, follow us on Facebook, Instagram, and YouTube.