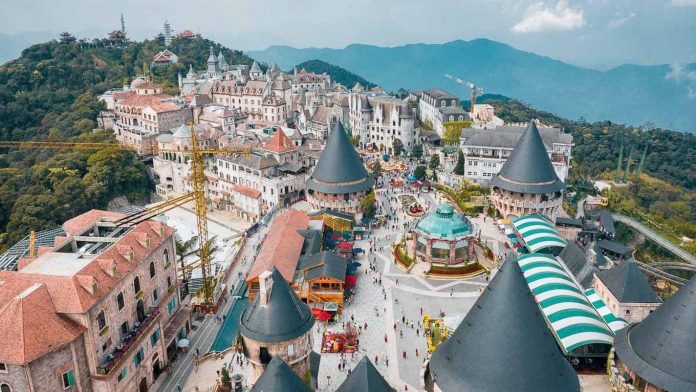 When a buddy of mine suggested bringing his girlfriend to JB for a holiday (again), the beancurd I was having instantaneously turned sour. "Try somewhere else lah." 
We've patronised the beaches of Bali and Krabi for the longest of times. We've had so much Dim Sum in Hong Kong our intestines secrete digestive dumpling juice. Oh, and our brains are horrifyingly accomplished at dividing Ringgits by three. Do these trips even count as novel, overseas experiences anymore?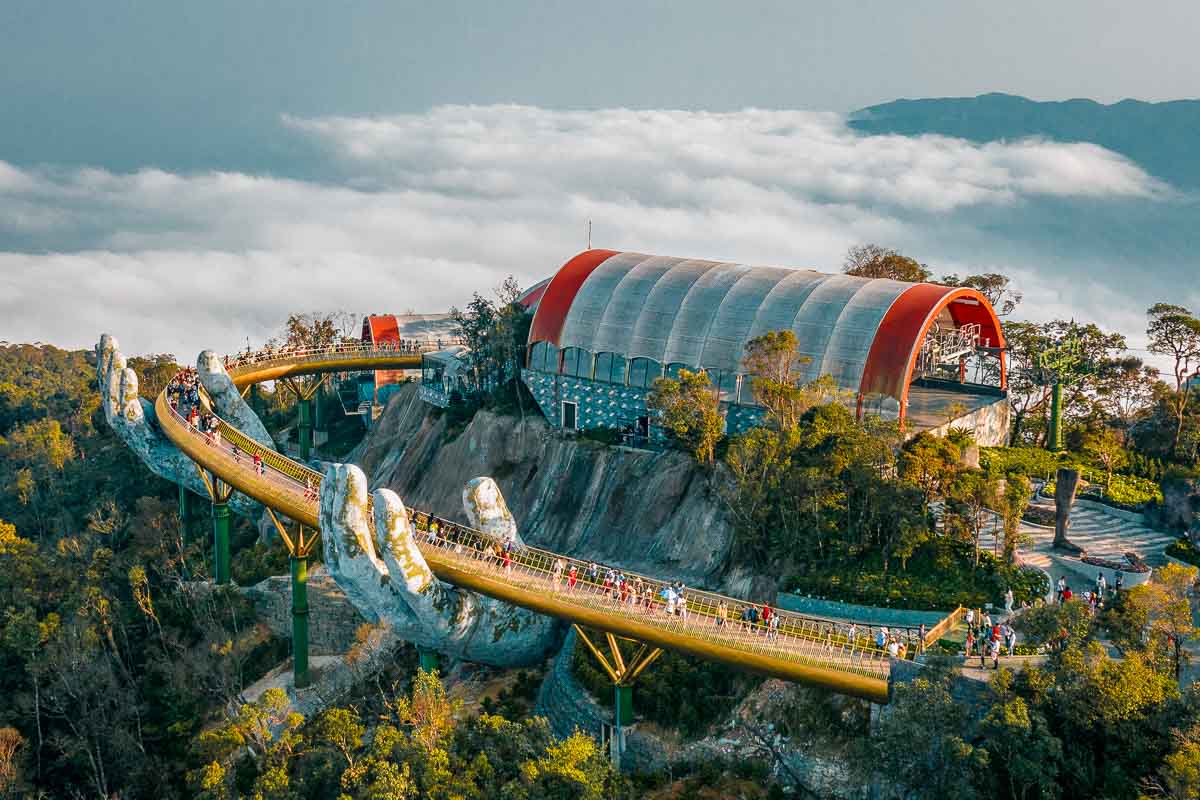 Up in the high mountains of Da Nang, Vietnam, lies a beautiful theme park slash resort worthy of your holiday shortlist. It has the cultural intrigue of Myanmar, delectable foods of Hong Kong, and exhilarating rides comparable to those in Sentosa. It's also just a three hour flight from Singapore. The solution for your next getaway could possibly be, quite literally, in the palm of their hands. We're talking about Ba Na Hills. 
A resort as big as this can be very confusing — there are so many things to see and do, and their penchant for naming most of their cable car stations after seemingly innocuous French terms can leave you in a hébéter. This Ba Na Hills guide will show you the best of what the resort has to offer, as well as every detail you need to get around and have a fuss-free, jolly good time.
What to Do in Ba Na Hills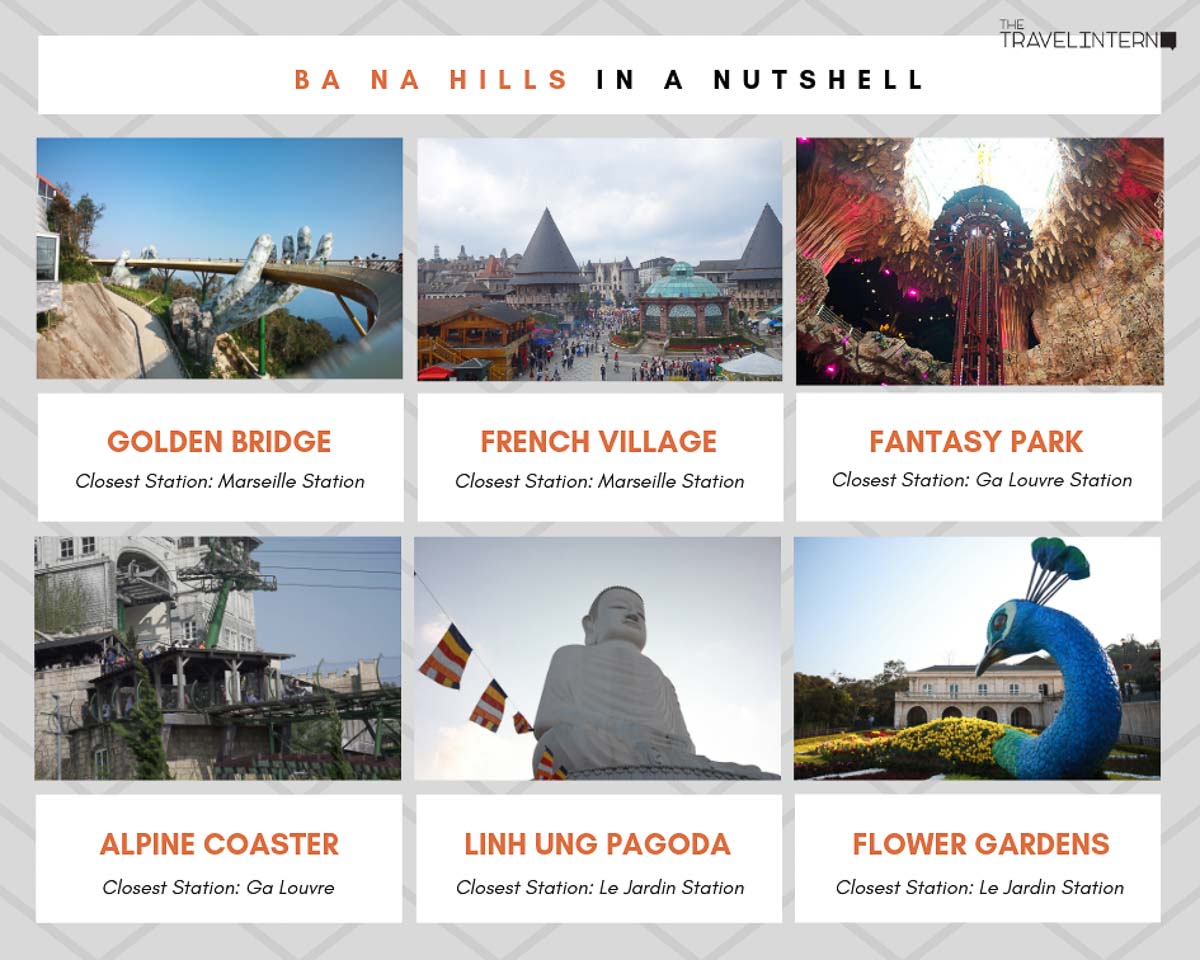 I embarked on an intensive scouting mission with Clarence, my eccentric (and largely unromantic) colleague from work, to find out if Ba Na Hills should lie on top of people's holiday considerations. Here's what we found out you could do:
1) Visit the Majestic Golden Bridge / Cau Vang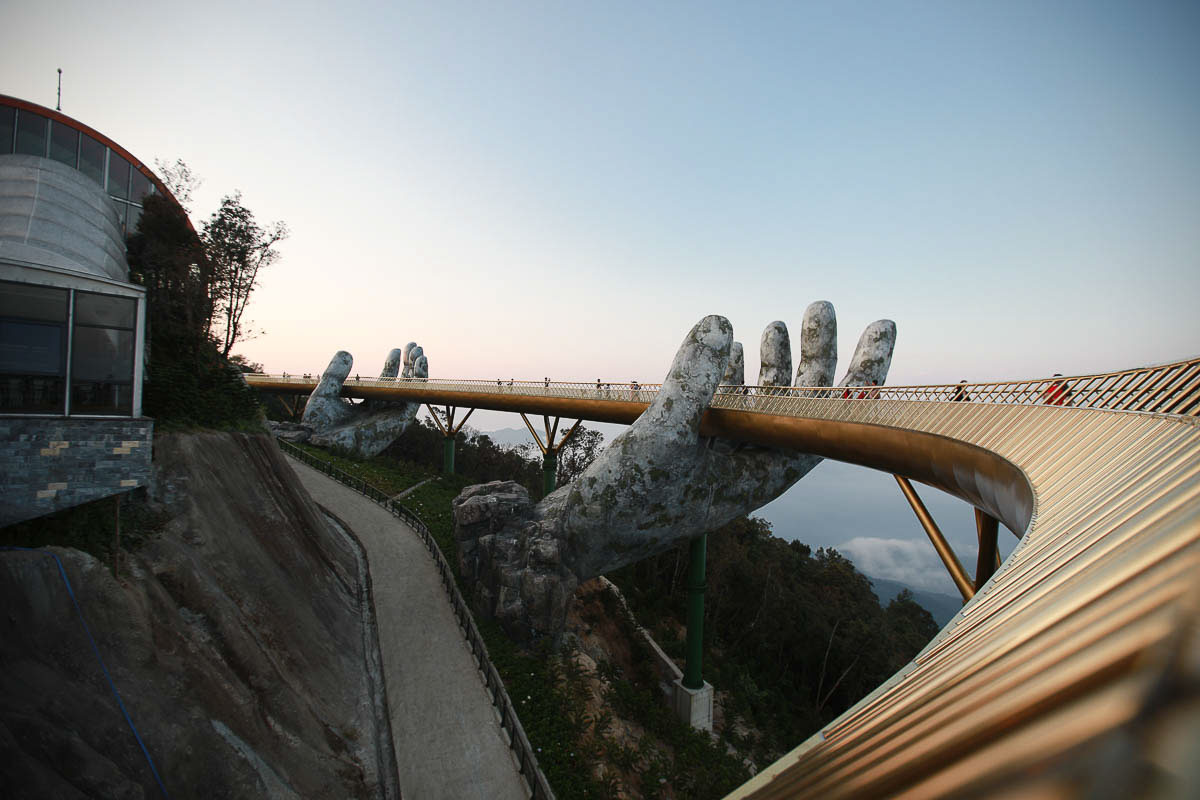 I have to hand it to them. Excuse the superlative, but the Golden Bridge (or the Cau Vang) is surely one of the most beautiful man-made bridges of all time. It was completed as recently as June 2018, and it resembles two, gigantic hands holding up a shiny piece of gold to the gods above the misty clouds of Vietnam.
Immediately upon arrival, we witnessed at least three couples awaiting their turn to take their wedding photos with the iconic bridge. It is indeed a great place to take breathtaking pictures, and Clarence and I grabbed the opportunity to spice up our relationship(?) and Instagram feeds with both hands.
I'll let the photos speak for themselves.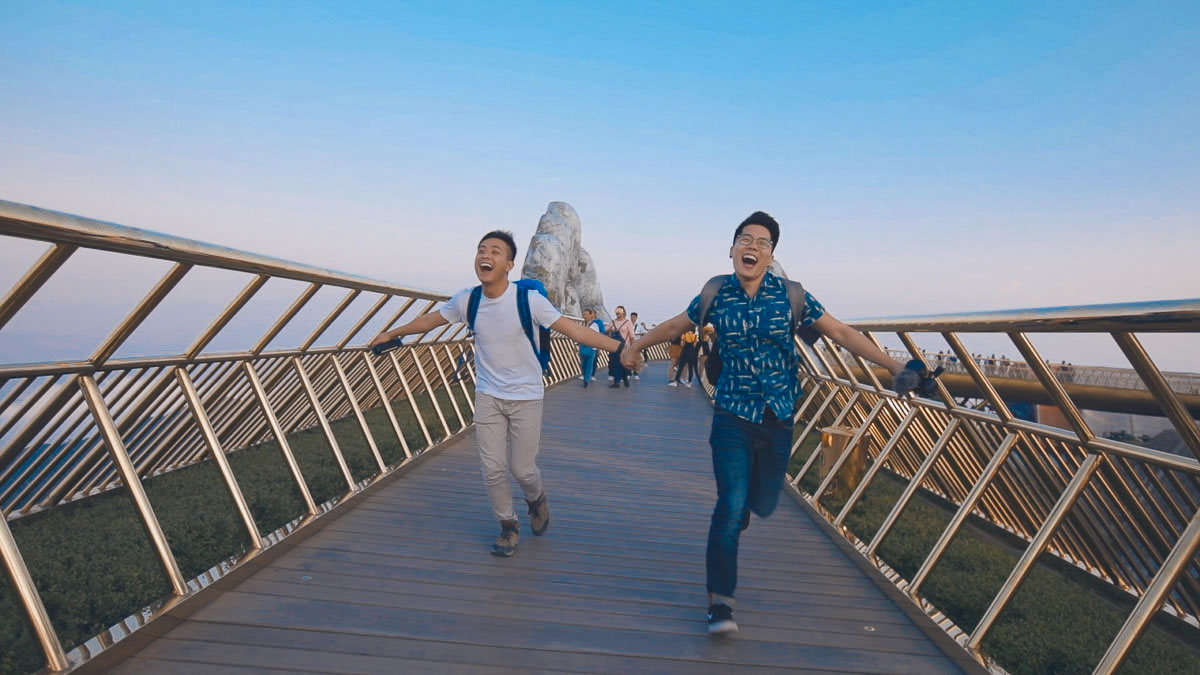 Location: Right Outside Marseille Station.
2) Scream Your Lungs Out On Exhilarating Rides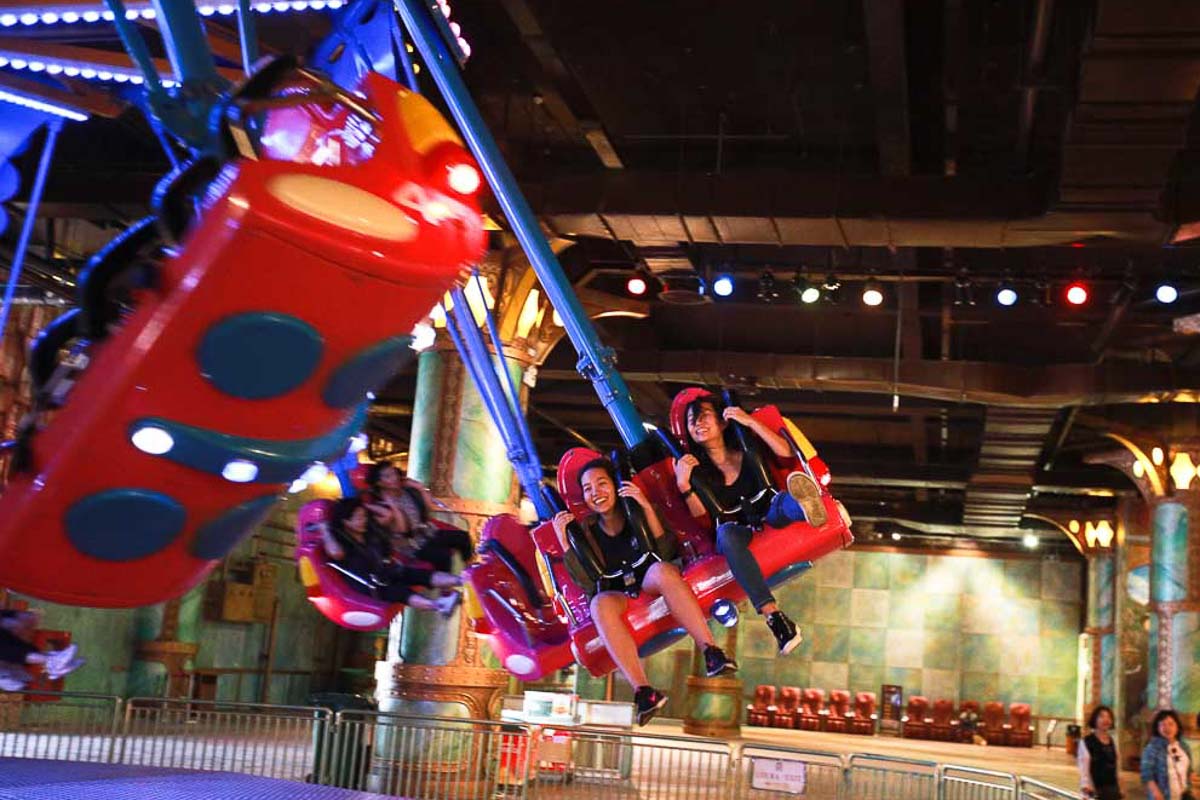 While the indoor rides don't set any extreme world records, I'd be lying if I said they didn't alter my screams a few pitches higher than normal.
It's actually been proven scientifically that first dates are way more successful when they happen at a theme park. Here's why: When your heart beats faster in anticipation of a scary ride or the excitement at taking the next roller-coaster, your brain associates that rise in adrenaline and dopamine-spike with the person you're spending time with.
Your partner's subconscious mind: "I'm nervous and excited at the same time –> He/She's right next to me –> I must be in love"
The Alpine Coasters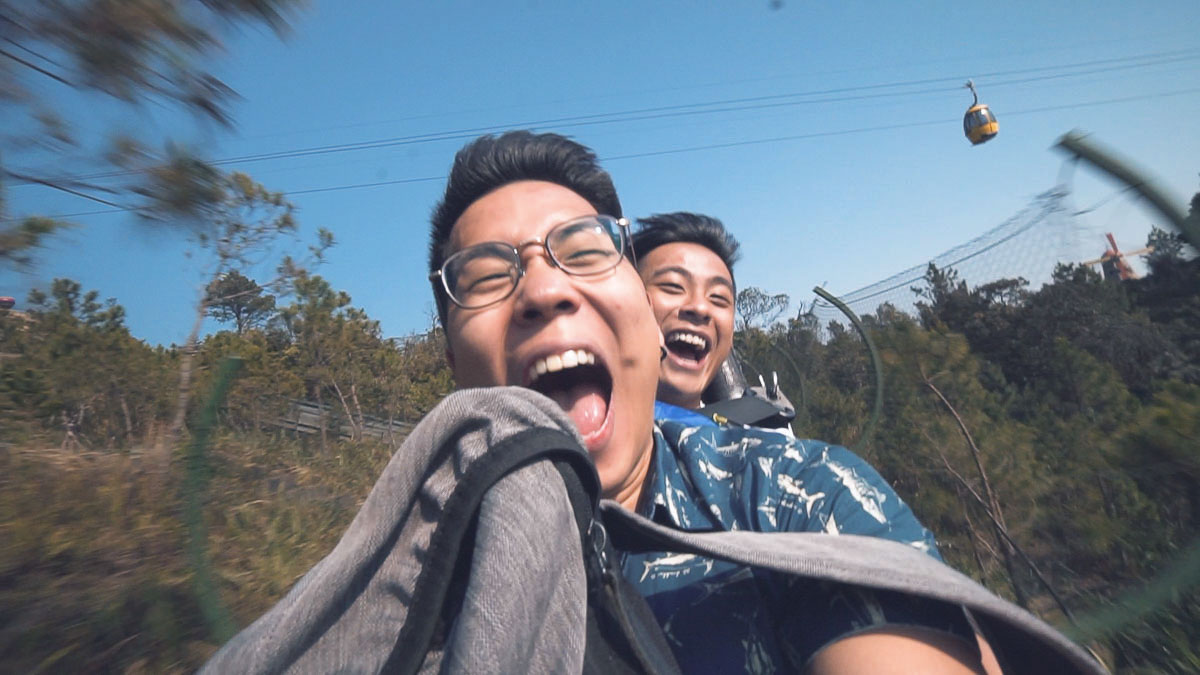 The Alpine Coasters are not your average rollers. This is because you can actually control the speed your cart goes at with the throttle on your right hand and handbrake on your left. Each cart fits two people — perfect for a date! Here at the Travel Intern, where adrenaline is our go-to drug, we recommend going hard or going home. Pull the throttle all the way back for intense speed and have your face distorted by the uninviting winds.
Although my colleague didn't quite develop feelings for me, I could tell he found me a little bit more attractive by the end of the ride. Here's a photo to prove it.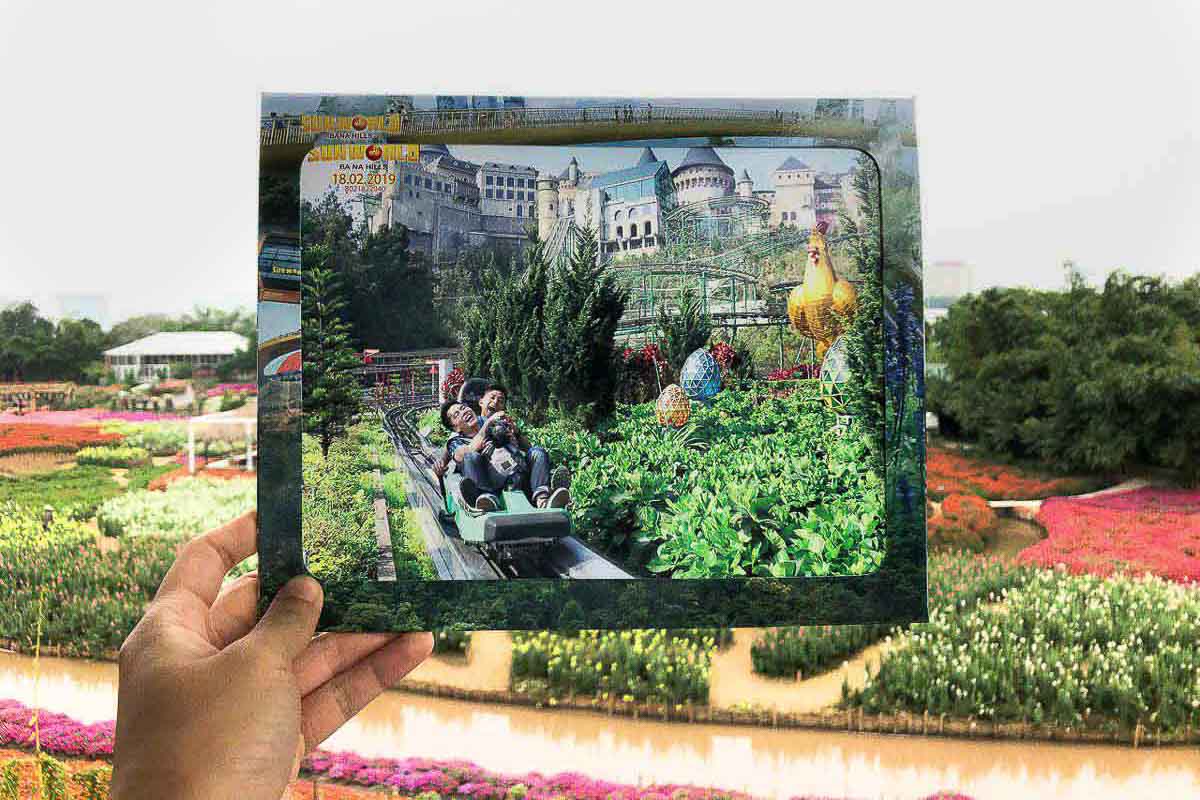 *Pro-tip: Give yourself sufficient space between your cart and the one ahead of yours. You don't want to smash into the back of the old couple going slow in front of you.
*Pro-tip 2: The cameras on the ride capture two pictures ­– one within the first few seconds, and the second when you reach the end. You can buy them relatively affordably at price of 60,000₫ (SGD$3.50) each, considering most attractions we've been to charge way higher.
Location: Right outside the entrance of Fantasy Park (Closest to Ga Louvre and Morin Stations).
Read Also: 2-Week Vietnam Itinerary — Heart-Pumping Experiences through Northern and Central Vietnam from Hanoi to Da Nang
Ba Na Hills' Drop Tower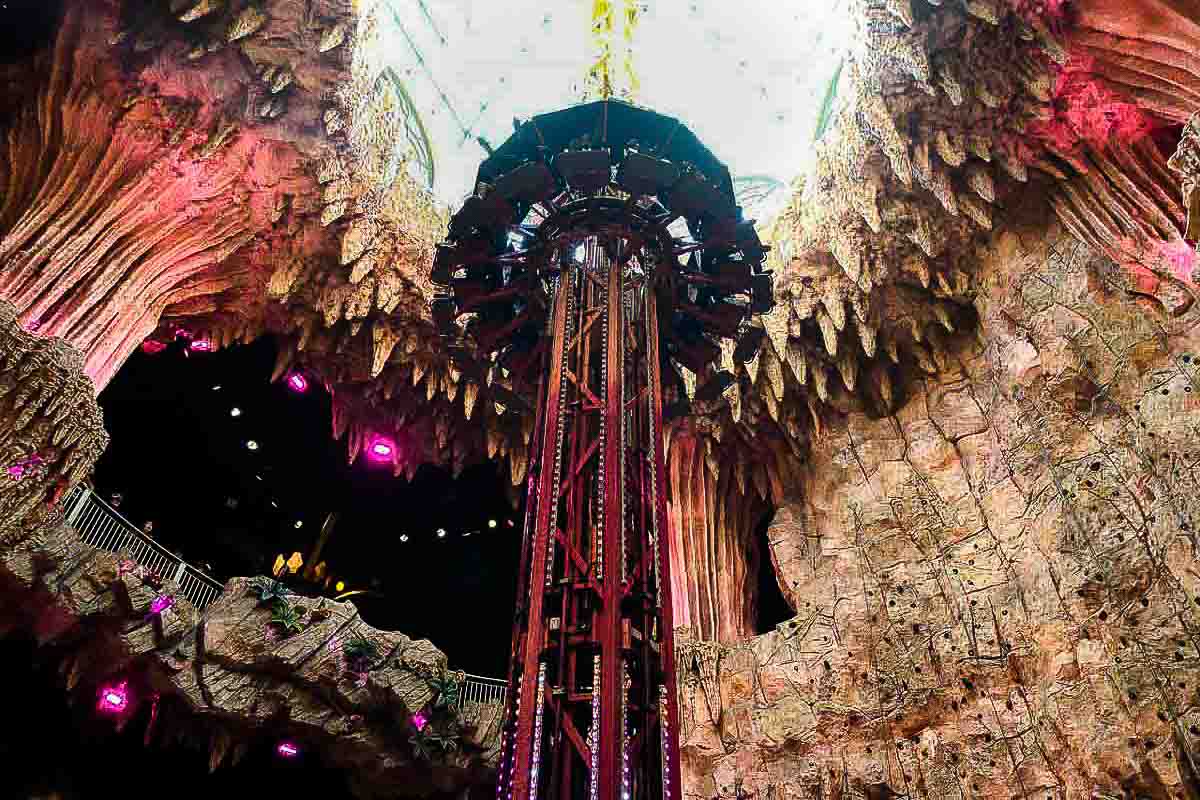 The Drop Tower is undoubtedly the centrepiece of the Fantasy Park. Not only does its colours strike you the moment you set eyes on it, the three-storey high ride has the ability to push your man jewels up to your throat. It was a fantastic opportunity to experience something thrilling with my date of the afternoon, had he not chickened out after getting dizzy from the Wave Swinger prior (also a must-ride, by the way).
Location: Fantasy Park (Closest to Ga Louvre & Morin Station).
3) Play Unlimited Carnival and Arcade Games in Fantasy Park

Arcade Games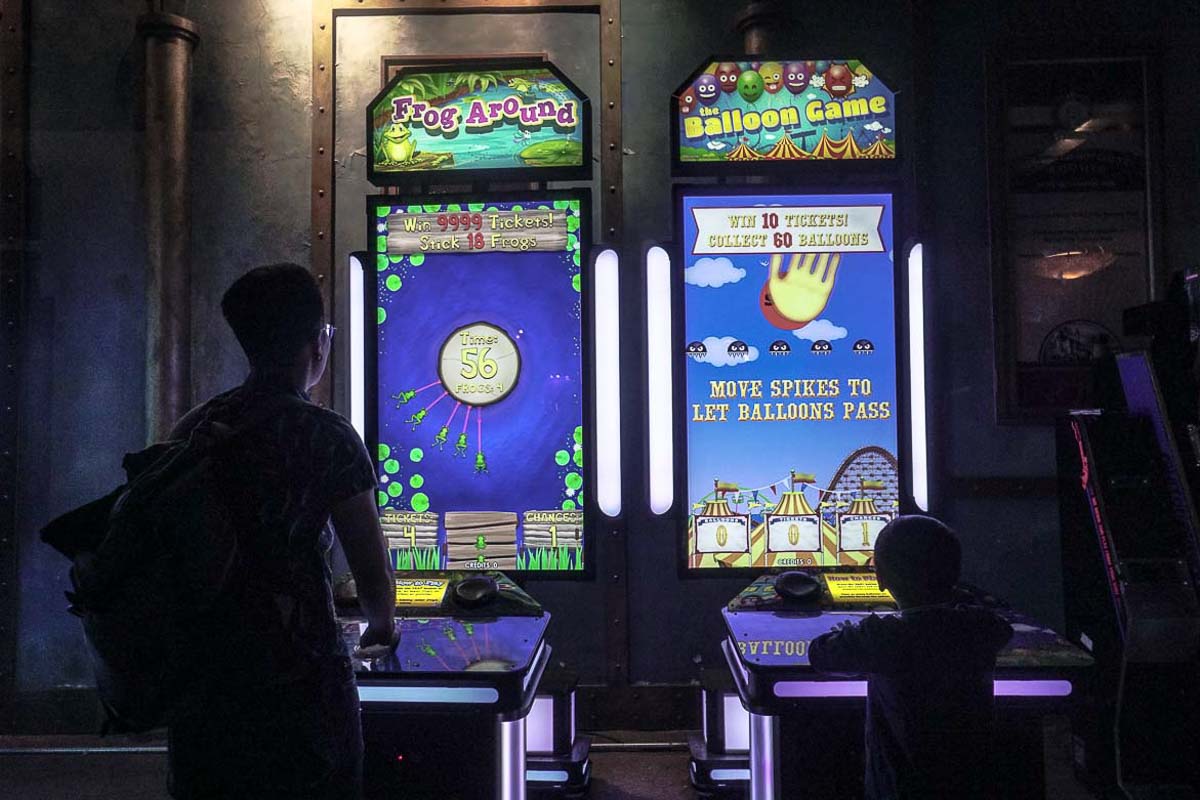 Fantasy Park is every arcade lover's wildest and wettest dream. Picture Timezone, but on steroids and free-of-charge.
There are over 90 arcade games both classic and new across three storeys, and you could quite happily spend the entire day here glued to the shiny luminescent screens, getting a feel of the ol' wheel on Daytona 3, and annihilating petty thieves on the nostalgia-inducing Time Crisis.
The machines we used to spend our meagre school allowance money on have all come together like a high school reunion dinner. But these arcade games aren't the only forms of entertainment available at Fantasy Park.
Carnival Games
We all love carnival games. The only problem, and this is always the problem with carnival games, is that they cost way too much to play. We come close with the first attempt, get even closer with the second, then completely go off the mark in the third. Then we repeat this cycle until our wallet runs dry and our girlfriends beg us to move on. Ah, yes, it was Clarence.

There isn't a wide variety of carnival games available on the second floor of Fantasy Park (there are six in total), but they are cheap. One attempt at a game costs 10,000₫ (SGD$0.60), and the only available crane game costs 2,500₫ (SGD$0.15) per attempt.
How to get there: Take the cable car from Hoi An Station to Marseille Station. Walk 1 min to Bordeaux Station to take another cable car, and exit at Ga Louvre Station. Walk across the French Village past Kavkaz Baku Restaurant, past the Alpine Coasters and take the steps down to the entrance of Fantasy Park.
4) Experience Interactive Shows in 3D, 4D, 5D & 360°

Interactive 4D and 5D Adventures
The Spirit of Adventure ride was really more of an interactive movie than a ride. We were brought along the journey of a cowboy who needed to use his shotgun to kill several monsters, with the screen capturing how many times we managed to hit them. Alas, the points didn't matter, and although we merely rocked in an anti-climactic manner on our plastic horses, it was the closest we could probably come to resembling Indiana Jones.
360° Movies in 3D
One of the more interesting elements inside Fantasy Park were the 360° movie screenings. Indeed, the stories were ridden with more plot holes than a Michael Bay movie, but it was fascinating to swivel around in my chair and completely immerse myself in their world.
For a family-friendly show, catch Aqua World and Little Dino. If you want to hear other children cry as part of the experience, Fear Train is your choice. Be sure to check out the electronic board right outside for the various show timings.
*Pro-tip: If your head hurts from the effects through your 3D-glasses, close one eye. You'd be able to watch the entire thing in 2D without the blur. Science. Refraction. Etcetera.
Location: Fantasy Park (Closest to Ga Louvre and Morin Station).
Read Also: 5D Central Vietnam Itinerary: Off The Beaten Path In Ba Na Hills, Da Nang, Hue, and Hoi An
5) Climb a Three-Storey Indoor Boulder
While you usually have to pay a rather off-putting amount to strap on a harness and climb up an artificial hill, the bouldering experience at Ba Na Hills is completely free, just like every other ride. If you're feeling frisky and fitspo at the same time, why not? It's located right next to the Drop Tower on the lowest floor of Fantasy Park.
*Pro-tip: The queues get longer over the course of the day, so we suggest making this one of your first pit stops in Fantasy Park. You might even get to climb up more than once or twice if other tourists haven't discovered it.
Location: Fantasy Park (Closest to Ga Louvre and Morin Station).
The Best of Fantasy Park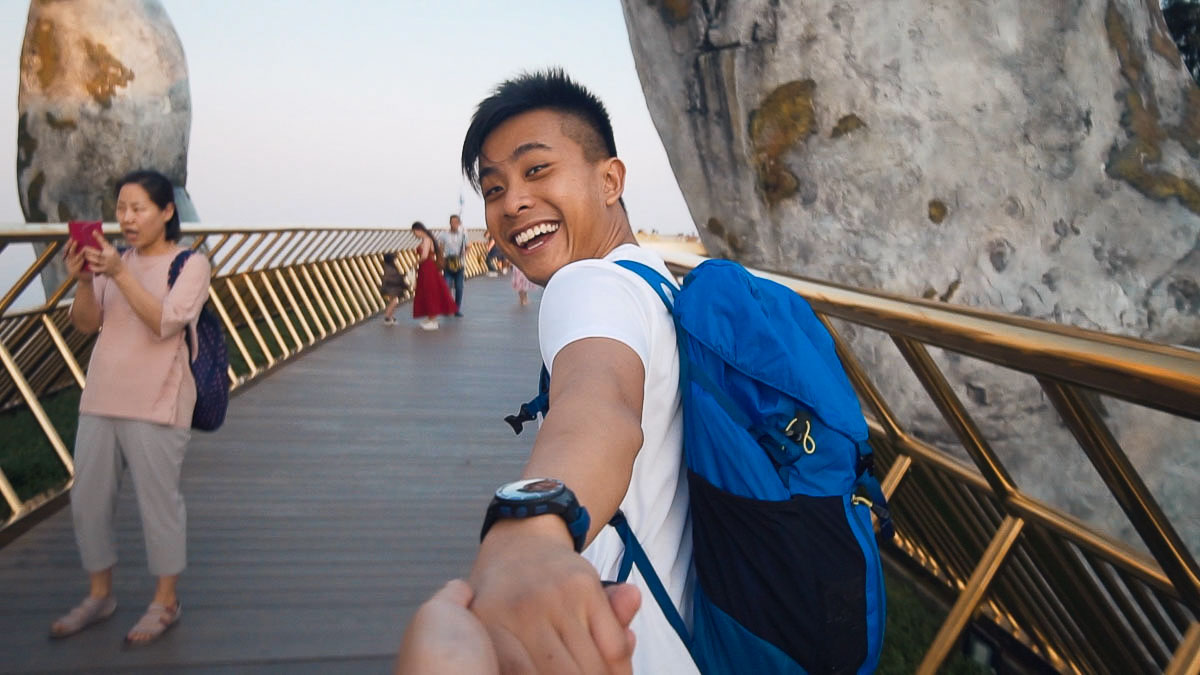 Clarence and I ran around the arcade with as much enthusiasm as 11-year-old boys flipping through a biology textbook. We recommend spending a full day, even one and a half days to explore the entirety of Ba Na Hills, but don't give these a miss if you don't have as much time as you'd like.
Recommended Arcade Games :
Star Wars Battle Pods, Beat Saber (Virtual Reality), Speed of Light (Reaction Game), Temple Run, Guitar Hero.
Recommended Rides and Shows:
The Drop Tower, Wave Swinger, Bumper Cars, Fear Train (360 Movie).
Classic / Nostalgic Arcade Games:
Pac Man, Ski-Ball, Time Crisis, Daytona USA.
Games So Bad They're Kinda Good:
House of the Dead (Tour Ride), Aqua World (360° Movie), Frog Around (Arcade).
Read Also: 7 Adventurous Day Trips from Hanoi – Halong Bay, Sapa, Ninh Binh, Trang Vu and more
6) Immerse Yourself Inside a Historical French Village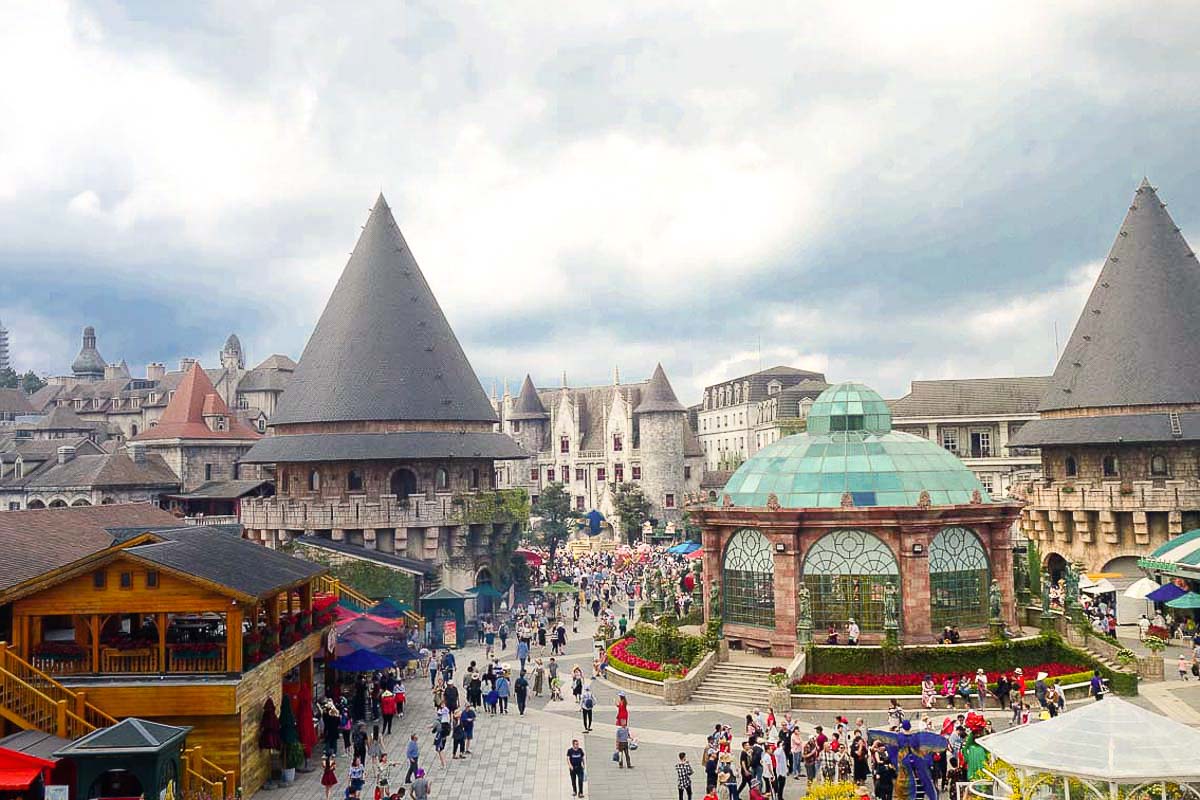 Ba Na Hills was originally built by French colonists in 1919 as a leisure destination for French tourists, but today it has visitors from all around the globe. This explains why more than half of its stations have seemingly random French references.
It also explains why the streets are filled with various European buskers and street food stalls, even caricaturists — get your real-life portrait drawn in half an hour for USD$5. The 1920s were a period where cross-cultural collaborations in France were at its peak, and after all, they wanted the place to feel like home.
The buildings on display too are architecturally splendid. Paris has had an undisputed reputation for being the "Love Capital of the World" for some time now, and it's easy to see why. Clearly, the French people know a thing or two about designing and curating spaces to complement romantic escapades. Both of us felt that energy in full force.
Location: Right outside Ga Louvre Station.
7) Explore A Cluster of Romantic Gardens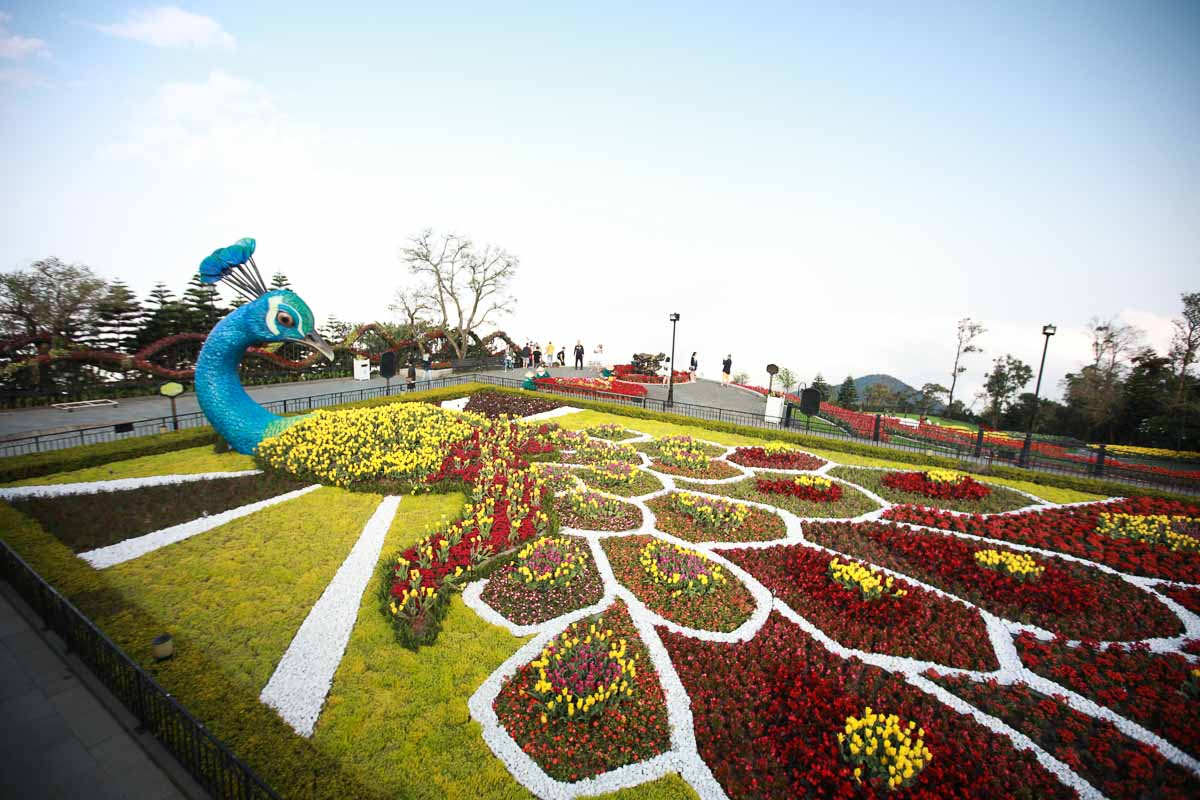 In line with the whole theme of Ba Na Hills being extremely excessive (in a good way, of course), the Le Jardin d'Amour Flower Garden consists of 12 small gardens, each expressing a different emotion and with a different layout. There is no particular best way to walk about the gardens, so allow your heart to take you where the flowers are the prettiest.
If you're interested, here are the names of all the lovely plot of lands you could explore:
Thien Thai Flower Garden, Senses Garden, Grape Garden, Love Garden, Maze Garden, Eden Garden, Mo Spring Garden, Thought Garden, Mythology Garden, Memory Garden, Holy Garden & Tinh Tam Garden.
*Pro-tip: There is a gorgeous open pavilion in between Maze Garden and Love Garden that provides the perfect sunset backdrop to take a couple photograph.
Location: Closest to Le Jardin Station.
8) Ride The Old-School Funicular
Nowadays, we're incredibly used to the trains of the modern era. Automated electrical systems on metal tracks, going almost at the speed of light without the need for even a driver. Wouldn't it be romantic to relive the good old days and sit on some wood instead?
The funicular's interior looks like a cosy home from the past, the type you'd expect your grandparents to have stayed in from days of their youth. On it's facade, a tidy, cute colourful toy train you'd willingly buy for your future kids.
Location: Located at Debay Station.
9) Chill Out in a Cosy Wine Cellar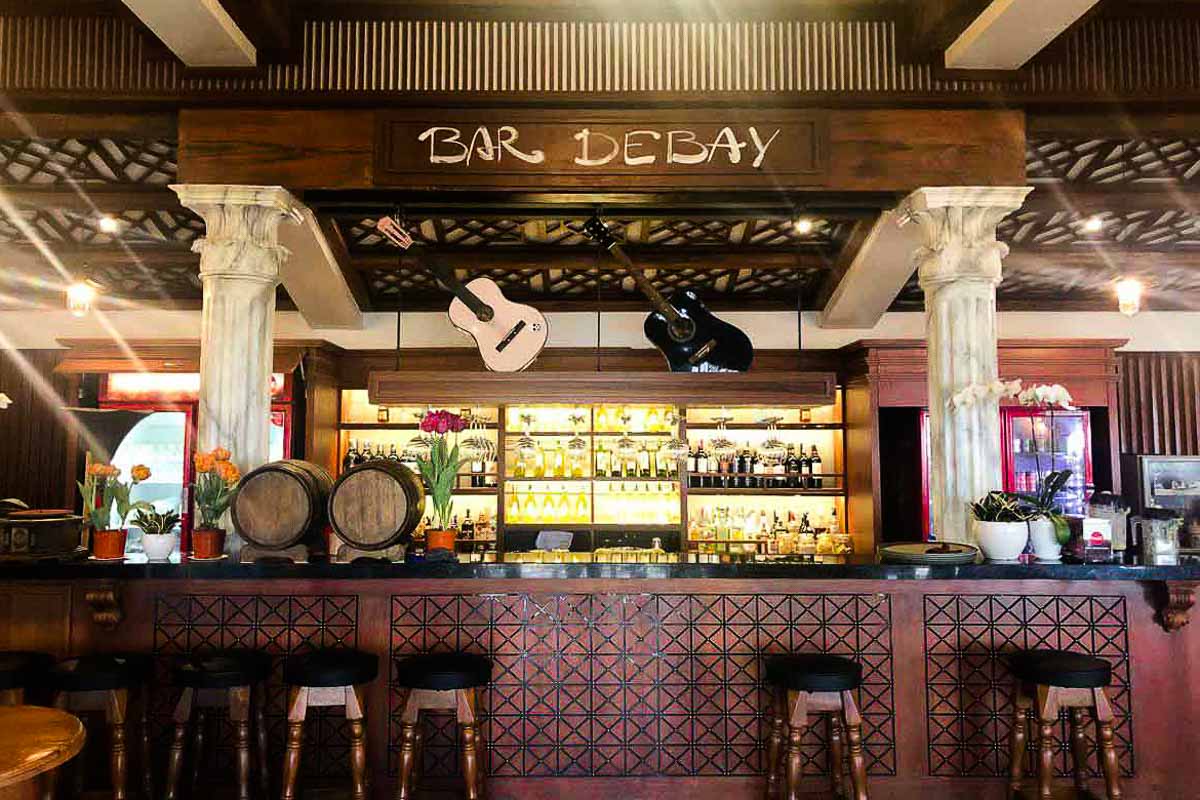 Explore the Debay Wine Cellar — a mini wine cellar built by the French in 1923 filled with vintage wine buckets and, interestingly, miniature wine cellars. You'll be greeted with a shophouse displaying an eclectic mix of fine wines right at the end of the cellar, and an outdoor restaurant with vibes so strong you'd wish you were there with your lad or lass, a bottle of Rousette to sip on and a calming cuban cigar to puff at.
Location: Between Marseille and Le Jardine Station (The Wine Cellar is located just next to the Grape Garden).
10) Attempt to Achieve Zen-like State of Mind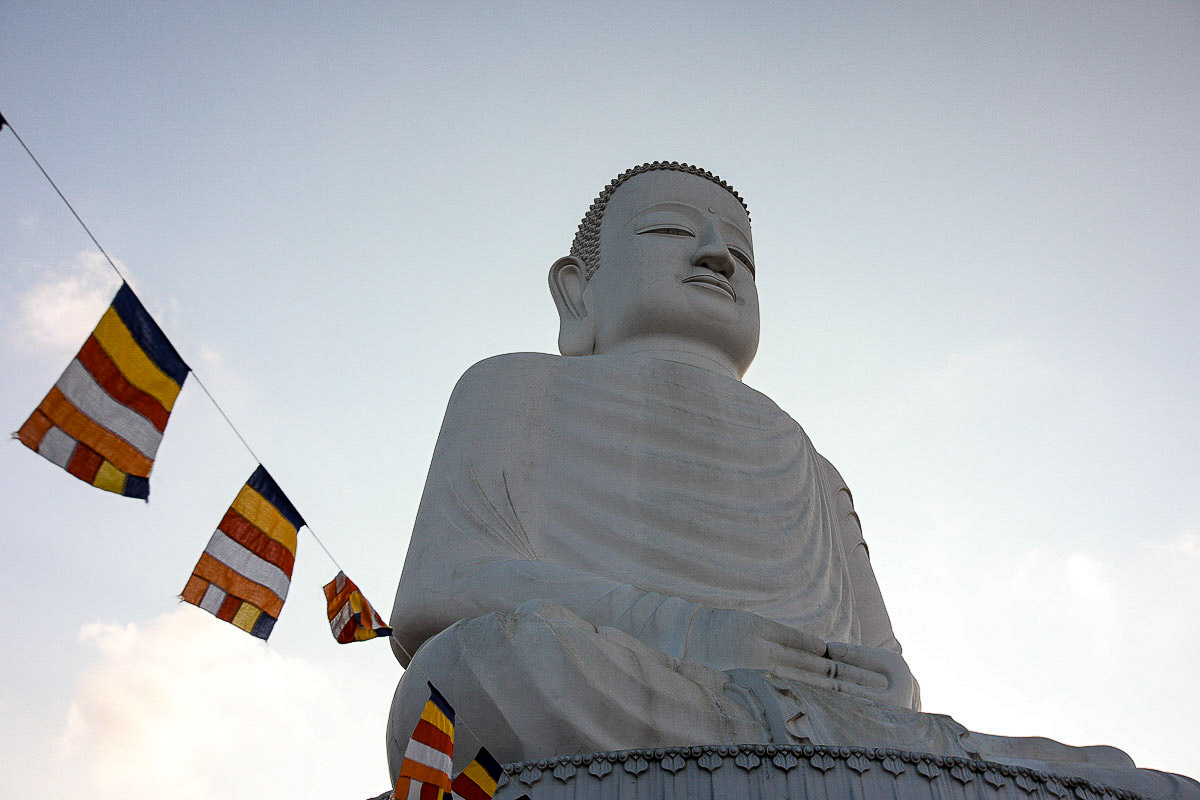 Built about 14 years before the Golden Bridge, the Linh Ung Pagoda has a calmness about it brought around by the sheer magnitude of the lady Buddha. When things don't quite go according to plan with your partner and tensions start to arise (and there was a lot of it between us both), this place could just be your saving grace.
Location: Between Marseille and Le Jardin Station. Walk through the Le Jardin d'Amour Flower Garden, past Maze and Eden Garden, and follow the trail down to the where the big buddha resides. Alternatively, take the cable car from Dream Springs Station directly to Ba Na Station.
What to Eat at Ba Na Hills

An International Buffet

One thing my "date" and I have in common is that we both live to eat. Which means scrumptious international buffets are right up our alley. Having booked our admission tickets through Klook, we also selected the option for a buffet lunch at the Arapang (located towards to end of the French Village) for an additional SGD$12, because we were promised a spread of over 90+ dishes to choose from.
For the price alone, the variety of food the buffet provides is already a catch. Expect international love in the air with a delightful mix of local Asian, Western and Mexican offerings for your temple of a mouth.
*Pro-tip: Get to your desired lunch destination before 12pm. Tour groups usually come in huge waves right around noon and you may have to queue a substantial amount to satisfy your tummy and taste buds.
*Pro-tip 2: This is standard buffet advice, but pace yourself. Or "Don't be a jackass," as my partner explained to me affectionately. Filling up three plates with food before you even begin is not a good idea.
Street Food from Pop-Up Food Stalls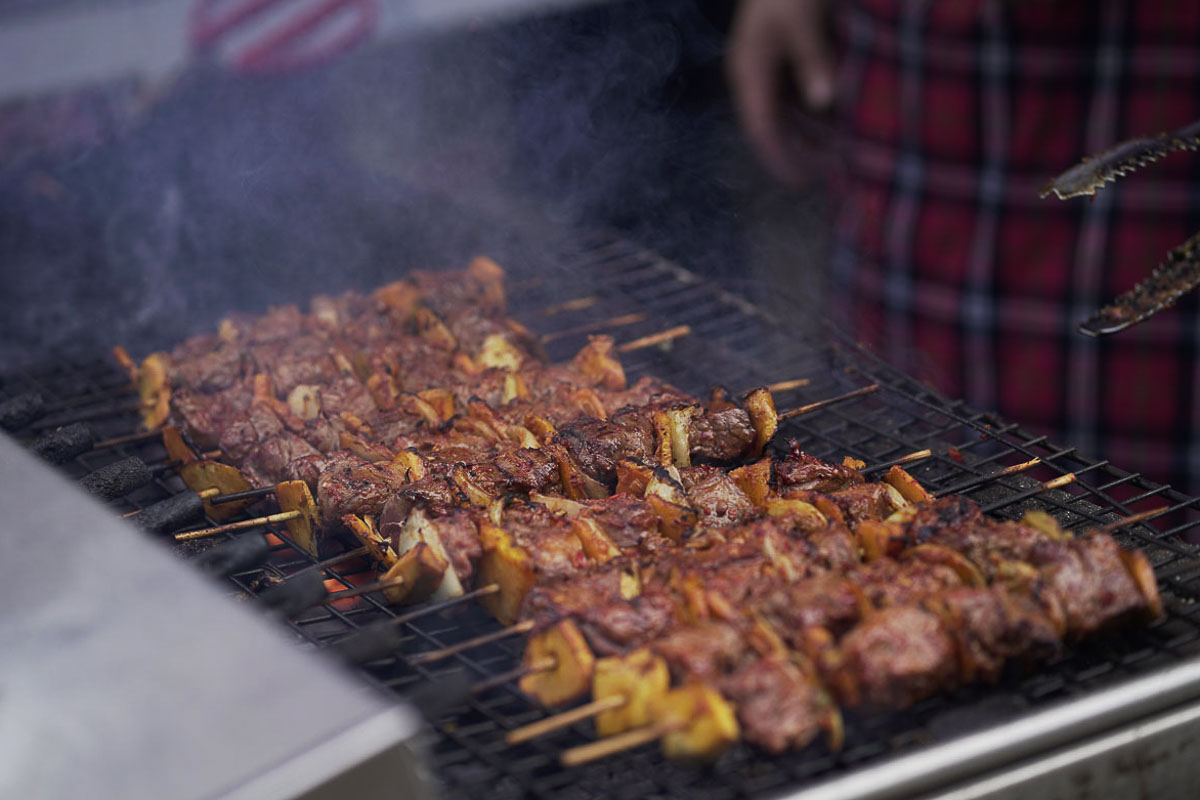 Pop-up food stalls are also spread all over the place, and while they aren't exactly cheap, they certainly are affordable on a holiday. Prices for snacks like classic Vietnamese doughnut (Banh Tieu) or sausages on a stick range from 25,000₫ to 75,000₫ (SGD$1.50 – SGD$4.50).
Important Information

Opening Hours & Entrance Fee
Opening Hours: 7.30AM – 9.30PM
Admission Ticket for 1 adult: 750,000₫ (~S$40, inclusive of all cable car rides, entrance to Fantasy Park and everything else — except for entry into the Wax Museum)
How to Get to Ba Na Hills
Ba Na Hills resides in Da Nang, Vietnam, which is a three-hour flight from Singapore. Check flight prices using this widget below (click here instead if you can't see it):
From Da Nang International Airport, the easiest and most common way to get to Ba Na Hills is to drive a rented car or take a taxi to the foot of the mountain (Ba Na Cable Car Service Parking Lot), then take the cable car up to the resort.
Alternatively, you may also hire a private charter driver to drive you to and fro Ba Na Hills at your preferred time.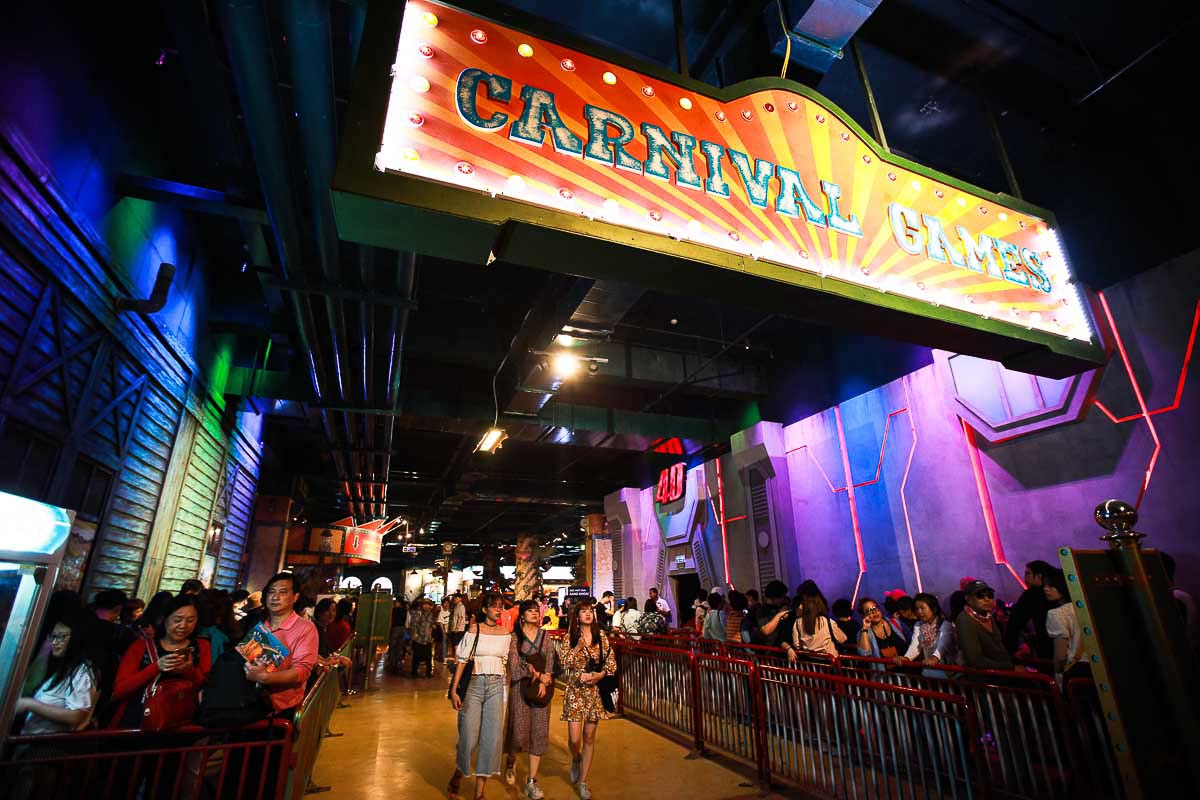 Getting to Ba Na Hills as soon as the gates open would be the smarter thing to do with that many things to check off the list. Without a hint of exaggeration, queueing up ten seconds later can mean an additional half an hour of waiting impatiently in line, especially when the tour groups come in heaps. So plan the activities you want to try first ahead of time and you'll have a stress-free experience.
*Pro-tip: Buy your tickets online. This will save you a ton of time and hassle. Our bookings through Klook included both the admission tickets and an additional SGD$10 for a lunch buffet spread.
Getting Around Ba Na Hills
While the cable car system in Ba Na Hills is both impressive (longest one-wire sling cable car ride in the world) and comfortable (chilly, steady and not vomit-inducing), it can be quite confusing. We've created a map / infographic to help you get around easily.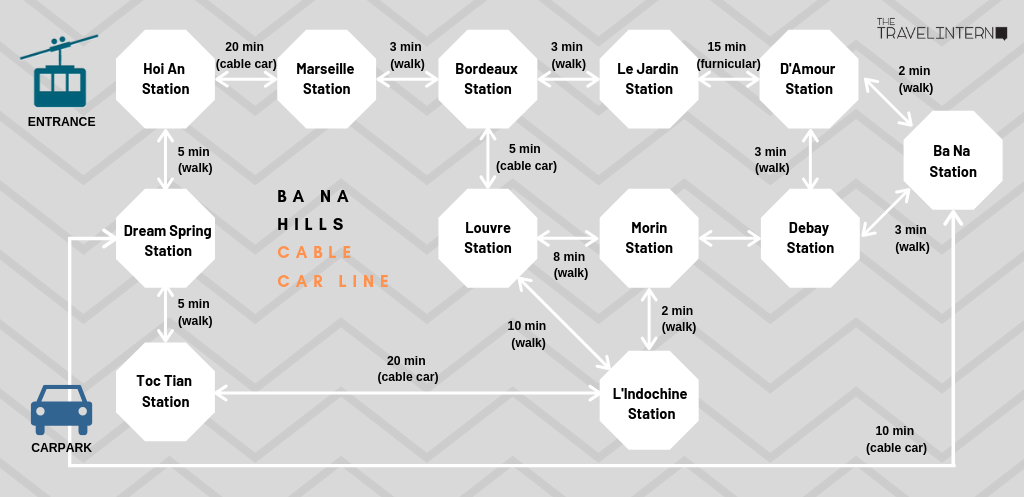 *Pro-tip: Here are the order of activities in which you should try to avoid the longest queues: Ride the Alpine Coasters -> Experience all the rides inside Fantasy Park -> Play the Arcade Games -> Have your lunch before 12pm -> Explore the Gardens and Other Attractions -> Catch the sunset at the Golden Bridge.
Although we've covered all of the must-sees and must-dos, we highly recommend spending more than a day at Ba Na Hills to experience Vietnam's breathtaking playground in all of its affordable glory. Oh, and if you're looking for a refreshing new place to bring your partner for a PG-rated good time, this is a good place to start too.
---
This post was brought to you by Klook.
For more travel inspiration, follow us on Facebook, Instagram, and YouTube.