Get ready for an adventure of a lifetime with this exciting Bali itinerary!
Relaxing on the beach and lounging in villas all day may be commonplace in short getaways to Bali, but the Island of the Gods has more to offer than that.
If you're planning a repeat visit, chances are, you're going to want to do more than going to typical hangouts like Potato Head Beach Club in Seminyak and Kuta Beach. By adding a good mix of nature, adventure and culture, you'll be getting an entirely different experience from this beautiful island.
Pre-Trip Essentials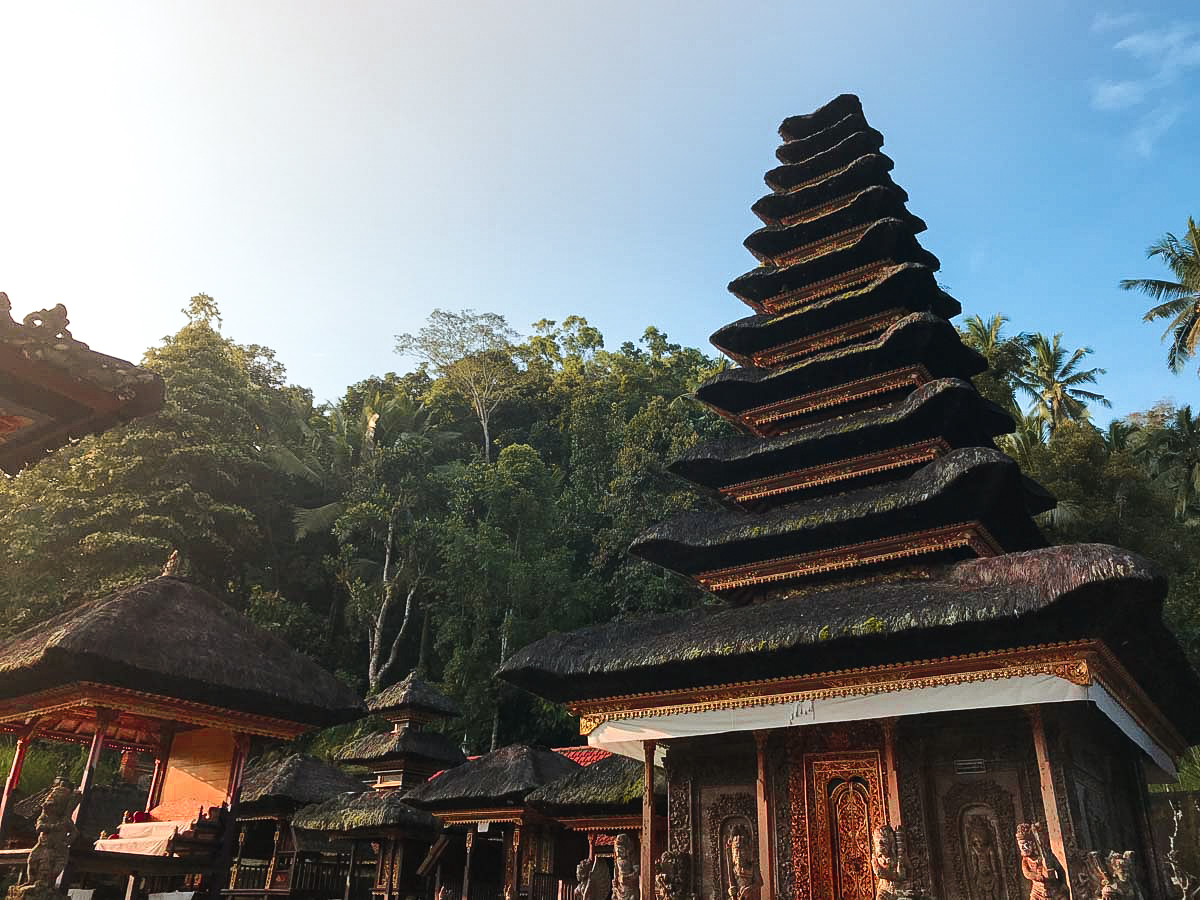 Best time to visit: Like Singapore, Bali is only dry or wet. Visit in May, Jun and Sep when it's dry, and not overly flooded with tourists. Average temperatures range from 29°C – 32°C in the day, and drops to a cooling 22°C – 23°C at night.
Packing essentials: Pack sunscreen and aloe vera gel to prevent sunburns, or purchase them at Bali's Ngurah Rai International Airport if you're not checking in baggage. With an array of water sports and hikes almost everywhere, don't forget your swimwear and sturdy shoes too.
Getting around: With key attractions scattered around, renting a private driver by the day is comfortable, efficient and affordable. We booked ours through Klook that provided us a cushy SUV, and a friendly driver to boot! Services like Uber, Grab and GoJek are available too, but note that many areas do not accept such bookings.
Connectivity: Purchase SIM cards from the airport, or prebook a 5GB Data SIM card (valid for 30 days) and have it personally delivered to you at the arrival point.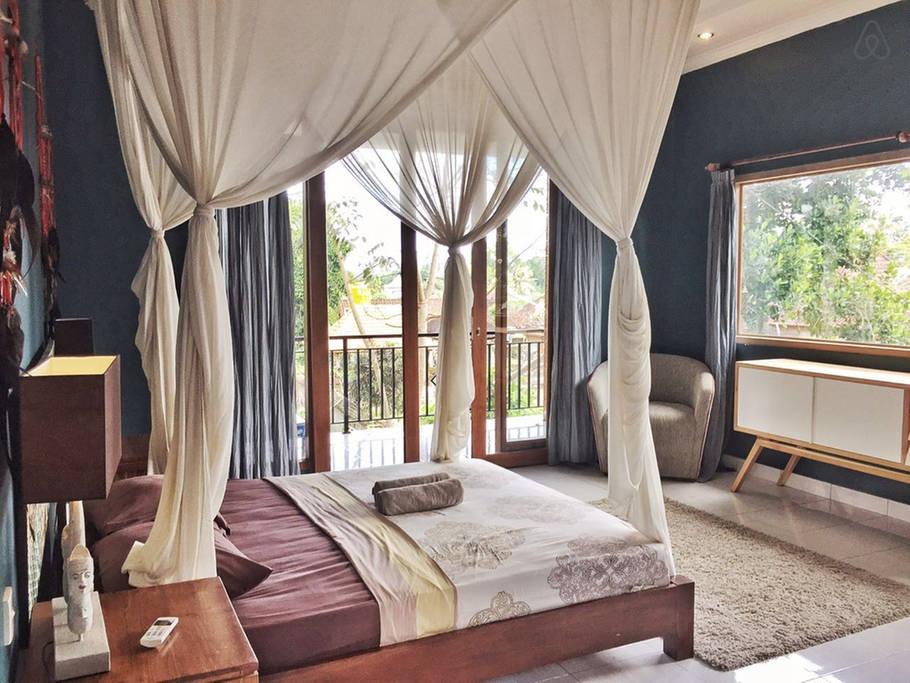 Photo credit: Airbnb
Accommodation: To get the best experience out of your Bali itinerary, book your accommodation in Seminyak or Ubud, depending on your tastes. Choose Seminyak if you don't mind the crowd or Ubud for a quieter environment. These places are relatively central to most attractions.
For groups of friends, villas on Airbnb come at extremely affordable prices for the quality you get. Most villas come with a private pool and butler to serve your needs.
We booked ours in Ubud, making it relatively accessible to attractions in this itinerary. For solo travellers, the Seminyak area has lots of hostel and home stays for around US$10/night.
5-Day Bali Itinerary
Day 1: Get to Know Ubud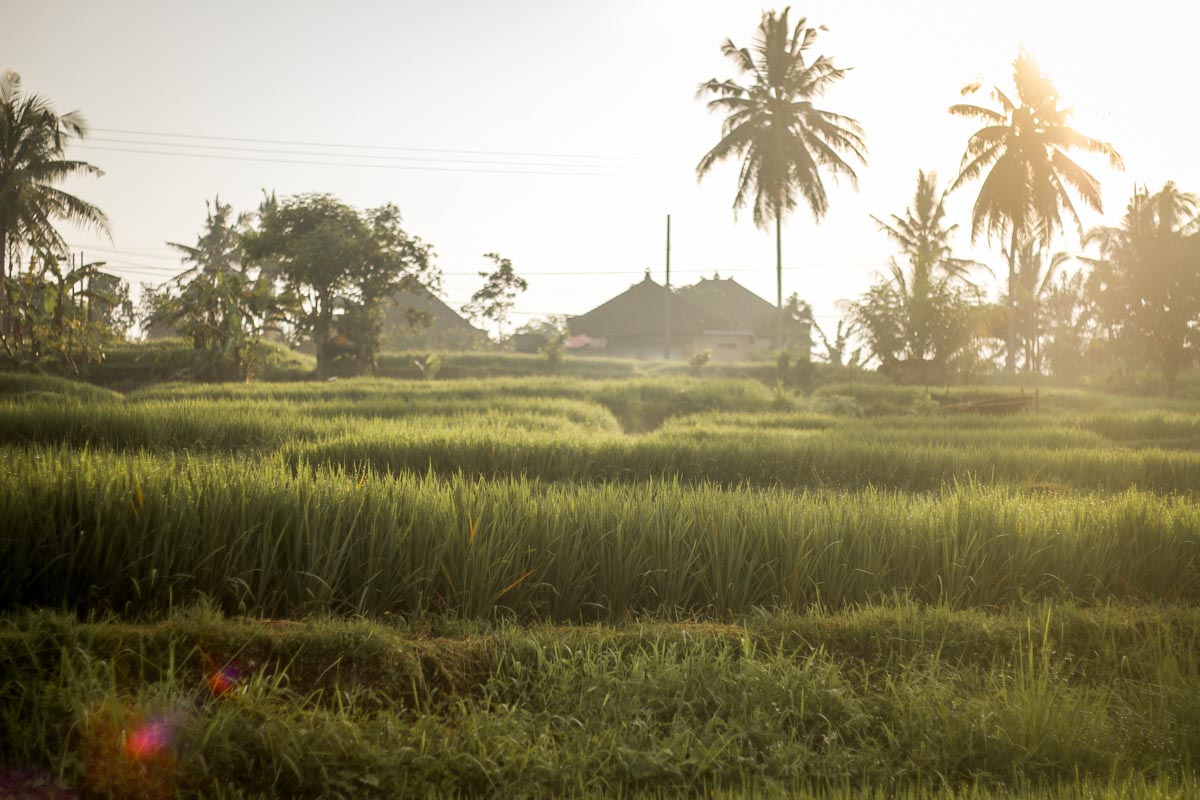 Arrive in Bali
Start your Bali itinerary with a fresh day by catching a morning flight. We flew in via the 7:05AM Jetstar flight and landed at 9:55AM.
Since accommodation check-ins are usually after 2PM, make use of the early headstart and get exploring, pronto! Arrange for a car to pick you up directly from the airport so you won't have to worry about lugging everything with you.
Hidden Canyon Beji Guwang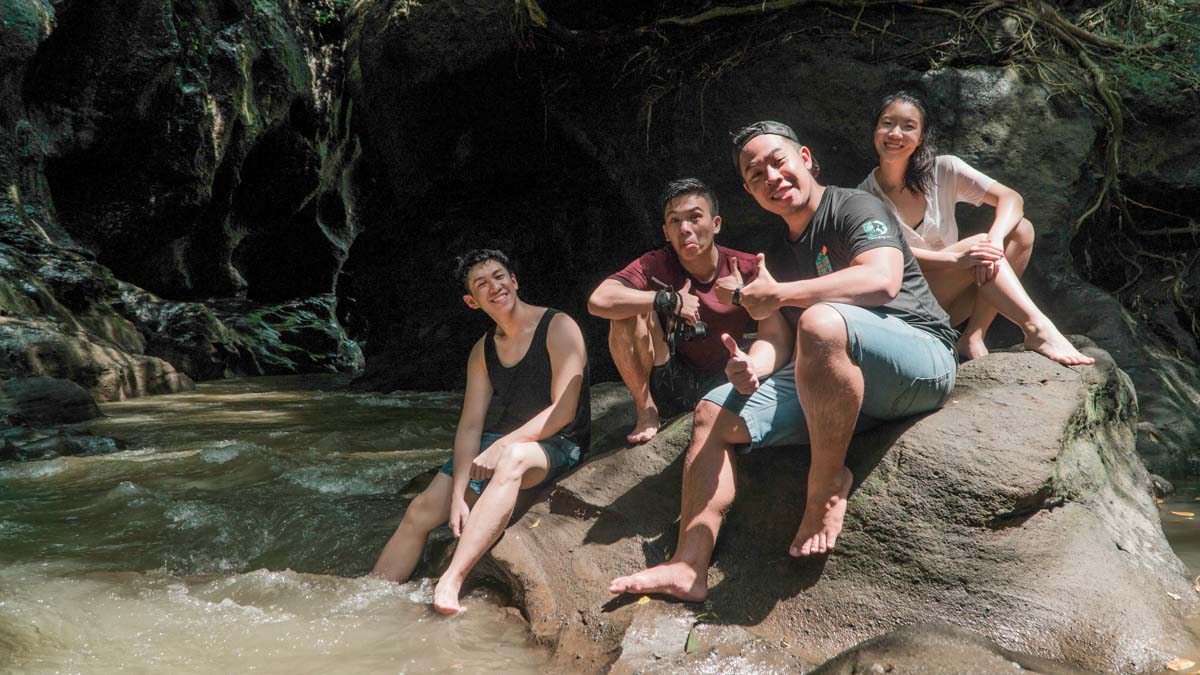 Before your first stop, you might want to change your attire as this activity will definitely get you soaked!
Traverse across gargantuan rocks and uneven walls that literally leave you on the edge in this elusive canyon. For at least two hours, you'll be climbing, jumping, and occasionally lunging across strong currents in waters that can go up your neck — not without a guide to ensure your safety, of course!
The area closes during high tides for safety reasons, so call +62 857-3727-0288 to check before heading down.
Entrance fee: From 200,000Rp/pax (~S$18.80)
Opening hours: 8AM – 5.30PM
Address: Jalan Sahadewa, Banjar Wangbung, Guwang, Sukawati, Guwang, Sukawati, Kabupaten Gianyar, Bali 80582
*Pro-tip: Bring along booties or you'll be asked to go barefoot (the guides will carry your footwear).
Read also: 10 Best Things To Do In Bali For Adventure Seekers
Tegenungan Waterfall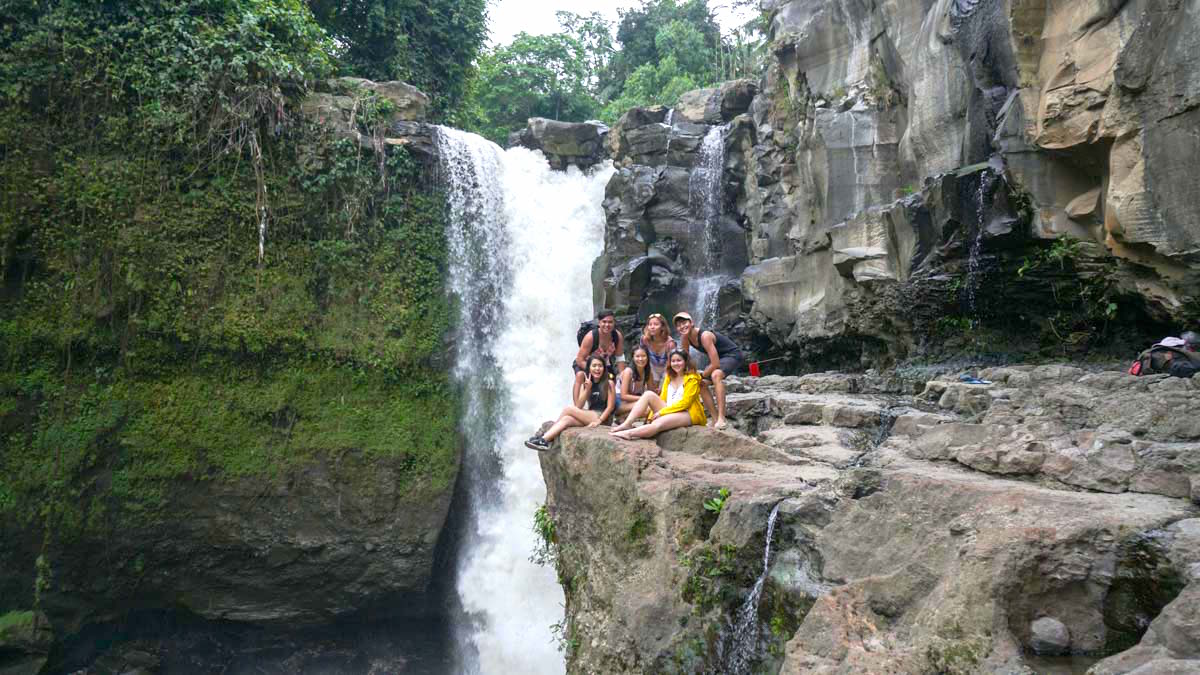 In the outskirts of Ubud in Sukawati lies one of the most famous waterfalls around Bali, and also one of the most beautiful. Although it's a popular tourist spot, the vast area has ample vantage points to have a good look without being distracted by the crowd.
This waterfall is also known by another name — Blangsinga Waterfall. Its name depends on which side of the waterfall you end up at! We found that the view from Blangsinga's side was better; get there by walking towards the right until you reach the waterfall.
Entrance Fee: ~15,000Rp per pax (top up an additional ~10,000Rp to go nearer to the waterfall's base)
Opening Hours: 8AM – 7PM
Address: Jl. Ir. Sutami, Kemenuh, Sukawati, Kabupaten Gianyar, Bali 80581
*Pro-tip: If you've got a drone, bring it so you can capture the majestic view in its entirety!
Ubud Market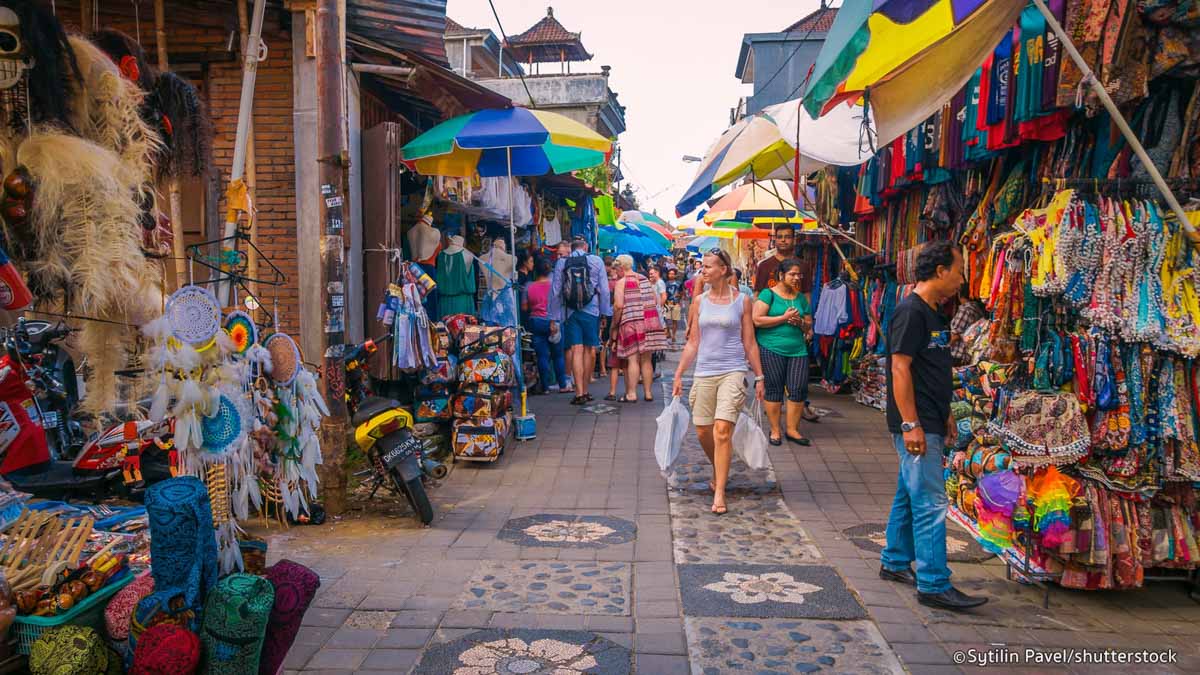 Photo credit: Bali-Indonesia
Famous for its appearance in 2010 film Eat Pray Love, shop for an array of handicraft and souvenirs at the Ubud Market, and its sister Ubud Traditional Art Market. Purchase traditional sarongs, woven straw bags and exotic monk bags, or simply stroll through the open-air street to soak in the atmosphere.
Opening hours: 6AM – 6PM (Individual stalls vary)
Address: Jalan Raya Ubud No.35, Ubud, Kabupaten Gianyar, Bali 80571 (opposite the Puri Saren Royal Ubud Palace)
*Pro-tip: To get the best bargains, go during opening times, or right before closing times. Superstitious stallholders are more inclined to give discounts to first customers to "bless" the rest of the day with good business, and right before they close to simply clinch a quick deal.
Campuhan Ridge Walk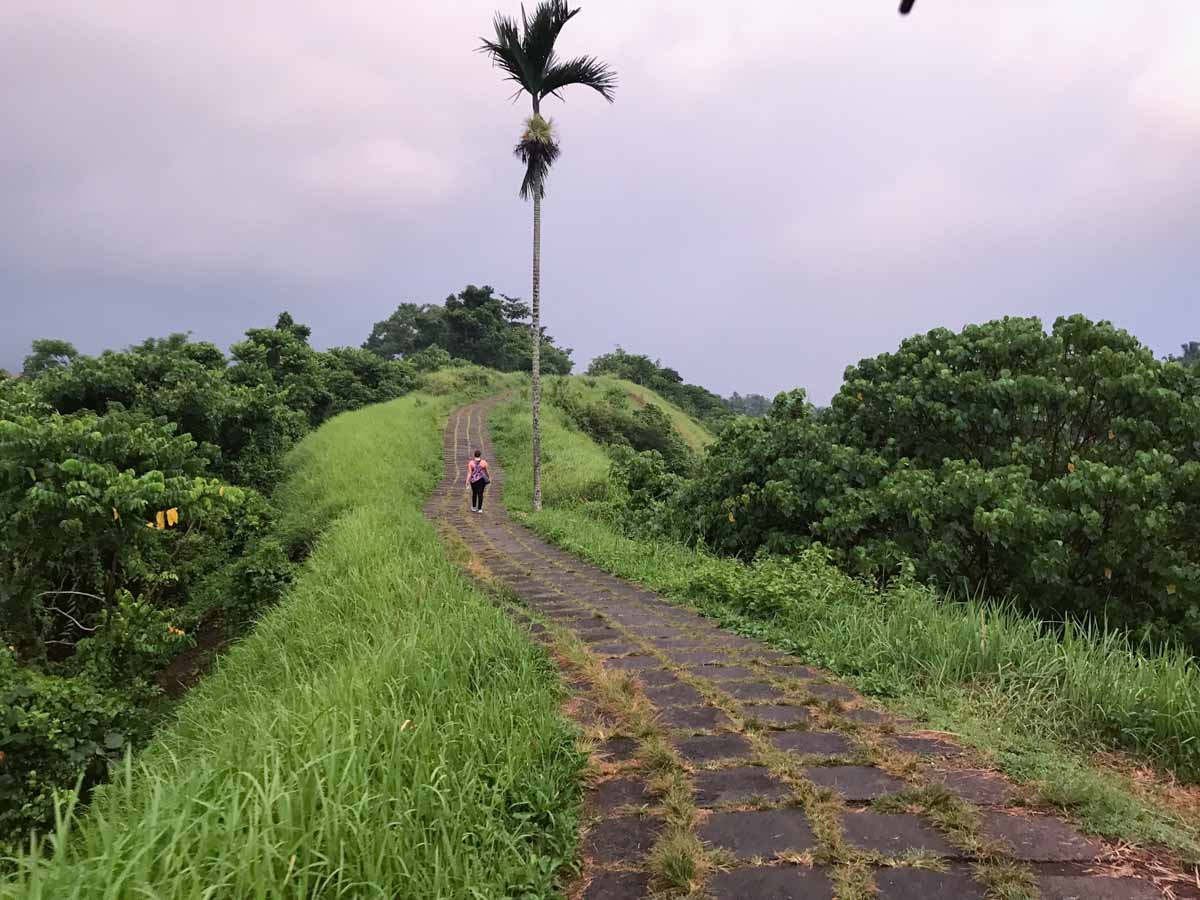 End your first day on a high note (literally) with a hike up the Campuhan Ridge Walk. With gentle slopes and sweeping views of Bali's greenery, it's the perfect locale to witness the sunset, and makes for an Instagram-worthy photo-op that'll leave your followers green with envy. 😉
There's no distinctly marked entrance to the Campuhan Ridge Walk, so we advise having your driver know where to drop you off (near a sign for "Warwick Ibah Hotel"). After which, you'll see a small sign pointing you towards the direction of the walk.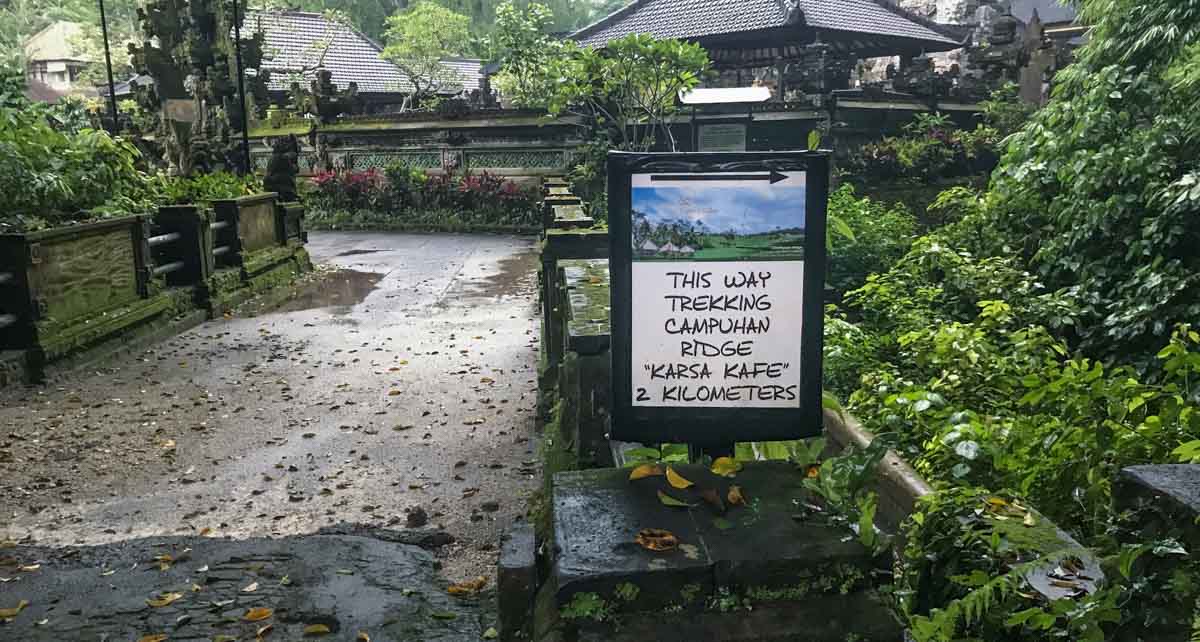 Further downslope, you'll see another similar sign (image above), where you'll have to head down an obscure staircase to the right. We made the mistake of heading straight as the arrow wasn't very visible.
How to get there: Start from Ubud Market facing Jalan Ubud Raya, and head west until you see a bridge. Before the bridge, you'll see a sign for "Warwick Ibah Hotel". At the fork in the road, follow the sign that points left and follow the path
*Pro-tip: Carry a torchlight with you in case it gets too dark on the way down, as there are no street lamps lining the path. It starts getting dark after 6PM.
Grilled Dinner at Kedai D'Sawah
For affordable local fare, dig into smokey Ayam Bakar, grilled chicken leg with rice (17,000Rp, ~S$1.70), or Iga Bakar, grilled pork ribs with rice (25,000Rp, ~S$2.50) alongside Bali's local Bintang beer at Kedai D'Sawah.
As with many eateries, or warungs in Bali, this one sits right beside a paddy field, so it'd make a great lunch spot too. Do prepare some insect repellant though; the mosquitoes can be unforgiving.
Opening hours: 11AM – 10PM
Address: Kedai D'Sawah, Jl. Raya Goa Gajah No.93, Kemenuh, Sukawati, Kabupaten Gianyar, Bali 80582

Day 2: White Water Rafting and North of Ubud
White Water Rafting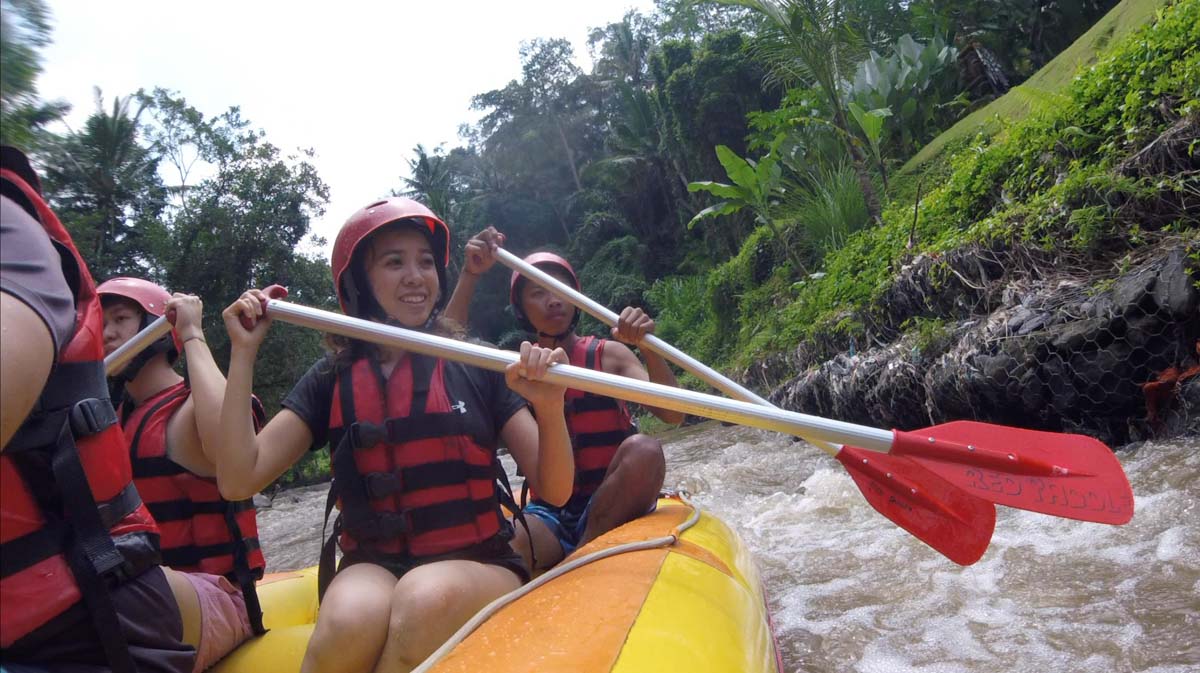 Now the Bali itinerary really begins! Dive deep into adventure by rafting along the Ayung River. Be awed by the sights of magnificent waterfalls (the cheeky guides might even lead you right under them!), rock formations, and gorgeous gorges.
There are many rafting companies along the same river. However, we went with the one by Red Paddles, as it comes a buffet lunch, pick-up and drop-off from our accommodation. For an activity that lasts at least three hours long, we'd say this one is the most value-for-money!
Cost: ~S$34.50 via Klook
Tukad Cepung Waterfall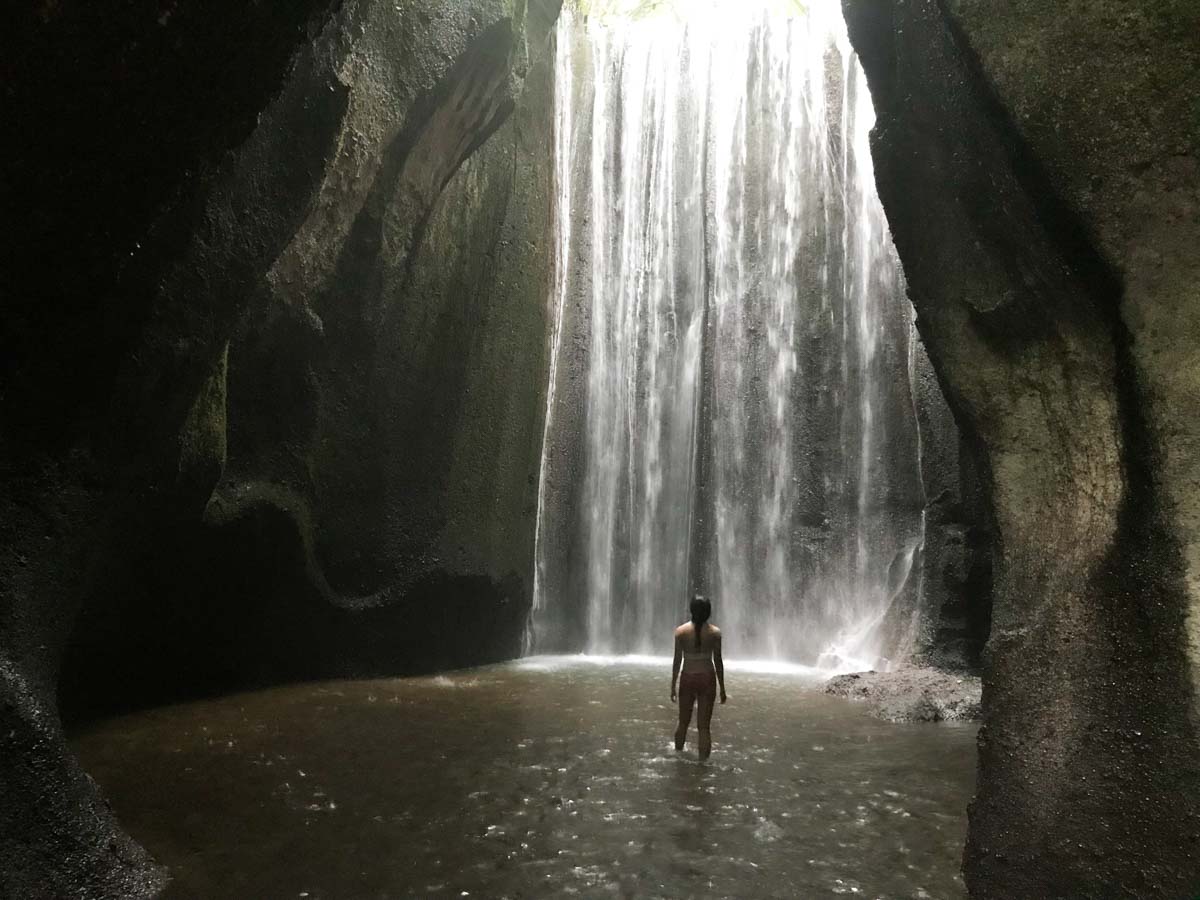 Another sight to behold, the Tukad Cepung Waterfall draws less of a crowd than its mainstream counterpart (the Tegenungan Waterfall), but with the same charm. An hour away from Central Ubud in Bangli, the waterfall is nestled in a cave that's a five-minute walk from the entrance.
As a mark of respect, women who are menstruating are advised not to enter, and you should refrain from using foul language while you're in the premises. Otherwise, enjoy the steep hike down and prepare to get wet in the clear running waters!
Entrance fee: 10,000Rp (~S$1) per pax
Address: Jl. Tembuku, Dusun Penida Kelod, Tembuku, Bangli, Kabupaten Bangli, Bali 80671
*Pro-tip: Visit in the early morning or afternoon to get the best viewing experience, when the sun rays penetrate through the overhead canopies. Avoid visiting after 5PM as the area might become too dark for photos.
Also read: 11 Lesser Known Scenic Places in Bali you Should Visit
Pura Kehen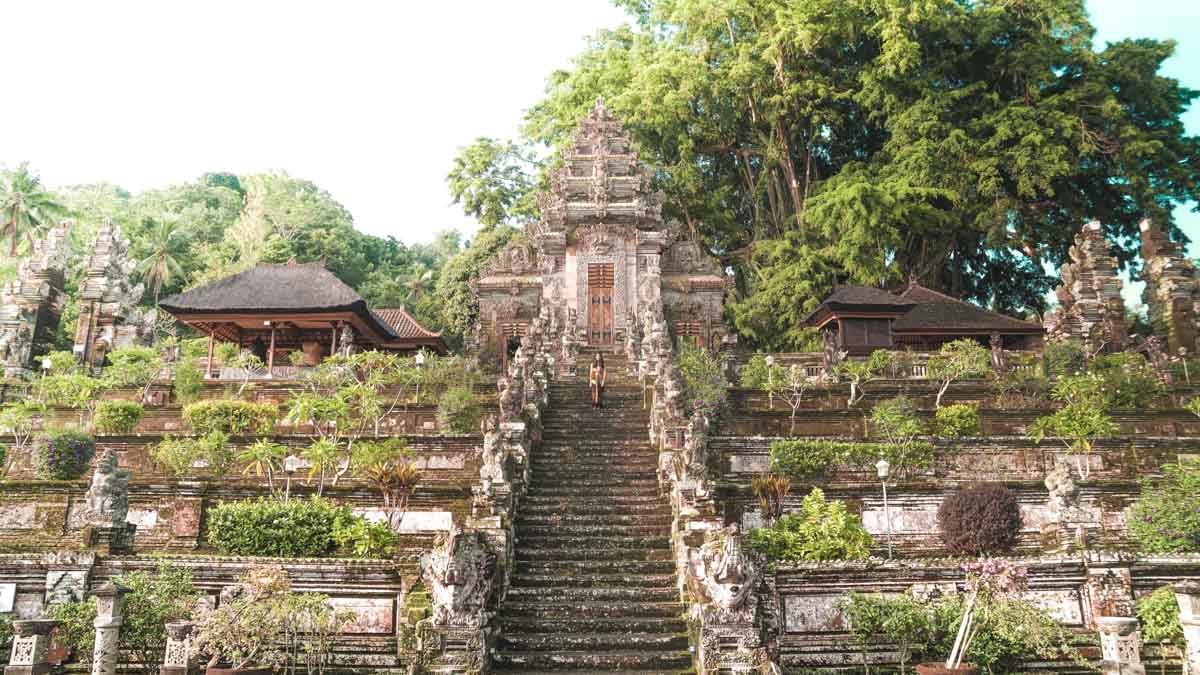 Built in the 12th Century, Pura Kehen is a Hindu temple that exhibits the elegance of traditional Balinese architecture, and doesn't draw a massive touristy crowd to ruin its enchantment.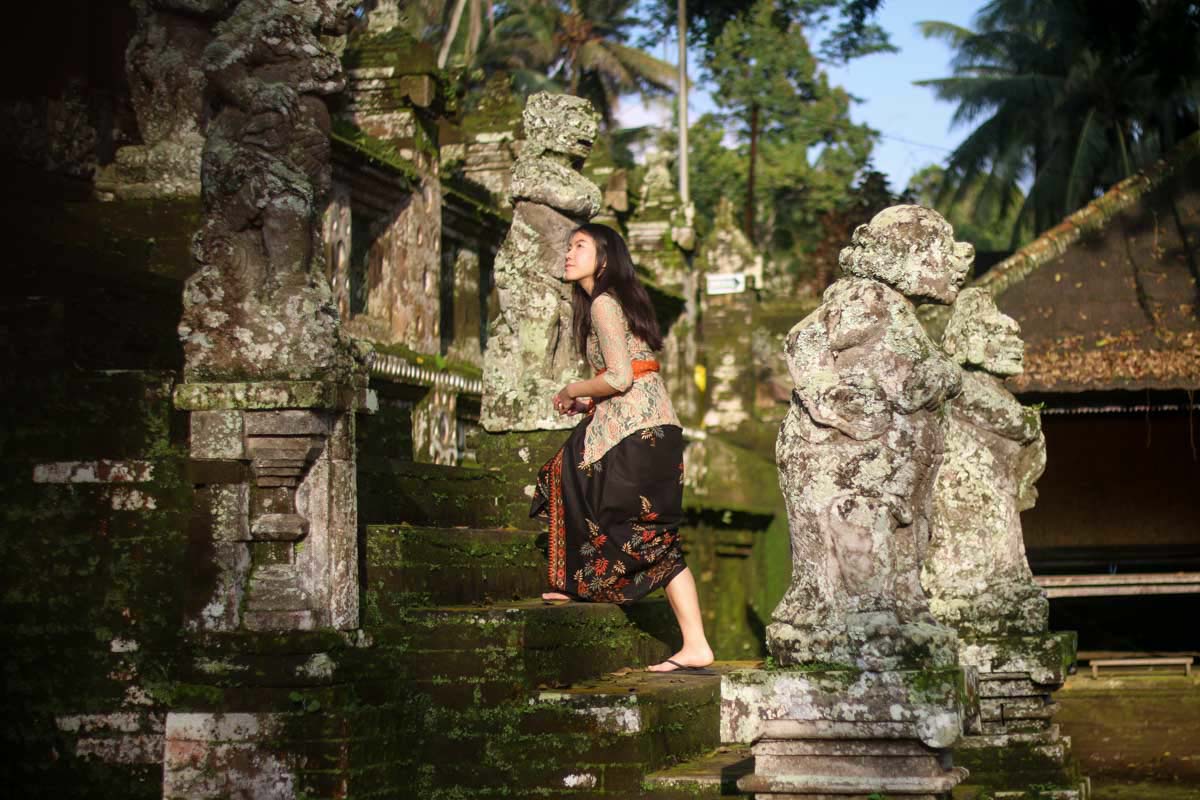 Visitors are required to don a sarong as a form of respect, but don't worry if you don't have one as you can rent one for free over the counter. Similar to the Tekud Cepong Waterfall, menstruating women should avoid entering the premises.
Entrance fee: 20,000Rp (~S$2) per pax
Opening hours: 9AM – 5PM
Address: Cempaga, Bangli Sub-District, Bangli Regency, Bali 80613
Read also: Ubud Travel Guide: Fun Things to Do in Ubud, Rain or Shine
Tegallalang Rice Terrace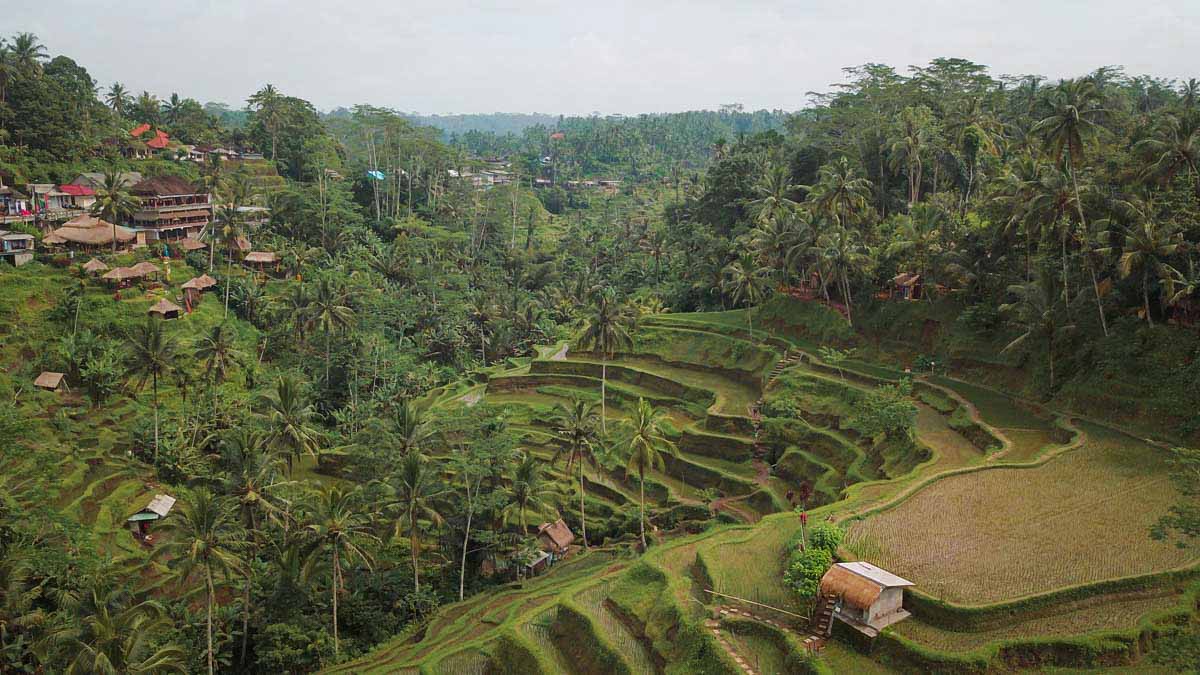 They are ubiquitous across Bali, but don't miss out on the mother of all rice terraces at the panoramic Tegallalang Rice Terraces. Although it's a touristy spot, this UNESCO World Heritage Site is large enough for you to have ample personal space with undisturbed views.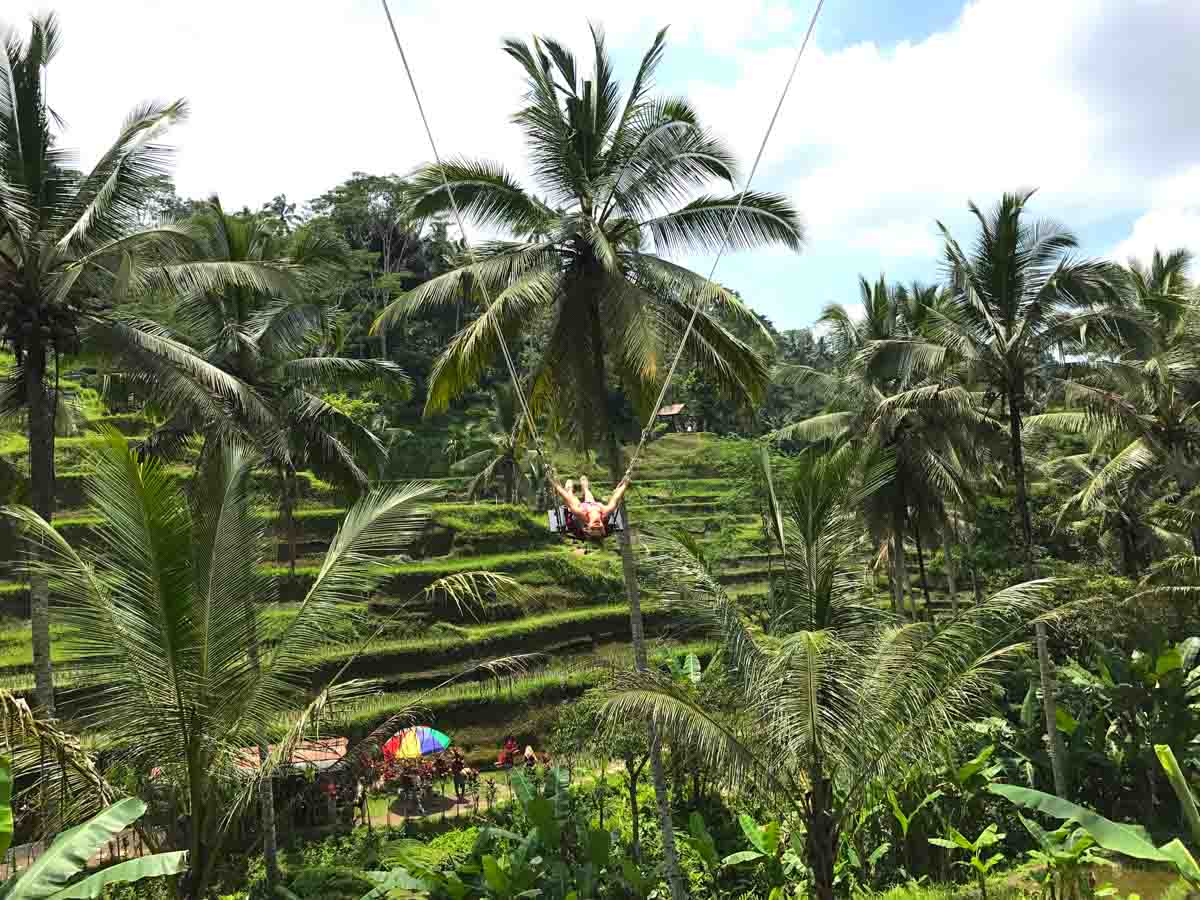 For an additional 100,000Rp – 200,000Rp (~S$10 – ~S$20), get the chance to hop on one of the three swings for an unparalleled viewing experience of the fields from a different angle.
Entrance fee: Free (Donations are required to venture further in)
Address: Jalan Tegallalang, Tegallalang, Kabupaten Gianyar, Bali 80561
Sacred Monkey Forest Sanctuary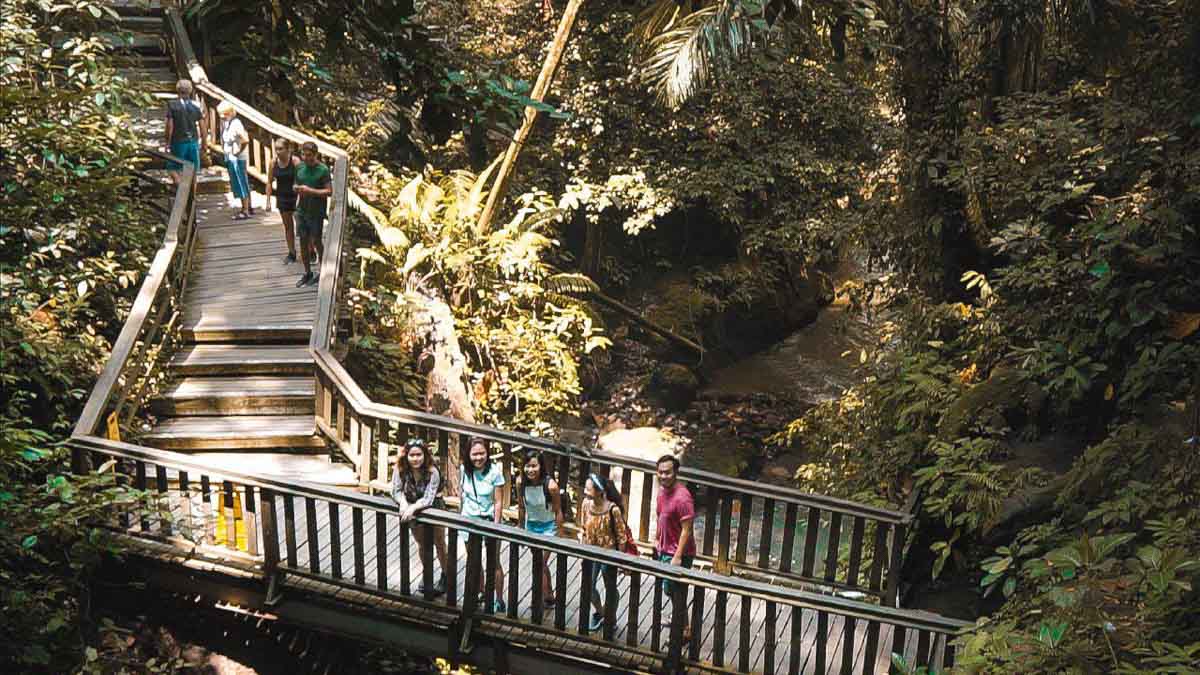 A nature reserve that's also a Hindu temple complex housing over 700 playful monkeys, this forest is only a short drive away from Central Ubud. Get pally with the resident monkeys, and bring a few bananas to feed them if you're feeling adventurous enough!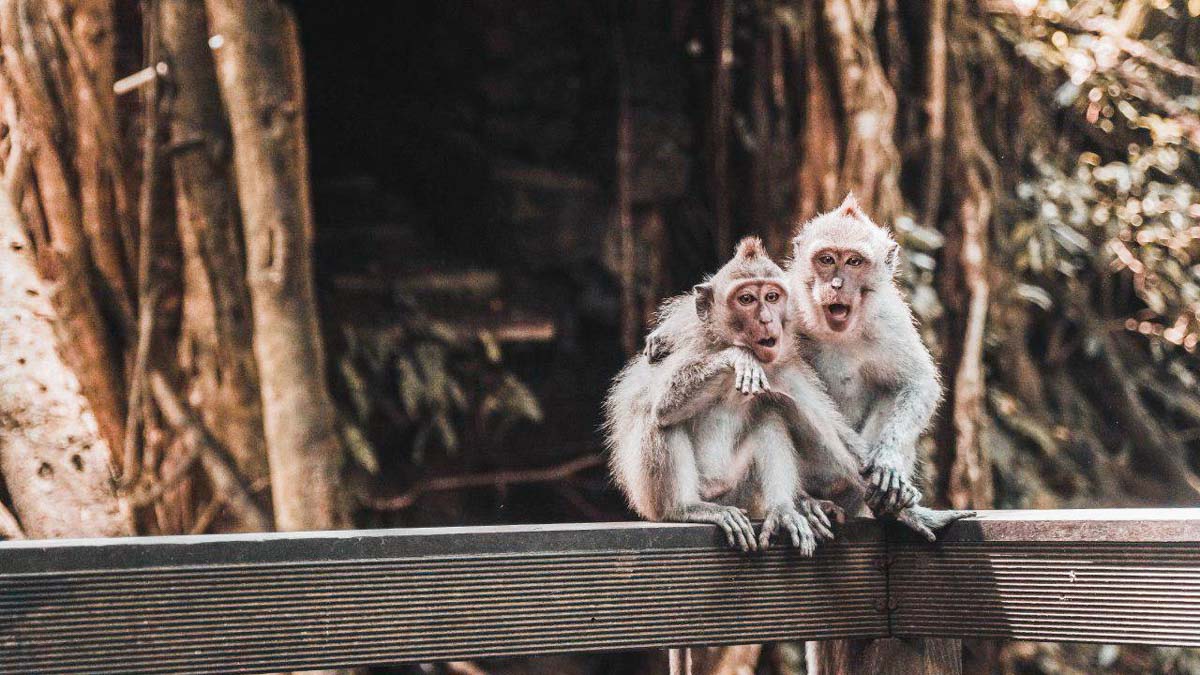 Entrance Fee: 80,000Rp (~S$8)
Opening Hours: 9AM – 5PM (Ticketing closes 4PM)
Address: Jl. Monkey Forest, Ubud, Kabupaten Gianyar, Bali 80571
*Pro-tip: Avoid carrying any food or beverages even if it's in your bag, otherwise the monkeys will tail you and attempt to steal them!
Naughty Nuri's Warung and Grill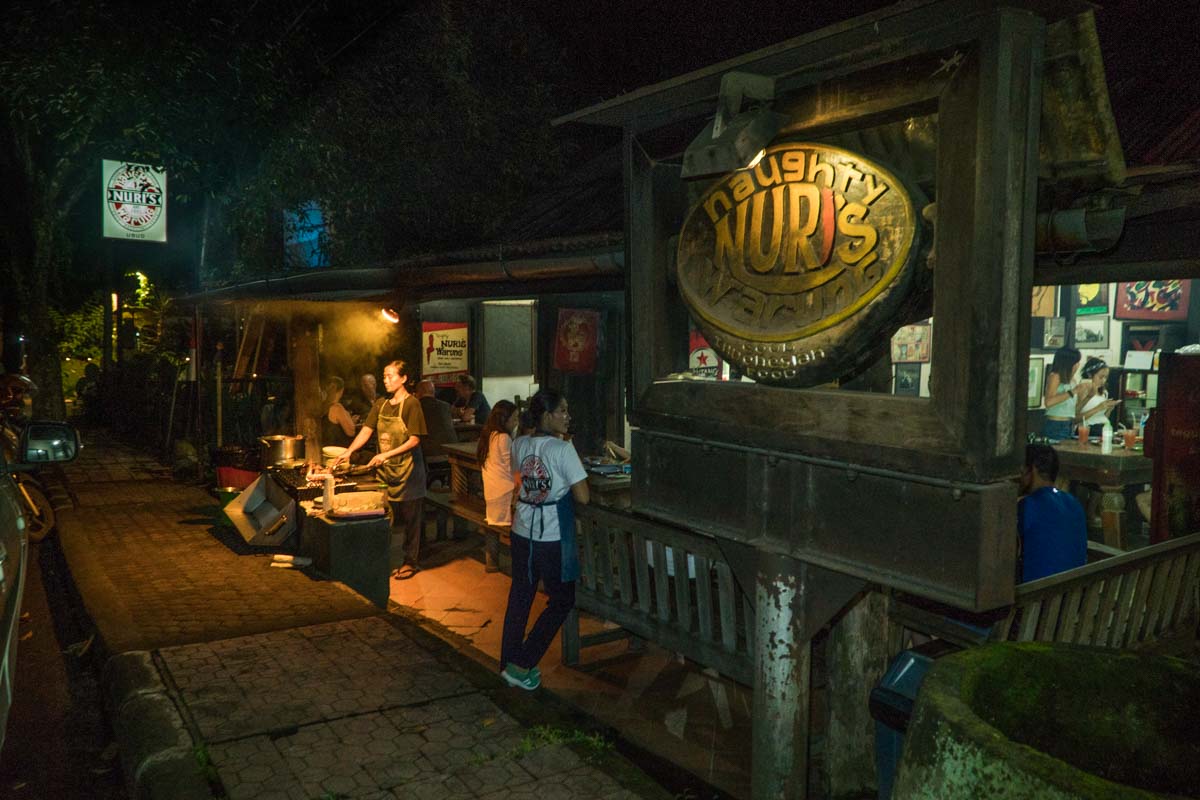 Your Bali itinerary will never be complete without eating at Naughty Nuri's. There's no excuse especially if you're in Ubud, where its first branch opened.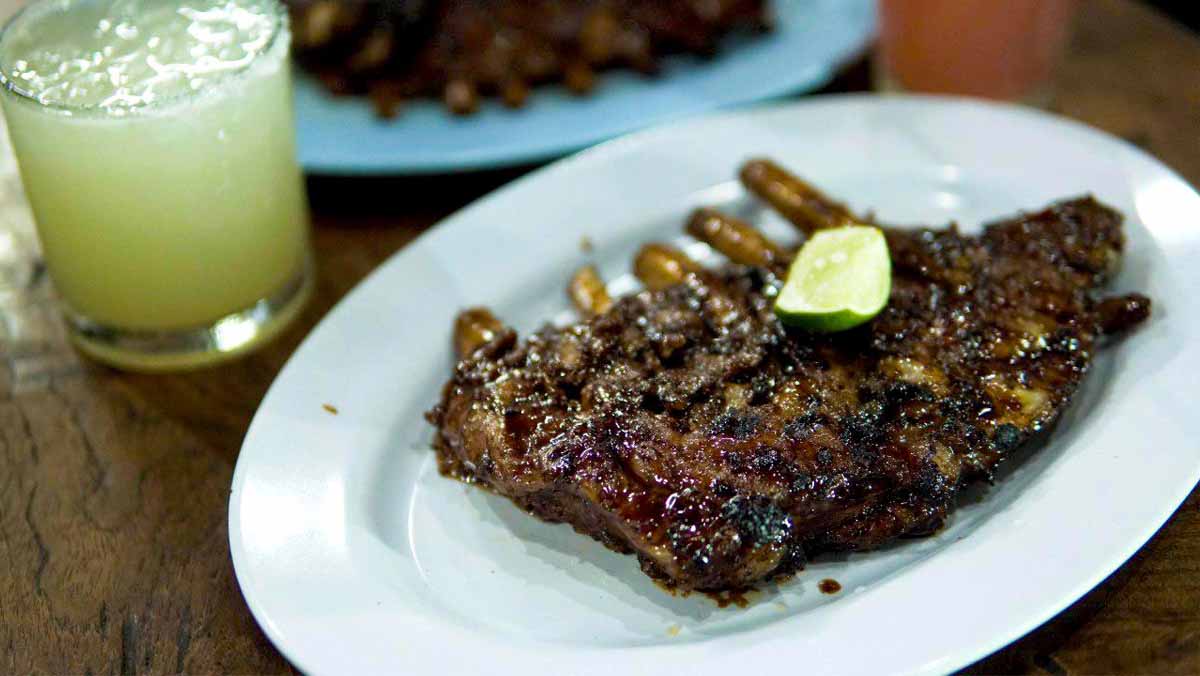 The iconic sight of their signature BBQ spareribs (130,000Rp, or ~S$13) grilling right at their entrance never fails to get mouths watering, with lethal cocktails that keep you wanting more.
Spare the "order different dishes, so we can all share" mantra. The other dishes are not remotely half as good (we felt like we were chewing on a tyre with the pork chops).
Opening hours: 8AM – 10PM
Address: Jalan Raya Sanggingan No.88X, Kedewatan, Ubud, Kabupaten Gianyar, Bali 80571
DAY 3: ATV and Seminyak
ATV Quad Bike Adventure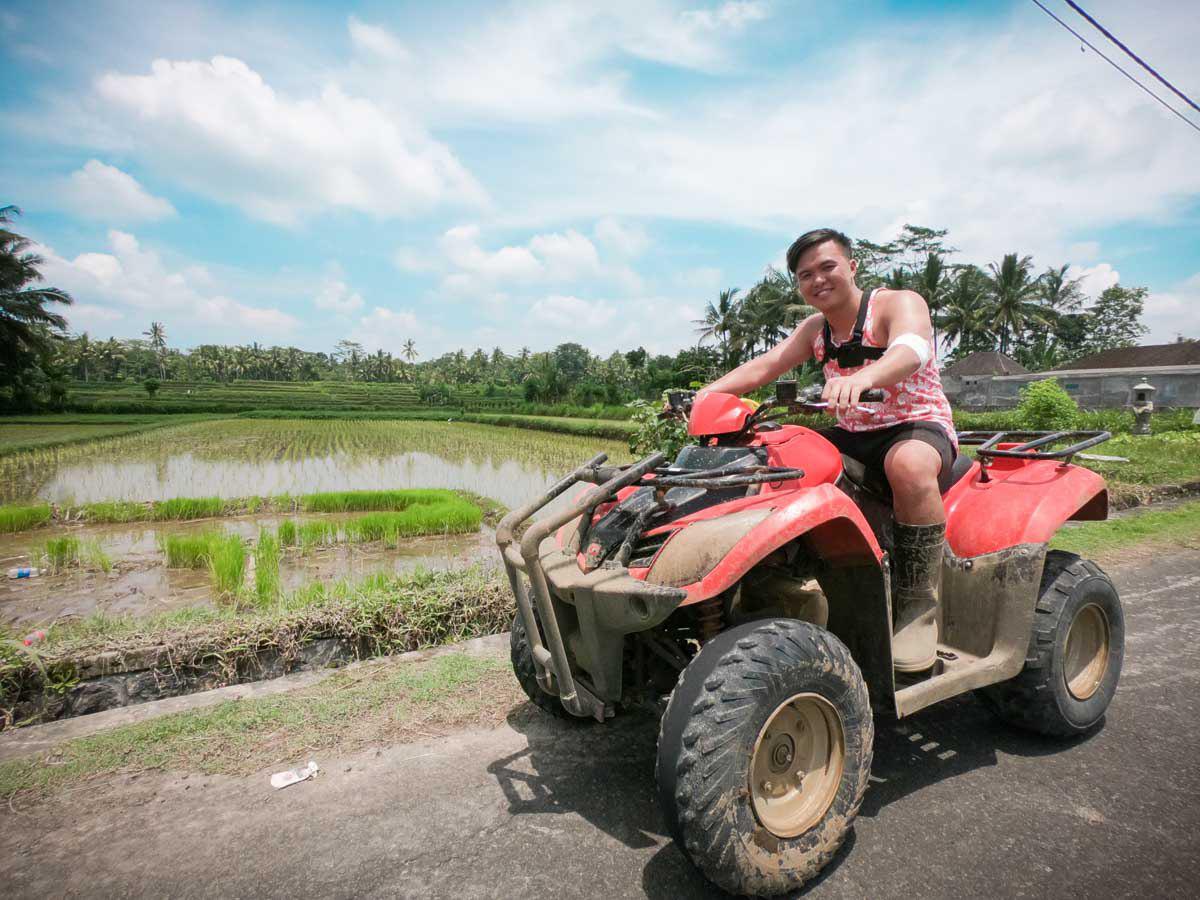 Look ma (or maybe not), no driving licence needed! Get on the longest ATV Quad bike track to discover Bali's rice fields, greenery and villages, riding across uneven terrains that will challenge your inner adventurer.
Our package included pick-up and drop-off from our accommodation, along with a buffet lunch.
Cost: ~S$71.70 via Klook
Opening hours: 7AM – 11PM
Address: Jl. Raya Ubud, Peliatan, Ubud, Kabupaten Gianyar, Bali 80571
*Pro-tip: Bring a change of clothes. Your socks will get stained with mud, so we suggest wrapping plastic bags over your feet.
Indonesian Food at Tamade Cafeteria
Yes, you read that name correctly. Tamade Cafeteria is a family-owned business named after the son (what else were you thinking of?).
The fusion of Asian flavours in their Umami Bowl, a pork shoulder or chicken rice bowl drizzled with salted egg yolk sauce (55,000Rp, ~S$5.50) is a hit with Singaporean tourists. Because salted egg yolk everything, right?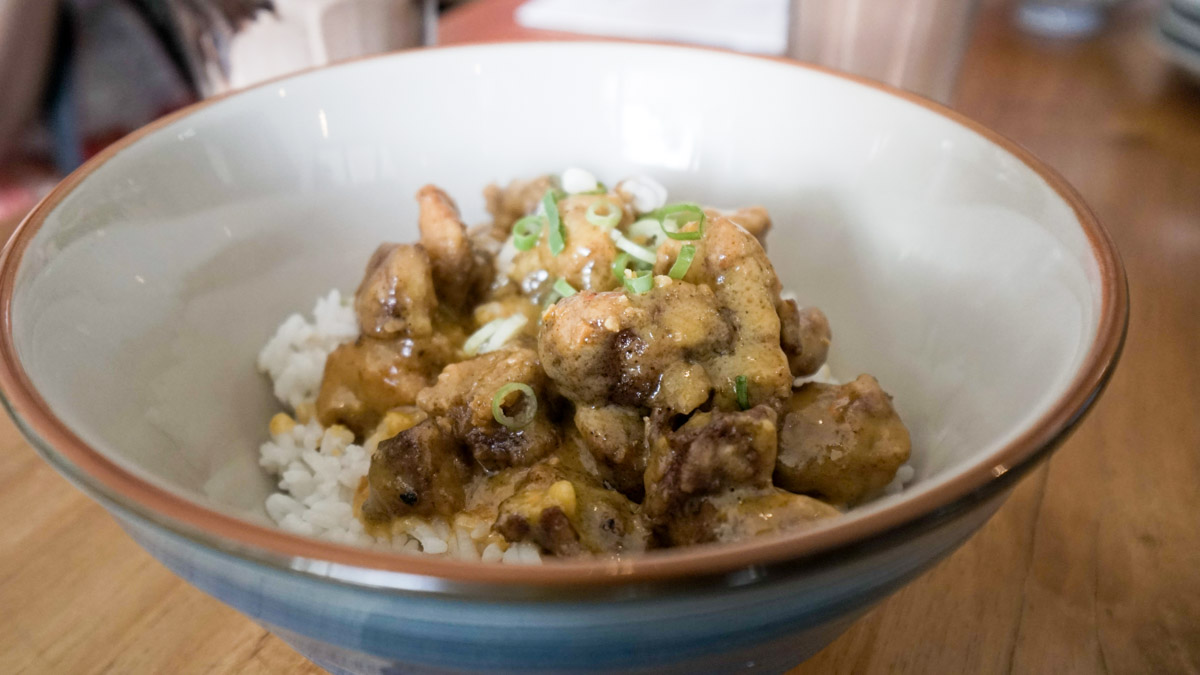 Opening hours: Currently on break, call +62 877-7571-0382 before heading down
Address: Jl. Raya Basangkasa No. 15, Seminyak, Bali
Read also: The Ultimate Bali Food Guide: 21 Things To Eat in Seminyak, Ubud and Nusa Dua
Shopping Along Poppies Lane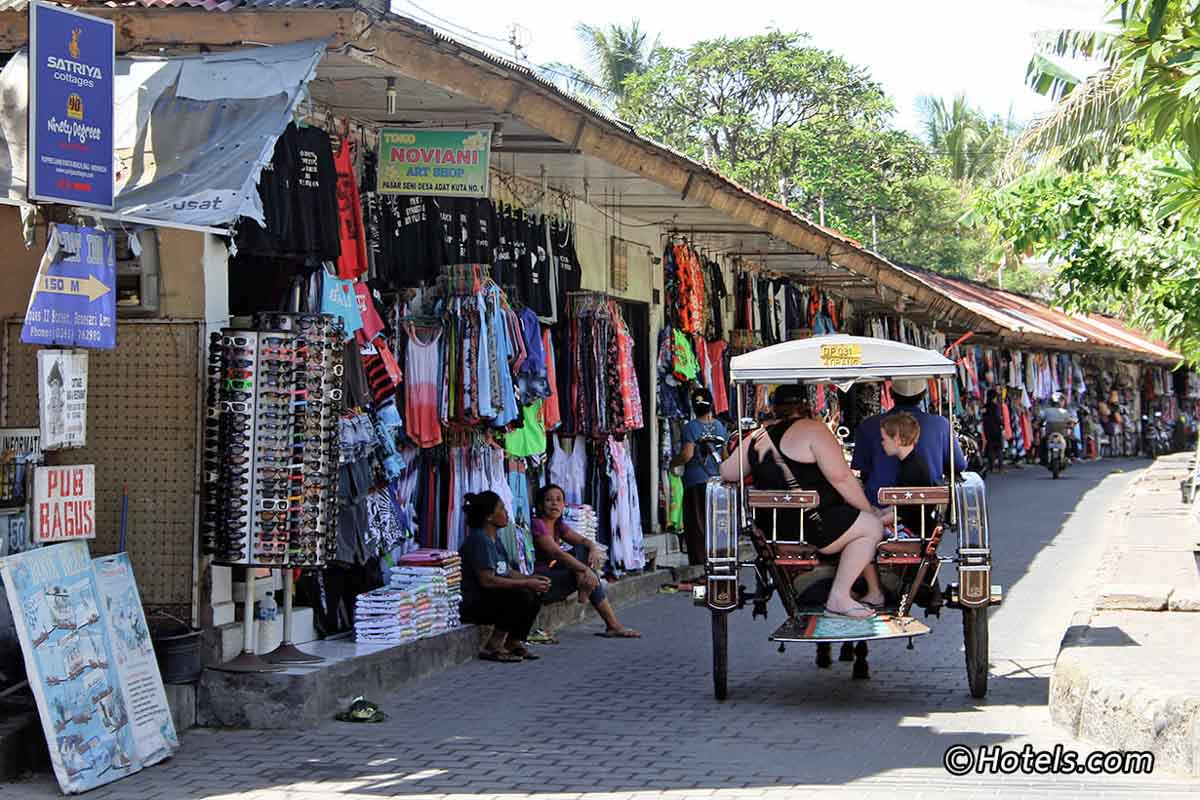 Photo credit: Bali-indonesia.com
Comprising two lanes, Poppies Lane in Kuta houses an assortment of restaurants, cafes, hostels, bars and shops, ideal for a leisurely afternoon stroll to hunt for souvenirs and chill out.
Address: Jalan Poppies I or II, Legian
Party at Finns Beach Club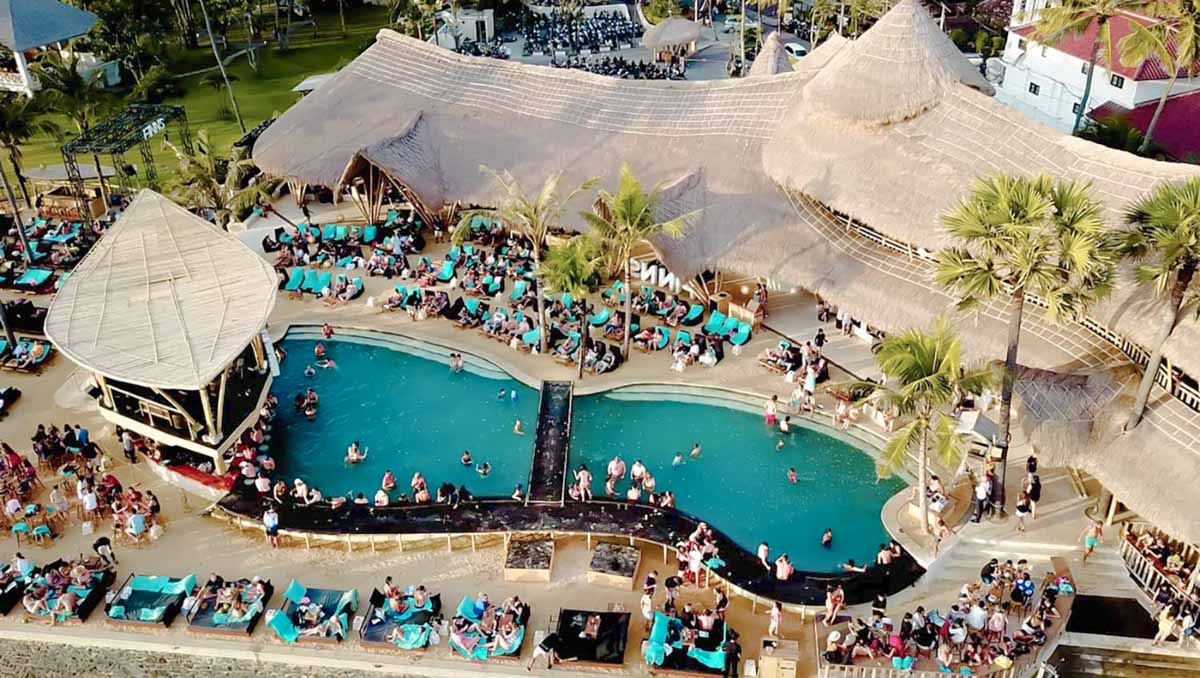 Photo credit: Finns Beach Club
Seminyak is known for its nightlife, but rather than squeezing with the crowd in the likes of Potato Head and Ku De Ta, chill in beds on a beach, or swim in a 30m infinity edge pool that also has a swim-up bar at Finns Beach Club.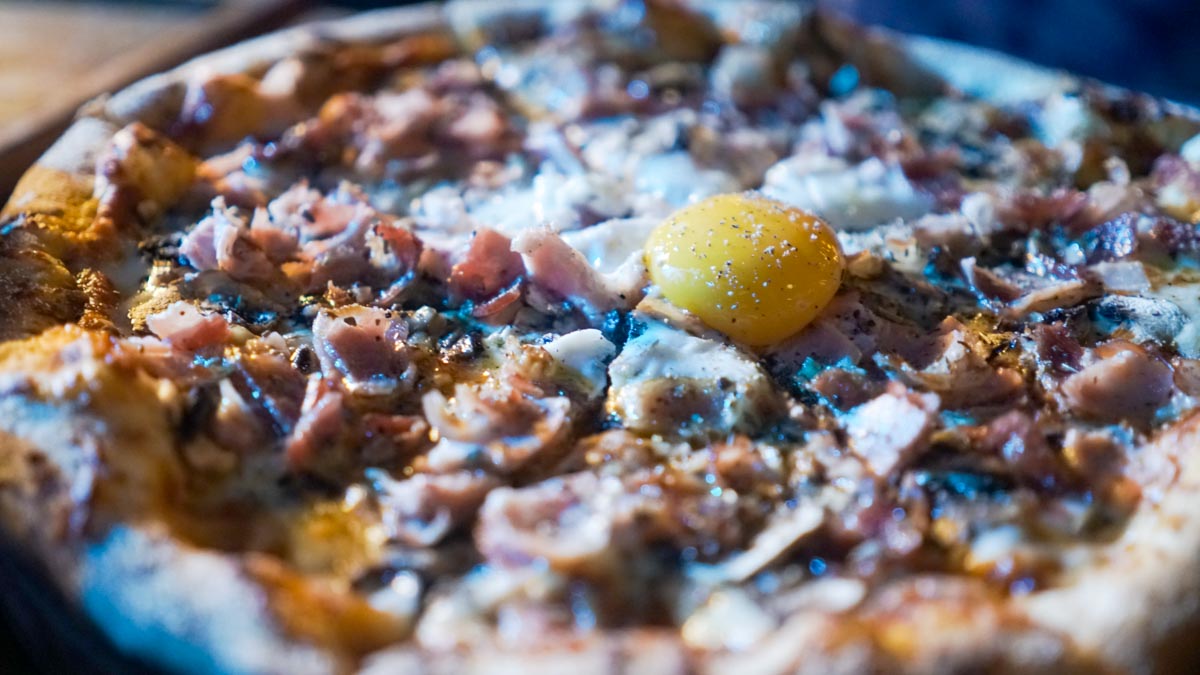 Cost: 65,000Rp – 265,000Rp (~S$6.50 – ~S$26.50)
Opening hours: 12PM – 10PM
Address: Finns Beach Club, Jl. Pantai Berawa, Tibubeneng, North Kuta, Badung Regency, Bali 80361
Day 4: Seminyak to Tanah Lot
Bali Nature Biking Trail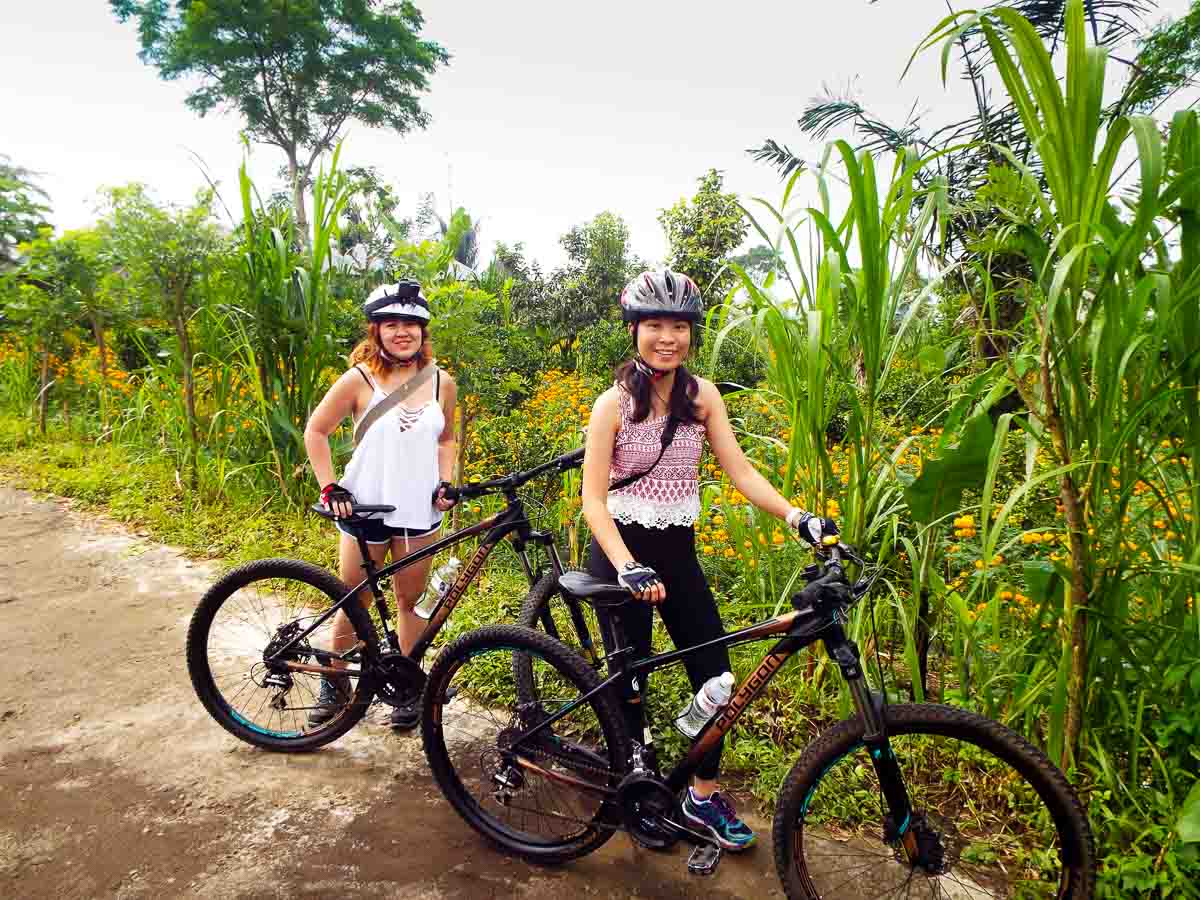 Peek into the Balinese lifestyle and cycle past 20km of highlands, forests, temples, villages and rice fields with this guided tour. Like the ATV package, we booked our cycling tour which included pick-up and drop-off from our accommodation, as well as a buffet lunch.
Cost: S$78.90 via Klook
Opening hours: 7AM – 7PM
*Pro-tip: Carry some cash with you to purchase souvenirs if you'd like!
Tanah Lot Temple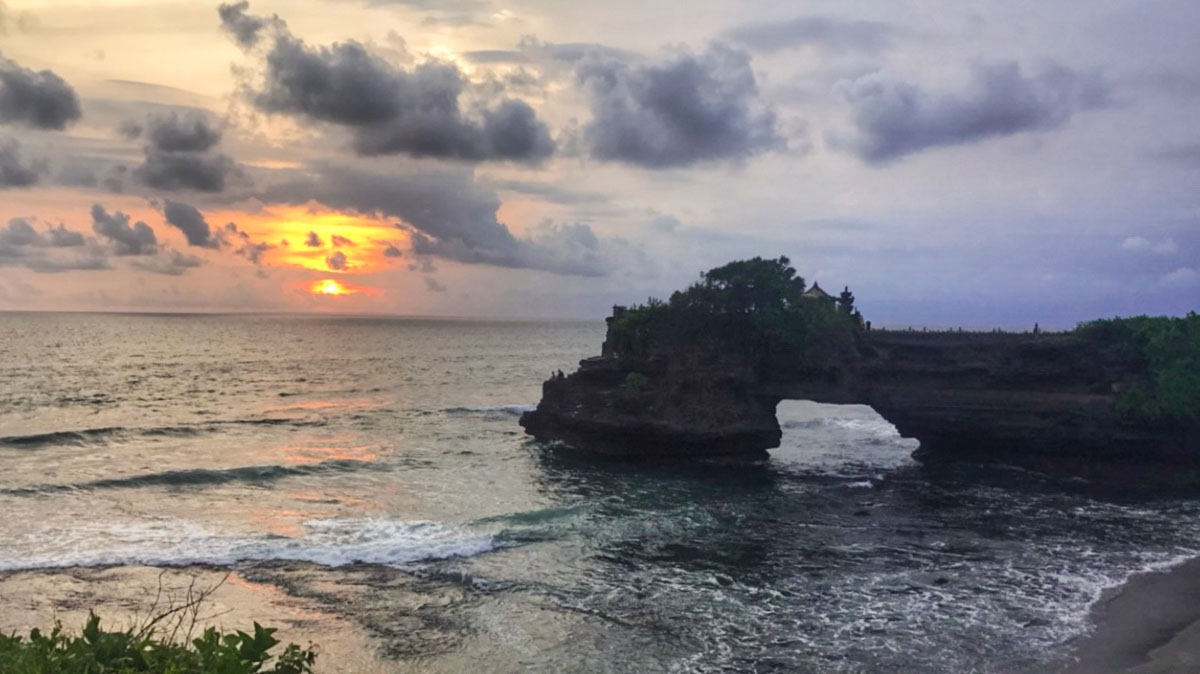 A hit with photographers, the immaculate view of Tanah Lot, an offshore temple, is about an hour's ride out of Seminyak. It makes for the perfect sunset backdrop.
Opening hours: 7AM – 7PM
Address: Jl. Raya Tanah Lot, Kawasan Pura Tanah Lot | Desa Beraban, Kecamatan Kediri, Beraban 82121, Indonesia
Dine and Drink at La Laguna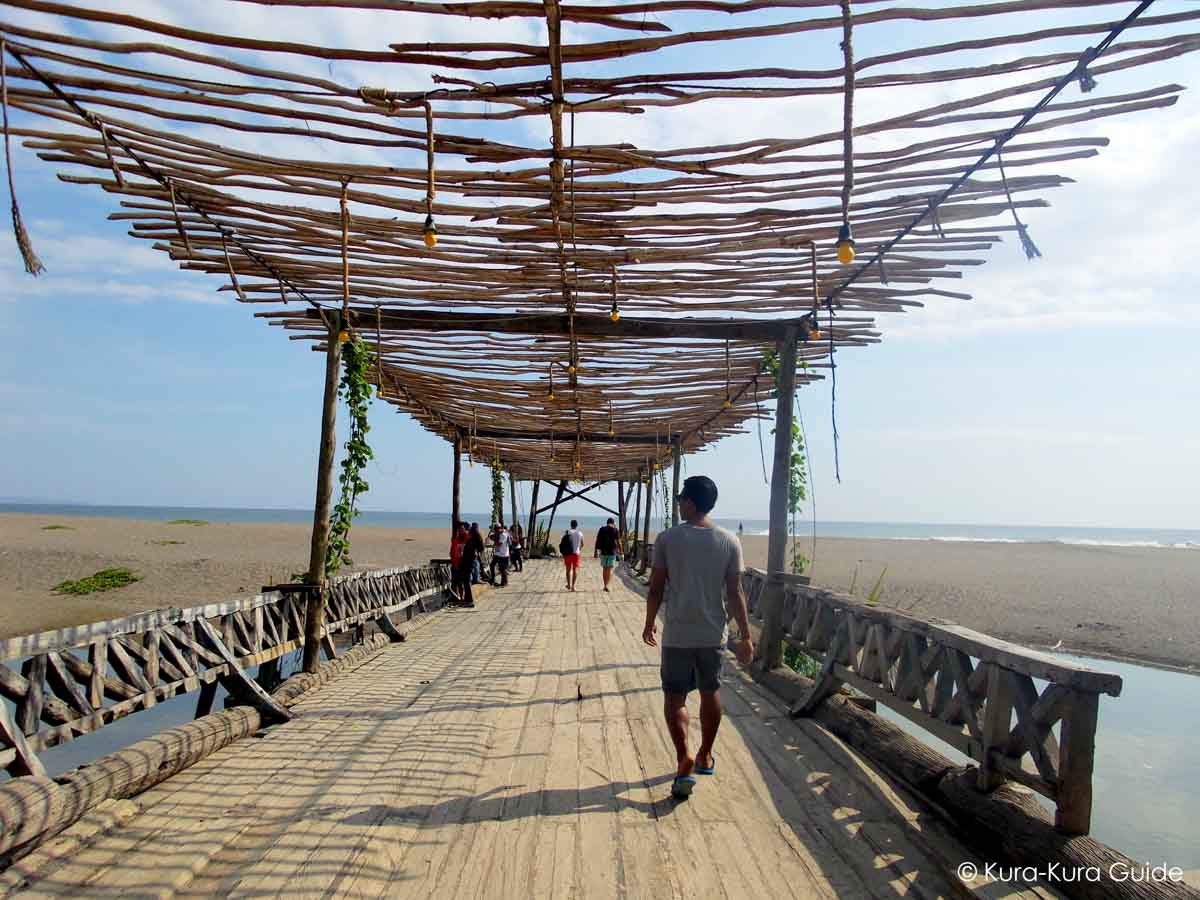 Photo credit: Kura-Kura Guide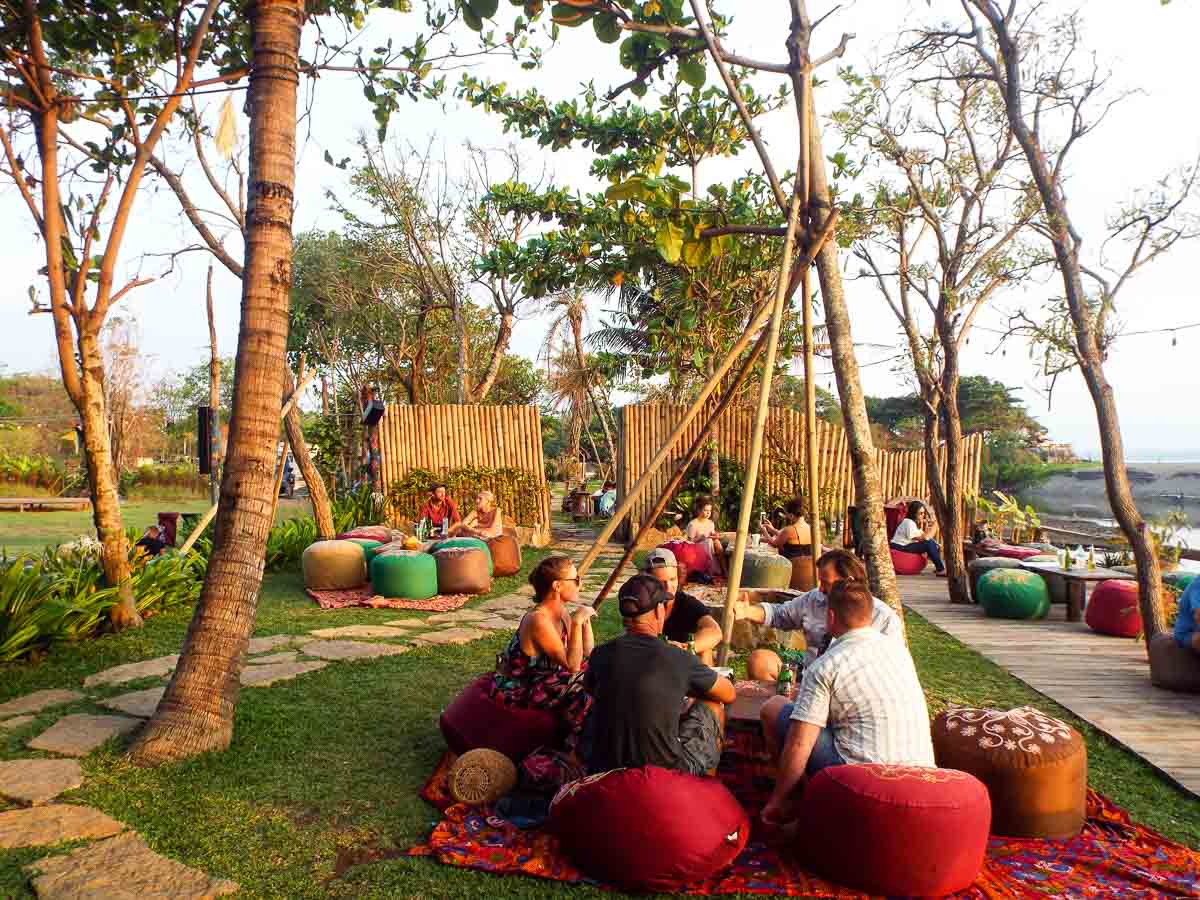 A restaurant and bar that serves tapas, salads and steaks with a slew of cocktails and drinks, La Laguna makes for a great night to relax and have a fun time out with a view.
Opening hours: 11AM – 12AM
Address: Jalan Pantai Kayu Putih, Berawa, Canggu, Tibubeneng, Kuta Utara, Kabupaten Badung, Bali 80361
Day 5: Explore the Coasts of Uluwatu and Nusa Dua
Water Sports at Nusa Dua Beach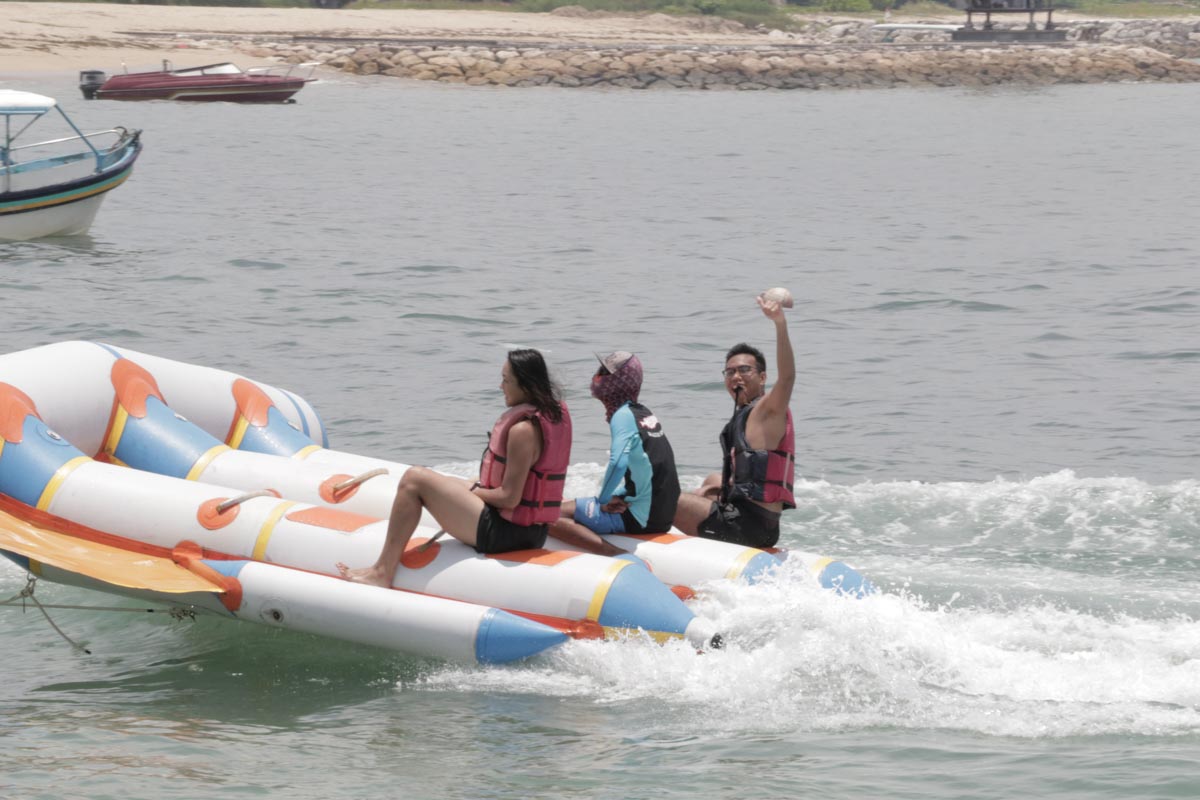 From the Banana Boat and Parasailing to Flyboarding, there's a whole wave of water sports you can partake in over the clear waters of Nusa Dua Beach!
Don't forget to pack a change of clothes and slather on some sunscreen. Depending on weather conditions, they might halt Parasailing activities, so keep an eye out on the weather forecast and be prepared for any change of events.
Regardless, when all else fails, you can always retreat to the vicinity where there's a chockful of restaurants to relax at.
Cost: S$10.50 (Banana Boat), S$29.80 (Parasailing), S$68.20 (Flyboarding)
Address: Kawasan BTDC Pariwisata Nusa Dua Lot. North 4, Benoa, Kuta Selatan, Benoa, Kuta Sel., Kabupaten Badung, Bali 80363
Read more: A Lesser-Known Bali: A 48-Hour Nusa Dua and Uluwatu Guide
Pig Out at Bumbu Bali 1 Restaurant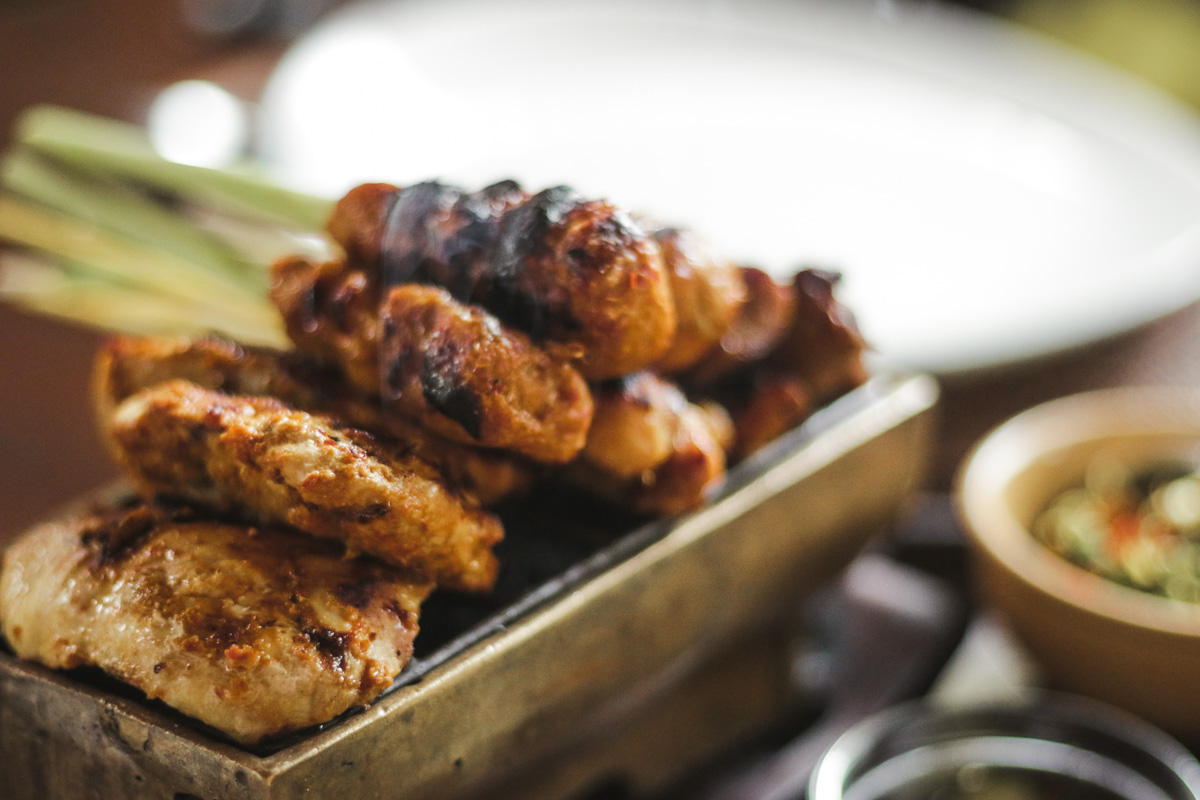 What's a Bali itinerary without some indulgence? Swing by Bumbu Bali, located five minutes away from Nusa Dua Beach. Chow down on the Nasi Atau — fried rice served with a side of smokey chicken satay skewers (130,000Rp, ~S$13).
Opening hours: 11AM – 4PM, 6PM – 10PM
Address: Jl. Siligita No.101, Benoa, Kec. Kuta Sel., Kabupaten Badung, Bali 80361, Indonesia
Suluban Beach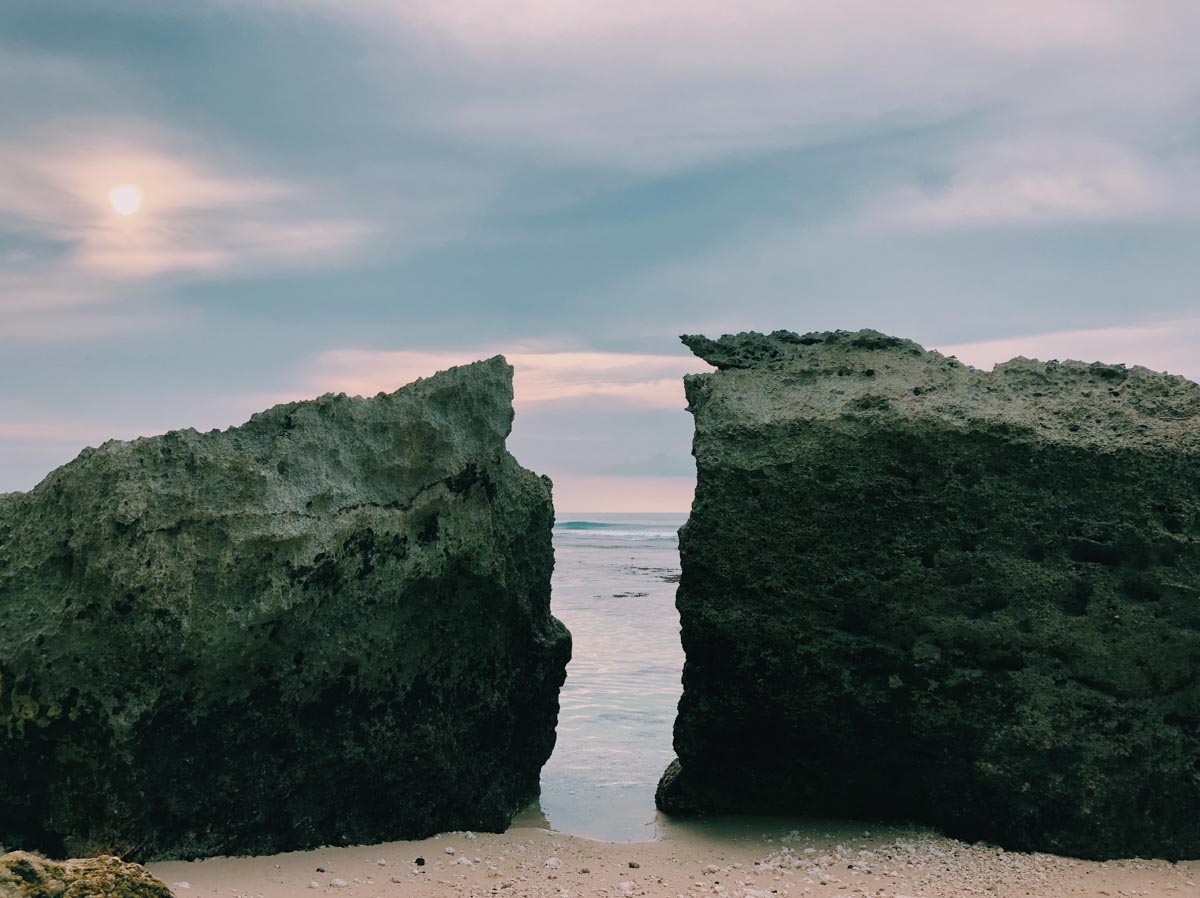 Don't bother with the crowd at the commercialised Jimbaran Beach, and get your tan on at Suluban Beach instead.
A fairly untouched beach littered with gigantic rocks, white sands and crystal clear waters, its relatively low accessibility contributes to its lack of human traffic — yay privacy!
Address: Pecatu, Kuta Selatan, Pecatu, Kuta Sel., Kabupaten Badung, Bali 80361
Pura Luhur Uluwatu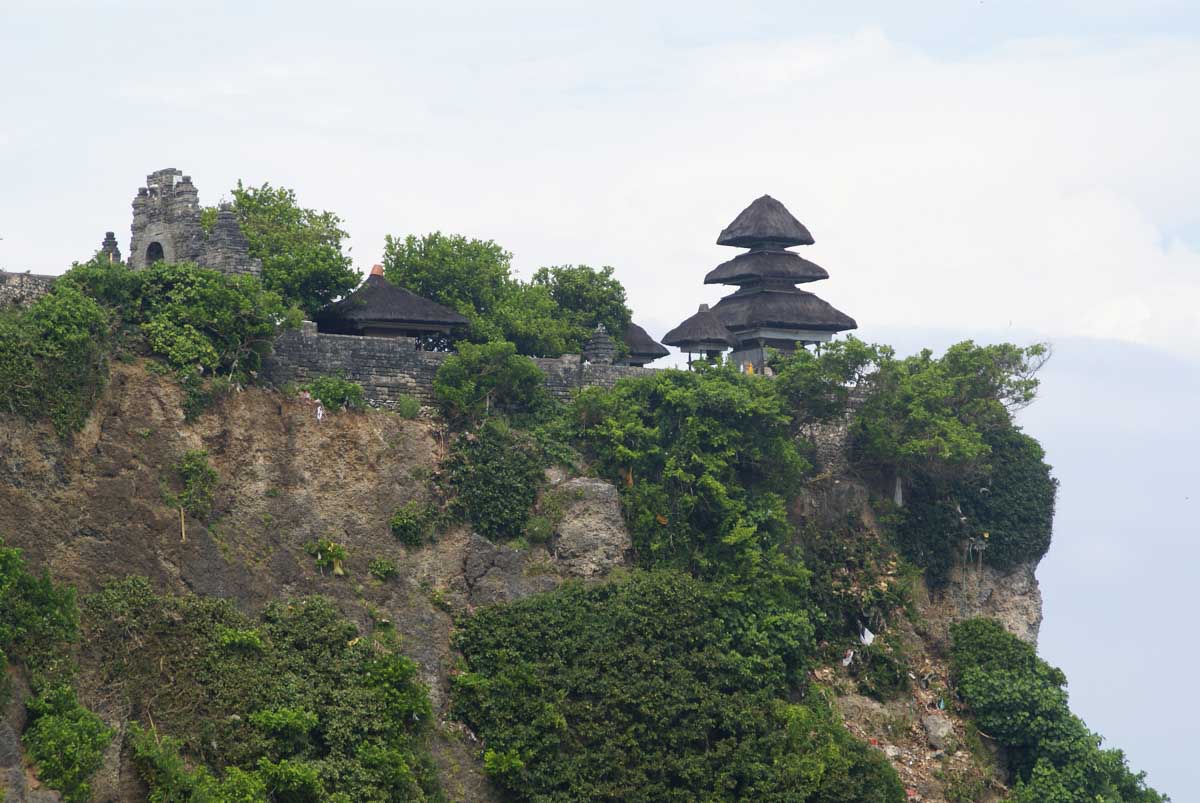 Photo credit: Thousandwonders.net
A short five-minute drive from Suluban Beach, Pura Luhur Uluwatu is one of nine temples on the island that wards evil spirits off Bali, sitting majestically on the edge of a 70m-high cliff. Inside, there are traditional Balinese Kecak dance performances that occur daily at 6PM, so come down just in time to look around and watch the dancers.
Opening Hours: 9AM – 7PM
Address: Pecatu, South Kuta, Badung Regency, Bali
Seafood Dinner at New Moon Cafe by Jimbaran Beach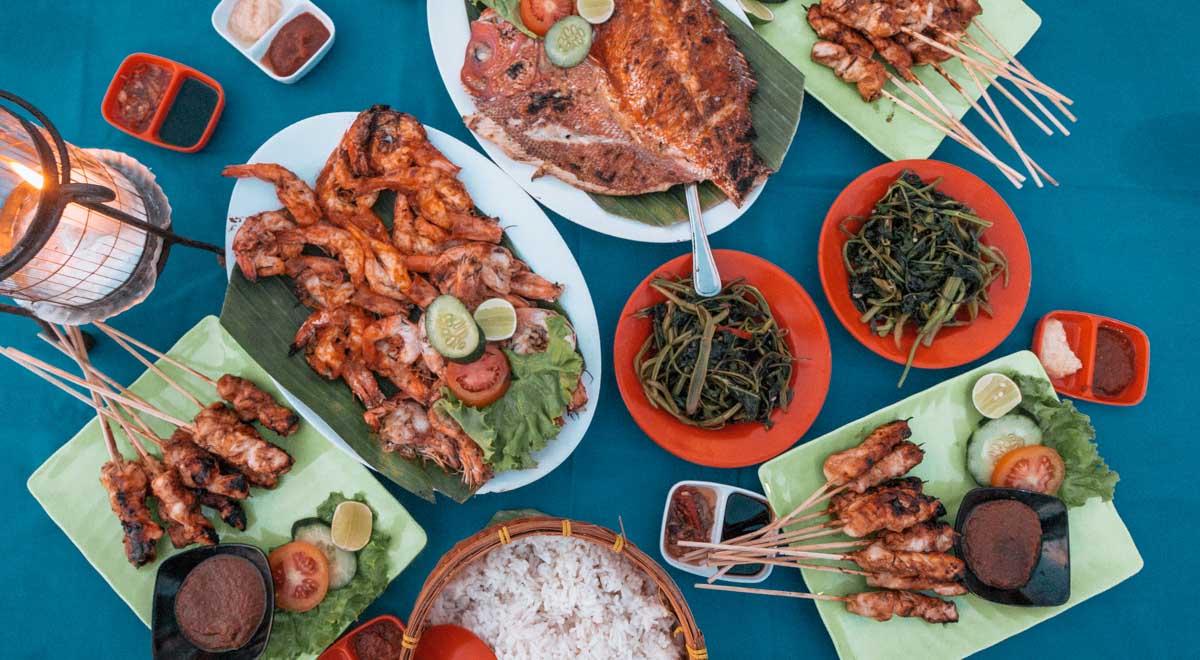 End off your Bali itinerary with a bang! Dine with the sunset in full view at New Moon Cafe, Jimbaran Beach. While the fresh selection of fish, prawns and fruit juices could set you back upwards of 1,000,000Rp, we think it's a reasonable price for the experience.
Cost: ~S$25/pax
Opening hours: 10AM – 12AM
Address: Jl. Pantai Kedonganan, Kedonganan, Kuta, Kabupaten Badung, Bali
Bali Itinerary for the Adventurous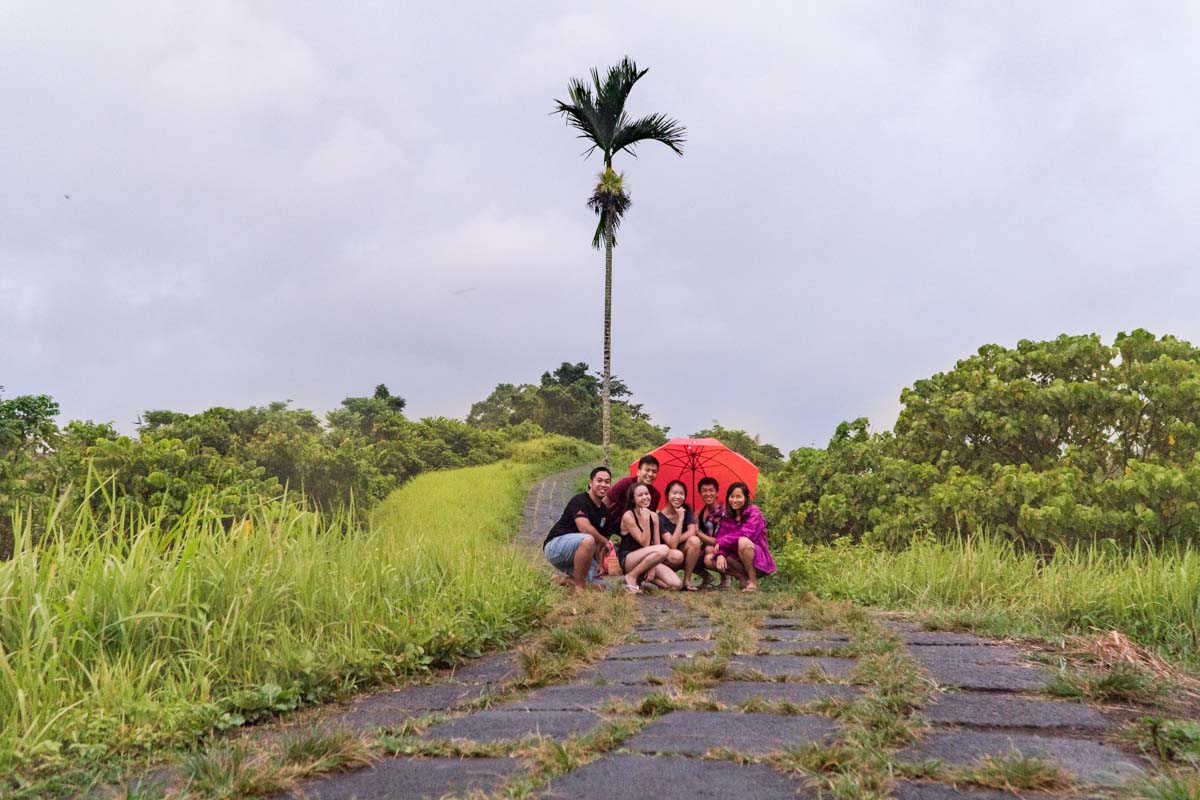 Team Ubud at the Campuhan Ridge Walk
Every Singaporean visiting Bali doesn't want to be reminded of the bustling crowds back home, so why stick to the obvious tourist picks that are bound to be teeming with people?
With Bali being eight times larger than Singapore, there are lots to do while avoiding the crowd, and getting the same experience. With this five-day Bali itinerary, you're guaranteed the best, without the mental stress! 😉
Have you visited any of these places listed in our Bali itinerary? Let us know in the comments!
---