Once you're done with Seoul, head out and explore the photogenic Nami island, taste the best bibimbap in Jeonju, and have the freshest seafood in Busan. Korea isn't huge so all these places can be comfortably covered through a day trip from Seoul; on a scenic train ride of under 2.5 hours.
If you've read our Tokyo to Osaka itinerary or even the Osaka to Hiroshima itinerary, you'll realise keeping a 10 day trip under S$1.1k isn't too difficult. And if it's possible in Japan, it'd be easy peasy in Korea right?
This trip, we cover 3 main cities over 7 days using the Korail Pass.
Budget Breakdown for 1 pax:
Check this excel sheet for the detailed Breakdown
Transport: S$186.25 (Excluding flight of ~S$650)
Accommodation: S$159.89
Activities: S$193.62
Food: S$143.83
Misc: S$41.00
Total: S$724.60
Check Flight Prices to Seoul
If you can't see the widget above, check out flight prices from Singapore to Seoul here.
Pre-trip Essentials
– 4G SIM Card: S$41 for 10 days
– Korail Pass: S$120 for the 3 Day Savers Pass (For groups of 2-5 pax)
– Discover Seoul Pass: S$43 for 24 hours *Prices might fluctuate a few dollars depending on exchange rate.
Travel insurance is especially important for city hopping trips like this — the last thing you want is to lose something important in one city, and only realising it when you're at the next! We've lost things on trips like these from hard drives to an entire luggage, and were thankful we got to at least seek some redress from travel insurance.
DirectAsia Insurance offers competitive rates for a peace of mind — individual annual plans start from S$149/year. Claims are hassle-free and 80% of their claims are usually settled within 24 hours!
*Pro-tip: Download the TripAdvisor app to access a handy version of this itinerary on the go!
Day 1-2: First 24 hours in Seoul
*We flew in around midnight so we'll count Day 1 as the next morning.
Seoul city has a never ending list of things to do from dusk till dawn but since I hadn't been back to Korea for a long time (almost 8 years!!), I thought I would see it through the eyes of a first timer. This is quite a rushed itinerary but you'll see why in a bit! If travelling slower's your style, you can definitely split the activities and sights over 2 days.
*Pro-tip: Get the Discover Seoul Pass which gives you free admission to 21 of Seoul's hottest attractions for a period of 24 or 48 hours; even if you paid for the 48 hour pass, this itinerary would still be worth it.
The card also serves as a T-money card that can be used on subways, buses, as well as the convenience stores in Korea (even out of Seoul) and lasts for 5 years.
10AM – 11:30AM : Catch a hologram musical at SM Town CoEx mall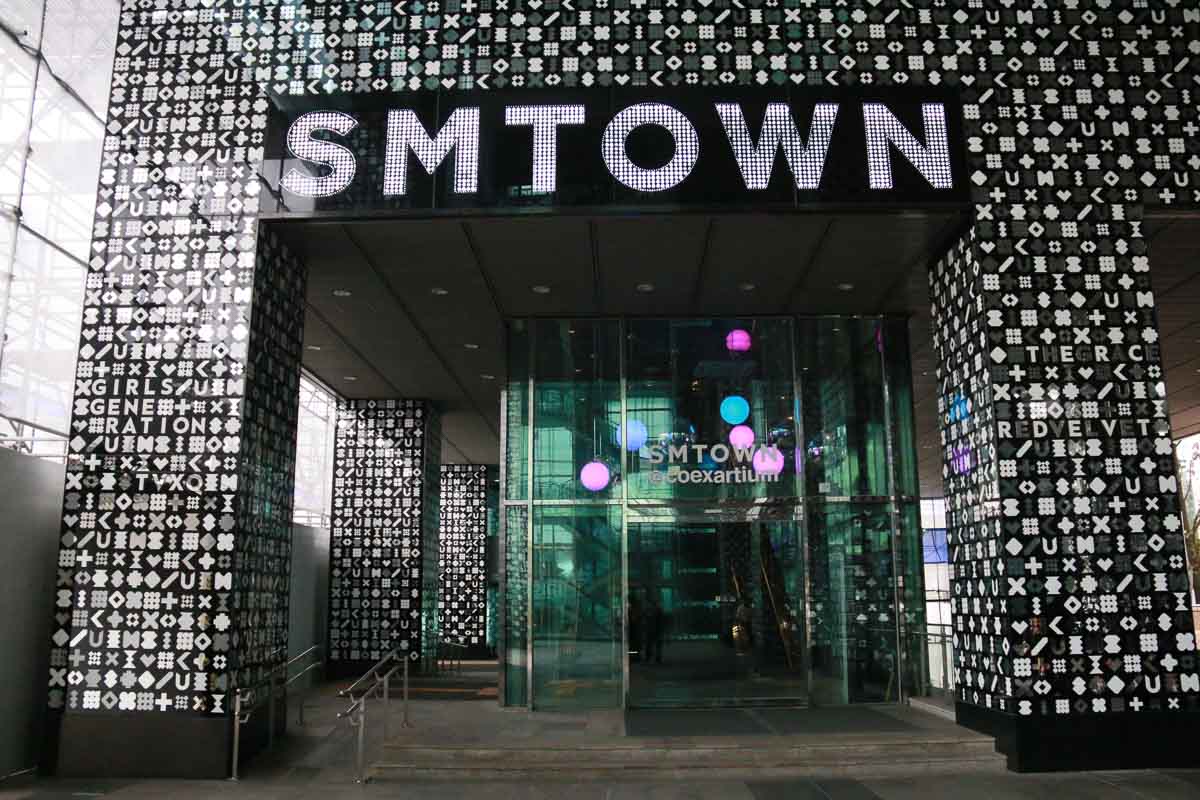 UPDATE: SMTown CoEx Mall has closed permanently since June 2020

For the K-pop fans, this musical experience is an absolute must! But even for the not-as-enthusiastic-k-pop-lovers, this really surpassed our expectations. We caught the School Oz show; a beautifully written musical that weaved all the hottest k-pop tunes of the last 2 years into a solid storyline which left us all feeling fuzzy from nostalgia.
If you bought the Discover Seoul Pass, just catching the hologram musical would have already made your 24 Hour Pass worth its value.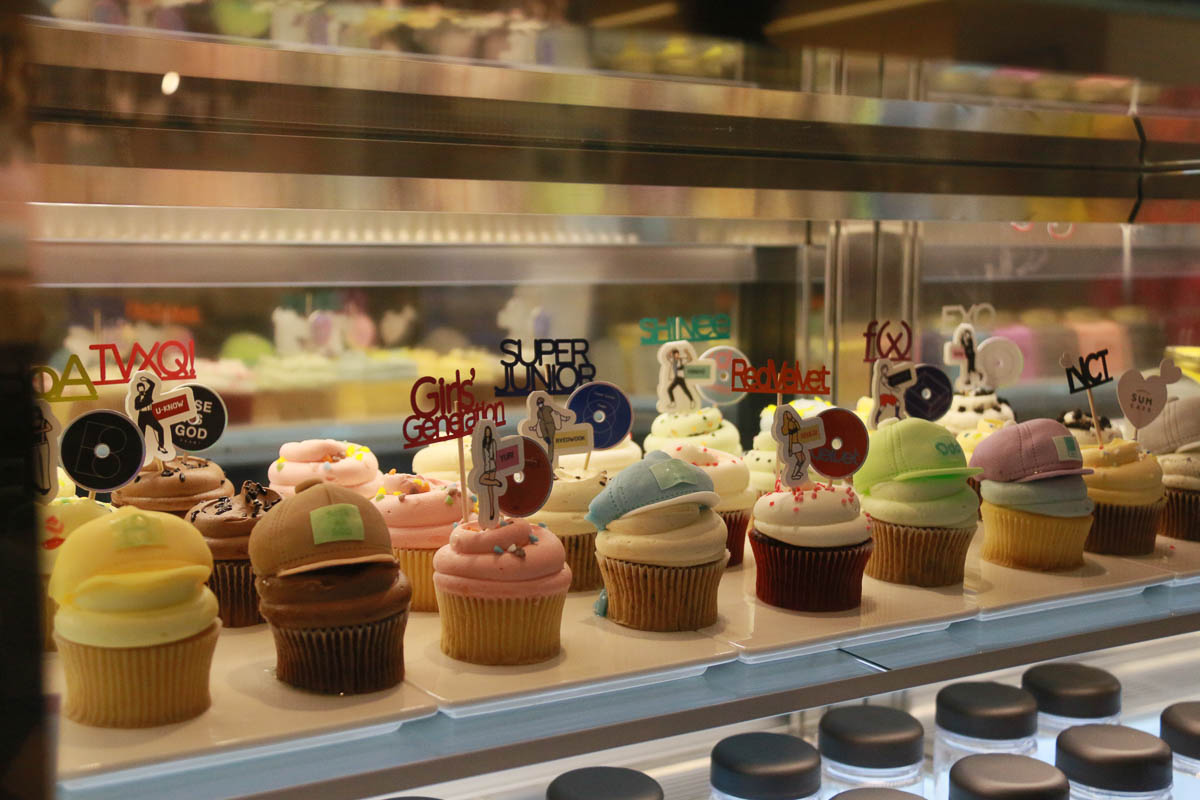 Tickets to Musical: ₩44,000 (Covered by the Discover Seoul Pass)
How to get there: Line 2 Samseong station, Exit 5 & 6 (Theatre is on the 5th floor)
12:30PM – 1:30PM: Have Samgyetang at Tosokchon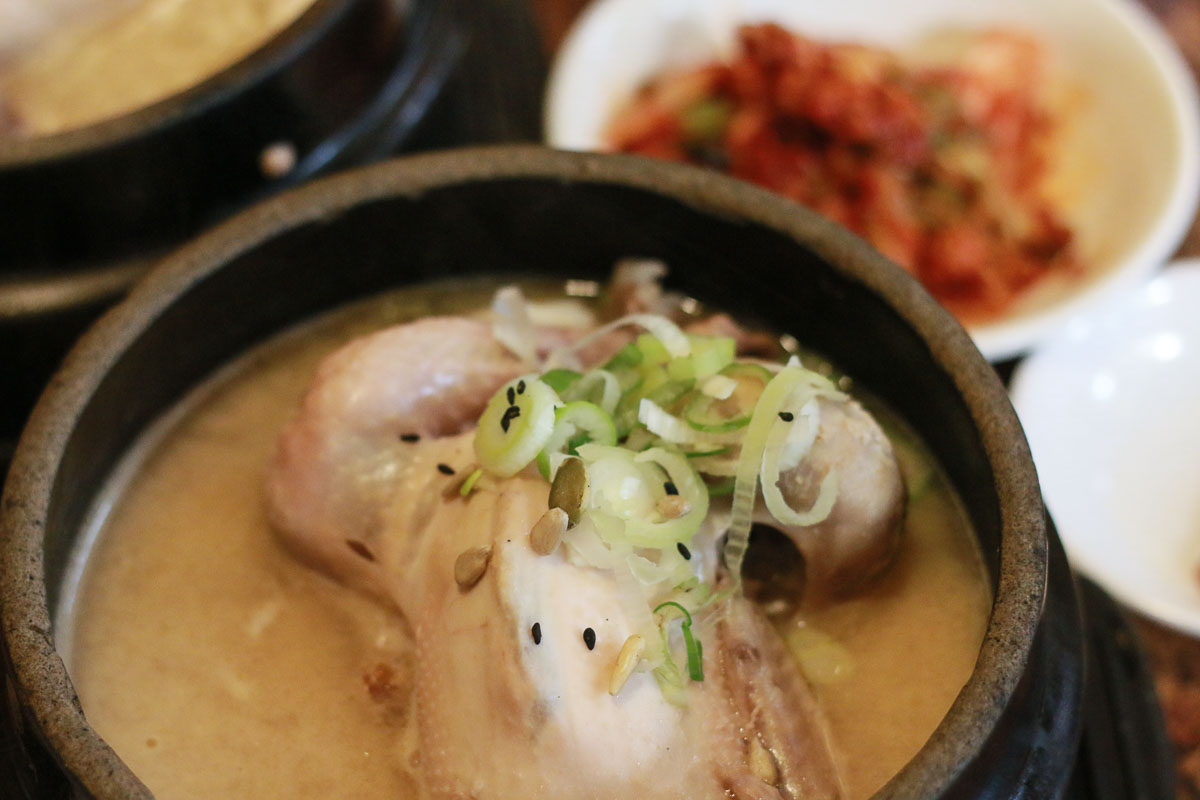 Samgyetang (Ginseng chicken soup) is another must try in Korea and if you googled "Best Samgyetang in Seoul", all the results on page one will direct you to ONE place: Tosokchon Samgyetang (토속촌삼계탕).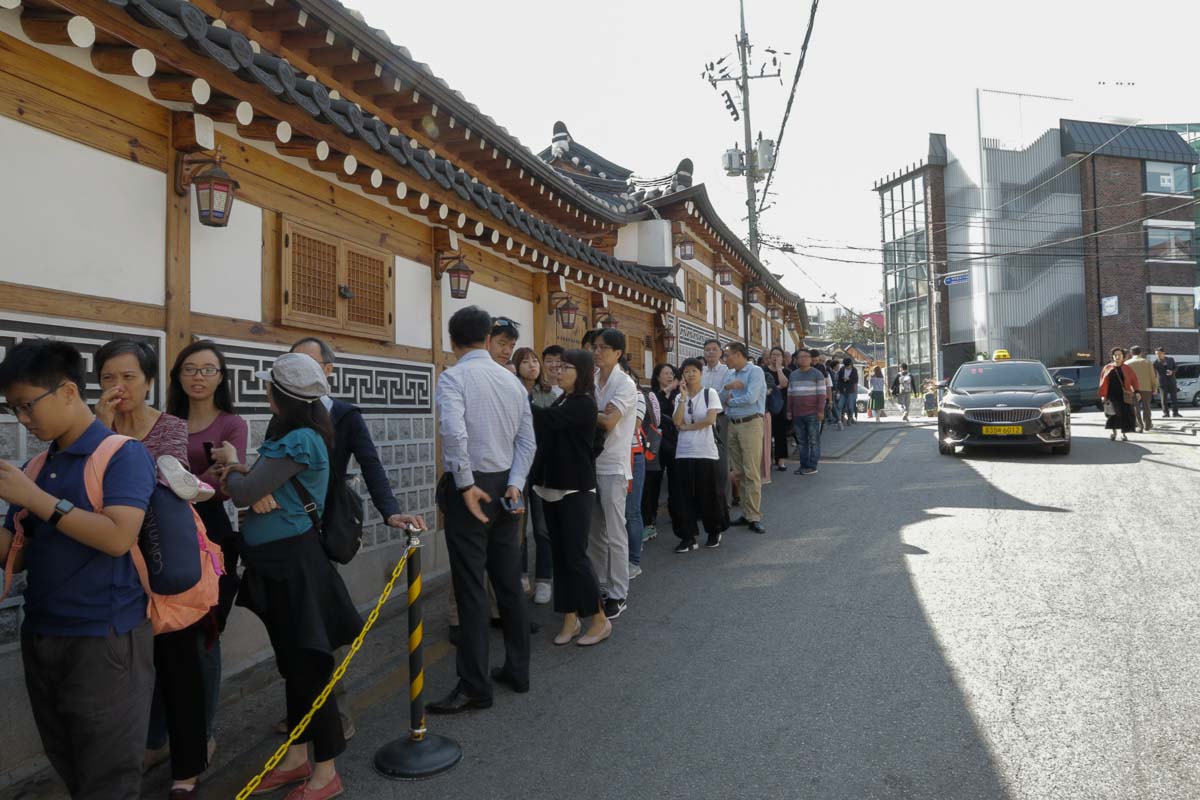 At 12:30PM, we arrived to a 50pax long queue. But more surprising than it's unbelievable popularity, is that we went from being the 50th customer in queue to being seated with our warm, ginseng-rich bowls of samgyetang in just 20 minutes; impressive or what?!
So don't be thrown off by the queue, it's well worth it! They also serve really good Kimchi and a complimentary shot of Ginseng wine which you can add to the soup or have it on its own for an added kick of Ginseng.
Cost: ₩16,000 for the Signature Ginseng Chicken Soup
How to get there: Line 3 Gyeongbokgung Station, Exit 2
2PM: Catch the Guard changing ceremony at Gyeongbokgung Palace (경복궁)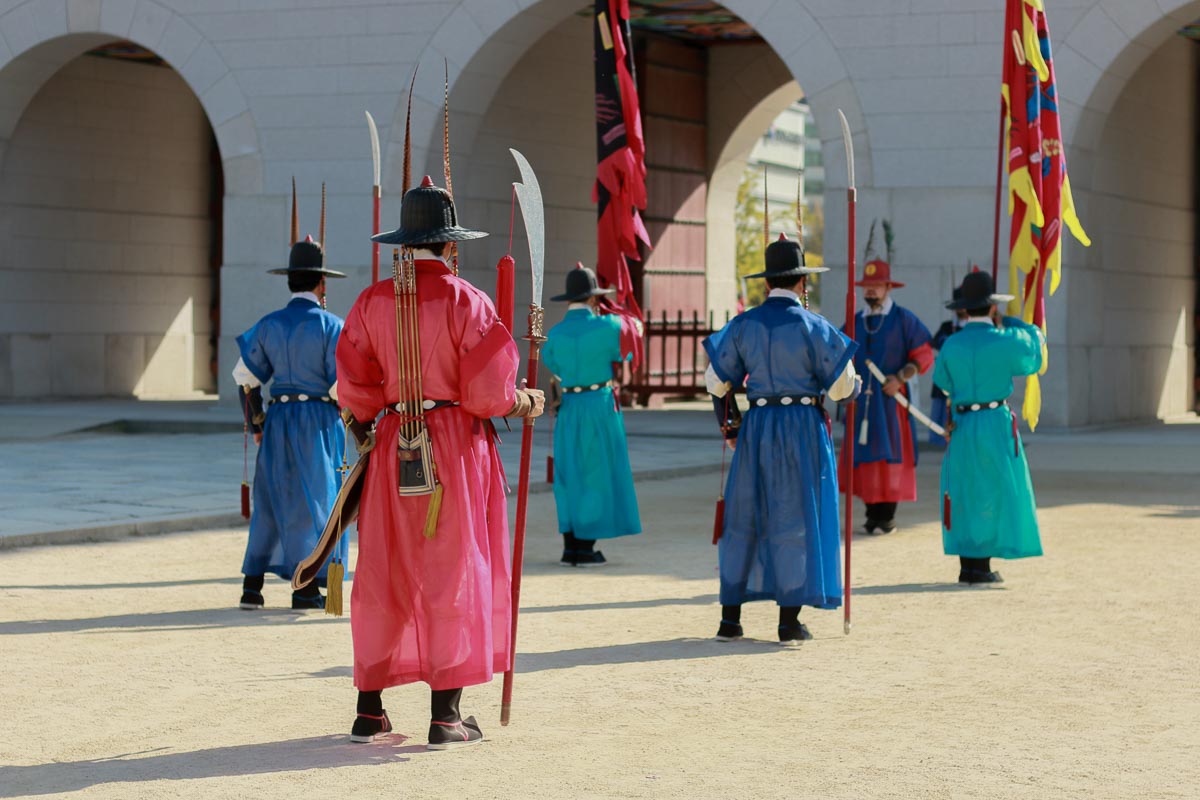 The Discover Seoul Pass gives you access to 4 different palaces but the most prominent of all is the Gyeongbokgung with a mountain as its backdrop. Twice a day (10AM & 2PM), you can catch the guard changing ceremony which is perfect if you're coming from Tosokchon after lunch.
Entrance Fee: ₩3,000 (Covered by the Discover Seoul Pass)
How to get there: Gyeongbokgung Station, Exit 4 (Across the road from Tosokchon Samgyetang) — Closed on Tuesdays
3PM: Museum Kimchikan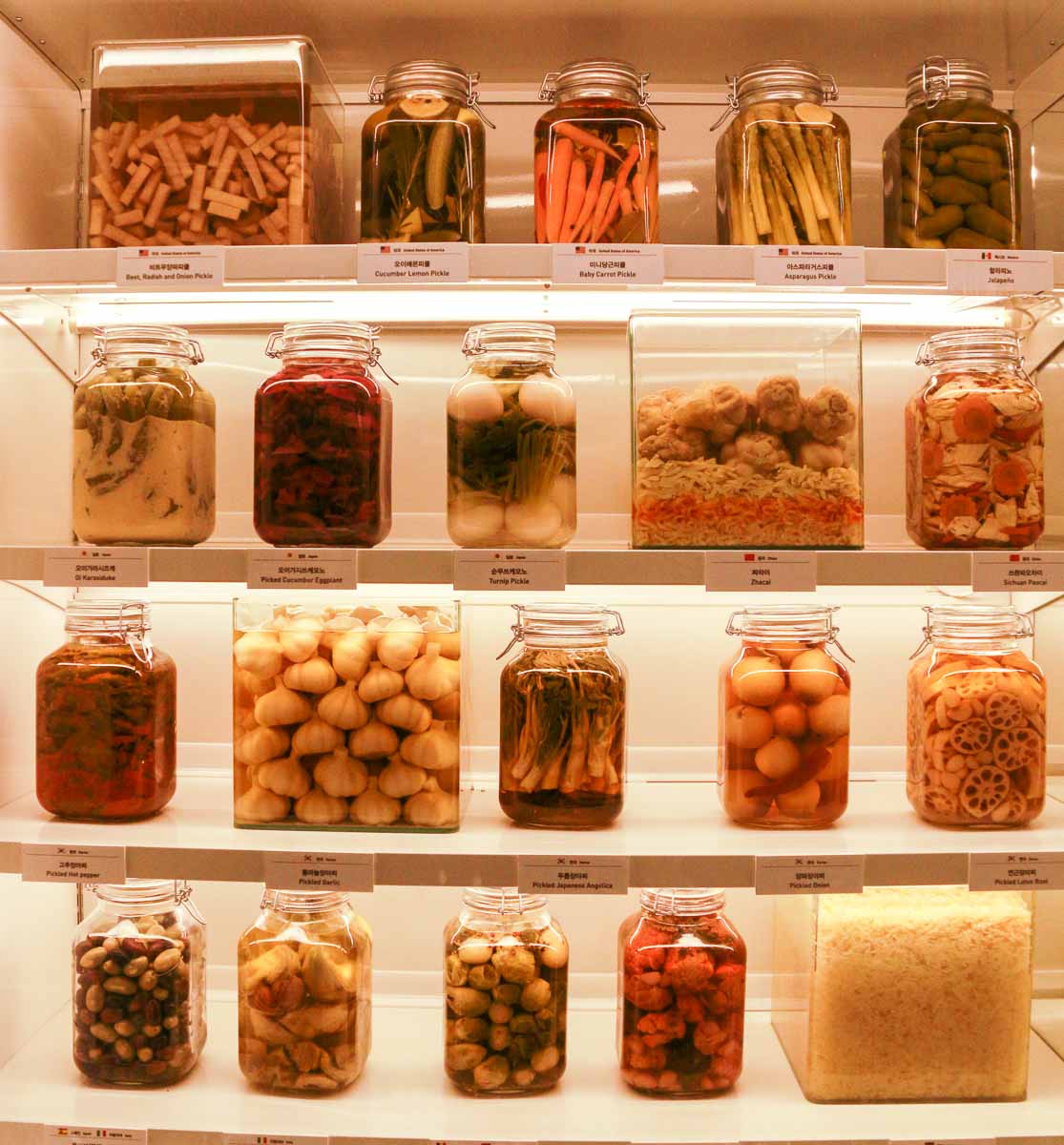 Just one station away from Gyeongbokgung is the Museum Kimchikan. Sign up for kimchi making classes (min five pax), try on a Hanbok, and learn more about the kimchi making process through the interactive displays.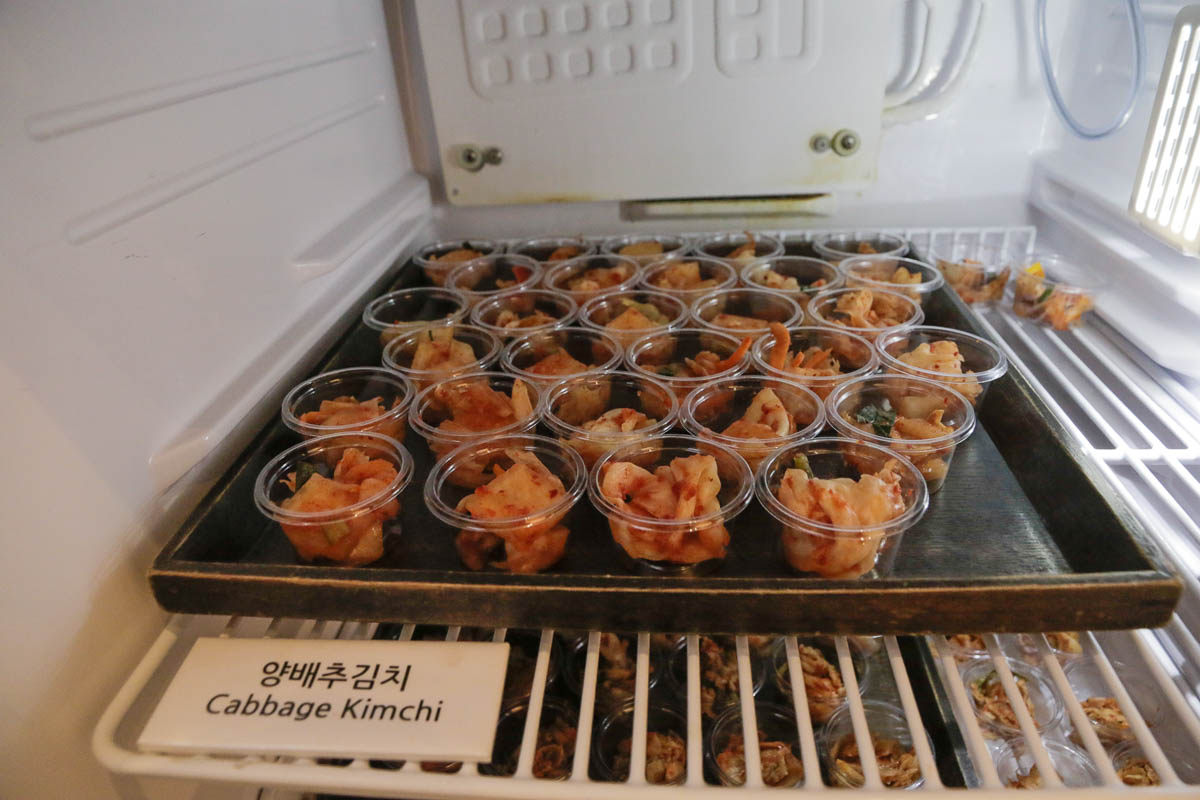 There's even a room where you can taste the different types of kimchi. Of course, they also sell it by the packet here. This was a quick stop for us but Insadong street (where it's at) is worth exploring too.
Entrance Fee: ₩5,000 (Covered by the Discover Seoul Pass)
How to get there: Line 3 Anguk Station, Exit 6 (Right side of Insadong street) — Closed on Mondays
4:30PM: Hang out with famous people at Grevin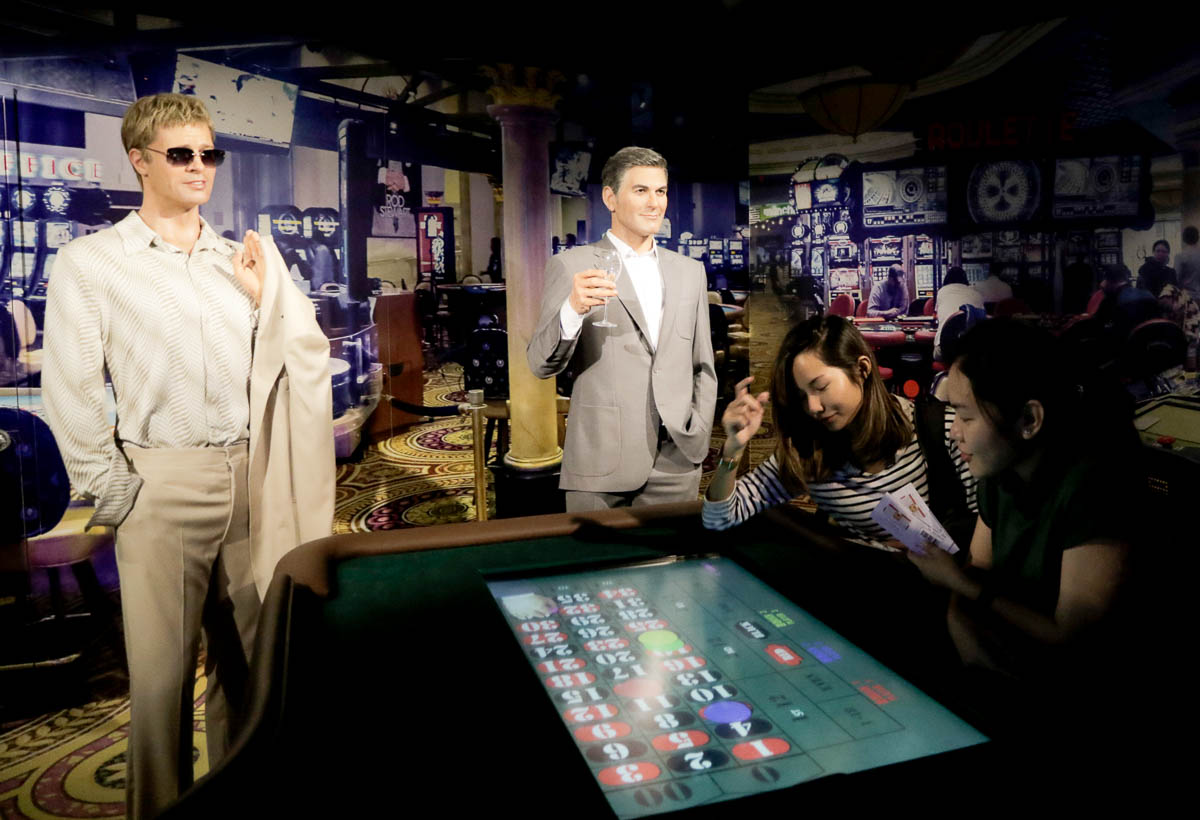 If you haven't had luck in spotting Korean celebrities on the streets of Seoul, it's because they're all hanging out at the Seoul Grevin Museum! — jokes aside, here's where you get to take photos with some of the most famous human beings on earth. Spot Lee Min Ho, G-Dragon, even Obama and Trump!
Entrance Fee: ₩18,000 (Covered by the Discover Seoul Pass)
How to get there: Line City Hall, Exit 6
5:30PM: Catch the sunset from N Seoul Tower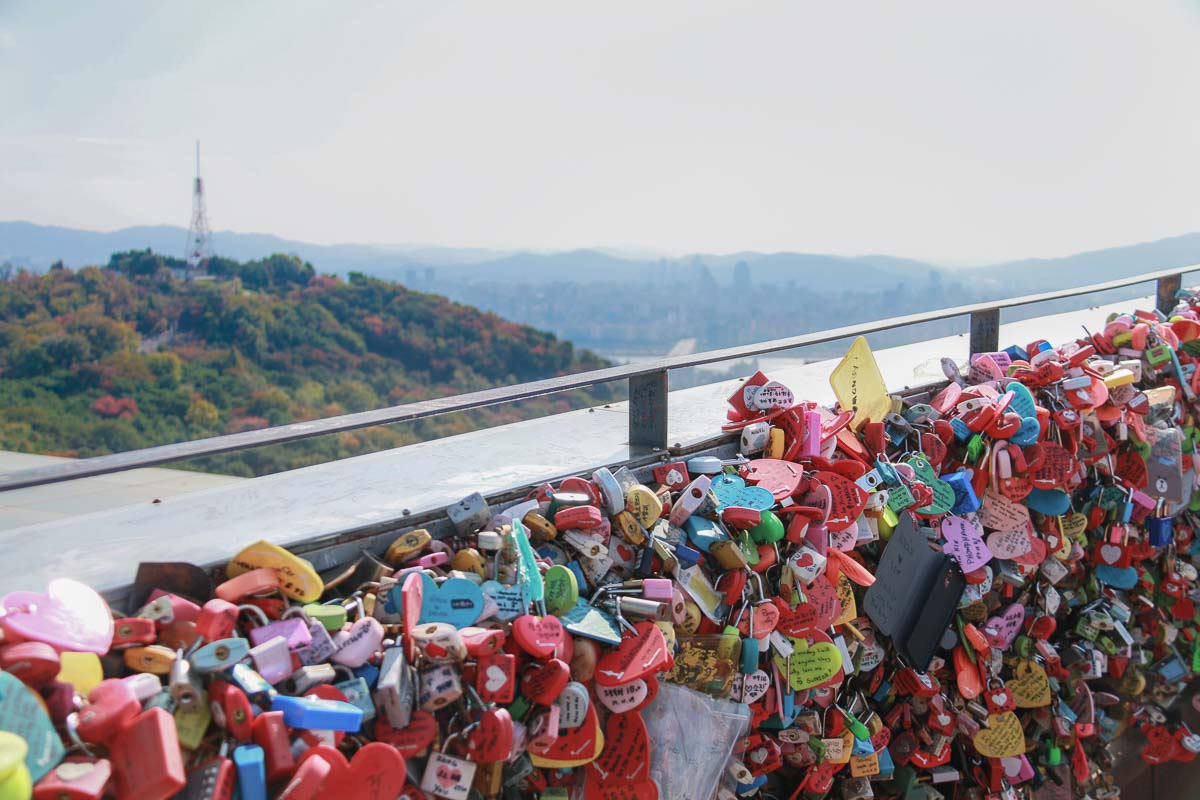 Best seen at golden hour, the N Seoul Tower is probably the most iconic building of Seoul and is the best place to get a panoramic view of the city. Bring your own locks if you're planning to leave one here but please don't throw your keys over the ledge — there's a nasty pile of rusty keys at the bottom. The observatory on the 5th Floor is free but if you're using the Discover Seoul Pass, head up to the top for a 360° view.
Cost: ₩11,000 to get to the top floor (Covered by the Discover Seoul Pass)
How to get there: From Chungmuro station, Exit 2, take Shuttle bus No.2 (₩1,200) in front of Daehan Cinema (near Popeyes)
8PM: Dinner at Palshik Samgyupsal (팔색삼겹살)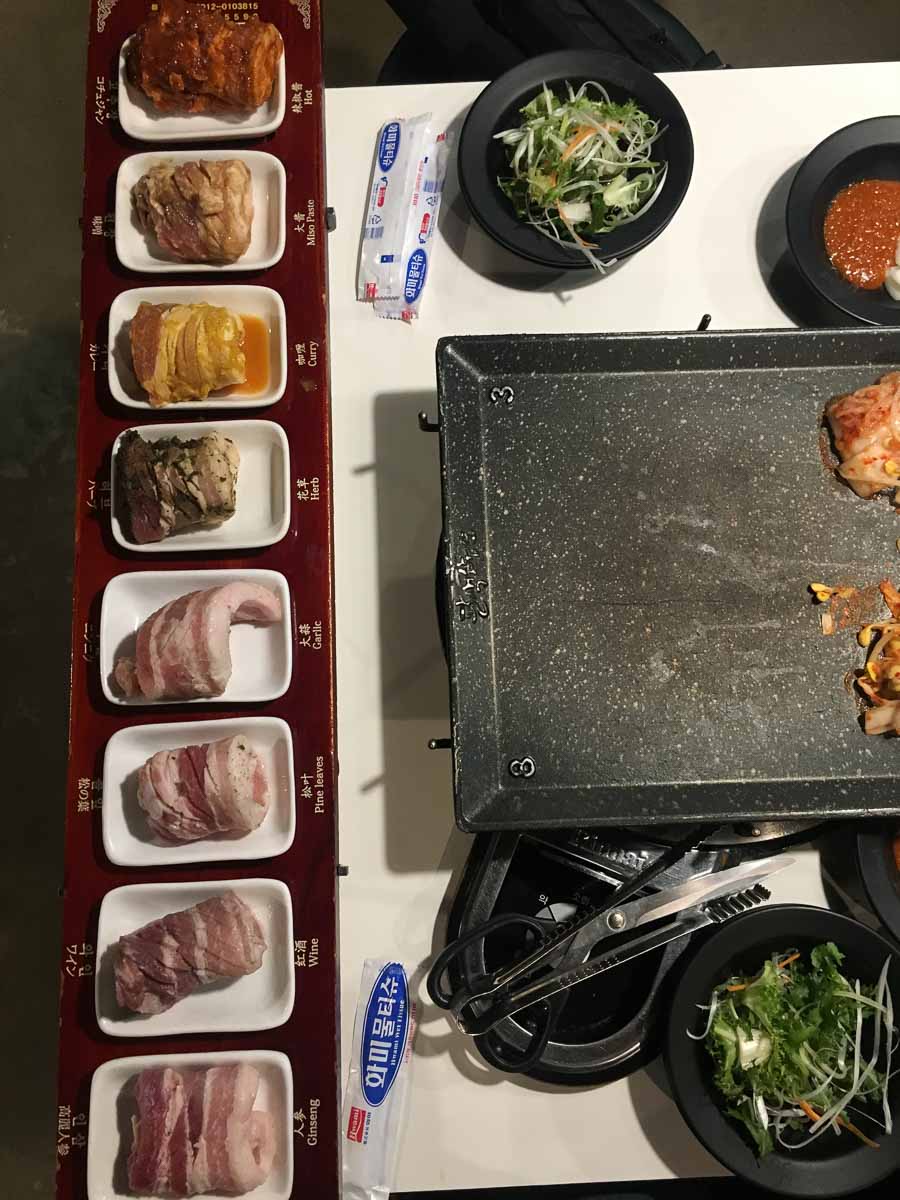 After an entire day of exploring Seoul, treat yourself to a hearty Samgyupsal (Pork Belly) meal at Palshik. The place is pretty popular with the locals; especially for it's 8 marinate set — marinated in ginseng, wine, pine needles, garlic, herb, curry, miso paste and hot paste.
Cost: ₩43,000 for the 8-marinate samgyupsal set
How to get there: Line 6 Sangsu station Exit 1, walk for about 500m and it'll be on your left
9:30PM: Wind down at Dragon Hill Spa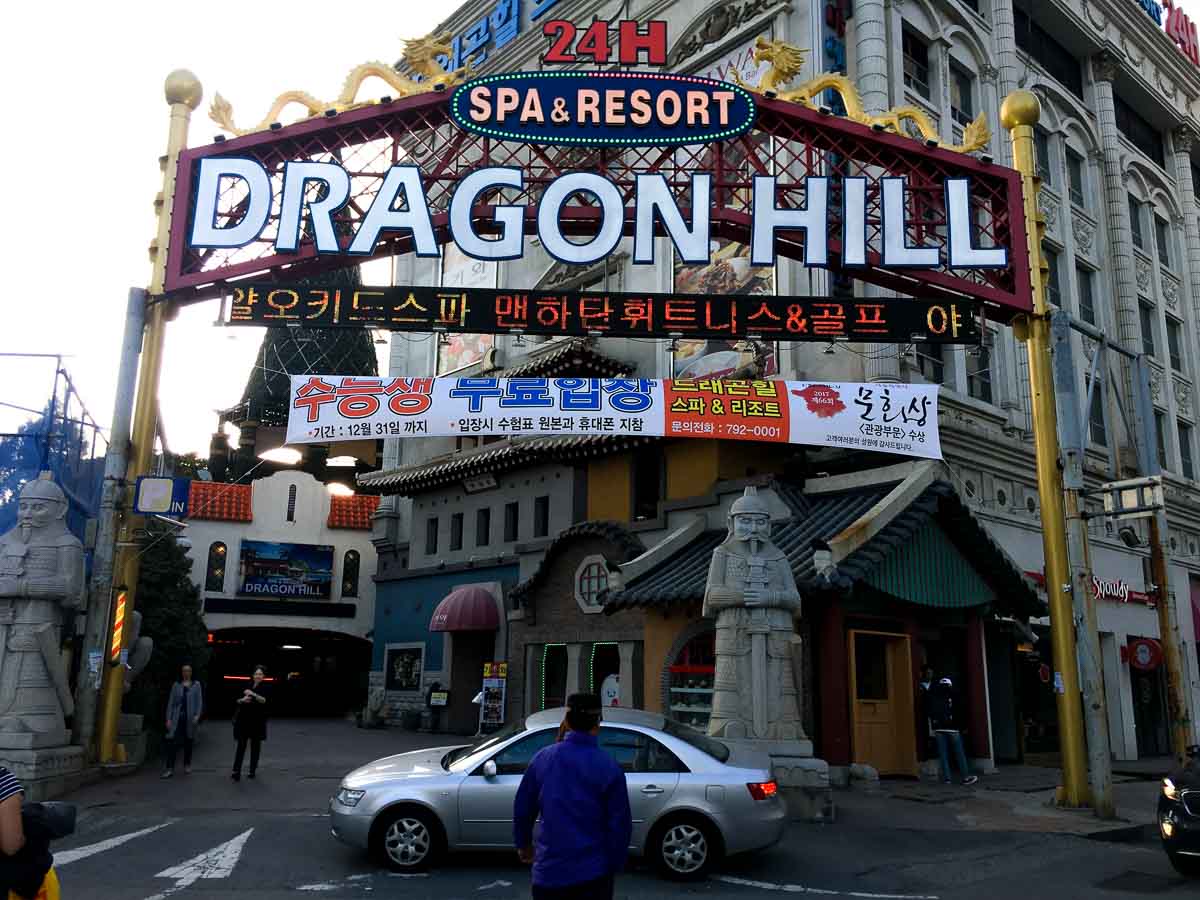 One of the last and most important experiences you must have in Korea is to visit a Jimjilbang (찜질방)! Dragon Hill Spa is one of the biggest around — just across the street from Yongsan station — with various levels you can hangout (with and without clothes) 😉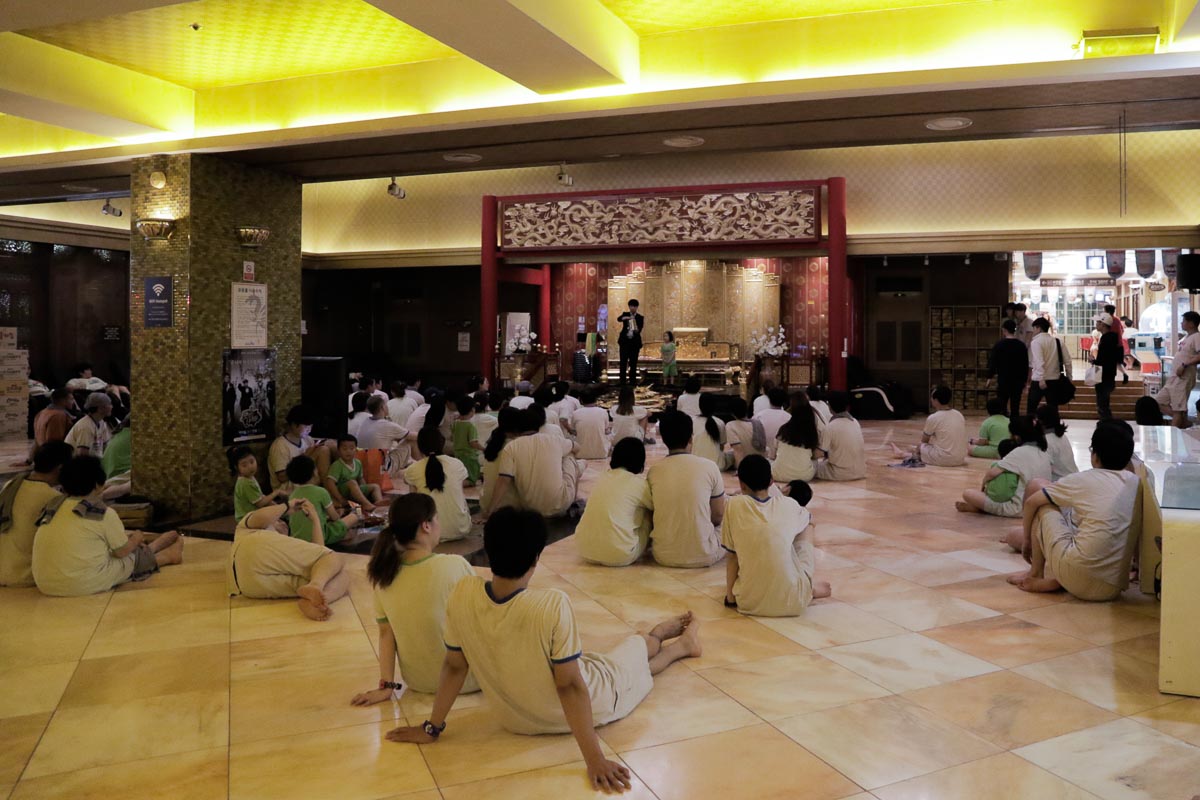 Grab a Sikhye (식혜) — sweet rice punch, some roasted/smoked/charcoal eggs — and enjoy the occasional entertainment (we caught a magic show) or test your tolerance in one of the heated/cold rooms.
Casual clothing and towels are provided but free toiletries are not so bring your own. You can purchase a scrub towel for ₩1,000.
*We saved this for our last day in Seoul but if you'd like to save on a night's accommodation, there are rooms with heated flooring where you can rest comfortably for the night.
Cost: ₩12,000 (Weekdays) ₩14,000 (Weekends), ₩15,000 (After 8pm) — Discounted tickets available via Klook.
How to get there: Line 1 Yongsan station, Exit 1
Day 3: Everland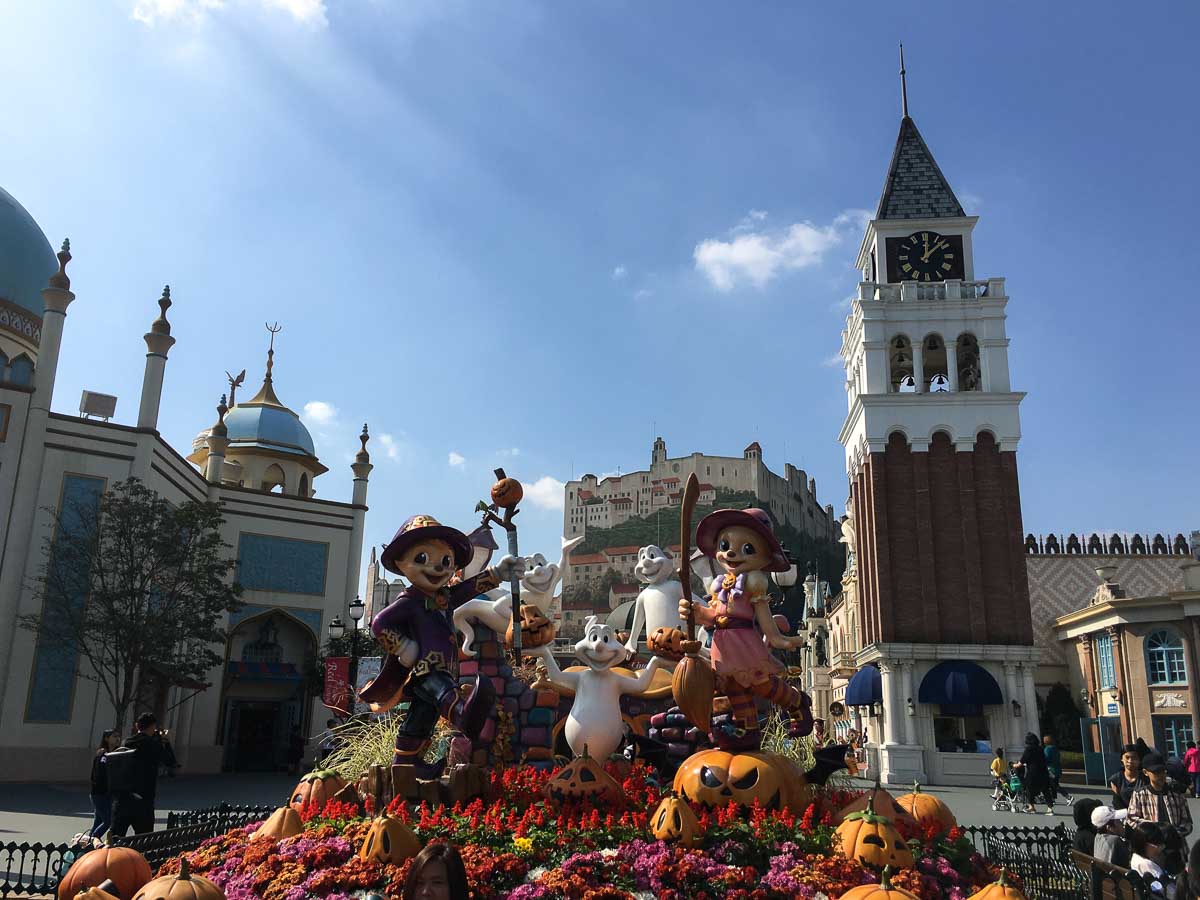 Being a huge theme park lover, I had to somehow fit this into the itinerary. The problem with Everland is how far away it is from Seoul and the number of transfers needed to get there. From Seoul station, it takes about 2 hours with two transfers to get to Jeondae-Everland station.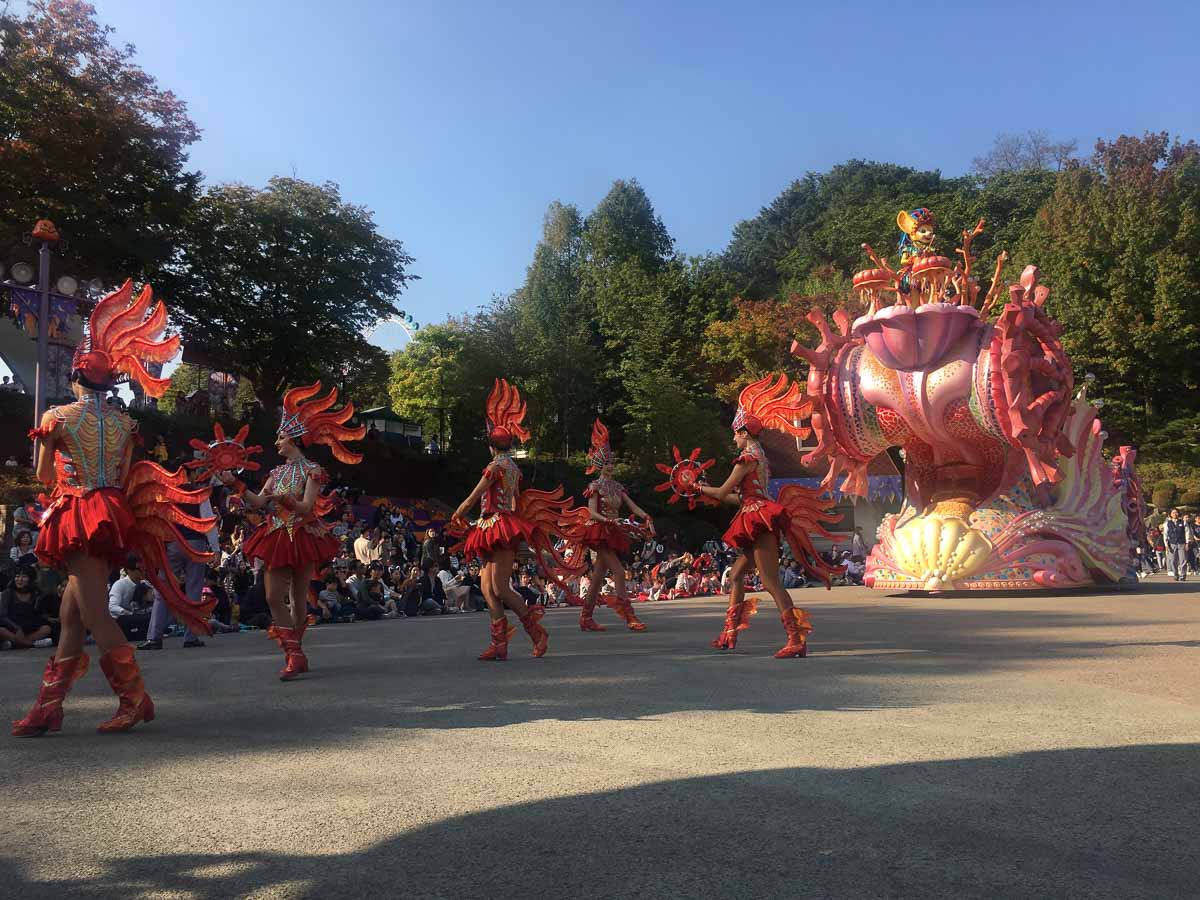 Instead, we decided to book a shuttle bus straight to Everland (S$63 includes Everland Ticket). The great thing is, the ride is only an hour long, you leave from Myeongdong at 10:30am and it only leaves 15 minutes after the park closes.
Arriving at 11:30am, we found plenty of time to cover all our favourite rides and even catch the parades, fireworks and a last ride before meeting the bus at the carpark for a comfortable hour ride back to Myeongdong. Adrenaline-lovers, be sure to try the Double Rock Spin, Hurricane and of course the most epic wooden roller coaster — T Express.
How to get from Seoul to Everland:
(For those who decide to save money and take the subway)
*This journey takes slightly under 2 hours and costs ₩2,350
(1) Take Line 3 Chungmuro Station to Dogok Station
(2) From Dogok Station, transfer to Budang Line, get off at Giheung Station
(3) From Giheung Station, transfer to Everline to Jeondae-Everland Station
Check out our Ultimate Everland Guide for more tips to maximising your time there.
Day 4: Day trip to Gapyeong (Nami Island, Petite France, Rail Bike Park)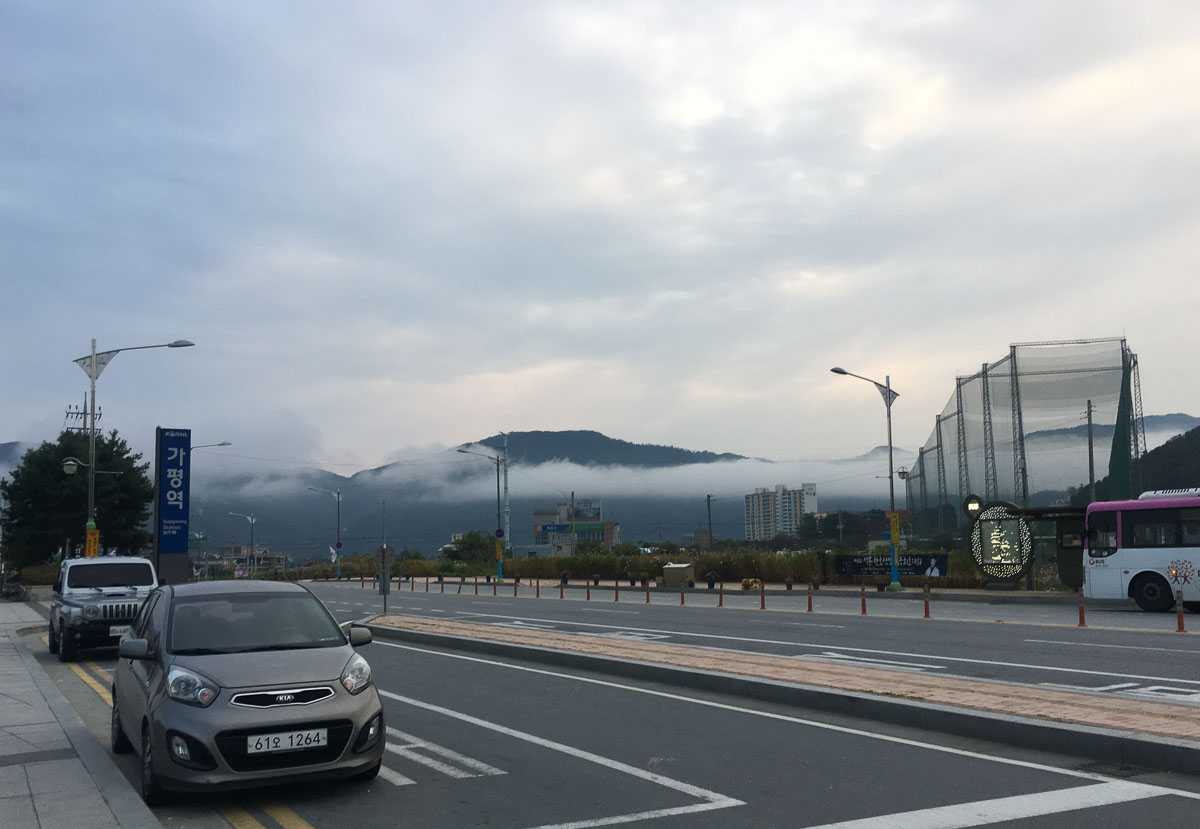 If you're a huge fan of k-dramas such as Winter Sonata 겨울연가 (2002), My Love From the Star 별에서 온 그대 (2014), and Love in the Moonlight 구르미 그린 달빛 (2016), a day trip to Gapyeong is a must.
There are four main locations in the Gapyeong area. If planned well, all can be covered in a day although it might be a tad rushed. Alternatively, there are also Nami day tours which cover your entire journey from Seoul (round-trip), your entrance fees and inter-location transport via a private shuttle bus.
1) Nami Island (남이섬)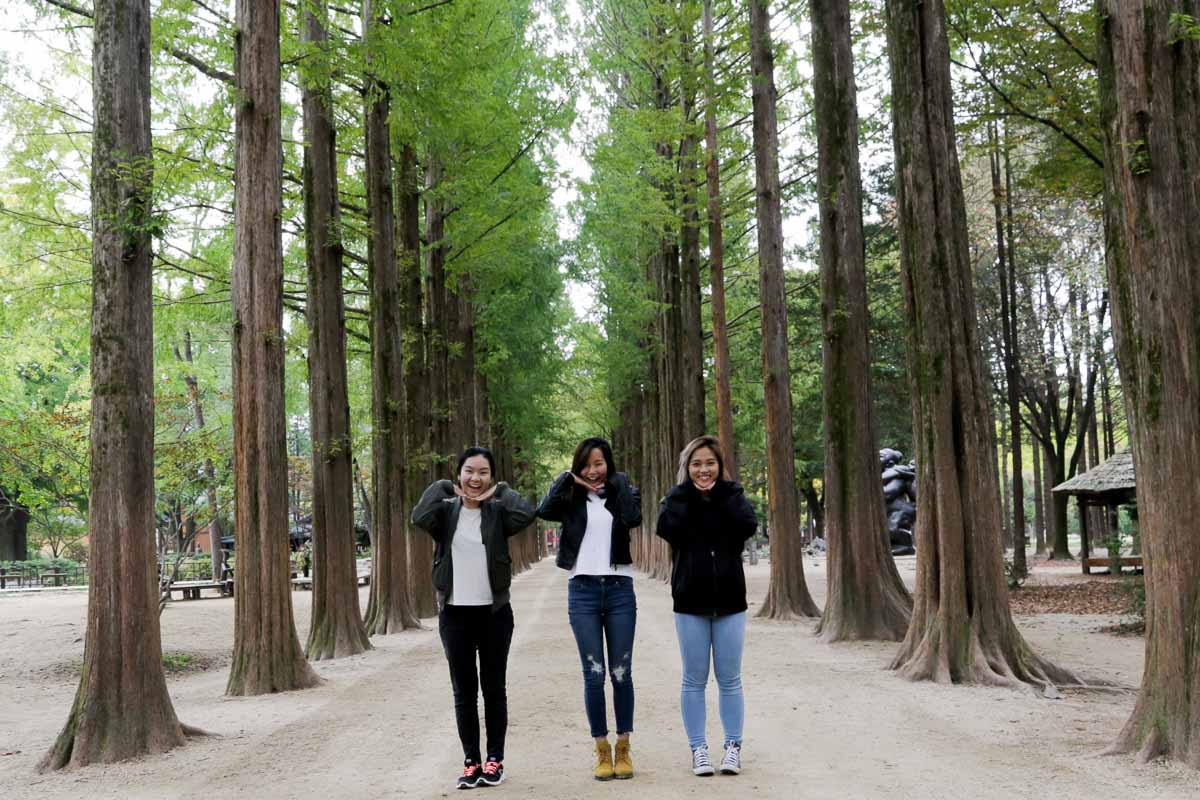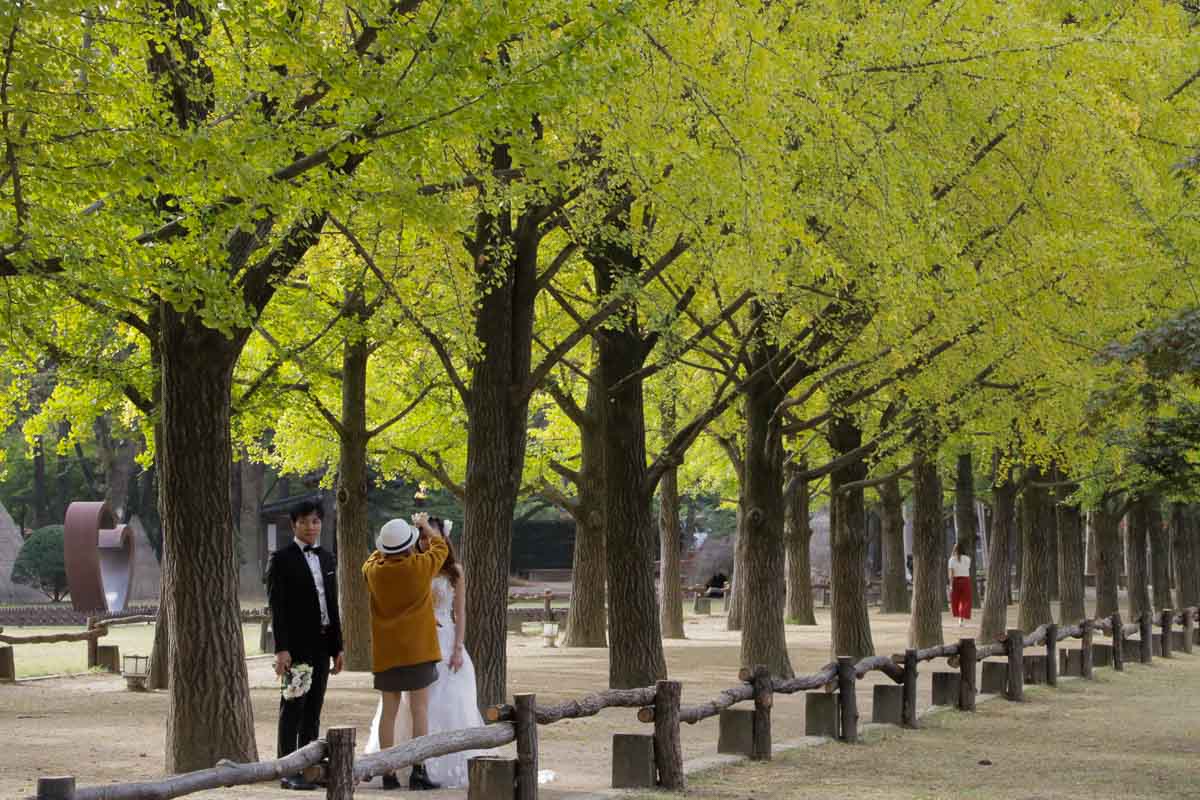 Filming Location of: Winter Sonata 겨울연가
Entrance Fee: ₩8000 (Includes ferry ride)
*You can also opt to enter the island via a Zipline for ₩38,000
2) Petite France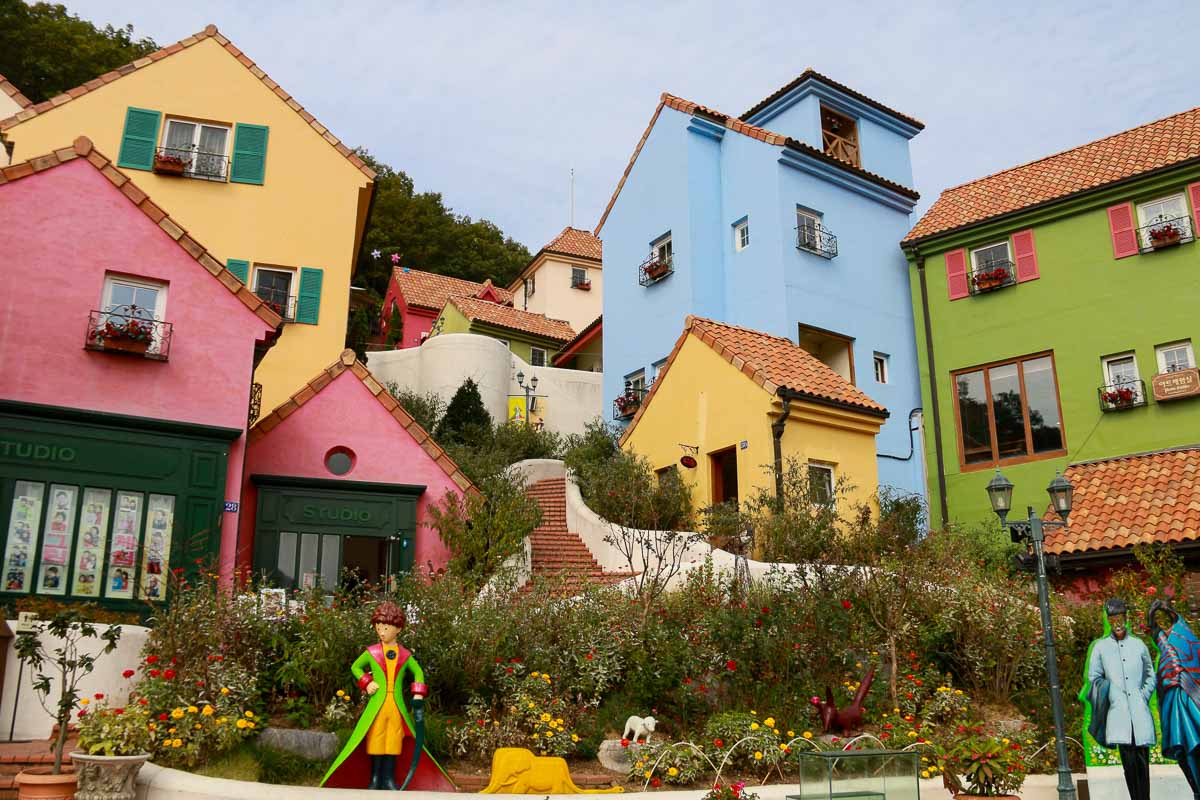 Filming Location of: My Love From the Star 별에서 온 그대
Entrance Fee: ₩8000
3) Garden of Morning Calm (아침고요수목원)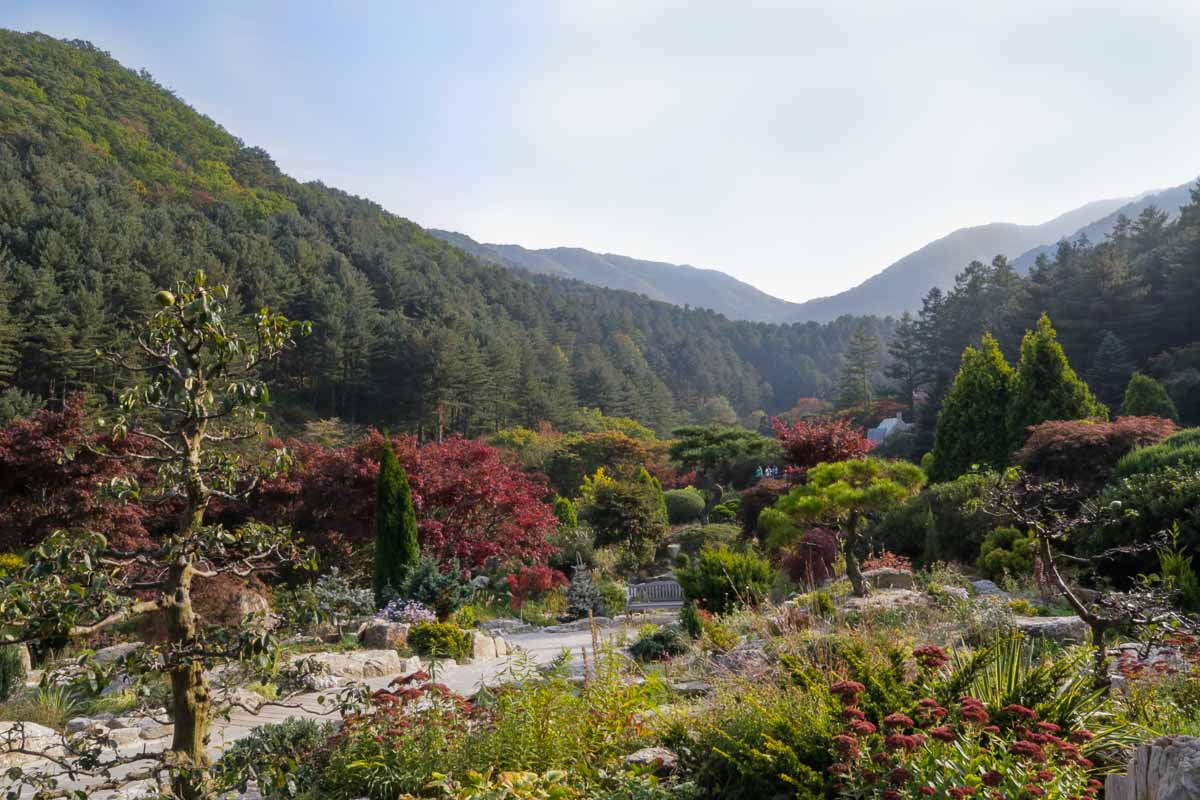 Filming Location of: Love in the Moonlight 구르미 그린 달빛
Entrance Fee: ₩9000
4) Rail Bike Park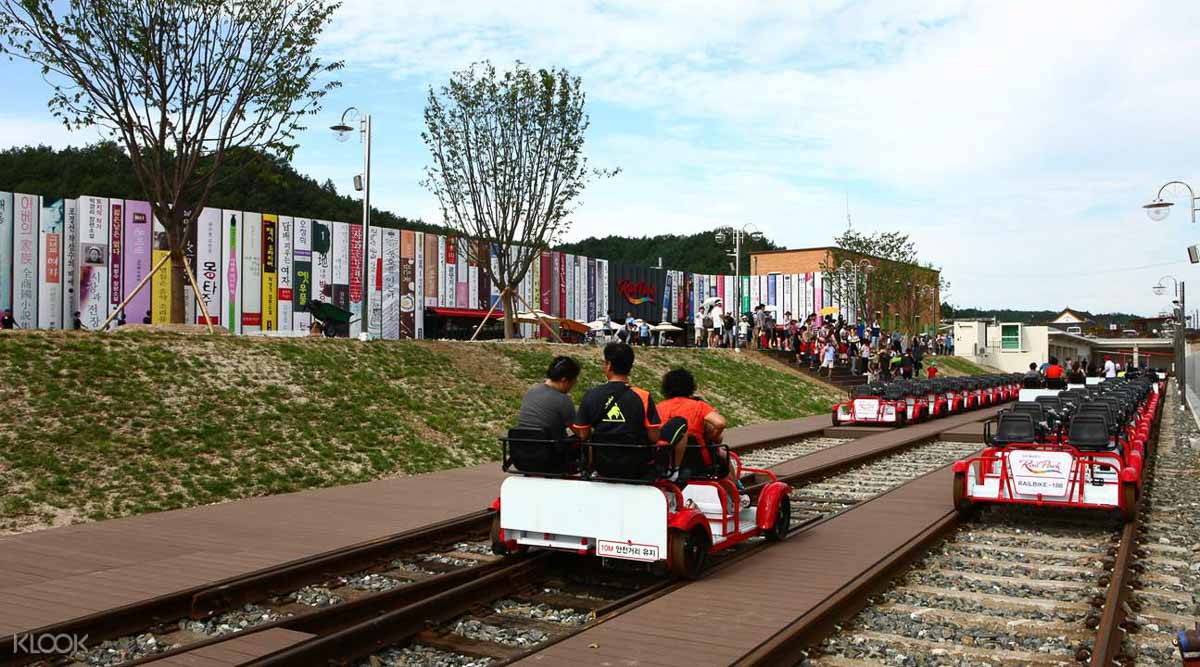 There's one in Gapyeong which is just 10 minutes by bus from Nami Island but the more popular option is the Gangchon Rail Bike Park which is nearer to Gimyujeong Station. Gangchon offers better views and has these themed tunnels which switched up our experience quite a bit. But if you're short on time, the Gapyeong Rail Bikes will be a more convenient option.
Filming Location of: Running Man Ep.144 런닝맨
Cost: ₩25,000 for 2 Seater Bike; ₩35,000 for 4 Seater Bike
For the full guide to covering all four locations in Gapyeong, check out the Seoul Day trip to Nami Island, Petite France, Garden of Morning calm and Rail Bike Park.
How to get from Seoul to Gapyeong:
(1) Cheapest: Metro from Yongsan Station
₩2,350, 1.5hrs
From Yongsan station, take the GJ Line to Sangbong
From Sangbong station, transfer to the Gyeong-chun line to Gapyeong
(2) Fastest: ITX from Yongsan Station
₩5,200, 50mins
If you're holding on to a Korail pass and have an extra day to spare, book a reserved seat on the ITX from Yongsan Station. This requires no transfers and you'll reach under 1 hour.
*If you're getting to Yongsan via metro, be sure to have your T-money card tapped at the little stands on the platform before entering via the ITX or you'll be charged double for the ITX journey as well as the subway ride.
(3) Round Trip Shuttle bus from Seoul to Nami Island From S$30
There are shuttle buses that will bring you there, let you explore free and easy before picking you up at the end of the day. Alternatively, you could also book a tour which will even include transport from Nami Island to Petite France, to the Garden of Morning Calm and even the Rail Bike Parks.
Read also: Seoul Day trip to Nami Island, Petite France, Garden of Morning calm and Rail Bike Park.
Day 5: Day trip to Jeonju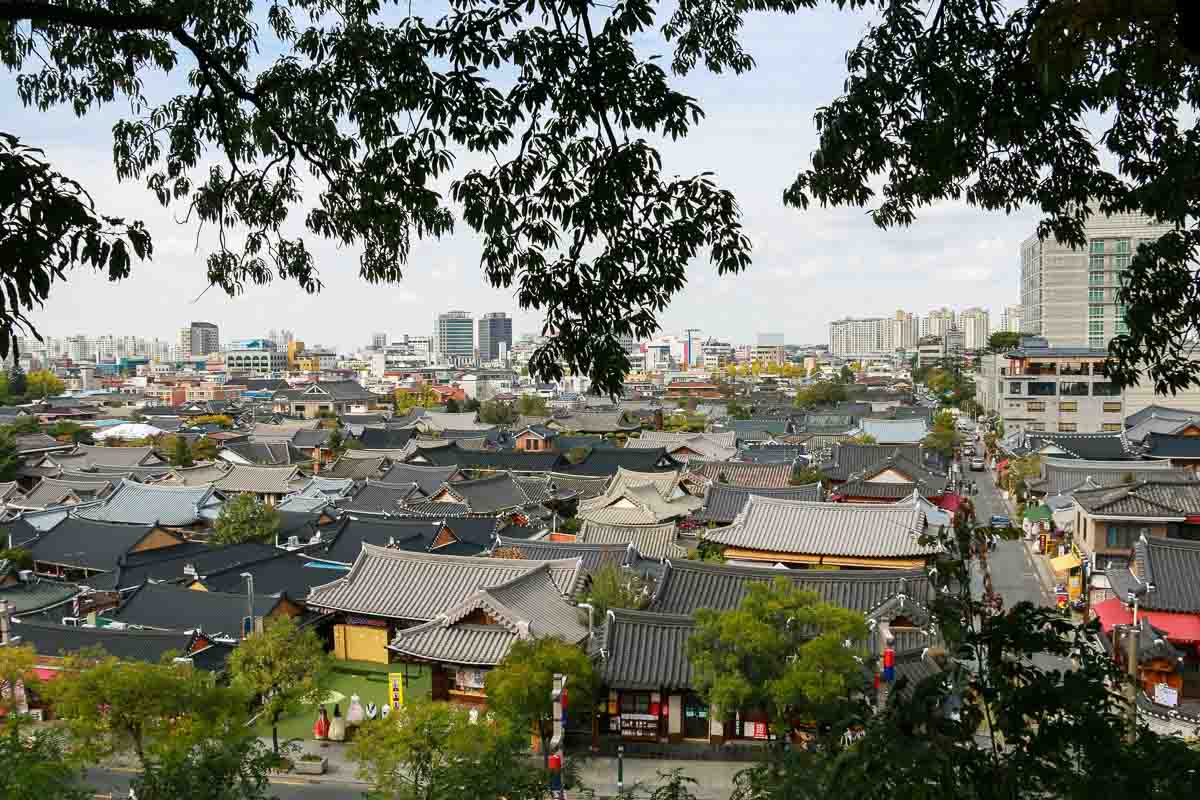 Days 1-4 were pretty jam packed so Jeonju was a much appreciated change of pace. I guess it's quite apt that Jeonju is also called the slow-city.
Gogung Bibimbap (
고궁
전주본점)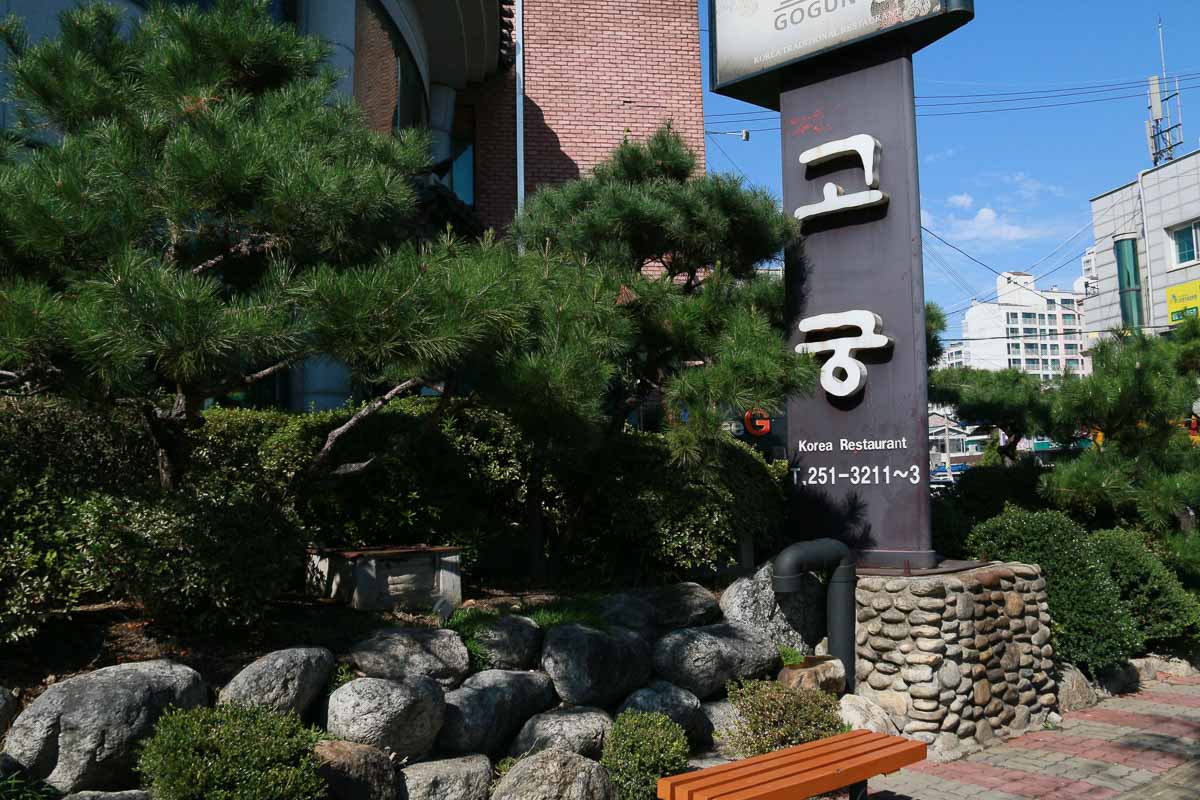 First agenda of the day, grab yourself a good brunch from what google calls the "best bibimbap in Korea".
Jeonju is known to be the birthplace of this traditional dish so we had high hopes when we got here.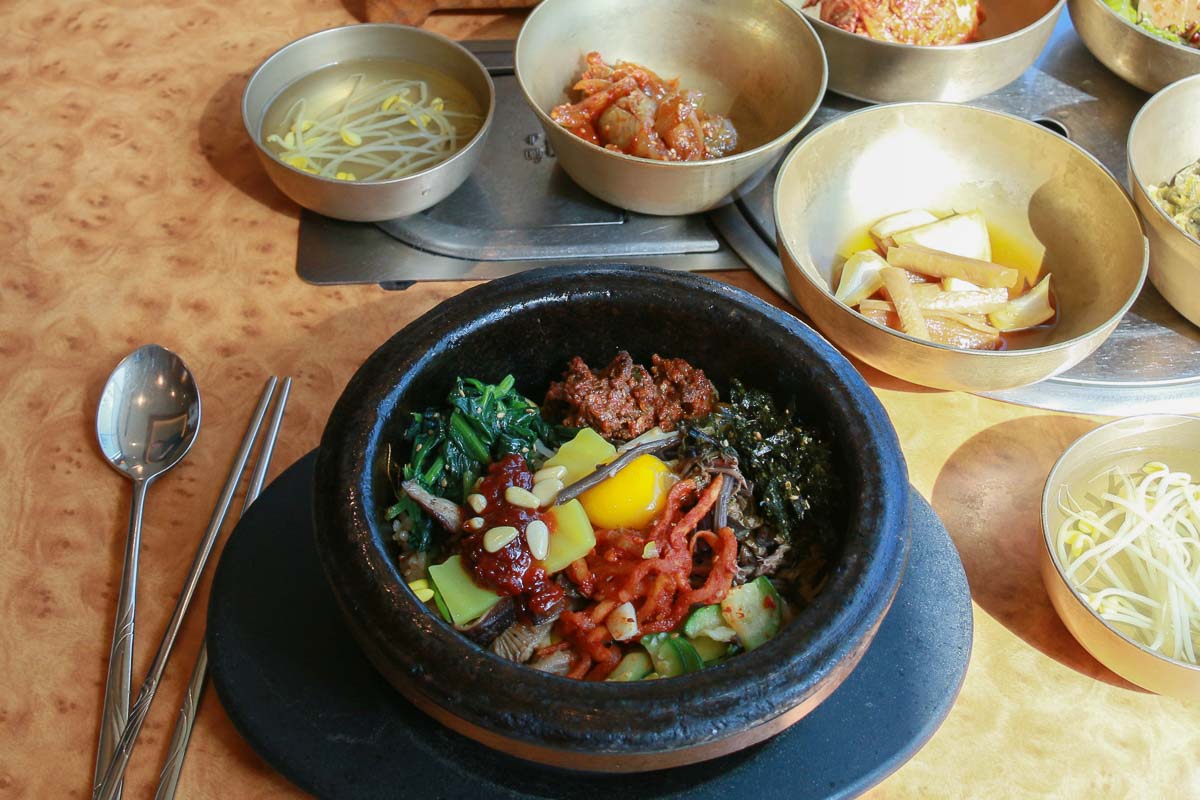 For one, the amount of ingredients within the dish was impressive. In Seoul, most of the bibimbap dishes only have half of the ingredients. We lost count quickly and decided to dig right in. Living up to its reputation, the dish was delicious!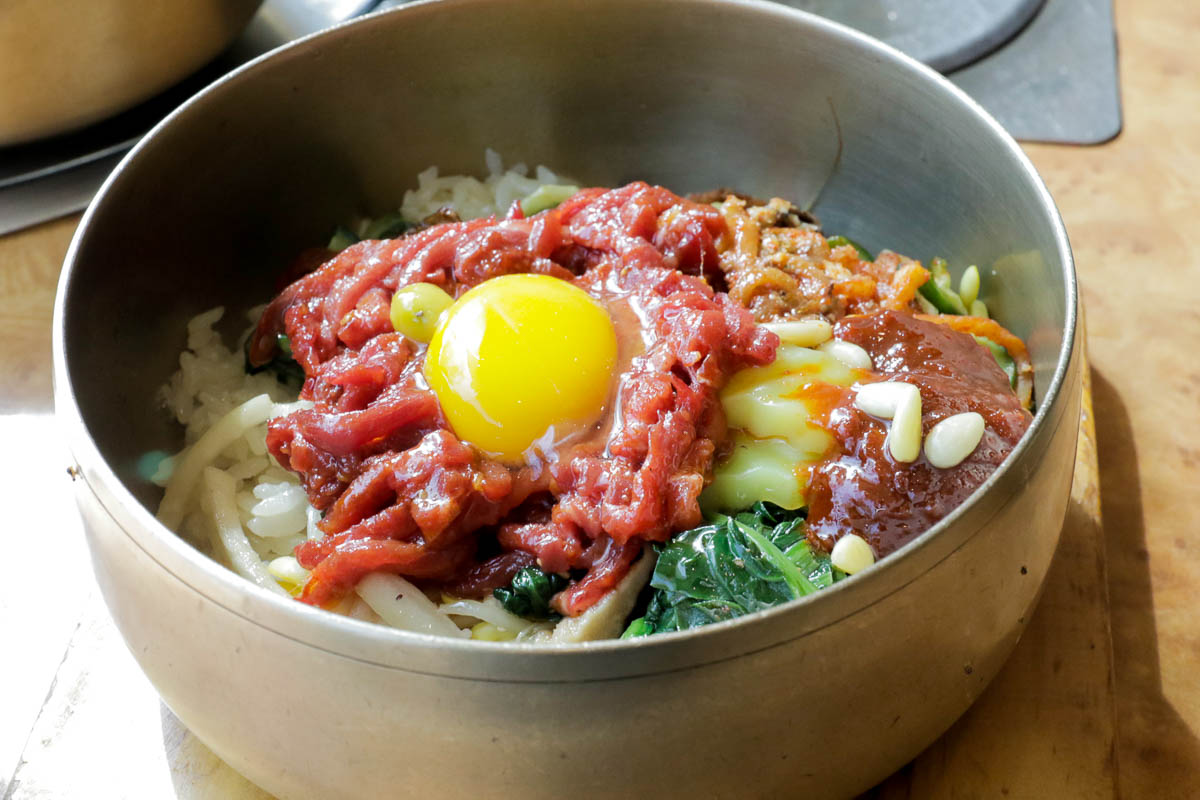 There's also a Yookhweh version (육회빕빔밥) which has the same variety of ingredients as the traditional bowl but with quality raw beef on top. Definitely worth the try!
Cost: ₩10,000 for the Dolsot (Hotstone) Bibimbap; ₩13,000 won for Yookhweh (Raw beef) Bibimbap
How to get there: From Jeonju Hanok Village, take bus 974 or 976 (10 stops) to the Jeonju National Palace headquarters
Opening Hours: 10:50AM – 9:30PM
*There's another Gogung in the Hanok area called Gogung Surangan but it's entirely different from the one at the Jeonju National Palace Headquarters (the original Gogung). Don't give up looking for the original! We promise it's worth it!
Jeonju Hanok Village (전주한옥마을)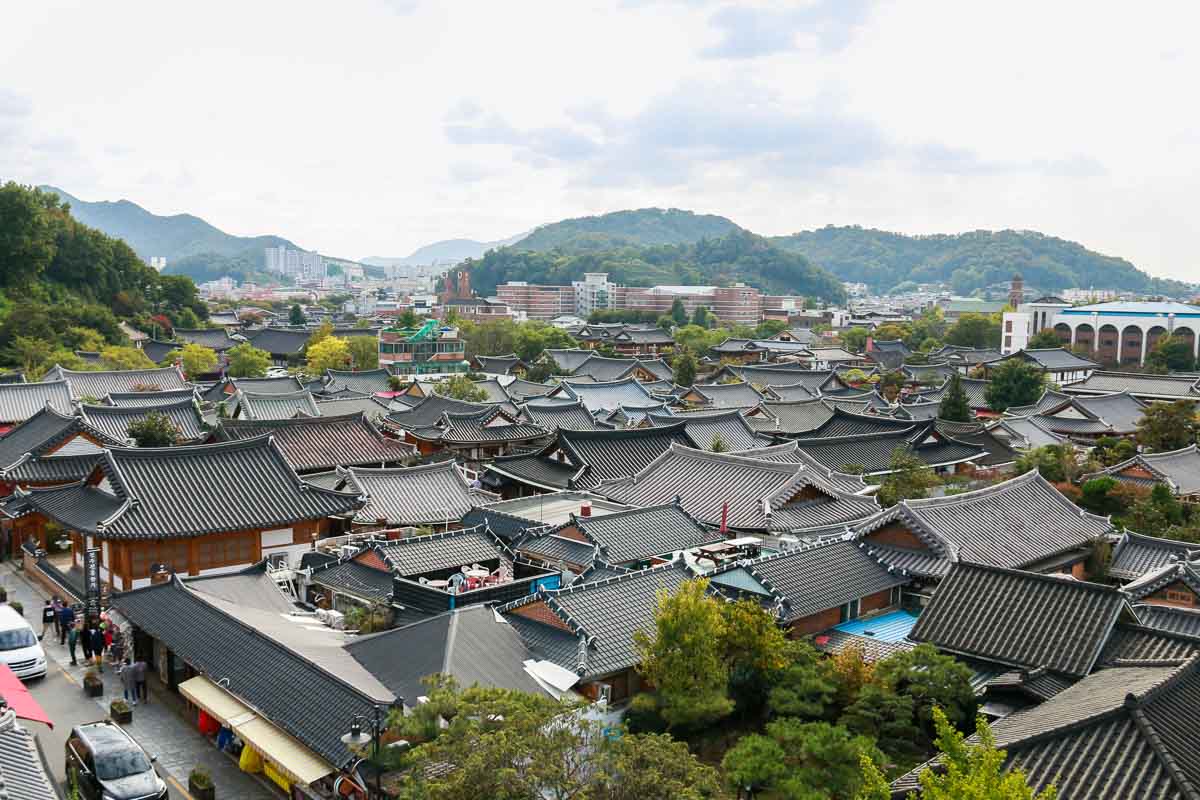 With over 700 Hanok houses, Jeonju Hanok Village has one of the highest concentration of Hanok houses right in the heart of Jeonju city.
These Hanok houses serve as cultural museums, performance halls as well as guesthouses and even cafes.
*Pro-tip: For the best views, locate a small hill on the way up to the Omokdae (오목대) pavilion. You don't really have to climb too high before you see the famous rooftop view of the Hanok Village.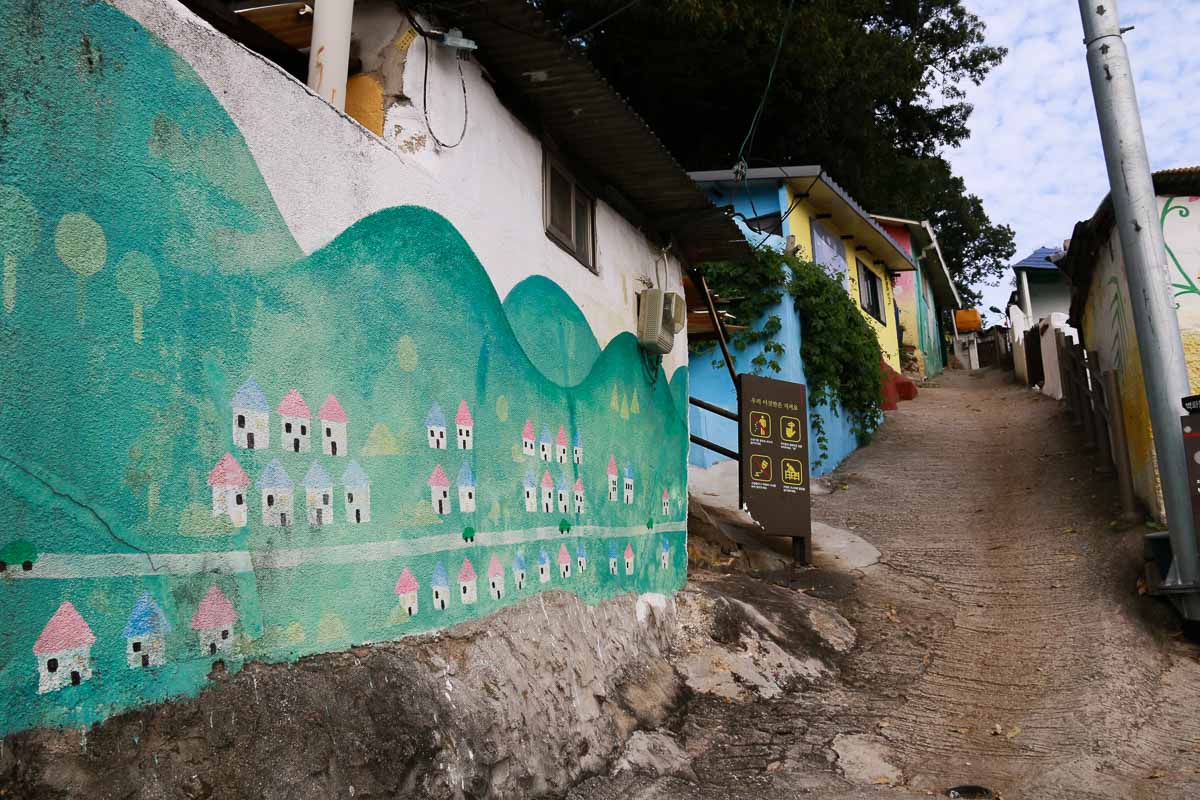 Across an overhead bridge from Omokdae is a really small village of houses with its walls colourfully painted. There are small home run cafes too but close pretty early.
How to get from Seoul to Jeonju:
(1) KTX (₩34,600): If you bought a Korail Pass, you can reserve a seat on the KTX which leaves from Seoul Station — 1h50m.
(2) Mugungwha (₩17,600): If you're without a Korail pass, the cheaper option is via the Mugungwha which leaves from Yongsan station — 3.5 hours.
Day 6: Busan
Getting around Busan: Download the Busan metro app (green logo) for directions around Busan. It even has a map function which will show you the nearest exits to your destination.
The next morning, we took the first train out to Busan via the KTX. This ride was slightly under 2.5 hours.
Haeundae Beach (해운대)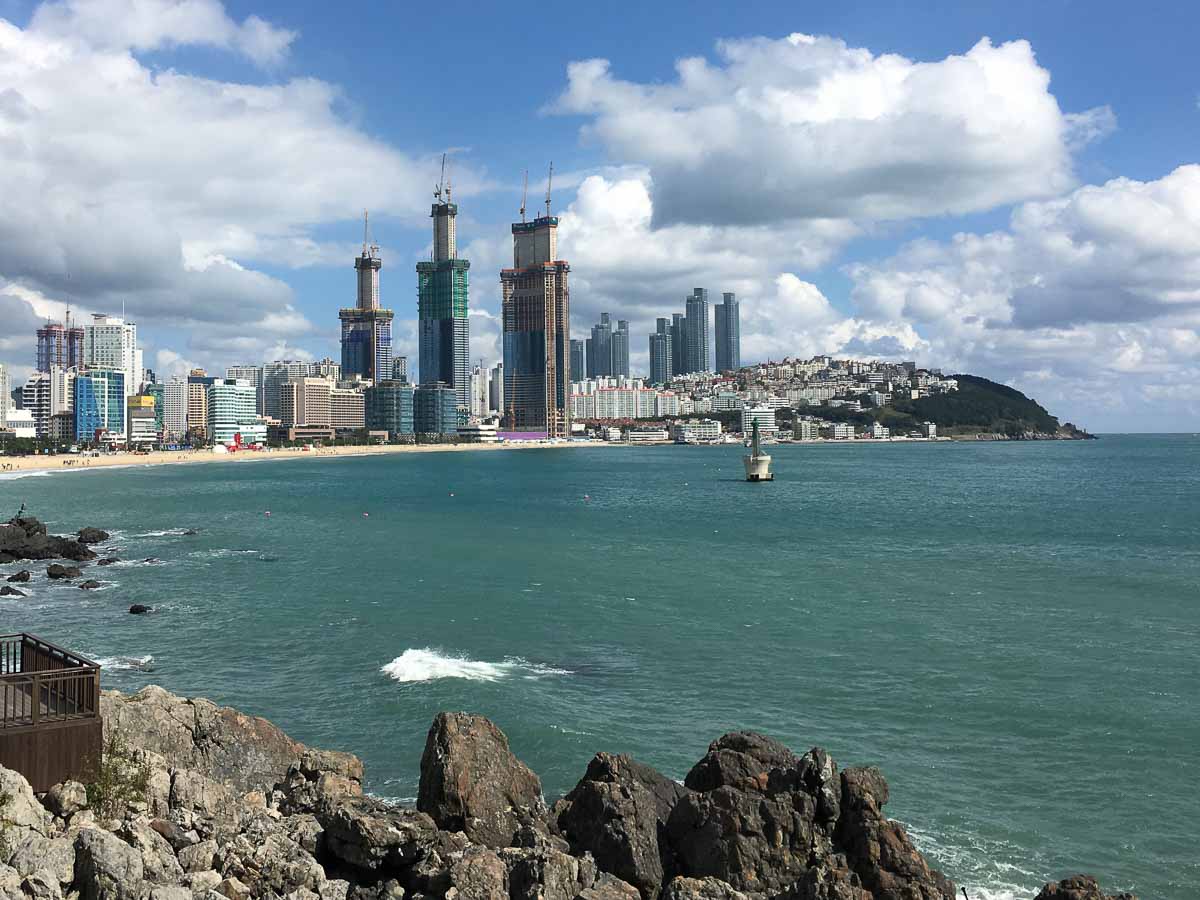 Korea's most famous beach resides in Busan where the city meets the sea. In summer you'll see the entire sand space lined with beach chairs and sun shades and in autumn, you might catch the annual Busan International Film Festival (BIFF). In the evening, catch the sunset as buskers start setting up their mini stage along the beach.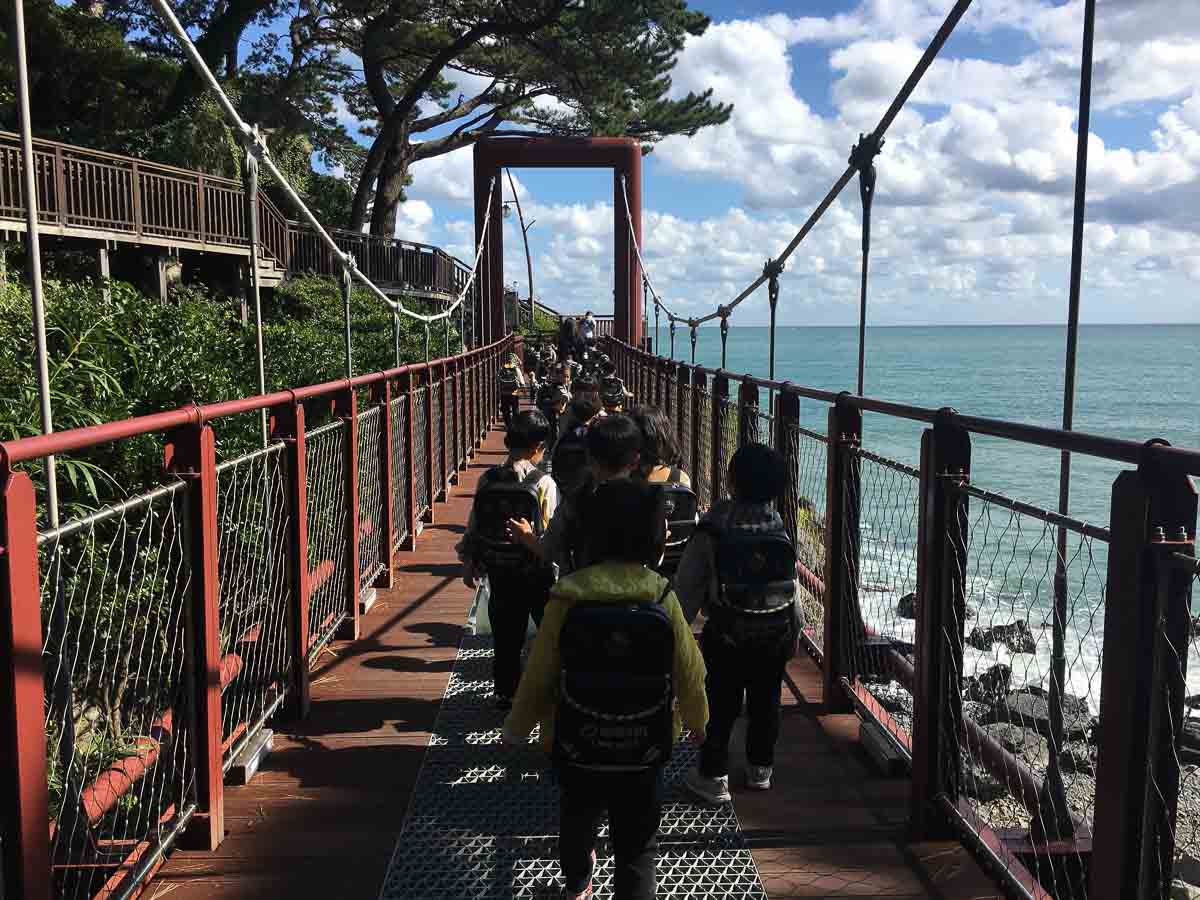 How to get there: Get off at Haeundae Station, Exit 5 and walk towards the sea
Busan Goraesa Fishcake Haeundae (고래사 해운대점)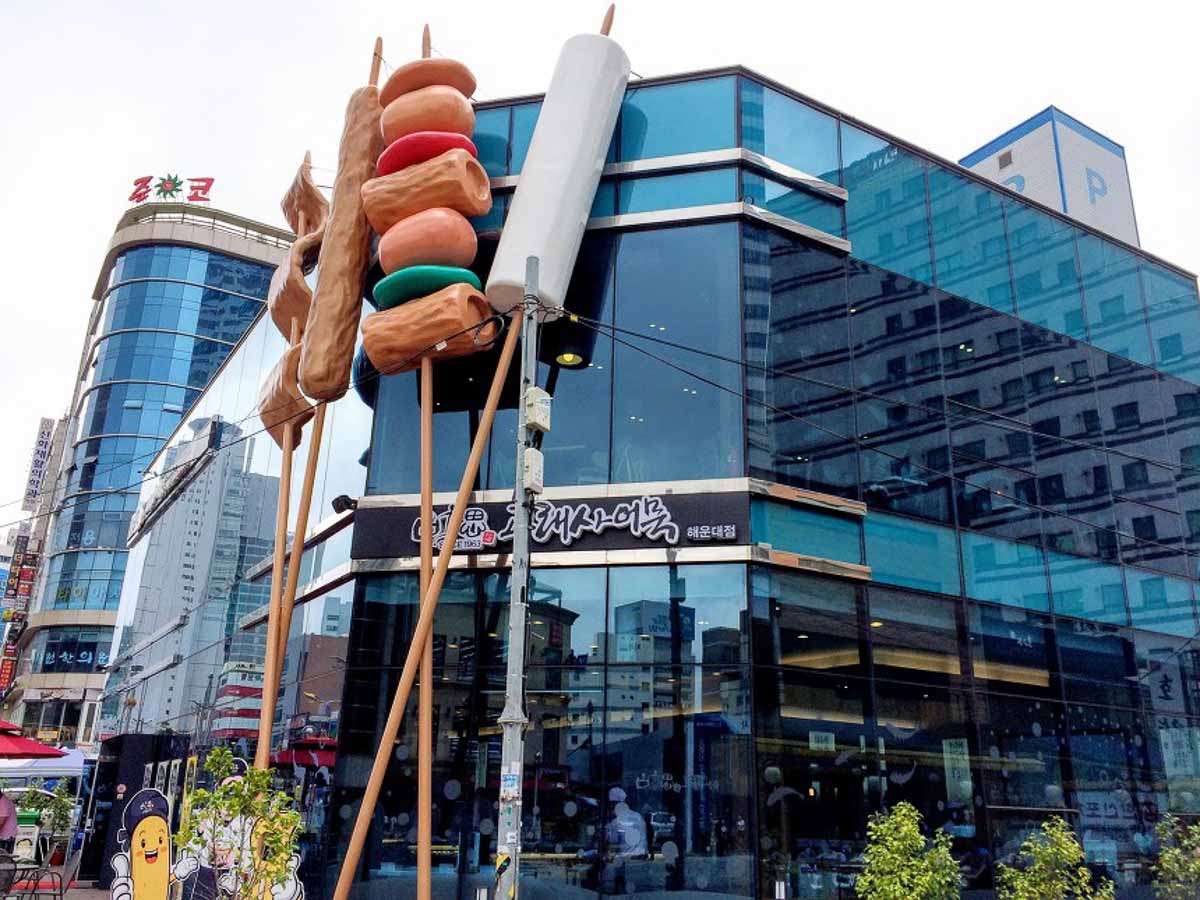 On the way back to Haeundae Station (from the beach), stop by this fishcake place for lunch! You can't miss the building with its giant (3 storey tall) skewers adorning the side of the building. Somehow you can always trust when there's giant food structures outside the store — case in point: Dotonbori.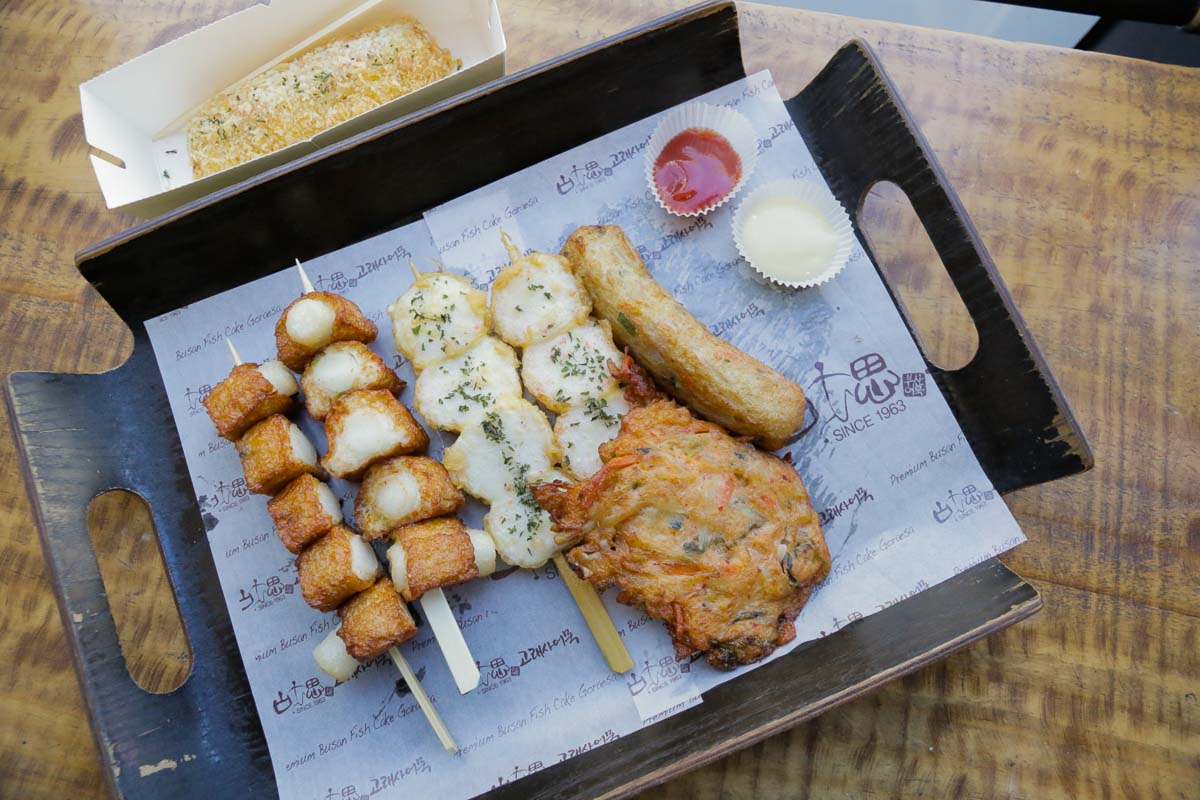 The place sells over 30 different types of fishcakes — from tteokbokki fishcake (one of our favourites) to glass noodles and everyone's favourite oozy cheese-filled fishcake. You pick whatever you want, heat it up in the microwave provided and have it in the store.
Address: 541-1 U-dong, Haeundae, Busan, South Korea
Opening Hours: 9:30AM – 9:30PM
Gamcheon Culture Village (감천문화마을)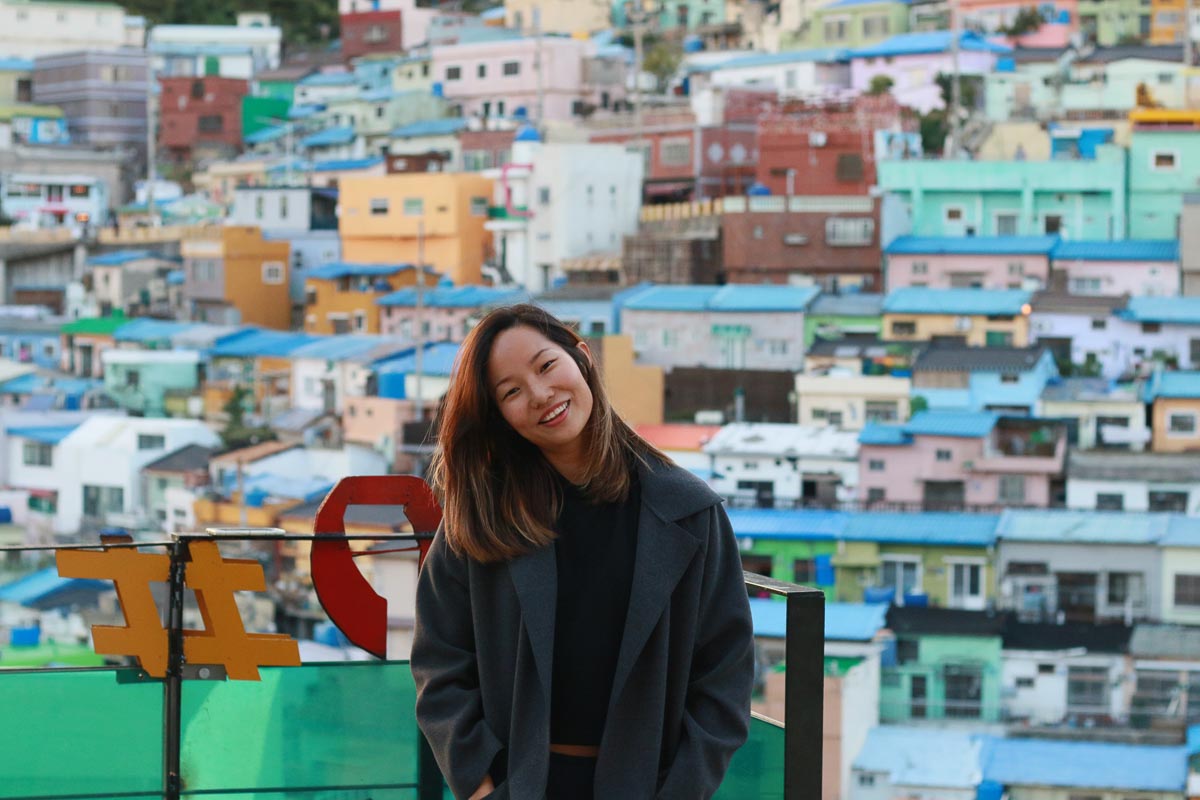 On the other end of Busan (from Haeundae), the Gamcheon Cultural Village is another must visit! This is often nicknamed the Machu Picchu or Santorini of Busan. Despite having already seen photos of the place, we were still awed when we stepped off the bus to this view.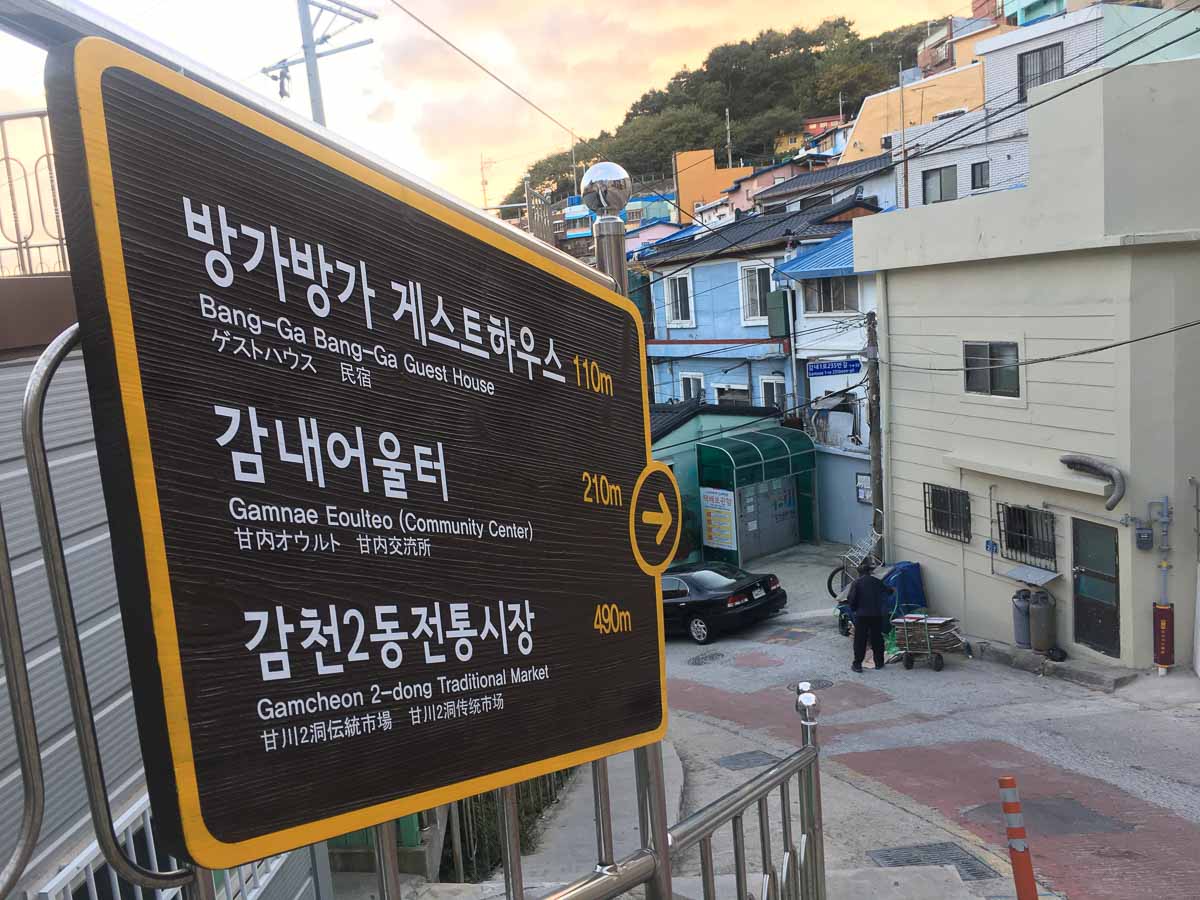 *Pro-tip: The best views are from the rooftop of the Community Centre (감네어을터)
How to get to Gamcheon Cultural Village: From Toseong station, take exit 6 and hop on bus 1-1 (shuttle bus-type that says Gamcheon Cultural village on the side of the door.)
Jagalchi Market (자갈치시장)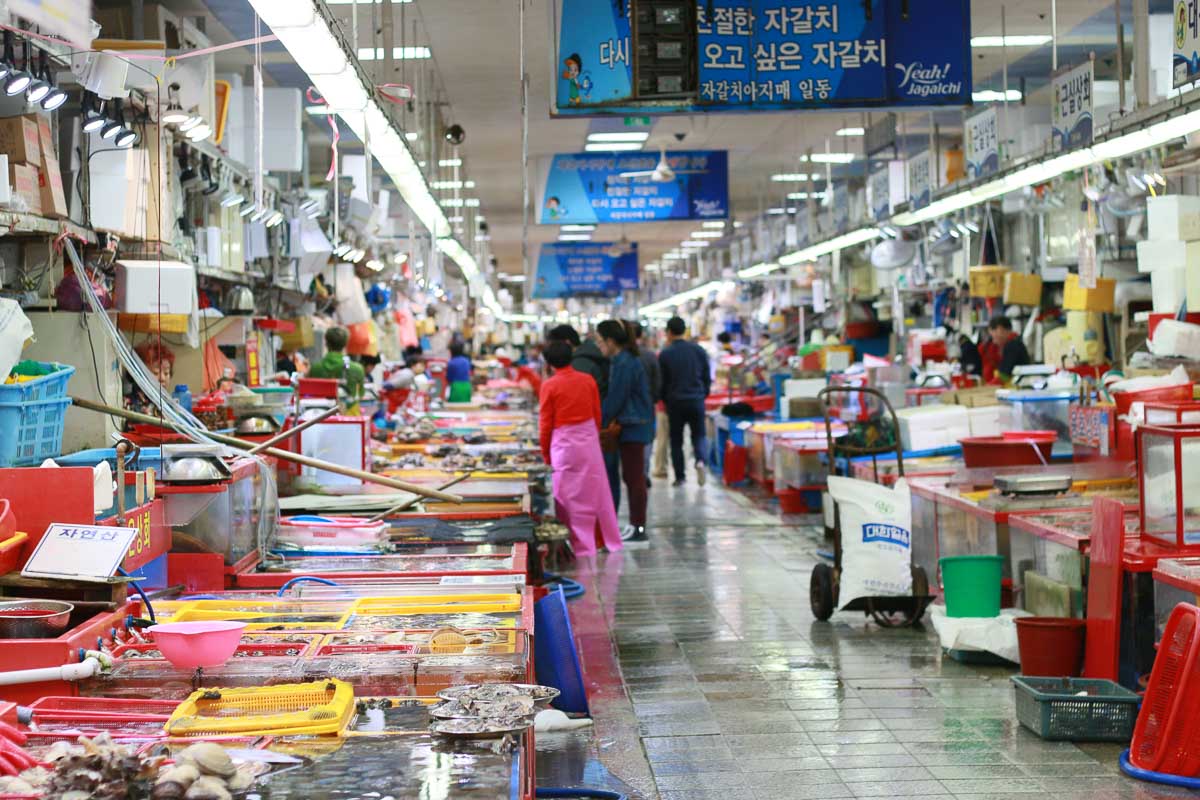 Being right by the sea, Busan is also known to have the freshest seafood in the country. Head over to Jagalchi to take your pick. The indoor market was unbelievably clean and hardly reek of the fish stench common to most seafood markets.
On the second floor, you'll find a whole level of seafood restaurants but the budget tip is to buy your produce from the market downstairs and get the shop's selected restaurant to prepare them for you.
For comparison, a small live octopus was ₩30,000 on the restaurants' menu but only ₩10,000 for two at the market below. Sashimi for various fishes cost ₩40,000–50,000 but ₩20,000 from the market. Since these were served raw, we only needed to pay a table charge of ₩4,000 which still came up to a really good deal!
However, if you're planning to get something cooked, ask for the cooking fee beforehand as the restaurants could charge a lot more than the ones listed on their own menu.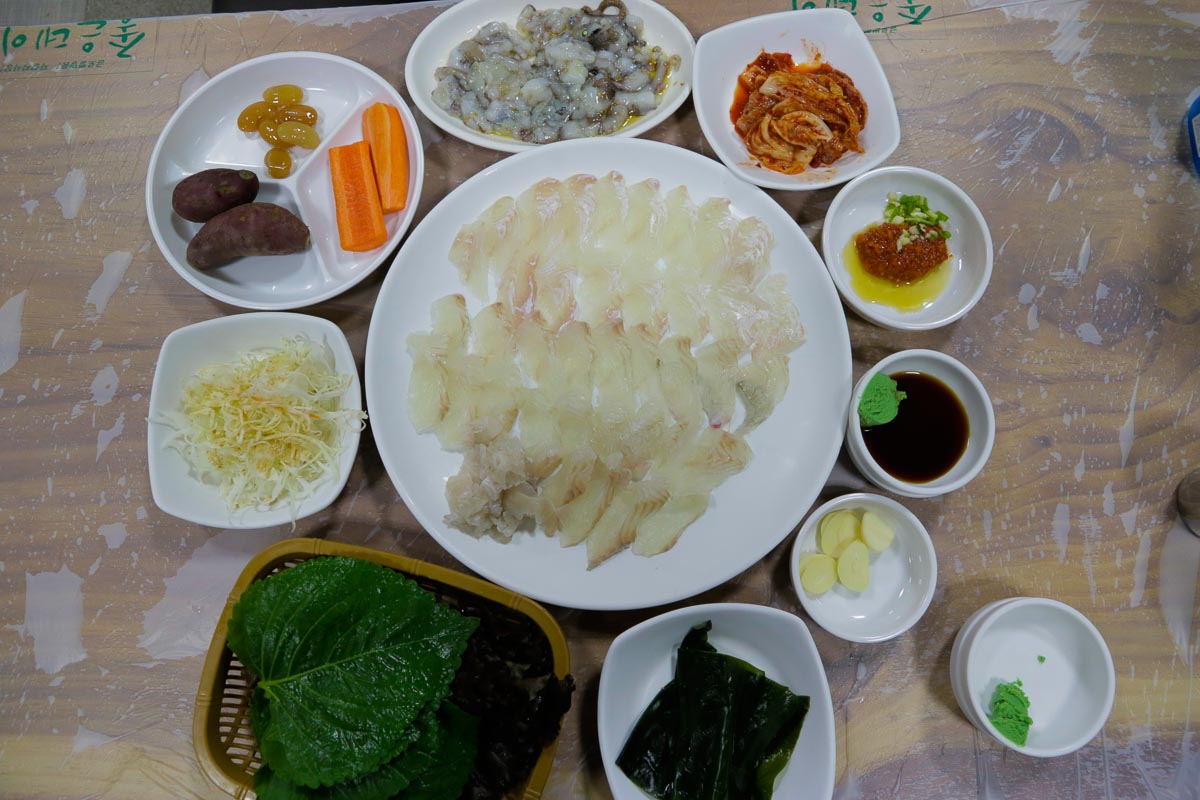 2 small octopus: ₩10,000
1 flounder (sashimi): ₩20,000
Table charge: 4000won/pax
Discount: -₩3000
How to get there: Jagalchi station, Exit 10
Accommodation in Busan: Hi Busan Guesthouse (3 minute walk to Haeundae Beach; 50 minutes by train from Busan Station) — you'll find two resident fat cats that are always snuggling up to each other
Seoul to Busan via Train:
(1) KTX (₩59,800): 2.5 hours
(2) ITX (₩42,600): 4.75 hours
(3) Mugungwha (₩28,600): 5.5 hours
Day 7: Seoul
Spend the day shopping or catching up on the stuff you might have missed out on day 1. Some of our favourite shopping spots are Myeongdong for Skincare and makeup, Hongdae for trendy clothes, and Insadong for traditional souvenirs.
We also ended off with a refreshing visit to the Jimjilbang at Dragon Hill (mentioned on day 1) before catching our late night flight back to Singapore.
Seoul City to Incheon Airport:
(1) Arex (43 minutes): For just S$8, you get to reserve seats on the Arex which will get you to the airport in 43 minutes.
(2) All stops train (60 minutes): The All Stops Train is a lot cheaper at just ₩4,150 but the down side is that the trains are almost always crowded so you might find it a hassle if you have a lot of luggage to handle.
Budget Tips in Korea
1) Food: The daily food budget was set to ₩15,000 – 25,000 but in reality, we spent way below this amount. With the exception of the Samgyetang from Tosokchon, Bibimbap from Gogung (Jeonju) and fresh seafood from Jagalchi market (Busan) — which are all worth every won(₩) — all our meals rarely exceeded ₩5,000.
Our favourite on-the-go meal was the freshly made kimbaps from the little stores at subway stations (₩1,500).
2) Accommodation: Since our itinerary usually involves getting up early and returning late, hostels are almost always our go-to option. If you'd like a little more privacy, Airbnb homes aren't a lot more expensive for 2-3 pax. Our favourite picks in Seoul:
– Brownie Guesthouse Hostel (Near Hongdae Station, Exit 3) ₩17,000 – 20,000/pax
– Airbnb listings under ₩20,000/pax: this and this
3) Discount Passes: Discount passes such as the Discover Seoul Pass and Korail Pass allow travellers like us to max out on the experiences without worrying about exceeding the budget; perfect for people who prioritise experiences during their travels.
Check Flight Prices to Seoul
| Hello | 안녕하세요 (annyeonghaseyo) |
| --- | --- |
| Thank You/ Thanks | 감사합니다 (kamsahamnida)/고마워 (komawo) |
| Excuse me (getting waiter's attention) | 저기요 (jeogiyo) |
| (ask for something) please | ____ 주세요 (juseyo) |
| Do you speak english? | 영어 하세요 (yeongeo haseyo) |
| Discount please | 깎아 주세요 (kkakka juseyo) |
| Cheers | 건배 (geonbae) |
We hope you found this itinerary useful!
---
This post was brought to you by Klook.
If you like what you're seeing, follow our adventures on Facebook, Instagram and more behind-the-scenes stuff on YouTube!