The perfect mix of modern comforts and charming old town vibes, we uncover this gem of a destination just a short 4-hour flight from Singapore.
Walk along the main street of Sisavanvong road and you'll see french bakeries on one side and elaborate ancient temples on the other. Call it confusing or call it charming, this sleepy town tucked up north in Laos has just the right balance to keep travellers interested.
The best part? Flights from Singapore start from S$125!
Read also: 7 Unique Experiences in Laos to Spice Up Your Luang Prabang Itinerary
Travel Essentials
Connectivity: Telco booths right outside the airport sell a range of plans from 4 days to a month. Unitel's 4-day plan goes at 5GB for US$5.
Money Exchange: Laotian Kip (₭) is hard to find outside the country so bring US dollars and exchange them once you land. The airport's rate was actually better than what's offered in town.
Flights: Scoot is currently the only local airline that flies direct from Singapore to Luang Prabang. Flights to Luang Prabang run three times a week on Mondays, Thursdays and Saturdays.
Day 1: Getting cosy in the old town
Getting Around: Ride hailing apps are not available here so the main mode of transport in town are tuk-tuks. Alternatively, you can rent Scooters for US$10-15 over a 24 hour period. From the airport, taxis are a flat rate of ₭50,000 (~S$8)
*July 2019: This itinerary was based off the old Silk Air route which has now been taken over by Scoot. The flight now lands at 11AM.
Landing at 5pm local time*, famished, we head straight for the local night market on Sisavangvong road.
We stopped by one of the stores selling noodle soup, a couple of locals slurping up their bowls. We ordered Khao soy — a mildly spicy tomato based noodle soup for ₭15,000 (S$2.50) which kind of resembles a Northern Thai and Burmese dish.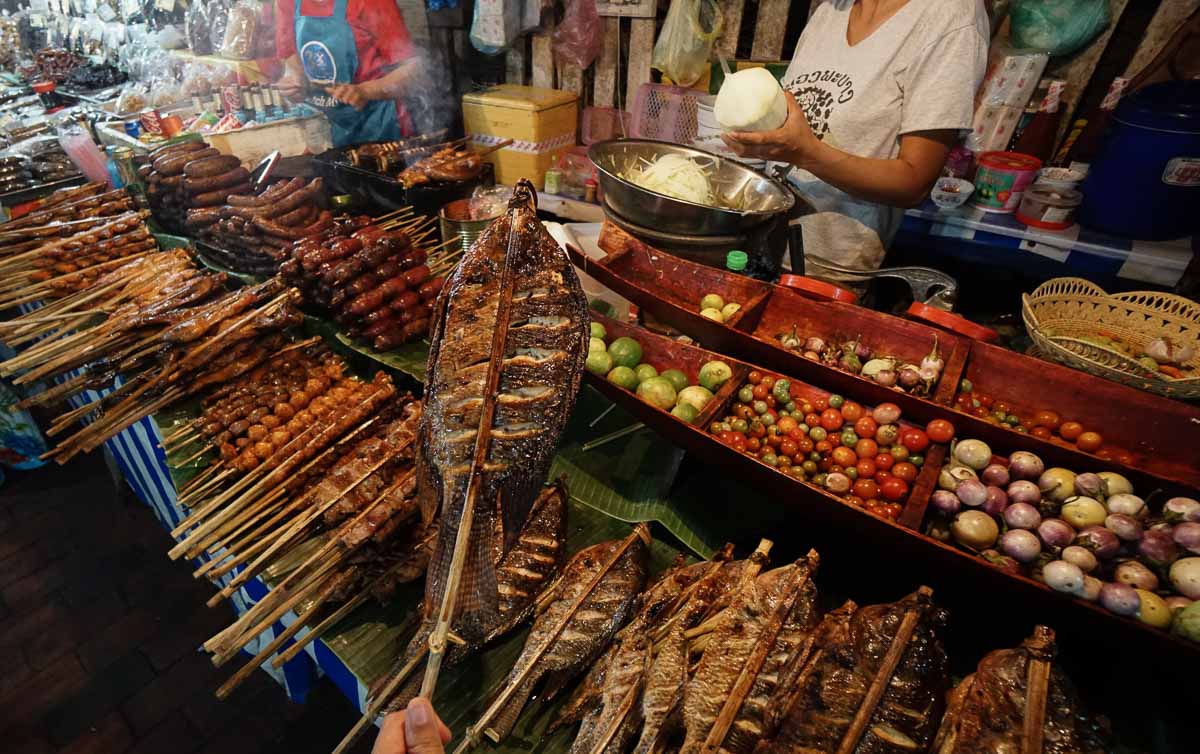 Further down in an alley next to Indigo house — the only 4 storey building in Luang Prabang — we were delighted to find more food! Grilled fish on skewers, chicken wings and other meats cost between ₭10,000–30,000.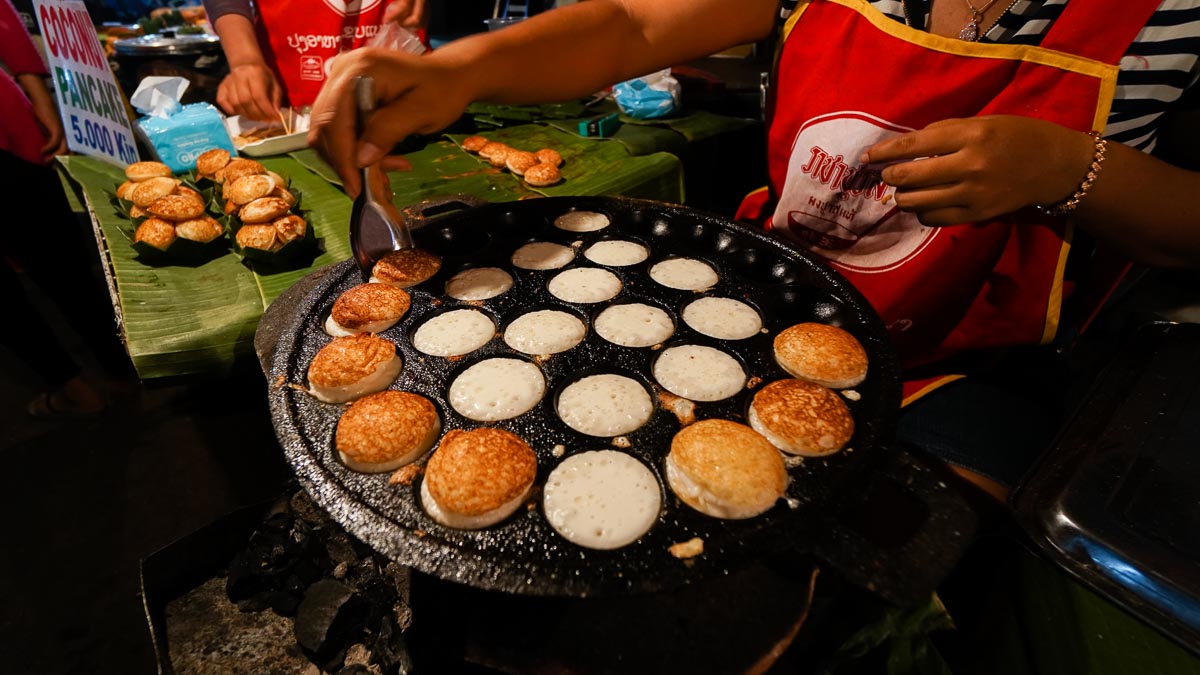 If you're craving for something sweet, try the mini coconut pancakes or grab some pastries from the Oui bakery in front of Indigo House — I loved the banana cake!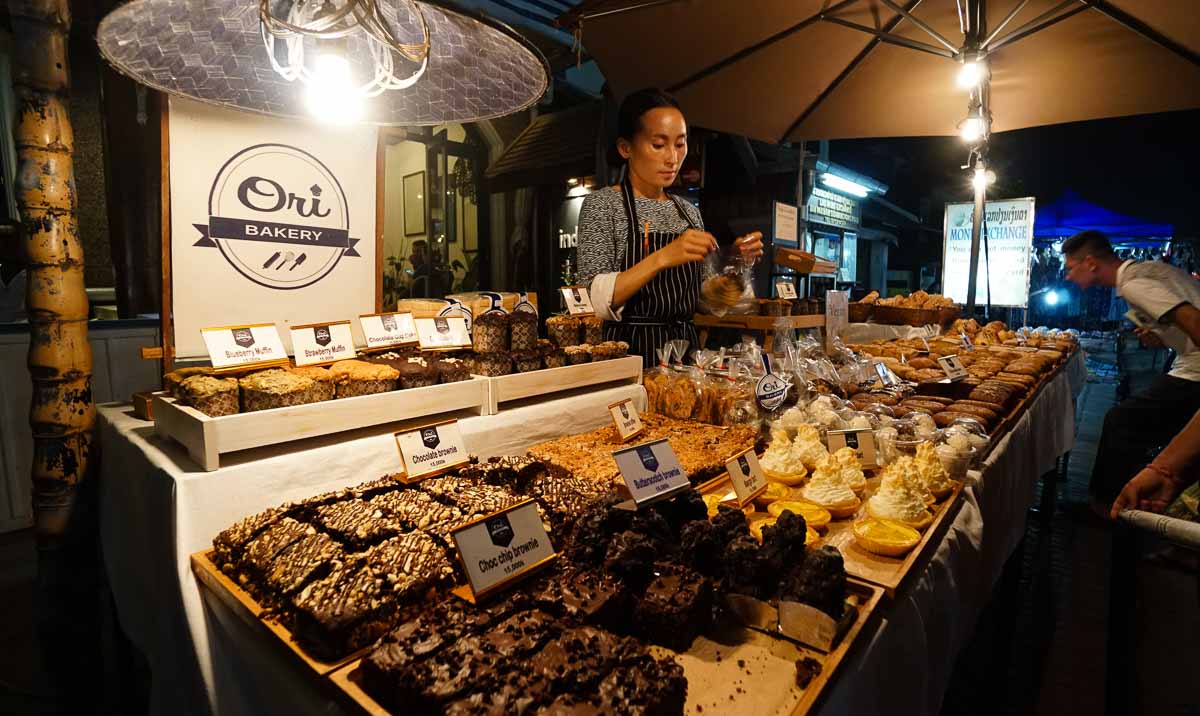 Down the lengths of Sisavangvong road, you can do a bit of shopping for clothes, bags, scarves, pouches but one interesting store actually sold metal cutlery, bottle openers and keychains made out of bomb scraps left during the civil war.
Further down the same street, there's a handful of tour operators selling popular day tours and adventures. The common ones are trips to elephant sanctuaries, zip-lining, village stays and of course, a trip to the famous Kuang Si waterfalls which is every travellers' must-see item in Luang Prabang. You can sign up at one of these places or check for information and book them direct through the website.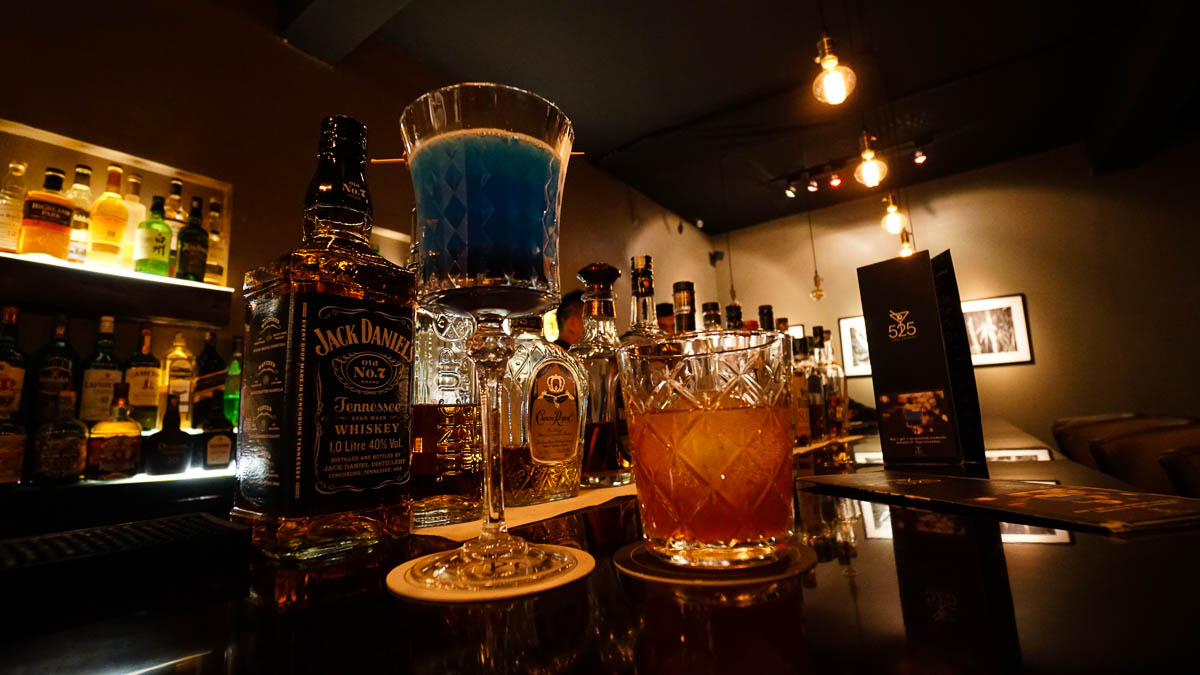 The night market starts packing up around 9:30pm but if you're not ready for bed yet, there's a really cosy bar just a 3 minute walk from the night market — 525 Cocktail bar. Bartenders speak a bunch of languages and are more than happy to entertain. Some of the popular recommended drinks here are the pineapple ginger mojito, 525 Evening Sky (blue in image above) and their 'New' Old Fashioned.
Opening Hours:
Night Market: 5pm – 10pm (Some start packing at 9:30pm)
525 Cocktail bar: 5pm – 11:30pm
Day 2: Trekking, zip-lines and jumping into waterfalls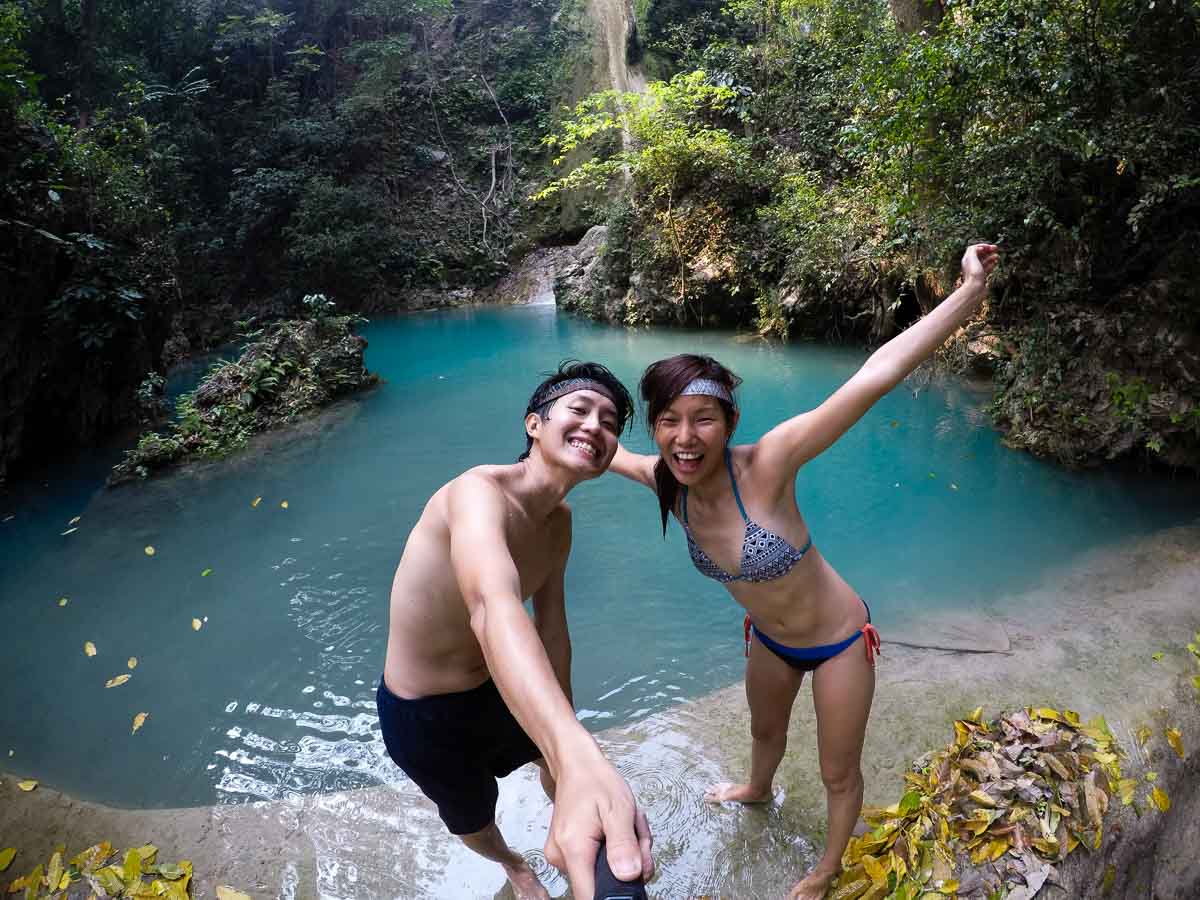 Craving for a little nature & adventure, we signed up for a full day trip to Hoi Khua waterfall with the company Lao Green Group. Surrounding the waterfall is an adventure park with rope courses and zip-lines. We learnt that the land was previously owned by the Hmong tribe but under-utilised. Hence, the owners saw the opportunity to create a space accessible to travellers while still being able to preserve the nature that surrounds the 30 hectares of land.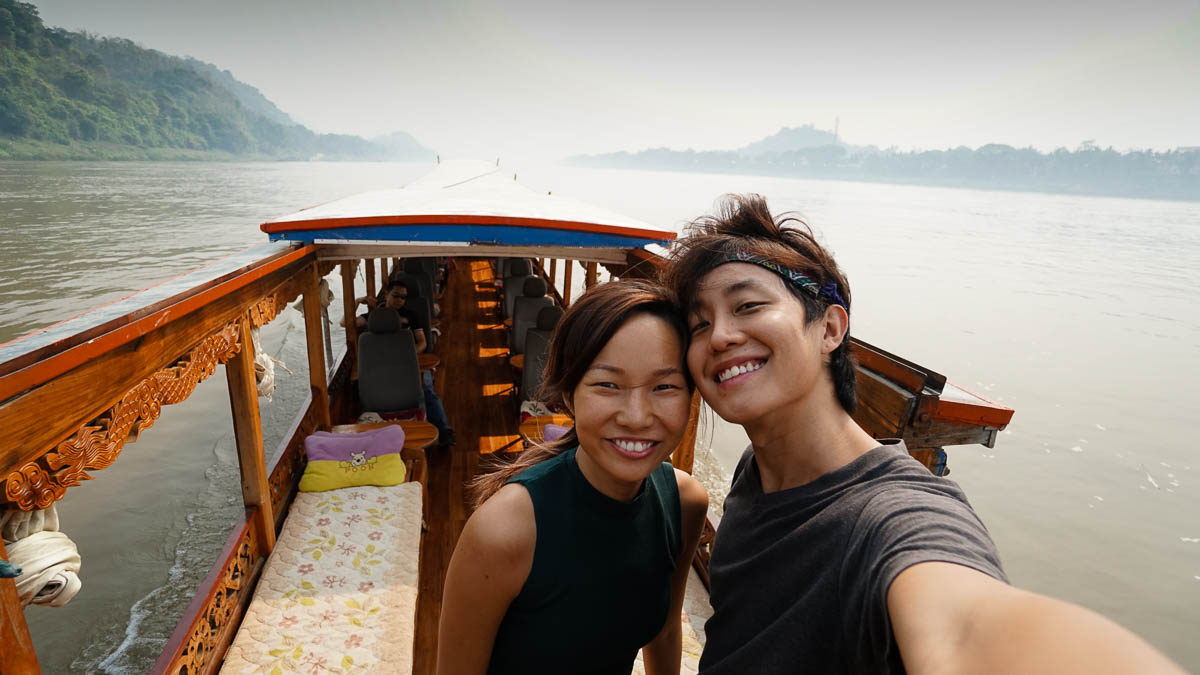 Included in the package is a slow ride in a long wooden boat down the Mekong river followed by a short bumpy ride on the back of a pick up truck before reaching the waterfall.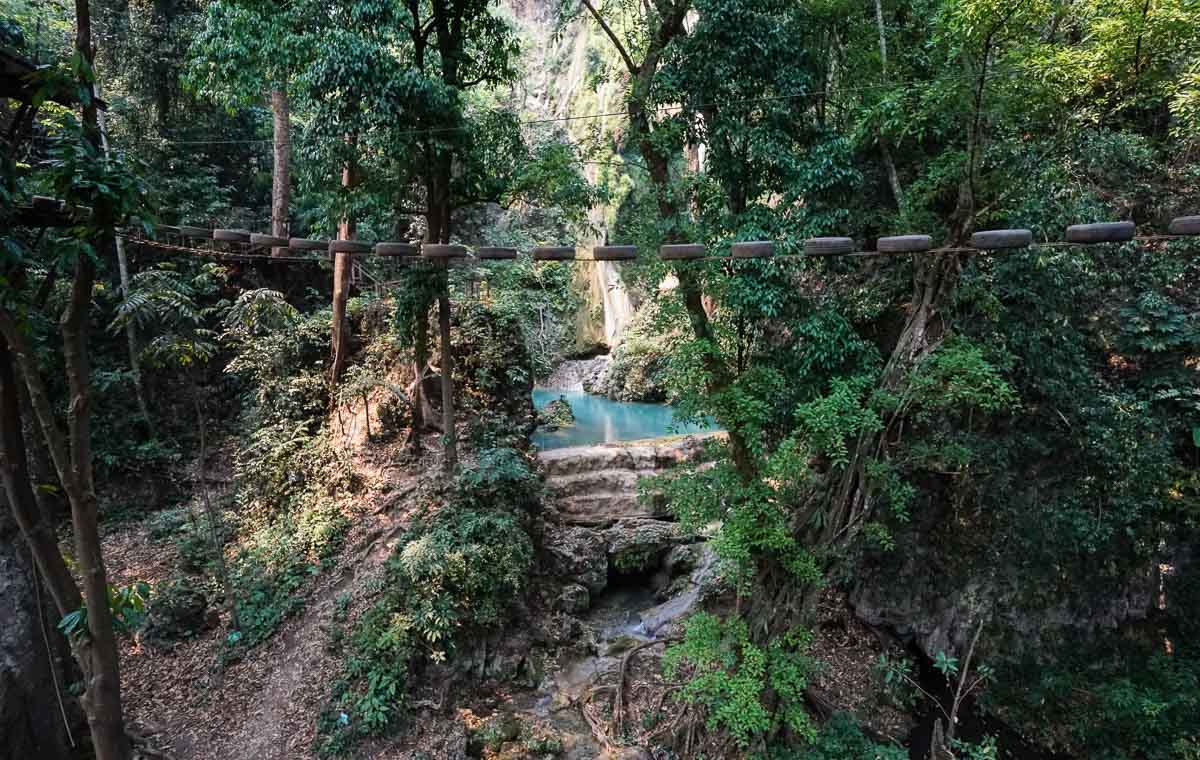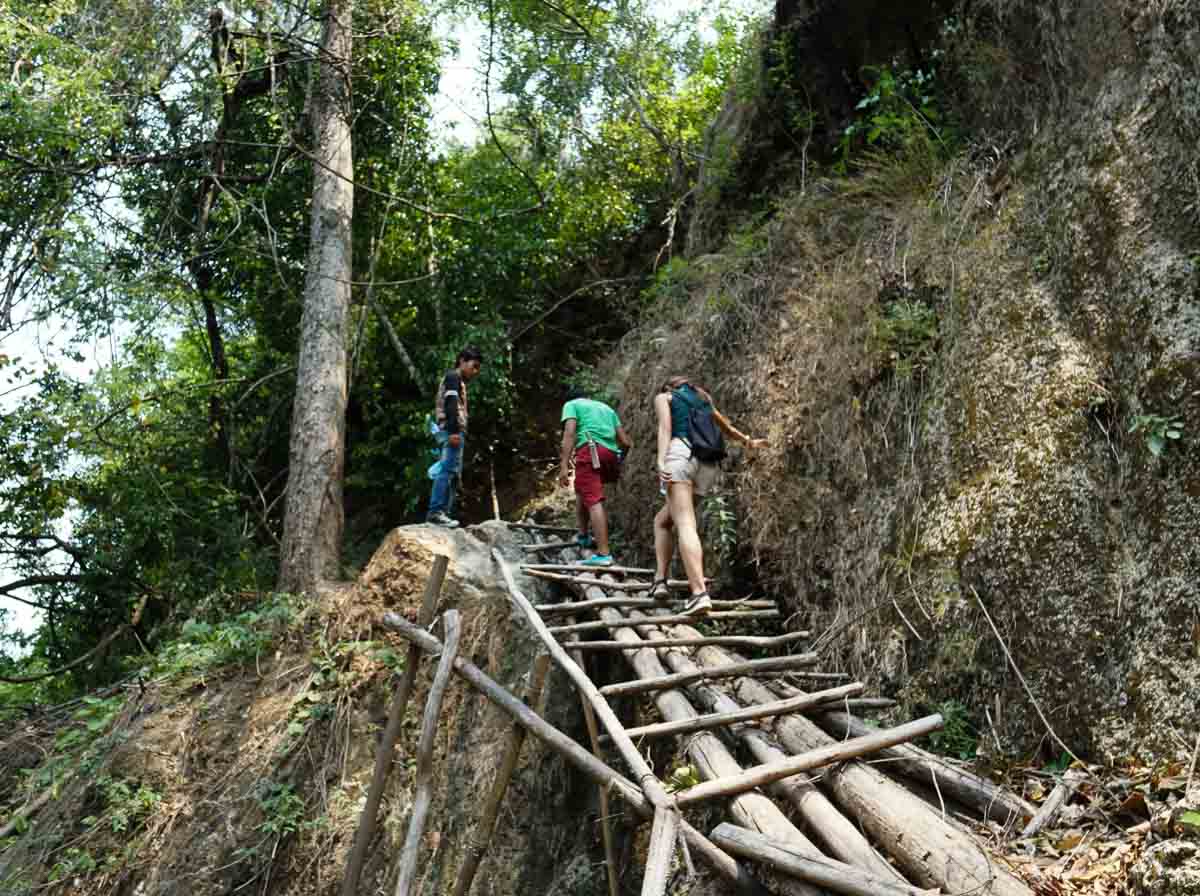 There's really so much to do in the area: trek to the top of the waterfall, test your agility on the rope courses, zip-line through the forest and end off with a refreshing dip in the pool down by the waterfall. You just can't help but feel like a kid again in a place like this.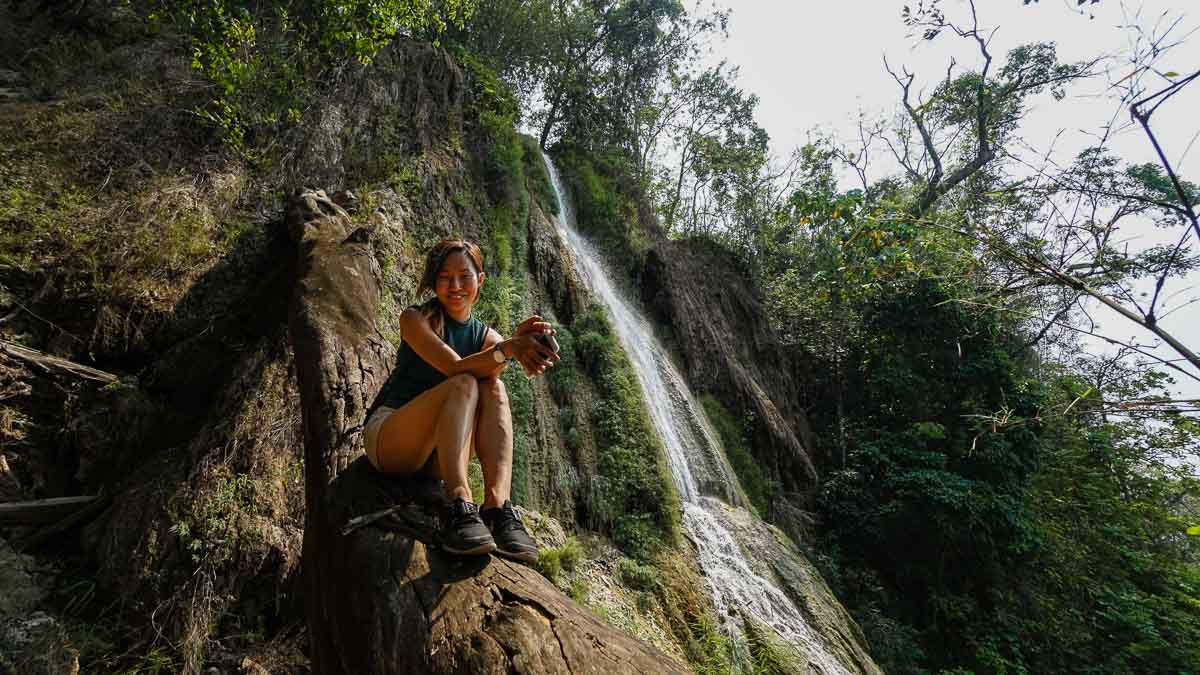 April is one of the hottest times of the year in Laos; right before the start of the new year and the monsoon season, so we were eyeing the pool beneath the waterfall the moment we got here. And the best part is, there was barely anyone around!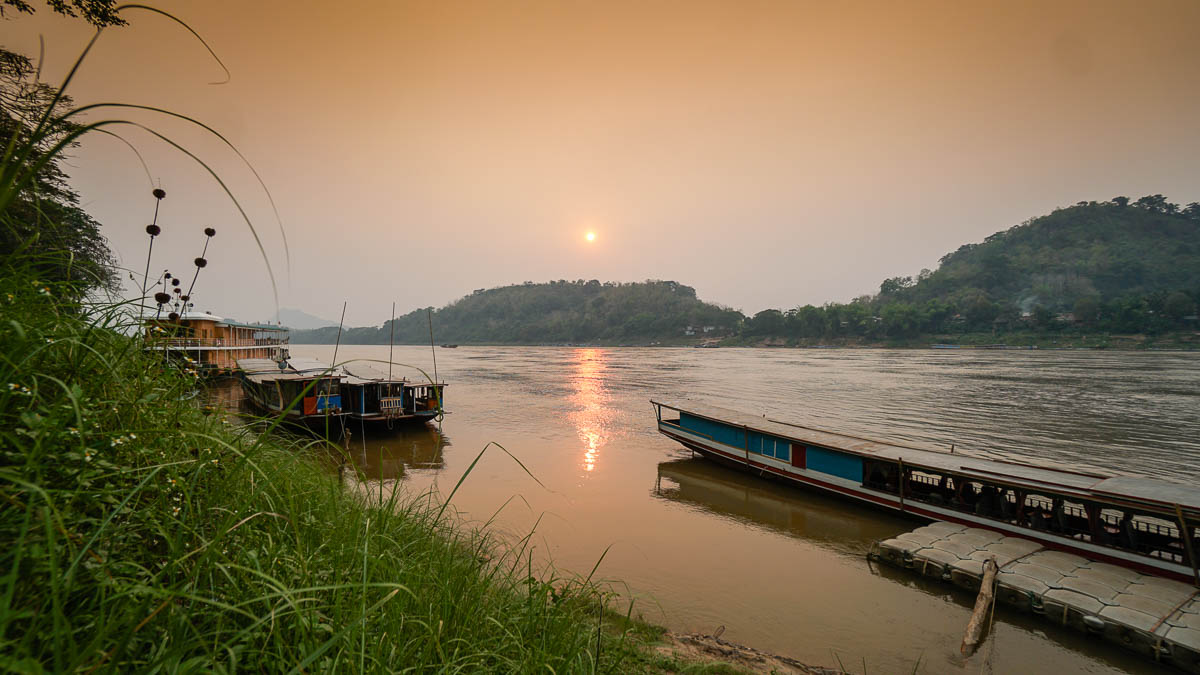 By the time we returned by boat, it was around 5pm and the sun was setting nicely along the river, just in time for dinner!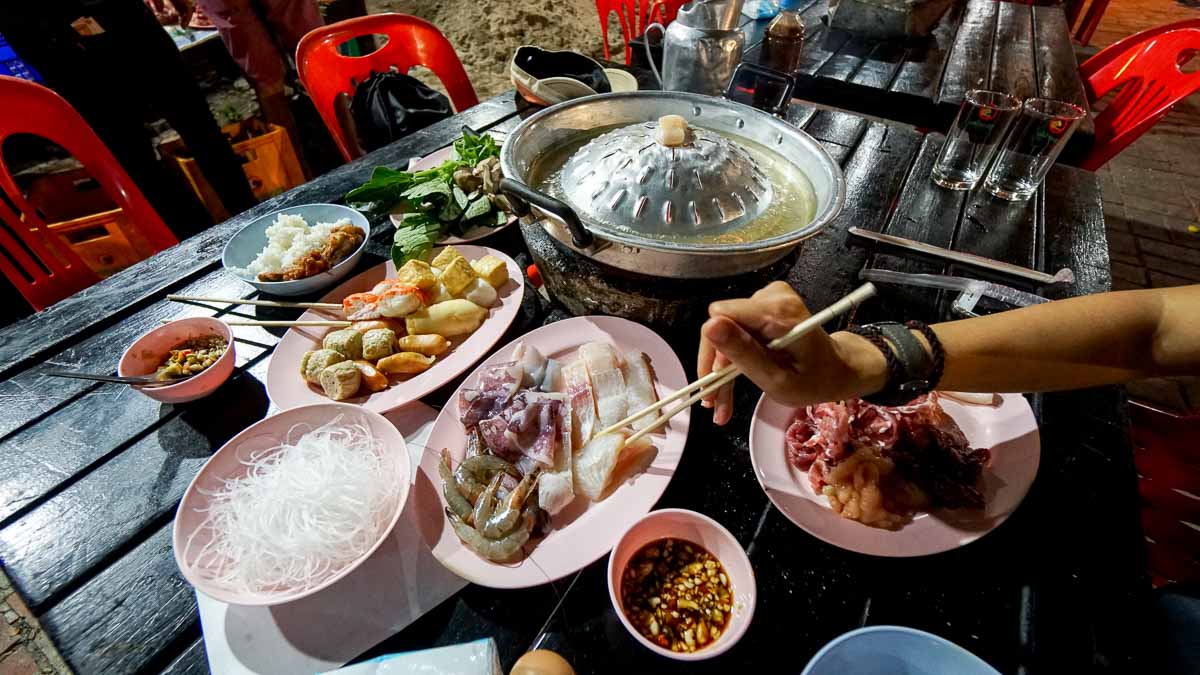 For dinner we found an outdoor Riverside Barbecue Restaurant right along the Mekong river near where we docked. One local mentioned it was a Laotian kind of barbecue but it really just resembled a Thai mookata — I guess there's just a lot of cross cultural influences around here.
Regardless, a buffet style mookata for ₭60,000 (S$10) is a pretty good deal! You can also get a Lao beer here for ₭10,000 whereas most places around the night market and at hostels will sell it for ₭15,000.
With plans to visit Kuang Si waterfalls early the next morning, we popped by one of the motorbike rental shops between Chao Fa Ngum Road (same as the night market) and Khem Khong Road (right next to the river). These shops usually close around 9:30–10pm. The bike rental here is pretty standard at US$10-15 for 24 hours.
Cost:
Full Day Trekking, Rope Course and Zip Line Adventure: US$65
Riverside Barbecue Restaurant (buffet): ₭60,000/pax
Day 3: Next level waterfalls at Kuang Si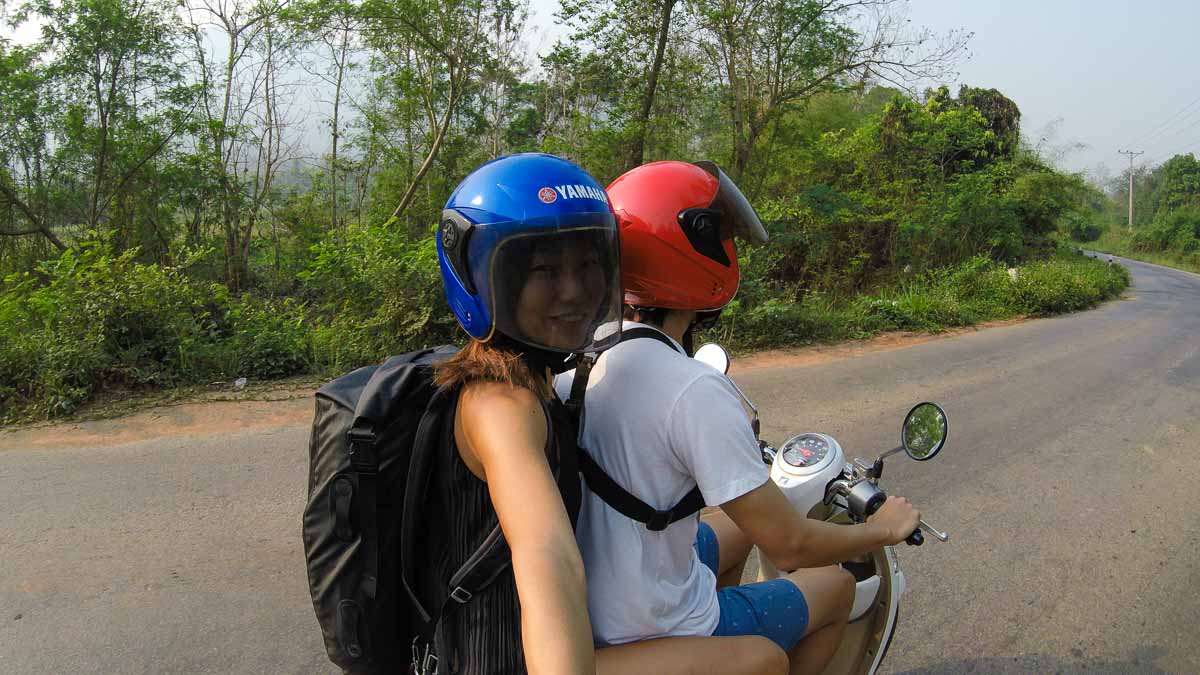 7am — Got out early and rode the bike to Kuang Si as we heard it gets crowded really quick. If you're not confident of riding your own bike, there are lots of tuk tuks that will bring a group of 4 there for ₭200,000 both ways. It was a pretty scenic 45 minute ride through villages, padi fields and tall trees.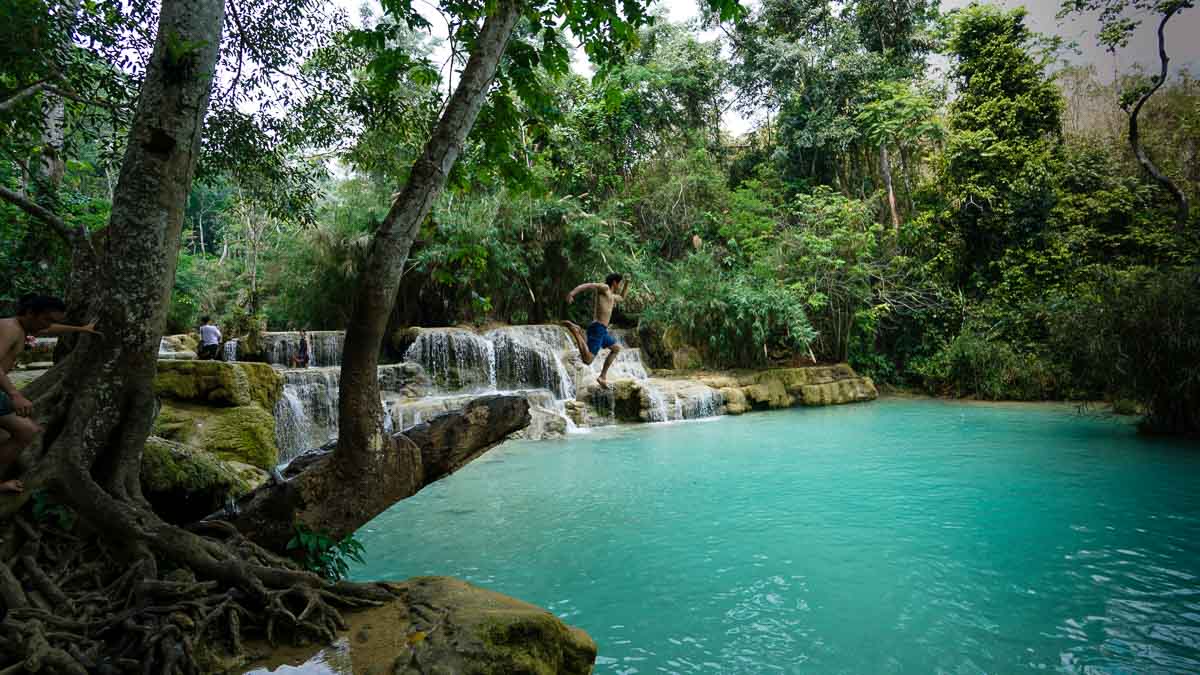 Kuang Si is made out of a series of cascading waterfalls with 3 main sections, each with a pool area to swim in. The first you'll see is the one with the branch and is where you'll find everyone jumping off. The water can be quite shallow so watch your feet!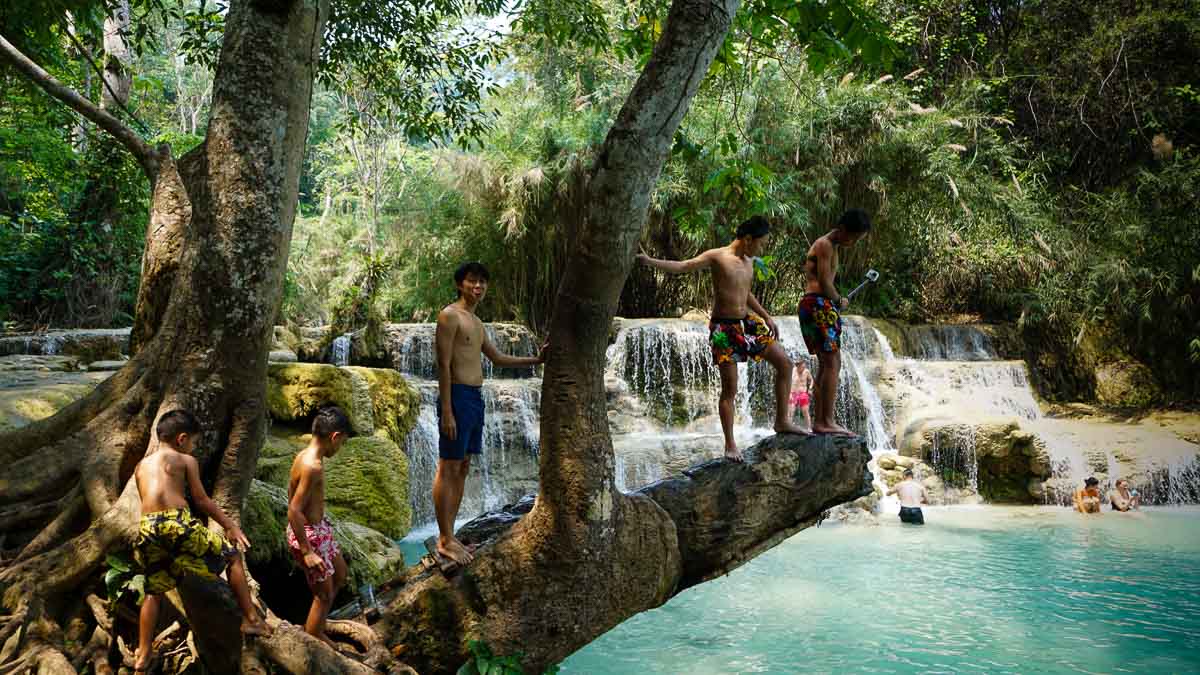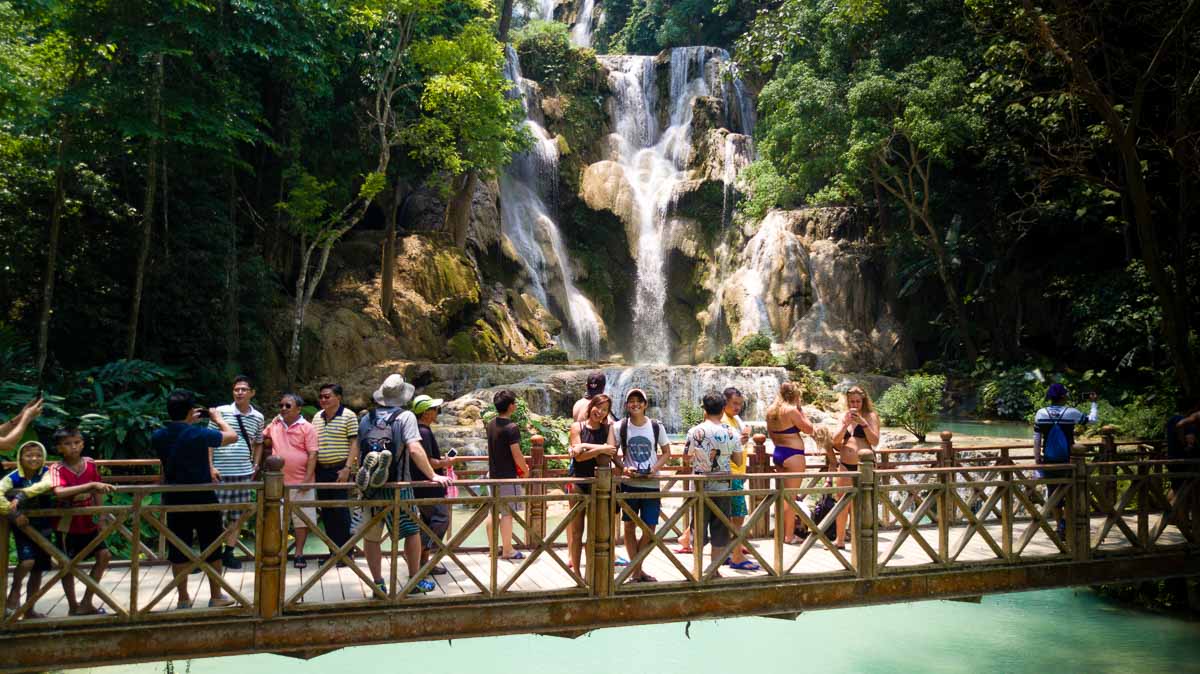 The top is where you'll see the tallest part of the waterfall but the bridge is also where EVERYONE takes photos at.
*Pro-tip: Head to the bridge at the top first thing first if you get here early.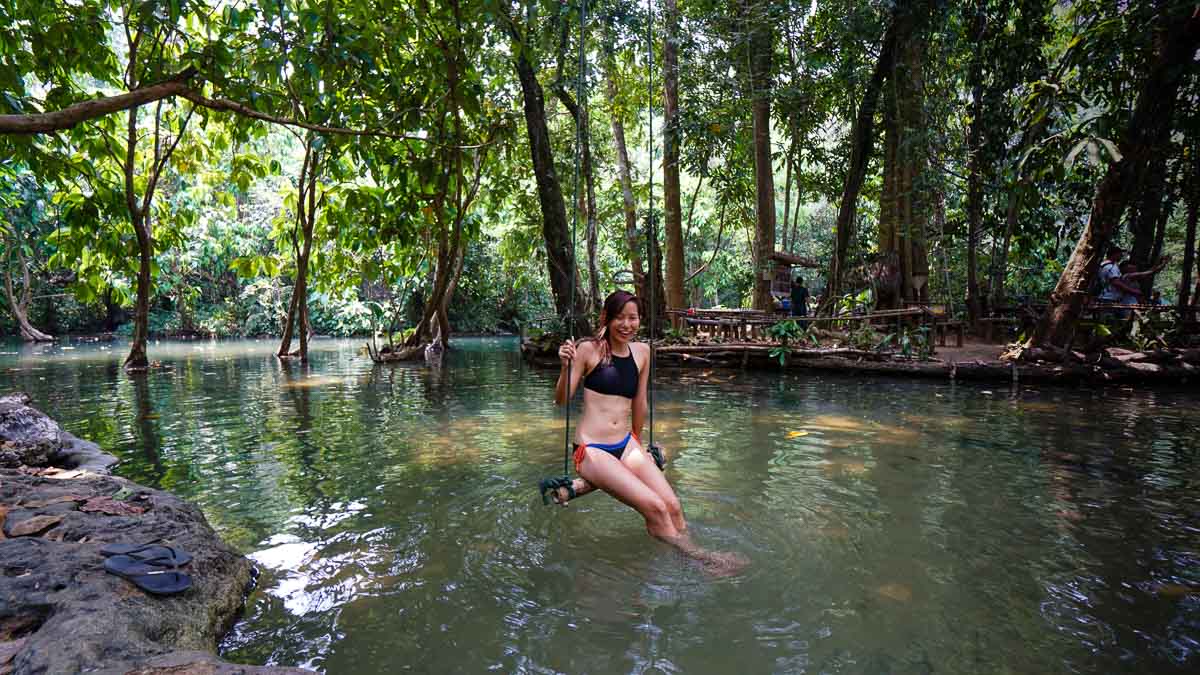 If you're up for a bit more adventure, there are paths on either side of the waterfall where you can get to the top. The right side is shorter but steeper and can be quite slippery.
From the top, it's a lot more chill and a lot less crowd. There's a swing hanging off a branch and you get a panoramic view from the top of the waterfall.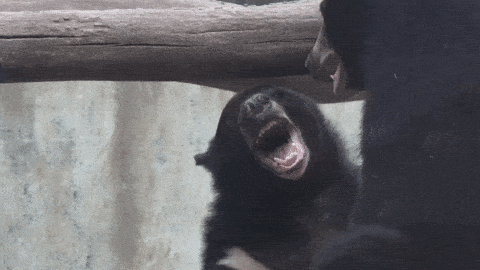 Before you leave, don't forget to check out the bear rescue centre included in your entrance fee into Kuang Si. These bears were saved from illegal medicine trading where they were malnourished and trapped in small cages. At the Tat Kuang Si bear rescue centre you can see them roaming around playfully taking a jab at each other or just lazing on the platforms.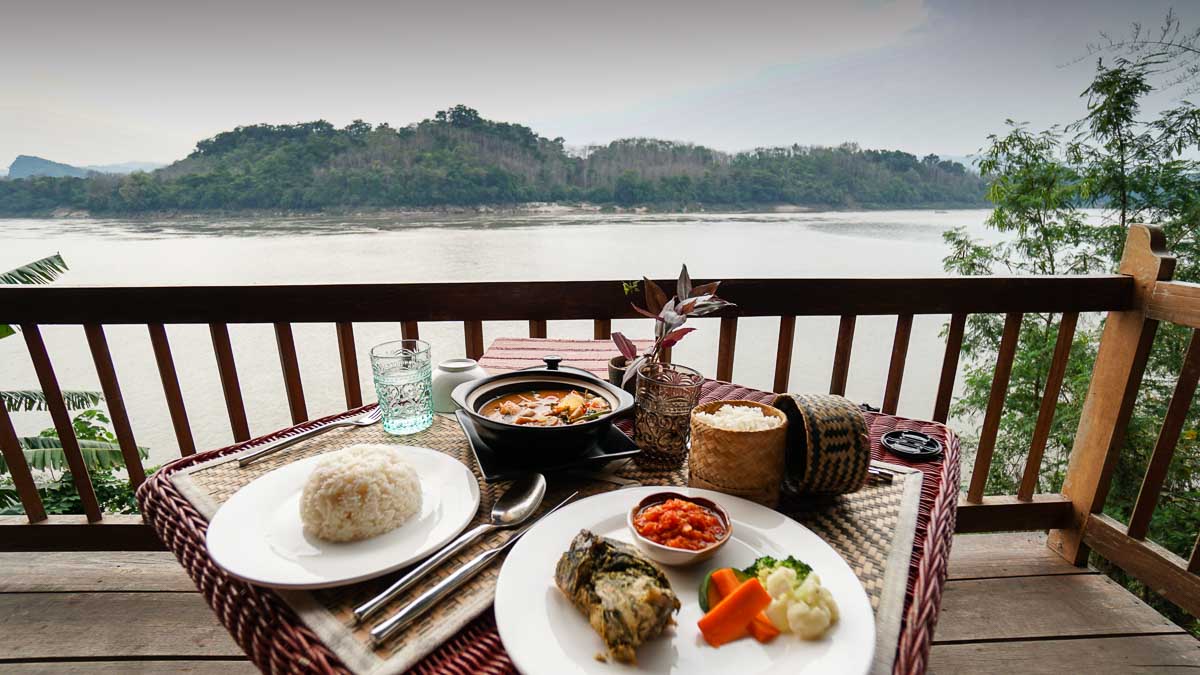 On the way back to the city, we stopped by the Silk Road Cafe owned by Ock Pop Tok — Luang Prabang's most famous textile centre which sells quality textiles as well as conducts lessons for foreigners who want to make their own.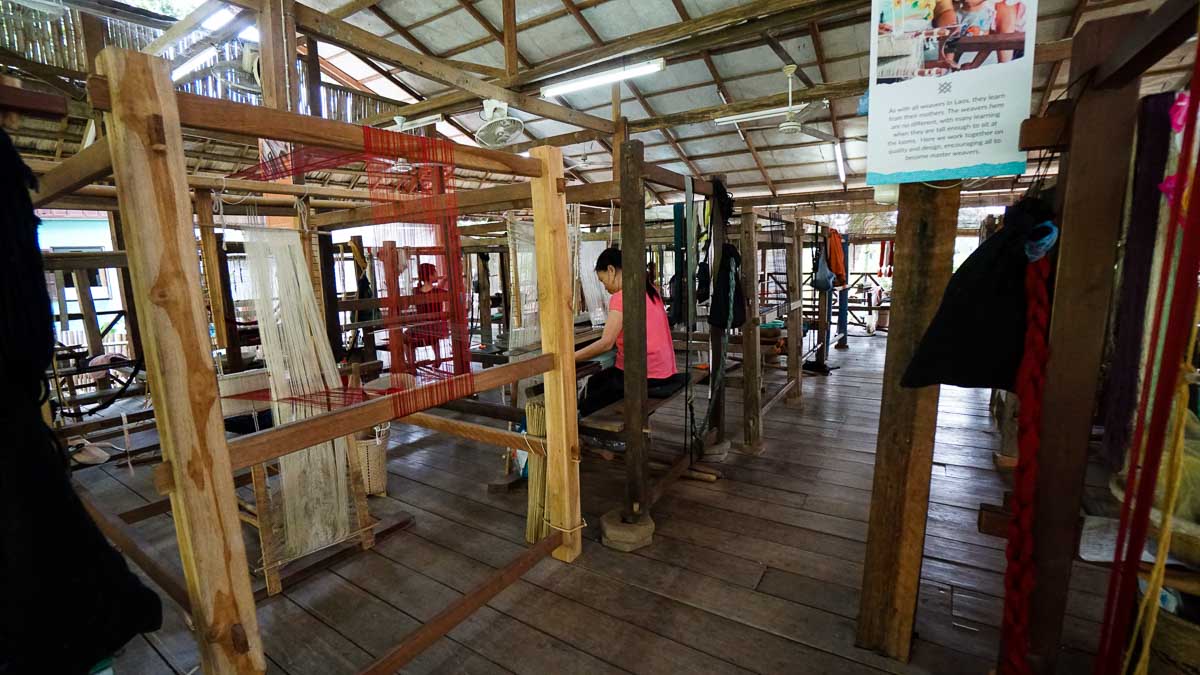 Apart from the textile school and shop, Ock Pop Tok owns 4 cosy units of accommodation right by the Mekong river. Each room is decorated by textiles unique to the different Lao tribes. It's a little far from the city but there's free tuk tuk shuttles and bicycles for rent — and to be fair, Luang Prabang is really small so it doesn't hurt to take a bit of a walk.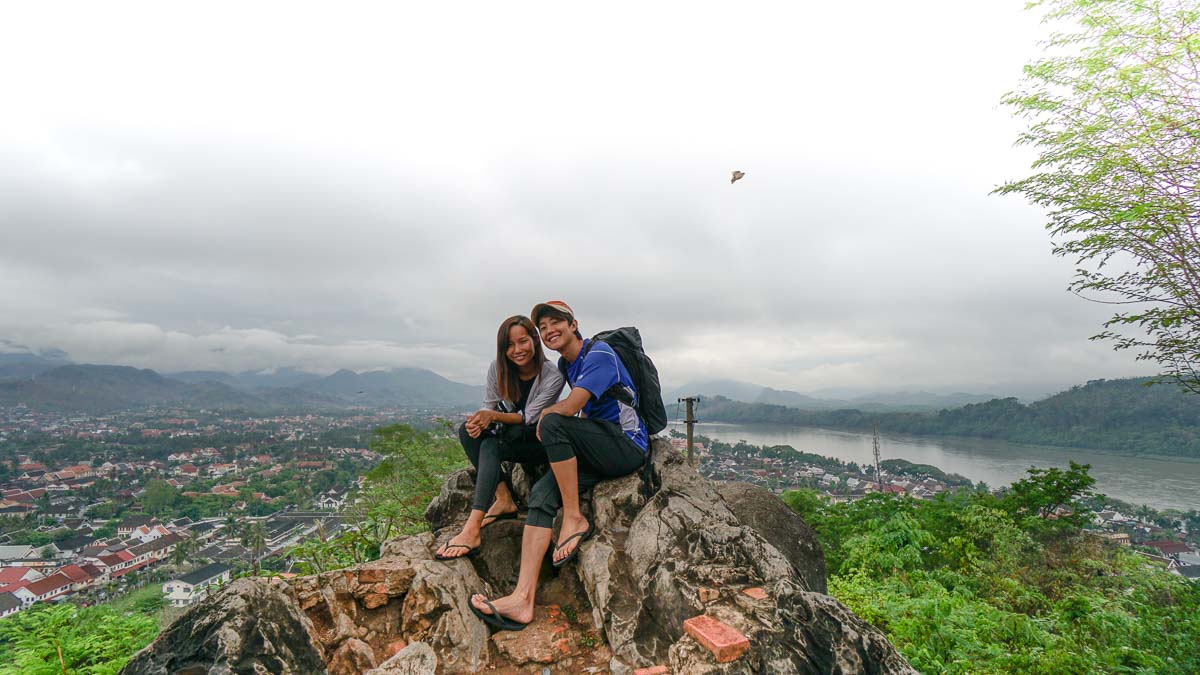 Mount Phousi (really more like a hill) is another place everyone visits at least once in Luang Prabang and it's no mystery why because the views from the top are spectacular! It gets crazy crowded between 4-6pm since it's also a great spot to catch the sunset. But since the weather wasn't the best that day we decided to go a little earlier and we're glad we did! Same awesome view sans the crowds.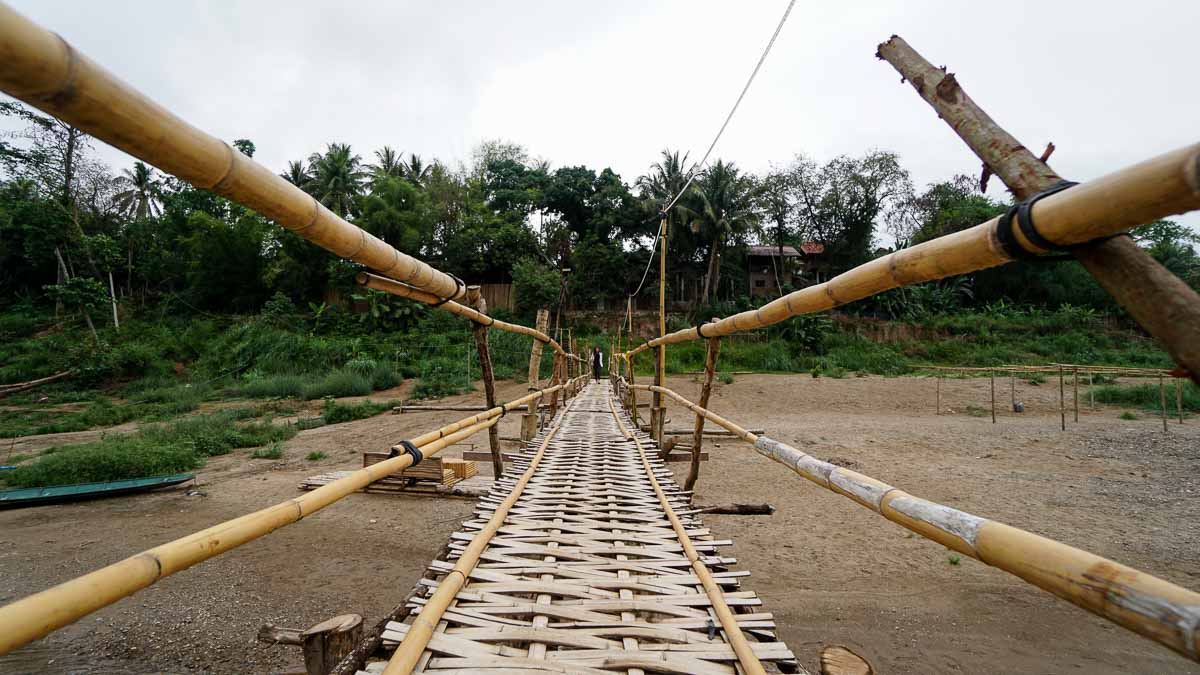 If you're visiting during the dry season (October – March), you should be able to catch this scenic bamboo bridge across the Nam Khan river. Fun fact: this bridge gets swept away by the monsoon and rebuilt all over again every year. There's a ₭2,000 fee for crossing but that's to fund the annual repair of the bridge.
Motorbike Rental: US$15 for 24 hours
Kuang Si Entrance Fee: ₭20,000
Mount Phousi entrance: ₭20,000
Nam Kham Bamboo bridge: ₭2,000
Day 4: Best places to chill in Luang Prabang
After spending the last few days hunting for adventures on the outskirts, we spent our last day finding some of the best spots to chill in the city.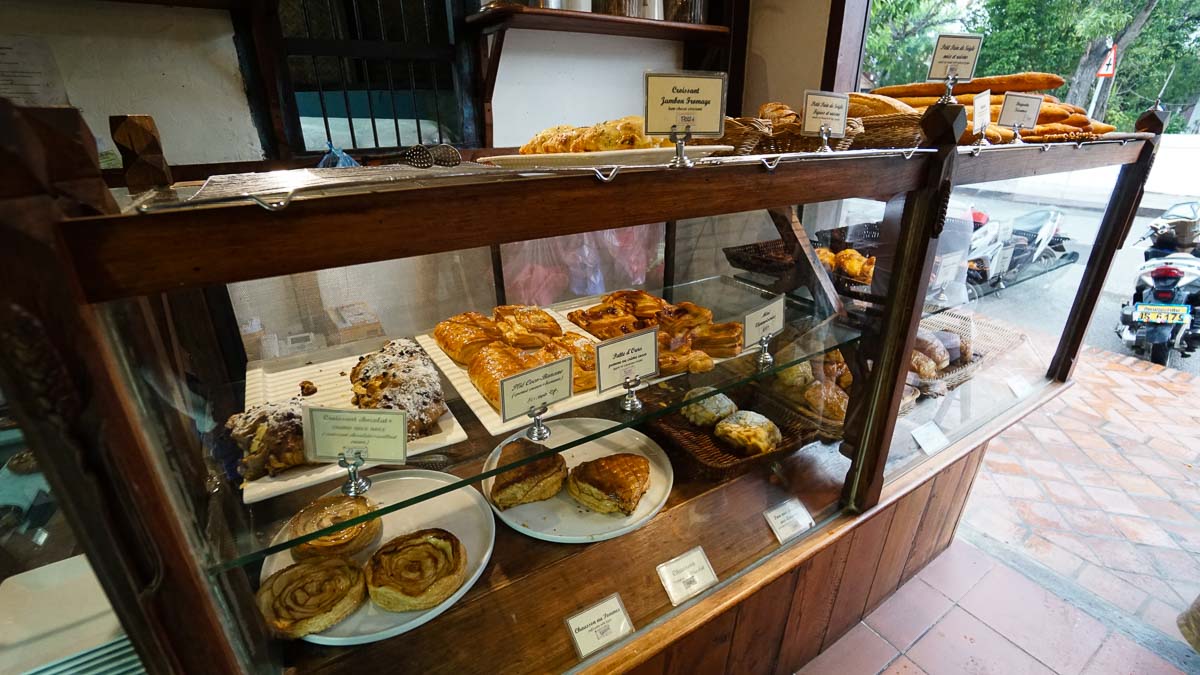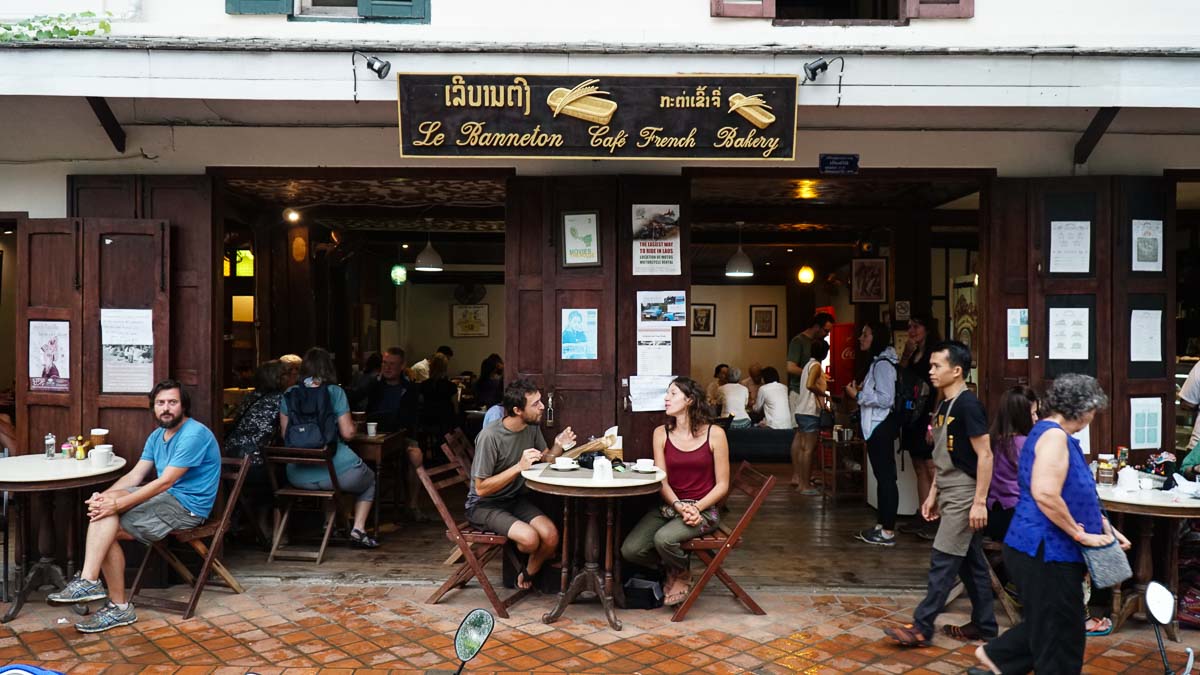 Luang Prabang has pretty strong influences from the French as seen in a lot of the architecture. So it's no surprise that baguettes, and french bakeries are found around the city.
Le Banneton is one of the more popular ones and their croissants get sold out by 10am on some days. Other popular cafes around include Saffron, Joma and if you're feeling fancy, Cafe de laos serves coffee in a Siphon apparatus.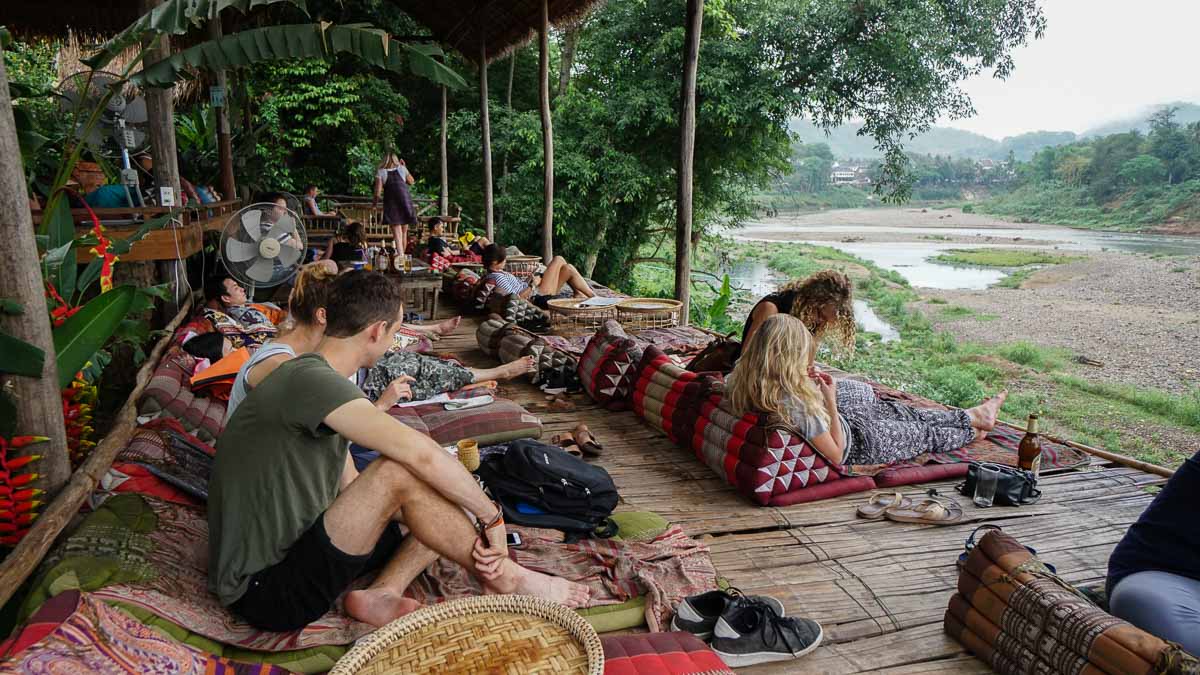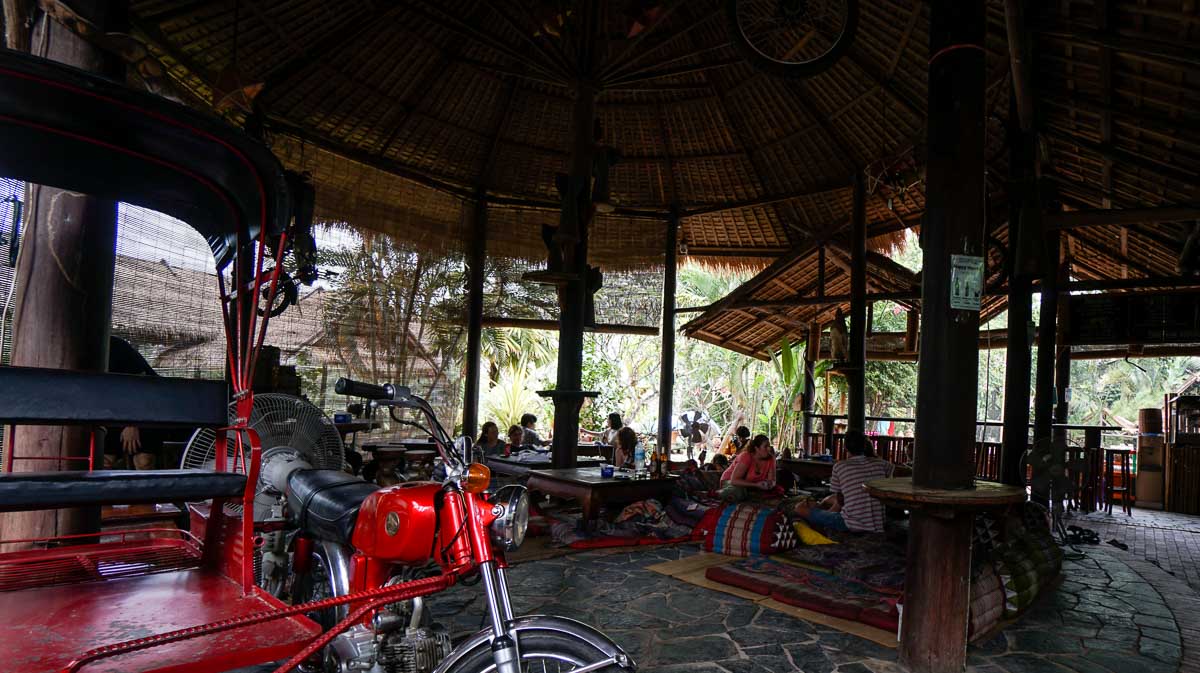 Another great cafe to really chill out is Utopia. Over looking the Nam Khan river, it's a super zen cafe in the day which even offers 7am yoga lessons every morning. But by night, it turns into a pretty happening bar.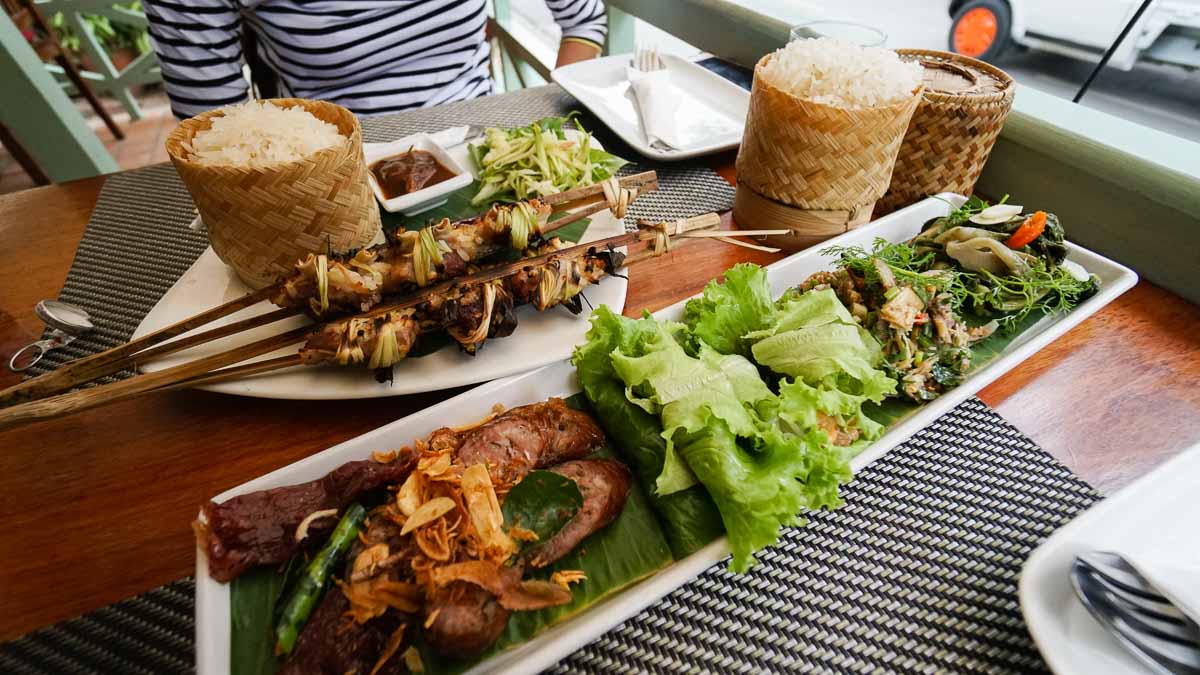 For our last lunch, we found an interesting restaurant called Tamarind. Run by a local and his Australian wife, the menu has quite a comprehensive answer as to what Lao people really eat.
After having a mish-mash of Vietnamese Pho, French baguettes and Thai mookata, we were quite curious what traditional Lao cuisine was. We ordered Five Bites which comes with bite sized portions of 5 different Lao snacks — a lot of which were quite salty on its own but went really well with a side of sticky rice.
With some time to spare before our 5pm flight, we settled in one of the many massage shops* scattered along Sisavangvong before leaving for the airport — a great end to the trip indeed.
*1 hour of foot massage typically ranges from ₭40,000 – 60,000
Accommodation in Luang Prabang
The great thing about Luang Prabang is how fitting it is for both the budget backpacker as well as those looking to spend an extended weekend away in comfort.
Budget: Sabai Sabai Hostel

Translated in English as "Chill chill", this place is exactly as it's name suggests. The owners of Sabai Sabai hostel are one of the most hardworking and sincere people I've met at hostels and really try their best to give their guests the best experience here. There are yoga sessions in the morning, a swimming pool, and sturdy spacious dorm beds partitioned by cement walls — minimises creaky noises when your bunk buddy moves 😉
Cost: US$10 for mixed dorm; US$15 for single gender dorm
Mid range: Indigo House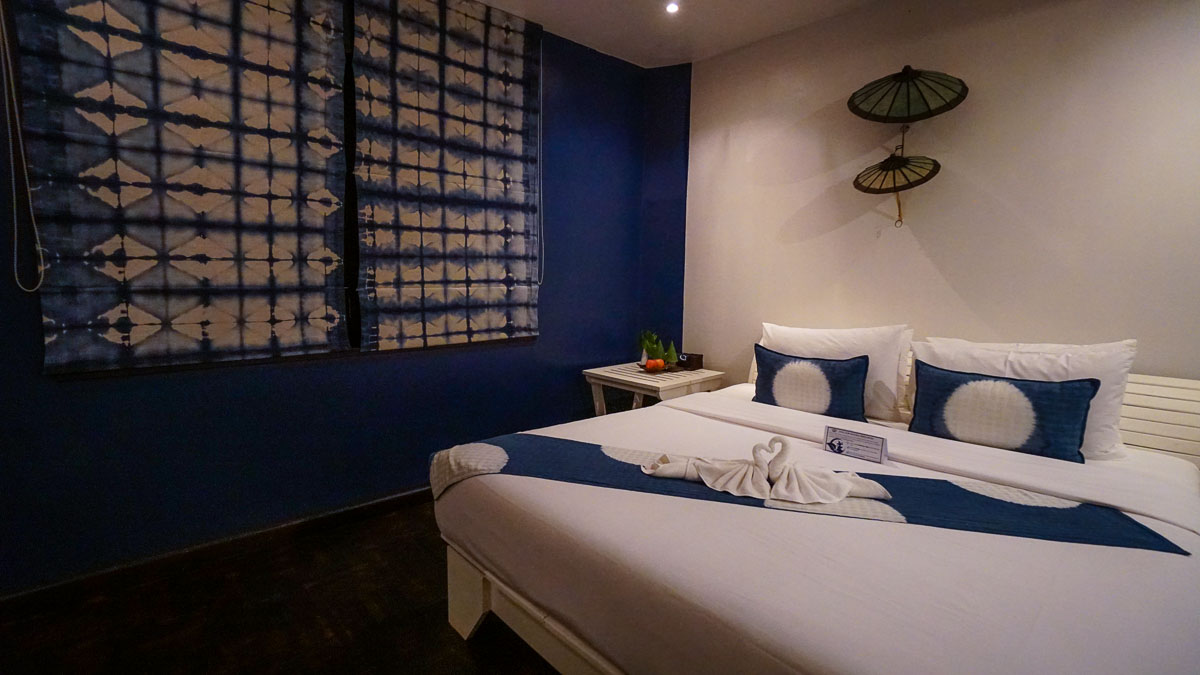 Located right at the start of the local night market, the 4 storey building of Indigo House is unmissable. If you realise, it's the only 4 storey building in the entire Luang Prabang because it was built before Luang Prabang got its UNESCO title that set a law for all buildings to be a maximum of 2 storeys high. Which is great for guests at the Indigo House as you get to enjoy views of the city from the rooftop terrace.
The rooms are extra cosy (for Laos standards) and the breakfast is really decent. You get to choose from a menu of 7 options with 2 local dishes and 5 western styled breakfasts ranging from yogurt and muesli to a hearty american breakfast.
Cost: US$80/night (includes breakfast)
Splurge: Pullman Luang Prabang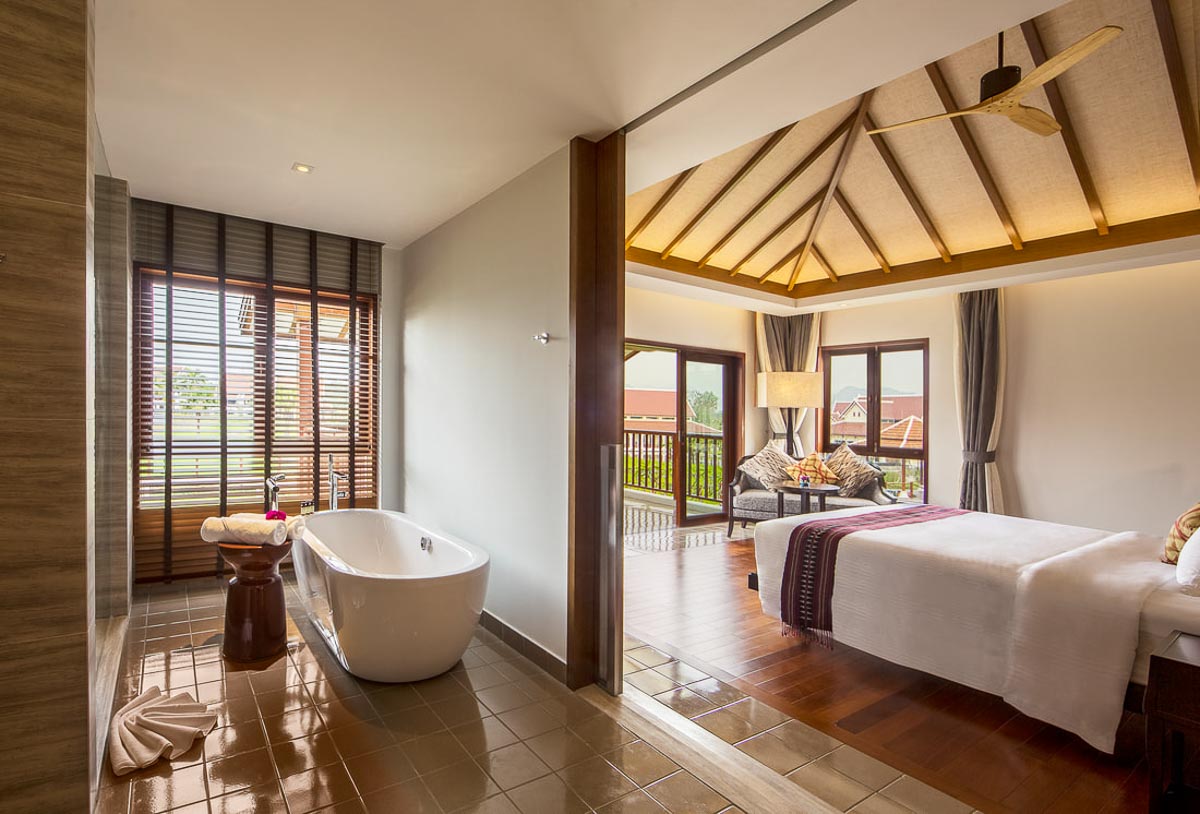 Pullman Luang Prabang is a luxurious five star hotel, located a short drive from the town centre. Views from the room balcony overlook the garden and overarching hills surrounding the resort.
Cost: US$84/night in a standard Deluxe Room
A new way to earn KrisFlyer Miles
Traditionally apart from flying, you could only earn KrisFlyer miles through spending on credit cards. Unfortunately, this option is out of the question for those still studying, or before our annual incomes hit the minimum requirements to sign up for a credit card.
With the KrisFlyer UOB debit card & account, you can earn KrisFlyer miles when you spend a min. of $500 on the card and save with a minimum deposit balance of $3,000 in the account. With every tier of savings, you get to earn bonus KrisFlyer points that can give you between 1.4 to 5.4 KrisFlyer miles for each dollar spent.
For example, if you've a monthly deposit balance of $20,000 and a monthly spend of $750, within a year you could redeem a flight to regional destinations such as Manila, Hanoi, Siem Reap, Phuket or Bangkok on Singapore Airlines or SilkAir.
To calculate where your daily spending and savings can take you, check out KrisFlyer UOB's handy miles calculator. T&Cs apply.
Find out more here at UOB KrisFlyer.
---
This post was brought to you by UOB Cards.