A 3-hour drive from Bangkok lies a city filled with wineries, farms, and massive floral fields. Wait what? That exists in Thailand? Yes it does, and you can find it all in Khao Yai. Here's how to cover all the must-eat-see-do in this 4D3N Khao Yai itinerary.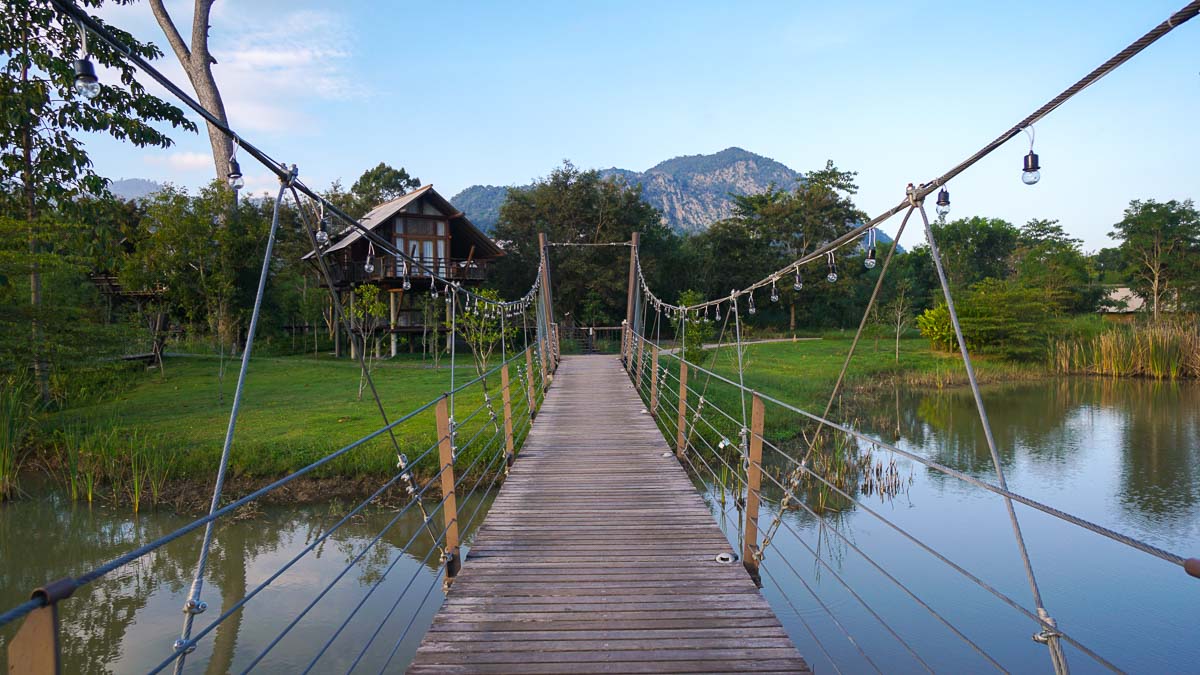 Bangkok has been my go-to getaway whenever there's a short window for travelling. Flights are fairly cheap (being only 3 hours away), food is delicious and affordable food, and it's easy to get around. But there's only so much the city can continue to excite us, restless travellers.
Right after we landed in Bangkok this time, we drove 3 hours north to the city of Khao Yai where we spent four days exploring places we hardly expected to see in Thailand.
Pre-trip Essentials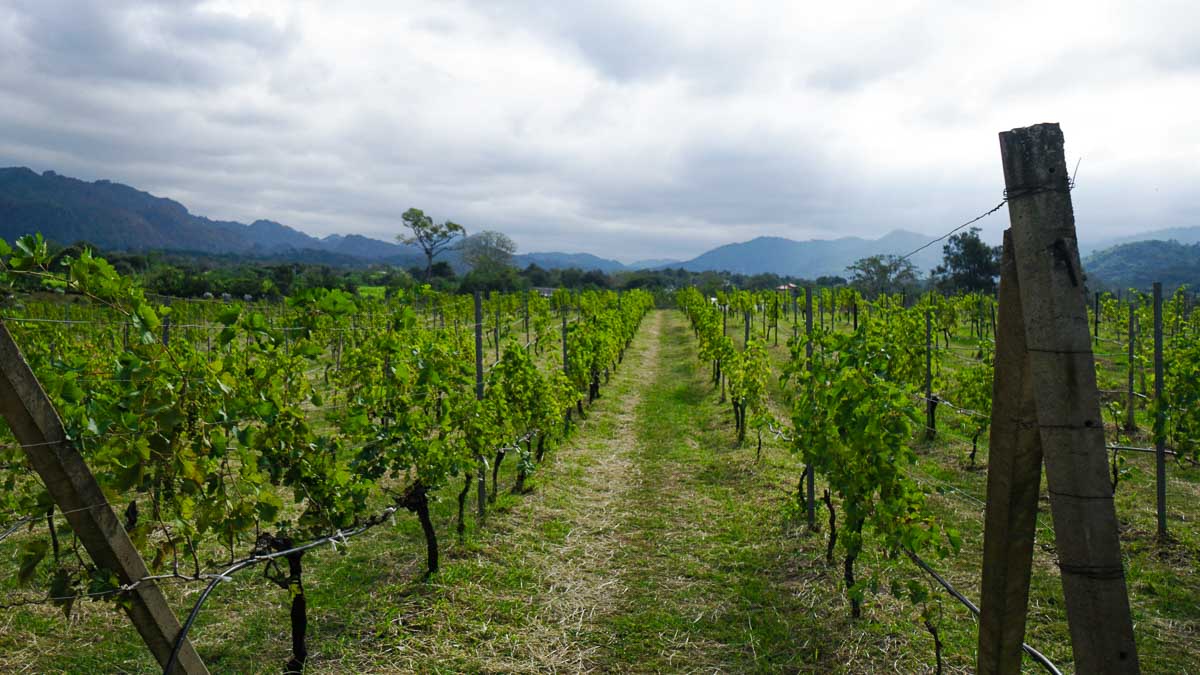 Best time to visit: Khao Yai is generally a few degrees cooler than Bangkok but the cool weather and clear skies are best experienced during the post-monsoon/winter season between November – February (flights then are relatively cheap too!). Average temperatures in the day hover around a comfortable mid-20 and drop to 10–15°C at night.
Getting around: Many key sights can be up to an hour's drive away. There are also no metered taxis nor ride hailing apps around here. We booked an affordable 4-day private car charter through Klook which gave us complete freedom to decide what we wanted to experience each day in Khao Yai. More on that below!
Connectivity: 8-day unlimited data SIM card (pick up from BKK airport)
Travel insurance: TravelCare covers medical overseas expenses including adventurous activities cover (starts from $4.50/day)
Read also: 11 Whimsical Accommodations in Khao Yai for an Extra Magical Holiday
Day 1
Arrive in Bangkok
If you're landing at Suvarnabhumi Airport, you can spot the drivers waiting outside Gate 4 with distinct orange (Klook) signboards. We met our driver, bought some breakfast and were on our way.
*Pro-tip: The ride will take 2.5–3 hours so grab yourself some food at the airport's Family Mart. You can get a pretty decent Thai Basil Rice set with a runny fried egg for ฿65.
Yellow Submarine Coffee Tank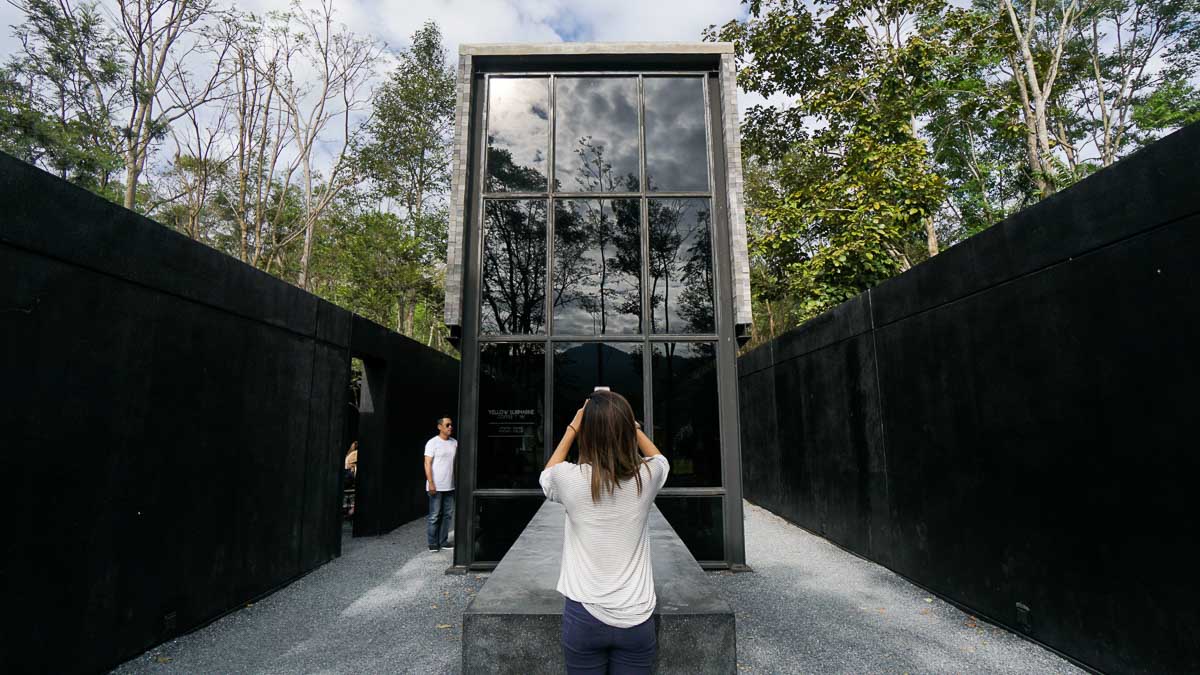 After a 2.5-hour drive, we took a coffee stop at the Yellow Submarine Coffee Tank. The black walls and minimalist architecture attracts many locals who use the various corners for a mini photoshoot.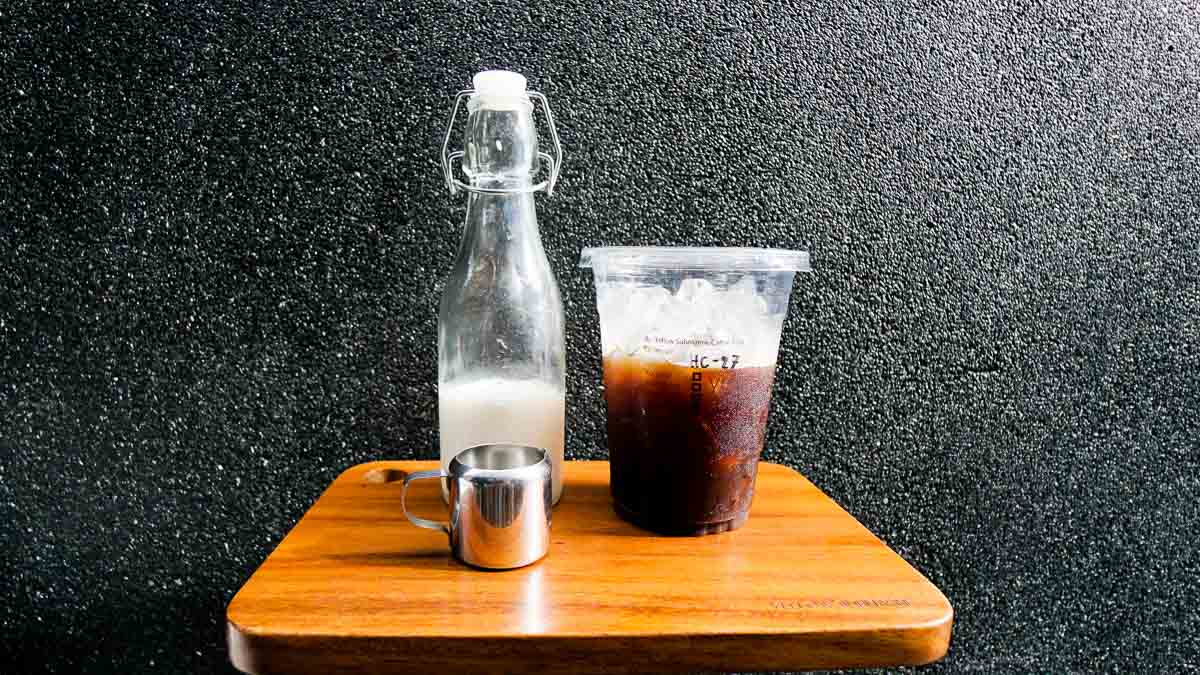 But don't just come for the photos, some notable items on the menu include their Hokkaido Coffee (฿140) and Charcoal Honey Toast (฿185) which comes with a delicious scoop of vanilla ice cream.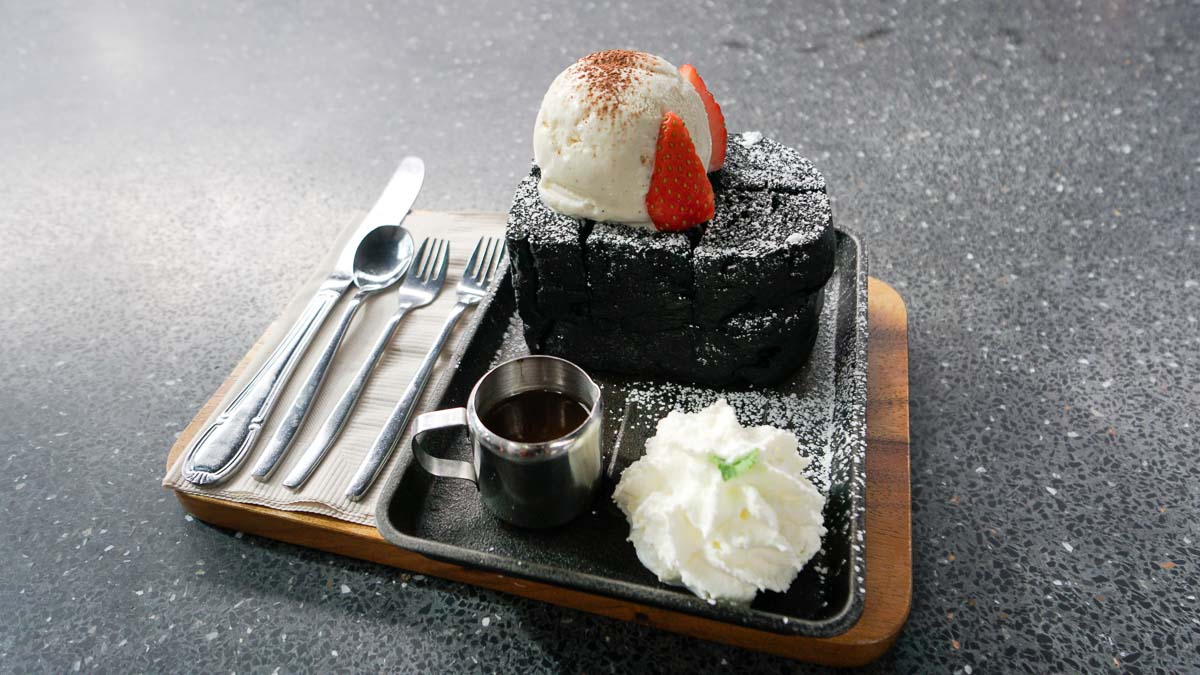 The coffee was alright but the charcoal toast was pretty good! It was crisp, evenly buttered throughout and compliments well with the vanilla ice cream.
Cost: From ฿140/dish
Opening hours: 9AM – 6PM (Mon – Thu), 9AM – 7PM (Fri – Sun), closed on Tues and PH
Address: Mu Si, Pak Chong District, Nakhon Ratchasima 30130, Thailand
*Note: Might be closed on weekdays during the low season
Primo Piazza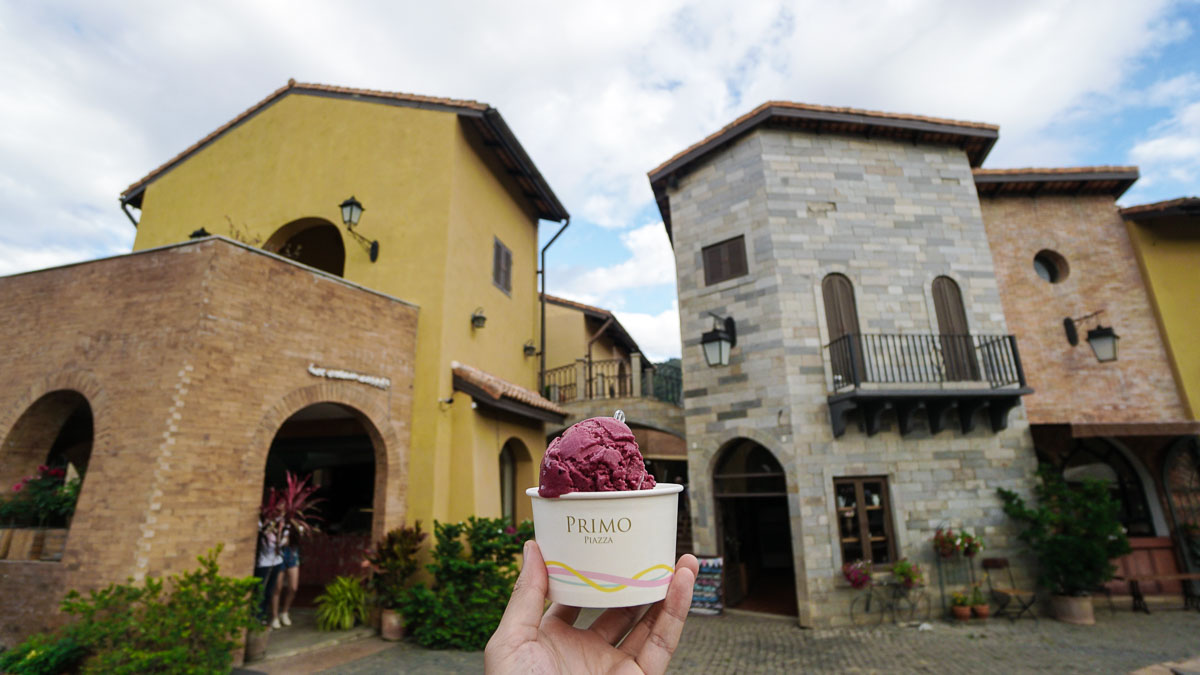 Just a 3-minute drive from Yellow Submarine Coffee Tank is the famous Primo Piazza — an Italian-themed village with themed buildings.
Drop by the cafe for some brunch or the ice cream parlour to cool off under the midday sun.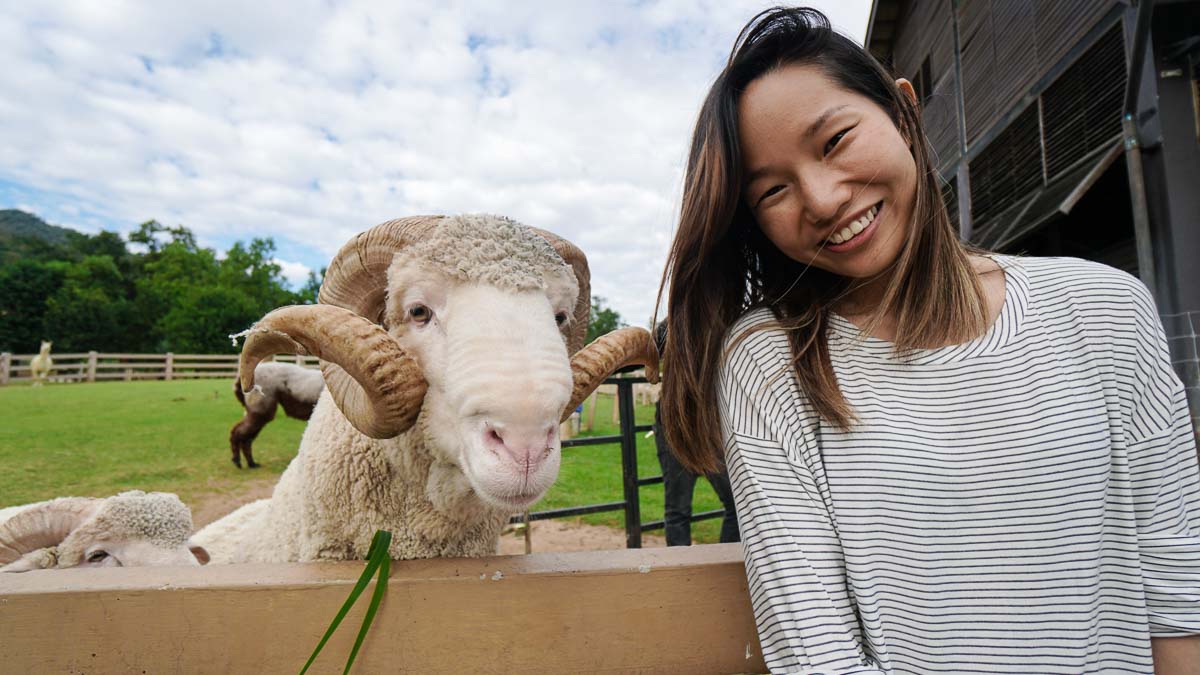 But perhaps the greatest highlight here are the sheep, donkeys, and alpacas! Your entry ticket can be exchanged for a bunch of animal feed which serves as a good bribe for photos with the animals 😀.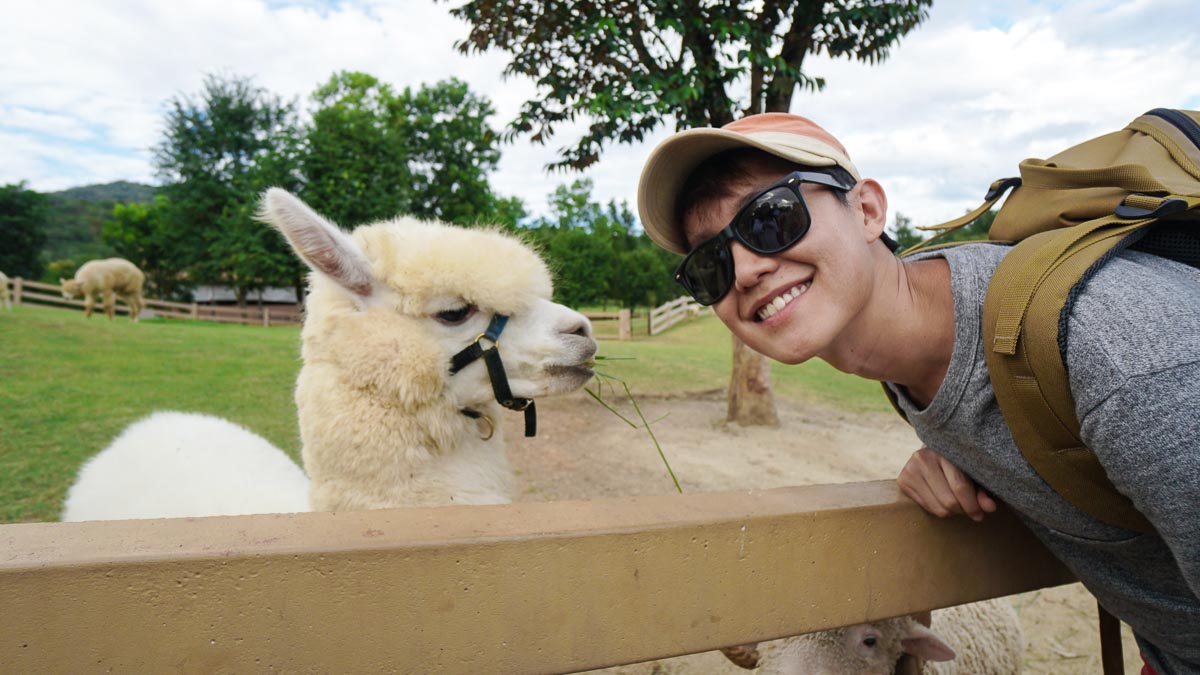 Entrance fee: ฿200
Opening hours: 9AM – 6PM (Fri – Mon), closed from Tue – Thu
Address: 200/2 Moo10, Tambon Musi, Pakchong District, Nakhon Ratchasima 30130, Thailand
Piazza Palio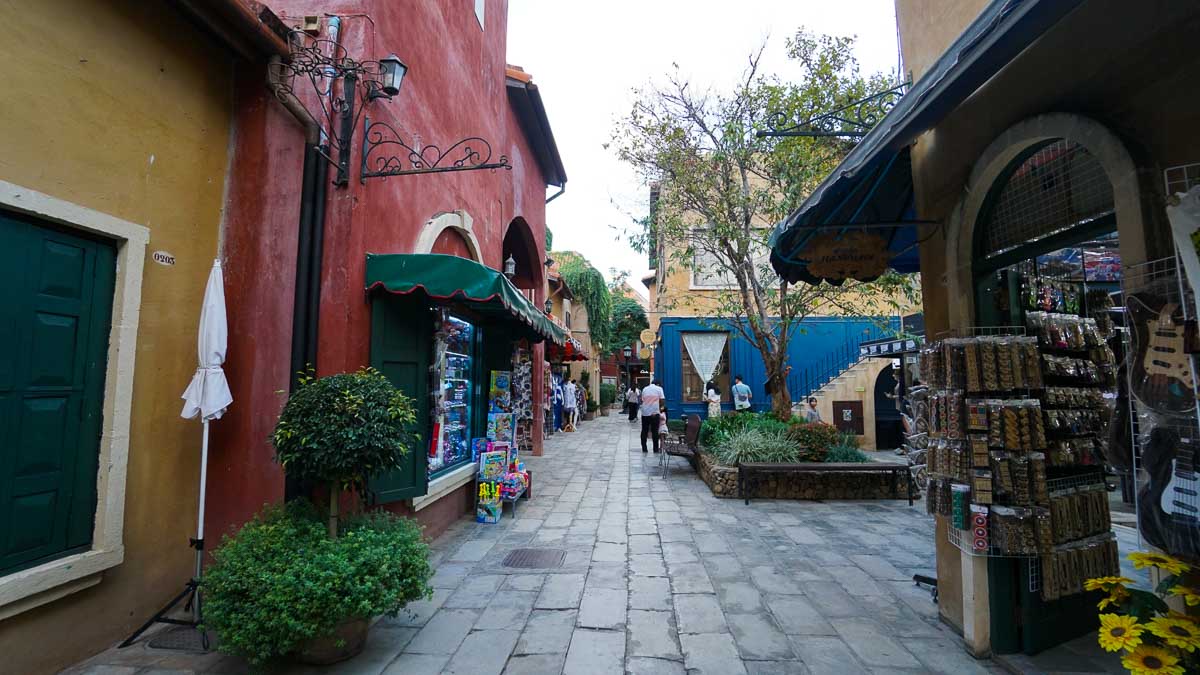 Not too far from Primo, Palio is another Italian-themed market square where you can get a little shopping done. Entrance is free and we were quite amazed with the detail replicated for an immersive out-of-the-country experience.
From the architecture of the buildings to the stone-cobbled streets, they even had accordion music playing in the speakers, throughout the streets!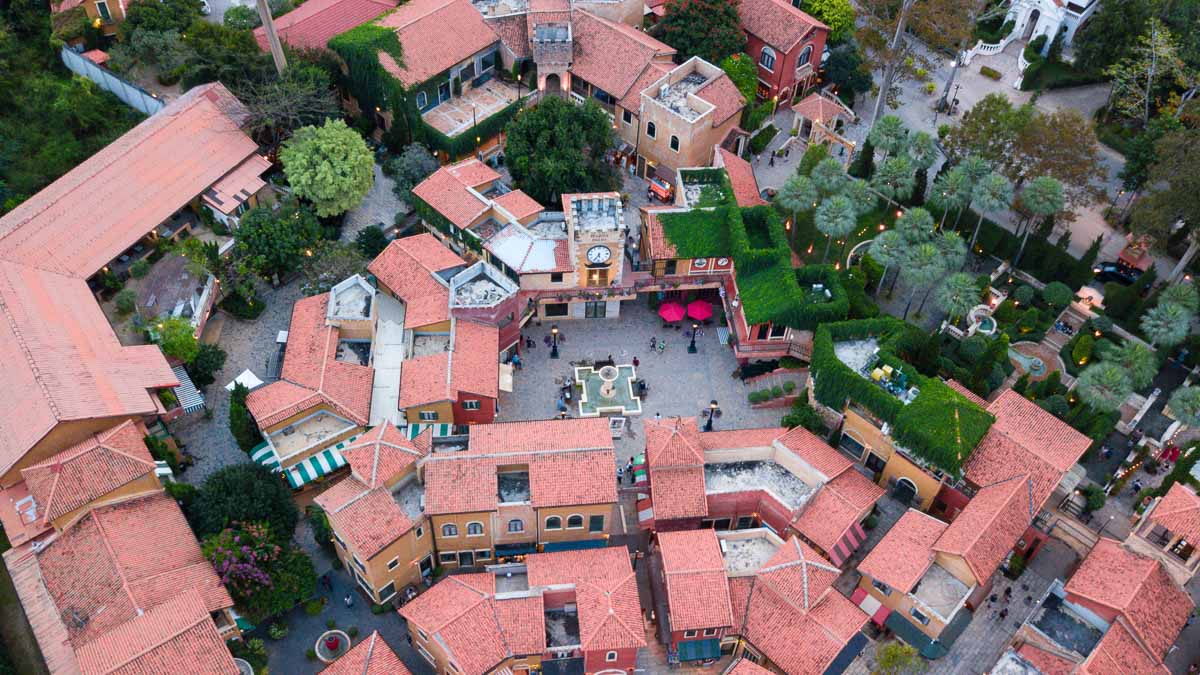 I guess with a wee bit of imagination, it really did feel like we were transported out of Thailand for a bit. It'd also add to the experience if you're visiting during the cooler winter seasons where evening temperatures drop to 16–20°C!
Entrance fee: Free
Opening hours: 9AM – 7PM
Address: 146/1 ม.4 Palio Khaoyai, ถ.ธนะรัชต์ กม.17, Tambon Mu Si, Amphoe Pak Chong, Nakhon Ratchasima 30130, Thailand
Dinner at Kua Kampan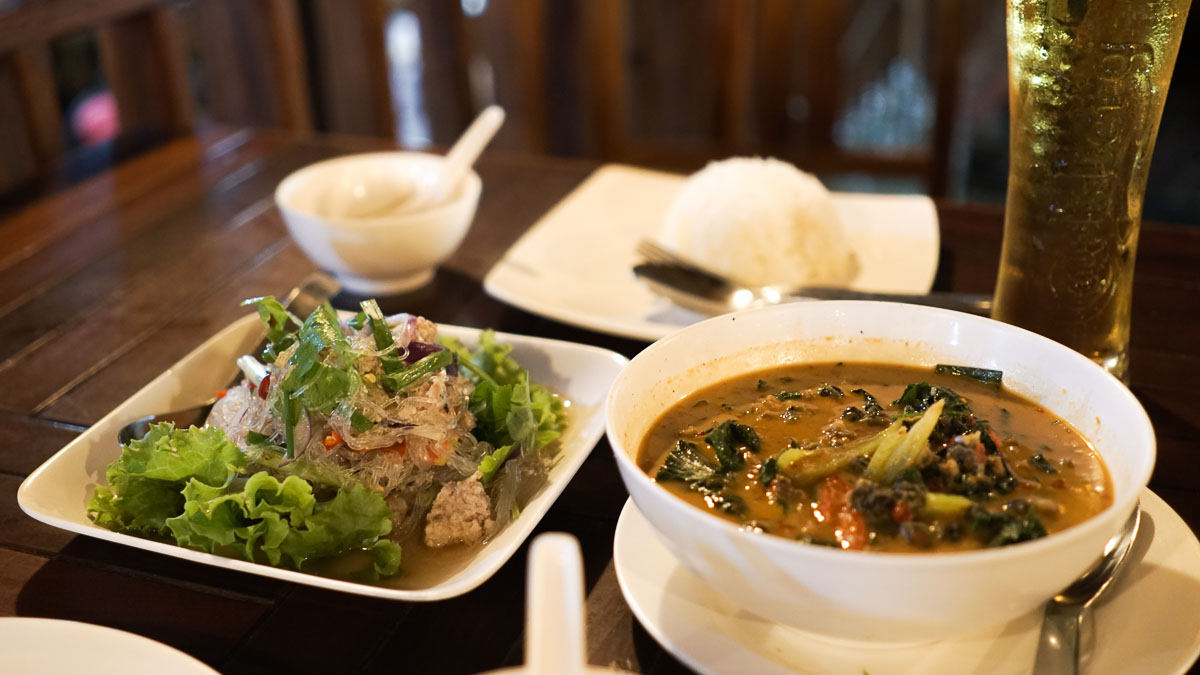 After exploring hipster cafes, and walking through little Italy, we were craving some homely Thai food and chanced upon Kua Kampan — a 10-minute drive from Palio. Its cosy, open-air setting and affordable prices turned out to be quite popular with local tourists.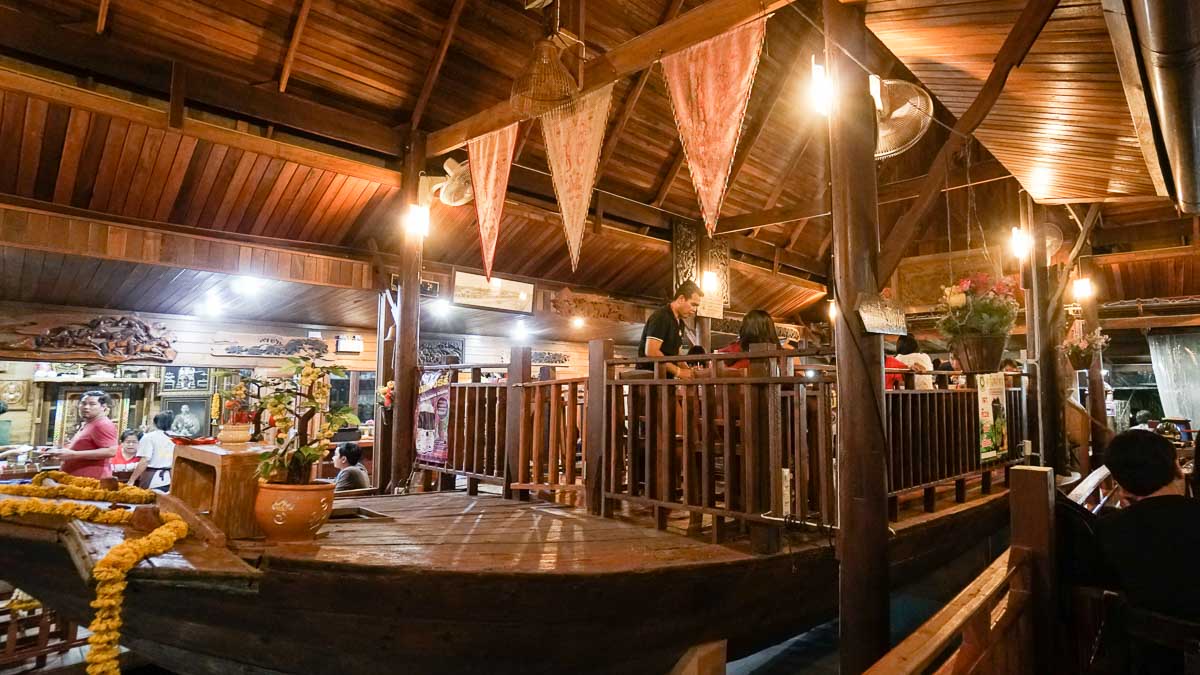 The centrepiece is a modified boat made to accommodate a couple of tables on the deck. Popular dishes here are the Red Curry with Snails (฿200) — snails were alright but the curry was really good, and Red Ruby Fish (฿320) — the fish was massive! If there are only two of you, the grilled mackerel (฿220) is a good alternative.
Cost: From ฿200/dish
Opening hours: 9AM – 9PM
Address: 94-94 / 1 Moo 6, Pak Chong District, Nakhon Ratchasima 30130, Thailand
Day 2
PB Wine Valley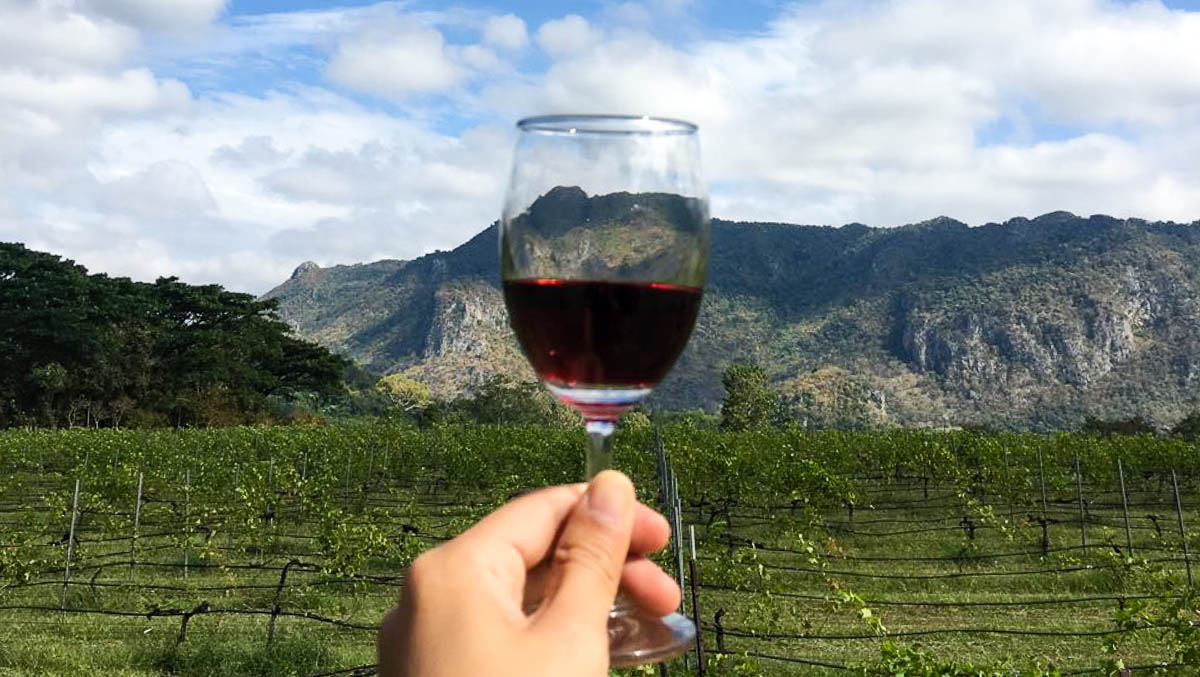 Start the day early and hop on the 9AM winery tour at PB Wine Valley — a 350-hectare vineyard and the largest in Khao Yai.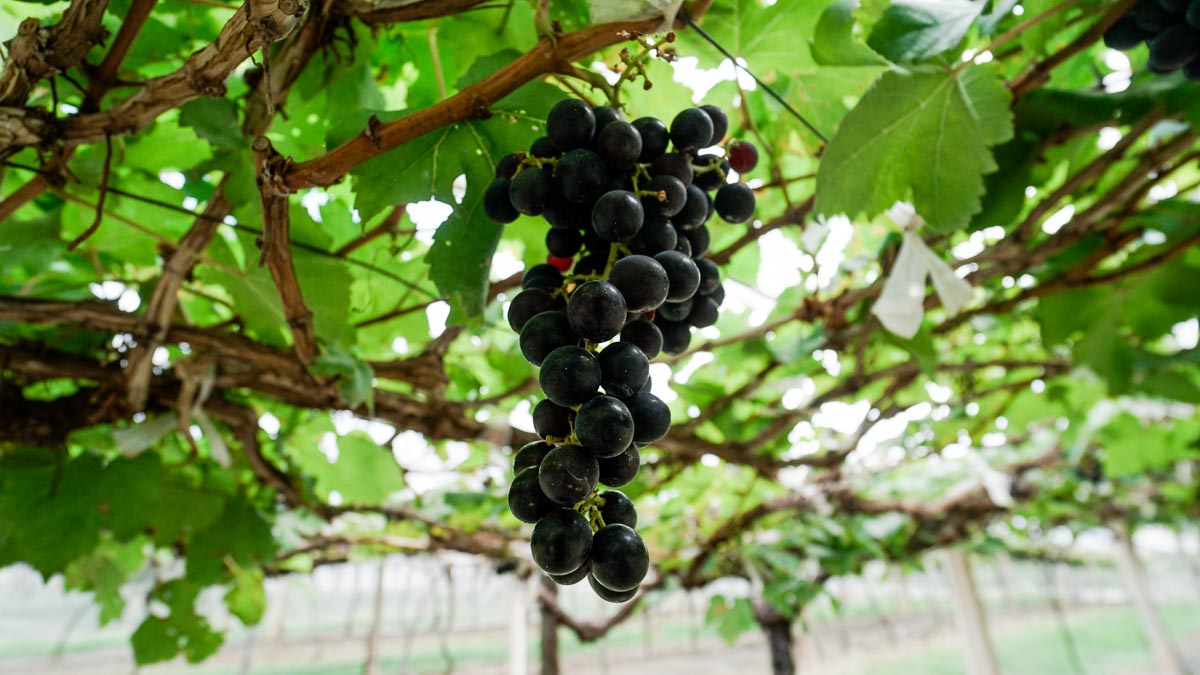 At 350m above sea-level, the conditions are perfect for growing certain varieties of wine grapes as well as other seasonal fruits you can find here.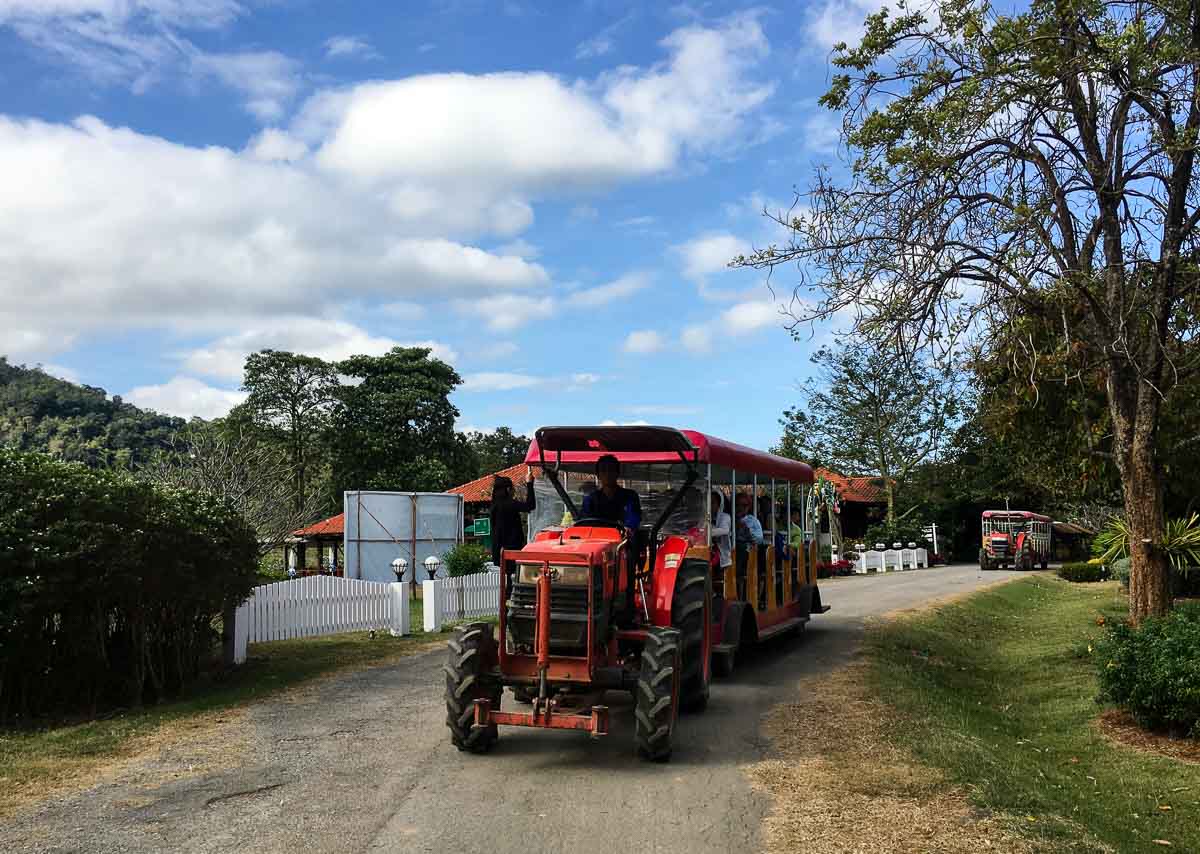 The tour leaves four times daily (9:30AM, 11AM, 1:30PM, and 3PM) and will bring you through vineyards, the wine factory, and of course, to taste some wine. Kids as well as those who aren't up for alcohol can ask for a full glass of 100% Shiraz Grape juice (non-alcoholic) instead.
Cost: From S$29/pax for a 70-minute tour around the winery (includes 3 wine tasters)
Opening hours: 8AM – 8PM (Sun – Thu), 8AM – 10PM (Fri and Sat)
Address: 102 Moo 5, Phaya Yen, Pak Chong Nakorn Ratchasima 30320, Thailand
Farm Chokchai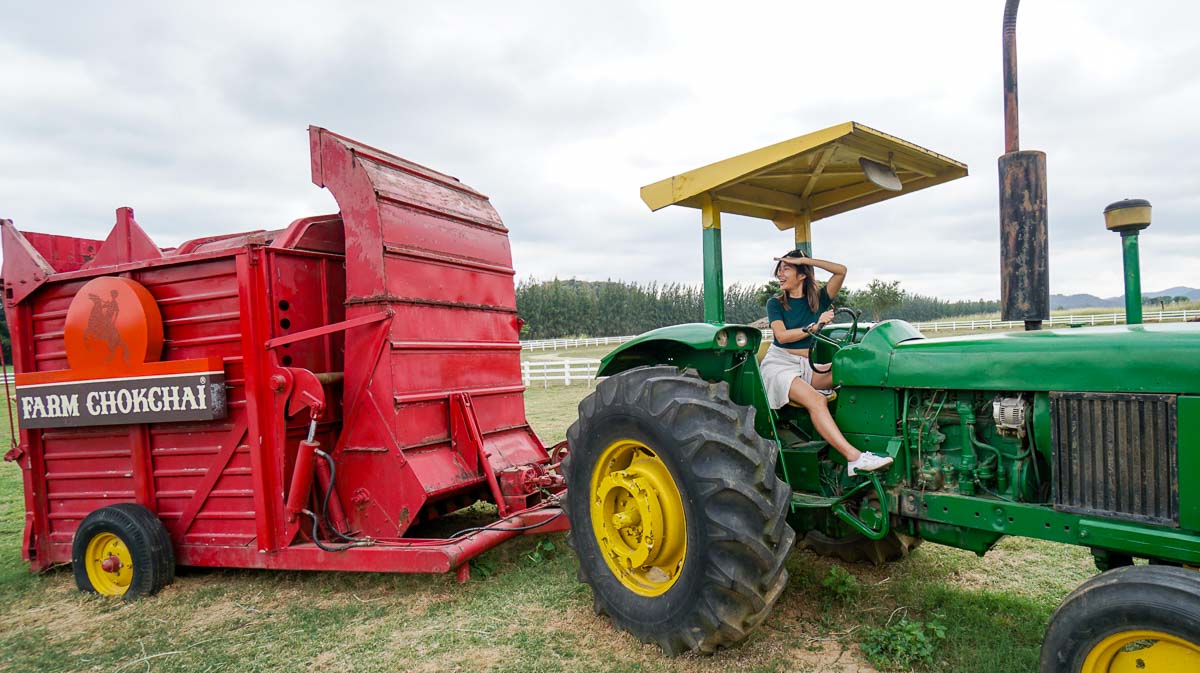 This 100-hectare farm holds tours twice a day from Tuesdays to Fridays and every 20 minutes over the weekends. Unfortunately, we couldn't book the tour but heard great reviews from the other travellers we met in Khao Yai.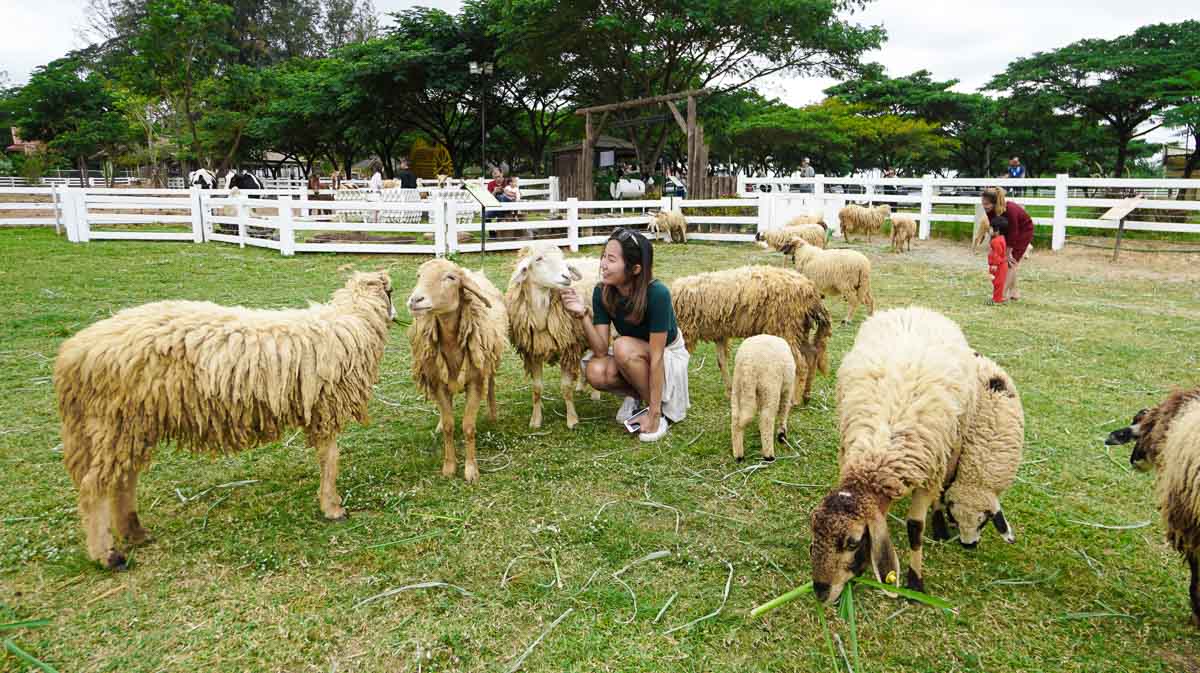 The tour brings you through the farm's agriculture processes, a rodeo show and even has ice cream-making classes (only available through pre-booking).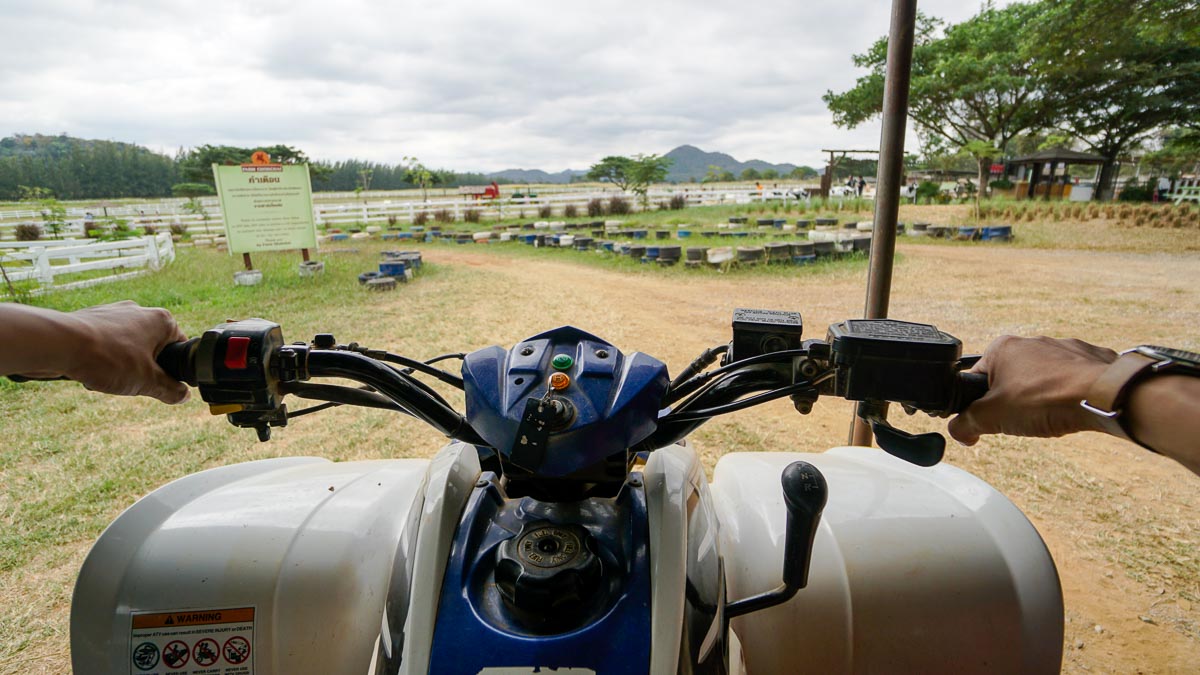 If you miss the farm tour, there are also ATV rides (฿360) that bring you into the forest and an open farm with sheep and horses you can feed for ฿40. There's also a Chokchai museum that houses a wide range of collections from cowboy merchandise to vintage cars and cameras.
Cost: ฿300 for a 2-hour Farm Tour
Farm tours: 10AM and 2PM (Tues – Fri); 10AM, 11AM, 1PM, 2PM (Sat, Sun and PH) Open on Monday only if it's a PH.
Address: 169 หมู่ที่ 2 Thanon Mittraphap, Nong Nam Daeng, Amphoe Pak Chong, Chang Wat Nakhon Ratchasima 30130, Thailand
*Note: Pre-book the tour by calling 08 9949 4631
Lunch Ban Mai Chay Nam
Ban Mai Chay Nam is so much more than just a restaurant. While walking in, you'll see an extensive collection of characters like Superman, Marilyn Monroe, Elvis Presley, and even Colonel Sanders. Walking through the corridor to our tables was a whole journey of childhood nostalgia.
The place is huge but can get quite crowded during lunch hours as tour buses will make a stop here.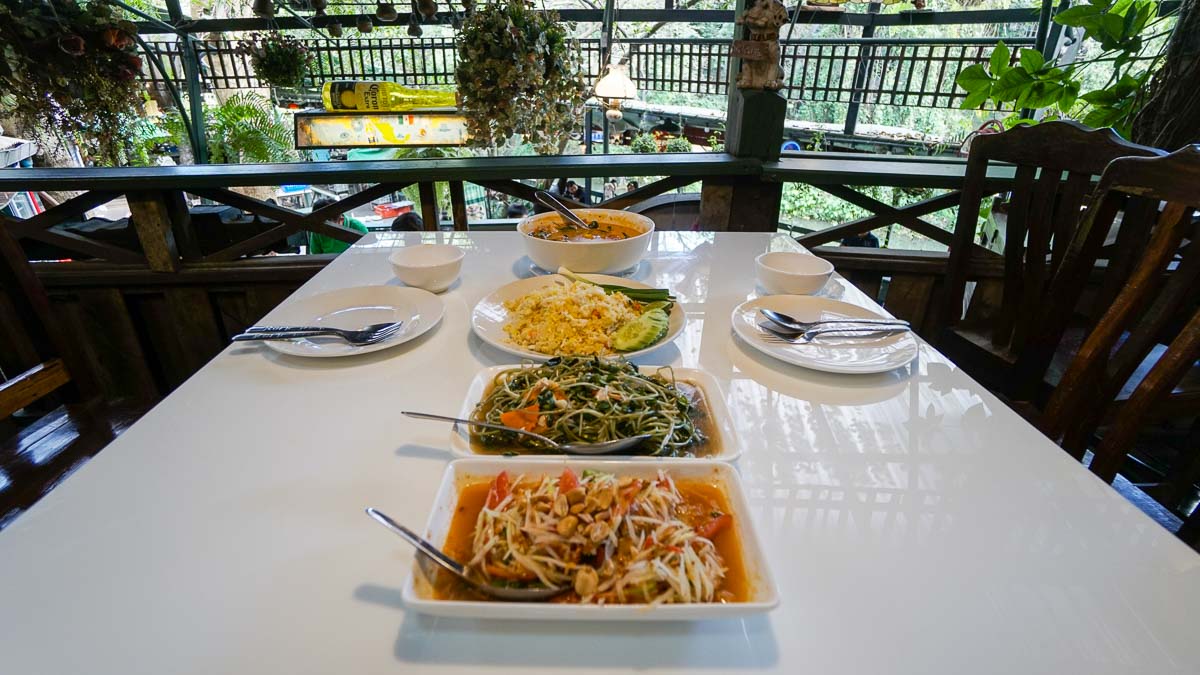 We ordered papaya salad (฿60), a medium-sized plate of fried rice with generous servings of real crab meat (฿150), and tom yum soup (฿200) which were all really tasty and priced affordably.
Cost: From ฿60/dish
Opening hours: 9AM – 9PM
Address: 21, Mittaphap Road, Tambon Pak Chong, Amphoe Pak Chong, Nakhon Ratchasima, 30130, Thailand
Baan Suan Noi (Hobbit House)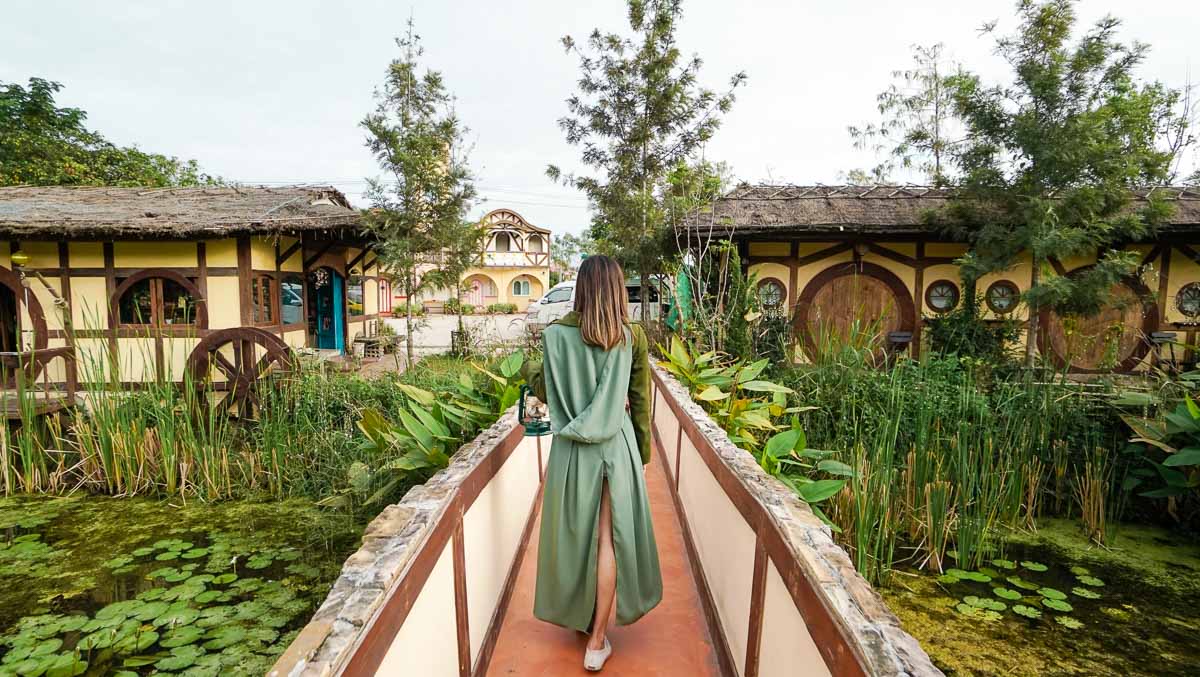 After lunch, wean off your food coma with a 40-minute nap in the car before arriving at Baan Suan Noi; known as the Hobbit House. Primarily an accommodation (that gets booked up really quickly) you can also visit just to take photos and explore the area.
There's even a whole room full of costumes ranging from Snow White to Harry Potter and of course, The Hobbit characters. Some of the unbooked rooms are even left open for anyone to explore.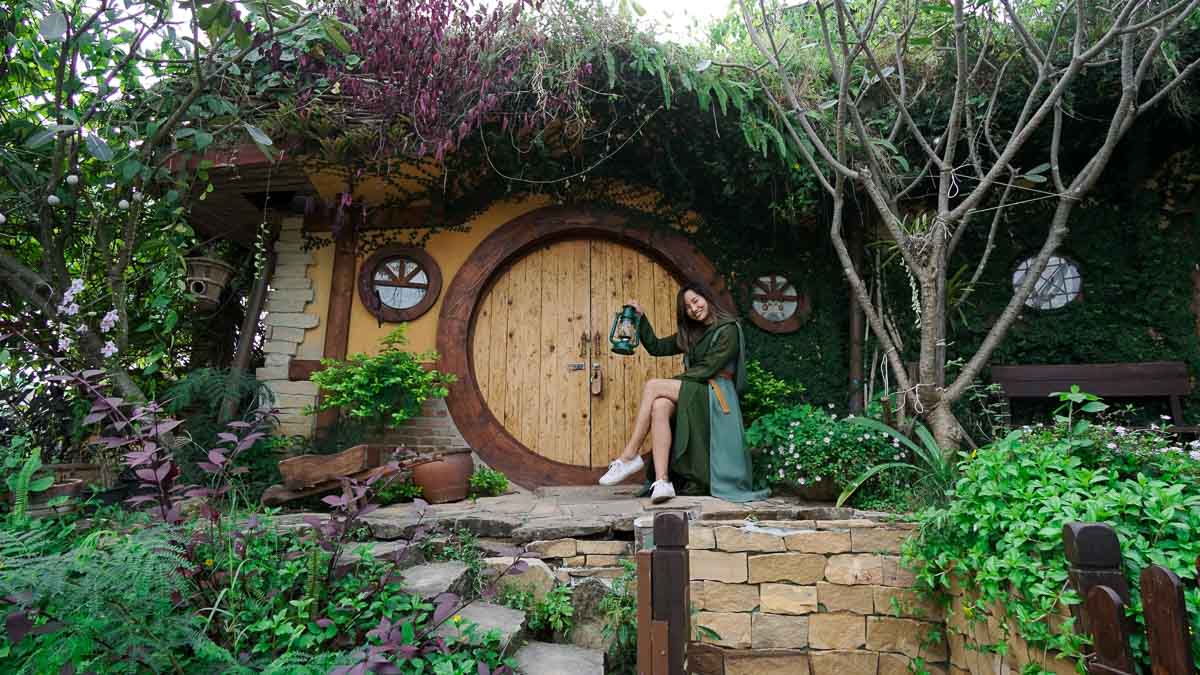 There are 13 themed rooms in either Hobbit or Santorini style.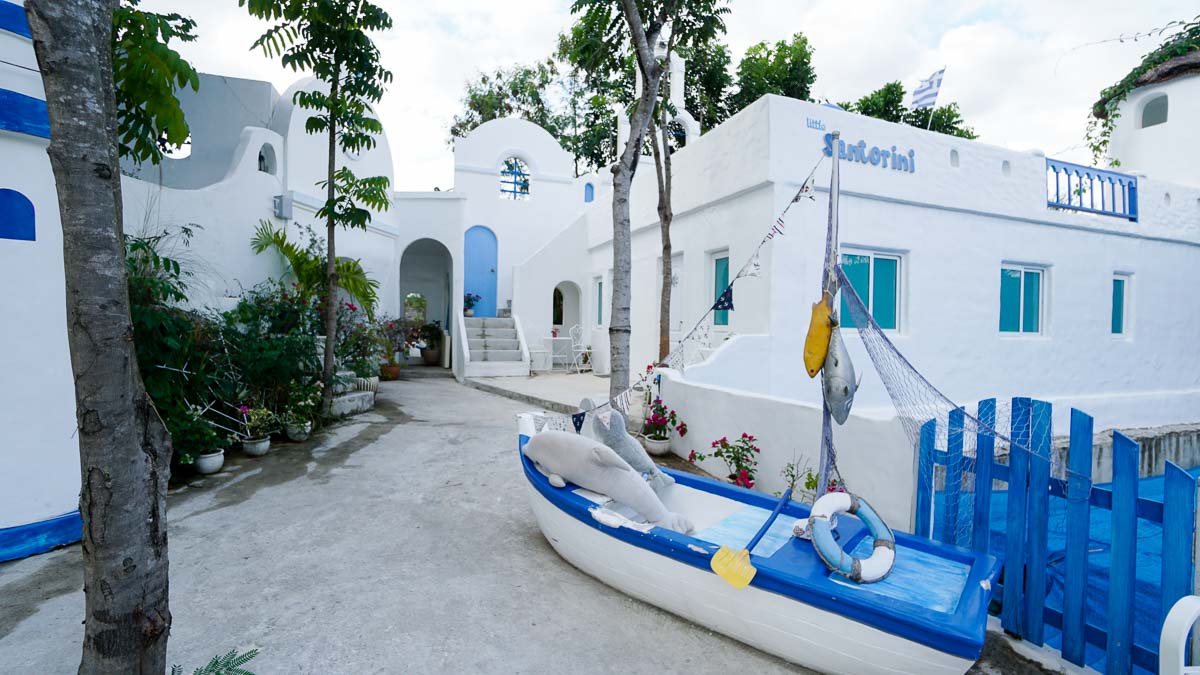 Have to say I was really quite impressed with the Santorini rooms. Not only because of its all-white theme but the little details like the curvatures in the wall and the little trinkets in the room really reminded me of our Airbnb when we were in Santorini.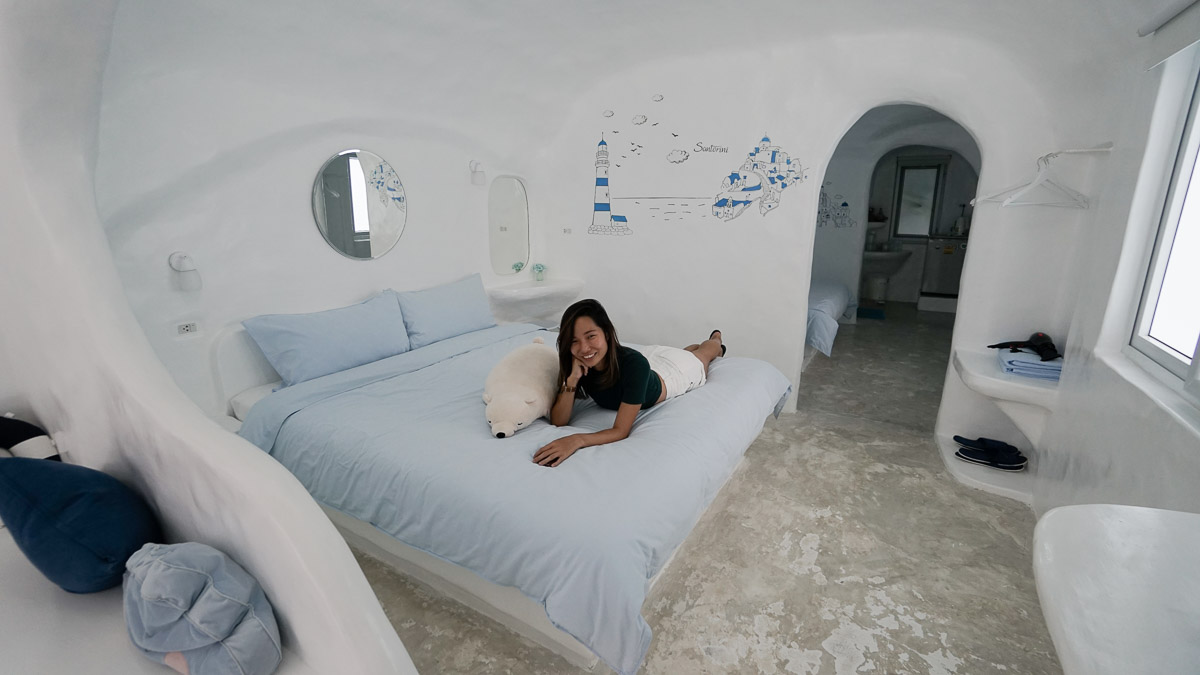 Cost: ฿50 (Entrance Only); ฿100 (Entrance + Costume Rental)
Opening hours: 8AM – 11PM
Address: Lat Bua Khao, Sikhio District, Nakhon Ratchasima 30340, Thailand
Dinner at Midwinter Green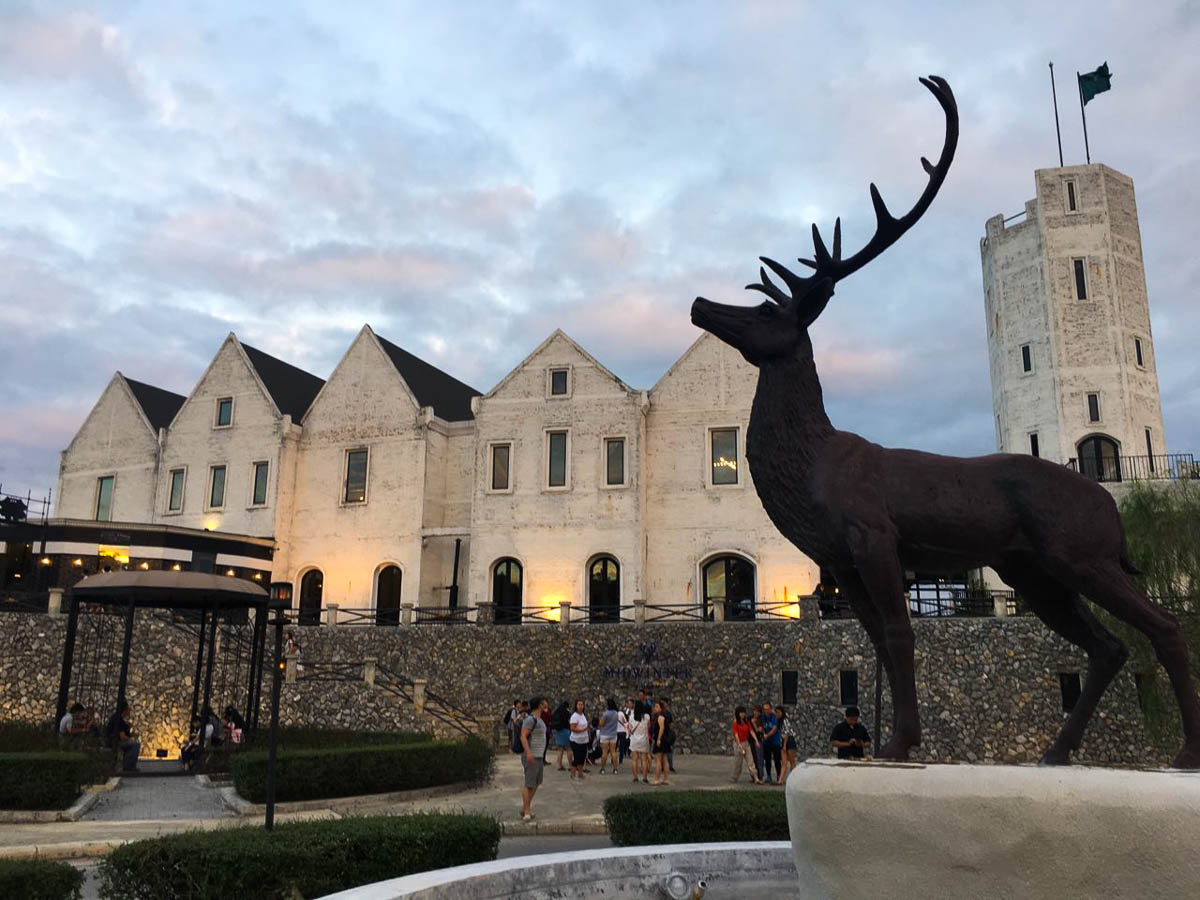 Up for a castle dining experience? Head to Midwinter Green an hour before the sun sets so you can see the place when there's still natural light but also at its most beautiful when the outdoor lights go on.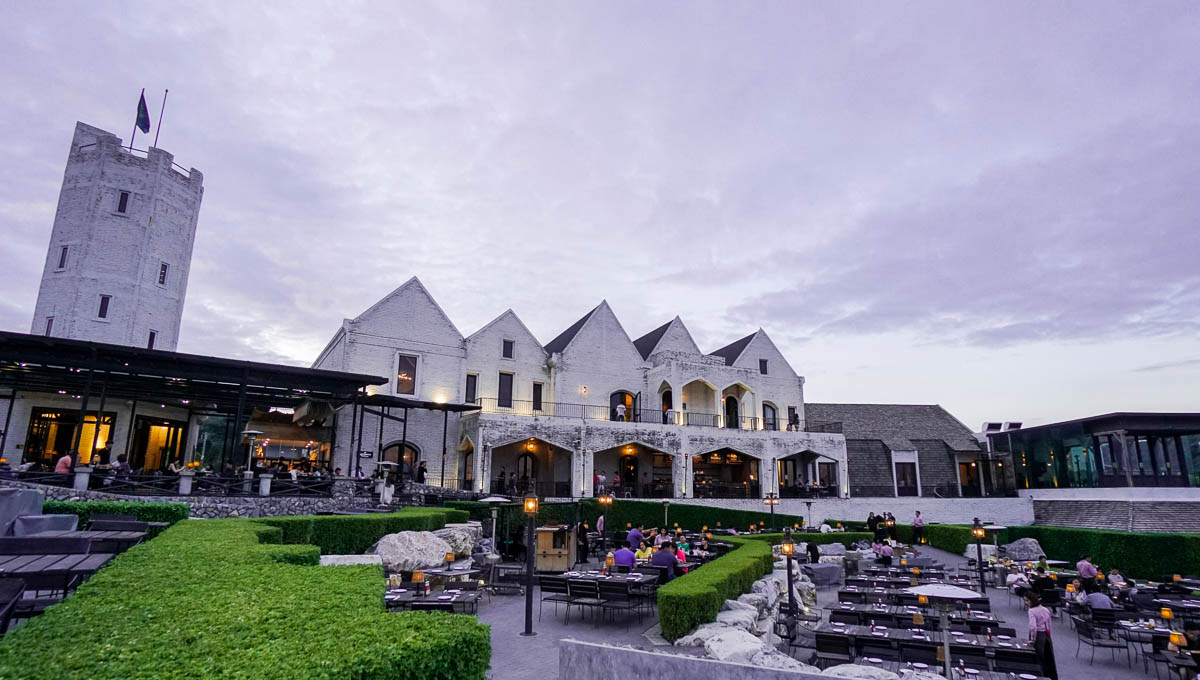 If you're visiting in the cooler seasons, ask for the outdoor seats so you can enjoy the cool evening breeze and live music, while dining with a view of the castle.
Dishes cost around the same as cafes in Singapore which isn't too pricey considering the setting and service. We ordered the pork ribs with BBQ sauce (฿490) as well as the Aglio Olio (฿295) which was really fragrant and a must-try for spicy food lovers.
Cost: From ฿295/dish
Opening hours: 10AM – 10PM (Sun – Thu), closes at 11PM on Fri and Sat
Address: 10 88/88 Soi Ban Sai Thong Mu 24 Soi 2, Nong Nam Daeng, Pak Chong District, Nakhon Ratchasima 30130, Thailand
Day 3: Khao Yai National Park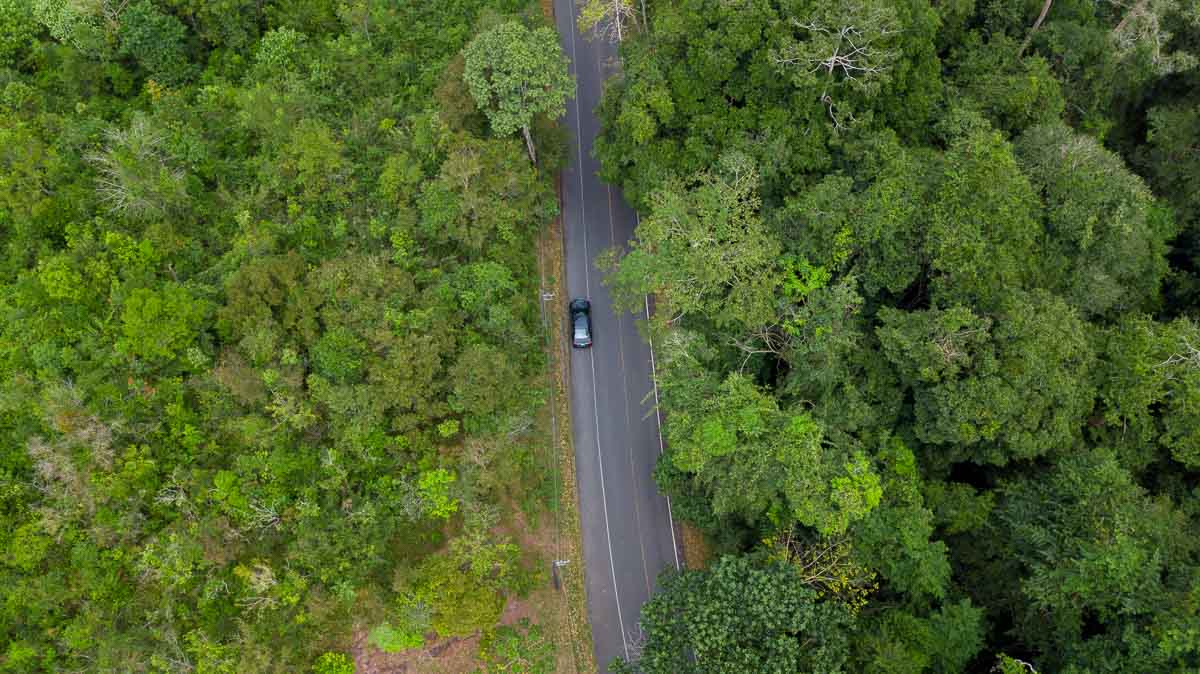 Spanning across 2,000 square kilometres, Khao Yai National Park is a UNESCO World Heritage site and is home to lots of wildlife like elephants, deers, otters and gibbons.
You can grab a map from the Visitor Centre before going on self-guided treks to check out waterfalls and viewpoints where you can overlook the vast greenland. Most of the treks are fairly easy and straightforward forward and there's also the option of getting your driver to drop you close to the lookout point.
Entrance fee: ฿400 and ฿50/car
Opening hours: 6AM – 6PM
Haew Narok Waterfall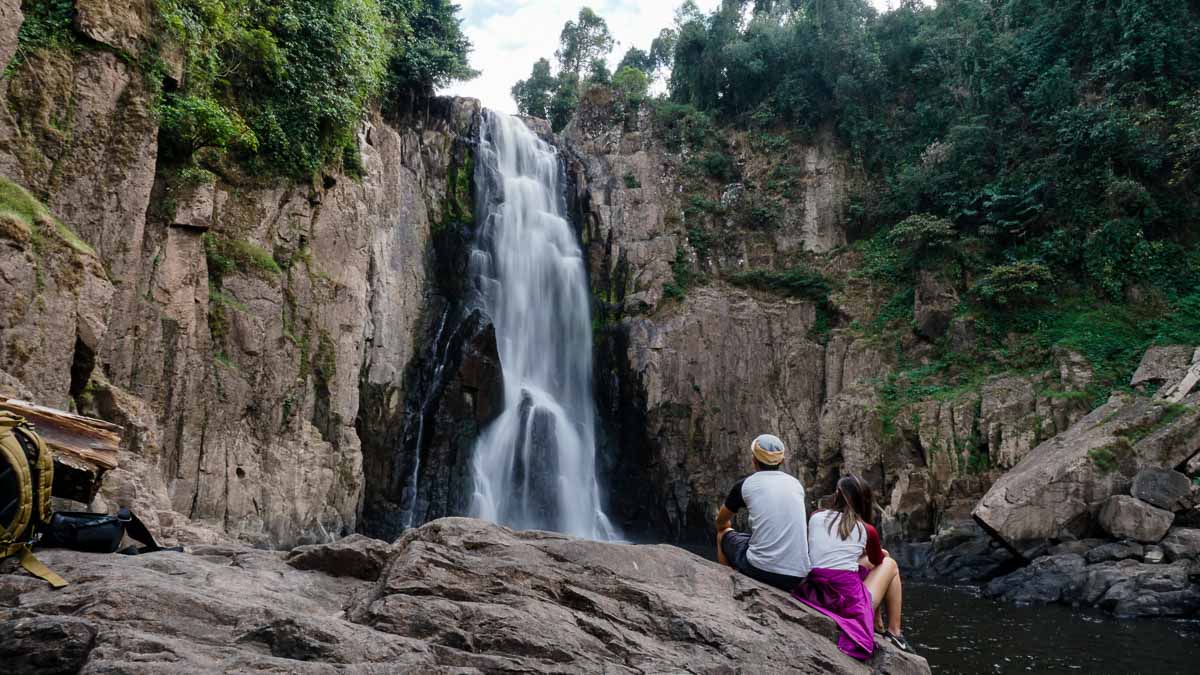 Starting from the furthest point, and also the tallest waterfall in the National Park, Haew Narok measures 100m high. From the closest drop-off point, it's an easy 900m walk to the lookout point.
If you're game, there's also a rocky path from the left side of the barrier where you can climb down to the base. It might look really steep but you'll see lots of families with young kids attempting the trail too.
Recommended time: 1.5 hours
Opening hours: 8AM – 5PM
Pa Deo Die Cliff (Also spelt Pha Diao Dai/Pha Diew Die)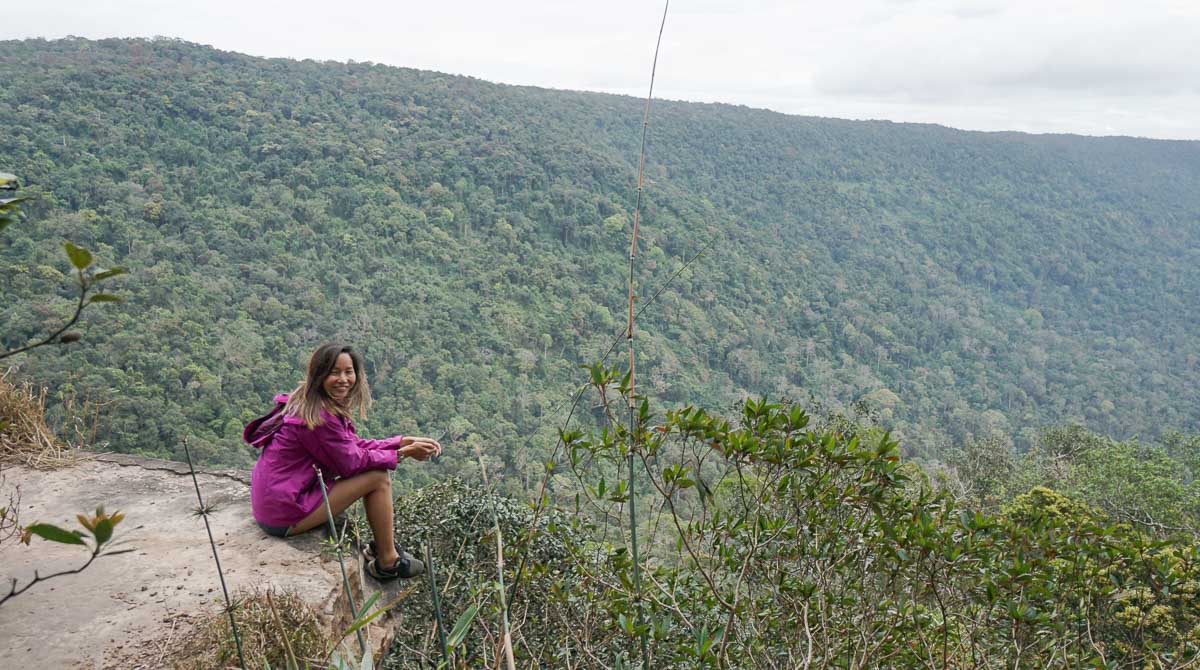 There are a couple of scenic viewpoints from the Pak Chong Entrance towards the visitor centre but Pa Deo Die is arguably the best. There's a raised wooden path that makes the cliff easily accessible and a round trip around the path only takes 15 – 20 minutes.
Although there are signs warning against getting too close to the edge, the flat boulders are pretty safe to hang your legs over as you enjoy the panoramic view upfront.
Recommended time: 30 – 45 minutes
Haew Suwat Waterfall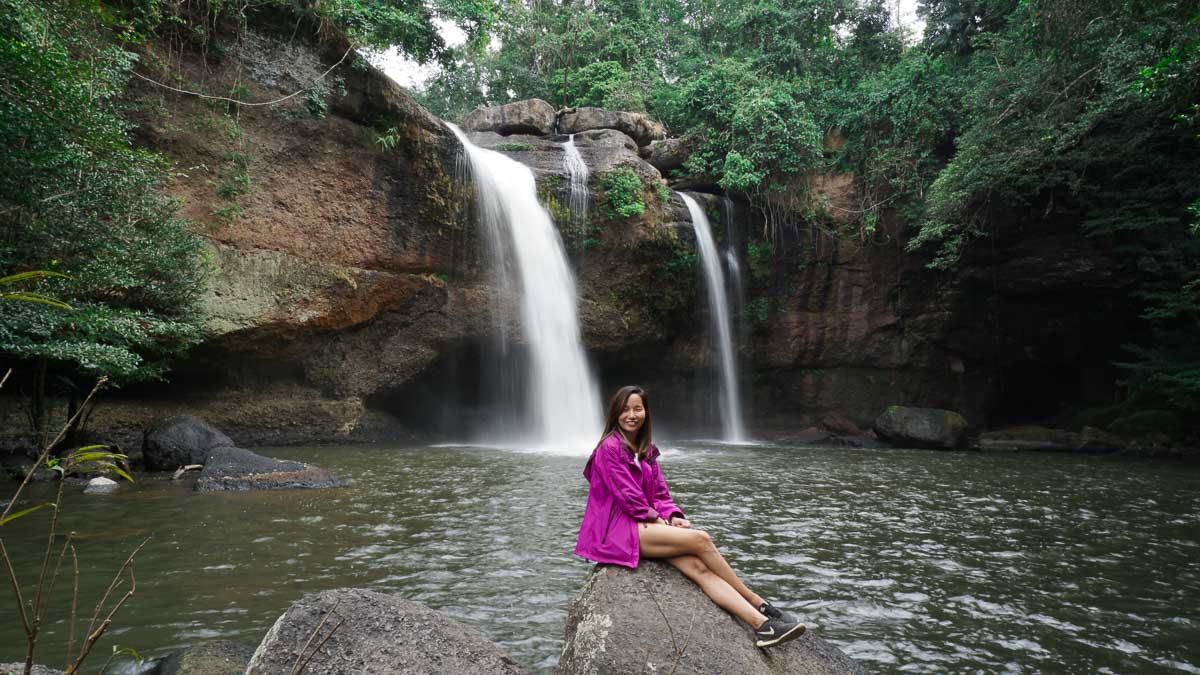 Haew Suwat Waterfall is much easier to access than Haew Narok Waterfall so you'll see a bigger crowd here; though there are more vantage points so you're more likely to get a photo without getting photobombed. The waterfall is 25m high and splits into two separate streams. You can even walk to the back of the waterfall although you'll probably get a little bit wet.
Recommended time: 1 hour
Night Safari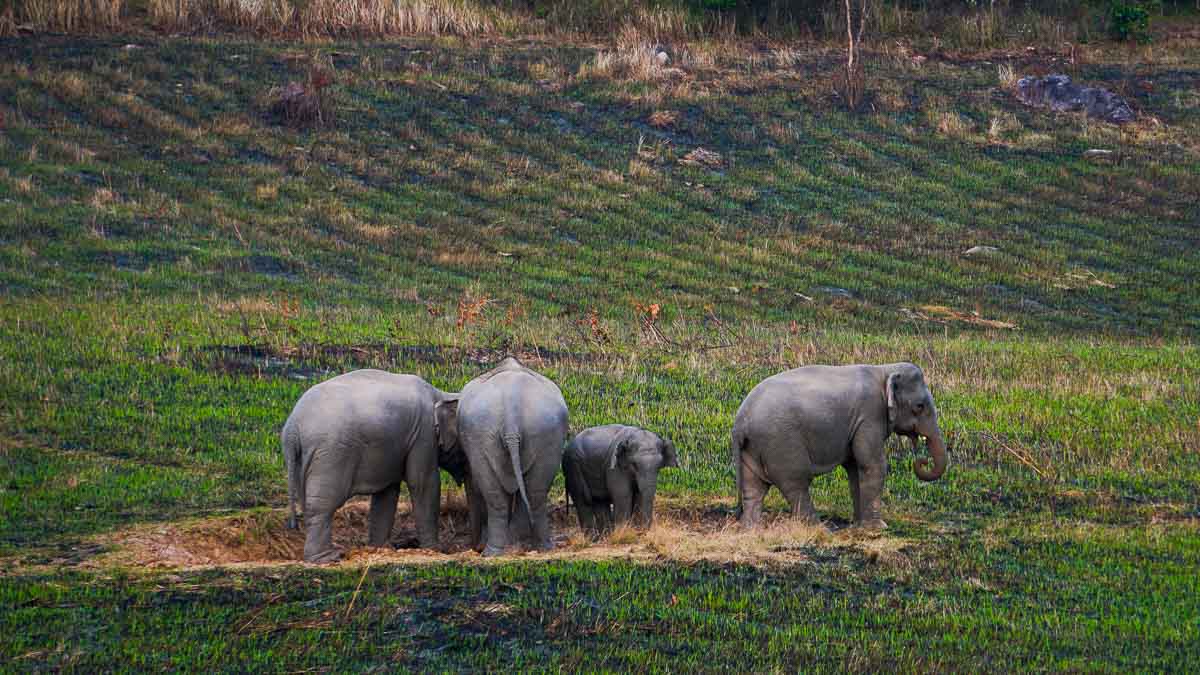 At the visitor centre, you can pre-book your night safari for ฿500 a car (fits up to 10 pax) which goes out at two timings (7PM and 8PM). Although if you're lucky (like us 😀) you can spot wild elephants during the day from the grassland between Haew Narok and the visitor centre.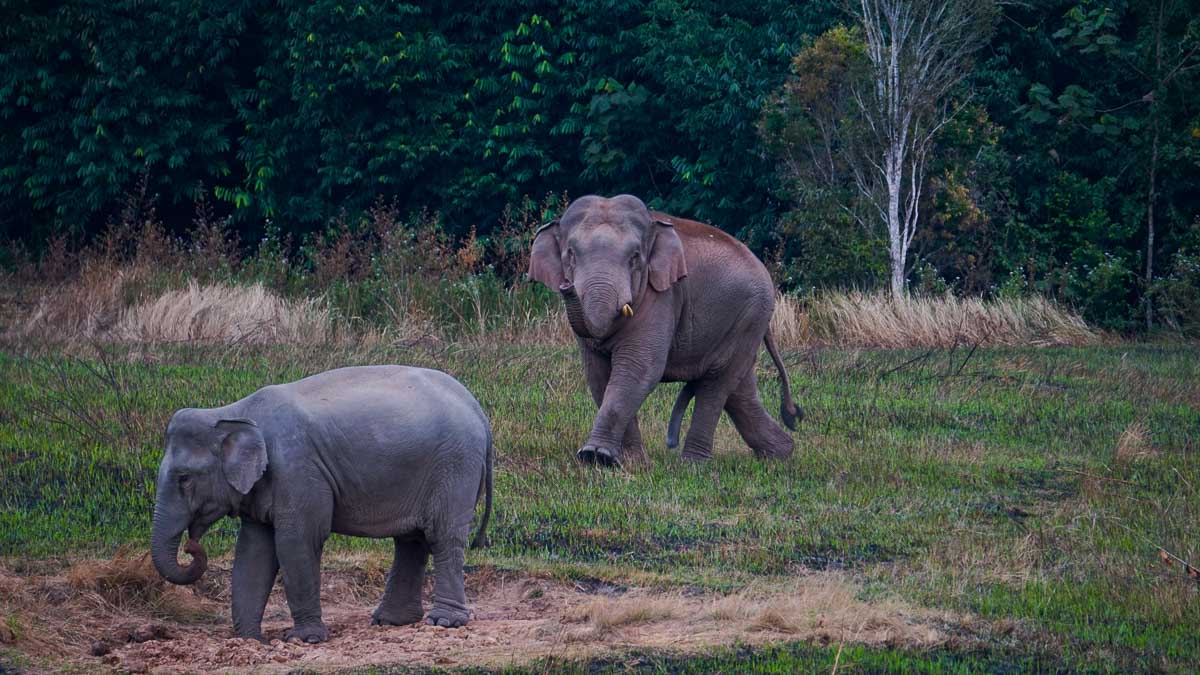 Popular animals spotted on the safari ride other than elephants include deer, otters, oxes and gibbons.

Cost: ฿500/vehicle
Time: 1 hour
*Pro-tip: Bring along a sweater as temperatures tend to dip quite a bit at night.
Pak Chong Night Market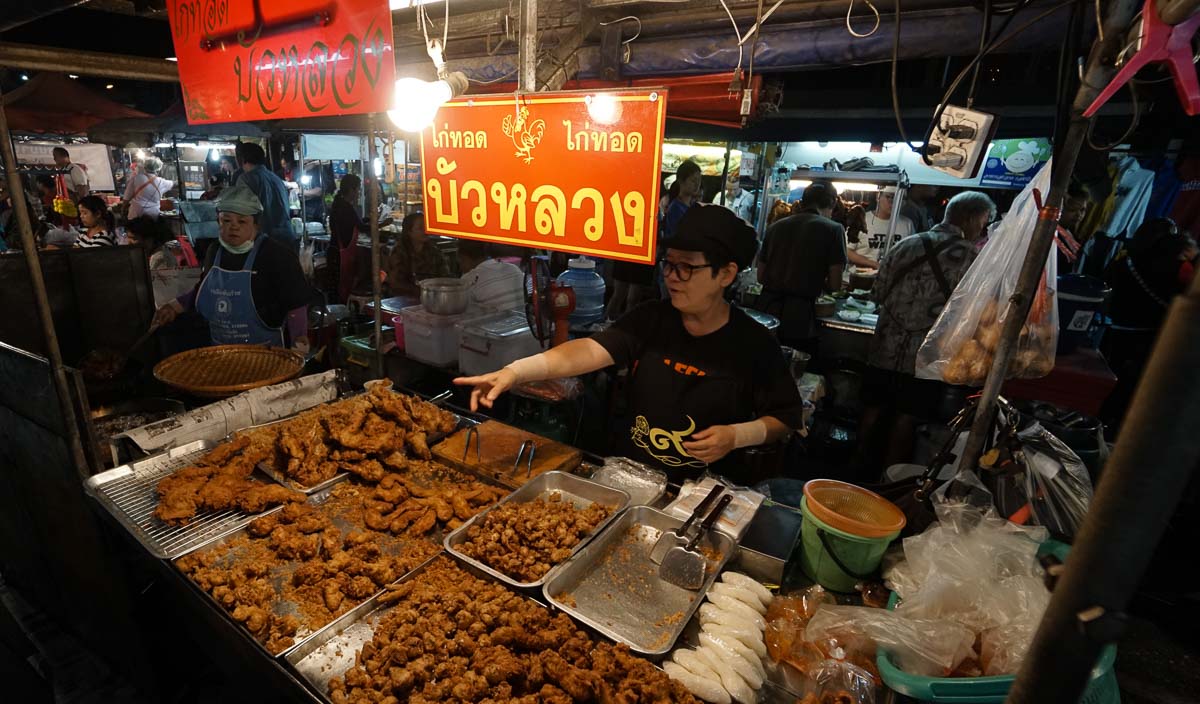 After a whole day of hiking, the yummy street food at the Pak Chong Night Market was a treat.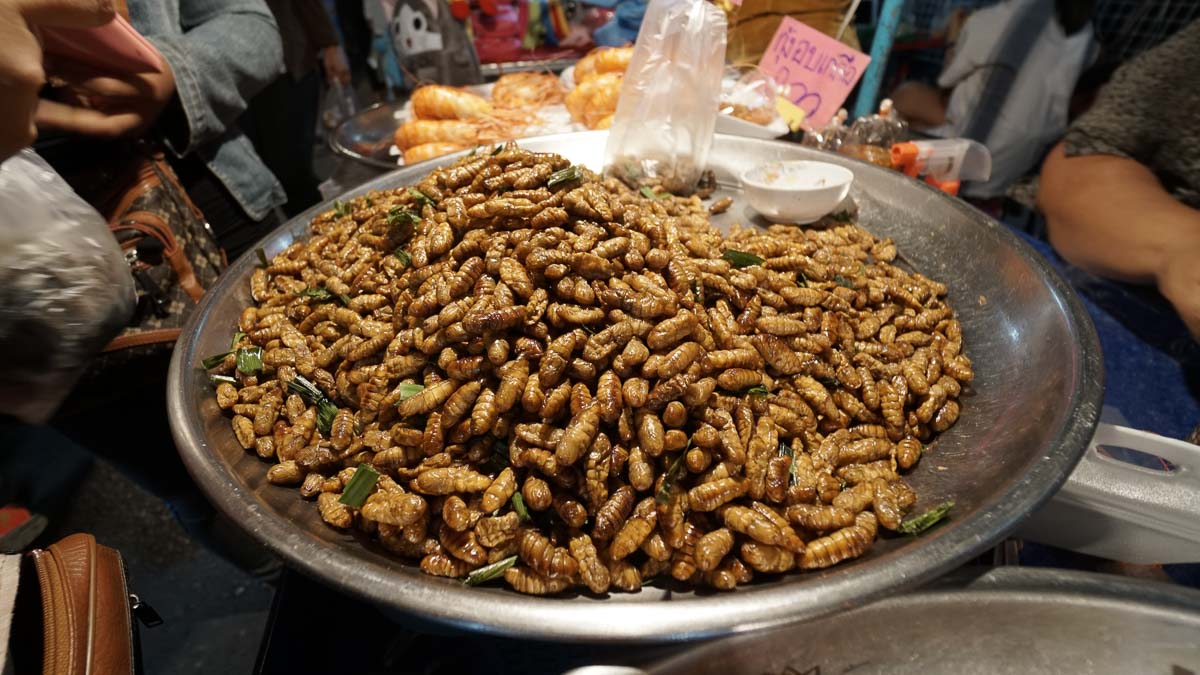 Not the most appetising but it wasn't as bad as expected!
Some of our favourite finds here were the Mango Sticky Rice (฿60 for a whole mango and generous servings of rice), fresh fruits like papaya (฿20, neatly cut and packed in a box), instant noodle salad (฿60) and the Chilli Cheese Fries (฿39).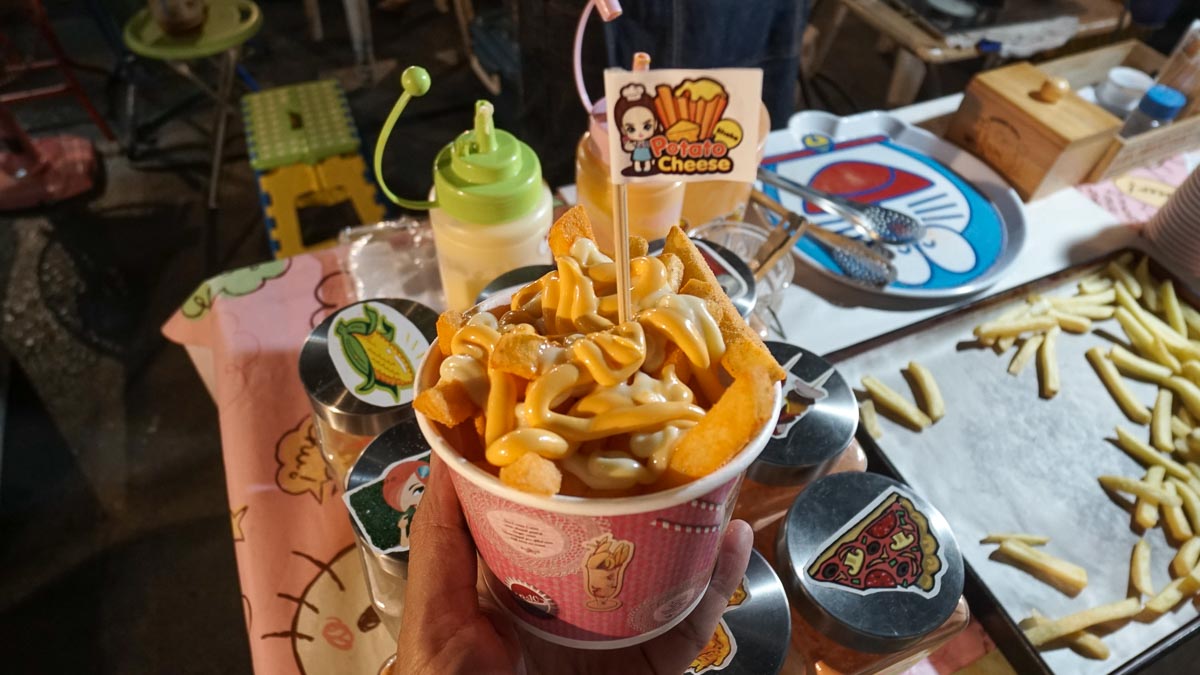 Cost: From ฿20/dish
Opening hours: 5PM – 10PM
Address: 2422 Tambon Pak Chong, Amphoe Pak Chong, Chang Wat Nakhon Ratchasima 30130, Thailand
Read also: Thailand Road Trip Guide: 5 Epic Ideas Under 3hrs from Bangkok
Day 4
Our flight from Suvarnabhumi Airport was at 7:40PM so we had until 2:30PM to explore before driving back to Bangkok.
Brunch at The Chocolate Factory
Although called the Chocolate Factory, this glass building is actually more of a restaurant with a pastry and chocolate store on the first floor.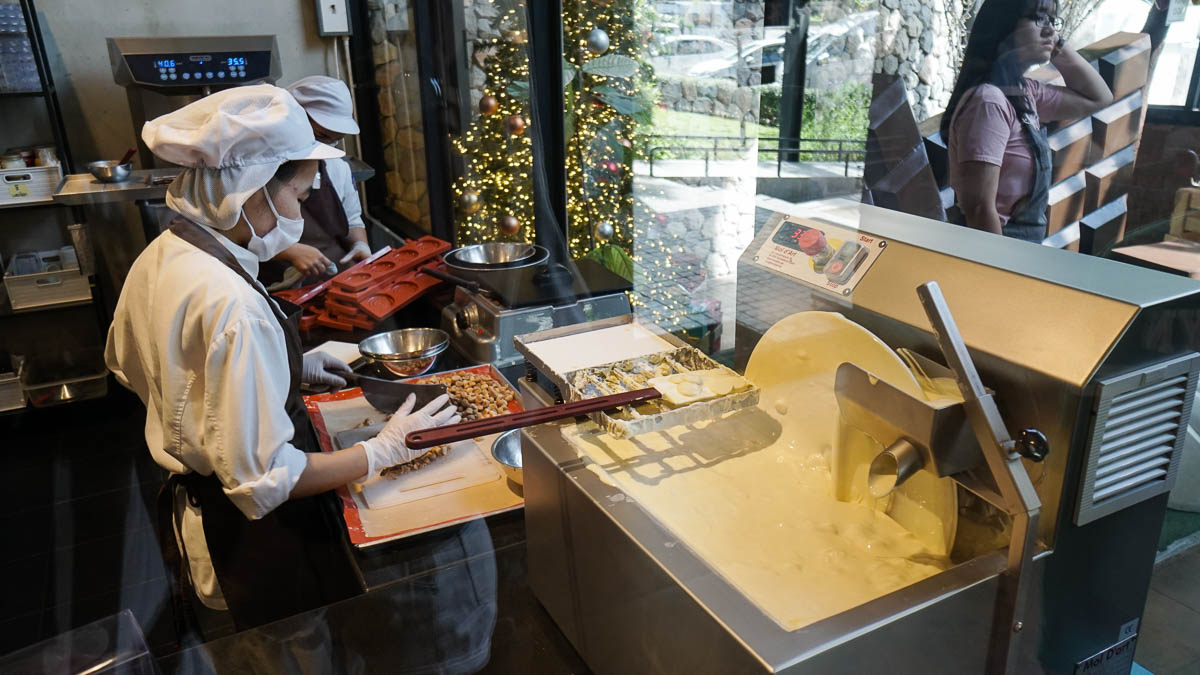 When you enter, there's also a small glass kitchen where you can observe chocolate products in the making.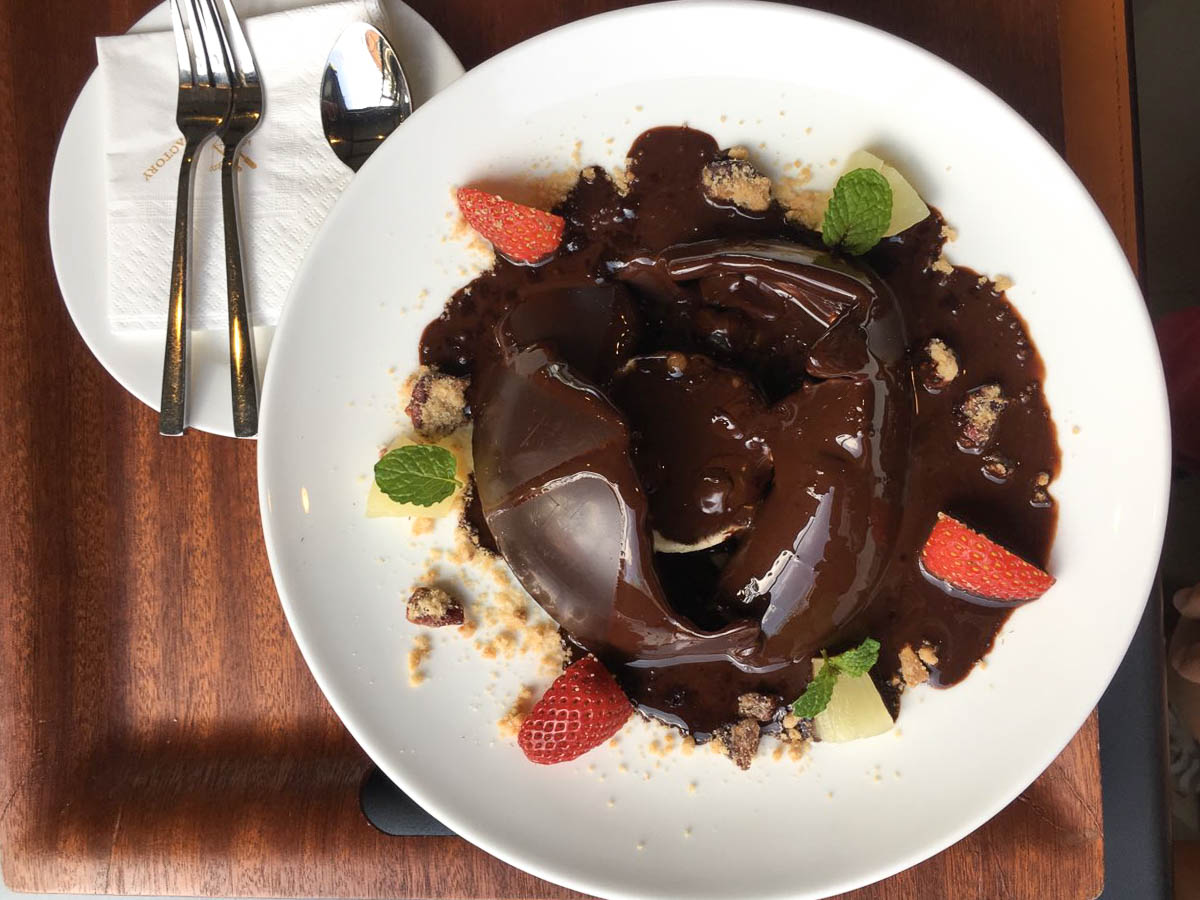 The restaurant serves a wide range of western to local Thai food with mains starting from ฿180.
Opening hours: 11AM – 10PM
Address: 352 Moo 2 Thanarat Rd. T. Musee Pakchong Nakhon Ratchasima 30130
Jim Thompson Farm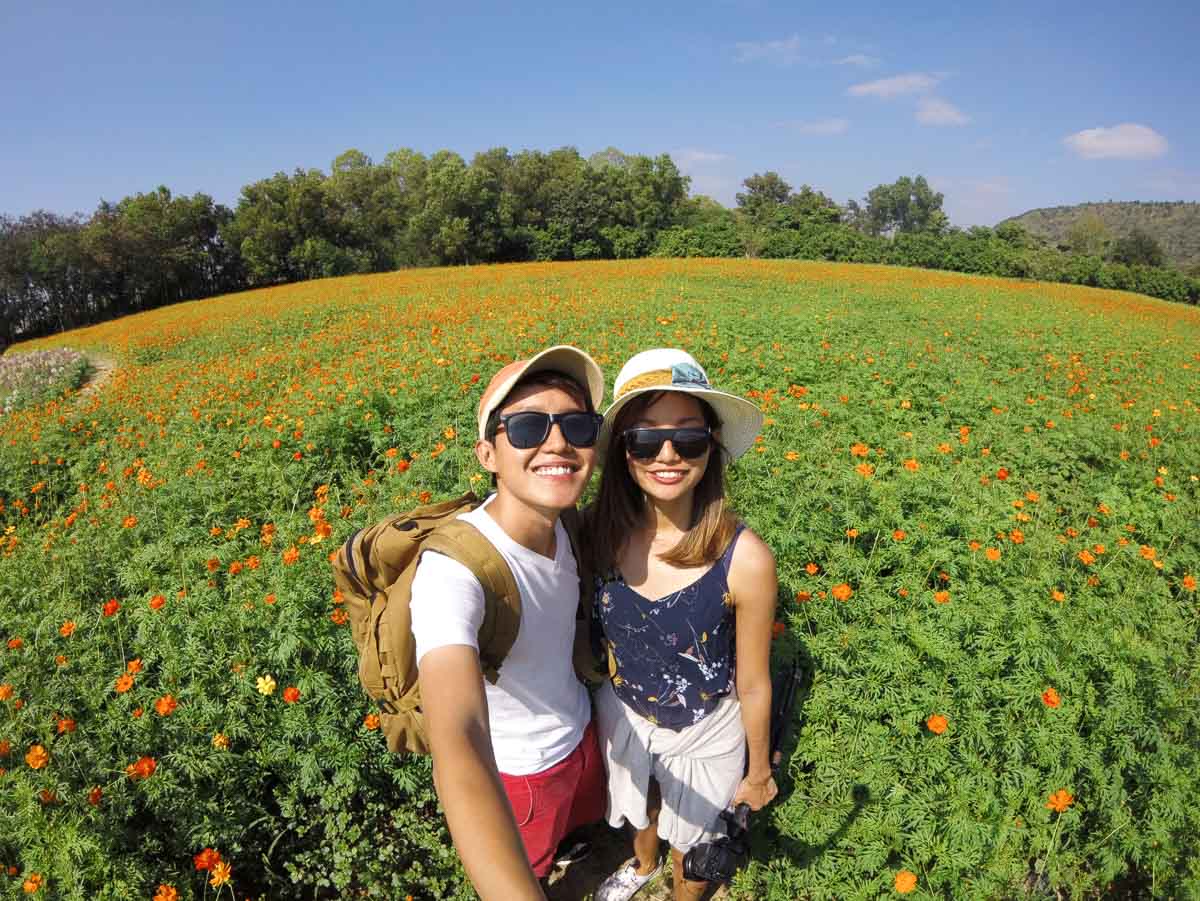 Saving the best for the last (partially also because it was the most out of the way), it takes about 2 hours to drive to the Jim Thompson Farm but if you love flowers, the scale of these flower fields are well worth it!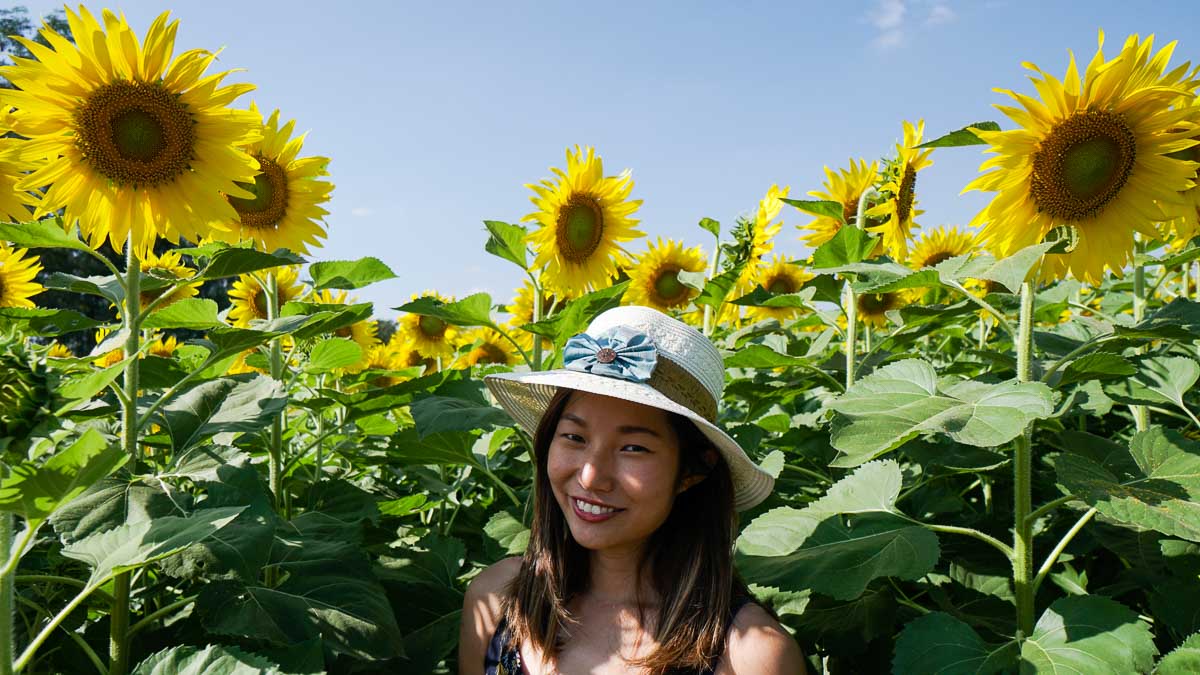 These sunflowers are taller than the average human being!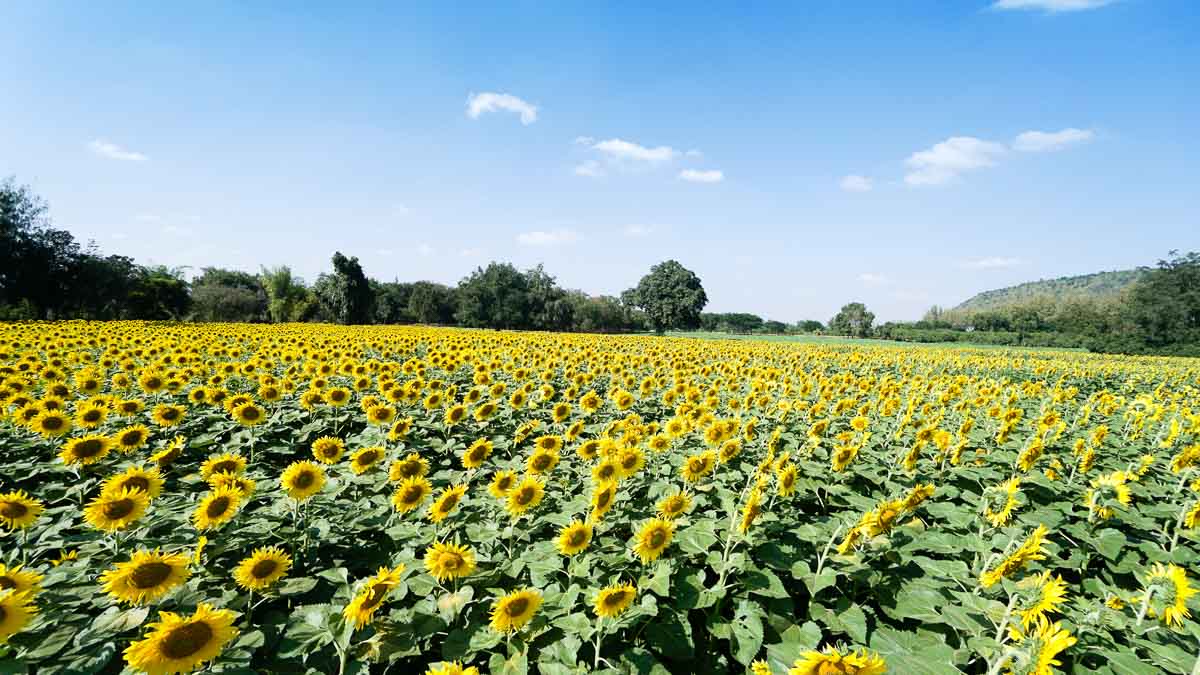 Don't get too carried away though as it takes around 3 hours to drive back to Bangkok in moderate traffic.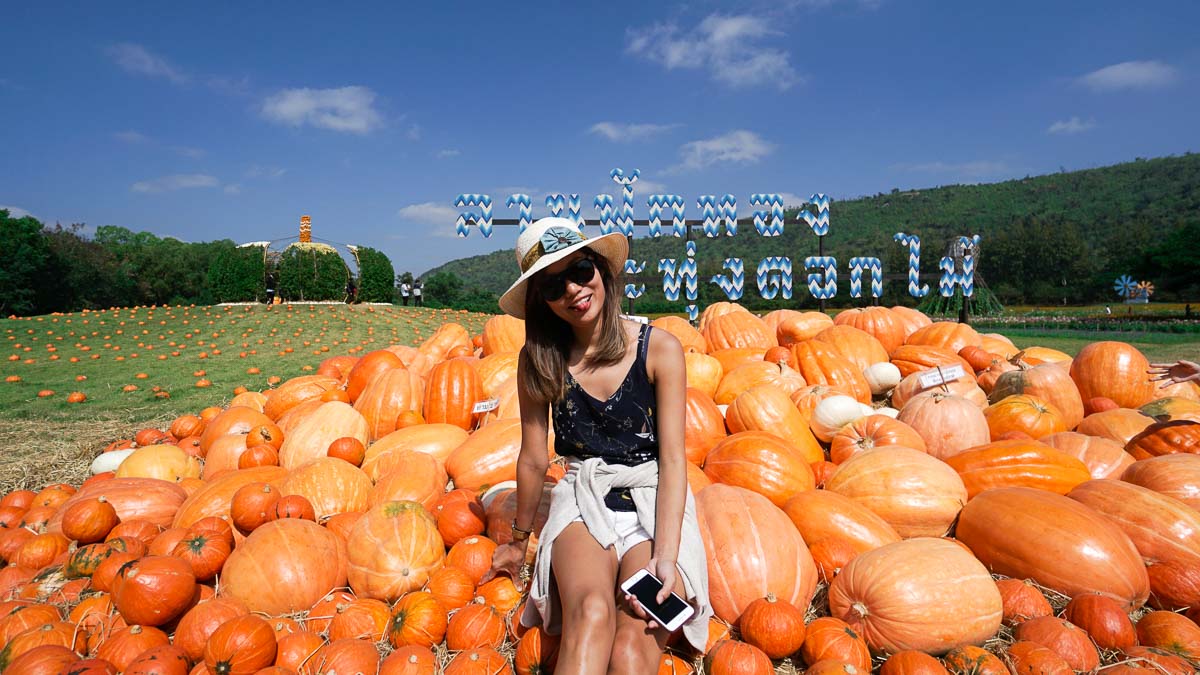 There's a food court within the Jim Thompson Farm at very affordable prices. Grab a bowl of noodles or rice with curry before heading off for the airport.
*Note: Permanently closed
Accommodation in Khao Yai
1) Luxury: Lala Mukha Tented Resort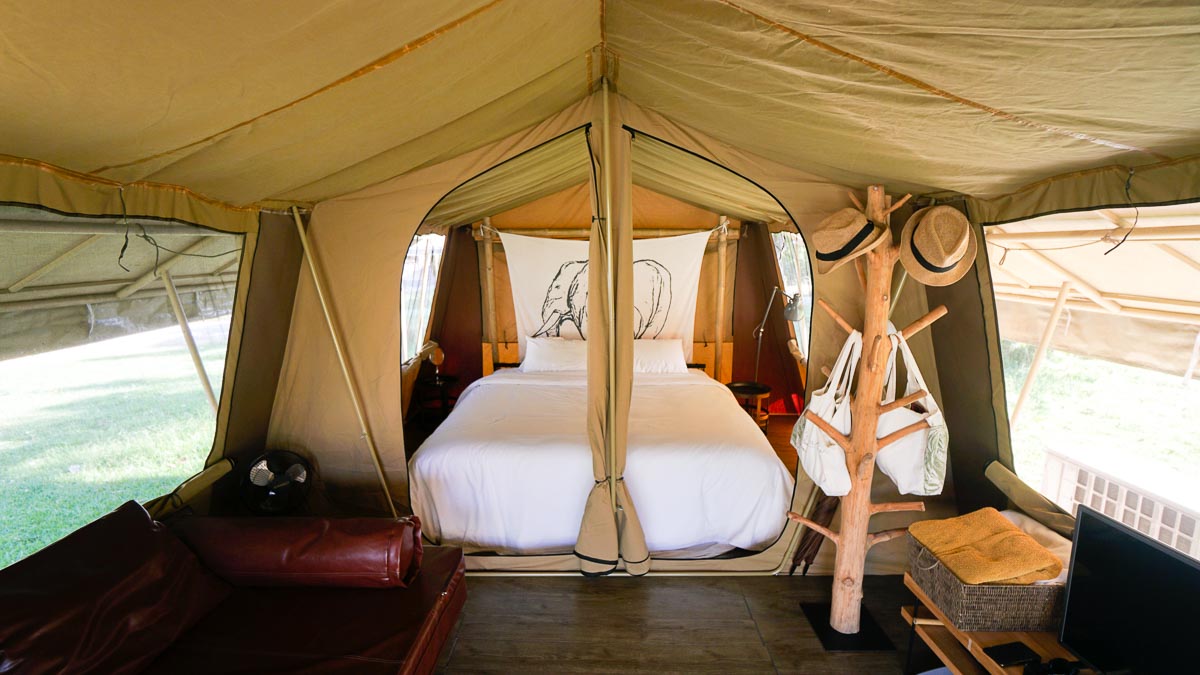 Not only is the tent interior one of the cosiest we've experienced, the surroundings at Lala Mukha Tented Resort is so gorgeous you don't really want to leave the resort, no kidding!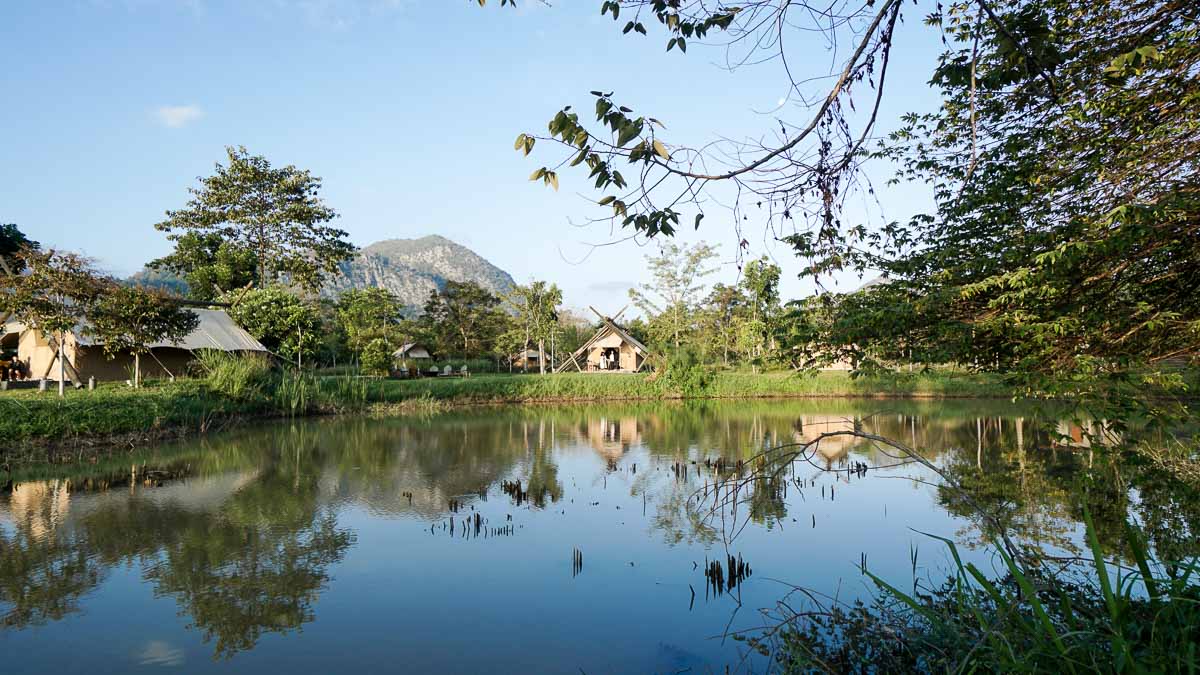 The area is surrounded by mountains, plenty of greenery and not to mention how cutely designed the accommodation is. You get to pick from three choices: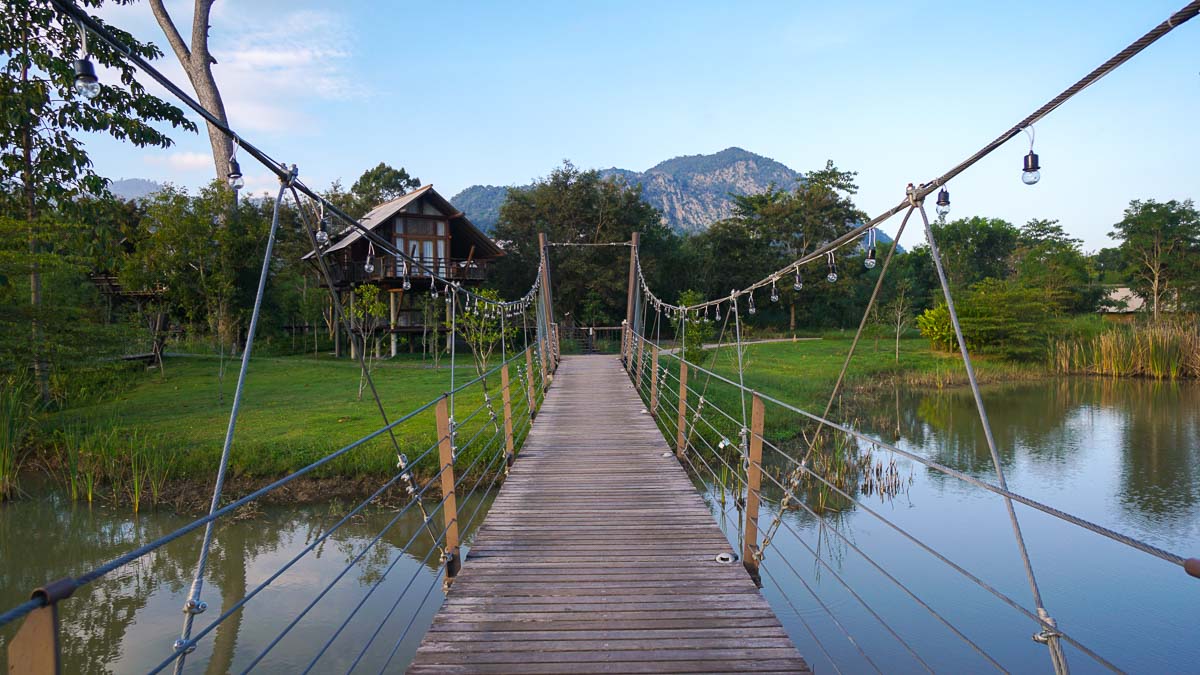 Loft Tree house — has one double and two single beds
Deluxe Savana Tent — comes with attached shower and toilet
Eco Safari Tent — no attached bathroom but comes with a living room area, a fridge, a sofa and a TV.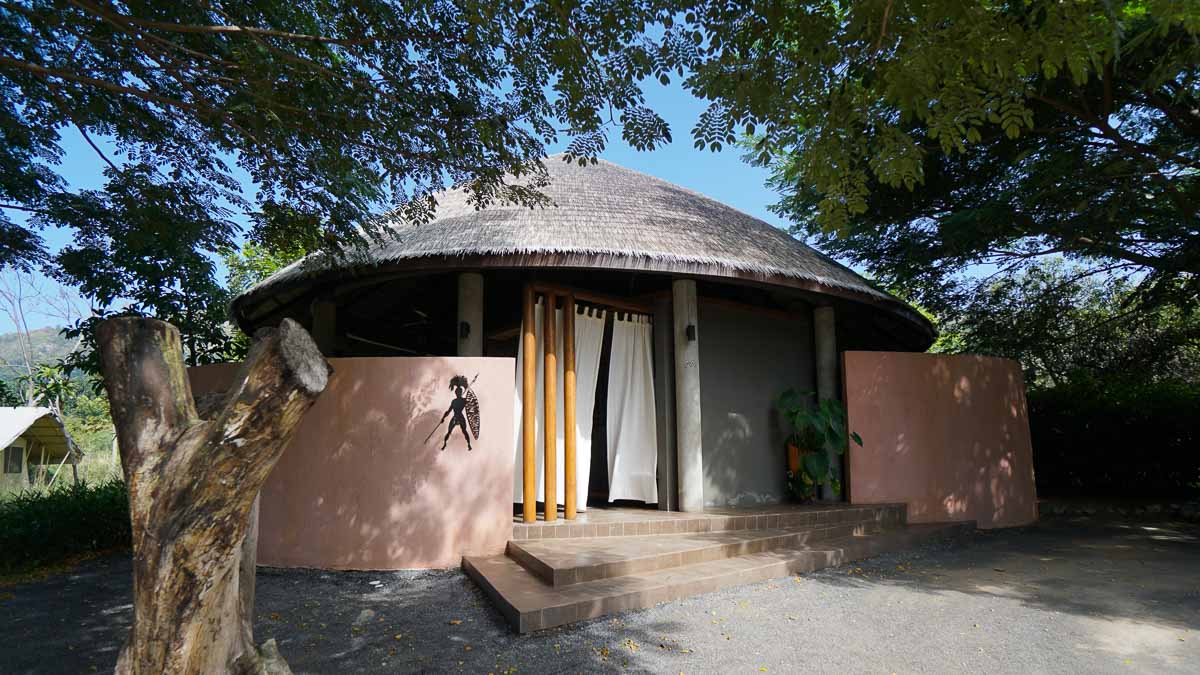 We got the Eco Safari Tent as all the others were fully booked but loved every bit of it! The shared bathrooms weren't too far away from the tents, modernly designed and were exceptionally clean!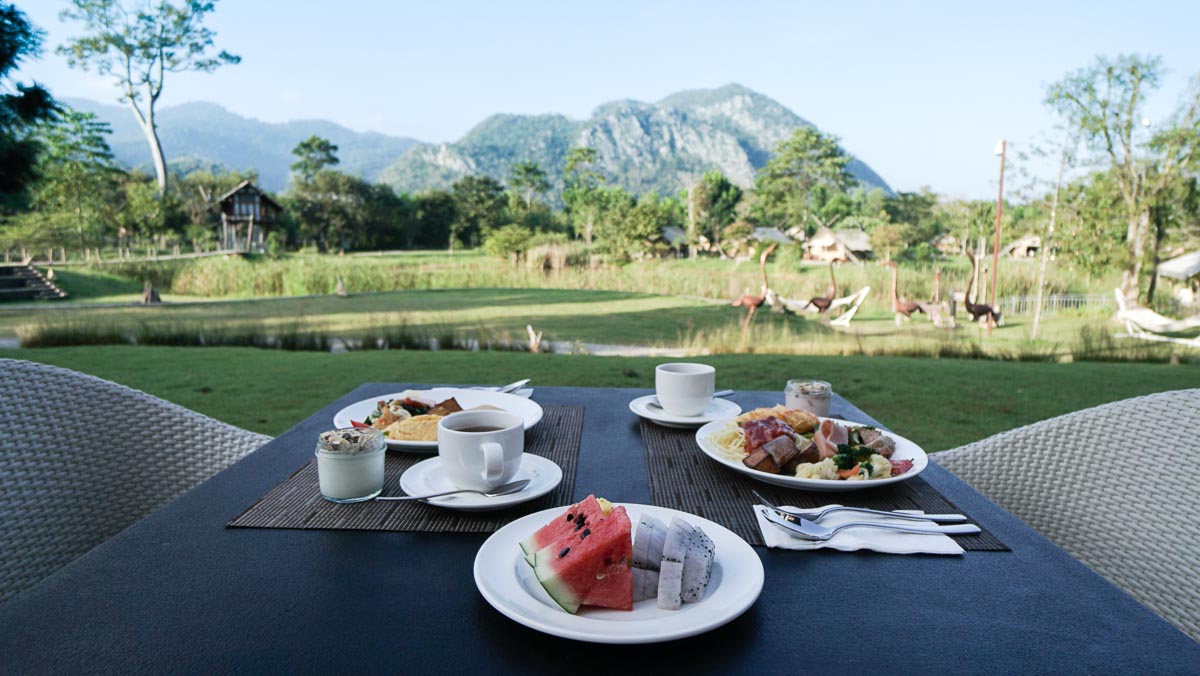 Breakfast with a view.
All the tents come with air conditioning although if you're here from November to January, you'll want to roll down the tent windows and enjoy the cool, crisp air outside.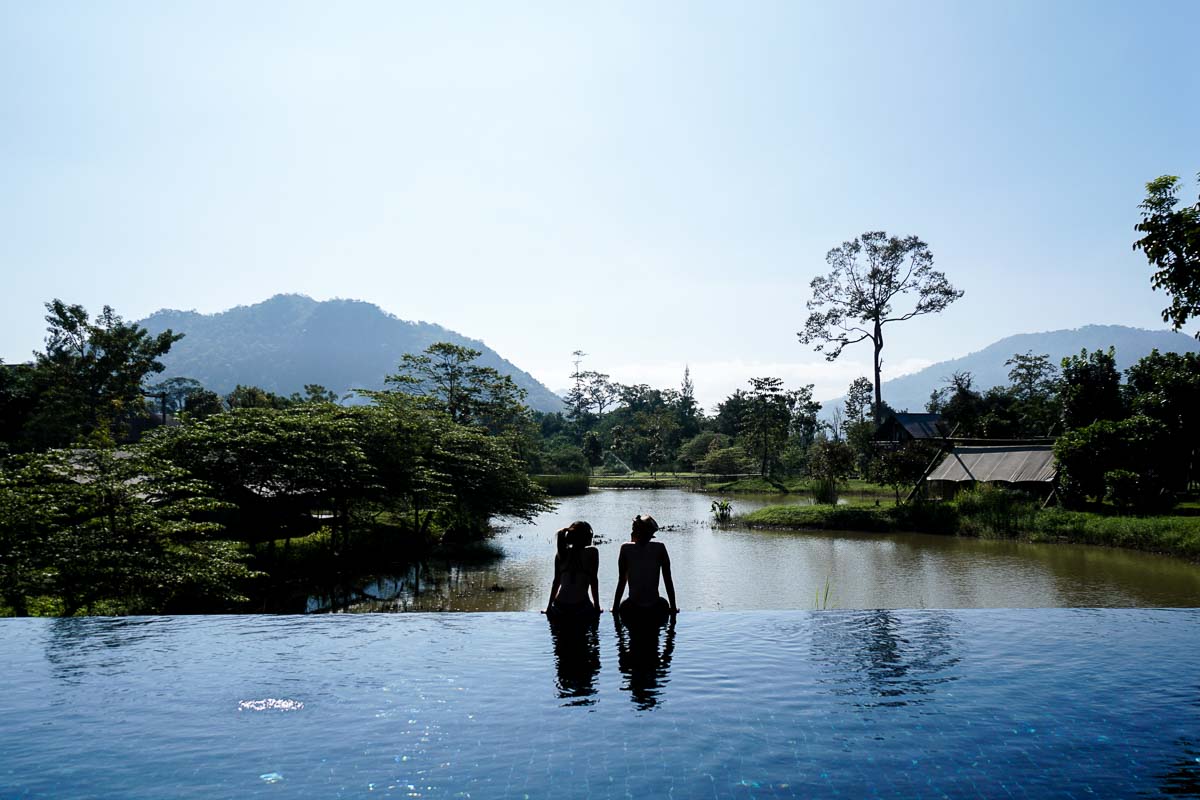 Did we mention there's also a gorgeous infinity pool overlooking the lake?!
Cost: ฿3750 (~S$177) for the Eco Safari Tent (High season price)
Address: 515 Moo 5 Musi Pakchong Nakhonratchasima, Tambon Mu Si, Amphoe Pak Chong, Chang Wat Nakhon Ratchasima 30130, Thailand
2) Fun: The Kids Adventure Khao Yai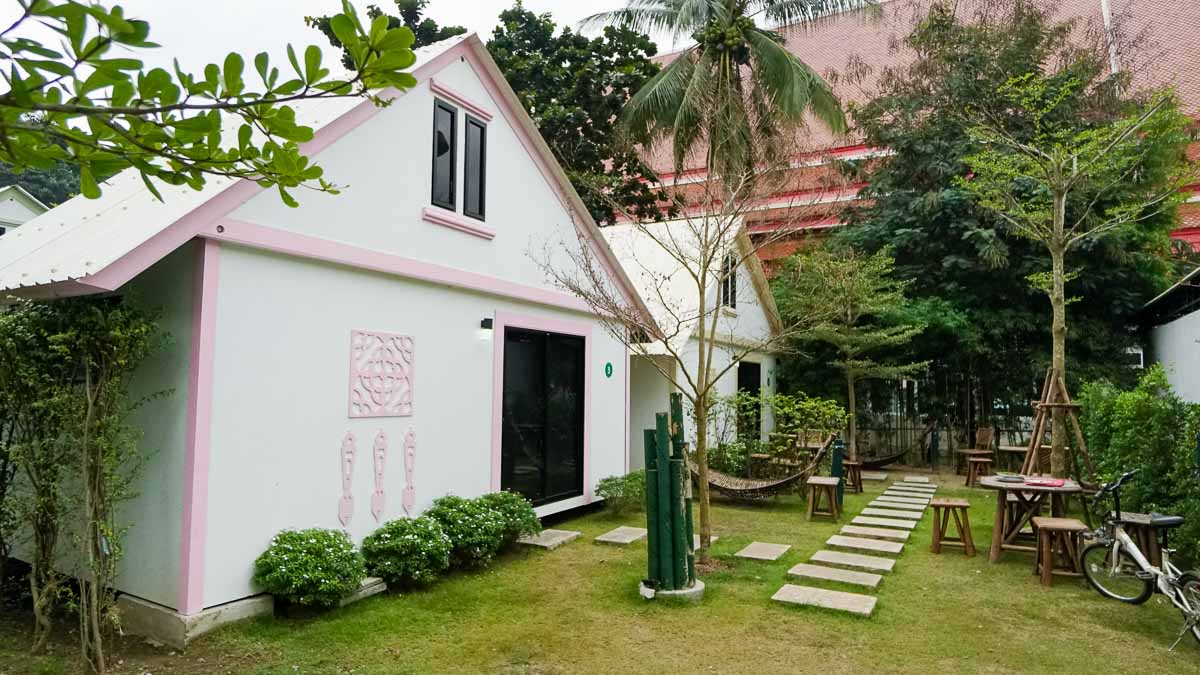 Located just 500m from the northern entrance of Khao Yai National Park, The Kids Adventure Khao Yai is a great mid-range alternative.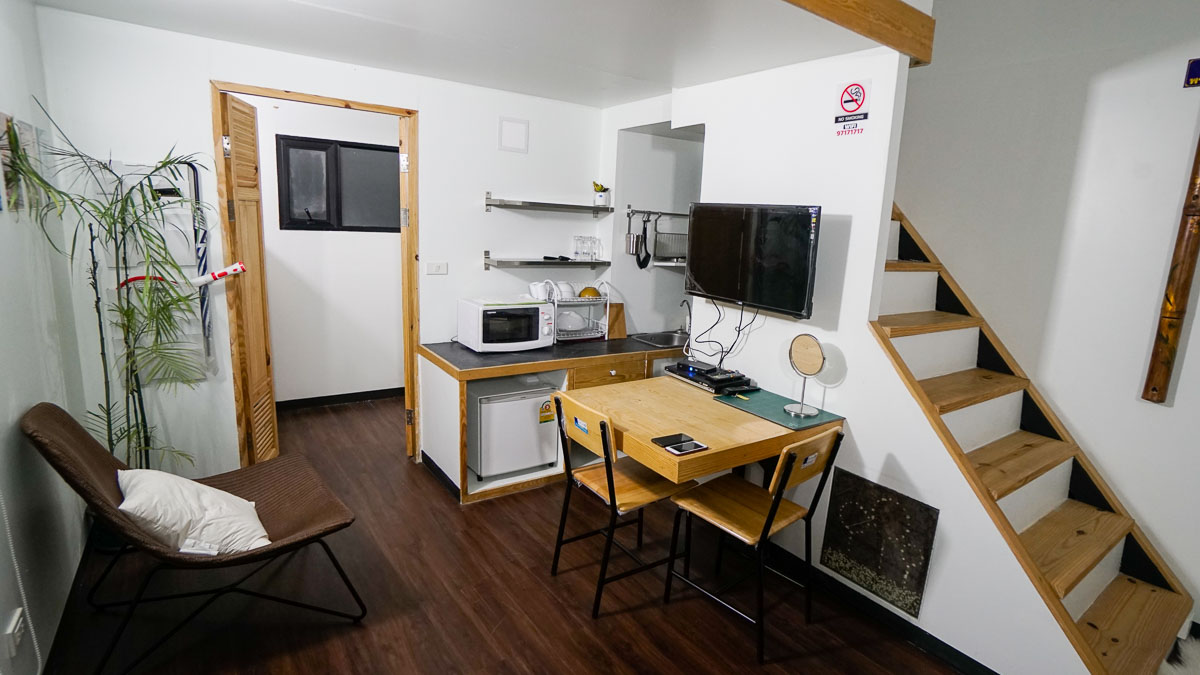 These are two storied lofts with attached bathrooms in a small but cosy space. Though because the beds are located upstairs and cold air sinks, you might want to turn the air conditioning a little colder than you're usually used to.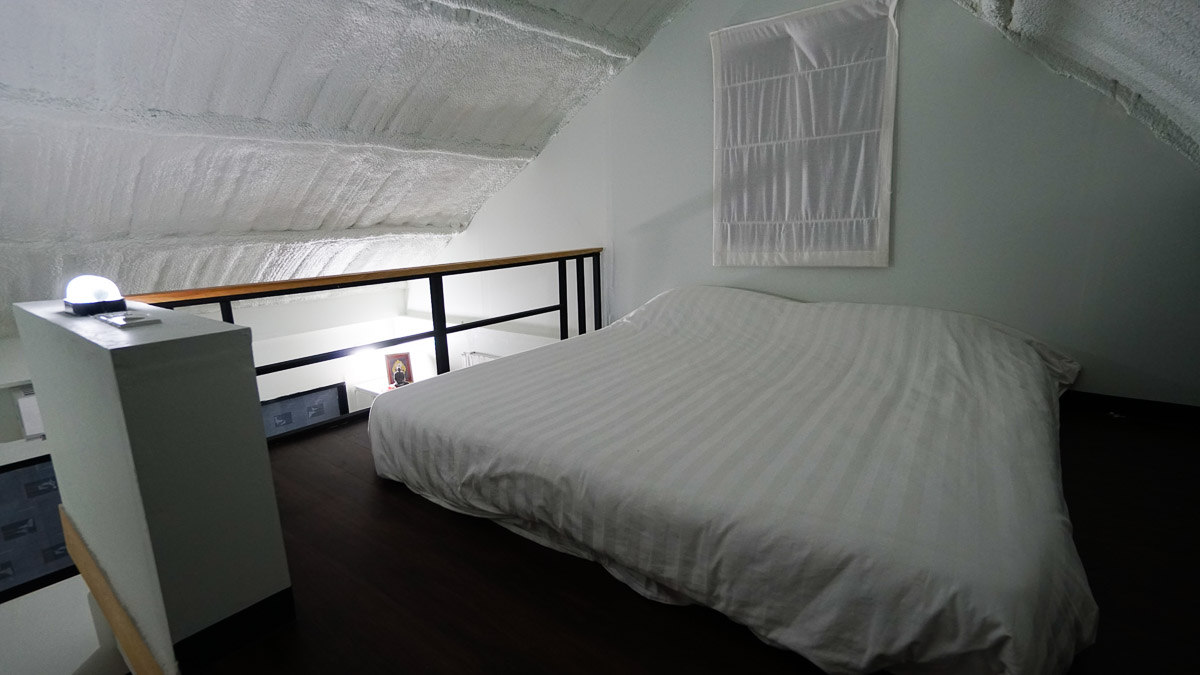 Being a kid-friendly accommodation, there are free archery and golf stations you can use anytime.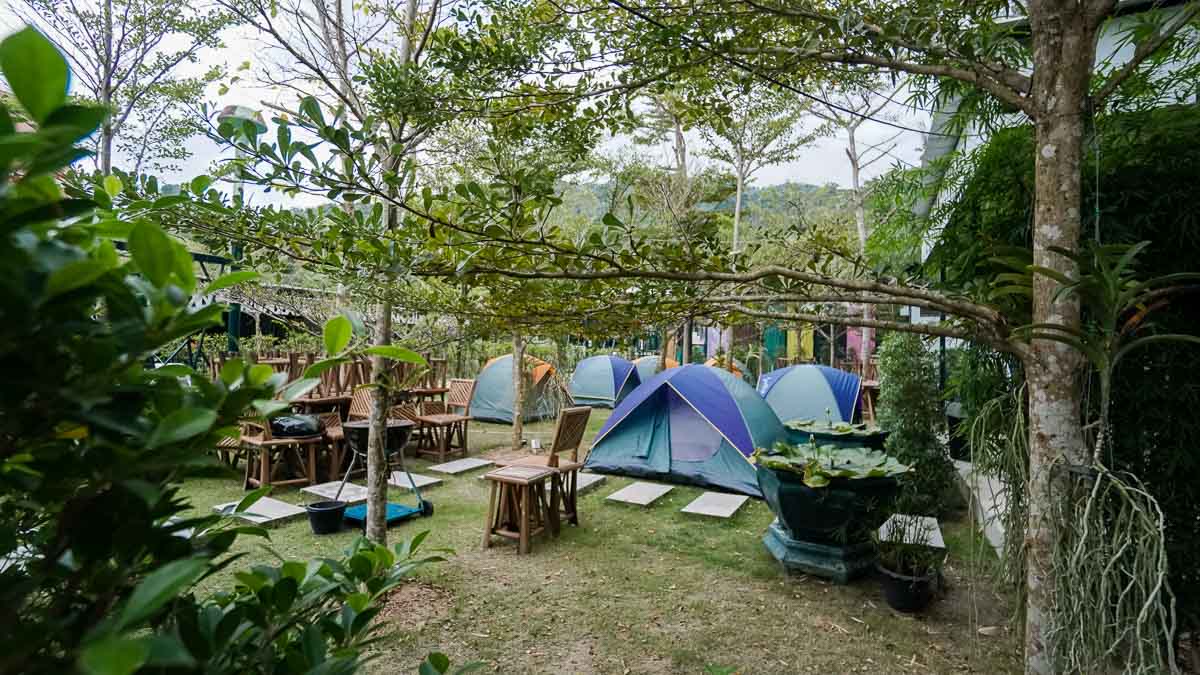 Cost: From S$34.55/night
Address: 91 Mu Si, Pak Chong District, Nakhon Ratchasima 30130, Thailand
3) Budget: At Home Hostel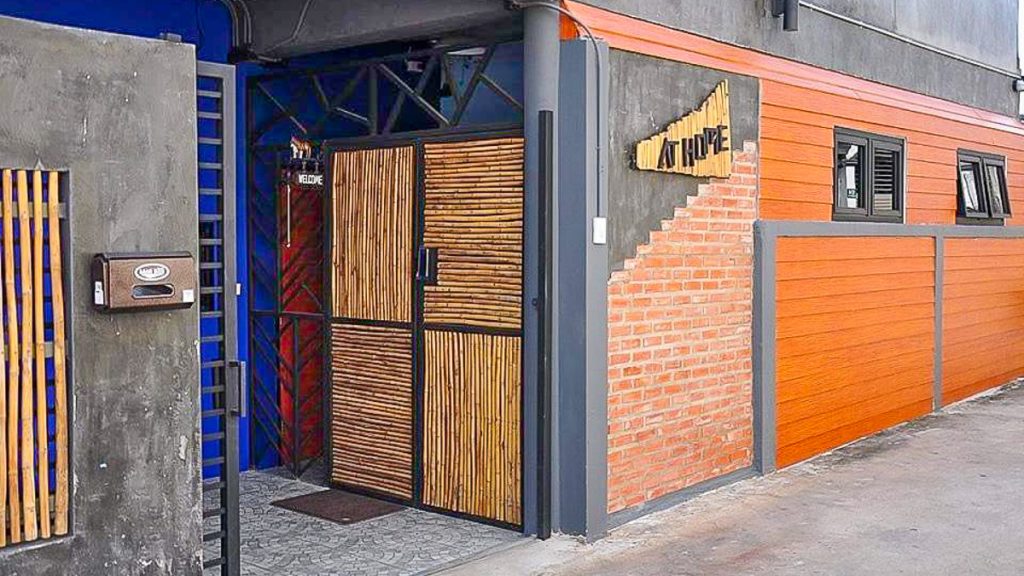 Photo credit: Booking.com
Located within walking distance from Pak Chong Night Market, At Home Hostel is one of the first few that opened in Khao Yai and is run by a friendly couple.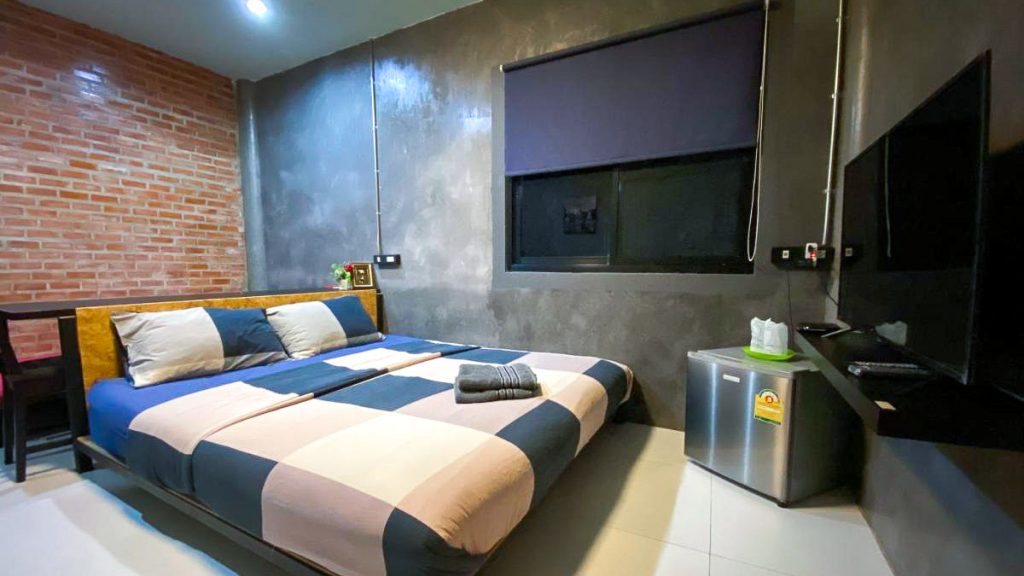 Photo credit: Booking.com
It's great if you're here without your own private driver as you can meet and share transport with the other guests staying here.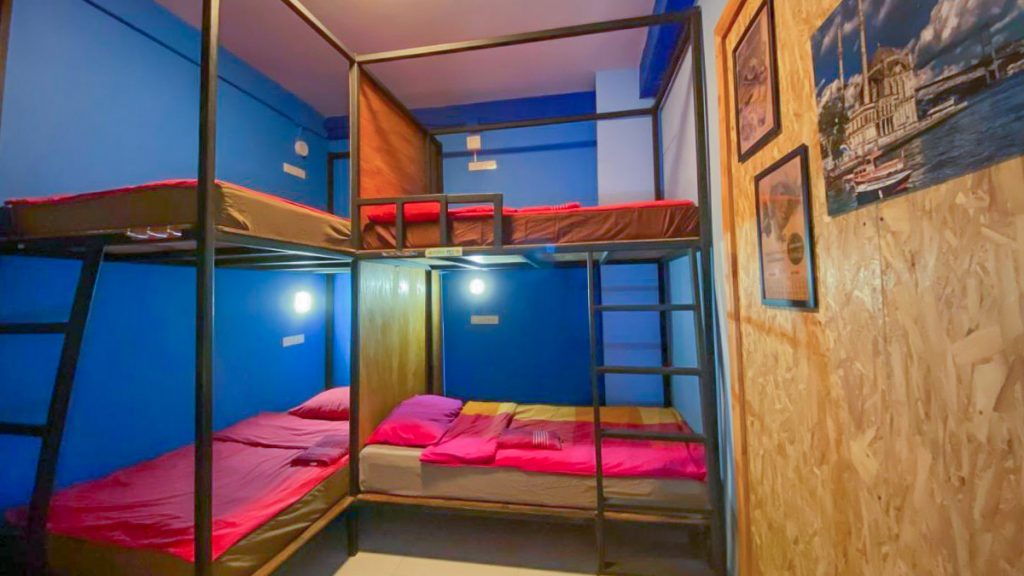 Photo credit: Booking.com
Cost: ~S$17/pax for a dorm bed
Address: 27 Soi 1 Tesaban16 St., Nakhon Ratchasima Pak Chong, Nakhon Ratchasima Province 30130, Thailand
Khao Yai Custom Tours
How this custom tour works is, you'll be assigned a driver who'll pick you up from Bangkok (Suvarnabhumi, Don Muang or your hotel) and drive 3 hours north to Khao Yai. Each day, you can plan out a 12–hour itinerary to fit around three to five attractions depending on the distance.
Read also: Ultimate Khao Yai Guide — 25 Things to Do in Khao Yai
The regular salon cars will cater for three to four passengers but if you're going with a bigger group, there's also the option of picking a van for up to 10 passengers. We spoke to travellers in Khao Yai who booked a van with other tour agents and realised Klook's prices were a lot lower!
When booking, be sure to have your itinerary ready as you'll need to enter the details during booking. We picked Package B because we wanted to cover places like the Hobbit House and the Jim Thompson Farm which are further away. If you'd like to follow our itinerary, here's the concise version:
Day 1: Yellow Submarine Coffee Tank, Primo Piazza, Palio, Kua Kampan, back to accommodation
Day 2: PB Wine Valley, Farm Chokchai, Ban Mai Chay Nam Restaurant, Hobbit House, Midwinter Green, back to the accommodation
Day 3: Khao Yai National Park, Pak Chong Night Market
Day 4: Chocolate Factory, Jim Thompson Farm, Suvarnabhumi Airport
For PB Wine Valley and Farm Chokchai, be sure to call up the office to make reservations for the tour at least one day before going. For us, we arrived on a Sunday and many tours were fully booked but our driver was generally quite flexible about making on-the-spot improvisations. Just be sure to have a list of all the places you intend to cover and your driver can help plan the most efficient route.
We hope you found this 4D3N Khao Yai itinerary useful!
Read also: 5D4N Khao Kho Itinerary — The 'Thai Alps' just outside Bangkok
This article was first published on 17 Dec 2017 and updated on the date above! If spot any changes to the locations, do let us know in the comments below so we can keep the content updated and fresh!
---
This post was brought to you by Klook.