Jut three hours north of Bangkok, try these incredible things to do in Khao Yai, Thailand's whimsical city.
Latest update: Mar 2022 (some attractions are temporarily/permanently closed)
Flying into Bangkok but looking for brand new experiences? Khao Yai may just be the perfect vacation you're looking for. From whimsical accommodation options to cafes that look more like museums and sprawling lands where animals roam and flowers grow, there's a wide range of exciting things to do in Khao Yai.
Getting Around in Khao Yai
The only problem is, there's no public transportation in Khao Yai (not even taxis, Grab, or Uber) and the attractions are pretty spread out. The best way to getting around would by renting your own car or getting one with a driver! We pre-booked a private tour through Klook which allowed us to plan exactly what we wanted to do in Khao Yai.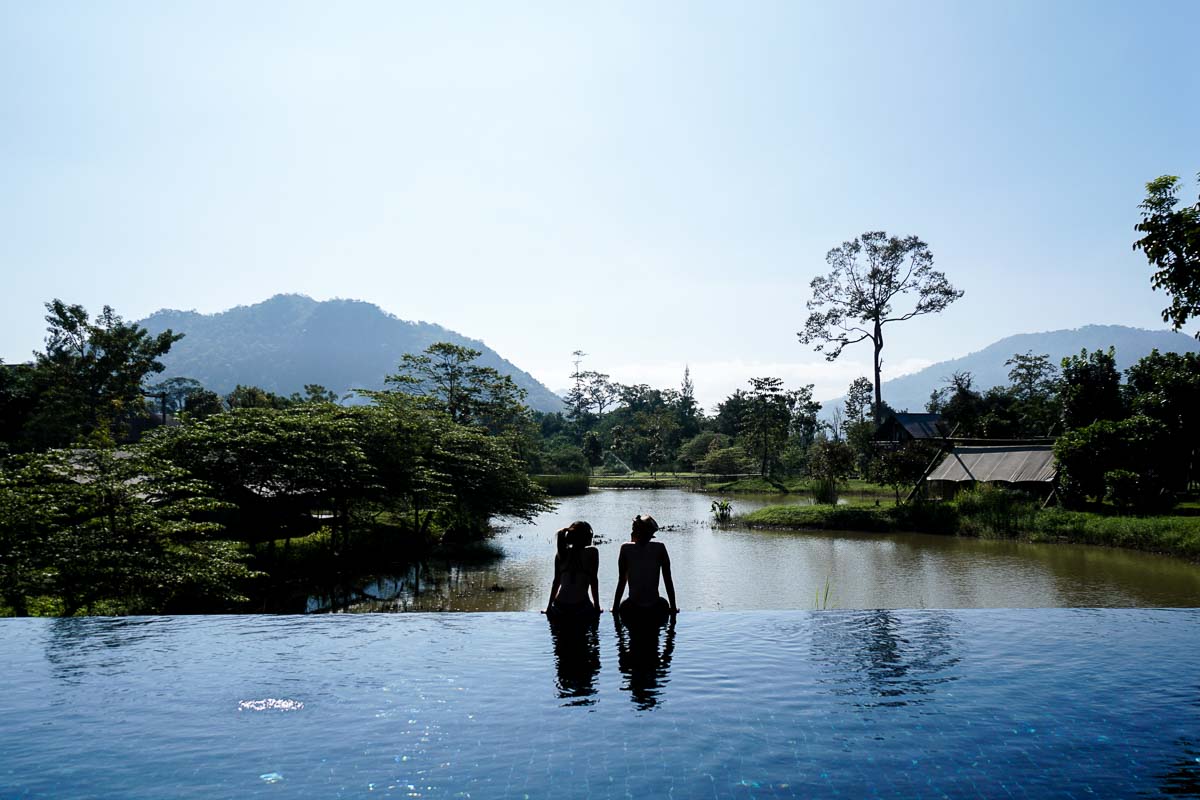 If you're looking to create your own Khao Yai itinerary, we've pulled together an extensive list of 25 fun highlights in this picturesque city. We recommend picking four to five places of interest each day (including food stops) and plotting them on the map to decide what to do each day.
If you'd prefer something more put together, check out our 4D3N Khao Yai Itinerary. We covered half of this list but feel free to use it as a base and swap out items from this list if you prefer.
Things to do in Khao Yai
1) Primo Piazza: Feed Sheep and Alpacas in 'Italy'
If you can't go to Italy, let Khao Yai bring Italy to you in this Italian themed square. Primo Piazza even has its very own farm where you can exchange your entrance ticket for a handful of animal feed. This will most definitely upgrade your animal-whisperer abilities as the merino sheep, donkeys, and even resident alpacas start trotting to the front of the fence.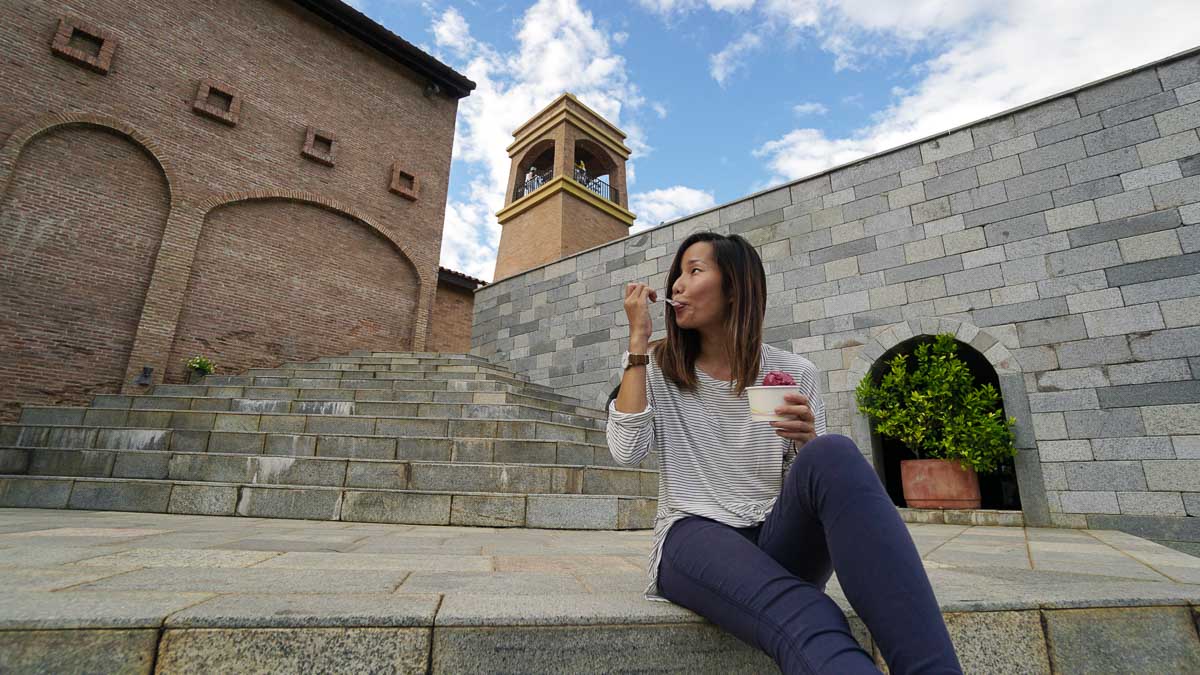 Entrance fee: ฿200 (~S$8.87)
Opening hours: 9AM – 6PM (Fri – Mon), closed from Tue – Thu
Address: 200/2 Moo10, Tambon Musi, Pakchong District, Nakhon Ratchasima 30130, Thailand
2) PB Wine Valley: Go wine tasting in Khao Yai's own vineyard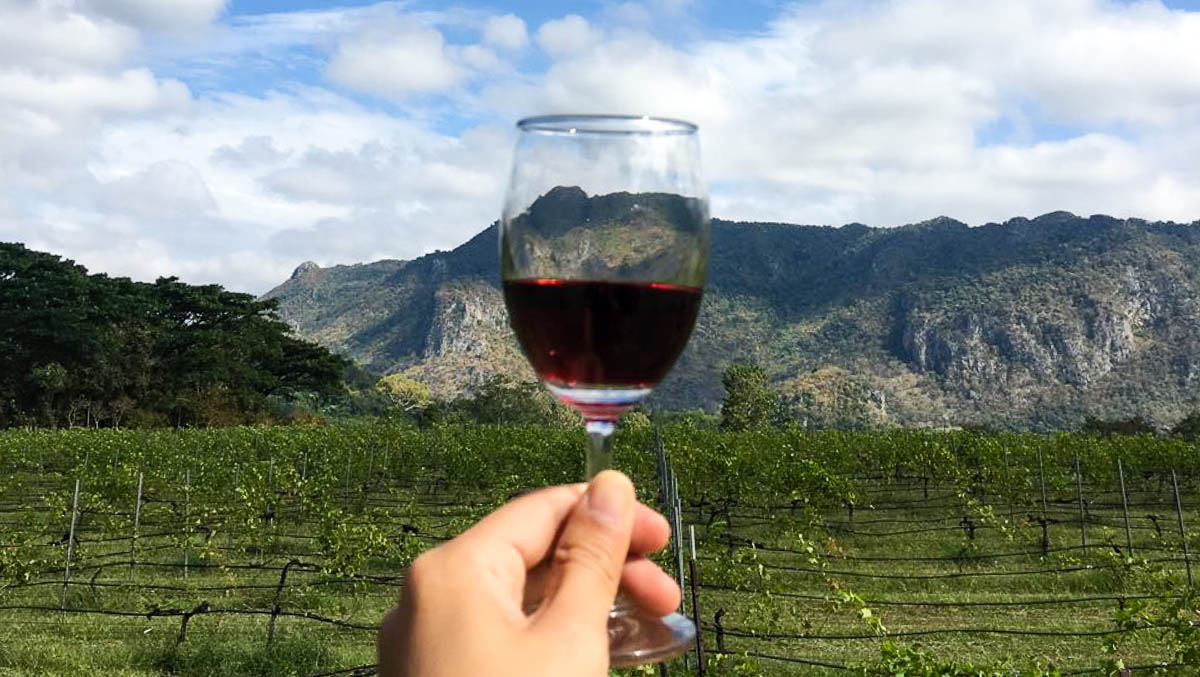 Vineyards — check, cool weather — check… wait, is this still Thailand we're talking about? Thanks to the high elevation and falling temperatures in the winter season (Nov – Feb), wine grapes like Shiraz, Cabernet Sauvignon and Chenin Blanc are able to grow in Khao Yai's biggest vineyard — PB Wine Valley.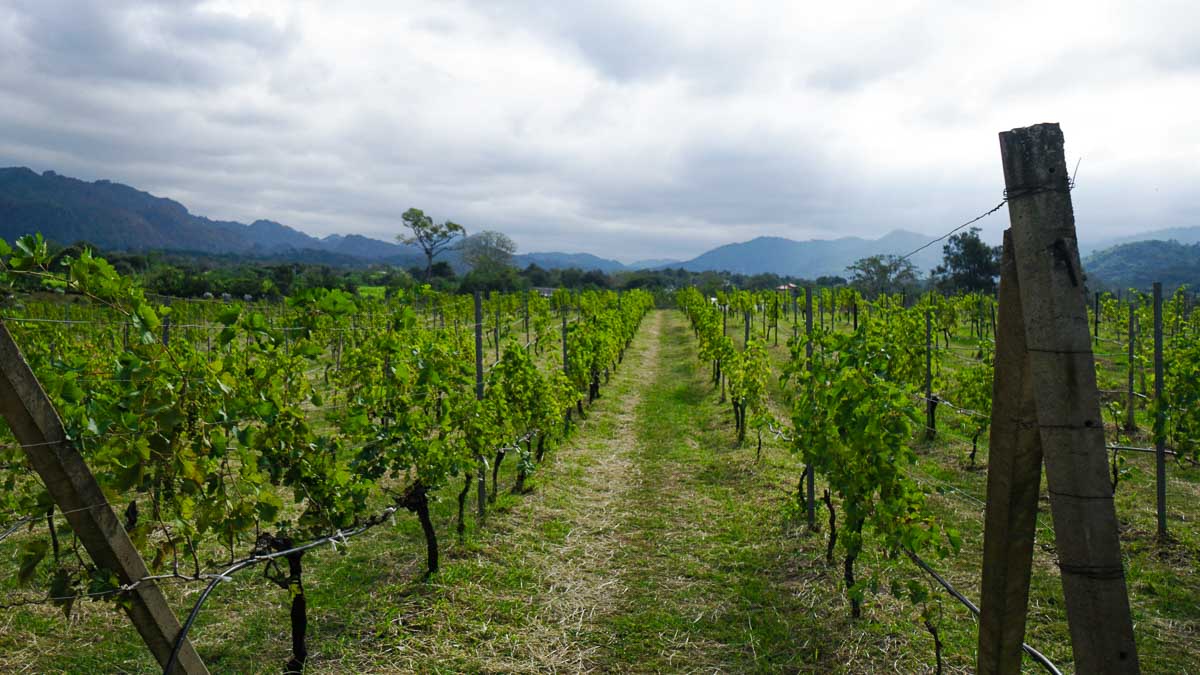 The 1000-acre vineyard runs four tours daily (9AM, 11AM, 1:30PM, and 3PM), bringing you through their huge vineyards for photo-taking opportunities and wine factory visits. And of course, you'll end off with three wine-tasters. Even non-alcoholics can join in the fun, with a full glass of 100% Shiraz Grape Juice.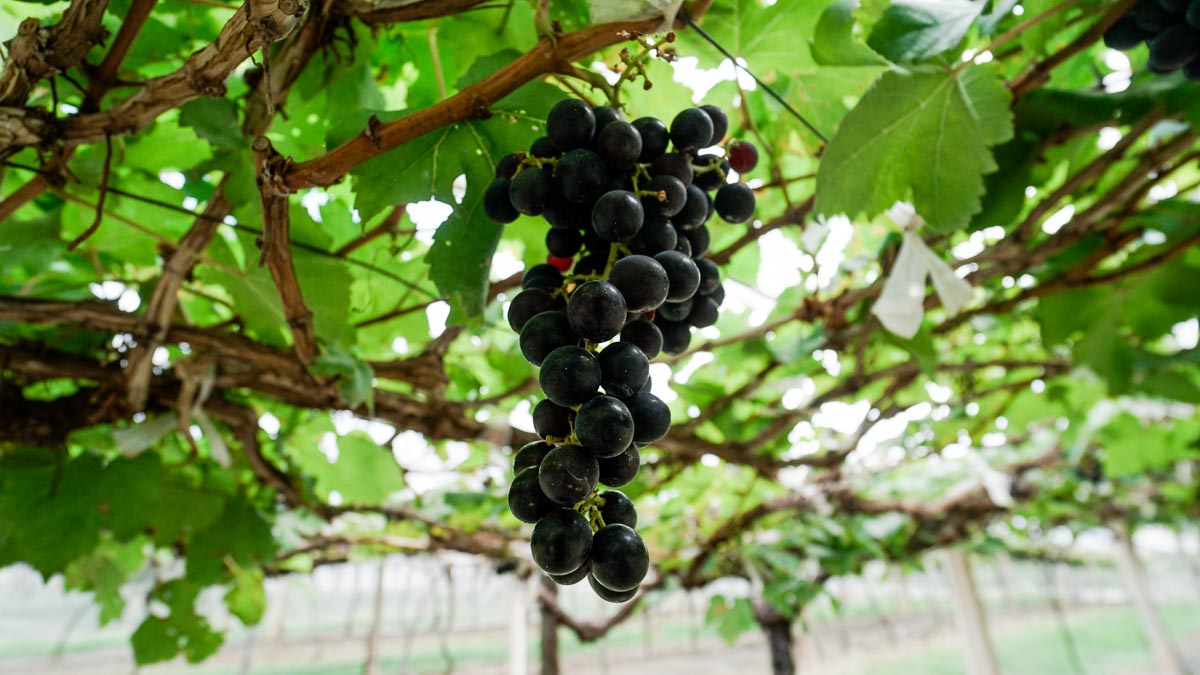 Cost: From S$31/pax for a 70-minute tour around the winery with lunch
Opening hours: 8AM – 8PM (Sun – Thu), 8AM – 10PM (Fri and Sat)
Address: 102 Moo 5, Phaya Yen, Pak Chong Nakorn Ratchasima 30320
3) Jim Thompson Farm: Feast your eyes on never-ending flower fields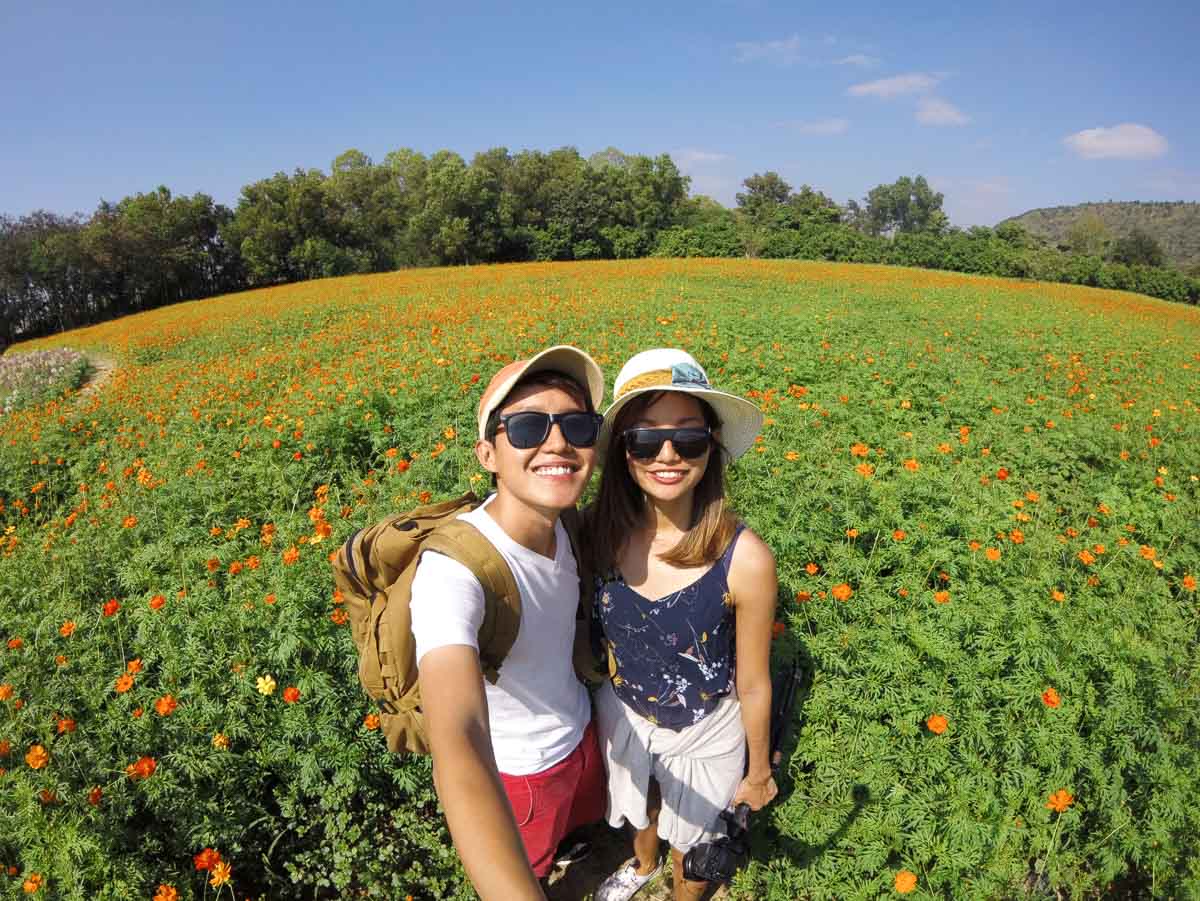 The Jim Thompson Farm is a little out of the way (two hours from Khao Yai National Park) but if you love flower fields, this farm will delight you. It's only open between Dec –Jan, so don't miss it if you're in Khao Yai during this period!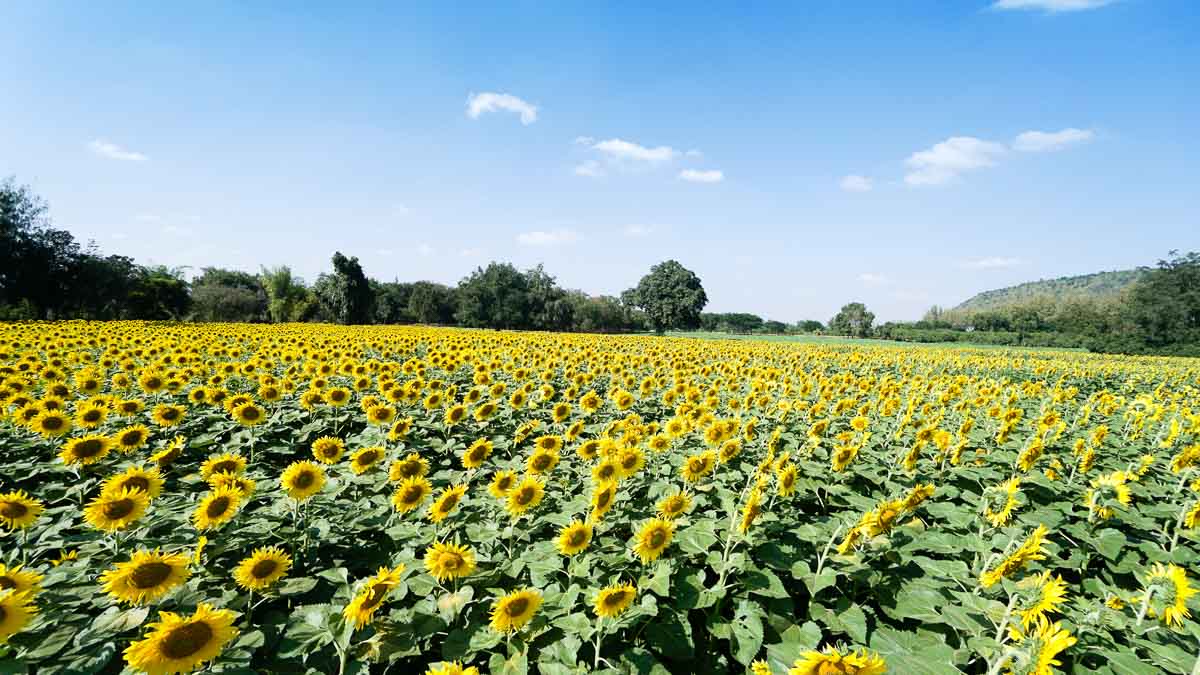 As you explore grounds filled with everything from giant pumpkins to towering sunflowers, you can't help feeling like you're in some kind of wonderland.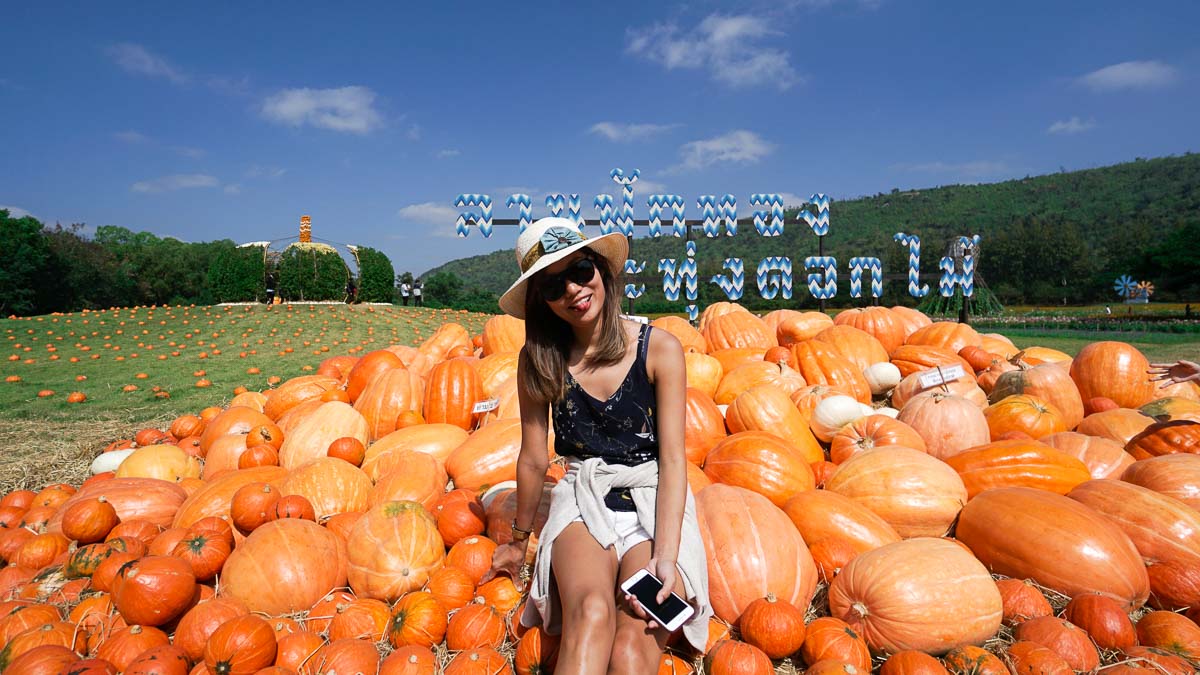 Entrance fee: ฿180 (~S$7.98) on weekdays and ฿220 (~S$9.76)
Opening hours: Varies
Address: 2072, Tambon Takhop, Amphoe Pak Thong Chai, Chang Wat Nakhon Ratchasima 30150, Thailand
4) Palio: Shop in an Italian Piazza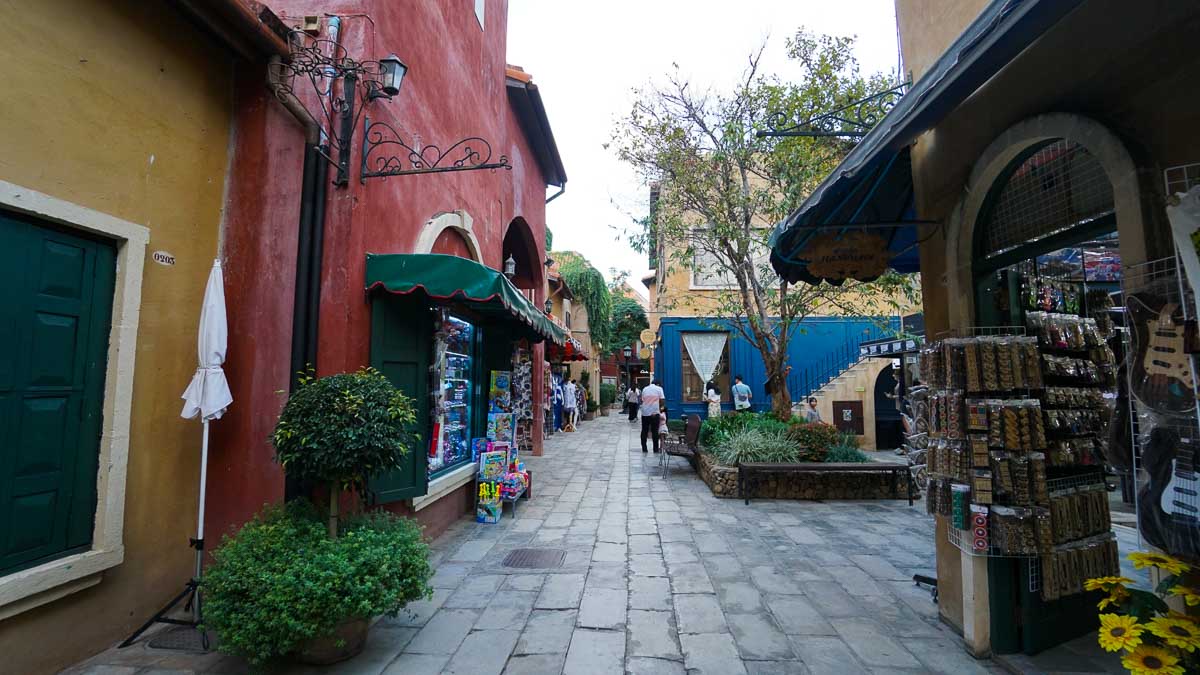 Mar 2022 Update: This attraction is permanently closed.
Palio is an Italian-inspired market square with cobbled streets, accordion music, and splattering fountains. Here's where you can shop for old-school toy shops, dainty dresses, and accessories.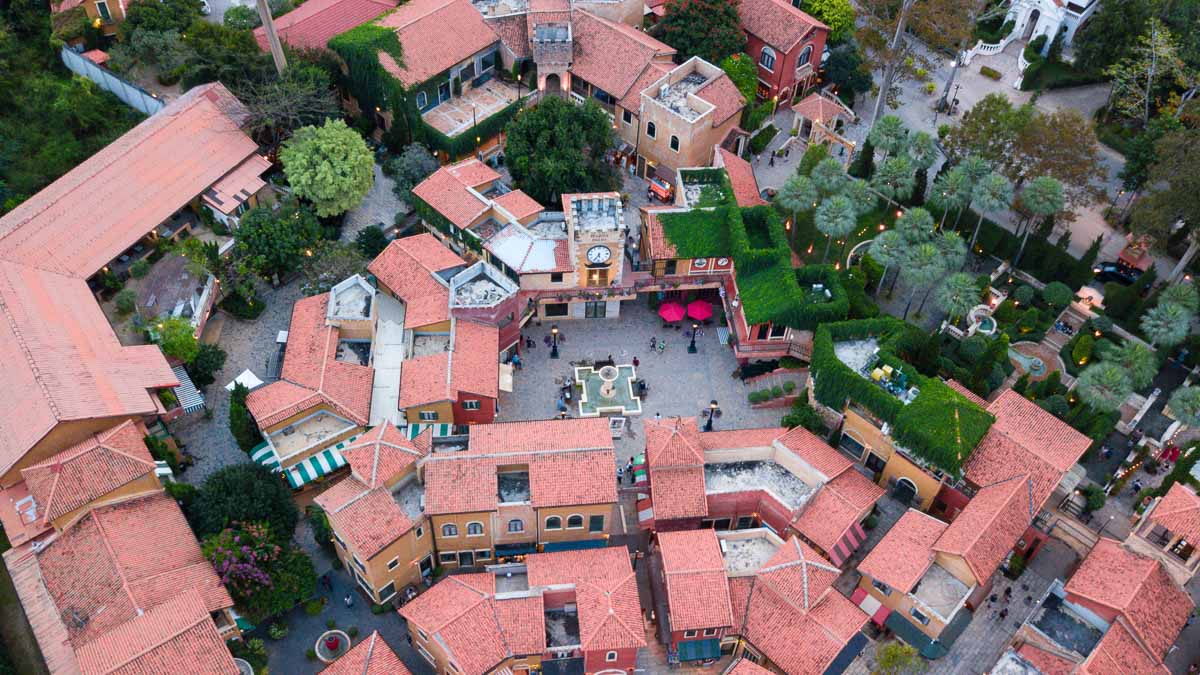 Entrance fee: Free
Opening hours: 9AM – 7PM, closes at 9PM on Sat *Note: Palio is permanently closed due to COVID-19.
Address: 146/1 ม.4 Palio Khaoyai, ถ.ธนะรัชต์ กม.17, Tambon Mu Si, Amphoe Pak Chong, Nakhon Ratchasima 30130, Thailand
5) Hike at Khao Yai National Park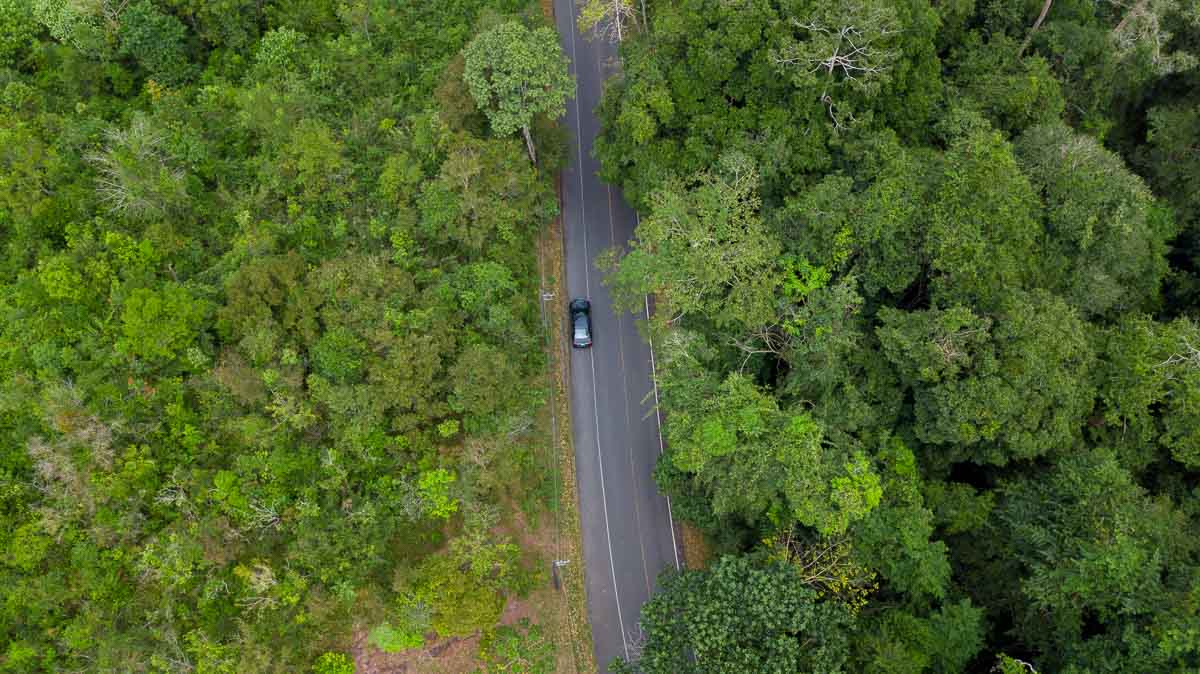 You can't visit Khao Yai without stepping foot in its very own UNESCO World Heritage site! Spanning across 2000 square kilometres, you can take on hiking trails ranging from one to five hours. Come chase waterfalls, go bird watching, or even spot wild elephants if you're lucky!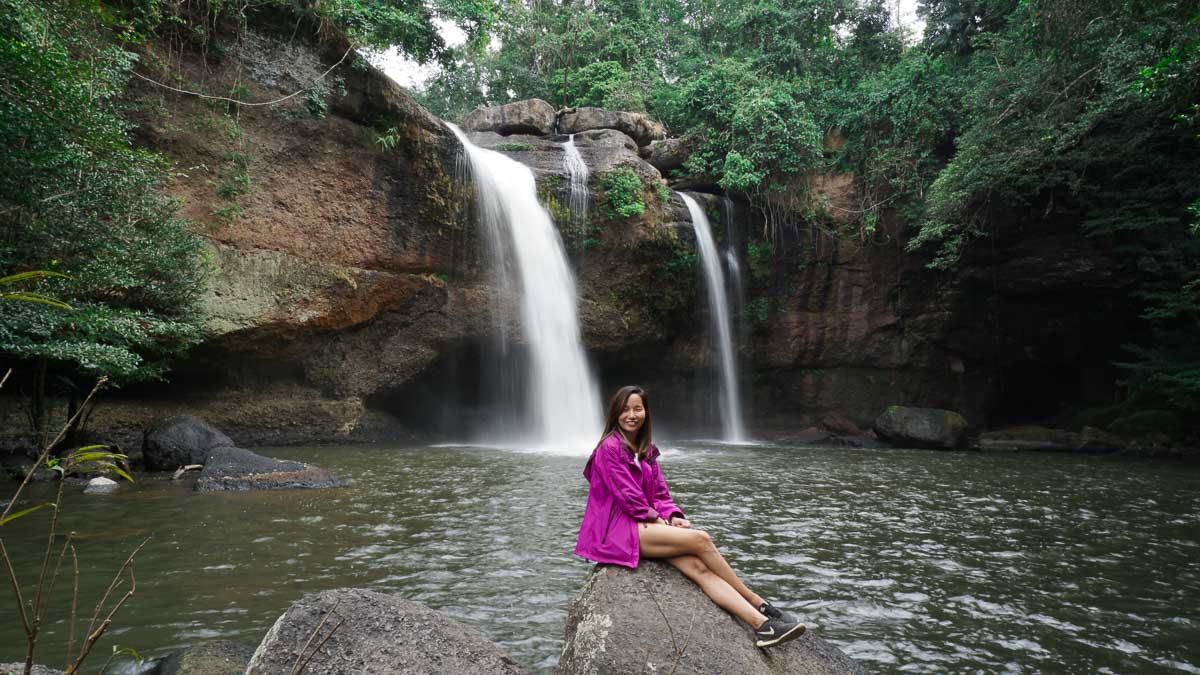 Khao Yai National Park is home to two gorgeous waterfalls, Haew Narok and Haew Suwat, which can be accessed conveniently by car. If you book Klook's Khao Yai tour from Bangkok, ask to be dropped off at the various car parks where it's an easy 30-minute trek to each point of interest.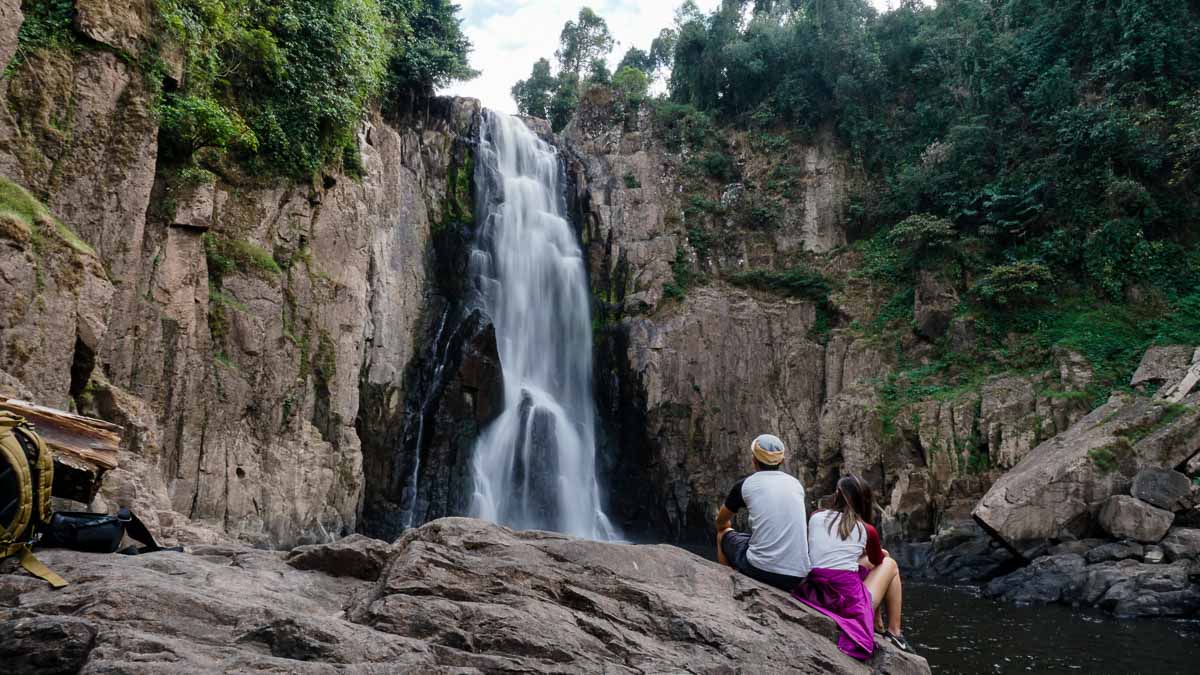 Entrance fee: ฿400 (~S$17.74), ฿50 (~S$2.22) for the car
Opening hours: 6AM – 6PM
Meeting point (for the tour): Pick up from accommodation or airport in Bangkok
6) Spot wild animals at Khao Yai National Park on a Wildlife and Night Safari tour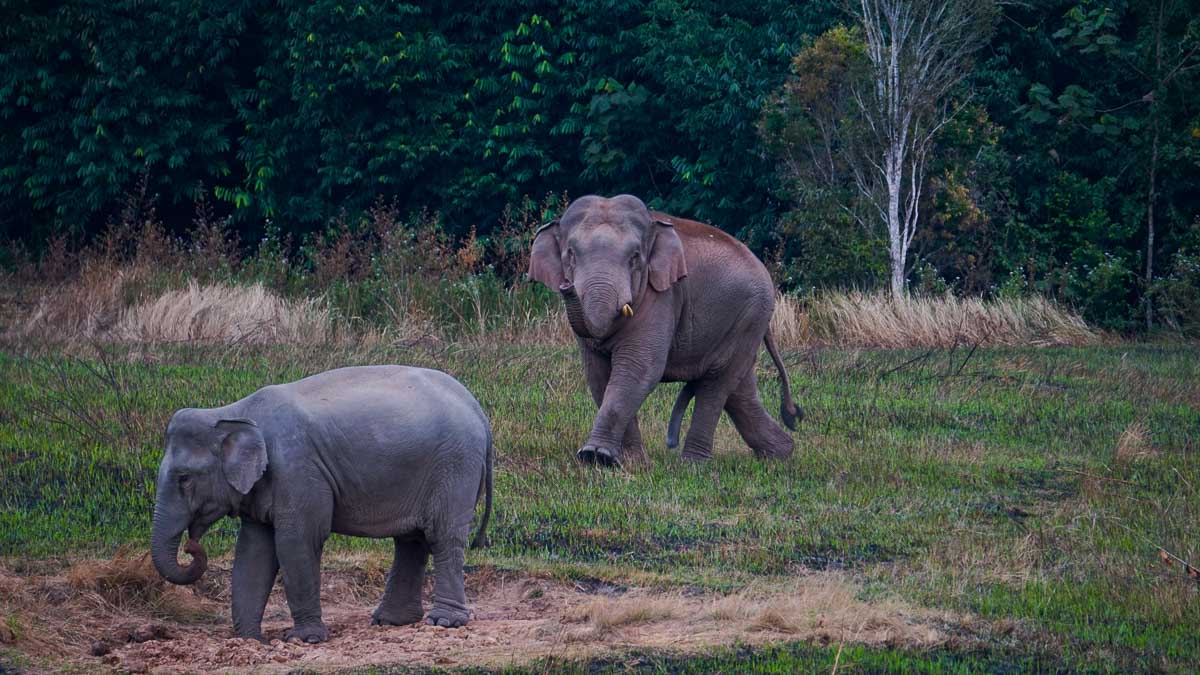 If you really want to spot wild animals, take a guided tour through the inner forests of the park. Organised by the Khao Yai National Park, this is your best chance to spot wild elephants, barking deers, naughty gibbons, and adorable otters while riding around in a safari jeep.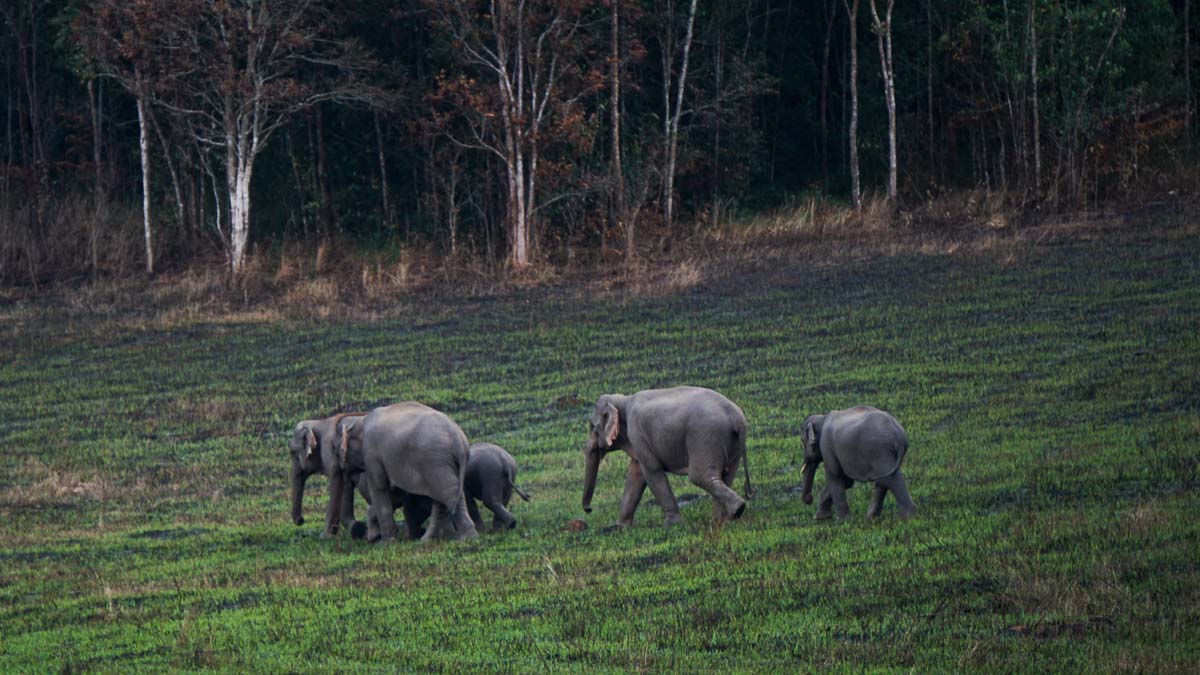 Cost: From ฿1,900 to 6,400 (~S$84.28 to ~S$283.90) according to group size
Activity timings: Start between 8AM – 8:30AM, end between 8PM – 9PM. Book here
Meeting point: Pick up from selected hotels in Khao Yai
7) Take a refreshing dip in the waters of Ban Tha Chang Spring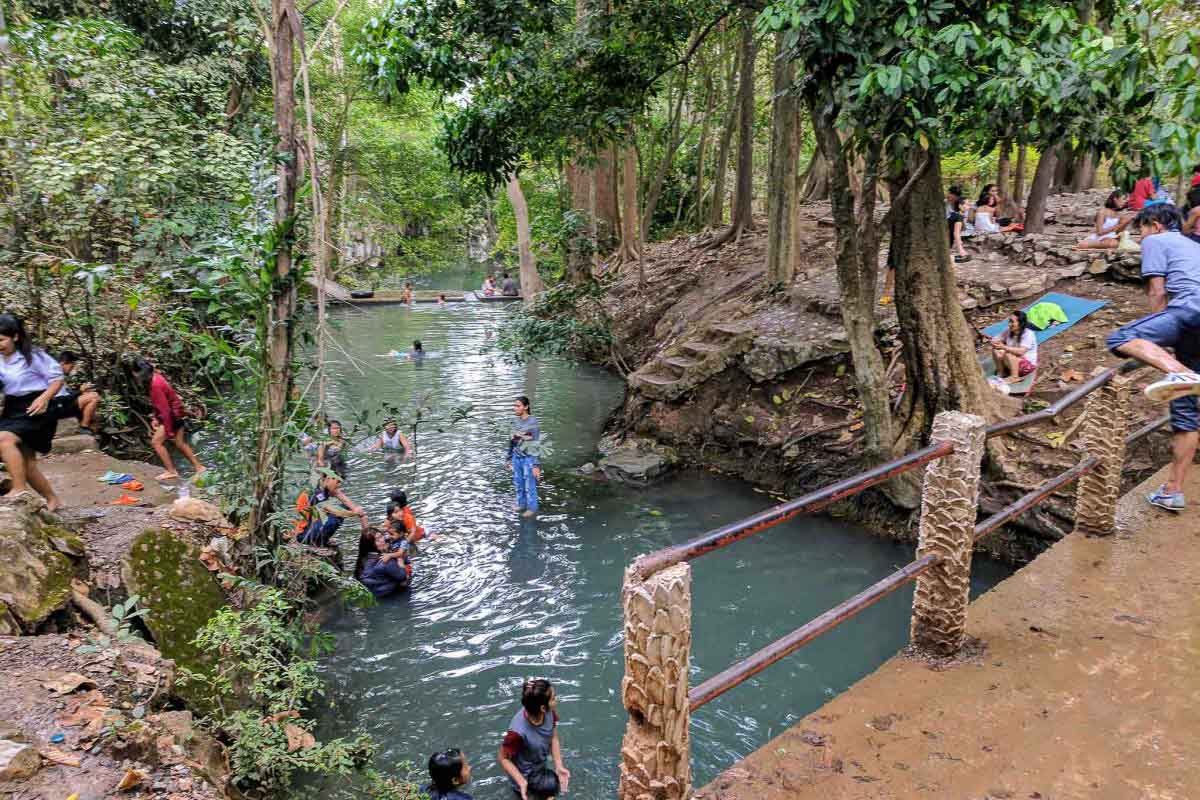 Photo credit: zitseng
Ban Tha Chang Spring is where the locals go to escape the heat! Swim in clear, light-blue spring water or pick a shaded spot under the trees for an afternoon picnic. There's also food stores nearby where you can grab a plate of som tam (papaya salad), grilled chicken, or cold drinks.
Entrance fee: Free
Opening hours: 8AM – 5PM
Address: Tambon Mu Si, Amphoe Pak Chong, Chang Wat Nakhon Ratchasima 30130, Thailand
8) Catch a Rodeo Show at Farm Chokchai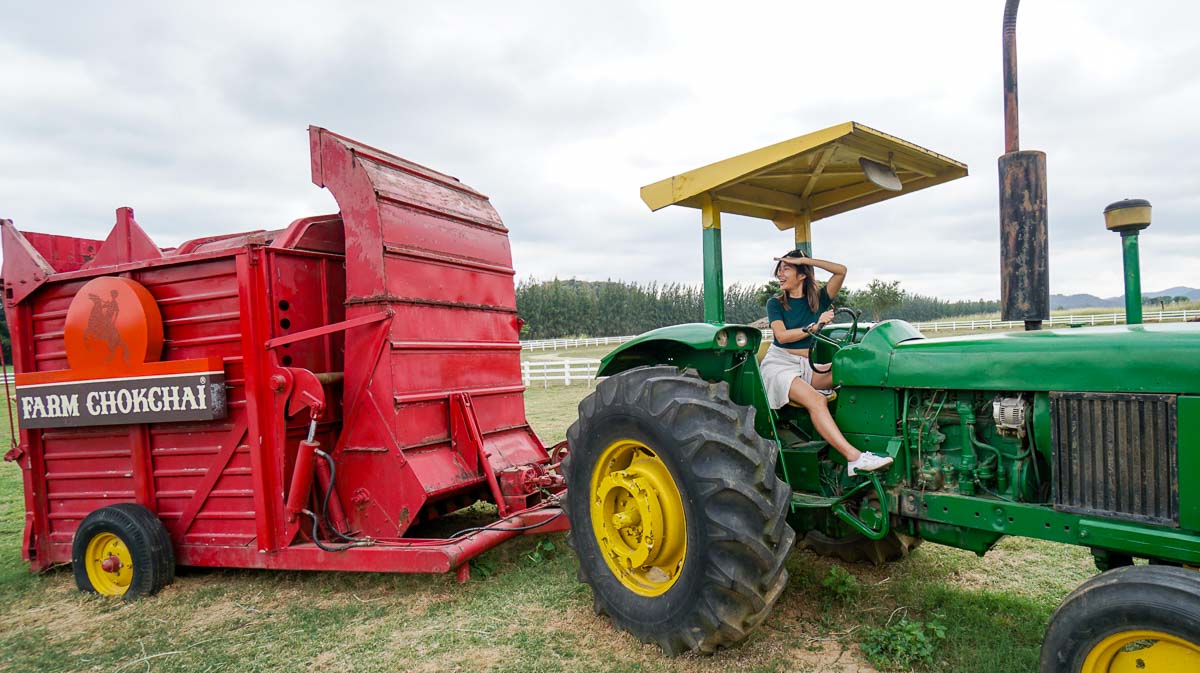 This 250-acre farm has a huge variety of things to do that both kids and adults will love. There are scheduled tours that last for around two-and-a-half hours that bring you through the farm's processes. Get entertained by a rodeo show, rev up ATV bikes, or even learn to make ice cream using Farm Chokchai's very own milk brand, Umm!..Milk.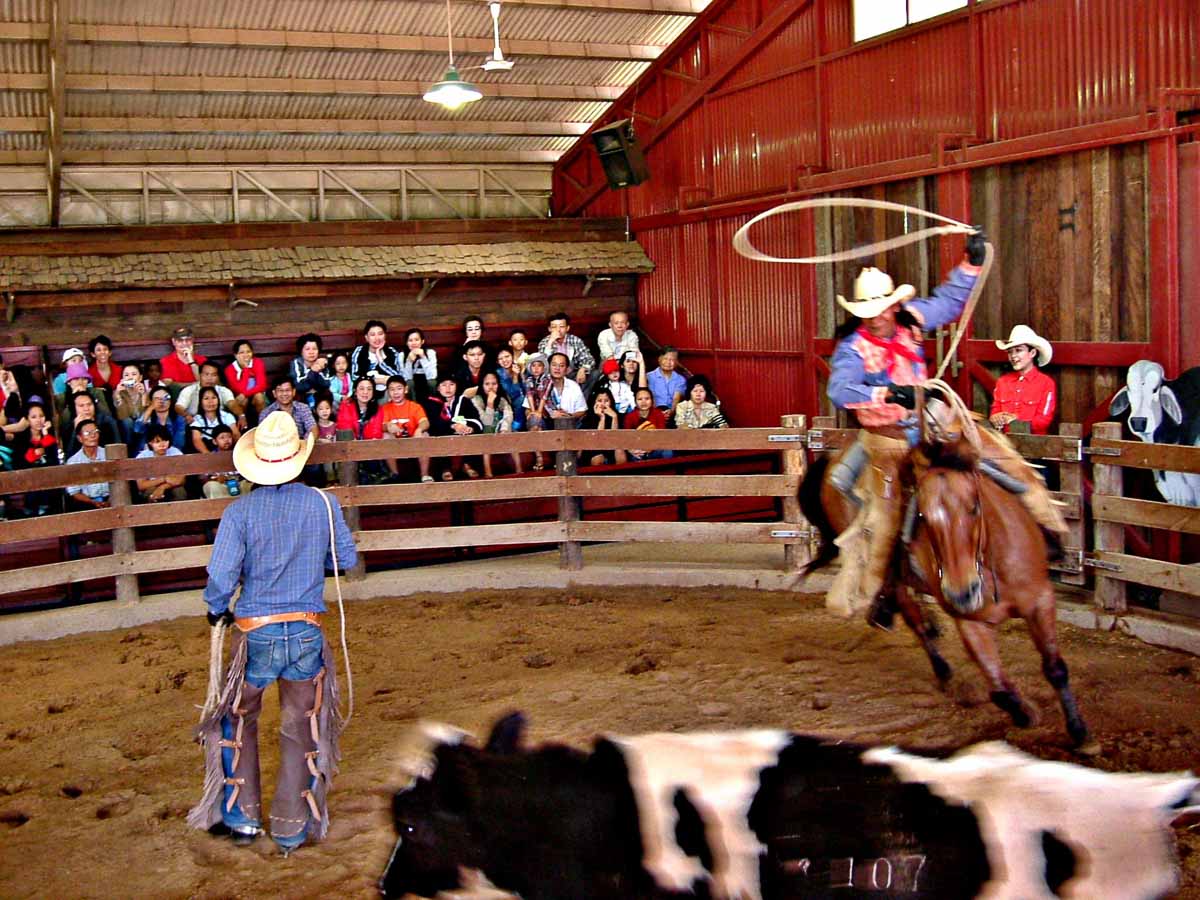 Photo credit: Hungryonion
Cost: ฿300 for 2.5hr Farm Tour
Farm tour timings: 10AM and 2PM (Tues – Fri); 10AM, 11AM, 1PM, 2PM (Sat, Sun and PH) Open on Monday only if it's a PH. If the tour is full, the next tour will run 20min later. Recommended to reserve one week in advance.
Address: 169 หมู่ 2, ถนนมิตรภาพ, ตำบลหนองน้ำแดง อำเภอปากช่อง จังหวัดนครราชสีมา, 30130 Tambon Pak Chong, Amphoe Pak Chong, Chang Wat Nakhon Ratchasima 30320, Thailand
9) Scream your lungs out at Scenical World Amusement Park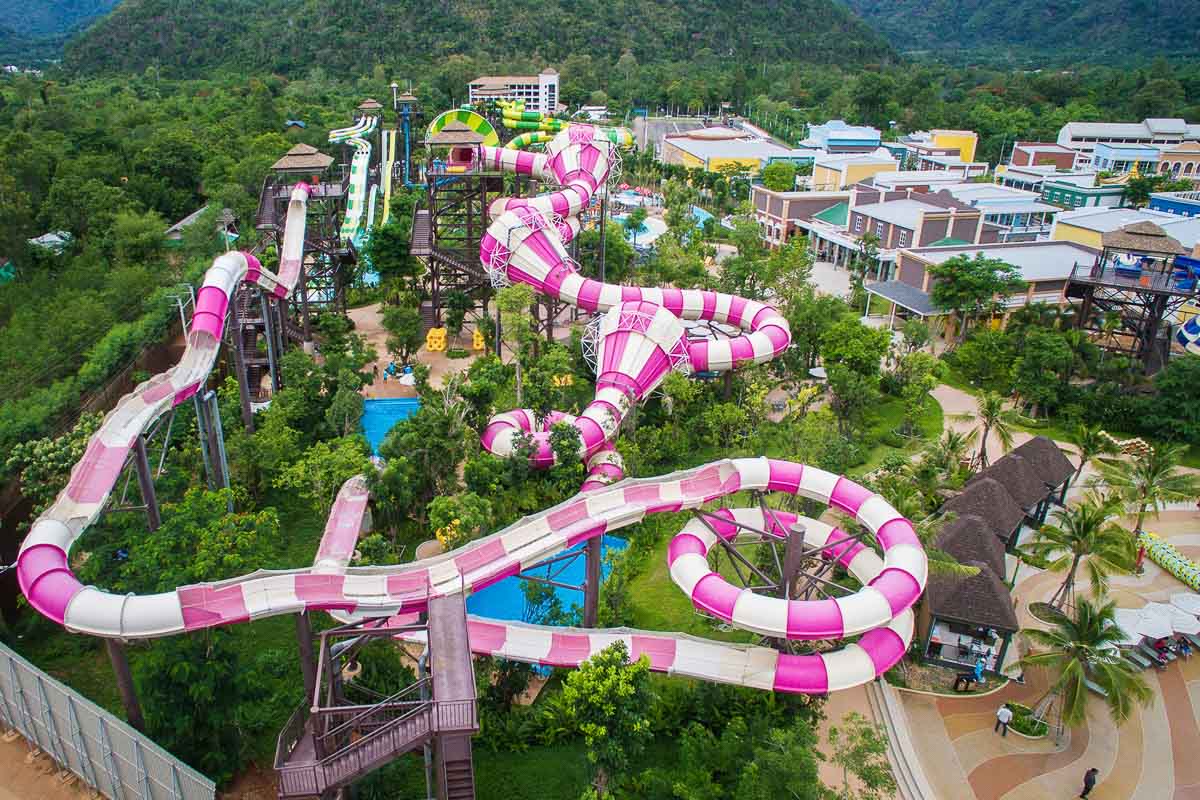 Photo credit: ScenicalWorld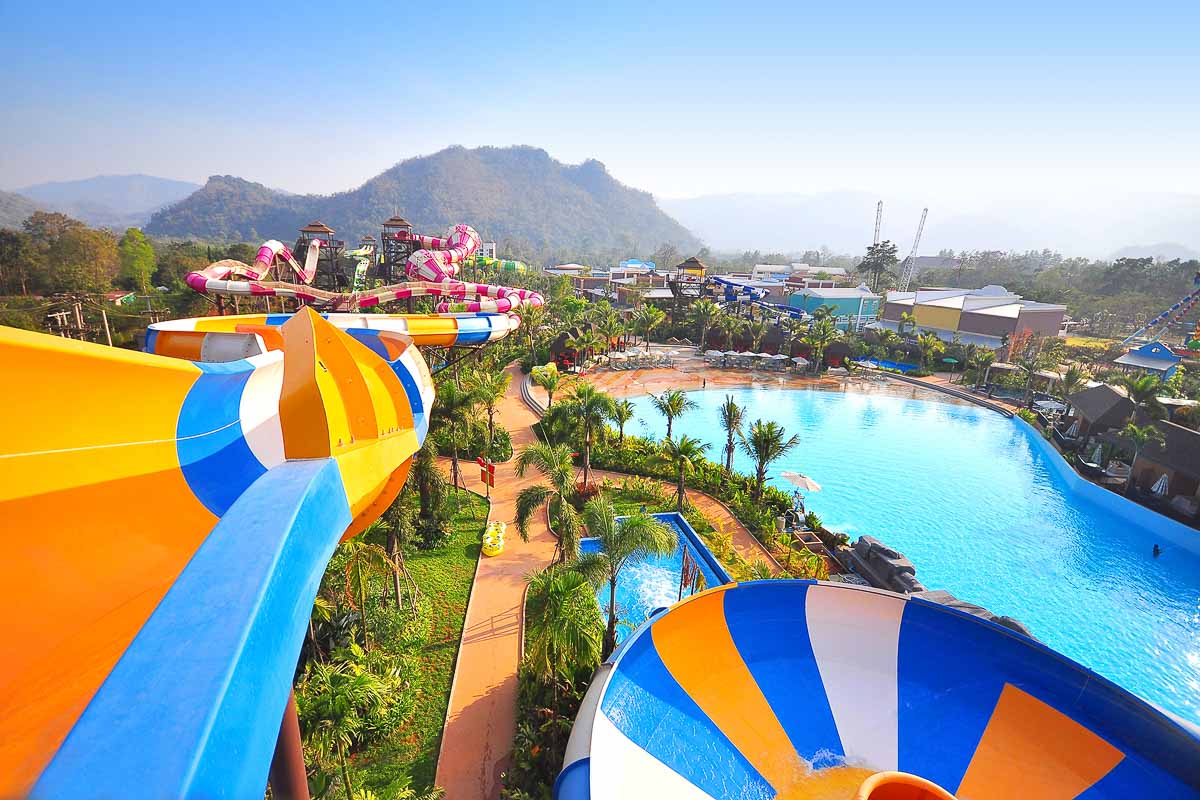 Photo credit: ScenicalWorld
Mar 2022 Update: Temporarily Closed since April 2019
Looking for a dose of adrenaline? Then it might be worth slotting this one into your itinerary! Scenical World is made out of three themed zones: 1) Excite, which has roller coasters, mega swings, ATV rides, and a flying fox, 2) Splash, a water park with 11 exciting slides as well as the mandatory wave pool and lazy river, and 3) Kids Zone, with classics like teacup spinners and carousel rides.
Entrance fee: Varies by zone and rides
Opening hours: 10AM – 6PM
Address: 777 Moo 5 Thanarat Road, Moo See, Pakchong, Nakhon Ratchasima 30130
10) GranMonte Vineyard: Wine Tasting at a Family-run Vineyard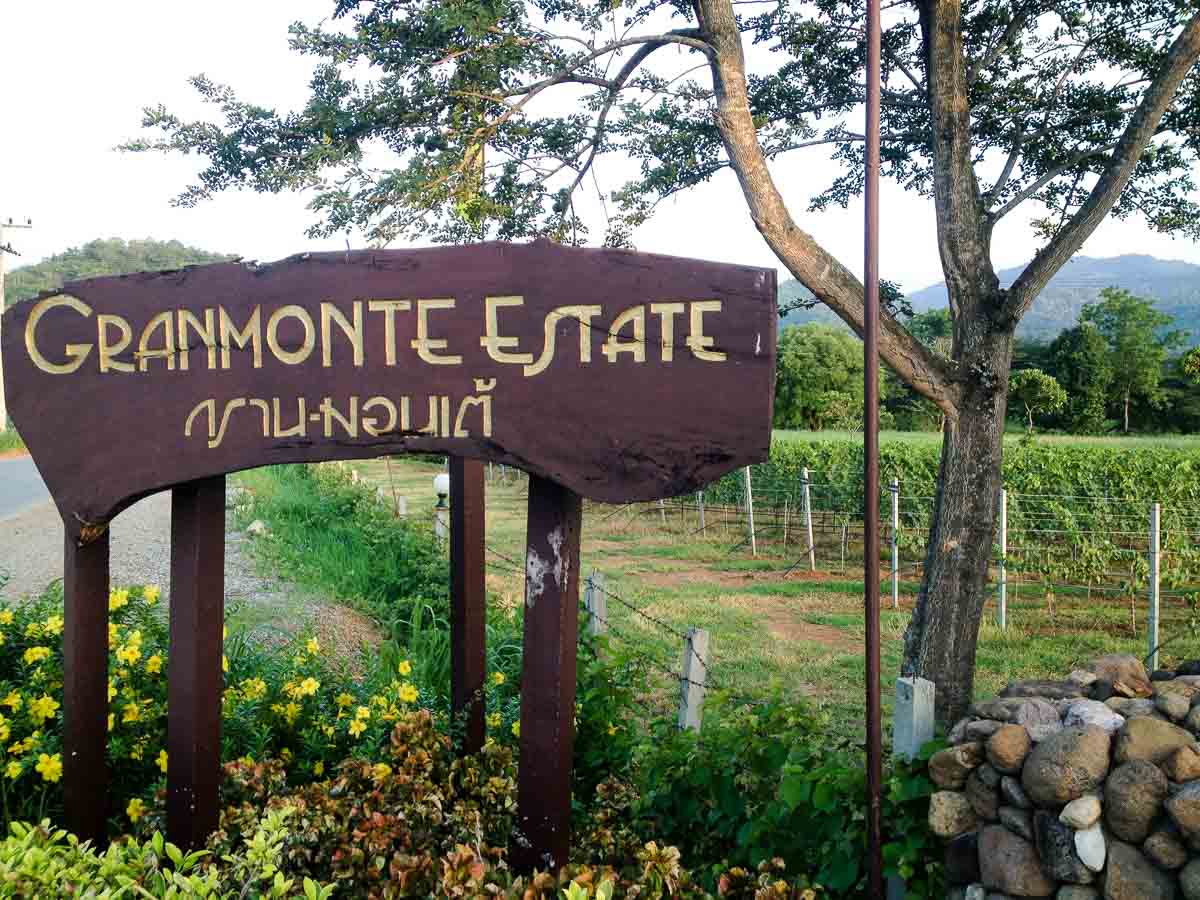 Photo credit: The GlobalGoddess
A lesser-known family-run vineyard in Khao Yai (just five minutes from PB Wine Valley) is the GranMonte Vineyard. Its name means 'Big Mountain' in French — apt, for that's what surrounds the vineyards. While the grounds might not be as big as PB Wine Valley's, it still boasts a land area of 40 acres and makes up to 90,000 bottles of wine a year! If you're too late to book a spot at PB Wine Valley, this is a good alternative!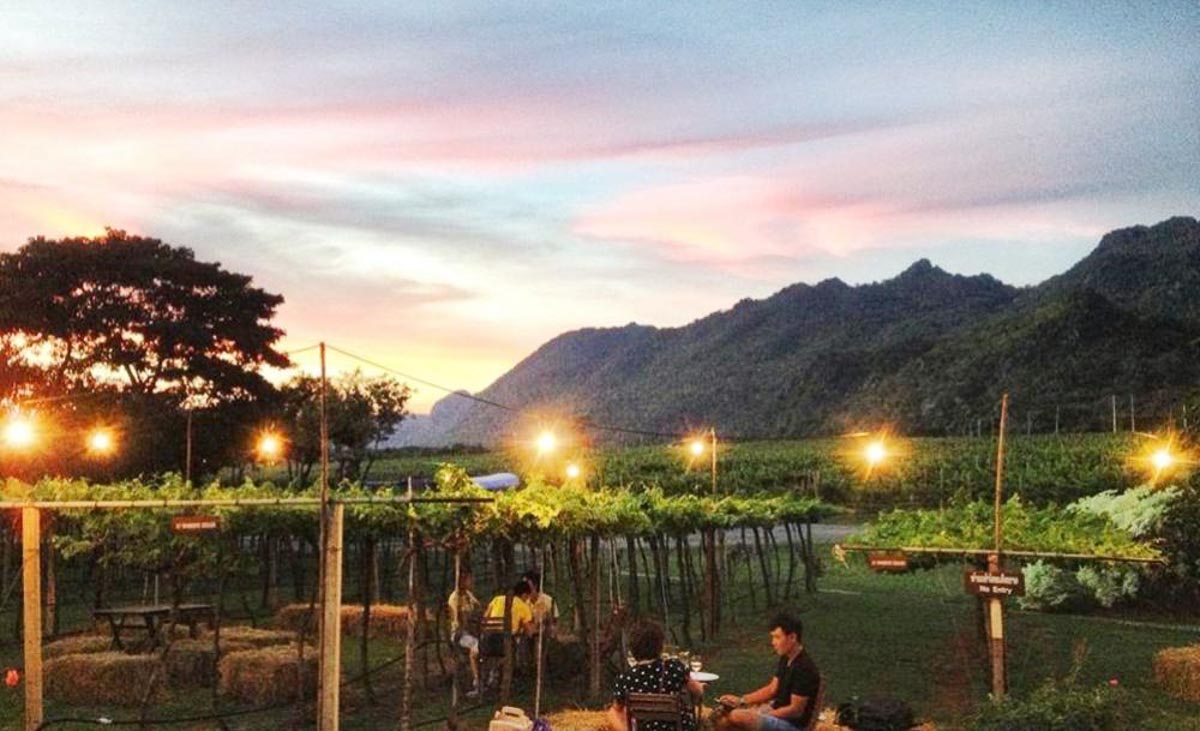 Photo credit: Monruedee-Jansuttipan
Apart from wines, you can also find fruit jams, olive dips and pasta sauce, locally produced at GranMonte.
Entrance fee: ฿330 (~S$14.66) incl. wine tasting or a bottle of 100% grape juice
Opening hours: 8AM – 8PM. Check tour timings and reserve here
Address: 52 Moo 9 Phayayen, Pakchong, Nakornrachasima, Thailand 30320
11) Saraburi Sunflower Field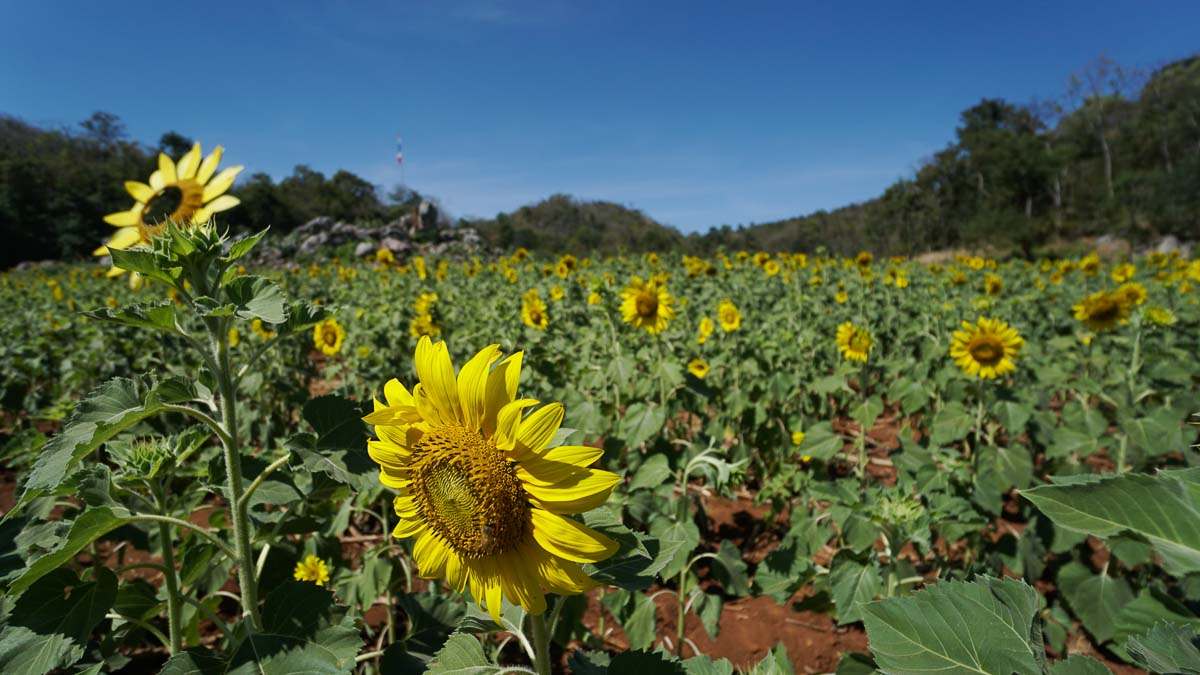 Saraburi Sunflower Field has an impressive land field with nothing but sunflowers! This one's a little out-of-the-way on the northwestern side of Khao Yai National Park, but the entrance fee is super affordable. While the sunflowers aren't as tall as those in Jim Thompson Farm (possibly because it's November), here you can walk into various photo spots. There are stalls outside the entrance selling sunflower seeds and other snacks, and a small farm where you can feed baby goats for ฿40.
Entrance fee: ฿20 (~S$0.89)
Opening hours: 6AM – 6PM (Only open between Nov – Jan)
Address: 553/1 Pichai Campaign Pak Pak Amphoe Mueang Saraburi Saraburi 18000
12) Get Lost at Pete Maze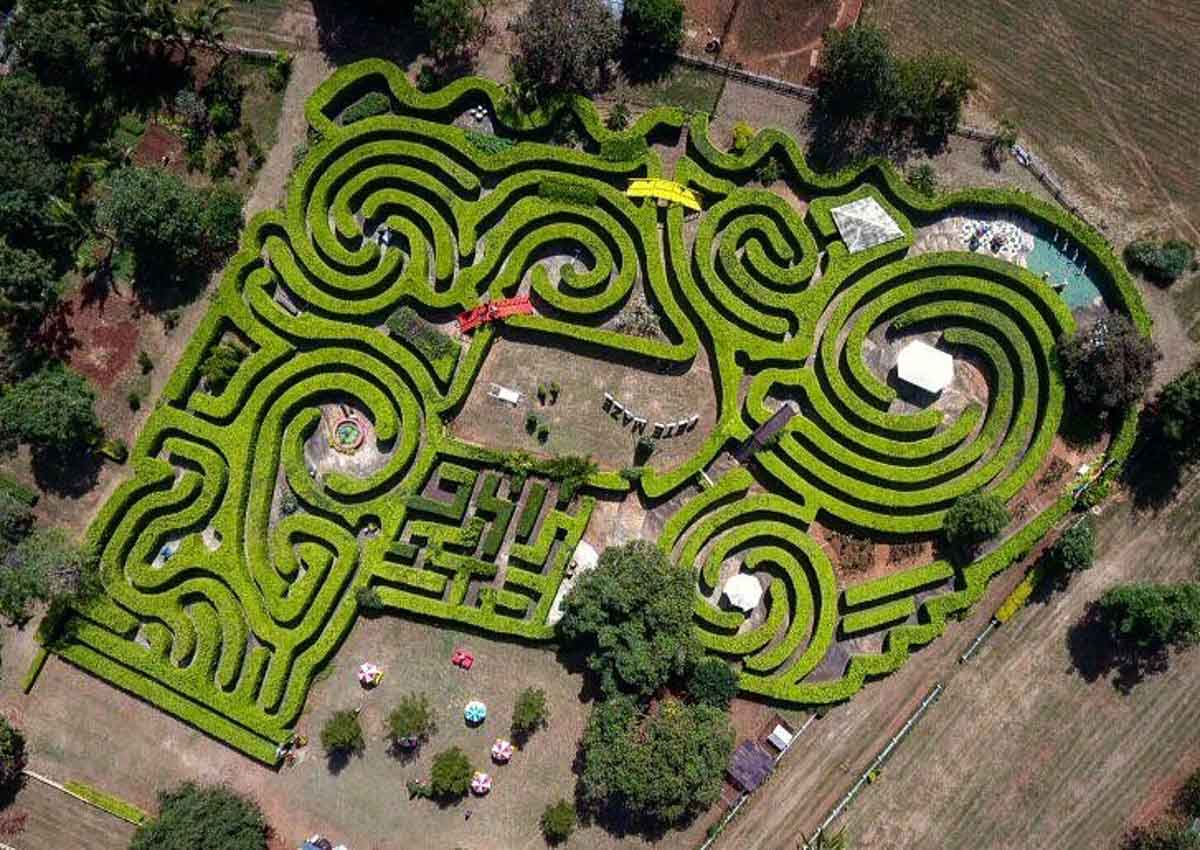 Photo credit: 2Wheels1Drone
Pete Maze is a fun stop if you're headed for the Khao Yai Bonanza Exotic Zoo. After finding your way out, grab a dessert at The Chocolate Factory (just five minutes away!), before hitting the roads again.
Entrance fee: ฿150 (~S$6.66)
Opening hours: 9AM – 6PM
Address: Khanong Phra, Pak Chong District, Nakhon Ratchasima 30130, Thailand
13) Secret Art Garden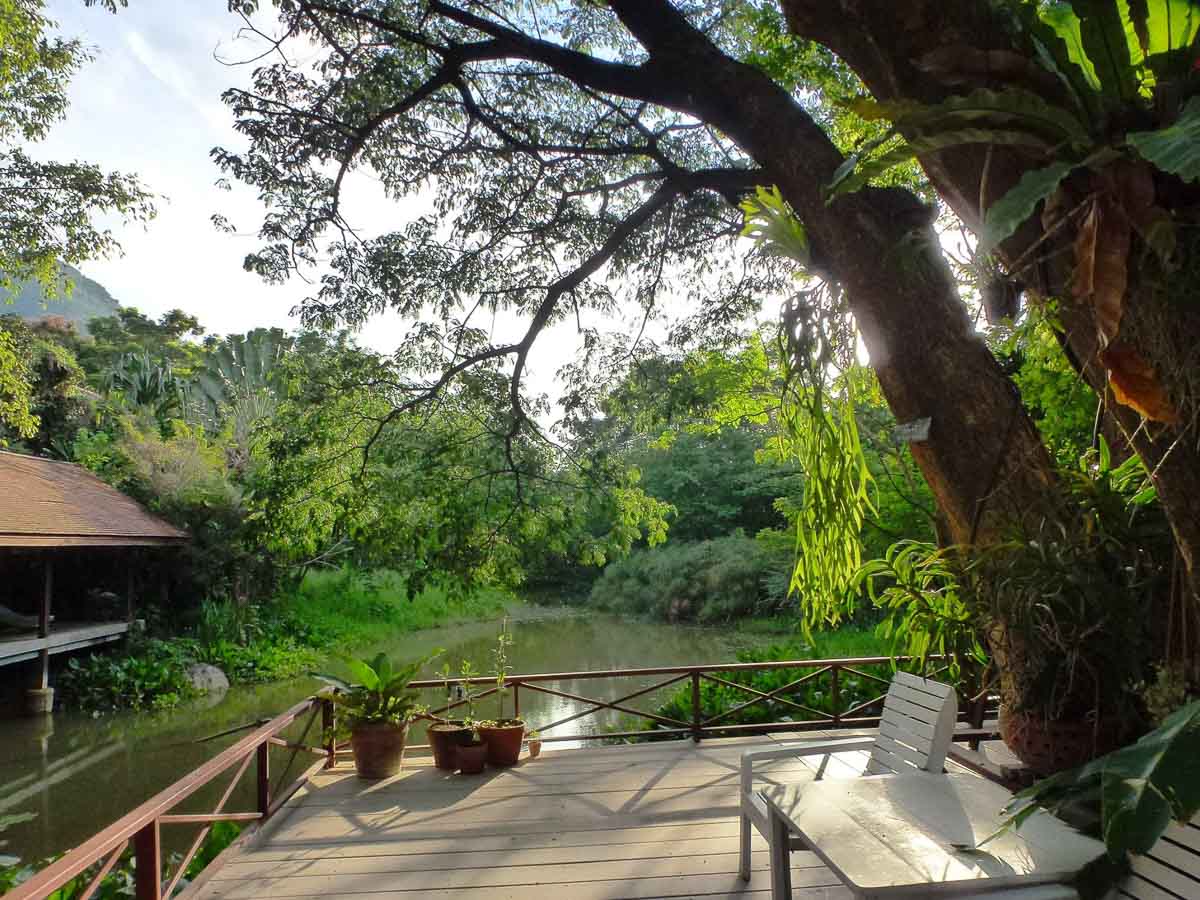 Photo credit: @ying_ratchaneepon via Instagram
Formally an open cornfield, Secret Art Garden is now a cafe and art house surrounded by big trees and colourful flowers.
You can sign up for art classes like folk art and clay doll painting, or just relax at one of the cafes while enjoying the surroundings.
Entrance fee: ฿100 (~S$4.44)
Opening hours: 8AM – 5PM, closed on Wed
Address: 99 Moo 9, Klangdong Pakchong Nakorn Ratchsima, 30320
14) Flora Park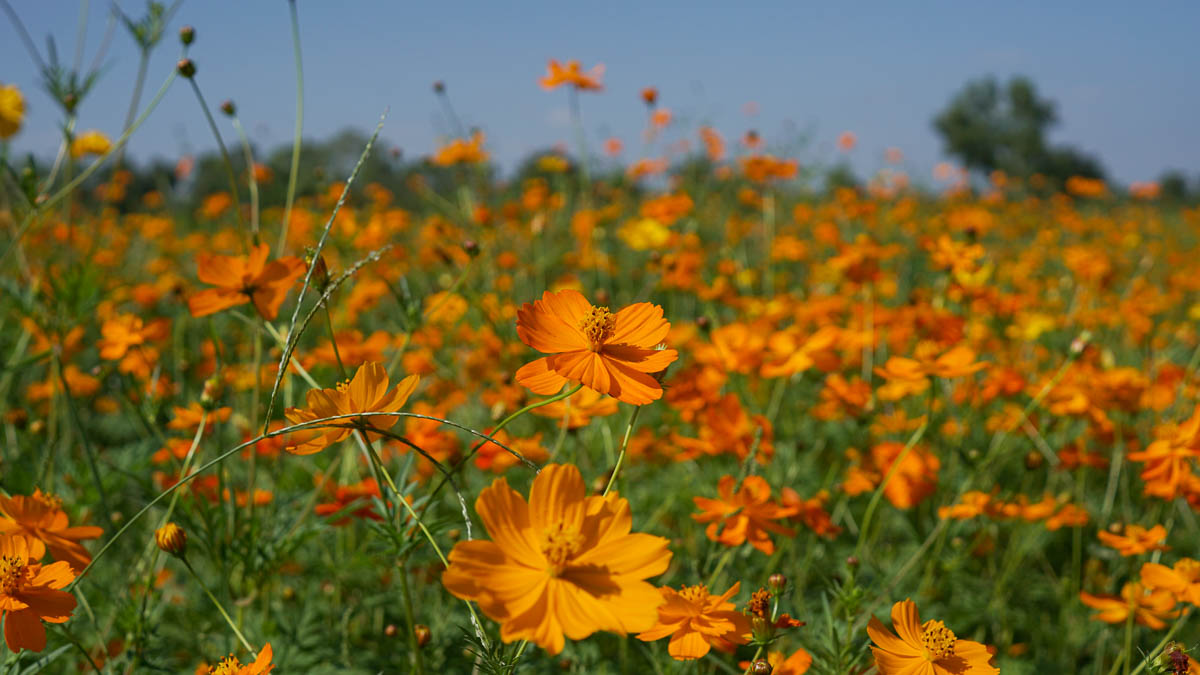 Apart from Jim Thompson Farm, the other famous floral garden is the Flora Park at Wang Nam Khiao. It's about an hour away from the Khao Yai National Park's north entrance but if you love flowers, this is the place to be. Hop on the shuttle bus to explore eight different zones filled with over 400 varieties of plants.
Entrance Fee: ฿100 (~S$4.44)
Opening Hours: 8AM – 6PM
Address: 111 Moo 7, Tambon Wang Nam Kiew. District green Nakhon Ratchasima 30370
Where to eat in Khao Yai
15) Take the perfect photo at Yellow Submarine Coffee Tank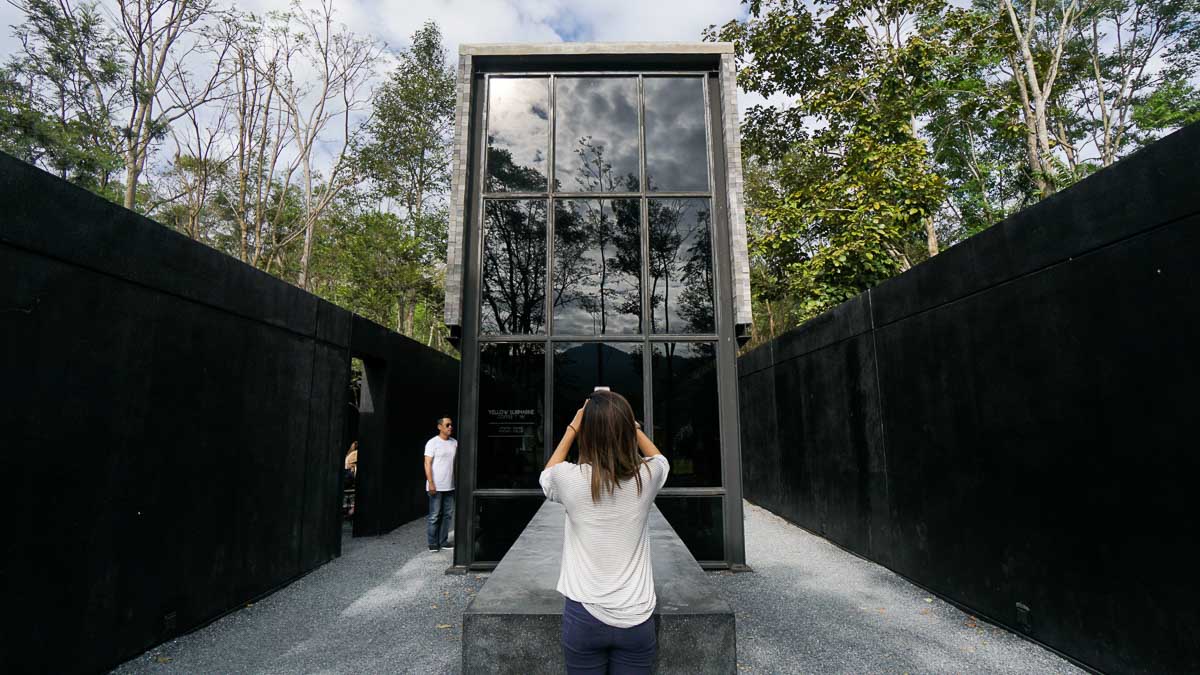 Located just two minutes from Primo Piazza, Yellow Submarine Coffee Tank is a photographer's favourite cafe for its interesting architecture and clean, minimal design.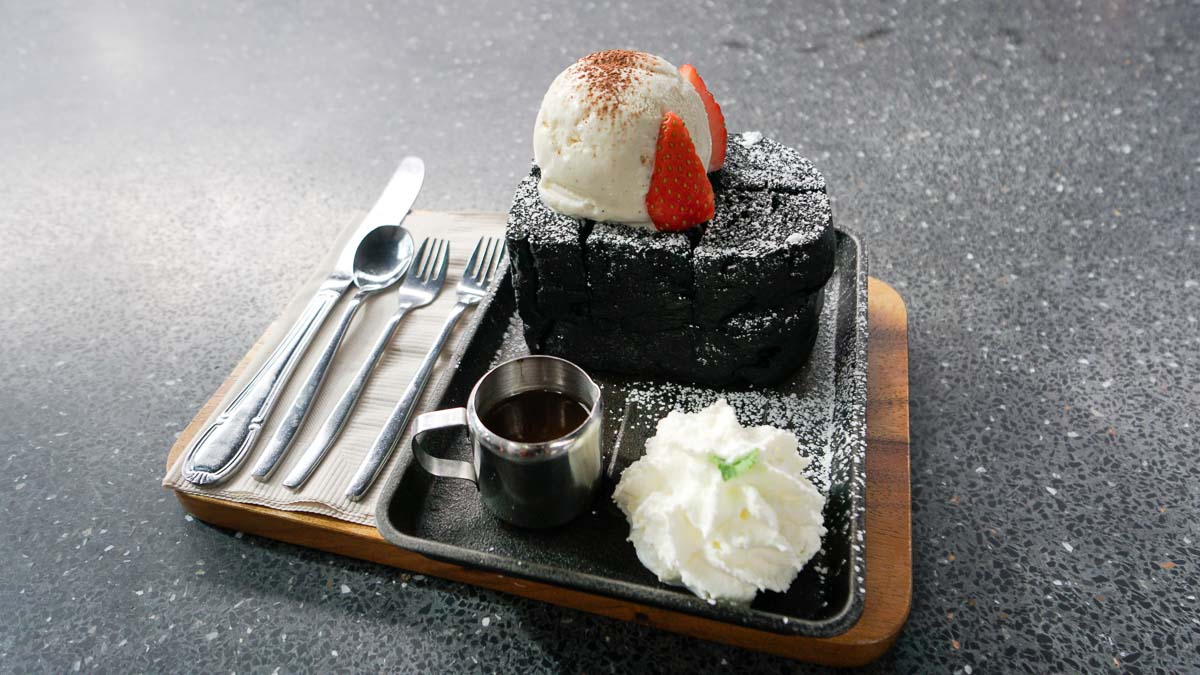 Try popular items like the Hokkaido Coffee (฿140, ~S$6.22) and Charcoal Honey Toast (฿185, ~S$8.22), which comes with a scoop of vanilla ice cream.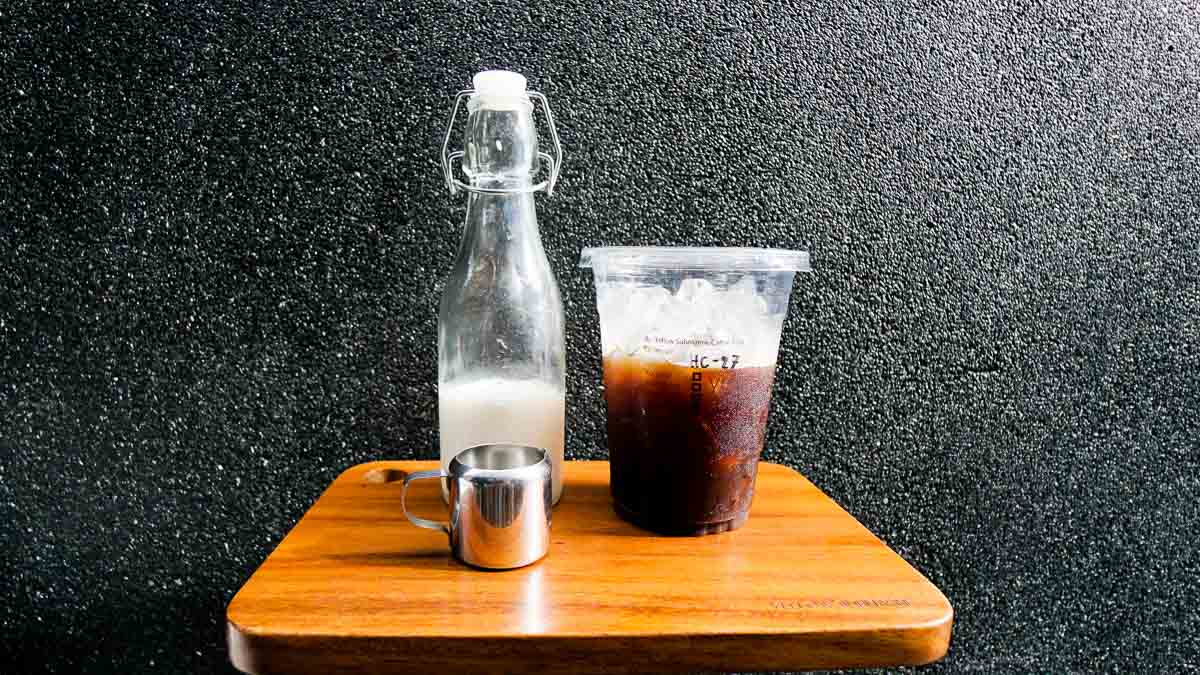 Cost: From ฿140/dish
Opening hours: 9AM – 6PM (Mon – Thu), 9AM – 7PM (Fri – Sun), closed on Tues and PH*
Address: Mu Si, Pak Chong District, Nakhon Ratchasima 30130, Thailand

*Might be closed on weekdays during the low season
16) Have Brunch at the Chocolate Factory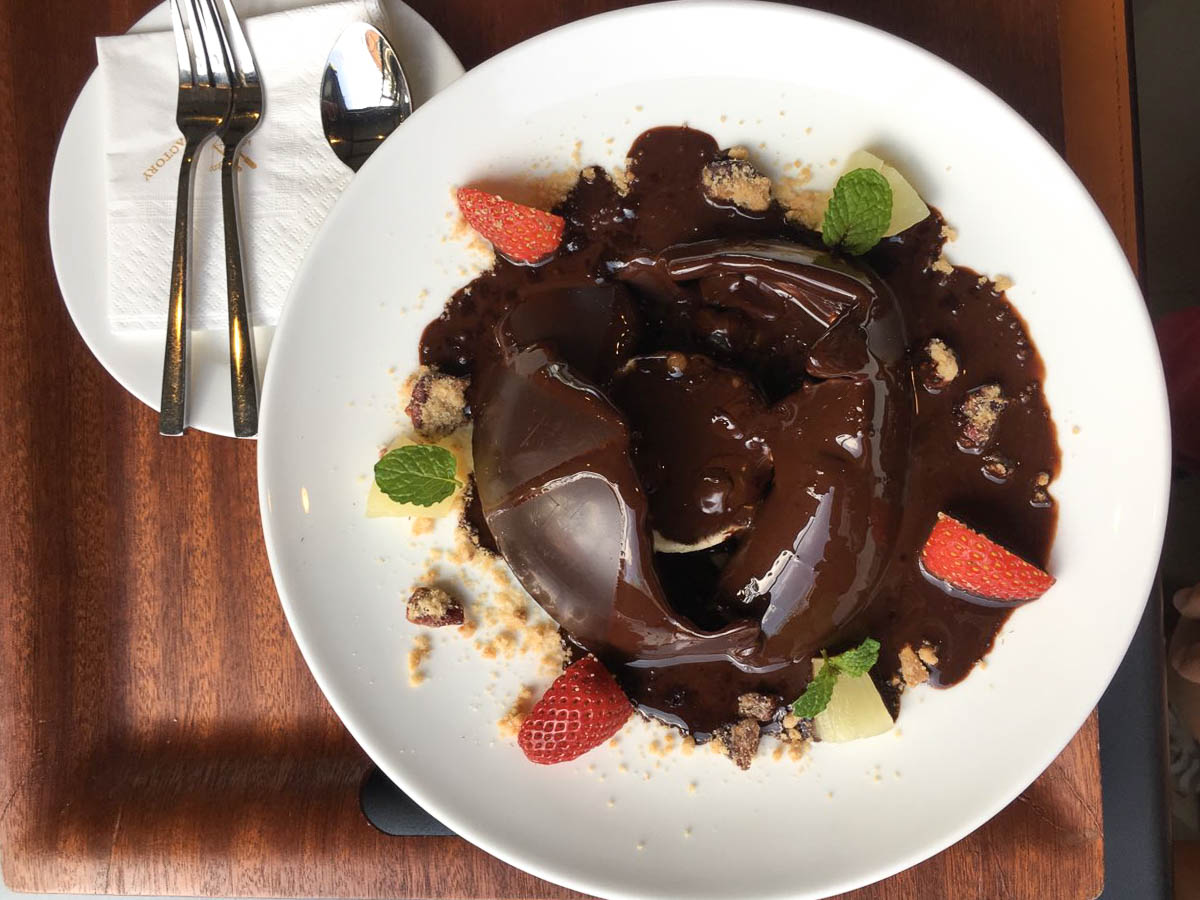 The Chocolate Factory isn't so much a full factory, although there's a small glass section where you can see the machines melting and shaping chocolate into tarts and cookies. On the same floor, there are also shelves of pastries you can buy home as gifts for friends and family.
On the second floor, you'll find the restaurant and the cafe. The restaurant serves decent European, Thai, and fusion fare while the cafe has cakes and desserts that are sure to satisfy your chocolate cravings.
Cost: Mains starting from ฿180 (~S$8.00)
Opening hours: 11AM – 10PM
Address: 352 Moo 2 Thanarat Rd. T. Musee Pakchong Nakhon Ratchasima 30130
17) Experience Fine Dining in a Castle at Midwinter Green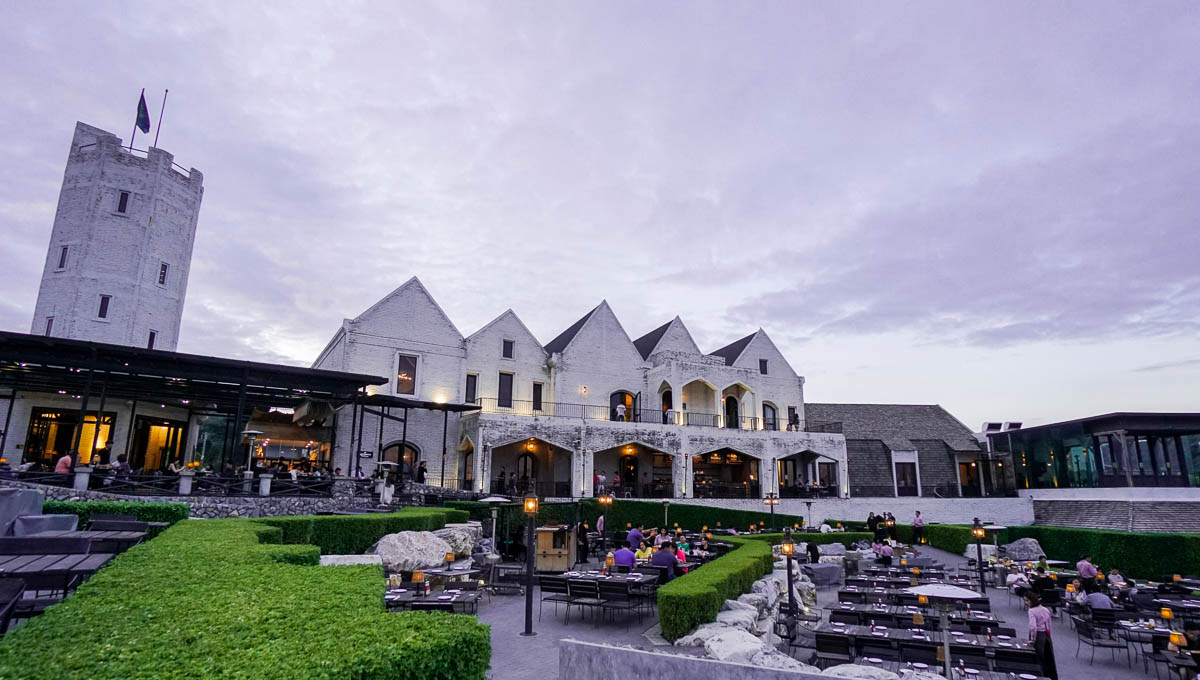 Up for some alfresco fine dining? It's almost mandatory to dine at Midwinter Green when you're in Khao Yai. Enjoy the sunset from the outside or the posh decor inside. Food is a little pricier than most other places, but worth the price considering the quality and setting. Try the pork ribs with BBQ sauce (฿490, ~S$21.77)) and the Aglio Olio (฿295, ~S$13.11), a must-try if you love spicy food! Live music starts from 6:30PM.
Opening Hours: 10AM – 10PM, closes at 11PM on Fri and Sat
Address: 10 88/88 Soi Ban Sai Thong Mu 24 Soi 2, Nong Nam Daeng, Pak Chong District, Nakhon Ratchasima 30130, Thailand
18) Walk Down Memory Lane At Ban Mai Chay Nam Restaurant
This quaint eatery by the river looks like a 90's kid's dream, packed with old school pinball machines, toys, and superhero statues.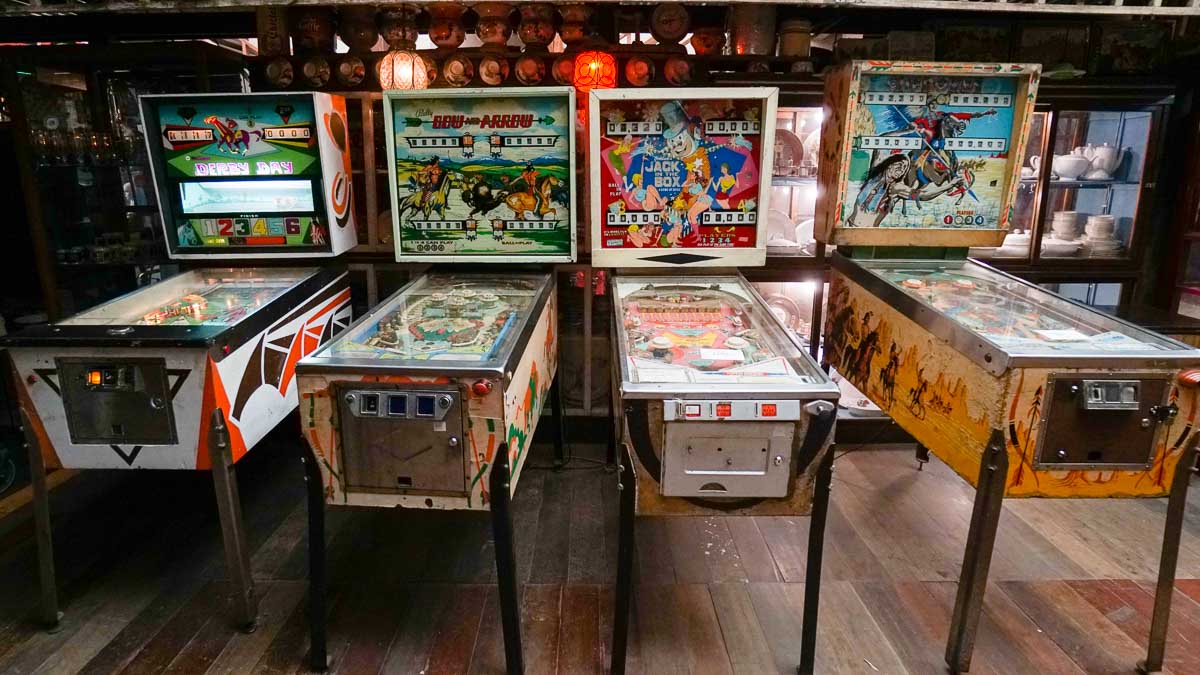 But when you do manage to peel your eyes off the whimsical decor, you'll find that the food at Ban Mai Chay Nam is also good and affordable, with Thai dishes starting from just ฿60 (~S$2.67).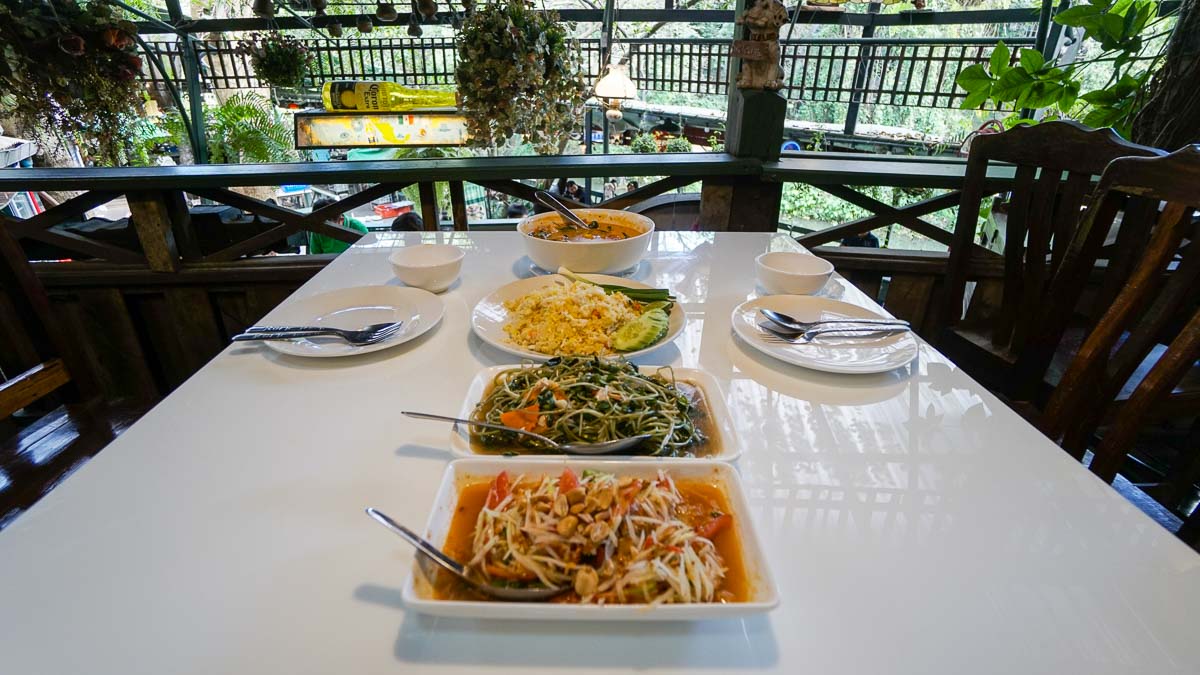 Opening Hours: 9AM – 9PM
Address: 21, Mittaphap Road, Tambon Pak Chong, Amphoe Pak Chong, Nakhon Ratchasima, 30130, Thailand
19) Have Homely Thai Food at Kua Kampan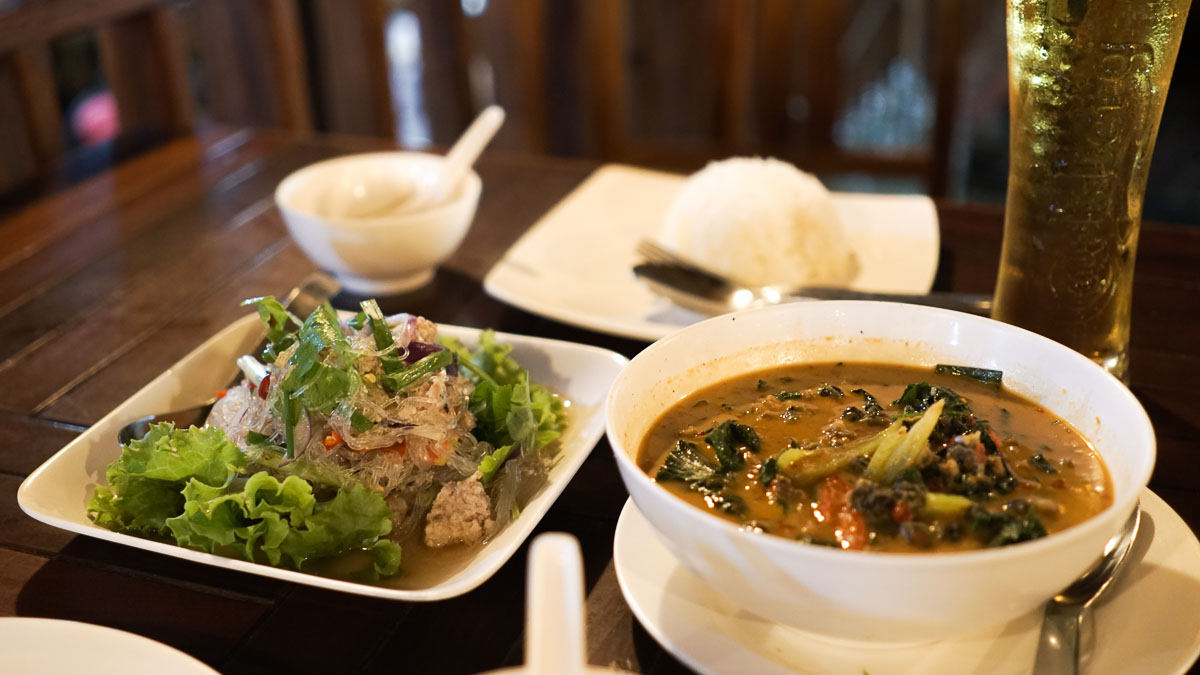 Another popular spot for local Thai food is Kua Kampan. Located just 10 minutes from Primo Piazza and Palio, this cosy open-air restaurant serves a mean dish of Fried Ruby Fish (good for four to share) and som tam (papaya salad).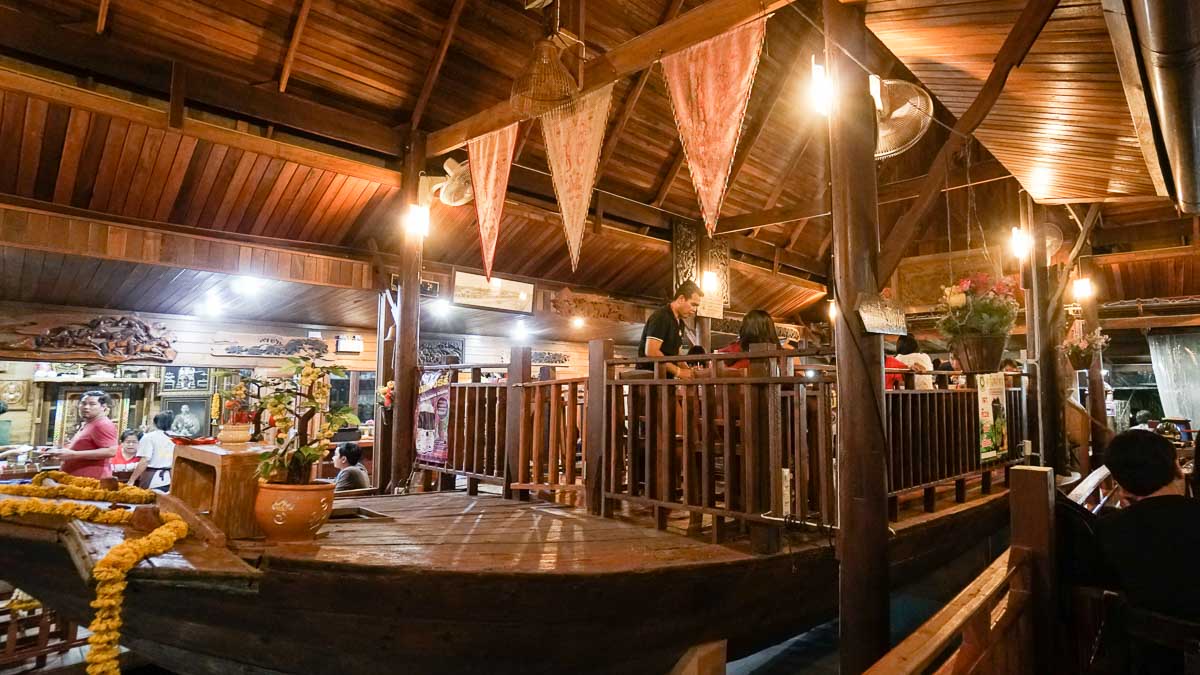 Opening Hours: 9AM – 9PM
Address: 94-94 / 1 Moo 6, Pak Chong District, Nakhon Ratchasima 30130
20) Have High Tea At Thames Valley
Photo credit: ThamesValley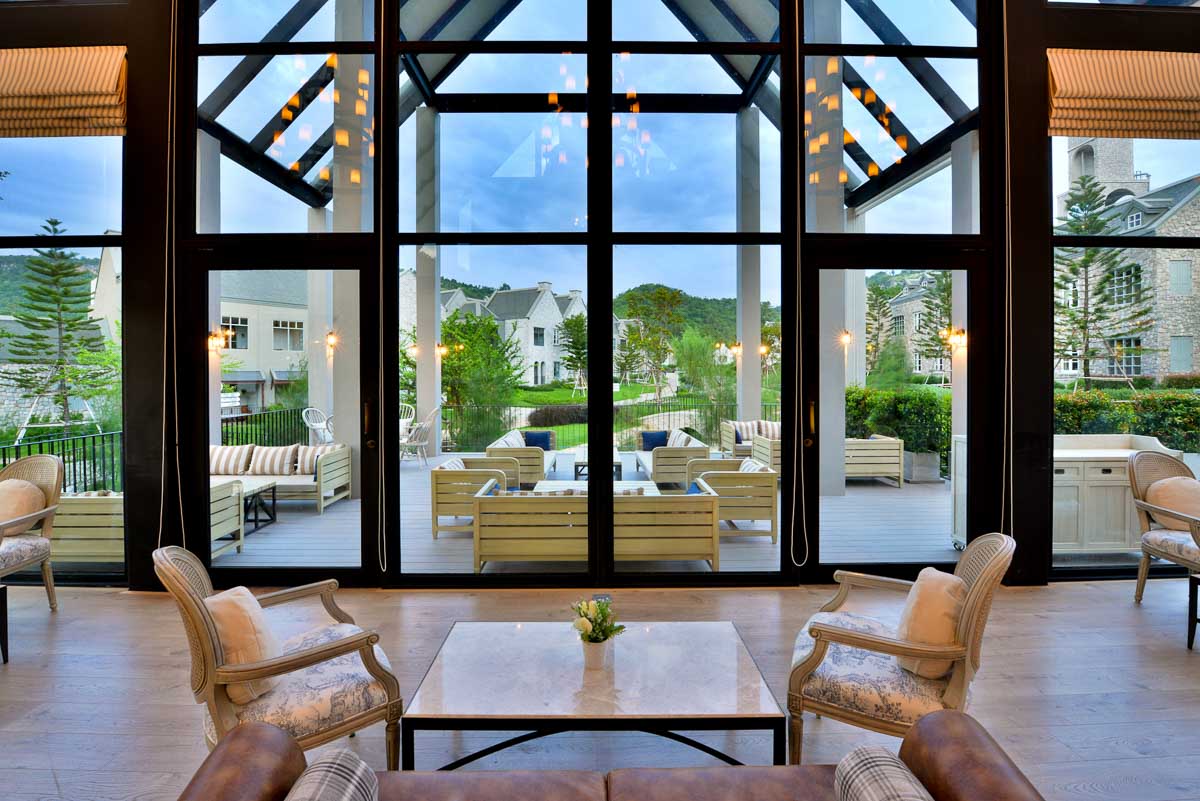 Photo credit: ThamesValley
Inspired by the river Thames in London, Thames Valley is a popular rustic, English-styled accommodation that comes with an equally popular restaurant. The garden is only accessible by guests but if you're here to dine or have high tea, opt for outdoor seats where you can get a pretty good vantage point of the gorgeous surroundings.
Opening Hours: 7AM – 10:30PM (Last orders at 10PM)
Address: 999 Moo 4, Moosi, Pakchong, Nakorn Ratchasima 30130
21) Witches Brew Restaurant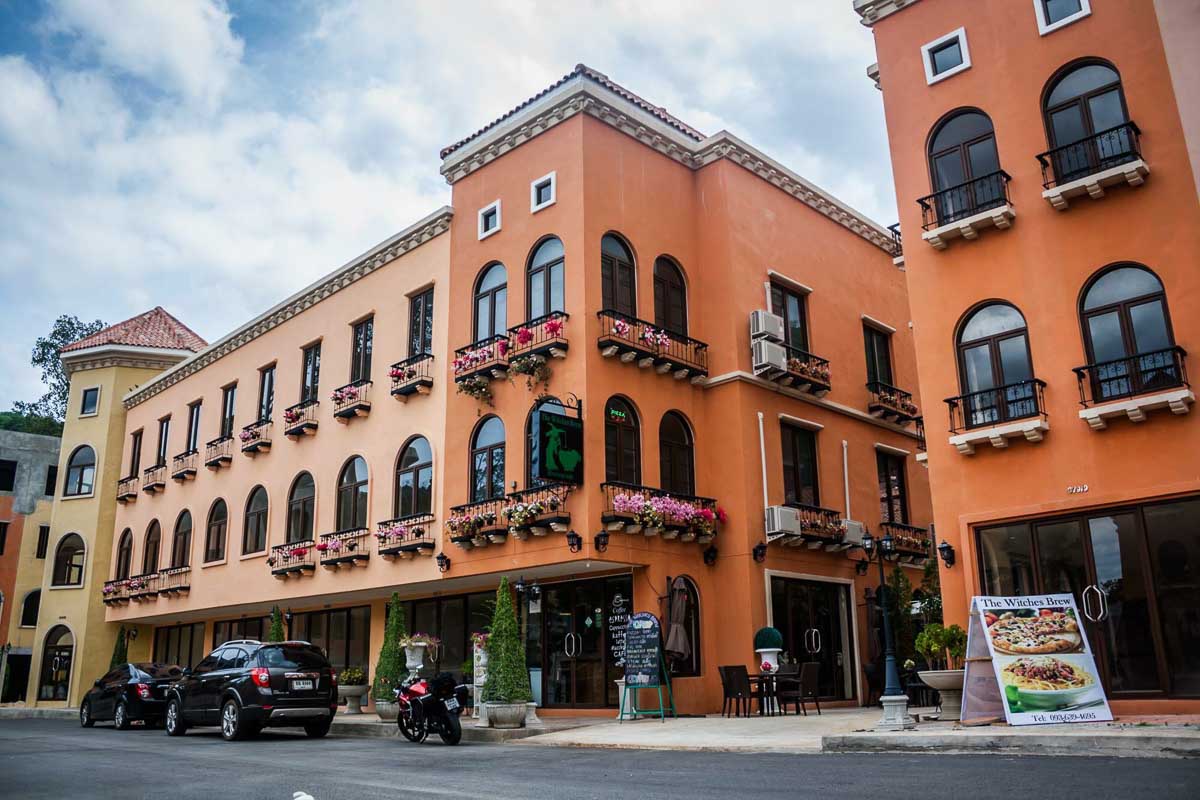 Photo credit: The Witches Brew
The themed Witches Brew Restaurant is a great spot for dinner once you're done with your shopping. Head over for Western as well as local Thai food — both best paired with an ice-cold beer.
Cost: Mains from ฿180 (~S$8.00)
Opening Hours: 11AM to 9PM, closed on Tue
Address: 379/10 Veneto Piazza Thanarad Road, Moosi, Pak Chong District, Nakhon Ratchasima 30130, Thailand
22) Indulge in Local Street Food at Pak Chong Night Market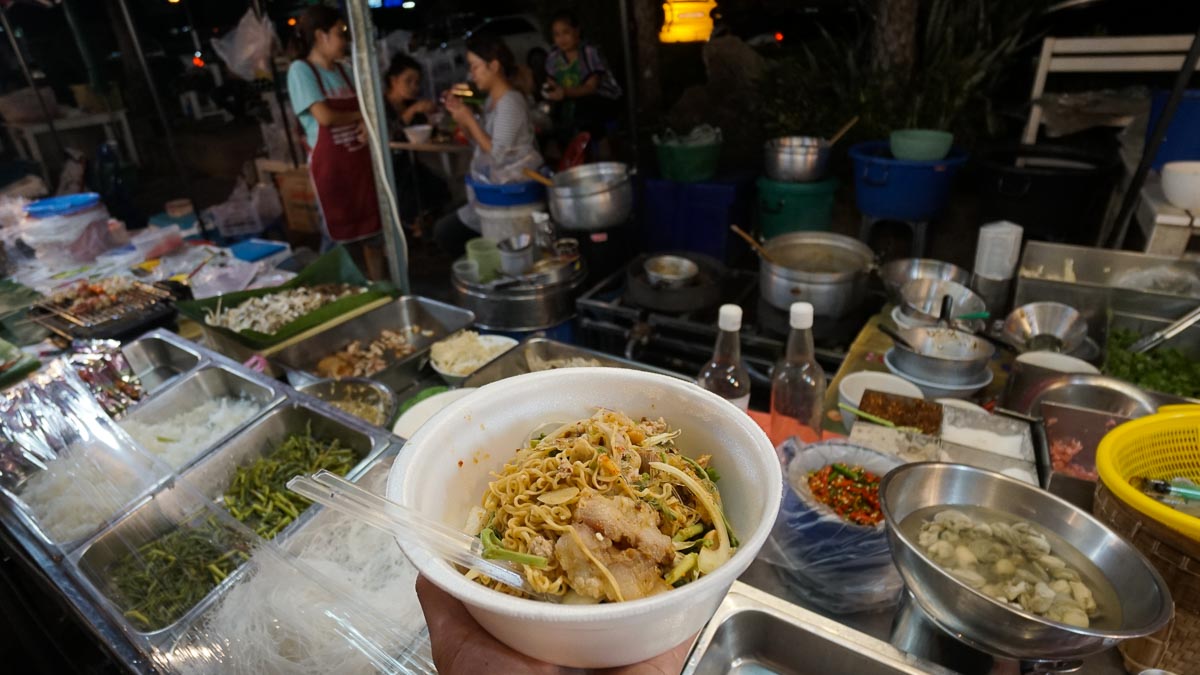 Night markets are a quintessential experience in Thailand, as this is where the locals hang out after dinner. Come for the standard favourites like mango sticky rice (฿60, ~S$2.67), meat skewers (฿35, ~S$1.56), chicken wings (฿6, ~S$0.27), flavoured fries (฿39, ~S$1.73), instant noodle salad (฿60, ~S$2.67), and fresh-cut fruits like papaya (฿20, ~S$0.89).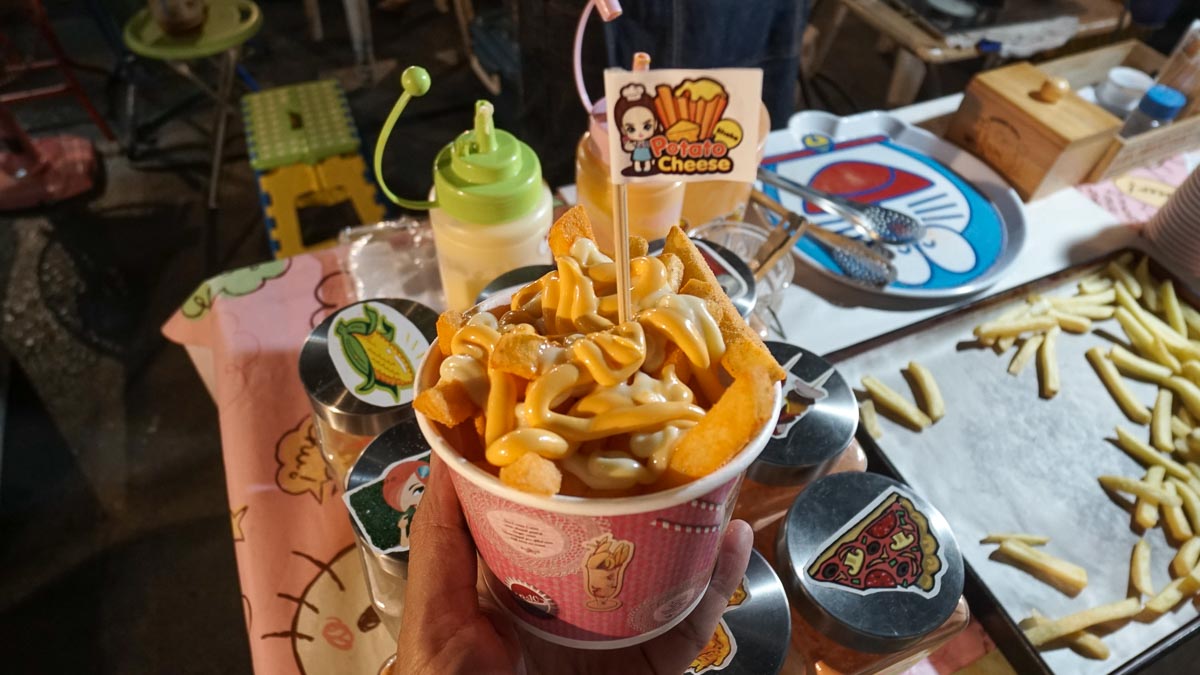 You'll also find trendy clothes that are cheaper than the same piece in Bangkok!
Opening hours: 5PM – 10PM
Address: 2422 Tambon Pak Chong, Amphoe Pak Chong, Chang Wat Nakhon Ratchasima 30130, Thailand
Accommodation Experiences
In Khao Yai, a lot of the accommodation options are experiences in themselves. Some of these are worth checking out even if you don't intend to stay the night!
23) Baan Suan Noi: Dress up in Hobbit Houses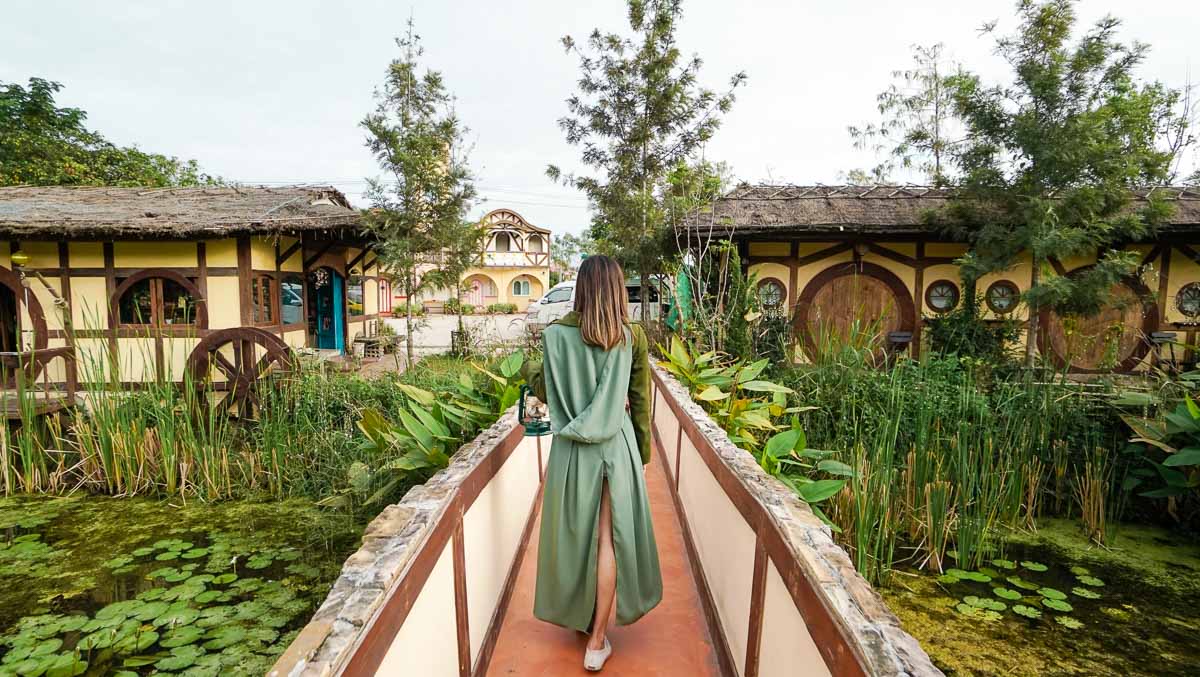 Fantasy fans will love Baan Suan Noi for its fantastic architecture that truly transports you into another world. Pick an outfit from one of your favourite films (LOTR, Harry Potter, Snow White etc.) and have a mini photoshoot around Baan Suan Noi. It's a little further from most of the other attractions in Khao Yai (about 40 minutes from Farm Chokchai) but worth the trip!
Cost: ฿50 (~S$2.22) for entrance, ฿100 (~S$4.44) for entrance and costume rental. Stay from S$29/night for 2 pax
Opening hours: 8AM – 11PM
Address: Lat Bua Khao, Sikhio District, Nakhon Ratchasima 30340, Thailand
24) Lala Mukha Tented Resort: The Ultimate Glamping Experience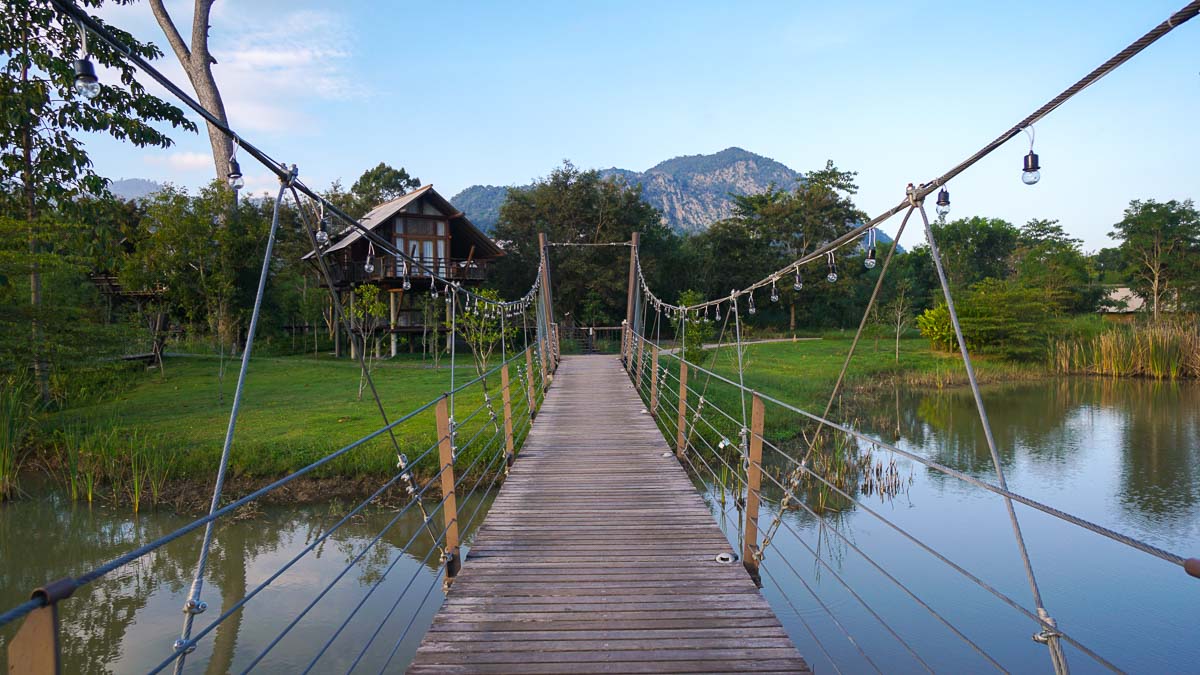 If you love glamping, Lala Mukha will probably be one of the greatest highlights of your trip in Khao Yai. Surrounded by mountains, you can choose from three cosy accommodation options: the Tree House Loft, the Deluxe Savana Tent or the Eco Safari Tent, with the first two including an en-suite bathroom.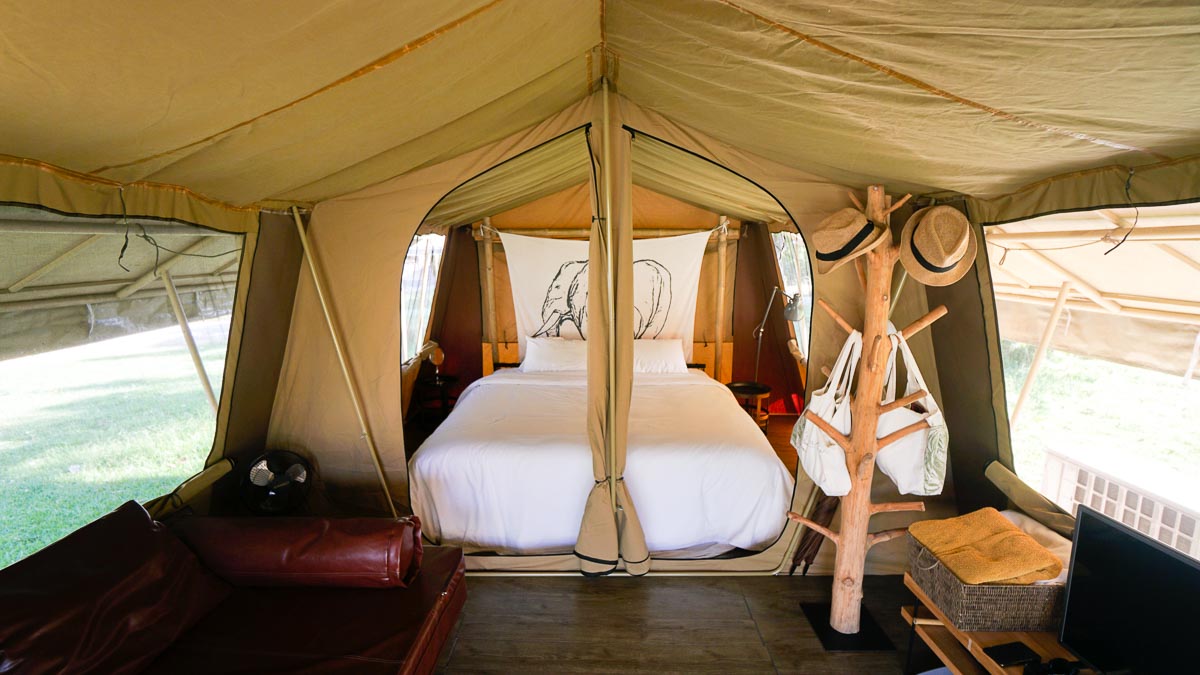 Cost: from ~S$142 for the Eco Safari Tent
Address: 515 Moo 5 Musi Pakchong Nakhonratchasima, Tambon Mu Si, Amphoe Pak Chong, Chang Wat Nakhon Ratchasima 30130
25) Casa De Montaña: The Caravan Experience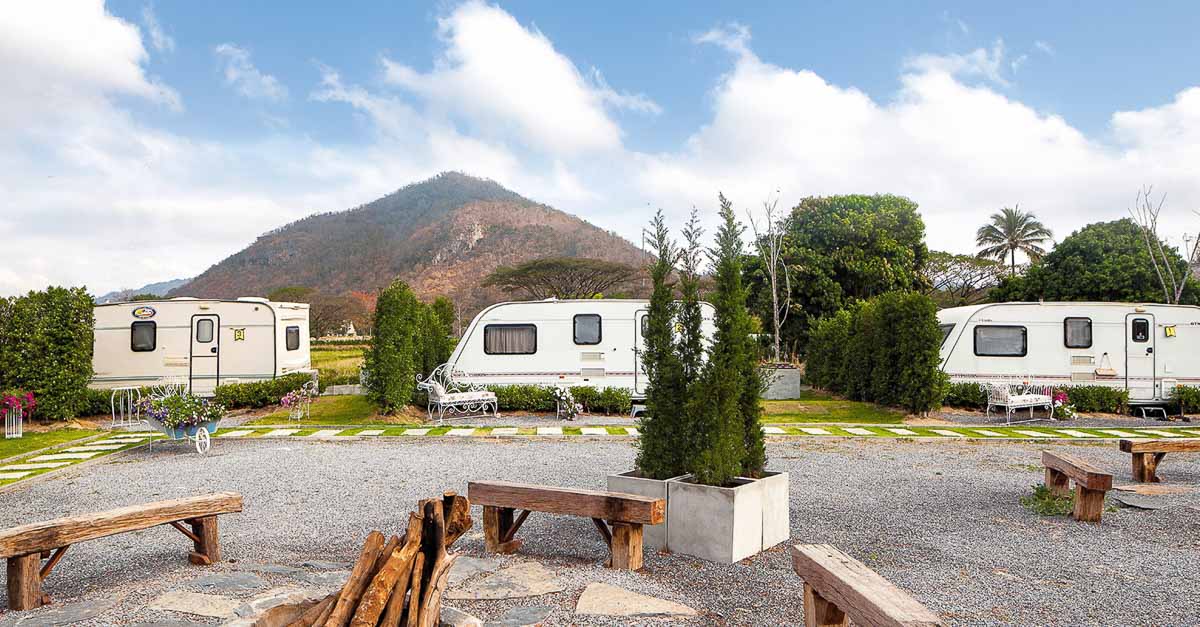 Photo credit: baanlaesuan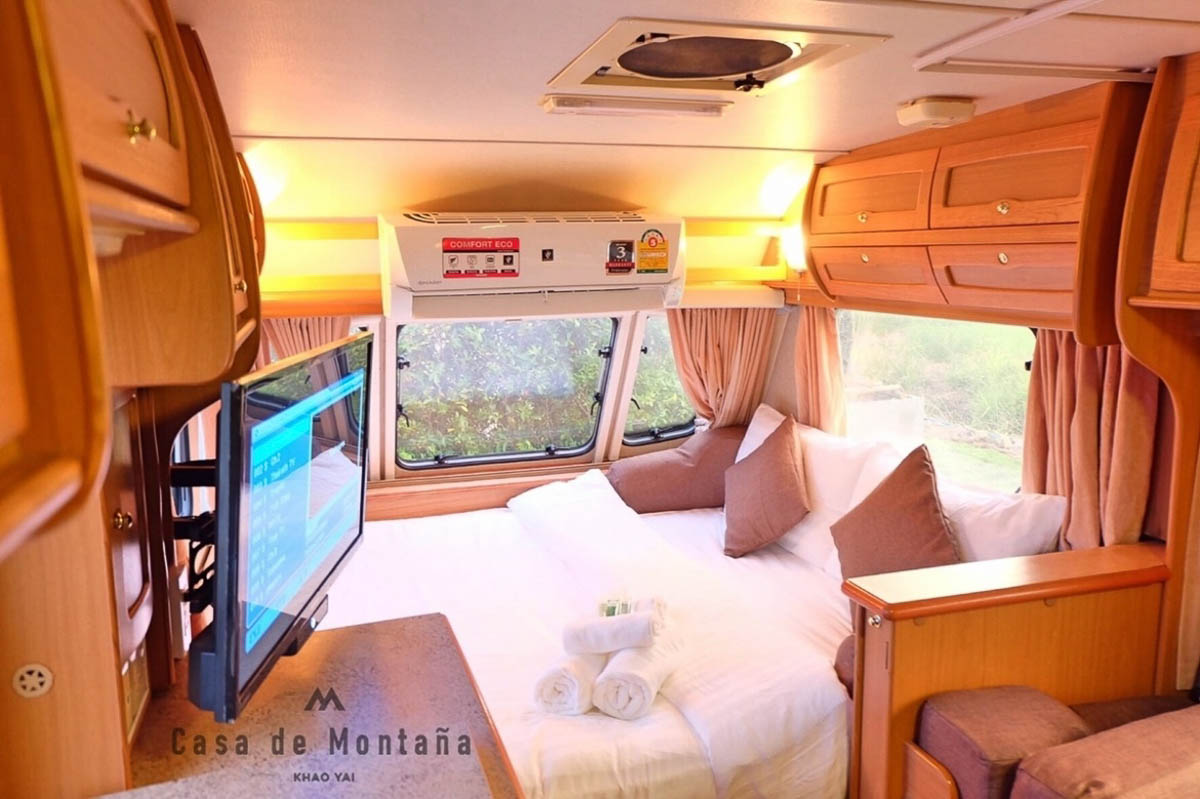 Photo credit: Casa-de-montana
These caravans don't go anywhere but fortunately, they're every bit as cosy as they look in pictures. There are only five caravans at Casa De Montaña so do book early as they get snagged up really quick! Each caravan comes with a double bed, a kitchen area, and are fully air-conditioned.
Cost: ฿3,300 (~S$146.66) for 2 pax
Address: Casa de montana, Mu Si, Pak Chong District, Nakhon Ratchasima, Thailand
Pre-trip Essentials in Khao Yai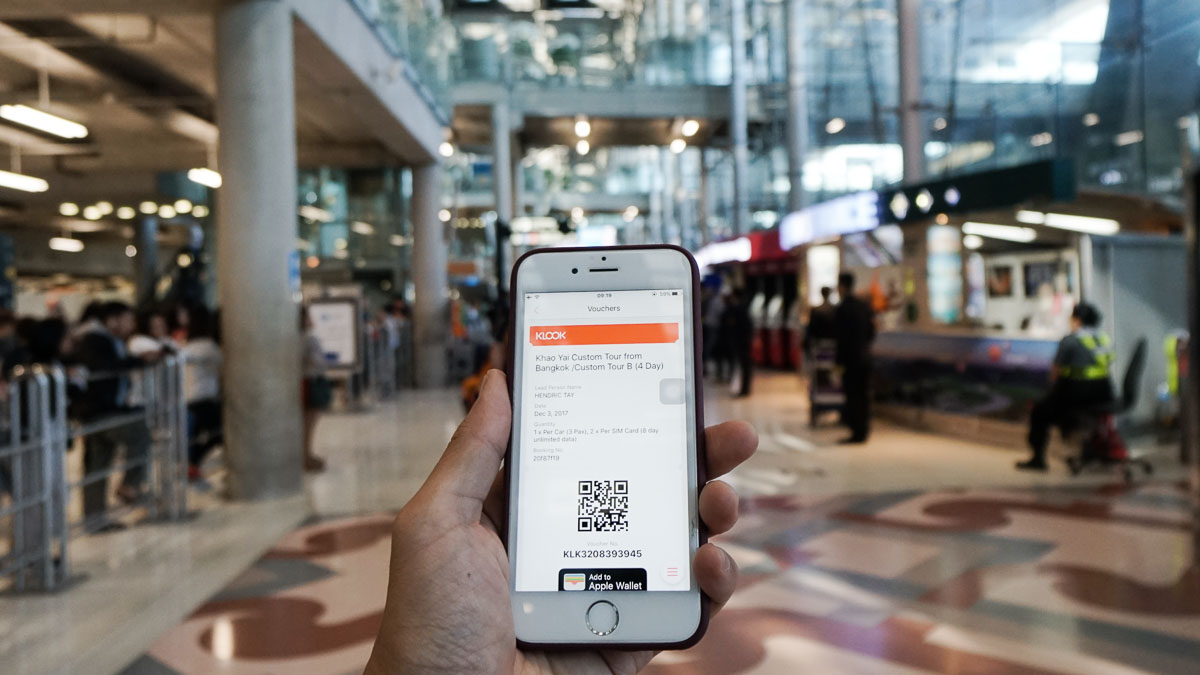 These sights can be pretty far apart and aren't accessible without a car. If you're not planning to drive on your own, be sure to pre-book a private tour beforehand! On Klook, you can book a driver for one to five days who will drive you from Bangkok to Khao Yai and back again. Having this option truly made our trip a breeze.
For more trip inspiration, hop over to our 4D3N Khao Yai Itinerary. Or if you've started planning, look for flights with this widget:
If you can't see the widget above, click here to check flights from Singapore to Bangkok instead!
Tried any of these unique experiences in Khao Yai? Let us know in the comments!
---
This post was brought to you by Klook.
Like what you see? Follow us on Facebook, Instagram, YouTube and Telegram for more travel updates!